You will love recycling and reusing old things and waste materials after seeing these unique recycling ideas for reusing your old stuff. What materials can be recycled, and how are they recycled for home projects? What things we can be made from recycled materials that we can use for DIY home decor projects, crafts and kids projects? Wait!! I'll explain recycled art here for you. First, try to maintain the good health of the planet by reducing pollution!
What adds a lot to environmental pollution is the garbage, plastic scrap materials, and dangerous chemically treated items that we throw into landfills without any hesitation! A big positive step to reduce increasing global pollution is recycling. Yes, you can recycle the old materials to make useful home decor projects and recycling projects for schools out of waste materials. It will help reduce garbage piles and also in making the land a bit more beautiful!
You can recycle almost anything that you can use in your home decor projects. Just to provide you with all the best recycling ideas, we have shared this big collection of 100 useful recycled projects and crafts out of recycled materials. These waste materials recycling ideas will show you how you can recycle lots of retired, expired, and old materials to make worthy and functional diy recycled crafts! This list of recycling ideas will help turn the trash into treasures that you will love to cherish for years to come! Here You are going to have big fun while doing these recycled crafts!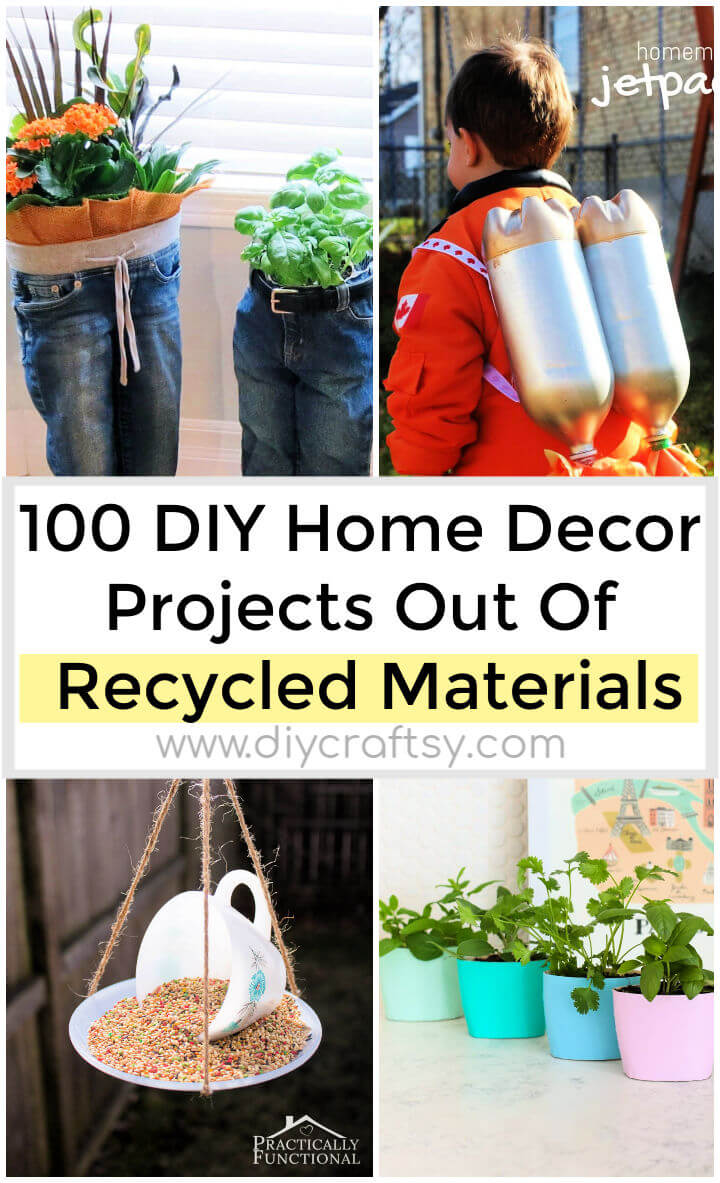 Creative recycling ideas for the home decor projects:
Recycle the old plastic bottles and wrap the rope around them and make perfect pendant lamps! Repurpose your old denim jeans and make fabulous jean planters that will make fantastic garden or backyard decor centerpieces! Recycle the glass jars and containers to make enchanting candle holders or votives. Also, repurpose the old water bottles to make precious air balloon crafts and toys for the kids! Instead of putting an old t-shirt into the trash, make an apron out of it. Keep using your old leather jackets by making fashion-worthy totes and handbags! Repurpose the cork trivets and embroidery hoops and make outstanding hanging planter holders and boost your fashion by making exceptional denim bags with your old jeans!
You can recycle pallet wood, mason jars, old tires, plastic bottles, tin cans, old jeans, old furniture, and tons of recycled materials to make fun diy recycled crafts and useful things. Browse the entire list of these useful recycled projects and recycling art ideas to see some ready-made examples! To make these recycled projects check the attached tutorials!
You may also enjoy these PVC pipe projects to make functional things for your home.
DIY Plastic Bottle and Rope Lampshade:

Maybe the pendant lamp lights are a big need for space at outdoor where you often like to sit with friends. Don't buy them expensive as you can make them at home using simple materials like rope or recycled plastic bottles. To give a spark to your creativity, look at the lovely given sample. Full details here ohohdeco
You can also try these upcycling ideas for the home to make functional things out of recycled material.
DIY Blue Jean Planters:

Don't put your old jeans also in the trash as they can be recycled in numerous different ways to style up your spaces and gardens. Fill the jeans like the real legs of a man using potting soil or other materials and then plant your favorite herbs or flowers to topside getting adorable jean planters. Full instructions here instructables
DIY Dollar Store Candle Holders:

Candlelight decor has had a great reputation, so make also candlelight centerpieces using recycled and dollar store materials. Grab the dollar store candle holders, get them decorated with glitter and mod-podge treatment, and next put your favorite candle lights inside. Full how-to tutorial here ishouldbemoppin
Make Water Bottle Hot Air Balloons:

The hanging decor and ornament to make for the kids room using the old and recycled water bottles, gorgeous hot air balloon decor to make for kids bedrooms. Just paint the water bottle for a striped balloon appeal and then add a mini basket is having a little toy sitting inside. Full how-to tutorial here asthebunnyhops
How to Turn T-shirt Into Apron:

Don't let your old t-shirts go wasted, make gorgeous aprons out of them will help get in the kitchen like a pro. Just cut your t-shirts into an apron shape and next sew it again in place. A smart recycled t-shirt project will be a smart solution to keep using your old t-shirts. Step-by-step instructions here makermama
Turn an Old Leather Coat Into a Tote Bag: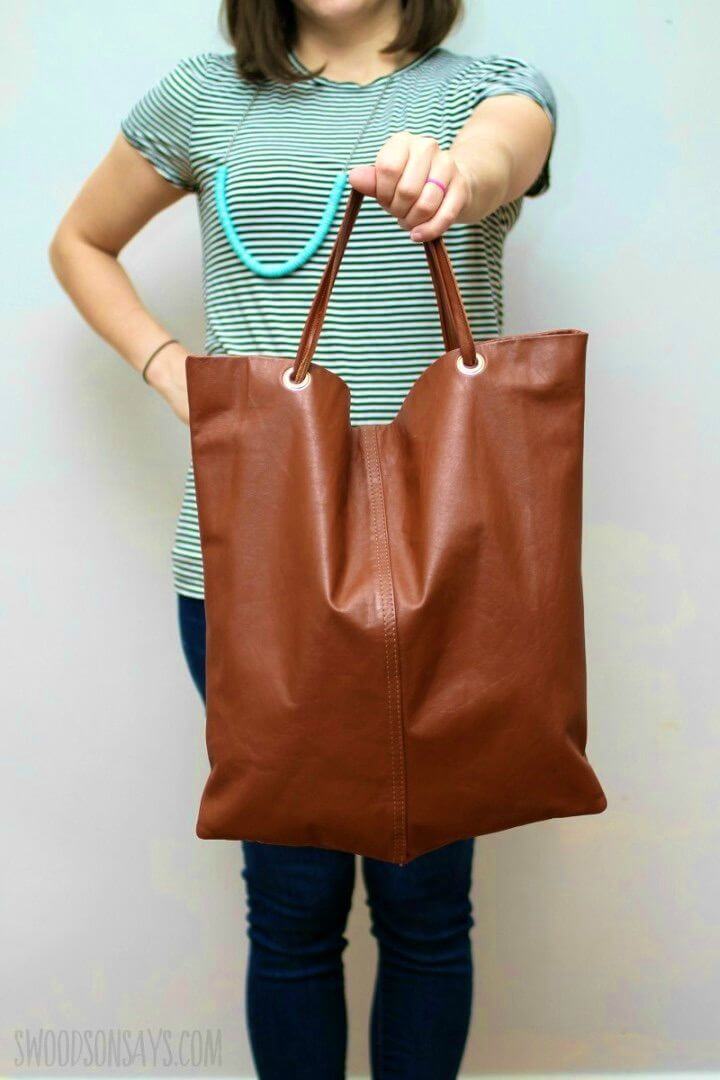 May you have nothing to do with your old leather coats, sew them again into beautiful and durable leather tote bags will help style up your shopping routines. This leather tote bag will also make a handsome gift for a beloved one and is quite simple and easy to make. Step-by-step instructions here swoodsonsays
DIY Hanging Shelf Out of Embroidery Hoops: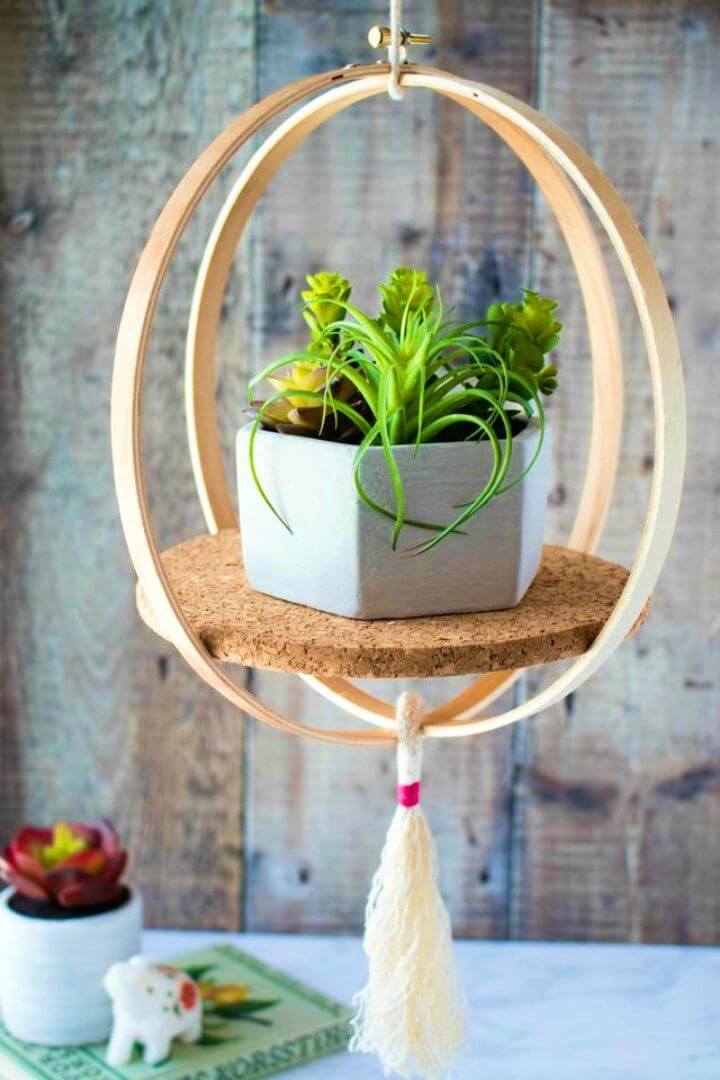 Upcycle your old embroidery hoops and wood rounds to whip up epic handing decor and centerpieces. Fit together the embroidery hoops, and next make them hold a cork round inside to build a hanging embroidery hoop shelf. It will nicely hold your pots and other accents in the air for bigger style statements. Details here stitchedmodern
 Easy DIY Bag from Old Jeans: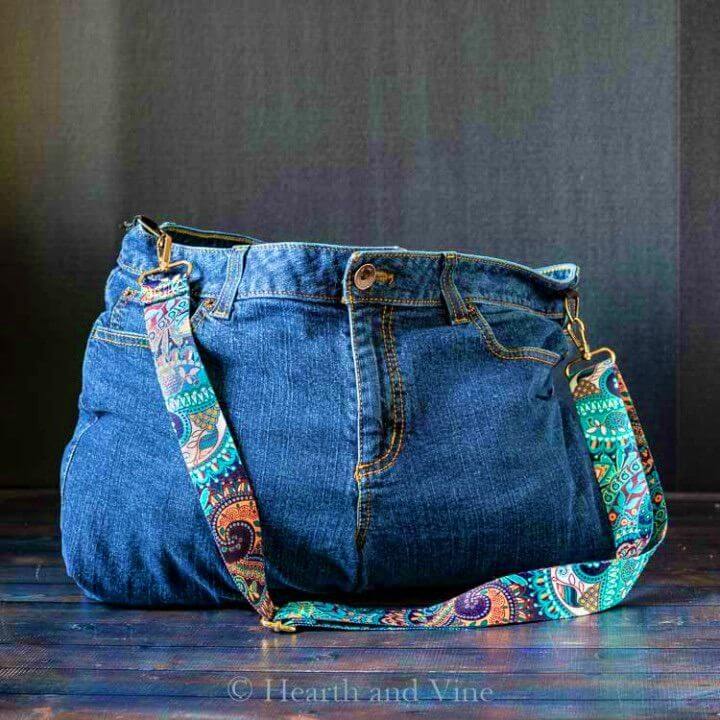 Your old denims can be the next most durable fabric in your home. So, why not get rid of your old jeans by doing some sewing projects with them? Just cut your old jeans to cut again according to the bag template. Sew the bag and add with the matching straps, will live for years to come. Complete tutorial here hearthandvine
Upcycle an Old Tray to DIY a Pin Board: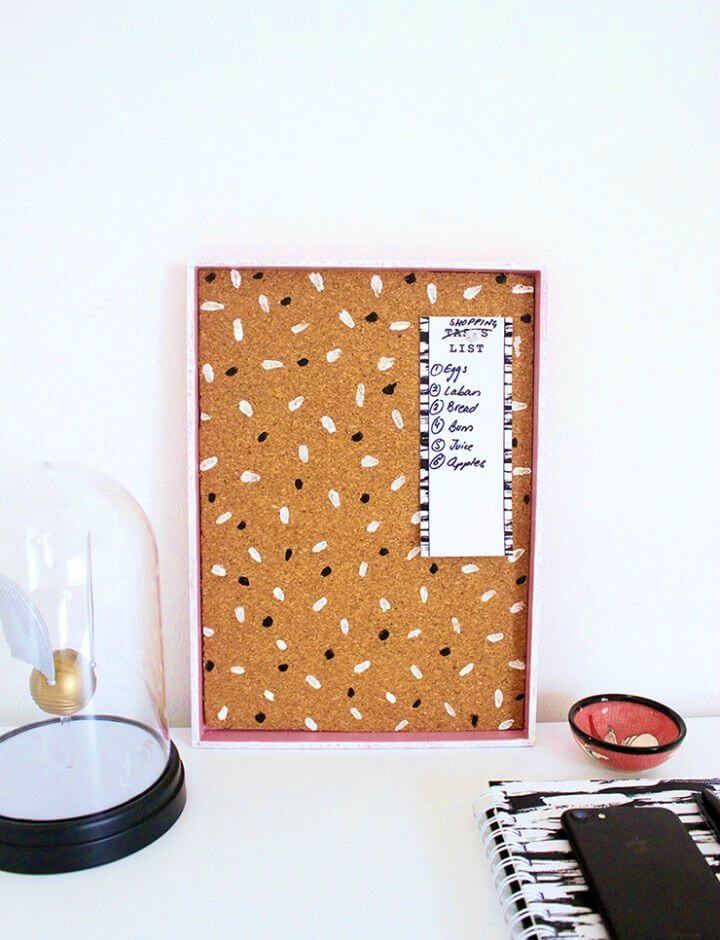 Repurpose your old trays to make adorable memo boards will nicely hold your items, messages, and to-do list to remember all the time. Just add up a tray with a cork sheet, will be super soft to mount your things on using nails or thumbtacks. How-to guides here thecraftables
Make Bath Caddy from Recycled Wood: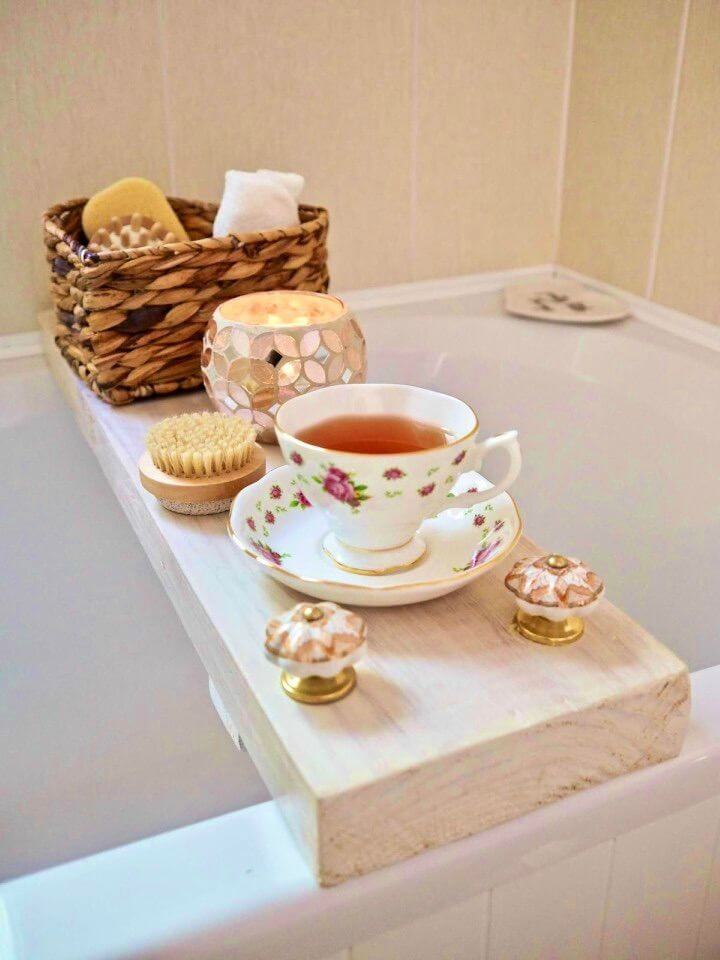 You will love this recycled wood plank will serve in your bathroom. Just sand a reclaimed wood slat well and stain in the way you like, next use it as a bathtub tray, will hold your refreshments, books and candle lights. A simple but great project to do with recycled wood planks. Full how-to guides here daintydressdiaries
Make Rainbow-hued Sequin Piggy Banks: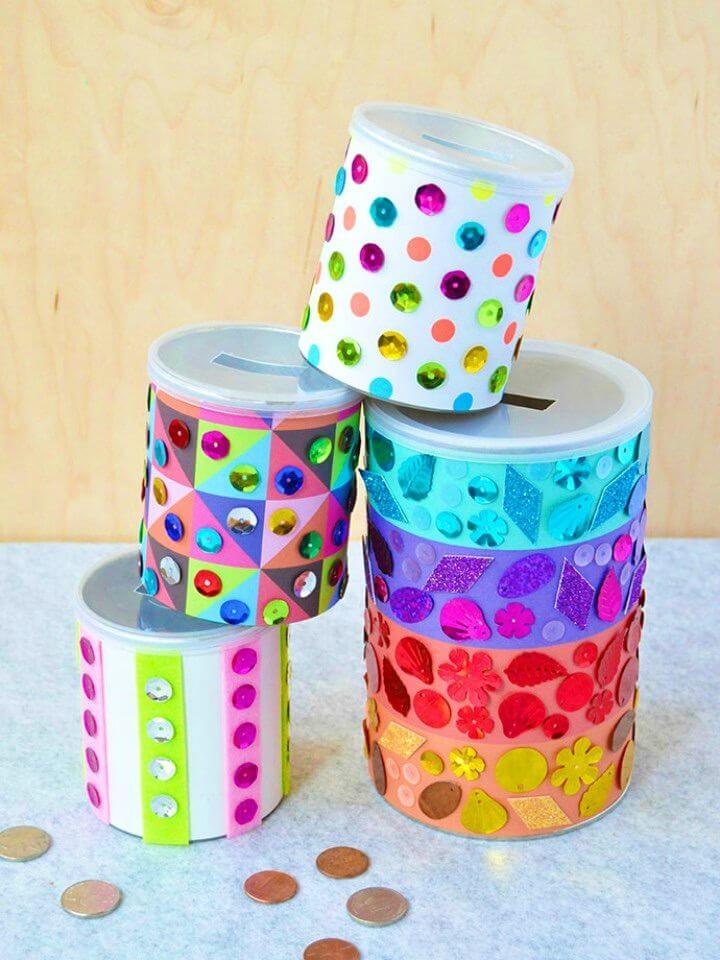 Check these recycling ideas for kids and encourage them in the home to collect the money by giving these sweet rainbow-hued sequin piggy banks. They are cute gifts to give to your kids and every beloved one in or out of the home. Here you need empty chip tubes with lids, decorative paper, and rainbow sequins to do this project. Full instructions here handmadecharlotte
DIY Candle Container to Planter: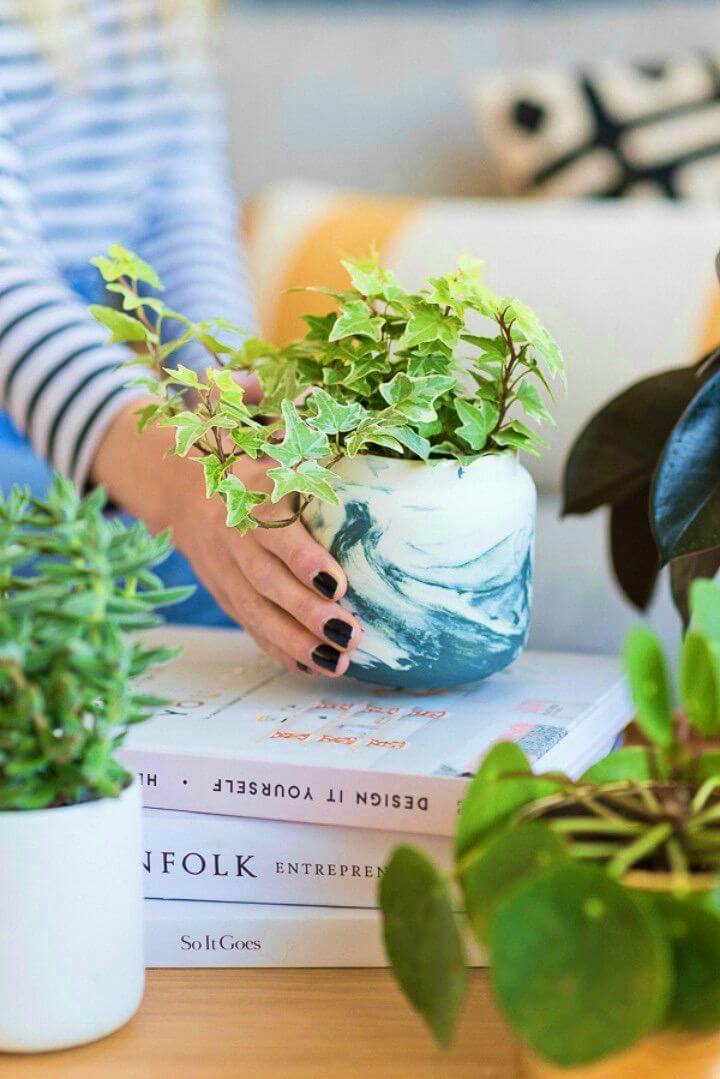 Get also crafty with the empty candle containers and recycle them to build fabulous DIY planters, will make outstanding indoor and outdoor decor. Marbleize the finally completed candle container planters for a gorgeous appeal. Step-by-step tutorial here papernstitch
Simple DIY Cushion Cover from a T-shirt: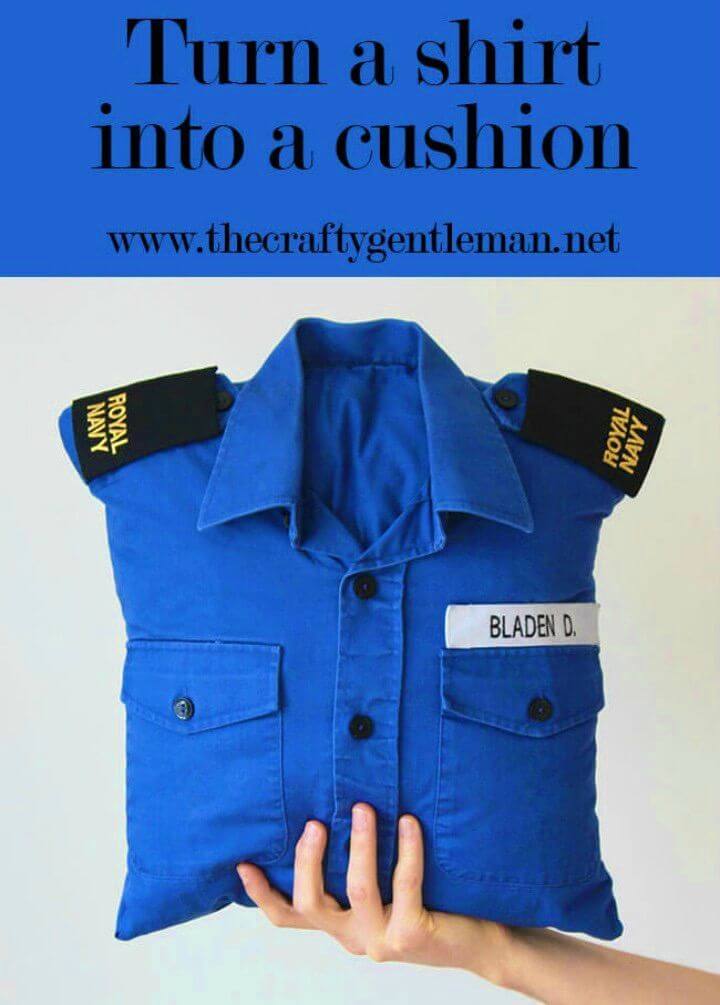 Do you want to see that for which purpose you can upcycle your old shirts? Then sew them a little more and make fabulous cushion covers out of them, a better way to keep in touch with your old t-shirts. Here this cushion cover is made of a navy t-shirt. Full how-to guides here thecraftygentleman
Quick DIY Plastic Bottle Organizer: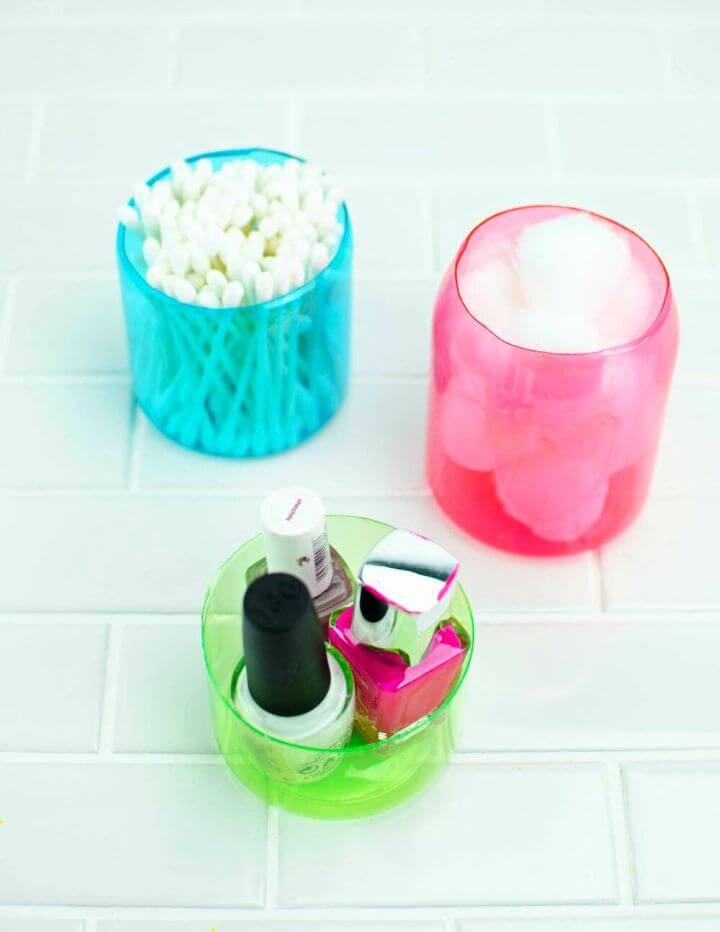 We bring lots of items in a home packed in the plastic bottles, one of the bigger wastes polluting the environments. So, don't throw your plastic bottles to dumpsters to decay in the soil, reuse them to build fabulous accessory organizers like this given one, made of plastic recycling. Full tutorial here alittlecraftiny
DIY Boho Fringed Planter Using Tin Can: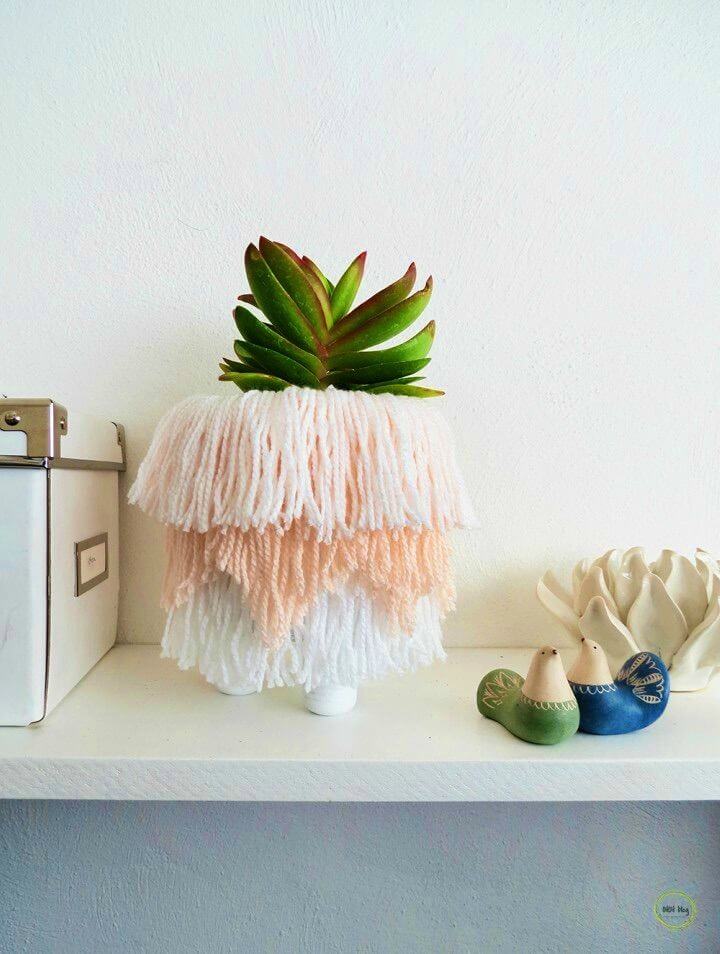 You can't imagine that this bohemian planter of centerpiece worth, is made of a recycled tin can. Add the boho yarn fringe all around the tin cans and next start potting in them to make one-of-a-kind planters for your garden and outdoor decor. Full how-to tutorial here ohohdeco
Cute DIY Decoupaged Water Bottles: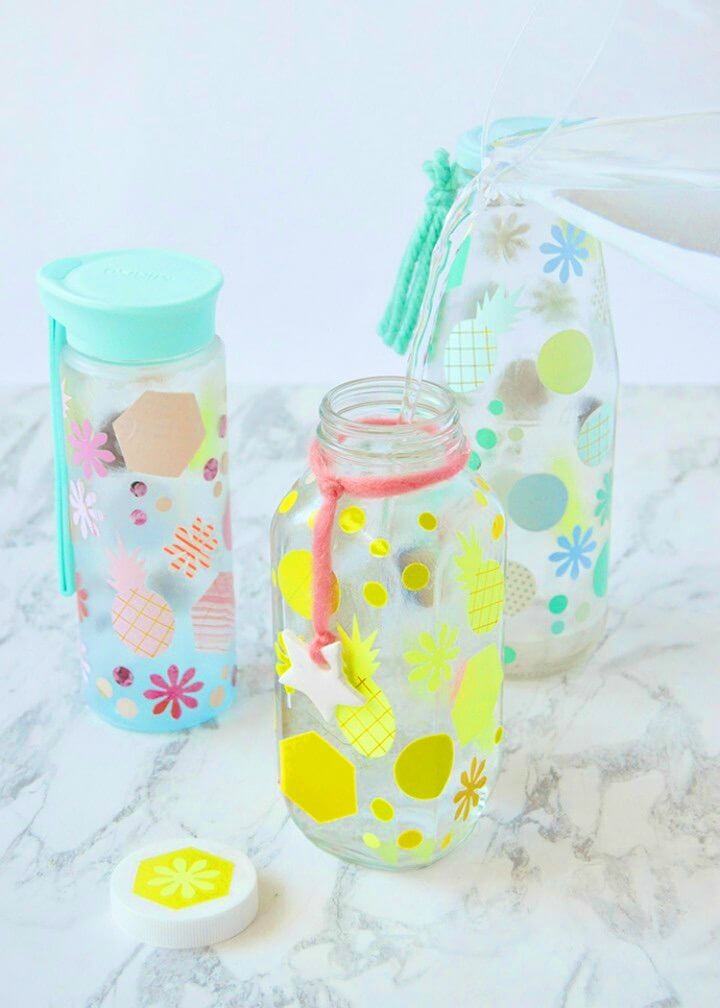 Check out here this another smarter recycled project, adorn the water bottles with a decoupage treatment and next start using them as amazing storage options in a home like as an organizer, accessory holder or as a planter. Complete how-to tutorial here handmadecharlotte
Homemade Tin Can Planters: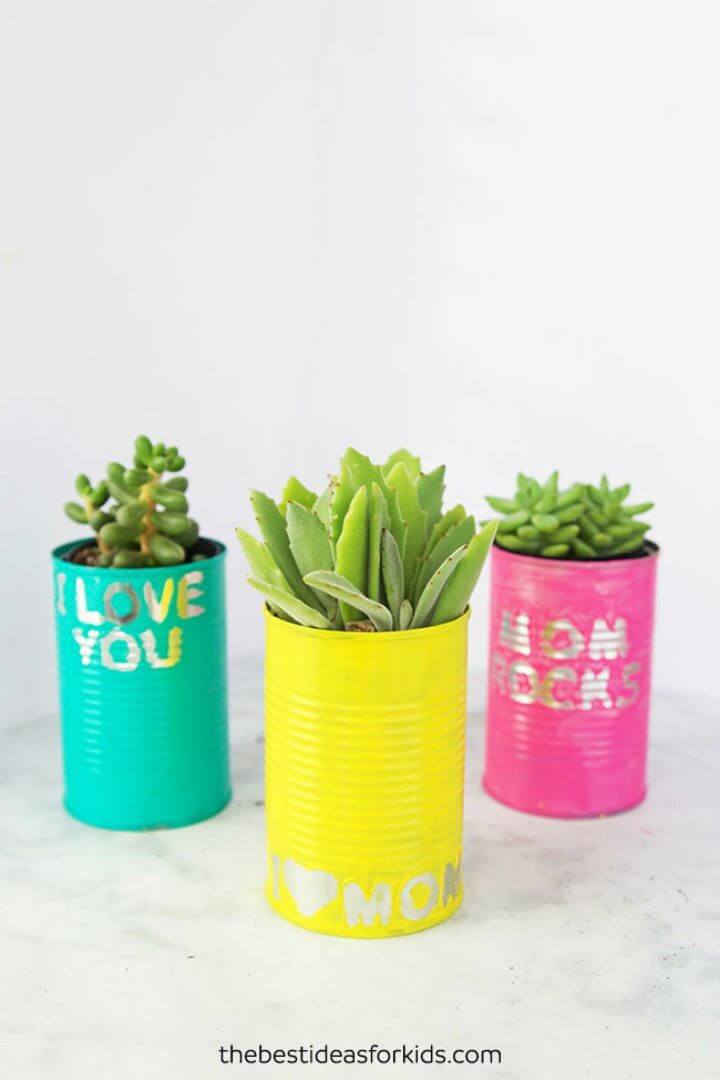 Tin cans are one of the most commonly found materials lying around. They are one of the most versatile material for easy crafts. Paint the tin cans, and then stencil for custom quotes and next fill them up with your favorite planters or cut flowers. You will love the way these tin can planters will serve in your home. Full how-to guides here thebestideasforkids
Make a Felt Rug Out of Recycled Sweaters: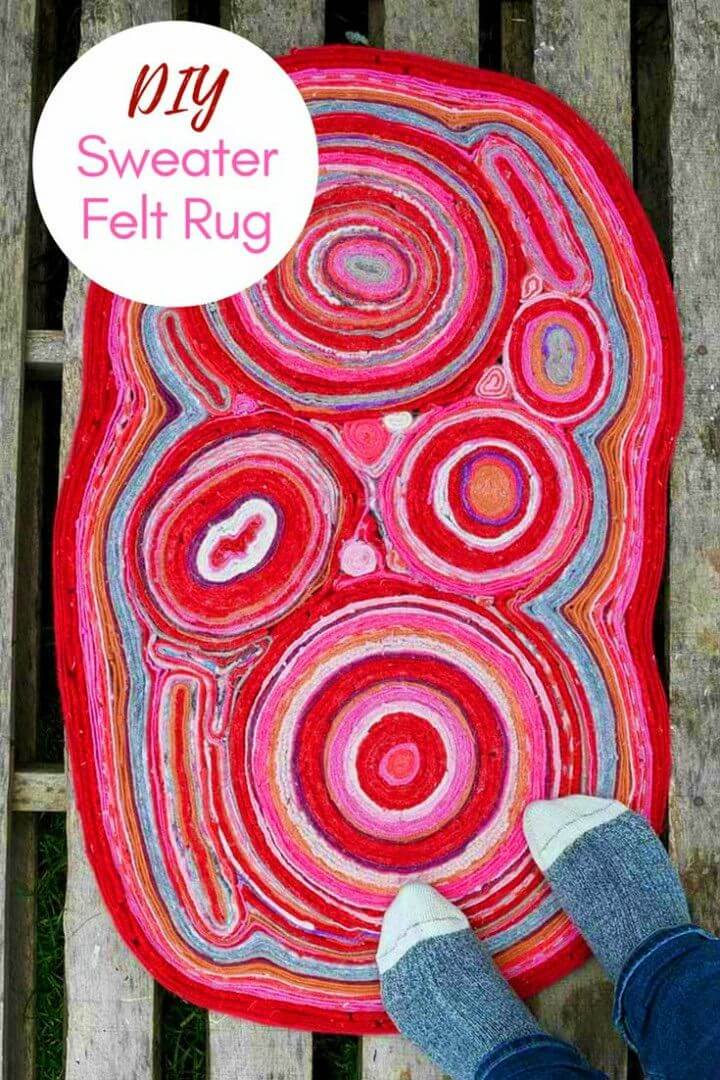 You can't wear the same fashion, again and again! so better way it would be to recycle your old sweaters to make something else extra beautiful like this super colorful felt rug. Use the old sweater and felt to make it; everyone will stare twice at the enticing design pattern of this felt rug. A beautiful recycled sweater project made using upcycling methods. Full how-to guides here pillarboxblue
Empty Diaper Box Into a Fabric Storage Bin: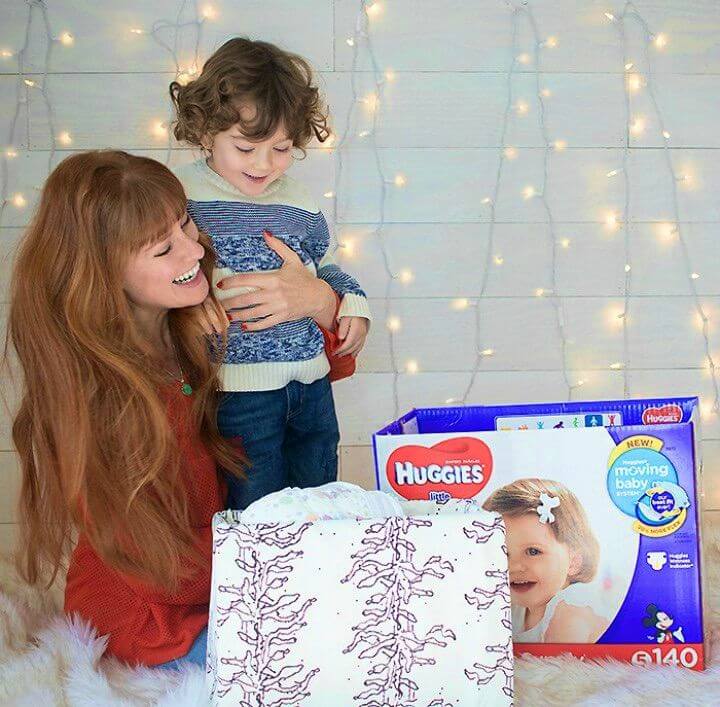 Keep using those old diaper boxes to gain new amazing storage options out of them for your home. Plan an empty diaper box to store the fabric and put your about-to-spend money in your pocket. A better and stylish DIY storage bin to keep stocks of leftover or old fabric. Full how-to tutorial here gina-michele
DIY Flower Vase from Plastic Bottle: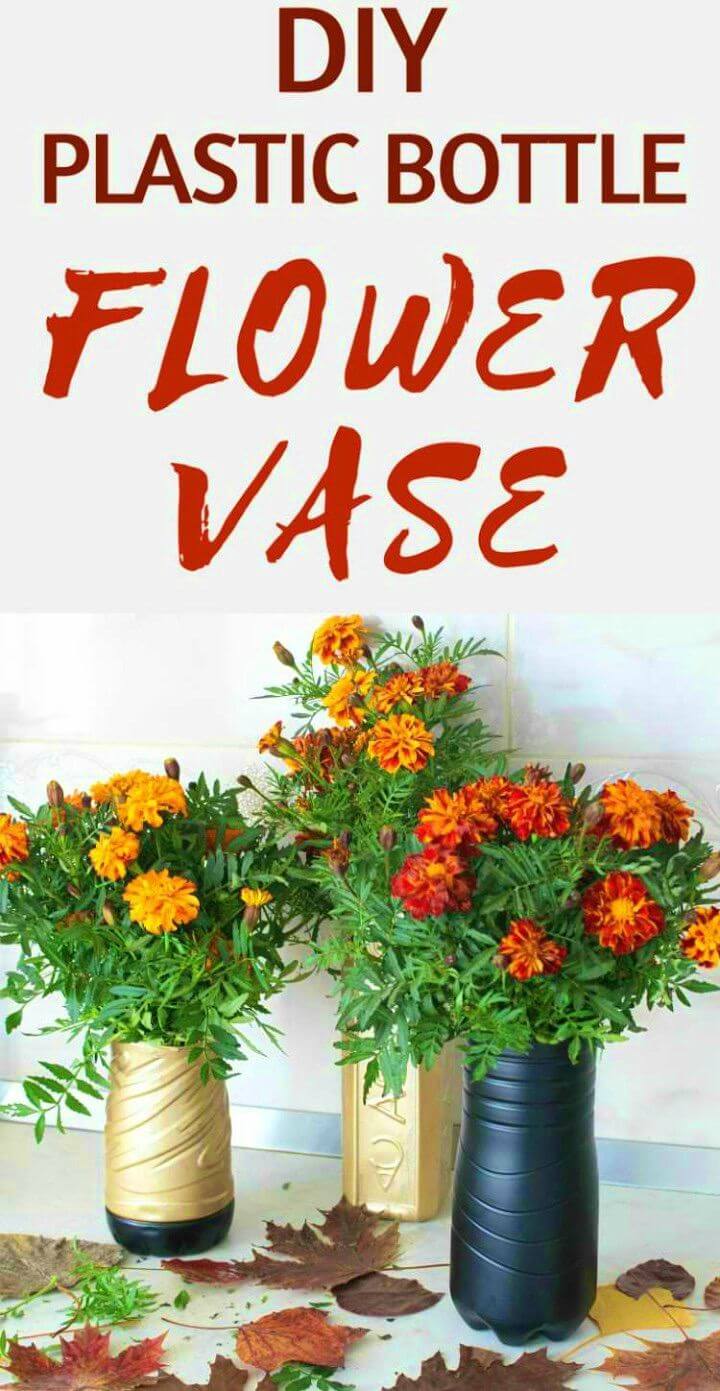 Grab the recycled plastic bottles with fetching design textures, paint them in the way you like, gold and black paint color combination will rock. Next, fill potting soil in your painted bottles and add custom cut flowers and herb stems inside. Get inspired by the sample recycled plastic bottle flower vases. Full tutorial here theseamanmom
DIY Pencil Holder from Empty Tin Cans: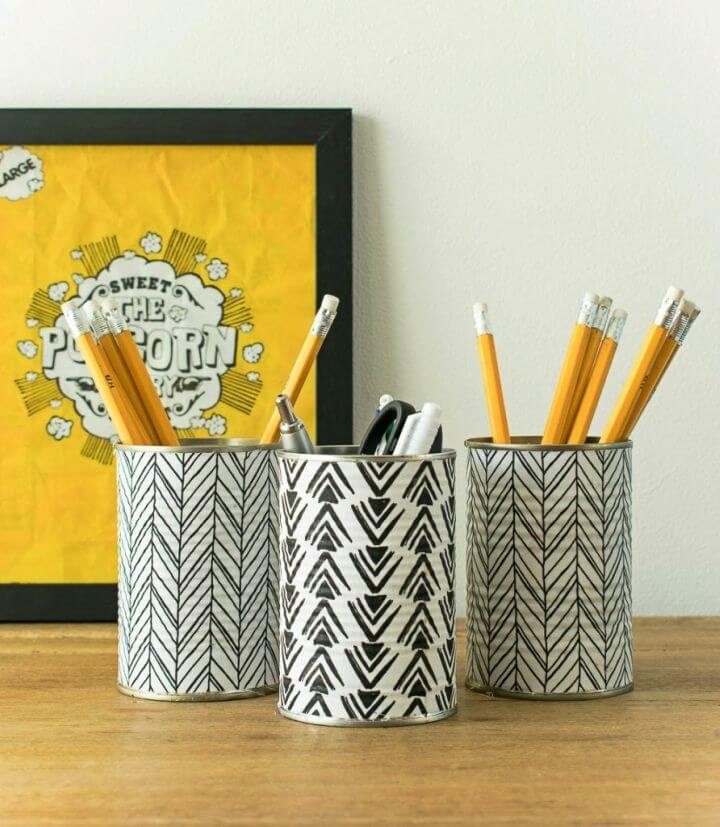 Wrap your recycled tin can in decorative papers and start using them as brilliant pencil organizers in your home. They will rock on a computer desk or a study table and will be a great pleasure to make at home also. Try this pencil holder made from recycled materials here! grillo-designs
How to Make Marbled Clay Bottle: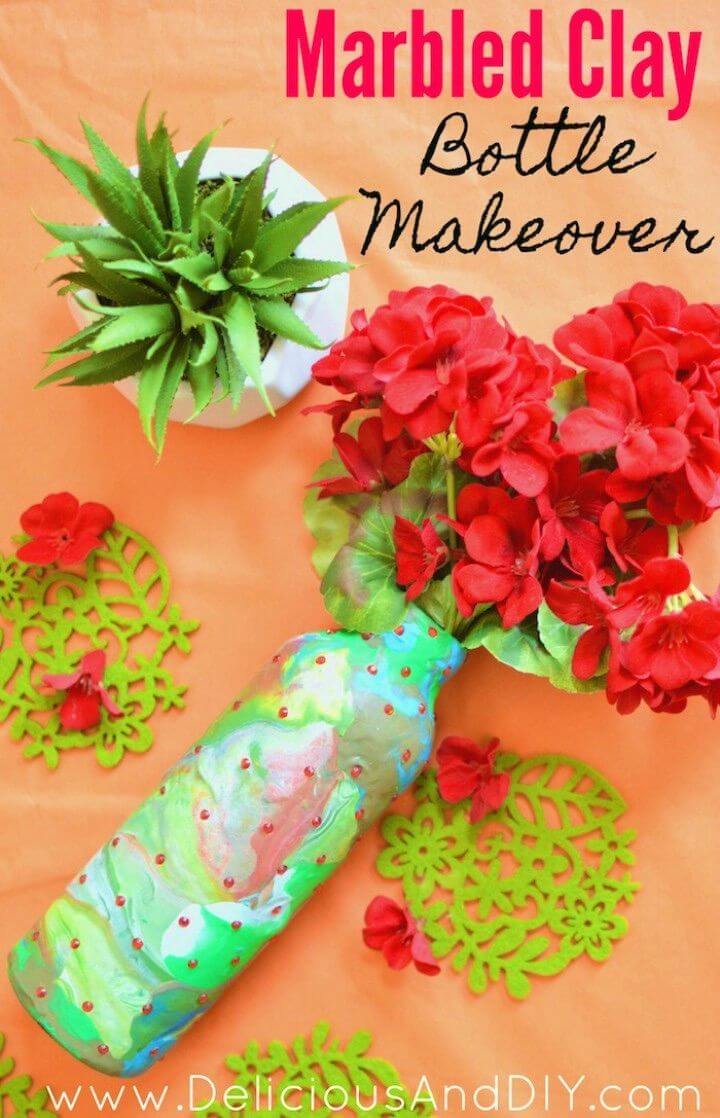 Prep the marbled clay and wrap it around a recycled glass bottle to make a marbled clay bottle vase. Next, finish it up with decorative gemstones and given an oven bake to get a durable centerpiece vase for your DIY home decor. Complete tutorial here deliciousanddiy
Upcycle Cookies Box Into Flower Pot: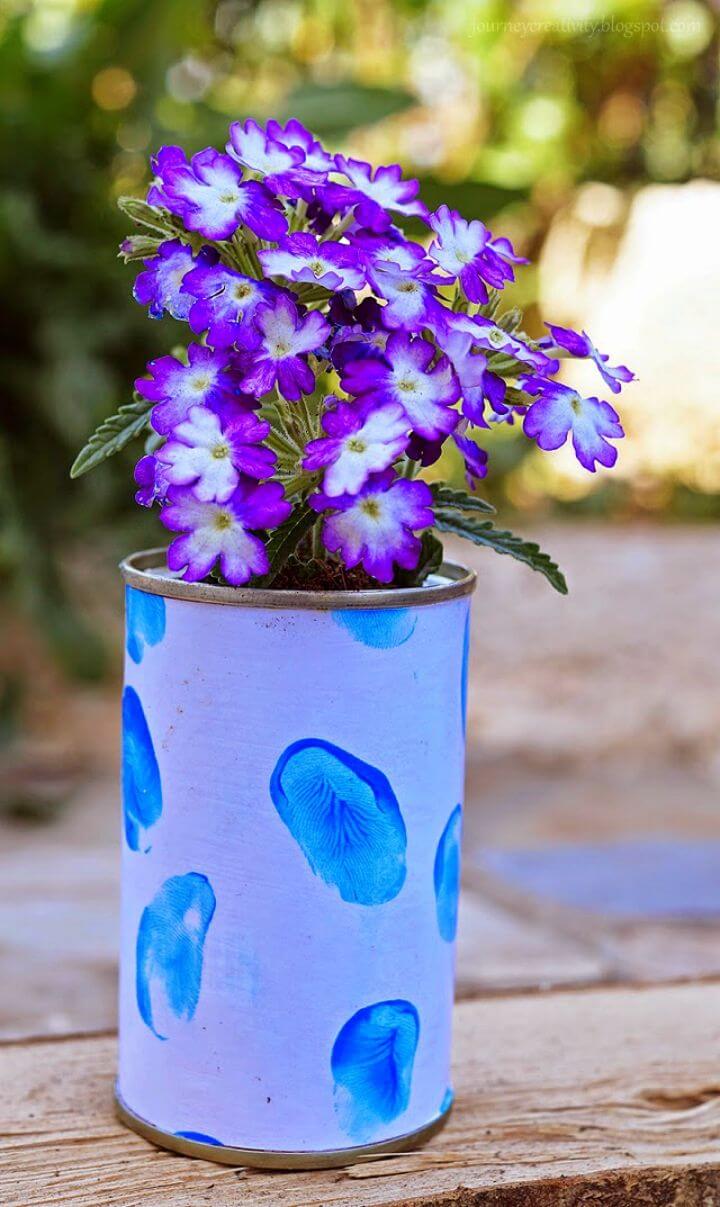 Get the benefits of recycling and repurpose the empty cookies boxes and wrap them in the finger stamped papers. Next, reuse them as enticing flower pots in your garden just by filling a little potting soil in them. An excellently smart garden decor project using recycled items. How-to details here journeycreativity
Upcycled Jean Pocket Pouch: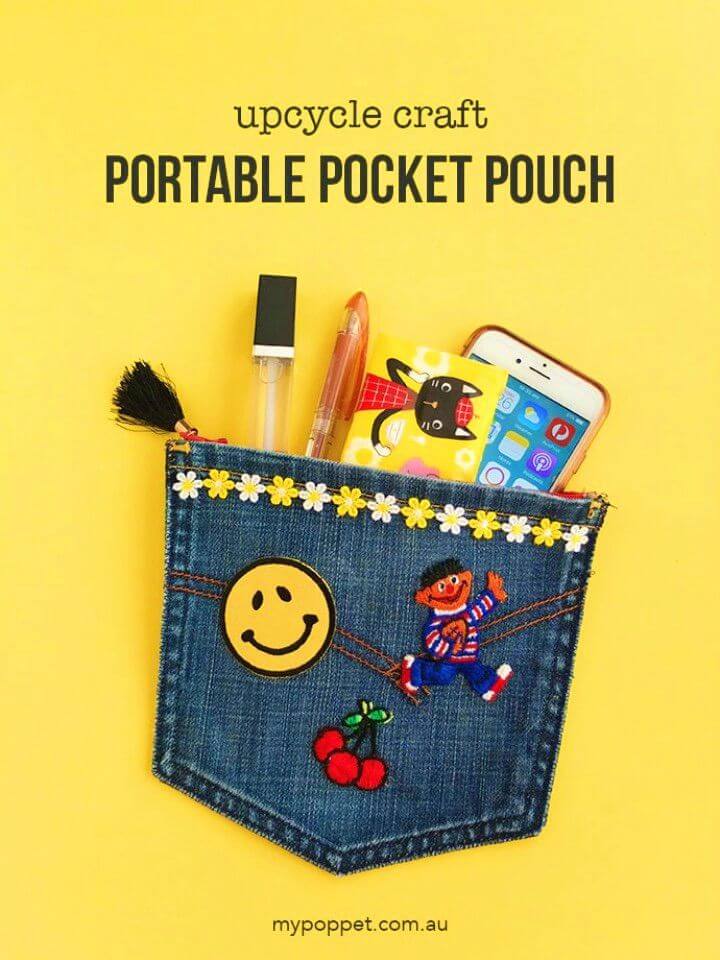 You can't keep up with the same jeans all year long, so reuse your old jeans to make amazing functional stuff, accessories, and DIY home decor projects. Reuse the separated apart jean pockets to make this glam pouch, will also be a cute pencil holder for the kids. Details here mypoppet
DIY Glam Coffee Can Flower Vase: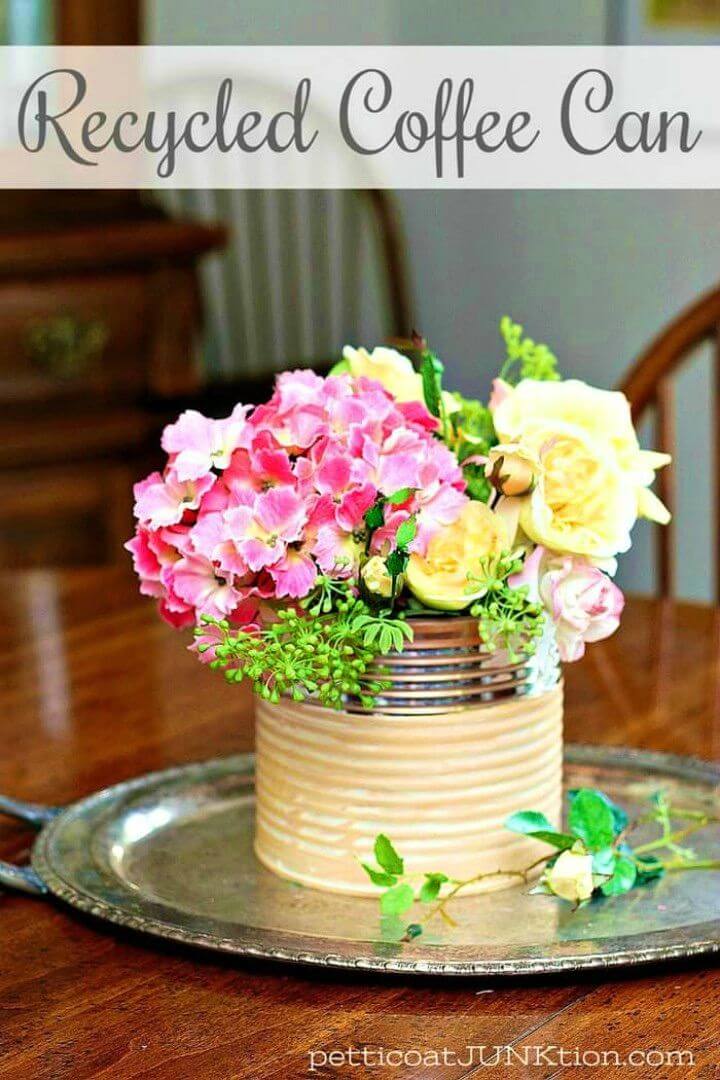 Upcycle the coffee cans to build lasting longer and durable kind of flower vases will never get out of style. Garnish your sitting spaces with the ready-made sample, will greet all the guests sitting around if placed on a coffee or dining table. Experiment this coffee cans with both real or fake flowers. Details here petticoatjunktion
Bird Feeders from Plastic Bottles: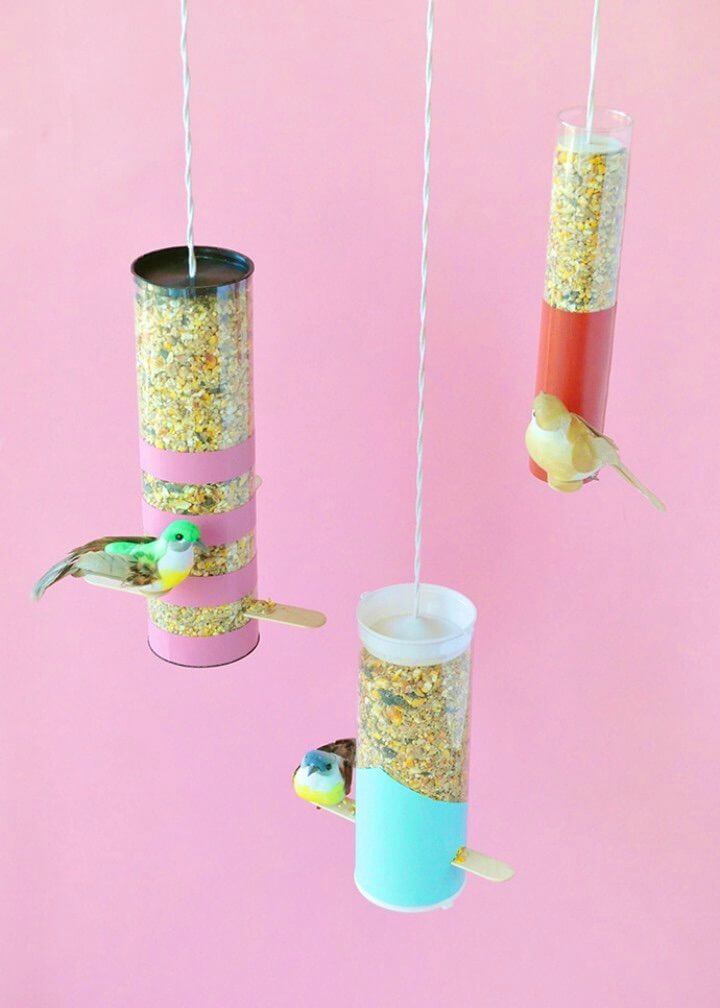 Having nothing to do with the clear plastic tennis tubes? Then do get crafty with them to build outstanding bird feeders, will be a praise-worthy addition to any garden or patio area. Use popsicle sticks to add perches also paint them for custom striped or color block appeal. Step-by-step instructions here handmadecharlotte
DIY Tin Can Silverware Caddy: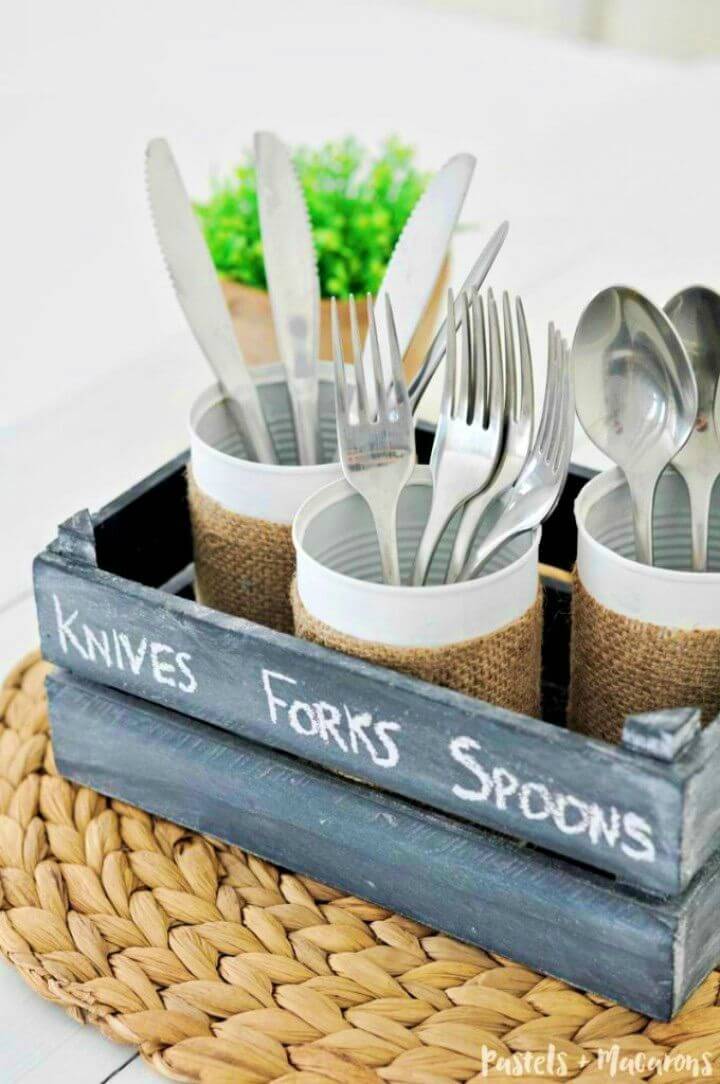 Tin can, when getting empty, make the perfect organizers. Yes, you can fill them with custom items that need immediate storage. Paint the tin cans and get them to organize your cutlery on the dining tables. Need a cool inspiration? Then have a look at this tin can silverware caddy. Full how-to guides here pastelsandmac
Zipless Cushion Cover Using Old Leather Jacket: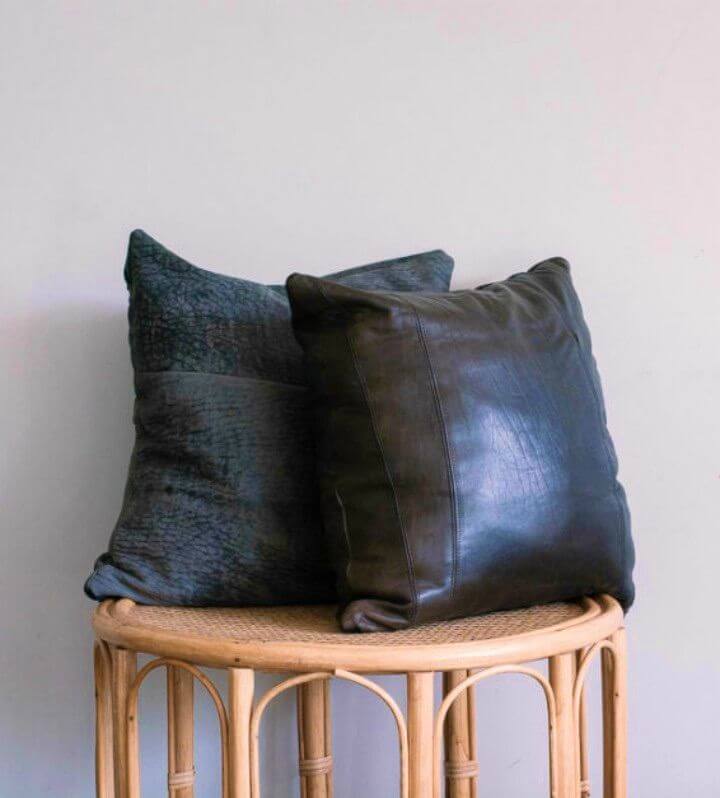 Check out here a better way to upcycle your old leather jackets that are no longer in use. If you have developed love with them, then you must make this zipless cushion covers out of them. An excellent way to keep in touch with your old leather jackets, these cushion covers will last for years to come. Full tutorial here threadbarecloak
DIY Recycled Handbag Picnic Caddy: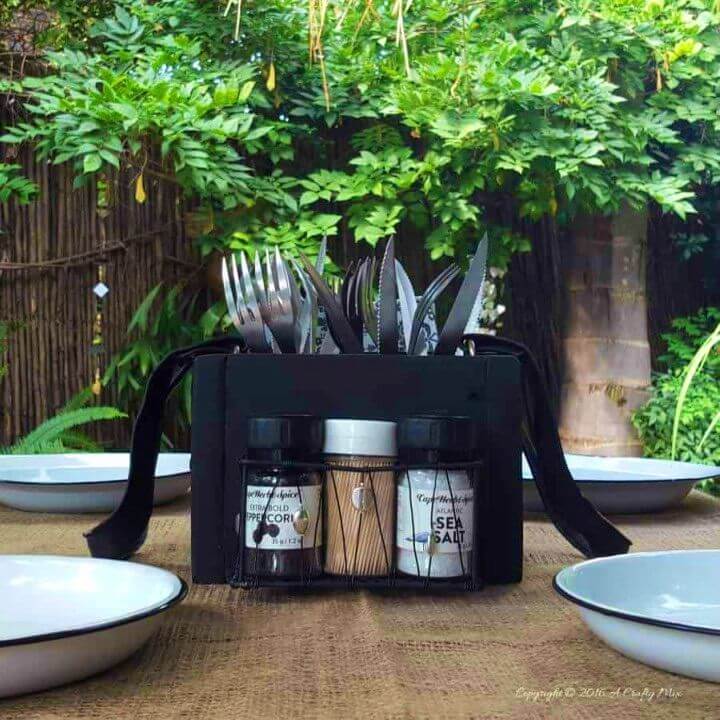 Have you ever thought about what to do with the old fashion accessories while buying new and trendy ones? Upcycle them into something else and different like this picnic caddy made of a recycled handbag. It is easy to carry with caddy and will make you overenjoy a tour or picnic. Step-by-step guides here acraftymix
Easy DIY Cigar Box Chalkboard: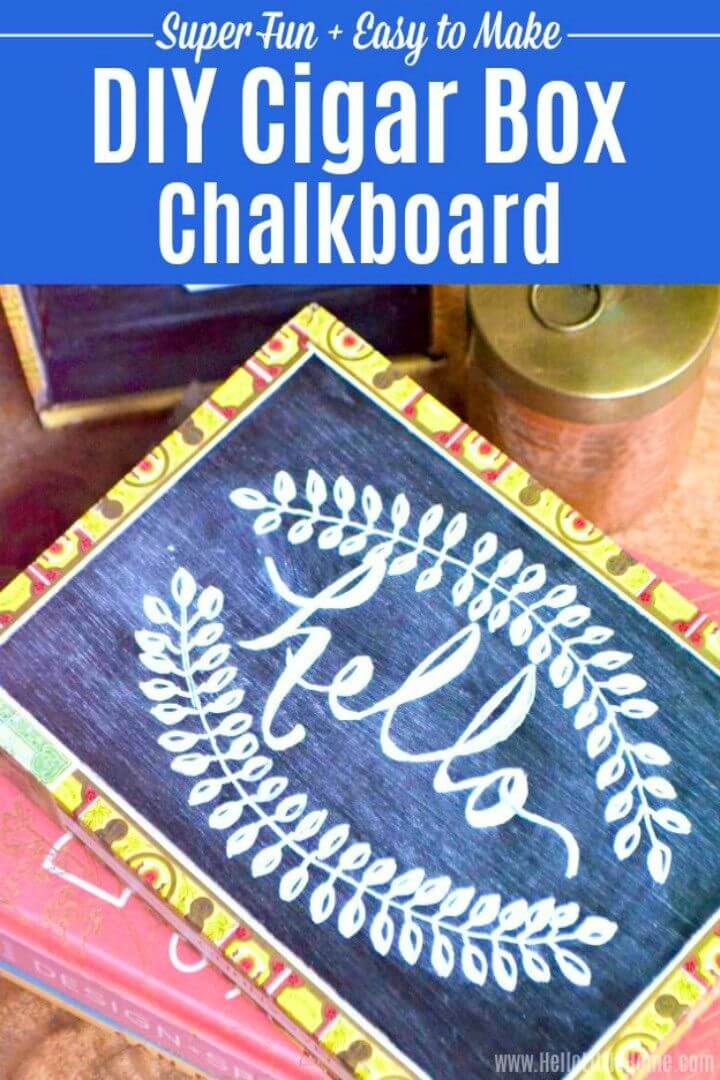 A cigar box, when getting empty, can be used in numerous different ways in the home for both storage and decorative purposes. Employ it to store your accessories or chalkboard paint it to serve as a chalkboard in your home. Write custom quotes inside or draw custom art shapes outside. Full how-to guides here hellolittlehome
Antiques Paint Cart from Old Cupboard: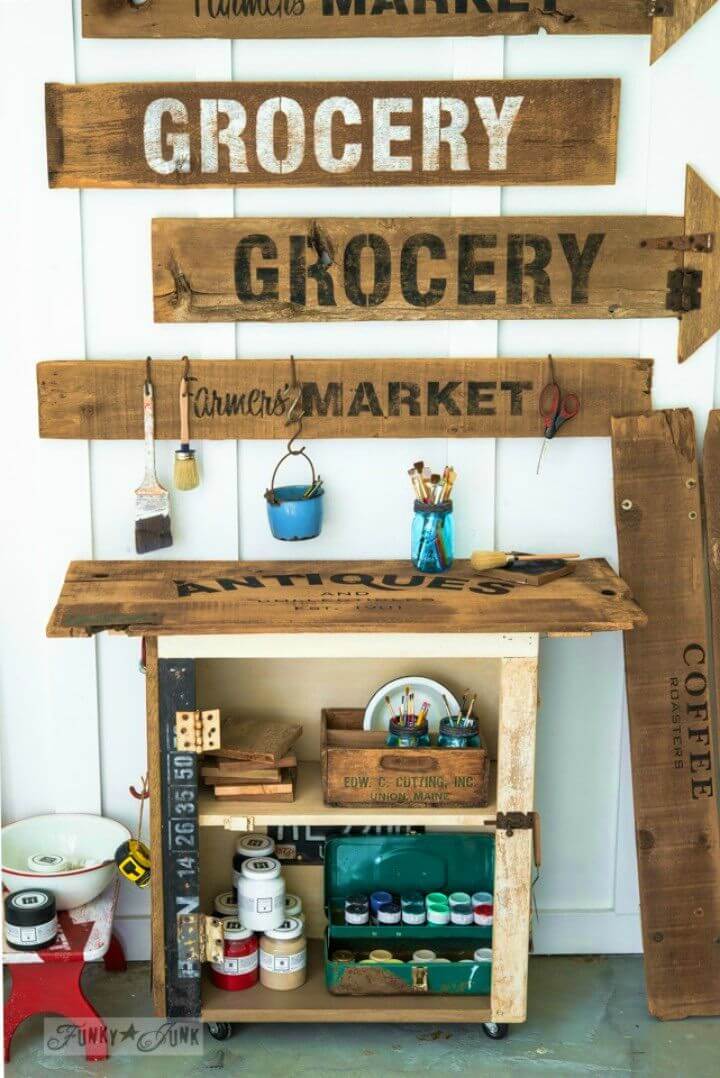 You will pass lots of praising comments after looking at this paint cart, a smartly creative remake of an old cupboard. Use extra wood to install the edged top, add hooks in the side for tool hanging and hang the antique stenciled wood plank signs on the background wall for casting a rustic atmosphere there. Full how-to guides and tutorial here funkyjunkinteriors
Wall Pocket Organizers from Lotion Bottles: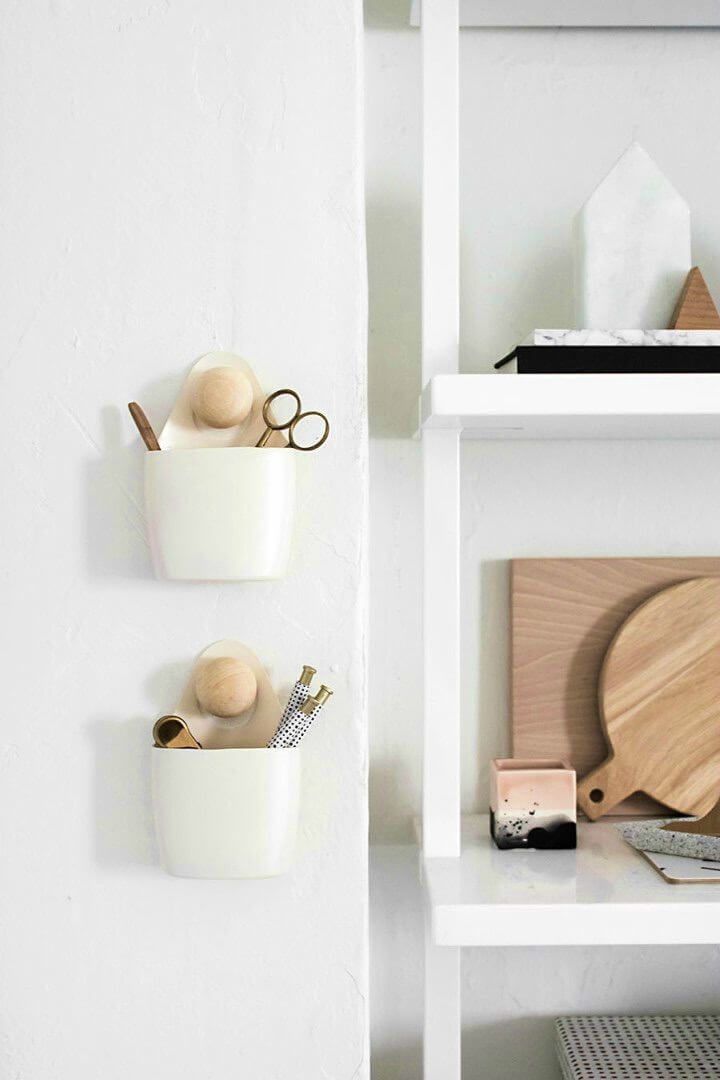 Don't trash away from the old shampoo and lotion bottles. They can be of great importance when need to organized. Yes, cut them half and hang on the wall hooks as next most affordable wall pocket organizers, will nicely hold your tools, materials, and accessories. Complete how-to guides here homeyohmy
You may also like these unique and imaginative wall storage ideas to decorate your home walls in a unique style.
Makeup Storage Trays Using Shoe-boxes: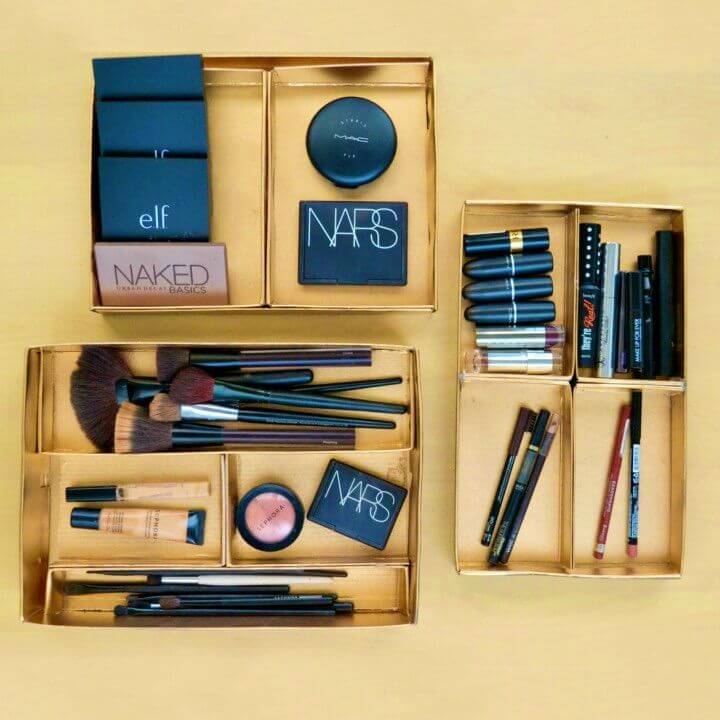 Get helped by the empty shoe boxes in alluring makeup organization. Yes, use the empty shoeboxes to store your makeup. Spray paint the shoeboxes for a custom appeal and add dividers for smarter storage options in them. One more recycled craft project that all style lovers will love. Full how-to guides here sparkandche
Awesome DIY Aluminium Can Vase: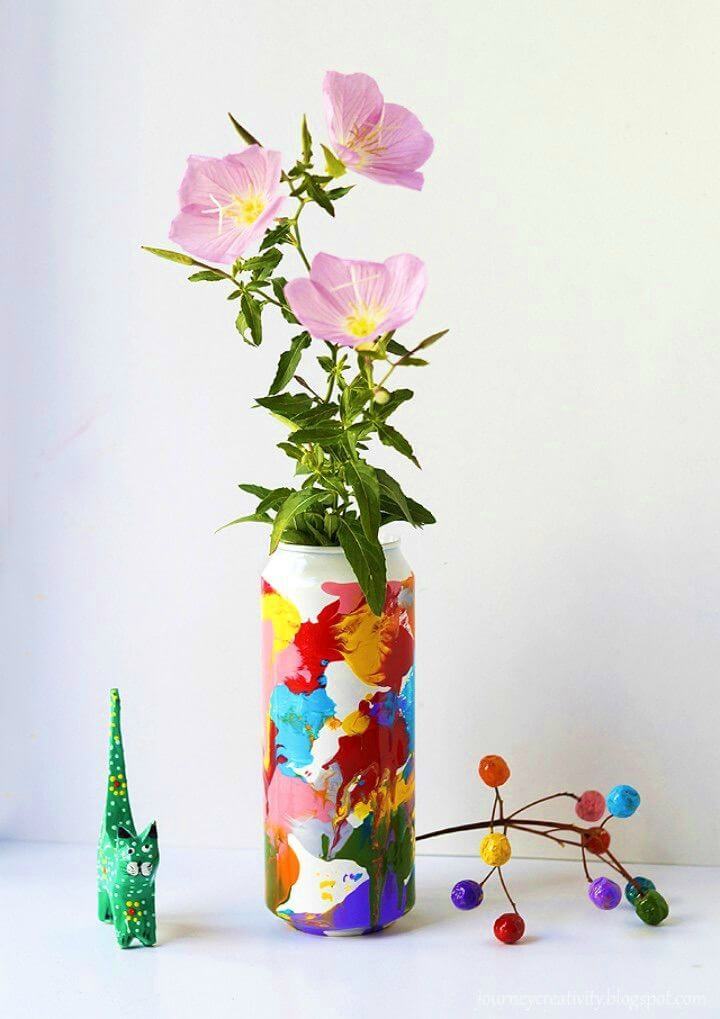 Are you a big fan of interesting things? Then you will get ten out of ten to this colorful aluminum can vase, a bizarre vase to get for any space garnishing. Spray paint an aluminum can, then roll over the colorful paint dots for a colorfully painted appeal. Finish with your favorite cut flowers and enjoy. Complete how-to guides here journeycreativity
Homemade Jetpack from Soda Bottles: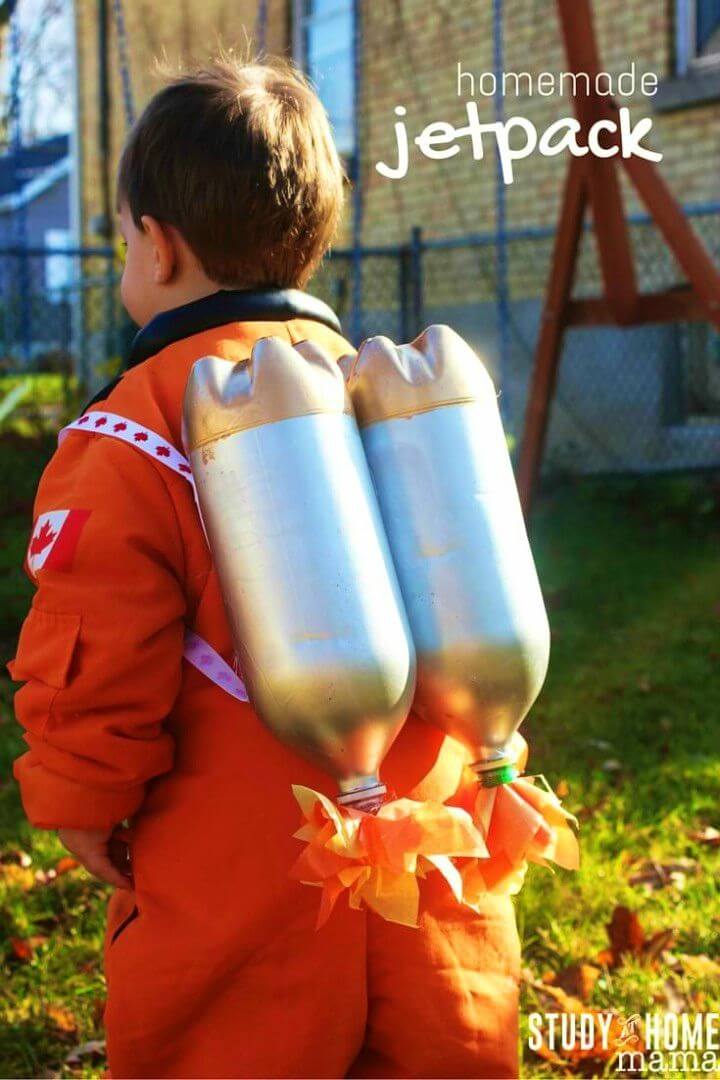 Please, your kids who want to be an astronaut with these soda bottle jetpacks, easy to make kids fun gift. This recycling project will also help to boost outdoor activities of your kids. Spray paint the soda bottles in any metallic paint for a metal look and make the bursting fire using red and orange paper strips. Guides here sugarspiceand
DIY Up-cycled Indoor Herb Garden: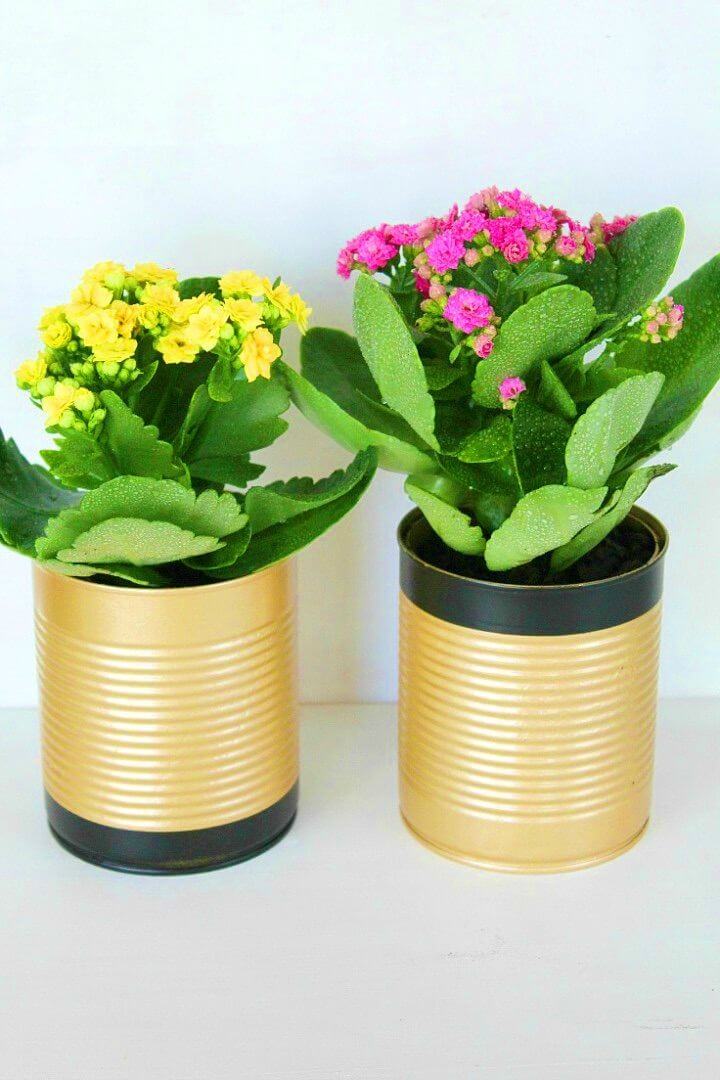 Tin cans can be your next inspirations to jazz up your indoor spaces. Manage a good stock of tin cans as per the demand of decorative vases to have in-home. Spray paint them in gold or copper for an elegant metallic appeal and then start planting herbs in them to make beautiful indoor herb gardens. Full how-to guides and tutorial here lovelyindeed
Make Recycled T-shirt Market Tote: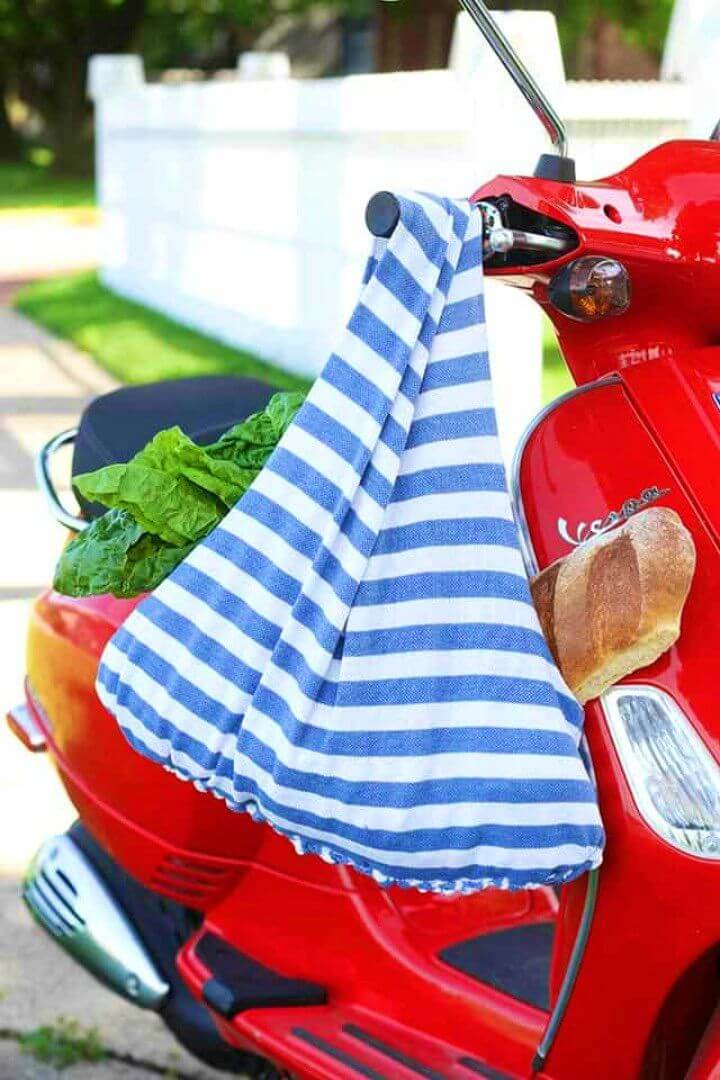 Repurpose old t-shirts to make this very special market tote, will turn shopping into big fun. This handsome tote bag will be super easy to sew and soft to wear over the shoulder. This project will involve precise fabric cuttings, taking measurements, and accurate sewing. Full tutorial here helloglow
Up-cycled Rainbow Pallet Flower Garden Planter: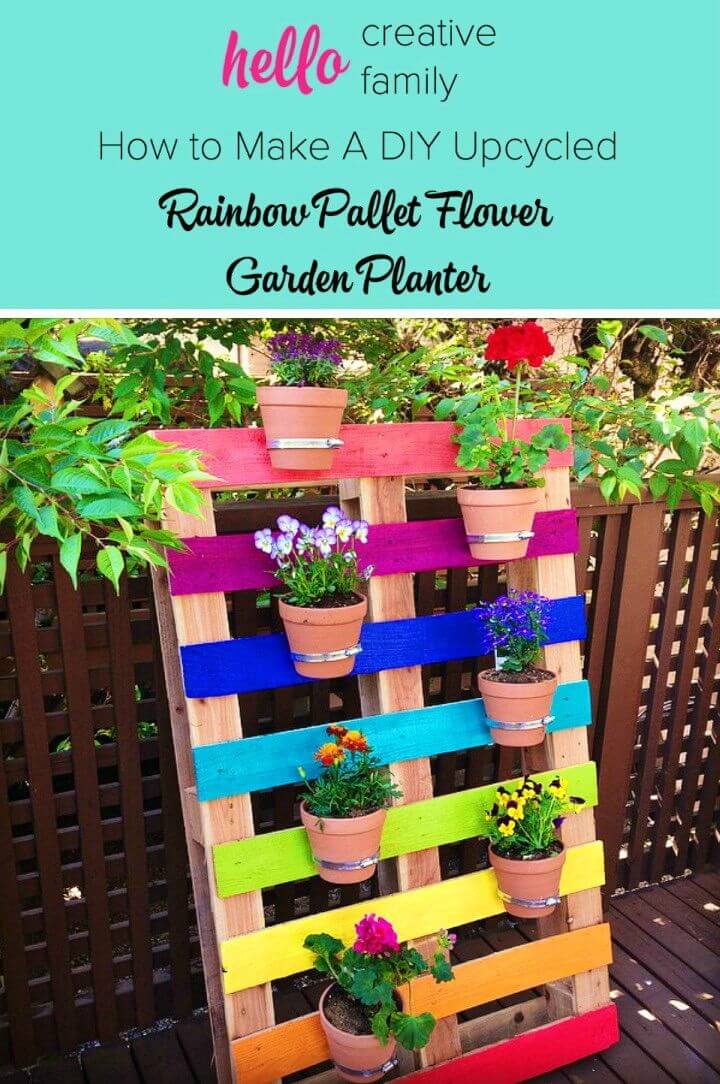 Improve the overall aesthetics of your garden by building a gorgeous focal point inside. This rainbow pallet vertical planter will make an ideal choice in this case. Paint each deck board slat in different paint color and then make them hold the planter buckets using hose clamps. Full tutorial here hellocreativefamily
Gorgeous DIY Recycled Jeans Tin Can Planters: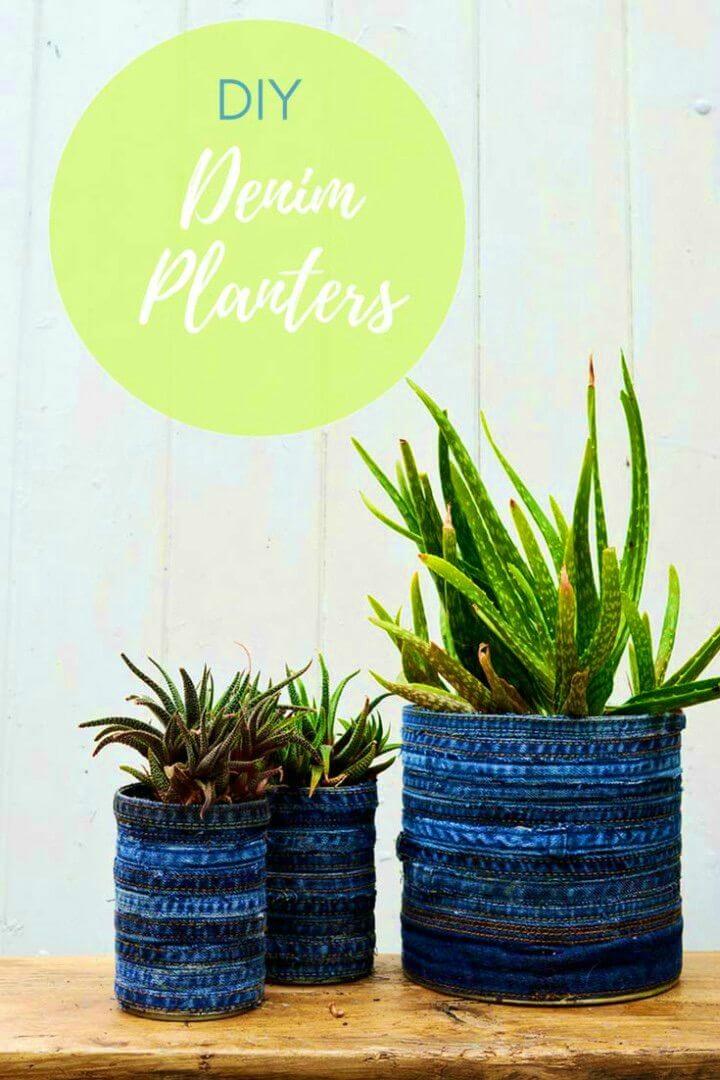 Accomplish your enticing decor desires with these recycled jeans and tin can planters, everyone will love to stare at twice. Wrap the recycled tin can in the old jean fabric and build gorgeous denim tin can planters. Get your coffee tables, accent shelves, and decorative mantled graced up instantly with these recycled planters. Step-by-step instructions here pillarboxblue
How to Turn Paint Can Into Ice Bucket:
Clean the empty paint can and wrap in decorative papers for building awesome ice buckets, will raise your party fun. Employ also your recycled paint cans to add brilliant storage in your home. They can perform in several different ways at home. Full tutorial here heyletsmakestuff
Grocery Bags Into Toy Storage Bin:

Get your hands onto the grocery bags and start employing them storing toys in kids rooms and bedrooms. Here the grocery bags have been stenciled for brilliant art names are looking damn cool. This creative recycling will never make you put the grocery bags in the trash again. Complete tutorial here hellowonderful
DIY Painted Glass Bottle Vases:

The glass bottles are ideal things to make decorative vases, and you can paint them for a striped appeal for more amazing looks. Use the masking tape and then spray paint your glass bottles for a graceful striped look, next fill with your favorite cut flowers. How-to details here homeyohmy
Make Baby Blanket Using Up-cycled T-shirts:

Earn more love of a mother-to-be friend by making this gorgeous baby blanket, made of recycled t-shirts and can be given as a sweet handmade gift. Take good care of your old t-shirts as they can be next most comfy blankets for your babies. Full how-to instructions here polkadotchair
How to DIY Succulent Planter:

The succulent planters are the most favorite when need to bring the natural decor vibes to space. Grow them in the recycled lanterns to let them do more decorative to your spaces. Look at the creative designs, that are looking amazingly beautiful, will be a graceful addition to a dining or coffee table. Details here consumercrafts
DIY Up-cycled Rustic Rope Planter:

Make your way to expensive decor by recycling the plastic bottles. Yes, they are damn feasible to turn into planters, can be brought to a unique rustic appeal by wrapping jute or rustic rope around as you can see. A brilliant recycled plastic bottle planter to make at home. Full how-to guides here acharmingproject
Recycle an Old Bike Frame Into a Wreath:

The wheels from the old and broken upcycle may have great recycling ideas for home and can be recycled in many different way sin home. Upload some greenery and faux flowers on painted recycled bike wheels and use it as a brilliant decorative wreath on the wall, will give a warm welcome to a spring season. Complete how-to guides here daintydressdiaries
Simple DIY Cookie Sheet Magnetic Board:

Upcycle the cookie sheets to make brilliant magnetic boards, will make outstanding memo boards for a pegboard wall. Here sample magnetic board hangs on the wall through rustic rope and will whip up super quickly. A recycled project that is truly a big fun to do. How-to details here craftsbyamanda
DIY Advent Calendar Using Egg Carton:

You will love this creative concept to recycle the egg carton, and they can next be hanged on your favorite walls as a gorgeous advent calendar. It will come packed with interesting candies gifts and surprises and will be a big surprise itself too. Here is how to make it ohohdeco
Make Sunburst Mirror with Plastic Spoons:

Repurpose the wood spoons to make cool sunburst mirrors, will be loved dearly by all the home lovers at home. Basic materials you need here are the foam core board, round mirror, and white plastic spoons. The most beauteous type of decor to add to any interior home wall. Complete how-to guides here creativegreenliving
You recycle the driftwood for your DIY home decor projects; for this purpose we have these best driftwood mirror for you to DIY.
Recycle Plastic Bucket Into Small Stool for Children:

It would definitely be a unique concept for you to transform a plastic bucket into a small stool, will work great as stepstool for kids. Grab a plastic recycled bucket, give smart cuts to gain art style legs and then make use of a wooden round to install a durable stool berth. Full how-to guides here ohohdeco
How to Make Denim Play Crown:

Denim is one of the most durable and good looking fabric, use it also to make lovely crowns for little girls and kids. Cut and sew a crown out of denim having saw-tooth edges and next sew on fabric start and diamond accents. Get inspired of the given crown, the perfect gift to give to a kid. Full how-to tutorial here creativegreenliving
DIY Sushi Mat Makeup Brush Roll:

If you strive for good looks all the time and love to keep your makeup with you then you must make this sushi mat makeup brush roll, will take good care of your makeup brushes. Just wear through a red hot ribbon that will hold the makeup brushes in place beautifully. Full how-to tutorial here cremedelacraft
DIY Vintage Suitcase Table:

Raise the vintage recycled suitcases onto reclaimed wood stools and build fantastic suitcase tables, will make brilliant nightstands and side tables. The turquoise painted appeal will never get out of style. A perfectly cute and stylish vintage table to make with recycled items. Full how-to guides here awesomesauc
DIY Planter with a Plastic Bottle:

It would be easier to start potting in half cut recycled plastic bottles, so why not put them in recycled fabric baskets, for making more epic and glam looking fabric planters, will keep their shape. Some highly epic work has been done here to impress you. Get any space look elevated with this glorious handmade planter. How-to tutorial here ohohdeco
DIY Apron from a Button-up Shirt:

May be you are having lot of button shirts lying useless in your home. So, do get busy them with your scissor and sewing machine to sew beautiful aprons out of them. They will make a cool gift for a kitchen mom and for everyone who loves to be in the kitchen all the time. Step-by-step instructions here mybluprint
Make Ottoman from a Tyre and Rope:

Get your living room styled up with this recycled tire and rope ottoman, will be a graceful rustic addition to any room. Cover both sides of a tyre with wooden rounds, next wrap the rope all around until everything gets covered. Step-by-step instructions here home-dzine
DIY Recycle Tire Planter:

Just cover solid the bottoms of the recycled tyres and paint them in enchanting different colors. By doing so, you will get some beautiful , super durable and cost-efficient planters for amazing garden renovations. Checkout here an alluring rainbow stack of different painted recycled tire planters. Full instructions here lemonbeanandthings
How to Make Light Bulb Vase:

Repurpose also your old glass bulbs and build the amazing vases out of them by removing their metal backs. Fill little water in them and finish by putting some cut flowers in the glass bulb vases. Use the solid wire to make self-standing light bulb vase sands, will beautifully hold your vases and other accent. How-to tutorial here themerrythought
Candy Stand Using Repurposed Plastic Bottles:

Separate apart the solid bottoms from the plastic bottles and then tier them up on a wooden dowel making a lovely candy stand. A genius recycling of plastic bottles that are often to lying around as a big plastic waste. It comes with a flat round plate stand to stand alone in a style. Full how-to guides here instructables
Make a Ketchup Bottle Hanging Bird Feeder:

Allow your favorite birds visit your garden everyday by building gorgeous feeders for them. Make also a cool bird feeder out of recycled ketchup bottle and it can be hanged aloft in your garden as a brilliant hanging decor too. Complete how-to tutorial here wildlifegadgetman
Build French-style Bench from Old Chairs:

Bring a touch of French style living to your garden by building this French-style outdoor bench is a brilliant sitting furniture creation done with two old chairs. Combine the separated apart chair back with rear legs, through a big robust bench birth and here you go. Full tutorial here anoregoncottage
Recycled Shutter Mason Jar Herb Garden:

Window shutters are also one of those materials that are easy to find and can be recycled in tons of different ways. Add up a wooden window shutter Mason jar herb planters, can easily be mount on the wood shutter using white accent ribbon. Decorate it more using a floral wreath too. Complete tutorial here sheknows
DIY Coffee Can Into a Planter Bucket:

Do simple creative operations and give your expired materials a life again! Often the coffee cans are not more than a piece of trash, but they can help create a joyful spot anywhere in your home by being a gorgeous planter bucket! Nothing you have to spend to get this beauty! Tutorial here thewickerhouse
How to Turn Tin Can Into Luminaries:

It has always been a matter of great pleasure to jazz up the most visited places in or out of your home with a lovely assortment of light decor! Repurpose the tin can to make no-cost but arresting luminaries, will spread romance to any targeted space! How-to details here consumercrafts
DIY Quilt Rack From a Headboard:

If you make a quick search in your home trash store where often the crumbled furniture pieces are stored then time to take out an old headboard from there. Refurbish a headboard and start organizing the quilts on its spindles getting a gorgeous quilt rack, a prudent smart recycled project for home organization. Details here brepurposed
Turn Dresser Drawer to Storage Box:

Let the old dresser serve more in your home by doing a little creative recycling with them. Take the dresser drawers out and paint them for getting into the targeted appearance. Add legs for a cool height and cushion its inside if you are going to use it as a pet bed. It will work ideally to store toys. Full how-to guides here twoityourself. You may also like this easy to make a DIY Cat tree for your cats.
Upcycled Lampshade Vases:

Decorative lampshades are the real beauty of light lamps so you can separate them apart from old lamps for making decorative stuff like these cool and colorful vases. Decorate the recycled lampshades for a gorgeous fun appeal and fill with greenery and cut flowers then. How-to tutorial here thehousethatl
How to Make Upcycled Utensil Holders:

The recycling can be a very first aid to environmental pollution so be in it to contribute in getting healthy ecosystems. Upcycle also the old wood chunks and lengths to make something very special, will serve long throughout your life like this utensil holder, a handsome kitchen decor too. Full how-to guides here homemade
How to Turn Candle Jar Into Cotton Ball Holder:

Don't throw your things away that you can recycle, it will add in the environment pollution. So, instead of putting the old candle jars, make brilliant organizers out of them like this cotton ball holder. An amazing reuse of a candle jar getting retired from your home. Full tutorial here dwellbeautiful
Build a Found Bed Frame Bench:

After looking at this bench you will never think again to waste an old bed? Use extra wood and recycled old bed headboard and components to build this stable outdoor bench, has an arresting design appeal. Use decorative crystal finials and wood accents to decorate the bench design more. How-to tutorial here hometalk
Easy to Make Teacup Bird Feeder:

See your old teacups and saucers feeding your favorite birds in your garden. Give them a birdseed fill and hang above on a height to be easily accessible to birds. Here rustic jute or rope provides table hanging to teacup bird feeder. Complete how-to guides here practicallyfunctional
DIY Repurposed Colander Pendant Lights:

Upcycle a colander also to build fascinating pendant lights, will never get out of style. Being just above your dining table or kitchen countertops, they will be a big reason of extra grace to both in your kitchen and dining room. Use a pendant lamp kit and a colander to make colander pendant lights. Recycled projects details here handimania
How to Make Enamel Mug Organizer:

Get also a big help from the enamel mugs to get organized. Yes, fix your recycled enamel mugs on a wood plank in custom horizontal or vertical arrangements and get a brilliant organizer there on the wall. The best part is you can also avail the mug handles as hooks to hang your stuff safely. Full tutorial here homeroad
Repurposed Shutters Bathroom Shelf:

Don't spend a lot in buying new things as you can build most of them with recycled materials. This bathroom shelf will surely make you think out of the box, a repurposed shutter project for instant bathroom organization. The best shelf to organize toiletries and to display bathroom decor too. Instructions here simplicityinthesouth
How to Make Shutters Organizers:

Proceed with recycled shutter in your hand to style up your home, give them a stable wall mount and add up with custom knobs, hooks and shelves for getting home organization stations. Learn more by taking a look at the sample demonstrations, shared to inspire. Details here craftsbyamanda
DIY Salvaged Window Frame Mirror:

Cancel discarding the window frames to dumpsters, scheme them up to make arresting wall mirrors, will help bring the modern elegance prudently to your dwelling. This window frame mirror will be a long awaited wish of many of us, now you can get it almost for free. A more than creative recycled project. Details here craftynest
Make a Chalkboard Out of an Old Window:

Want to bring a touch of shabby chic or vintage living in your home? Then feature the chalkboards in your home, here is the best way to do so. Make a chalkboard out of a recycled window, will involve painting the window panels with chalkboard paint. A quick and smart recycling of old windows. How-to guides here theshabbycreek
Build a Cold Frame Using Old Window:

The most innovative concept of reusing the old windows, will definitely win the heart of a garden lover seeking low-cost ways for off season gardening. Use extra wood and glass paneled windows to install beautiful mini greenhouses in your garden , the smarter way to upcycle your old windows. Free plans and tutorial here growgardentomatoes
DIY Entry Bench from Old Door:

Leave you guest stunned and amazed by adjusting this entryway bench for a cool first impression. Here an old door has been recycled to play a functional role of an entry room bench, will be a better alternative too for a hall tree. It also comes with a drawer built-in the seat. Full how-to tutorial here friendly-home
Amazing DIY Bicycle Wheel Clock:

Greet your guest who are first time in your home with this one-of-a-kind wall clock, made of a recycled bicycle wheels and is something highly fascinating. Use the wooden rulers or yard sticks to make epic clock hands, install clock movements in the center of the wheels and paint roman clock numerals on the wall. Full how-to tutorial here thistlewoodfarms
Easy to Make Frame Shelves:

Repurpose also the old photo frames to make gorgeous display wall shelves. Use extra wood to give a bit more depth to them and then hang a collection of them on the wall in custom configurations. Here these frame shelves hang just above wall mounted study desk for bigger style statements. Details here shanty-2-chic
DIY Recycle Bottle Watering Can:

Assist yourself in easy maintenance of your garden by building a cool watering can out of recycled plastic bottles. Make miniature shower holes in the lid of the recycled plastic bottle and that's it. A super quick, low-cost but durable watering can to make at any time of need. Full how-to tutorial here ajourneytoadream
Make Curbside Dresser Into a Bar:

Keep the parties going on at your outdoor by building cost-efficient diy bar cart at home. Transform also your old furniture into functional designs of outdoor bars, will be a smarter way too to keep using your old furniture. This storage-friendly and well painted design of bar is made of a recycled curbside dresser. Full how-to guides here hometalk
Plastic-bottle Zipper Container:

You will simply get amazed while looking at this sweet mini creation, the plastic bottle zipper container, will be an ideal choice to store your accessories with care. It will make a great pencil organize for school going kids. You only need the plastic bottle bottom halves and a zipper to make it. How-to guides here popsugar
Bird Feeder Using Plastic Bottle:

Feeding birds make you feel proud honestly, recycle the plastic bottles for this good cause and build no-cost bird feeders out of them. Pass the wooden spoons straight through the plastic bottles to gain also cool perches for cool bird sitting. The perfect birdfeeder that will fill automatically. Step-by-step guides here handimania
Build Palette Wood Centerpiece:

Giving a second chance to wooden pallets can make you get with this, the sweet and lovely floral centerpiece made of a pallet wood box. Get a few slats of wooden pallets to make this centerpiece box made and fill it up with your favorite cut flowers. Complete how-to guides here daintydressdiaries
How to Make Tea Tin Planters:

Creative recycling can make you get treasure out of trash. Recover these awesome succulent planter beauties out of recycled tea tins, will be whole natural centerpieces to go with for amazing garnishing of your spaces. You are to use much less extra in this project that is a breeze to do. How-to tutorial here demetres
DIY Noir Leather Earrings Tutorial:

The leather lace is often to use in various projects for accent side trimming, have a little leftover in your crafting room? Make gorgeous DIY earrings using the leather lace, lacquered cylinders, crystal beads, ribbon crimps and ear hooks. Do add these sample noir leather earrings in your earring collections. Full tutorial here jewelsofsayuri
Cherry Blossom Hula Hoop Wreath:

Don't treat the leftover hula hoops like a waste in your home, they can be a next most prominent decor in your home. Paint a hula hoop in pink and then transform it into handsome cherry blossom wreath using faux cherry blossoms and green spring garland. The pink white appeal will surely mesmerize the onlookers. Tutorial here craftsbyamanda
Upcycle Plastic Jars Into Mini Planters:

Save your planet getting dirty by recycling the old and expired items. Make also outstanding planters out of upcycled plastic jars, will be the cutest natural centerpieces to add to your spaces. Spray paint the plastic containers for a stone look and the wrap the rope around their opening for a more stunning appeal. How-to tutorial here homeyohmy
DIY Terra Cotta Pot Chair Planter:

Upcycle your old chairs also to build lasting longer and durable planters, will be a great addition to your patio and outdoor areas for amazing visual details. Spray paint a recycled chair in black and then fit a black painted terra cotta pot in its seat and get a stunning patio or garden centerpiece. Full instructions here morenascorner
Wool Sweaters Into Patchwork Throw:

Sorting out smart way to reuse your old wood sweaters? Then you must make some outstanding patchwork throws out of them, an inventive way to live more with your old wood sweaters. Take your old wood sweaters into lovely hexagon and then sew them together to make lovely throws. Full how-to tutorial here pillarboxblue
DIY Nursery Art From Cabinet Door:

Bring back those broken up furniture pieces in your home in some different ways and feel less worry of losing them. Old cabinet doors can be painted and stenciled for custom quotes to make cool wall art signs. Jazz up your nursery with this handsome cabinet door nursery art. Full tutorial here pitterandglink
Easy to Make Rustic House Number Sign:

Reclaimed the wood planks and put them together to make gorgeous rustic signs, can be painted for gorgeous numbers to make enticing home number plates. Copy it to add a great curb appeal to your home and it hangs on the wall as a gorgeous numbered sign. Here is how to make it thehoneycomb
How to DIY Sisal Rope Basket:

Do also smart makeovers of the thrift store items to get them beautifully transformed in custom avatars, will be appreciated in your particular modern or rustic DIY home decor theme. Wrap the sisal rope all around thrift store basket and get a fetching rustic basket, it also comes with a unique label in front. Details here whitecottageho
Recycle Cabinet Into a Kitchen Island:

Missing out a cool and storage-friendly kitchen island then do build a gorgeous one using the old and recycled cabinets. Refurbish and repaint the old cabinet, finish with rolling feet and with a solid edged countertop. Install also a towel rack in sides and get a fully functional design of kitchen island at no-cost. Complete how-to guides here sawdust2stitches
DIY Painted Tin Can Planters:

Build lasting longer and outstanding planter out of recycled tin can, will be the affordable solution to bring greenery home. White and gold striped appeal will go super eye-catching and haivng this tin can planter on a coffee table top or on a shelf, will bring tons of grace. Full recycled projects here thecraftedsparrow
Jewelry Stand Made From Plastic Bottles:
Cut apart the flower shaped bottoms of the plastic bottles and then them onto a threaded rod as tiered levels, stop them in place using nuts and washes. Soon you will get a decent tiered organizers, will rock for jewelry storage. A recycled plastic bottle project that every jewelry wearer will love to do. How-to tutorial here epbot
DIY Recycled Tire Coffee Table:

Get praised for your sitting setups by adding this rope coffee table in the center. Make it with a recycled tire, plywood round, furniture feet and rope. Cover the bottom of the tire with plywood round, wrap rope all around the tire and next finish it up with the furniture feet. The wonderful DIY coffee table is ready to decorate your home. Complete how-to guides here persialou
Planter Out of Tire:

Spruce up your green spaces and patio paradise with this epic handmade beauty, a gorgeous recycled tire planter. Get the tired covered in accurate rope loops, cover the bottom with a plywood round or with a recycled spool wheel. Install a stylish trio of legs for giving it a unique standing style. Full tutorials here addicted2diy