Learn small things to make out of wood craps with these 45 creative and simple scrap wood projects for beginners to reuse old wood in a more useful way. Woodworking is a fun and rewarding hobby but can also be expensive. Fortunately, there are plenty of ways to get started without breaking the bank. One of the best ways is to use scrap wood. With a little creativity and some basic tools, scrap wood can be turned into various small wood projects. From keychains and coasters to picture frames and DIY wall art, there are nearly limitless possibilities. In addition, scrap wood projects are a great way to learn the basics of woodworking. So whether you're looking for a new hobby or want to save some money, these simple scrap wood projects and crafts are a great collection to start.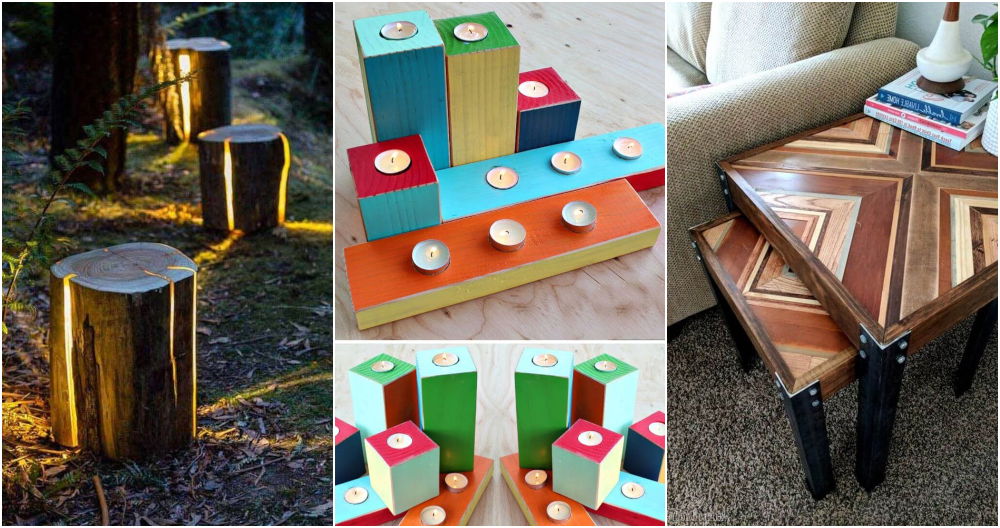 45 Simple Scrap Wood Projects for Beginners
Scrap wood projects are a great way to upcycle small pieces of wood into something new and useful. And the best part is, scrap wood projects can be as simple or complex as you like. Whether you're looking for a quick and easy wood scrap crafts or something more challenging, there's a scrap wood project for you.
Whether you're looking for diy projects for the home or simple ideas for gifts, scrap wood projects are a great place to start. With just a few tools and some scrap wood, you can create something beautiful and unique. Here are 45 simple scrap wood projects to get you started: Get creative on your next scrap wood project today.
1. DIY Scrap Wood Coasters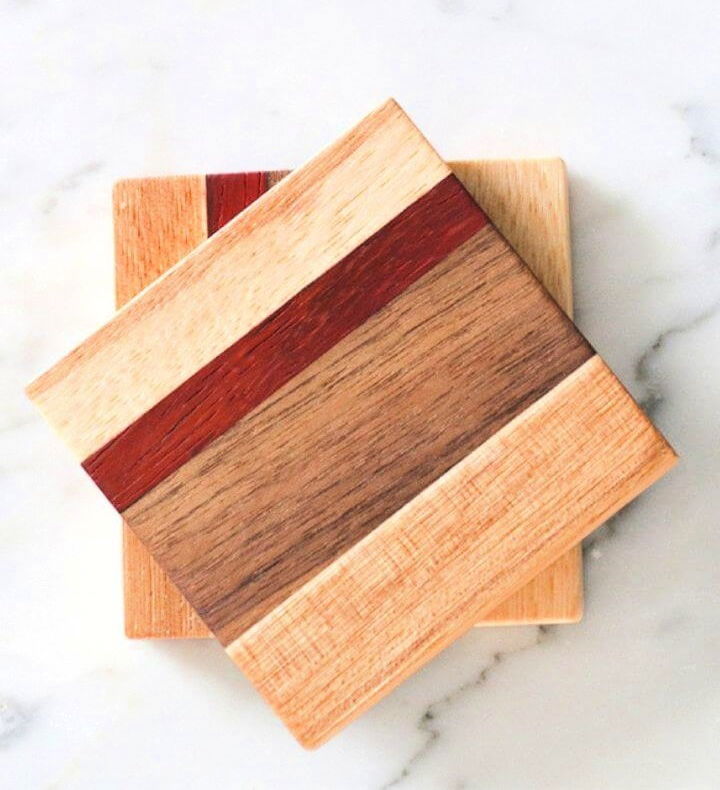 Here is what you can make amazing with the leftover odds and ends of wood! Pack them together, and then cut the lovely squares out that will be your wooden coasters having multiple tones of wood, as you can see! diyhuntress
2. How to Make 4 x 4 Glitter Firecrackers
If you have some leftover 4×4 wooden posts, then paint them and transform them into lovely 4th July decors like the glittered firecrackers that appear in country flag colors! So, repurpose old wood to make patriotic decors! organizeyour
3. Homemade Family Names Art
Another cool and outstanding project to do with the leftover wood in the stock, take the old wood into square discs and stencil them for custom alphabets, and next, they can be hanged on the wall as a great family name; wall art! remodelaholic
4. "A" Is for Apple Paperweight
Having a wood cube to repurpose? Here is what you can make with it, make an apple paper-weight with it that may also come with a nameplate, as you can see! Use a wooden dowel piece to add the apple tail and then paint! jaimecostiglio
5. DIY Scrap Wood Trivets
Also, discover a lot from the scrap wood for your kitchen. Use bits and pieces of wood to make lovely trivets for your kitchen! Just drill a hole in wood pieces having equal dimensions and then slid them down onto brass rods! 3x3custom
6. Building Industrial Pipe Shelves from Wood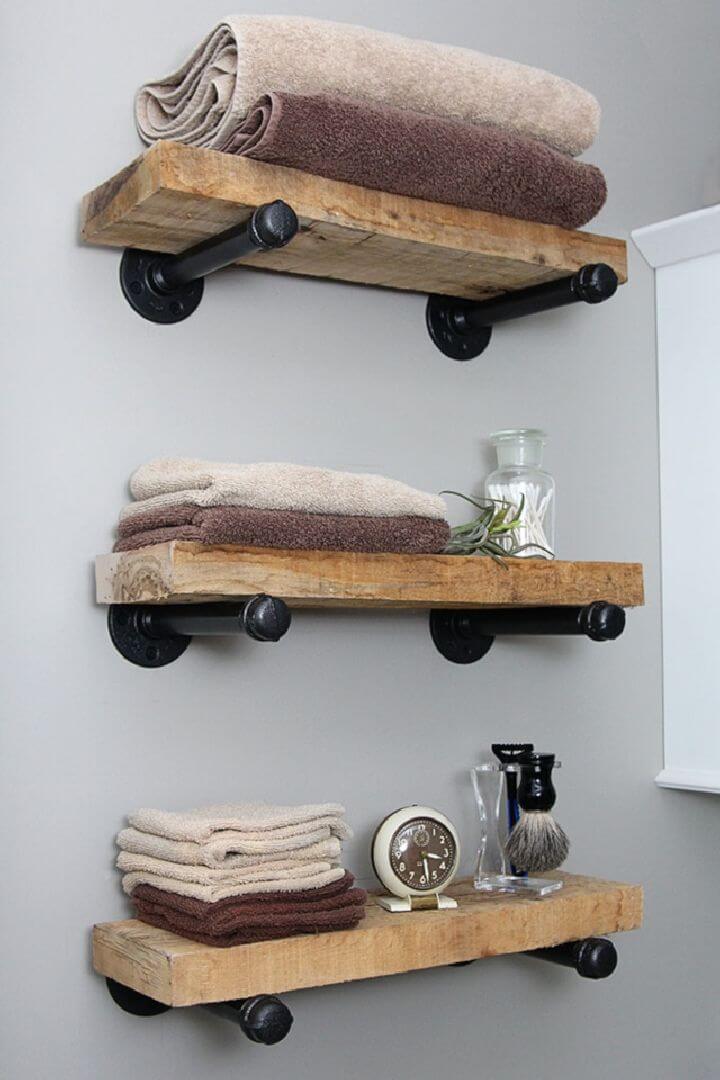 Use the leftover wooden boards and panels to install instant beautiful storage and display shelves in your home! Look at these sample industrial shelves that come with reclaimed metal pipe brackets! houseofhaw
7. DIY Pallet Planter Box
Repurpose the old woods like pallets to build durable wooden planter boxes that will make lovely garden and backyard centerpieces! Look at this fantastic wood planter box that is rustic and can be made in no time! makeit loveit
8. How to Build Flower Pot Holder
Make also a quick vertical garden out of old wood slats having an in-home trash store! Just put them together and make them hold the garden pots with the help of hardware hose clamps, and here you go! organizedclu
9. DIY Wood Rolling Shelf
Having old wood in large stocks? Then build bigger furniture items out of it in custom dimensions like this reclaimed wood rolling shelf that comes on cartwheels and is strengthened with metal rod cross supports! ana white
10. Mason Jar Vertical Herb Garden
The ideas for repurposing old wood are just never-ending, and here is another great one to grab your attention! Make the recycled wood slats hold the Mason jar planters using hardware pot holders, and make a lovely vertical garden out of them! rebeccasbird
11. Wood Tilt-Out Trash Can Cabinet
This is something incredible to make out of trash wood, a tilt-out trash can cabinet that you can pull out to throw trash in, and it will hide all in place! Just build a little cabinet out of reclaimed wood and install a tilt-out door that will hold inside the trash can!
12. DIY Vertical Plant Hanger
Having some leftover wood squares? Give them a nice wood finish and then hang them up in the air using a rope as tiered shelves, and next, make them hold your pots and gain a lovely vertical planter hanger! iheartnaptime
13. DIY Scrap Wood Side Table
Another mind-blowing scrap wood creation, a lovely side table that comes with the top having multiple tons of wood! Combine the reclaimed wood slats, build a colorful top of the table, and finish it up with flat box style legs! rogueengineer
14. Handmade Hexagon Planters
You can easily plan the leftover wood to build some instant beautiful wooden hexagons that you can also fill turn into boxes using extra wood to make lovely hexagon planters, as you can see! mylove2create
15. Low Cost 55 Gallon Drum Planter Plan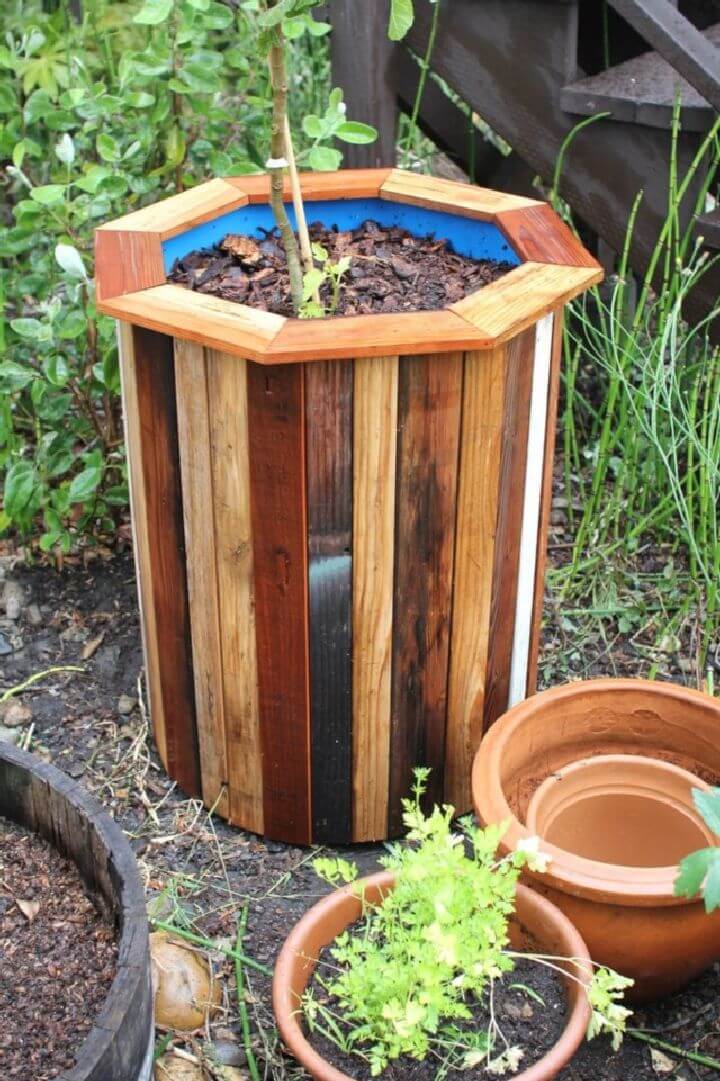 Grab also a plastic barrel and then put the reclaimed wood slats around it having different tones of wood and build a stylish 55-gallon drum planter, will make a great garden centerpiece for sure! instructables
16. DIY Wood Wall Hanging
Make also your indoor boring walls look impressive by giving them a lovely wood treatment! Add the scrap wood pieces on the wall like a puzzle game and build a lovely wall art, and here you go, get inspired by this wood wall hanging! twelveoeight
17. Planter Boxes for Windows With Bars
Do a natural garnishing of your window sides with these epic homemade planter boxes made of repurposed wood and come with bars! It will hang outside the window and would have bigger impacts on the beauty of your windows! instructables
18. Scrap Wood End Grain End Table
A perfectly unique end table to make with the scrap wood pieces and slats, a lovely butcher-block style grain end table that is marvelous wood creation and would be an impressive addition to the sides of your couch or chair! Here is how to make it.
19. DIY Scrap Wood Guitar Bookends
The ideas for reusing the leftover wood are just never-ending, and here is another genius one! Make the super beautiful guitar bookends with leftover wood that will make a lovely bookshelf art for sure! Get inspired by the given sample! woodshop
20. Candle-Holders From Scrap Wood
Reuse also the scrap wood squares and build lovely candle-holders that will be loved dearly by all! Glue the wood squares together and after you get the cubes, just fit the candlelight in their top side by making cavities! instructables
21. How to Build a Serving Tray
One of the most graceful wooden trays ever made at home will impress with multiple wood-toned appearances and be a total pleasure to serve the refreshments and food! Pack diagonally reclaimed wood slats, and then cut the tray out and finish with metal accent handles!
22.Cut DIY Desk Organizer
Also, make cool storage organizers with the leftover wood just like this desk organizer that will hang like a charm on the kids' study desk, holding their stuff nicely in place! It comes painted in pink and provides a pocket and the lower hooks where bucket pencil holders hang! anikasdiylife
23. Upcycled Wooden Side Table Ideas
You will love the way it will stand in the sides of your couch or chair, a lovely wooden side table made of recycled wood, and it also comes with a bottom shelf! It gains beauty from the slatted sides! prettyhandy
24. iPad Display Design from Scrap Wood
Make the iPad operating easier by making a lovely iPad holder and displaying it out of scrap wood! Duplicate this given one that comes finished in dark choco tone of wood! Another great scrap wood project idea! shanty 2 chic
25. Making a Scrap Wood Bunny
The tiny bits and scrap wood pieces would be super easy to put together for lovely art shapes! Here a fetching wooden bunny has been made with the scrap wood pieces on flat wood feet! Details here thedecormama
26. Wall Sconce from Reclaimed Wood
Also, make fetching wall decors out of recycled scrap wood that will spice up your indoor walls! Look at this rustic wall sconce, made of a few reclaimed wood planks and is looking damn gorgeous in dark choco tone of wood! mountain
27. Plywood Plant Stand On Wheels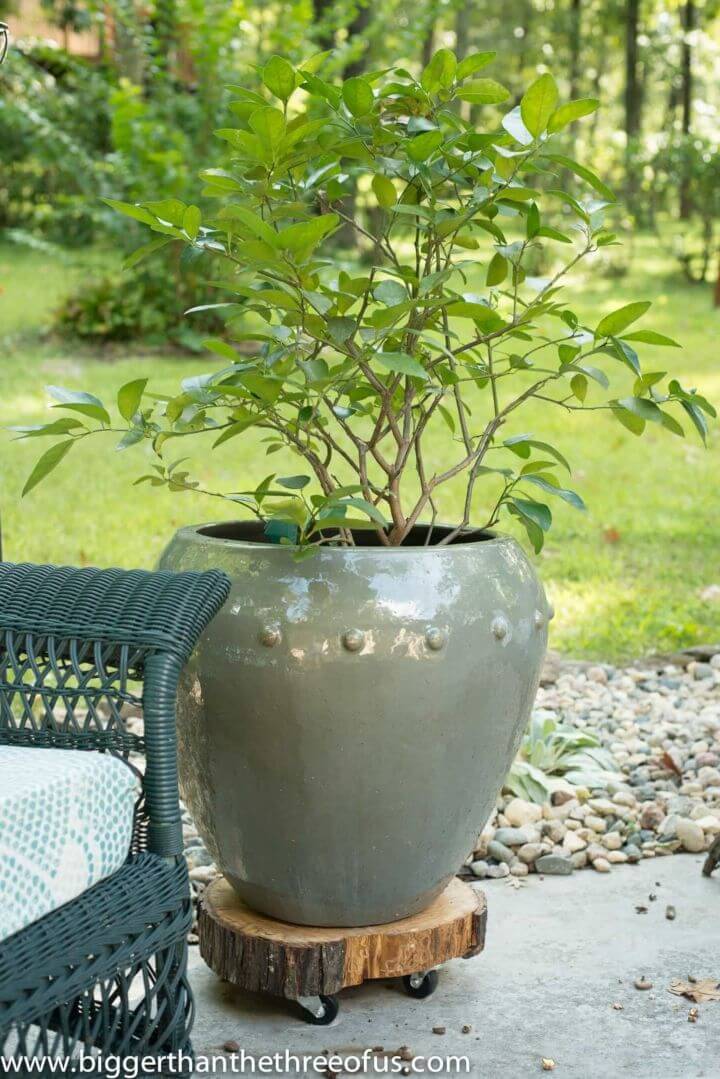 Here is what you can do wondrous with the leftover rustic wood slices! Just raise them on caster wheels and make lovely plant stands out of them as you can see! Another great scrap wood project to do at home! biggerthan
28. Colorful DIY Wood Block Candle Holders
Make the amusing candle holders out of recycled wood that will make fascinating light decors for your spaces! Dig out the slats or square wooden posts for circular cavities and then fit the tea light in them; paint in colors you like! markmontano
29. DIY Phone Charging Station from Scrap
Upcycle also the thicker wood scrap pieces to make instant beautiful phone charging stations that will nicely hold your phone and nicely provide the power supply cables! Look at this given dark brown sample made just by cutting a slid in a thicker wooden rectangular piece! homemade
30. Easy DIY Wood Clip Boards
Having some flat wooden square or rectangular boards? Just add them up with metal clips and make lovely clipboards that you can hang on the wall as a memo board also! Check out the lovely samples given below! oldhouseto
31. Build a Scrap Wood Wreath
Go also a genius with the wood scraps to make lovely rustic wood wreaths just like this given one that will rock as a fall wreath and is super easy and quick to make at home! Glue the scrap wood pieces on a wreath form, and that's it. findinghome
32. Rustic DIY Scrap Wood Lanterns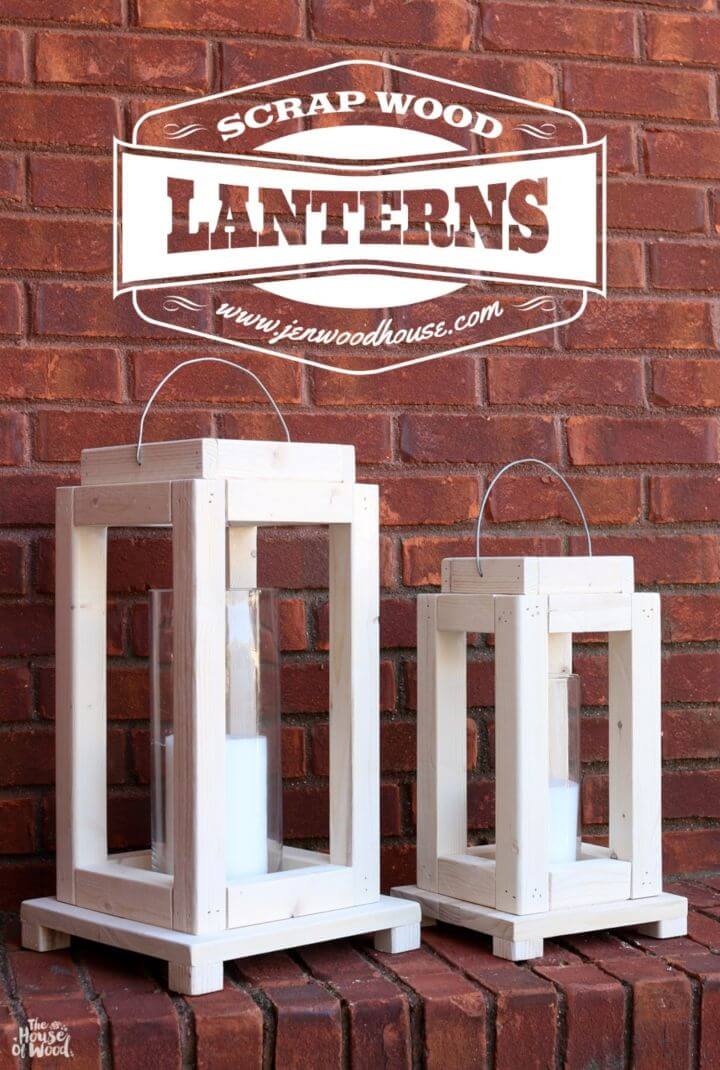 Make also the glorious lanterns out of wood scrap pieces that will be loved dearly by all! Make the lanterns using scrap wood lengths and then put the glass hurricane candle holders in them and finish with a wire loop at the top! jenwoodhouse
33. Creative DIY Scrap Wood Vase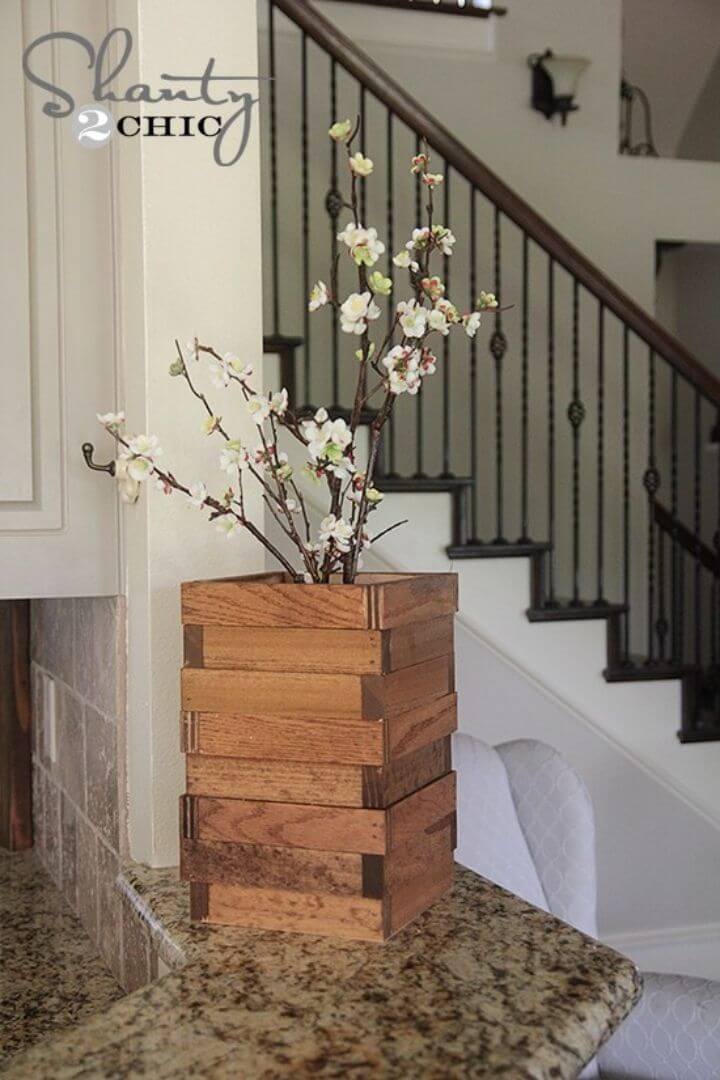 Get inspired by this another decent creation done with the scrap wood, a lovely wood vase made of stacked wood squares that you can quickly make out of wood scrap pieces! This is here another smart way to reuse the wood scrap! shanty 2 chic
34. DIY Toy Scooter for Toddlers
Get also ingeniously crafty with the scrap wood pieces to build lovely toy scooters that will make heart-winning gifts for the kids for sure! Look at the given perfect ones that come on wheels and are quick to whip up! Here is how to make them ana white
35. Cheap DIY Side Table from Scrap
Looking for some cool storage-friendly side tables? Then quickly make them also with the scrap wood lying around! Just build first the wooden crates out of them, and next, finish them up with custom legs!
36. Reclaimed Wood Planter Boxes
Build also lasting longer wood planter boxes out of pallets that will be loved dearly by all and will make great additions to your garden! Put together the reclaimed wood to shape up boxes which you can fill with potting soil then after! gardenupgreen
37. Build a Seesaw from Scrap Wood
Increase also the outdoor fun of your kids by using the scrap wood pieces smartly! This time you can do so by building this lovely seesaw with scrap wood, and it should be assembled with durable hardware! Details here needlesand
38. Large Planter Box Building Plans
Build the boxes out of reclaimed wood in any size you can use as a patio or garden planter box! Duplicate this giant planter box using reclaimed wood from home, and it has durable been assembled using L-shape metal brackets. toolboxdivas
39. DIY Wooden Ball Jar Storage
Go also smartly handmade with recycled wood and build lovely storage units and organizers for your home! Build the lovely wooden boards by putting the reclaimed slats together and then hang the Mason jars on them using hose clamps and make lovely wall mounted accessory holders as you can see! skinnymeg
40. Build Your Own Scrap Wood House Shelf
Show your love for your home by building this super beautiful scrap wood shelf that comes in lovely house shape! Shape up a box out of reclaimed wood slats with a chevron top, and next, give it a durable wall mount! bloglovin
41. Simple DIY Cracked Log Garden Lamp
What an amazing recycled wood project that everyone will love to do! A precious garden lamp made of cracked wood logs fitted with lights inside! So, time to jazz up your outdoor or garden by making adorable lights with recycled cracked wood logs!
42. Modern DIY Outdoor Chair
Accomplish all your sitting space desires also by getting smartly crafty with the reclaimed wood! Enjoy great sitting at your patio with this modern outdoor chair, made of upcycled wood and comes with a titled back! Here is how to make it woodshopdiar
43. DIY Garden Planter from Scrap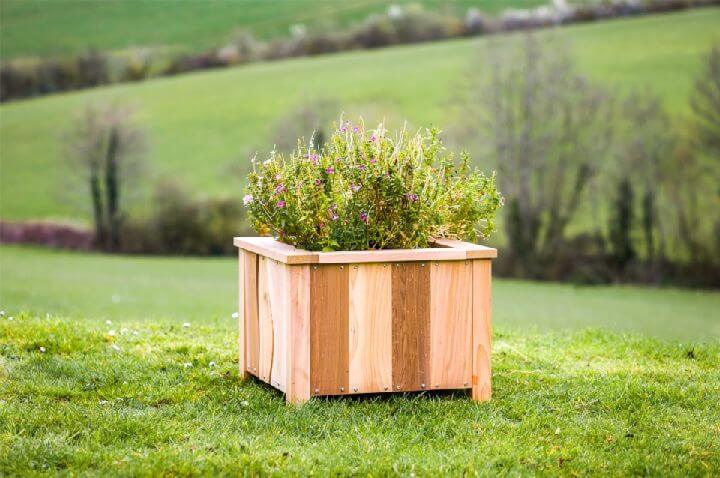 Get also crafty with the wood scrap pieces to build lasting longer garden planters! Shape up a big box with short legs and an edged top and use it as a lovely garden planter! Clone this lovely given sample, built to last and inspire! knowledge
44. DIY Scrap Wood Cart Storage
This is something super beautiful that comes with an accent chevron painted front, a wooden storage cart, made of reclaimed wood, and is super easy to build! Build a wooden box with a little raised back and finish it up with wheels!
45. Wooden Inlay Coffee Table
You will love to own this multi-chevron coffee table and side table set that also comes in multiple tones of wood, another outstanding scrap wood creation that is praise-worthy! Here metal legs have been used for an industrial appeal! realityday
Related Small DIY Projects
DIY Candle Holders: Candles always look more elegant when displayed in a beautiful personalized candle holder. You can make your own DIY candle holders from scrap wood, and they make a great gift for anyone who loves candles.
DIY Jewelry Holder: This DIY jewelry holder is a great way to organize your necklaces, bracelets, and earrings. It's easy to make from scrap wood, and it's a stylish addition to any dresser or nightstand.
DIY Towel Rack: A towel rack is necessary for any home, and it's easy to make one from scrap wood. A DIY towel rack is a great project if you have some larger pieces of scrap wood, and it's a great way to keep your towel organized.
DIY Picture Frames: Picture frames are always in style, and you can never have too many. You can make your own DIY picture frames from scrap wood, which are a great addition to any home decor.
DIY Lamps: Lamps are a great way to add light to any room, and you can make DIY lamps from scrap wood. With just a few pieces of scrap wood and a light bulb, you can create a unique lamp that will add style to any room.
DIY Plant Stand: Plant stands are a great way to show off your plants, and these simple DIY plant stands are easy to make from scrap wood. Plant stands raise your plants off the ground, which helps them get more sun and eliminates the need for watering.
DIY Birdhouse Ideas: A birdhouse is a simple and inexpensive way to help provide shelter for birds. We put together easy DIY birdhouse ideas so that you can build the perfect one for your yard.
Related DIY Projects and Ideas
DIY Crafts: Looking for easy crafts to make and sell? Look no further! These crafts to make and sell are perfect for beginners and can be whipped up in no time. Making them the perfect option for anyone looking to start selling their crafts. So get creative and start making some extra cash today!
DIY Plywood Projects: Plywood is a pretty versatile material and cheap too. Here are cheap DIY plywood projects that use wood scraps and a single sheet of plywood.
DIY Desk Plans: From one-seater desks to spacious corner workstations, this is your ultimate list of easy DIY desk plans to help you be more productive and organized.
Pallet Projects: Discover the easy pallet projects to get your DIY juices flowing. From furniture to crafts and more, You'll find the perfect project for your skill level with these pallet projects.
Bathroom Vanity Plans: Build a bathroom vanity from scratch for your home, apartment, or office. All these free DIY bathroom vanity plans contain everything you need to know about building bathroom vanity from scratch.
DIY Garden Projects: With a little time, some patience and a DIY attitude, you can easily create a beautiful garden on a budget. These easy DIY garden projects will help you redesign your outdoor space and make it more beautiful.
DIY Dog Bowl Stands: Find these quick and easy DIY dog bowl stand ideas that you can make from things you already have at home. All you need are some basic supplies and these easy to follow tutorials.
Conclusion:
If you are looking for some simple scrap wood projects that can be completed in a weekend, we have you covered. From small things like keychains and coasters to larger items like coffee tables and benches, there is something for everyone. And if you don't have any scrap wood lying around, many of these projects can also be completed using small pieces of lumber from your local home improvement store. So what are you waiting for? Get started on your new DIY scrap wood project today!