Leather crafts are a fantastic way to create beautiful and long-lasting projects. If you've been wanting to create something special but don't know where to start, consider looking into these 35 easy DIY leather crafts and projects for beginners. With the right supplies and little skills, anyone can learn how to do leather work with these DIY leather crafts and projects that range from upcycling leather jackets or purses to crafting stunning jewelry. Start your journey with some simple leather projects such as homemade keychains or bouquet wraps – it's easy to find step-by-step instructions here for 35 DIY leather crafts and projects suited for the beginner crafter.
No matter your skill level, leather crafts and projects offer endless possibilities. From wallets to keychains, creating with leather can be a great way to add customized items to your everyday life. With a few basic supplies and some helpful guidance, you can start creating beautiful leather projects right away. Look no further than 35 easy DIY leather crafts and projects for beginners for some inspiring ideas on starting your own leatherworking journey – perfect for those who are just getting started!
1. Leather Gold Baby Booties With Heart Cutouts
Leather can be a highly versatile and wondrous crafting material if you a person with genius thinking. Make these gold baby leather booties, will make a cute gift for a baby. Use a baby boot template and a Cricut machine to cut the baby booties with heart cut-outs. Complete the tutorial here andreasnote
2. DIY Faux Leather Ipad Sleeve
Bring a lot of protection to your iPads and notebooks by sewing awesome sleeves with faux or real leather. This sleeve comes with a lovely touch of gold and hence will look damn expensive. A sweet gift to make for a friend. How-to tutorial here lovelyindeed
3. Easy DIY Leather Hair Bows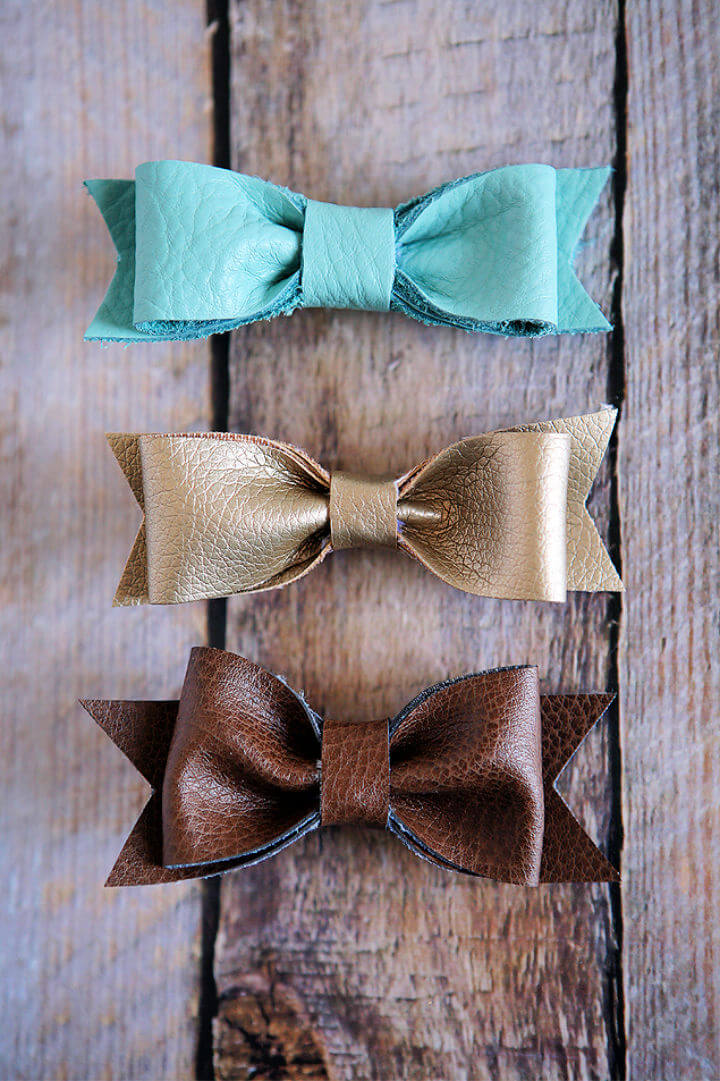 Put the leather scraps to some good use and make lovely colorful bows, will be nice accents to add on top of your hair accessories. These bows will make you wear a great style over the head and are super cheap and easy to make at home. Full tutorial here cutegirlshairstyles
4. How to Make Leather Tassel Keychain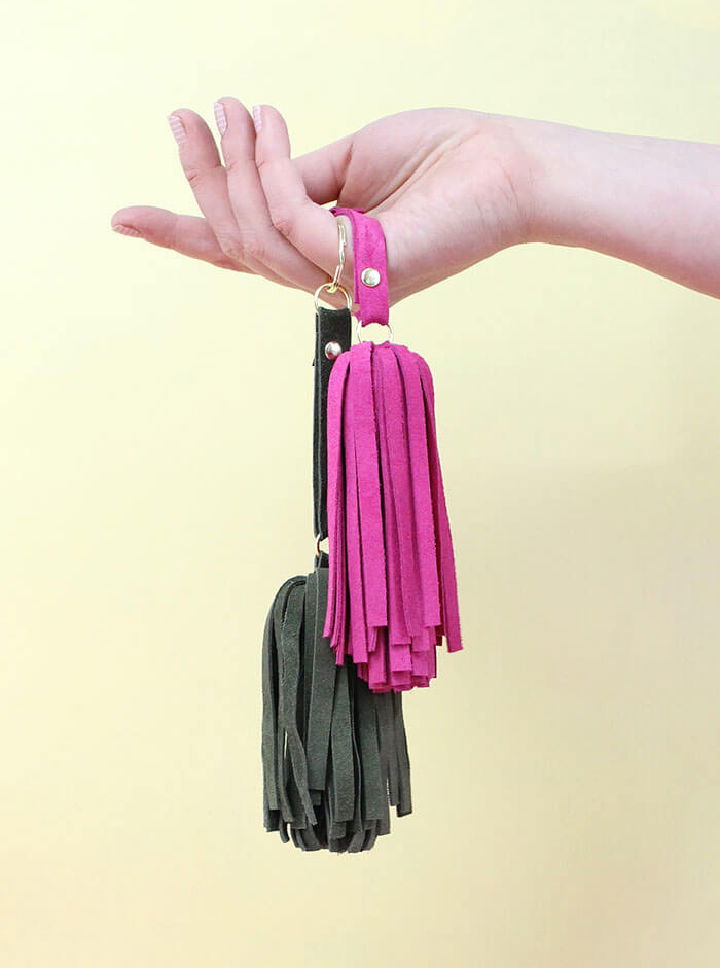 Cut also fringes in a leather piece, then roll them to make tassels, end them up with keyrings to make beautiful tassel keychains, the cutest gifts to give next to your friends. Look at the gorgeous given samples, here is how to make them. Complete instructions here persialou
5. DIY Leather Jewelry Dish
Leather may be the material to treat like a hard fabric, but you can also plan it to make stunning home storage options like this cool jewelry bowl or dish. It will hold your ring collection in a style and look s pretty awesomely in a triangular shape. Add accent spikes to corners for a graceful and expensive look. Tutorial here collectivegen
6. Leather Conversation Hearts
Cut out the brilliant heart shapes out of leather; stamp them using leather stamps for name letters and custom quotes on them. Next, punch a hole out in the side and add a keyring to make an outstanding leather conversation heart keychain. A sweet love gift to make for a beloved one. How-to tutorial here polkadotchair
7. No Sew Leather Jewelry Pouch
Leather is the most used material for making lovely wallets, pouches, and bags. So, also make creative use of it to make amazing jewelry pouches, will take good care of your jewelry items. Look at the given drawstring jewelry pouches, decorated with accent ribbon and letter tags. Complete how-to tutorial here somethingtur
8. DIY Leather Laptop Case
Keep your laptop scratch-free using this durable leather case, a no-sew leather project that everyone can do with great ease. Cut the leather according to pouch template and then nail the sides for getting a lovely laptop pouch. A brilliant project to do with leather, give this pouch also as a gift to please someone special. Tutorial here ohhappyday
9. No Sew Leather Key Fob in 5 Minutes
Make also amazing leather key fobs using leftover leather strips, will be the next cutest handmade gift to make at home for a beloved friend. Just grab the dark-toned leather, make a loop out of it and next add it up with a keyring and make a brilliant leather key fob, another smart craft to do with the leftover leather. Full how-to guides here fynesdesigns
10. Handmade Leather Sunglasses Case
Leather crafts are a unique and timeless way to show your personality. Whether you're a beginner or an experienced craftsman, this DIY leather sunglasses case is a beautiful piece to learn in the world of leatherworking.
You are definitely going to get your wardrobe updated with these leather sunglasses this summer, which will keep you stylish and fashion worthy sunglasses dust free. This is actually a sewing leather project that even a beginner can do. The leather pouch is too cute to hold in hands all the time, a perfect gift for a friend. Tutorial here alwaysrooney
11. Making a Leather + Flannel Snap Scarf
While wearing a scarf as a neckwarmer or as a cowl, we have to adjust it several times and this is embarrassing. This would not be a case if you go with this leather and flannel snap scarf, the leather edges come with buttons that will eliminate the need of readjusting the scarf once you wear it. How-to guides here deliacreates
12. DIY Leather Cord Roll
The electric cords like those like the headphone cords are always delicate to handle and they are most to get tangled easily. Fetch an amazing solution for it using leather, make leather cord rolls, will nicely hold the cords without any tangle and will make superb gifts for friends and phone lovers at home. How-to details here brit co
13. DIY Geometric Leather Mouse Pad
Let the stylish appearance of leather bedeck your computer desk by making this geometric leather mouse pad. Along with a glam leather appearance, it will also bring geometrical decor vibes to your computer desk. Cut and old mouse pad into a fun geometrical shape and then cover it up with leather using a spray adhesive. Complete guides here deliacreates
14. DIY Leather and Gold Leaf Notebook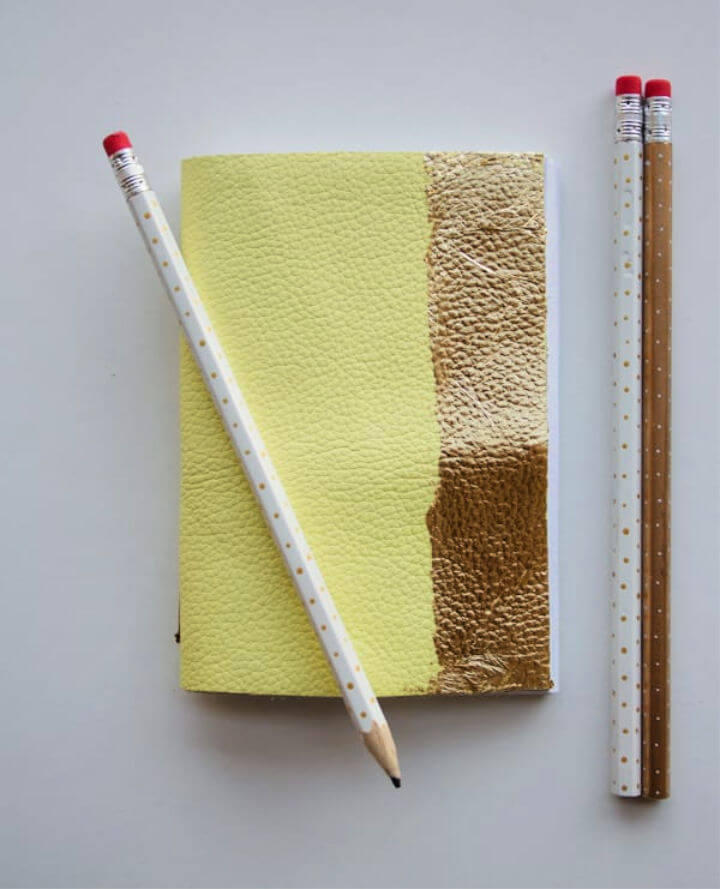 Use also the leather to design fantastic notebook covers, will be loved dearly by all. Be unique by holding a unique notebook in hands, use leather and gold leaf to design this lovely notebook in no time. A brilliant leather project to do with great ease. Full how-to guides here lovelyindeed
15. Easy DIY Rustic Leather Tassel Ornaments
When you need to bring the bohemian fashion touch to any of your space in a smart ornamental way then you must choose some tassel, the one of the most featured items in the bohemian fashion. Cut fringes in the leather cut pieces and roll them to make beautiful tassels. Will also make great embellishments for handbags, curtains and window drapes. Full how-to guides here cityfarmhouse
16. DIY Leather Straps for Tote Bags
If you're looking for a new hobby that'll let you show off your creative side, leather crafts might be just the thing for you. With a few simple tools and some practice, you can create this beautiful and unique piece of leather art.
If you are addicted to shopping and love to carry stylish tote bags with you, then here is how to use leather to fancy up your tote bags. Use durable leather strips to make cool tote bag straps, and use custom accent head rivets to fix them in place. Full how-to tutorial here prettyprudent
17. How to Make Leather Travel Tissue Pouch
The tissues are one of the crucial items to carry with you even when going to travel. Make these leather pouches to carry them with you in a style. These easy to make leather pouches will also allow easy dispensing of tissues at the very time of use. Here is how to make them deliacreates
18. Creative Lace-Cut Gold Leather Cuff
Create an impressive personality of you by wearing these costly looking gold leather cuffs. They are cut for an artistic design pattern using lace and Cricut machine. The gold appeal will really go royal to eyes and these cuffs will be super soft to wear too. A brilliant DIY leather project to do at home. Full how-to tutorial here theprojectgirl
19. Simple DIY Leather Sculpted Earrings
The leather is available in the market in so many different shades and colors and this makes the leather a highly versatile crafting material. Do also a little sculpturing of leather to generate highly amazing designer-style jewelry, will create a celebrity look of you. Cut out a leather petal using a paper template then give equally spaced chevron cuts to both of its sides. Fold and finish earring hooks. Details here instructables
20. Long-lasting DIY Braided Leather Headband
Leather is a highly durable type of material even when available in strips. Braid the leather strips to make lovely leather headbands, will make worthy handmade gifts. Finish the leather braid with the ribbon trim ends and adhere a tape strip to the bottom side of the braid. Full how-to tutorial here kristinaclemens
21. DIY Leather and Brass Teardrop Hanging Planter
Thinking of new innovative ways to decorate your modern dwellings? Then must make this leather and brass tear teardrop hanging planter will be the nest most sterling decor in your home. Use the brass tubing, floral wire and leather lace to make it. Complete how-to instructions here vintagerevivals
22. Homemade Leather Wallet
If you are style loving man or women then you will definitely be knowing well the fashion importance of leather wallets. Also, make your own stylish leather wallets at home using the leather of choice. Grab a template and cut the leather accordingly to make brilliant leather wallets as you can see. Full how-to guides here primermagazine
23. How to Make Triangle Leather Pouch
Here the easiest and cutest pouches to make the leather, the triangle leather pouches that come with accent brass screw backs. These pouches look like diamonds when coming with open lids, the cutest pouches to make at home to give as a gift to someone special. Full how-to guides here almostmakesperfect
24. Make Your Own Leather Wrap Bracelet
You fall in love with the leather cord more after looking at this brilliant bracelet. Make this outstanding bracelet using leather cording, little beads, and jewelry buttons. The bracelet will look great while being around your wrist and it is what you can give as a sweet handmade gift to someone special. Full tutorial here poppytalk
25. DIY Leather Paper Towel Holder
Make also smart use of leather to transform your bathroom, renovate your bathroom interior with a great touch of leather. To do so, build this leather paper towel holder, a sweet and lovely leather creation that everyone can do with great ease. Full how-to guides and tutorial here marthastewart
26. Quick DIY Leather Herb Labels
Leather strips are always beautiful to look at so why not consider making lovely labels out of them? Get inspired by these leather herb labels, an instant way to upgrade your boring patio planters or pots. Punch out holes in the leather strips and then thread the rope or wire into them to make cool labels. How-to tutorial here chrislovesjulia
27. DIY Monogrammed Leather Cufflinks
The cutest and smartest gift to make for a friend, lover and for every beloved one. Cut out the lovely circles out of leather, use alphabet stamp kit to add custom letter monograms on then and finish with the gold cufflinks. Another brilliant and lovely leather jewelry project that even a beginner can do without getting puzzled. Full how-to guides here almostmakesperfect
28. Quick and Easy DIY Leather Earrings
The super easy to make but super beautiful type of earrings to make at home using leather. Cut out the leaves out of leather selected in custom colors. Stack them and punch a hole to their very bottom side for adding ear wires or ear-hooks. Complete tutorial here designbynight
29. How to Make Magic Braided Leather
The cutest leather bracelet to make at home in just no time. Here you only need a strip of leather, cut three fringes in it that you can braid together for making this magic braided bracelet. Add the button-stud, snap and setter at the end and here you go. Try making this bracelet with felt too. How-to tutorial here melissaesplin
30. DIY Leather Backpack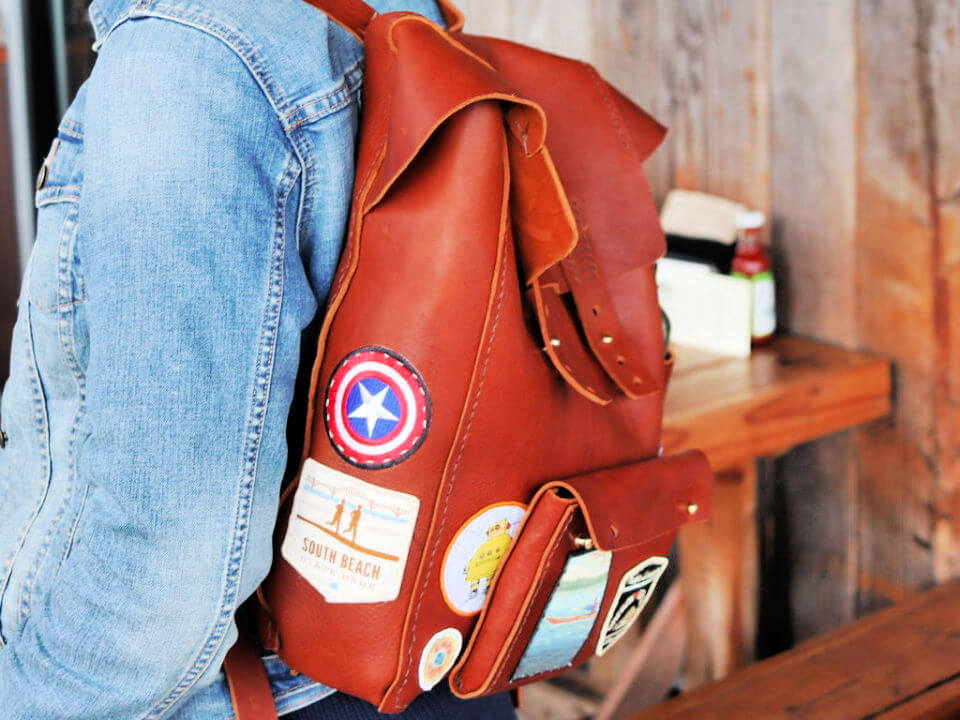 It is really hard to tell that you what you can't do with the leather. Sorting out a sweet gift for your school going kids? Then must make this leather backpack, durable and stylish at the same time. This backpack comes with custom pockets and monograms and looks really lovely. Full how-to tutorial here instructables
31. Wood + Leather Magazine Holder
Go handmade with the wood and leather to generate epic stuff to use in routine. Having trouble in storing your goods and things in a style? Then must make this wood and leather magazine holder, will provide care to your magazine and book stacks. Complete how-to tutorial here abeautifulmess
32. DIY Leather Yoga Mat Strap
Doing yoga is great for developing great metal and physical health, so facilitate your yoga routines by making this leather yoga mat strap. It will make it easier to store and organize your yoga mat. Here you need simple strips of leather to make this gorgeous yoga mat strap. Complete how-to guides here themerrythought
33. Leather Hexagon Vanity Tray
Make also hexagonal vanity trays, will be a great addition to your home desk and vanity table. Make use of 4 sheets of A4 hard card, leather, and glue to make this leather hexagon vanity tray. They will be equally beautiful to use as jewelry trays too in your makeup room. Full how-to guides and tutorial here sugarandcloth
34. How to Make Leather Mouse Pad
Spruce up your computer desk with this lovely leather mouse pad, will bring a crazy new style to your desktop and will also be friendly for easy operating of your mouse. Cover an old mouse pad with leather using glue or a spray adhesive and gain a newly updated mouse pad. Full how-to tutorial here earnesthomeco
35. DIY Stamped Leather Tie Clip
If you are often to use the tie clips to keep the necktie in place then why not make some cool ones using the leather strips? You need a bit of thick leather, blank tie clip, letter punch set, hammer, and some glue to make this monogrammed leather tie clip, one more cute gift to make with leather in no time. Full how-to tutorial here lovelyindeed
Related DIY Projects and Ideas
DIY Baby Shoes: Learn how to make baby shoes with these cute DIY baby shoes ideas that are perfect for every occasion, style, and budget.
DIY Tablet Case Ideas: DIY Tablet Case Ideas: Make a custom cover for your tablet with these easy DIY tablet case and iPad cover ideas to protect your tablet from bumps, bruises, and spills.
Earbud Holder Ideas: These cool DIY earbud holder ideas can be made in a wide variety of shapes and sizes, the options are all yours. From the basic to the most elaborate, there's something for everyone!
Crafts to Do When Bored: When you're bored, you can always make something fun. Here are fun crafts to do when bored that will help keep your mind and hands busy.
DIY Earring Ideas: Find the perfect earrings for your outfit with these adorable DIY earring ideas that are easy to make and require minimal materials.
Handmade Headband Ideas: With these remarkable DIY headbands, you'll find the perfect, quick and easy headband to keep your hair out of your face this spring or summer.
DIY Bracelet Ideas: These cool DIY bracelet ideas are designed to make your day a little brighter. From bracelets with studs, to bangles, and more. You're sure to find one that you love!
DIY Clutch Purse: Looking for a new clutch purse to take your style up a notch? Check out these easy DIY clutch purse ideas! From simple designs that use basic materials to more unique creations, there's a project for every skill level.
Friendship Bracelet Patterns: If you're looking for a fun project to do with your friends, check out these free and easy friendship bracelet patterns. With a little bit of practice, you'll be able to make bracelets that your friends will love!
Conclusion:
If you are looking for some new and exciting DIY projects, leatherworking is a great option. The material is versatile and can be used to create a variety of different items. We've provided a list of 35 beginner-friendly leather crafts and projects that will get you started in this fun and rewarding hobby. Whether you are looking for simple leather crafts like a keychain or bookmark, or want to try your hand at more unique leather crafts like a wallet or belt, we have something for everyone. So what are you waiting for? Start browsing our list of leatherworking projects today!