May you are a big jewelry wearer but sometimes you get deprived of some of your favorite jewelry items that you see in the boutiques and shops but can't get access to them due to their high price tags! All fashion enthusiasts also run after the designer's style jewelry items that cost an arm and leg and hence a session of sudden big disappointment start when you can't afford them! If you missing out amazing style statements of your personality due to not having the unique, expensive and favorite jewelry items like earrings then here we are going to provide you some super smart hacks to make your own custom and fashion-worthy jewelry items at home!
This time we have decided to open a whole bag of tricks that will show you that how to make beautiful earrings at home! Before you get ready with the necessary tools to start making your favorite DIY earrings, just Check out these 101 DIY Earring Ideas that will make great inspirations and will definitely help you to become a professional earring maker!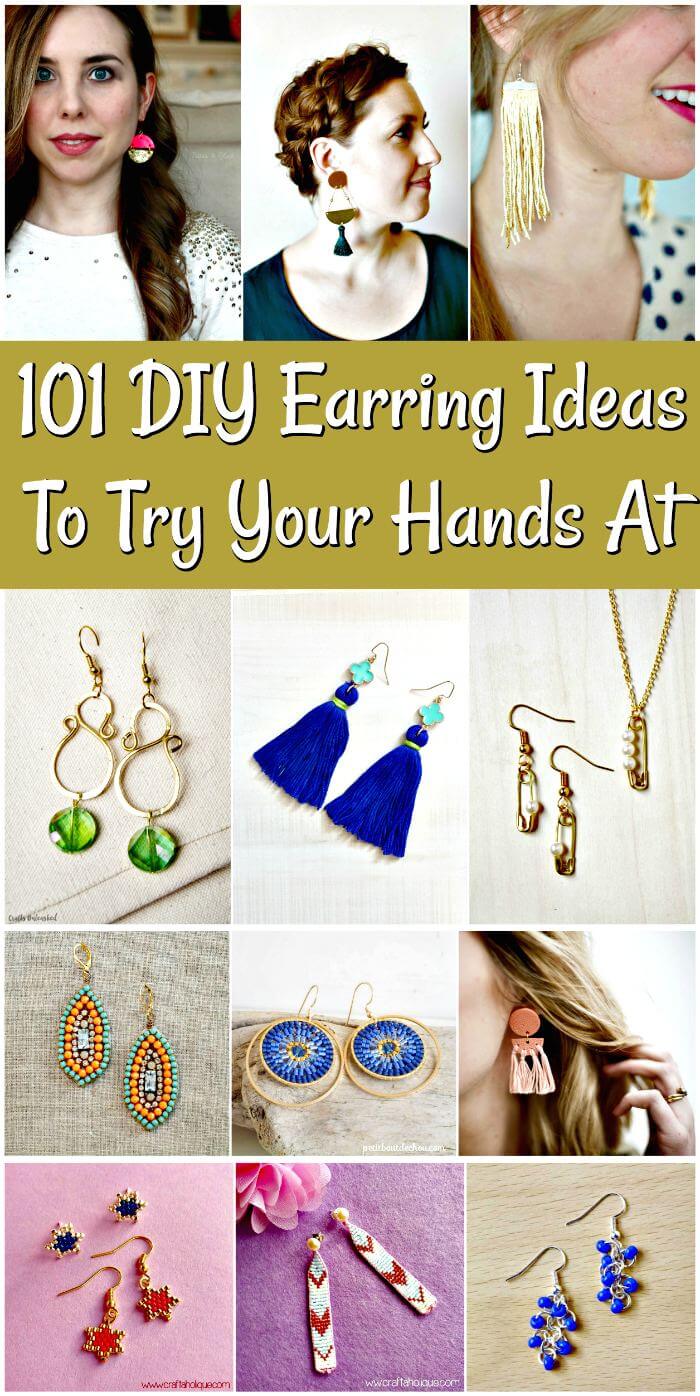 The list of DIY Earrings will guide you to make every kind of earrings at home like which are inspired by celebrity fashion or which are always to see on TV or shoes worn by your favorite actresses! Tons of handmade earrings designs have also been included in this list that will help boost your fashion on different festivals, events, and ceremonies and you can easily make them at home just with a few creative tweaks of your hands! The very good news is that all these earring projects are amazingly cost-efficient and will not leave you with empty pockets for sure!
You will also be provided with lots of hacks and ideas about which accents, embellishments, and charms you can use to make your earring set a bit more fascinating and beautiful! So, you are going to see here the amazing use of beads, crystals, pearls, tassels, bow, and wood in making flawless and style-worthy earrings at home!
Make the swirl macrame earrings to boost your fashion and also adorn your personality with the ombre circles earrings that are also easy to make and would be ready in a couple of minutes! Feel great by wearing the colorful tassel earrings and also boost your style with the Dolce & Gabbana pasta earrings that also goes enticing to eyes! Make the creole dragon fruit earrings for a fashion loving friend and also win a heart of fashion enthusiast lady in the home by giving her the resin photo earrings as a gift!
Go smartly handmade with polymer clay and make fantastic DIY earrings and also make use of ribbon and beads to make statement earrings in no time!
More DIY Ideas You'll Love:
Make also the Christopher earrings at home and also those of lovely chain earring that come with a pearl or bead pendant! The DIY earring ideas that you can make at home, are just endless and you are going to see dozens of more on the given list! To get the complete tutorial and step-by-step picture instructions for each earring project, just visit the attached links!
How To Create Rhinestone Marquis Drop Earrings: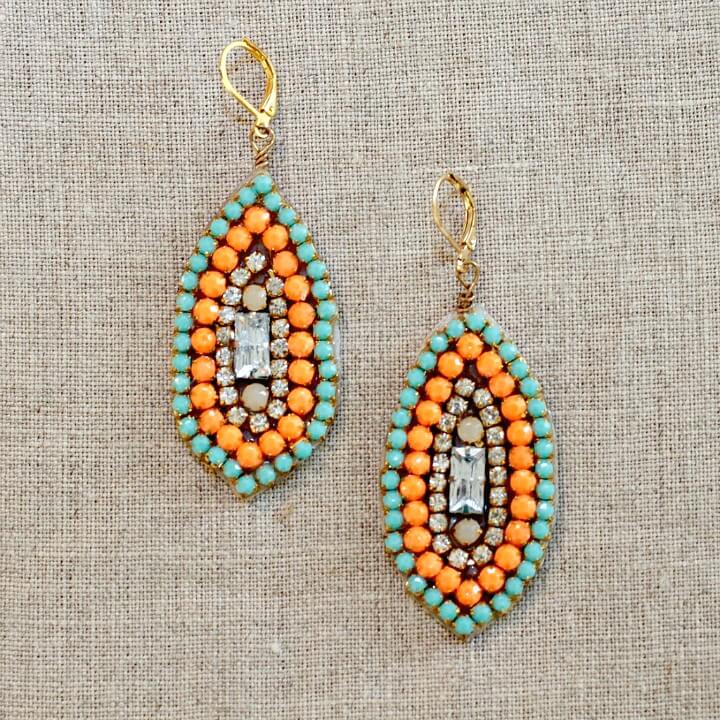 Here is another stone made pair of the colorful ear rings that would really add oodles of charm and style to your dress up for sure. You need to get some colorful rhinestone and shape them up in a drop and then and then add your ear ring fish hooks to them and they are ready to swirl around your ears.check out the complete tutoiral here jamiebhannigan
Adorable DIY Polka Dot Clay Dangle Earrings:
Make beautiful beads or balls with bake clay and then just add gold polka-dots on them using the sharpie marker in respective color! Here the finally finished polka dotted clay balls have been added to earwires using jump ring and custom gold chain lengths and hence a fantastic looking earring set has been gained at minimum cost prices! Willing to duplicate these stunning looking dangle earrings? Complete instructions and tutorial guides are here enthrallinggumption
How To Create Acorn Earrings and DI-Wine:
Check out here a superb trash to treasure project in which cool earrings have been made using the nutshells! Here nut shells have been spray painted and then have been stuffed with yarn balls! Go with your own custom yarn colors to make eye-catching yarn balls! Next add the eye-hooks on the top of finally finished nut shells and then install them to an ear wire using jump rings! Another fabulous earring project to do at home! Complete instructions and tutorial here erynwithay.typepad
DIY Rainbow Dangle Button Earrings:
Put together buttons in custom configurations using jump rings and make beautiful earrings also at home! Just get inspired of these rainbow dangle button earrings that have been done to rock and inspire your creativity! Check out here the sample dangle button necklaces that are looking amazing beautiful and fashion-worthY! These rainbow dangle earrings will only cost you a little and would make a great handmade jewelry gift to a close friend! Complete instructions and tutorial here lc.pandahall
Free Crochet Fringe Statement Earrings Pattern: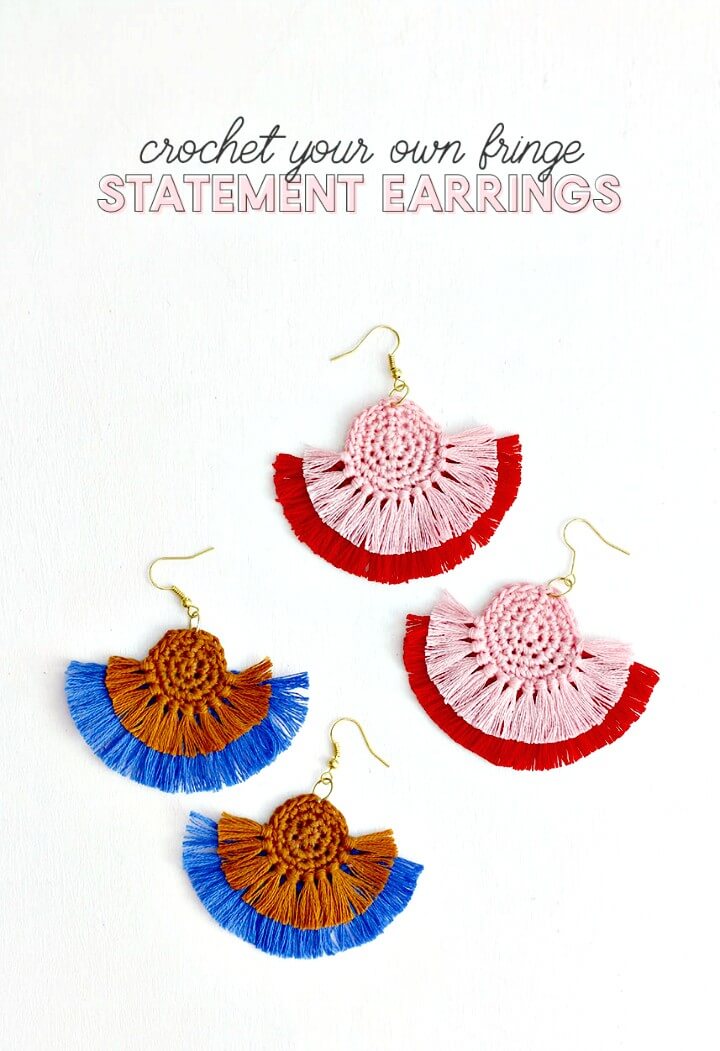 Another DIY earrings project is here that is to complete with your crochet hook! If you are handy at crocheting then just crochet some half circles and mini hexagons which can be layered together and then added with fringes for making cool statement fringe earrings! Here the fringes are made of embroidery floss and finally, the ear wires have been installed to finally finished fringe earrings! Another brilliant and outstanding earring project to duplicate at home! persialou
DIY Anthropologie Inspired Hoop Earrings:
Make also special anthro earrings at home that will also make a fabulous gift for a friend or family member living nearby! Just put together different rounds of thin metallic wire and then add beads or see bead to your finally finished metal wire hoop and hence you will gain outstanding looking earrings that would also make a great gift to an anthropology inspired décor lover! Get inspired by the given sample earrings and do give them a try this weekend! Complete instructions and tutorial here hapinesswherever
Simple DIY Wire Pumpkin Earrings:
Boost your fall fashion with these wire pumpkin earrings, the pumpkins always make a rocking fall décor! Wrap the wire around the sharpie markers and make the spring-like shape which can be turned into a circle for making a sweet pumpkin! Given custom colors to your wire pumpkins using markers and then just install the ear wires to make fabulous pumpkin earrings! Complete visual instructions and tutorial here makeandfable
Create Safety Pin and Pearl Earrings:
Here is another cost-efficient method to make some expensive looking earrings at home! Just add custom pearls and beads to safety pins and then start using them as a fabulous necklace or earrings pendants! Here the beaded safety pins have been added to earwires for making outstanding looking earrings! Complete tutorial and instructions here makeandfable
Gorgeous DIY Macrame Swirl Earrings:
Bring some fun to your jewellery box with this handmade pair of ear rings that would really make a lovely compliment with your summer tops and tanks. It has been made with the cotton crochet threads and the golden beads and tutorial is here howdidyoumakethis
Make Your Own Ombré Circles Earrings:
You can create these lovely Omber shades blue pair of the ear rings and get them included in your fun summer looks to look really fun and funky at the same time. You would need the lovely beads in the different shades of the blue to create the omber effect petitboutdechou
Super Simple and Adorable DIY Tassel Earrings:
If you really love to look boho and and chic then you should really be getting your hands on these gorgeous and colorful tussle ear rings which are so much easy and fun to create yourself at home.Learn to make them on your own here consumercrafts
How to Make Dolce & Gabbana Pasta Earrings:
Those dolce and gabbana ear rings ins past style are so much famous and craze among the girls and now you can make them on your own with the pasta bows, brass charms and some regular crafting utilities. You can chekc out the tutorial here to make a pair yourself honestlywtf
Gorgeous DIY Creole Dragon Fruit Earrings:
You can get inspiration from any of the things while working on any of your crafting project like making some cute ear rings for yourself or for another in the family. You can choose to follow the design of this pretty dragon fruit has bee used as a funky ear ring design petitboutdechou
Easy DIY Photo Resin Earrings:
Make some custom ear rings for yourself and for your dear ones as gifts and these flowery photo resin ear rings are the best of the idea to get your hands on.You can check out the details of making it here beadinggem
Beautiful DIY Pink & Gold Polymer Clay Earrings:
making your own jewelry pieces is one of the best and the most unique way to make your own style statement that is really chic and boho. SO here are these clay made half moon designed pink and golden colored ear rings and you can learn making them here pitterandglink
Make Your Own Hammered Chandelier Earrings:
The custom jewelry is now all at your hands if you got some perfect crafting tools for the purpose and here is how you can make some of the cute jewelry pieces like this adorable pair of chandler ear rings out of the beads and the jewelry gauge wire.Learn the details of the idea here consumercrafts
How To Make Christopher Earrings:
Girls just love to collect the beads of all kinds and shapes and now its time to make the cutest of the ear rings of them and thus making the most of your beads then letting them just rest in the drawers.Here are these pretty and true polymer ear rings to get your hand on hellowhimsy
DIY Half Moon Tassel Earrings: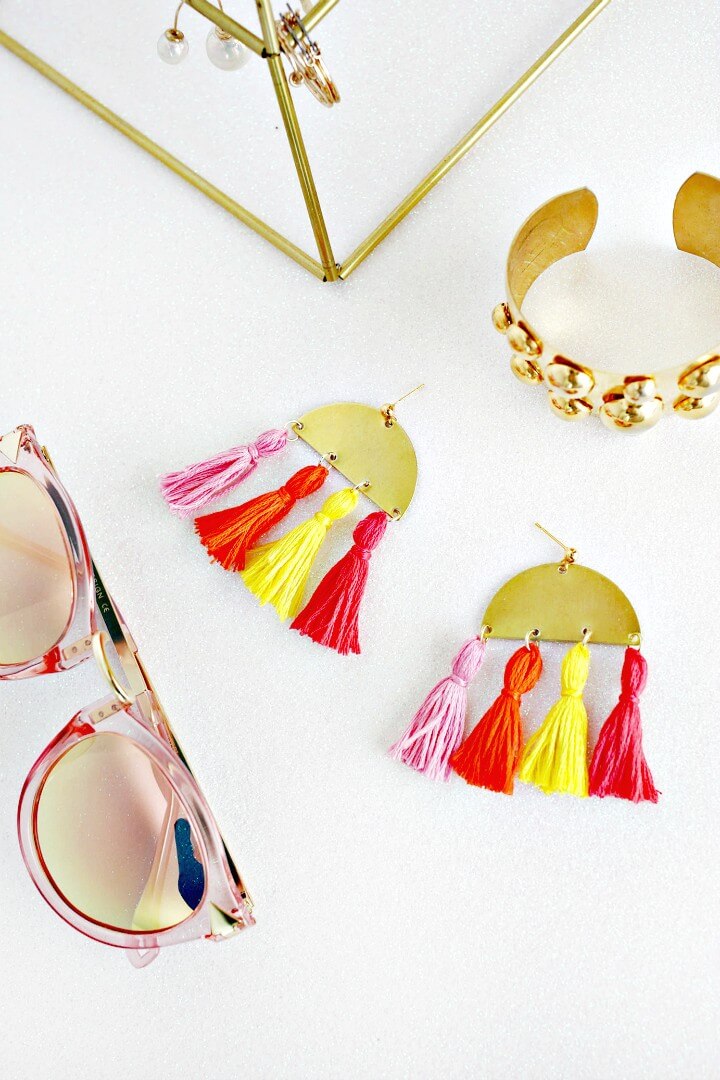 Boost up your style statement this summer with this lovely metal moon and tussle made ear rings to be gracing up your dress ups for the perfect boho look. Learn to make it here with all the details and the instructions which are easy to follow abeautifulmess
How To Turn Ribbon Into Statement Earrings:
If you are left with some colorful and cute ribbon from your other crafty projects then here is the chance to make the most out of them and create these really cool and fun looking ear rings that would really glam up your look for a summer day.Details of the making it on your own here hapinesswherever
Simple DIY Chain Earrings: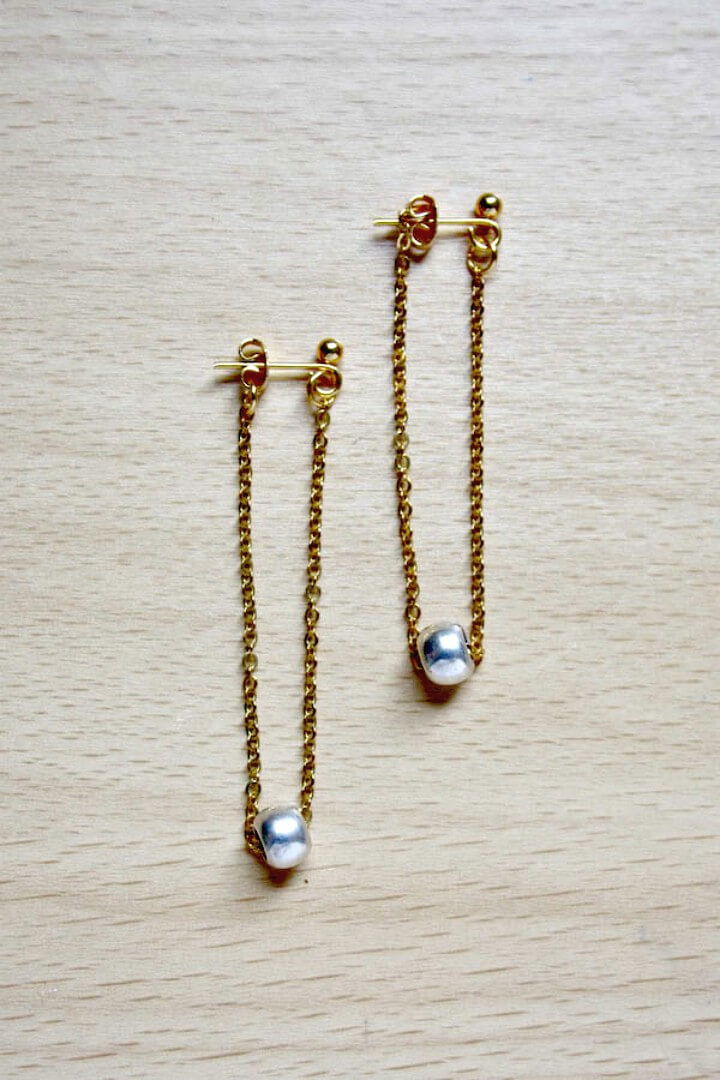 If you are left with some old jewellery chains that you are not using right now then here is the idea of making the most of them and creating this adorable pair of ear rings from them by just adding the lovely pearls to the chains.You can check out the tutorial details of it here makeandfable
Cute Create Beaded Drop Earrings:
These utterly fancy and super stylish ear rings are so much easy and fun to create yourself at home with just some simple beads and the metal charms to be used at the end for that perfect professional look of the ear rings.Learn to make them on your own right on this link provided nearlycrafty
Quick DIY Raw Stone Earrings: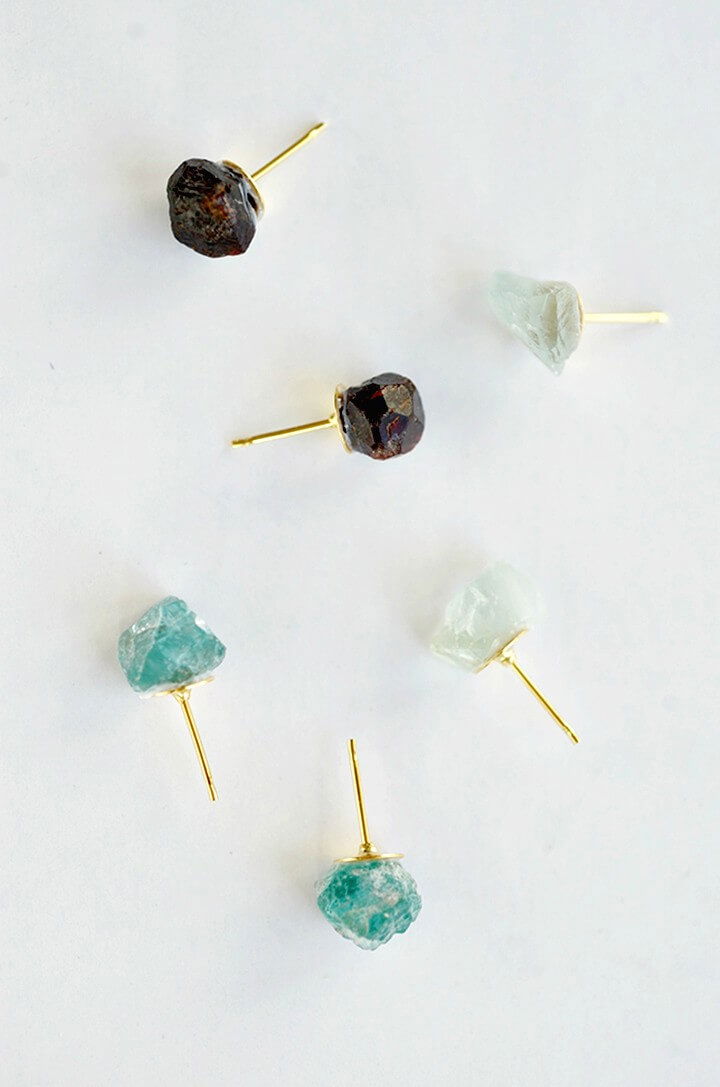 Studs are one of the most used ear ring accessories by the ladies and now you can make some of the gorgeous ones on your and that too using those cheap and colorful raw stones and thus make your simple look to be really decent and styled up at the lowest of the cost. Tutorial details are all given here aliceandlois
Make Your Own Earrings With Bead Caps and Spacers:
The lovely and colorful beads are available in lots of shades, designs and shapes and can be used for many different projects to be done at home like these really cute and custom looking ear rings that would really boost up the charm of your simple dress ups. Check out the instructional link of the rear rings here makeandfable
Easy DIY Beaded Tassel Earrings:
Without the ear rings your whole look is just so undone so to get the most funky and cool kind of ear accessories we got these adorable ear rings having been easily made with the beads and the tassels and now you can own a pair of them in your favorite colors by clicking right not his link provided homemadebanana
Make Your Own Fringe Earrings: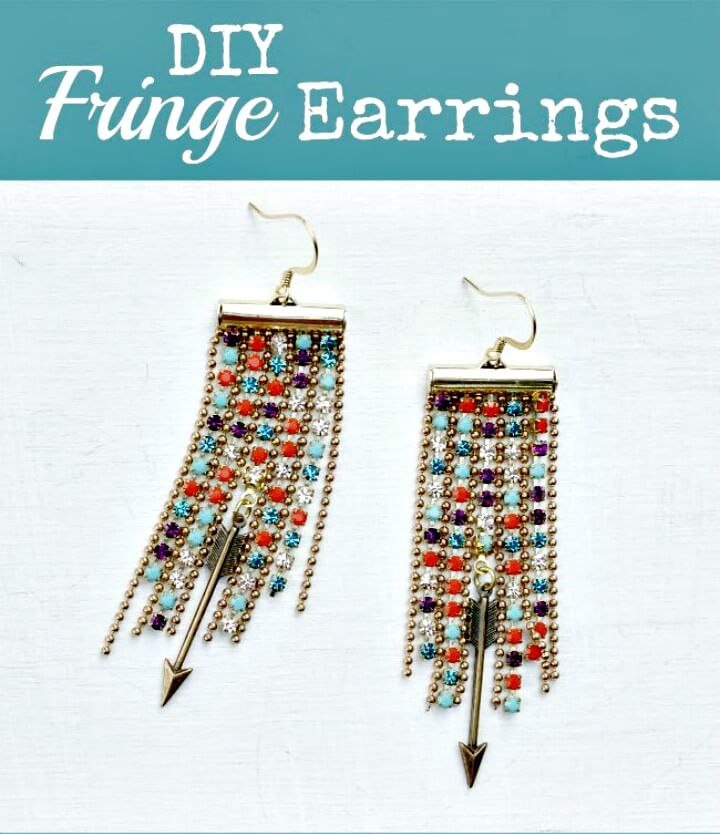 These gorgeous and totally heart winning ear rings are surprisingly made at home and that too so easily and cheaply to own your own style statement this fashion season. With the rows of cup chains an ball chains these adorable ear rings have been easily installed and those metal arrows are just adding the right amount of the funk to the,. Step by step instructions are lying here candiecooper
DIY Seed Bead Earrings: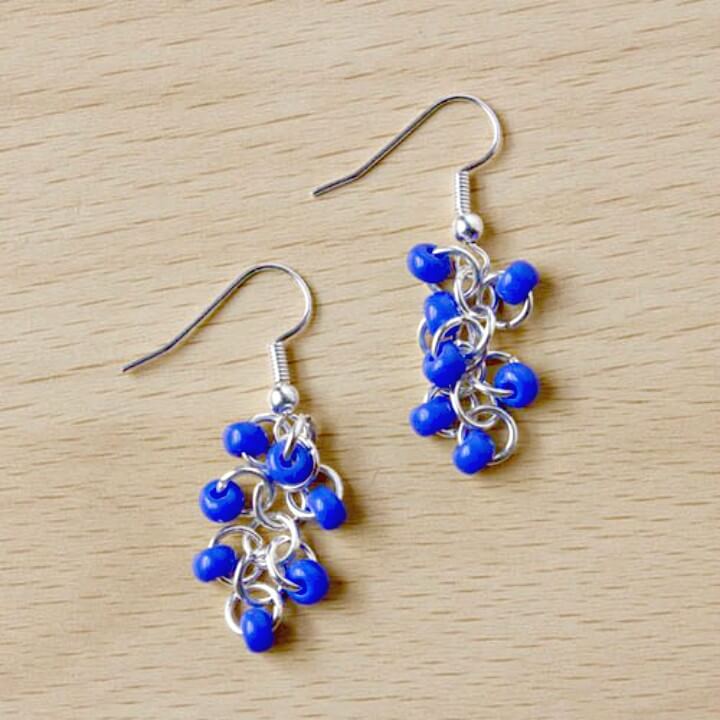 With the collaboration of the see beads, jump rings and he fish hooks these adorable and totally sassy kind of ear rings have been made that would really charm up your simple and boring dress up for any day and can also be used as the great gifts for any of your beloved girls around makeandfable
Quick DIY Druzy Stud Earrings:
Using the cheapest of the things around you can make the most amazing things for yourself and here is the one with us to share.You can create these pretty glittery studs your self with the use of glass glitter and the complete recipe of their making has been shared here craftaholicsanonymous
How to Make Faux Geode Studs Earnings:
With a little of crafty work you can get some really fun and style added to your dress up as these petty handmade glittery studs to add oodles of charm and fashion to your tops and tanks. You can easily make them at home and the details are given here to follow the tutorial step by step adventuresinfashion
Cute DIY Tassel Earring Tutorial: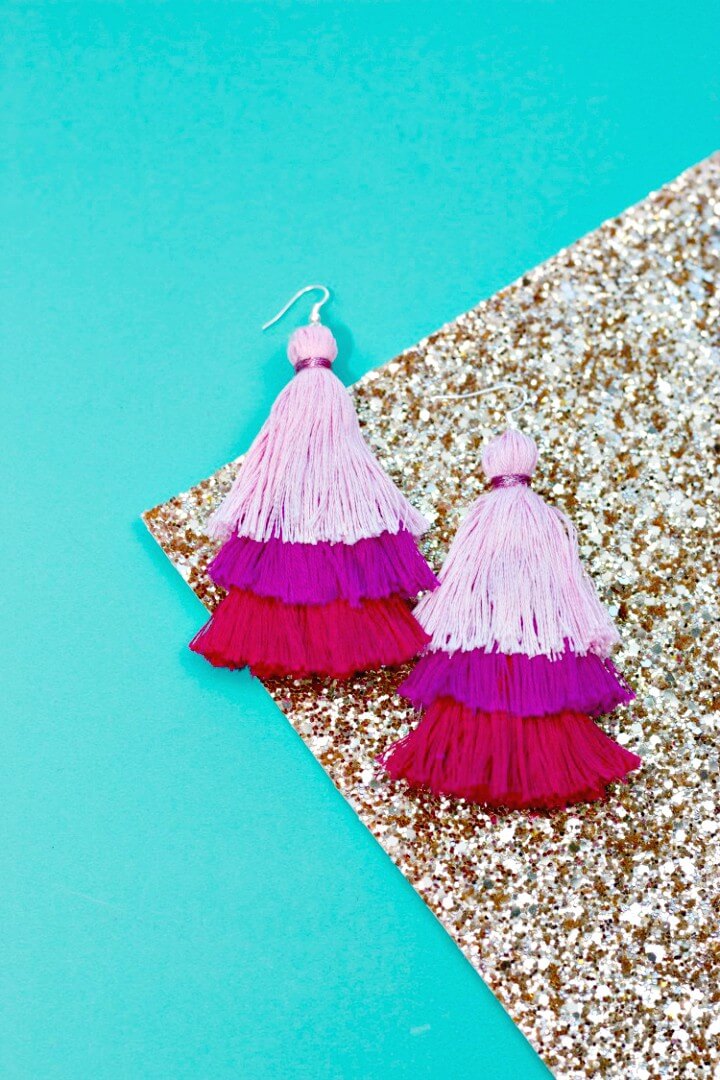 Summer is all about the colors and adding them in your personal style statement too and here is how you can bring this pretty colors to your summer fashion with these adorable tassel earnings which are so much easy, fun and cheap to make and you can also gift them to your friends and colleagues too.Link here for details sweetredpoppy
DIY Clay Terrazzo Style Earrings:
Terrazzo is the kind of material having the marble pieces in it and is widely used in the home decor projects and now you can make these adorable and totally unique kind of terrazzo ear rings for yourself to some perks of beauty and style to your summer dress up. You can also make them for your teens girls and they would just love it.Check out the tutorial details here blissmakes
DIY Paper Stained Glass Earrings:
These glass stained paper ear rings are just the sheer delight with exquisite design and the digital kind of print they have been made to. You can easily create them on your own and add the perfect quirky vibes to your tops, tanks and shirts with it.Here is the link for the complete tutorial details instructables
Make Your Own Tortoiseshell Statement Earrings: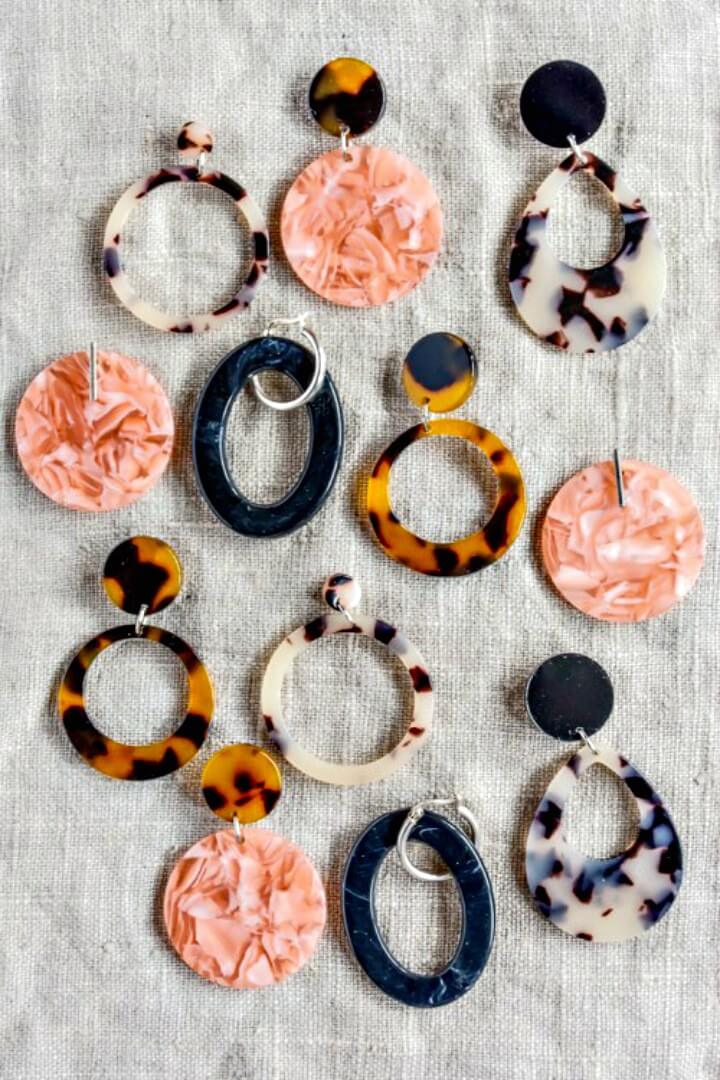 A nice and cute pair of the ear rings can really make you look instant ready for any of your outdoor activity and here is how you can create a big bunch of the gorgeous and cool kind of ear rings to get be added in your jewelry box for the perfect pick up. These are tortoise shell ear rings in stud and hoop style to suit you in really different ways and make you look so stunning and cute.You can learn to create them on your own here diyinpdx
Quick DIY Pom-pom Earrings:
If you are a lazy crafter but you really want to try your hands on the DIY ear rings projects then this pom pom ear ring idea is jut right for you get your hands dirty with. Yes you just had to attach the ear ring hooks to the pom pom balls and its done and here is the link you can browse to know more about these ear rings theoutfitrepeater
Cute and Easy DIY Disco Ball Earrings:
You can create these utterly chic and gorgeous in style disco ear rings to make yourself look so eye catching and funky for any of your fun gathering and party with these funky and cool pair of the ear rings. They are super easy and fun to create yourself at home with just the disco balls and the jewelry kit partyhardiy
How To Make Festive Ornament Earrings:
Here is the most unique and the most one of a kind like pair of ear rings that would really make you look stand out among your friends, colleagues or the family when there is a gatherings. They are made with the colorful beads filled small glass bottles and being corked up at the top for a a really interesting and fun possession.You can check out the details of the idea here icepandora
Adorable DIY Glitter & Gold Snowflake Earrings:
Here is how you can create the lovely and totally decent kind of ear rings to compliment your formal dressing with and they are just too easy and fun to create yourself at home.All you need to do is just grab fish ear ring wires and then attach them to these pretty and gold snow flake ear rings and its done. More details here whitehousecrafts
Quick DIY Minimal Clay Earrings:
When you have colorful clay around you can get your hands on lots of creative stuff for your jewelry box too and these lovely white and black ear rings i the cute circle and heart shape are the best things to be made out of them and add some glam touch to your dress ups. You can learn to make them on your own here lanaredstudio
Gorgeous DIY Brick Stitch Star Earrings: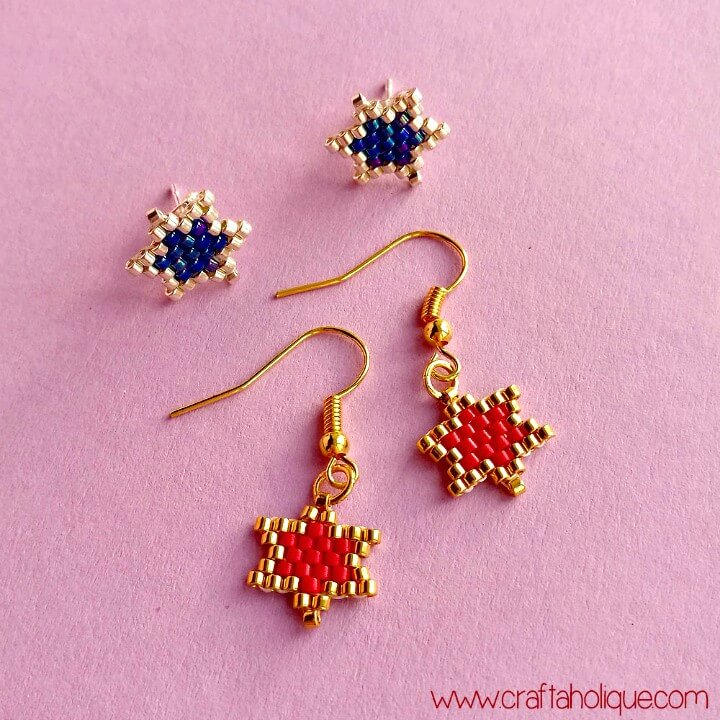 The options are many once you decide to make your own ear rings and jazz up your style statement with it. Here are these colorful and cute kind of star shaped ear rings that would suit best the little girls and would make a perfect handmade gift from your side on their special day.SO grab some beads, ear ring hooks and get this started with instructions given here craftaholique
DIY Silk Tassel with Beaded Tie Earrings:
Here are these super cute and super stylish tassles ear rings which are quite in trend now and thus would make you look really updated in the fashion for sure. You can easily make them at home with the tassles of your favorite color and then with the beaded tie up making them look more gorgeous and professional.Details here petitboutdechou
How To Make Pretty Chevron Beaded Earrings: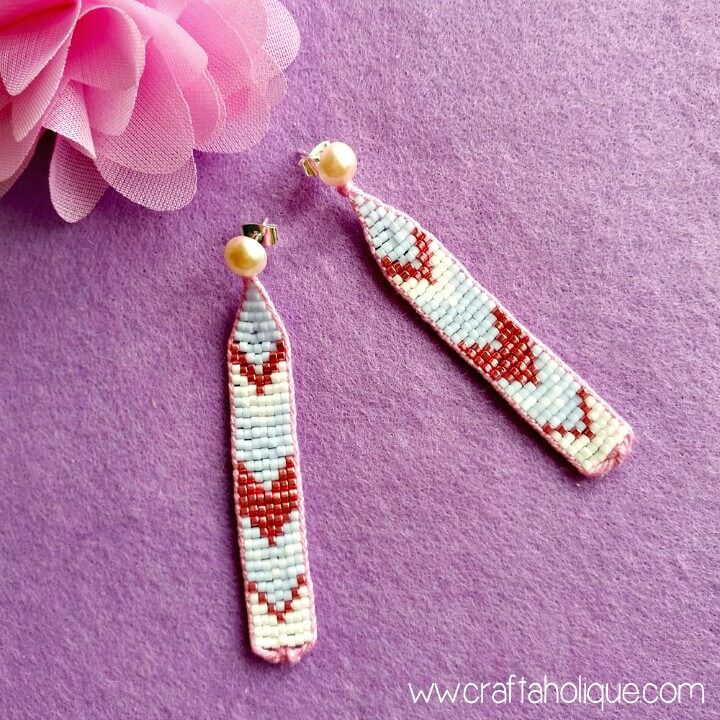 When you have beads around you can do a lot with them and making these rally cute and totally unique kind of ear rings is the best idea to get girly with the beads. The beads have been weaved with the cute chevron pattern with the pearl studs on the top and thus they turn out to be really cool and fun.Tutorial here craftaholique
Easy DIY Mixed Media Earrings: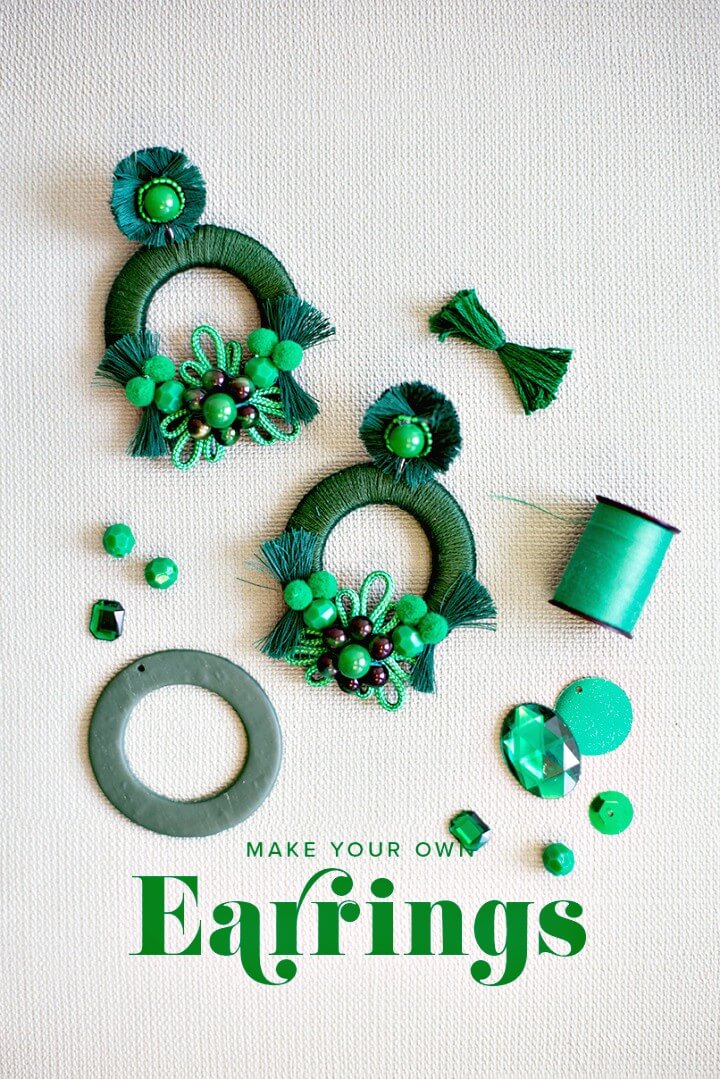 If you have some crafting skills then you must be practicing them and here is what you can do with the left out things of your different crafting project.s Yes you can crest these adorable ear rings with a huge girly appeal due to the beads, stones and the thread. They would really spruce up your look instantly so do make them with the tutorial help here thehousethatlarsbuilt
Make Your Own Geometric Tassel Earrings:
Making your own jewelry is the best idea when you really like to create your own fashion wave around and you can get loads of ideas in this regard. Here is this boho pair of ht geometric shapes ear rings made out a metal half moon, a circle, chain and the cute tassels for that lovely finish.Complete making tutorial is here to follow jojotastic
How To Make Fruit Earrings: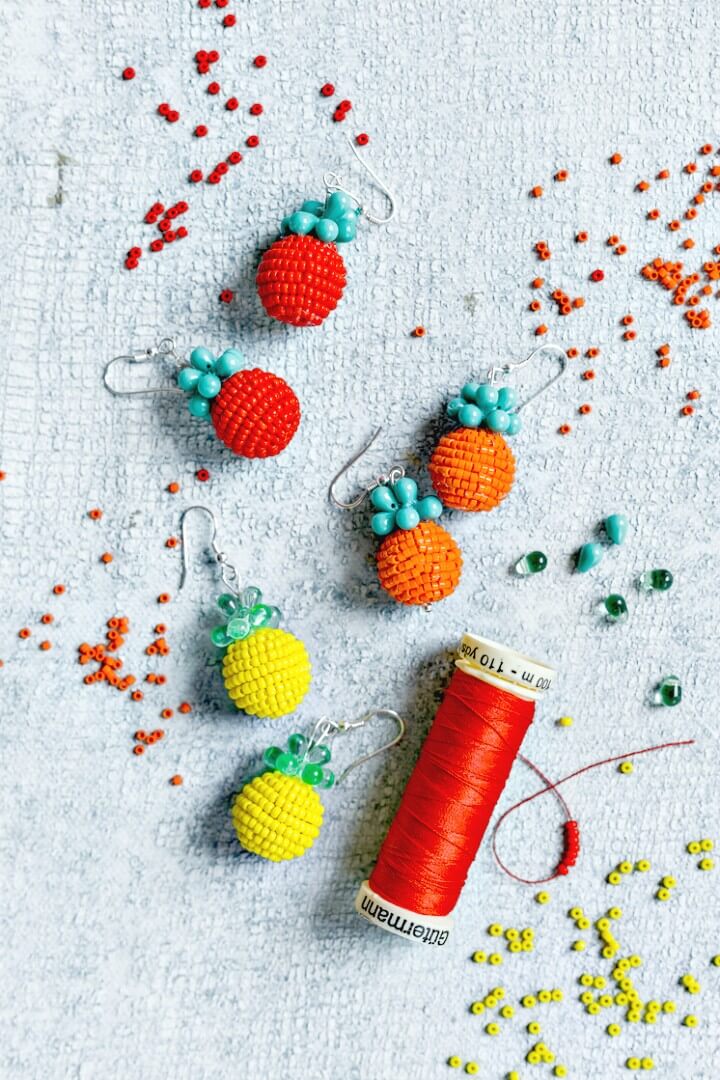 The seed beads are the cheapest of the things to get for your fun crafting sessions at home and here are these most fun and fruity things to make out of them and add some cool touche to your style statement. Yes these cute fruity ear rings in apple, orange and pineapple are the cutest of the ear rings you can yearn for.Details of their easy making here thehousethatlarsbuilt
DIY Statement Tassels Earrings:
Your accessories say a lot about your style statement and here is how you can create these custom jewelry pieces of the ear rings at home and make your own fashion trends to be followed by the propel around. With the clay shapes and the matching thread tassels these gorgeous statment ear rings has been nicely installed.Tutorial is here thelovelydrawer
Make Dragon Fruit Pom Pom Earrings: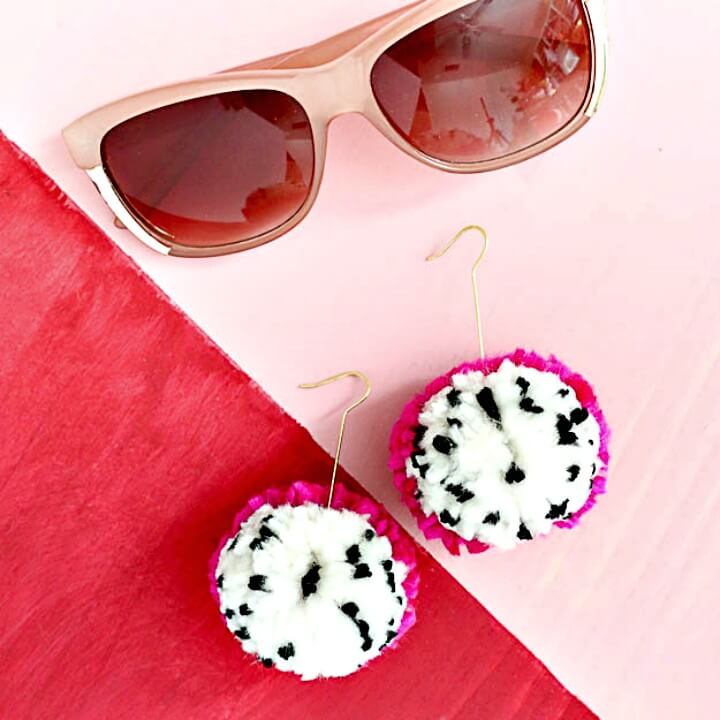 By mixing up the cute colors of the threads like the white, pink and the black this lovely dragon fruit inspired pom pom balls have been created and then added to the fish ear rings hooks and thus letting you enjoy the most soft, light weight and cute ear rings for your summer fashion.You can check out the details of the idea here akailochiclife
Cute DIY Orange Angel Earrings:
The options are like endless when you are working on the and made jewelry items for yourself or for another beautiful girl around and here is something to add more in it. Yes these cute and totally whimsy kind of angle ear rings are the prettiest things to be in your ear rings collections and have been made out of the ribbons and pearl beads. Instructional tutorial here
Adorable DIY Faux Labradorite Geo Drop Earrings:
This totally ravishing and elegant piece of ear ring pair has been astonishingly made at home but seems to be really expensive and market bought. You would need some black and white clay, a link chain, some copper wire to make these adorable pieces of the ear rings to suit your pretty tops, tanks and shirts.Tutorial help here fallfordiy
Gorgeous DIY Neon Chain Earrings:
If you are looking for a cute an fun idea for your daughter to make her a nice gift for any of the special day then these neon chain ear rings are the best things to get your hands on. Yes with the colorful neon chains, jump rings and the fish ear rings hooks these gorgeous and stylish ear rings have been easily created.check out the details of the idea here thecraftyblogstalker
Simple DIY Leather Fringe Earrings:
If you got some leather in your spaces then its time to use it for some crafty benefits and get yourself his adorable and chic pair of ear rings.You can cut the strips out of the leather and then tie them up on the jump rings and thus enjoy the funky and cool ear rings for no cost.You can check out the details completely here isntthatsew
Adorable and Easy DIY Lace Earrings:
If you got some lace left out in your sewing box then its time to take it out and use for some more girly possessions like this enchanting pair of the ear rings for your simple dress up to be turned into an exquisite look. So get the lace appliques and tie them in the fish ear rings hooks and yo are done.Link here for details greenweddingshoes
How To Make Fringe Earrings:
Do you love working with the threads,? have you been left out with some of them in your stash basket? then here is the really cute and functional idea to use the threads. Ye you can cut these fringes out of them and them create these simply adorable rear rings pair out of them to match them with your any outfit.Step by step details here thealisonshow
DIY Rhinestone Chain Earrings:
You would never waste your money on the market bought ear rings once you get to know that how easy and fun they are to be created yourself at home an that too with the utter touch of personalization. SO here is this perfect beauty pair of the ear rings made out of the chains and a lovely stone and they turned out so glam and gorgeous.Fully detailed idea here mywhiteideadiy
How To Make Dagger Earring Studs:
You can create the lovely wooden ear rings on your own and add some warmth to your regular or the formal attire. These cute triangle shaped ear rings have been installed out of the Popsicle sticks with some cute paint hues on them to make them look more spruced up.You can check out the details here mintedstrawberry
How to Make Snowflake Earrings:
If you have some old hair pings lying in your dresser drawer then its time to turn them into something cool and fun like these pretty and cute ear rings for the little girls. Yes the hair pins have been covered with the white snow falke beads and they turned out to be really cute and fun.You can check out the details of the idea here craftcreatecook
Easy DIY Decoupaged Earrings:
These fancy and really cool kind of ear rings are so damn easy to make yourself at home and enjoy some really custom and pretty possessions for your ear beauty. You need to cover the wooden round tags with the pretty paper and its done.You can check out the details of the complete idea here wecanmakeanything
How To Convert Clip-on To Pierced Post Earrings:
Sometimes you really like the designs and styles of those clip to ear rings but they are not so comfortable to wear so you can turn them to pierced ones easily at home and thus enjoy more feasibility while wearing them around.Here is the complete tutorial showing how easily you can do this transformation from clip on to pierced thriftanistainthecity
How to Make Pearl Dangle Earrings: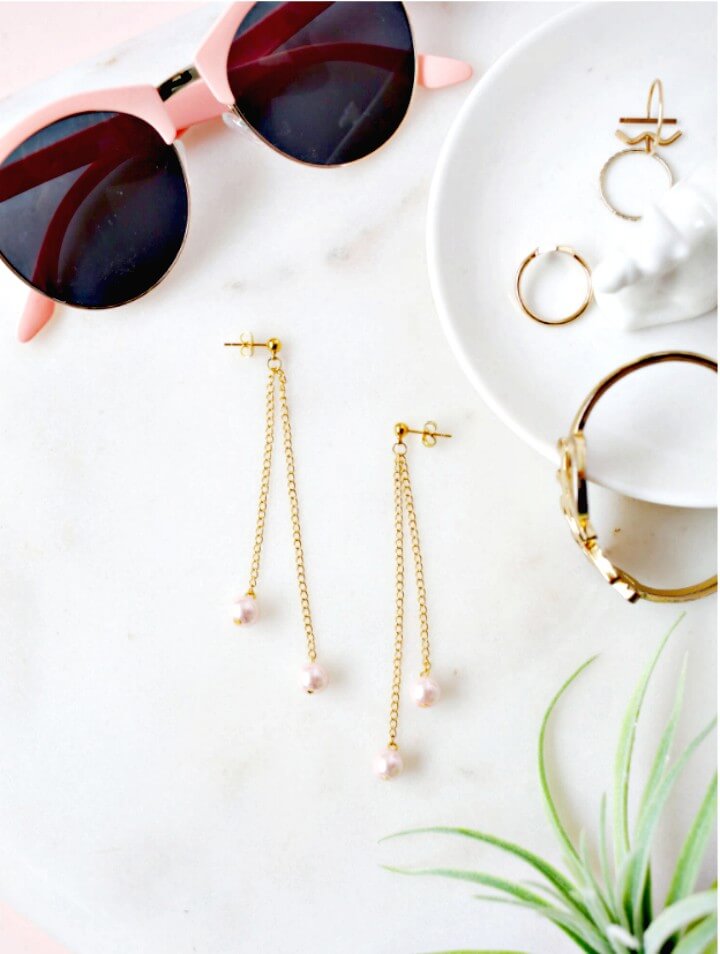 With that lovely gown or that adorable formal frock that you have specially bought for your festive and gathering times, these pearl dangle ear rings would really suit and compliment your whole look with their elegance and grace. You would need some pieces of the gold chain and the pearls to create this whimsy pair.Check out the details here abeautifulmess
Beautiful DIY Braided Fringe Earrings:
Here is the easiest of the idea that would let you enjoy some really custom and cool ear rings possessions which are light weight and so much colorful to spruce up your summer fashion with.The embroidery floss has been braided together in multilevel shade and them tied together to form up these adorable ear rings.Details here gina-michele
DIY Mermaid Boho Earrings:
Summers are so much fun to play with your dress ups and so with your crafty tools and skills and here is something that would suit the both. Yes you can create theses pretty and boho looking mermaid ear rings to boost up the look of your summer personality with. You would need mermaid cabochons and bezel settings to create this pretty pair mintedstrawberry
Easy DIY Textured Circle Boho Earrings:
The crafty sessions can be more fun when you add the handmade jewelry to your to do list and here is how you can create this pair of so fancy and fascinating ear rings With the lovely gold round stamping blanks and the black crystals these gorgeous ear rings have been easily made to rock your formal looks.Details of the tutorial here mintedstrawberry
Amazing DIY Seashell Earrings:
Summers are so much exciting for those beach trips that we have planned through out our lives.So here is something that would really charm up your beach look with the utter custom touches. These are the cutest and the colorful sea shell ear rings to spruce up the beauty of your beach looks and dresses with. Learn to paint them here momsandcrafters
Adorable DIY Pearl Earpiece:
The ear ring pieces are the new jewelry trends these days and an be seen by worn everyone around and its time for you to give them a try and that too by making a pair on your own.Here is this utterly graceful and gorgeous pair with pearls and gold pins to be easily created and flaunt on your ears with much pride.Complete details here missysue
How to Make Crystal Cluster Earrings:
Here is how you can bring some vintage vibes in your fashion with these really gorgeous and adorable pair of crystal cluster ear rings which are just too much easy and fun to create yourself at home. You just need to glue up some crystals together and they are just ready to grace up your dress ups for a fun day or memorable night.Details here thanksimadeitblog
Beautiful DIY Seed Bead Earrings:
Here are these pretty three in tiers ear rings that wold really bring a jazzed up effect to your dress up and to your personality for a fun summer or winter day. The fish lines have been loaded with the colorful beads in three wizes and then hooked up together to form a pretty ear ring pair and here are the complete details thesweetestoccasion
Make Pink and Blue Earrings:
Crystals are so much beautiful and sand the jewellery made out of them is of the same beauty value. The three styled crystals setting with white, pink and blue crystals in them has been used to install these purely beauty pieces for your ears to look really stunning and stunning for a glam night or a fun day at gatherings.You can check out the pictorial guide here missysue
Make Your Own Trapeze Earrings:
You can copy these gorgeous, fancy and totally boho kind of pretzel ear rings to get them matched with your unique fashion sense. You would need simple and feasible of the supplies like the metal wire, bars, stick beads of your favorite color to shape them up and here is how you can do it on your own with instructions thanksimadeitblog
Easy DIY Beaded Hoop Earrings:
The4 small hoop rings can be turned into these fancy jewlery pierces with loads of colorful beads an the chain links and thus letting you enjoy the most personalize and your type of jewelry ever. Learn to make it here designthriftmag
Awesome DIY Wood Burned Earrings: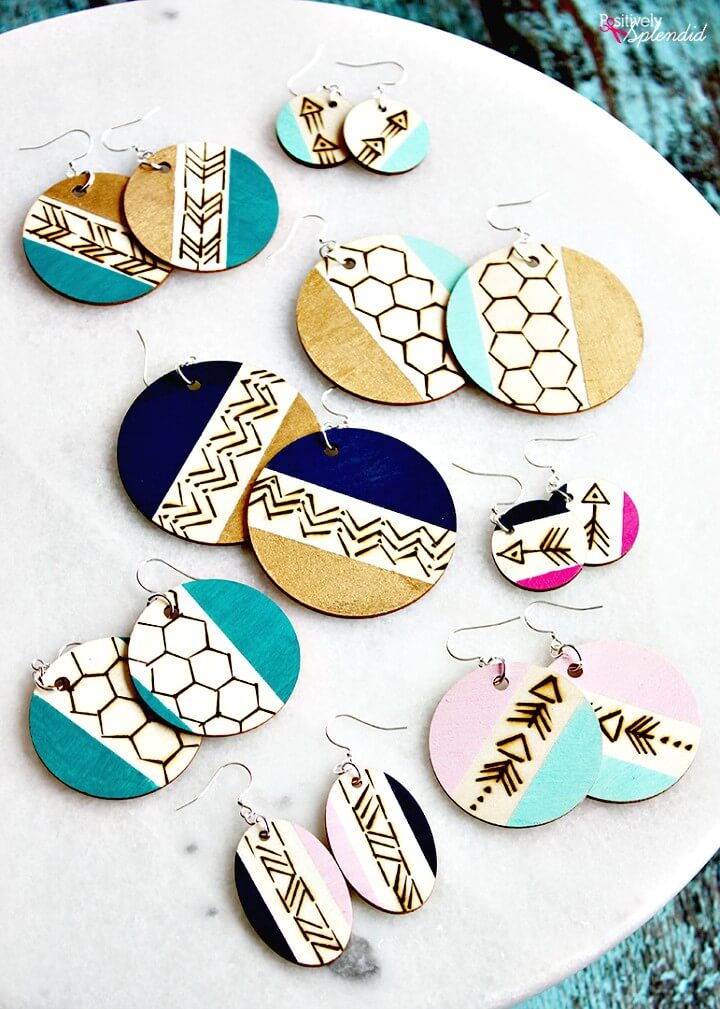 Cute DIY Candy Button Dot Earrings:
The colorful studs are the bet of the jewelry pieces for your little princess to get matched with each of her top, tank and frock and look really fashioned up in every look. You just need loads of colorful beads, ear rings posts an and some glue to shape up these really cute and cute studs.Details here happinessishomemade
Quick DIY Mise En Dior Stud Earrings:

Do You have a big collection of those colorful pearls lying in your collection box? Its time to bring them out and use for this really fun and functional project of creating the ear rings for yourself, your daughter, cousin and the friends. You just need to attach the jewelry wire to the pearls and they are done.You can check out the deitals here
hellowhimsy
How to Make Glitter Hexnut Earrings:
If you want some really cool, unique and totally one of a kind studs for your summer fashion then you should really be peeking into these fun idea of creating them from the nuts. Yes steal some nuts from your husband's garage, paint them in gold or any of your shade and then add some jewelry wire an back and they are done.details here cafecraftea
Adorable DIY Wire Wrapped Crystal Earrings: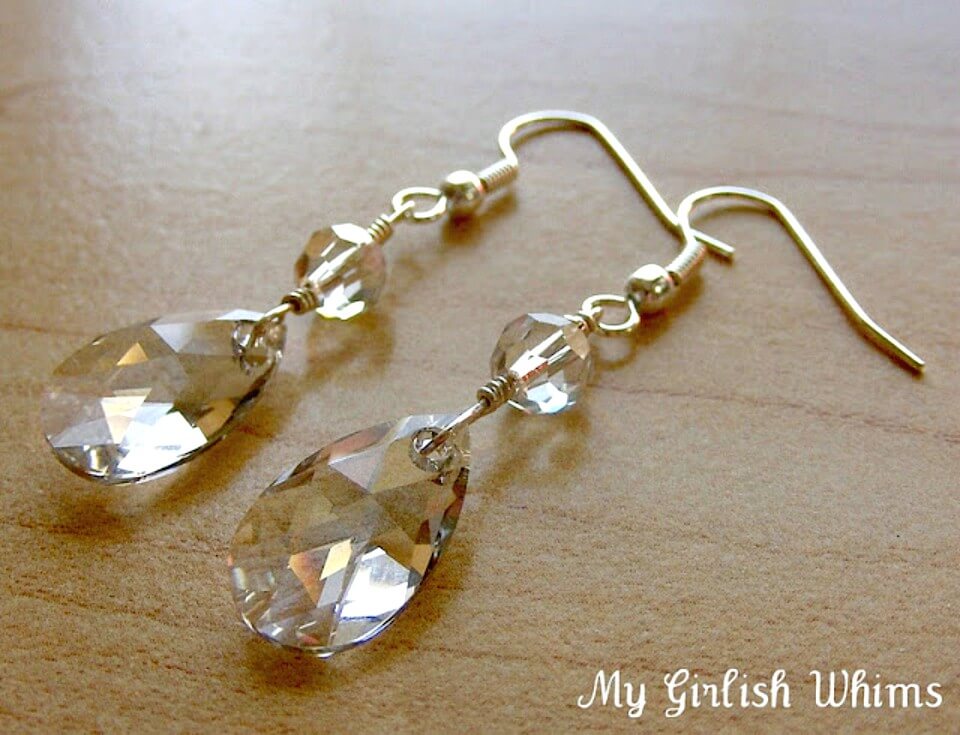 With three of the easy and cheap supplies you can create these really gorgeous and graceful ear rings for your formal dresses or to spruce up the causal look with. The crystals have been wired up and then added with the fish hooks and done.Details here mygirlishwhims
DIY Anthropologie's Hue Pyramid Earrings:
Here is another fancy pair of the ear rings that would really add the pretty cute touches to your overall look for the party day or just a fun gatherings around. With the jewelry wire turned into a pyramid triangle and the colorful paper beads have been used to spruce it up and look so chic and fun.Tutorial here madmim
Easy DIY Friendship Earrings:
We love making those really colorful and cool friendship bands our selves to gift our beloved fellows and here is something more upgraded and fun to be made out of them. Yes you can weave the floss threads in chevron style and add some stones to the end and create these adorable ear rings for the friendship day this year.Details of the idea here kristiinaanderson
Make Your Own Tangerine Chandelier Earrings: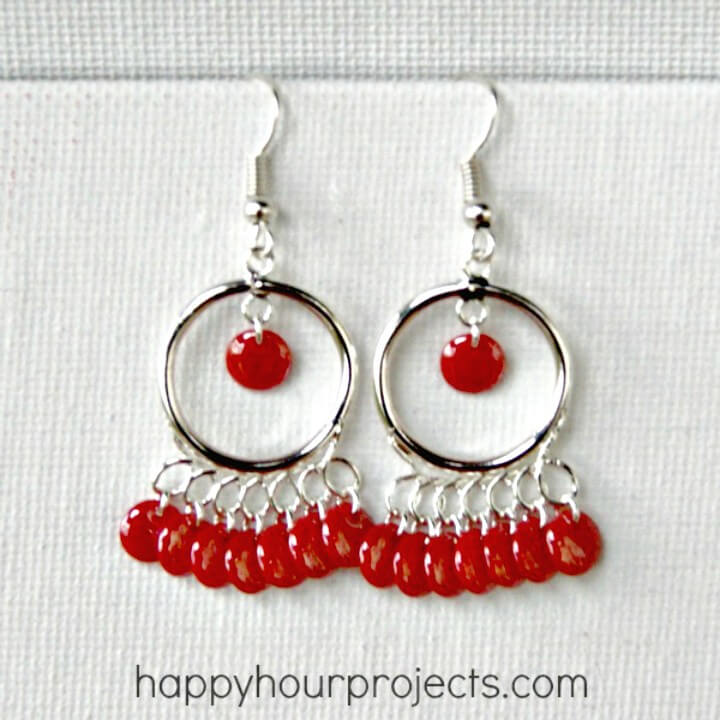 These gorgeous tangerine chandelier ear rings are the kind of pieces that you see in the jewelry shops with hefty price tags on them but now you can make them on your own. Yes using the rings, jump rings and the stones or beads of your choice you can easily install them on your own with tutorial help here happyhourprojects
How To Make Chandelier Earrings:
Chandelier ea rings are the favorite of the ladies as they come with the layers and really provide a volume to the complete dress up and the face too. SO here is how you can easily create this adorable and whimsy pair of the ear rings with the beads and the chains yourself at home.Tutorial help and instructions here happygoluckyblog
Easy DIY Cactus Earrings From Fuse Beads:
cactus crafts are so much fun and here is something more cool and fun to be made out of them and thus bring some delight to your fashion too. Yes you can install these pretty cactus ear rings out of the fuse beads by just gluing them together and you would get a pretty and quirky ear ring pair for yourself.Details here kittenhood
'DIY Brass Monstera Leaf Earrings: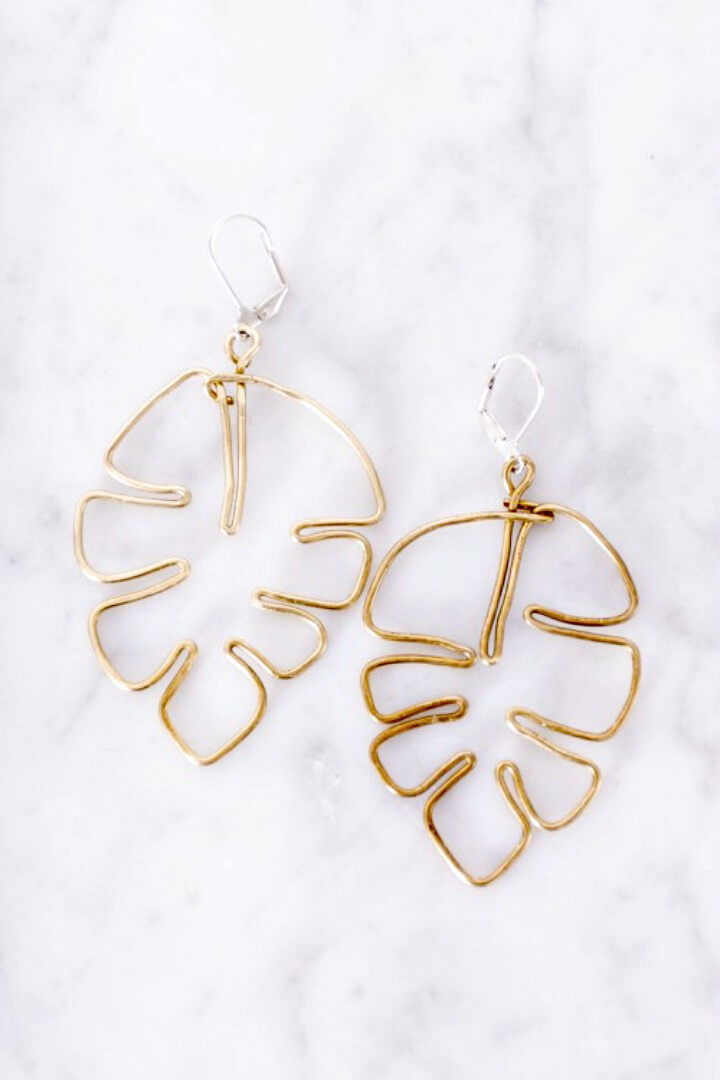 Get inspired from the nature while working on your next jewelry project and these really cute and pretty pieces of the leaf ear rings are the best of the ideas to work on.You can use the brass wire and mold it into a leaf shape then add the fish hooks to them and they are ready to glam up your dress up.Details here diyinpdx
DIY Mini Tassel Earrings In 30 Minutes: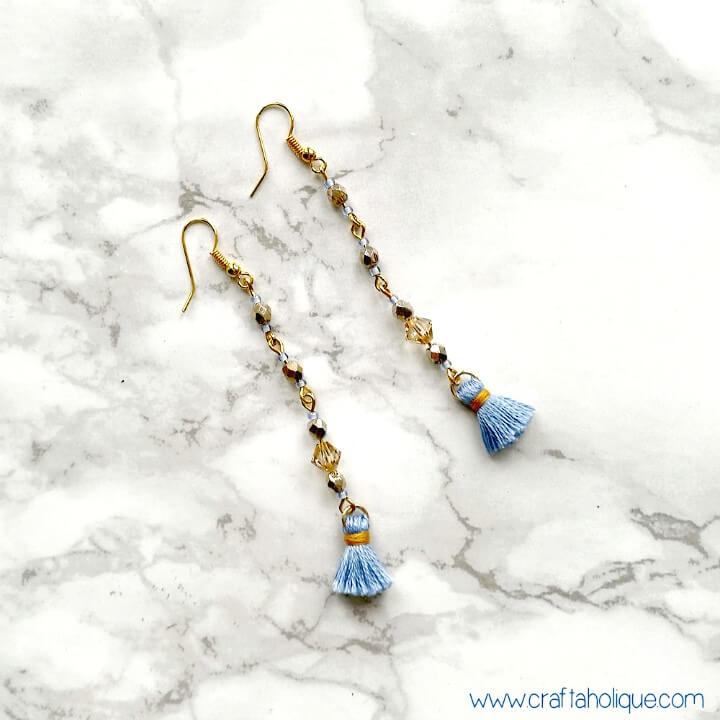 Here is the idea of really cute and glamorous kind of ear rings that are super easy and fun to create yourself at home. With the beads, pearls. crystals and then a cute little tassel at the end and here is how you can own them with easy instructions and tutorial help. You can check out the details here craftaholique
Simple DIY Summer Fruits Stud Earrings:
The miyuki beads are so much fun to work with and here is how you can create these lovely fruit ear rings to be a part of your summer fashion. Pineapple. apple, oranges are the fruits you can create by mixing the different colors of the beads to each other.You can check out the details of the idea here to own them for yourself petitboutdechou
How To Make Deco Swing Earrings:
You can get these black, white and gold beads, string them up, make the fringes and get these exciting ear rings for yourself. You can check out the details of the idea here to own one for yourself. They would look really sassy in your ears and you can get them matched with your dresses by changing the colors of the beads so here is the tutorial to check out the details of the idea baublesandbeadsblog
Beautiful Make Beaded Fringes Earrings:
The beads are the fun things to get your hands on and create some really cool and fun jewelry crafts out of it.By creating the fringes from the beads this lovely ear ring pair for yourself, for your little ones and for the friends.You can check out the details of the idea here to make it this weekend petitboutdechou
DIY Spring Bird Creole Earrings:
Ear rings are the fancy pieces of the jewelry and now you can make some on your own using the ear rings and the multiple beads in pretty shades to turn them out as the most exquisite ear ring possession in your jewelry box.Here is the link to check out the details and make them on your own to won them for yourself or to make some cute gifts for the festive petitboutdechou
Make Your Own Wooden Circle Earrings:
When you have the crafting skills you can do a lot with jewelry making passion and here are these three types of versatile jewelry pieces made out of the same supplies. Yes with the wooden round circles these gorgeous ear rings, studs and the dangle ear pieces have been nicely created by just painting the circles and then attaching them together.You can check out the details of the idea here abeautifulmess
DIY Fishbone Earrings Tutorial:
If you go on the jewelry market you would see these lovely chains in the fish bone style and now you can use them to make some really adorable, gorgeous and totally classy ear rings for yourself. By adding the seed beads and a big one to the ends on the fish bone chain and your handmade pretty ear rings are ready to add oodles of glam and beauty to your look.Details here hellowhimsy
Make Your Own Sticker Gem Earrings:
The sticker gems are one of the cheapest of the things that you can get to make these lovely and fun ear rings out of and look really cool, fun and chic for the summer fashion. You can make as many as you want as the are so cheap, quick and fun to create yourself at home.You can check out the details here to make them more feasibly at home theglitterinmytea
DIY Beaded Angel Earrings Tutorial: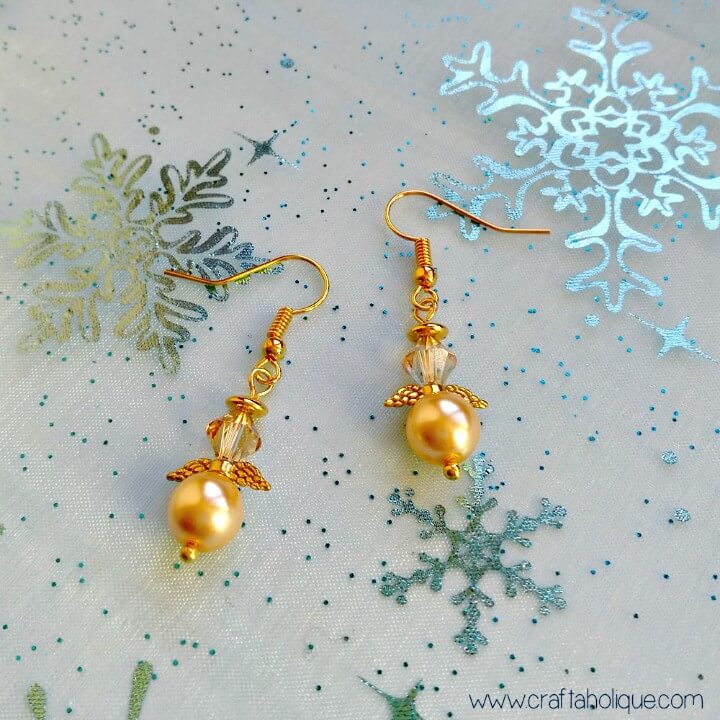 The beaded earnings with the angle beads have made them look so much whimsy and unique and you can perfectly adopt this idea to create some fancy gifts for the girls of your family and friends. They would make the super lovely gifts so you really need to check out the details of the idea here to make them on your own craftaholique
Easy DIY Craftsmanship Earrings:
Ear rings are now so much easy and fun to create yourself at home with the easy methods, genius techniques and cheapest of the supplies lying around. The round tags have been covered with the fabric and then painted in the double hues to be turned out super cute and gorgeous and matching with your dresses. You can also copy the idea for your little girls too. Details here journeycreativity
How To Make Brass Hand Earrings:
When you have the jewelry wire and the tools to mold it, shape it and get the exciting results out of your crafting skills. So if you want something unique and fancy for your ear rings these hand shaped ear pieces are the best thing to get your hands on especially the little girls would just fell in love with them for being super cute and quirky.You can check out the details here diyinpdx
Creating Resin Filled Earrings: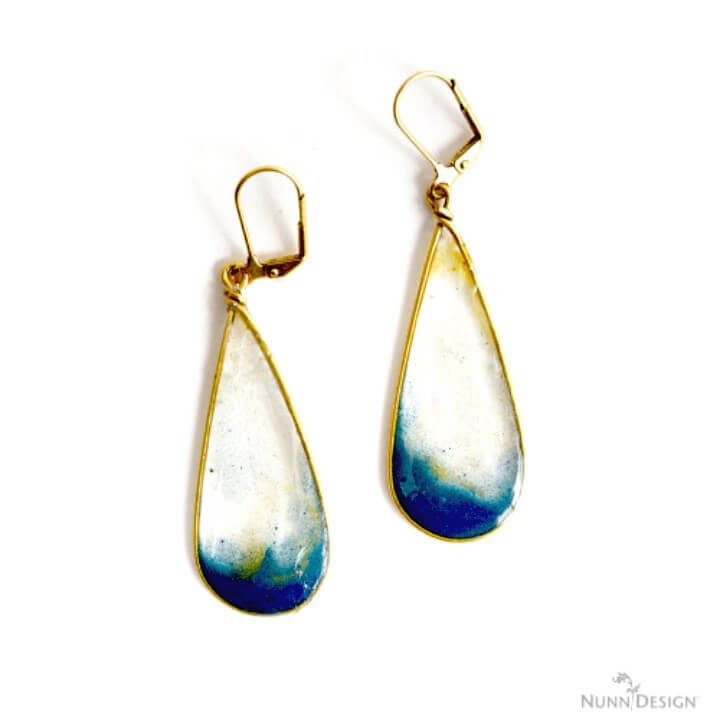 When you make your own jewellery pieces you are sure to look different and unique as they would be the utter yield of your imagination and crafting skills. Here are these transparent ear rings made out of the resins in pretty colors to look so much exquisite and stand out. You can infect them with any of the hues and colors to get more astonishing results nunndesign
Make Your Own Beaded Fringe Earrings:
The simple fringe ear rings made out of beads are just the apt things you can make and look extra ordinary from being boring and dull. You can mix up any of the bead hues you like to get the desired results that really match to your tops, tanks or more and make you look really a fashin diva of your own personal style.You can check out the details here gina-michele
How To Make Evil Eye And Tassel Statement Earrings:

Many of use use those evil eye chamrs to stay safe from the evil and hateful vibes from the jealous people around. And now you can copy that design and create these really boho and innovative kind of evil eye and tassel ear rings on your own to make the most quirky fashion statements on your own.details here happygirlycrafty
DIY Raffia Tassel Earrings:
Look the most unique and the most different among the crowd with these handmade tassel ear rings that would be really complimenting and suiting your outfits for sure. Yes with the beads and the multiple tassel mixing these adorable and funky ear rings have been easily and cheaply created at home and here is how you can copy them at home with the tutorial details lindseycrafterblog
Adorable DIY Tassels & Beads Earrings:
You can mix up the crazy crafty material and thus get the crazy results for the handmade jewelry projects that you do at your home. Here are these totally funky and quirky kind of ear rings having been made up with the beads and the tassels and no doubt they have turned out to be really eye catching.Details here mywhiteideadiy
DIY Pendulum Teardrop Earrings:
These pretty earrings are made with a unique pendulum shape and would really suit your jeans and top dress up style for any of the event or just a casual day at office or college. With a teardrop shaped metal piece and some cute stone studs this stunning pair has been nicely installed at home and so can you with all the tutorial help her mintedstrawberry
How To Make Maze Earrings:
Look at these more graceful and stylish looking earrings that come with vinyl maze pasted over for an artistic appeal and look! Just grab the wooden discs and then paste your vinyl maze stickers on them and add the ear wires to discs by making tiny holes in their top! Another gift-worthy DIY earring project to do at home! Complete tutorial here aredember
Easy DIY Brass Fringe Earrings:
Give a glam metallic touch to your personality with these brass fringe earrings that also super quick and easy to make at home! Here a little part of the brass discs have been cut down from the top and next holes have been punches in the sides where the yarn fringes will hang! Next the earwires have been installed and hence beautiful fringe earrings have been made home! Grab the full free tutorial and instructions from here honestlywtf
DIY Paper Quilled Jhumka Earrings With Dangles: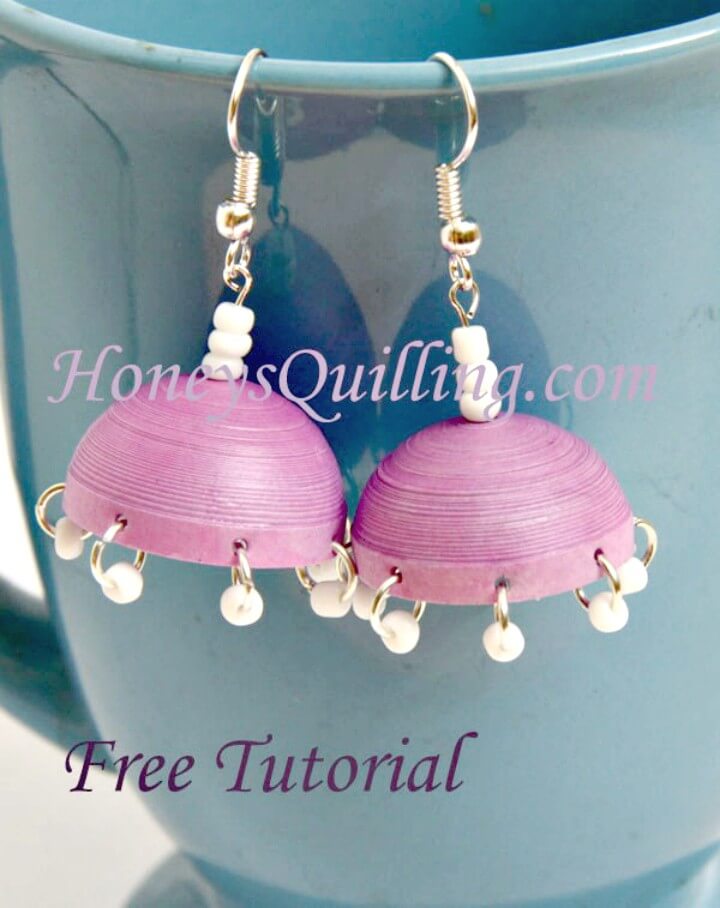 If you willing to make some outstanding jhumka earrings at home for personal adornments then you must duplicate these quilled jhumka earrings that are looking lovely and are super cost-efficient! Just coil the paper making cap like shape and next punch holes in its side! Add beaded jump rings to punched holes and then stack some beads also to top side and just add the earwires at the end! Another great and outstanding earring project to inspire your creativity! Complete instructions and tutorial here honeysquilling
Easy DIY Cascade Dangle Earrings: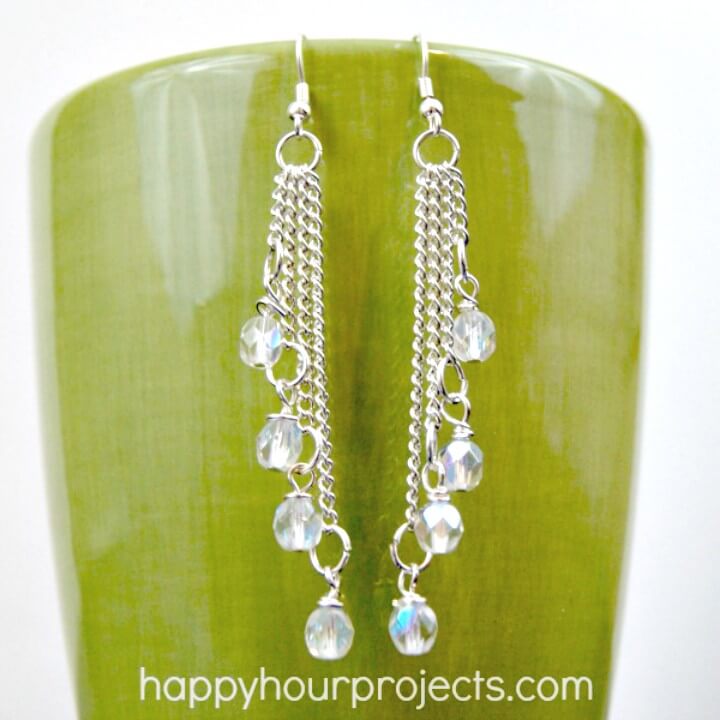 You will definitely fall in love with these precious earrings that will hang loosely to your ears! Here these earrings are made of metal chains that come with hanging crystal charms and earwires have been added to earrings using jump rings! This is here another great and fabulous earring project that everyone can duplicate in just no time! Grab the full free tutorial and instructions from here happyhourprojects
Simple DIY Gold Dipped Earrings:
Make also the good looking gold dipped earrings that will definitely go outstanding to anybody's ears! Check out here the sample earrings that are made of silver hoops that come with crystal drop beads hanging inside and have been added to hoops and earwires using jump rings! These earrings would make a fantastic gift and are super easy to make! Complete project instructions here flamingotoes
Adorable DIY Avocado Toast Earrings: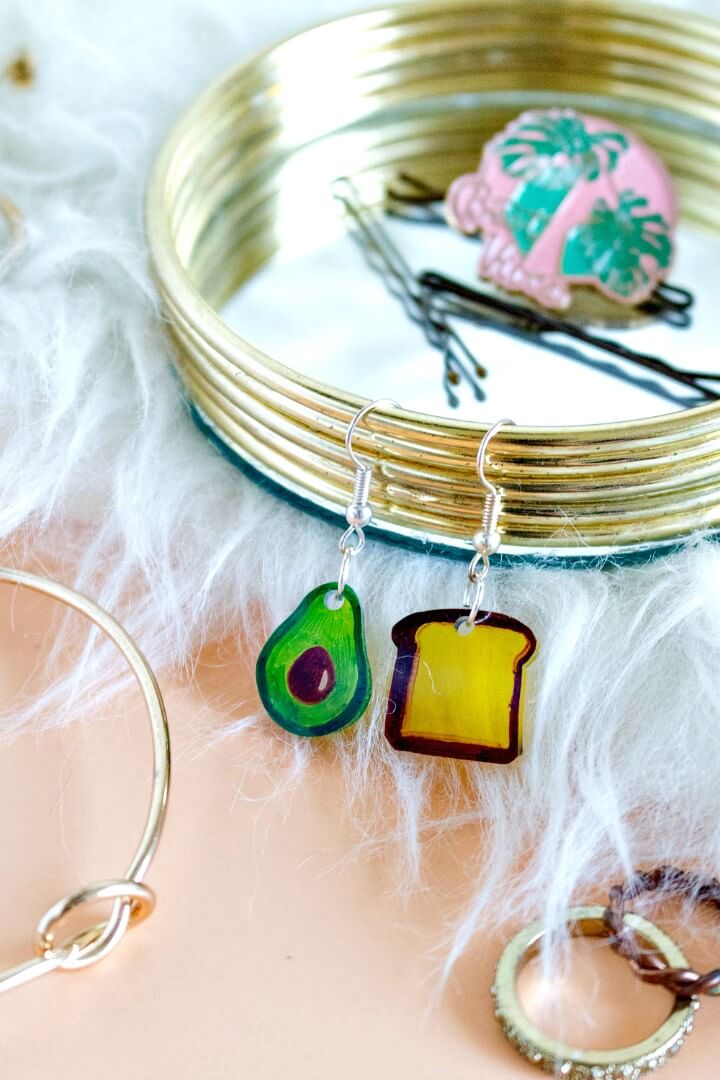 Make also beautiful foody earrings that will really go adorable and unique to a ears of any style lover! Check out here these sample avocado toast earrings that have been done to inspire and are really looking cute to look at! Here just print out the respective avocado and toast images and then just trace them out on the shrink plastic, fill colors with markers and then add ear wires in them by punching custom holes! Complete instructions here clubcrafted