The tic tac toe is a great game that is often played on a board by the two members! One can also print this game on a coffee table so the members can play it after finishing their coffees and next there would be the laughter everywhere around the table! Here playing and making this fun game, is super simple and straightforward, all you need to is to create a board with nine equal squares and next you can choose 2 set of signs, symbols or letters and each set would be having three same looking signs or symbols! The member who first gets 3 of his symbols in a row, will win and this game can easily be played with the kids to make them busy in spare time and also to make them feel excited! You can make this game using the different materials, and you can also make this game in any size you want! Just to make it super easy for you to make this kids game, we have gathered here these 40 DIY Tic Tac Toe game set ideas that will show the different methods to make this game at home and you will also be inspired by providing a big list of materials that can be used as the game symbols and signs!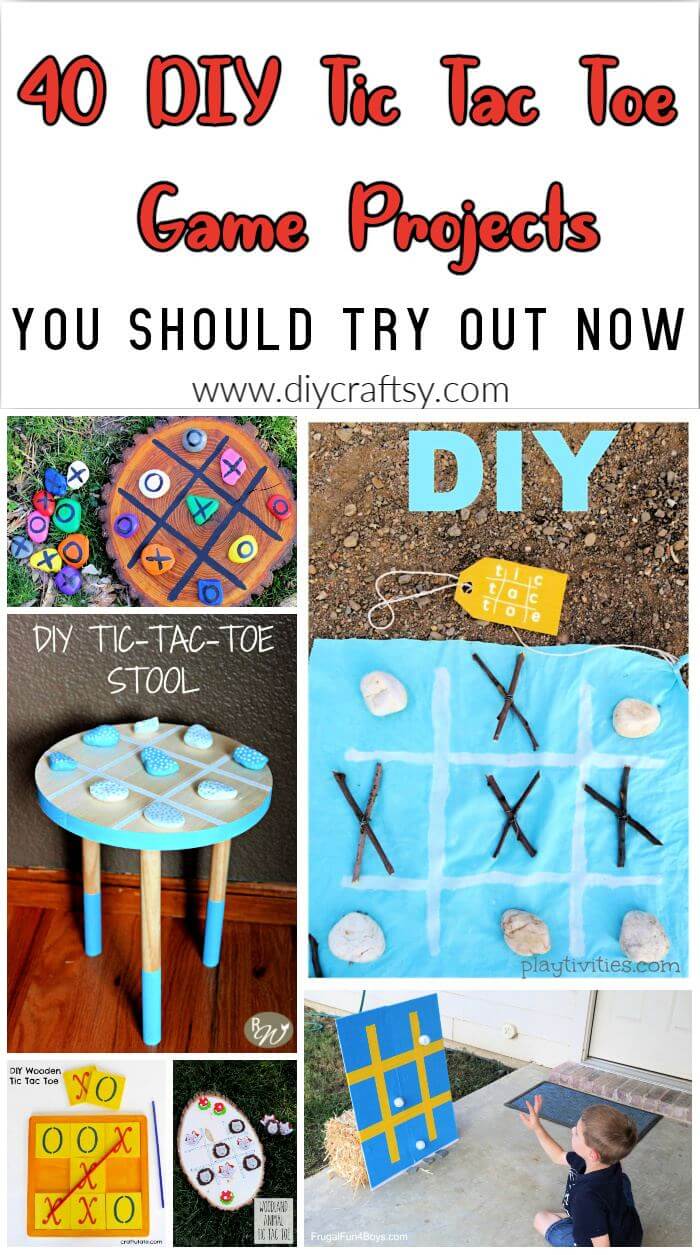 The very first thing would be a to gain the game board first, make a wooden frame like a photo frame and add dividers in it to make a 3D tic tac toe game frame! Make use of duct tape to draw some colorful lines on any flat surface to play the game and also pant the custom game squares on a square piece of fabric to make this game in no time! Grab a wooden slice and paint the games on it to make a stunning rustic tic tac toe game frame and also print out the whole game plot or pattern on a custom paper! Next also grab the wood tile board with nine tiles that will make a ready-made tic-tac-toe game and here all you need is to paint the wooden frame or tiles in your beautiful colors! Also trace the game on a coffee table top, on the seat of stool, on a rock or stone board, on blankets, on cutting boards and also on any flat or plain item that comes in touch!
For making game signs, the possibilities are just endless! Use the buttons and gems as game symbols or paint the rocks to check out the beautiful game signs, here you can paint custom letters, shapes, and art on the rock, check out some interesting samples given below in the list! Make the glitter resin tiles to play the games and also grab the tree branches to make rustic game signs! Just check out some fab homemade tic-tac-toe game samples are given below and duplicate your favorite ones that you like a lot! Click once on the attached links to reach to full free guides, visual instructions, and step-by-step tutorials!
DIY Glitter Tic Tac Toe: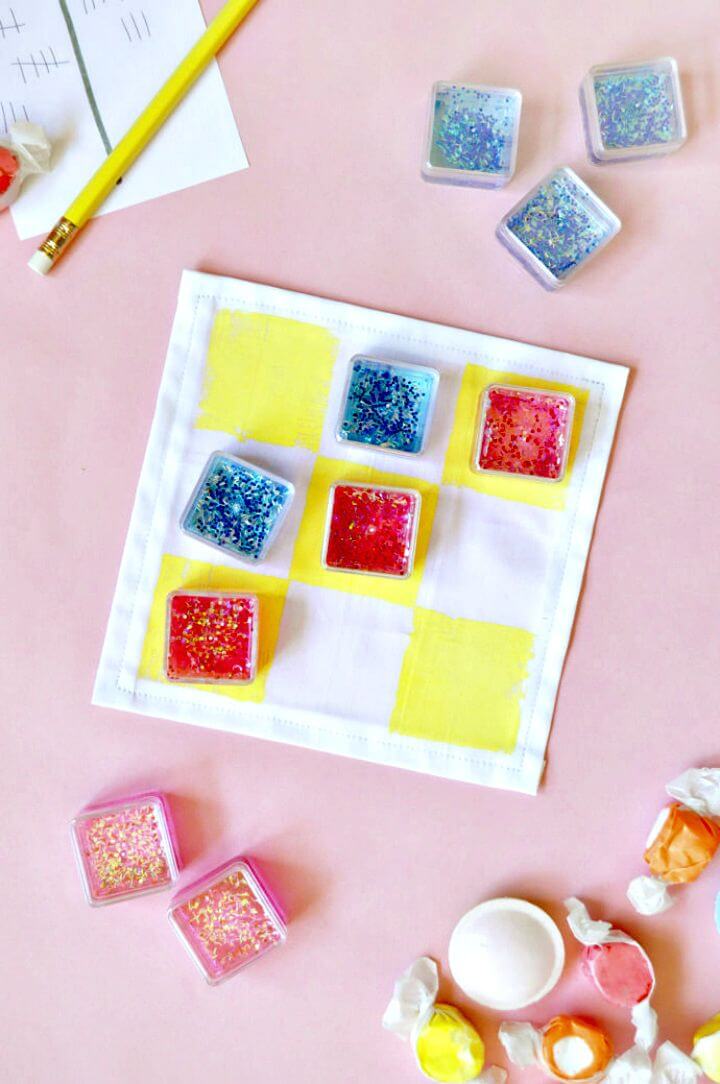 There are so many fun ways to create your kind of cute tic to games and have so much fun in the indoors. So you would need this simple fabric with yellow squares on it to be the game base. For the tic toc moves, you can prepare these glittered plastic miniatures in two different colors. handmadecharlotte
Easy DIY Painted Tic-Tac-Toe Rocks:
The outdoor fun can be boosted up more with this fun painted tic toc rock game to be a part of the summer fun in the yard or the garden. So you would need a tree trunk piece in round shape and some rocks and get them all painted in fun symbols and signs and created your own custom tic toc game. runwildmychild
How To Make Donuts Tic Tac Toe Game:
Making your own tic tac toe games is so much fun, and there are lots of ways to create one, and there is this fun donut style tic tac toe game to get your hands on as the kids are in huge love with the donuts for being sweet and colorful. You can get the free printable for the donut tic tac toe right here myprintly
Make Your Own Wooden Tic Tac Toe: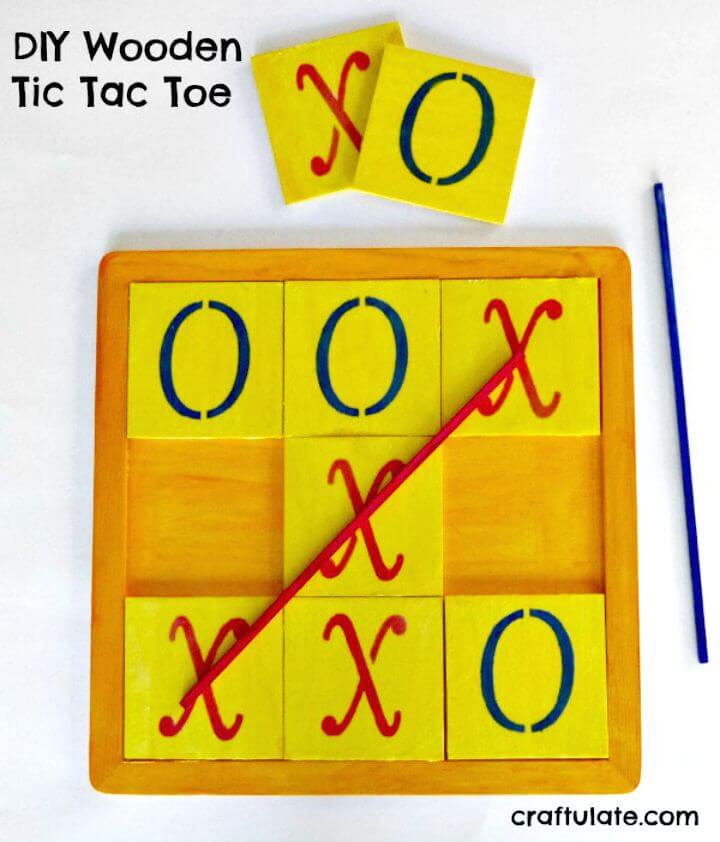 If you can work well with the wood then here is the idea of creating this super cute and fun game out of the wood for your kids and make them feel so much happy and fun. You would need a wooden tray and some cute wooden squares to fit in with lovely signs and colors, and that is it. craftulate
DIY Tabletop Tic Tac Toe: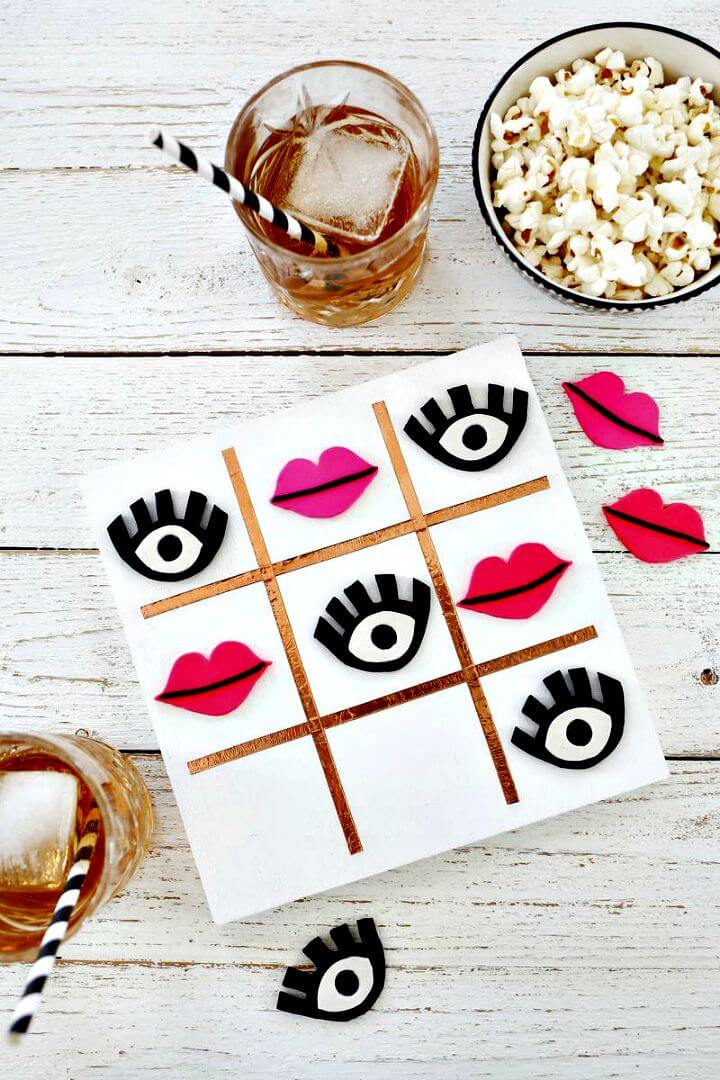 While enjoying some fun time with your girl in your outdoors or the indoors with some tasty snacks and the drinks you can add more to your fun with this tic tac toe game. As it is for girls that is why the signs used in this game are the pretty eyes and the lips and the girls would love it. abeautifulmess
Super Easy DIY Rock Tic Tac Toe Game:
While camping the kids can have some game fun too while sitting and relaxing them selves and what can be more fun than the tic tac toe and it can be made with the things lying around. Yes with wooden round pieces and the rocks you can make a game and paint would be needed to rock it up. lindsaystephenson
DIY Backyard Carnival Sticky Tic Tac Toe:
If there is a carnival festival in your kid's school or boy scout then here is how you can help them out creating this fun tic tac toe game int he festive and enjoy it more. This one is a sticky tic tac toe game made out of foaming board, ping pong balls and the duct tape. Complete tutorial here frugalfun4boys
Awesome DIY Tic-Tac-Toe Stool:
Stools are almost in every house especially when you have a bar in here and when the bars are not in work they can be this fun tic tac toe game for the kids or anyone around to play and have fun. The game pattern can be painted on the stool top, and some painted wooden tops can be used to play it with. Tutorial here therusticwillow
DIY Woodland Animals Tic Tac Toe:
Not only to play but making a tic tac toe game is also so much fun and rocking, and you can easily make one at any of your favorite themes. A wooden slice here has been turned into a pretty tic tac toe game board and for the playing pretty fox and ladybugs have been made out of the felt and the buttons. makeandtakes
Make Nature Inspired Tic Tac Toe Game:
While out for the exploration of the nature you can relax a bit and play this fun tic tac toe game with your buddies and that too with the things lying around. You can have the game pattern being printed on the fabric and then use the rocks and the wooden twigs to play with your partners and have so much fun. playtivities
DIY Garden Tic Tac Toe: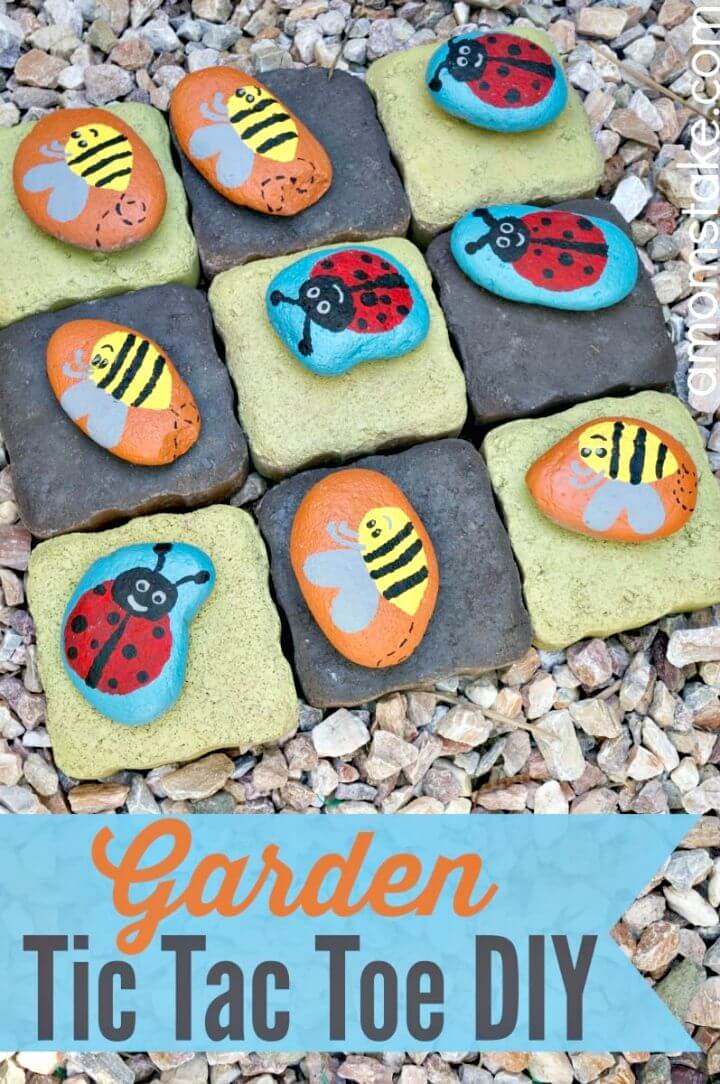 If you are left up with some tiles after creating a floor or path in your garden, then you can use them to create this lovely garden tic tac toe game for the kids. Paint the tiles in two colors and get some rocks to play with and to look different they have pretty signs on them which are a ladybug and the butterfly. amomstake
How To Make Tic Tac Toe Outdoor Game:
The table in outdoor can be more fun than just holding your things on it, and this tic tac toe game can be the real fun idea to be on your tabletop so that you can play the game any time you want. You can paint up the game on the table top and use the painted pebbles or rocks in two colors to play the game on the top.leapoffaithcrafting
Create Farm Animal Tic-Tac-Toe:
Its like there are hundreds of ways to create a fun styled tic tac toe game on your own and play with anyone around to get rid of boredom. So this one has been made out of a black hexagon shaped game board with white lines and the plastic toys being painted in two colors have been used to play with. lemonthistle
DIY Tic Tac Toe Game Out Of A Cutting Board:
A tic tac toe game can be created in thousands of ways and here is the idea of creating one out of the cutting board which can be new or the old one that you do not use anymore. You can draw the game lines or the pattern on the cutting board and to play with there are buttons and the stones for each player. bombshellbling
DIY Wooden Washi Tape Tic Tac Toe: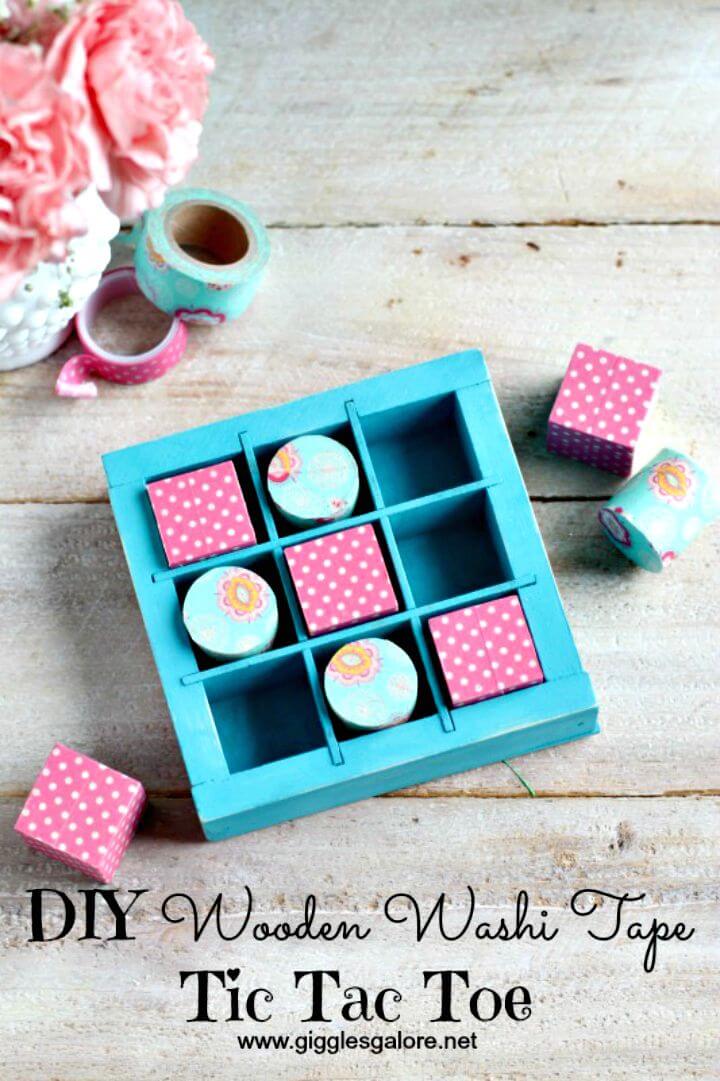 Every kid once in a while having the fever o the tic tac toe game, and they surely buy one for themselves. So if your daughters also have this kind of pretty wooden tic tac toe game they can make it look prettier and adorable by painting it and covering up the blocks with pretty washi tape of multiple designs. gigglesgalore
Adorable DIY Freestyle Tic-Tac-Toe:
The outdoor games should be inspired by the outdoor too and this fun tic tac toe game is all inspired from the garden theme so that the kids enjoy it more playing in the garden or the backyard. A wooden slice have been turned into the game board with paint and markers and the stones painted as lady bugs have been used to play on the game board in two different colors. deserres
DIY Pom Pom Tic Tac Toe Game:
Here is the unique and the quirky kind of tic tac toe game that you would ever witnesses. Yes, this one has been created out of the four wooden dowels, and the cute pom-poms in two colors have been used here to play the game with. Find out the details of the idea right here thegirlcreative
Quick DIY Seashell Tic-Tac-Toe:
It is time to bring out those lovely seashells out of the bag and use for some fun purposes just like this cute and pretty tic tac toe game to play with your kids and have some quality time spent. A wooden slice is the game board with painted lines on it, and two color seashells would be used by each player to play with. chalkandchocolate
How to Make Tic Tac Toe Rock Set:
The tic tac toe game is so much fun and can be created in thousand of fun ways too and here is another to share with you. This one is made out of the white wooden dowels and to play with, a bunch of the rocks has been used with the paint. Yes, the rocks have been painted in lovely paint hues and patterns like lines and dots for a super cool look. eighteen25
DIY Tic Tac Toe Rocks Activity Or Gift:
Burlap bags are used for the pretty gift packing for a long time, and you can make it more fun for the gift receivers by creating a tic tac toe game on it. Yes, the game lines have been painted over the burlap bag, and some cute small rocks with tic tac toe signs would go inside the bag so that you can play the game any time. balancinghome
Make Wood Tic Tac Toe Gift Box Set:
If you are looking for a birthday gift for a cute little kid around then making this fun wooden tic tac game would be just the best thing to get your hands on. A wooden board made game box and the pretty dolls would be used as the playing blocks painted in black and white like that of chess characters. ana-white
Easy To Make Tic-Tac-Toe Game:
Summers give us so many tasty and fresh fruits and they can be the pretty inspiration for so many of your summer crafts even the making of tic tac toe games.? A cemented tile has been turned into a game board and the tittle flat rocks are the playing blocks of cute kiwis and the strawberries using the paint. everydaydishes
Awesome DIY Tic-Tac-Toe Set:
A tic tac toe game is really a fun and you can carry it around too and play it any time with any one and thus kill your time in a fun way. Here is another awesome idea of creating a wooden tic tac toe game out of the wooden slice pieces being carved with lines and designs. countryfile
Easy DIY Travel Tic Tac Toe:
When you are traveling with your kids you really should be having some games arranged and thus make them feel all fun and busy and this tic tac toe game would really do that for you. Make the game on a fabric and the colorful lego pieces can be used to play on this fabric game which is super feasible to carry along. kiwico
How to Make a Tic-Tac-Toe – Travel Game:
The fun tic tac toe games are for everyone but you can make them in your own fun crafty and creative way so that there is a quirky and custom tic tac toe for yourself only. This super cute and colorful tic tac toe game has been easily made out of the card stock and the colorful constructions paper and so can you. auntannie
DIY Button Tic-Tac-Toe Game:
You do not need to shop special to create a fun tic tac toe game as you can make one with the things lying around just like your sewing supplies and materials. Yes with a felt piece being sewed up with the lines of tic tac toe game and a set of two colored buttons would serve as the playing pieces. raisingmemories
How To Make Tic Tac Toe Tag Game:
For the boy scouting there can be this fun tic tac toe tag game that is super, easy and cheap to make on your own at home and you can use them repeatedly in each summer. A fabric for the game board and the pieces are made out of the foam boards using the X and O templates and the duct tape in two hues. theinspirationvault
Make An Outdoor Tic Tac Toe Game:
Summers are just so much as they offer us so much outdoor activities and enjoyment and to add more to your fun activities you can make this pretty tic tac toe game and that too with the things lying around. Yes a scrap wood plank and some rocks and the paint are the things you would need to make and play this game. tarynwhiteaker
Inexpensive DIY Outdoor Tic Tac Toe Painted Rocks:
The tic tac toe game is the fun of the activities for the summers and you can build one in your own personal favorite crafty way. This lovely nature inspired tic tac toe game has the rock pieces having been applied with Martha Stewart leafy cut outs and a cutting board has been tuned into a fun game board to play on with these rock pieces. creatingreallyawesomefunthings
DIY Oversized Tic Tac Toe Game: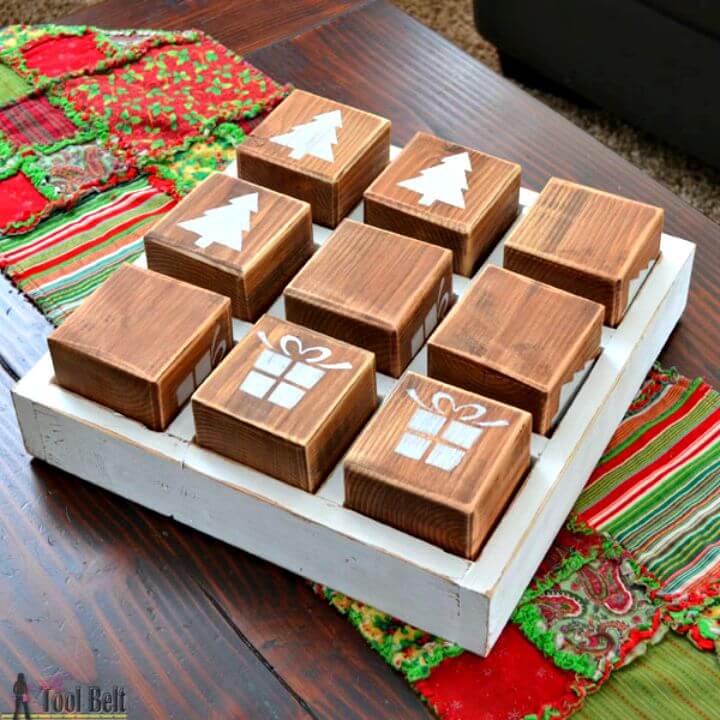 The fun and the good thing about the tic tac toe game is that it can made in any of the size you want be it a cute mini or the big fat one. This lovely wooden tic tac toe game exhibits a pretty fun size with wooden box and the blocks having been painted so nicely with the nature theme in the mind. hertoolbelt
DIY Felt Tic Tac Toe Game:
The fun tic tac game can be made out of any thing lying around and the felt is one of them. You can sew up the game lines on the base felt game board and also the X and O sign or symbols on the cute littler round pieces in the contrasting colors. Details here childhood101
How to Make Lego Tic-Tac-Toe Game:
Kids love lego as they can build up so many of the creative and the imaginary things out of them and so they can create a fun and colorful lego tic tac toe game out of the lego too. With lego plates and the different other lego structures the kids can easily create the tic tac toe game board and the pieces to play with. mamapapabubba
Make Your Own Denim Tic Tac Toe:
The old denims are recycled in a lot of fun and cute ways and here is how you can get one up cycled in a really fun way by creating this lovely tic tac toe game. Yes from a denim square and some of the wooden button cut outs in two designs you can easily shape up this fun tic tac toe game to play any where and at any time. diyshowoff
Cute DIY Tic Tac Toe Set:
To make a summer friendly tic tac toe game you can easily get your hands on this one having been made out of the things lying around in your garden itself. Yes it takes a wooden rustic slice and the flat rocks to be made with adorable and bright paint hues, some googly eyes and a little fur. hallmarkchannel
Quick and Easy DIY Tic-Tac-Toe: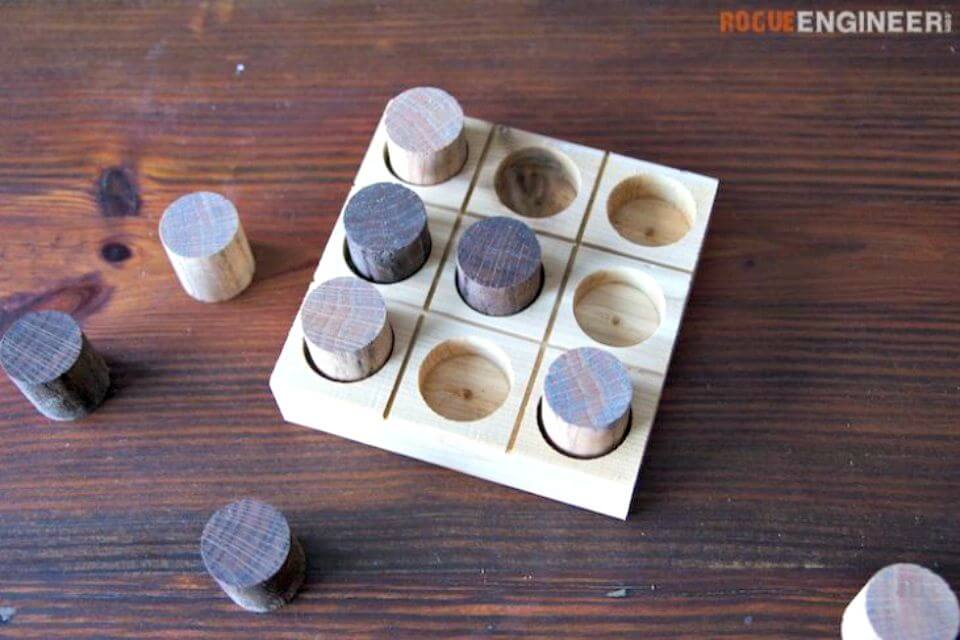 The tic tac toe games available in the market are so much pretty and fun and mostly they are made out of the wood to be sturdy and long lasting but they come with a really hefty price tags. So if you are skilled with the wooden crafting then you can easily shape up a wooden tic tac toe game and it would make a great gift for the kids around. rogueengineer
DIY Marble Tic-Tac-Toe Game:
A wooden piece of the coaster size can be easily found out of your wooden stash and you can easily turn it into a fun tic tac toe game for your kids to play with. All you need to do is just create the game lines on the wooden chunk and use the two colored set of marbles as the playing pieces on it. woodworkersjournal
DIY Tic Tac Toe Set – Summer Game: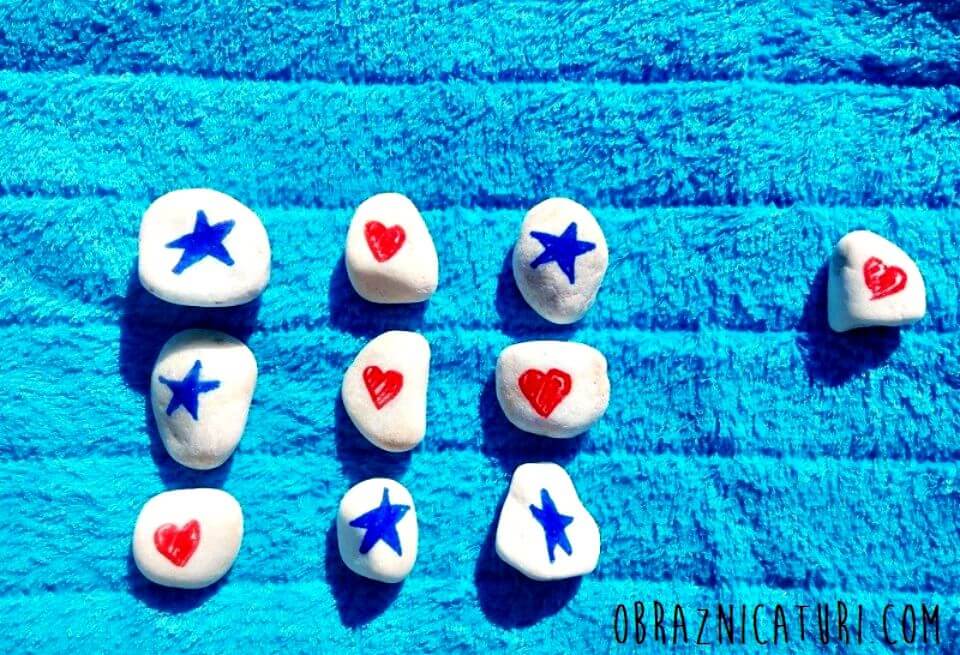 Here is how you can celebrate the Patriotic love this 4th of July in a super cool and fun way by playing this cute flag inspired tic tac toe game with your kids or the buddies. You can use the rocks as the game pieces and to make them look completely fitting the theme you need to paint? them in white, red and blue and with heart and star signs. gabiralea
Super Easy DIY Tic-Tac-Toe Game:
An easy? portable tic tac toe game would be so much fun to make as you can play it any time and anywhere with the people around you and enjoy some fun time. A canvas fabric has been turned into the game baord with ribbon lines and the cork coasters would serve as the game pieces with colorful X and O signs on them. everydaydishes
Unique DIY Glitter Tape Tic Tac Toe Glass Gift Set:
Here is how you can have more fun on the bar this summer time with this lovely glittered tic tac toe glass gift idea. A mirror with glittered tape has been turned into a tic tac toe game board and the glasses have been used here as the game pieces with X and O signs created out of the same glittered tape in two colors. mylittlesecrets
Beautiful DIY Pumpkin Tic-Tac-Toe:
Here is the most gorgeous and the most whimsy version of the tic tac toe game that you would ever see around. Made out of w wooden box board and the cute glittered pumpkins as the pieces, this adorable tic tac toe is a fun game and the beautiful center piece for your table in the autumn too. paigehemmis