People who are on a mission to keep their planet clean and the living spaces green do take part in the recycling of things! Instead of making more garbage, reuse your discarded materials and items so they will remain in use making your life easier along with keeping your spaces clean and neat! So, if you always continue busy in sorting out the new way to upcycle your old items then here is another episode of DIY projects to boost your creativity! We all consume eggs on daily bases, and hence egg cartons are to find in everyone's home and here we are to show that how to recycle and upcycle the leftover egg cartons and DIY egg carton crafts without ending them as a trash to a dumpster!
So, if you intend to get craft smartly with the old egg cartons, then we would like you to take a short tour of these 80 DIY egg carton crafts that to a genius and innovative to win your heart and makes your kind happy and would make you fall in love with the trash item, the egg cartons! Here you are to find the insanely quick recycling hacks that you have not thought before even in your imaginations!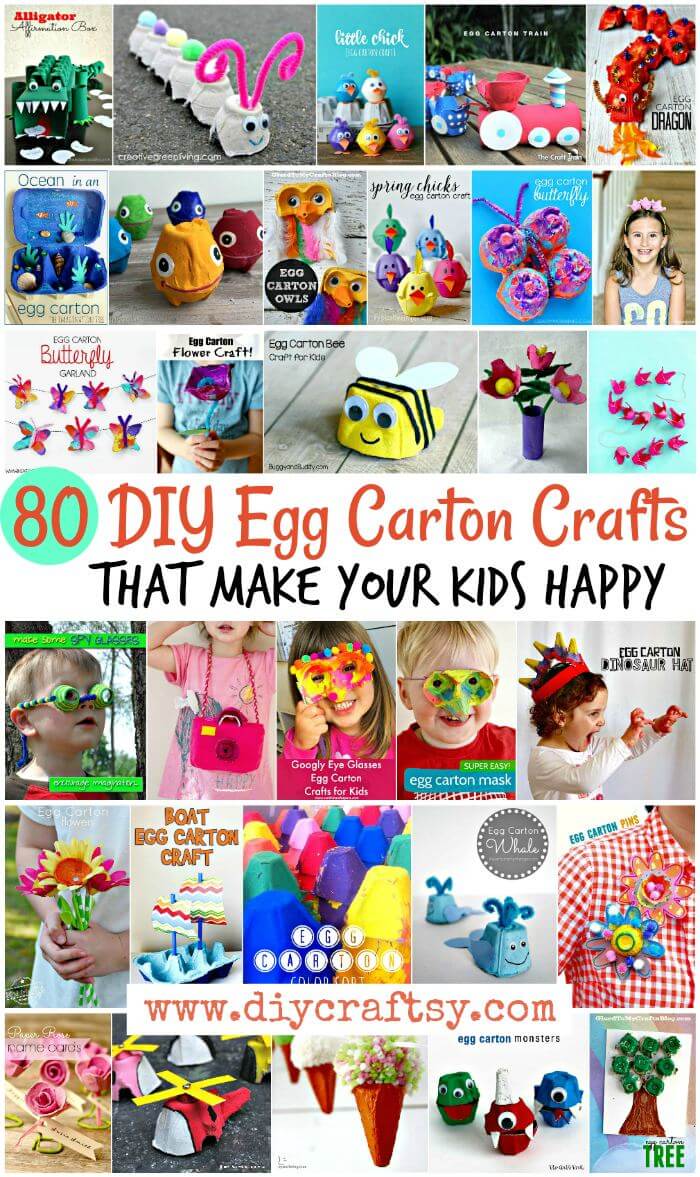 Here first you can take an overview of the egg carton structure and composition before getting physically craft with the egg carton! An egg carton comes with a tray style lid and is also having various cups and cones that can be through for numerous different crafting projects! You will find a rich variety of DIY projects based on different parts of the egg carton and the finally finished items would hold your attention and will also dazzle all the audiences!
Cut the cups out from an egg carton and change them into beautiful butterflies which can next be threaded onto a piece of string to make cool looking garlands and other items of décor! Go handmade with the cardboard tube and egg carton cups and make beautiful train toys for kids, also put together the painted egg carton cups to make great looking caterpillars that may come with googly eyes and pipe cleaner antenna!
Make faux mushrooms with carton eggs that will make great garden decors and also make the egg carton mermaid dolls for your little girl's dollhouse, Check out some outstandingly beautiful samples given below in the list! Make outstanding kids toys also for the kids using cut out egg carton cups, Check out the given below egg carton penguins, helicopter, trucks, dragonflies, mini whales, alligators and the mini monsters to get inspired!
Easy DIY Crafts You May Like:
Make also gorgeous flowers out of egg carton cups that may come with pipe cleaner stems! Paste the egg carton flowers on a canvas to make a wall art frame, and just put them together in a jar to create a perfect vase and also make flower bouquets out of them! Make owl inspired and other fun-making party marks and props even with egg carton! Check out a lot more DIY egg carton crafting project given below in the list; each project comes with reference links that can be clicked to reach to the full free tutorial, step-by-step instructions and easy to follow project guides!
Make an Egg Carton Butterfly Garland: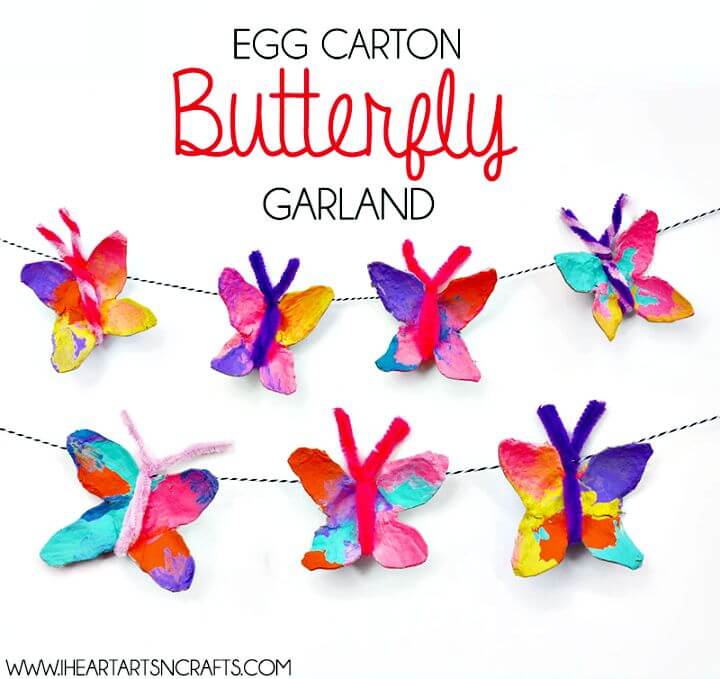 Go handmade with the egg carton and make brilliant home decors just no time! Just cut the egg cups out from the carton and then given custom cuts to their sides and press the entire cup flat to make a butterfly avatar which can paint in different colors to make faux flowers! Make dozens of such butterflies and then just add them to a piece of rope or string to make great looking butterfly garlands! Complete tutorial here iheartartsncrafts
Adorable DIY Egg Carton Train: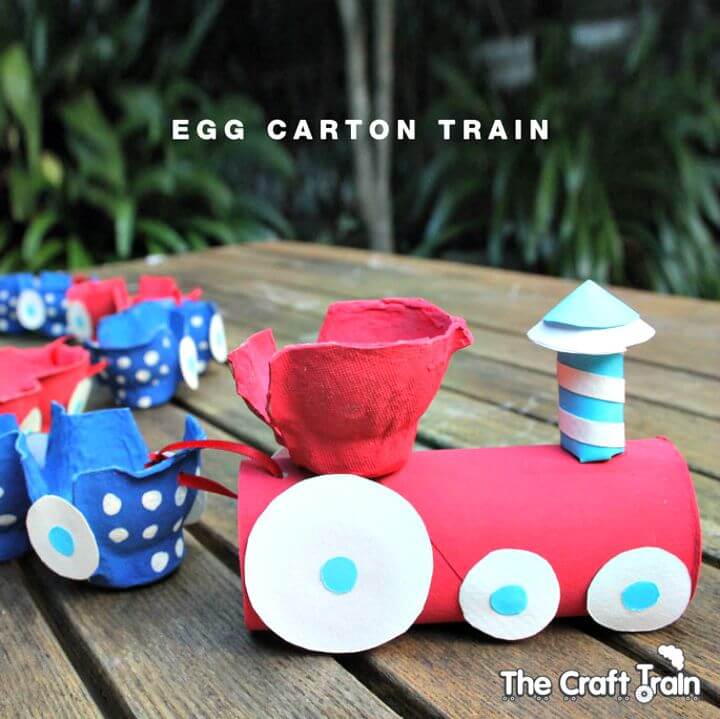 Make also the cute looking toys for your kids by making smart use of egg carton! Check out here the handsome train toy that is made of custom painted egg carton cups and with a toilet roll tube that makes the engine! Here the egg carton cups make the train buggies, and the engine wheels and chimney are made out of paper! This is here another lovely and fantastic egg carton project that you can duplicate in no time! Complete project instruction and tutorial here thecrafttrain
DIY Recycled Egg Carton Caterpillars: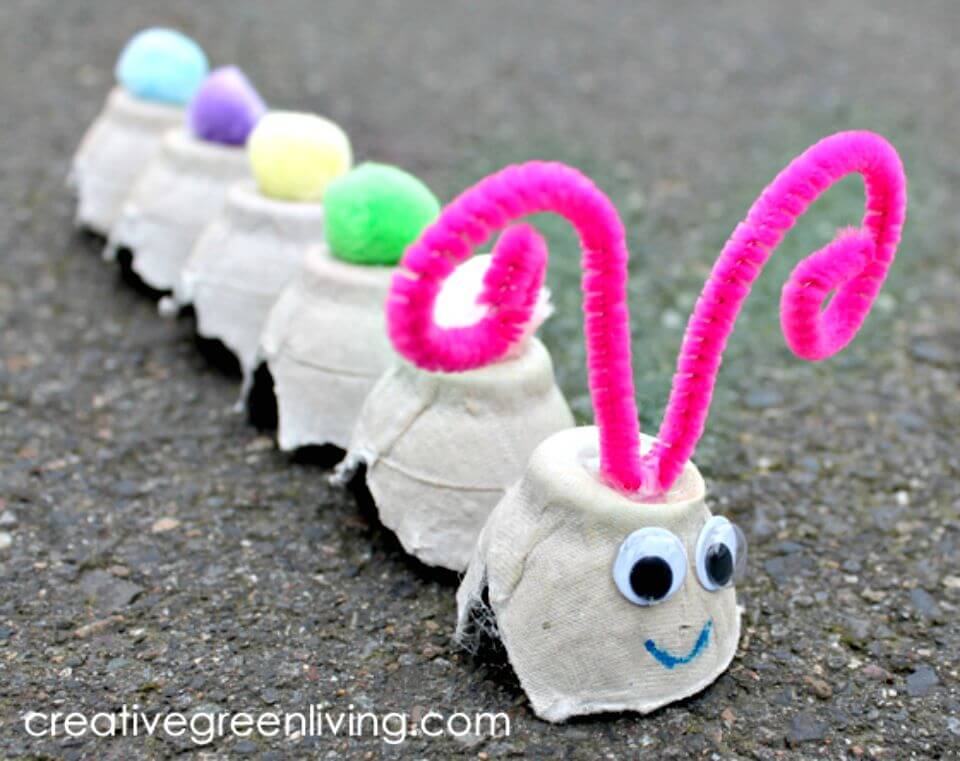 Another gift-worthy to make with the egg carton and it will just cost you nothing! Here the egg carton cups have been put together for making a caterpillar that would make an interesting toy for all fun loving kids! Here the body of the caterpillar has been adorned with colorful pom-pom, and then the googly eyes have been mounted to face for a cute look! For the antenna, the pink twisted lengths of pipe cleaner have been used! Another great and brilliant egg carton project to duplicate! Complete visual tutorial and instructions here creativegreenliving
Cutest DIY Mushroom Craft For Kids: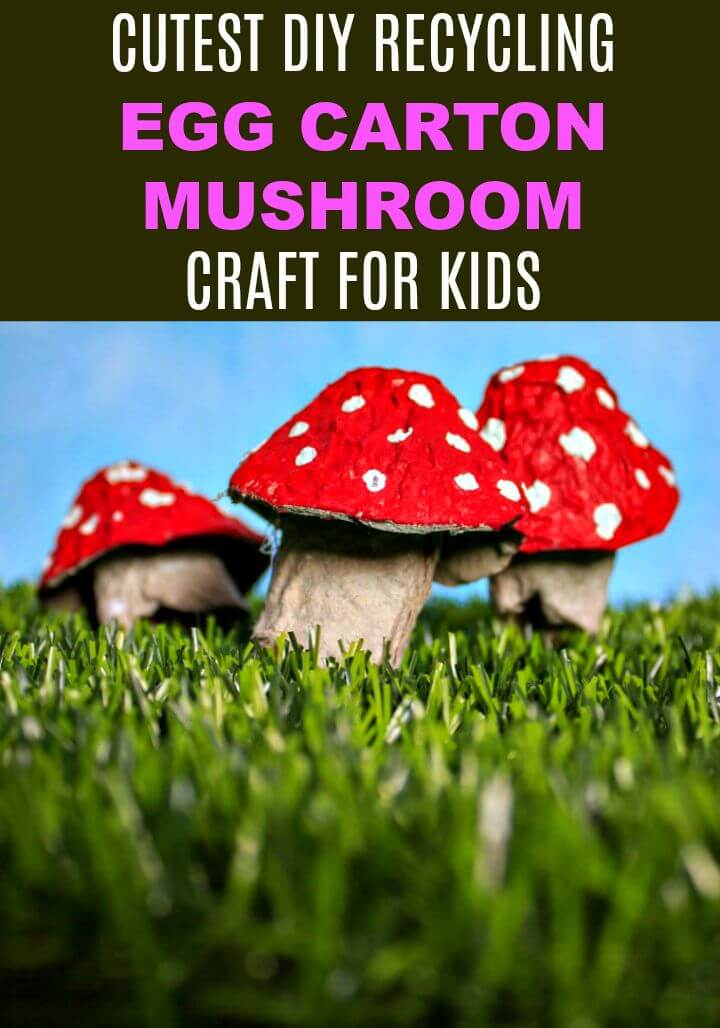 If you like the mushroom, then you will surely praise these handmade mushrooms too that will make amazing garden decor and also the brilliant toys for the kids! Here both the base and the polka dotted cap of the mushroom is made of egg carton cups that can easily be cut out! For making mushroom cap remove the excess of edges of a cutout egg carton cup and then paint it in red and adorned with white polka dots! Another great egg carton project idea! Complete visual tutorial here artsycraftsymom
DIY Egg Carton Mermaid Dolls: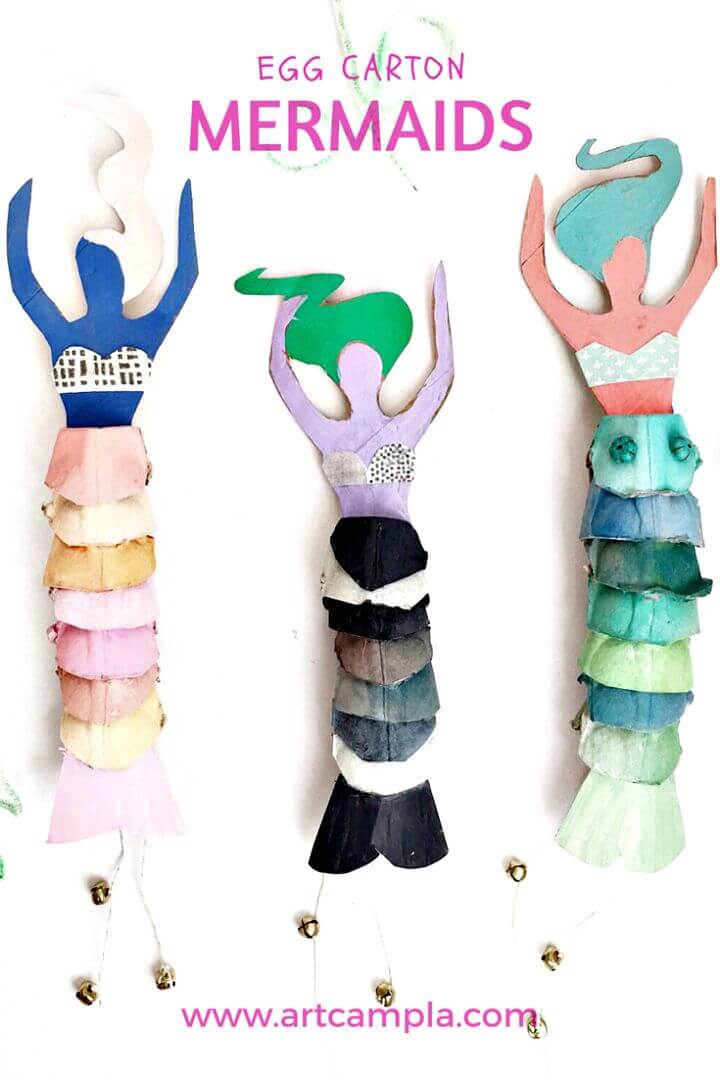 Look at this another fantastic and lovely egg carton creation that will help to win the heart of a little girl! Here the precious little mermaid dolls have been made with the old empty egg carton that has painted to look lovely and enticing! Just cut out the carton cups and stack them for lower body of the mermaid and design the upper body including the hairs! Don't forget to use the scrapbook paper for the tiny faux brazier! Another smart egg carton project idea! Complete visual instructions here artcampla
DIY Toy Camera Out Of An Old Egg Box: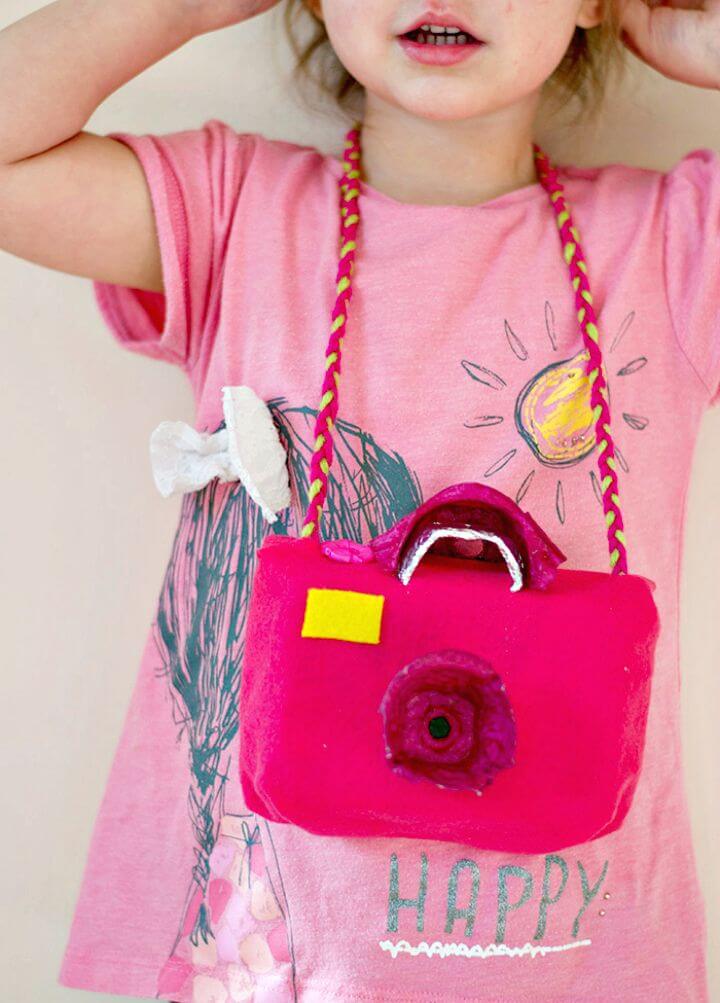 Another outstanding kids gift idea using the recycled egg carton! Just please your little girls and boys by giving the handmade camera toys that can easily be made out of an egg box or carton! Just look at this given sample that comes with Here smart use of egg carton, felt, cardboard and cottonwood have been made to design this lovely camera toy that comes with adorable looking straps to be around your kid's neck! Another great and lovely project to do with the egg carton! The complete tutorial and visual guides here letsdosomethingcrafty
DIY Egg Carton & Paper Straw Flower Craft:
Another excellent craft project to do with the egg carton! Just get crafty with the old egg carton and paper straws and make amazing looking faux flowers that can be put next in your interior home vases! Moreover, you can also put together these flowers to make bouquet gifts for upcoming Memorial Days! Just cut out the egg carton cups and just cut them precisely to make tiny bowls! Next, add silk petal all around this painted mini bowl and then add the paper straw stems to make gorgeous looking faux flowers! Check out here the sample flowers that come with green petals also made out of a green sheet! Complete tutorial and instructions here kidfriendlythingstodo
Adorable DIY Egg Carton Mini Copters:
Please your kids also with these handmade mini copters that will make an interesting toy gift for the fun loving kids! Here these mini helicopters are also made of custom egg carton part cut out safely! Here the egg carton cups make the body of the copter, and the gorgeous copter tail is made of with the tall part of the egg carton! Glue the parts together and make the copter fan with the paper strips! A final step would be to paint the copter for a custom look and appeal! Complete project tutorial and instructions here thecrafttrain
Gorgeous DIY Egg Carton Spy Glasses: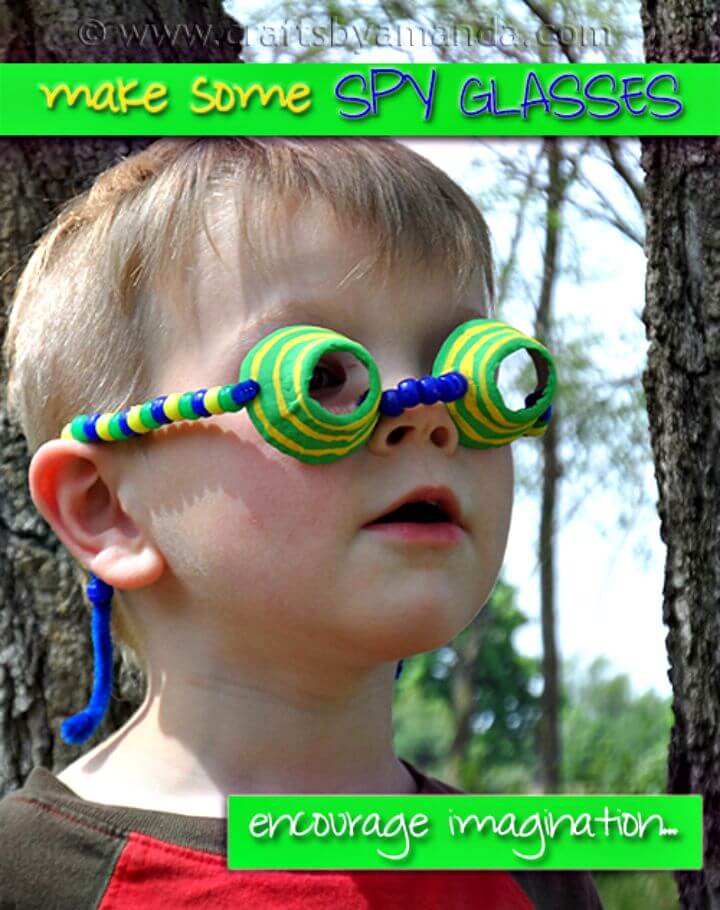 Here is another interesting kids craft to make with the egg carton! Make the interesting looking spy glasses with the egg carton and gift them to your fun-loving kids! Check out here the spy glasses that are made of egg carton cups cut out and altered to take the shape of glasses lenses! Next, the frame of the glasses has been made with the pipe cleaners that come with pony beads beautifully threaded onto! Complete project instructions and tutorial here craftsbyamanda
Cute DIY an Egg Carton Mask: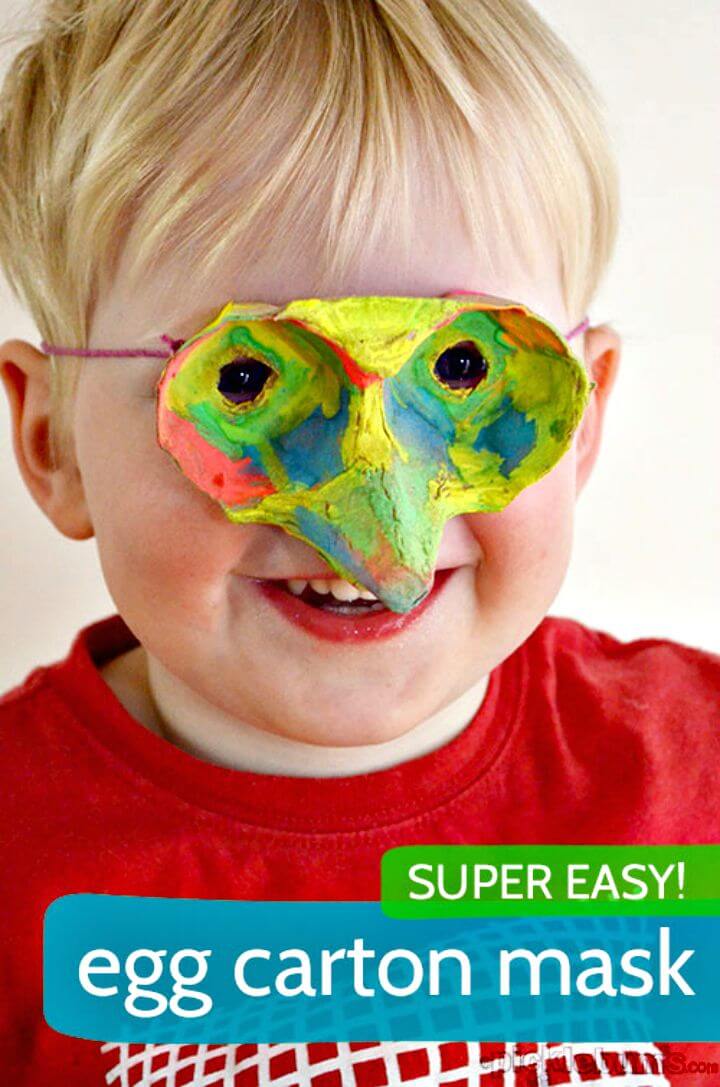 Raise also the fun of your kids by making interesting toy gifts with the egg carton, a fascinating example here is this egg carton fun mask that comes with a piece of string tied to both ends so the mask will fit tightly around the heads of your kids! Here the idea is to cut the custom fun shapes out of egg carton and then to paint them in kids-friendly color! Willing to duplicate this fun mask project? Grab the full free instructions and tutorial from here picklebums
Adorable DIY Egg Carton Fire Truck: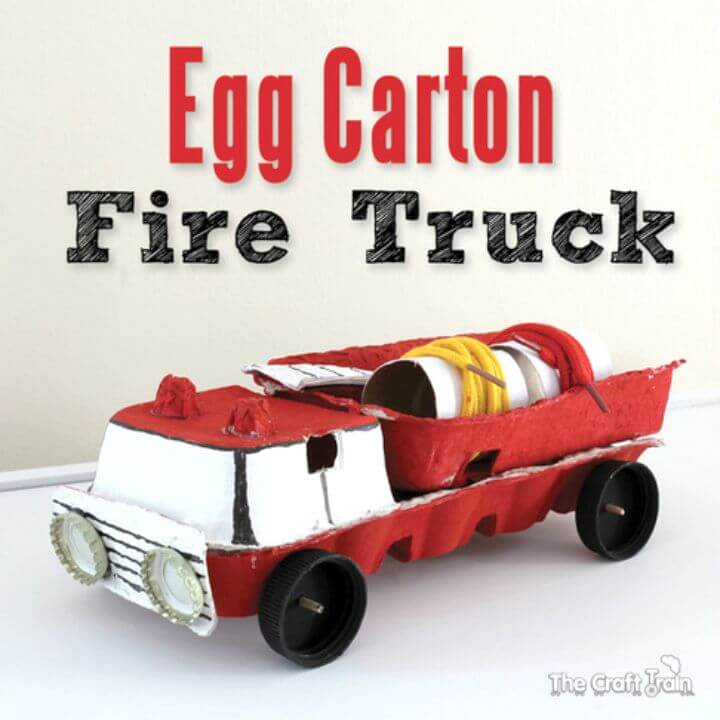 If you are on a mission to gift some epic toys to your kids then time to make them at home using your creativity and some old egg carton! You and your kids will just fall in love with this fire truck that is made out of an egg carton and is really looking beautiful! Here this truck comes with faux water hoses that are made of toilet paper roll pieces having wrapped shoelaces on them! Make the entire body of the truck with custom cut egg carton parts and just reclaim the plastic bottle caps to make the wheels and install them using the wooden skewers! Final step would be to paint your finally finished fire truck! Complete visual instructions and tutorial here thecrafttrain
How To Make Egg Carton Flower Pins: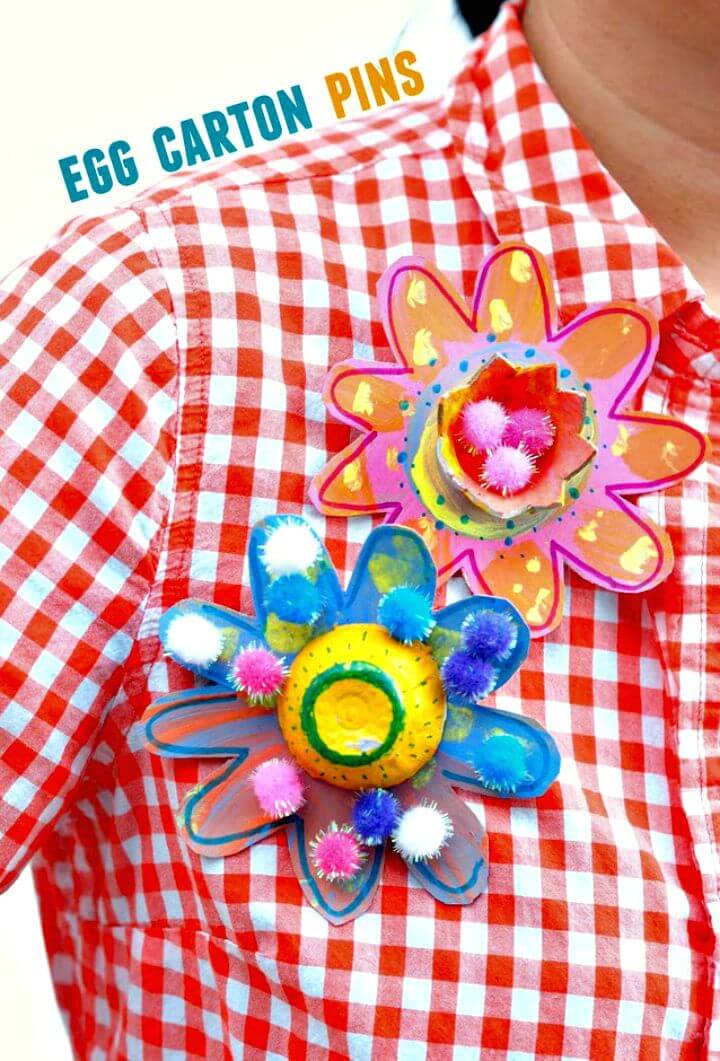 Another interesting craft project to do with the egg carton, just make also the custom flower pins and brooches with the egg carton that can also be given as a handsome gift and will be super easy to make at home! Cut out cups out of egg carton and trim them down to mini bowl shape! Next just make the custom paper flowers using the cereal box and just glue it to bottom side of the painted bowl! Final step would to be tape a pin to backside of this egg carton flower pin! This flower pin would make a great gift for a Memorial Day! Complete project tutorial and instructions here pinkstripeysocks
Make Egg Carton Apple Craft For Kids: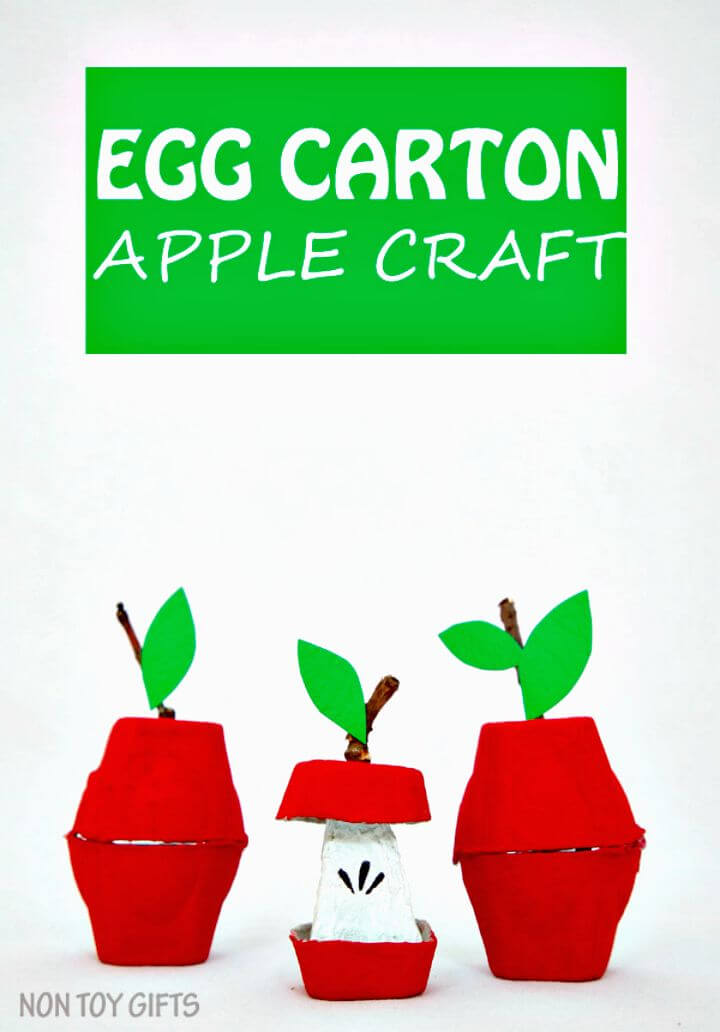 Get inspired of this another smart craft project that you can do with the egg carton! This is here the egg carton apple craft that will surely make an heart winning gift for any kid! Here all you need is to cut out two cups out of egg carton that can be painted in red and then put together in face-to-face arrangements to make an interesting apple gift! Final step would be to glue a mini stick over the egg carton apple that may come with some glued green petals! Cut out the green petals out of a green cardstock! Another outstanding egg carton craft project to do at home! Complete instructions and tutorial here nontoygifts
Cutest DIY Dragonfly Craft for Kids: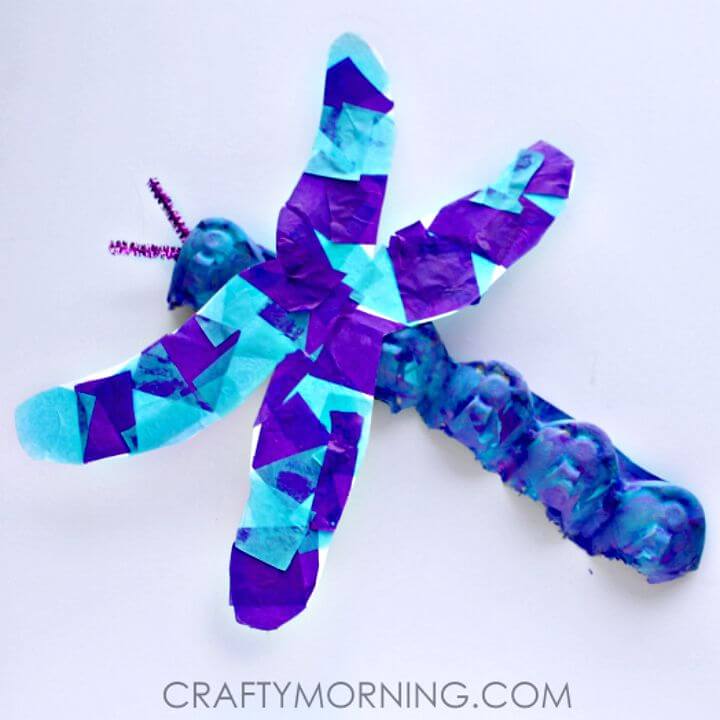 All kids are a big fan of dragonflies so you can also make amazing looking dragonfly toys with the egg carton that will help pleasing all the kids you love a lot! Get inspired of this brilliant dragonfly sample that is looking beautiful and enticing and will surely make a great gift for all fun loving kids! Just cut out long section out from a egg carton that will make the body of the dragonfly and you can make the wings out of cardstock paper! Complete project tutorial here craftymorning
DIY Whales Out of An Egg Carton: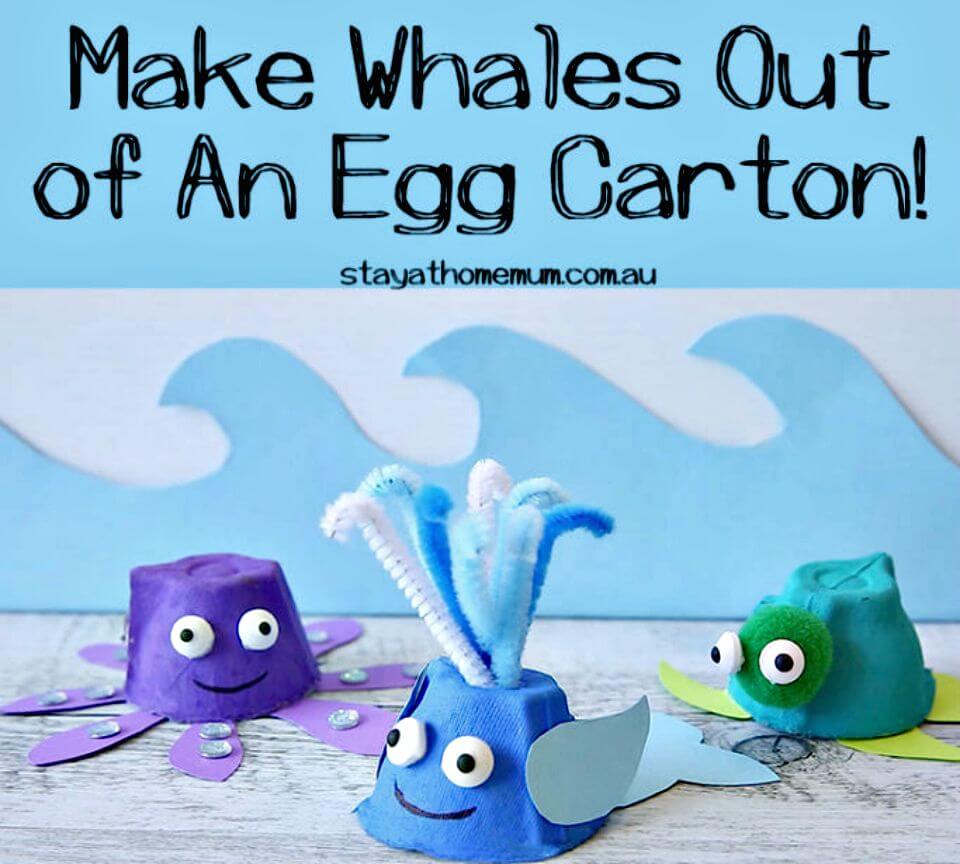 Intending to make some more cute and fun-making toys for kids nursery? If yes, then just duplicate these great looking whales toys that are made out of an egg carton and comes with googly eyes! Here the other body parts like the fishtail and fins are made of cardstock paper! In the same way you can also make the other sea creatures with the egg carton to gift to your kids! Complete project tutorial and instructions here stayathomemum
Make Egg Carton Chicken Egg Cups: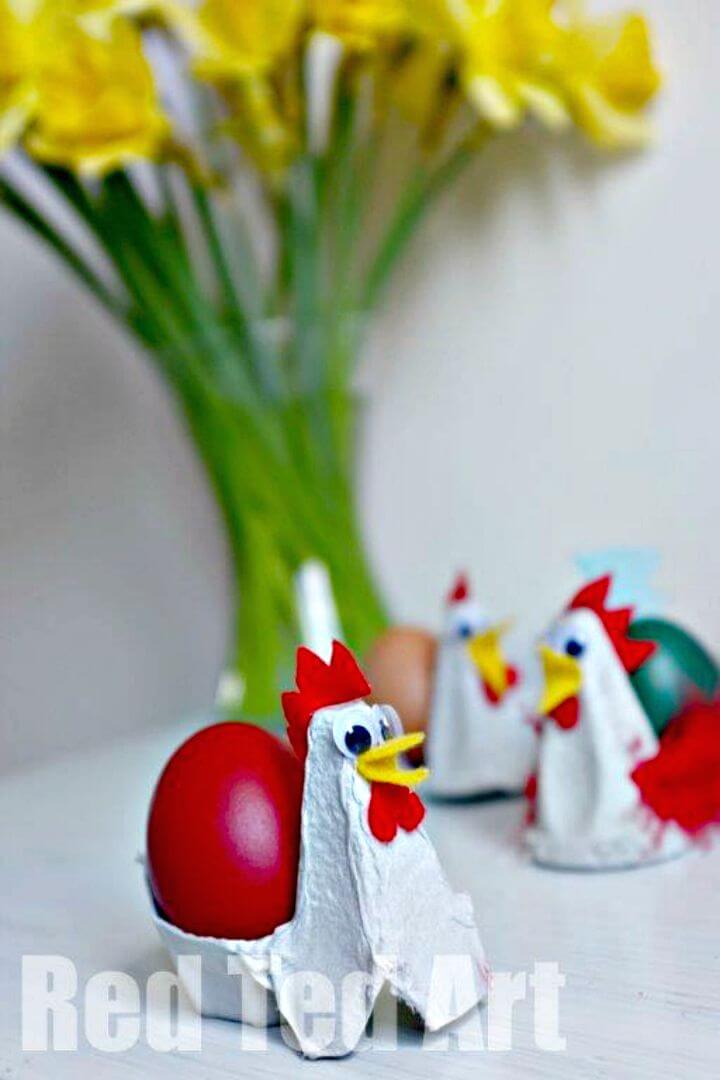 You will just fall in love with this genius and innovative craft that has also been done with the egg carton! Cut out egg cups with a little more part and just transform them into chicken egg cups using custom items like the feathers, googly eyes, beak and beck! You can simply cut out the beak and beck out of cardstock paper! Use the glue for adhesive demands then add faux eggs to chicken backs! Another great and love egg carton craft project! redtedart
DIY Alligator Affirmation Box: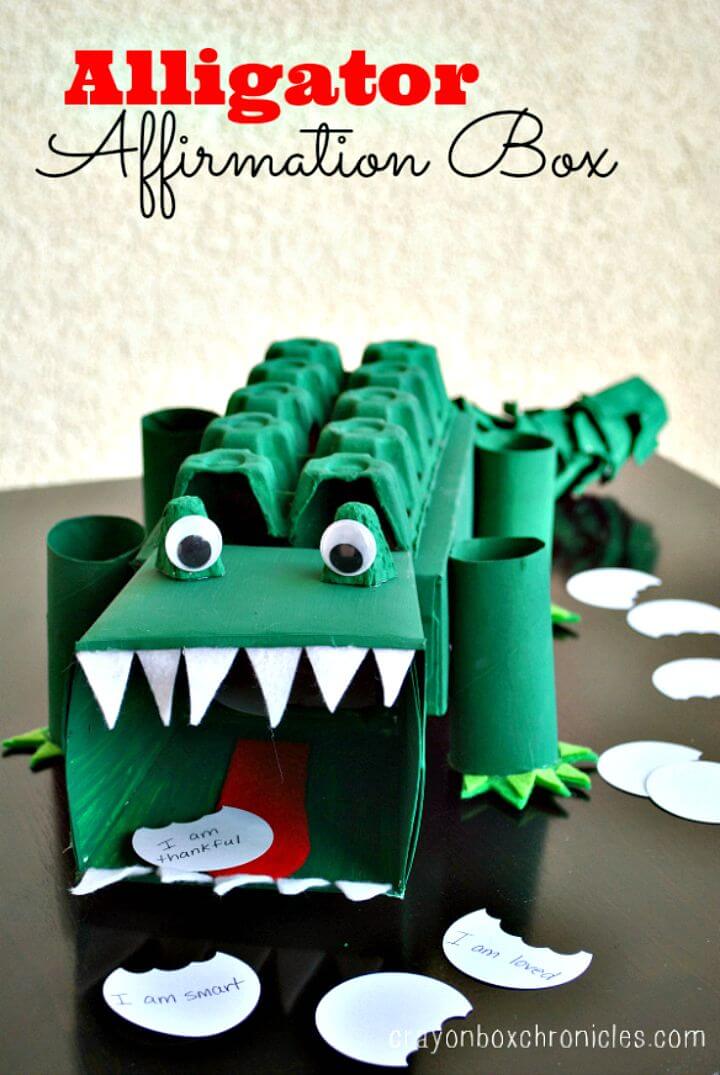 Here is another brilliant toy gift to make for a gift by going smartly handmade with the egg carton! Here a sweet and cute looking alligator affirmation box has been made that can be used for both storage and decoration purposes and is just looking amazingly beautiful! Here you need the paper, felt, tissue boxes, egg carton and paper towel tubes to create the body of this alligator! Final step would to paint your entire alligator model! Willing to duplicate this another fantastic looking egg carton project? Complete project tutorial and instructions from here crayonboxchronicles
Make Your Own Egg Carton Dinosaur Hat: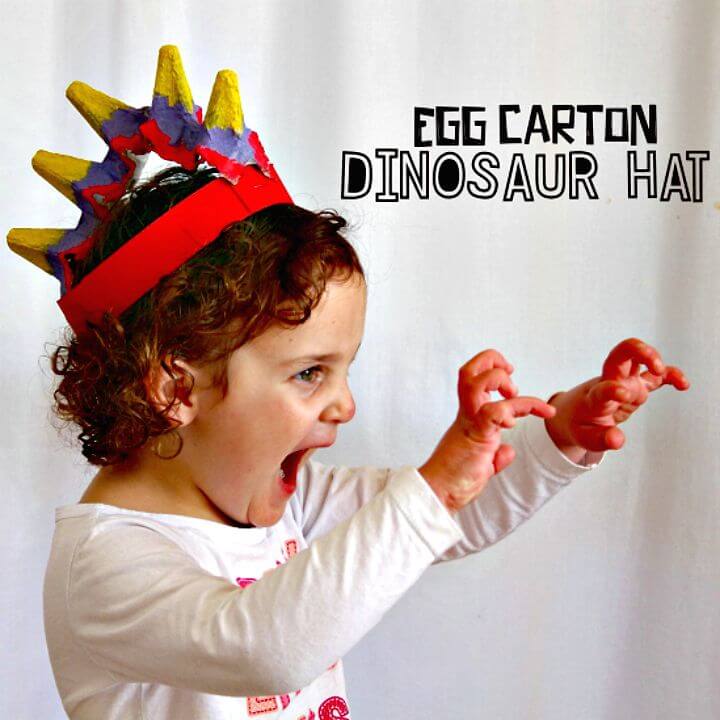 Here is the special egg carton project that all kids loving parents can do to raise the fun of your kids! Just make smart use of egg carton to make amusing dinosaur hats that will make a great gift for all fun loving kids! Here you need the cardboard, egg carton and the poster paint to make this brilliant looking egg carton dinosaur hat! Willing to duplicate it now? Grab the full free tutorial and visual guides from here craftymorning
DIY Centerpieces using Egg Cartons and Vintage Buttons: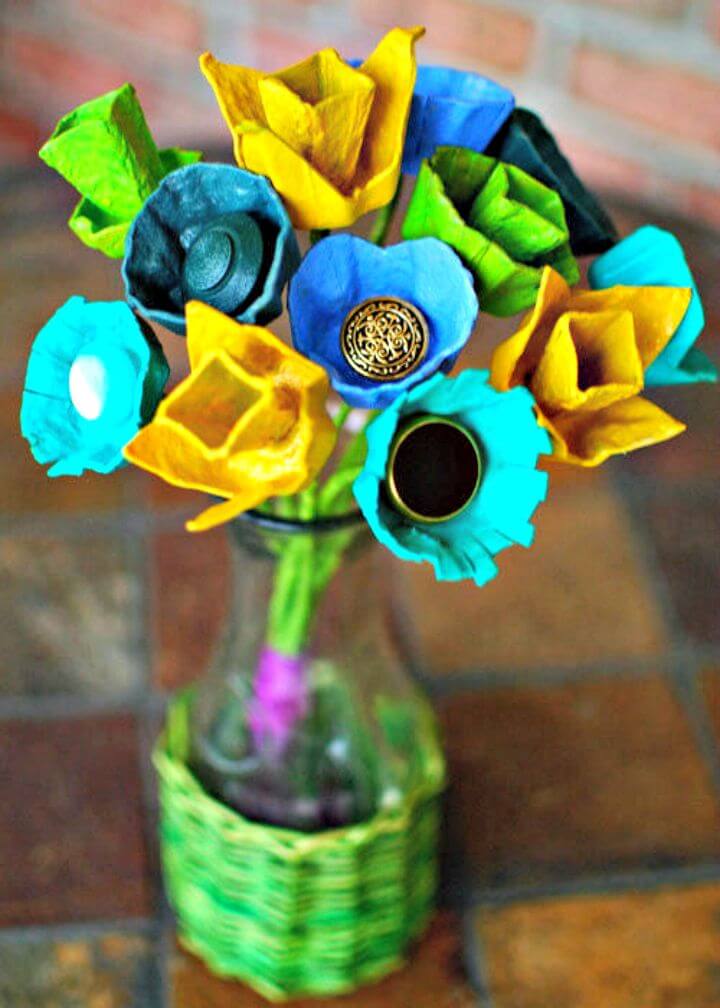 Bring also great visual details to your interior using the egg cartons! The idea is to make brilliant egg carton centerpieces that will definitely boost your interior decors! Here the egg cartons and vintage buttons have been used to make these adorable looking flower vases that are of centerpiece worthy! Cut out the egg carton cups and give custom cuts to them to transform them into flowers which can be painted in custom colors! Make the flower stems using the pipe cleaners and finally the button accents have been placed in the center of egg carton flowers! Put your flowers in a custom glass vase and that's it! Complete tutorial here intimateweddings
Adorable DIY Bird Feeder Tutorial: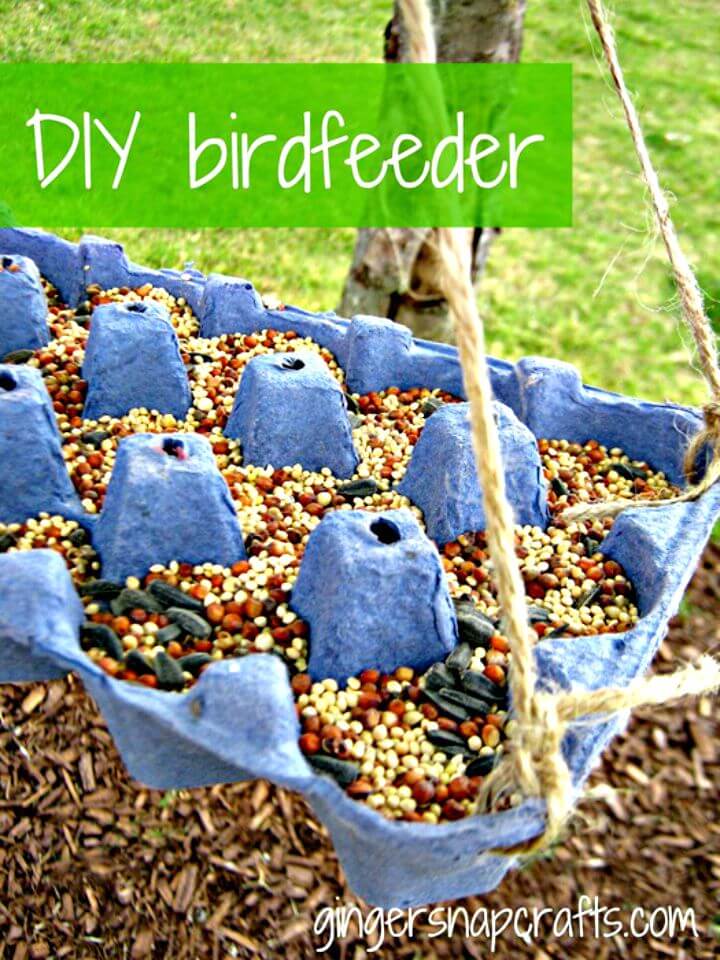 A simple and straightforward project to do with the egg carton! Just hang the egg carton dishes in your garden using rope and just fill them up with bird food and seeds and make amazing bird feeder! Check out here this sample bird feeder that will also make an epic present for a garden lover and would also be a way to give a call to your favorite birds to visit your green space! Complete project tutorial here gingersnapcrafts
DIY Egg Carton Snowman Craft: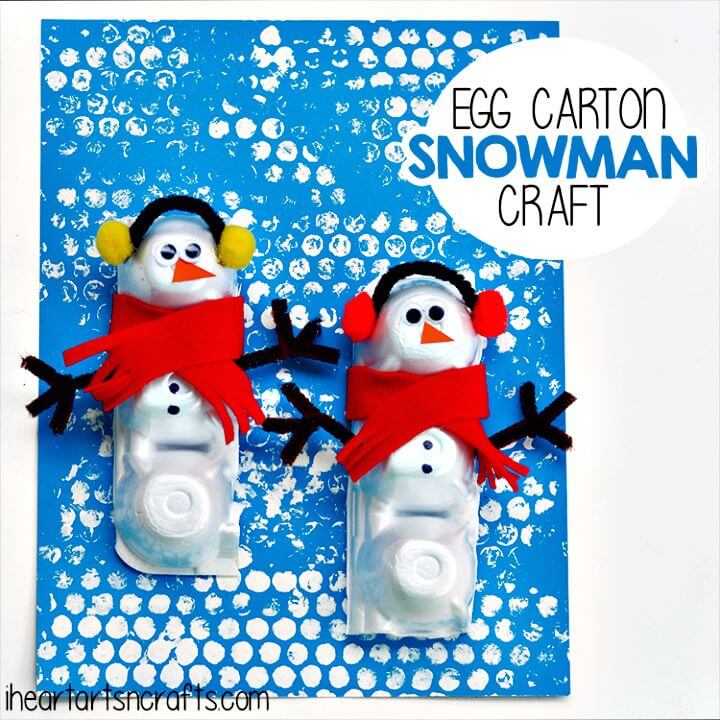 If you are a crafting lover then you will definitely praise this handsome egg carton crafting achievement! Here the lovely snowmen have been made with the egg carton that can be used in multiple different ways to boost your home decors and will also make great gifts to kids! Here all you need to cut out a custom length of cup section from the egg carton that can easily be transformed into a snowman using the googly eyes, buttons, felt-made arms and scarf and a cardstock paper nose! Here these snowman also come with earmuffs that are made of pipe cleaners and pom-poms! Complete tutorial and instructions here iheartartsncrafts
Beautiful DIY Egg Carton Masks: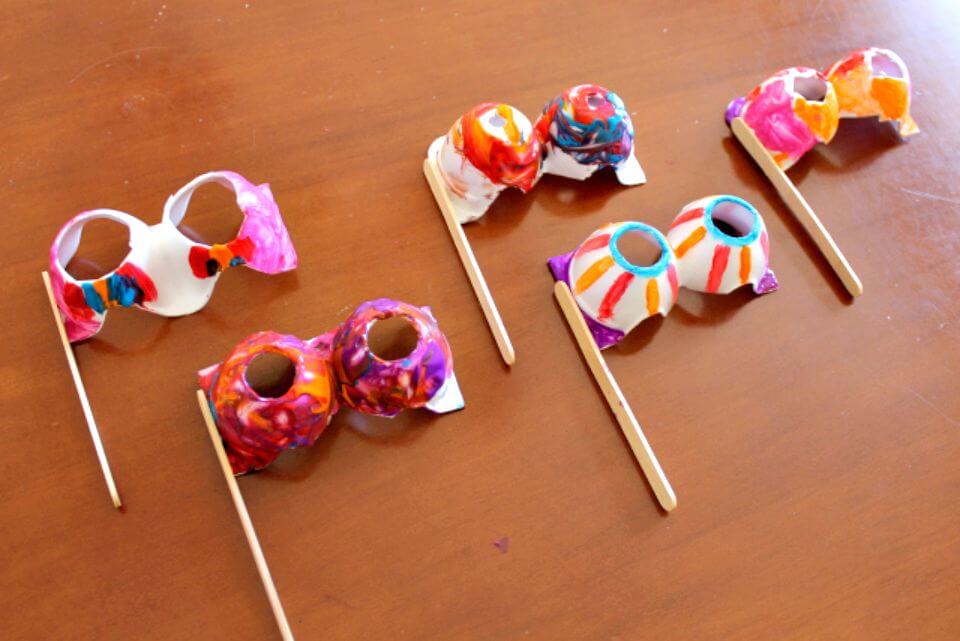 Here is how to boost the fun of your parties with the egg cartons! Just make the great looking party props with the egg cartons and here is a beautiful example of it! Just make the beautiful looking egg carton party mask using double cut out egg carton cups, make holes in them and then add popsicle sticks to their one side! Don't forget to paint your masks in custom colors you like! Complete project tutorial and visual guides are here teachingeveryday
How To Make Flying Egg Carton Helicopter: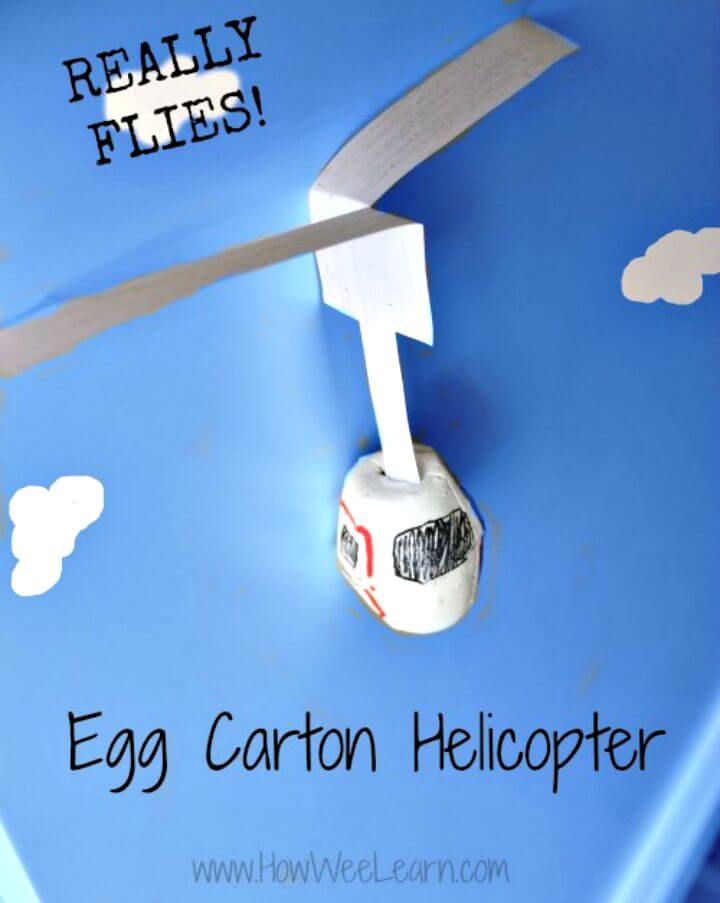 Willing to make your kids play happily in spare time? If yes, then make this egg carton flying helicopter that is both a toy and a playing game for the kids and can make them busy for hours for sure! Cut a cup out from the egg carton and paint it for a dashing look! Next cut a slid in it and fit the helicopter wings that can be made with the cardstock or paper! Complete visual tutorial and step-by-step instructions here howweelearn
Cute DIY Little Chick Egg Carton Craft: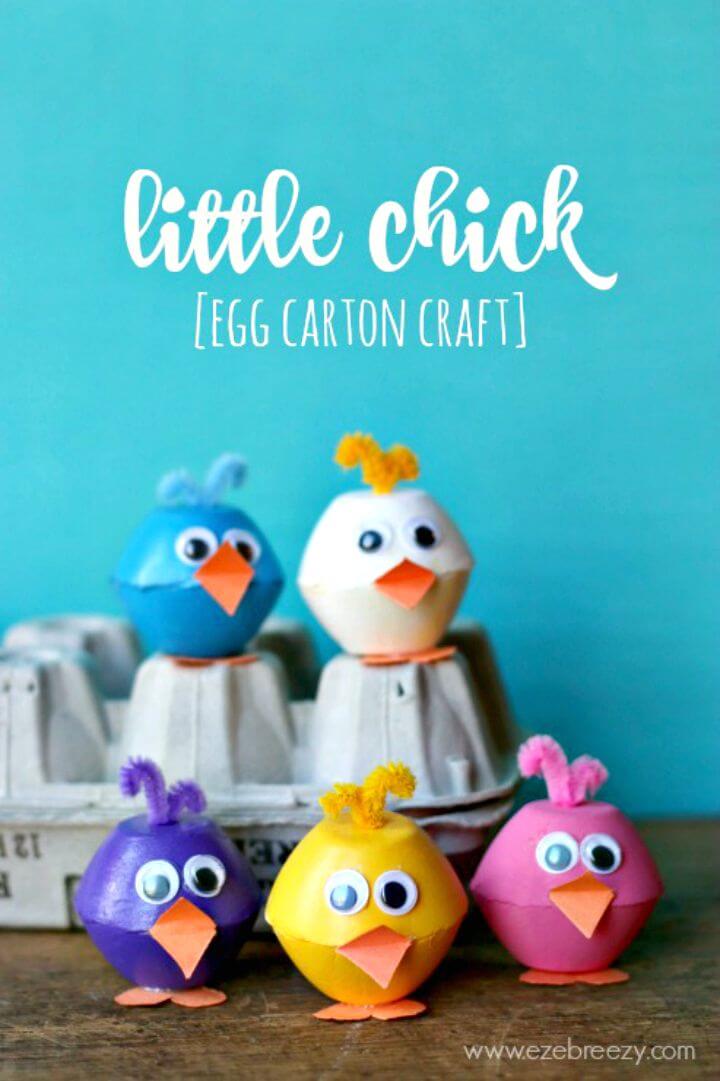 One more brilliant craft project to do with the recycled egg carton! Here the little chicks have been made with the cut out egg carton cups! The cutout cups have been put together in face-to-face to arrangement and then have been painted in yellow! Finally the body parts have been made like the googly eyes have been pasted and then the bead and flat feet which are made of cardstock! Next you can make use of yellow pipe cleaners to make the hair! Complete project instructions here ezebreezy
How To Make Egg Carton Chimes: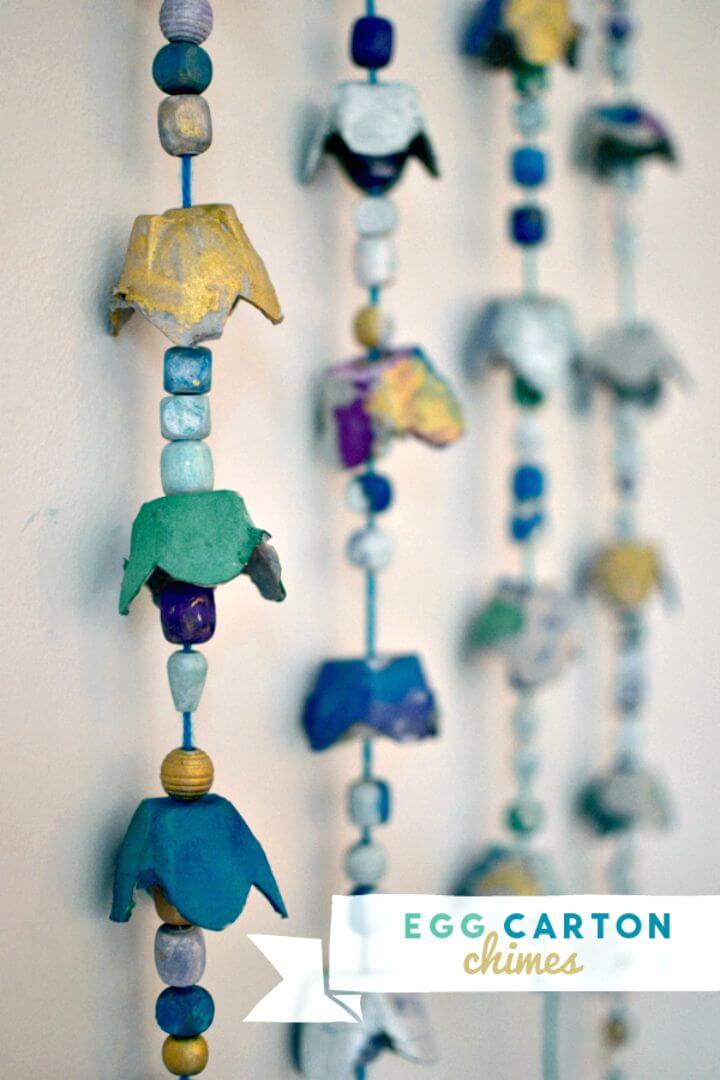 Thread also the custom cut out egg cups onto a piece of string along with other wooden beads and accents and make gorgeous looking chimes! Here the wooden beads, bells and cut out egg carton cups have been threaded onto a piece of yarn to make these lovely looking chimes! Another great and extra brilliant egg carton project to do in spare time to boost your home decors! Complete project tutorial here artbarblog
Adorable DIY Paper Rose Escort Cards: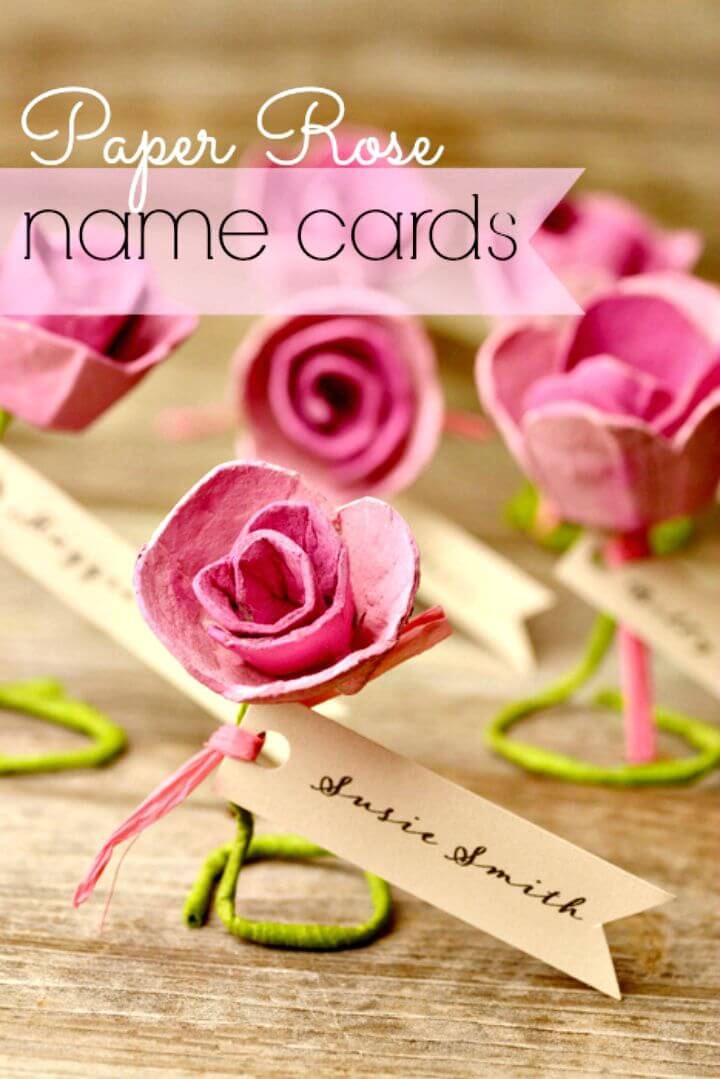 Look at this another unbelievable egg carton craft project that will make you fall in love more with the egg carton! Here the outstanding paper rose escort cards have been made using the egg carton, wire, floral paper, cardstock and raffia! Just cut out the egg carton cups and put extra egg carton coiled or swirled strips inside the cup to make rose flower, finish this rose with the green paper wrapped floral wire stem and just add your cardstock names to rose using raffia and a hole punch! Complete project tutorial here intimateweddings
Simple DIY Egg Carton Flowers: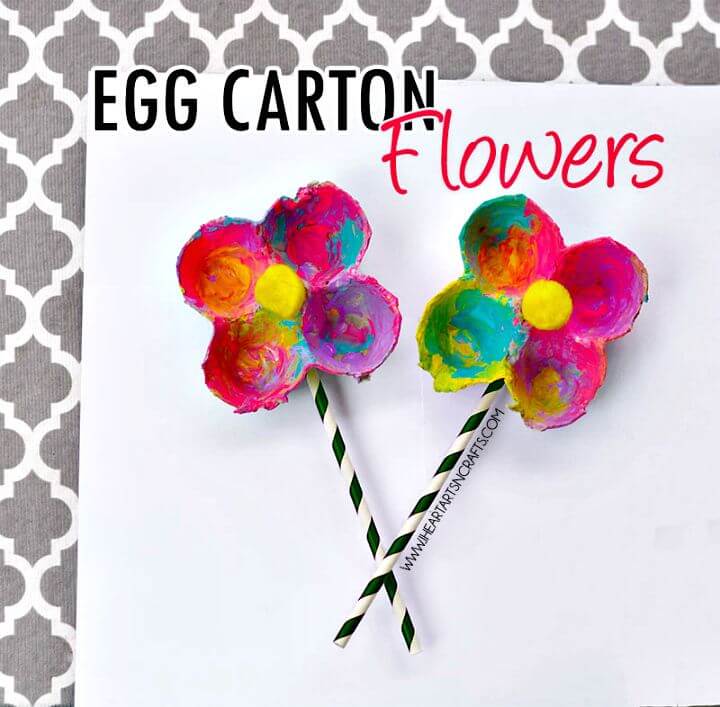 Once again the lovely flowers are here that are made of egg carton and are just fabulous to look at! Here a section of 4 egg carton cups have been cut out that is having a square shape and then a paper straw stem has been add to its backside for a beautiful flower! Here the cut out egg carton part has also been painted with the acrylic paint to look amazingly colorful! Finally you can mount two of such a flower on a canvas to make an interesting wall art frame! Complete project tutorial here iheartartsncrafts
Create Recycled Egg Carton Craft Flower Box: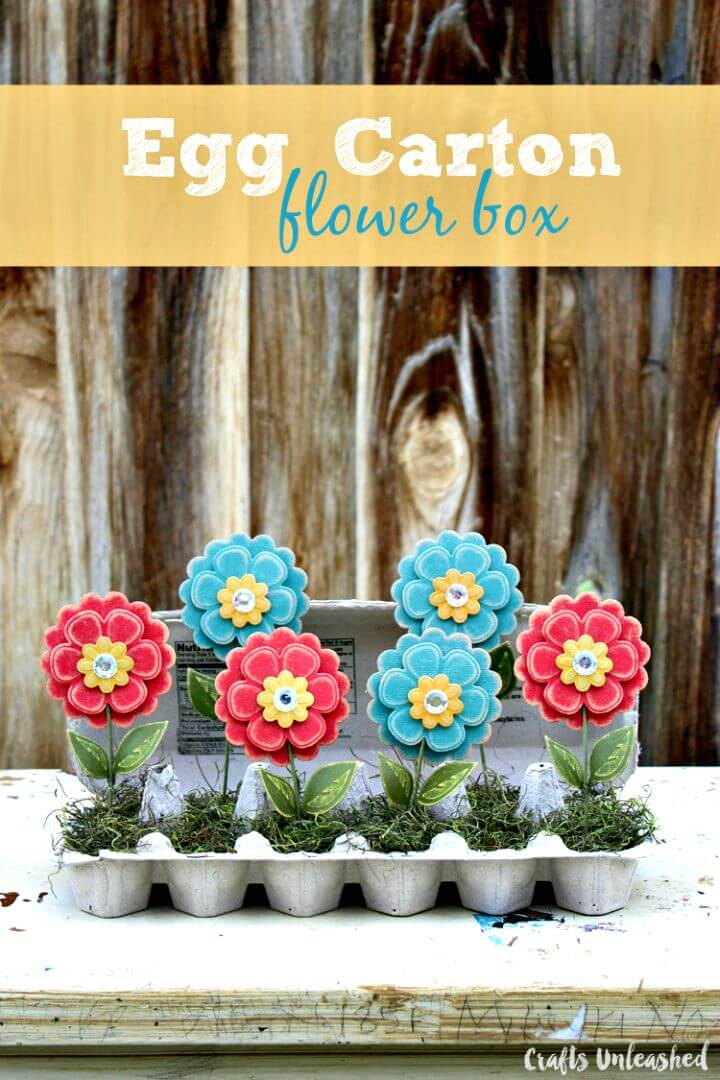 The uses for recycled egg carton are just never ending and here is another smart way to repurpose the egg carton! Just make the beautiful craft flower boxes out of egg carton! Check out here the sample craft flower box that would make a graceful centerpiece to any interior space! Here the custom layered flower die cuts have been used to cut the flowers and petals out of a kraft-core cardstock papers which has then been pasted on the floral wire stems! Finally the egg carton cups have been filled with craft moss and then flowers have been added! Complete project instructions here consumercrafts
DIY Sunflower Egg Carton Craft for Kids: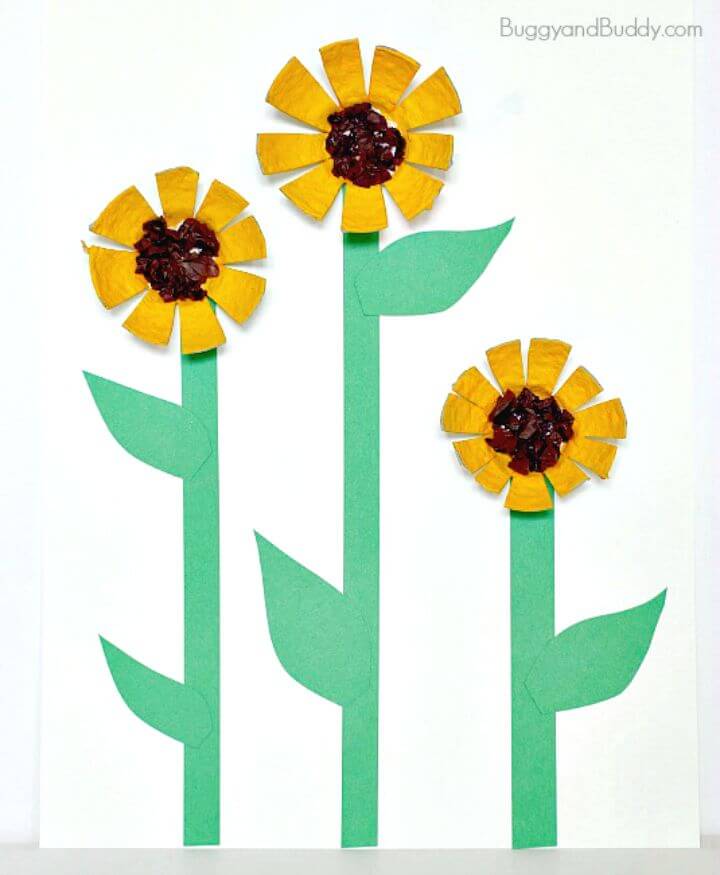 Cut out the cups from an egg carton and just give custom cuts to their sides to gain them in to a flower shape! Next just past the crumpled brown tissue paper squares in the center and you will gain a charming sunflower, don't forget to paint the flower first in yellow! Next use the green construction paper and cut out the stem and petals and then combine them with flower to make interesting sunflower craft! Complete visual tutorial and instructions here buggyandbuddy
Easy DIY Egg Carton Crown Craft: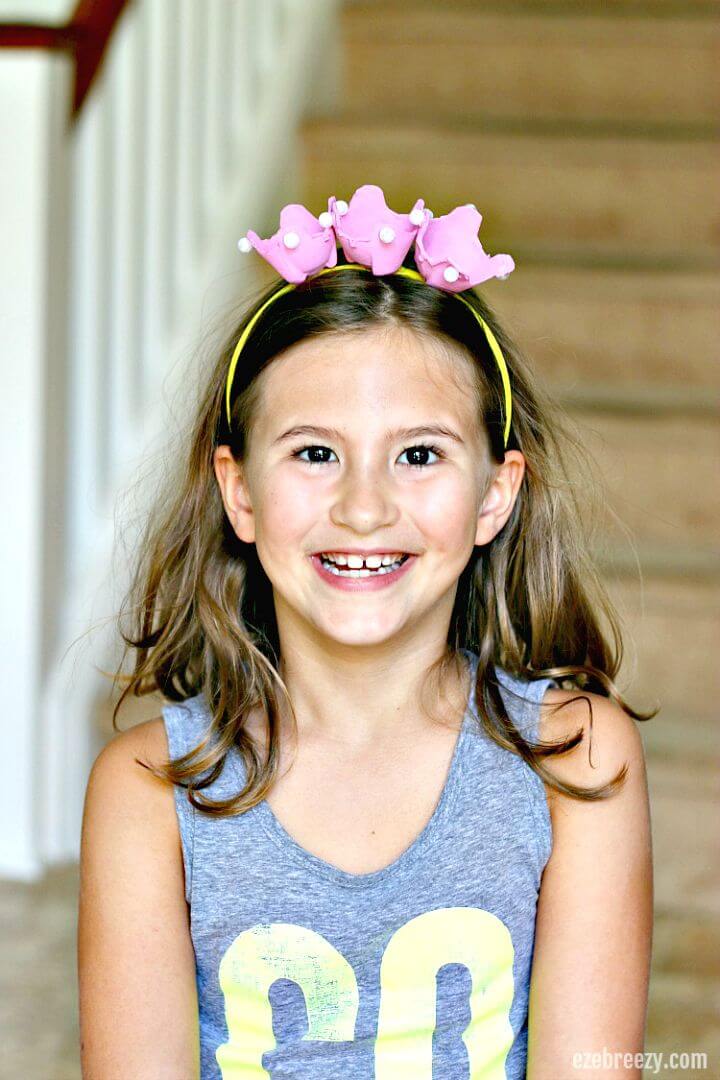 Get crafty with egg carton also to please your little girl, just make the princess crowns for your little girls using the egg carton! Get inspired of this lovely given crown that is just looking fantastic and adorable! Just cut out cups again from an egg carton and adorn them up using paint and custom beads! Next just past them onto a headband making a precious looking crown! Use the hot glue for all your adhesive demands and that's it! Complete project tutorial and instructions here ezebreezy
Make Little Music Shakers: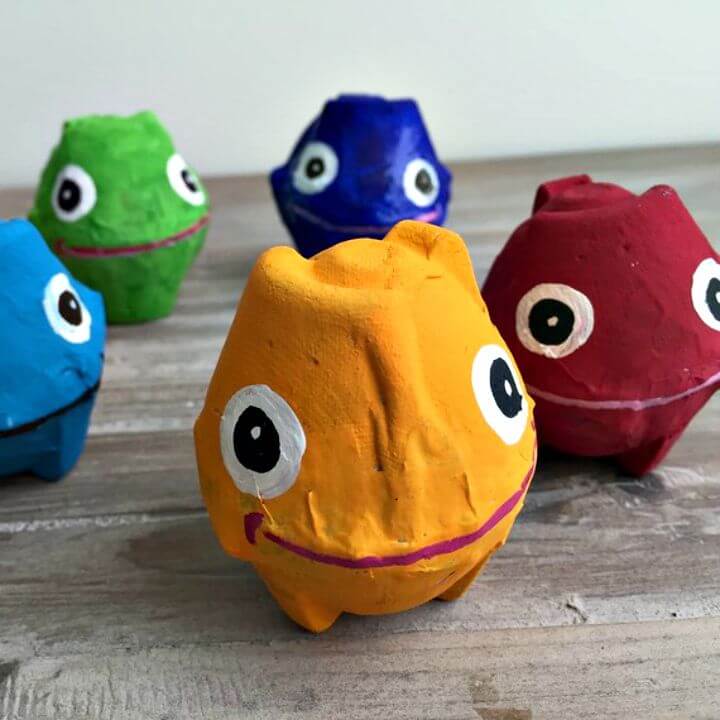 One more cute and exceptional craft project to do with egg carton! Just make the lovely music shakers using the cut out cups from an egg carton! Fill a cup with dried beans and then just place other over it as a lid! Secure the face-to-face arrangement of the cups using glue and tape and just paint your finally finished music shakes for beautiful shapes! Check out here the sample music shakers that are lovely and cute and would make great toys for the kids! Complete tutorial here marthastewart
How To Make Googly Eye Glasses: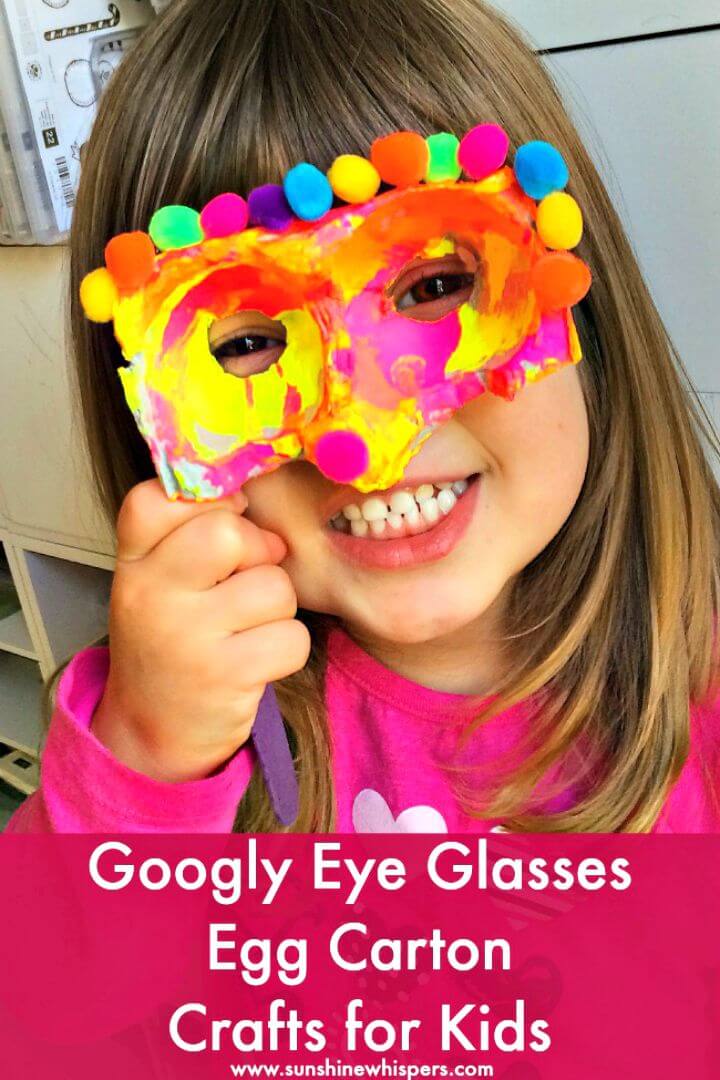 Here is another outstanding egg carton craft that every kid can do! Here the googly eye-glasses have been made that will make a great party prop! Cut out a section from egg carton with two cups and then just make it painted in a custom way! Next just cut the bottoms out to see through and paste your glasses onto the popsicle sticks! Final step would to adorn your finally finished glasses with colorful pom-poms! Another great and lovely egg carton project! Complete tutorial here sunshinewhispers
DIY Egg Carton Dragon Craft: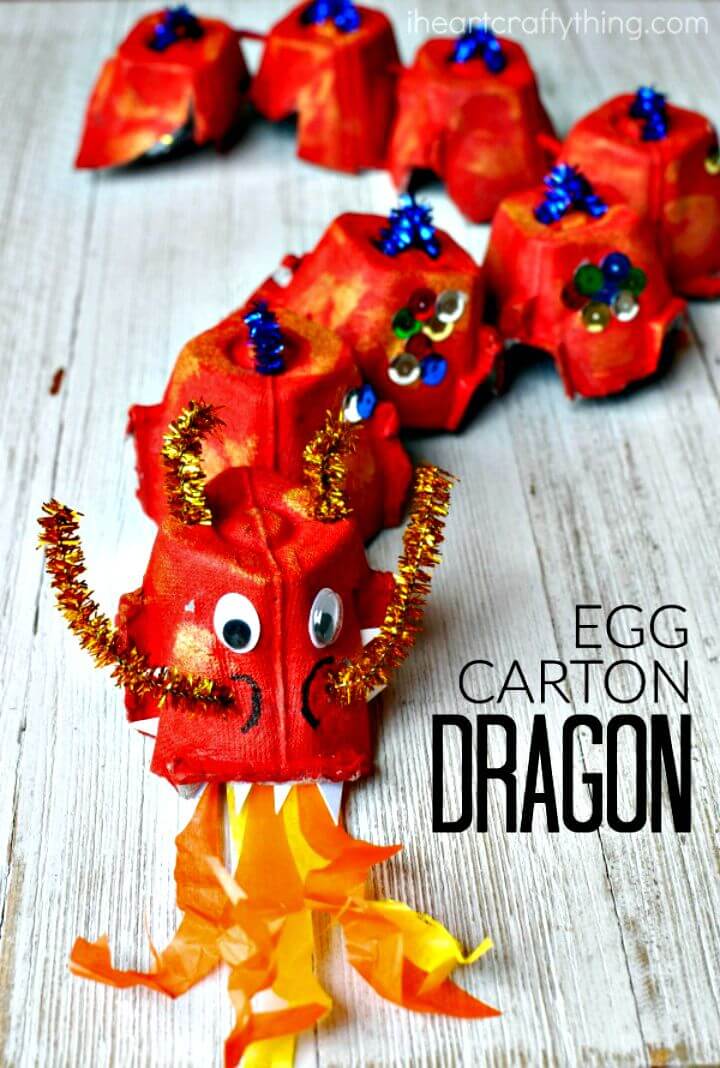 There are never-ending suggestions making kids crafts and toys out of egg carton! Check out here another fabulous one, here a precious dragon has been made out of egg carton that will definitely go enticing to kids eyes! Cut out a desired number of cups from an egg carton and paint them in a custom dragon color! Next just thread them onto a piece of yarn and adorn with custom embellishments and décors like with the sequin and glitter sticks and also paste the googly eyes for cute dragon eyes! Use orange and yellow tissue paper stripes to make the faux fire coming out from the dragon's mouth! Complete tutorial here iheartcraftythings
DIY Egg Carton Bee Craft for Kids: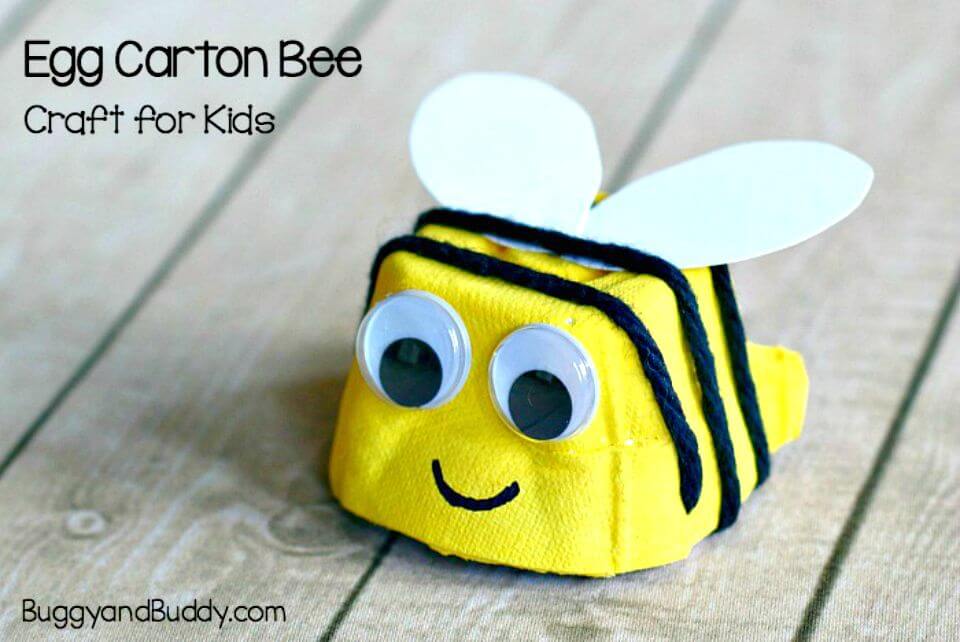 Win more love of your kids by making this cute bee toy for them! Here again the egg carton has been used to craft this adorable kids toy! Cut out a cup from the egg carton and just paint it in yellow! Next just wrap the black yarn around it for black bee stripes and also add the white cardstock wings for a complete bee look! Also glue the googly eyes and finish your model by drawing a smiling face with marker! Another great kids craft project to do with egg carton! Complete tutorial and instructions here buggyandbuddy
Easy DIY Egg Carton Flower Garland: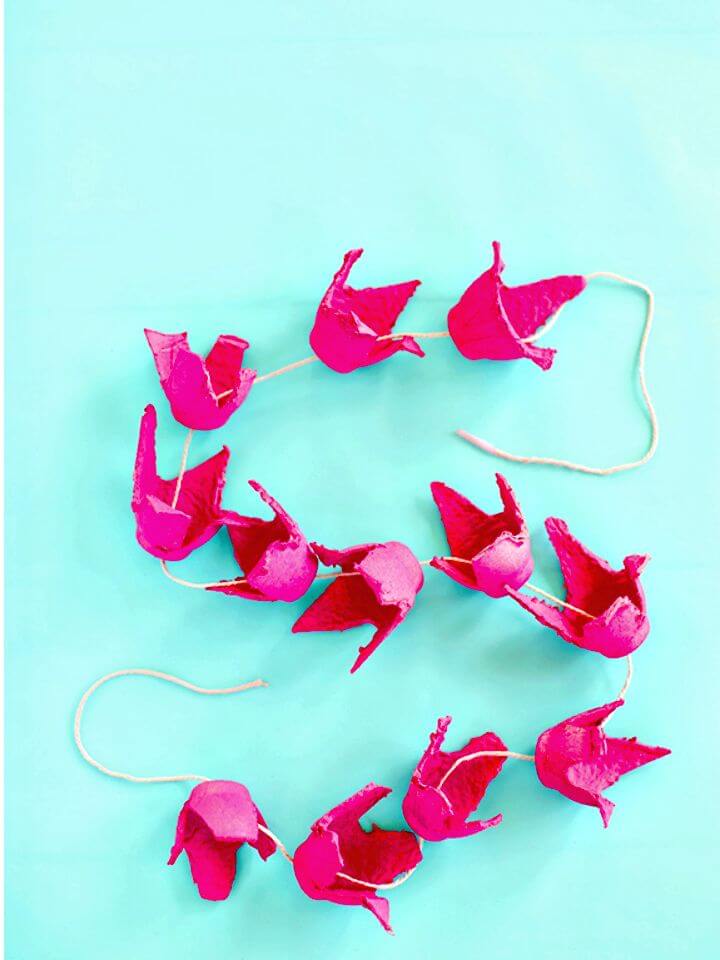 Give custom cuts to separated apart egg carton cups and take them into a flower shape! Next just thread your egg carton cup flowers onto a piece of yarn or string and make gorgeous looking flower garlands that will make amazing decors for an interior home space and also for a party environment! Check out here the sample egg carton flower garland that has been done to inspire and is really looking graceful and enchanting! Complete project tutorial and instructions here sayyes
DIY Blossom Fairy Lights: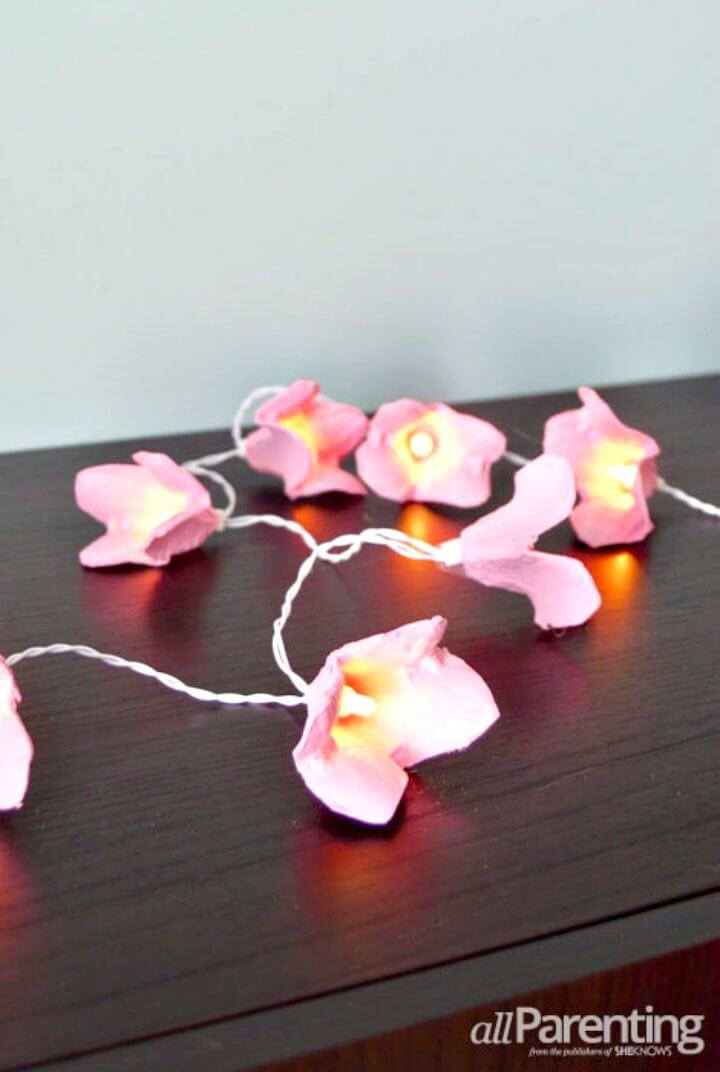 Here is an extra brilliant and super smart crafting project to do with the egg carton! Just make amusing blossom fairy light too out of egg carton! The idea is to pain the cut out egg carton cups which can also be given a few smart cuts to get transformed into faux flowers as you can see! Final step would be to thread them onto an electrical wire with LED lights fixed inside them to make blossom fairy lights! Get inspired of the given sample fairy lights! Complete project tutorial and instructions here allparenting
Gorgeous DIY Egg Carton Wreath: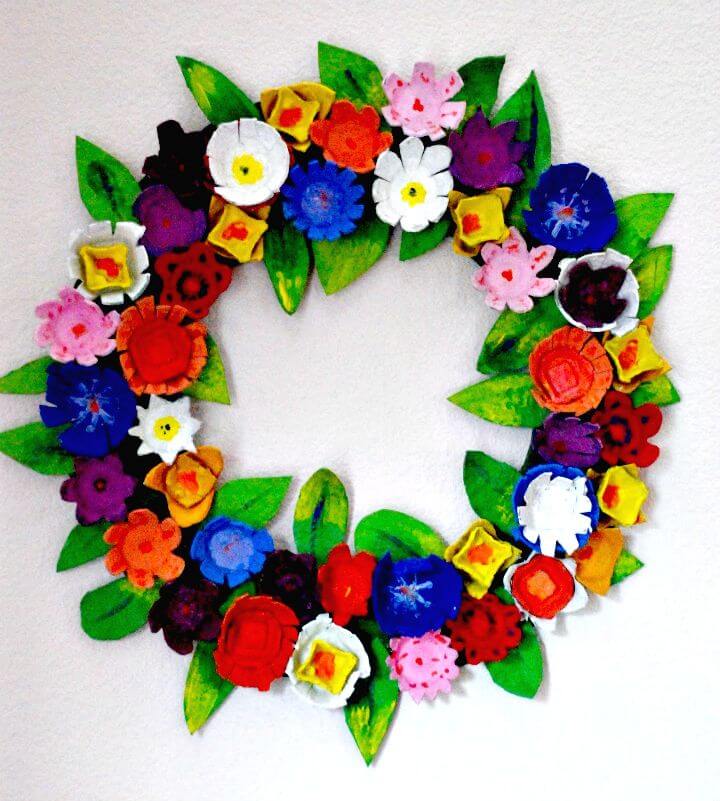 You will definitely fall in love with the colors of this handmade wreath! Here this handsome wreath comes with different colored flowers that are made of egg carton cups, altered to gain a flower shape and painted in so many different colors of choice! Here custom green petals have also been made out of green cardstock and finally finished flowers have been glued on a cardstock wreath frame to make a gorgeous flower wreath! Another great egg carton project to boost your home decors! Complete tutorial and visual instructions here homemadeserenity
How To Make Egg Carton Bird Masks: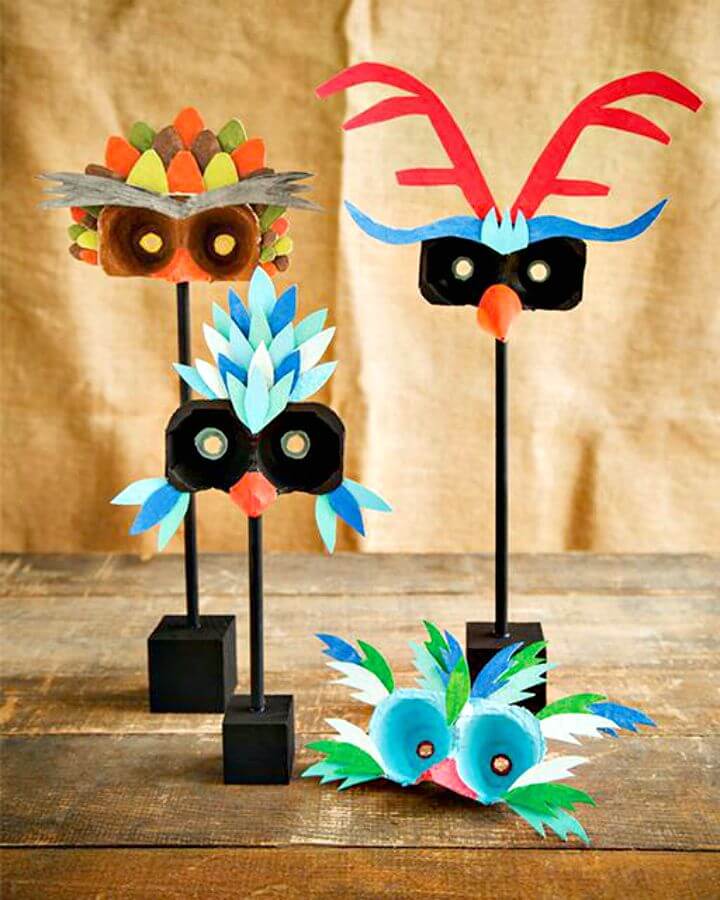 Here is another creative and lovely egg carton achievement, the handsome party props have been made out of egg carton that will definitely raise the party fun especially of kids! Just Check out these bird masks that come with flat cube like base and can stand alone any flat surface! Here the idea is to cut a two cup section out from the egg carton along with a birds beak and then to paint and decorate to look like a bird! Glue also the feathers and parts that can made with cardstock and finish the masks with an elastic ribbon at the back! Complete project tutorial here sweetpaulmag
Make Your Own Spring Chicks Egg Carton Craft: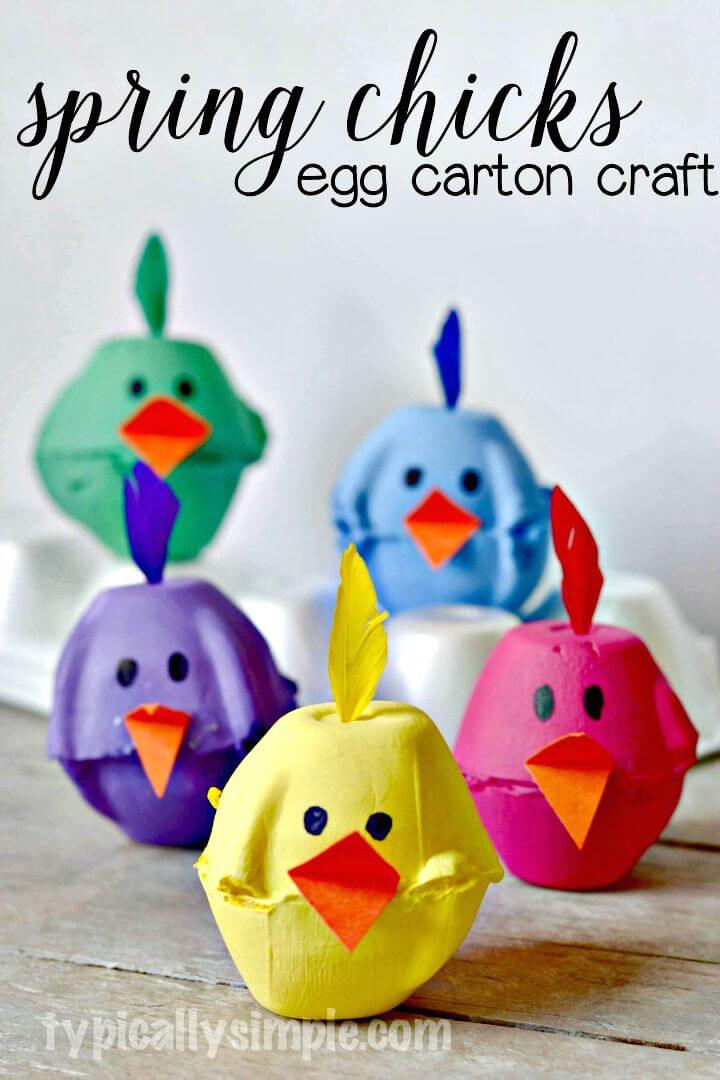 You will not see a cuter egg carton craft than these spring chicks that are made with the cut out egg carton cups! Here 2 egg carton cups have been stacked in face-to-face arrangement and then has been painted in different colors to make the chicks! Final step would be to add some eyes and a beak that you can make with a construction paper! Next also add a feather to the dead of the chic for more beautiful look! Complete project tutorial and instructions here typicallysimple
DIY Pom Pom Ice-cream Garland: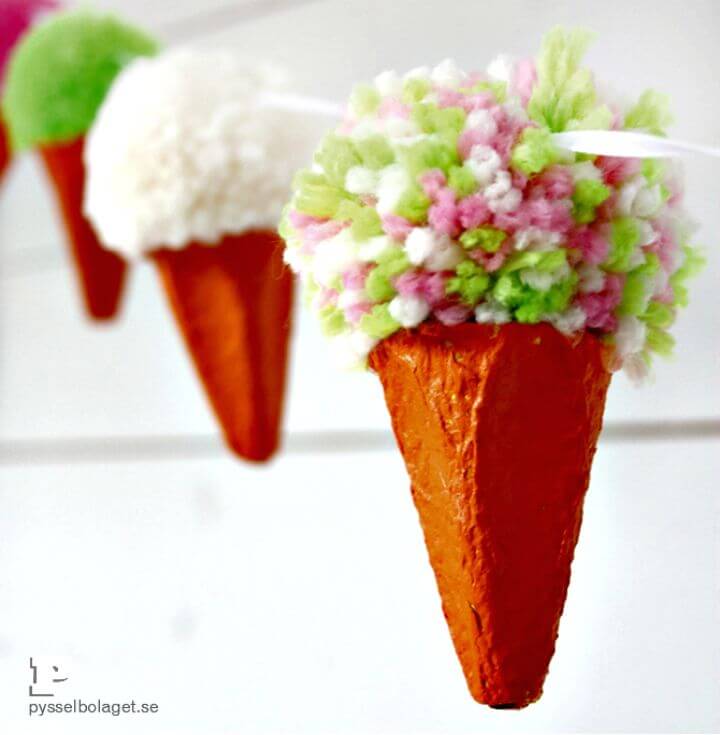 Cut out the cone-shaped parts out of a egg carton and do amazing crafting and home décor projects with them! Just have a look at these pom-pom ice creams that come with egg carton cones painted in orange! Finally finished cones have been topped up with pom-pom ice-cream! You can make a dozen of these cones and can just add them to a piece of string to make ice-cream garlands for kids room decors and also for kids parties! Another great egg carton project! Complete project tutorial and instructions here pysselbolaget
DIY Egg Carton Fairy Bird-Houses: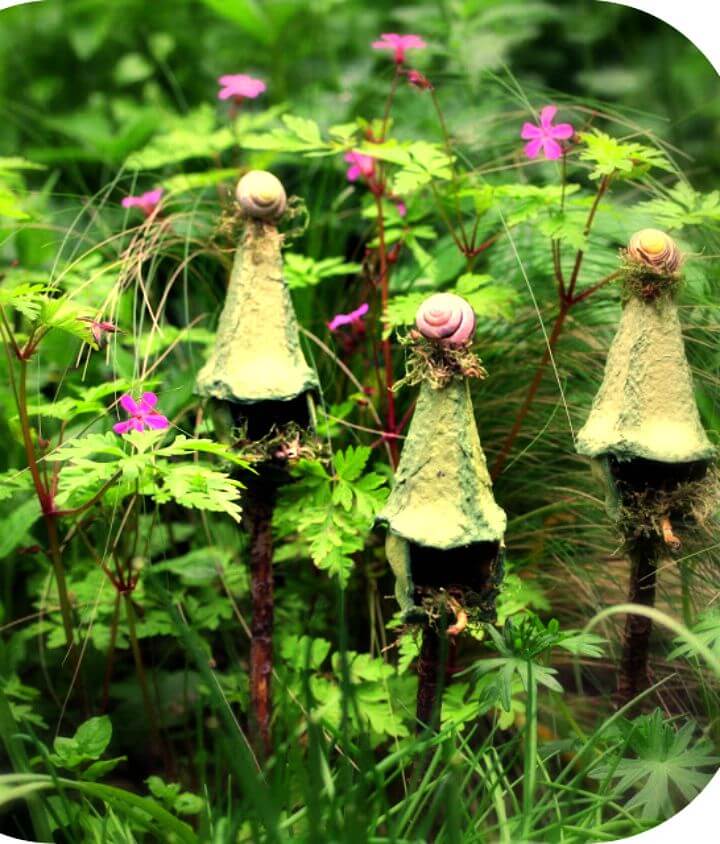 Go handmade with both egg carton cups and cones to make outstanding crafts and decors! A very brilliant example here is these fairy birdhouses that will make great garden decors! Here all you need is to install a egg carton cone on an egg carton cup and then you can add some moss inside of it for a natural looking birdhouse! Glue the seashell accents tops and then mount these birdhouses on garden stakes or sticks or poles! Complete project tutorial here daily-colours
Cute DIY Egg Carton Bumble Bee Craft for Kids: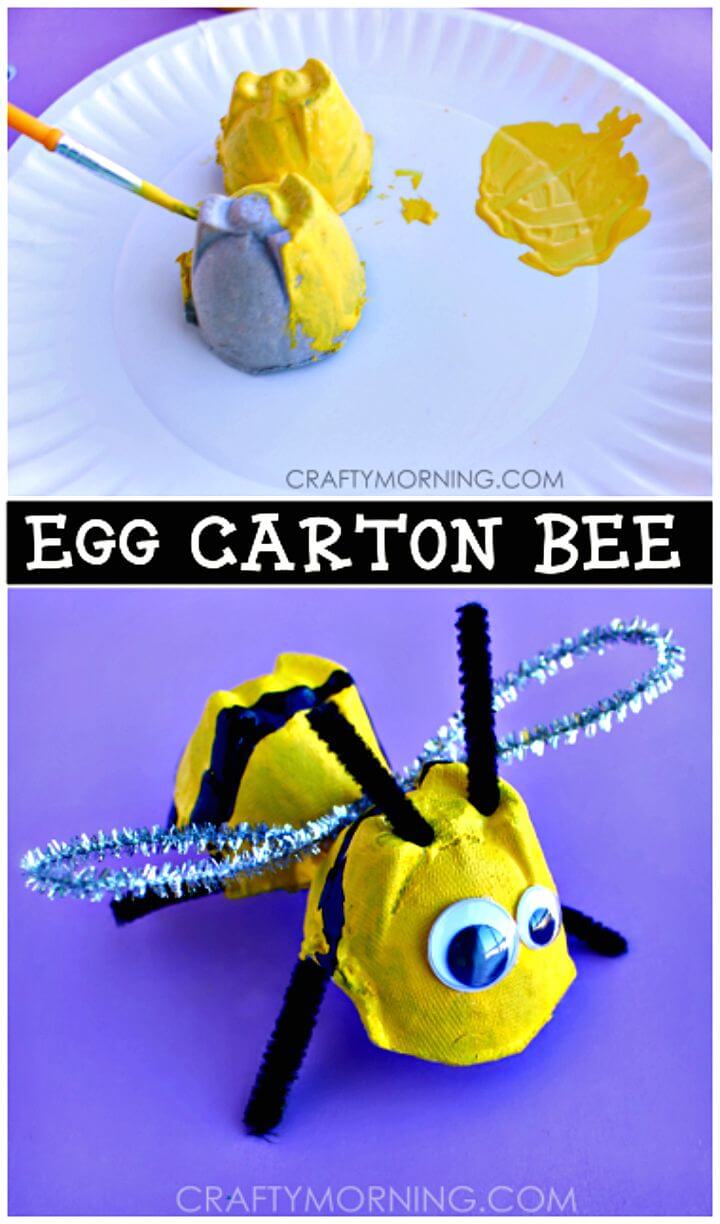 You can make different items of need and décor with the egg carton and also some amazing toys for your kids! Just Check out here this sample bumblebee craft that would make a perfect home décor and a fun-making toy for a kid! Cut out 2 cups out of an egg carton, paint them yellow and then add the silver and pipe cleaner wings and also make smart use of black pipe cleaners to make antenna and legs of the bee! Don't forget to add the googly eyes that bring the whole cuteness to this bumble bee! Complete project instructions here craftymorning
DIY Mayflower Boat Egg Carton Craft: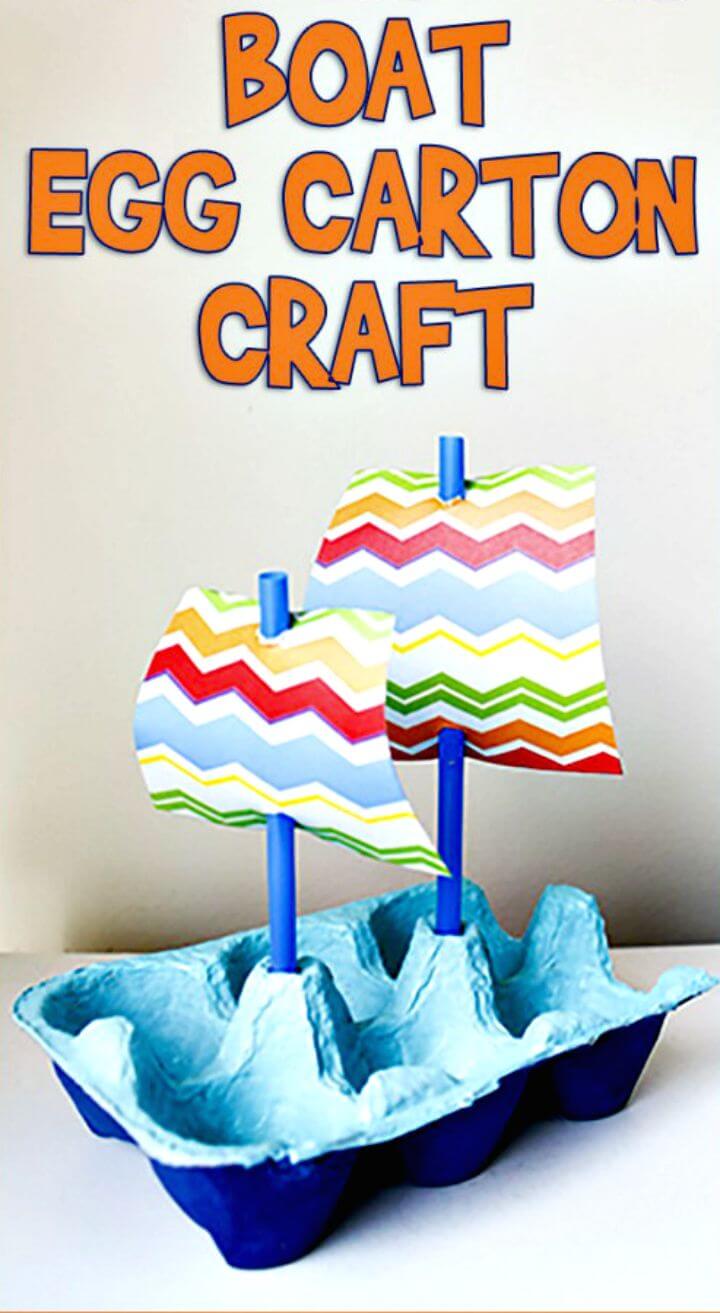 Another great and praiseworthy egg carton craft to do at home! Just make the cute looking boats out of egg carton that will also make great toy gift for all the kids to play with siblings! Just resize your egg carton to get a perfect boat size and then add the sails that can be made with a straw and paper! Next just paint the egg carton board in a desired way and that's it! One more smart egg carton craft idea! Complete tutorial here woojra
Make Your Own Egg Carton Flower Magnets: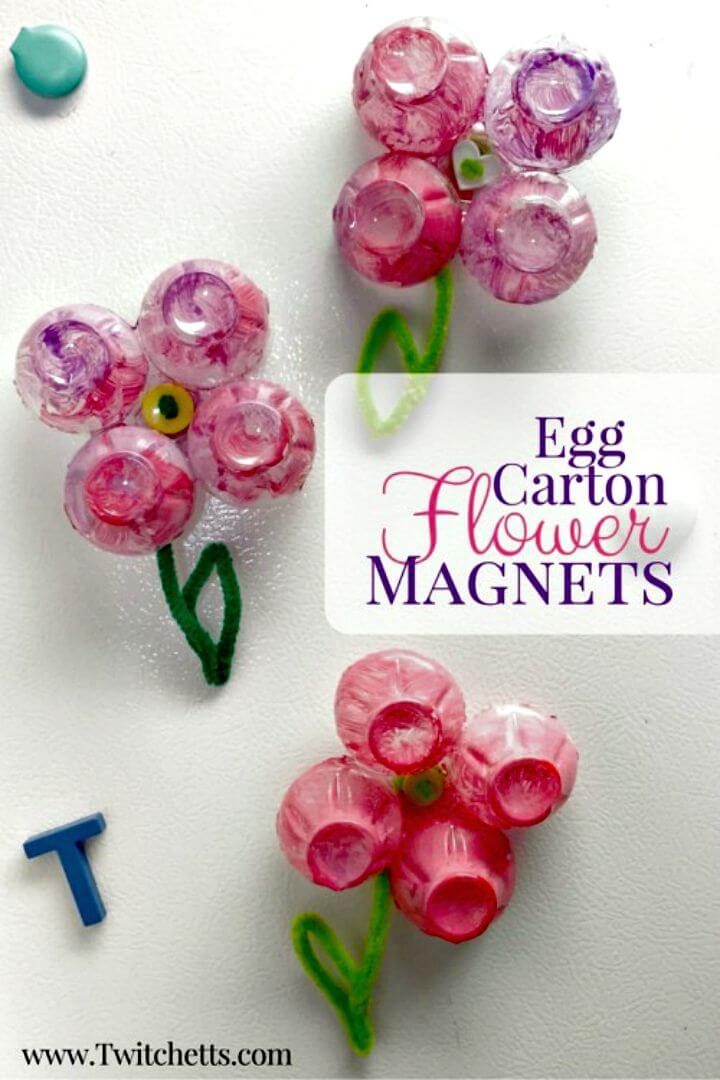 Here is a super smart crafting project to do with the clear egg carton! Just cut a piece of egg carton out having 4 cups making a glam square! This will look like a flower and you can paint it in any custom flower color and then can make use of green pipe cleaners to make the stems for the flower! Add an accent button in the center of each flower and add a magnet to backside of each flower so you will get the brilliant looking flower magnets! Complete project instructions and tutorial here twitchetts
Simple DIY Egg Carton Fairy House Craft: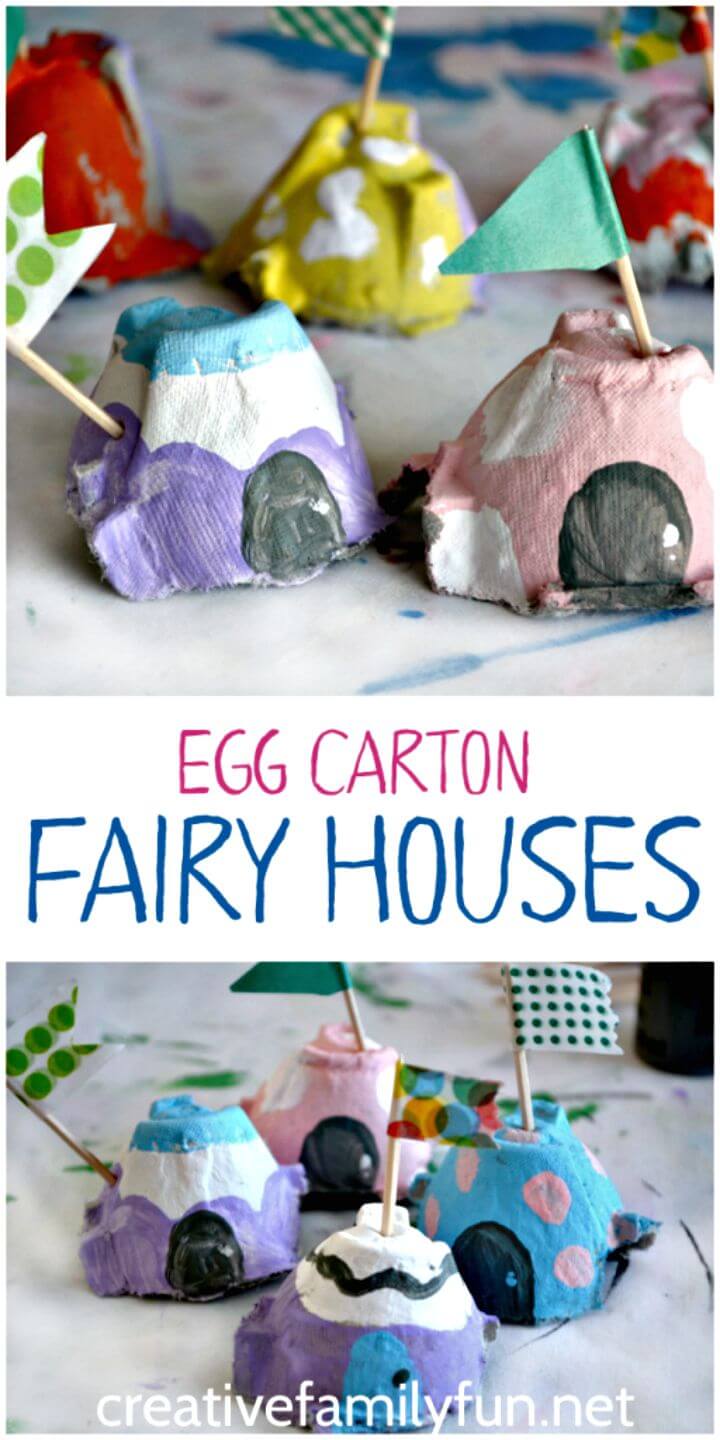 Intending to give some mini cute fairy houses to your kids as a gift? If yes, then time to make them at home using the recycled egg carton! Just cut out the cups from an egg carton and just paint them creatively to look like a mini fairy house! Get inspired of these sample egg carton fairy houses that come with flag made of toothpicks and washi tape! Another great egg carton project idea! Complete tutorial and instructions here creativefamilyfun
Adorable DIY $5 Egg Carton Lamp: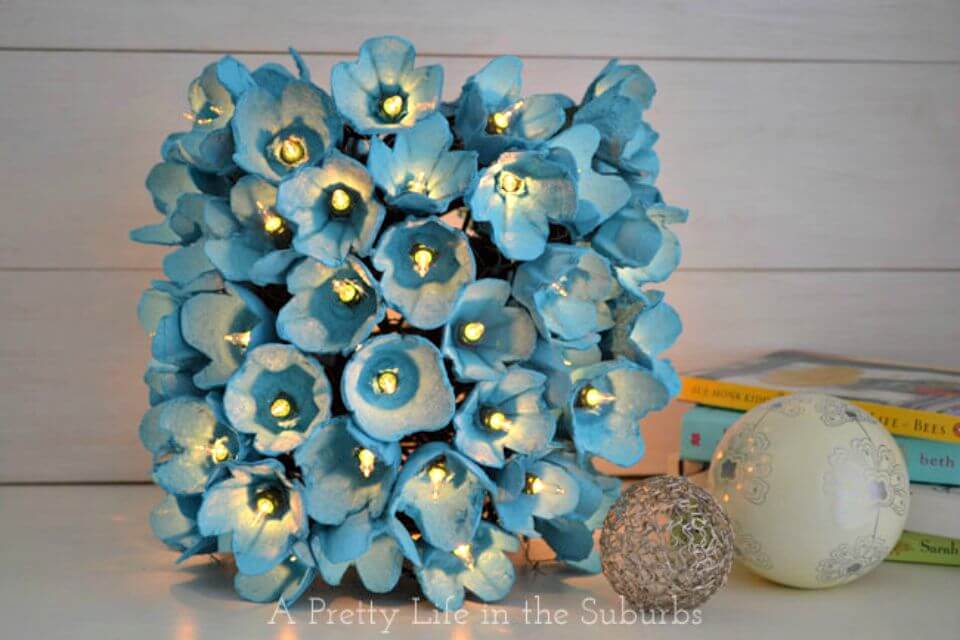 You will definitely fall in love with this interesting egg carton project that will you get with a fancy looking light lamp! Here this entire project will only cost you about $5 and the lamp you will gain will look much focally stimulating! Here all you need is to cut out cups from the egg carton that can be painted, stacked and put together to make a lamp shape! Final step would be to poke the LED string light through the holes made in the bottom of the egg carton cups, this can easily be done using chicken wire and floral wire! This lamp would also make a great handmade gift! Complete tutorial and instructions here aprettylifeinthesuburbs
Make Your Own Egg Carton Craft Idea: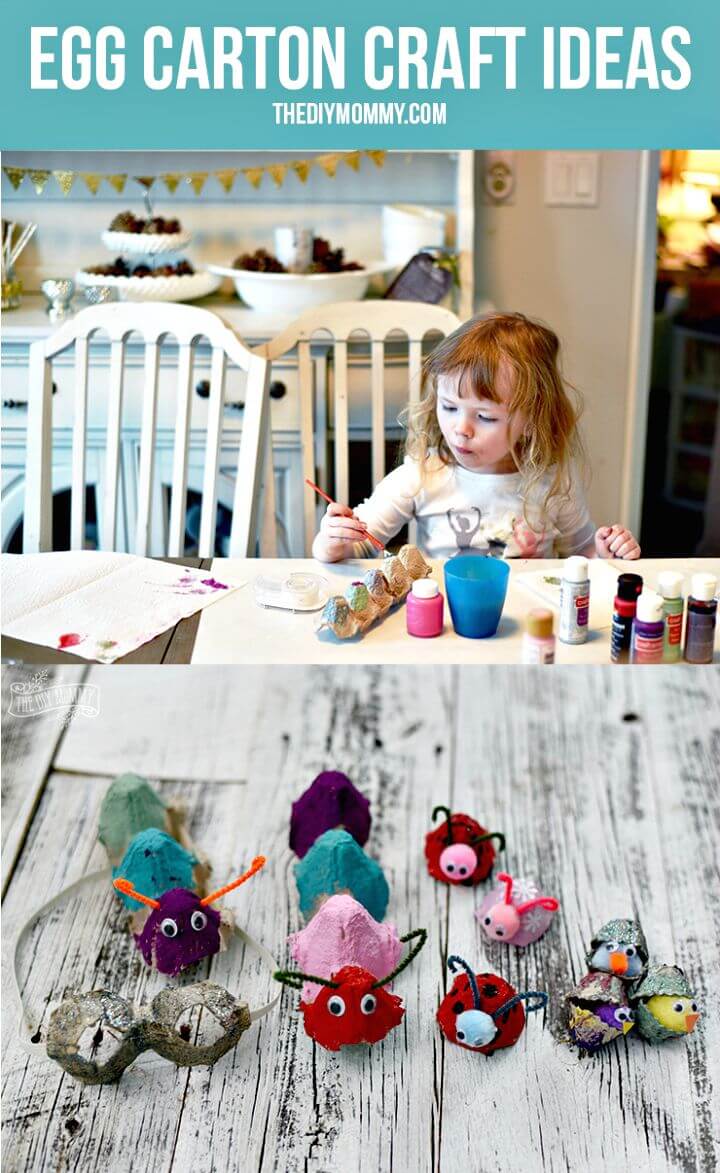 Make interesting and cute looking toys also with the egg carton, just get inspired of these given samples that are looking fab and amazingly beautiful! Just make use of egg carton cut out cups and pipe cleaners to make outstanding looking caterpillars and use a single cup with pipe cleaner to make a bug and also stack two cut out cups to make crazy chick toys! This is here a great inspiration for kids crafting! Complete project details and tutorial here thediymommy
DIY Upcycle Egg Cartons Into Flower Fairies: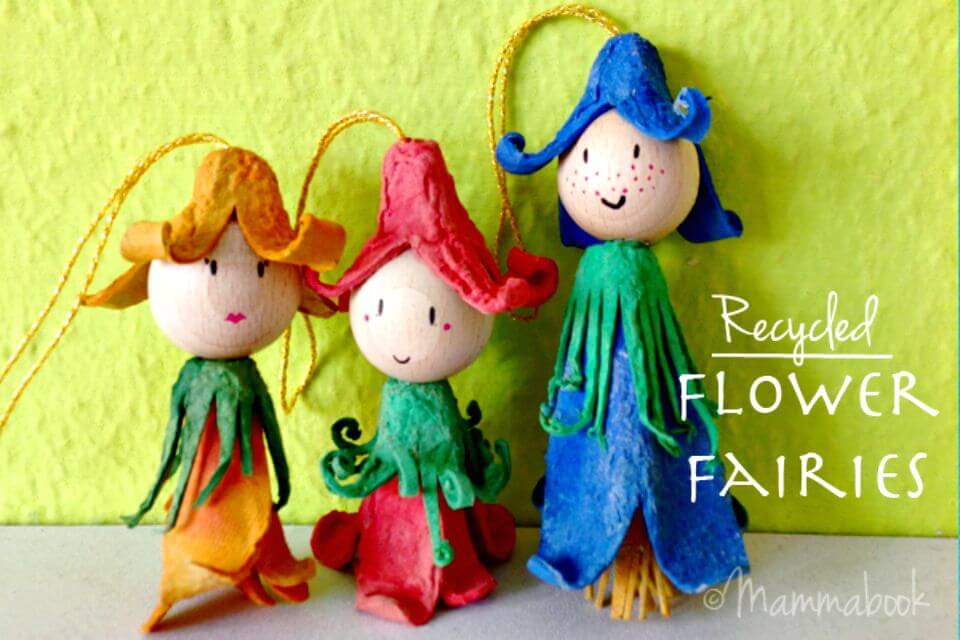 If you are big crafting lover then you will definitely praise this genius piece of crafting work! Here the egg carton has been used to make the adorable flower fairies that will make a great home décor and also a cute gift for a kid! Just Check out here these sample flower fairs that are made of different egg carton cups! Here the wooden beads have been painted for the cute looking faces of the flower fairs and they also come wearing the lovely hats made of cut out egg carton cups! Willing to duplicate these flower fairies? Grab the full free tutorial and instructions from here cucicucicoo
Awesome DIY Egg Carton Headbands: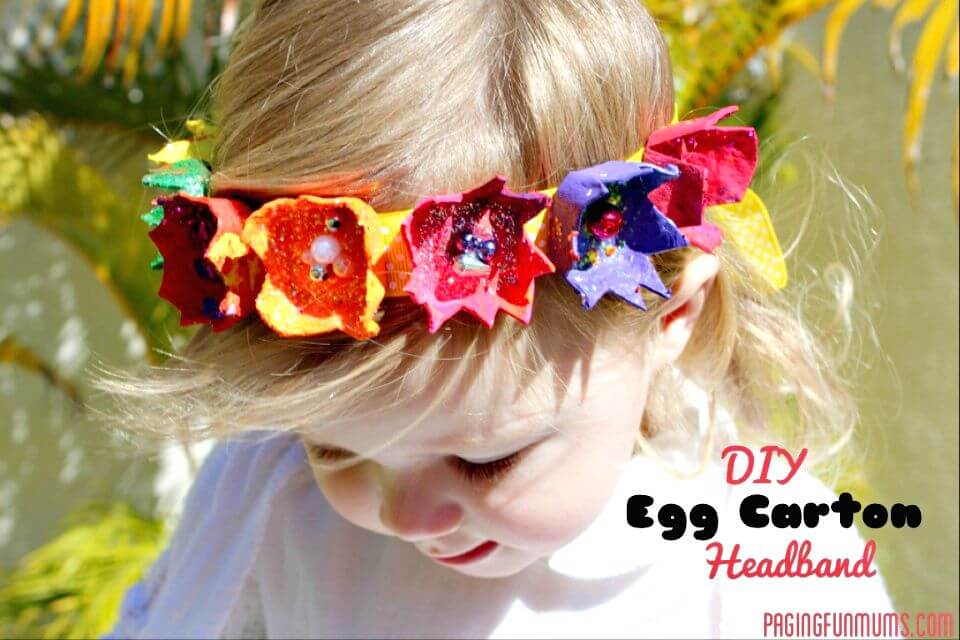 Craft also the precious kids adornments and accessories with the egg carton! Just transform your little girl into a cute little princess by making her wear this lovely looking egg carton headband that is colorful and super eye-captivating! The idea is just to cut out cups from the egg carton that can be cut in different attractive flower shapes! Decorate your cups with paint, glitter and then add custom bead and pearl accent to their center! Final step would be to add your finally finished egg carton flowers onto a piece of ribbon and that's it! Complete project tutorial and instructions here pagingfunmums
DIY Egg Carton Turtle Craft: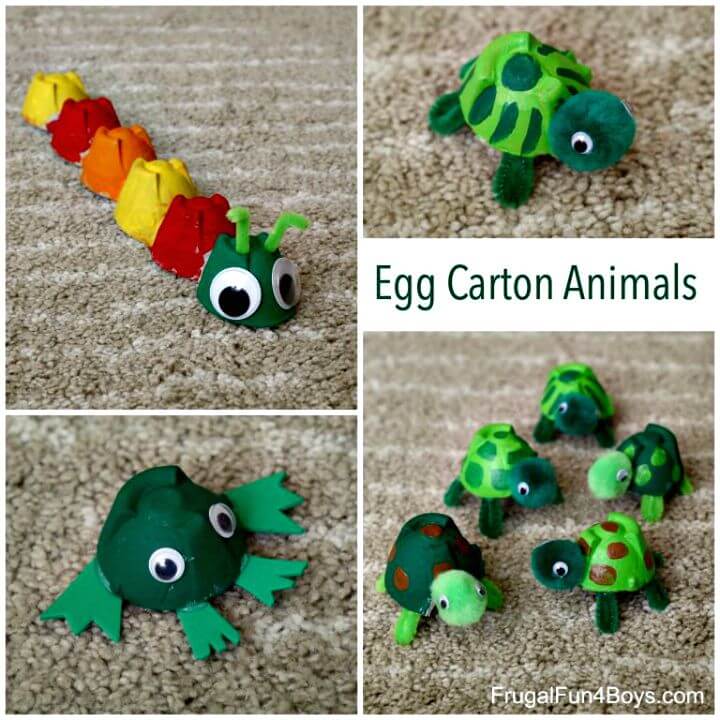 Make also cute animal toys for the kids using the egg carton! Your crafting loving kids can also do this in their free time! Check out here a brilliant caterpillar, turtles and a frog toy, all have been made with the egg carton cups! Put together the painted egg carton cups for a caterpillar, add them with pom-pom head for a turtle and just finish them with custom constructions paper frog feet to make a frog toy out of them! Just paste the googly eyes and make smart use of pipe cleaner to make the turtle legs and antenna of the caterpillar! Complete project tutorial here frugalfun4boys
DIY Egg Carton Sea Life Recycled Craft: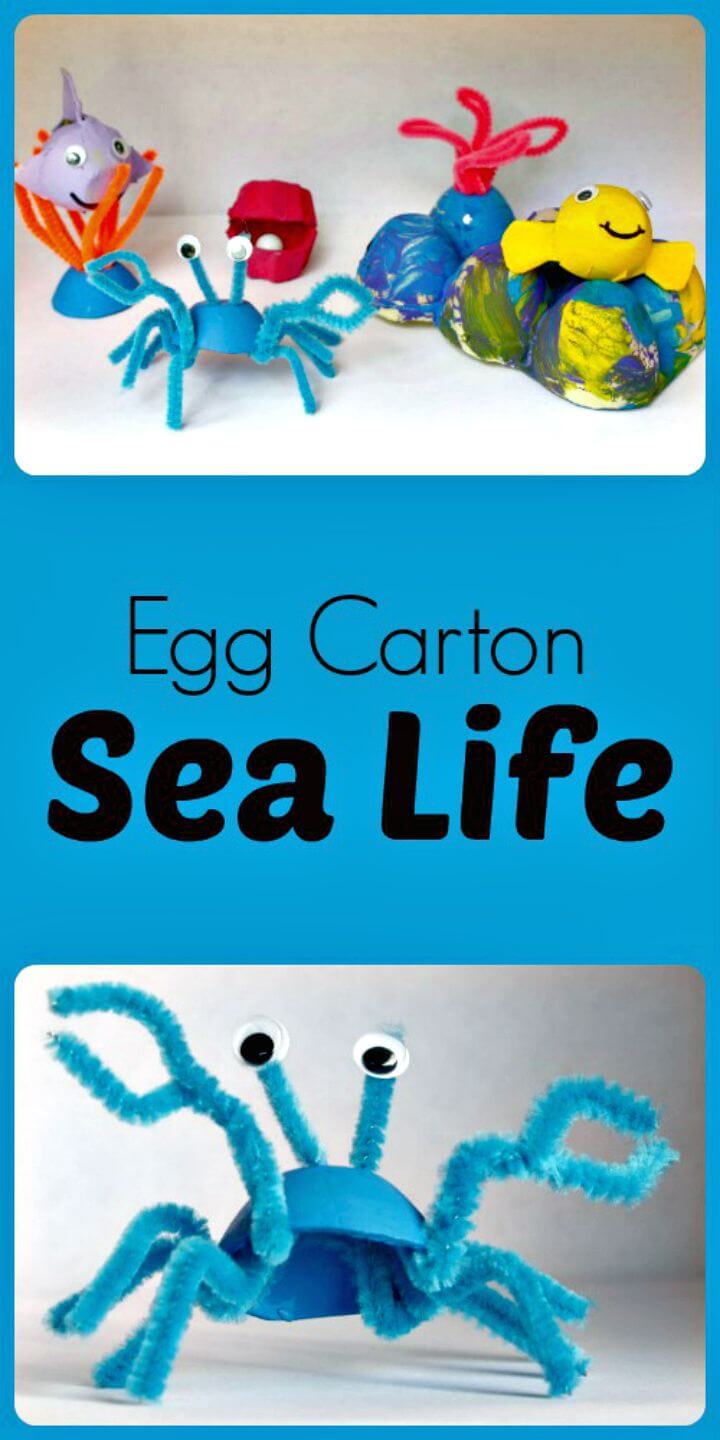 Get also smartly crafty with the egg cartons to make great sea life creatures and sea plants that can be put together for sea life sketch! Check out here the sample project in which different fishes, crabs, seashells and a sea plants have been made using egg carton cups, paint, pipe cleaners and the googly eyes! Here all these items would also make outstanding kids gifts! Complete project tutorial here fantasticfunandlearning
How To Make Egg Carton Penguin: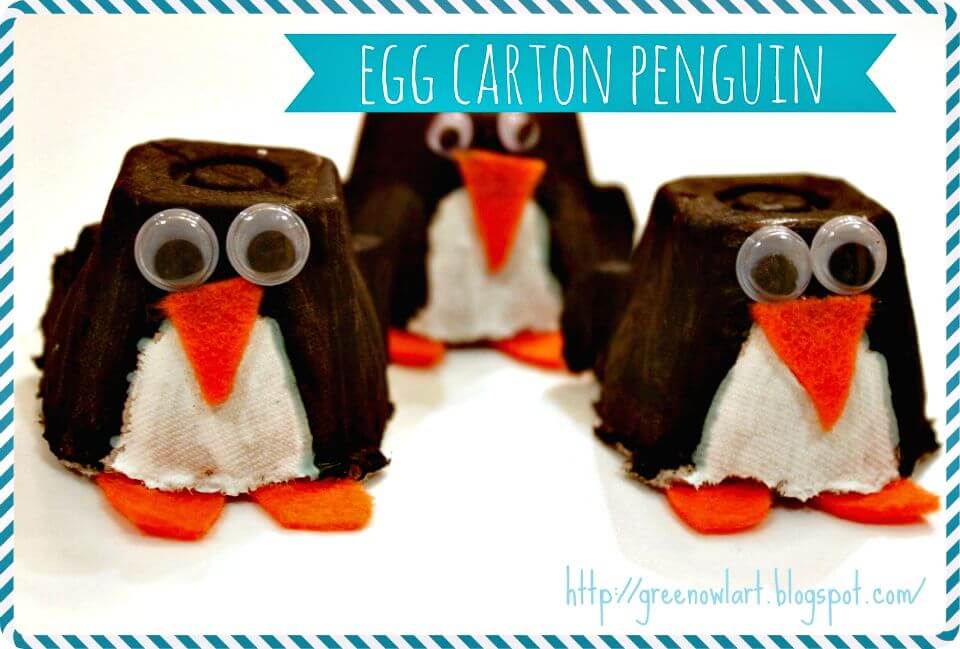 Here is another brilliant and outstanding kids craft project to do with the egg carton! Here the cut little penguins have been made with the egg carton cups that have been painted in penguin colors and finally have been added with an orange felt nose and feet for a near to real looking egg carton penguin! These penguins are too cute to win a heart of a kid if given as a gift and would also make great home decors! Compete project guides and instructions here greenowlart
DIY Welcoming Spring With Egg Carton Flowers: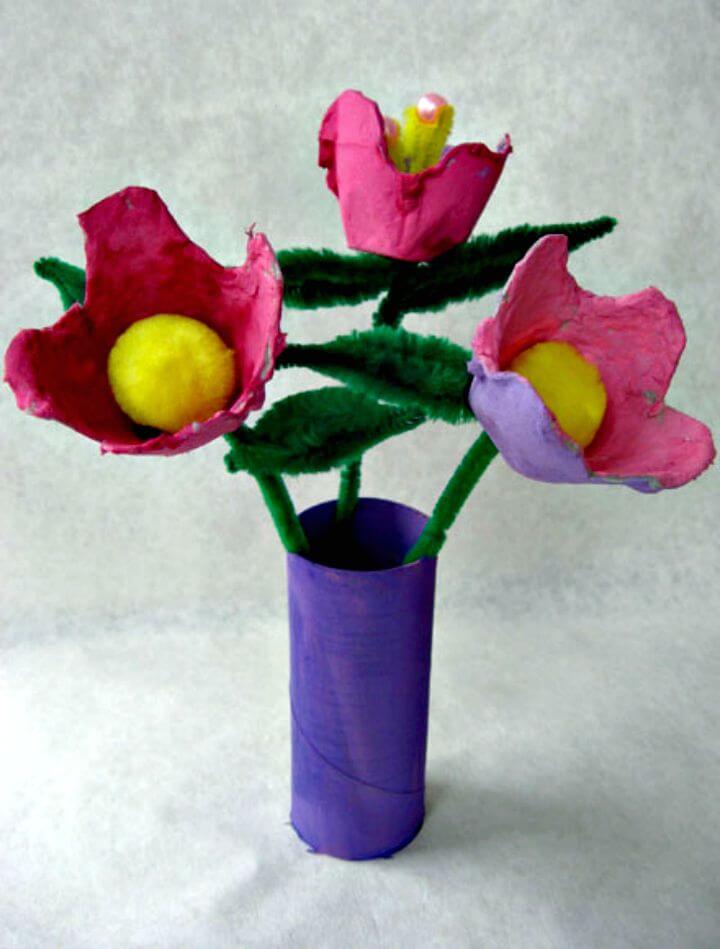 Willing to grab some special home decors to welcome the spring season? If yes, then this handmade spring flower vase would really rock and it is super easy to make also! Here all you need is to cut out the cups out from an egg carton which can give cuts to gain as faux flower! Add the pipe cleaner stems and petal to them and then put them in a painted toilet paper roll for making a gorgeous looking flower vase centerpiece! Get inspired of the sample vase and do duplicate it! Complete tutorial here skiptomylou
How To Make Egg Carton Penguin:
Another sweet toy gift to present to your kids, these are here the very cute looking mini penguins that all the toddlers and kids can hold in their hands to play with! Here again these cute looking penguins are made of egg carton cups that have been painted, added with googly eyes and finished with felt beak and feet to make gorgeous looking penguins! This is here another brilliant and cute egg carton project that you can duplicate in just no time! Complete tutorial here kiwico
How To Create Egg Carton Monsters: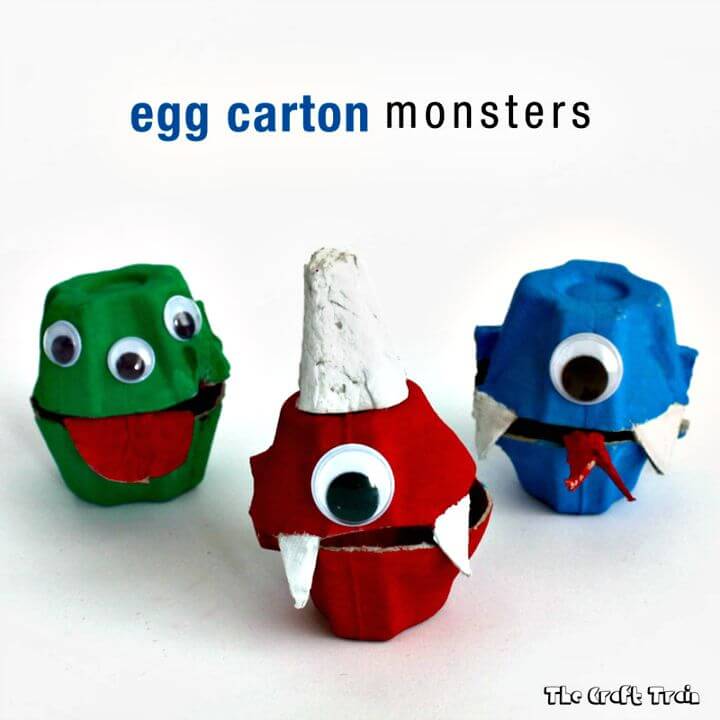 If you are sorting out some perfect looking Halloween decoration then you will surely like these egg carton monsters that are creepy kind of egg carton décor! Here again you need the egg carton cups that can be stacked to make closed shape which can be painted and added with googly eyes to make a custom monster shape! Here you cut more egg carton parts to make the scary monster teeth and tongue etc! Check out here the brilliant egg carton monsters that have been done to inspire! Complete project tutorial and instructions here thecrafttrain
Adorable DIY Egg Carton Tulips: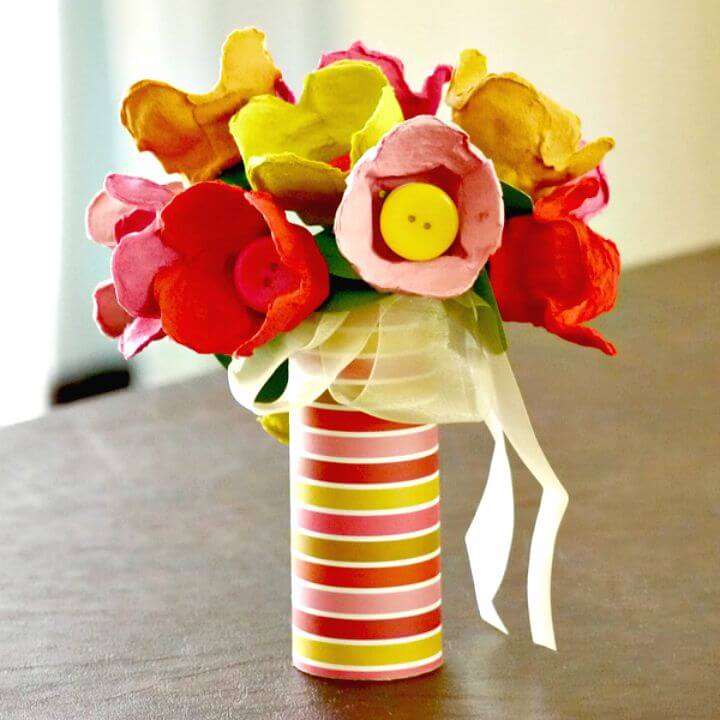 If you are looking forward to gain a flower vase for home décor or just intending to get a flower bouquet to give on Memorial Day this egg carton tulip vase would make a great gift! Here again the separated apart egg carton cups have been given custom artistic cuts and painted to make great looking flowers which have then been added with green pipe cleaner stems! Add buttons inside the flowers for an accent look and next just put all your flowers inside a cardboard paper roll adorned with scrapbook paper! Complete project tutorial here carefreecrafts
How To Create Egg Carton Whale Kids Craft: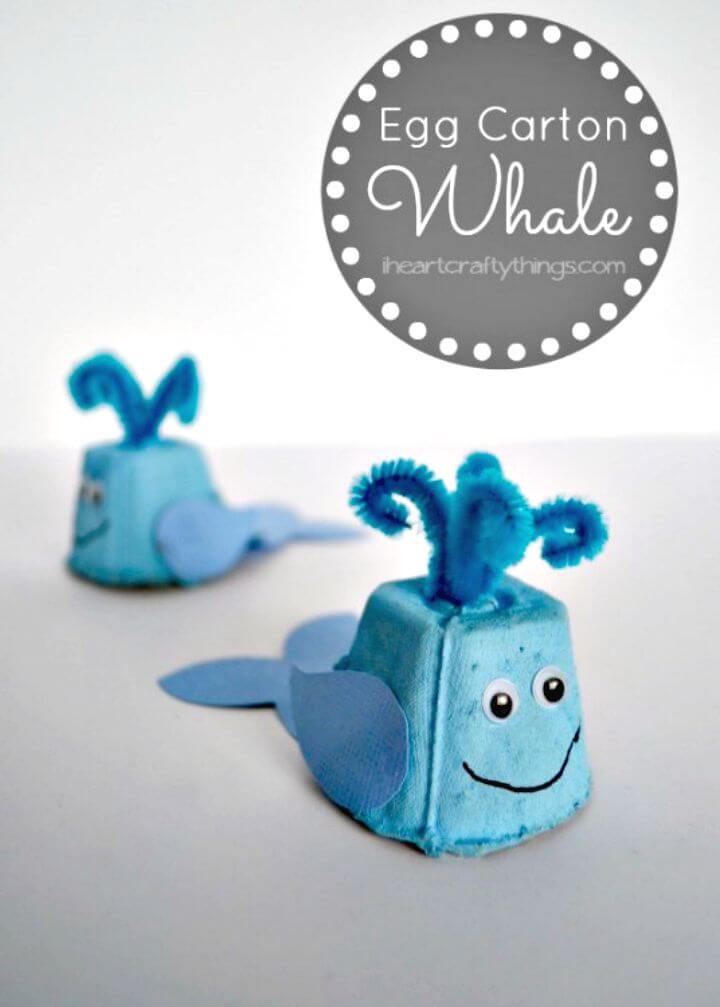 Another lovely and outstanding kids craft project to do at home, this is here the very cute looking whale kids toy that is made of egg carton cups, construction paper, googly eyes and with the pipe cleaners! Here the cut out egg carton cup has been painted in aqua color and then has been added with googly eyes, construction paper tale and fins and finally the pipe cleaner head hairs have been made! Another lovely egg carton craft project to do at home! Complete project instructions here iheartcraftythings
Adorable DIY Egg Box Panda: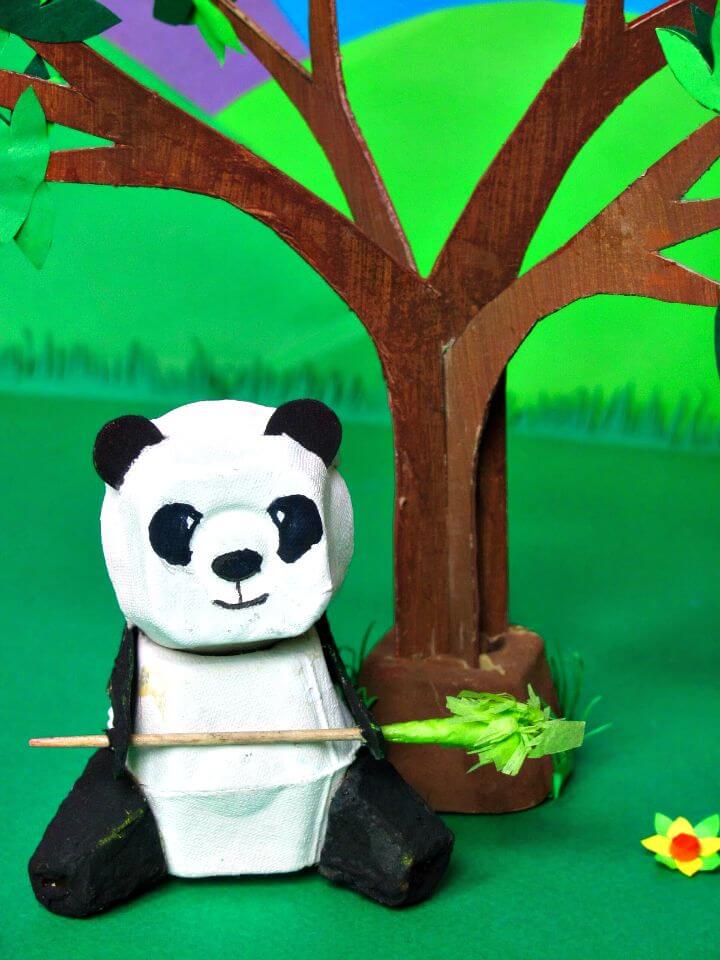 You would definitely love to praise this super cute egg carton creation! Here a very fantastic looking egg carton panda has been made that is looking just beautiful! Here custom cut out egg carton parts have been used to make different body parts of the panda! The finally cut parts have been glued together and then have been painted in black and white panda color for a super beautiful look! Finally green tree branch that is made of a bamboo stick wrapped in green tissue paper, have been added to hands of the panda! Complete project guides here patchworkparent
DIY Mermaid Necklace – An Egg Carton Craft: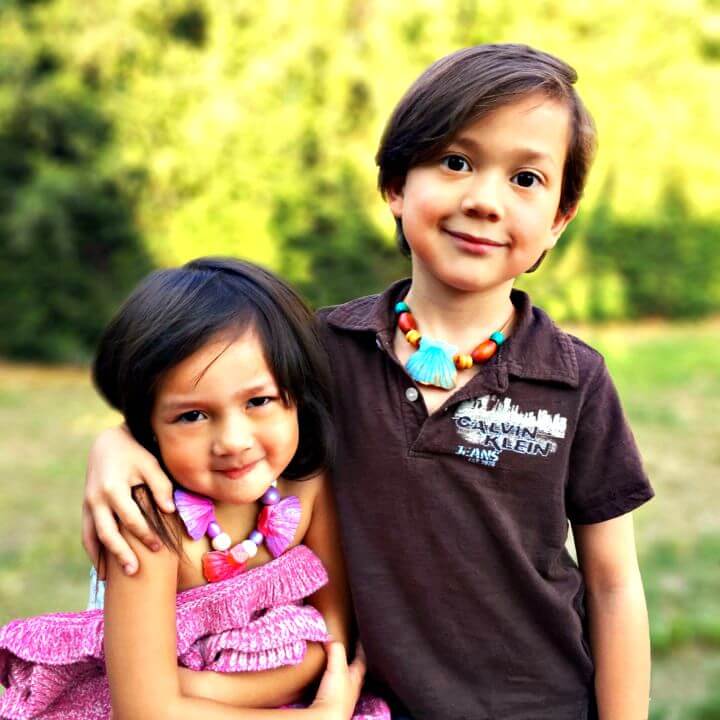 Make also sweet jewelry pieces with the egg carton, a very brilliant example here is this mermaid necklace that would make a great gift for the kids! Here you need the wooden and pony beads and the custom painted and cut egg carton cups that can simply be threaded onto a piece of ribbon, twine or any other necklace cord to make a good looking piece of necklace! Get inspired of the given lovely sample! Complete project instructions here creatingcreatives
DIY Jewelry Box Gift For Grandma: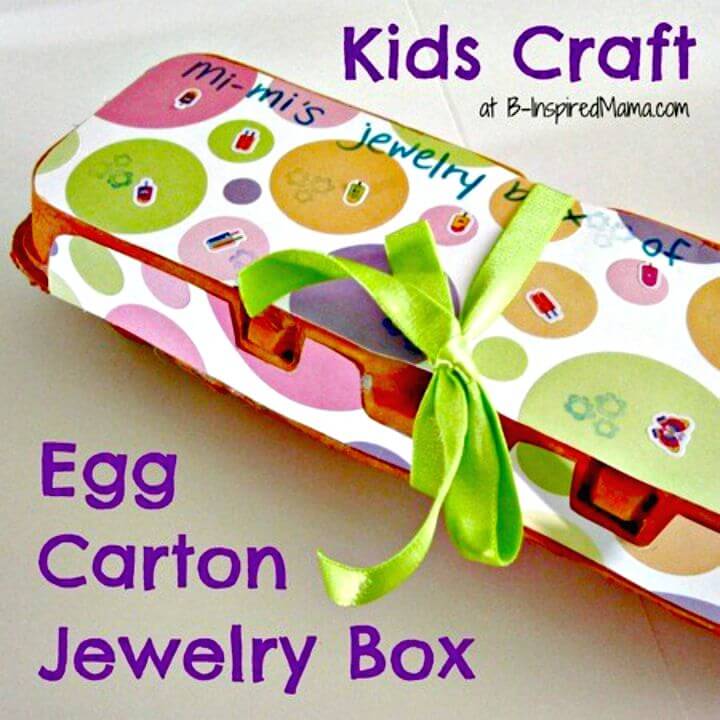 Here is what special to gift to your grandma just to win more of her love and affection! Just make a handsome jewelry box out of an old egg carton and just present it to your grandma! You can take the design idea from this sample jewelry box gift that has been made to inspire and is really looking beautiful and special due to handsome gift wrap! Just grab an egg carton and adorn it well using a scrapbook paper next you can wrap a piece of twine around it to make it look gift-worthy! Complete project details here inspiredmama
DIY Mancala Game Egg Carton Craft: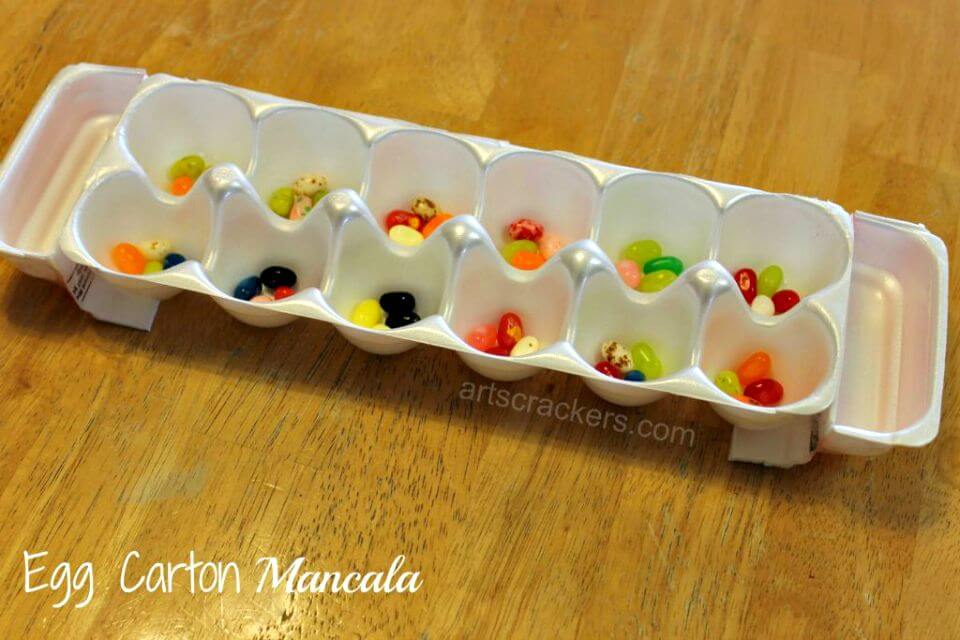 Make also interesting games out of egg carton that would also be gift-worthy and hence will pleasing your beloved ones! Take a look at this sample mancala game that is totally made of an egg carton and has been achieved by cutting and resetting an egg carton! The idea is first to cut out the cup section out and then glue the remaining again sides of egg carton! Next you can fill the each cup with any kind of 4 objects to play the game! Complete project tutorial here artscrackers
How To Create Egg Carton Crafts – A Color Sort Activity: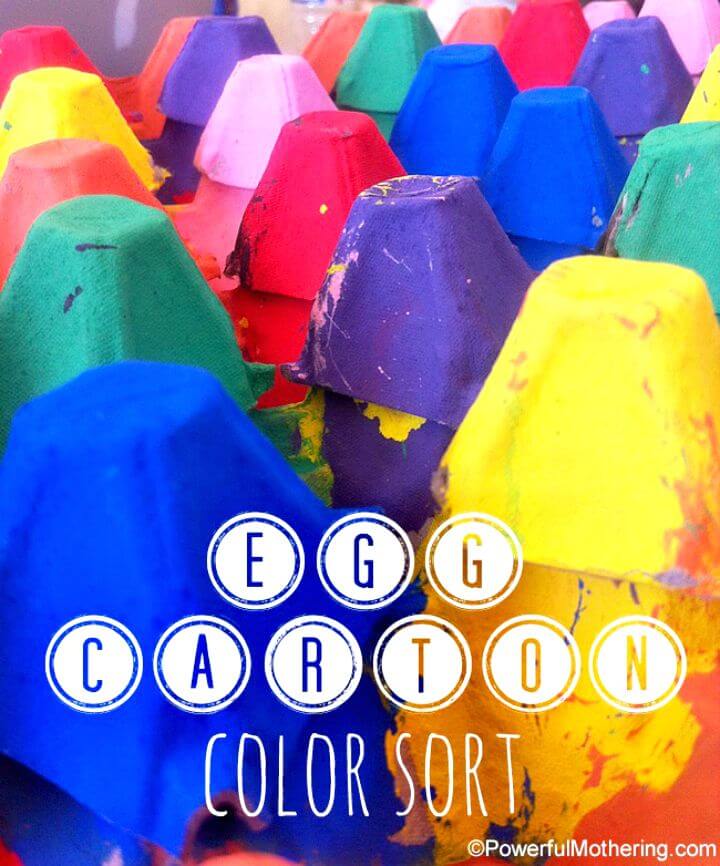 One more innovative and easy to do but smart egg carton craft that will surely go pleasing to eyes! Here a beautiful color sort has been made by painting the egg carton cups in so many different colors! This just looks like a paint cart but looking extra gorgeous due to having an alluring texture and pattern! Another outstanding project to do with egg carton that will not take much time! Complete project tutorial here powerfulmothering
Create Egg Carton Turkeys Craft:
Check out here another piece of genius crafting work, here an adorably cute toy gift has been made using an egg carton! Just stare a little at these colorful turkeys that have been made to please all the kids and would also make perfect handmade decors for any accent shelf or display unit in your home! Just grab construction paper in different colors, cut out egg carton cups, glue, paint and googly eyes to make these gorgeous looking turkeys that are a delight to view! Complete project tutorial here livingwellmom
Colorful DIY Egg Carton Butterfly: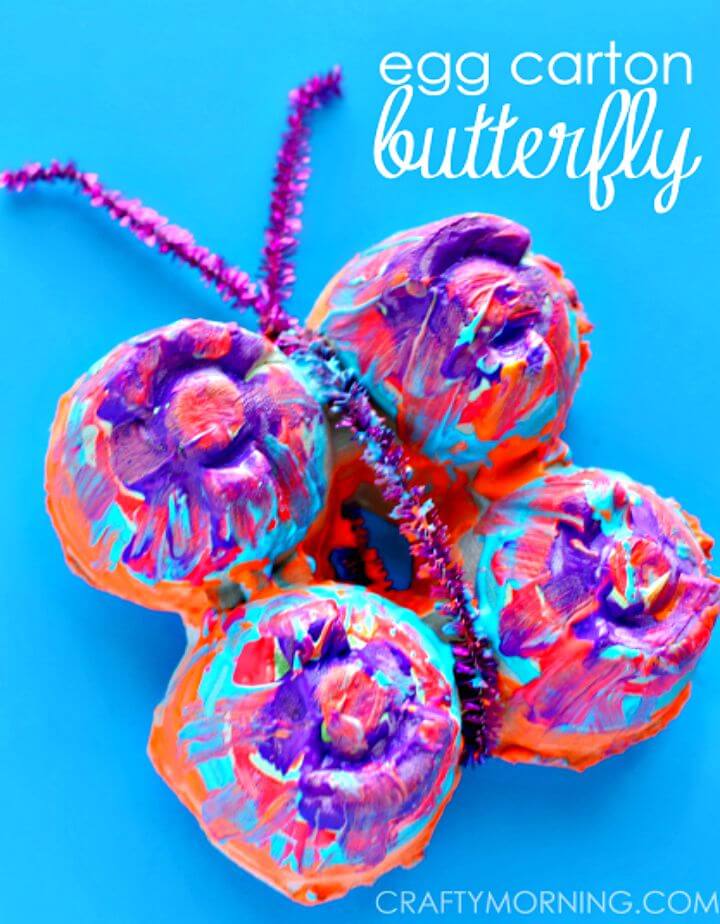 Amaze your eyes by staring a little at this handsome butterfly craft that is another smart project to do with the recycled egg carton! Here you need to cut out an egg carton section with 4 cups that will make the whole body of the butterfly and next you can just make use of pipe cleaner lengths to make the antenna of the butterfly! Paint the cutout egg carton section in your own desired way! Complete project tutorial and instructions here craftymorning
DIY Egg Carton Flower Lights: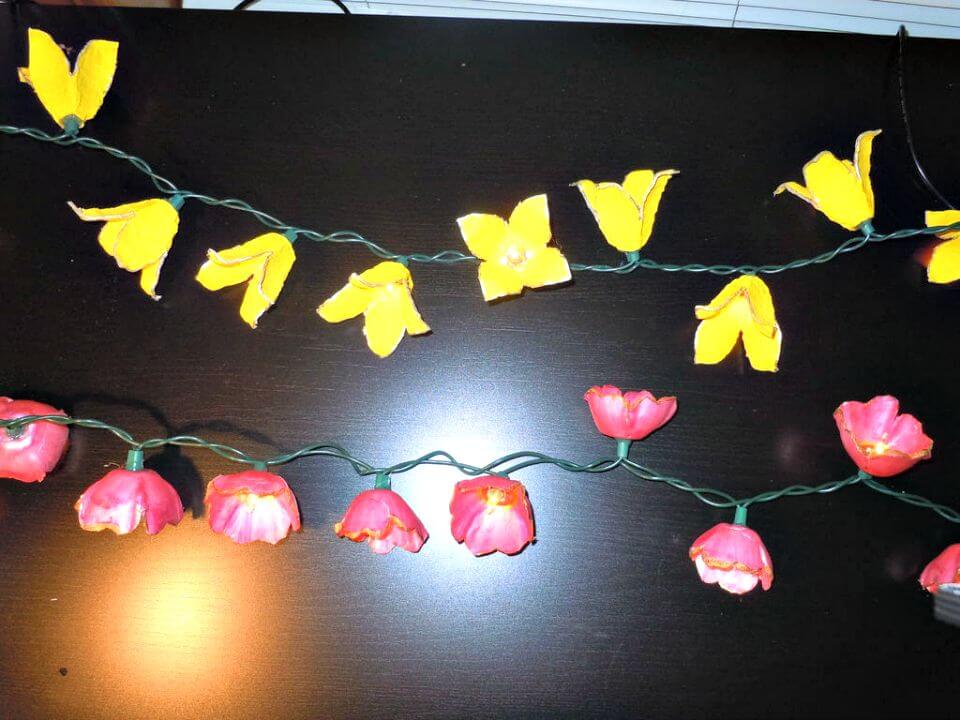 It is just super easy to cut the egg carton cups out and then to turn them into charming looking flowers just making creative use of your paint! Just give cuts to sides of the egg carton cups and turn them into gorgeous looking flowers! The very good news is that you can further do amazing craft projects with egg carton flowers, these flower lights are a great sample here! Here these flowers have added as colorful covers to string LED lights and hence amazing strands of floral LED lights have been made! Complete project tutorial here instructables
Easy DIY Egg Carton Flower Crown: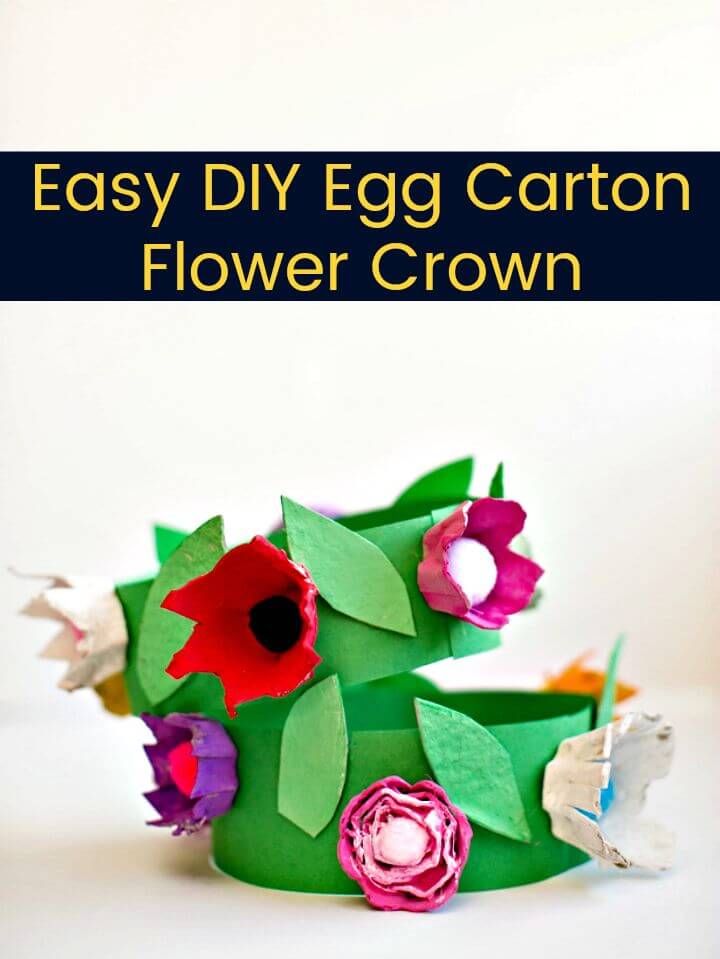 Crowns are often to wear when you need to create a special princess or queen look! So, why not make some good looking flower crowns for yourself and also for your little girl using the ordinary and recycled items! You will definitely fall in love with these handsome looking flower crowns that are made of egg carton, construction paper and with pom-poms and are super easy to make! Get crafty with egg carton cups and transform them into enticing flowers using paint and also by giving custom cuts to them! Next add pom-poms in their center and final step would be add the flowers around the construction paper crown form! Clone this given sample with the help of free tutorial provided here hellowonderful
Make Egg Carton Flowers Craft: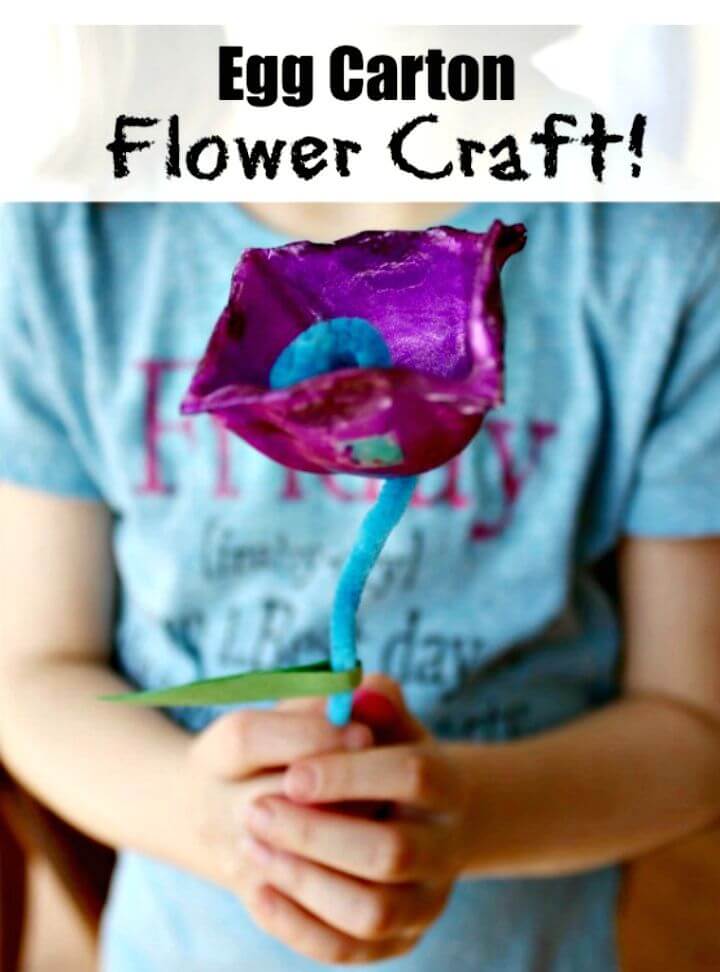 You will definitely fall in love with this brilliant egg carton flower craft that can be a part of various other crafting projects! Cut the egg carton cups out and then paint them to look like a flower, given some sharp and smart cuts for near to real flower look! Next install the pipe cleaner lengths as stems to flowers and also adhere the green petal cut out from a green construction paper! Next you can put together a bundle of these flowers to make good looking flower bouquets and also accent vase jars! Complete project tutorial here funlearninglife
Easy DIY Egg-celent Succulent With Cartons: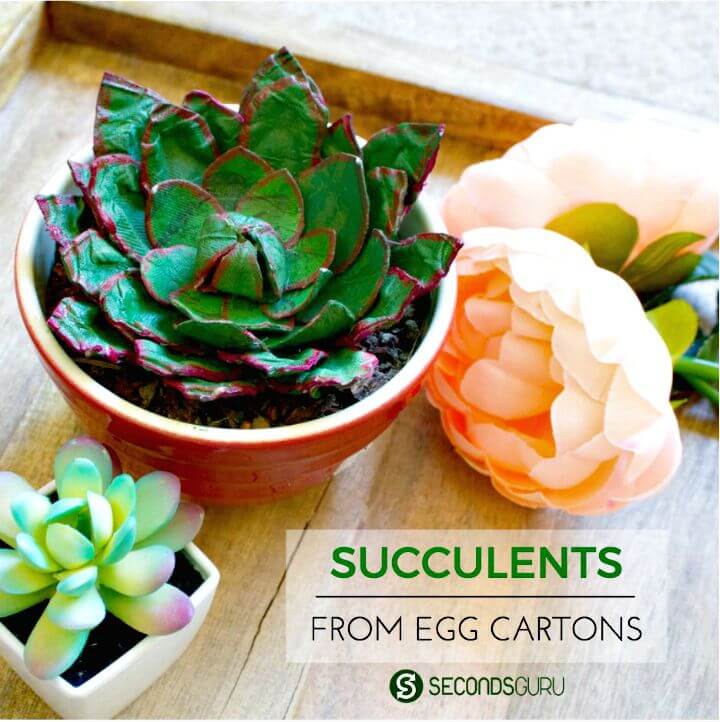 Another smarty way here to get crafty with the old egg cartons! Just make faux but great looking succulent planters out of egg carton that would make a great garden décor and also a home décor centerpiece! For making succulent, just cut the tall parts out from the egg carton and then tear them apart into pieces resembling the flower petals! Layer them together making a flower like shape and then add more layers to gain a succulent! Final step would just to make them sit in a garden pot! Complete tutorial here secondsguru
Cutest DIY Five Little Ducks Craft: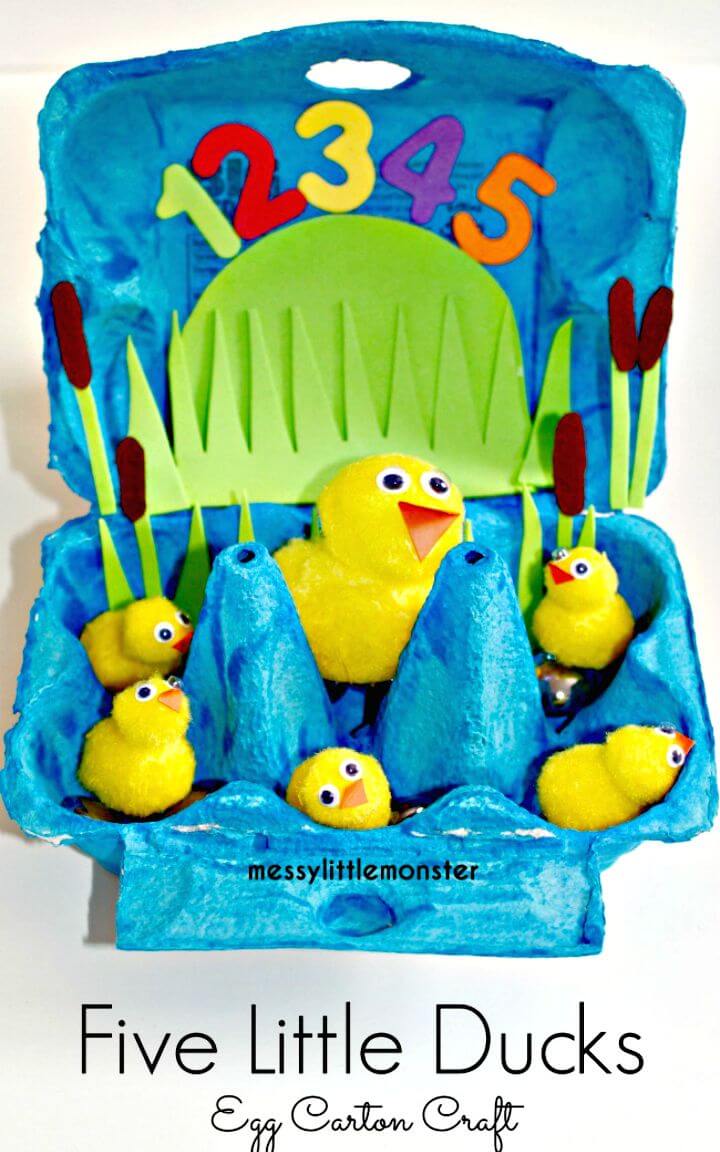 If you love the innovative and creative type of crafting work then you will definitely appreciate this handsome egg carton craft, the little five ducks house! Here an egg carton has been painted in blue and then has been added with green felt mountain and reeds and then has been adorned with foam numbers for a fantastic look! Here the green felt reeds have also been made look real by adding some brown felt! Finally the five little ducks have been housed in this the decorated egg carton! Another smart crafting project to do with egg carton! Complete instructions and details here messylittlemonster
DIY Paper Plate Mother's Day Portrait: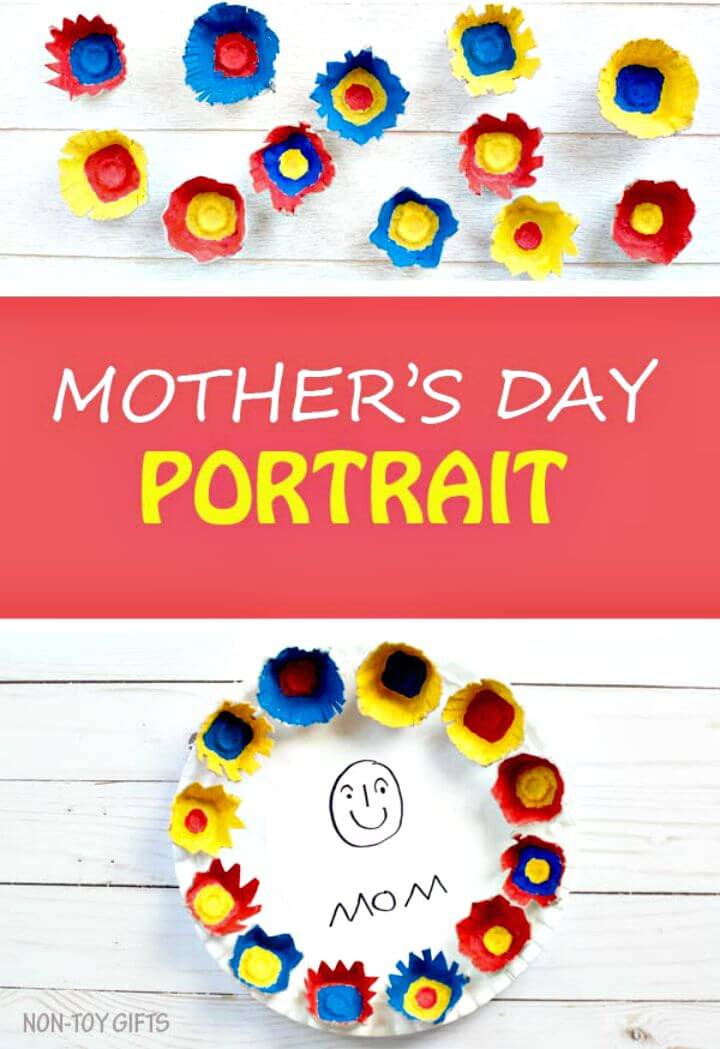 Check out here another fantastic gift to make for the Mother's Day using the recycled egg carton! Here again you need to tear apart the egg carton cups that can be cut for different patterns and styles in the sides for making beautiful flowers and can be painted also at the same time! The idea here is just to put the egg carton flowers all around a paper plate to make a handsome Mother's Day portrait! Don't forget to write custom letters and shapes in the center of the plate, get inspired of the given sample! Complete project details here
Easy DIY Painted Egg Cartons – The Perfect Gift: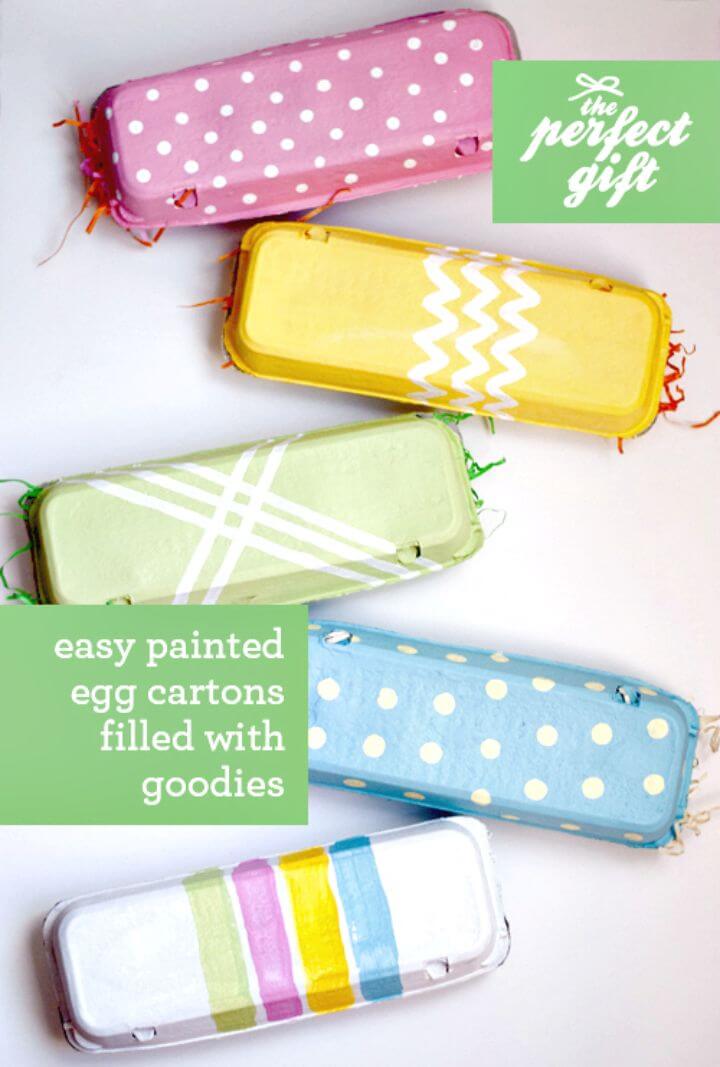 Make also genius use of your old egg cartons to make outstanding gifts! The idea is just to paint the egg cartons in a custom way for a beautiful appeal! To do this you can go with custom patterns like the polka-dotting, stripes and other geometrical patterns! Next you can just fill your finally painted egg carton with custom goodies and trinkets! Check out some sample gift samples given below! Complete project tutorial here designmom
Cute DIY Egg Carton Cherry Blossom Branch: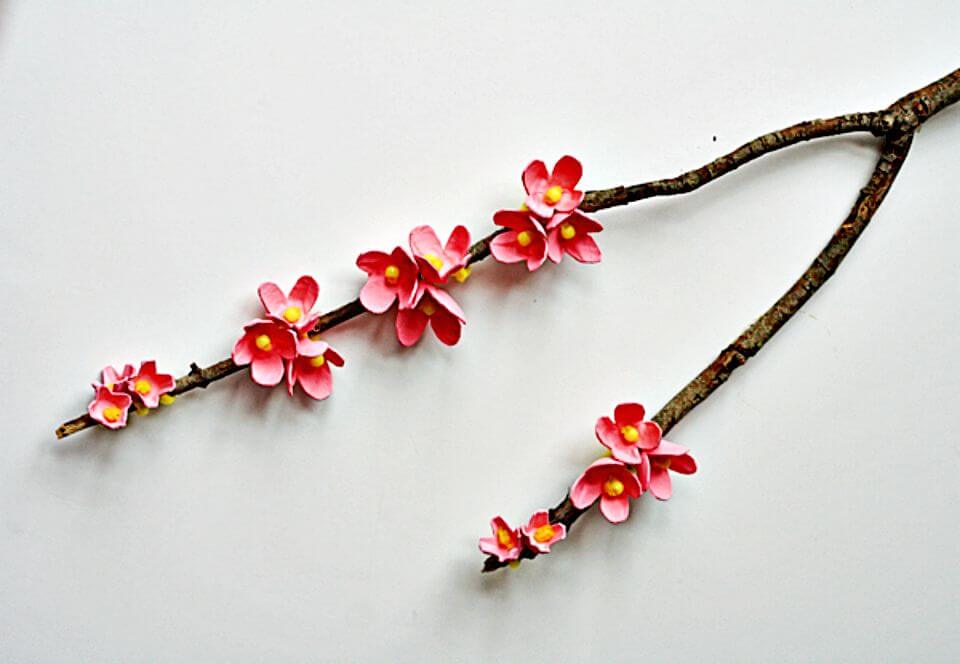 If you are sorting out some perfect spring flower gifts or home decors then you will surely fall in love with these handmade spring flowers! These beautiful flowers are made of the egg carton and come with green painted popsicle sticks that make the perfect flower stems! Separate apart the egg carton cups to make the flowers and also cut the flowers petals from the remaining part! Paint the petals in green and the flowers in a custom combination of colors! Complete project instructions and tutorial here craftsbyamanda
DIY Upcycled Egg Carton Spring Flowers: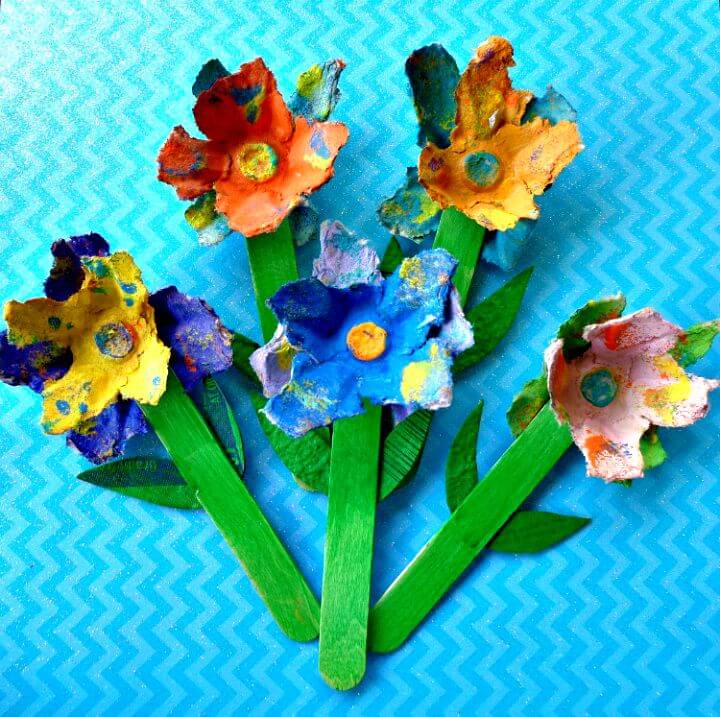 If you are sorting out some perfect spring flower gifts or home decors then you will surely fall in love with these handmade spring flowers! These beautiful flowers are made of an egg carton and come with green painted popsicle sticks that make the perfect flower stems! Separate apart the egg carton cups to make the flowers and also cut the flowers petals from the remaining part! Paint the petals in green and the flowers in a custom combination of colors! Complete project instructions and tutorial here happy-mothering
Make Your Own Egg Carton Ocean Craft: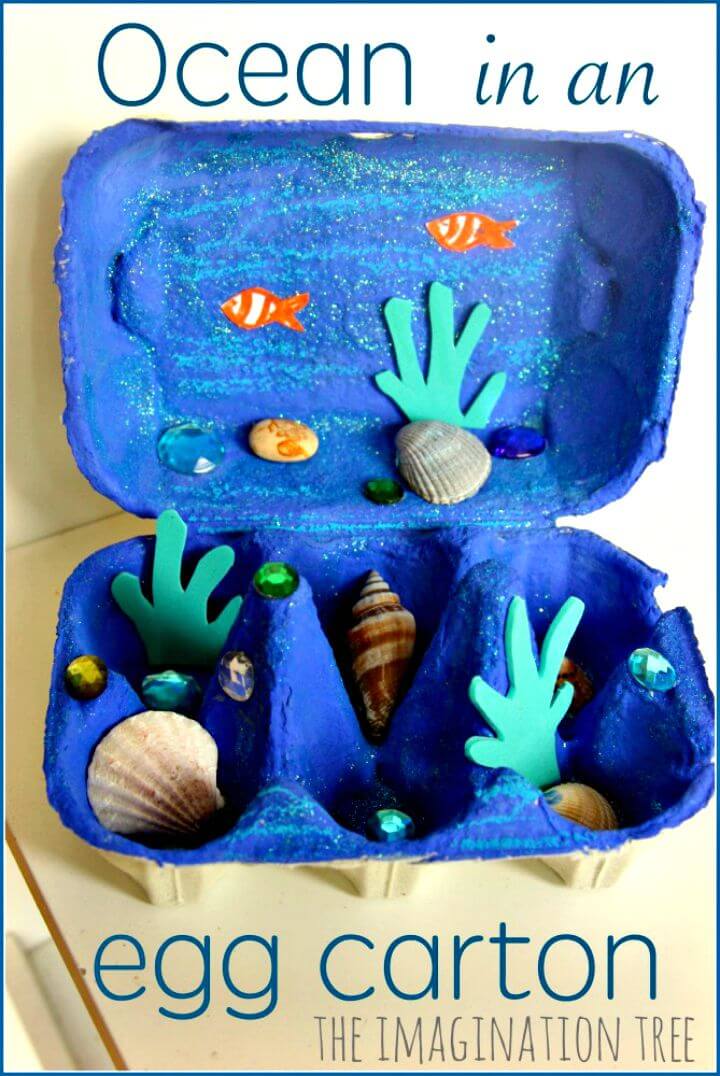 Another extra beautiful crafting project to do with the egg carton! Here an enticing ocean craft has been made out of egg carton that will just make an epic present for beloved one! Here an egg carton has been painted in blue and is also having lid that comes with painted fishes! Finally the custom seashells and construction paper sea plants have been put in the egg carton cups for a beautiful ocean look! Here the interior of the egg carton has also been embellished with the crystal beads, colorful stones and also with wooden beads for a great and enticing appeal! Complete project tutorial and instructions here theimaginationtree
Easy DIY Decorative Mirror Out of Egg Carton: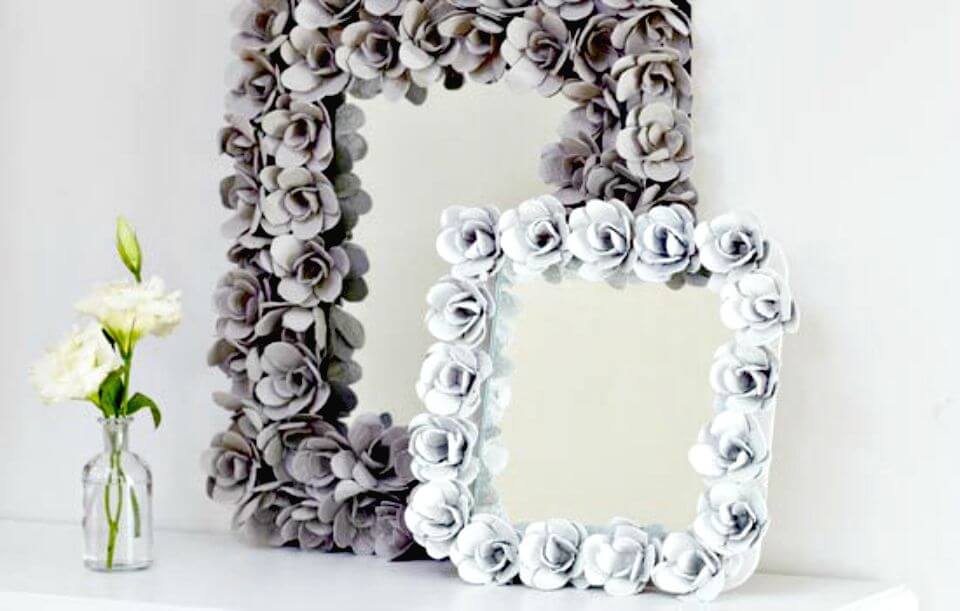 Here is how to create bigger statements of interior wall decors by making custom interior wall art pieces with the egg carton! Just make the 3D heart wall art piece that will give a touch of love to your any of interior wall! The idea is to separate apart the egg carton cups which can then be painted in hot red color and then can be pasted on a hard piece of cardboard to make an interesting love wall sign! Have a look at this given sample and get inspired! Complete project tutorial here au.lifestyle
How to Make Heart Wall Art: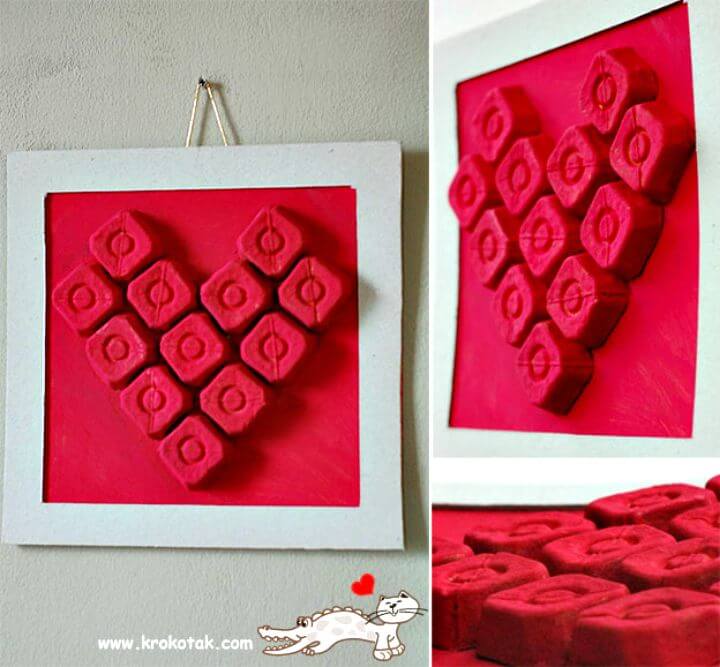 Here is how to create bigger statements of interior wall decors by making custom interior wall art pieces with the egg carton! Just make the 3D heart wall art piece that will give a touch of love to your any of interior wall! The idea is to separate apart the egg carton cups which can then be painted in hot red color and then can be pasted on a hard piece of cardboard to make an interesting love wall sign! Have a look at this given sample and get inspired! Complete project tutorial here krokotak
Make Your Own Egg Carton Art: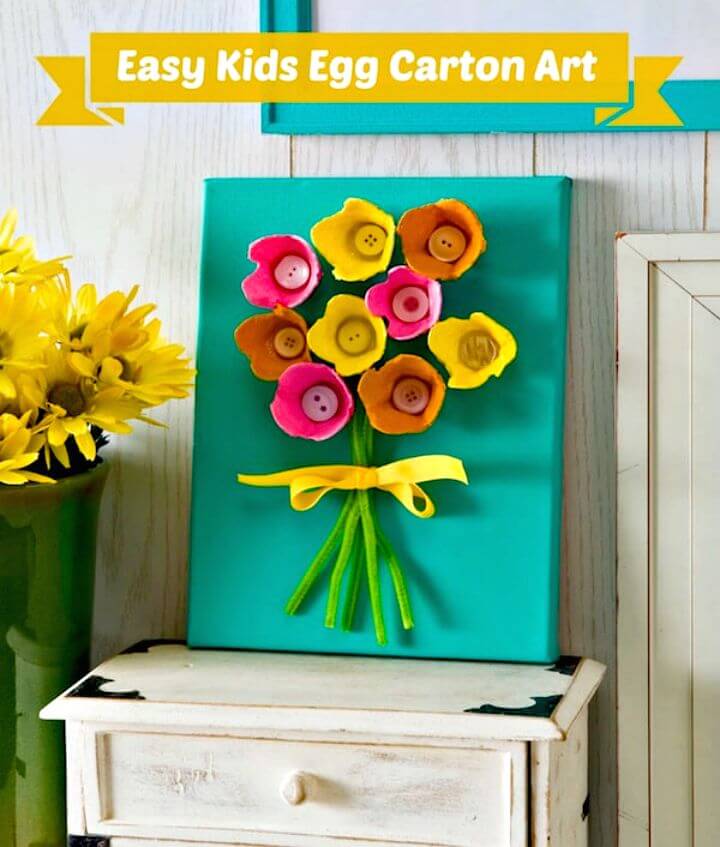 One more great looking wall art piece is here to grab your attention! Here again you have to make some good looking flowers using the egg carton cups which may come with stems made of green pipe cleaners! Glue the accent colorful buttons inside the flowers and just mount them on a custom painted canvas frame in form of a flower bouquet to make an interesting floral wall art frame! Given a ribbon gift wrap and make a handsome egg carton wall art piece! Complete visual tutorial and instructions here modpodgerocksblog
DIY Egg Carton Succulent: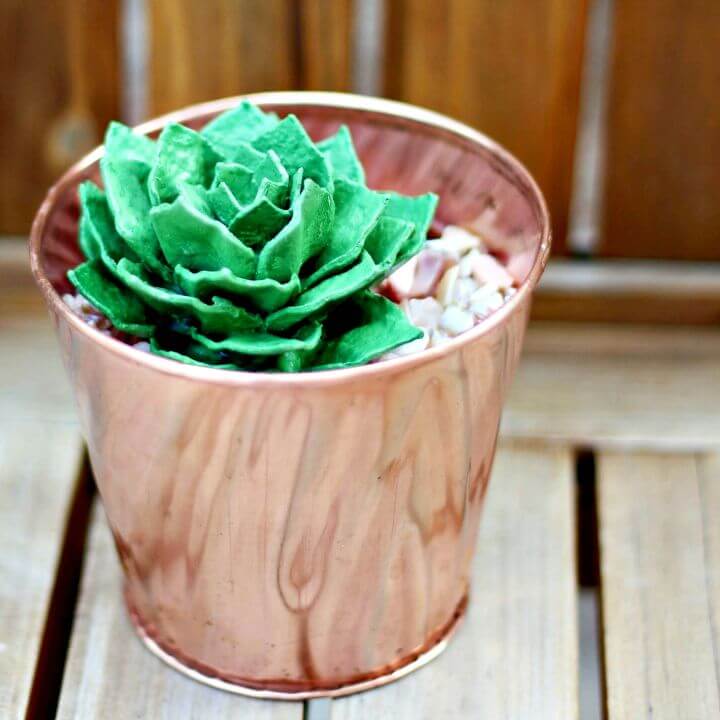 Intending to please a garden or succulent lover by giving a special gift? Then just please him with this egg carton succulent that is easy to make and is something outstanding to look at! Here again you need to get crafty with the egg carton cups to make the succulent! Just paint the cutout cups in green and then start adding different layers of them to shape up a succulent! Final step would be to put your succulent in a pot to give as a gift to your targeted person! Complete project tutorial and instructions here blissbloomblog