You can't go without the necessary furniture items in hand while intending to establish sophistication to a particular interior environment! The table furniture is the most important one that can be seen almost in every room of your home and also at outdoor! Tables are the furniture items that are to find in abundance in a home performing different tasks and here we are to throw some light on the side tables which are mostly to see standing around the living room reclining chairs, sofas and at the end of every sitting plan!
They help to keep your personal items and refreshments like mobile phones, drinks and coffees in arm reaching while going through a comfortable sitting experience! So, if you are in search of some outstanding side or end tables that will complement your particular indoor or outdoor sitting furniture sets and plans then you can just go with the DIY projects! Market prices of side tables can be higher so you making some side tables at home can be taken into consideration to save a lot of your hard earned money!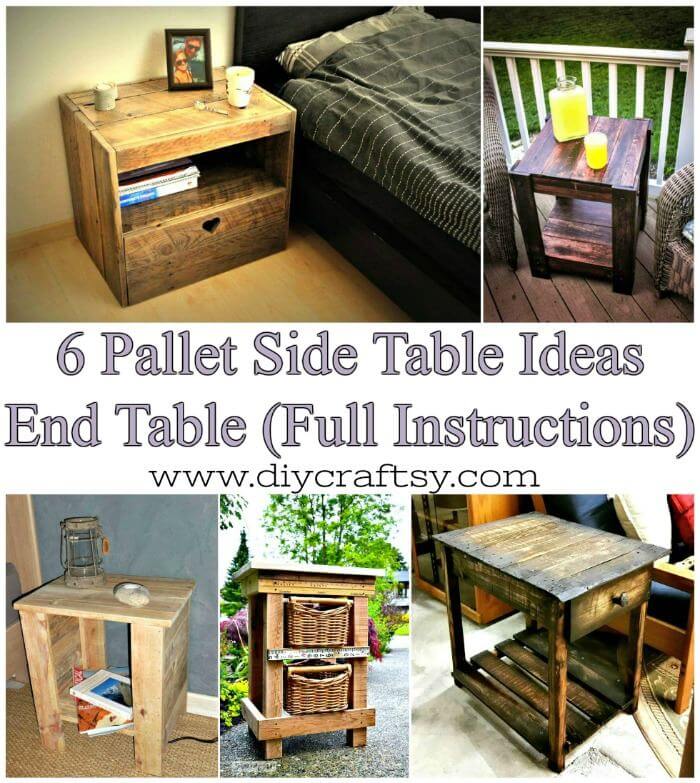 So, are you willing to make outstanding wooden side tables at home? And you want to do it by spending much less from your pocket? If yes, then you can simply head over to free pallet skids that can help building any favorite design of a side table at just no-cost! Just check out here the 7 DIY Pallet Side Table Ideas / End table with step by step instructions that will definitely win your heart with amazingly creative but easy-to-build design structure! The list DIY pallet side table Ideas will provide you several handcrafted pallet side table design that will come with custom added features and you will also find great ideas about how you can personalize them to serve your purpose best!
Here what is common in all these pallet side table projects is that they are all made of separated apart pallet slats which can easily be grabbed in piles after dismantling a few pallet skids! Just put together the plucked apart pallet slats to build different parts of a side table like from table top to building the base skeleton! Build the storage-friendly side tables with pallets, check out here the sample side table design that is having two built-in shelves filled with baskets!
In the same way, you can plan the pallet wood slats with single or no bottom shelf and you can also precious end tables with drawers, get inspired of some lovely samples given below in the list! Moreover, all the pallet side table and end table designs would also serve as an outstanding nightstand in your bedroom if you like to do so!
More Pallet Projects You May Like:
Give a custom finish to these wooden self-made pallet side tables or just keep the rustic look of them for vintage-inspired and rustic interiors! You can make use of paint, stain, and custom wooden sealants to create a custom appeal or a custom wood tone of the pallet side tables along with durable weather protection! Just click the attached source links for complete step-by-step tutorials!
How To Build Yardstick Pallet Wood End Table Tutorial:
After the coffee table, the end table or the side table is the second most important table to be in your living room. Not only it accomplishes the seating and the decor but also provides you enough of the storage and organizing space for your knick knack stuff. So now you can create a side table out of the pallets with a wide top and the base having enough space to hold two wicker baskets and thus cutting the clutter of your living in a really pretty style holding a bunch of your odds and ends in them. Check out the easy instructional tutorial of the pallet side table here funkyjunkinteriors
Easy DIY Pallet End Table Tutorial:
End tables are the most parts of every seating be it indoor or the outdoor seating station of the house. So if you are in need of an end table for any of your seating arrangement you can make one from the pallets with the simple and feasible design like this one with us. By just stacking the pallet slats together this end table has been simply installed with the wide top, a base shelf and the perfect rustic appeal to charm up your decor with. Here is the link to catch the details of the idea step by step get one for your porch, deck or patio seating instructables
Simple DIY Bedside Table With Pallet Tutorial: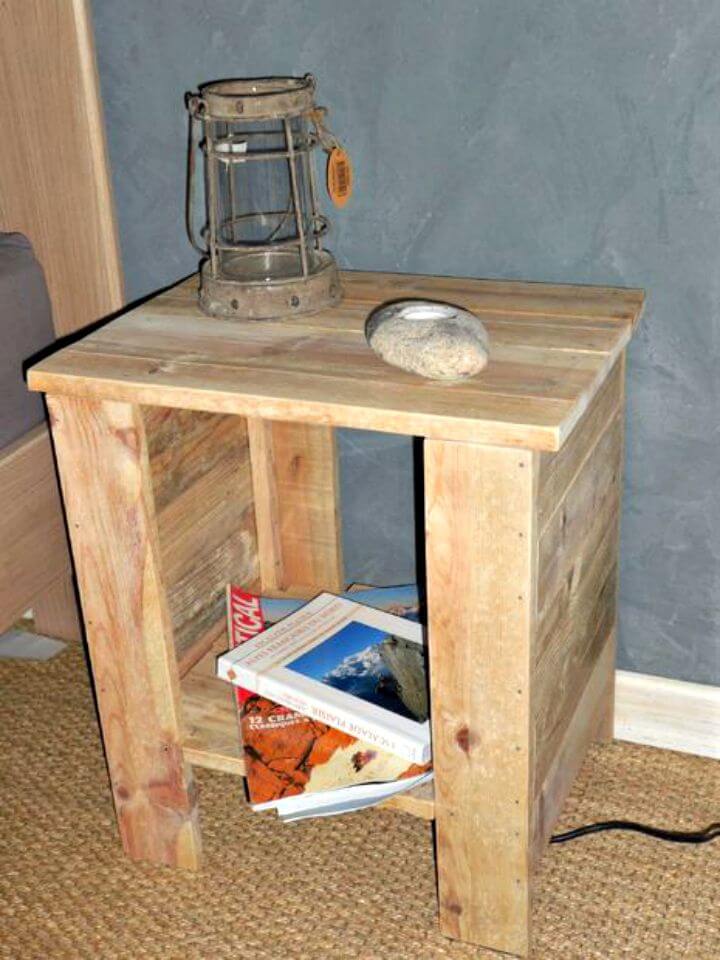 Be it end tables for the living room seating set or the side tables for the bed, these small tables just perform the big functional roles to make your spaces look complete in decor and style and also helping your store and organize lots of your knick knack stuff on them too. So here is this cute and simple side table to install the pallet cut slats or planks with an efficient top for the vases and jar and shelf base for the magazines. Get more details of this side table plan here instructables
How to Build Your Own End Tables In Just 2 Hours Using Pallets:
Pallets are so much easy to work with and they are cheap too so you really be giving them a try for your next furniture hunt. Here is this simply adorable pair of the pallet side tables for your bedroom to complete the look of your bed and the whole bedroom decor. The cute tables would look really elegant and pretty standing on the sides of the bed and be letting a bunch of your stuff rest on them. Just grab the pallets, dismantle them and get the easy to work with pallet slat pieces and then stack them together following the design gave here with all the details and the instructions littlethings
DIY Pallet Wood End Table Tutorial:
You do not have to be a skilled crafting person to get your hands on the furniture projects when you have pallet wood around as this wood is so much easy and fun to work with even for the beginners. Like this rustically gorgeous en table has been feasibly installed at home with just the simple nailing down of the pallet slat piece together with a spacious top and the slatted base shelf to let your cope up with the storage problem of your living. The table has been sanded and stained in the pure rustic manner to get that perfect woodish and natural look of it. Catch the complete details of the end table making here gotwoodworkshop
DIY Pallet Side Table Tutorial: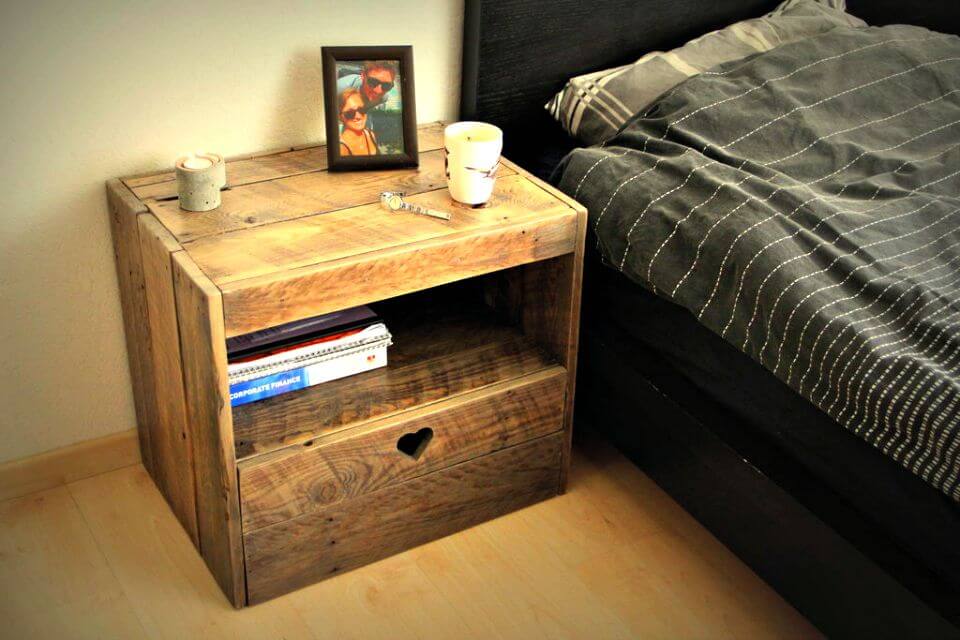 The pallet wood is the perfect way to add some warmth of wood and the rustic appeal in your chic and modern space and enjoy the unique setting of the decor. Adding this pallet made nightstand to your bedroom is probably the best idea to enjoy the beauty of distressed wood in rich style and with sheer utility. The nightstand got the rich rustic beauty and enough of the storage space in the form of a wide top, a base drawer and storage cubby in the center for the books, notepads and more. Get the written details and the pictorial guide of this night stand's tutorial here instructables