To enjoy the family and friends gatherings at outdoor is a great experience and it also helps build stronger bonds among your friend and family members! So, you can gather your friends and relatives and even the neighbors at your outdoor or in the garden by organizing some fun parties or just inviting them to an outdoor barbeque feasting! All these fun affairs would demand some drink stations, grilling stations and also for some outstanding outdoor kitchens and buy all these can be a matter of bigger investments! Just go with the DIY projects and gain amazing outdoor drink and food serving stations without spending too much from your pocket!
Just make smart use of your hands and your creative thinking and turn the ordinary items and recycled materials into amazing outdoor drink and food stations! We would like you to take a short round of these 25 best ever DIY Outdoor Serving Stations/Cart/Table/Bar that has all been made at home and is as functional as you want them to be! You can try building any of these DIY outdoor serving stations at home without any hesitation as they are all budget-friendly!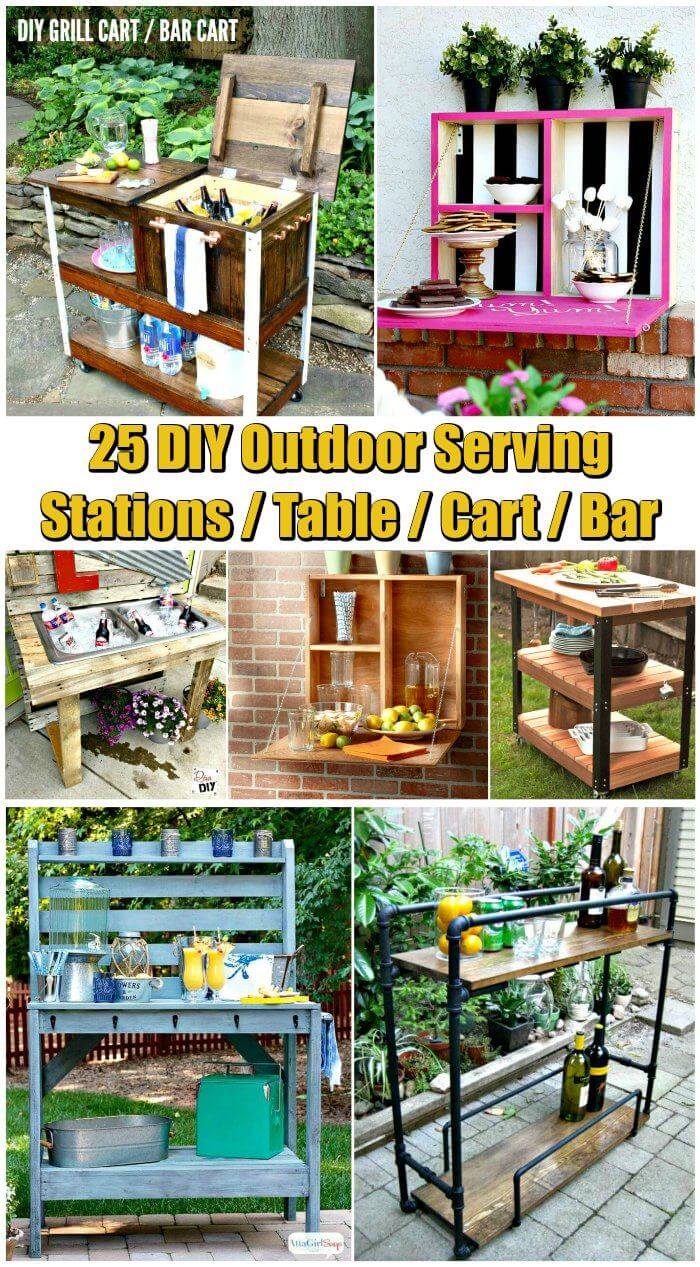 Get crafty with wood and build custom models of rolling grill crafts at home, peek into details of a given sample that comes with 3 built-in shelves and has been finished with custom hooks, bottle opener, towel racks and finally with the caster rolls! Go also smart with the wood and plumbing scrap to make industrial models of outdoor serving stations that will definitely live for a decade or more, get inspired by the given sample! If you are not having enough space at outdoor to install a bar or outdoor drink station then you can simply opt for the wall hanging Murphy bars that will also be made at home, check out some brilliant samples given below that fold down to make a serving station!
Make also the super cool entertainment bucket tables with ice buckets that will help to keep your beverage cool throughout the party time and also build the rolling grill cart and BBQ stations using wood and metal iron that will also bring an industrial touch along with unbeatable durability! DIY Crafts also outdoor beverage cools and drink carts with custom built-in shelves and also recycle a sewing table to make a handsome outdoor serving station! Repurpose also your potting benches to make interesting looking buffet tables, make use of tin buckets and metal pipes to make instant entertainment stations and also build the amazing outdoor islands at home to serve and prepare the food!
More DIY Ideas to Decorate Your Home:
Dozens of DIY outdoor serving stations ideas are more given in the collection which you can duplicate easily! Just select an outdoor serving station according to your skill level and duplicate it with the help of free tutorial and instructions that are hidden in the attached links and will be available just on a single click!
DIY Shed Plans – 36 Easy DIY Shed Designs for Your Home
DIY Butcher Block Rolling Grill Cart: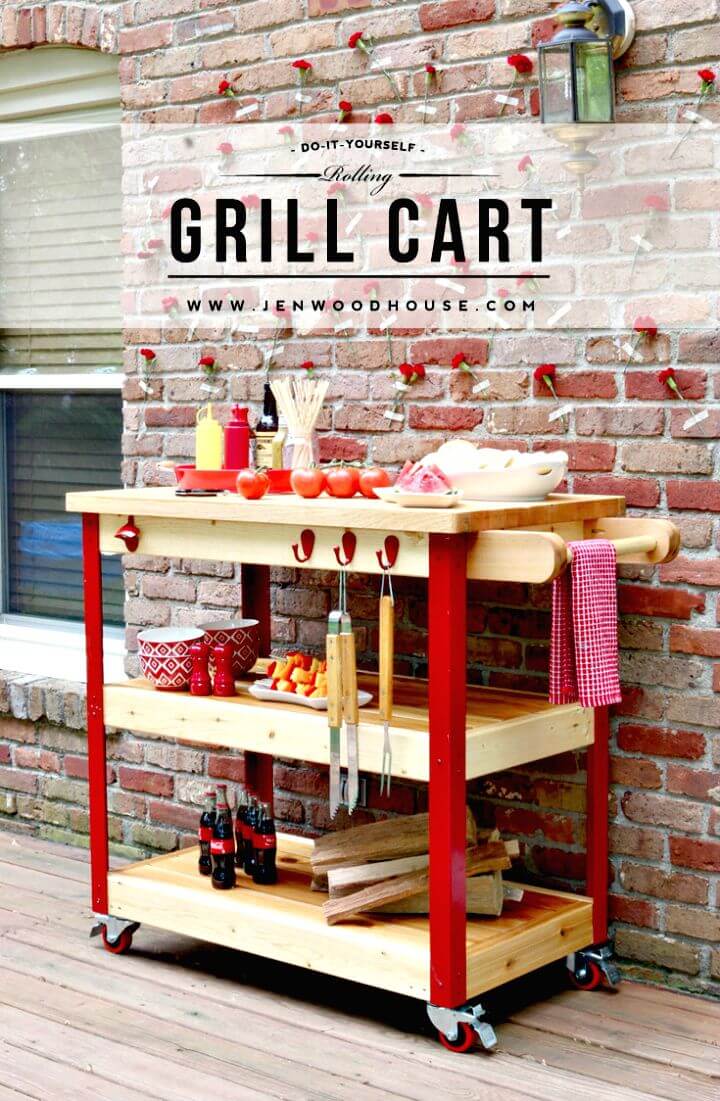 Duplicate this beefy looking grill cart that will help to serve the refreshments at outdoor! Here all you need to build the 3 thick and durable looking wooden shelves that can be put together in a frame in tiered arrangements to make a cool grill cart! Check out here this ample wooden grill cart that is having the shelving levels fitted in the angle iron lengths and is too durable to live for a decade! Here the frame of the grill cart has been painted in red while the wooden shelves come in blank wood tone! Finish your cart by installing rolling casters and that's it! Complete project tutorial here jenwoodhouse
Adorable DIY Outdoor Rolling Console & Giveaway: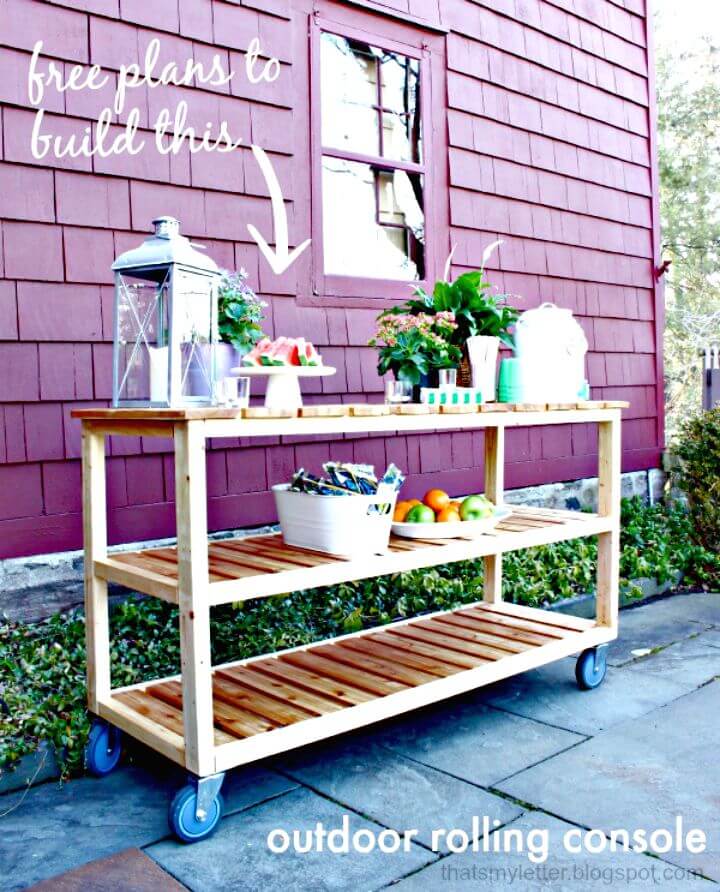 Build this another fantastic looking rolling console that comes in large dimensions and provides 2 built-in shelves that offer ample storage shelves to organize the utensils and also to organize the food and other refreshments! Build the frame of the rolling console using custom cut and durable wooden lengths and then fill up the levels with cross arrangements of wooden planks! Another great outdoor serving station to make at home! Complete project details and instructions here jaimecostiglio
How To Make Pipe Bar Cart: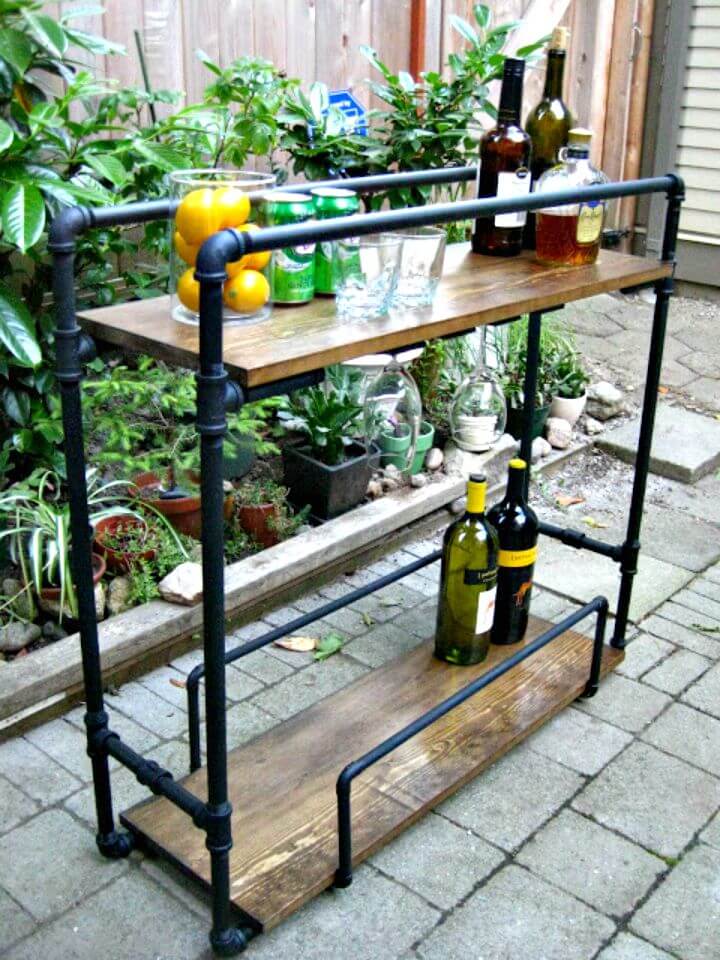 If you are willing to get a super durable outdoor serving station then wood and metal combination would just rock! So, presenting here a stylish bar cart that is having the frame made of metal plumbing pipes and comes with wooden shelving levels! Here all you need to resize the plumbing pipes which can then be connected with the custom joints and connectors to make the frame of the cart, next put your wooden shelves on the appointed metal pipe supports! Complete project guides and visual instructions here alifedesigned
Build Your Own a Murphy Bar: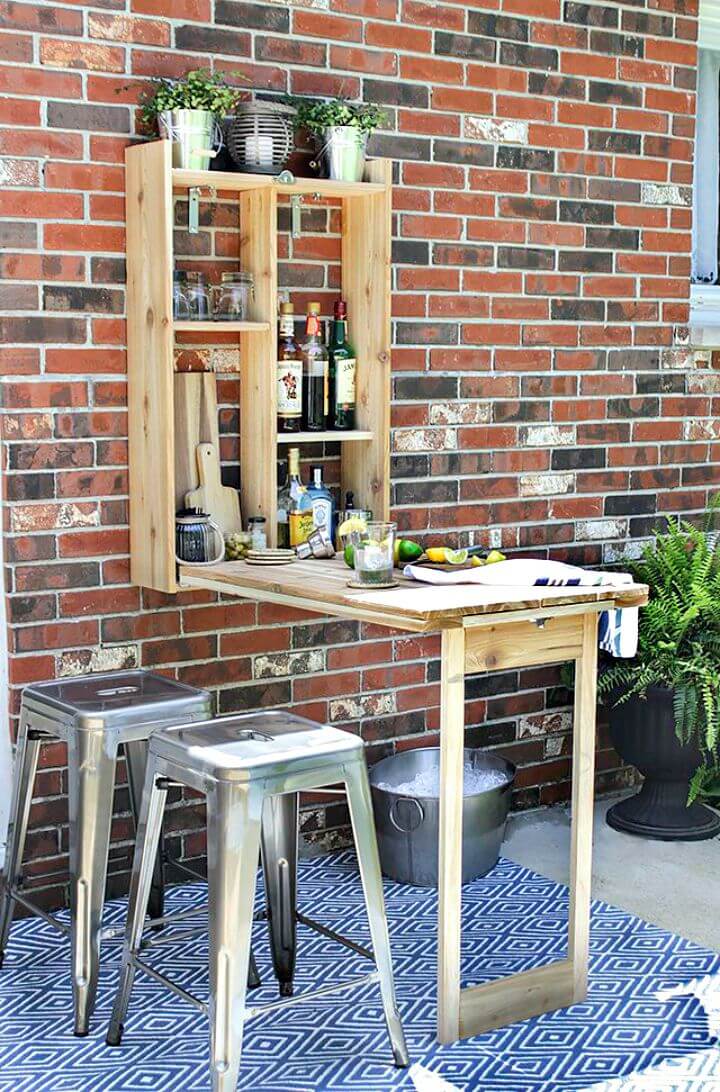 You will definitely fall in love with the folding phenomenon of this outdoor serving station that is purely handmade and handcrafted! This is where the hand-built Murphy bar that provides storage compartments that will come along the wall and it also comes with the folding down part that can be folded down to get a handsome tabletop or desk to prepare and drinks and food to serve to guests! Store your food, drink bottle and other items of in the wall compartments! Another great wall hanging outdoor serving station to make at home! Complete project guides and tutorial here hunker
DIY Outdoor Serving Station: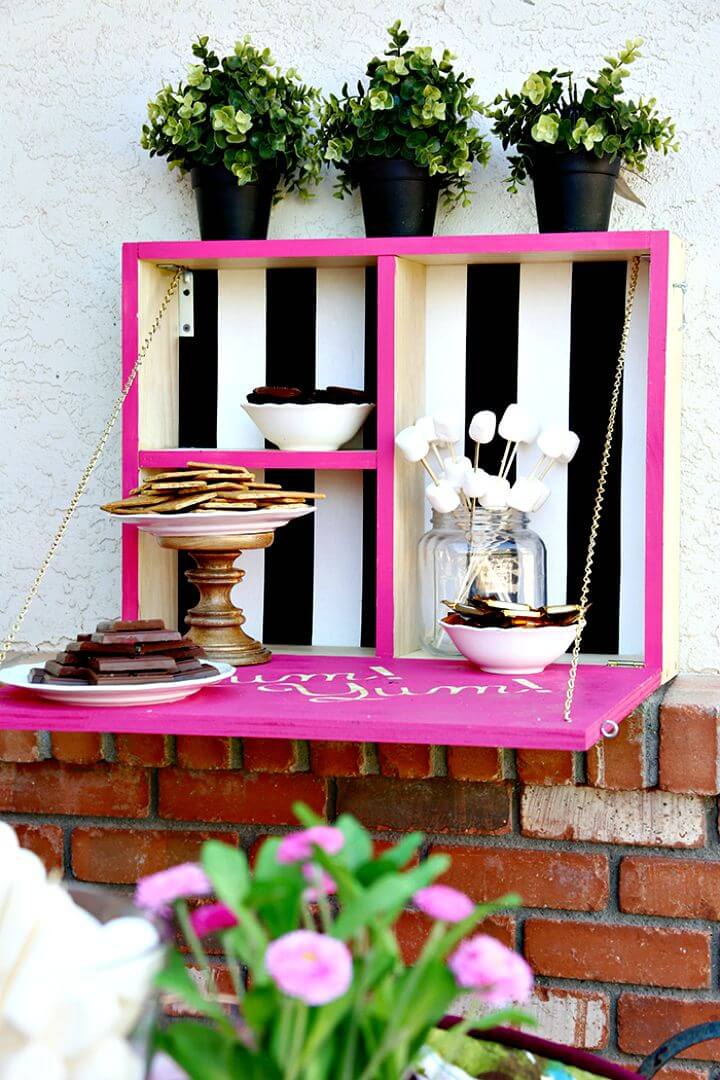 Clone this wall hanging serving station for your outdoor or garden that is super easy to make! Just like the Murphy bar this hand-built serving station also comes with a folding down flat surface that is supported by the metal chains! Here this serving station is made of pine boards and comes with a box unit that is mounted on the wall and also has built-in compartments! Next, it comes with the hinged lid that folds down to give a flat surface to work on! Paint you finally finished in a desired way, here it comes in dark pink and white appeal and the folding down surface has also been personalized with vinyl lettering used as stencils! Complete project guides and tutorial here classyclutter
Easy DIY Outdoor Entertainment Table: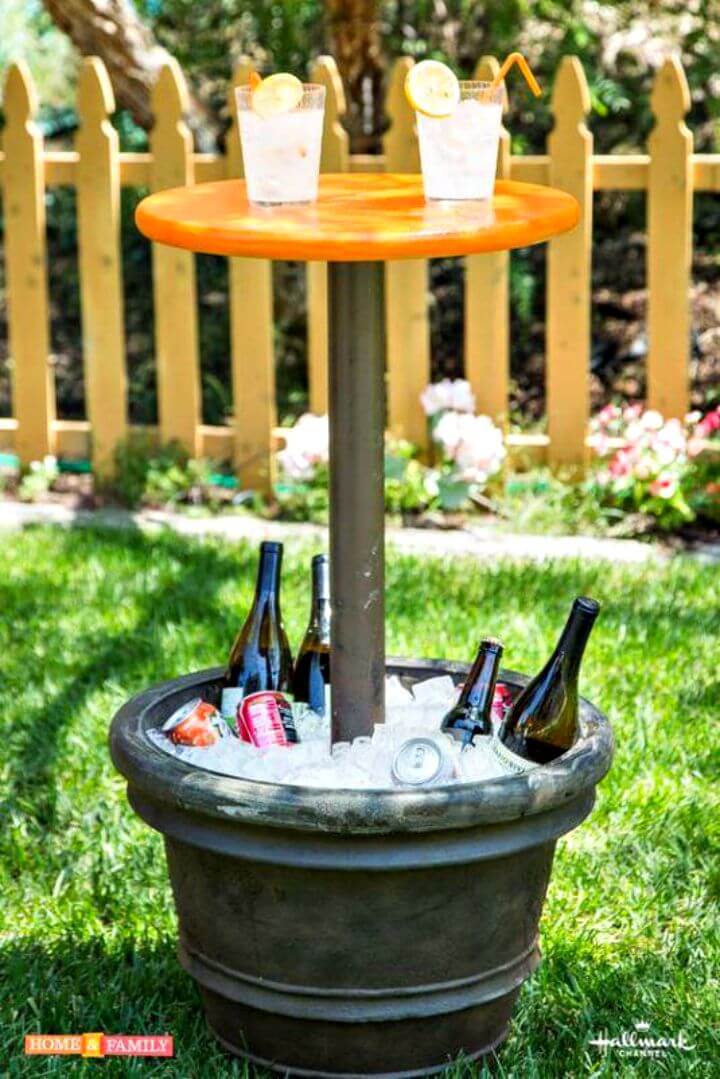 Here is another fantastic outdoor serving station that is super easy to make and super functional! Here a perfect outdoor entertainment table has been made using the 20-gallon planter, a thicker length of PVC pipe and a round wooden plywood disc! Just use the PVC pipe length as a pole and install the plywood round on it, fix the bottom of the PVC pipe in the planter using cement! Fill the bottom planter with ice cubes and let your beverage bottles get cold in it, use the upper round top to serve the drinks! Grab the full free instructions from here hallmarkchannel
DIY Rolling Grill Cart and BBQ Prep Station: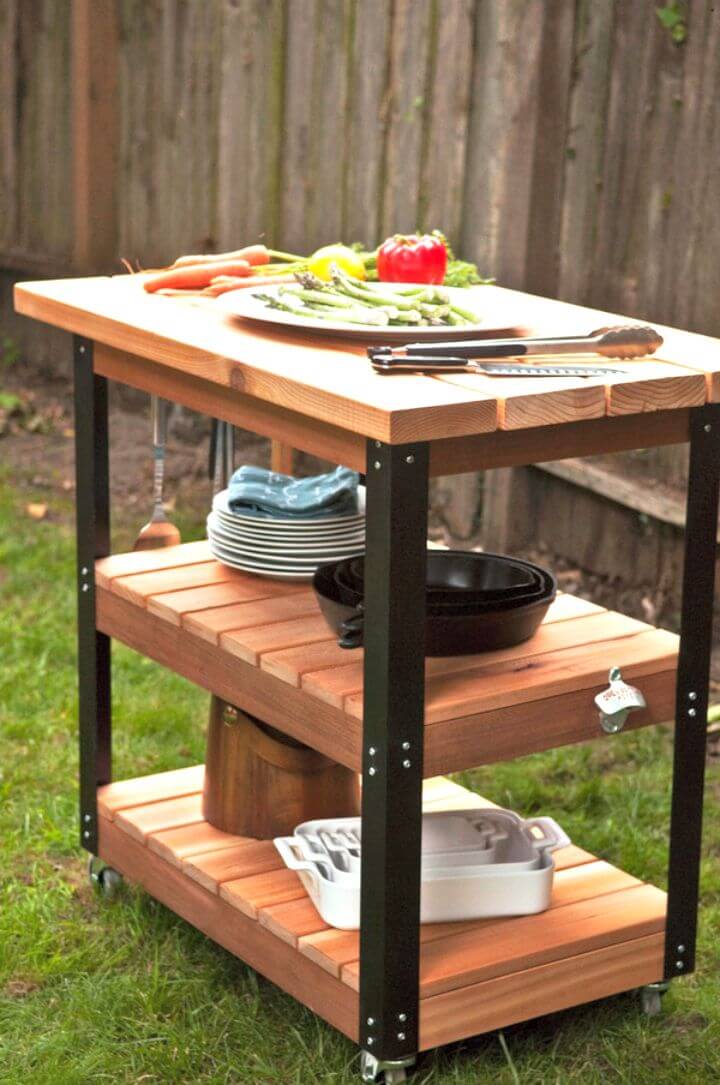 This is here another beautiful and durable looking grill cart that is inspired by a butcher block! Here again, you have you build the 3 thicker wooden shelves that can easily be made by packing the wooden planks flat and slatted arrangements! Next, you can fit the wooden shelving levels in 4 equal lengths of metal angle iron using screws and next just finish your grill cart with custom hardware wheels! This hand-built industrial model of grill cart will really live for a decade! Grab the full project tutorial and instruction from here manmadediy
How To Build Grill Cart or Bar Cart: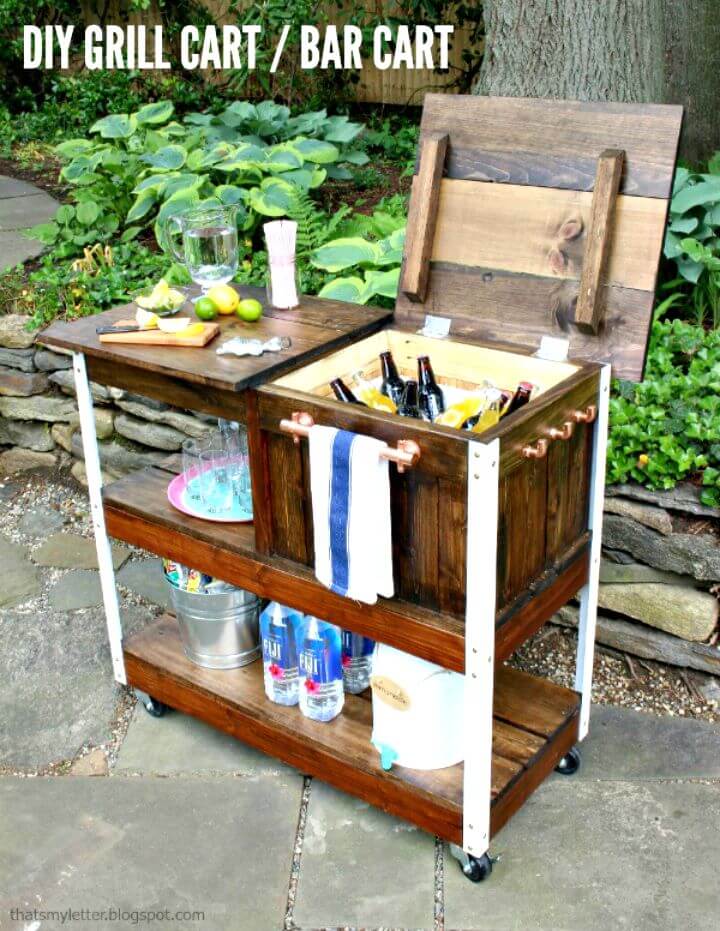 Look at this dual functional model of handmade grill cart that has been done to inspire and rock! Here it is a grill cart that also comes with a built-in beverage cooler! Moreover, there are also two built-in shelves that have been installed to store and organize the utensils, custom food items and other items of need! Moreover, this grill cart also comes with metallic copper side hooks and towel rack and hence becomes amazingly functional! Here finally this grill cart model has been finished with wheels! Grab the full free guides and visual instructions from here jaimecostiglio
Awesome DIY Outdoor Serving Station: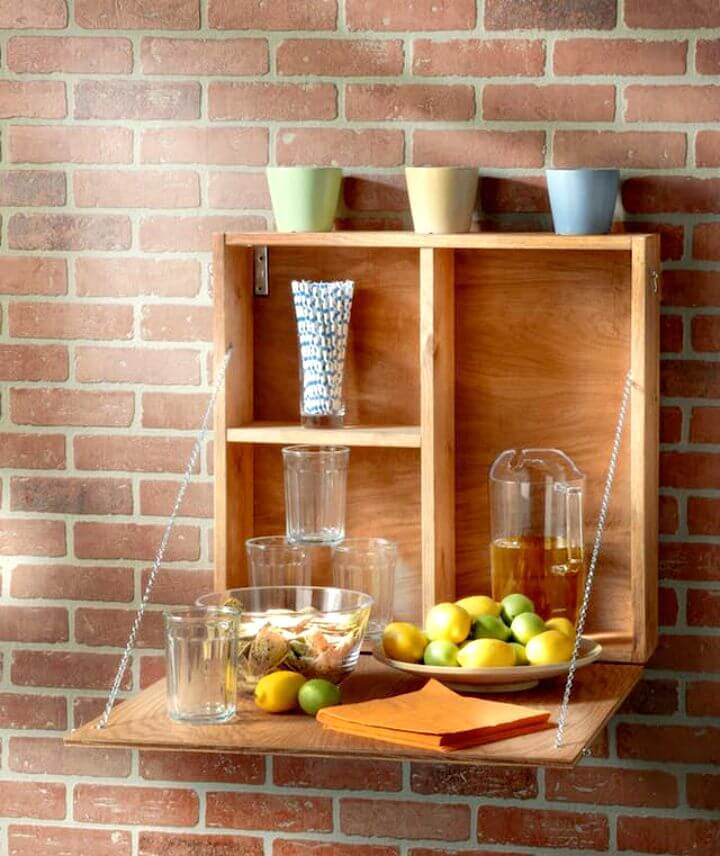 If you need a space savvy outdoor serving station then you will definitely like to install this outdoor serving station that has been done to rock and inspire! Actually this is here a great looking Murphy bar that is made with hands and comes with a wall hanging storage unit and with a folding flat surface! Here the pine board have been put together to build a box with custom storage compartments! Next the 2 project panels have been used to install the folding down surface and also the flat back of the storage box! Willing to own this serving station? Grab the full free tutorial and instructions from here apartmenttherapy
How To Turn A Sewing Table Into A Drink Station: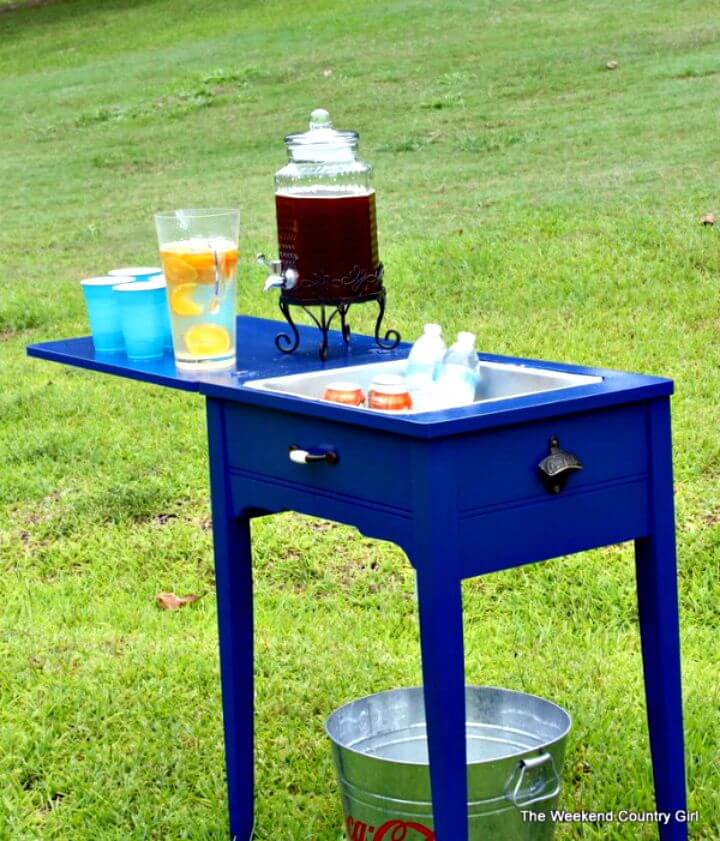 Intending to build some functional design of outdoor serving stations? Then here is another great hack for it, just recycle the old sewing tables to make amazing outdoor serving stations! Have a look at this sample drink station that comes with an ice box installed to keep the beverage icy cool and next it also comes with an edged surface where you can do the food and drink preparations! Another amazing and fantastic outdoor serving station to make at home! Complete tutorial here remodelaholic
Make Your Own Grilling Cart: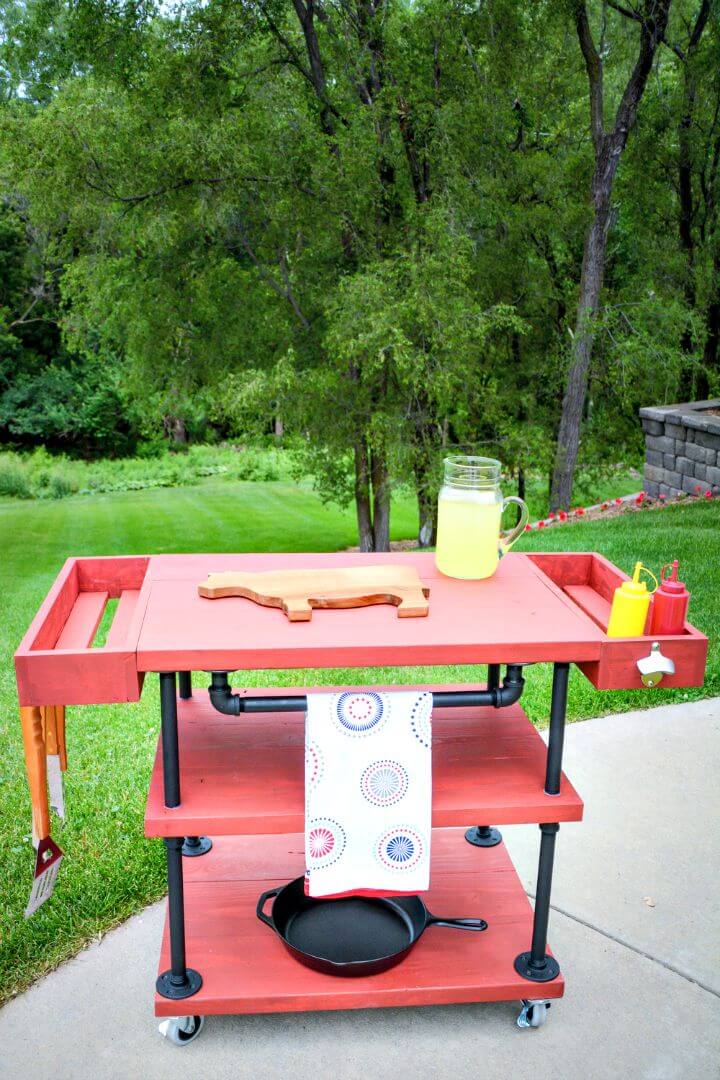 Duplicate also this fantastic-looking grilling cart that provides three levels of shelves and comes with two additional boxes attached to either side of top-level for storage! Here the entire frame of this outdoor serving station is made of plumbing metal pipes and it also provides a towel rack! The shelving levels have been installed by drilling custom holes in their corner sides and hence they slide onto the metal pipes! Finally the wooden levels have been painted in light pink and the entire design has been finished with caster wheels! Grab the full free instructions and tutorial from here decorandthedog
How To Build A Grill Cart: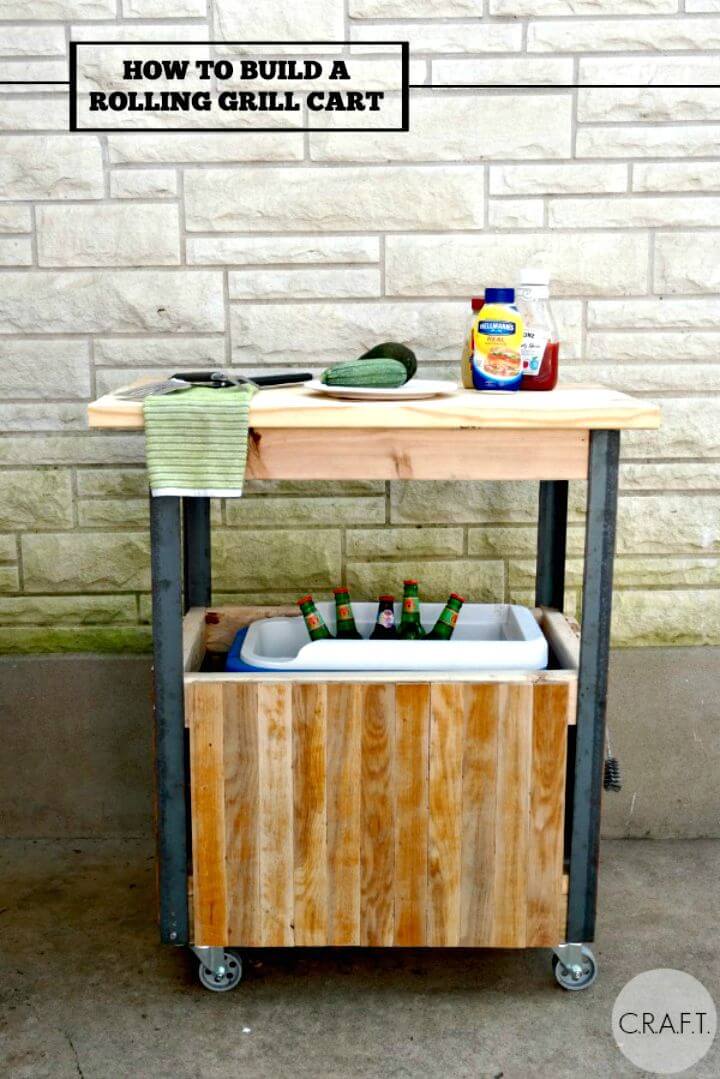 Another exceptional outdoor serving station that comes with unique and functional features! This is here an industrial grill cart that is having a top level to make and serve the food and drinks at the same time it is also having a wooden holding installed to bottom side where you can fit a plastic igloo cooler to keep your beverage bottles cool for a longer period of time! Make the whole square or rectangular wooden frames that will fit to angle iron lengths to build the primary frame of the grill cart and next surfaces have been filled using extra wood! Complete project tutorial and guides are here creatingreallyawesomefunthings
Make Your Own Outdoor Serving Center: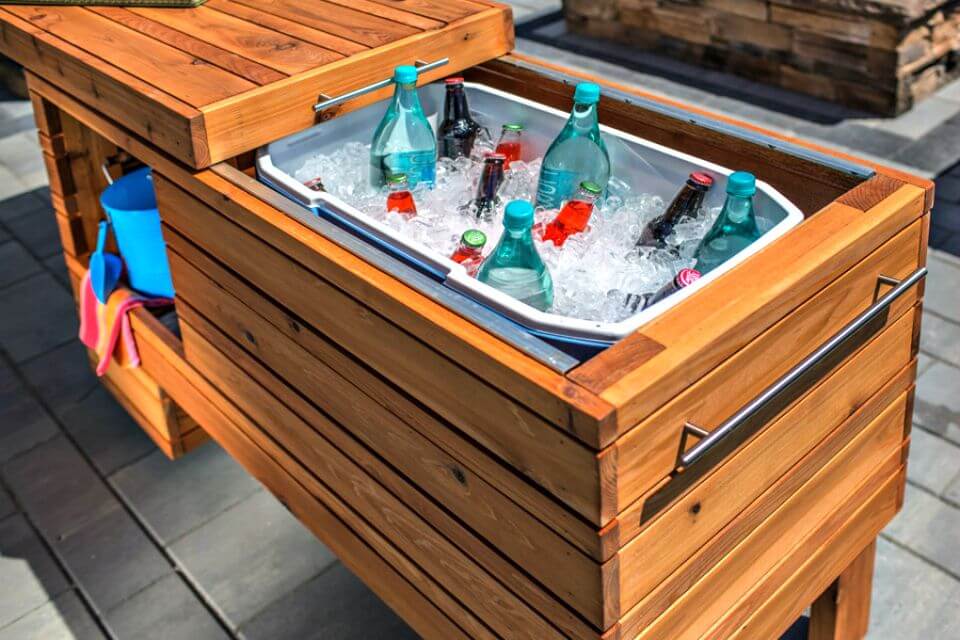 Checkout here one more great and enticing looking outdoor serving center that has been done to inspire and is really looking great! Here this outdoor serving station comes with a sliding top that can be pushed to one side to reveal the underside beverage cooler section and the same pushed top will also provide a surface to make and serve the drinks! Start the frame with legs and rails and then fill it up using extra wood slats! Another great and outstanding serving station built to last and inspire! Grab the full free tutorial and instructions from here buildsomething
Build Potting Bench & Outdoor Buffet Table: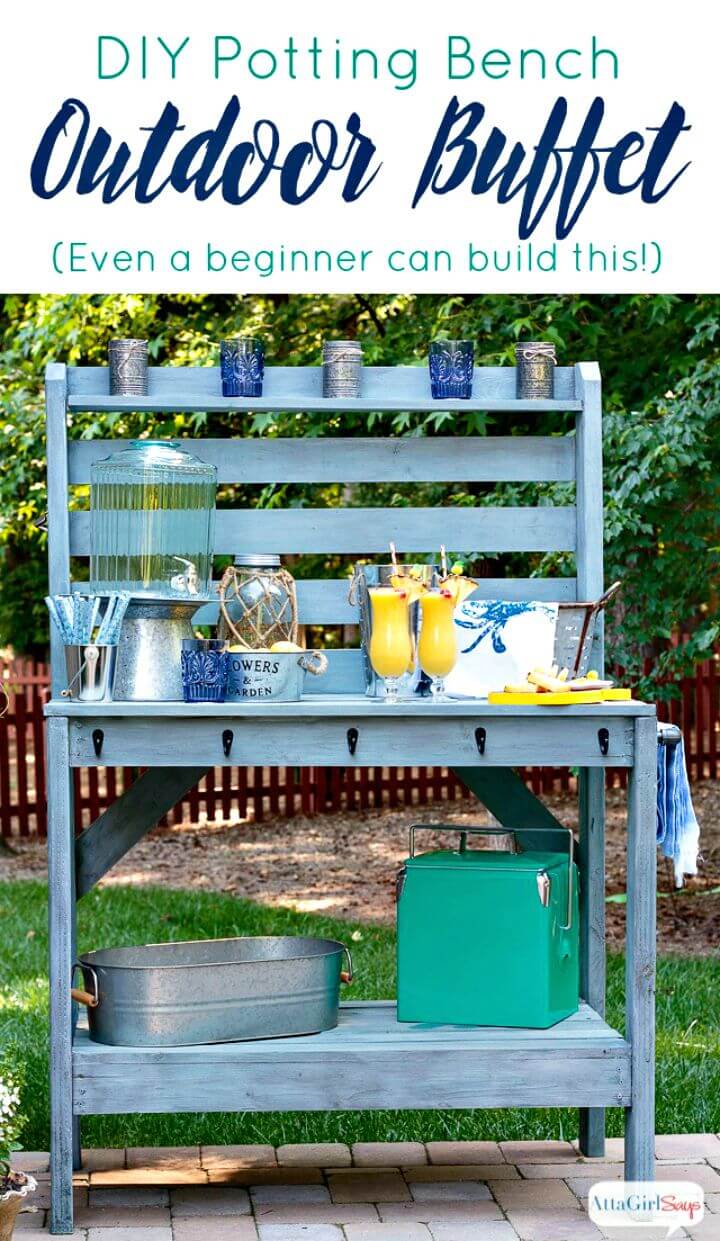 Repurpose also the old furniture items to build fantastic outdoor serving stations without getting expensive! Here an outdoor potting bench has been reclaimed to make a buffet table! Here this handsome looking potting bench also comes with a built-in shelf to organize your extra stuff and it also provides metal hooks in front to hang different of your items beautifully! Moreover, some plumbing scrap has also been used to make the side towel rack! Grab the full free tutorial and instructions from here attagirlsays
DIY Outdoor Entertainment Table: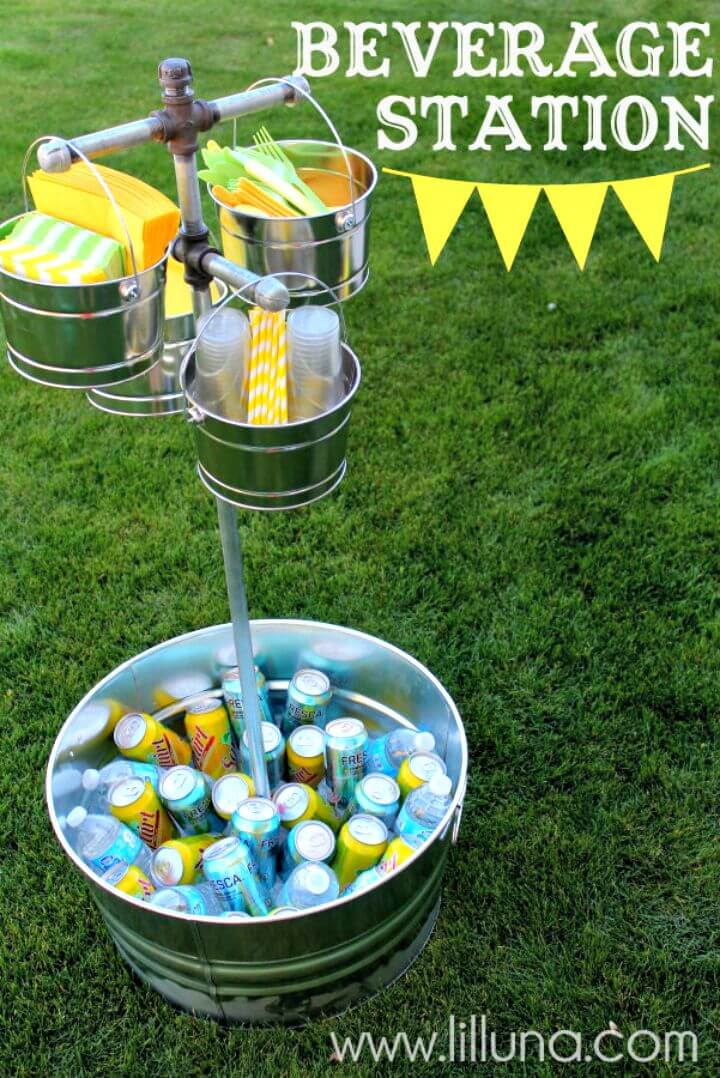 Here is what you can do amazing with the tin buckets, just go smart with the assorted tin buckets and make gorgeous looking outdoor serving stations and entertainment tables for outdoor parties! Here just make a stand using the metal pipes and custom connectors and then fix the stand in the center of a bigger tin bucket and hang the smaller buckets on the upper supports of the pipe frame! Fill the buckets with different refreshments and items but let the bigger bucket come filled with ice to serve as beverage cooler! Get inspired of the sample entertainment table! Complete tutorial and instructions here lilluna
DIY Sewing Table Turned Party Cooler & Drink Table: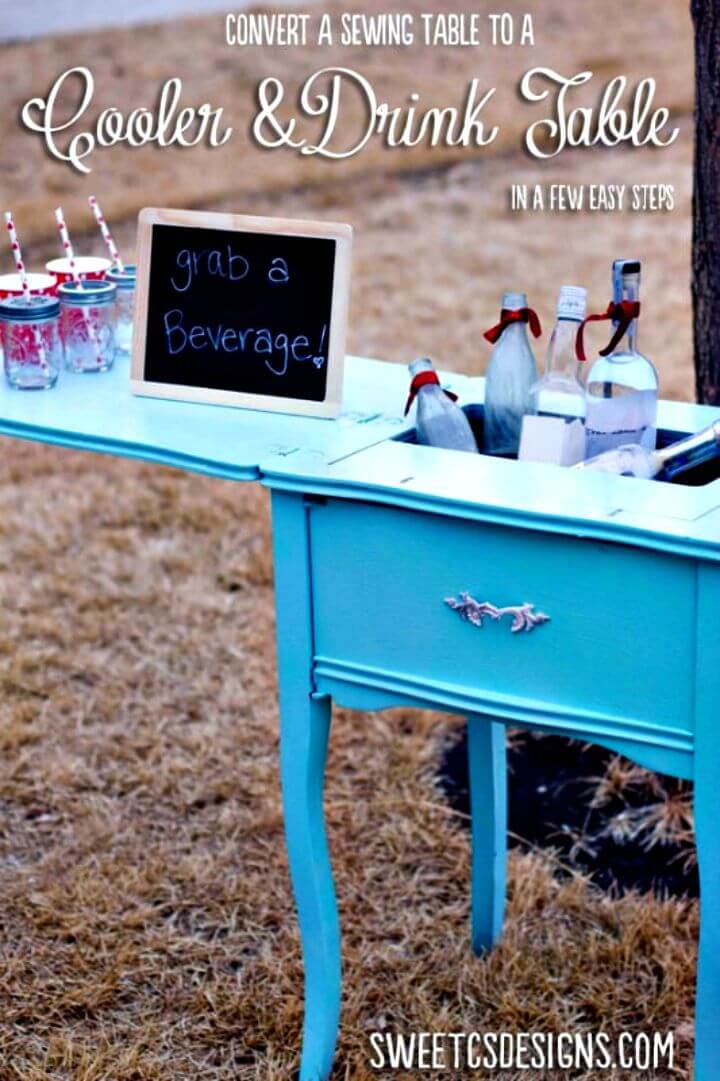 One more extra brilliant outdoor serving station hack is here that has been done to rock and inspire! Here again an old sewing table has been repurposed to make a party cooler and drink table that is just looking fantastic and much visually attractive! Here the finally finished drink table and party cooler has been painted in turquoise for a brilliant appeal and hence a fantastic looking part cooler and drink table has been achieved! Grab the full free guides and visual tutorial from here sweetcsdesigns
How To Make Outdoor Serving Station: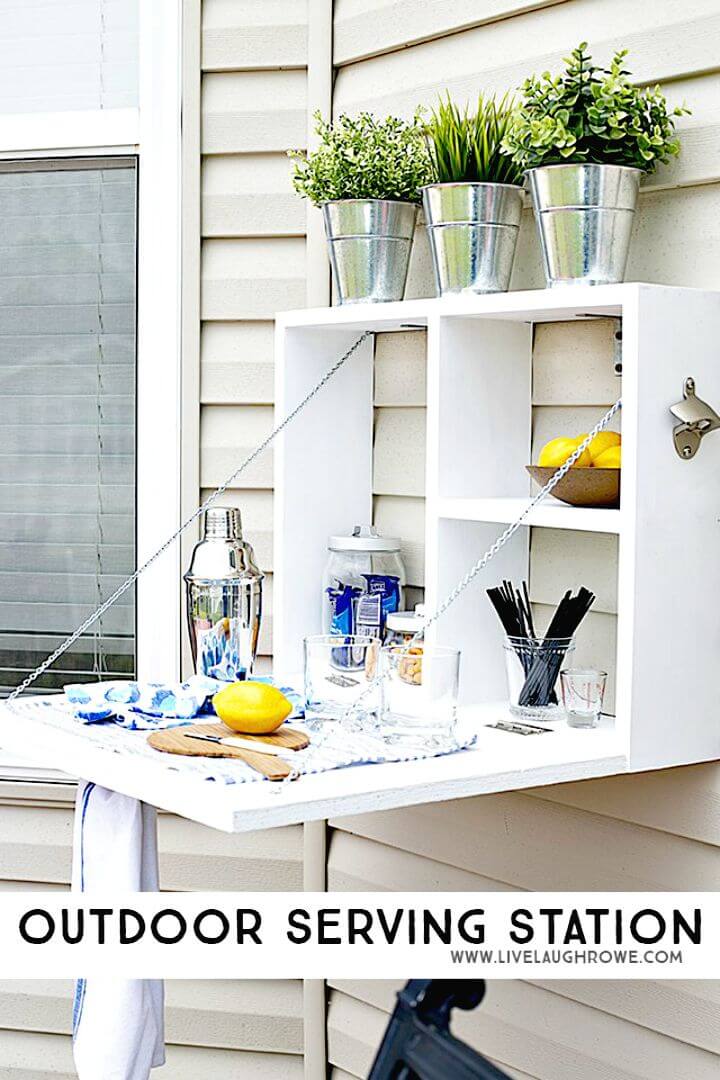 Get inspired of this another lovely and fantastic looking outdoor serving station that has been done to rock, amaze and inspire! Here again the pine wood boards and a project panel has been used to craft this fantastic Murphy bar! Just the pine wood lengths to shape up a wooden box that may be added with different dividers to make different storage compartments! Install the box to an outdoor wall and finish it with a folding down lid or table surface that can be supported there with metal chains! Get inspired of this sample wall hanging serving station that has been painted white! Grab the full free tutorial and instructions from here livelaughrowe
Build Your Own Stock Cabinet Cart: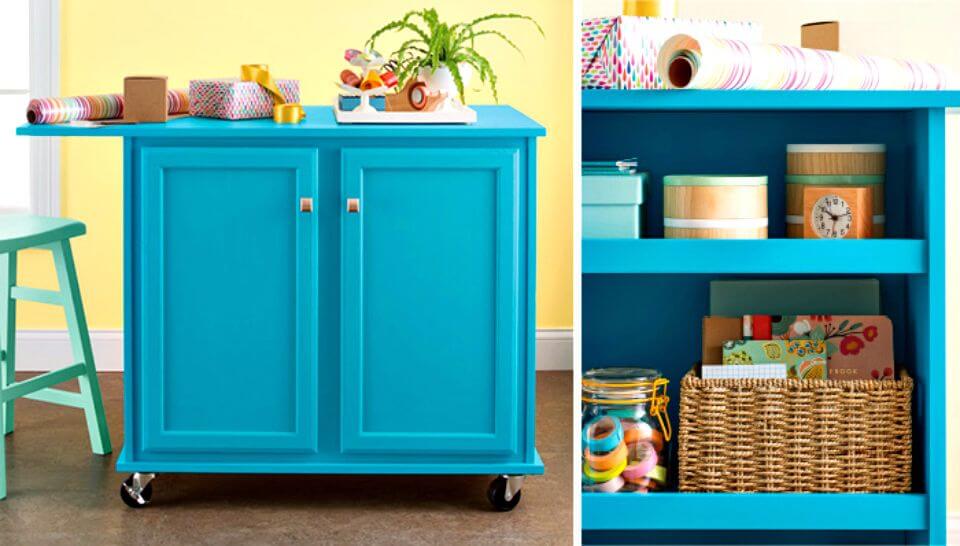 Look at this another fantastic cabinet cart that is storage-friendly and also provide and edged top to make and serve the refreshments! Here this outdoor serving stations is made of MDF, poplar boards and with birch plywood and is something super beautiful to look at! This stock cabinet card provides ample storage space and will definitely look great at any outdoor! So willing to entertain your guests and friend with it? Then just grab the full free guides and visual instructions from here lowes
DIY Dual Purpose Party+Potting Table: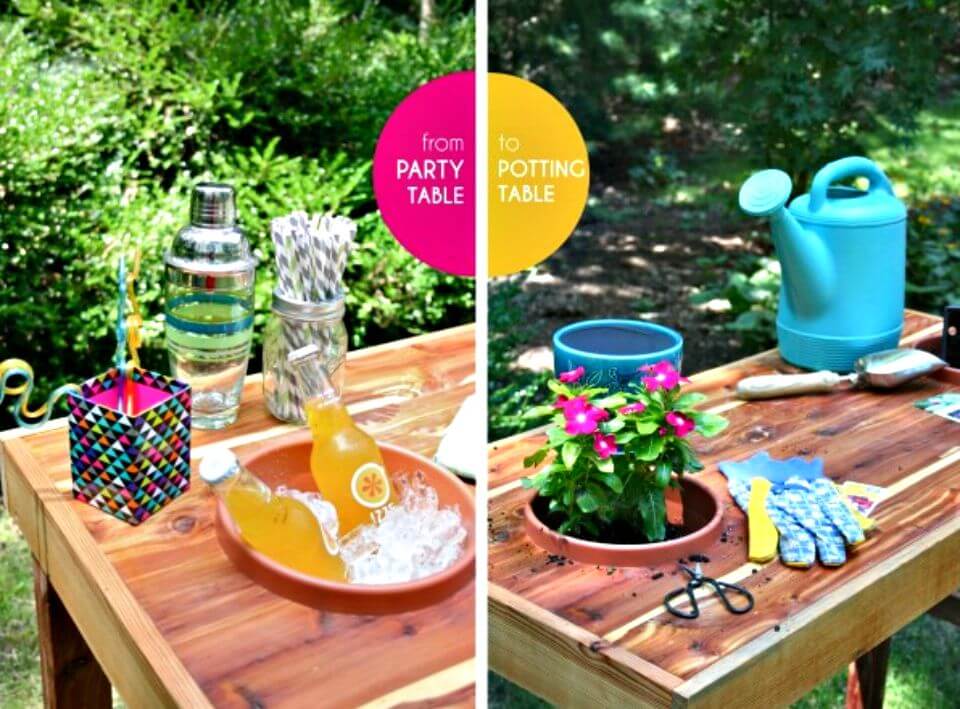 You will just become a big fan of dual functional behavior of this fantastic outdoor serving station that is having shape like a table! Here all you need is to build a wooden table that may come with some drilled holes in the top to fit the ice boxes or planter boxes and next you can use them for your own purposes! Fill the boxes with ice cubes to gain a party table and then you can also fill the same boxes with potting soil to start using them as planter! Another great and fantastic outdoor serving station idea that everyone can duplicate! Grab the full free guides and visual details from here dreamgreendiy
DIY Pallet Outdoor Drinking Station: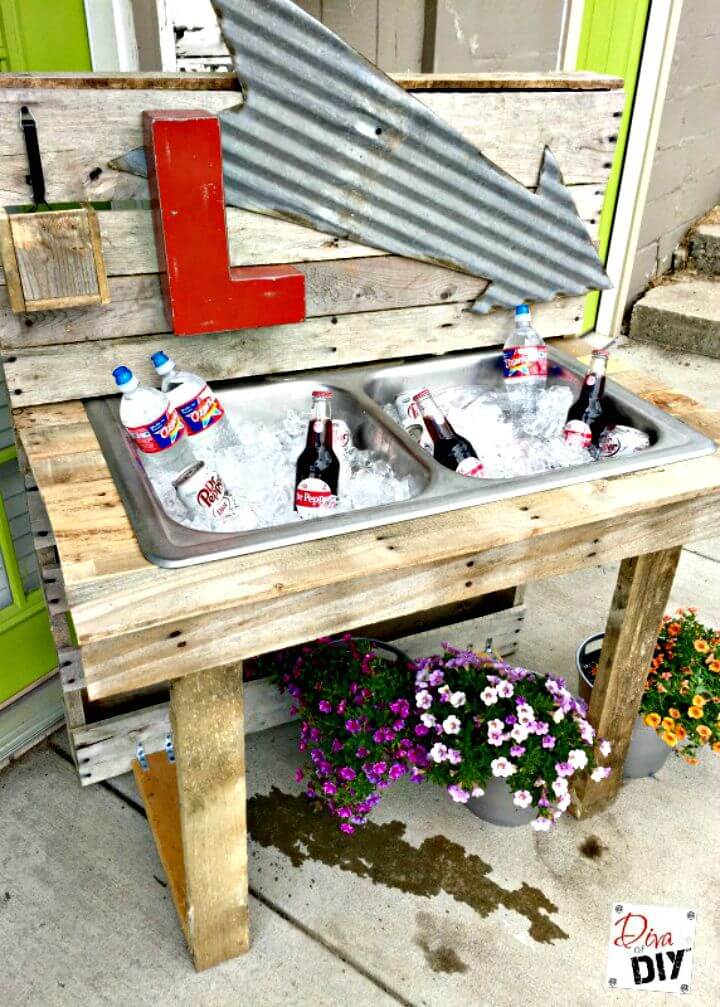 If you are intending to make some rustic outdoor entertainment tables at home then you can also get crafty with rustic pallets! Checkout here the fantastic drinking station that is made of rustic pallets and comes with an old sink fitted in front side which will serve as the ice box! Here this drink station also comes with a top lid that is hinged in place and has been personalized with custom items of decors like an arrow sign and also with a letter! Another great and fantastic outdoor serving station to duplicate! Complete instructions and tutorial here divaofdiy
More Pallet Projects:
How To Build Drink Station: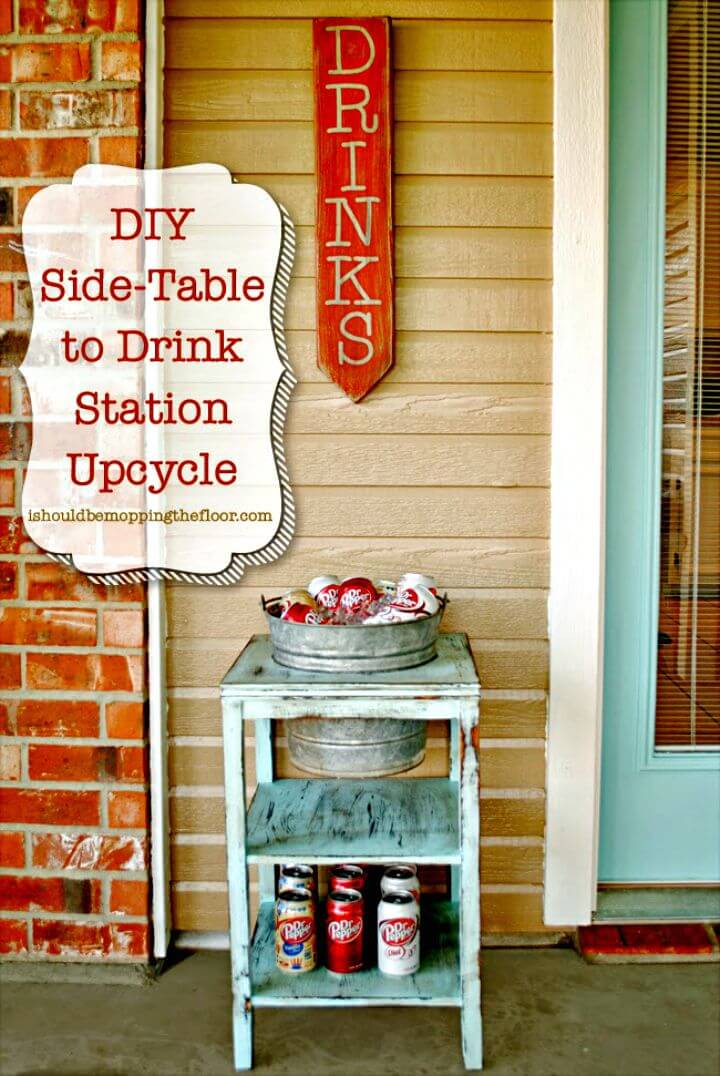 Checkout here another smart hack for an outdoor serving station, just repurpose the old side tables to make outstanding looking drink stations at a cost next to nothing! Here a bigger hole has been made in the top of an old side table to fit an ice bucket it and hence a perfect looking party table has been gained! This is here the perfect kind of table to use for outdoor entertainments! Willing to duplicate this drink station? Then just grab the full free guides and visual instructions from here ishouldbemoppingthefloor
DIY Rolling Outdoor Island: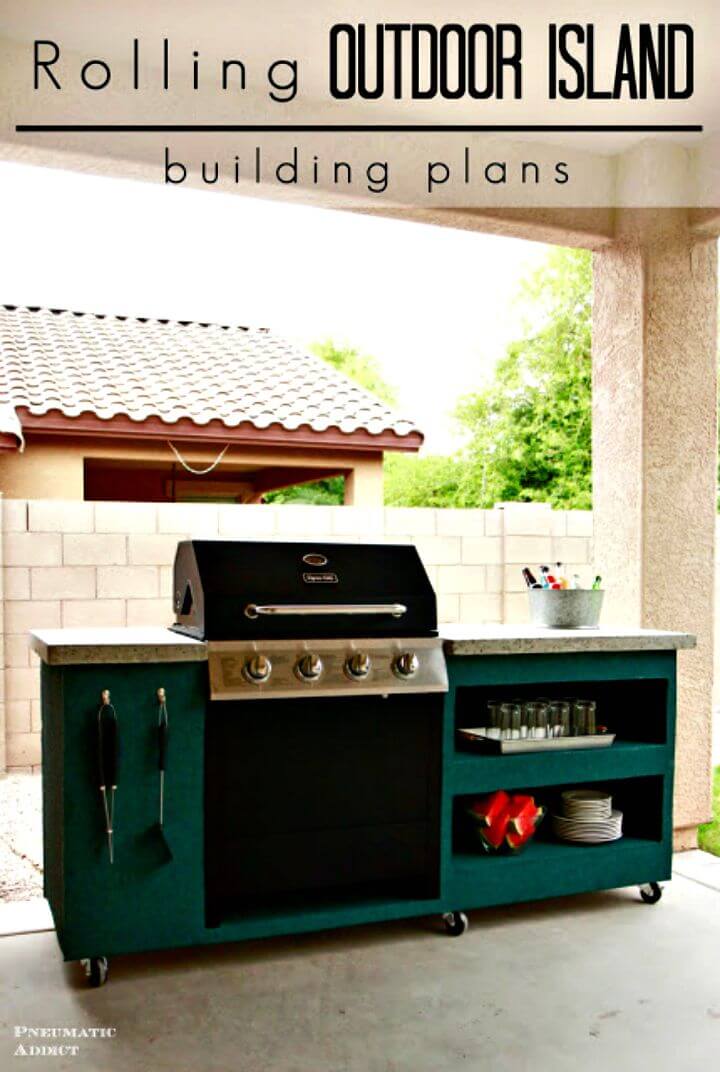 If you are having higher skill level and a lot of experience in wood working then you can also build some professional looking designs of outdoor kitchen, buffet tables and also of outdoor serving stations at home! You will just fall in love with the modern features and design dimensions of this rolling outdoor island that has been made to inspire! It provides a grill and various separate sections for storing your goodies and items of need! Grab the full free tutorial and instructions from here pneumaticaddict
DIY Upcycled Beverage Station: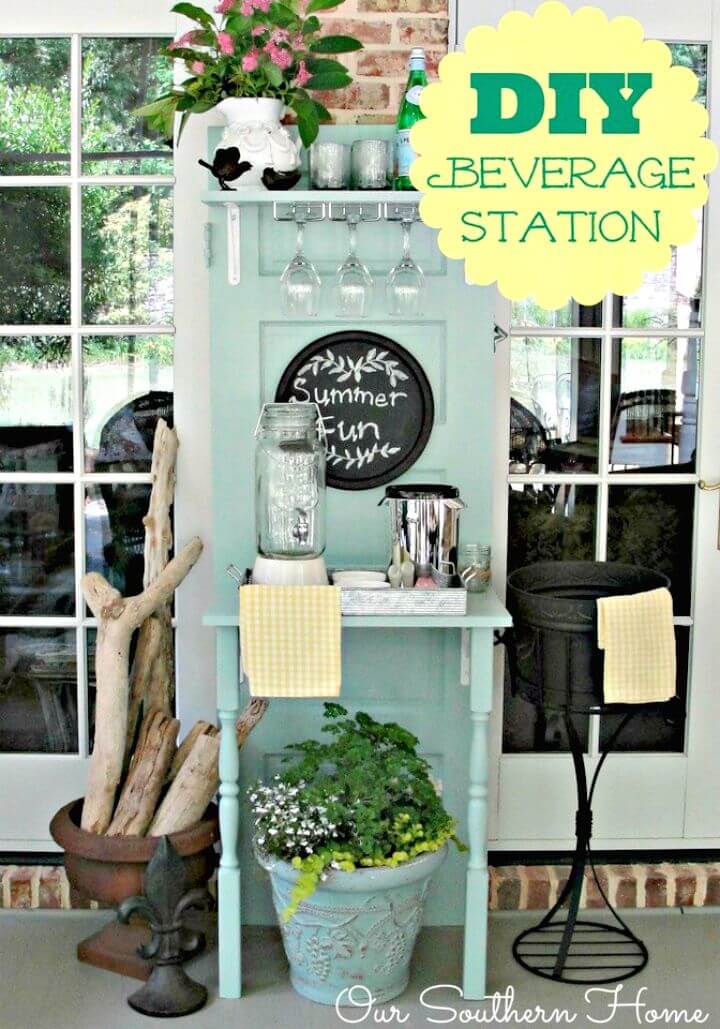 Repurpose also the wooden scrap and old materials from home to build outstanding looking beverage stations at home! Here an old door, porch spindles and custom scrap boards have been used to build this adorable looking beverage station that is looking amazingly beautiful! The well sanded and painted old door gives the handsome looking background while the spindles supports the front shelf and serve as legs! Shelves levels have been installed using shelf brackets! Complete project tutorial here oursouthernhomesc
Simple DIY Vintage Chair Drink Stand: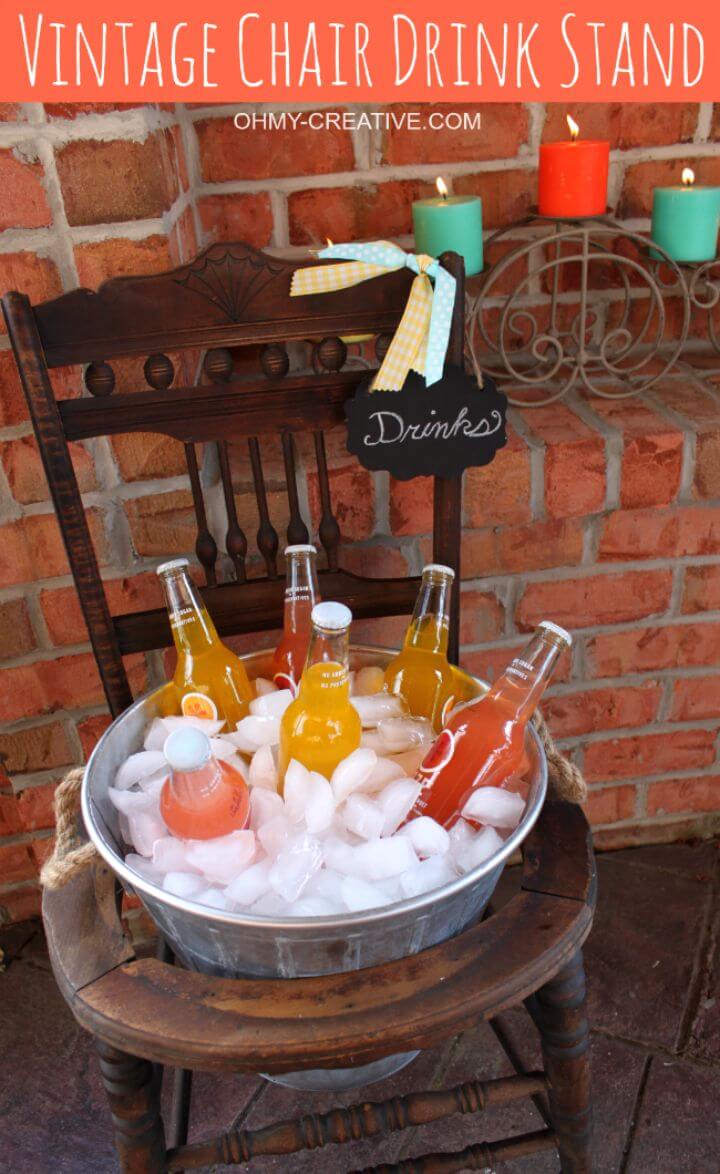 Get inspired of this another fantastic and lovely drink stand that is another smart recycling hack! Here an old vintage chair has been repurposed to make a drink stand just at no-cost price! Here all you need is to make a bigger hole in the seat of the chair to fit a bigger ice bucket in it! Here the fitted bucket comes with rope handle for easy lift up that's it! Adorn your finally finished drink stand with custom embellishments and enjoy drink parties! Full project details and instructions here ohmy-creative
How to Build Grilling Cart: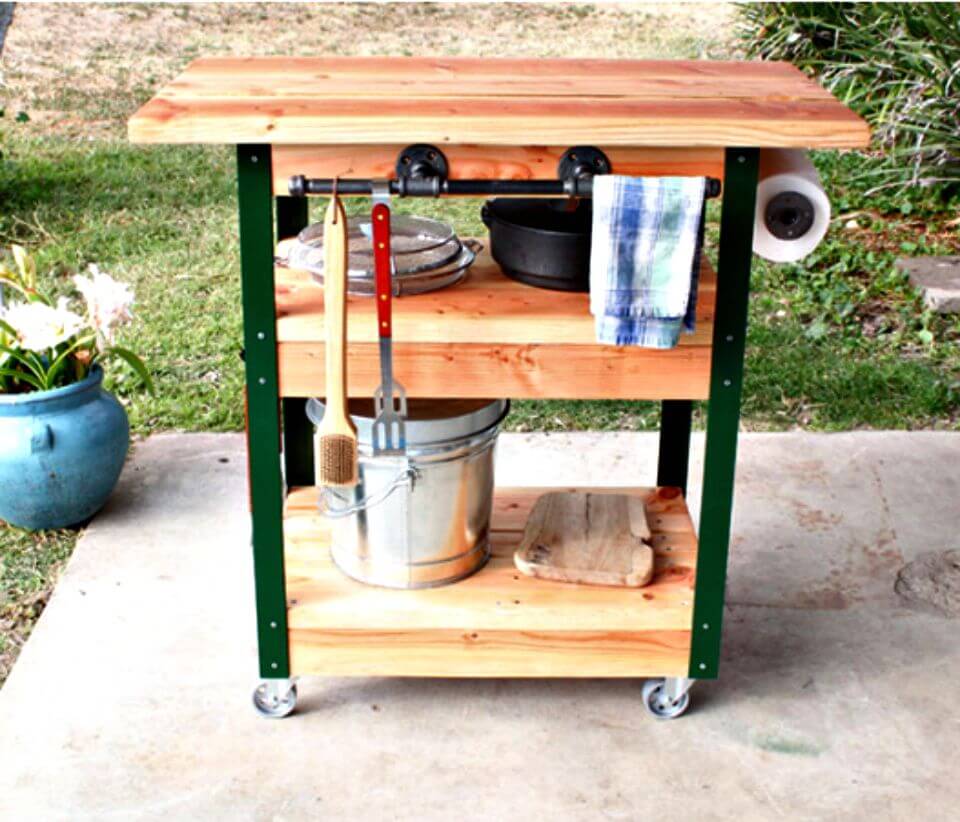 If you love to get crafty with the wood then building this grilling cart would be just be a piece of cake for you! One more epic looking outdoor serving station that make a great gift to every outdoor party lover! Just build the custom thicker wooden slabs or shelves using custom wood planks and next just fit them in angle iron lengths using screws and make alluring looking grilling carts that will live for years to come! This sample model comes with a grand edged top and with 2 built-in shelving levels and is just looking damn beautiful! Grab the full free instructions and tutorial from here HomeDepot