Do you have a dog? These 35 free DIY dog house plans are just perfect to build a dog house at home to make dog life easier! Do you remember seeing houses like these in cartoons when you were younger? This is where the dog would hide their snacks and live peacefully! These dog houses were a big thing, a few decades back! Now, people are just used to keeping dogs inside their houses. If you want to keep your dog outside your house or even bring some lovely dog house decor inside or maybe just want to treat your upper with something new, these free dog house plans and material list is a perfect guide that you can follow.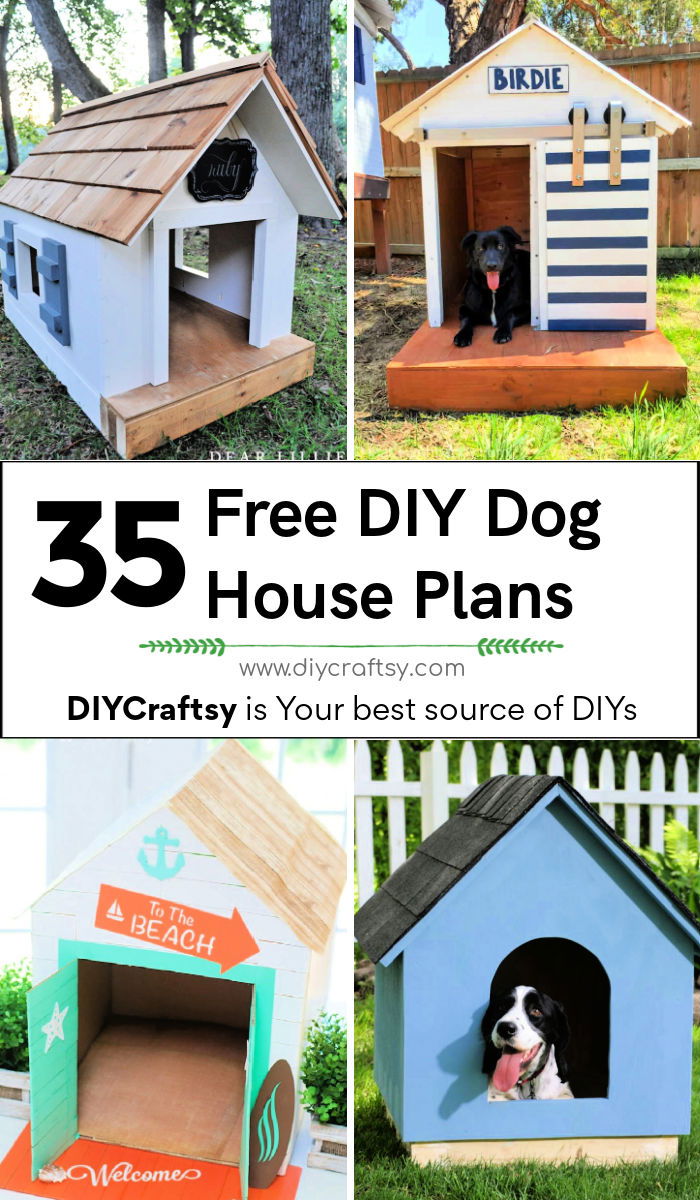 If one of your friends or loved ones just got a new dog and you're planning on going to meet it, this can be a great gift! As it's thoughtful, aesthetically pleasing, and just amazing! Make sure that they have a nice backyard where they can place it. Like, make a smaller one if it's an apartment balcony. This article will cover a range of free DIY dog house plans, from plywood to pallet ones; from rustic to modern ones; or from A-frame to barn door ones; from insulated to indoor ones. As versatility is always appreciated, right? So, let's dive into these dog house plans.
The best and simple dog house plans are here:
Build your dog a house of their own with these free dog house plans that include plan diagrams, step by step building instructions, and materials/cut lists with PDF to download.
Wooden Pallet Dog House: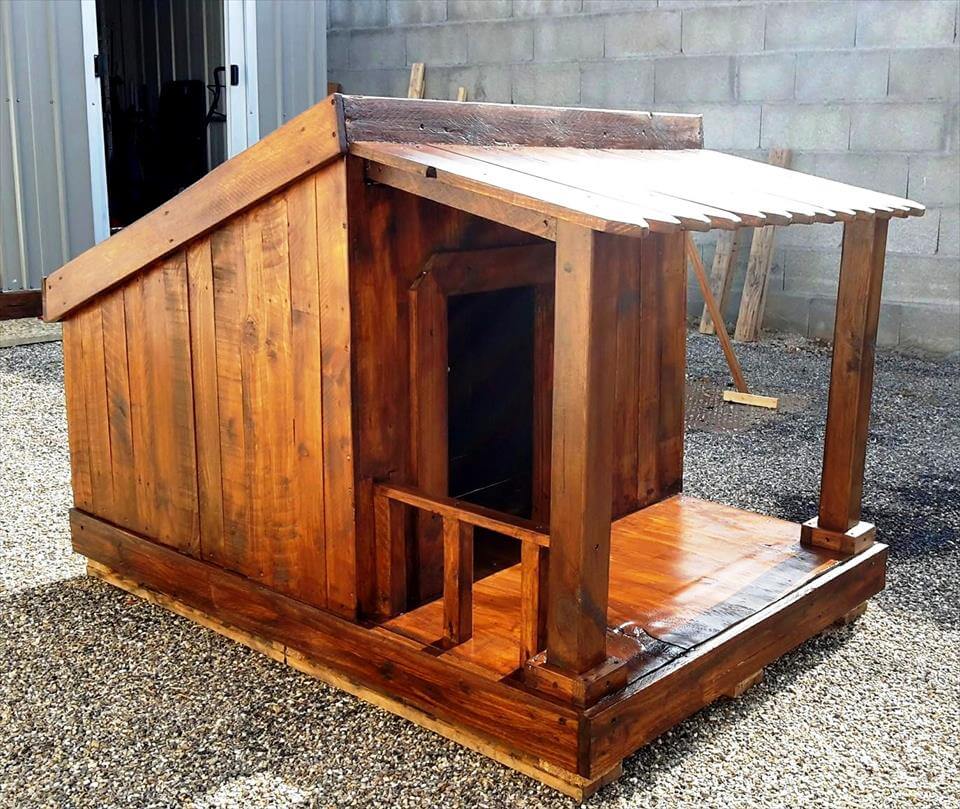 How easy it is to build a dog house with pallets, We have brought here this DIY pallet dog house step-by-step tutorial that will guide you through all the. ! Pallet Dog House
1. Snoopy Dog House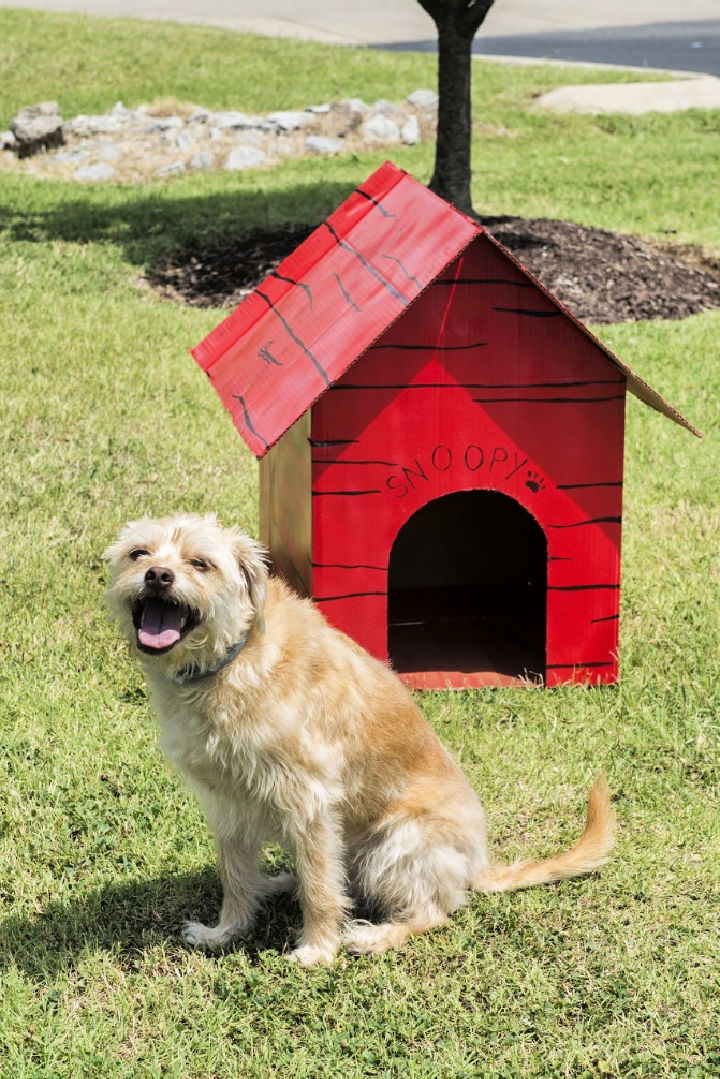 Recycling is definitely the best part of this amazing project! You don't really need to buy new lumber for this absolutely stunning DIY dog house! Only two moving boxes – large or small depending on your dog size – are required! Packing tape, spray paint, and a few other supplies required as well. tmtblogs
2. How to Build a Dog House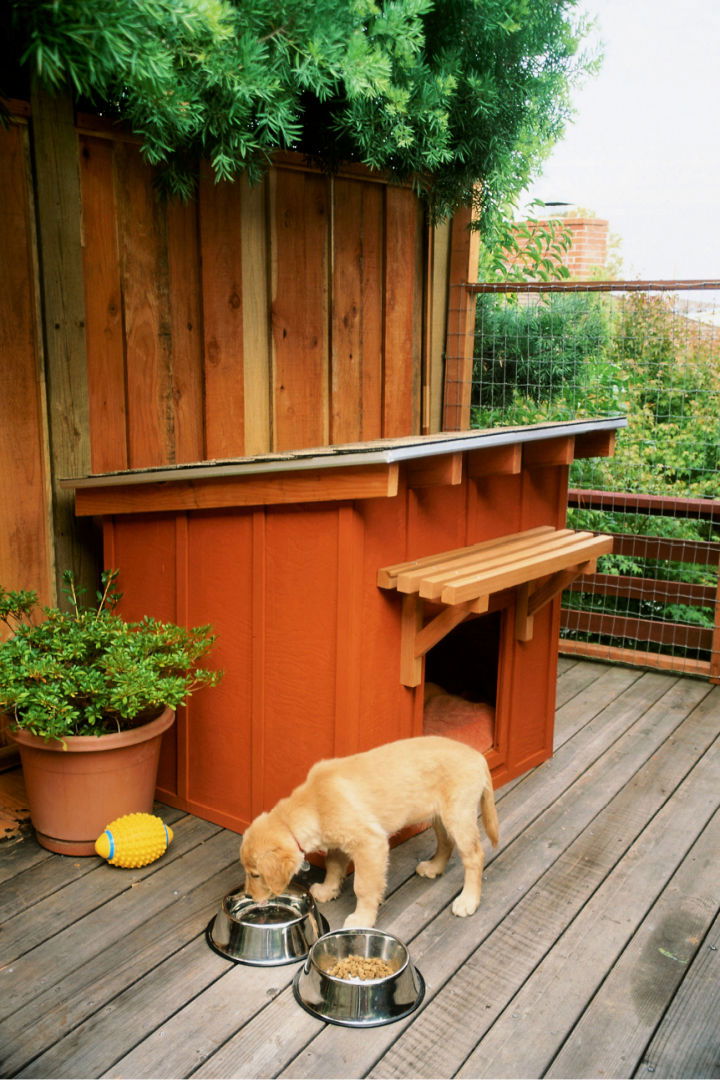 If you're into woodworking, then there is definitely no better option for you than to try out these amazing beginner dog house plans. And this one is under $200 to construct! You will only need to spend money on three sheets of plywood. Moreover, an arbor will also add a nice look and some shade! sunset
3. Dog House Using Plywood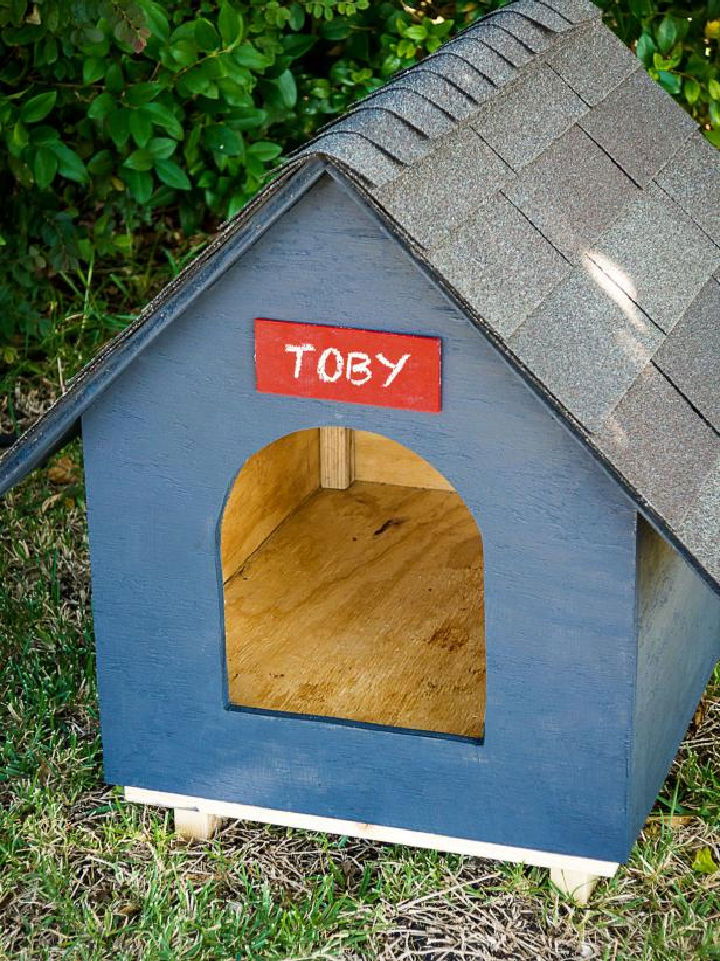 How to build a dog house? One sheet of plywood along with other materials like a marker, measuring tape, square, circular saw, jigsaw, drill, blade, nails, paint, stain, and a few other supplies will be required for you to successfully nail this easy diy dog house. Furthermore, there's a dog nameplate included and you can also use a blanket to decorate the house! hgtv
4. Wooden Dog House Tutorial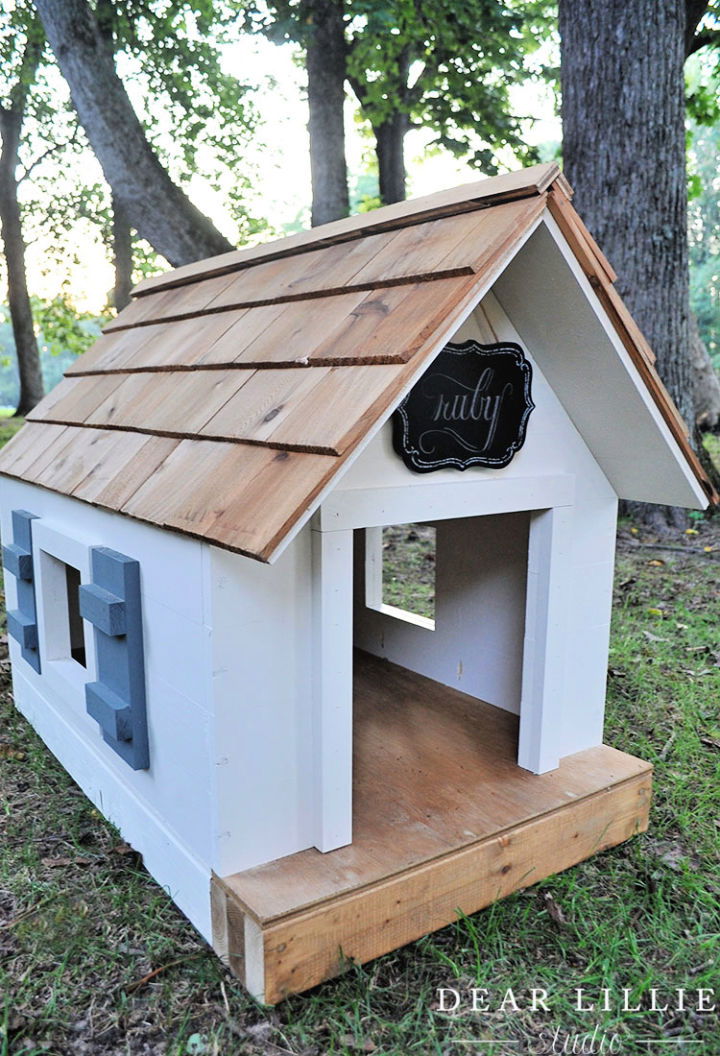 Wood is not only a strong material that makes the overall house durable but it's also really aesthetically pleasing. Two problems solved with this DIY dog kennel! Isn't that just the best thing ever? Table saw, drill, miter saw, nail screwer, and a few other tools will be required. dearlilliestudio
5. DIY Modern Dog House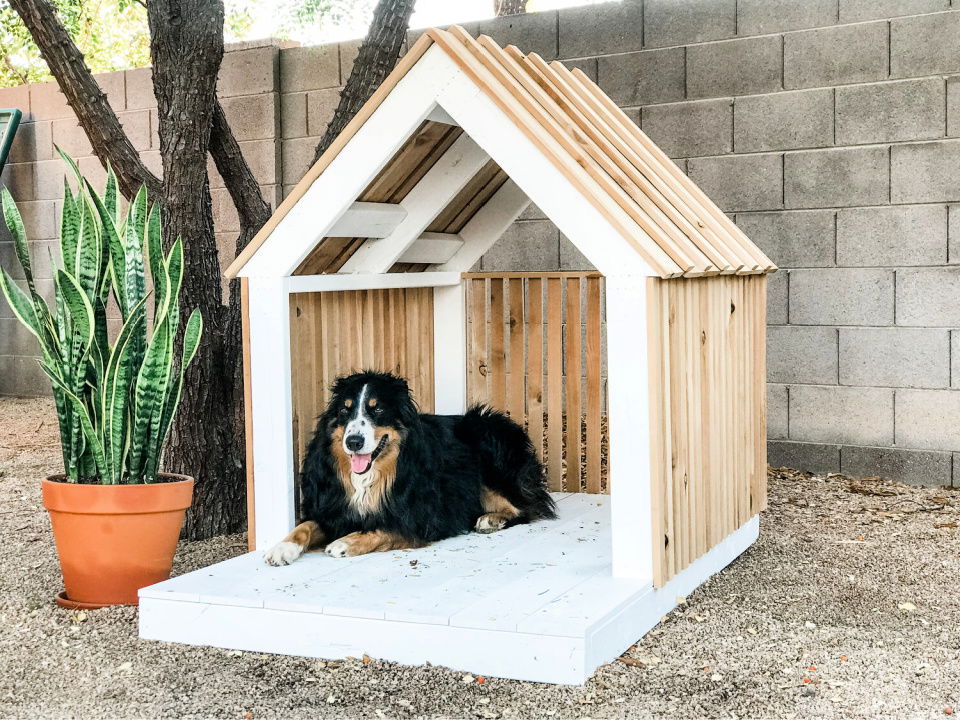 Here's another super cool DIY dog house as it's made out of cedar fence pickets! This wood is certainly a better choice when it comes to creating pretty things. Moreover, this Scandinavian dog house can also be paired up with a solar power fan! Above all, the total price will be around $120. theawesome
6. Pallet Dog House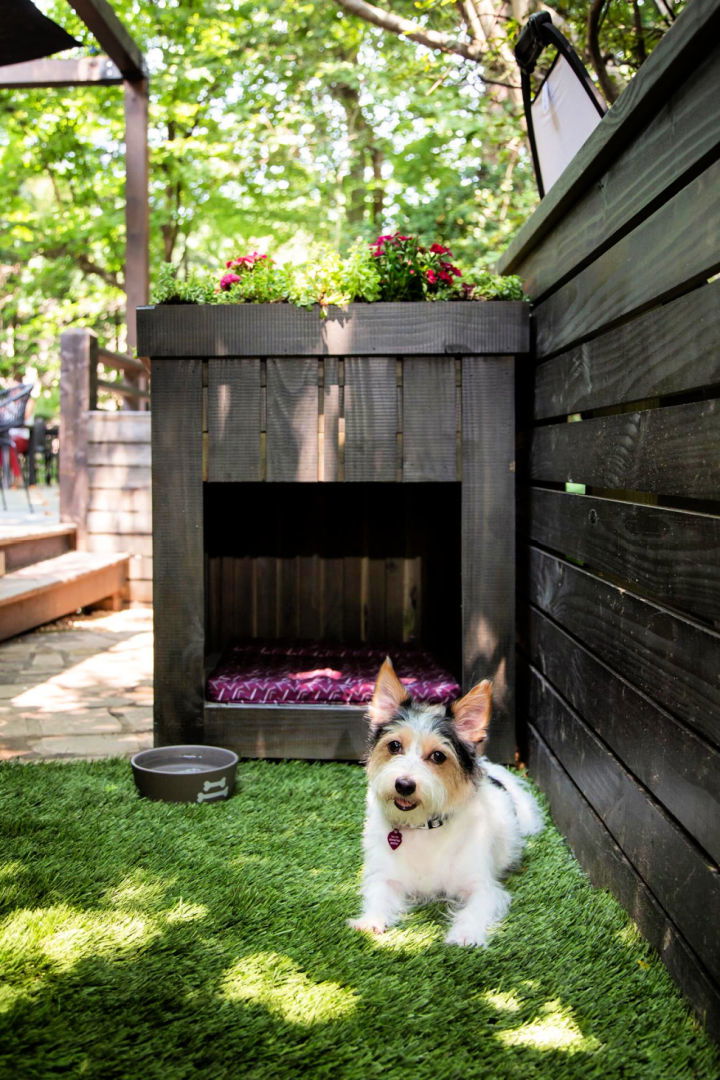 Who knew that you could make something this beautiful out of simple pallet wood? It's so aesthetically pleasing due to its shape and the rooftop garden on top! Though the rooftop garden is optional but it definitely puts the wooden pallet to good use! hgtv
7. Dog House with Barn Door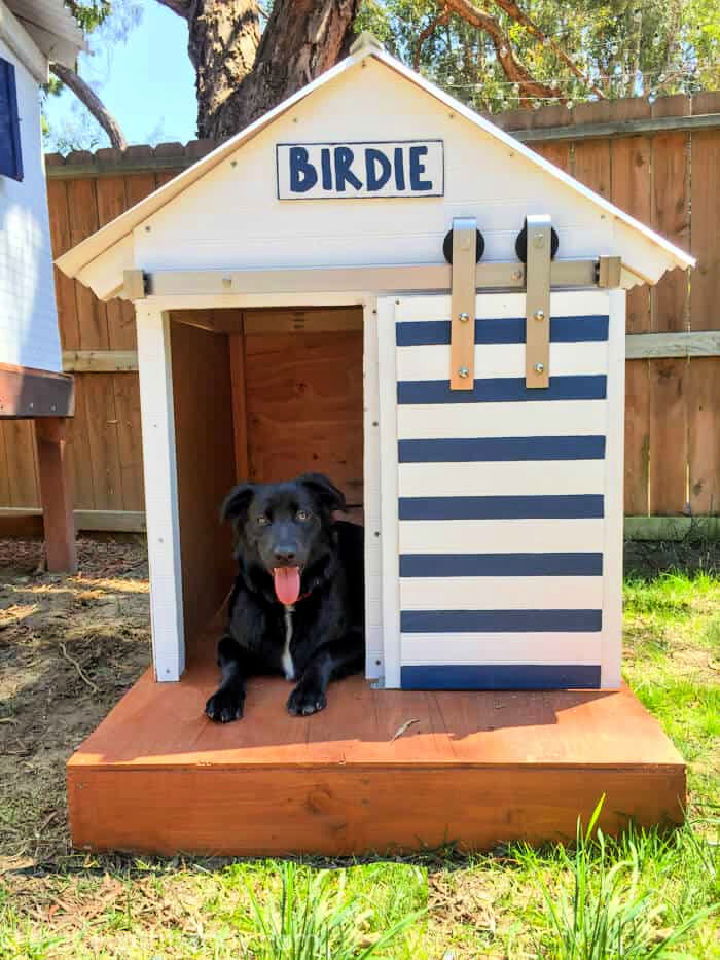 Why not make your pet a treehouse as well, if you already made one for your children? Here is a DIY dog house that resembles a treehouse and placed on a platform to provide height to the house. Furthermore, you will need plywood, bread paneling, roof paneling, and a few other supplies to build this DIY dog kennel. madewithhappy
8. A-Frame Dog House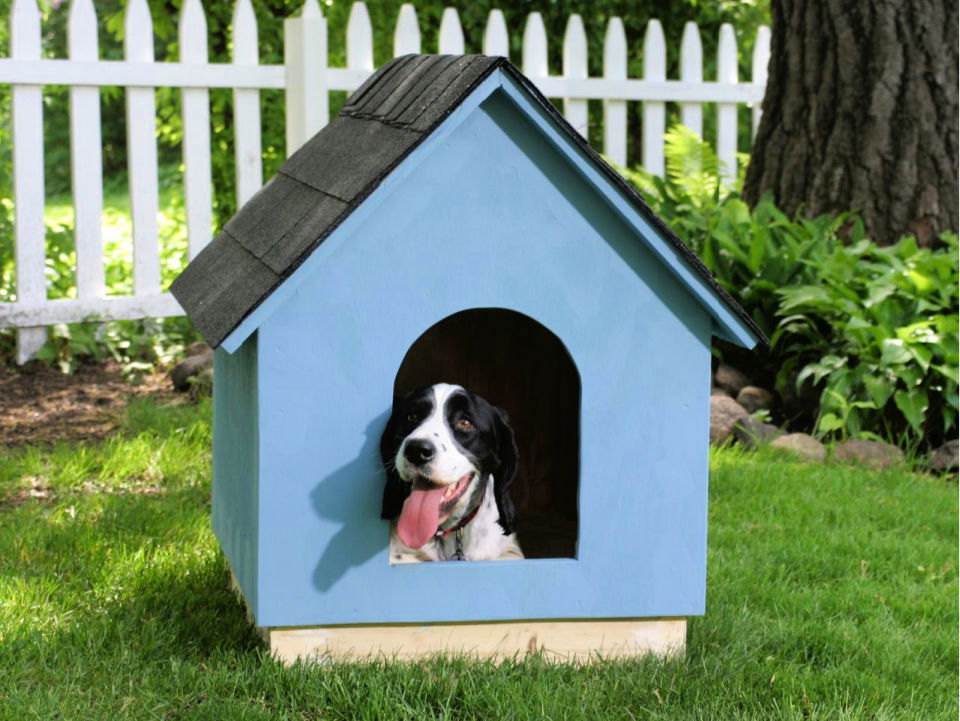 Isn't A-frame just the most iconic shape you can think of? It's also said that dogs feel safer in small spaces and an A-frame would be perfect for that! Brush, hand stapler, miter saw, hammer, clamps, and a few other supplies will be required for you to re-create this for your furry friend!hgtv
9. DIY Breezy Dog House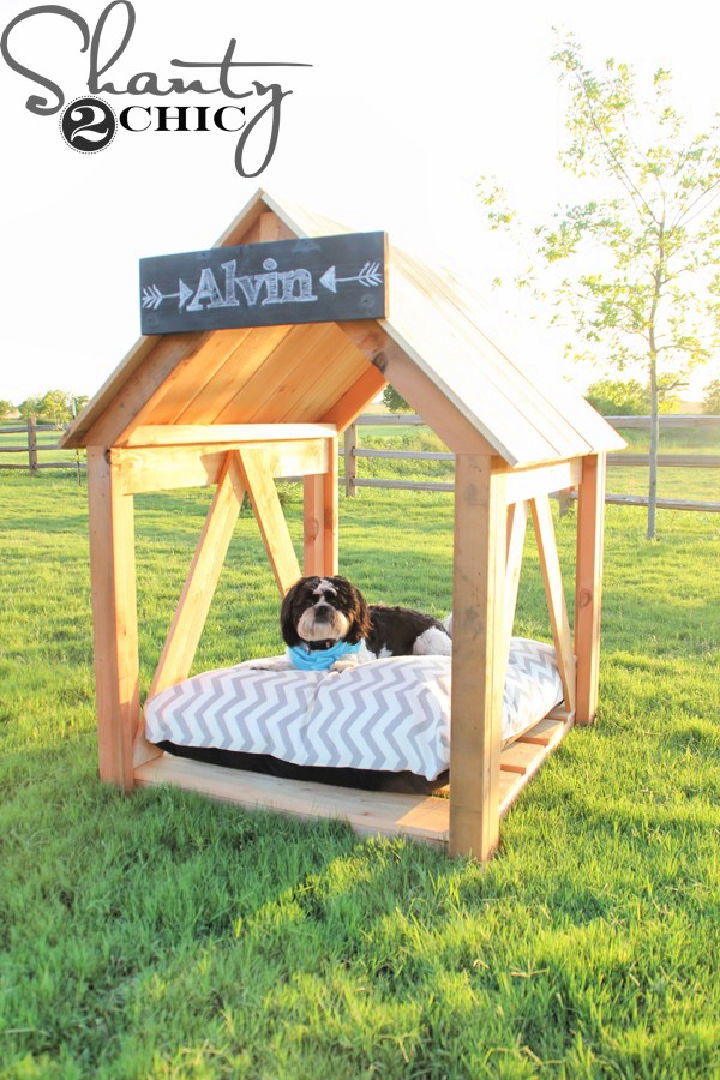 Make your furry friend feel safe and comfortable in this absolutely stunning breezy dog house idea! It's designed in a way that will be really easy to customize – add a fluffy bed of your own choice and then makes a name sign for your little pet! A shade panel can also add certainly more charm to this plan. shanty 2 chic
10. Modern Dog House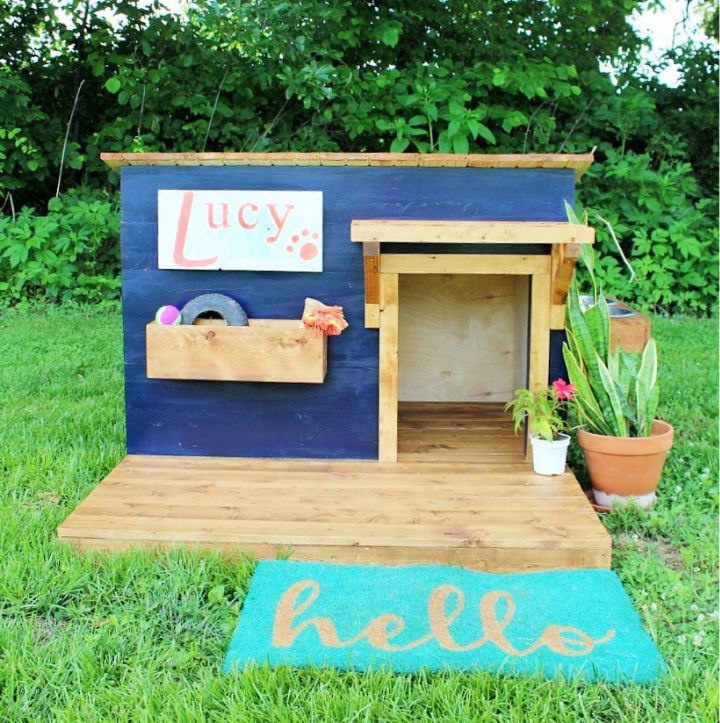 The special feature about this small but modern looking wooden dog house is that it's insulated! If you live in an area where it tends to get super warm or super cold, no worries! Just take a look at this amazing free dog house plan which is very heavy duty and big. Miter saw, table saw, and a few other tools are needed. woodshopdia
11. Insulated Dog House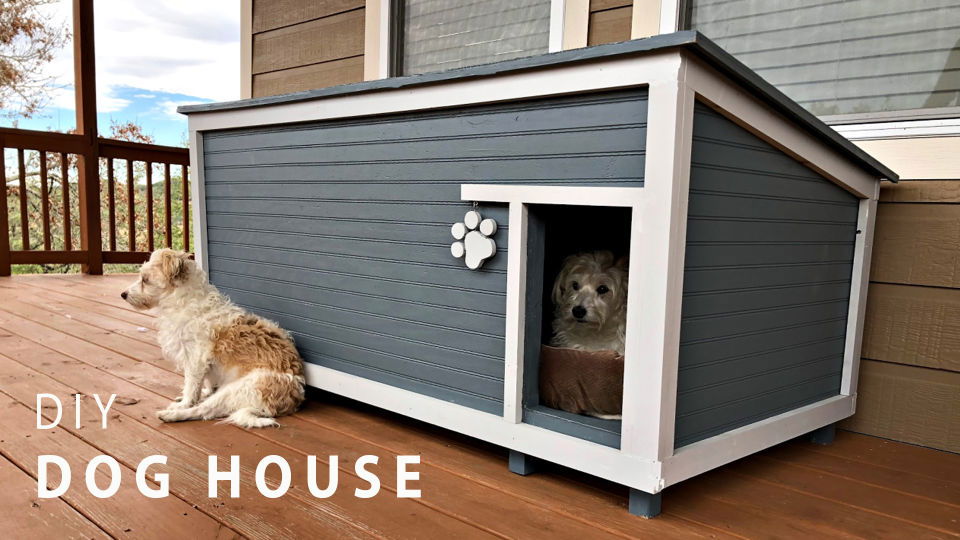 Do you live in a very cold area? If that's the case, then this insulated DIY dog house is perfect for you! You can always use it the other way around, as well. Breeds like huskies survive in cold weather while breeds like Dalmatians survive in hot weather – insulation would work well with them.
12. Build a Dog House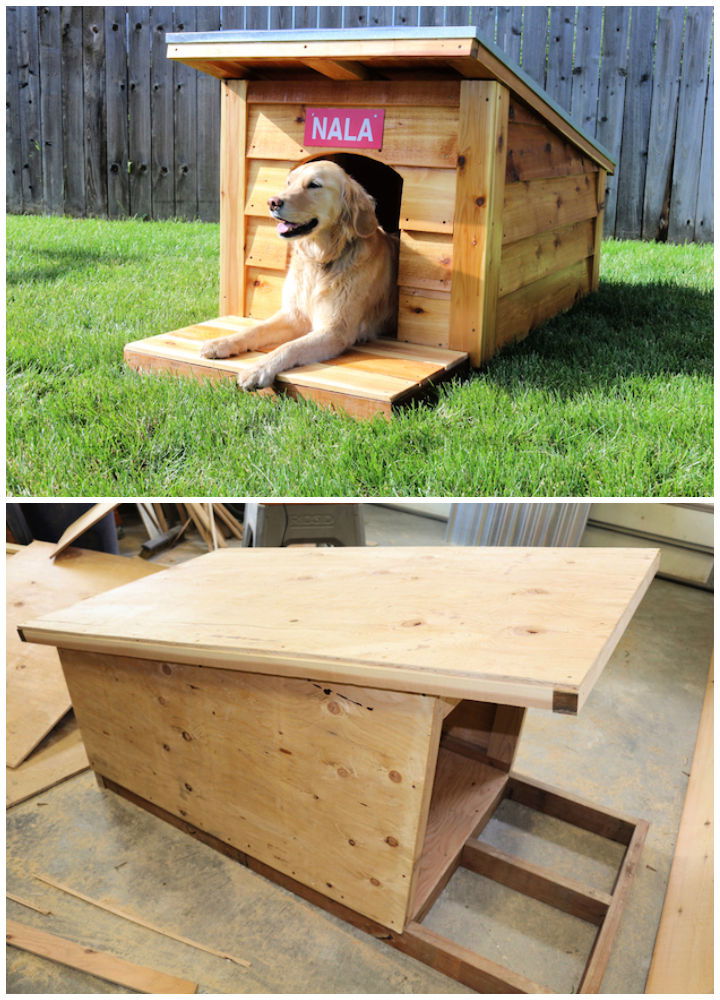 Every dog deserves a house that is going to make it feel safe and endure heaps of mud, dirt, and wet fur! Well, what would be the perfect material to make something that sturdy and strong? Yes, you guessed it! Cedarwood is used to make this doghouse! diypete
13. DIY Living Roof Dog House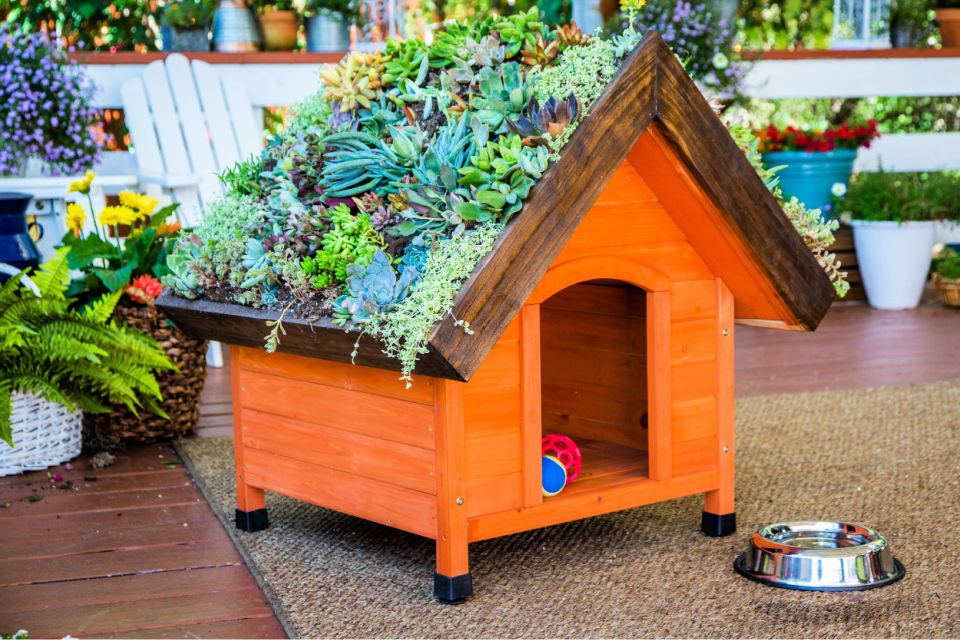 Everyone goes through a phase when all they want is to add plants to their house. Are you going through the plant mom phase too? Well, then take a look at this idea! You can always customize it and make it a little more minimalistic. The roof is filled with plants and there's something very beautiful about it! hallmark
14. DIY Dog House with Porch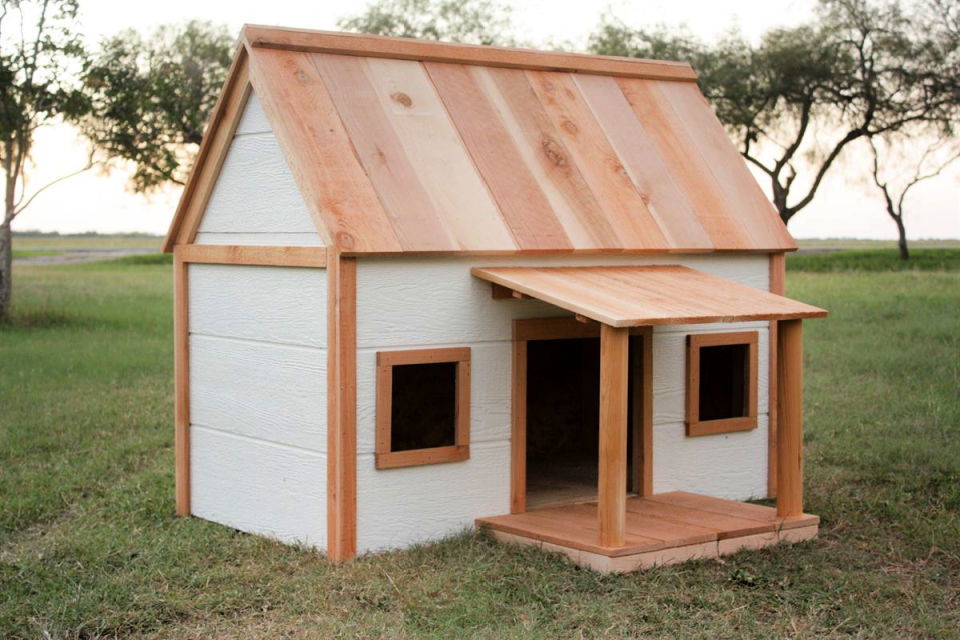 Do need some large dog house plans? Does this look like the best version of a real dog house? It does look really real and the best part about it is – the porch! Your dog is going to love how spacious and huge it is. How to build a dog house with a porch? Miter saw, table saw, lumber, nail screws, and a few other tools and materials will be needed to build this dog house. buildsomething
15. Mobile Dog House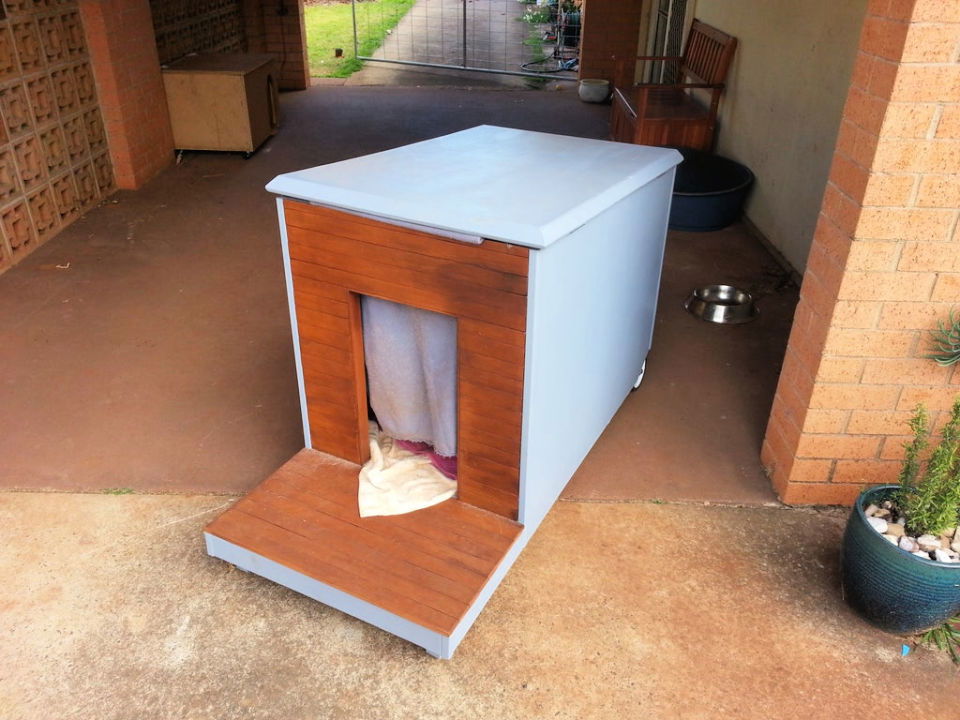 Here is a mobile dog house plan which can be made quite easily! No one wants to end up with an end result that isn't the right size, so make accurate measurements! Mower wheels, hinges, paint, liquid nails and a few other supplies will be needed. The final size will be around 600mm x 750mm x 1100mm. instructables
16. Indoor Dog House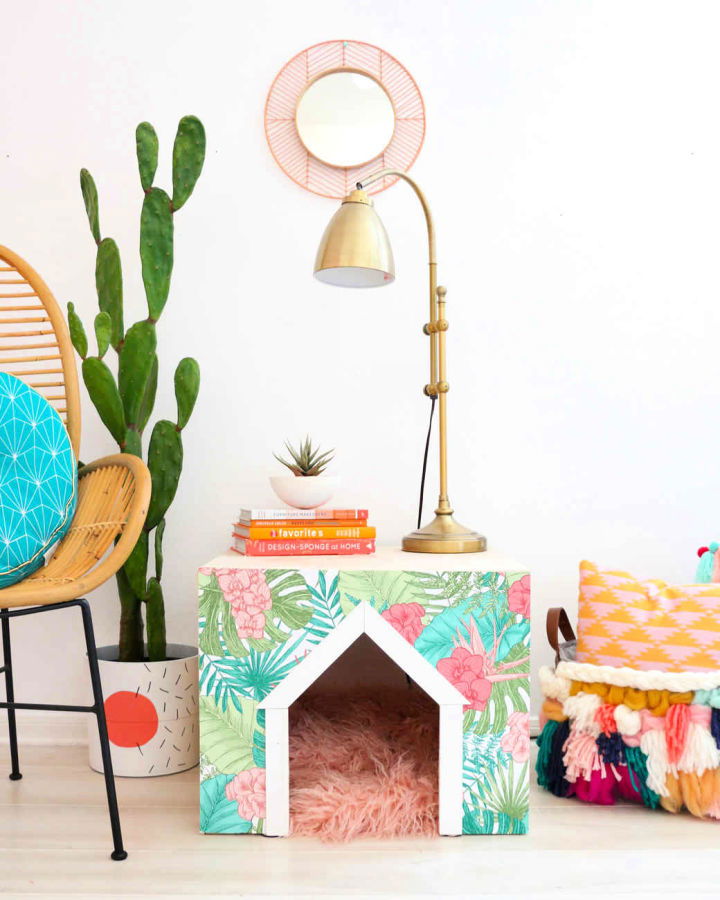 This DIY indoor dog house is very functional. Firstly, you can literally use it as a home for your furry friend and a nightstand at the same time! Secondly, it has such a nice rug on the bottom to provide ultimate comfort to your precious pet! marthastewart
17. DIY Cardboard Dog House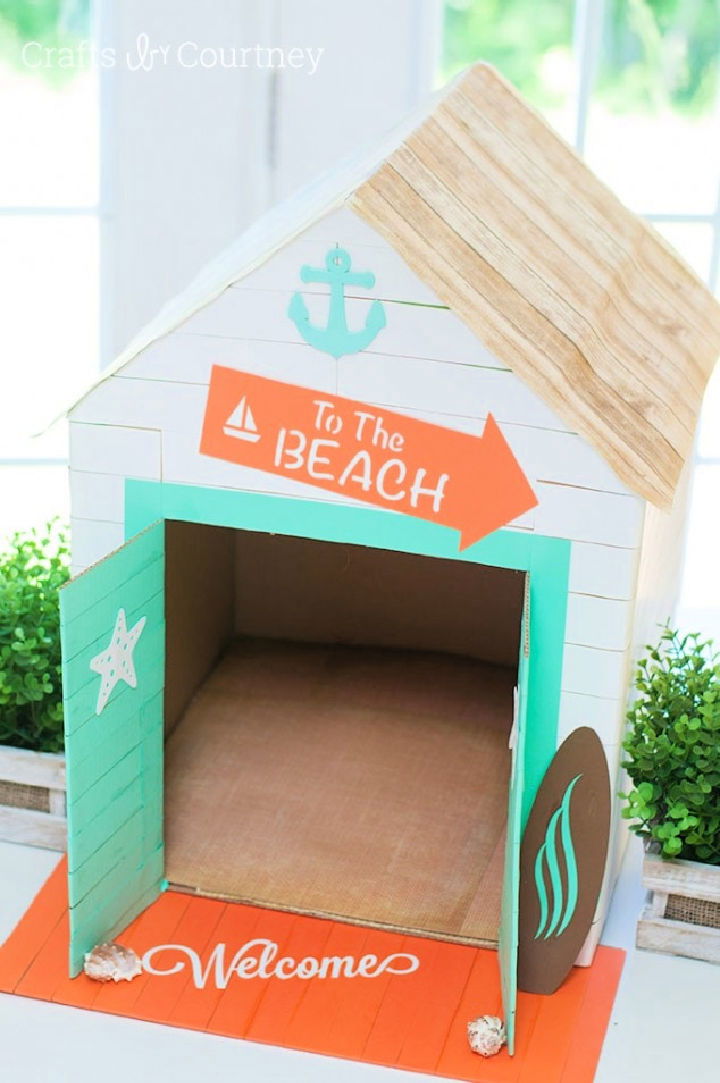 Is your dog always very excited to go to the beach with you? You can make a beach-inspired easy DIY dog house for your beach lover dog! Your pet is going to absolutely adore it and be extra nice to you! After all, these precious creatures notice everything nice that you do for them. Find this dog box plan here craftsbycourt
18. Double Door Dog House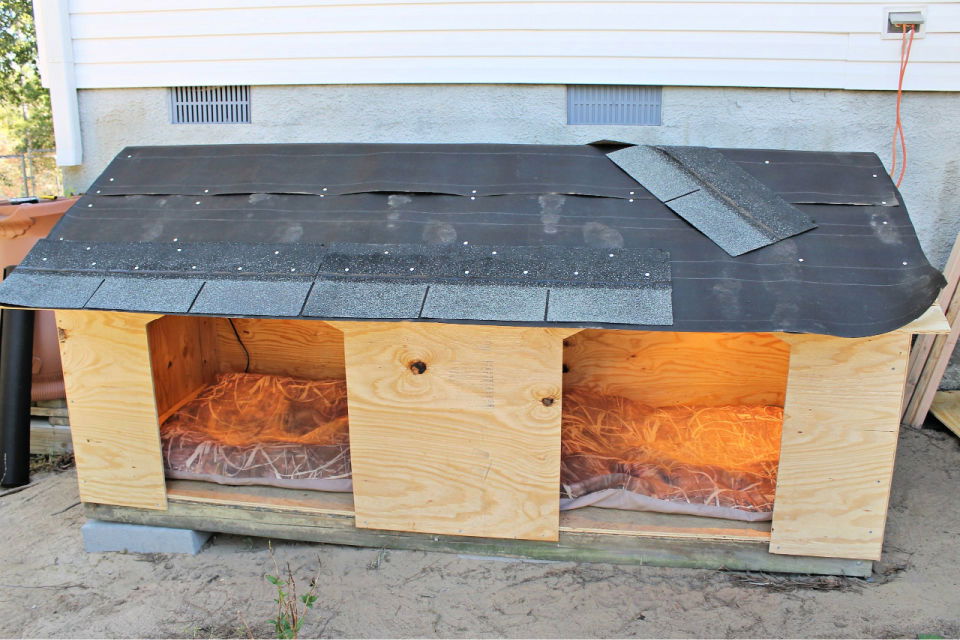 Firstly, this plan is very spacious so your dog is going to love it, it's spacious with 2 doors so if you have 2 dogs, it's certainly ideal! Secondly, it's very simple and easy to do – a very beginner-friendly project. Lastly, you only need a few supplies – pieces of plywood, rafter hangers, asphalt shingles, nails, roofing tacks, heat lamps etc. intelligentdo
19. DIY Crooked Dog House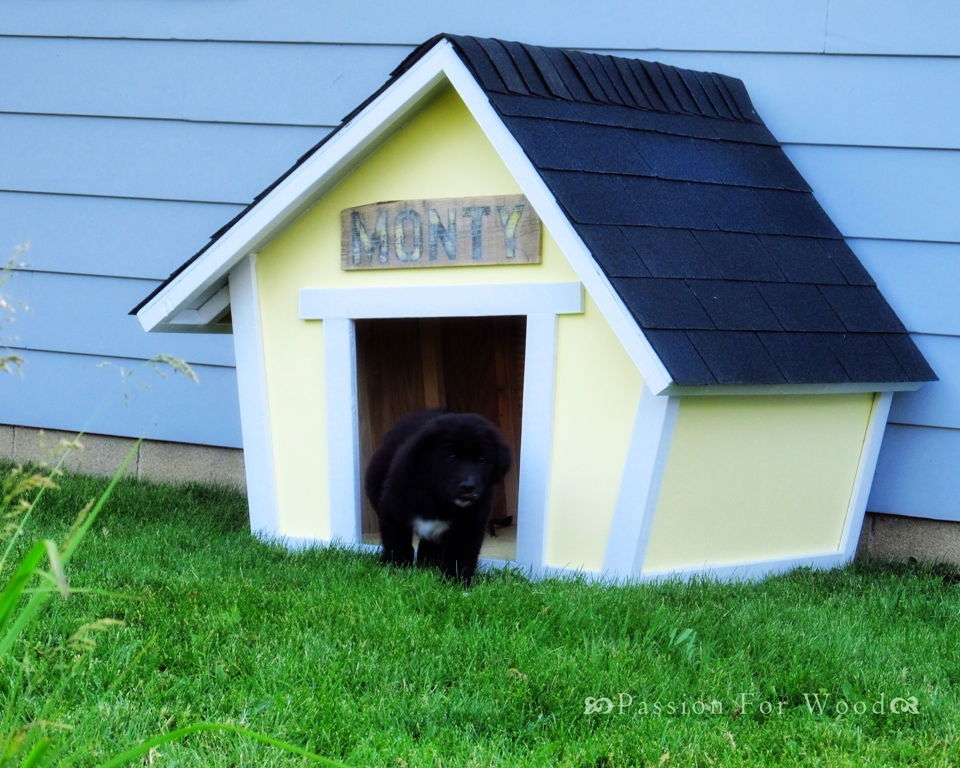 In comparison to the other dog house plans, this has a crooked shape to it which matches the animated cartoon themes perfectly! The final size of your house will be around 34″ x 42 3/4″! Exterior plywood, finish nails, wood glue, wood screws, lumber and a few other supplies required for this project.. ana white
20. Homemade Dog House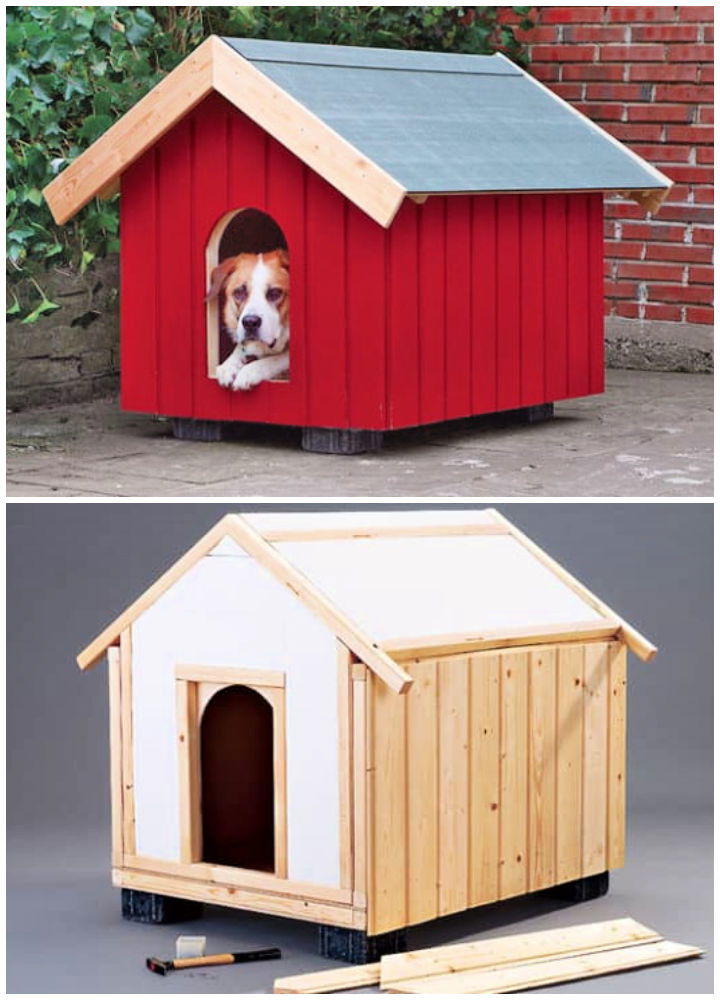 Why is this wood dog house plan just amazing? It's made out of plywood, which is a very strong material and it has a fully covered shed to keep your dog safe from rain and snow! Also it can be moved around easily! Yes, it's made in a way that you can easily carry it around from place to place – indoors to outdoors, your car to your house, etc. handymantips
21. Extra Large Dog House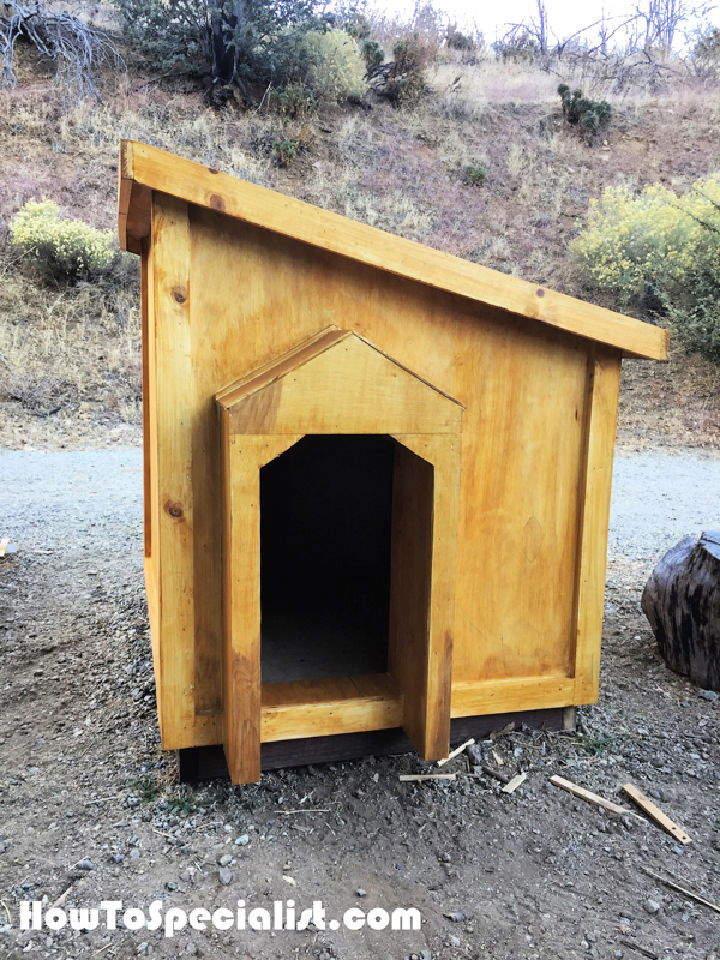 This is a very suitable plan for those people who have a huge yard or patio. That is because this DIY dog house will take up a lot of space – it's perfect for "big" dogs! Miter saw, table saw, screw driver, thick Styrofoam, drill and a few other tools and materials will be required. howtospecialist
22. Ultra-Light Dog House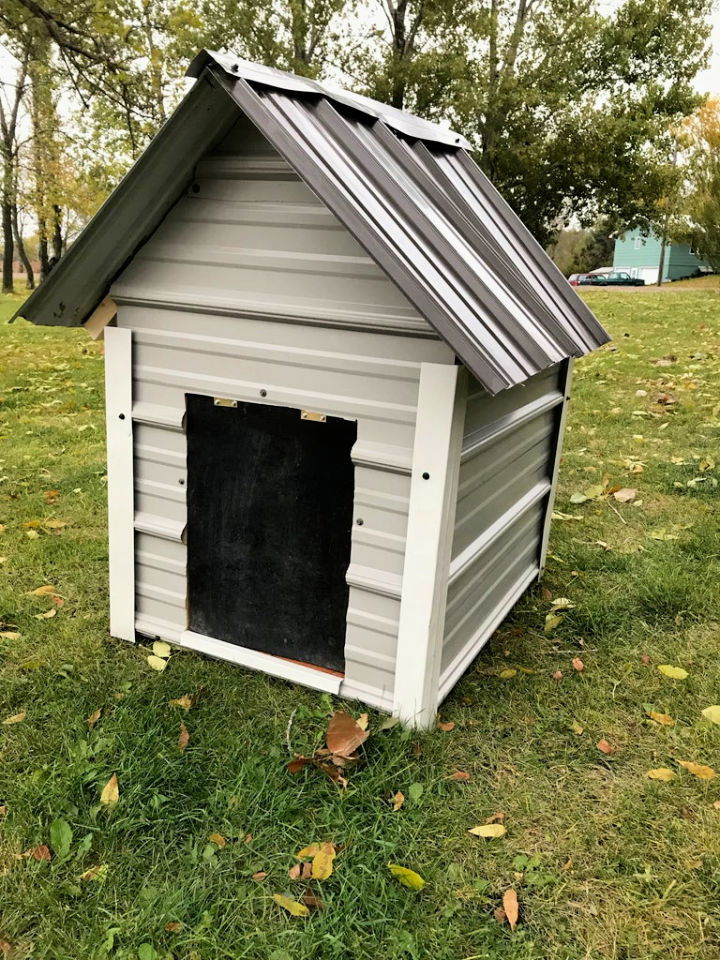 If you are someone who doesn't like to carry out heavy things or have a back problem, minimizing the weight of the dog house would be a good thing to do. How can you do that? Simply use materials that are lightweight but sturdy and stable- – follow this plan to learn more! instructables
23. Doghouse Out of Pallets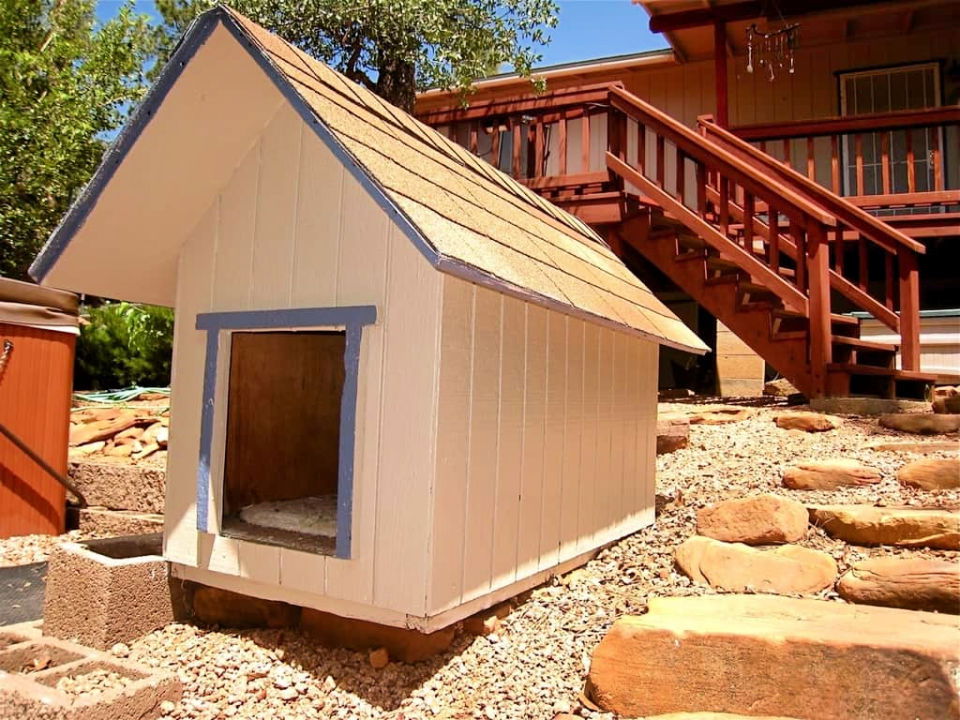 Why spend a ton of money on other materials when you can just use pallet wood to construct a house for your little one? Paint, miter saw, table saw, pallet, drill and a few other basic supplies will be needed for you to successfully nail this project. thestarryeye
24. Handmade an Open-Air Doghouse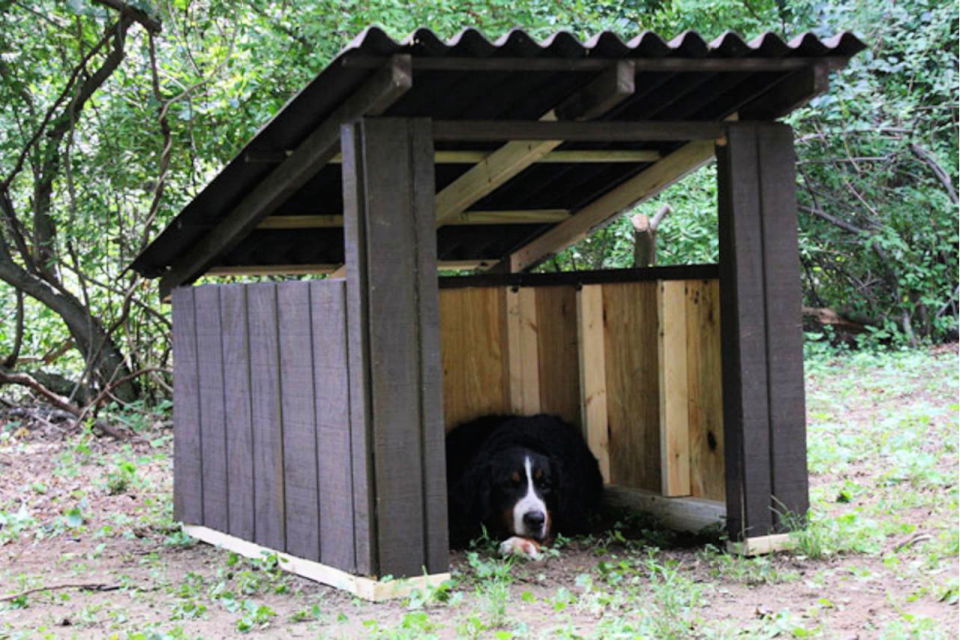 Not all dog houses need to be closed off. Some dogs can feel claustrophobic due to that so you can make open-air houses like these for them! It will give them the chance to run around and stay active inside and around their space. Moreover, it will also protect them from extreme weather! Find this simple dog house plan here diynetwork
25. Barrel to Dog House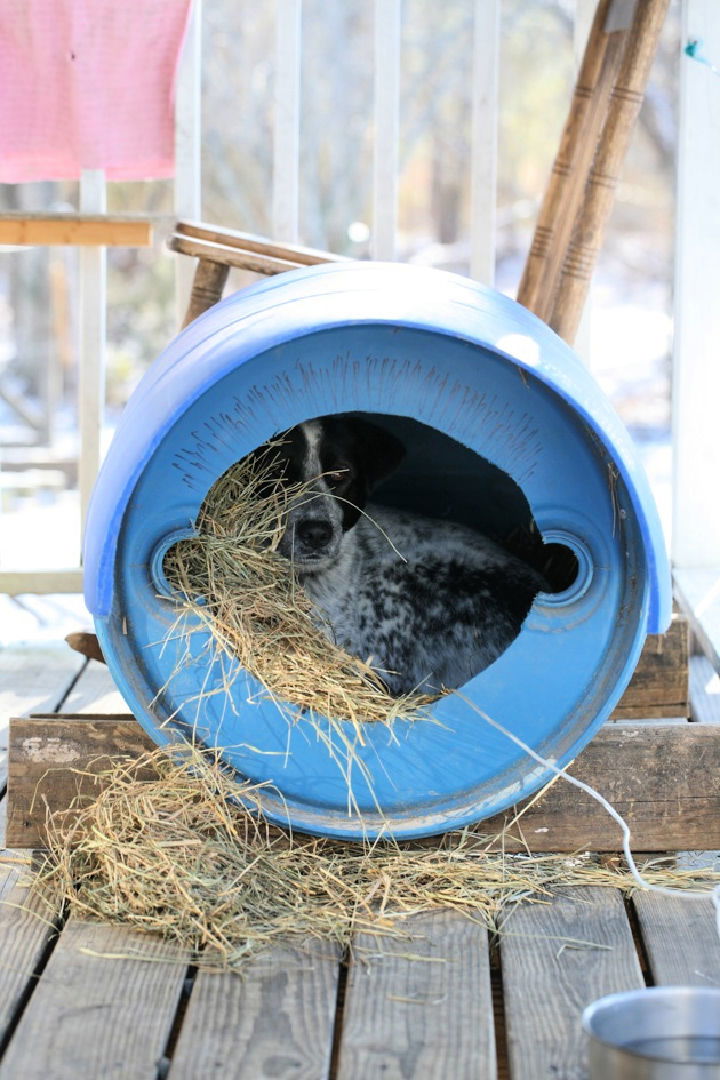 In comparison to other dog house designs, this plan is totally easy and cheap. Build dog house very simply by using a plastic drum! Maybe you spend a lot of money on your dog's food already or just have the right budget these days. Whatever the case may be, if you want to save up some money – take a look at this plan! All you need is a barrel. Cut a hole through it and you're good to go! ladyleeshome
26. Log Cabin Doghouse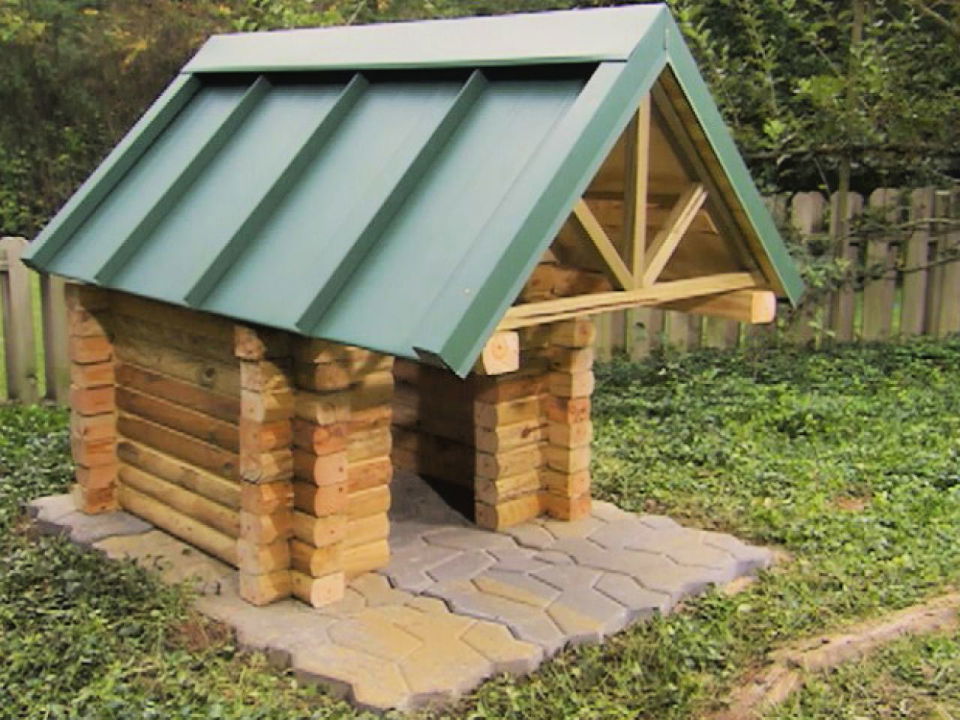 Isn't this jus the fanciest thing you've seen in this guide? It's super cool and the tiles at the bottom just make it look so nice! Start off by measuring your pet as you don't want to end up with something that is not the right size! It will take around 1 day to finish and the skill level is intermediate! diynetwork
27. DIY Plywood Dog House
18mm thick plywood is used to construct this beauty! Isn't it just so beautiful? The best part about it is that it has a removable felt roof to let your dog dry up or breath. This is also a great plan for claustrophobic dogs who struggle living in a small space for a long time! thecarpenters
28. Dog Playhouse Out of a Box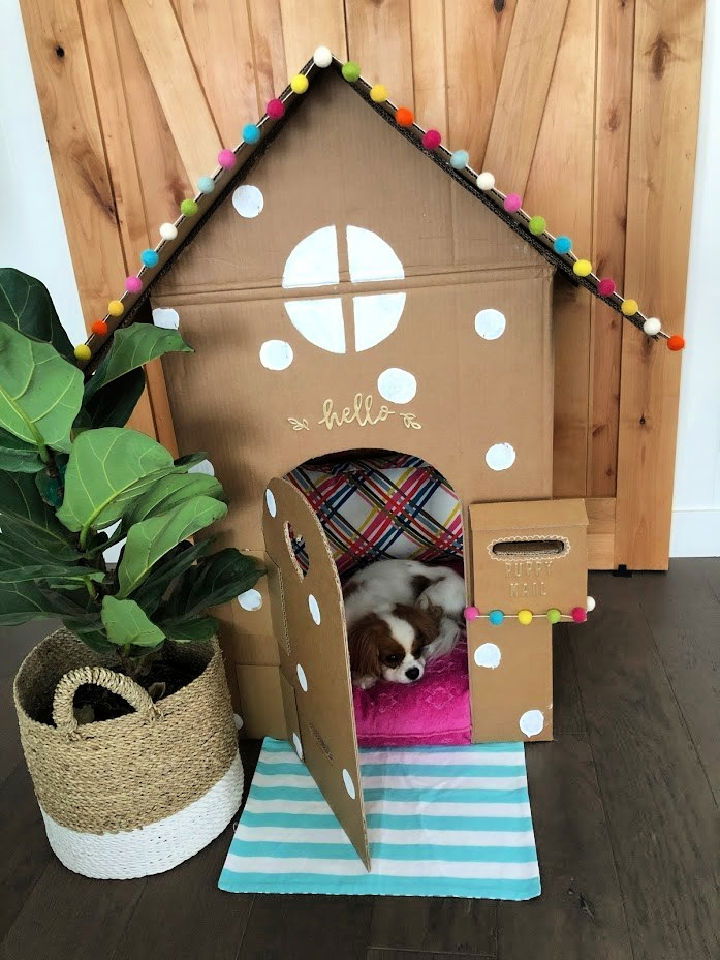 Isn't this just the most adorable thing you've ever seen? This simple DIY dog house is definitely amazing for the environment as you can make it using cardboard. Furthermore, it's suitable for a small dog as a big dog won't fit into a box and cardboard is not the most durable material. Ruler, pencil, and a few other supplies needed. tatertotsandjello
29. DIY Mid-Century Dog House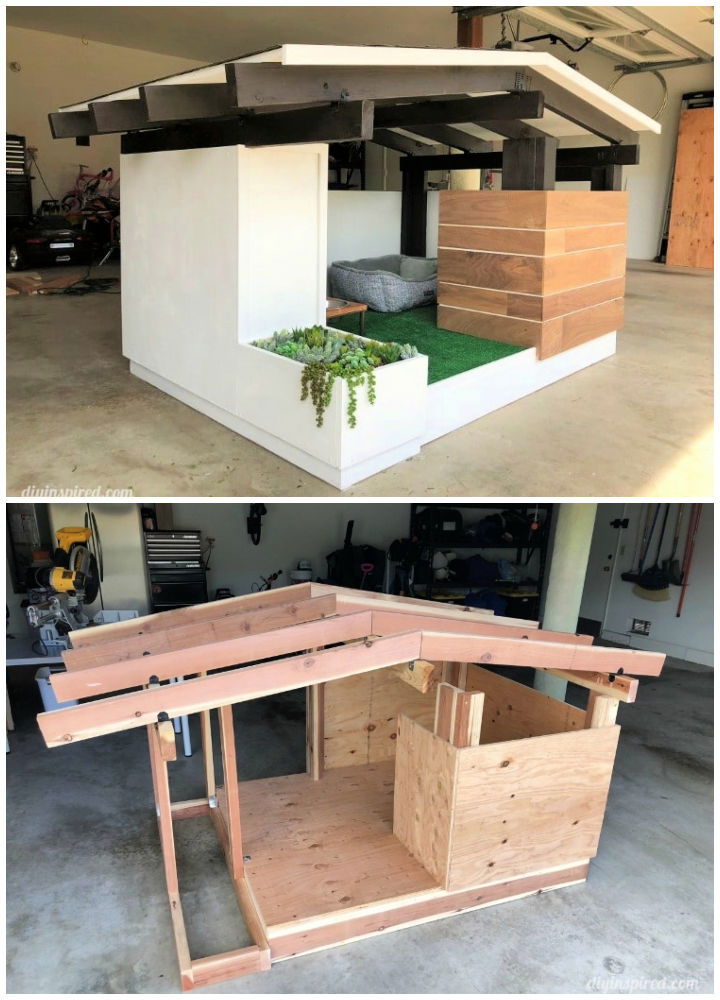 Woodworking is also involved in this beautiful Mid Century Dog house plan! You can easily blend it in with the rest of your furniture and theme! It can be used as an indoor or an outdoor plan! Pine plywood is used along with pine 2 x 4 boards! diyinspired
30. Dog House Using Pallet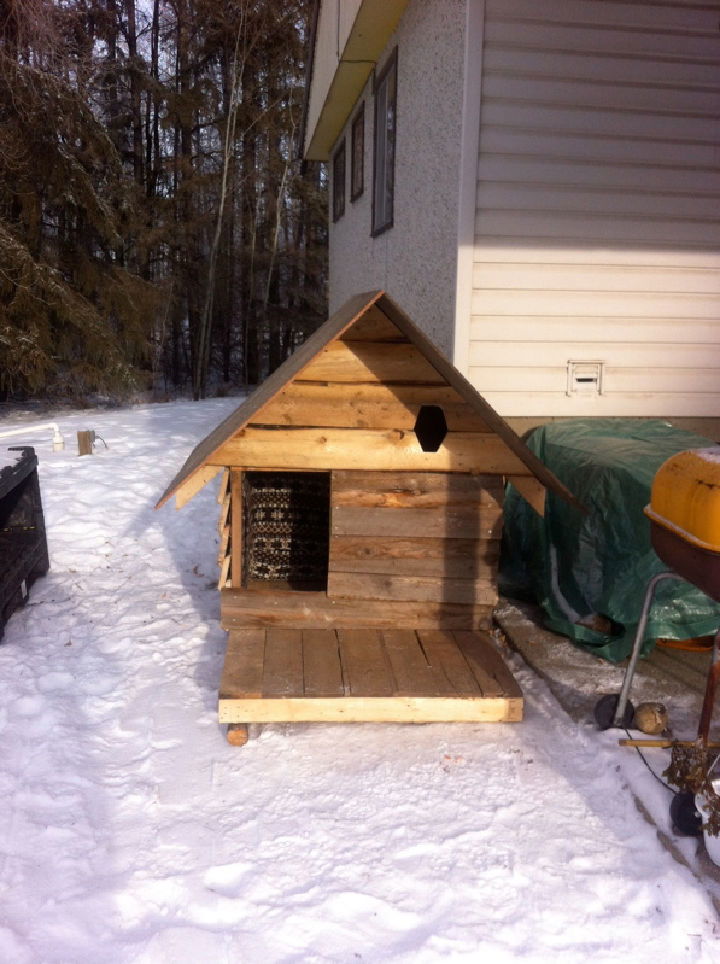 Is your pet always playing around in the snow? Well, they might feel a little cold sometimes. Fleece is stapled to the frame in this project to provide a wind-proof barrier? Isn't that just the best thing ever? Also pallet wood is the best material you can choose! hovergirl
31. DIY Geometric Doghouse
Are you someone who wants to have an indoor house for your pet but also make it super interesting and pleasing to the eye? So take a look at this beautiful geometric plan! It may look difficult to construct because of all the facets but it's really not! Have a look at the guide. homemade modern
32. DIY Tropical Dog House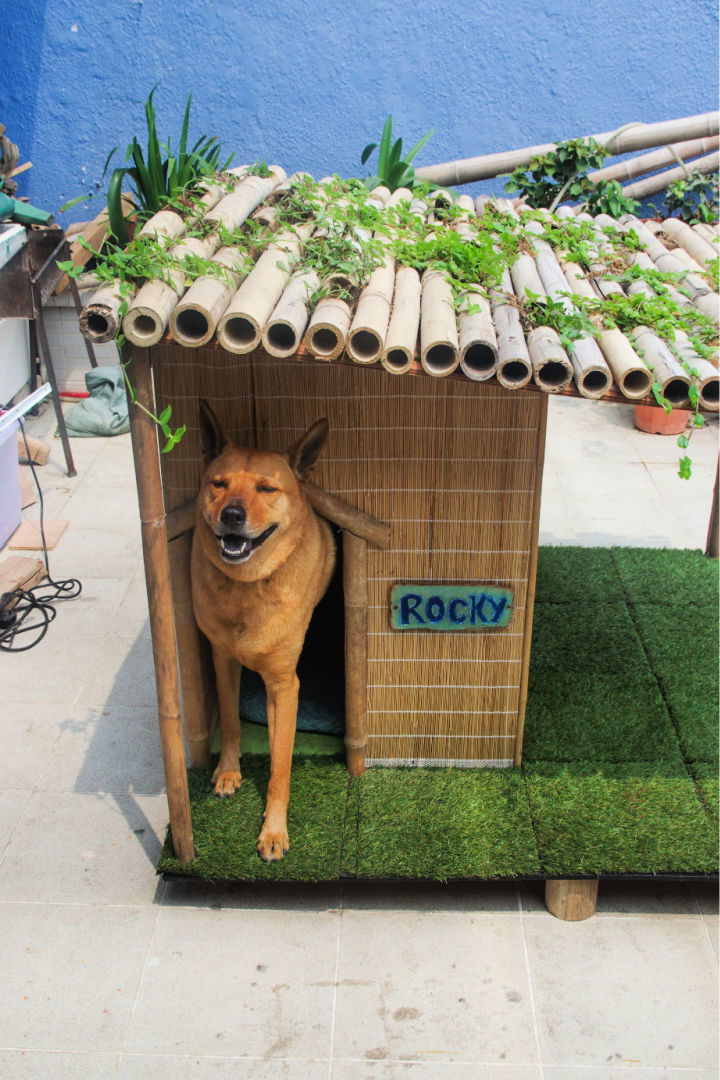 Dog breeds like Dalmatians just love the hot weather! They like to get their vitamin D and stay in the sun all day long. You can make this adorable tropical-inspired dog house with a veranda for them. They're certainly going to adore it and feel their happiest! This will also help by providing better ventilation. imgur
33. Knock-Down Dog House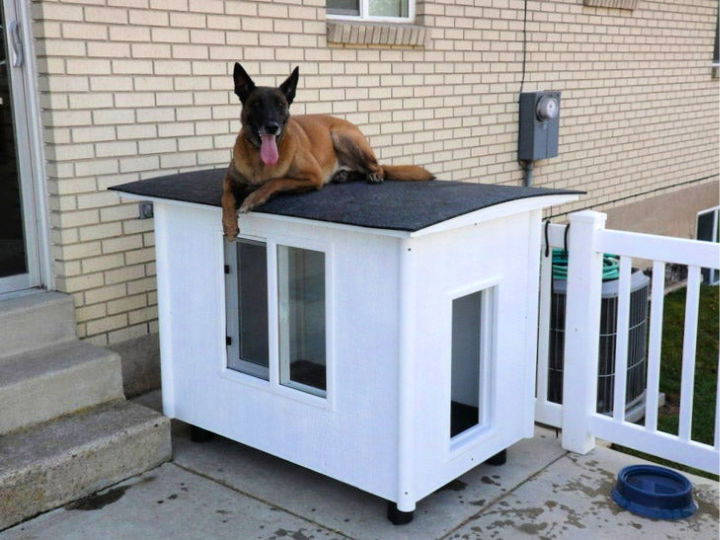 A modern themed house would work really well with this plan! All the minimalists are going to absolutely adore this plan. Moreover, it's a knock-down project which means that you can easily transport or shop it. As it's very lightweight and can be moved around by one person. instructables
34. Dog Run with Attached Doghouse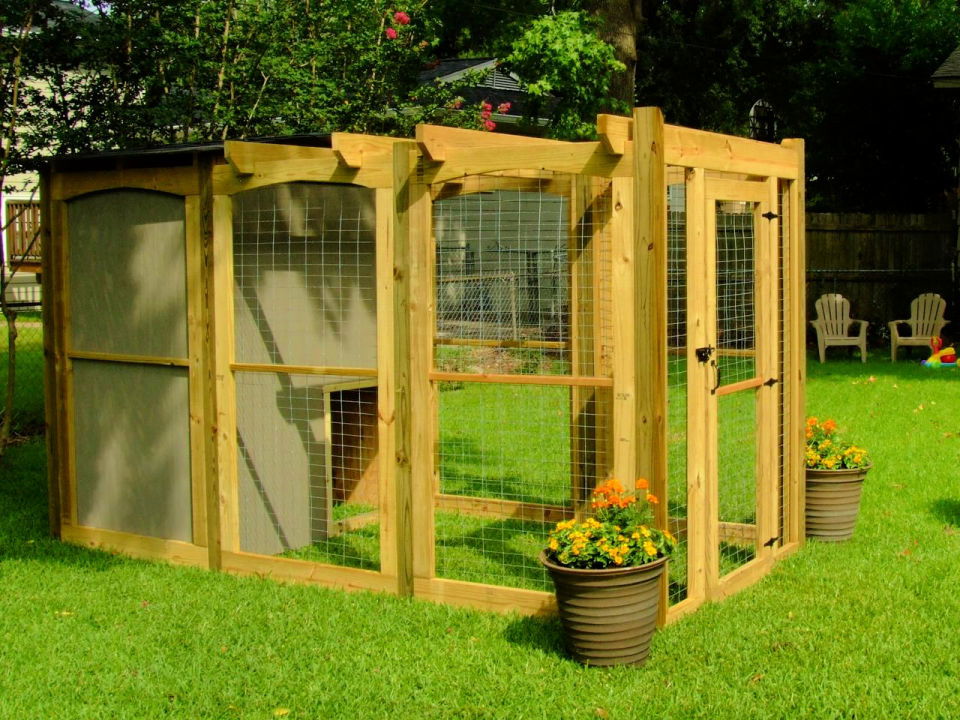 You need to keep your pet active and healthy. Here's a dog house design that has the dog run attached to it. It's also great if you have an oversized dog and want it to get active and lose some weight. Measuring tape, wire cutters, square,s and a few other supplies are required. diynetwork
35. DIY 1,000 Year Doghouse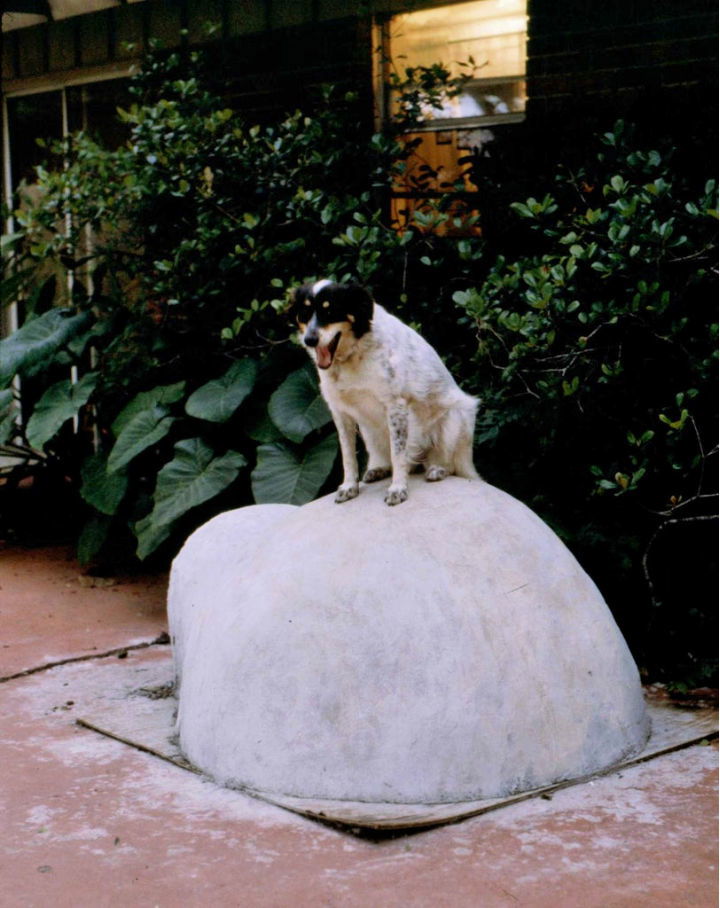 Do you want your pet to be safe, no matter what? Well, here's a DIY dog house plan you need to look into! Ferro cement is being used in this project, which will keep your dog safe from extreme weather to pretty much any harsh environmental conditions! Hit the link to get started. instructables
Frequently Asked Questions
Get answers to all your common questions about DIY dog houses, including how to make your own cheap dog house with free plans. Learn more below!
How do you make a simple dog house?
To make a simple dog house:
Start by measuring and cutting the plywood for the base, walls, and roof.
Assemble the pieces into a rectangular shape using wood glue and screws.
Leave an opening large enough for your pup to enter and exit.
Cover the entire structure with weatherproofing material such as tar paper.
Add shingles to the roof and decorate with a coat of paint.
Your pup now has a simple, safe home!
How to build a cheap dog house?
Building a cheap dog house is an easy task. To do so:
Gather supplies such as plywood, 2x4s, and screws.
Cut the plywood into two panels for the sides of the house, then cut four 2x4s to form a frame that will hold up both panels.
Place the frame on a level surface and attach the panels to it.
Screw the 2x4s together and add a door or window for ventilation.
Your dog house is now ready! Enjoy!
Will a doghouse keep a dog warm?
Yes, a doghouse can help keep a dog warm. It protects from weather elements, like rain, snow, and wind. Additionally, it will retain some of the heat generated by your pup's body heat. To get the most out of a doghouse, make sure it is insulated and draft-proofed with straw, hay or cedar shavings. Put a waterproof cover on the outside and add a heating pad to the inside for extra warmth during cold weather. This way, your pup can stay cozy and comfortable in its own doghouse!
How expensive is it to build a dog house?
The cost of building a dog house can vary widely depending on the size and complexity of the design. For a basic model, you can expect to pay anywhere from $50-$150 for materials such as lumber, nails, screws, and paint. If you're looking for something more intricate or luxurious, costs could rise as high as several hundred dollars. The best way to estimate the cost is to create a budget and plan out exactly what materials you'll need for your project. With some preparation and research, you can easily find an affordable option that suits both your pup's needs and your wallet!
What are the five steps to building a dog house?
Step 1: Measure your dog and create a plan.
Step 2: Gather materials like wood, nails, screws, saws and other tools.
Step 3: Cut the wood to size according to the plan.
Step 4: Assemble the pieces making sure it is sturdy and well-constructed.
Step 5: Add some insulation and a roof to protect your pup from the elements. Finally, personalize it with decorations or paint to make it complete!
Remember to make sure the house is suitable for your dog's size and needs when constructing. Have fun creating a special home for your beloved pup!
What's the best thing to put in a dog house?
The best thing to put in a dog house is something that will keep your pup comfortable, safe and secure. A warm, waterproof bed with plenty of blankets can help keep them happy and cozy. Additionally, it's important to provide your pet with toys, chew sticks or other items they can enjoy. Consider providing treats or a comfortable doggy pillow for added comfort. Make sure to provide plenty of fresh air and ventilation for your pup. With these items in place, your pup will be ready to snuggle up and enjoy their new dog house!
Should a dog house have the floor?
Yes, a dog house should have the floor since it serves an important purpose. It helps insulate the house from cold and moisture which can cause discomfort for your pet. A wooden or plastic floor is best as it will not rot like dirt, making it less prone to bacteria and other germs that could be harmful to your pup. Additionally, a floor will give your pup more comfort and stability and provide an easier-to-clean surface. Choosing the right type of material for the flooring is important to ensure the longevity and comfort of your dog.
What size should a dog house be?
The size of a dog's house should be large enough for them to stand up, turn around, and lie down comfortably inside. It should be tall enough that they don't have to duck their head when entering it. The house size also depends on the breed of the dog; larger breeds need bigger houses than smaller breeds. Generally, the house should be at least one-and-a-half times the dog's length from nose to tail. It's also important that the space is well insulated and protected from wet weather to keep your pup comfortable.
Do I need to assemble the dog house?
Yes, usually, you will need to assemble the dog house yourself. Depending on the size and type of dog house you choose, it may require more or less time to assemble. Most dog houses have instructions and all the necessary hardware to complete installation. It is a good idea to read through all instructions before starting assembly, so you know what materials are needed. It can be helpful to have a friend or family member help with the assembly, especially for larger dog houses. Follow directions carefully and double-check any connections you make for safe installation. Have fun creating a comfortable home for your pup!
What is the best way to build a dog house?
The best way to build a dog house is first to determine the size of your space, then plan accordingly. You will need materials like plywood and 2x4s to create the frame and strong screws and nails. Make sure you use weatherproof stain or paint on all wood surfaces. Measure twice before cutting lumber to ensure the frame is properly constructed. Lastly, remember to include a door, ventilated windows, and insulation for added comfort. With these steps, your pup will have its own safe haven in no time!
Can I make a dog house out of recycled materials?
Yes, you can make a dog house out of recycled materials. To build the structure, you will need wood, cardboard, and other supplies such as screws or nails. You may also want to use insulation material like foam sheets or bubble wrap to keep your pup warm in colder climates. To finish it off, you can use paint or a sealant of your choice to make it look nice and protect it from the elements. With little skills, you can create a stylish, eco-friendly, and functional dog house.
Finally, add some love and care while assembling your recycled dog house, and your pup will be grateful!
What is the best way to insulate a dog house for cold weather?
The most effective way to insulate a dog house for cold weather is to add extra layers of insulation such as polystyrene foam boards, rigid foam insulation, or fiberglass batts. It is also important to make sure the house has adequate ventilation and is elevated off the ground, so it doesn't absorb cold temperatures from the ground. Adding a door or flap to the entrance can also help keep cold and warm air out. Lastly, using straw as bedding helps retain warmth in the dog house. These measures can make a big difference when it comes to keeping your pup warm in the winter months.
How long does it take to make a dog house?
Making a dog house can take anywhere from a couple of hours to several days, depending on the complexity of the design and materials used. A simple structure made from wood can be constructed in the afternoon, while more intricate designs may require multiple visits and additional carpentry skills. If you plan carefully and have the proper tools handy, you should be able to complete a basic structure in no more than one day. Remember, the size of your dog may require you to adjust the dimensions accordingly. Take your time and enjoy the process! Happy dog house building! 🙂
Can I use any type of wood for my dog's house?
The type of wood you can use for a dog house depends on the size and breed of your dog. Generally, it is best to use waterproof woods such as cedar, cypress, redwood, or another rot-resistant species. For larger breeds like German Shepherds and Huskies, pine boards are well-suited as they are strong and durable. However, steer clear of plywood, particle board, chipboard, or other composite woods, as these are not very durable for outdoor use. It is important to check with a local home improvement store for the best type of wood. Additionally, consider weather-resistant paint or sealer to protect the wood from the elements.
What is the best way to keep my dog's house clean?
To keep your dog's house clean, it's important to vacuum or sweep the bedding regularly. Additionally, make sure you have proper ventilation in the dog house by leaving the door or windows open. Also, disinfecting the inside walls with an antibacterial cleaner will help remove any bacteria and germs that may be lurking. Lastly, wash any bedding and blankets often to keep them fresh. Following these simple steps allows your dog house to remain a clean, safe space for your pup.
Can I make a dog house out of cardboard?
Yes, you can make a dog house out of cardboard. It is an inexpensive and eco-friendly option for making a comfortable home for your pup. You will need to ensure that the box is sturdy enough to hold your pet's weight and waterproof in case of rain or snow. It would be best if you also lined the inside with insulation such as sheepskin or cedar shavings to increase your pup's comfort. Additionally, you can use creativity to decorate the outside of the house with paint, markers, stickers and more. With a few supplies and some time, you can make a great cardboard dog house for your four-legged friend.
How long does it take to build a dog house from scratch?
Building a dog house from scratch can be a time-consuming task depending on the complexity of the design and materials used. Generally, it should take between 1-3 days to complete the project. This includes any cutting, sanding, measuring, and staining/painting required. It's important to make sure you have all your supplies and tools ready before beginning the build. With a detailed plan and careful attention to detail, you should have a complete dog house in no time. Good luck!
I want to make a dog house, but I need to figure out where to start. Can you help me?
Yes, Our free dog house plans can help you. To start:
Decide on the size of your dog house and draw up a plan to ensure it's big enough for your pup. You'll need materials like wood, nails, and screws, as well as tools such as a saw or drill.
Measure twice and cut once, so everything fits perfectly.
Follow the instructions from your plan and assemble the pieces.
Remember to paint or decorate it when you're done for a personal touch!
Good luck with your project.
I don't have a lot of money. Can I still make a dog house that will look good and my dog will like it?
Yes, you can build a dog house that looks nice, and your pup will love it. You don't need to have a lot of money to do this. Consider using materials such as plywood, PVC piping, or even cardboard boxes for the frame. Paint it in an attractive color or use patterned contact paper for a unique design. You can also use old blankets and towels to make the inside comfortable. Finish with some toys and a personalized bowl, and your pup will be in doggy heaven!
Add some extra extras to make the house special, like an outdoor doggy door or an indoor pet bed. Remember lots of love and attention – that's essential to make sure your pup feels truly at home. Good luck, and have fun!
Related DIY Projects for your Dogs:
USE PVC: Build a dog bed using PCV pipe, These PVC dog bed ideas are amazingly beautiful and impressive looking and would make an epic present for a dog!
Sew a dog bed: Skip the expensive store-bought dog beds and learn how to sew a dog bed at home. These free dog bed patterns are simple projects that offer maximum comfort to your pets.
Conclusion:
So are you ready to experiment with these simple dog house plans? Was your puppy acting really cute this morning, or did it actually do something to make you proud? Whatever the case may be, you don't really need a reason to re-create something like this for your dog! Dogs are loyal, loving, friendly, caring, and just the best companions! So why not pay them back for just being in your life and making it a happy place? They're certainly going to be so thankful and act extra nice to you because they notice and remember everything you do for them!