It is our nature that if we fall in love with a person or an animal pet, we try to snatch all the happiness and joys for him! So, if you have a beautiful looking dog bed, you would definitely love to please him, and there could be various outstanding suggestions for pet gifts tool, but a pet bed or a pet house is always something that makes an Everybody gift for a pet! If you are concerned with the dog pet, then dog houses have a big range and variety available in the market, which may be expensive to buy as well! But the same fantastic looking dog beds you can also build at home using custom recycled materials and items! To make you build an outstanding dog house at home, we have compiled together with the 45 easy DIY Dog House Plans & Ideas that are all fabulous and fantastic and will definitely please all the dogs! Getting a useful and featured idea of DIY dog house plans would not be that easy before, once again, a big thanks to DIY projects!
Get manually crafty with wooden slats and build open-air dog houses that will rock in summers as they would be super breezy and airy! Get inspired by the given sample that has been painted in brick red and looks like a cage! Build the superior bungalow-style wooden dog house at home using custom wooden planks and wood shingles; get inspired by the given sample that is love and looks like made of bricks! Make use of leftover plywood also build a bungalow style wooden DIY dog house that may come with a chevron or tilted roof!
Moreover, you can also go with wooden lengths and plywood to build outstanding looking wooden dog beds. Check out here a sample design that has been painted in red and really looks stunning!
You can build the DIY dog house design with a veranda and the industrial-style dog bed design that will come with outstanding and fetching design features. Moreover, the list will also provide a whole bag of tricks to customize the dimensions and appeal of your finally built and finished dog house according to your targeted space area and decors! Moreover, this given collection will also provide you with hacks that add and remove custom features to make the design-friendly to your furry fellow!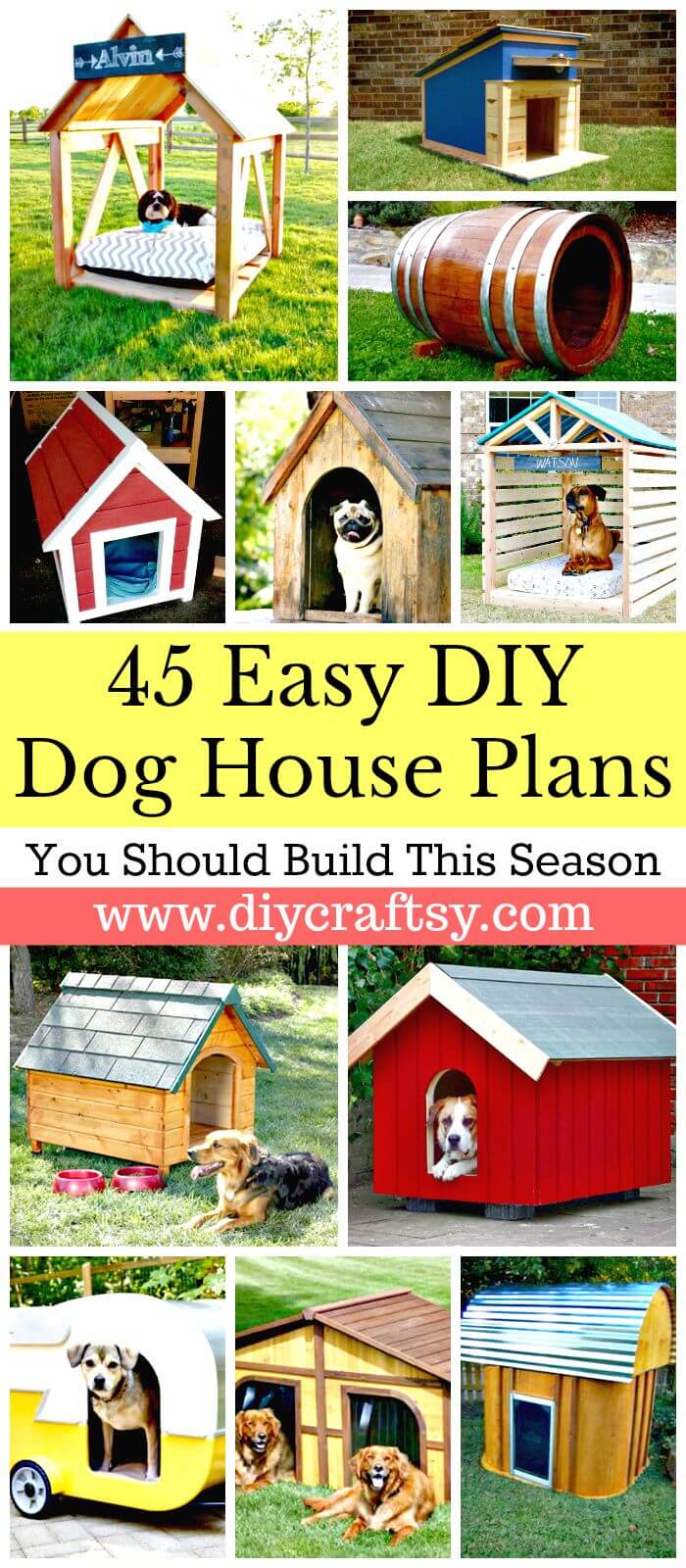 Next, the list will also guide you on how you can build precious looking dog beds using old and recycled furniture from home! Moreover, you will also find various outstanding tricks here to build the custom geometrical and tropical designs of dog beds that will make highly outstanding and Thanksgiving gifts too! Look at the fetching and adorable samples given that are amazingly beautiful and praise-worthy!
More DIY Projects You'll Love your Home:
Wooden Pallet Dog House: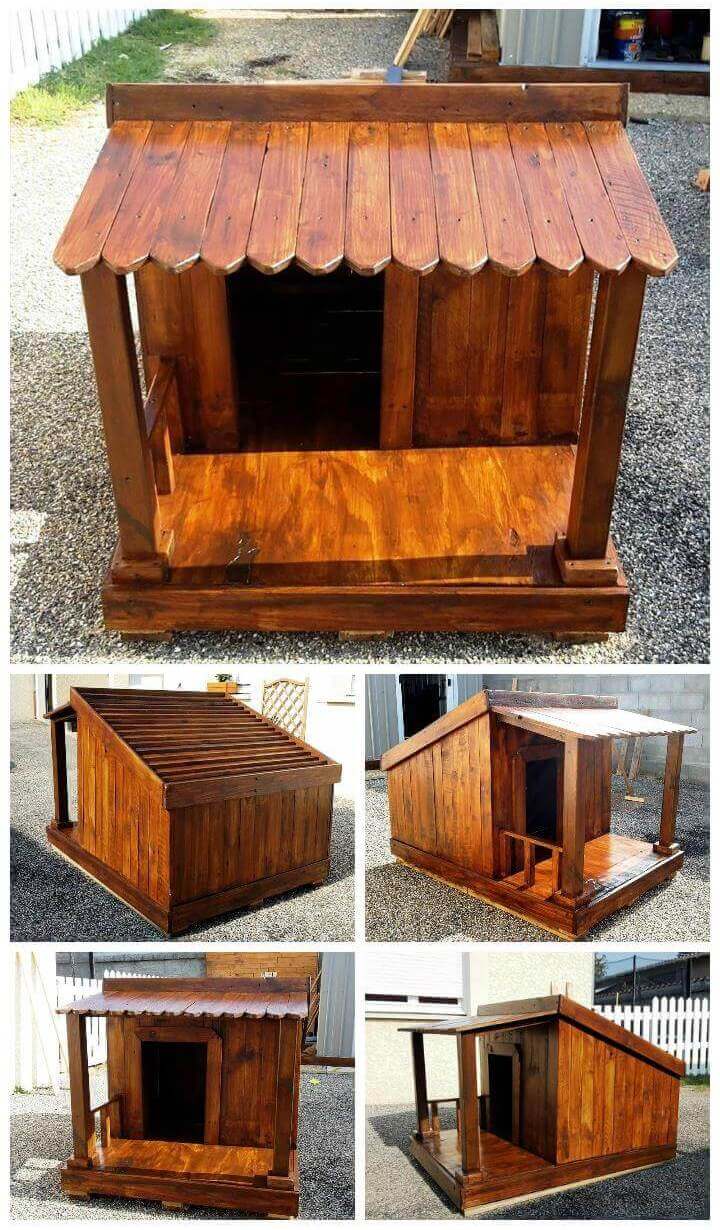 Each showcased hand-built dog bed design comes with an attached source link that can be clicked to open the comprehensive project details, construction plans, guides, and step-by-step instructions for free! Pallet Dog House
Pallet Dog House with Veranda: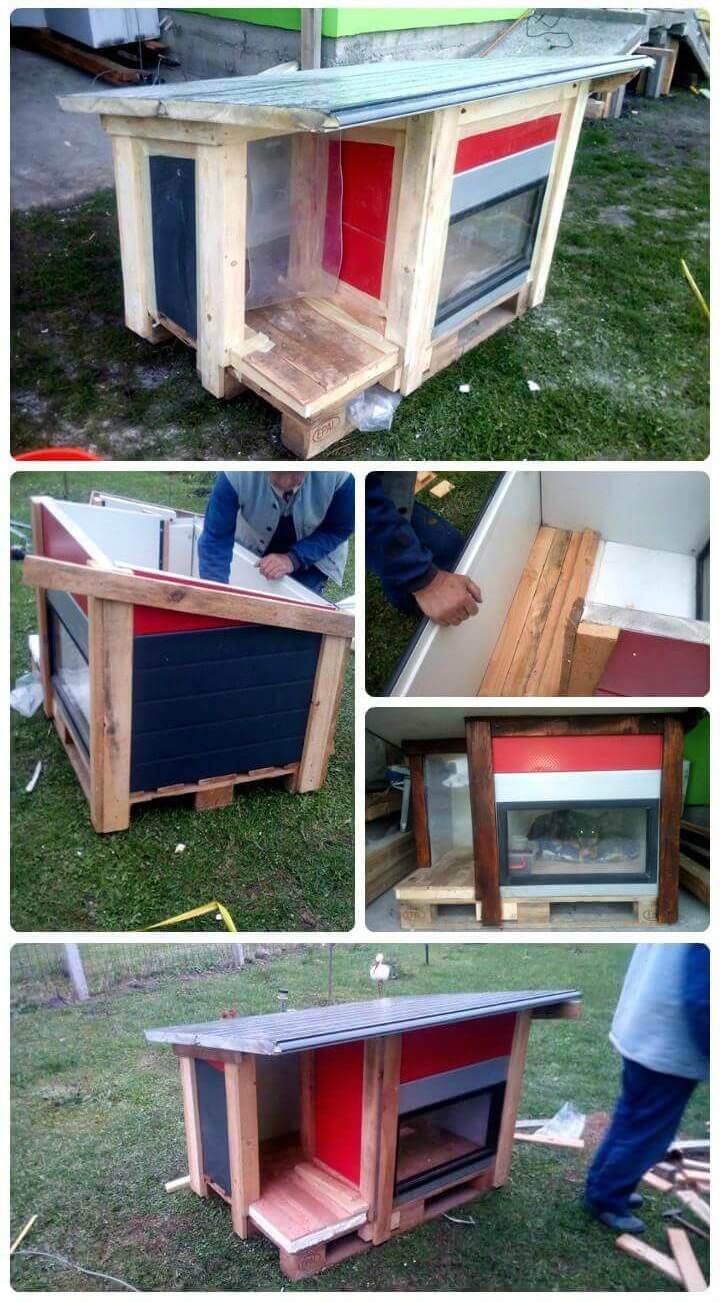 Get the full step by step tutorial here: pallet dog house plan
How To Build An Open Air Doghouse Tutorial: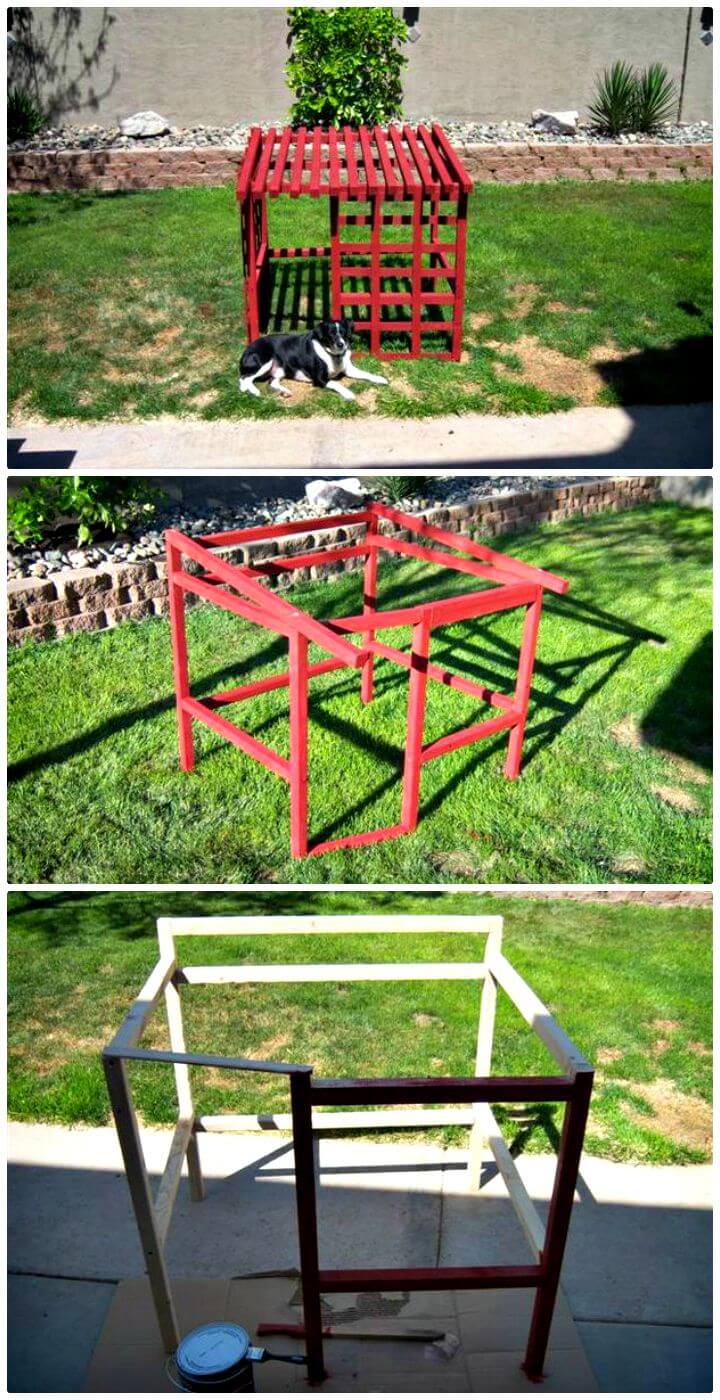 Summers are great for all the outdoor fun to be it just sitting down under the sun and consuming vitamin D or enjoy the cool breeze refreshing you can get there your soul. So your dog also deserves to have all this outdoor fun, and this open and airy dog house would make it all possible for him to enjoy the summers in the chill and fun mode. He can rest, sleep, and relax in his den and yet enjoy the sunshine and the air due to the house's open framework. Complete details of the house here Instructables
How To Build a Small Masterpiece Doghouse Tutorial: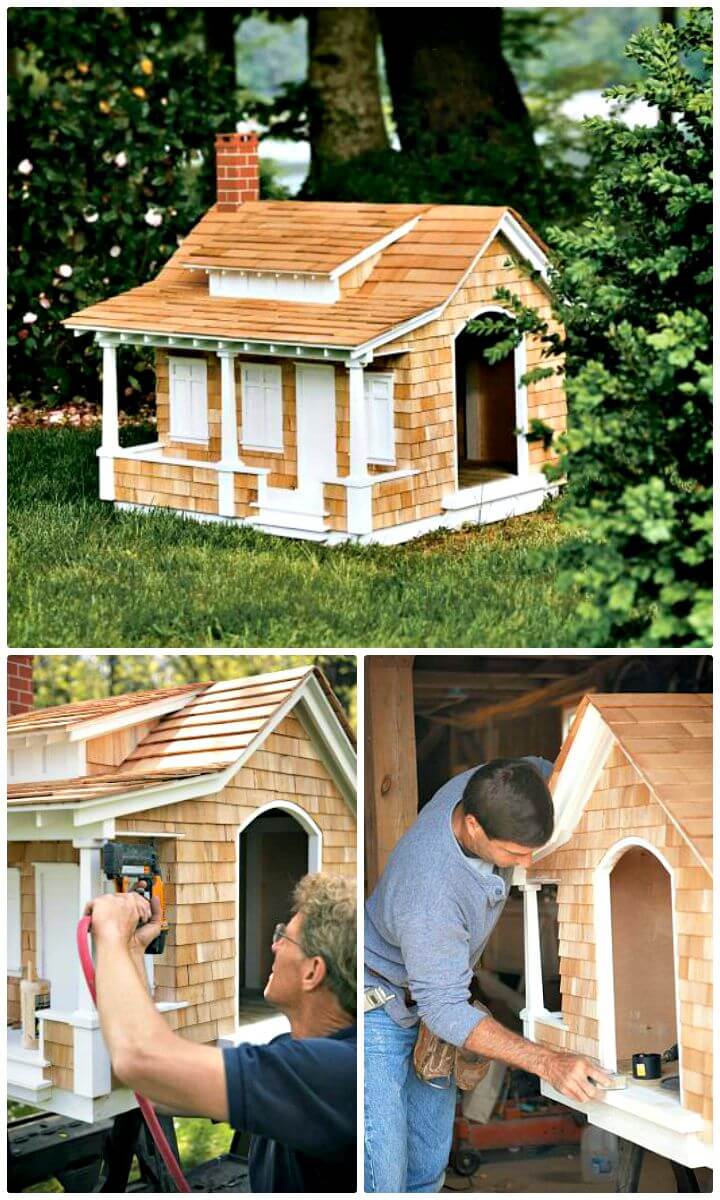 It's time to flaunt your craftsmanship and to show your love for your little fluffy fellow at the same time with this bungalow styled dog house that you will be creating yourself at home. From its design to its building and the features, this dog house is a complete masterpiece in all the aspects. You can learn to create this exquisite and rich styled dog house with the help of tutorial details given here thisoldhouse
Easy How To Build A Dog House Tutorial: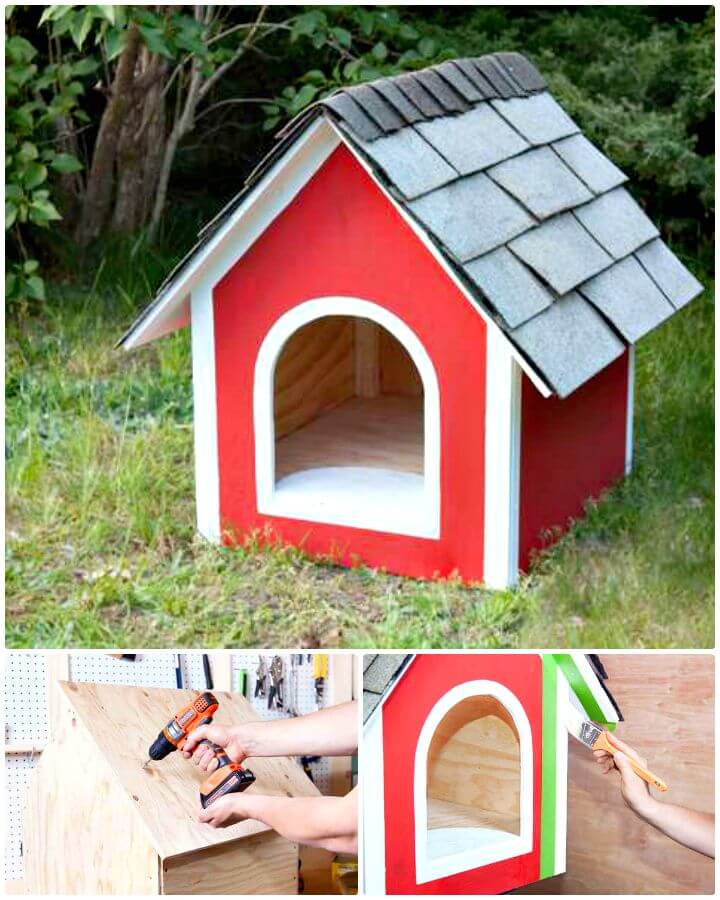 Make your little cute pet feel more relaxing and comfortable with this cute little dog house of his own where he can sleep, rest, sprawl. This pretty dog house is mini in size and has been finished with a single sheet of the plywood with the rainproof roof made out of the felt shingles. The vibrant stain hues make it look more enchanting, so do hack all these details here to own it black and decker
Easy DIY A Dog House Tutorial: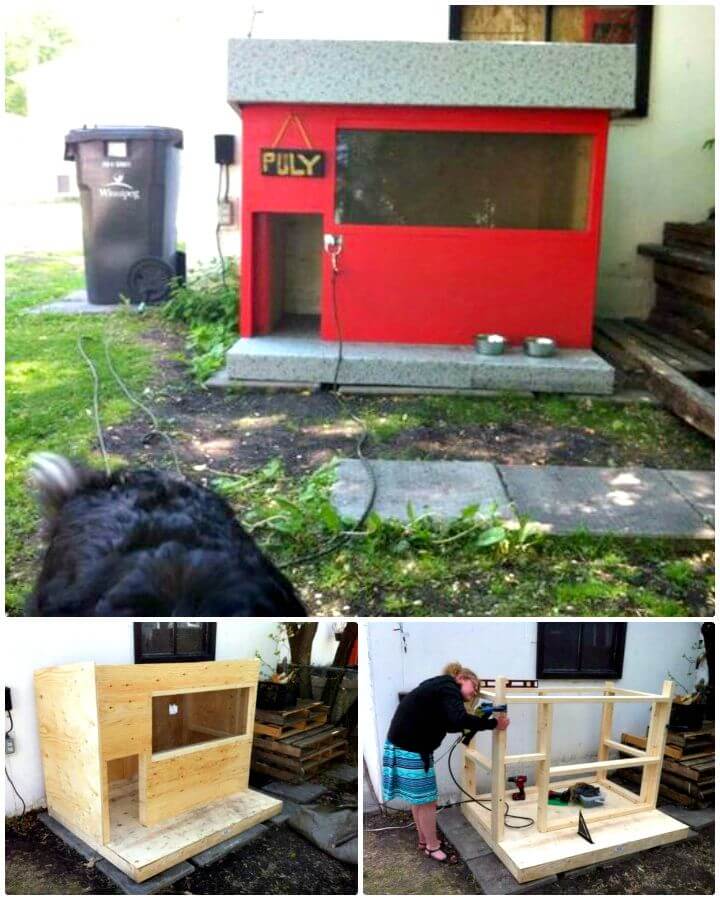 Getting your dog a house is the first thing you should be working on after getting a pet for yourself or the house. So here is how you can create a cute and modern styled dog house on your own using your tools and the wood by creating the base, walls, roofs, and lastly, staining it in the chic and gorgeous red stain.Details here instructables
How To Build Your Own Dog House Tutorial: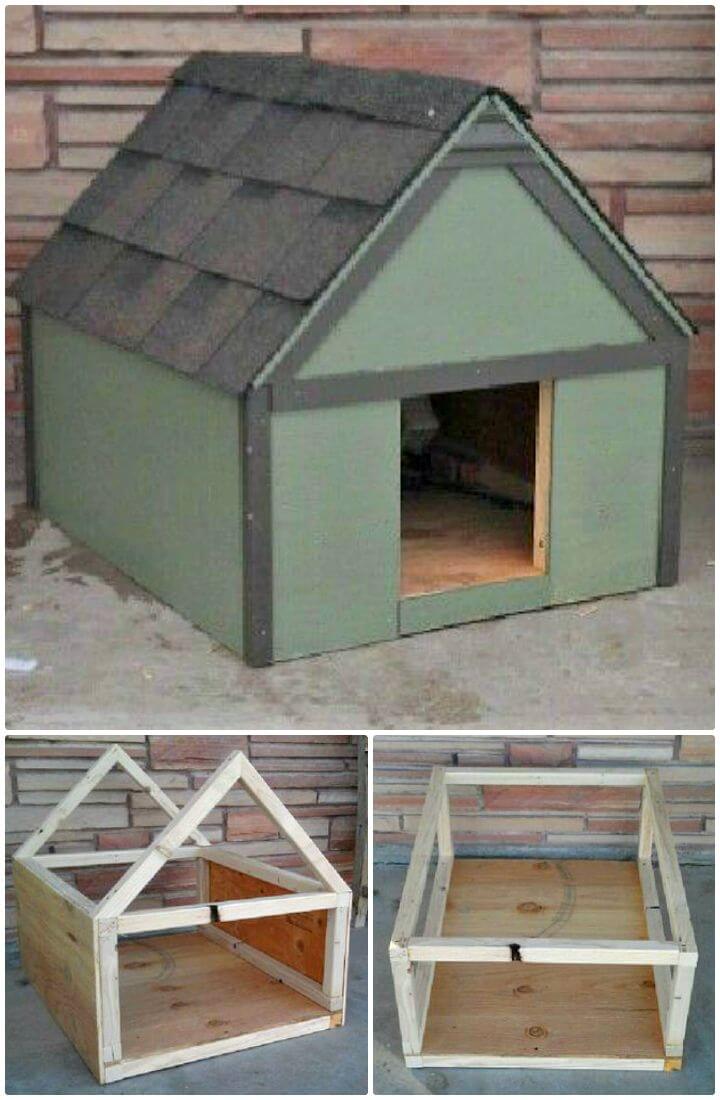 Building the dog house is satisfactory as we are happy when our cute pet fellow is having some good time in his personal space. So if you got a small pet dog, then you should be getting your hands on this small yet cute and beautiful dog house with an A style structure. You can check out the complete structure's details with easy steps, written instructions, and the picture guide. instructables
Modern DIY Dog House Tutorial: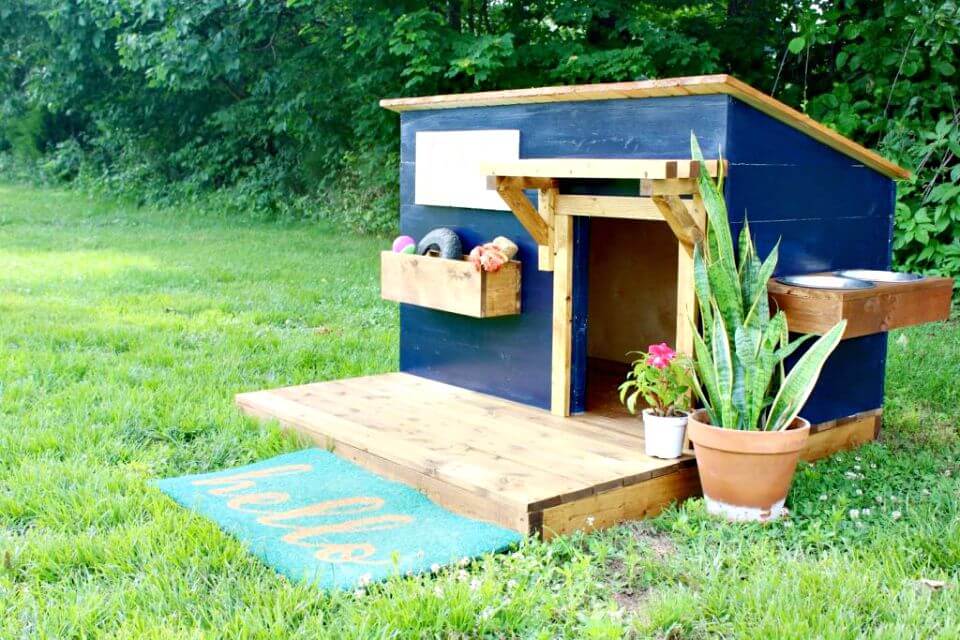 What do the dogs like to do? the answer is to eat, play, sleep and repeat, and here is how you can combine all of their activities in one with this acutely functional wooden dog house. Along with the spacious resting space, the house got a wall mounted food station with the food bowls and a hanging shelf box carrying his favorite toys and playful items. Learn to make this multi-functional dog house here woodshopdiaries
How to Build a Dog House Tutorial: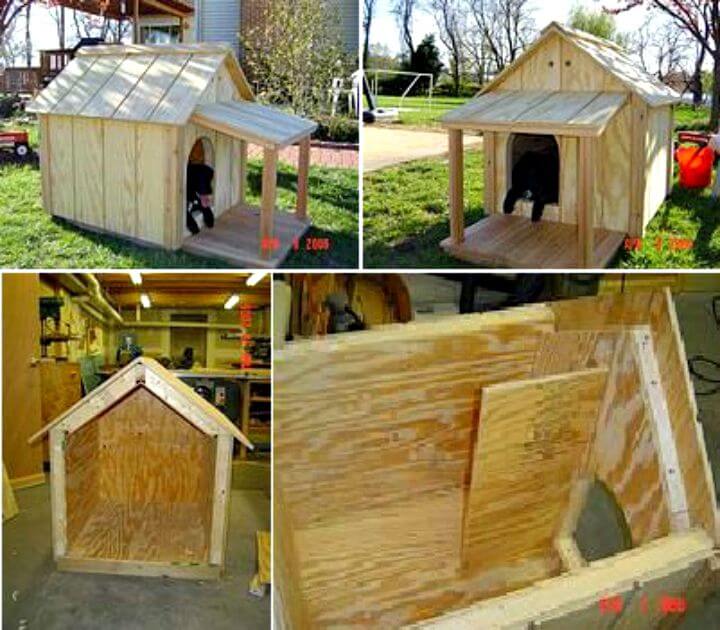 The handmade dog house plans work great in all the aspects as they are cheap to make, fun to work on, sturdy, and long-lasting than those you buy from the market. So do waste your time scrolling the dog house on online brands and get some wood to install this super cute, functional, and robust in the structure dog house on your own. Check out the details of the idea right here about
Easy Free Dog House Building Plan: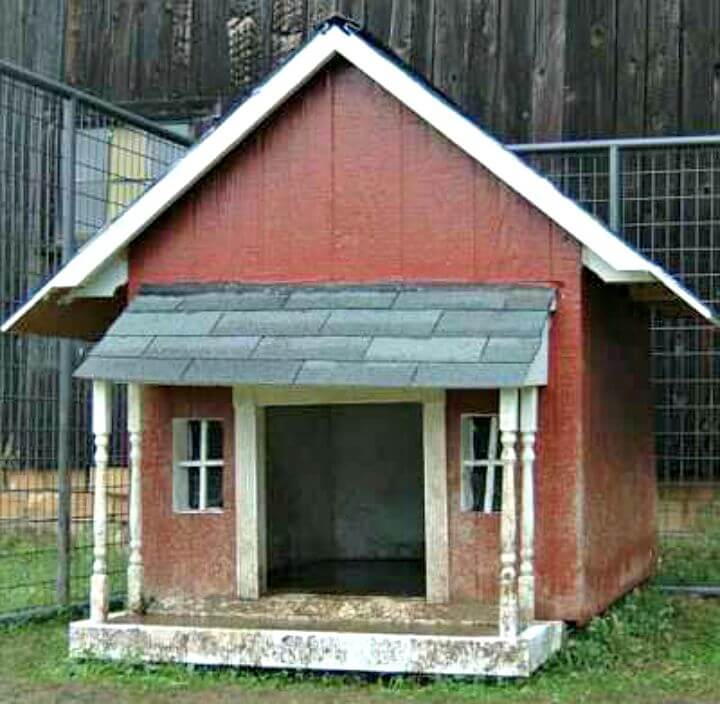 Every you love needs to cared about all the ways, and so does your pet demands. So getting them their own house to get comfy, relaxing, and be at ease would be the best of the way to show your care and love for him. So here is this cottage styled wooden dog house that would be just the perfect place for your lovely dog to enjoy some relaxing and fun time with himself. Check out the complete tutorial details and the instructions here make
Easy DIY Dog House Plan: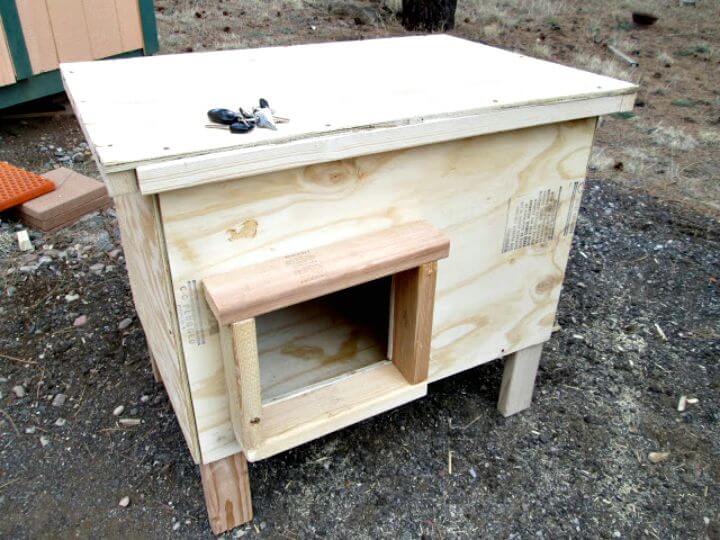 We all love our houses as they are the most secure places for us to be in. So make your stray dogs feel the same the security and surety of complete protection, care, and love by building them these amazing wooden dog houses. This chic and modern in the design dog house is just too adorable to get your hands and tools on, and before that, you need to catch all its details and instructions here pathways
How To Build Your Own A Stenciled Dog House Tutorial: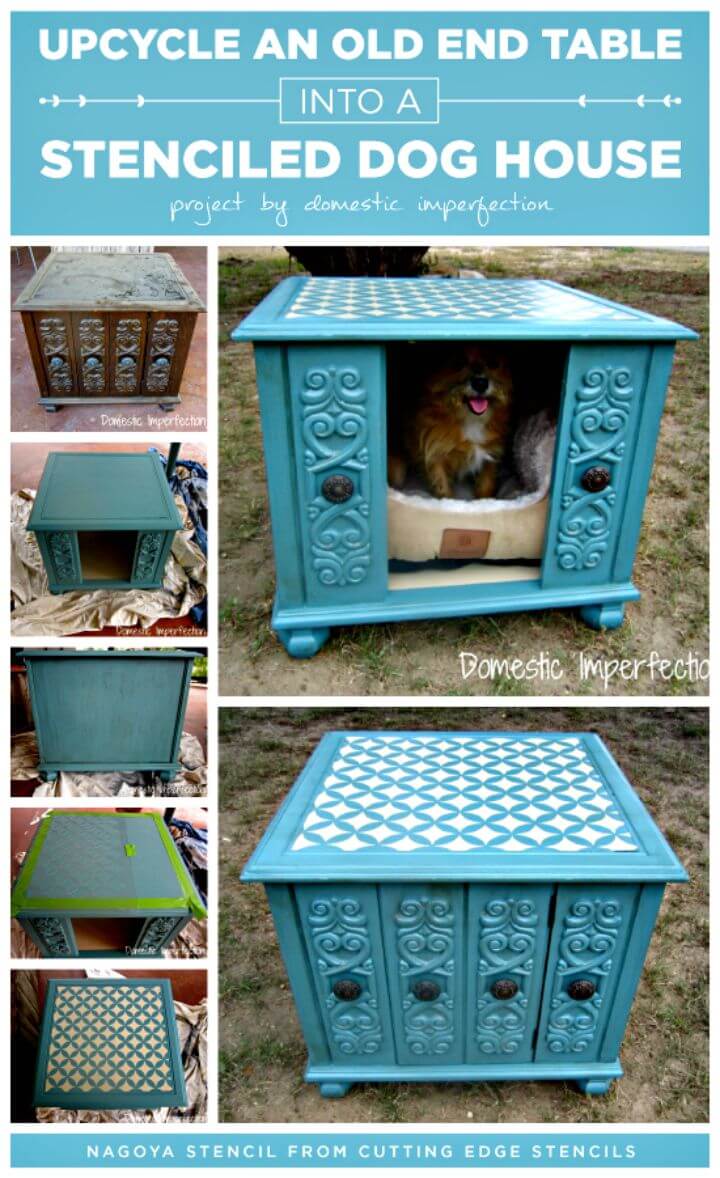 No matter what are the weather conditions, when your pet got his own house,e he is totally safe and sound, and you do not need to worry about him anymore. Here we brought to this genius idea of creating an utterly cute, unique, and functional dog house out of an old end table with some simple changes in the structure and the huge makeover look with the sanding, new paint, and the stencil work. Grab the complete details with easy steps and pictures here cutting-edge stencils
How To Build A Dog Kennel Tutorial: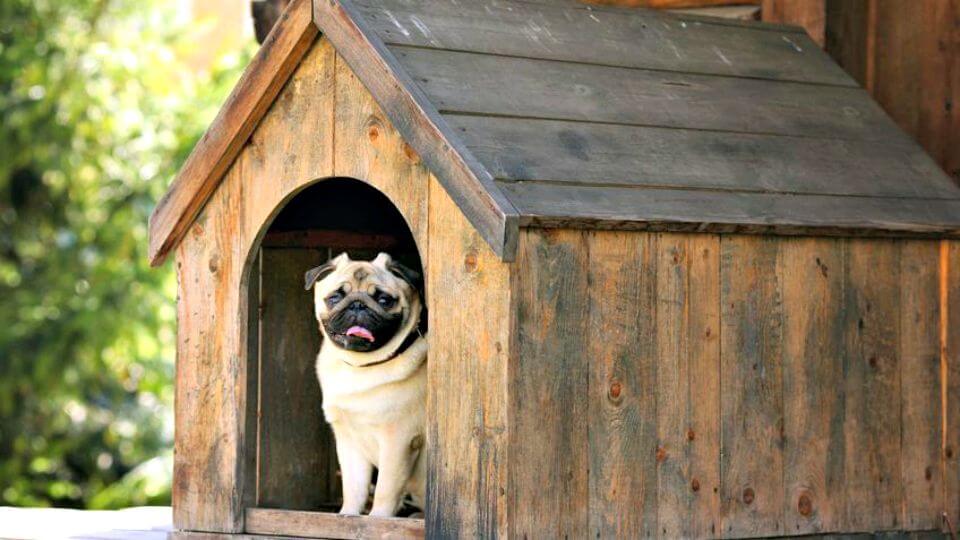 Having the own house for oneself is the greatest of the blessings, and your little furry friend can be bestowed with this blessing when you get your hands on this perfect in design and structure DIY dog kennel. You can easily stack the wooden pieces together to shape up this beautiful and functional kennel for your pet with the size's custom changes, depending on your pet's height and length. Details here mitre10
How To Build A Simple Gabled-roof Doghouse: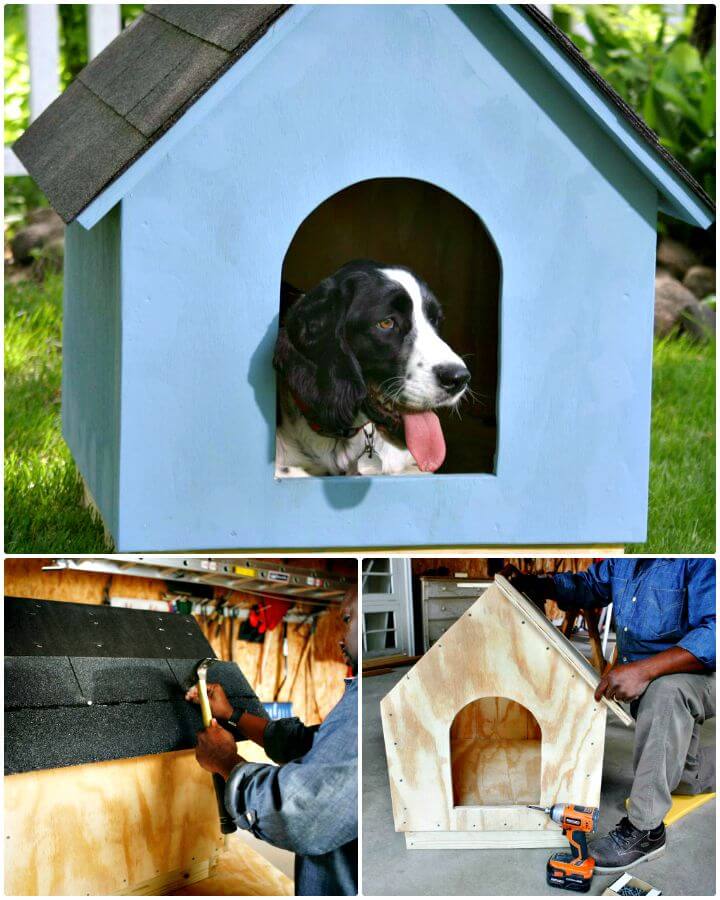 This mini dog house would be the perfect escapee place for your dog when tired of his fun pranks and naughty moves and amusing all. You would need a single plywood sheer and some lumber wood pieces to shape up this absolutely gorgeous and comfy space for your sweet little dog where he can rest, relax, and enjoy a great sleep. Check out the details of the idea right here to own it on your own. diynetwork
Easy DIY Dog House Tutorial: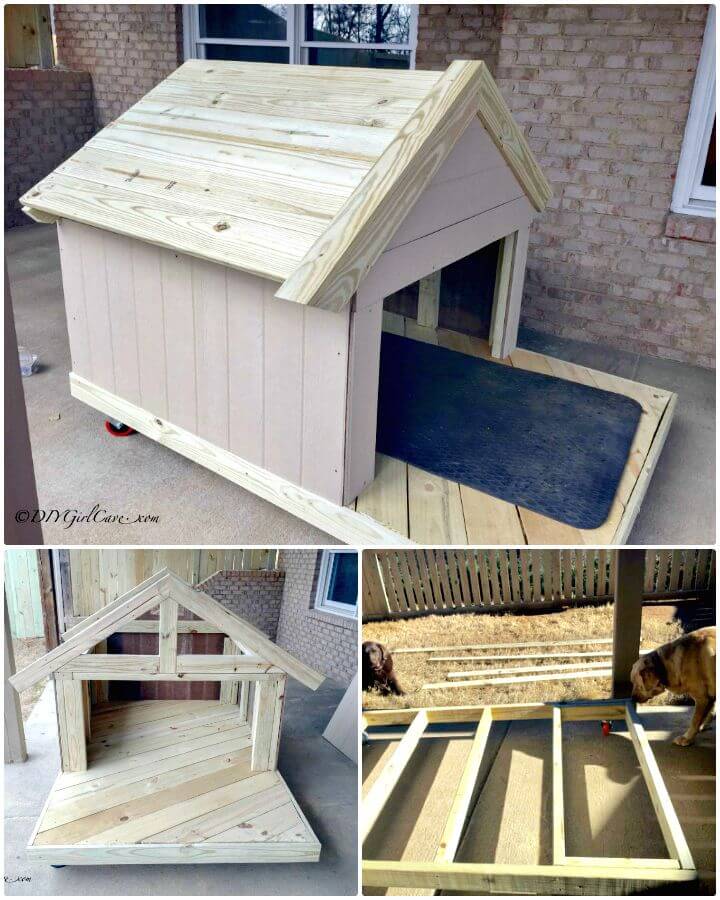 Wood is the perfect material when you opt for a DIY dog house project to provide your little fluffy fellow a comfy shelter of his own. Here is this cute wooden dog house made out of the wooden with a really innovative design that features a wide and long base. A shape roof and the wheels added at the base make it feasible to move around your space and clean under it. Check out the easy tutorial details of the project here diygirlcave
Super Cute DIY Dog House Tutorial: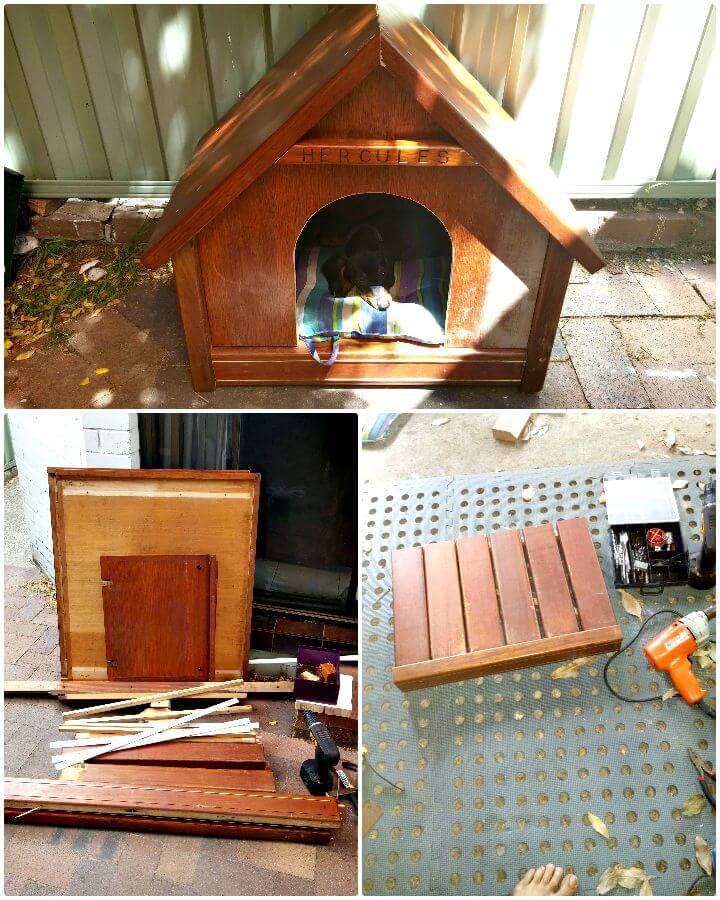 When you got an old furniture piece, you got lots of ideas and hacked to reuse it and get something cool and functional out of it. Like this charming and rustic looking dog house has been easily installed out of an old dining table pieces with simple cutting of the dog house parts a then stacking them together. It has been sanded and stained well for that perfect traditional like finish and the smooth feel for your fluffy fellow's soft skin. Check out the details of the tutorial here imgur
How To Build A Dog House Tutorial: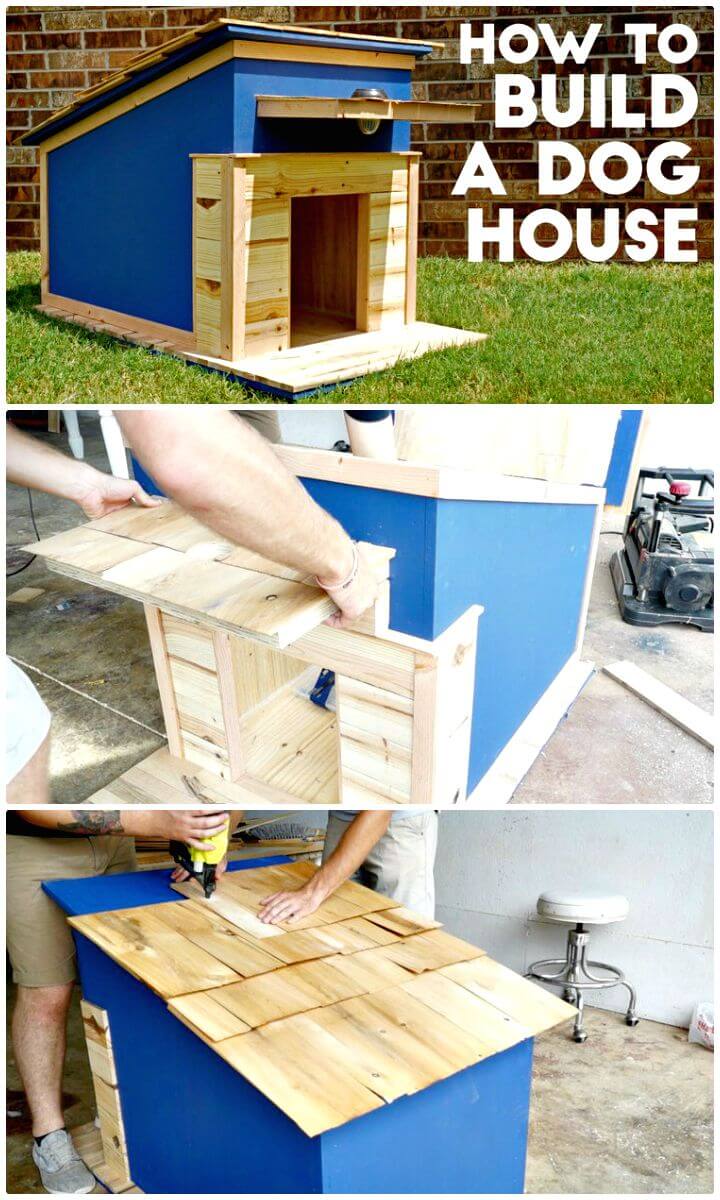 Your dog house should be according to your dog's size and weight so that it perfectly accommodates your pet with comfort and feasibility. The dog house is just perfect e it its modern design, chic paint appeal, the lifting top, and the biggie size to let an average dog fit easily in it. Made out of the pallets, the dog house is just too fun, easy, and cost-efficient, so do hack all its details here to get it easily done modernbuilds
Easy How To Build Crooked Doghouse Tutorial: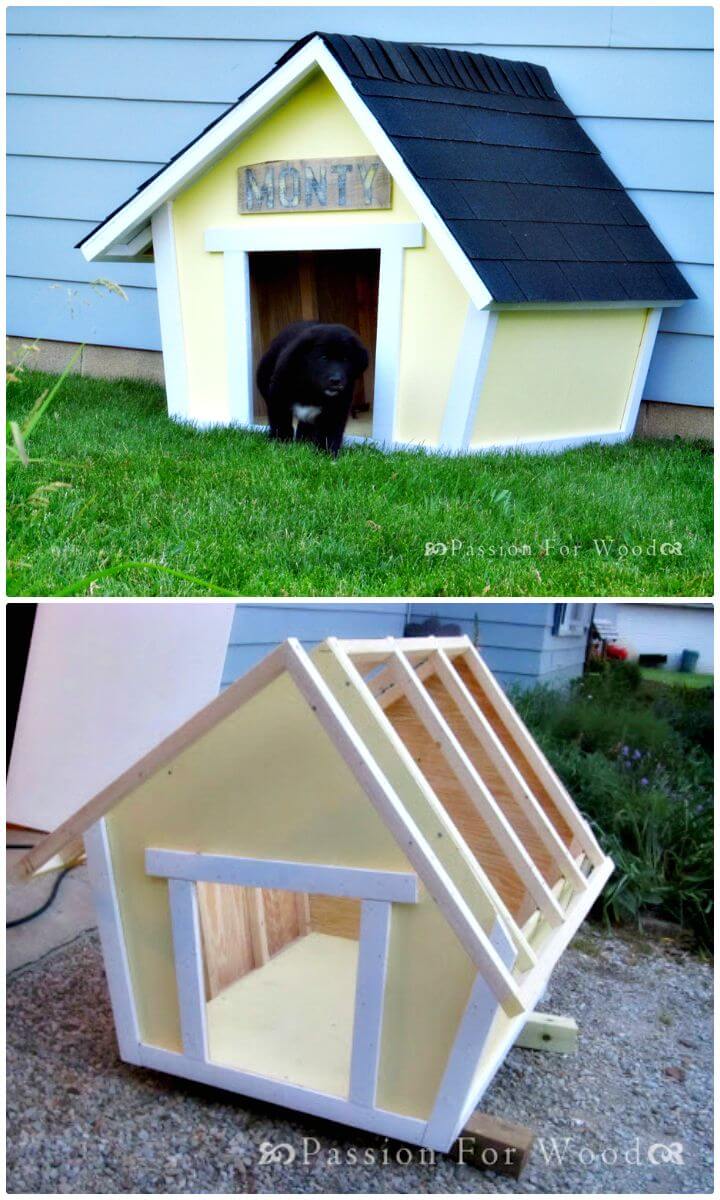 This crooked dog house is the kind of you see in the markets and on the online brands having the perfect modern design, chic colors, and the dog's name on it and thus is the custom and personalized in the cutest way. Just grab some plywood and all your tools to shape up this adorable dog house and let your dog stay safe and comfy in all the seasons and all weathers. You can check out the step by step details of the idea right here to get your hands on this beautiful house for your lovely pet ana-white
How To Build Tropical Dog House Tutorial: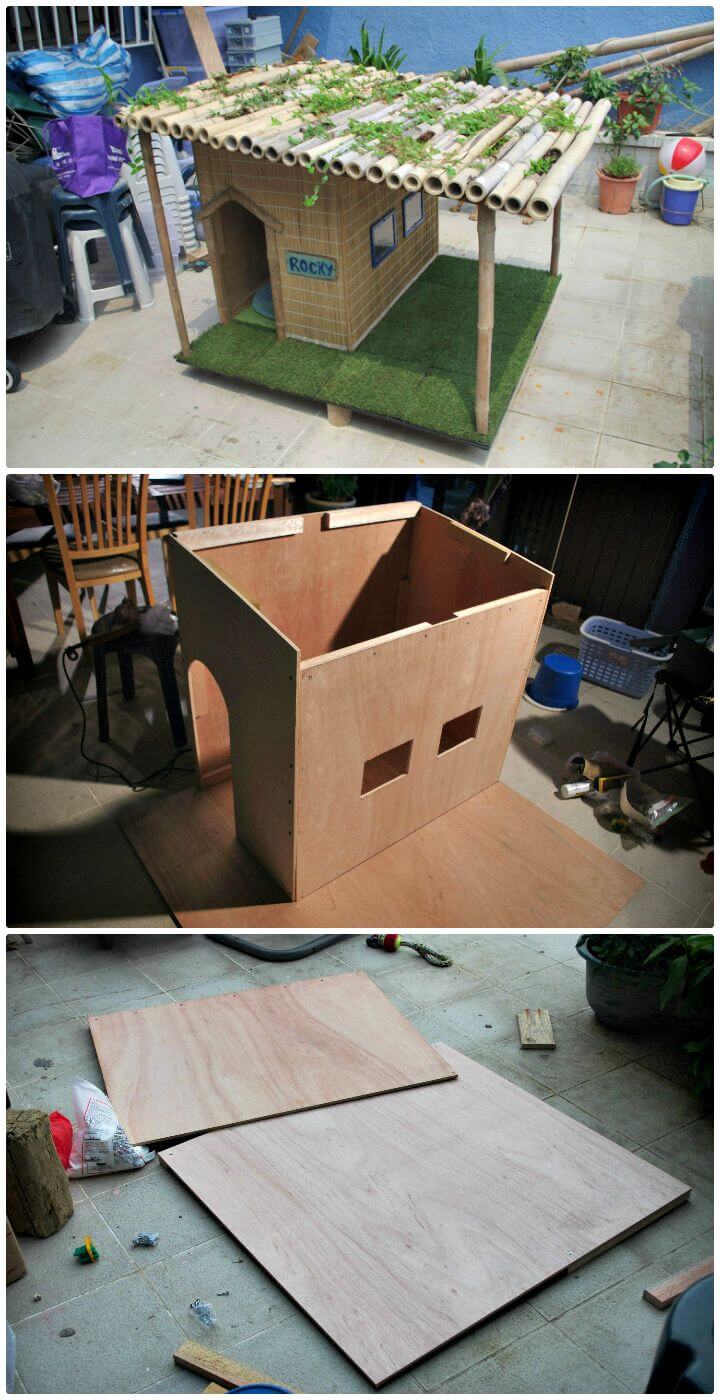 Here is another wooden dog house that would be just so much fun to create for your adorable pet and make him live in sheer tropical style in your outdoor spaces. It has been made out of the plywood sheets and then ventilated with the bamboo sheets and the bamboos on the top, which really make it perfect for the dog to stay comfy and cool in the hot weather. The perfect room, the lounging area, the bamboos, and the green leaves make this dog house look a gorgeous piece of creativity and art.Check out the details of the project right here imgur
DIY Geometric Doghouse Tutorial: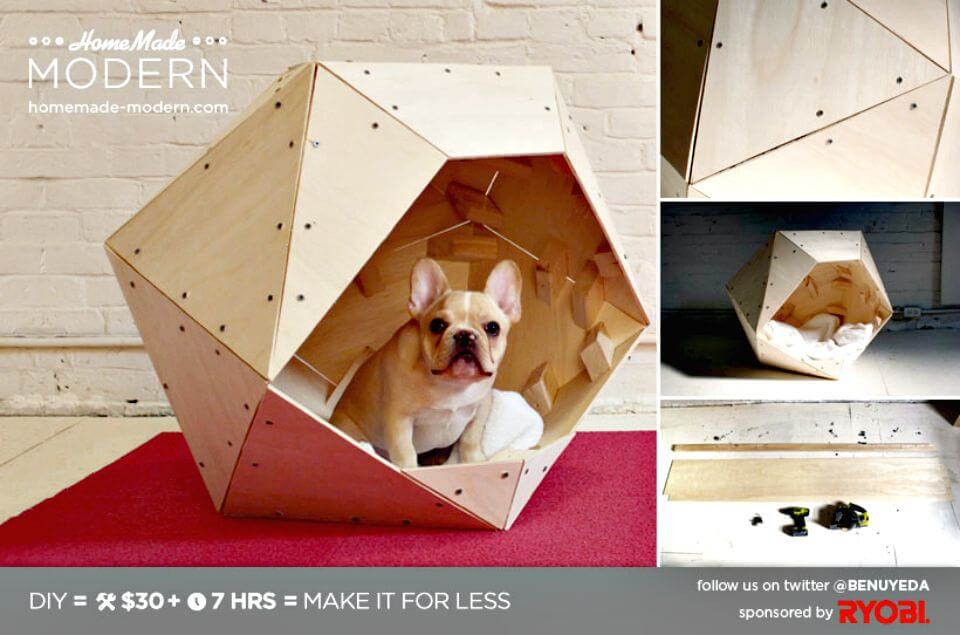 If you are looking for a hugely innovative and funky kind of dog house design, then you got it here. Yes, here is this mini yet totally functional and quirky in the style dog house for your little cute furry friends with a faceted and angular design that looks complicated but is immensely easy to work out your tools on. SO grab some plywood, cut out some triangle pieces and then stack them together with nails and get this eye-catching dog house that would really compliment your decor too. Complete tutorial details here modern
DIY Dog House Step By Step Tutorial: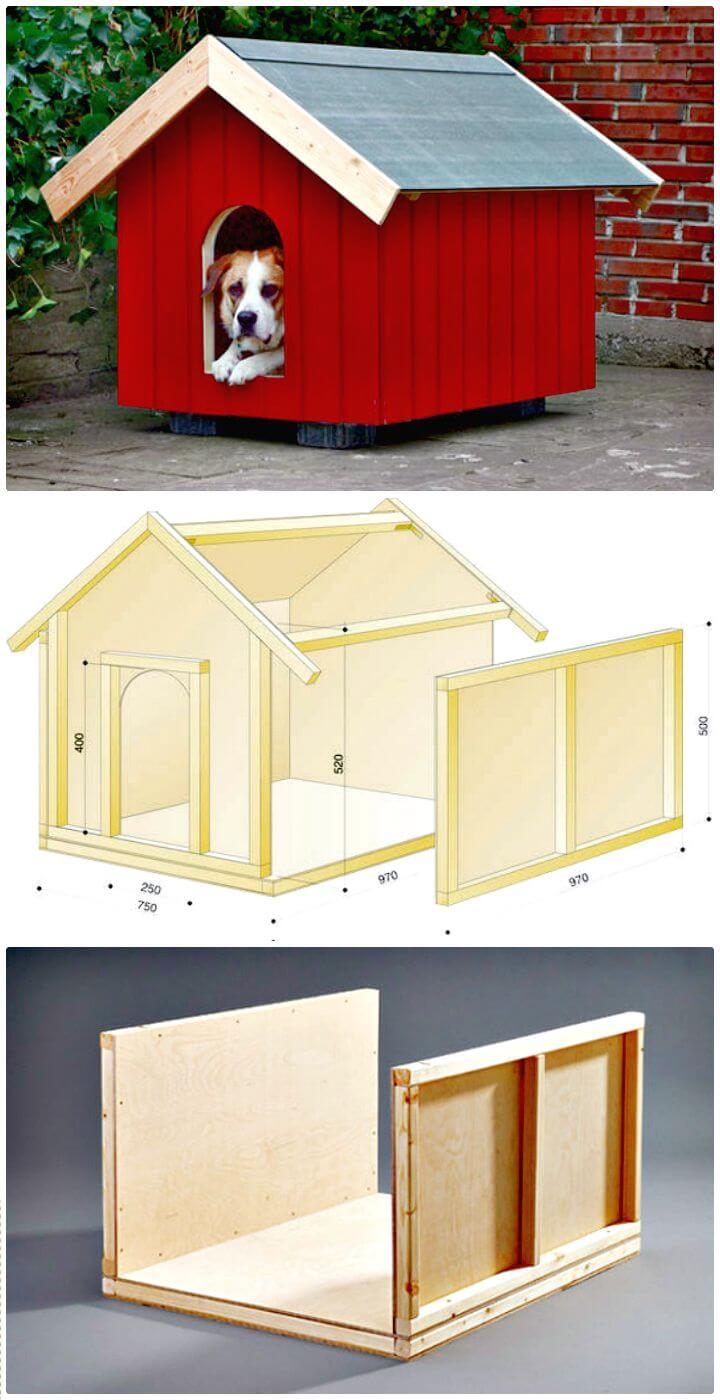 Here is another awesome design of the dog house to let your pretty little fellow have his own haven to relax and enjoy his time there. The gorgeous and stylish dog house got enough space for your dog to sit and stand inside easily, and with the raised height, it would be safer for the dog to get cold. The lovely stains hues in red and grey really make it look and enchanting piece to get your hands on. Get the easy step by step details of the idea here to remove and replace
How To Build a Mobile Dog House Tutorial: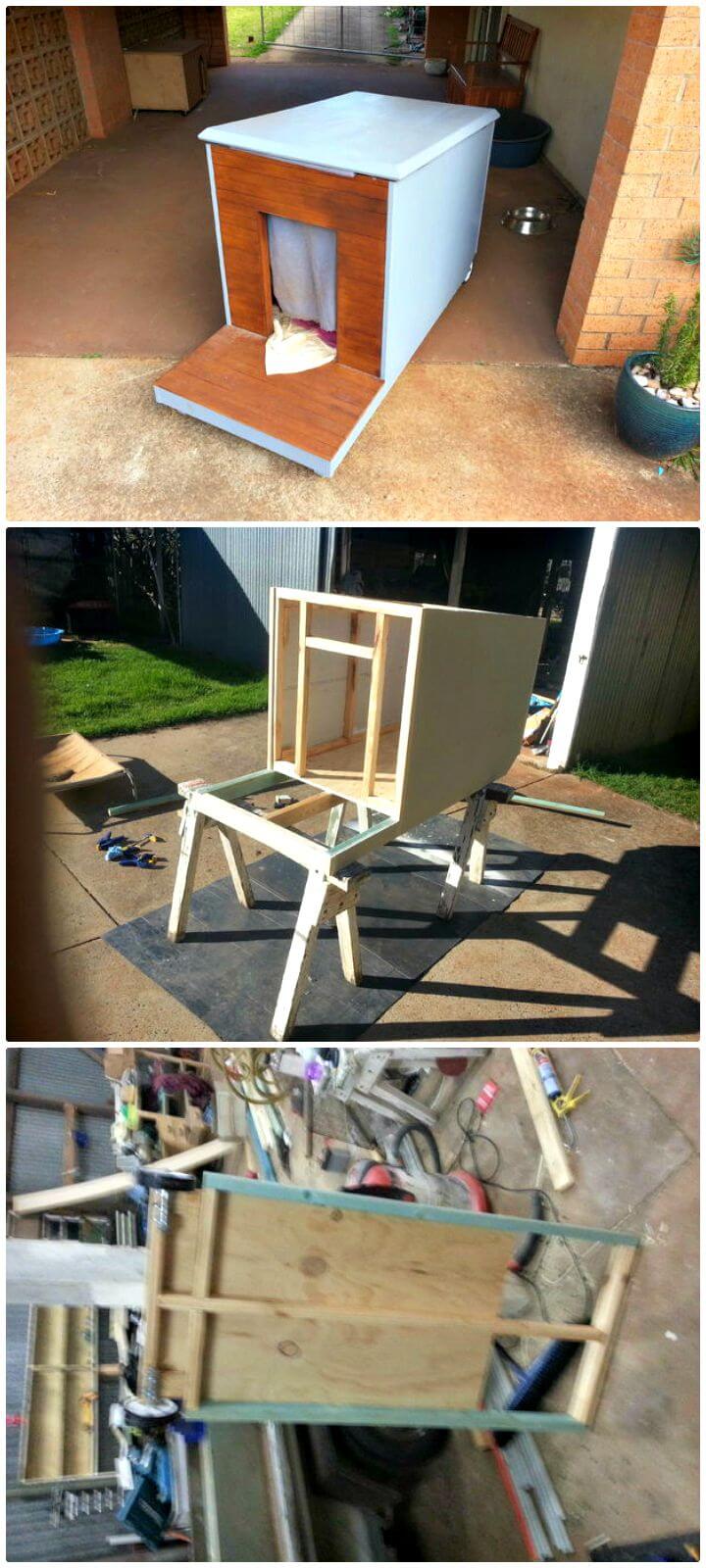 No doubt, the dog houses in the stores are so hard to resist for being so gorgeous, colorful, and enchanting, but their hefty price tags really make it impossible for us to buy them. SO here is how you can create a dog house on your own, which is super cool in design, durable mobile due to the wheels attached at the base. You can learn to create this modern style and functional dog base from this link with all the needy details of the tutorial handymantips
Easy How To Build A Dog House Tutorial: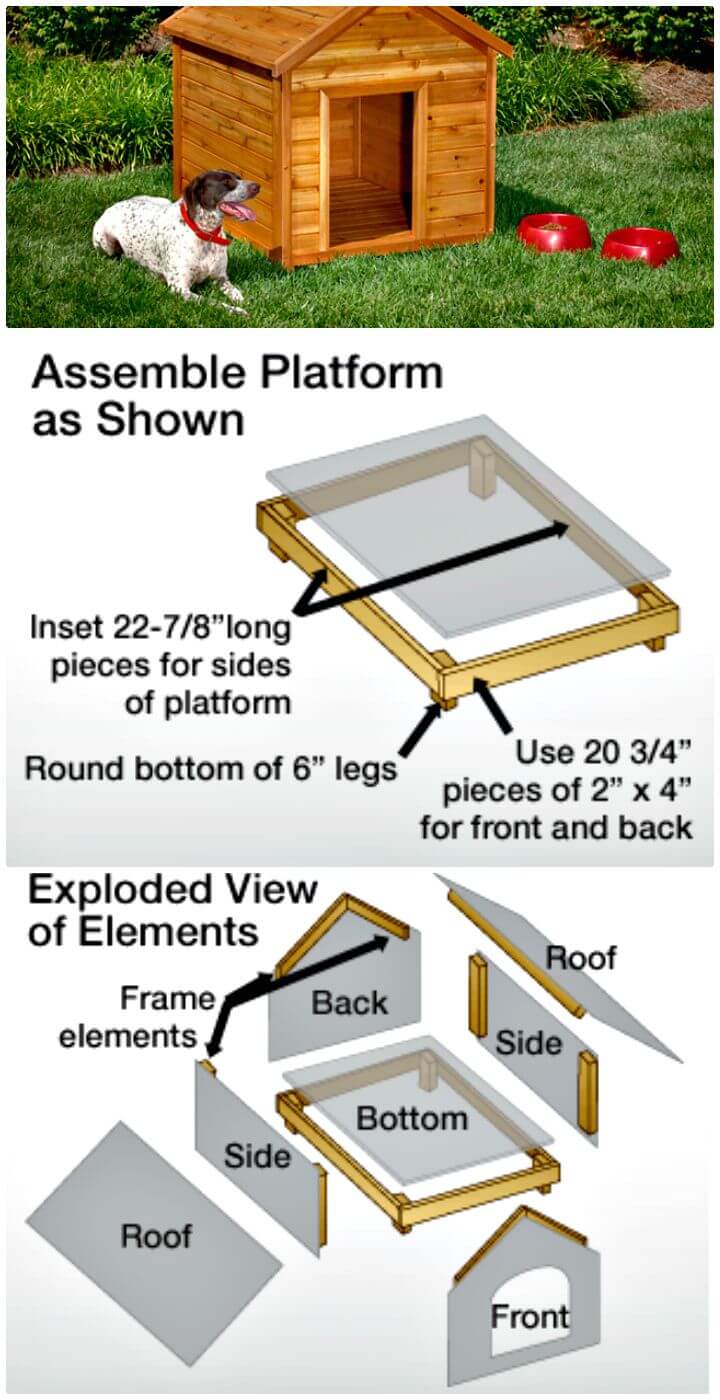 When you are working on the wooden projects on your own, you got all the power to make them according to your own desire and preference. So if you want your dog house to be sturdy, long-lasting, and totally rustic in design, then we got this one for you with all the mentioned features.You need to cut out all the dog house's desired parts and then stack them according to the given design and the pattern. You can check out the complete details of the project here instructables
DIY Dog House With Roof Top Deck Tutorial: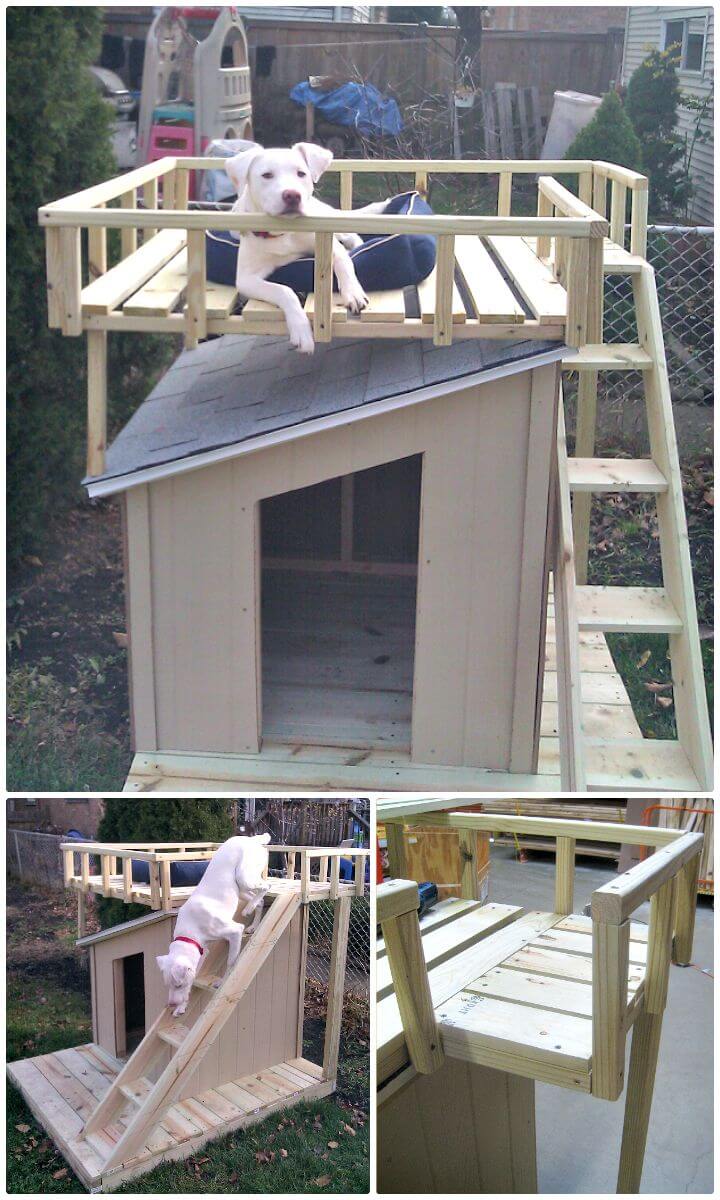 What we all want for a house? We want it to be luxurious, stylish, and enjoyable to live in and so do the dog houses should be. This box styled dog house is totally modern in design and got a fun deck area on the roof supported and coordinated by the stairs that he easily climb. When he needs to be comfy, he can get inside his room, and when we want to linger and relax, the deck is the best. Grab the details of this double functional and fun dog house here lowes
DIY Dog House Tutorial: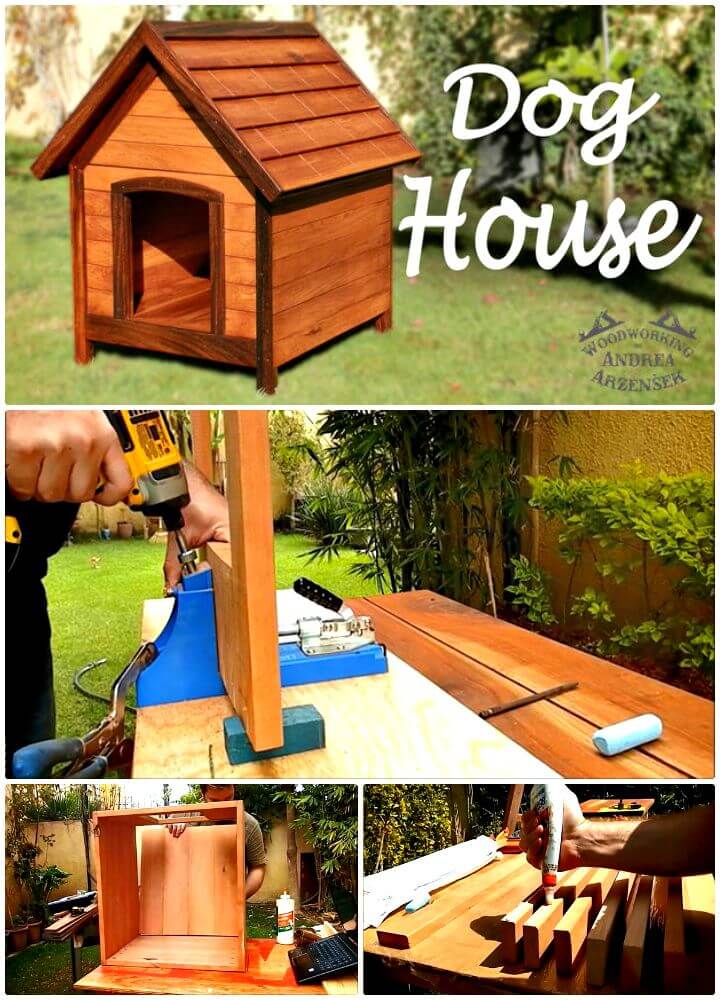 This dog house given above is just super gorgeous and simply stunning in its design and shape, and thus, it would really make a complementary addition to your spaces' beauty and style. It would get built in two parts with the box style base and the triangle roof on it. The rich brown stain finish makes it a pure delight to the eyes, so adorable and high in texture. Check out these free dog house plans and material list.
How To Build Luxury Pallet Kennel With Sun-deck – A Dog House Tutorial:
The dogs deserve all the fun and safety of a house that we enjoy in our house, so here is this adorable pallet dog house, which is more than just a place to sleep in. This kennel is just a complete haven for your lovely pet from all the weather with a top deck to lie down on and consume all the good of the sasy pallet stacking and the rich finish in black and grey make this project really a fun thing to get your hands on. Grab the complete details of the project here instructables
How To Build A Dog Tree-house Tutorial: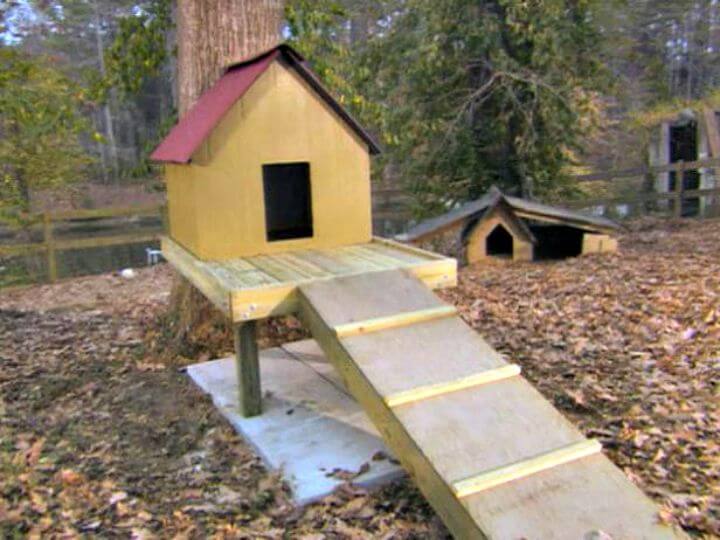 The treehouses are the fantasy of every kid, but if you do not have a kid but a pet who is also like our baby, then you should really consider this plan of a treehouse for him or her.  The cute and simple dog house has been built over a tree with a big wooden pathway for the dog to reach is the comfy den with all the ease and fun. You can learn the complete tutorial of the unique play hour or dog house here diynetwork
Easy How To Build East Fork Free Doghouse Tutorial: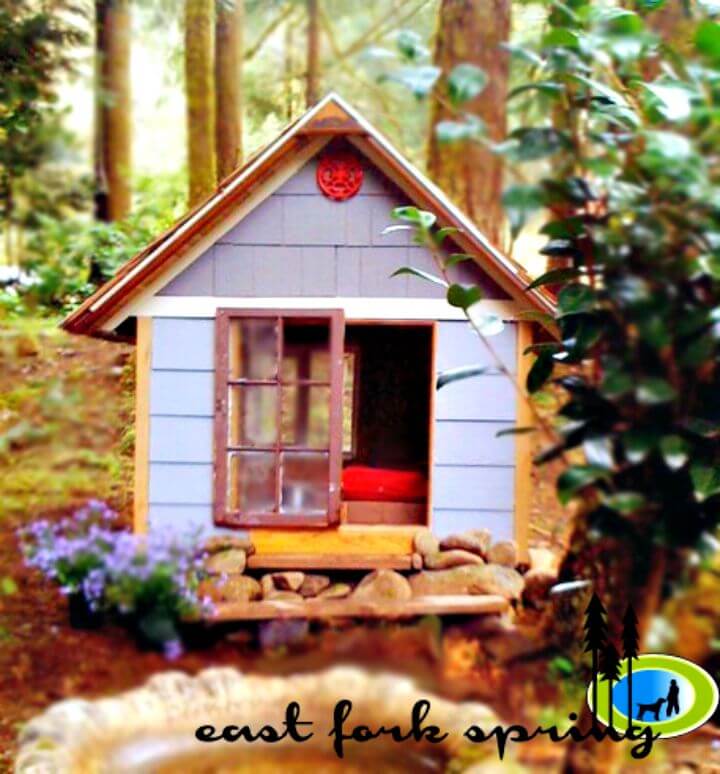 The pets feel the weather's severity just like us, so if they have a house of their own, they got all the security and weather protection and thus enjoyed life to the fullest. SO here is this project of creating a pretty and big wooden house for your pet because wood is the insulator, and it would keep him warm in the winters and cool in the summers. Check out the tutorial details of this biggie dog house project here ana-white.
How To Build An Insulated A-frame Doghouse For Under $75 Tutorial:
If you dot a deck, you can install this super easy and quick A shape dog house on it as it would no more in need of creating a base. You need to cut the planks out of the wood and stack in the A-style over the deck and then cover it with the shingles of the felt, and it's done to be the perfect haven space for your cute little furry fellows. Check out the details of the idea right here instructables
How To Build A Mini Ranch House For Your Pooch Tutorial: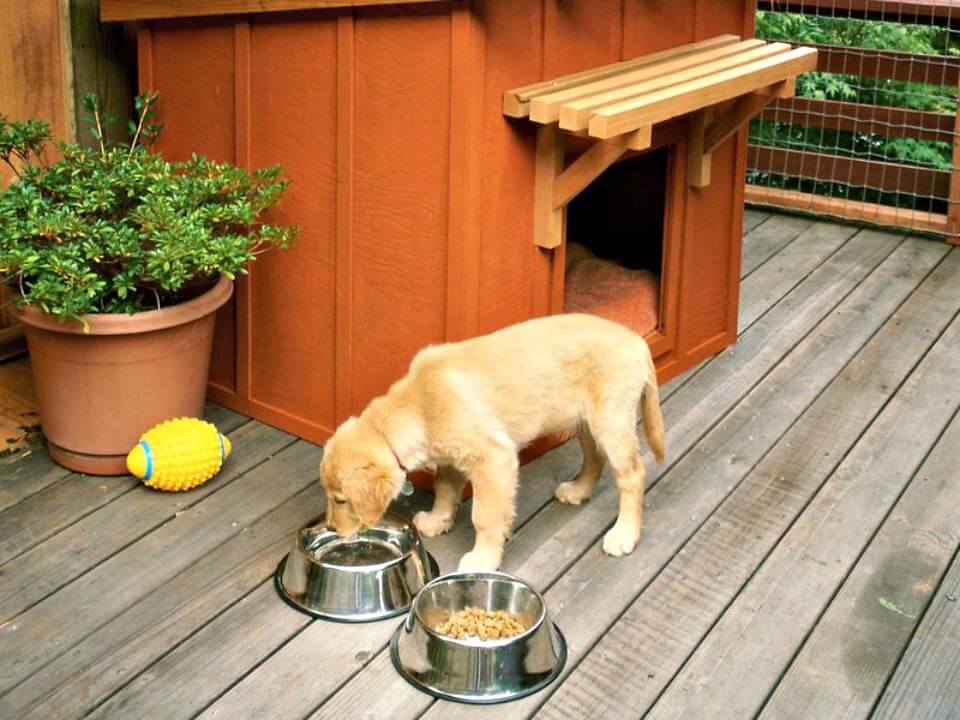 If you got a big size dog, then we got this perfect dog house plan for you to whip off this weekend. Yes, there is this idea of creating a rustic and functional ranch dog house for your buddy with the wood available easily to you. The dog house got a lifting top and the cute mini arbor at the door, making it more interesting and fun in design. The rustic stain finish adds a huge amount to its beauty and appeals, so do learn it all here with details and the instructions sunset
DIY Dog Mansion Dog House Tutorial: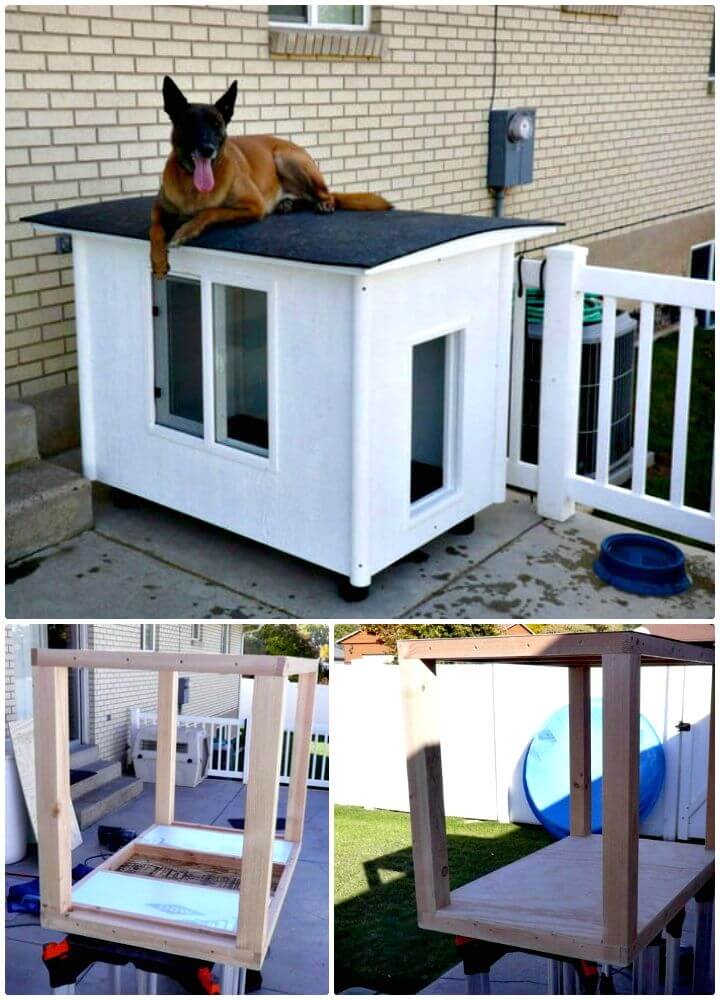 Everybody desires to live in a mansion, but it's not possible, but for your pets, it's all possible and easy to have a luxury mansion to live in when their owner is the crafting person like you.  absolutely modern and chic in design, totally facilitated with all the desired features, ample living space, and the gorgeous stain finish, this cute dog mansion has it all. So grab some wood, your too kit, and start working on this Mansion making right here with all the details an the instructions provided instructables
How To Build A Country Dog House With Porch Step By Step Tutorial: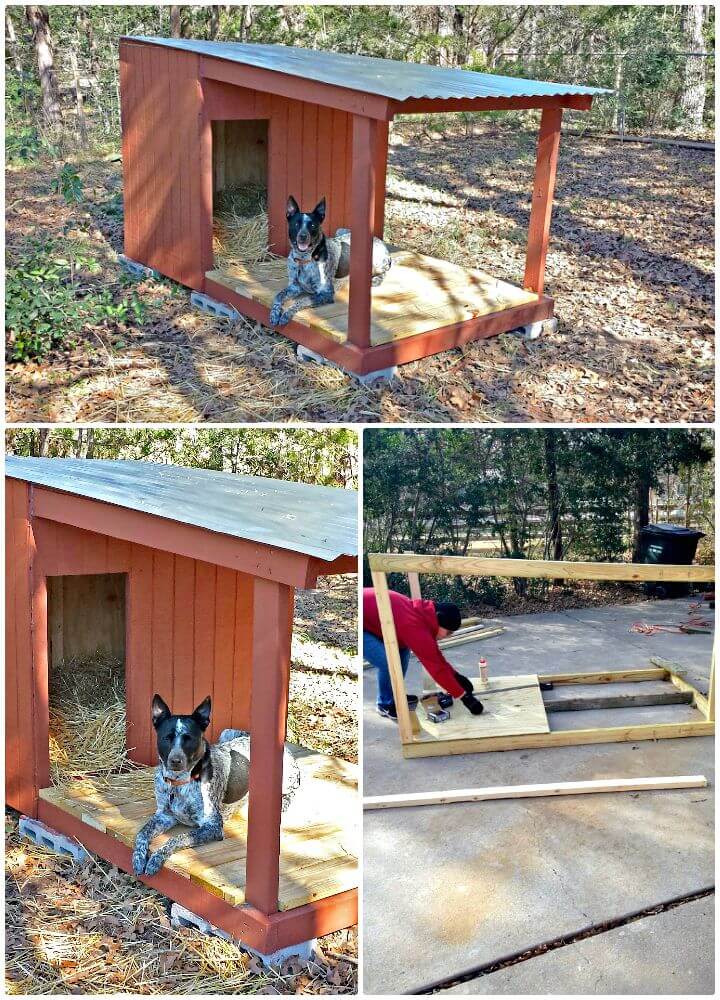 The dog houses you see at the stores are all are common and boring in design, so if you want a dog house that is unique and totally one of a kind just like your cute dog, then you have one here today. Yes, we have this simple yet stunning looking wooden dog house with us, which got perfectly comfortable room for him to sleep and a lounging or deck area outside the room to relax and enjoy his time to the fullest. Catch the complete tutorial details of the project here diyattempt
How To Build A Dog House Tutorial: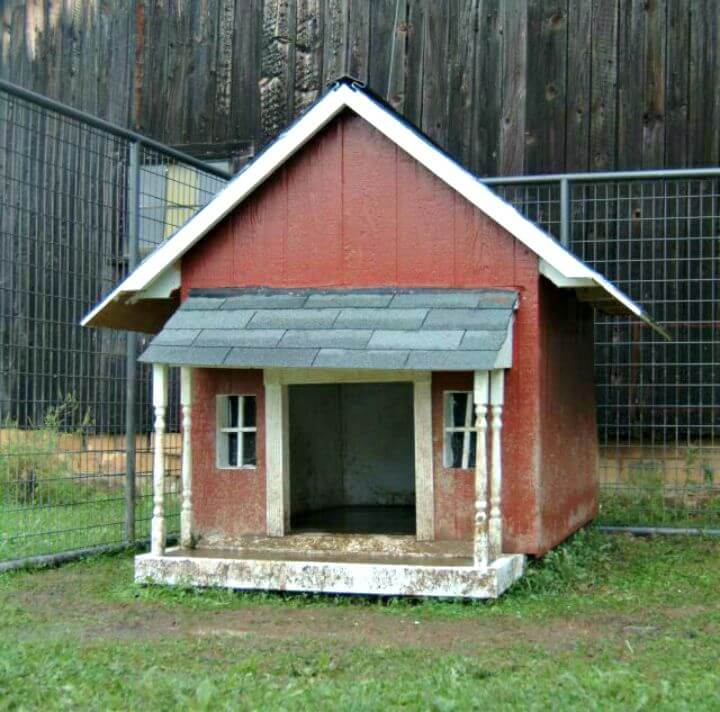 Here is this vintage-styled dog house for your lovely pet that is immensely easy and fun to create at home with the recycled wood lying around, thus saving yourself lots of time and money. With a boxy room, an A-shaped roof, and the dowel-supported shade over the door, this gorgeous wooden dog house turns out to be really impressive in style and beauty. You can own this big beautiful dog house for your little fellows  by getting all its details here ranum
How To Build A Modern-style Doghouse Tutorial: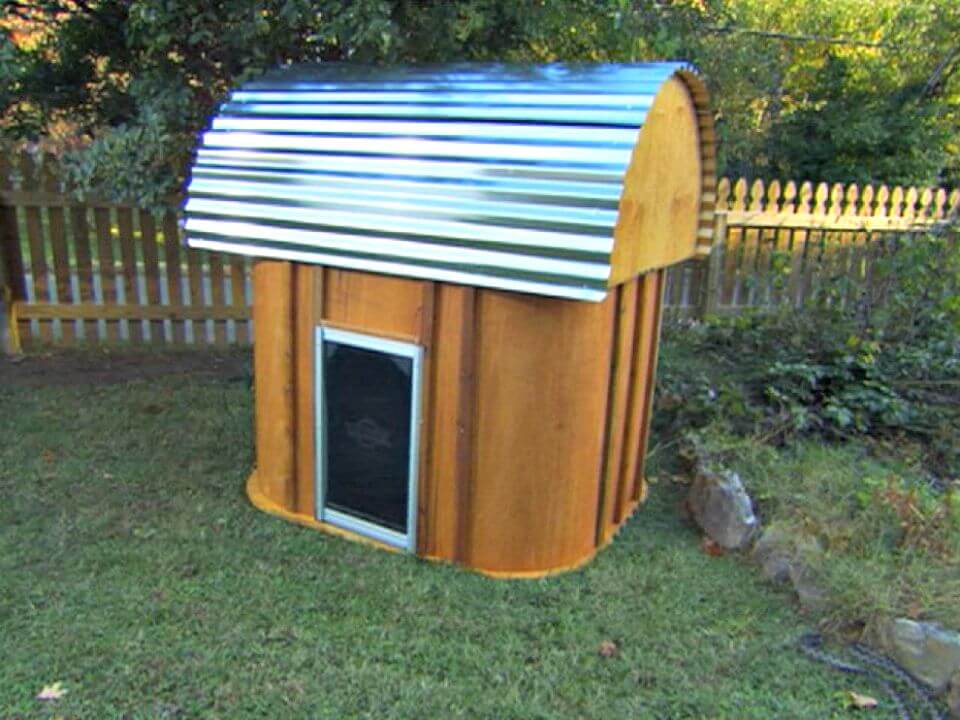 Here is how you can let your dogs live in the sheer fashionable way with this super stylish and modern design dog house in your outdoor spaces. The dog house got a perky design and a cool shape in a box style that is easy to install with the base's simple attaching, wall's, and roof. The door and the roof have been protected more with the galvanized steel, saving your pet from all the weather outrages, be it wind, rain, heat, or the cold.Check out the complete details of the idea here diynetwork
How To Build A Dog House With Air Conditioning Tutorial: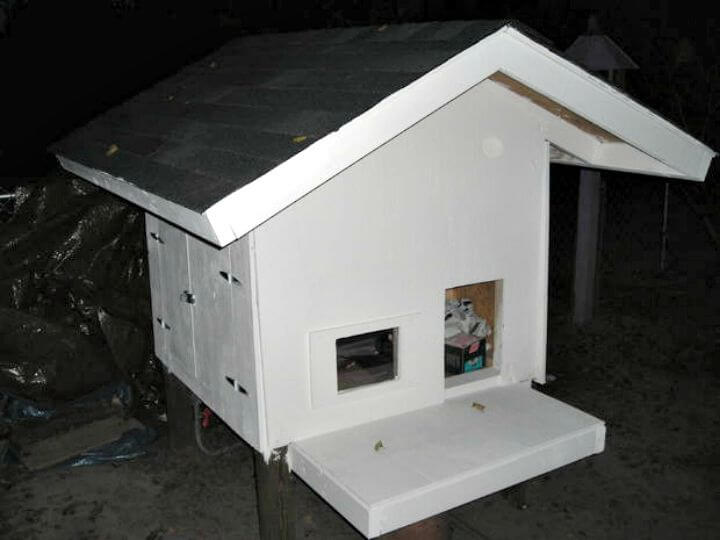 If you live in the hotter areas, you should do some work to protect your little cute furry fellows from the heat, and we got you the perfect cool solution to this problem. Yes, you can build this pretty little dog house for your little ones coming with the air conditions, allowing them to enjoy a cool sleep and relaxing in their personal haven. You can check out the details of this DIY dog house with air conditions here 'instructables
Build A Log Cabin Doghouse Tutorial: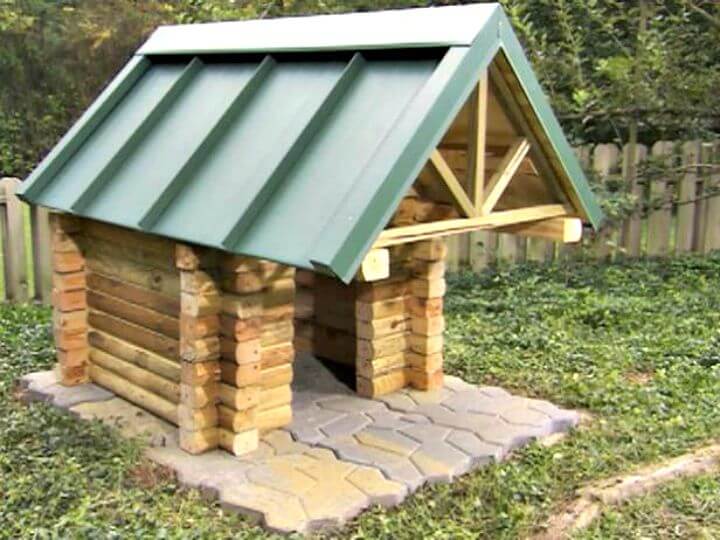 Here is this adorable dog house with everything extraordinary from timber logs to the design, robust structure, high architectural appeal, and the mighty extended roof. So grab some timber cut it out in the chunks of logs, and then stack them together to get this functional, durable, and totally gorgeous dog house that your dog would love to be in. It would add oodles of charm and appeal to your outdoor decor too, so do hack the details of this plan here diynetwork
Easy DIY Dog House Plan Step By Step Tutorial: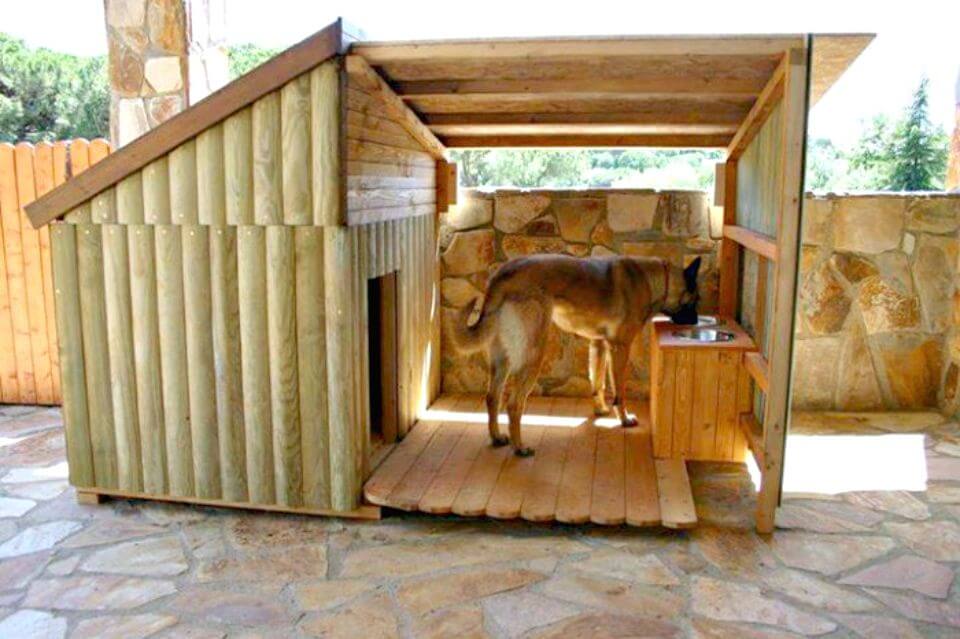 This dog house that you are looking above touches the height of everything you desire to have in a dog house like the professional look, modern design, sturdiness, and spacious sections. It got a big box style room for his personal space and the wide outdoor with the wall hanging food bowls to let him feed himself quite nicely and easily in his own house. Thus seems tough, but it would be immensely easy to work  on, so do get the details of the project here diycozyhome
DIY a Pagoda-Style Dog House Tutorial: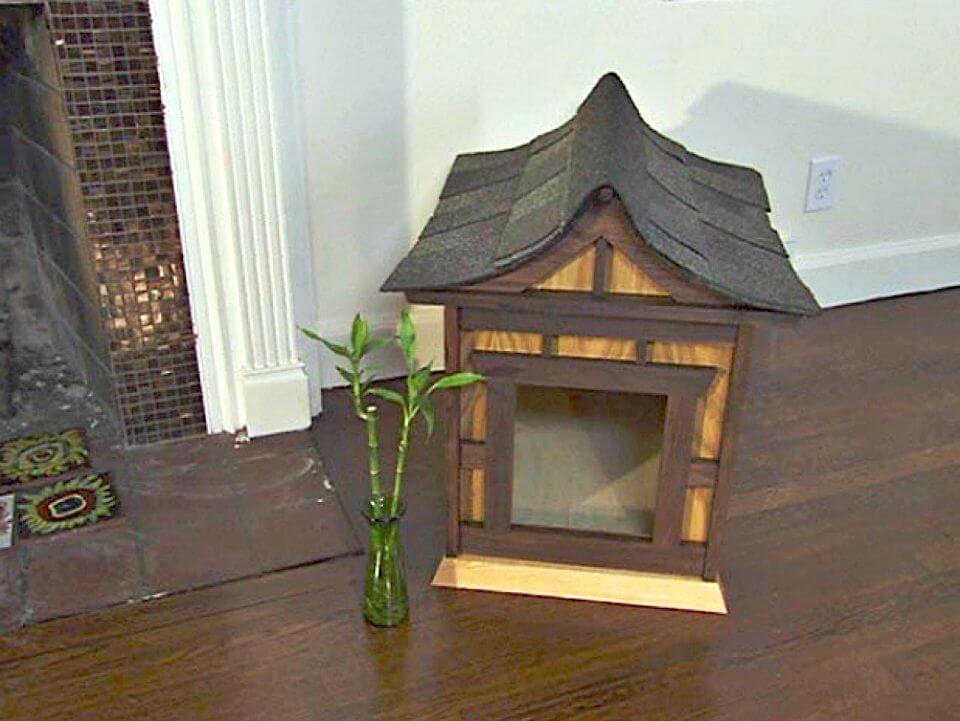 Why make the same old and boring looking dog houses for your pets when you have the capability to experiment with the design and the shape of the dog house and turn it to be all interesting and fun. So here is this really uncommon and quirky in style pagoda Dog house for you to get your hands dirty with. You would need some wood, your basic tools, and of course, some free time to work on this easy, quick, and really fun project diynetwork
Build a Dog House Step By Step Tutorial: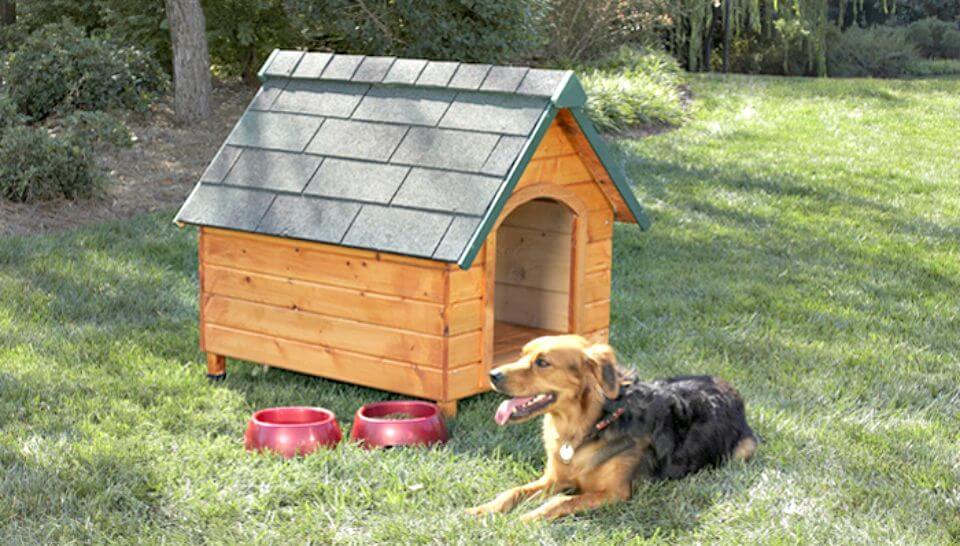 This A-shaped dog house is the most seen and the most worked-out design either we are viewing them in the stores, or we are browsing the DIY dog house plans, and the design never gets old. So if you want to create this default dog house design, then grab some wood and all your crafting tools to install this easy peasy and cute dog house for your beloved pet. We got the complete details here with easy steps and instructions lowes
How To Build A Dog House With A Roof Top Deck Tutorial: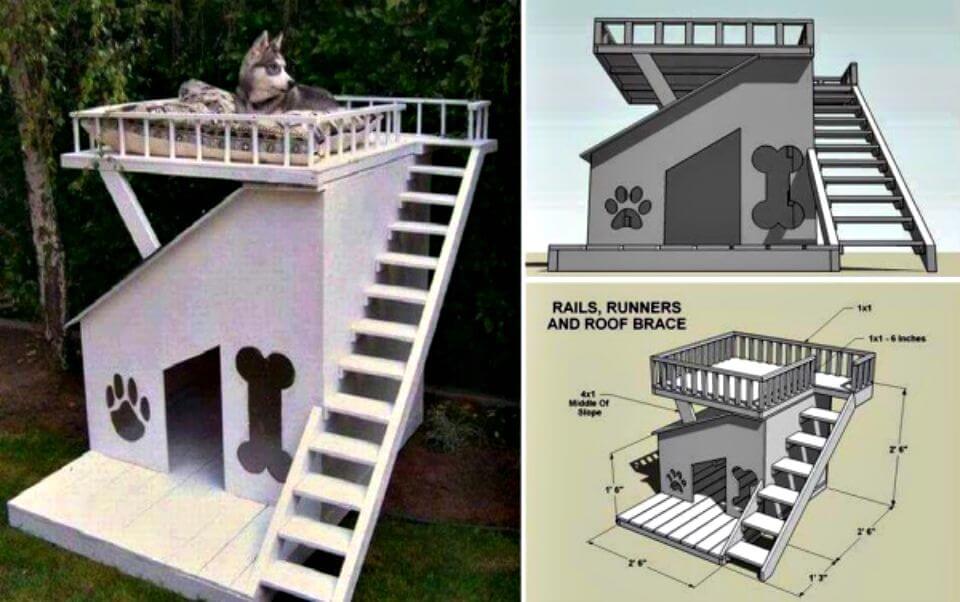 Here we got this perfectly exquisite dog house plan that you would fall in love with as it got each and everything about it so fancy and fun. The dog house got a pretty haven space with the rooftop deck area to add more to your dog's comfort and enjoyment so that he can enjoy the beauty of the weather on the top and get safe from the severity of it under the top. It has been made to look more custom as a dog house with the bone and the dog paw being stenciled gorgeously at the door sides. Check out the complete details of the idea here prakticideas
How To Building A Wine Barrel Dog House Tutorial: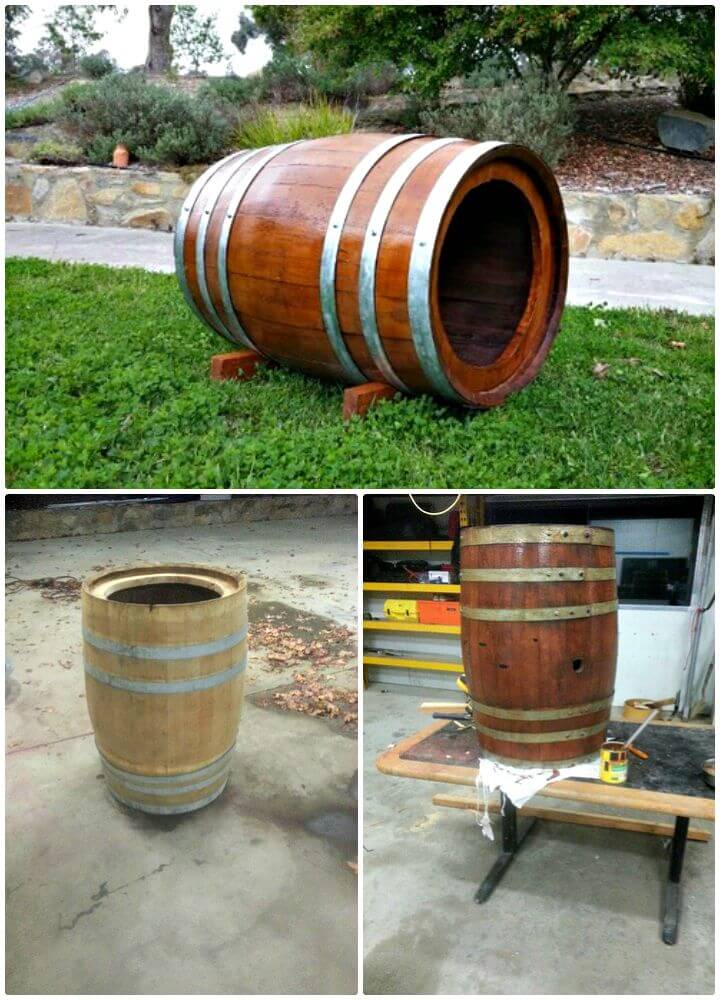 The barrels can be turned into so many functional things around and enjoy the recycling fun with lots of money and time-saving. Here is another genius barrel re-purposed project where it has been turned into a super cool and cozy house for your little cute pets. The barrel has been washed, stained, varnished, and then padded to be the completely comfy and quirky haven for your sweet dog to stay in and enjoy a great living experience there. You check out the step by step details of the project here real clear
How to Build a Dog Run With Joined Doghouse: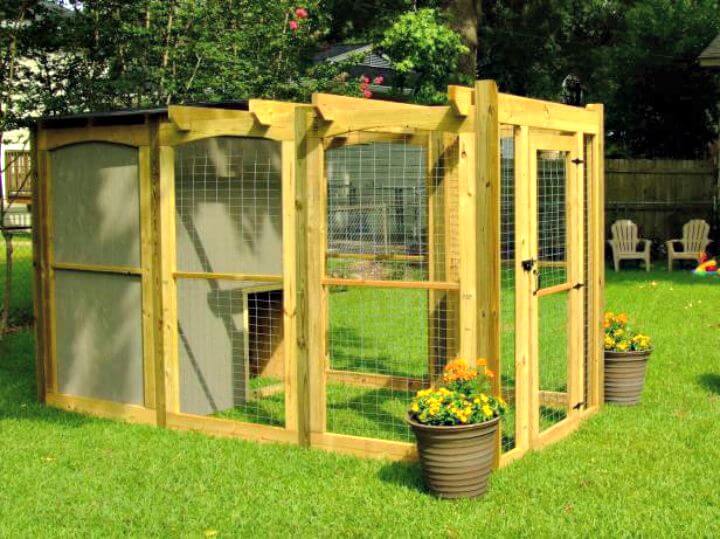 To run around, play, eat, and sleep is the four favorite duties of a dog pet, and now he can enjoy them all at one place of his own with this wooden dog run attached to the dog house. Using the timber wood, this trendy dog house has been easily installed with the dog run sections involving the fence wires, too, and thus turning it to be really appealing and sturdy at the same time. It would also elevate the decorative beauty of your garden too, so you really need to get its tutorial details and guidance here diynetwork
Build A Dog House Tutorial: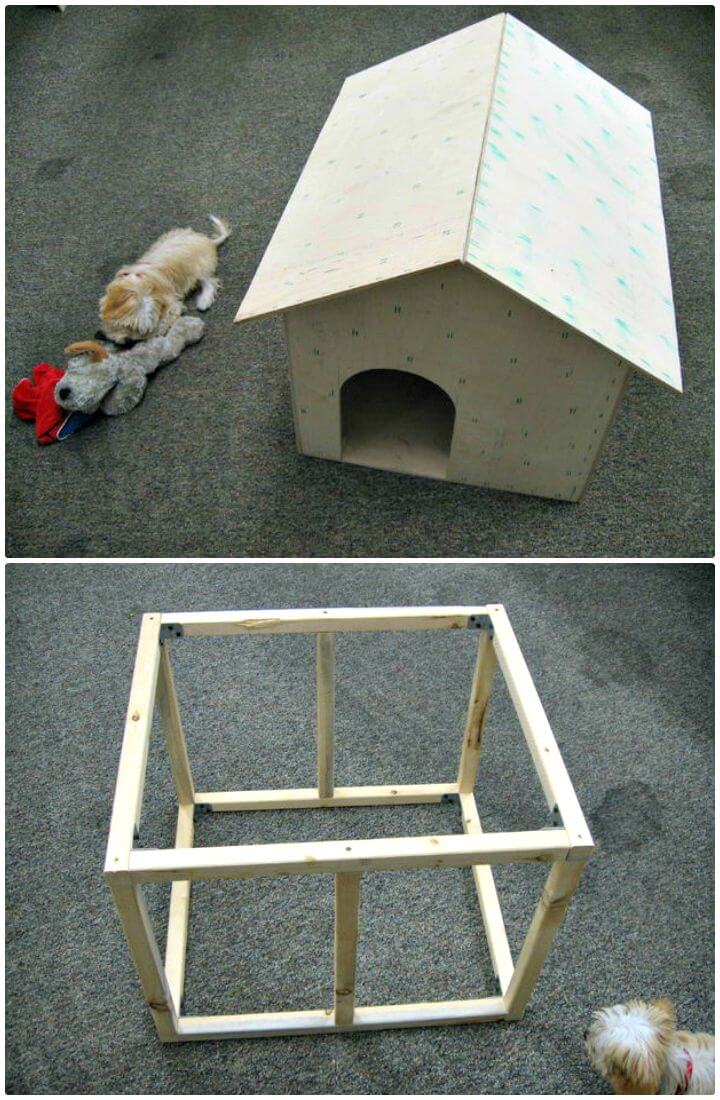 Here is this utterly simple yet cute and functional enough dog house for your little pet fellow and provide him his fun personal space to sleep, relax and rest in. So no matter either you are an expert of the crafting or you are just a beginner, this simple and easy to install dog house can be easily pulled off. Just grab some wooden planks, get your toolkit and come along the details of the tutorial here and you would get this quick and easy dog house done for your little fluffy fellow. instructables
Easy To Build A Shasta-style Puppy Camper Playhouse Tutorial: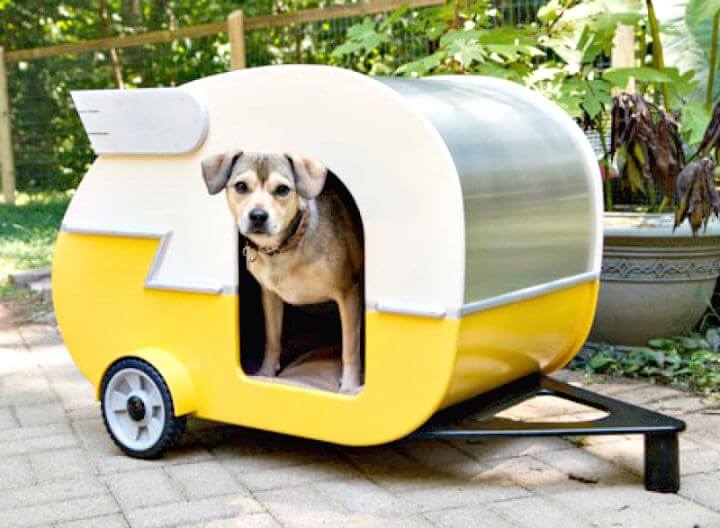 The style and design of your dog house reveal the owner's kind of taste and personality. So if you are unique in style and boho person, your dog house should be at the same lines of the style and fashion. SO here is this lovely and unique in shape wooden camper style dog house and let your dog enjoy the greatest of the fun and enjoyment and that too in huge fancy manners.Except for the wood, you would need the wheels and the bright shades of the paint to get this camper done on your own. Details of the project here the bark
How To Building A Doghouse Gazebo Tutorial: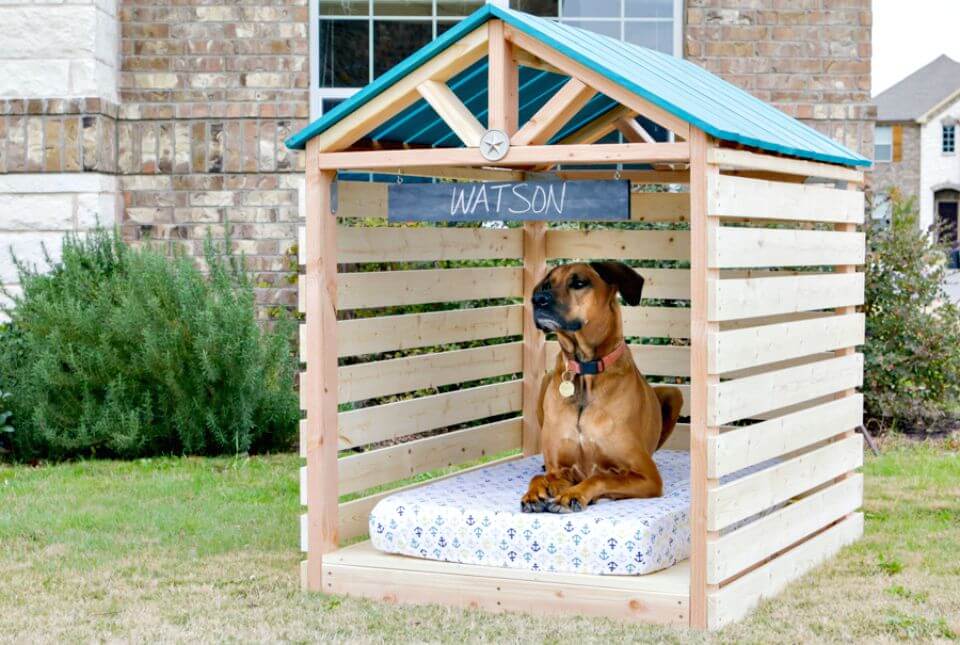 Summers are just great for all the outdoor fun you have there like lounging, parties in the gazebos, and so much more. o why not? Your pet has all the summer fun and building him this nice and functional gazebo styled wooden dog house would be the perfect idea to add more to his outdoor relaxing. Even a beginner can pull off this project as it only involves stacking the wooden slats together for the base, walls, and the A shape roof. Check out the feasible and easy details of this interesting and unique dog house here jenwoodhouse
Easy DIY Dog House Step By Step Tutorial: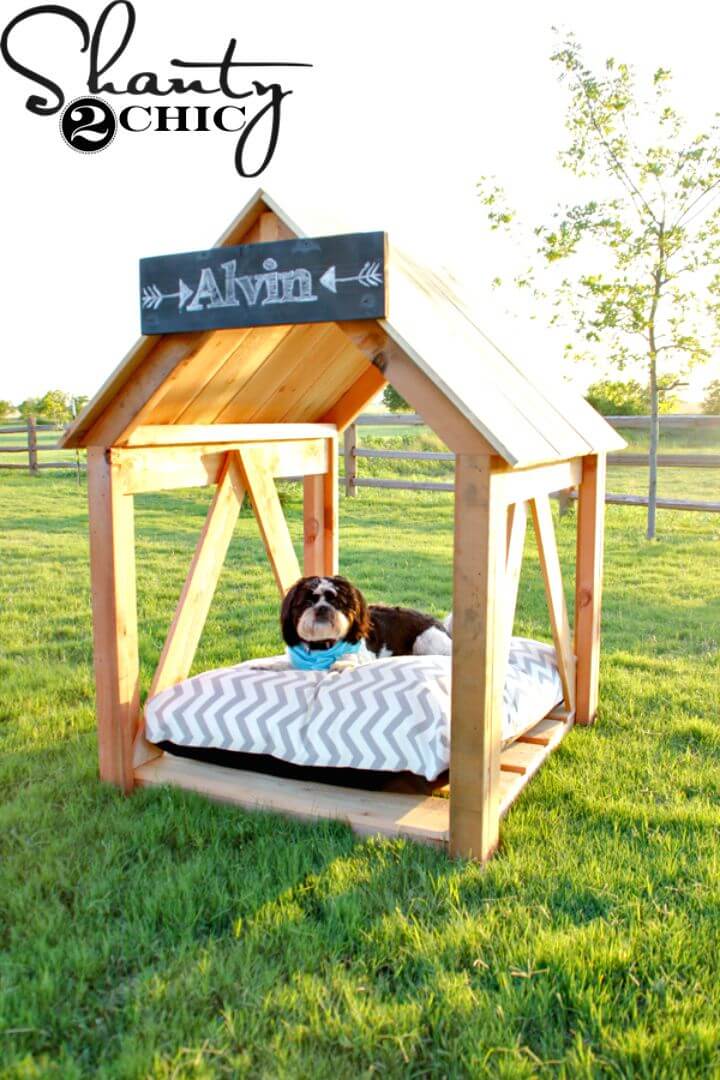 When everybody would be enjoying the fun outdoors in the summers, so should your cute and fun dogs have all the outdoor fun there too. So when you are lounging there, sitting under the gazebos and swinging on your beds, your dog can relax on this lovely looking wooden dog house which is too airy and open to let him enjoy the sun and the breeze at the same time. It would be effortless to install with the wooden slat pieces being nicely combined, and you can learn the complete tutorial of it here shanty
How To Build A Duplex Dog House Tutorial: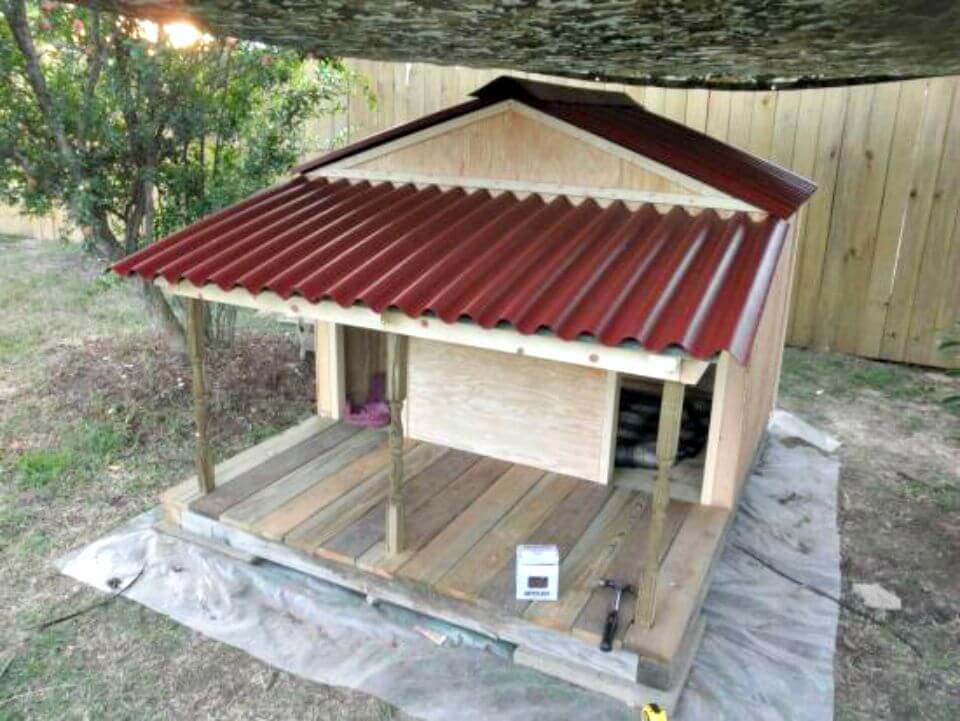 If you got tow dog pets and they share a good understanding, then you can make them this perfectly big dog house for both of them. The dog house is really spacious with enough space for the two to sleep and rest in, and it also got a deck to let them linger on. The roof has been made rainproof with the steel layers on it as the dogs do not like the rain at all, and thus, they can stay and rest inside when it is raining outside. Check out the feasible instructions an the details for the idea here doityourself
How To Occupy the Dog House Tutorial: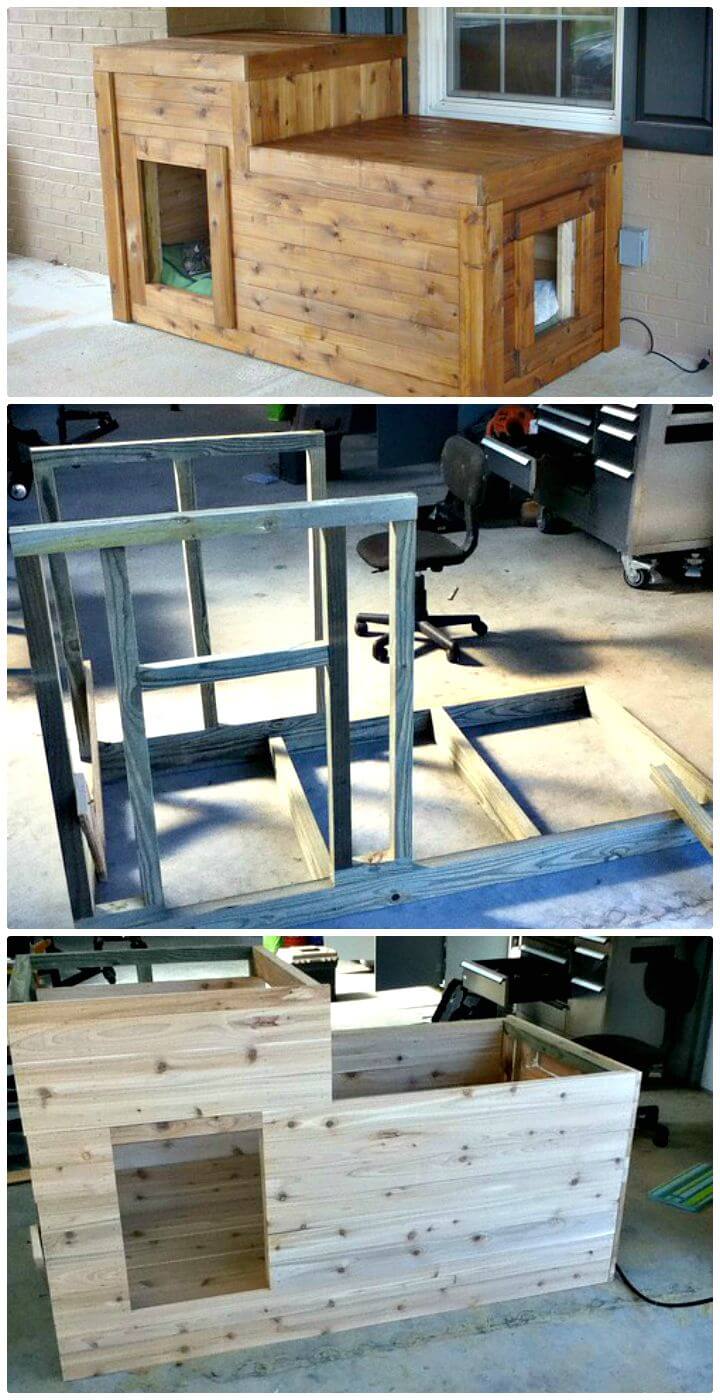 This simple yet shabby chic in style wooden dog house would be effortless to create at home. You would be installing the doghouse's structure with the easy stacking of the wooden cut planks to each other with a door frame at the front and the window at the side.It has been stained in rich rustic shades for that perfect enchanting look that would really look complimentary to your home decor too. Here is the link to grab the step by step details of the project and try this weekend houseof9lives
How To Build A Dog House In 14 Steps Tutorial: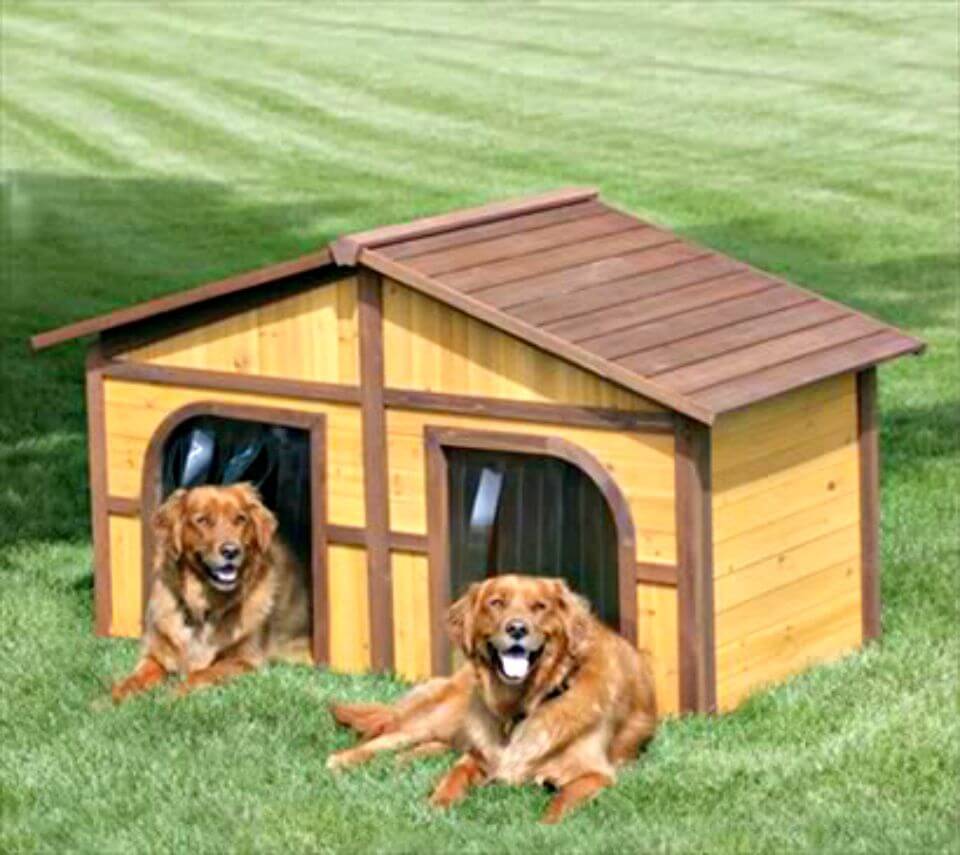 When you get a pet, you get lots of responsibilities too as they need constant care and love to stay happily with you and the first thing demand is a comfortable and relaxing space of their own to sleep, rest and relax in, and a dog house is perfect to create on your own for the purpose. Here is this super cute dog house with two sections, and thus, it would let two live together. They would share this gorgeous and cute dog house which you can build them easily with all the details and the instructions given here aboutdogfacts