Do you always prefer the geometrical decor when need to get your dwelling up to modern decor trends? Then these DIY triangle shelf will be a smarter choice. Here you only need 3 wood planks of same dimensions to build a triangle, will be your shelf. Building them at home will be a quickest and easiest DIY Wood Project ever and a genius way too to do something special with the old wood. However, your smart imaginations can help to come with lots of variations.
Want to give a creative spark to your home decoration? Try these 16 beautiful DIY Triangle Shelf ideas that will add new triangular attention to your current home decor themes. Time to again spruce up your spaces by doing some handy projects with leftover wood planks.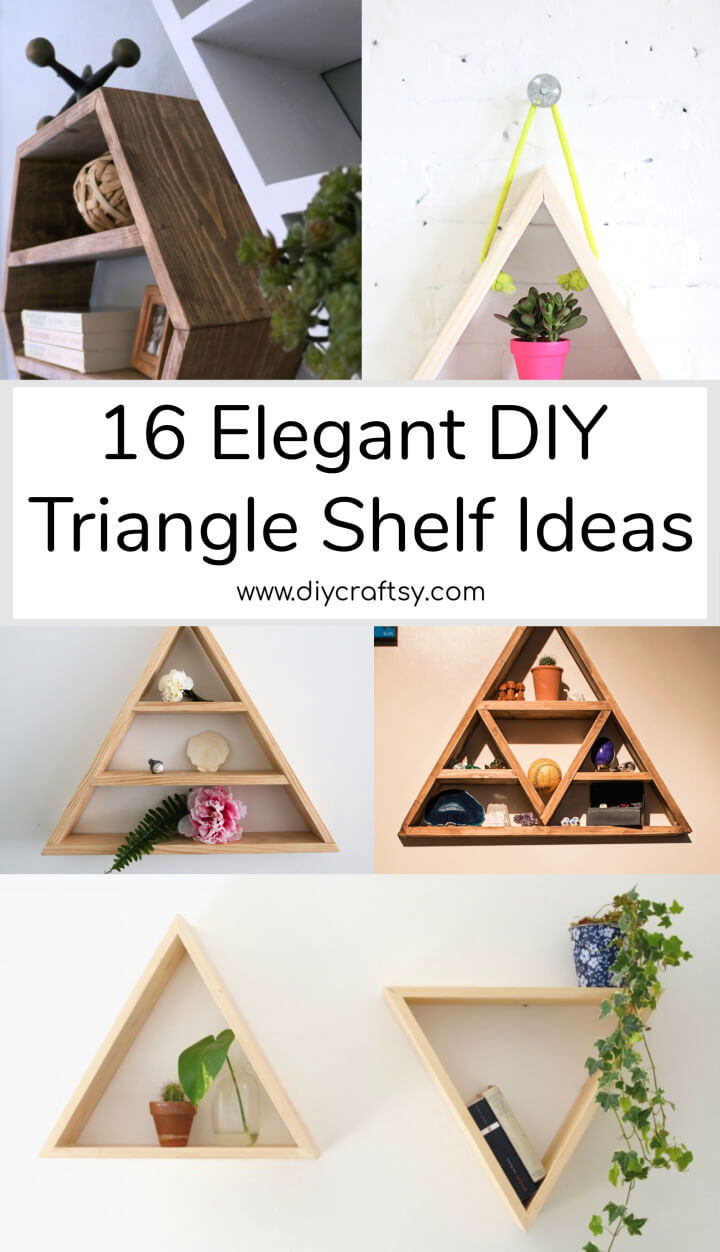 How to make a hanging triangle shelf?
Pack these DIY shelves in custom arrangements and mount on the wall in custom shapes to come with a style that will go appreciated to your dwelling. You can gain an arresting rainbow hexagonal wall shelf by packing 6 equal but differently painted triangle shelves. Fix also some on the wall straight along with a few upsides down, to go for bigger home decor statements.
Stack the wood plan triangles to build mountain or pyramid style storage racks. Bring a functional character to your spaces by adding a self-standing ladder triangular shelf, will be great for display purposes. Take a short visit of all these DIY Triangle Shelf Ideas to get more info about how to hang them on the wall and also to give a nice custom finish to them.
Easy DIY Triangle Shelf: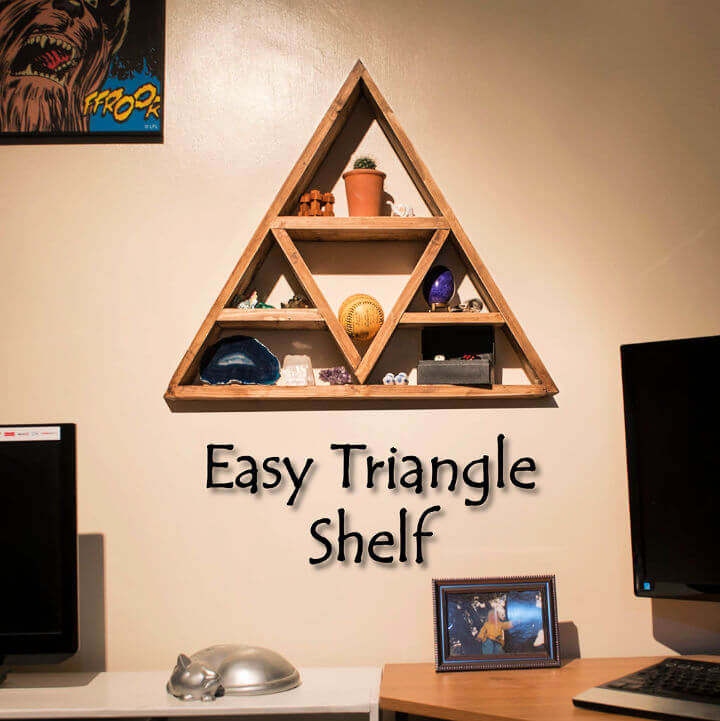 A small triangle in a big triangle, a dual triangle shelving design, a perfect choice to bring the geometric vibes to any of your home interior spaces.
You only need to grab a few of wood slats to build this triangular wood shelf, will nicely showcase and display your items of decors. Full how-to instructions here instructables
DIY Wooden Triangle Shelves: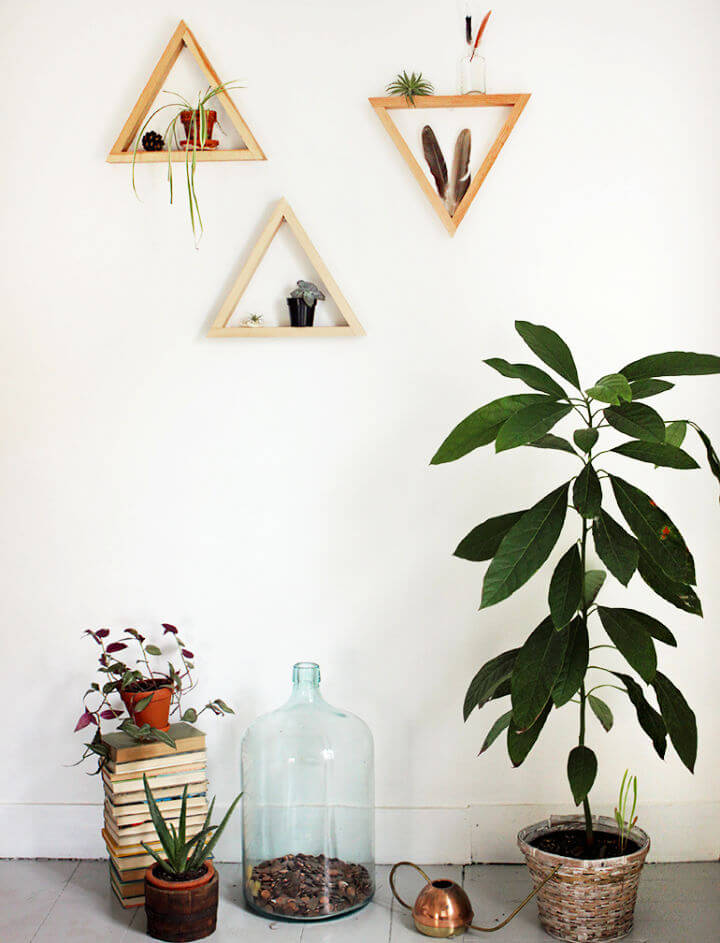 Nothing is easier than to build a triangle using wood slats of equal dimensions. So, make the wood triangles, next hang them on the wall in custom configuration and build epic triangular display shelves! a nice way to showcase your things on the wall for instant prominence. How-to details here themerrythought
DIY Rustic Hanging Triangle Shelf:
People are falling for the rustic decor more these days, so why not build the rustic hanging triangle shelves to satisfy your love for rusticity?
Look at the given eye-catching sample, hangs with a red twine or rope loop, and the ideal platform to showcase your worthy items of decors with care. Details here hgtv
Super Cool DIY Triangle Shelf:
You will love everything in this handmade triangle shelf, the design, the built-in shelves, and the rich blank tone of the wood.
Achieve this good looking triangle shelf model also using the slats of plywood or lumber. The bright blank tone of wood will also blend beautifully in your home decors. Complete how-to instructions here mrkate
Make Your Own Triangle Shelves:
Love to display your things on the wall, then choose these triangular shelves, will make the right choice economically.
These shelves will also to lift up the mood of your blank home walls, set these DIY shelves on the wall on custom angles for a great view.
A lovely and cost-efficient way to style up your interior walls. How-to details here designsponge
Colorful DIY Triangle Shelves: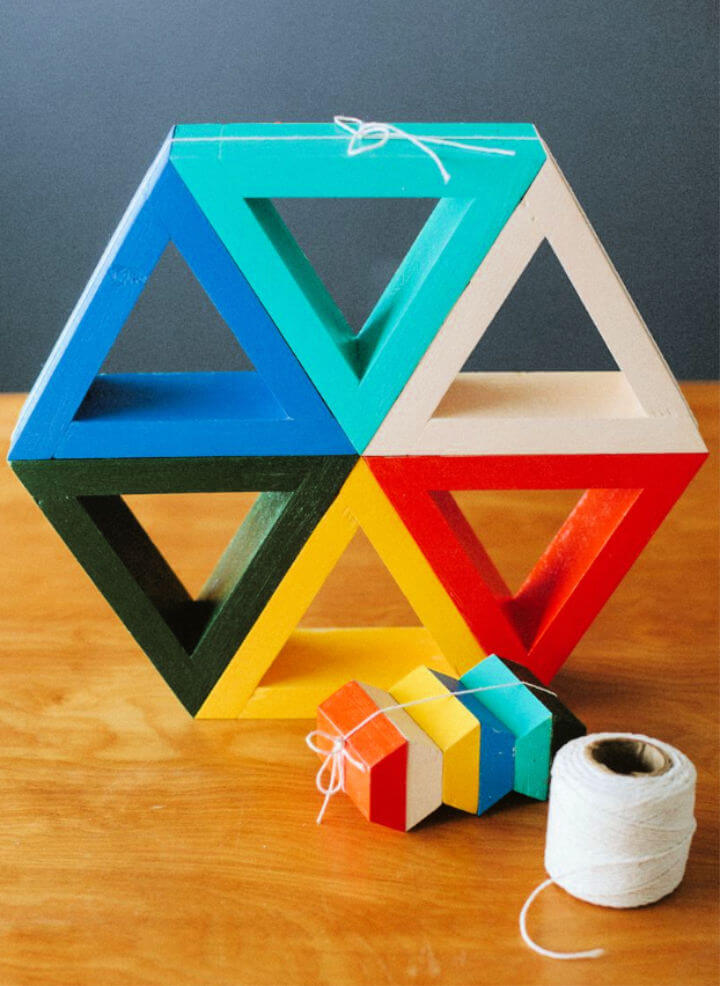 Gussy up your blank interior walls also with these colorful triangular shelves, are fairly easy to build using six triangular shelves of the same size.
Here each shelf has been painted in a different color, so finally finished model comes in rainbow colors. A smart indirect way to bring colors to a boring blank wall. How-to details here abeautifulmess
DIY Triangle Shelves for Your Room Decor:
Room decors matter when you need to add a unique decor style to a room. Bring an instant flair of decors to your home by installing these triangular shelves, a super quick and easy to whip up.
These wooden shelves are the absolutely right choice to display your individual home decor centerpieces on the wall. Details here thenest
How to Make a Triangle Shelf: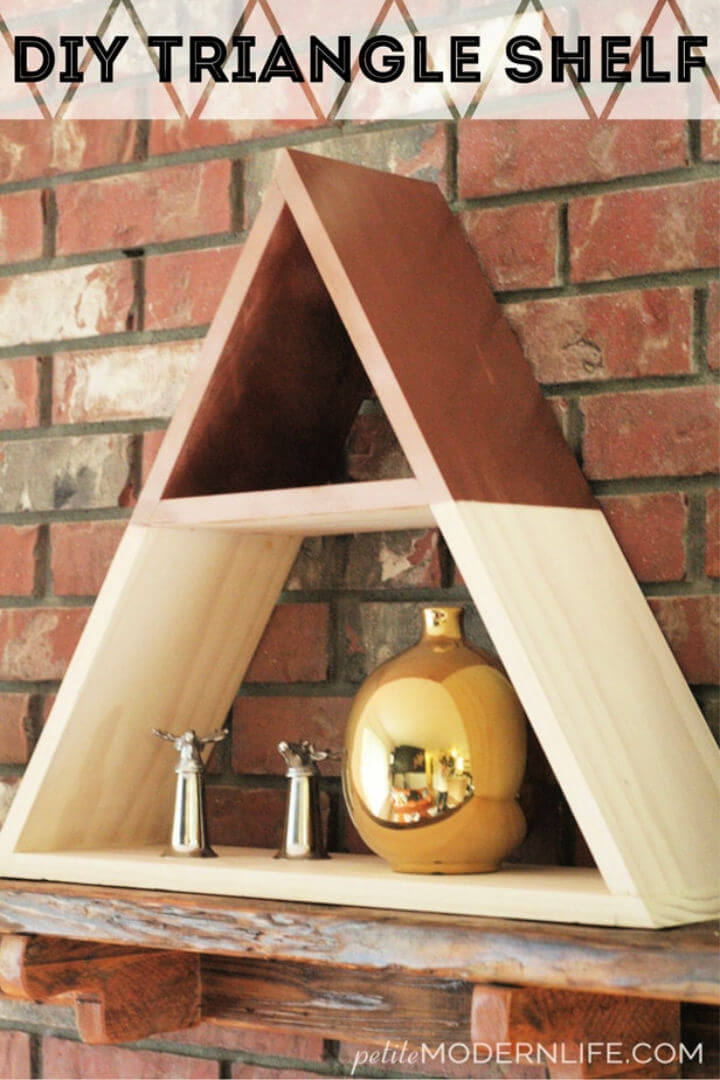 Lure the number of views of any wall with this hand-built triangle shelf, has a dual-toned wood appeal.
It is guaranteed to wow the audiences while holding your favorite decors inside. Increase its functional criteria by adding more shelves inside. Here is how to make it petitemodernlife
Super Easy DIY Triangle Shelves: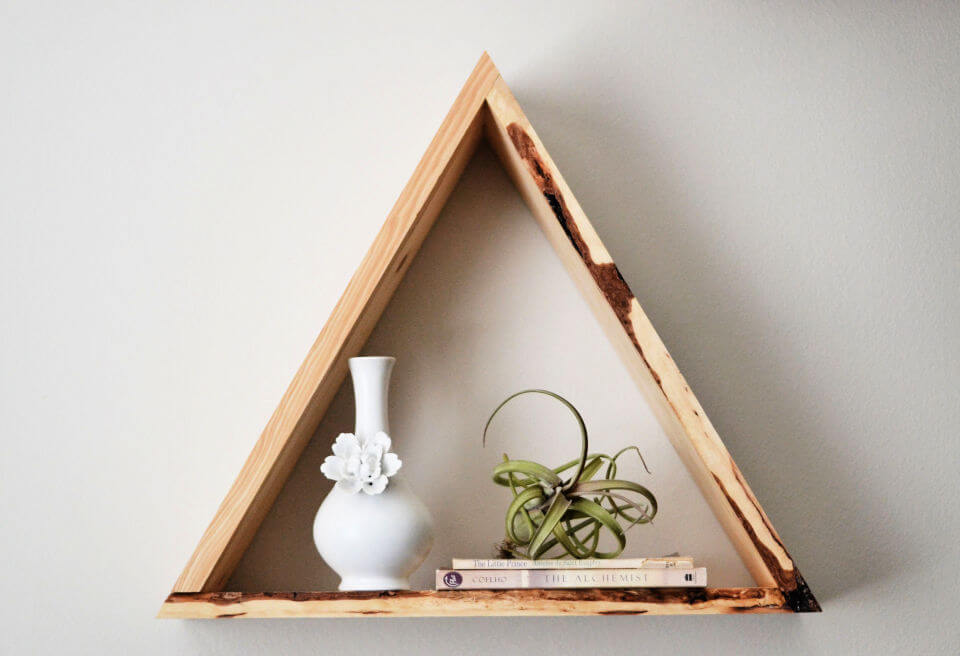 The straightforward wood construction can make you get with this, a handsome triangular wall shelf, something superb to look at.
Make it using recycled, reclaimed, and upcycled wood planks, stain, or paint to create a custom appeal of it. Full how-to instructions here chicanddisheveled
DIY Hanging Triangle Shelf: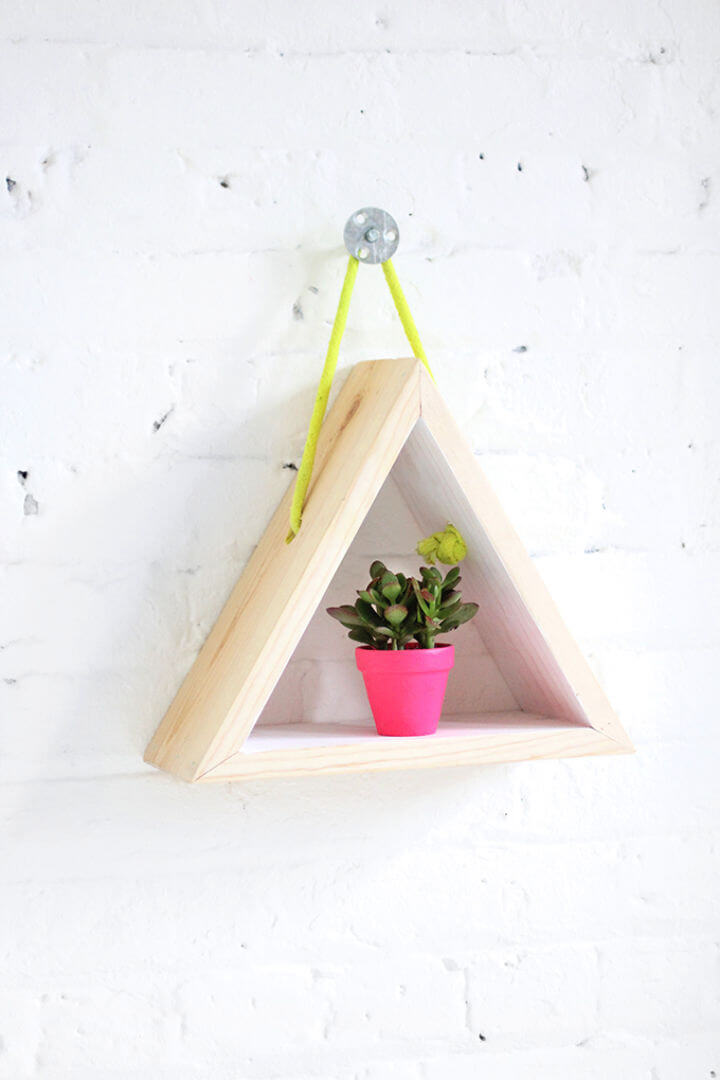 Sorting out the ways to make the interior wall a bit more impressive. Restyle the boring wall shelf with this triangle wood shelf. The wooden appeal will bring warmth, and geometrical design will definitely go modern.
This shelf holds a dark pin mini pot inside that turns it into a stunning wall decor centerpiece. Don't forget to hang this shelf on wall hooks using a neon rope loop. How-to details here ispydiy
DIY Triangle Shoe Storage Shelf:
Showcase your shoe pairs in style by building this gorgeous design of triangle wood shelf, made to dazzle the audience.
The ideal platform to showcase your shoes as you see in boutiques and shops. build a self-standing ladder using your favorite wood boards and next install flat wood shelves across the ladder rungs.
Complete details here lizmorrowdesign
How to Build a Triangle Display Shelf: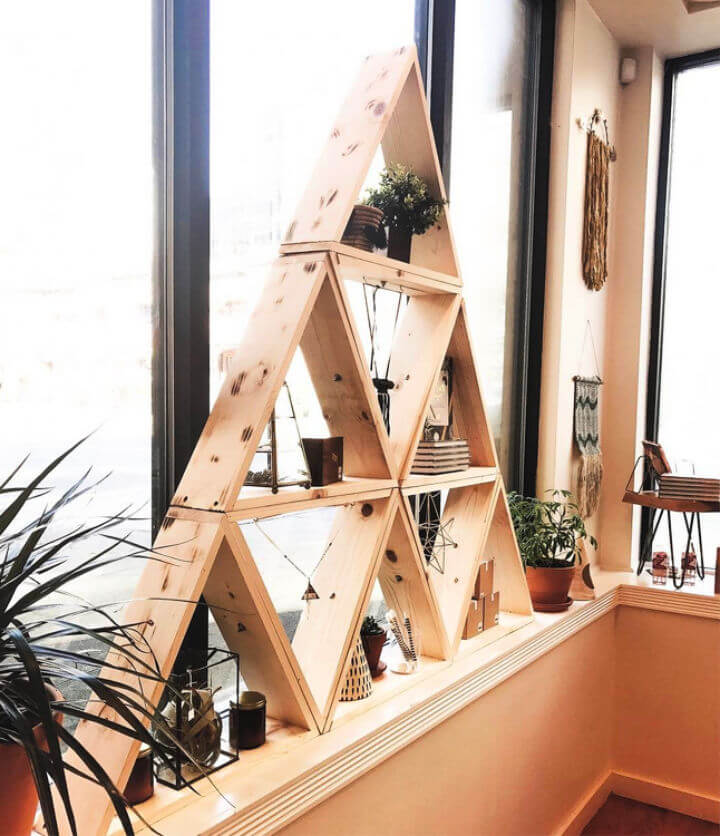 Build the instant decor station for your home by stacking the triangular shelves of the same size. Nothing will display your decors and centerpieces more beautifully but this triangle display shelf, quick to whip up.
Build almost nine triangles of the same size that you can stack up to gain this epic display shelf. Details here poppytalk
DIY Triangle Shelves for Wall Decor: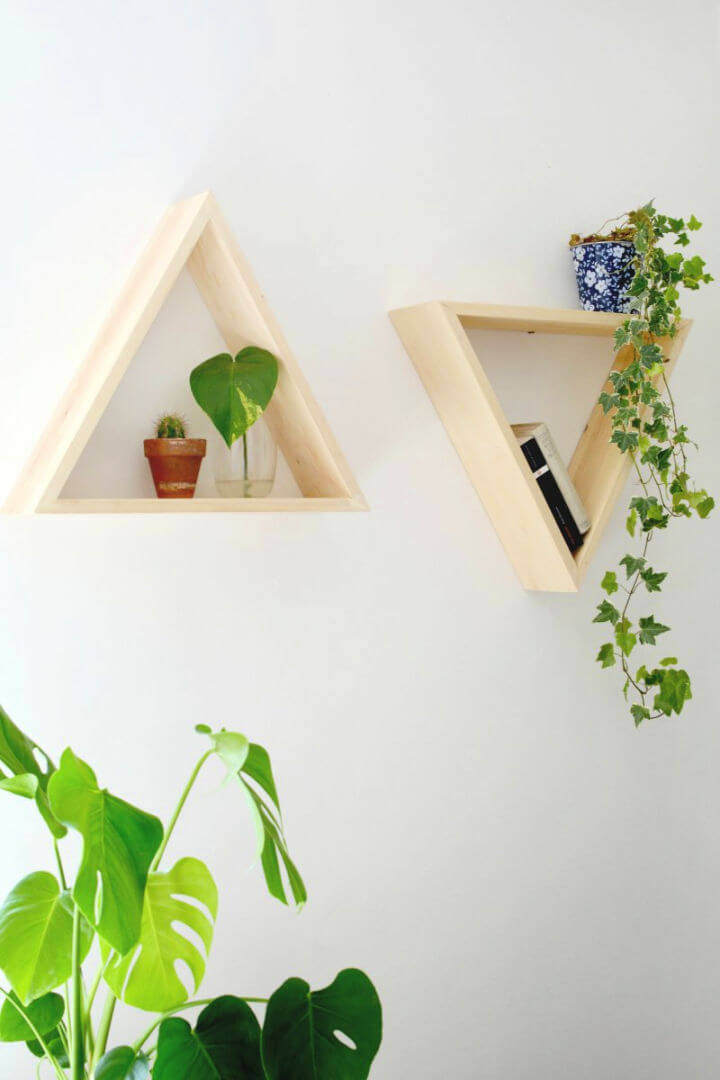 One straight and one with upside down, the two triangle wood shelves, would be enough to jazz up any boring wall that needs an instant refresh.
Build these shelves with wood planks of choice and even a nail hook would be enough to hang them on the wall. Complete details here burkatron
DIY Hexagon and Triangle Shelves: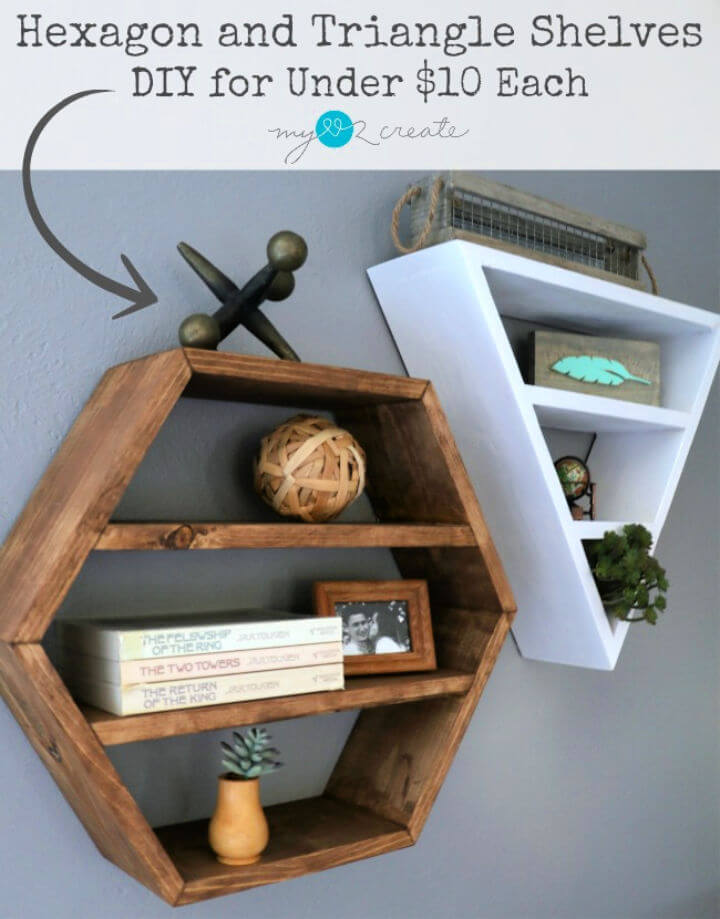 Do you want to make your interior walls speak volumes for the geometrical decors? Then you must make these hexagon and triangle wall shelves, a perfect combo to get your boring wall engaging again.
They will serve as both storage and display shelves on the wall. How-to details here mylove2create
DIY Triangle Shelves Under $20:
Pick the right triangle shelf plan that will fit best to your budget, spend only $20 dollars and enjoy good looks of your boring walls again.
The idea to build these DIY triangle shelves under twenty dollars will be a graceful addition to any boring wall. Go with plywood slats for extra accurate design dimensions. Details here mrfixitdiy
IKEA Hacks:
The things you love to cherish for years to come, demand for extra care. Display your keepsakes in these IKEA Billy Bookcase Hacks for bigger home decor.
A billy bookcase hack to make in no time and without getting expensive. A wallet-friendly wall decor treatment.