Looking to add a personal touch to your home without breaking the bank? DIY home decor is a great way to add style and personality to your space without spending a lot of money. With creativity and inexpensive supplies, you can easily transform your home into a stylish and inviting space.
To get started, check out these 40 cheap DIY home decor ideas and projects that are sure to turn heads. From simple wall art and mirrors to impressive making DIY furniture and fixtures, there's something here for every taste and budget. So whether you're looking for a quick weekend DIY project or modern decorating project to tackle, these DIY home decor ideas are sure to inspire.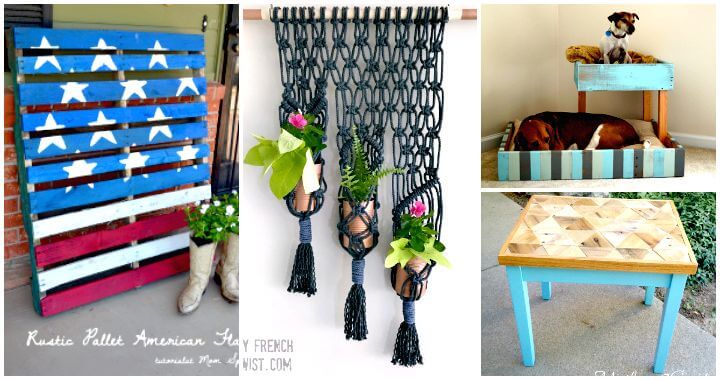 DIY Home Decorating Projects and Ideas
Find 40 cheap DIY home decor ideas and projects that you can try to decorate your home. These inexpensive diy home decorating ideas are simple, affordable, and definitely worth trying out. So what are you waiting for? Start brainstorming your own diy decor ideas, and get started today!
DIY Tiered Planter Box Plans And Video Tutorial Under $10: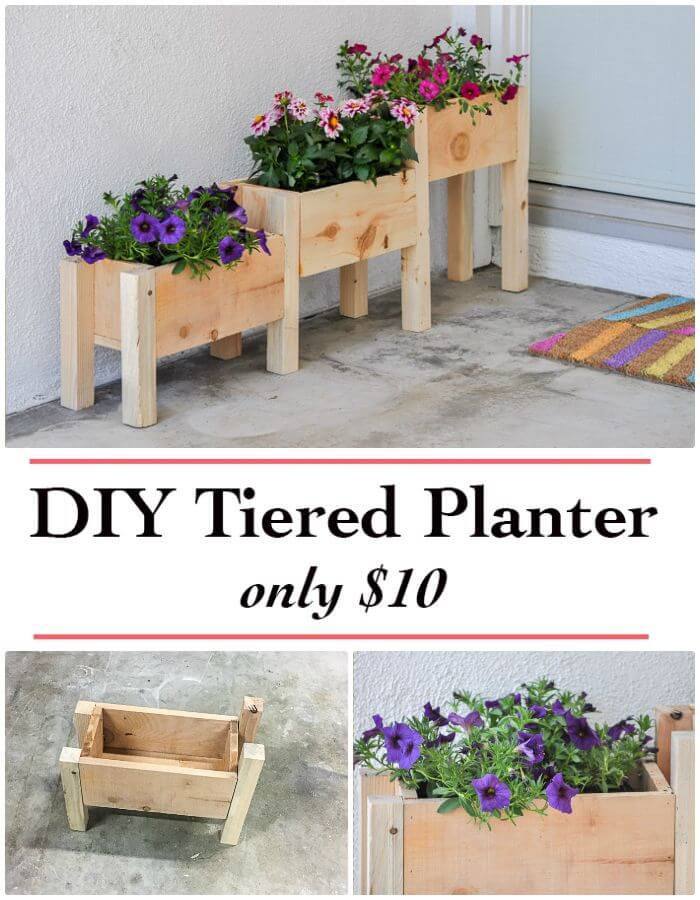 Planters are a way to enjoy the garden greenery everyday just right in your court yard, at patio and also to any indoors of your home! They can be different type and of different designs but the wooden ones always work amazing! See here this stepped row of wooden flower planters that is a delight to view! A fantastic DIY home decor idea just by creating some wooden holdings! Want to see these planters next in your front porch? anikasdiylife
Easy DIY Modern Farmhouse Desk – Plan & Video: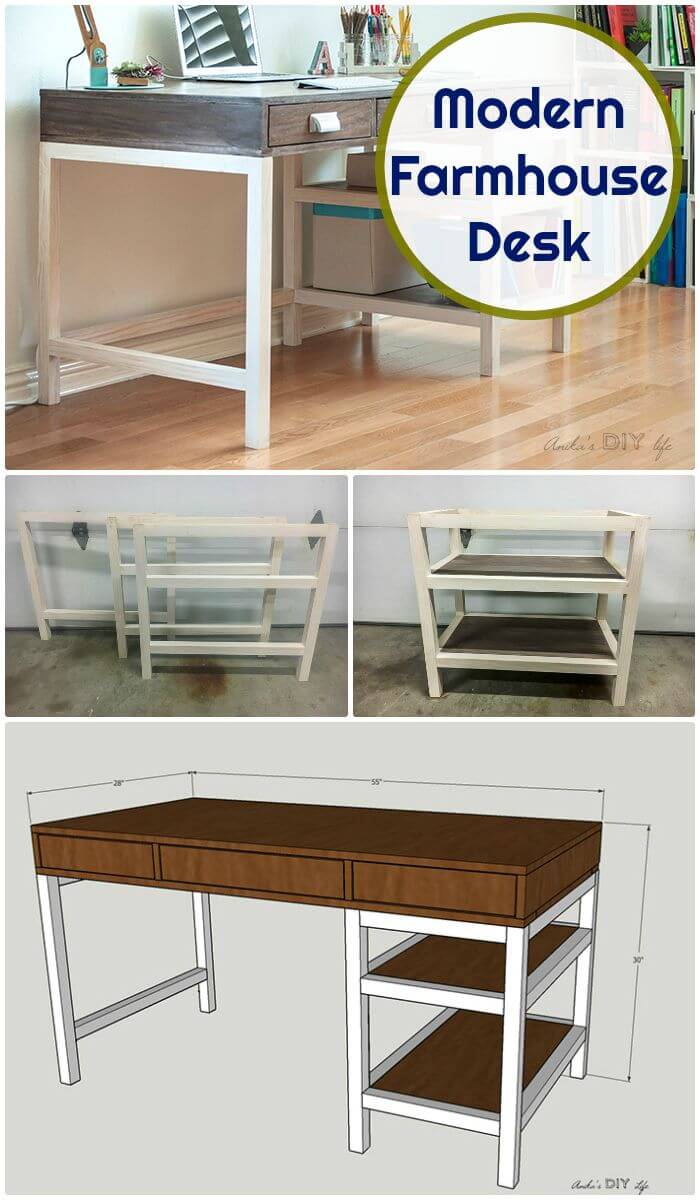 Have you ever gone through some DIY woodworking projects? If yes, then it can really help you to design your own special and custom interior furniture! Get inspired of this precious modern farmhouse desk that is a perfect sample here is purely home-built! This comes with 3 drawers built in the top panel and 2 shelves built underneath that provide ample storage space to user! Getting custom furniture for the home with a custom appeal is also a great way to boost your interior decor! anikasdiylife
How To Easy DIY Pallet Headboard: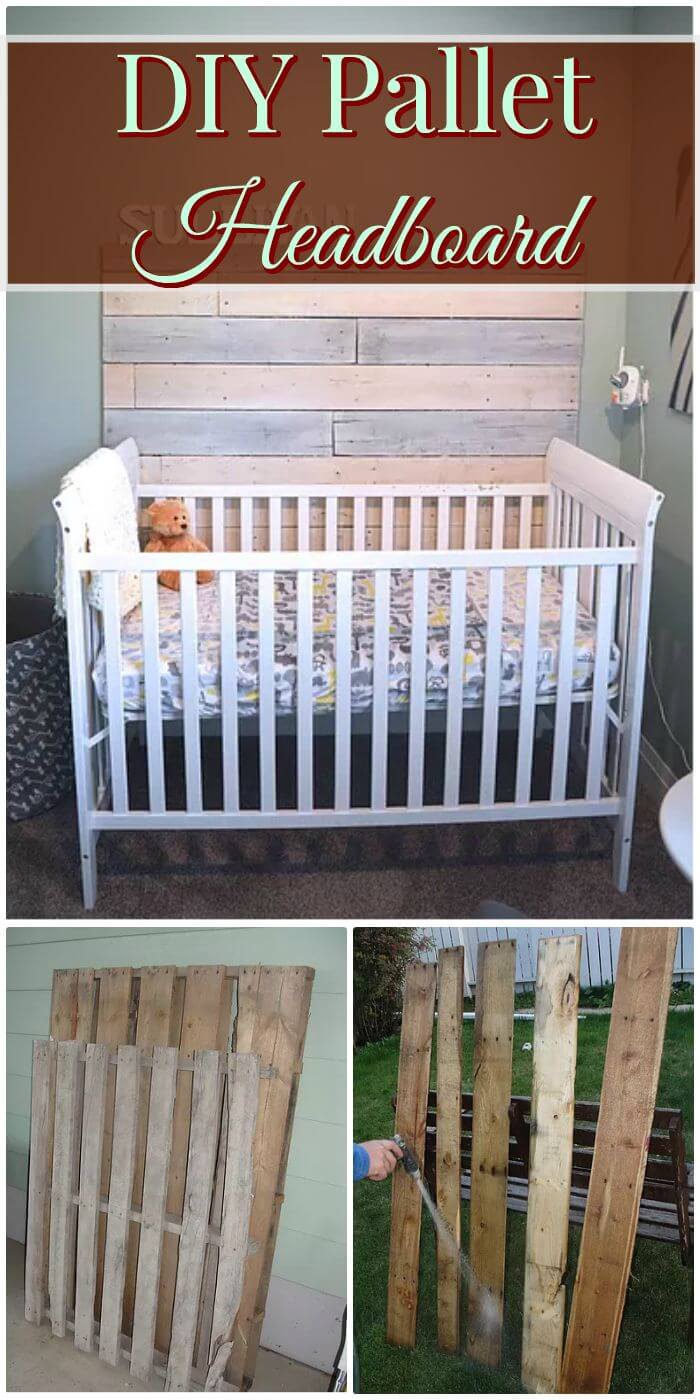 Pallets are what that a creative person use to change his life! They can be used in almost every home improvement projects and a big source of free and durable wood! Here is another adorable pallet project that you can duplicate in your bedroom! Just grab some free pallets and pluck apart the slats from them! Put them together to build a durable wooden rectangle and a precious wooden headboard is ready! Give a durable weather finish and just paint it in your own favorite colors to be an eye-catching head of your bed!
DIY Rain Barrel Stand For Multiple Rain Barrels: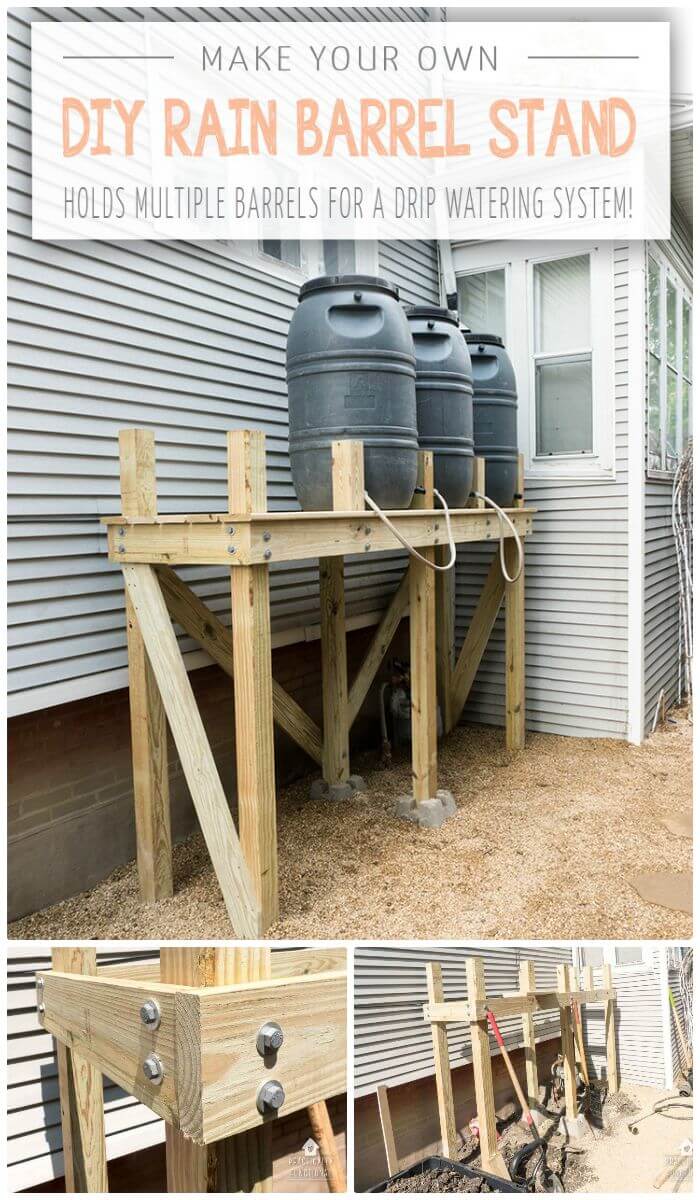 To store the rainwater is just a great idea and this is why the rain barrels are often to see on roofs of various homes! So, if you have also got some rain barrels then you should also build a durable stand for them to get them working fine! However, you build a lasting longer wooden stand at home too just by using your woodworking skills! Just make you get the enough knowledge about this, here is a sample rain barrel stand made of repurposed wood! Another great DIY home decor project! Want to duplicate this barrel stand? practicallyfunctional
Decorative Macrame 3-Pot Planter Tutorial: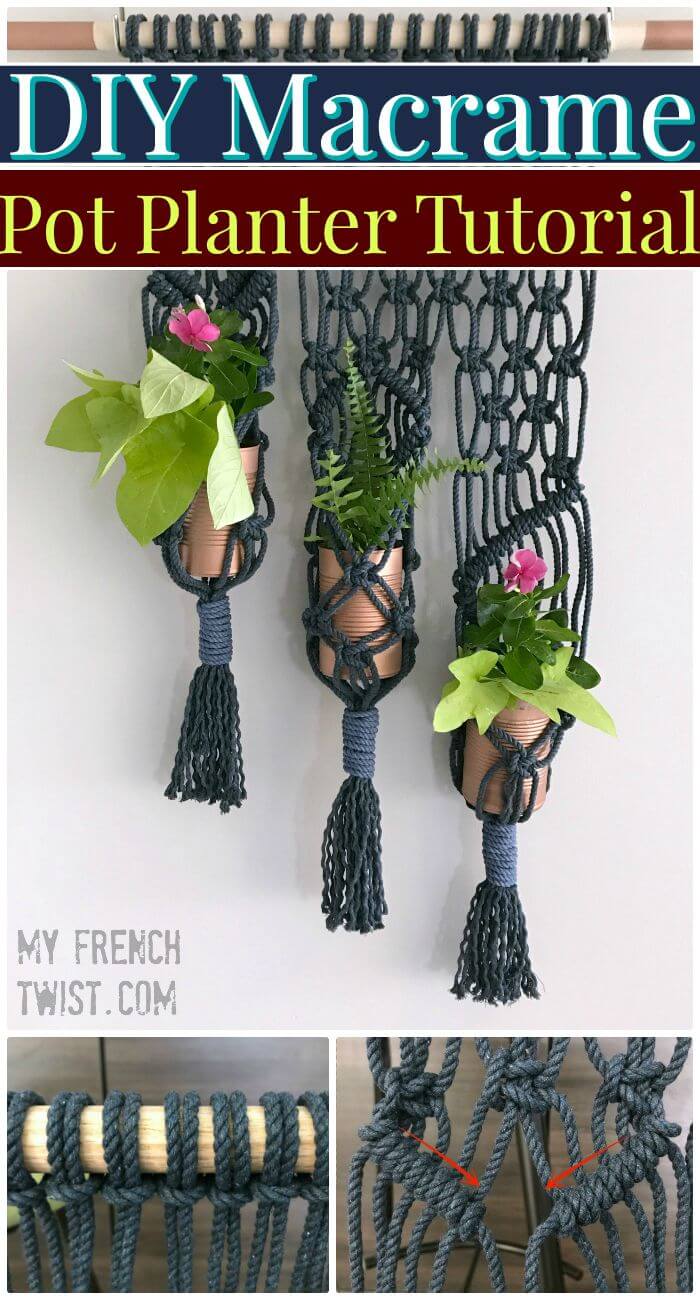 You can also make use of your art of macrame to boost your interior home decor! Just craft some beautiful macrame pot planters and hang them to any room or interior at some visually attractive locations, this will truly raise your interior decor to peak level! A mind-blowing and durable sample of macrame 3-pot planter is here, a lasting longer rope has been knotted to make this macrame plant holder! Intending to duplicate it? Free tutorial and step-by-step instructions here myfrenchtwist
Macrame Plant Hanger: This easy macrame plant hanger pattern is perfect for adding a touch of nature to any room. The simple design is easy to follow, and it makes a great beginner project.
DIY Macrame Hanging Herb Garden Decoration

Another mind-blowing DIY home decor project to do using your macrame-ing skills! Just grab your favorite colored rope and knot it beautifully to create precious holdings for the pots! A mind-blowing sample is given here, the macrame hanging herb garden made of precious white cord! This is here the 3 pot macrame plant holder but you can vary the number of rope hangers according to number of garden pots you are having! myfrenchtwist
DIY Macrame And Terra Cotta Planter: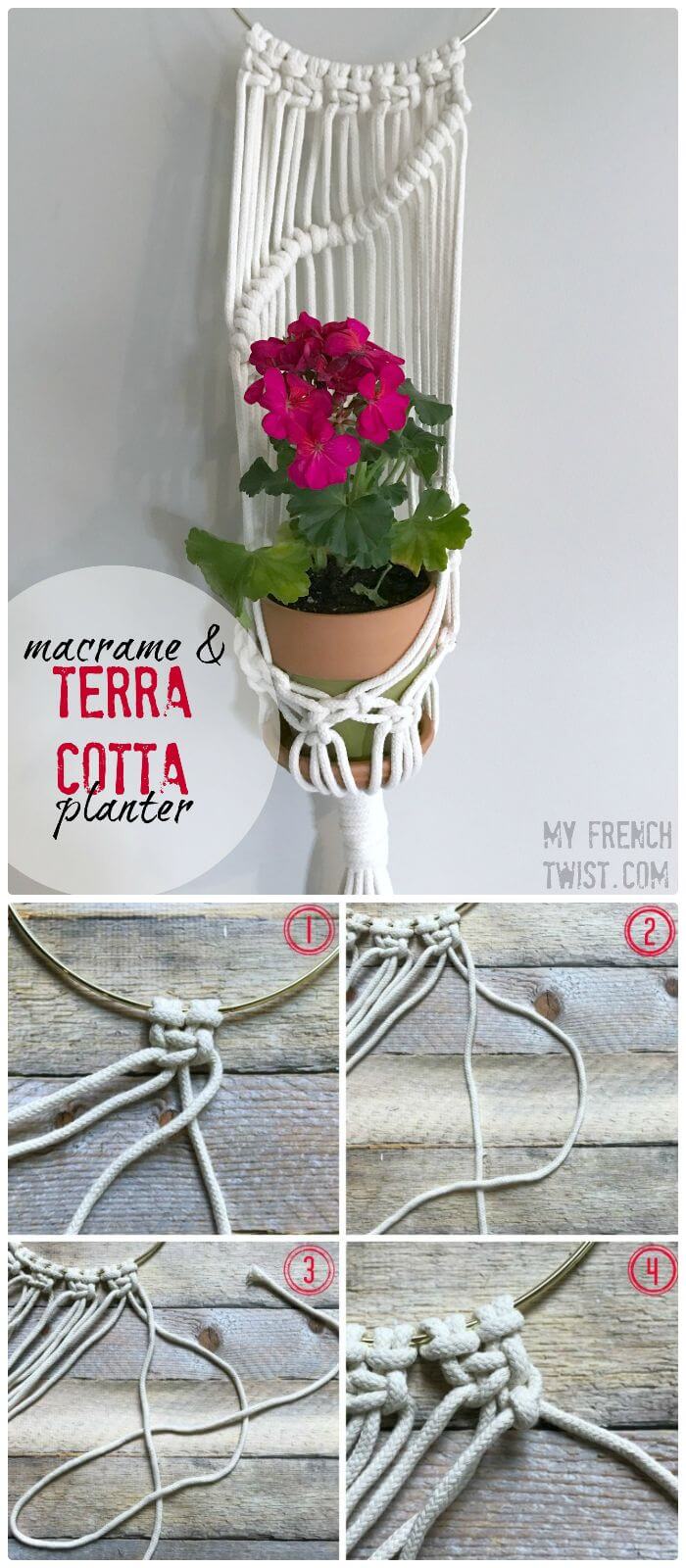 If you are true home lover and are always having the DIY home decor on your brain then you will just fall in love with this macrame terracotta planter! A precious milky white rope holding carrying a sweet terracotta flower pot in it, would make an attention-grabbing centerpiece for any interior or exterior wall! One can also duplicate it for bigger statements of interior wall decor! All you need white cord, terracotta flower planter and some skills of art of macrame-ing to clone this project! myfrenchtwist
Quick DIY Painted White Dash Doormat:

If you are on a mission to boost your DIY home decor, then you just pay more attention to locations of your home that makes the first impression of your home to visitors! No doubts they are the entryways, entryways to your home and entryway to your room or hallway too! A great way to jazz up your entryways would be to place there some beautiful doormats! If not having the special new ones, simply paint the old doormats for some fascinating patterns to be interesting and visually captivating! A great sample here is this white dash doormat, a great inspiration to boost your DIY home decor projects! delineateyourdwelling
How To Make Vertical Wall Planter – Free Tutorial: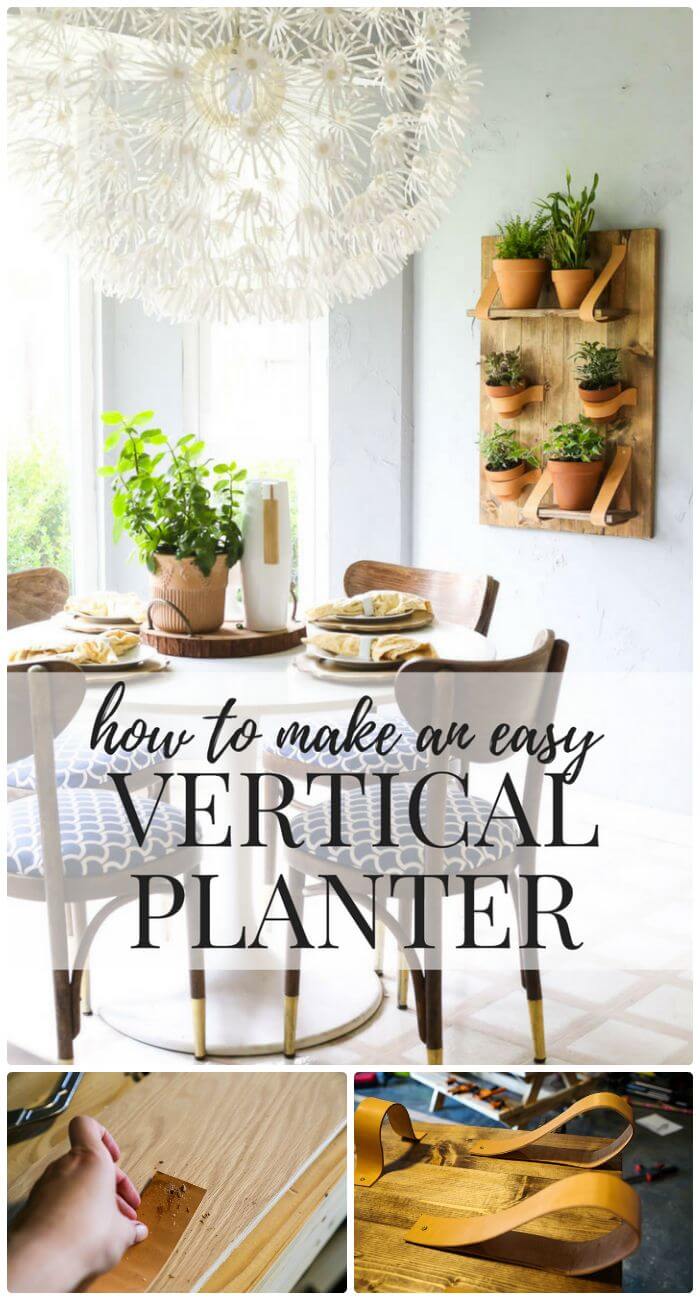 Bringing a garden vibe to your interiors would also be something that can add great visual details to your interiors! This can be done in various different ways like by using pots, plants and vertical gardens but if your main focus are the interior walls then this vertical wall planter would just work great! It is super easy to make at home just by using some free wood and some leather strips! Final step would be to use the recommended hardware hanging systems to hang it safely on any interior wall! loveandrenovations
DIY Gorgeous Serving Tray – Free Plan

Little things matter a lot when being on the mission to boost the interior home decor! You will find the statement so true when you will just look at this fancy hand-built wooden tray! It comes with alluring diagonal color stripes that turn it into a dining table eye-piece! All you need a flat wooden plank or lengths, two metal hardware handles and some wooden dowels cut to the size that will serve as a base of the tray and will make it a little off the dining table surface! inspiredbycharm
Simple DIY Home Decor Ideas
DIY Wind Chimes: Wind chimes are a beautiful addition to any yard or garden. They make a pleasant sound when the wind blows and can be a decorative addition to your outdoor space. Here are homemade DIY wind chimes to make your own wind chimes.
Burlap Crafts & Decor: Burlap crafts are all the rage right now, and for a good reason! They're super easy to make, and they add a rustic touch to any decor. Check out these easy DIY burlap crafts and decor projects for inspiration.
Vinyl Projects: You can use vinyl to create patterns, designs, and even text. Explore simple vinyl projects that even beginners can attempt. Whether you're looking to add a touch of personalization to your home or want to create a unique gift for a loved one, these vinyl projects with Cricut are a great way to get started.
DIY Makeup Vanity: If you're looking for a DIY vanity table plan, find different makeup vanity plans for you to choose from. A makeup vanity is a perfect addition to any bedroom. Not only does it provide a designated space for you to get ready each day, but it can also add a touch of style and glamour to the room.
DIY Room Decor: With these DIY room decorating ideas and some basic supplies, you can decorate your room in a way that reflects your personality and is uniquely yours. From funky wall art to creative storage solutions, these ideas will help you transform your room into a space that you love spending time in.
How To DIY Vertical Herb Garden – Free Tutorial: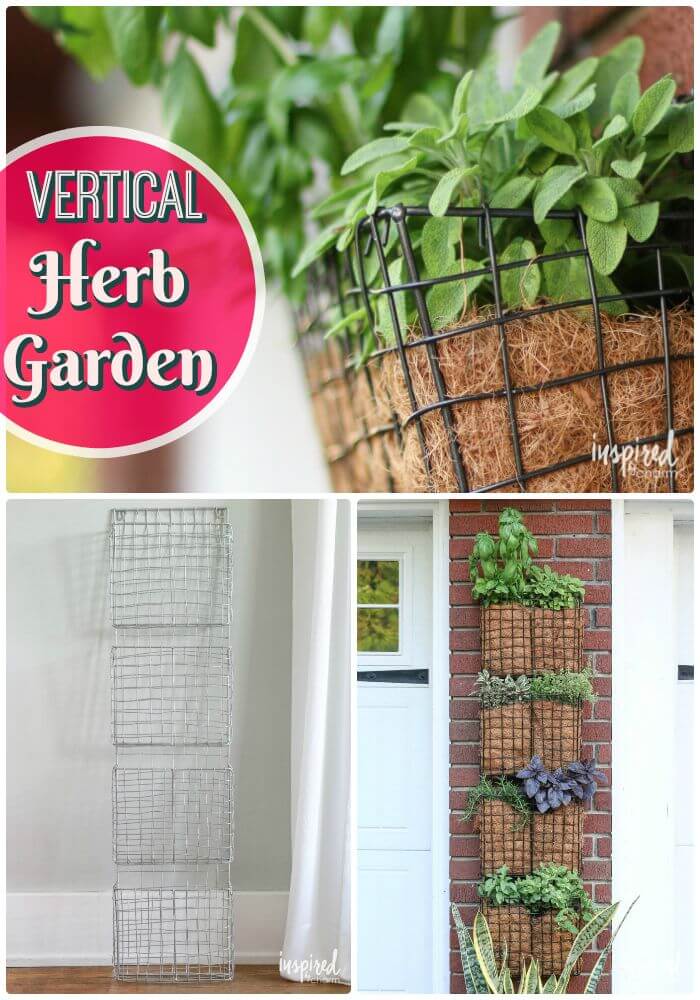 You should grow some hard-to-find herbs in your garden! But there could be some additional beautiful ways to grow herbs indoor also that will also compliment the home decor! If you were willing to do then just check out here this very precious vertical herb garden that is all made of metal baskets hanged on the wall in vertical line using the perfect hardware! Another mind-blowing DIY home decor project to duplicate to get your home look enchanting!  inspiredbycharm
DIY Planters: Looking for a fun and easy way to add plants to your home? Check out these decorative DIY planters you should make! From simple pots made from recycled materials to stylish geometric planters, there's a project here for everyone.
How To Make An Indoor Swing: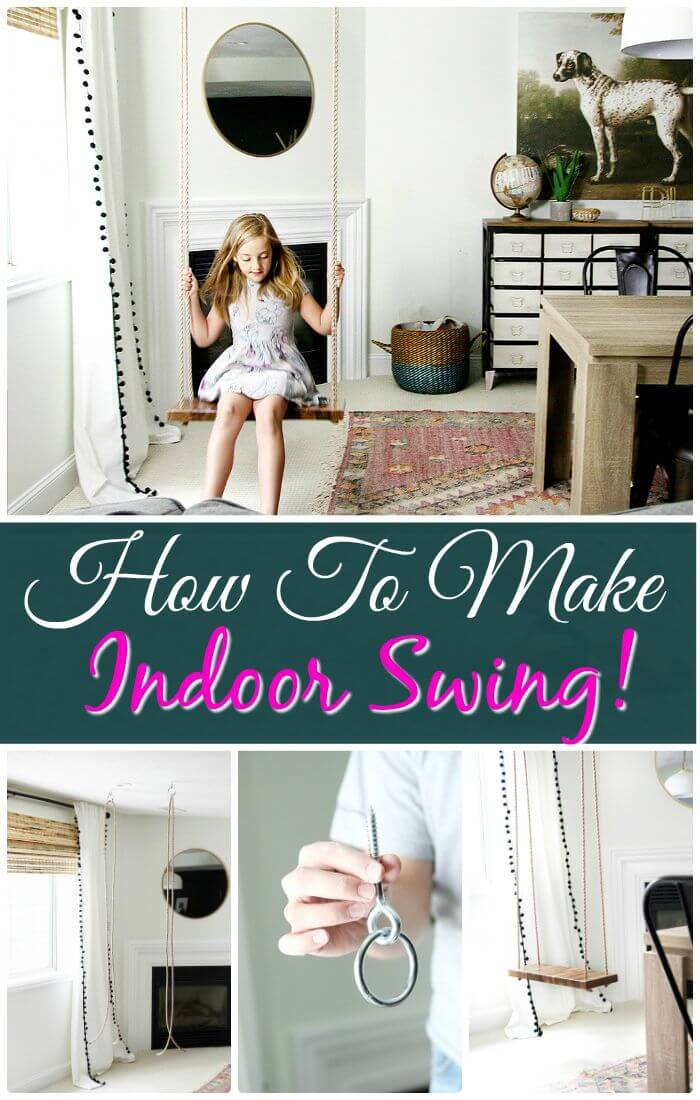 Why your kids seek the fun always at your outdoor, you can provide the ultimate fun and entertainment to them at indoor too! One brilliant idea would be to install the indoor swings, check out here a brilliant sample! All you need the suspension rope or metal chain, some aloft supports, a wooden blanket as the seat! In hardware, you will only require some eye-bolts and metal rings as you can see! This would be another DIY home decor project also! chrislovesjulia
DIY Natural Surface Cleaner For All Purpose: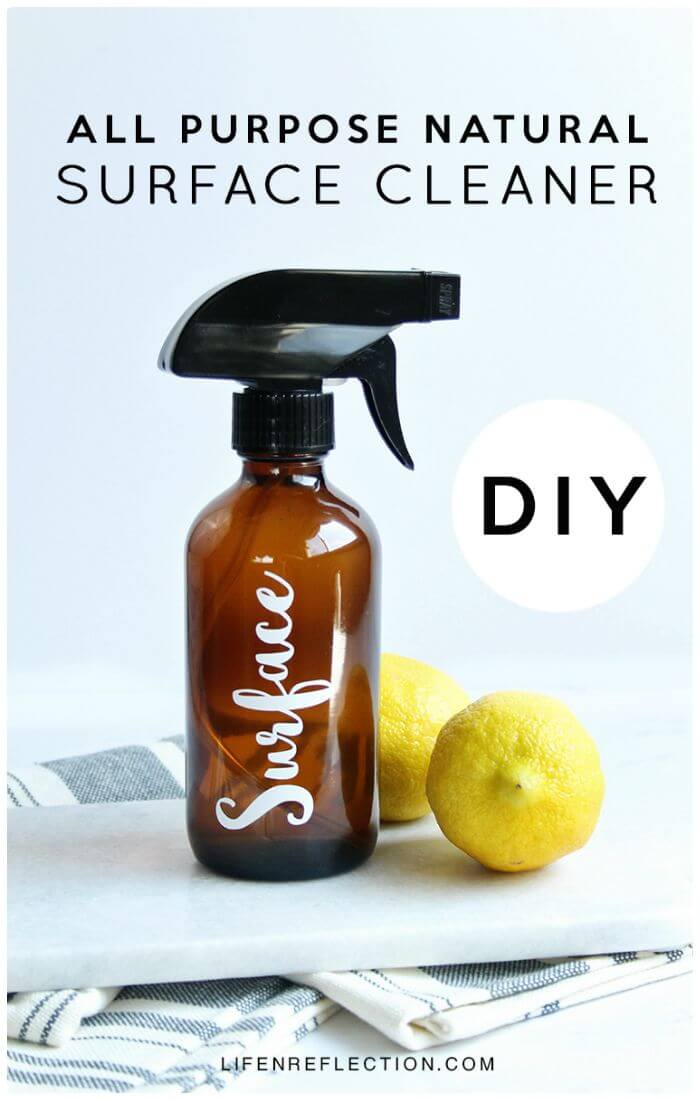 While being on the mission to create a perfect look of your interior then delicacy of your furniture matter a lot in this case! So, here is what you need to see all your surfaces including furniture shining! This is here the homemade surface cleaner that can be used for all purposes and is damn easy to make to at home! lifenreflection
Easy DIY Modern Address Plate – Free Tutorial: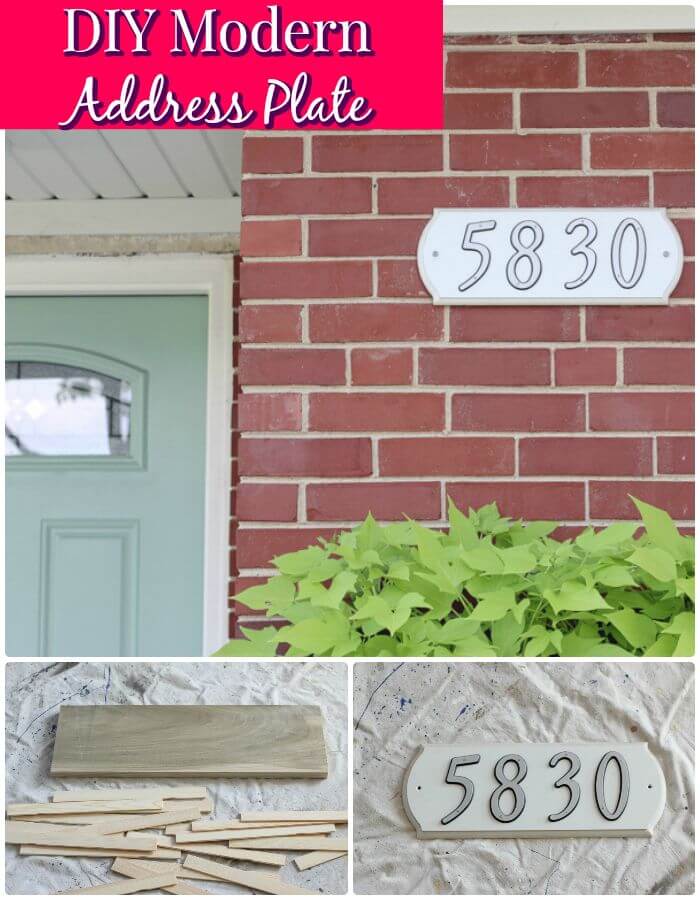 As we have said it above that the little things should also be decorated well while intending to create a glam and spellbinding look of your home! Here is another quick project, in this case, just replace your old address plate with a new and modern looking one, and this will add great visual details to your home exterior, get inspired of this sample project here! thediyplaybook
DIY Colorful Fall Mantel With Painted Pumpkins: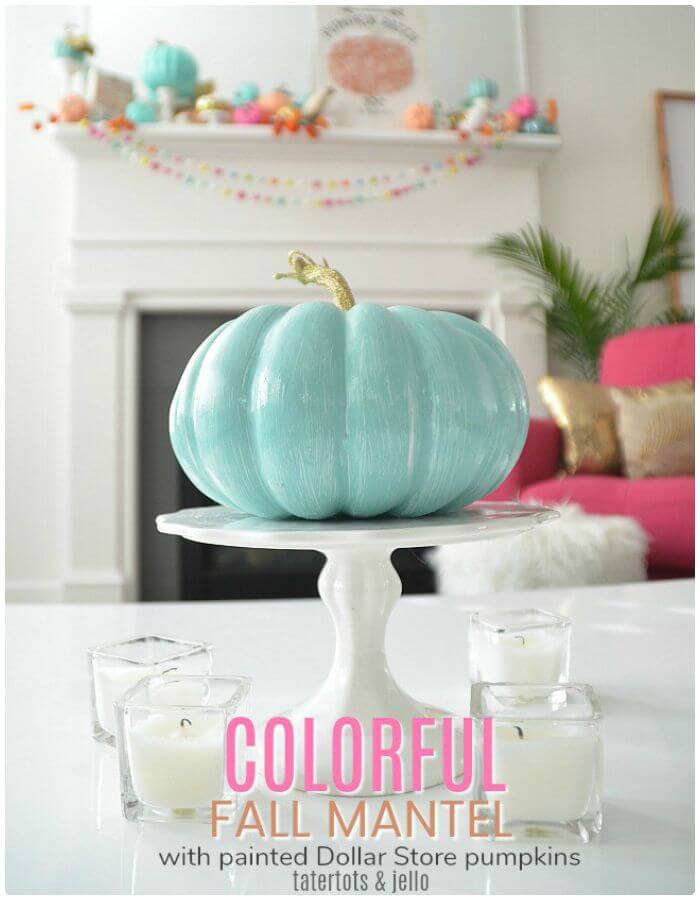 Looking for perfect fall decor home plans? You can simply go with the pumpkin theme that is always appreciated as special fall decor theme! So, a great idea would be to put some fab painted pumpkins on your fireplace mantel for an enchanting display! See the sample project here to get your self-inspired! Another mind-blowing DIY home decor idea for fall! tatertotsandjello
DIY Copper Wire Photo Display – Free Plan & Tutorial: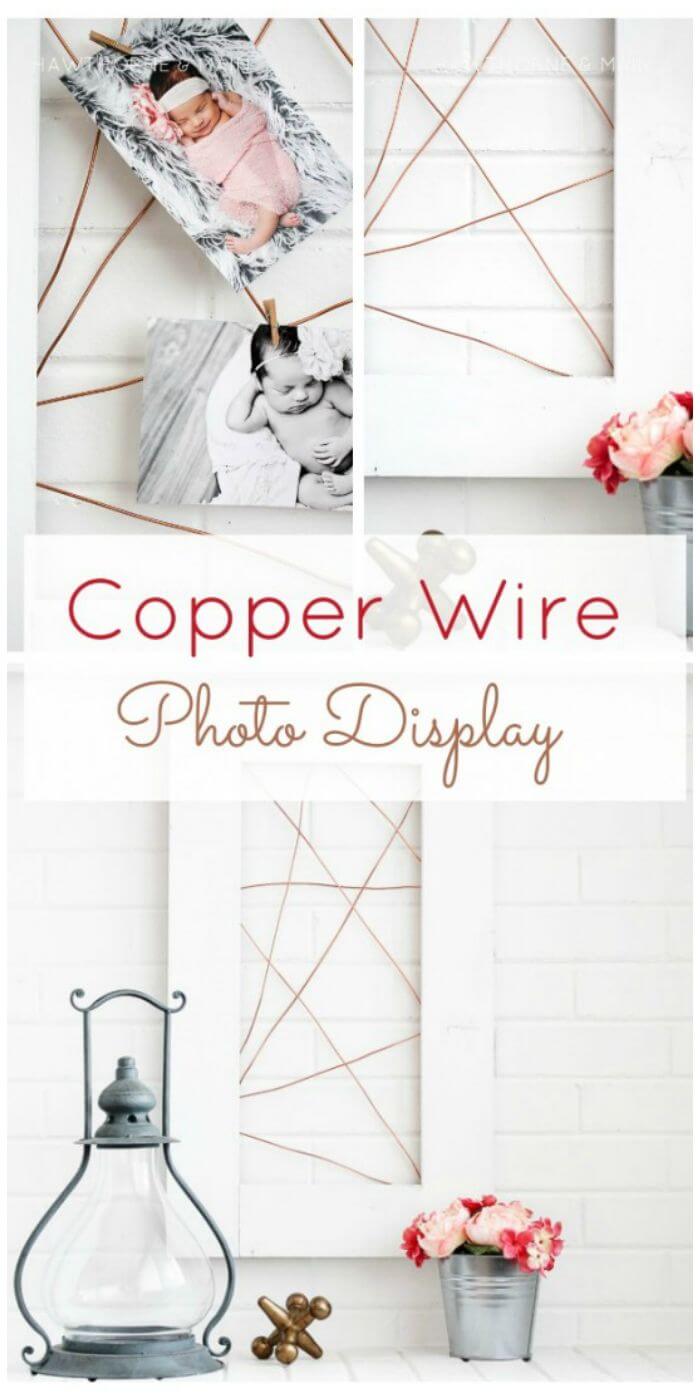 The main focus is always the interior walls when intending to boost the interior home decor to peak level! So, you can simply jazz up the interior walls by displaying some art pieces, religions sing and paintings! Another idea would display your memorial photos artfully! Just check out here the copper wire photo display that is brilliant and will add tons of focal stimulation to any of your interior walls! Another great DIY home decor project to duplicate! todayscreativelife
DIY Letter Decor – DIY Home Decor:

Rustic and modern mix decor are in trends, and there are several related DIY projects that one can do to spruce up his interiors! One amazing one is shared here that is perfect for those who are willing to bring a rustic vibe to their interior for making them appeal a bit vintage! Just check out these pastoral home decor letters that come with "o" made of grapevine wreath form and rest of the letters are made of old wood! Another great DIY home decor project here! morewithlesstoday
How To Make An Easy Magazine Rack: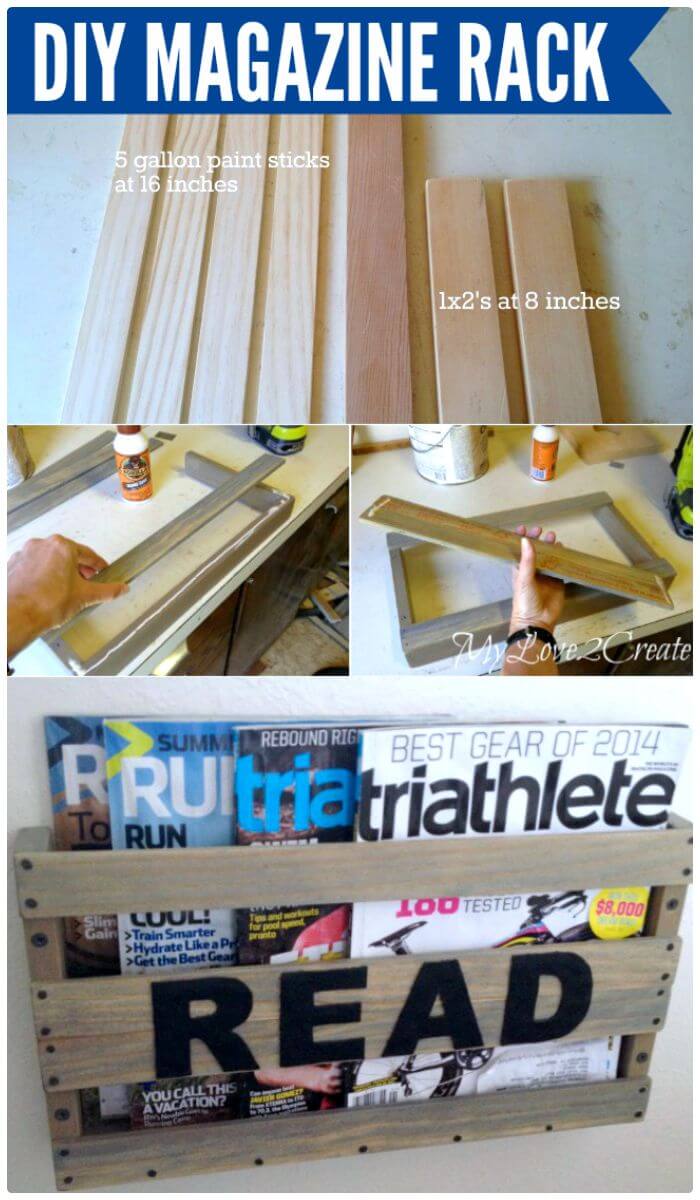 If your home is equipped with some enticing storage plans, then it would look automatically great! So, you can focus on interior storage units especially on the wall organizers to create a super cool of your home interiors! Just get inspired by this magazine rack that is all made of repurposed wood and brings a great visual attraction to a wall along with holding your magazines beautifully! Another clever hack and project to boost your home decor! ohmy
Make An Easy Decorative Pallet Shelf: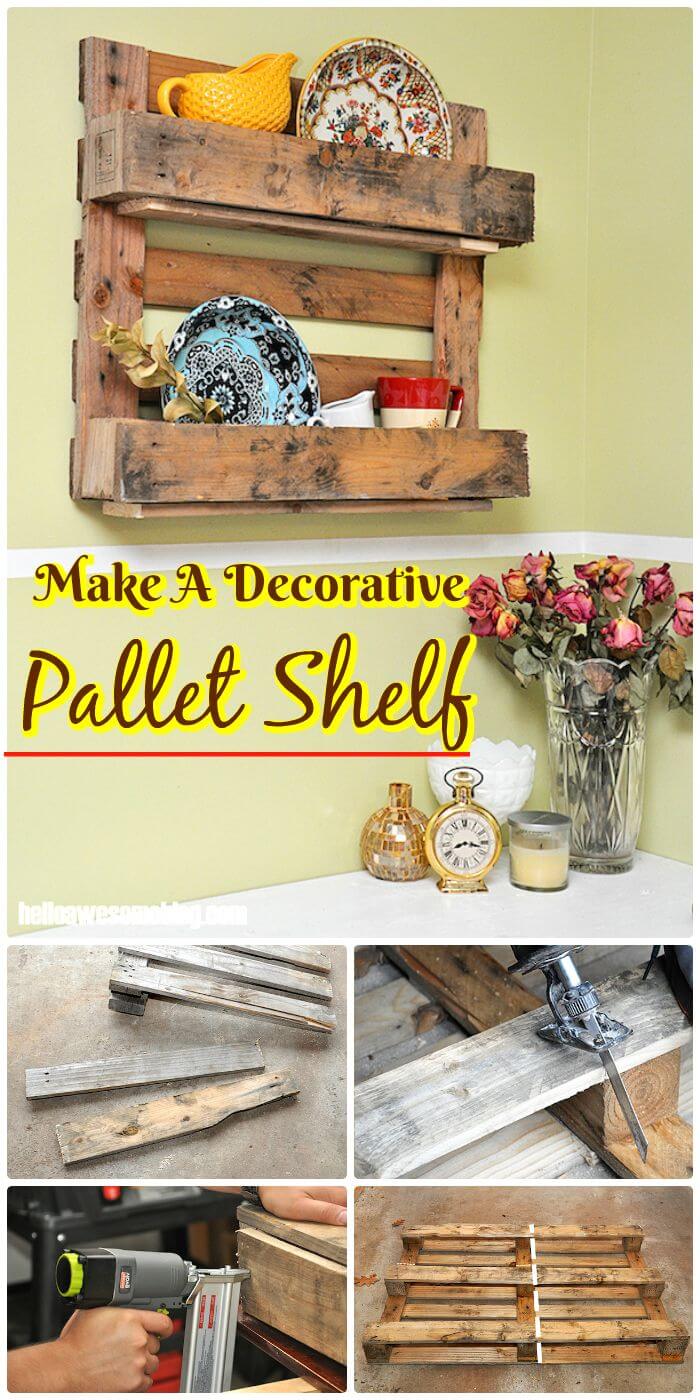 You can even use the leftover pallets to jazz up your interiors and here you can also go extra smart to rusticity of pallet wood to give a glam rustic touch to your interiors! Get inspired by this sample pallet project here; a beautiful shelf has been installed on a modern wall that holds the old art and crafts like the old pots! This pallet shelf would be a way to get tons of views of the wall! Another free of coast idea to create a perfect look of your interiors! diycandy
DIY Wooden Candle Centerpiece – Free Plan & Tutorial: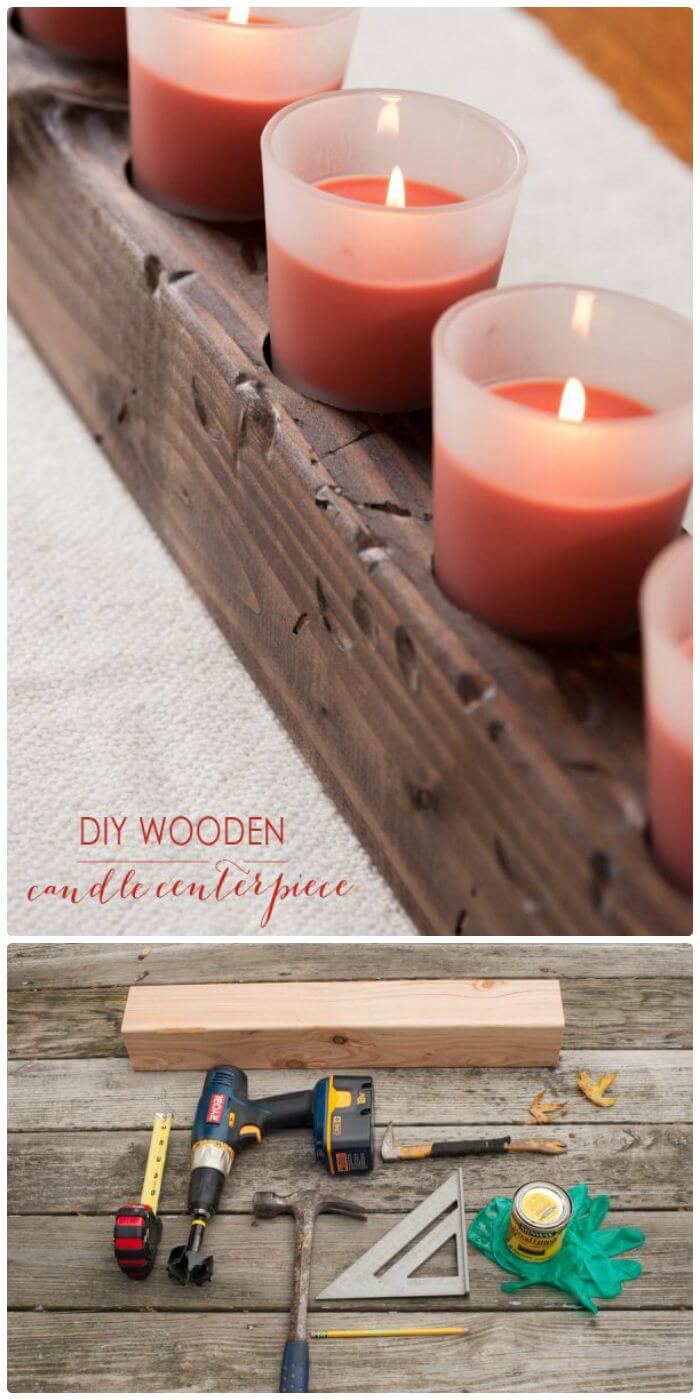 Looking for a divine centerpiece for a shelf or a dining table? If yes, then why not go with this wooden candle centerpiece that would be a great rustic delight to view on any surface! All you need to get a piece of wood which can be drilled for some bigger holes to fit your candles inside! This wooden candle centerpieces will also bring a great rustic touch to any of your space! Another home decor project for home lovers! thesweetestoccasion
How To Build A Farmhouse Table For Under $150: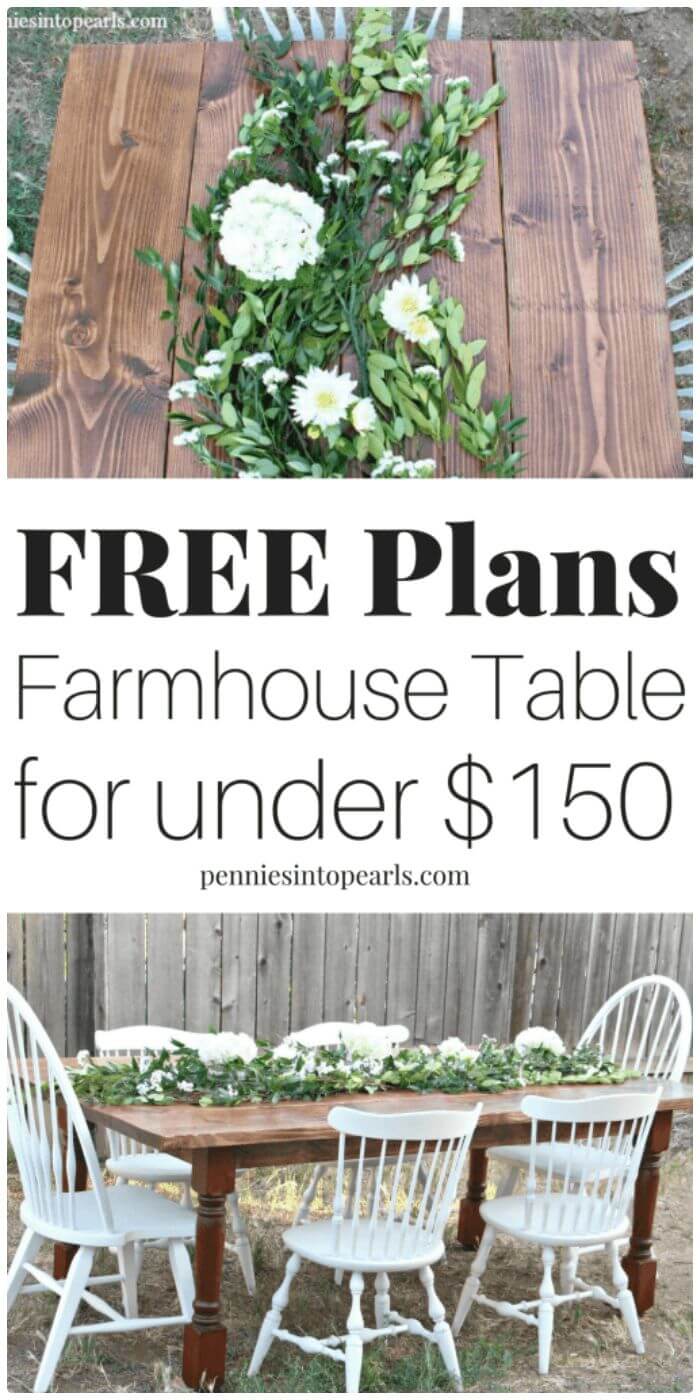 Home decor also depends on the interior home furniture, the enticing the furniture is the good looking home for sure! Sometimes unique and custom interior home furniture becomes the center of attention, and bringing such a furniture piece to your home will also be a great idea to boost your home decor! A great sample here is this farmhouse table that is wholly hand-built something that will serve all from breakfasts to dinners to your guests while enjoying the outdoor weather! penniesintopearls
DIY Scalloped Concrete Planters From Thrift Store Bowls: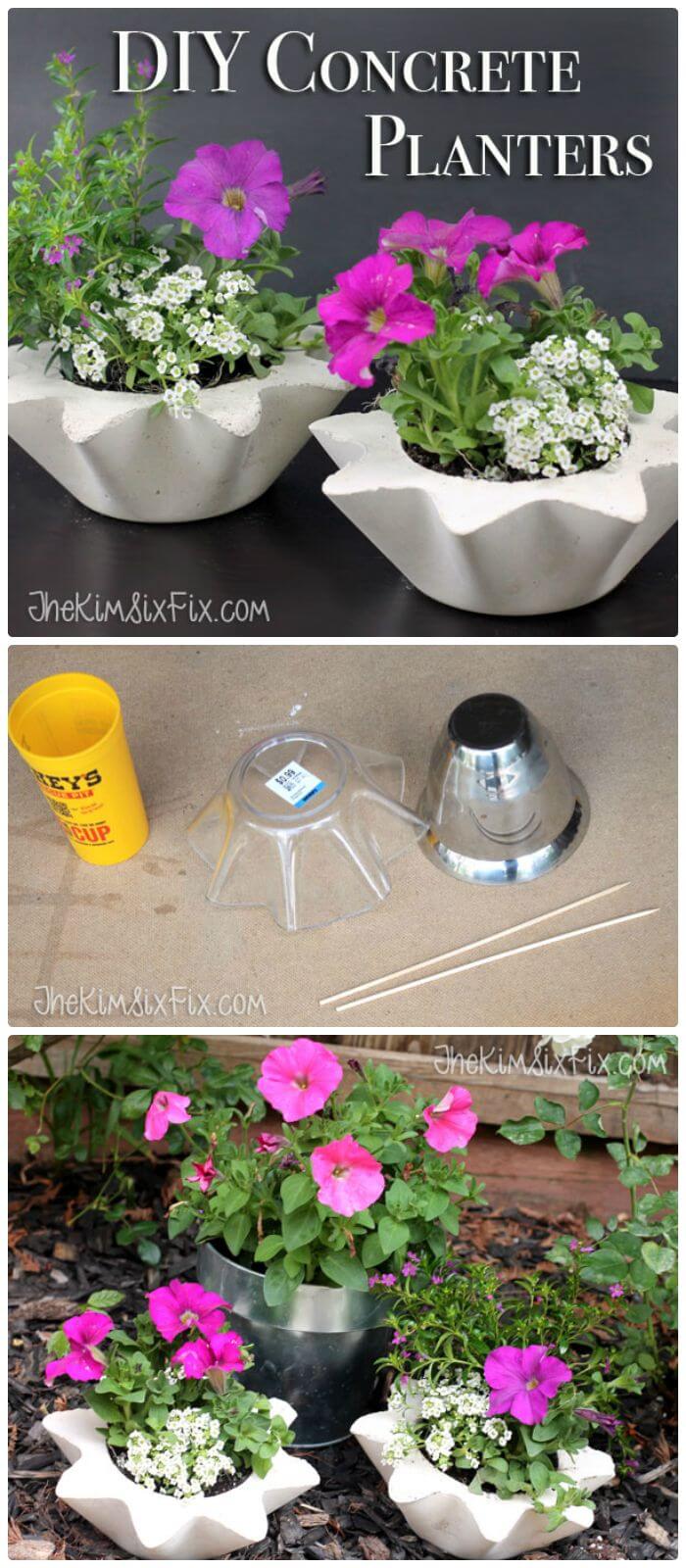 Looking for some cheap but outstanding home decor? Then we recommend you to adopt these scalloped concrete plants for an instant garden vibe to your interior! A thrift store project that is sure to enhance your home decor incredibly! All you need to create a liquid concrete mixture that can be poured in the decided mould to dry in shape! Simple and easy peasy home decor project! thekimsixfix
DIY Pallet Wood Hearts Step-by-Step Tutorial: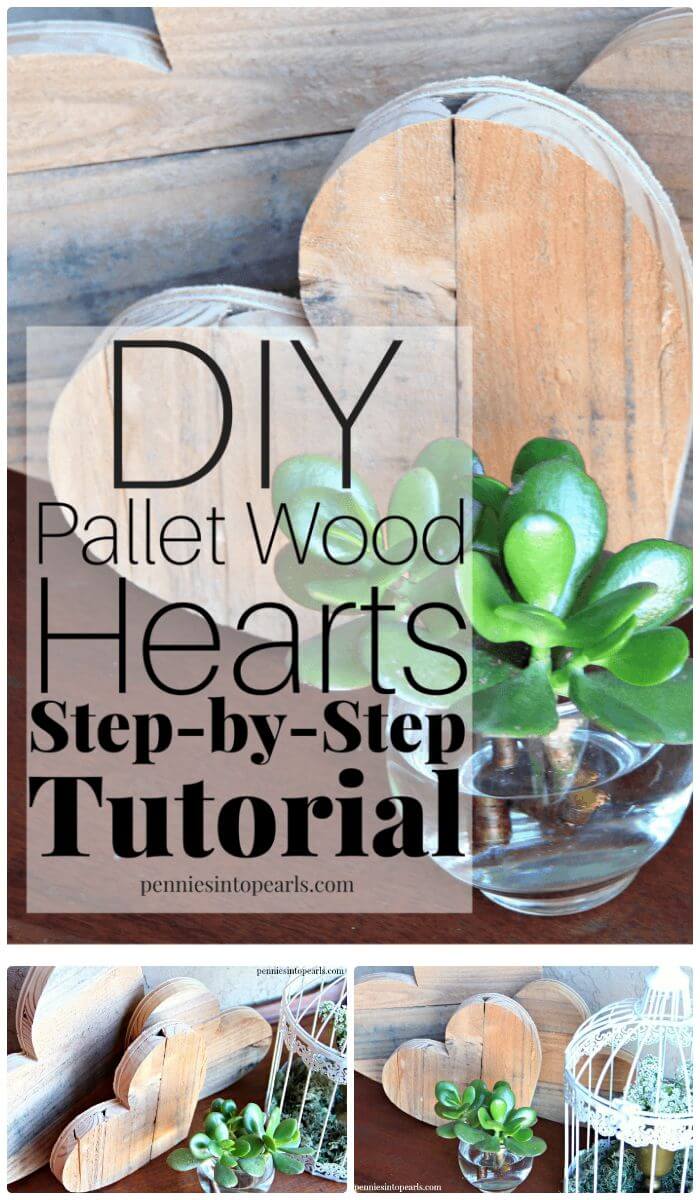 Sometime the accents and decor place around various of your items of interest help boosting your home decor! Same will do these pallet wood hearts that are hand-crafted ones and comes in natural wooden appeal! Just put them around the vases placed on a mantel or on window side shelf and enhance your home decor to peak level! You can also mount these wooden hearts on any interior wall as a lovely wall art and they will precious furniture embellishments too! penniesintopearls
Easy DIY Print-makers Media Console – Free Tutorial: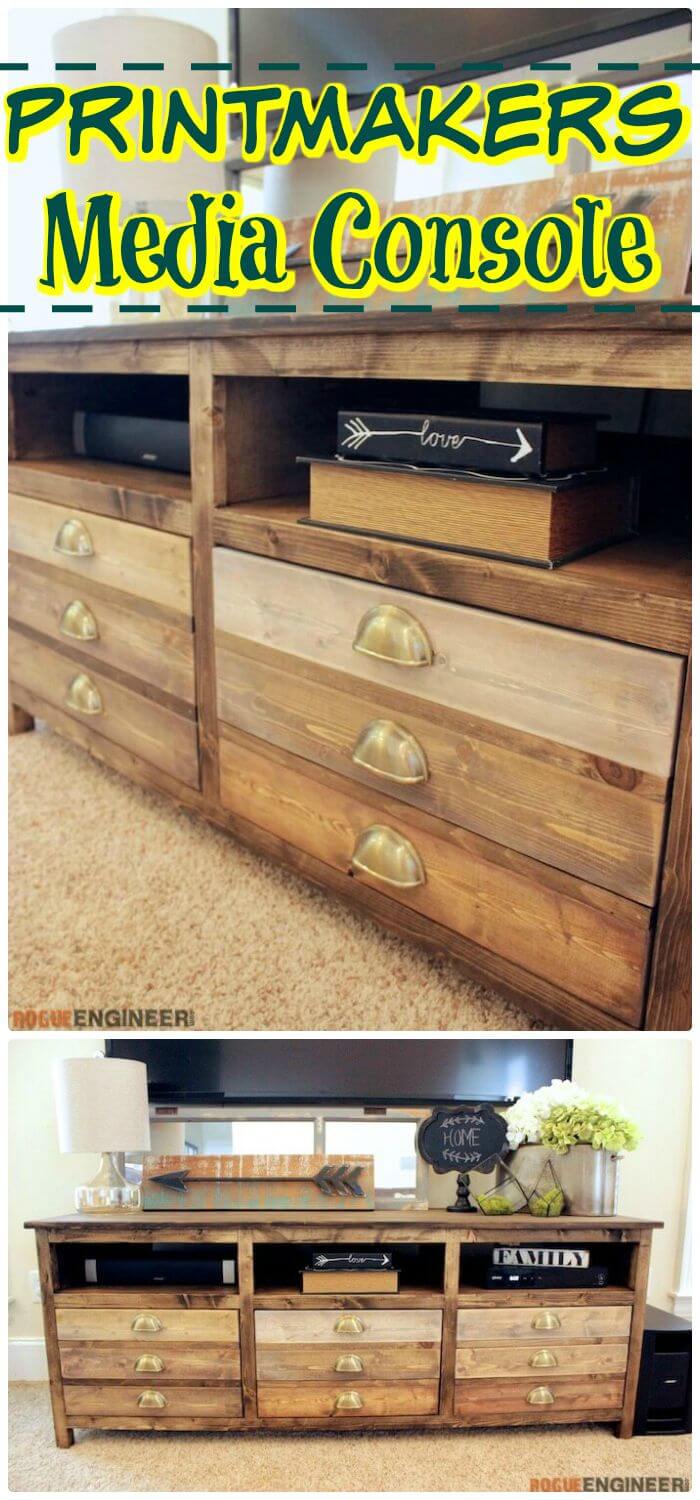 The half of the beauty of a living room depends on the furniture placed inside! The most focally stimulating piece of living room furniture has always been a media console that is mostly a center of attention in a living room! So you grab some perfect media console to raise the living room decor! If you were afraid of expensive furniture purchases, then try making your beautiful media consoles at home just like this gorgeous wooden media console that offer ample storage space in the form of built-in drawers and cubbies! rogueengineer
DIY Thanksgiving Pallet Art & A Pallet Canvas Giveaway: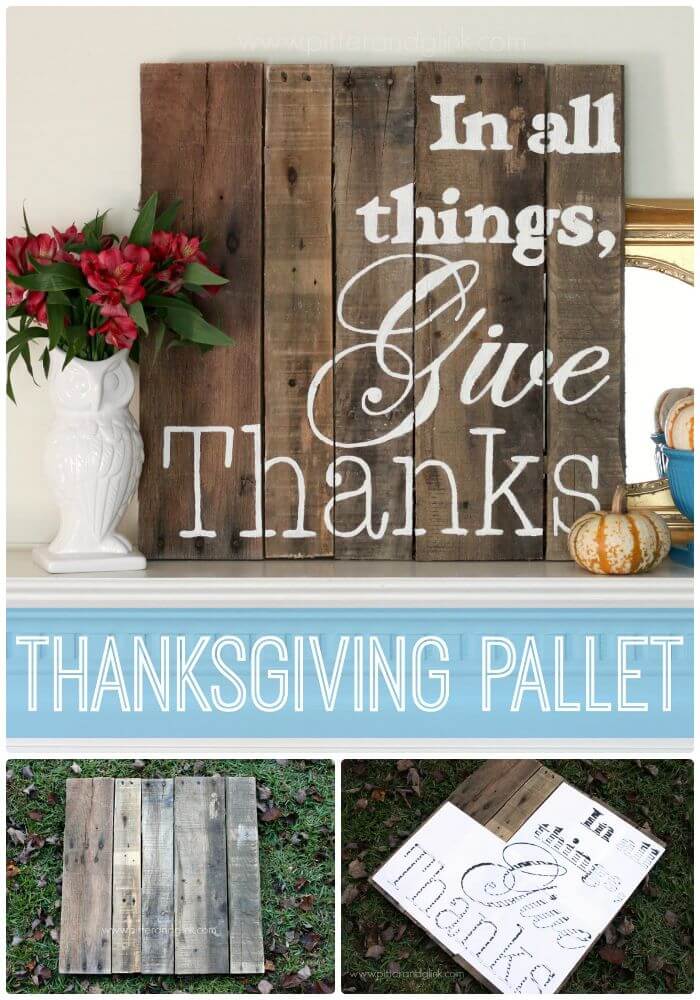 One amazingly cost-effective and great way to enhance your interior wall decor would be to go with DIY pallet wall art ideas! Yes, you can put together a few separated planks of pallets to create some geometrical wooden boards which can be painted for any shape or symbol and can also be written over the custom quotes and letters to make mind-blowing pieces of wall art! pitterandglink
DIY Rustic Pallet American Flag – Free Tutorial: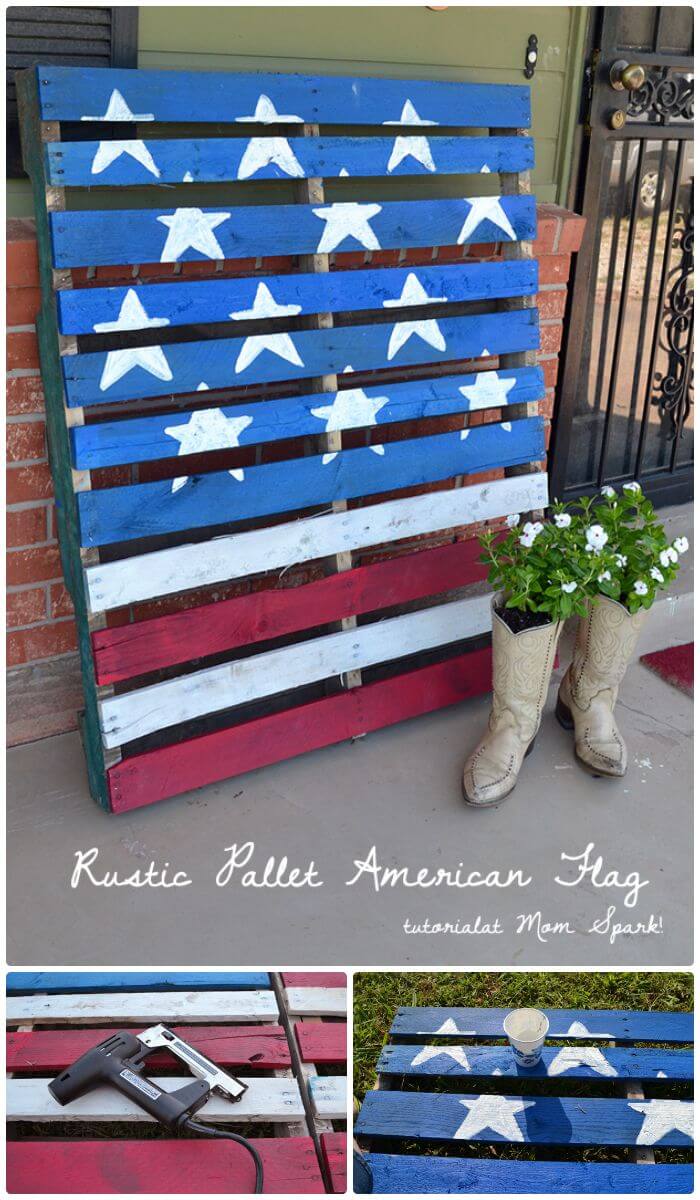 Avail also the already built geometrical shapes of pallets to fancy up your home! The idea is just to paint them directly for some colorful art pieces and you can paint anything that is in your imaginations! Get inspired of this rustic pallet American flag, a great patriotic decor made of free pallets! You can also go with pallets that come with solid and tight filling for more eye-catching results! aamomspark
Simple And Easy DIY Wood Pallet Planter: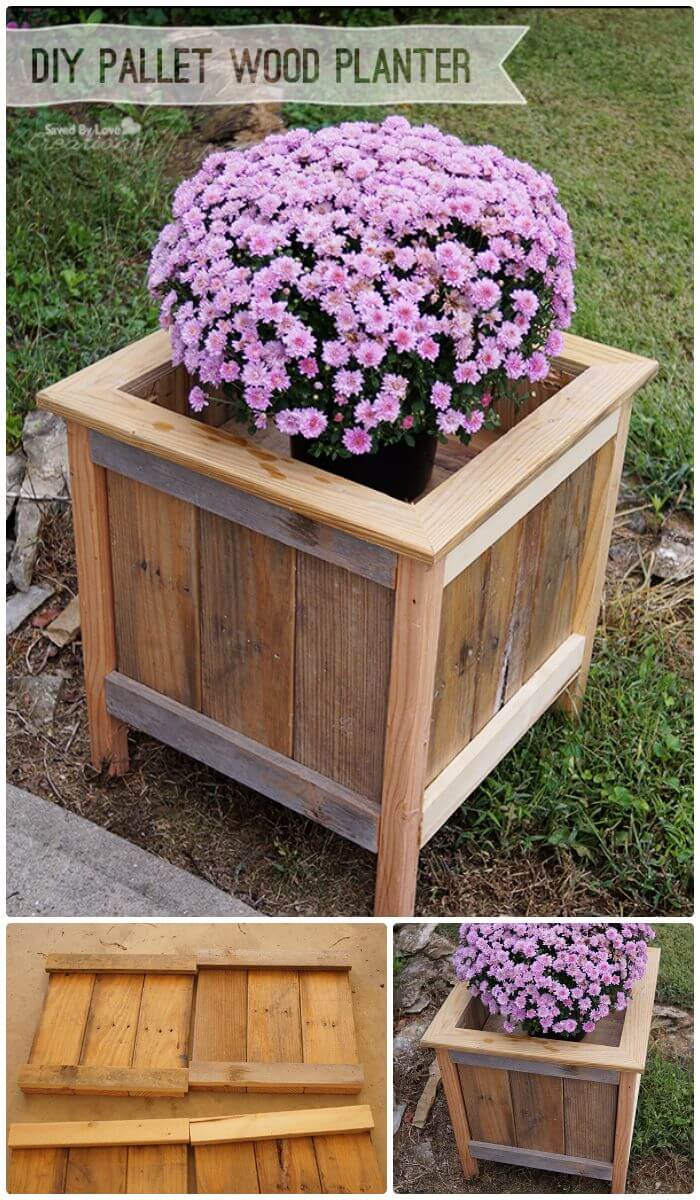 Pallets can easily be dismantled to get fantastic looking and sturdy wooden lengths or planks! One having some great experience of woodworking can do amazing wooden projects with those free wooden lengths got from pallets! One precious sample project is here, the enchanting wooden box style planter that comes with shorter legs and also with edged opening! You can simply make it hold your favorite garden pots or can start potting in it directly by filling it with potting soil, it is sure to spruce up your home and targeted space in either way you decide! savedbylovecreations
How To Easy DIY Pallet Planter Box: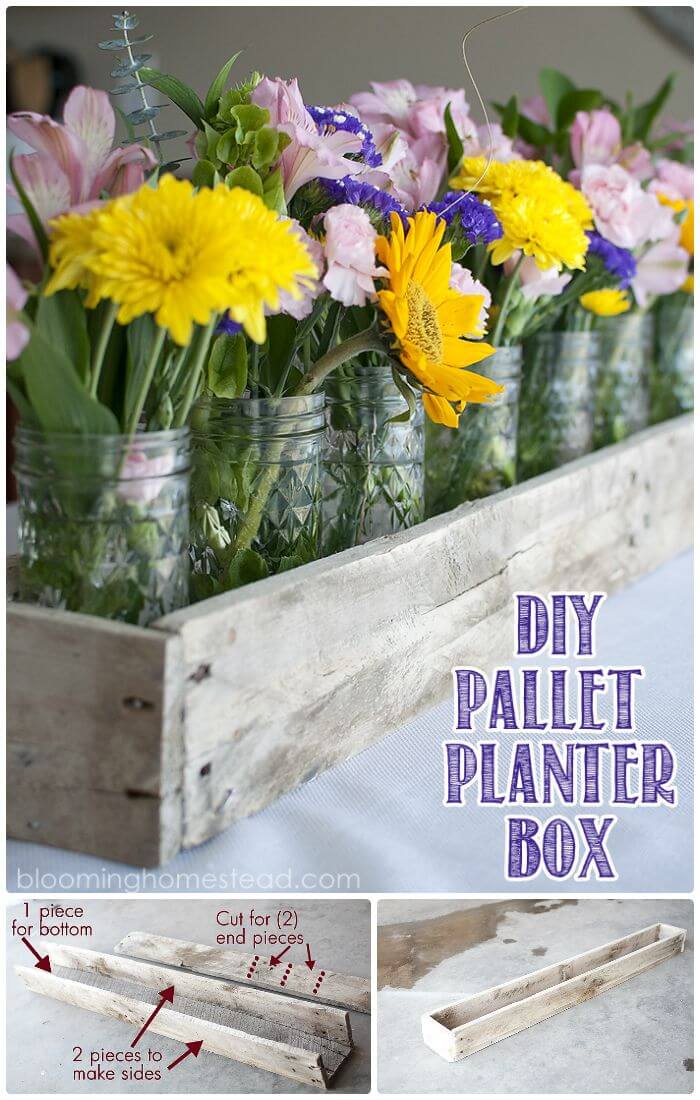 Get inspired of this another great pallet project done to achieve better looks of your home! This is here a rustic pallet planter box that can easily be made by using a few of plucked apart pallet slats! Just create a slim long holding and that's it! Fill it with glass vases and drag to any flat surface that need to be attractive! This is also here a beautiful idea about how you can give a garden like touch to any of your space! bloominghomestead
How To Make An Easy Pallet Sign: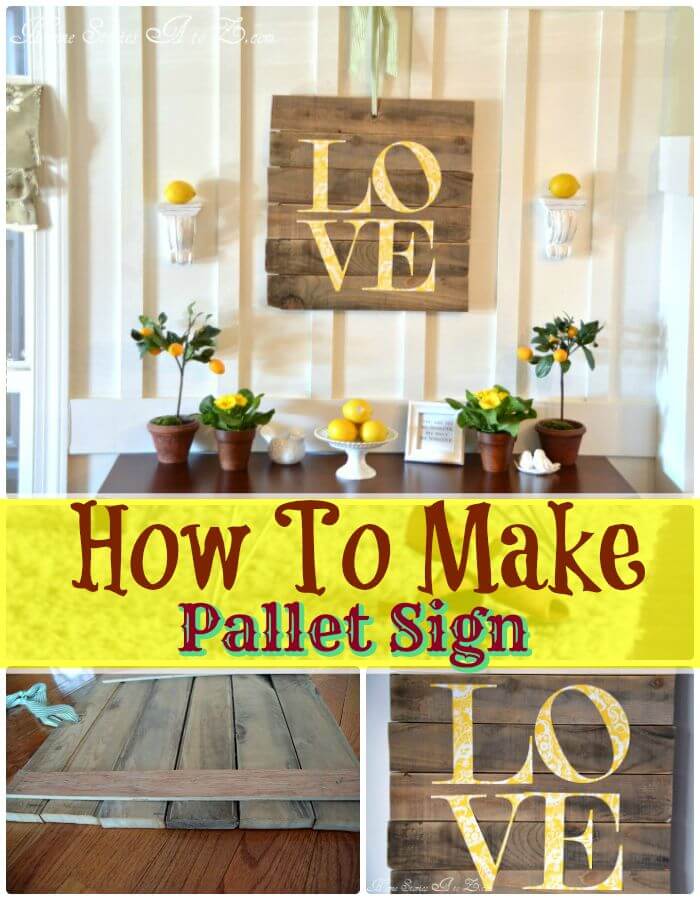 It would not take time to spice up any wall with some stunning wall art pieces if you go smartly handmade with some pallets! Just take the pallets into pieces and resize the lengths you have got to do some wall art projects! A great sample is here, just put together your resized lengths and make good looking wooden boards in any geometrical shape! Paste or paint your art and you are done! In this case, the "LOVE" letters cutout from a scrapbook paper have been pasted on the pallet boards for a glam looking wall sing! homestoriesatoz
Upgrade Simple Vanilla Candles With A Cinnamon Stick: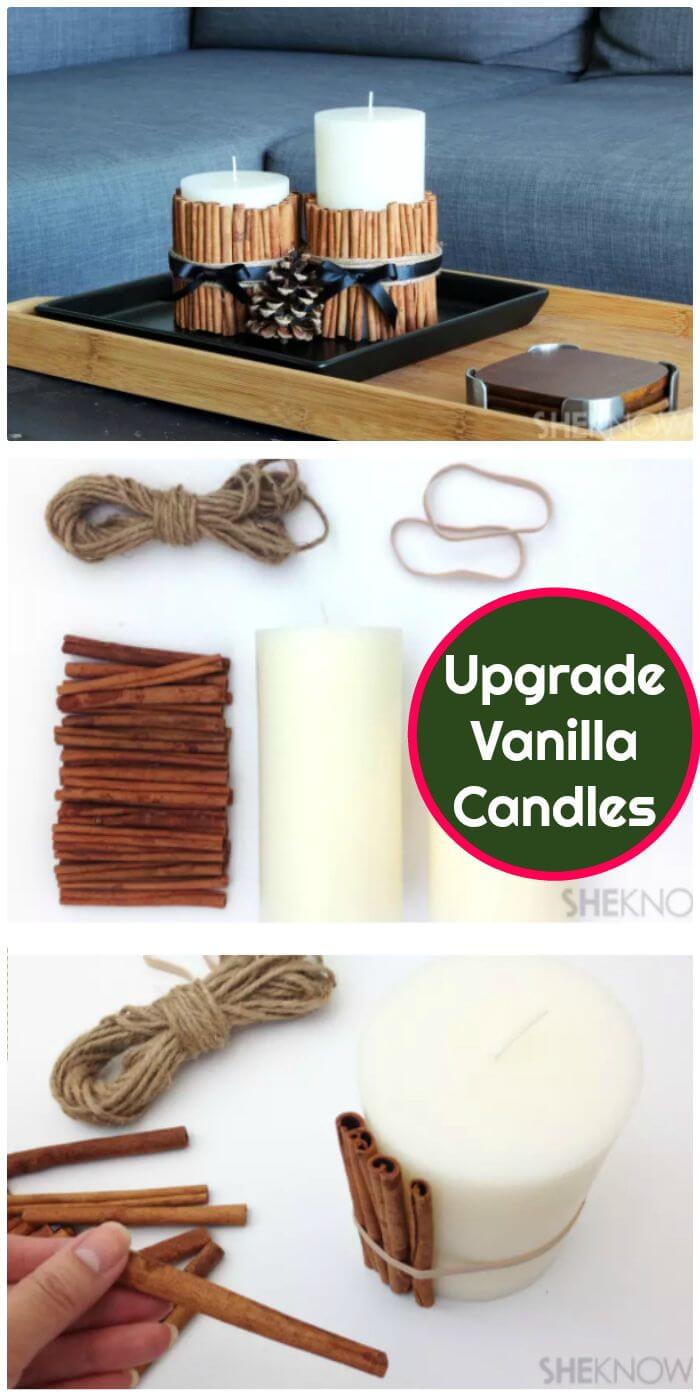 Another smart DIY hack here to add amazingly visual details to your home! You can simply upgrade your candles too to turn them into focally stimulating home centerpieces! Check out here the rustic makeover of candles done with a cinnamon stick! Just put the cinnamon sticks around the candles and let them be more fetching a rustic looking! An amazing sample here is these vanilla candles that are utterly cute and has been given a black ribbon wrap to be more eye-catching! sheknows
How To Make An Easy Photo Display – Free Plan & Tutorial: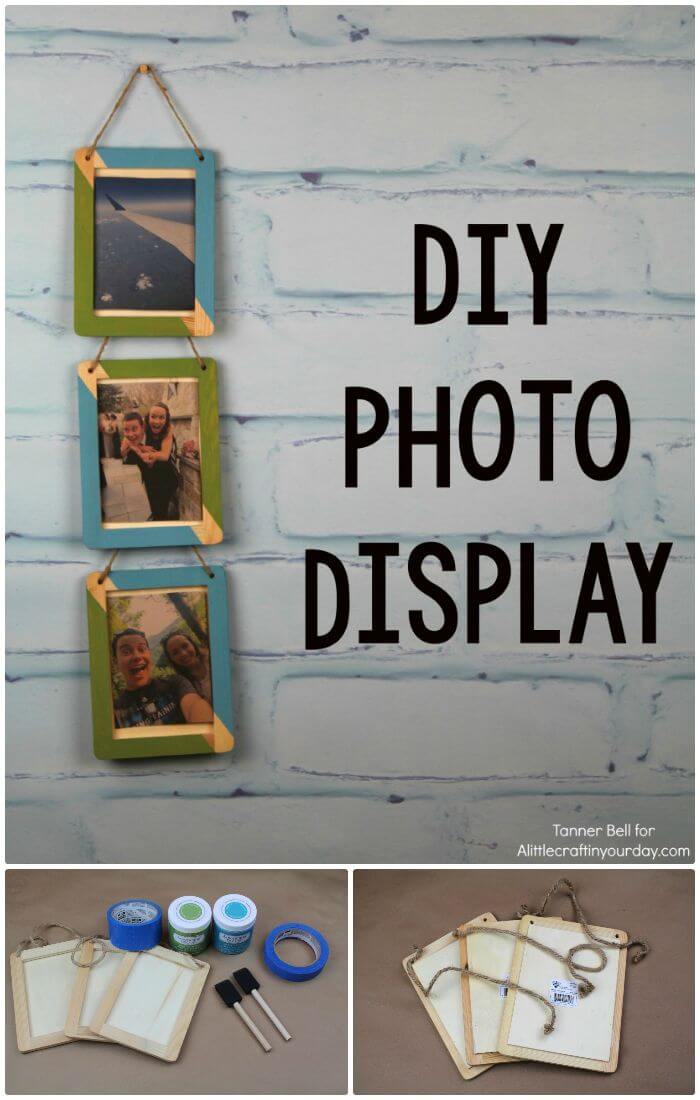 Displaying your photos in an enchanting manner to your interior wall will also be a great suggestion to lure number of view of your interior wall boosting your home decor at the same time! If you want to do it cost-effective then you should really take a visit of nearby thrift store or dollar store to grab the cheap photo frames! Paint your frames by the wall colors and just paste your favorite photos on them! Final step would be to hang the photo frame on wall in a precious manner!
DIY Pallet Frame Within 10-Minute – Free Plan & Tutorial: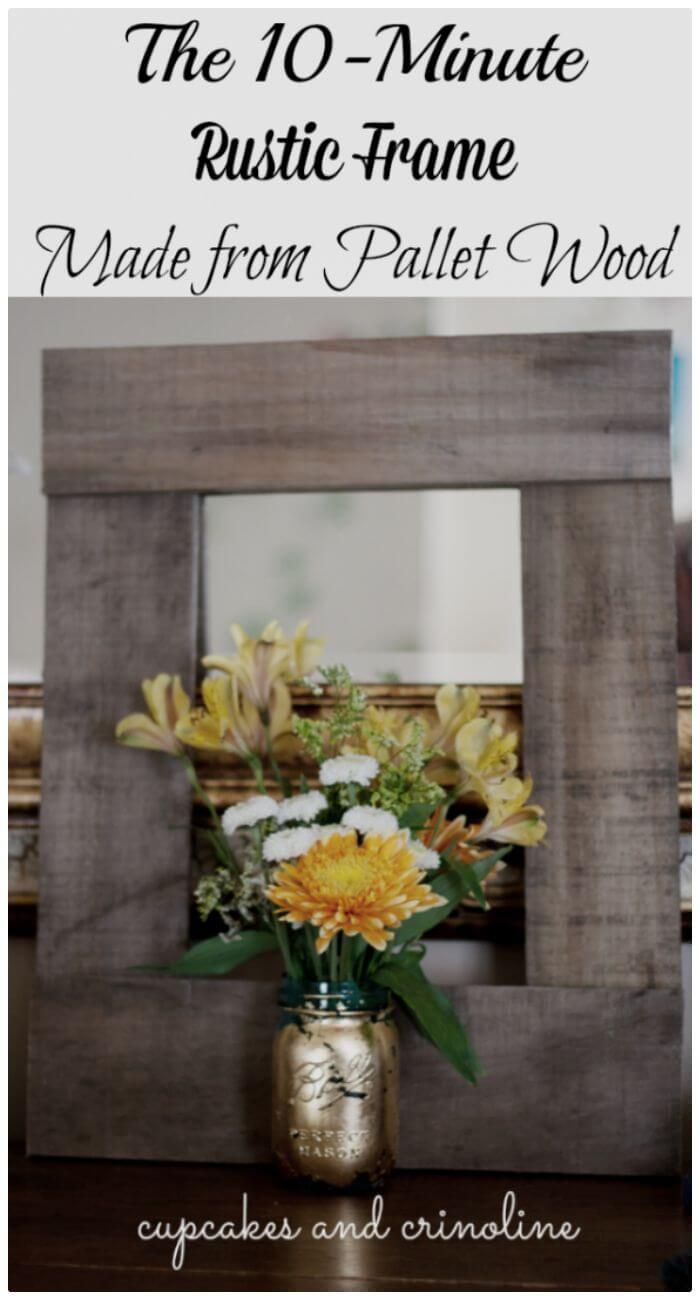 Here is a last 10 minute home decor idea that every home lover can duplicate! The idea is just to build some handsome wooden frames for the vases placed on your wall shelves or fireplace mantel! Check out here the rustic frame made of pallet wood and just serves as an enchanting background to flower vase placed just in front of it! This frame will be ready in just no time! Another easy but great home decor project! cupcakesandcrinoline
How To Build A Pallet Cabin – Free Plan & Tutorial: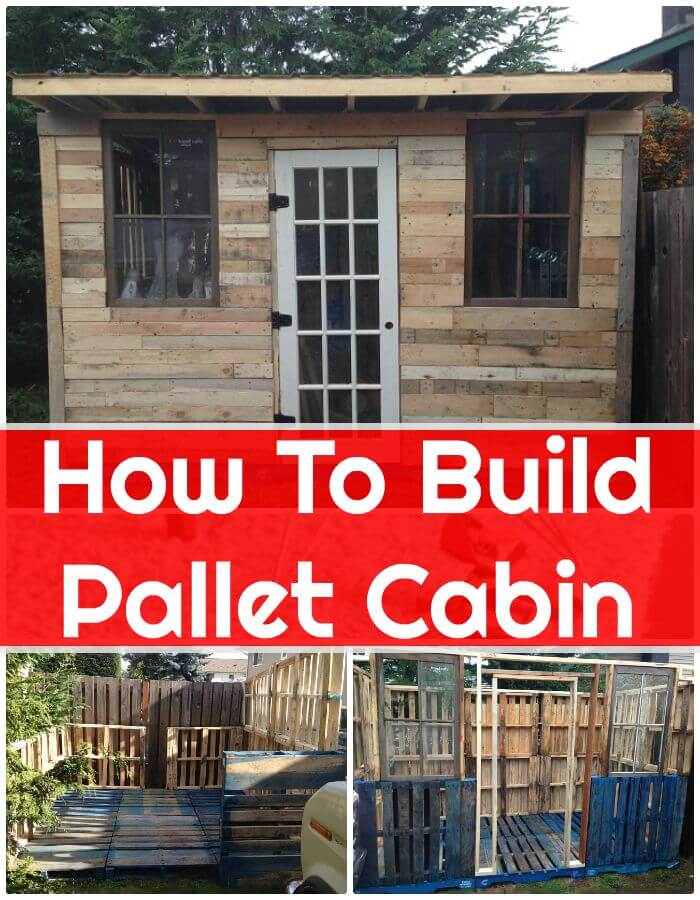 It also raises the beauty of your home to have some brilliantly beautiful outdoors! So, your outdoor is having some kind of beautiful sheds or cabins they will just look fantastic! So, here is a DIY project that will help you create some brilliant wooden outdoor cabins at outdoor without getting expensive! The idea is to go with pallets that can be used as prefabricated panels to build the structure frame of your cabin! thehomesteadingboards
How To Easy DIY Gorgeous Pallet Art: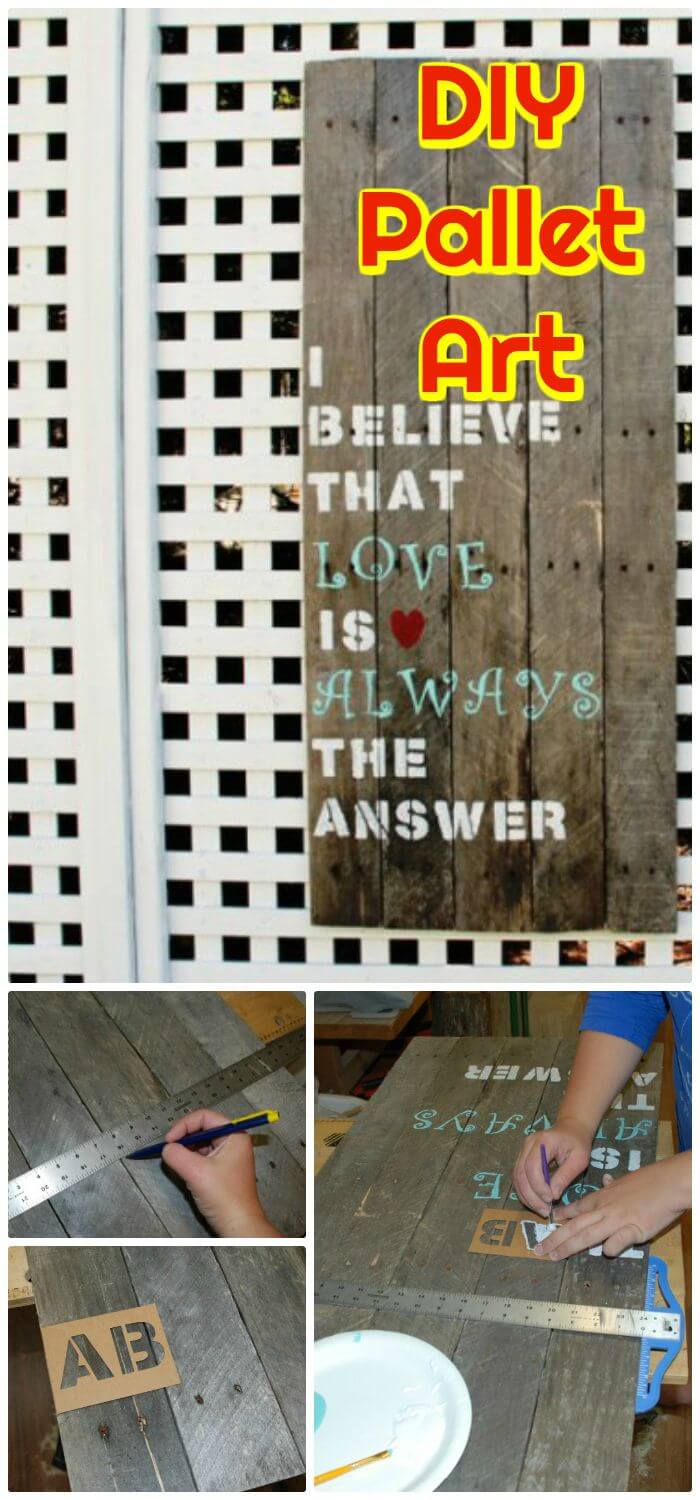 It is a great idea to add tons of focal stimulation to any particular interior wall by hanging there some fantastic quoted wall art pieces, get inspired of this given amazing sample, a gorgeous pallet art sign crafted in just no time and is just lovely to look at! Just put together a few torn apart boards of pallets to build a wooden board shape on which your art is to paste! Here the hand-built wooden pallet board has been written over some custom messages using letter stencils and looks a fetching rustic delight! mysocalledcraftylife
DIY Rustic Pallet Jewelry Holder – Free Plan & Tutorial: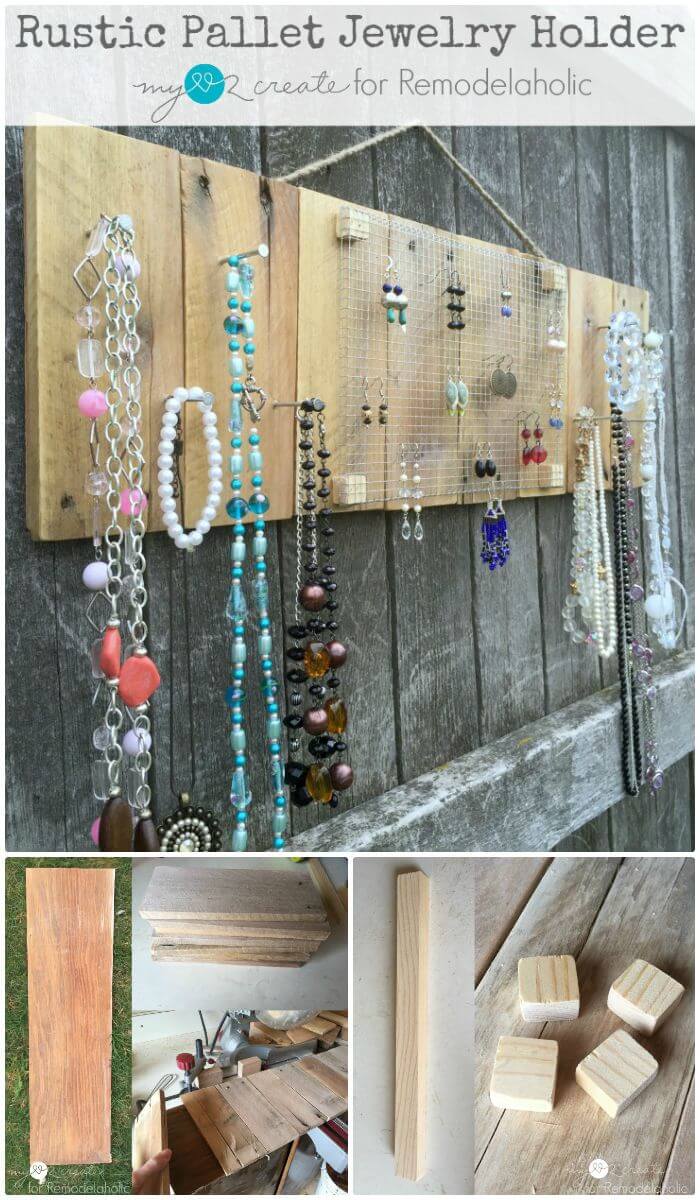 In the same way you build wall art pieces out of pallets, you can put together the custom cut pallet lengths again to build the long fetching wooden boards which can be added with some hooks to be used for some utilitarian purposes! A great sample here is this jewelry holder that looks fetching in natural tone of wood and is something that will spruce up any of your interior wall! The midsection comes with a piece of mesh-mounted beautifully on four additional mini wooden supports that work great as earring organizer! One more DIY home decor project to do with pallets! remodelaholic
DIY Pallet Wood Chargers: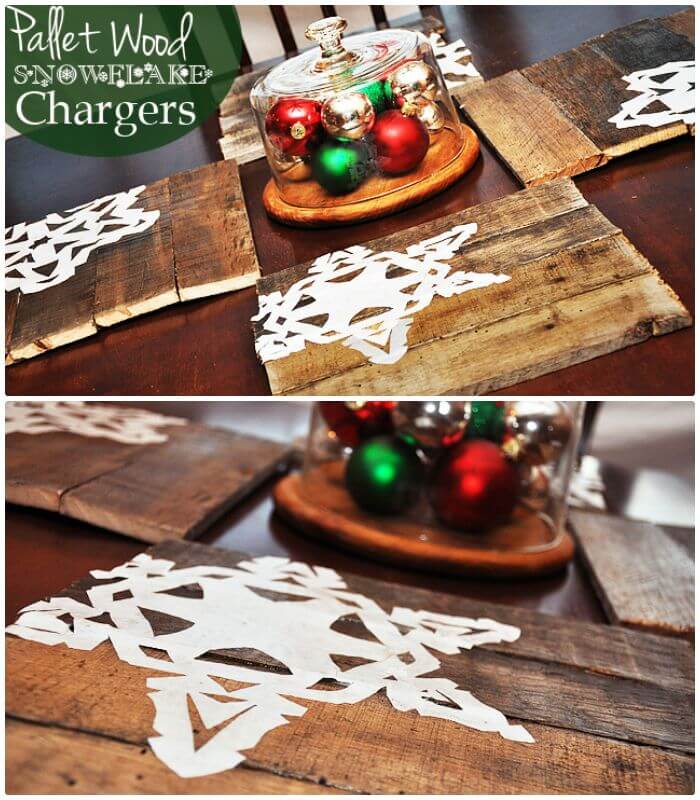 Another mind-blowing hack here to boost your home decor with pallets! Just create outstanding snowflake wooden chargers that will make a great gift too! All you need some rustic pallet boards and some artistic paper art templates made of freezer paper and some mod-podge to paste them on wooden boards! Another easy but great DIY home decor project! cherishedbliss
How To Make A Pallet Top Table: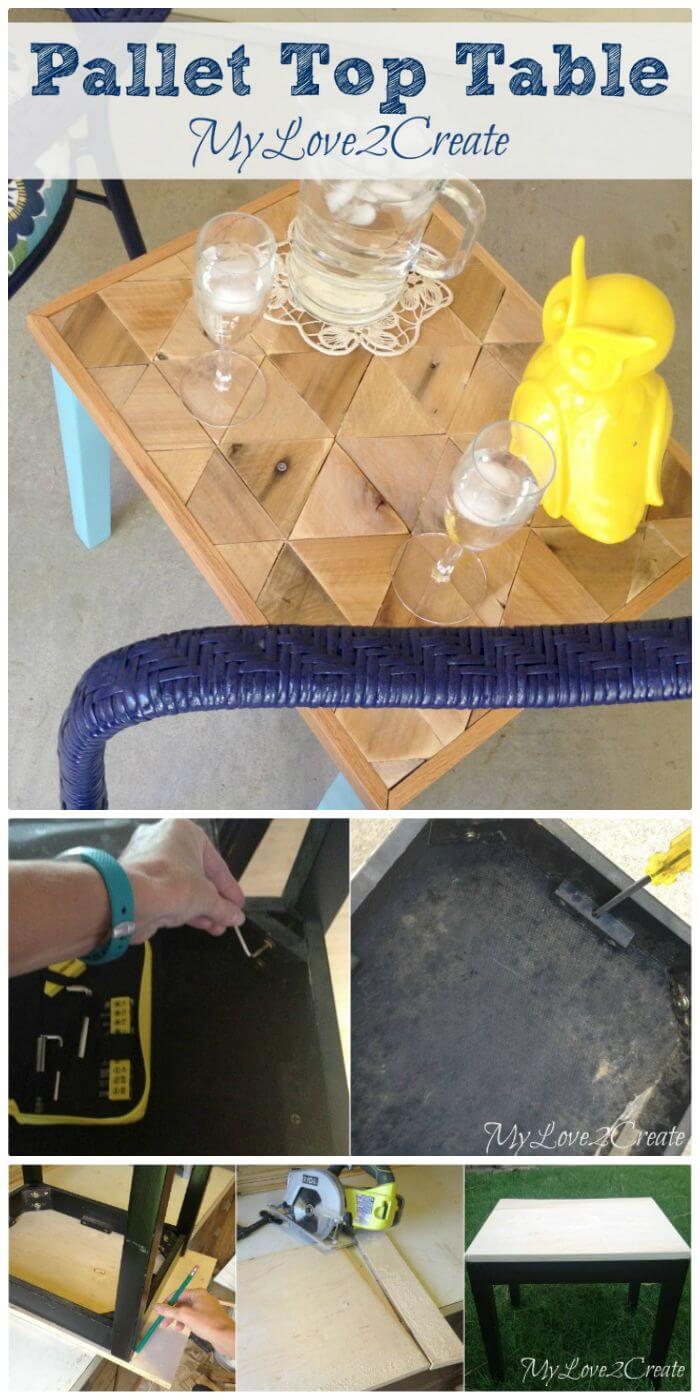 Build special and custom furniture pieces with pallets that will also be a way to adorn your home interiors more! A great sample is this brilliant pallet top table, the top is hand-built and comes with an alluring design texture to be extra unique and adorable! Just use the separated apart pallet planks to build the tabletop and finish it up with custom table legs, and that's it! Want to see this pallet top table next to your home?  myrepurposedlife
DIY Pallet Wood Bathtub Table: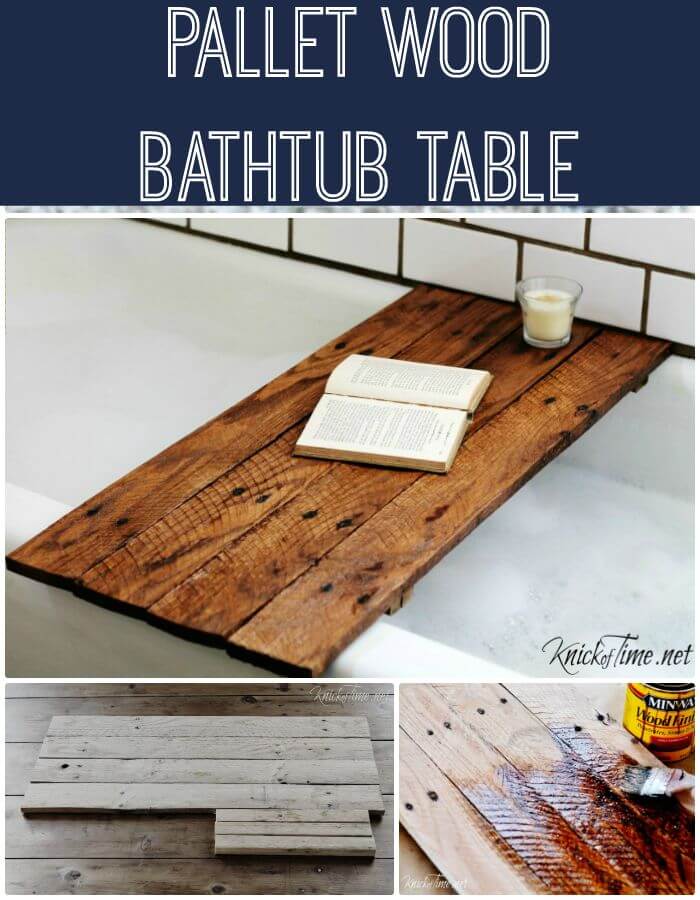 Another mind-blowing idea that will indirectly boost your home decor! This project is also to do with pallets, repurpose the pallets and build beautiful bathtub tables just like the given rustic sample that will come in handy to read to your books and will also beautifully the bath candles just to create a lovely atmosphere there! This project's total cost would equal the cost of 4 planks of pallets! knickoftime
DIY Pallet Board Serving Tray – Free Plan & Tutorial: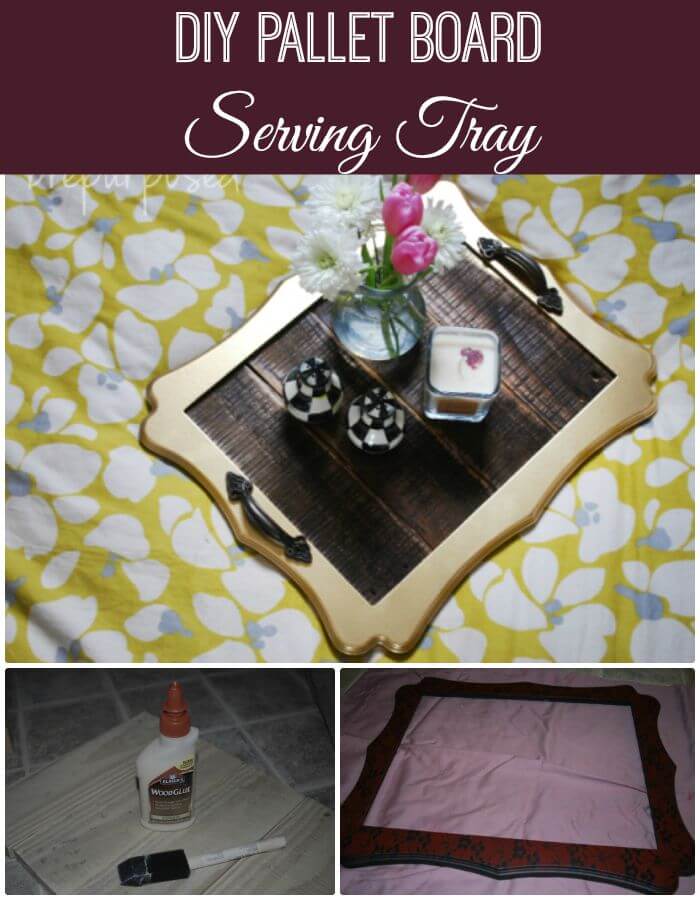 It adds tons of focal stimulation to your entire dining table if you add some beautiful looking trays to its top! Another beautiful DIY home decor boosting idea and hack! Just grab an old picture frame, some pallet wood and also 2 metallic hardware handles to craft a beautiful serving tray! A mind-blowing sample is given here and is just looking fantastic! Willing to duplicate this eye-catching serving tray? brepurposed
Easy DIY Shipping Pallet Dog Bed: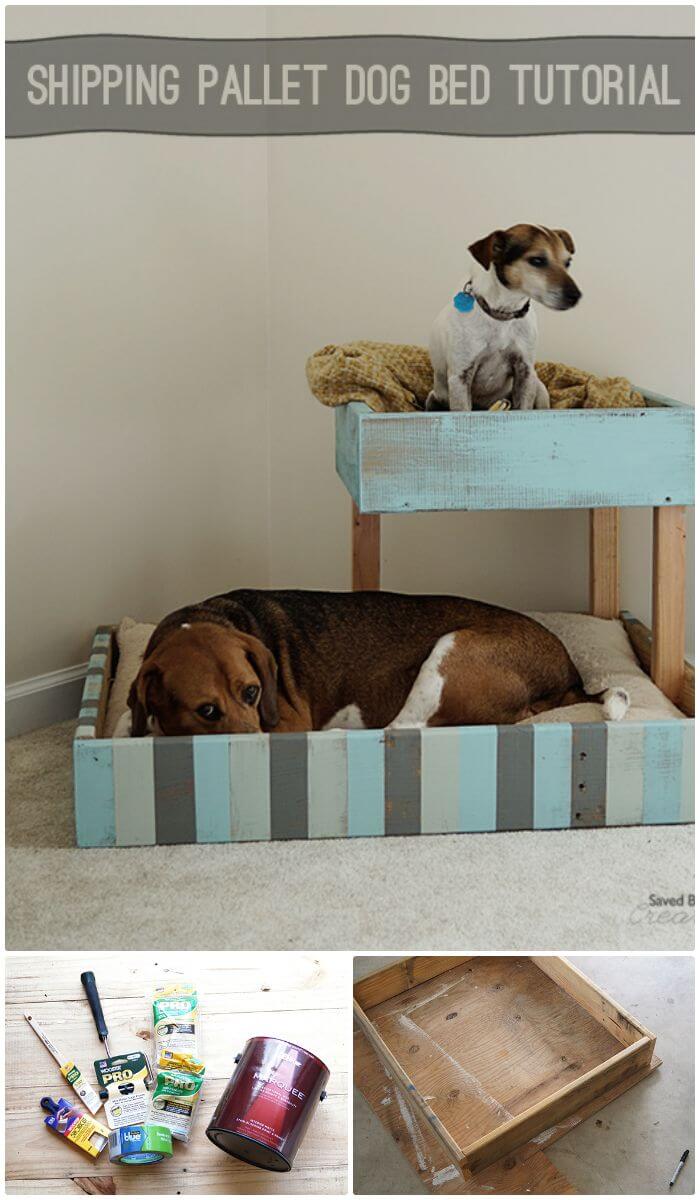 Check out here another marvelous project that will also bring a great decorative vibe to your spaces! Go handmade with free pallets and build some outstanding pet beds just like this pallet dog bed which is amazingly beautiful and comes with double story design! It is having here the alluring color stripes and both levels have been cushioned beautifully! All you need is to get some pallet wood to clone this very stunning model of dog bed at no-cost! savedbylovecreations
Related DIY Home Decor Ideas and Projects
DIY Backyard Ideas: On a budget and looking for some cheap backyard ideas and decor projects? Check out our list of cheap DIY backyard ideas! From simple projects like building a fire pit or an outdoor kitchen to more complex projects like creating a backyard oasis complete with a pool and waterfall, there's something on this list for everyone.
DIY Porch Decor Ideas: Add some life to your porch this season with these small porch decor ideas on a budget! From wreaths and planters to pillows and banners, there's a little something for everyone. So get creative and make your porch stand out this year!
DIY Wood Signs: Looking for some easy DIY wood signs? Look no further! These affordable handmade signs are perfect for adding a personal touch to your home. From funny quotes to inspiring mantras, there's a sign for everyone.
Easy Pallet Projects: Looking for ideas to use pallets? Look no further! This guide provides a variety of easy pallet wood projects you can complete in just a few hours. From furniture to home decor, there's something for everyone.
Scrap Wood Projects: Woodworking is a great hobby for anyone who enjoys working with their hands. It can be a bit intimidating for beginners, but these simple scrap wood projects are perfect for those just getting started.
DIY Concrete Projects: There are so many amazing ways to use concrete that aren't just for driveways and sidewalks! These amazing DIY concrete projects will show you just how versatile this material can be. Try out a few of these ideas now and you'll be hooked on this durable, affordable, and stylish material!
Conclusion:
Are you looking for some cheap and easy DIY home decor ideas? We've got you covered. In this post, we shared a variety of diy home decorating projects that will add some personality to your space without breaking the bank. From simple tips like using plants or mirrors to create visual interest, to more involved projects like building your own coffee table or headboard, we've got something for everyone. So what are you waiting for? Get started on your new DIY home decor project today!