We all love the greenery and natural environments by nature! The garden, yard, and green backyards are what we love to spend sometime! you can still take the benefits by bringing some greenery to your patios and indoor spaces with these unique DIY hanging planter ideas! The naturally occurring scenes of nature give us the biggest happiness of the world, and the greenery with flowers also fills us with joy just at first look! So, we should keep enjoying a healthy life ty by visiting the natural places and should try our best to own a green garden or yard as this also adds a great curb appeal!
The brilliant way is to make the custom DIY hanging planter at home. So, you can grow the plants that you have wished to see in your own garden. It will make you feel the same as you still owe a garden! Here we will only talk about the DIY hanging planter that hangs like the natural charms in your interior spaces and bring the natural decor vibes.
If you are willing to DIY hanging planter at home and need some inspirations first then try these DIY hanging planter ideas that are innovative and cost-effective to win your heart. This list of hanging planter ideas will show you that how can make your own beautiful DIY hanging planter at home by recycling some useless, retired, deleted and scrapped materials from home.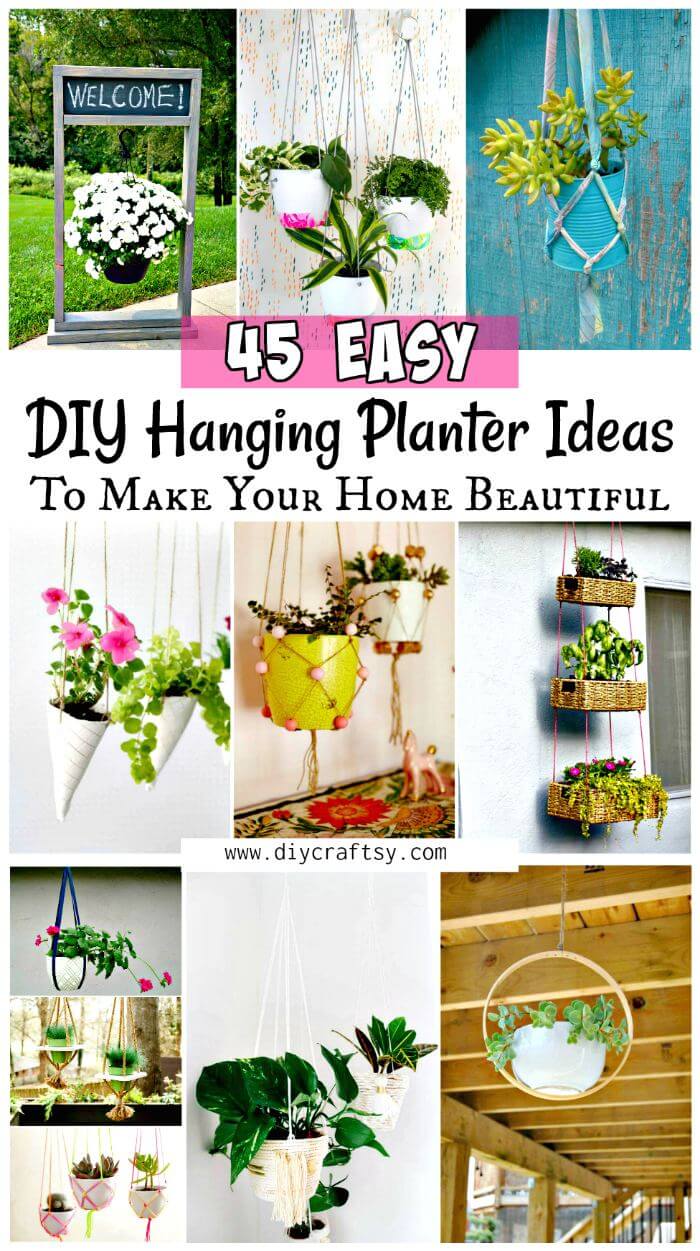 How to make your own DIY hanging planter at home?
Make the air dry clay cones and suspend them in the air by adding some potting soil and greenery in them to make a brilliant DIY hanging planter! Reclaim the old plastic bottles to make some instant beautiful vertical garden. It will also cost you nothing! Get access to your hard to find herbs by building your own special vertical hanging herb gardens, see an interesting one that hangs on the wooden dowels!
Bring grace to your interiors along with a natural green touch by the marble DIY hanging planter. Also get your modern interior dignified with the wooden hanging planters that will provide both, a wooden and green touch to your interior decors! Sew the denim strips to make the hangings for your favorite pots and also make use of metallic bowls and metal chains to make interesting looking DIY hanging planter in a matter of seconds! Lift up the mood of your interiors by installing steel lattice wall hanging gardens and also bring a touch of bohemian decors to your home by making the first rope wrapped hanging planters at home.
DIY Projects to Decorate Your Home:
The DIY ideas and projects for hanging planter are just countless and see more unique ones in the give list and don't forget to duplicate your favorite by visiting the attached links that are carrying the full free guides, visual tutorials and step-by-step guides in them.
Hanging Planter:
You will definitely find a stunning home decor centerpiece in form this hanging planter that has been desired to make a lovely fall decor! This is here a brilliant fall hanging planter that hangs in a wooden frame that also comes with a chalkboard nameplate. Just grab the scrap wood pieces and build a frame for the hanging planter and next hang your hanging basket fall planter inside of it using custom hardware hooks. Another great and outstanding hanging planter project to duplicate at home. Full tutorial and instructions here almostmakesperfect
Plant Hanger from Fabric Strips: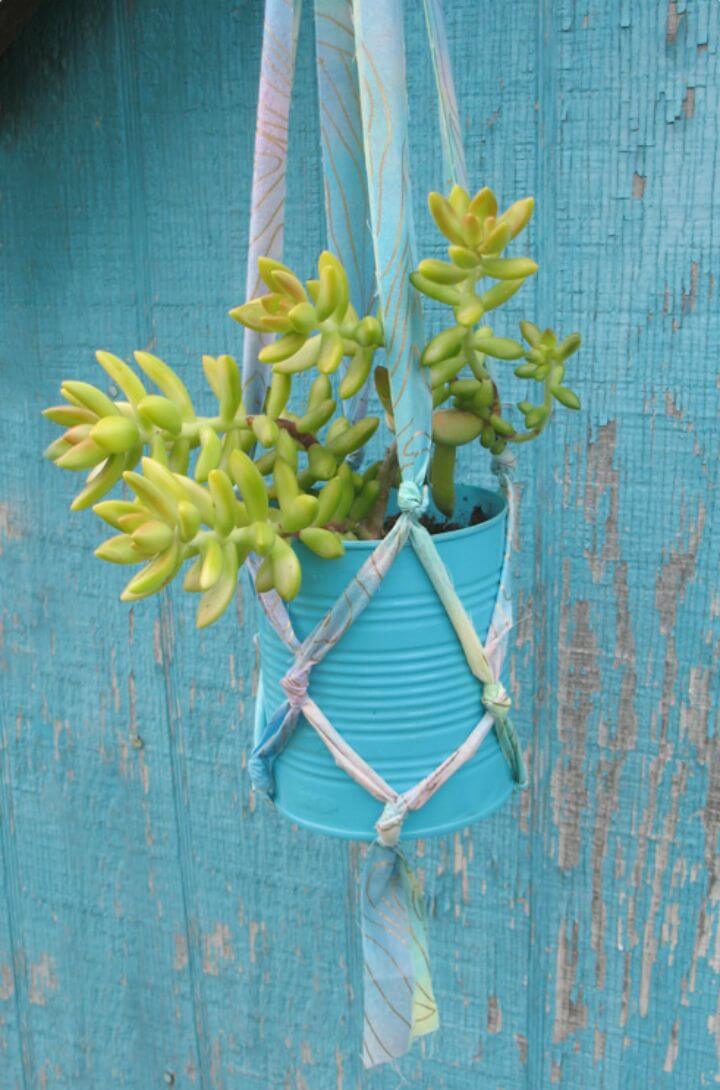 Get also crafty with the scrap fabric and old tin cans to make precious looking plant hangers at home without spending too much fortune! Peek into details of this given planter hanger that is made of a macrame hanging that is made of fabric strips knotted beautifully together! Next, the planter has been placed inside and hanged for amazing natural decors and charming visual appeal of the targeted space! Willing to clone this plant hanger? Full project instructions and tutorial here gleefulthings
Vertical Plant Hanger: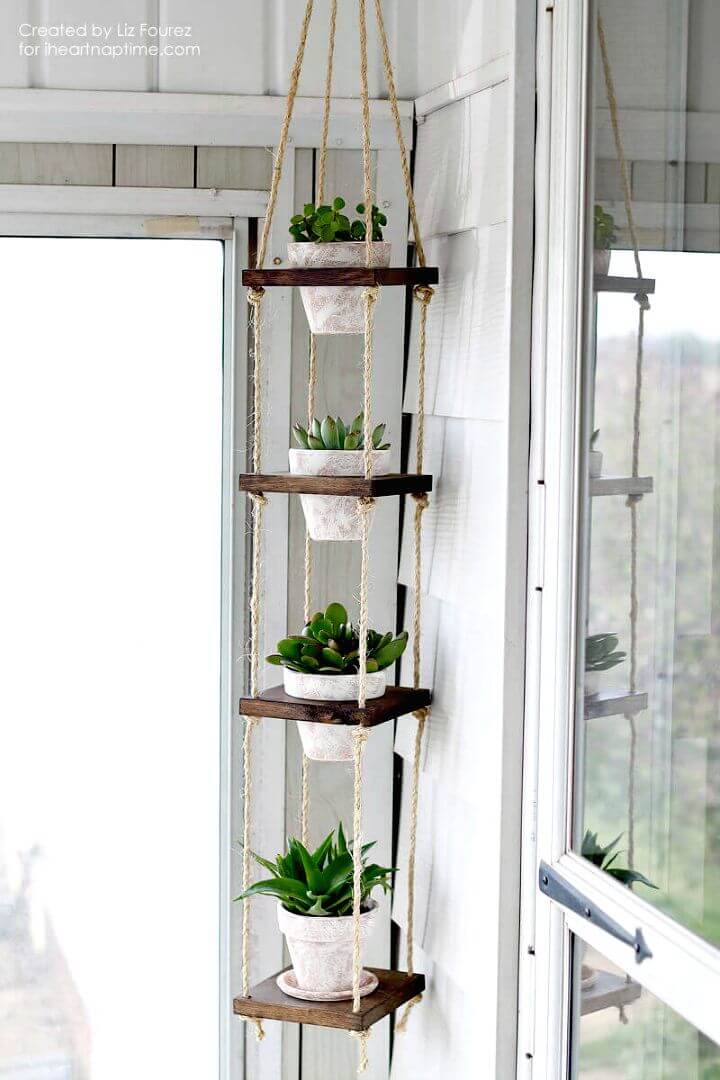 Check out here another brilliant and interesting looking vertical plant hanger that is having a number of tiered planters! Here making of this vertical planter hanger is pretty simple! Here all you need some square wooden shelves which can be strung and tiered holding the planters inside of them! Just drill bigger holes in the center of the wooden square pieces to fit the planters in and drill mini holes in the corners of them to thread the rope into! Full project instructions and tutorial here iheartnaptime
Beaded Plant Hangers: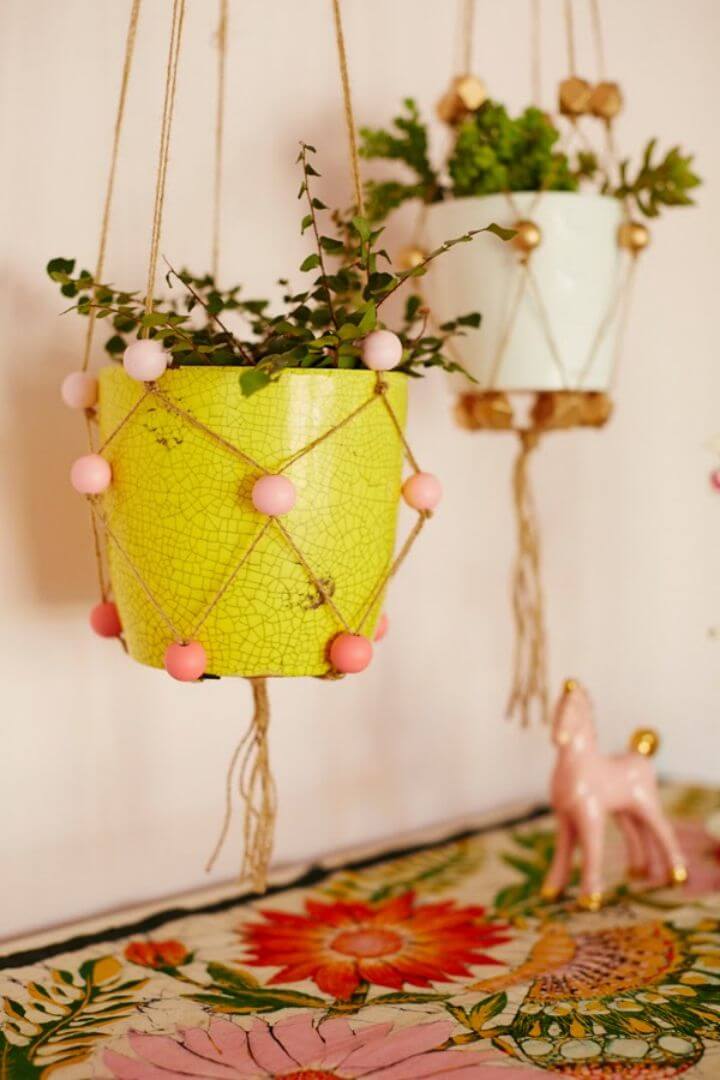 Fall in love with this another great and adorable looking plant hanger that is beaded and hence goes much enchanting to eyes! Here again then you have to work with your art of knotting to make these interesting rope or jute plant hangers that are actually the beaded macrame hangings. Just knot rope or just to make the macrame hanging and secure the knots with colorful beads! Place your planter inside at the end and make great looking beaded plant hangers! Full project instructions and tutorial here crateandbarrel
Hanging Planter:
Here is another great and enticing hanging planter that will rock every modern space or room interior! This is here the brilliant looking hanging succulent planter that will work up super quickly! Here all you need an embroidery hoop in which you have a fit a planter using the hot power glue! Layer the glue inside the embroidery hoop, make the planter sit on it and leave it to dry overnight! Willing to duplicate this interesting hanging planter? Full project tutorial and visual guides are here northstory
Clay Hanging Air Plant Holders:
Check out here another hanging planter that will also bring some cool geometrical statements to your modern interiors! This is here the fantastic looking air plant holder that is having 3 strung up triangular planters! Here all these planters are made of terracotta air dry clay and finally have been strung up to make a cool hanging planter holder! Finally the air planters have been put inside these planters for bigger statements of natural garden decors! Full project instructions and tutorial here squirrellyminds
Ice Cream Cone Planters:
If you love the hanging planters and want to hang them in your porch for an instant garden appeal then here is a great idea for it! Just make the ice cream cone hanging planter that will be a big fun to make and will also eye-catching! Just grab the modeling clay, flatten it and then use the hardware cloth to give a lattice or grid style textures to it as see on the cones! Next cut the pieces of clay and wrap them around the aluminum foil baking sheet making the beautiful cones and let them dry! Fill the cones with soil and then with flowers and then hang them aloft using the jute! Full project tutorial here helloglow
Plastic Bottle Into A Hanging Planter:
Here is another cost-effective hack to make a brilliant looking hanging planter at home! Just recycle the old plastic bottles and turn them into fancy hanging planters! Have a look at this given one that is a matter of second to make. Just make custom cuts in the sides of plastic bottle to fill the potting soil in and also the flowers and next just hang them up using rope, wire or anything else of this kind! Full project tutorial and visual instructions here popsugar
Hanging Herb Garden:
If you are all willing to bring a touch of garden greenery to your interior spaces then here is another stunning hack for it! Just install the hanging herb garden indoor that will not only bring the garden vibes to your interior spaces but will also be a way to grow your hard to find herbs at home without getting expensive! Just grab your custom pots, spray paint them to look beautiful and then add suspend them aloft using rope loop! Here are these herb pots have been hanged on the oak dowels through the curtain rings! Install the curtain brackets to hold the wooden dowels! Full project tutorial and instructions here thebirdandhersong
Marbled Hanging Planter: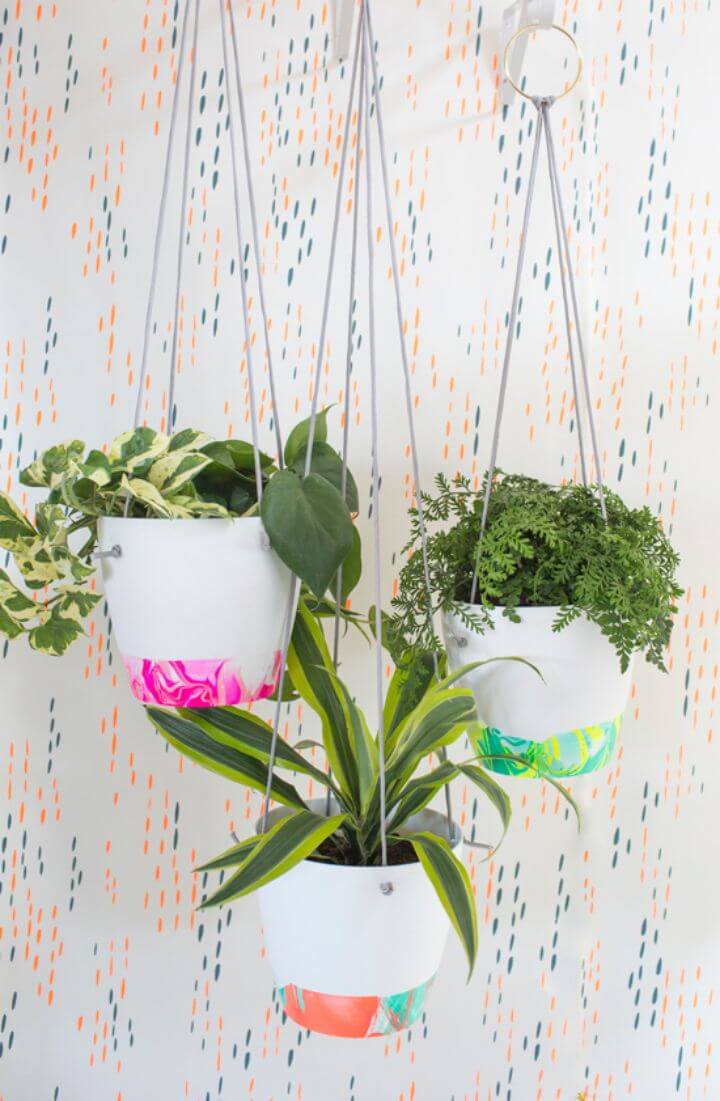 If you are a big fan of hanging planters then you will definitely like these marbled hanging planters that will not only bring the garden decors to your indoor spaces but will also adorn your spaces with a handsome marble effect! Just grab your ceramic planters and make their bottom marbleized using nail polish and warm water! Next hang them higher in your home using rope and curtains rings! Full project instructions here ohjoy
Wooden Bead Planter:
Check out here another lovely and interesting looking hanging planter that has been made to amaze and inspire! This is here the charming looking wood bead planter that is a big breeze to make at home! Here all you need the square wooden dowels and wooden beads to make this hanging planter! Just make the square wooden frames and then string them up all using the wooden beads as spacers and make a cool looking hanging planter! Full project instructions and tutorial here notjustahousewife
Fast & Fun Plant Hanger:
You can also make smart use of fabric strips to make handsome looking plant hangers and holdings at home! Here the denim strips have been sewn around a bottom denim circle to make a planter hanger in which a planter has been placed for make a brilliant hanging planter! This is here another great and rocking hanging planter that you can make at home! Here this planter has been hanged aloft using the D-ring hooks! Full project instructions and tutorial here craftsy
DIY Hanging Planter: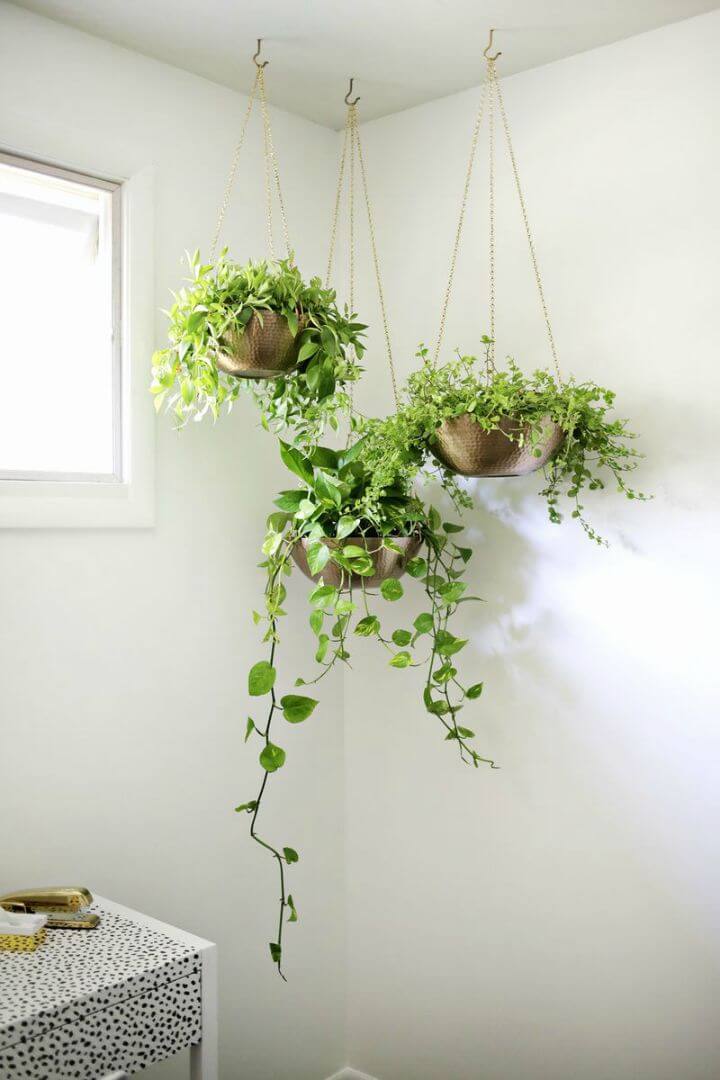 Check out here another great and brilliant looking hanging planter that is made of metal bowls! Here along with the brilliant garden vibes, these planters will also bring a damn cool metallic touch to your spaces! Just drill the holes in the sides of the planter bowls and add the metal chains with the help of quick links, next suspend these metallic planters aloft making a gorgeous hanging planter! Another great and outstanding hanging planter to grab your attention! Full project tutorial and visual instructions here abeautifulmess
Hanging Rope Planter:
Here is another smart and cost-efficient hack for a cool looking hanging planter! Just grab some square pieces of wood, drill bigger holes in them to fit your planters in and then drill holes in the sides of the wooden squares and thread the rope lengths into them to hang them aloft! Here al you need some mini planters, rope and some scrap wood to duplicate these hanging rope planters! Full project instructions and tutorial here hgtv
Wall Hanging Planter: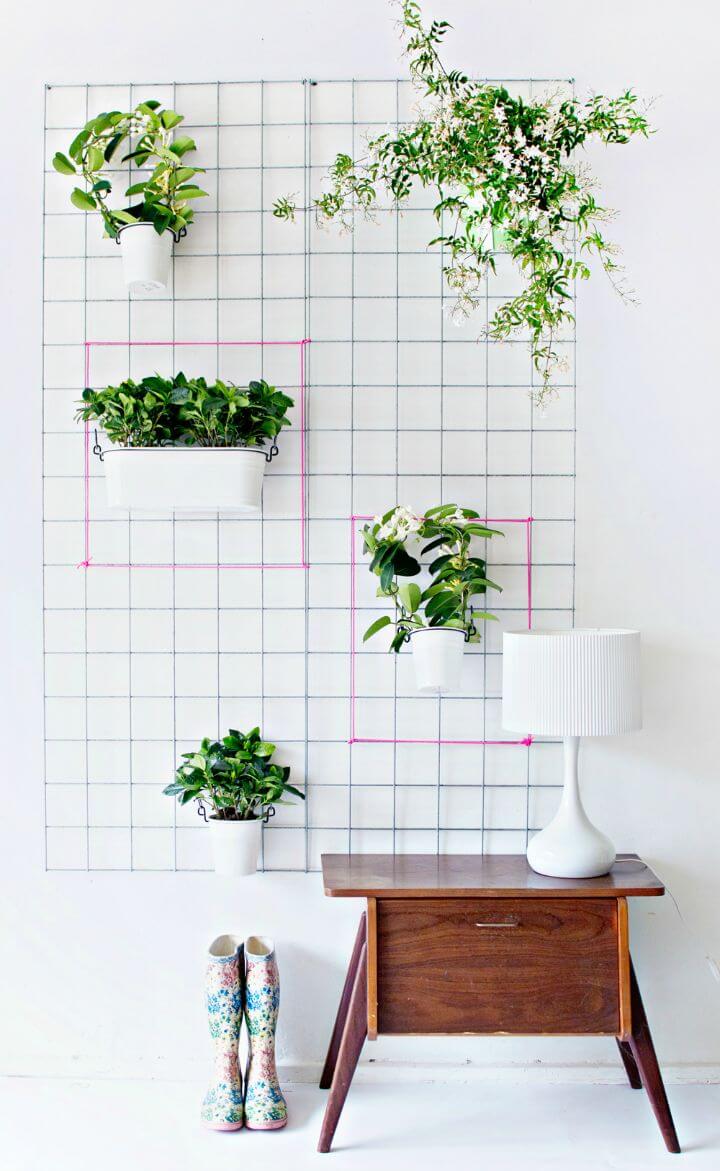 Here is another smart and easy way to install the vertical hanging garden to your indoor or patio side! The idea is pretty simple and lovely, just hang the steel mesh on your targeted interior wall and next just hang your pots over it using hardware hooks and make beautiful looking hanging planters to your interior walls! Fill the rest of space by hanging custom photos and cards of your choice! Full project instructions and tutorial here lanaredstudio
Hanging Plant Shelf:
Bring also the amazing garden vibes to your spaces by hanging this plant shelf that as simple to make as ABC! Here all you need is to tie 4 lengths of rope together to make a rope hanging and next just tie place a wooden shelf in the rope hanging to make a hanging plant shelf! Final step would to place your planter or pot over the wooden shelf to make a hanging indoor planter! Full project instructions and tutorial here abeautifulmess
Hanging Rope Planters: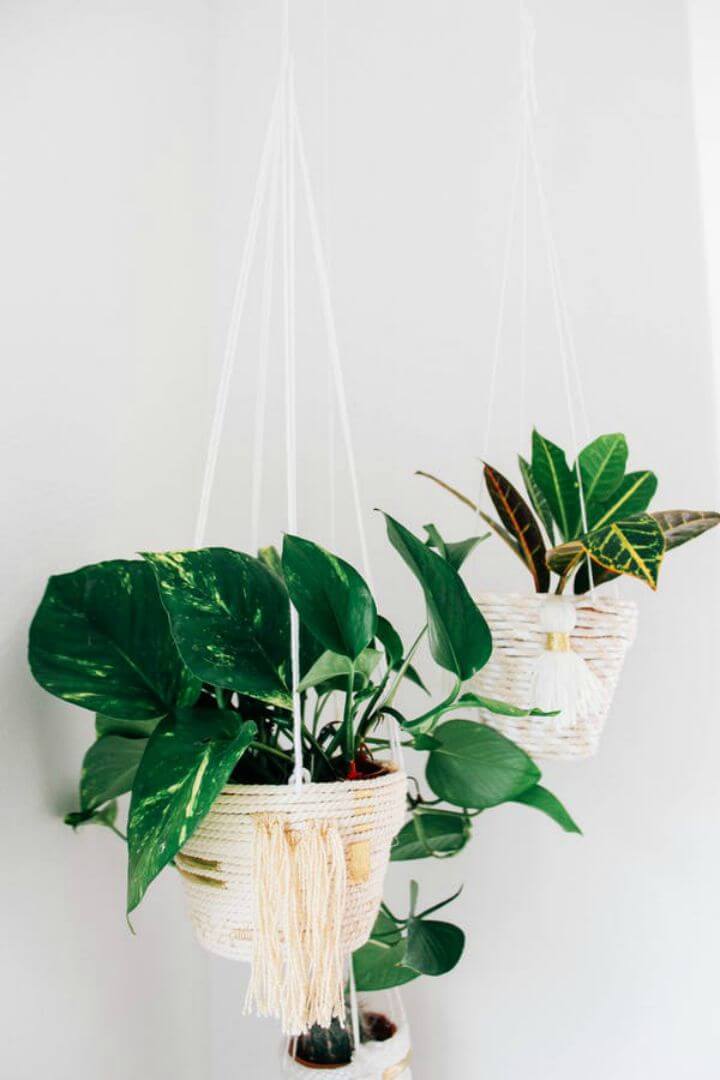 Just wrap the rope around your terracotta pots and also hang them higher in your home or to patio to make adorable hanging planters! Just get inspired of the given sample rope planters that are looking much beautiful due to touch of gold ribbon and raffia and also due to adorable tassels hanging all around the planters! This is here another fab hanging planter project to duplicate at home! Full project tutorial here stylemepretty
Hanging Plant Holder:
You will definitely fall in love with this another hanging plant hanger that is totally unique and eye-catching! Here this alluring hanging plant holder is made of mahogany wood and is something super beautiful to look at! Here the planter shelves are made of mahogany wood while the outer oval-shaped rim of the planter holder is made of three separated pieces of wood, twisted around a jig and have been adhered with the glue! Full project instructions and tutorial here three16ths
Hanging Garden: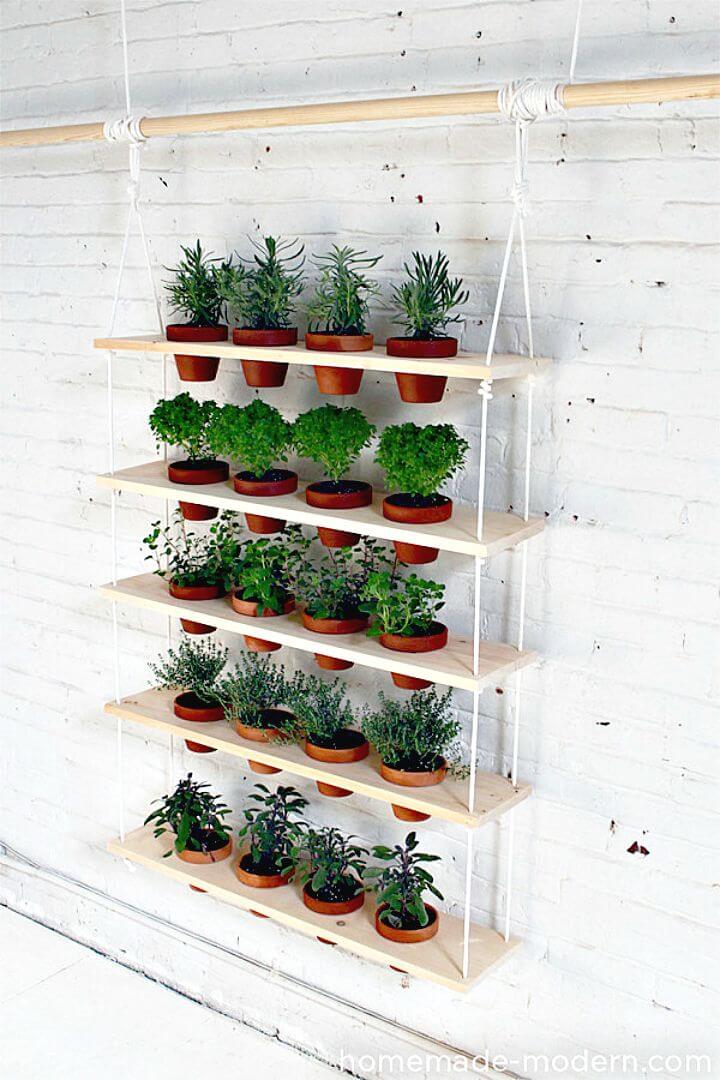 This is here the most handsome looking herb garden that will hang indoor for an instant touch of garden decors! Here again you will see a super smart and genius use of wooden slats, rope and of wooden dowels to make this brilliant looking hanging herb garden! Just grab the wooden shelving lengths, make bigger holes in them to fit your planters in them! Next make holes in each corner of each planter shelf and then thread the rope into them to get them tiered! Secure each shelf in place by giving knots to rope and finally tie the rope to already hanging wooden dowel! Complete project instructions and tutorial here homemade-modern
Wood Hanging Planter: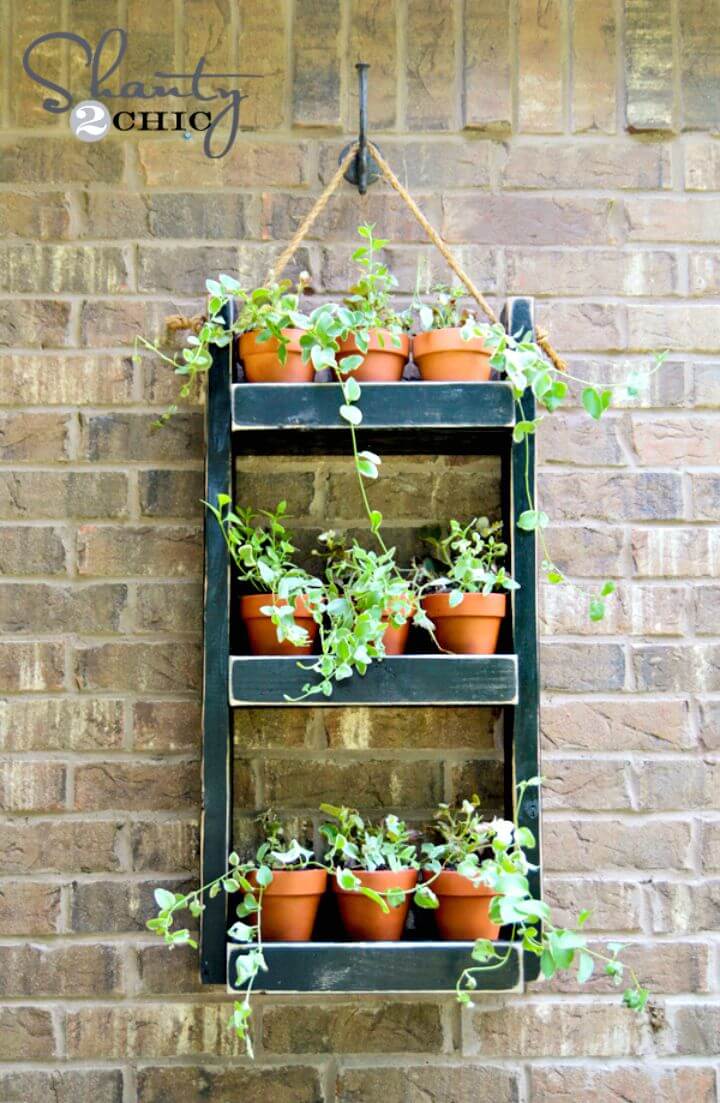 There are never-ending ideas and suggestion for making handsome and adorable looking hanging planters for your interior walls and here is another great one! Just make smart use of scrap wood pieces to make alluring looking hanging planters just like this given one that comes with 3 built-in shelves! Build the side frame and then add the shelf and final step would be to make the top rope loop to hang the planter over a metal hook! Another great hanging planter project that everyone can do! Full project instructions here shanty-2-chic
Hanging Terrarium:
If you are willing to gain a modern hanging planter or a centerpiece that will spruce up a decided place with the natural touch of greenery then this hanging terrarium will be a rocking choice for sure! Here all you need first to grab the teardrop shaped glass hanging terrariums which can be hanged aloft using metal quick links, rope or metal chains! Next you can fill the terrariums with custom items like with stones, potting soil and with green plants! Full project tutorial and instructions here simpledecoratingtips
Square Hanging Planter:
Check out here the most innovative, simple and beautiful looking hanging planter that is self-made and is sure to go pleasing to eyes! Here all you need some square wooden dowels that can be put together making a square wooden frame in which you have to fit your planter! Next you can tie rope to each corner of the wooden square frame to hang the planter up in the air! Another great hack for an enticing looking hanging planter! Full project guides here fallfordiy
Vertical Clay Pots:
Here is another great and enticing looking vertical hanging planter that will rock your space with a natural green touch of garden decors! Here all you need is to thread the terracotta pots on a metallic rod and next you can hang your finally finished tiered vertical planter in the air using custom hooks, metal chains and quick chain links! Just make the pots sit on the rod in place using nuts! For great results, just top up the nuts with a washer, flange and then with a O-ring! Full project instructions here thehorticult
Diamond Hanging Planters:
Make the hanging planters of different shapes and styles that will compliment your interior decor style! An interesting sample here is these diamond hanging planters that are looking damn beautiful and enticing! Just use the Cricut machine and cut the diamond template on a thicker chipboard! Make the chipboard diamonds, spray paint them and then make holes in their sides to thread the leather cording into for easy and durable hanging! Here the diamond hanging planters come with succulents! Full project tutorial and instructions here thecraftedsparrow
Hanging Mason Jar Planters:
Repurpose also the glass jars and containers to make fabulous looking hanging planters in just no time and without getting a bit expensive! Just tie around of jewelry wire around the opening of each mason jar and then add a jewelry ring to each side of the jar wire loop! Next attach the jewelry chain lengths to jewelry rings and get the mason jar planters in tiered positions to make a fab vertical planter! Another great and outstanding hanging planter that will cost you almost nothing! Full project instructions here tattooedmartha
Plastic Fishbowls Hanging Planter:
Repurpose also the fish bowls to make glassy and transparent looking hanging planters that will rock all indoor spaces with a glam natural touch of decors! Just check out there a set of 3 hanging fishbowl planters that are super easy to make and will be ready in just no time! Here all you need is to drill hole in one side of the plastic fishbowl and next add the eye bolt in the hole and secure it in place using nut on the other side! Next hang it aloft using metal chains and s-hooks and that's it! Don't forget to add your succulents, rocks and some soil inside the planters! Full project tutorial here abeautifulmess
Tie-dye T-shirts Turned Boho Hanging Baskets:
Make also smart use of your tie-dyed t-shirts to make interesting boho chi styled hanging planters! These hanging boho basket planters that would be a big fun to make and will make a great gift for a bohemian style lover! Grab the t-shirt yarn and crochet it to make a round basket style plant holder and leave also some lengths to hang the planters aloft in the air! Just checkout here this sample planter that is looking damn lovely and interesting! Full project tutorial and visual instructions are here jenniferperkins
Copper Pipe Hanging Planter: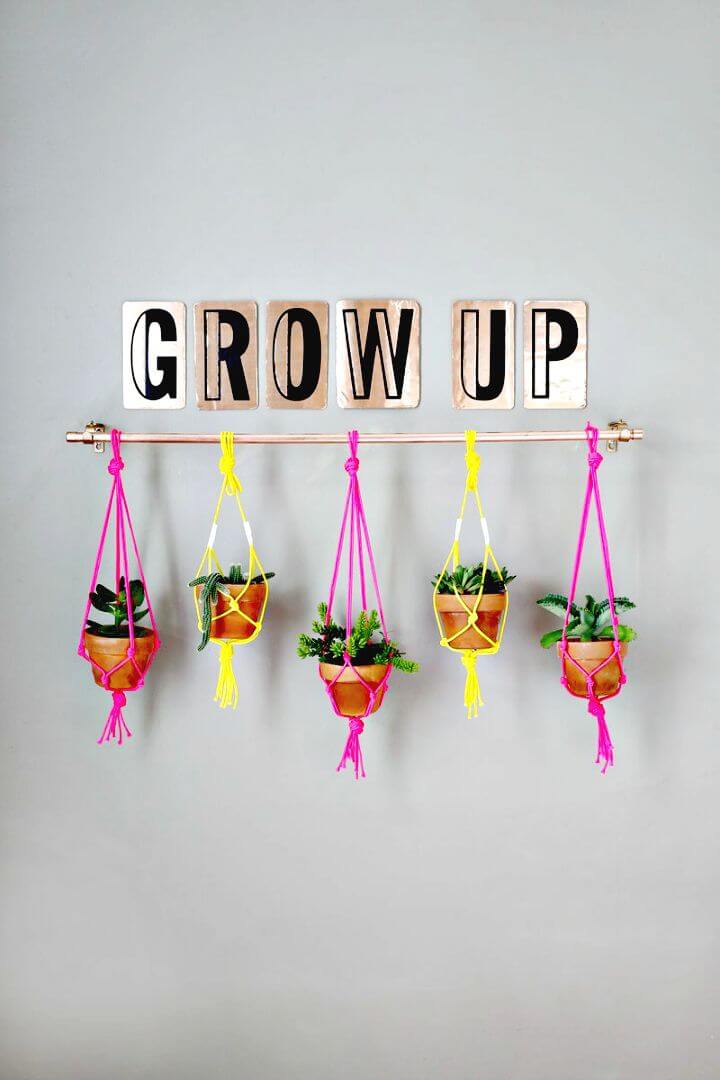 There are just numerous different ways to make the hanging planters or vertical garden in your home! Another great idea is here to grab your attention! Just make the copper pipe hanging planters or herb gardens that will bring great visual details to your home along with a natural green touch! Here a copper rod has been installed to wall using the curtain metal brackets and then the macrame hanging planters have been tied to it! Here the normal terracotta pots have been placed inside the pink and yellow macrame hangings! Full project tutorial here abeautifulmess
Leather and Clay Planters: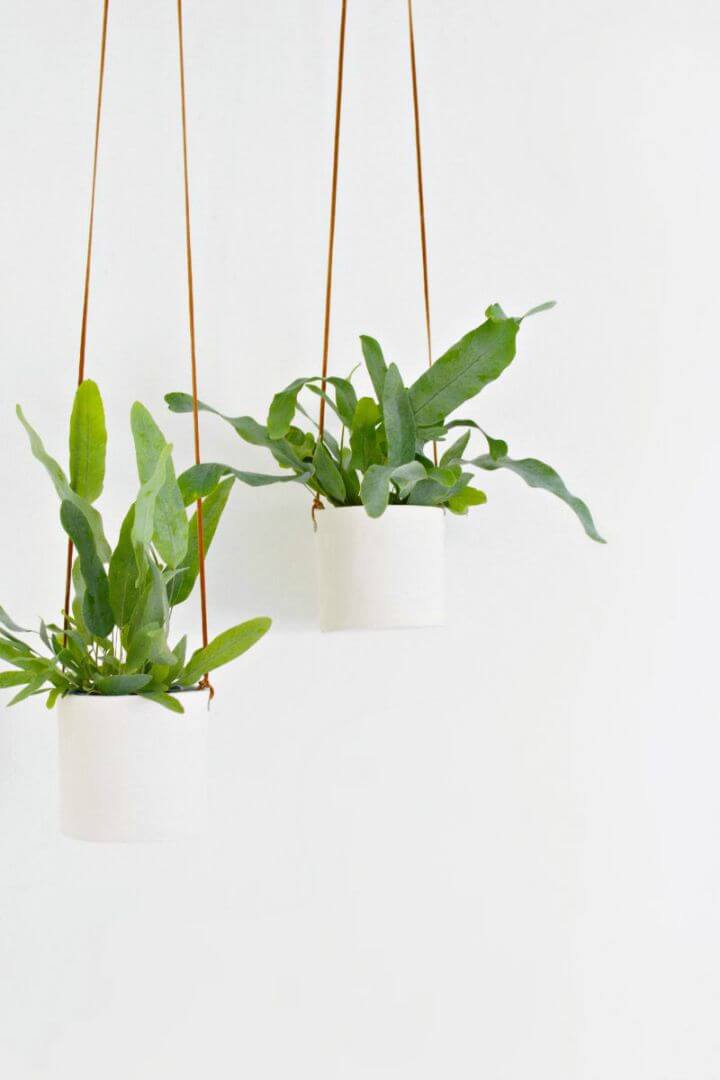 Next you can also get crafty with the polymer clay to make rocking hanging planters in just no time! Just have a look at these sample clay hanging planters that are looking damn beautiful! Just flatten the clay and then wrap to make the planter, add the round bottom and let it to dry! Next thread the leather cording to side holes of the clay planter and just hang them up in the air as an amazing natural decor centerpieces! Full project tutorial here burkatron
Macrame Hanging Planters: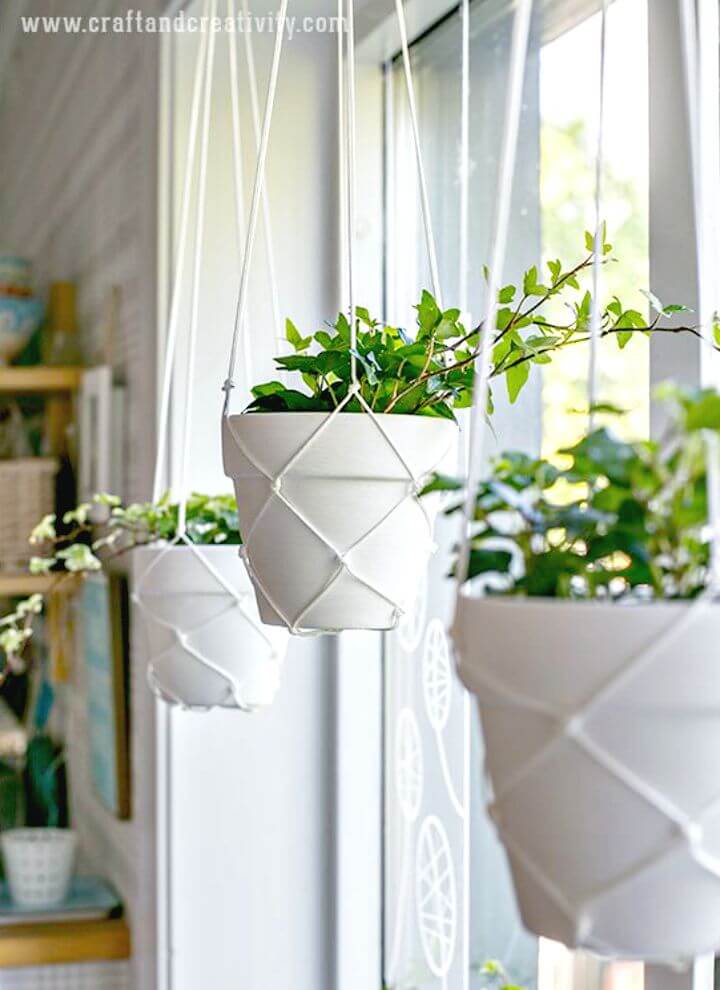 Know the art of macrame-ing? If yes, then you can really do amazing things with this art like you can make adorable looking hanging planters with it without getting a bit expensive! Just grab the macrame cord and start giving it some smart knots to make the macrame hangings! Next add the terracotta planters inside and make beautiful hanging planters in just no time! Here terracotta pots have been painted in white and are looking damn beautiful! Full project instructions and tutorial here bloglovin
Nesting Bird Hanging Planter: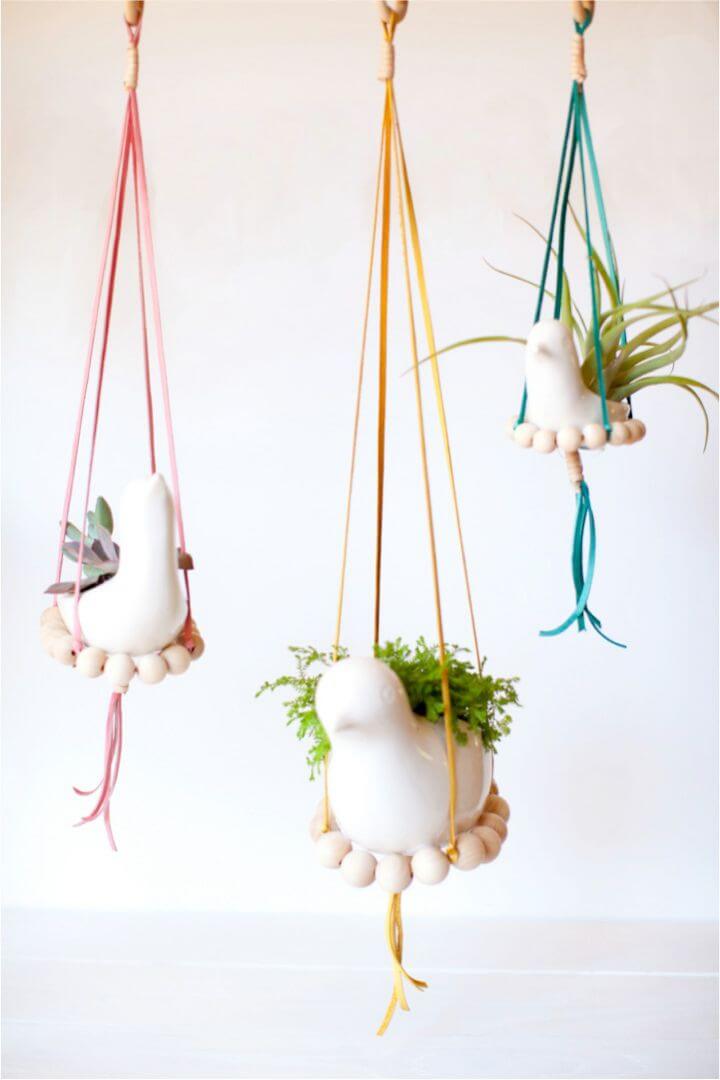 You can make interesting design of hanging planters that may be inspired of different things and items that you love and that are in your imaginations! We would like to inspire you more with this example of nesting bird hanging planter that is truly looking amazing and magnificent! Here all you need the bird planters that can be fit into the wooden bead hoops that can easily be made by threaded unfinished wooden beads onto a piece of wire! Next make the hanging for the planter using leather lace and the wooden rings and that's it! Willing to clone these nesting bird planters? Full project instructions here thislittlestreet
Hanging Basket Garden: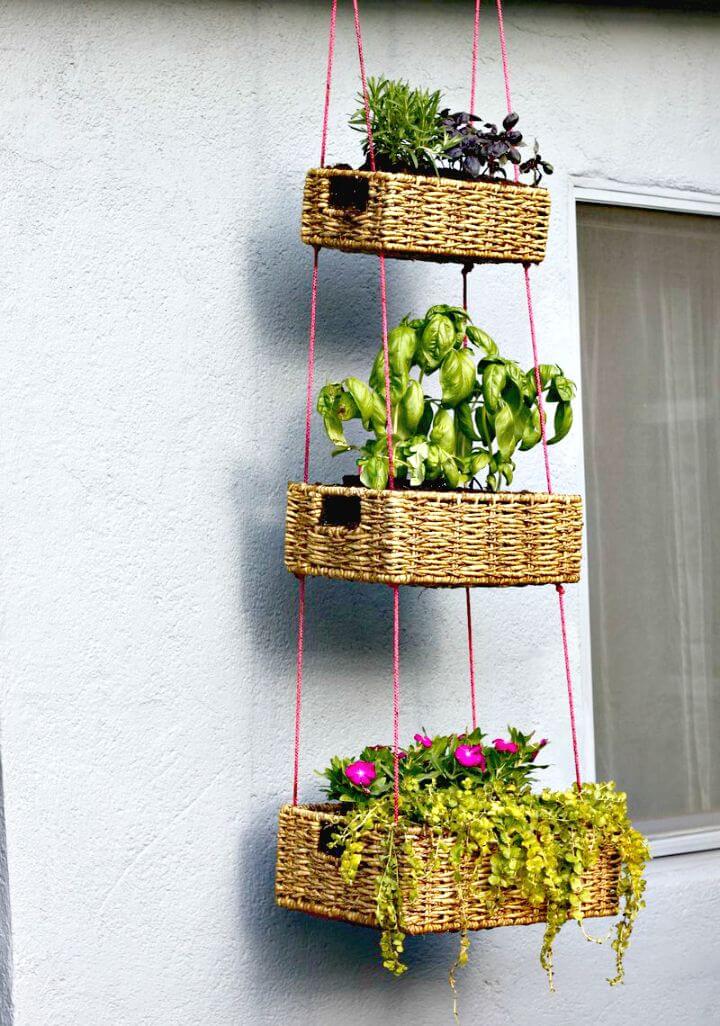 If you are intending to jazz up your interior modern spaces with both rustic and natural decor touch then here is a great idea for that! Just make the rustic basket hanging garden or vertical planter that will hang like a precious charm! Here all you need the woven baskets and the braided polyester rope to make this interesting 3 tiered hanging basket garden! Just thread the polyester braided cord into the side corners of the baskets and tier 3 baskets to make a cool looking planter! Willing to duplicate this sample planter? Full project tutorial here abeautifulmess
Tiered Hanging Pots:
Repurpose also the old wooden slats, boards or planks from home to make amazingly beautiful looking tiered hanging pots that will rock your modern spaces with a natural green touch! Just grab some square wooden pieces of equal dimensions and cut bigger holes in center and mini in the corner sides! Fit the planters in the center of the wooden boards and then thread the rope into corner sides to hang them higher in the air! Tie knots to rope to secure each tiered pot in position! Full project instructions here designsponge
Hanging Planters with Ammunition Cans:
Reclaim also the empty ammunition cans to make precious looking hanging planters in just no time! Have a look at the sample given hanging planter that comes with multiple tiered ammunition cans! Here just add edged outside bolts to each side of the ammunition can by drilling some mini holes and then add the bolts to metal chain links to hang the planters in tiered arrangements! Check out here interesting looking sample and do duplicate it! Full project tutorial here thehorticult
Tin Can Planters:
Repurpose also the old tin can to make fabulous looking tiered DIY hanging planter without getting a bit expensive! Just have a look at this sample tin can hanging planter that is really looking enticing due to addition of colorful tin cans! Just make the holes in the top and bottom side of the tin cans and then add metal chains to the holes to hang them aloft in the air in tiered arrangements! Another budget-friendly hack for hanging indoor planters! Full project instructions and tutorial guides are here themicrogardener
Hanging Birdcage Planter:
Make the birdcage DIY hanging planter at home that will make a perfect whimsical decor for your indoor and outdoor! Check out here a brilliant sample birdcage planter that is looking much beautiful and enticing and is sure to make great natural decor for any area! Here all you need a birdcage that you can grab from an old vintage store and next you can add a coco liner inside of it! Final step would be to add the greenery and flower inside the birdcage! Full project instructions here thriftyartsygirl
Plant Hanging Baskets:
There are never-ending designs for DIY hanging planter that you can make at home and here is another great and beautiful looking one that will definitely hold your attention! This is where the plant hanging basket that has been made to inspire is something extra brilliant to look at. Grab a metallic basket, cover inside of it using a coco liner or moss and then add the flowers and greenery in it! Don't forget to hang it over a garden stake, hook or pole! Full project instructions here hgtv
Hanging Lightbulb Planter:
If you love the transparent vases and also willing to gain some glassy DIY hanging planter for your indoor-outdoor spaces then you can also go handmade with the old and recycled light bulbs to gain some beautiful ones in no time and without getting expensive! Just remove the bulb screw or just dig it up a little to pour some water in the bulb and also to add some flower picks in the bulbs! Next just hang your bulbs aloft using custom hanging systems and that's it! Here these light bulb planters have been hanged using twine! Full free instructions here diyprojects
Contemporary Indoor Garden: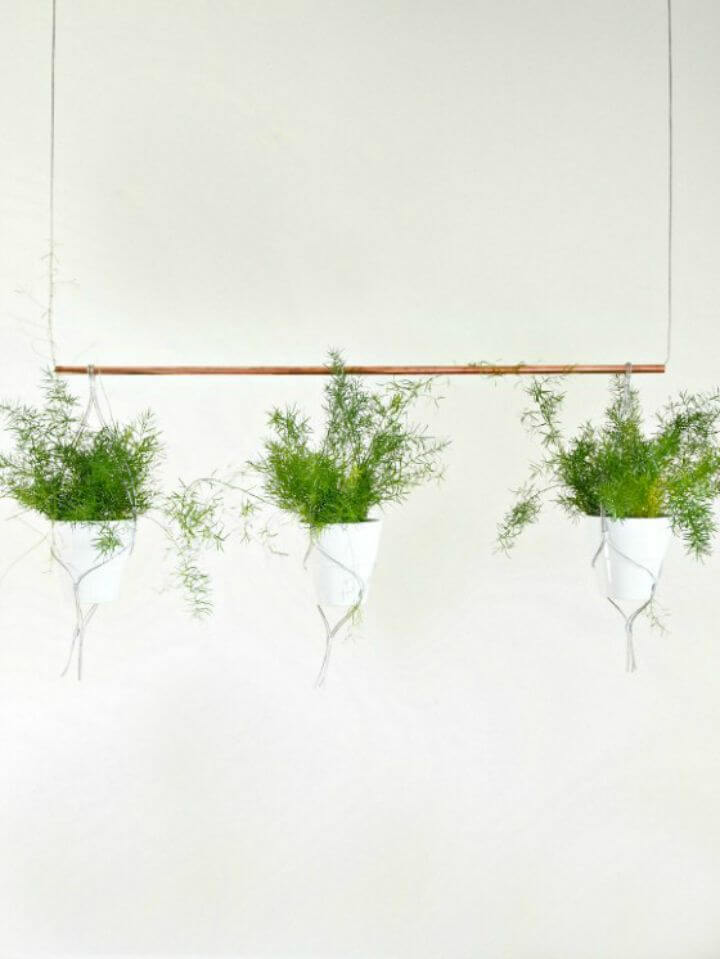 Create a fantastic look of your home interior by installing there some fab looking hanging indoor gardens that will rock the space with a brilliant green touch! Just have a look at this contemporary indoor garden that is looking damn beautiful and interesting! Here just thread the metal wire into a copper pipe and hang it like the curtain rode! Next use again the metal wire and ferrules to make the wire planter hangings and place your flower pots inside. Final step would be to hang the planters on the copper rod! Full instructions here eclectictrends
Neon Straws and String Hanging Planter:
If you love the neon colors and are willing to jazz up your spaces with some outstanding neon colors then there is also a great way to do it!! Just grab the neon cords and the neon straws to make the stylish looking macrame pot holders and next put your flower or succulent pot inside! Hanging them on the aloft supports and make fab looking hanging indoor planters or gardens! Willing to duplicate these hanging neon straws and string hanging planters? Grab full free guides and visual tutorial from here brit.co
Leather and Brass Teardrop Hanging Planter: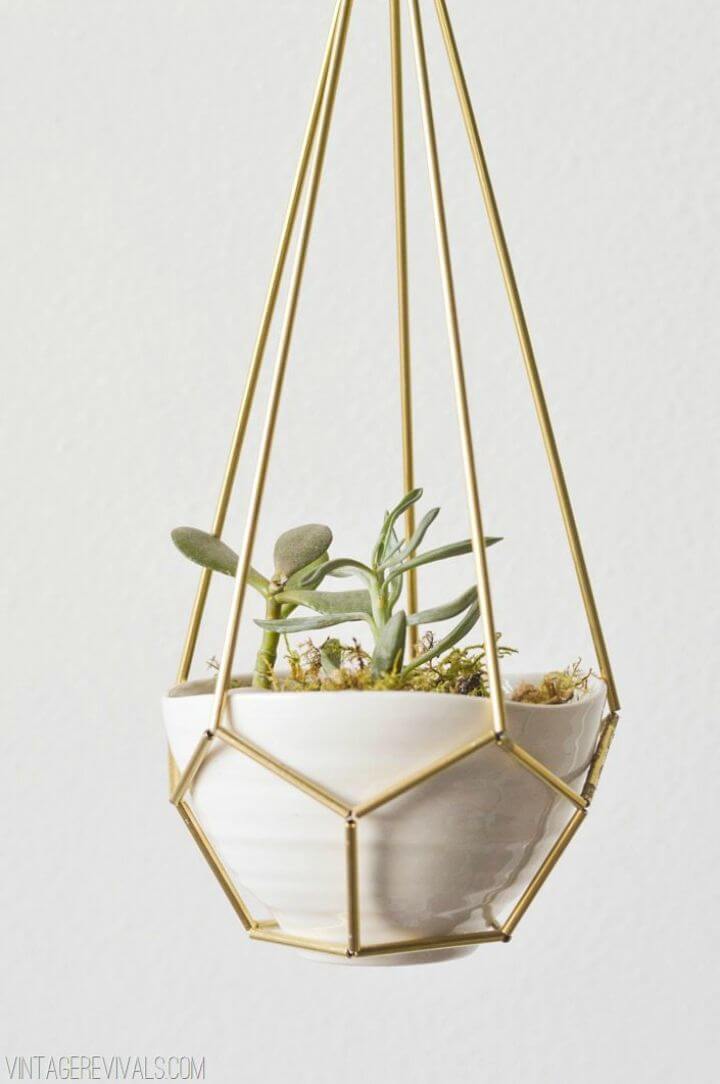 Just like the macrame hanging planter holders, make also the same looking ones using the brass tube and flower wire that bring great visual details to a selected room or home interior due to being ultra modern and sparkling! Just check out there the teardrop hanging planter that is made of brass tube. Cut and join the brass tubes using metal wire making beautiful pentagons and next join those pentagons to make the teardrop hanging planter! Final step would be to put inside your flower or herb pot! Full project instructions and visual tutorial here vintagerevivals
Upcycled Plant Hangers: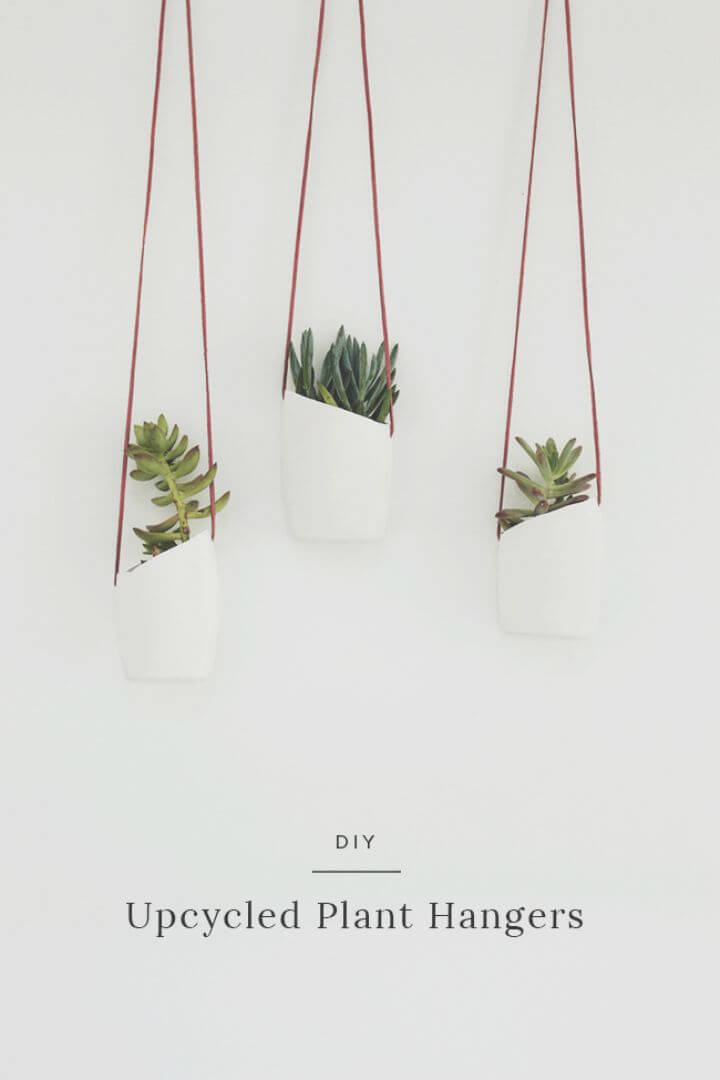 Check out here more interesting and fab looking hanging planters that will go rocking to every modern, rustic or vintage inspired room interior! These here chic white planter hangers that are made of air dry clay and will be ready in couple of minutes! Just flatten the air dry clay balls and make the longer strips of clay roll them in cylindrical shape and then add the bottom to make a planter! Use pencil to make holes in top side for hanging purposes and next add your greenery! Hang your planter using the rope and that's it! Full project instructions here manias
Recycled Upside Down Planter:
Here is a unique twist that will definitely hold your attention! Make also fab looking upside down planters at home that will definitely go odd looking to any space and will make an enchanting mysterious decor! Just recycle the old fabric, coffee filters, tin cans, plastic bottles, duct tape and a wire hanging to make these interesting looking upside down hanging planters that will definitely make an outlandish home decor piece! Full project instructions and tutorial here designsponge