Sometimes we wish to personalize various of our items like the DIY home decor, the home utensils and several of other items that we use in routines for so many different purposes! There are various ways to add a personal finishing touch to items like you can paint it for a custom appeal, you can decorate with custom accents and embellishments, and finally, you can also personalize it by writing something over! So, if you are intending to give a personal touch to your favorite items by writing custom letters, quotes or sayings then you can go with the chalkboard paint makeovers!
The chalkboard paint allows you to write on any surface with white or any colored chalk and the excellent news is that you can anytime clean your overwritten letters and can write new ones! So, just to make you aware of that what amazing you can do with the chalkboard paint, we have listed here these 40 Easy DIY chalkboard paint ideas and projects that are smartly genius and will make you a big fan of the chalkboard paint! Here this list will tell you that how to decorate your interior walls using the chalkboard paint and custom stencils and you will also learn the smart hacks to make stunning wall art pieces using chalkboard paint! Just visit the entire list to see the wonders done with the chalkboard paint!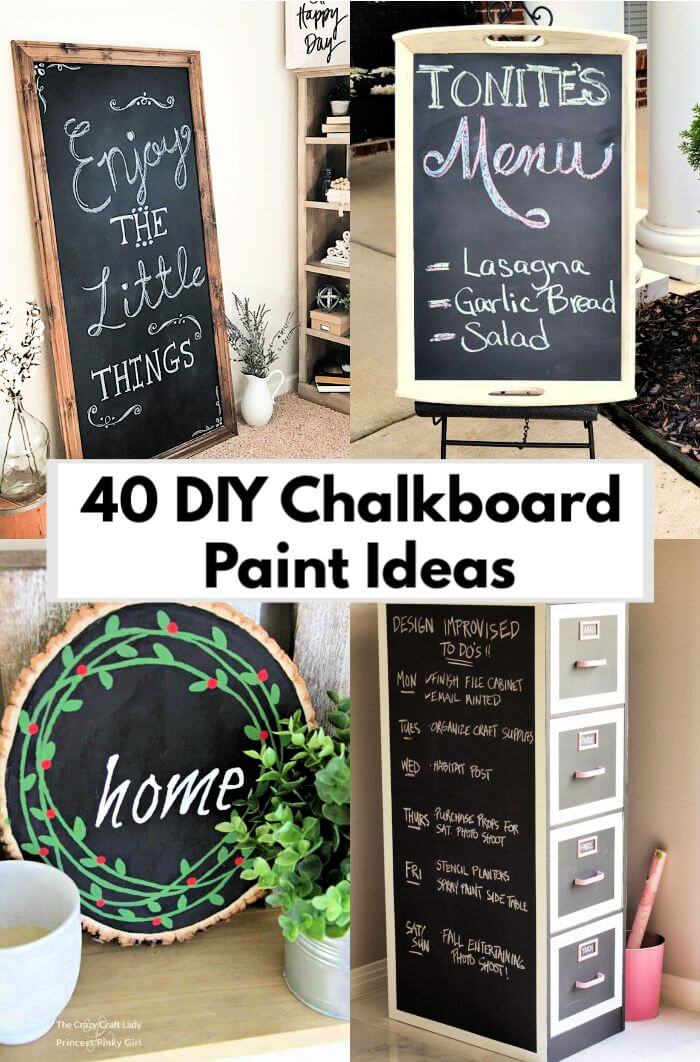 Make a chalkboard paint calendar using the wood, cardboard pieces, and the chalkboard paint and also paint the round wooden discs with the chalkboard paint and decorate them by making custom patterns and also by drawing custom art shapes using white chalk and other items of this kind! Chalk paint the wooden kitchen tool handles and also a portion of your cutting board to write names of the tools with chalk and also custom messages and quotes! Make also smart use of wood and chalkboard paint to make bigger serving trays on which you can easily write the name of the dishes you are going to serve to your guests or family members! Check out a lovely sample given below in the list!
DIY Projects for Home Decor:
Next also make the chalkboard paint buntings and banners that would serve for all the parties, festival, and events as you can simply write anything on them, again and again, using the chalk! Next also make the chalkboard paint wedding signs on which you can draw custom arrows and can write custom words to welcome the guests and also to direct them in the right way!
Paint the background bedroom walls with chalkboard paint and then draw the faux headboard there with chalk, this will bring great visual details to your bedroom! Grab also artistic wooden boards and paint them with a chalkboard and make lovely birthday and anniversary calendars and you can also use them as memo boards or to write your to-do lists! Check out too much more chalkboard paint projects given below in the list and do duplicate your favorite ones at home! Open up the attached links to get full free project tutorials and visual guides!
Colorful DIY Chalkboard Calendar:
Your regular routines always demand a calendar and you can make amazing calendars also using chalkboard paint! Have a look at this given sample calendar that is made of a piece of wood which comes with a black chalk painted square to bottom side where you can write the name of the month which is going on! Just write the numbers on the cardboard pieces and just hang them on the wooden board above the chalk painted portion using the metal clips! Complete tutorial here draw custom
Simple To Make Chalkboard Wreath:
Make also the chalkboard wreaths at home that you can personalize every day by writing custom quotes, messages or notations and also by paint custom art shapes and patterns! Here around wreath form has been cut out from an MDF board which has been painted with black chalkboard paint for a fantastic look! Another great and smart chalkboard project to do at home! Complete tutorial and instructions here number-2-pencil
How To Make Chalkboard Cutting Board & Spoons:
We make use of chalkboard paint to gain the surfaces write-able with the white chalk, but you can also make smart use of black chalkboard paint to bring a cute and rustic décor statement to any object or item! Here a cutting board and some wooden spoons have been spruced up with smart use of chalkboard paint and hence are looking damn cool and fantastic! So, also make smart use of chalkboard paint to bring some rustic vibes to your spaces! Complete project tutorial here remade
Easy DIY Chalkboard Serving Tray:
There are numerous different crafting projects to do with the chalkboard paint, here is another genius chalkboard paint hack to amaze you! Just make the make the wooden trays and just paint them using black chalkboard paint and make them look extra beautiful! Next you can also write the names the items you are going to serve using the white chalk! Another brilliant project to do with chalkboard paint! Here this serving tray is made of a wooden board cut to size and it also comes with metal handles! Complete project tutorial here shanty-2-chic
Cute DIY All-occasion Chalkboard Banner:
Looking for some perfect buntings that you need to decorate a party place? if yes, then why not make these chalkboard buntings that will rock for every occasion and festival! Just write the custom letters on the buntings using chalk and make the cool looking bunting banners for every occasion or festival! Check out here the sample chalkboard banners that come with buntings made with the chalkboard cloth vinyl and are just looking fantastic! Willing to duplicate this banner? Complete project tutorial and instructions here up using
DIY Chalkboard Paint Project For Your Wall:
Make also the brilliant use of chalkboard paint to fancy up your interior walls! Check out there an amazing decorative wall treatment that has been given using the banner blue chalkboard paint and next the blue chalk painted wall have been stenciled for beautiful art that repeats throughout the wall area! The art has been painted using custom stencils and the chalk markers! Another brilliant chalkboard paint project to do at home! Full project details and instructions here homedepot
Best DIY Chalkboard Cutting Board:
Personalize also your kitchen items using black chalkboard paint and write custom letters and names on them! Here a cutting board comes painted in chalkboard paint and hence has been turned into a fascinating kitchen wall art when not in use! It will also rock as a notice board there and you can write the to-do list of tasks on it! Finally, a white ribbon has been tired to the top side of the cutting mat for a decorative look! Grab the full free guides and visual instructions from here also fridge
Cute DIY Chalk Board Sign:
Are you willing to give some cool directions to your guests who are coming for a wedding? Just make also smart wedding signs at home using wood and chalkboard paint! Just have a look at this pretty cool looking chalkboard sign that provides a big black area to write custom quotes, messages and also to paint the directions! This is here another cool and smart project to do with the chalkboard paint! Here is how to make this chalkboard sign iheartnaptime
Fun DIY Almost Free Headboard:
Everybody just tries his best to give some cool effects to his bedroom! You can also do this smartly using the chalkboard paint! Just have a look at this amazing headboard that has only been traced out there on the black chalkboard painted wall using the white chalk! The headboard does not really exist there but it provides the same decorative value to entire bed! Here the ideas is to paint the background bedroom wall with black chalkboard paint and next you can draw or write anything on it that is in your imaginations! Complete project tutorial here twoflychicks
Easy DIY Birthday & Anniversary Calendar:
Make also fab looking birthday and anniversary calendars using the chalkboard paint and the chipboard! Just get inspired of the given lovely sample here that has been shared to inspire! Here a first the silhouette scalloped frames have been made which have been used as stencils to cut out the same scalloped frame shapes out of chipboard! Next paint your chipboard frame with black chalkboard paint and write the moth dates and note the birthdays and anniversaries there! Complete project tutorial here thinkingcloset
How to Make Chalkboard Cutting Board:
Boost also the kitchen decors by making interesting pieces of kitchen wall art using the chalkboard paint! Here a cutting board has been painted in the green shade of chalkboard paint and then custom quotes have been written over it along with painting the beautiful heart shape with chalk! Next poke a hole in the top of the cutting board and hang it anywhere in your kitchen as a mind-blowing kitchen wall art! Complete tutorial and instructions here hometalk
Adorable DIY Chalkboard Kid's Table:
Kids just love to draw and write that is in their imaginations and hence you can provide some provide some respective platforms to your kids to develop sharper brains in them! Just paint ordinary kids tables with black chalkboard paint and let your kids to draw and write directly on its top using white or any colored chalk! Check out here the sample kids table that is looking much focally stimulating and would really be a great addition to kids playrooms! Complete tutorial here andcute
DIY Chocolate Game Plan Chalkboard:
Make your kids busy in having fun by making interesting games for them and this can easily be done using the chalkboard paint! Just have a look at this interesting kids game plan that has been done using the chalkboard plan! Here a big rectangular wooden board has been painted in the black chalkboard paint and then custom game plan has been drawn on it and the winner will be awarded with the chocolates! In the same way you can also make custom scoreboards and memo boards also with the chalkboard paint! Complete tutorial here hungryhappenings
DIY Mod Podge Fabric Frames Using Chalkboard Paint:
Make also interesting fabric frames also using the chalkboard paint that will rock as handsome pieces of wall art if you need to boost the interior wall decors! Just grab the round or square wooden frames, paint them using white chalkboard paint and then cover with decorative fabric of your own choice! Next, paint the solid square or round shaped wooden frame with black chalkboard paint and add them as backings to pre-made fabric frames so they will be visible through the spacing! Write custom words and sayings on your finally finished chalkboard paint fabric frames and that's it! Get inspired of the given samples! Complete tutorial here number-2-pencil
DIY Trash-to-Chalkboard Transformation:
Repurpose also the wooden scrap pieces and just treat them with black chalkboard paint and make fabulous looking wall art pieces and signs! Just peek into details of this charming welcome sign that is made of a scrap wooden board which has been painted with black chalkboard paint and has also been decorated with colorful ribbon or fabric strips that come all around the sign as stunning banner! Experiment this project by writing your own favorite love sayings or quotes! Complete tutorial and instructions here pitterandglink
DIY Turkey Chalkboard Art:
Make also fabulous pieces of wall art by going smart with the chalkboard paint! Just turn the wooden boards into chalkboard art frame just by painting them in black! Next transfer your art or image stencils on the chalkboard frames and trace them in place on the frame! Next make genius use of chalk in custom colors you like to fill your traced out art and image for a fascinating wall art sign! Same has been done here in making this turkey chalkboard art! Complete project instructions here inmyownstyle
Creative Ways to Use Chalkboard Paint:
There are tons of décor projects to do with the chalkboard paint and it can really help to bring some rustic décor vibes to your spaces! Paint also the Mason jars using black chalkboard paint and give custom labels to them! Next you can also write custom words and letters also on the Mason jar lanterns or vases to make personalized centerpieces for your interior home spaces! Check out here the sample chalkboard painted mason jars and get inspired! Complete tutorial and instructions here farmandfleet
How to Turn a Mirror Into a Chalkboard:
Turn also your old mirror frames into eye-catching pieces of wall signs by treating them with black chalkboard paint! Here a longer vertical mirror frame comes with entire backing painted in black chalkboard paint while its front accent frame is having a chic white visual! Next draw custom shapes and can write custom words on it using white or any colored chalk to turn it into a beautiful wall sign! Complete tutorial and instructions here mom4real
DIY Vintage-Inspired Chalkboard Tray:
Tutorial: kenarry
Build a Wood Slice Painted Wreath:
The projects to do with the chalkboard paint are just never ending and here is another unique one to hold your attention! Are you a big fan of wreaths? If yes, then just also make some pretty rustic looking wreaths at home using the wood log slices and black chalkboard paint! Have a look at this interesting given sample and get inspired! Here the chalkboard painted wood log slice has been painted for custom greenery and next a sweet "home" word has been painted in its center using white paint! Complete tutorial and visual guides are here princesspinkygirl
Easy DIY Chalkboard Clay Pots:
Make also the clay pots look more beautiful by just giving them some decorative treatments! You can also make smart use of chalkboard paint in this case, just paint your clay pots in black chalkboard paint and next just write the names of the plants on them for an instant stimulating visual! Check out here these sample pots and get yourself inspired! Another cool chalkboard paint project to do at home! Grab the full free instructions and tutorial guides from here robinbecksnest
DIY Chalkboard Talk Bubbles:
Make also sweet talk bubbles at home that will be another great chalkboard paint project to do at home for boosting your fun! Just have a look at this sample chalkboard talk bubble that has been made using the black on black foam core and black chalkboard contact paper! Paste the contact paper on the foam core board and then trace your talk bubble, cut the shape out and write your custom words and letters on it! Grab the full free guides and visual instructions from here ohhappyday
 File Cabinet Chalkboard Makeover:
Do also amazing makeovers of your furniture items using the chalkboard paint and make them look extra beautiful! Here a file cabinet has been personalized and decorated with chalkboard paint and then the custom to-do lists, plan menus and custom notes have been written all around the file cabinet! The chalkboard labels have also been added to front drawers that create extra beautiful look of the file cabinet! First paint the cabinet in white primer and then use the masking tape to paint it entirely in the black chalkboard paint leaving the accent white borders! Complete tutorial and instructions here A final
Adorable DIY Oversized Outdoor Chalkboard:
Make also bigger chalkboard frames that will rock on the exterior or outdoor walls as beautiful art signs! Just peek into details of this given one chalkboard frame that comes with blue accent border and beadboard black chalkboard painted inside! Here it is serving as a birthday sign, but you can just vary your words according to different festivals, occasions, and events! Grab a bigger piece of flexible chipboard, paint it in the black chalkboard paint, frame it up using colored wood trim and that's it! complete tutorial here comes
How To Build Oversized Chalkboard:
Another fantastic chalkboard sign here that will bring a great rusticity to any interior if mounted as a wall sign, it will rock also as an accent table décor! Grab a custom size of a wood underlayment and next just frame up using custom wood trim pieces! Paint the entire underlayment with black chalkboard paint and you are done! playrooms step would be to draw your art and to write custom notes, rules, quotes or custom love sayings on your finally finished chalkboard! Willing to duplicate this oversized chalkboard? Grab the full free tutorial from here really be
How To Make Chalkboard Coasters:
Make also the fantastic chalkboard coasters on which you can write or draw anything according to event and occasion so you will be using them again and again! Check out here the sample all-occasion chalkboard coasters that come in perfect square shapes! Just grab your wooden tiles, spray paint them with chalkboard paint and next just finish them up with cord board bottoms cut to size! Use glue as adhesive and don't forget to write custom letters or words on the coasters! Complete pictorial here did
DIY Chalkboard Menu Board:
Make also precious plan menus, to-do lists and custom family rule charts using the chalkboard paint! We would like to inspire yours with this fantastic chalkboard menu board that is made of an old frame with a discarded beadboard! Just cut the beadboard to size and fit it inside the frame! Next, paint the beadboard planks using black chalkboard paint and paint the border in any enchanting color! Write your menus on each wood plank, and that's it! Experiment this project by writing family rules! Complete tutorial here adventuresofadiymom
Cute DIY Chalkboard Paint Mug:
You can also personalize your favorite coffee mugs using the chalkboard paint! Get inspired of this given chalkboard painted mug that come a half painted in chalkboard paint, and next to the custom words have been overwritten using the white chalk! This is here a great idea to turn the coffee mugs into mind-blowing gifts that can be given to all loving coffee friends you are in touch with! Complete tutorial and instructions here witandwhistle
How To Make Chalkboard Wall:
This just not ends here, you can also paint the custom interior walls entirely with chalkboard paint, and next can draw  custom patterns, shapes, and art on them to make them look fascinating! Moreover, you can also personalize that painted wall by writing custom letters, quotes, love sayings and can also leave some short family notes there! Just get inspired by the given sample wall that is looking interesting and it will rock in kids playrooms! Complete project tutorial here justagirlblog
How To Paint A Chalkboard Table For Kids:
If your kids are keenly interested in painting and drawing then you can take some steps for them to boost their skills! One amazing and cost-effective way would be to provide the chalkboard tables to your kids where they can draw or write whatever they want and hence they will learn more! Have a look at this sample chalkboard table that will be a fun addition to kids playrooms! Complete how-to tutorial and guides are here The final
Quick DIY Chalkboard Mug:
You can do amazing decorative makeovers of the custom of your items of interest and need using the chalkboard paint! Just have a look at this enticing chalkboard mug that would make a great gift for a Mother's Day and is something super quick to make at home! Just grab a coffee mug, then paste the masking tape around the center of the mug, next paint the bottom half with chalkboard paint and that's it! Complete project tutorial and instructions here abeautifulmess
How to Make a Coffee Bar Chalkboard:
Here a fabulous coffee bar chalkboard sign has been made using the chicken-on-a-stick art or sign that has been grabbed from the market! Here all you need is to paint the entire chicken on a stick using black chalkboard paint and next you can write custom words or letters on your finally finished sign using chalk! You can also use colored chalk to write custom words or letters! Complete project instructions and visual guides are here refreshrestyle
DIY Chalkboard and Key Hooks:
You will be a big admirer of this dual functional chalkboard craft that will make a wall art sign and functional organizer at the same time! This is here the chalkboard sign that comes with a  metal double-sided hooks attached to its bottom side where you can custom of your items including the keychains and other immediate accessories! Here this fabulous creation has been done using tempered headboard, lumber wood, metal hooks and chalkboard paint! Complete visual tutorial here shanty-2-chic
Make Personalized Chalkboard Burlap Tote:
Make also interesting looking accessories at home using the chalkboard paint, just have a look at this mind-blowing chalkboard burlap tote that has been personalized with a chalkboard name plate! Just make the tote using a water containers and burlap tote, install the jute rope handles and next hang the chalkboard name plate in front that can easily be made using a wood plaque and chalkboard paint! A complete tutorial and step-by-step instructions here decoart
Simple DIY Chalkboard Coasters:
There are never ending craft projects to do with the chalkboard paint and here is another cool one to inspire your creativity! Just make the cool looking chalkboard coasters that will make a great housewarming gift also! Just peek into details of this given chalkboard coaster that are brilliantly beautiful! Garb the ceramic and porcelain tiles and just paint them in black chalkboard paint! Finish with cork contact paper bottoms, and that's it! Final step would write custom letters on the coasters! Complete project tutorial and instructions here thesweetestoccasion
DIY Monogram Chalkboard Paint Coasters:
Once again the stylishly beautiful coasters are here to amaze your senses, another awesome chalkboard paint craft idea! Here these coasters are made of square tiles paint in black chalkboard paint and finally they sit on the felt pads! Trace your monograms using custom monograms prints or stencils and then fill them up  using white sharpie or chalkpaint markers! Perfect gift-worthy coasters to make at home! Complete visual instrutions here settingforfour
Adorable DIY Chalkboard Wall Calendar:
Another great crafting achievement done with the chalkboard paint! Here a big chalkboard wall calendar has been made that will goes much visually captivating! Just decide the wall area and cover the boundary lines with masking tape and also the add the masking tape week day letter initials! Final step would be to paint the entire area with the black chalkboard paint and next remove the tape to reveal your calendar and the squares for writing moth dates! Complete project tutorial here ourfifthhouse
Creating a Chalkboard Out Of an Old Metal Tray:
Turn your fridge also into a kids fun station by painting it with black chalkboard paint! Just have a look at this sample fridge that comes entirely painted in the black chalkboard paint and is just looking fantastic! After painting your fridge in the black chalkboard paint, you can draw custom art shapes, patterns and design on it to make it look beautiful! Moreover, you can also trace a calendar on it using white or colored chalk! Complete project tutorial and instructional guides here artsychicksrule
Update Fridge With Chalkboard Paint:
Turn your fridge also into a kids fun station by painting it with black chalkboard paint! Just have a look at this sample fridge that comes entirely painted in the black chalkboard paint and is just looking fantastic! After painting your fridge in the black chalkboard paint, you can draw custom art shapes, patterns and design on it to make it look beautiful! Moreover, you can also trace a calendar on it using white or colored chalk! Complete project tutorial and instructional guides here creativegreenliving