Making your own custom pantry shelves can be an exciting project that provides you with a unique, tailor-made storage solution. Learn how to build pantry shelves with these 25 useful DIY pantry shelf ideas, including step by step instructions and plans. The DIY pantry shelves are affordable to add valuable shelf space and improve your kitchen's overall functionality.
From minimal and modern to rustic and traditional, you can incorporate countless pantry shelving ideas into your design. Some people even opt to use reclaimed wood for their shelves, adding a sustainable and stylish twist to their pantry project. These DIY pantry shelf ideas even detail the necessary materials and tools you'll need, making the entire process as easy as possible. Say goodbye to pantry chaos and hello to a well-organized and functional space with these DIY pantry shelves!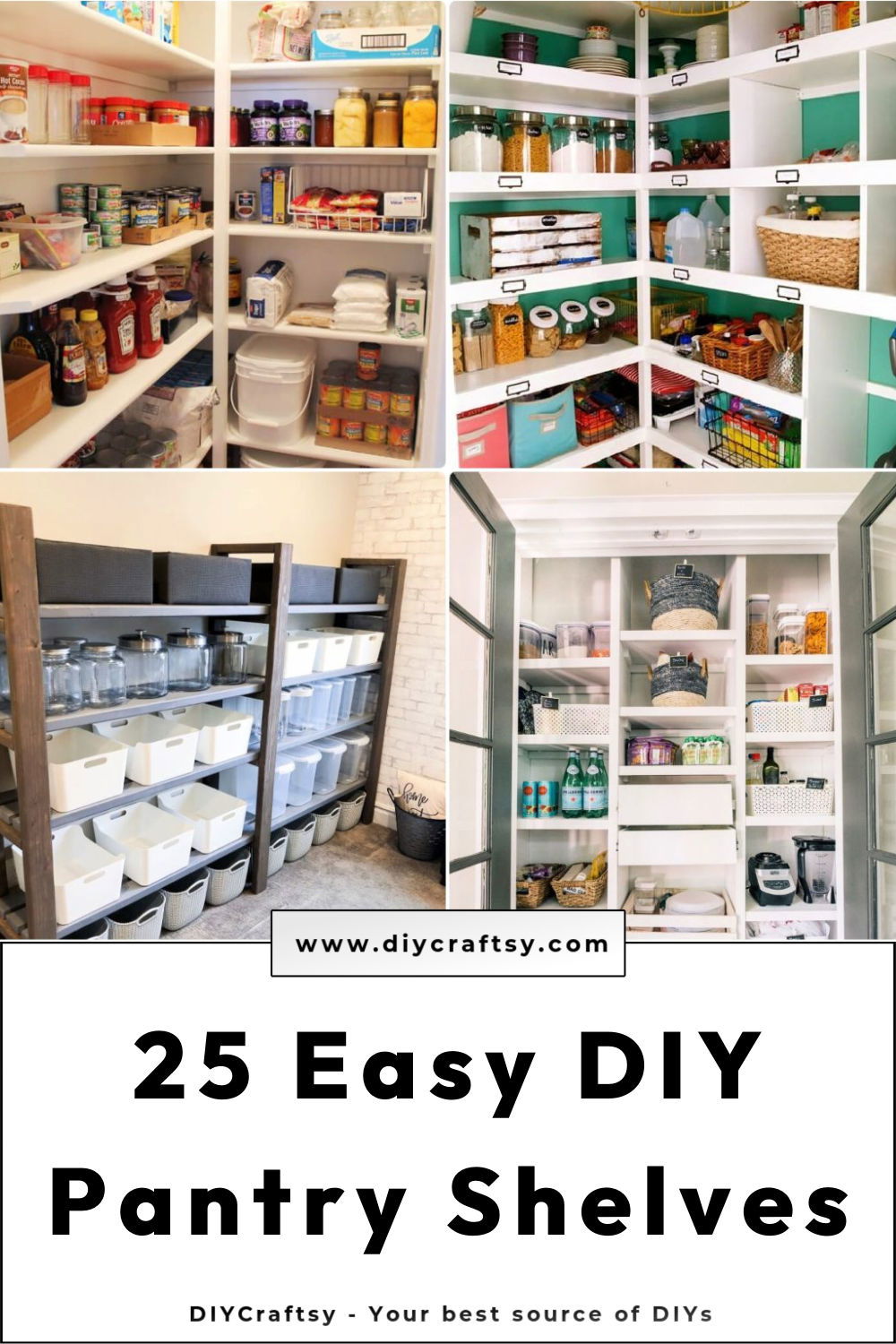 Moreover, building DIY pantry shelves allows for customization, enabling home-makers to adapt the design to their storage needs. This may involve creating different shelf sizes to accommodate various items or adding unique design features like pull-out shelves or built-in drawers
Whatever your design preference or storage needs may be, building your DIY pantry shelves is a rewarding project that can significantly improve your kitchen's functionality. Start building DIY pantry shelves today and enjoy a more organized, efficient kitchen space.
1. How to Make Pantry Shelves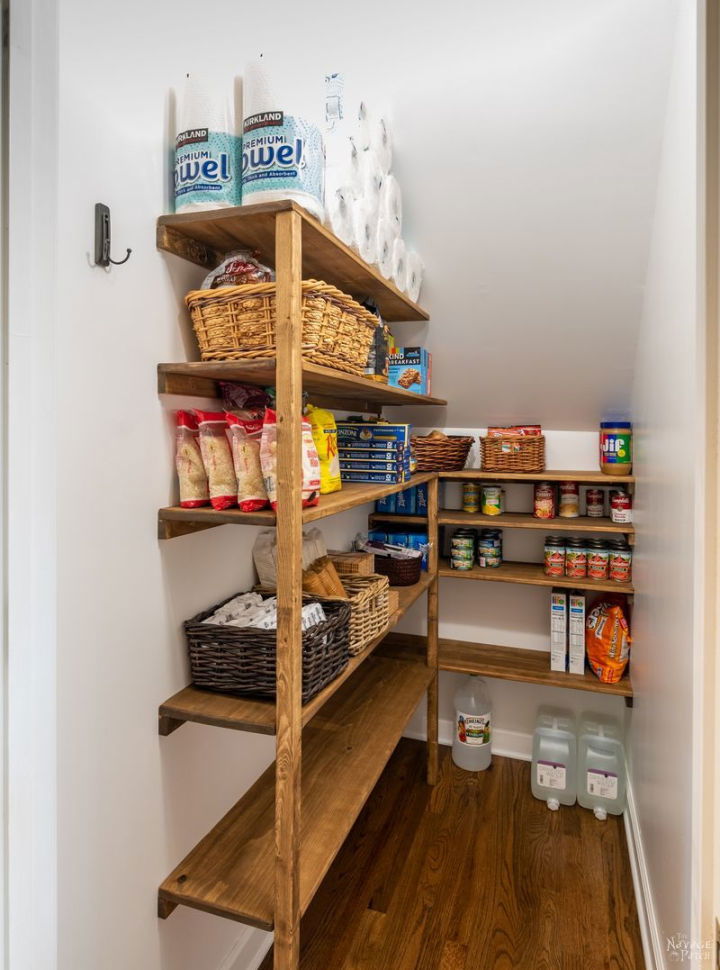 Maximize your pantry storage space with this easy-to-follow guide on how to make pantry shelves! The guide will easily walk you through the steps of filling holes, painting, and installing shelves. Plus, there's no need for major wall damage – the tutorial also shows you how to fill in the holes and use trim paint for a durable finish. You can even choose between semi-gloss or satin sheen, depending on your desired look. Get organized today and create extra storage with this helpful guide on how to make pantry shelves. thenavagepatch
2. Ultimate Custom DIY Pantry Shelves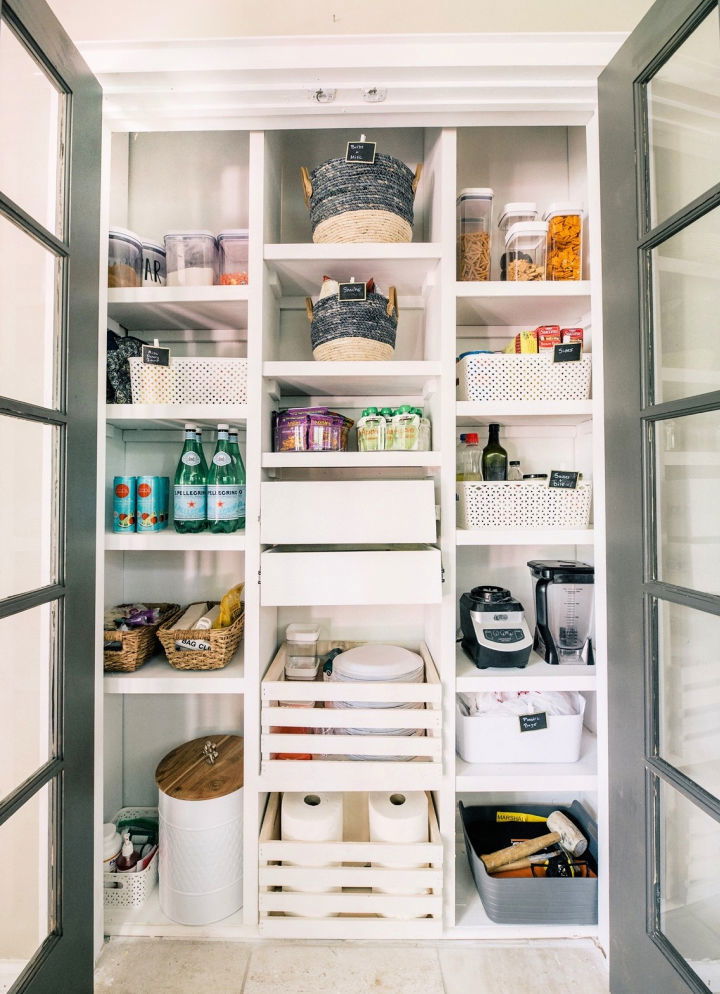 Put together the pantry of your dreams with ultimate custom DIY pantry shelves! This easy-to-assemble set includes plywood, a table saw, lattice wood, wood filler, a nail gun with brad nails, and 1×3 cut-in strips. Gives your shelves a professional look by adding corner brackets for extra support. Apply primer and paint to match any décor! Get creative and add unique personal touches that make it yours. With these ultimate custom shelves, you can create exactly what you want – making organizing easier than ever! liveprettyonapen
3. DIY Pull Out Pantry Shelves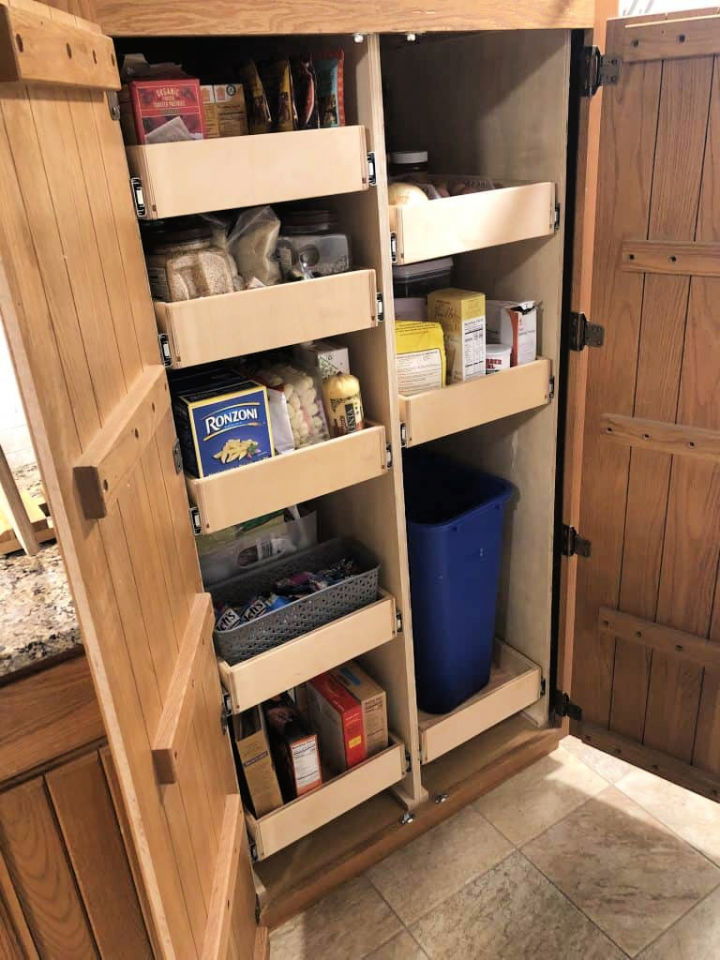 Build an efficient and organized pantry storage system with DIY pull-out pantry shelves. This easy-to-follow DIY pantry shelves tutorial will help you build your own custom-pull-out shelves in no time!
All you need is a table saw (with Dado saw blade set), miter saw, hand sander, power drill, level, clamps, brad nailer with air compressor, and foam brushes. Follow these step-by-step instructions for installing the perfect shelves that are sure to meet all of your kitchen needs. With durable construction materials and simple assembly techniques, you'll be able to maximize your pantry space quickly and easily! pursuetoday
4. Free 2×4 Storage Shelving Plan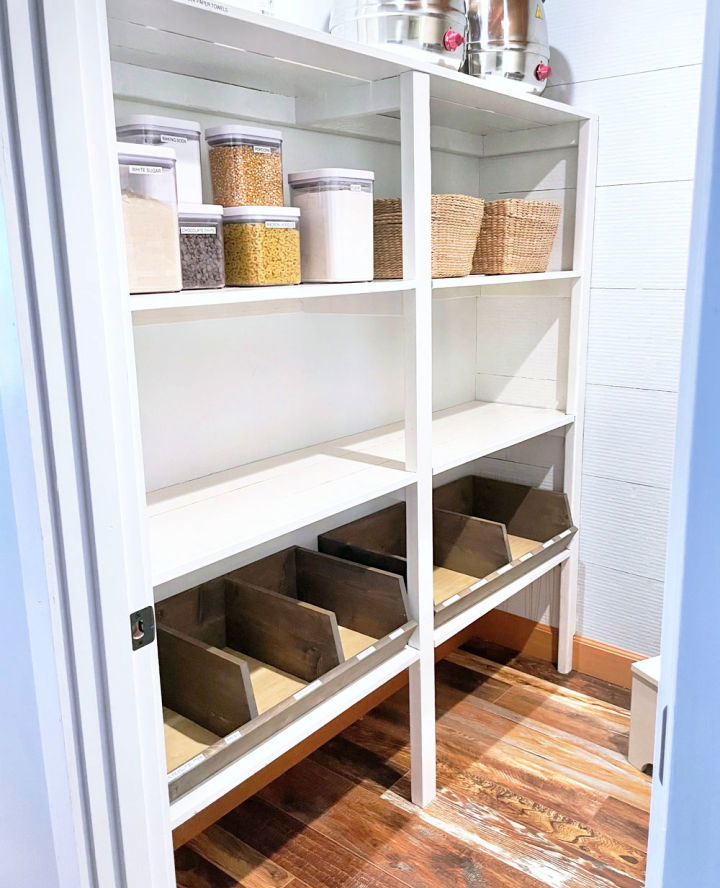 Installing storage shelving is a straightforward job with this free 2×4 storage shelving plan. Measure the wall to determine how long and deep your shelves should be, then cut each corner shelf from a single 2×4 and supports in the desired depth minus 1-1/2″. Once done, make sure the top shelf is level front to back before measuring and cutting the legs. Follow this plan for simple DIY shelving that's perfect for organizing any space! ana white
5. How to Install Pantry Shelving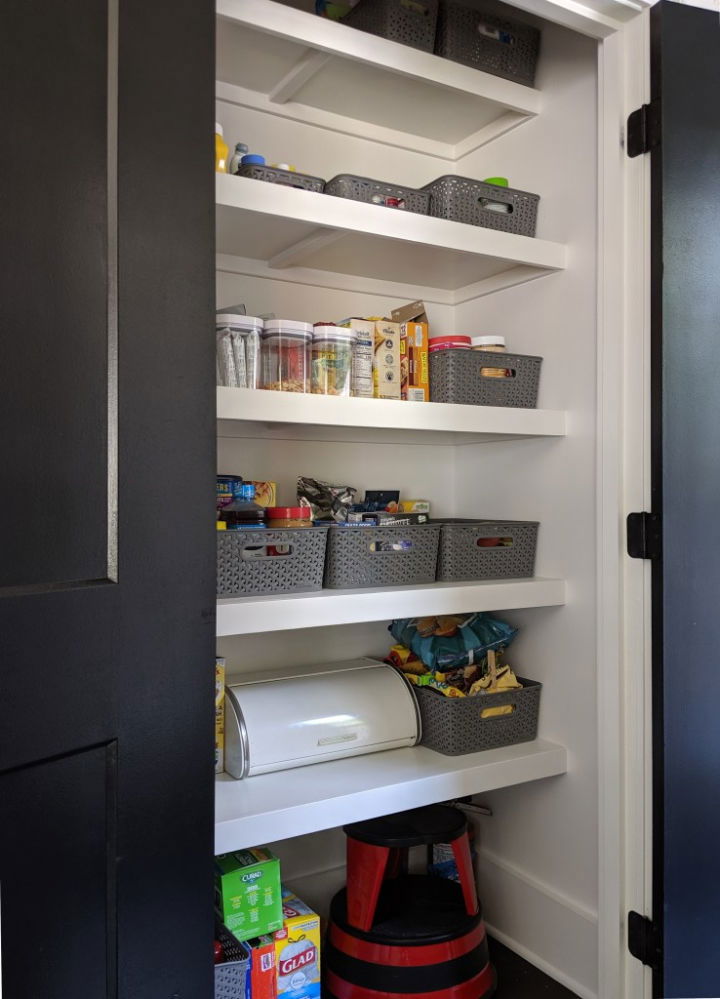 Now, make your pantry more organized with easy-to-install shelves. Step one is to install the supports that will hold up the shelving, then you can move on to painting and installing the shelves. A front face on the pantry will give your space a finished look and make it pretty easier to access items at the back of each shelf. Once everything is installed, you'll be able to enjoy organizing all of your food into neat rows or sections. With a few steps, you'll have beautiful new pantry shelving ready for use! simplyalignedhome
6. How to Make Pantry Shelves at Home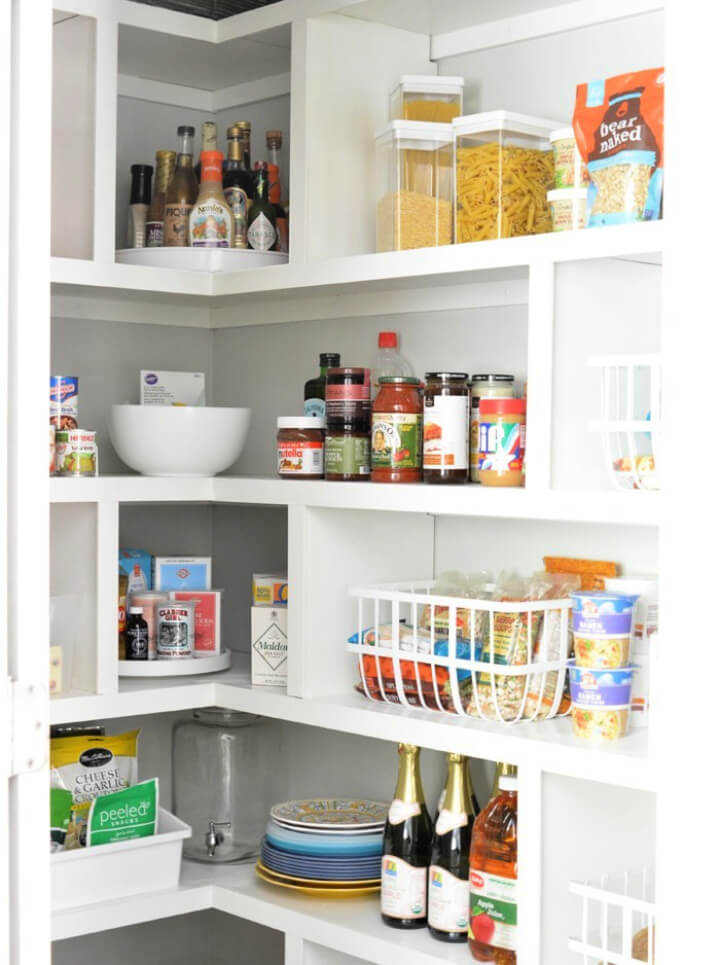 So, are you looking to build pantry shelves at home? With some simple tools and materials, it's easy! Start by cutting shelf supports with a miter saw using ¾" x 1½" pre-primed trim. Then cut particle board shelves to fit the space – use 12″ shelves next to 15″ etc. To facilitate building from the bottom up, secure the bottom shelves onto the shelf supports underneath first. Once that is done, you can repeat for each of your desired layers of shelving in your pantry. You'll create added storage that looks great! centsationalstyle
7. How to Build Pantry Shelving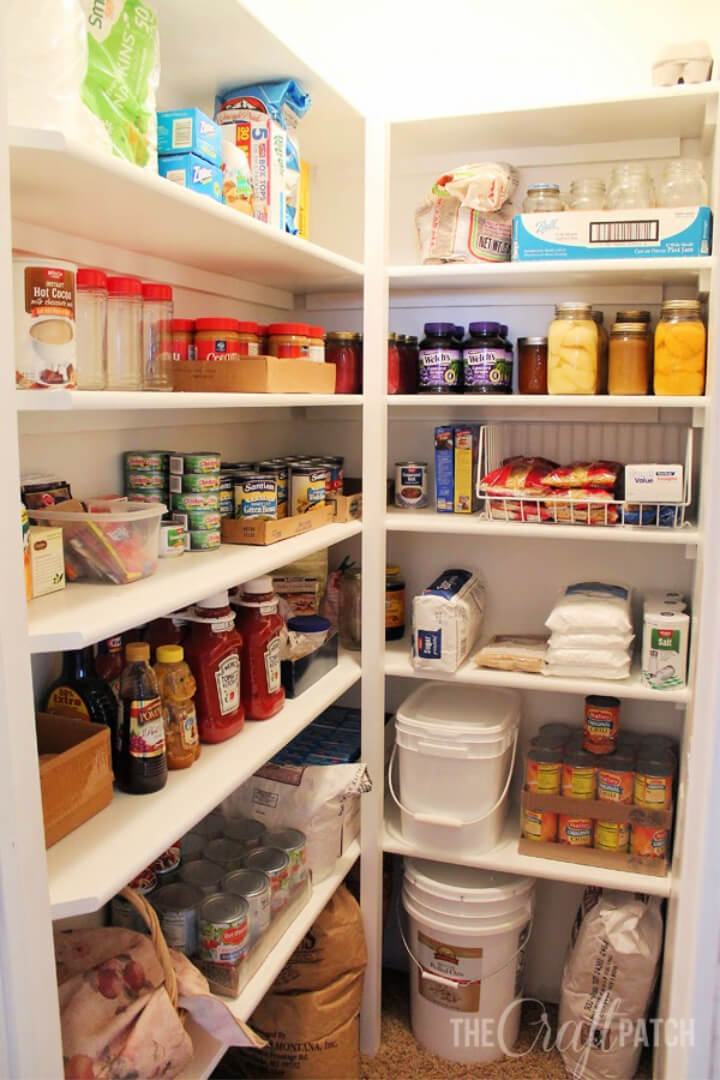 Organize your pantry like a pro with this easy guide to making shelves at home. Start by cutting and installing shelf supports using ¾ x 1½" pre-primed trim. Using a miter saw, cut the particle board shelves to fit the space, then begin building from the bottom up, securing the bottom shelves onto the shelf supports underneath. Next, add 12″ and 15″ horizontal shelves buttressing against each other for a neat finish. Follow these steps for an organized pantry that looks like it was professionally done! thecraftpatch
8. Built-in Pantry Shelves Ideas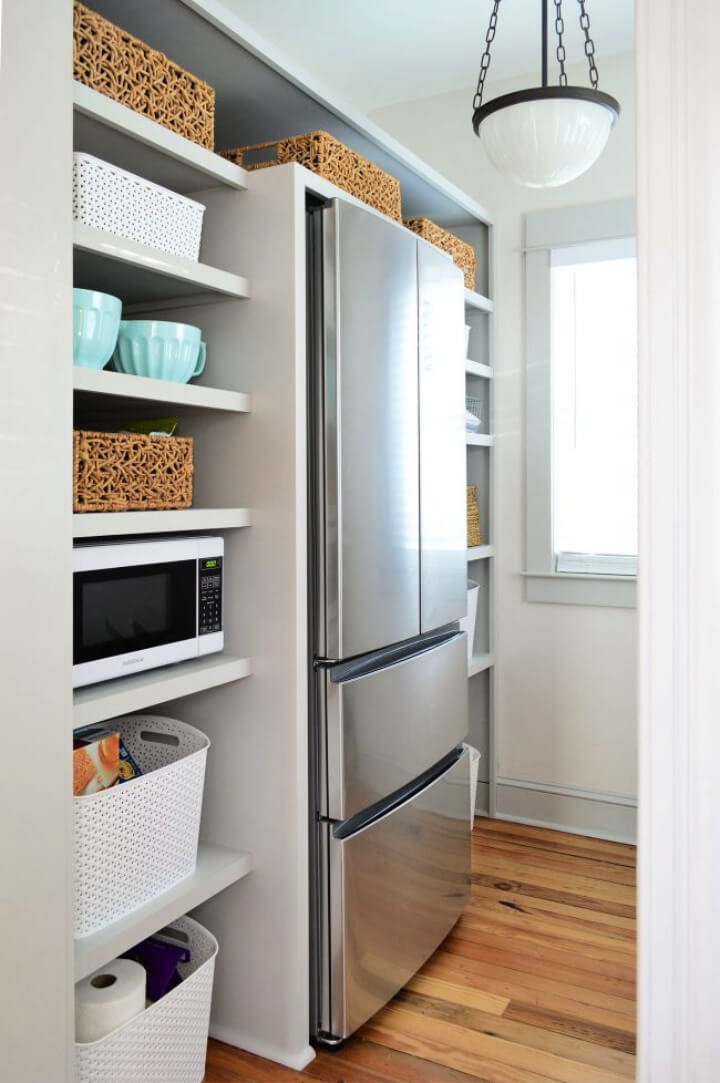 Transform your pantry with built-in shelves that you can custom-design and build yourself. With the right tools, materials, and a few simple steps, you can make this dream come true!
You'll need 3/4″ thick MDF panels*, 1×2″ pine boards for finishing the front of shelves, 3/4″ x 3/4″ wood boards for the shelf supports (or just cut your 1x2s in half using a table saw), a circular saw, miter saw (optional), finish nail gun, power drill, tape measure, levels (large and small), stud finder and crowbar or hammer.
Make sure to measure it twice before cutting – once you have installed these beautiful new shelves in your pantry, it will be like having an entirely new room! Try out this DIY pantry shelves idea now. younghouselove
9. Easiest DIY Wooden Pantry Shelving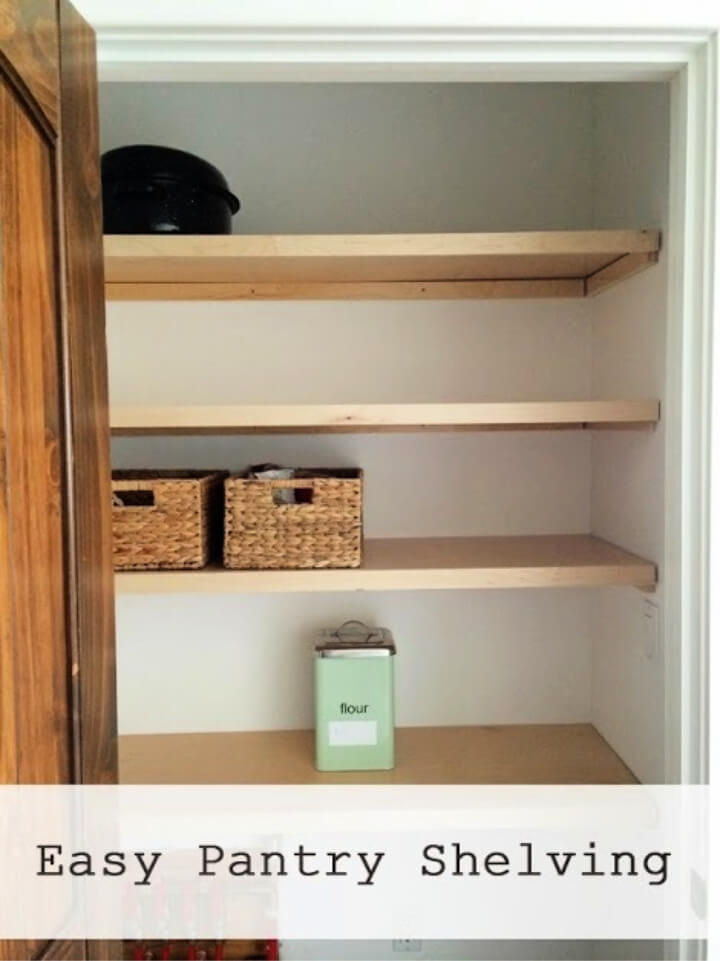 Construct a beautiful and easy-to-install DIY wooden pantry shelving with this simple guide on DIY pantry shelves. The guide will also show you how to add shelf supports under the shelves, as well as front legs, for extra support. Start by ripping a sheet of prefinished plywood into 15-3/4″ widths – perfect for three strips from one full sheet.
Attach your cleats to the wall anchor, or screw directly into studs in walls using screws that are long enough to go through the wall cleat, drywall, and several inches into wall studs. Get organized today with this simple and effective storage solution! ana white
10. Affordable DIY Pantry Floating Shelves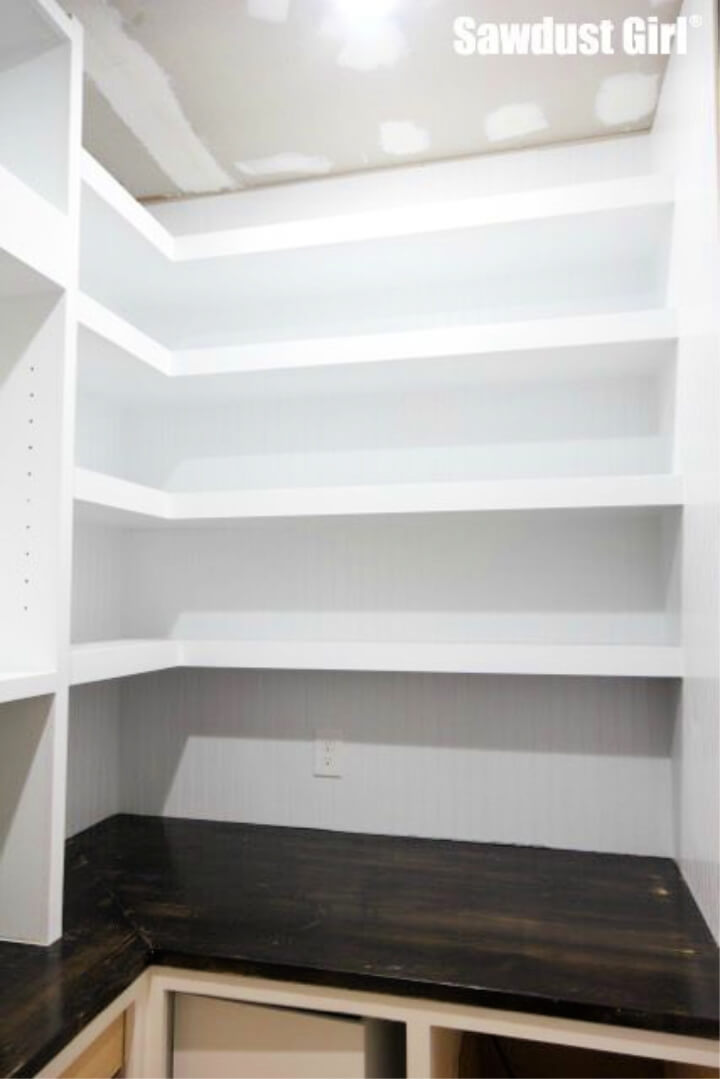 Transform your pantry into an organized and stylish space with these easy, affordable DIY floating shelves! Made from 3/4″ plywood for the ribs, 1/2″ plywood on the tops, and 1/4" on the bottom – these shelves are strong and durable. The faces are also made with 1×3 poplar, so you're sure to get a beautiful finished product that will last. Get creative in your kitchen space today – install this DIY pantry floating shelves for organizational excellence without breaking the bank! sawdustgirl
11. Build Your Own Pantry Shelving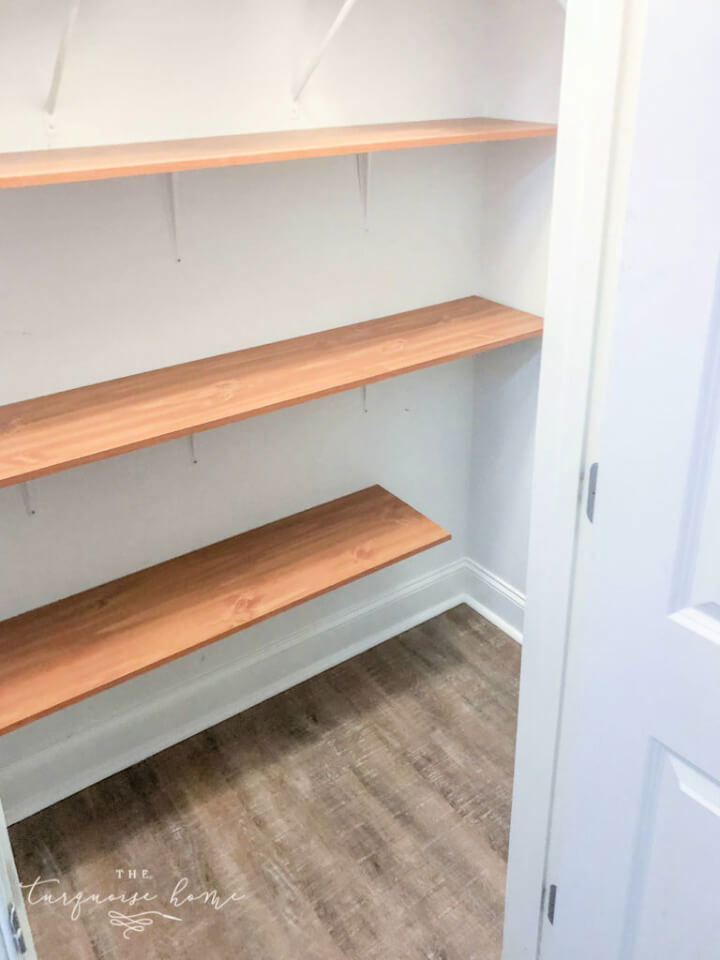 Maximize your storage space in your kitchen pantry with easy-to-install shelving! Find the wall studs, mark the horizontal lines where each shelf will go, and cut boards to size. Place all of your boards into the closet before installing brackets – screwing the first bracket into place and then putting the board onto the brackets while securing it from underneath. No need for a pro or complex tool, DIY this handy project yourself quickly and easily! Get organized with your own custom-built shelves today! theturquoise
12. DIY Custom Pantry Shelves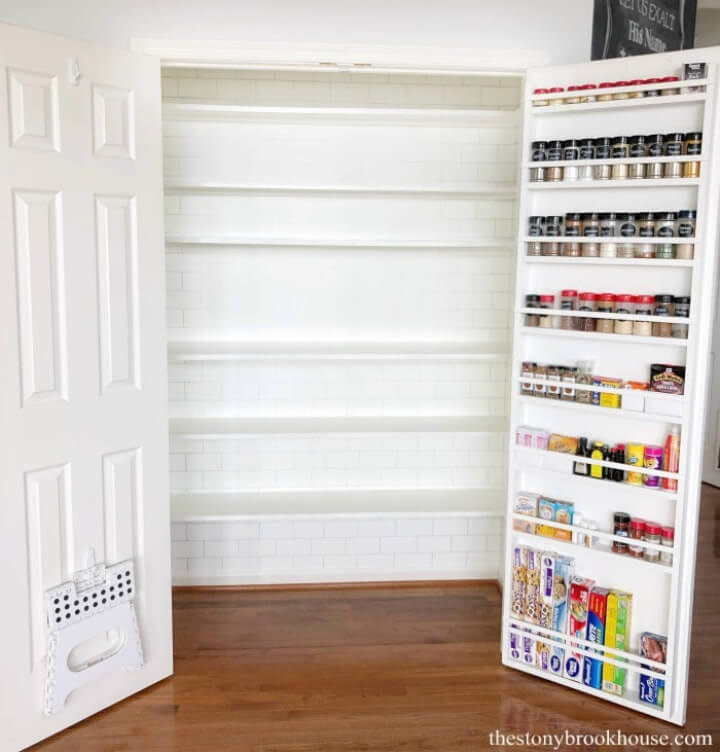 Are you looking for a unique DIY project for your pantry? Check out this tutorial on how to create custom shelves! Begin by removing any wire racks and prepping the area. Then, draw a faux subway tile pattern with a pencil before going over the design with a paint pen. Start constructing each shelf at 16 inches from the ground up, leaving enough space above for small appliances or heavy items like kitchen aid mixers. With some hardwork and also dedication, you can transform your pantry into something special! thestonybrook
13. DIY Pantry Shelf Under $50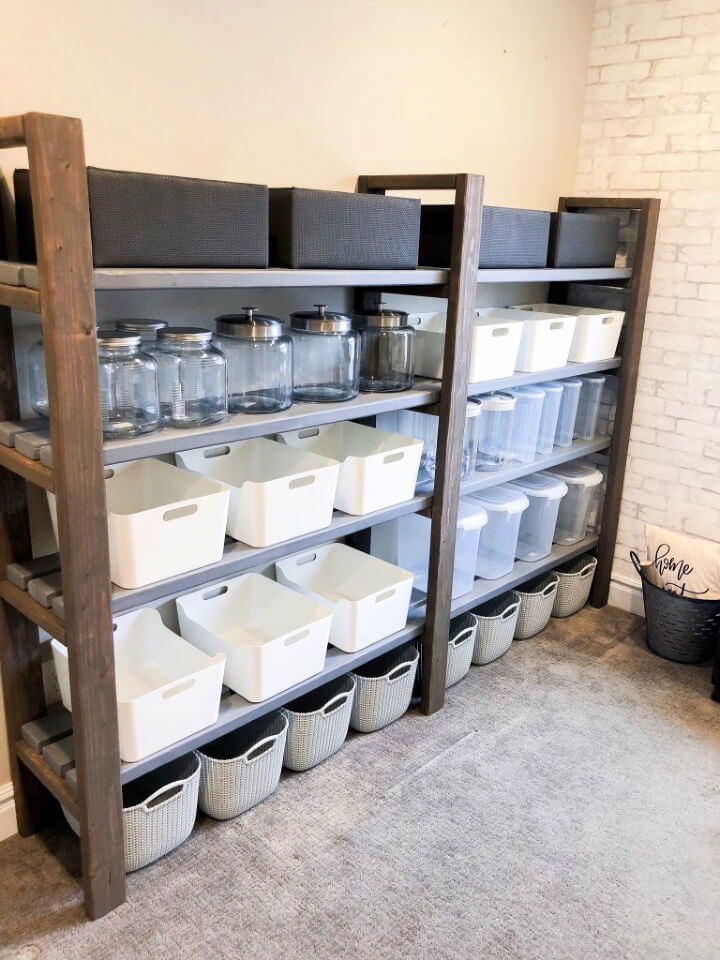 Looking for some cost-effective way to organize your pantry? Look no further! With this DIY pantry shelf under $50, you can easily build and customize your own shelf with just the right tools. You'll need a hand drill, miter saw, Kreg Jig, level, measuring tape, stud finder, and more.
First, take measurements of the space you're working with, then head out to purchase materials- don't forget wood glue and screws too! Cut the wood according to your desired measurements; sanding is an important step in providing any surface with a smooth finish before painting or staining it.
Finally, utilize pocket holes for added stability when joining pieces together. Get creative and make something special today! handmade haven
14. Simple DIY Wooden Pantry Shelves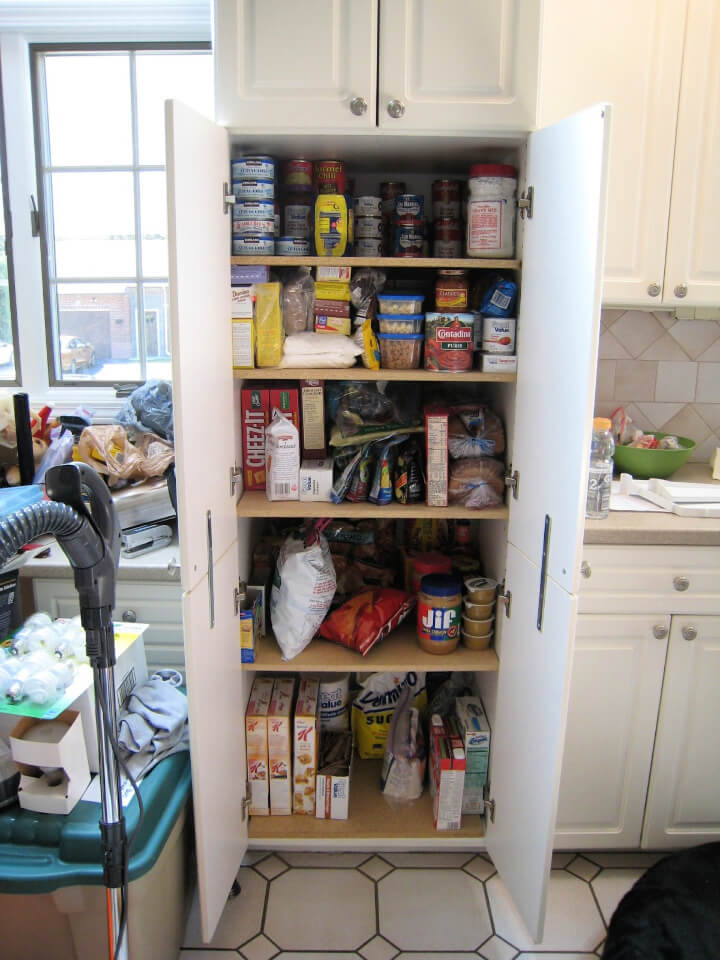 Upgrade your kitchen storage with these simple DIY wooden pantry shelves. For even less than $40 and in less than an hour, you can remove the metal organizer baskets and frames to create a huge open space for customized shelves. With minimal tools such as a regular screwdriver, anyone can easily build these shelves to fit their pantry needs. These wooden pantry shelves are simple yet stylish, offering plenty of extra storage for your kitchen supplies so that everything has its place. Get the supplies now to get started on this easy DIY project! rhodylife
15. Built-in Pantry Shelves With Drawers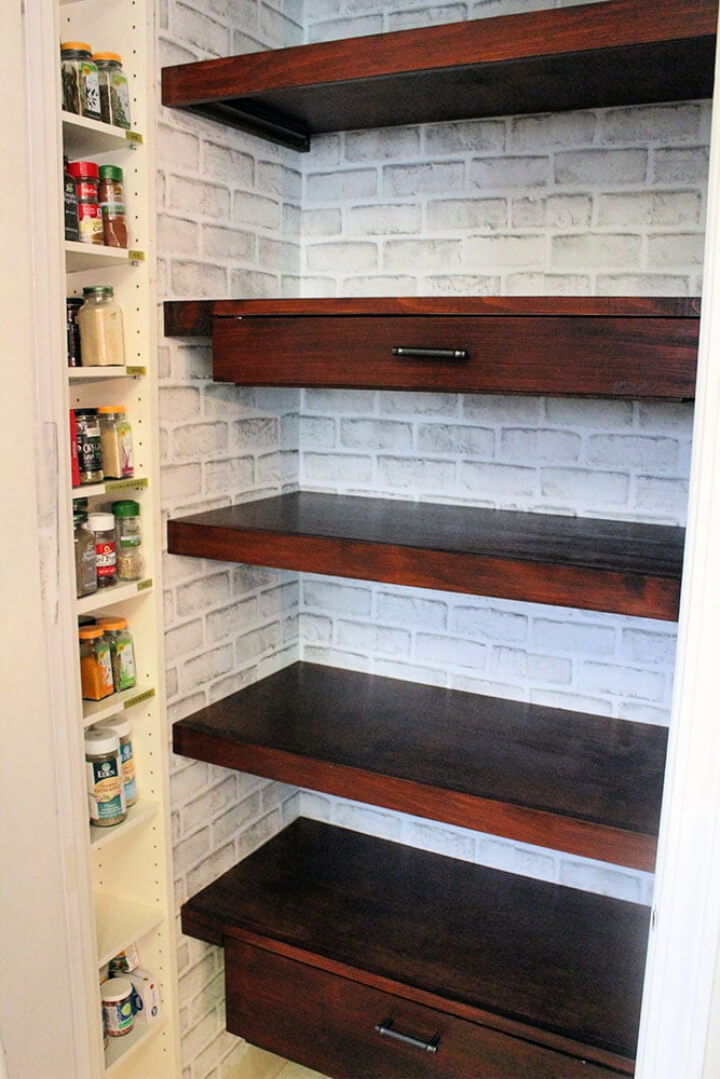 Maximize your kitchen storage options with built-in pantry shelves with drawers! These custom shelves add extra storage to any kitchen and are the perfect solution for all of your cooking needs. Constructed from 3/4″ plywood or boards, these sturdy shelves feature drawers and trim made from 3/4″ boards.
To complete this project, you'll need a table saw, miter saw, circular saw, drill, finishing nails, drawer slides (14″), knobs, deck screws, and construction adhesive. With just a simple tools, you can easily customize your pantry shelf system to perfectly fit any space in your home! justmeasuringup
16. Build Your Own Pantry Shelves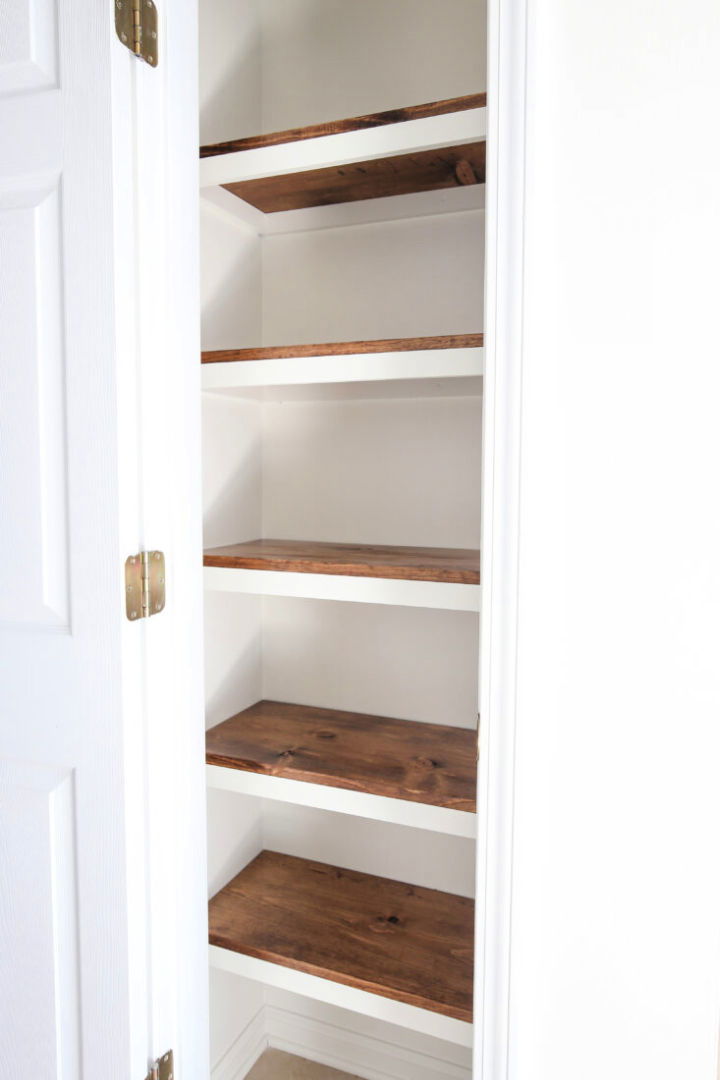 This is how you can build beautiful and practical storage space with minimal effort using this guide to build your own pantry shelves! With easy-to-find materials such as (2) 1×12 @ 8ft, (5) 1×2 @ 8ft pre-primed MDF boards, 1 1/4″ brad nails, 2″ screws, wood stain, and polyurethane or paint, you can make the perfect shelves for all of your kitchen items.
To get started, you will need basic tools like a miter saw, drill, brad nailer, clamp tape measure, stud finder, and level. These instructions cover each step, from measuring walls to nailing in the final shelf. Take the most advantage of unused wall space in your kitchen today with DIY pantry shelving! angelamariemade
17. Industrial Pantry Shelving Ideas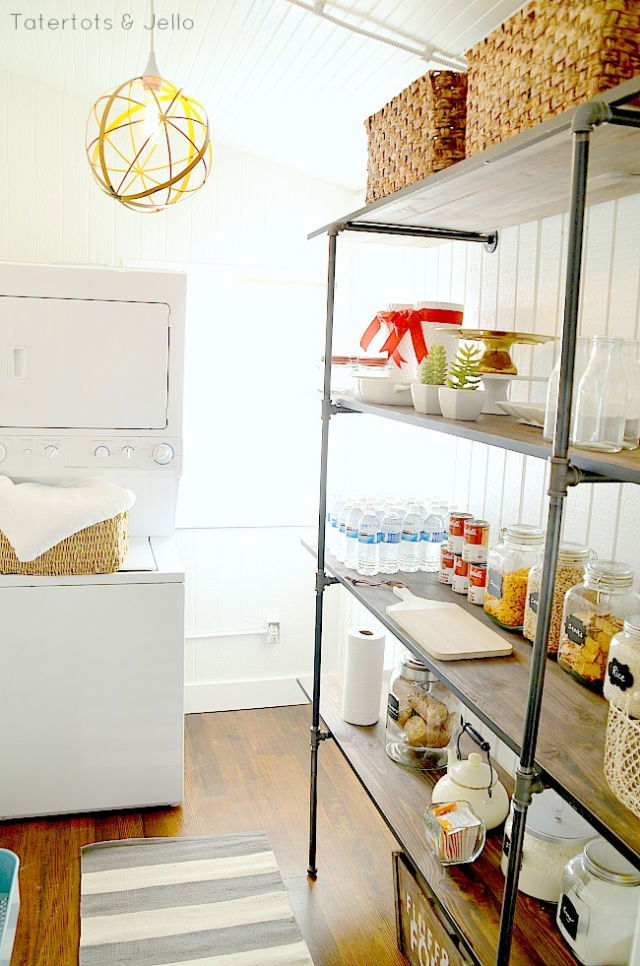 Looking to create a sturdy pantry shelving solution? Look no further than 8 x 1/2 galvanized floor flanges! Even if you've chosen the best panels, these floor flanges will ensure your shelves stay rigid. To assemble them, simply follow the given instructions and enjoy a stronger, more secure shelf solution for all of your items. Get started now and make sure your pantry is always organized with industrial-grade shelving that won't let you down! tatertotsandjello
18. DIY Farmhouse Pantry Shelves
Remove the contents of my pantry, and you'll find plenty of holes left behind by builder-grade wire shelving. To make it more farmhouse-like, add a flat molding to the top before choosing a stain. This DIY required prior planning for shelf layout and spacing, but once that was done, you can start putting everything back where it belonged – on the new shelves! It's an easy project with great results, perfect for customizing your pantry with a rustic flair. jenron designs
19. DIY Shiplap and Stained Wood Shelves for Pantry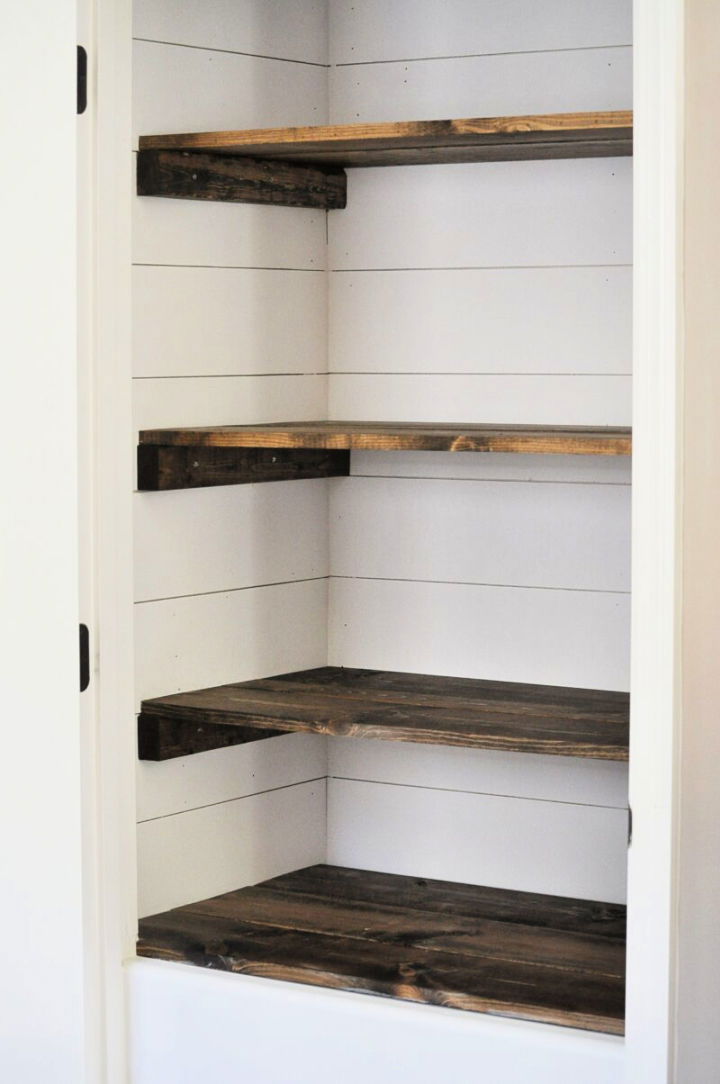 Form your dream pantry with easy DIY shiplap and stained wood shelves! All you need is 2 sheets of 8x4ft plywood underlayment at 1/4in thick, a miter saw, hand sander, nail gun, and nails, 2 nickels for spacers, level, white paint, and a paintbrush/paint pail. Get creative with the stain or paint color to match your home decor. With just some basic tools, you can create custom-looking shelves at an affordable price in no time. Add value to your home while creating extra storage and organization with these stunning shiplap and stained wood shelves today! littleglassjar
20. Build Strong and Sturdy Pantry Shelving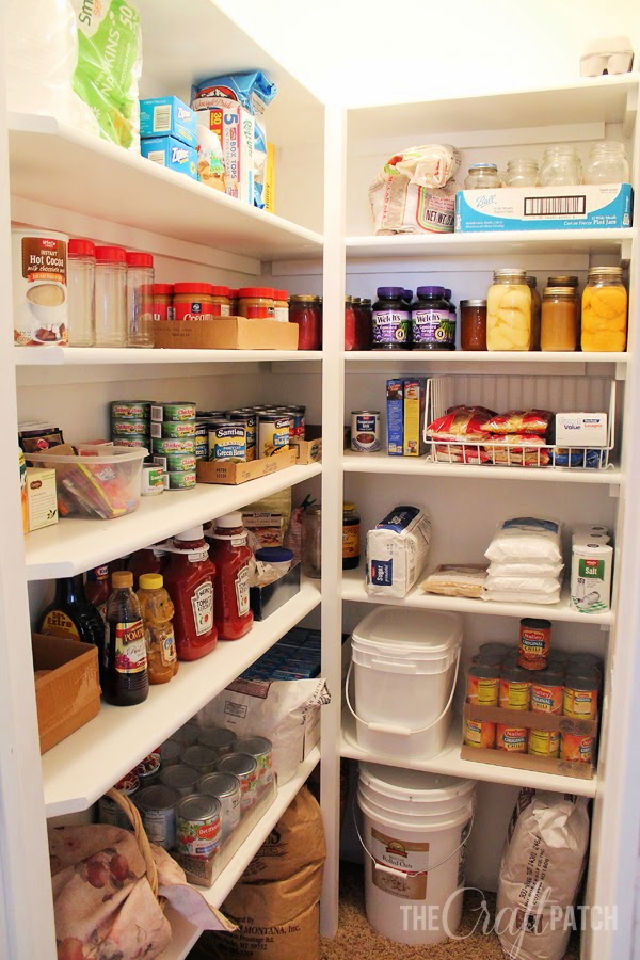 Looking to build strong and sturdy pantry shelving? We have the perfect DIY solution for you! This step-by-step guide on DIY pantry shelves will ensure that your shelves are well-constructed, even around corners where two boards meet. Plus, once everything is installed, caulk will take away all screw holes, cracks, and imperfections – leaving you with clean and crisp-looking shelves. Make sure to follow these simple instructions carefully to get the beautiful result you desire! thecraftpatchblog
21. How to Build Pantry Shelves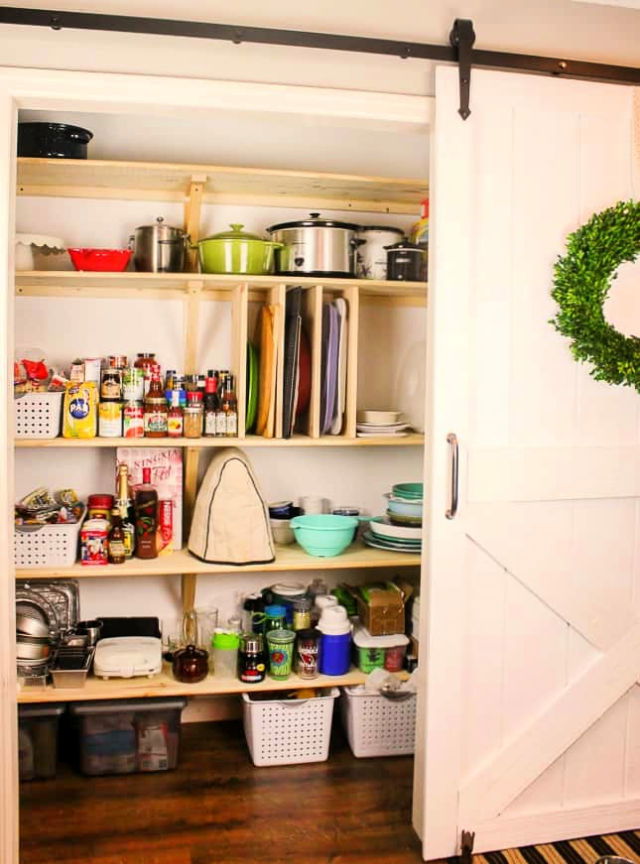 Organize your pantry and maximize space with this easy DIY project. Follow these step-by-step instructions to build custom pantry shelves for extra storage. First, you will need the supplies: 5 pine boards (1″x 16″x 8′), 1 1″ x 2″ x 8′ board, 6 2″x 2″x 8′ boards, 5 L-brackets, a nail gun, 3" screws, a leveler, stud finder and router (optional). Next, mark on the wall where each shelf should be placed using the leveler.
Find the studs with the finder to ensure each shelf is secured firmly into place when installing lags or brackets. Cut down all pieces to size if necessary, then assemble them together accordingly before screwing them into place. Finally, finish by routing down edges for aesthetics if desired, and enjoy your extra storage! aturtleslifeforme
22. Homemade Corner Pantry Shelves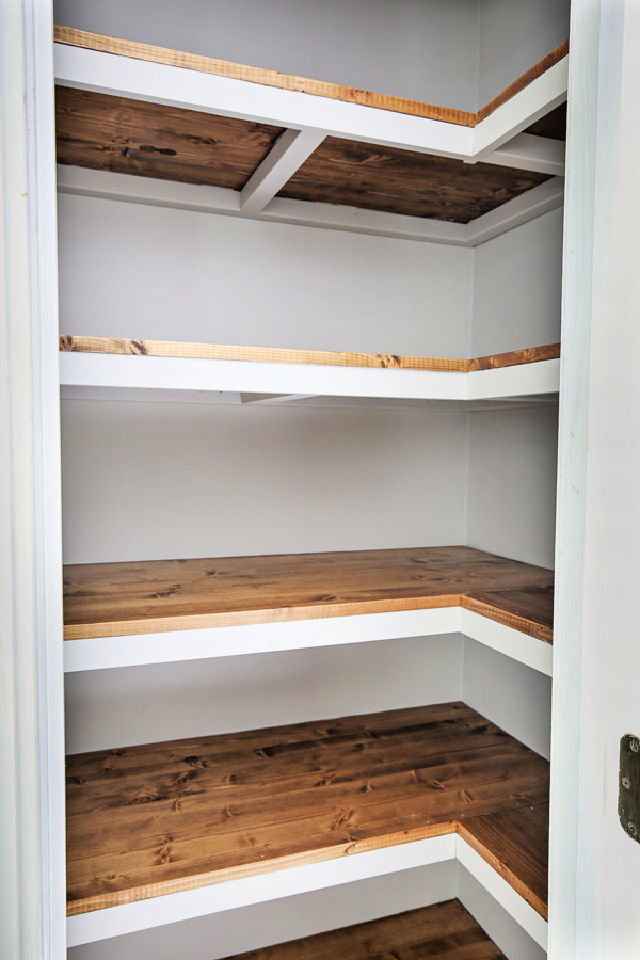 Are you looking to maximize your kitchen storage with homemade corner pantry shelves? Look no further! With some simple tools such as a miter saw, drill, brad nailer, Kreg Jig, clamps, and a tape measure, you can create the perfect corner pantry shelf for your kitchen.
First, use a stud finder and level to locate the wall studs in order to get an accurate reading of where the shelving should be placed. Next, using either a table saw or circular saw, cut pieces of plywood into various sizes according to measurements taken and angles needed. Finally, assemble all these pieces together using glue and nails before mounting them onto the wall studs. angelamariemade
23. DIY Pull Out Pantry Shelves and Drawers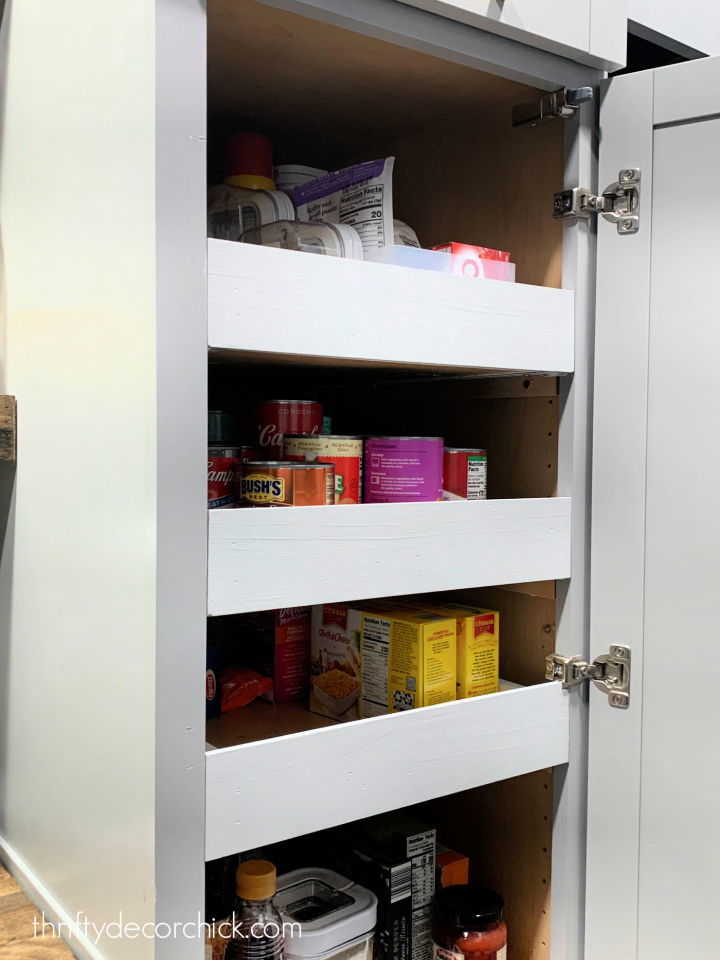 Transform your kitchen cabinets with DIY pull-out pantry shelves and drawers. Measure the distance between the frame of your cabinets to determine how big each pull-out drawer needs to be. Use Kreg screws to attach all the pieces together, then add sliding hardware for an easy installation. Make life easier by installing drawer brackets inside your cabinets – it'll take you no time at all! Get creative with design, from cupboard doors everything else; make sure your kitchen is stylish yet still practical. thriftydecorchick
24. Build Your Own Pantry Shelves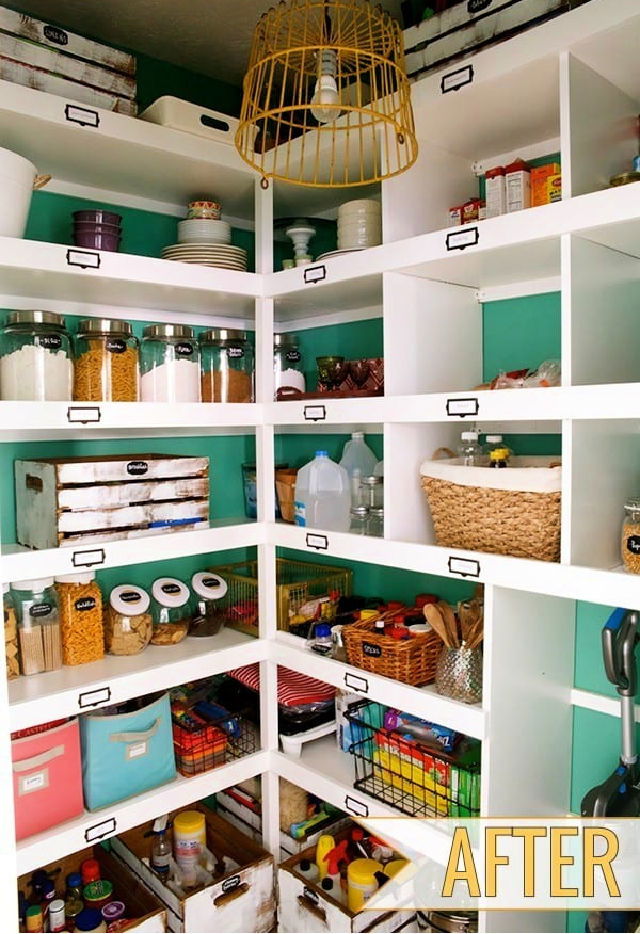 Enjoy more space for your pantry by building your own pantry shelves! Patch and paint the walls, measure the length of the wall(s), cut 1 x 2's to that length, then spread wood glue and mount the braces. With easy-to-follow instructions, you'll have shelving that not only looks great but is also sturdy enough to store all of your food items. Get organized today by building your own pantry shelves – perfect for any kitchen or home organization project! thehandmadehome
25. Functional DIY Pantry Shelving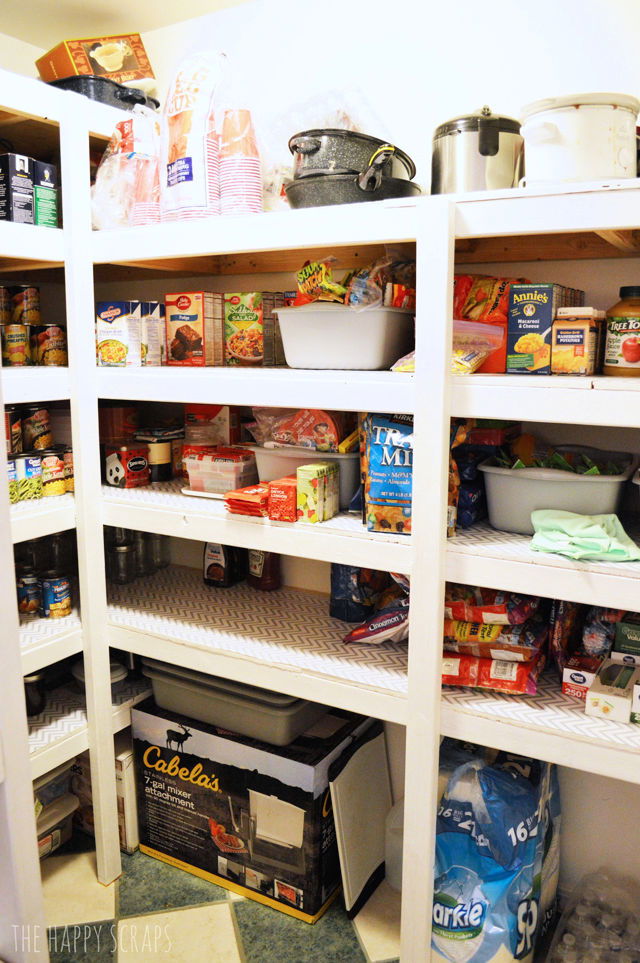 Maximize your storage space with functional DIY pantry shelving! Before you begin, you can measure the desired spacing between shelves and how far each shelf should be from the floor. Then screw two rails together to ensure they lined up correctly before attaching upright boards to the front rail.
Start organizing your pantry items now by clicking through the link for a step-by-step guide on creating DIY shelving units that will fit any size pantry. These detailed instructions make it easy and efficient to upgrade your pantry into a place of productivity and harmony! thehappyscraps
Related DIY Projects to Try
Discover DIY projects for your kitchen that focus on organization and storage. Try them out now for a more efficient and stylish home!
Related DIY Shelves to Try
Discover a variety of DIY shelves including bookshelves, pipe shelves, floating shelves, and more for your laundry room, garage, or any room of your home!
Conclusion: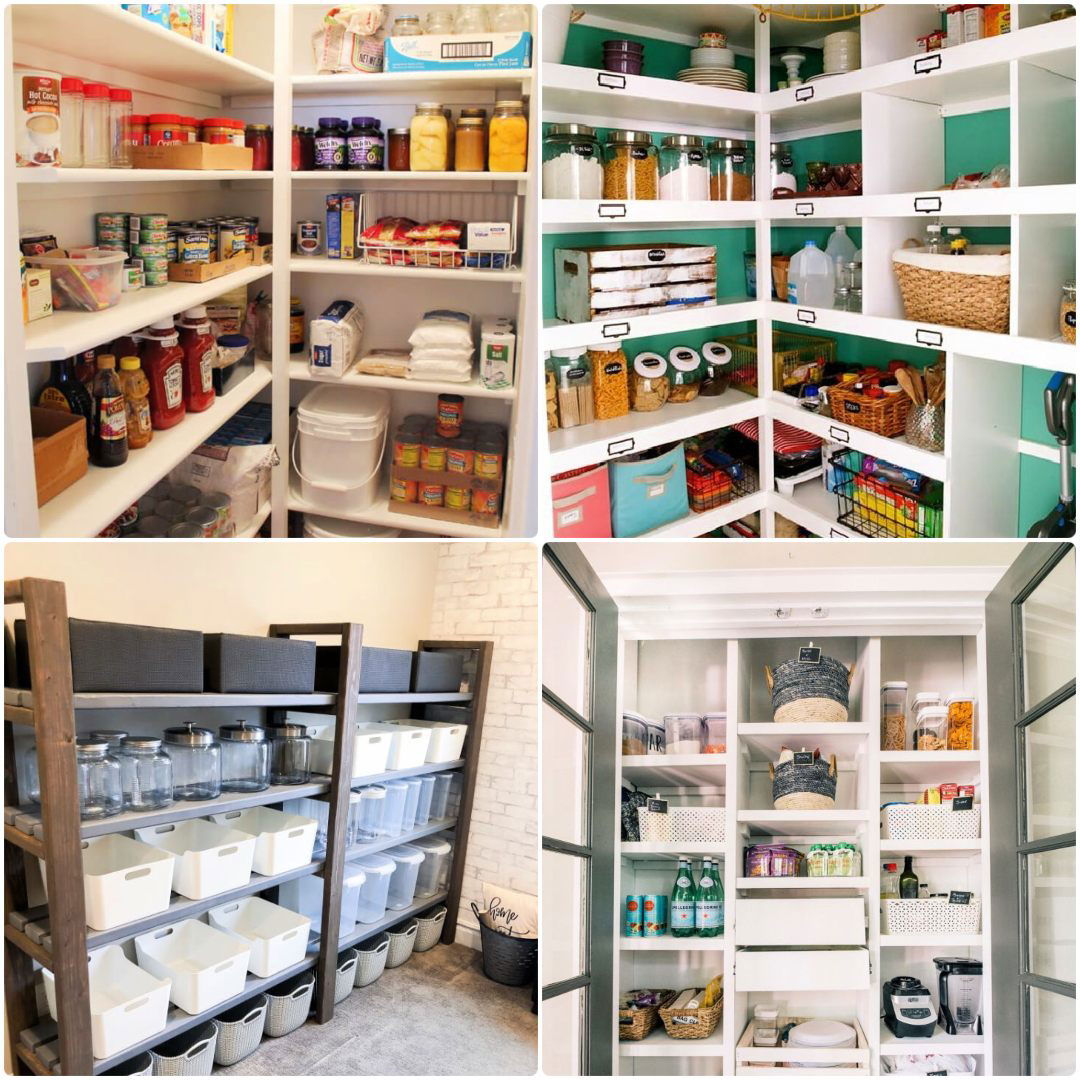 In conclusion, these DIY pantry shelves provide a fantastic way to optimize storage in your pantry while showcasing your creativity and woodworking skills. You can create the perfect pantry shelving system tailored to your needs and preferences with numerous DIY pantry shelf ideas ranging from custom designs, pull-out shelves, floating shelves, and farmhouse styles. So, embark on your pantry-shelving project and explore these diy pantry shelf ideas available to build functional, durable, and aesthetically pleasing wooden pantry shelves for your home.