The driftwood is often to see while enjoying a beach picnic. There many of us who bring this driftwood in the home as a beach memory or beach decor. There weathered odd rustic appeal, makes it a hot rustic element that you can display in your interior home decor to feature rusticity. One amazing way to bring a pop of rusticity to your interior home ambiance is to make a driftwood mirror.
They will be like you are seeing nature's purity in your elegant, well established and modern chic interiors. The wall mirrors with rustic boundary will go deep in everyone's heart from the eyes. Let your interiors wow the onlookers with impactful beach effect that will come from these 20 DIY driftwood mirror ideas that will be on your walls as impressive whimsical decor too.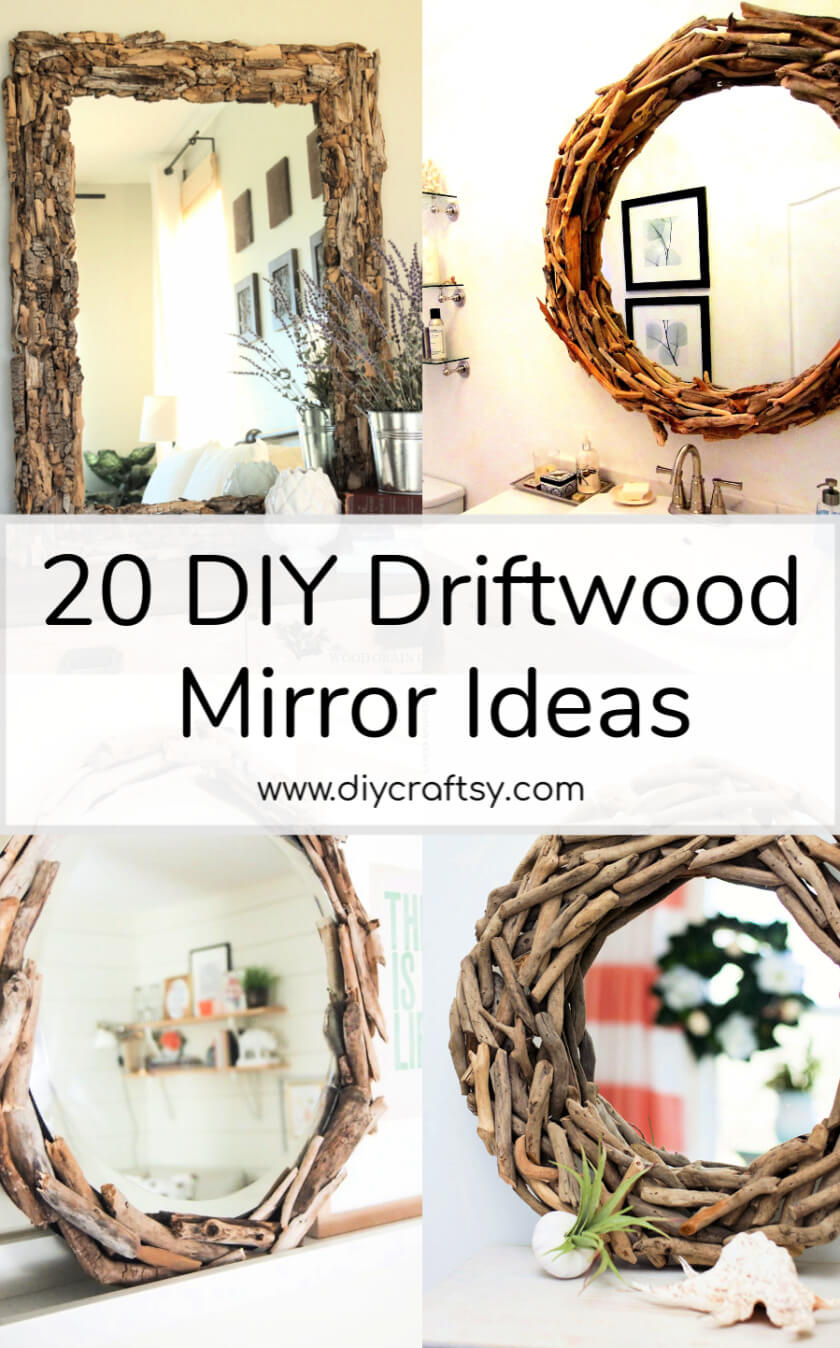 What to do with driftwood? Don't miss the chance to bring these million-dollar beauties to your home at no cost. No boring wood cuttings are a party of these projects, all these driftwood mirror projects are simple and easy to make and will fit every skill level.
Set stands of your interior decor by adding these DIY driftwood mirror to your home walls will be a rustic alternative to modern sunburst mirrors. These wall accents are easier to make than you think. Making involves setting a round mirror in the center of a round base, must be selected in a little bigger size.
Next, fill the empty area around the mirror with a dense filling of driftwood planks. Look through all the DIY Driftwood Mirror Projects to get a lot of more interesting hacks and info will provide ease of doing of these projects like a pro.
How to Make a Driftwood Mirror:
This will rock in a beach house, the driftwood around this rustic sunburst mirror will be the most loved natural decor element in your entire modern interior.
Redefines the modern elegances of your interiors by adding this round driftwood mirror on the wall. How-to details here sustainmycraft
Easy DIY Driftwood Mirror:
Bring vintage and country decor style vibes to your home with this rectangular driftwood mirror. It has a nice rustic border made of tightly packed driftwood pieces.
This is something you will love to display in both modern and rustic home spaces. Instructions here thewoodgrain
DIY Round Driftwood Mirror for Home Decor:
Are you decorating your spaces on a nautical decor theme? Then gain amazing results by incorporating this driftwood mirror to your home decor.
Just add a round mirror with rustic accent boundary of driftwood pieces. Another smart way to add weighty natural elements to your home while working on a rustic home decor style. Details here thelearnerob
DIY 5 Minute Driftwood Mirror:
Rustic yet modern decors always go appreciated, this driftwood mirror will also earn a lot of praising comments.
Make it in 5 minutes and wow the home audience with your amazing crafting talent. The driftwood is highly cheap to get, and you can find a good stock of it at every beach visit. How-to details here consumercrafts
Turn Old Driftwood Into a Beautiful Mirror:
Having nothing to do with the driftwood pieces you have collected as beach memories? Display them on the wall as a rustic boundary to a round wall mirror, will instantly increase the rustic visual of that particular wall. A cost-efficient rustic decor treatment to give to a boring blank indoor wall. Details here littlethings
Pretty Simple DIY Drift Wood Mirror:
Give a glimpse of rustic living to your bathroom also by building this round driftwood bathroom mirror. it will hang like a charm over the bathroom vanity or sink.
Because of the solid weather wood appearance, the driftwood pieces give a great foundation for bringing a rustic decor style to your bathroom. Details here thecubaninmy
How to Create Drift Wood Mirror:
The driftwood is one of the amazing natural raw elements that may help in the easy gaining of rustic decor theme in your home.
Willing to display the rustic decor theme throughout your entire space? Take a great start by creating this driftwood mirror, a beginner-friendly project. Full how-to instructions here lbratina
DIY Driftwood Starburst Mirror:
Accomplish your rustic home decor plans by using the driftwood in lots of genius ways. It can be displayed in your home as a charming rustic decor element.
The best way to do so is to put the driftwood around another wall accent you already have like a round wall mirror. Details here seecatecreate
Colorful DIY Driftwood Mirror:
A more special and modern way to feature rusticity in your home decor style. Establish an amazing rustic reputation of your interior walls by hanging this colorful driftwood mirror.
This project is also all about to build a sunburst wall mirror using driftwood. Bring colors to driftwood pieces using paint, washi tape, and even the colorful twine. How-to details here alisaburke
Easy and Quick DIY Driftwood Mirror:
If you have fallen in love with these rustic driftwood wall mirrors and are wishing to make a one same at home then follow the guides here.
Put a round mirror on a painted lazy susan base and arrange the driftwood pieces around the mirror covering the lazy susan. Full instructions here rachelteodoro
Wonderful DIY Driftwood Mirror:
A handsome rustic edition of a modern sunburst wall mirror has sunburst pattern done with well dried rustic driftwood pieces.
It can be your first choice to bring beach decor vibes to any particular room. The best decor treatment to give to your walls based on natural decor elements. Complete how-to help here homeonthecorner
DIY Driftwood Round Mirror:
Making a round driftwood mirror is pretty quick and easy to do DIY home decor project, and you can also do it at home with quite an ease.
Glue a round mirror in the center of a round base may be made of corkboard, plywood or any other wood. You can also use ready-made wooden rounds like lazy susans.
Next, to finish by adding driftwood planks all around the mirror. Details here makeitfuncrafts
Make Your Own Driftwood Mirror: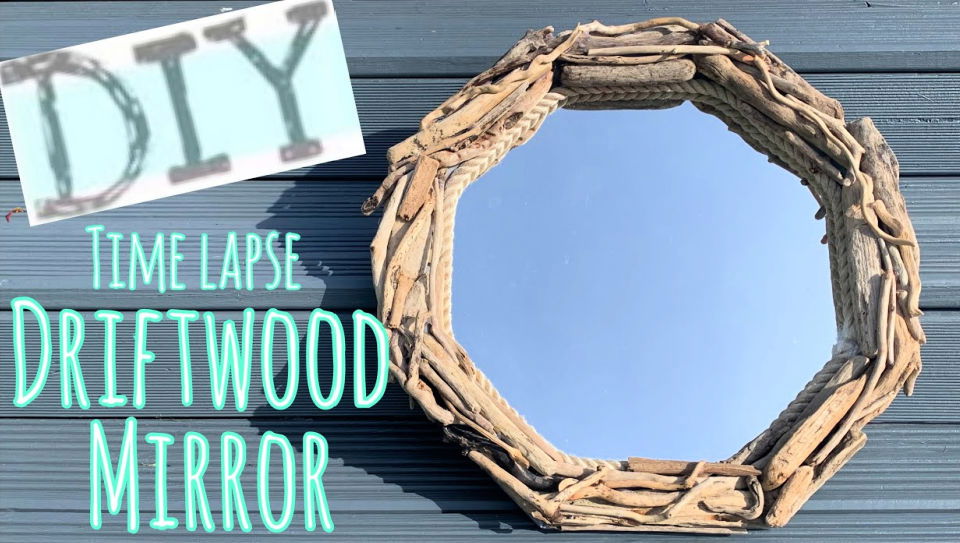 Looking at the natural decors fills your inner with happiness. To turn ON a happy mood of you by looking at this driftwood mirror every day, will be something everyone will love to cast a glance at.
Opt for it to give a touch of rusticity, vintage decors, or country decor style to your home. Here is how to make it harlowandthistle
Driftwood Starburst Mirror: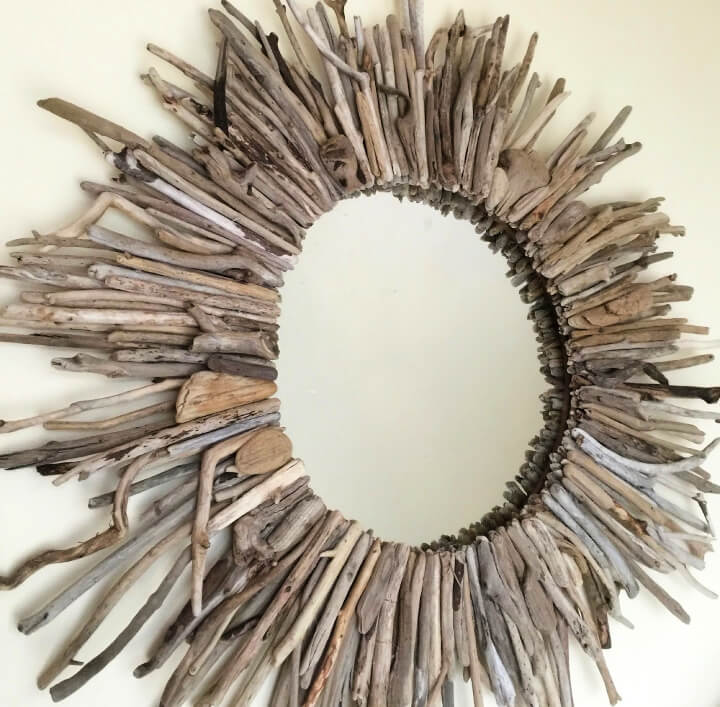 Achieve this round sunburst mirror by dense filling of driftwood around the mirror. Use the hot glue to fulfill your adhesive demands and adhere the round mirror in the center of the base.
Next, go for a starburst pattern around the mirror using the driftwood pieces. Details here saltygirlandthe
DIY Round Driftwood Mirror – Weekend Project: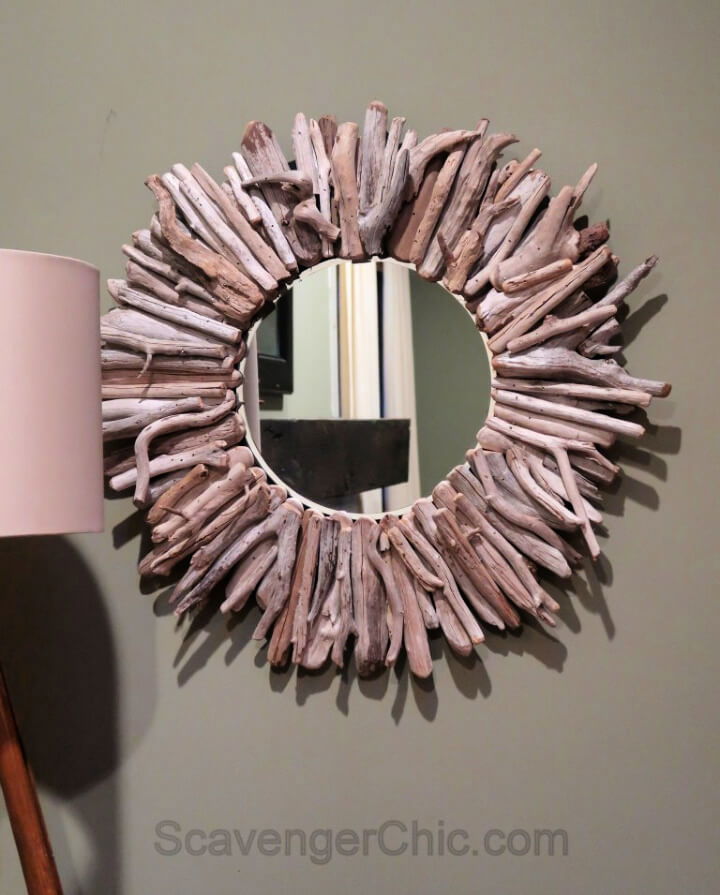 Spend also a Sunday afternoon to make this enchanting rustic decor delight, the round driftwood mirror. It will trigger mesmerizing broadcasting of rusticity in your entire home ambiance.
Its something you can't get your eyes off while looking at it, weighty rustic wall decor centerpiece. How-to instructions here scavengerchic
Gorgeous DIY Driftwood Mirror:
Setting your home decors close to nature can be a great mantra to bring a great sense of rusticity to your home decors. So take your first smart step to live in the enticing rustic space by making this driftwood mirror, something gorgeous to look at again and again.
Add up a chipboard letter "O" with accent nautical rope lines, fill with driftwood oval for a glorious rustic texture. Add the mirror in the center at the end. Details here littlebitsofhome
DIY Drift Wood Mirrors – Driftwood Crafts:
One more glamorous model of driftwood mirror is here to achieve in a different way. Cut out a card stock circle and gently press and glue it to the center of the mirror.
Fill the rest of the mirror with cool alignments of driftwood pieces, can be glued in place. Carefully remove the card stock circle to gain a driftwood round mirror. Details here happydeal
DIY Driftwood Mirror for Less Than $10:
Glue a 6″ round mirror in the center of an 8″ foam disc. Fill the rest of the foam sheet with driftwood pieces; you can grab a whole bag of them.
Next, finish it up with accent ribbon bow and gain a dainty rustic centerpiece to hang on your walls. A quick and easy to make driftwood mirror. Details here smoothfoam
Thrifty & Pretty DIY Driftwood Mirror:
Use also the heavy cardboard to make elegant round driftwood mirrors. Place a round mirror in the center of a cardboard circle cut out into a size a little larger than the mirror.
Next, keep on filling its sides one by one using glue and driftwood planks. Step-by-step guides here cityfarmhouse
Fun Driftwood Mirror for The Nursery:
The driftwood wall mirrors will be a smart choice for bringing a touch of glam rusticity to any space under renovation. Let the nursery room also speak volumes for the rustic decors by building this fun driftwood square mirror, something the home audience will love to look at twice.
Use painted driftwood pieces for accent boundary. Details here tarynwhiteaker