Creating wood projects to sell is a great way to make money in woodworking. With a little ingenuity, woodworkers of all skill levels can create easy wood projects that sell. There is a huge demand for woodcraft that make beautiful home decor items and wooden furnishings, so the potential is there. For woodworkers looking to build wood projects that sell quickly and easily, consider tackling small wood projects like custom-made signs, cutting boards, picture frames, organizers and coasters.
For those with more carpentry experience, complicated furniture pieces such as chairs or tables are perfect for selling at craft fairs and online marketplaces. Whatever your level of experience or preferences in materials, there is sure to be an opportunity for you to create wood projects that sell!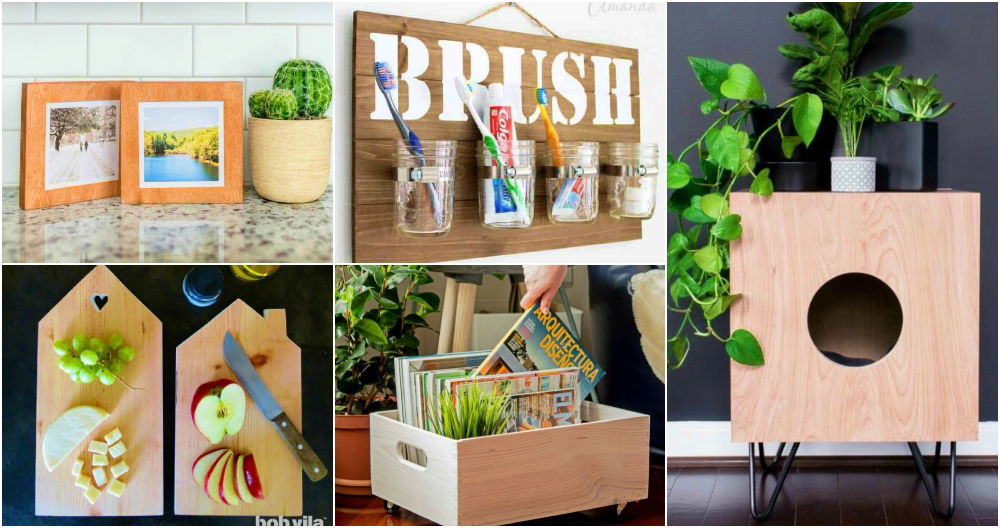 50 Easy DIY Wood Projects That Sell
Woodworking can be an incredibly profitable and fulfilling hobby. Whether you enjoy handmade carpentry projects or making custom wood furniture, creating popular items to sell can be a great way to make money from your craft. From small beginnings, such as making wooden decorative items to larger-scale projects, such as building patio furniture, there are a wide variety of most profitable wood projects that you can build and sell – ranging from scrap wood projects for beginners to more complex turning and carving wood projects for experienced makers. With the right tools, supplies and wooden craft ideas to sell, you can find great success by selling personalized and unique wooden creations.
1. DIY Retro Cat House Side Table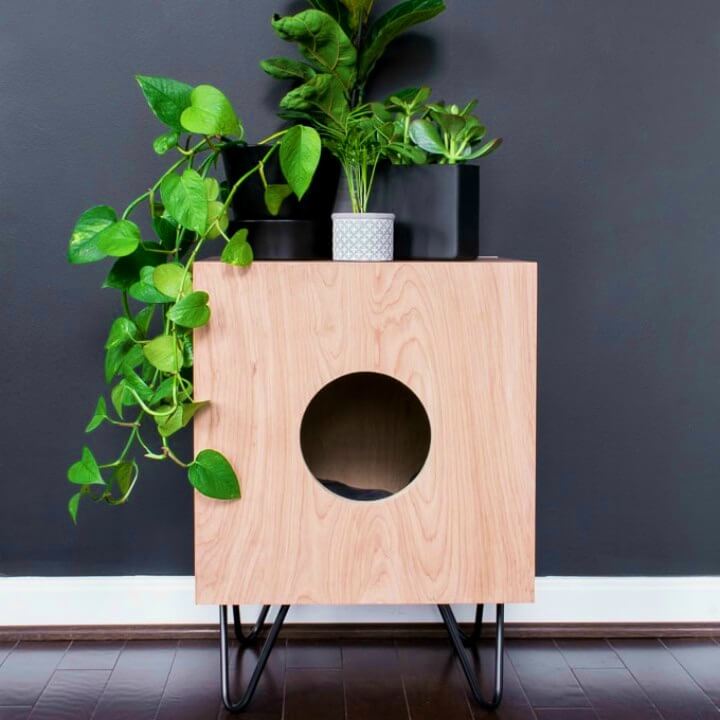 One will keep on staring at the subtle dimensions of this cat house side table, built-in retro style but will exist beautifully in the modern interiors! Build a box out of PureBond plywood, do the assembly making pocket holes! Cut a big hole in the front for getting entrance for cat home, finish with short metal hairpin legs! bybrittanygol
2. Wooden Desktop Paper Tray to Sell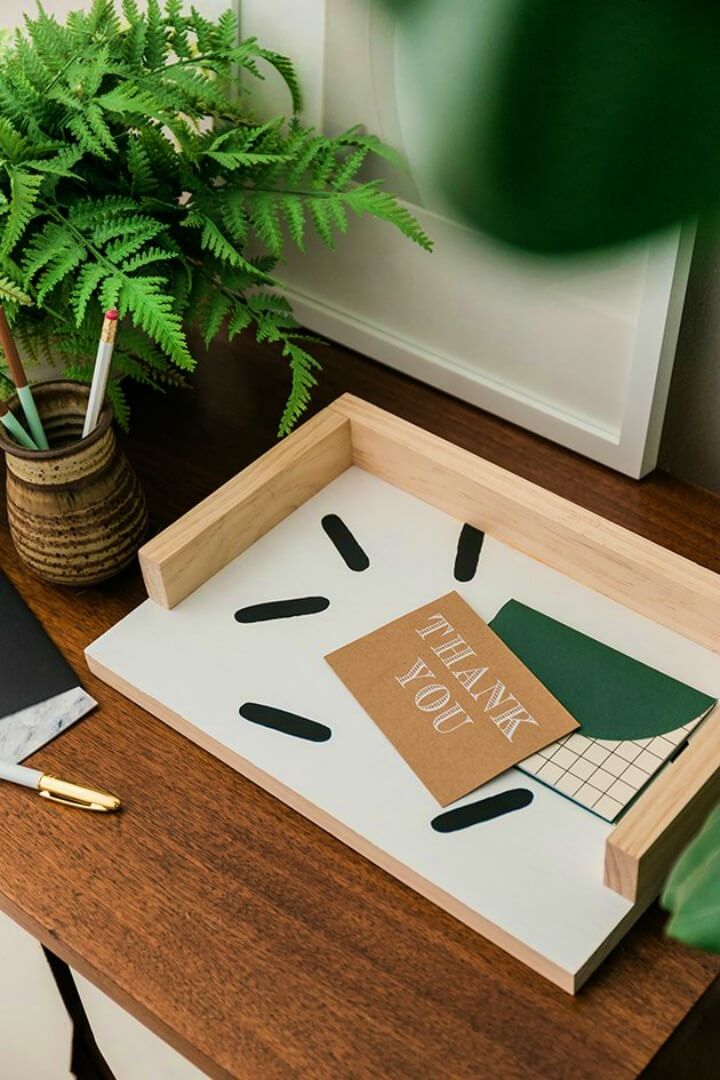 A paper tray is always a must-have for an office desk, something you can't miss when you need to organize paper stocks! So do build the very needed item using pine boards, add up a rectangular pine board with a raised boundary to get this tray made quite quickly! Paint and decorate in the way you like! hunker
3. Building a Wooden Sunglasses Holder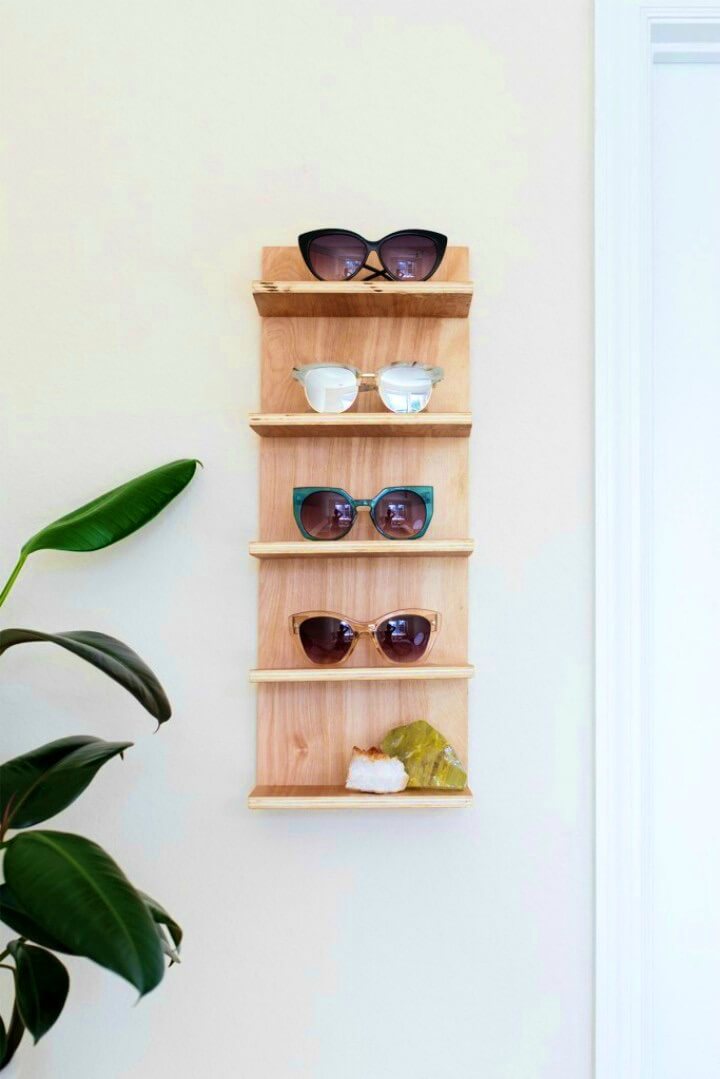 The summer fashion looks something missing without the sunglasses, so help people get the sunglasses collections organizing by building this wooden sunglasses holder! A vertical wooden board added up with lots of flat shelves. The whole is construction all about! A wood project to sell! Details here ctrlcurate
4. DIY Wooden Lanterns to Sell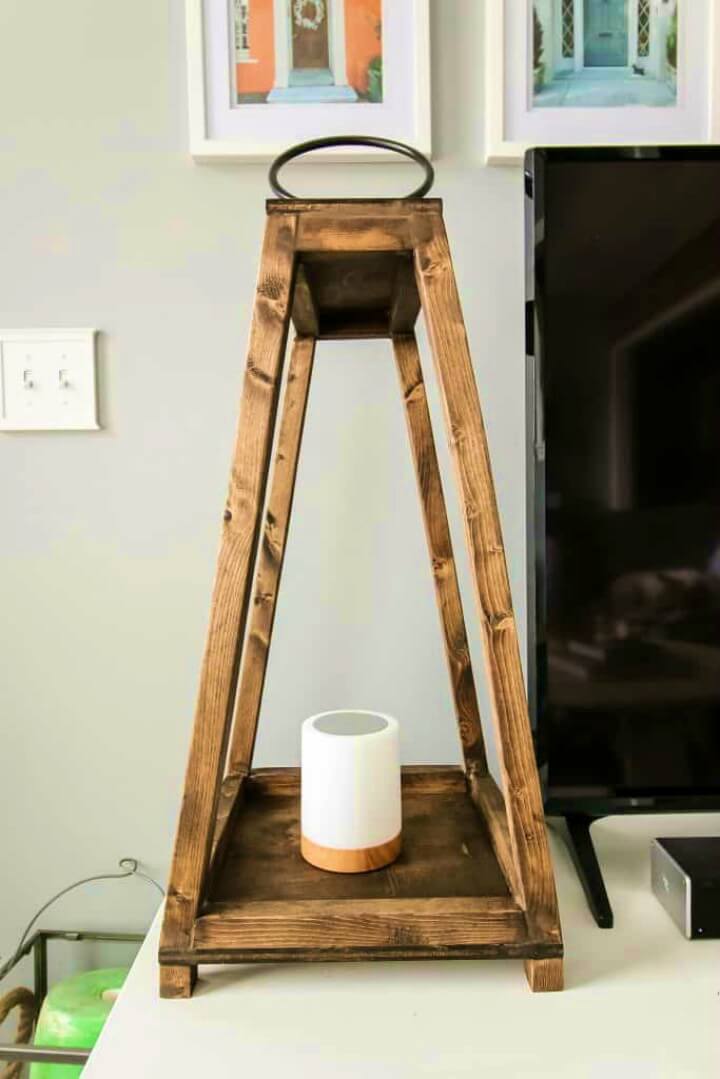 Get this gorgeous lantern made to trade in your shop fast! You need 2x4s wood slats and plywood to create this handsome looking lantern that comes with a towel ring at the top to allow stable suspension in the air! It will carry the votives or candles on its bottom side! A fun wood project that every beginner can do to sell! Detailed guides here charlestoncrafted
5. Simple DIY Wooden Plant Hanger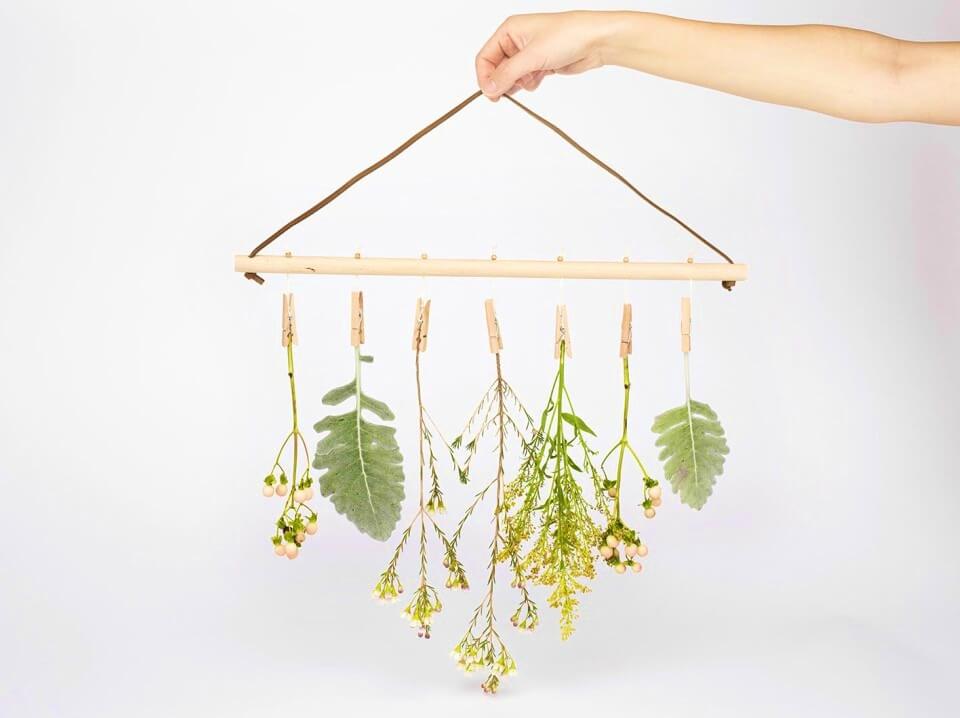 This must be a significant center of attention for all home lovers sorting out the new innovative ways to highlight greenery inside their home! A lovely plant hanger to make out of wood stick! Drill holes in corners to thread the leather cord for wall hanging! Tie the wood clips onto hanging on a cotton thread, as plant holders! Further details here demetres
6. Make Your Own Wooden Spice Rack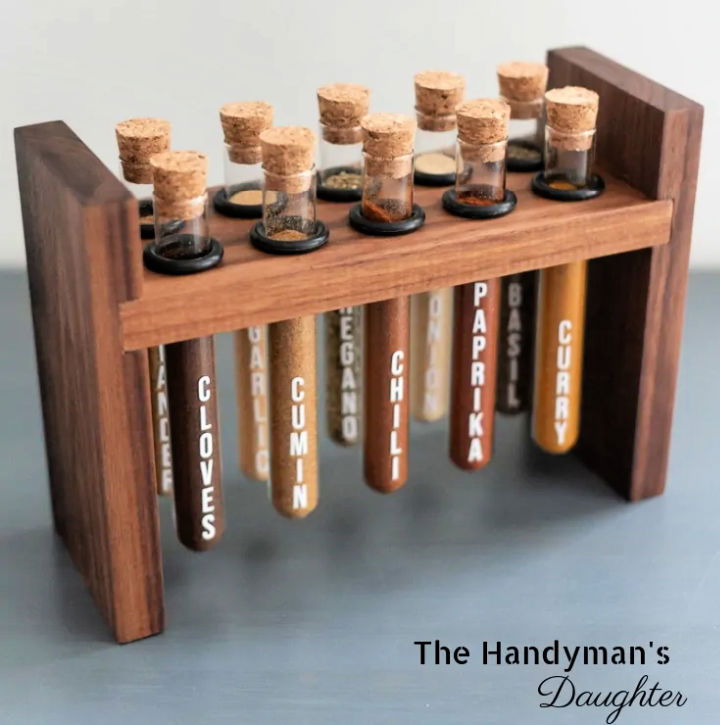 Are you a master in woodworking and can do wood projects quickly without missing the precision? Then why not use your woodworking skills to ear some profits, make this wooden spice rack to sell! It will ease the kitchen mom to store the spices and feature test tube spice storage! How-to guides here thehandymans
7. DIY Baby Doll Wooden Stroller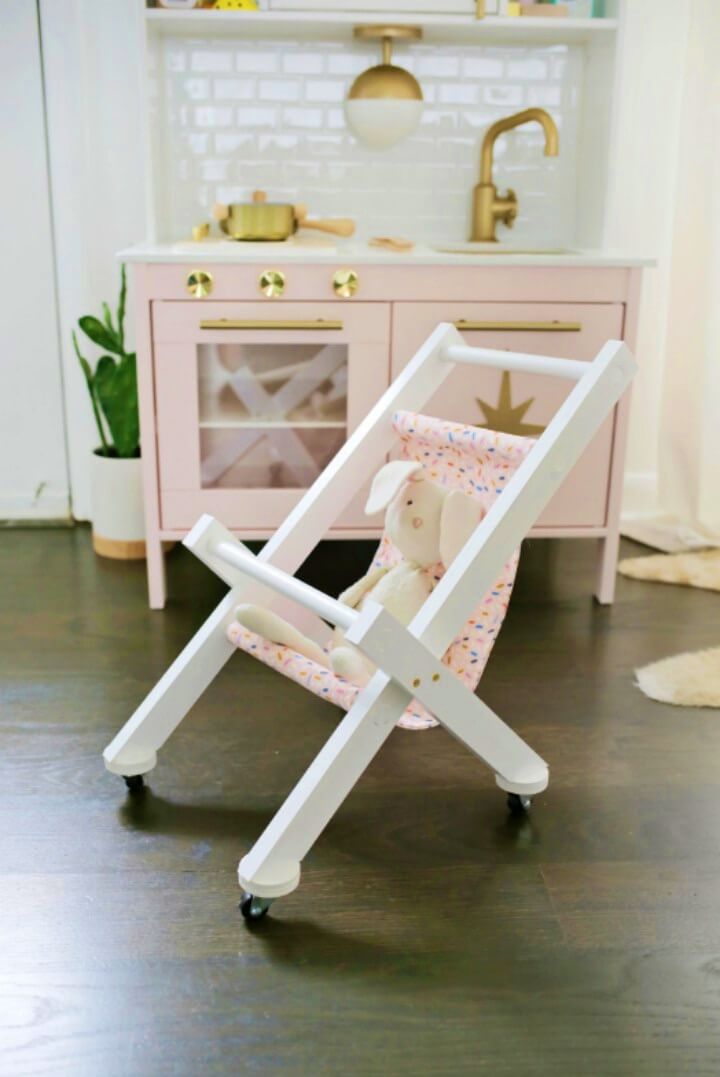 Build also cute baby stuff, will be a significant center of attention to your craft shop! Increase your revenue by adding this baby doll wooden stroller in your craft shop showcase! Mom will love to buy them for their kids! Needed supplies will be the caster wheels, wood slats, scrap fabric, and wood dowels! How-to guides here abeautifulmess
8. How to Make Wooden Egg Holders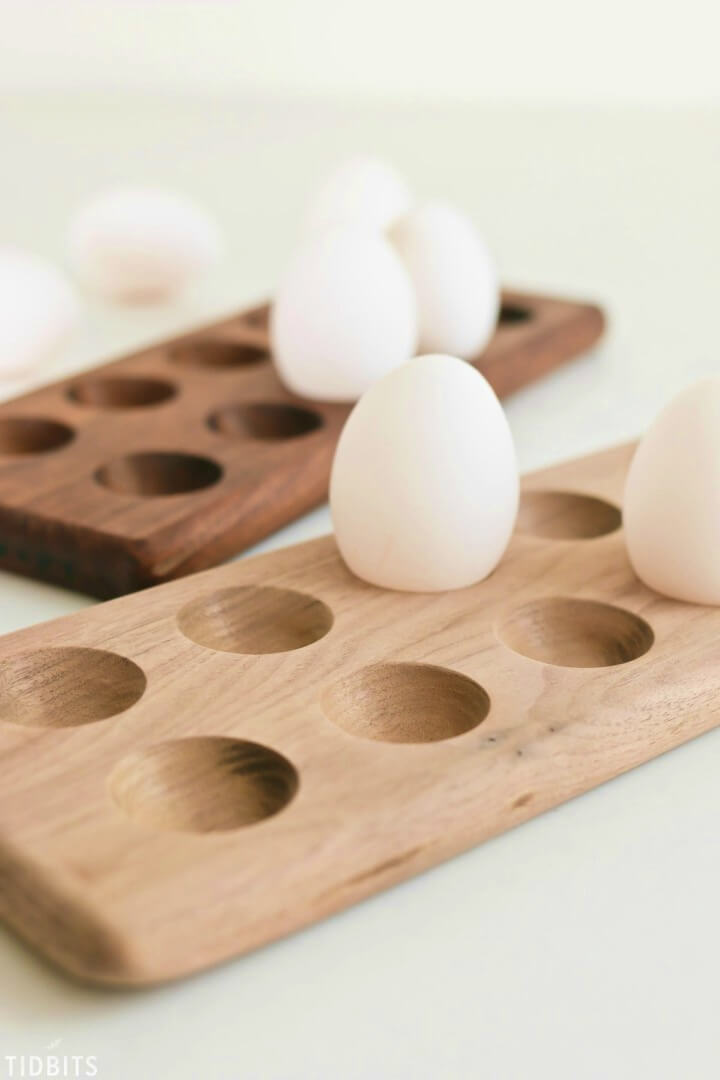 Eggs are always delicate to store and help people avoid their accidental falls by making these wooden egg holders! Try them with different tons of wood and make a collection to sell in the shop! Use custom wood tools to scoop out some cavity in the wooden boards where the egg can sit! Full guides here tidbits cami
9. Easy DIY Wooden Napkin Holder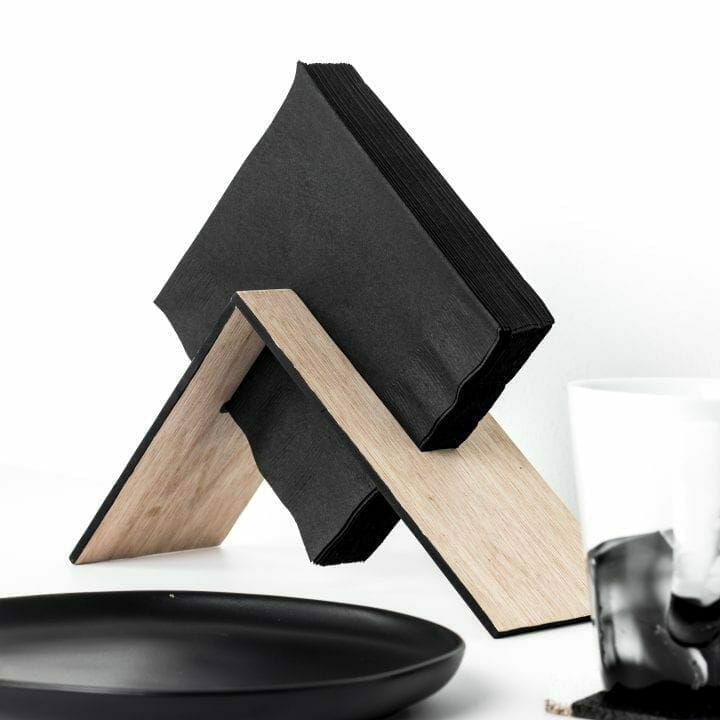 All people will love to buy it from your shop who likes to maintain a style on their dining tables! A modern napkin holder made of an L-shape built with birch plywood! The black, painted edges add a lot to the beauty of the design! Cut a rectangular slit in the center of a birch plywood board, then take it into halves to reassemble in L-shape! Tutorial here acraftedpassion
10. DIY Wood Wall Shelves to Make and Sell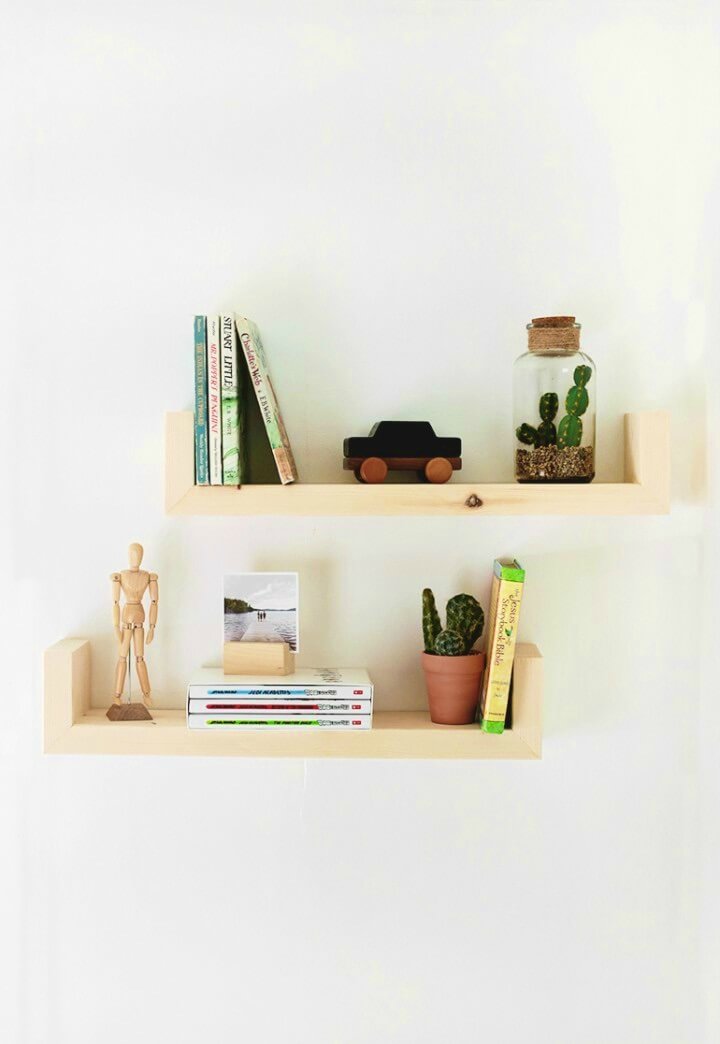 Shelves are always a hot selling product. It is hard to imagine life without shelves on walls! So, build floating wall shelves out of pine boards to sell, choose the 4-inch corner braces to install them on the wall in a floating manner! How to guides here themerrythought
Related DIY Projects to Build and Sell
Crafts to Make and Sell: Make money with your DIY hobby. You'll learn how to make crafts that sell quickly and market easily using Etsy, Amazon, eBay, and more! Many of these crafts take minimal investment and can be done from your home.
DIY Furniture: Whether you are trying to save money or just have a unique vision in mind, these easy diy furniture ideas will help you make the most of your space.
Pallet Projects: Discover some of the best diy pallet wood projects, including pallet beds, shelves, tables, and more. Get ideas for your next project wood projects to make and sell or a do-it-yourself project to start at home.
Woodworking Projects: If you're a beginner and want to learn the basics of woodworking, this is the place for you. You'll find dozens of small woodworking projects for beginners with step-by-step instructions for building own unique furniture.
11. Make Autumn Wooden Sign to Sell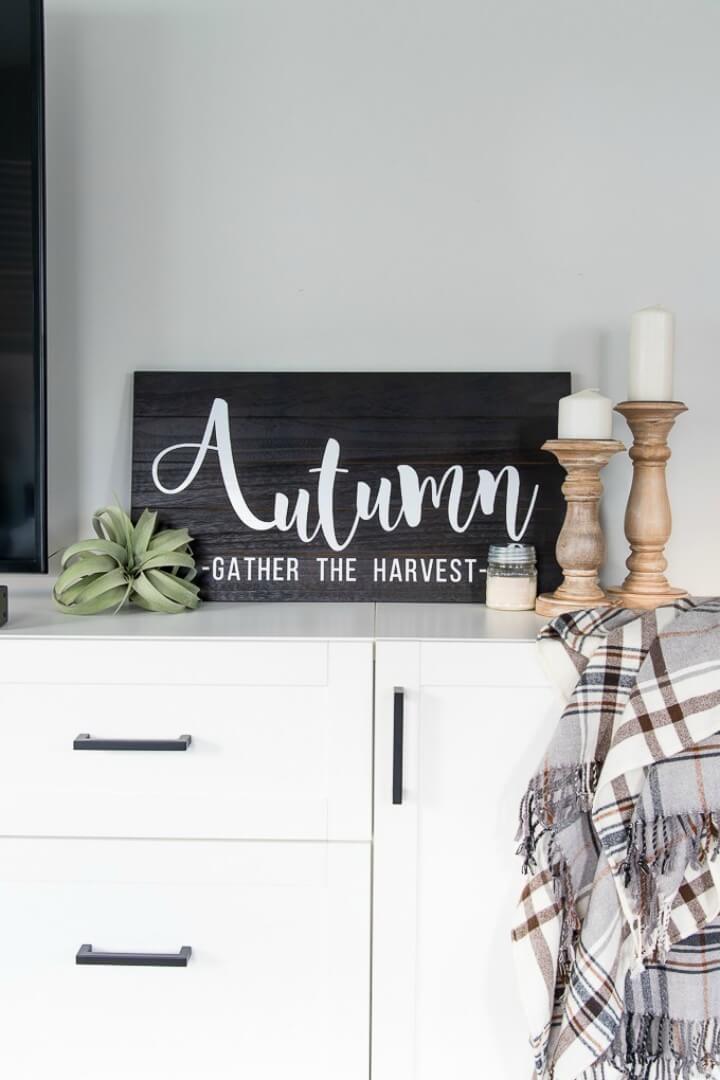 Shape up a rectangular wooden board out of wood slats, can be painted in black if you are to add it up with white letters! Next, transfer your vinyl letters on it and gain a brilliant autumn wooden sign to sell! An epic home decor sign that everyone can make! Complete guidelines here keystoinspiration
12. Plywood Planter With Hairpin Legs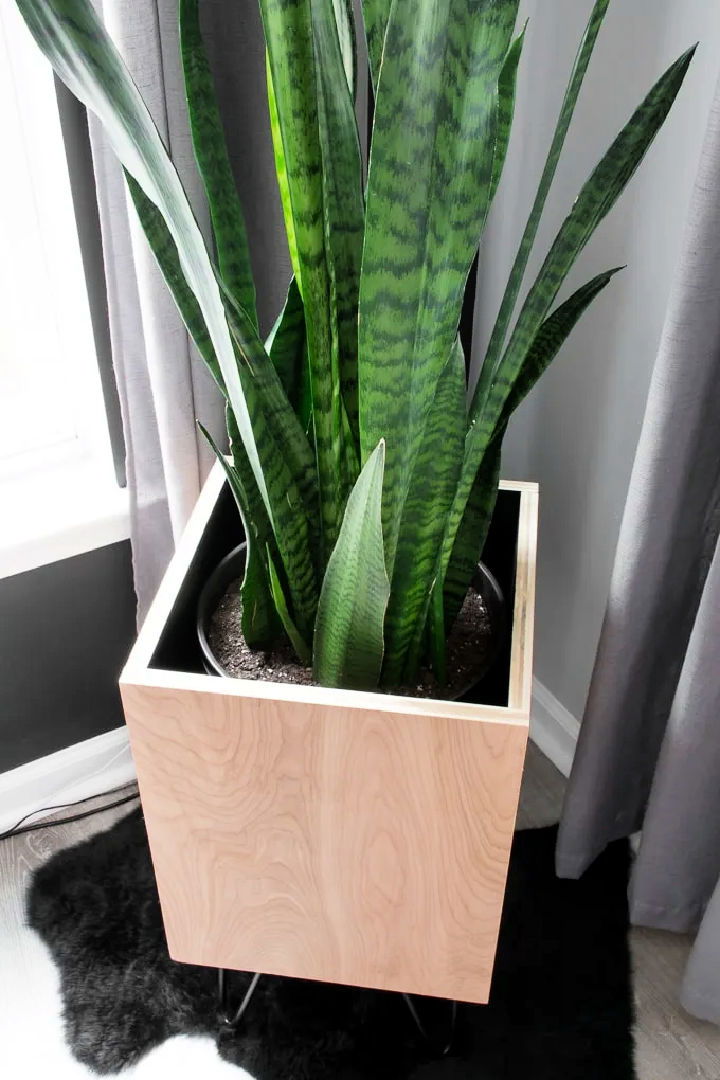 Plywood is highly fabulous due to its dimensional stability and accuracy! So, build modern planter boxes out of plywood, can be raised on metal legs for a hot industrial appeal and added stability! Home lovers will also love to buy them from you! Looking at the readymade sample will make you learn more! bybrittanygold
13. DIY Wooden Tech Cover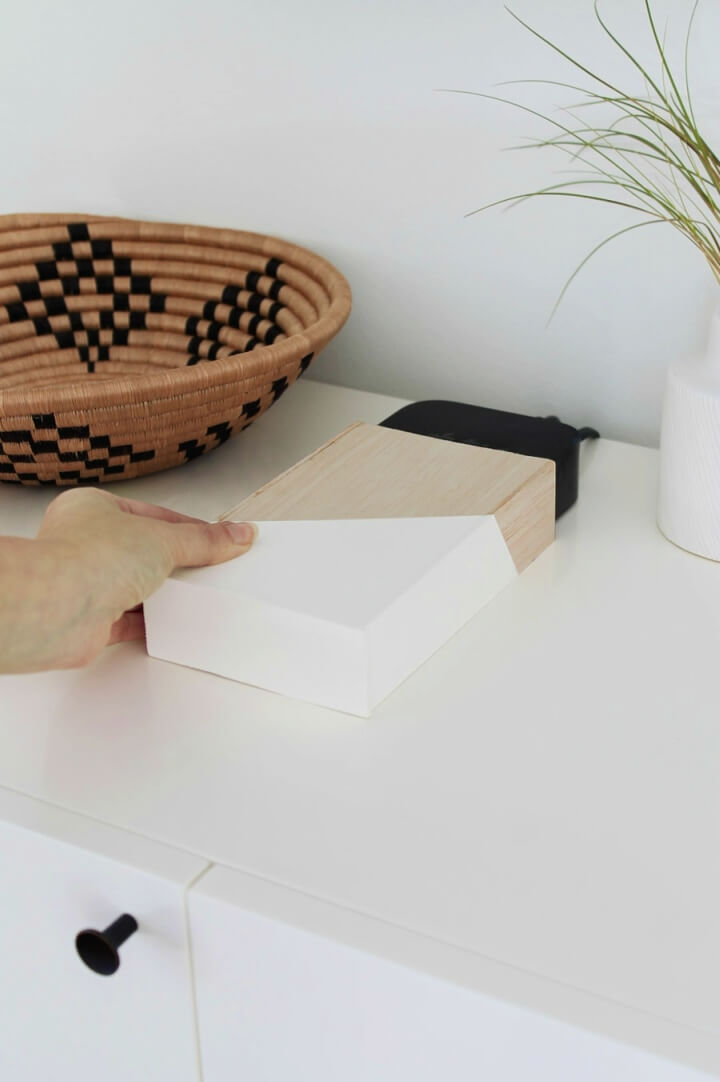 The modern tech gadgets are too delicate, so they must be provided with extra care! So, why not help people secure their expensive electronic gadgets by making wooden tech covers! Make this cover using balsa wood, will be easy to sell for sure! Full tutorial here westelm
14. Mason Jar Bathroom Organizer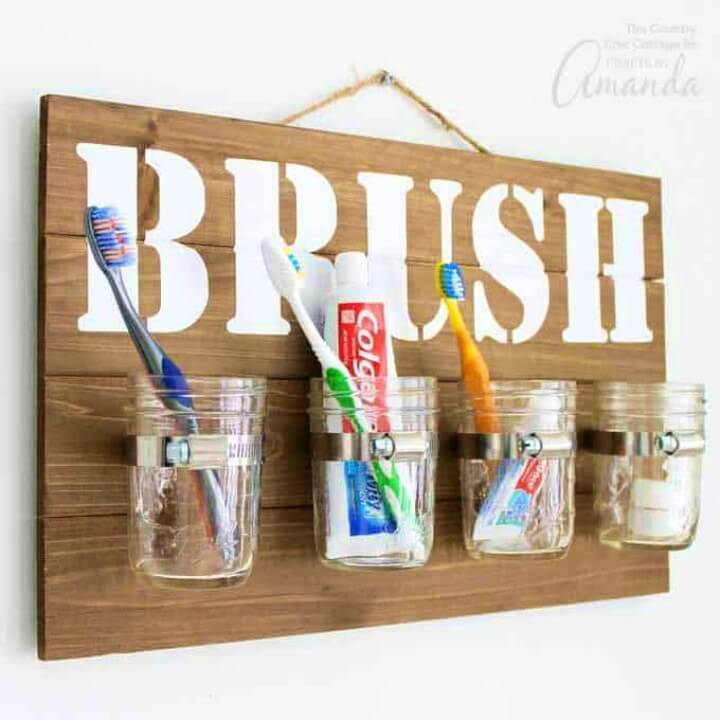 Every home lover is just tangled in home storage problems, so reuse the wood from home to build lovely organizers and storage units! All homey people will love to buy them for sure! This given bathroom organizer has Mason jar accessory holders, fixed in place using hose clamps! How-to details here craftsbyamanda
15. Build Your Own Wooden Plant Stand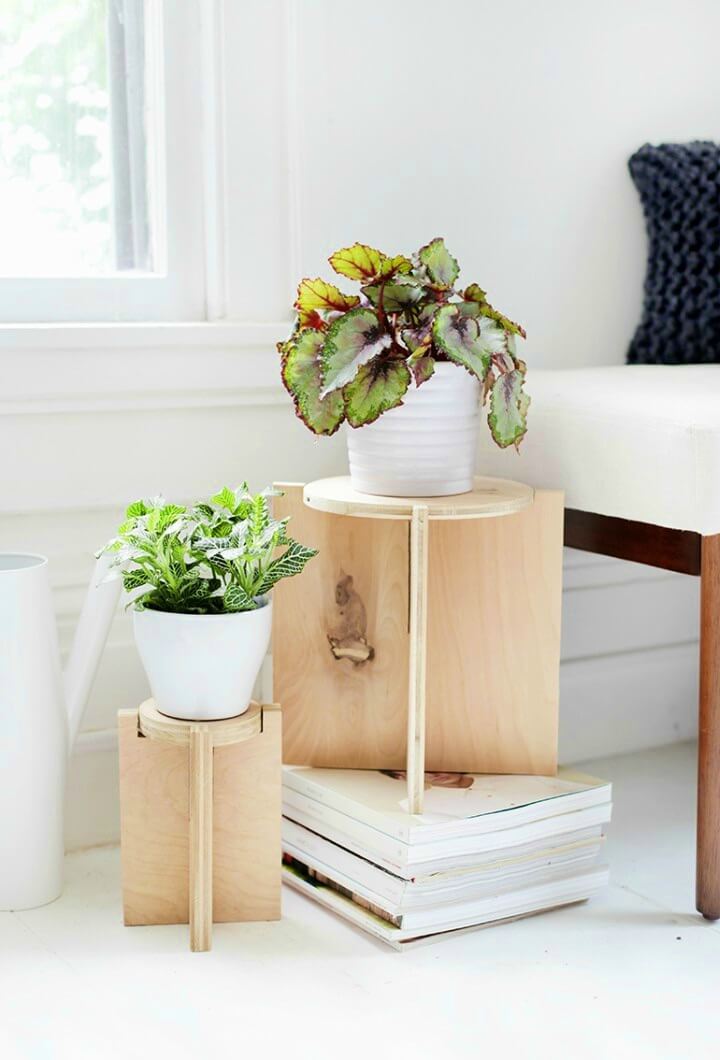 Build also these modern wooden plant stands using scrap woods, will bring the plant display game to the next level! Here you only need plywood circles and plywood boards to make it! Fit them together smartly getting the plywood rounds as flat plates for holding pots! Details here themerrythought
16. Pretty Wooden Wall Hanging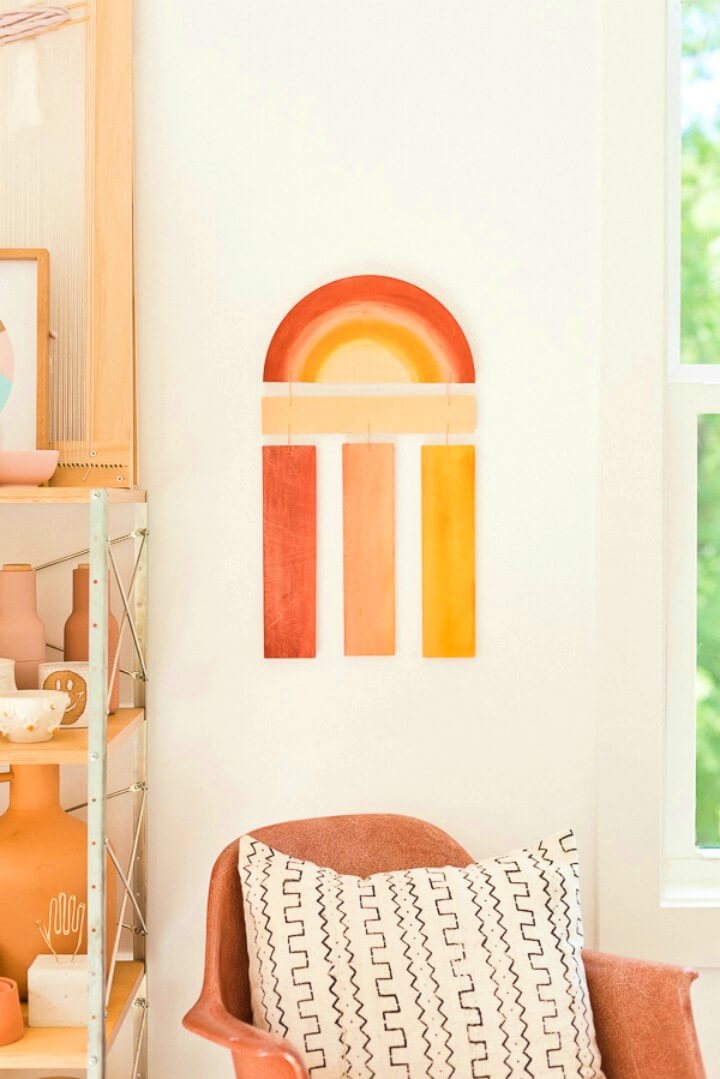 The wall hangings are a hot trend in home decor trends, so you must be earning great profits by creating wooden versions of them! Clone these wood wall hangings, will hang gracefully on a wall for instant focal stimulation! How-to guides here papernstitch
17. Homemade Mini Triangle Shelves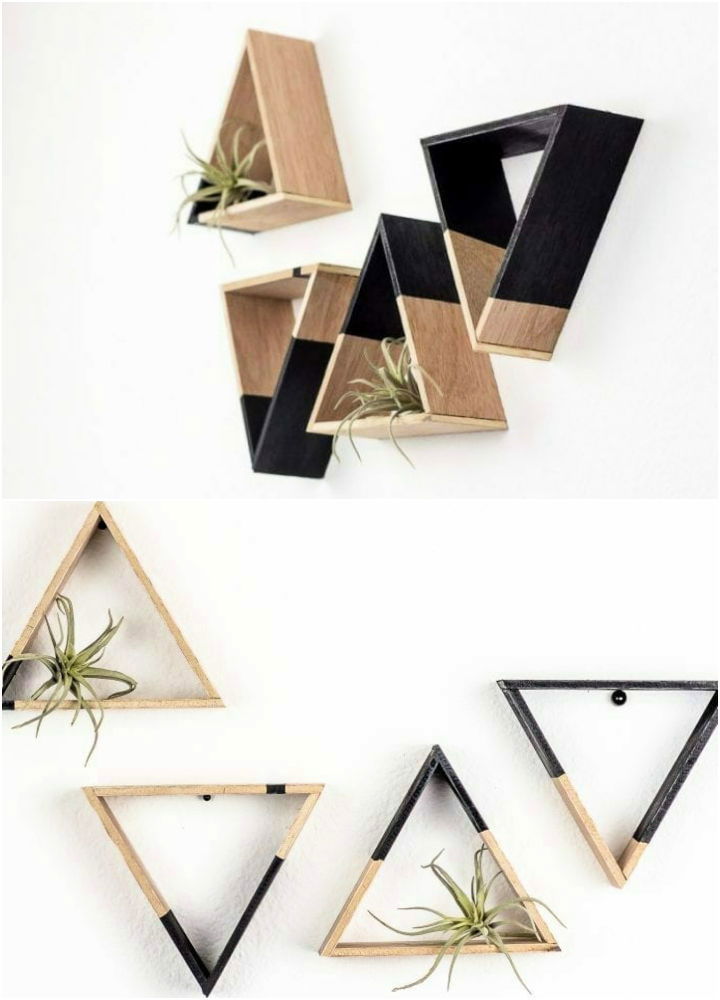 Transform the scrap wood into extra cash, pack the reclaimed wood slats to make cool triangular shelves that you can sell easily! They will be the best geometrical wall decors too along with cool displaying stations for your wedding centerpieces! Full how-to guides here acraftedpassion
18. DIY Wooden Clothing Rack to Sell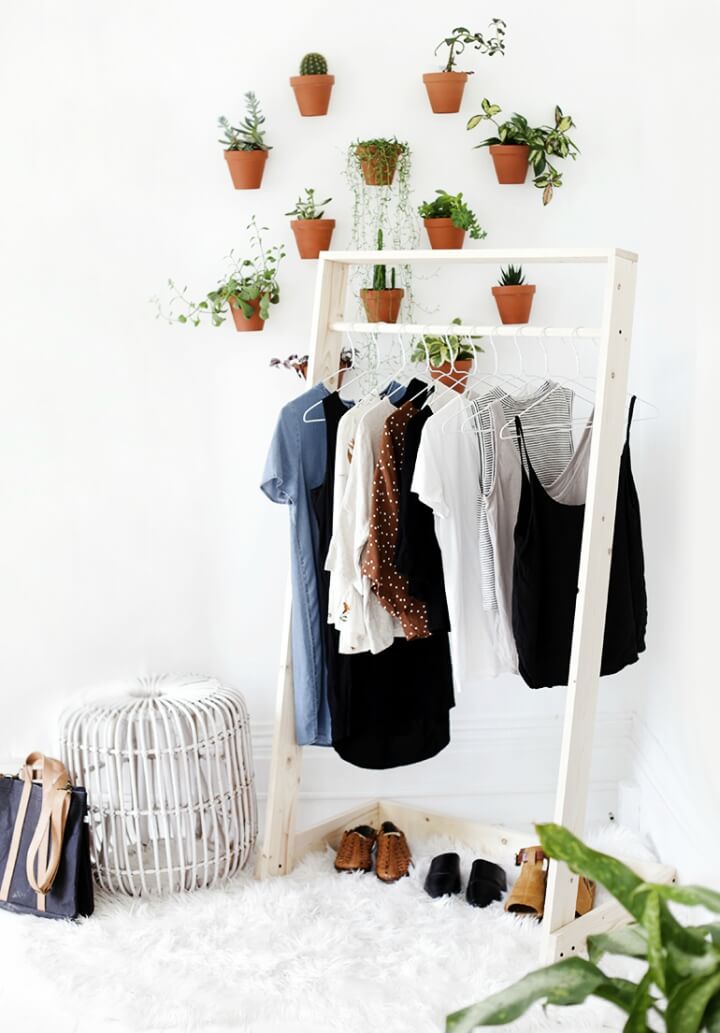 Earn extra cash by selling your wood projects, put together the common wood boards to build this wooden clothing rack! The clothing rack is made of a wood dowel where it would damn easy to organize the clothes using hangers! This handsome rack can stand alone in style! Full how-to guides here themerrythought
19. How to Build Nightstand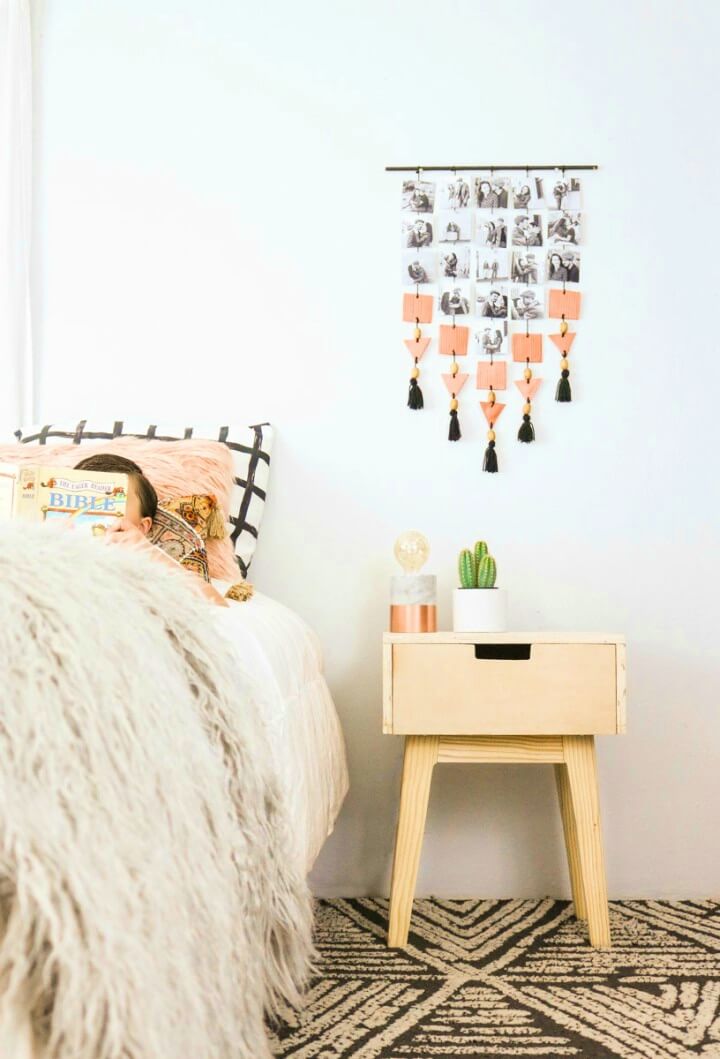 Build all sorts of furniture items at home with the help of provided plans and earn a full-time living! Make this stylish nightstand with pine plywood and common boards! Build base including tapered legs using common boards and get your hands onto pine plywood to make the one drawer top! Details here lilyardor
20. $10 Wood Planter Boxes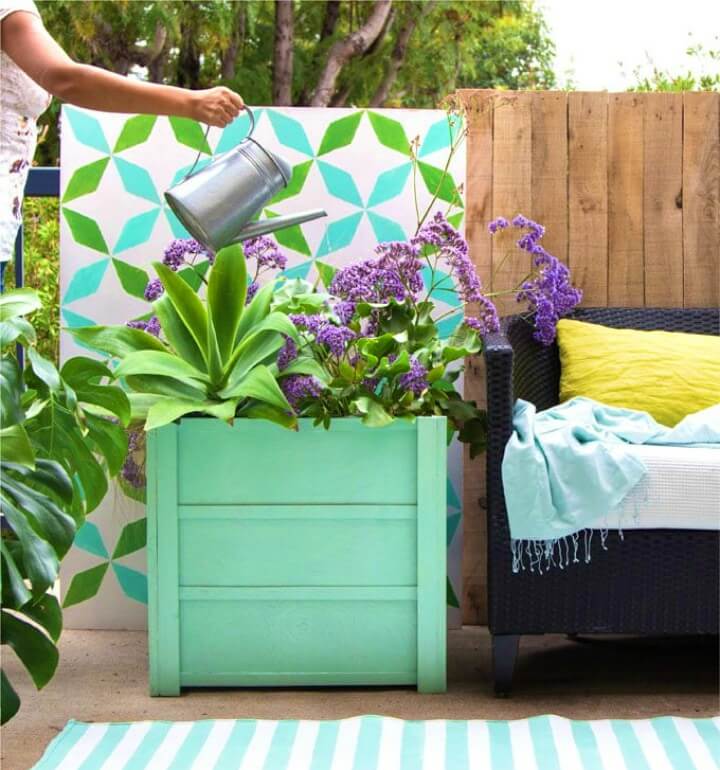 Choose your niche and build the wooden stuff according to sell! In a garden niche, the wood planters will be the high selling product! Build a box out of wood slats or boards, paint for a personalized appeal, and then sell in your online or in your shop! Complete guides here apieceofrainbow
21. DIY Rolling Magazine Storage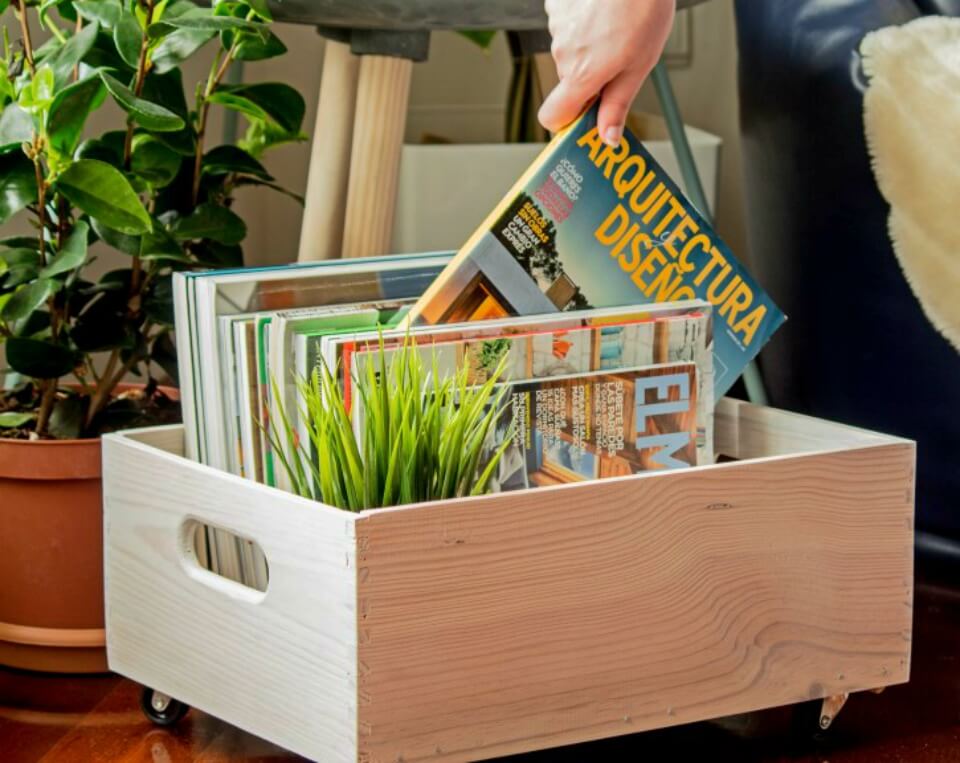 In the home storage department, you can build these rolling wood crates that will nicely organize your books, magazines and other items of this kind! Use common wood boards or plywood to build a storage box with built-in handles, finish it up with rolling casters and gain rolling magazine storage! How-to guides here missknown
22. Wooden Striped Utensil Holder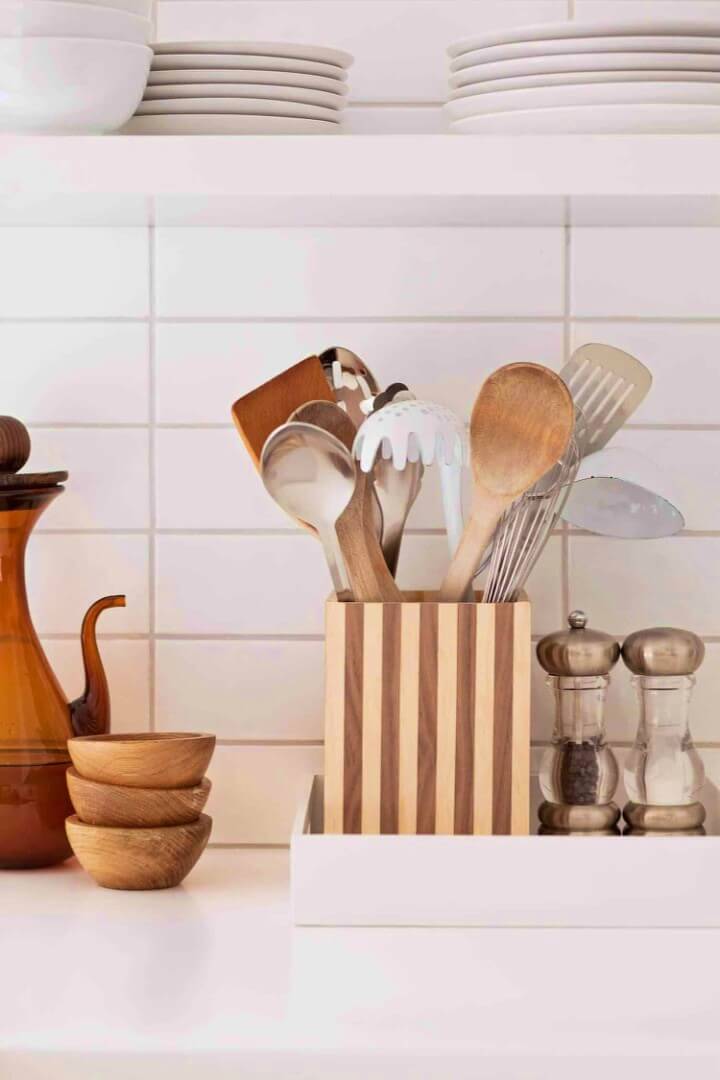 A kitchen must be delightful all the time and to keep up the beautiful looks of your kitchen will demand to add some beautiful organizers! Organize kitchen utensils using this wood striped utensil holder, made of pine wood sheet! For dark tone strips, use the walnut or birch banding! Complete how-to guides here abeautifulmess
23. Making a Faux Stained Wood Instagram Frame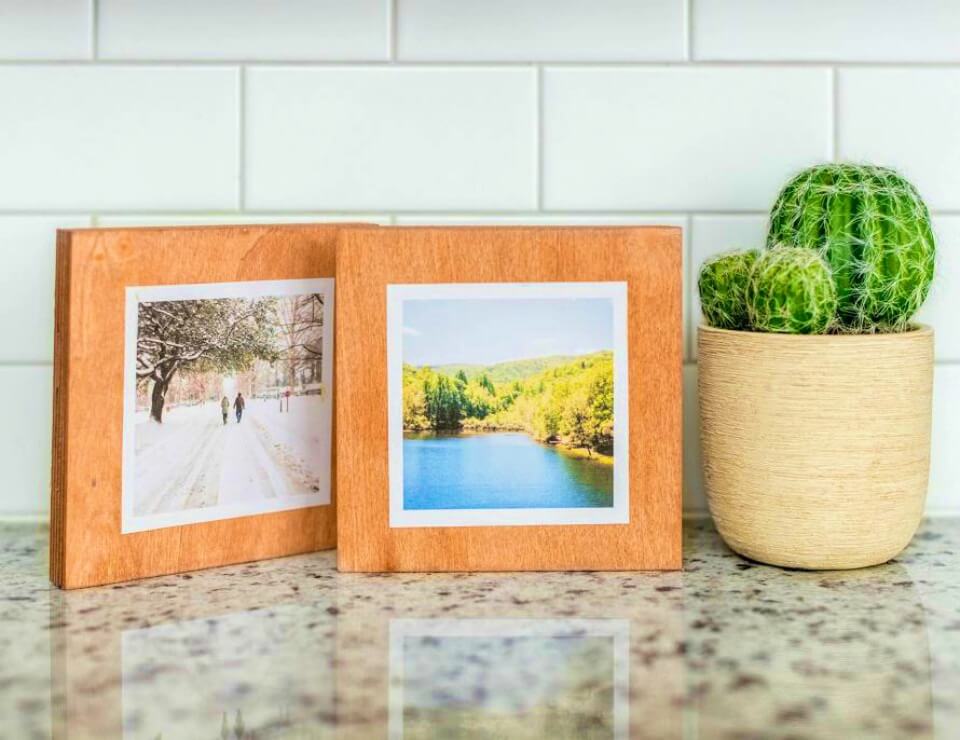 The instagram inspired decors, always get lots of appreciation, faux stain the wood square pieces and then paste your favorite photos on them to make cool instagram photo frames in no time! A nice way to display your photos like a pro anywhere at home! These frames can also stand alone and are perfect for selling! Details here fun365
24. Wooden Multi Device Charging Station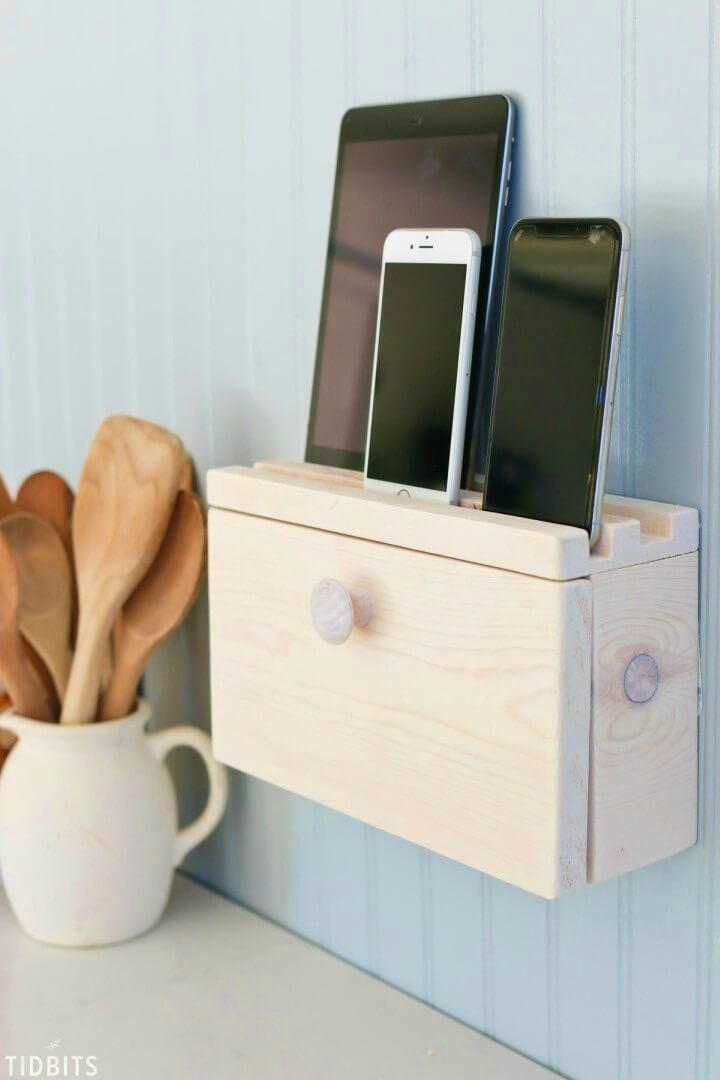 Know very well the needs of people and then build the wood stuff in demand, will be guaranteed to be solid rapidly! Charge your multiple mobiles and devices at the same time by building this charging station! It provides a top in front for easy opening of the lid! Build a box with the hinged front; cut slits in the top to hold your devices in place! Full how-to guides here tidbits cami
25. DIY Framed Wood Coffee Sign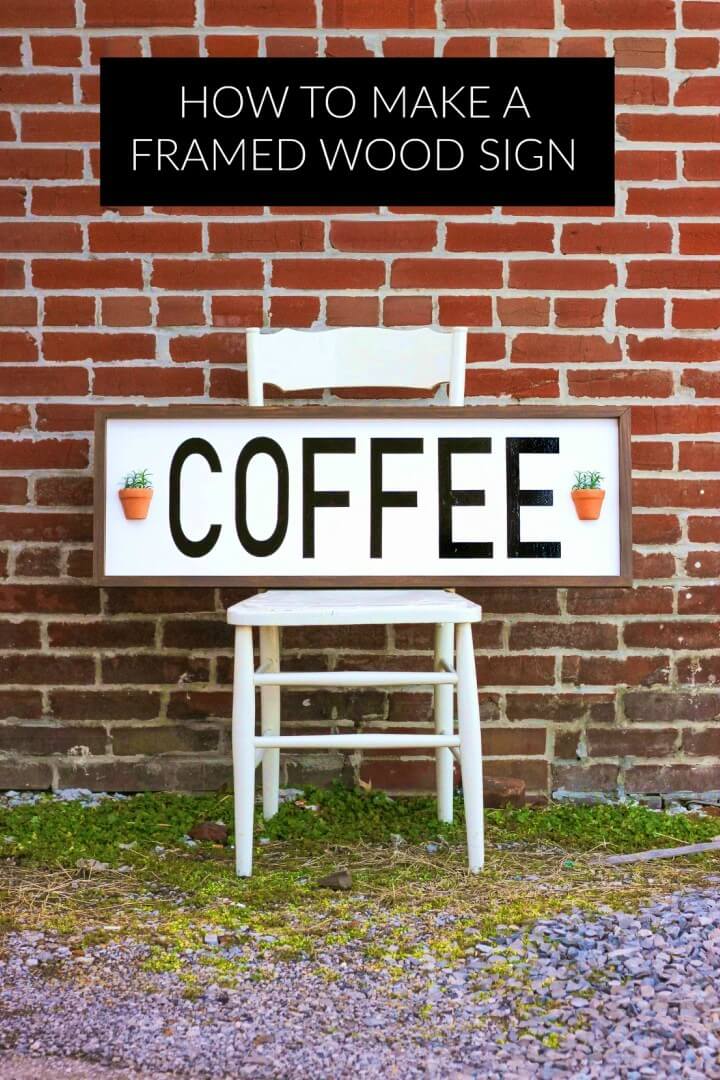 Make also cool and decent looking wall signs out of wood to sell online! Paint a piece of wood in white, transfer your black vinyl letters, quoted art and custom accents on it and then frame it up, making a gorgeous wall art sign! Get inspired by this framed wood coffee sign, embellished with terracotta pot accents! Full how-to tutorial here purelykatie
26. Floating Wooden Nightstand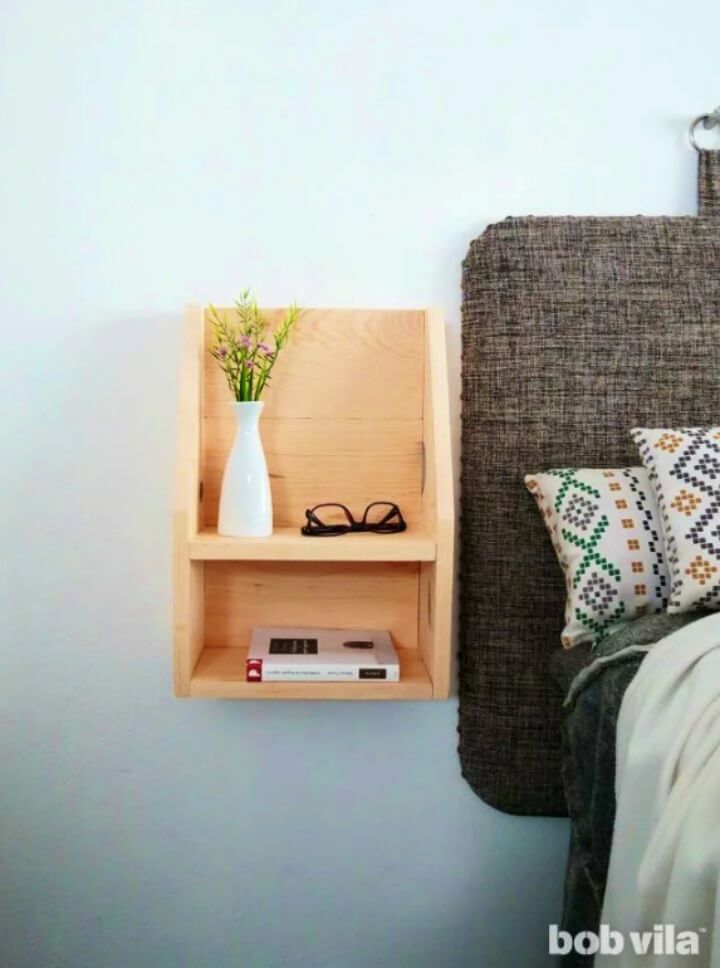 Going through a critical financial situation and want to earn some extra income? Then must make this floating wooden nightstand to sell, provides storage shelves and compartments to organize night supports and accents! A small wall mounted nightstand to make with much less wood! Full guides here bobvila
27. Make and Sell Geometric Wooden Clock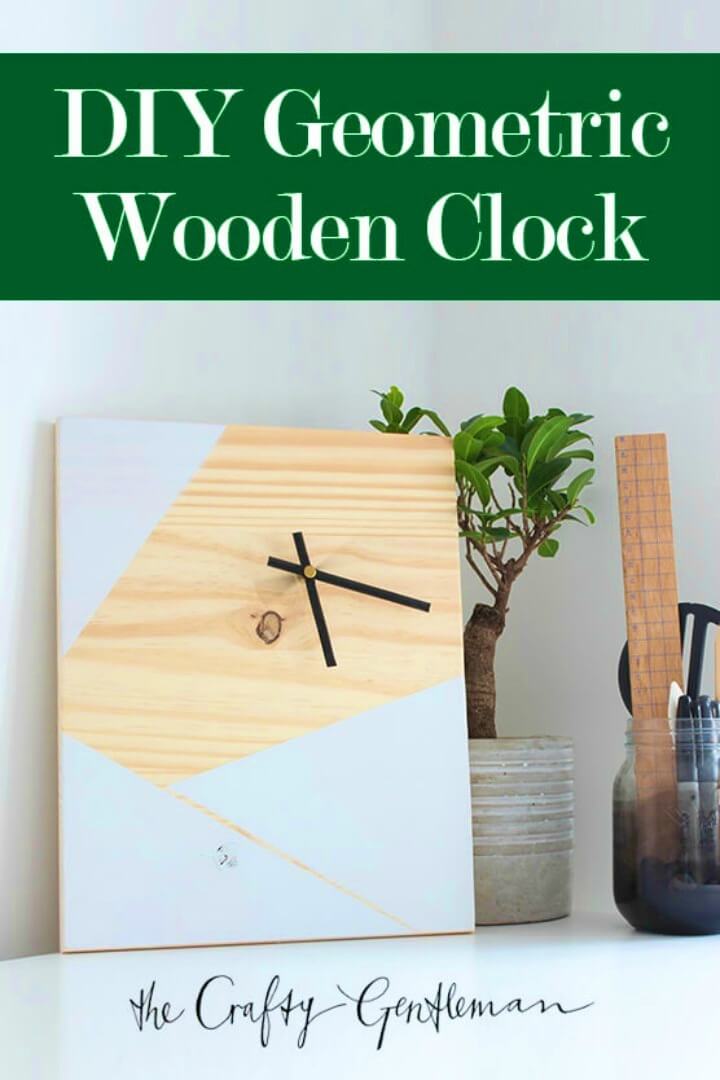 Have you got some wood tools and love to mess with wood to do some rewarding wood projects? Then you must make this quick geometric wooden clock. People will love to buy if you make and sell it! Paint a square piece of wood for a geometrical appeal and then install the clock movements! Complete tutorial here thecraftygentleman
28. How to Make Bathtub Caddy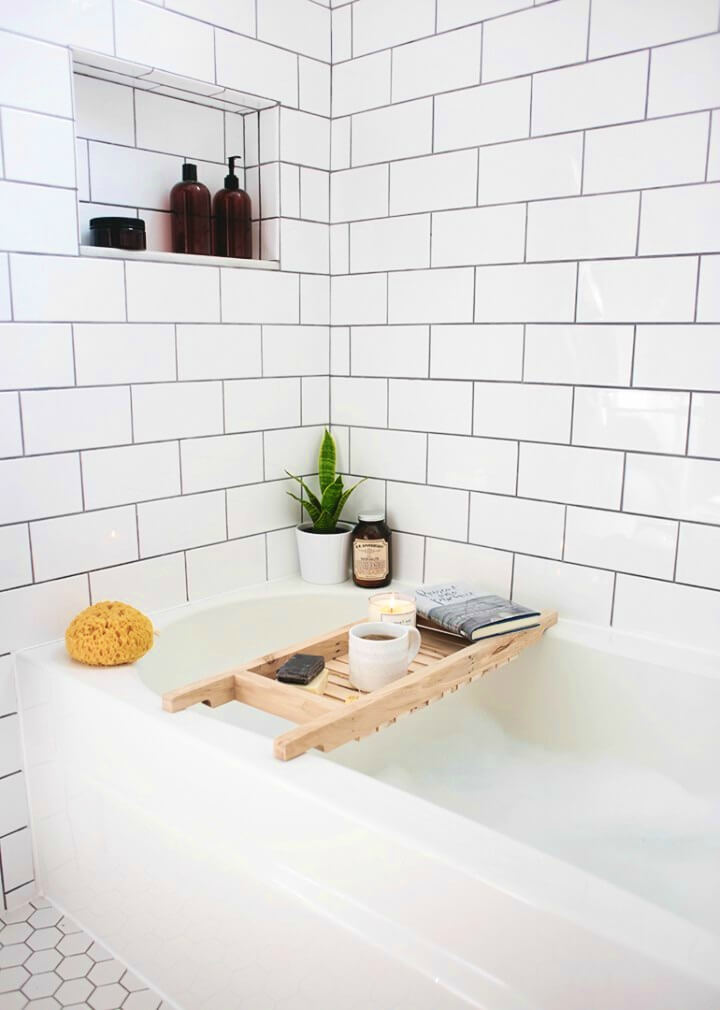 There is too much to make and sell with the wood, also build this bathtub caddy, will turn taking a bath into big fun! Grab the common board to build this ladder style bathtub caddy to sell! It can hold all the books, concerns, decors, and other items of interest! Full how-to tutorial here themerrythought
29. Handmade Wooden Circle Shelves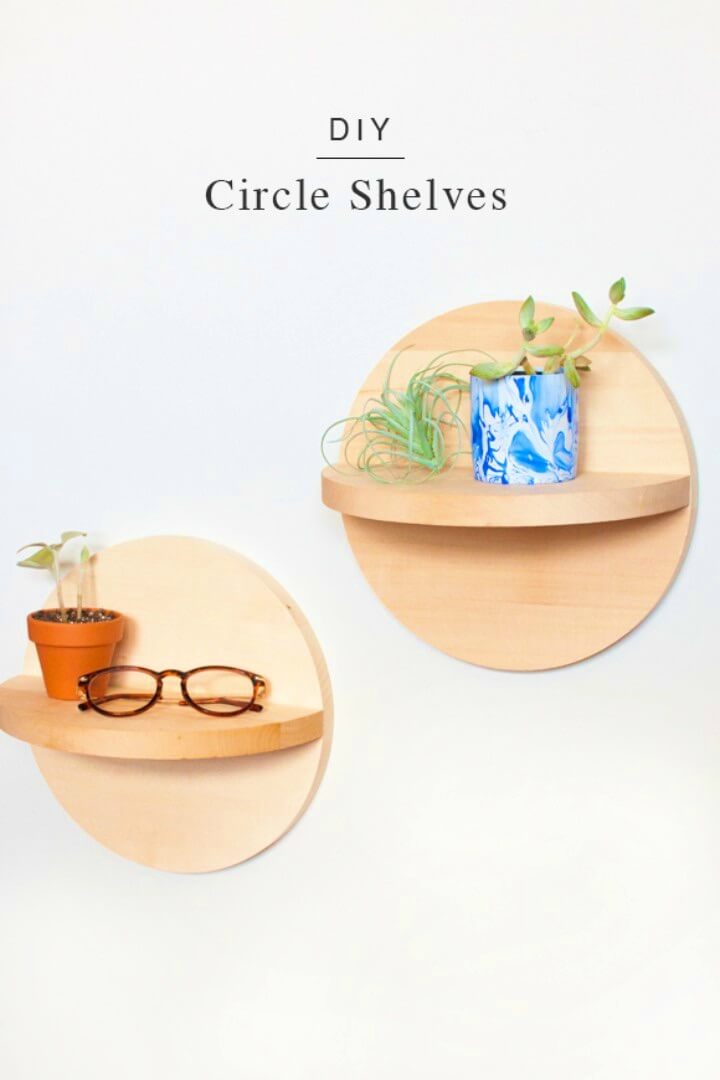 Are you handy at cutting the wood in a round? Then we must cut out some lovely rounds out of wood that you can put together to make epic wall shelves. They will be a nice selling product in your craft shop for sure! Add the wood circle half in front of additional wood circles to make each of the given shelves! Details here whydontyoum
30. DIY Hanging Spice Rack Storage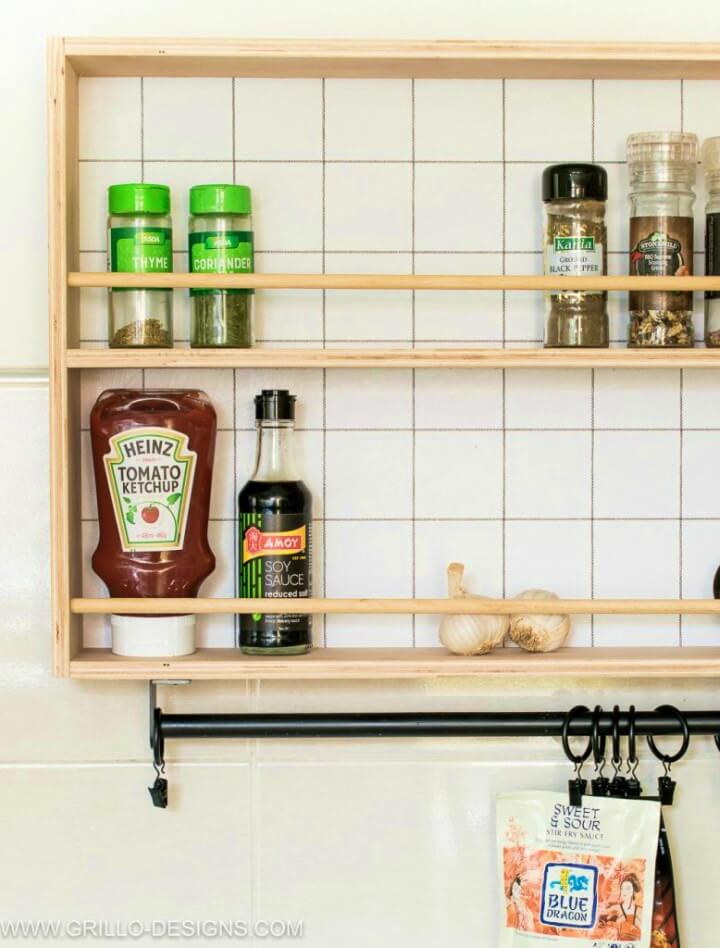 Build dual functional organizers too using wood of choice, will be selling hand-by-hand in your store or an online shop! Use hardwood plywood, IKEA GRUNDTAL bar, curtain hooks, wallpaper, and a dowel rod to whip up this handing spice rack storage, quite easy to whip up! Full how-to guides and tutorial here grillo designs
31. Chopping Board Rest and Note Pad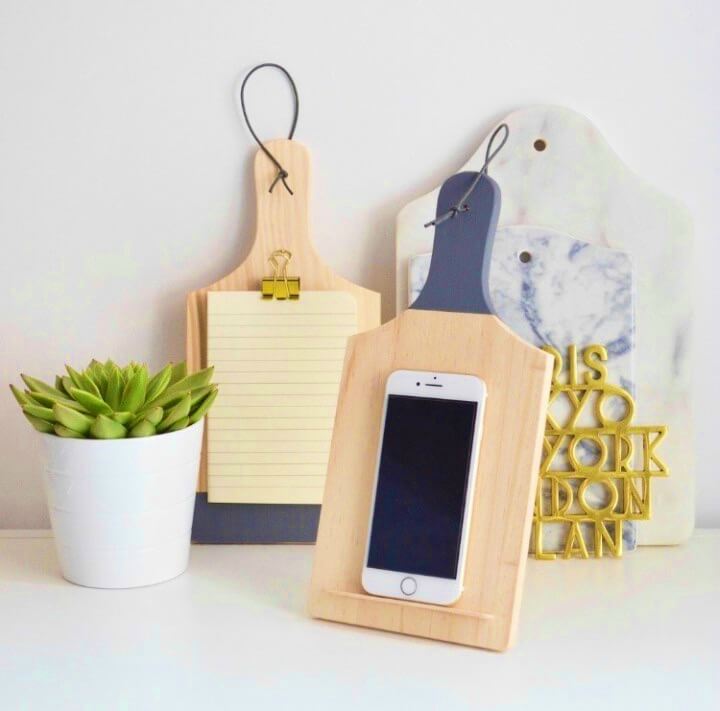 A few sharp and precise cuts to wood can make you get with this, the chopping board and a notepad rest! Another cool wood product for your make and sell business! One can quickly make the chopping board out of wood, add it up with a small shelf in front to get a notepad rest too out of it! Details here thethingsshemakes
32. Toothbrush Wooden Holder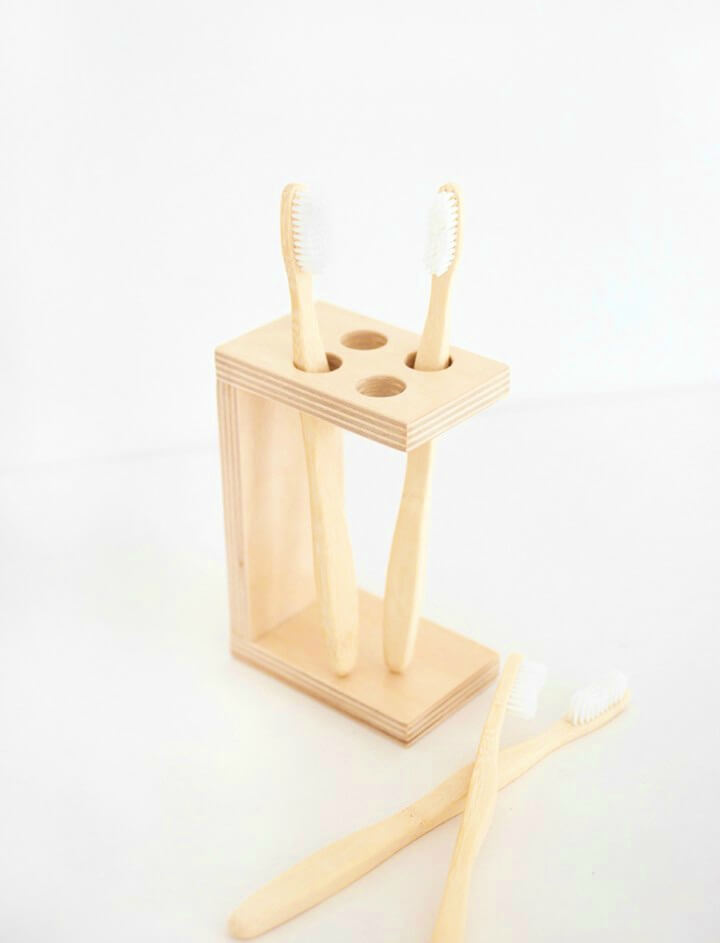 Repurpose also the plywood scrap pieces to produce this wooden toothbrush holder, will hold your toothbrushes with care! Build a "U" shape out of plywood planks. Let the top edge come with holes in it to hold the toothbrushes vertically! How-to tutorial here themerrythought
33. DIY Wood Triangle Trivets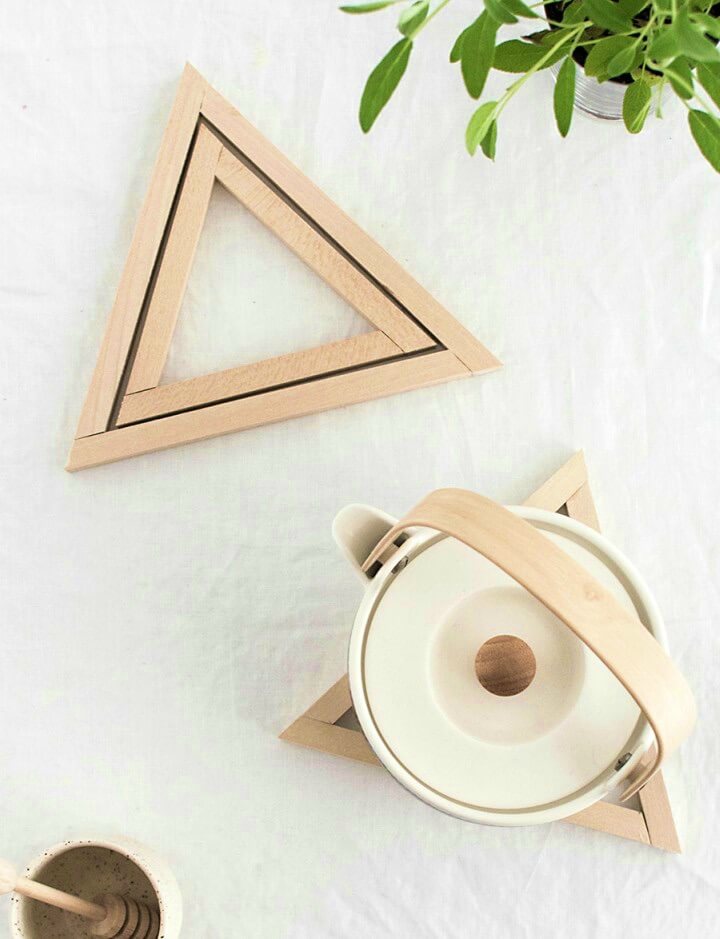 A better and durable alternative to kitchen hotpads, the triangle trivets made of scrap wood pieces! They are a lovely wood product to sell in a kitchen niche! Sell online on Etsy or Ebey to earn a great revenue! Put together a few slats of wood to get these trivets made! homeyohmy
34. Wooden Salt and Pepper Shakers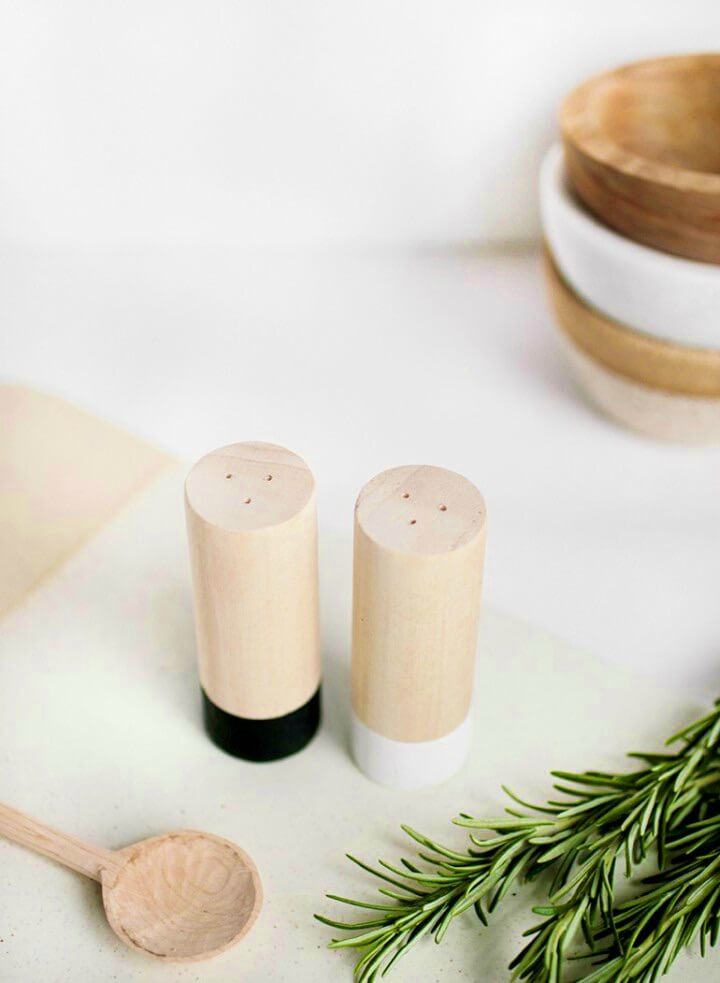 There is too much to make out of wood to sell! Turn your wood crafting obsession into earning extra cash profession! Upcycle the wood dowels into these salt and pepper shakers will be the next high selling product in your online shop! Hollow out a thick wood dowel using a custom drill, add a cork bottle stopper to its bottom side and then drill miniatures holes in its top! themerrythought
35. Unique DIY Bathroom Organizer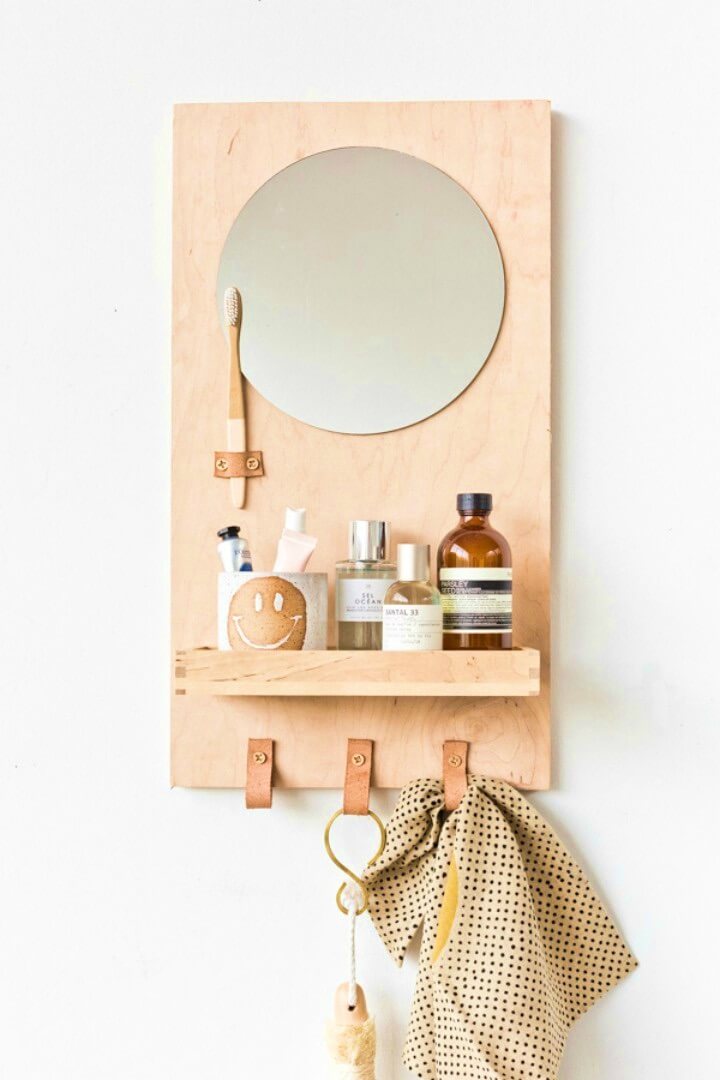 A little extra income in your budget can make a big difference, so start your make and sell a business using the wood medium! Make this handsome bathroom organizer, carry a round mirror on its top! Add up plywood with an oval mirror and a lower tray style shelf! Add leather loop hooks to the bottom side! papernstitch
36. Homemade Wooden Cutting Board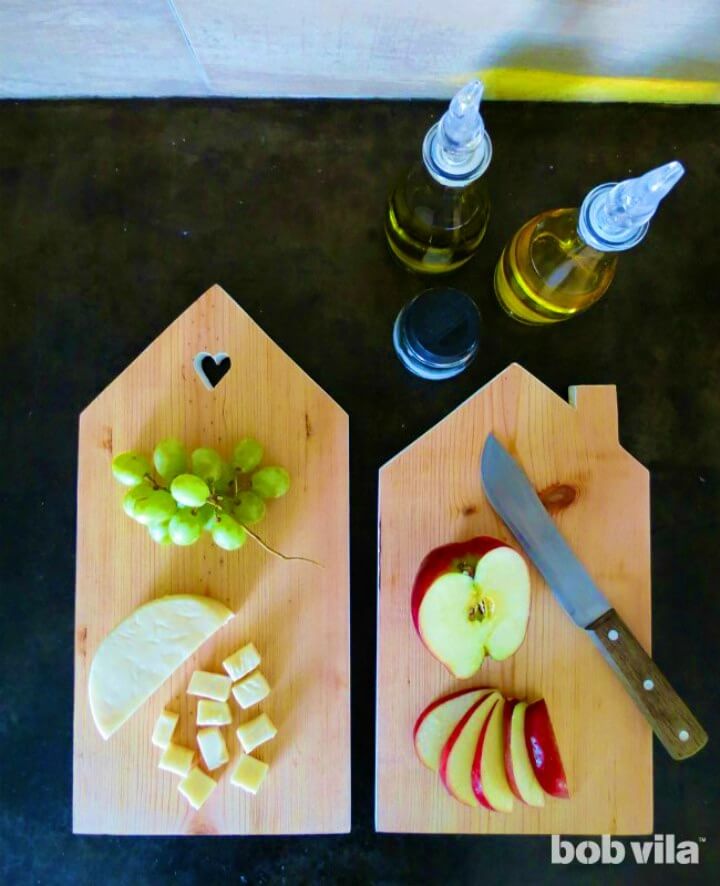 One of the most natural wood project to make and sell, the wood cutting boards! Simple cut the solid wood boards into desired shapes, cut out custom shapes like hearts for adding a little romance! In much less time, you will able to create a dozen of these wooden cutting boards! bobvila
37. Summer Vibes Wood Pallet Sign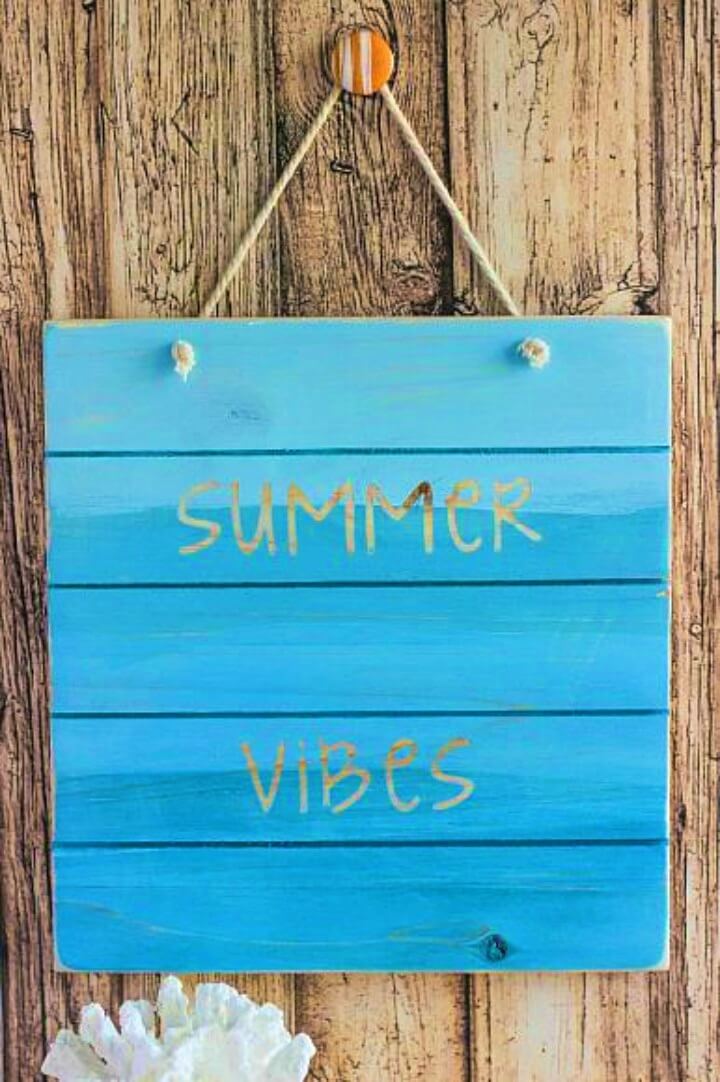 Make also amazing decor in the seasonal decor category using the wood in hands! Everyone will love to buy this pallet sign for bringing summer vibes to his spaces, a gorgeous handmade slatted wood sign! Paint in aqua and then stencil for summer love quotes! decoart
38. Building a Wooden Brothers Sign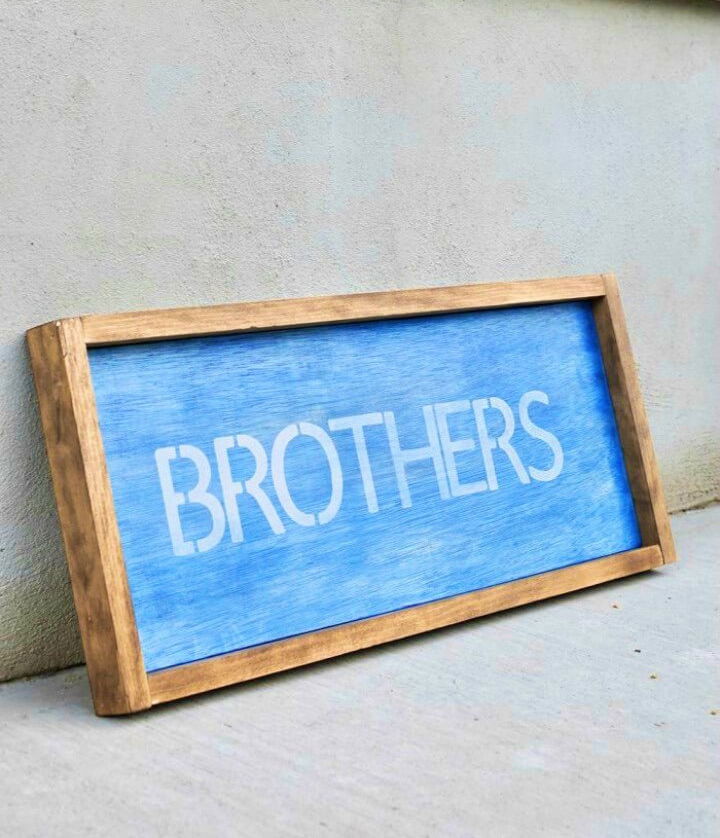 Spread love and encourage brotherhood by making this brother sign. It will also be an excellent selling craft in your wood craft shop. Paint a flat wood board in a color you want and then stencil it for a custom quote. Next, frame it up. cherishedbliss
39. Football Toss Outdoor Game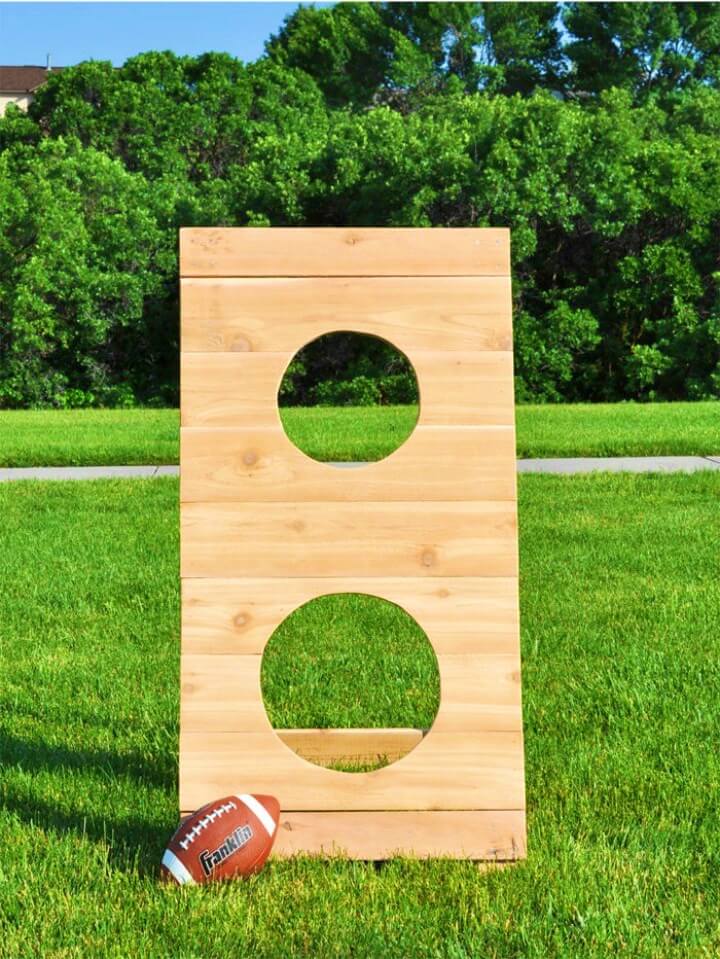 Build outstanding outdoor gaming boards too to sell online or in your shop. Building this footboard toss outdoor game is a fun, pick the fence pickets to shape up giant wooden boards, cut out big holes, and add the back stand. Paint in the way you like, and that's it. cherishedbliss
40. Creative Wooden Makeup Organizer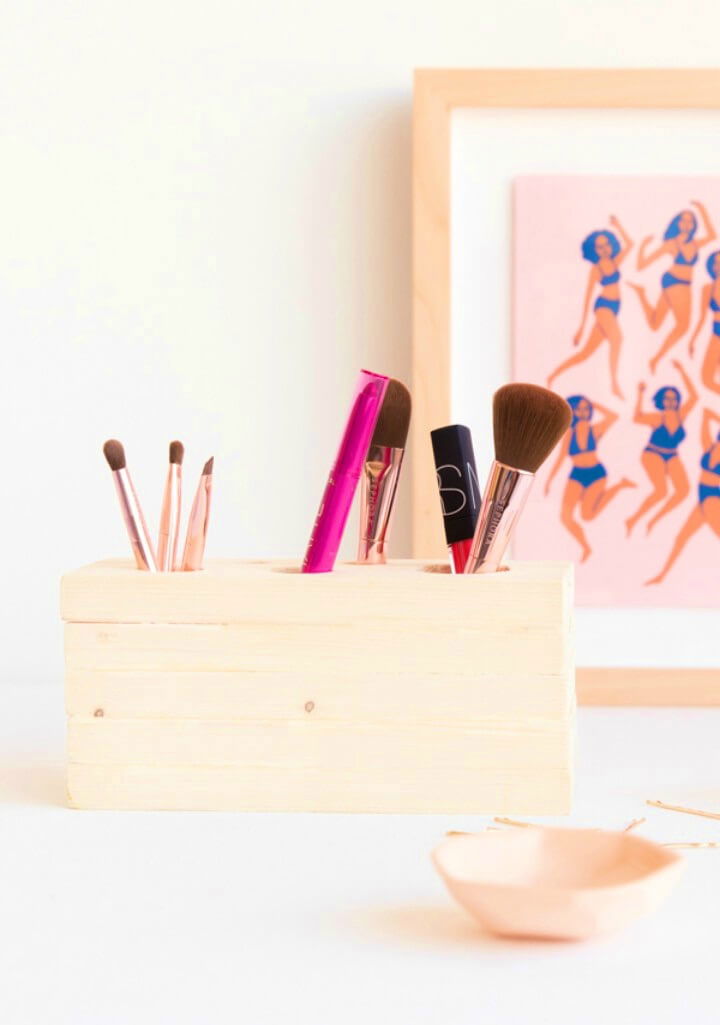 Nothing can please a makeup lover tangled in storage problem, but this wooden organizer will be durable and long lasting. Shaping up a big wooden board with a lid having holes in it, is the whole construction work to do here. papernstitch
41. Make Wooden Alphabet Blocks and Sell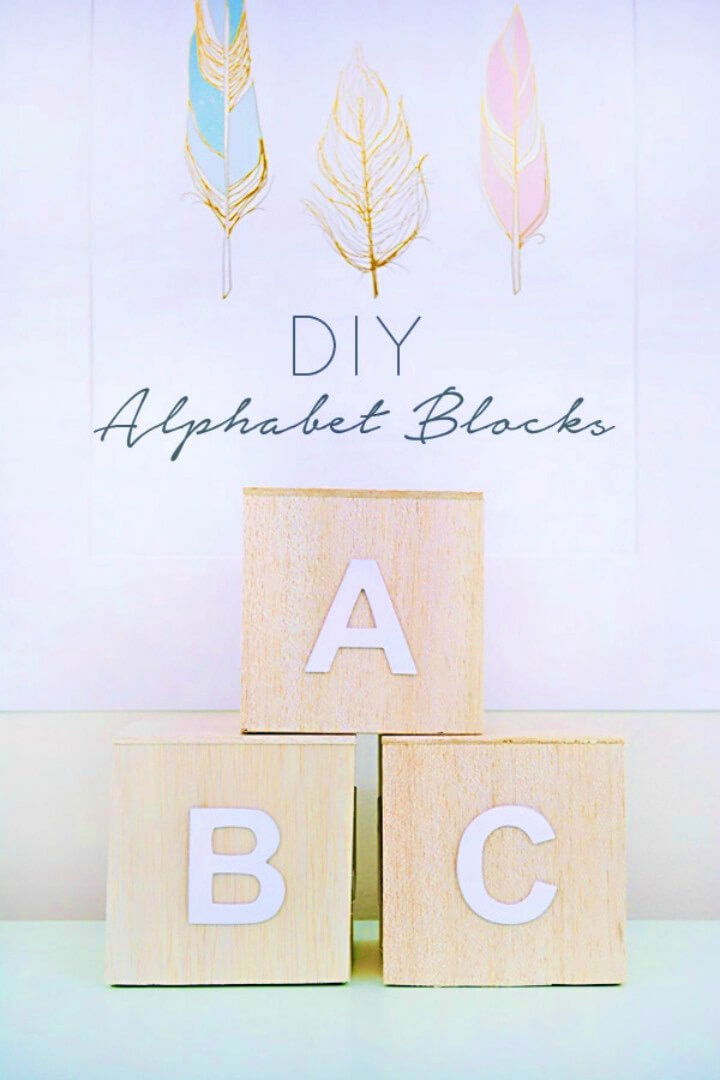 The best nursery decor and game to make and sell, the cute alphabet blocks, will also rock for education purposes of kids. Take the balsa wood squares, shape up cute wood cubes, add cardboard letters in front and here you go. brepurposed
42. How to Make Wooden Corn-hole Set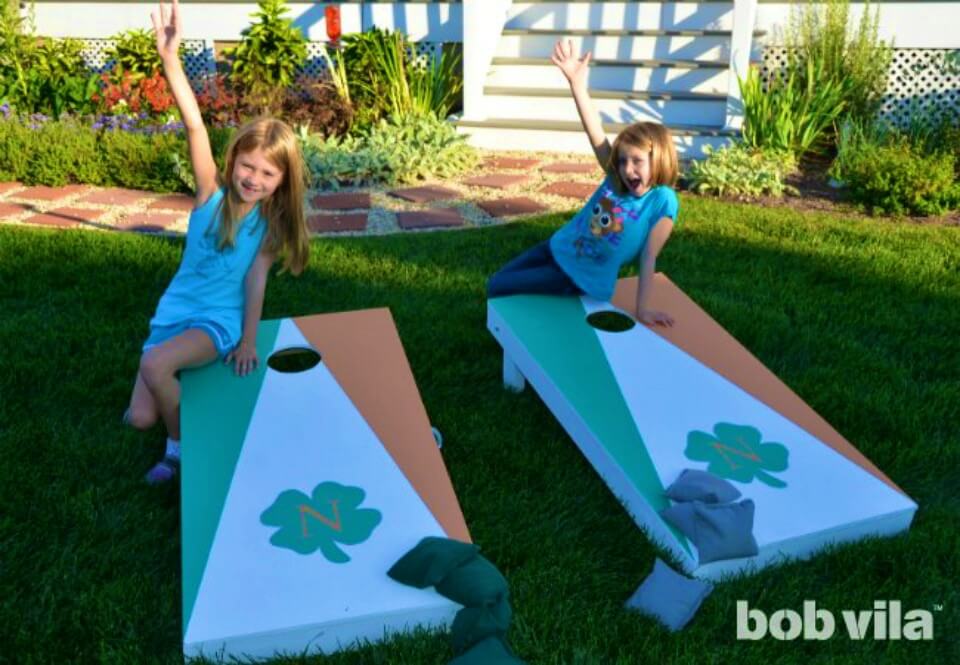 If you are making efforts to take good of the physical fitness of your kids, then this wooden corn-hole set is a must to make. It is all about building a table with only two short legs on one side. Don't forget to cut out a big hole in the top tilted side. Paint the board in the way you like, add custom shapes and art too. bobvila
43. DIY Wooden Baby Gym to Sell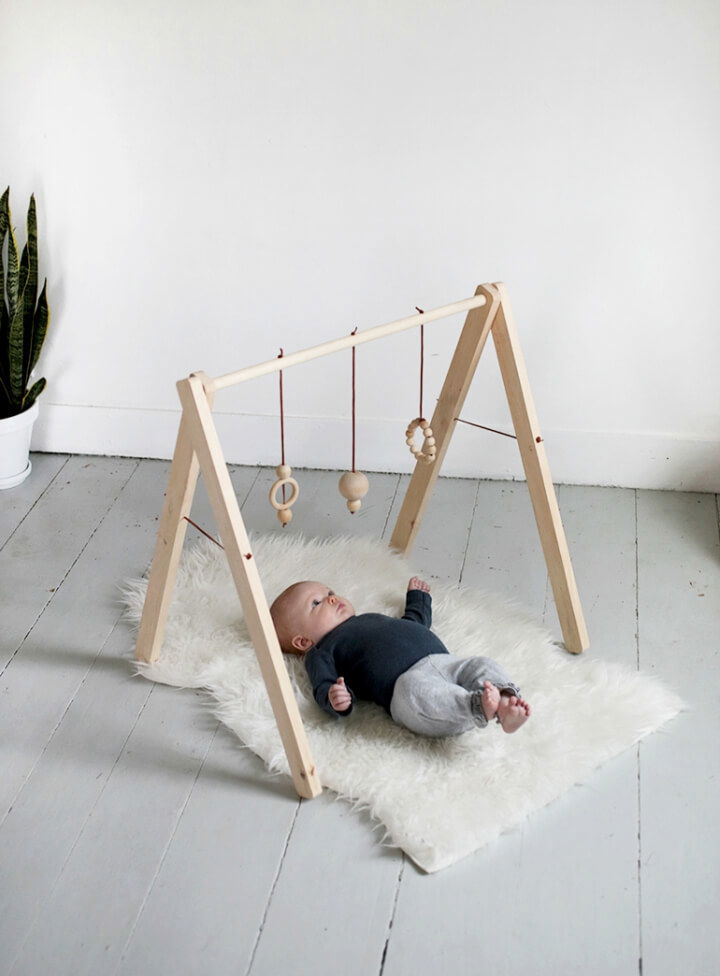 The baby gyms are highly in trends as they help improve the fine motor skills of your babies. Build A-frame swing sets in miniature sizes combined through a threaded wood dowel. Drill holes in the wood dowel to thread the rope lengths that will hang with baby toy ends. A cool make and sell baby wood craft. themerrythought
44. Wooden Airplane Play Structure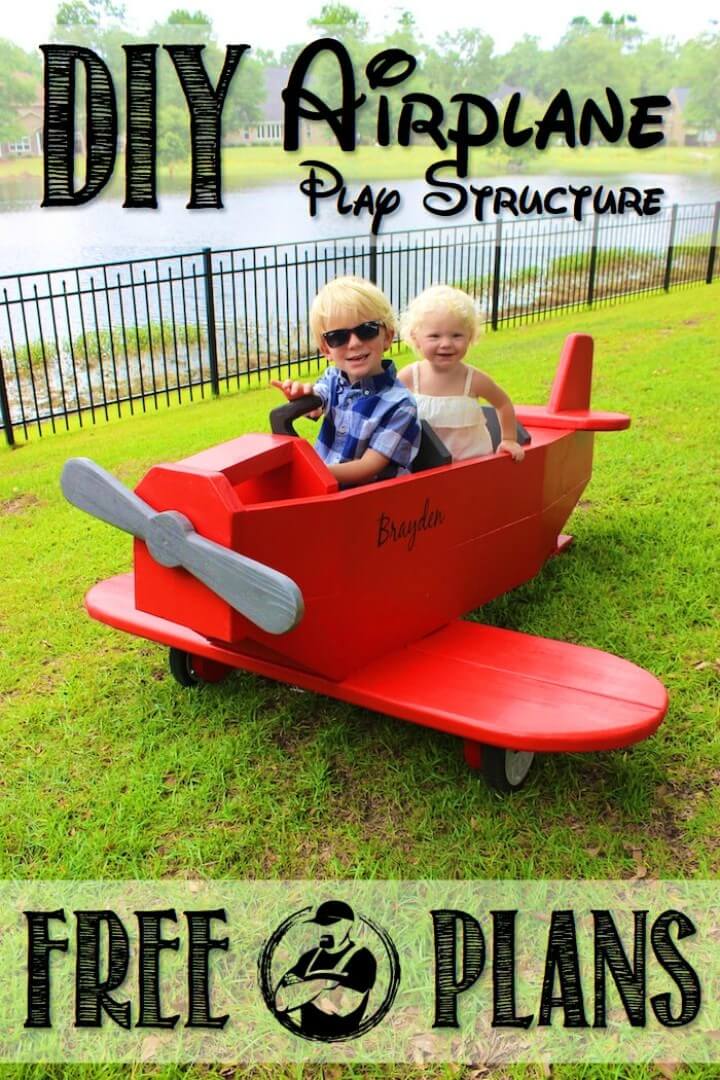 Kids' toys are always raking at the top in high selling market products, so consider making some amazing wood toys for your make and sell the business. Build this wooden play airplane that is having all the features to attract the kids along with a cool painted appeal. Build all parts of the plan using treated lumber. Tutorial here rogueengineer
45. Quick DIY Chair Drink Holder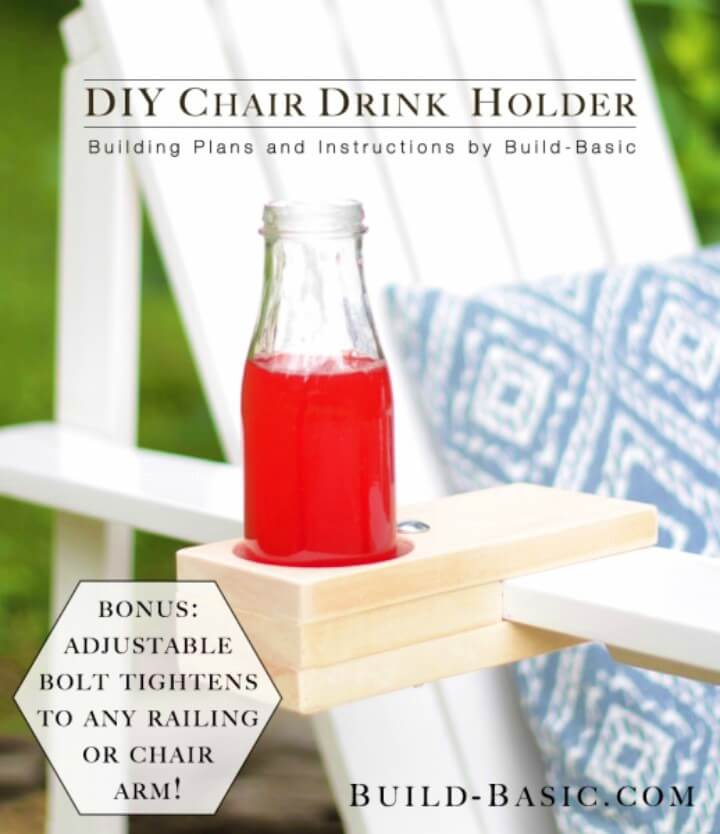 Ease the people to enjoy sitting more by making this chair drink holder, a fantastic thing to make with the reclaimed wooden chunks. Custom cut to size plank lengths must be stacked to make. It can easily be installed to an armrest of a chair. Cool wooden stuff to make and sell. How-to pictorial here build basic
46. How to Make Round Wooden Clock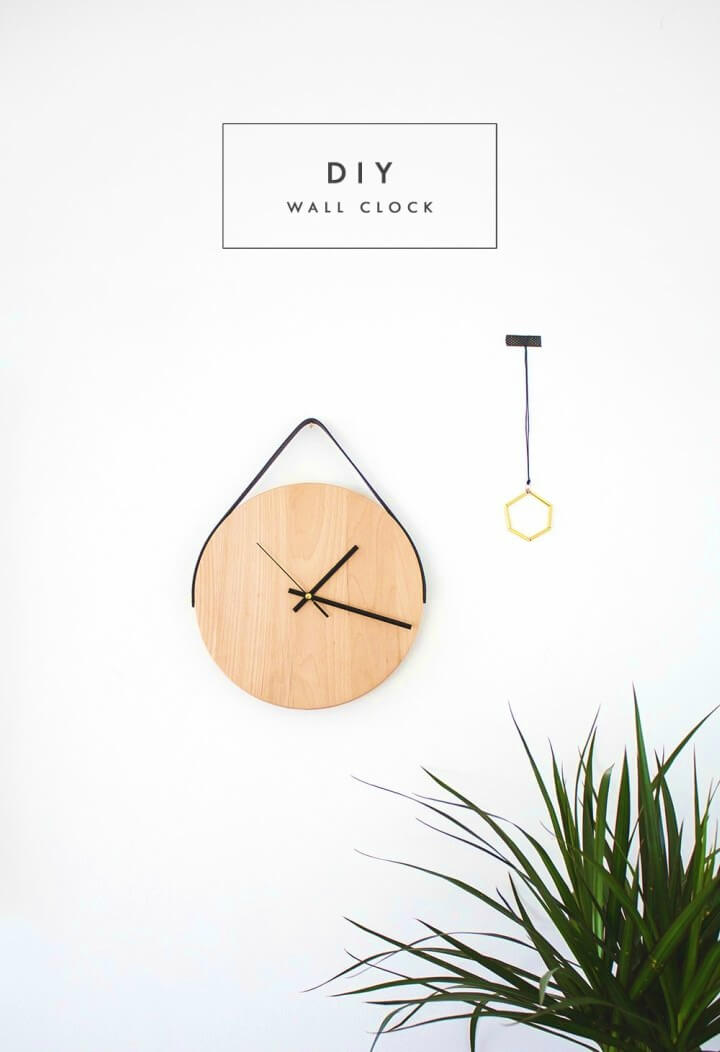 Using your imaginations, you can help yourself to make anything that you can sell to earn some money including all from furniture pieces to wall accents. Get also crafty with the wood rounds to make this minimalist modern wall clock, hangs through leather straps. Instructions here thelovelydrawer
47. DIY Acrylic Message Board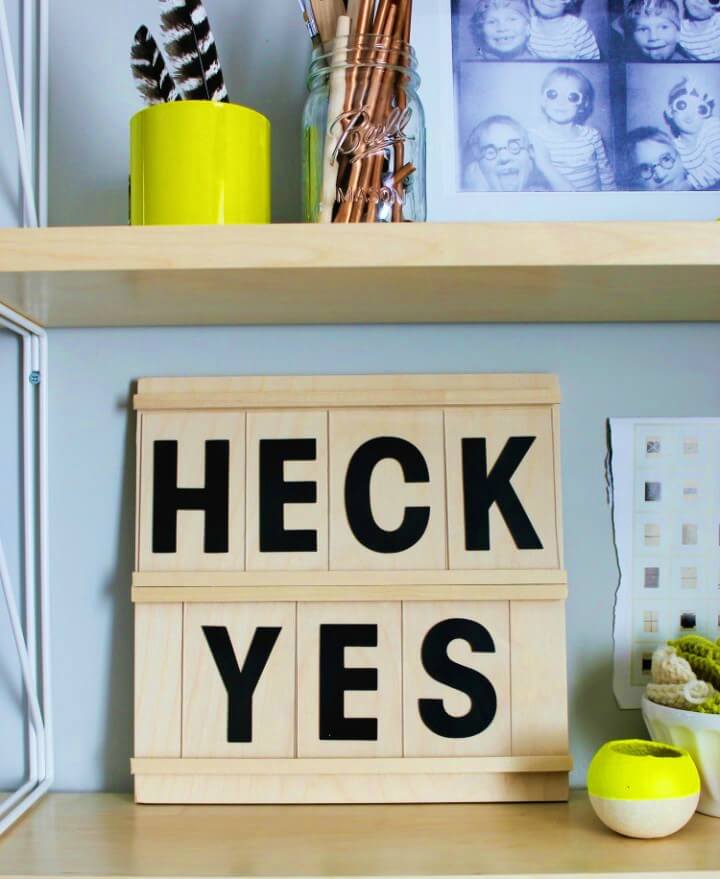 Use precut pieces of wood, balsa wood, acrylic sheets, and vinyl number stickers to make this message board, will surely be top selling product in your online Etsy shop. If you are hesitating to make then why not follow the free plans and guides provided here abeautifulmess
48. Pretty DIY Balsa Wood Planters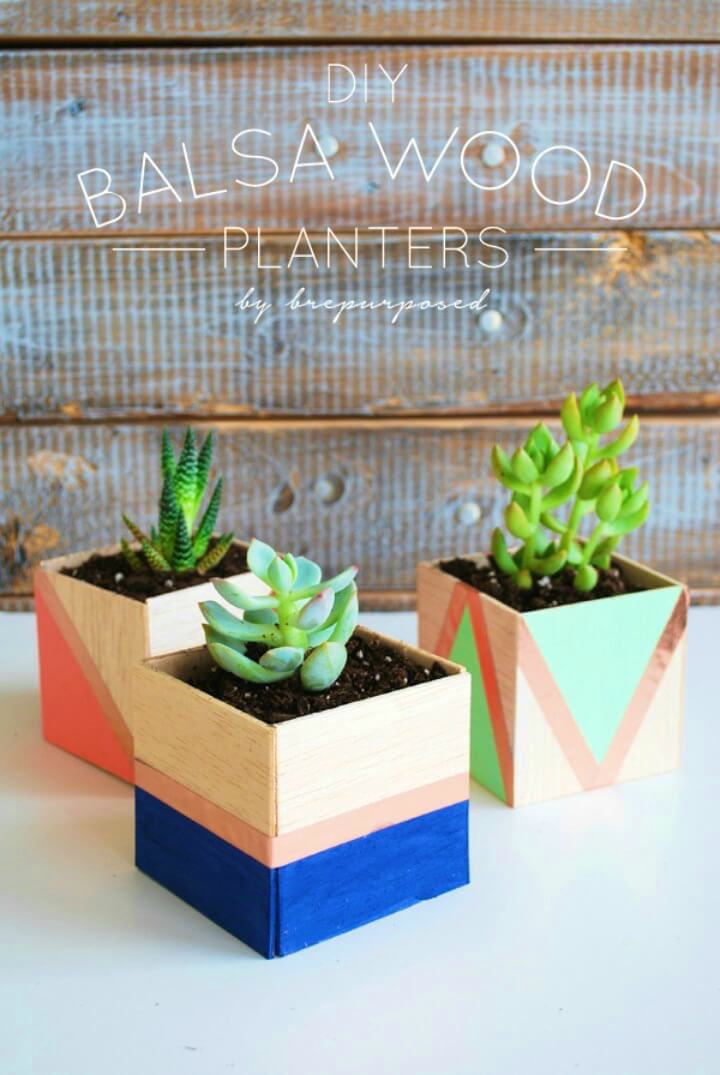 The color block and square painted wood planters are merely irresistible. The perfect modern decor that all home people will love to get for their patios and interior spaces for some cool effects. Build boxes out of balsa wood and then use fail tape and craft paint to pain them. The best wood succulent planters to make and sell. brepurposed
49. Toilet Paper Wooden Stand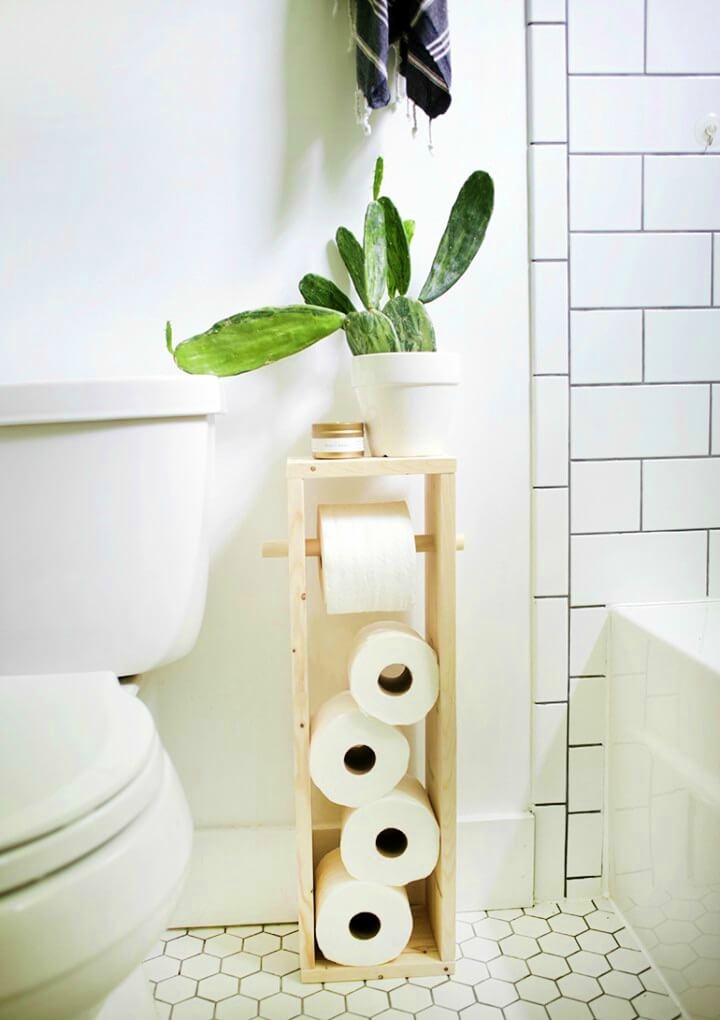 An outstanding dual functional wooden toilet paper stand to make at home to sell. Build a big hollow box out of wood planks, install a wood dowel in its top as a toilet paper roll holder and then stack the toilet paper rolls to the bottom side of it. themerrythought
50. Modern DIY Wooden Picnic Box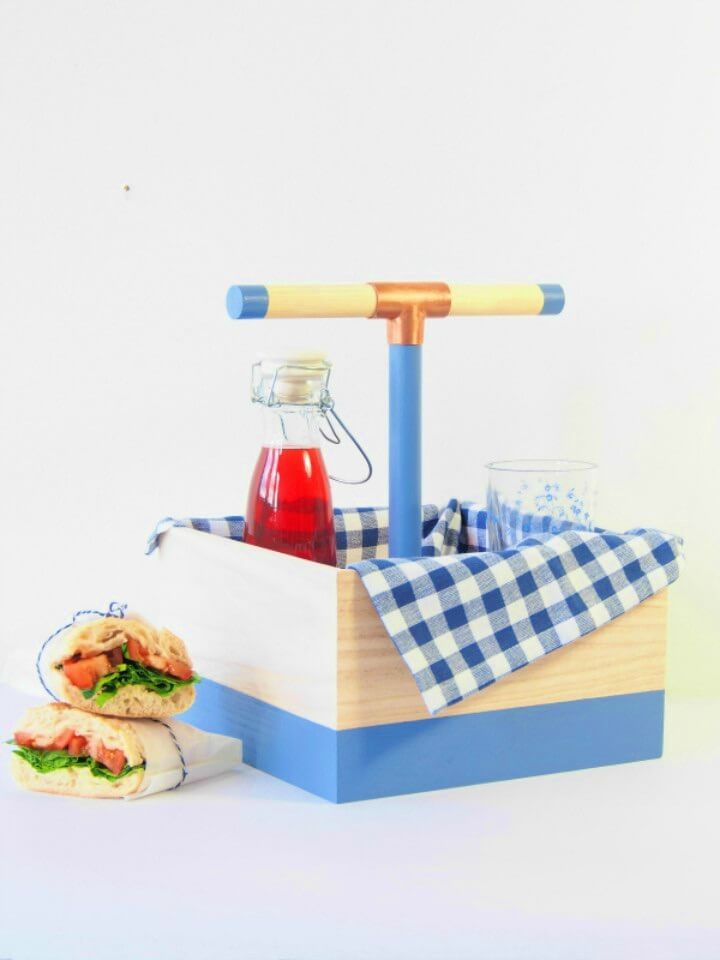 Want some new project inspirations for your woodworking home business? Then make this original wooden picnic box using a wood box, copper T-fitting, and a wood dowel. Use paint and masking tape to paint it for a modern colorblock appeal. An easy to carry with picnic box to make and sell. crafts tutsplus
Related DIY Projects and Ideas
Coffee Table Plans: Whether you want to make and sell your own coffee tables, or simply want to create a new coffee table for your home, this list of free DIY coffee table plans will get you inspired.
Scrap Wood Projects: Ever need a little extra money but don't know how to go about it? Look no further than this list of simple DIY scrap wood projects to make and sell!
DIY Shelves: Check out these best DIY shelving projects that are easy to make and sell. Learn how to build your own shelving and make a little money on the side.
DIY Wood Signs: It's time to get creative with your woodworking skills and make some beautiful signs. You can easily make amazing DIY wood signs and sell them on the internet to earn some little extra cash.
Plant Stand Ideas: Have you every needed a plant stand, but didn't want to spend the money? Don't worry, we have homemade DIY plant stand ideas that are both indoor and outdoor.
Spice Rack Ideas: Spice racks are a way to organize spices and make cooking easier. Here are cheap DIY spice rack ideas from around the web to help you get started!
DIY Nightstand Plans: Looking for a nightstand that's easy to build yet stylish? Get inspired with these free DIY nightstand plans that are perfect for any size space, and fit any budget.
Pallet Outdoor Furniture Ideas: Outdoor furniture is a must-have for any outdoor space. Learn how to build pallet outdoor furniture that will be durable, easy to assemble, and low-cost.
Conclusion:
If you're looking for some easy wood projects that sell, this roundup of 50 different woodworking projects is perfect for anyone just starting out in the craft. From small and simple wood projects like keychains and picture frames, to larger pieces like side tables, dining tables and coffee tables, there's woodcraft idea for everyone here. Ready to get started? Check out these easy wood projects that sell quickly today!