Baby shower is the name of a party event which is celebrated when a women gets transformed into a mother! In a few past years, the styles of organizing and celebrating baby showers are catching fame! This has given birth to custom baby shower decoration ideas, going viral over the web! Today people are organizing well themed baby shower parties for mothers-to-be! And with the help of today's famous baby shower ideas one can organize a special and memorable baby shower party easily who is just expecting a woman in the family, in neighborhood or in friends' circle to be a mother in early future!
If you have been selected as a party organizer, then the most focused part of baby shower parties will be to plan the decors for baby shower party theme you have chosen to let the party memorable! If you are expecting to be a part of a baby shower party in family or in neighborhood, then the thing that you will have always on brain is to plan a beautiful baby shower gifts! For best ever baby shower gifts, you can chose the diaper cakes which are highly popular these days! To give you the ease about choosing your favorite one, we have listed the best of best 82 Diaper Cake Ideas here, most of the diaper cakes are given with the full tutorials and details and some can be bought online by paying a few dollars!
These diaper cake ideas are all about creative packing of diapers, nappies, baby onesies and baby toys for building special baby shower gifts and centerpieces from a multi-tier cake to a baby room and from a baby stroller to train! You will find also the comprehensive details about the embellishments to use which will fancy up your finally finished baby shower centerpieces!
More Ideas for Babies:

Here it has also been intended to throw some light on how you can use the rolled diapers for crafting ever unique baby toy diaper cakes! The given caterpillar diaper cake, the sleeping and bathing baby diaper cake and also the baby motorcycle diaper cakes are highly cool inspirations in this regard! Take a roundup to check a lot more and also to get yourself inspired!
Smartly Made Owl Diaper Cake: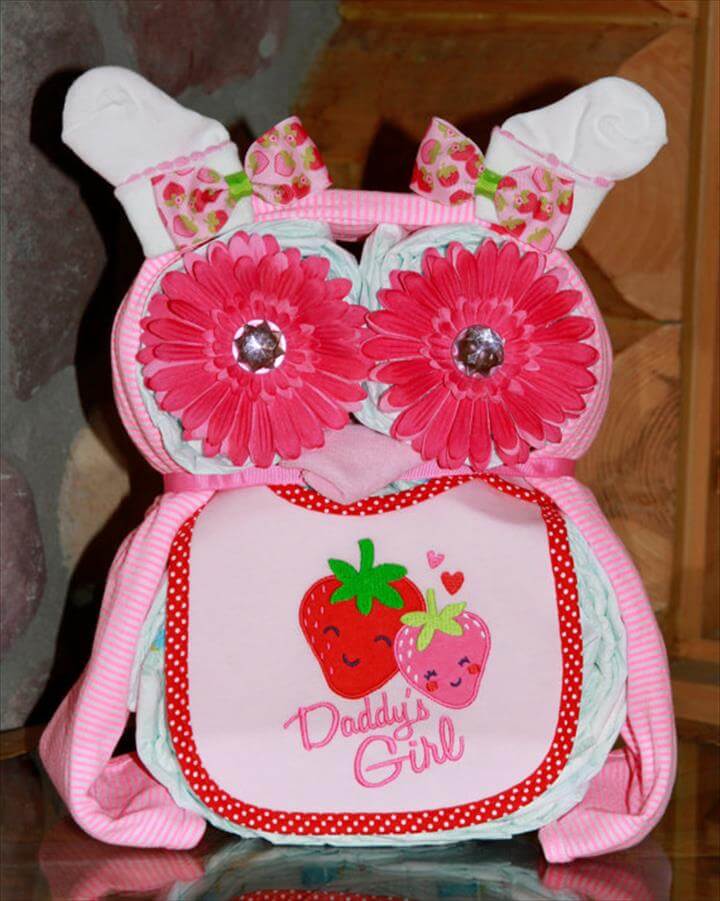 A highly pleasing diaper cake for baby girls, a beautiful gift that all the loving dads can make with their own hands to show their love for their baby princess! Create 2 smaller and a big diaper roll to decide the body and eyes of the owl, use post cards, wash clothes and other accents like ribbons and bow ties to create a gift-worthy owl diaper cake as shown!! Buy it here for a few of dollars for less than [40$]!!
Cool Motorcycle Diaper Cake – Ridden by a Monkey Toy: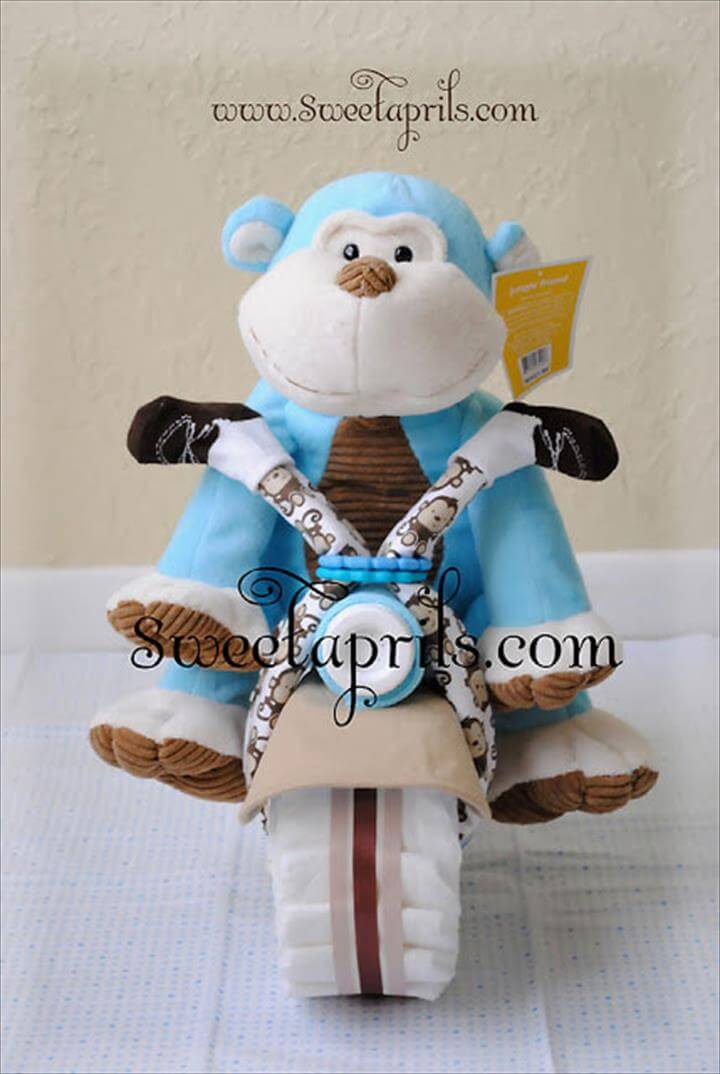 Another highly praised diaper cake inspiration, diaper cake motor bike! Start rolling diapers and secure them with a rubber band, use a set of such a rolled diapers to create bike wheels and other parts of the bikes, make a gift-worthy toy sit over the bike and that's it! Full tutorial is here for all the details!!!
Cute Teddy Bear Diaper Cake: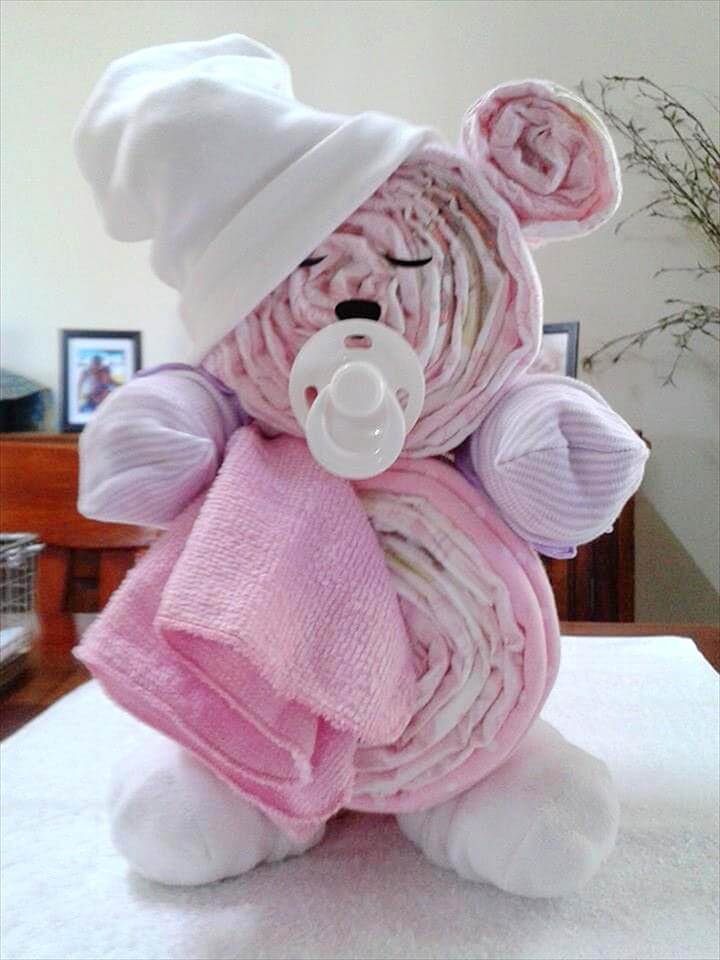 One more praiseworthy diaper cake creation, a teddy bear sucking a pacifier just like a newly born baby! A highly gift-worthy item for baby showers! Brought to you via kylies Crafts Creations!!
Birdhouse Themed Diaper Cake: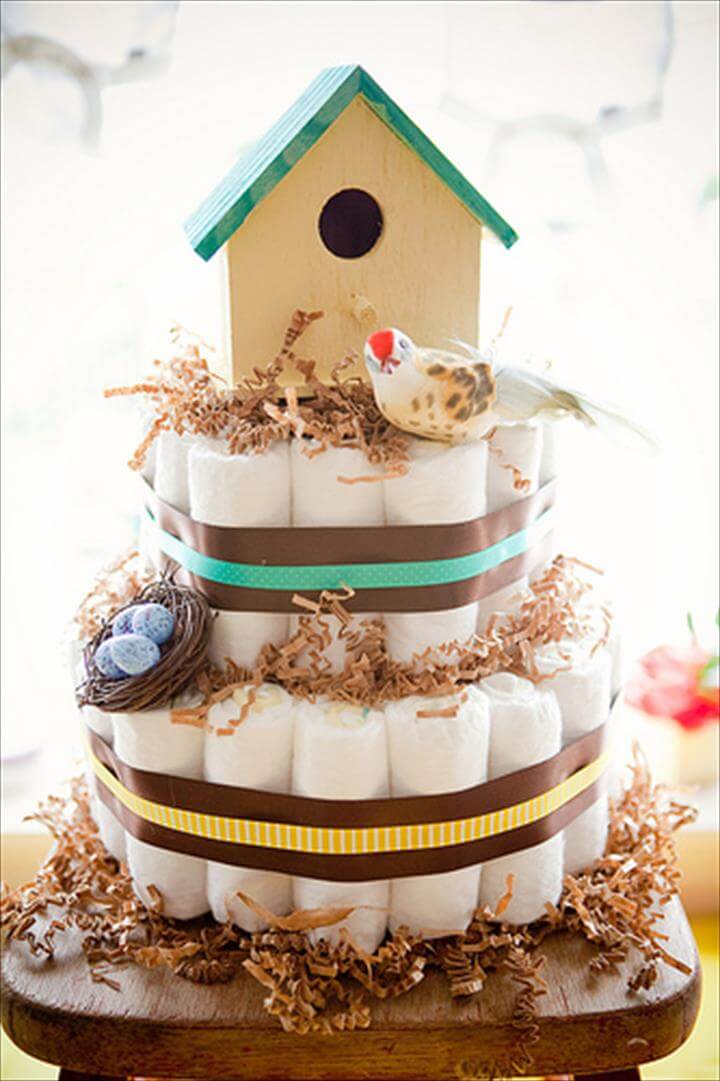 If you are all thinking to create some beautiful baby shower gifts, then we'll surely recommend you to tryout this diaper cake, given a birdhouse theme! Topped up with a nest, a faux bird and also with a birdhouse!! A craft by Smashley2!!!
Sensational Castle Diaper Cake: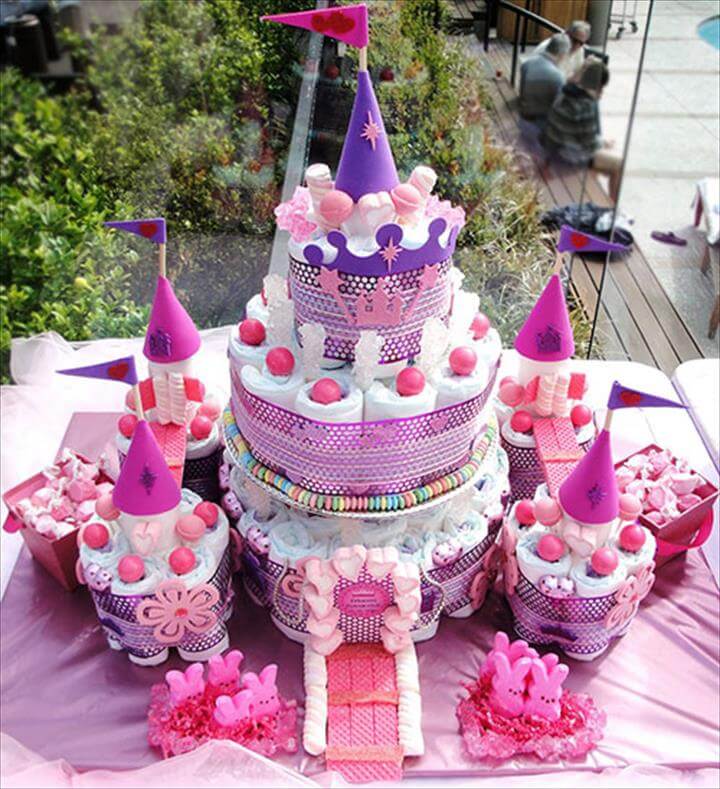 A fancy castle diaper cake gift for your newly born baby princess!! All the inventive fathers can try this out and can also make new changes in it for a personal look they want!! Nappies, pampers, diaper and other items of this kind can be rolled, stacked and molded to build different parts of this castle! A gift for the mom-to-be via Jackie Sorkin!!
I LOVE DAD Guitar Diaper Cake: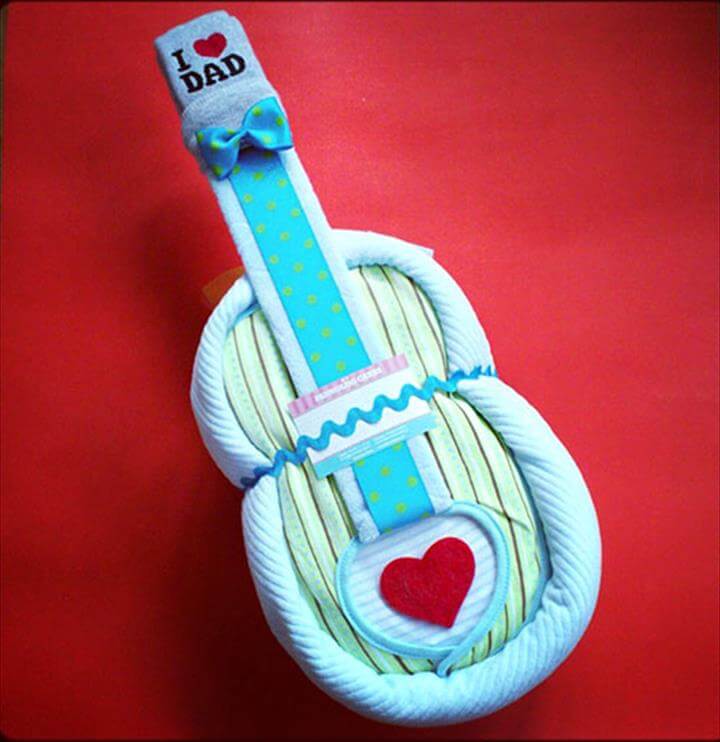 Mold baby nappies, wash clothes, blankets or the diapers to create this amusing rock star diaper cake, would be the highly visually attractive centerpiece for a baby shower party!!! A Pannolini Cakes Creation!!
Smartly-Made Tractor Diaper Cake: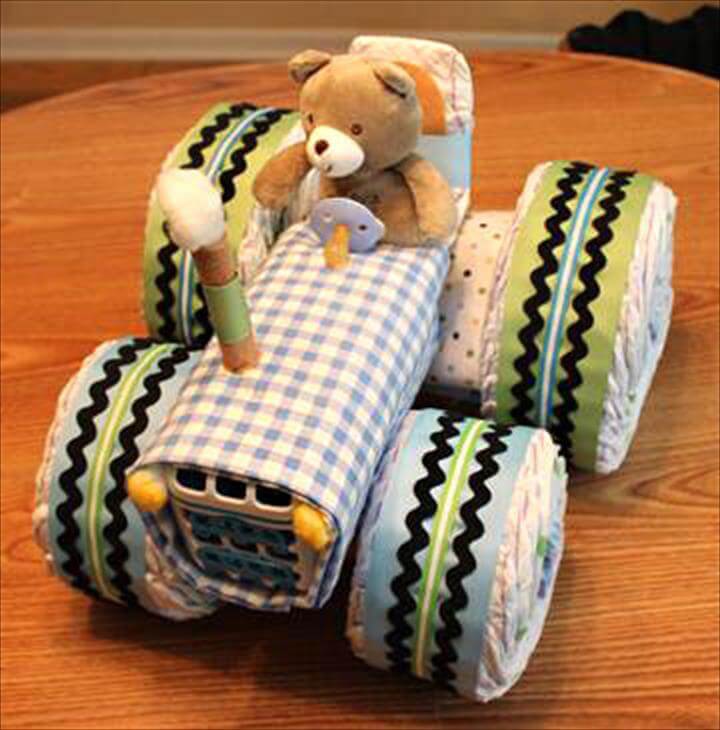 Want something creative beyond your imaginations? Tryout this cool diaper tractor cake, here a basket wrapped with the blanket creates the tractor engine and also helps to keep the tractor shape longer! Wheels can be Made by stacking and folding nappies, papers and the diapers! Get the full instructions here by Lori Hays – Farm Journal!!!
Baby Bathtub Diaper Cake: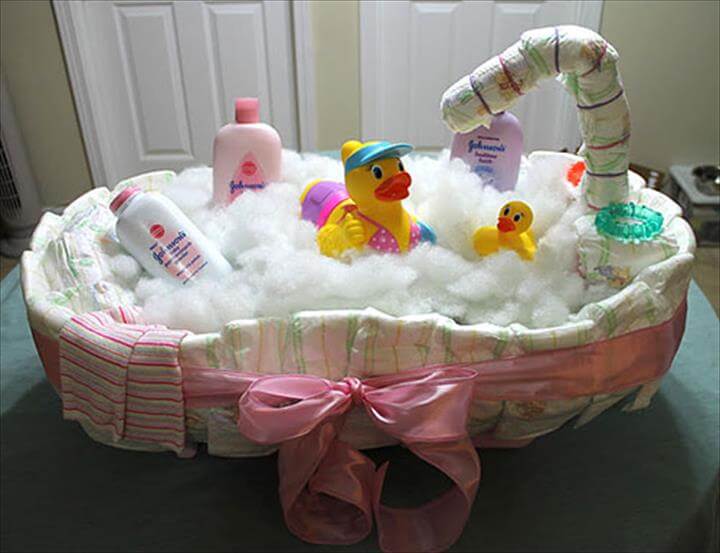 This bathtub diaper cake has been made by covering a market-bought bathtub with diapers, secured in place with a gift wrap as shown! Here the soap water has been mimicked using soft cotton, the shower hose has also been made by using rolled diapers in L-shape! Complete tutorial here by Building it on Pennies!!
Cool Baby Bath Diaper Cake: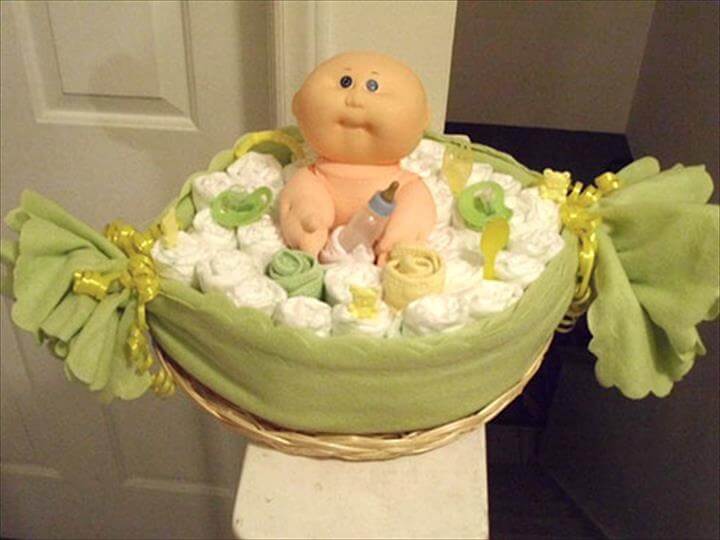 Just like a nest of a bird, the rolled diapers have been put in a cloth, fastened with sparkling ribbon on both sides! It has finally be turned into a stunning diaper cake by making a baby toy sit inside having a feeder in hand and there are also 2 pacifiers placed over to raise its worth more! Presented by by Sweet Sensations Online!!!
Pretty Monkey Palm Tree Diaper Cake: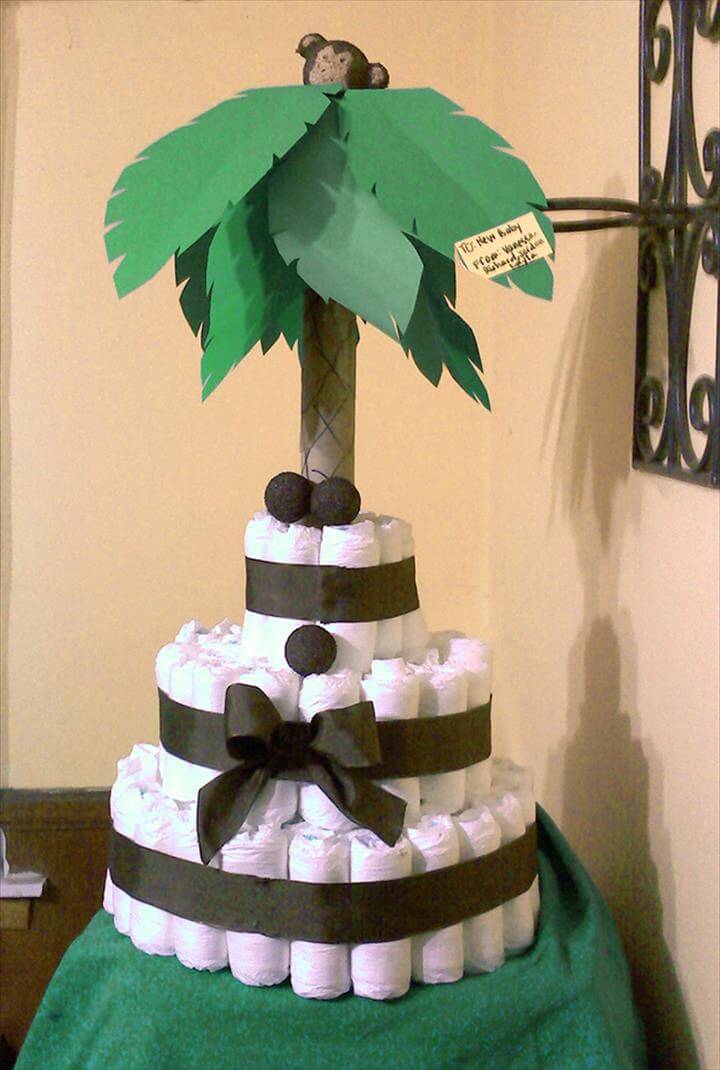 Crazy diaper cake with custom monkey fun statements! 3 different sets of rolled diapers have been wrapped with black ribbon to gain 3 levels of round gate and a finally an empty paper roll have been fixed erected to top tier as tree stem! Faux green leaves have been added to mimic a palm tree that are holding a monkey inside! Via Pinterest!!
Creative Golf Bag Diaper Cake: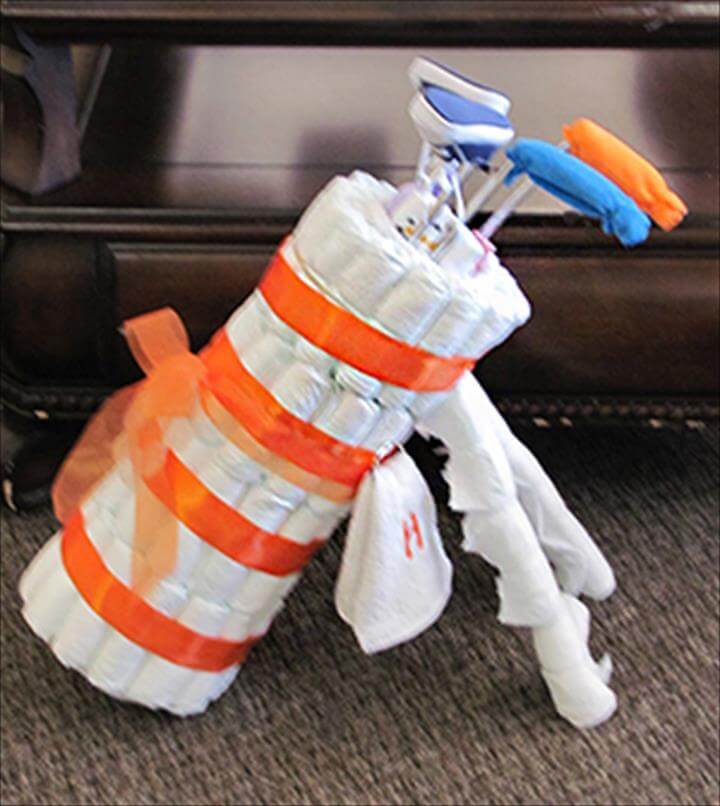 Possibilities are unlimited for the diaper cakes, simply integrate the rolled diapers to mimic interesting objects for ever unique diaper cakes, this golf bag diaper cake is a breathtaking example here! via Lindsey and Tony
Image Set 2
Baby Blanket and Onesies Cupcakes: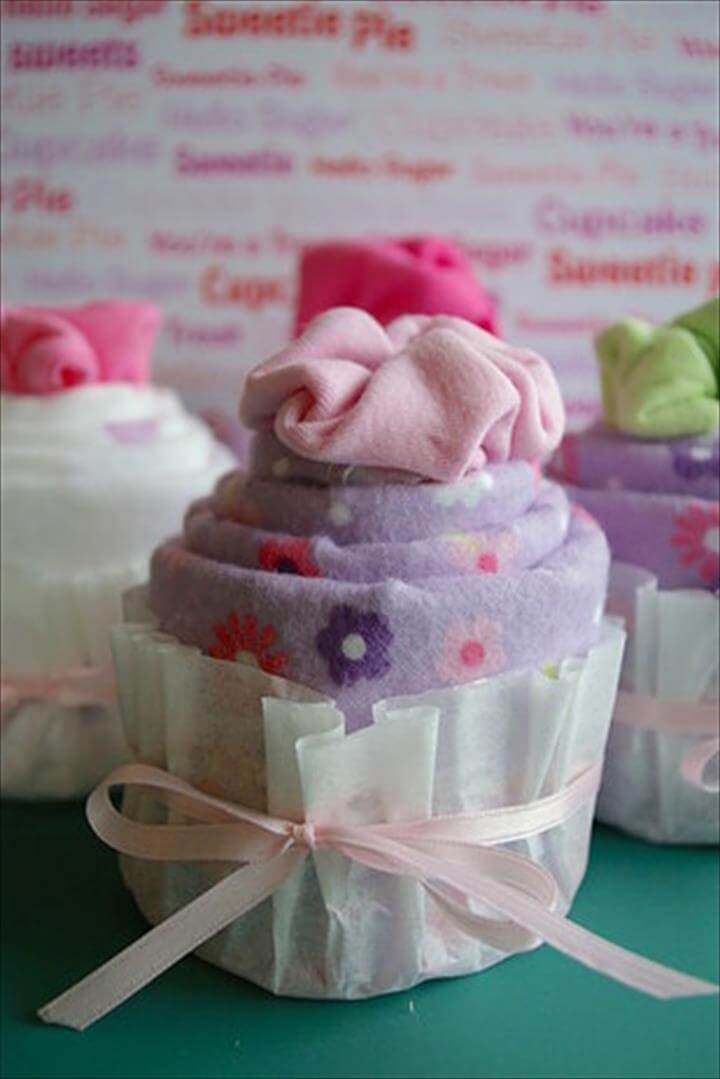 There is a not a baby shower without the cupcakes, use the baby blankets and diapers you are going to gift on a baby shower, for producing faux cupcake decors, would really double up the fun of the celebration! Get Full Tutorial Here!!
Awesome Bassinet Diaper Cake Made of 2 Shoes Boxes: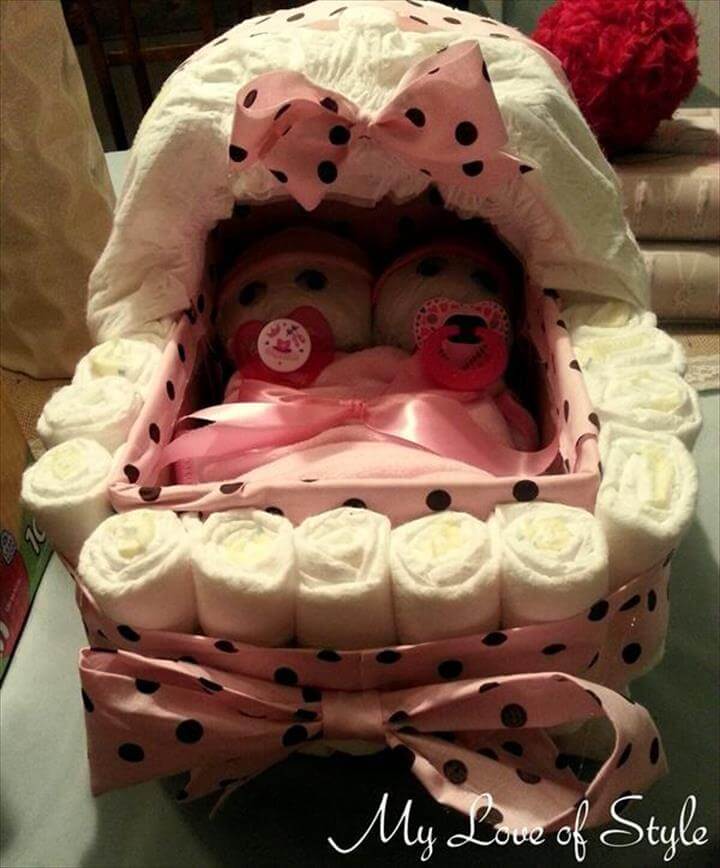 Diaper Stroller cake, would be great addition to whole party environment, an ideal inspiration for the baby shower cake gift!! Full Instructions and Tutorial Here!!
Beautiful Black & White Themed Chuck Taylor Diaper Cake: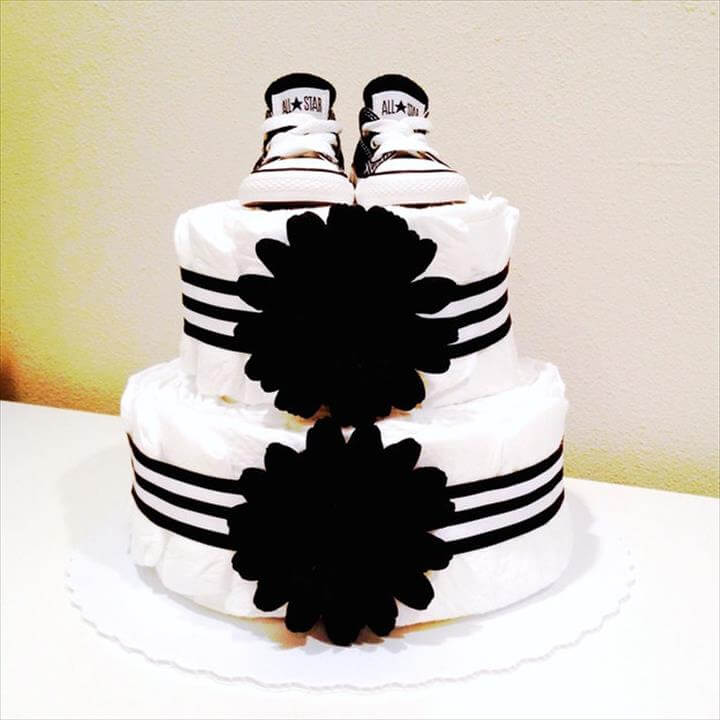 Another cool diaper cake idea with gift over the top you have decided for a baby shower, rolled diapers give the 3 tiers of the cake and have been secured with blank and white lined ribbon after putting together in circular clusters!! Replace the Chuck Taylor shoes with any custom gift you have selected!!! Here is how to make it!!!
Elegant Fondant-Style Diaper Cake Wrapped in Baby Blanket: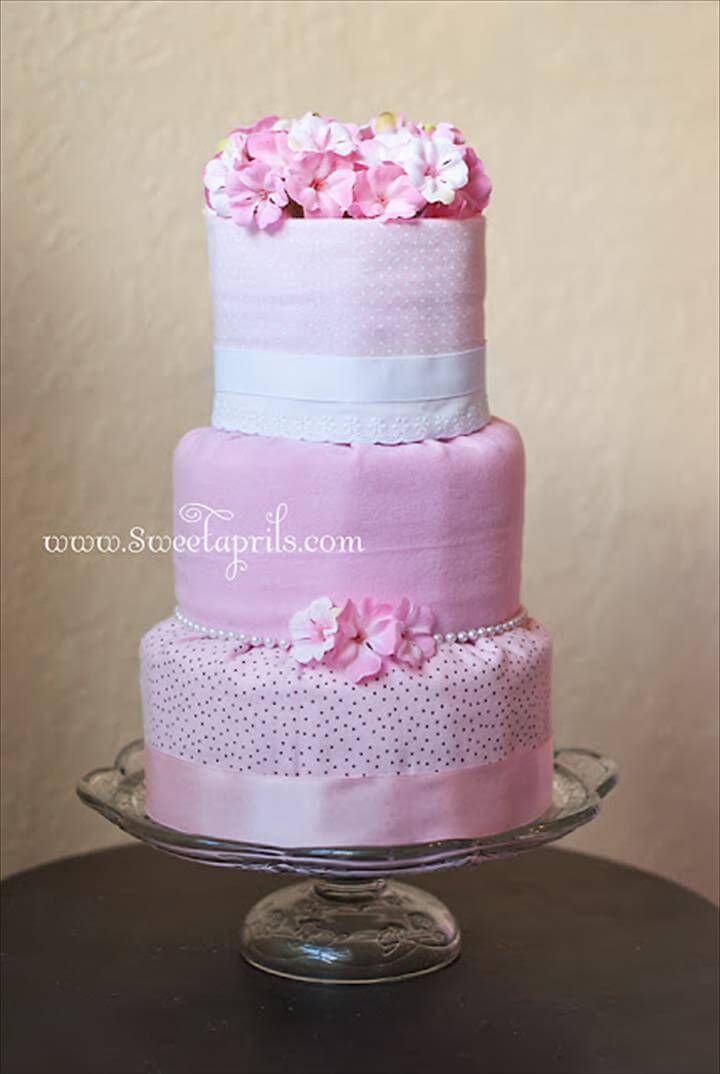 If you are a lover of simple and elegant things then this diaper and blanket cake will be an ideal choice!! Some of baby blankets, a pack of diapers, a cardboard tube and ribbons of your own choice will the whole supplies to craft this sophisticated diaper cake!! Here are the instructions and full tutorial!!
Wisely Embellished Diaper Cake Centerpiece: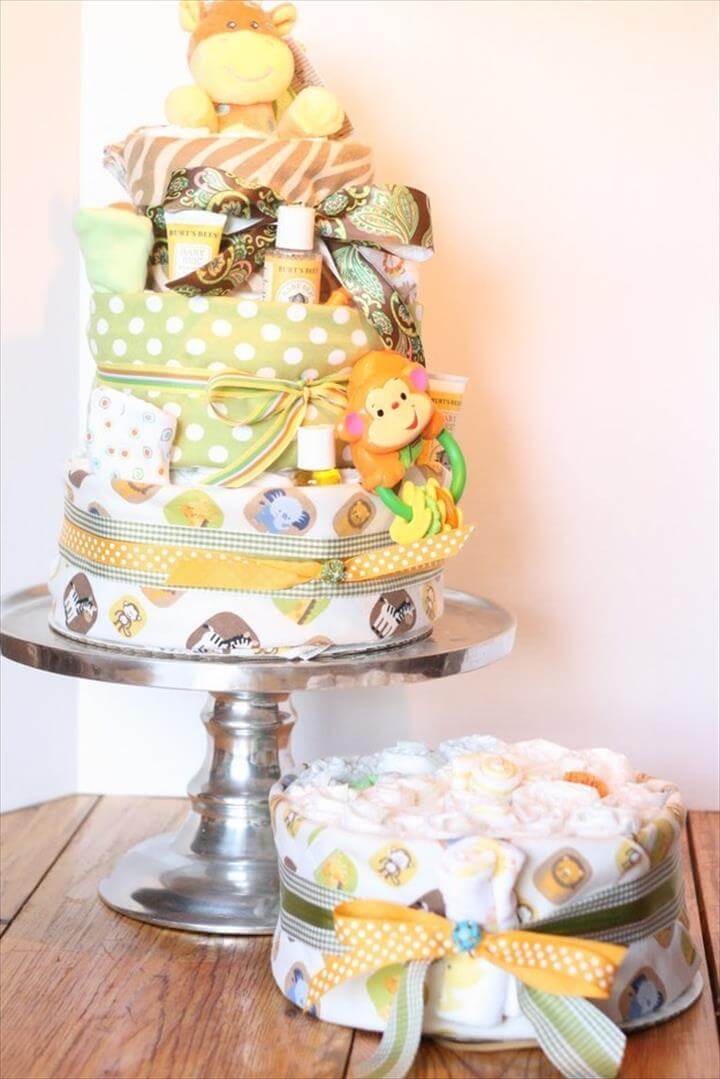 Give cool variations to your diaper cakes by replacing the diapers with washcloth and bib rolls sometime! Here washcloth rolls have been wrapped in a baby blanket and 3 tiers of the cake have been installed in the same way, each tier has been embellished with custom decors and gifts like the baby shampoos and soaps!! Here is how to put this together!!!
Butterfly Diaper Cake with Teddy Bear Top Tier: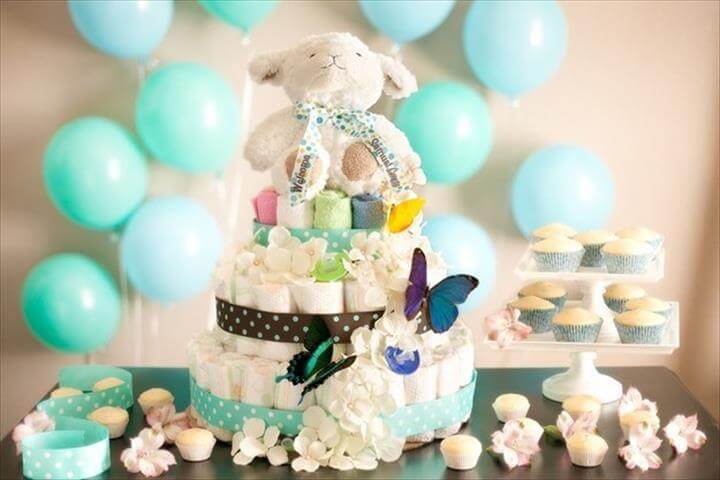 This lasting diaper cake has been done by loading the diaper rolls on round cardboard plates, raised to 3 tiers and is having a teddy bear gift at the top! Add custom embellishments as per demands of your selected decorative theme, here cool butterflies bring prominence to entire cake design! Click here for full details and instructions!
Diaper Baby Bedroom Wreath: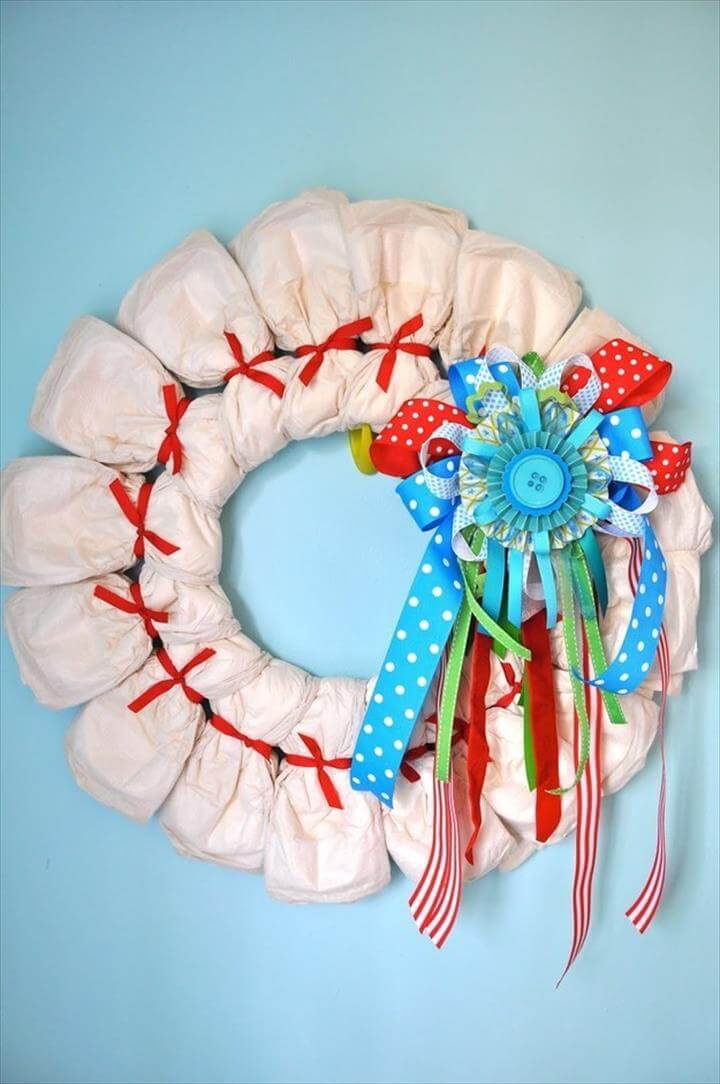 This is not the diaper cake but can be added to list as a great baby shower decor, a beautiful diaper wreath, would like a charm also for baby bedroom walls! Full Tutorial Here!
Diaper Cake Decorated with Uglydolls Also Contains a Secret Gift Inside: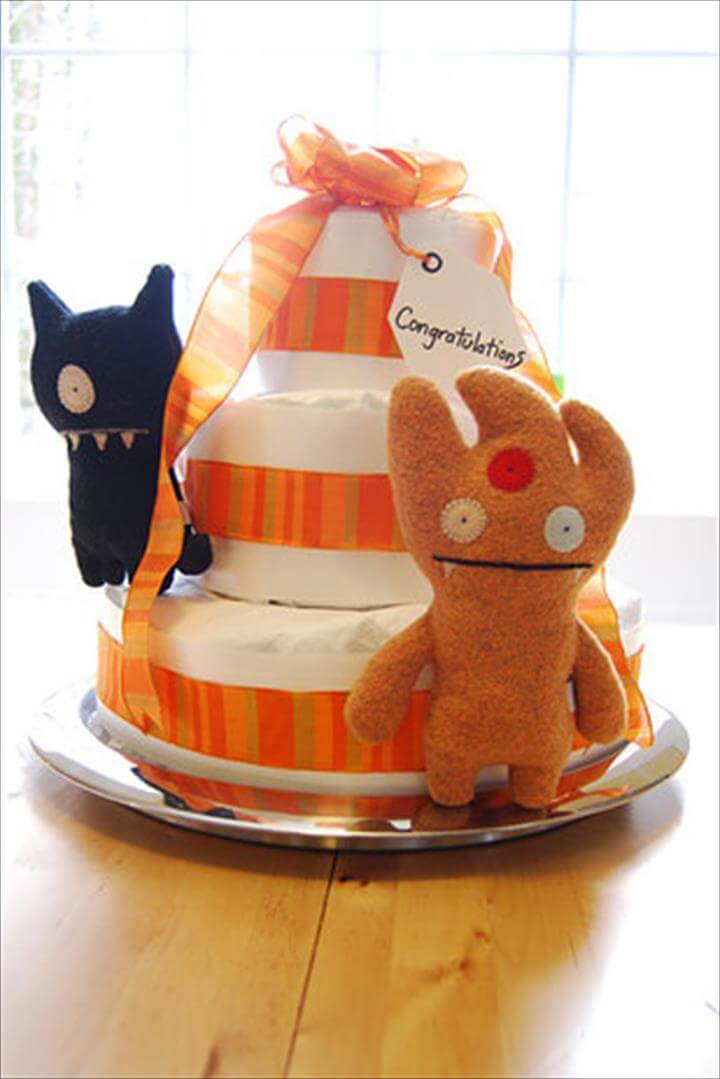 Hidden surprises are always great, this diaper cake comes with the same feature, having a secret gift inside! It has been got dignified with the uglydolls and also with a fine ribbon wrap around the 3 tiers of the cake! Perfect baby shower showstopper, all moms can make at home!! Click for full How-to details!!
Diaper Cupcakes for Baby Shower: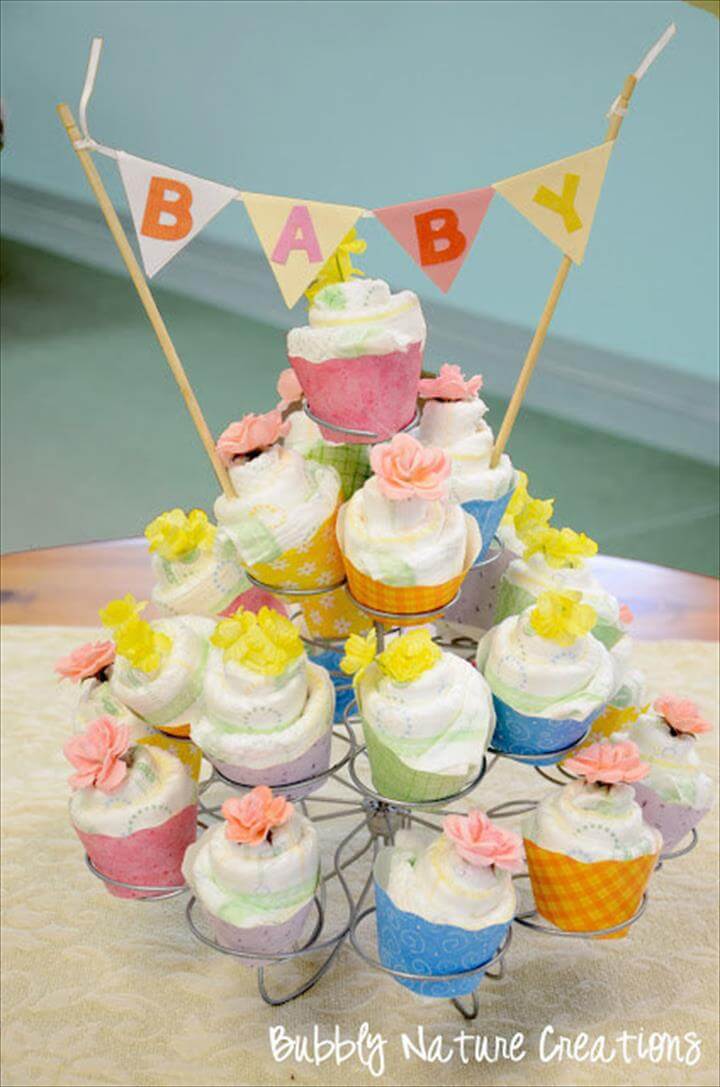 Roll the diapers and just finish them up with an accent flower at the top and also with a beautiful ribbon wrap, beautiful cupcakes are ready to add to you baby shower party atmosphere!! Moms can load these cupcakes to custom stands for more fun, here is a great inspiration about it!!! Get full instructions from here!!