Baby shower is the name of a party event which is celebrated when a women gets transformed into a mother! In a few past years, the styles of organizing and celebrating baby showers are catching fame! This has given birth to custom baby shower decoration ideas, going viral over the web! Today people are organizing well themed baby shower parties for mothers-to-be! And with the help of today's famous baby shower ideas one can organize a special and memorable baby shower party easily who is just expecting a woman in the family, in neighborhood or in friends' circle to be a mother in early future!
If you have been selected as a party organizer, then the most focused part of baby shower parties will be to plan the decors for baby shower party theme you have chosen to let the party memorable! If you are expecting to be a part of a baby shower party in family or in neighborhood, then the thing that you will have always on brain is to plan a beautiful baby shower gifts! For best ever baby shower gifts, you can chose the diaper cakes which are highly popular these days! To give you the ease about choosing your favorite one, we have listed the best of best 82 Diaper Cake Ideas here, most of the diaper cakes are given with the full tutorials and details and some can be bought online by paying a few dollars!
These diaper cake ideas are all about creative packing of diapers, nappies, baby onesies and baby toys for building special baby shower gifts and centerpieces from a multi-tier cake to a baby room and from a baby stroller to train! You will find also the comprehensive details about the embellishments to use which will fancy up your finally finished baby shower centerpieces!
More Ideas for Babies:

Here it has also been intended to throw some light on how you can use the rolled diapers for crafting ever unique baby toy diaper cakes! The given caterpillar diaper cake, the sleeping and bathing baby diaper cake and also the baby motorcycle diaper cakes are highly cool inspirations in this regard! Take a roundup to check a lot more and also to get yourself inspired!
Smartly Made Owl Diaper Cake: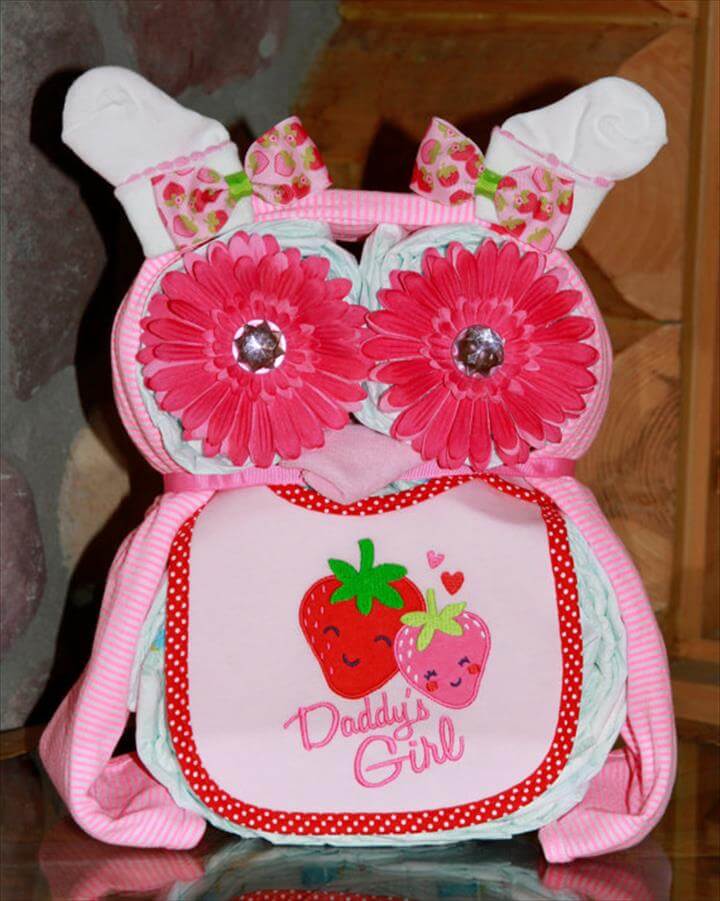 A highly pleasing diaper cake for baby girls, a beautiful gift that all the loving dads can make with their own hands to show their love for their baby princess! Create 2 smaller and a big diaper roll to decide the body and eyes of the owl, use post cards, wash clothes and other accents like ribbons and bow ties to create a gift-worthy owl diaper cake as shown!! Buy it here for a few of dollars for less than [40$]!!
Cool Motorcycle Diaper Cake – Ridden by a Monkey Toy: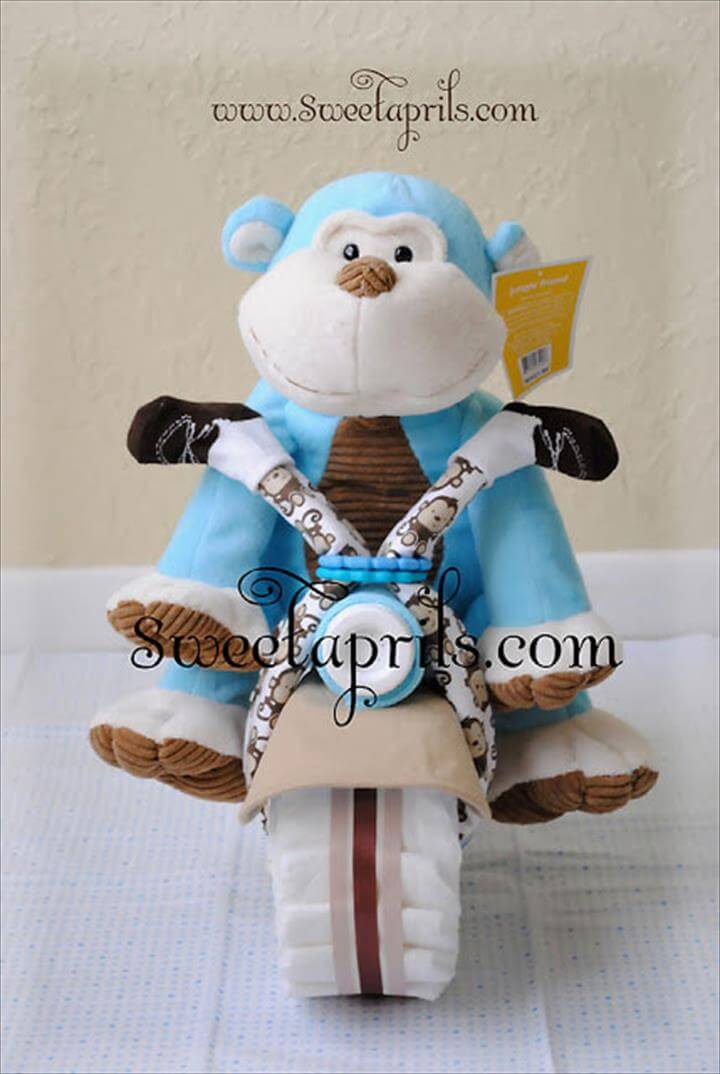 Another highly praised diaper cake inspiration, diaper cake motor bike! Start rolling diapers and secure them with a rubber band, use a set of such a rolled diapers to create bike wheels and other parts of the bikes, make a gift-worthy toy sit over the bike and that's it! Full tutorial is here for all the details!!!
Cute Teddy Bear Diaper Cake: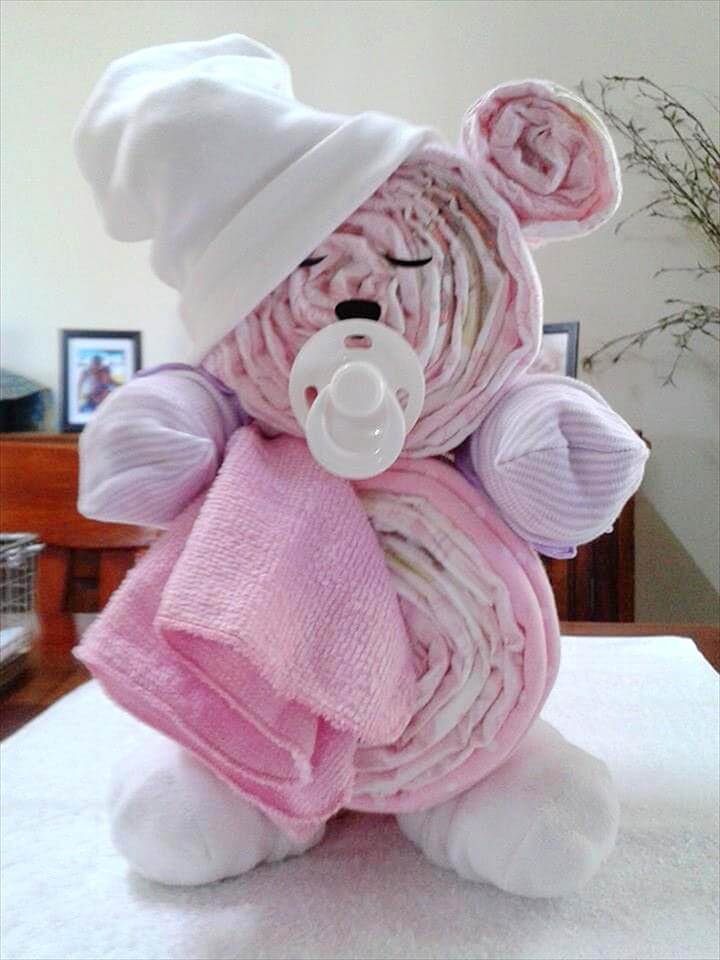 One more praiseworthy diaper cake creation, a teddy bear sucking a pacifier just like a newly born baby! A highly gift-worthy item for baby showers! Brought to you via kylies Crafts Creations!!
Birdhouse Themed Diaper Cake: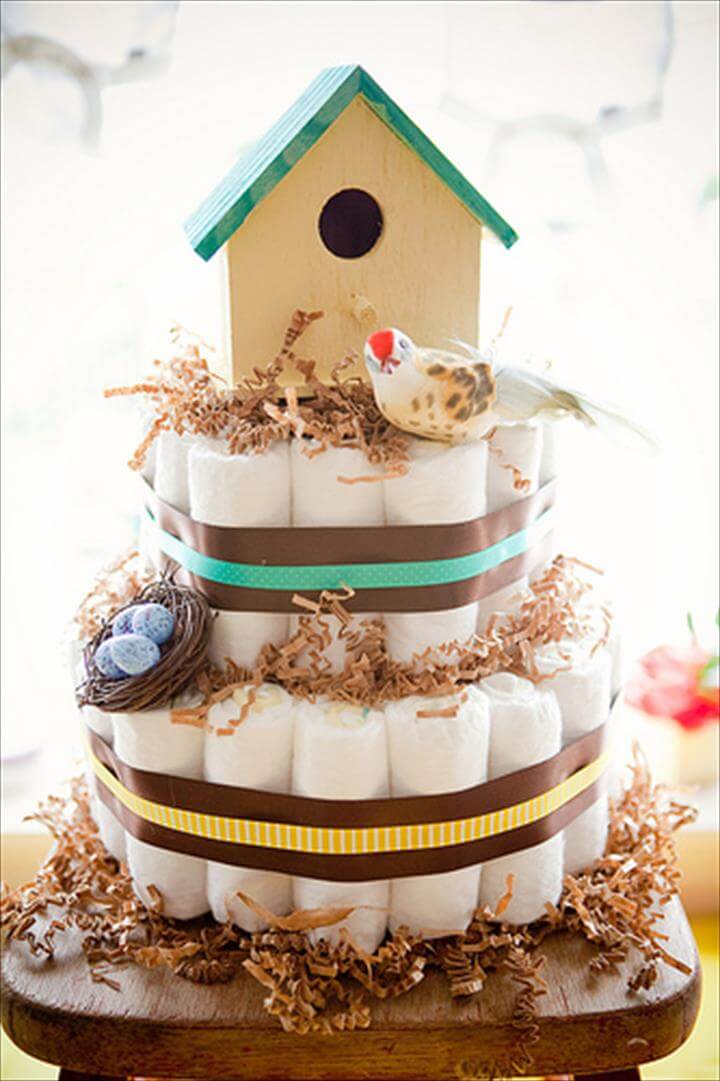 If you are all thinking to create some beautiful baby shower gifts, then we'll surely recommend you to tryout this diaper cake, given a birdhouse theme! Topped up with a nest, a faux bird and also with a birdhouse!! A craft by Smashley2!!!
Sensational Castle Diaper Cake: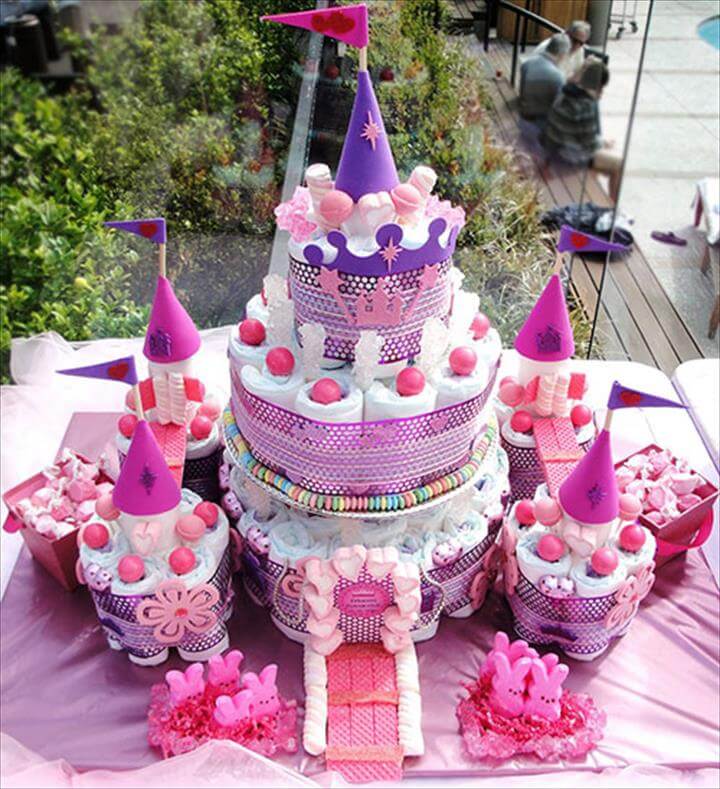 A fancy castle diaper cake gift for your newly born baby princess!! All the inventive fathers can try this out and can also make new changes in it for a personal look they want!! Nappies, pampers, diaper and other items of this kind can be rolled, stacked and molded to build different parts of this castle! A gift for the mom-to-be via Jackie Sorkin!!
I LOVE DAD Guitar Diaper Cake: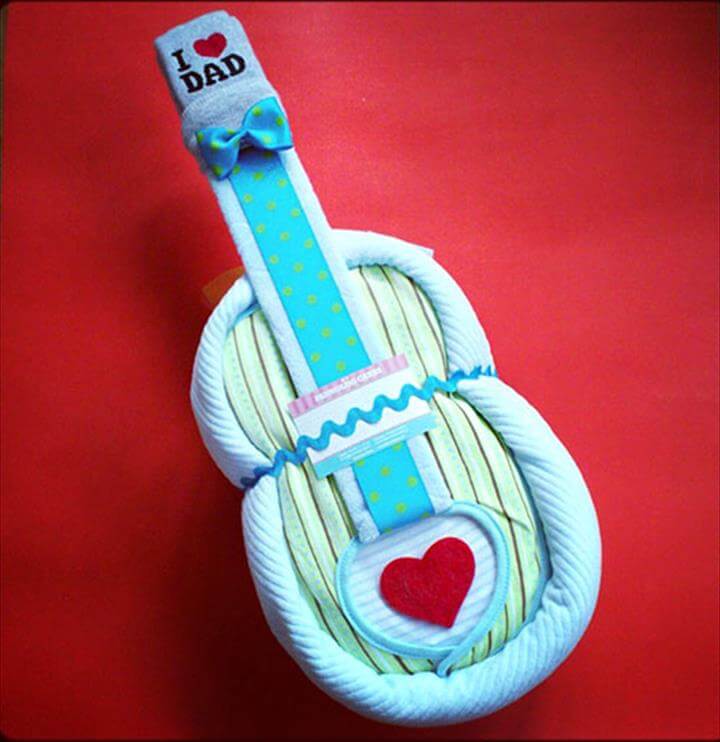 Mold baby nappies, wash clothes, blankets or the diapers to create this amusing rock star diaper cake, would be the highly visually attractive centerpiece for a baby shower party!!! A Pannolini Cakes Creation!!
Smartly-Made Tractor Diaper Cake: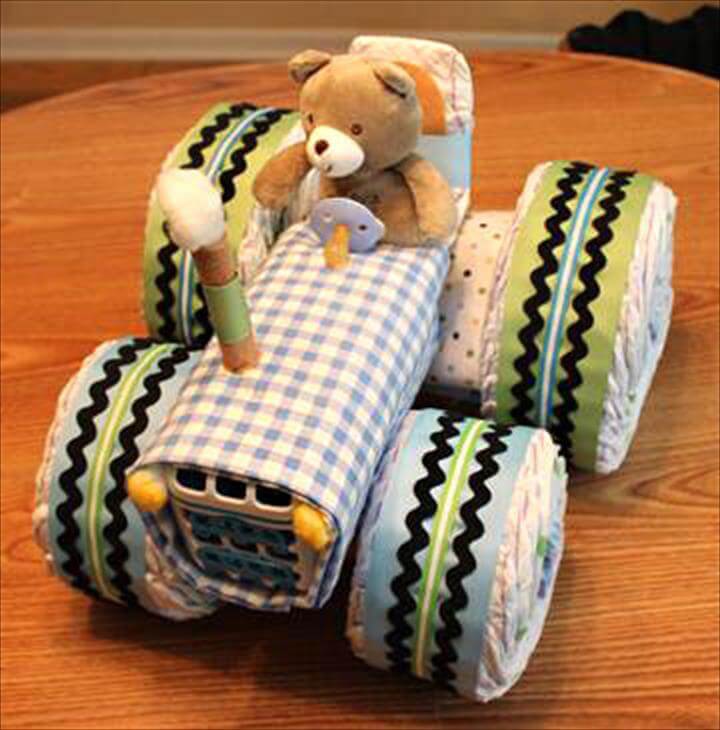 Want something creative beyond your imaginations? Tryout this cool diaper tractor cake, here a basket wrapped with the blanket creates the tractor engine and also helps to keep the tractor shape longer! Wheels can be Made by stacking and folding nappies, papers and the diapers! Get the full instructions here by Lori Hays – Farm Journal!!!
Baby Bathtub Diaper Cake: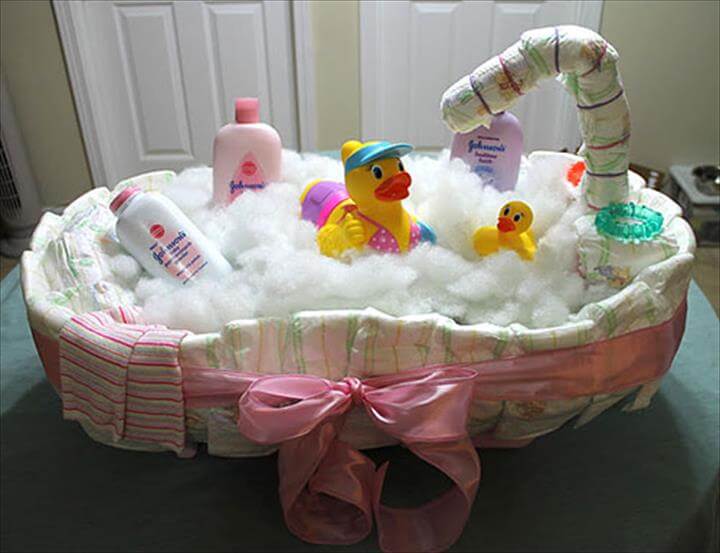 This bathtub diaper cake has been made by covering a market-bought bathtub with diapers, secured in place with a gift wrap as shown! Here the soap water has been mimicked using soft cotton, the shower hose has also been made by using rolled diapers in L-shape! Complete tutorial here by Building it on Pennies!!
Cool Baby Bath Diaper Cake: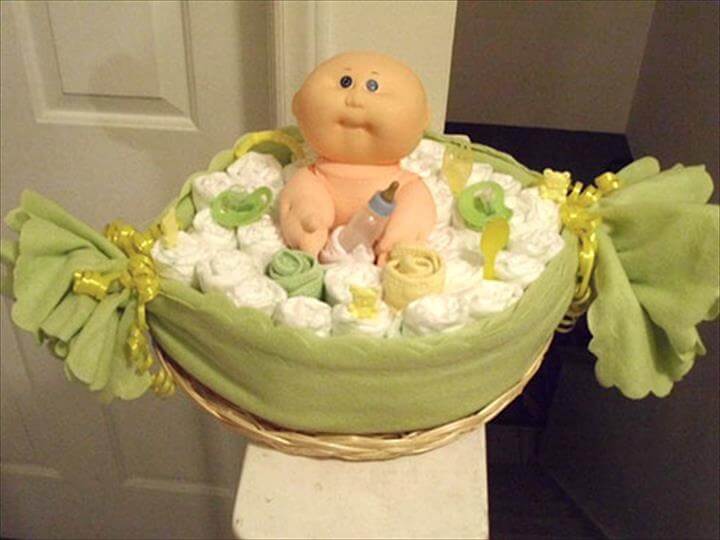 Just like a nest of a bird, the rolled diapers have been put in a cloth, fastened with sparkling ribbon on both sides! It has finally be turned into a stunning diaper cake by making a baby toy sit inside having a feeder in hand and there are also 2 pacifiers placed over to raise its worth more! Presented by by Sweet Sensations Online!!!
Pretty Monkey Palm Tree Diaper Cake: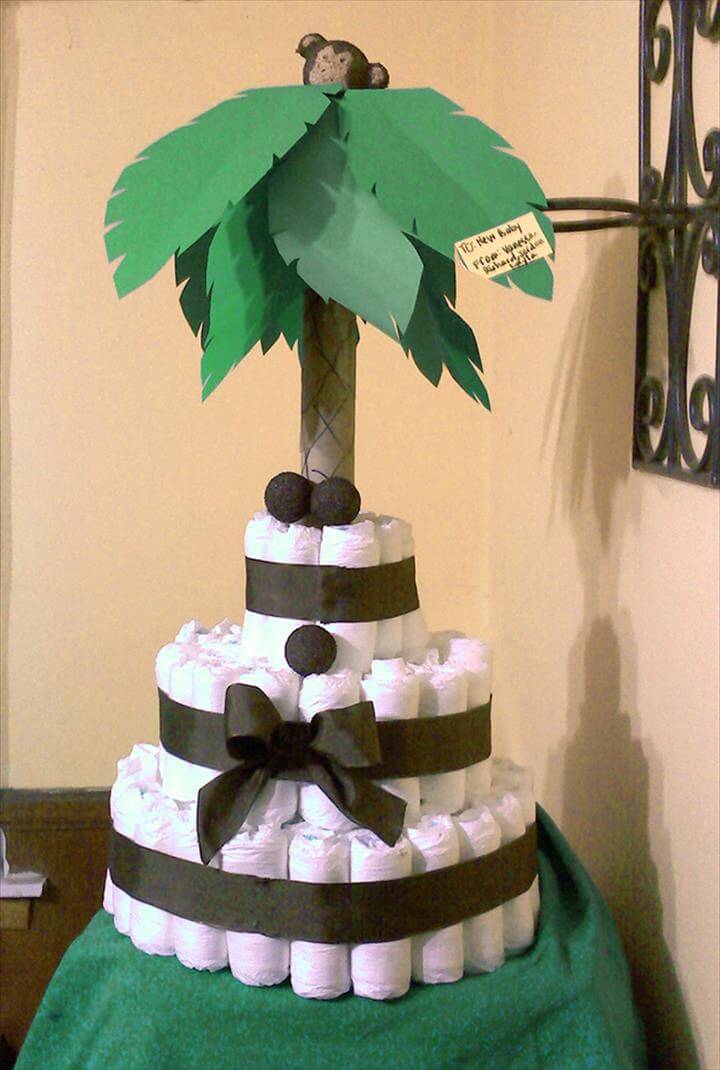 Crazy diaper cake with custom monkey fun statements! 3 different sets of rolled diapers have been wrapped with black ribbon to gain 3 levels of round gate and a finally an empty paper roll have been fixed erected to top tier as tree stem! Faux green leaves have been added to mimic a palm tree that are holding a monkey inside! Via Pinterest!!
Creative Golf Bag Diaper Cake: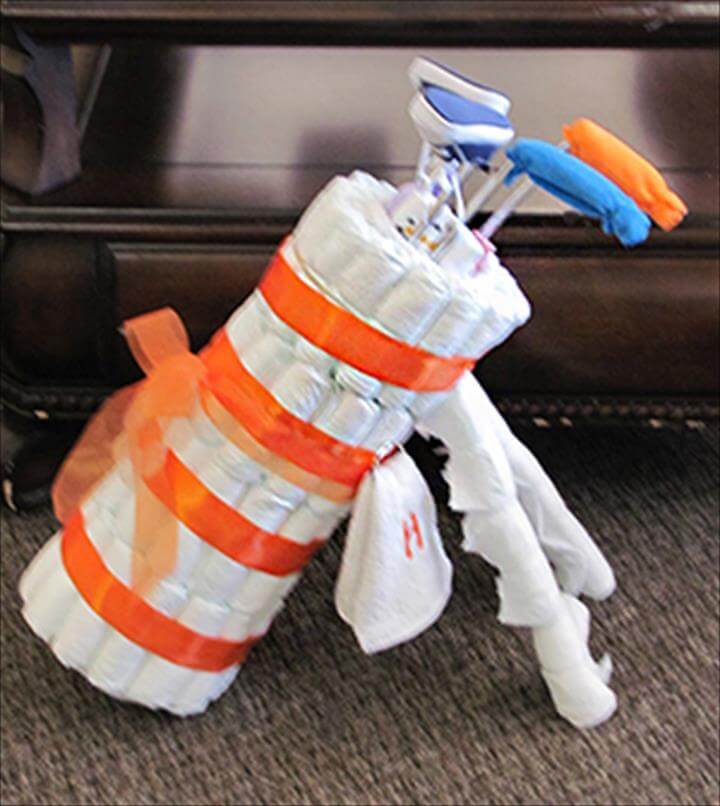 Possibilities are unlimited for the diaper cakes, simply integrate the rolled diapers to mimic interesting objects for ever unique diaper cakes, this golf bag diaper cake is a breathtaking example here! via Lindsey and Tony
Image Set 2
Baby Blanket and Onesies Cupcakes: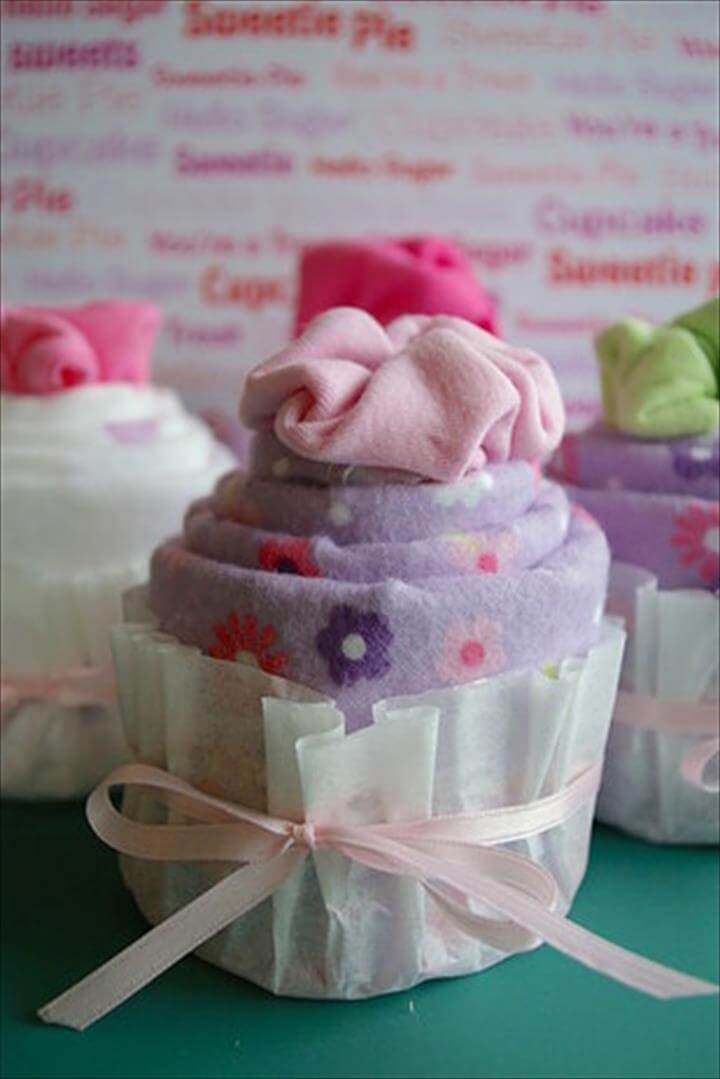 There is a not a baby shower without the cupcakes, use the baby blankets and diapers you are going to gift on a baby shower, for producing faux cupcake decors, would really double up the fun of the celebration! Get Full Tutorial Here!!
Awesome Bassinet Diaper Cake Made of 2 Shoes Boxes: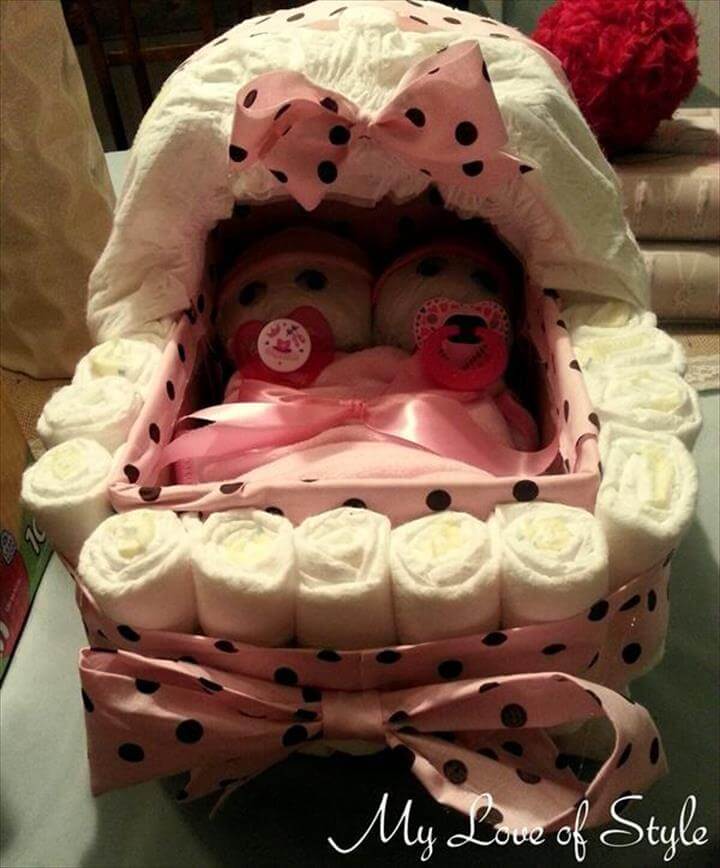 Diaper Stroller cake, would be great addition to whole party environment, an ideal inspiration for the baby shower cake gift!! Full Instructions and Tutorial Here!!
Beautiful Black & White Themed Chuck Taylor Diaper Cake: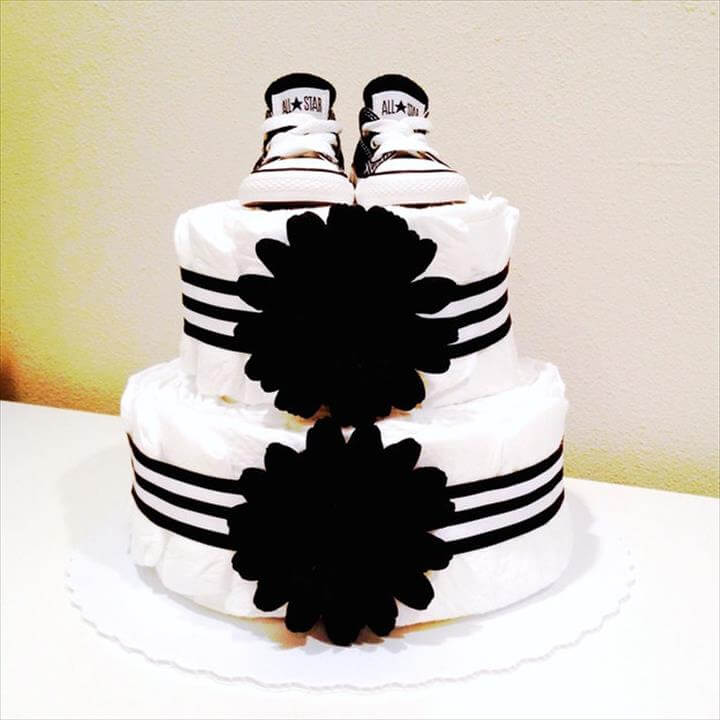 Another cool diaper cake idea with gift over the top you have decided for a baby shower, rolled diapers give the 3 tiers of the cake and have been secured with blank and white lined ribbon after putting together in circular clusters!! Replace the Chuck Taylor shoes with any custom gift you have selected!!! Here is how to make it!!!
Elegant Fondant-Style Diaper Cake Wrapped in Baby Blanket: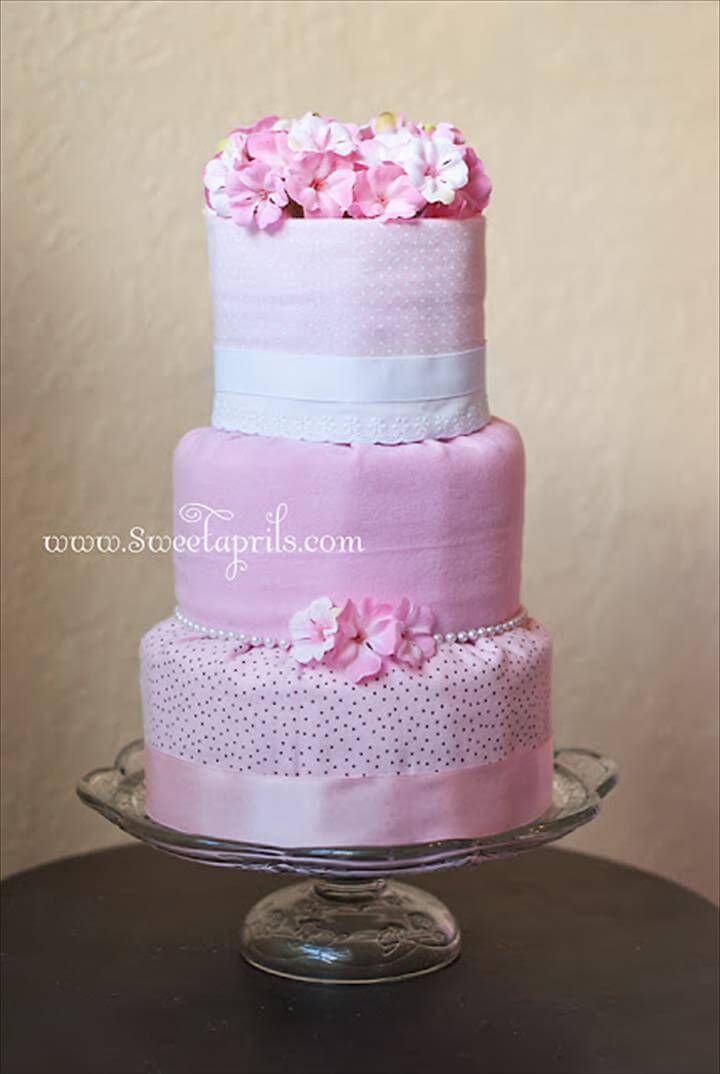 If you are a lover of simple and elegant things then this diaper and blanket cake will be an ideal choice!! Some of baby blankets, a pack of diapers, a cardboard tube and ribbons of your own choice will the whole supplies to craft this sophisticated diaper cake!! Here are the instructions and full tutorial!!
Wisely Embellished Diaper Cake Centerpiece: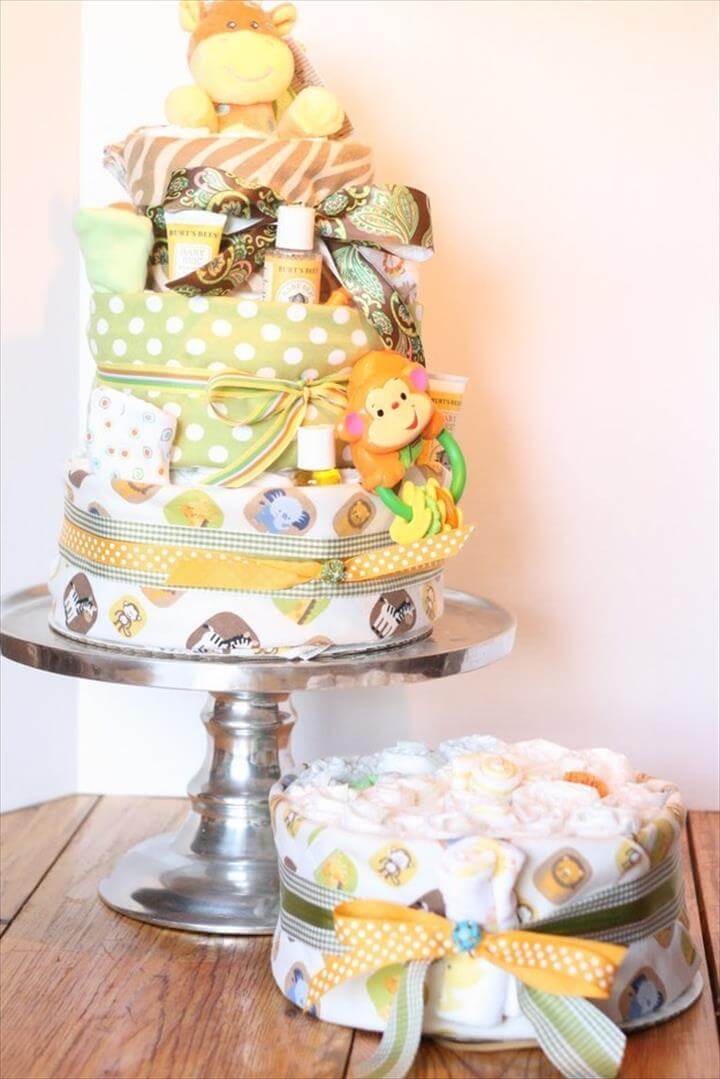 Give cool variations to your diaper cakes by replacing the diapers with washcloth and bib rolls sometime! Here washcloth rolls have been wrapped in a baby blanket and 3 tiers of the cake have been installed in the same way, each tier has been embellished with custom decors and gifts like the baby shampoos and soaps!! Here is how to put this together!!!
Butterfly Diaper Cake with Teddy Bear Top Tier: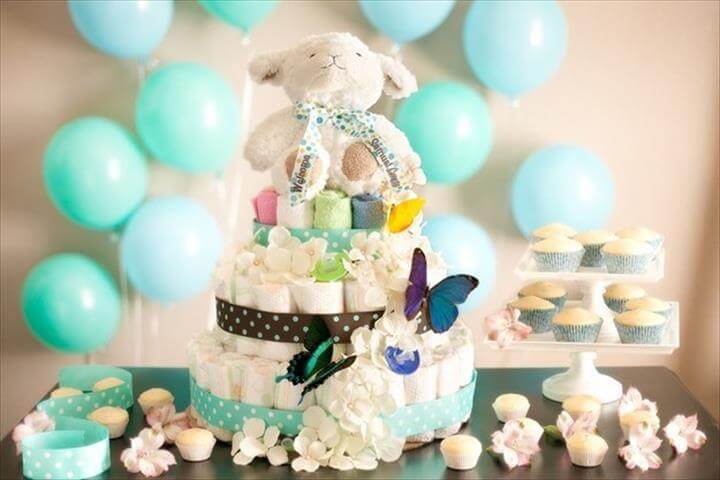 This lasting diaper cake has been done by loading the diaper rolls on round cardboard plates, raised to 3 tiers and is having a teddy bear gift at the top! Add custom embellishments as per demands of your selected decorative theme, here cool butterflies bring prominence to entire cake design! Click here for full details and instructions!
Diaper Baby Bedroom Wreath: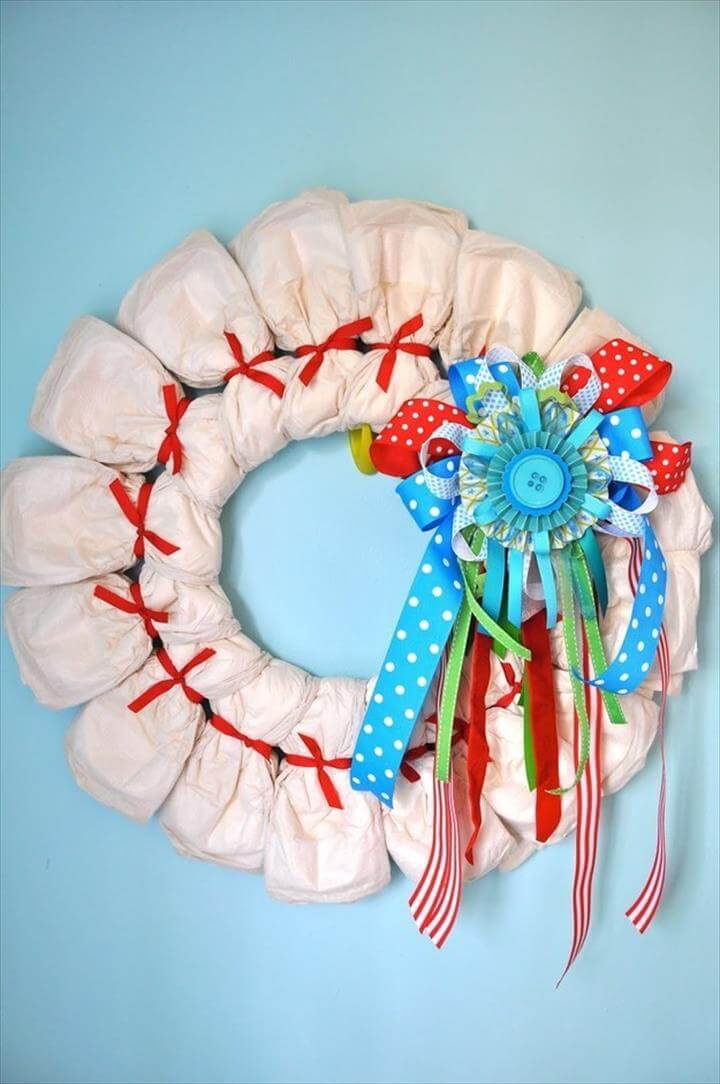 This is not the diaper cake but can be added to list as a great baby shower decor, a beautiful diaper wreath, would like a charm also for baby bedroom walls! Full Tutorial Here!
Diaper Cake Decorated with Uglydolls Also Contains a Secret Gift Inside: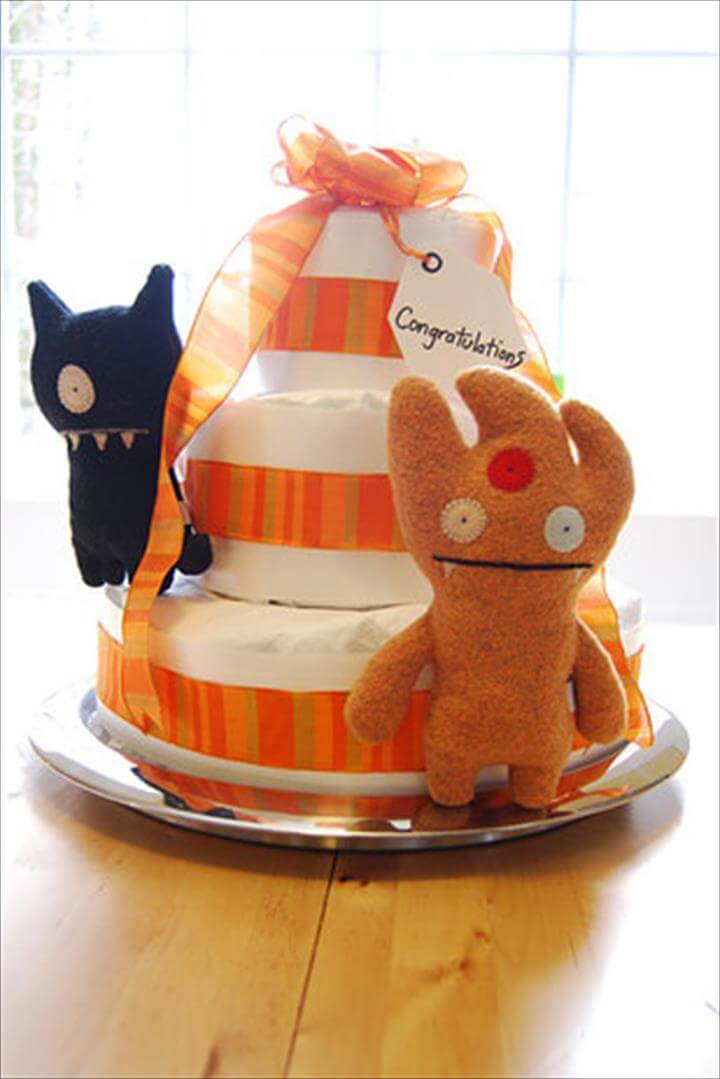 Hidden surprises are always great, this diaper cake comes with the same feature, having a secret gift inside! It has been got dignified with the uglydolls and also with a fine ribbon wrap around the 3 tiers of the cake! Perfect baby shower showstopper, all moms can make at home!! Click for full How-to details!!
Diaper Cupcakes for Baby Shower: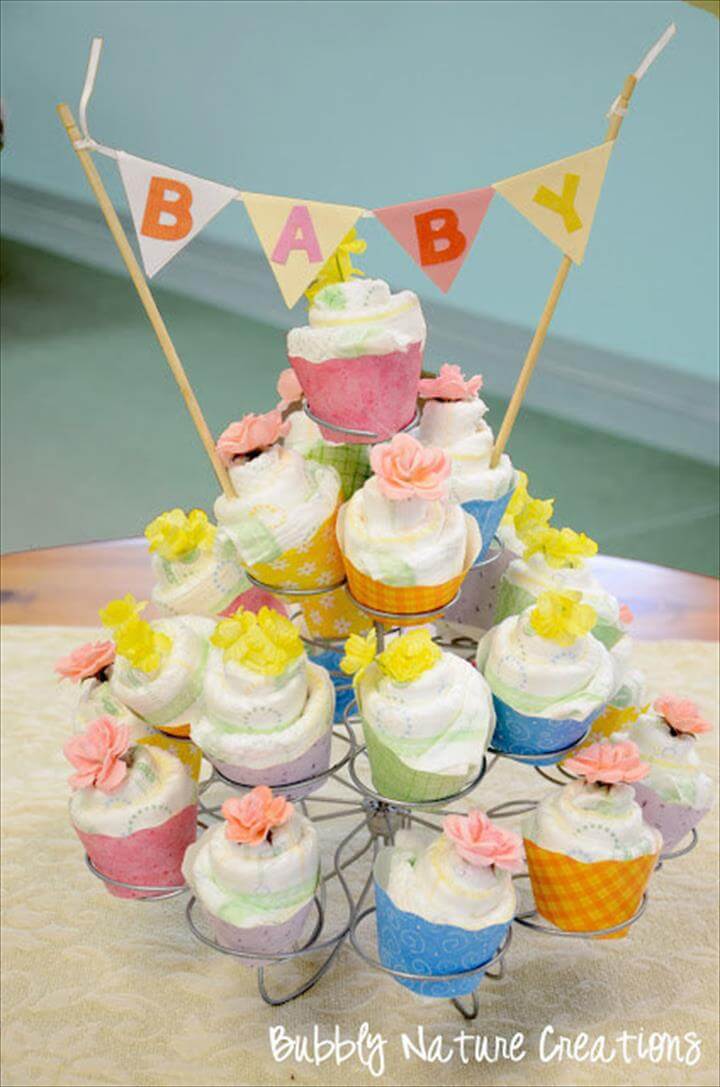 Roll the diapers and just finish them up with an accent flower at the top and also with a beautiful ribbon wrap, beautiful cupcakes are ready to add to you baby shower party atmosphere!! Moms can load these cupcakes to custom stands for more fun, here is a great inspiration about it!!! Get full instructions from here!!
Diaper Motorcycle Cake for Baby Shower: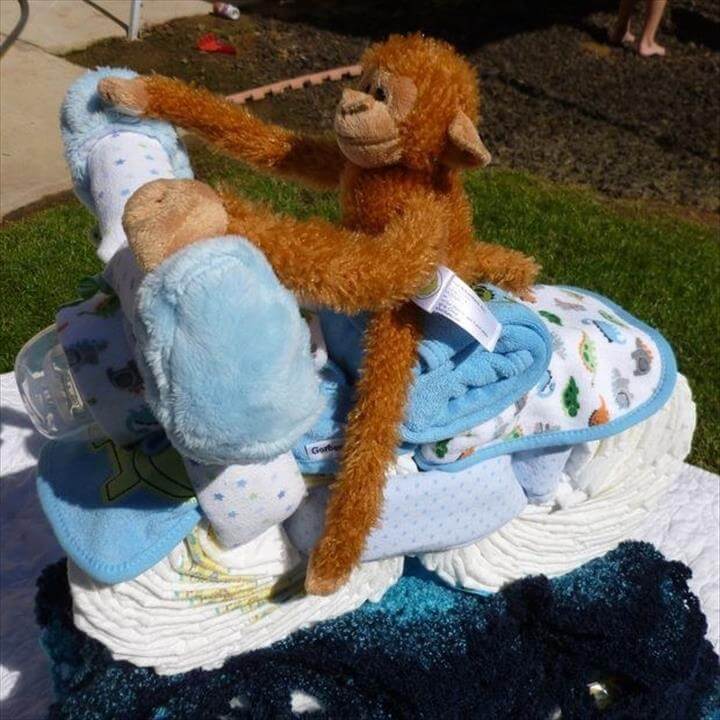 Precious motorcycle baby shower gift, an epic creation really!! Stands on the diaper wheels and comes with a gift bottle headlight, bib makes the seat and blankets give the handle and whole body of the bike at the same time!! Full Tutorial Here!
DIY Cloth Diaper Sushi: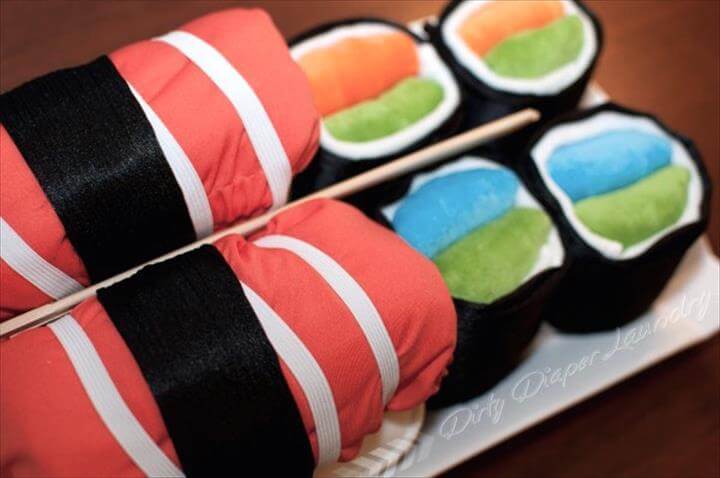 Traditional diaper cakes cost you big sometime, so you can go also with cloth diapers to lower down your expenditures while making happy creations for the baby shower! Here are the cloth diaper sushi platter, a low-cost diaper cake alternative but with the same gorgeous decorative appeal and party vibe! Step-by-step tutorial here!!
Homemade Dinosaur Themed Cloth Diaper Cake: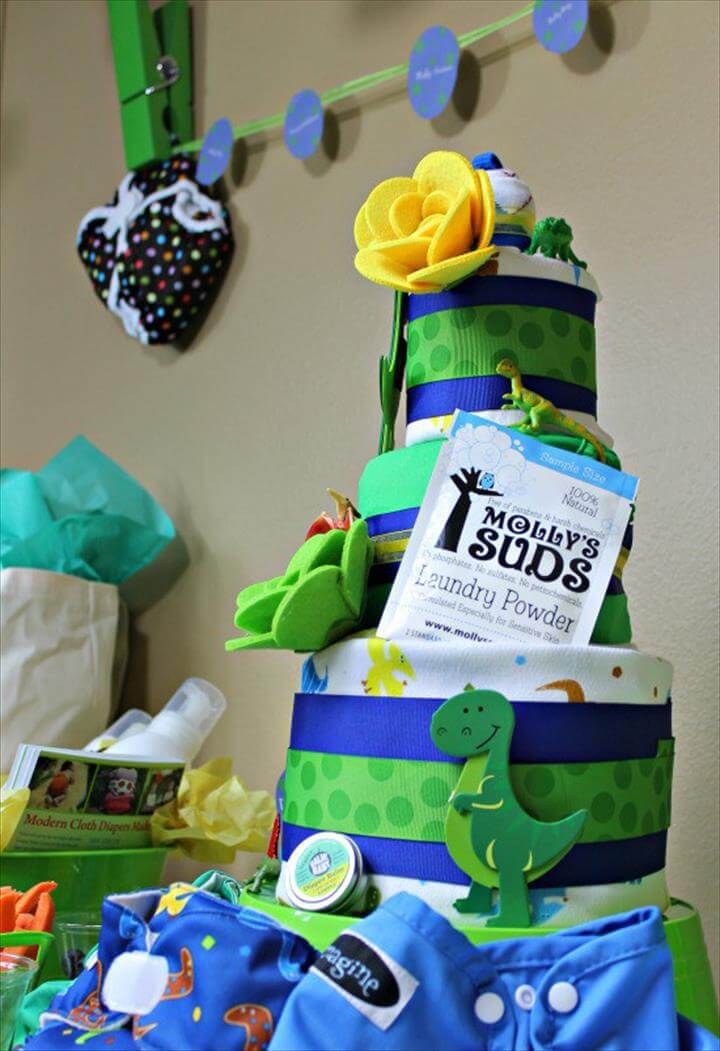 Theme up you diaper cakes creatively to predict a child fantasy!! Presenting here the dinosaur themed diaper cake for a creative boost to you thinking!! Clone it if you want a baby shower showstealer! Here diapers have been replaced with cloth diapers for a cost-effective baby shower gift!! Here is how to make it!!
Fairy World Tutu Diaper Cake: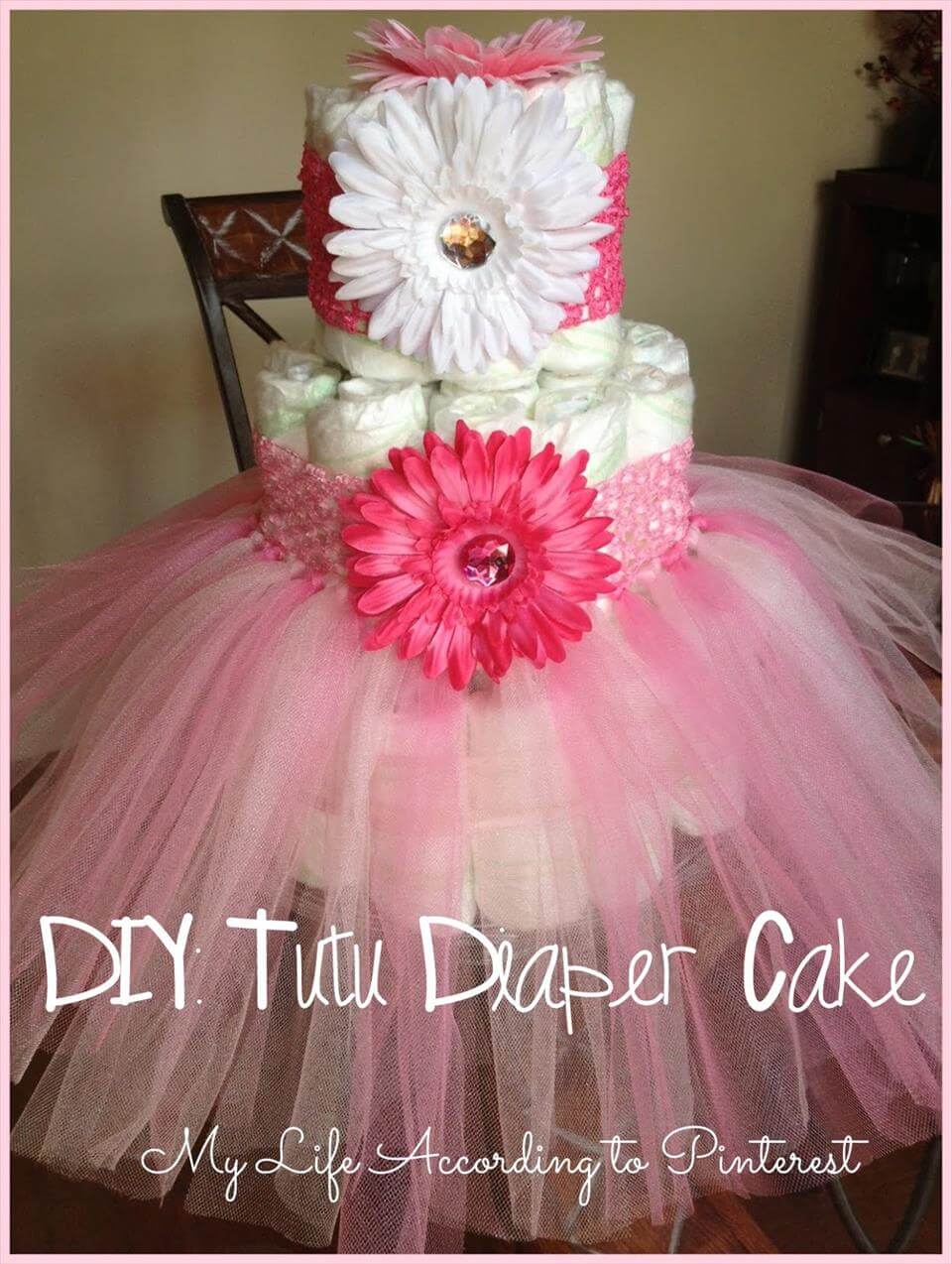 This one is all perfect to suit a dad's choice! Tutu diaper cake for a newly born baby princess!!! Lower tier comes with a tutu over while remaining higher tiers comes with pretty flower accents for a stunning visual appeal! DIY tutorial here!!
Fancy Fairy Wings Tutu Diaper Cake: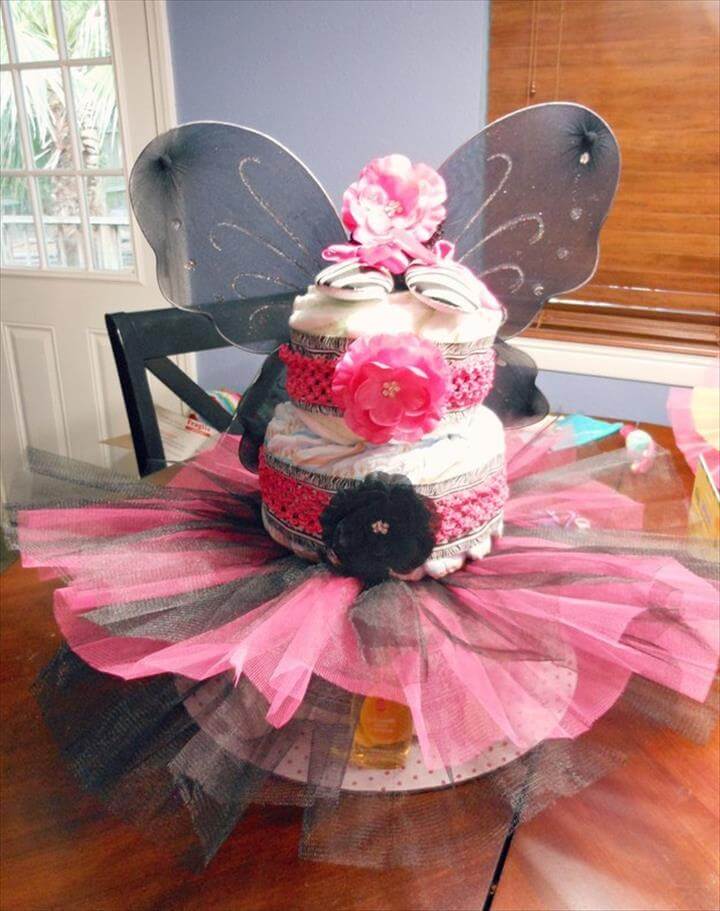 Circle the round clusters of rolled diapers with flower headbands for building each tier of this ever beautiful tutu diaper cake! Tutu can be added to lower tier to turn it into a special baby girl shower gift!! Re-creating it would be a big pleasure also!! Here are the directions!!
Giraffe-Printed Diaper Cake with Accent Pinwheels: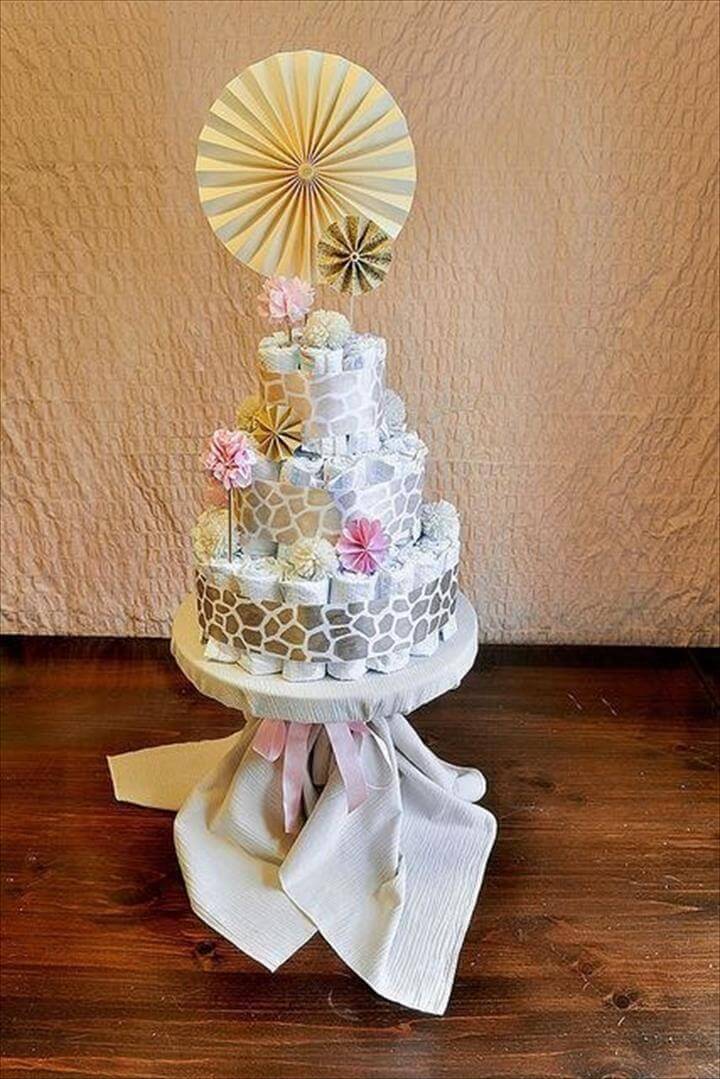 This elegant diaper cake is as cute as your baby, raised on a elegant base covered with fabric!! Each tier has been circled with giraffe-printed ribbon and the added pinwheels to each tier top help it to be epic!! Would be amazing baby shower gift for those who love the sparkling and glittering gifts!! Full tutorial here!! Here is how to make pinwheels!
Baby Shower Diaper Cake Topped with Silk Roses: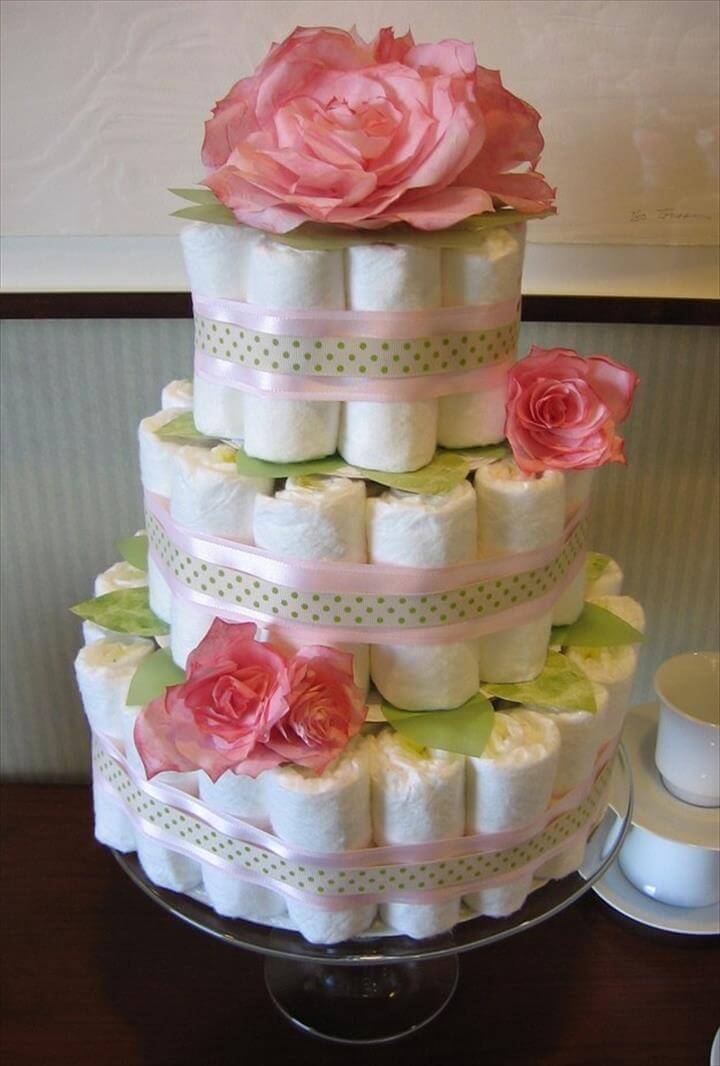 Extra brilliant diaper cake idea for the upcoming baby shower! Prepare the 3 tier frame of the cake first using cardboard tube and round cardboard plates! Then simple add the rolled diapers to all 3 levels and secure them by circling tight a beautiful ribbon!! Silk roses just sit on each tier as dignifying accents! Full instructions here!
Hand-Crafted Hot Air Balloon Diaper Cake: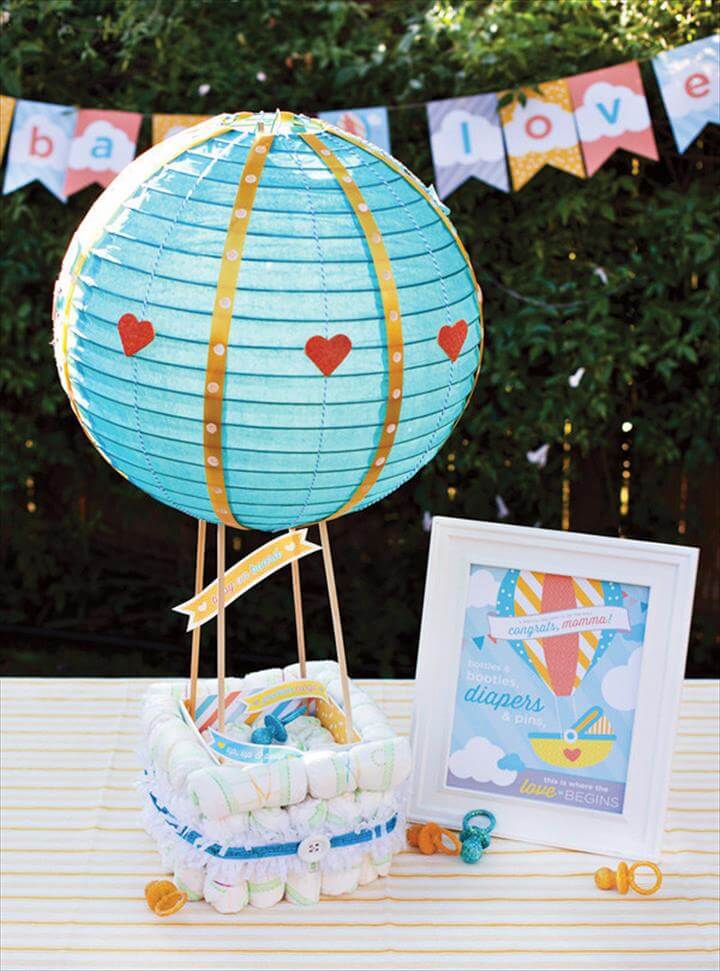 Perfect diaper cake for Gender-Neutral theme baby shower! A cardboard box, wooden dowels, a pack of diapers and a round paper lantern would be the highly required materials to build this this baby shower showstopper! Use custom ribbons, buttons, paper flags and other accents to fancy up the final appearance of it more! Step-by-step guide here!
Easy-to-Re-Create Bee Diaper Cake: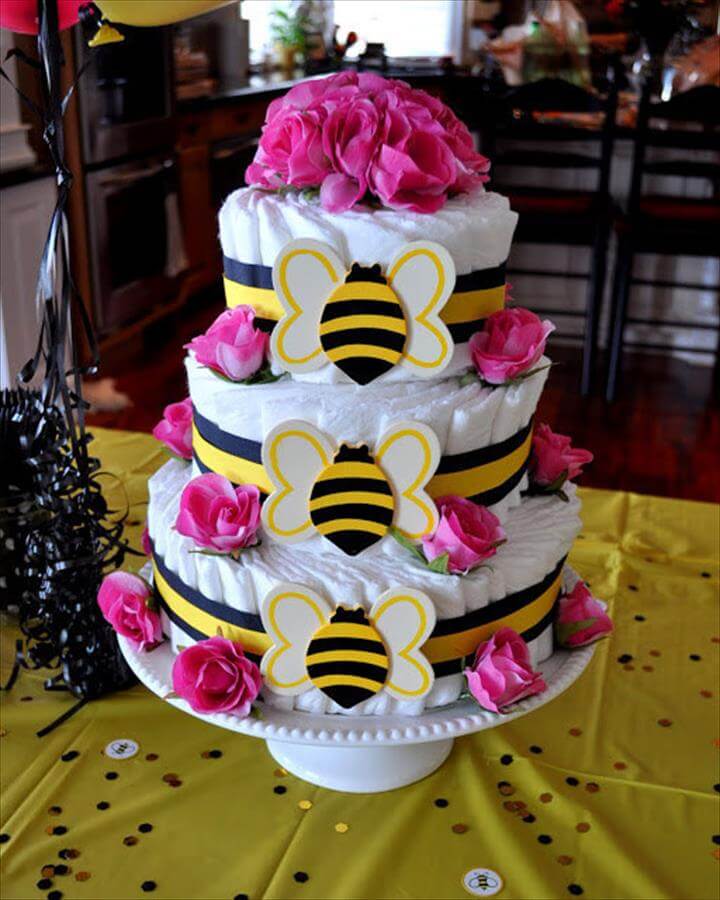 3 Tier diaper-rose cake, will be a great hit at next baby shower, given a bee theme by circling each tier with a bee ribbon band! Simple and elegant diaper cake to tryout at home! Here is how to make it!!
Topsy-Turvy Polka Dot Ribbon Wrapped Diaper Cake: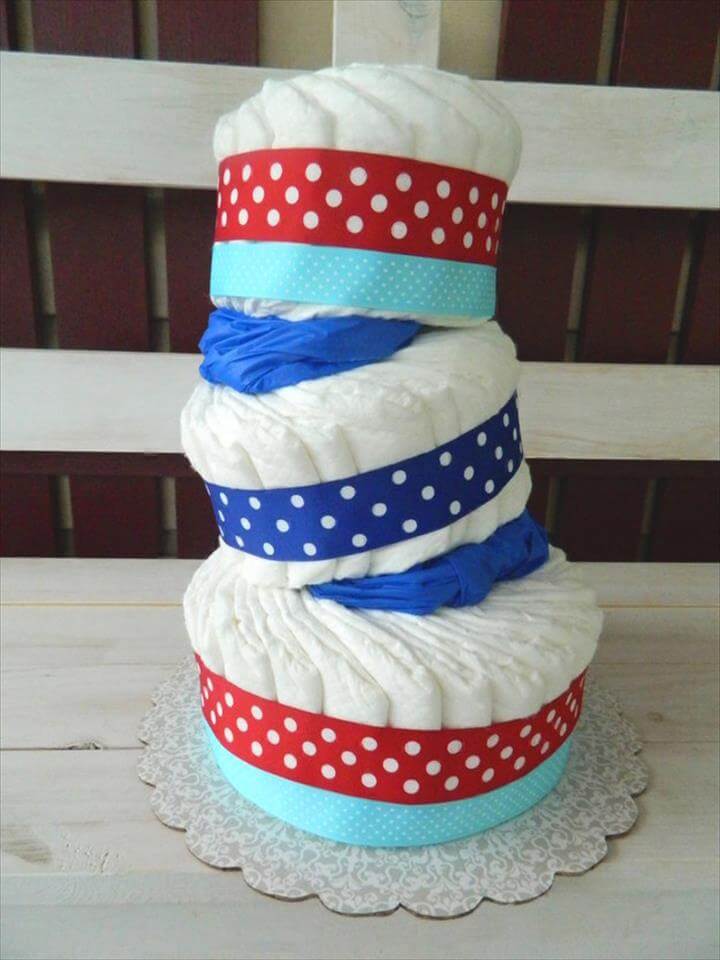 Cool diaper cake with distorted tiers, a better Topsy-Turvy baby shower centerpiece!! Polk dot red and blue ribbons circle each tier beautifully! Grab the instructions from here!!
Image Set 3
Beehive Themed Diaper Cake: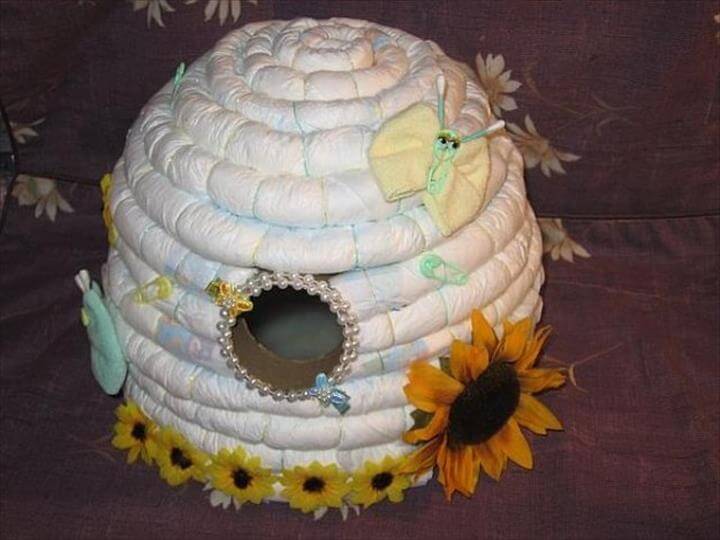 Stunning baby shower centerpiece gift, a cool beehive themed diaper cake! Done by getting creatively crafty with diapers, wash cloths, paper plates and other custom embellishments like the faux sun-flower, always favorite to bees! Order it here if you want to buy it!!
Amazingly Embellished Diaper Cake for Baby Shower: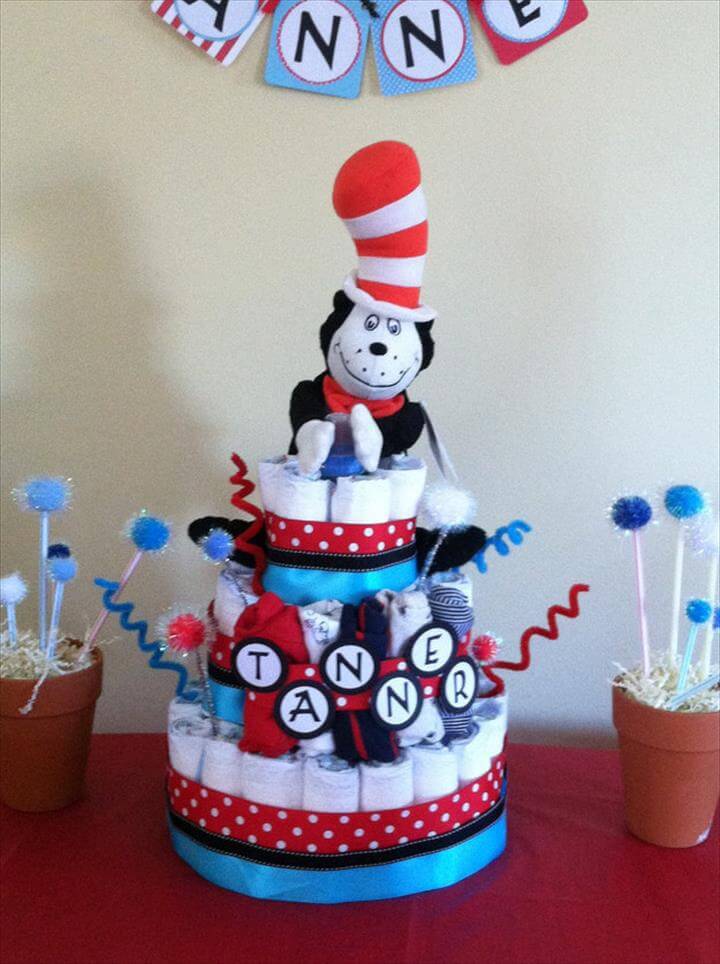 Want to majestic gift inspiration for next baby shower party? Here is a knockout diaper cake decor, loaded with faux dandelion flower decors, with washcloth rolls and also with a handsome toy over the top for a lofty decorative appeal! Polka dot red ribbons circling each cake tier, also makes it worthy centerpiece for the baby shower! Brought to your via Pinterest!
Drum Set Diaper Cake Centerpiece: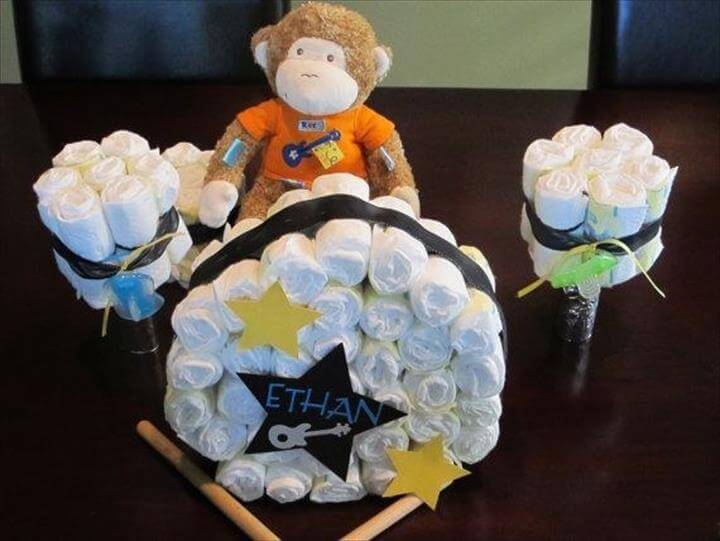 Possibilities are never ending for diaper cakes, here is the drum set baby shower diaper cake done with rolled diapers! Really awe-inspiring!! If you are interested in buying it, order it here!
Baby Diaper Turtle Cake: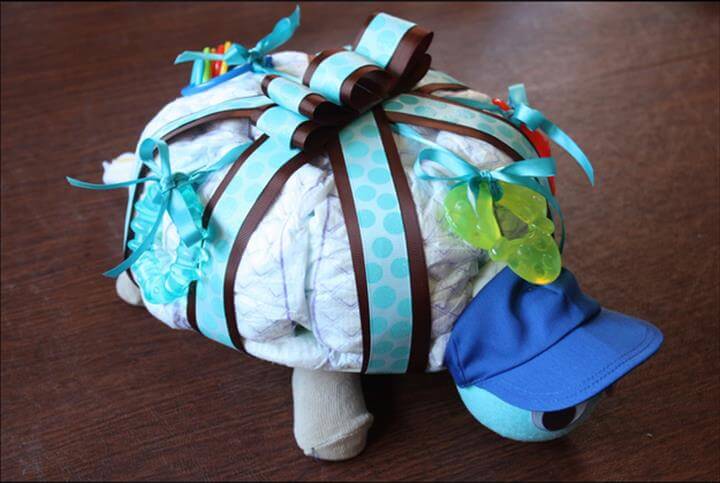 Diaper turtle with hat, a phenomenal diaper cake to add as a centerpiece to baby shower party environment! Dignified with baby pacifier gifts!! Full tutorial here!!
Blended Bud Light Diaper Cake: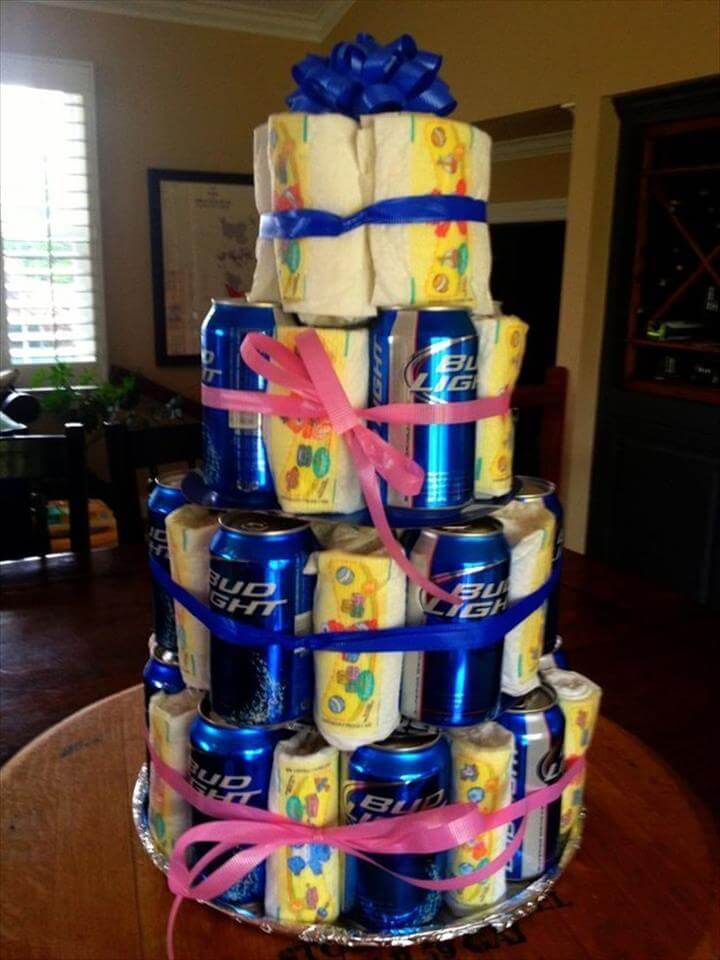 Tower like diaper cake blended beautifully with bud light tin cans which also help the whole cake to retain its shape longer! Stands on a cardboard plate, an august gift for the baby shower! Via Pinterest!
Sucking Pacifier Caterpillar Diaper Cake: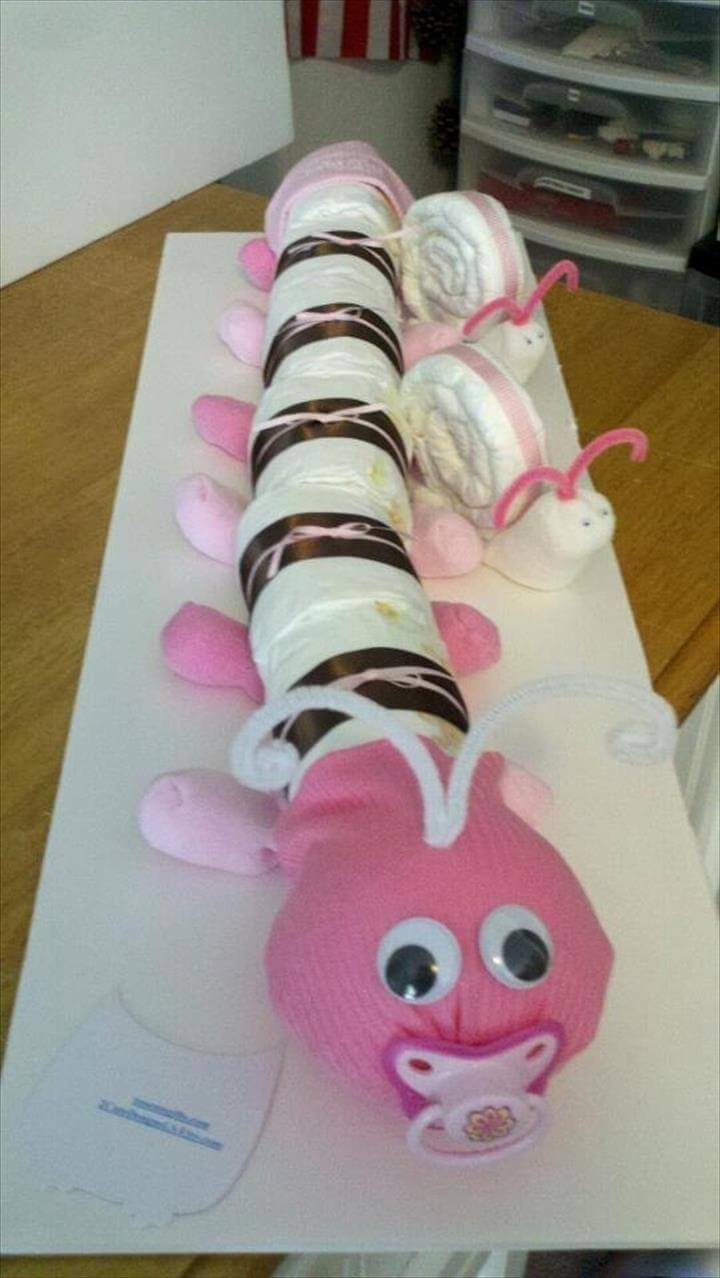 Cartoon character always held pleasing to kids eyes and cartoon themed gifts just depict well the cuteness of a the child! So, this caterpillar diaper cake will all be a mind-blowing choice if you are going to choose a gift for a baby shower! Buy instructions or product here!!
Frozen Olaf Diaper Cake: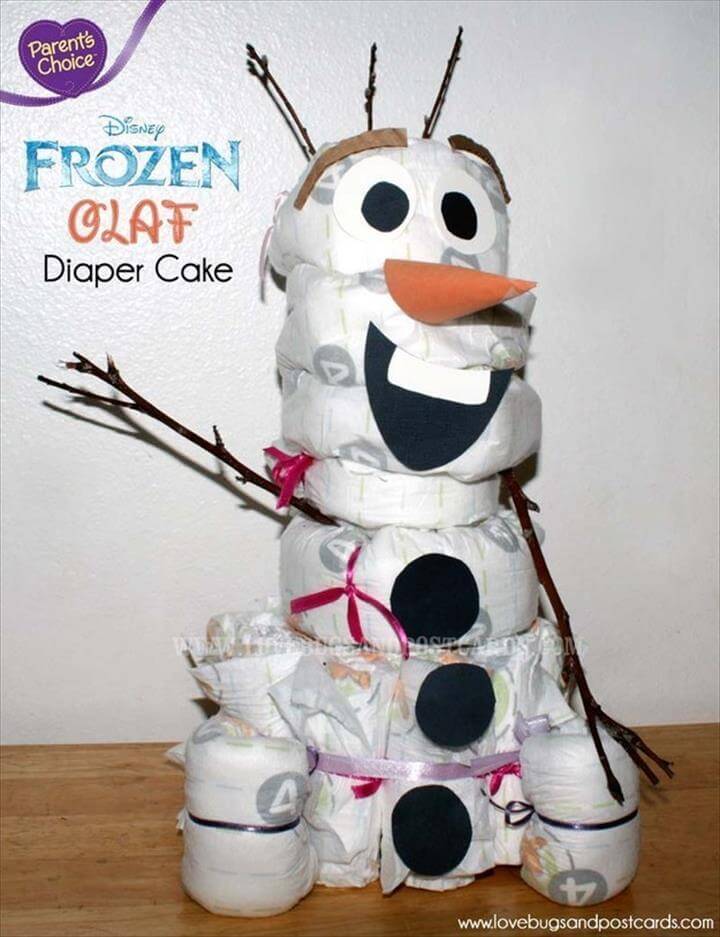 All kids love the Disney world, so this frozen Olaf diaper cake is going to a be better parent's choice for a baby shower! Real twigs from a tree forms the arms of this precious snowman and rest of body has been done through creative piling of rolled diapers!!! Here is how to make it!!
Diaper Cupcake Box: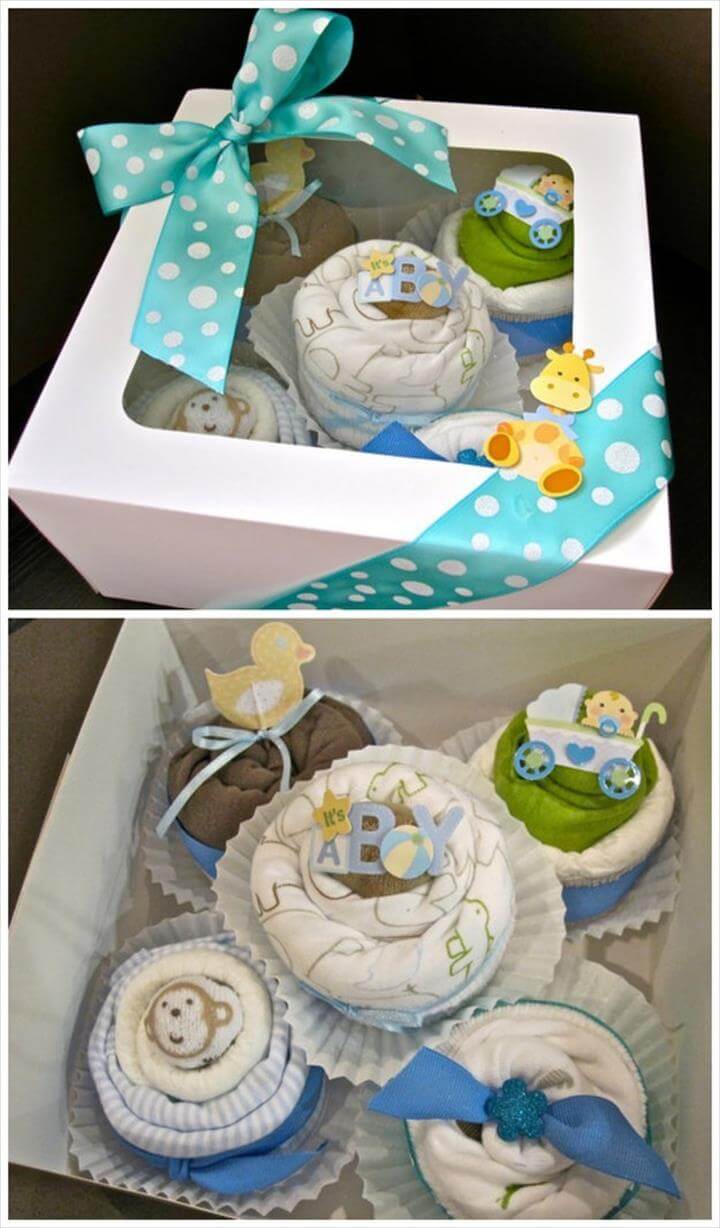 Beautiful washcloth and diaper cupcakes, can be served by putting on a plate or in a box as a great baby shower surprise! Buy it here!!
DIY Diaper Minni Mounse Cake: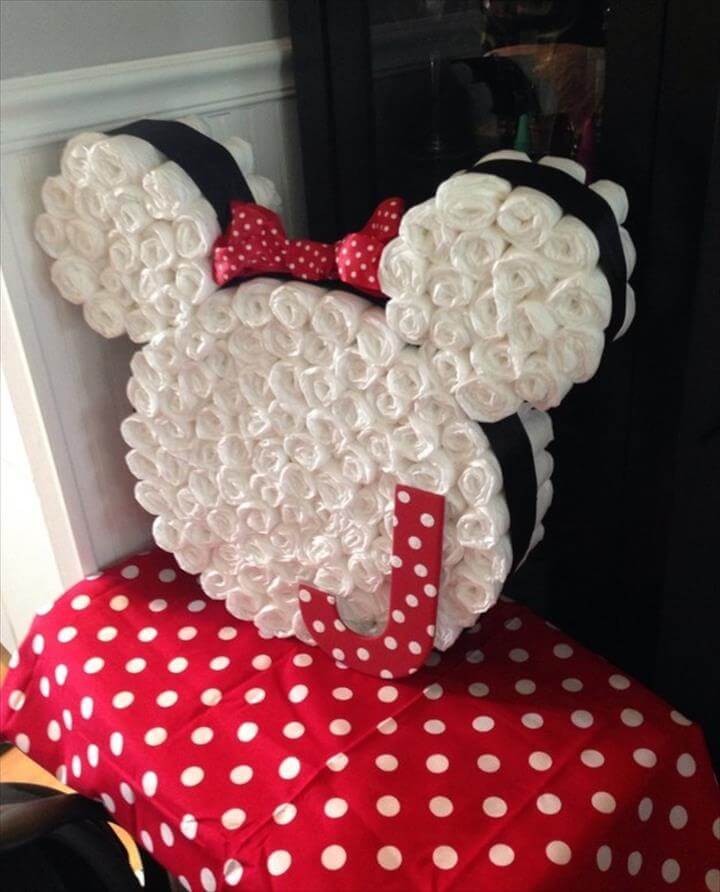 Minnie mouse baby shower gift, would be best cartoon-themed gift and is also easy to re-create! Just use the rolled diapers, bow ties and custom ribbons to craft it in a couple of minutes! Via Pinterest!
Diaper Sushi Platter for a Mom-to-Be: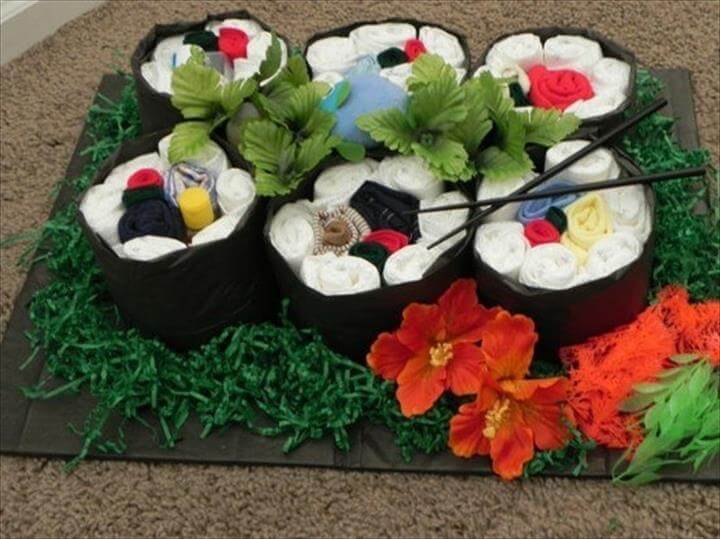 Sushi is one of the favorite baby shower recipes the mom can cook! So, what will you say about this diaper cake sushi platter? Makes a baby shower embellishment, gift and a centerpiece at the same time! Buy it here!
Elephant Cake Made of Baby Diapers and Towels: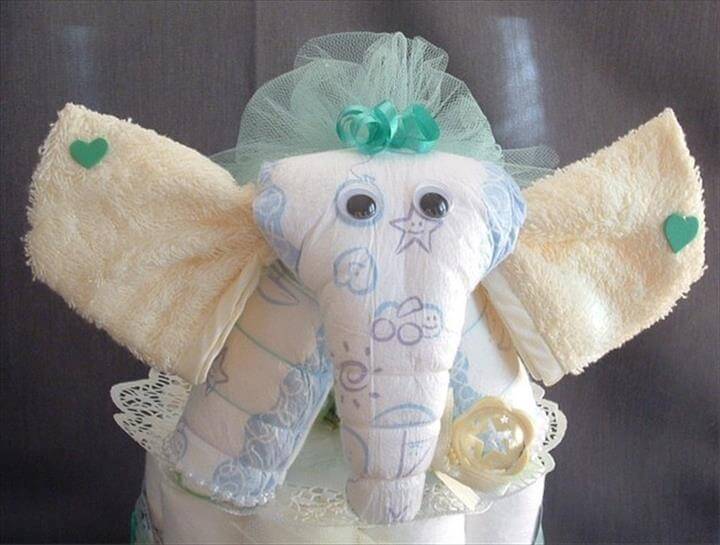 Mimic other fun shapes to using rolled diapers, bibs and washcloths to produce unique yet elegant baby shower gifts, like this elephant diaper cake, time to get crafty with diapers!! Buy it here!!
DIY Floppy-Eared Dog Diaper Cake – So Beautiful!!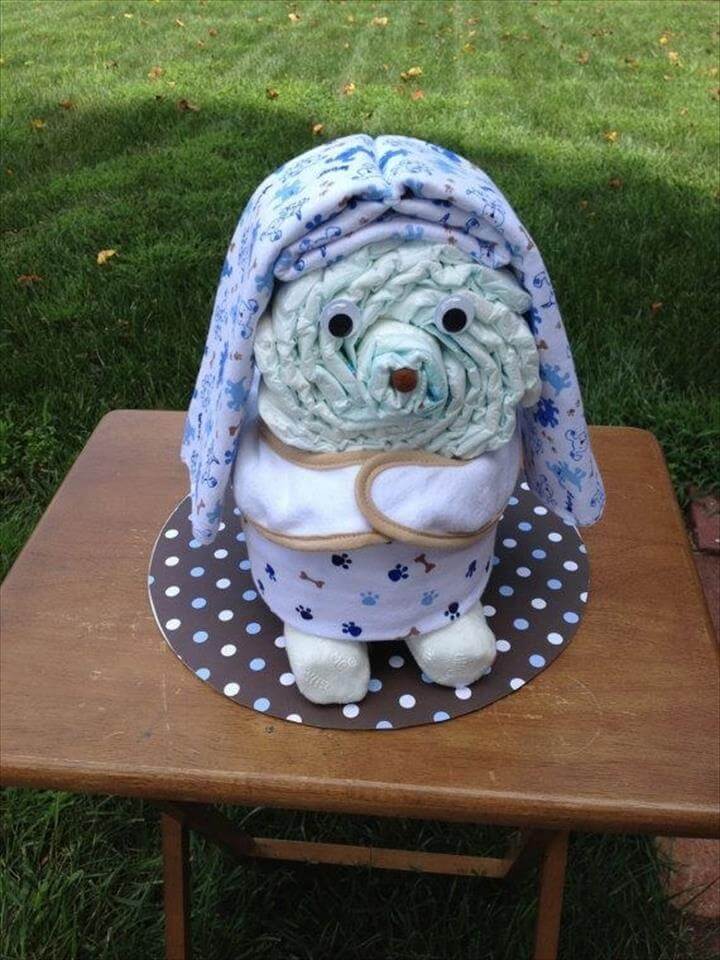 If you are willing to gift the bath products on a baby shower, then this flopped-eared diaper cake dog is a highly recommended one! It has a face done with diapers, comes with a beautifully layered blanket air floppy ears! Order it here!!
Giraffes Diapers Cakes – Made to Inspire!!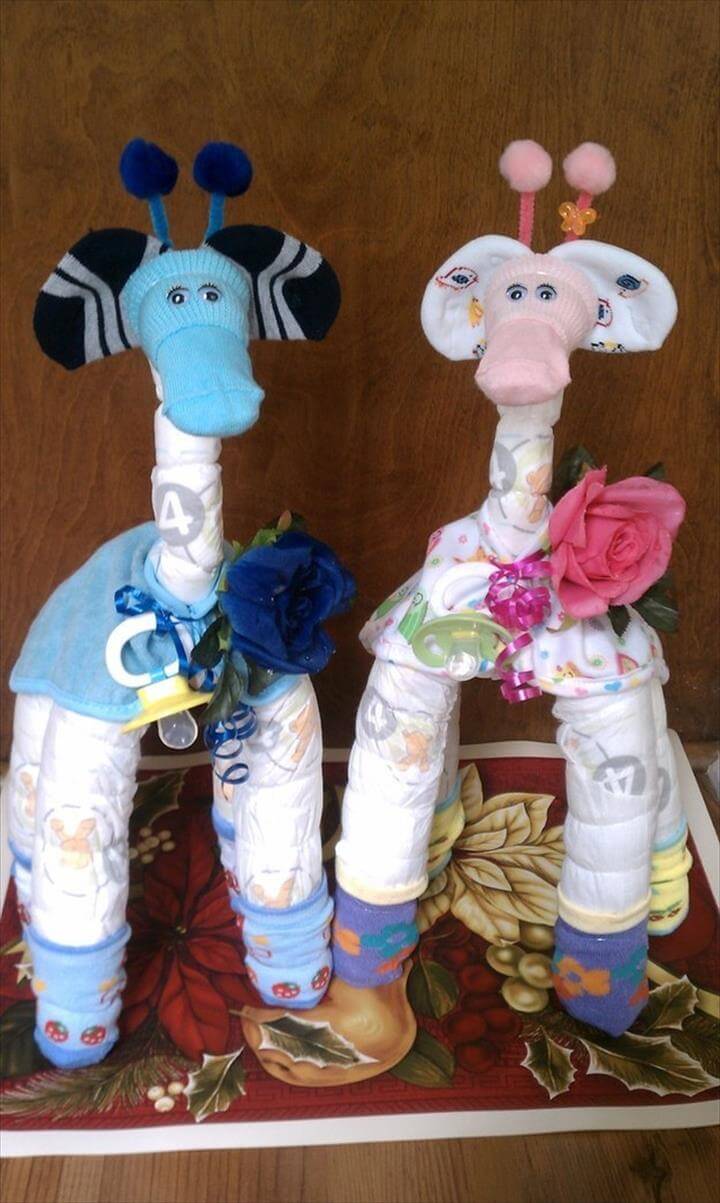 Want more sensational inspirations for the diaper cakes? Go with this diaper giraffe cakes, done with diapers, comes with a blanket over their backs and also with face and ears made of baby socks! Both have the hanging pacifier around their neck and decorated with colorful ribbons and flowers for a lofty touch! Buy it here!!
Harry Potter Themed Diaper Cake: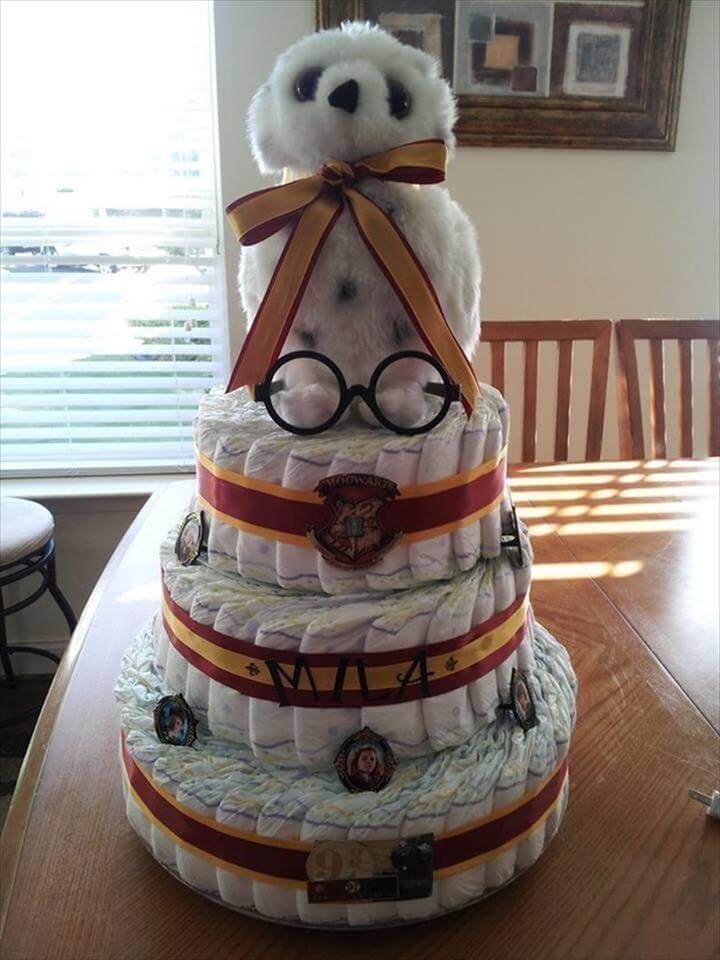 It is better to plan a diaper cake with a custom decorative theme, as it gains more visual attentions of onlookers! Here is a baby shower centerpiece, the harry potter themed diaper cake, mini photo graphs of the harry potter movie character which looks like the round necklace pendant, have been loaded to each cake tier for clear elaboration of the theme! Source
Nightmare Diaper Cake – It Looks Scary!!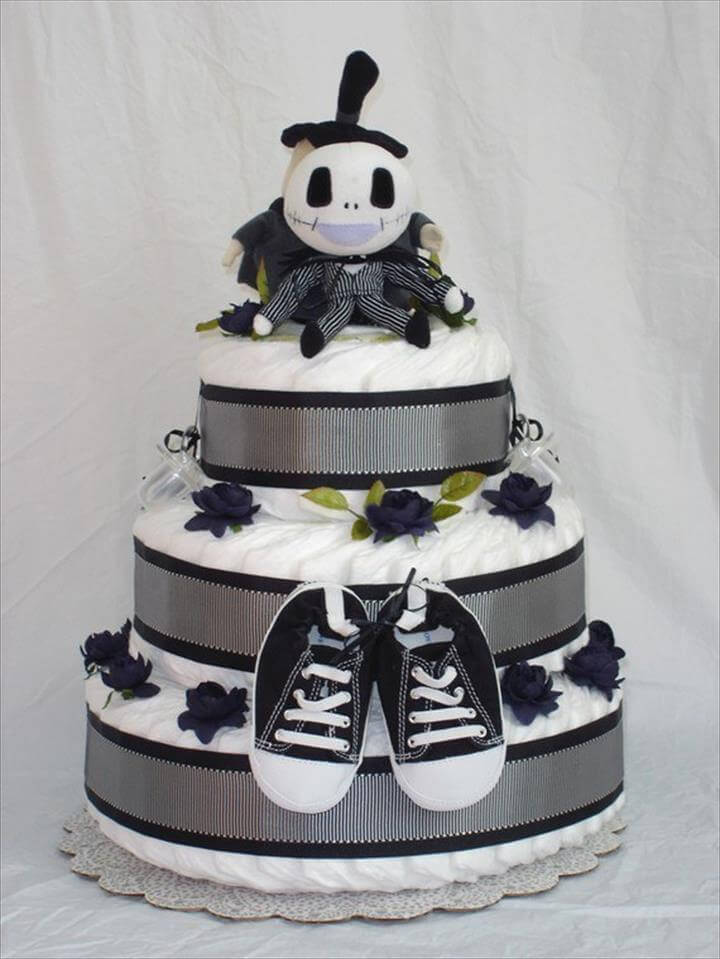 Nightmare before Christmas diaper cake, a scary baby shower centerpiece, comes with hanging Chuck Taylor shoes, the decided gift for the baby, and also with a ghost toy that sits over the top cake tier!! Buy it here!!
Stunning Guitar Diaper Cake: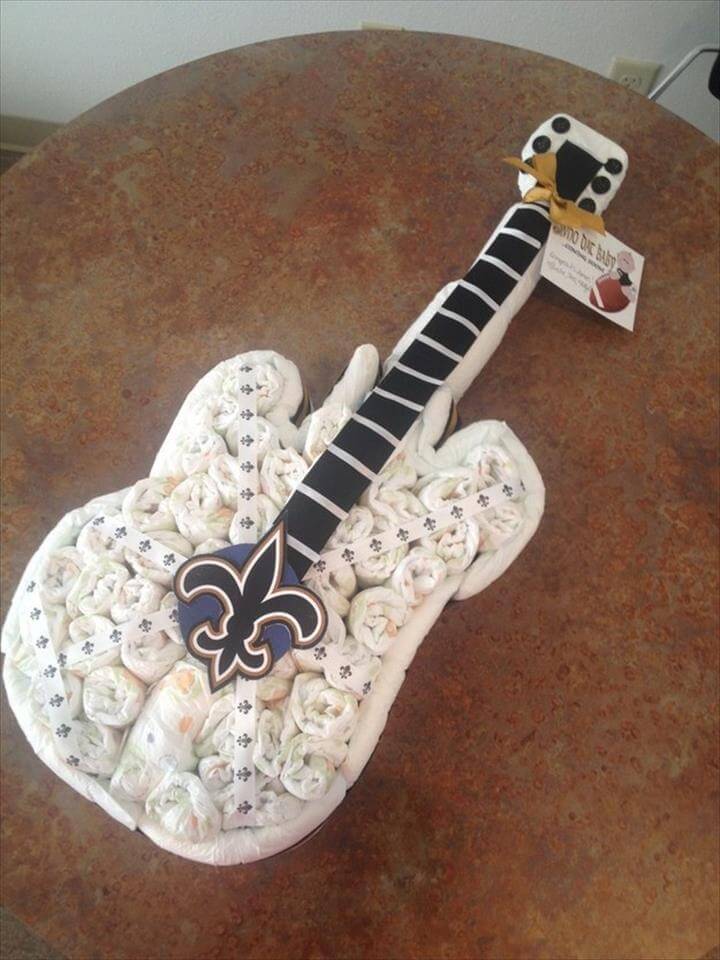 Rolled diapers can be packed and bundled to create outstanding different objects which can be selected as beautiful baby shower cakes!! Here is a guitar diaper cake for your rock star newly born baby! Source!
Image set 4
Cool Baby Booties Diaper Cake: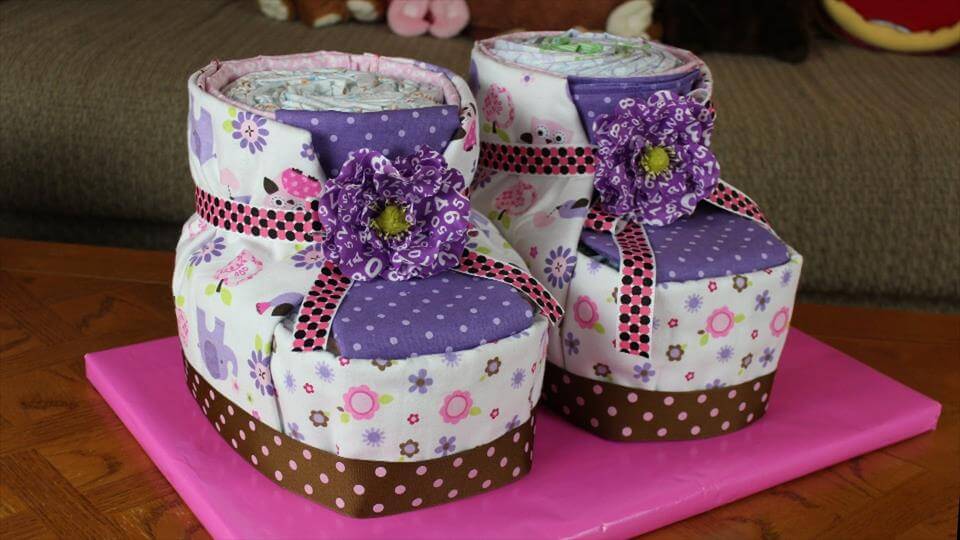 Awesome!! These baby booties diaper cake is so beautiful that would not ever wish to take it into pieces, diapers rapped in wash cloths and blankets, comes with bottom lined with polka dot ribbon and there is a flower accent making these booties more eye-catching!! Here is how to make it!
Baby Diaper Cake Bouquet – As Cute as a Baby: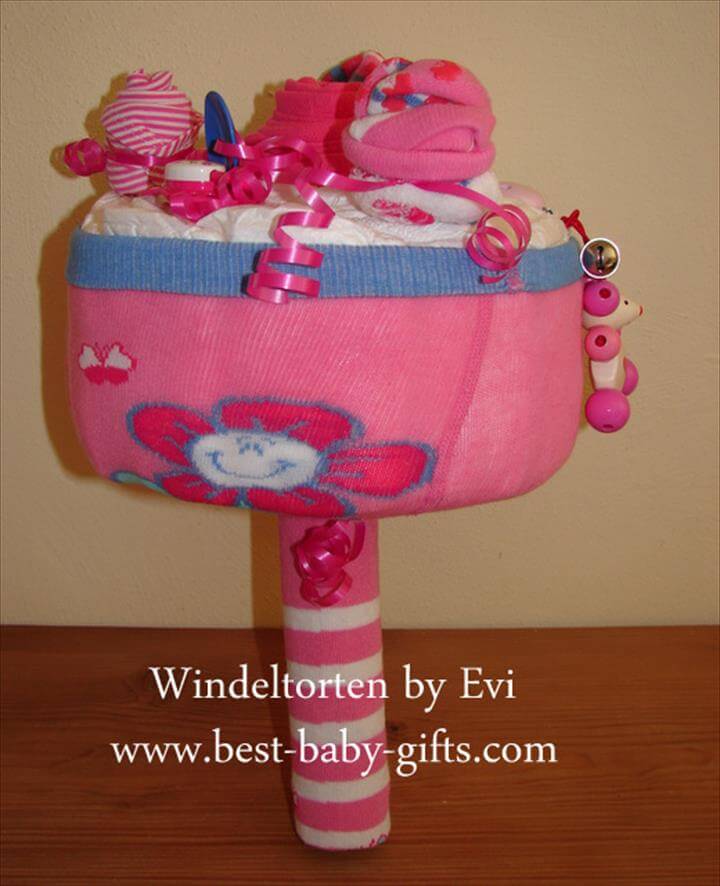 Amazingly crafted diaper cake bouquet, the best ever baby gift!! Done by using diapers, a cake pan, a long sleeve baby onesie, baby legging, baby spoons and also custom baby pacifiers! Other accent can put to suit the decorative taste! Full tutorial here!
Baby Girl Shower Diaper Cake Basket: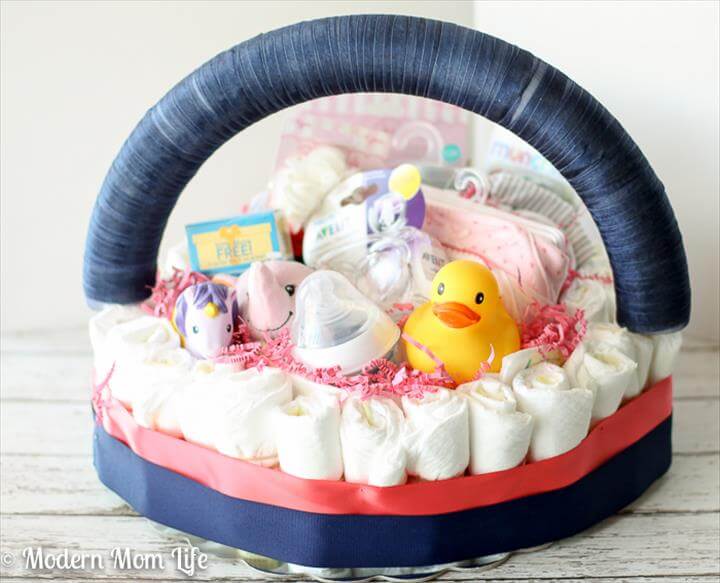 Perfect gift for a mom-to-be, a diaper cake basket filled with baby stuff like the pacifier, feeder and toys! It is both a gift-hamper and a centerpiece for a baby shower! Step-by-step tutorial here!
Impressive Cactus Diaper Cake: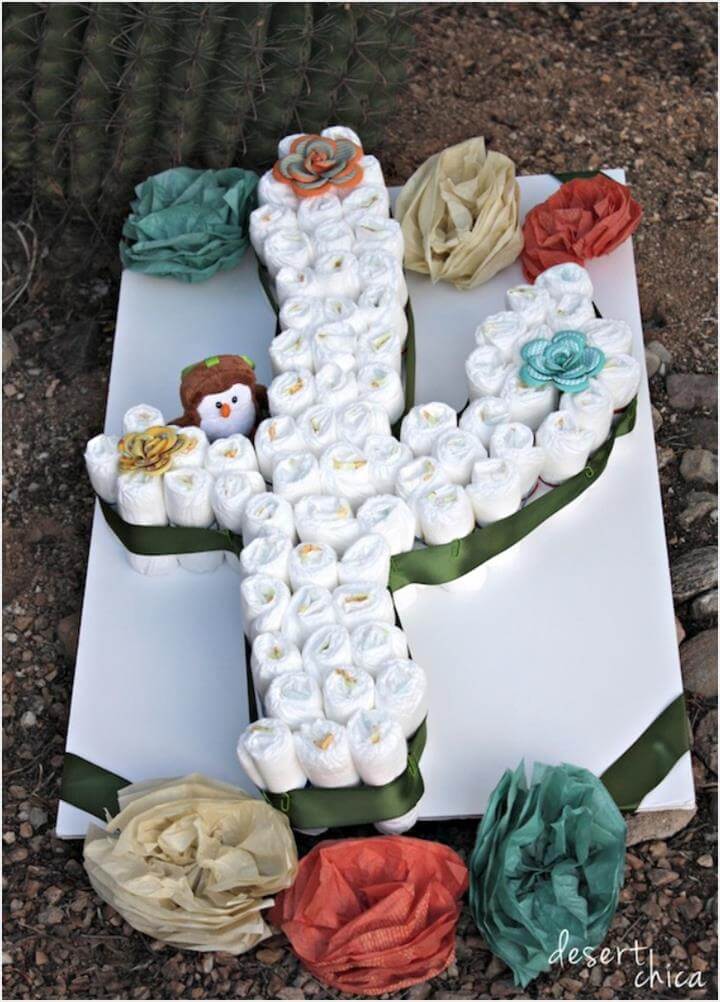 Mimic cactus using custom rolled diapers, comes with a glittering ribbon that makes the stunning cactus outline and holds the diapers in place to retain the shape! Whole creations has been done on a white cardboard! Full directions are here!!
Mini yet Beautiful Diaper Cake: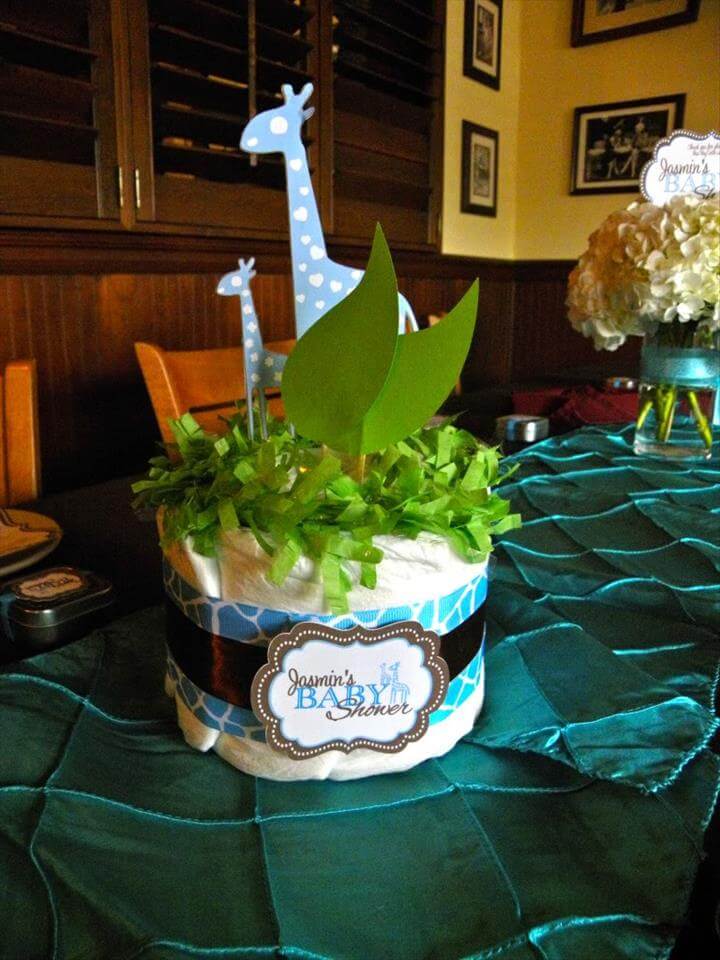 Mini but praise-worthy diaper cake, given a safari decorated theme, surely going to be a centerpiece to baby shower event! Full tutorial here!
Fantastic Boutique Style Diaper Cake: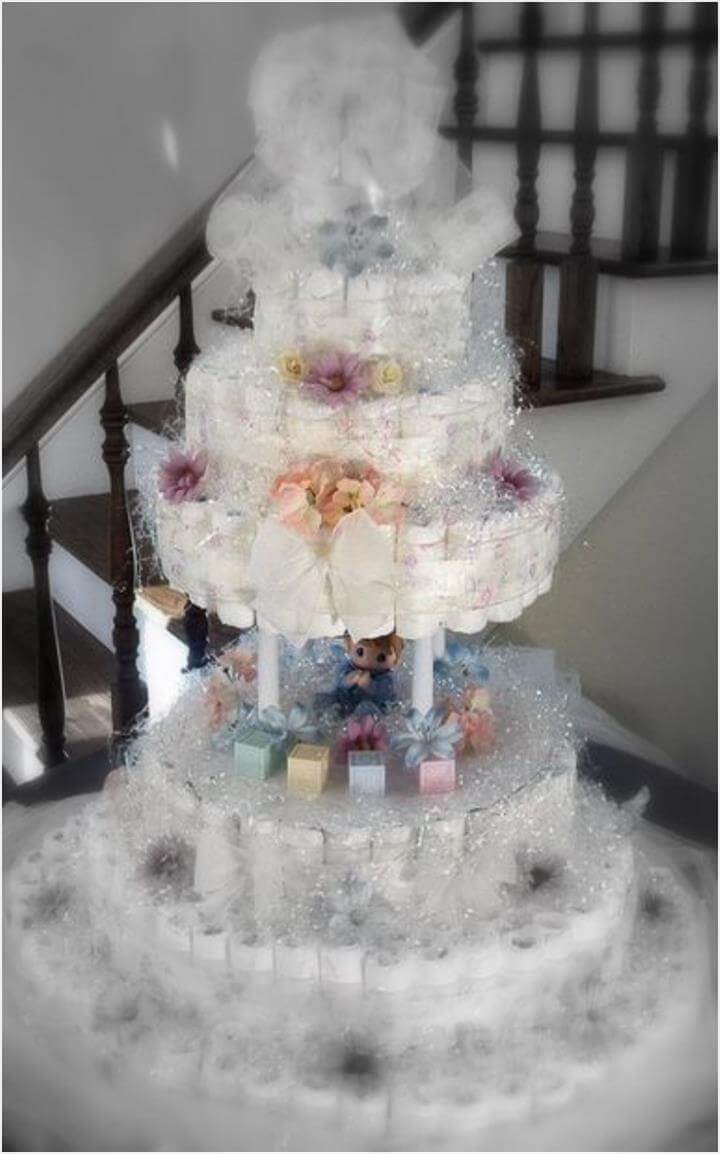 6 tier boutique styled diaper cake, beautifully ornamented and comes with a stunning fancy glow that gets the more attention than anything else! Would be a center of attention for a baby shower event!! DIY tutorial here!
Easy-to-Clone Owl Diaper Cake: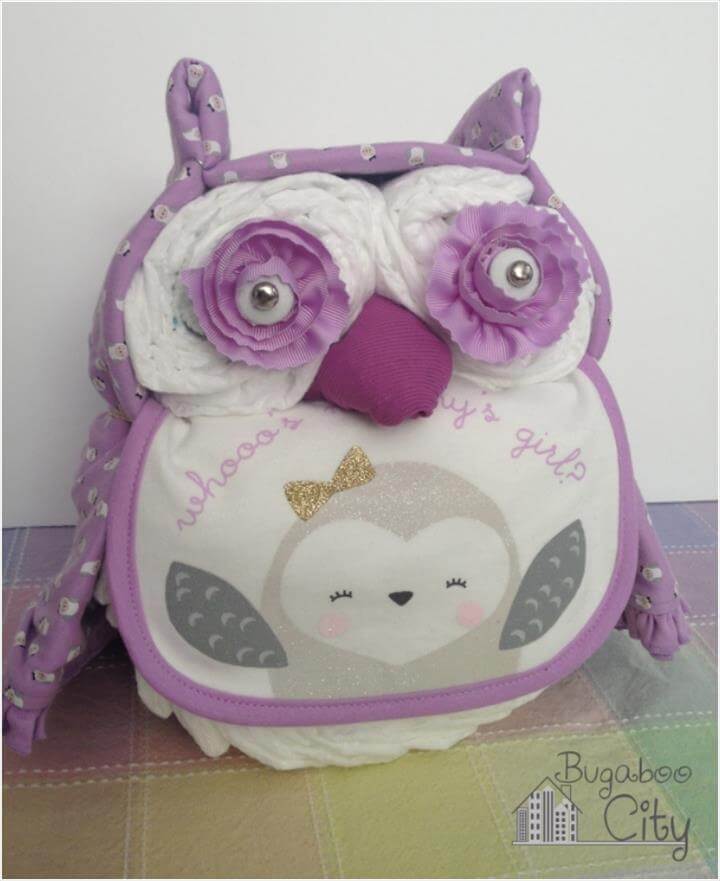 Using baby bib, diapers and blanket, this artful creation has been done, a beautiful owl diaper cake, here owl-eyes have been done by using accent flower with a bead inside! Step-by-step guide here!
Cute Paper Diaper Cake: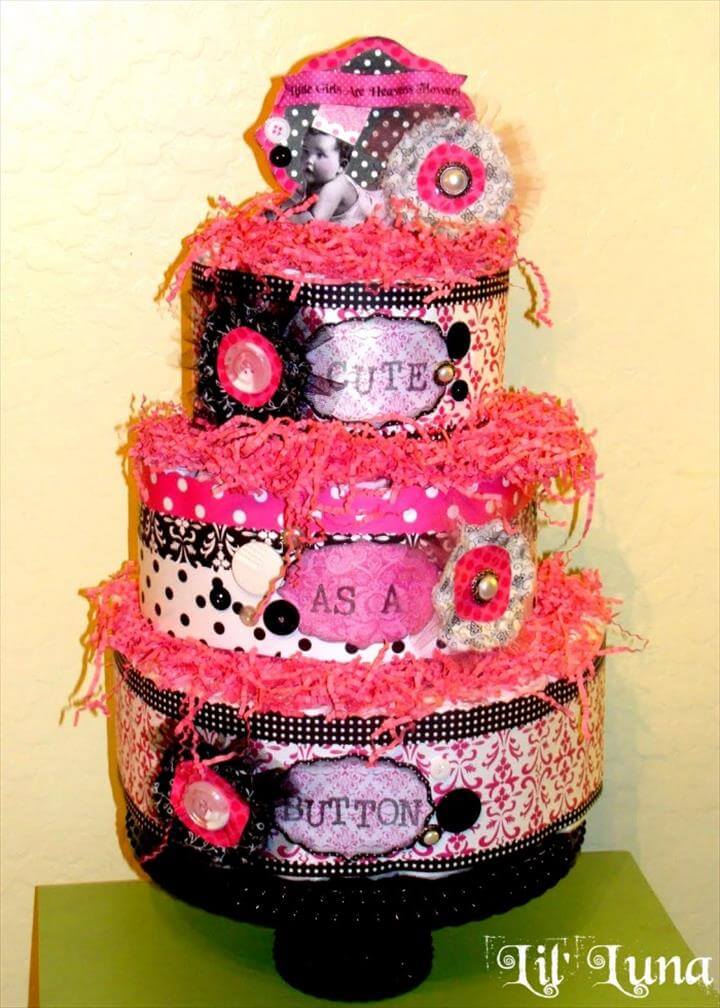 Fancy paper diaper cake gift, can be made by yourself if you are awaiting a baby shower event! Is surely going to please the pregnant moms! Instructions are here!
Diaper Cake with Secret Gift in The Middle: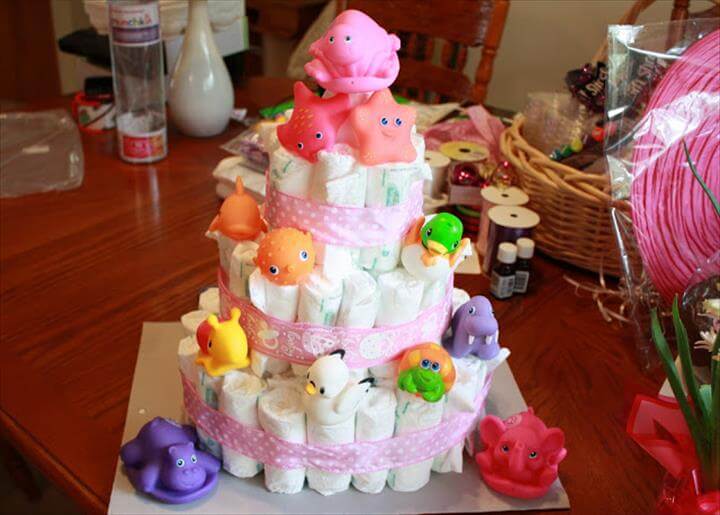 Having a friend mom-to-be, willing to wish him in a great style, clone this easy-to-make diaper cake, loaded with custom baby toys!! Full tutorial here!!
Diaper Wreath for Baby Shower: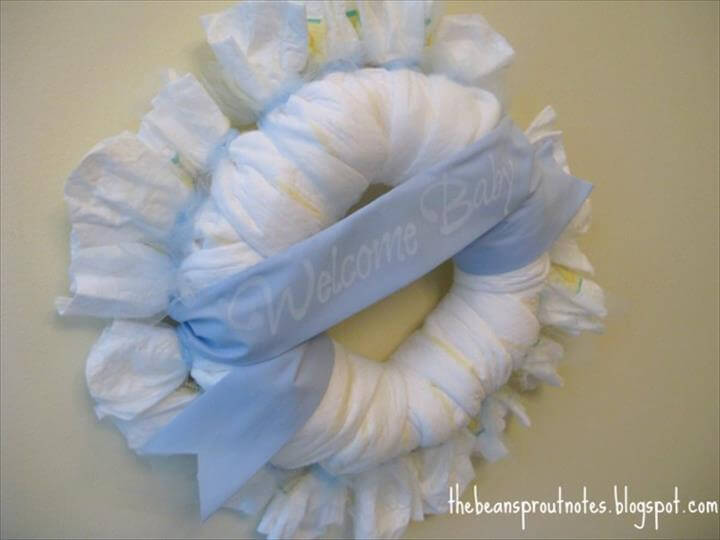 Not a cake but has been listed as a fancy baby shower decor, a diaper wreath, would be a significant addition to baby shower party environment! Here is how to make it!
Baby Girl Shower Diaper Cake: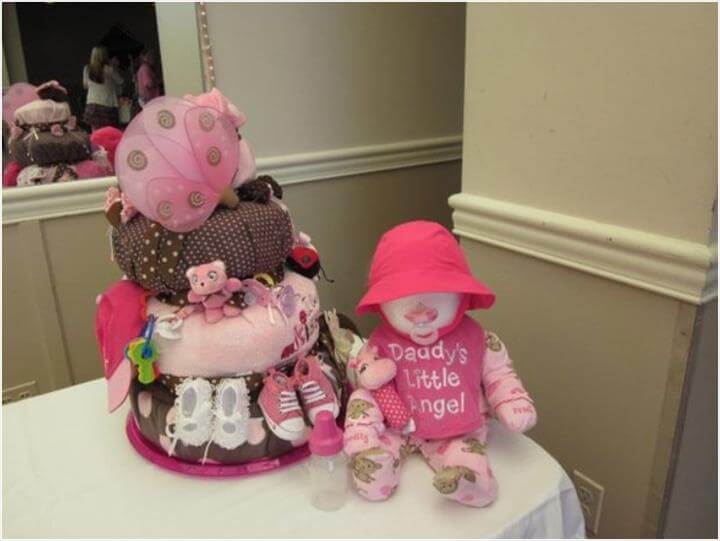 Brainstorming for a baby shower gift that should be out of ordinary? Here are two cutest ones, the diaper cake and a hat baby toy set! The diaper cake has been made weighty by attaching other baby stuff like baby shoes, cap and toys!! A great gift inspiration for cool baby shower centerpieces and gifts! Full tutorial here!!
Caterpillar Diaper Cake: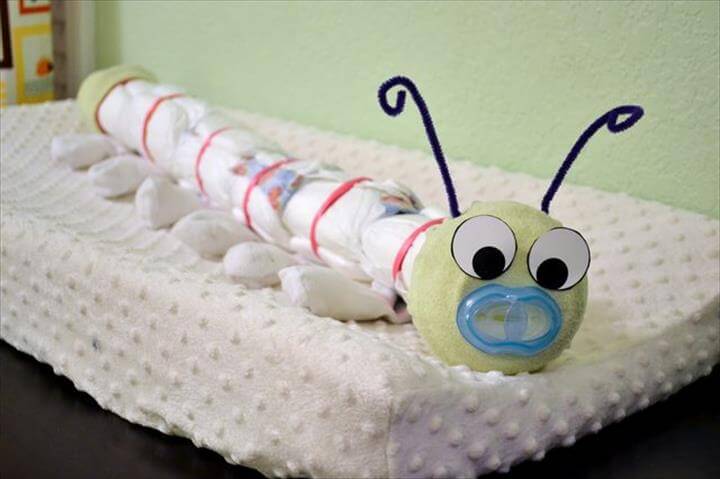 Cute caterpillar made of rolled diapers, shown sucking a baby pacifier, inspired of cartoon world and is really a worthy gift for a mom-to-be! Click here for full tutorial!
DIY Diaper Cake Centerpieces: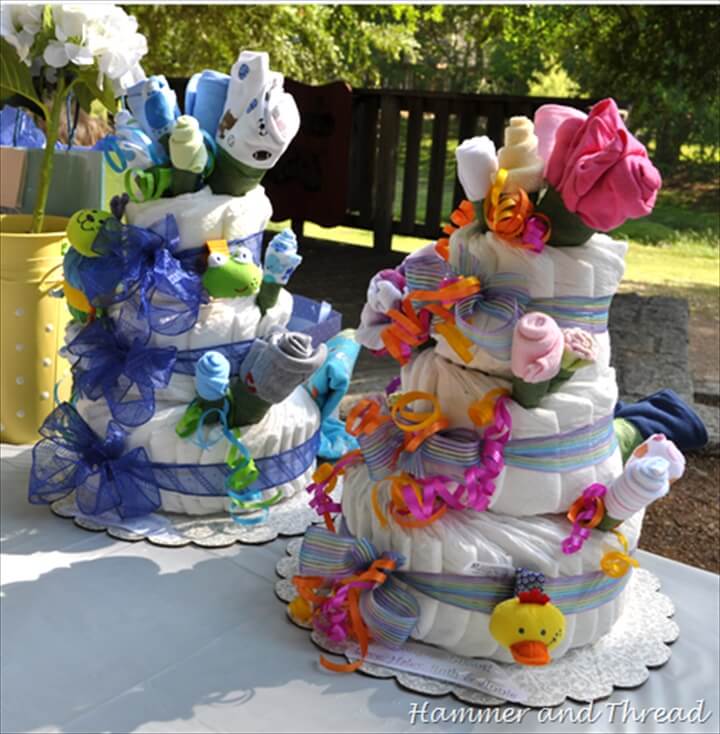 Ideal diaper cake inspiration if you are going to gift only the baby bibs and diapers and also a few toys! Ribbons are the read decors for the cake here! Full instructions here!
Easy-to-Make Diaper Cake: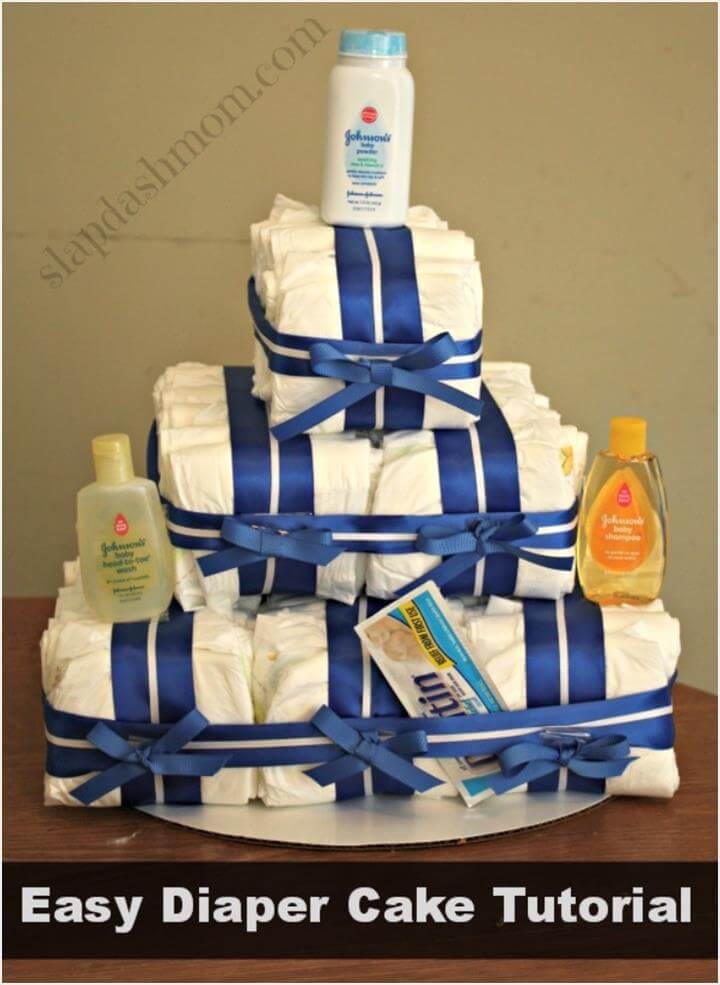 Ribbon tied bundles of diapers can be taken as unit here to craft this 3 tier outlandish baby shower cake! It has baby oils and shampoo placed beautifully on 2nd and top tier! DIY tutorial is here!
Sleeping Baby Onesie + Diaper Cake: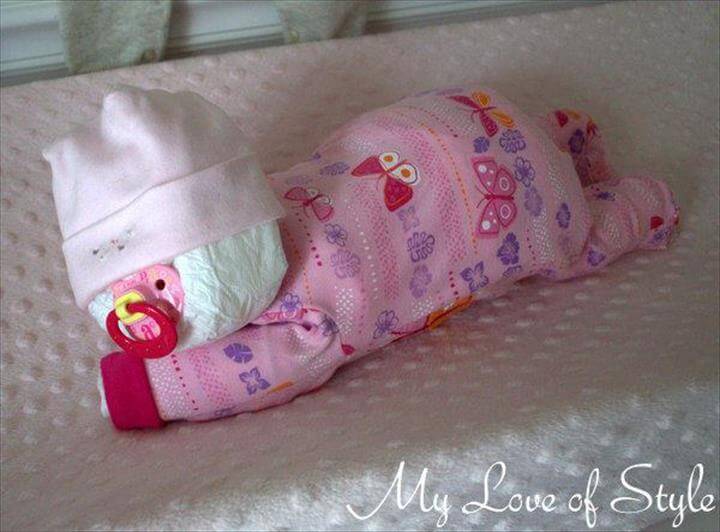 A baby onesie has been filled with diapers to gain a faux sleeping baby or the best baby shower diaper cake! A baby pacifier has been fixed to front side to show the sleeping baby sucking it and there is winter hat also making it look real! Step-by-step instructions here!
Motorcycle Diaper Cake – Ridden By a Baby Toy: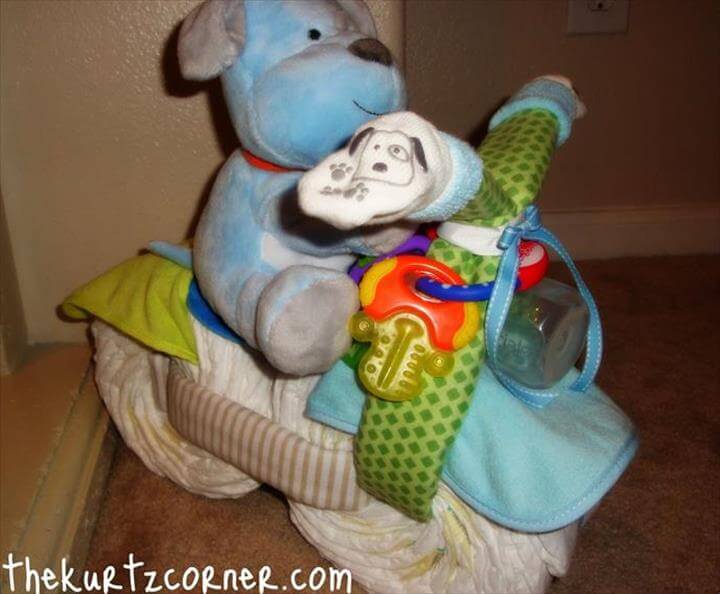 A crazy diaper cake motorbike, ridden by a teddy bear toy! Here faux head light is made of an empty bottle while baby blankets and bibs make the rest of body of the bike!
Double Decker Ship Diaper Cake: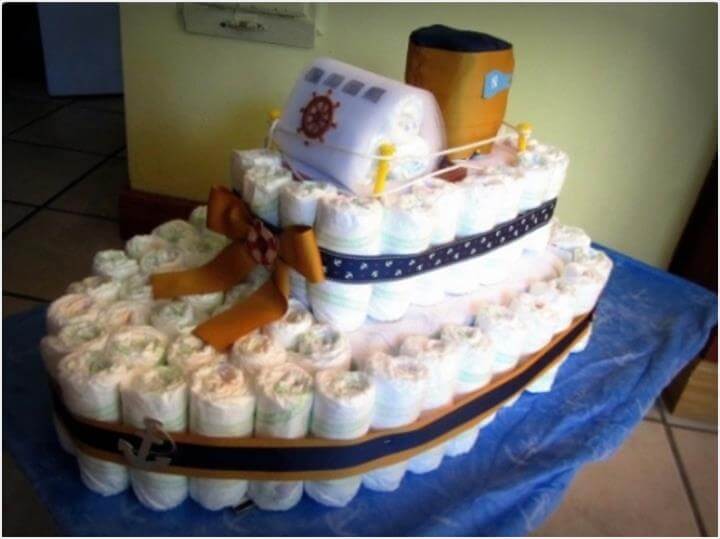 If you love the nautical decors then you can satisfy your taste with this double decker ship diaper cake, centerpiece gift for the whole baby shower party event! Done with rolled diapers which have been secured using rubber-bands! Full tutorial here!
Rolled Diaper Snails Cake: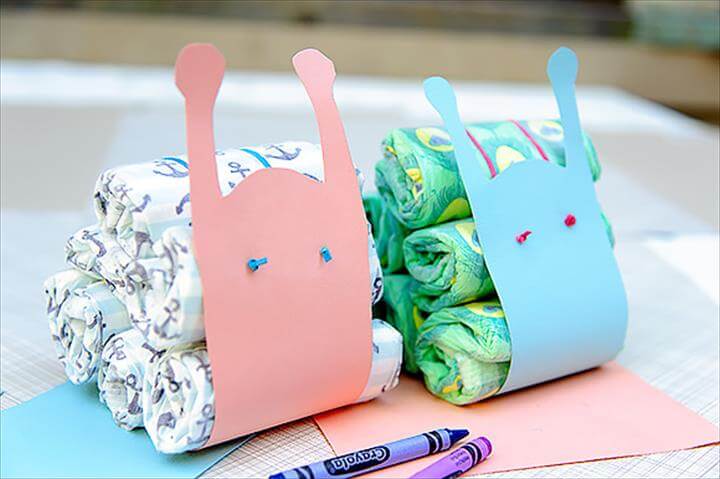 Draw the snail faces on colored cards and cut them out, now add a stock of 9 rolled diapers to their backs which can be hold in place using ribbon straps which have been knotted here on the opposite side of the cards! Here knots looks like the eyes of the snails! Full DIY guide here!
Train Diaper Cake Gift for a Mom-to-Be: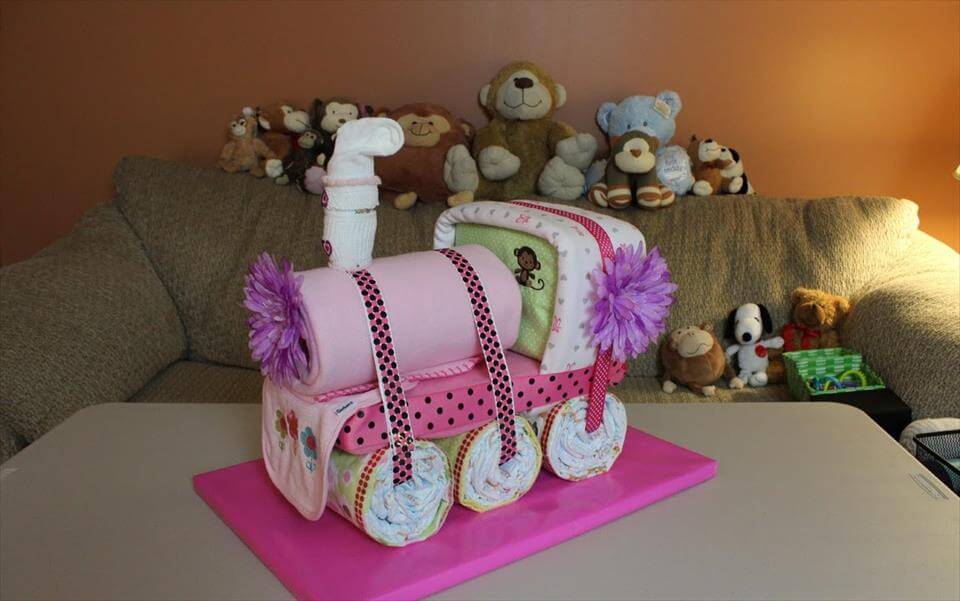 The visually pleasing train engine diaper cake inspiration! Would have a centerpiece worth in your whole baby shower decors! Rolled diapers wrapped in washcloths give the train wheels, a rolled blanket placed over a big creates the engine front and it also holds a custom L-shape rolled diapers as chimney!! Wise use of other baby stuff has been made to make the rest of the engine, so cool! Full Instructions here!!
Tricycle Diaper Cake: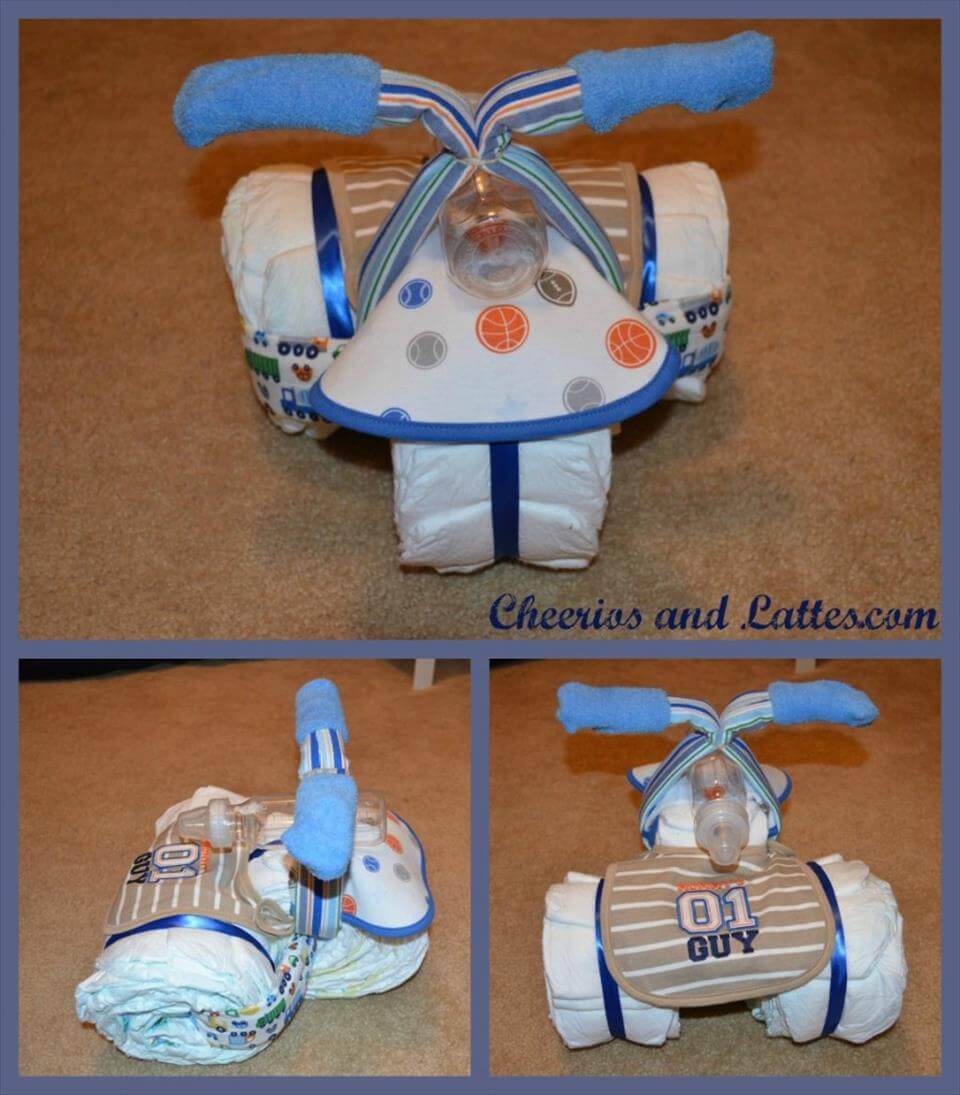 If you like to be unique while getting crafty, then this diaper tricycle is a great inspiration!!! Unique diaper cake for a mom-to-be, comes with a seat made of a bib, handle with washcloth + socks and the wheels with diapers! Here is how to make it!
Epic Airplane Diaper Cake: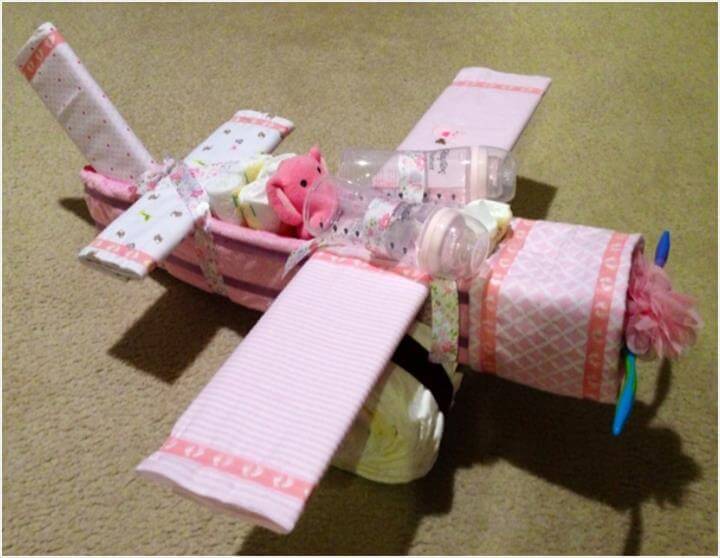 Get ready with diapers, infant spoons, with a flower headband, 2 feeders and with a small stuff animal if you need to clone this eye-catching baby shower diaper cake, really and cool and beautiful! Complete DIY tutorial here!
Image Set 5:
Sweet Langar Top Baby Shower Diaper Cake: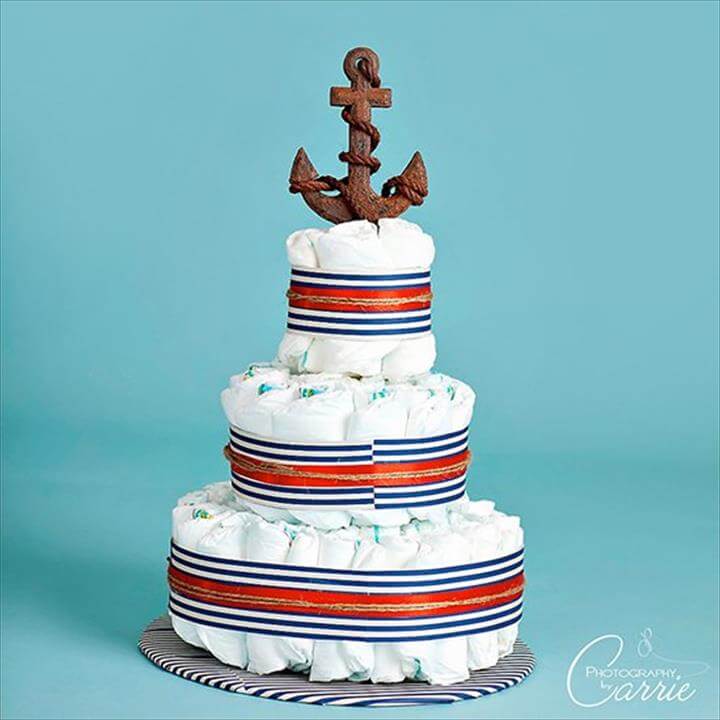 Diaper cake with a ship langar on the top tier, a cool baby shower gift inspired of nautical decors! Do get it to please a mom-to-be!! Buy it here!!
Fancy Castle Diaper Cake: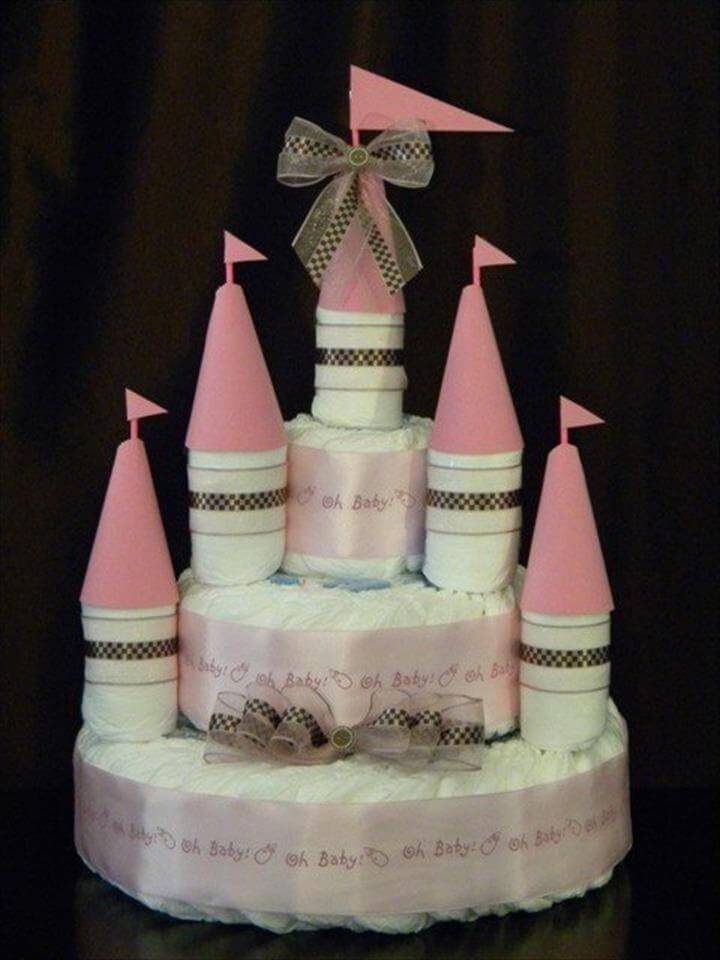 Give extra wings to your creativity while getting crafty with diapers for some highly inspiring diaper cakes! It may even be a castle diaper cake for baby girl shower as shown here, really outstanding piece of work!! Order it here!
Rubber Duckie Diaper Boat Cake: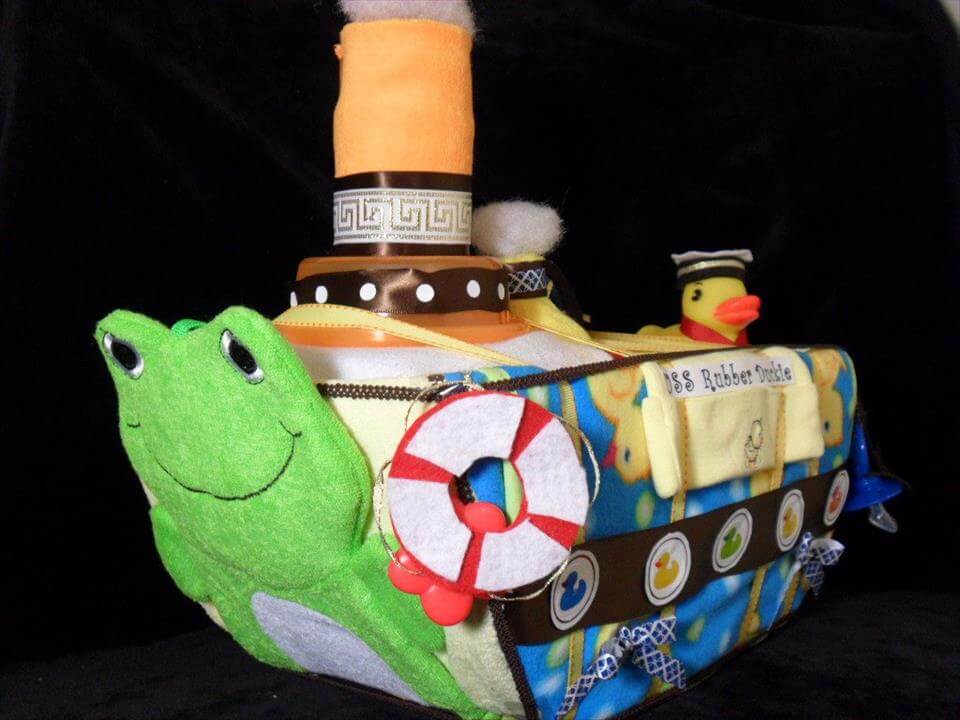 Really smart idea for a diaper cake, the diaper cake duckie boat! Having a precious front that is so due to a mounted frog toy! The cute duckie is the captain of the boat and there are also chimneys over the top making the boat look close to real! Integrated with all the stuff a mom need to take good care of her baby! Buy it here
Praise-Worthy Tricycle Diaper Cake: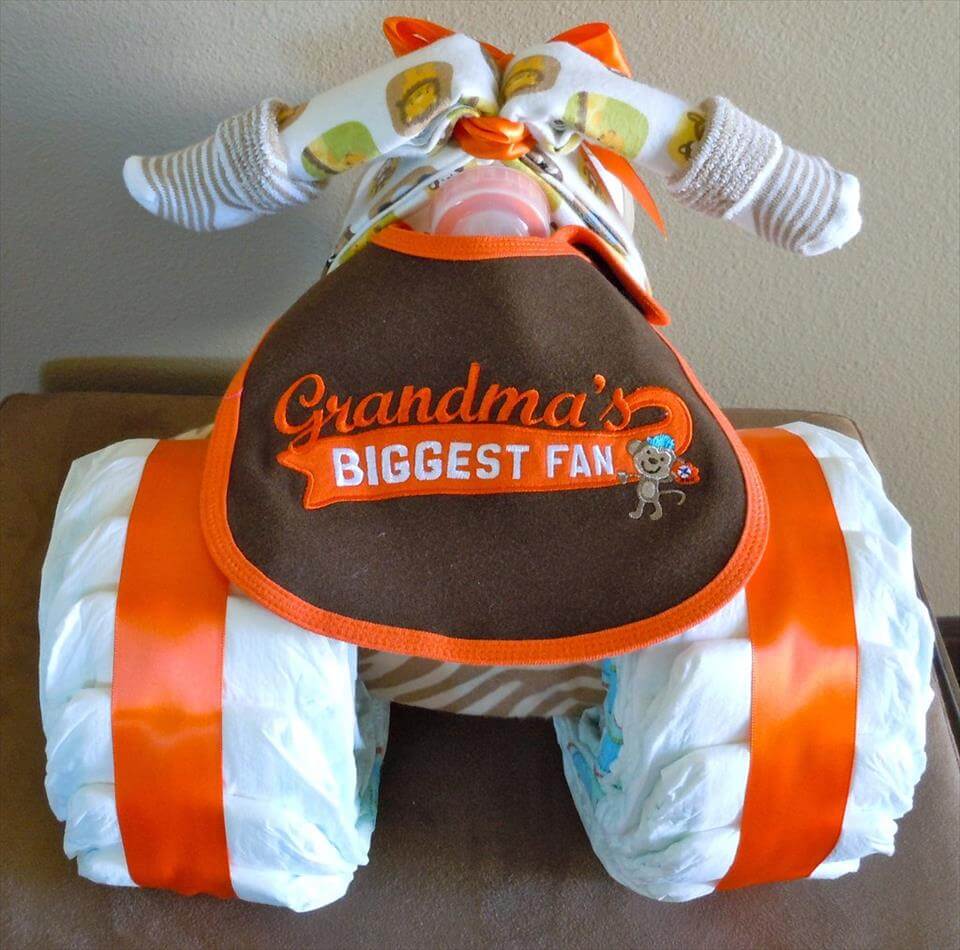 Willing to be extra brilliant in crafting diaper cakes, just craft this baby shower tricycle cake, would earn both earn and love for you! The diaper cake is example here about how to praise the creativity! Order it here
Easy-to-Make Camo Diaper Cake: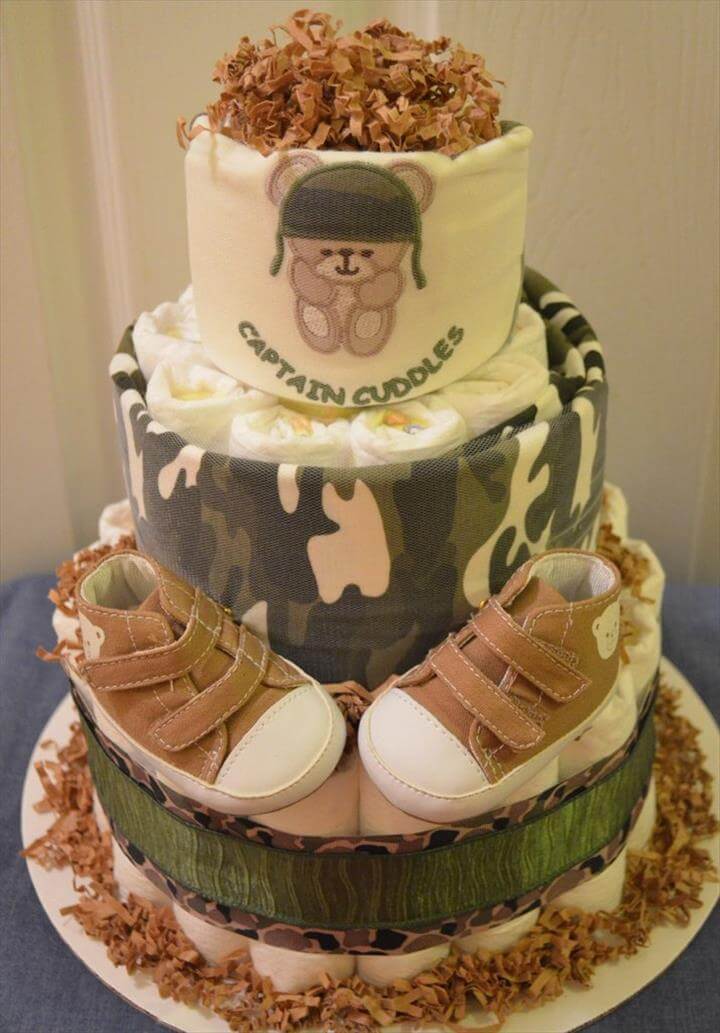 Camo themed 3 leveled baby shower diaper cake, 2nd tier comes with baby shoes pair intended to gift the mom-to-be! As amazing and creative as one can want!! Click here for price and other details!
Excellent Sushi Diaper Cake: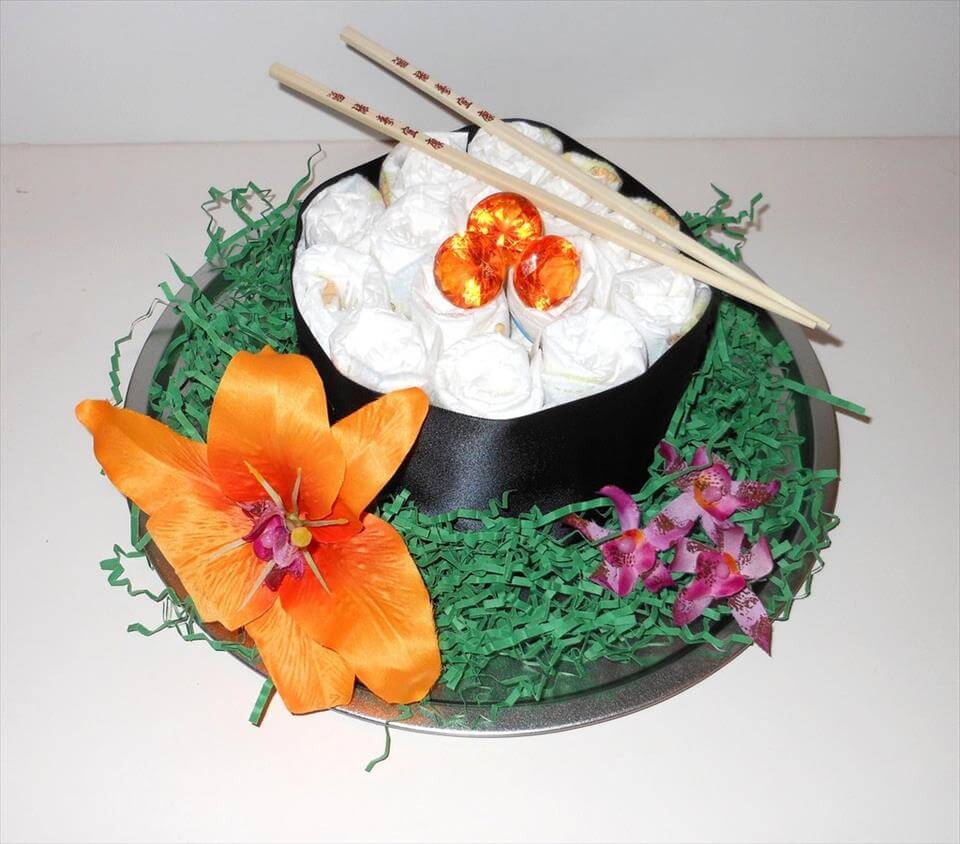 Another highly praised alternative to diaper cakes, beautiful diaper sushi! Rolled diapers circled with black ribbons, have been placed in a tray which is filled with green ribbon leftovers! A close to real depiction of a sushi cake using diapers and ribbons and is easy to re-create too, it should really be a part of the baby shower party!!
Awesome Car Diaper Cake: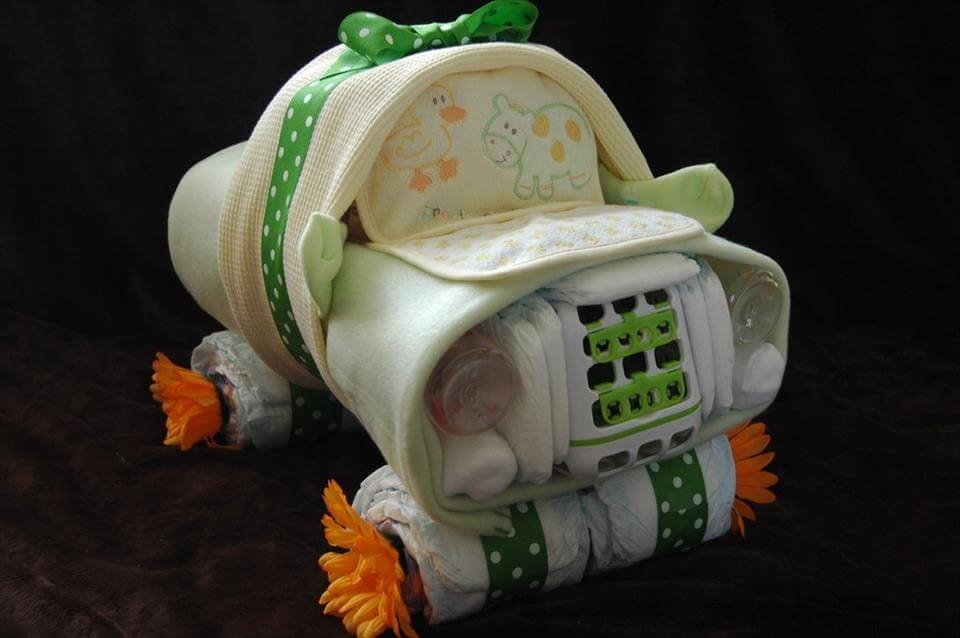 Amazing diaper car cake, looks like a vroom!! A plastic basket has been integrated to keep the car longer in shape and rest of components and part of the car have been using diapers, baby blankets and bibs! Feeders have been inserted to each side of the basket as head lights! Would be a great scene-stealer in entire baby shower party!! Interested in buying it? Order it here
Diaper Cake with Secret Gift Inside: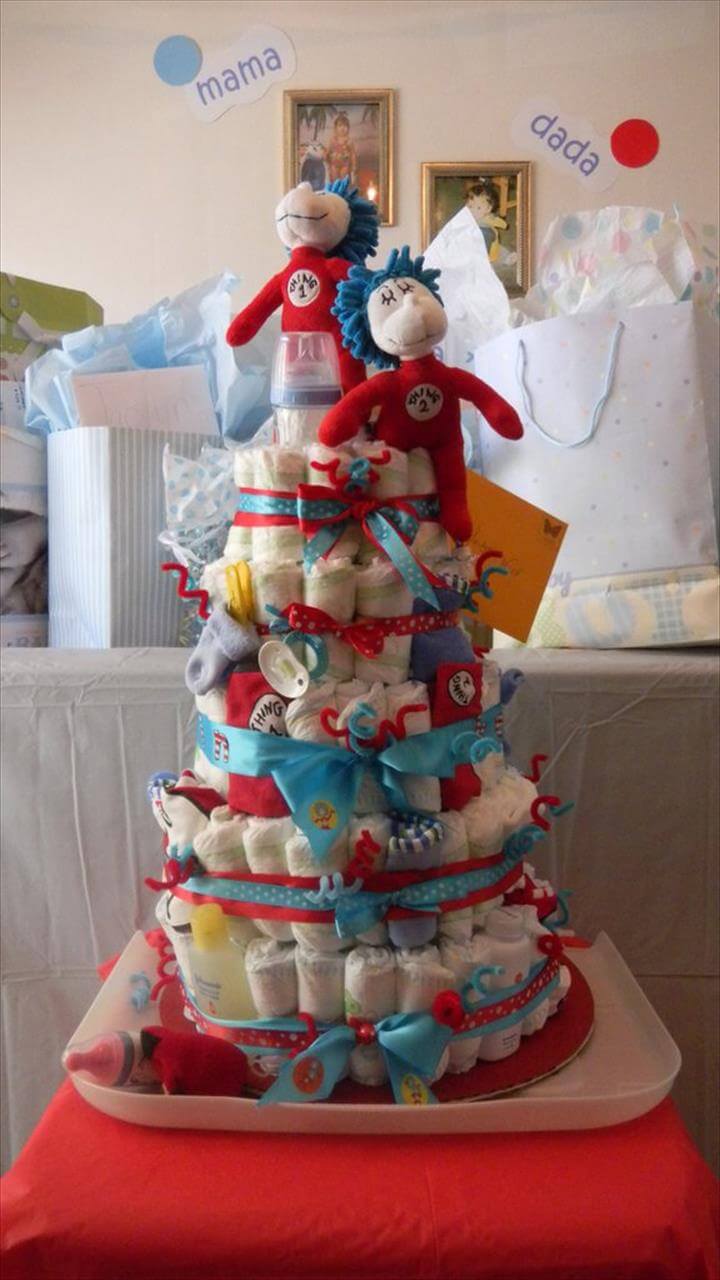 This diaper cake has been done with hidden surprise gift in the center covered by the rolled diapers!! Jazzed up with custom knickknacks and baby stuff like baby feeder, shampoo bottle and pacifier! Buy it here
Handmade Train Diaper Cake: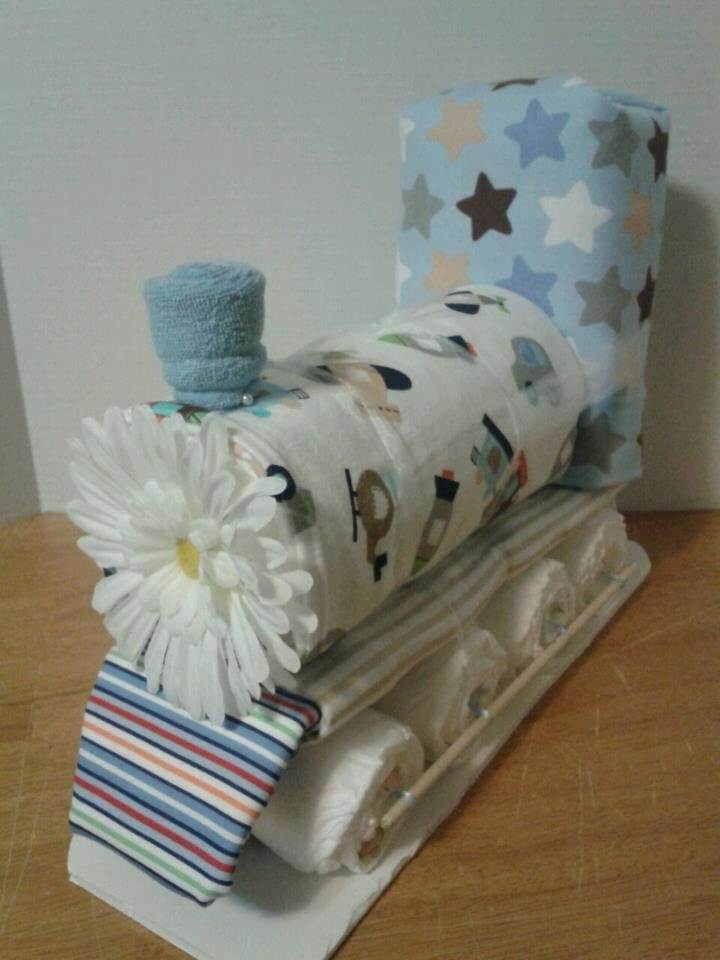 If you want a great love in revenge after giving a baby shower gift, then we recommend you to craft this train diaper cake. rolled diapers connected through wooden dowels give the necessary train wheels here! Put a folded blanket over the train wheels and just finish it up with an another blanket wrapped on a round cardboard tube, this makes the train engine! Washcloth has intelligently been used as smoke chimney!! Buy the same or similar one here!
Motorcycle Diaper Cake – Centerpiece for a Baby Shower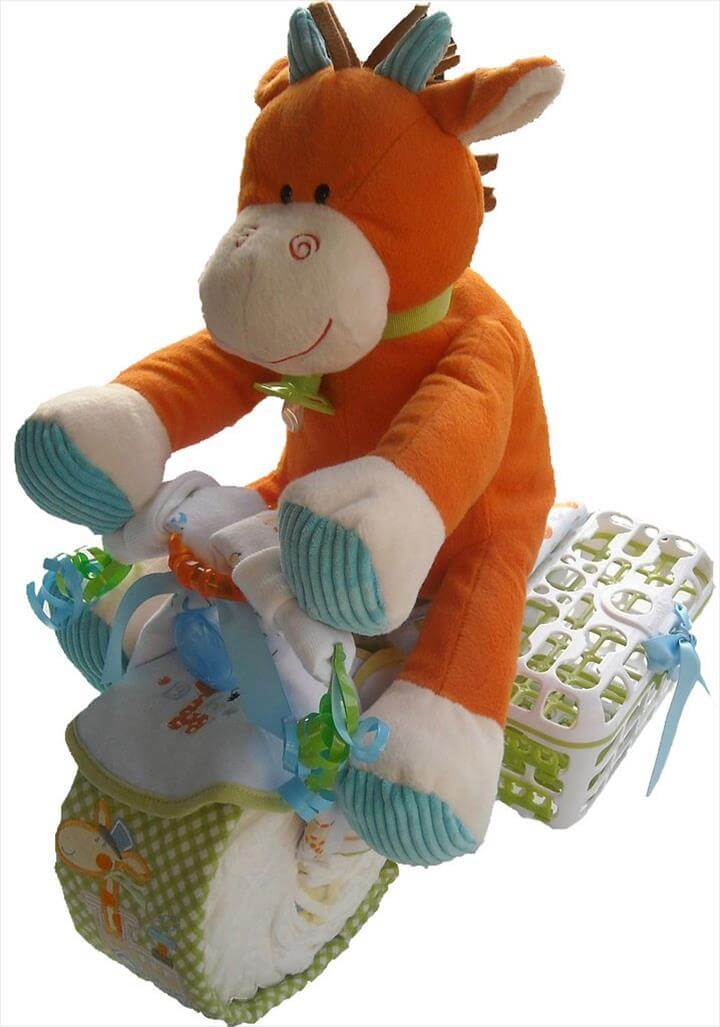 Another epic gift for the baby shower, a cool tricycle cake, ridden by a monkey toy! A plastic basket has been attached as a entire back of this tricycle while front wheel is made of diapers wrapped in washcloth! Order it here
Hungry Caterpillar Themed Diaper Cake: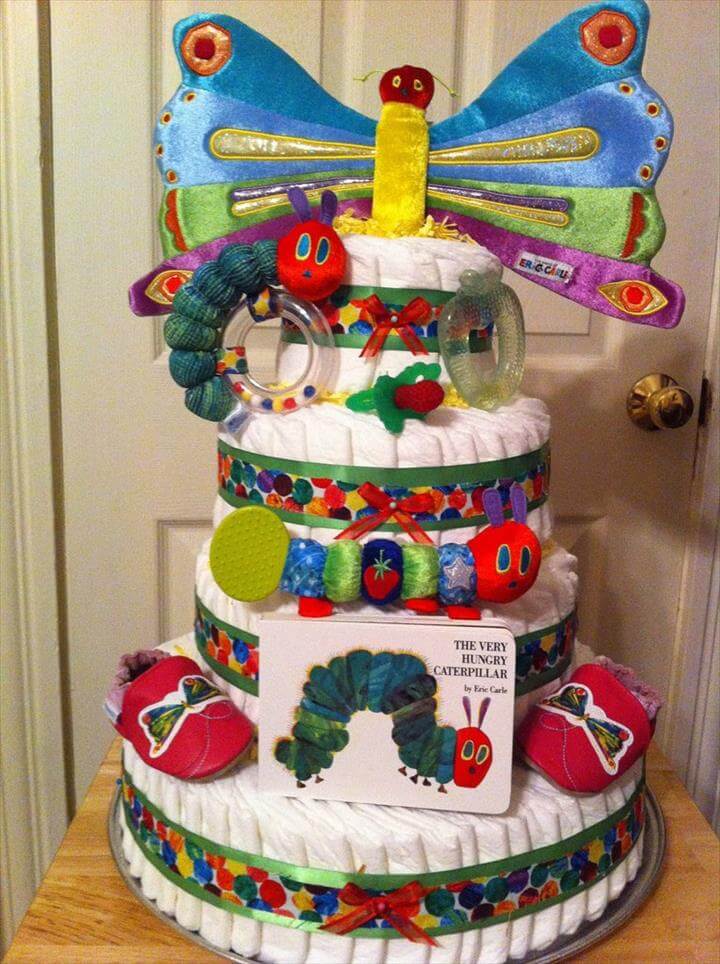 One more interesting one to make the baby shower party special, the cute hungry diaper cake, given a caterpillar theme! Made more special by hanging baby pacifiers and also the cool shoes for the baby! Buy it here
Chopper Diaper Cake Ridden By a Panda: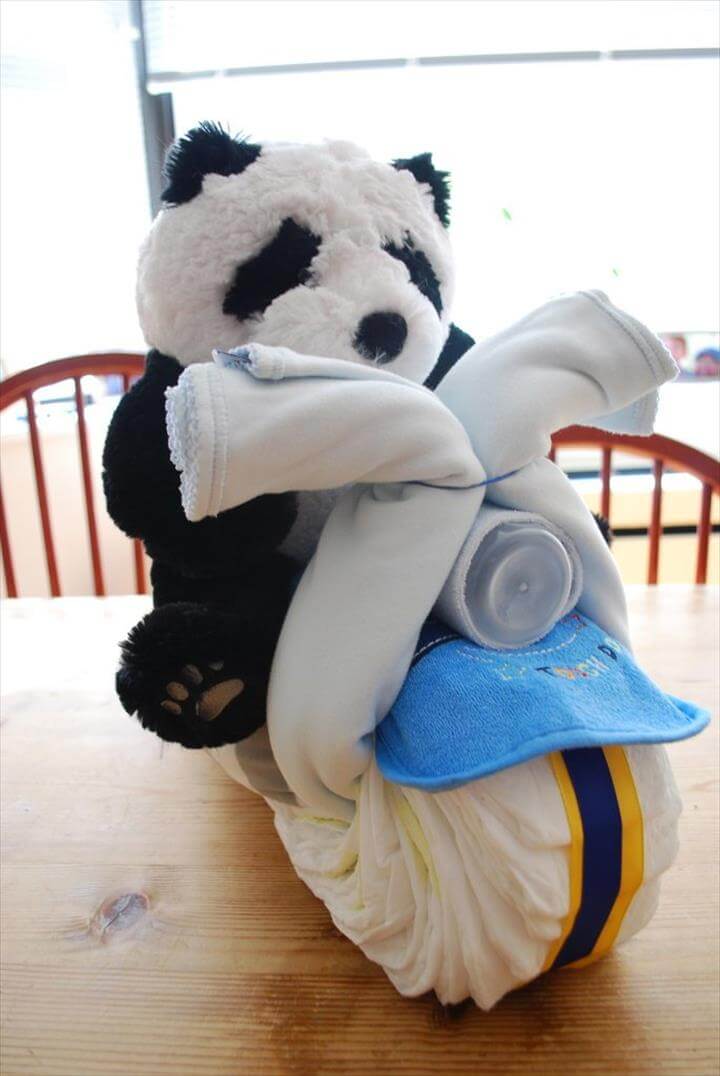 Follow the step by step instructions if need this diaper chopper cake ridden by a panda toy, will make all the loving moms happy a lot!! A washcloth builds the handle which holds a bottle inside as a precious head light! As usual the wheels are made of diapers and have been secured with ribbon, circled beautifully! Full Tutorial Here
Curious George Diaper Cake: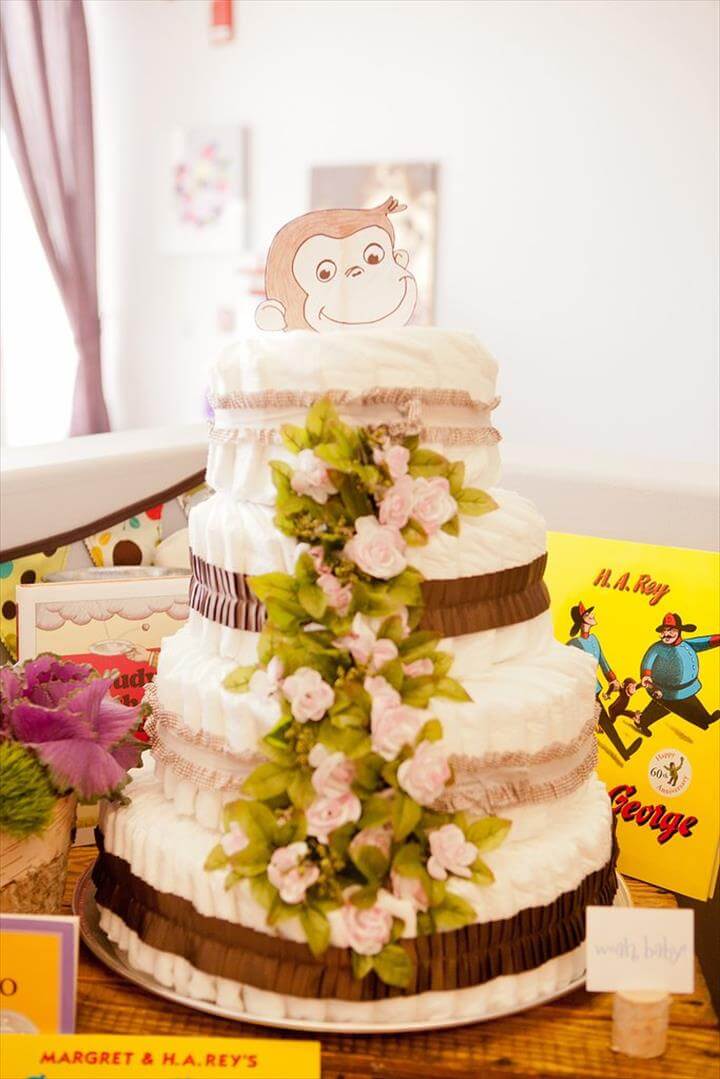 Baby shower decorations, gifts and cakes are always more special which comes with a cartoon theme, so presenting here the cool Curious George diaper cake, finely decorated with flowers and a ribbon! Via kiokreations
Phenomenal Wishing Well Diaper Cake: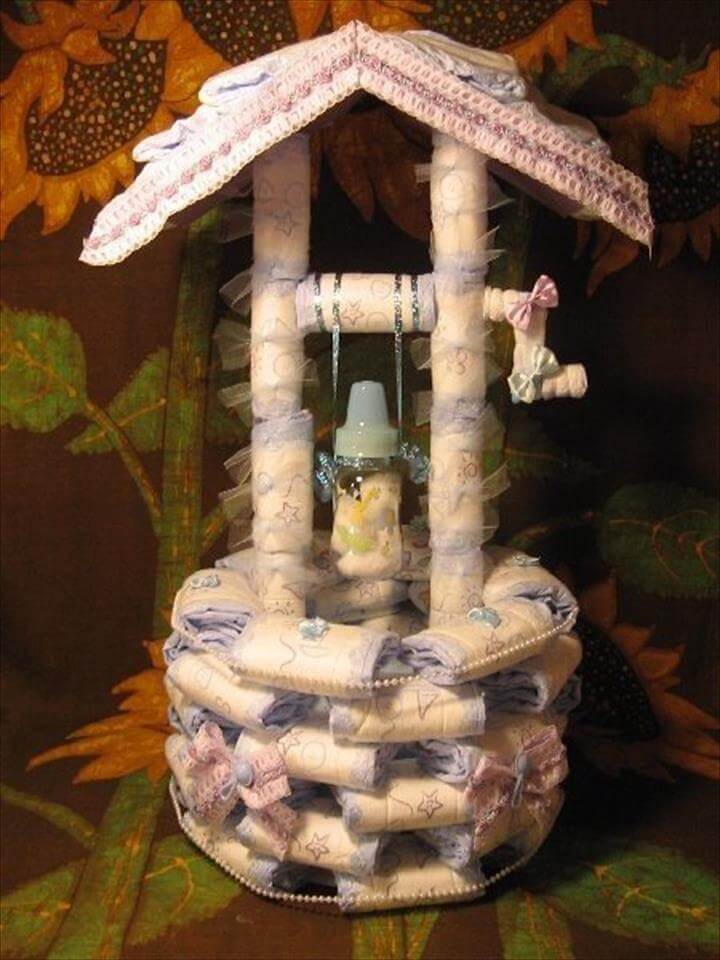 Diapers cakes can be of shapes that lives always in a child's fantasy!! With having this mind this wishing well diaper cake has been made for a mom-to-be!! Listed here as a great inspiration for you!! Order the instructions here
DIY Golf Club Diaper Cake: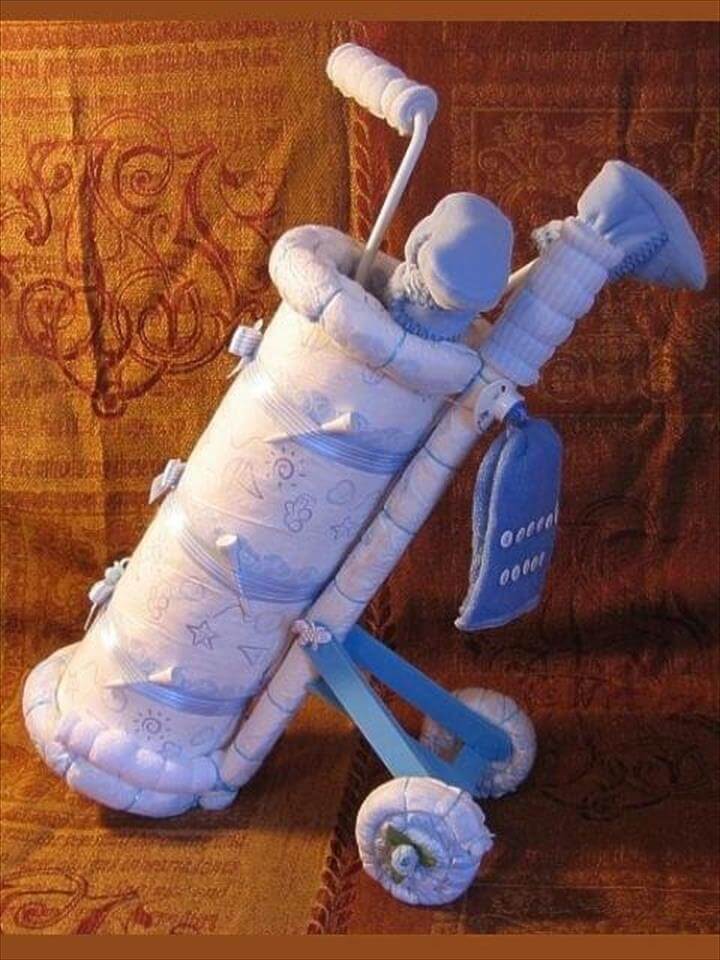 Here is a diaper cake idea that is beyond one's imaginations, a golf bag has been created using fresh and rolled diapers! This centerpiece diaper cake will make the onlookers stop twice to stare on it! Buy tutorial or instuctions here for 9$ only
Sophisticated Burlap Diaper Cake: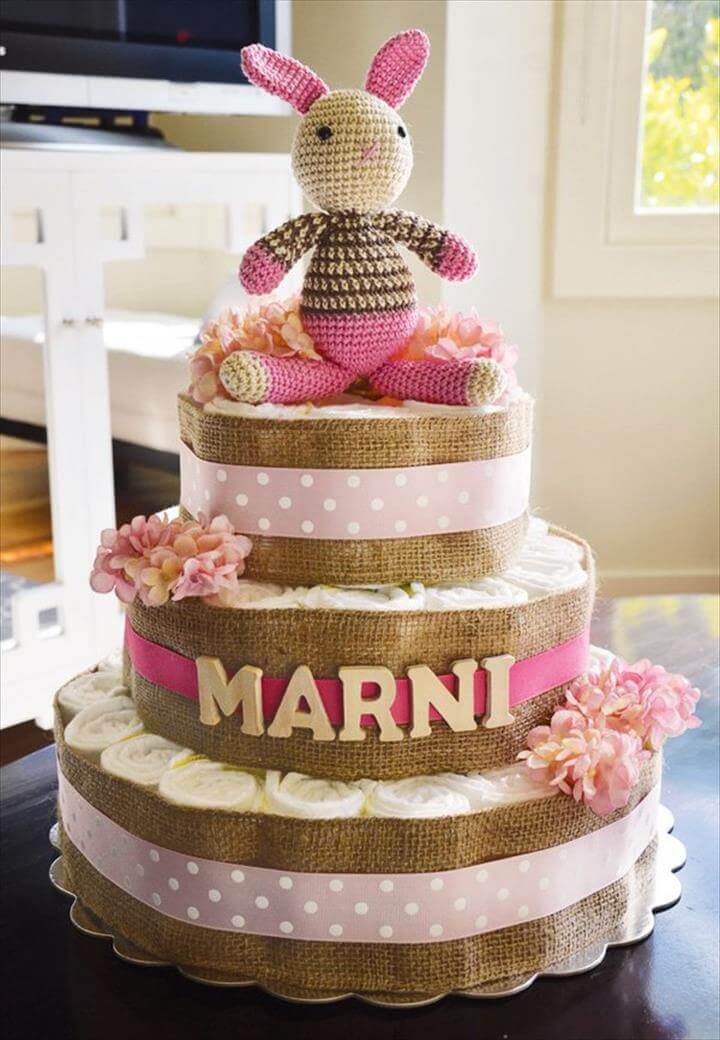 Want to give a "Wow" factor to your baby shower party and celebrations? We would recommend you to craft this diaper cake that will draw the attention of onlookers more than anything in the whole party environment! Brought to your by Hostess with the Mostess
Baby Shower Show-Stopper Sparkly Diaper Cake: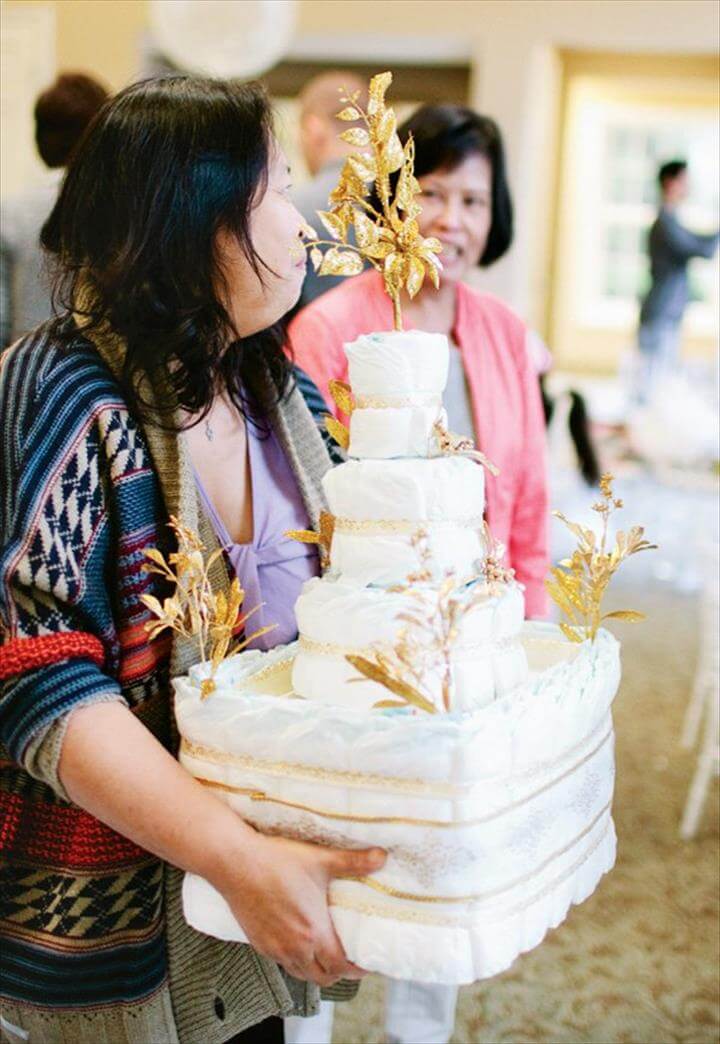 Using a cardboard box or empty shoes box and bundles of rolled and flat diapers that lies around the box and over the box as cake tiers, this stunning baby shower cake has been crafted!!! Appearance of it has been spruced up using sparkly ribbon and decors!!!
Eye-Catching Soccer Onesie Cake: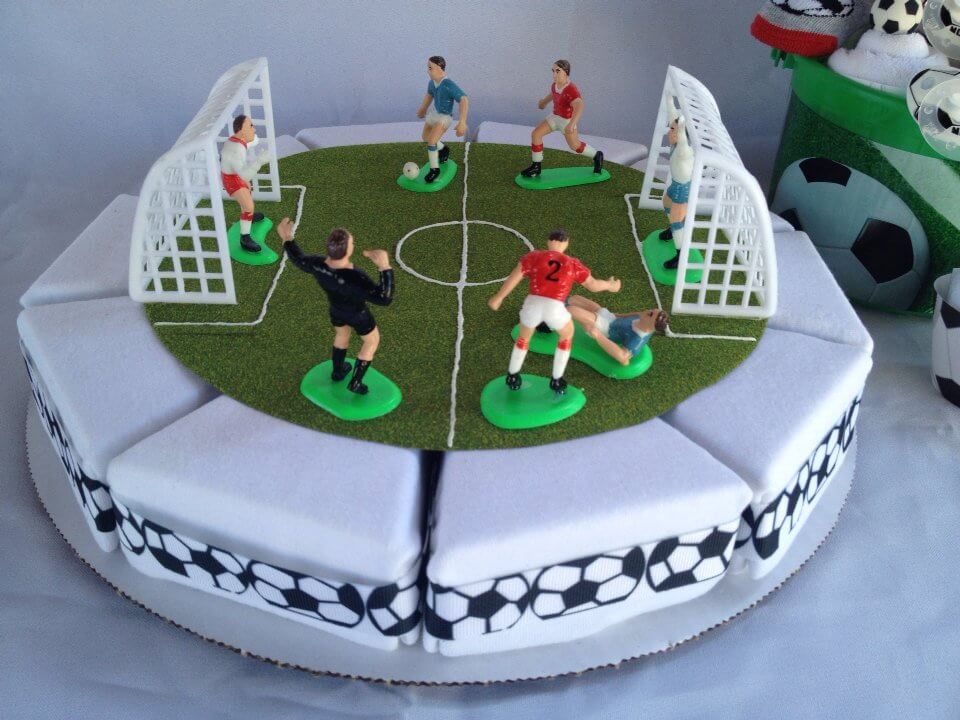 If you are not handy at working with diapers, then you can prefer this soccer baby shower cake, having base prepare with baby onesies!! Buy it here
DIY Book Themed Diaper Cake: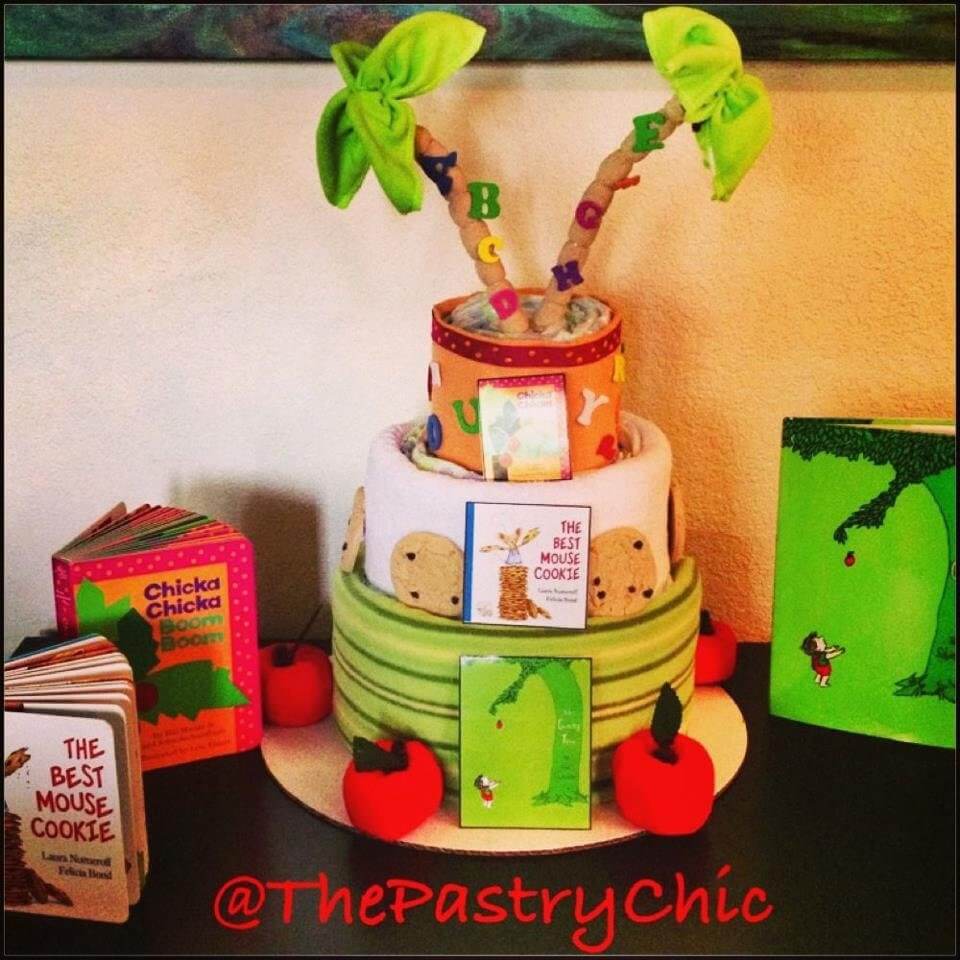 Custom baby shower cake, made with hands and comes with each tier themed up differently! Really a bizarre inspiration for the diaper cakes! Top tier also comes with 2 fancy tree, jazzed up with colorful alphabets!! Order it here
Easy Rock Star Cloth Diaper Cake: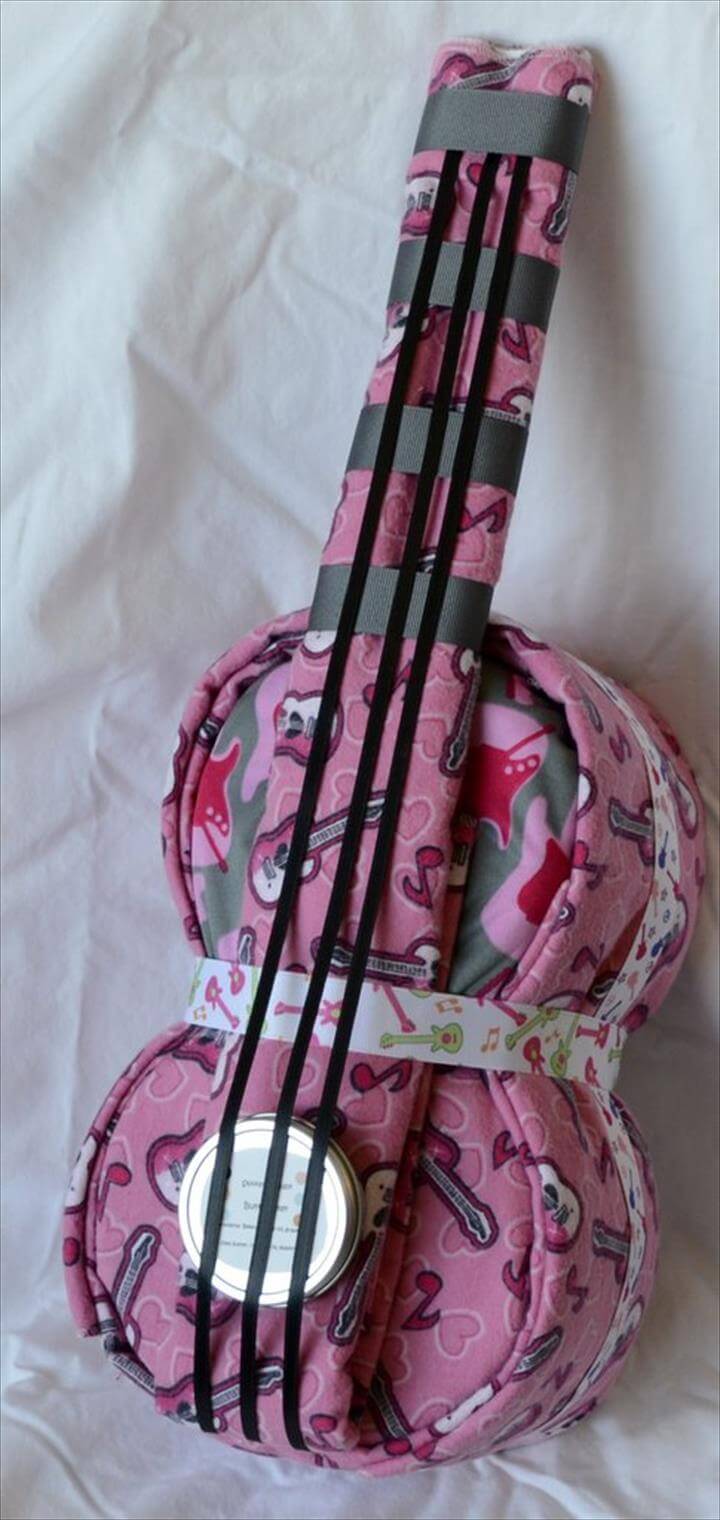 There can't be a precious gift for a mom-to-be than this rock star guitar diaper cake, done by going creative with diapers, washcloths and baby blankets! Buy it here for 60$ only
Funky Sailboat Diaper Cake: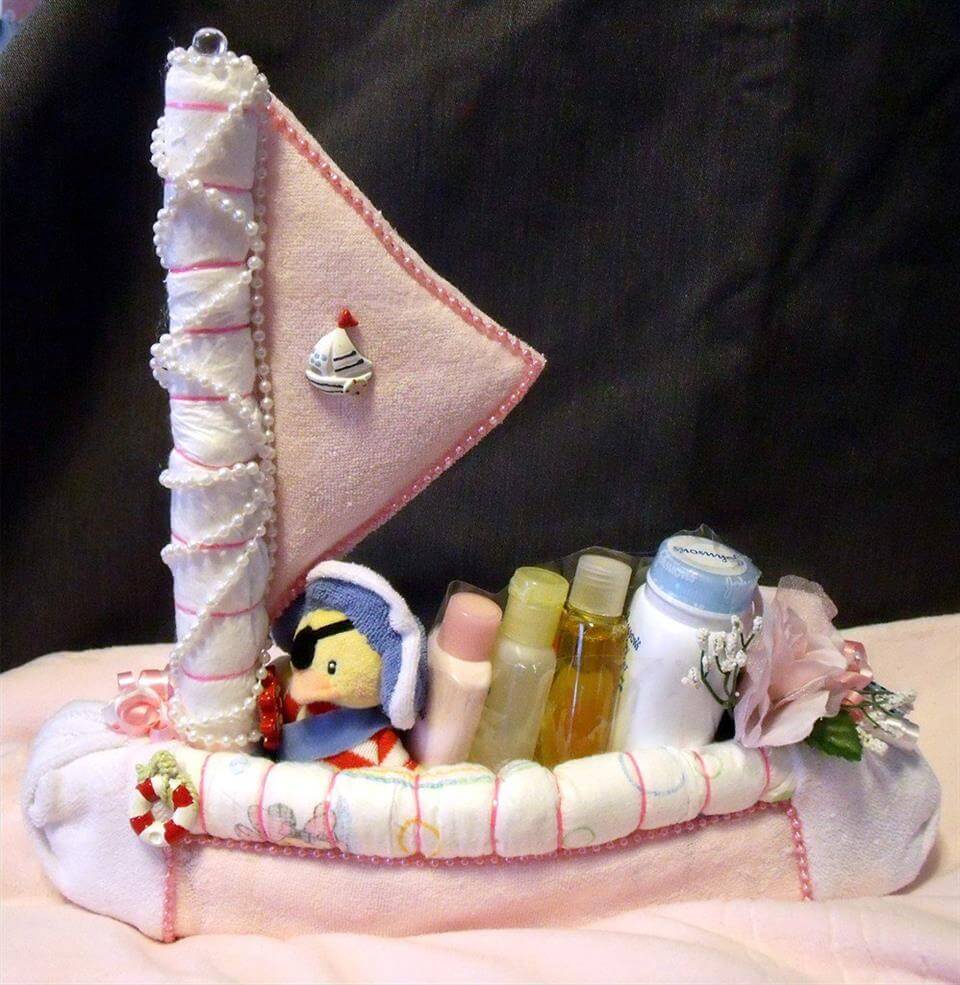 Ever beautiful diaper cake inspiration, will fancy up the entire baby shower party atmosphere! This extra brilliant sailboat cake is filled with baby shampoos, soft stuffed toys and also with other worthy goodies! Prefer the custom material for overall decorations of it! Make it yours by ordering here
Bee Themed Diaper Cake Centerpiece for Baby Shower: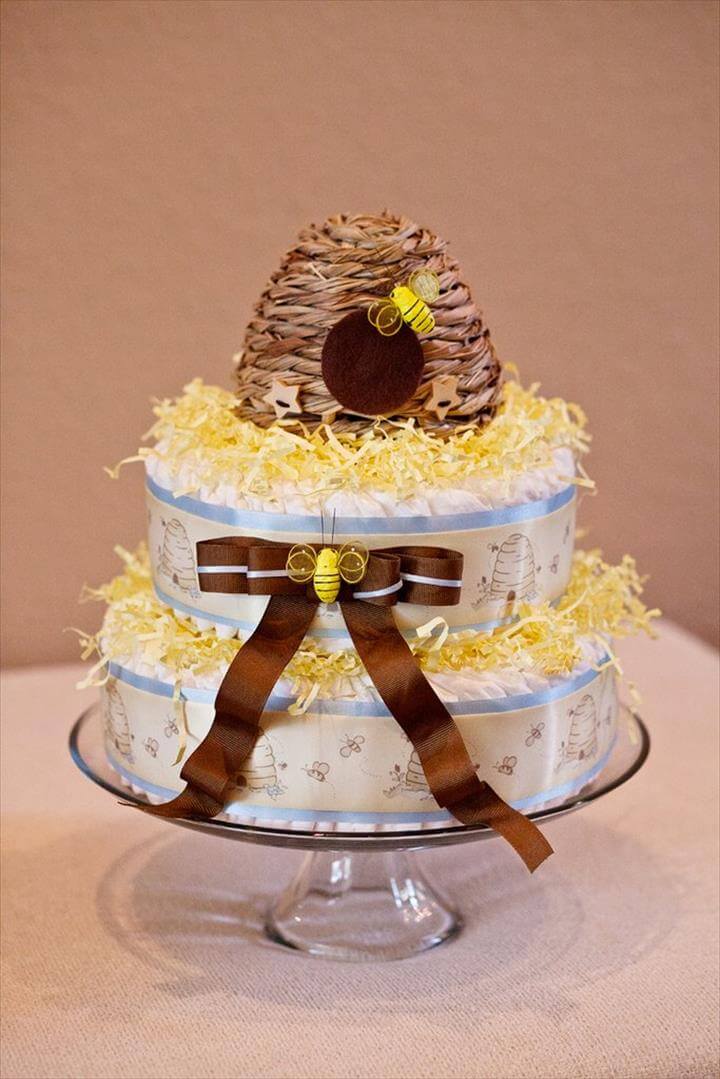 The special beehive diaper cake, will add 4 moons to baby shower atmosphere and will be the whole showstopper there! Cuteness and uniqueness are the two main features that will be  center of attention for all onlookers! Via alysonsivek.com