Need some best recycle or upcycling ideas to transform your old stuff into useful things? Any material or item of furniture we are living with for two hours or for years, we just hold a sentimental value to it. So, discarding it after great duties in the home will really make you sad. Destine your old materials to trash piles are not the only way to get rid of them. Instead of throwing them to landfills, you can think of some genius recycling, upcycling and repurposing ways to keep using them in the home in some modified shapes and structures.
Get a whole bag of tricks to turn your trash-worthy objects into a treasure by browsing this collection of 30 best DIY upcycling ideas to repurposed old stuff, have only been shared for the genius DIYers who love to repurpose old things. To upcycle your objects will also be a great trick to save yourself a lot of money which you have spent on buying new items instead. Just by giving a touch of creativity, you can extend the life span of an expired item so it will be back in home to perform in some other functional ways.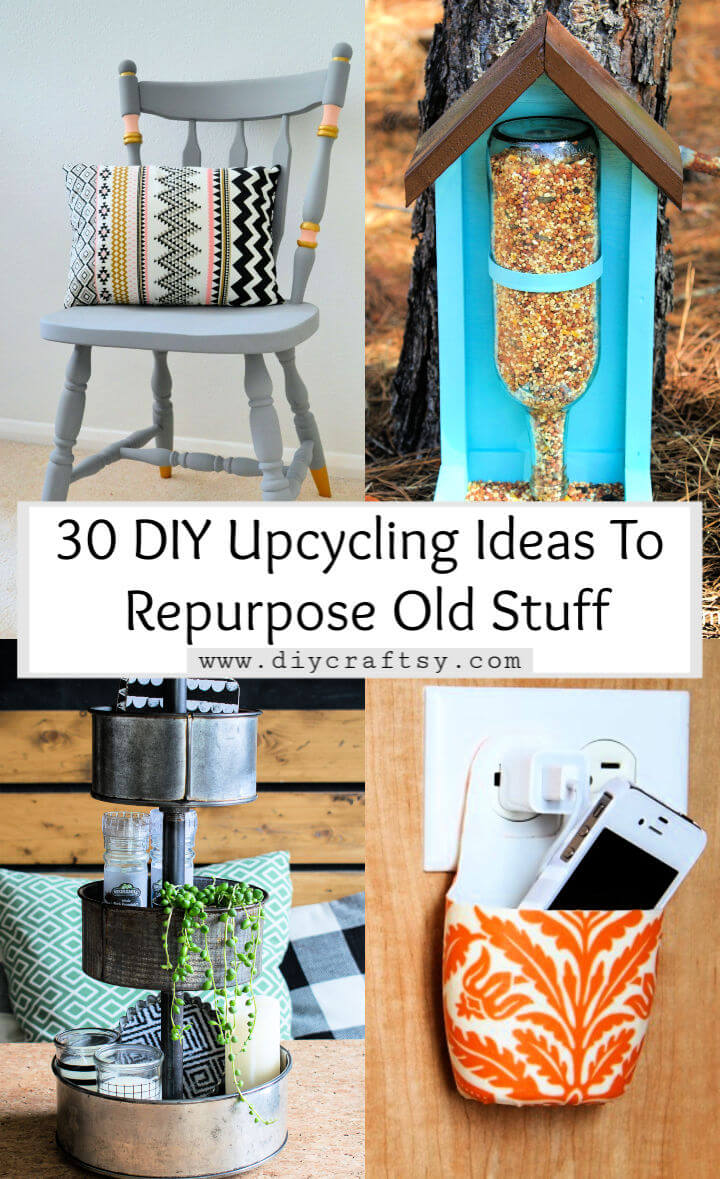 Upcycling ideas for the home:
Upcycle old Mason jars for making low-cost lighting and indoor herb gardens. Upcycle old doors and windows to make storage-friendly coffee tables, will be of centerpiece worth in your living room. Raise the wood crates on wheels, give a decorative finish and gain upcycled crate toy storage boxes. Also, make yourself a fashion t-shirt out of an old one using the bleach spray.
Repurpose odds and ends of wood and empty glass bottles to make epic birdfeeders at no-cost and also handprint the wood log slices to make cool rustic pieces of wall art. Reclaim also the old wood remains like slats, dowels and bun feet to build interesting jewelry organizer and don't pay for the iPad holders as you can make them at home using leftover copper pipes.
Reuse the old rag rugs to build interesting storage-baskets, make lovely vases out of empty plastic or glass bottles and whip up also a quick colorful wreath using empty yogurt cups. Take a short tour of all the listed DIY upcycling ideas to get inspired and click on attached reference links to grab full free tutorials and visual guides.
DIY Indoor Mason Jar Herb Garden:
Mason jars are to find in abundance in every home, and they are the most amazing upcycling mason jar projects.
Fill them with the potting soil and then plant your herbs and place in a metal basket or holder and make a lovely indoor herb garden. How-to details here onsuttonplace
Build a Distressed Coffee Table with Storage:
This DIY coffee table is capable of storing all the living room paraphernalia in a hidden way.
A distressed coffee table with a big storage drawer that comes on hardware drawer slides for easy opening and closing.
Make this design using plywood, and it will definitely be a timeless wood project to do at home. rogueengineer
DIY Industrial Wood Crate Toy Box:
Want some enchanting but durable storage boxes for the kids' toys? Then upcycle the wood crates to build some instant beautiful ones.
Use paint and stencils and also a nice wood stain to decorate your wood crates and next finish them up with wheels. How-to details here addicted2diy
Make Your Own Bleach Spray Shirt In Just 10 Minutes:
Your old t-shirts are a waste no more, upcycle them also into fashion-worthy shirts again by giving a decorative treatment.
Here this shirt makeover involves using the bleach the spray, and this whole process will complete in only 10 minutes. Full how-to details here practicallyfunctional
How to Make Bird Feeder with Wine Bottle:
No need to buy the good looking bird feeders, just upcycle the old wine bottles and old wood from home to build some highly beautiful DIY bird feeders at home.
Build a wood holding with a bottom box or tray and also with home-style chevron roof, and next fit the bottle inside with an inverted position.
Paint in your own way and don't forget to fill the bottle with bird seeds. Details here downhomeinspiration
DIY Magazine Rack:
Upcycle also the IKEA components and products to make fabulous home decor and organizers.
A brilliant sample here is this magazine rack that is made of an IKEA's Spontan Magazine rack, and it will just be timeless to make. How-to instructions here one-o.it/ikea-hack
DIY Hand-PrintedWood Sign:
Upcycle also the wood log slices to enticing wall art pieces and quoted signs that will rock on the accent tables and shelves too.
Use the wood-burning tools and tracing templates to make this hand-printed wood sign that comes with a lovely quote in the center enclosed with the painted flower prints.
How to Build a Simple Organizer:
Having nothing to do with the leftover wood items? Upcycle them to make new DIY jewelry holder in no time.
Upcycle old wood dowels, slats, and posts remain to build this epic organizer that looks great in chic white painted appeal and will make a cool jewelry organizer. Don't forget to finish it with wood bun feet. Details here anikasdiylife
DIY Chalk Paint Chair Makeover – Upcycling Ideas:
You will become a big fan of the new look of this upcycled chair. An old chair has been upcycled by giving a decorative treatment using chalk paint.
Along with chalkboard, the fun bright colors have also been used to highlight the bottom feet and artistic design components of the chair. Full details here girlabouttownhouse
DIY Copper Pipe Ipad Holder:
Upcycle also the leftover copper pipes and make lovely iPad holders that will also make a cool handmade gift for friends and iPad lovers at home.
Look at the phenomenal given sample made of upcycled copper pipes. Full details here abubblylife
Turn an Old Alcohol Bottle Into Soap Dispenser:
Don't throw your empty drink bottles in the trash, upcycle them to make more functional items of need like this soap dispenser.
Put back the wood corn in the bottle opening, drill a hole, and then install a soap dispenser and gain a fabulous soap dispenser out of an old glass bottle. Details here thediyplaybook
Old Rag Rug Into a Storage Basket:
Have you got bored of the same look of your rag rugs and didn't want to see them again? Then just don't waste them as you can make lovely storage baskets out of them, get inspired by the given lovely samples that make durable storage options for your home.
This upcycling project involves a little sewing. How-to details here sugarandcloth
Old Mason Jars Into Handy Organizer:
Mount also the Mason jars on the recycled wood planks using hose clamps and make a lovely wall hanging organizers. Another smart way to upcycle the Mason jars and old wood planks.
You may also love these helpful ways to recycle mason jars for bathroom.
After you mound the Mason jars on a wood plank using hose clamps, you can fill them up with plants, candles and also with your favorite accessories that need to be store nicely. Details here thediyplaybook
Upcycled Almond Milk Bottle Dolls + Vases:
The empty almond milk bottles are not to throw to dumpsters after they get empty, they can be the next most amazing home decor centerpiece if get creative with them.
Paint them for a doll appeal and add cut flowers and gain almond milk bottle dolls and vases. Get inspired by the given samples. How-to details here handmadecharlotte
DIY Paint Chip Lamp Shade:
Look at this graceful light lamp, want to add it to your bedroom or living room? This is super easy to make and is actually a DIY upcycling project.
Wrap the paint chips around the lampshade and given an instant decorative treatment to them. A nice way to reuse paint chips and to upgrade your light lamps. Details here prettyhandygirl
Upcycle Old Yogurt Cups to Make a Wreath: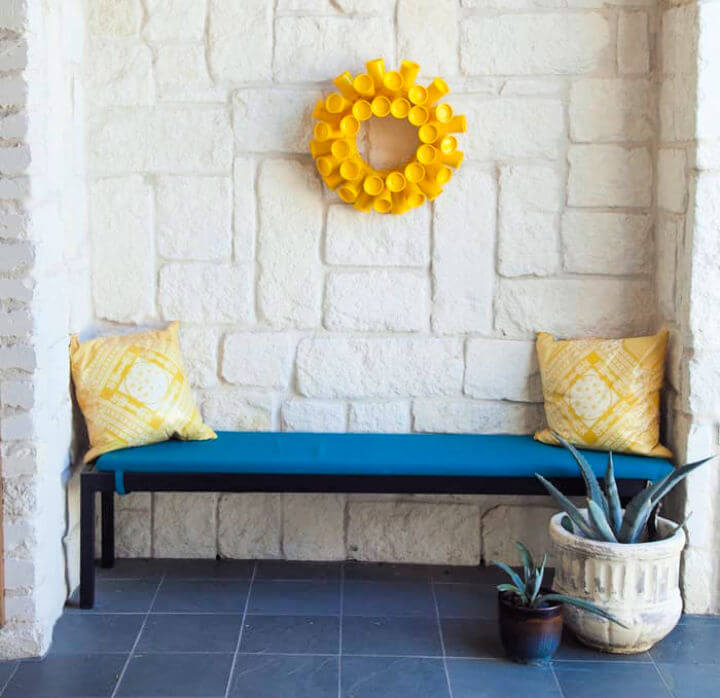 Here a treasure has been made out of the trash, and it will amaze everyone sitting at your patio or porch.
This is here a beautiful wreath made of upcycled yellow yogurt cups that are found in abundance mostly in everyone's home. Here is how to make it prettyprudent
DIY Charging Station for Cell Phone:
Upcycle also the old shampoo bottles to make fabulous DIY charging station for cell phones.
They can also be given as sweet handmade gifts to friends who have broken their phones while charging. Just cut the shampoo bottle in half with a back loop to fix on the wall hook, and that's it. Details here makeit-loveit
Make a White Chevron Scarf Camera Strap:
Transform every of your old item into lovely and more functional objects using our most helpful crafts to make and sell.
Upcycle your old scarves also to make beautiful camera straps and here you can see the amazing chevron camera straps made of an old chevron scarf.
One more amazing upcycling project to do at home. Details here countryeyesoceanheart
DIY Mason Jar Night Light In Three Easy Steps:
Celebrate every evening with these upcycled night lights that are colorful and enchanting and are made of repurposed Mason jars.
Glitter up the Mason jars using colorful glitter and mod-podge and then put the candles or battery operated lights in them. Full how-to instructions here modpodgerocks
Turn an Old Sweater Into a Chic Preppy Pillow:
Keep using your old sweaters and shirts by making these adorable preppy pillows that will definitely grace up your bedroom.
They are quite easy and simple to make and will definitely grace up your bedroom. Get inspired by the given samples and appreciate the creative upcycling of your old sweaters and t-shirts. Details here hgtv
Upcycling Idea For Plastic Bottles:
Sorting out the best ideas to upcycle your plastic bottles? Then here is a genius one, make adorably cute and stylish planters out of them that you can use for instant beautification and garnishing of your indoor and outdoor sitting spaces.
Look at the given samples that are super quick and easy to make. Details here instructables
DIY Three Tiered Stand From Baking Tins:
Looking for a perfect storage organizer that will also bring a style to a decided space? Then do opt for this three-tiered stand that is made of upcycling baking tins.
Just tier the tins on a recycled Metal pipe and gain this beautiful vertical tiered organizer that will rock to hold and display your things on a table. Details here grillo-designs
Enamel Mug Organizer:
Having nothing to do with your old enamel mugs? Then why not put them to some good uses? Yes, you can upcycle them to make fabulous wall mounted organizers.
Just fix them on a wood plank using nails and then mount on the wall to hold and display your items of decors and need as you can see. Details here homeroad
DIY Flower Pot Idea To Copy:
It is amazing to garnish your spaces with the flower planters and pots that also bring colors along with some fantastic natural decor vibes.
Also, upcycle your plastic buckets to make fabulous flower centerpiece like this given sample.
Add the bucket with a flower applique accent and then paint and fill with cut flowers that may be artificial too. Details here shabbyfufu
DIY No-Sew Zipper Cases from Plastic Bottles:
The best gifts to give to school going kids, the precious zipper cases that will nicely hold the colorful crayons and pencils.
They are made of upcycled plastic bottles. The idea is to cut the plastic bottles in halves and then to connect them again using a colorful zipper. How-to details here makeit-loveit
DIY Mini Bell Jar from a Broken Wine Glass:
Here is something that will make you say a big wow, a mini bell jar made of a broken drink glass.
A great way to upcycle your old drink glasses and here all you need is to wrap the rustic rope around the bottom of the glass making a loop at the end. Full how-to tutorial here bywilma
Turn Coffee Can into a Planter Bucket:
Check out this upcycled planter that will love to praise for sure.
Here the old coffee cans have been upcycled to make the cool planter buckets that will rock for natural garnishing of your indoor and outdoor sitting spaces.
Don't forget to decorate your buckets with the clothesline rope and seashell necklaces. Full how-to tutorial here thewickerhouse
Bookshelf Turned Kid's Play Kitchen:
Having some old bookshelves lying useless in your home? Then use your creativity and upcycle them to make some cool play kitchen for kids, will definitely boost the entertainments of your kids. Get inspired by the given sample that comes covered with a decorative curtain.
Kids' Craft Station:
Use also the miniature round organizers or side tables to make beautiful craft station for the kids.
Here a distressed pink painted organizer has been used to organize the craft materials that kids will love to get crafty within their spare time.