Looking for easy outer space crafts to inspire your kids? Find these 30 easy space crafts for kids, toddlers, and preschoolers that will keep them entertained for hours. will be shooting off to the moon and back in no time! These fun and simple space crafts are perfect for toddlers and preschoolers and will keep them entertained for hours. From astronauts and aliens to spaceships and rockets, there are easy outer space crafts for all ages kids. Most of these space crafts can be made with items you already have around the house.
When things are left to the imagination, there are usually many happy thoughts involved! Check out our 40 space crafts for kids, toddlers and preschoolers! If there's one thing loving about childhood, that is the perks of imagination! For your little stargazers and "I will be the future astronaut," we have rounded up these lovely space crafts!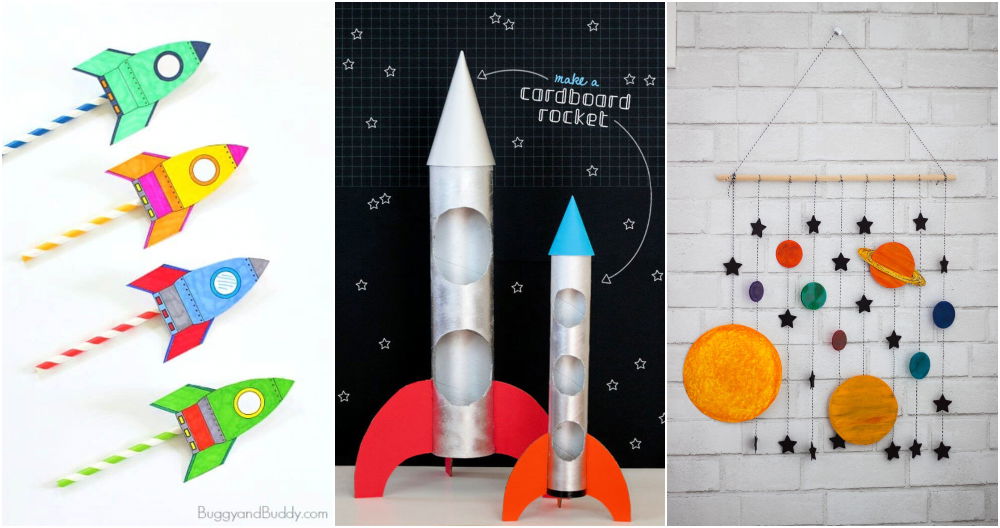 Easy Outer Space Crafts for Toddlers, Preschoolers and Kids of All Ages
These space crafts are a beautiful way to keep your kids happily occupied!! While at the same time trying something really imaginative and thoughtful with a more attractive and eye-catchy approach! With these space crafts, you can get a lot of ideas and help for space week or space projects!
From solar systems in funky yarn pom poms or huge Styrofoam balls, we have got just so many ways to make learning way more fun than it could have been otherwise! There are also many fun ways to transform your empty toilet rolls or cardboard into these 3D rockets, which will look all lightened up and ready to hit the sky limits! Get your kids a tour of the moon sand with our moon sand buckets and many other harmful sensory bins.
Most of the supplies you will need to nail these space crafts might already be available at your home! And other than the basic game-changer, you will need the basic craft notions like glue, markers, paints, etc. So let's just dive into the space yourself and explore the greatest themes and ideas to make space more fun!
1. DIY Soda Bottle Space Rocket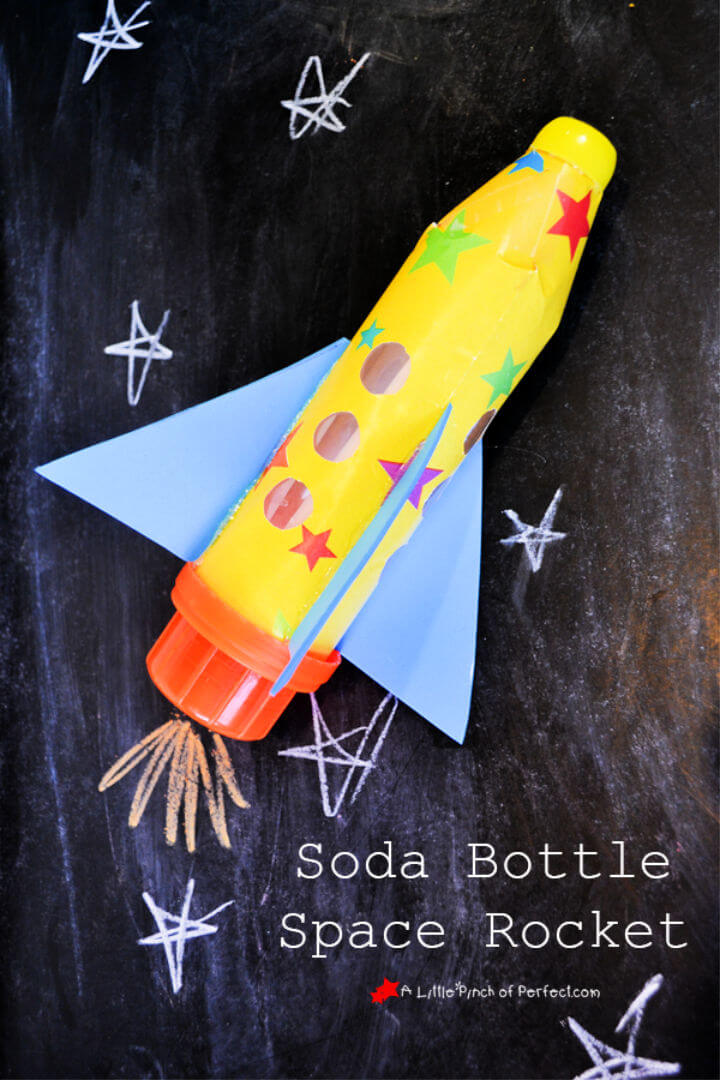 Since everyone's childhood, space has always been the mysterious and most fantasized idea for kids and adults alike. All you need is an empty soda bottle, laundry detergent kid, food pouch lid, wrapping paper, hot glue gun, and craft foam. alittlepinchofper
2. Ziplock Solar System I-spy Busy Bag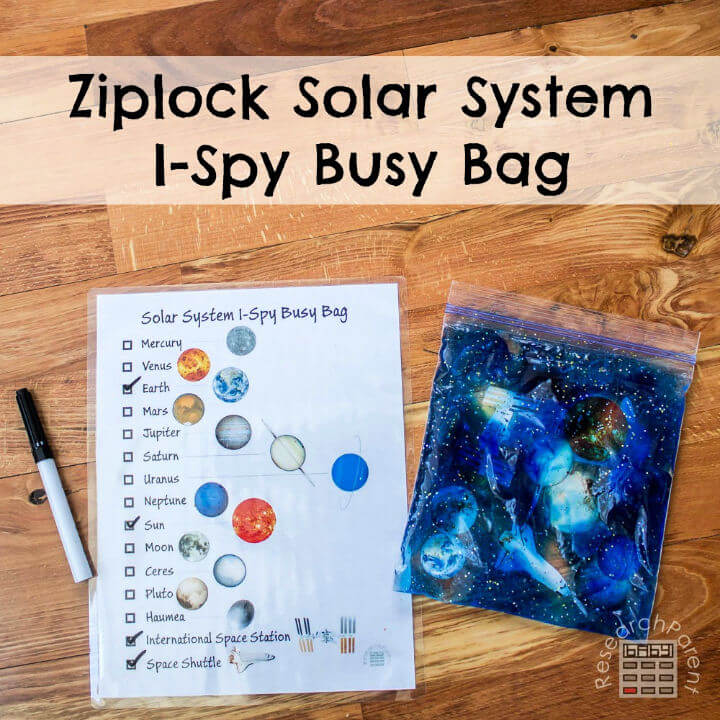 If your kid is having a space or astronaut's day at the school, this zip lock solar system I-spy busy game can be a major hit around the school! You can get the free printable from the tutorial, and all the other supplies will cost you around $2. researchparent
3. Galaxy Jar Space Crafts for Kids
Do you dream about the things that might be going on in a galaxy far far away? If you are fantasized by the idea of a galaxy, how about enclosing it in a pretty little jar and by your side table. Hit the tutorial for details. momdot
4. Marbled Planets Crafts for Preschoolers
This marbled space art project can be a great way to keep your preschoolers happily occupied in the space learning! All you need is black and white cardstock paper, acrylic paint, shaving cream, 3 foil containers, and a few more supplies. iheartcraftythings
Painted Rocks: Learn how to paint rocks from the world's best! Browse these easy rock painting ideas that are perfect for beginners and kids.
5. DIY Pom Pom Alien Space Ships Craft
All the fantasies in the world, but nothing can beat quite the mystery of aliens! How do they look, are there are lives than humans in the realms of life? Make these cute pom pom aliens with your kids using glasses, paint, and a paper plate pinkandgreen
6. Glow In The Dark Paper Plate Flying Saucer Craft
If you are having a birthday party, then nothing can be better than a Martian themed birthday party! Add on this DIY glow in the dark paper plate flying saucer. Just the magic is done with some paper plates, scissors, and a few more supplies. artscrackers
7. Moon Sand-space Sensory Play Recipe
This moon sand sensory play can be a fun way to learn about Moon and its characteristics like sands etc. So, let your kids get messy with learning in check. Add on some toy astronauts, rocks and make these exact moon sand using the supplies in the tutorial. littlebinsforlittle
8. DIY Paper Plate Flying Saucer
Flying space crafts and space machines are every kid's biggest fantasy! Let your kids make their own version of tiny space saucer using paper plates, hot glue, and some colorful jewels to give it the perfect mystery look. craftsbyamanda
9. Create Your Own Cardboard Space Rockets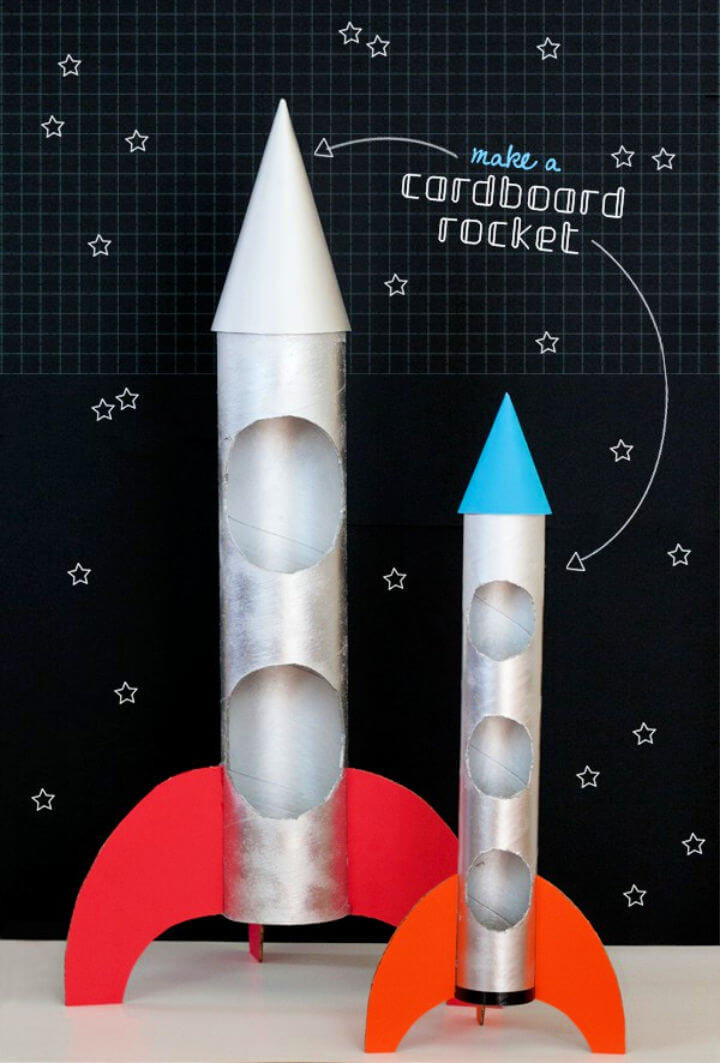 If you feel your little one has a thing for rockets and a heart for space! These cardboard rockets can be really a fun-filled exercise for them. What you need is some cardboard mailing tubes, corrugated cardboard, poster board, pencil, tape, and a few more supplies. hellobee
10. Easy DIY Telescope Craft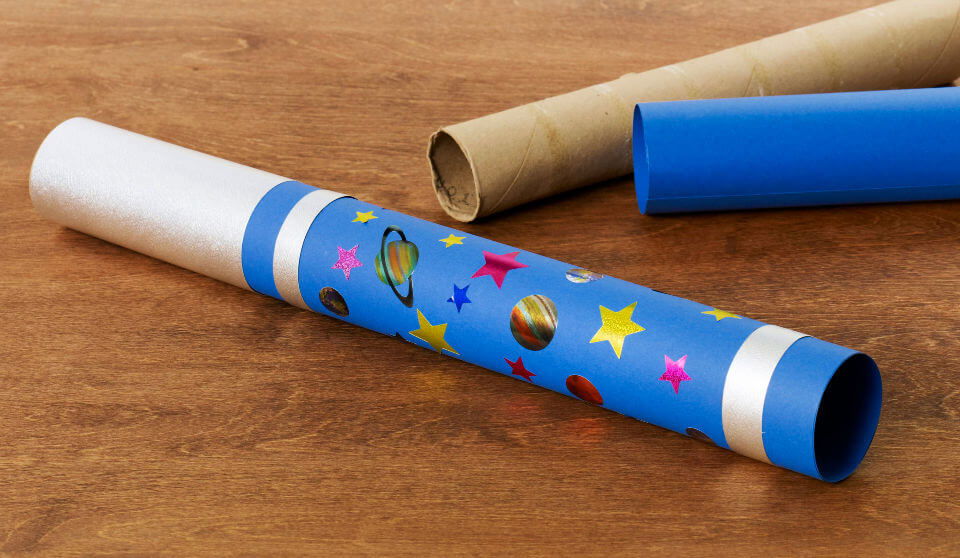 Another exciting idea from our DIY space craft's complimenting the love for space! Introduce the love for nature and wide blue sky seeing in your kids. With this telescope, you can make them see things from a different perspective. highlights
Crafts for Kids: Explore these easy crafts for kids and fun art ideas that will make your kids happy. From drawings to painting, you'll find the perfect craft for your child.
11. DIY Straw Rockets – STEM for Kids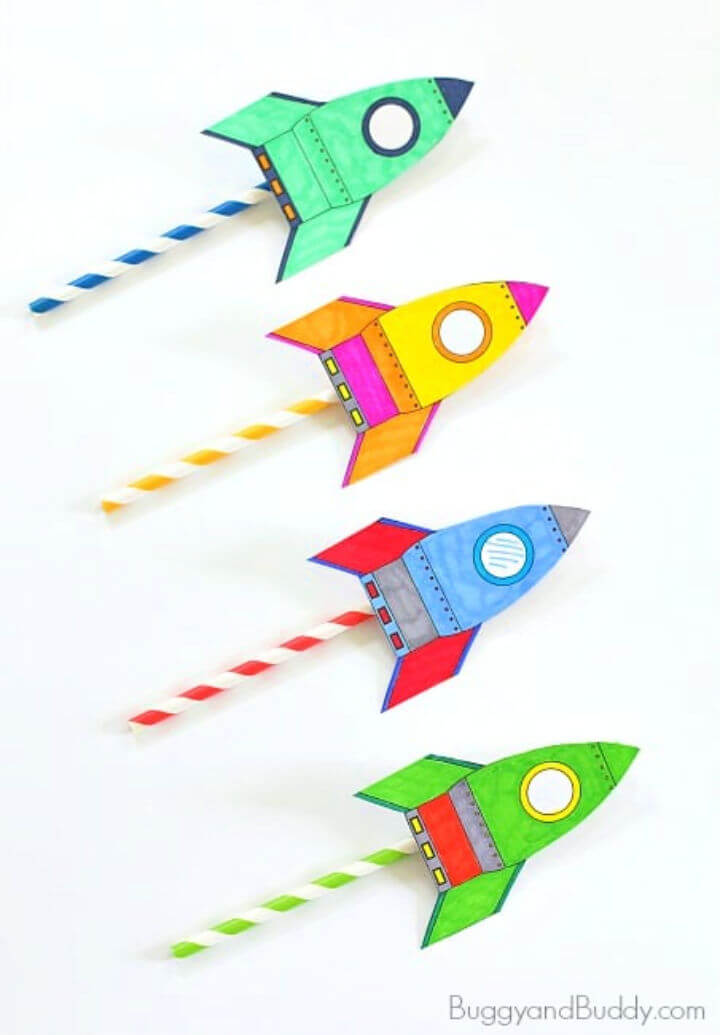 Aren't these straw rockets absolutely beautiful and nothing less than that? This simple and easy project can help your kids learn about science in a rather fun and unusual way. Different angles can be learned by the kids by blowing in the straw. buggyandbuddy
12. Make Cardboard Space Shuttle Craft
This cardboard space shuttle craft can be an excellent way for your kids to learn the wonders of the space! What you need is to get a cardboard space shuttle template from the tutorial, paper towel roll, mod podge, and other craft notions. pinkstripeysocks
13. Moon Button Craft for Your Home Decor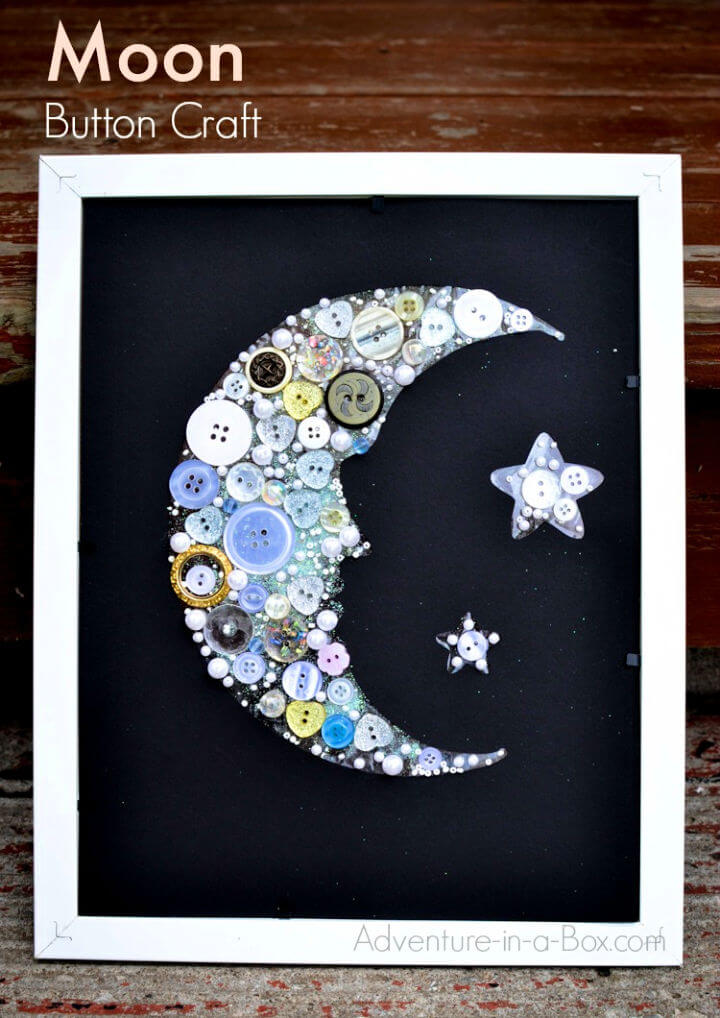 Brighten up your decor with this moon button decor! You will need a cardstock paper, black and blue. Transparent packing tape and beads in various colors. Click on the tutorial now for the step by step guide. adventure
14. Easy Outer Space Crafts for Toddlers
We bet one of your favorite school memories must be learning the solar system! Drawing the solar system and coloring the planets away in different colors! Gather up your different bottle lids and paint them up and make this solar system arrangement. stillplayingschool
15. Paper Plate Star Twirler Craft
This start twirler is going to be the best decor item in your little one's room! Get your star printable from the tutorial, paper plate, baking twine, scissors, blue, purple, and black paint! With glitter, paint brushes, and a few more supplies. redtedart
16. DIY Galaxy Snow Globes
These calming sensory globes can be the heart stealers for your kids! You can set this up beside their side table. What you need is snow globe, distilled water, food coloring, silver glitter, silver star confetti, and baby oil. figmentcreative
17. Simple Rocket Space Craft for Kids
This simple rocket spacecraft can be really fun for kids to make, and the clothespin is giving it quite the real look! What you need is some cardboard tubes, paint or markers, plastic eggs, clothespins, paintbrushes, and tissue paper. thekindergartencon
18. Fun Space Theme Wreath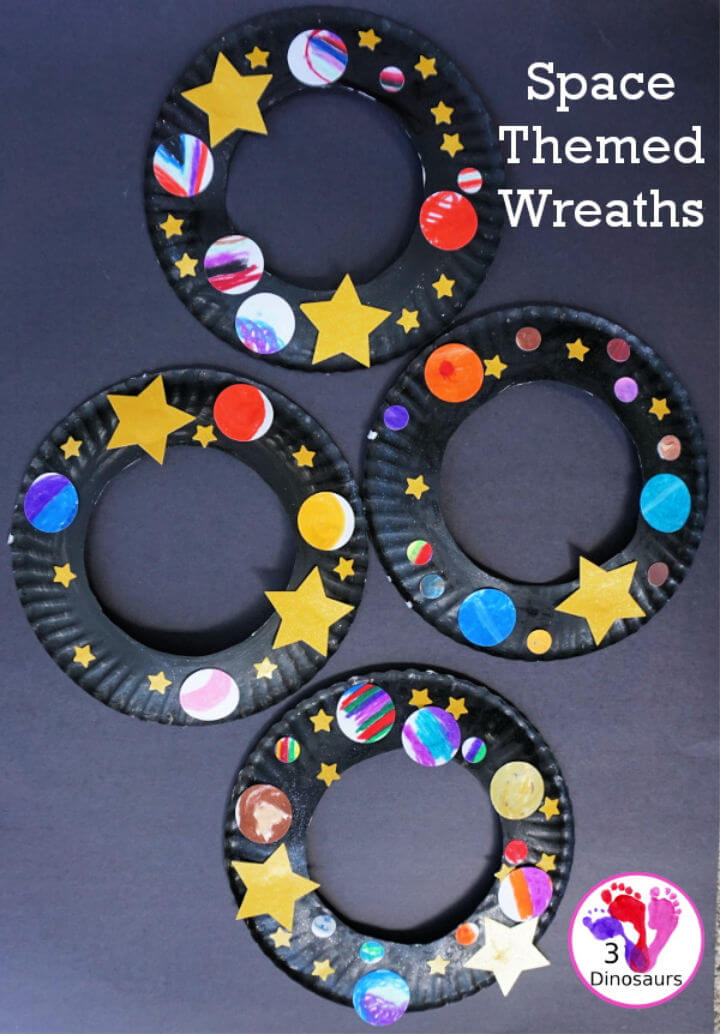 Who says wreaths are only for the grown-up decors! For your little one's room, make these pretty space themed wreaths and fill up their empty walls. What you need is a paper plate, black paint, black glitter paint, and other supplies. 3dinosaurs
19. How to Make a Planet With an Old CD
If you have been recently caught up in an intergalactic project, the effort and thinking out of the box must have been really exhausting. But with this planet made with a CD can already bag your kid the best project award! Learn how, here. kristenhewitt
20. Pretty Space Mobile Crafts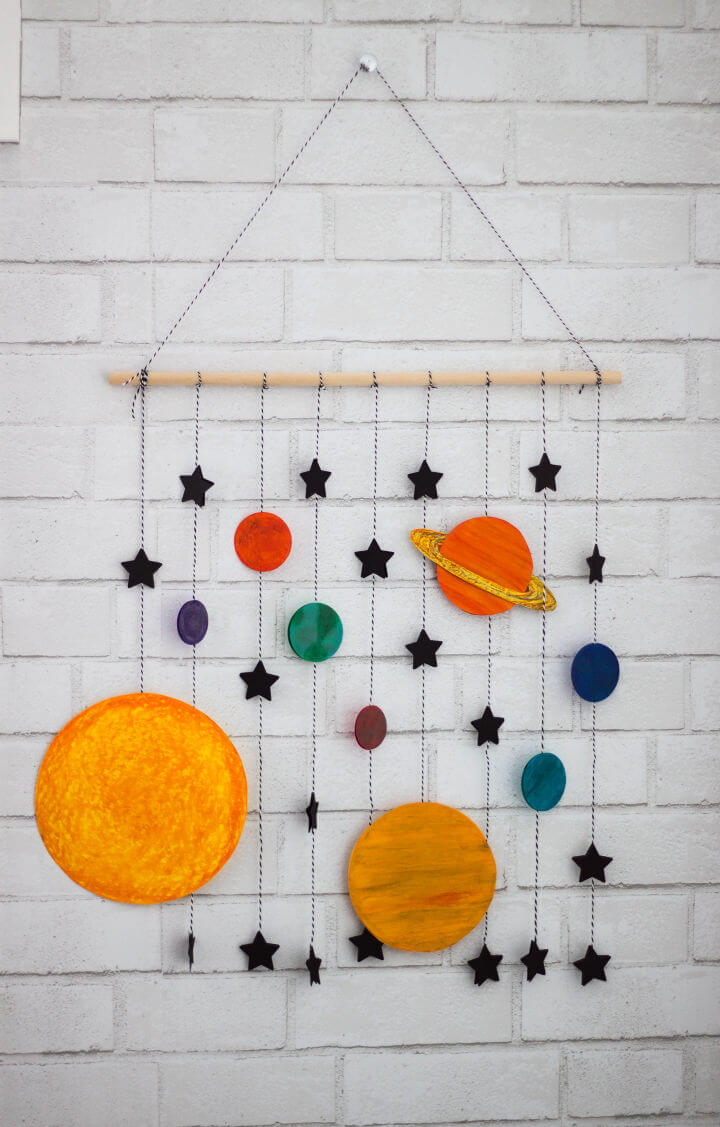 This mobile space craft is absolutely stunning, and such a charmer! You can use it as a space related project and then later hang it up on an empty wall. You will need Astrobrights cardstocks, star paper punch, circle paper punch, baker's twine, and wooden dowel. honeybearlane
21. Make Your Own Straw Rockets
Check out these straw rockets, undoubtedly the best one among our DIY space crafts. Kids can actually experience and see the paper rocket soaring once they blow at one end of the straw. Also, it is just so easy peasy to make. pinkstripeysocks
22. Simple Galaxy Playdough Project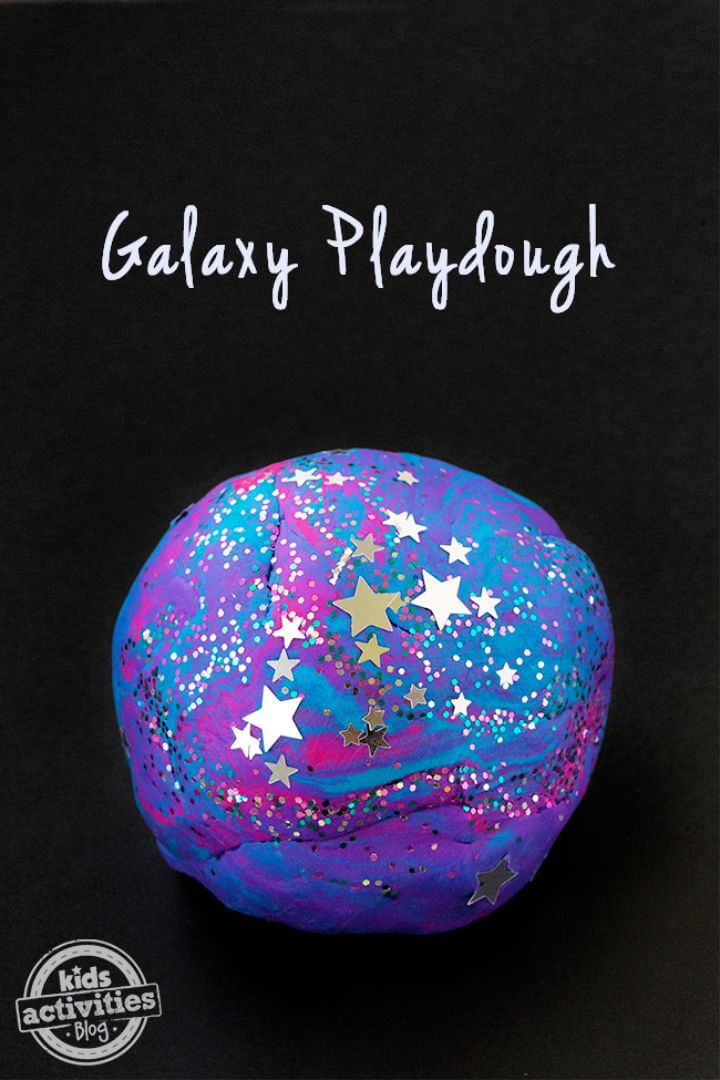 Playdough or slime has been this generation's biggest love for quite some time! If your kids also happen to love playing with dough and are all excited about galaxies and space, then this galaxy playdough is going to be their dream come true! kidsactivities
23. DIY Kids' Astronomy Craft
If you have been searching for geoboards for your young stargazer, look no more! We have got this super cool constellation geoboard for your kid to help them learn the best way possible! Hit the tutorial now for getting your geoboard template. babbledabbledo
24. Cardboard Rocket Ship Space Themed Craft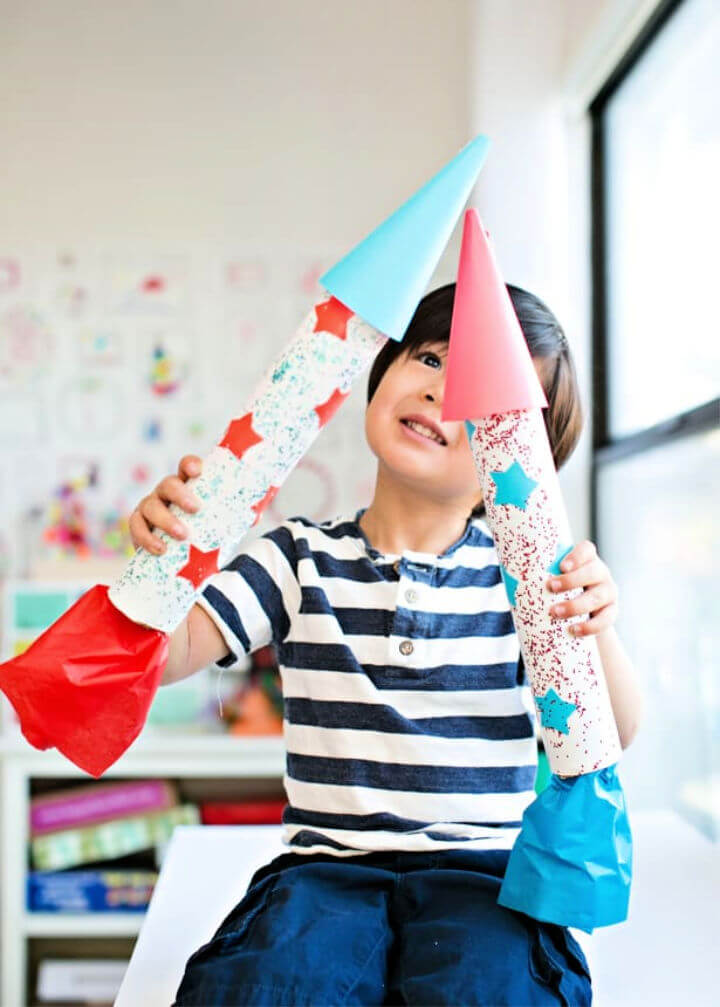 Here's another lovely rocket ship idea by Hello Wonderful! Transform the empty cardboard into a super pretty cardboard rocket! What you need is a white cardboard tube, mod podge, foam brushes, glitter, cardstock, and tissue paper. hellowonderful
25. Pom Pom Solar System Mobile
Oh, boy! We are so much in love and awe of this pom pom solar system! This can also make as one of the best and unique decor ideas of all time! What you need is various shades of yarn, scissors, fishing line and circular wire hoop. we are scout
26. Galaxy Jar – A Gorgeous Craft For Kid
For all the kids or even adults who believe in all that glitters, golds, and shines. This DIY galaxy jar is everything to spruce up the decor and lighten up the mood! What you need are 4 disposable plastic cups, acrylic paint, mason jar, cotton balls, and silver and chunky glitter! bitzngiggles
27. Outer Space Jewelry That Kids Can Make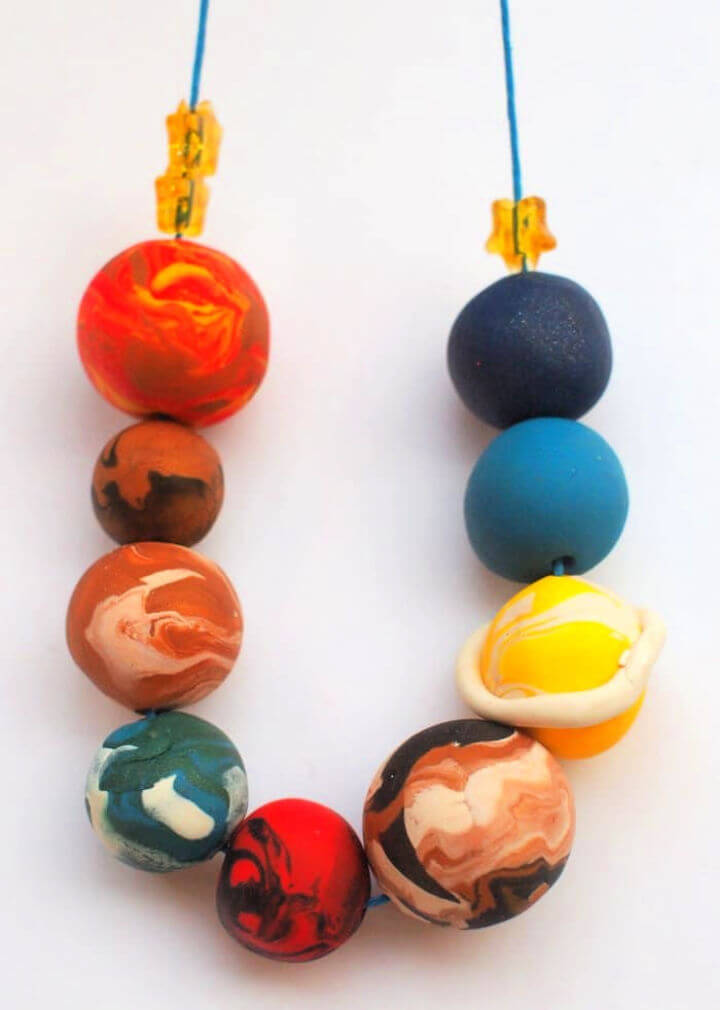 We have all been in love with the huge sized looking balls that can be worn around the neck, and let's just simply call it the unique kind of jewelry! For a kid's jewelry project, you can help your kids make this outer space jewelry with some sculpey clay. diycandy
28. How to Make an Outer Space Sensory Bin
Imagination is one of the many best things that could happen to anyone! So, bless the childhood imagination. Let your kids cherish it even more with this outer space sensory bin! It can be made using space toys, space set, laminated pictures of moon and stars, lave rocks, and bouncy balls for planets! jennyatdapper
29. DIY Solar System Kids Craft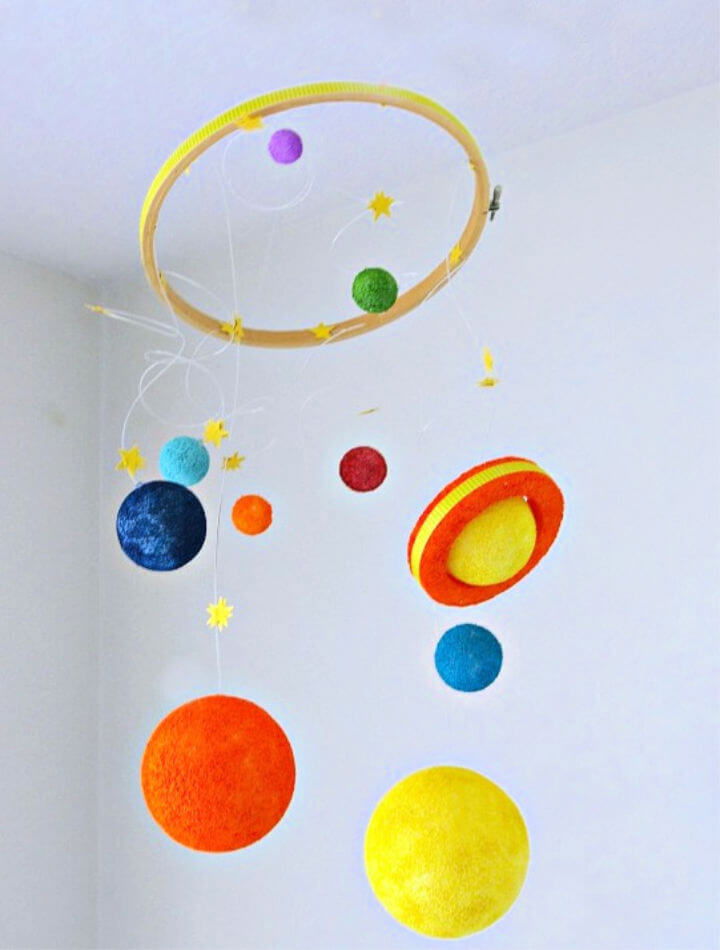 Here's another from our DIY space crafts to help your kids soak in the working of the solar system! Spark your little one's interest in space by making this Styrofoam solar system! Hit the tutorial for step by step guide! todayscreativelife
30. Space Rocket Astronaut Crafts for Kids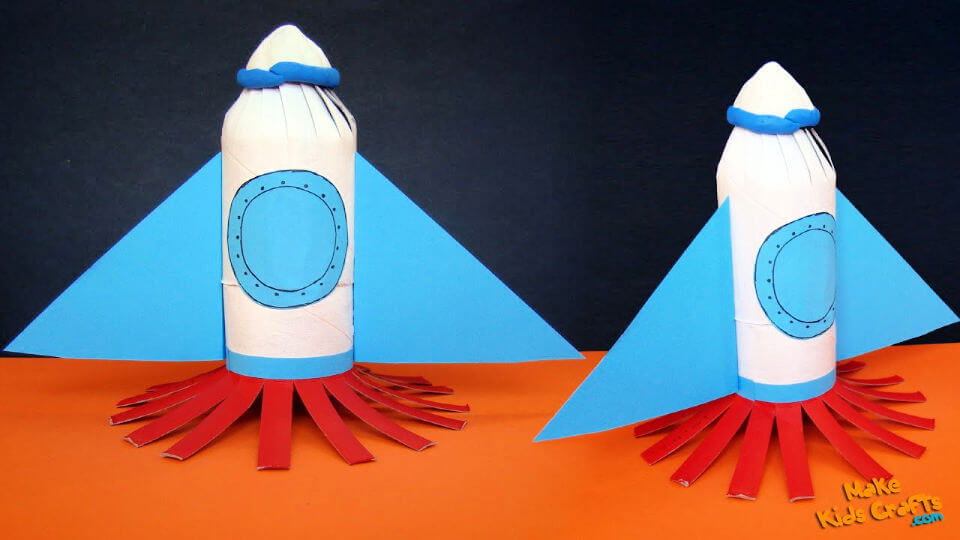 This space rocket kid's craft looks pretty real! Especially with the added red fringes at the bottom giving the main look as the rockets are just about to fly off! If your kids have any interest in space or rockets, they would love to make these by themselves!
Related Crafts for Kids
Flower Crafts For Kids: Looking for easy crafts for kids? Look no more! Find easy and beautiful flower crafts for children of all ages that you can make with items found around the house.
Egg Carton Crafts: Find your kid's favorite craft with these easy and fun egg carton crafts that are all perfect for summer break.
Summer Camp Crafts: Find easy and creative summer camp crafts for kids by browsing our extensive list of projects. You'll find ideas for arts and crafts, campfire activities, games, snacks, and more.
Puppet Crafts: These easy to make puppets are a great craft for kids and a fun activity for parents, you'll find something that your child will love.
Elephant Crafts: Kids love crafts, and this list of creative elephant crafts will keep them busy for a long time. Find out how to make an elephant from household items.
Sunflower Crafts: Making sunflowers is a great activity for kids and adults alike. With amazing sunflower crafts for kids to choose from, you'll have no trouble finding something perfect for your needs.
Solar System Project for Kids: These solar system crafts for kids are the perfect way to have fun while learning about the planets in our solar system. These crafts are great for home or classroom use.
DIY Toys: Give the kids a break from their screens, and get them crafting! Keep your kids entertained with these homemade toys for kids that are easy and inexpensive to make.
Shark Crafts and Activities: Crafty kids can craft sharks from toilet paper rolls, tissue boxes, and more! Learn how to make shark crafts, such as a Shark Catcher, Shark Attack Candy Jar, and more.
Conclusion:
If you're looking for some easy outer space crafts for toddlers or even older kids, we've got you covered. From simple paper rockets to creating a planetarium in your own backyard, these space projects are perfect for any aspiring astronauts out there. And if you need more inspiration, be sure to check out our other posts on space-themed crafts for kids. We hope you have fun exploring the universe with us!