Mason jar crafts are popular for DIY home decor and creative DIY craft ideas. There are many different ways to decorate a mason jar, making them perfect for nearly any occasion or make a creative craft for kids. If you are looking for a quick and easy craft project, these 100 DIY mason jar crafts and decor ideas are a great option. You can transform a plain mason jar into a creative craft with just a few supplies.
Mason jars can be decorated with paint, ribbon, lace, fabric, paper, and more. They can be used to create vases, lanterns, picture frames, soap dispensers, organizers, gardens and much more. If you are looking for decorative jar ideas, there are plenty of mason jar crafts and inspiration. Mason jar crafts are relatively inexpensive and can be completed in a short amount of time. Whether you are decorating mason jars for yourself or looking for a unique craft idea, mason jar crafts are a great option.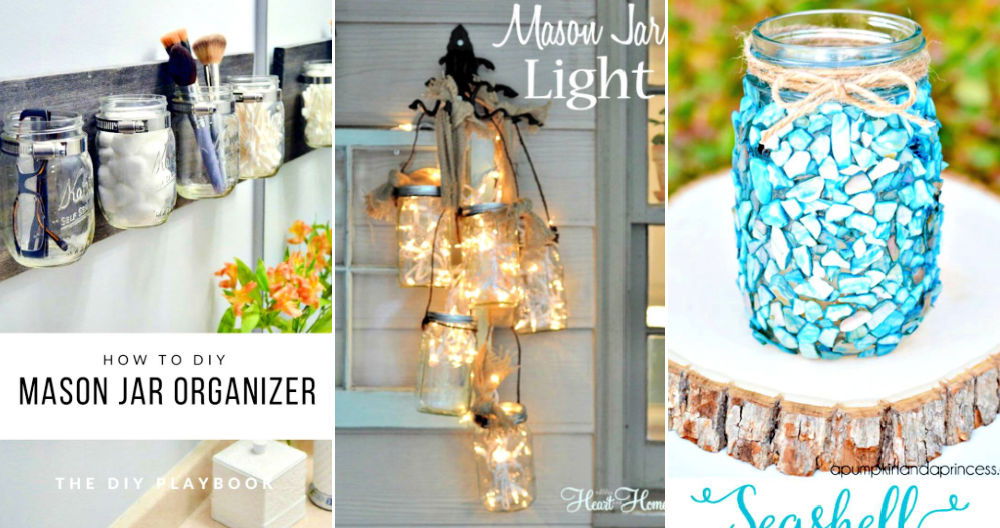 Mason Jar Crafts: 100 Easy DIY Mason Jar Decor Ideas
Jar crafts are a great way to add a personal touch to your home decor. Whether you're looking for a simple decoration or a unique gift, mason jars offer endless possibilities. To get started, all you need is a glass jar, some basic craft supplies, and a little creativity.
One of the simplest ways to decorate a mason jar is with paint. You can use acrylic paint to create a solid color, or try painting stripes or patterns for a more bold look. If you're not artistically inclined, no worries – there are plenty of other ways to decorate your jars. Use adhesive vinyl to create custom labels or decals, or wrap the jar in twine or ribbon for a rustic touch. You can also modge podge scrapbook paper or fabric onto the glass for a quick and easy decorating solution.
Once you decide on your decoration, it's time to fill your jar. Mason jars are perfect for storing everything from spices and herbs to office supplies and jewelry. They also make great vases and candle holders. No matter how you choose to use them, mason jar crafts are an easy and inexpensive way to add personality to your home.
1. How to Make Leather Mason Jar Mug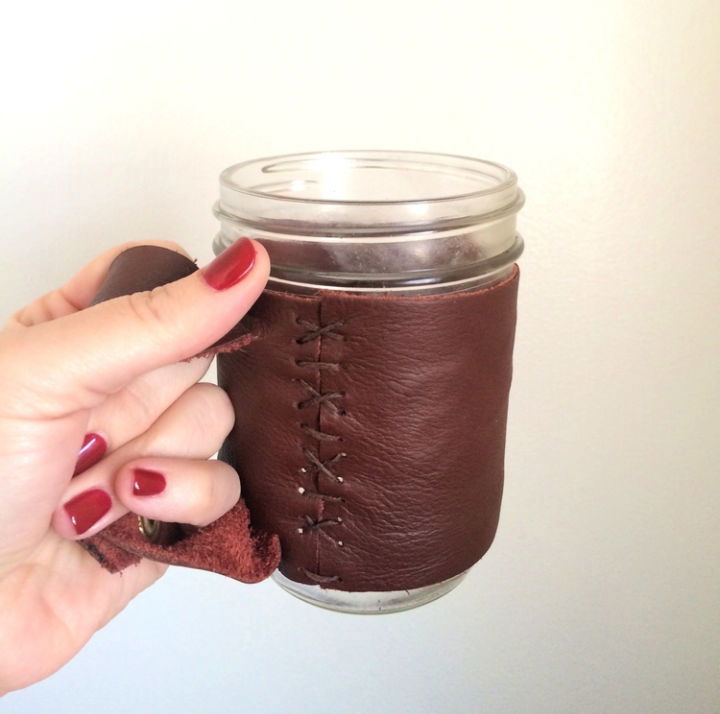 You can make a gorgeous coffee mug holder for your use to keep your coffee warm and hot for a long time and using leather for the purpose would be so much useful. You can take a mason jar and create a leather cover for it with a handle and thus instantly get yourself a fun coffee mug. melissavoigt
2. Easy DIY Mason Jar Organizer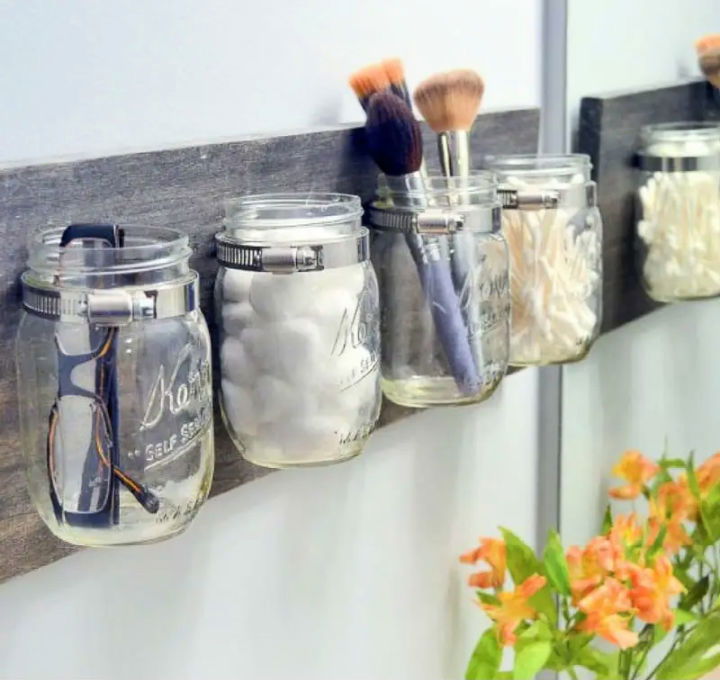 You can make this functional wall organizer for your bathroom walls, bedroom and any other area of the house where you need one. Just attach your mason jars to the wooden board and mount it up over the walls to hold cotton sticks, cotton balls, glasses and so much more and thus make your routines so much easy to run. thediyplaybook
3. Cute Mason Jar Unicorn Craft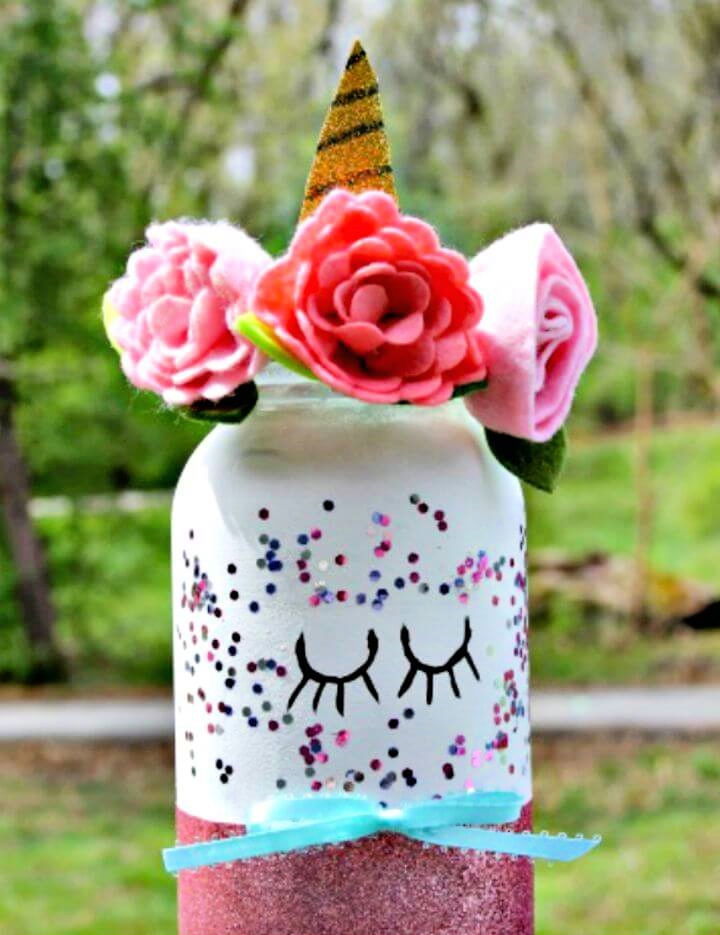 Here is the idea of creating a gorgeous unicorn mason jar vase for your little girl's room and she would just love it. All you need to do is paint your mason jar, add face features, glitter and a colorfully sparkly unicorn on the top and its ready to create a magical look in your little girl's room. thismamaloves
4. Creative Nautical Soap Dispenser
You do not need to buy a dispenser for your bathrooms to make it easy and fun for the kids to wash their hands with. Not only a useful addition to your bathroom but also the bathroom decor. You need to create a jute twine cover with a sea shell attached to bring some fun nautical vibes in the bathroom decor. oneartsymama
5. Homemade Box Tops Mason Jar
We all love collecting the box tops and here is the idea of doing it with so much fun and feasibility by using this super cool and fun looking mason jar made box top. The lid of the mason jar has been slotted and the mason jar has been painted and written with the name using glitter and it has turned out to be super gorgeous and fun. apumpkinanda
6. Casual Elegance Jar Vase Decor Ideas
Either you need a center for an idea for your wedding or you simply want to spruce up the beauty and decor of your spaces this shabby chic styled mason jar vase is the perfect idea to get your hands on. The jar has been decorated with the lace and the burlap made flowers and jazzed up more with the addition of the buttons. oneartsymama
7. DIY Glass Jar Burlap and Doily Luminary
Here is how you can bring the perfect charm to your spaces with these handmade doily wrapped mason jar luminaries to be a part of your table and mantel decor. They are super easy and fun to make with the doilies, mason jars and some candles but bring massive romance and fun to your indoor decor and more. craftsbyamanda
8. Decorative Glitter Monogram Canning Jar Craft
You can make the perfect and fun looking drink galsses for the summer parties and that too with the letters on them and thus adding more charm to them. Yes, the mason jar drinks have been customized with the glitter lettered being added to them and thus make them look so cute and adorable. Tutorial here
9. Hanging Mason Jar Lights for Outdoor Decor
Summers offer so much outdoor fun and that is why the outdoors become more focused for all fun activities and so for the decor. So to add some fun decor touches to your garden you can create these super gorgeous and whimsy mason jar candle holders for your trees to bring the perfect charm and romance to your spaces. apieceofrainbow
10. Quick DIY Mason Jar Tiki Torches
Summers are great for the outdoor fun when the mosquito do not disturb you and here is how you can keep them away in a really gorgeous style by creating these scented citronella tiki torches for your patio or the porch. Just grab the mason jars, add torch fuel, wicks and the citronella and you are ready to rock your decor with a huge touch of functionality. thefrugalhomemaker
Related DIY Mason Jar Crafts to Make
DIY Mason Jar Gift Ideas: These mason jar gift ideas are the perfect way to give a gift in a jar. Fill your mason jars with homemade goodies, crafts and DIY projects that your loved ones can enjoy all year long.
Mason Jar Lights: Tired of the same old light fixtures? We have many ideas to make your house more beautiful with DIY mason jar lights. From rustic to glamorous and from making your own solar lights to having a variety of DIY tea lights there's a style for every space. Get inspired today!
Mason Jar Centerpiece Ideas: Use these DIY mason jar centerpieces to decorate your table with style. Mason jar centerpieces are a simple and easy way to add color, style and elegance to any table.
11. How to Decorate a Mason Jar
One of the best ways to customize the decor of the rooms of your family members by using the letter and the initials of the names and here is the perfect sample. You can take mason jars and turn them into the pretty vases for their rooms with added monograms to them and thus bringing the perfect personalized effect to the decor. dosmallthings
12. DIY Drip Painting Mason Jars
You can try out all the techniques of the painting to enjoy so much paint fun being added to your home decor and here is the idea of doing it with the dripping paint at this time. You can take multiple shades of the paint and drop them over the bottom of a jar and let them drip to the opening and get dry and you got a gorgeous vase piece. momdot
13. Homemade Solar Powered Mason Jar Lantern
Make the most out of the sun during the summer with these super cute and useful mason jar lights to be a part of your outdoors. Yes paint the mason jar with frost paint and install the solar powered batteries to the mason jar and they are ready to light up your summer fun nights in an adorable and cute way. Complete details can be found here herecomesthesun
14. DIY Distressed Mason Jar Vase Farmhouse Decor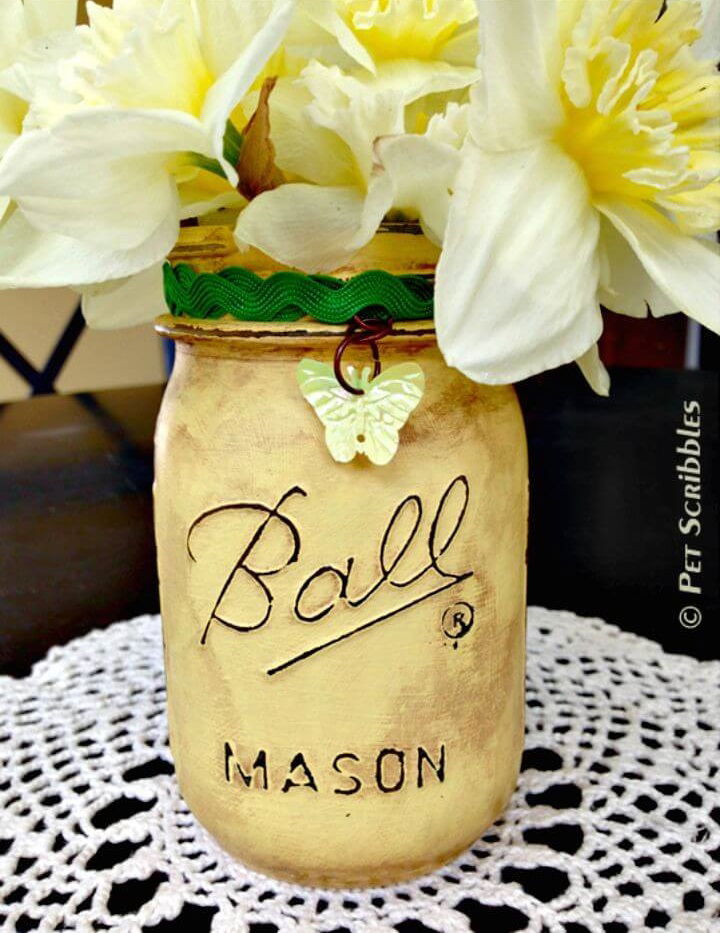 Bring some rustic charm to your spaces with this adorable and cute mason jar to be a part of your decor as the distressed piece for your display. Just paint your mason jar in a creamy shade and then make it look rustic with by distressing it with a brown paint color and paper towels. Complete tutorial here petscribbles
15. Mother's Day Mason Jar Craft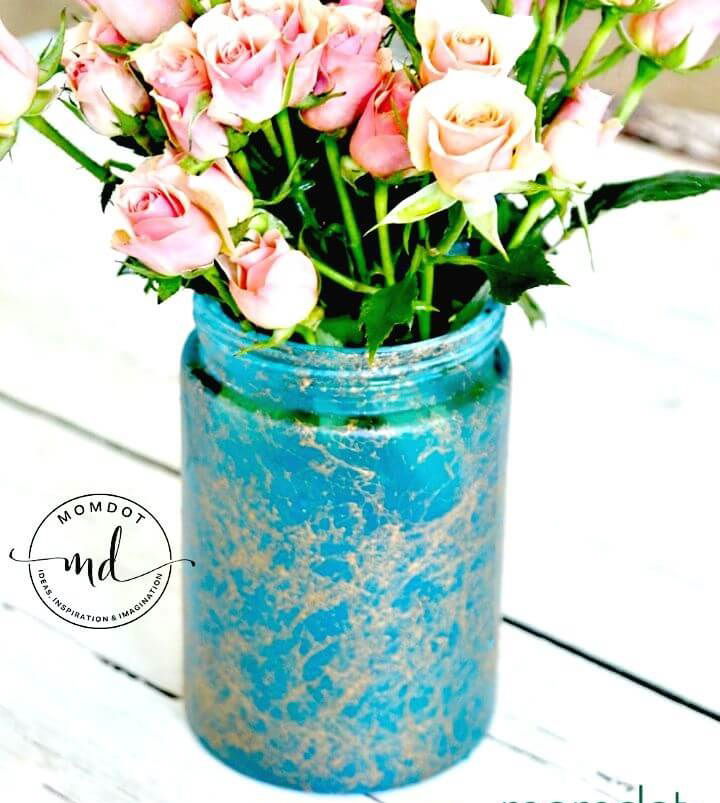 Mason jars can be worked up in so many fun ways to make the gorgeous and fun looking decor possessions for your spaces and this one of the cutest and the most fun to work on. The mason jar has been painted in blue and then sparked up more with the gold glitter work to create the gorgeous marble effect. momdot
16. Mason Jar Picture Frame Vase
It would be so much fun to see this really super cute and fun looking mason jar to be part of your table decor. Just paint your mason jar and then add the picture and you are done with the gorgeous mason jar craft to spruce up the beauty and decor of your spaces be it living, bedroom or even the foyer. Details here homestoriesatoz
17. Cute DIY Mason Jar Silverware Caddy
Here is how the mason jars can help you immensely to organize a fun party with so much fun and savings too. Yes you can paint up the mason jars in the desired hues and use them as the fun holders for your party items like the straws for drinks, spoons and forks for the dinner and so much more. onekriegerchick
18. Rustic DIY Mason Jar Lanterns for Wall Décor
Summers are here and there are so many ways to bring the cool summer vibes in your home decor and that too in a really adorable and whimsy way. using the wall mounted wooden boards with hooks and the river stones filled mason jar hanging to them you can create the most awesome kind of lanterns ever to jazz up your spaces with. asouthernfairytale
19. Making Silhouette Jar Wedding Vase Centerpiece
Here is the cutest wedding center piece that you would just love to do for the decor of your wedding or the anniversary too and its super easy, fun and cheap to do also. You would need two mason jars being painted in blue and one would have a heart on it and other a kissing couple template and would go inside the heart one. thecountrychiccottage
20. Boho-Chic DIY Mason Jar Candle Holder
Here is how you can create this super gorgeous and fun looking mason jar to add the perfect boho vibes in your home decor display by using it as a vase or a pretty luminary for the outdoors. Using the pink mode podge and the peel and stick stencil this lovely gold glittered design with blue stones have been easily created on the jar surface and make it look so tempting. modpodgerocks
Related DIY Gift Ideas to Try
Last Minute DIY Gift Ideas: We have a gift for you. No time to shop? Find these genius last-minute DIY gifts that you can easily make! These are perfect for those of you who have the worst time wrapping gifts.
DIY Gifts for Boyfriend: Looking for a cute homemade gift idea for your boyfriend? Here are homemade gifts for boyfriend that are easy to make and insanely adorable!
Gift Wrapping Ideas: Whether you're in need of a last minute gift for your sister or you've got wrapping duty for your boss, our list of unique gift wrapping ideas will make you the best Be the best gift wrapper this year.
DIY Gifts for Men: Here are 30 of the best DIY gifts for men to make a fun, easy, and thoughtful homemade gift to give your favorite men.
Gift Basket Ideas: Who doesn't love a good gift basket? Find these perfect gift basket ideas for any event or occasion. Whether you're looking for the perfect hostess gift, a house warming, or just looking to spoil someone special, The best thing you can do is to make them a personalised gift basket.
21. Cool Mason Jar Cup Ideas
As summers are so much about the tasty and fun drinks so here we brought the idea of creating these fun mason jar cups to get your sip on your favorite summer drinks in a fun and tasty way. Just drill the holes in the mason jar lids to put the straws and you are done with the custom mason jar cups to have so much fun with. myfrugaladventures
22. Decorative Jar Night Light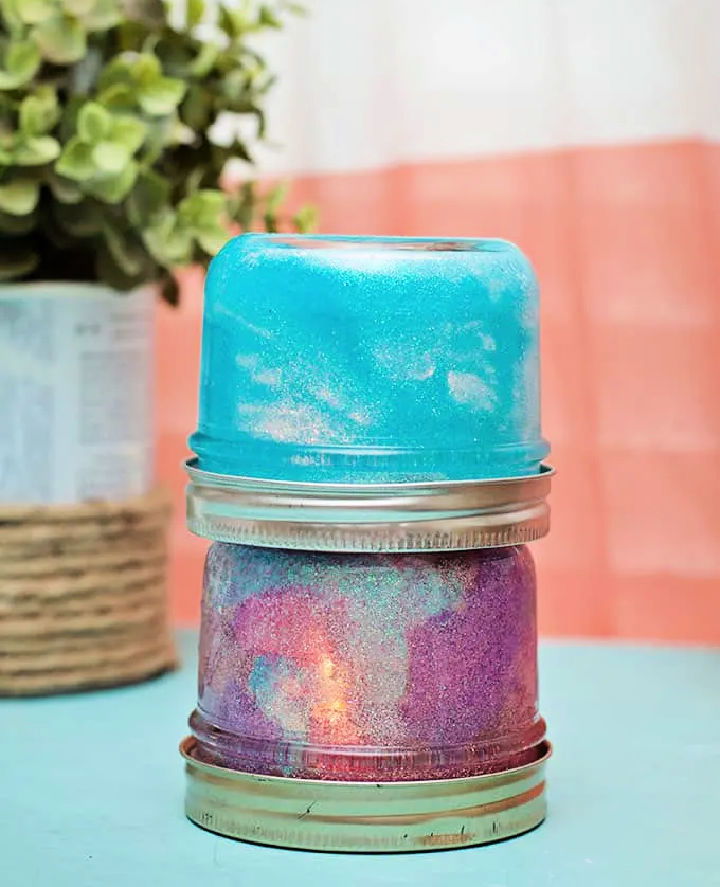 Here is another amazing idea to add the cute and colorful lights to your home decor and that too costing a single penny. Just coat your cute little mason jar with the glue and add the multi colored glitter to the mason jar and then add a tea light to it and you got the perfect romantic lights added in your spaces. modpodgerocks
23. Create Terrarium With Mason Jar
Terrariums are great to be a part and add so much fantasy touches to your home decor with their adorable and fun themes. You can use a mason jar to use as the fun terrariums by loading it with the river stones, pebbles, some moss and any of your kid;s tiny toys like a mini cycle and more and its ready to create a whimsy display. ohmy creative
24. Unique DIY Poured Mason Jar Candle
If you are looking for some fun and cute but totally cost efficient favors for your party or the dinner then making these handmade candles is a really great idea. Using the mason jars and the candle wax you can easily create this pretty candle and that too with the color of your choice to totally come them out as the custom pieces. somethingturquoise
25. Beachy Mason Jar Terrarium Design
You can not resist the beauty and charm of this beach inspired terrarium to be a part of your summer home decor and they are super easy and fun to make also. Just grab an empty mason jar and a burlap pieces and some lace to the outer surface of the mason jar and then fill up the mason jar with the seas shells and you are done. makinghomebase
26. Simple Fall Mason Jar Crafts
The fall is here and the gorgeous fall decor ideas would be all around and here is the easiest and the cutest one to try easily at home with a mason jar. Yes, you can paint up a jar in metallic gold and then use the vinyl shapes of fall leaves to create the gorgeous masking with the pretty fall shades and your gorgeous fall luminary is ready. thecountrychic
27. DIY Bird Feeder Mason Jars Project
Your garden is undone with all the decor and beauty when you do not have a cute and functional birdseed feeder there and here is the idea of making a cute and pretty one on your own at home. Yes by using a mason jar and a chicken feed plate you can create this totally unique and useful birdseed feeder to be hung over your trees with a rope. littlehouseliving
28. Mason Jar Piggy Bank Craft for Kids
Once the kids start receiving the money in the form of the coins, the next thing they want is a piggy bank to drop their coins in and collect them to buy a new toy out of it. So save your money too as you can make this perfectly cute and custom made the piggy box for you kid using a mason jar, paint and the lettering art to make it totally personalized for your little one. dukesandduches
29. DIY Planter Box Centerpiece with Mason Jars
Your dinner decor is going to rock when you have this super gorgeous and pretty looking mason jar center piece there and its super easy and cheap to make on your own at home. Just grab the mason jars, paint them up and add your favorite plants to them and using a wooden caddy you can easily put them together to form this adorable centerpiece. howtonestforless
30. How to Make Mercury Glass Jar
With summers we are so much excited for the 4th of July to celebrate the independence day with full patriotic zealous. to add some patriotic vibes in your home decor, you can make these mercury mason jars which have been further embellished with the red dyed burlap cut star and a blue twine around the lid circle and has turned out to be utterly cute and pretty. landeeseelandeedo
Related DIY Projects To Try
Crafts Out Of Recycled Materials: Find inspiration for your next project with these useful recycled materials projects for you and the environment. From recycled jars to a wooden garden bench, these DIY projects are sure to be fun and eco-friendly.
Crafts for Kids: Looking for some easy crafts for kids? From painting to watercolor, from paper crafts to weaving, your kids will love these easy crafts for kids. These craft ideas will keep your kids busy all day long.
31. DIY Snowy Mason Jar Decorations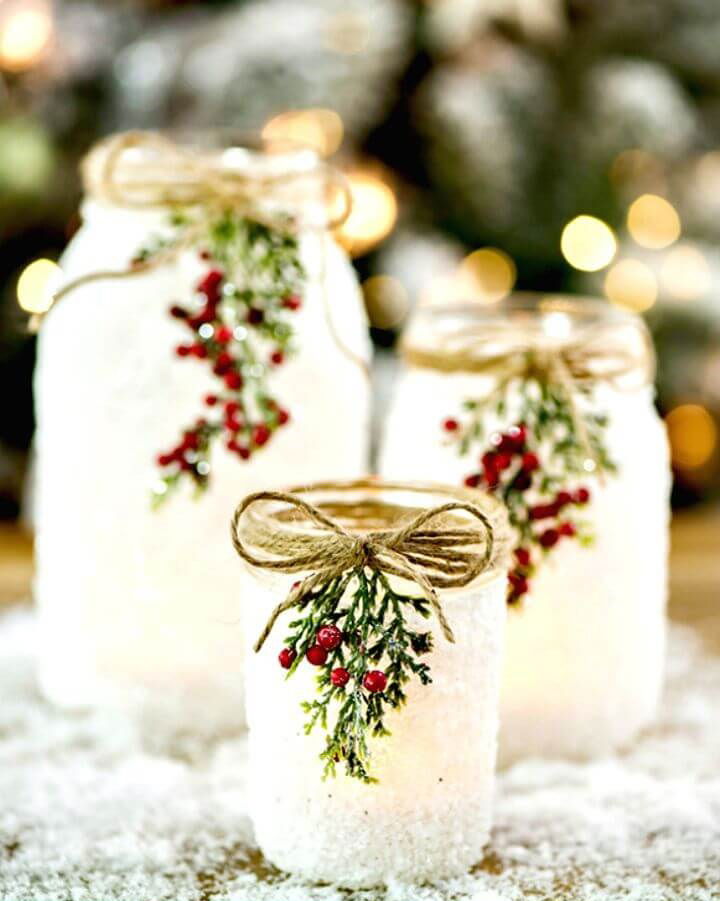 If you are looking for some super interesting and easy Christmas decor ideas for your tale, mantel or the shelf display then these snowy mason jars are the perfect things to get your hands on. The mason jars have been turned into snowy white and then added with the faux cherry and grass and they have turned out to be super exquisite and whimsy. apumpkinanda
32. Decorating With Mason Jars Lights
Make your patios look more fun and full of fun exciting summer vibes with these gorgeous and fun looking mason jar lights to be a art of your outdoor decor and add so much to the decor and beauty of the fun atmosphere there. All you need to do is just fill up the jars with string lights and add a burlap bow to each jar and make them hang around. allthingsheartand
33. Making Mason Jar Twine Holders
If you often work with the twine, then you would really like this idea a twine holding mason jar with which you can easily use the twine and that too without being tangling. Just add a bolt, nut and washer to your mason jar through the lid hole and you are done with an easy yet useful twine organizer for your feasible use. acasarella
34. Jar Decorating Ideas With a Blue Patina
The mason jars are providing you lots of opportunities to boot up the home decor and the style statement of your spaces. Here is the idea of adding the perfect modern charm and boho appeal to your spaces with these adorable and gorgeous looking mason jar vases made out of the metal paint and the blue patina work. suburble
35. Painted Baseball Mason Jar Decor
Baseball is the fun game and the boys are just crazy after it and when there is a special day for the boys and you want to throw a party, their baseball mania can be the inspiration and theme behind the decor. Here is the idea of creating these adorable baseball mason jar that you can use as the holders, lanterns or the vases. twopurplecouches
36. DIY Summer Mason Jar Luminaries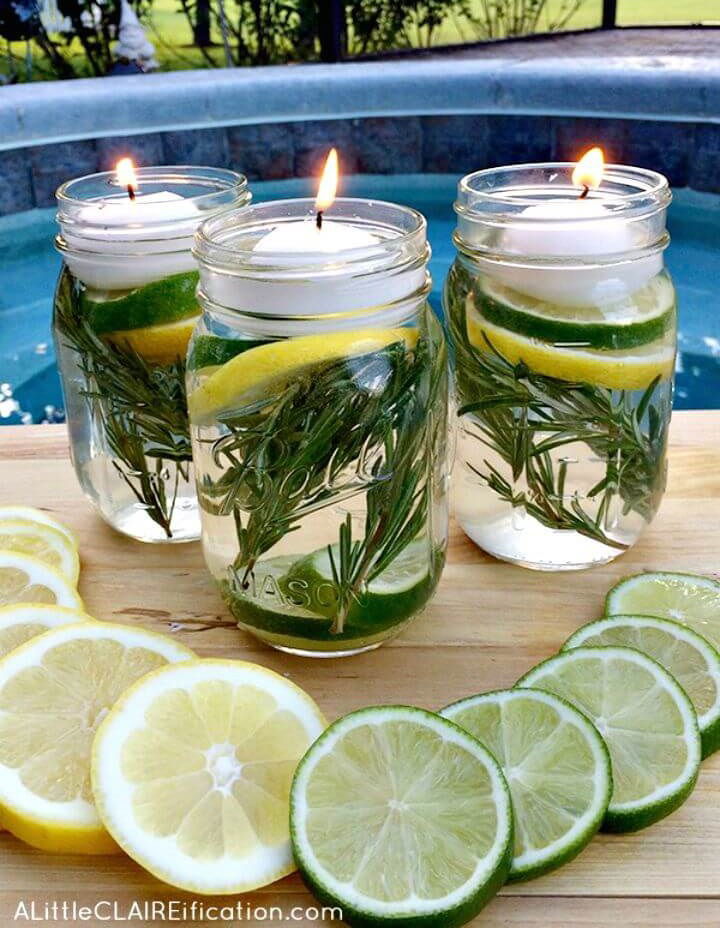 As the evening approaches we all head to the outdoors in the summers to enjoy the beauty of the weather and to lit up your outdoors in a really pretty and aromatic ways you can create these handmade mason jar luminaries. Some herbs and lemon has been added to these mason jar luminaries to make them look and smell stunning. Catch complete details here alittleclaireification
37. Easy Ideas for Decorating Glass Jars
We all love to use the simple ye elegant and cue looking mason jars to be part of your decor and you can enhance the charm and beauty of them more with this rustic wooden board. Yes, you can add this wooden board to your walls and then hold your mason jar vases to this board using the clip hinges and you are done with an awesome wall display. christinasadventures
38. DIY Beach Inspired Mason Jar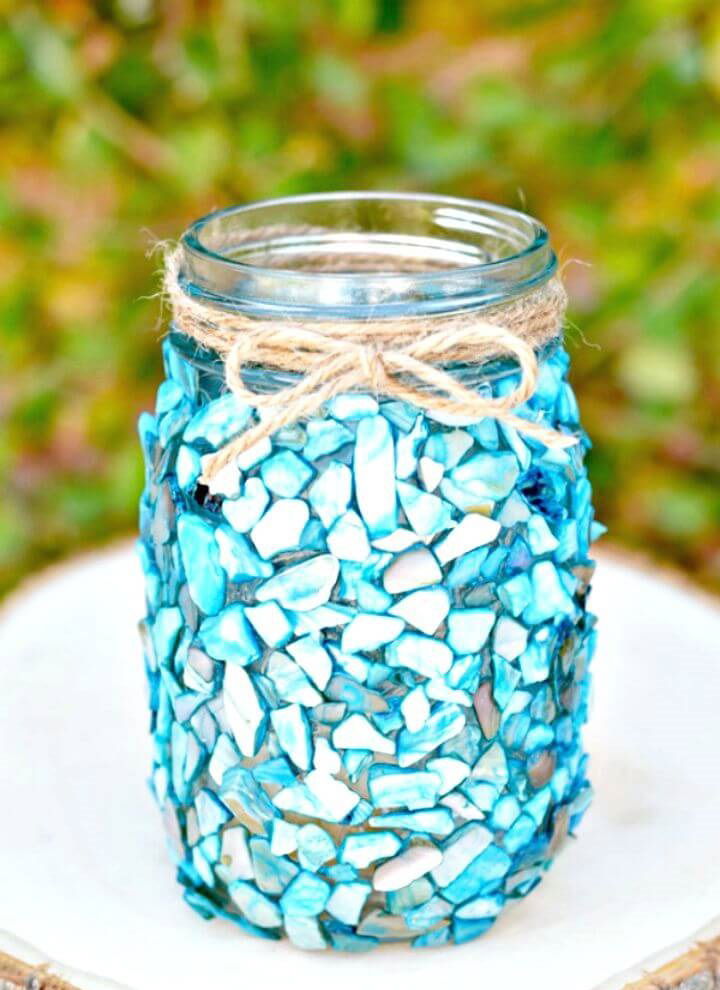 The seas and the beach are the beauty themes for the home decor in the summers and you can enjoy it in so many fun and cheap ways like making this lovely sea shell mason jar. Adding the broken pieces of the sea shells being glued to the mason jar you can make the perfect piece for your tables be it a vase or the lantern. apumpkinanda
39. Homemade Caramel Apple in a Jar
For the little kids there is like plenty of the gift ideas and here is the yummiest one that the kids would really love for sure. Fill a cute mini mason jar with the colorful candies and the caramel and add a apple to the top of it being tied up with a thread and the perfect kids gift is just ready to make them smile so big. thegunnysack
40. Easy Crafts to Do With Mason Jars
One of the best way to fill up the empty space over your mantel, shelves and the tables it brings some cute and colorful vases there and you are done with a pretty boost up to the home decor. Just pick up the empty mason jars and paint them up in any of the desired hues and you got the perfect vases for the display. littlemissmom
41. How to Make Mason Jar Crayon Candle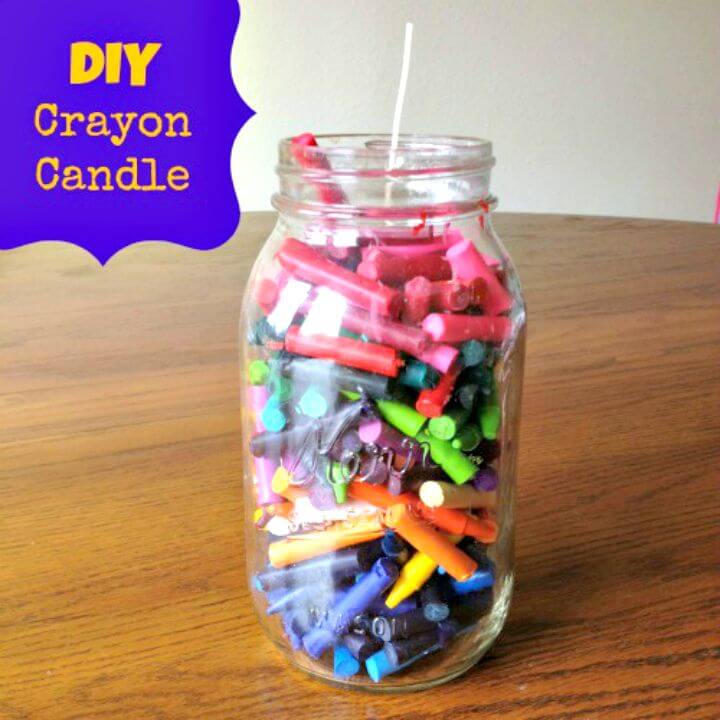 The kids can make the perfect gifts for their teachers on their own and getting your hands on this crayon made candle jar would be the best and here is the complete plan. You just need to cut your crayons into halves and pour them all in the mason jar with a waxed wick in the center and thus create a gorgeously colorful candle inside the jar. brittanyestes
42. Trolls Mini Mason Jar Craft for Kids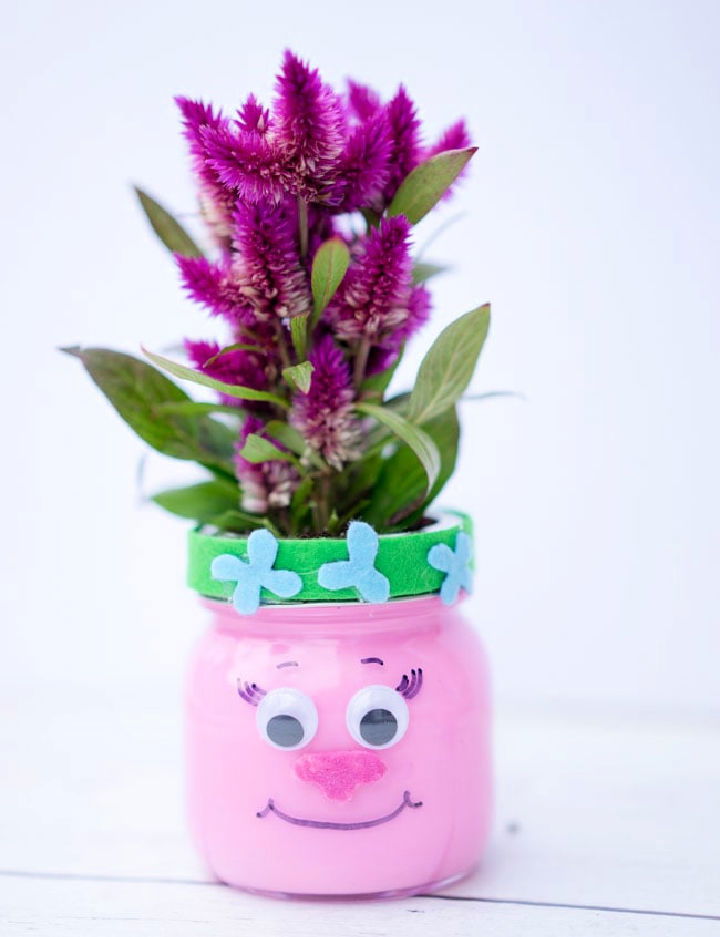 The kids are just in huge with all the cartoon movies and trolls is a big hit among all the kids and you can use their troll love to make these adorable troll mason jar vases for their room decor and they would just love it. You would need a pair of mason jar, pink and green paint, googly eyes and some felt to do more embellishing. thebestideas
43. How to Make a Glitter Snow Globe From a Mason Jar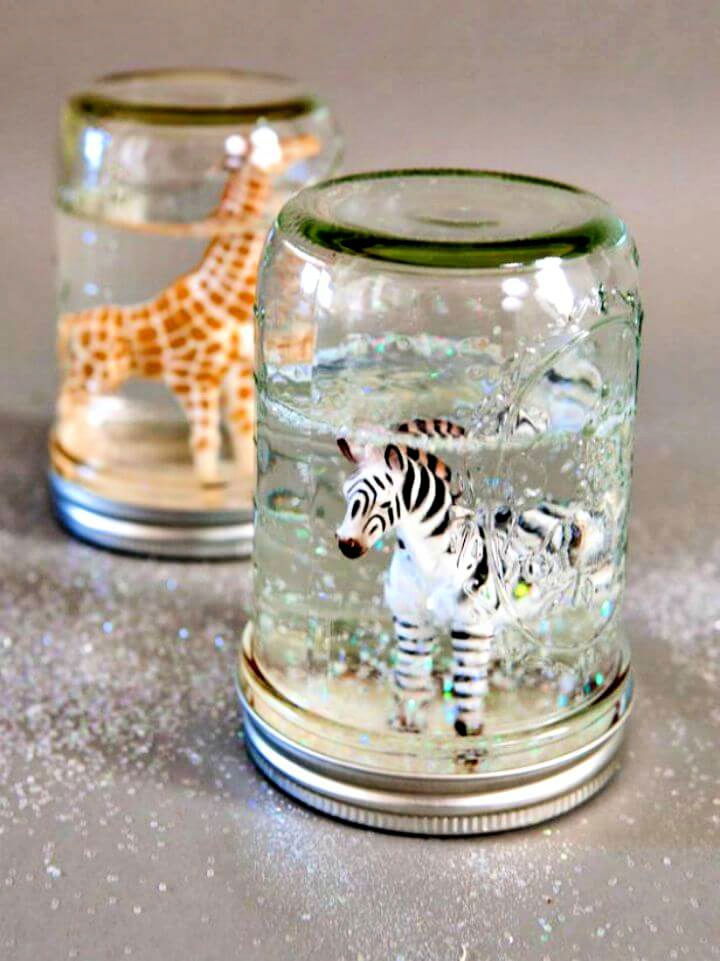 Winters are here and these gorgeous snow jars would add the perfect appeal and beauty to your spaces and that too in a really easy and fun way that the kids can do it themselves too. Just fill up the jars with the waterproof glue, add glitter and the animal figurines like a zebra or giraffe and your perfectly cute snow jar is ready. diynetwork
44. Mason Jar Fairy House Crafts to Sell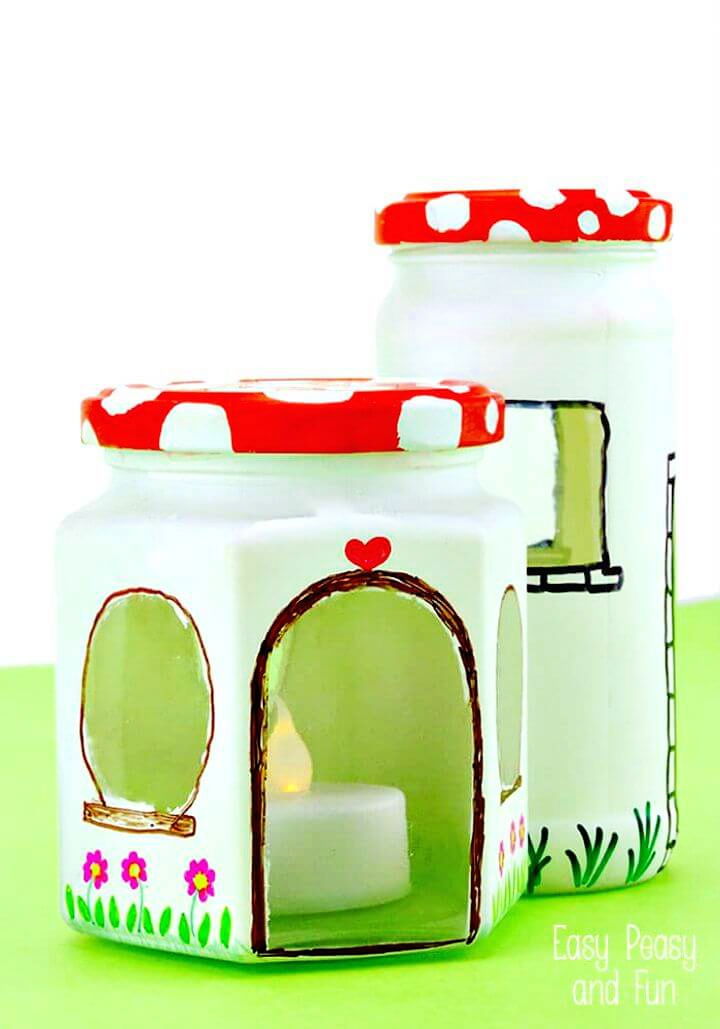 There is everything magical and sheer beauty about the fairies be it their land, their attire and their houses too so here is how kids can go crafty with their fairy craze by creating this lovely fair house and that too in a mason jar. Just let them paint the mason jar with doors, window and flowers to create a house image and a candle inside would add more intimating features. easypeasyandfun
45. How to Paint Drip Mason Jars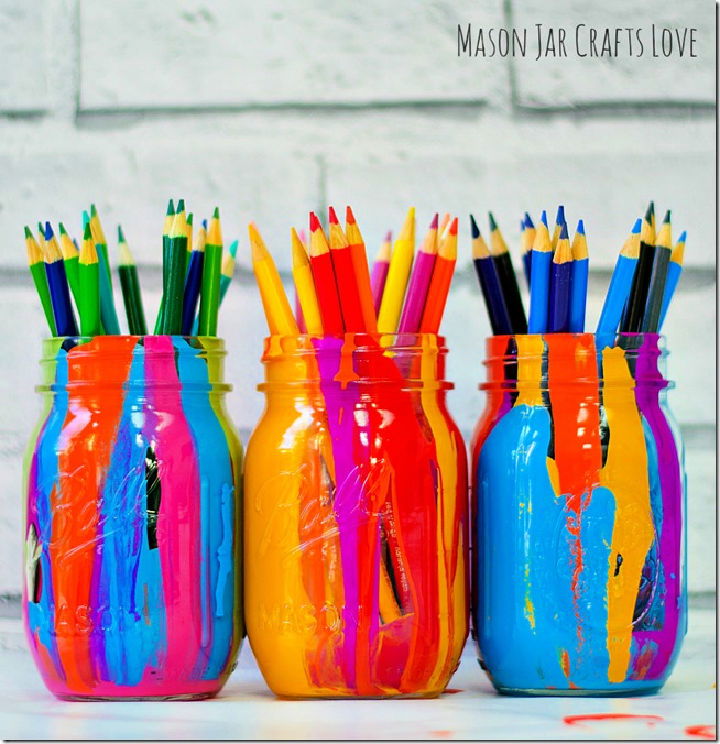 Mason jars are so cool to have for the kids crafts as you can play with them in a lot of fun and exciting ways and making these painted trip pencil holders would just be great. Just grab three mason jar and pour your favorite paint drops on the bottom and let them drip to the top and create this lovely set of stationery organizer for the homework desks. masonjarcrafts
46. Fireflies in a Jar Craft for Kids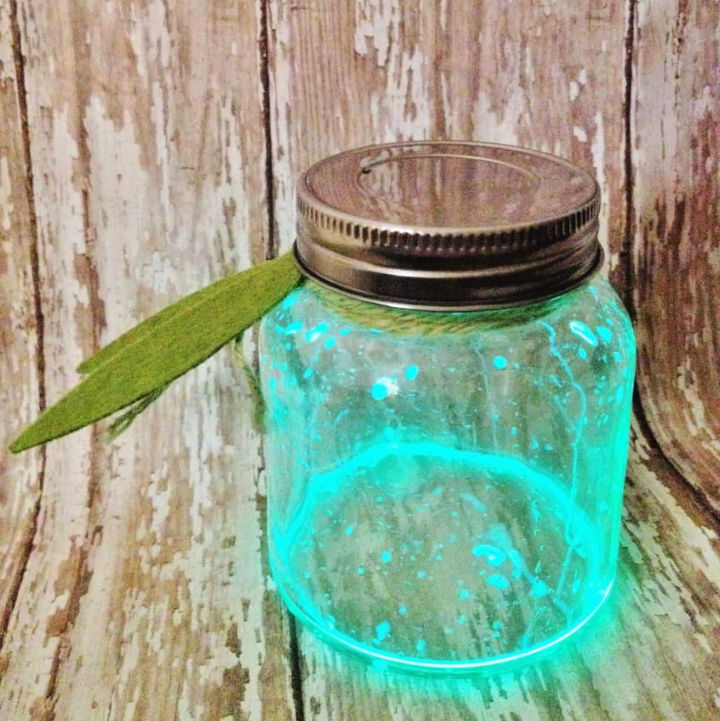 Kids are so fascinated by the glowing fireflies in the dark and many of them try to collect them in a jar and see the most gorgeous light magic created in a jar. So if it's not possible for your kids to make get the fireflies they can make this faux firefly mason jar using the jars of course and the glow candles and have so much fun. survivingatea
47. Mason Jar Fall Luminaries Crafts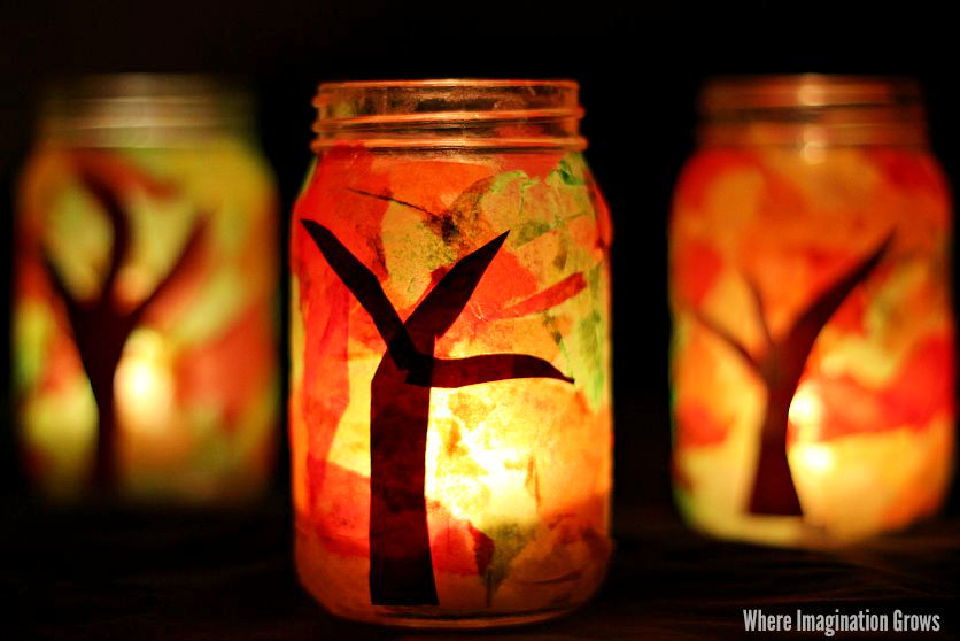 These immensely gorgeous and fun looking mason jar fall luminaries would bring the perfect charm and beauty of the fall to your spaces and they are super cute and fun to make even by the kids. All you need to do is just glue up the fall colored piece of the tissue papers to the jars and add the candles to the jars and they are done to light up your spaces so gracefully. whereimagi
48. How to Make Mason Jar Lanterns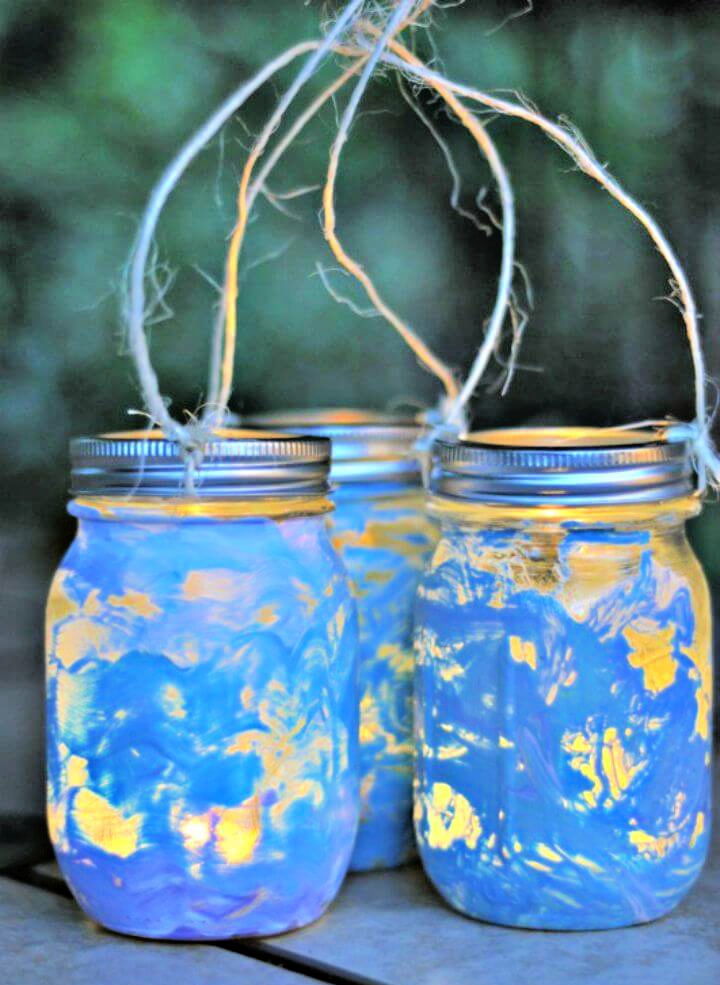 Summers are here and you would find so much fun to do with your kids in the form of lovely and excited crafts and the mason jars can be your experimental tools. Yes you can let your little one paint the mason jars and then use them as the gorgeous and custom lanterns for your outdoor spaces and here are the details of it. suburble
49. How to Decorate a Mason Jar Bank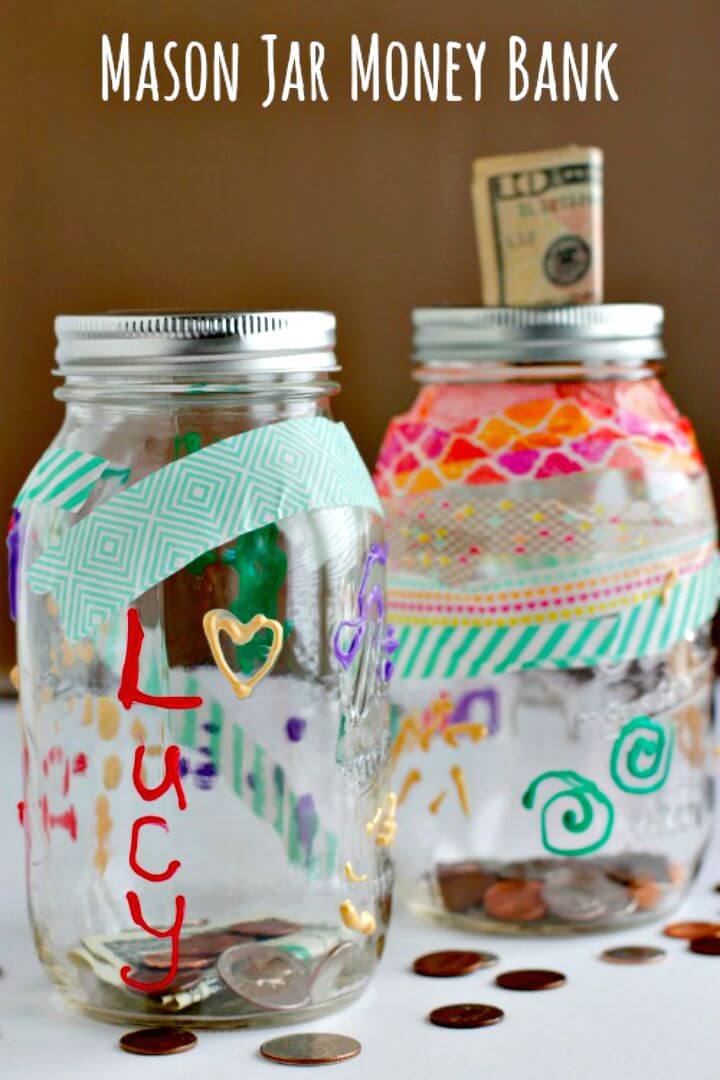 When it comes to kids crafts the mason jars are so much fun and there is a huge variety of the ideas and projects to do with them. Here is a super cute and fun idea of creating these mason jar money banks for the kids and that too on their own. Let them paint up the mason jars with their creative and imaginative approach and save money in this cute and handmade money box. makeandtakes
50. Quick DIY Fairy Mason Jar Art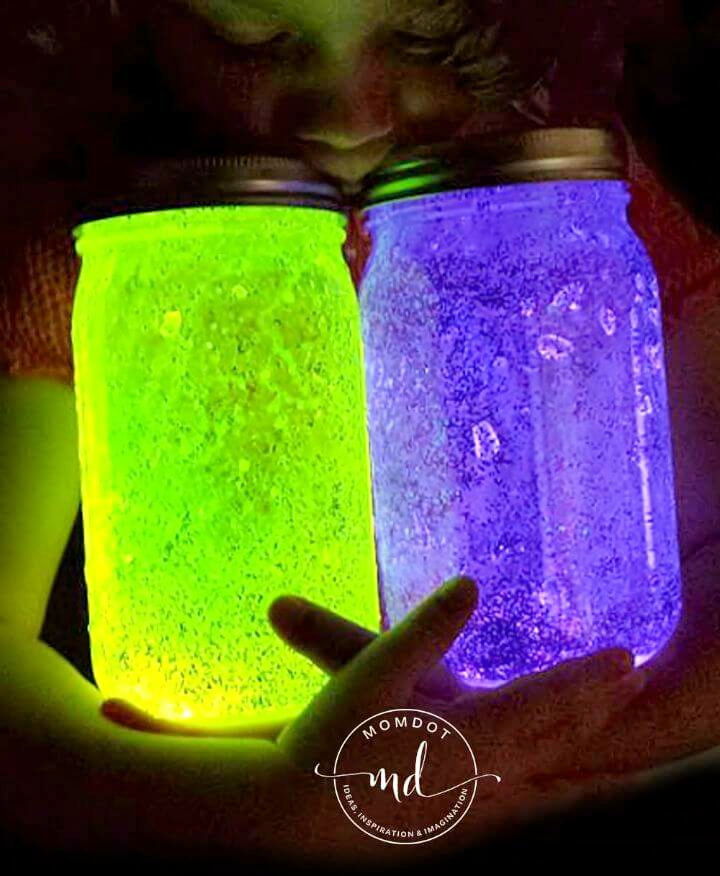 Girls love fairy tales and they can bring a bit charm of the fairy land to their rooms by creating these adorable fairy mason jars for their spaces. Just add some glitter and the glow sticks to the mason jars in your favorite colors and your lovely fairy jars are just ready to glow up the rooms of your little ones in a really whimsy and fun way. momdot
51. DIY Mason Jar Superhero Banks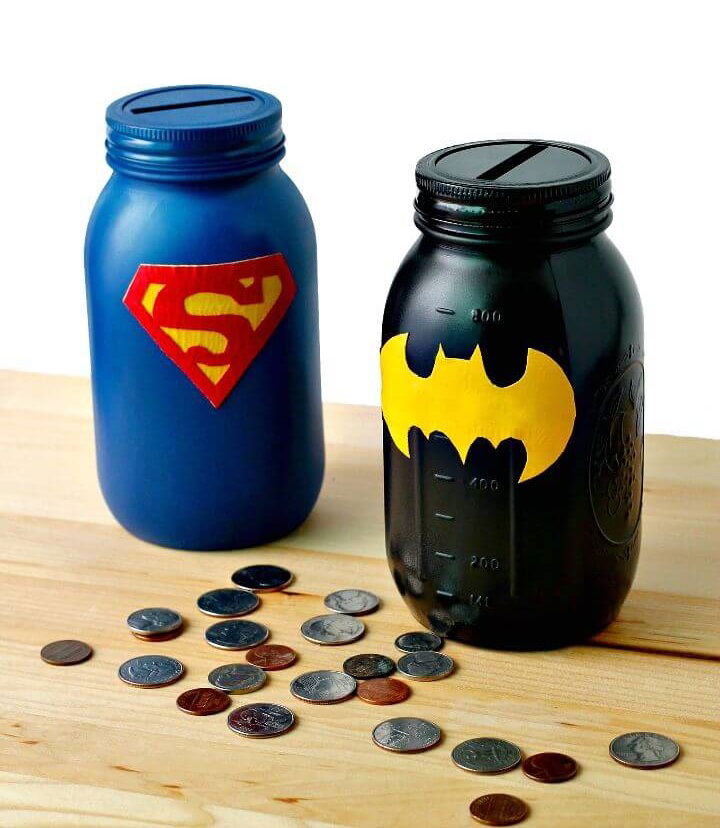 While girls are crazy for the fairies and fair tale heroins the boys are mad for the super heroes and super man and batman are their huge favorites. So they would love painting up the mason jars with the superman and batman themes and create the most amazing and cute mason jar money banks for shelves to save their coins in. firefliesand
52. Cute DIY Mason Jar Turkey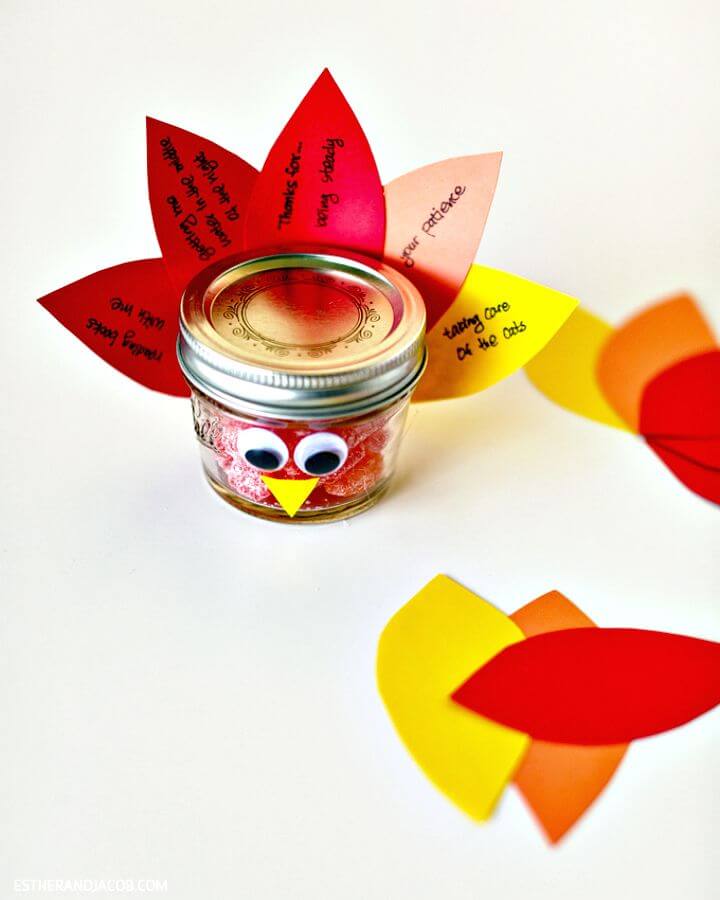 The kids can make this lovely and cute mason jar turkey gift to their friends or their teachers and make them by their own hands so damn nice and easily at home. Just add the turkey features like a felt cut nose and the wiggly eyes to the jar and colorful card stock feathers and each of them written with a thanksgiving note. localadventurer
53. Glass Jar Mason Jar Aquariums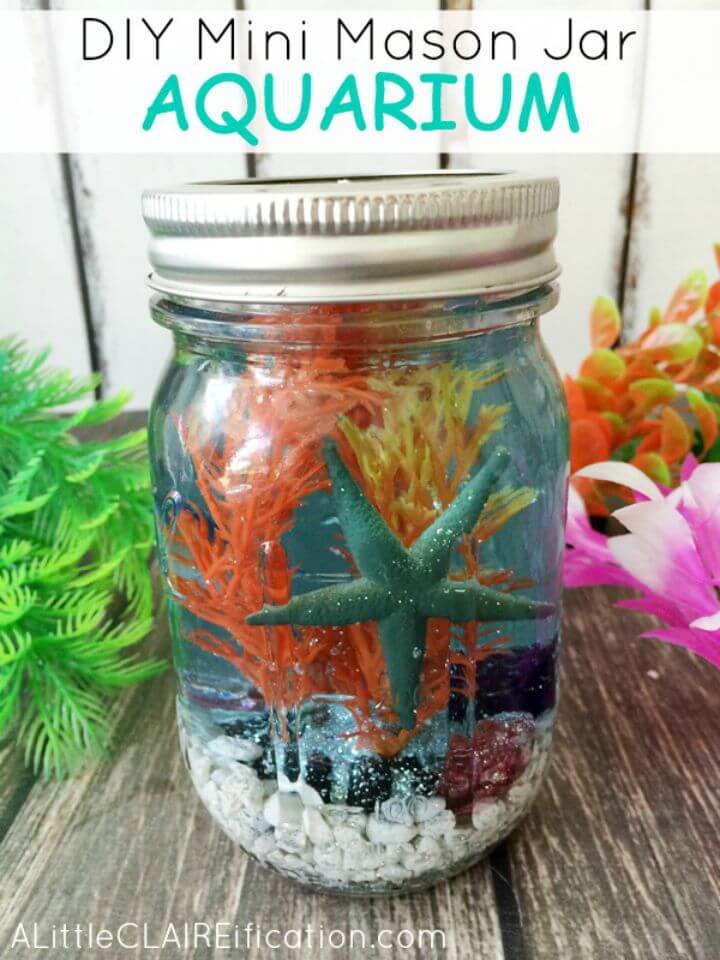 The mason jars are so cute and fun for the kids crafts as the kids can create a world of their fantasy in this little mason jar and making this lovely aquarium would really be a nice kids craft idea for the weekend. Direct them to fill the mason jar with the water, glitter and infuse all the cute aquarium figurines inside and the mini mason jar aquarium is ready to rock your decor. alittleclaireifi
54. DIY Thumbprint Flower Mason Jar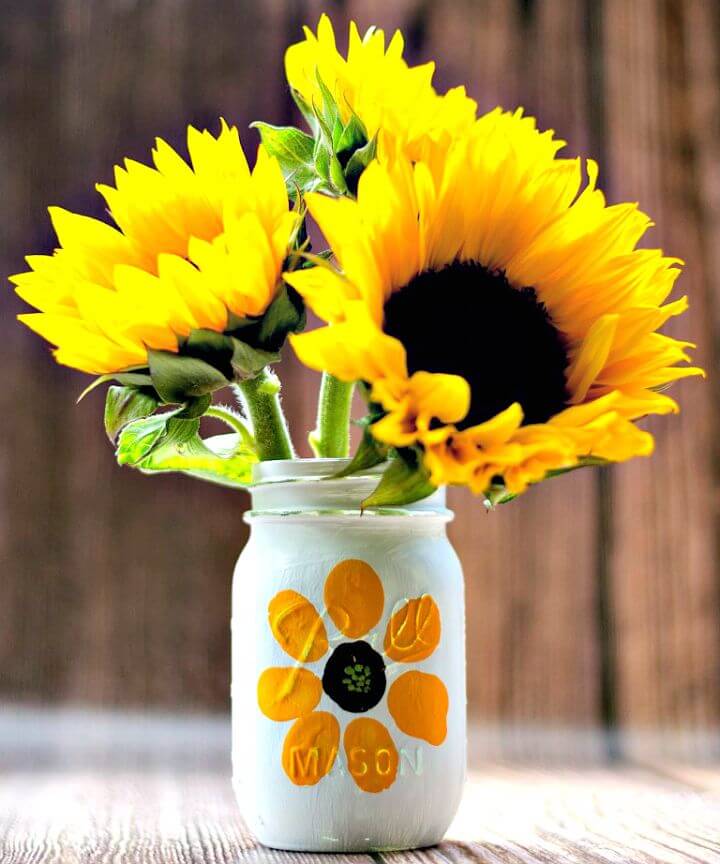 Kids just always want to contribute when ever they see their mothers involved in some cute and colorful crafts and this sun flower mason jar vase would let them play some crafty part too in the making of it. You can paint the whole mason jar in white and then ask your kids to thumb paint the yellow petals on it and its done. masonjarcraftslove
55. Make Your Own Turkey Jar Craft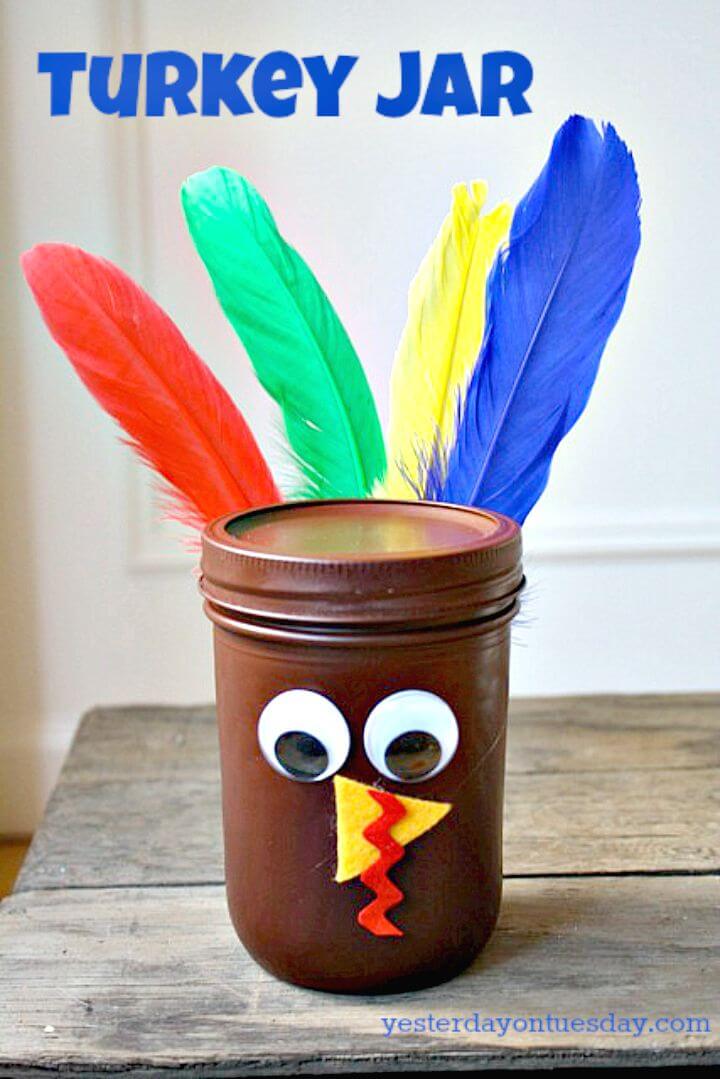 The Thanksgiving decor is just so undone with out making a cute turkey for your display spots and now you kids can make one and help you out for the Thanksgiving decor and other preparations. Just paint the mason jar in brown, add the googly eyes and the felt cut nose and the colorful feathers at the back and a lovely turkey decor is ready to be flaunted around your spaces. yesterdayon
56. Aquarium Craft Made From Mason Jar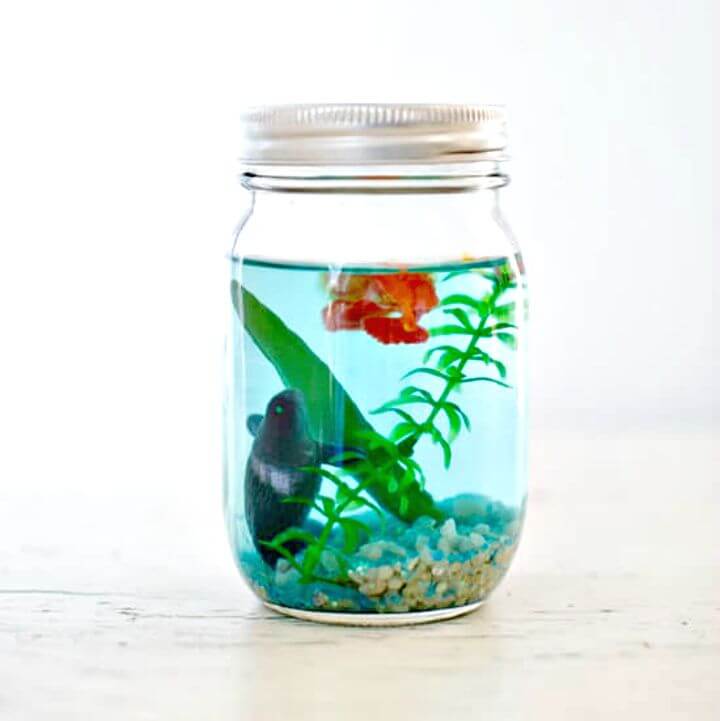 Kids just love to have a aquarium in their spaces and if you do not have that much money and space to afford one in the house then making this mini aquarium in a mason jar is the best idea to work up their aquarium desires. It can easily installed the kids themselves by just adding water, blue color, some sea stones and the plastic sea figurines in the jar. hellowonderful
57. DIY Baby Keepsake Mason Jar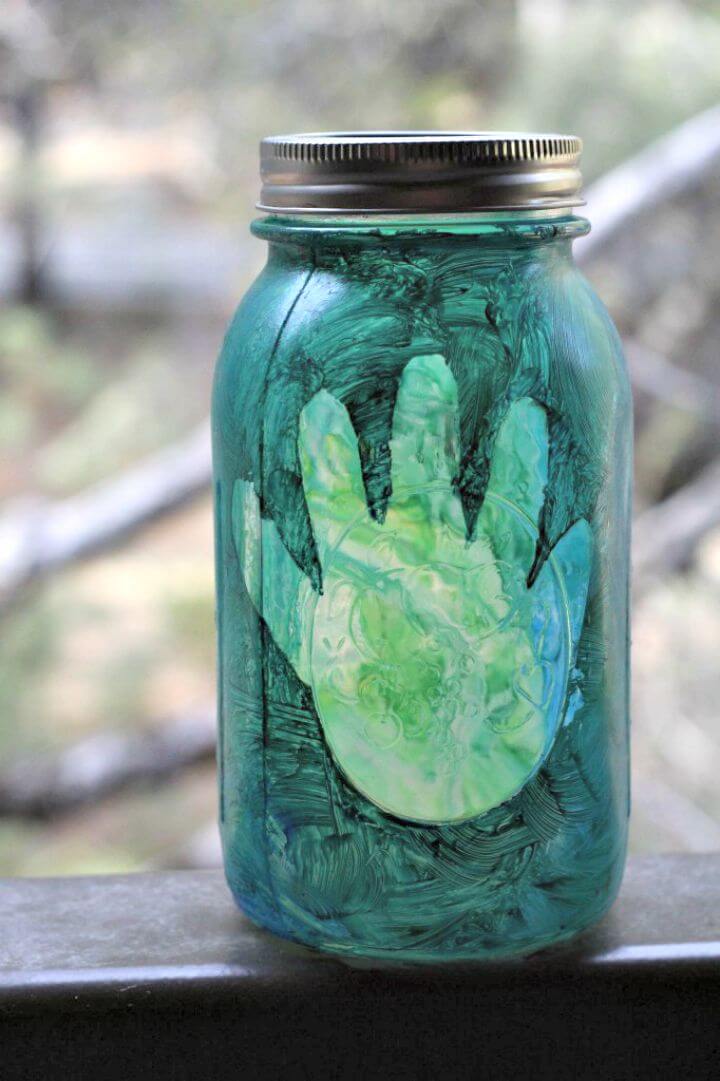 If you want something to hold your kid's keepsakes then here is the idea of creating this lovely keepsake mason jar for your kids and it would be so much fun to make with your kids at home. The jar has been painted in a lovely acrylic blue and you can take your kids cute little hand to create a hand print on it and make it a custom piece for his keepsakes. happilyever
58. Pretty Mason Jar Aquarium for Kids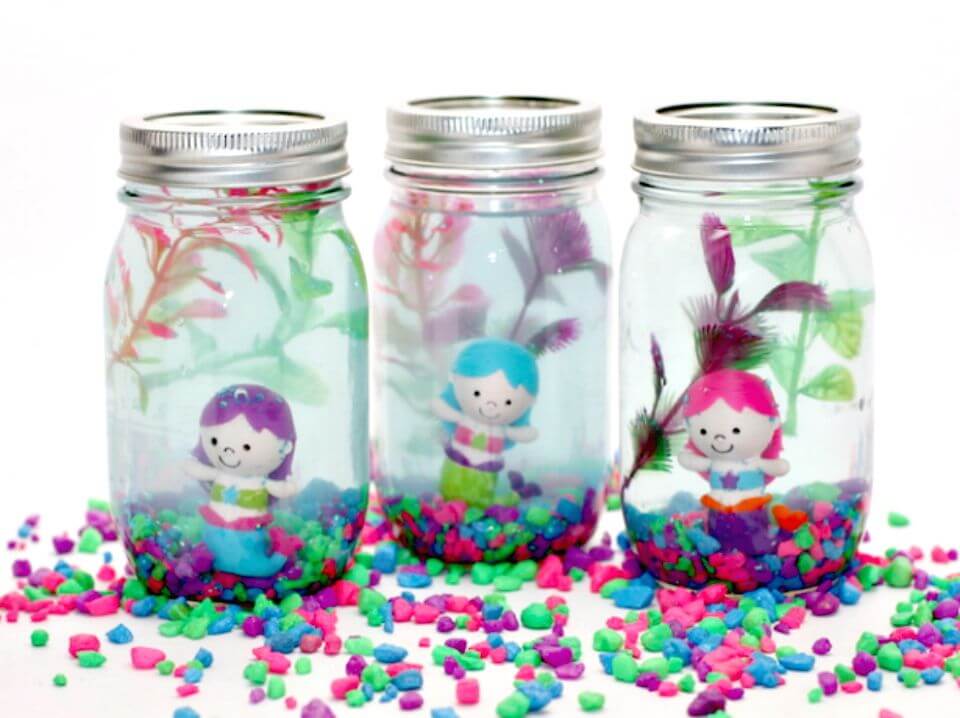 Kids are in huge love with the sea and the sea creatures and here is how you can enjoy their love by making this lovely aquarium on their own. They can fill the mason jar with colorful river rocks and the cute mermaids being put inside. They can also paint the jar on their own to enjoy a more custom touch being added to this beautiful aquarium. momtastic
59. Anthropologie Mason Jar Snow Globes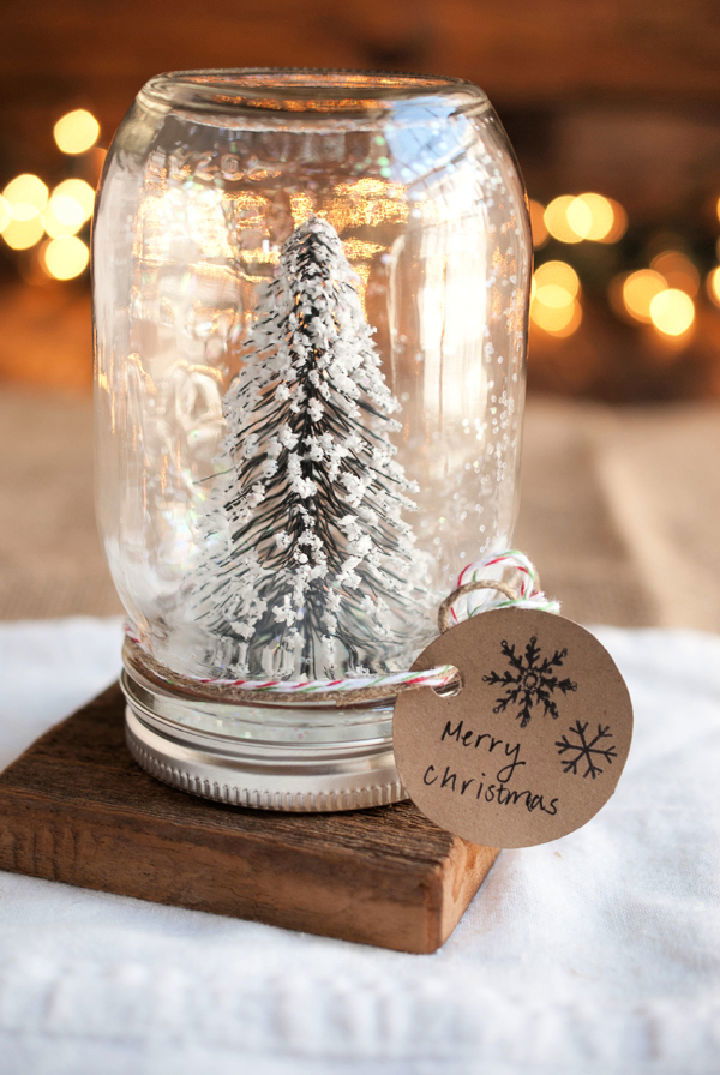 The cute and little things in decor really bring some charm and the style details in your spaces and there is a lot that you can create yourself and enhance your decor level. You can use a mason jar to form up this lovely frost snow globe on your own and then display it so nicely on your tables, mantles or the shelves for the perfect winter decor.Here is the link to tutorial simplecravesan
60. Beautiful DIY Emoji Mason Jars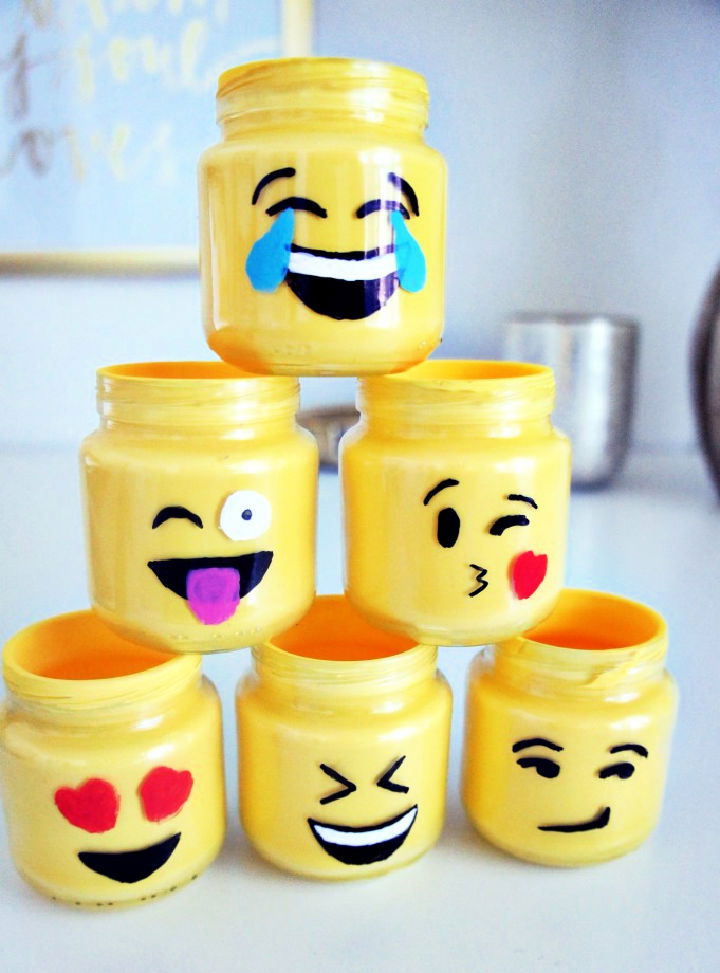 Emoji signs have become a part of our lives as we use them a lot for our conversations to express our emotions and feelings. So now its time to bring these emoji signs into your craft and make something fun getting hugely inspired from them. These emoji jars are the just the perfect kind of crafts to put your hands on and make some lovely storage containers out of them or use them solely for decor or the gifts too. With some yellow paint and the sharpie markers you can nicely do this project on your on ourmessytable
61. Homemade Dog Treat Jar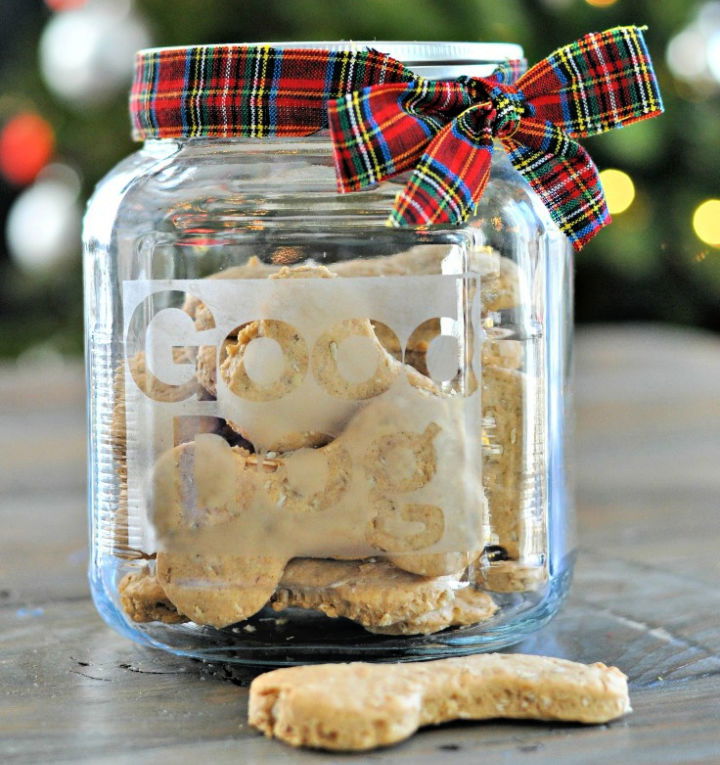 Your dog also deserves some treat and gift when there is a holiday or a celebration so here we have something really fun and cute that you can make for your dog and gift him. Take a mason jar and make it say with the Good Dog printable and then decorate it with the cute little fun fabric bow on the top. You can fill it with any kind of food or treat that your pet likes but it should b in dong bone shape. Tutorial decorandthedog
62. DIY Laundry Soap Neighbor Gift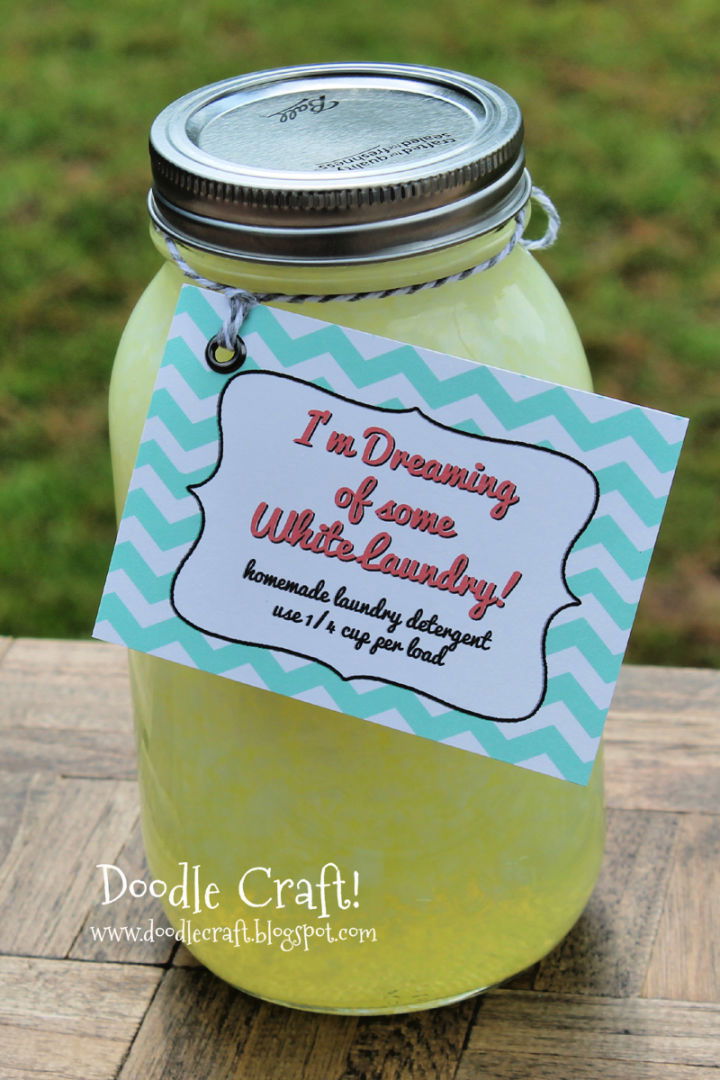 The good neighbors are the people we really need to keep happy as they really stand by us all the time. So as the holiday season is approaching and you need gifts for the neighbors too we have brought you an amazing idea here. You can handmade this laundry soap on your own and decorate it with a cute printable label and present it to your neighbor. The idea is really cool, fun and easy but really cheap too. doodlecraftblog
63. Mommy Survival Kit in a Jar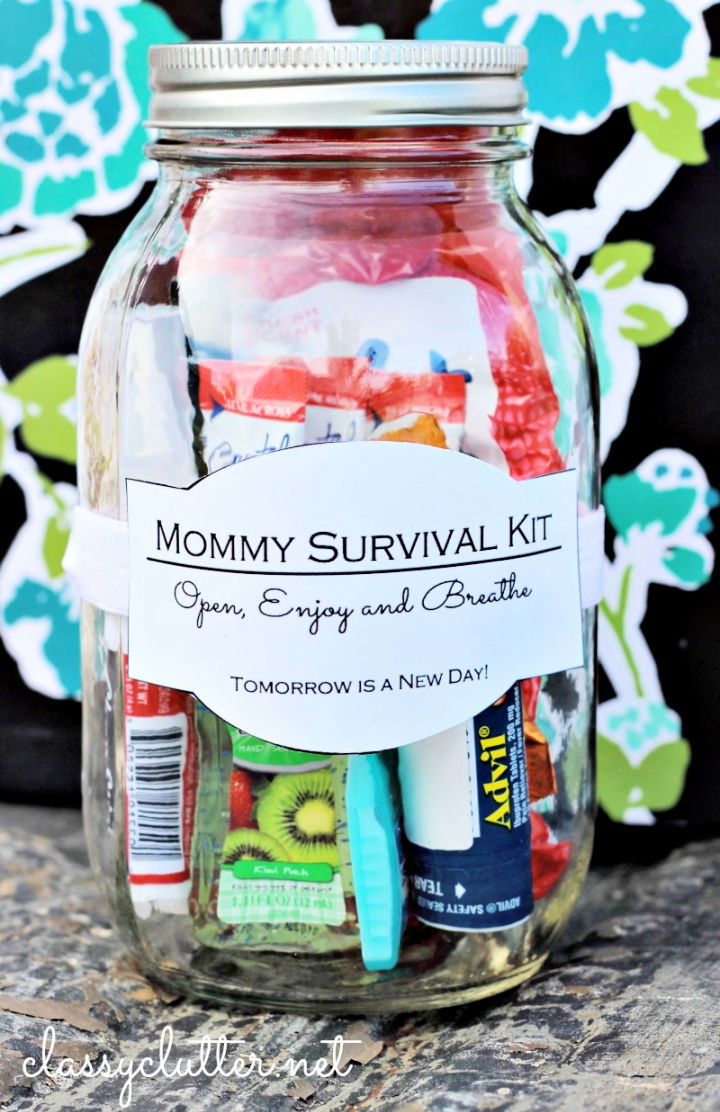 Mothers also need a gift from husband, kids and anyone other in the family s they really put great efforts to make the holidays and the special occasions really special. so here is this simple and really cute gift idea with a mason jar as you can fill with some fun mommy things and turn it into a mommy survival kit. Hand wipes, sanitize, mascara, chocolate are the things used to fill the mason jar up so can you. classyclutter
64. DIY Gift in a Mason Jar for Scrapbookers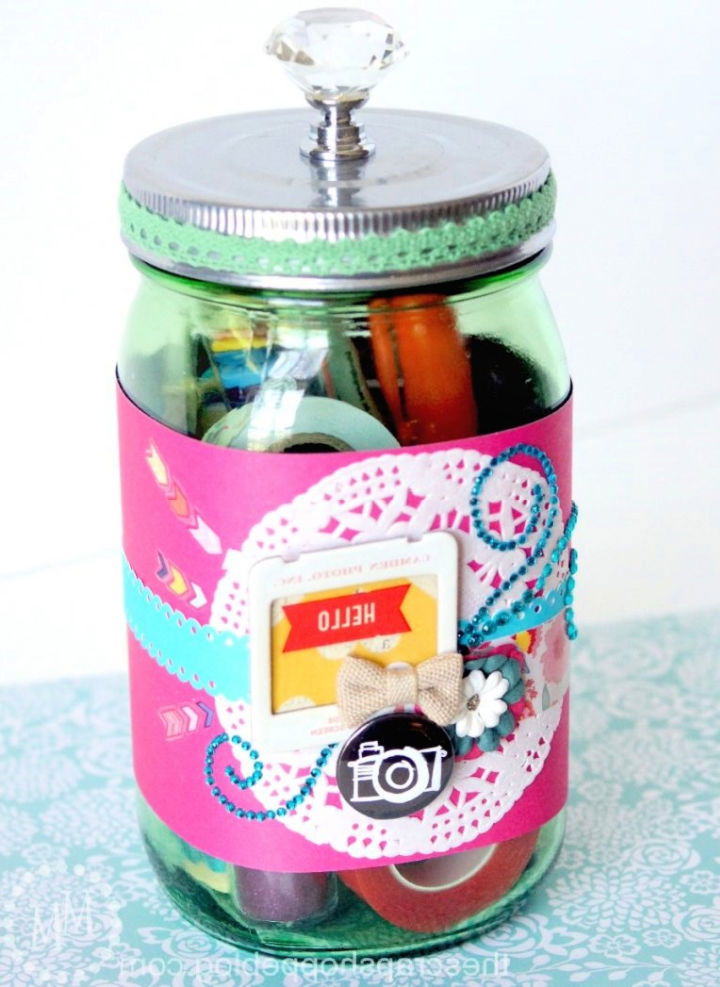 The art and craft lovers just love to make some cute things whenever they are free and they need a cute few supplies for their projects and you can help them in this matter with this cute and fun gift. You can put some crafting supplies in the jar like the tapes, glitter, buttons, bow stickers, labels or tags, markers etc and then decorate the jar with a scrap book paper and its done. thescrapshoppeblog
65. How to Make Pedicure in a Jar with Ribbon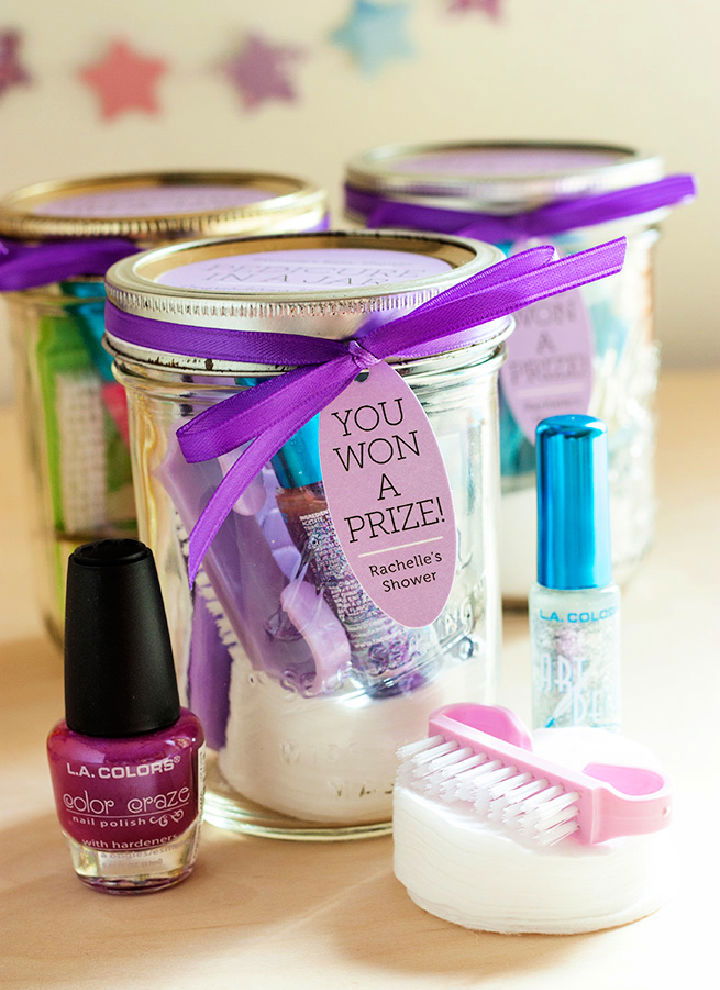 For the mothers, the working ladies and the teachers the beauty gift ideas are the perfect so that they can take rare of themselves with these gifts. So here is this idea of pedicure kit in a mason jar and would be just perfect to make the day of any girl, lady or the women around you. Fill the jar with the pedicure supplies, with some ribbon and printable tags it would turn out as a hit gift evermine
66. DIY Birthday Cupcake Mason Jar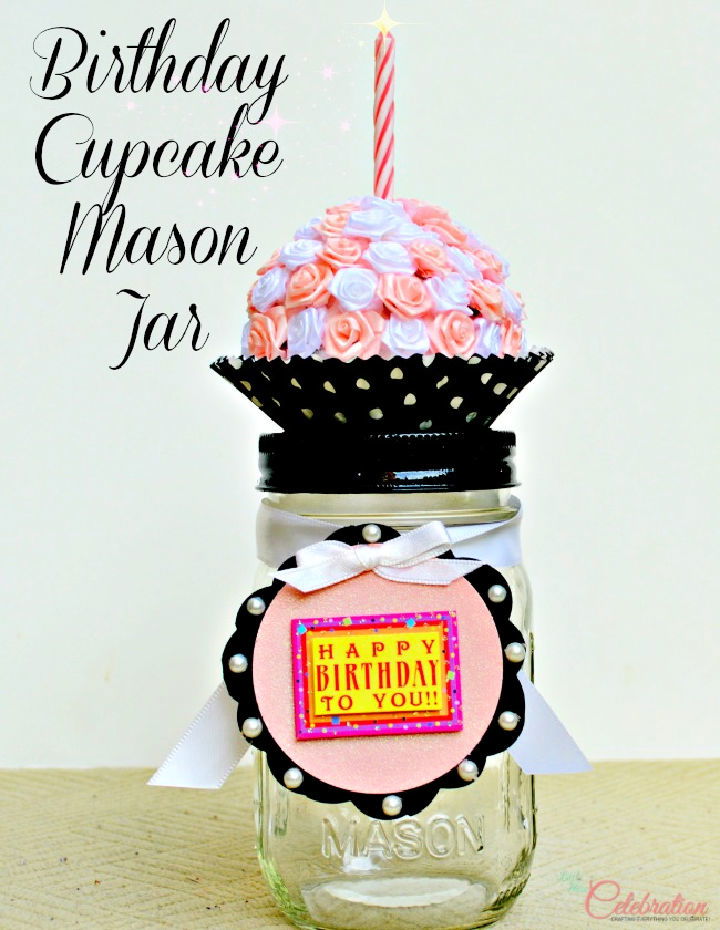 There are so many things that can be the cute birthday presents and they all made out of the mason jars like this cupcake Mason jar. Using a styro foam half ball, the cute ribbon and the ribbon flowers this pretty cupcake has been made and glued to the Mason jar lid. With a pretty Birthday label it has been turned into an awesome and unique gift ever for a birthday. littlemisscelebration
67. Winter Survival Kit – A Fun Gift in a Jar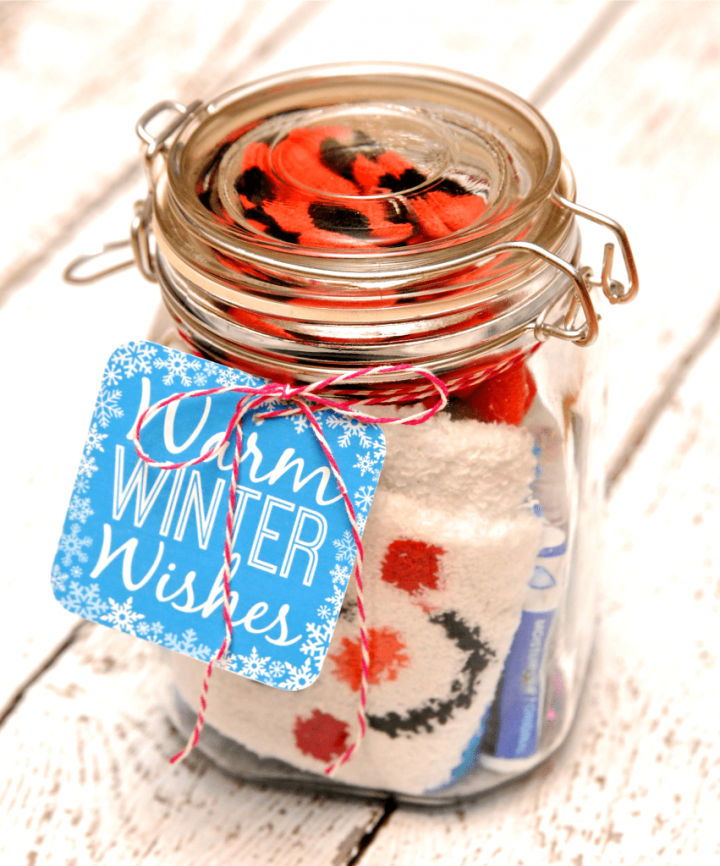 The winter holidays can be made more fun for the dear and near ones when they would stay away from the cold and a survival kit can help them to fight against the cold. You can gift them the winter survival kit with the socks, gloves, hand warmers and chap-stick like thing being put inside a mason jar and decorating it with a cute printable tag saying Warm Winter Wishes. happygoluckyblog
68. Snowman Mason Jar Holiday Gift Idea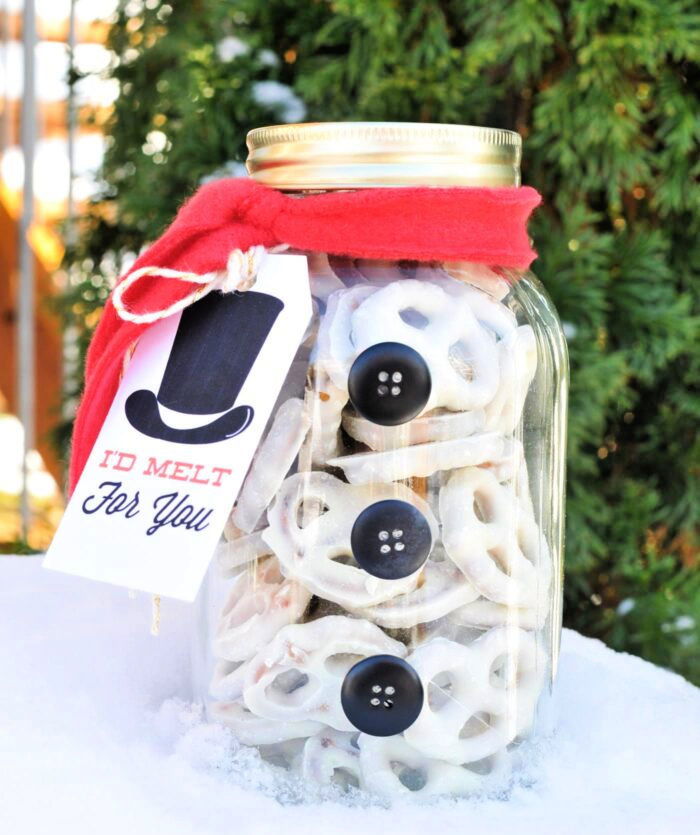 Fill a mason jar with white candies and give it a red ribbon or fabric gift wrap around the lid just like a red tie of a snowman! Mount some black buttons and add a badge or tag at the end with the help of a twine and a perfect snowman mason jar gift is just ready to go in your friend's hands! polkadotchair
69. DIY Apple Jar and Free Printable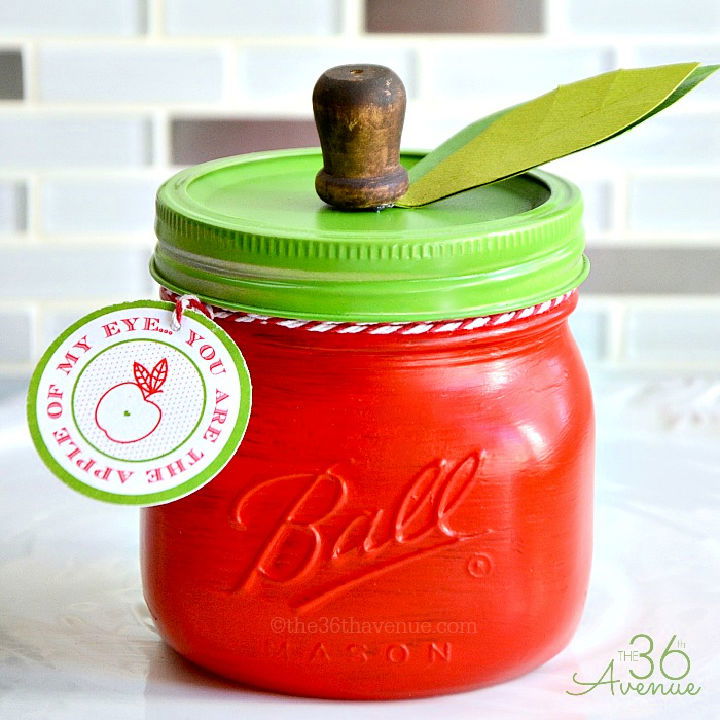 You can use the apple theme to make a cute and pretty gift for the kids like this one. A small mason jar has been turned into an apple with the red stain on the jar and green on the lid. The leaves are adding more apple features to the jar and further it has been filled with the colorful M&Ms. The cute Apple of My Eye printable tag adds more to the applish theme. the36thavenue
70. Valentines Day Gift – Heart Jars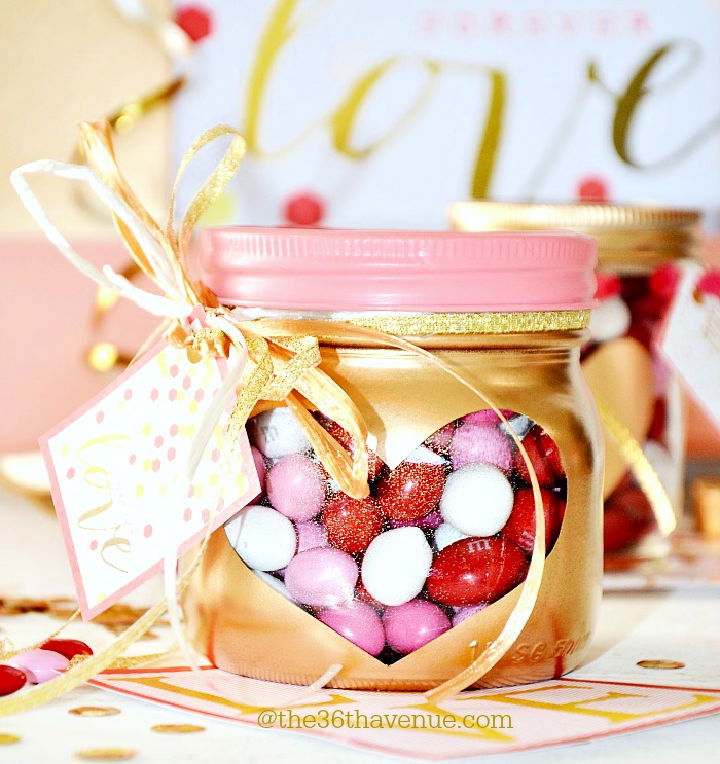 Valentine day is the most special day for the couples and they need some really cute and romantic kind of gifts to exchange and mason jar can do that so nicely. Here are the simple mason jar with painted hearts and the LOVE tags and the colorful ribbons adding more charm and beauty to the jar gifts. The filling are the sweet Valentine day candies. Full details here the36thavenue
71. Decorating Pineapple Jars Ideas and Tags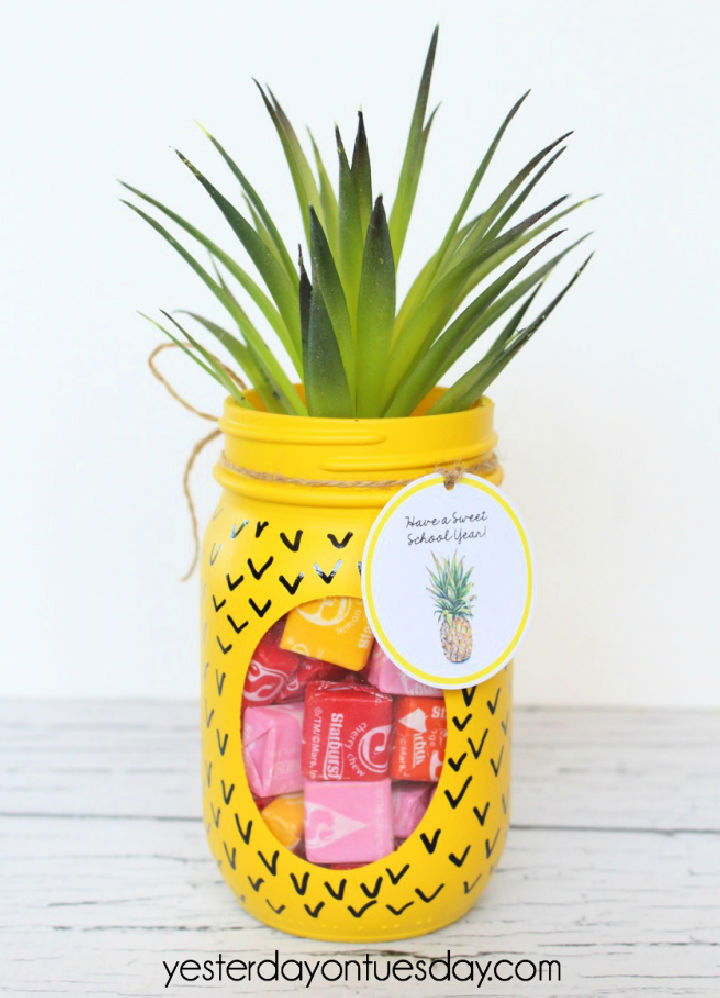 The way you present your gift really matters in making a gift really fun and cute.So here is a simple gift with a twist of pineapple. Yes the jar has been simply stuffed with the candies but it has been painted in yellow and the lid has been provided with a succulent to make it look really like a pineapple. Here are the complete details showing the jar into pineapple transformation for a pretty teacher's day gift yesterdayontuesday
72. DIY Small Mason Jar Hanging Garden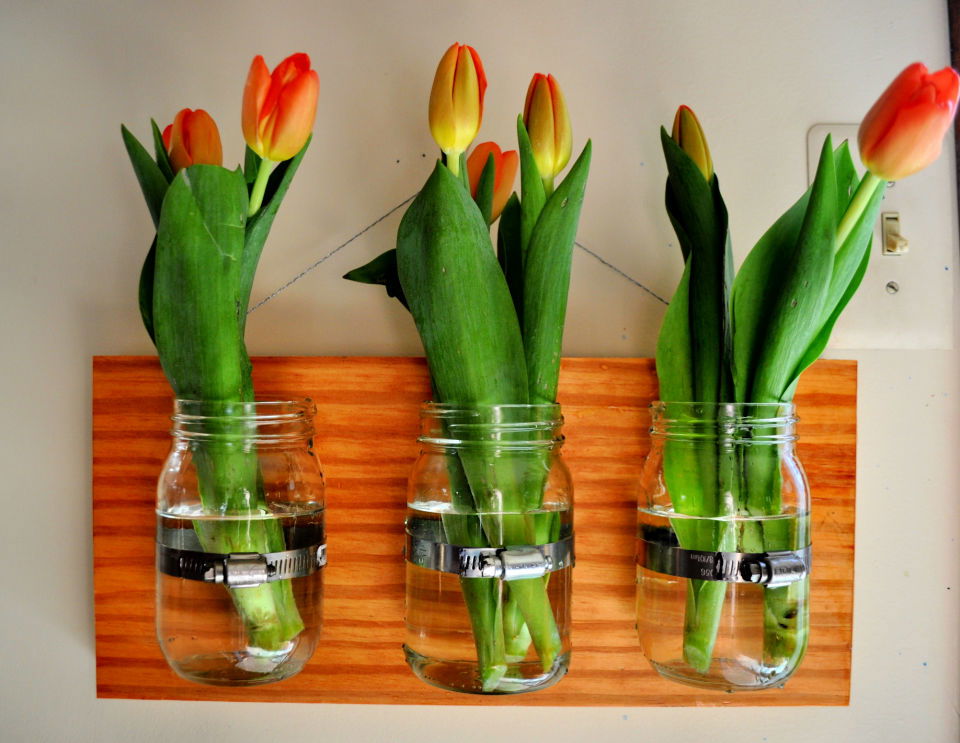 Get crafty with a wooden plank and 3 or more of mason jars to make outstanding wall hanging vases that would be gift-worthy too! Here mason jar have been installed to wooden plank with the help of hose clamps that can be tight around the mouth of the mason jars! An easy, timeless but great mason jar craft and gift idea! Complete DIY tutorial here mccutcheonsblog
73. Pampering Gift Ideas for Women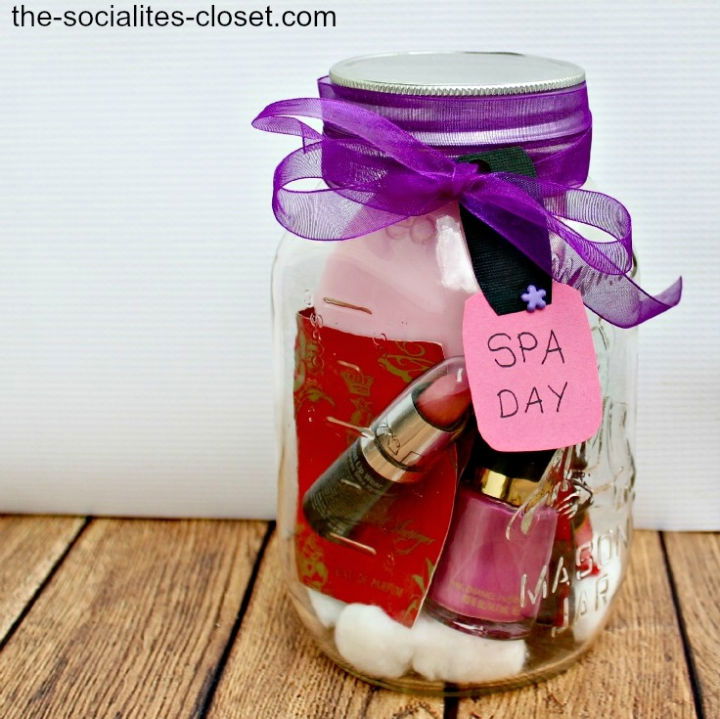 Why not add some women beauty and makeup stuff in a mason jar for making cool gifts for a women or girl! Here is a beautiful sample if you need some information! You can fill a mason jar up with a nail polish, perfume, chocolate bars and with other items of this kind to make beautiful surprise gifts for a busy women in home may be your sweet mother! the socialites
74. Lemon Lime Sugar Scrub Recipe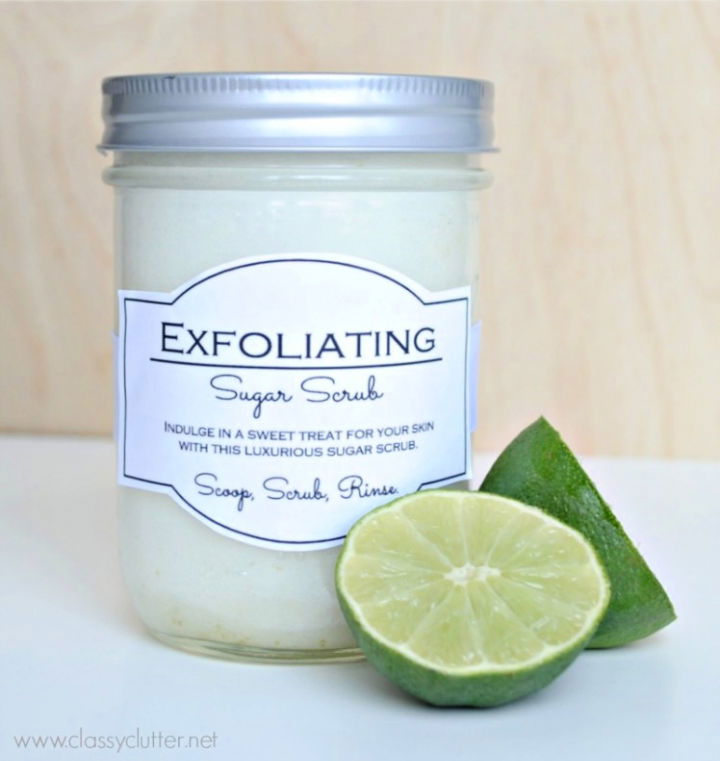 Here is another smart and timeless mason jar gift hack, prepare a scrub at home and just fill it in a mason jar for an instant gift for a girl! Here a lemon lime sugar scrub mason jar gift that is super easy and timeless to make and is sure to please a mom, a beauty loving girl and also for a neighbor! Complete recipe and tutorial for this mason jar scrub gift here classyclutter
75. Easy Pumpkin Ball Jar Crafts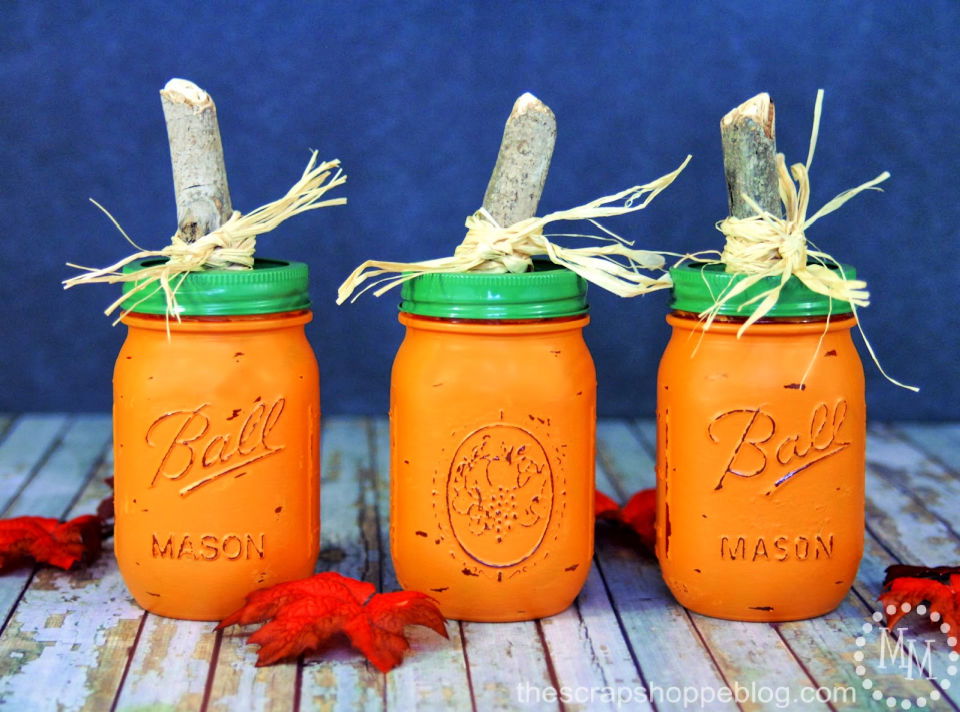 The fall decor is just released without having those cute pumpkins in your house. Now you can make these utter jars on your and that too using the empty jars out of your kitchen. Just paint the jar in orange and lid in green along with a wooden stem stick glued to the lid for a more precise look of a pumpkin. You can create as many as you need for the complete fall decor of your house. Complete tutorial is here thescrapshoppe
76. Glitter Mason Jars With Led Tealight Candles Craft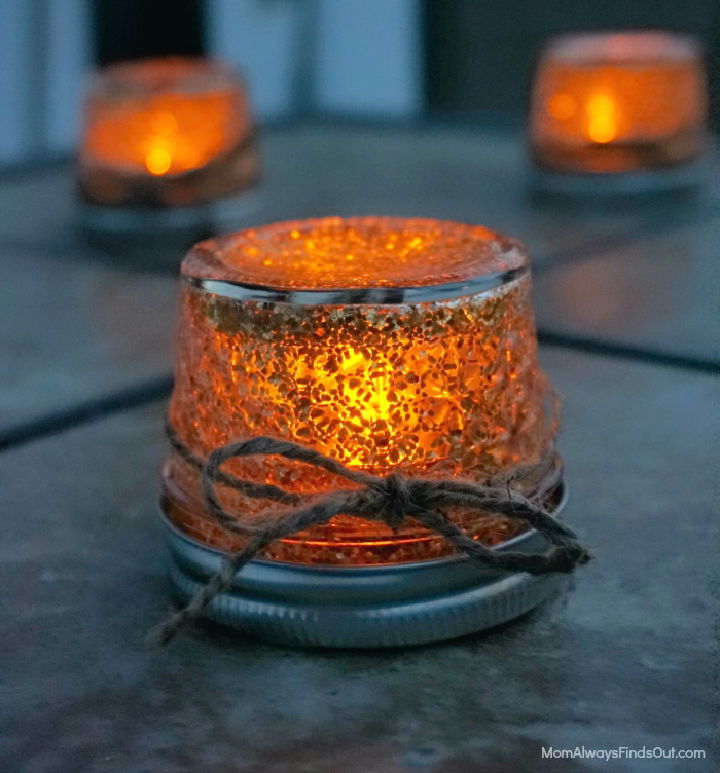 To glitter up the things on your hands is probably the most easy craft to do for any of the decor purposes. So adopt the glittering technique this fall and create these really tempting glitter mason jar for the perfect fall decor. Add a mode podge layer inside a mini jar, sprinkle the glitter, set a tea light inside and lastly a tie of rope bow on the top would give it a really rustic finish. Though too easy yet you can find the complete details of this feasible mason jar project here momalwaysfinds
77. Rustic DIY Fall Centerpieces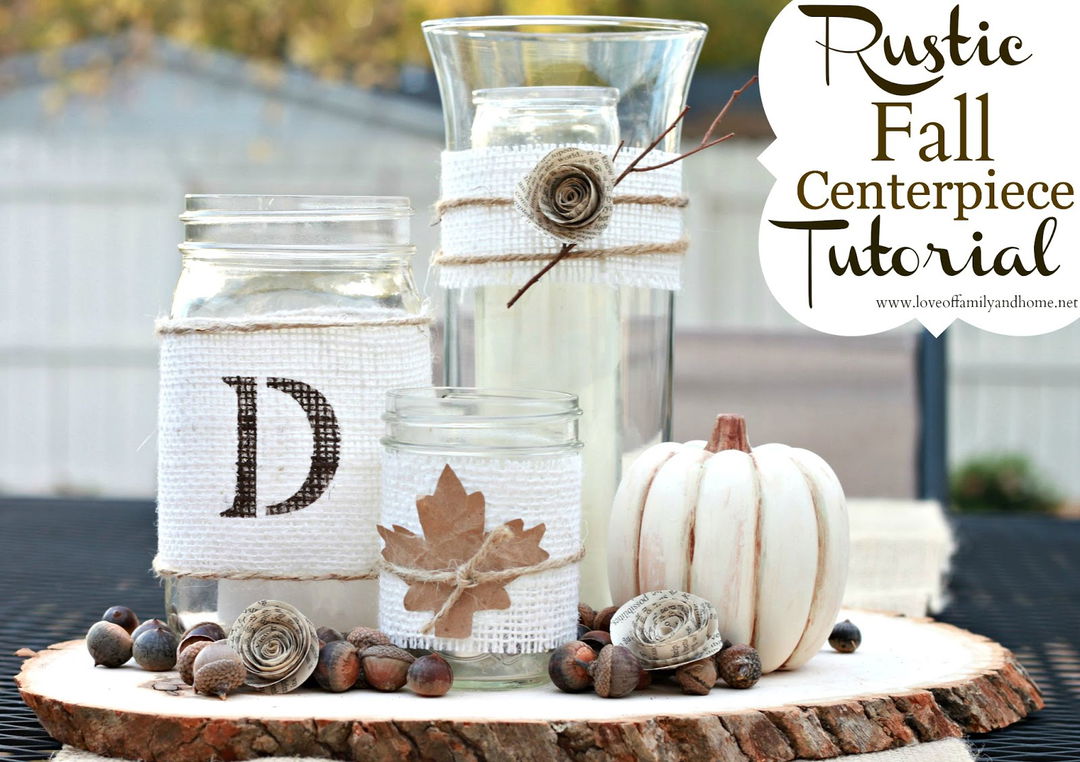 Along with the white stained pumpkins, the white burlap mason jar can really jazz up your fall centerpiece for sure. Just grab the mason jars of different sizes and shapes, add the burlap cutouts to them and then with the rope, maple leaf and with the stenciling letters you can spruce up the jars more. So do add the chic touch to your fall decor with these stylish burlap mason jars. loveoffamily
78. How to Make a Maple Tree Leaf Globe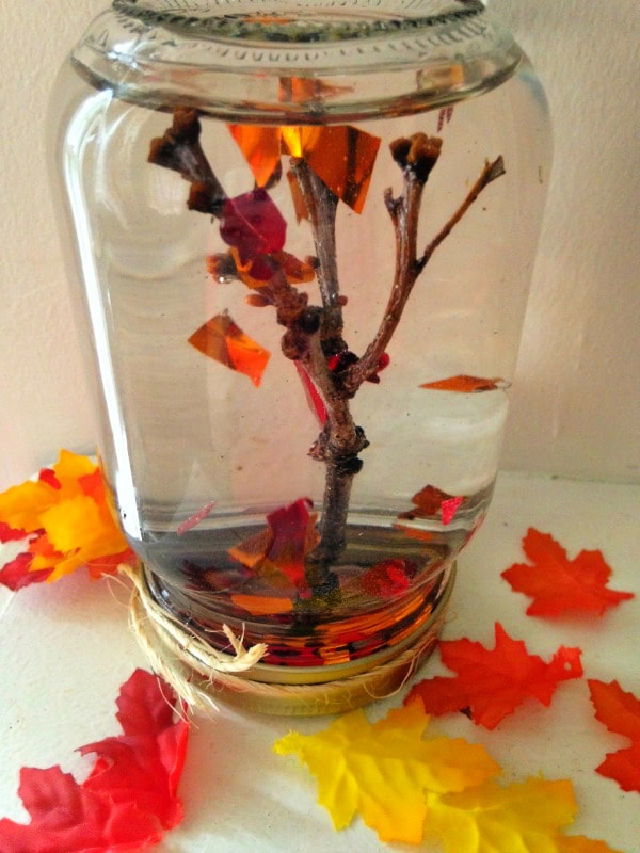 Here is a new arrival in the collection of the mason jar crafts for the fall decor and you would love it to the core. A gorgeous fall tree has been created inside the jar and thus called the fall tree snow globe. You would need a tree branch with glued leaves to be glued to the lid at the inside section. Then fill the jar with glycerin and put the lid on and its all done to make a really unique yet enchanting display in your spaces. Peek into the detailed tutorial of this idea right here frugalfun4boys
79. Halloween Drip Painted Mason Jars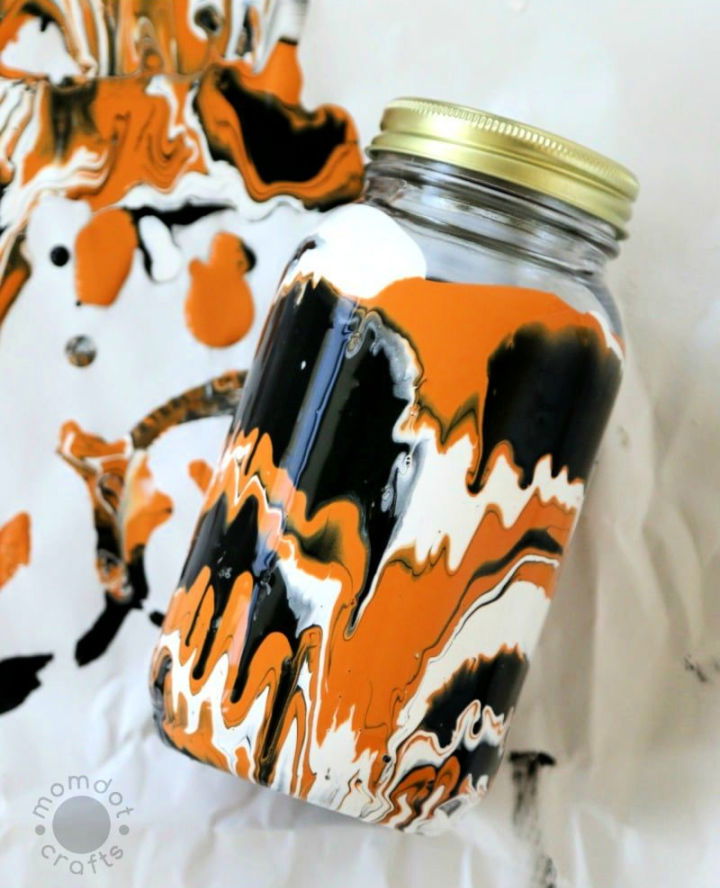 The drip paint technique makes things look more interesting. Its perfect to use for the Halloween crafts for that spooky kind of look too. here are the mason jar painted with the dark colors using the drip paint technique and no doubt they turned out so damn gorgeous and apt to the theme.They would look great on your shelf on mantles standing along some other ghostly crafts. momdot
80. Autumn Leaf Mason Jar Candle Holder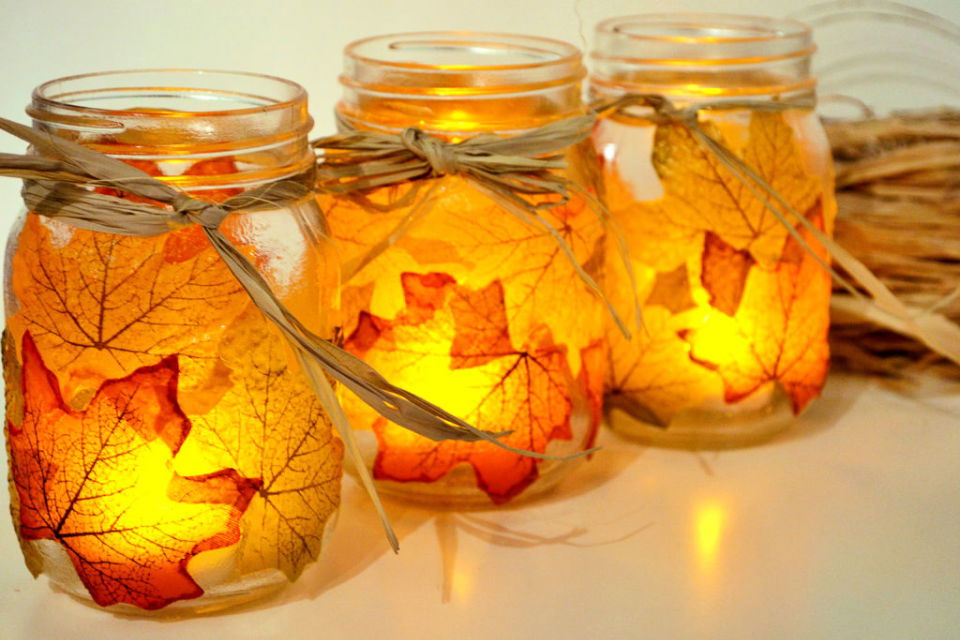 If you are busy and can not give much time to prepare your home decor for the fall welcome then you really get to peek into this immense easy and time saving craft. All you require to do is just grab some fall leaves fake or real and glue them inside the jar. You can simply display them like this or put the pretty tea lights or candles inside to turn them out as the lovely and charming lanterns. sparkandchemistry
81. Thanksgiving Mason Jars You Can Make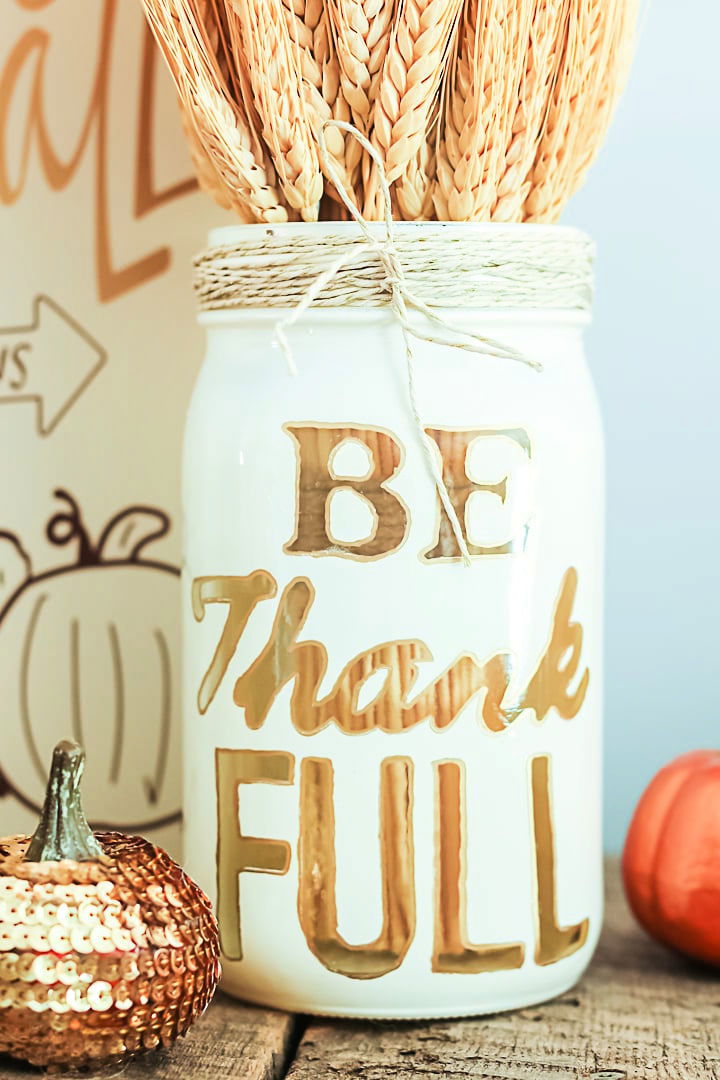 The Fall and its festivals are all about thanking the God especially the Thanksgiving to pay a huge gratitude and thankfulness to God for the food provision. So now you can say thanks to God through your decorative pieces. Like these lovely Mason Jar with Be thankful stencils have been created with some paintwork, rope and the wheat stalks to get a proud spot on your fall mantel decor. thecountrychic
82. Make Your Own Wooden Mason Jar Love Slat Sign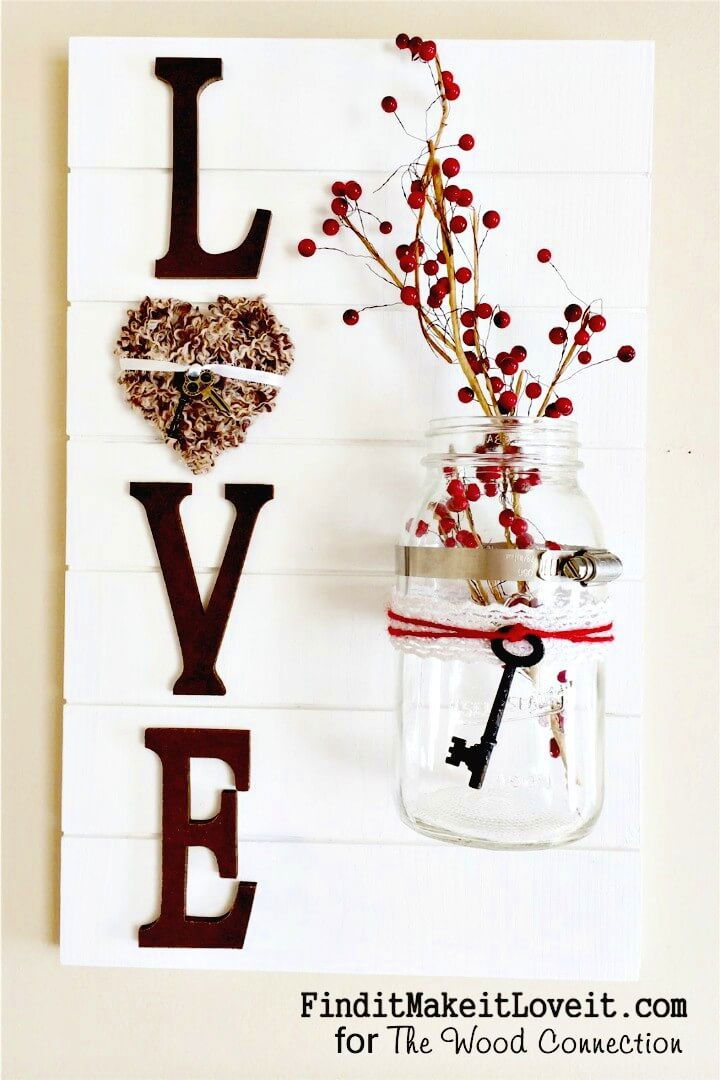 This Mason Jar Love sign is the perfect way to show your loved ones how much you care. It is easy to make and only requires a few supplies that can be easily found at Wood Connection. The first step is to gather all of the supplies. Once you have everything, you will start by staining the wooden slat sign. After the stain dries, you will then add the letters L, V, and E to spell out love.
You can use white paint or a permanent marker for this step. Once the paint or marker dries, you will add the keys and jute. To secure the keys, you can use a hot glue gun or wood glue. Finally, you will add the mason jar. You can either clamp it in place or screw it into the slat sign. This Mason Jar Love sign is a creative and beautiful way to show your loved ones how much they mean to you. finditmakeitloveit
83. How to Make Mondrian Mason Jars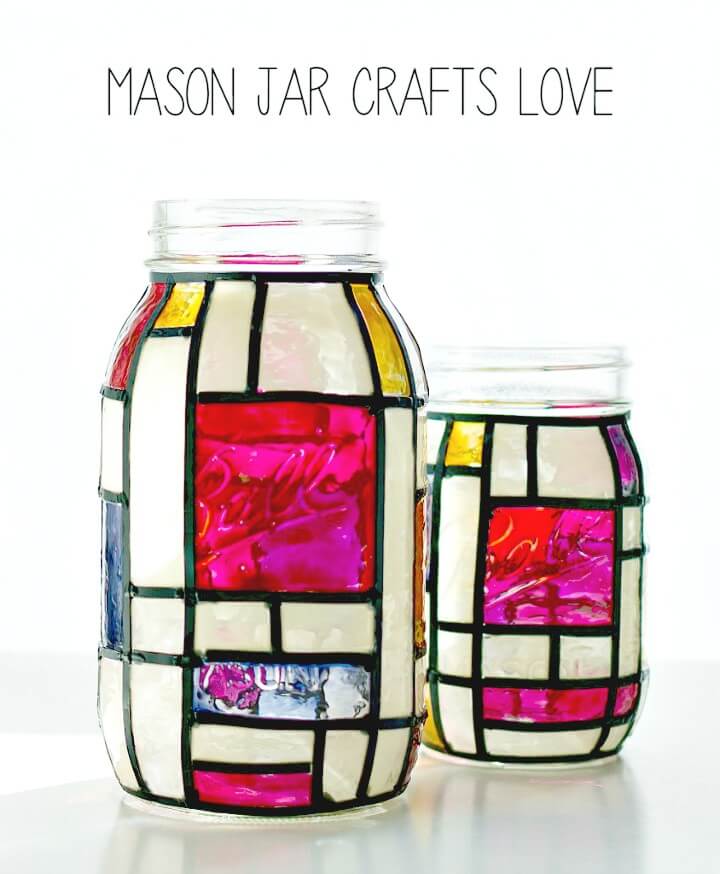 DIY Mondrian Mason Jars are a fun and easy way to add a pop of color to any room. These beautiful jars are simple to make, and the possibilities for creativity are endless. To get started, you will need: Gallery Glass paint in white, red, blue, and yellow; Gallery Glass peel and stick lead lining; Liquid leading in black.
Begin by peeling the lead lining off of the jar. Next, use the Liquid leading to create a grid on the jar. Once the grid is in place, start painting your squares with the Gallery Glass paint. Allow the paint to dry completely before displaying your DIY Mondrian Mason Jar. masonjarcraftslove
84. Crayon-Covered Jars for Party Favors & Gifts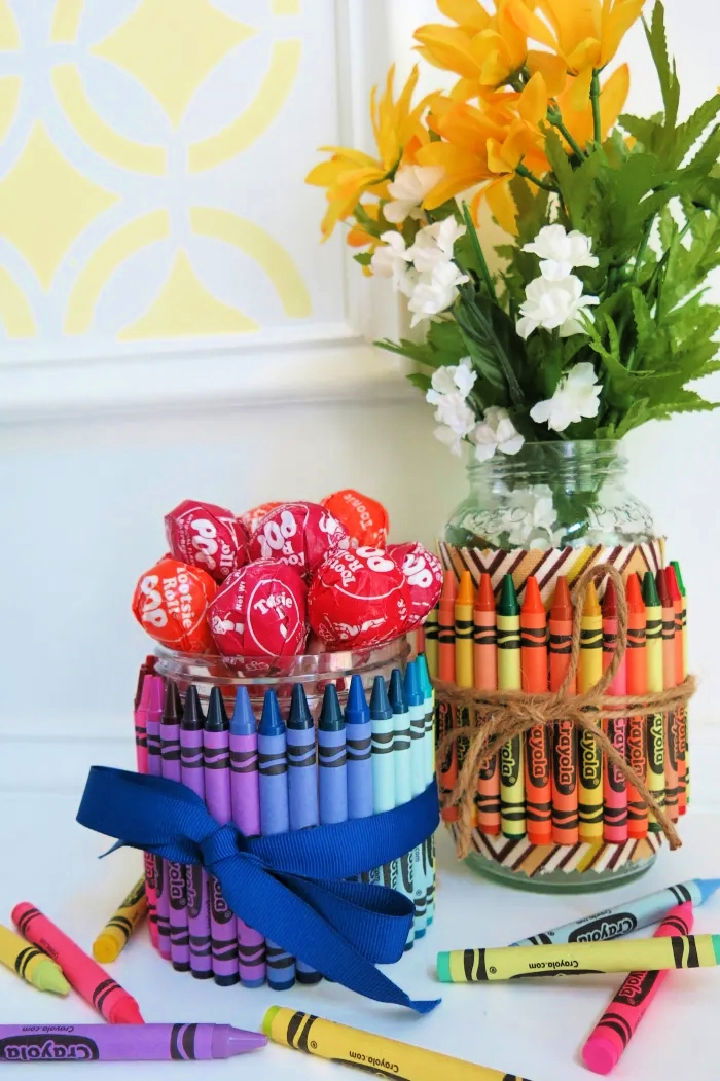 85. DIY 5-Minute Patriotic Centerpiece using Mason Jars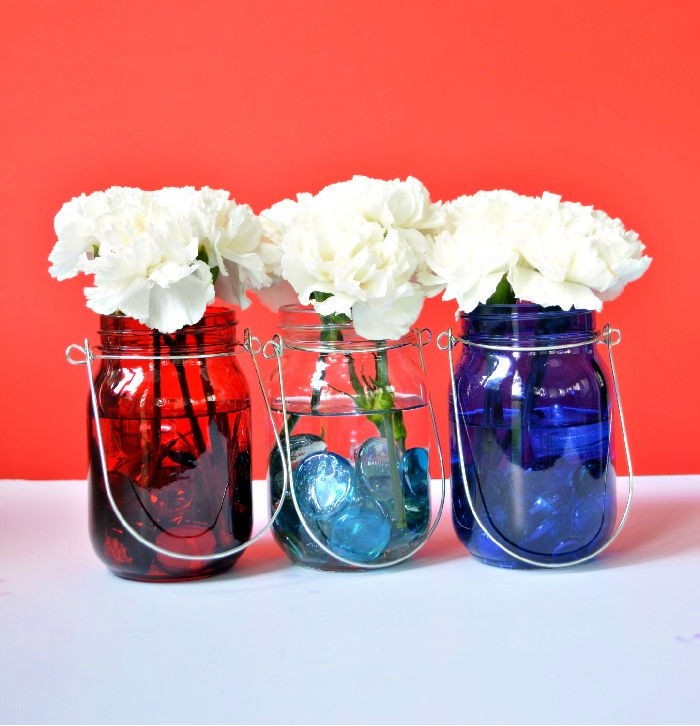 DIY 5-Minute Patriotic Centerpiece using Mason Jars is a quick, easy, and creative way to show your patriotism. All you need are some mason jars, red, white, and blue paint, and a little bit of time. This project can be completed in under five minutes, making it perfect for last-minute party planning. Simply paint the jars in your desired pattern and fill with patriotic flags or other seasonal decorations. Whether you're celebrating Memorial Day, the Fourth of July, or just showing your pride for your country, this DIY Patriotic Centerpiece is a beautiful and simple way to do it. madincrafts
86. Snowman Mason Jar Luminary Ornament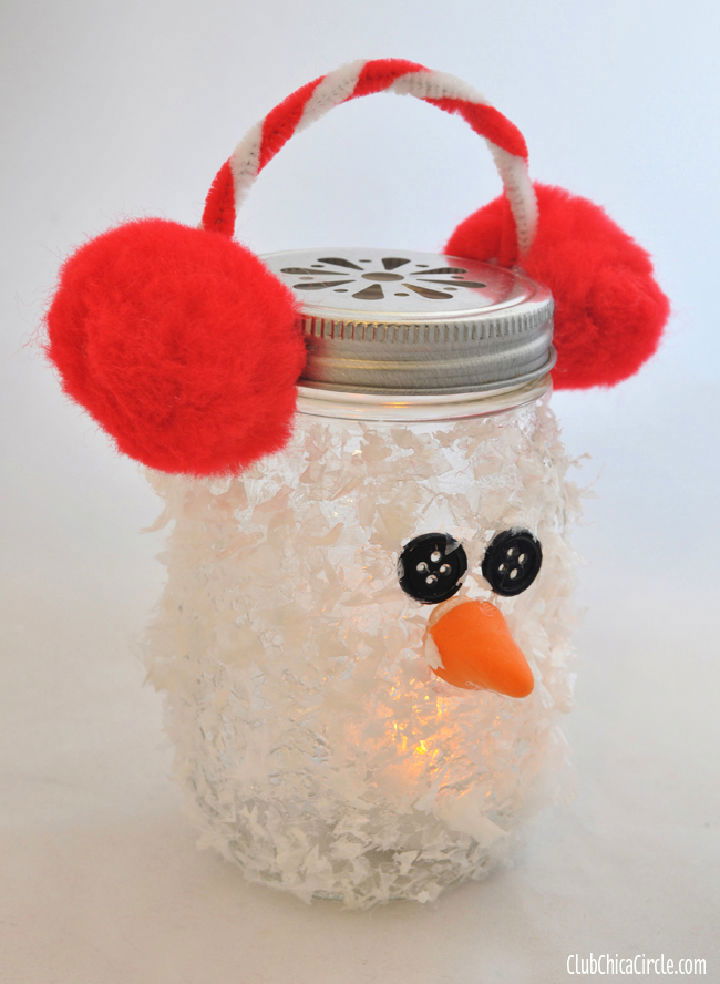 This DIY snowman mason jar luminary ornament is a fun and easy holiday craft idea which doubles as a cute ornament, holiday decoration, or glowing luminary. For this easy craft idea, I also used my glue gun, a sponge brush, a decorative mason jar lid, and one of my favorite craft materials – snowmen!
First, I glued the snowman onto the mason jar lid. Then, I painted the entire lid with white paint. Once the paint was dry, I added a layer of glitter glue around the edge of the lid. Finally, I glued on a small battery-operated tea light candle.
This DIY snowman mason jar luminary ornament is so easy to make and it looks beautiful when it's finished! It's the perfect holiday decoration for your home or office. club chicacircle
87. Create Spring Inspired Striped Jars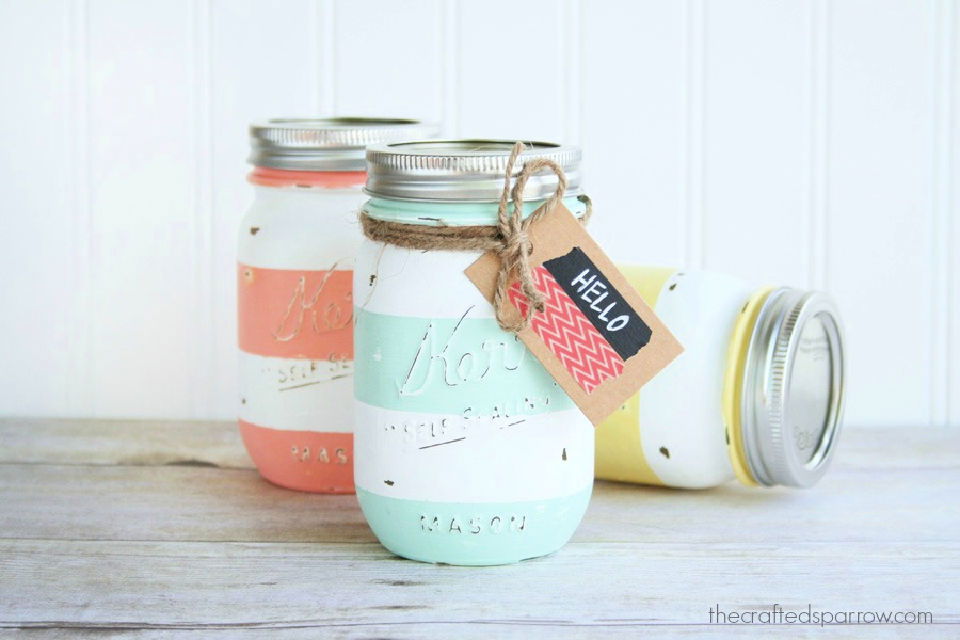 These DIY Spring Inspired Striped Jars are so easy to make and they look beautiful! They would make the perfect vases for fresh flowers, organization for you craft room/office, or a cute gift for a friend. All you need are some mason jars, painters tape, Americana Decor Chalky Finish paints, Americana Decor Creme Wax, foam brushes, and sandpaper. Follow the simple steps below to create your own DIY Spring Inspired Striped Jars. thecraftedsparrow
88. Mason Jar Bathroom Storage & Accessories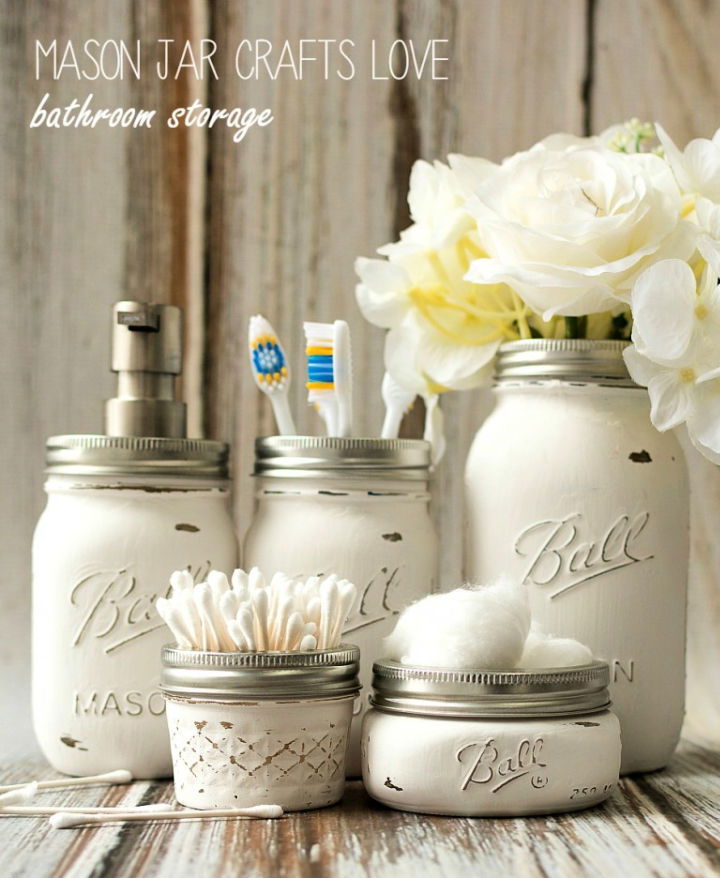 89. Vintage Blue Mason Jar Bird Feeder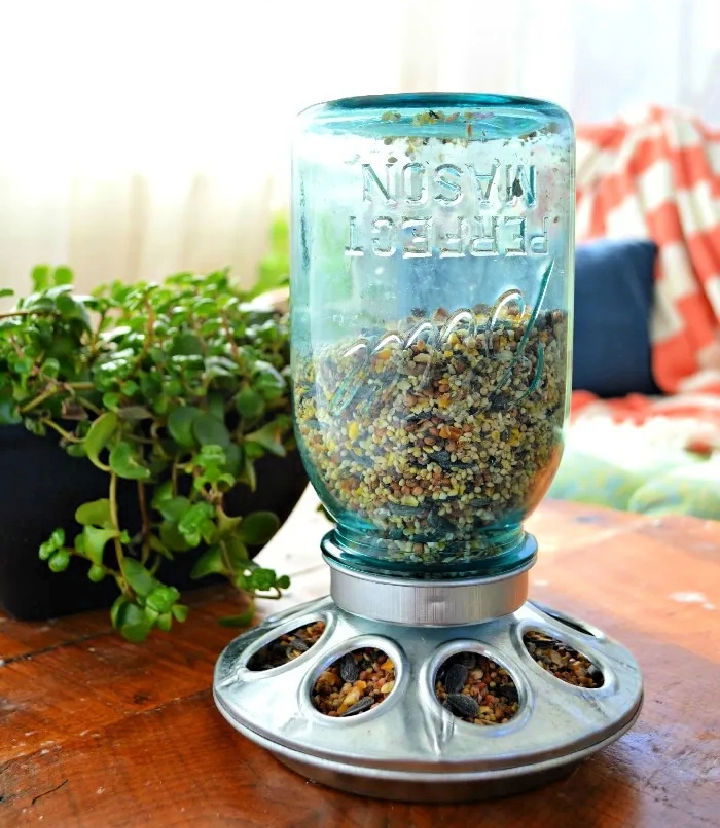 90. Rainbow Fruit Mason Jar Crafts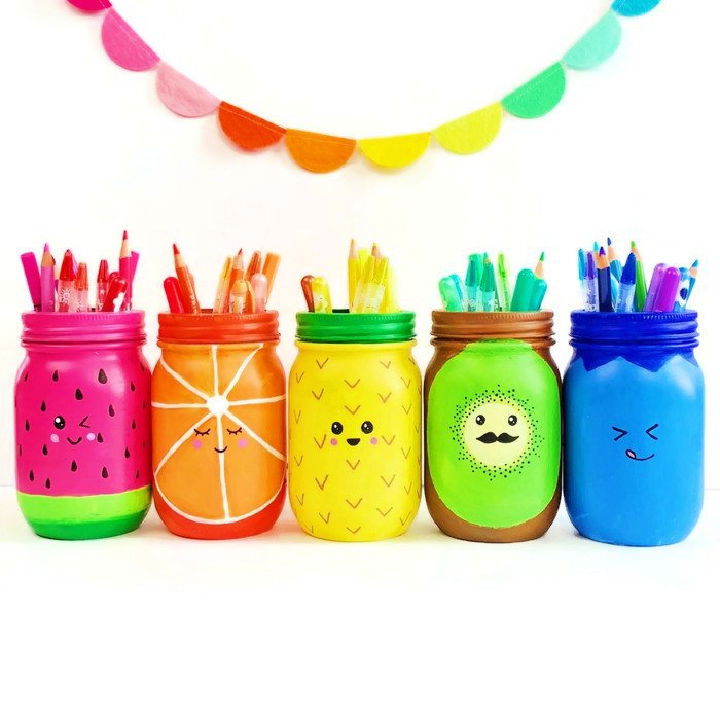 91. Easy DIY Zombie Mason Jars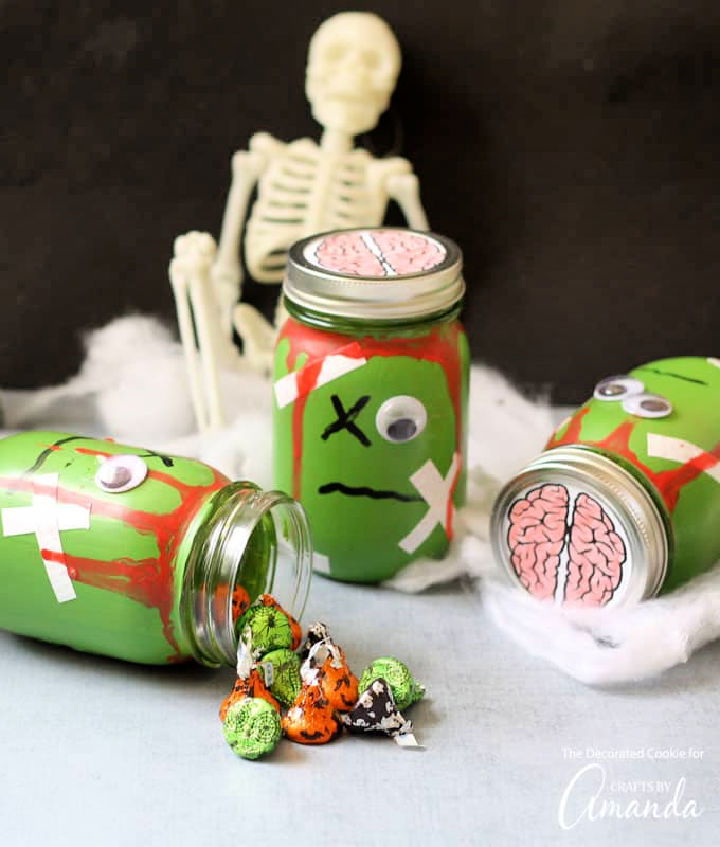 92. Handmade Mason Jar Pencil Holder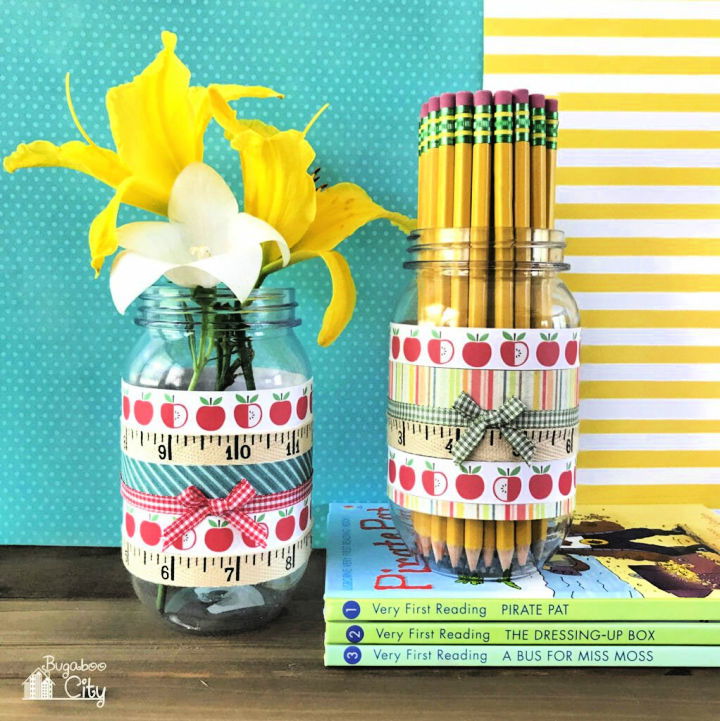 93. DIY Animal Painted Mason Jars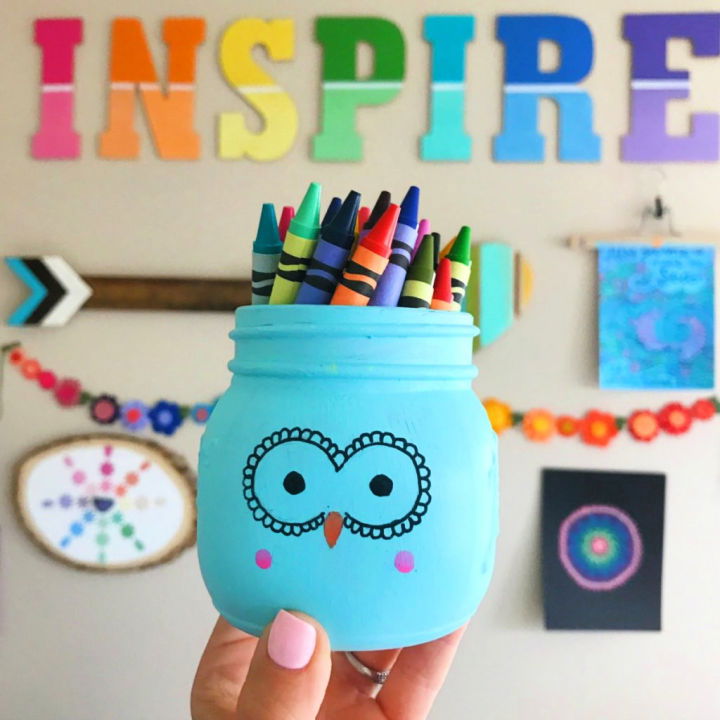 94. Painted Lavender Flower Mason Jars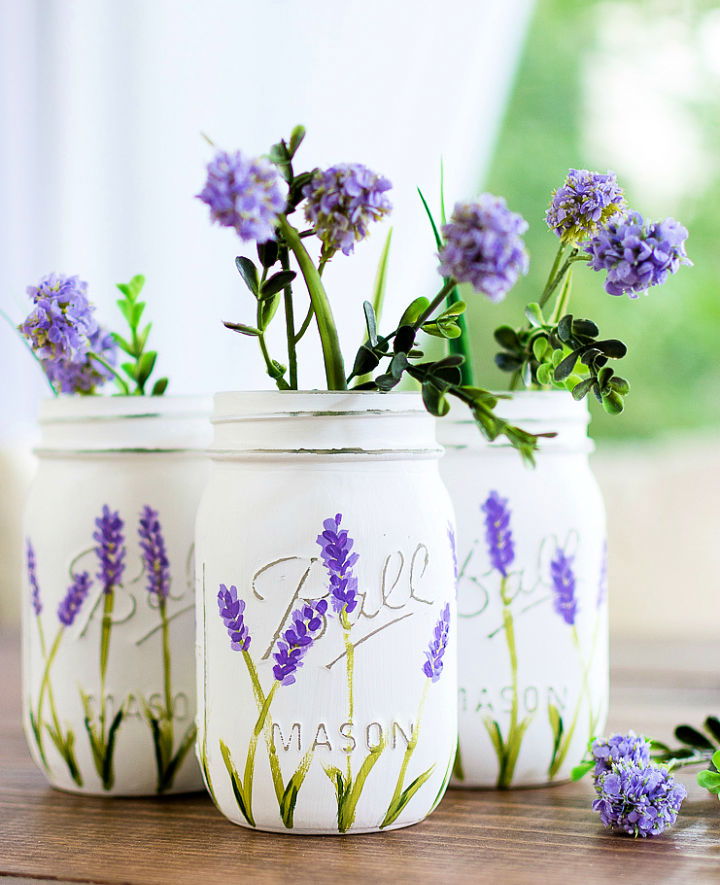 95. DIY Painted Mason Jar Herb Garden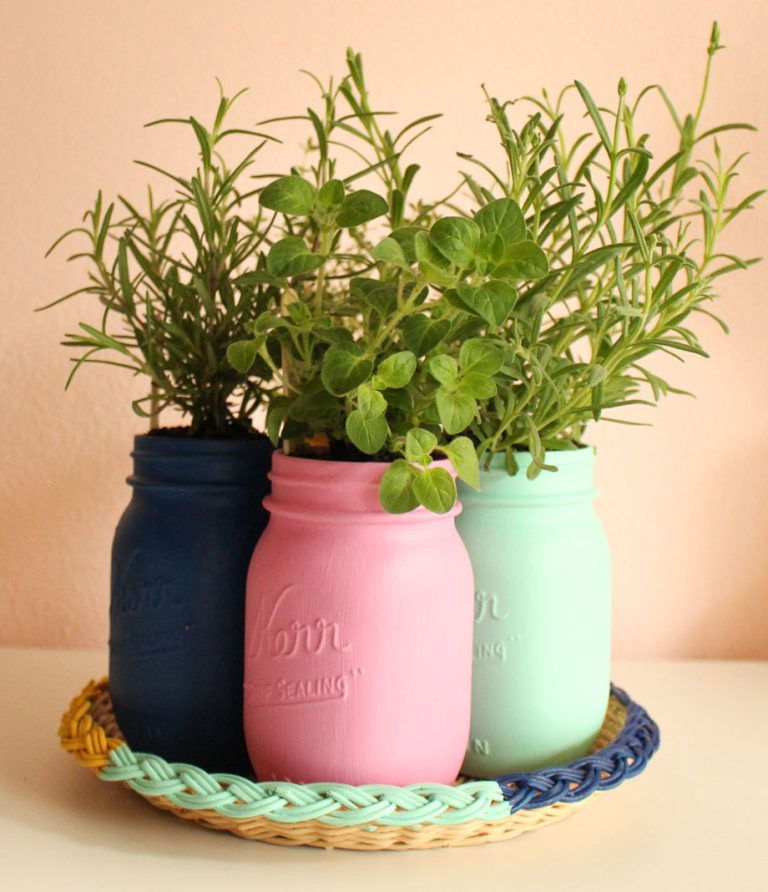 96. Making a Minion Mason Jar Gift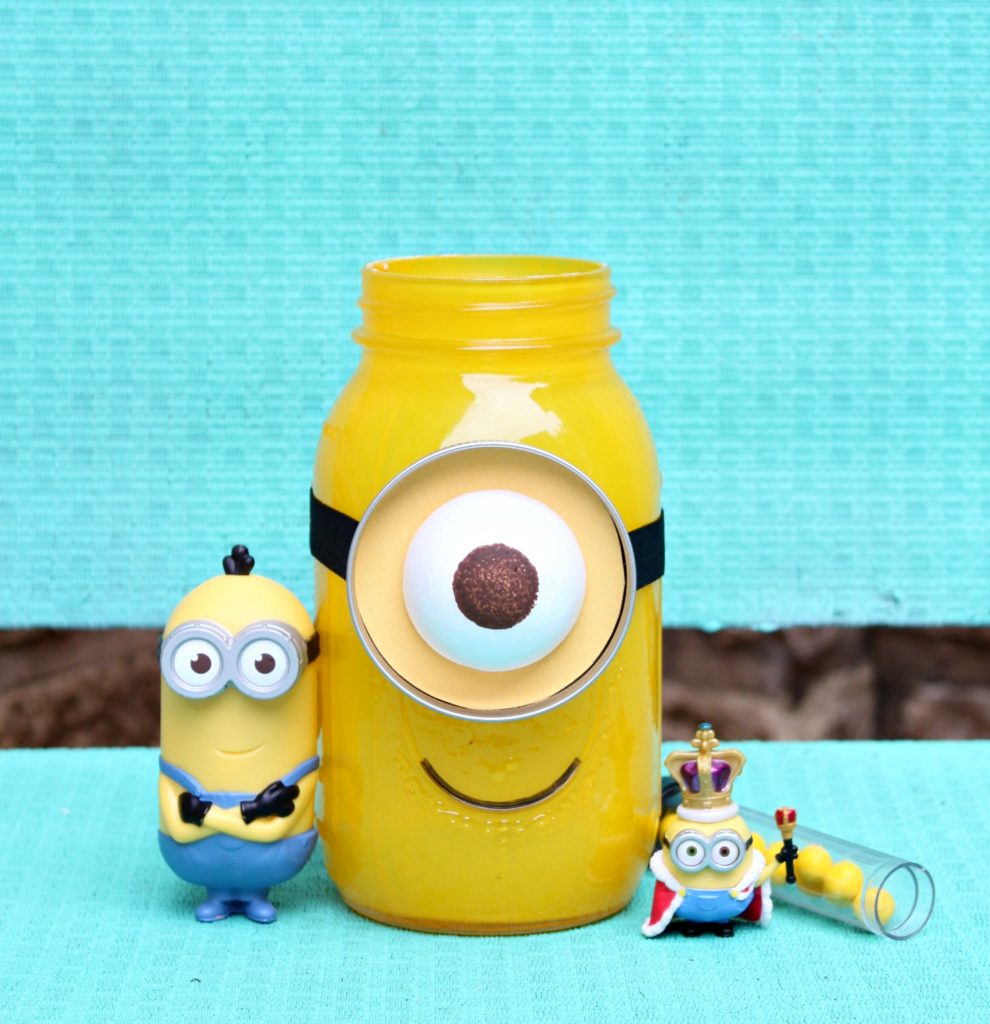 97. Painted Mason Jar Votive Holders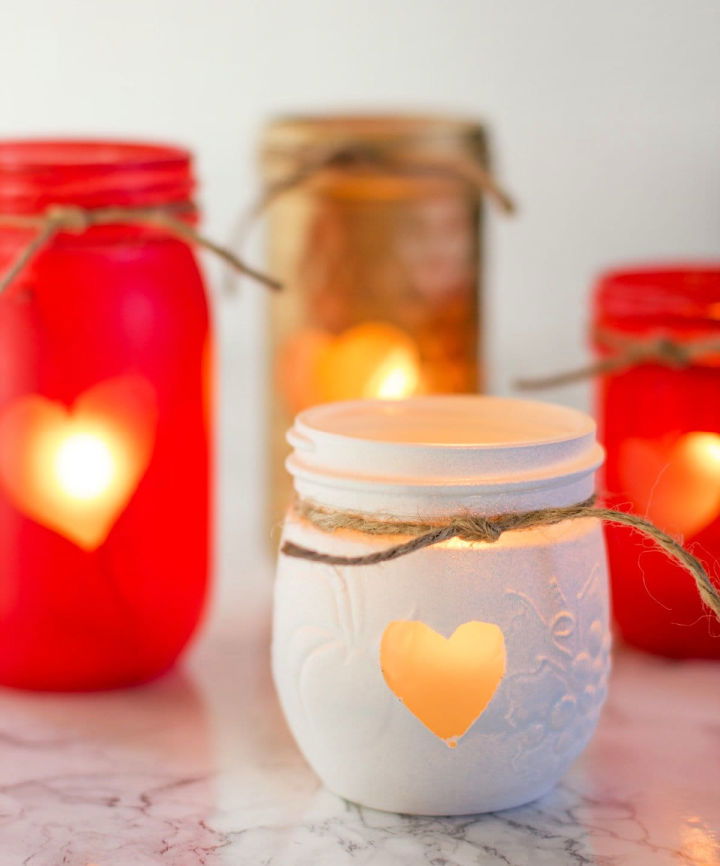 98. Mini Mason Jar Cheesecakes – Perfect for a Party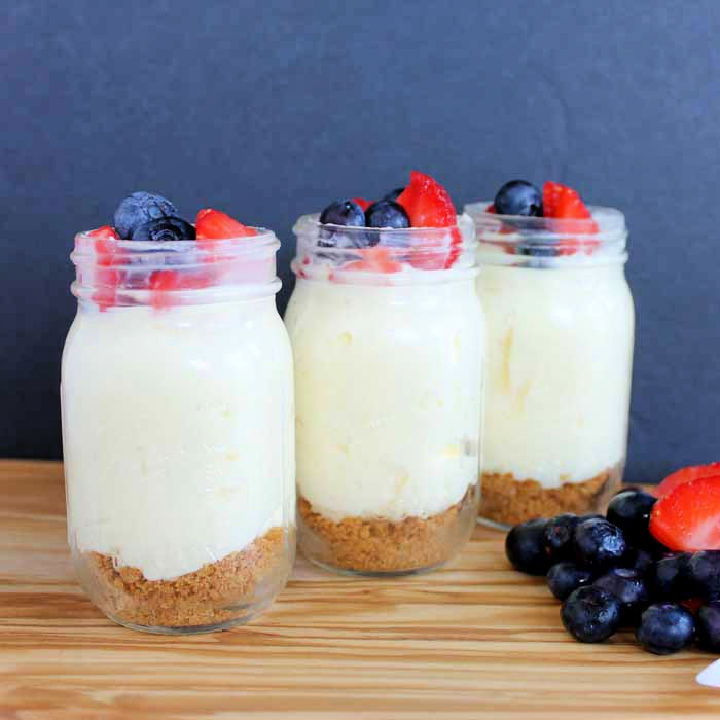 99. DIY Summer Fruit Mason Jar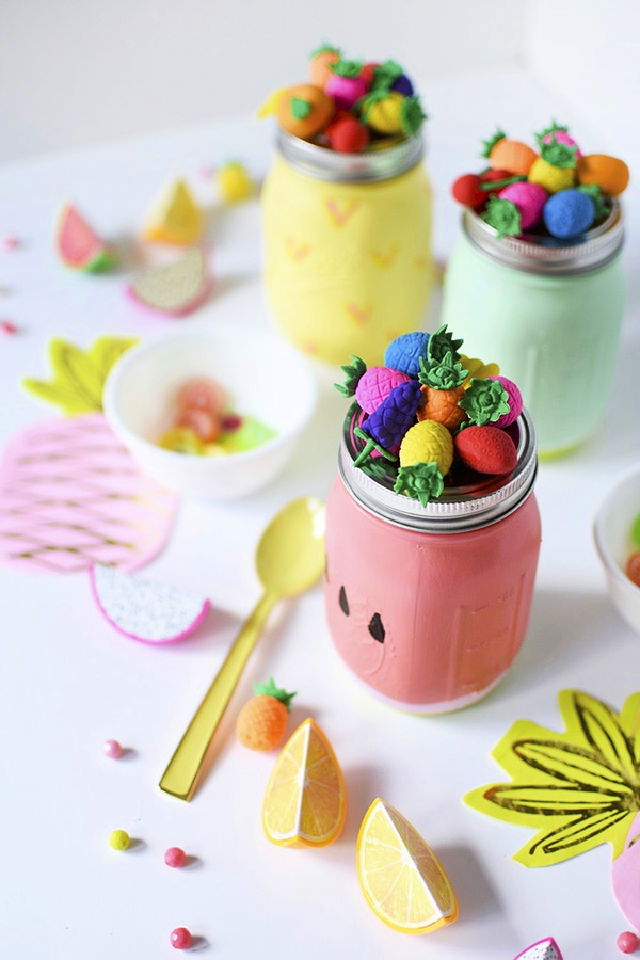 100. Easy Fairy Garden Mason Jar Terrarium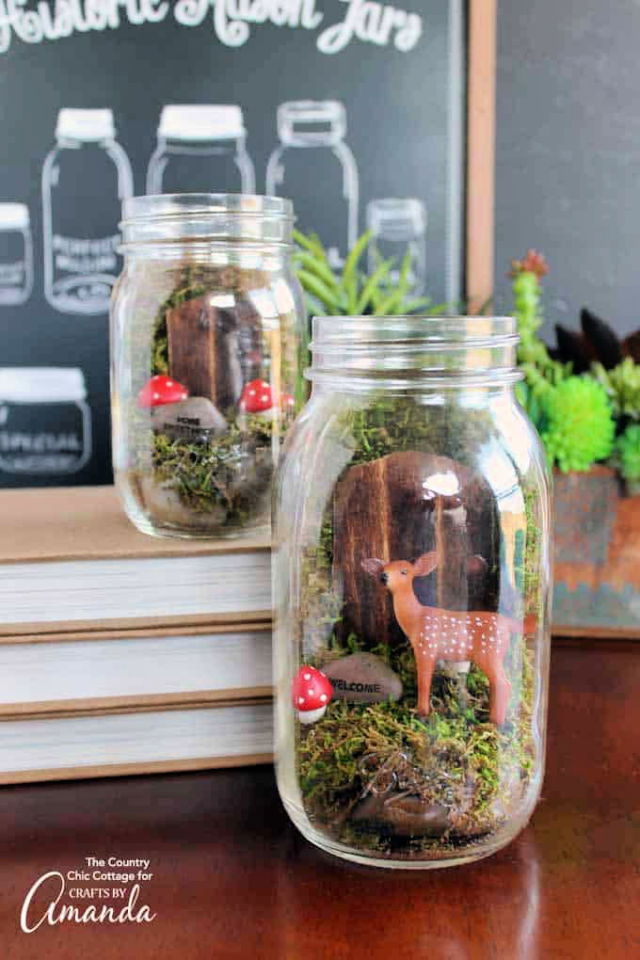 Conclusion:
If you are looking for some new and creative ways to use mason jars, then you have come to the right place. We have gathered 100 easy DIY mason jar crafts that will inspire you. From simple projects like a mason jar vase or candle holder, to more complex ideas like a chandelier or terrarium, we have something for everyone. So get your craft supplies ready and let's get started! Have you tried any of these mason jar crafts?