Not everybody can afford those expensive decors and home styling stuff that we see in the market and find hugely tempting. All thanks to the DIYers as they show us so many easy and cost-effective ways to spruce up the home decors that too with the cheap supplies and materials lying around. And one of the most using things in DIY ideas and plans is the Mason jar as they are capable of getting transformed into endless numbers of DIY crafts for the home decor, home styling, and home utility too. Here we have shared these 160+ brilliant DIY Mason jar crafts and gift ideas to inspire you and let you try some of the Best DIY ideas for the betterment of your house!
There are infinite ways to restyle, reuse and recycle the Mason jars and make something pretty, decorous and useful out of them every time. These DIY Mason Jar crafts and gift ideas are hinting at such amusing and functional use of the mason jar so that you can add some neat touches to your home decor, home storage, and styling too. You can paint them, glitter them, draw cute patterns and designs on them and embellish them with beads, buttons, ribbons, letters and so many other things to attain the perfect transformed look of the mason jars!
You can turn them into holders for any of the things like pencils on the study table, cotton balls, and sticks on the bathroom shelves, crafting supplies on your art and craft table and so much more. Secondly, they form the best kind of gifts too with the goodies inside and cute gift decoration with tags, cards, and ribbons for any of the occasion or event. They bring some fresh and beautiful touches to the DIY home decor serving as the cute candle votive, flower jars, planters and vases for your side tables, coffee tables, windows, and shelves.

There is a lot more to explore the world of Mason jar crafts is big, and for the best of ideas you can just check out this list below has links to approach the detailed tutorials!
DIY Mason jar Snow Globe:

The cute and little things in decor really bring some charm and the style details in your spaces and there is a lot that you can create yourself and enhance your decor level. You can use a mason jar to form up this lovely frost snow globe on your own and then display it so nicely on your tables, mantles or the shelves for the perfect winter decor.Here is the link to tutorial simplecravesandoliveoil
DIY Beautiful Snowman Mason Jar Vase: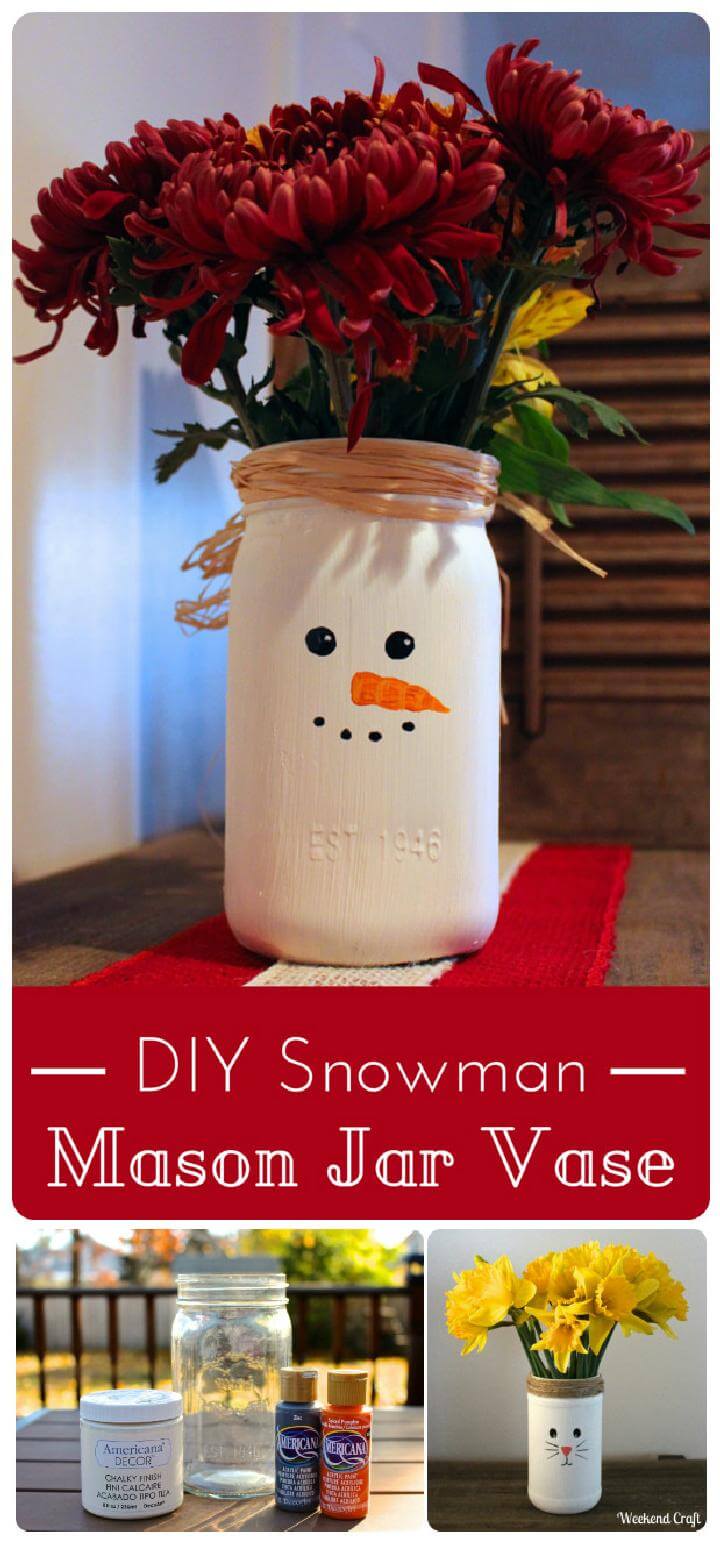 There is like an endless range of the vase ideas that you can create out of the mason jars and here is another one that would perfect for your winter decor.These are the cute snow man vases or flower jars and all you need is white paint and some others to paint the snowman face on.A twine wrap on the top would add more to its beauty and style.Here is the link to access its complete tutorial weekendcraft
DIY Pick Me Up Jars + Printable List of 50 Positive Quotes and Scriptures: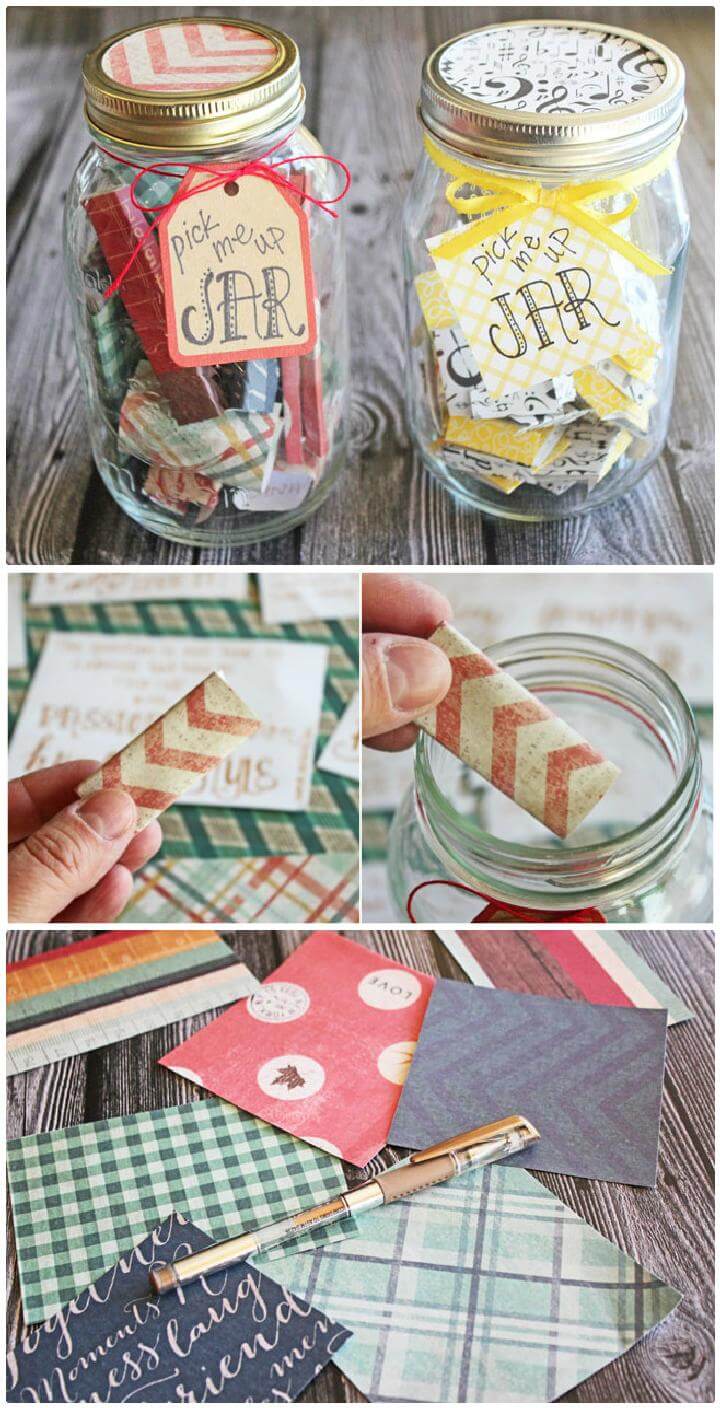 We love playing the pick me up games when there is a party and or any other celebration and now you can create a complete jar of the pick me up quotes and scriptures. Here we have shared a link where you can get the lovely printable for the pick up chits and make them and a mason jar would really nicely hold them.Here is the full detailed link to let you grab the step by step details of the project jamiecooksitup
DIY Beautiful Animal Mason Jars:

The mason jars can be used as the great gift too like you can fill them with any of the goodies like jellies, cookies and candies and then decorate them up to send them as the cute and handmade gift to any of your dear one. To decorate you can use the faux animals being nicely painted and in the same color the lid of the jar would also be painted.Here is the link where you can get the complete details of this really cute and adorable project threelittlemonkeysstudio
DIY Easy Mason Jar Cocktail Gifts:

For the boys the drinks and boozes can make the apt kind of gift to give away on the holidays and the mason jars would help you. Grab any soda can put it in the jar and then bind a booze bottle with straw outside the jar along with a Cheers label and the cute and pretty gift for the boys is ready. Though the idea is really easy and fun still you can catch complete details of it right here somethingturquoise
DIY Mason Jar Peppermint Sugar Scrub Gift:

The holiday season is coming so you better prepare yourself for the handmade gifts and ideas to give them to your family and friends. Here is this lovely girlish gift idea that would be just perfect to give to the girls near you and make their holiday special.You can make this amazing sugar and peppermint scrub and put it in an empty mason jar and then decorate with some colorful thread and a lovely gift printable label.Here is the complete tutorial mom4real
DIY Snowy Pinecone Candle Jar – Mason Jar Winter Luminaries:

The cute candle holders and the lovely luminaries are the integral part of the holiday decor for our tables, shelves and mantles. Here we have this stunning idea of creating these snowy pine cone mason jars and bring some winter holiday vibes in your home decor. Lace up the jars, bind the pine cones, fill the jar bottom with salt and add the snowy texture and the lovey candle jar or the winter luminary is ready to add some magic to the decor.Here is the complete tutorial of making them craftsbyamanda
DIY Superb Beautiful Emoji Mason Jars: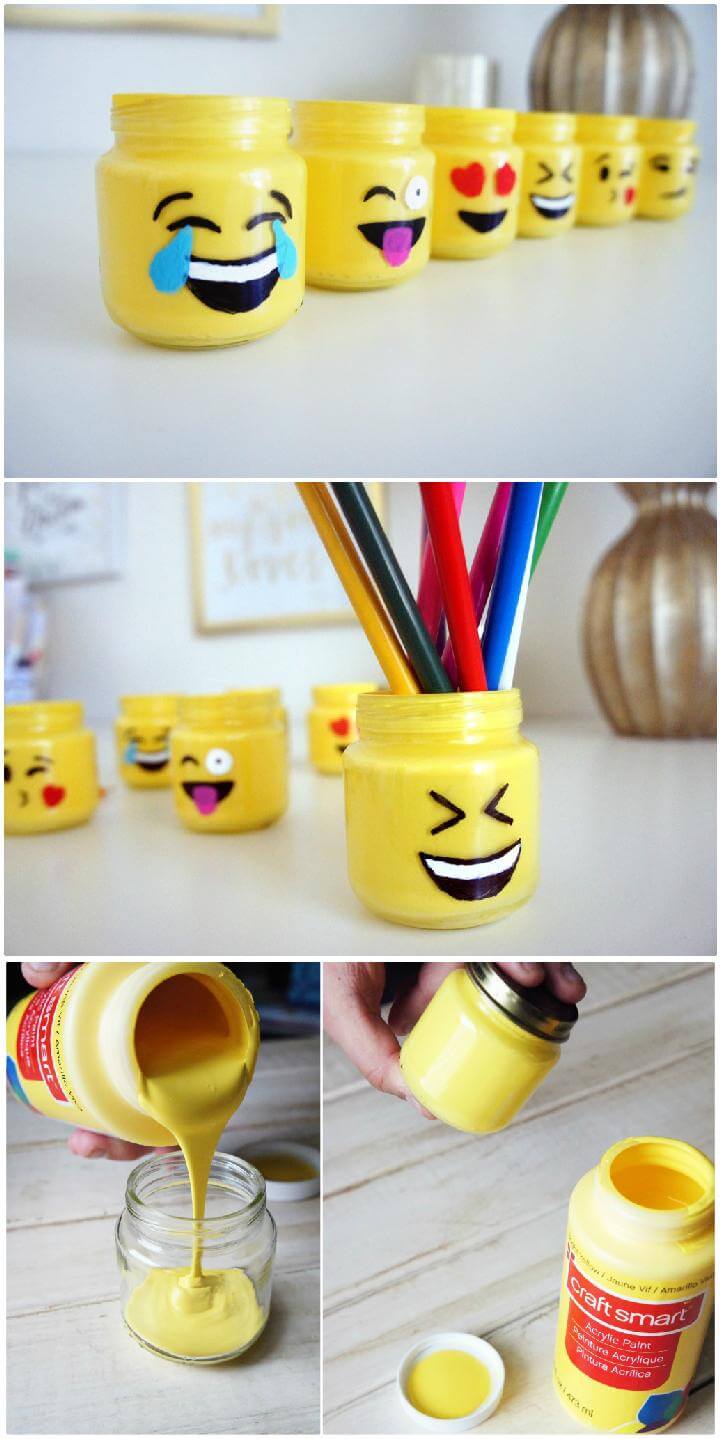 Emoji signs have become a part of our lives as we use them a lot for our conversations to express our emotions and feelings. So now its time to bring these emoji signs into your craft and make something fun getting hugely inspired from them. These emoji jars are the just the perfect kind of crafts to put your hands on and make some lovely storage containers out of them or use them solely for decor or the gifts too. With some yellow paint and the sharpie markers you can nicely do this project on your on ourmessytable
DIY Star Wars Inspired Mason Jar Gifts: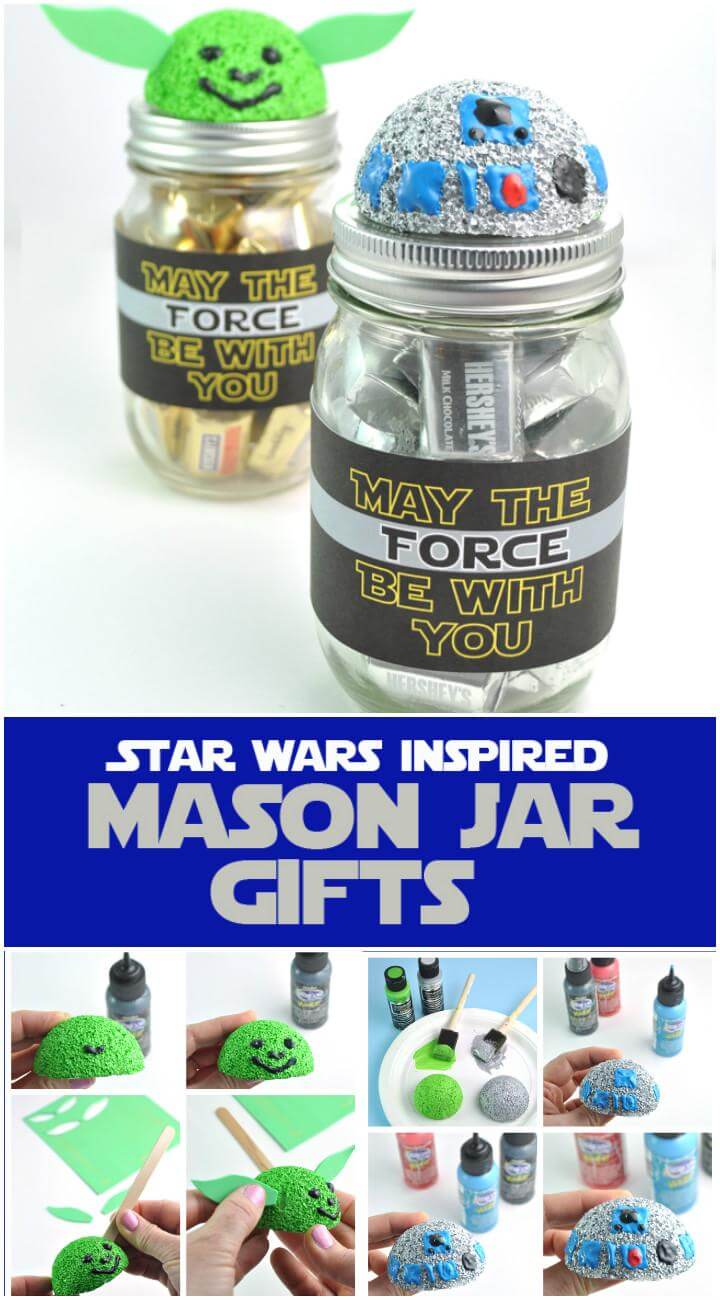 Kids just love movies and star war is their favorite movie series especially of the boys so either you need a birthday gift or a holiday gift for the kids you can make these star war inspired gift jars for t them and believe me they would just love them. You can fill up the jars with the lack and golden wrapped chocolates and then use an R2 and a Yoda made out of foam balls and paint to decorate the jar tops with. Here is the complete tutorial to make these cute star war gift jars on your own chicacircle
DIY Beautiful Mini golf Jar Gift: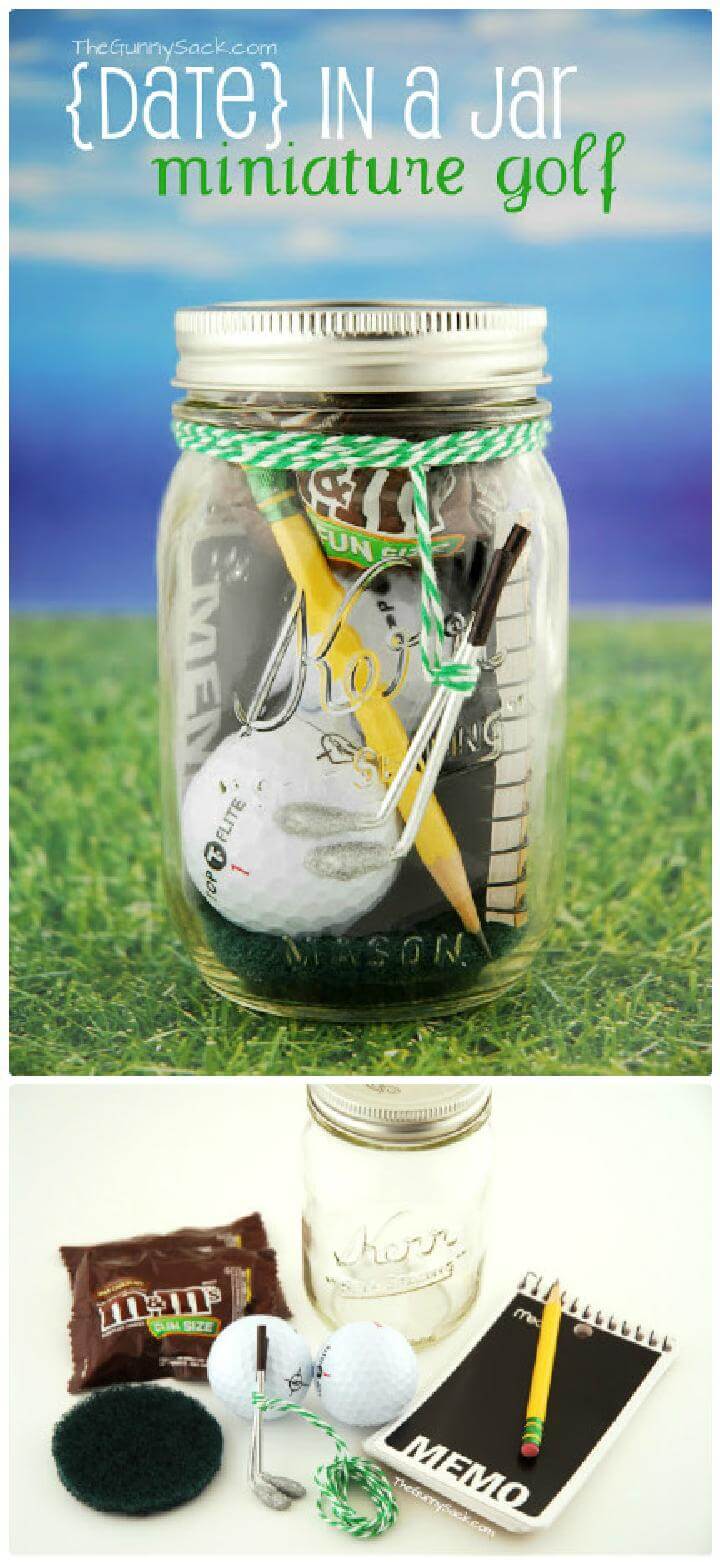 Everything in mini size just looks so cute and adorable so if you are looking for a nice gift idea for your kids this mini golf kit in a mason jar along with some chocolates would really be a fun idea to for for. It got the golf sticks, balls and the golf ground along with a score card.All these goodies would go into the mason jar and you can decorate it any of the cute ways to make it look more like a gift.Here is the complete idea with all the details and the instructions 504main
Homemade Peppermint Mason Jar Candles: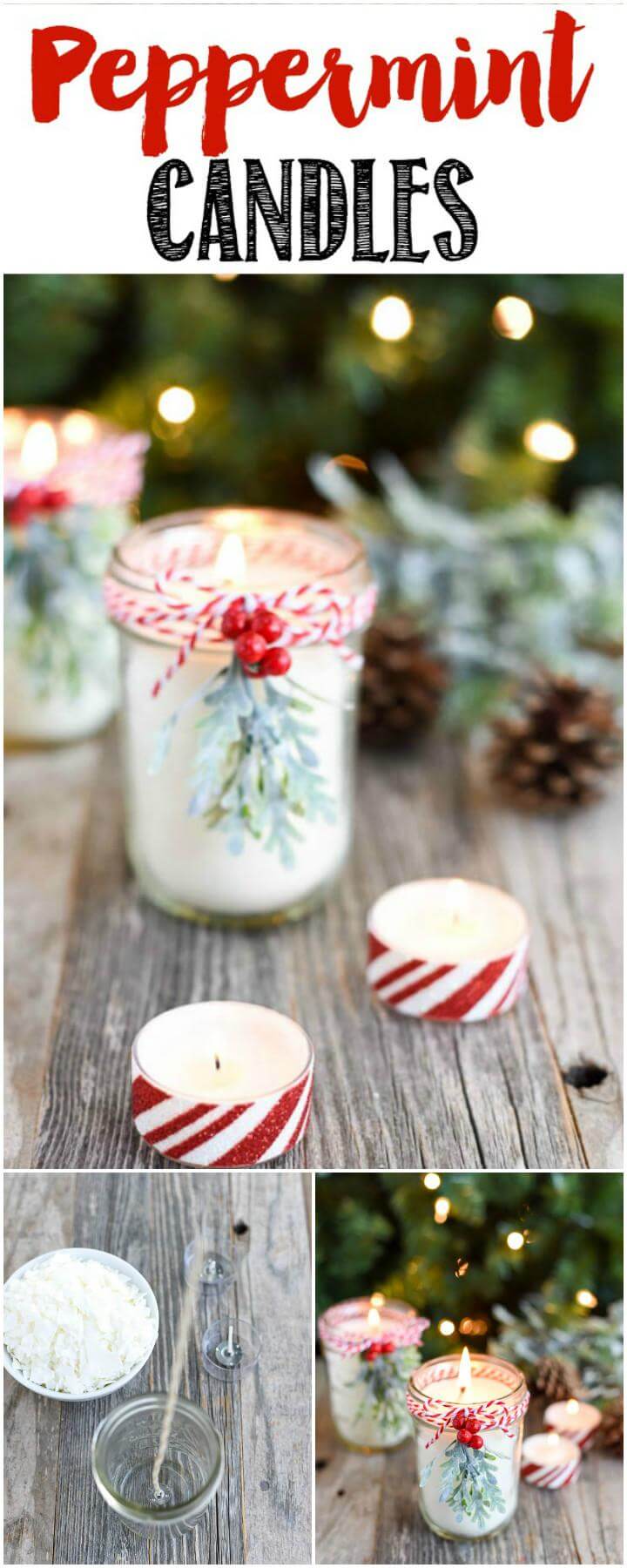 Without the candles the decor and embellishment of the holidays is just incomplete and now you can make some really pretty and adorable candle jars and tea lights on your own and that to scented so that the holiday ambiance gets more romantic and delightful. So here w have this idea of making the peppermint candle jars and the tea lights and use as the centerpieces of the the dining tables or make them nicely display with their soft glow over the coffee tables, side tables and the shelves.Here is the complete tutorial to know the easy details of their making apumpkinandaprincess
DIY Coffee Lovers Gift in a Mason Jar: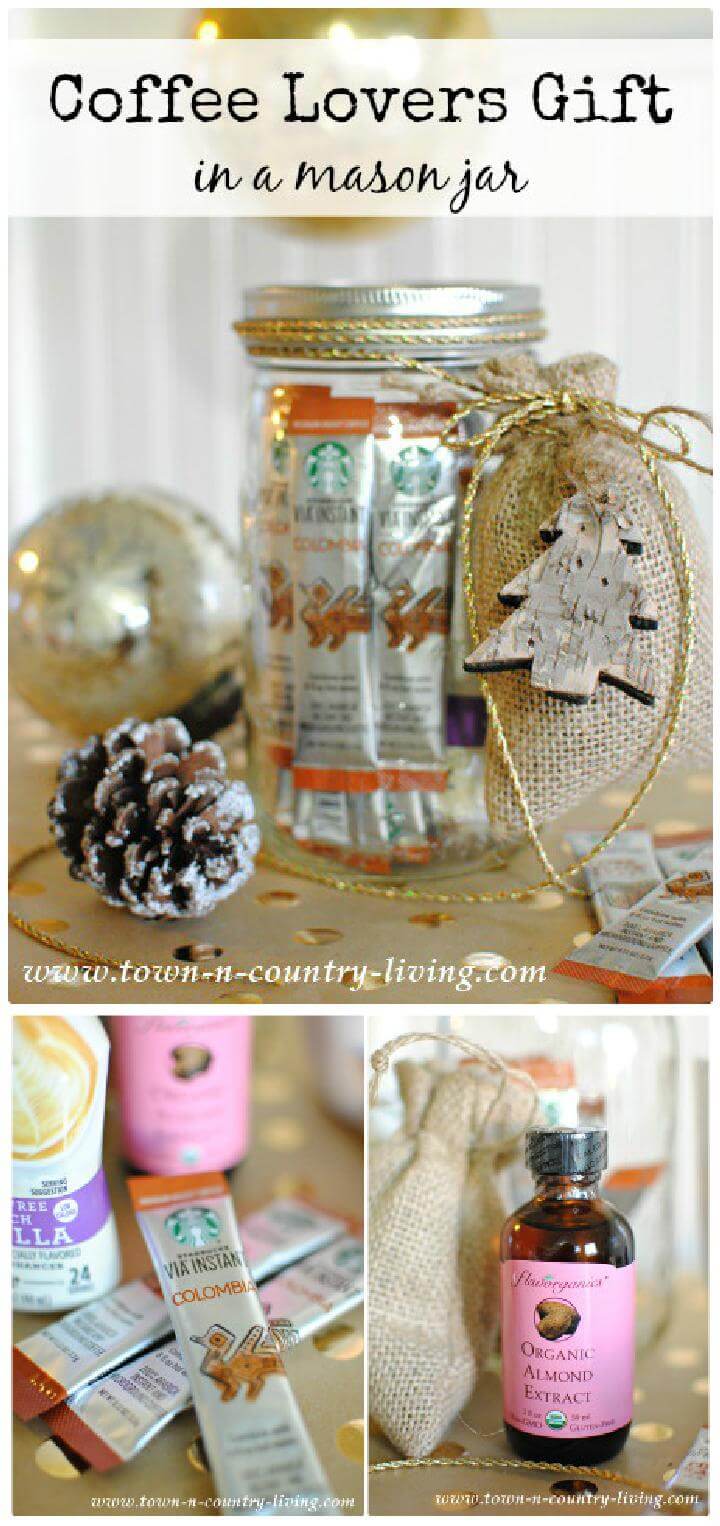 When the holidays are around you really need some cool and fun gift ideas in abundance as there are lot of gift receivers like the friends, relatives, teachers, boss, neighbors etc. So here we have a perfect gift for the coffee lovers and that would so easy and not at all costly to make. You can fill some of the coffee goodies in the mason jar and then decorate it with a gold thread and a burlap bag full of arabica beans. This gift looks really cute and adorable so ought to make them and please the coffee lovers town-n-country-living
DIY Gingerbread Man Mason Jar Gift:

We all love the ginger bread and now you can make a perfect and cute gift out of the ginger bread and use it as the cutest kind of gifts for the kids. You can make the ginger bread in the form of a gingerbread man an then decorate it with the lovely and colorful buttons and putting them in a mason jar. Using some twine ropes and the cute printable you can make them look more presentable and fun .Here is the complete making tutorial playdoughtoplato
DIY Mason Jar Gift – Cranberry Orange Stove Top Potpourri: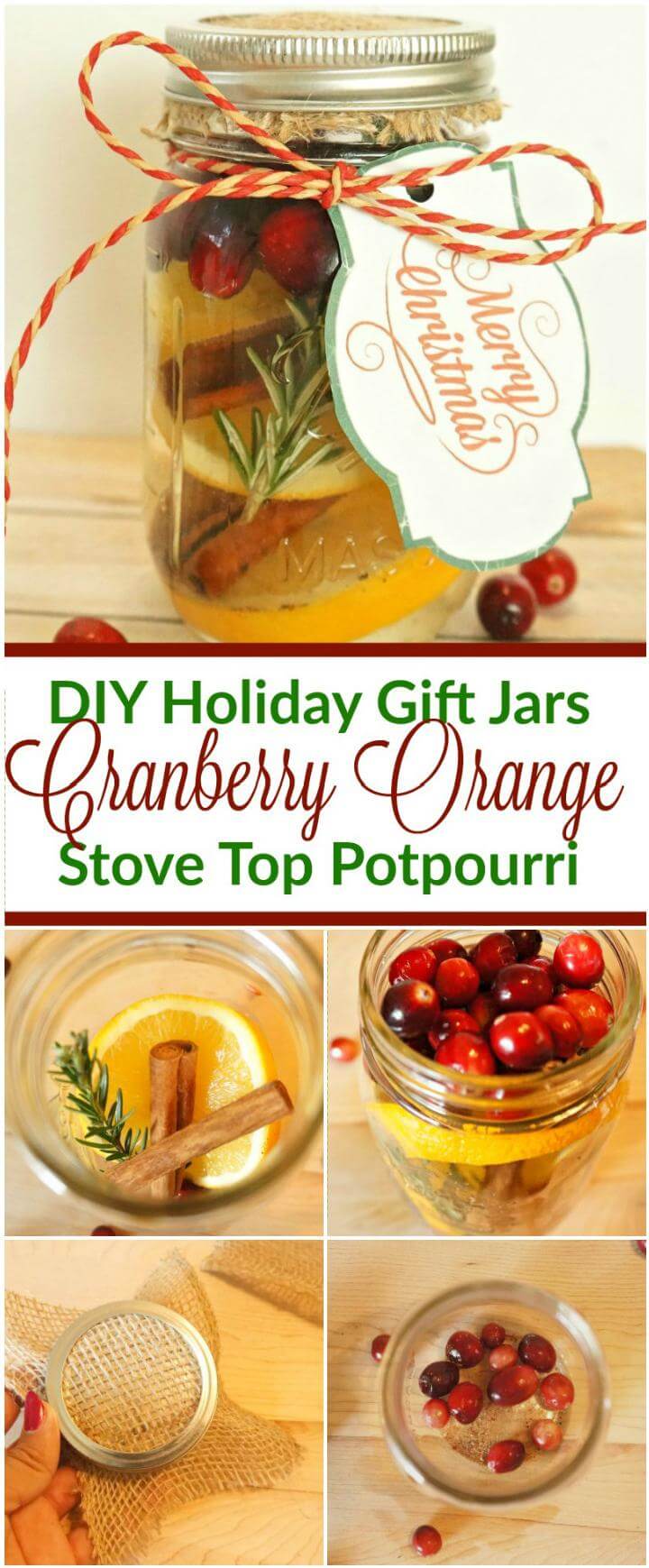 A good smell can really change the ambiance of the house and also make up the moods. So this holiday you can try a new and really cute gift idea for your friends, teachers or the neighbors and this is mason jar cranberry orange top port potpourri. This perfect gift would really make the house smell so good with its fruity smell and thus you can so nice and easily create a cute gift jar on your own that too so quickly and cheaply. Here is the simple and fun tutorial honeyandlime
DIY Traditional Pecan Pie Mason Jar Gifts: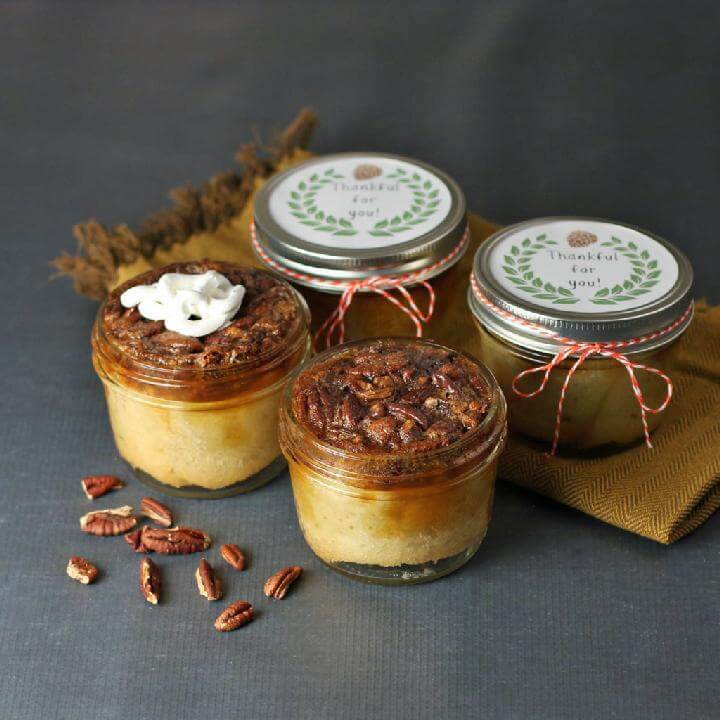 Pecan pies are the favorite of every one so you can make the pie and fill them in the small jars to make the most yummy and cute kind of gift for the holidays. From mailman to friends and boss these tasty and sweet pecan pie jars can be gifted to any one and delight up their sweet tooth for the holiday. You can also use this idea as the fun treat on your holiday feasts to finish the meal with the scrumptious dessert of this pecan pie.Here is the recipe and the packing details culinaryenvy
DIY Caramel Apple Mason Jar Gift Idea: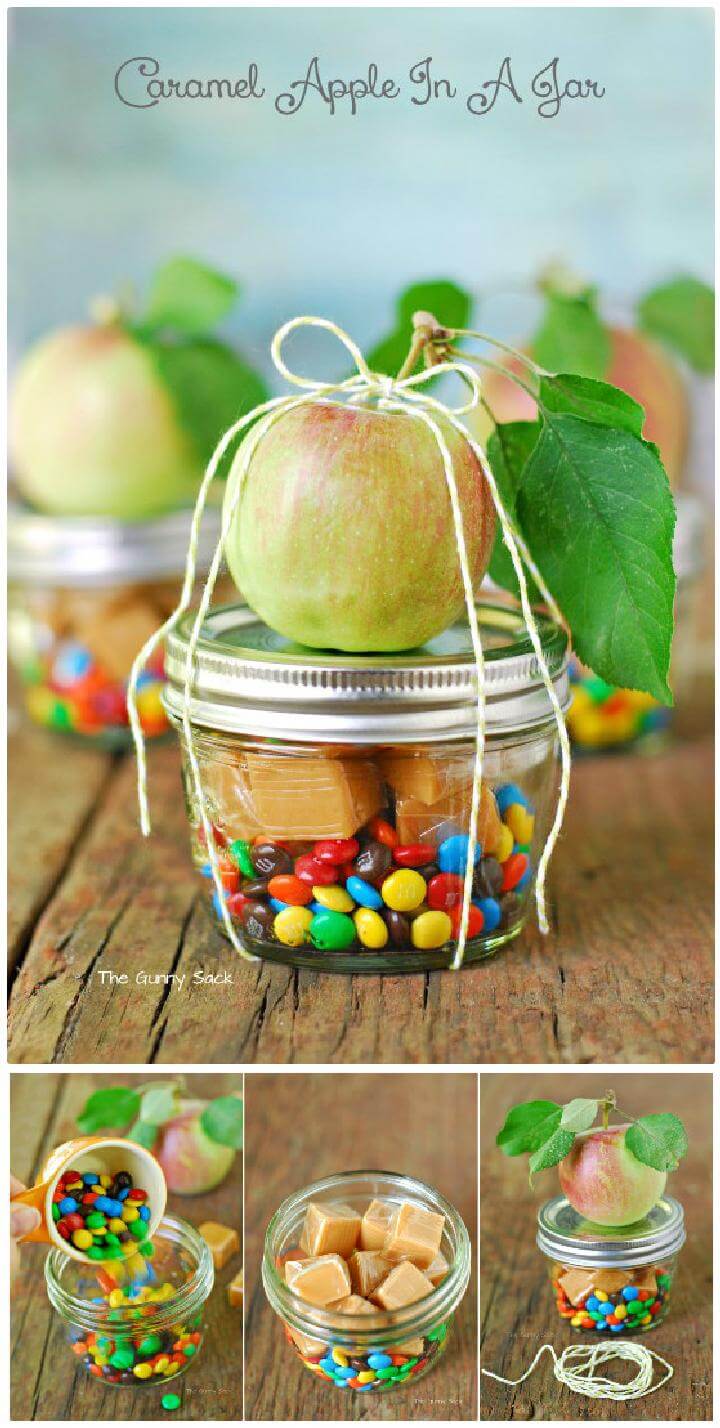 When you have the mason jars near you a lot of possibilities can happen even for the gifts for the holidays. Here is this fun looking totally amazing idea of making the caramel apple in a jar gift and kids would just love it. You can fill the jar with the M&Ms wrapped caramels and then hold an apple on the lid of the jar and bind it with a twine. This would be really a fun treat to the kids and the would just love it to the core. Here is the complete idea with details thegunnysack
DIY Easy and Cute Mason Jar Succulents: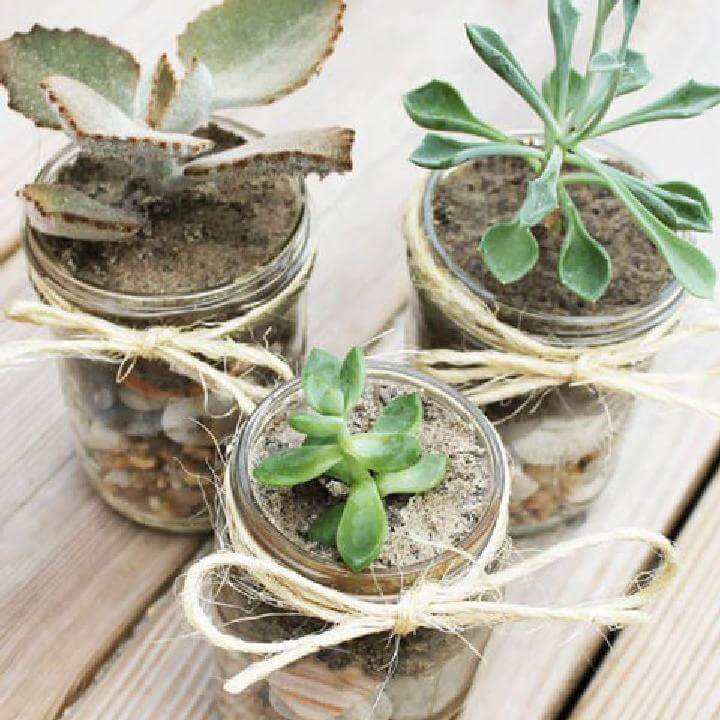 Those who love plants can be gifted the cute plants and here we have this so easy and fun idea of gifting them these little succulents this holiday season or any other occasion when the gifts are exchanged. Fill up the jars with the soil and pebbles and then add the cute little succulents, Using some jute rope you can make it look decorated and thus so nice and easily the perfect and the pretty kind of gift is ready. Here is the link to know more details of this planter gift idea thesummeryumbrella
DIY Mason Jar BBQ Rub Father's Day Gift:

We love it when the dads are making the yummy BBQ and we all are enjoying in the garden or patio area of the house on a cool night of summers. So as the holiday season is approaching you would be wondering to make a cute and useful gift for your Dad and here we have one. Blending some spices you can make this BBQ rub, fill it in the jar and then glue a printable label to the lid and the perfect gift for the daddy is ready. thecountrychiccottage
DIY Hand-Built Mason Jar Pin Cushion:

If you always have to look for the pins in your sewing kit then you really need a pin cushion to hold your pins on it and make them safe from getting lost. With a cotton ball and a colorful fabric piece you can create a lovely pin cushions and hold in the hollow lid of your tiny jar. The jar can be filled with the buttons and thus two of your mos important sewing items are safe and secure. Here is the complete tutorial with all the details seasonedhomemaker
DIY Mason Jar Good Dog Treat Gift:

Your dog also deserves some treat and gift when there is a holiday or a celebration so here we have something really fun and cute that you can make for your dog and gift him. Take a mason jar and make it say with the Good Dog printable and then decorate it with the cute little fun fabric bow on the top. You can fill it with any kind of food or treat that your pet likes but it should b in dong bone shape. Here is link leading you to complete tutorial decorandthedog
DIY Homemade Mason Jar Gift Card and Candy Holders:

It was so happy and fun when the cards were exchanged to each other on the celebrations and holidays and you can kind of bring that tradition back. You can make cute personalized cards and gift them to your favorite persons on the special occasions and the jars would help you. You can combine two jar the little one to hold the candies and the big one to hold the card in it. You can decorate it then with cute twines and the printable labels. Complete tutorial to this cute gift idea here somethingturquoise
Adorable Minnie and Mickey Mouse Mason Jar Money Banks:

Kids really like the mini banks to save their money and coins in and you can make them one and present as the cute and fun kind of gift on any of the coming celebrations. Like if you kid is a fan of Mickey mouse you can paint a mason jar like the Mickey mouse adding ears to the lid and thus making a cute little Mickey mouse money bank for them. Step by step instructions and directions are here for this project kimberleymarriott
DIY Everything in Mason Jar Gifts:

You can really make the lovely gifts when you know what the other likes or adores the most. So, if for those working really in a rough routine can be provided with an energy kit including chocolates, energy drinks truffles etc. The beauty conscious one can be gifted with some healthy skin care products like bars, face washes and scrubs and you can put it all in a mason jar and the pretty gifts are ready to go. The printable would add more value to the so get it all here thegunnysack
DIY Mason Jar Homemade Laundry Soap Gift: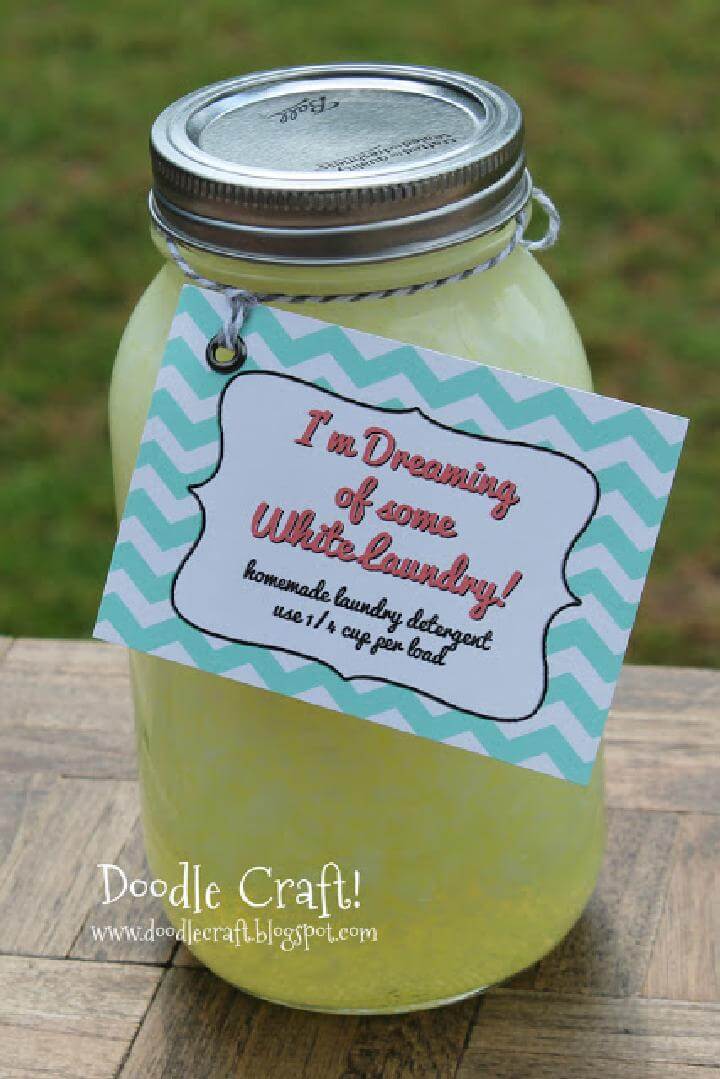 The good neighbors are the people we really need to keep happy as they really stand by us all the time. So as the holiday season is approaching and you need gifts for the neighbors too we have brought you an amazing idea here. You can handmade this laundry soap on your own and decorate it with a cute printable label and present it to your neighbor. The idea is really cool, fun and easy but really cheap too. Do hack its making details here doodlecraftblog
DIY Mason Jar Sewing Kit Gift for Beginners:

The sewing necessities are the need of each house and there ought to a specific place for them so that whenever there are needed we can find them easily. Here is this cute sewing jar kit idea where you can use a mini jar as a container for your sewing stuff like scissors, thread reels, buttons, tape measure etc. and the lid can be used to hold the pin cushion and thus your very own mini sewing kit is ready which can be also be made and gifted. Complete details here smashedpeasandcarrots
DIY Easy but Great Loves to Craft Mason Jar Gift: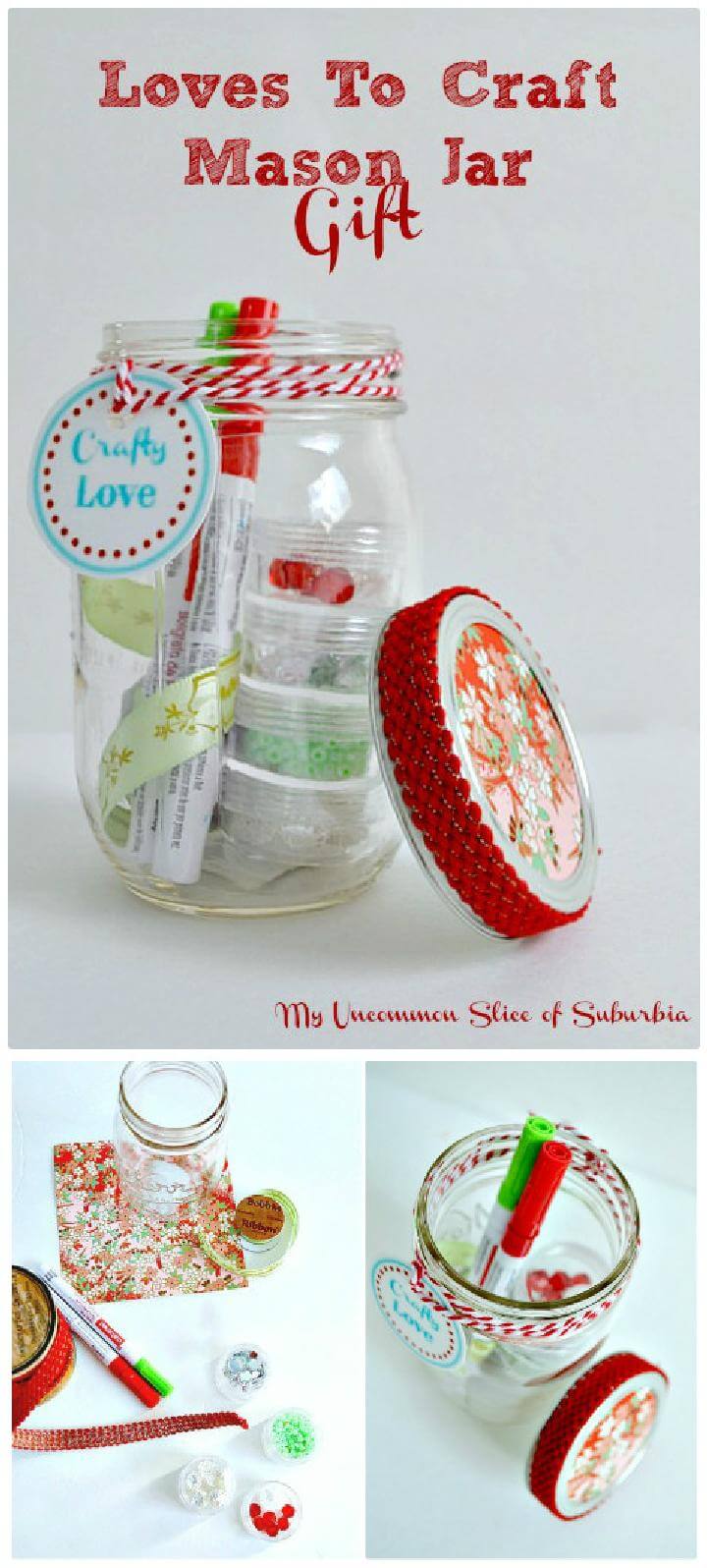 Girls just love to craft and they really like to play crafty with the beads and pearls so if you have such crafting girl in your house or family and you need a gift for her then we got you covered here. You can make this lovely Mason jar gift for here by filling the jar with crafting supplies she likes for example the sharpie markers, the different kind of beads and the crafting paper. You can decorate it with a cute ribbon and lovely printable label and it would be all ready to go. Here are the step by step directions to make it myuncommonsliceofsuburbia
DIY Mason Jar Gingerbread Playdough Gift:

Kids just love baking and that too with their favorite play molds of stars, bears, dogs etc. so if your= are thinking about a cute gift idea for a kid around you then making a ginger bread play dough is the perfect idea to give it a go. Here we have not only shared the recipe of making a ginger bread but also packing it in a mason jar and then decorating it with the cute printable label, ribbons and some fun molds. Here is the link to catch the details sweetsugarbelle
DIY Easy Mason Jar Bath Bomb Gifts: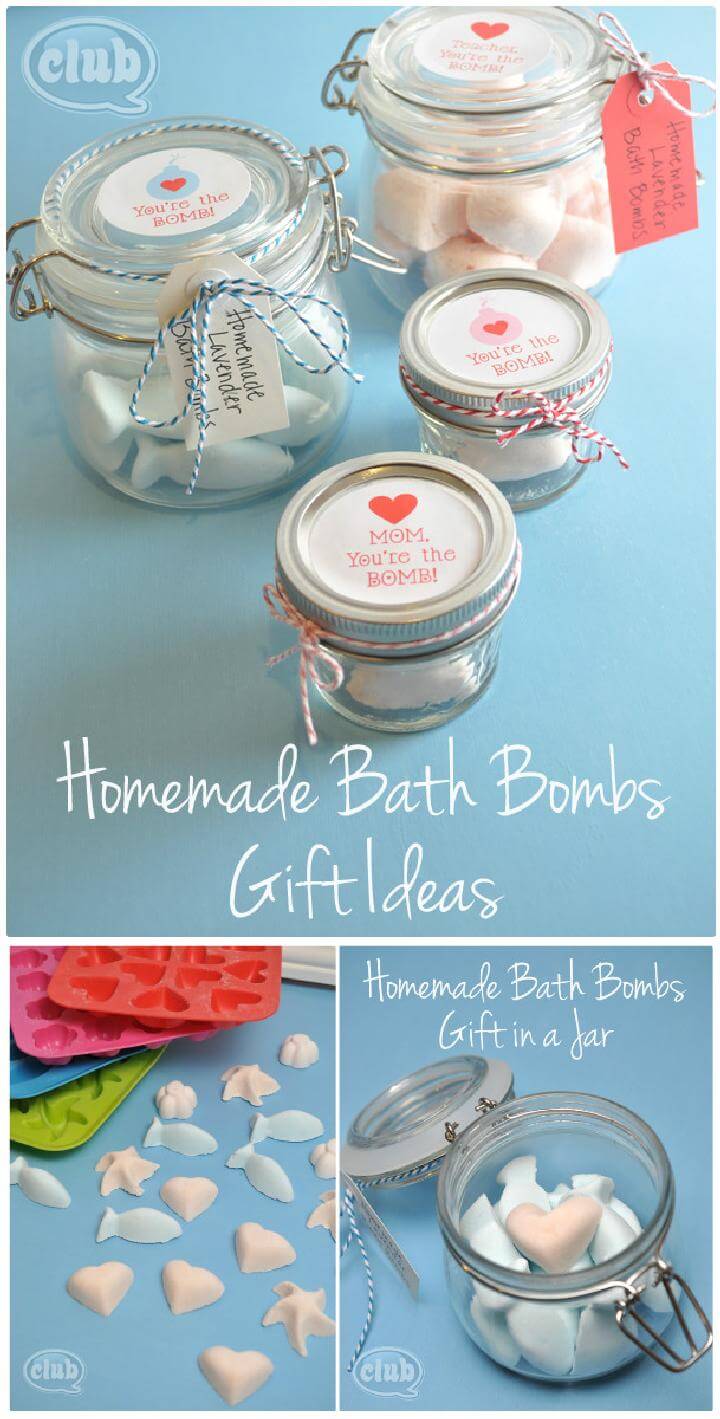 For the ladies the bathing is relaxing and with the bath bombs the relaxing is taken to another level of enjoyment with the sweet and scented smell and the smooth skin. So if you want to really please a lady with your gift, make some homemade bath bombs, pack them in a mason jar and they are just prefect to make her day be it your mom, sister, friend or teacher. With cute little decoration and tags you can add more worth to the gift so do get the details of the idea here chicacircle
DIY Dr. Seuss Gift in a Mason Jar for Teachers:

When it's the birthday of Dr. Seuss then you really bring some gift for your teacher on that day it would really a nice gesture. Using a mason jar you can make a lovely gift for your teacher by painting it and adding READ foam letters to it along with a cute printable image on it. You can fill it with any of the things or goodies that you think your teacher would like. So it's really a cool idea and worth hacking from this link thecountrychiccottage
DIY Salted Caramel Sauce Mason Jar Gifts:

Apples and caramel make a great combination for the taste buds so here we have a tasty gift idea to work on this holiday season. You an make this tasty and mouth watering salty caramel sauce, pack them in the small jars and give a little decoration with twines and printable labels. Thus so nice and easily the yummiest and the happiest gifts are ready to please your neighbors. Some apple along would make the gift a major hit so do hack the recipe of the sauce from this link recipegirl
DIY Mason Jar Soap Dispenser: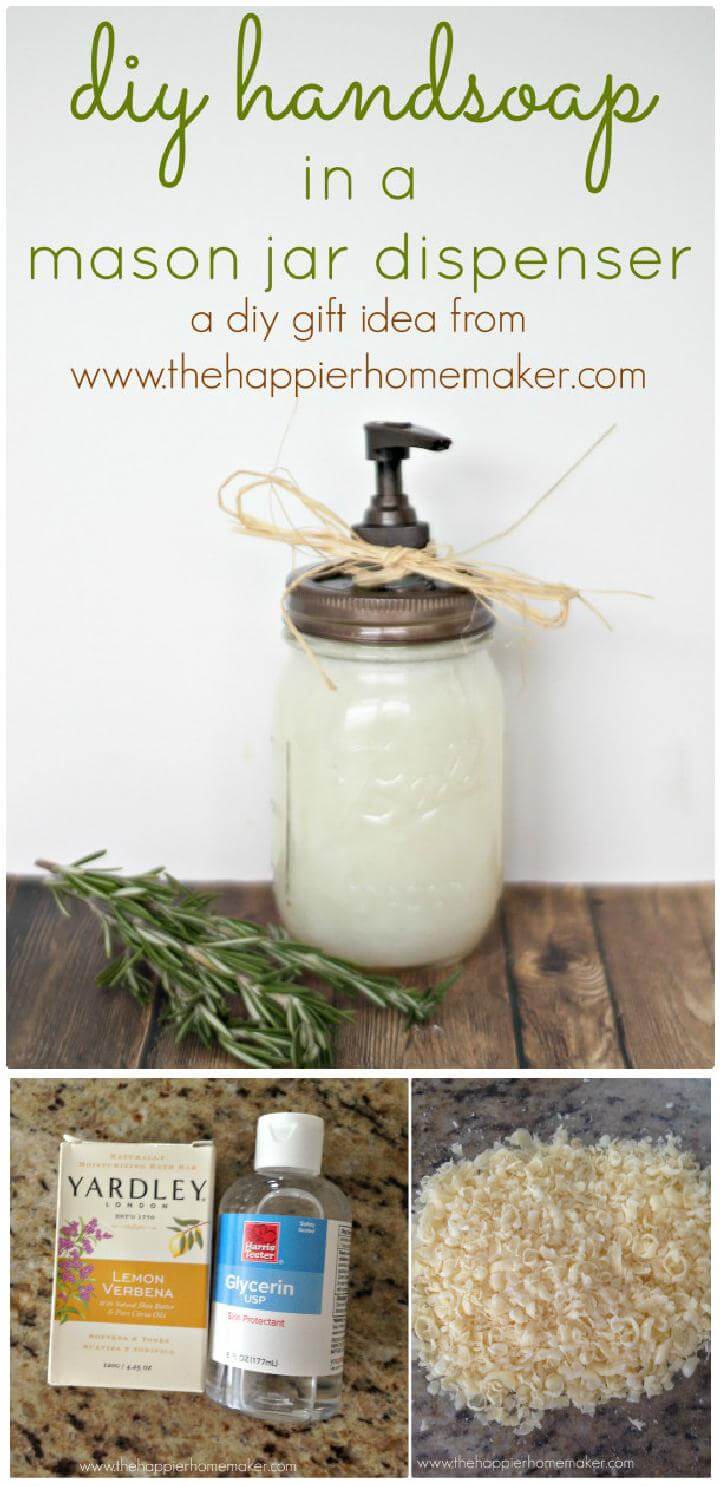 There is a like to do when the holidays are around especially for the gifts so that everybody likes their gifts a lot. For the neighbor gifts we have a really cheap yet really awesome gift idea of making the hand soap and that too in a Mason jar dispenser. The recipe of the soap and the making of the Mason jar dispenser, both can be achieved from this link provided thehappierhomemaker
DIY Mason Jar Candy Cane Hot Cocoa Bar: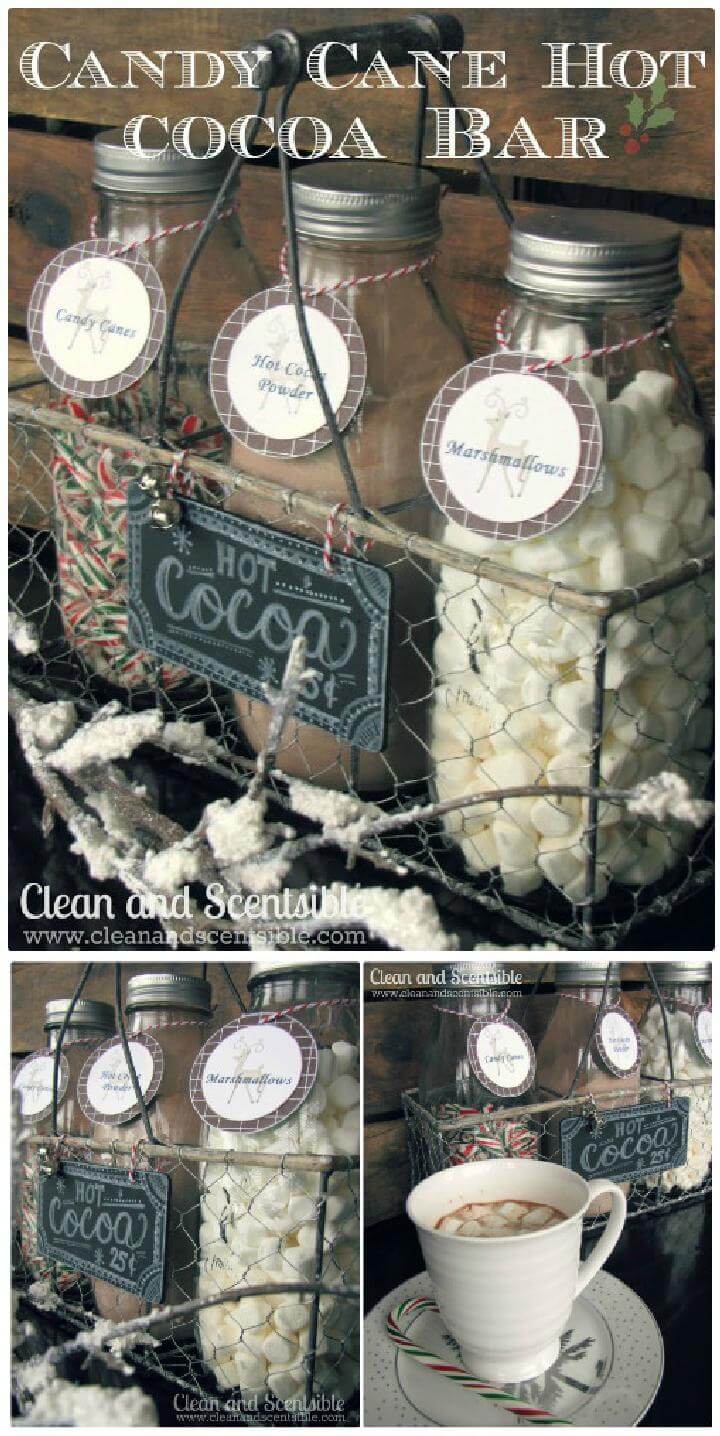 We all love the hot candy cane cocoa bar on the Christmas as our favorite treat and now you can use this yummy treat as a great gift too. You can purchase the marshmallows, cocoa powder and the candy cane and put them in three mason jars separately. Hold this yummy trio in a basket and with some cute printable labels and tags you can add a more gift like to this tasty and sweet gift basket. Here is the link to catch more details of this cleanandscentsible
DIY Easy Mason Jar Peppermint Sugar Scrub Gift: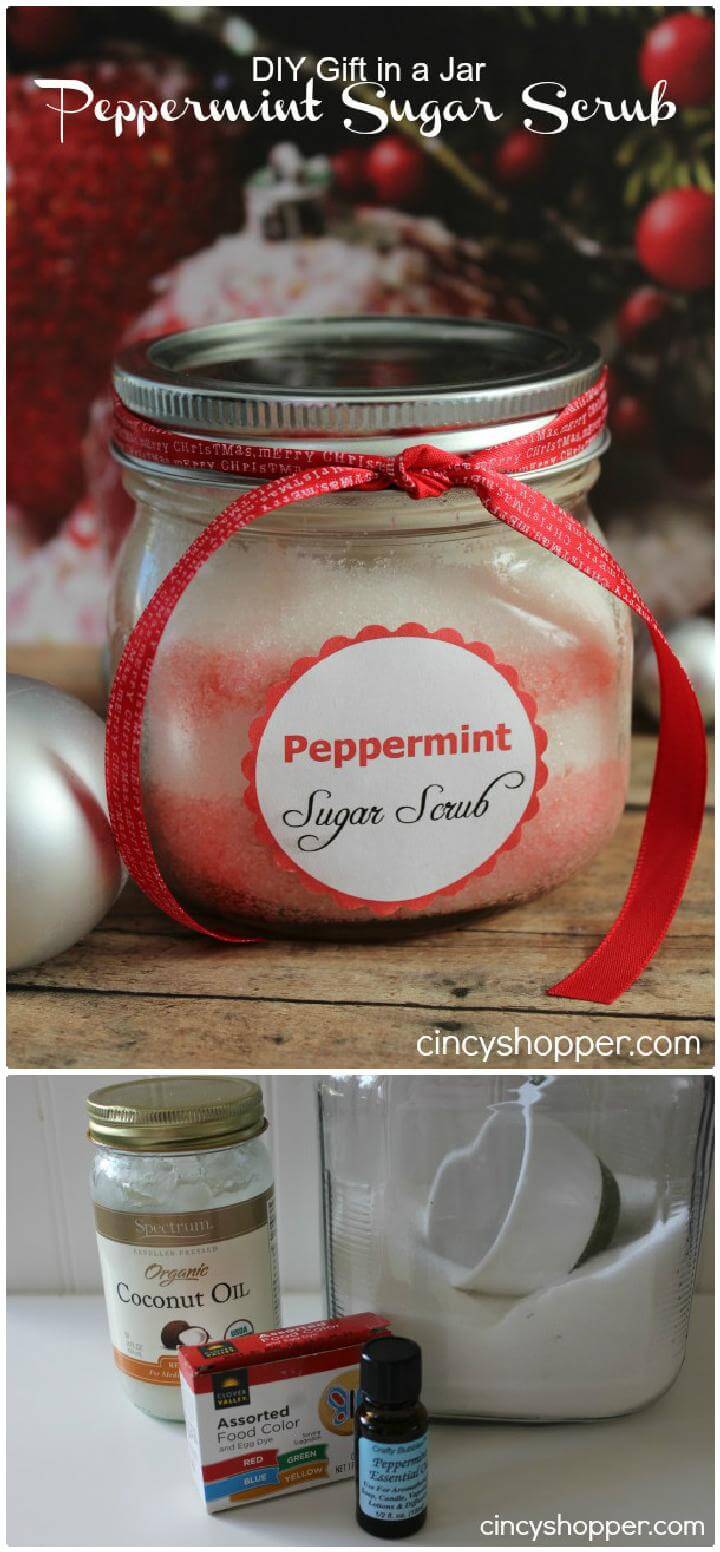 Buying gifts for everyone on the holidays would be really heavy on your budget so to save your pocket from burning a hole you really need DIY the gifts. For example for the ladies and the girls in your family and friend list can be gifted with this refreshing and really skin friendly peppermint sugar scrub and packing it nicely in a jar with a cute printable tag. It would really cheap and easy to make on your own so do get the directions from this link cincyshopper
DIY Mason Jar Pork Rub Gift for Dad:

Summers are all about the outdoor fun with the beach trips, pool parties and the BBQ nights in the garden or patio spaces of the house. And thanks to the dads who really make the BBQ a great fun and they really deserve a cute gift for that. You can make this spicy BBQ rub to your dads on any of the special day, celebration or the holiday by filling up a mason jar with it and it would be just perfect to go with some cute printable tags. The recipe of the BBQ rub is here cincyshopper
DIY Mason Jar Terrarium:

Terrariums really bring the fun natural vibes in your home décor in the indoor sections so they can make a really great gift idea for the plant lovers around you. SO this holiday season or any of the occasions that call for the gift you can make this lovely terrarium for that plant lover and make his day. You need some rocks, dirt, succulents and some moss to create this terrarium in an empty jar. Here is the link to let catch the details and more guidance apartmenttherapy
DIY Lavender Bath Salt Gift:

Bathing salts just really give a boost to your bath and making your skin get rid of all the dead skin and make you feel really soft and fresh after the bath. So making a bath slat for your dear ones can be a huge success as a gift on any of the occasions even on the Christmas. SO here we have a complete idea showing a simple recipe of the bath salt and it's embellishing with the washi tapes, ribbons and a cute printable tag. Here is the complete tutorial link tatertotsandjello
DIY Movie Lover's Mason Jar Gift: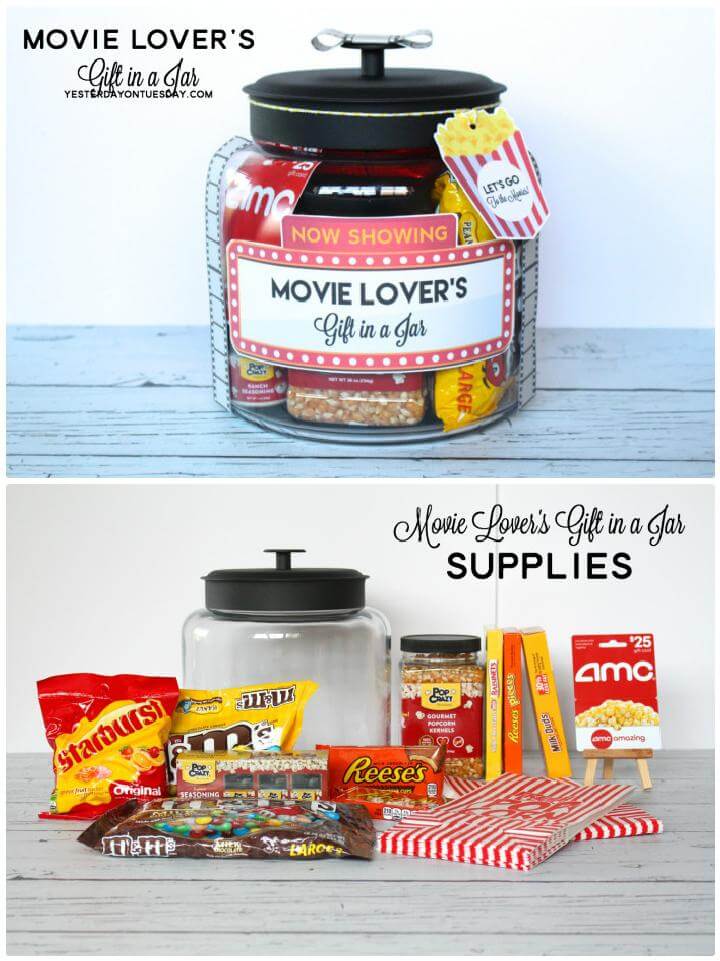 Popcorn, candies and gems there is a lot to enjoy while watching a movie and we all have a movie lover in our family so this idea is for them. You can grab an empty mason jar and then fill it with the things he can east and enjoy while watching his/her favorite movie. With some cute printable tags and labels you can add the gift like touch to the jar and it would be perfect to go in the hands of th emovie lover. Here is the link to check out the complete idea yesterdayontuesday
DIY 5 Amazing Mason Jar Gift Ideas: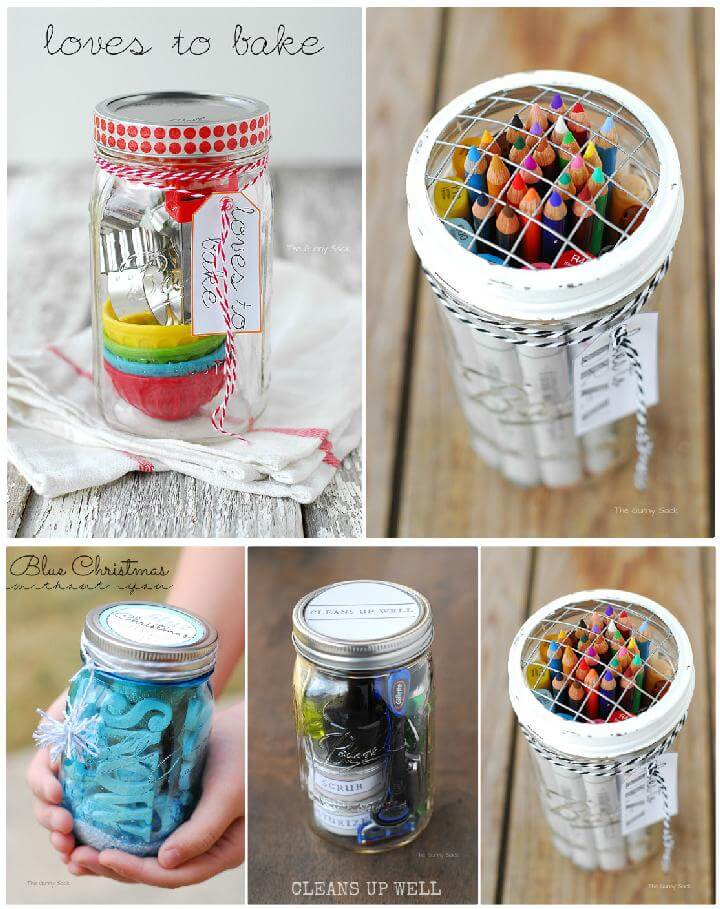 The gifting becomes really easy and fun when you know what are the receivers likes and dislikes. For example for a craft lover you can fill the mason jar with the crafting supplies and for the art lovers the crayon pencils, for the lover of baker the cute molds and baking supplies would be the perfect things to go in the mason jar and prepare a gift. Here is the complete link where you can grab the complete details of this fun project and make them thegunnysack
DIY Mason Jar Mommy Survival Kit Gift:

Mothers also need a gift from husband, kids and anyone other in the family s they really put great efforts to make the holidays and the special occasions really special. so here is this simple and really cute gift idea with a mason jar as you can fill with some fun mommy things and turn it into a mommy survival kit. Hand wipes, sanitize, mascara, chocolate are the things used to fill the mason jar up so can you. Here is the link for complete details classyclutter
DIY Beautiful Bee Mason Jar Gift:

There is a lot that you can make and decorate your house like this really cute and fun looking bee beauty decor piece made on a mason jar. You can also gift to someone special so that they can use in either decor and remember you every time having a look of it. With some sisal rope and a styro foam egg the lovely bee dome has been created and the moss, flowers and the bee buttons are making it look more adorable and fancy. Here is the link for more details littlemisscelebration
DIY Teenage Boy Gift in Mason Jar: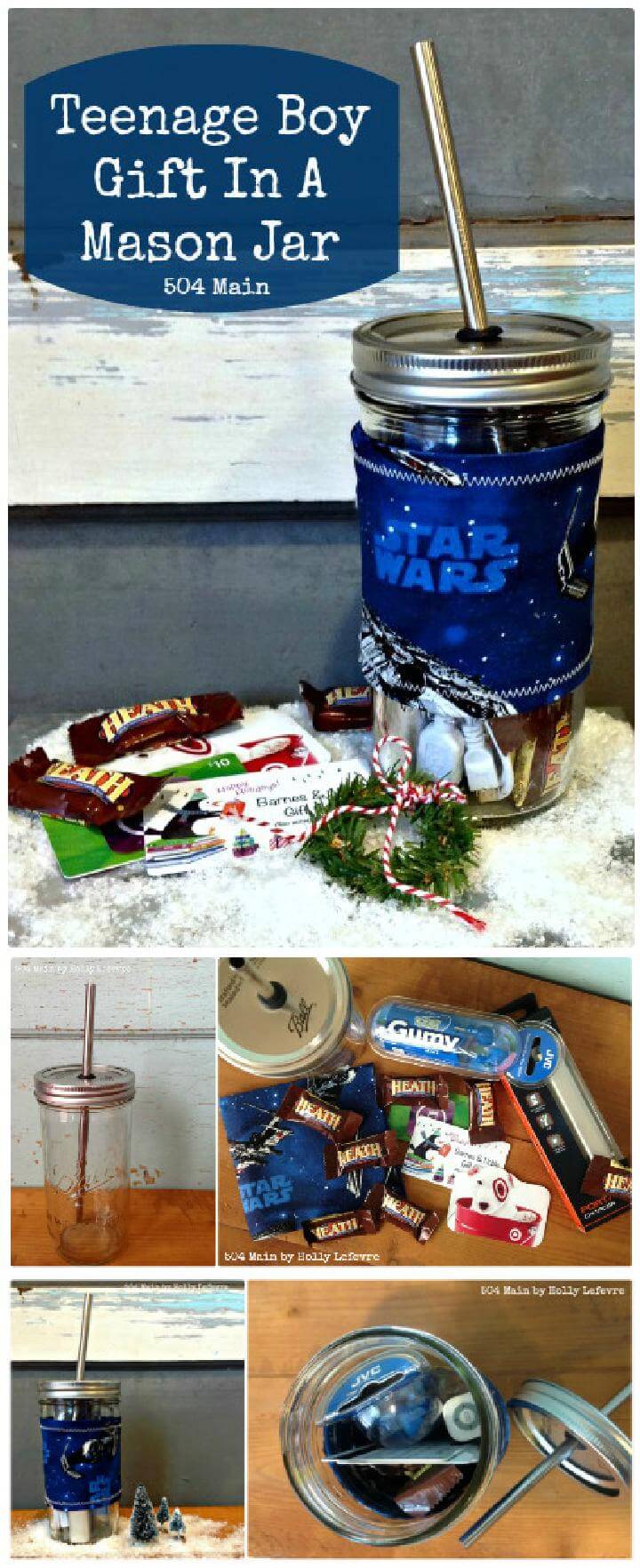 When you kid is a bit grown up and enters his teenage period its really tough to decide a gift for them but still the mason jars are the savors. So you can ask your boy what he wants and fill the mason jar with those supplies like the portable charger, candies, some cute cards and there are many more ideas to opt for too. With some cute printable tags and lebels this mason jar would be fully turned into the gift.Here is the idea with complete details504main
DIY Gift in a Mason Jar for Scrapbookers:

The art and craft lovers just love to make some cute things whenever they are free and they need a cute few supplies for their projects and you can help them in this matter with this cute and fun gift. You can put some crafting supplies in the jar like the tapes, glitter, buttons, bow stickers, labels or tags, markers etc and then decorate the jar with a scrap book paper and its done. Here is the link to check out this pretty gift idea in detail thescrapshoppeblog
DIY Marshmallow Mason jar Gift: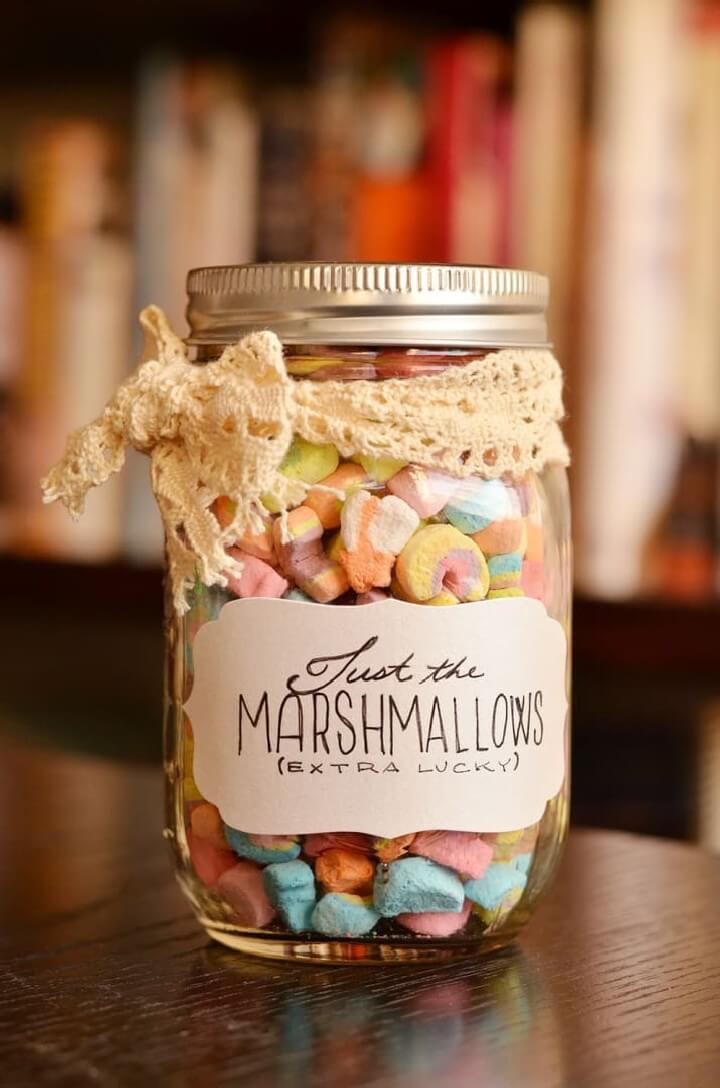 In the oat cereal packs the colorful marshmallows are found so separate them all as they can really make a cute gift for the Christmas. You can put all those colored marshmallows in a jar and then decorate the jar with the labels and lace ribbon and give to any one be it your friend, neighbor or even the kids and they would love it. Here is the link for more cute details buzzfeed
DIY Snowman in Mason Jar Gifts: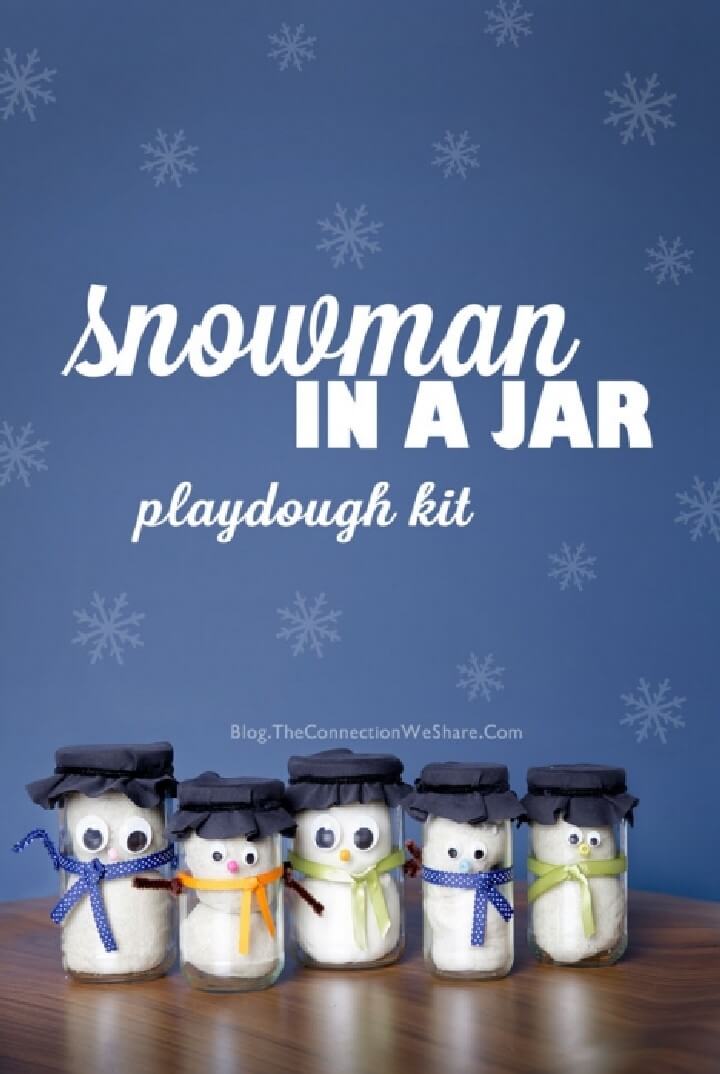 For the kids there is like an unlimited range of the ideas for the handmade gifts for any of the occasions and so for the holidays. So you can make the fun play dough in white for the kids and put into empty jars. To dress up the jars as the cute gifts the snowman idea has been picked up. With the eyes, nose and the ribbon the cute snow man look has been achieved with the black scarves adding more charm to the snowmen. Complete details here theconnectionweshare
DIY Summer in a Mason Jar Gift: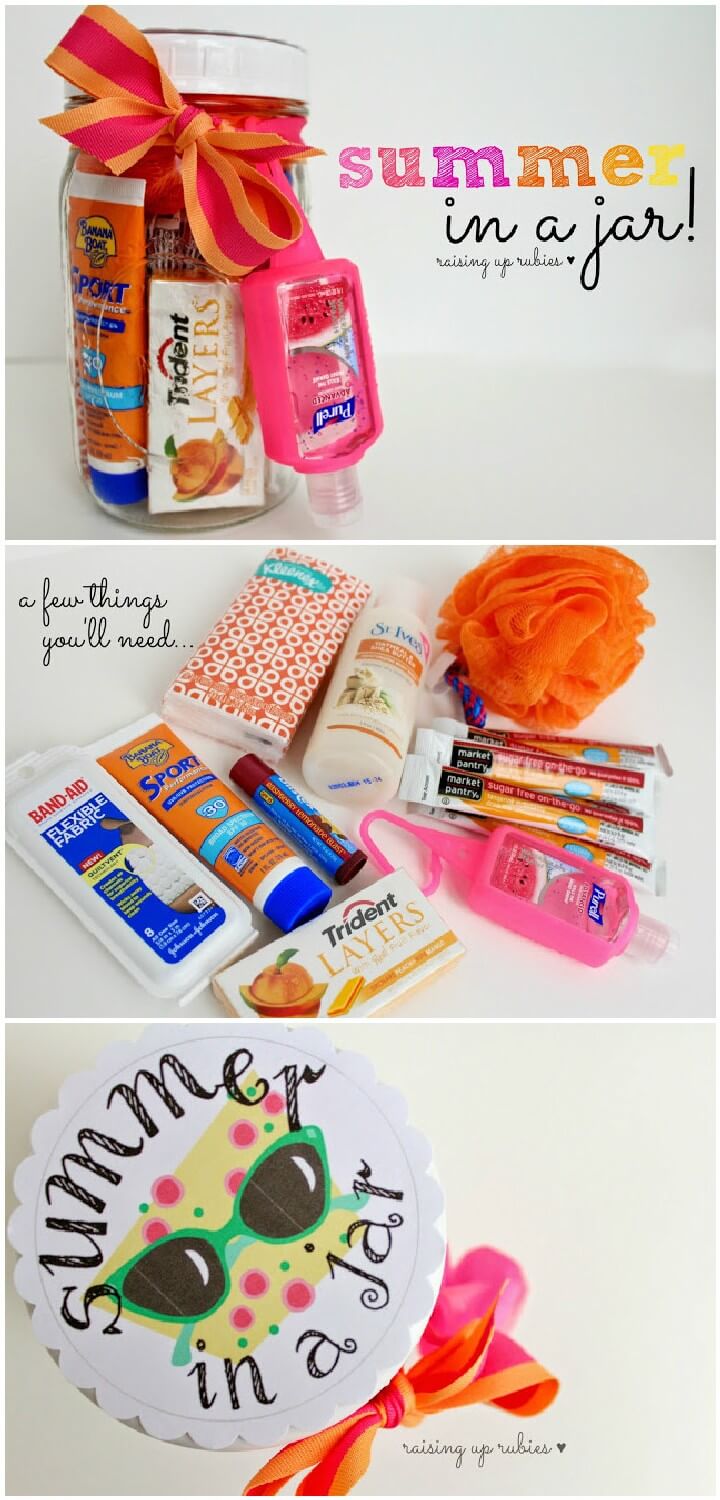 This Summer In a Jar gift is just really cute and would be perfect for the summer holidays. All you need is a mason jar and fill it with the girlish things like the chap sticks, mascara, hand sanitize, wipes, gums and many more and gift hem to you teachers, neighbors and even the moms. You can make a sun glass label and the cute orange and pink ribbons to decorate the jar with the summer colors. Here is the complete tutorial raisinguprubies
DIY Mason Jar Bath Flizzies Gift: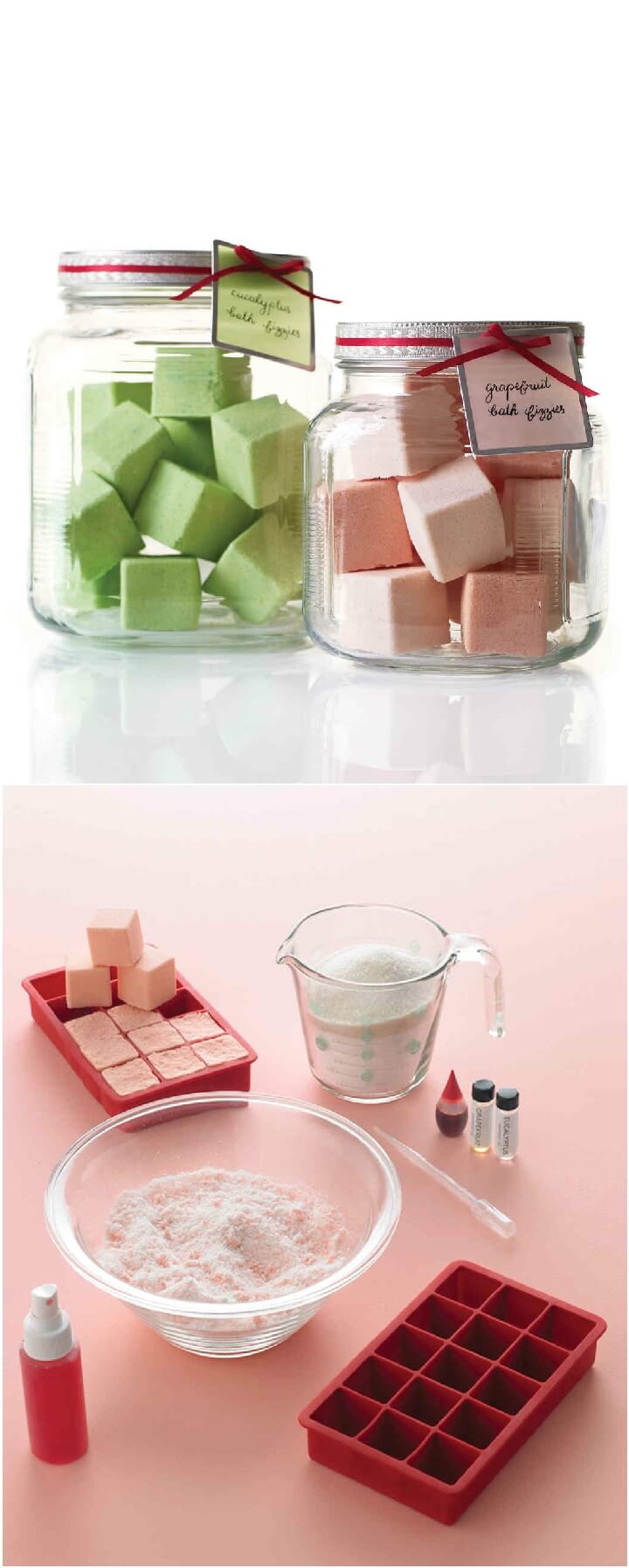 Bath flizzies are the great gifts for the girls, teachers, moms and the neighbors. You can easily make them at home with your favorite colors and the ice cubes can be used to give them a cute and really easy shape. You can fill them up in a mason jar and with the help of a ribbon and the cute printable tag they are just ready to go as gifts and use them on the holidays. Here is the complete recipe of the flizzers to make them easily at home marthastewart
DIY Warm Kit Mason Jar Gift: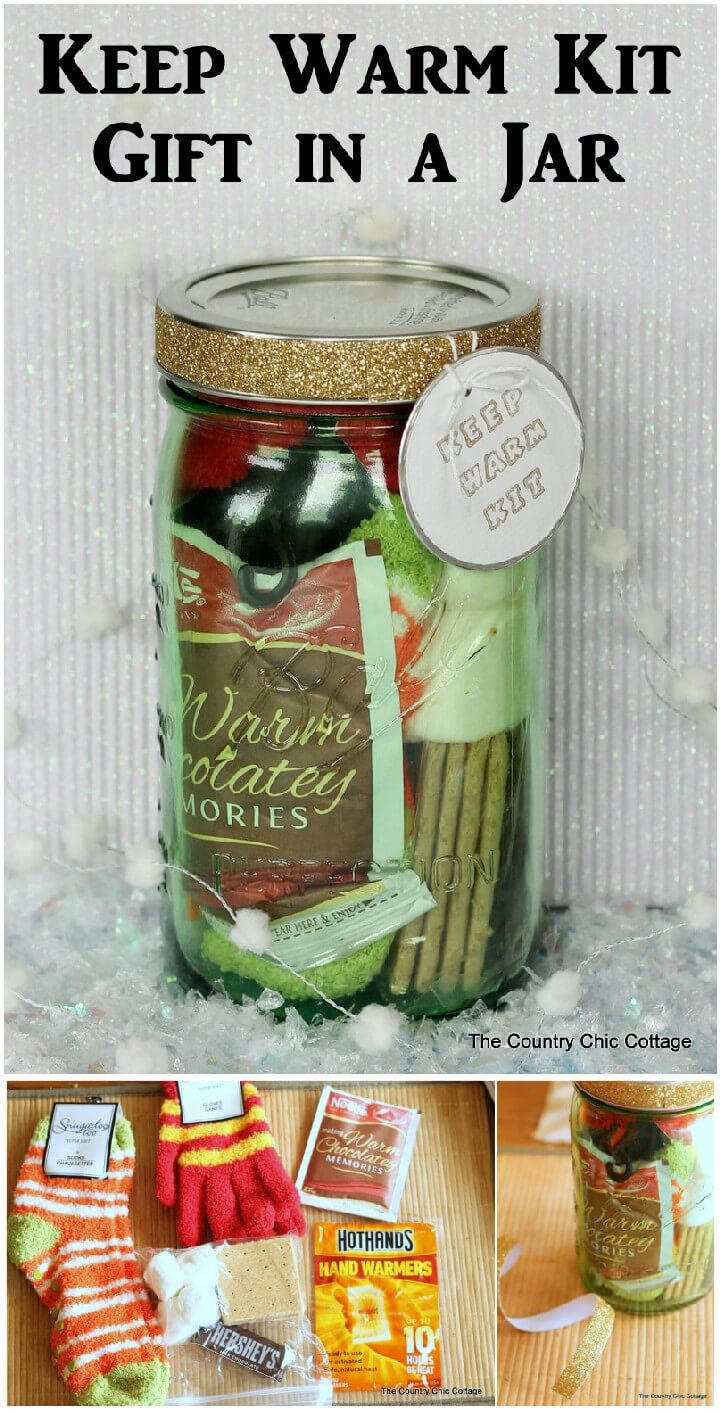 The winters really make it easy for you to choose the gifts for the holidays and that too for anyone in the family, neighbor and even for the mail men. you can grab a mason jar and fill it up with the the things kike gloves, socks, chocolate mix and the hand warmers. With some ribbon, tags and the front label you can make it look perfect Keep Warm gift and it would be a sure hit. Here is the complete gift tutorial thirtyhandmadedays
DIY Nutcracker Mason Jar Gift Toppers: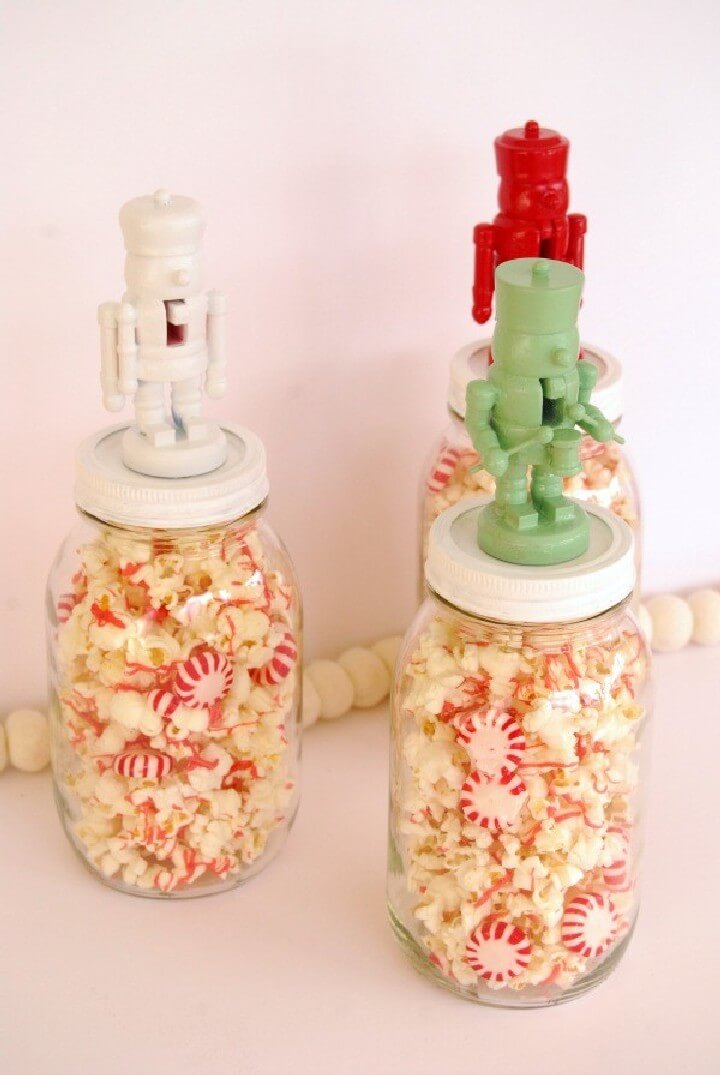 You can make your mason jar gifts look really fun and creative with some cute creative approach like this one. you can fill up the jars with any of the treats like candies and toffees and then use the nut crackers with coated paint on the mason jar lids to look some fun and unique. Here is the link where you can grab the step by step tutorial of and try it this holiday season on your mason jar gifts theproperblog
DIY Pedicure Mason Jar Gift: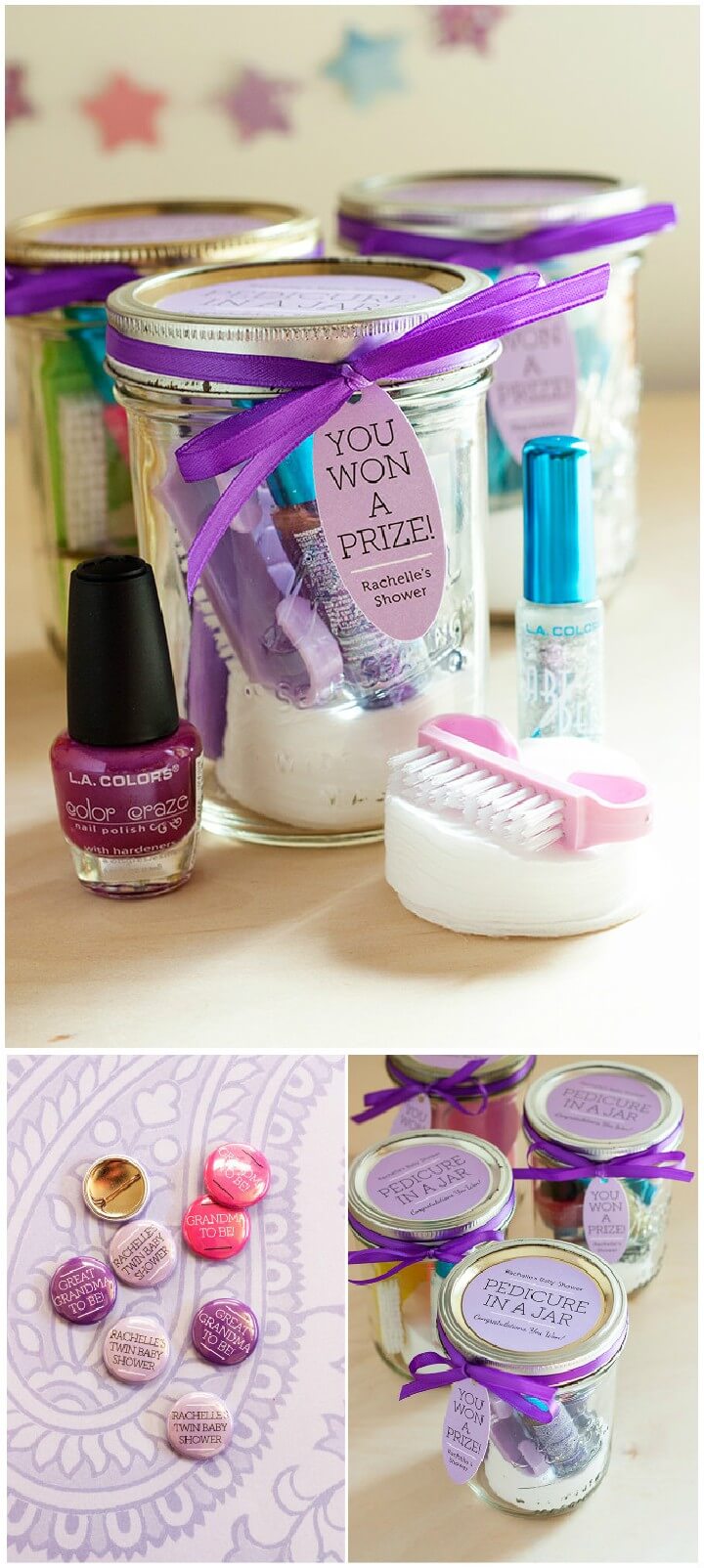 For the mothers, the working ladies and the teachers the beauty gift ideas are the perfect so that they can take rare of themselves with these gifts. So here is this idea of pedicure kit in a mason jar and would be just perfect to make the day of any girl, lady or the women around you. Fill the jar with the pedicure supplies, with some ribbon and printable tags it would turn out as a hit gift evermine
DIY Slow Cooker Mason jar Apple Butter Gift:

When there are holidays and you have dinners at your house you really need to make some hostess gifts for the guests. Here we have a totally yummy and tasty idea of making the apple butter, packing it in the small jars and use as the perfect hostess gifts. It would also be perfect to give to the mailmen and the neighbors. here is the complete idea with the recipe and other details so browse and enjoy mybakingaddiction
DIY Kernels Popcorn Mason Jar Gift: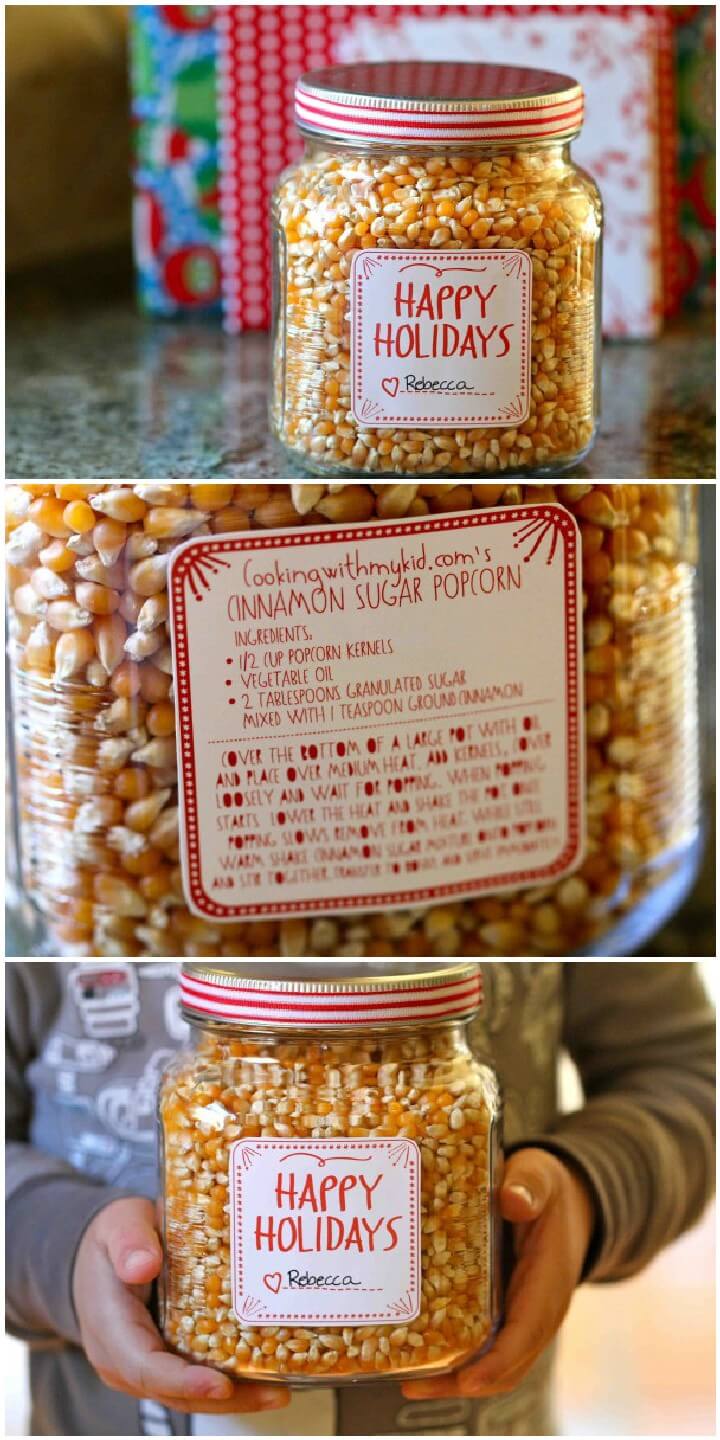 We love popcorn and for that we need the poprcorn kernels and if you have them in a plenty full quantity then you can gift them to your friends, neighbors or anyone other dear to you. Fill them in a jar and add a cute gift tag or label to it and its ready to be presented as the cute gift and they ca enjoy it for the snack or movie time making it at home. Here is the link to check out this idea completely cookingwithmykid
DIY Girls Weekend Gift in Mason Jars: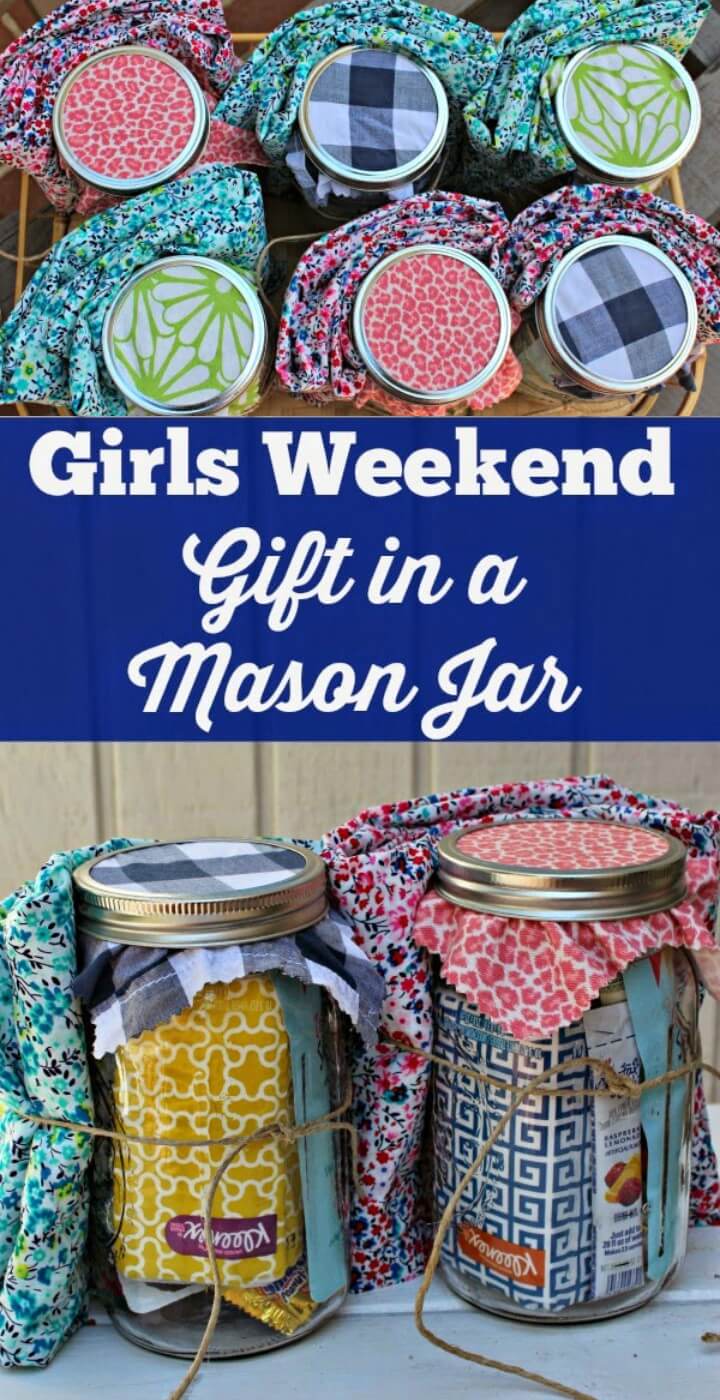 Girls love to spend weekend nights together with sleep overs or the pajama parties so getting inspired from these girly fun nights we have this perfect gift for your girl gang. A mason jar filled with some fun goodies like the chocolates, candies, chopsticks, etc and a cute pajama tied to the jar. You can buy matching pajamas so that when the friends are together they can have fun enjoying their pajama parties. Here is the rocking idea with all the details southernstateofmindblog
DIY Holiday Joy Mason Jar Gifts:

We love eating snacks to curb our untimely hunger so for the holidays or any of the occasion coming up you can make a snacky gift for your dear ones and that too so cheaply and simply. Grab some golden grahams, small M& Ms and some white marshmallows and combine them all in a jar. Make a cute S'More printable tag to give the jar gift like decoration and its ready to muse the special ones. Full eay details here anightowlblog
DIY Mason Jar Vanilla Extract Gifts:

Vanilla extract is used for so many things and recipes and thus its an integral kitchen need. So if you are looking for the holiday gift or the Christmas gift then you can make the vanilla extract at home and the fill in them in the cute little bottles and offer them to your friends, neighbors or the teachers as the perfect kind of gift. Gets the complete extract making method and other details here so do check it outbakeat350
DIY Sock Puppet in Mason jar Kids Gift:

The kids just love playing with the puppets and many of them have a cute mini popper theater at home. If your kids also like playing the puppet games then you can gift them this pretty gift to have fun with the puppets. The Mason jar is filled with the things the sock puppets can be made of and decorated with tags and believe me the kids would be over joyed to receive such a fun gift. More details here consumercrafts
DIY Birthday Cupcake Mason jar Gift: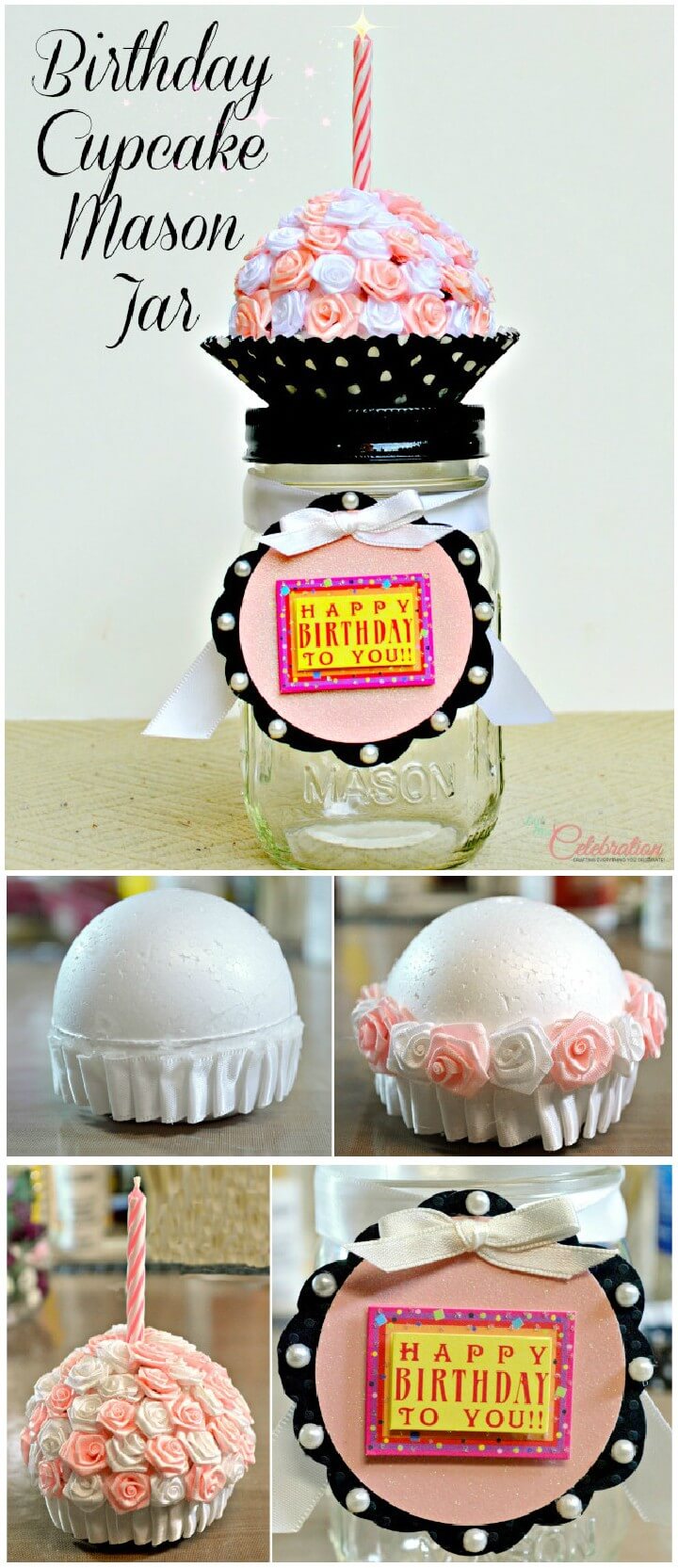 There are so many things that can be the cute birthday presents and they all made out of the mason jars like this cupcake Mason jar. Using a styro foam half ball, the cute ribbon and the ribbon flowers this pretty cupcake has been made and glued to the Mason jar lid. With a pretty Birthday label it has been turned into an awesome and unique gift ever for a birthday. You can grab the every inch detail of the idea here littlemisscelebration
DIY Great Mason Jar Dollar Bill Birthday Gift: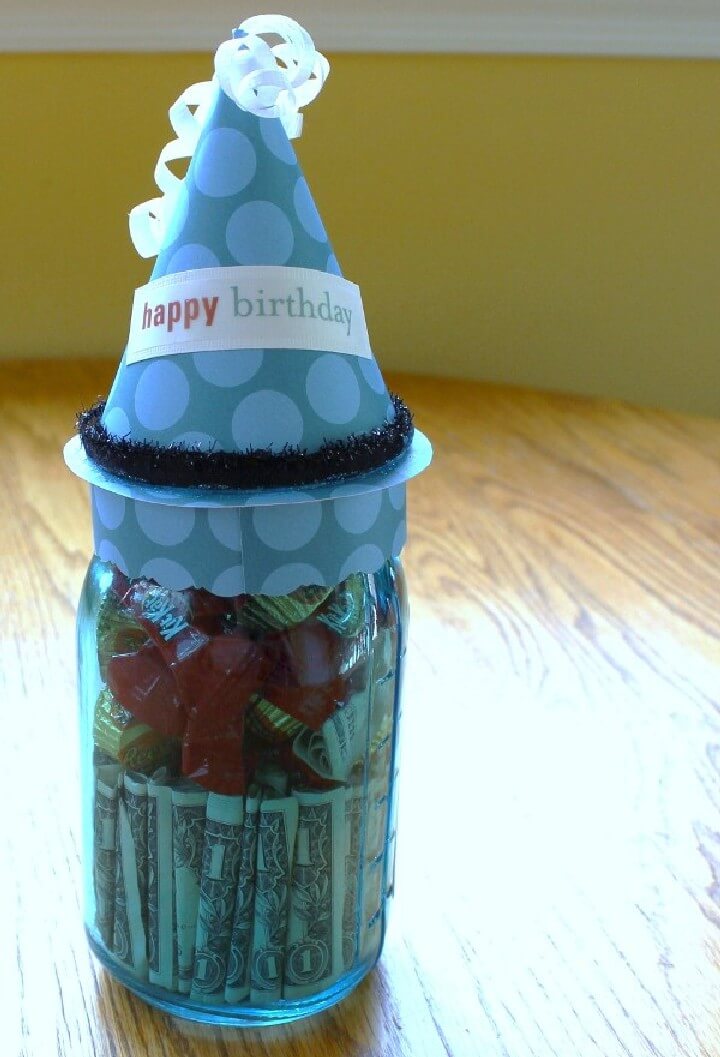 It's really hard to make a delightful gift for the teens and the tweens as they really throw tantrums in this matter especially on their birthday. But we have solution to this problem too and came out with this dollar bill gift that you birthday girl or boy would adore. With some wrapped candies and folded dollar bins being put inside the mason jar this pretty gift has been made and decorated with a cute birthday hat on the top. Here are the fun details of this lovely gift idea housewivesoffrederickcounty
DIY Sweet Treat Mason Jar Holiday Gift:

If you are not n expert crafter or are new in the world of handmade gifts then we have the right and simple ideas to get your hands on. This pretty gift idea suggests filling up the Mason jar with colorfully wrapped candies or chocolates and then decorating the jar with a pretty printable tag and a red ribbon. The hassle free details of the project are here lovegrowswild
DIY Easy Snow Covered Mason Jar Lantern Gift:

The handmade lights are just perfect to bring some sweet glow and cozy light in your spaces be it outdoor or the indoor décor and that too for the winters. So you can make this lovely Mason jar frost lantern for the winter décor and add a lot of cute touches to the décor. Add a wire support to the jar and glue some faux frost to the bottom and its ready. Step by step details here lovegrowswild
DIY Cord Holder Mason Jar Gift: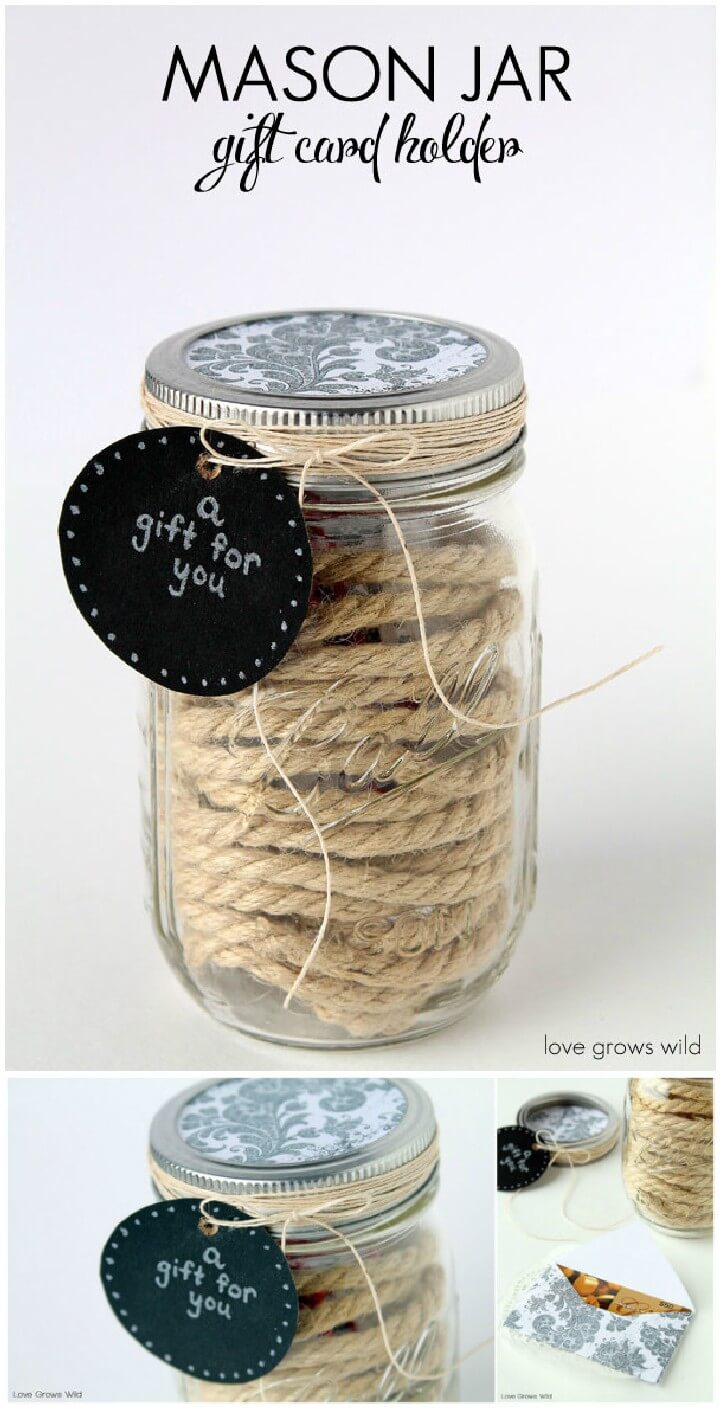 Among the wishing messages and texts a cute wishing jar on the Christmas would be really something delightful and surprising for anyone. So here we have this rope inside Mason jar gift idea where the rope has been put inside he jar and among it folds it contains a cute card in an envelope. A pretty gift printable tag finished the complete gift look of it and you can see it all here lovegrowswild
DIY Hot Chocolate Mix Mason Jar Gift: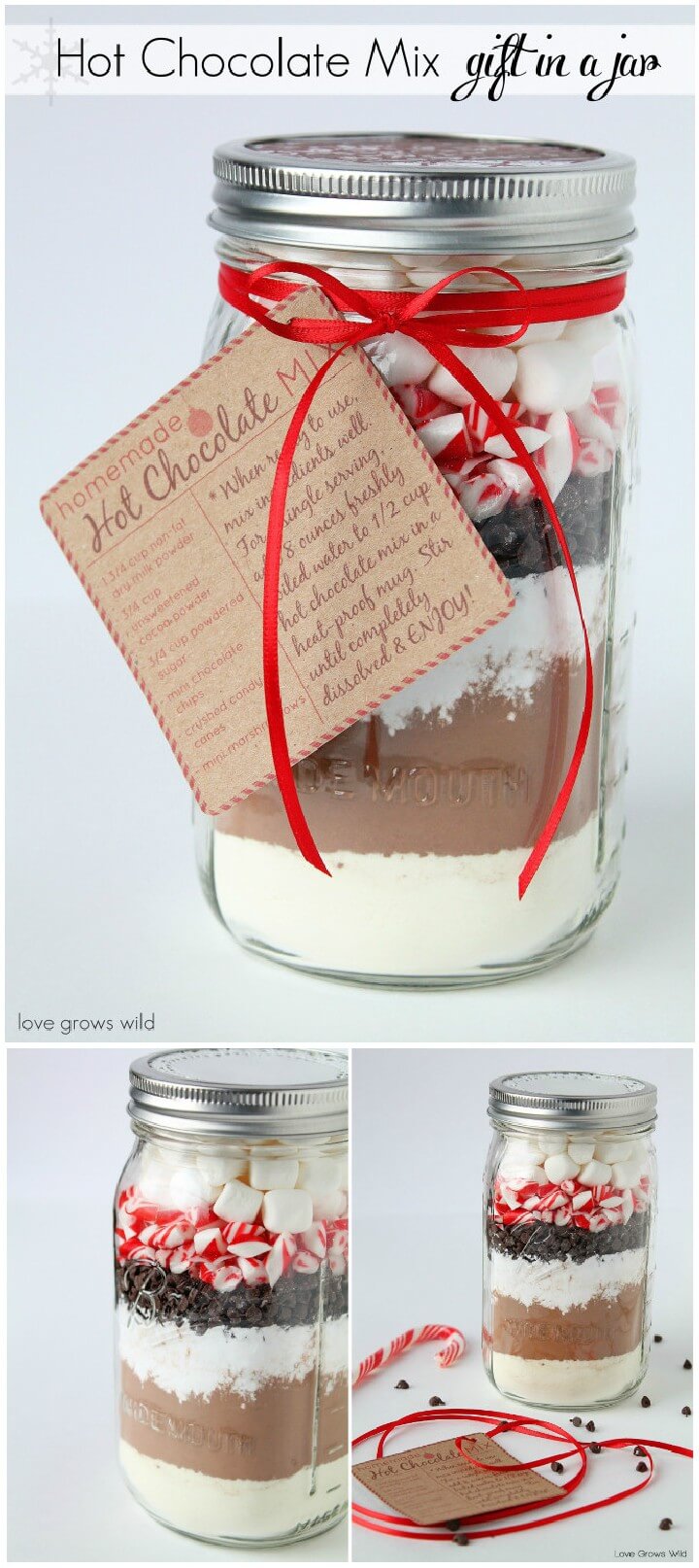 The cold day of the Christmas can be warmed up with a cut of hot chocolate and you can use this idea as a perfect gift for the winter holidays. You can layer the ingredients of the hot chocolate in the Mason jar like the dry milk powder, cocoa powder, marshmallows and the chocolate chips. A cute printable tag along with a ribbon would add the real gift like look to the jar and it would be ready to rock lovegrowswild
DIY Mason Jar Sugar Scrub Gift:

Scrubs are the fun things to make at home and then use them as the perfect gift for the holidays as they can be gifted to the moms, girl friends, neighbors and even the teachers. So here we have the recipe of the fun mint sugar scrub that you can easily make at home and pour into the tiny little jars to perfectly go as the gifts. Here is the complete process with the free printable provision too lovegrowswild
DIY Sugar Scrub Mason jar Gift for Girls: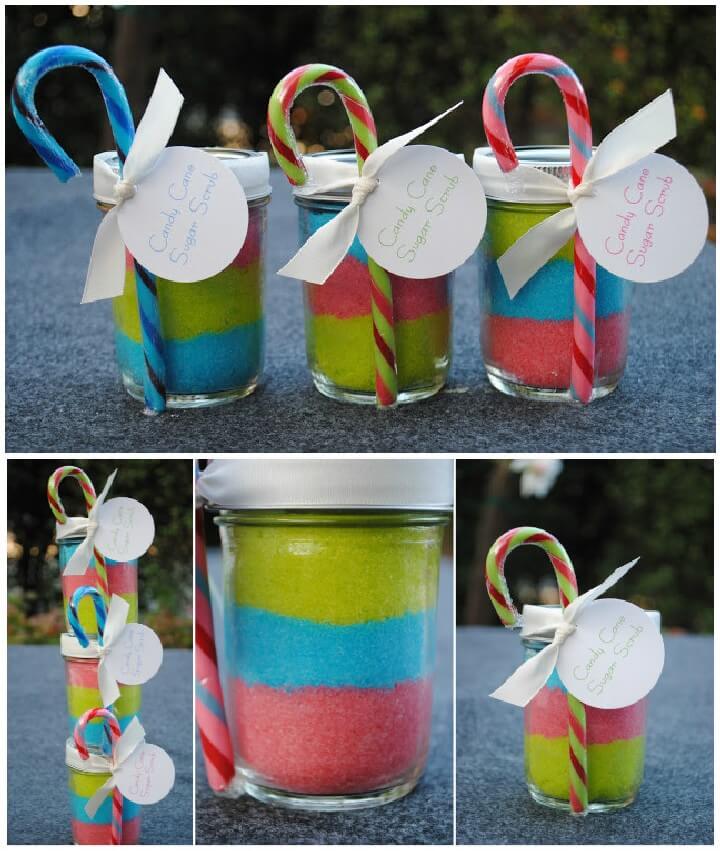 Everything looks more exciting and fun with the colors like this lovely sugar scrub idea in multiple colors. You can make scrub in three or four different neon colors and then layer them up in Mason jar and the perfect gift for your friends, fellows, moms, teachers and any other special girl is just ready. With the personalized décor you can allot more fu n values to the gifts. You can get the full details of this cute idea right here jacolynmurphy
DIY Confetti Candle Mason Jar Gift:

Creating the cute lights from the Mason jar is one of the best ideas you can ever get your hands dirty with. Here is another Mason jar light delight that you can make and use as the gift for anyone special in your life. The jar has been filled up with the candle wax and spruced up to look fun with the added confetti multiple colors. Here is the link to grab the complete details of the idea bethcakes
DIY Cake Batter Snickerdoodles Mason Jar Gift:

Baking is at its peak when the holiday season is announced and if you are making a cake for your especial times then save some cake batter. You can make the tasty and yummy snack doodles out of the cake batter and then fill them in jar and they are just perfect as a lovely gift for the friends, neighbors and the relatives at Christmas. The idea with complete details and recipe is here lilluna
DIY Winter Survival Kit in Mason Jar Gift: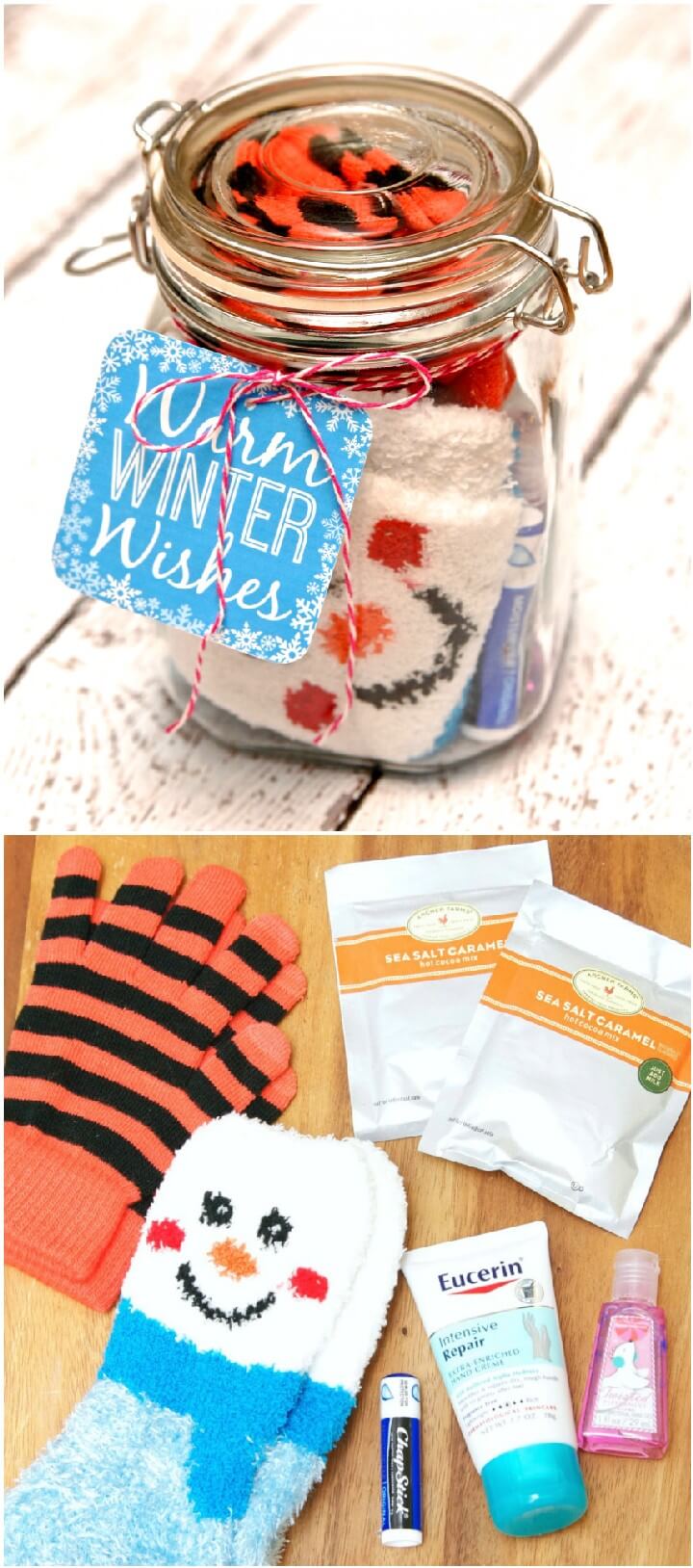 The winter holidays can be made more fun for the dear and near ones when they would stay away from the cold and a survival kit can help them to fight against the cold. You can gift them the winter survival kit with the socks, gloves, hand warmers and chap-stick like thing being put inside a mason jar and decorating it with a cute printable tag saying Warm Winter Wishes. Here is this functional gift idea with all the needy details happygoluckyblog
DIY Mason Jar Banana Bread Mix Gift:

We all love banana bread and the holidays can be more fun with the banana bread in the breakfast to spruce up the fun and enjoyment. So you can grab the ingredients used to make the banana bread and then layer them one by one in a Mason jar and your pretty cool holiday gift idea is just ready along with the written recipe tag tied to the lid. Grab the full details here theyummylife
DIY Apple with Caramel Cream Cheese Dip Mason Jar Gift: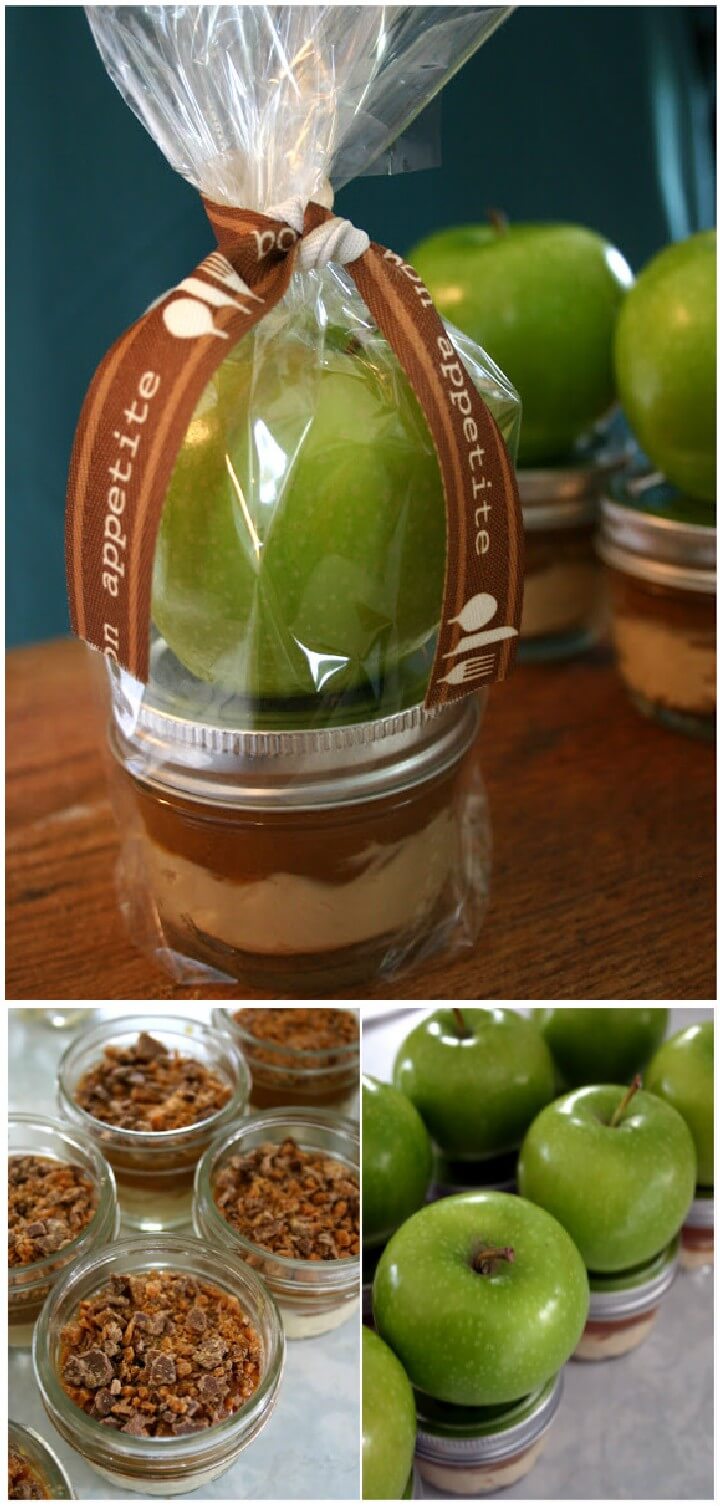 The green apples are so damn tasty when taken with the caramel cream dip and If you know hoe to make then you have the perfect holiday gift idea with you. You can make the caramel cream dip and pack them in the tiny jars and with an apple you can make a complete gift, wrap it and give them away to your friends, neighbors and the guests as the hostess gift too. Here we got the link to catch the more details of this idea joandsue
DIY Hearty Bean Soup Mix Mason Jar Gift: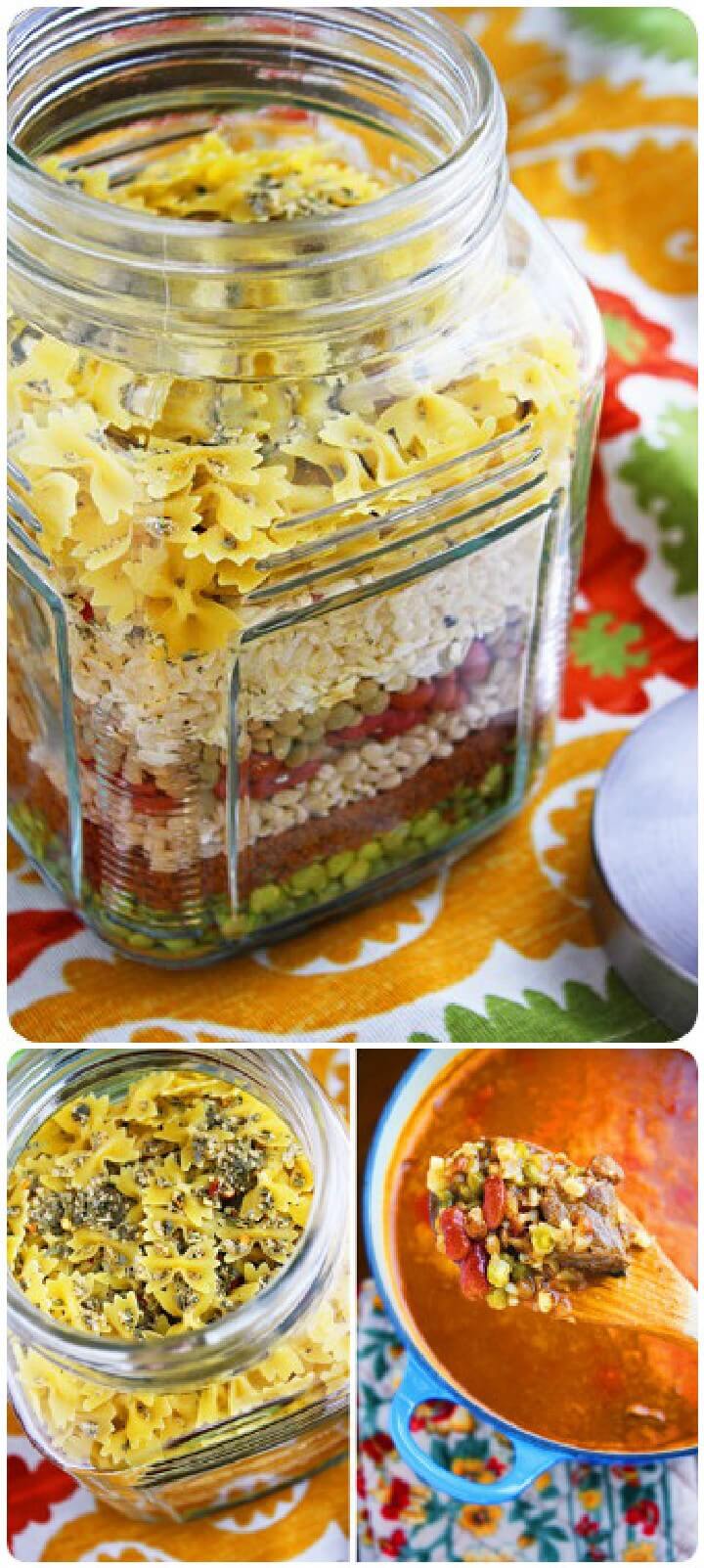 Soups are the best ways to beat the cold in a tasty and fun way and for the winter holidays the soups are the perfect part of the dinners an lunches. The bean soups are the favorite of everyone and you can gift the ingredients to your favorite people so that they can enjoy some hot bean soup in the cold weather. Here is the complete idea suggesting how the bean soup ingredients have been assembled in a mason jar thecomfortofcooking
DIY Mason Jar Manicure Set Lantern Gift:

Mason jars are making lots of possibilities for the handmade cute gifts so that everyone can share the joys and happiness around. You can fill up the jar with the manicure supplies and add a holding handle of wire to it and decorate it with some ribbon and tags to present to your beloved ladies. When its empty it can be used as the cute lanterns for your indoor or the outdoor spaces by hanging and adding cute lights to your spaces tidbitsandtwine
DIY Mason Jar Licorice Gift: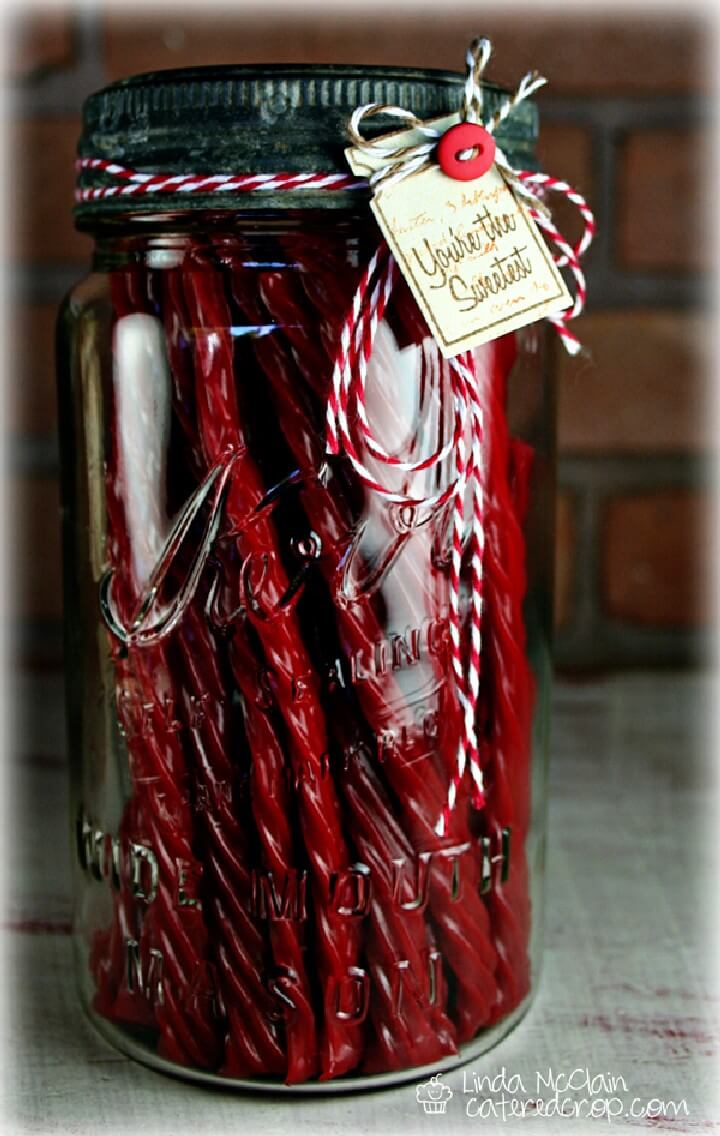 The holidays and the special occasions cannot be celebrated without the sweet things which really sweeten our relations and bonds with our family and friends. So here w have a sweet idea of putting a bunch of licorice in a mason jar and then adding a You Are So Sweet tag on it and turning it to a cheap yet fun and cute gift for your friends. Neighbors or anyone you want present it to. Here are the fun and simple details of this idea cateredcrop
DIY Mason Jar Teacher Gifts:

When you have some empty jars around the gifts can be instantly made as you and fill them with any of the fun thing s or goodies you like. So if you are looking for a cute and pretty gift idea for your teachers at the end of the school year then we have this cute Mason jar idea. The gum balls have been used as the fillers and the cute and colorful Mason jar printable labels make it look more fancy and fun as the gifts. You can check out the complete tutorial of this fun idea here somewhatsimple
DIY Sunshine Mason Jar Gift:

Grab an old Mason jar which may be of any shape but you can turn it up into a fancy gift jar by just using a beautiful base! One can also fit the glass yarn on old glassy candle sticks using glass glue! Final step would be to fill the Mason jar up with some candies and to decorate it in best possible way! Here yellow quoted paper and some twine has been used to do so! This would be a best gift to make with old Mason jars in home that will please all the loving mothers! Complete details and instructions about this mason jar gift craft are here howdoesshe
DIY Easy Mason Jar Snowman Gift: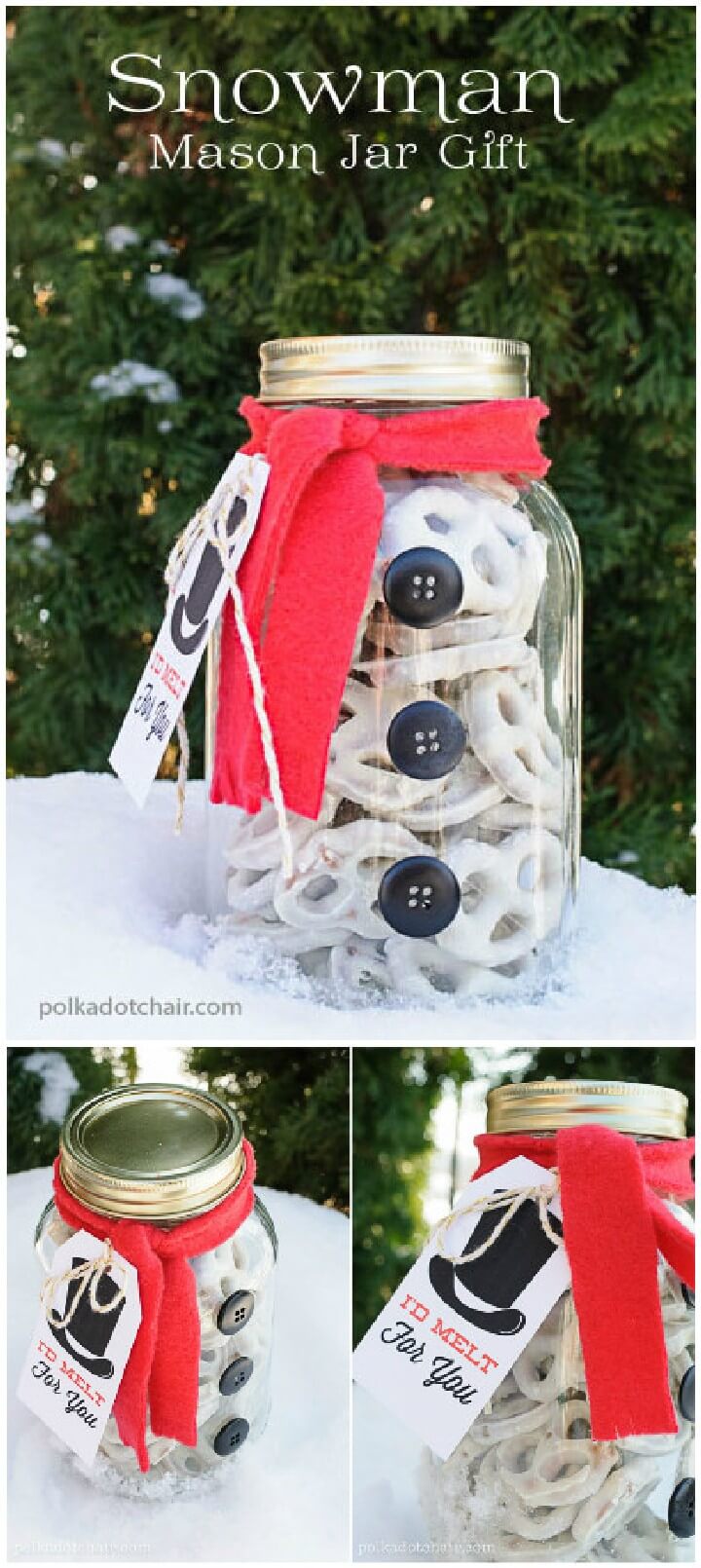 Fill a mason jar with white candies and give it a red ribbon or fabric gift wrap around the lid just like a red tie of a snowman! Mount some black buttons and add a badge or tag at the end with the help of a twine and a perfect snowman mason jar gift is just ready to go in your friend's hands! Further project details and guide here polkadotchair
DIY Holiday Mason Jar Gift: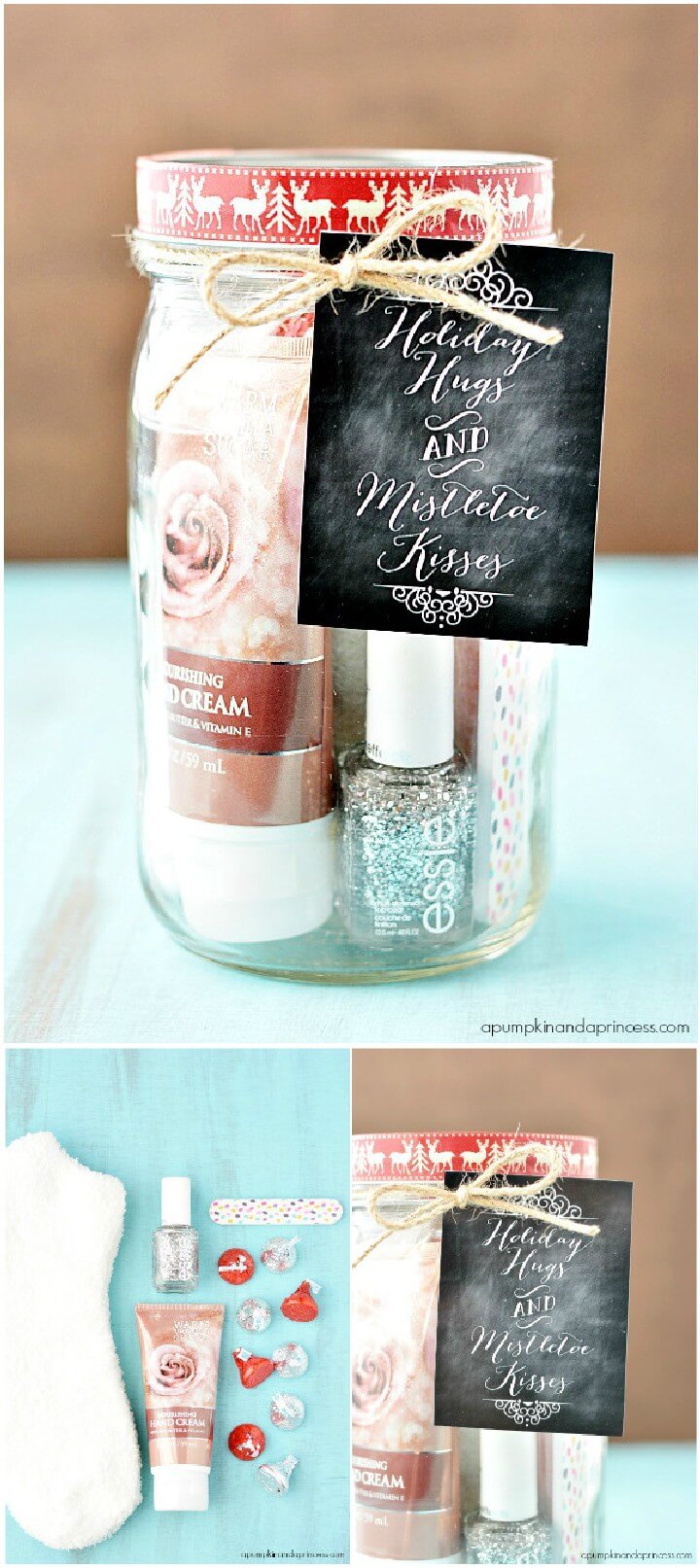 Here is a best Mason jar gift that will please any beloved girl and women! Just get some ladies stuff like bath lotion, nail polish and some hershey kisses and put them all in a mason jar and give the mason jar a gift wrap at the end! Now a perfect mason jar holiday gift is just ready to give to a special girl in life! Further details about this mason jar gift is here lilluna
DIY Inexpensive Gifts in Mason Jars: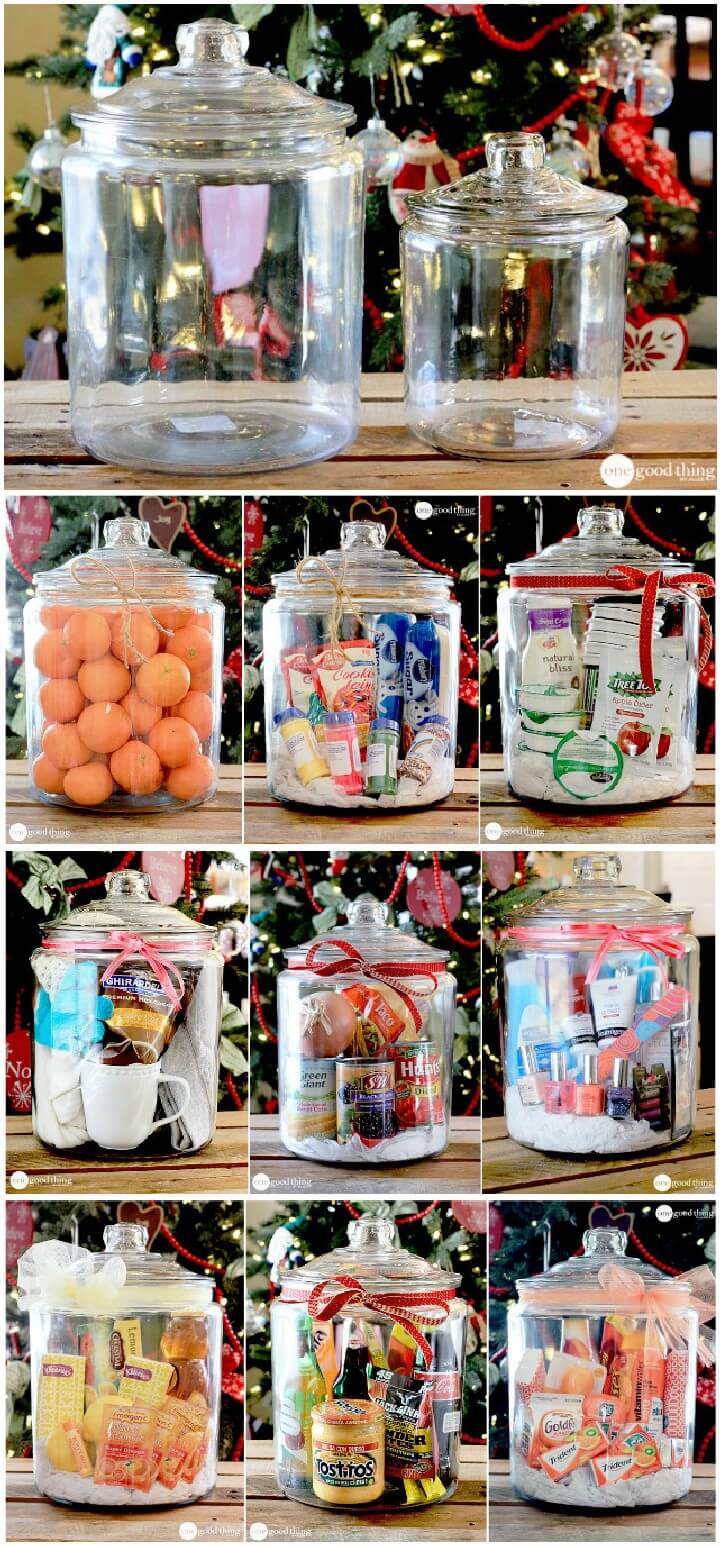 Grab the old glassy jar from home and just fill them with the the stuff you want to gift to someone special! For kids, it would be great to fill them up with chocolates, candies and other items of this candy! Now you can give them a final gift wrap to let them be special for the receiver! Checkout here some beautiful gifts made at home using old glassy jars! Further details about these gifts are here onegoodthingbyjillee
DIY Mason Jar Sewing Kit Gift:

Here is something special to gift to a sewing loving women or girl who may be in your home, in friend's circle or in neighborhood! Here it is a sewing kit mason jar gift! to make this gift you can simple fill an old jar with a scissor, needles and threads but here is one thing special, here lid of mason jar has been turned into a pincushion that really looks beautiful! Complete project details and tutorial here jarspot
DIY Mason Jar Aquarium Gifts: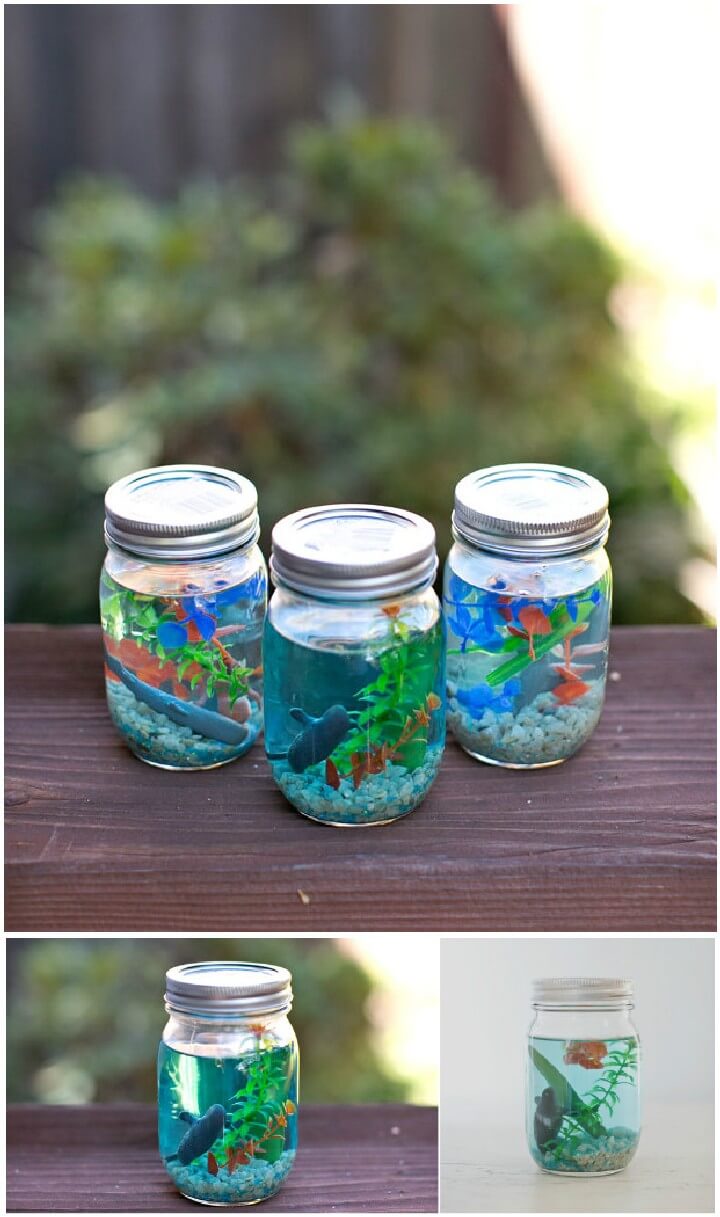 This super cute tiny aquarium, will please any onlooker but will be super pleasing gift for the receiver! Fill a mason jar with water and add some blue food for a blue sea water look! Finally you can add some aquarium rocks and aquarium plastic figurines and gift it someone special!Complete tutorial for this mason jar mini aquarium here hellowonderful
DIY Beautiful S'more Mason Jar Gift: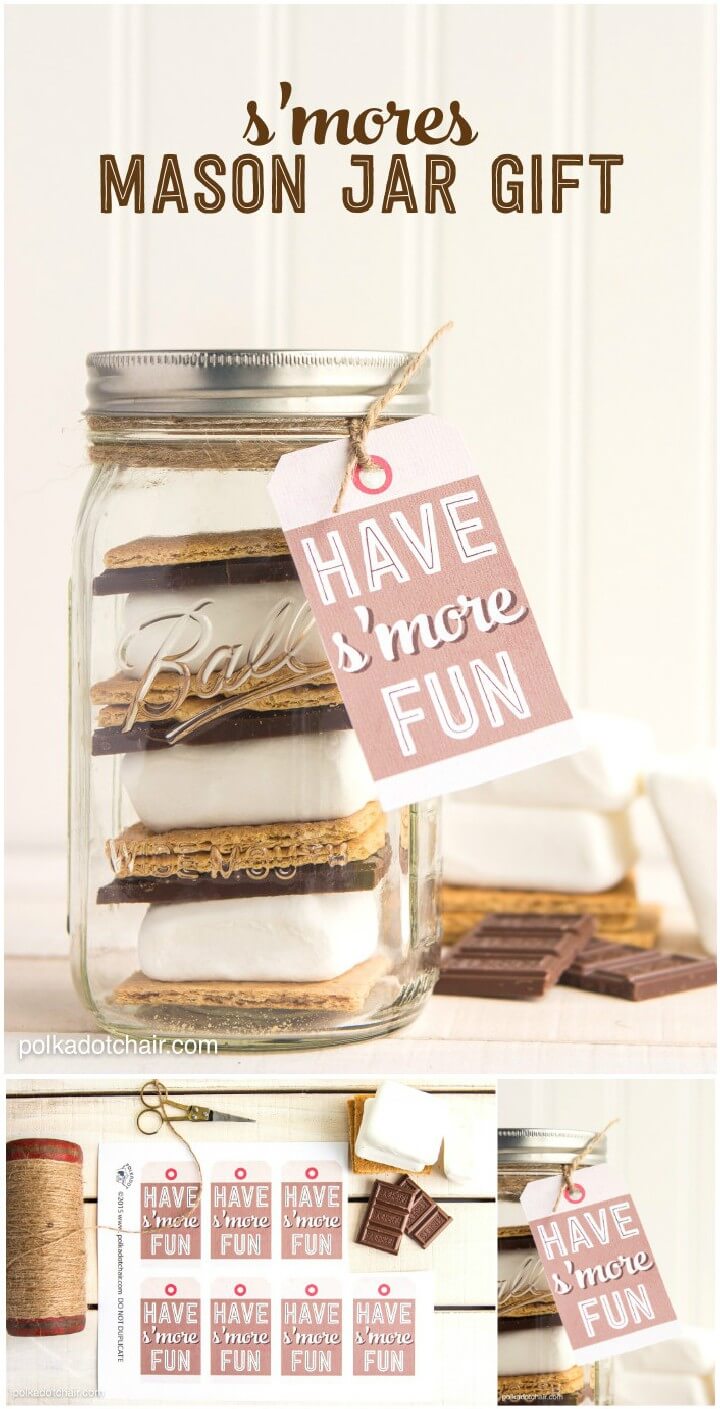 Here is another cool mason jar gift idea, a lovely mason jar treat gift! Just add some chocolate bars, square marshmallows and some graham cracker squares in a mason jar and turn it into a beautiful gift just checkout this s'more mason jar gift! A super cool and cheap gift idea! Further project details here iheartnaptime
Holiday Gumdrop Pops – DIY Mason Jar Kids Gift Idea: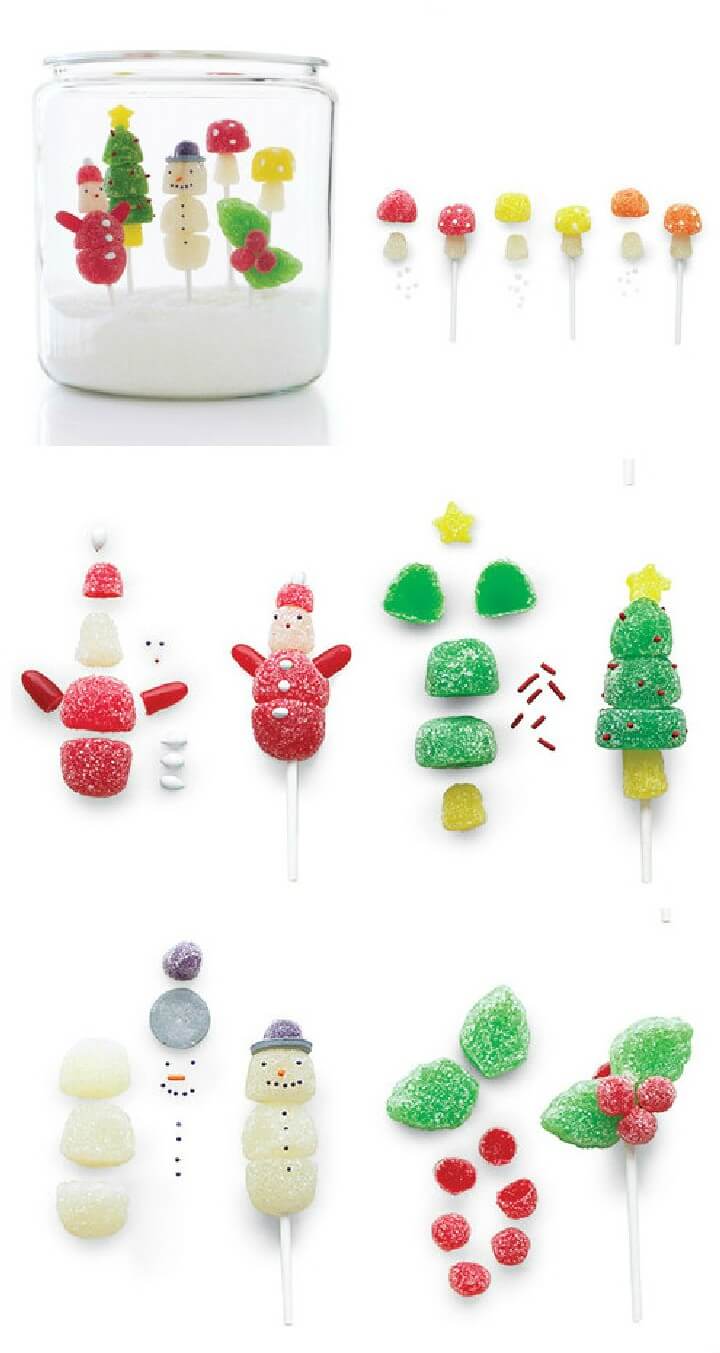 If you intention is to please a loving kid in your life then this mason jar gift would be a great choice!! Here all you need to do is to be creative with gumdrop pops that can be changed into different fun shapes and character which kids like very much! Complete project details and DIY tutorial here marthastewart
DIY Apple Mason Jar Gift with Free Printables: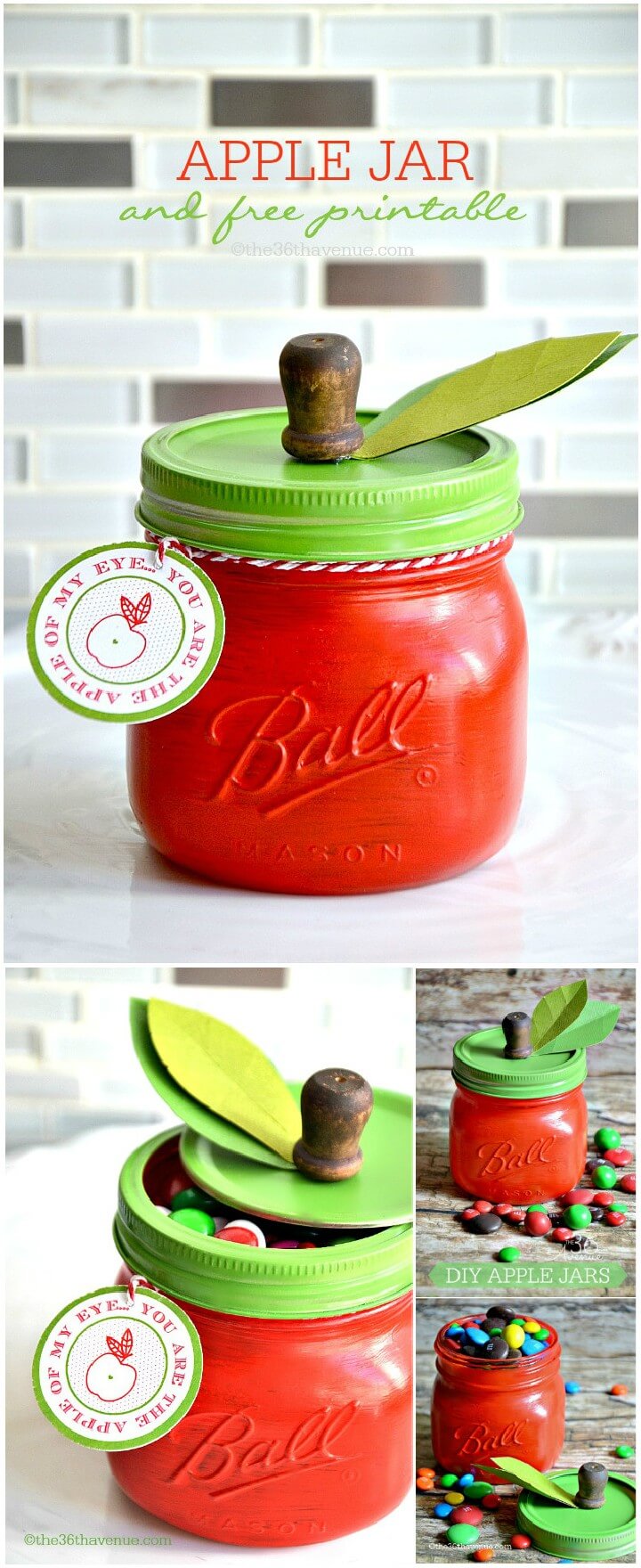 You can use the apple theme to make a cute and pretty gift for the kids like this one. A small mason jar has been turned into an apple with the red stain on the jar and green on the lid. The leaves are adding more apple features to the jar and further it has been filled with the colorful M&Ms. The cute Apple of My Eye printable tag adds more to the applish theme. complete tutorial details here the36thavenue
DIY Precious Valentine's Day Mason Jar Gifts: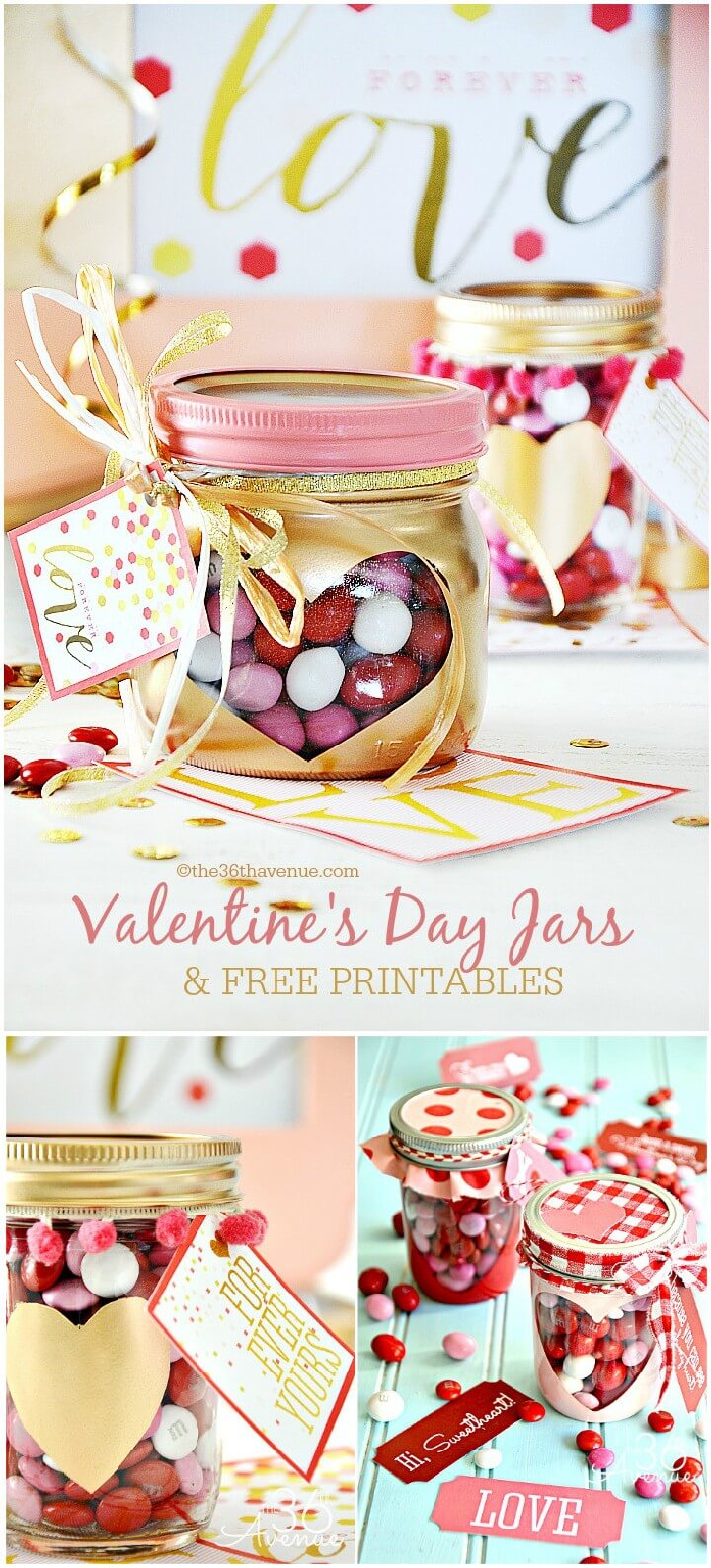 Valentine day is the most special day for the couples and they need some really cute and romantic kind of gifts to exchange and mason jar can do that so nicely. Here are the simple mason jar with painted hearts and the LOVE tags and the colorful ribbons adding more charm and beauty to the jar gifts. The filling are the sweet Valentine day candies. Full details here the36thavenue
DIY Mason Jar Girls Gift Idea with Free Printable:

The gifts are needed for so many occasions and events and with mason jars you can make as many as you want and that too with the least of the cost. Here is this super cute idea that is just fit for every body be it your friend, mom, dad or even the neighbor. Get this pretty green ball jar and fill with the goodies like make up, candies, movie tickets etc and with the cute printable tag and ribbons its decorated. Here is the complete idea details the36thavenue
DIY Painted Mason Jar Planter Gifts: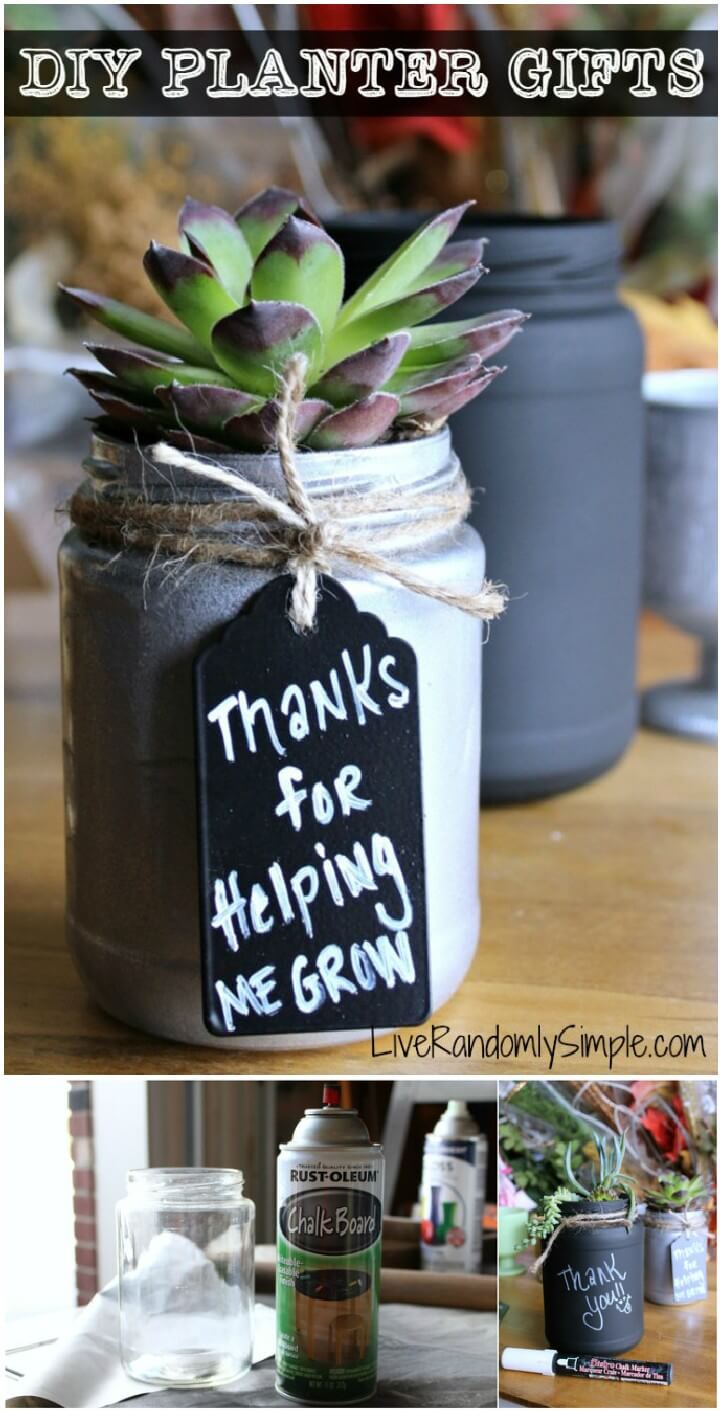 after the parents are the teachers are the most helpful person playing an integral role in our growth so they really deserve to be treated special and gifts are the best way to do that. You can take a mason jar, paint it with the black chalkboard paint and then write Thank you words on it with chalkboard marker and the lovely teacher's day gift is ready to please your teachers. Know the idea more here liverandomlysimple
DIY Mason Jar Terrarium Kit Gift: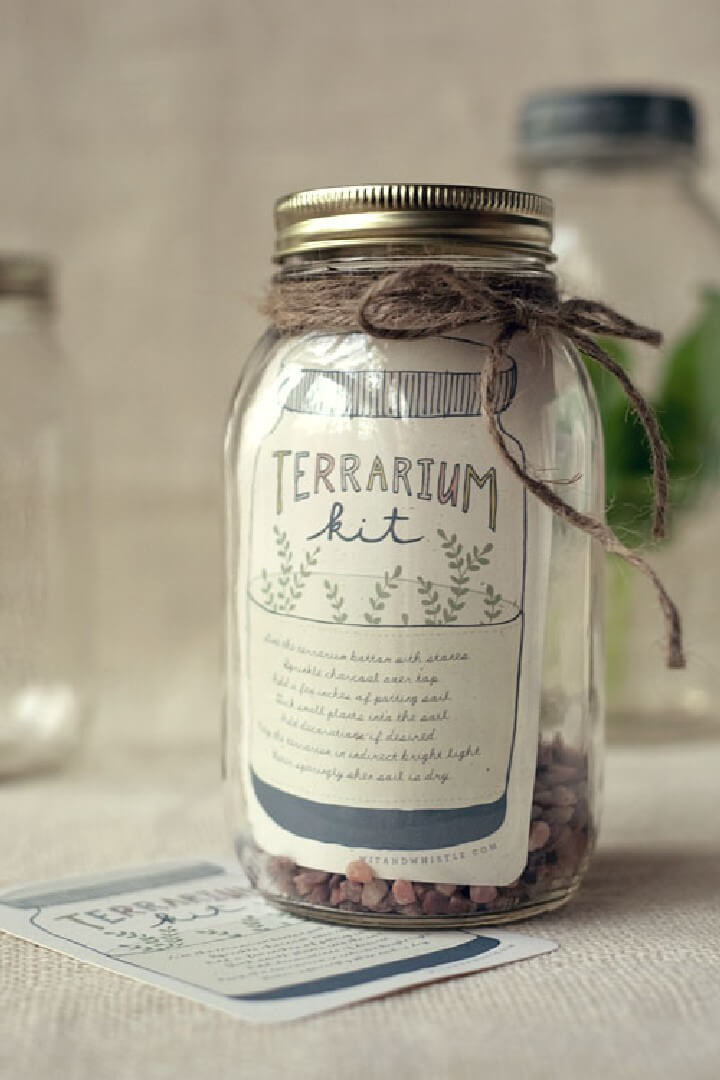 Everyone has some kind of decor love for the specific decor objects and most of us love terrariums. And if such person is in your friend list then you can make this terrarium kit in jar gift for him for holidays or any of the events. He/she can use the terrarium supplies and create a terrarium of hi/her own imagination and display it in the decor. You can get the complete details of this idea here witandwhistle
DIY Spray Painted Mason Jar Vases:

You can bring some fun and color to your decor with these spray painted mason jars and using them as the vases. take three jars of different sizes, paint the big one with the green and other tow in yellow and a shipping deer label o the green jar is adding more artistic vale to the jar vase. You can also use these vase jars as the perfect gift on any of the occasions. Full tutorial here pleasenotepaper
DIY Amazing Woodland Mason Jar Light Gifts: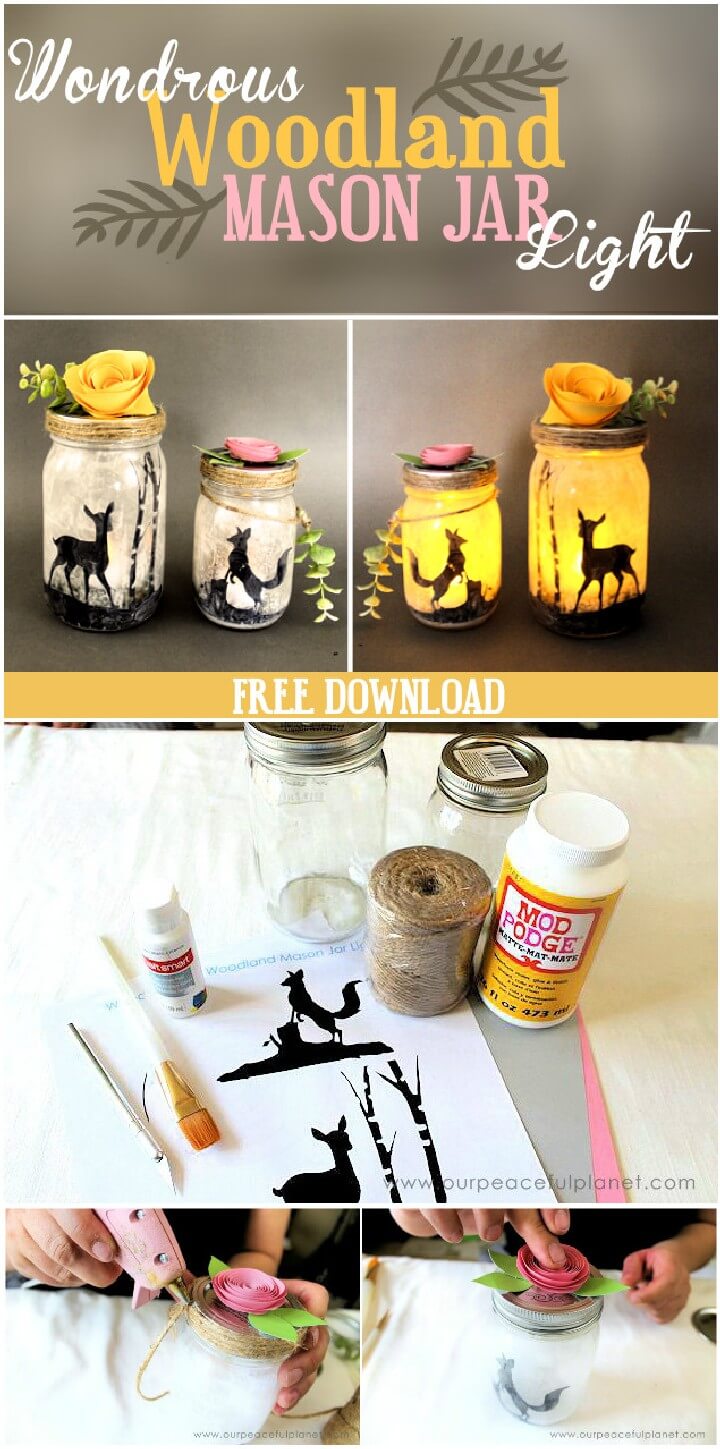 The mason jars are the perfectly shaped to get transformed into the cute and whimsy light or lanterns for the personal use or to give away as the gifts. here the cute printable silhouette images like the dog and the deer has been labeled on the jars which look just amazing when the candle is lit inside the jar. with a paper flower and some rope more gift values have been added to these mason jar lights so check out the full tutorial here to make them on your own ourpeacefulplanet
DIY Handcrafted Mason Jar Fairy House Gift:

The fairy houses are one of the cutest and the magical kind of decor pieces to create and bring in the home decor. You can also make and use as the perfect kind of gifts for the kids. Just paint the jar s in white with the cut outs of the doors and windows and with the colorful sharpie markers the fairy house has been brought alive so damn gorgeously. Catch the step by step details here easypeasyandfun
DIY Wonderful Mason Jar Pineapple Candy Gift:

The way you present your gift really matters in making a gift really fun and cute.So here is a simple gift with a twist of pineapple. Yes the jar has been simply stuffed with the candies but it has been painted in yellow and the lid has been provided with a succulent to make it look really like a pineapple. Here are the complete details showing the jar into pineapple transformation for a pretty teacher's day gift
DIY Lavendar Bath Slats Mason Jar Gifts:

To moms, girl friends and the teachers the beauty products make the best kind of gifts and they are also sure to win the heart too. With the Epsom salt, lavender buds and some lavender oil you can create a nice smelling bath salt for your beloved ladies and putting them in the jar and adding a ribbon bow you can add the perfect gift like look to it. Here is the link where you can get more details of this project thehappierhomemaker
DIY Easy Snow Globe Mason Jar Gift:

Here is another simple gift ideas with the least of the supplies and the least of the hassle. All you need a cute gift card of yor own choice, some glitter and an empty mason jar. The glitter would be glued to the jar the card would be put in the jar and the pretty gift is ready to give away. You can make it more exciting with some added goodies or treats in the jar. catch the complete details of the project here freebiefindingmom
DIY Reese's Peanut Butter Cup Cookies Mason Jar Gift: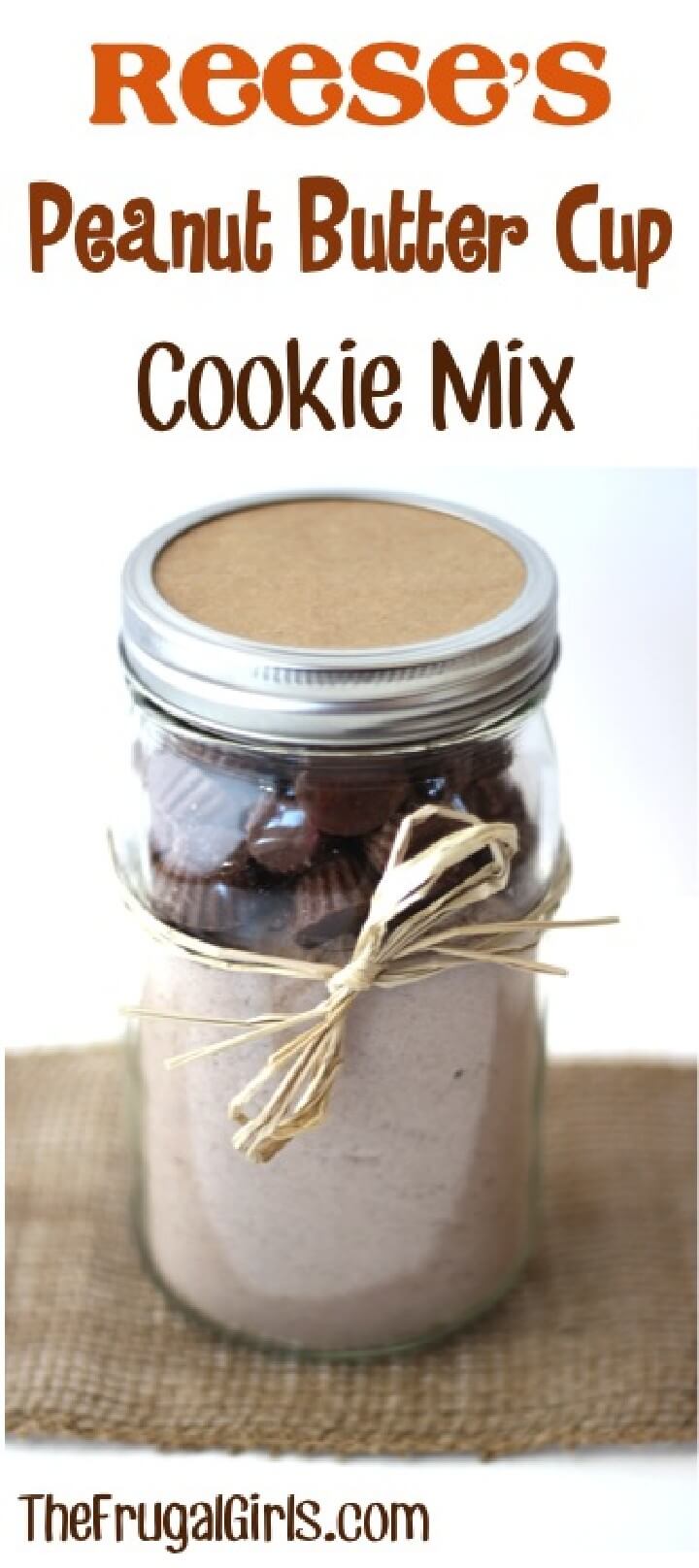 When you have the ingredients on hand you can enjoy your favorite dish or food any time. So for a cookie lover you can create this lovely butter cup cookie mix in a mason jar and use as the perfect holiday gift. It has been simply decorated with a a single ribbon thus the most easy and the most cheap kind of gift is here to get your hands on and still make the receiver so happy and excited. Full details here to grab thefrugalgirls
DIY Easy Candy Mason Jar Gifts: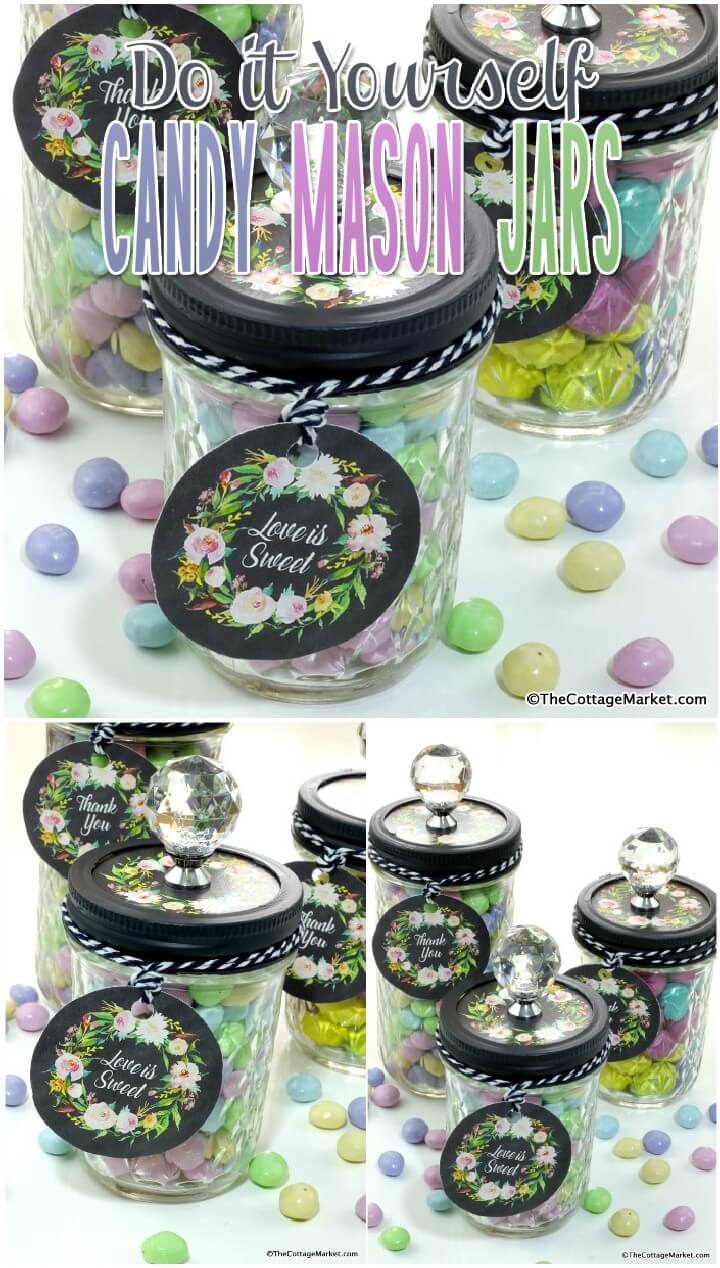 Either its a wedding, birthday party or any other party you need to make favors for the guests so that they leave your party with a big smile on their faces. The cute mason jar favors can be created at home with the gum balls of pretty colors, some cute printable tags and the lovely lids of the jars. You can make them look more fancy and personalized with some added changes or touches and for that you need to see the complete details of the idea here thecottagemarket
DIY Vacation Mason Jar Memories Gift:

If a gift event is coming and you are wondering a cute gift idea for nay of your family member then your recent beach trip can really help you a lot. With the collected beach sand, picture and a mason jar you can create this lovely beach memory jar gift that would always remind them of the fun you had there. The wavy paint on the bottom the jar adds more to the nautical vibes of the jar so do make it and for that know it all here masonjarcraftslove
DIY Beachy Mason Jar Terrarium Gifts: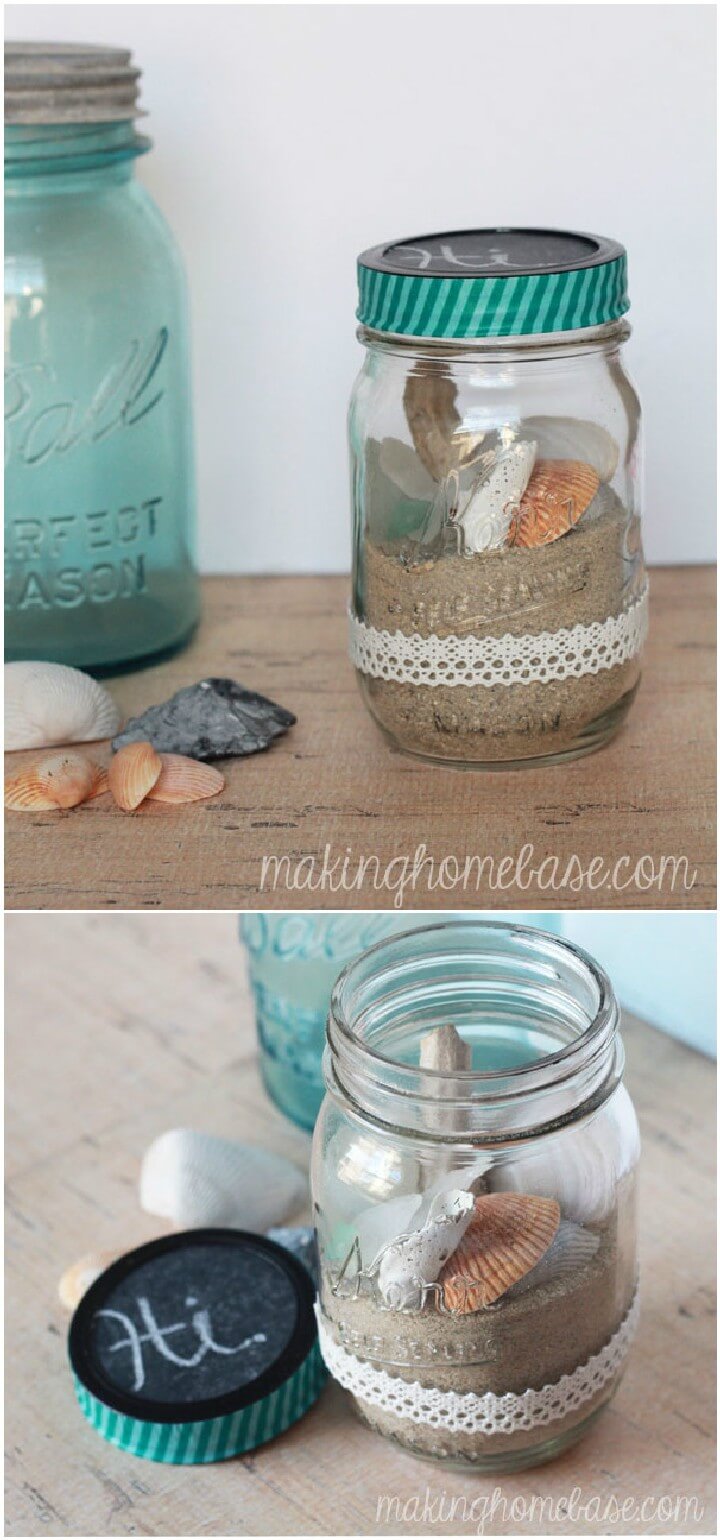 A beach visit is incomplete without collecting some sea shells and stars and bringing them back with you as the sweet trip memories. You can use these shells and stars along with some beach sand to create a lovely and cute terrarium for your you loved ones and present them as the pretty gift on any of the special events and occasions. Here is the complete tutorial to catch more details of this fun project mom4real
DIY Mason Jar Orange Sprinkled Dreamsicle Cupcakes: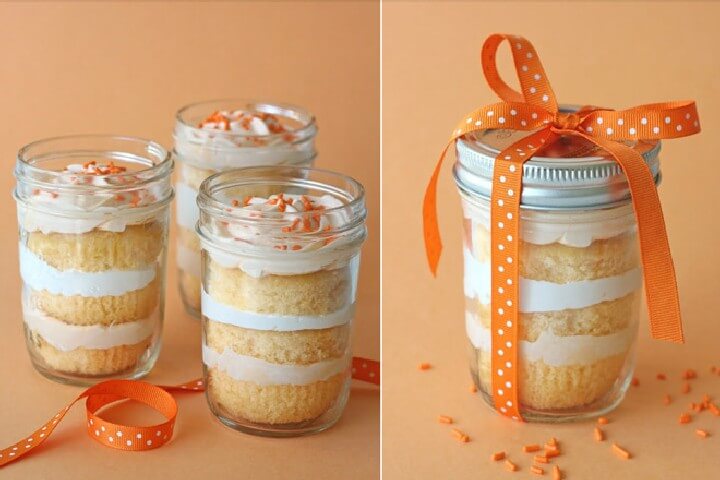 What can be more happy and delightful than getting a tasty cupcake out of a mason jar as the yummy gift from your beloved ones and make your day with. So if you can make some tasty cup cakes this gift idea is for you. you can make a cupcake with vanilla-orange sprinkle icing to enrich the taste and a pretty orange ribbon to decorate it and make it look kike a gift piece. catch the complete details of this mouth watering gift idea here putitinajar
DIY Mason Jar Butterfly Terrarium Gifts:
Terrariums are the fun and cute way to bring some natural touches to the home decor and the modern home styling and they no doubt make the prettiest kind of gifts too. So you can create this absolutely whimsy butterfly terrarium with a styro ball, moss and the faux butterflies supported with wire on the moss ball and the perfectly exciting gift is ready to give away. Here is the link to grab the directions houseofjadeinteriorsblog
DIY Mason Jar Pancake Mix Gift: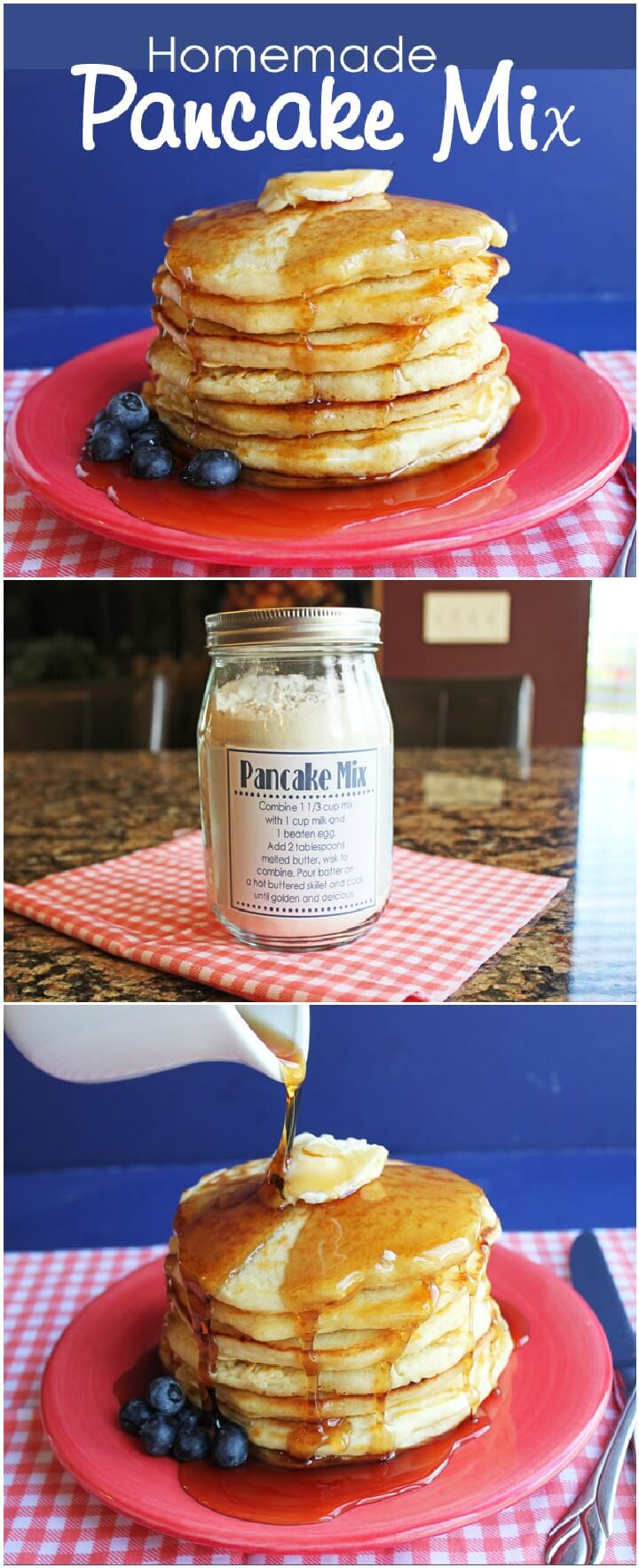 Pancakes are the yummiest things one can never deny to eat so you can make a really tasty and fun gift out o the pancake ingredients. You can create a mix of the pancake and then fill it in the mason jar with a printable of the recipe and the perfect holiday gift is ready for your friends. Teacher and even the neighbors. Here is the link to catch he step by step instructions of this simple gift making jamiecooksitup
DIY Mason Jar Hot Fudge Sauce Gift:

A yummy sauce can really enhance the taste of any thing you eat and it goes for the desserts too. So you can make a fudge sauce and use it on your creamy fudges and ice creams and enjoy the most delicious dessert time ever on your dinners. You can make this amazing fudge sauce in less than half an hour and also use it as the perfect favor or hostess gift by filling in the mason jars. here is the link where you can grab the yummy recipe for this fudge sauce and try it browneyedbaker
DIY Cheap but Great Mason Jar Gift Ideas: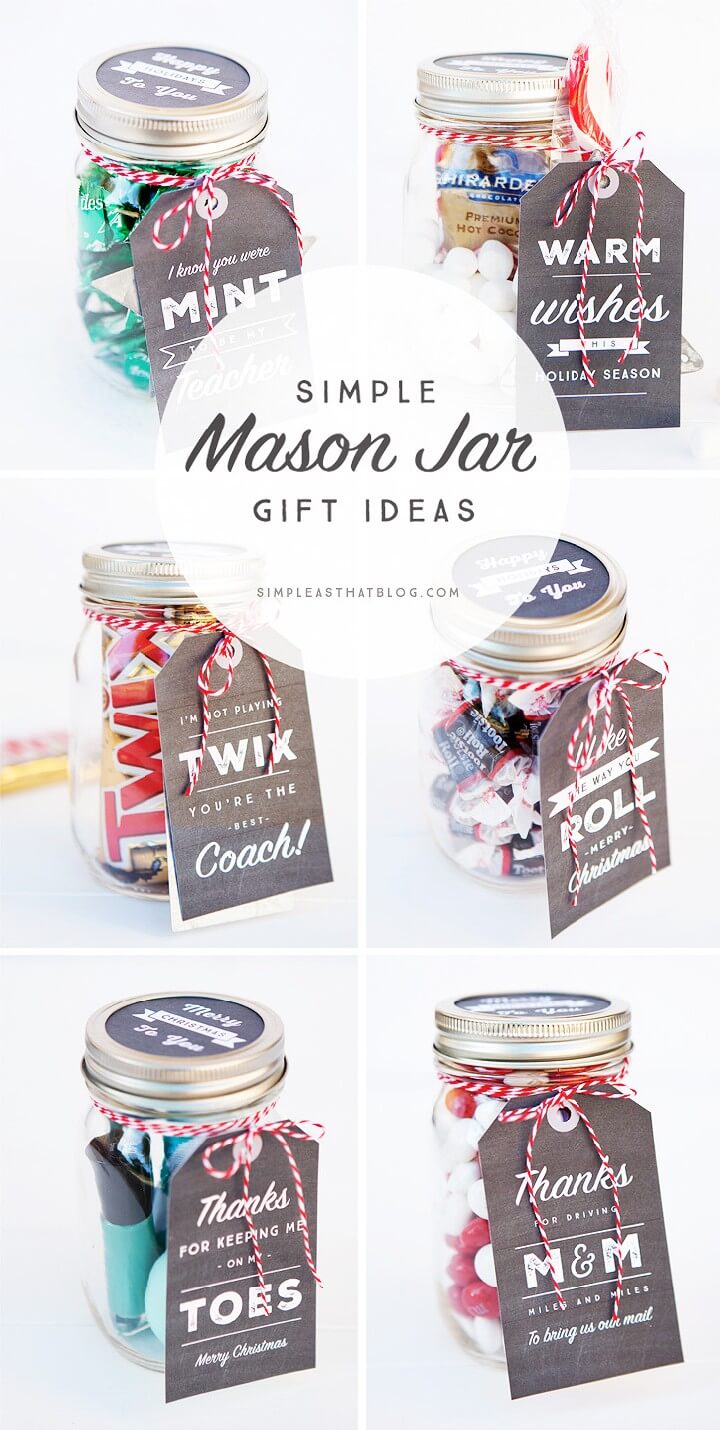 A gift is not a gift with some embellishing and gift decor so when yuo are making making a mason jar gift you really need to know some decor and styling tricks too so that your gifts look really presentable and delightful too. You can use some colorful twine and the cute printable tags to add the perfect gift value to the chocolate or candy filled mason jar. Her is the link where you can find the free printable tags simpleasthatblog
DIY Mason Jar Twine Holders and Dispensers:

Moms really love to work with the twines and they have so many reels but it really wastes their time when they do not have a twine holders to hold their tine stocks on. o you can make a functional twine holder out of a mason jar and gift it to your mom n mother's day and make her save her time whenever she is working on her twine projects. Here is the link to know the complete procedure of the making of this twine holder acasarella
DIY Poured Mason Jar Candle Gifts: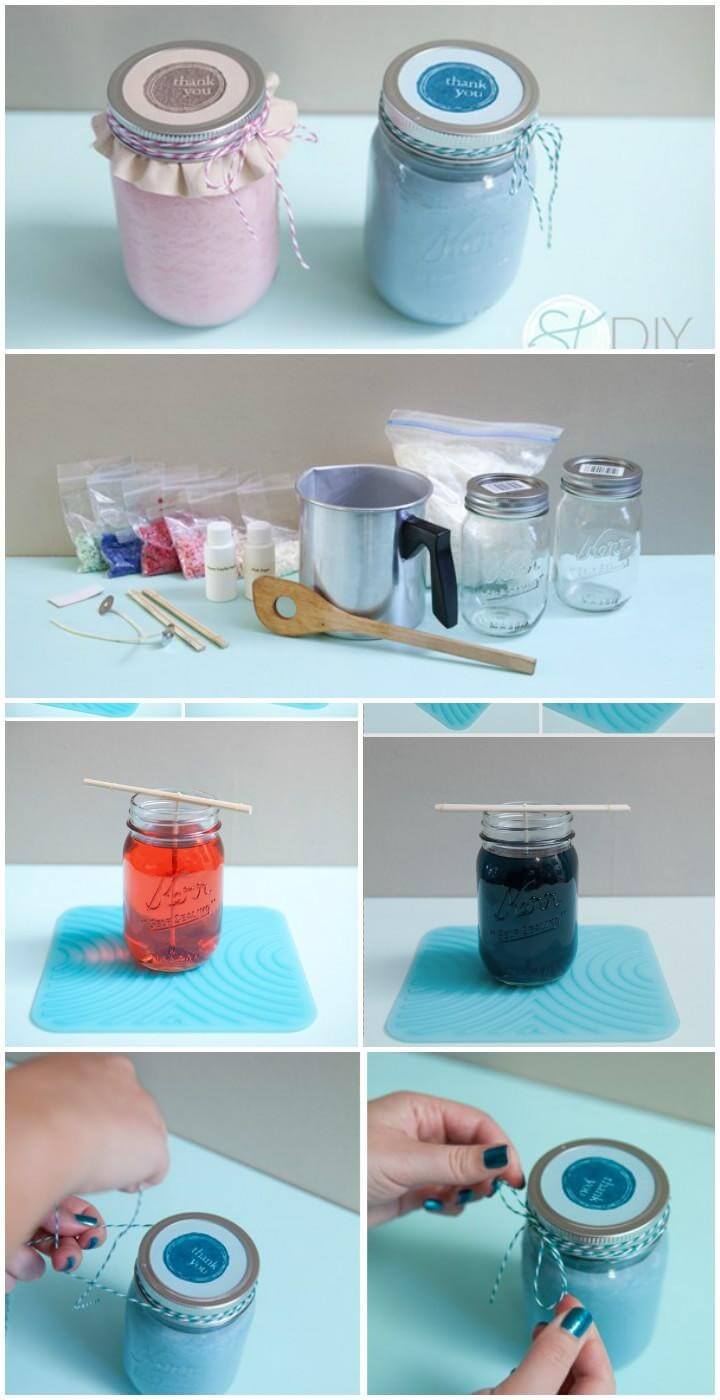 Candles can be made at home in any of the color and scent and with mason jar they can be instantly turned into the perfect kind of gifts for your dear and near ones on any of the formal or informal occasion. You would need an empty mason jar, wax, wick, colors, twin and cute printable to make this lovely candle gift idea for any of your friends, neighbors, teachers, fellow or ven the boss. Here is the complete procedure of the making of the colored and scented candles somethingturquoise
DIY Mason Jar Easy Salt and Pepper Shakers: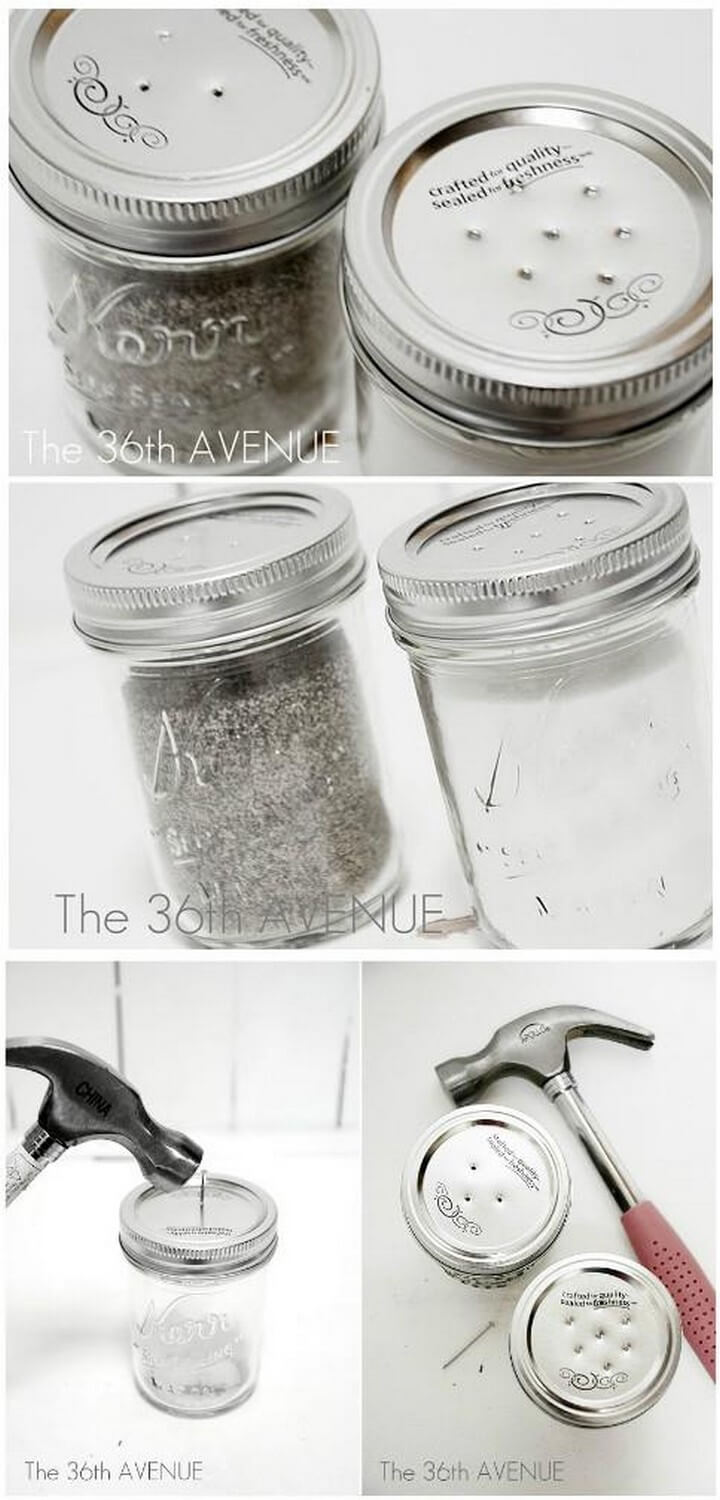 Th small and cute mason jars are also as functional and fun to use as the big ones so if you have those tiny ones in your house we have a cute idea to bring them in use. You can pierce some holes int he lids of the jars using hammer and nails and use them as the slat and pepper shakers. This pair of shakers would also make a lovely gift with some ribbons and printable tags. Here is the link we got this idea from the36thavenue
DIY Vintage Picture Mason Jar Gifts:

The pictures can be used in lots of ways to make some gifts for your dear and near ones so here is mason jar version. You can take any picture of the person you are going to gift in black and white and put it in the mason jar. Then add some vegetable oil in the jar and the yellowish shade of the picture would really bring some cool decor vibes being standing non your tables, mantles or the shelves. So this is a perfect idea for gifting so catch its details here augandeverythingafter
DIY Chalkboard Mason Jar Spices in a Drawer:

Make the cooking more fun and easy task with the organized and well stored style statements in the kitchen and for that you need the spics being perfectly placed. You can use the small mason jar with the lid painted with chalkboard and written the names of the spice they are going to contain ad thus making it really easy for you to organize the spices. This set of spice jars would really make a great gift for the aunts, moms, neighbors and teaches too raisinguprubies
DIY Mason Jar Natural Room Scents:

The home is the heaven on earth for every homey person and to bring more heavenly vibes and feels in your spaces you can make some lovely home scents and let their aroma spread all around the house with the amazing and refreshing smell. These natural smells would make a perfect gift too so here is an idea of natural scent made with the lemon, rosemary and vanilla so do check it out here thistlewoodfarms
DIY Mason Jar Cupcake Liner Storage: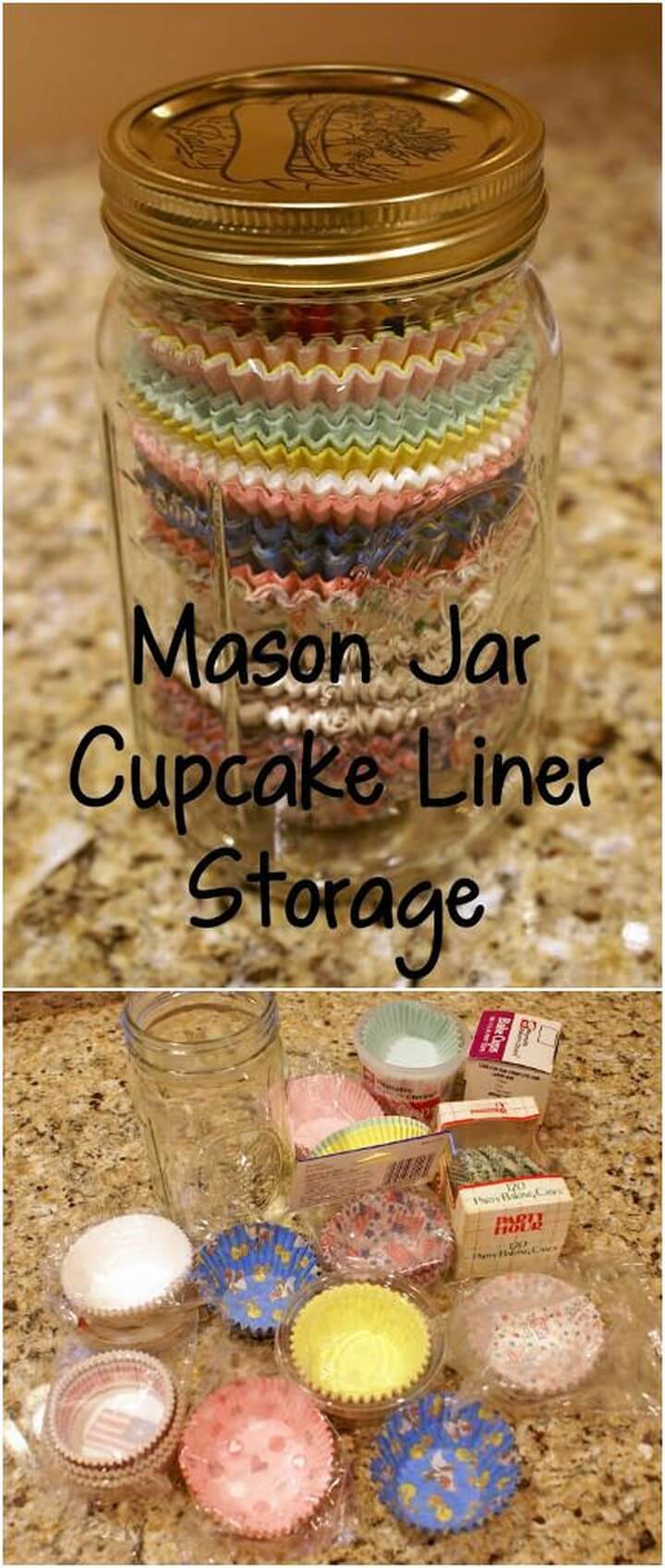 There is definitely one aunt or a family friend or even your mom who is just addicted to the baking of cup cakes for almost all the occasions and for such person you can make cup cake related gifts. For example the colorful and pretty cup cake liners can be packed in a mason jar and used as a perfect gift the cup cake bakers and they would just love it to the core. Here are the details of this cute and cheap gift idea texasjoy
DIY Knitted Mason Jar Knitting Needle Holders: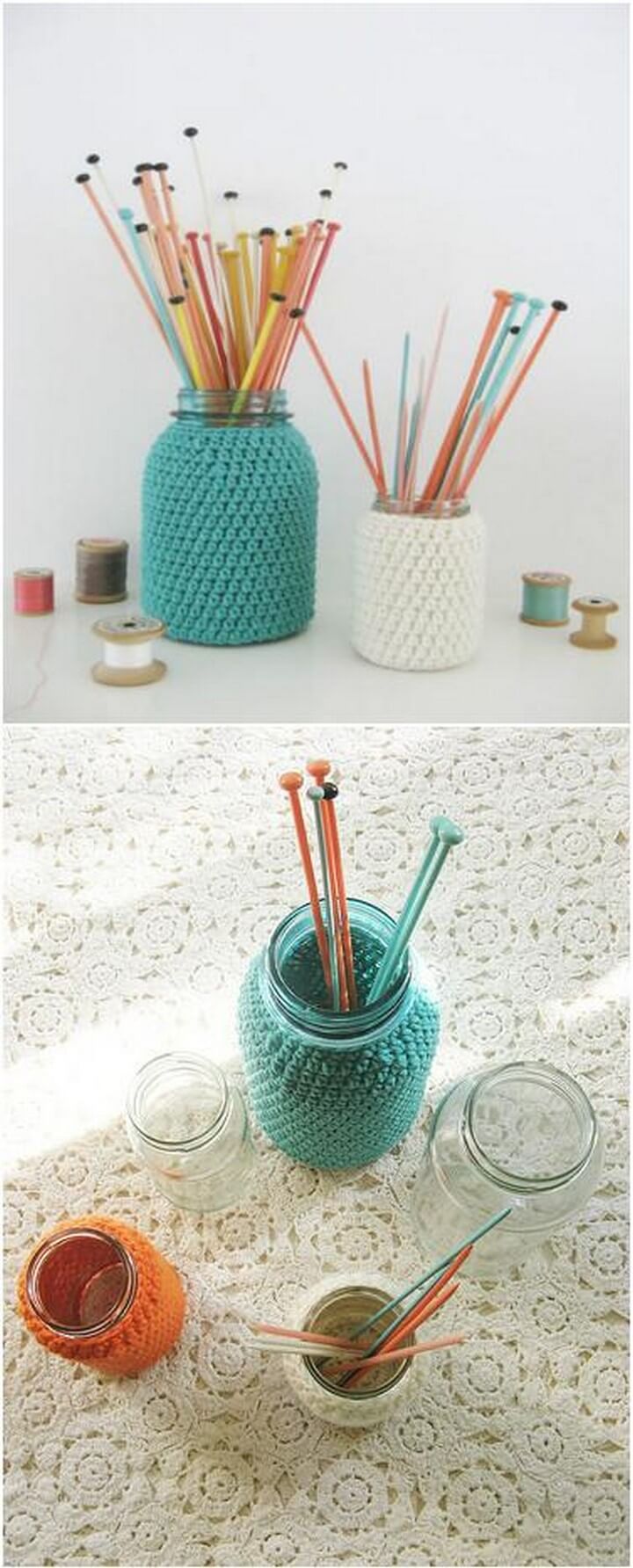 The crochet lovers can do a lot when it comes to gifting for the holidays or the fun occasions in the family. They can crochet the covers for the mason jars and put them on the jars and gift them to anyone among the family or friends and they can further use them as the decorative storage holders in their spaces. You can choose any color and any pattern to stitch these jar covers and make the the most heart warming gifts ever.Catch the details of this pretty gift idea here dottieangel
DIY Baked Dinner Rolls Mason Jar Gifts:

If you are good at baking yummy things then you can make the perfect and yummy gifts for anyone in or out of the family. You can use the cheap and easily found mason jar to bake the yummy whole wheat butter milk dinner rolls in the and thus use them as the perfect kind of gifts for the teachers, mailman and the neighbors too. Here is the link where you can grab the recipe of the rolls and try it easily at home simplebites
DIY Embellished Mason Jar Vase Gift: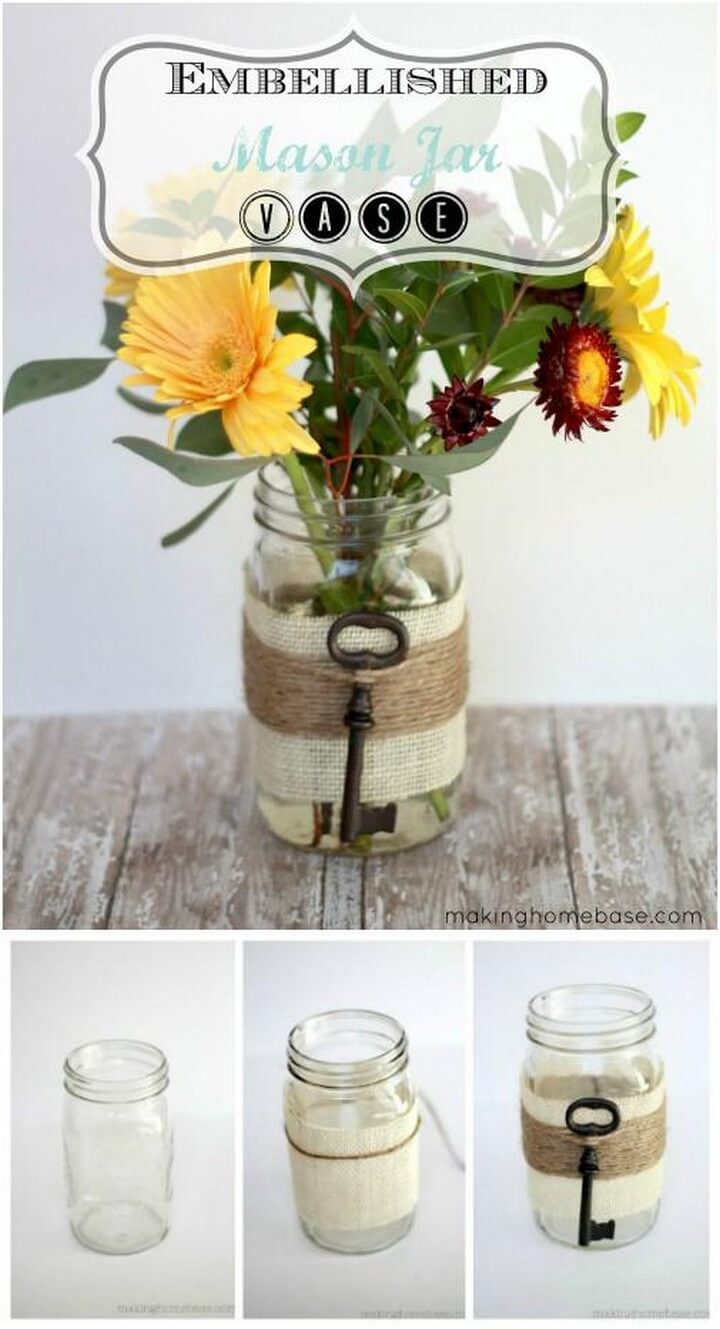 Spring is all about the colors and the lovely flowers and the home decor is just undone without them. so with the lovely spring flower bring some cool and cute looking vases or jars to so that the decor is really refreshed. For that you can use a mason jar wrapped up with some yarn and twine and an old vintage key has been tied along to make it look really fancy and fun to hold the pretty flowers and add gorgeous vibes int he home decor. You can really use this jar as a great gift idea too so check it out here completely makinghomebase
DIY Mason Jar Lamp with Spring Banner Lampshade: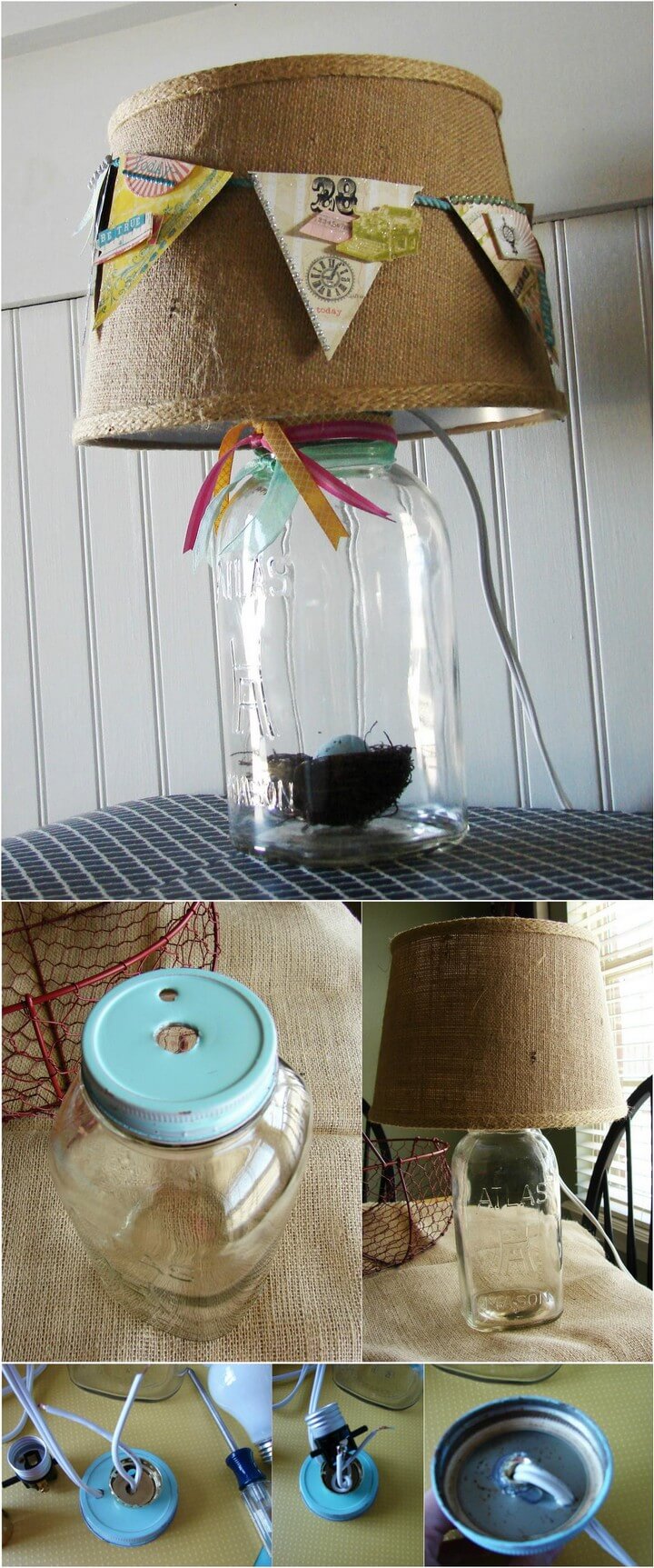 The mason jars can be used as the lamps too for being glass mad and totally transparent. And you can create a lovely lamp with the mason jar and the lamp shade being nicely decorated with the spring banners made at home and then use this lamp as a fun gift idea for your beloved friends of family members. You can easily make this cute and unique lamp at home when you find the directions to make it here redberrybarn
Easy DIY Chalkboard Mason Jars as ESCORT CARDS: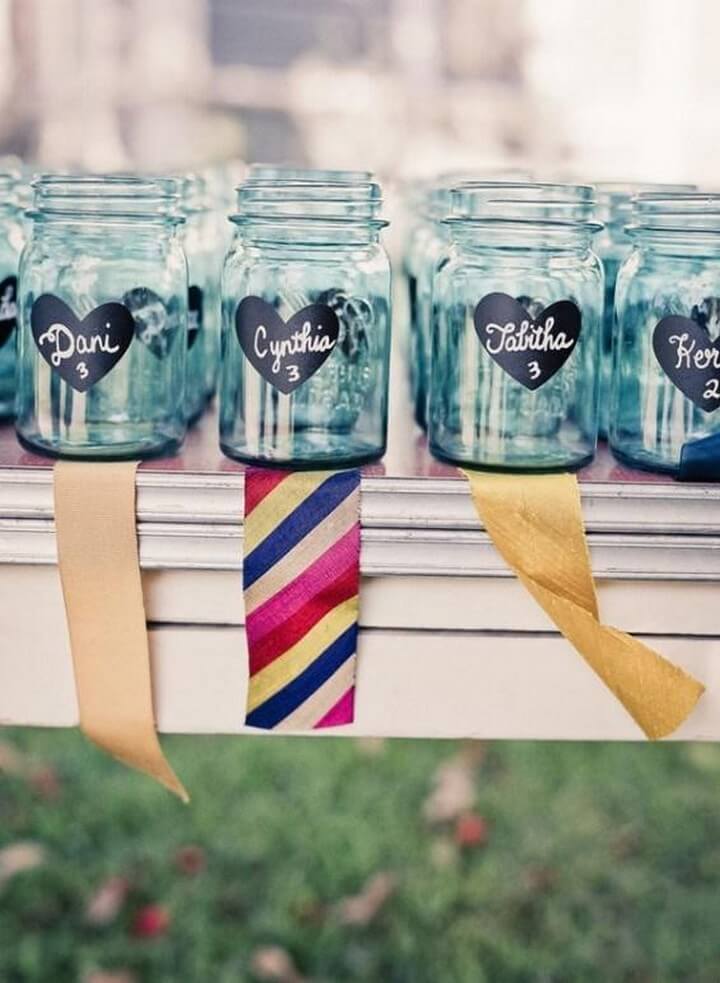 The mason jars can be used for so many decor projects for the wedding too so if you are a friend of the bride or groom you can make these chalkboard escort heart shaped cards with the names of the guests and their seat numbers. This would be a great gift and a great help for the guests to find their place in the wedding or any party. So if you want to try this idea you can check out the instructions to make it right here emmalinebride
DIY Easy Powdered Sugar Shaker: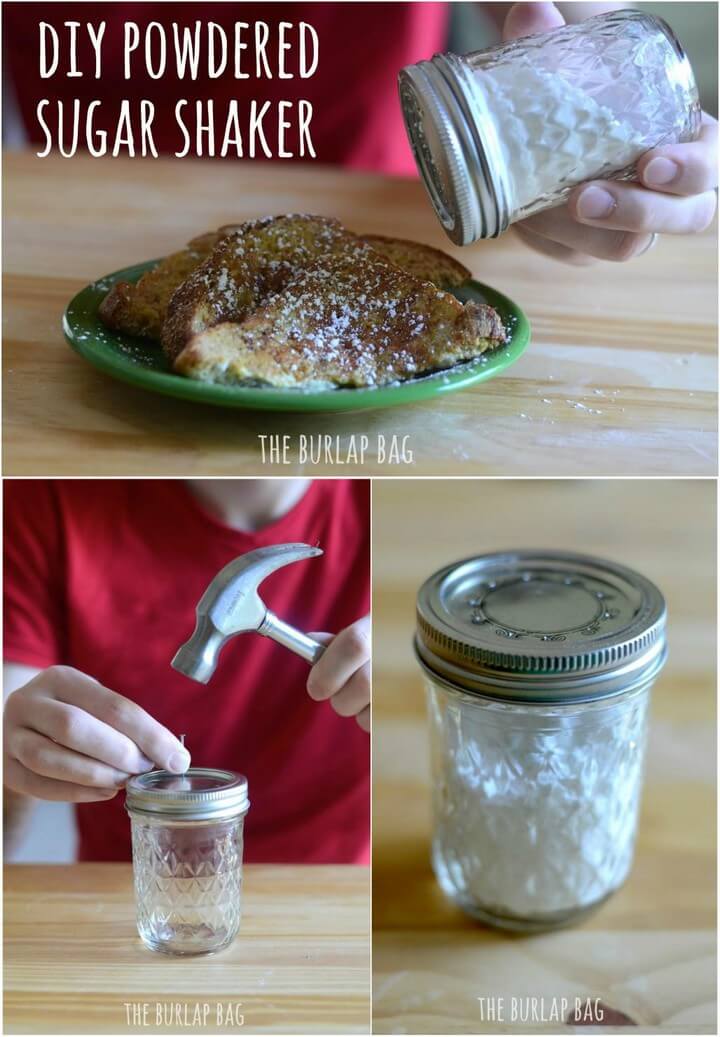 The little mason jars are also as functional to use for the DIY projects as the big ones like shown here. YOU can use those small mason jars as the shakers for any of the things like powered sugar, salt or pepper or make a complete shaker set. All you need to do is just make some holes in the lid of the jar with hammer and nails. You can also use this idea as a simple and cheap gift too so do check out its details here theburlapbag
DIY Homemade Mason Jar Travel Capsules:

Whenever we travel we bring some things back with us as the memories and these memories can b persevered in the mason jars in the form of travel capsules and thus you can refresh the travel memories at any time by just opening the jar. fill the jars with all your travel collectibles and add a handwritten tag to it with the name of the place you visited and the year and its ready. here are the complete details of this really cute idea lauren-likes
DIY Beautiful Mason Jar Branch Vase: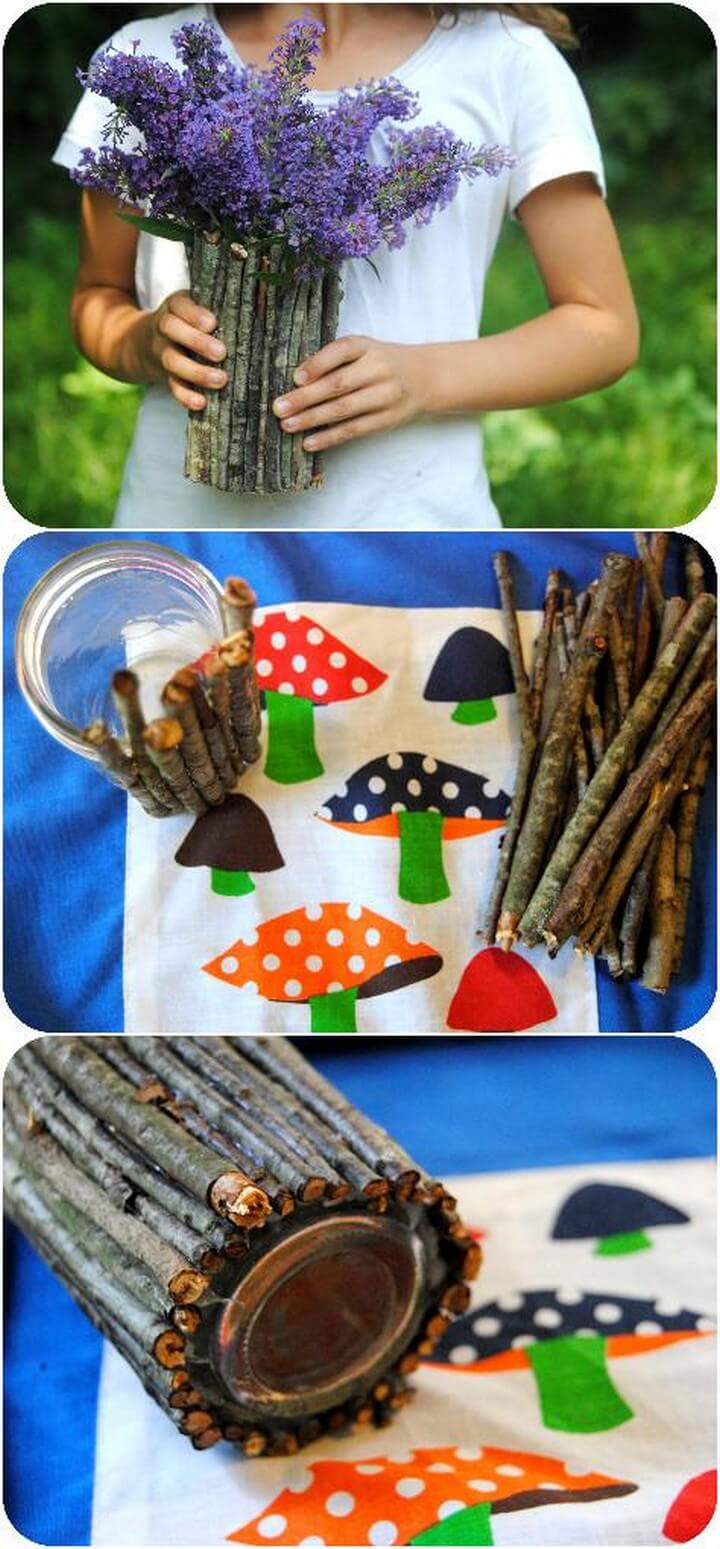 The mason jars are like the ready made vases and you can dress them up, paint them, restyle them in a lot of ways to look like more fancy and unique vases and here is another addition. You can use the equal size dried twigs and glue them all around the mason jar use it a rustic and nature inspired vase for your spaces and it would also make a great gift idea for your friends and family members on the celebrated events. You can catch the full details and directions of this idea here gardenmama
DIY Mason Jar and Glass Candlestick Drink Glasses: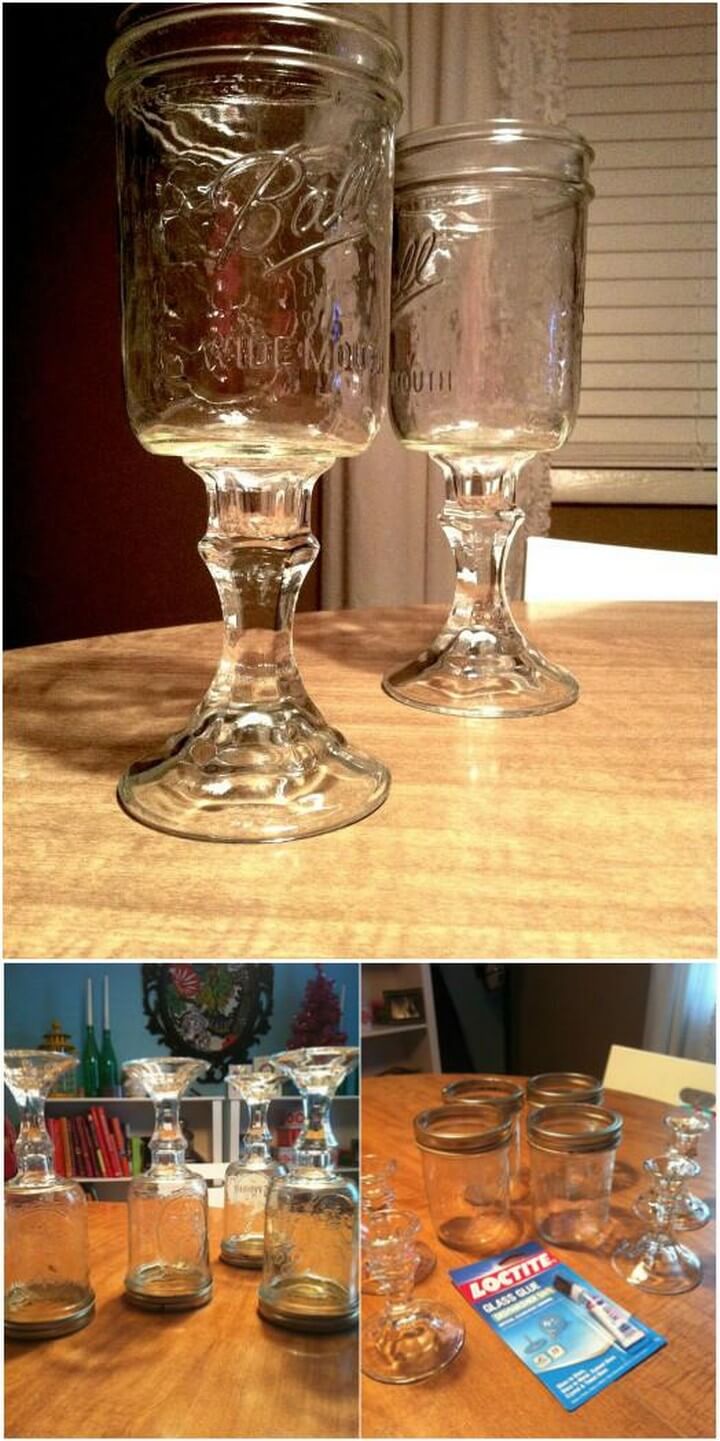 If you are looking for some cool and fun kind of party glasses to pour wine or any other drinks then you can make these ones. These pretty and totally awesome glasses are made up of two things only one is the mason jars and other are the glass candlesticks that you can find on the dollar store. Using the glass glue both the things have been brought together to create those lovely and fancy wine glasses. here are the complete idea details moderndaymoms
DIY Superb Stenciled Mason Jar Tumblers:

Change the mason into adorable kids gifts by bringing amazing cuteness to them! This can easily be done by using some stencils and paint! Gently paste the stencils on the mason jars and just dab the paint! Once you got your favorite stencil designs on your the Mason jars just fit some straws in their lids by drilling some holes, amazing kids mason jar tumblers would be ready to go in your kids hands! Complete tutorial and step-by-step details here mom4real
DIY Precious Mason Jar Snow Globe Gifts: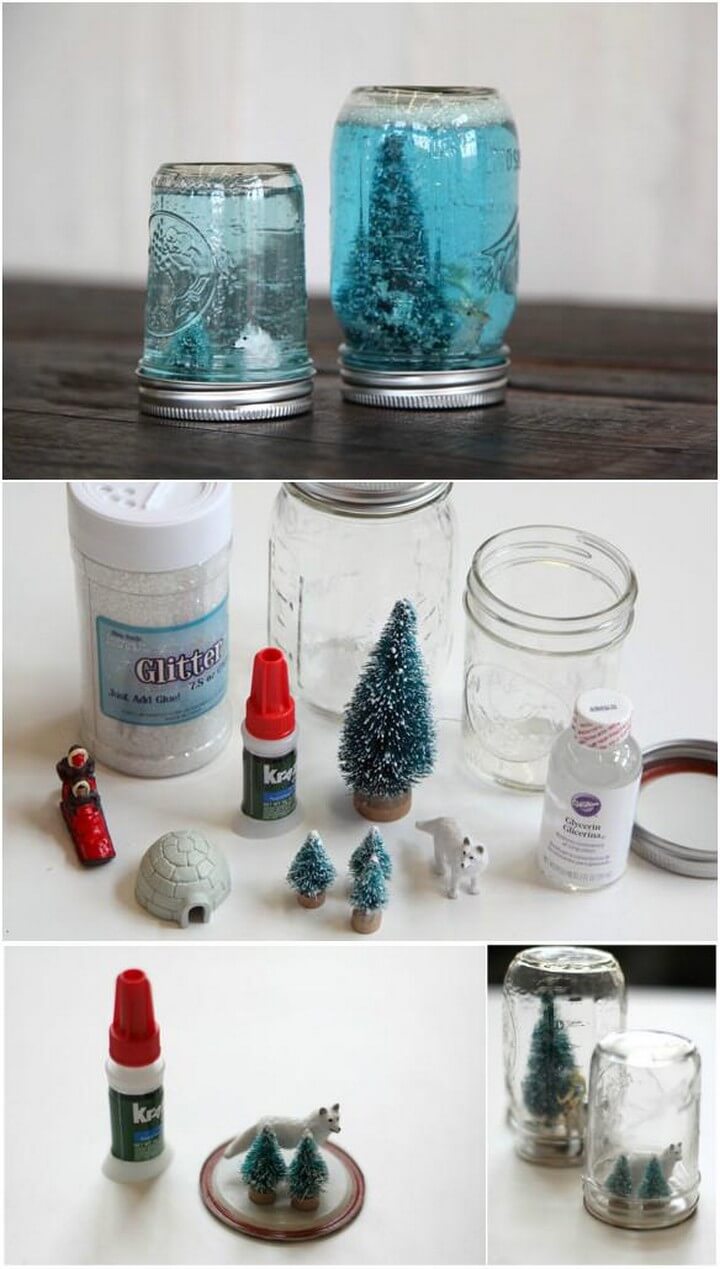 Here is another good way to craft beautiful gifts, eyepieces and home decor centerpieces out of old glass jars! Get inspired of these lovely snow globes! Two snow trees and a snow wolf toys has been fixed nicely on the mason jar lid that can then be tight back on mason jar for a beautiful gift! You need to look the mason jar a little bit foggy to give a snowy touch to mason jar interior and to inside trees! You can do so using glitter and glycerin! Don't forget to use other figurines! Complete project details and step-by-step tutorial here freepeople
DIY Glitter Dipped Mason Jar Vases: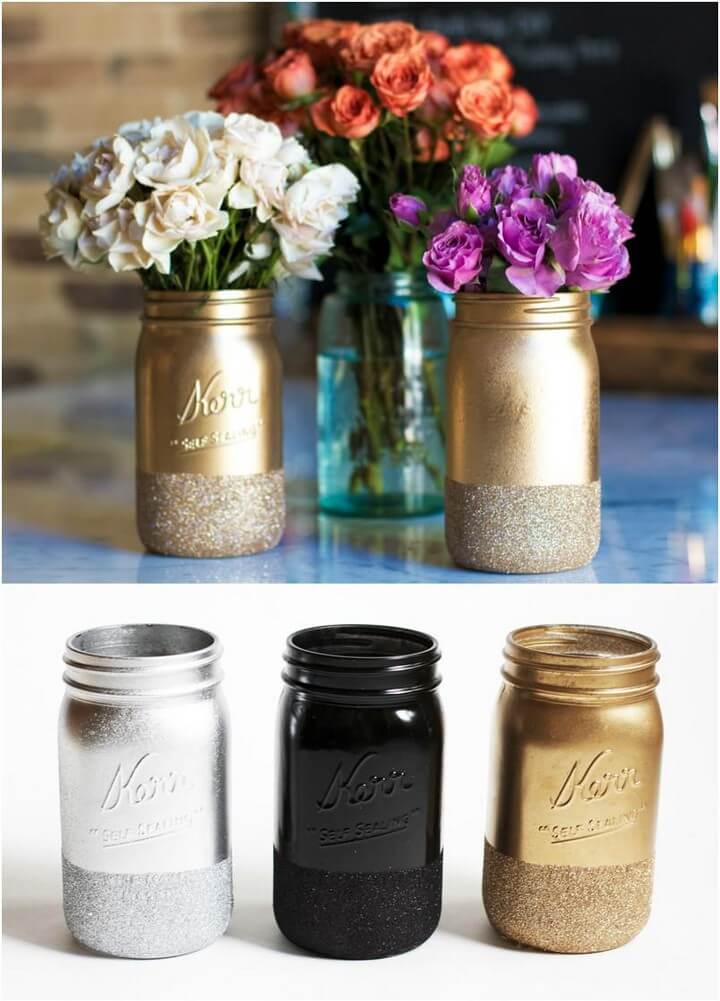 Here is how to turn the old glassy jar into eye-catching home decor centerpiece! Spray paint the glassy jars in your favorite metallic colors first! When the paint is dried, apply the mod podge to their bottom sides which can then be dipped in glitter for gaining a fancy look at shown! After you get the metallic painted jars with amazing glittery bottoms, just place some faux or real flowers in them for beautiful vases that would make amazing gifts too! Complete tutorial and step-by-step instructions here lilyshop
DIY 5 Minute Mason Jar Tiki Torches: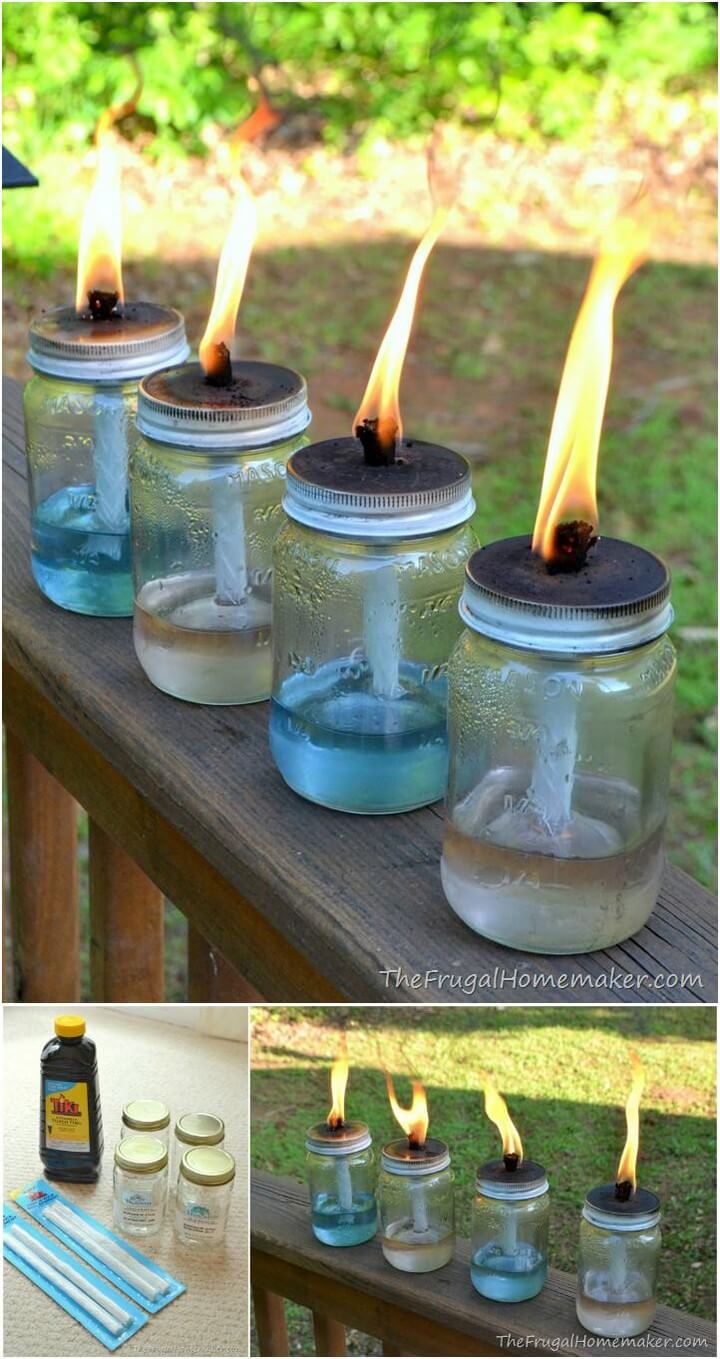 Get crafty with old mason jars to make enchanting tiki torches that would be super gift-worthy too! Perfect homemade light gifts and light decors to tryout for crafting lovers! The process is pretty simple, just drill holes in the mason jar lids to fit well the wicks in them and then fill the mason jar with oil in such a way that wicks should be dipped well in the oil to soak the oil for light! Complete step-by-step tutorial here thefrugalhomemaker
DIY Super Beautiful Mason Jar Chandelier Gift:

Skip replacing your old lights and chandelier, simply update them through smart DIYs and start using them as modern interior lights! Checkout this very precious nicely upgraded chandelier! The old chandelier frame has been painted and then new glassy covers has been give to bulbs using Mason jars! This is also a great gift idea if you are thinking to make a beautiful gift at home for someone special! take old chandeliers from thrift stores and just make them look fancy modern chandelier using some paint and old glassy containers from home! Complete project details and tutorial here martysmusings
DIY Colorful Balloon Dipped Mason Jars for Kids: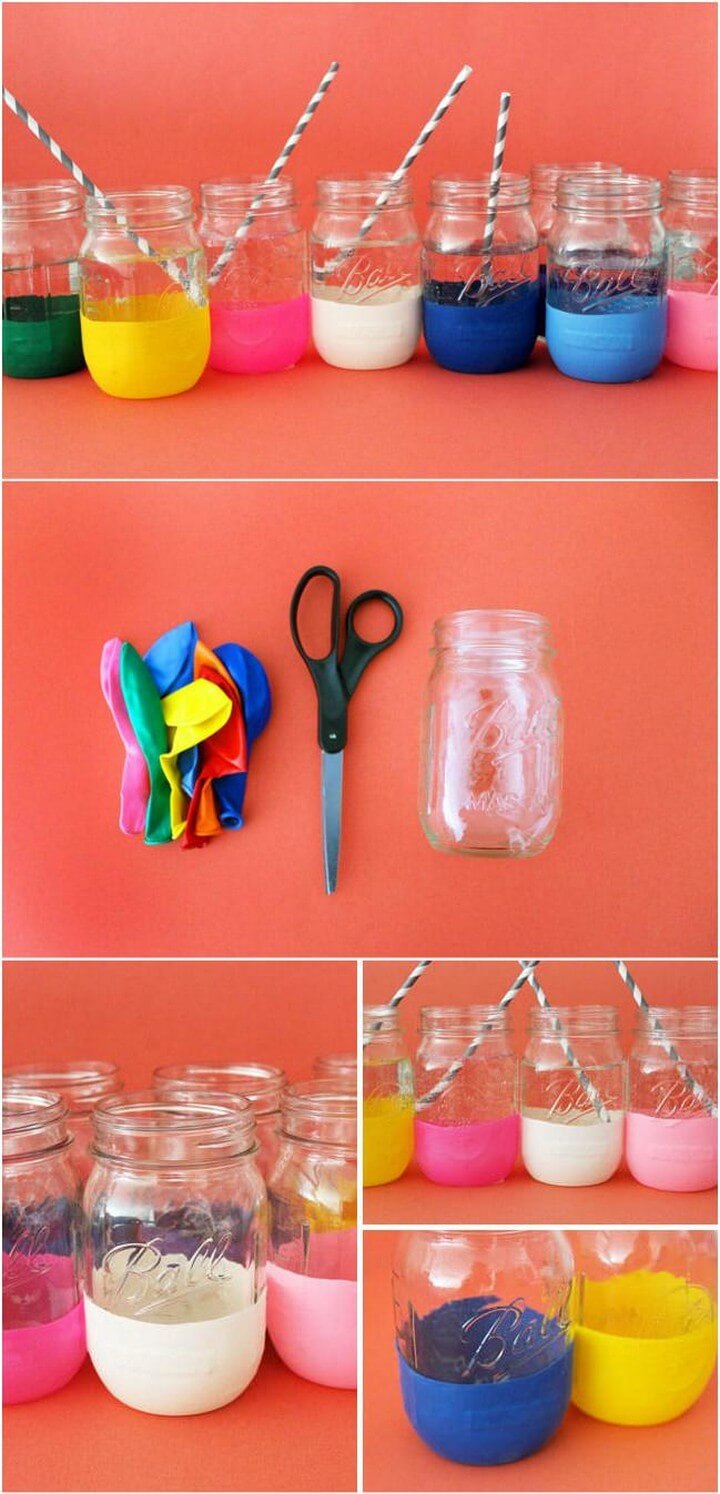 Want to add some beautiful colors to glassy jar just to make them kids special? Here is a great idea to do that without using paint which is always time consuming! Simply cover half of the jars with balloons so they will look like paint-dipped! Now you can pour favorite kids drinks and juices in them to serve to kids! Don't forget to put in the favorite kids straws! Complete project details and tutorial here brit.co
DIY Mini Mason Jar Hot Chocolate Gifts: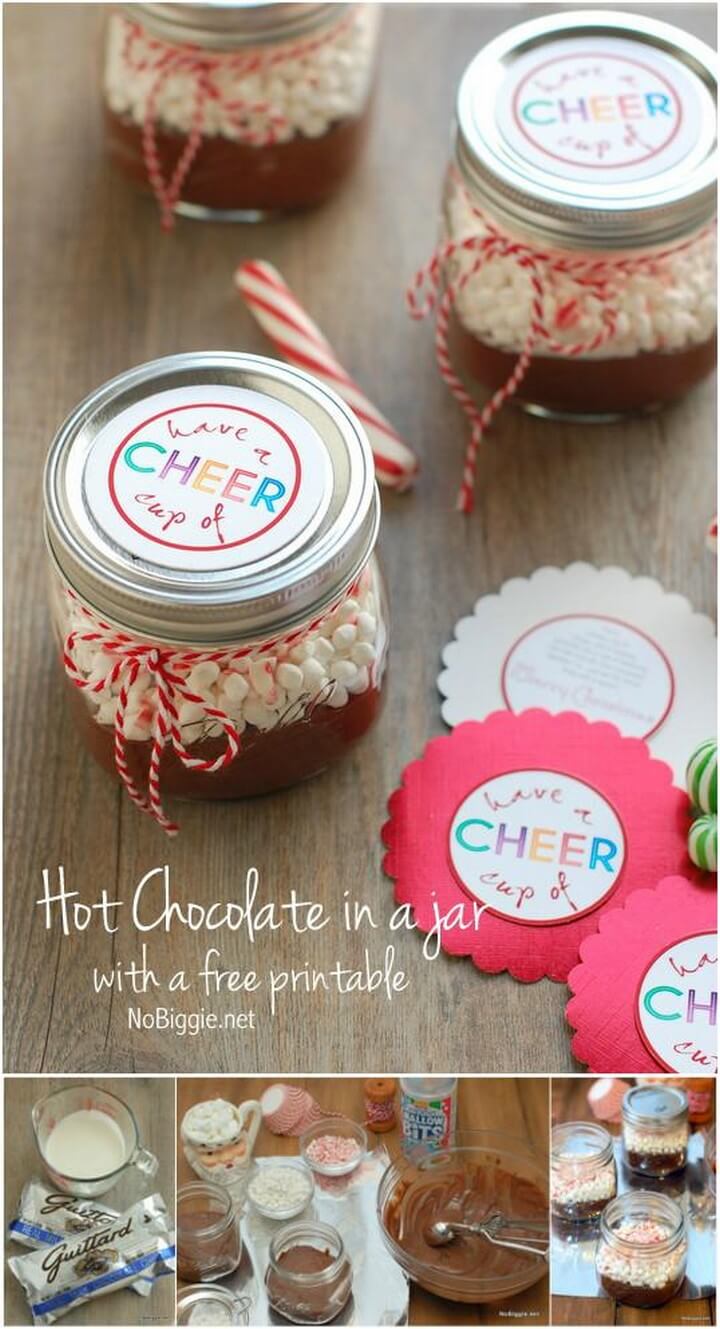 There may be many friends and people around you who just love very much the chocolate items! So why not plan and make some chocolate special gifts at home to please them all? Clone this hot chocolate in a jar gift that is timeless and super easy to make! Recycle old but well cleaned mason jars and fill them with hot chocolate and other delicious items! Complete step-by-step instructions here nobiggie
DIY Chocolate Chip Oatmeal Quick Bread Mason Jar Gift: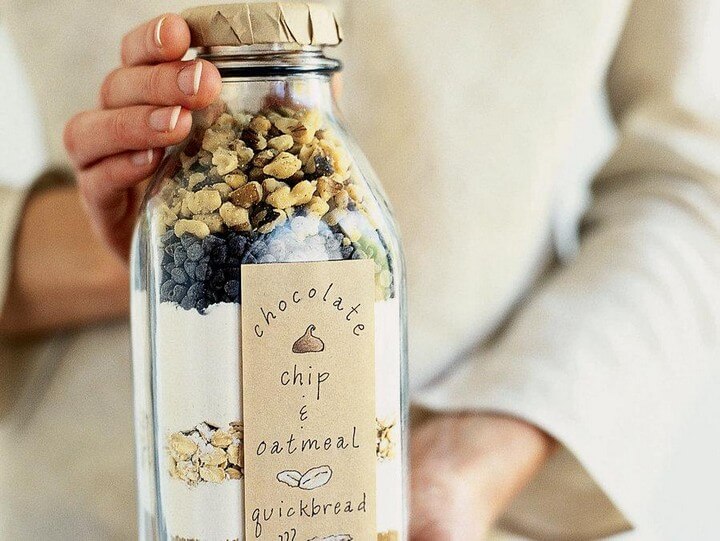 Here is another gift to make at home and to give to your food and cooking loving friends and family members, a great food mix in a jar gift! This is here an chocolate chip oatmeal quick bread mason jar gift that is pretty simple and easy peasy for everyone to make in couple of minutes! Complete project details here sunset
DIY Cinnamon Sugar Pecans Mason Jar Gift: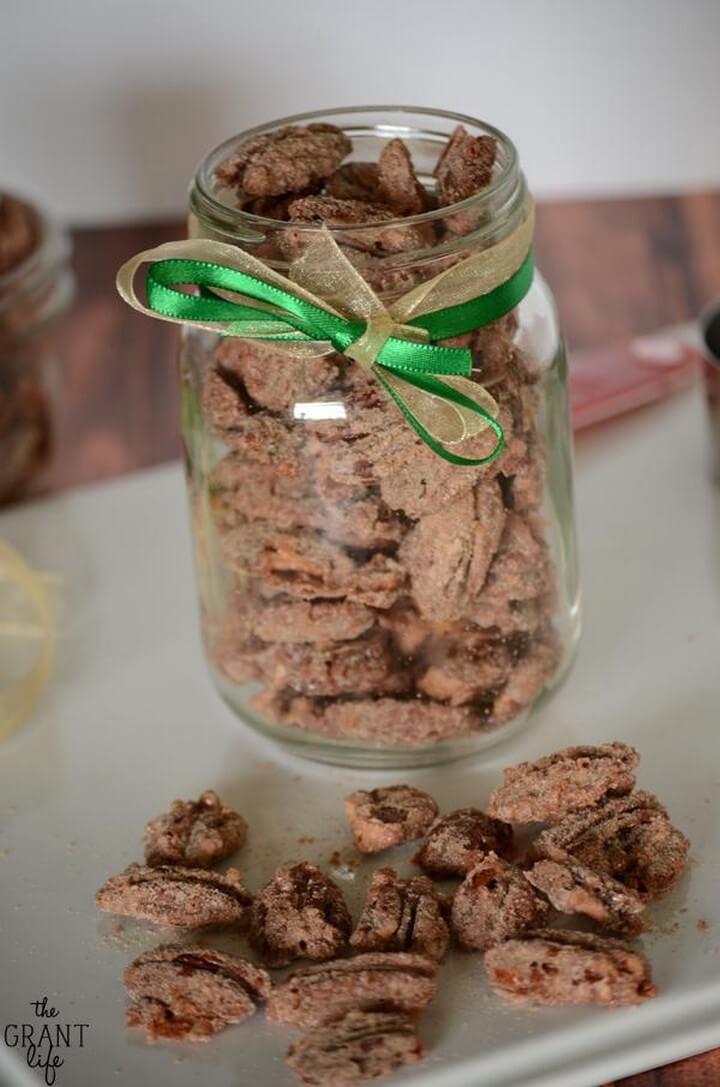 Fill the mason jar with some kind of delicious food items like cookies to make awesome treat gifts that everyone will like! Here is a sugar pecans jar gift that has been tied with green ribbon for a beautiful gift avatar! This would just be perfect to use as party gifts and also as a party treats! Complete project details here thegrantlife
DIY Great Holiday Pie Trifle Mason Jar Gifts:

Checkout this outstanding food gifts in mason jars, perfect for holidays and would also be great to use as party treats! These are beautiful pie trifle mason jars but you can experiment with your own beautiful pies and food mixes! Here in between the trifle pie layers there is a cool whip layer that will be another surprise for the receiver! Complete project details and step by step instructions here thenerdswife
DIY Mason Jar Friendship Soup Mix Gift:

You can also add different food mixes to mason jar to turn them into beautiful gifts for friends! Here a mason jar has been filled with a great soup mix that turns it into a beautiful friendship gift! Complete project details and guide here sweettmakesthree
DIY Cranberry White Chocolate Oatmeal Cookie Mason Jar Gift: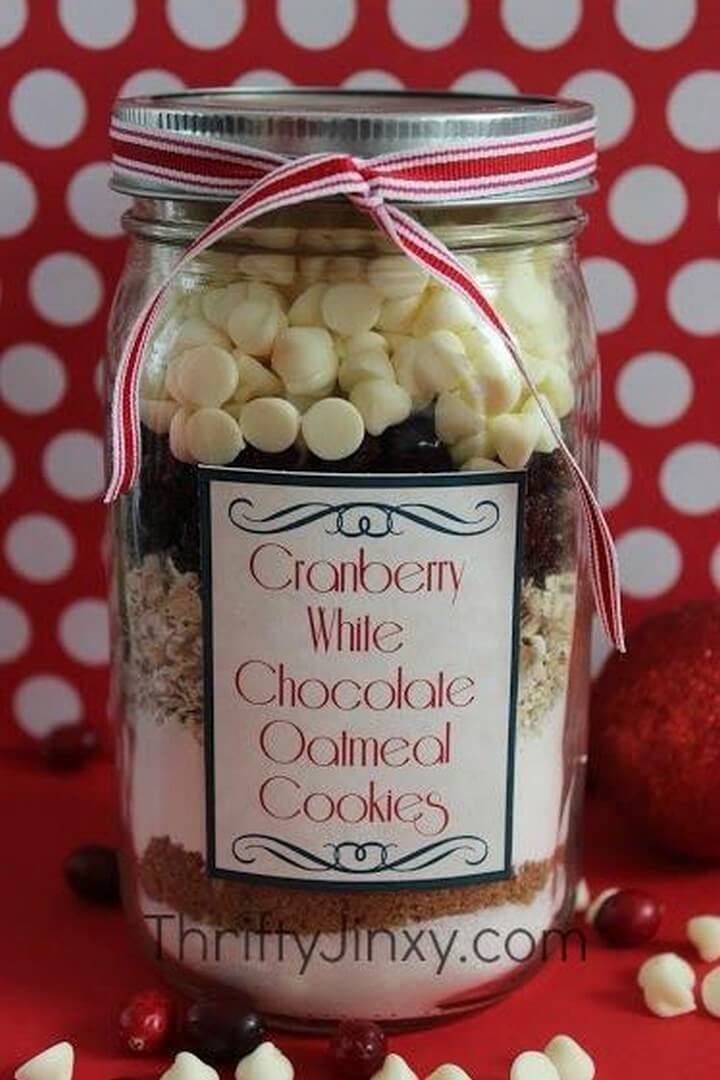 Busy in planning of some beautiful party gift treats? Here is the best idea that will not cost you big! Why not use the old glassy containers to create extra beautiful treat gifts at home? Get inspired of this cranberry white chocolate oatmeal cookies mason jar, turned into beautiful using red and light pink lined ribbon! It also comes with front name label that you can easily print out at home! Further project details and detailed guide here thriftyjinxy
DIY White Chocolate Pretzel in Mason Jar Gift: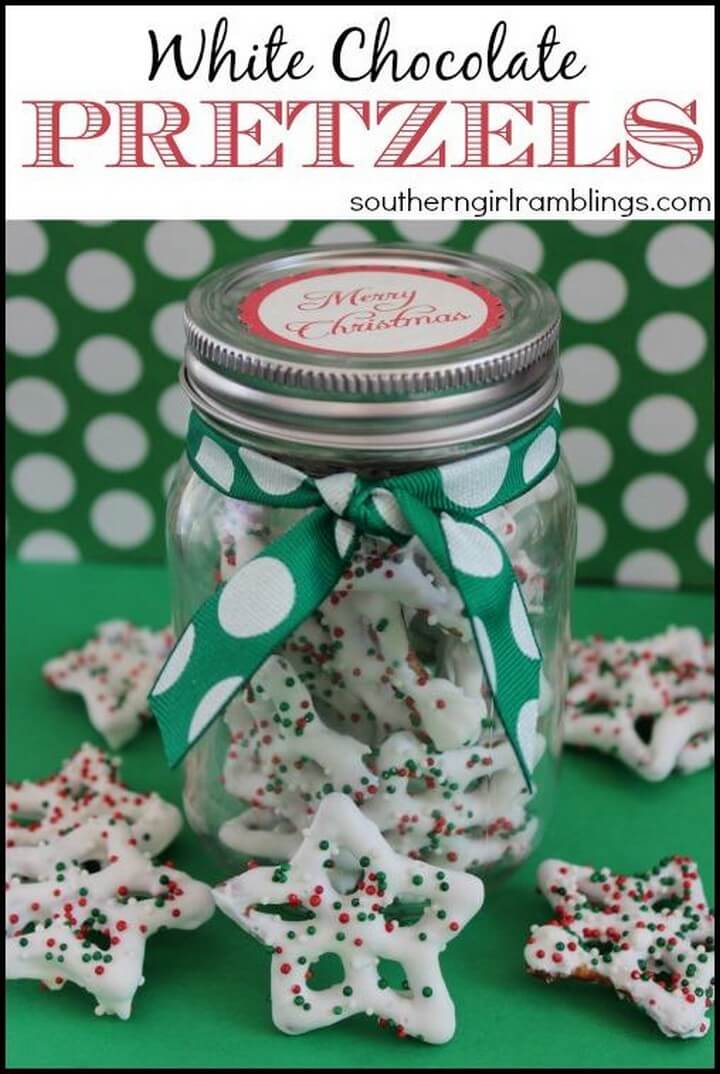 Perfect Mason jar treat gift for a bridal party, bachelor party and also for a birthday party! Just make the white chocolate pretzels and fill your stock of mason jar with them! Take a look at the given sample! Don't forget to adorn the mason jar at the end with a gift wrap! A super gift in a jar idea! Further project details here southerngirlramblings
DIY Paperwhites Mason Jar Planter Gifts: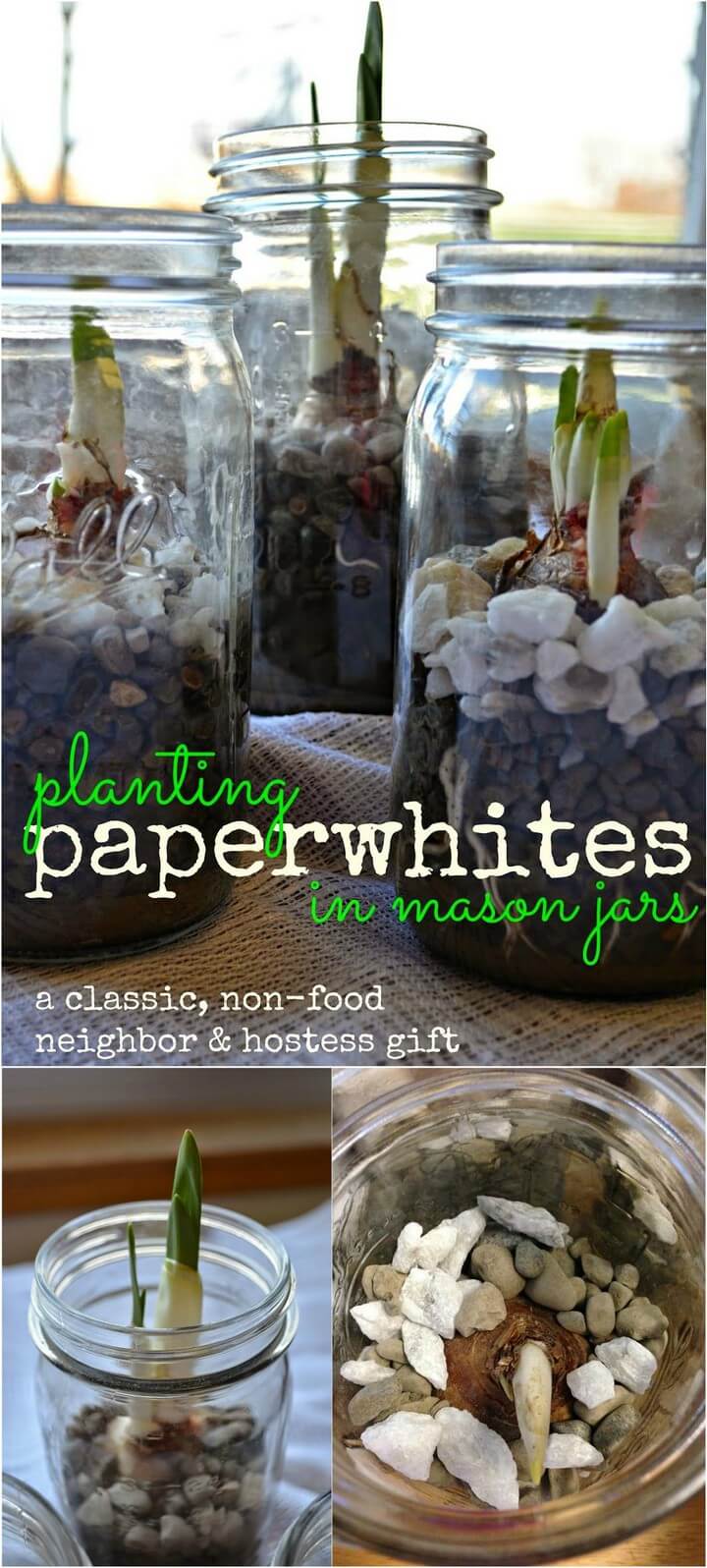 Time to do amazing DIYs with old glassy containers for some mind-blowing gifts out of them! Plant succulents and flowers in your glassy jars and them a decorative fill using pebbles and rockstones! After doing so, you will be having some beautiful planted mason jar gift in your hands just like this beautiful paperwhites planted mason jar gifts! Complete project details and step-by-step guide here hiitsjilly
DIY Snowman Mason jar Gift: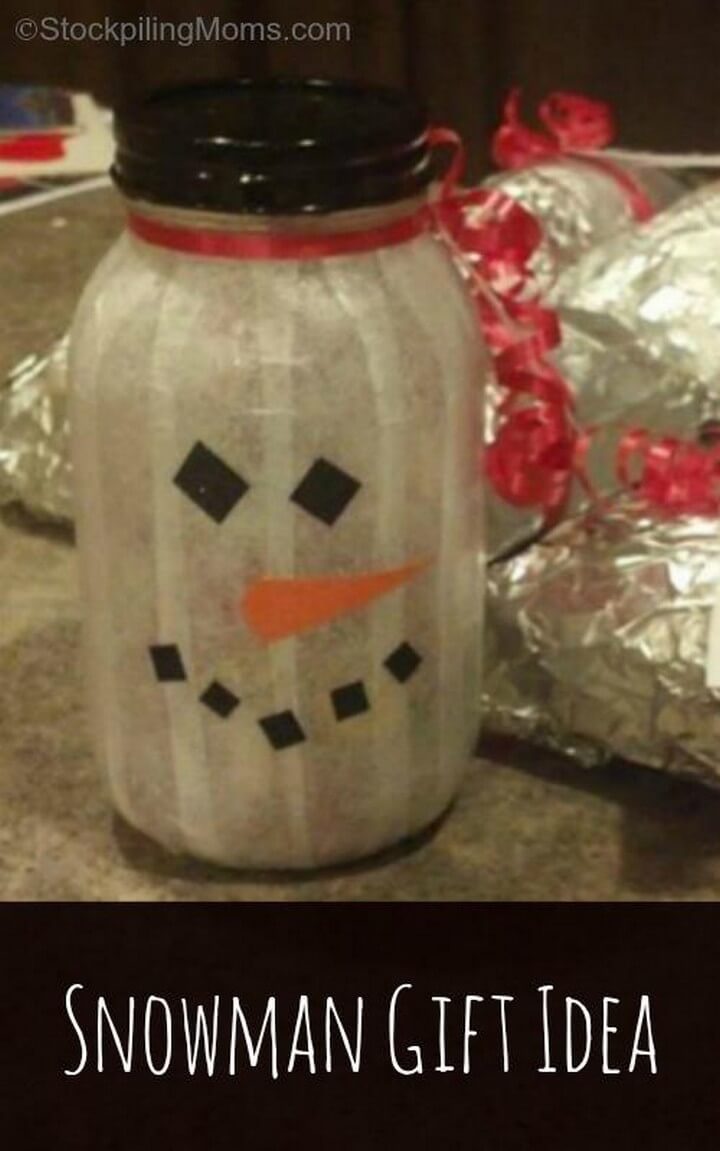 By using white tissue paper, construction paper, mod podge, glitter spray and some red ribbon, one can easily go for a snowman makeover of a glassy jar! Finally one can fill this snowman jar with some lights or treats to change it into a super beautiful and super pleasing gift! Further project details and step-by-step instructions here stockpilingmoms
DIY Glittery Mason Jar Shimmer Candles: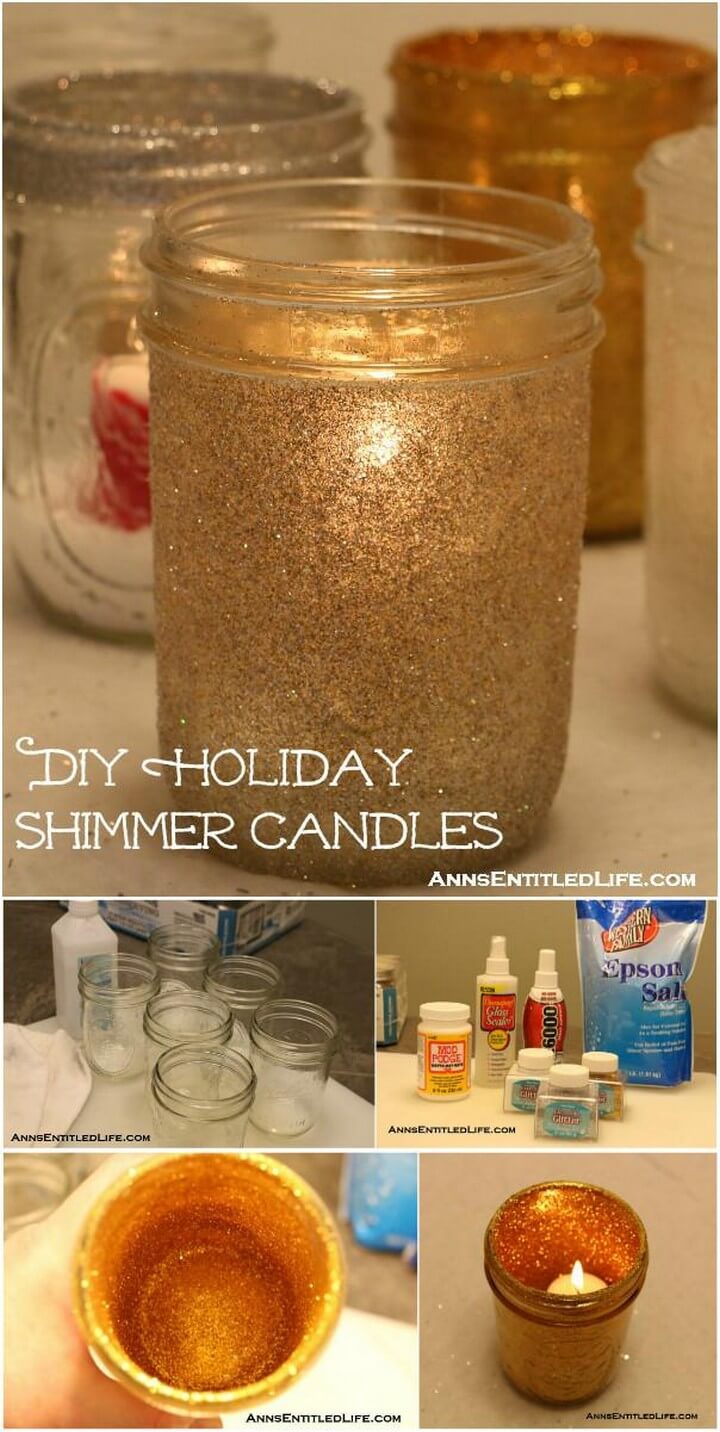 Add a layer of mod podge to whole interior of a mason jar and then spread the Epsom salt on this wet mod podge layer! At the same time you can also add the gold glitter instead of Epsom salt for a gold glittery container that will also be super beautiful to look at! Final step would be to add some kind of lights or candles inside these finally finished jars for beautiful and amusing nightlights out of them that would make thanksgiving gifts too! Further project guide and step-by-step tutorial here annsentitledlife
DIY Snowy Mason Jar Winter Candle Gift: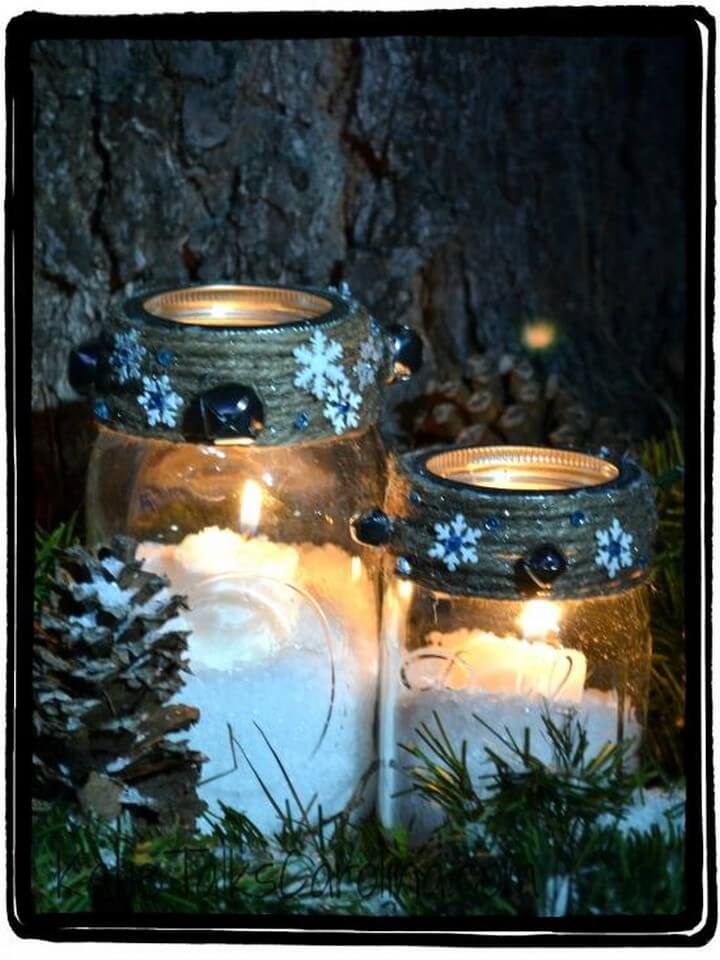 Get your hands onto some old glassy Mason jars and fill them with Epsom salt with candle lights on the top! Further you can add the rhinestones, bells and stickers to mason jar for a beautiful look and can also fancy it with a sparkle spray for a glorious look! Finally you will get some eye-popping snowy mason jar gifts that would be a big surprise for a beloved one in life! This is here a perfect gift idea and these mason jars would also be like centerpieces if add them to interior home decors! Step-by-step instruction and complete project details here katietalkscarolina
DIY Fairy Mason Jar Gifts: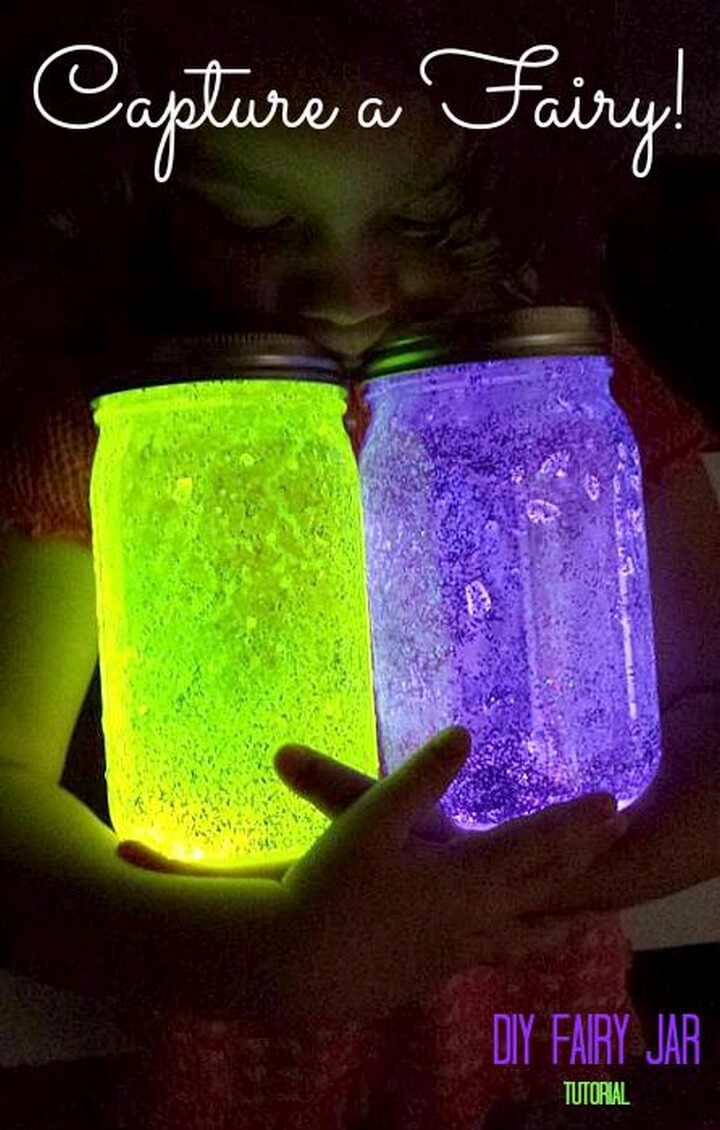 Go smartly handmade with empty Mason jars and change them into fancy lights and gift that everyone would praise and like! Grab some glow sticks and diamond glitter for turning ordinary glassy containers into fascinating fairy jars as shown here! Step-by-step instructions and complete picture guide here momdot
DIY Handmade Mason Jar Hanging Garden: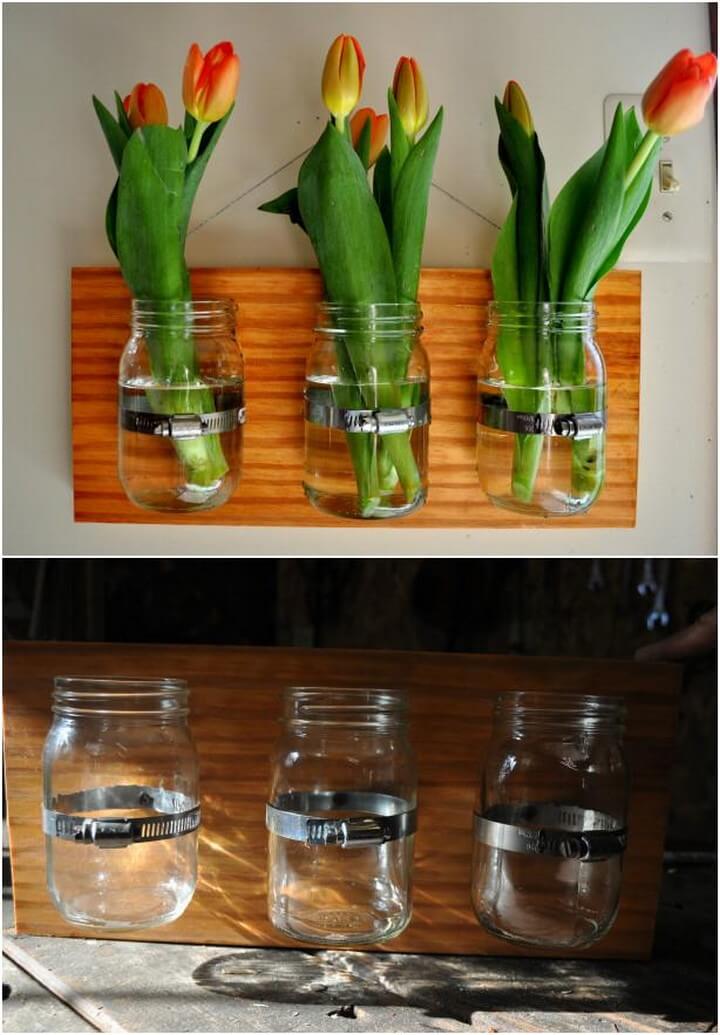 Get crafty with a wooden plank and 3 or more of mason jars to make outstanding wall hanging vases that would be gift-worthy too! Here mason jar have been installed to wooden plank with the help of hose clamps that can be tight around the mouth of the mason jars! An easy, timeless but great mason jar craft and gift idea! Complete DIY tutorial here mccutcheonsblog
DIY Easy Cranberry Mason Jar Candle Gifts: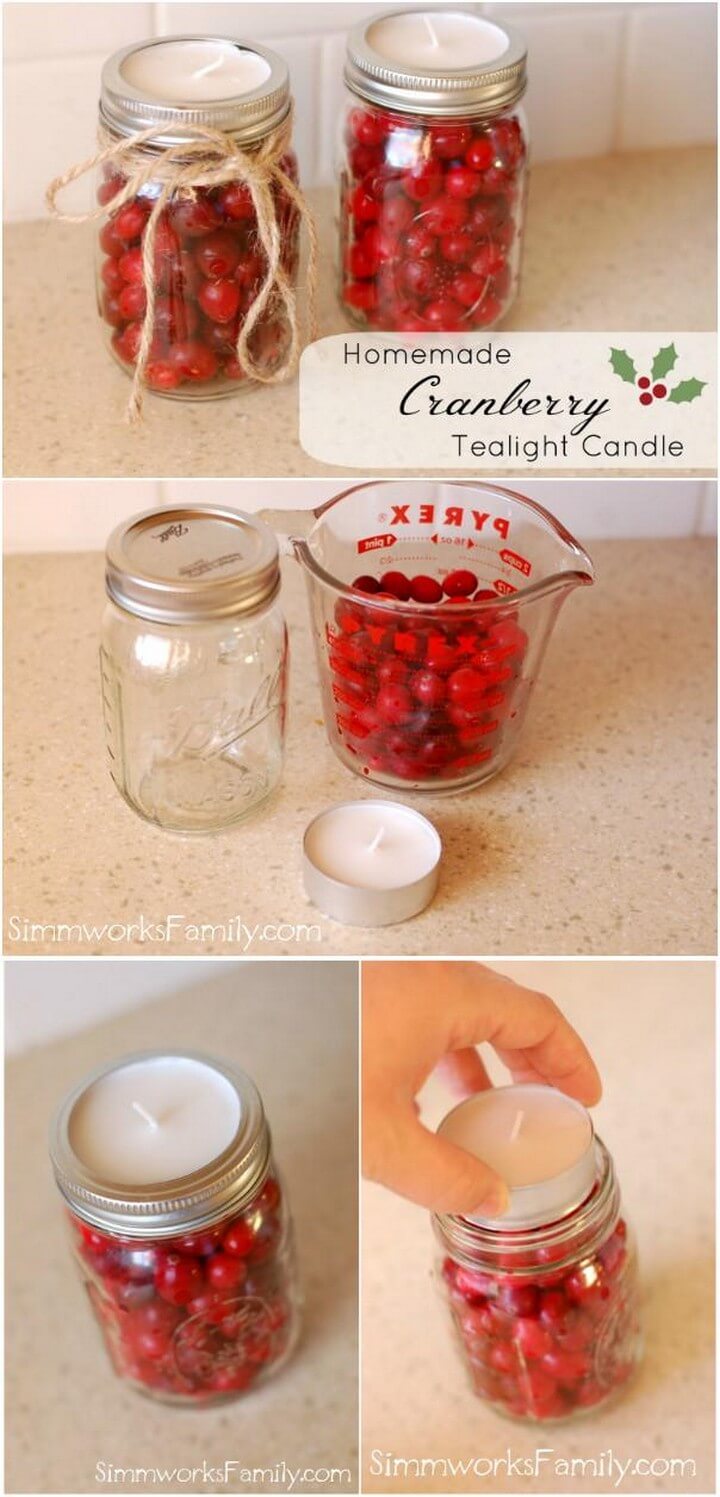 One more smart gift in jar plan here, it would please the receiver in two ways as it is a great treat and would also provide a sweet candle light adjusted in top of mason jar lid! Reclaim an old mason jar and fill it up with cranberries, now just fix a candle light to its top lid! Great gift in a jar idea! Complete project details and tutorial here formulamom
DIY Ice Skating Mason Jar Gift: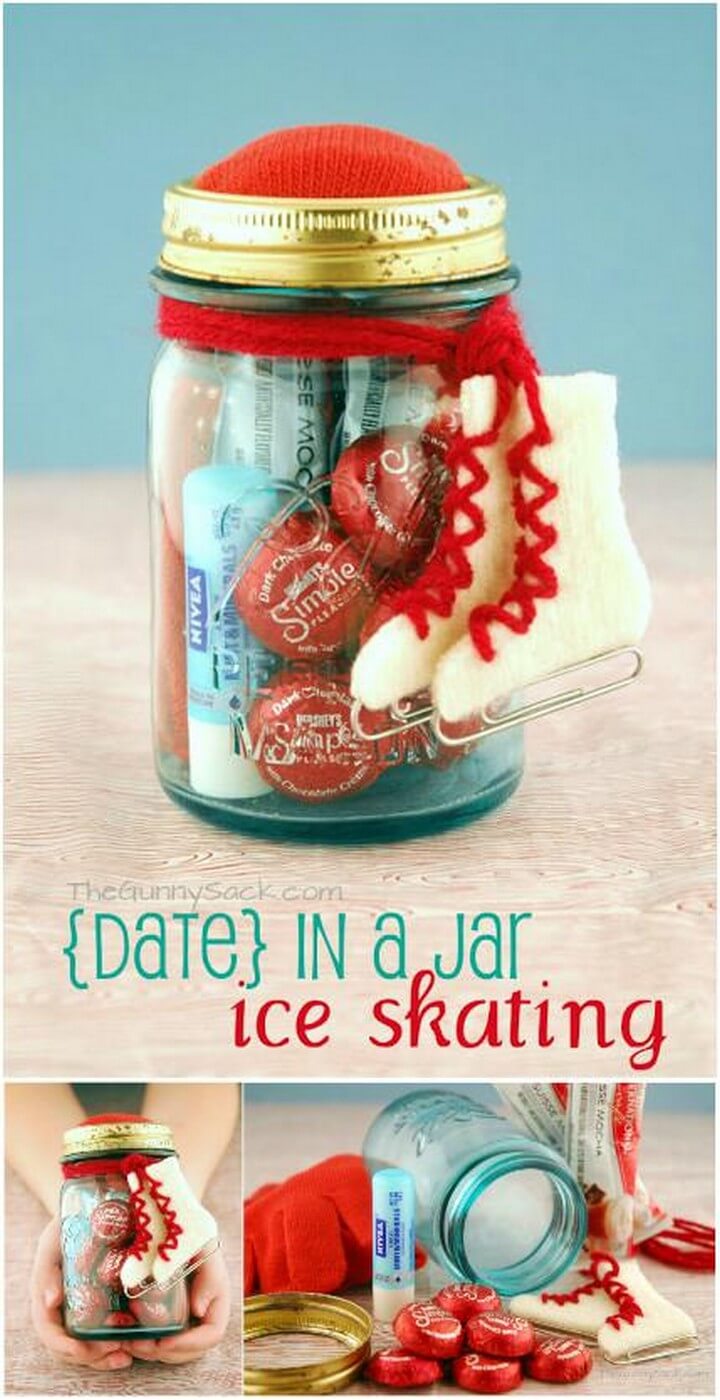 Ice skating date in a mason jar, a tremendous gift to give to any who is special! Just fill the mason jar with most relevant items and make a beautiful gift! Here some gloves, lip balm and a powered mocha mix have been added in the mason jar recycled from home! Finally some chocolates have been put in the jar to fill up the rest of space and tiny ice skating shoes tag has been tired around the lid of the mason jar! A beautiful, great but cheap gift idea! Complete project details here thegunnysack
DIY Timeless Pampering Mason Jar Gift for a Busy Women: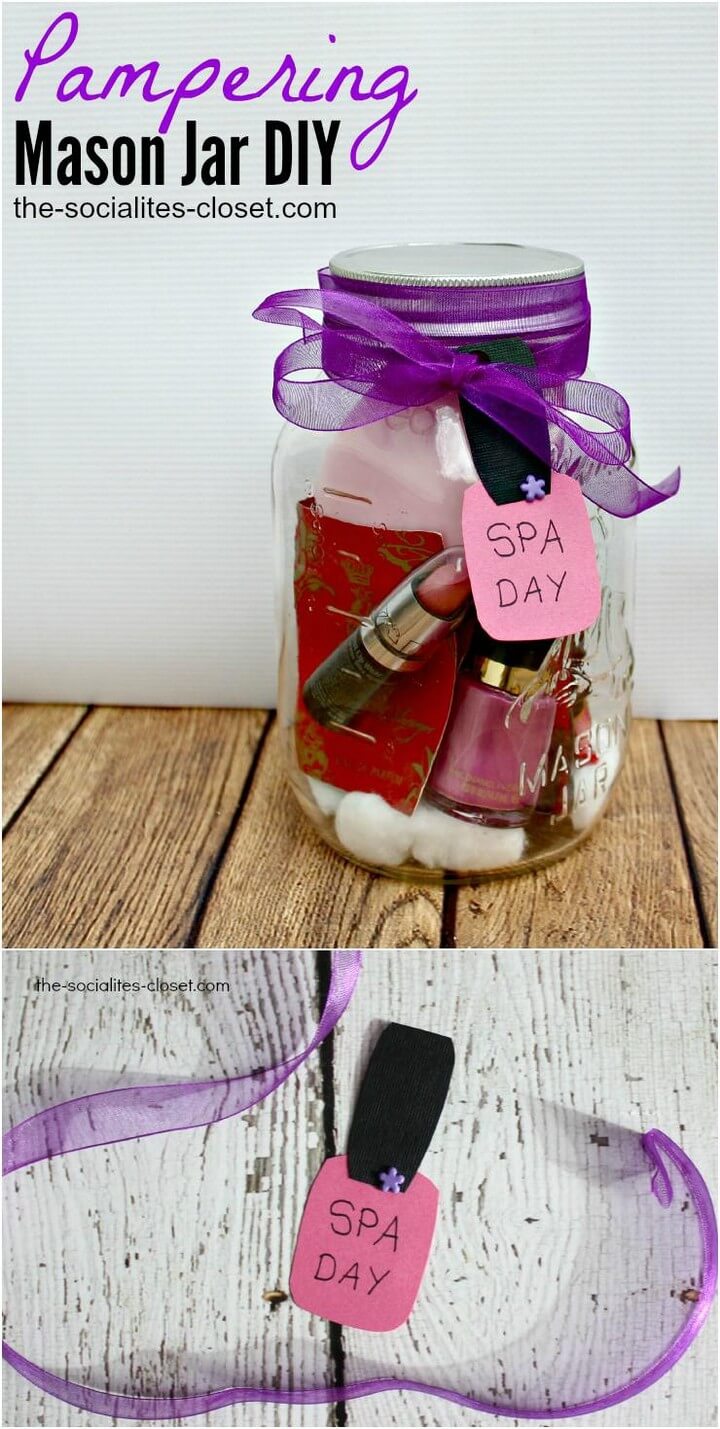 Why not add some women beauty and makeup stuff in a mason jar for making cool gifts for a women or girl! Here is a beautiful sample if you need some information! You can fill a mason jar up with a nail polish, perfume, chocolate bars and with other items of this kind to make beautiful surprise gifts for a busy women in home may be your sweet mother! Complete project details and step-by-step tutorial here the-socialites-closet
DIY Beautiful Pedicure Mason Jar Gift: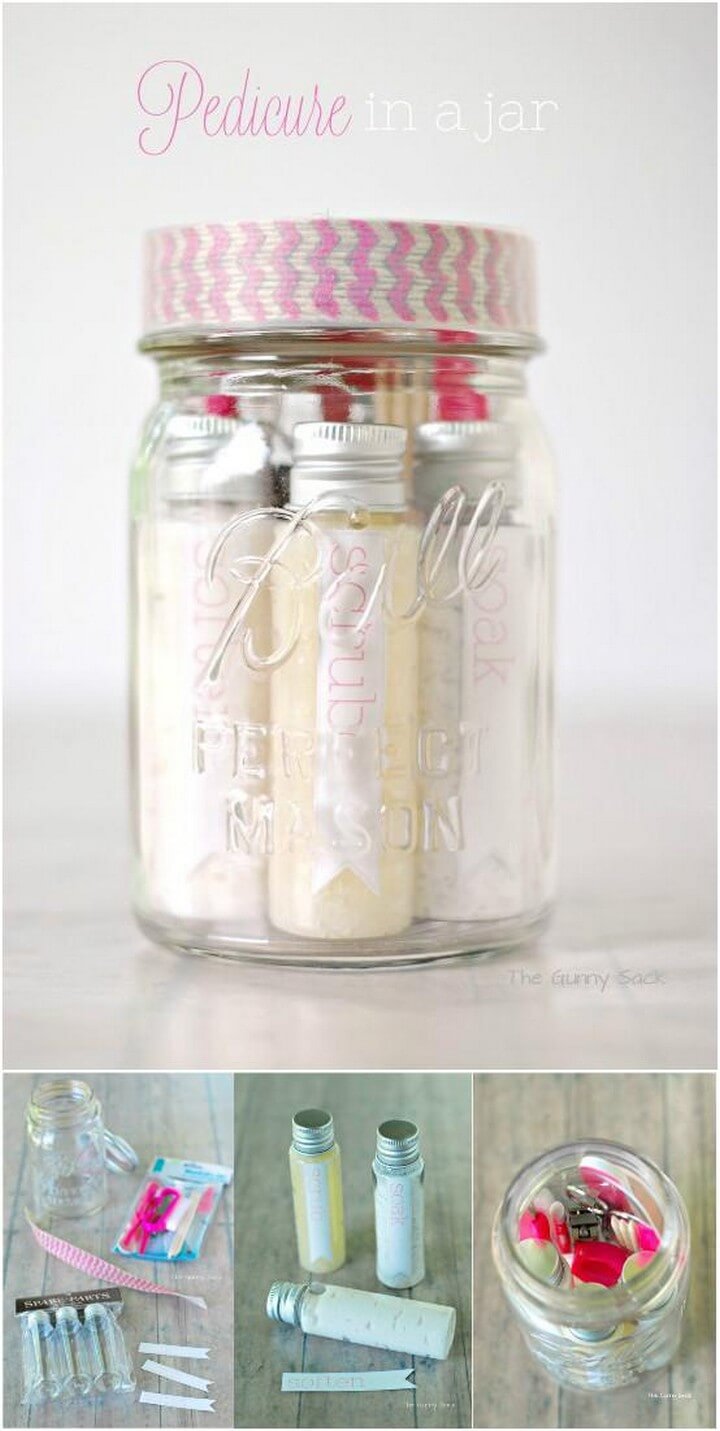 You should definitely think twice before you end up the old glassy jar in dumpsters! Why not turn them into awesome gifts by filling some items inside of them from decorative stuff to eatables to beauty products! Here you can take a look at this pedicure mason jar gift that can be made in no time! Why not clone this gift for your mom, sister and for a friend! Complete project details and tutorial here thegunnysack
DIY Mason Jar Red Velvet Cake Sugar Scrub Gift: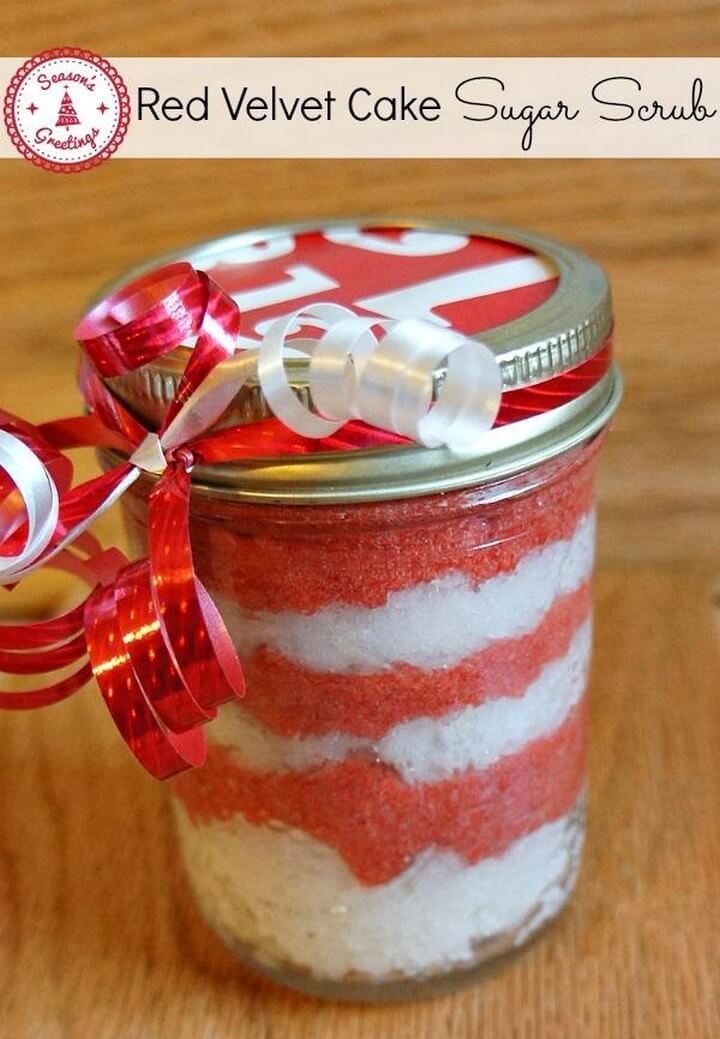 This is here another great mason jar scrub gift that you can make in no time! Here it is a red velvet cake sugar scrub jar that has been given a decorative wrap using red and white ribbon! Great gift to make in last 10 minutes and on a low-budget! Complete scrub recipe and step-by-step instructions here therebelchick
DIY Brilliant Mason Jar Spa Gift:

Here is another cool one to inspire all the beauty loving ladies, a gift that can be made at home in no time, a spa mason jar gift that all beauty loving ladies will love to receive! All you need to do is to put a set of girlish items in the jar that the receiver would love to have! Finally you can add label and a tag that will make the jar look as an awesome gift! Complete project details and tutorial here thegunnysack
DIY Mason Jar Mint Sugar Scrub Gift: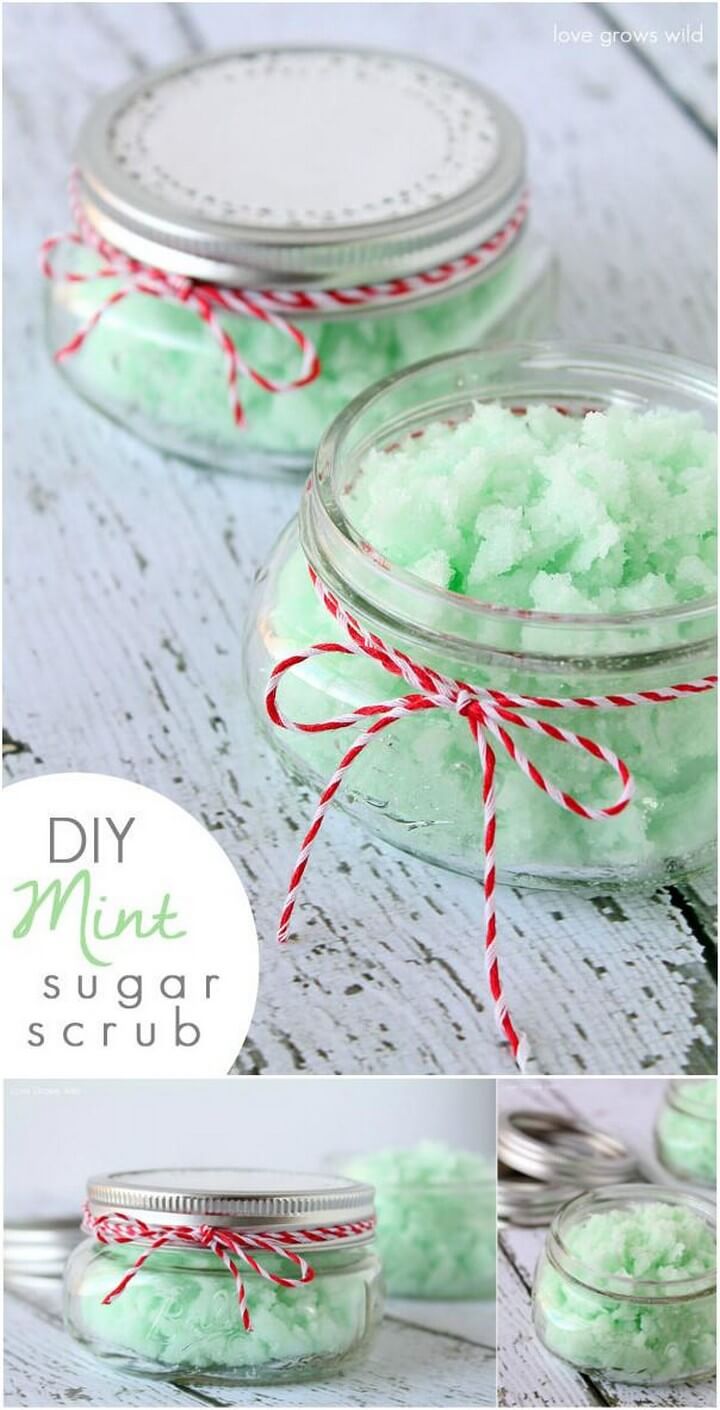 Don't throw out the old mini glassy jar after they get empty, try making awesome gifts with them just like this sugar scrub in a jar gift! Every stylish girl who takes good care of her, would find this gift great that girl or women may be your mom or a sister or a beloved neighbor! Free sugar scrub recipe and further gift details here lovegrowswild
DIY Mason Jar Gingerbread Scrub Gift: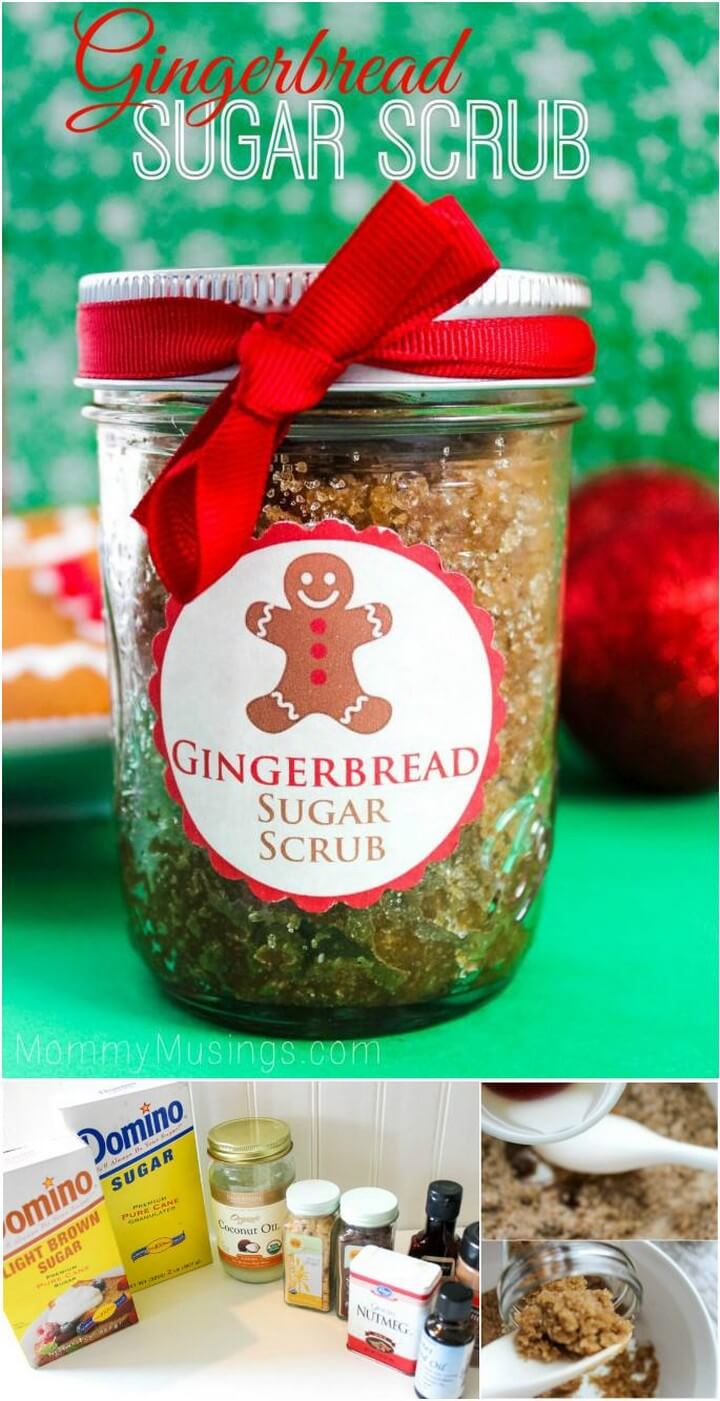 One more inspiring gift in a jar idea, the gingerbread sugar scrub mason jar gift! Make your favorite scrubs and just secure them in old mason jars that can be adorned with new labels and also with gift wraps if you are willing to make some scrub gifts like this! Free scrub recipe and complete tutorial here mommymusings
DIY Cinnamon Bath Salt in Mason Jar Gift: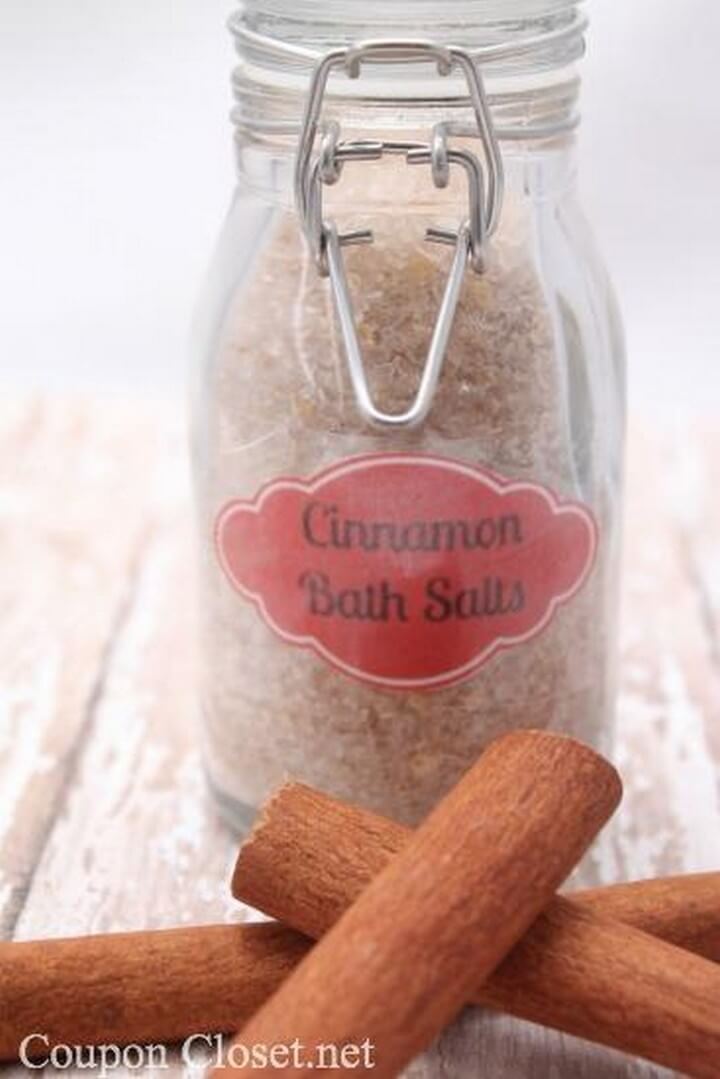 Handmade gifts are always more lovable and earn more respect for you, this cinnamon bath salt in a mason jar is one of them! Perfect girlish gift to make in no time! You can print the front label at home or can search the web for free printables! Complete project details and instructions here couponcloset
Milk Bath in a Jar – DIY Mason Jar Gift: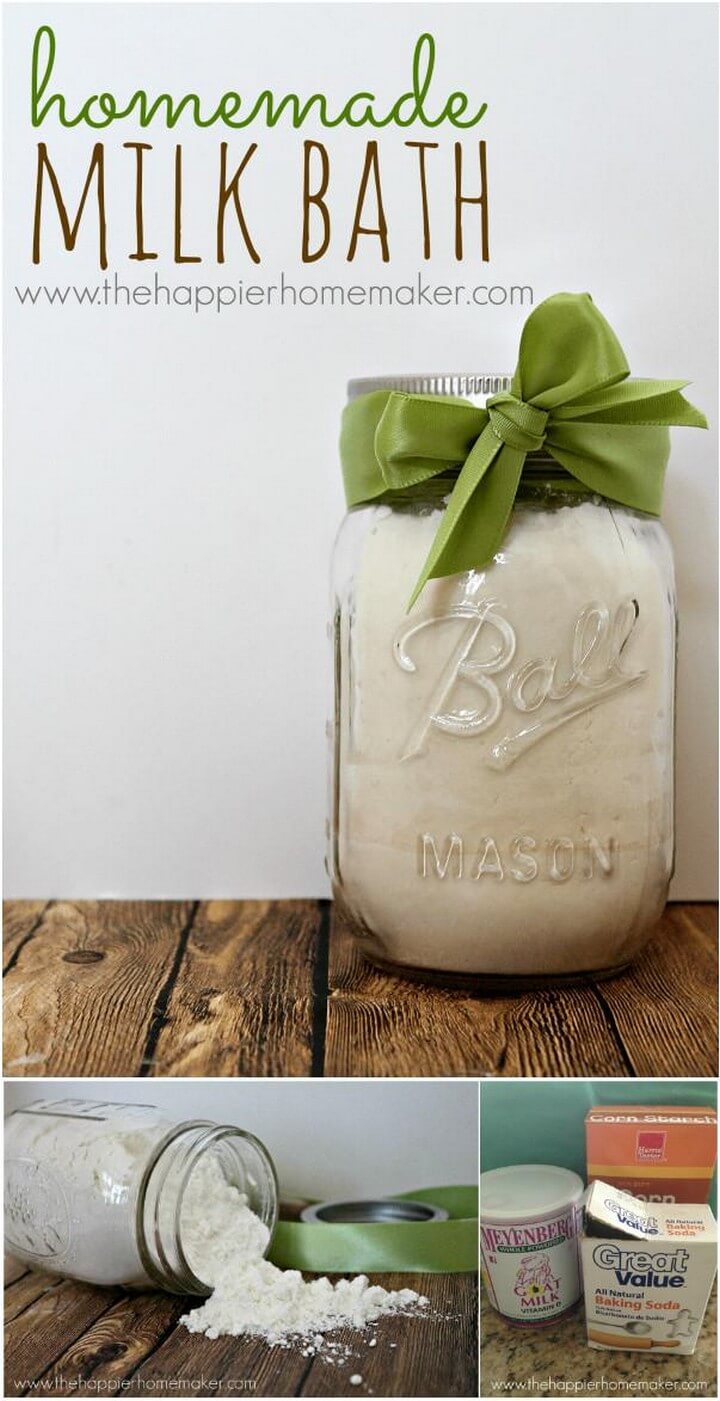 Another great gift to please a lovely lady or girl! Prepare the mixture for milk bath and just add it in a mason jar which can be of any size! Give it a ribbon gift wrap and give it to your mom, sister or a friend! Complete milk bath recipe with instructions here thehappierhomemaker
DIY No-Bake Mason Jar Strawberry Cheese Cake:
Give this another mini treat mason jar gift a try! It is here a no-bake strawberry cheesecake that will please any food lover! This is type of gift you can make even in last 5 minutes for someone special! This would also be a gift that will change the mood of an angry person into happy! Complete cheesecake recipe and further project details here classyclutter
DIY Heart Pie in a Jar Treats: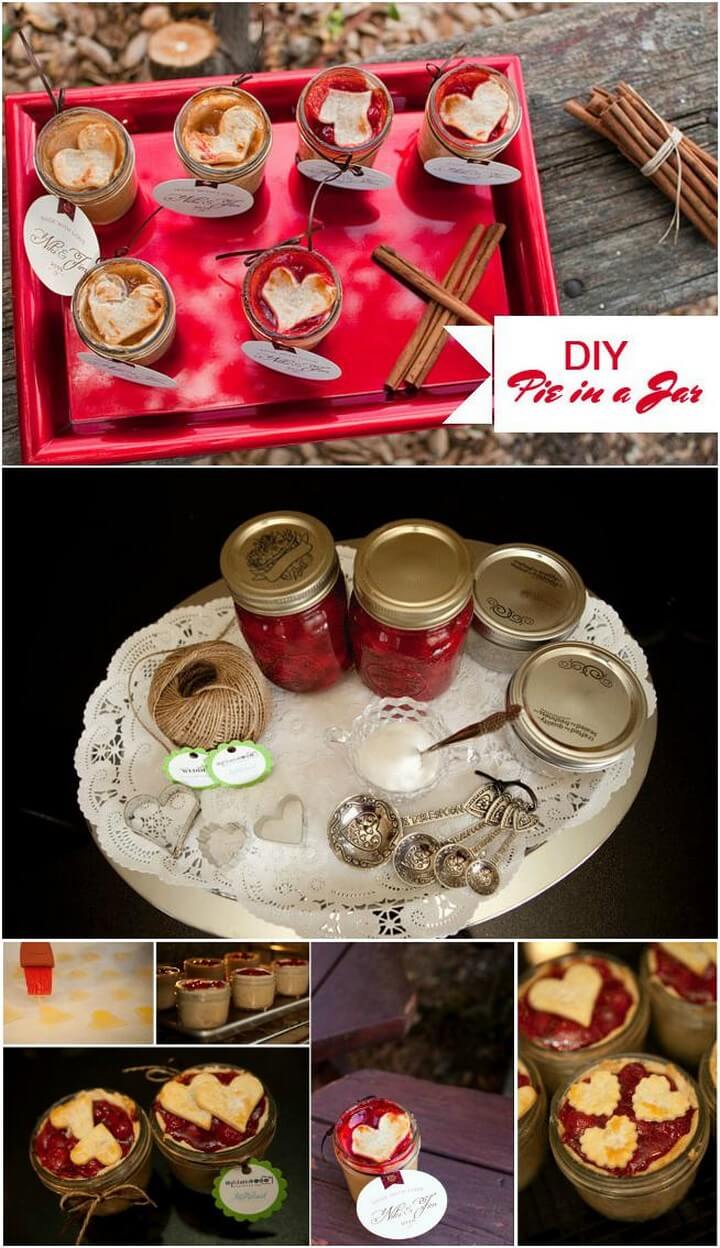 Get cleaned mason jars and just them a inside primary cover with pie dough! Now fill up the mason jar with your favorite pie filling or just keep the taste of your friends in mind! Final step would be to place the dough heart cutouts that should be perfectly baked and topped up with a layer of eggs! Finally you can add a gift tag and can tie a twine around to give it as a gift to a pie lover! Perfect treat gift made of an old mason jar!! Complete step-by-step instructions and pictorial here greenweddingshoes
DIY Easy Mason Jar Warm Cocoa Bath Soak: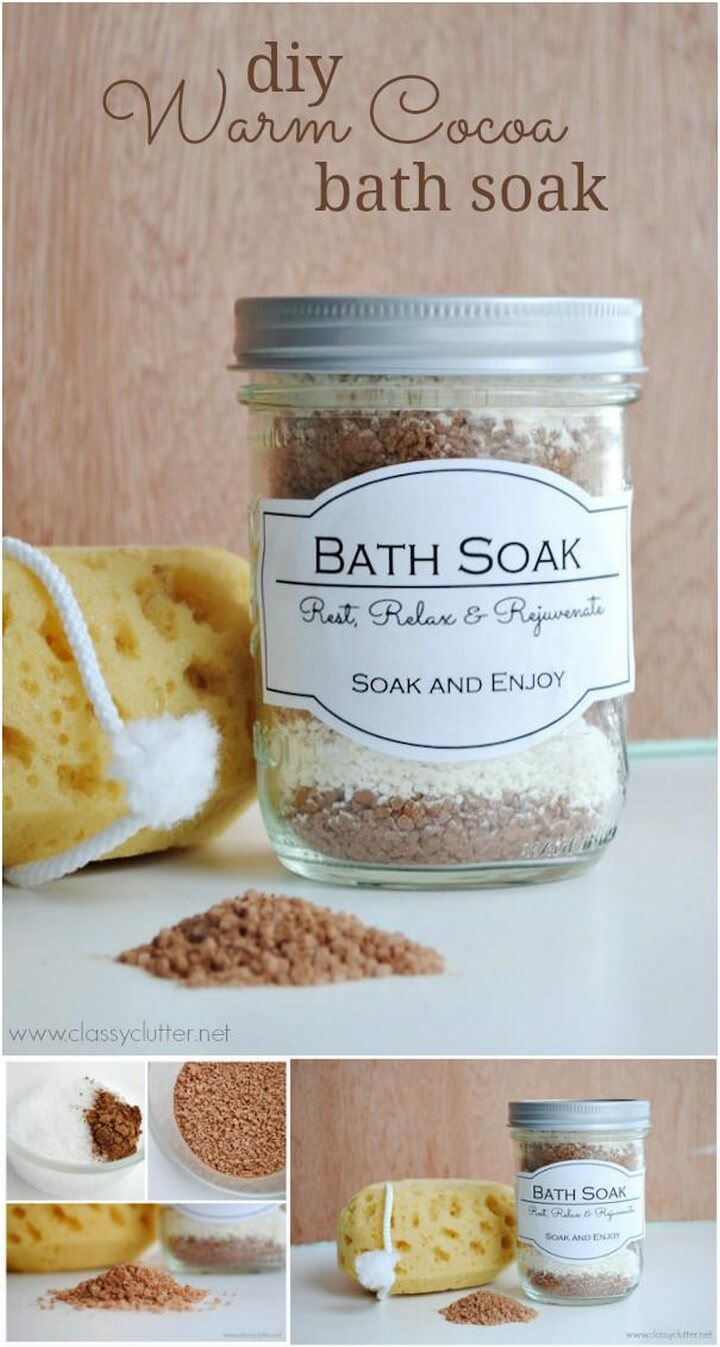 Another beautiful girlish gift to make with an old mason jar! Just your grabbed and well cleaned mason jar up with a cocoa bath soak and the gift is ready to go in hands of a women who just loves to nourish her skin that may be your mom, a friend or a sister! The wrap the jar properly for a gift like shape and don't forget to use the label for the gift! Complete cocoa bath soak recipe and gift instructions here classyclutter
DIY Homemade Lemon Lime Sugar Scrub: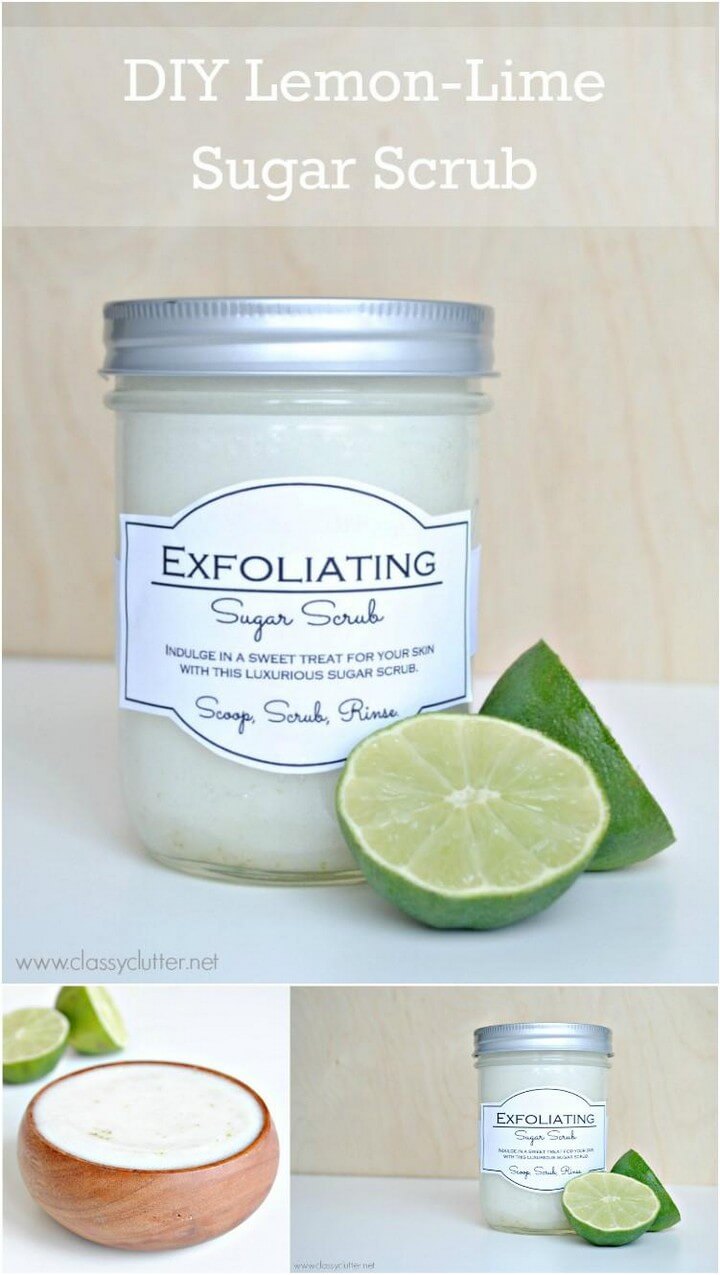 Here is another smart and timeless mason jar gift hack, prepare a scrub at home and just fill it in a mason jar for an instant gift for a girl! Here a lemon lime sugar scrub mason jar gift that is super easy and timeless to make and is sure to please a mom, a beauty loving girl and also for a neighbor! Complete recipe and tutorial for this mason jar scrub gift here classyclutter
DIY Mason Jar Spices and Salt Gift: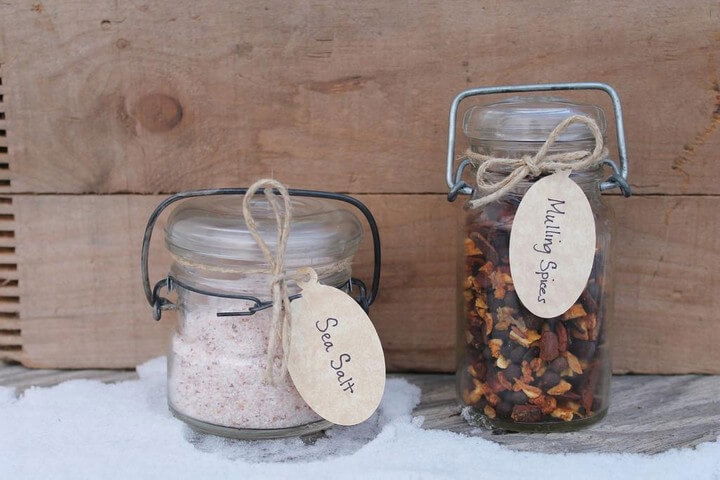 Just give the glassy mason jar some cool wire hangers or handles and fill them up with some popular spices and salts! Next you can tie a twine around the lid holding a name tag and hence you can make adorable gifts at home using useless glassy jars from home! Checkout the samples to get yourself inspired! Further project details here flickr
DIY Whole Wheat Chocolate Chip Pancake Mix Mason Jar Gift: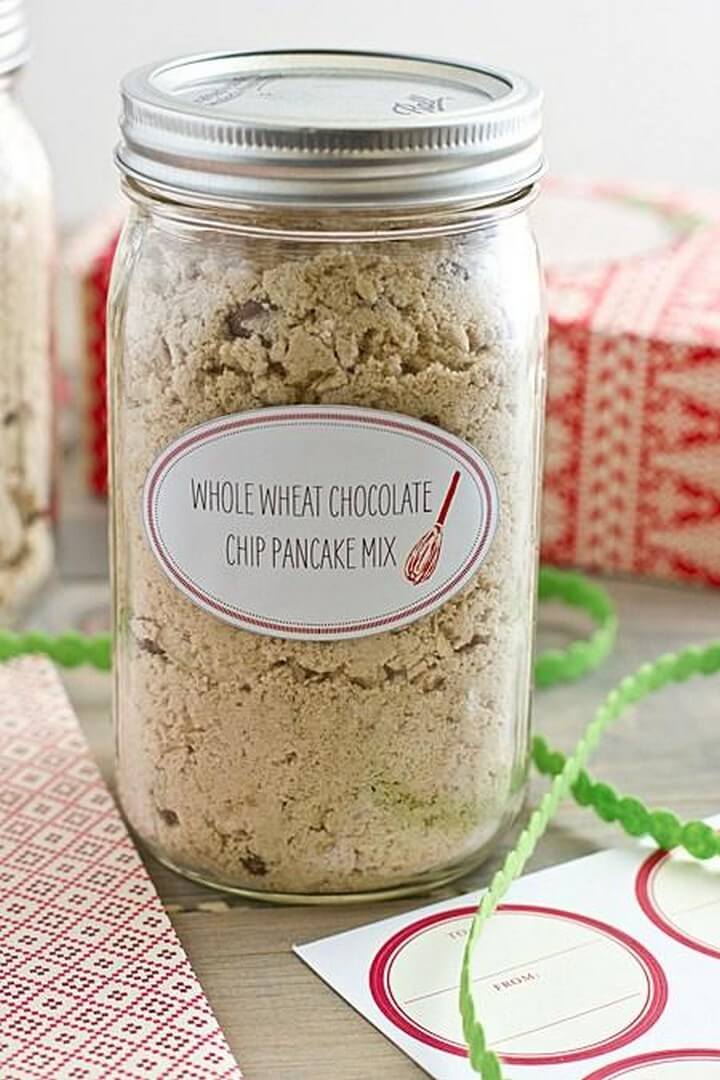 If you are sorting out an instant gift for a cooking loving friend or mom then then here is a great idea for it! Just prepare a cookie or cake mix and fill it in a mason jar then can be given then a gift wrap for a looking like a precious gift! This is here a whole wheat chocolate chip pancake mix mason jar gift made at home for someone special! Don't forget to decorate the gift with hanging twine tags and with other embellishments! Complete project details and instructions here ohmyveggies
DIY Gift-Worthy Icicle Mason Jars:
Make this glittery mason jar light that would make a thanksgiving gift too for a close friend or beloved family member! Get an old mason jar and clean it well, now apply an layer of mod podge to its inside well and then spread the clear glitter on the wet mod podge! Final step would be to put a battery operated or other candle lights inside of it for a charming glittery light gift! Further project details and complete tutorial here instructables
DIY Homemade Mason Jar Terrarium: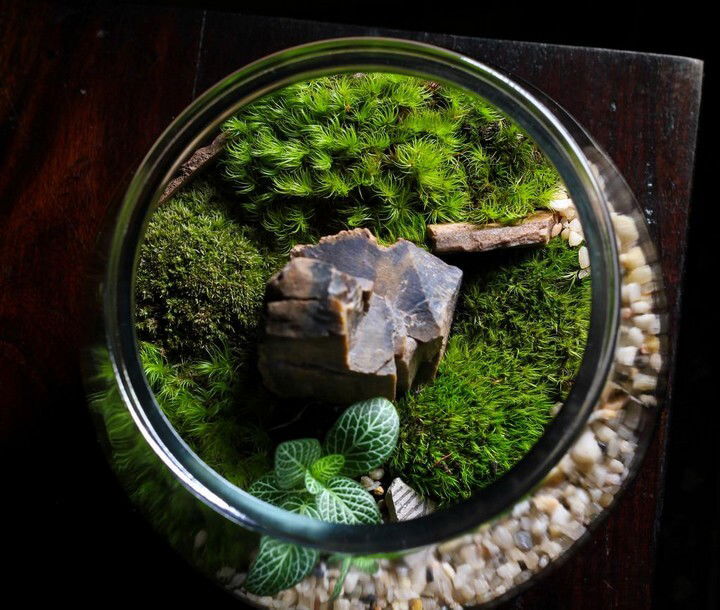 Here is a great mini terrarium gift made with an old mason jar! All you need to do is to fill up the mason jar with same items you see in a terrarium like river rocks, moss and succulents etc! These mini terrariums would just be a big delight to view while being placed in the cozy home interiors! Moreover, this would make a super beautiful gift too! Further project details here flickr
DIY Super Easy Mason Jar Snow Globe: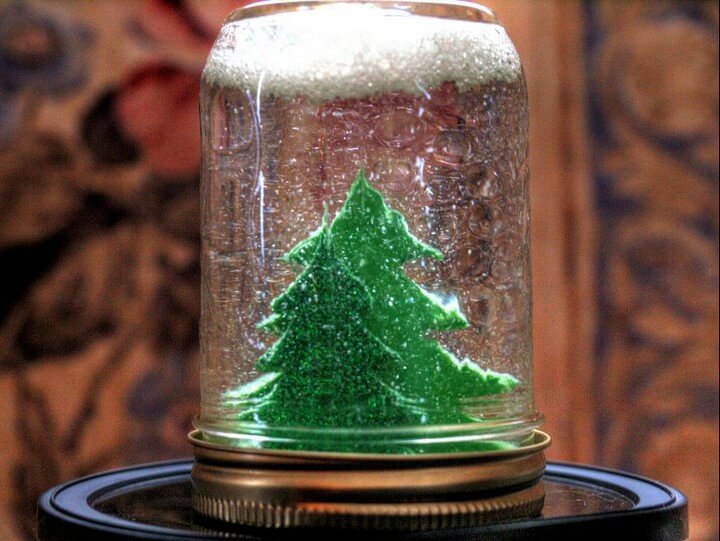 Remove the lid from a mason jar and just flip it over, now mount a faux snow tree on it and then tight it again to mason jar for a beautiful snow globe gift! Some glitter on the inside walls of the jar would really look like the falling snow and you can add much more items and embellishments to raise the beauty of this snow globe to peak! Further project details here flickr
DIY Self-Made Solar Powered Mason Jar Nightlight Gifts: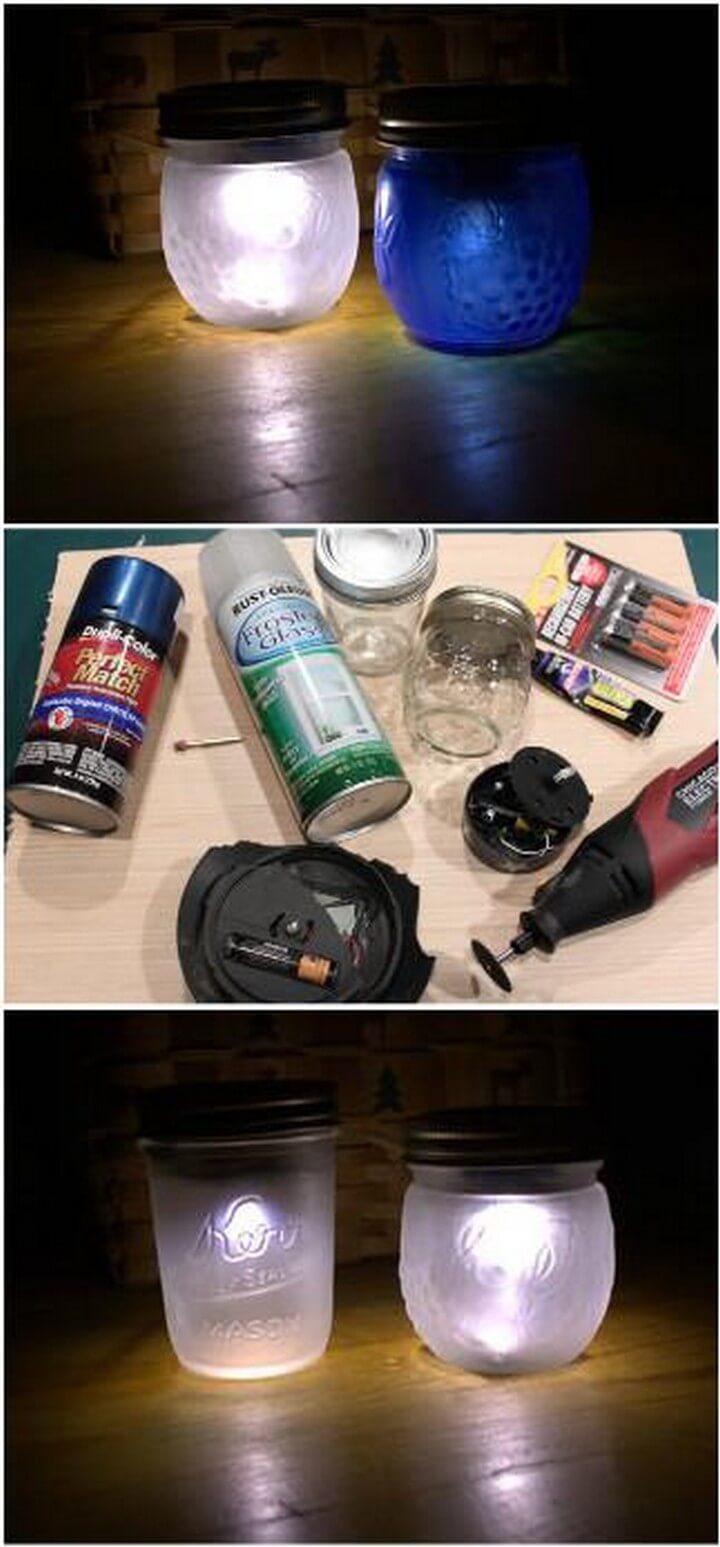 By placing original or battery operated candle lights in the mason jar you can also change them into stunning light gifts! Here solar powered lights have been fitted to mason jar lid that turn them into gift-worthy nightlights! One can simply hang up these mason jar lights or can place on a flat table or shelf for amazing light demonstrations too at night! here is how to install the solar-powered lights and to make these mason jar light gifts instructables
DIY Coffee Mason Jar Sugar Scrub Gift:

Brainstorming for a beautiful girl gift? Here is a cheap but great gift idea! Simply fill up and old mason jar with some kind of girlish items and you are done! Here is a coffee sugar scrub mason jar that would make a perfect gift for a beauty conscious girl living in family or in neighborhood! Complete coffee sugar scrub recipe and further project details here apumpkinandaprincess
DIY Homemade Mason Jar Bloody Mary Gift and Spice Recipe: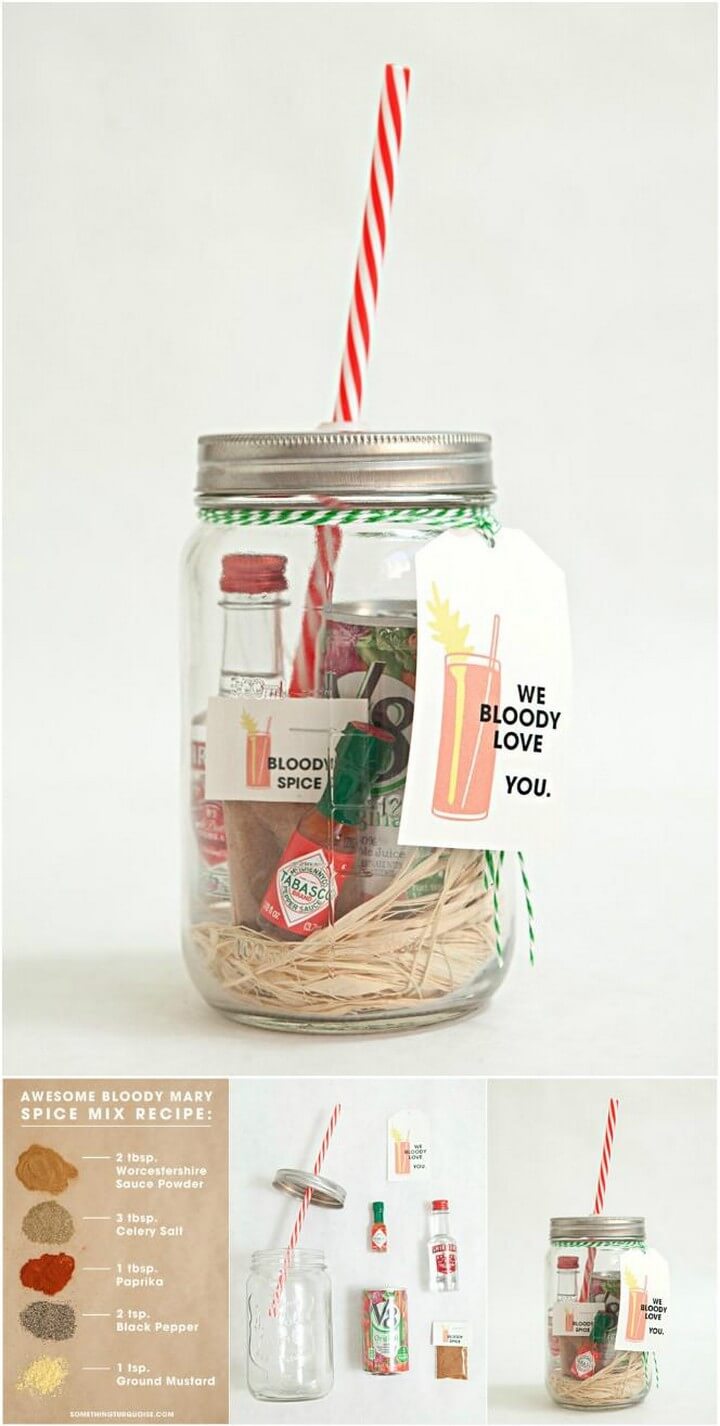 Tryout this another mason jar gift that can be made easily for a cocktail party, bachelor party and even for a bridal party! Put some mini drink bottles in the mason jar which may be filled with some popular juices or party drinks! Next you can add some more items inside that can be enjoyed with the drinks here a mini pack of spices have been included in the jar while the straw has been fixed in the center of jar lid for enjoyable sips! More about this great mason jar gift at somethingturquoise
DIY Brilliant Tea Time Mason Jar Gift: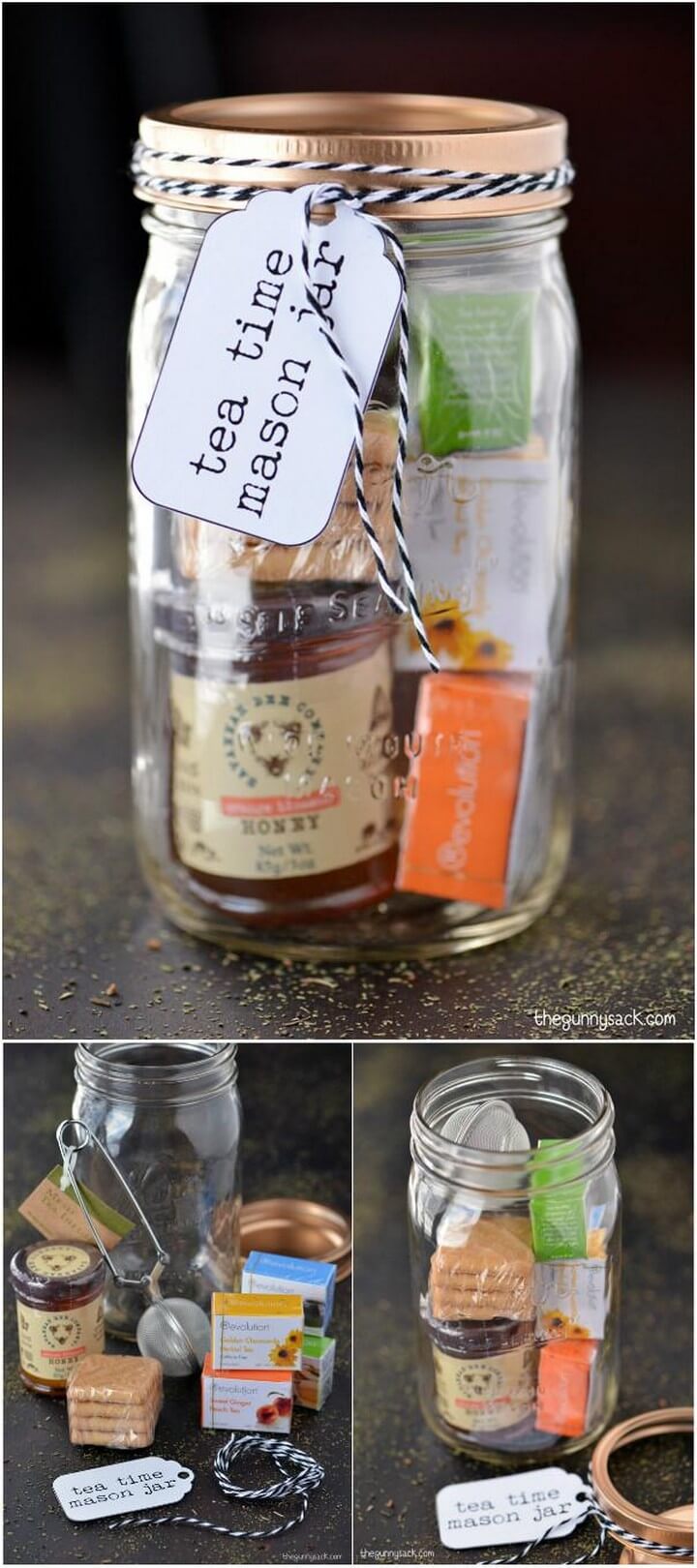 Having some old mason jar lying in home scrap for nothing? Why not reuse them to make outstanding gifts? Checkout this mason jar tea time gift sample, a smartly homemade gift for a tea lover! Fill a mason jar nicely with some tea packs, with a tiny pack of shortbread cookies, with a small jar of honey and with other items that can be used in making a nice tea! Use baker's twine through holding a gift tag to tie around the lid of the mason jar for a making it look like an adorable gift! Complete project details and step-by-step instructions here thegunnysack
DIY Bar in Mason Jar Gift: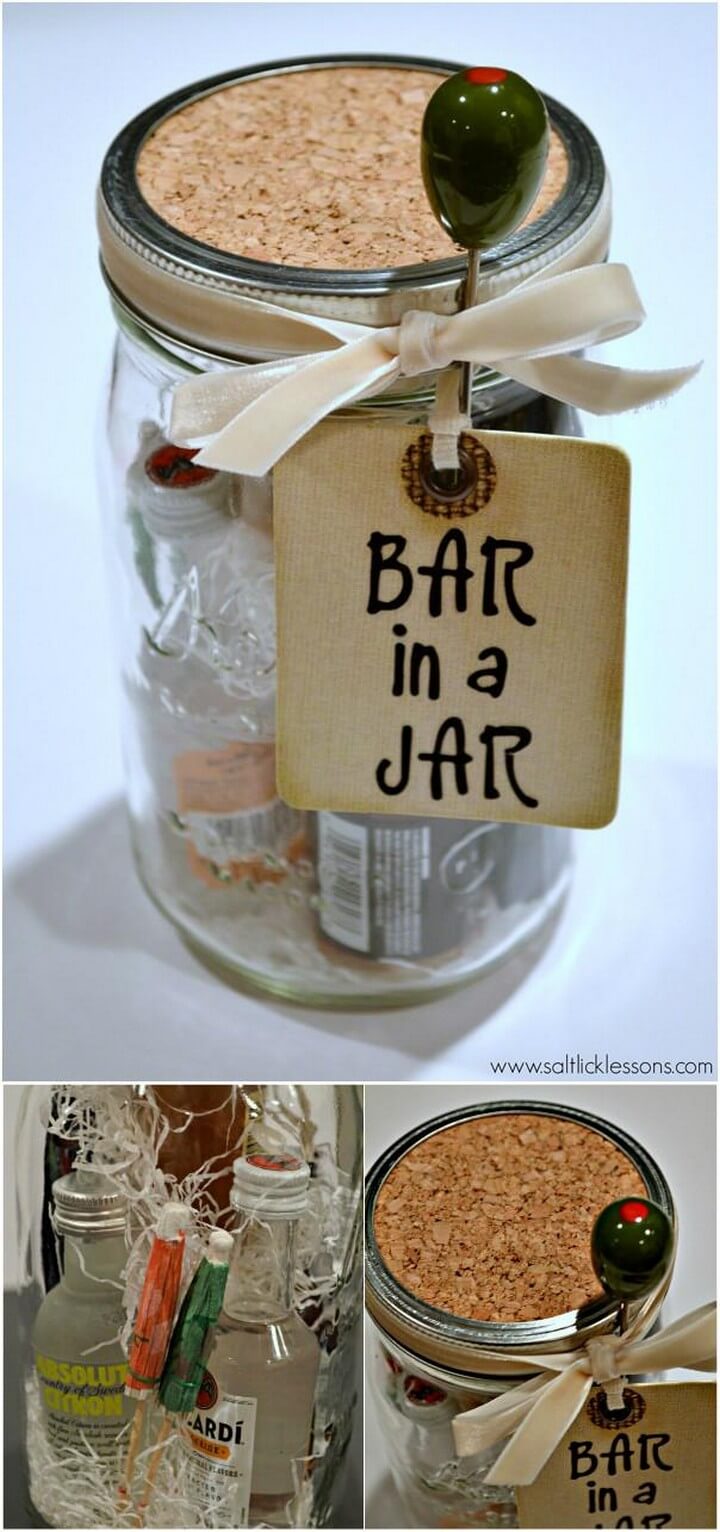 Here is another precious one that is only made for drink lovers, a mini bar in a jar!! Get some gift packing material and just safely place the drink bottles in the jar! Modify the lid to serve as a coaster like done in this case! 2 mini umbrellas inside and a beautiful tag hanging outside the jar make this entire mason jar gift out of ordinary! Perfect for holidays and for a night out party!! Further project details and complete DIY tutorial here saltlicklessons
DIY Beautiful Mason Jar Succulent Gifts: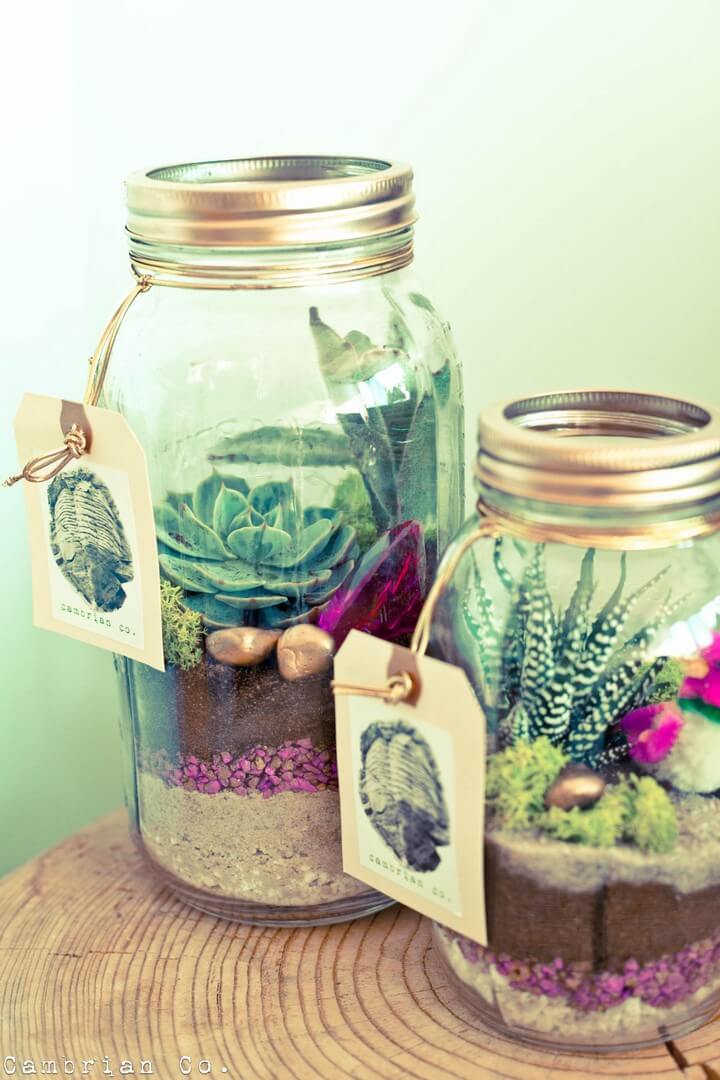 Transparent old glassy jars can be thought in countless different ways for making beautiful gifts out of them! Just checkout these gorgeous mason jar succulents, are a true centerpiece for a any space and would make great gifts too for any particular table or shelf surface! Complete project details and DIY guide here storyboardwedding
DIY Hanukkah Bear Mason Jar Snow Globe Gift: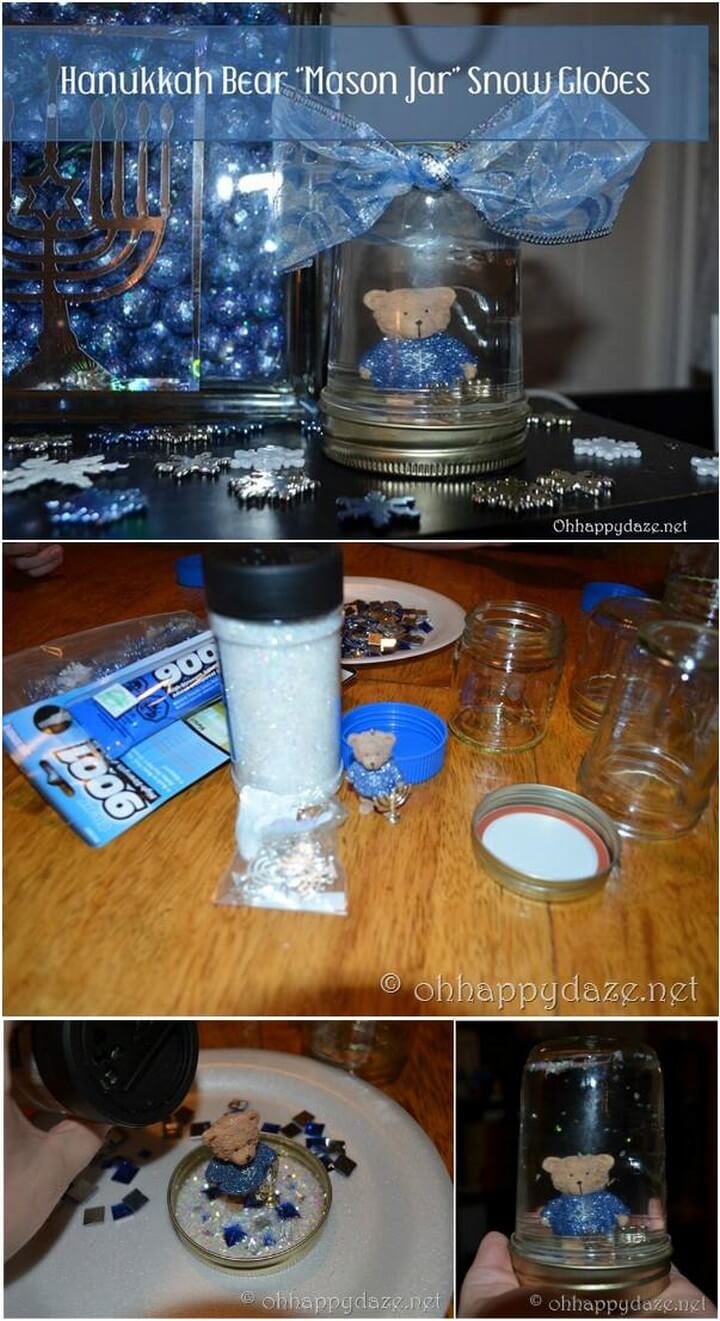 If you are interested making cool gifts in a jar then here is a smart suggestion! Place and mount a piece of decor like a small Hanukkah bear in this case, on inside of the mason jar lid and then just tight the glass jar in the lid that will be a glassy showcase for it! Here the area around the bear has been made glittery and has beautifully been decorated with square acrylic rhinestones! Complete DIY tutorial and project details here ohhappydaze