Try these 20 best DIY coffee table ideas with step by step free plans to build your own coffee table for your living room, farmhouse, and garden. We are all well aware of the role of a coffee table for a living room which is highly versatile. It is what you need to get first while entertaining some visitors or guests in the living room. The conversations are also to start always by sitting around it. It is seen mostly in the center of the sitting plans. The reason is that all the sitting individuals can use it to place their mobile phones, coffee cups, beverage mugs, magazines, and other materials over it while they need to get their hands free for the detailed conversations. So this all tells that how utilitarian item a coffee table is.
Not only for utility purposes, but the cheap coffee tables play a vital role in boosting the home decor and storage space of a living room. People can use the coffee tables with storage or built-in secret stashes! Or DIY lift top coffee table if they need some extra storage space in their living room. By adding a glass top or a flower vase to the top of a DIY coffee table, one can also turn it into a living room centerpiece. Want some great DIY coffee table ideas and plans for free? If Yes, then we have some perfect rectangle coffee table designs!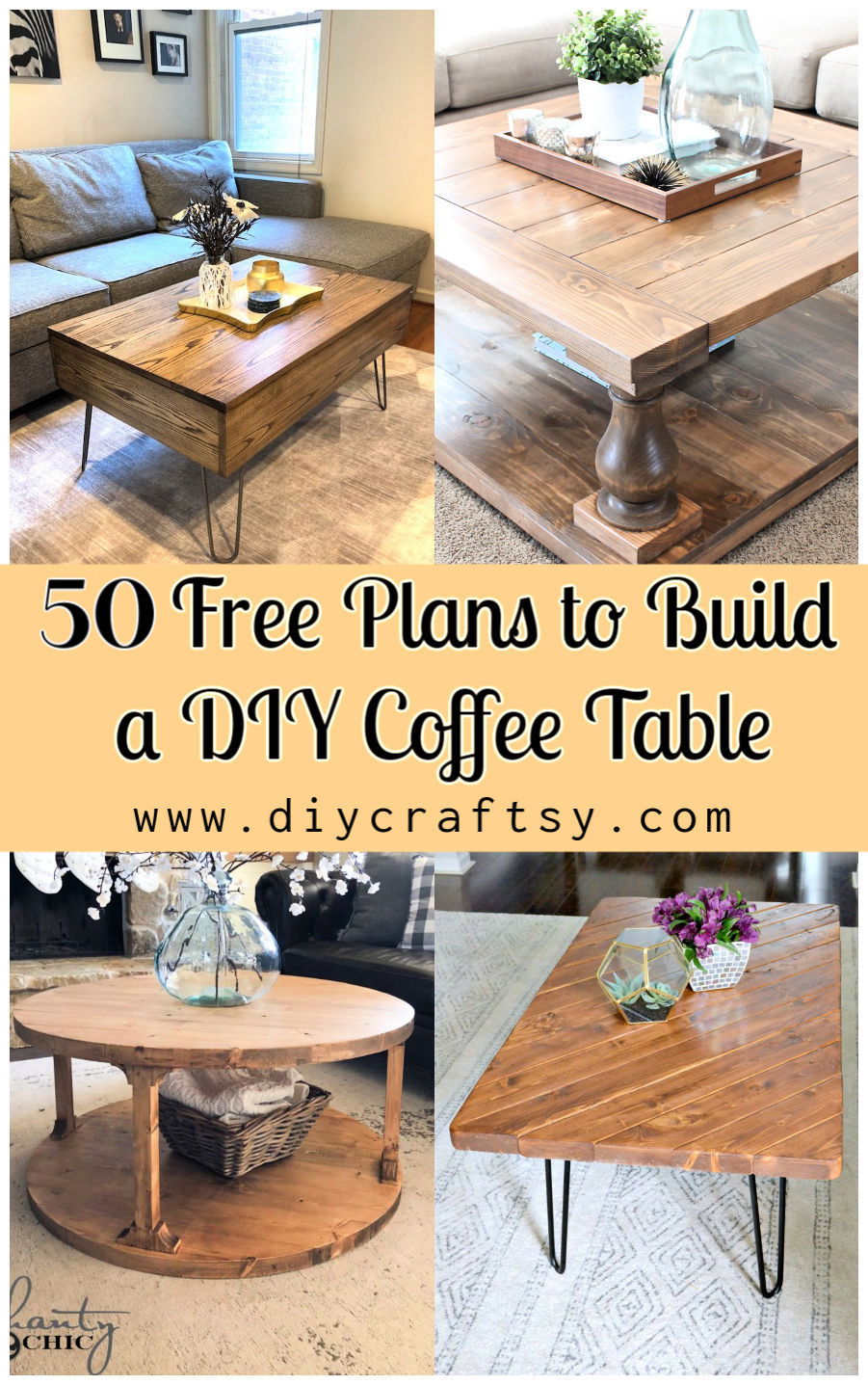 Are you want best DIY coffee table ideas and plans for free?
In short, missing a coffee table in the living room would not be appreciated in any way as it is the very first demand and need for a living room. So you can make your favorite coffee table easily with this perfect list of 20 DIY coffee table ideas & plans that can be made at home. All these DIY coffee table plans are free, style-worthy, sturdy, and cheap.
Want to reuse and recycle the old wooden pallets? then try these best furniture made from pallets for your home and garden!
Don't worry about the supply materials; all you need is to target the common material of home to build any of these DIY coffee tables. The most used material would be the old wood like a wooden slab, Pallets, plywood, etc. Always easy-to-find in the home or surroundings.
Tops are the most amazing part of the coffee table. According to these DIY furniture projects, one can prefer the concrete tiles, glass slabs, and plain wood sheets for amazingly smoother and elegant tops. DIY coffee table plans with built-in shelves would be all amazing to get a coffee table with storage.
Prefer wheels or simply reclaim the metal from home and build metal hairpin legs for your handmade wooden coffee tables. One can also use box style copper legs for more stability, as shown in these DIY coffee table ideas.
You can also get help from these easy DIY projects for your home improvement.
Homemade Wood Log Coffee Table on Wheels:
Want to build the best DIY farmhouse coffee table? Rustic furniture look is the hottest furniture look that is chosen to score high-value styles and living room fashion trends. So why not get some style-worthy living room coffee table out of some old wood logs? Follow the construction steps and pattern here to get a fab like shown one for the good reputation of your living room. Here is the DIY farmhouse table tutorial bhg
Epic Upcycled Barrel Coffee Table:
After they get empty, we remain no longer concerned with those wooden barrels. If you have some long-forgotten wooden barrels, they time to plan them for restoring living room fashion points. Here we've  best DIY coffee table plans to convert an old barrel into a stunning DIY coffee table that will provide a secrete stash. Perfect gift for rustic-modern lovers. Here is how to make rectangle coffee table out of recycled barrel: artofmanliness
Self-Installed Terrarium Side Table or Coffee Table:
Get ready with plexiglass in to do an every beautiful DIY coffee table project, the precious terrarium coffee table. Double-check your measurements and cut the plexiglass sheets according to measured values. Put the cut sheets together for a building a glass box and secure the corners and sides with electrical tape. Full tutorial here bloglovin
Chic White Coffee Table with Bottom Shelf:
Want to gain a designer styled living room? All you need to add this chic white display DIY coffee table in the center of your living room. It is all easy to compose at home using quality or reclaimed wood. It owns a lower level and gets the stylish looks from the upper glass top. White paint works as ice on the cake. Full DIY tutorial here lowes
Modern Pallet Wood Coffee Table on Wheels:
Get a complete pallet board, wooden plates, and some additional wooden lengths to install this low yet cozy DIY living room table. Choose your custom way to get it in better appeal, get inspired by the doily print here. In the end, install wheels and let this pallet wood table be a part of your conversations. Full guide and rectangle coffee table tutorial here papernstitchblog
Modern Chic Herb Garden Coffee Table:
Chic white coffee table with blag legs and with an amazing natural garden like a spell. This happens due to built-in planter that make you feel like you are sitting in a garden while being around this DIY coffee table. Grow your favorite flowers or herbs in the integrated planter or use it as an icebox for your beverage parties. Want to copy this clever rectangle coffee table now? Step-by-step DIY tutorial here abeautifulmess
 DIY Crate Coffee Table with Storage: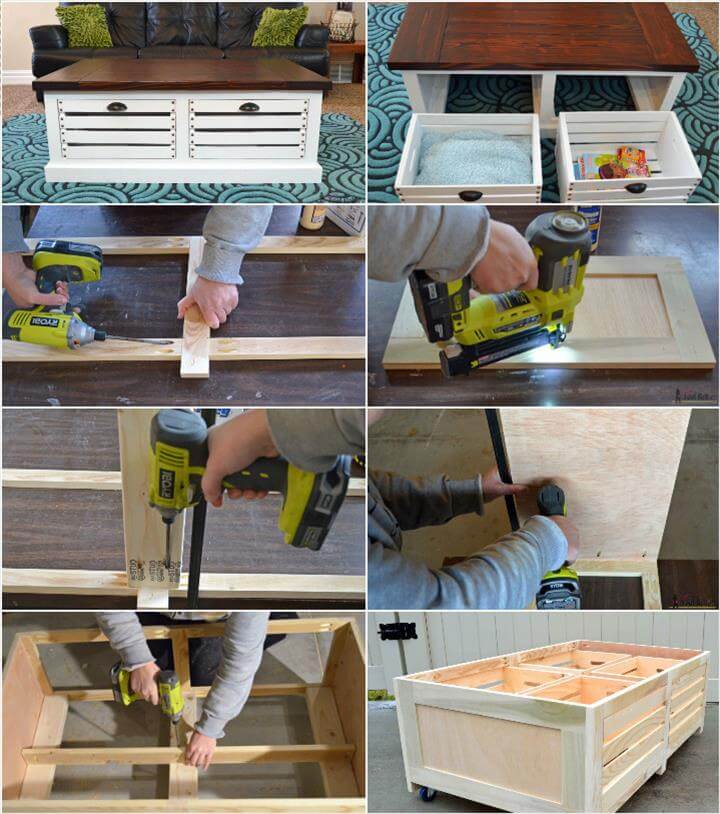 If you all looking for a spicy addition to your living room storage space, then do choose this pretty wooden coffee table with storage. It also comes with two builds in drawers that will be a stylish way to store your living room concerns. Design is full of style, and milk-choco appeal of low coffee table just held all precious and special to eyes. Full directions and DIY coffee table crates guide here hertoolbelt
Elegantly Sublime Mahogany Coffee Table – Get Free Plan:
Fallen in love with this elegantly stylish DIY wooden table? Make it yours by grabbing the free coffee table plans for it. Made for modern living rooms and curved legs all bring an artistic vibe to this table. Grab the free DIY mid century modern coffee table plan here finewoodworking
Modern Oval Coffee Table on Metal Hairpin Legs:
If you are missing that necessary luxurious touch in your living room, then this surfboard coffee table is sure to bring it back. A precious DIY coffee table design for style lovers. The fancy golden lines and artwork make it an extraordinary piece of furniture. Want to clone it now? Full DIY instructions here instructables
You can also build a round coffee table by cutting its edges in a round shape! We have this round coffee table here: DIY coffee table plans
Unique Neon Table with Hairpin Legs:
Every style-addict person will wish to make this unique neon table a visually attractive part of his sitting environments. Find such a unique live edge or marble tabletop on Craigslist or eBay. Here this artful marble or live edge coffee table on metal hairpin legs which are also super easy to build at home. the-brick-house
Wood Slab Coffee Table with Hairpin Legs: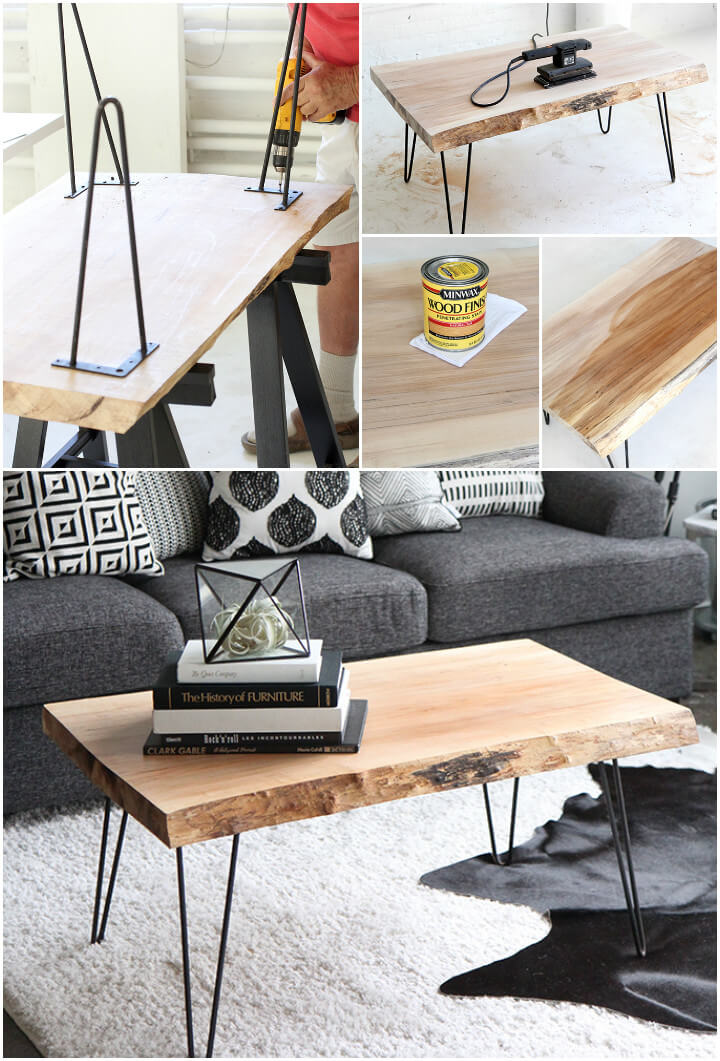 Missing some fashion points in the living room? This gorgeous wooden table is an amazing solution to make up it. Just finish a well sanded wooden slab with custom legs to build this rustic yet modern coffee table. Here are a full DIY hairpin table legs guide ispydiy
Hand-Built Industrial Wooden Coffee Table:
Build an industrial style wooden coffee table at home. Stare a little at this given sample. A mind-blowing hand-built wooden table with box style base. Finished for a rustic look and is a delight to view in a living room. Complete guide and DIY tutorial from little glass jar
Wooden Coffee Table with Tile Top:
Prefer this easy wooden table with concrete tile top for making outstanding statements in your living room. As easy-to-build as you want and is as stylish too. Complete directions and instructions here homedit
Copper Coffee Table with Wooden Top:
Another genius recovery. A mind-boggling DIY coffee table to jazz up your living room. Comes with a wooden top and stand on 3 flat box style copper legs. The table is all easy to compose at home, and the same is the copper legs. Copy this DIY Table for your larger sitting plans. Step-by-step tutorial here forme-foryou
Glass Topped Pallet Coffee Table on Wheels:
A single pallet skid can be a quick alternative for expensive living room coffee tables. Just sand well a single pallet board then paint and finish it finally with custom legs or wheels as shown pallet coffee table. A quite simple and super quick way to gain fashion-worthy living room pallet coffee tables for free. Full guide here annaevers
Homemade Balustrade Coffee Table with Lower Shelf:
If you all strive for coziness and style in your living room, then choosing this elegant DIY coffee table is all recommended. This square wood coffee table comes with 2 levels made of wooden planks. Both levels have been supported by balusters that also raises the aesthetic appeal of the entire design. Here is how to make it itsagrandvillelife
Spool Coffee Table with Built-in Bookcase:
Paint an old spool and add with wooden dowels (fixed straight between both levels) and with bottom wheels. By doing so, you will get this stylish DIY coffee table that is also to use as a bookcase in part-time. Complete round coffee table directions here pinkxstitches.blogspot
Recycled Pallet Coffee Table:
This rustic coffee table will get your priority if you are all thinking to give a mind-blowing rustic touch to your living room ambiance. Take pallet boards into single planks, and then a quick refitting can make your get this sturdy wooden table. Full DIY outdoor coffee table instructions here the36thavenue
Wooden Coffee Table with Metal Hairpin Legs: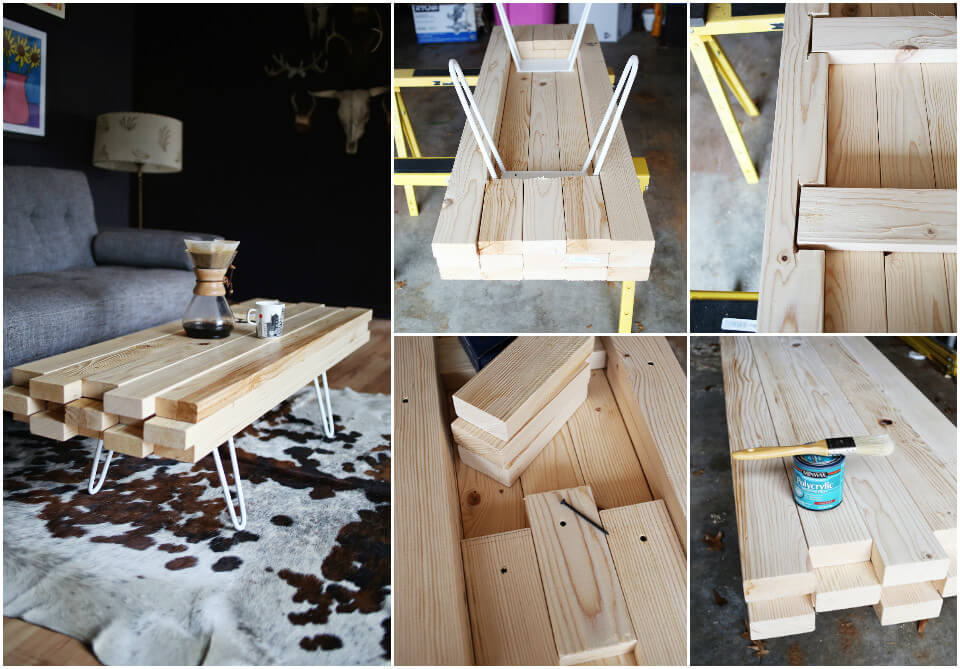 Flat piling of some straight & longer wooden lengths can result in a splashy DIY living room coffee table. Just finish the final pile with suitable legs, here metal hairpin legs have been selected for a provocative standing style of a coffee table. Complete guide and DIY tutorial from a beautiful mess
DIY Suitcase Coffee Table with Metal Legs: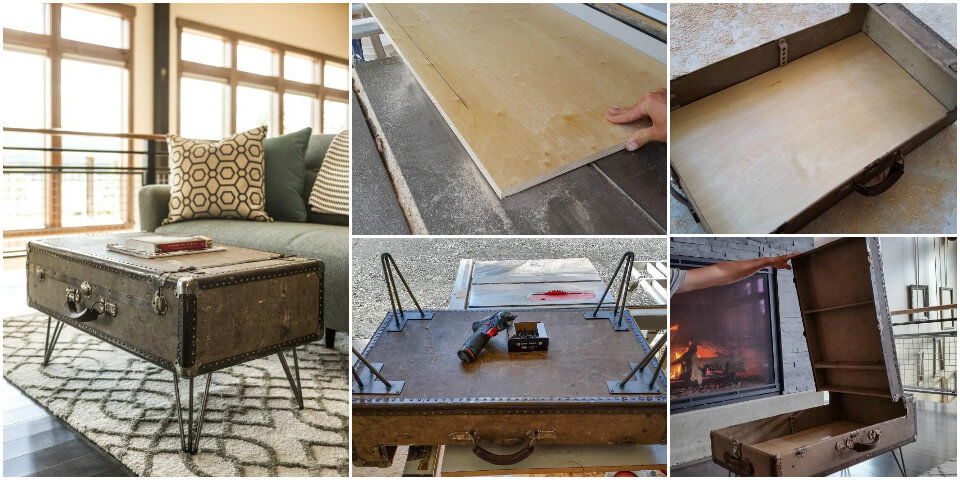 Need a glam rustic coffee table centerpiece in your sitting room? Your long-forgotten suitcases can be a good alternative to it. By adding a piece of wood to suitcase's bottom, hand-built metal hairpin legs have been installed to it for a wonderful rustic coffee table with storage as you can see. Step-by-step tutorial here diynetwork
Take a roundup to learn DIY home decor much more…