Are you looking for furniture and woodworking projects? Do you feel like something is missing in your living room or your patio? Well, this might just be it. Maybe your living room or your patio is in dire need of an upgrade, and your old coffee table needs to go now! Let's do that with style, shall we? Check out our best and easy 150 free DIY coffee table plans to pull off some super cool coffee table projects this weekend.
We have always cherished the wonder of DIYing. For sure, making your own handmade coffee table is way more fun and quite rewarding as compared to buying a coffee table just off the market! For one thing, you can be as open to options and customizations as you like. And for another, how about a flaunting DIY Coffee table project for a great weighted Instagram fame. *wink wink* Try these 150 best DIY coffee table ideas with step by step free plans to build your own coffee table for your living room, farmhouse, and garden. We are all well aware of the role of a coffee table for a living room, and a garden which is highly versatile.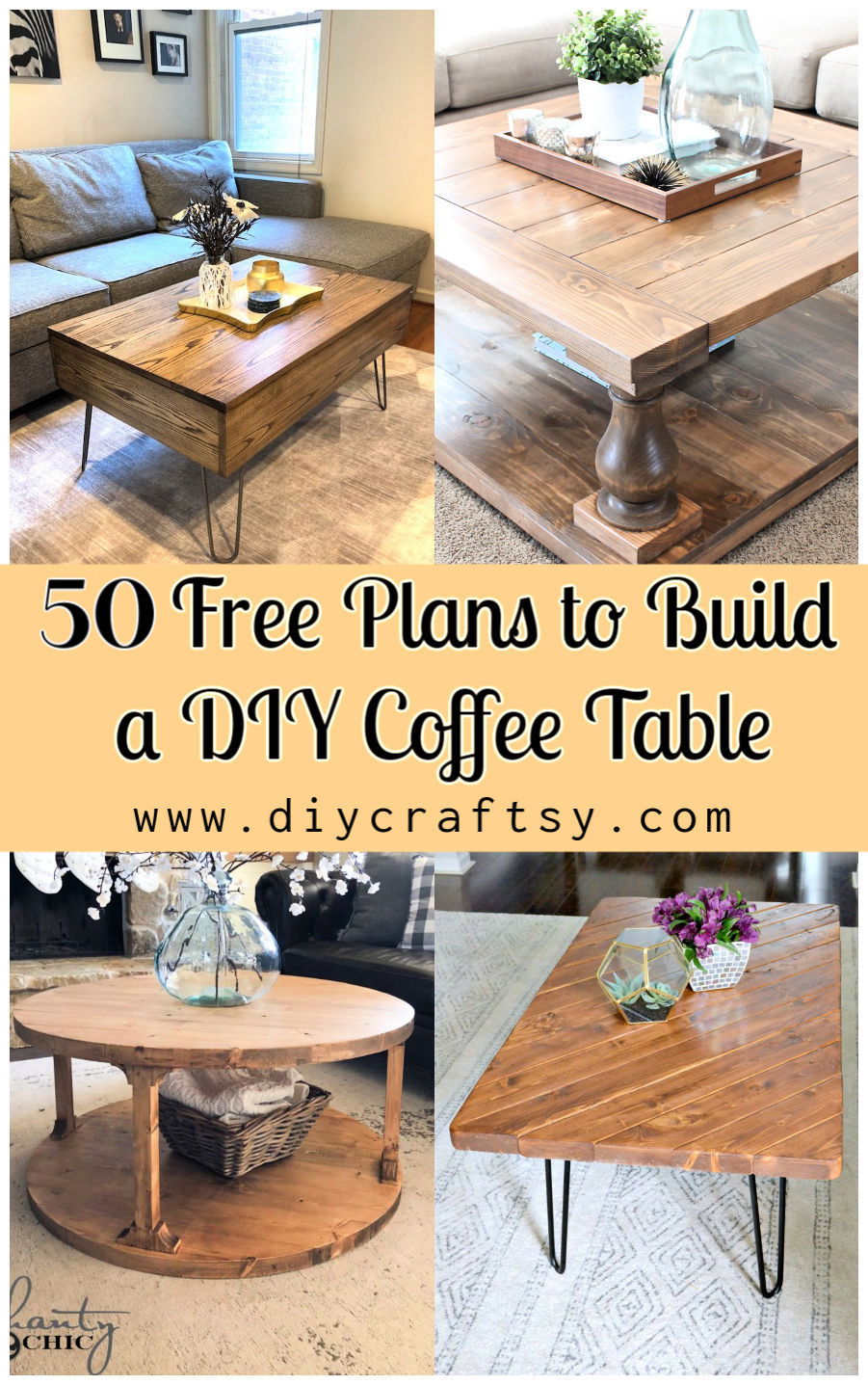 Our selected DIY coffee table ideas are not super easy to make, but all of them are highly functional as well! We have got some pretty cool, sleek designs with storage options. Some cool coffee table plus bench with storage boxes to keep your living rooms free of clutter!
1. Round Coffee Table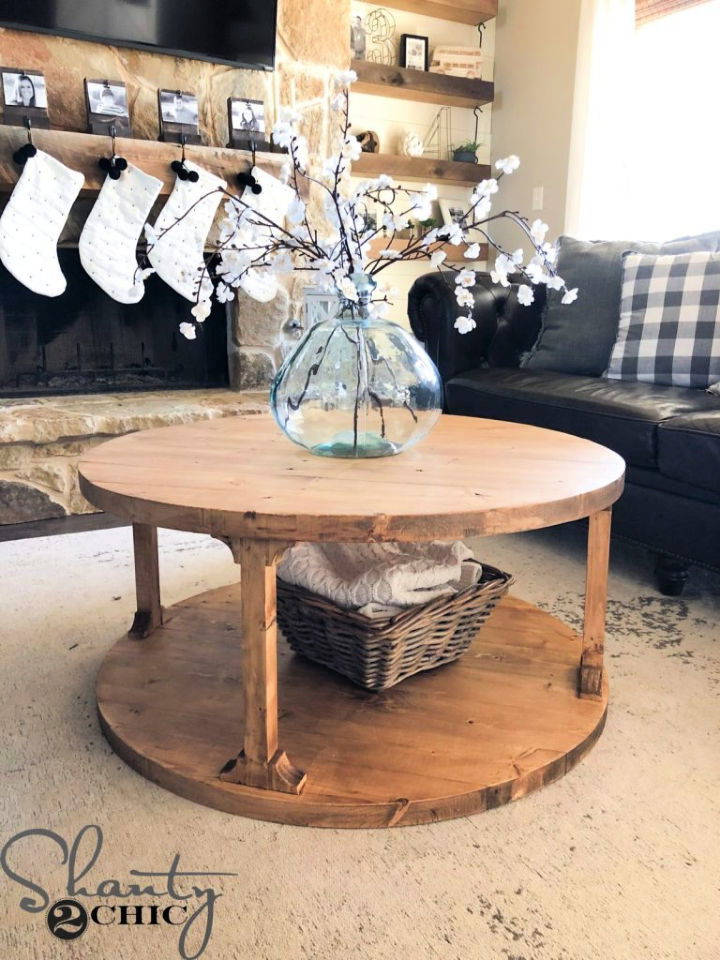 A round table is one of the most cherished and beautiful pieces of furniture. Have a look at this round DIY coffee table with two shelves. It is pretty easy and will be friendly on the pocket too! You'll only need 2*6 boards for this beauty, and it will hardly cost you around $39. shanty 2 chic
You can get many industrial and vintage with ultra-modern appeal inspirations from our DIY coffee table plans with hairpin legs! All of these coffee table plans and tutorials selected below are perfectly DIY friendly with step by step guide and detailed material list and supplies requirements, stated. Let's get started! There are just so many magical transformations you can bring to your coffee tables using basic wooden crates.
2. Lift Top Coffee Table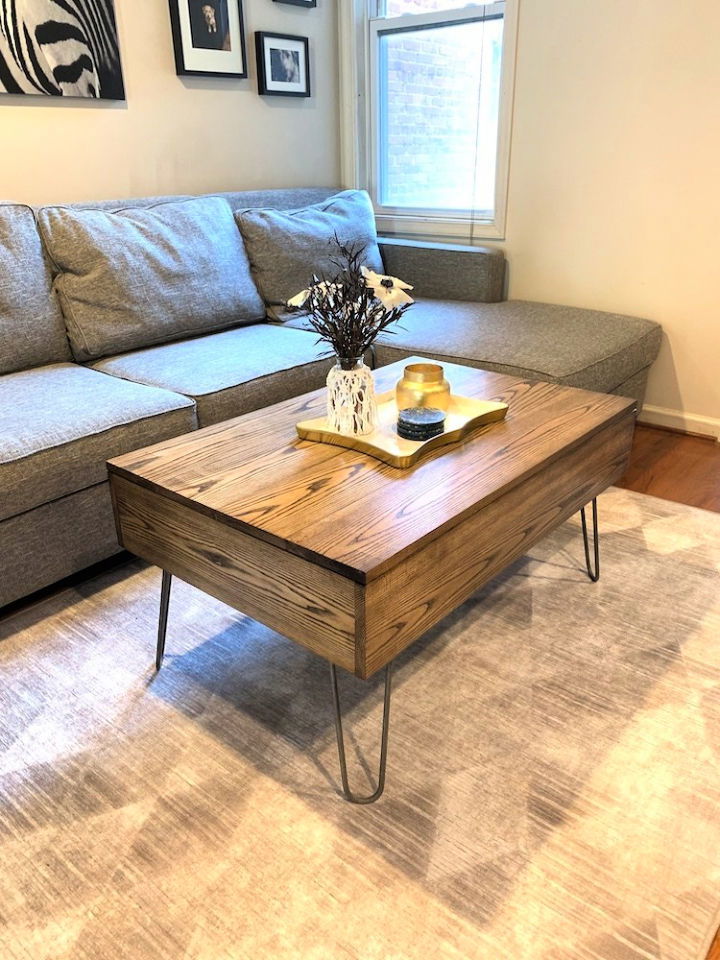 Here is another DIY coffee table idea with hairpin legs and a lift top mechanism to brighten up your day! The whole thing is perfectly stained in a rustic appeal and looks utterly striking! Just carefully mark the screws after you are sure about the top lift mechanism. chiselandfork
3. DIY Pallet Coffee Table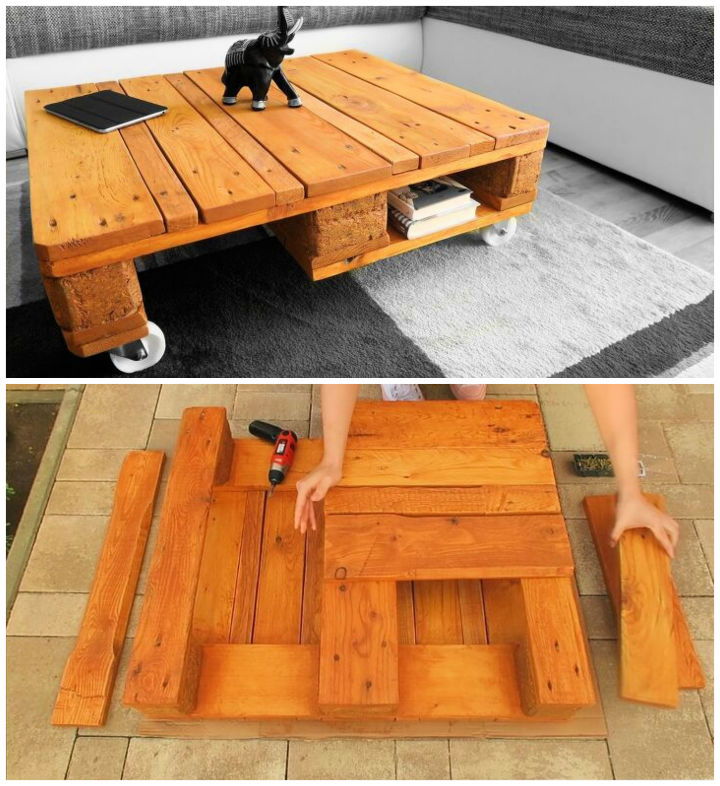 A super stylish and stately pallet coffee table with wheels is all you are going to need to take things up a notch in your living room furniture game. This one's a keeper! As it is not just enriched in style but comes with storage too! hometalk
4. DIY Barn Wood Cart Coffee Table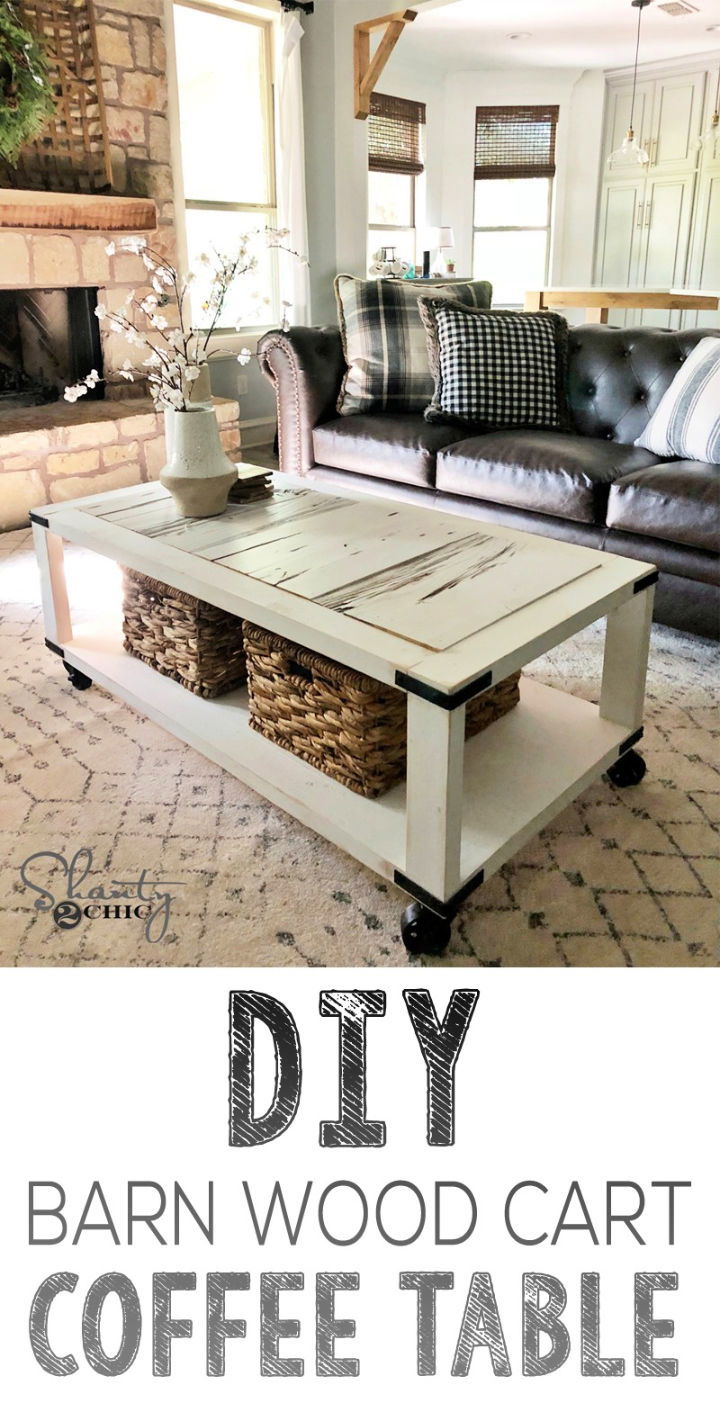 We are totally awe-struck over this super adorable and uber gorgeous barn wood coffee table. The best part is that it is highly functional, too, along with its chic outlook! You will start building this GORG piece of furniture by assembling the bottom shelf first. shanty 2 chic
5. White Coffee Table with Herb Garden
Chic white coffee table with blag legs and with an amazing natural garden like a spell. This happens due to a built-in planter that makes you feel like you are sitting in a garden while being around this DIY coffee table. Grow your favorite flowers or herbs in the integrated planter or use it as an icebox for your beverage parties. Want to copy this clever rectangle coffee table now? Step-by-step DIY tutorial here a beautiful mess
6. DIY Marble Coffee Table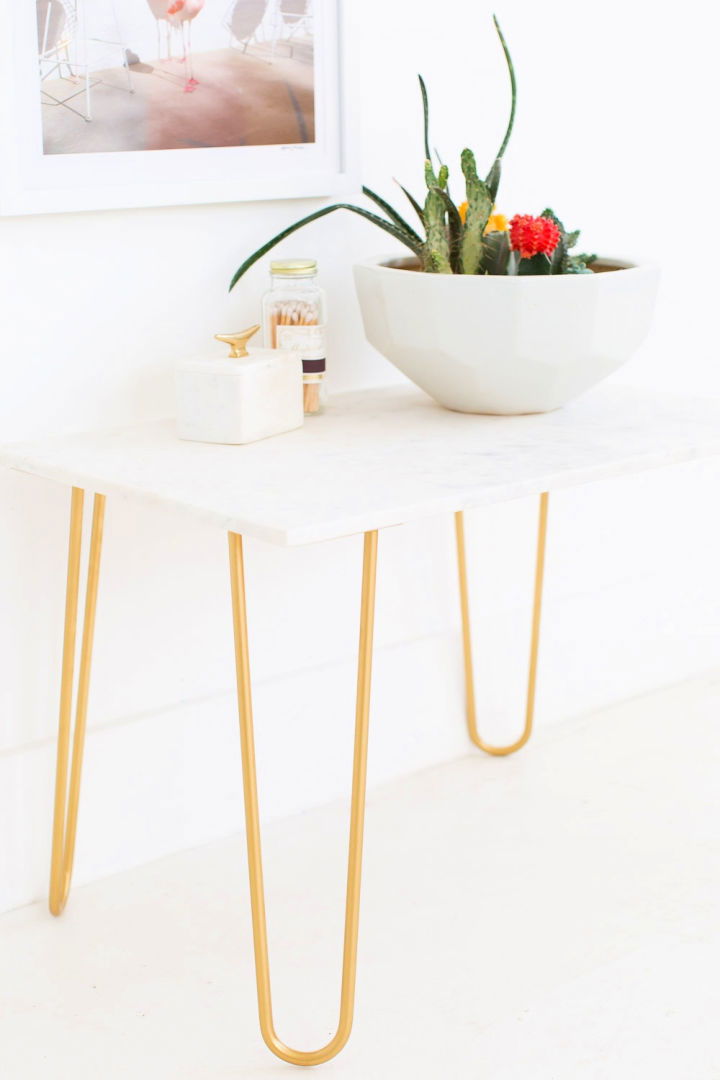 Check out this mesmerizing marble table with gold accent legs brightening up the whole thing! You will need few supplies like liquid nails (which are marble adhesive), 4 steel hairpin legs, gold rust oleum spray paint, spray primer, sealant, and marble board. sugarandcloth
7. DIY Hidden Storage Coffee Table
Every house needs a stylish and functional coffee table.  Usually, these classy coffee tables occupy the living rooms. And who wouldn't love having a functional and elegant coffee table at the same time? Check out this DIY hidden storage coffee table. ryobitools
8. Coffee Table with Storage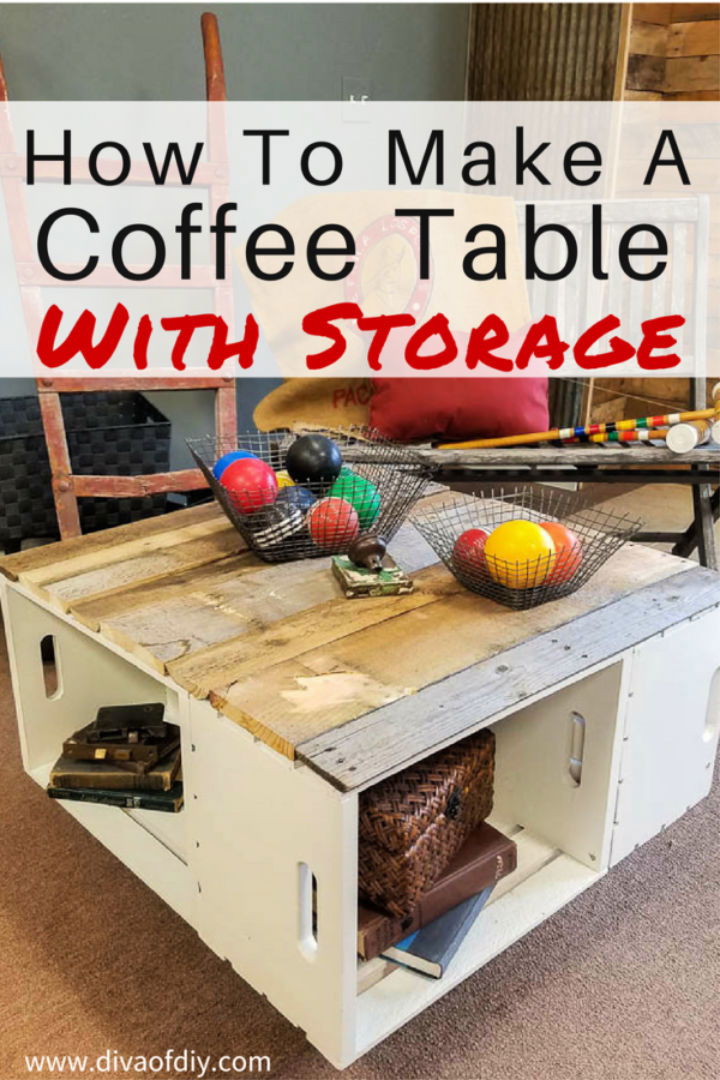 The magic of wooden crates! Nothing can make a living room stand out other than a perfect coffee table. This coffee table made with crates is super easy to make and will bring a vintage and rustic appeal to any room. divaofdiy
9. Crate Storage Coffee Table
This unique crate storage coffee table and stools are perfect for keeping your living room organized with style statements in check. Sure, you can have a lot of modern coffee table options, but why not build something both stylish and functional. hertoolbelt
10. Chunky Farmhouse Coffee Table
We are totally drooling over this chunky farmhouse coffee table! Just have a look at this farmhouse-inspired DIY coffee table. Isn't she just a beauty? handmade haven has got an exciting 3D plan to work this magic. handmade haven
11. DIY Copper Coffee Table
A simple, sleek, and super elegant coffee table is all you need to make your living room a version of your own personal heaven! A stained and sturdy wooden base with some sleek copper legs to make the whole thing look super whimsical. forme for you
12. DIY Balustrade Coffee Table
A huge and stately Balustrade coffee table is all you need to brighten up things in your living room! It will take about 7 hours to build and assemble the whole thing and just 5 more hours to stain and give it a final look. itsagrandville
13. Wire Basket Coffee Table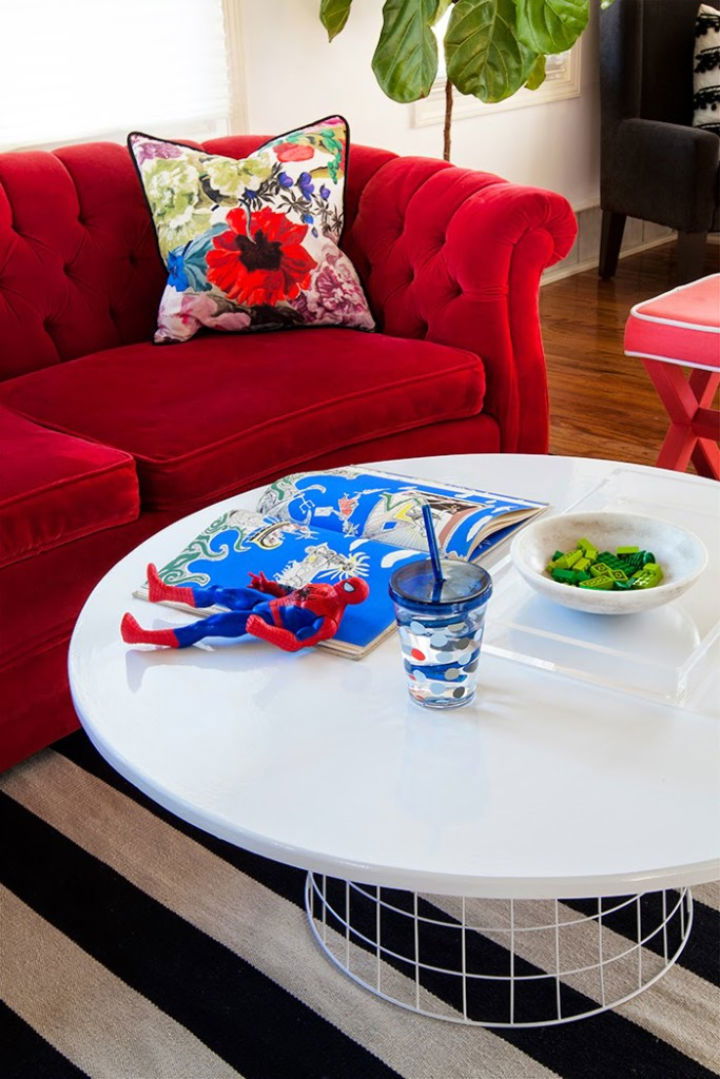 Simple, elegant, and in-style. This wire basket coffee table in all white appeal is absolutely perfect! You will need a large white basket to set up the base of the coffee table and by using the MDF board, set up the surface base of the coffee table. themakerista
14. Build a Puzzle Coffee Table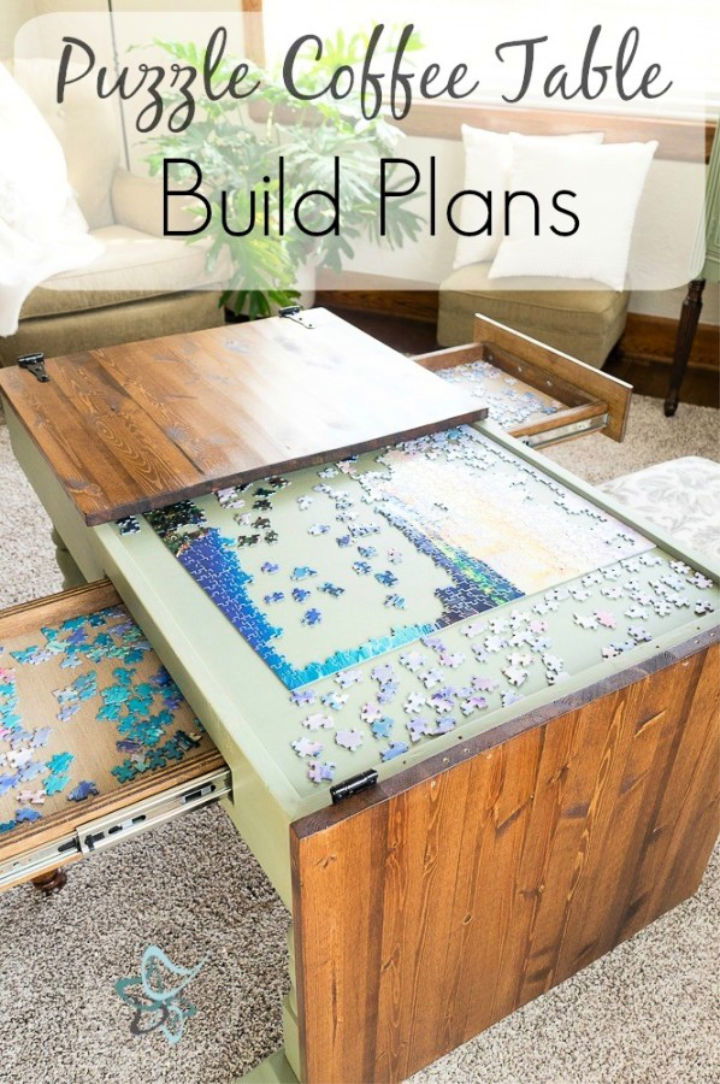 A coffee table that is both fun and functional is hard to come by! This puzzle coffee table with pull out drawers is the best thing that can happen to your living room. Get the full fledge and detailed building plan from the designeddecor. designeddecor
15. DIY Farmhouse Coffee Table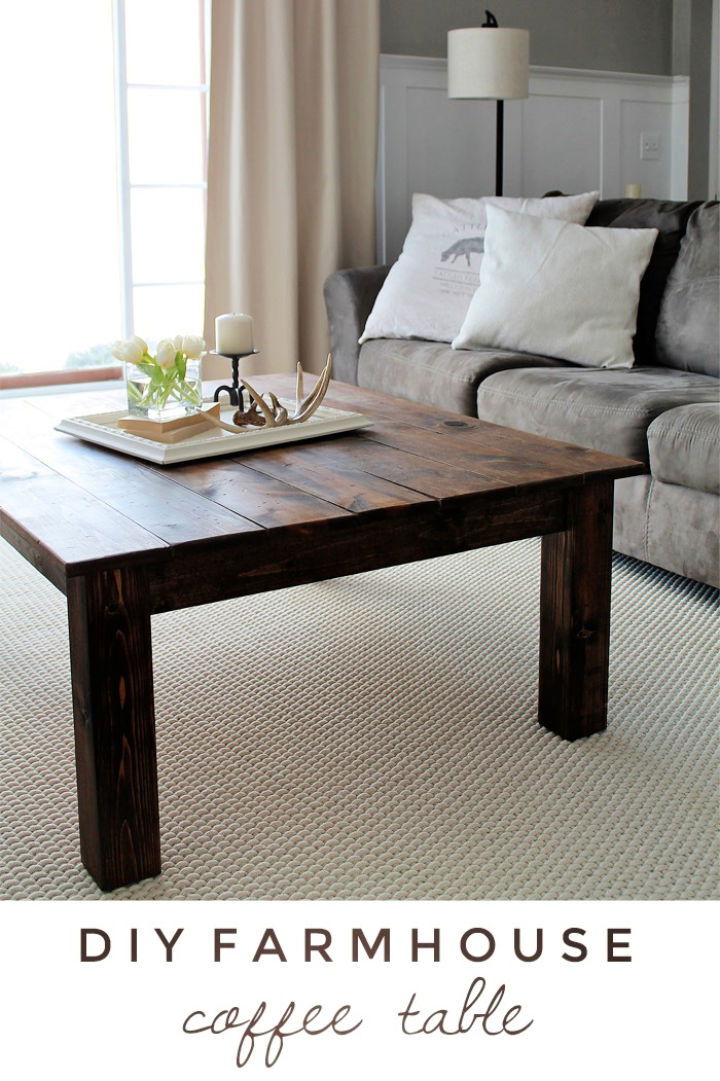 Simple, broad, and exquisite, this farmhouse coffee table is totally on point! If you are looking for something rustic and cozy to add to your living room, this is a fantastic idea. Just pick up some tools, some lumber, and get started. lovegrowswild
16. How to Make a Suitcase Coffee Table
The perfect example of vintage and rustic coffee table with hairpin legs! You will need a table saw, a circular saw, a drill. Along with a vintage suitcase, some pieces of plywood and hairpin legs. Get a full transformation plan in the tutorial. diynetwork
17. DIY $15 Coffee Table
Here is a perfect beginner project for your patio in just $15! If you are looking for a simple and at the same an easy coffee table idea, which at the same time can be sensational. Here is your magical option! anikasdiylife
18. Coffee Table with Hidden Toy Storage
Talk about a classy storage hack and a coffee table at the same time? If you have kids, your living room must also need a toy rescue storage option. All of this has to be but style with! Keep your kid's toys and other things in a non-conventional toy chest. bobvila
19. Coffee Table With Lift Top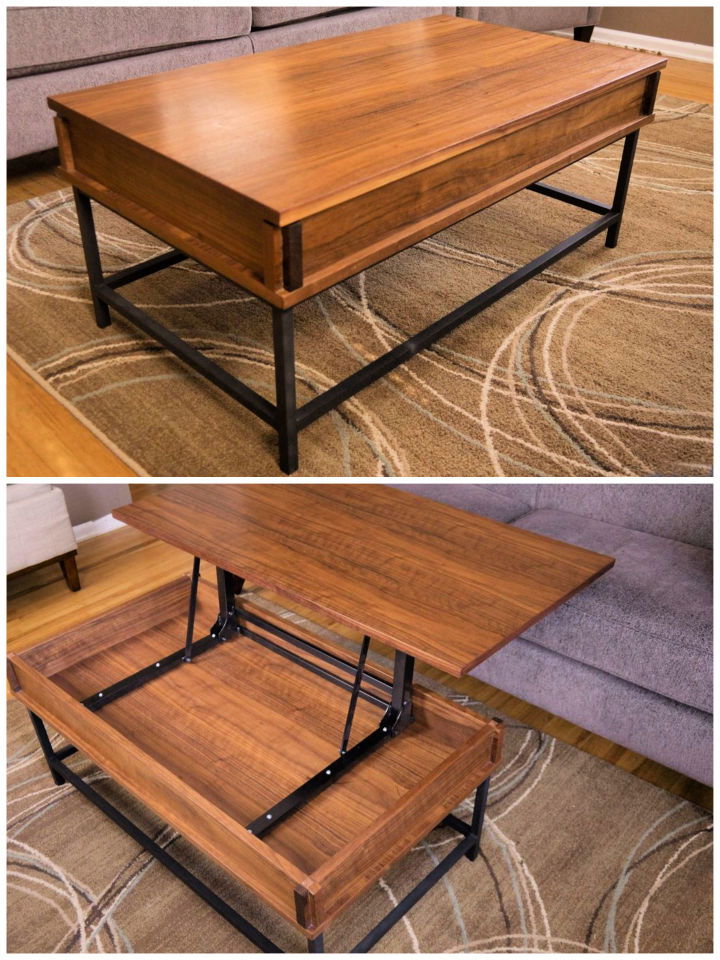 This coffee table with a lift top has caught our attention! The lift top is perfect for a nice coffee on the couch while working smoothly with your laptop on an easy and perhaps a back-friendly table. Lift top mechanism and aluminum legs are adding up to this table. instructables
20. DIY Round Coffee Table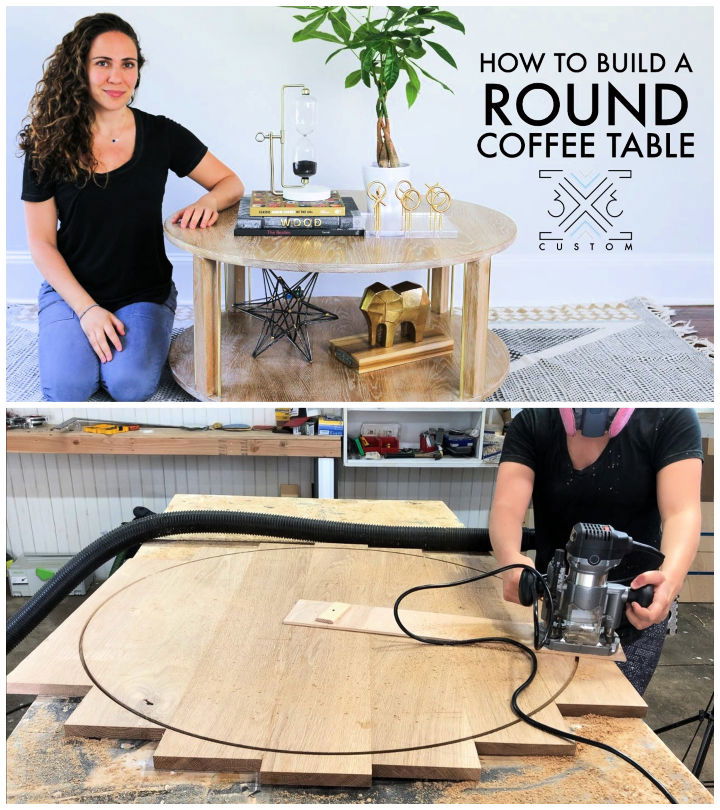 By using some oak boards, you can make yourself these two shelved coffee table with the detailed construction plan and measurements gives by 3x3custom. This super functional coffee table is 35″ wide and 17″ tall. 3x3custom
21. $50 Square Hairpin Leg Coffee Table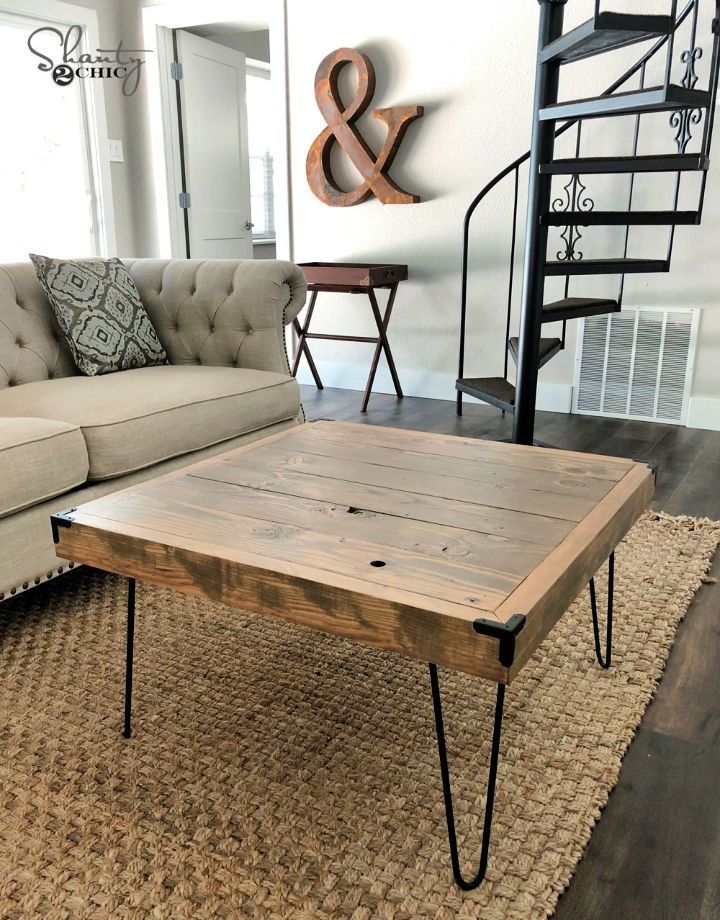 Who wouldn't love to add this super chic and sleek square coffee table to their living room! You will need some pocket hole screws, wood glue, table saw, circular saw, and your favorite shades or mix and match the stain to finish it off. shanty 2 chic
22. Outdoor Coffee Table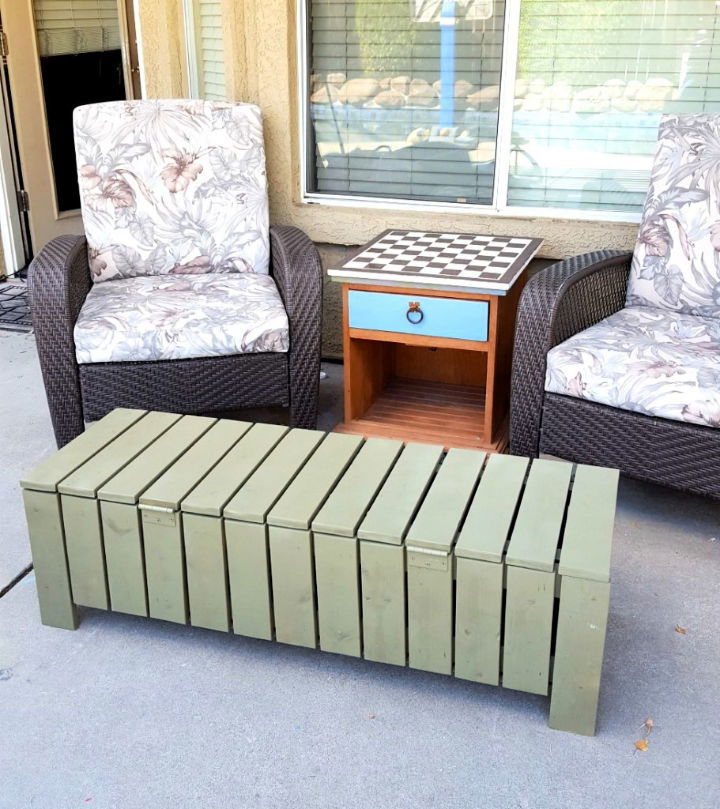 Name anything more perfect for an outdoor gathering than an outdoor coffee table with a storage bench! It is almost spring around the corner, and spring means a lot of time outdoors with fun games and family gatherings. Make that even more exciting. leapoffaithcrafting
23. 15-Minute Hairpin Leg Coffee Table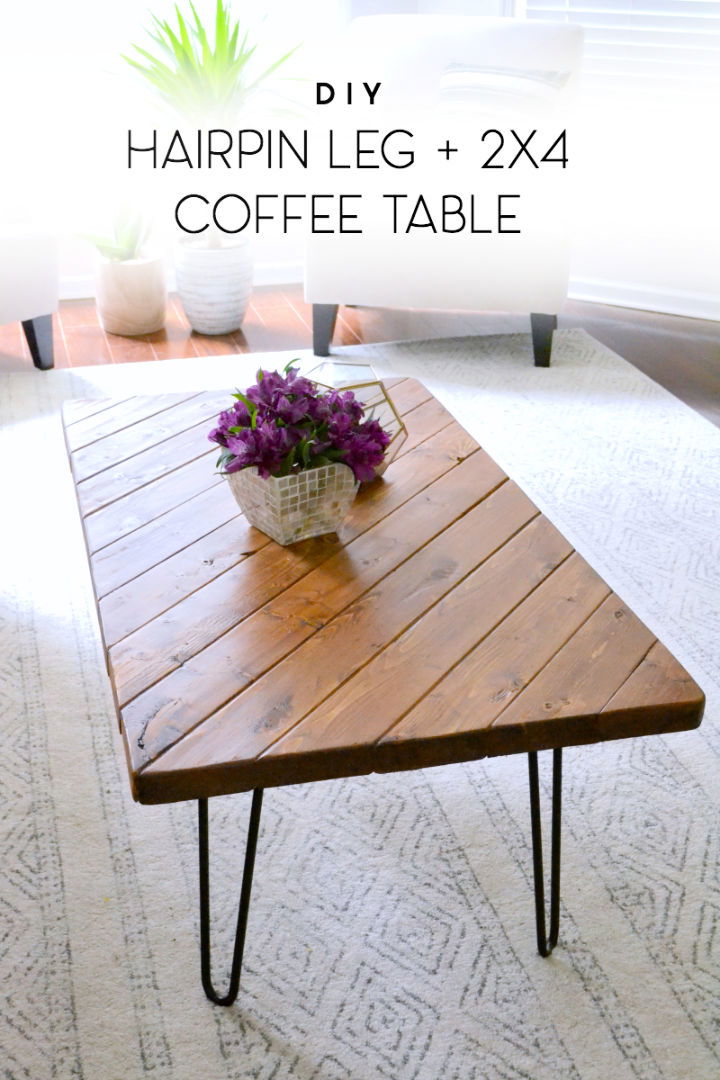 The folks at Ugly Duckling has got the perfect 15 minutes DIY coffee table for your living room with subtle hairpin legs. You will start off by getting your hand son a scrap piece of plywood, gather as many of 2*4 scraps as you can. uglyduckling
24. Coffee Table With Hairpin Legs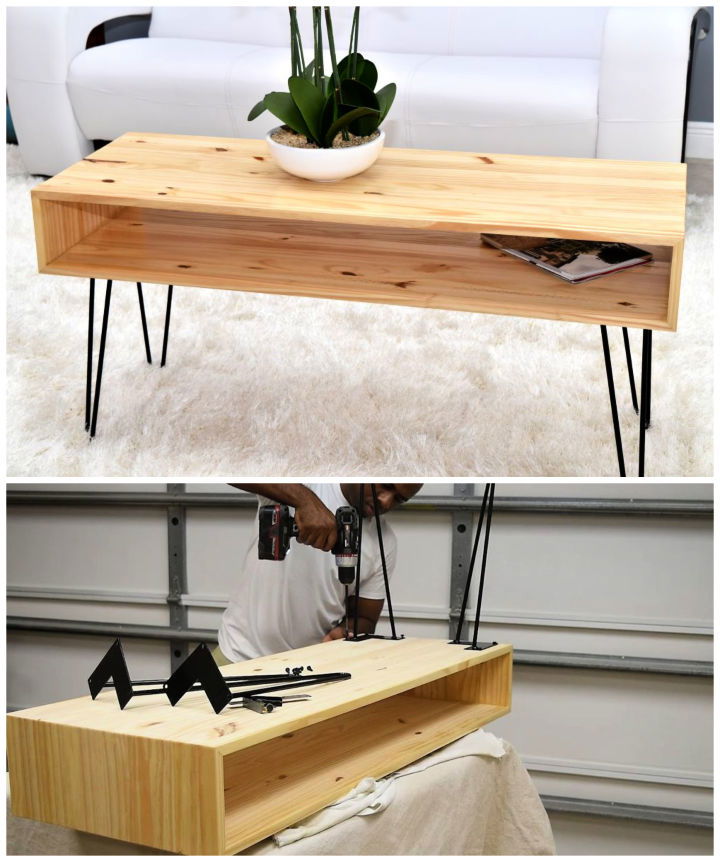 The thing about choosing to DIY coffee tables is that you can customize the whole thing as much as you like. Make it as much unique as you would like to! You will need 4 sets of hairpins legs, and three-edged glued panels with a table saw to make the adjustments. homedit
25. Hairpin Leg Coffee Table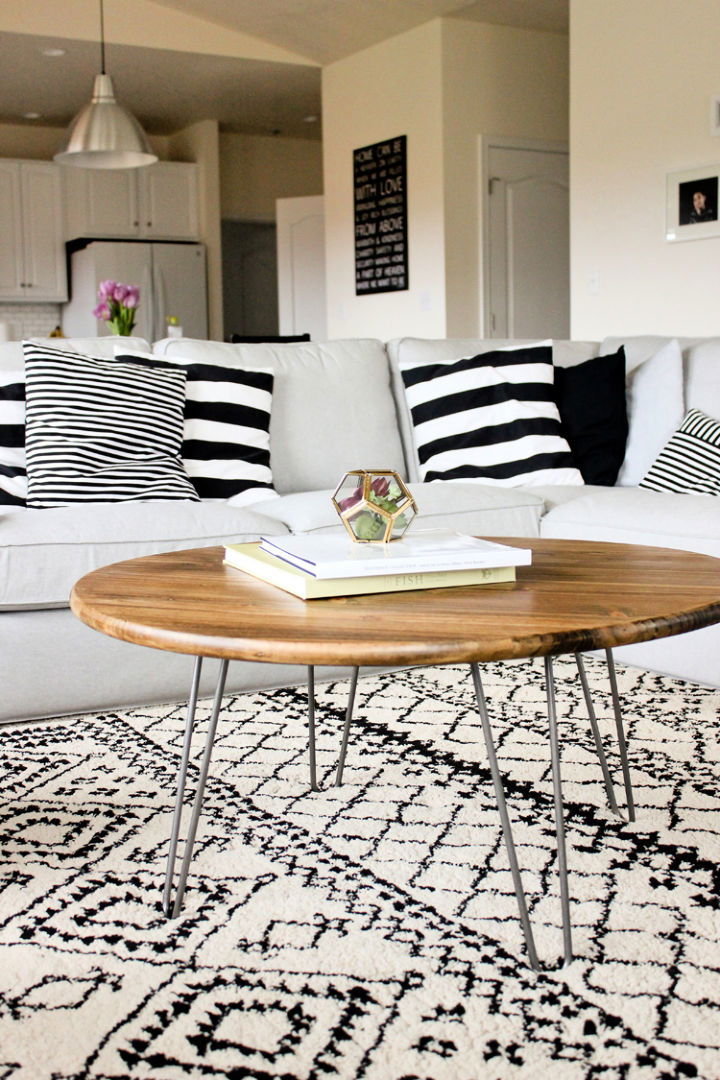 One of the best things with hairpin legs coffee table is that it takes less time to assemble it and that you get a trendy and stylish DIY furniture in addition to your home! We are totally in love with this ultra-modern and industrial coffee table. deliacreates
26. DIY Coffee Table, Bench Or Stool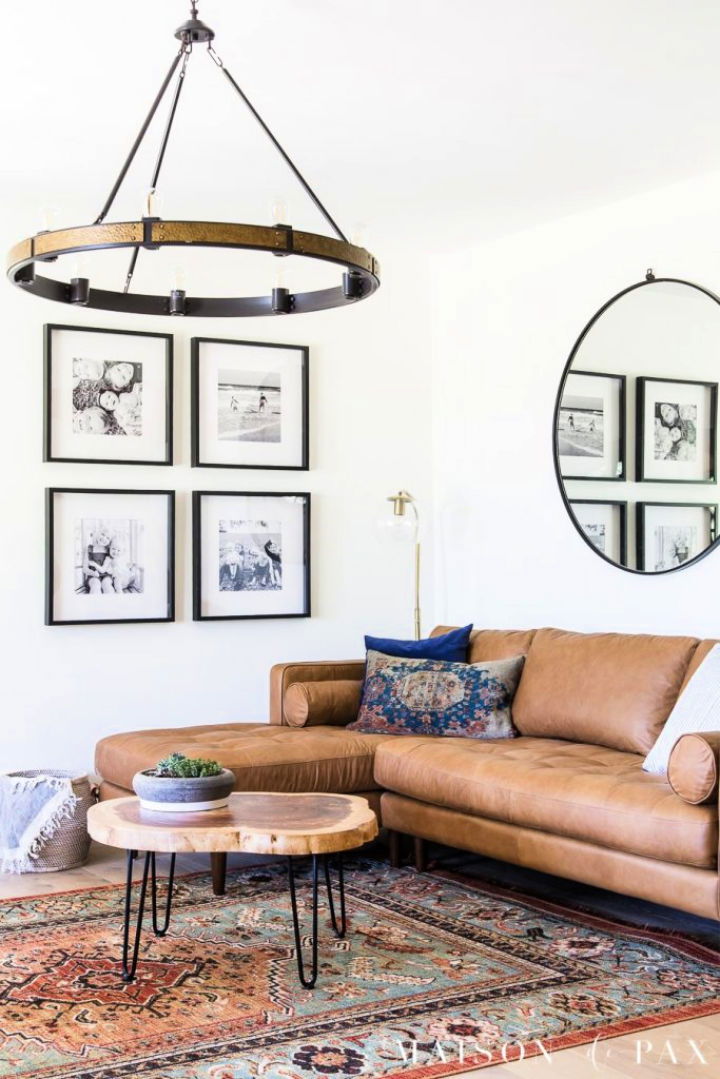 Make a multi-purpose addition to your furniture with Rachel from maisondepax. A log slice coffee table with perfect industrial and midcentury jet black hairpin legs is the solution to your living room furniture! maisondepax
27. Modern Mid-century Coffee Table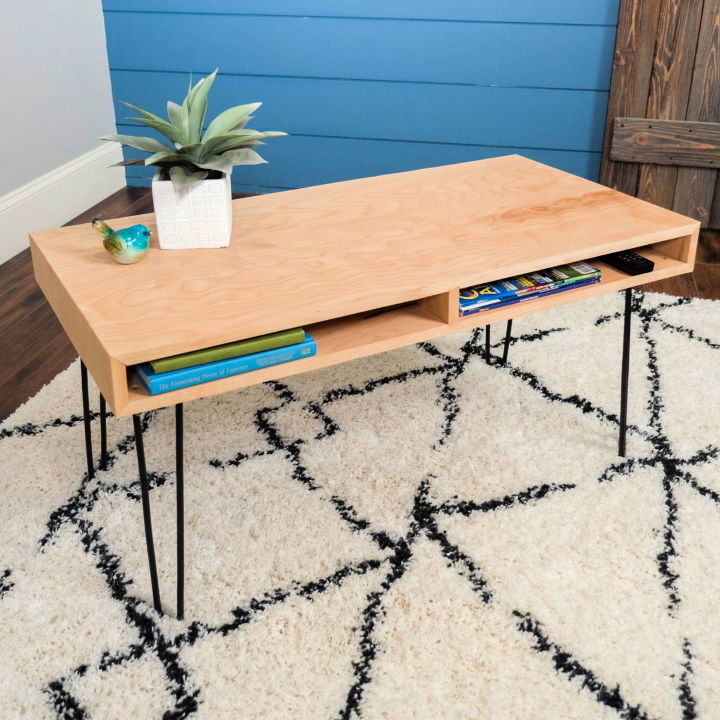 Please your eyes and your home with this modern mid-century coffee table with its super-sleek look! Despite of its sleek look, this coffee table still has plenty of space for storage. The contemporary hairpin legs are sprucing up the look totally. familyhandyman
28. Round Coffee Table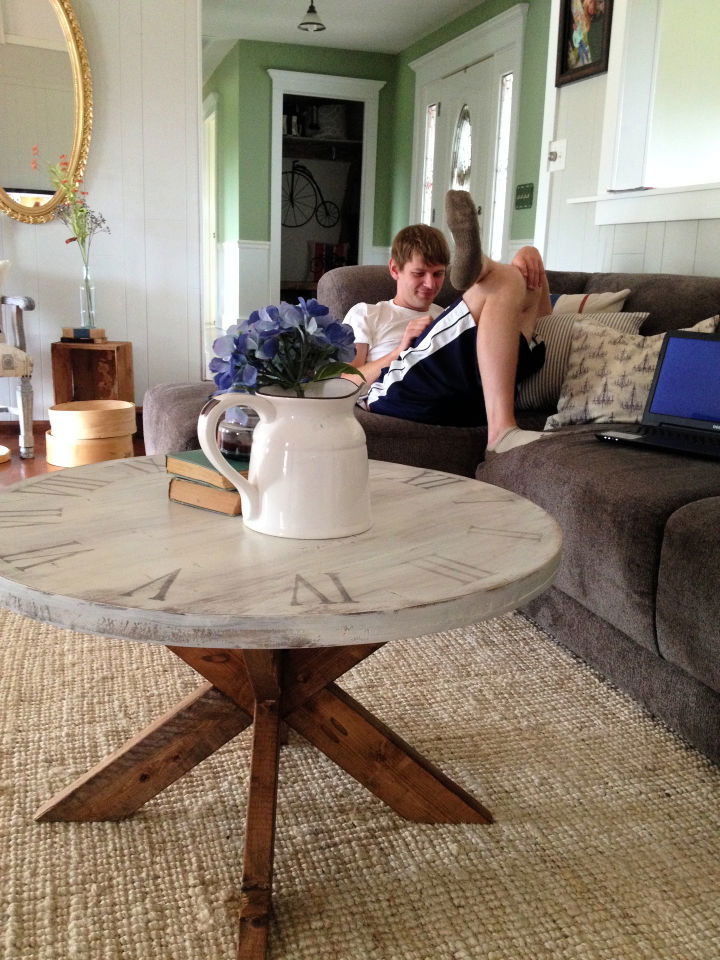 This super elegant and perfect coffee table with a clock appeal is about 19" tall and 30" wide. The tutorial has got a complete detailed plan with measurements and details. The X-shaped legs with the added wooden touch are totally spicing up its look. woodshopdiaries
29. Industrial Coffee Table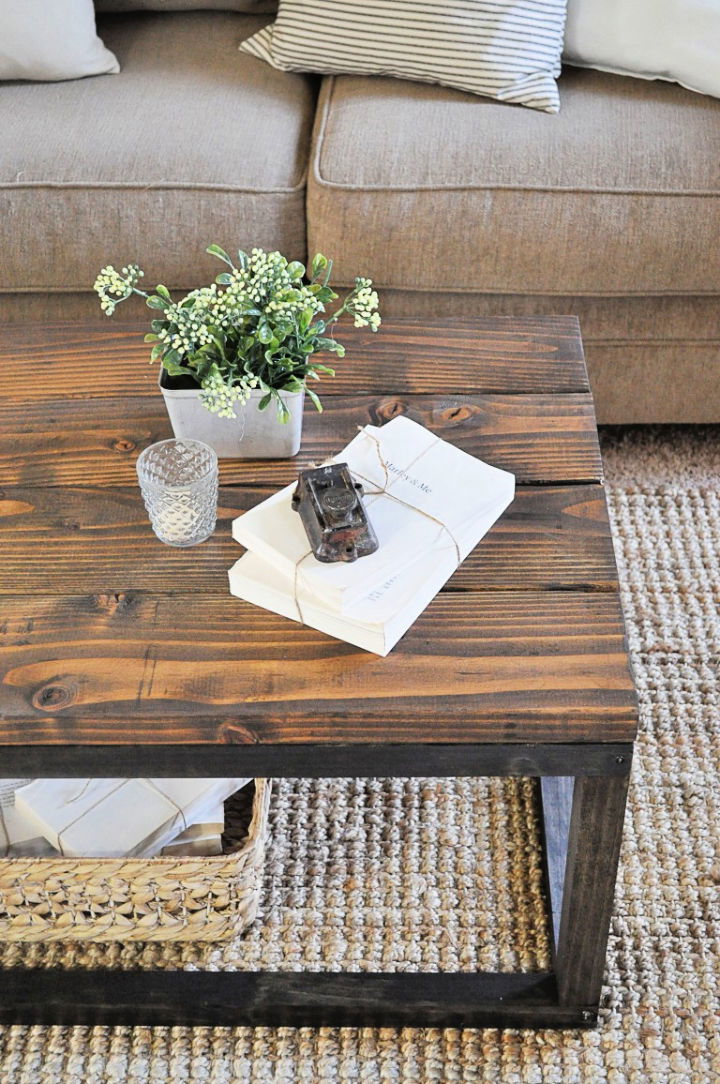 It must have happened with you that you got your eyes on a certain piece of furniture, but it is too expensive to come under your budget. Well, worry, not. The folks at littleglassjar are all set to wake up the DIYer inside you, and you can have this industrial coffee table all DIYed. littleglassjar
30. World Map Coffee Table with Glass Top
How about a little bit of texture addition with this glass top coffee table? Having beneath a beautiful and serene world map. The idea is to have the whole world on your table. Refreshingly positive thought with a beautiful design, check! homecrux
31. Metal and Wood Coffee Table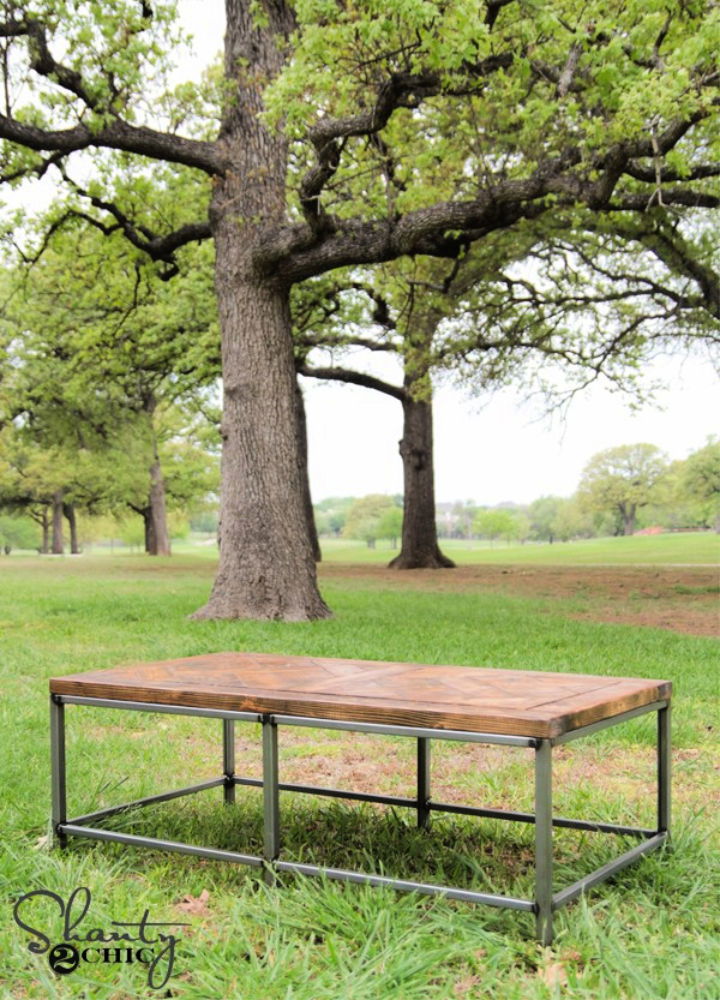 Have a look at this super sturdy, metal, and wood coffee table! A combination of both style and sturdiness. The design and texture enriched pattern it is looking absolutely stunning, and you can get such a stately design by working around pieces of plywood. shanty 2 chic
32. Rustic Round Coffee Table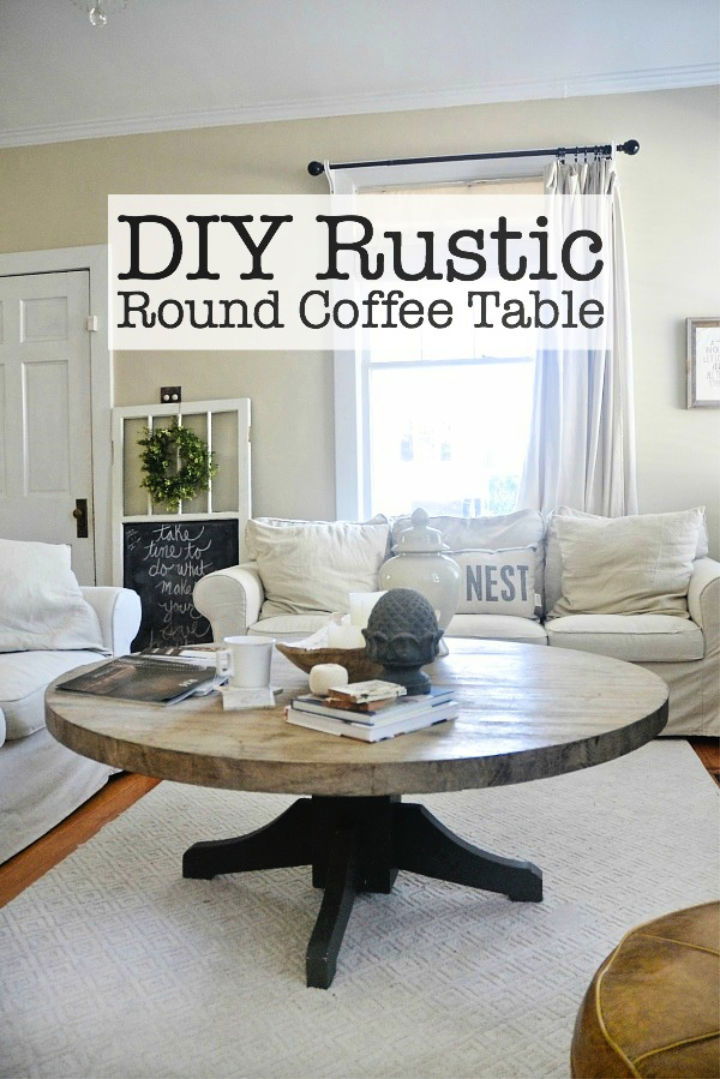 Round coffee tables might date back a long time back, but their vintage and trendy appeal never gets old! If you are looking to get inspired for a new coffee table that is totally under your budget but entirely over the trend, Liz has got just the right plan for you. lizmarie
33. Coffee Table With Glass Top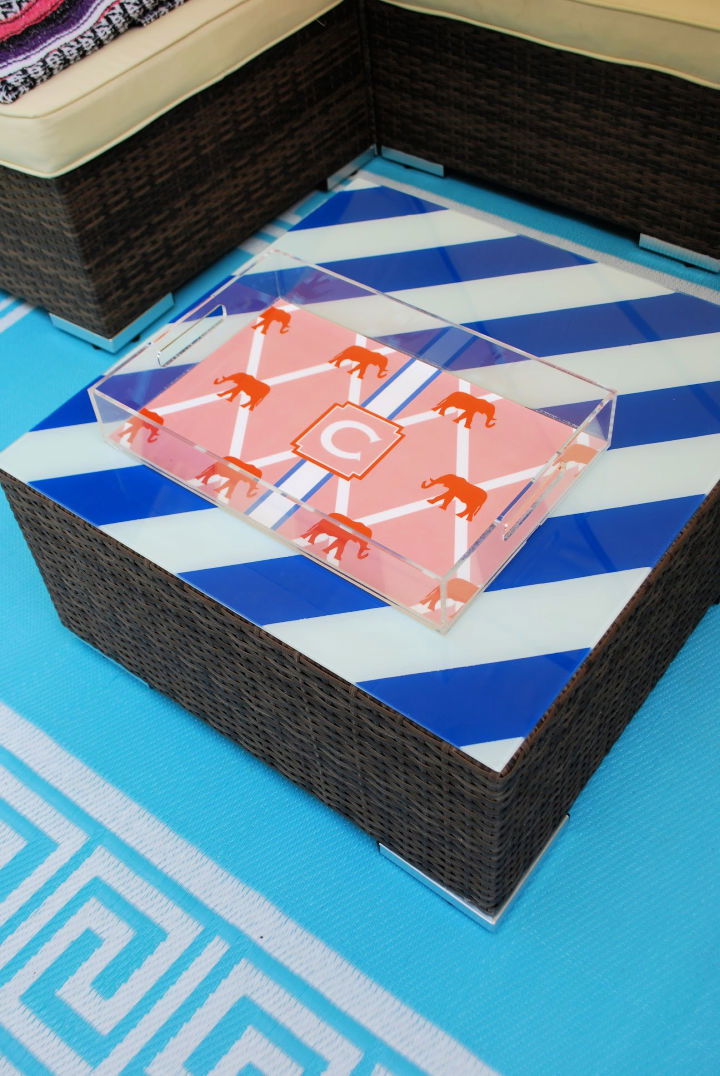 If you are bored with your coffee table or looking for plans to remodel the look, this glass top painted coffee table is here to excite things up for you! You will need cans of spray paint and a design or pattern to follow! Nothing's permanent. You can easily rub it off with acetone. effortless style
34. Coffee Table Out Of Crates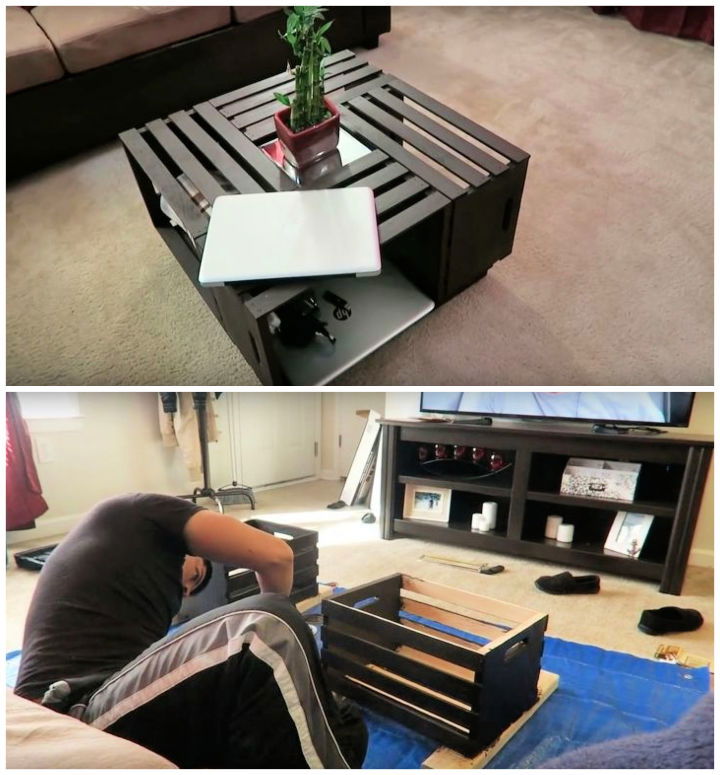 In just $60, you can end up making this super stylish and stunning crate table for your living room! The whole structure of this table revolves around style details and the assembling of the crates. Get the full plan here. hometalk
35. Double Decker Wooden Coffee Table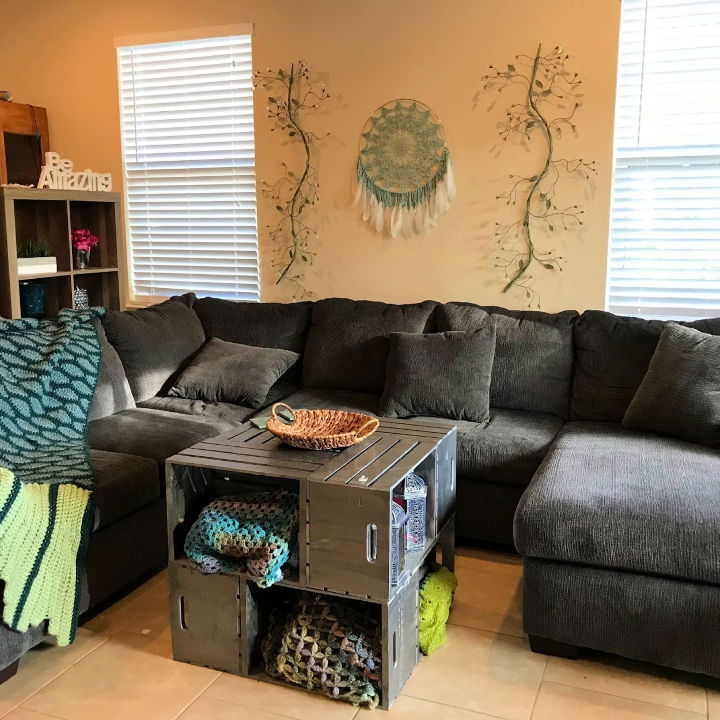 Check out this double-decker wooden coffee table, which seems highly functional and appealing! As it comes with a number of storage options. All you are going to need is about 8 wood crates, a hammer, nails, spray paint, and primer with sandpaper. kristinomdahl
36. Crates and Plexiglass Coffee Table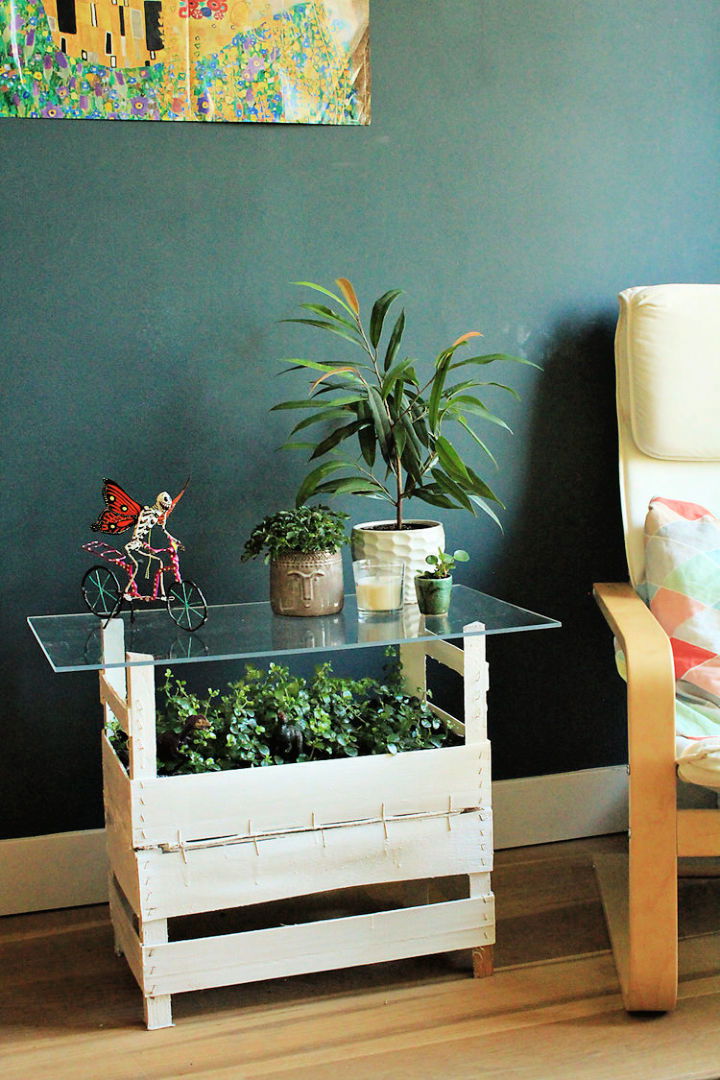 How about a stunning table with a crate base and a plexi glass shelf. The crate base can also address to your indoor plants' craze as well. You will need two wooden crates, white paint, atlacoll glue, plexiglass, plumber's tape, and fast crawling plants. inwhirlofin
37. Homemade Coffee Table and End Table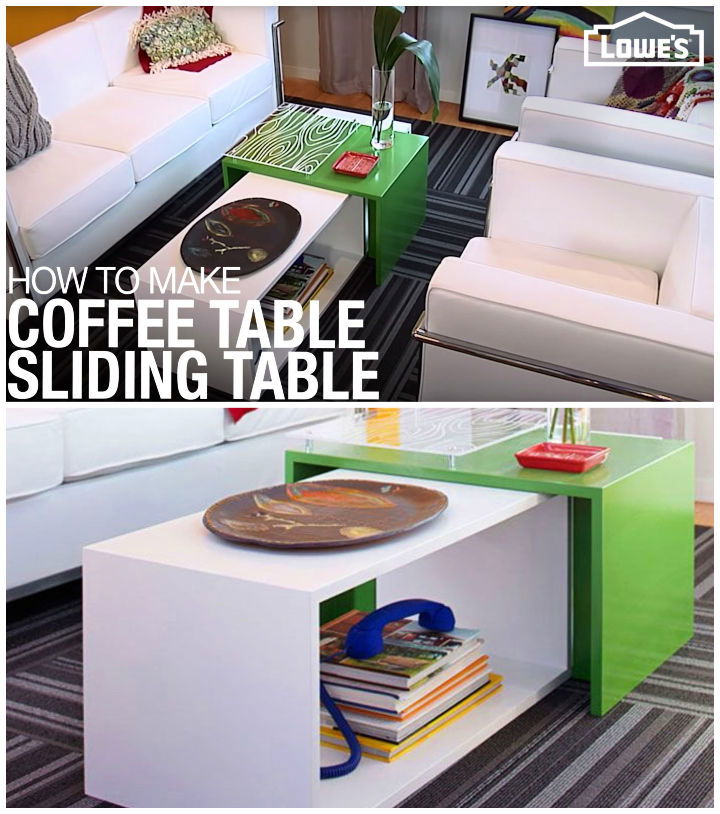 Get inspired by this homemade coffee table and end table. It is undoubtedly a price in itself to make this beautiful piece of furniture with such an enriched design element. All it's going to take is some simple seven steps, and you can start off with cutting MDF pieces. lowes
38. 8 Board Farmhouse Coffee Table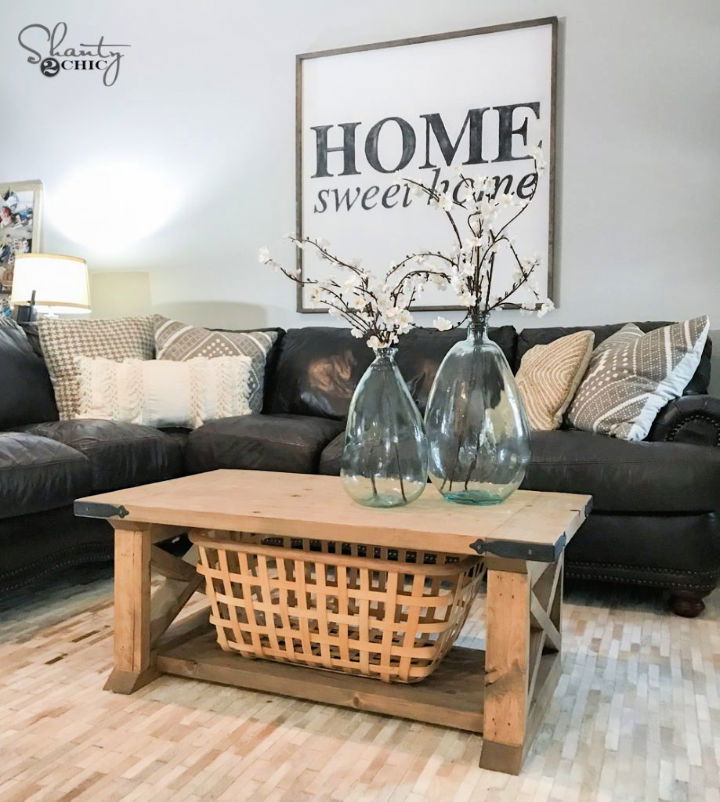 Gather around some lumber, and you will need only 8 boards of Lumbers to nail this farmhouse coffee table. Make sure that you start building this by making boxes for legs assembly and them moving on to the rest of the table. shanty 2 chic
39. Rustic Coffee Table With Storage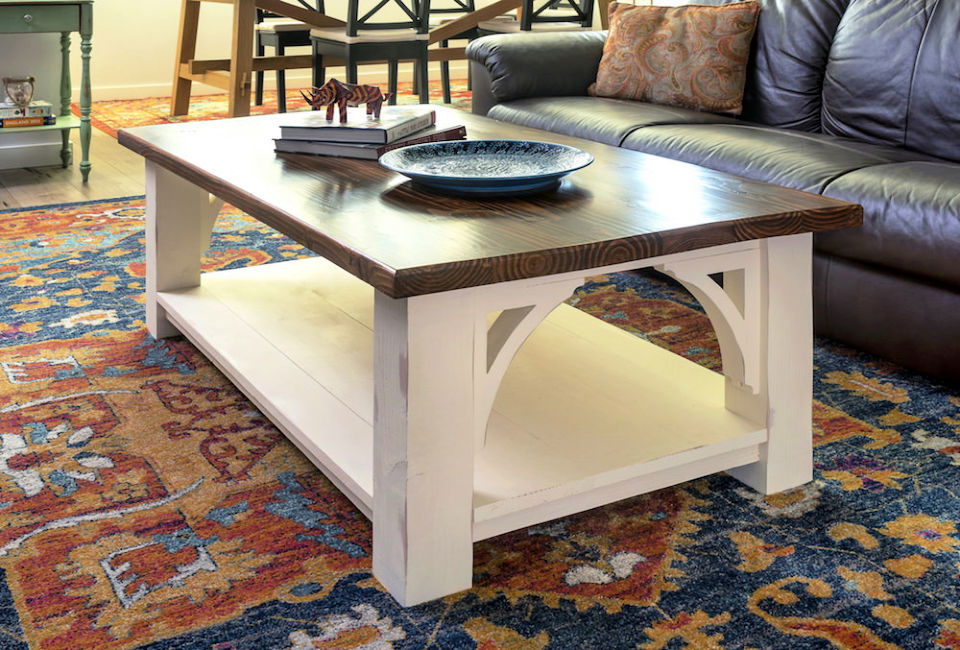 How about a rustic coffee table with farmhouse appeal and storage underneath? This wood coffee table is not just gorgeous but at the same time, highly functional too! Even if you are a beginner at craftsmanship, you can still nail it. diycandy
40. Wooden Pallet Coffee Table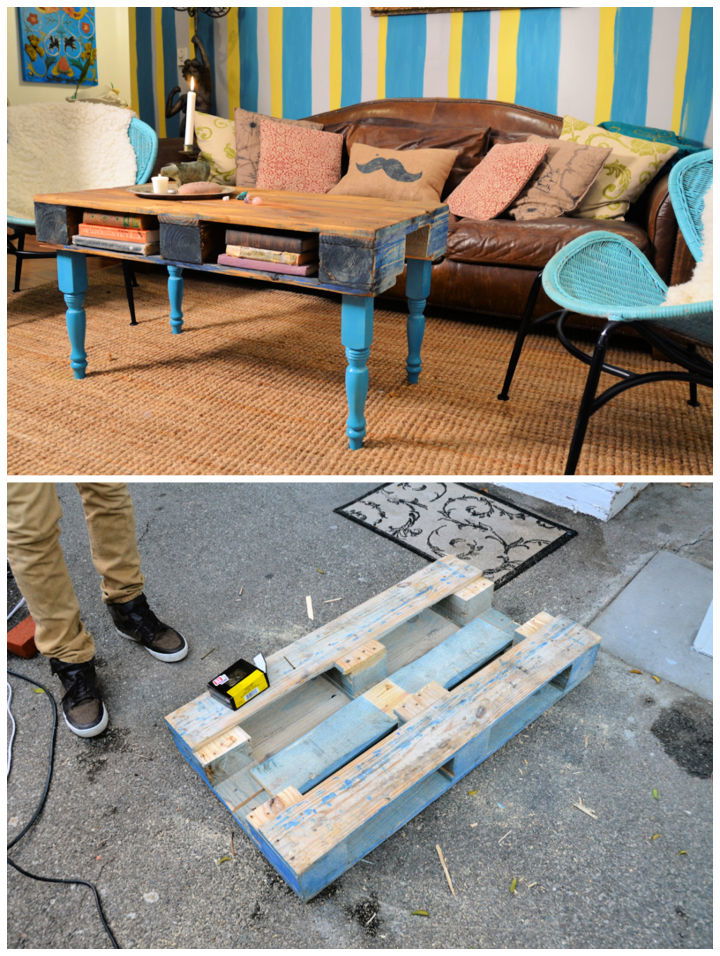 How about transforming an old and rustic wooden pallets into a chic coffee table? Coffee tables are perfect for introducing style, tone, and color into your decor. This one here is pretty simple and fun to work around with some paint and get elated with the brand new results! mrkate
41. Build Your Own $45 Coffee Table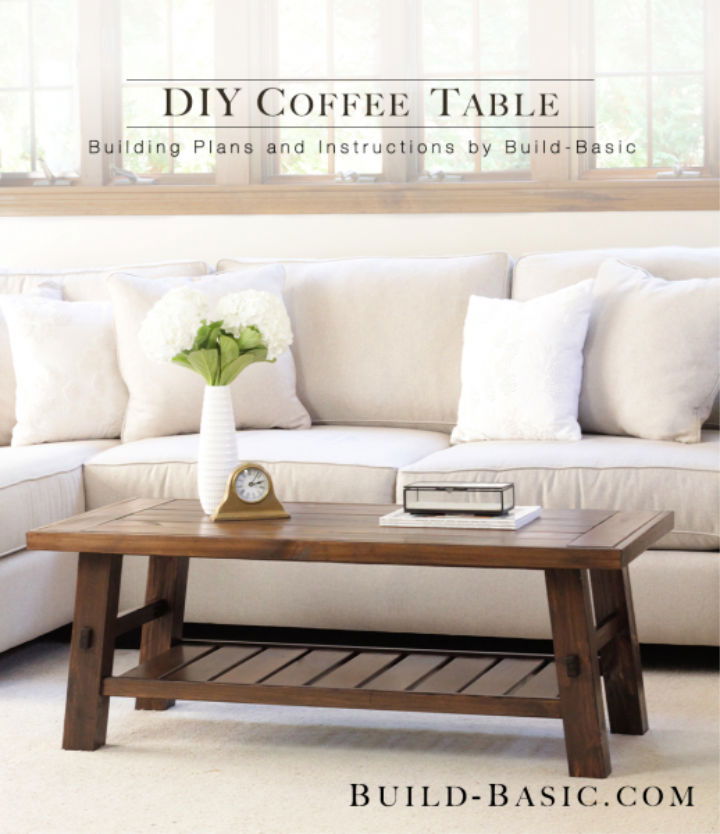 How about some splayed legged stylish coffee table to brighten up your living room decor? It will just take about 4 hours and will cost you around $45. You just have to be a bit careful about assembling the pieces and their orientation carefully. build basic
42. X Leg Coffee Table with Shelf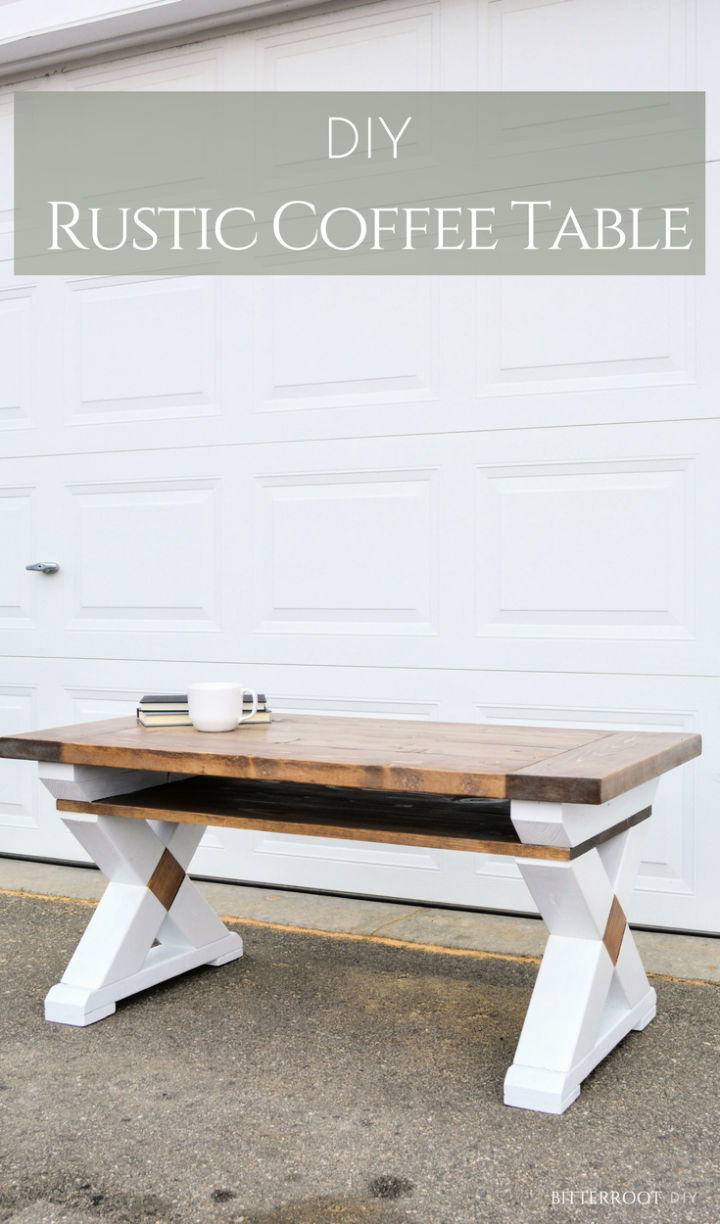 Time to bring an X factor to your coffee table! Add some whimsical X legs to a wooden base with two shelves. The stain combo with the wooden and white mix is making the whole thing look totally heavenly! bitterrootdiy
43. Habitat Coffee Table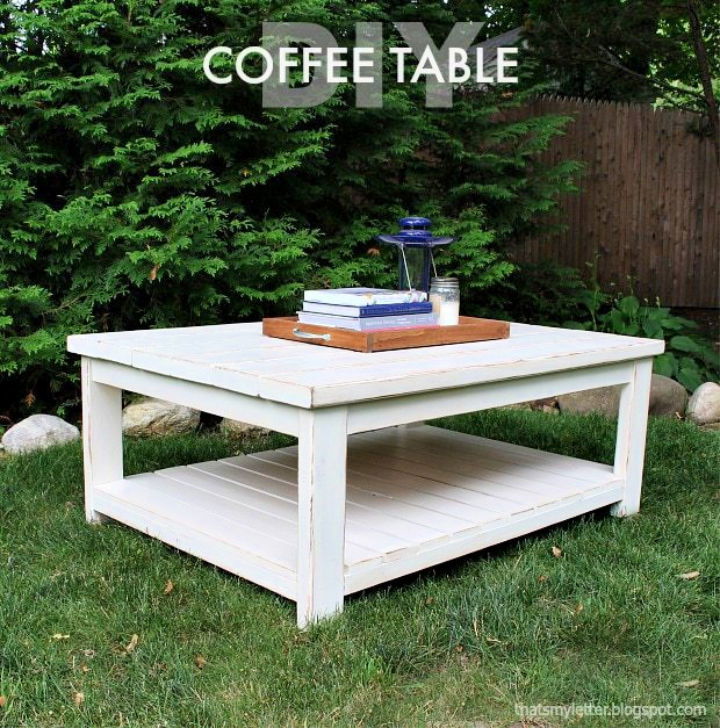 Get your hands on some off the shelf lumber and some white stain to build this simple and minimalistic coffee table! The whole thing is exceptionally rock solid and extremely sturdy. The tutorial comes with free building plans. jaimecostiglio
44. DIY Wire Spool Coffee Table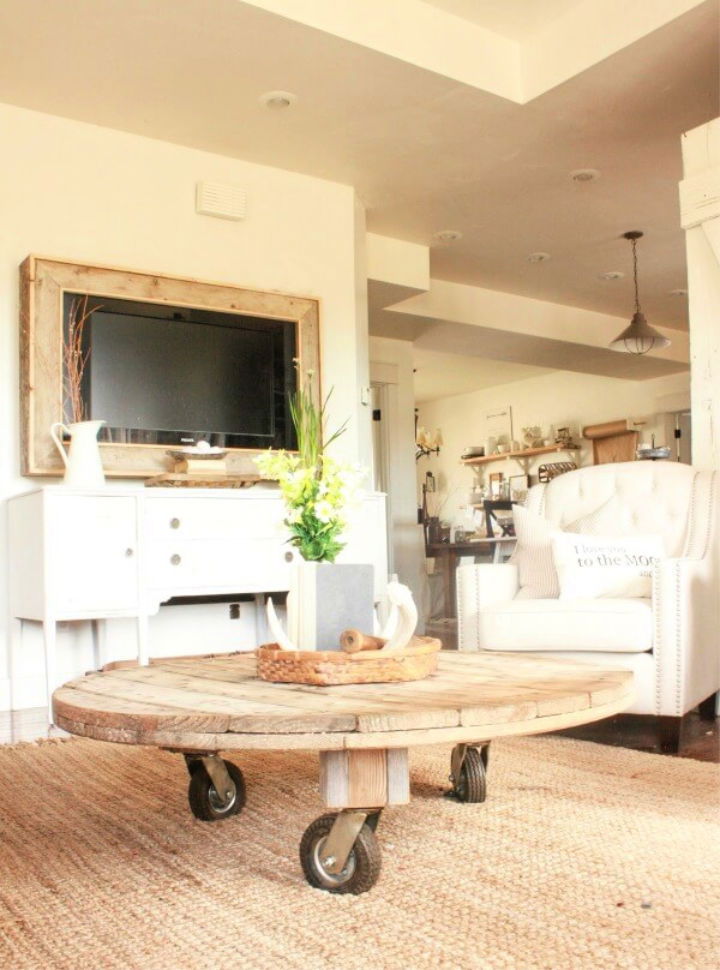 This is one fun oozing and a creative DIY project that can also be a good bonding time for you and your kids! For the folks at twelveonmain, it all started with rolling home a wire spool. And then one thing took to another, and here's a gorgeous wire spool portable coffee table with wheels. twelveonmain
45. DIY Factory Cart Coffee Table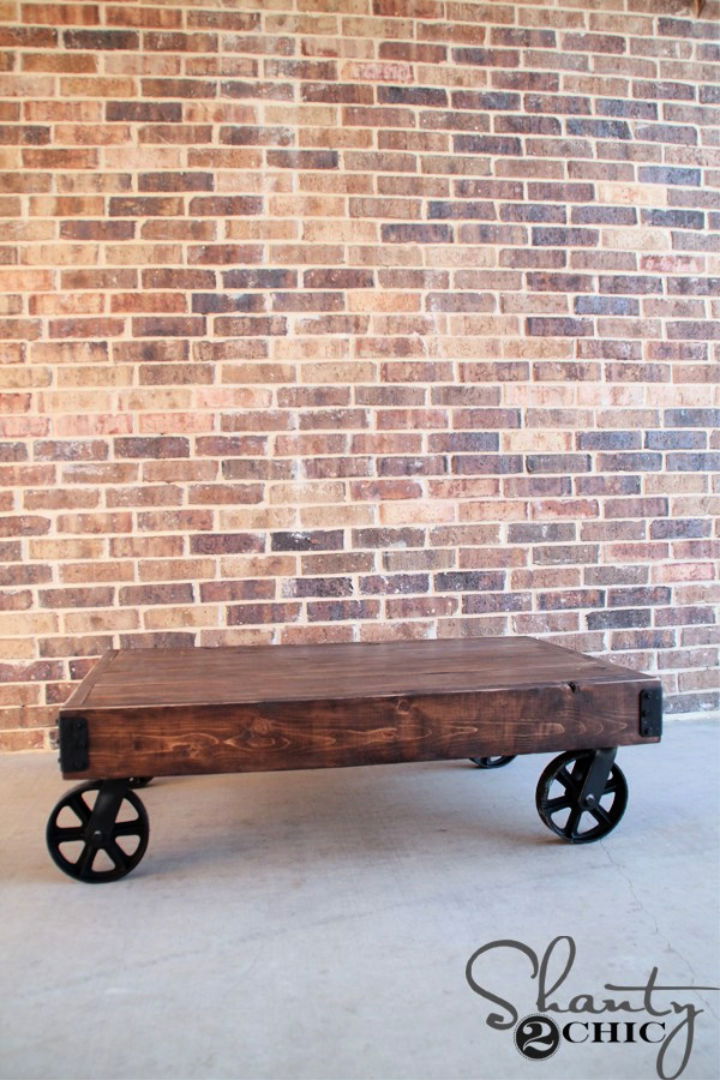 Coffee cart tables are a beauty in themselves! But, sadly, they are just too expensive to buy. So, why not go budget-friendly and make yourself this stunning DIY coffee cart table. You can get the free plan here and also the step by step guide. shanty 2 chic
46. Industrial Cart Coffee Table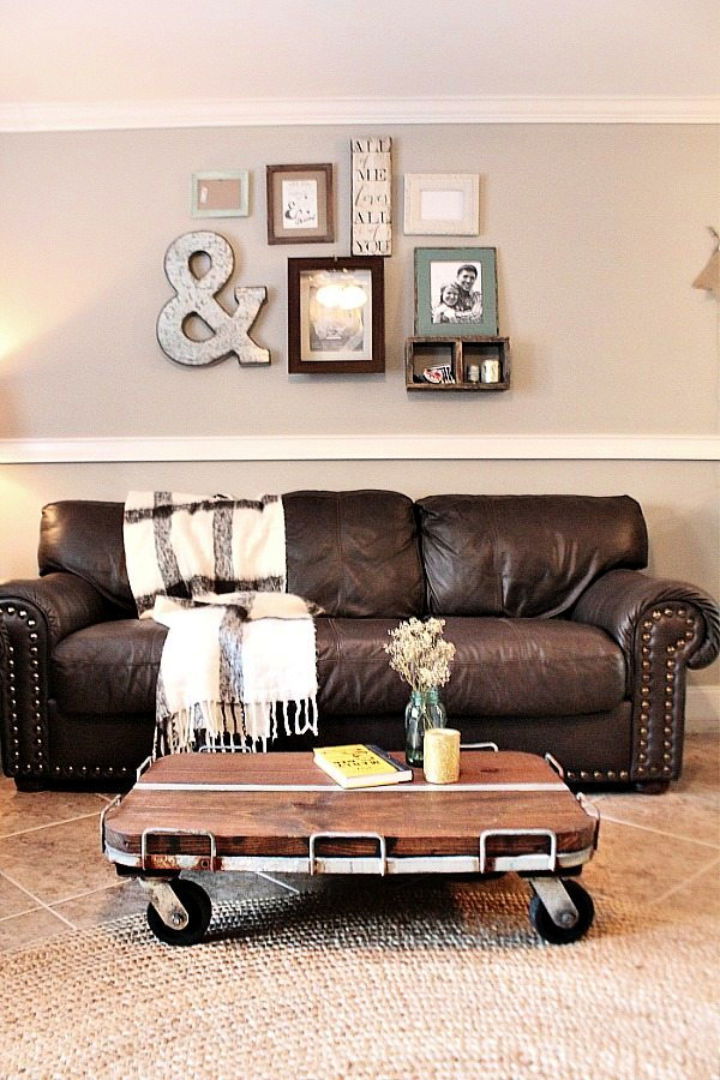 This industrial coffee cart table is made using 2" * 12" pieces of lumber. It will make the perfect top for a customized coffee table! The trick is in finding the right cart for your coffee table. Get more hacks and pro-tips here. refreshrestyle
47. Farmhouse Style Coffee Table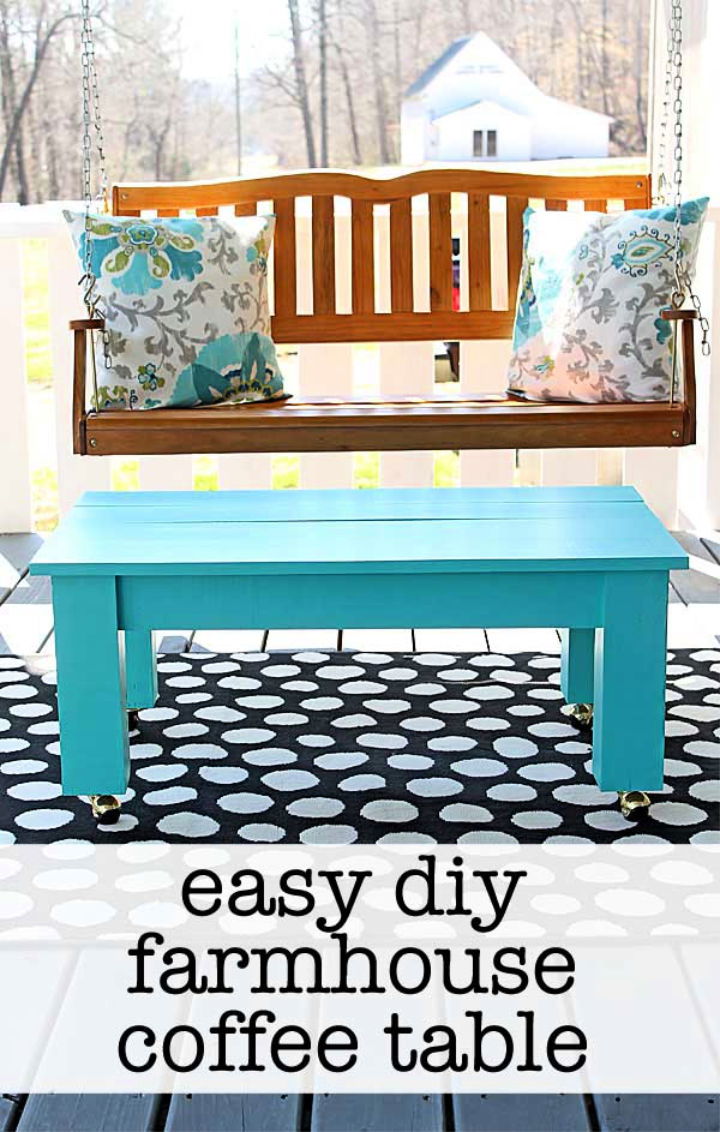 Building your own furniture is elating and refreshing in its own way! This Farmhouse style DIY coffee table will only take an hour of your day. And can be made under $25. Pro-tip; Line up the tabletop pieces and screw them through the flat pieces into the top. theshabbycreek
48. DIY Pipe Coffee Table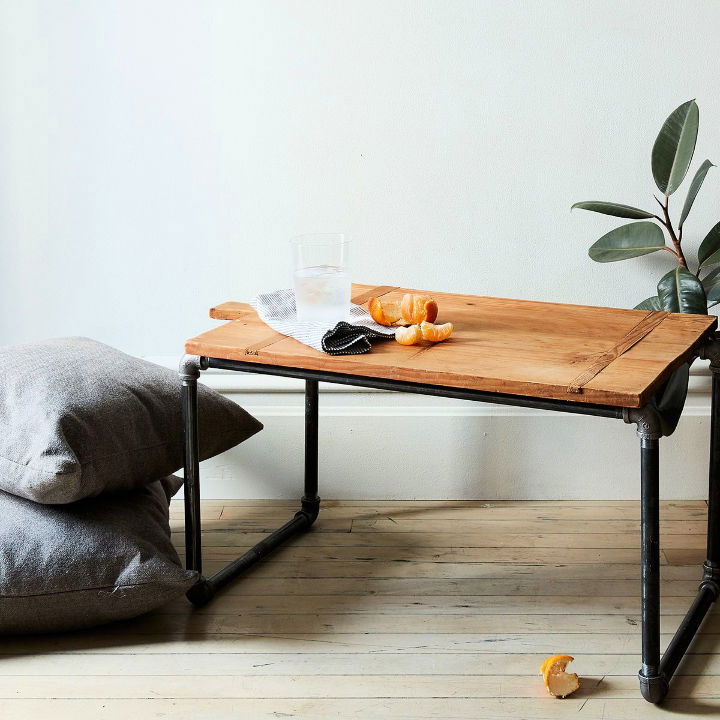 This DIY coffee table can be assembled in just a few minutes! You will need some glue and to pull off this industrial appeal to the table! As the exposed pipe gives it that look. You'll need a black gas pipe for the base and top and the legs too! food52
49. Wooden and Copper Leg Coffee Table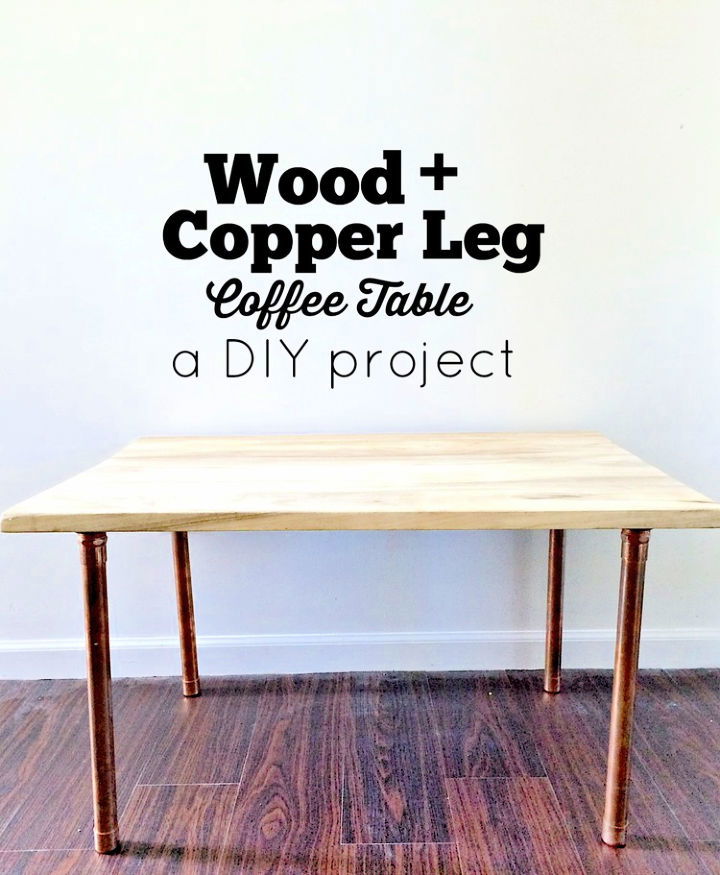 This here is one simple project with a wooden top and shining copper legs. The whole thing is made using salvaged wood. You can join the legs using Kregg Jig and pocket hole screws. Plus, you can easily customize the length of the table and cut the legs accordingly. melissavoigt
50. Budget-friendly Pipe Coffee Table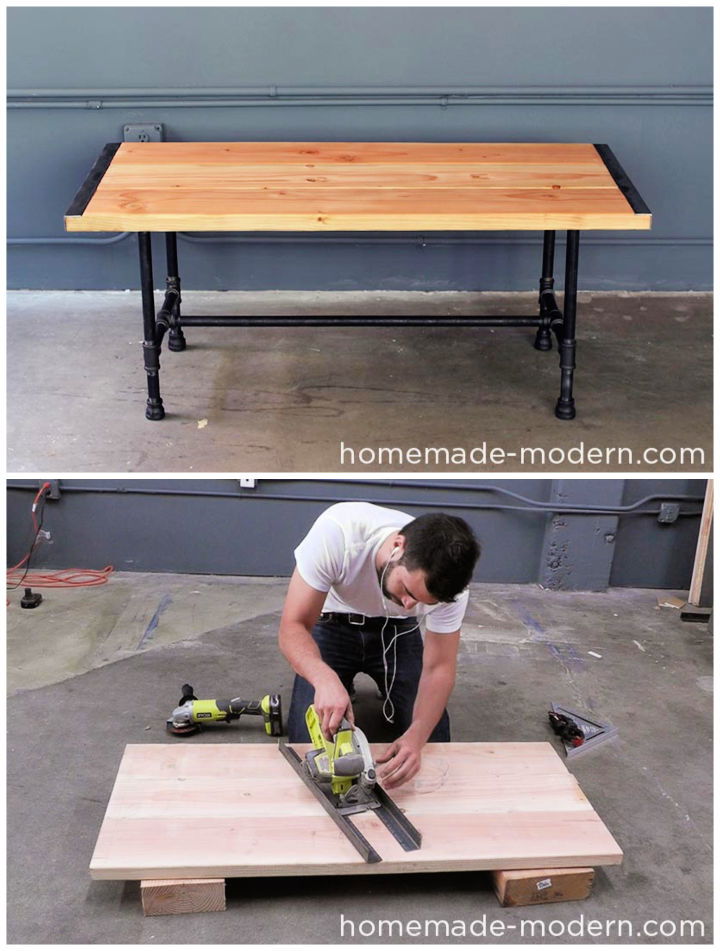 A pipe coffee table with jet black pipe legs and a wooden top is absolutely industrial and a rustic, modern look. It is one sturdy table and can be made in customized sizes and heights. In this tutorial, this coffee table is made with 2*8. homemade modern
51. DIY PVC Pipe Coffee Table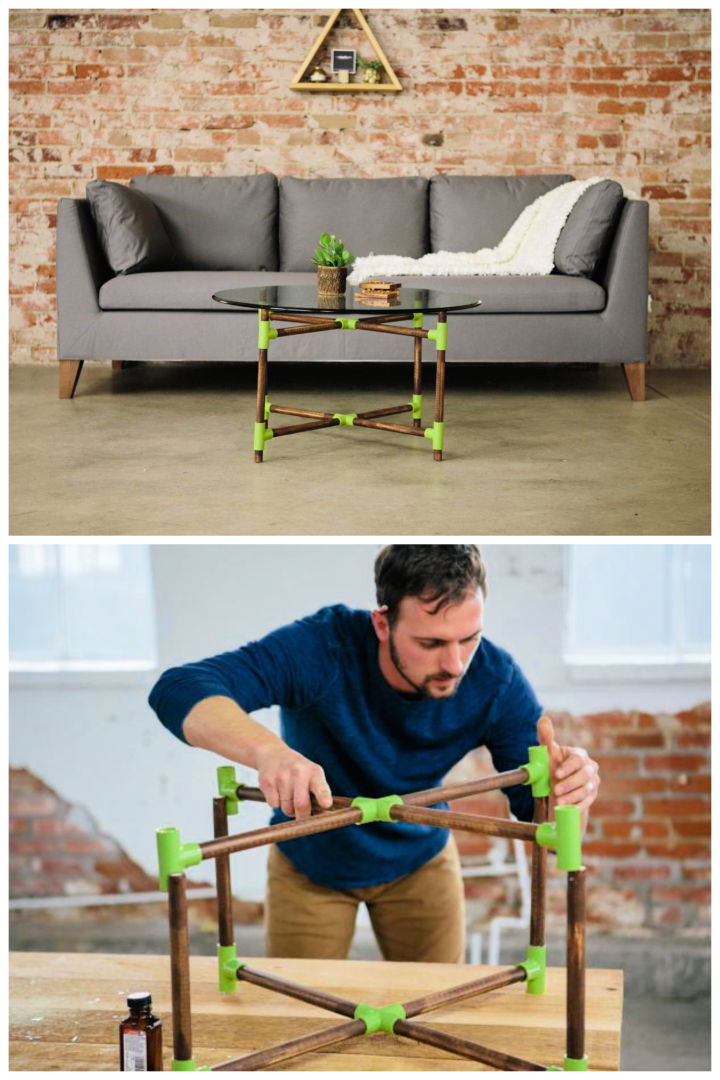 Have a look at this PVC pipe coffee table with a glass top and some wood dowels! You will need some wooden dowels, PVC crosses, miter box and hand saw, contact cement, some lime green spray paint to spruce up the look, and a few other supplies. hgtv
52. Rustic Coffee Table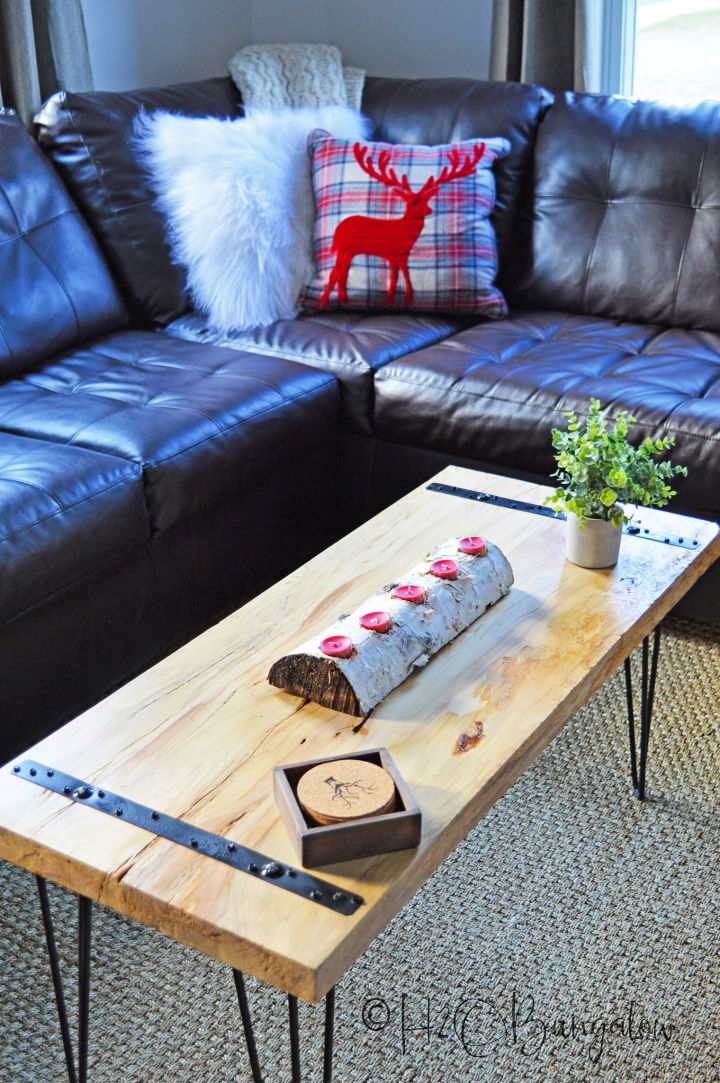 Get your hands on two wooden planks for this coffee table. It only requires a few tools and a few hours of your time. The hairpin legs at the bottom will make things even more accessible. Trim your wood, and we will totally vote for this wood log with pocket hole candles! h2obungalow
53. Outdoor Coffee Table with Beverage Cooler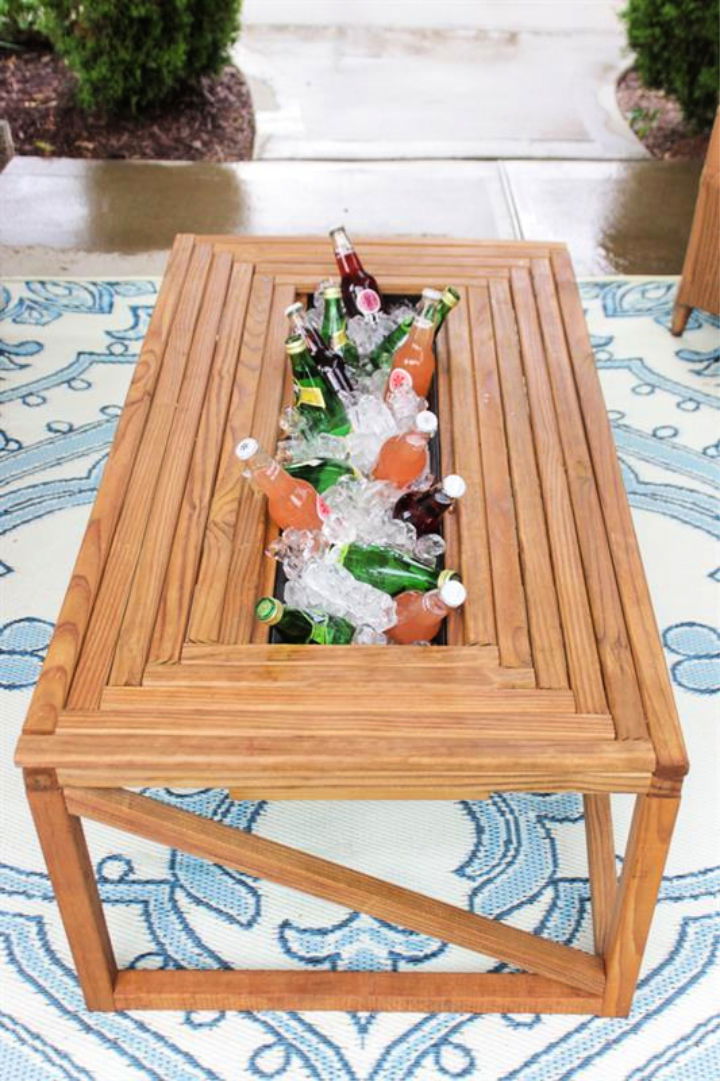 This outdoor coffee table with cedar-tone can be a great addition to any outdoor patio or deck. It features this amazing drop-down insert that can be used as a beverage cooler with filled ice. Or hold your favorite florals or plants. buildsomething
54. Poured Epoxy Resin Coffee Table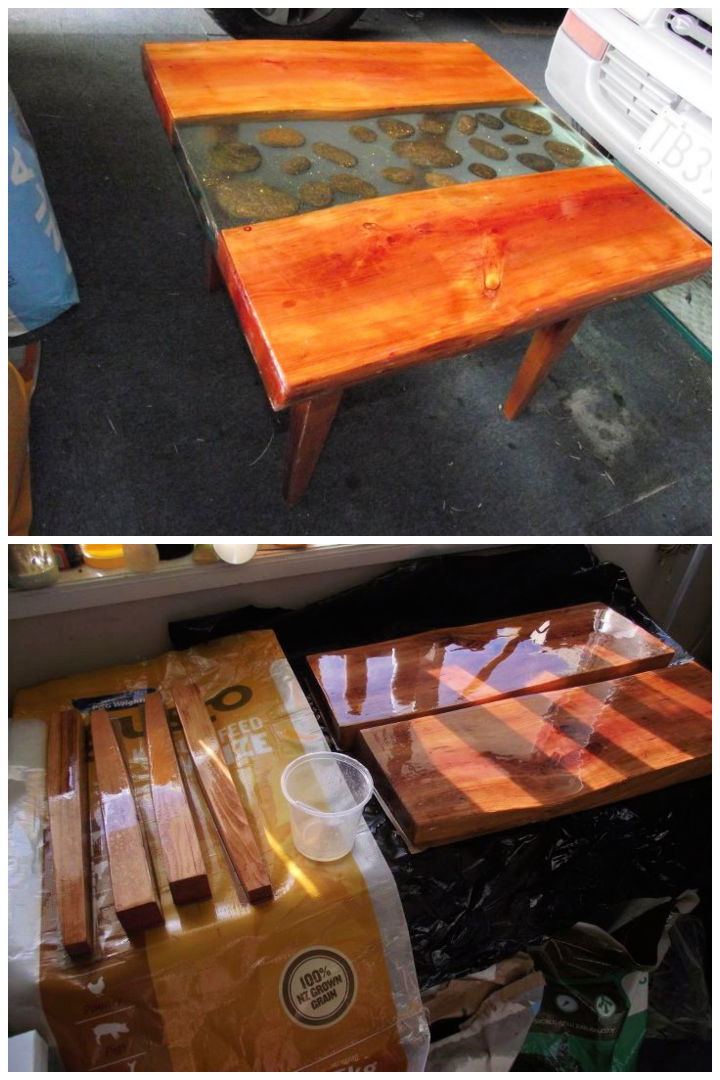 How about some epoxy resin adventure? The tutorial uses a thin coat of blue-tinted resin. Set in some appealing Schist pebbles and make it look like a piece of art and attractive craft! hometalk has got the complete step by step guide. hometalk
55. Live Edge River Coffee Table
Use it as a coffee table or as a sturdy bench by the pool. Use it as you please! Jessica has got just the perfect live edge coffee table. But the twist and the most helpful thing with this tutorial is that you can get a few "Don'ts" to keep you from the mistakes. thevanderveen
56. Epoxy River Table with Waterfall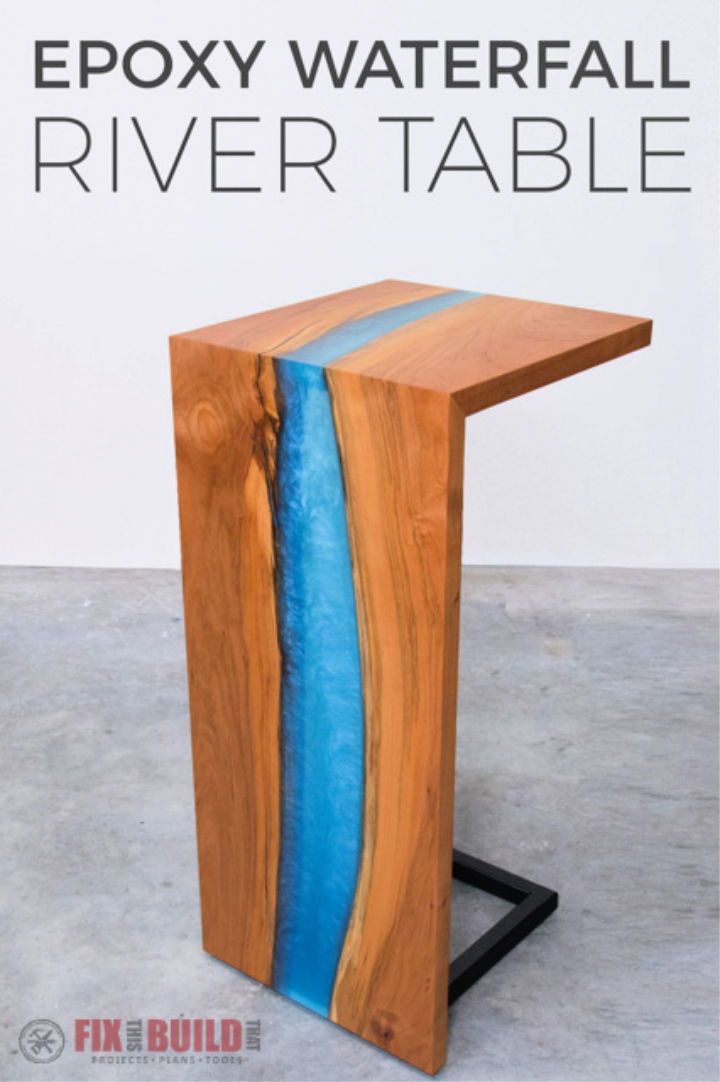 Another wonder of DIYing! Here's a perfect and serene DIY epoxy river table with a waterfall from a live edge slab! You will require one hardwood live edge slab, epoxy resin, sealant tape, and metallic pigments. fixthisbuild
57. DIY Live Edge Resin Table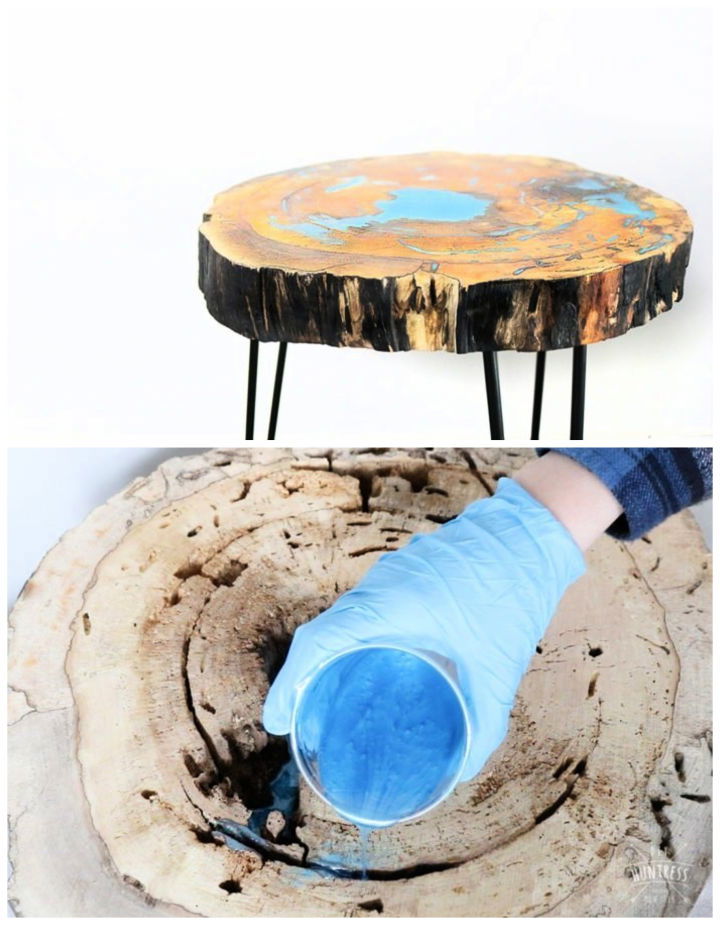 Transform a scored piece of lumber into this stunning DIY live edge resin table! Create your own stately resin table using these few tools and some major sources of passion! Before you get started, use a vacuum to suck up the dust in the nooks of your piece. diyhuntress
58. Marbled Resin Wood Coffee Table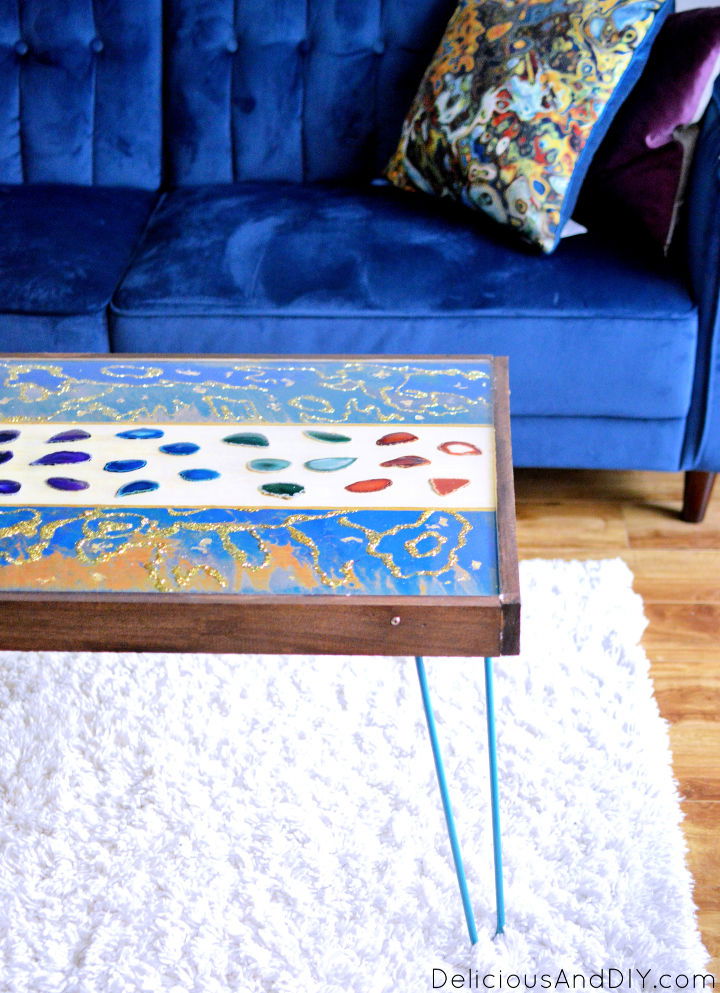 How about getting crafty with your coffee table and treating it with absolute aesthetics. Check out this DIY marbled resin wood coffee table. You will require agate slices, resin, glitter, and paint to pull off this crafted table! deliciousand
59. DIY Penny Top Coffee Table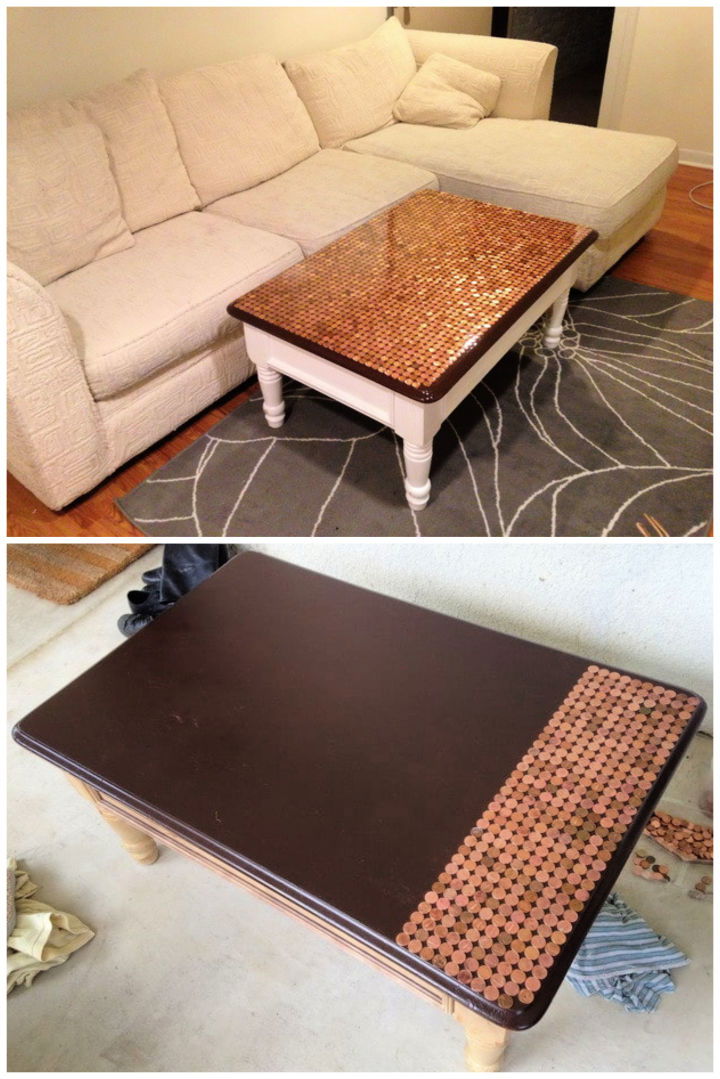 You might have a bag full of pennies somewhere in your closet. Might be all the way back from apartment days and laundry days! This penny top coffee table is absolutely unique and can be done in just $50. removeandre
60. Live Edge Mid Century Coffee Table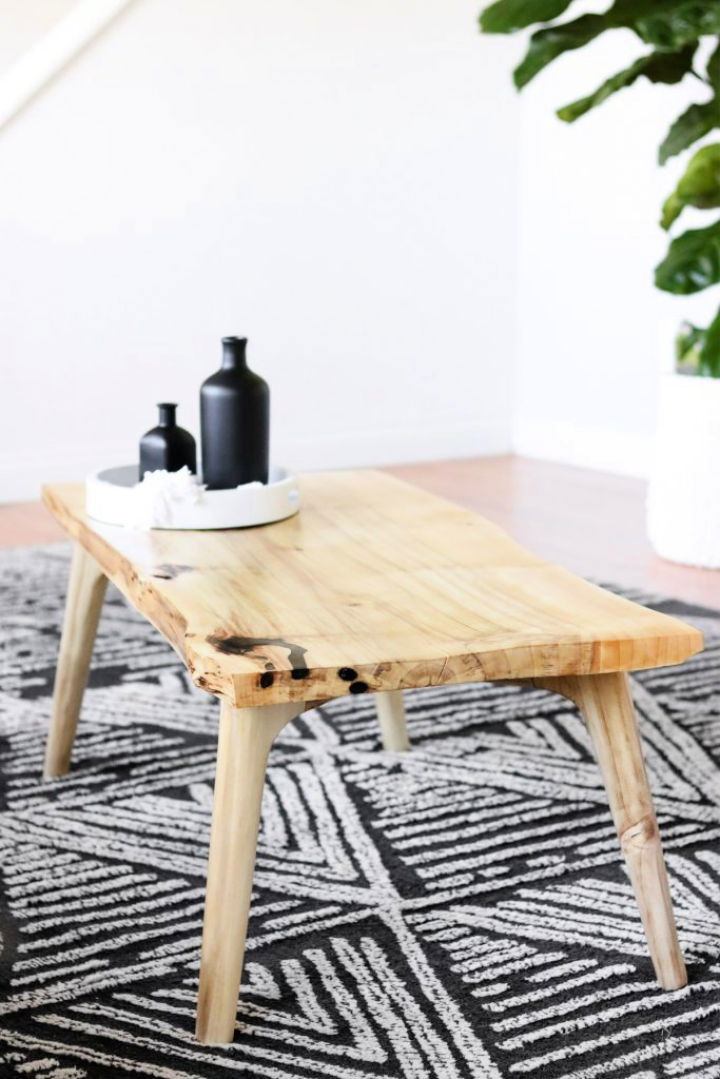 As by looking at it, you can see its purely a wooden table made with wood top and wood legs. Hence, it is going to take some time. Like more than the time you might have anticipated. But, if you like to live edge appeal, you are going to love this DIY project. lilyardor
61. Coffee Table Inspired By West Elm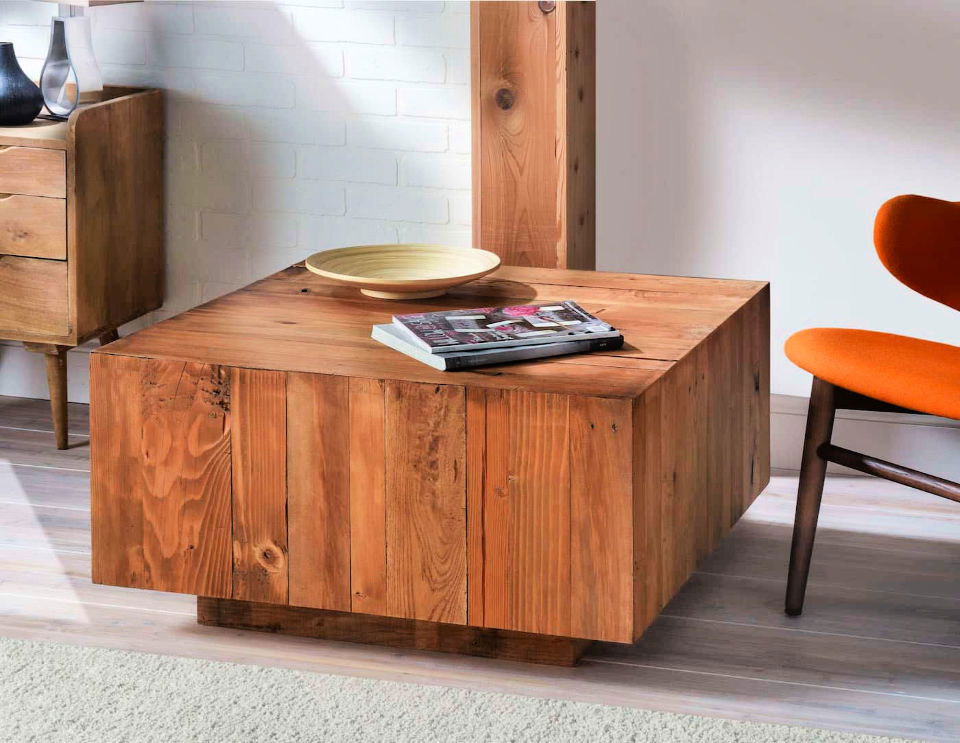 Inspired by West Elm, where you can actually have this stunning blocked coffee table for $999, we are here with this magical tutorial! Take the costs all the way down to $50. Add up some pallet woods and get started. diycandy
62. Hairpin Coffee Table With Stenciled Tile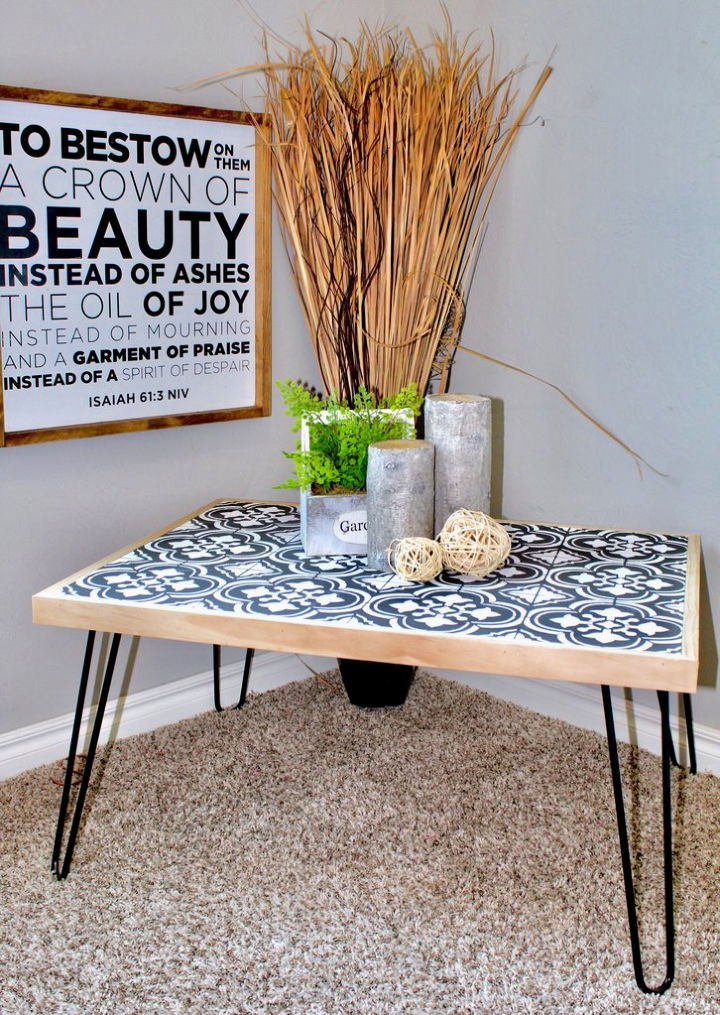 The best part with a hairpin legged coffee table is that it brings a moderate and catchy appeal to the table. While at the same, saving a lot of time. This beauty here with a design enriched top s made using Rust-Oleum's chalk paint. The wonders of stenciling. handmade haven
63. How to Make a Mosaic Coffee Table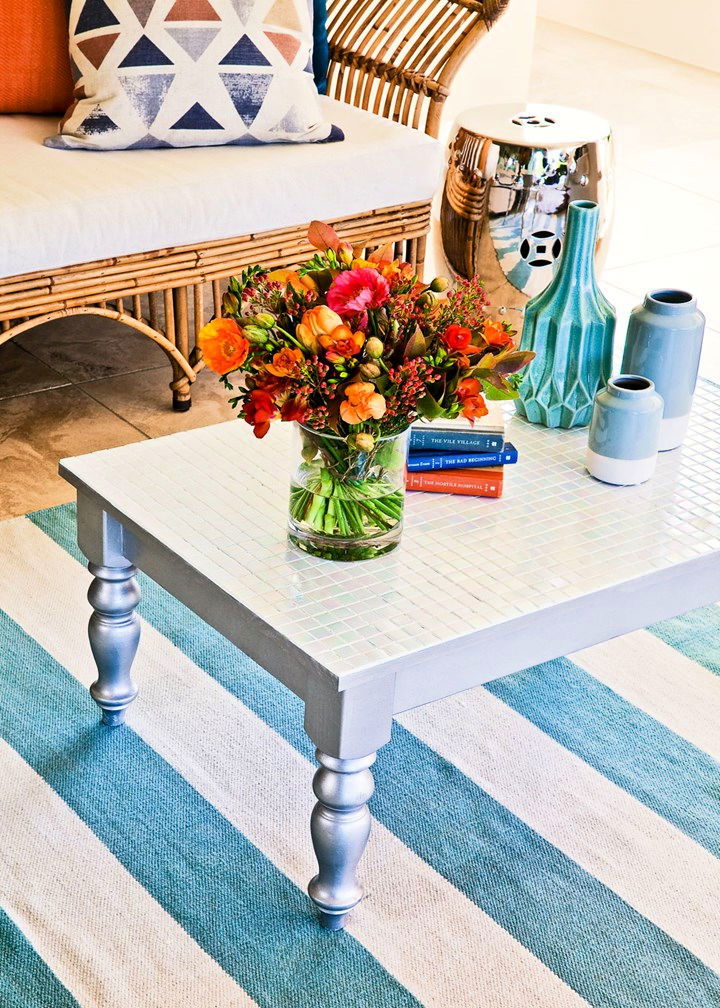 A mosaic coffee table to lift up the mood around your coffee table in the living room. You will require a solid timber coffee table, A Dulux Preplock Shellac Based Stain Blocker (spray), one Dulux Design Metallic in Neutral Intrigue in silver, and Mosaic tile sheets in pearl white. bhg
64. Wooden Coffee Table With Faux Metal Base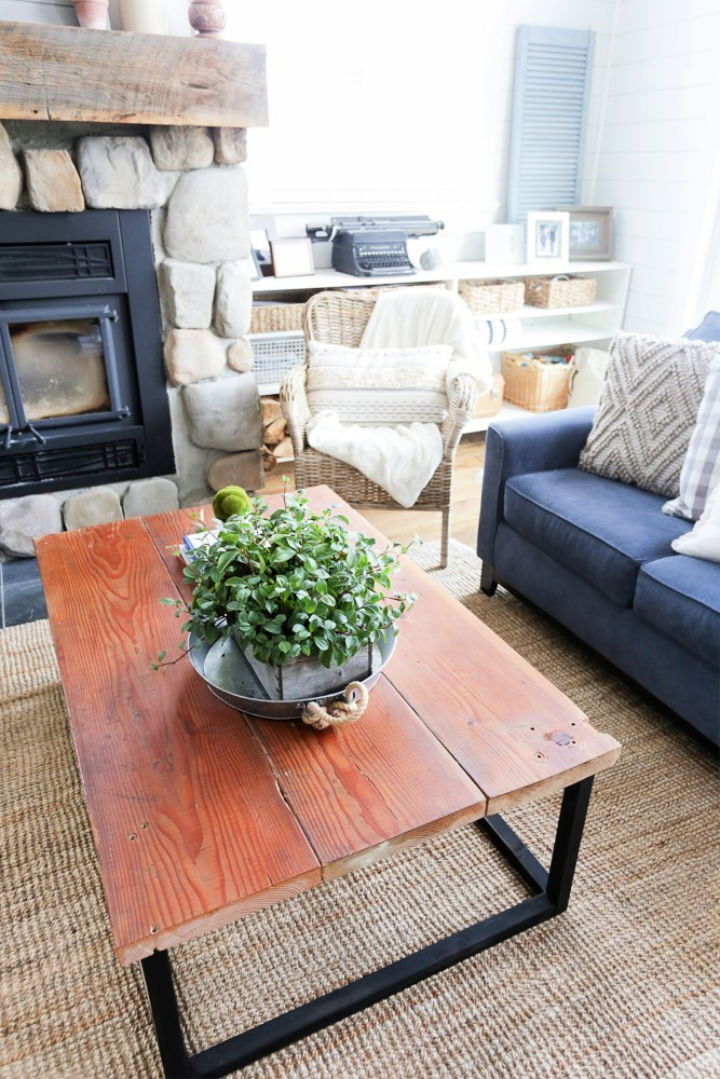 If you have a thing for reclaimed wood, you are going to adore this wooden coffee table with a faux base. You are going to need some Cedar balusters as the base and later get inspired by the jet black spray paint magic! remodelaholic
65. DIY Metal & Wood Coffee Table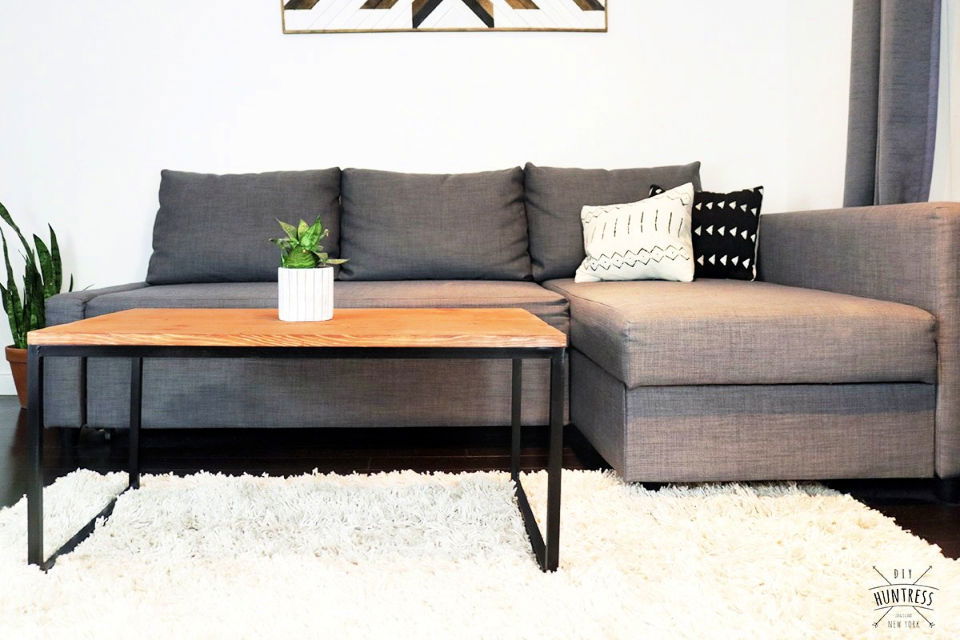 This DIY coffee table is made with the combined wonders of metal and wood. If you have been inspired by a wooden and metal table but couldn't get yourself to make on due to the welding involved. This tutorial is all welding free. diyhuntress
66. DIY Glass-topped Coffee Table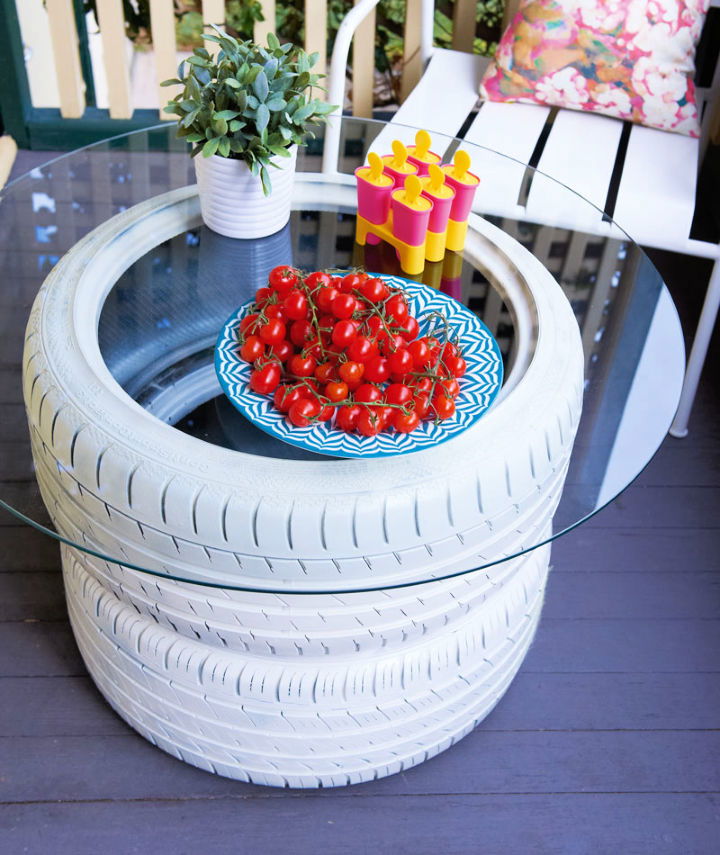 Have you got some old tires lying in the back of your garage? How about making an upcycled tables with the tires as the base and a glass top. You can stain the tires as per your choice of color. handyman
67. Recycled Tire Coffee Table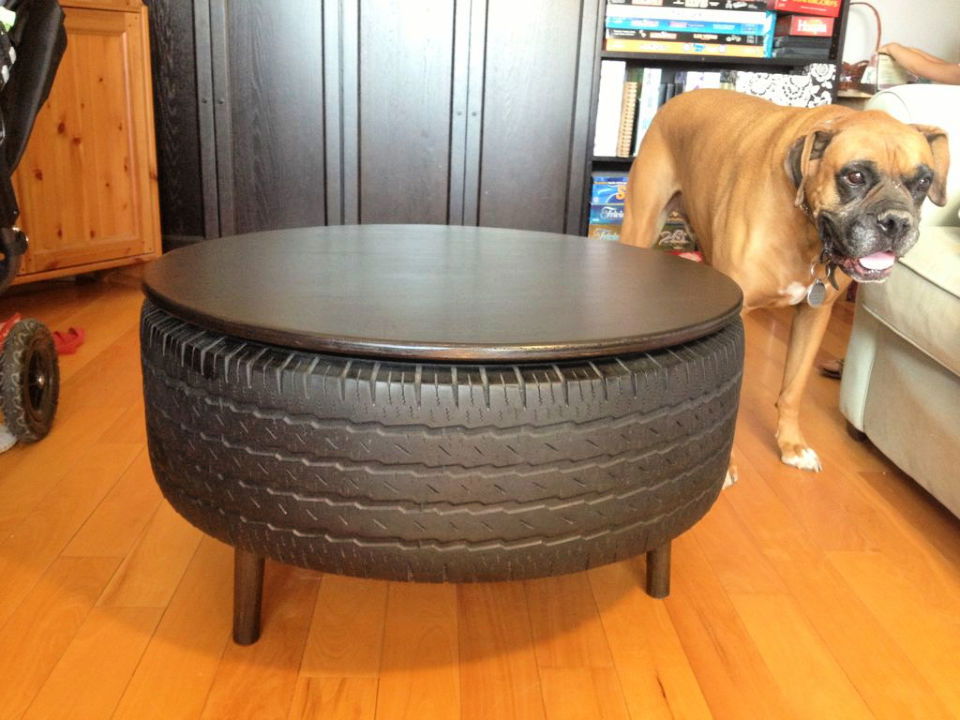 Here is another option for you to put your old tire into a durable and classy furniture item. The best part of this DIY coffee table is that the tire can easily lift off, and you can have plenty of storage space available. instructables
68. Tire Coffee Table for Patio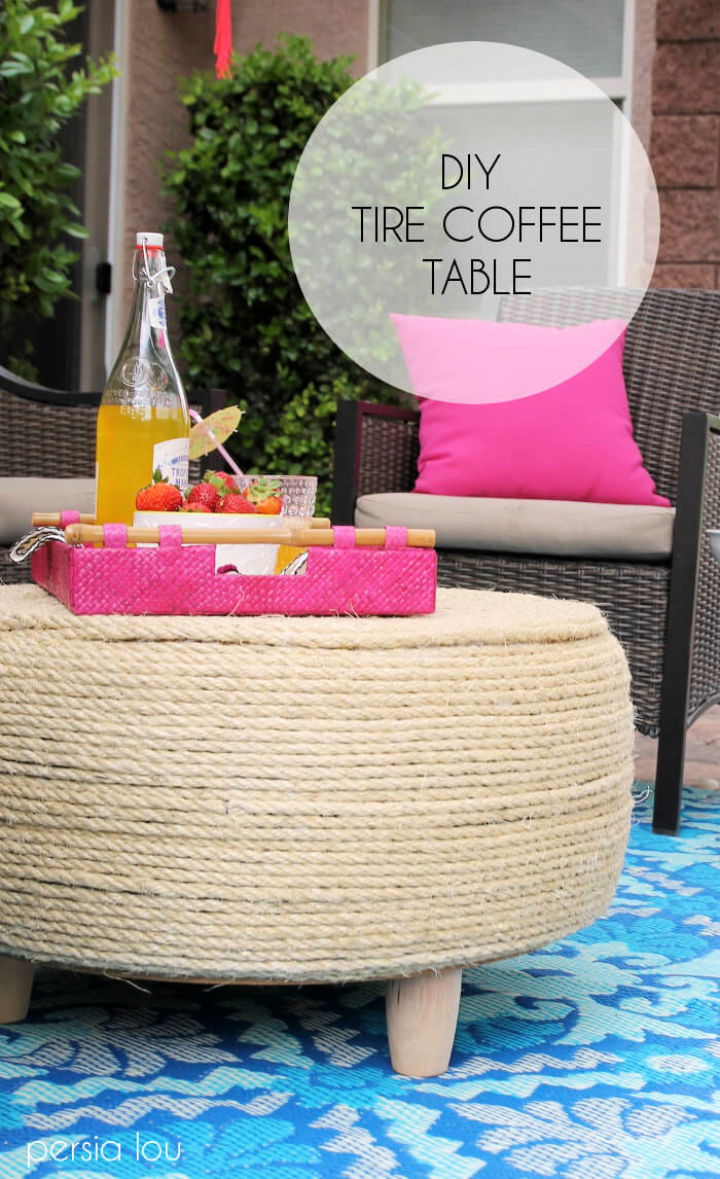 Check out this great outdoor solution for a lovely time out in the patio by having a cup of coffee on this coffee table, or you can also use this as an ottoman. You will need an old tire, a piece of plywood, furniture feet, and a few other supplies. persialou
69. Make a Car Tire Coffee Table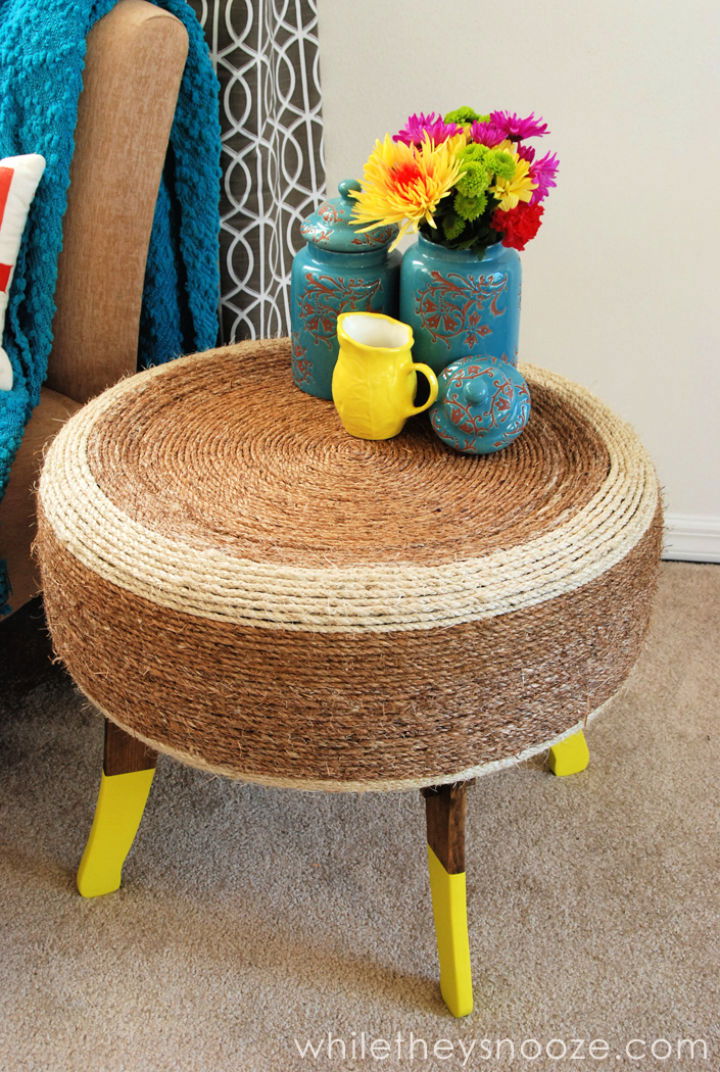 Who wouldn't love to have an ultra-modern coffee table with a vintage look and with an upcycled tire? All money-saving and decor up-gradation. Use a rope to disguise the tire and give it a brand new look! eastcoastcreative
70. Build a X Leg Coffee Table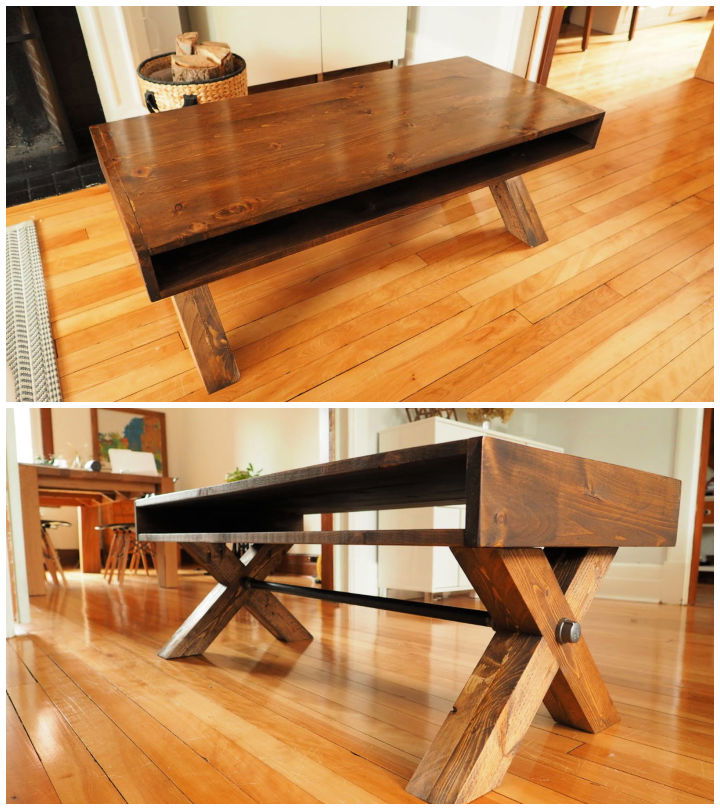 This DIY coffee table is inspired by a modern industrial flair. The full-length shelf with two shelves is perfect for keeping your remotes, glasses, or other things. It is made with the dimensional pine, which by the way, you can find at the big box store. instructables
71. DIY Angled Leg Coffee Table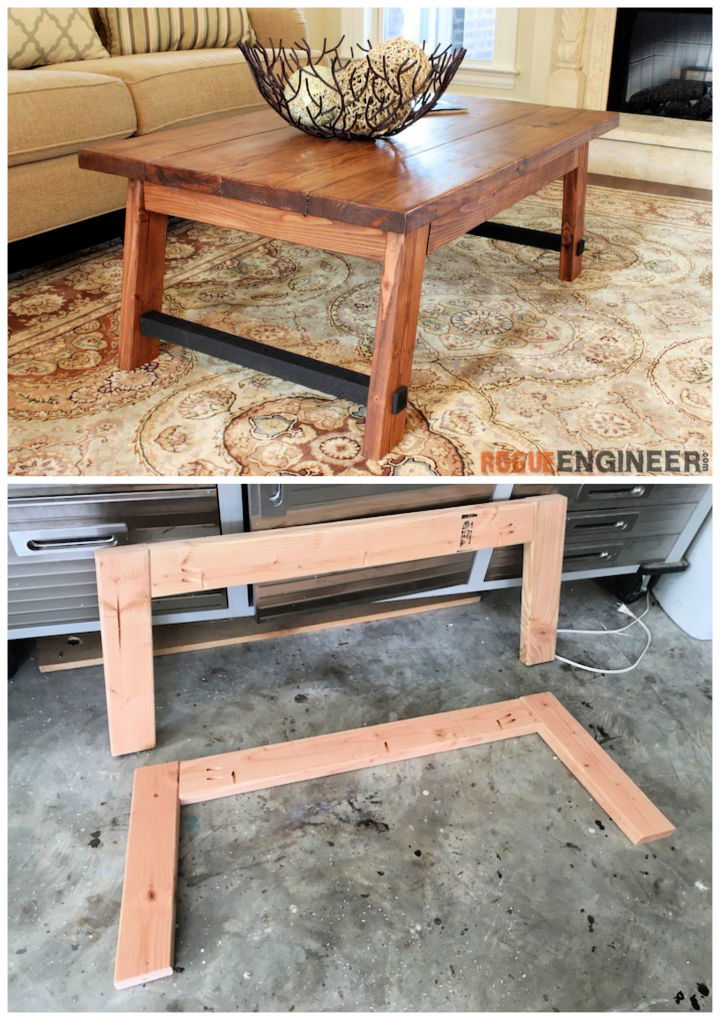 A mixture of wood and iron, but you are not into welding? Psst! That's the secret part. Rogue engineer here has got the perfect solution by using faux iron rods in just less than $30. Add a huge load of character to your room with this simple coffee table. rogueengineer
72. Living Room Coffee Table Decor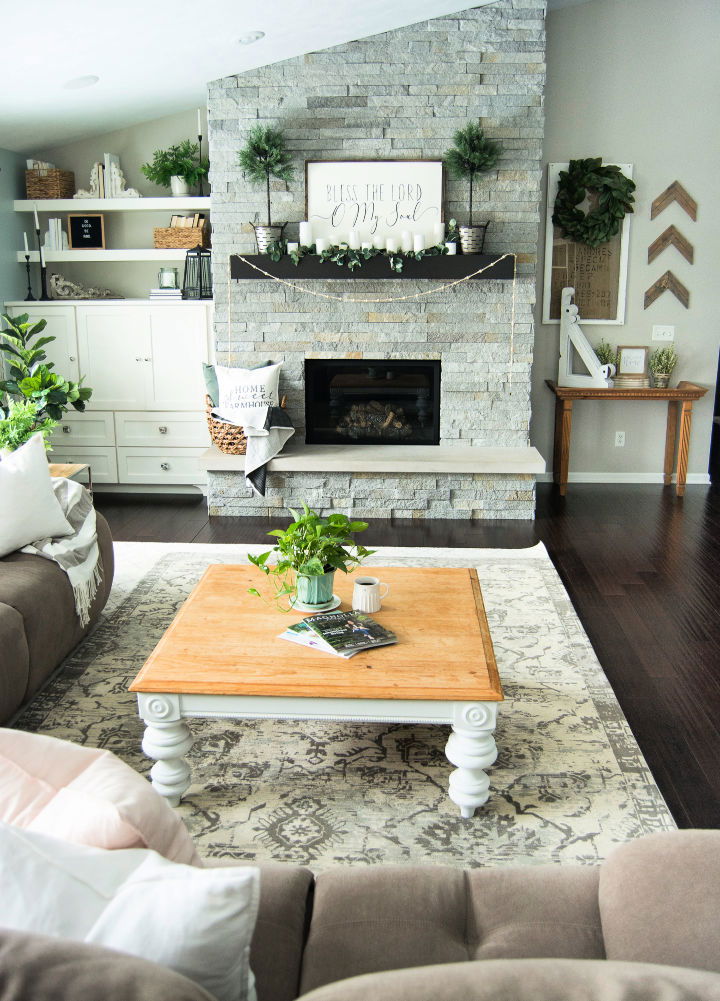 Add an exquisite and luxurious coffee table to your living room to add up to your decor! This perfect coffee table has Balustrade inspired legs in all-white appeal and a strong and vintage wooden base. graceinmyspace
73. Adorable Balustrade Coffee Table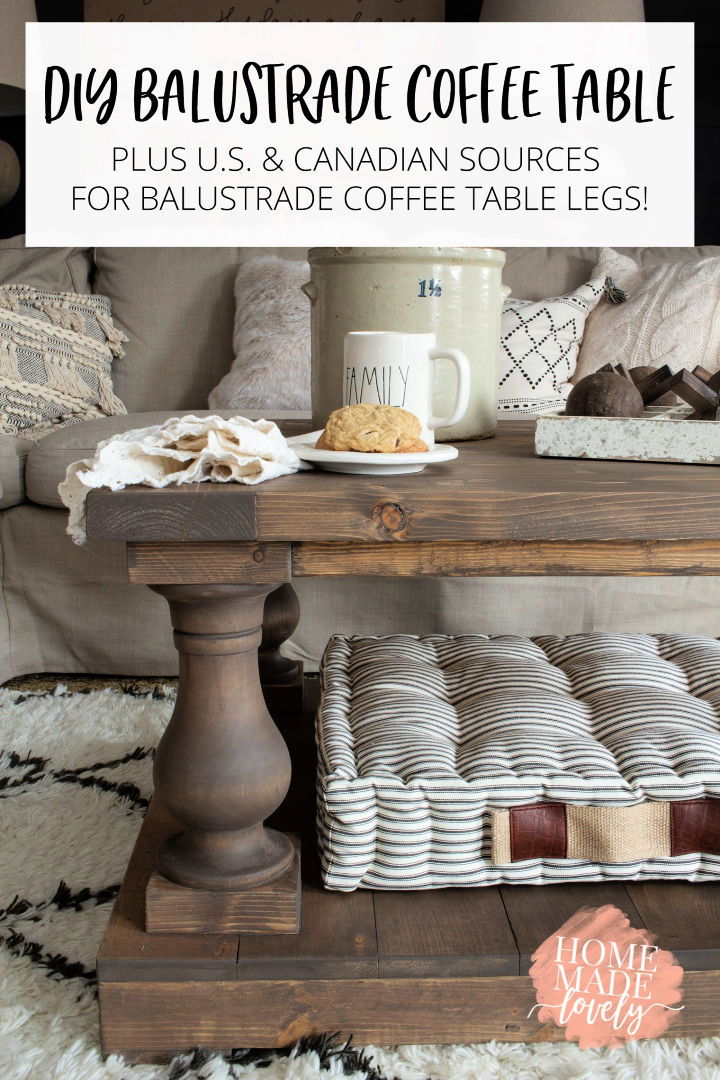 Here is another rustic and vintage-inspired Balustrade coffee table. The wide and broad two shelves of this table are making the whole thing look highly functional and at the same time, a treat for the living room. homemadelovely
74. Wooden Farmhouse Coffee Table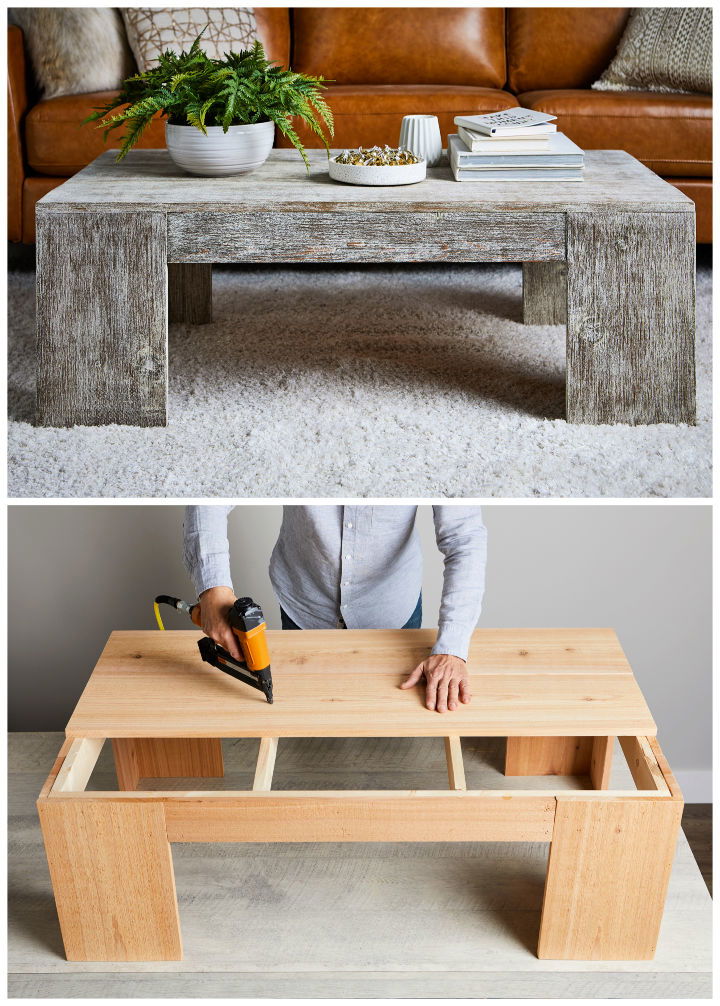 This one here is a real beauty to drool over. We are totally adoring this perfect farmhouse inspired broad and oh so handsome coffee table! With its details like rustic outlook and flawlessly polished lines, you might think at first sight this is some high price business. bhg
75. Rustic Industrial Coffee Table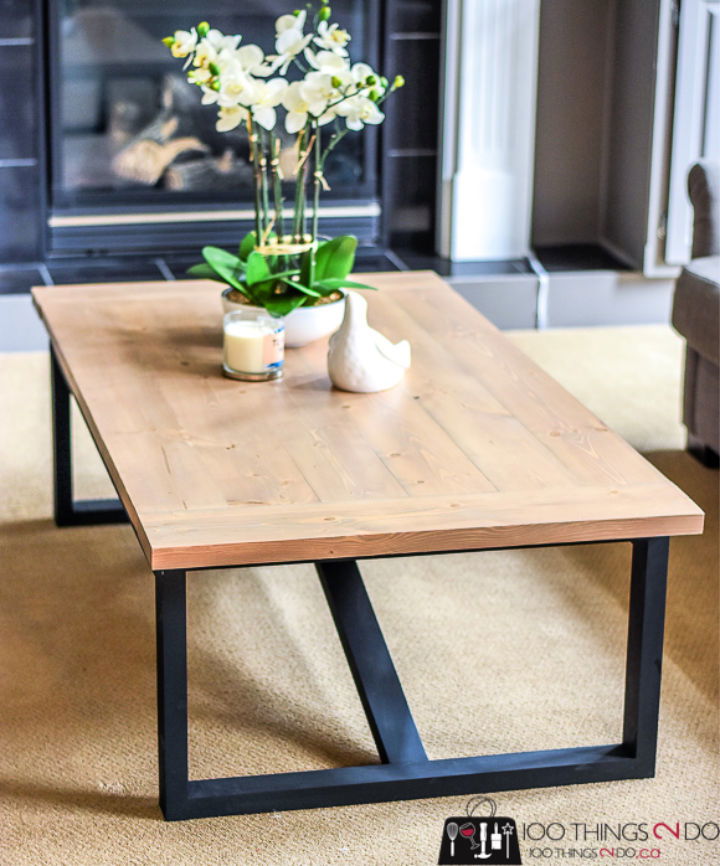 How about having a rustic, modern, and super easy to build industrial DOY coffee table? By spending $100 hardly, you can totally nail this DIY coffee table for your living room. Just get your hands on some 2*4 lumber. jenwoodhouse
76. DIY Trendy Mirror Coffee Table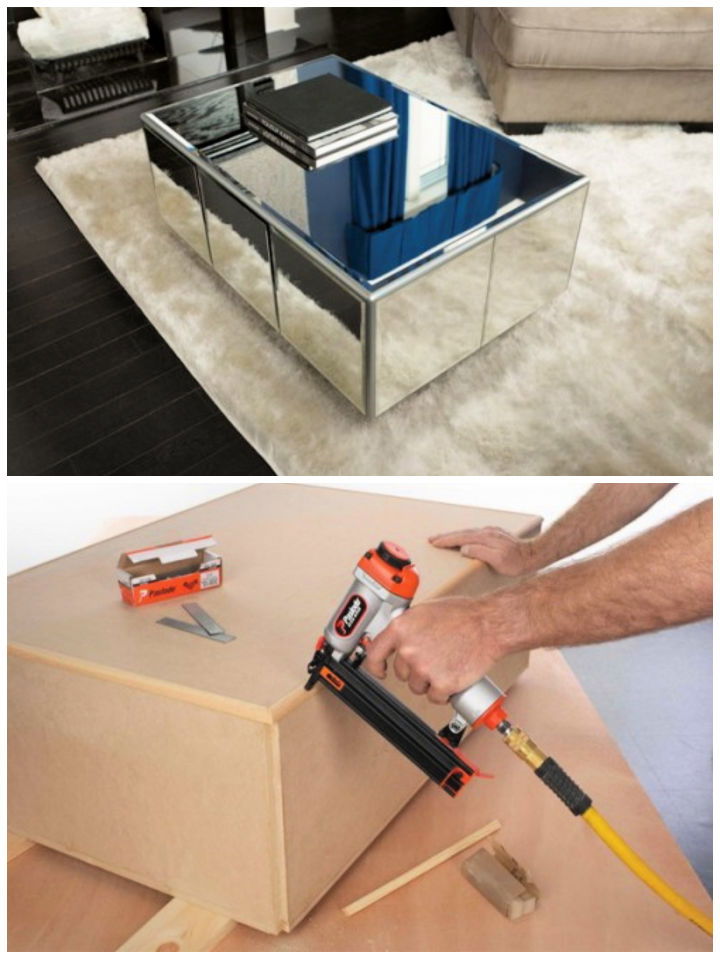 A mirrored coffee table could be a major hit around the house! For one, it is totally stylish and chic, and for another, why not be as stylish as you would like to be with the budget in check! You'll need plywood, some wooden planks, silver paint, mirrored panels, wood glue, and a huge mirror. shelterness
77. Arcade Coffee Table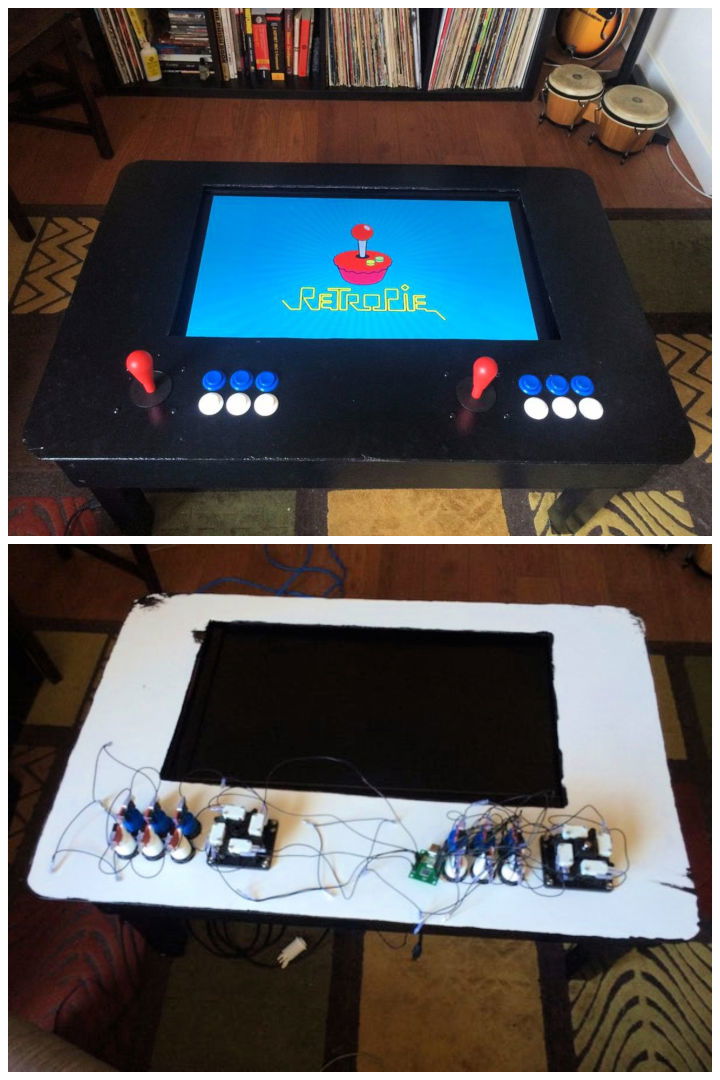 How about a fun oozing arcade coffee table to amuse yourselves in the living room? You could certainly become the most loved aunt or uncle as it will be a major hit around the family. Get the details building plan and circuiting details here at instructables. instructables
78. DIY Arcade Coffee Table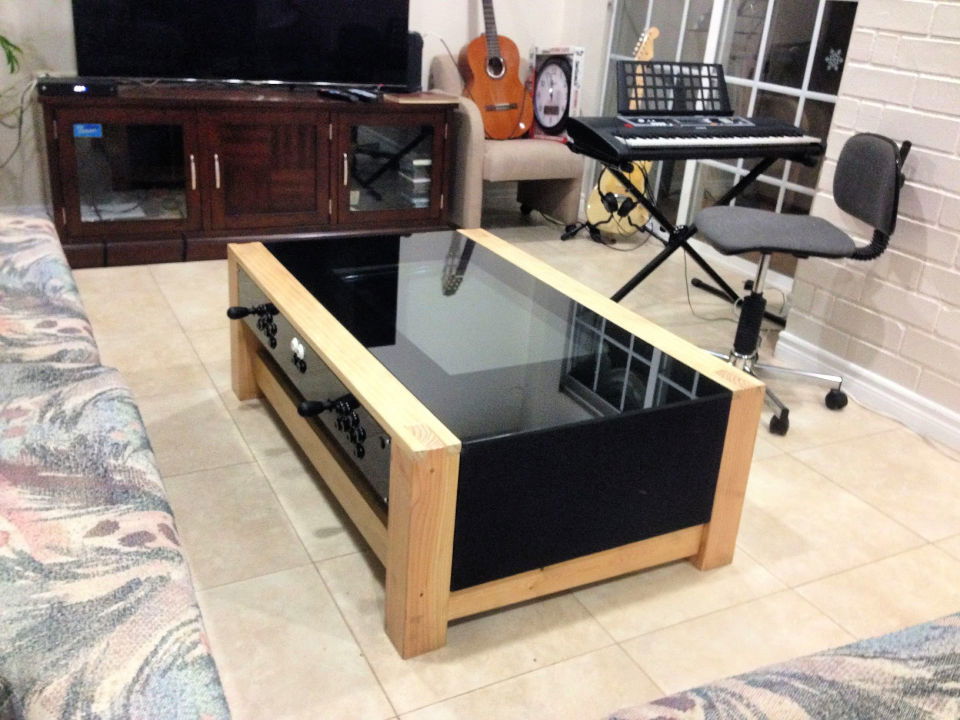 One more for the arcade coffee table in the house! Make your living room the most loved room in the house so the whole family can have a bonding time with the kids stuck around too. Sounds intriguing, yeah? imgur
79. Turn an Old Trunk Into a Coffee Table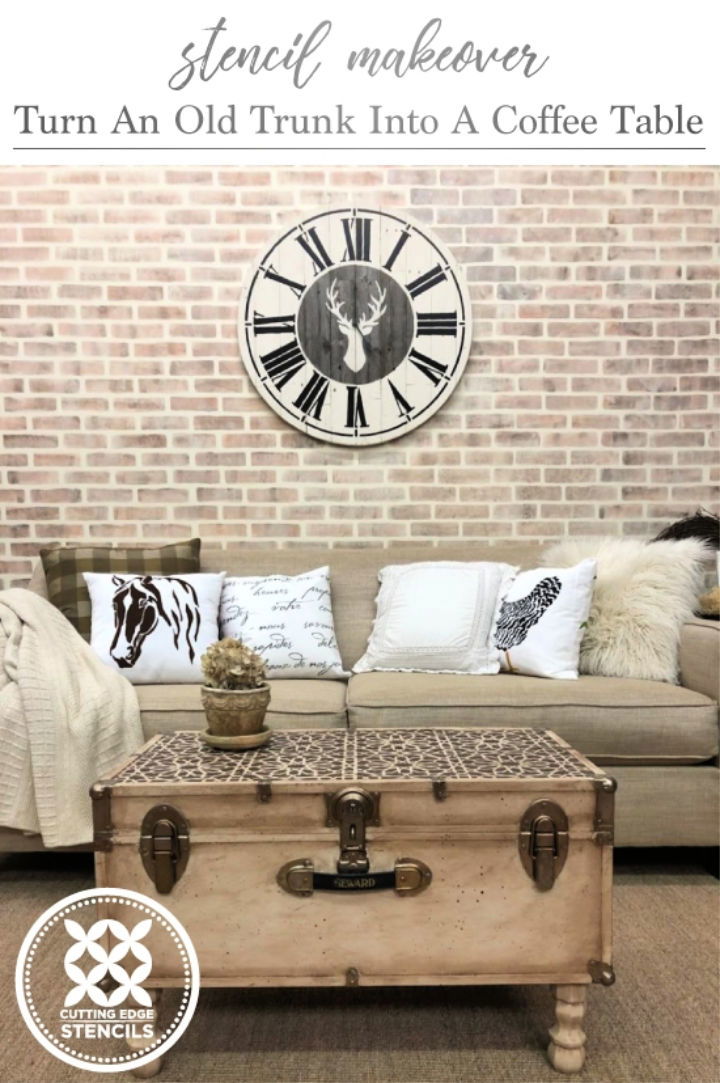 I am sure we all have these mid-century old trunks somewhere in the back of our closets or our garage storage. It is time to bring out that fellow and make the ultra-modern version of it as your new coffee table. cuttingedgesten
80. V8 Engine Block Coffee Table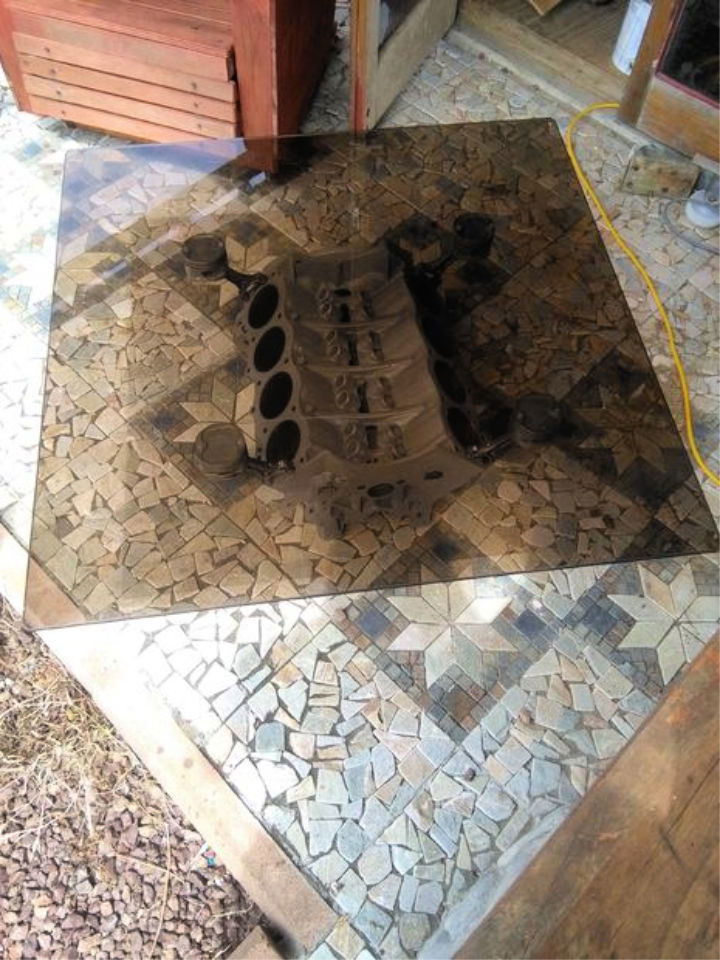 DIY is all about upcycling with many other things. This one here is made with an upcycled V8 block. You will need a few cleaned up pistons and stain up this V8 block too. Get your hands on a glass top. And maybe call it your Transformer inspired coffee table. hometalk
81. Gorgeous Motorized Coffee Table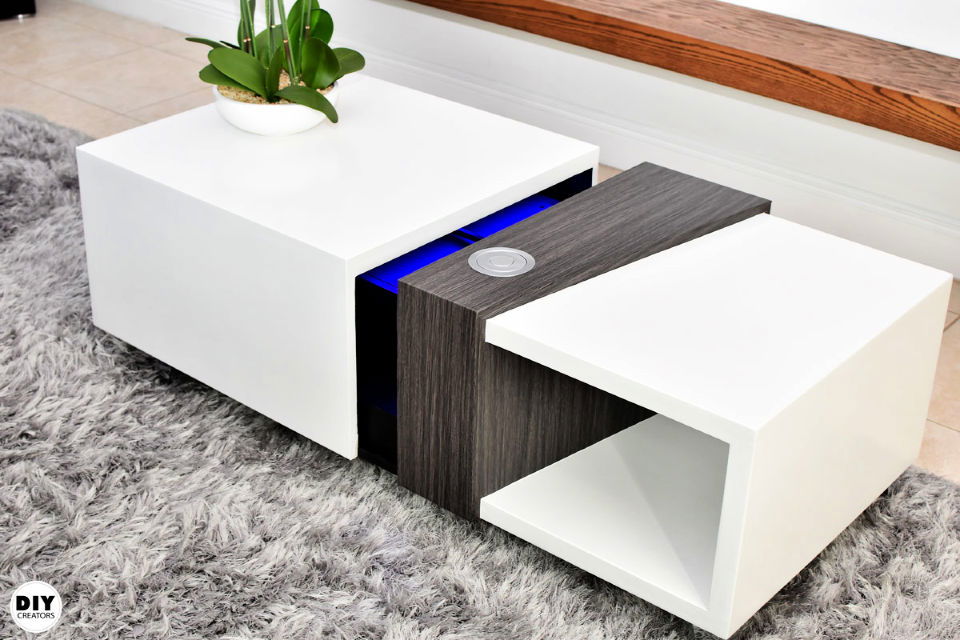 Everybody loves making or possessing things that could be both functional and unique at the same time. Have a look at this motorized coffee table, which comes with a secret compartment for you to hide your things. Out of sight, out of mind! diycreators
82. How to Make a LED Coffee Table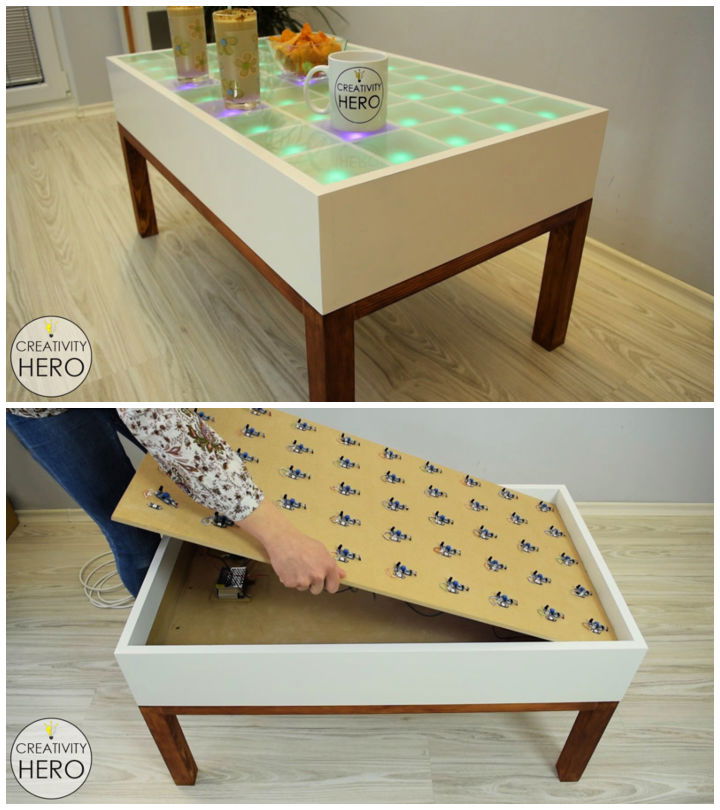 How cool would that be to have an interactive LED coffee table in your living room and spruce up your decor game to a whole new level! This beauty is made with a custom built application of the android system. Get your hands on the full magic here. creativityhero
83. Terrarium Coffee Table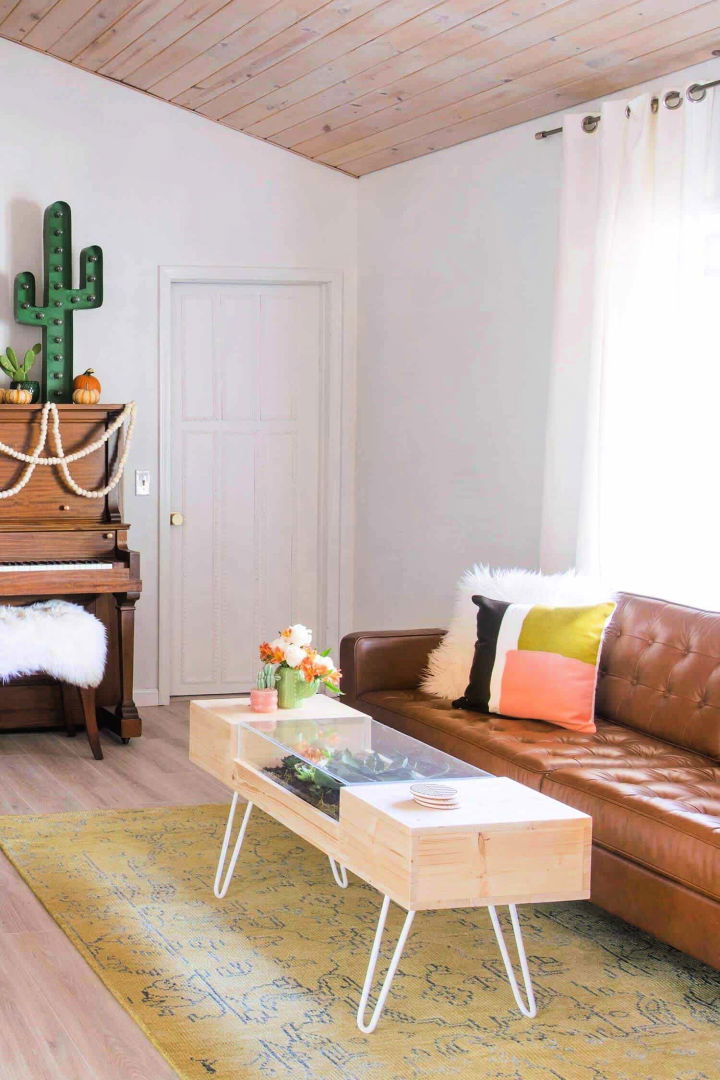 Add a refreshing, breezy, and enchanting touch to your living room with this DIY Terrarium coffee table. The structure of the table is pretty sleek and tempting. With the addition of faux succulents and the see-through a glass mirror. abeautifulmess
84. Square Plank Coffee Table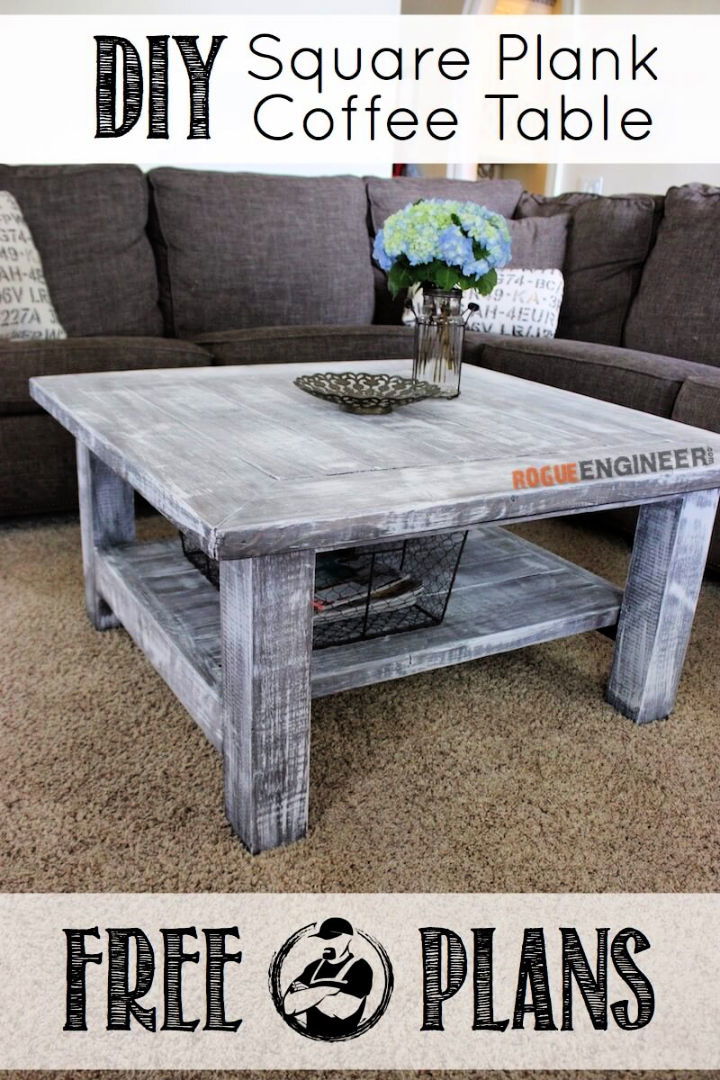 The key to a warm and inviting home is in a cozy and fascinating coffee table! The silver grained appeal of this DIY coffee table is flawless. The broad two shelves are perfect for keeping things in place and managed in your living room. rogueengineer
85. Coffee Table with an Old Window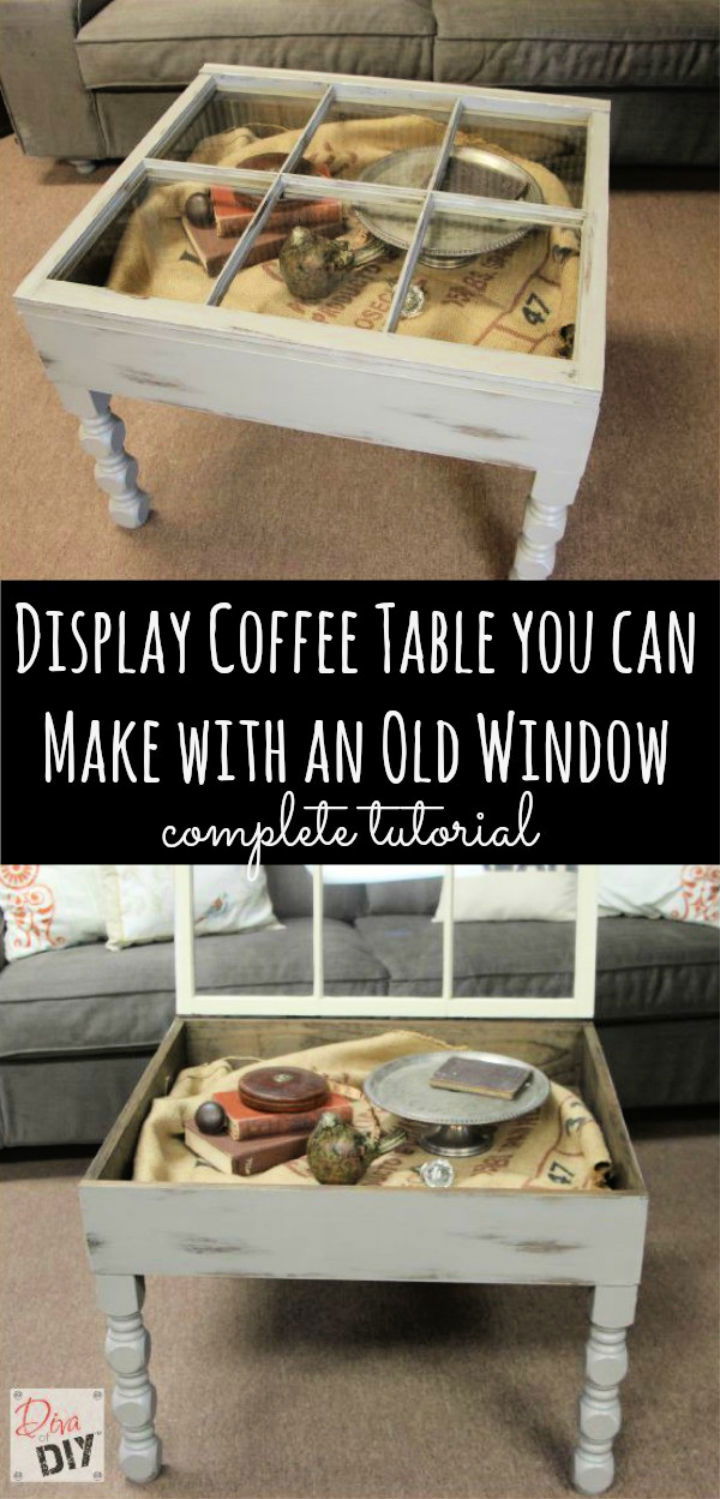 We find so much character and personality in this coffee table made with an old window! It not just offers a chic look but is highly functional too. You can totally personalize things with this repurposed window and decorating its glasses. divaofdiy
86. Modern Farmhouse Square Coffee Table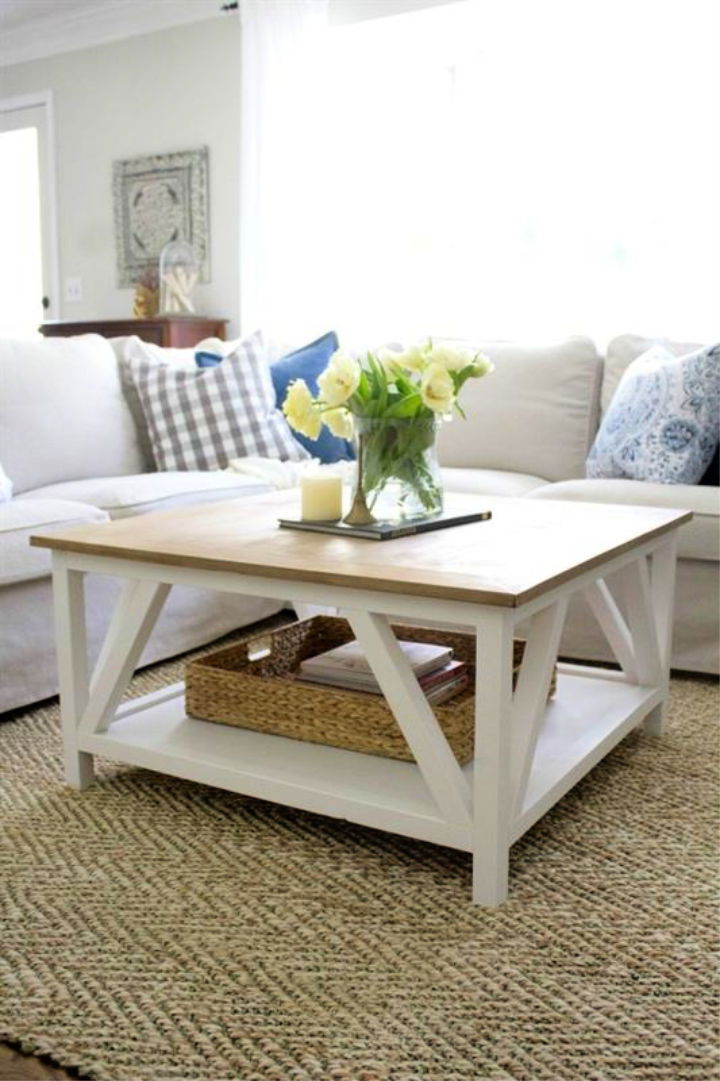 Here is another classic square, farmhouse inspired coffee table with a rustic stained table base and stained bottom base. The bottom shelf not only gives it a darling effect but also makes it functional and available for storage. buildsomething
87. Epoxy River Coffee Table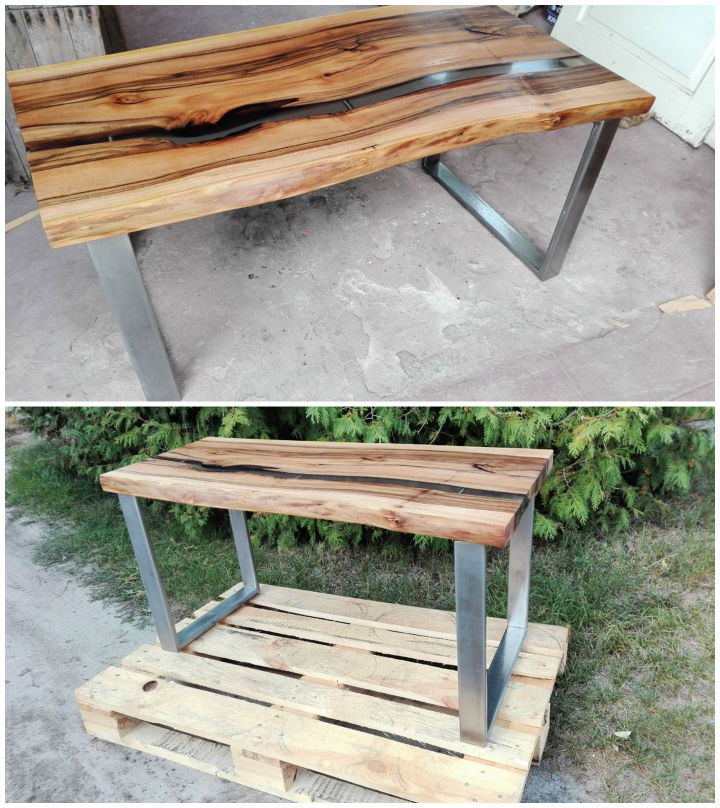 Get your hand son a slab of walnut and cut it into your desired size. Start off by sanding the whole thing to get rid of splinters and other bad things. Cut the slab in half to give it the river coffee table look. Finalize the whole thing with epoxy, get details here. instructables
88. Build a Live Edge River Coffee Table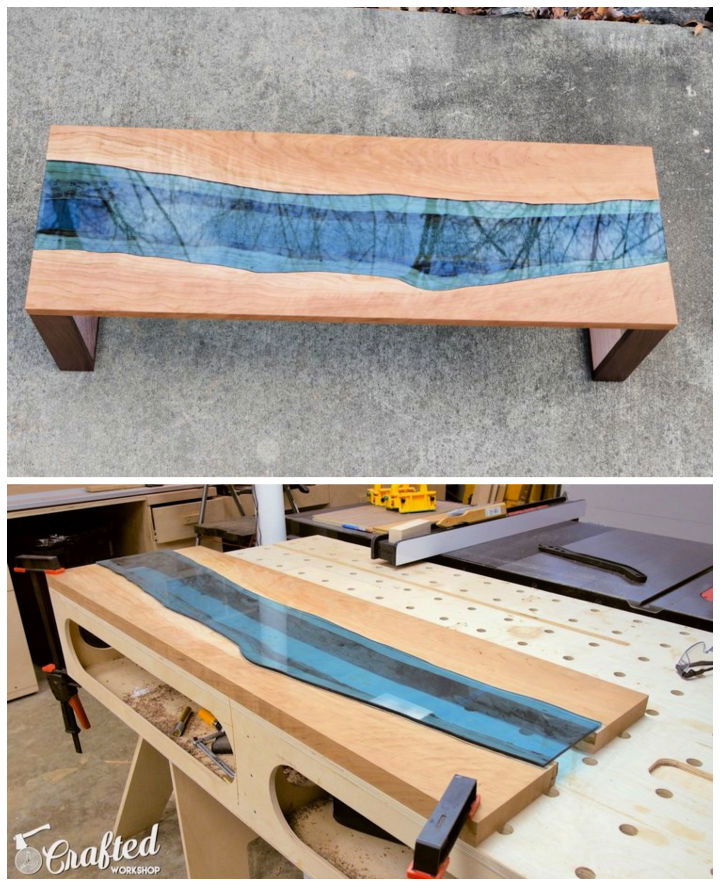 Check out this mesmerizing and character oozing river DIY live edge river coffee table. This endearing table features a center section made of glass that gives it the look of a charming flowing river. craftedworkshop
89. West Elm Inspired Industrial Coffee Table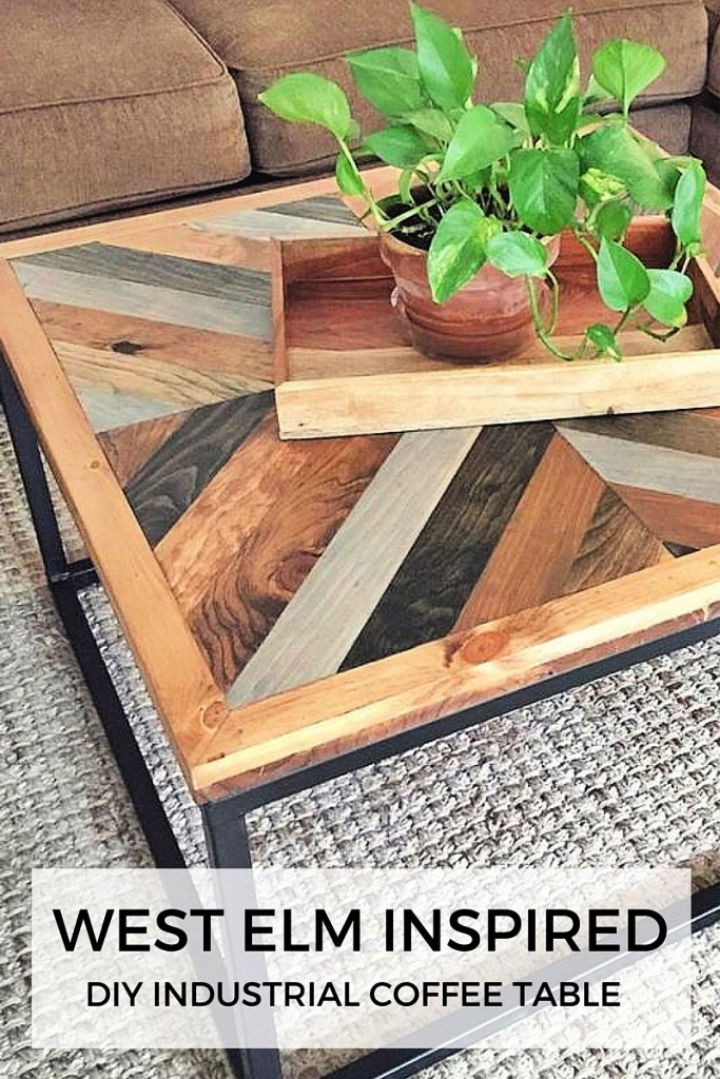 If you are also in awe of the mid-century accent furniture of West Elm, you and the folks at comfortandchaos share the same passion. This one here is inspired by West Elm's industrial storage coffee table with a design enriched top. comfortandchaos
90. Live Edge Table for Less Than $150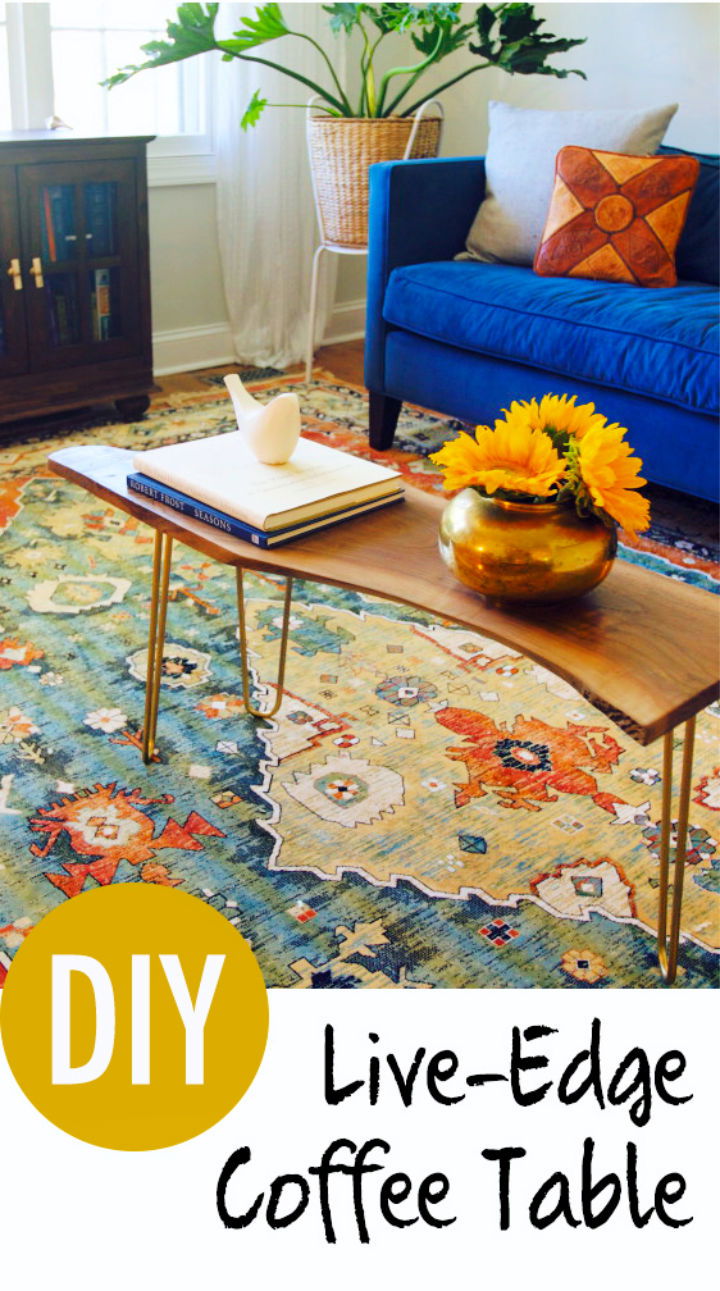 Live edge tables are on the rise, and we are totally up for another live edge DIY coffee table to inspire you with! You will need a live edge slab, hairpin legs, a large piece of cardboard, and some spray paint like metallic gold and a few other supplies. annabode
91. Build a Live Edge Coffee Table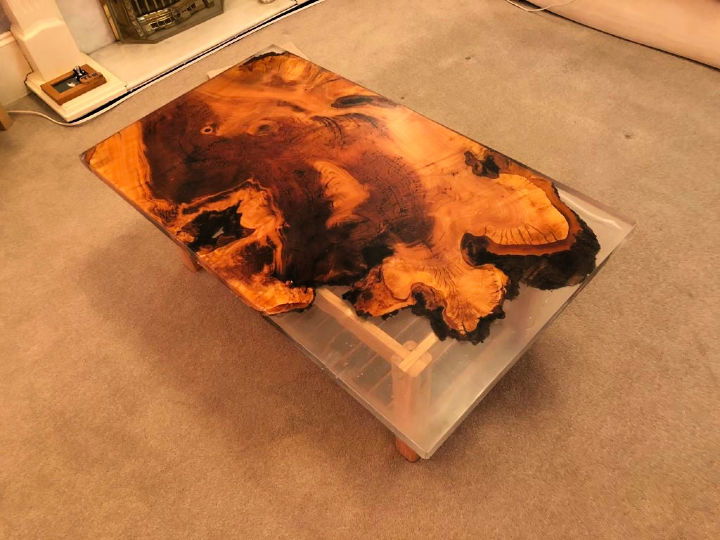 There is never enough wood that you can do some exciting DIY projects with! This one fascinating table here is a cherry slab and kept in its live edge form to add more character. The detailed supplies and step by step guide can be found here. instructables
92. Live Edge Wood Slab Coffee Table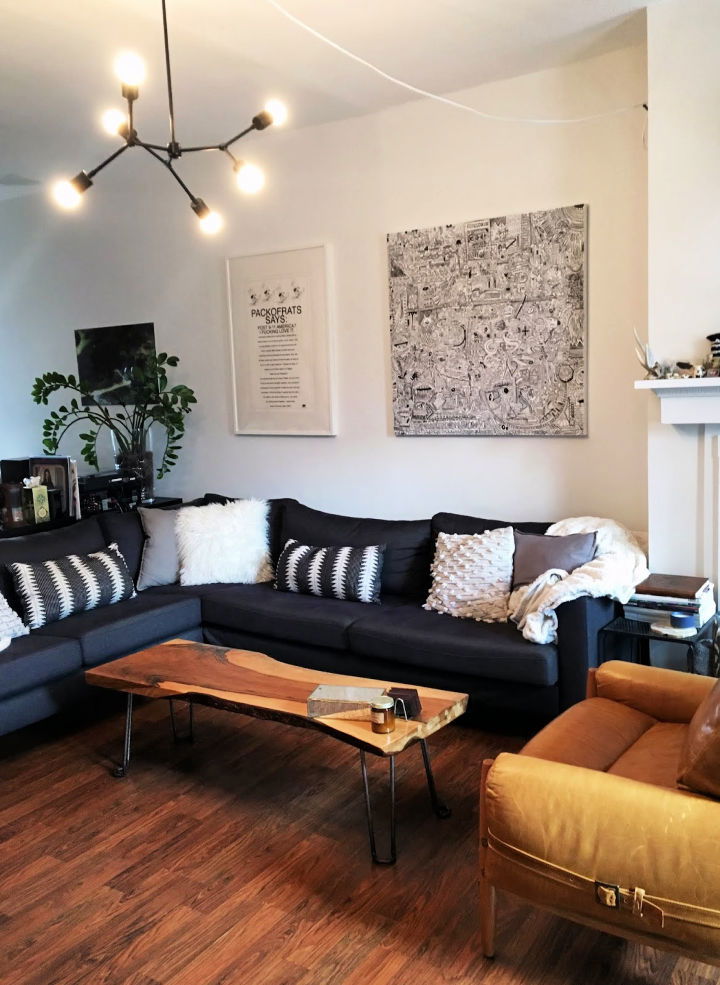 We love the look of live edge wood! Be it on kitchen counters or coffee tables. They bring a unique and multiplied character to the whole thing. You'll require a slab of live wood edge, mouse sander, sponge brush, hairpin legs, and a power drill. andchristina
93. Small Outdoor Coffee Table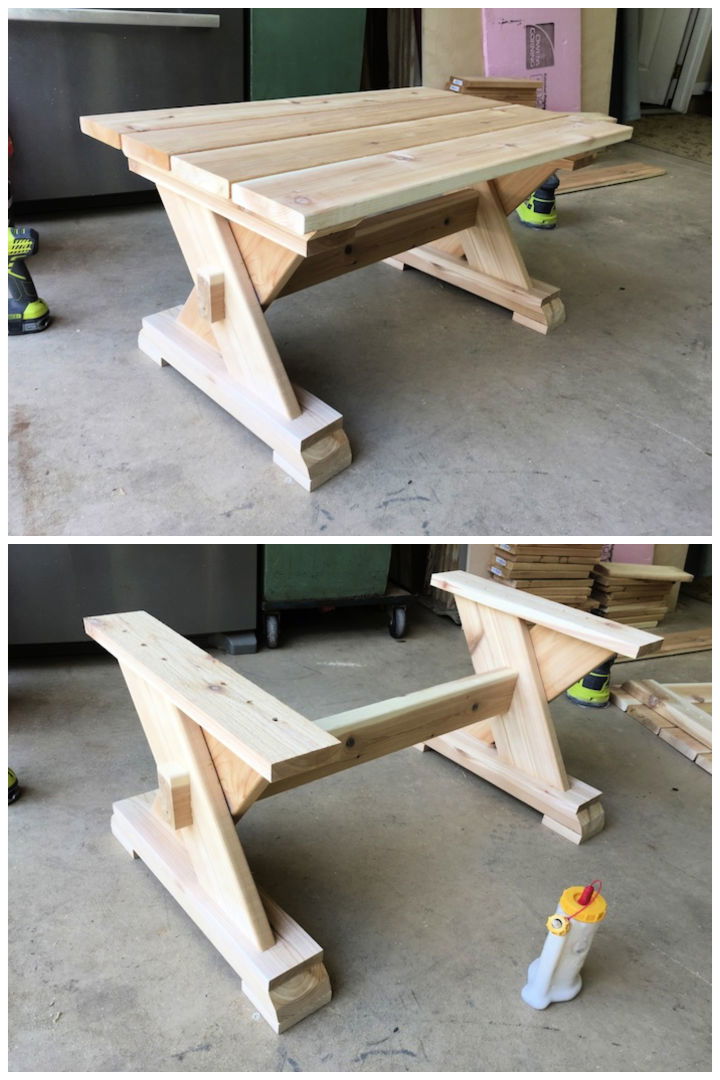 For a pleasing outdoor time, nothing is more sturdy and better than going for a wooden DIY coffee table. It is made using cedar decking boards, and its smaller size is not just cute on the out but also will come in quite handy to move around. rogueengineer
94. Stump Coffee Table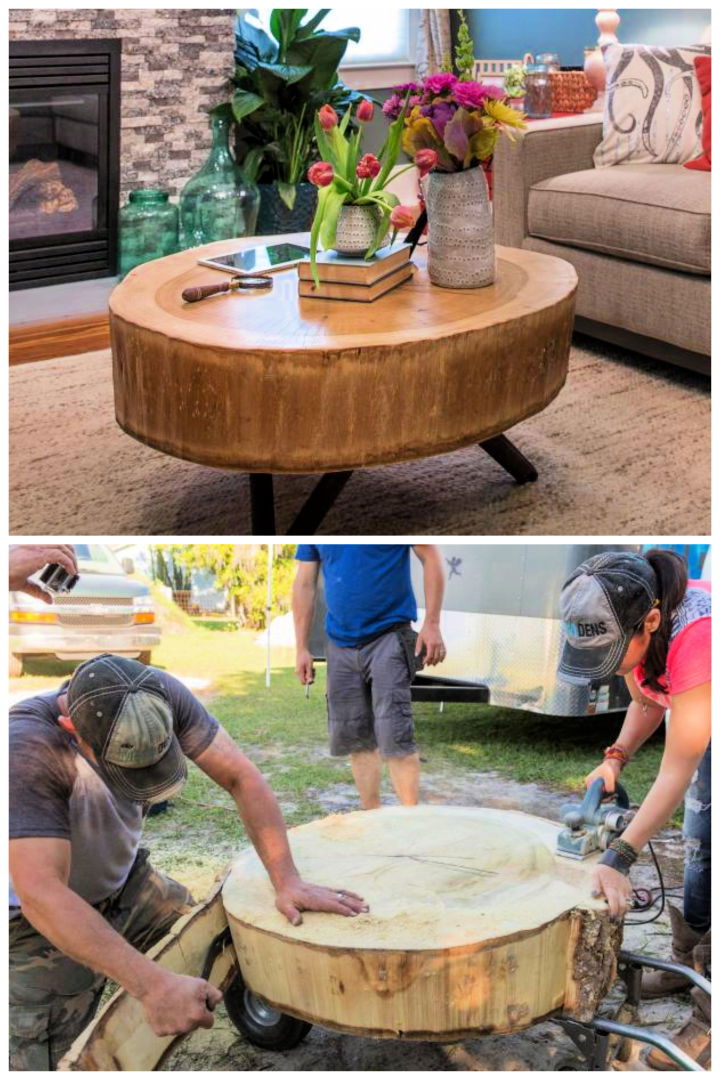 If you have been getting inspired by the DIY big breaks around you and looking for a budget friendly DIY project to flaunt your skills. Here's an idea! Check out this DIY stump coffee table, which will add an utterly unique statement to your living room. diynetwork
95. Stacked Plywood Coffee Table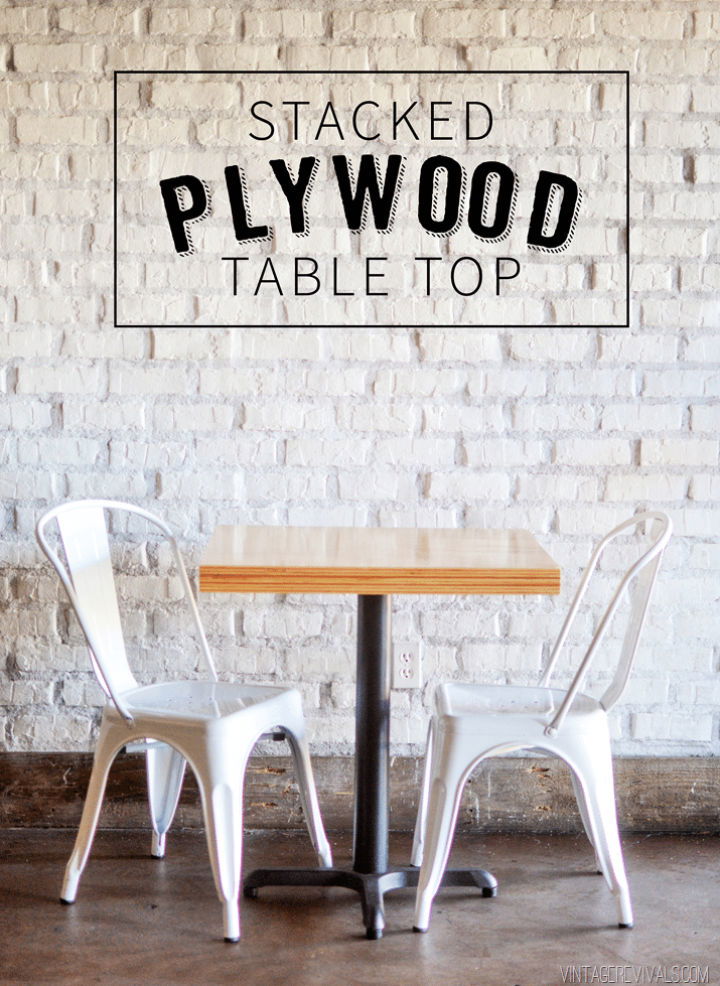 A simple, sleek, and character enriched stacked plywood tabletop idea! It could be one flawless treat to your eyes and an inviting decor for your guests. This is the kind of project that you can totally do for your coffee table, kitchen shelves, or kitchen counter. vintagerevivals
96. Coffee Table with Planter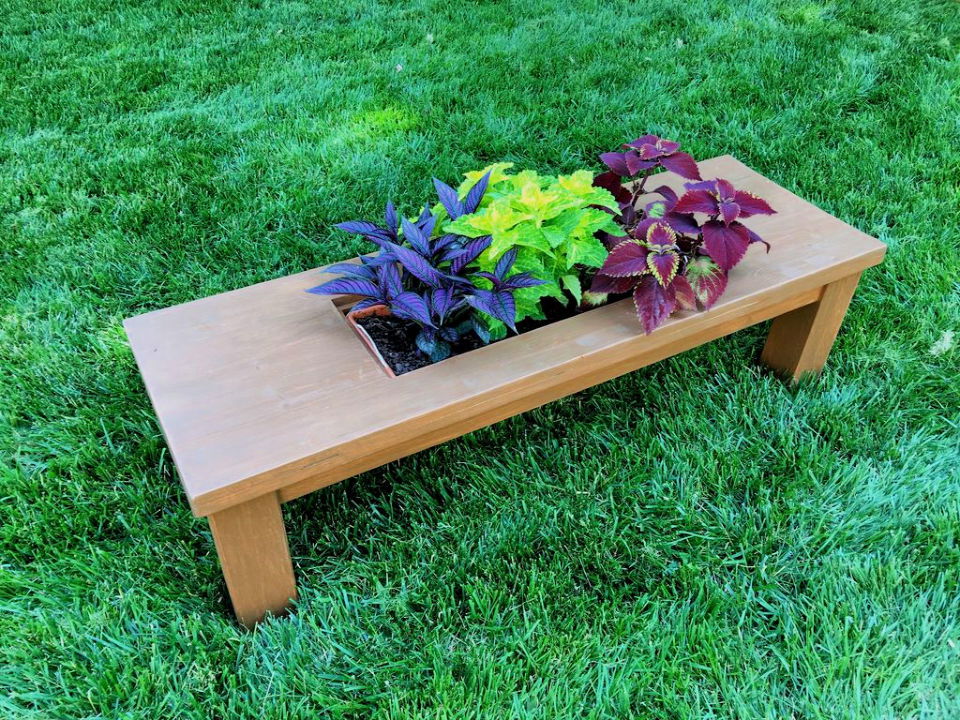 We have been through some amazing DIY coffee table ideas which had a beverage cooling spot. This one here is pretty breezy and refreshing with an additional slide in spot for keeping your planters or succulents to flaunt about. instructables
97. Outdoor Coffee Table with Planter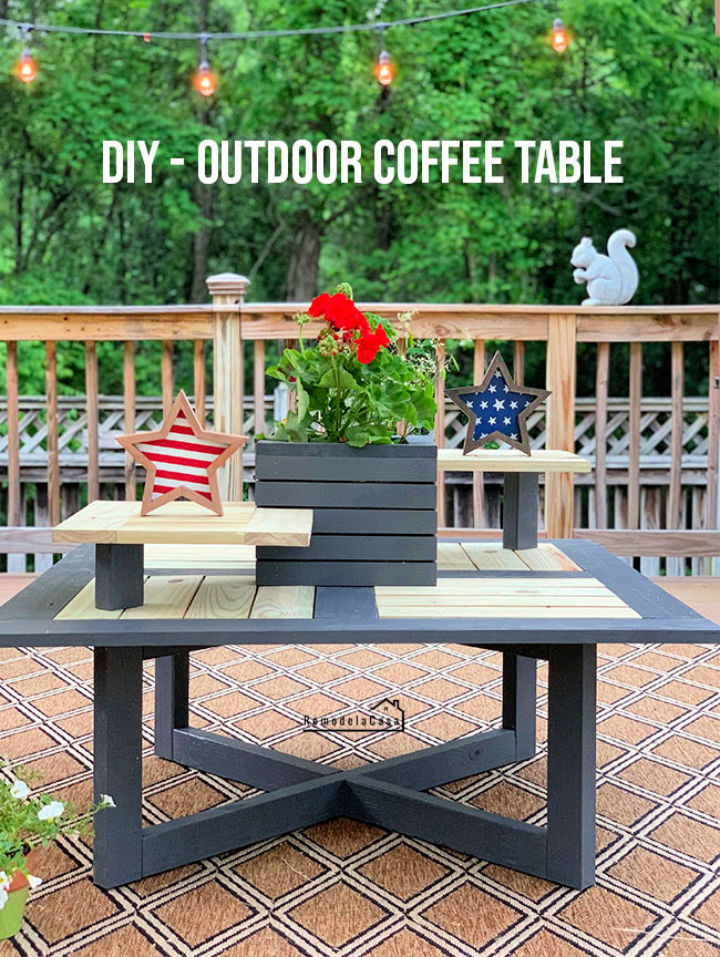 Before we hit off this tempting planter coffee table, there's a pro-tip you must take care of. If you assemble your wood table using pocket holes, deprives the wood of the expansion space when it absorbs moisture. This could mess up with the whole construction. remodelandol
98. Coffee Table With a Concrete Top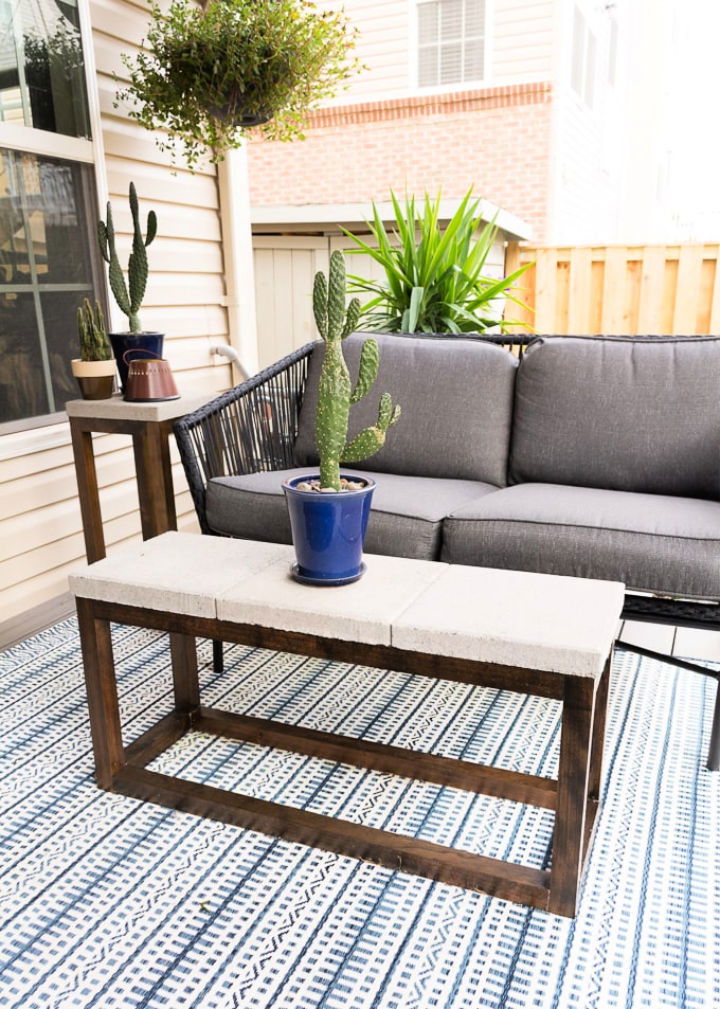 We have been seeing a rise over the concrete table tops over time! They make the whole table quite sturdy and appealing at the same time. And, it also makes it quite easier to manage things in the outdoor space, especially. bybrittanygold
99. Rustic Outdoor Coffee Table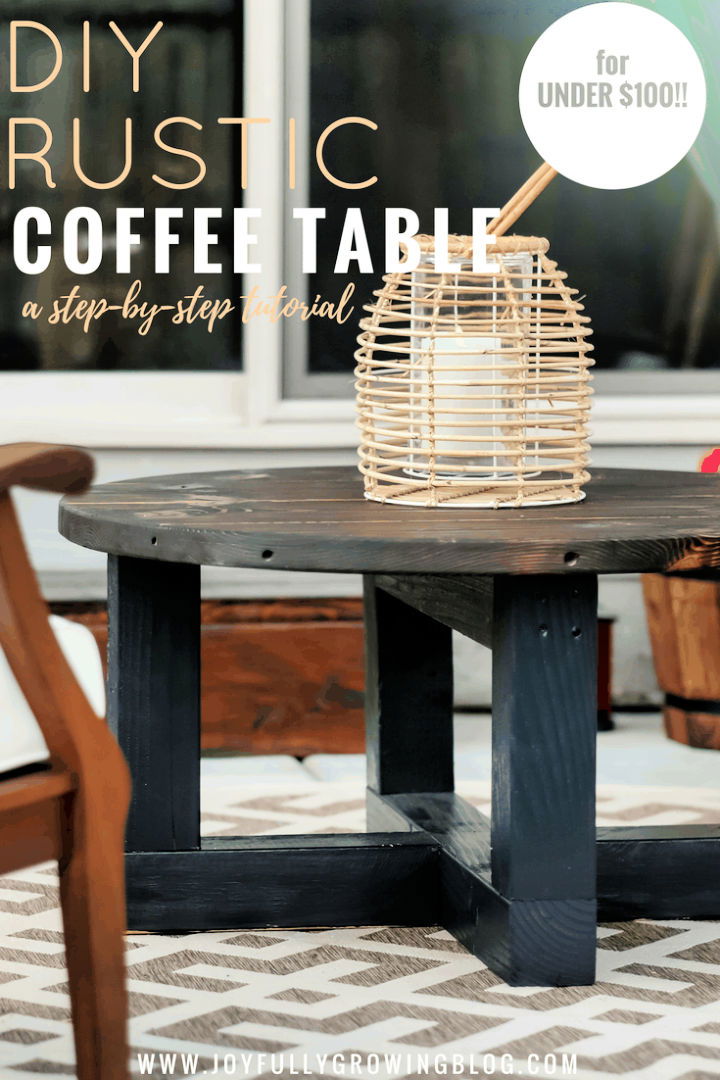 Are you looking for affordable ideas to redo your patio or backyard decor? By adding a character oozing and stunning coffee or center table, perhaps? Here's a rustic and round coffee table with trendy legs and made of Douglas Fir Lumber. joyfullygrowing
100. Outdoor Coffee Table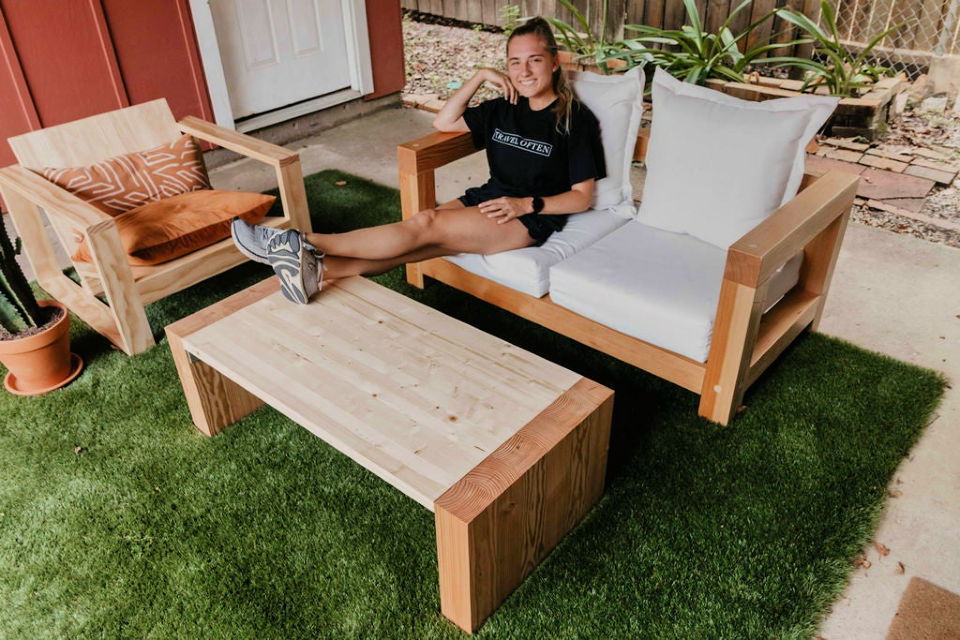 This one here is quite simple and at the same time, quite an addition to your patio. You will require about 2 8ft 4×4's, and a 2x4ft project panel along with 4Ft of aluminum angle. Add up some glue and screws, and you are good to nail this DIY coffee table. instructables
101. Patio Coffee Table
Here is a cool option for a cedar and pine round coffee table! If you want something appealing and at the same time, breezy in the patio, this round table in slanted lines with the spaces could be one best option. Get the full details here. 100things2do
102. Stone Top Coffee Table
This concrete DIY coffee table is made using around 20 pieces of 2-by-3-foot sierra white granite, which, if you are lucky, you can find in about $40 per piece. This could be a perfect remodel solution for a coffee table with pedestal legs. designsponge
103. Coffee Table Using an Old Door
Another one from our vintage closet! Got an old vintage and rustic door lying around somewhere? Time to put it up to a crafty and creative use with this coffee table using an old door. Find the perfect repurposed pieces in a yard sale or somewhere of that sort. diynetwork
104. Old Door Into a Coffee Table
Transform your old door into your new coffee table. This farmhouse style DIY coffee table can bring a lot of character and appeal to your living room. Plus, think about all the money you will be saving and going trendy with that. onemilehome
105. Easy Industrial Coffee Table
The imperfect look of this coffee table that goes with the metal bracket is totally sprucing up the whole appeal of it. This is one cool idea to come up with industrial furniture. The tutorial suggests using Simpson strong – Tie shelving hardware kit. rogueengineer
106. Industrial Coffee Table Giveaway
With industrial pieces on the rise, everyone is pulled to adding one to their decor. But, since the pricing for these is so high, that it mostly stays like a dream. However, with honeybearlane plans, you can DIY yourself a cool industrial coffee table. honeybearlane
107. Mid Century Wood Slat Coffee Table
The silhouettes of mid-century designs are sleek and perfectly vintage! They have this pure functional accent with tapered legs and simple stain finish. This one here is a pretty amazing linear vintage table for your living room. dreamgreendiy
108. Thrifted Cubbies to Mid Century Coffee Table
This one is here all about remodeling and recreating the little cubbies into a modern mid-century DIY coffee table. You can find the whole plan with step by step guide and illustrations here at remodelaholic. remodelaholic
109. Modern Mid-century Coffee Table
A combination of mid-century with modern appeal! This DIY coffee table undoubtedly looks terrific and will bring a minimalistic vibe to your decor. At the same time, its double shelf is making it highly functional for keeping your things organized. homedepot
110. Sawhorse Coffee Table
In just $25, treat yourself with this stunning saw horse coffee table. You will start by assembling the top by drilling holes and then moving forward with the rest of the process. Get the complete plan with illustrations at rogueengineer. rogueengineer
111. DIY Hardwood Coffee Table
Here is another classic hardwood coffee table for you to cherish for DIYing and flaunting your living room space all over again. The tutorial has been made quite easy by dividing the steps into four parts. The resin is adding an ultra-modern appeal. igorkromin
112. Gold and Wood Coffee Table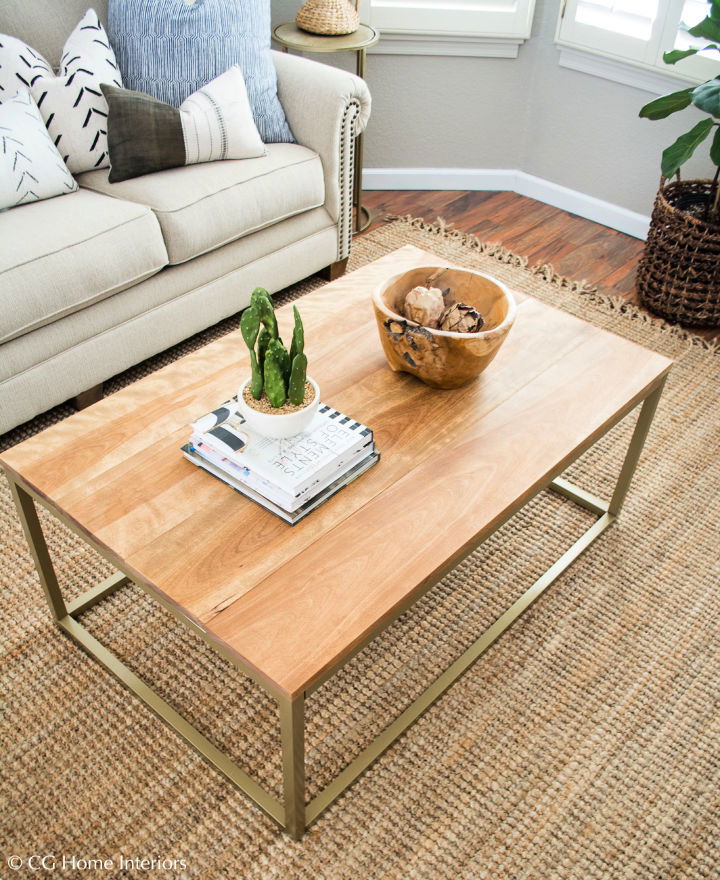 This gold accent and wooden combination of the coffee table are making us all awe-struck over this beauty! You can start off by ordering a coffee table base, and start working on that by spraying it to gold! This way, save time and DIY easily. cghomeinteriors
113. How to Make a Round Coffee Table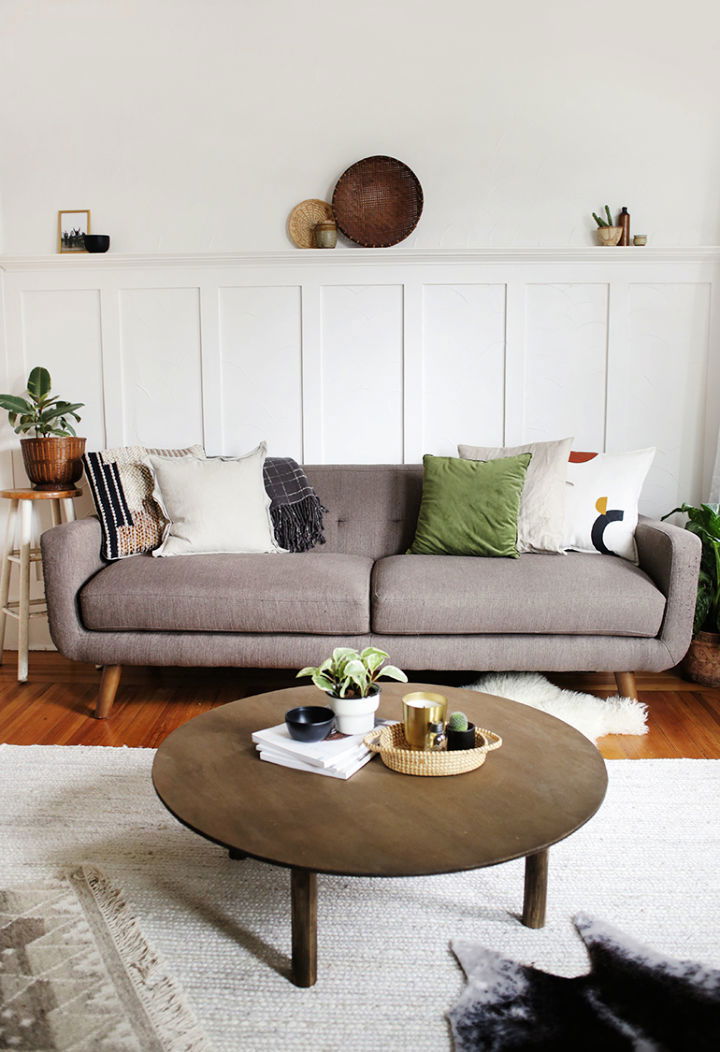 No matter how many new designs can emerge in the market, nothing beats a round coffee table, but! This one is made after sanding the raw plywood, 2" round dowels, string, jigsaw, screws, drill, orbital sander, and a few other supplies. themerrythought
114. Round Pedestal Coffee Table
Here is another appealing and terrific round coffee table plan for you to treat your eyes! Get a pre-build table leg, 2x4x8, and 2x10x8 boards, miter saw, band saw, jigsaw, sander, wood glue, L brackets, and a few other supplies to get started. woodshopdi
115. Tree Stump Coffee Table
Keeping it as natural and vintage as it could get! We are totally loving this huge tree stump coffee table. It is bringing a lot of character with a subtle minimalistic approach to the living room! Plus, these are becoming very popular decor items these days. twelveonmain
116. Welded Steel & Faux Marble Coffee Table
If you have been hesitating to go welding and still driven by the idea, here's your chance to do it with someone who has tried her hands first time at it too! Join in the base and make yourself this welded table with a faux marble top! erinspain
117. Reclaimed Wood Coffee Table
It is like the secret doorway to an inside world, maybe like Narnia or something from the Shrieking Shack from Harry potter! But, it looks so enchanting, anyway. Made with reclaimed wood, this one is a stunner. whimsyandwood
118. Concrete Outdoor Coffee Table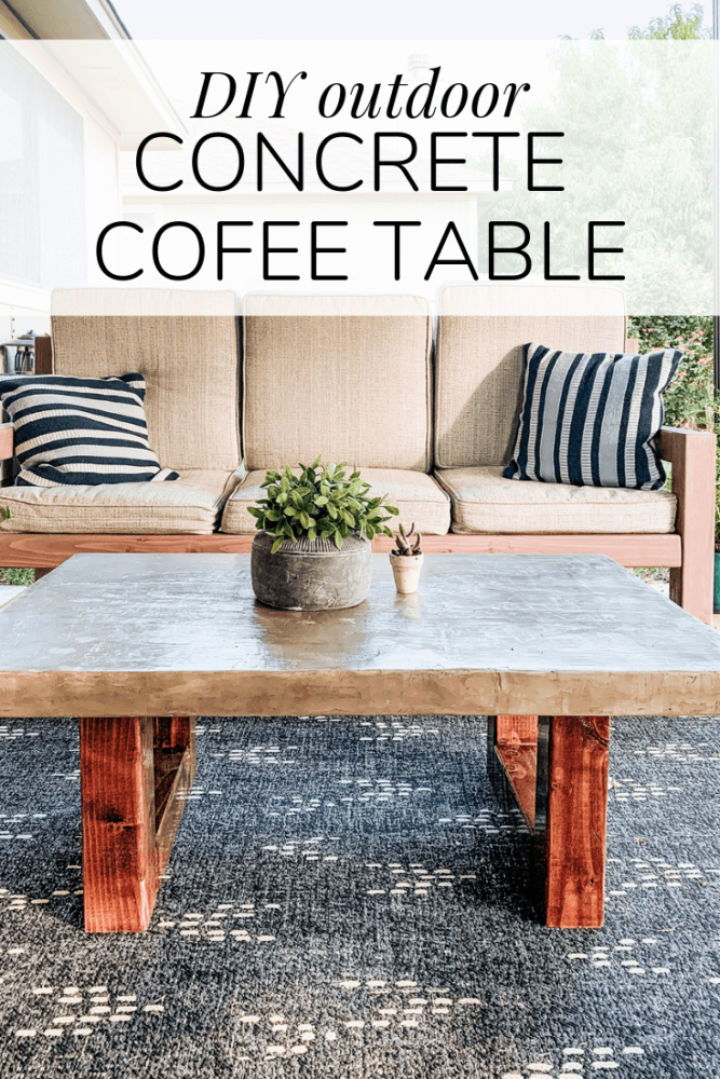 For outdoors, everyone tries to opt for a sturdy furniture option. We are bringing you one sturdiest and trendy much outdoor coffee table with a concrete top. The design is pretty simple and will create a basic but stylish look in no time. loveandreno
119. Coffee Table with Washing Machine Drum
Oh, the wonders of DIYing. This DIY coffee table with this upcycled washing machine drum is a total mood booster. For one thing, the washing machine drum is adding so much character to this! And for another, the color scheme is too complimenting to resist. vickymyerscreation
120. $30 Herringbone Coffee Tabletop
How about just sparing $30 for making this uber perfect herringbone DIY coffee table. You are just going to have to spend one weekend working around this designed enriched piece of furniture! Find the list of supplies here. craftedbythehunts
121. Faux Metal Coffee Table
By having a look at it, you can get totally inspired by this metal and wood top coffee table. But, did we mention it's actually a faux metal table? The metal accent legs that you see below it are actually wood with jet black paint! thediyhubs
122. Inexpensive Farmhouse Coffee Table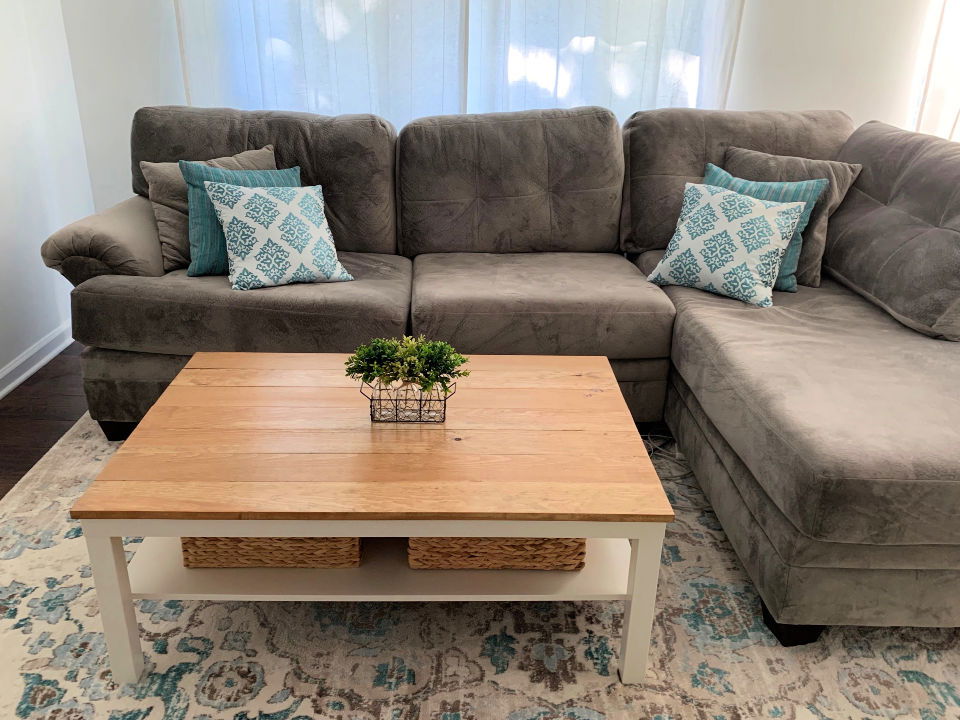 Farmhouse inspired coffee tables are the best! They are broad and perfect in size to add personality to the living room plus functional for storing your remotes, magazines, or any other daily usage stuff. everblooming
123. Living Room Coffee Table
How about some twinkling and glowing living room DIY coffee table to brighten up your day and living room's decor! This one here is a unique design in itself, and although by the look, it feels pretty exquisite, but you can still DIY it in budget! youtube
124. Distressed Coffee Table with Storage
Here is a cool idea for a super functional coffee table! How about transforming an old door into a storage excessive coffee table with two huge drawers on each side? Get the full building plan from here and make your living room furniture pretty and functional. rogueengineer
125. Board Gamers Coffee Table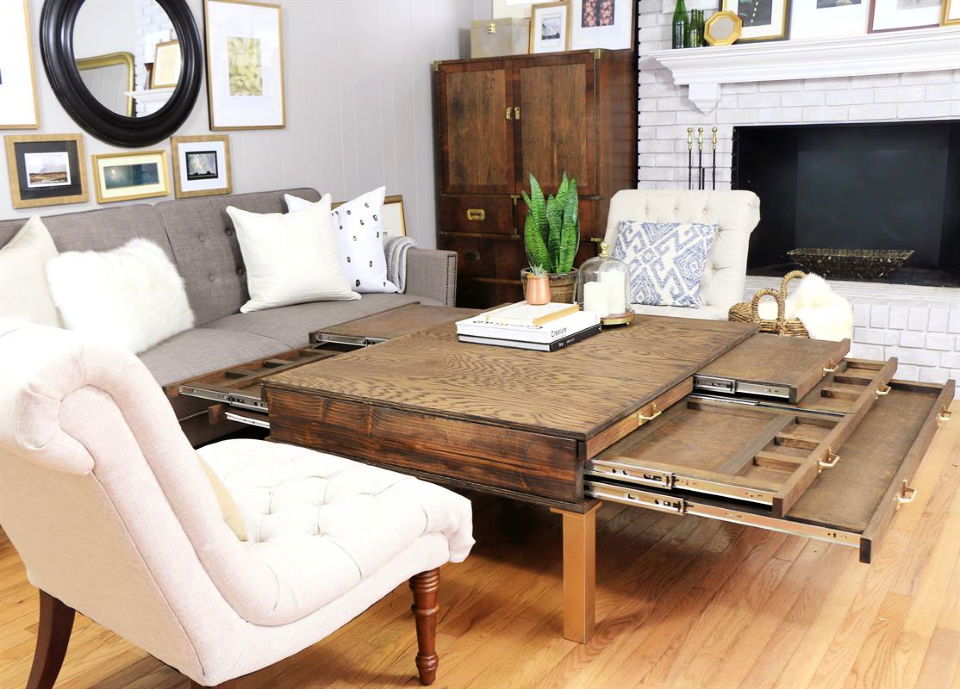 If you, too, are a board game lover, you are going to adore this board game coffee table! It is not only stylish but comes with a lot of pull out drawers to host a perfect board game night! With puzzles and tons of entertainment on the table. buildsomething
126. Split Industrial Ana White Coffee Table
Step by Step Tutorial here Ana White
You may love these free coffee table ideas for your home
Not only for utility purposes, but the cheap coffee tables play a vital role in boosting the home decor and storage space of a living room. People can use the coffee tables with storage or built-in secret stashes! Or DIY lift top coffee table if they need some extra storage space in their living room. By adding a glass top or a flower vase to the top of a DIY coffee table, one can also turn it into a living room centerpiece. Want some great DIY coffee table ideas and plans for free? If Yes, then we have some perfect rectangle coffee table designs!
Do you want the best coffee table plans for free?
In short, missing a coffee table in the living room would not be appreciated in any way as it is the very first demand and need for a living room. So you can make your favorite coffee table easily with this perfect list of 150 DIY coffee table ideas & plans that can be made at home. All these DIY coffee table plans are free, style-worthy, sturdy, and cheap.
Want to reuse and recycle the old wooden pallets? then try the best furniture made from pallets for your home and garden!
Don't worry about the supply materials; all you need is to target the common material of home to build any of these DIY coffee tables. The most used material would be the old wood like a wooden slab, Pallets, plywood, etc. Always easy-to-find in the home or surroundings.
127. Homemade Wood Log Coffee Table on Wheels
Want to build the best DIY farmhouse coffee table? Rustic furniture look is the hottest furniture look that is chosen to score high-value styles and living room fashion trends. So why not get some style-worthy living room coffee table out of some old wood logs? Follow the construction steps and pattern here to get a fab like shown one for the good reputation of your living room. Here is the DIY farmhouse table tutorial bhg
Tops are the most amazing part of the coffee table. According to these DIY furniture projects, one can prefer the concrete tiles, glass slabs, and plain wood sheets for amazingly smoother and elegant tops. DIY coffee table plans with built in shelves would be all amazing to get a coffee table with storage.
Prefer wheels or simply reclaim the metal from home and build metal hairpin legs for your handmade wooden coffee tables. One can also use box style copper legs for more stability, as shown in these DIY coffee table ideas.
You can also get help from these easy DIY projects for your home improvement.
128. Epic Upcycled Barrel Coffee Table
After they get empty, we remain no longer concerned with those wooden barrels. If you have some long-forgotten wooden barrels, they time to plan them for restoring living room fashion points. Here we've got the best DIY coffee table plans to convert an old barrel into a stunning DIY coffee table that will provide a secret stash. Perfect gift for rustic-modern lovers. Here is how to make rectangle coffee table out of recycled barrel artofmanliness
129. Self-Installed Terrarium Side Table or Coffee Table
Get ready with plexiglass in to do an every beautiful DIY coffee table project, the precious terrarium coffee table. Double-check your measurements and cut the plexiglass sheets according to measured values. Put the cut sheets together for building a glass box and secure the corners and sides with electrical tape. Full tutorial here bloglovin
It is what you need to get first while entertaining some visitors or guests in the living room. The conversations are also to start always by sitting around it. It is seen mostly in the center of the seating plans. The reason is that all the sitting individuals can use it to place their mobile phones, coffee cups, beverage mugs, magazines, and other materials over it while they need to get their hands free for detailed conversations. So this all tells that how utilitarian item a coffee table is.
130. Chic White Coffee Table with Bottom Shelf
Want to gain a designer styled living room? All you need to add a chic white display DIY coffee table in the center of your living room. It is all easy to compose at home using quality or reclaimed wood. It owns a lower level and gets the stylish looks from the upper glass top. White paint works as ice on the cake. Full DIY tutorial here lowes
131. Modern Pallet Wood Coffee Table on Wheels
Get a complete pallet board, wooden plates, and some additional wooden lengths to install this low yet cozy DIY living room table. Choose your custom way to get it in better appeal, get inspired by the doily print here. In the end, install wheels and let this pallet wood table be a part of your conversations. Full guide and rectangle coffee table tutorial here papernstitchblog
132. DIY Crate Coffee Table with Storage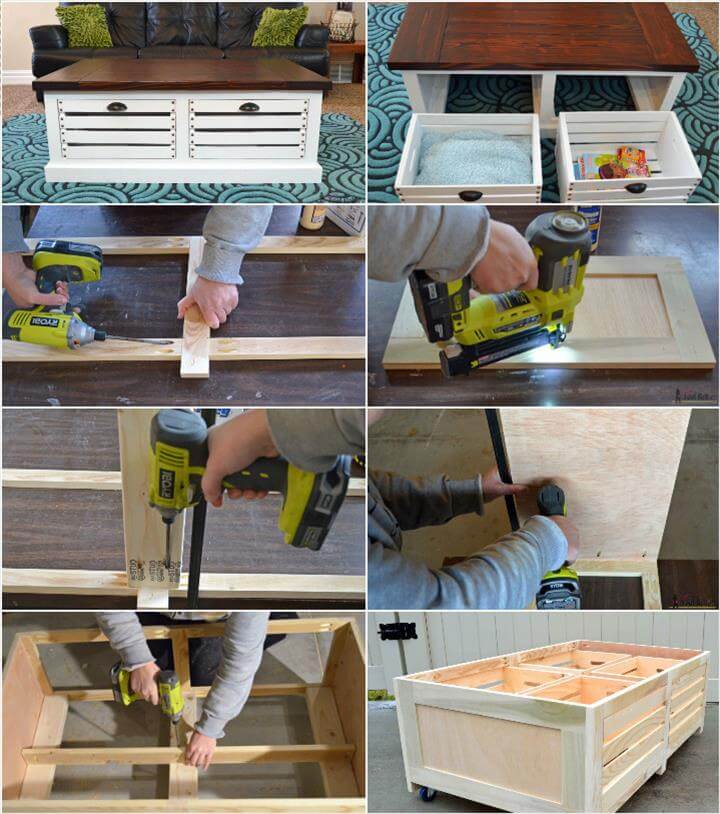 If you all looking for a spicy addition to your living room storage space, then do choose this pretty wooden coffee table with storage. It also comes with two builds in drawers that will be a stylish way to store your living room concerns. Design is full of style, and the milk-choco appeal of low coffee table just held all precious and special to eyes. Full directions and DIY coffee table crates guide here hertoolbelt
133. Sublime Mahogany Coffee Table
Fallen in love with this elegantly stylish DIY wooden table? Make it yours by grabbing the free coffee table plans for it. Made for modern living rooms and curved legs all bring an artistic vibe to this table. Grab the free DIY mid-century modern coffee table plan here finewoodworking
134. Modern Oval Coffee Table on Metal Hairpin Legs
If you are missing that necessary luxurious touch in your living room, then this surfboard coffee table is sure to bring it back. A precious DIY coffee table design for style lovers. The fancy golden lines and artwork make it an extraordinary piece of furniture. Want to clone it now? Full DIY instructions here instructables
You can also build a round coffee table by cutting its edges in a round shape! Check out our 15 Best DIY round coffee table plans to build a unique coffee table for your living room or outdoor.
135. Unique Neon Table with Hairpin Legs
Every style-addict person will wish to make this unique neon table a visually attractive part of his sitting environments. Find such a unique live edge or marble tabletop on Craigslist or eBay. Here this artful marble or live edge coffee table on metal hairpin legs which are also super easy to build at home. the-brick-house
136. Wood Slab Coffee Table with Hairpin Legs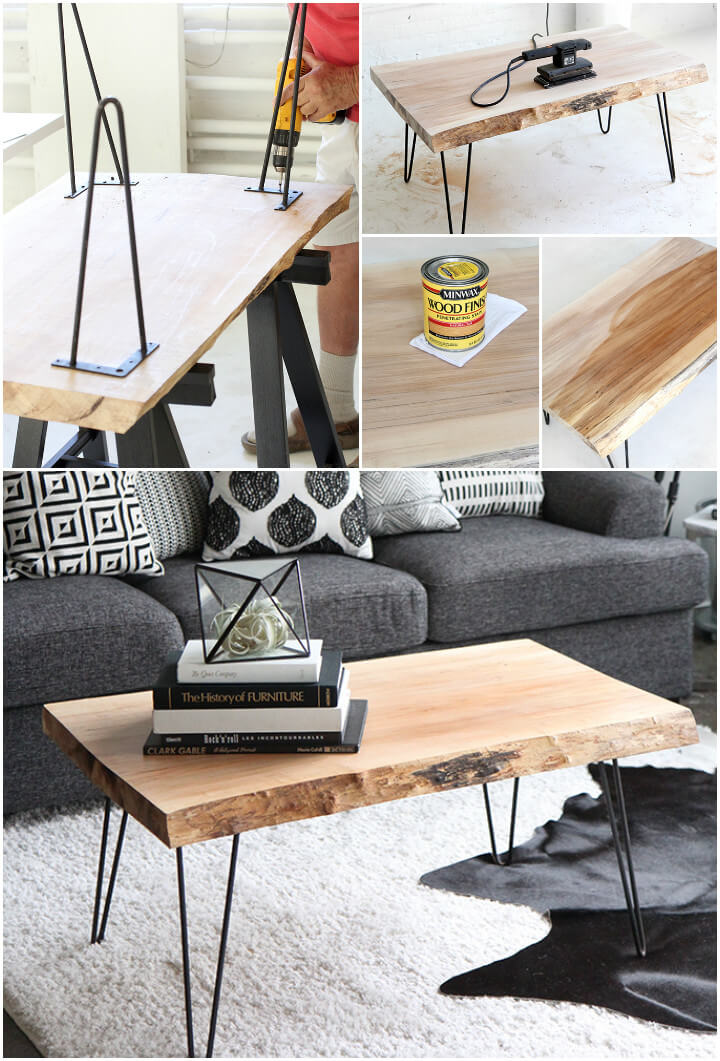 Missing some fashion points in the living room? This gorgeous wooden table is an amazing solution to make up it. Just finish a well sanded wooden slab with custom legs to build this rustic yet modern coffee table. Here are a full DIY hairpin table legs guide ispydiy
137. Industrial Wooden Coffee Table
Build an industrial style wooden coffee table at home. Stare a little at this given sample. A mind-blowing hand-built wooden table with box style base. Finished for a rustic look and is a delight to view in a living room. Complete guide and DIY tutorial from little glass jar
138. Wooden Coffee Table with Tile Top
Prefer this easy wooden table with a concrete tile top for making outstanding statements in your living room. As easy-to-build as you want and is as stylish too. Complete directions and instructions here homedit
139. Copper Coffee Table with Wooden Top
Another genius recovery. A mind-boggling DIY coffee table to jazz up your living room. It comes with a wooden top and stands on 3 flat box style copper legs. The table is all easy to compose at home, and the same is the copper legs. Copy this DIY Table for your larger sitting plans. Step-by-step tutorial here forme-foryou
140. Glass Topped Pallet Coffee Table on Wheels
A single pallet skid can be a quick alternative for expensive living room coffee tables. Just sand well a single pallet board then paint and finish it finally with custom legs or wheels as shown pallet coffee table. A quite simple and super quick way to gain fashion-worthy living room pallet coffee tables for free. Full guide here annaevers
141. Balustrade Coffee Table with Lower Shelf
If you all strive for coziness and style in your living room, then choosing this elegant DIY coffee table is all recommended. This square wood coffee table comes with 2 levels made of wooden planks. Both levels have been supported by balusters that also raises the aesthetic appeal of the entire design. Here is how to make it itsagrandvillelife
142. Spool Coffee Table with Built-in Bookcase
Paint an old spool and add with wooden dowels (fixed straight between both levels) and with bottom wheels. By doing so, you will get this stylish DIY coffee table that is also to use as a bookcase in part-time. Complete round coffee table directions here pinkxstitches.blogspot
143. Recycled Pallet Coffee Table
This rustic coffee table will get your priority if you are all thinking to give a mind-blowing rustic touch to your living room ambiance. Take pallet boards into single planks, and then a quick refitting can make your get this sturdy wooden table. Full DIY outdoor coffee table instructions here the36thavenue
144. Wooden Coffee Table with Metal Hairpin Legs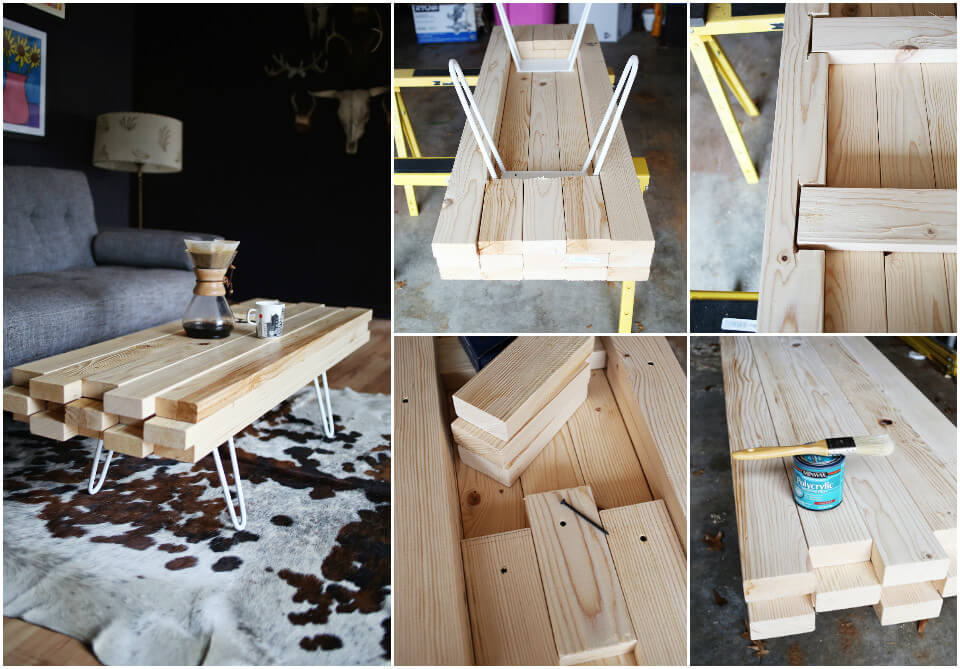 Flat piling of some straight & longer wooden lengths can result in a splashy DIY living room coffee table. Just finish the final pile with suitable legs, here metal hairpin legs have been selected for a provocative standing style of a coffee table. Complete guide and DIY tutorial from a beautiful mess
145. Suitcase Coffee Table with Metal Legs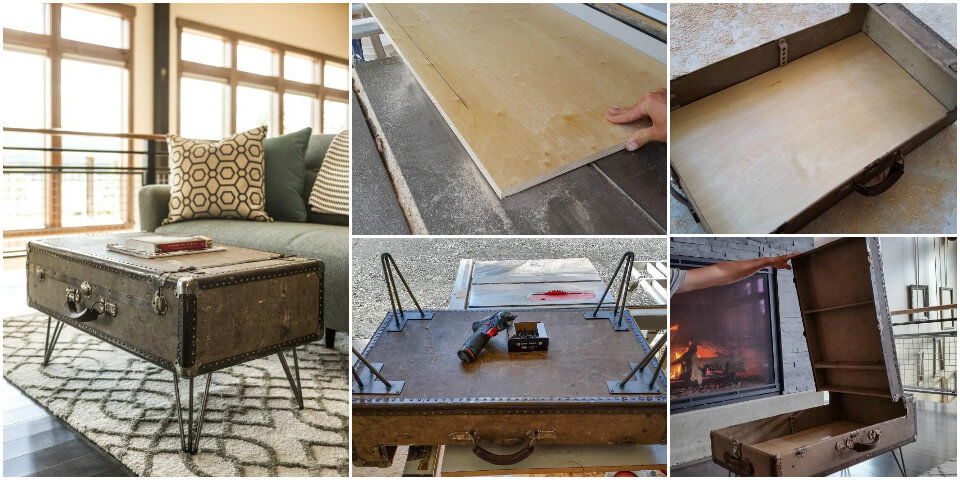 Need a glam rustic coffee table centerpiece in your sitting room? Your long-forgotten suitcases can be a good alternative to it. By adding a piece of wood to the suitcase's bottom, hand-built metal hairpin legs have been installed to it for a wonderful rustic coffee table with storage as you can see. Step-by-step tutorial here! diynetwork
146. Live Edge Mid Century Coffee Table
What a great woodworking project to give your home a creative and unique look. lilyardor
147. Modern Round Coffee Table
Do you want to DIY a round coffee table at home? See the plan here: themerrythought
148. DIY Stool To Coffee Table
Free step by step tutorial to DIY this coffee table: aliceandlois
149. IKEA Wood Slice Side Table
Get the free instructions here: craftifymylove
150. Outdoor Coffee Table With Drink Cooler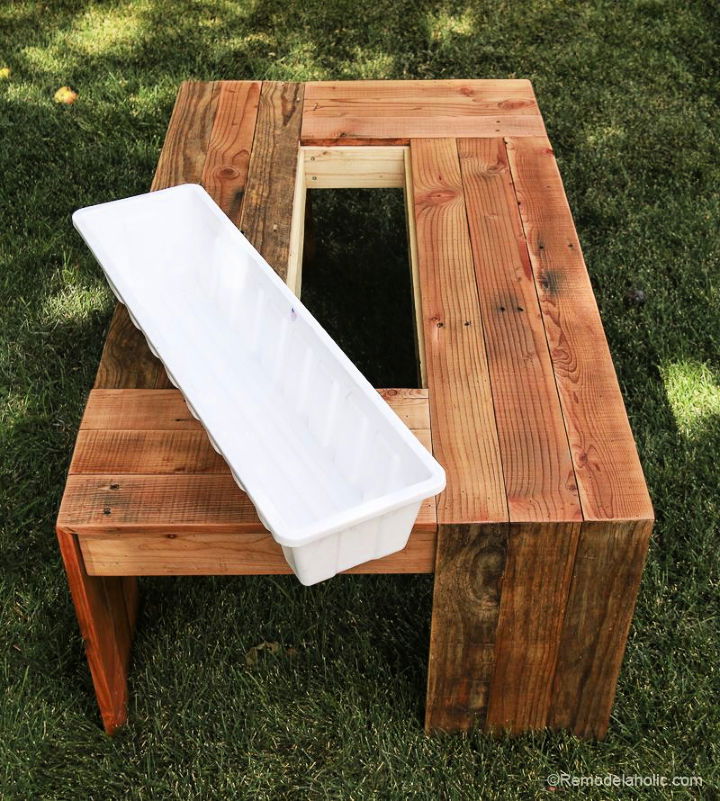 Here is another exciting DIY coffee table with a vintage and rustic style and a drink cooler option. Use it as a drink cooler or an enchanting floral decor. You can even fill the spot with lego's or cards to have exciting family time! remodelaholic
Take a roundup to learn DIY home decor much more…