Finding the perfect coffee table can be a tough task. You want something that's functional and stylish, but you don't want to spend a fortune. Fortunately, We've compiled a list of 50 free diy coffee table plans that are simple to build yet still offer all the functionality and good looks of their more expensive counterparts. And best of all, they won't break the bank!
So whether you're a beginner woodworker or an experienced DIYer, these free coffee table plans are sure to come in handy. To get started, simply choose a plan that fits your skill level and budget, and then get to work!
If you love to DIY, there's no reason you can't build your own coffee table. In fact, with the right plans and some basic woodworking skills, you can create a beautiful coffee table that will become the centerpiece of your living room.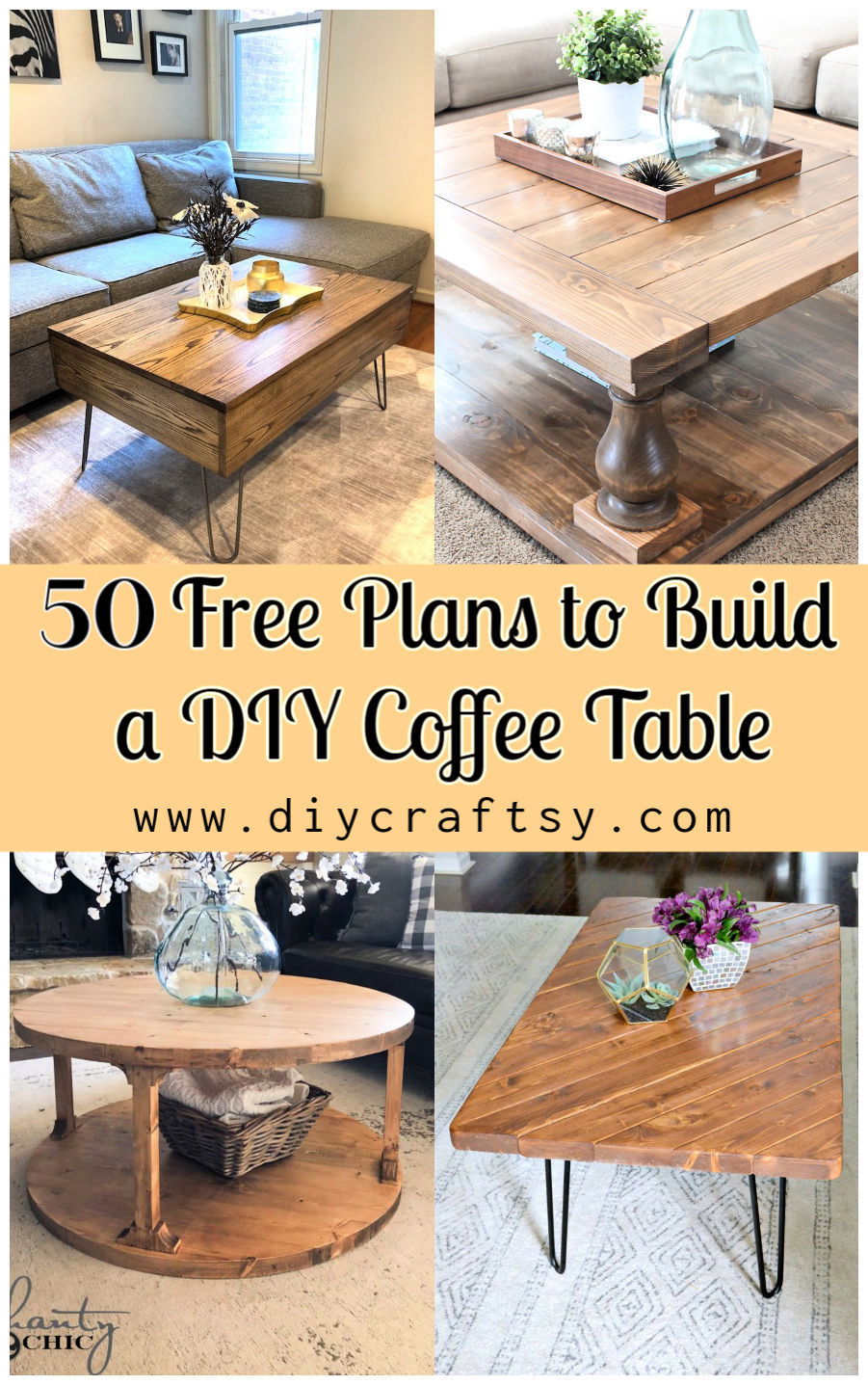 Are you looking for something a little more unique? Check out our list of 50 inexpensive diy pallet coffee tables for some inspiring ideas. so it shouldn't be too difficult to find one that's perfect for your needs. And if you want, you can even customize it to match the decor of your home.
1. DIY Outdoor Coffee Table
Here is a cool diy outdoor coffee table option with cedar and pine in a round style! If you want something appealing and at the same time, breezy on the patio, this round coffee table in slanted lines with the spaces could be one best option. Get the full details here. 100things2do
2. DIY Concrete Coffee Table
This DIY concrete coffee table is made using around 20 pieces of 2-by-3-foot sierra white granite, which, if you are lucky, you can find in about $40 per piece. This could be a perfect remodel solution for a coffee table with pedestal legs.
3. Coffee Table Using an Old Door
Another one from our vintage closet! Got an old vintage and rustic door lying around somewhere? Time to put it up to a crafty and creative use with this coffee table using an old door. Find the perfect repurposed pieces in a yard sale or somewhere of that sort. diynetwork
4. Old Door Into a Coffee Table
Learn how to make a coffee table from recycled material! Transform your old door into your new coffee table. This farmhouse-style DIY coffee table can bring a lot of character and appeal to your living room. Plus, think about all the money you will be saving and going trendy with that. onemilehome
5. Easy Industrial Coffee Table
The imperfect look of this coffee table that goes with the metal bracket is totally sprucing up the whole appeal of it. This is one cool idea to come up with industrial furniture. The tutorial suggests using Simpson Strong – Tie shelving hardware kit. rogueengineer
6. Industrial Coffee Table Giveaway
With industrial pieces on the rise, everyone is pulled to adding one to their decor. But, since the pricing for these is so high, that it mostly stays like a dream. However, with honeybearlane plans, you can DIY yourself a cool industrial coffee table. honeybearlane
7. Mid Century Wood Slat Coffee Table
The silhouettes of mid-century designs are sleek and perfectly vintage! They have this pure functional accent with tapered legs and a simple stain finish! This one here is a pretty amazing linear vintage table for your living room. dreamgreendiy
8. Thrifted Cubbies to Mid Century Coffee Table
This one is here all about remodeling and recreating the little cubbies into a modern mid-century DIY coffee table. You can find the whole plan with step by step guide and illustrations here at remodelaholic. remodelaholic
9. Modern Mid-century Coffee Table
A combination of mid-century with modern appeal! This DIY coffee table undoubtedly looks terrific and will bring a minimalistic vibe to your decor. At the same time, its double shelf is making it highly functional for keeping your things organized. homedepot
10. DIY Farmhouse Style Large Coffee Table
In just $25, treat yourself with this stunning saw horse coffee table. You will start by assembling the top by drilling holes and then moving forward with the rest of the process. Get the complete plan with illustrations at rogueengineer. rogueengineer
11. DIY Hardwood Coffee Table
Here is another classic hardwood coffee table for you to cherish for DIYing and flaunting your living room space all over again. The tutorial has been made quite easy by dividing the steps into four parts. The resin is adding an ultra-modern appeal. igorkromin
12. Gold and Wood Coffee Table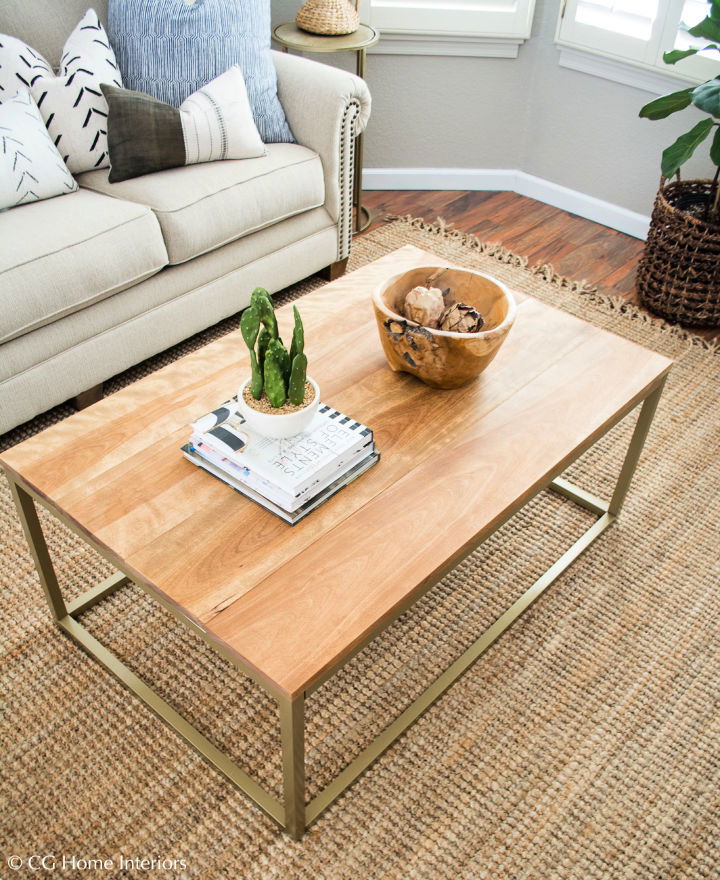 This gold accent and wooden combination of the coffee table are making us all awe-struck over this beauty! You can start off by ordering a coffee table base, and start working on that by spraying it to gold! This way, save time and DIY easily. cghomeinteriors
13. How to Make a Round Coffee Table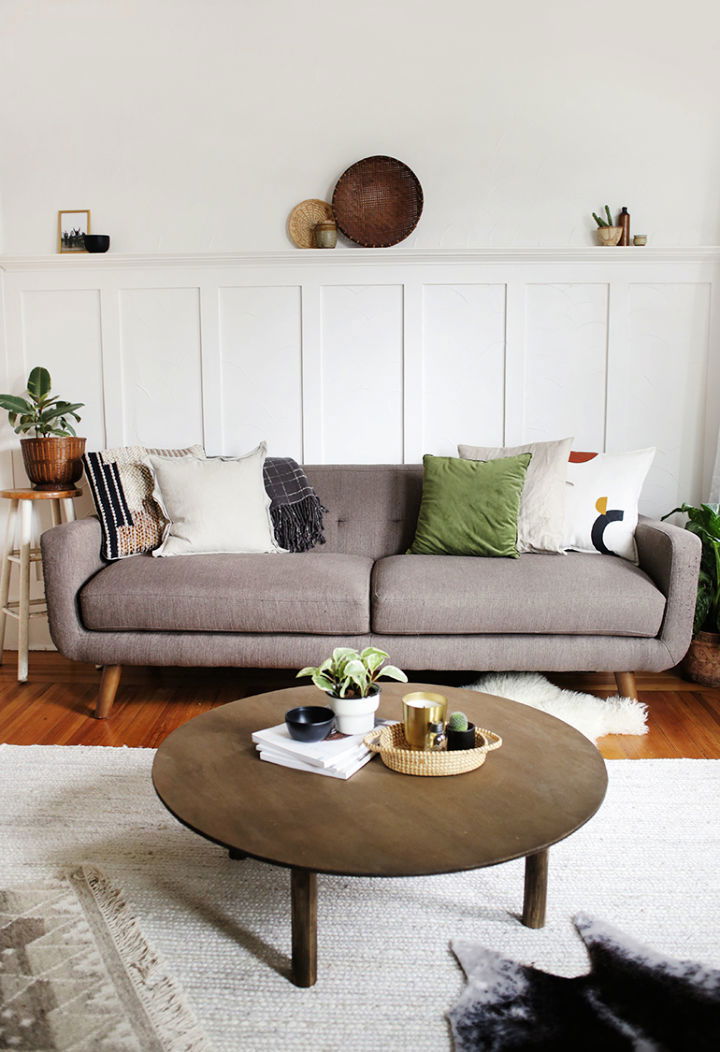 No matter how many new designs can emerge in the market, nothing beats a round coffee table, but! This one is made after sanding the raw plywood, 2 inches round dowels, string, jigsaw, screws, drill, orbital sander, and a few other supplies. themerrythought
14. Round Pedestal Coffee Table
Here is another appealing and terrific round coffee table plan for you to treat your eyes! Get a pre-build table leg, 2x4x8, and 2x10x8 boards, miter saw, band saw, jigsaw, sander, wood glue, L brackets, and a few other supplies to get started. woodshopdi
15. Tree Stump Coffee Table
Keep it as natural and vintage as it could get! We are totally loving this huge tree stump coffee table. It is bringing a lot of character with a subtle minimalistic approach to the living room! Plus, these are becoming very popular decor items these days. twelveonmain
16. Welded Steel & Faux Marble Coffee Table
If you have been hesitating to go welding and still driven by the idea, here's your chance to do it with someone who has tried her hands first time at it too! Join in the base and make yourself this welded table with a faux marble top! erinspain
17. Reclaimed Wood Coffee Table
It is like the secret doorway to an inside world, maybe like Narnia or something from the Shrieking Shack from Harry potter! But, it looks so enchanting, anyway. Made with reclaimed wood, this one is a stunner. whimsyandwood
18. Concrete Outdoor Coffee Table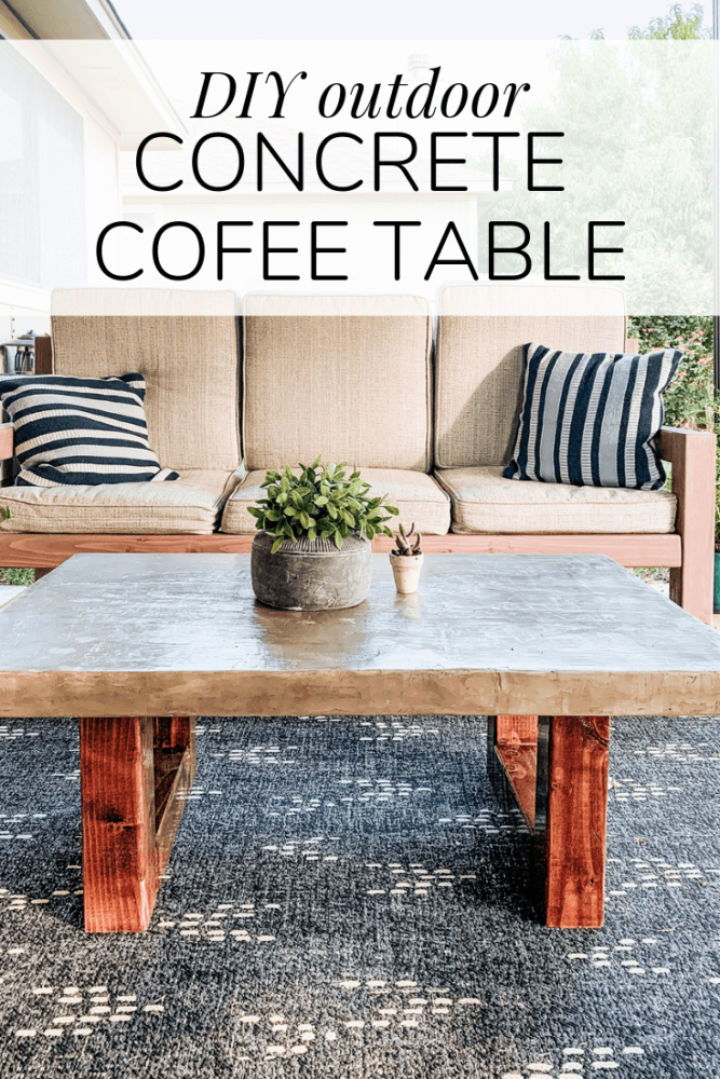 For outdoors, everyone tries to opt for a sturdy furniture option. We are bringing you one sturdiest and most trendy DIY outdoor coffee table with a concrete top. The design is pretty simple and will create a basic but stylish look in no time. loveandreno
19. Coffee Table with Washing Machine Drum
Oh, the wonders of DIYing. This DIY coffee table with this upcycled washing machine drum is a total mood booster. For one thing, the washing machine drum is adding so much character to this! And for another, the color scheme is too complimenting to resist. vickymyerscreation
20. $30 Herringbone Coffee Tabletop
How about just sparing $30 for making this uber perfect herringbone DIY coffee table. You are just going to have to spend one weekend working around this designed enriched piece of furniture! Find the list of supplies here. craftedbythehunts
21. Faux Metal Coffee Table
By having a look at it, you can get totally inspired by this metal and wood top coffee table. But, did we mention it's actually a faux metal table? The metal accent legs that you see below it are actually wood with jet black paint! thediyhubs
22. Inexpensive Farmhouse Coffee Table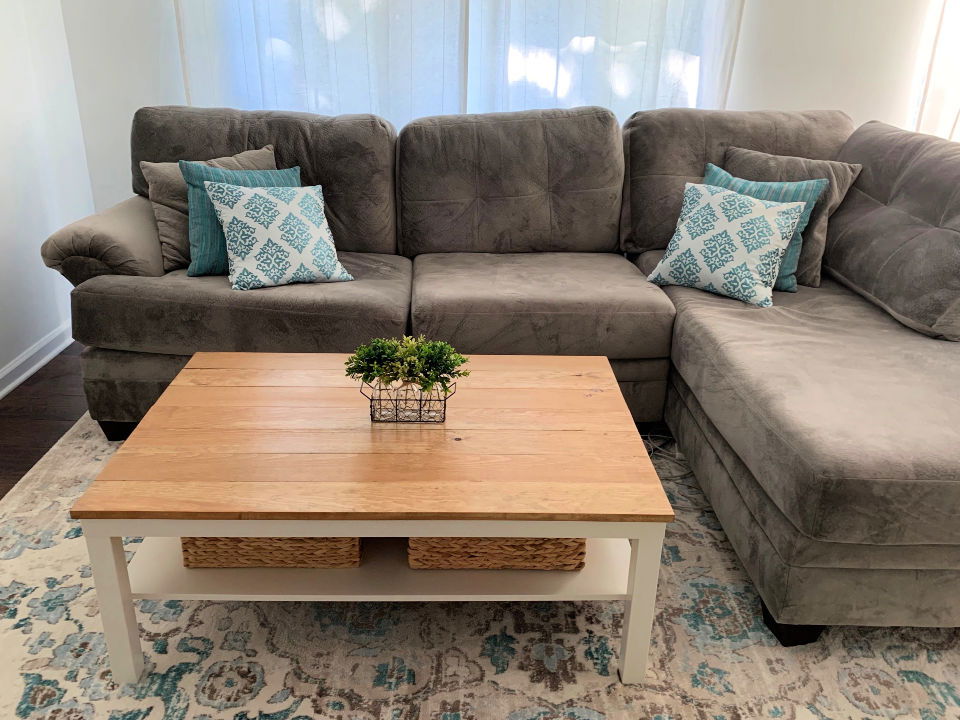 Farmhouse inspired coffee tables are the best! They are broad and perfect in size to add personality to the living room plus functional for storing your remotes, magazines, or any other daily usage stuff. everblooming
23. Living Room Coffee Table
How about some twinkling and glowing living room DIY coffee table to brighten up your day and living room's decor! This one here is a unique design in itself, and although by the look, it feels pretty exquisite, but you can still DIY it in budget! youtube
24. Distressed Coffee Table with Storage
Here is a cool idea for a super functional coffee table! How about transforming an old door into a storage excessive coffee table with two huge drawers on each side? Get the full building plan from here and make your living room furniture pretty and functional. rogueengineer
25. Board Gamers Coffee Table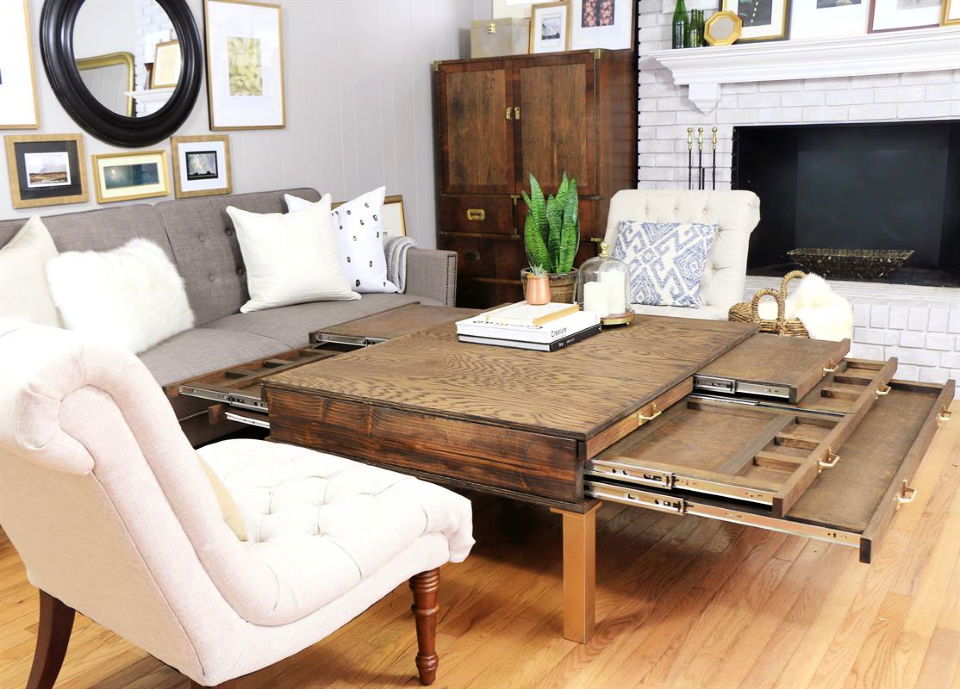 If you, too, are a board game lover, you are going to adore this board game coffee table! It is not only stylish but comes with a lot of pull out drawers to host a perfect board game night! With puzzles and tons of entertainment on the table. buildsomething
26. Split Industrial Ana White Coffee Table
Step by Step Tutorial here Ana White
You may love these free coffee table ideas for your home
Not only for utility purposes, but the cheap coffee tables play a vital role in boosting the home decor and storage space of a living room. People can use the coffee tables with storage or built-in secret stashes! Or DIY lift top coffee table if they need some extra storage space in their living room. By adding a glass top or a flower vase to the top of a DIY coffee table, one can also turn it into a living room centerpiece. Want some great DIY coffee table ideas and plans for free? If Yes, then we have some perfect rectangle coffee table designs!
Do you want the best coffee table plans for free?
In short, missing a coffee table in the living room would not be appreciated in any way as it is the very first demand and need for a living room. So you can make your favorite coffee table easily with this perfect list of 150 DIY coffee table ideas & plans that can be made at home. All these DIY coffee table plans are free, style-worthy, sturdy, and cheap.
Want to reuse and recycle the old wooden pallets? then try the best furniture made from pallets for your home and garden!
Don't worry about the supply materials; all you need is to target the common material of home to build any of these DIY coffee tables. The most used material would be the old wood like a wooden slab, Pallets, plywood, etc. Always easy-to-find in the home or surroundings.
27. Homemade Wood Log Coffee Table on Wheels
Want to build the best DIY farmhouse coffee table? Rustic furniture look is the hottest furniture look that is chosen to score high-value styles and living room fashion trends. So why not get some style-worthy living room coffee table out of some old wood logs? Follow the construction steps and pattern here to get a fab like shown one for the good reputation of your living room. Here is the DIY farmhouse table tutorial bhg
Find More DIY projects You'll Love:
Tops are the most amazing part of the coffee table. According to these DIY furniture projects, one can prefer the concrete tiles, glass slabs, and plain wood sheets for amazingly smoother and elegant tops. DIY coffee table plans with built-in shelves would be all amazing to get a coffee table with storage.
Prefer wheels or simply reclaim the metal from home and build metal hairpin legs for your handmade wooden coffee tables. One can also use box-style copper legs for more stability, as shown in these DIY coffee table ideas.
You can also get help from these easy DIY projects for your home improvement.
28. Epic Upcycled Barrel Coffee Table
After they get empty, we remain no longer concerned with those wooden barrels. If you have some long-forgotten wooden barrels, they time to plan them for restoring living room fashion points. Here we've got the best DIY coffee table plans to convert an old barrel into a stunning DIY coffee table that will provide a secret stash. Perfect gift for rustic-modern lovers. Here is how to make rectangle coffee table out of recycled barrel artofmanliness
29. Self-Installed Terrarium Side Table or Coffee Table
Get ready with plexiglass in to do an every beautiful DIY coffee table project, the precious terrarium coffee table. Double-check your measurements and cut the plexiglass sheets according to measured values. Put the cut sheets together for building a glass box and secure the corners and sides with electrical tape. Full tutorial here bloglovin
It is what you need to get first while entertaining some visitors or guests in the living room. The conversations are also to start always by sitting around it. It is seen mostly in the center of the seating plans. The reason is that all the sitting individuals can use it to place their mobile phones, coffee cups, beverage mugs, magazines, and other materials over it while they need to get their hands free for detailed conversations. So this all tells that how utilitarian item a coffee table is.
30. Chic White Coffee Table with Bottom Shelf
Want to gain a designer styled living room? All you need to add a chic white display DIY coffee table in the center of your living room. It is all easy to compose at home using quality or reclaimed wood. It owns a lower level and gets the stylish looks from the upper glass top. White paint works as ice on the cake. Full DIY tutorial here lowes
31. Modern Pallet Wood Coffee Table on Wheels
Get a complete pallet board, wooden plates, and some additional wooden lengths to install this low yet cozy DIY living room table. Choose your custom way to get it in better appeal, get inspired by the doily print here. In the end, install wheels and let this pallet wood table be a part of your conversations. Full guide and rectangle coffee table tutorial here papernstitchblog
32. DIY Crate Coffee Table with Storage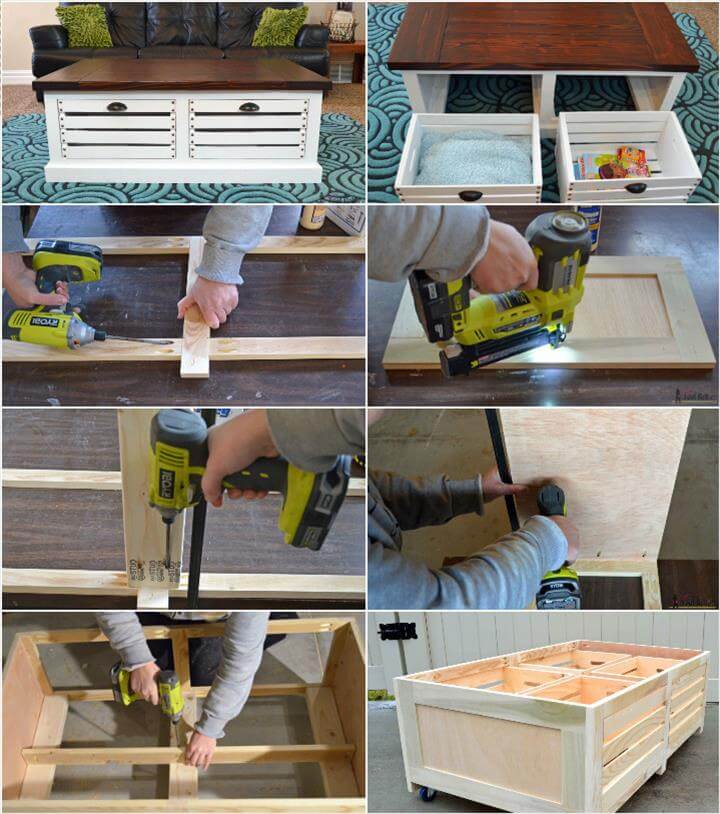 If you all looking for a spicy addition to your living room storage space, then do choose this pretty wooden coffee table with storage. This is the most functional one from our list free coffee table plans. It also comes with two builds drawers that will be a stylish way to store your living room concerns. This cool coffee table with storage boxes to keep your living rooms free of clutter. Design is full of style, and the milk-choco appeal of the low coffee table just held all precious and special to eyes. Full directions and DIY coffee table crates guide here hertoolbelt
33. Sublime Mahogany Coffee Table
Fallen in love with this elegantly stylish DIY wooden table? Make it yours by grabbing the free coffee table plans for it. Made for modern living rooms and curved legs all bring an artistic vibe to this table. Grab the free DIY mid-century modern coffee table plan here finewoodworking
34. Modern Oval Coffee Table on Metal Hairpin Legs
If you are missing that necessary luxurious touch in your living room, then this surfboard coffee table is sure to bring it back. A precious DIY coffee table design for style lovers. The fancy golden lines and artwork make it an extraordinary piece of furniture. Want to clone it now? Full DIY instructions here instructables
You can also build a round coffee table by cutting its edges in a round shape! Check out our 15 Best DIY round coffee table plans to build a unique coffee table for your living room or outdoor.
35. Unique Neon Table with Hairpin Legs
Every style-addict person will wish to make this unique neon table a visually attractive part of his sitting environments. Find such a unique live edge or marble tabletop on Craigslist or eBay. Here this artful marble or live edge coffee table on metal hairpin legs which are also super easy to build at home. the-brick-house
36. DIY Hairpin Coffee Table with Wood Slab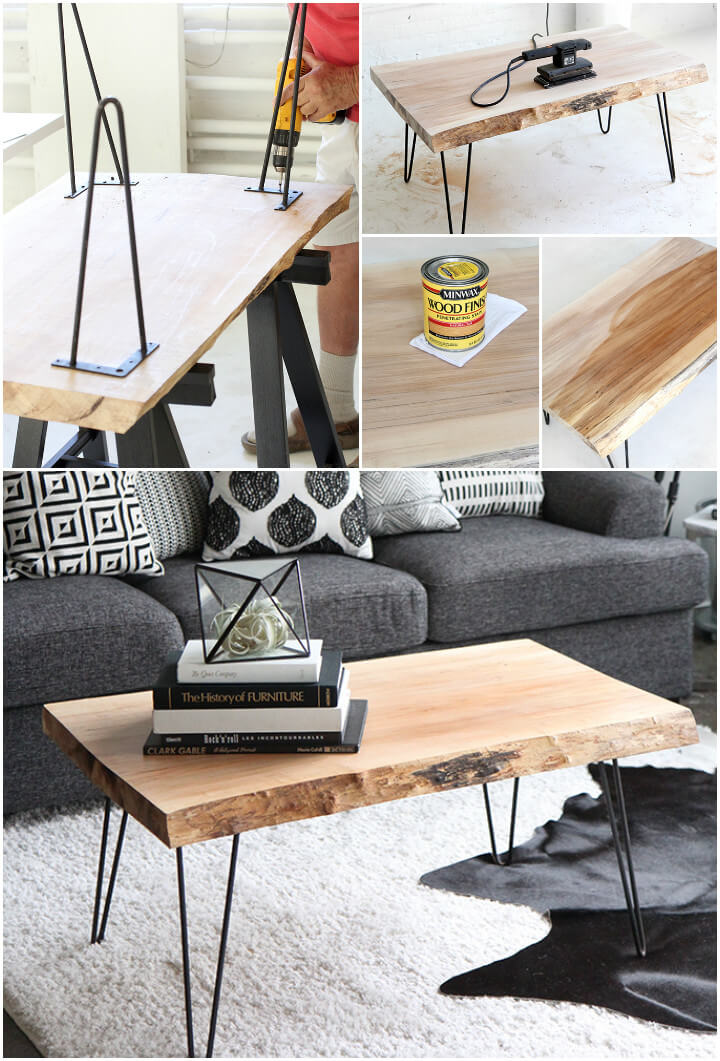 Missing some fashion points in the living room? This gorgeous wooden table is an amazing solution to make up it. Just finish a well sanded wooden slab with custom legs to build this rustic yet modern coffee table. Here are a full DIY hairpin table legs guide.
37. DIY Industrial Coffee Table
Build an industrial style wooden coffee table at home. Stare a little at this given sample. A mind-blowing hand-built wooden table with box style base. Finished for a rustic look and is a delight to view in a living room. Complete guide and DIY tutorial from little glass jar
38. Wooden Coffee Table with Tile Top
Prefer this easy wooden table with a concrete tile top for making outstanding statements in your living room. As easy-to-build as you want and is as stylish too. Complete directions and instructions here homedit
39. Copper Coffee Table with Wooden Top
Another genius recovery. A mind-boggling DIY coffee table to jazz up your living room. It comes with a wooden top and stands on 3 flat box style copper legs. The table is all easy to compose at home, and the same is the copper legs. Copy this DIY Table for your larger sitting plans. Step-by-step tutorial here forme-foryou
40. Glass Topped Pallet Coffee Table on Wheels