A garage may be taken as a personal shopper to do quick repairs and fixes of various home items, home appliances, and even your vehicles without taking them to a professional machine shop that may cost big! However, as you have to do a lot of tasks in your garage so all your materials, tools and equipment should be well organized and should also provide an ease of pick and place! It always a big demand to gain some better storage options for a garage as you have to store various of your electrical tools, repair kits, and other materials there, otherwise you may leave with short storage space there that may cause problems!
If you are on a mission to get a clutter-free garage and willing maximize storage space there then you should also do some DIY garage storage projects at home that will make you get with a better and organized garage! Before you start DIY garage organization, check out these 18 DIY garage storage ideas that are innovative and based on genius storage hacks and will definitely put you in big amazement! Getting a neat and clean garage is now in every body's reach with the help of these budget-friendly garage storage ideas!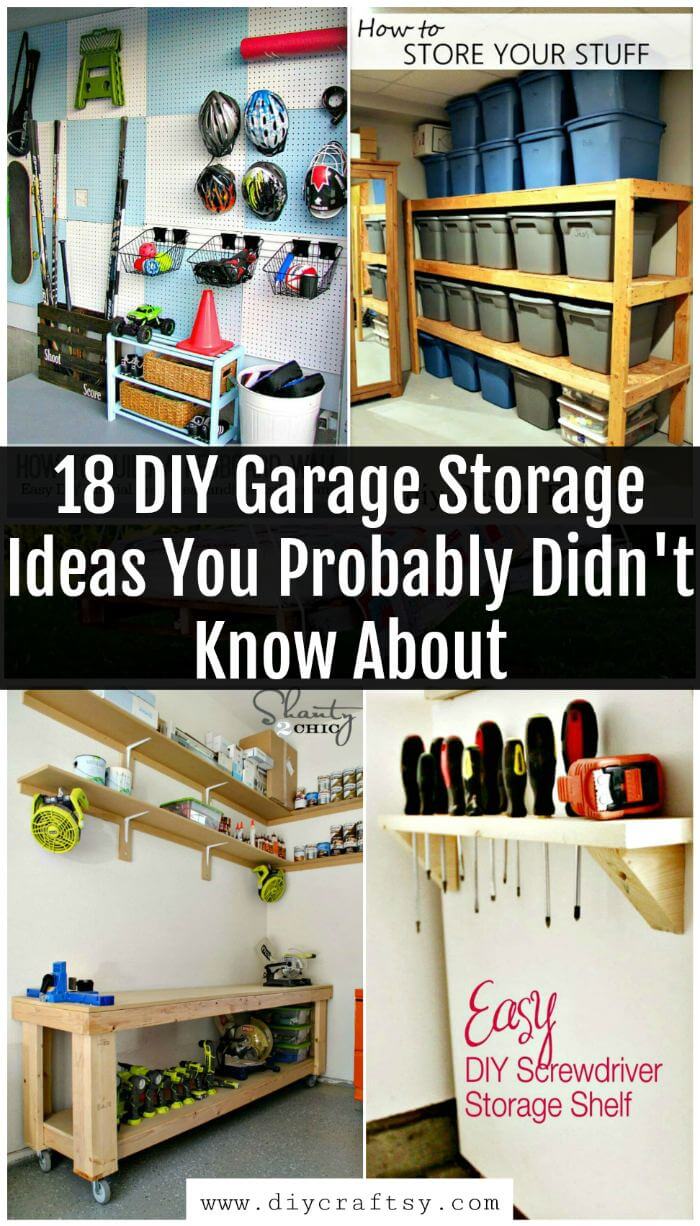 Organize the garage stuff by installing custom pegboard wall that will be cost-efficient to make also! Go manually with 2x4s wood planks and install custom garage shelves to store all your materials and tools neatly! Maximize also the garage storage space by installing there beautiful decker shelves that will provide ample storage space without using several inches of garage space! If you are often to use a lot of spray paint during the garage repairs and tasks then you can also build custom paint shelves there that will also help boost the garage space beautifully!
Create a modern organized look of your garage by installing the metallic and lasting longer bicycle racks and also add your garage wall with self-made tool holders that will hang there with the hardware hanging systems! Check out some brilliant DIY projects given below that will definitely add extra wings to your creativity!
DIY Ideas You May Like:
Build also the corner shelves in your garage for better organization of your garage and you can also prefer the storage-friendly workbenches for your garage that will also help to gain a zero clutter garage without getting a bit expensive! Next, you can also build the space savvy cabinet and chest of drawers that will help organize all your garden tools and equipment beautifully along with making your garage look beautiful at the same time! Check out some outstanding samples given below in the list and get inspired!
There are a lot more garage storage ideas given in the collection that are a borderline genius and will help you in budget-friendly garage organization! There is a source line attached to each garden storage project which you can click to grab the full free tutorials, instructions, and step by step guides for your respective DIY garage storage projects!
Adorable DIY Garage Pegboard Wall: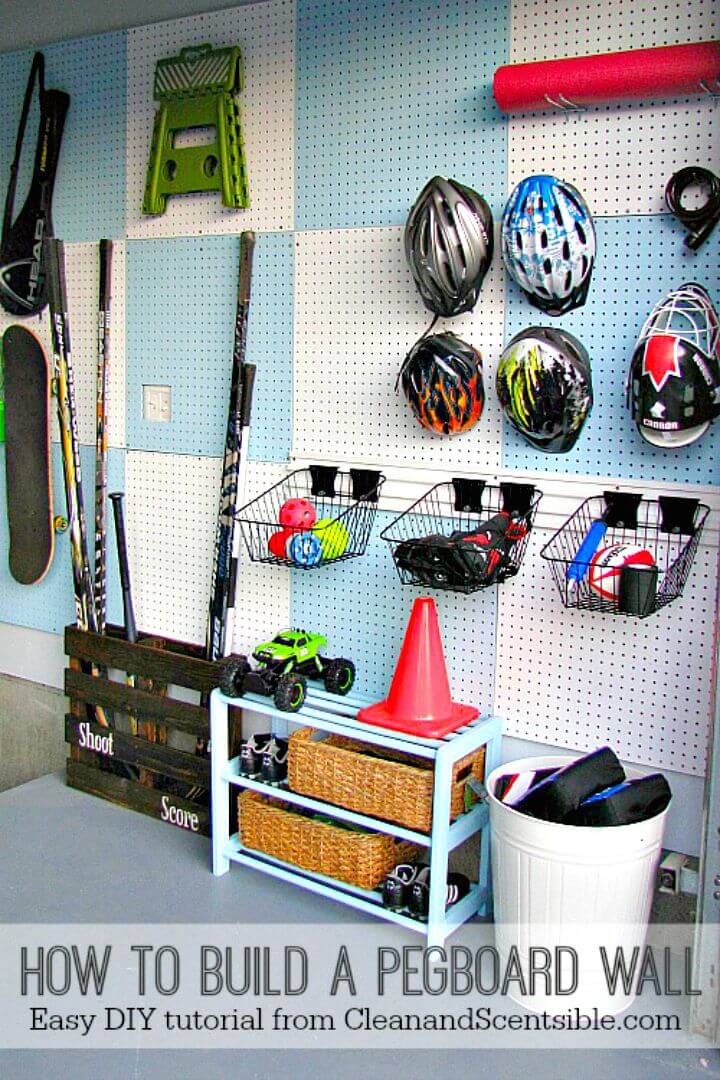 Pegboards are great to organize any of your space so it would be immensely helpful to manage your garage spaces having the messiest things there. SO here is the idea of creating a huge pegboard wall in the garage to organize all your tools, sporty stuff and other things that are the lying there and need to be stored up there. You can cut the pegboard into any of the feasible sizes according to the space you have and thus easily get your garage storage problems fixed.Check out the details of the idea here cleanandscentsible
Build Your Own Garage Shelving From 2x4s: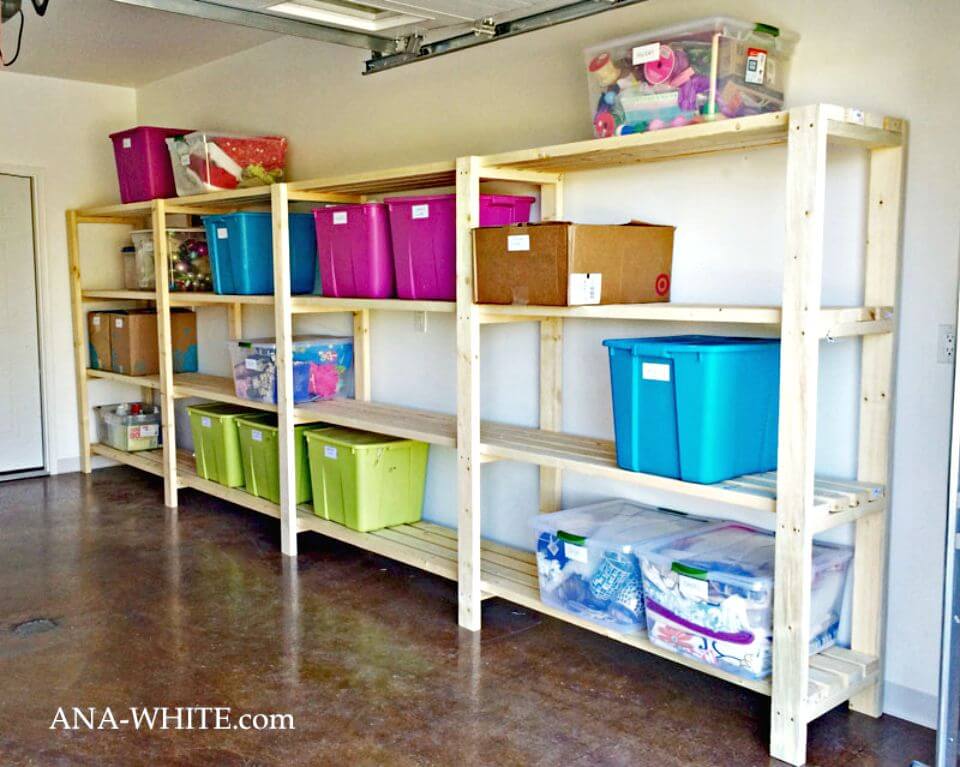 Make your garage a well managed and well-organized space too with this wooden built shelving unit to hold all your knick knack stuff on it. Using the wooden planks this shelving is really easy, cheap and quick to install yourself at home with any size, the number of shelves and design to fit and suit your spaces. You can hold the baskets on it with all your stuff being put up in them and thus nicely stored up.Check out the details of this feasible and functional organizing idea here ana-white
DIY Pegboard Storage Wall: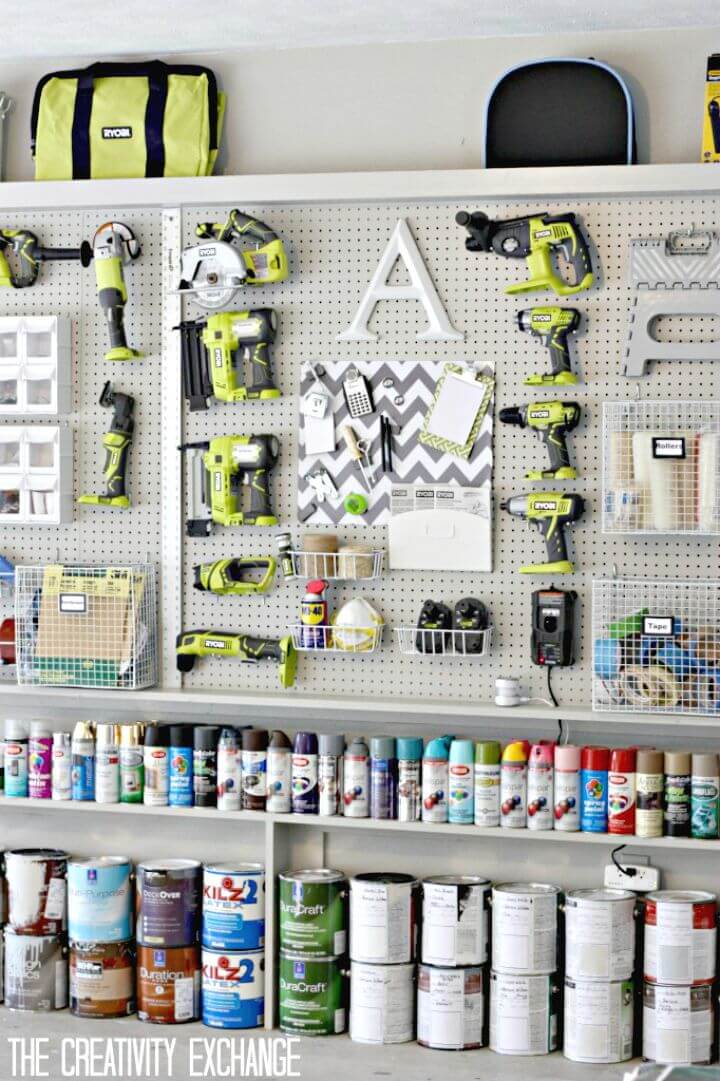 The men of the house have their workshop installed in the garage and it means a lot of tools, supplies, and material to be organized there and to help you out we got you this idea of creating a pegboard wall there. With this pegboard over your walls, you can easily hang your bunch of tools on it and grab them easily while working on your projects. Moreover, you can use mesh baskets to make it look more functional by holding your smaller things like hardware in them. Catch the complete details of this brilliant idea here thecreativityexchange
How To Build Spray Paint Shelf – Holds 117 Cans:
If you are a crafty person then we can know you struggle with the organization of the crafting supplies especially with the big bunch of spray cans and the paint jars. So to solve this problem easily and cheaply you can install this wooden paint shelf having the capability to house more than a hundred cans on it and thus getting them all organized in the least for the price, efforts and space. You can learn to create this utterly functional wooden spray paint shelf right on this link provided so do browse infarrantlycreative
DIY Repurposed Crib Paint Shelf: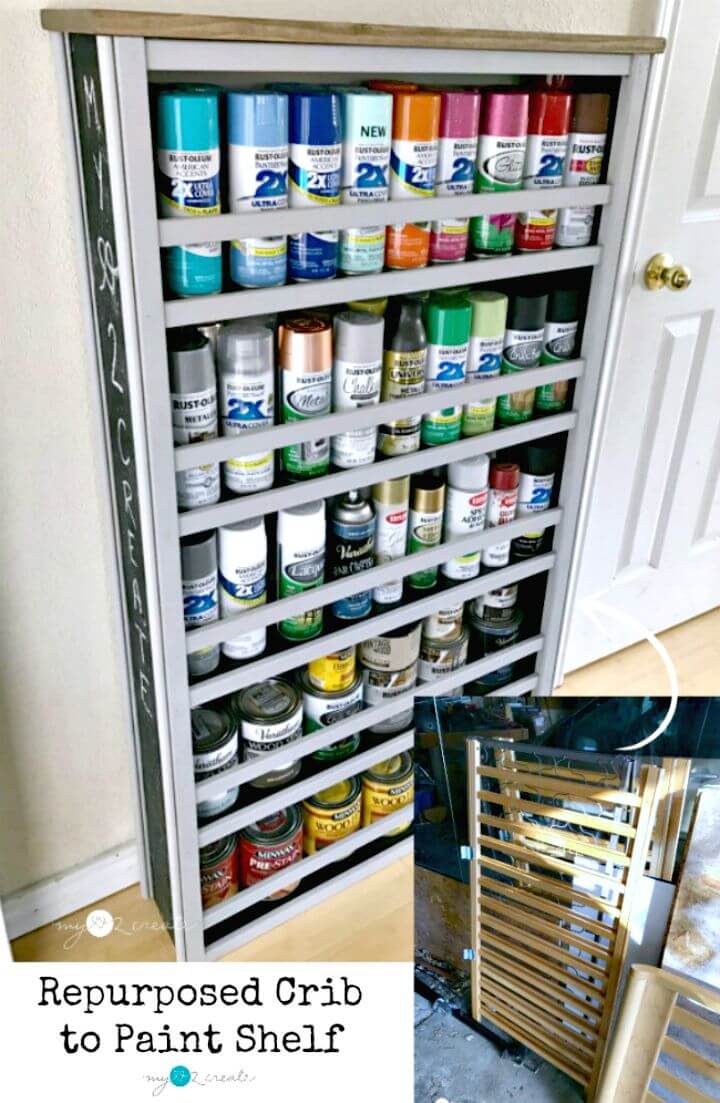 If you have an old crib in your access do grab it as you can repurpose it into something really cool and functional for your garage spaces like here it has been turned into a paint shelf with some additions to the structure. It would really save your space, time and money and let you have a fully organized space there in your garage or in your crafting shed holding all your paint, primer and stain collection in the apple pie order.You can check out the details of the idea here with easy steps and instructions mylove2create
Adorable DIY Double Decker Garage Storage Shelves: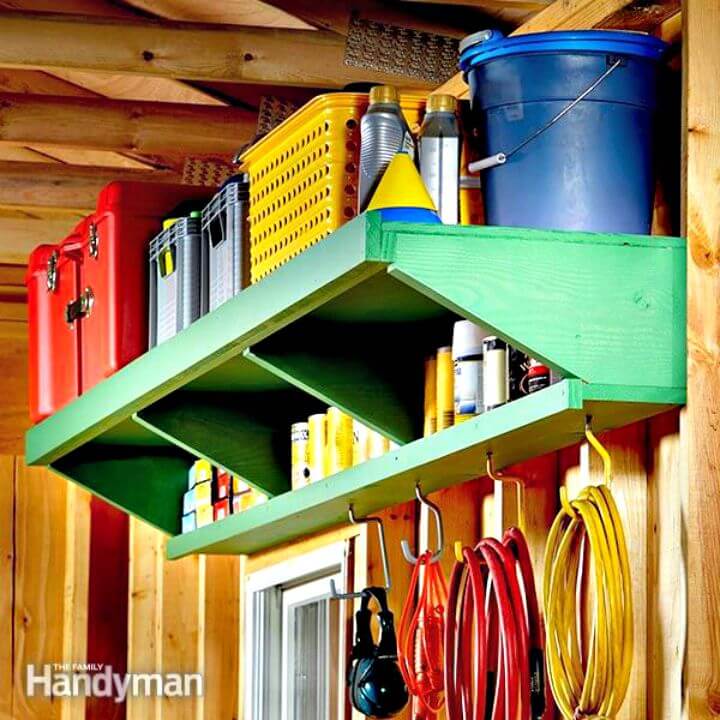 If you are lacking space on the garage floor and there a pile of stuff that needs to be organized yer then you should really be getting your hands on this genius built double pecker shelf idea to cope up with the low storage space problem. The shelf got a top to hold some big stuff like baskets and cans, then it has lower built-in compartments to house a bunch of your spray cans and the paint jars in them. At the lowest it got hooks to house a lot of stuff like wires, ropes and more so it ought to b built and here are the details familyhandyman
DIY Garage Family Bike Storage: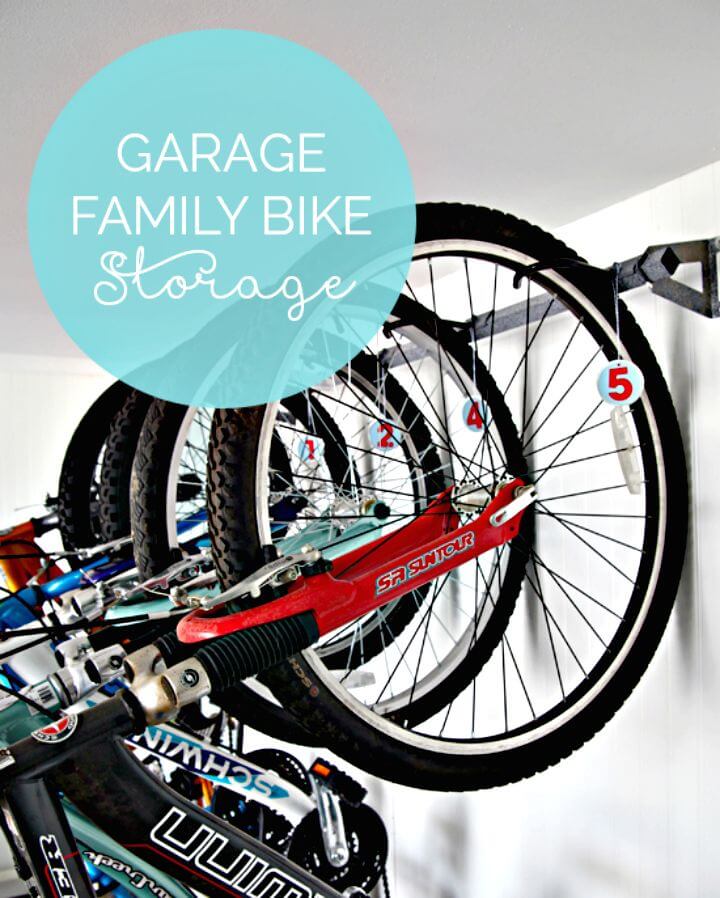 Cycling is a fun hobby and so much healthy activity too and if you and your family members are all cycling lover then we can know the hassle you must be facing while getting the cycles organized in your garage spaces. So here is how you can cope up with this situation by building this wall mounted cycle holding rack and thus not only organize your cycles but also save a huge space on the garage floor too. The rack is easy and simple to built and you can learn it all here iheartorganizing
How To Make Wall Tool Holders In Garage: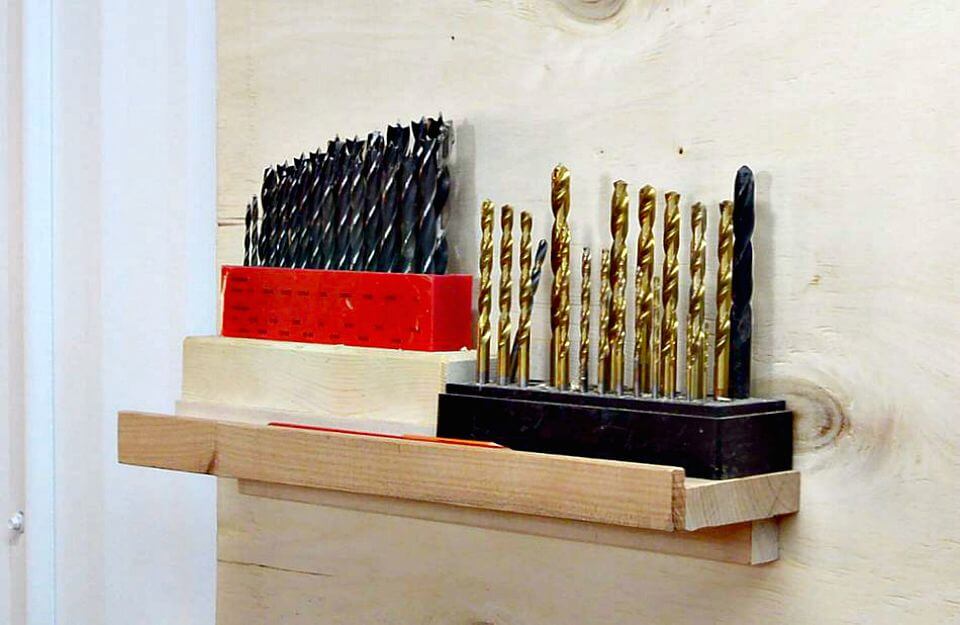 Working with the tools is not easy especially when you have messed up spaces as you can not find the right tool at right time and thus get your projects delayed. So here is the smart idea of creating a wooden shelf with the drilled wooden holders to house all your handy equipment in them like the screwdrivers, drill indexes and more and thus get them easily accessed while spending some crafty time in your workshop.Check out the step by step details of this pretty functional idea here wood ears
Easy DIY Bike Rack For $20 In Garage: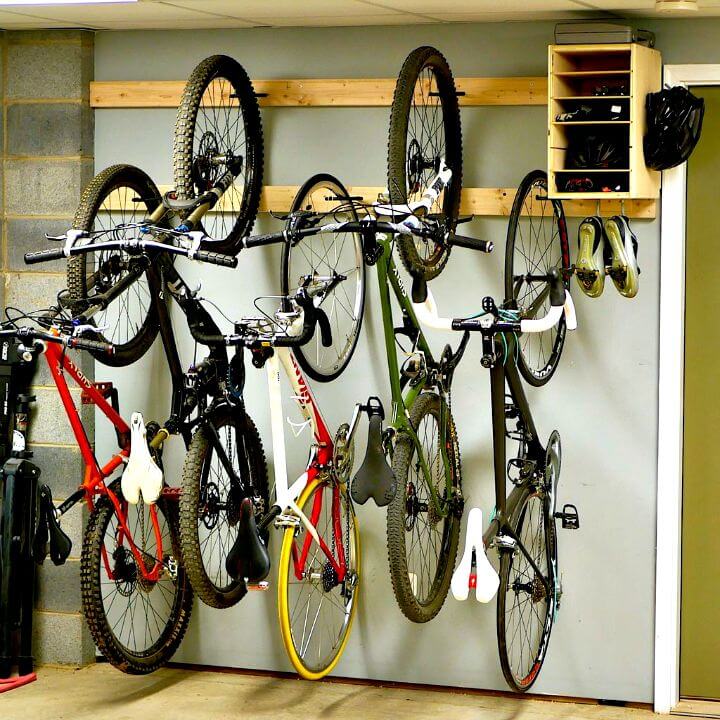 If you all have the cycles then you are going to be short on space in your garage as it would take a lot of space to house them all there but with this DIY wooden wall mounted rack you can save it all. Yes with this idea you can organize your family cycles against the walls and thus make your garage space look all organized and free for other storage plans. Check out the easy and simple building instructions about this cycle rack right on this link instructables
Build Your Own Garage Workbench: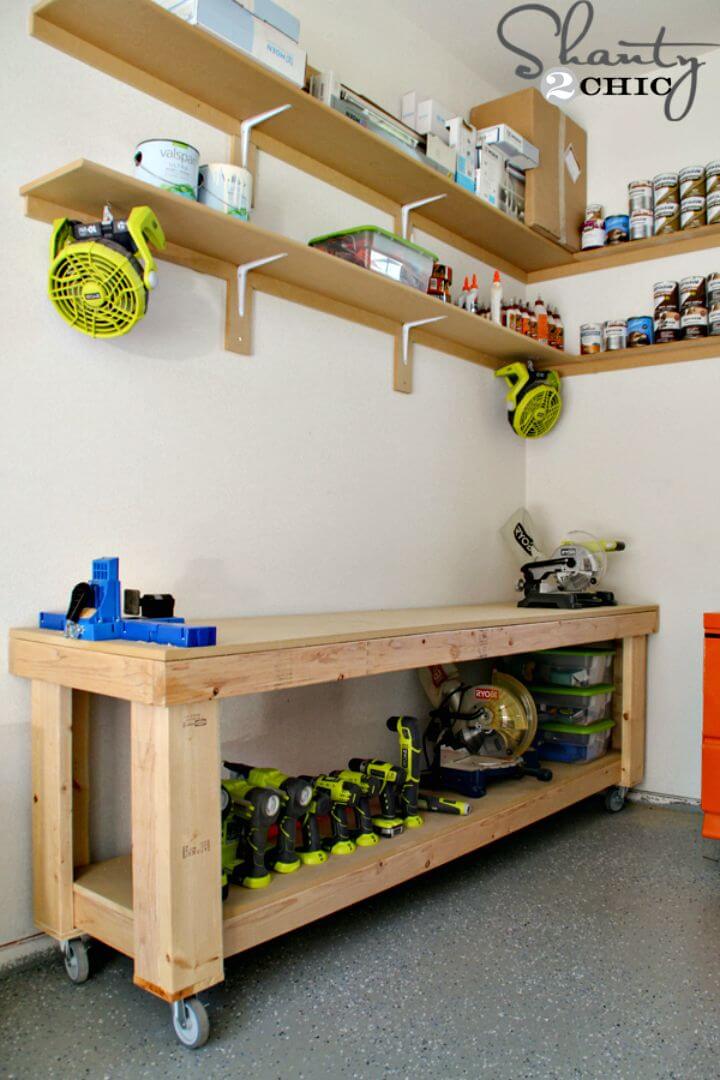 You must be having a bench seat in your workshop so that you can relax on it while tired of working with the tools or you can make any visitor sit on it when you got them in the garage to witness your hard work and superb crafts. So here is the amazing idea of creating this working bench for your workshop to not only have a comfy seat on but also organize a lot of stuff on it be it the seat or the lower built-in shelf there. The bench is just too simple and easy to install and you can learn all the details about its structure right here shanty-2-chic
Make a Super Sturdy Drawers – Garage Storage: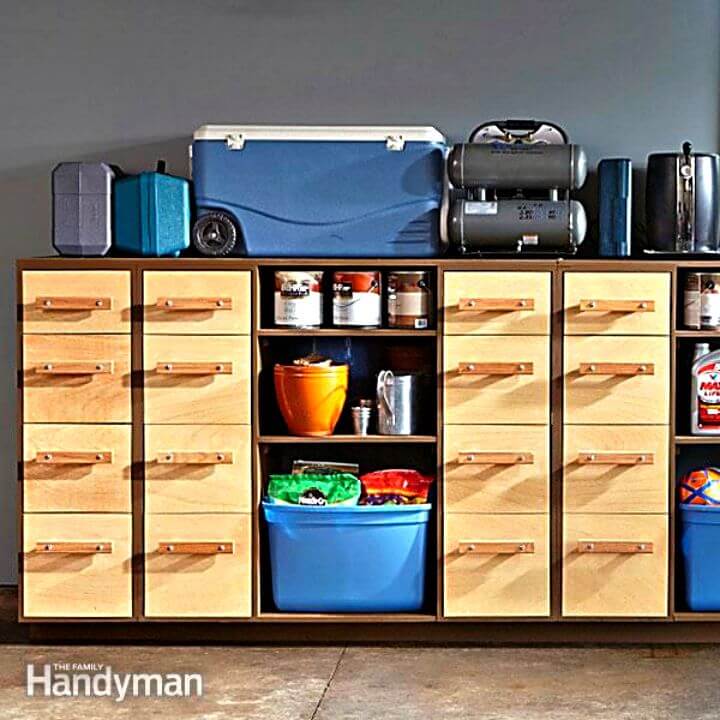 If you got some old and not is use cabinet in your garage spaces then we got the perfect genius idea for you to recycled them and bring in use in the most beneficial way for your garage spaces. Yes you can install these sturdy and durable drawers in the cabinet and get all your tools, supplies and equipment housed in them and thus making your spaces look all tidy and clear. The drawers are super fun and easy to build so check out the complete details of the idea here familyhandyman
How To Build Super Easy Garage Shelves:
Shelves are the apt solutions to all your storage and organizing problems especially when you are short on space the mounted shelves on the walls are just so perfect to tackle your situation. Here is this mighty wall mounted shelf unit that would perfectly organize a garage or a workshop holding all your tools, equipment, knick knack stuff and more. The shelves are super easy and functional to build with the wooden boards and the planks and the complete details of the idea are lying here shanty-2-chic
DIY Giant Garage Cabinet: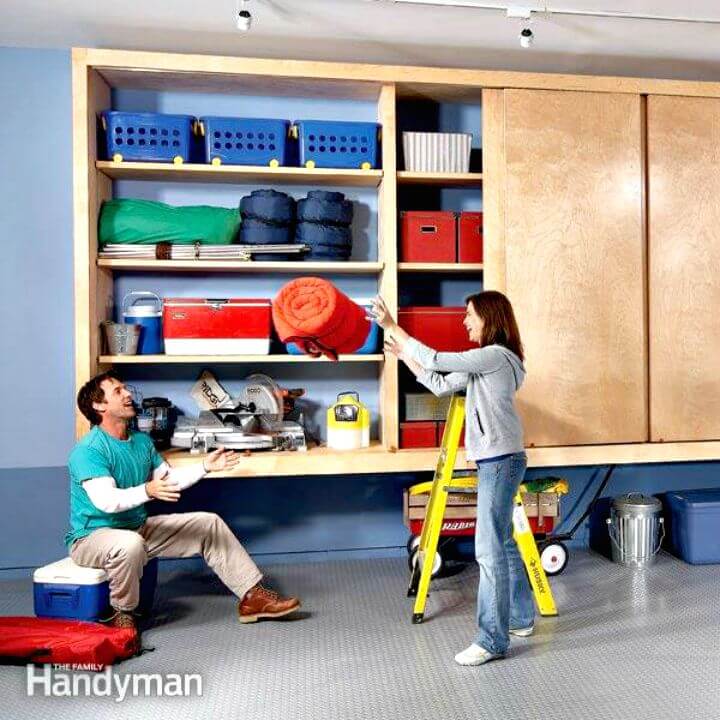 Garage is the part of the house where all the extra stuff of the house is dumped and that is why its the most messiest place of the house but it can be organized and made to look so much handsome like other portions of the house too. Yes you heard it right, with this idea of gorgeous wooden garage cabinet to be loaded with all your garage stuff in it and thus make your garage floor clean and clear and be ready to use for other functions. Learn the structure plans and the details of this wall mounted giant garage cabinet here familyhandyman
Adorable DIY Garage Storage Shelves: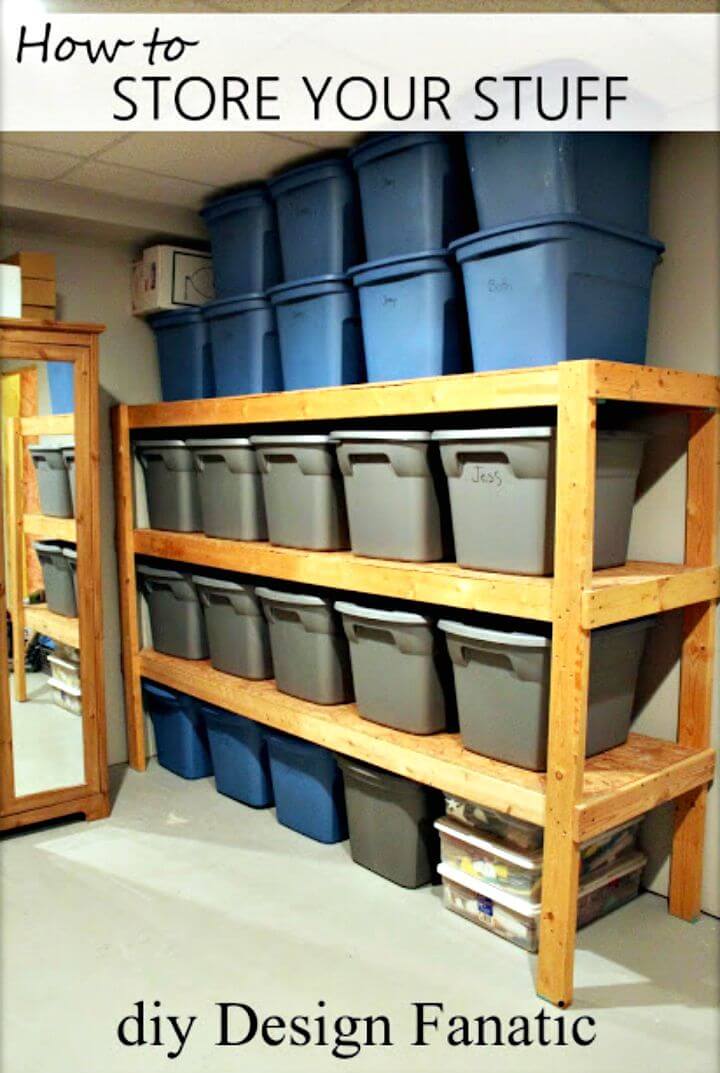 One of the easy and fun way to get your garage organized is to use the tubs or plastic baskets to house all your stuff and what can ease out your task more is the use of shelves to let these tubs on. You can create this pretty shelf unit in your garage with custom size and number of shelves you want for the complete holding of your tubs on it which can be labelled for further convenience of finding and using your things on time. Lean the structural plan for this shelf here with pictures and the written instructions too diydesignfanatic
Create a Sliding Storage System On the Garage Ceiling: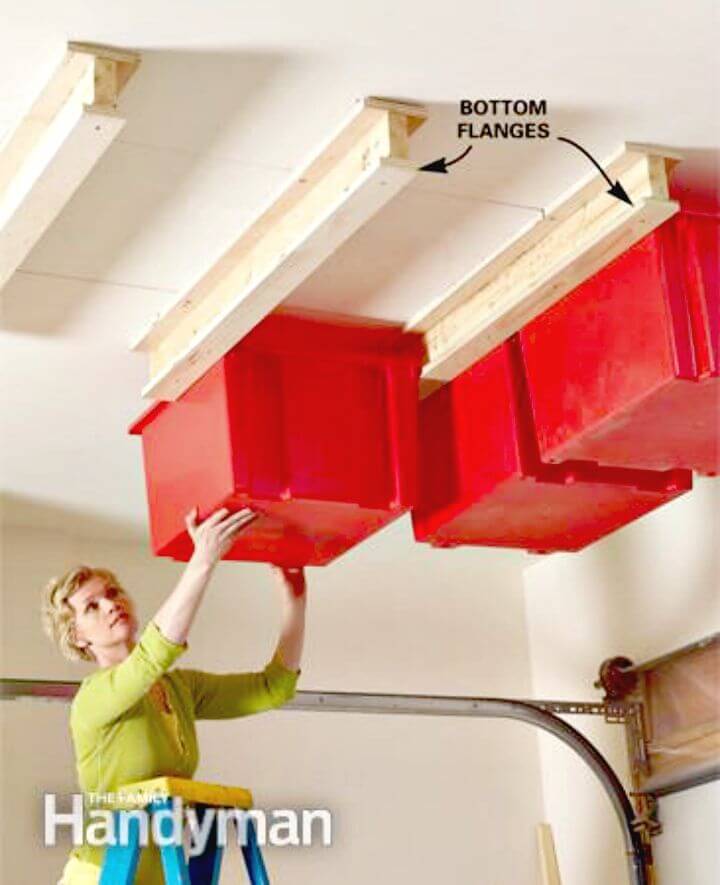 The more is less for your garage spaces because the things keep coming to be loaded there and thus minimizing the space there to use for further storage and organization. Here is the smartest of the garage storage hacks to use your ceiling for the organization of your plenty of garage stuff with these sliding storage system with the sliders and the plastic bins. The idea is bit hassling to install but these detailed instructions and tutorial help would really make it easy and fun for to you work on it so do check it out familyhandyman
DIY Basement Storage Shelf: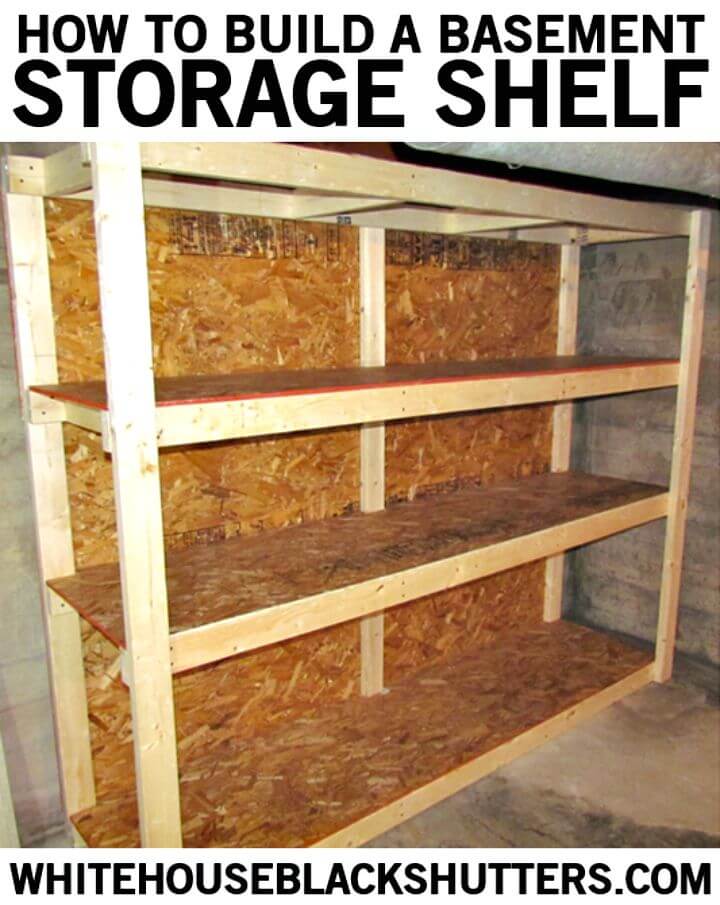 No matter which thing is creating a storage problem for you in the house be it the Christmas gifts or the toys of your kids this huge wooden shelf for your basement would the perfect plans for you to get your hands dirty with and clear your spaces in a stylish and functional way. The shelf got four tiers of the storage layers to house a plenty of stuff on it and thus organize your spaces so neat and nicely. The shelf is super easy and cheap to create on your own and we got the complete tutorial help for you here whitehouseblackshutters
How To Make Garage Storage Shelf: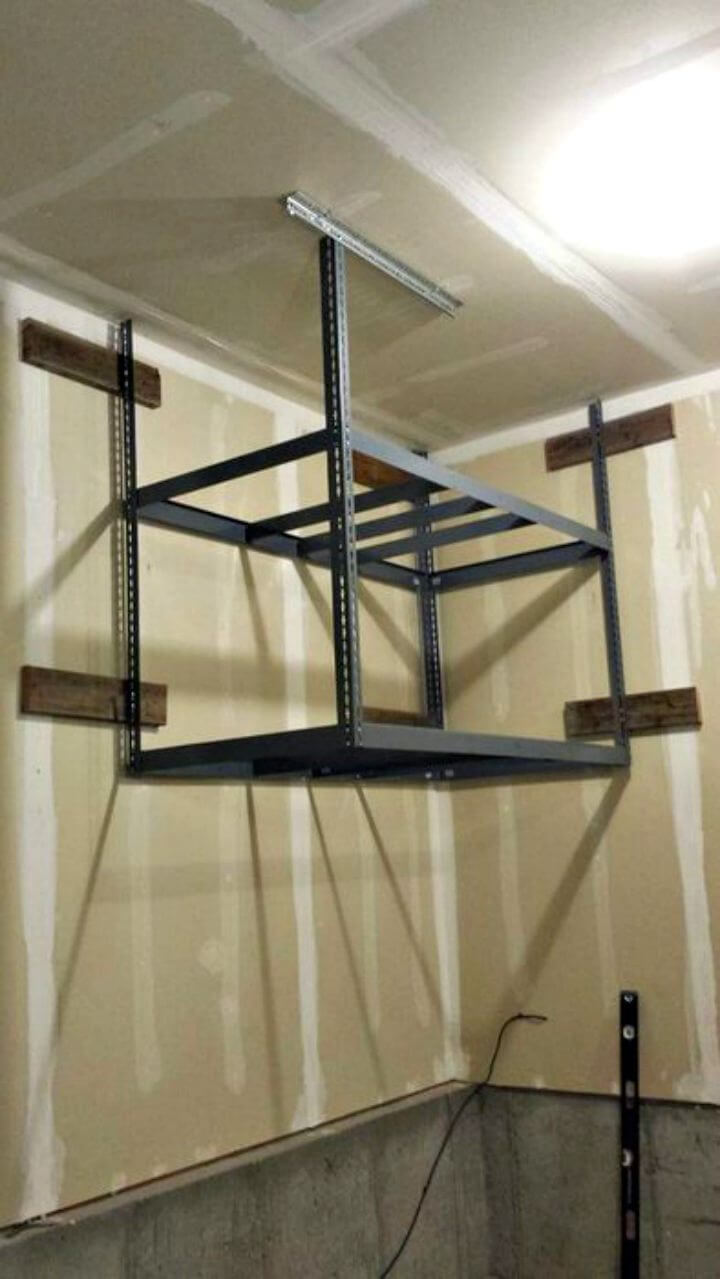 The garage stuff or that of the workshop is really heavy like the tools and the equipment and you really need a sturdy and robust kind of storage system to house them all in a functional and safer way and this metal built shelf is just the right thing to get your hands on. Yes using the metal parts this butterfly durable and useful shelf structure has been shaped up to the ceiling and would be enough to house a bunch of your crafting tools and supplies on it and that too with much safety. You can learn to install this metal shelf here with all the help and aid you need instructables
Make Your Own Screwdriver Storage: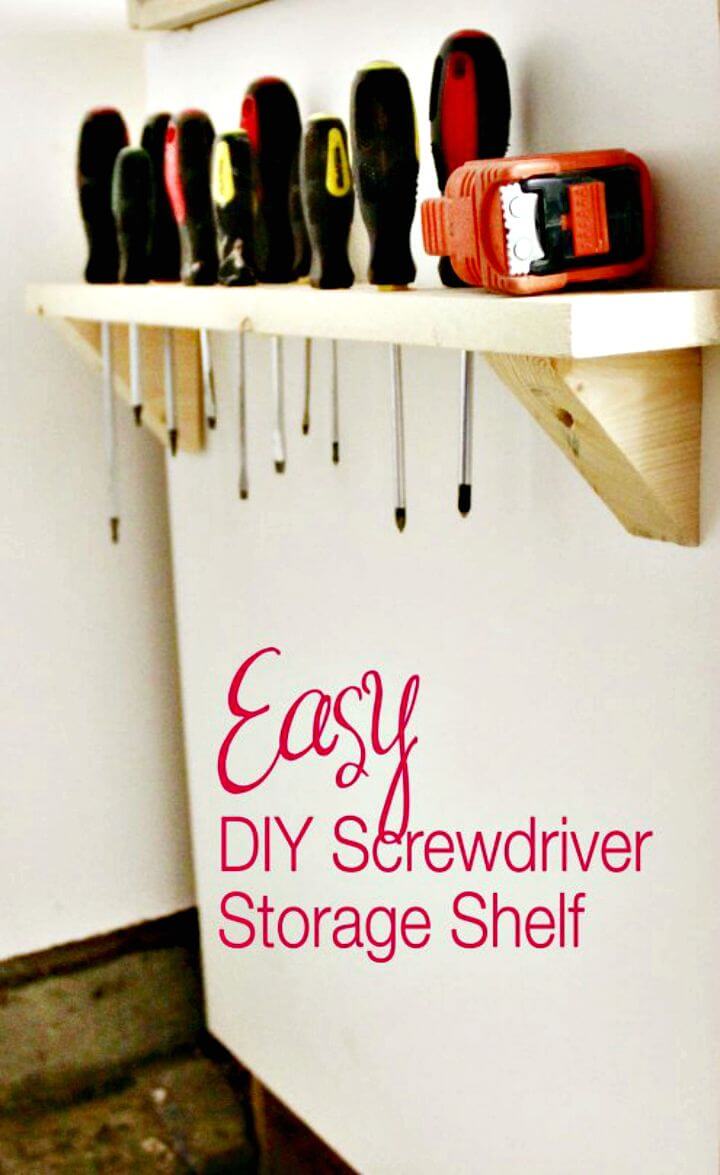 There are plenty of kinds of a tool in the workshop depending on the type of project and the task you need them for. For example, the screwdrivers of so many types and sizes from big, medium to small and you can house a complete set or the family of the screwdriver at one place so that you can grab the right one on the right time with the help of this wooden screwdriver shelf. All you need to do is just grab a wooden piece and turn into a shelf with drilled holes to house the screwdrivers in and its done. The idea is simple yet you can catch it fully here with all the details freshcrush