There are many items out there that are season-specific, but here we'll only talk about the throw blankets that are often to use in the chilly days to bring warmth and coziness to yourself and your interiors also! But you are only to use blankets in the winters; they are also used to in the summers get enough coziness that will not make you sweat! Same is true for the throws also and they can also be selected in special summer colors and can be spread over your sofas and chairs for an instant summer special look!
Moreover, blankets are not merely to wrap around your body to get the required amount of heat; you can also use them for the picnic purposes; the picnic blankets are very popular around the globe! So, if you just intend to get some perfect throw blankets for the summer season, then you are just at the right place to get a comprehensive help! Here we are not to talk about buying the expensive summer special throws, quilts and blankets; here we will only talk about that how you can trim down your expenditures by making your special throw blankets for summer at home!
If you are sorting out some new inspirations in this case then have a look at these 30 Easy DIY throw blankets for summer and just make your summer season a bit more special! Here all the listed throw blankets are self-made ones, and you can also try your hands onto your favorite ones and can easily make them at home without getting a bit expensive! Here the list will guide yours for every hack that you can use to make a cost-efficient throw or blanket at home, and you will also find here the amazing tricks that can be used to decorate your finally finished throw blankets like a pro! Just browse the entire list and see what amazing we have got for you here!
Just go no-sew smartly with your old jersey and make a lovely color block style throw for your living room sofa or chair! Make also the special Moroccan blanket that will come with bigger sequin style gold polka dots and will also make a lovely gift for a newly married couple! Add up also your old blankets with the giant tassels and make lovely giant tassel blankets for your bedroom and also make a lovely pom-pom throw blanket that will go summer special! Moreover, you can also tie-dye your old blankets to make special picnic blankets, and you can also put together various of your old colorful sweaters to make an enticing patchwork sweater blanket that will rock every of your interior style!
DIY Ideas for Summer:
Check out some more homemade throw blankets given below in the collection and duplicate your favorite ones from the list! Browse also the attached links to reach to full free guides, free no-sew patterns, and tutorials!
DIY No-sew Color Block Summer Throw Blanket:
When the summer evenings get a bit cooler, you can get under these warm and comfy throws and get yourself all comfortable and relaxed. Here is this pretty and colorful throw made out of the jersey fabric which is just too easy and soft to work with and the icing on the cake is that this pretty throw is just too easy to create without no sewing involved. SO get two colored jerseys and get this project started with the details and instructions lying here makelyhome
Adorable DIY Moroccan Wedding Blanket:
IF any of your friend of the girl in your family is getting married and you are thinking of a gift idea then getting your hands n this adorable and gorgeous Morocco wedding blanket is just the right thing to grab. This cultural hit is super easy and fun to create yourself at home where a woven blanket is all styled up and beautified with lots of gold sequins and lace pieces, and you can do it all by yourself easily and cheaply by getting the complete details of the idea here makescoutdiy
Easy DIY Giant Tassel Throw Blanket:
You can make your simple throws or the blankets look all stylish and gorgeous with the tassels being added to them at the lower edges. These lofty tassels are so damn easy and fun to make yourself at home out of the thick yarn and a cardboard piece and then adding them to the throw trims at equal distance, and it would be all ready to add oodles of charm and beauty to your bedding and the whole bedroom vibes and decor. You can learn to make the pretty and cute big tassels on your right on this link provided brepurposed.porch
Make An Adorable Pom-pom Throw Blanket:
Getting into a comfortable and warm throw after a tiring day at work or home is just the right thing to do in your lounge room with a cup of coffee or your favorite book. So here is how you can make your comfy blanket look beautiful and fun too by adding the pom lace to the edges of the blanket in any of your favorite hues that match your bedding or the sofas of your lounge room. Here is the idea with all the details and the instructions to do this project at home easily and nicely popsugar
Easiest DIY Indigo Dyed Blanket:
Blankets are an integral part of our lifestyle from being wrapped around to be laid on the ground for the picnic. Here is this pretty and simple blanket made up with the tie-dye technique and that too in the lovely shade of the indigo forming a square pattern all over it. It would be nice to sit on it and enjoy some fun picnic time with the family and friends.You can check out the details of this complete dyeing project here to make it easily at home.You can check out the details of the idea here sayyes
How To Make Patchwork Sweater Blanket:
If you got some old pieces of your pillows, sweaters and more then its time to take them out of the stash basket and use for some fun projects like creating this adorable throw blanket out of them in pretty and cute patches. You can cut all the things in feasible patches and then sew them together to form up this pretty and unique looking throw which would be just immense cozy and warm to stay under and get yourself comfortable in the cooler evenings and cold nights.Check out the complete project details here alisaburke
Colorful DIY Upcycled Jeans Blanket:
It's time to bust your stash of the old jeans and get something functional and gorgeous out of it like this adorable and comfortable blanket have been made out of the colored pairs of the jeans. The waist and the sewing lines on the legs of the jeans have been cut down, and then the long leggy parts of the jeans have been sewed together in a cool color pattern with a grey edging making it look more stunning and cute. You can learn to make it on your right on this link with written details and the instructions andreasnotebook
Quick and Easy DIY Cozy Flannel Blanket:
While you are enjoying the cool breeze in your porch area sitting on your sofa or the chair, this adorable flannel blanket can be there to warm you up and make you sit so much comfortably and cozily with a cup of hot tea or reading y our favorite novel out there. You just need the flannel fabric in your favorite size and color, and them sew it at the edges and make it look so much defined and shaped up. You can check out the details of the idea right on this link to own it on your own at home happyathome
DIY Patchwork No Sew Fleece Blanket:
If you are a lazy crafter or you do not want to get into the hassle of sewing, then this now sews idea of a cute baby blanket is just right thing to get your hands dirty with. You can take colorful pieces of the fleece, cut out squares out of each and then knot them together to form a patch worked throw blanket out of them. This one has turned out to be so damn gorgeous and cool, and your little would just fall in huge love with it.Just click on the link here to know the step by step details of this brilliant idea powerfulmothering
Adorable DIY Flannel Fringe Blanket:
Flannel is a great fabric to be used for the warm wrap up s around the shoulders and the neck and stay so much cozy in the cool summer nights while you are lounging outside in the porch or the patio. Here is the easy and fun idea to make yourself a cute and comfy throw out of the flannel fabric with the easy and cute fringes being cut at the sides. Just make a sew stitch at the perimeter of the flannel throw and then cut out the fringes out of it and it's done.You can check out the complete details of the idea right on this link to make it easily and quickly at home thegirlinspired
Giant DIY Embroidery Picnic Blanket: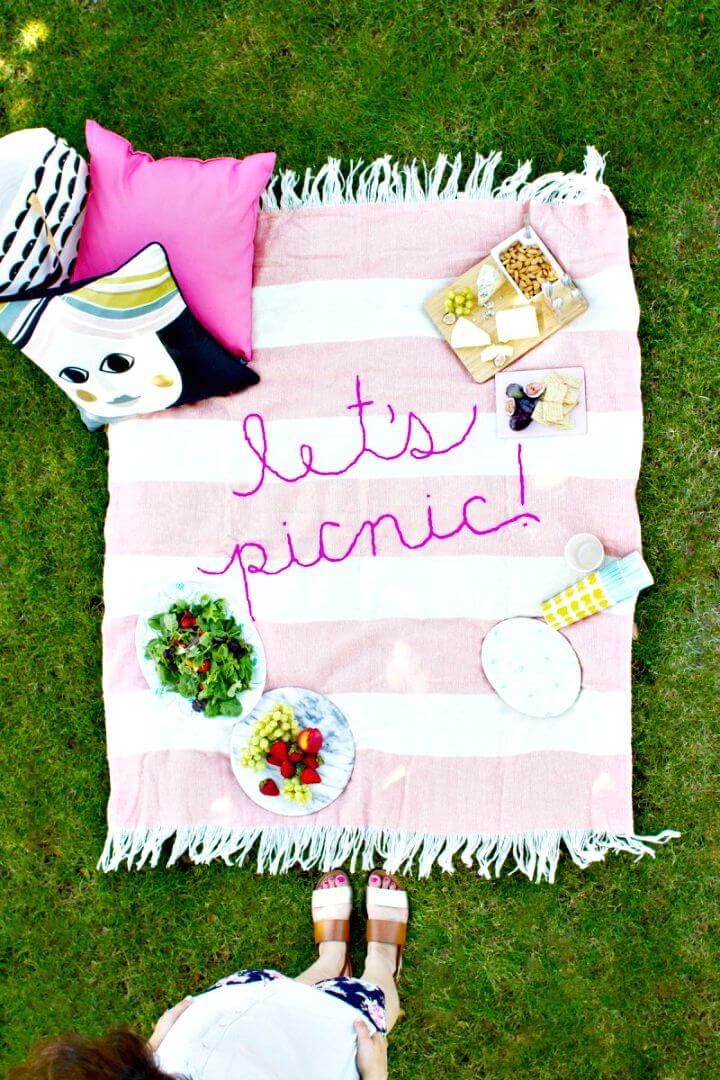 If you also have the picnic weeks in your society parks then having some cute and gorgeous picnic blankets should be on your to-do list for the picnic week. There are so many ways to make your blankets look fun and funky and here is one with the pretty and cute trick. You can make your blanket look so much spruced up with these embroidered Lets Picnic on it which is making it be more custom and personalized for the purpose.You can check out the details of the pretty picnic blanket grooming idea here lovelyindeed
Make A World Map Quilt:
You can now bring the world on your shoulders with this adorable world map blanket to cuddle up with. You can cut out the colorful continents of the world on some colorful fabrics and then sew them on the white blanket and get this gorgeous world quilt to get yourself comfortable and cozy in. It would take a bit more time than a regular quilt sewing project, but the results just all worth it so do try it at home. Here is the link to check out the details of the idea with easy steps and the instructions shwinandshwin
Gorgeous DIY Tassel Throw Blanket:
These comfy and warm blankets are so much lovable for providing us some comfortable seating on the chair and the or sofa when you just want to relax with your body warmly covered. To let your blanket looks so much gorgeous and stylish you can add these yarn tassels to them and the icing on the cake is that instead of buying them expensively from the market you can make them on your own using some thick yarn skeins and the technique of the tassels making be learned here with all the details and the instructions tidbits-cami
DIY Linen Throw For Summer:
Unlike those heavy and bulky blankets of the fall and winters the summer and the spring season call for the lightweight blankets to get under and stay all warm during the cooler evenings in your patio or the porch.So linen is just the perfect materiel to get your hands on and create this adorable throw out of it and get your shoulders, neck or the legs covered when you are feeling a bit chilled up in a nice and cool evening of the summer or the spring.Just check out the details of the idea right on this link nourishandnestle
Easy and Adorable DIY Patchwork Blanket:
Recycling and reusing is just the right idea to get yourself rid of the unwanted things that are just messing up the spaces of yours around. SO if you got some pieces of the fabric lying around then here is the idea of using them and create a fun patchwork throw out of them and enjoy this adorable and cute blanket to picnic on in your patio or the garden or a public part. You can sew up all the pieces together in a cute pattern to create a fun patchwork, and the results would be so much eye-catching and fun.Check out the details of putting together the pieces here and getting yourself  beautiful and cost-free picnic blanket here abeautifulmess
Easy DIY Travel Picnic Blanket
Amazing DIY Travel Picnic Blanket: Traveling and the picnic are the most a fun activities to enjoy the summers to the fullest and the common accessory of the both of these outdoor fun tasks is a blanket to picnic on. Now you can create your travel blanket with some fabric, a cycle stamp, and the leather to make the lovely belt straps out of it so that you can easily fold up the blanket and then hang it around your shoulder just like a bag.The details of the idea can be hacked all here with all the instructions and the tutorial help being provided here in written and in the form of pictures too triedandtrueblog
Eye-catching DIY Gauze Swaddle Blanket:
Those elegant and stylish blankets can now be a quick part of your summer bedding with no or the lowest of the cost. This simple an plain looking white blanket has been turned into a totally cute and whimsy piece of summer throw with the black feather stamps on it all over. The icing on the cake is that the stamp has been easily made out of the sweet potato and thus saving yourself lots of time and money. You can crate any of your favorite stamps and thus get yourself custom or the personalized blankets ever which would make great gifts too.Details here thislittlemiggy
Cute DIY Big Star Baby Blanket:
There are lots of design and the patterns that you can opt for while giving your simple and plain throws a charged up and stylish look.Here is this adorable and one of a kind throw blanket that would spruce up the beauty and style of bedding as it comes with a lovely star on it. The star has been cut out of blue colored fabric with the white base of the blanket and thus turning it into a cool and fun looking throw especially for the kids, and it can aptly be used for the gifting too. You can learn to create it own your own with all the tutorial help here from cutting the stat and then sewing it up mesewcrazy
Adorable DIY Heart Blanket Tutorial:
There are so many fun and genius ways with which you can make your simple and boring looking blankets to be turned into some cool and stylish possessions for the summers. Here is this pretty idea of making a heart throw and the hack is just simple.All you need to so is just cut out smaller and bigger shapes of the heart with the cardboard and then pain them up over the blanket in simple and straight rows and get the awesome eye-catching results. It would make a adorable gift too so do hack the idea here abeautifulmess
DIY Arm Knitted Cosy Chunky Blanket:
Crocheting with the arm is so much fun and quick and easy to then doing it with the needles. There is plenty of the items that you can create out of the arm knitting and here is one with us to sooth yourself warmly int he cold summer nights.Yes, we are talking about this gorgeous and chic looking throw for you too wrapped up in a while sitting on the sofa, or chair of resting on your bed with legs covered under this comfy throw. Catch the tutorial with written and pictures right here on this link madeupstyle
How To Make Fleece Blankets – It's So Easy:
This one idea juxtaposes three cute and fun ways to make your simple and plain throw blankets look all beautiful and fun. The first one hints at the addition of the ricrac, the second one to add the pom pom lace and the third one say to add the bias tape to the throw blanket. Using all three of these fun methods you can make all the throw blankets of the house look so much funky and fun. itsalwaysautumn
Easy DIY Flannel Throw Blankets:
The flannels are the most common and the most loved throw blankets used almost in every house to keep ourselves warm and cozy in the spring and summers and here is the idea of beautifying them more and that too at the least of the cost. Yes, you can add the contrasting colored pom-pom laces to the edges of the flannels and add so much to their beauty and charm. thegirlinspired
How to Sew Upholstery Fabric Throw Blanket:
Upholstering is so much a fun technique to beautify so many ugly things around and so is the case with a throw blanket that everybody just loves to snuggle up in around the cool weather. Yes, you can cover a simple, boring and old blanket of your house with a really cool and pretty printed fabric and it would be so much easy and fun to sew on your own. inmyownstyle
Simple DIY Spring Throw Blanket: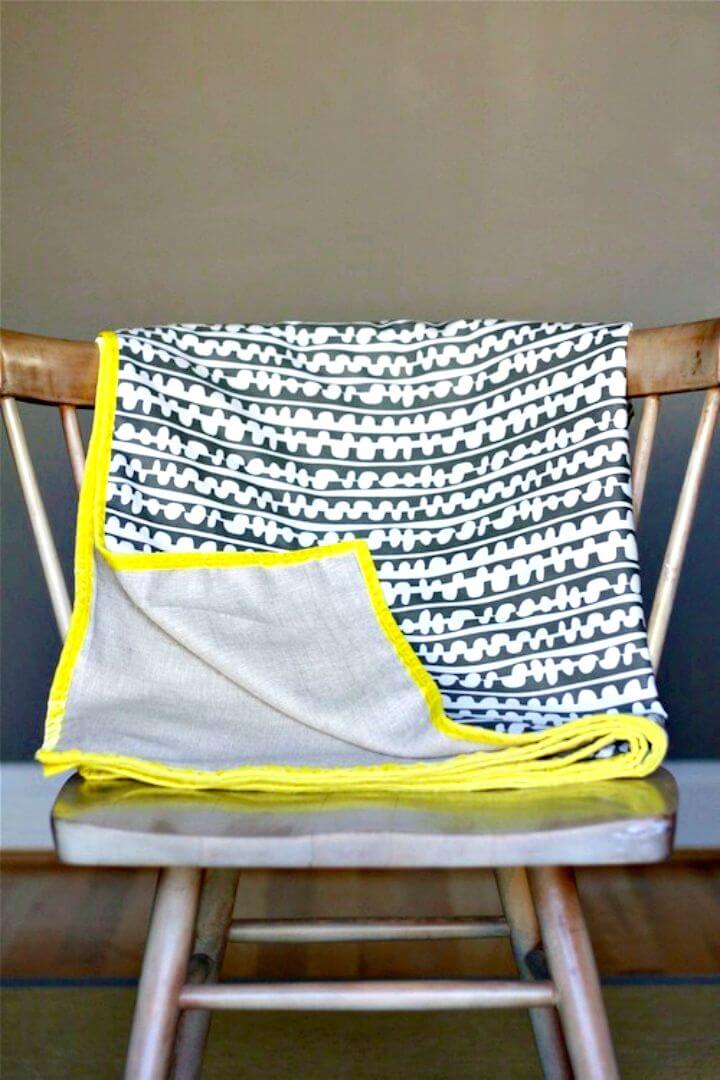 We need blankets almost in every season from being thick to thin in winters and summers respectively, and for the light cold seasons, we got you this light weight and easy to carry throw blanket that is super easy to make on your own out of a pretty printed fabric. To make it look more pretty and stylish a ribbon edging has been done to it all over and the beautiful results are in front of you. designmom
Make Your Own Chunky Tassel Throw:
With some really little and cute touches of beauty you can charm up almost any thing around and here is the idea of jazzing up a throw blanket that it so boring and dull that overlooked by everyone around. So add the heavy and gorgeous black yarn tussles to your throw blanket and add so much to its beauty and fashion and that too on your own. craftberrybush
Easiest DIY Patchwork Blanket Sewing Tutorial:
making cute and fun blankets for the family is one of the favorite things the mothers like to do when they are so much fun and crafty persons. Here is the idea of creating this colorful patchwork blanket this time that would be the favorite thing of your kids to wrap around and feel so much warm and cozy in it. Here is the tutorial sablefern
Easy DIY Throw Blanket Tutorial:
Blankets are the favorite place to hide in when the outdoor is dreadfully cold, and there is a fact that the handmade blankets are much cozier and warm than those you buy from the market. So if you need a new blanket for anyone in the family, then we got you this really easy, cheap and fun idea of creating a blanket for you to get your hands on. makinglemonadeblog
DIY Faux Fur Throw Blanket:
The animal fur is the coyest, comfy and the warm thing to keep our body's temperature high in the cold weathers but they are so much expensive to buy personally and use in the making of blankets and coats. But the solution is the use of this faux fur and create a gorgeous and warm throw blanket to use on a cool summer night while watching your favorite movie. sewbon
How To Make Pom Pom Throw Blanket With Drop Cloth:
What can be cheaper and easily available then the drop cloth which is worth so much for a fun crafting session like creating this pretty and warm throw blanket for a cool summer evening? Just simply sew up your throw blanket and then add the pom poms of the matching colors to the edges of the blanket and its all jazzed up. ducttapeanddenim
DIY No-Sew Blanket with Yarn Fringe:
Make your fun summer nights more comfy and warm with this gorgeous and cozy blanket that you can easily make yourself at home and also style it up. Yes, you can add the lovely blue yarn fringes to your sky blue throw blanket and make it look so stunning and gorgeous and simply styled up on your own. makezine