When talking about the furniture pieces that are crucial for a sitting environment that can't think about something else but about a chair and a sofa! There are several different kinds of chairs that are used in daily life routine for a comfortable sitting experience! The very good is that you can also recycle pallets to build adorable chair furniture without causing any load on your wallet! Pallets are often to get for free and are a hot potato in the DIY projects! Building custom indoor and outdoor furniture with pallets is really a hot trend and here we are to show that how you can build adorable chairs with pallets! We would like to explain it more with the collection of 17 DIY pallet chair ideas that are a borderline genius and are just remarkable! The list DIY pallet chair ideas will show you various outstanding models of hand-built pallet chairs that can duplicate for your spaces or can think of a new chair design also with the help of them!
Pallets can be used in both dismantled and original form to build fantastic wooden chairs for every of your sitting space! Go handmade with dismantled pallets and build fantastic Adirondack chairs that will help to gain an epic and comfortable sitting style to enjoy the green outdoors and other nature's phenomenon! Build the special fire-pit chairs that may come with sloped berth and angled backrest and also build special kids chairs with pallets that will last for years!
Build fantastic rocking chairs with pallets to enjoy daydreaming and build custom wooden seats with pallets that can be hanged up with metal chains for beautiful chair swings, get inspired of a lovely sample given in the list! Another very unique and adorable design of pallet chair is the paracord laced pallet hanging chair that has purely been made of single pallet slats put together have been secured in place through paracord weaving!
If you are addicted to self-talking and take great pleasure in sitting alone, then you can also build exclusive rocking chairs with pallets, duplicate the given sample that comes in precisely built dimension and comes with round feet secured in place using longer carriage boards across the bottom feet! Build beefy pallet chairs with built-in storage compartments and also build durable deck chairs with pallets for free to enjoy spare time outdoor sitting! Clone also the given bible chair with pallets that come with bookshelves built in all the sides!
You will grab the information here that how you can give amazing weather protection to your finally finished wooden chairs which are going to stay longer in open outdoor climates! The list will also provide you tips about pallet wood reconditioning like cleaning, sanding, and gritting of pallets!
more Pallet Ideas You May Love:
Furthermore, you can also make use of paint and custom art stencils to create a very personal look of your pallet-made chair! Take a visit of the entire collection and choose your favorite chairs to duplicate or clone, just click on the attached links to get complete details and tutorials for your chosen pallet chair projects!
Easy DIY Pallet Adirondack Chair Tutorial:
The wooden pallets are here to fulfill all your furniture desires so if you are longing for those cute and fully relaxing Adirondack chairs on the IKEA and Pinterest then you should really be looking at this idea of the pallet made Adirondack chair on your own. You just are in need of a genius stacking of the pallet pieces together to build this awesome chair for your outdoors. Here is the link for tutorial instructables
How To Build Your Own Pallet Wood Patio Chair Tutorial:
Chairs are the essentials of the furniture for every section of the house and if you are in need of a comfy and relaxing chair for the patio or porch area of the house then pallets can help. You can grab some free pallets to shape up this utterly simple and fun chair by yourself and thus enjoy a fun seating in your outdoor areas and have so much relaxation sitting on your own built chair. Check out the tutorial details here funkyjunkinteriors
DIY Adirondack Style Chair Out of Pallet Tutorial:
Adirondack chairs are designed to make you sit in the best of the relaxing position and let you enjoy the sun, the fresh air and more. Now you can create a set of your own Adirondack chairs using the cheaply found pallets around like this one with the blue stain hues for the perfect shabby chic appeal and cute looks. You can learn to make the chair with the tutorial help given here instructables
Easy How To Build Your Own Pallet Furniture Set Tutorial:
The outdoors are of no fun if you do not have sufficient furniture there to enjoy specific activities there like a breakfast table set for the morning fun with the family on the weekends. So here we are with the idea of creating a chic and functional breakfast table with cute chairs out of the recycled pallets and make the most out of your garden spaces. The table in white and the chairs in blue create an enchanting color contrast fro the lovely outdoor decor. The fully detailed tutorial is lying here bridgman
Easy To Build Your Own One Pallet Chair Tutorial:
Get yourself indulged in the most fun and enjoyable lounging experience in your outdoor spaces with this pallet made lounger in an Adirondack style made out of the re-purposed pallets. Just get your pallets, dismantle them to get the pallet slats and then follow the design and stack the slats together with nails to get your pretty Adirondack lounger done. Step by step details and the written instructions are here to follow instructables
Easy DIY Wooden Pallet Patio Chair Tutorial:
Patios are the great spaces to enjoy the healthy outdoor ambiance and the perfect patio furniture makes it more fun and entertaining for you.SO if you are in need of some lounging chairs and relaxing seats in the patio then here is the idea of creating this Adirondack style seating for the area using the wooden pallet slats being stacked together in any easy pattern. You can learn the details of the simple chair design right here makezine
How To Build Your Own Pallet Swing Chair Tutorial:
the summer and the spring weathers call for the outdoor fun and your porch gets busy in these two exciting and fun seasons. Here is something that would arouse the fun more in your porch for you and all the family and that is this gorgeous and modern styled pallet made swing chair. You can enjoy the fun seat swinging back and forth with the cool breeze and cherish the great relaxation time on your porch. Learn to make this pretty swing bench with the tutorial details given here instructables
Easy DIY Wood Pallets Rocking Chair Plan:
There is something soothing and utterly relaxing in the cute movement of the rocking chair and the fun gets double when you are riding a rocking chair in the outdoors with a pleasant weather. So in any case of bad luck that you are not having a rocking chair in your outdoor you can no have one at cost-free rates using the pallets. The pretty simple and feasible tutorial of the rocking chair making has been given here on this link pallet ideas
How To Build Your Own Paracord Laced Pallet Hanging Chair Tutorial:
The chair shown in the picture is something really unique and the fun with an exciting crafting twist. Ye,s here the pallet planks have been joined to each other with the paracord stitches in cross style instead of using the screws and the nails and the results are just so much awesome. You can learn to make this fancy and fun chair right here on this link and boost up your relaxing joy in your outdoors instructables
Simple and Easy DIY Kid's Table and Chair Set Tutorial:
Get your kid's room more functional and fun with the addition of this cute and colorful table set where the kids can perform a lot of fun activities like painting, drawing, playing with the blocks, eating and so much more. You can use the recycled pallet wood to build this cute mini table with the little chairs around. The set has been painted in strikingly vivid shades of the paint to make it look alluring for the kids. Fully detailed tutorial is here hertoolbelt
Build Your Own Chair Out Of Pallets Tutorial:
Rocking chairs are so much fun to enjoy some rest and peace on with the gentle to and fro movement of the chair. And instead of those old and boring in design rocking chair you can now build one with the modern design like shown above. SO you would need to cut down the pallets in slim pieces to install this gorgeous and sleek in design rocking chair.Here is the link you can follow to grab the step by step details of the pretty and fun rocking chair instructables
Easy DIY Pallet Adirondack Chair Step by Step Tutorial:
Adirondack chairs are the customary possessions to have some relaxing seating sessions in the outdoors and enjoy the weather be it cool evening of the summer or a bright sunny day of the winters. So instead of wasting your money on the market bought Adirondack chairs you can now create a set of them own your own using the free found pallets and here is the tutorial to catch the details and the instructions about its structure formation at home homestratosphere
How to Build a Pallets Chair with Book Storage Step by Step Tutorial:
What a book lover needs? His favorite books and a comfy seat to sit on and enjoy reading his favorite piece. So here we have combined both the items together in a real genius way so that the seat and the books are to be found at one place. This pallet made chic styled chair comes with lots of storage pockets to house a big bunch of books in them and thus making it really easy to cherish your love for reading at home in peace. You hack the details of the idea right here to own this fab chair pallet furniture projects
How To Build Your Own Pallet Adirondack Chair Tutorial:
Make your outdoor spaces look more functional and fun with the addition of this pair of Adirondack chairs in there having been made out of the re purposed pallets to let you enjoy your outdoor fun in more style and comfort. The gorgeous chairs have been easily installed with their quirky shape using the dismantled pallet boards and you can get the complete details of the project right on this link to get your hands dirty with it feedurself
Easy DIY Pallet Deck Chair Tutorial:
Decking is so much fun to enjoy your weekend in a relaxing manner and with this rustic pallet chair you can spruce up the fun and rest of your decking experience. You need to find some dead or fresh pallets, dismantle them into the feasible pallet pieces and then stack them together with nails or screws to install the easy structure of this deck chair. You can paint it but it looks gorgeous in its rustic attire bosch
Easy How to DIY Biblio Chair Out Of Pallet Tutorial: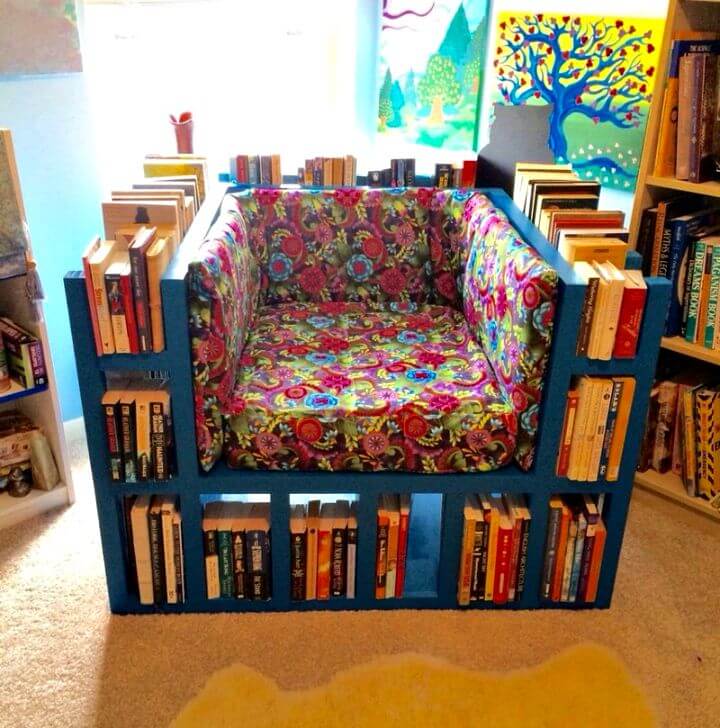 This mind-blowing pallet chair with immense storage ability to carry a pile of the books in it, would be your next DIY idea to pull off this weekend. The modern design, the shabby chic paint and the book pockets make this chair an instant hit for the furniture lovers specifically the for the book lovers as they can enjoy the comfy seat the favorite book of them at the same place. So do catch the complete details of the making of this double functional chair right on this link theownerbuildernetwork
How To Build Your Own Best Pallet Chair Plan:
pallets are used in the shipping and once done there they are just thrown around to be picked up by the craft and furniture loves and fulfill their furniture fantasies with. So here is this idea of creating the outdoor mounting chairs in the Adirondack style and spend your weekends, summers and spring in the best of the relaxing and lounging style. You can paint the chairs with your matching outdoor decor colors or let them stay simple for the complete rustic appeal. You can check out the details of the idea here feltmagnet