The live edge wood is a long-lasting natural material widely used for making DIY furniture. It is not merely the stability features that we all fall for the wood furniture! The real magic is its amazing appeal that is always engaging and helps bring warmth to DIY home projects. So, while being displayed in the pure form like knots, wormholes, barks, and natural wood grains, they can also raise the aesthetics of a particular interior to a significant level. So, making your spaces great with a touch of DIY live edge wood projects.
This will help incorporate a little rustic, farmhouse and vintage touch to your modern home decor. So, go with these 25 DIY live edge wood projects to make at home and see the chaotic wood beauty transforming your spaces. These will involve building mostly DIY furniture like tables, benches, and shelves with the live edge wood slabs. Raising the live edge wood slabs on metal hairpin legs is becoming a hot trend to gain expensive-looking industrial rustic furniture inexpensively.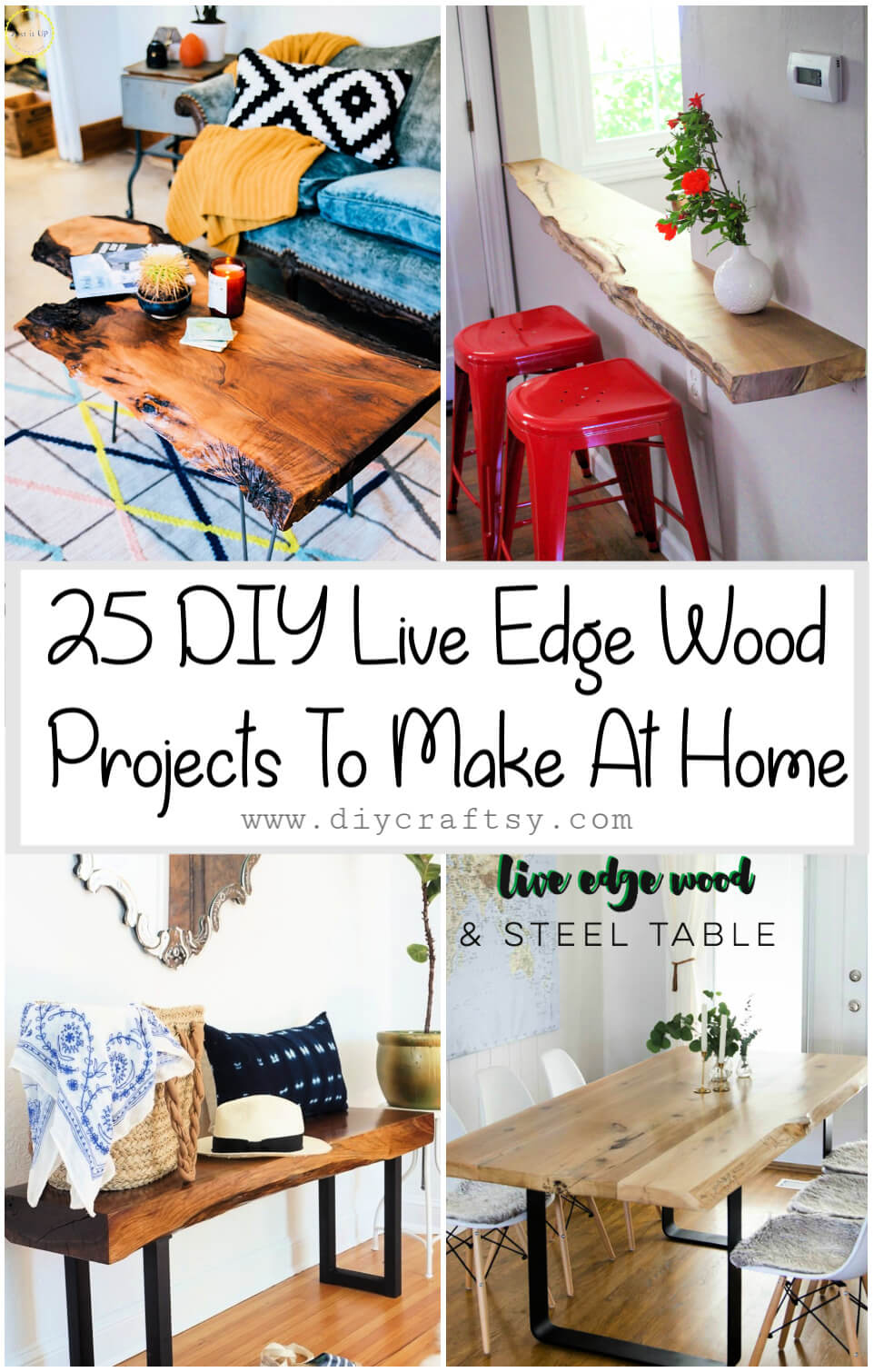 Must give DIY live edge wood projects a try:
So, you are ready for the live edge wood project? They are actually all about to display one natural feature of the wood in the project you are going to do. Leave one edged untouched or don't heal the wormholes, keeping the natural wood grains as it is will also a great live project. A better explanation is given in these DIY live edge wood projects that also involve designs for your office, bathroom, and outdoor seating areas.
DIY Live Edge Coffee Table With Hairpin Legs:
Display the wood in its pure weathered and rustic form in your home as a DIY coffee table. Build this live edge coffee table using a live edge wood slab. It stands on the durable metal hairpin legs and is a perfect type of table to add to a modern or rustic living room. Details here zestitup
How to Build a Hanging Table:
See the natural wormholes and weathered design texture of wood redefining the look of your bedroom. Support your night materials with this live edge hanging table, a brilliant way to cast a rustic look of the bedroom. It hangs with durable rope, will nicely incorporate the rusticity to your space. How-to details themerrythought
DIY Live Edge Wood Countertop:
This sink is adorable due to front natural edge of the wood slab, a better countertop to make with a pure texture of wood. This is the best way here to bring a warm touch of wood to your bathroom. Must add this project in your to-do list if willing to renovate bathroom with a hot touch of wood. Details here modfrugal
DIY Hand-Made Split Wood Table:
See the amazingly creative arrangements of the wood logs, a live edge wood table that will wow the audience. It is totally made of wood log lengths that appear with natural bark, wormholes, and wood texture. The criss-cross base durably supports the top made of flat-packed wood logs. How-to tutorial here instructables
How to Make a Live Edge Walnut Bench: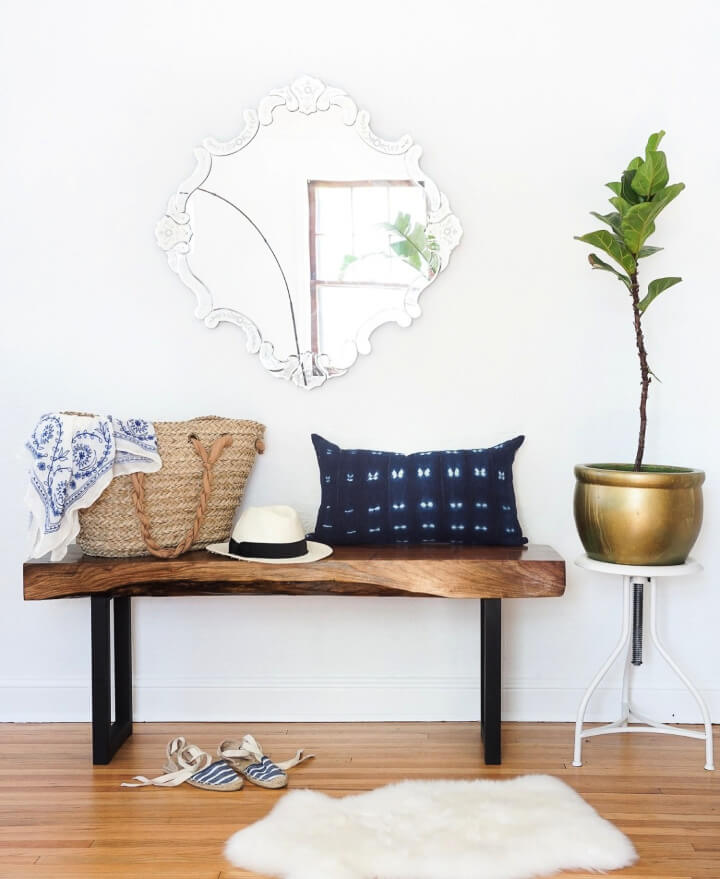 This wooden walnut bench comes in find dimensions except for the front natural edge. Grab a thicker life edge wood slab and finish it up with flat box style legs and build this gorgeous wooden bench. A smart way to highlight the natural design elements in your home without getting expensive. Complete guides here francoisetmoi
DIY Live Edge Wood Desk: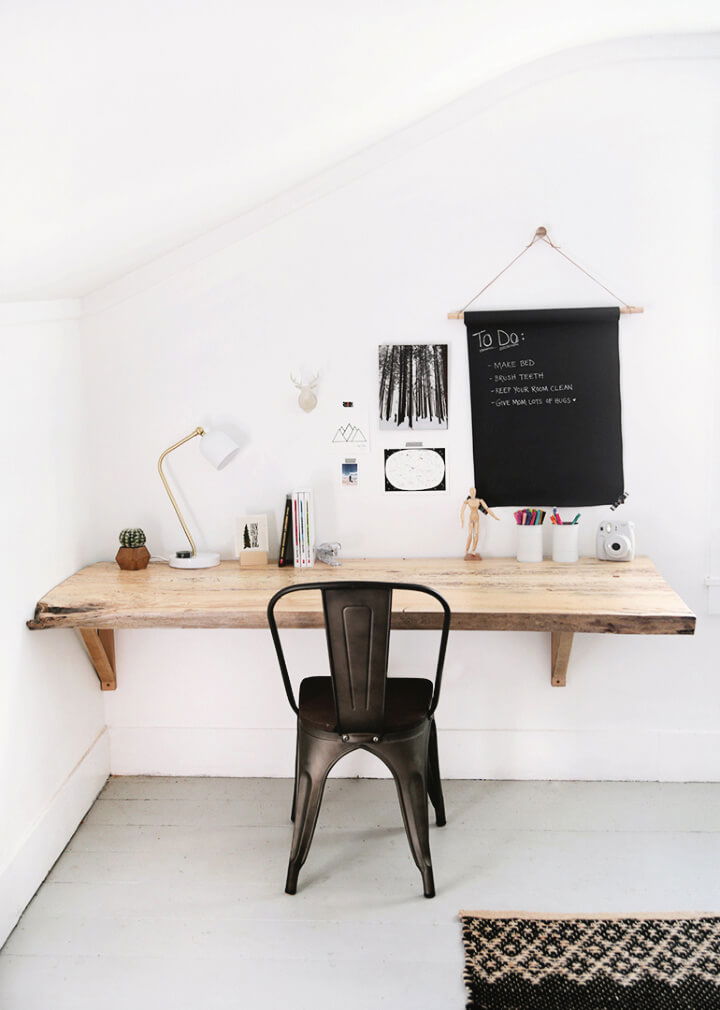 Support also the live edge wood slabs on the wall with durable metallic or wooden shelving supports. If come on a low height, they will perfect wall hanging wooden desks, will be a great choice for reading and write purposes. This desk will also fancy up the ambiance of the room with one natural edge. Full tutorial and guides here themerrythought
DIY Live Edge Counter on A Budget: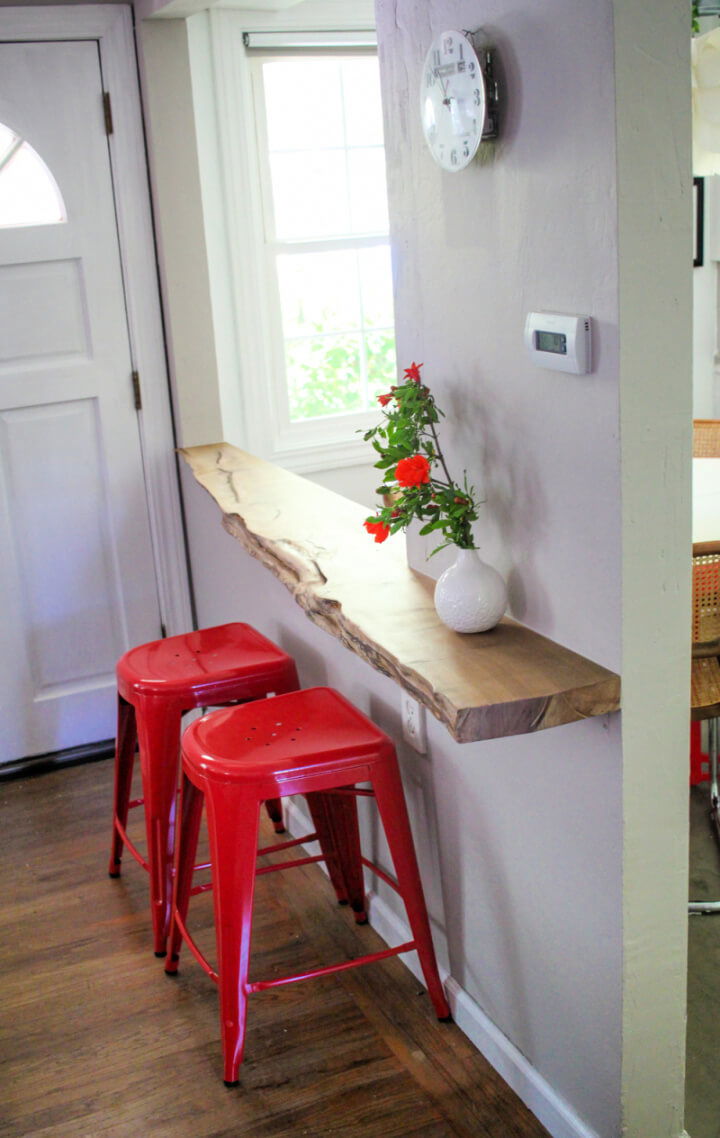 Let the wooden rusticity generate the more impressive look of your modern interiors Add this live edge counter to your home office, will create truly magnificent rustic-modern decor statements. This may be your first functional choice if you want to feature rusticity in your modern home ambiance a little. How-to guides here smallfriendly
Build a Live Edge Coffee Table:
Select a natural wood log slice with burls, finish it up with durable metal accent legs and gain a perfect coffee table. This live edge coffee table is sure to wow your living room audience. Shorter hairpin legs have been installed that give it a low-height for maximum exposure in the center of the living room sitting set. How-to details here abeautifulmess
Adorable DIY Live-edge Bench:
You will love to sit on this most natural-looking bench design, features the front natural edge. Raise a natural edge wood slab on durable angled wooden legs to build this interesting bench beauty. A perfect outdoor bench for a patio or garden. How-to details here saltbushavenue
How to Make a Live Edge Shelf:
You will love the natural rustic front edge of this durable wall display shelf. It comes with bark in front and enjoys a stay on the durable shelving supports. This DIY shelf will really be a cool choice when you need to display your expensive decors or wedding gifts. How-to details here alwaysrooney
DIY Live Edge Wood Bench:
Bring extra wooden elegance and charm in your piano room by adding this live edge wood bench. Making of it is pretty quick, again finish a natural edge wood slab with metal hairpin legs to make this bench. A perfect low-height natural bench to make your play piano in a comfortable way. How-to guides here deliacreates
Pretty DIY Live Edge Shelf:
Wow, the audiences with the natural design texture of wood. Here is how to incorporate them to your home. Build these live edge display shelf, can be supported on the wall using the latest hardware hanging systems like metal shelf brackets. With natural bark and burls, they will truly raise the aesthetics of a room. How-to tutorial here infarrantlycreative
Make Unique Scaffolding Board Bench:
Make stylishly beautiful furniture items again with the broken or crumbled furniture items. Legs of this scaffolding live edge tables are from an old table. Paint the reclaimed legs in any color and next attach to the bottom side of a natural edge wood slab. A perfect bench choice to spice up your home ambiance with natural wood design texture. Details here pillarboxblue
DIY Live Edge Table With Steel Base:
Enjoy the candlelight dinners with your family or friends using this live edge table, which will make you feel that you are so close to nature. The box style flat steel legs or base, raise it stylishly to a decent height level. A wooden dining table with amazing pure details. Give a nice wood finish to bring shine on the surfaces. Details here lemonthistle
Easy DIY Wood Slab Table:
You can resist this natural beauty to perform next to your bedroom. A nightstand with the natural wood slice top that looks pretty with the bark. It gains a stable standing style due to well-fitted metal hairpin legs, selected in large size for giving extra height to this live edge wood nightstand. How-to guides here thecraftedlife
DIY Wood Hairpin Leg Console Table:
Double up the charm and grace of your home or living room with this live edge console. It will behave nicely as a behind sofa table or as an accent table in the entryway. Your first choice to impress the guests and to show you live for nature. A candle holder or vase on its top will be a perfect garnishing of it. How-to details here sustainmycraft
How to Build a Custom Pine Log Table:
See nature as stylish furniture in your home. Build this pine log table, has the whole base made of wood logs. A wood shelf board with at least one natural plane or edge will be great to build the slim long top of this table. Full how-to guides here instructables
DIY Live Edge Table With Steel Legs:
Grab two well stained, varnished and sealed wood slabs or countertops with a natural edge, finish them with durable steel metal legs and build a gorgeous live edge table. A better way to build lasting longer and more charming dining or coffee tables at home without using too much fortune. Complete details here lovecreate
DIY Live Edge Tree Speakers:
The live edge wood can also be a part of your modern tech gadgets for added stability and style. Jazz up your entertainment centers with the natural wood touch that will come from these live edge tree speakers. Make cavities or holes in the tree trunk or wood log lengths to fit the speakers in. Details here instructables
DIY Live Edge Slab Bar Top Table: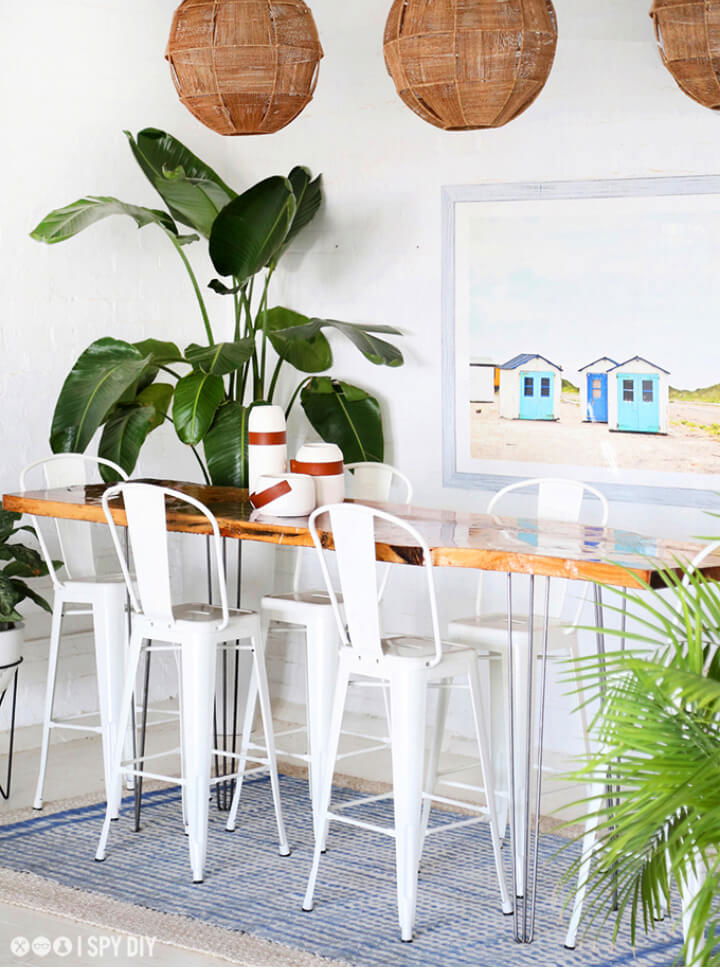 The live edge pine or lumber slabs may be expensive to buy but they can help add a million-dollar beauty to your spaces. Again raise a big oversized live edge slab on the large metal hairpin legs for an added height, a bar top table will be ready to serve. Use custom stain, varnish and a wood sealer for a glossy finish. How-to guides here ispydiy
DIY Custom Pine Log Lamp on the Cheap:
You will still feel so close to nature while being over your bed to enjoy the zizz. Just have this custom pine log lamp in your arms reach, made of a wood log finished with live edge wood slab base. A most unique design of light lamp to add to the top of a side table or nightstand. How-to guides here instructables
DIY Live Edge Wood Serving Board:
Brings tons of rustic wooden charm to your kitchen with this live edge wood serving board or cutting board. It is durable and arresting and comes with natural design texture dignified with a live wood edge. Give it also as a cool give to a friend or neighbor. How-to guides here diyhuntress
Build a Live Edge Rustic Bookcase:
Bring the book storage game to the next level by building this very gorgeous rustic yet modern design of the bookcase. Make the base with built-in shelves using prime cut pieces, underlayment project panel. Finish its top with e a live edge wood slab may come in a natural tone of the wood. Complete guides here lazyguydiy
DIY Epoxy River Table with Waterfall:
You can't afford the market price of this superior waterfall table, which will be the real charm and grace for a space that is needed to be attractive again. Make it using the live edge wooden boards and epoxy reason. The epoxy reason will beautifully fill the spaces to come equal to straight wood edges. Complete tutorial here fixthisbuildthat
DIY Live Edge Wood Glow Table: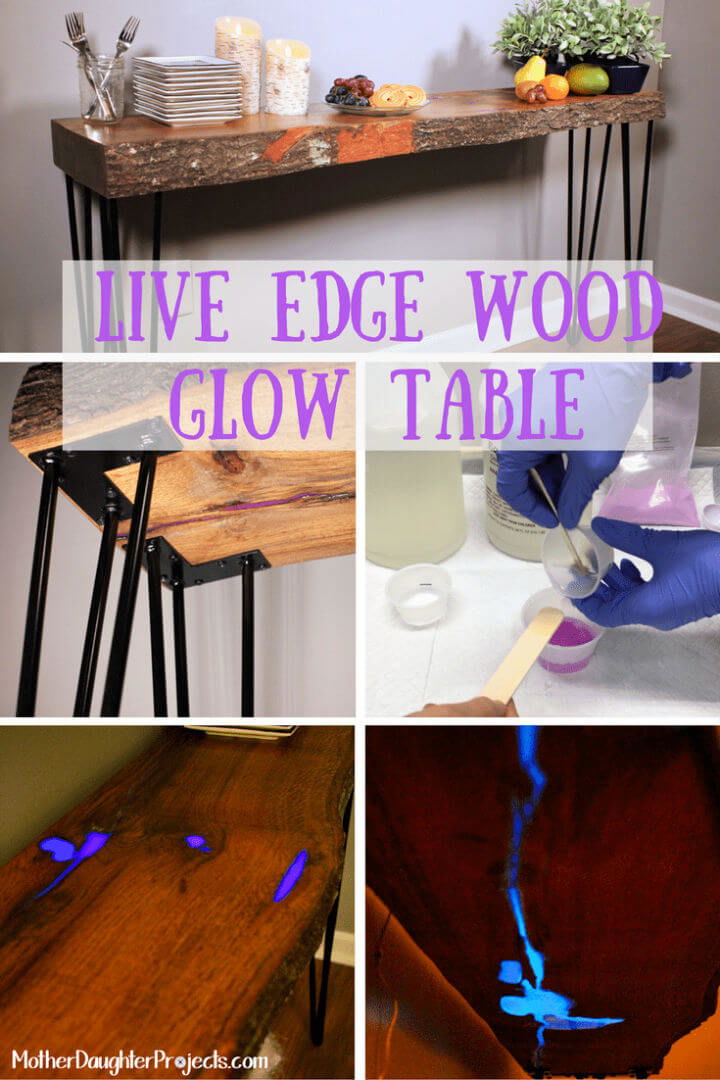 Build the live edge tables with the natural edge wood slabs as you do. Next, fill the wormholes and cracks with the epoxy resins mixed with glow powder selected in custom color. A creative twist to bring a touch of modern furniture to rustic natural live edge furniture. Complete guides here motherdaughter
DIY Live Edge Table for Less Than $150:
The market price of this live edge table will be unbearable and unaffordable, but here you are going it gets it at a cost price of $150. It gains extra beauty due to well stained and finished wooden surfaces. The gold spray-painted metal hairpin legs are like icing on the cake. Full tutorial here annabode
You can use free pallets to build a very inexpensive coffee table out of pallets.
Live edge wood wall clock:
Do you need a creative and custom wooden clock? If yes, then must give live edge wood wall clock a try! We've also published a big list of DIY clock Ideas that help you to make your own custom clocks.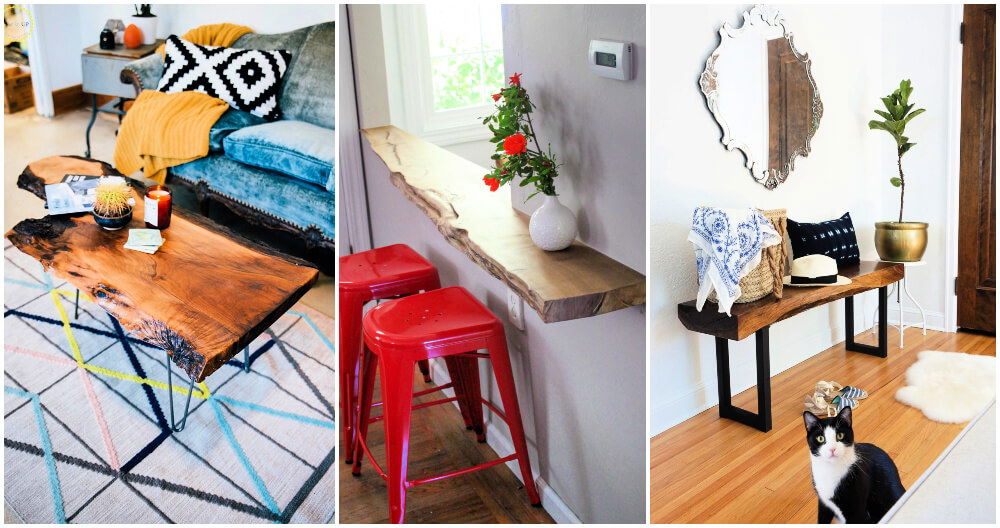 Do you love the country lifestyle? Perfect laid back style with hints of tradition and heritage are both nostalgic and accustomed to the simple lifestyle! Farmhouse decor from rustic and vintage furniture items to broad and sensational wall decor can bring a lot of character to any room or house! Add the perfect warm and cozy accents to your home by going for charming farmhouse decor. Go with the casual classics to relive the free country style experience.
Related DIY home projects: