If you are on a mission to boost your interior home decors then you can bring some touch of natural greenery and flowers to your interiors just to spruce them up! So, if you willing to bring some garden vibes to your interior spaces then you must add some adorable vases and planters in your home and this you can do in multiple different ways! You can install custom wall hanging planters to your interior spaces and can also spruce up your spaces by putting the custom vases on your interior shelves accent tabletop and also by hanging them aloft in your home! Moreover, you can also make outstanding magnet planters that can be mounted on any wall for extra grace and beauty! Check out here these 8 DIY magnetic planter ideas that are all amazingly beautiful and charming and will definitely rock any interior space with a natural decor touch.
Here the list of DIY Planter Ideas will guide that how you can recycle the different materials from home and from surroundings to make adorable wall magnet planters or vases in just no time! Just go handmade with the wooden hexagon vases and adorn them up with paper circle cutouts and next you can add magnets to their upper backside to make a gorgeous wall hanging planters in just no time!
Check out the sample planters that have been built to inspire and rock! Reclaim also the tin cans and other metallic contains and just turn them into the flawless wall hanging magnet vases by making them painted and also by installing custom magnets to them, have a look at the given dashing sample, built to inspire and rock your space! Another brilliant sample here is the daffodil magnetic planter that is also made of a tin and is something super beautiful to look at!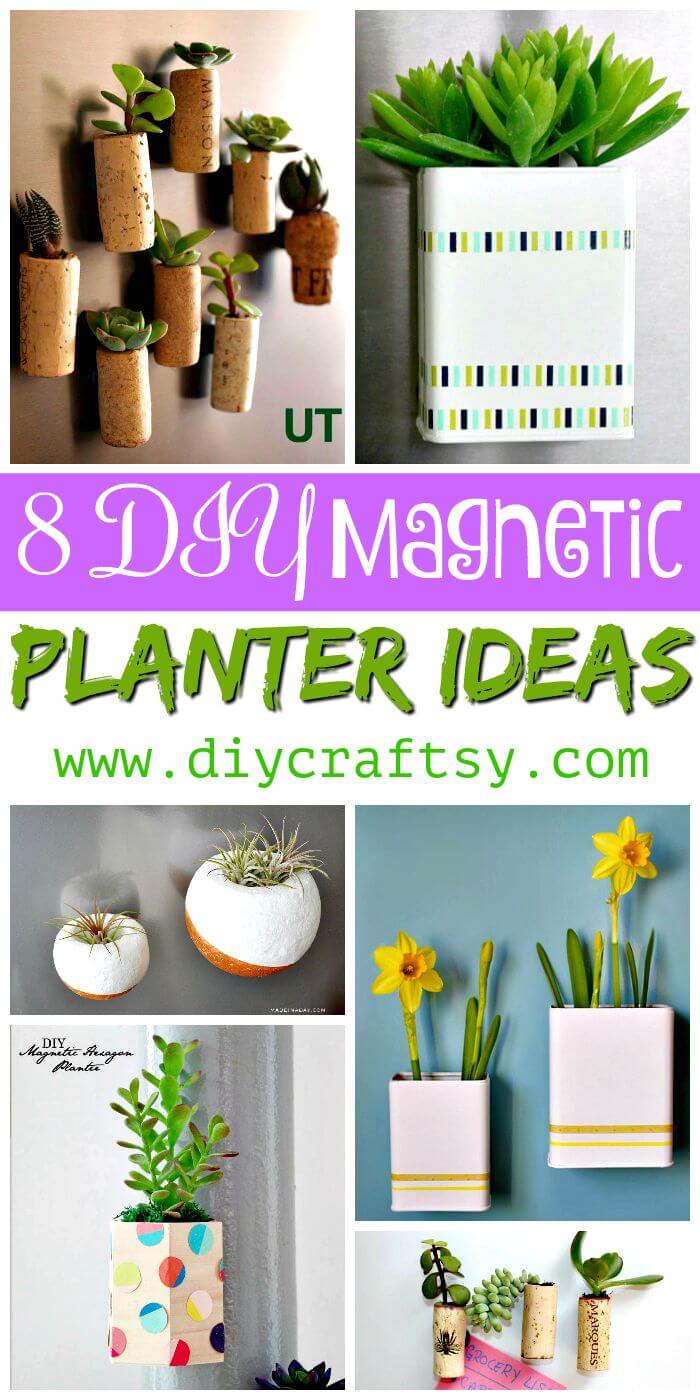 Make also the fridge hanging magnet planters at home without getting expensive! Just use the wood candle cups and pot some succulents in them, next add magnets to their backside and mount them on the fridge for instant focal stimulation and grace! Make also the foody wall hanging magnet planters that will be much focally stimulating every time you will look at them! Get inspired of the given pineapple wall magnet planter that has been done using yellow clay and has been hanged with the help of magnets adhered to backside!
Make also the magnet air plant hanger using concrete which can then be painted for a beautiful look and appeal! Here these concrete planters have also been hanged on the wall using magnets, you can use different molds to create different shapes of concrete plant hangers! Go also smartly handmade with the wooden corks and pot succulents in them and next you can also hang them on your favorite interior walls for instant grace and charm! Want to duplicate all these wall hanging magnet planters? If yes, then you must Check out the given source links that will take you to the complete free tutorials, visual guides, and step-by-step instructions!
More DIY Projects to Decorate your Home:
Cute DIY Magnetic Hexagon Planters: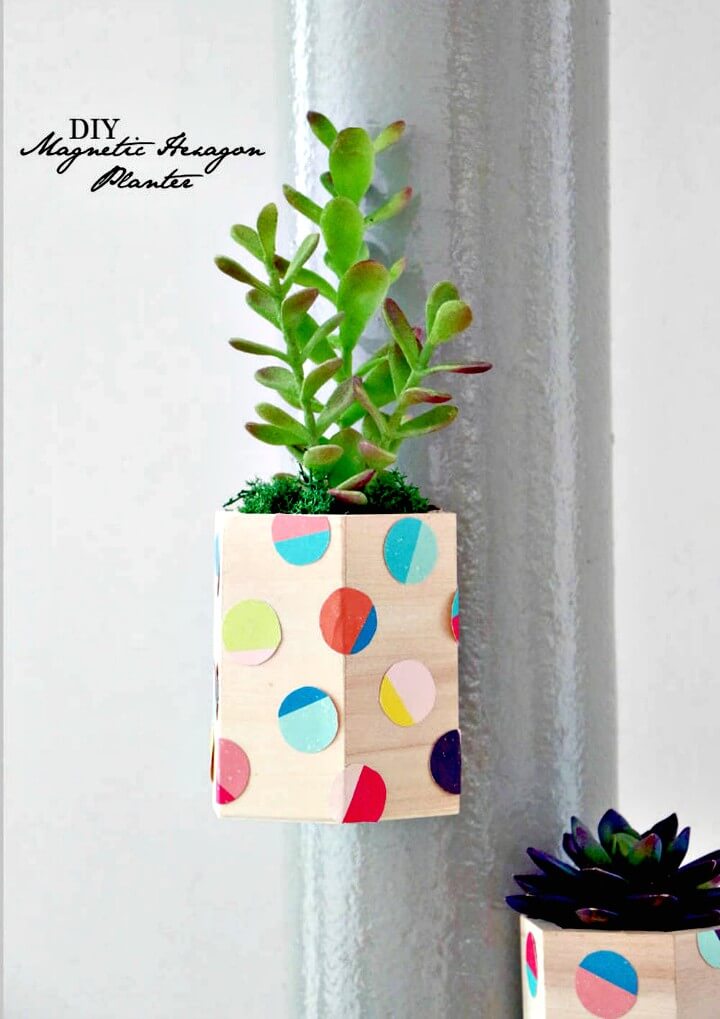 Make your walls of the house look all spruced up with the addition of this really cute and adorable hexagon magnetic planter to it holding a pretty succulent in it. Just grab a wooden hexagon container, add paper circles to it all around and then use the magnets to hang it over your walls and oodles of charm to your decor of the house. Here is the idea of creating it easily at home with easy steps and tutorial details blitsy
Easy DIY Magnetic Succulent Planter Tutorial: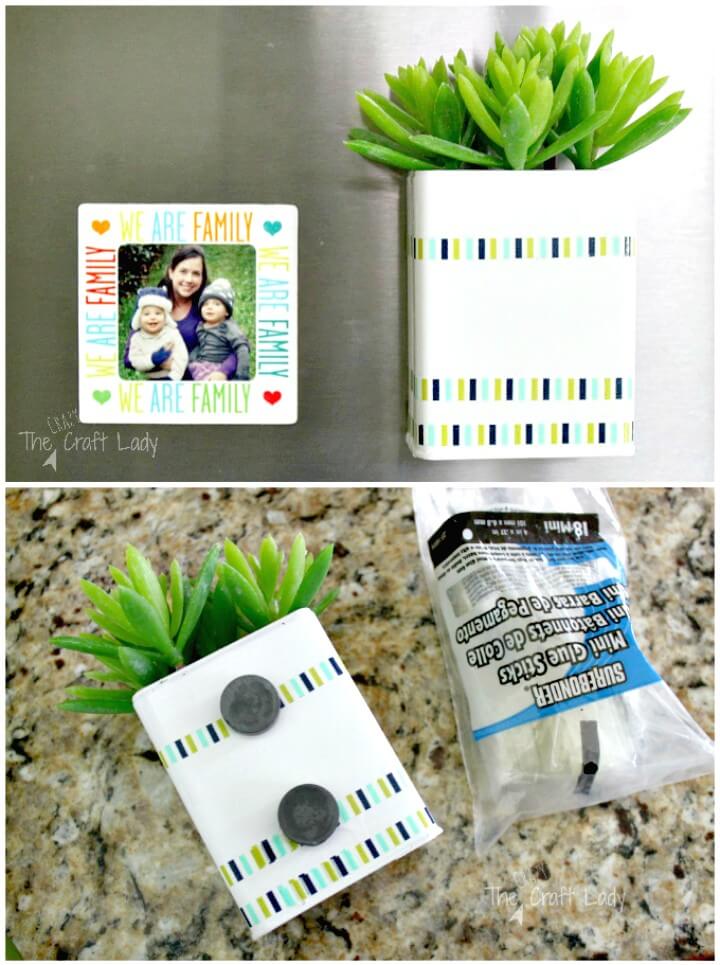 One of the best ways to add the natural and fresh vibes to your indoor decor is to bring some flowers or plants there. So if you do not have space to welcome those big planters or flowers pots we got you this lovely space saving idea of adding the magnetic planters to your spaces. This really cute and fun succulent would look great on your walls and bring the perfect natural touch to the decor and home styling. Here is the idea with complete details showing you how you can install it easily at home on your own thecrazycraftlady
How To Make Daffodil Magnetic Planters: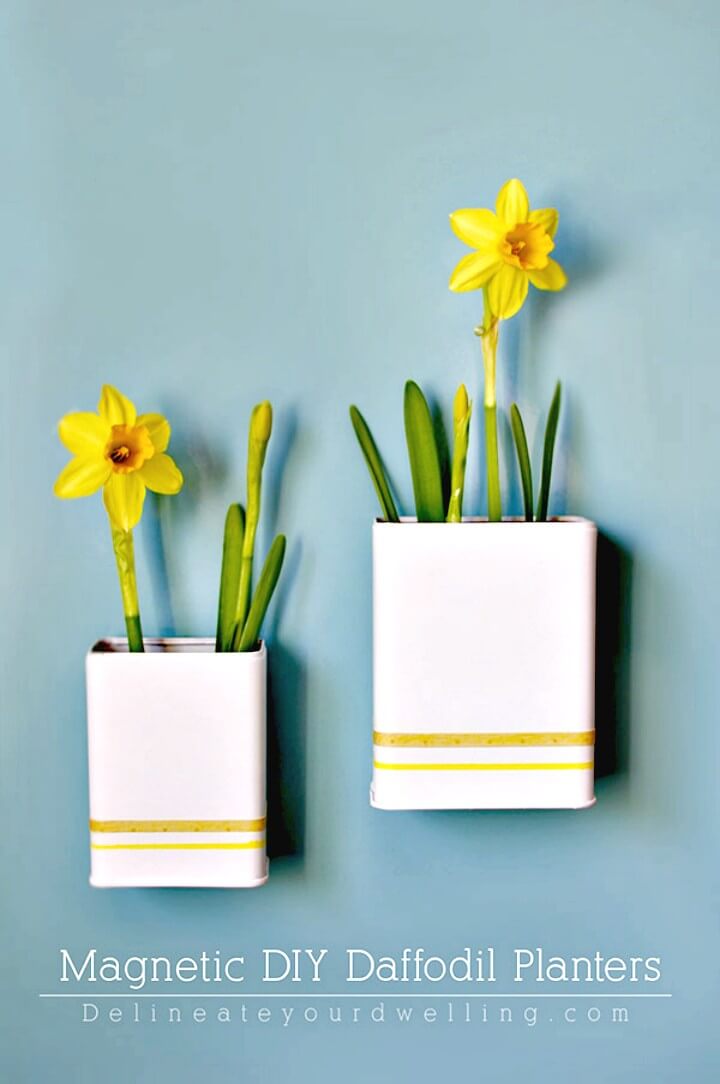 If your walls are empty then we got you this perfect idea of adding the magnetic planters to them and fill them up so decoratively and gorgeously. So here are these two empty spice containers, spray painted in white, the bottom has been glammed up with green washi tape and then filled up with the most adorable and cute daffodil flowers in them. Magnets have been used to make them mount over the walls so that you can easily remove them whenever you want. delineateyourdwelling
DIY Miniature Succulent Planter Refrigerator Magnets Tutorial: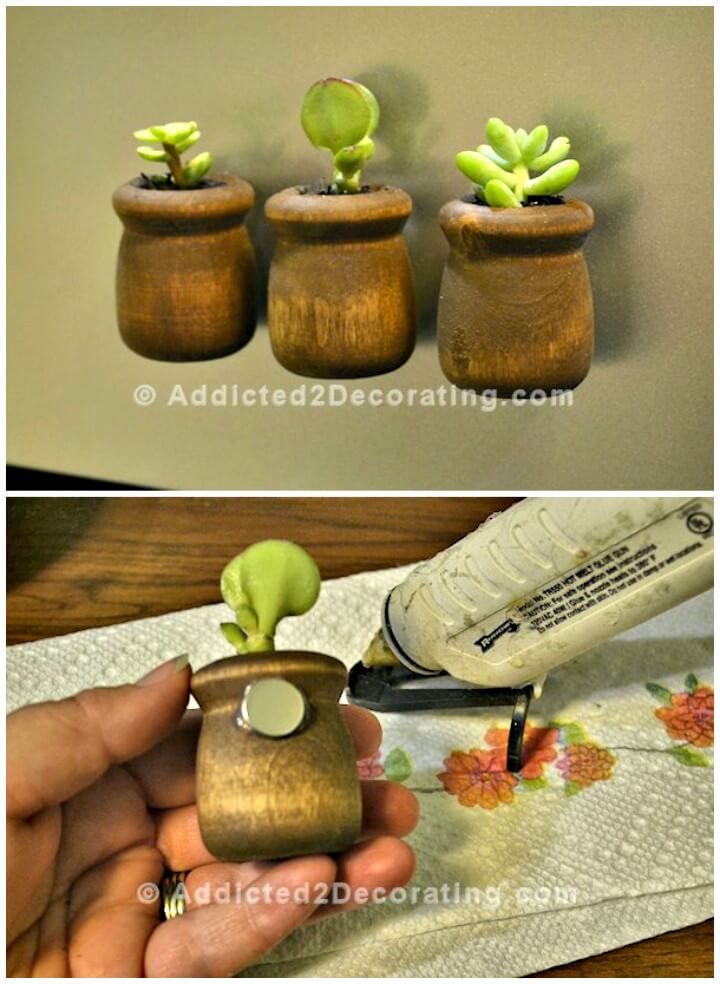 There is some fascination and charm about the tiny things and these cute little wooden planters are just breathtakingly beautiful and awesome to be added on your walls and upgrade the decor in the most pretty way. These wooden candle cups have been turned into the mini planters with the lovely wooden stain and the refrigerator magnets have been used to make them stick over the walls of any homey section.Grab the easy details of the idea here with written instructions and pictorial guide addicted2decorating
Make Your Own Magnetic Pineapple Planters: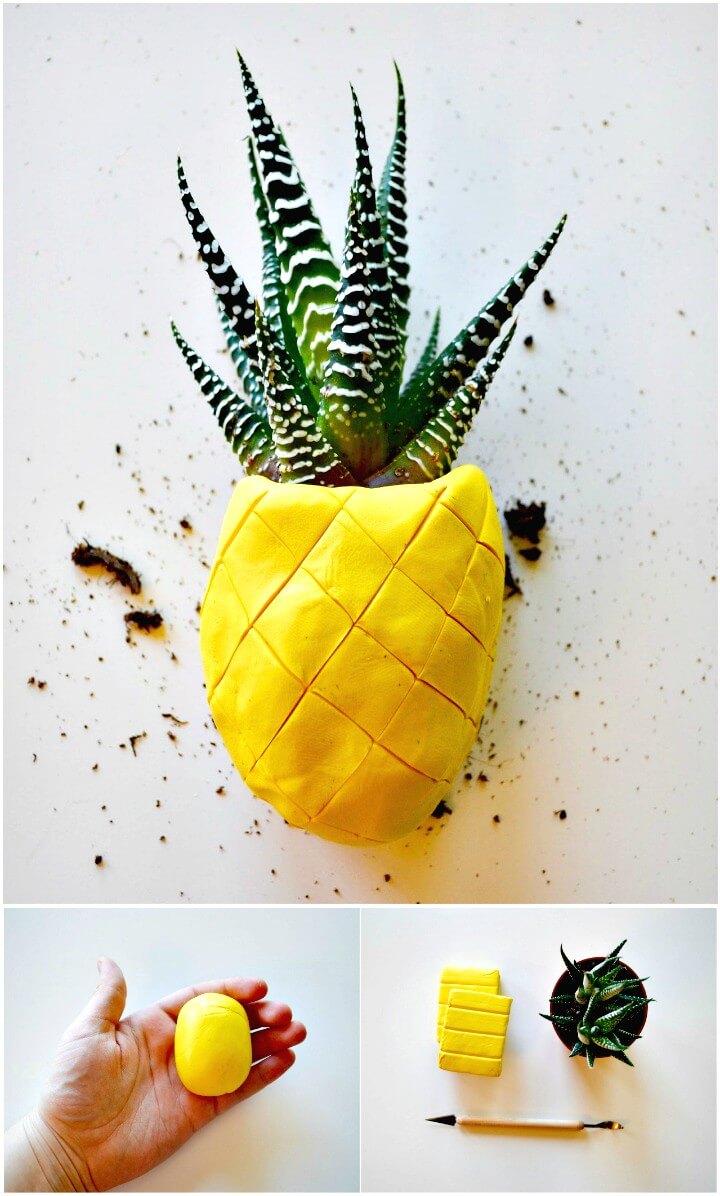 Add some greenery to your interiors and that too in the most exquisite and fun way with this adorable and fun looking pineapple planter. This lovely pineapple planter has been shaped up with a yellow clay with those lovely custom pineapple lines to make it look more realistic in appeal. The aloe vera has been planted in this mini and prettiest planters with the magnets used to hold it over the walls of your living, foyer or any other space of the house.Check out the fully detailed tutorial here camilleiam
DIY Faux Concrete Magnetic Air Plant Hanger: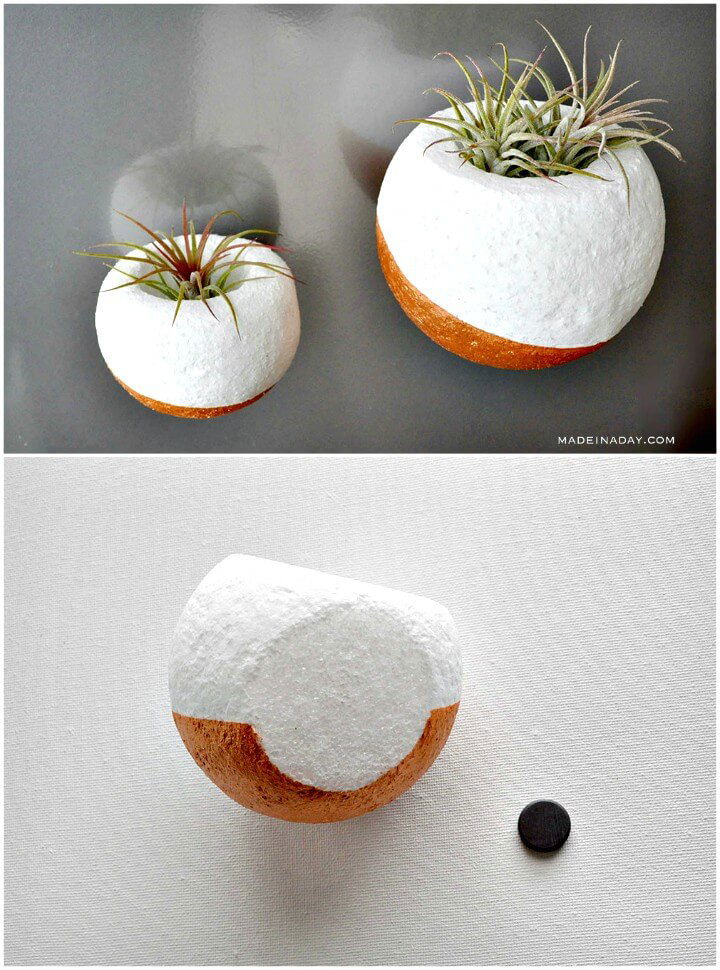 If you want to add some perks of modern style to your home decor then adding these adorable mini round shaped planters are the best idea to update your home style with. Using the foam balls, tea light pockets, some acrylic paint and those tiny cute green planters, these whimsy pieces of the cute planters have been added to the walls using the magnets at the back. Here is the complete idea with all the details and instructions so that you can easily owe these chic styled planter ornaments for your spaces.Details of the complete idea here madeinaday
How To Make Tiny Succulent Planter Magnets: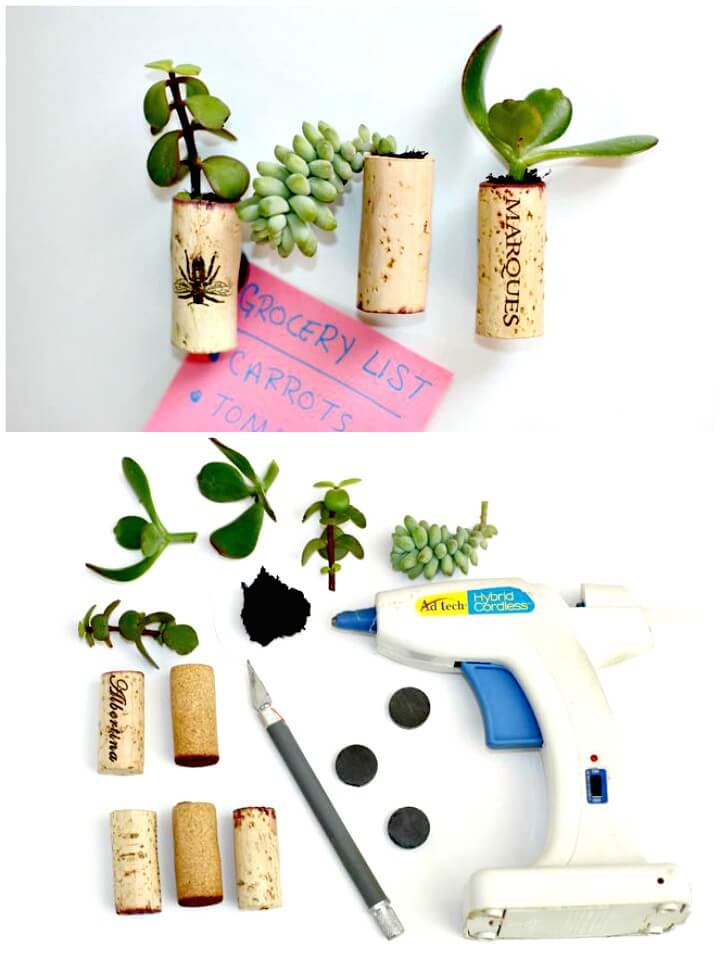 Have you a bunch of the corks lying in your kitchen space? Then its time to use them for the natural boost up of your kitchen decor with. Yes, you can create this totally adorable bunch of utterly cute and gorgeous mini cork succulent planters out of these corks and create the mini planter delights to fill up your walls with the utter beauty and love. Drill the corks, fill them up with soil, add your tiny succulents and magnet them up on your kitchen walls and Tada! Grab the complete tutorial details of the project here mnn
Quick and Easy DIY Magnetic Cork Planters: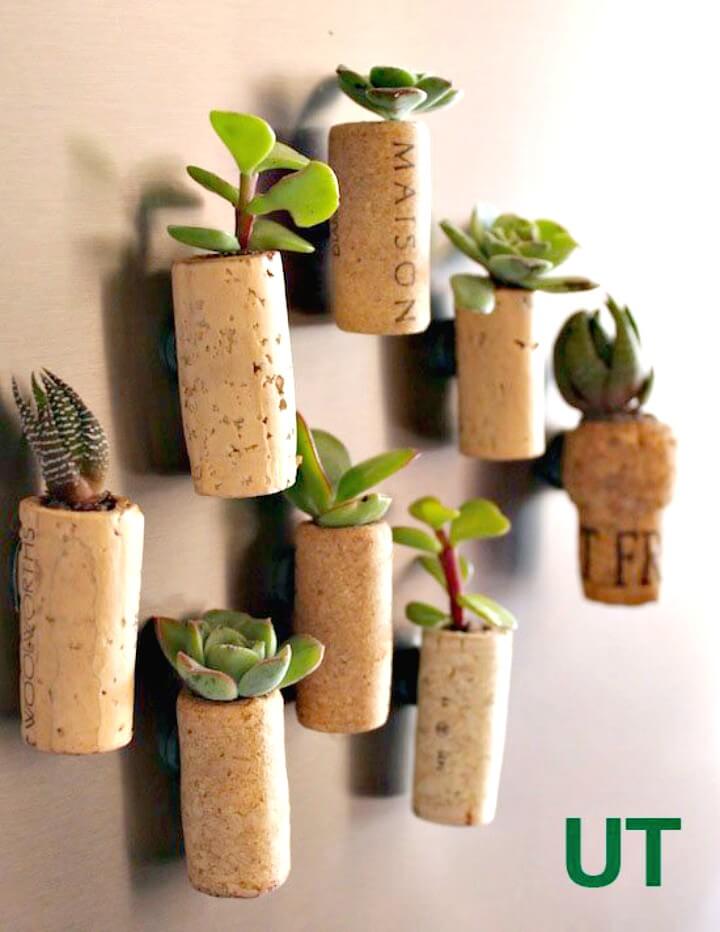 The corks are one of the wastes of the house but you can create some really pretty decor treasures for your homey walls. Here is the perfect idea of creating the perfect cork planters for your walls with just really simple crafting techniques. Drill your corks, soil them up and then add your cute little flowers or planters and they are all ready to be on your walls with those cute little round magnets. Living, hall, entrance or the kitchen you can add oodles of these natural charms to any of your spaces.Catch the complete details of the idea here upcyclethat