Macrame-ing is an excellent art that is mostly used to turn the average, ropes, cords, twine or yarn into brilliant items of decors and need! This is the art of knotting, and there are different knots like the larks head knot, the square knot, the half hitch knot and the flat knot that are used to make adorable creations out of ordinary rope or cord! Macrame plant hangers are a big hit over the internet, and here we are to share more with you that have been discovered with this art, and you will enjoy the new creative and smart macrame stuff that has been shared in this episode of DIY projects! To make you fall in love more with the art of macrame-ing, we have collected here these 40 DIY macrame projects and crafts with patterns that are smart and creative enough to amaze your senses!
Here you will learn how you make fascinating home decors with the art of knotting and also the awesome looking clothing stuff, and you will also learn here that how you can also make some adorable items of furniture too with the art of macrame-in just like the given macrame hanging chair!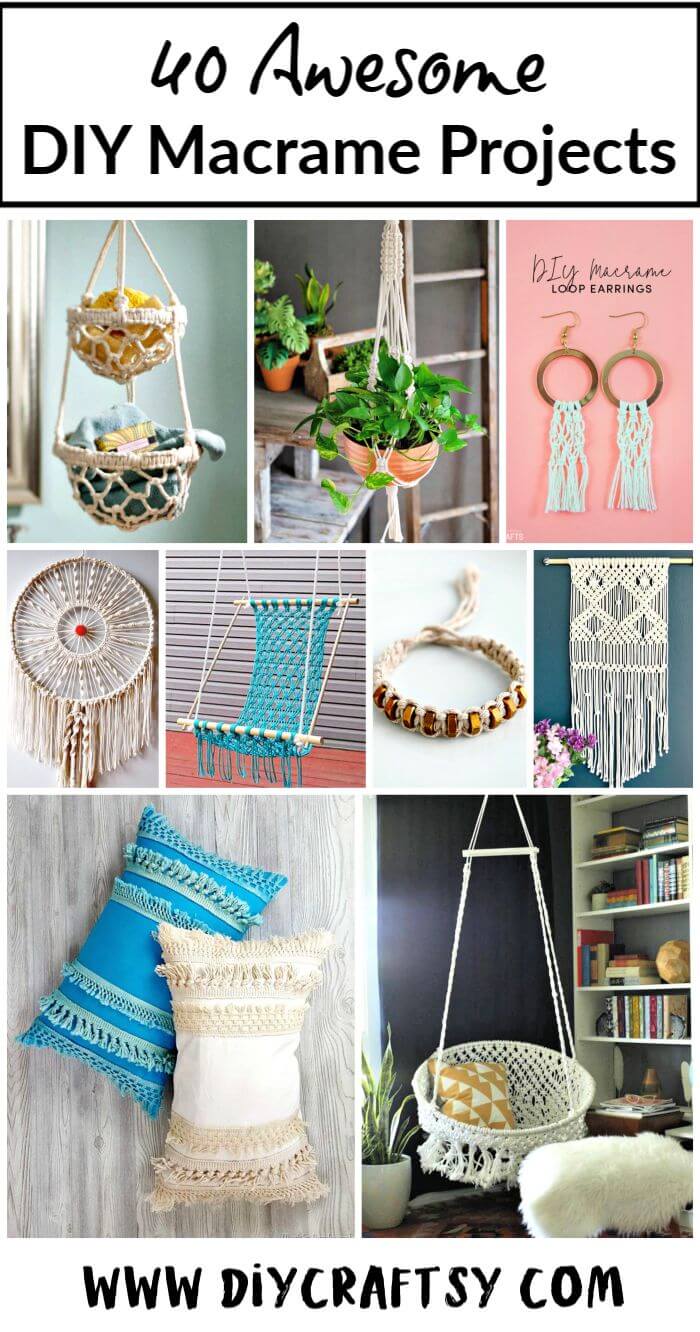 Make the amusing yarn or cord wall hanging custom cord lengths, wood dowel, and some special macrame knots and also win the heart of your friends by making cool macrame necklaces that are super easy to make also! Make even the precious looking folding screens using your art of macrame-ing, make the wooden frame first and then cover it up with macrame yarn work! Get creative with your art of knotting and make awesome looking dreamers for your bedroom walls using the metal hoops in assorted sizes and also bring great natural decor vibes to your window sides and kitchen by hanging some macrame plant hangers there! Just check out some exciting samples given below that will make you a big fan of macrame-ing!
DIY Home Decor Projects:
Make also the cool jewelry items with your art of knotting and make cool necklaces, earrings, and bracelets for fashion enthusiast family members and friends and also do various home decor treatment projects by going with the macrame-ing! You can knot the colorful cords or yarn smartly to make some awesome looking laces that can be enlarged to create a bright home window or door curtains and next you can also use them to decorate your other clothing stuff like they can be used as lace trims to your pillows and even to your table runners! Check out some interesting DIY macrame projects given below in the list!
Make also the great looking garlands by threading the macrame lace onto a piece of wire or rope and also put the impressive looking mini aquariums, fish bowls, balloons and other items of decor in the macrame hangers to make brilliant pendant home decors for your spaces! Check out some more macrame projects by browsing the entire list and do browse the respective attached links to reach to full free guides, visual instructions, and step-by-step tutorials!
Modern DIY Mini Macrame Wall Hanging:
Do you know the art of knotting, the macrame-ing? If yes, then you can do some amazing projects with your macrame-ing experience and skills and making this cool wall hanging is one of them! Just go with a single simple knot and turn the rope or twine into a beautiful wall hanging that will boost the wall decors! Here all you need a wooden dowel and some rope to duplicate this macrame wall hanging! Full project instructions here aprettyfix
Pretty DIY Roped Macrame Necklace:
Make also cool pieces of jewelry using the art of macrame-ing, and hence you can also boost your fashion with the art of knotting! You can take a better start by making this given cool rope macrame necklace that is super beautiful to look at! Here all you need six pieces of colorful cording, metal chain and a parrot hook to make this rope necklace! Full project instructions and tutorial here apairandasparediy
Wonderful DIY Macrame Folding Screen: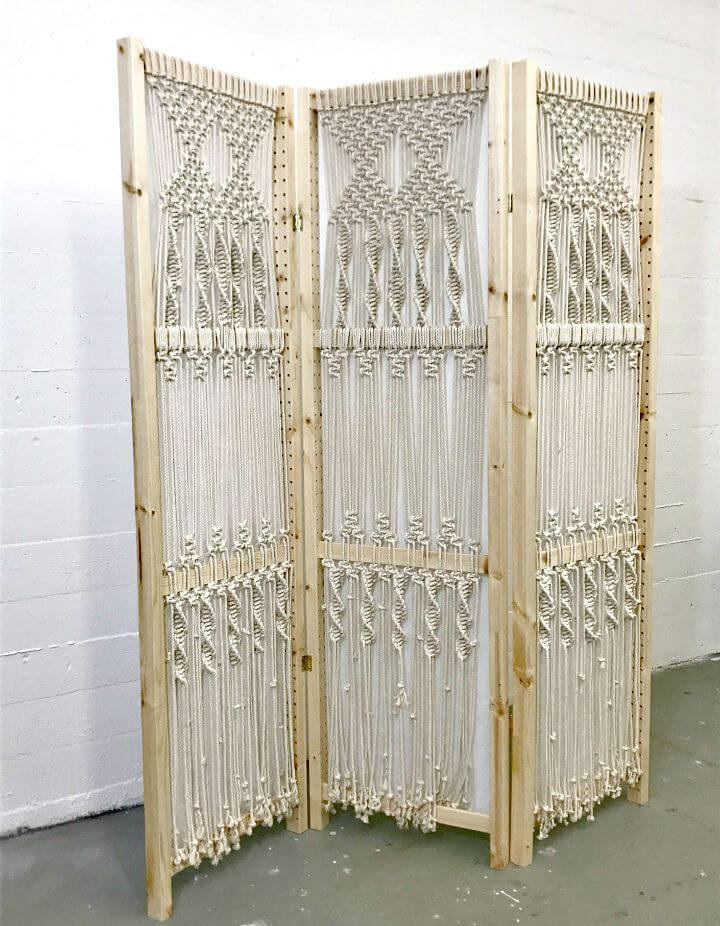 Do also some amazing interior home improvements using the art of macrame-ing! You will be amazed to see that you can also fill the wooden frames by knotting the rope and twine across the wooden cross supports or beams and hence can make excellent functional stuff at home! Take a great start by making this cool macrame folding screen that is super beautiful to look at and will help to bring some privacy in any room and will rock as a room divider! Full project instructions here myfrenchtwist
How To Make Macrame Dreamer: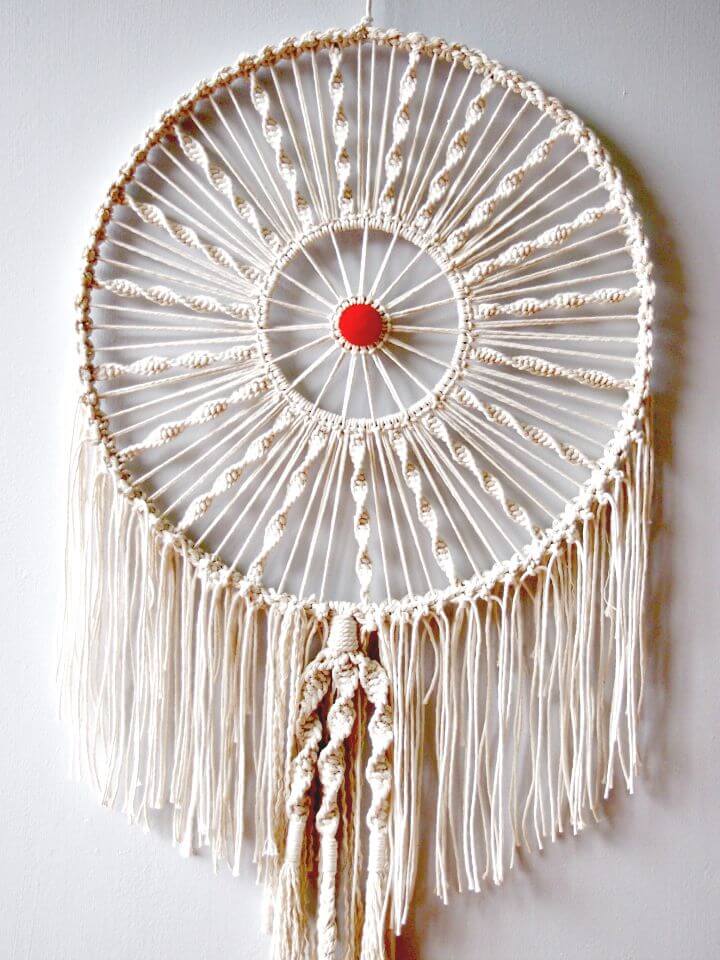 Check out here another big and creative achievement that has been done with the art of knotting! Here an interesting dreamer has been made that will rock on a bedroom wall and is just super beautiful to look at! Just knot the twine beautifully and then tie the macrame strands around a mini metal ring and then keep on knotting and add more rings around the mini ring to make a big dreamer! Don't forget to hang some macrame strands down! Full project tutorial here apairandasparediy
DIY Braided Macrame Plant Holder: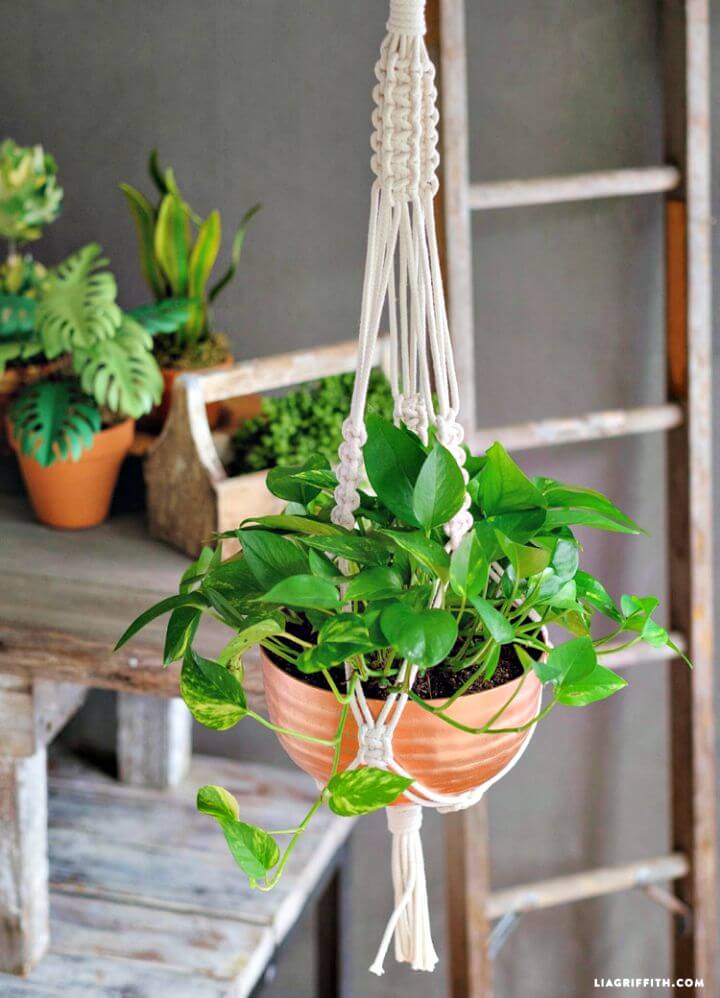 A massive and interesting use of macrame-ing is to make the macrame plant holder that can be hanged anywhere in the home to hold the garden herb or flower pots! This is always a most praised way to bring a touch of natural decors to your spaces and making the macrame plant holders is pretty simple too! Just grab your favorite twine and start knotting it to make macrame holding just like the given one! Full project instructions and tutorial here liagriffith
How to Make Macrame Earrings:
Just make also charming looking pieces of jewelry through the art of macrame-ing! Just check out here these interesting looking macrame earrings that will also make a great gift for a jewelry wearer or a style loving lady! Just grab the gold circle jewelry components, hang the cotton cording macrame hangings to a bottom side of the rings and then finish the earrings with ear hooks! Full project tutorial here consumercrafts
DIY Macrame Square Knot Bracelet: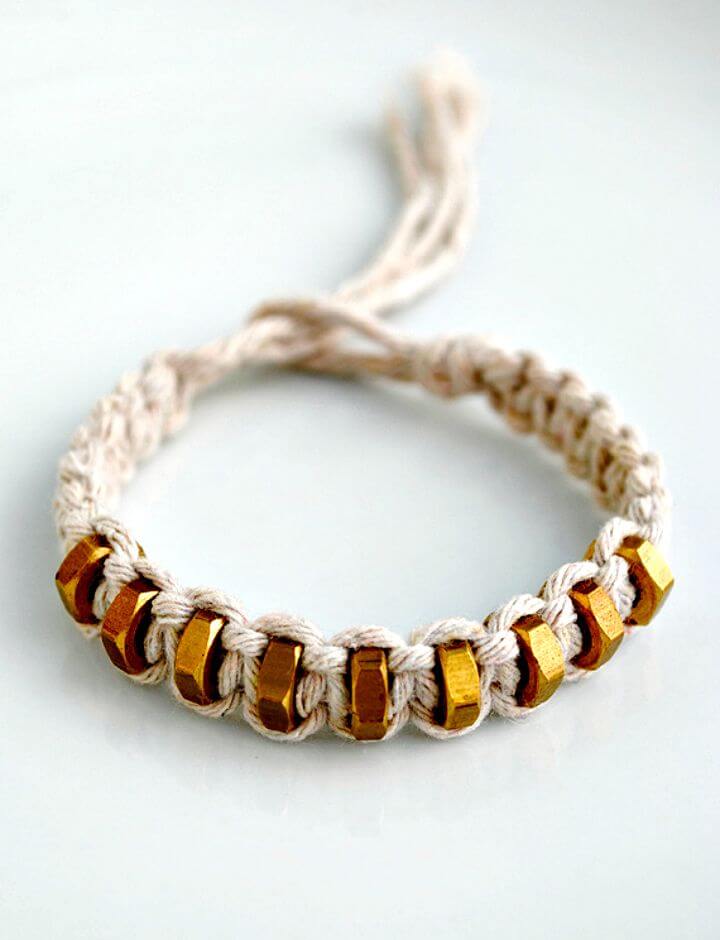 Check out here another interesting macrame craft that will definitely hold your attention! This is here the macrame square knot bracelet that has been done to rock and inspire! Here all you need is to thread the hexagonal brass nuts on the twine or rope and next you can secure them in place using custom knots like a square knot and can make a perfect macrame bracelet that will definitely go enticing to eyes! Full project tutorial here minieco
Beautiful DIY Macrame Fringe Trim Pillow: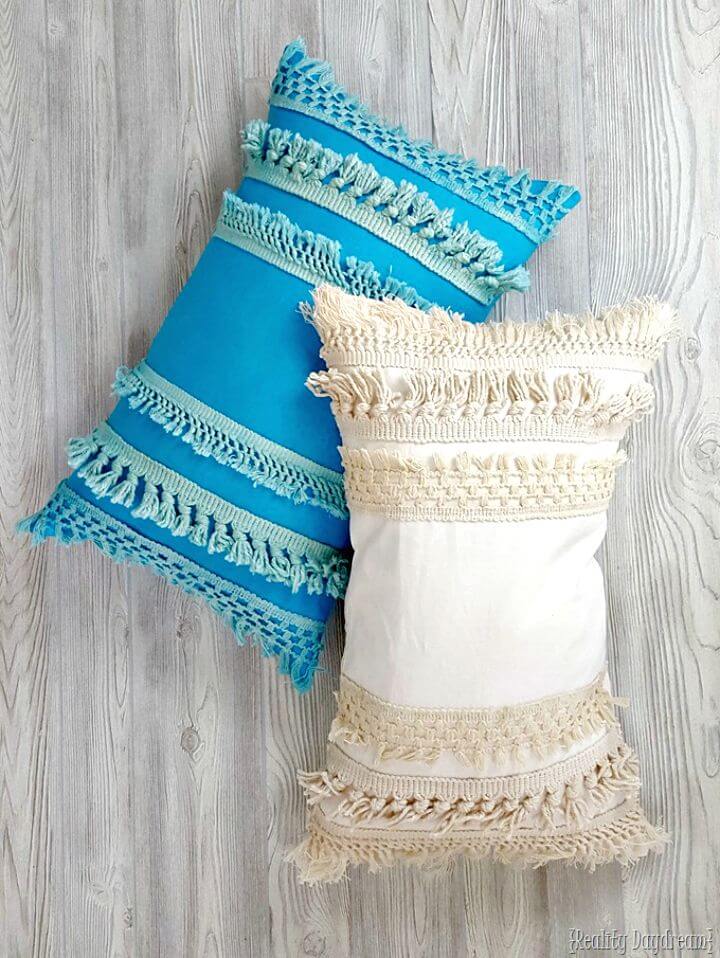 You can also do amazing decorative makeovers of the custom of your items of interest and need using the art of knotting! Yes, you can make custom fringed trims by knotting the rope or twine smartly and those accent trims can be used to decorate various of your items of interest like the pillows! Just have a look at these macrame fringe trim pillows that are super beautiful to look at! Grab the full free instructions from here realitydaydream
Make Macrame Shower Curtain:
This just not ends here, you can also transform the normal rope or twin to accent trims, laces, and tassels that can be used to for various different decorative treatments of your clothing stuff! Just have a look at these great looking macrame shower curtains that are super beautiful to look at due to being macrame laced! Just check out there how to make this macrame curtain lace abeautifulmess
Adorable DIY Hanging Macrame Chair:
Not only for decors, but you can also make functional and durable items of furniture too with the art of macrame-ing and an interesting sample here is this hanging macrame chair that would make a perfect reading nook and is super beautiful due to being breezy and lacey! Here tabs have been removed from an old metallic chair and only the metallic hoop style backrest have been covered nicely with the macrame lace and hence it makes a perfect hanging macrame chair! Full project instructions and tutorial here classyclutter
DIY Stunning Macrame Hanging Vase:
You can also make the custom macrame hangings at home or the plant hangers at home using the twine and your art of knotting that will definitely help to bring great visual details and green garden vibes to your home! Just check out here the stunning macrame hanging vase that is made of a globe style glass jar and is really beautiful! Grab the full project instructions and tutorial from here crafts.tutsplus
Cute DIY Hanging Macrame Fish Bowl:
Not only to hold the planters, but you can also make the macrame hangers to hold the fishbowl that would be another great and decent way to give a visual boost to any interior or indoor! Just knot beautifully your favorite colored cord and then just make it hold a fish bowl! Full project instructions and tutorial guides are here lovegrowswild
Make Your Own Macrame Necklace: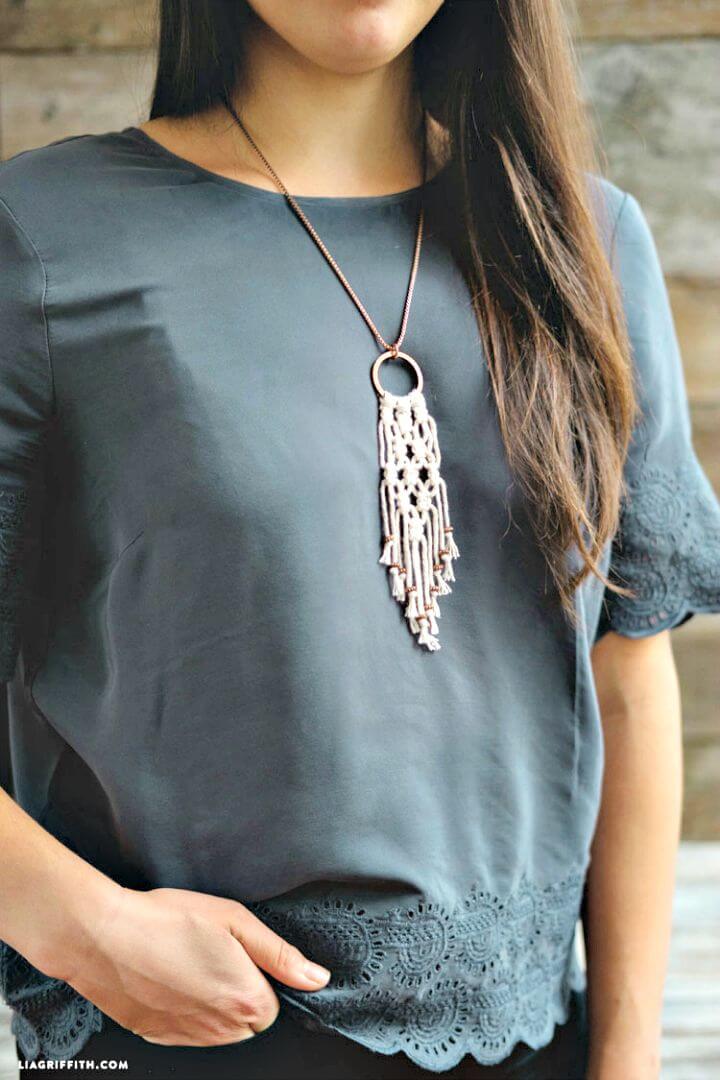 The art of macrame-ing is really life-changing and you can do various crafting achievement with this art if you are genius enough in your imaginations! Just make fabulous looking pieces of jewelry at home using your art of macrame-ing and also give them as sweet gifts to friends! A great sample here is this very beautiful looking macrame necklace that has been made to inspire and is really beautiful to look at! Just grab a jewelry ring and turn it into a beautiful looking necklace pendant by adding a cool looking macrame-ing hanging and then just finish it by adding the necklace chain! Full project tutorial here liagriffith
Quick DIY Dyed Macrame Wall Hanging:
If you are majorly concerned with the interior wall decors then you can make fabulous looking pieces of wall art at home using the art of macrame-ing! Just make the handsome looking and colorful macrame hangings for your interior walls and let them accentuate your interior walls! Just grab your cord and a wooden dowel and attach your cord to wooden dowel through larks head knot and next just go with the square knot and make the rest of macrame wall hanging, dip dye and that's it! Full tutorial here persialou
Adorable DIY Macrame Feather Wreath:
You can really get creative with your art of knotting and can make different objects and items with it you are inspired of which! Here the sweet looking feathers have been made by knotting the twine beautiful and smartly which has then been hanged around a hoop to make a fabulous macrame feather wreath! Again a great macrame home decor project to do at home! Full project instructions here craftberrybush
DIY Macrame Light Bulb Hanger:
It is a great idea to reuse the fused light bulbs to make some innovative kind of stuff and decors and here a brilliant mini aquarium has been made out of an old light bulb that is really looking great and outstanding! Finally, this light bulb aquarium has been hanged aloft through a macrame hanger and hence fabulous home decor centerpiece has been made that is super beautiful to look at! Full project instructions and tutorial here
DIY Macrame Wall Hanging for Beginners: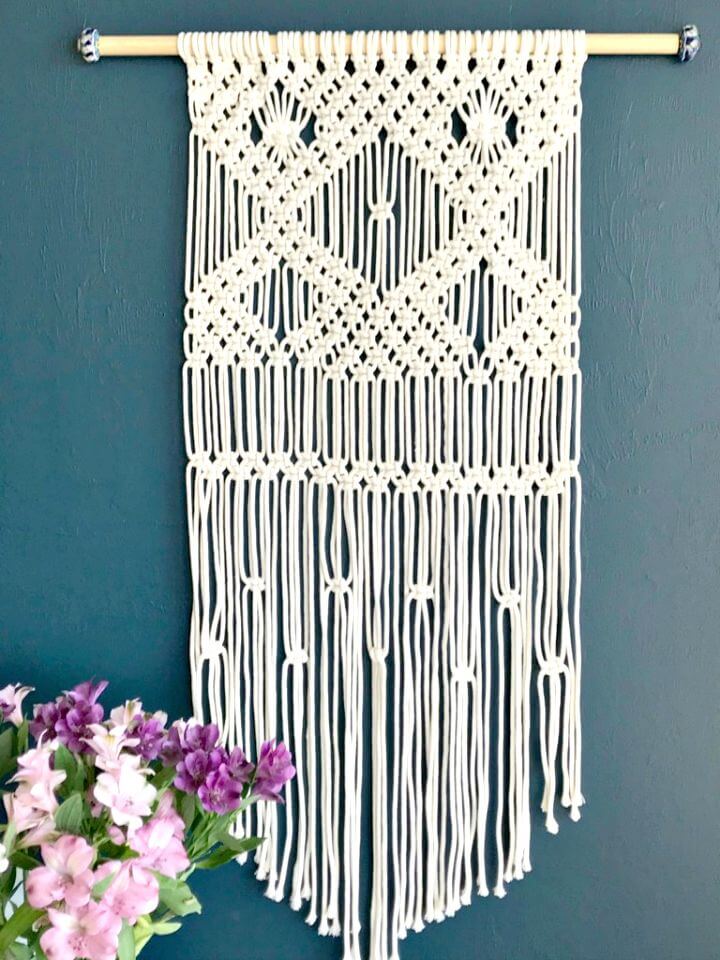 If you are dedicated beginner to the art of macrame-ing then you can try making this lovely macrame wall hanging that will definitely bring great visual details to an interior wall that is looking boring or less attractive! Here again, you need a wooden dowel your favorite rope or cording to make this macrame wall hanging! Just attach the cord to wooden dowel through larks head knot and then go with custom knots to make the hanging! Grab the full project tutorial and visual instructions from here myfrenchtwist
DIY Mini Macrame Plant Hangers:
If you are majorly concerned about boosting your home decors by bringing some great natural decor vibes to your spaces then using the mini macrame plant hangers would be a great idea! Just check out here some more brilliant and enticing looking mini plant hangers that are looking fab and beautiful and will definitely rock any of your space or home interior! Here these mini macrame plant hangers are made of neon cords! Full project instructions and tutorial here thinkmakeshare
Easy to Make Brass Ring Macrame Dream Catcher: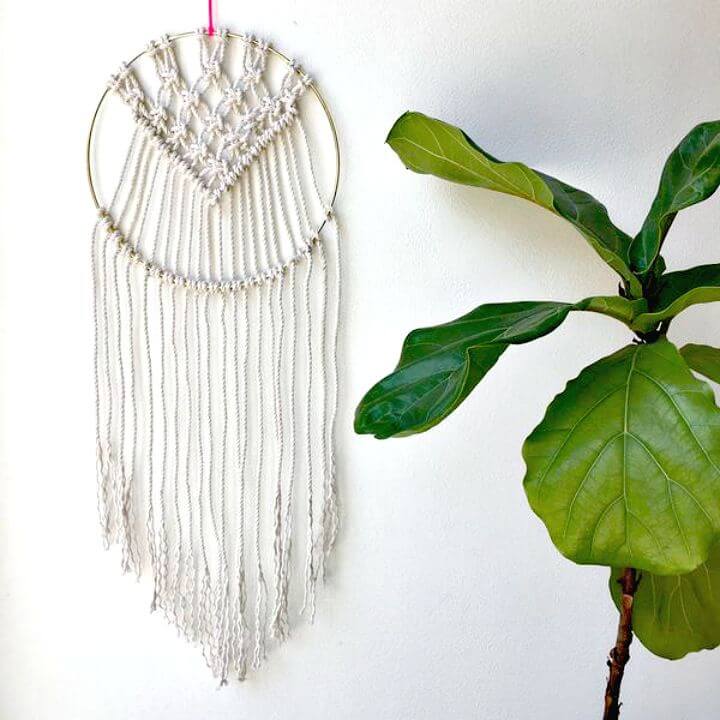 Bring great visual details to your interior home walls by making custom macrame dream catchers at home! Just check out here this sample macrame dream catcher that is made of a brass ring and then the rope has been attached to the brass ring through custom macrame knots and after a lacey patch at the top, the macrame strands flow down gracefully to make a fabulous dream catcher! Full project tutorial and instructions here brooklyncraftcompany
DIY Macrame Hanging Basket:
Also, add amazing storage options to your indoor spaces using the macrame-ing technique! Make the adorable looking hanging baskets at home by knotting the custom cord beautifully and smartly and make fabulous tiered macrame hanging baskets at home! Just have a look at this adorable looking macrame hanging basket that is 2 tiered and will hold your items of need beautifully! Here is how to make this hanging macrame basket! Full project tutorial and step-by-step instructions from here joann
How to Create Macrame Plant Hanger:
Once again a fabulous macrame plant hanger is here to win your heart, what is unique here is that it is made of a white twisted polyester rope, screw hook and with a carabiner and is really cute to look at! Here making this macrame plant hanger would be a big breeze and you will love making this macrame plant hanger even if you are a beginner to the art of macrame-ing! Full project tutorial here hgtv
DIY Two Tire Macrame Plant Hanger:
Grace up your interior home spaces with the double impact of the natural beauty by making the two-tiered macrame plant hangers that will be definitely go enticing to any of your interior home spaces! Just have a look at sample two-tiered macrame plant hanger that is looking much visually attractive! Here is how to make this two-tier macrame plant hanger! Full project instructions here claramaejames
How To Make Macrame Fringe Table Runner:
You can also do amazing macrame projects to decorate the items you already have, here a beautiful table runner has been graced up with the macrame fringe lace patches that have been added to both sides of the table runner for an instant beautiful appeal! Here you also need to do a little needlework to do attach the twine or rope lengths to the border of the table runner! Full project tutorial and visual instructions here drivenbydecor
How To Make Aluminum Chair:
You will definitely like to duplicate this another brilliant macrame project that has been done to rock and inspire! This is here an aluminum macrame chair that comes with colorful yarn backrest and seat that appear in lovely geometrical patterns! Another great macrame project to do at home! Full project instructions here abeautifulmess
Inexpensive DIY Macrame Balloons:
Looking for some perfectly beautiful party decors? If yes, then you will definitely like these hanging macrame balloons that will make perfect hanging decors for a party space! Just make the custom macrame hangers and then let them hold the blown up balloons and that's it! The colorful hanging macrame balloons would just rock any space! Full project instructions and tutorial here youaremyfave
Easy and Simple DIY Macrame Curtain: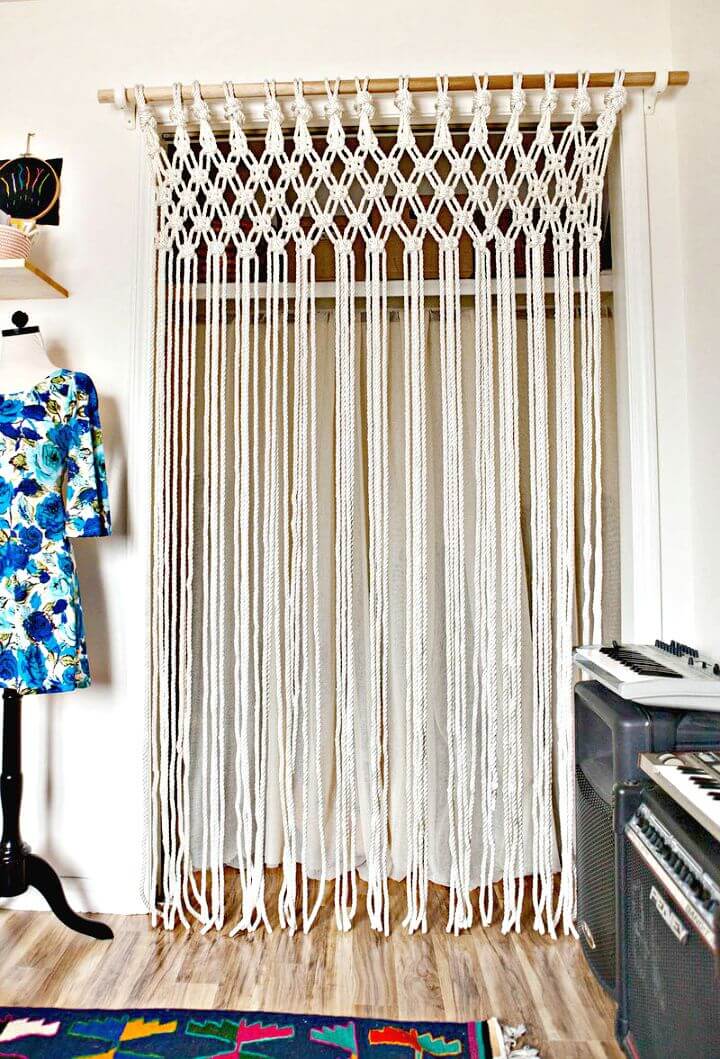 If you know how to make the brilliant macrame wall hangings that will make a perfect boho wall decor then you can also make fab looking macrame curtains at home that would go super beautiful for decorative window treatment projects! Just have a look at this simple DIY macrame curtain that looks nice and adorable and would bring a great bohemian decor touch to any of your space! Full project instructions here abeautifulmess
How To Make Macrame Yarn Garland: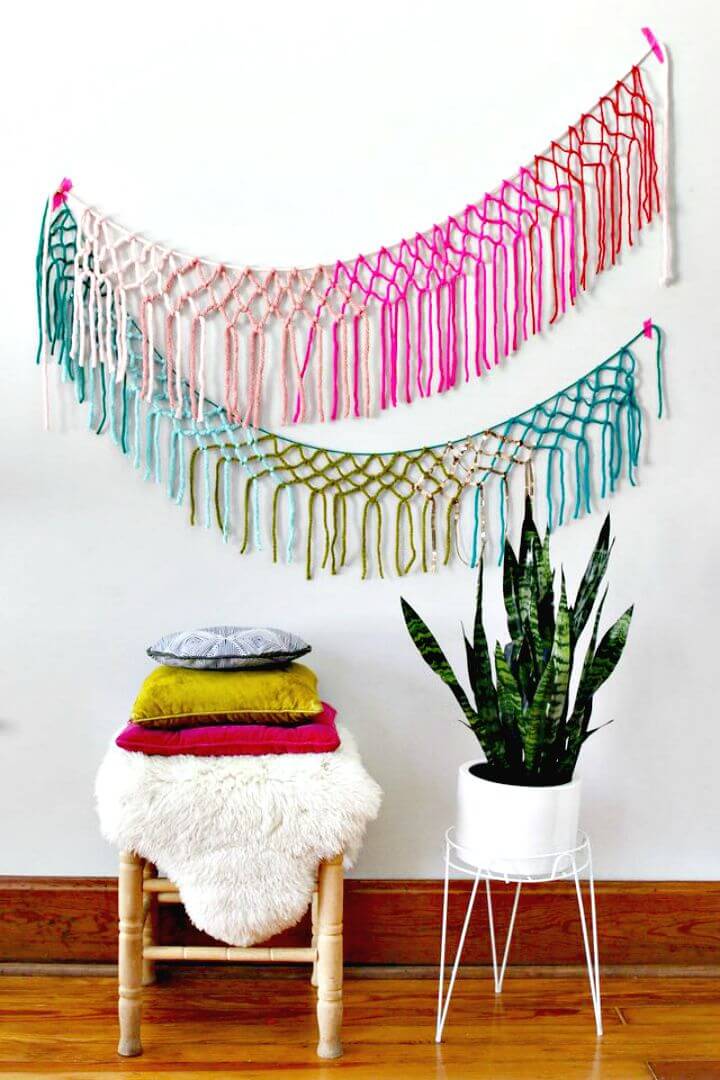 Given an instant visual boost your home decors using the art of knotting! Yes, transform the normal colorful ropes and colorful twine into the fabulous home or party decors just by giving some smart knots! Have a look at this macrame yarn garland that is quick to make even by a beginner! Just add the twine to the rope through larks head knot and then go with custom knots to make the lacey yarn garlands! Full project tutorial here abeautifulmess
DIY Murale En Macrame:
Spruce up your interior wall with a fab bohemian decor touch that will come from this macrame wall hanging that has been done using different custom macrame knots! Just make use of larks head knot to add the twine or yarn onto the wooden dowel and next to keep on knotting the cord to make the fab wall hanging! Grab the full free tutorial and instructions from here dupetitdoux
Make a Macrame Dip-dyed Mobile: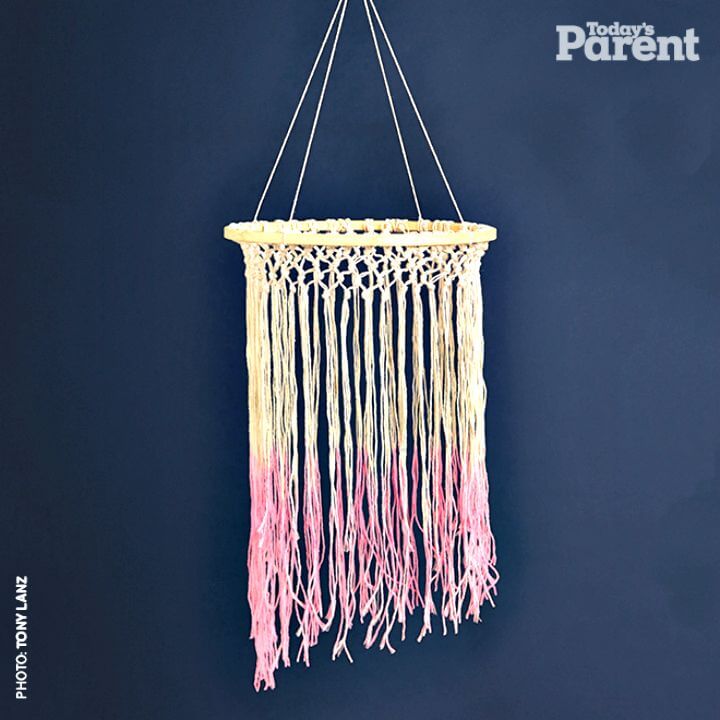 Knot different yarn or twine lengths to all around an embroidery hoop and then knot the hanging yarn strands together to make a fab mobile and next just dip-dye your mobile for a fantastic colorful appeal and that's it! Here you can go with custom dye colors to dip-dye your mobile! Here this mobile will make a dashing hanging decor centerpiece for any of indoor space and is super easy to make! Full project instructions here todaysparent
DIY Macrame Hanging Planter:
Bring also great visual details to your outdoor spaces by hanging cool looking macrame hanging planters they will go must focally stimulating to your eyes and will also bring extra charm and grace to any outdoor! Make the macrame hanger and then make it hold the self-painted polka dotted flower or herb pot and then add metal rings to macrame hanger for easy aloft hanging! Full project tutorial here consumercrafts
Make Macrame Hot Pink Wall Hanging:
Willing to decorate a girl room with some cool handmade wall decors? If yes, then here is what that will make an ideal decor, this is here the macrame hot pink wall hanging that is super adorable to look at and is made of pink paracord knotted beautifully! Here you need to work up in the larks head knot, half hitch knot and in a square knot to duplicate this enticing macrame wall hanging! Full instructions here consumercrafts
DIY Macrame Plant Hanger for First Timers:
If you are a very beginner to the art of macrame-ing then you can boost your experience by making this very cool and simple macrame plant hanger! Work in simple macrame knots and make this lovely macrame plant hanger that will beautifully hold your flower or herb pots for making instant natural decor centerpieces that will hang like a great charm! Full project tutorial and instructions here makeandtakes
Create Macrame Wall Hanging:
Once you learn to make cool yarn wall hangings you can give different variations to them to turn them into more enticing wall art pieces! Just have a look at this double dowel macrame wall hanging that goes much enchanting to eyes due to being painted a little in bright colors! Here wooden beads have also been threaded onto the macrame strands for an instant grace and charm! This is here the super unique macrame wall hanging made ever in the home! Grab the full project instructions and tutorial from here apairandasparediy
Cute DIY Neon Macrame Jars: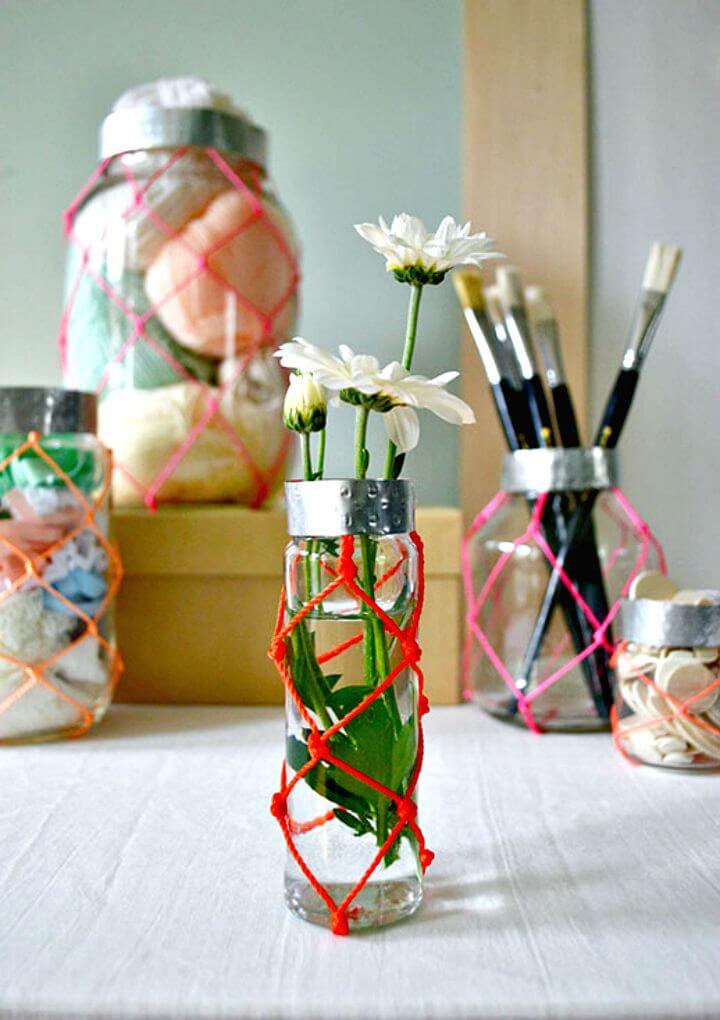 You can do amazing decorative makeovers of your custom items of need and interest using the colorful rope and your art of macrame-ing! Just have a look at these macrame jars that comes wrapped in the neon macrame nets which are purely homemade using the art of knotting! The vibrant shades of neon really bring a bright appeal to the jars and hence they go much focally stimulating! Grab the full project tutorial and instructions from here sugarandcloth
Make Your Own Macrame Bottle Vases:
Step by step Instructions: craftingfingers
DIY Macrame Hanging Vase:
Step by step Instructions: minieco
Unique DIY Macrame Hammock:
Step by step Instructions: hunker
Adorable DIY Macrame A Purse:
Step by step Instructions: thisyearsdozen
Awesome DIY Macrame Hanging:
Step by step Instructions: greenweddingshoes