It is crucial to take a rest while struggling hard to achieve your life goals. Take a review of your efforts, you have made yet, by sitting on these comfy DIY daybed made with plywood, for next-level lounging and reclining. They will be the very first choice when intending to laze and you will also prefer them the most after looking at the price tags. The DIY daybed is highly inexpensive to make with cheap plywood. One daybed will be enough to serve as both a sofa and a bed, so due to being dual-functional. It will always be an appreciated addition a minimalist interior to avoid overcrowding of furniture furnishings.
Well, there are many benefits of using plywood and the most amazing one is the surface dimensions stability that mostly lacks in furniture made of other wood. Just look through these 11 DIY Daybed plans made with Plywood that are useful in more than one ways and will be a smart addition to your outdoor and indoor.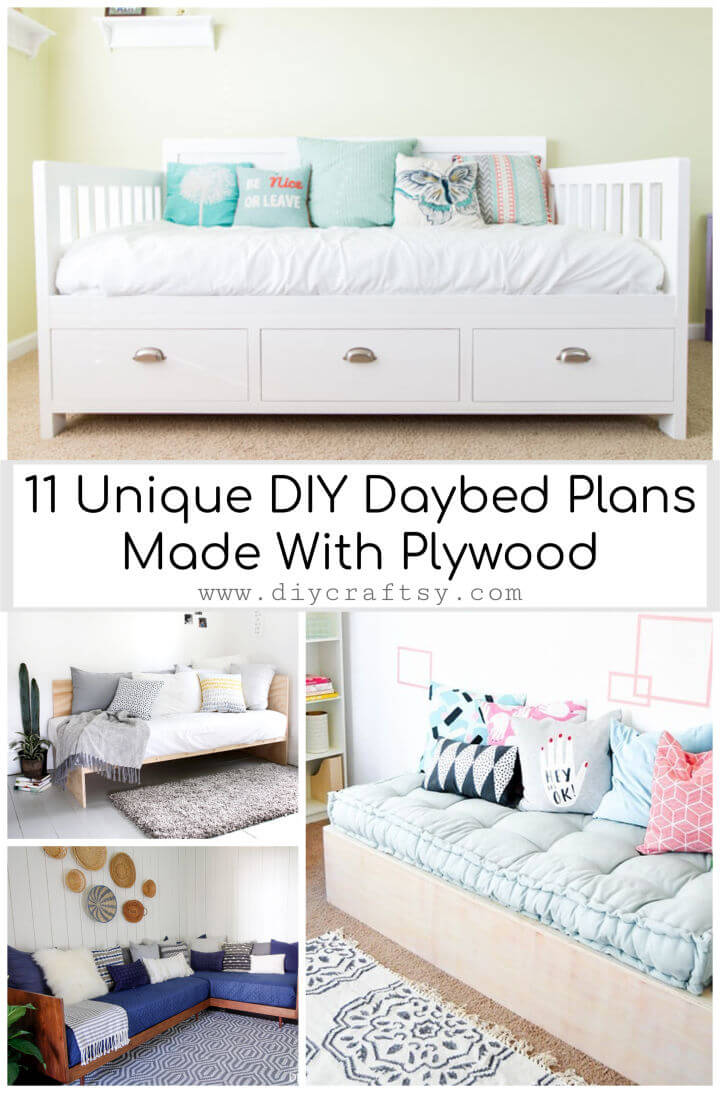 How to make a daybed look like a couch or a sofa?
Here you are provided with lots of options and choices DIY daybed. Choose the plywood daybed in simple design dimensions or prefer the one with ample built-in storage space. Go with a blank wooden daybed or chose the painted ones to bring colors to your spaces or to match the current home decor theme.
All these plywood daybed designs are modern and will fit every skill level. They are much doable for intermediate DIYers and advanced beginners can also add them in their to-do list of DIY projects. If you are lacking a bed space for the overnight guests, then these DIY daybed plans will really work great for you.
Visit the entire selection to see all designs of these DIY Daybed, the ideal comfy platforms for reading, eating, sleeping and relaxing.
How to Build Plywood Daybed:
Plywood has high surface dimensions stability, so always make an ideal choice for building furniture in precise dimensions. Wow, your home audience with this plywood daybed can handle a lot of weight and has beautifully been cushioned.
Grab the simple boards of plywood that you can cut to size to make this plywood daybed. Full instructions here themerrythought
DIY Plywood Mid-Century Modern Daybed:
One more stable furniture creation that you will love to own in your living room. A mid-century modern plywood daybed stands on cool short legs and is stable to handle a lot of weight.
This L-shape daybed will be a glam alternative to a corner sofa or DIY couch that often comes with high price tags. Full instructions here deeplysouthernhome
Make Minimalist Daybed With Storage:
Bring also the modern charm and appeal to your spaces by adding this very modern daybed with storage, will rock in the minimalist interiors.
It will also make a great choice when you need to add storage in a room. It is like a huge wooden box, having a hinged lid. Here is how to make it quickly theproper
DIY Plywood Twin Size Daybed:
It would be super hard to beat this plywood twin size DIY daybed with storage in beauty or features. It comes in precise wood dimensions and is loaded with a number of drawers.
Chic white appeal and 3 peek-a-boo drawers will make it an impactful addition to every living room. Free plans and tutorial here fixthisbuildthat
Build Your Own Plywood Daybed:
Due to having increased stability and accurate dimensions, the plywood is damn easy to cut precisely to any size.
Take the bigger square or rectangular sizes of pallets to build this epic daybed, is guaranteed to impress.
A superior model of the daybed to make with plywood, also paint it for a custom appeal. Details here ahouseinthehills
DIY Storage Daybed With Build-in Shelves:
Declutter also the targeted interiors by adding this storage daybed as it will provide tons of storage space due to built-in shelves.
There are lots of baskets fixed to bottom side slots of this daybed, will nicely and securely hold your things in place. Full how-to instructions here instructables
DIY Mini Plywood Daybed for Cat:
Please also your pets by building stylish and stable daybed for them on your behalf. Finish a rectangular plywood board with short wooden tapered legs, screw in first the metal plates to the bottom side of the plywood to install the legs properly, and that's it.
Add cushion at the end, and a cool gift is ready to go to your cart. Details here hunker
Make Your Own Plywood Outdoor Daybed:
Broad the canvas of your creativity and build this stable DIY outdoor daybed out of plywood. Look at the given beefy design, will surely impress the outdoor seating.
Along with a comfy seat, it also provides the well-built armrests and backrest for comfy lounging and reclining after a busy day. Here is how to build it rainonatinroof
How to Build a Plywood Daybed on Budget:
Let your imaginations run riot and build this hypnotic model of plywood daybed, will win your heart at a very first look.
Here this daybed also comes with headboard and footboards, hence gains an impressive design, will not cost you big. How-to details here thehandmadehome
Adorable DIY Plywood Daybed:
Opt for this miniature plywood daybed, will be a perfect comfy seat for the kids. It has accurate but beefy design dimension, a quite easy to build design even for a beginner.
Grab the cheap plywood sheet plane according to your daybed plan and then put them together and assemble with durable hardware. Details here welshdesignstudio
DIY Plywood Daybed Porch Swing Bench:
Transform your porch into a mini heave with this plywood daybed porch swing bench, has a self-standing swing frame, loaded with lights for a glam appeal.
The whole beauty of this swing daybed comes from the decorative seat back that is a little tough to make and will be precise taking. Full free plans and instructions here whimsyandwood