Clay pots are common materials, but their crafting potential makes them much more than a plant holding pot. Being made of clay, having a hole in the bottom, and the reddish-orange appeal generates endless different ways to recycle, upcycle, and repurpose them. So, explore these 25 DIY clay pot crafts for your home decoration. Paint the terra cotta pots to get them as unique decor for your patio and in the interior design decor. Fix together small and big clay pots to whip up interesting cartoon characters, dolls, and a lot more interesting toys for the kids. To build durable birdfeeders and also arrange them nicely on a wire to make a DIY wreath form to whip up spring and holiday decor wreaths with tons of enchanting greenery.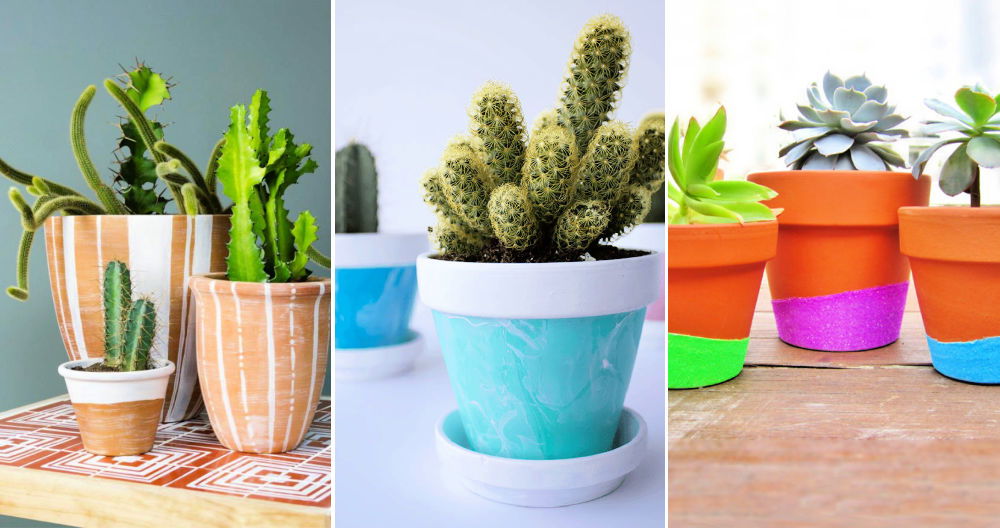 You have to understand the shapes of clay pots before getting them into crafts. Yes, they can be stacked, fitted together, and put together to create the stuff you love like light towers to dolls. Moreover, you can raise the recycling possibilities of them by including saucers in the clay pot crafts game. Yes, the saucers will make lovely caps for the terra cotta pots to make the packed gifts treat gifts, and you can also pile up the terra cotta pots spaced with small and big saucers, to get outstanding accessory and jewelry organizers. The possibilities are just never-ending. Add the pots with faces and also make lovely citronella candles out of them.
1. Dragon Fruit Painted Terra Cotta Pot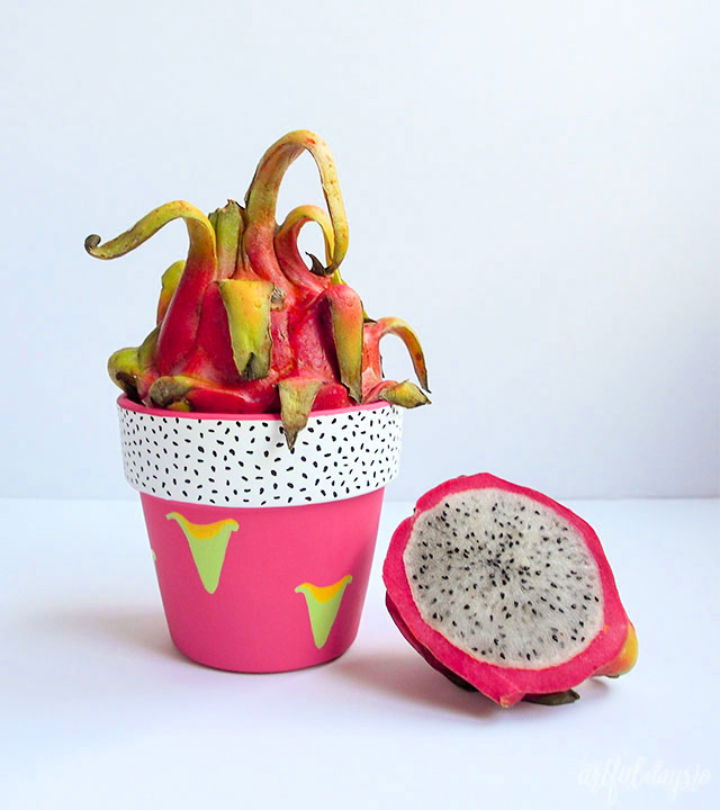 Use paint and create a fruity avatar of your clay pots. Next, add them to your patio as impressive decor centerpieces. The finally painted pot will surely lure a number of views of any space. Get inspired by any fruit while creating this project, and you need terra cotta pots, foam brushes, paint pens, and acrylic paints for this decorative terra cotta pot project. artfuldays
2. Mini Marbled Painted Clay Pot Crafts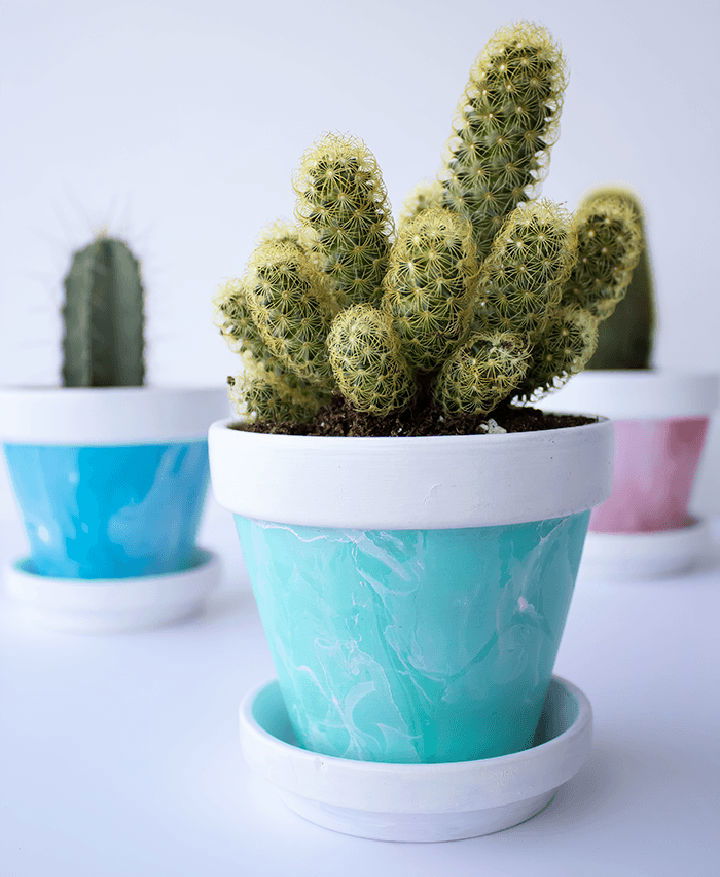 Bring the elegant marble touch to your patio, indoor, or any accent space by adding the marbled mini pots. From succulents to flowers to cactus, grow anything in these pots that is on your list. Place the completed pots in the terracotta saucers for an impressive representation. The project is big fun to do even with friends. You need acrylic paint, white nail polish, acrylic sealer, and mini pots for this project. aprettyfix
3. Painted Face Planters Clay Pots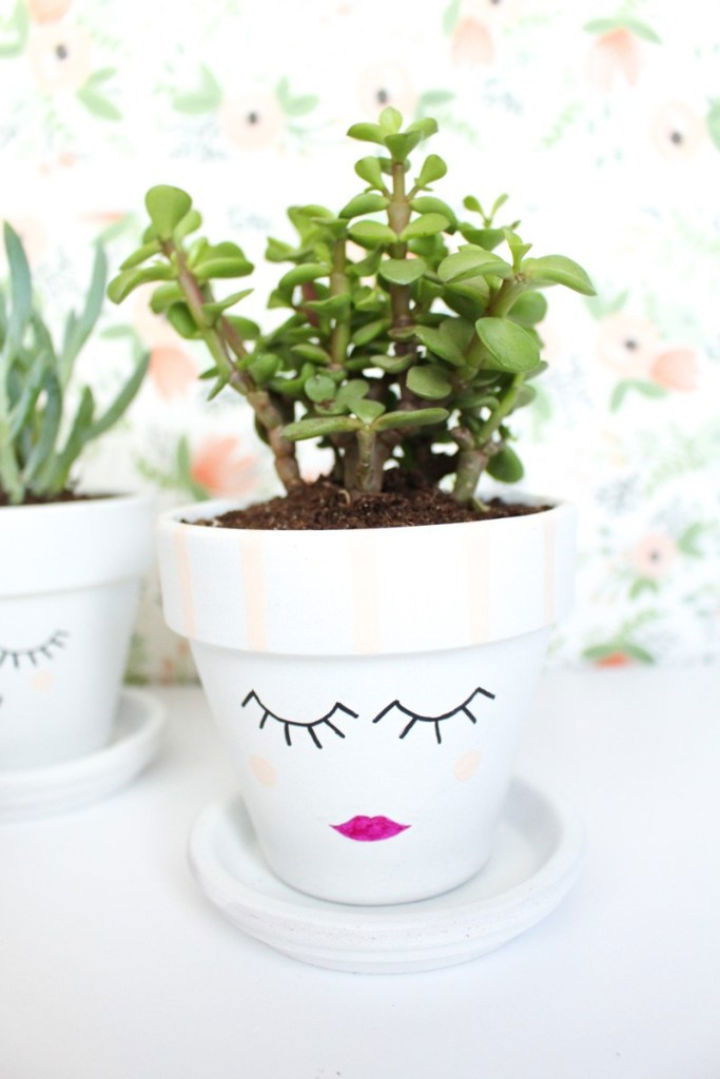 Cast the cuteness and innocence in the surrounding environments of any space by adding these DIY painted face plant pots. A quick and smarter way to upgrade your patio pots that are no more impressive and cute looking. Paint them in white and then drawer some eyes, lips, and nose on them for added cuteness. A bunch of such pots will create a big focal point if put together. goldstandard
4. Neon Glitter Dipped Flower Clay Pots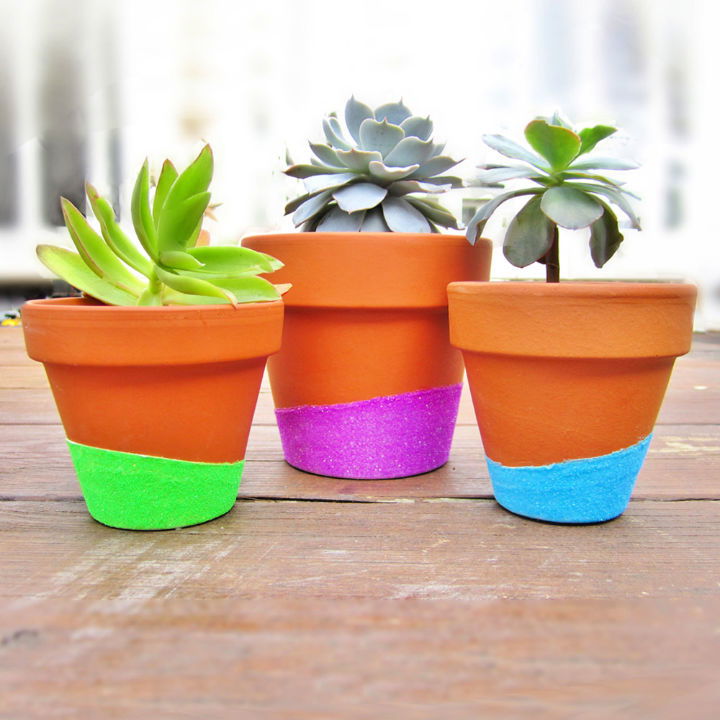 Brighten up any space with the neon elegance of these pots that are elegantly beautiful and heart-winning. This neon dipped miniature flower pot crafts, will make a great gift for a patio or home lover and will be something you will keep on staring all the time. For this crazy colorful makeover of the pots, you need neon iridescent glitter, glittering glue, thick rubber bands, and Kilz Primer or sealer. 365designs
5. Terra Cotta Pot Lighthouse Garden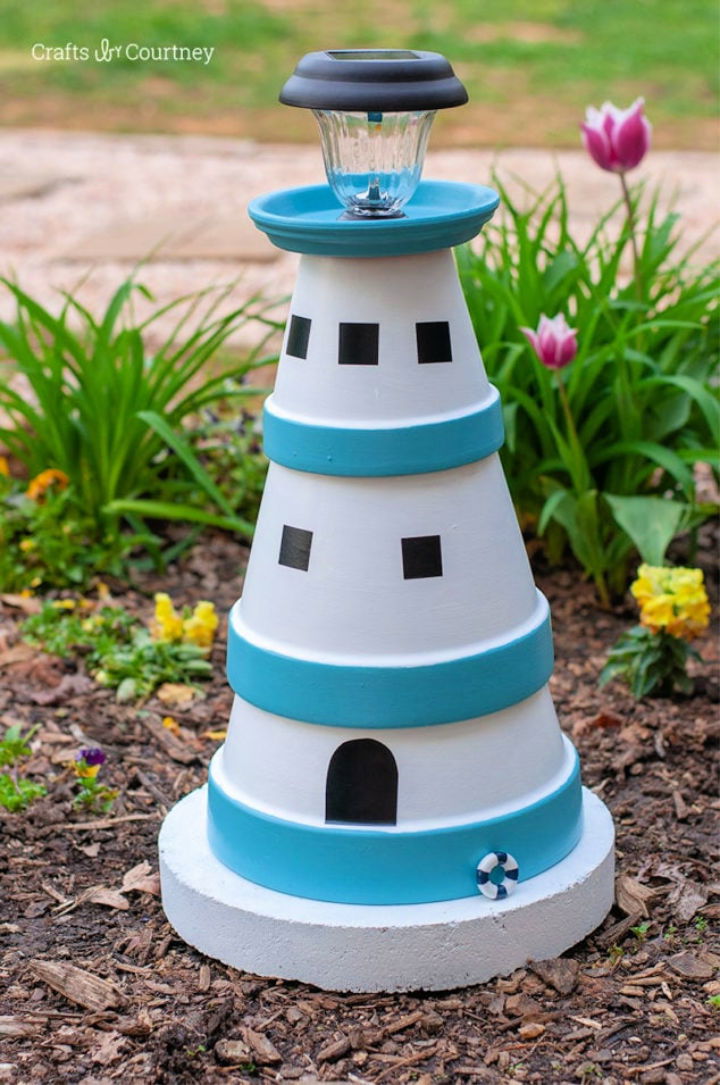 It will all demand you to be a little creative to invent a lot more with the clay pots and saucers. Boot the decor of your garden by building this precious terra cotta car sculpture that also has a driver sitting on the top. Use terra cotta saucers for making wheels, handle and car parts and build the main card body by joining 2 big terra cotta pots in face-to-face arrangements. craftsbycourt
6. Terra Cotta Race Car Garden Sculpture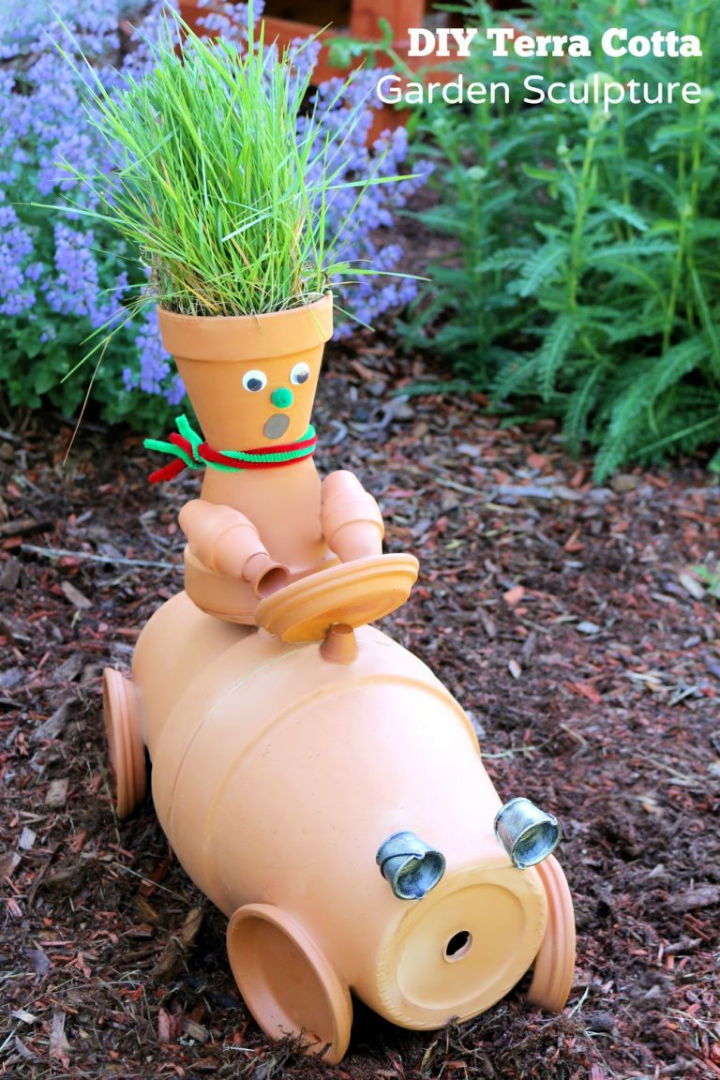 Wishing to carry the best teacher gift when going back to school? Then to build this very beautiful and charming clay pot apple teacher gift. Paint the terra cotta pot and saucer in apple color and fill the pot with your favorite treats. Use green felt to cut out apple leaves and finally assemble all using hot glue. It a one of the cutest handmade Teacher Appreciation Gift to make at home. lifesabargain
7. DIY Terra-Cotta Apple
Kids will love to be around this fascinating clay pot light decor, the precious lighthouse or tower will whip up super quickly. You need clay pots in various sizes, solar light, E6000 glue, paintbrush, and paint in your own choice of colors to whip up this very beautiful light decor, which will complete super quickly. You need 3 clay cotta pots in 3 different sizes for this project. hgtv
8. DIY Terra Cotta Nativity
Make also very adorable human sculptures and statues out of clay pots, will surely make impressive handmade gifts. Start by making this nativity, cute enough to make you look at it twice or again and again. A handful of supplies is required for this precious pot decoration with clay. You need small clay cotta pots, wood knobs, wooden beads, felt in colors of choice, paint, glue, and sharpie for this project. housewifeecle
9. Terra Cotta Pots Succulent Wreath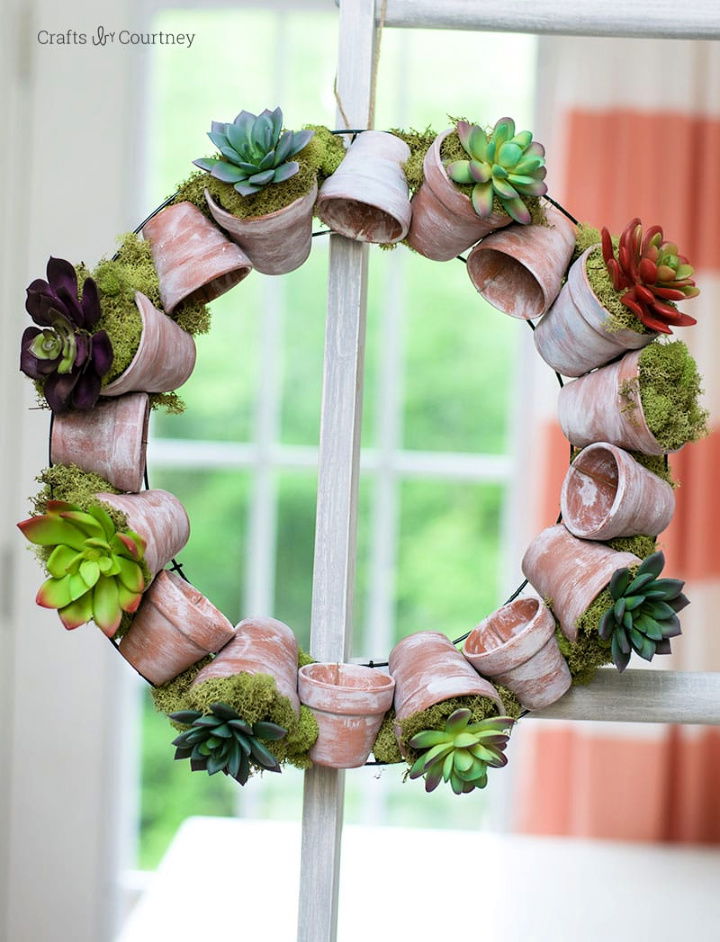 Give a warm welcome to the spring season by crafting this very adorable and fascinating decor, will be a big love of all greenery lovers. Hang this wreath on your front door will surely dazzle the audience. You need a wire wreath foam, moss, succulents, foam balls, floral pins, chalky finish paint, clay pots, and floral wire to craft this very adorable succulent wreath. craftsbycourt
10. Clay Pot Jewelry Holder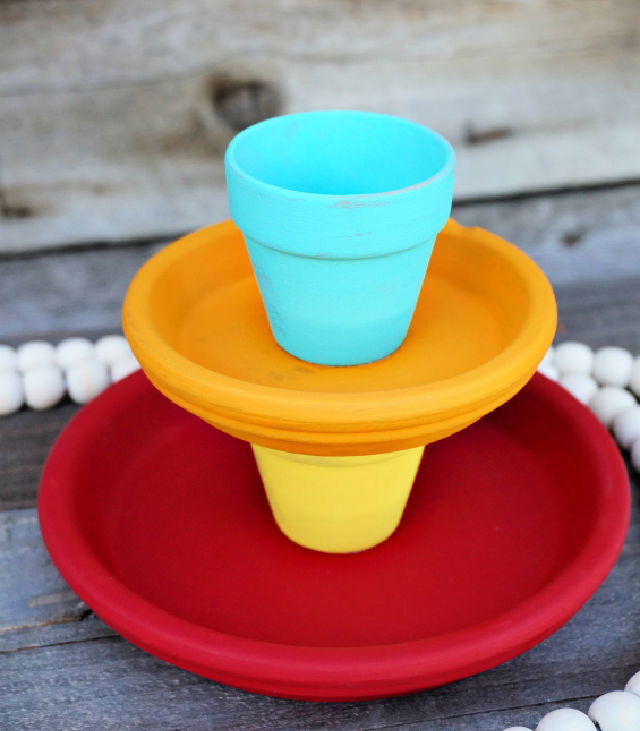 Plan the clay pot crafts to organize your things and accessories too. Make this preciously colorful decorative clay pots jewelry holder out of clay pots and saucers, which will complete super quickly. Just put together the clay pots of different sizes spaced up with the different sizes of clay pots, to build this enchanting jewelry organizer. Paint each pot and saucer in colors of choice. momalways
11. Fingerprint Flowerpot Craft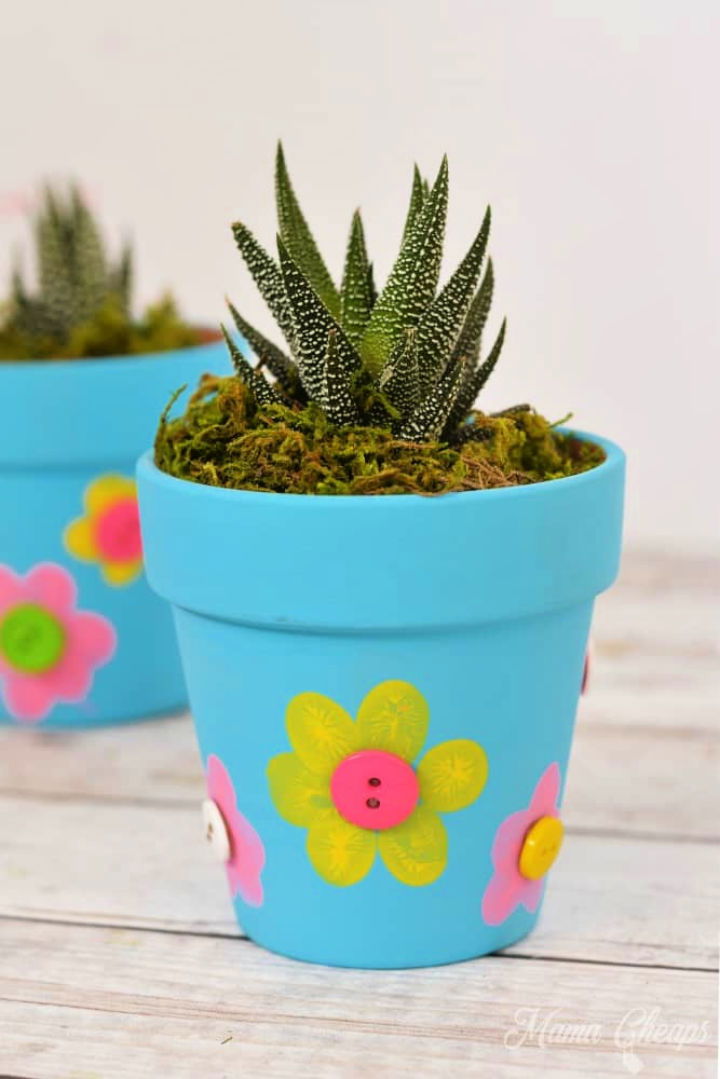 Paint is always a great option to upgrade your old and boring terra cotta pots that are no longer looking impressive on the patio. So, Paint the clay pots with hands and fingers too to create a gorgeous beautiful appeal of them. Paint the flowers on the pots using fingertips and paint and then finish them up with the button centers creating beautiful flower prints. mamacheaps
12. DIY Terra Cotta Pot Frogs
Make the cutest toys and miniature figurines also out of the terra cotta pots will be the sweetest gifts for the little kids at home. They can be used for your home decor in an endless different way too. Make this frog using mini decorative clay pots, green craft paint, green-colored craft foam, large wiggle eyes, glue gun, paintbrush, paper plate, and a black sharpie. A one of the best terra cotta pot to whip up. gluedtomycraft
13. Clay Minimal Face Planter
This terra cotta planter is much like a piece of art than just being a planter for your patio. The project involves doing a little painting and drawing work using clay. Just roll up the clay and make long lines, adhere them on the pot, making a minimal art face, and create a gorgeous terra cotta pot art. You need a pack of polymer clay and permanent waterproof adhesive for this excellent makeover of the pot. blissmakes
14. Minion Terra Cotta Pots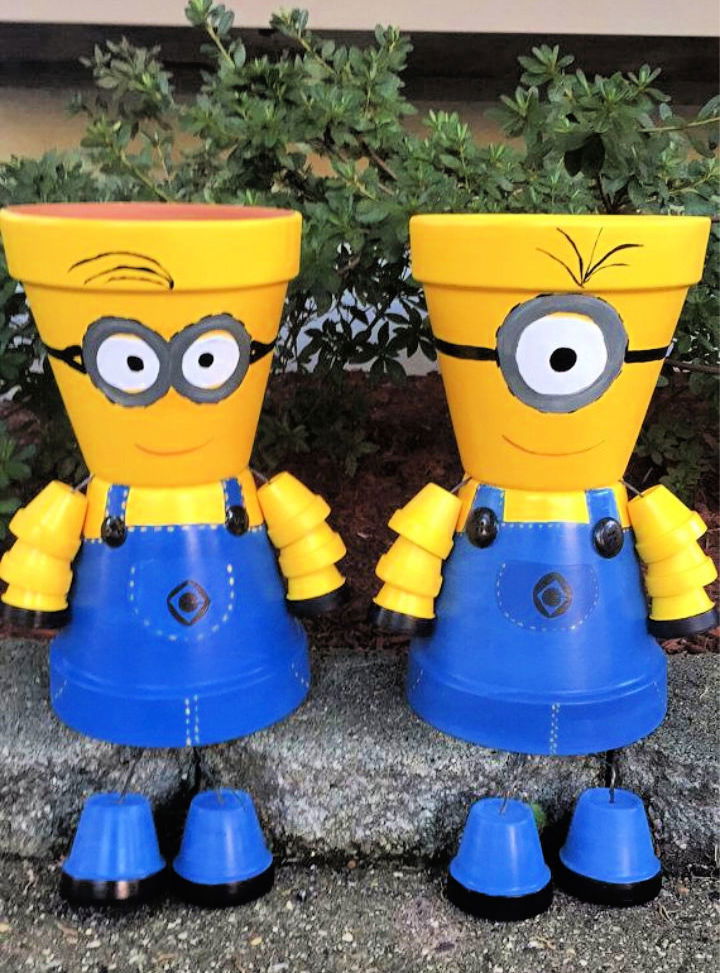 The minions from the "Despicable Me" are the most loved character of the kids. So, try to make the minion figurines or sculptures with the terra cotta pots, sure to get praised by all. Get inspired by the given samples that are amazingly cute, colorful, and great looking. You will surely fall in love with these cutest clay pot art and characters, will make cute toys for kids. involvery
15. Clay Pot and Saucer Bird Feeder
One more amazing clay pot decoration, the brilliant birdfeeder, will cause the birds to come to your place for daily feeding. You need a terra cotta pot and two saucers to whip it up. Make holes in the bottom sides of the terra cotta pot and then place it in the bigger saucer, so the bird seeds will keep on coming out as the birds feed them. Use the hooks and durable rope to hang it up in the garden. hometalk
16. Terra Cotta Gingerbread Man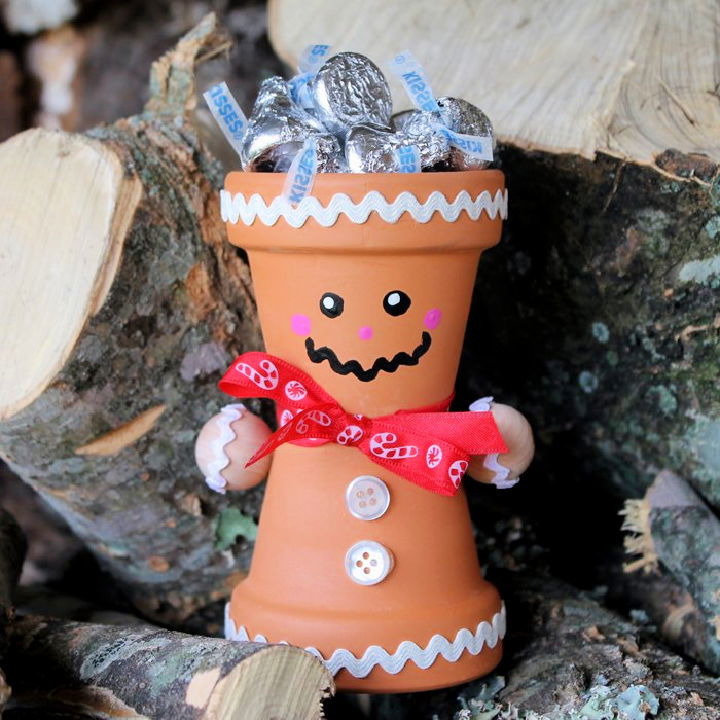 Rock your holiday season by making expensive looking gifts inexpensively at home. Start by putting together this terra cotta gingerbread man, will be something quite impressive and cute to give to your kids. Fill this gingerbread man with the candies and adorn with button and accent ribbon wrap. Use markers in different colors to make eyes, lips, and cheeks. thecountrychic
17. Santa Pants Poinsettia Flower Pots
Make precious festival decor also out of the recycled terra cotta pots. Start by making these cute flower pot crafts, will be loved dearly by all the homey persons and kids, and are pretty quick to whip up. Make use of paint and other accents to get these planters in accordance with any festival, will make a pleasing handmade gift for a friend too. You need clay pots with bases, paint, ribbon, glue, white batting, and adhesive foam sheet for this project. club chicacircle
18. Marbled Terra Cotta Pots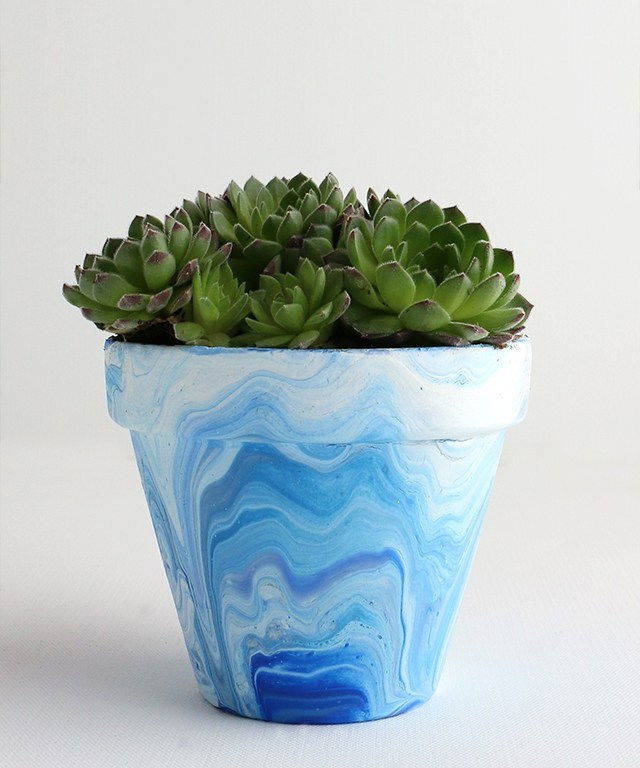 The marble effect is very hot in the modern interior design decor, so fancy up your interiors with these marbled terra cotta pots will be easier to craft. Getting the pots marbleized will be a smarter way to update them also. You actually need to do a decorative makeover of a pot sing acrylic paint, varnish or clear spray paint, and plastic drop cloth, etc.. alanajonesmann
19. Terra Cotta Pot Unicorn Craft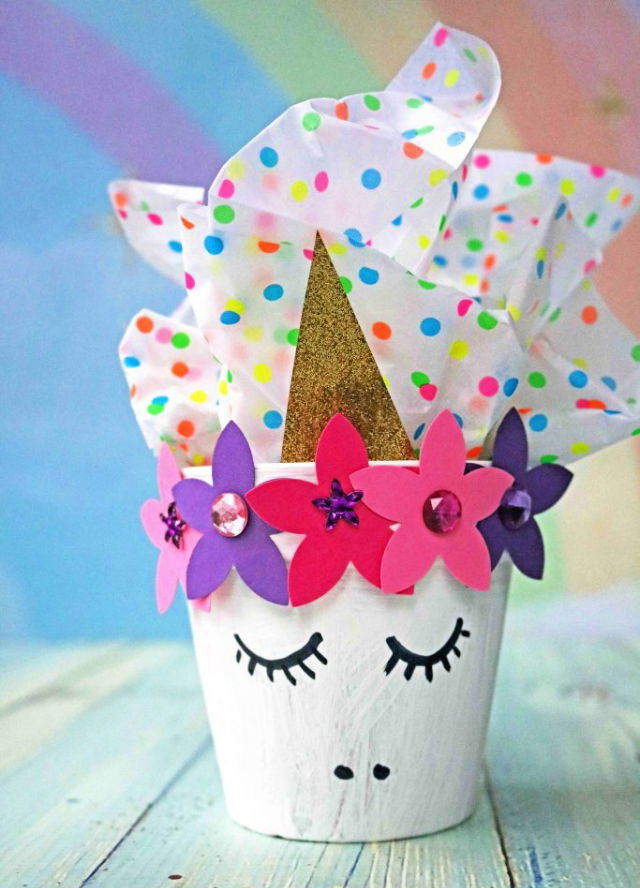 Bring the unicorns to your home and patio decor by whipping up these terracotta unicorn planters. Use the materials of choice to create a unicorn avatar of the pots. Use the white paint, colored cardstock, scrapbook paper, black sharpie, tissue papers, and small rhinestones to transform the clay pots into lovely looking unicorns. Doing this project will be a big pleasure as it involves fun attachments, cuttings, and painting. gluedtomycraft
20. Clay Pot House Number Display
Create a brilliant display of your house number using this awesome terracotta pot hack, will add a great curb appeal too. The makeover involves giving a white base paint coat to your terracotta pot and then to adhere to the numbers and stickers on the pot. Give the second paint coat to the pot and then remove the stickers revealing the white numbers. A fab terracotta hack. hgtv
21. Drip-paint Clay Pot
Whip up the colorful dip-paint pots at home, will fancy up your patio, and any indoor space. Use the paint and drop cloth to paint the pots, will go enticing to every patio, and will not take that too long to be in your hands. You must be a beginner to do this project, and even little kids can do this project with great ease. An easy and quick way to upgrade your boring patio pots. diynetwork
22. Apple Clay Pots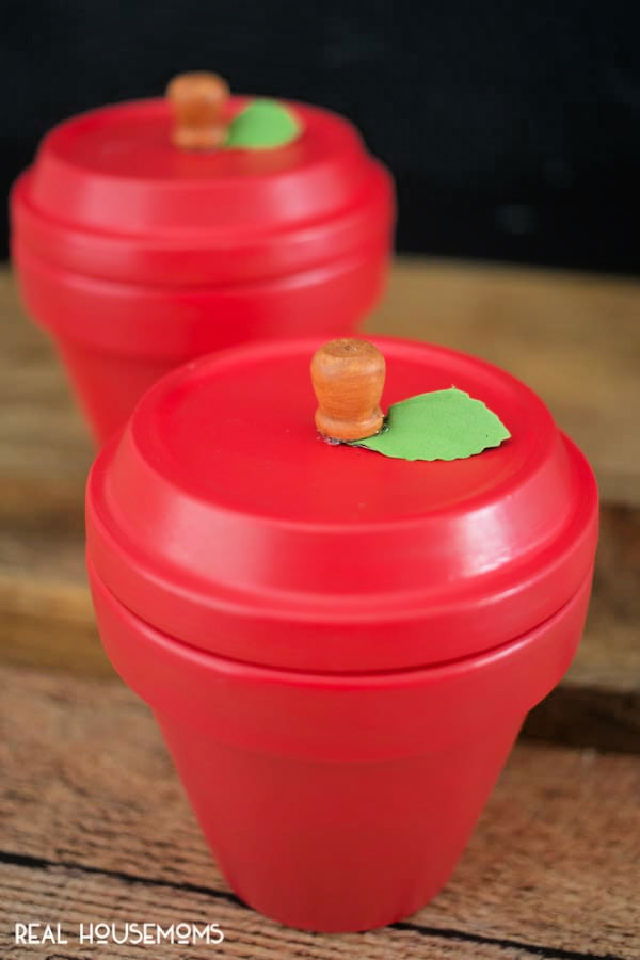 Craft these apple terra cotta pots and add them to your home storage options. Fill them up with custom treats and give them as sweet teacher's day, father's day, or mother's day gifts. Use the red and brown paint for the apple makeover of the pots and then finish with the faux leaves and wooden knobs on the terracotta saucer lids. The best terracotta craft that everyone can do. realhousemoms
23. Terracotta Pinch Pots
The cuteness of these pinch pots will overwhelm all the onlookers. They are quite easy and quick to make and will be a super cute addition to any of your favorite space. Make the pots using terracotta clay and then paint patterns on them using the white acrylic paint. Further, you need the sand and faux succulents to complete this project. Don't forget to give these pots an oven bake. blissmakes
24. Make Terra Cottage Vignette
Learn here how to build the TerraCottage pots that will grace up any interior and are a hot trend. You will love to whip up these pots, looking crazily beautiful and they enchant with the outstanding pattern and texture lines. Do make these pots to bring the global feel of terraCottage and greenery to any of your targeted space. You need cream-colored acrylic paint, plywood, pine boards, tile spacers, and succulents, etc to do this project. hgtv
25. Clay Pots Citronella Candles
Make also precious looking citronella candles at home, will make adorable light decor for any of your indoor or outdoor space. First, create a beautiful appeal of the pots using paint of choice and then add them up with the wicks and finish by pouring the melted wax, the whole project will complete super quickly. Use the leftover wood to make precious stands also for these candles. purelykatie
Conclusion:
Clay pots are inexpensive materials available in lots of different sizes. Moreover, they are to add to patios and indoor home spaces mainly as planters. However, you can paint and decorate clay posts to transform them into lots of interesting decor and art gifts. These clay pot crafts will surely help you in this case and will share the ultimate hacks to reclaim the clay pots for lots of unique stuff. The clay pot decoration and craft ideas will leave you stunning and will fire up your creative imaginations and crafting skills. From easy to intermediate to advanced, there are projects for every skill level. Choose your favorite clay pot crafts from the given list, and do try them out to fall in love more with the terra cotta pots always lying around.