Every garden lover just is well familiar with the terra cotta pots and saucers; they are used to make a different flower, herb and other plant pots that would be easy to shift to any location and either direction! The terra cotta pots are used to bring natural garden details to anywhere where you can't afford a garden but want to garden decors and vibes there! But you are thinking that these pots made of baked clay are only good for making the pots for the garden flower and herbs, this is just not true, you can just do a lot more with the terra cotta pots to make both your home and garden beautiful!
The terra cotta pots are much more than just being a plant holder and you will find this statement so creatively been after taking a look at these 35 DIY Crafts with terra cotta pots that have been creatively been made to inspire your creativity and also to amaze your senses! You can add stunning visual details to your garden by making extraordinary decors with the terra cotta pots and in the same way you can also make the lovely centerpieces with them that can be used for indoor decor and garnishing purposes!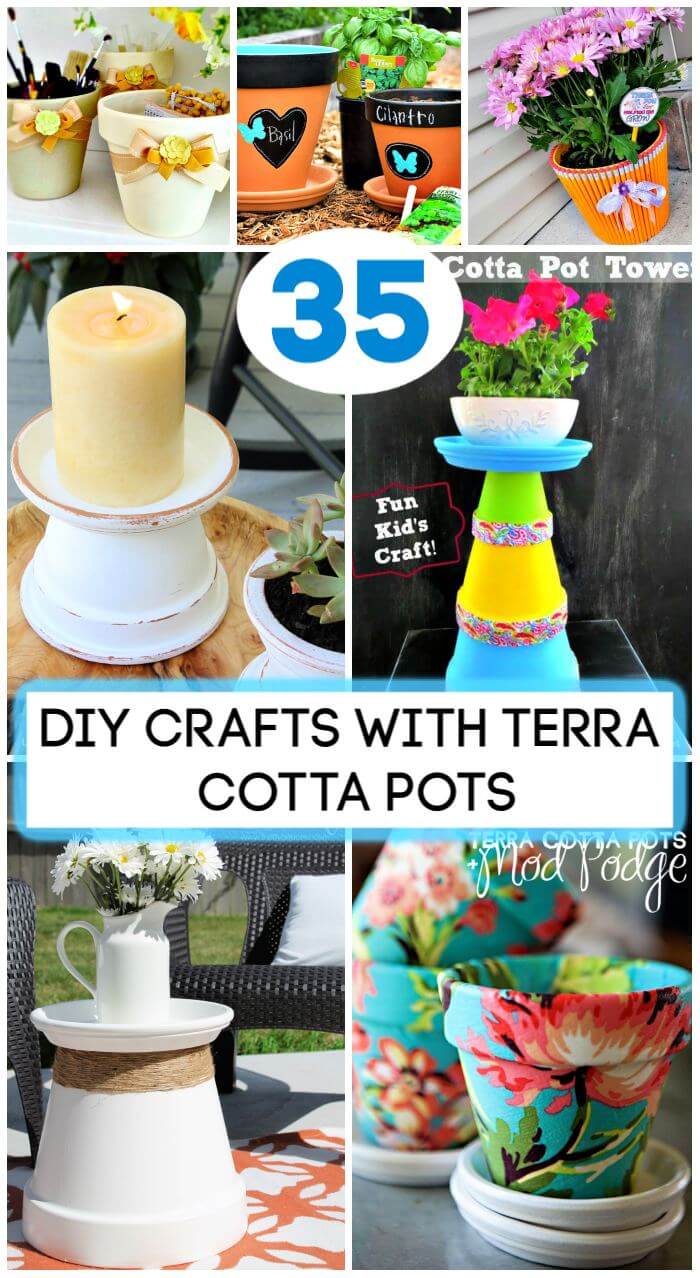 Flip over the terra cotta pots and then finish up with the matching saucers and make lovely candle holders for any of your space, don't forget to paint both saucer and terra cotta pots to match your space decors! String up some colorful mini terra cotta pots and make stunning garden wind chimes and hanging decors that will go enticing to all onlookers! Stack different painted terra cotta pots with the largest size down and then finish the tower with a saucer and make a stunning terra cotta pot tower on which you can place various other flower pots for an enchanting display and also gain a lovely centerpiece decor for your garden! Just check out a lovely sample given below that will enchant your eyes with its amazing colorful appeal!
DIY Home Decor Ideas:
Make also smart use of the terra cotta pots, gravel, glass hurricanes, and candles to make lovely potted candle planters that will be a centerpiece worth and can be used to bring great visual details to your patio and any outdoor! Stack the assorted sizes of painted terra cotta pots and saucers and make multi-tiered stands that will make epic garden decorations and would be super easy to make also! Finish a big terra cotta pot with upside down with a big saucer and make also a precious looking side table for your outdoor sitting plans, also stack the terra cotta pots in bottom-to-bottom and face-to-face arrangements to make exceptional garden decors and sculptures, an interesting sample here is the terra cotta pot soldier that has been done to amaze and inspire and is really looking gorgeous!
Next also place the pencils all around the terra cotta pots to turn them into lovely home decor centerpieces and also make the chalkboard flower pots by painting the terra cotta pots with chalkboard paint, check out dozens of more terra cotta pot projects in the given below list and do try your favorite ones! Visit the attached links to reach to full free guides, visual instructions, and step-by-step project tutorials!
DIY Outdoor Terra Cotta Candle Holders: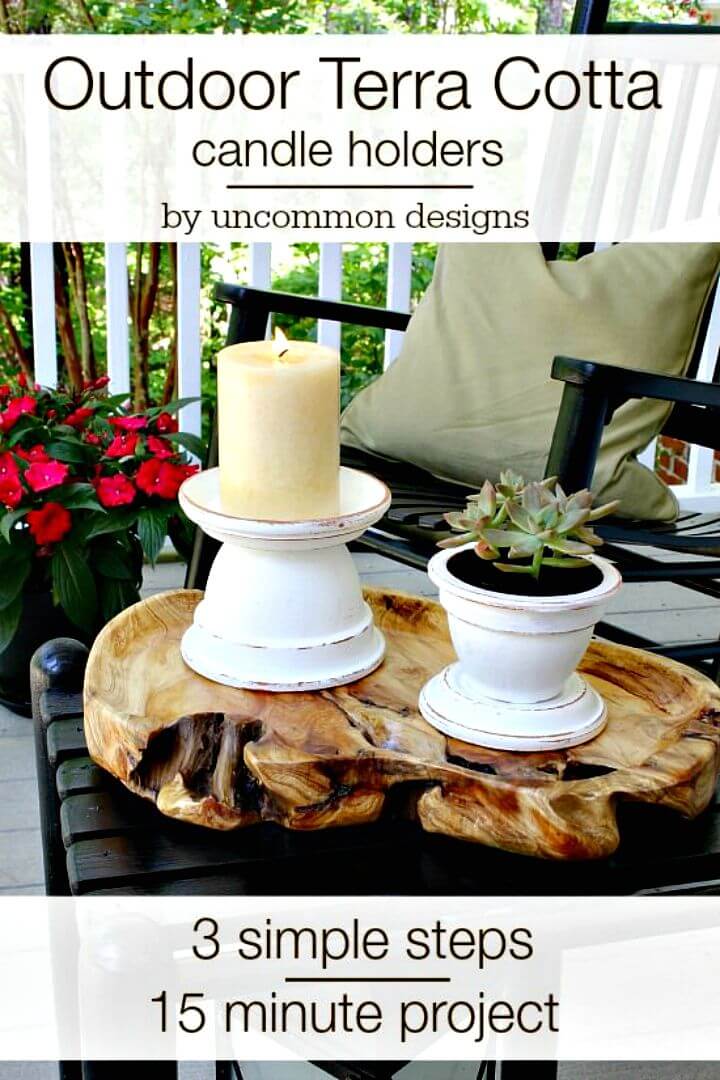 Looking for a vintage-inspired candle holder for your outdoor dining or coffee table? Just make it using a terra cotta pot and a matching saucer! The idea is to glue both the terra cotta pot and the saucer in the base-to-base arrangement; the pot will serve as the base while the saucer will hold well your candles! Get inspired by this lovely given sample that has been painted in patio white paint and has been distressed for a rustic appeal! Complete tutorial here uncommondesignsonline
Cute DIY Flower Pot Wind Chimes: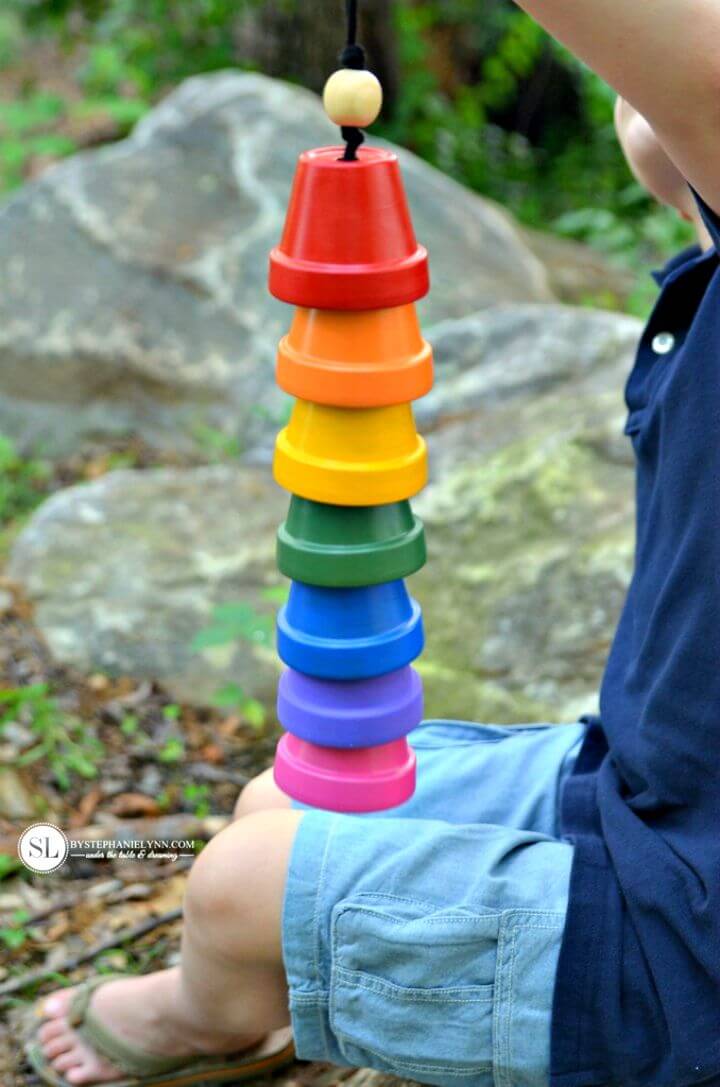 Make also the smart use of mini terra cotta pots to make brilliant looking wind chimes for your indoor or outdoor! Peek into details of this lovely looking wind chimes that are made of mini terra cotta clay pots that have been painted in so many different colors to look beautiful land enticing! Finally the all the pots have been threaded onto a black piece of macrame cording separated by the wooden beads! One wooden bead come inside each pot and the pots have been spaced by knots! Add custom ornaments and embellishments to dangle to the bottom side of the wind chime and finish the wind chime by making a loop at the top side that help it hang aloft! Complete tutorial here bystephanielynn
Stylish DIY Terra Cotta Pot Tower: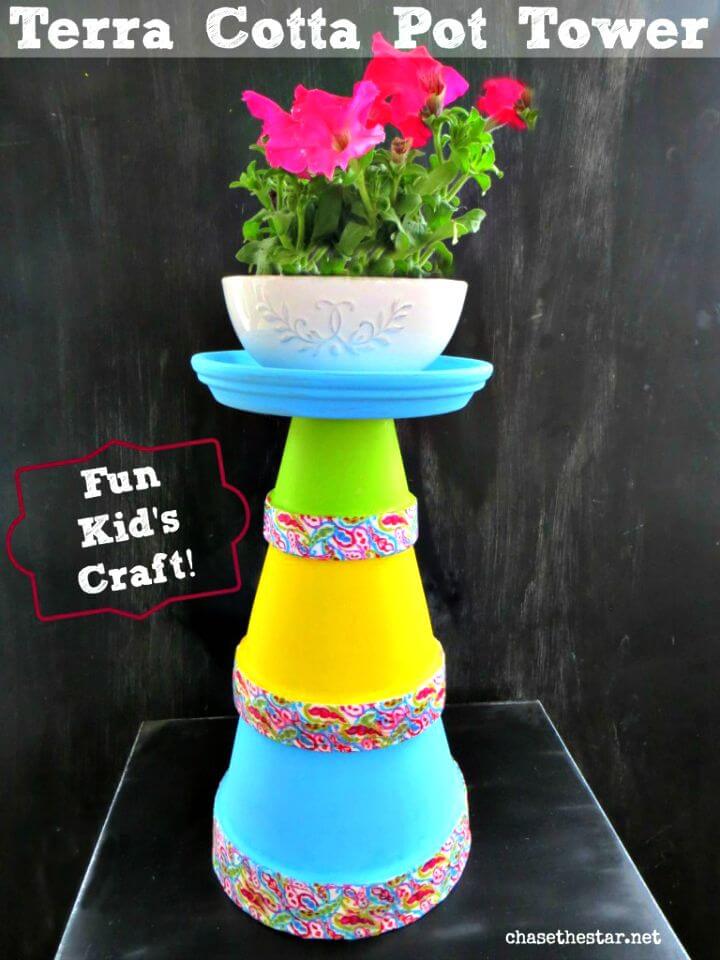 Put together also the terra cotta pots in custom arrangements to make awesome looking centerpieces and home decors without getting expensive! We would like to inspire you for terra cotta pot crafts with this example of a terra cotta pot tower that is made of 3 terra cotta pots, a saucer and with planter bowl! Paint your terra cotta pots and decorate the top with fabric strips or scrapbook paper and then stack them with upside down! Finish the tower with a saucer top and next just place your bowl planter at the top! Complete tutorial here hellolifeonline
How to Make Potted Candle Planters: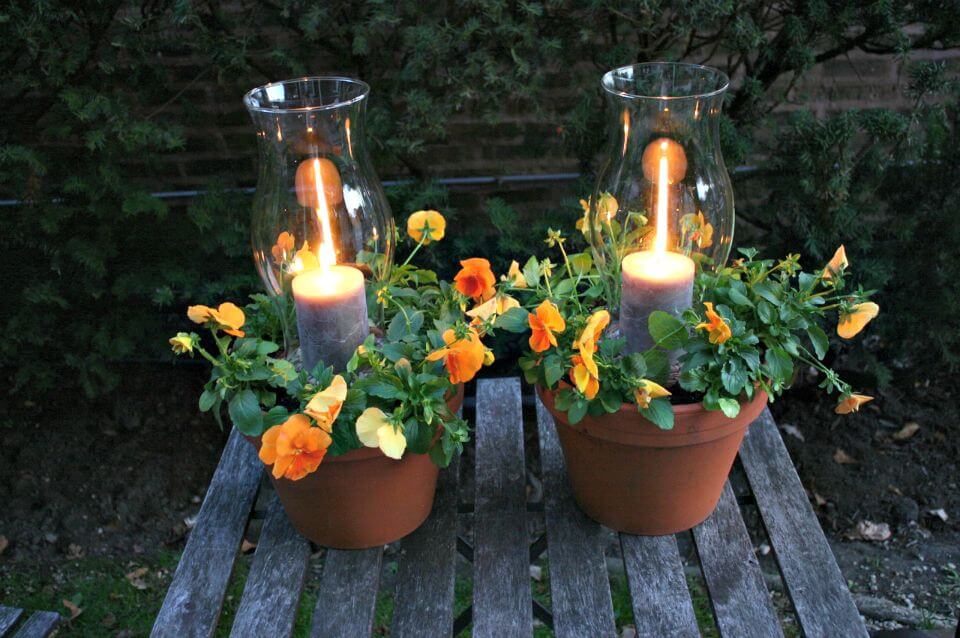 Here is another lovely and adorable creation using the terra cotta pots, here a fantastic candle planter has been made at home using the terra cotta pots in 2 different sizes! Fill the bigger terra cotta pot with potting soil and next place a small terra cotta pot inside filled with gravel! Put the cylindrical candle deep inside the gravel and then cover it up using the glass hurricane! A fantastic potted candle planter to make at home! Complete free tutorial and instructions here cfabbridesigns
Turn You Leftover terra cotta Pots Into a Centerpiece: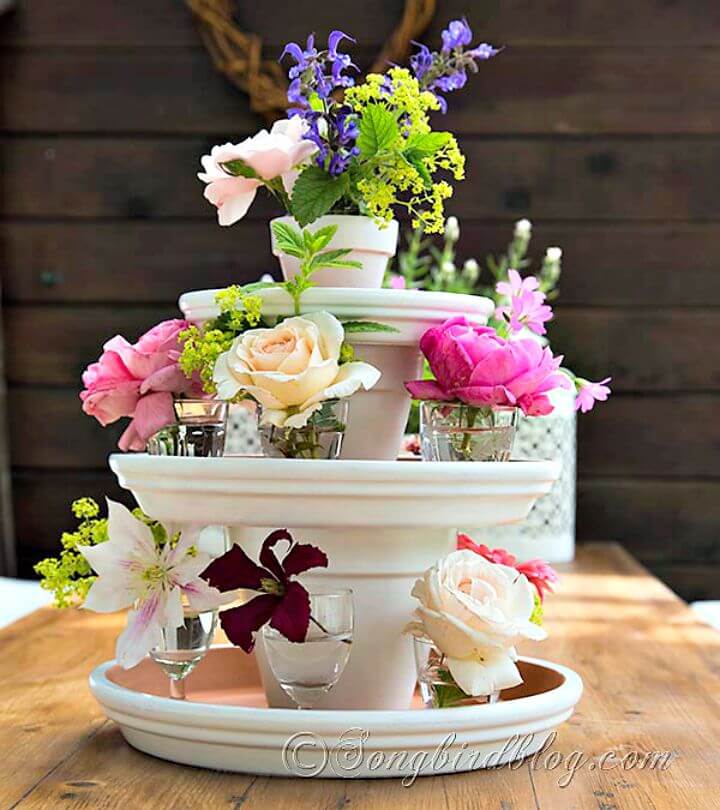 Here is another fantastic and adorable creation using the terra cotta pots! Here the terra cotta pots and saucers have been used to make a tiered organizer that holds a mini flower pot at the top and the custom mini faux glass vases on different tiered levels! This transforms it into a brilliant looking centerpiece that will go eye-catching in every interior! Here all you need 3 saucers and 3 pots in assorted sizes to duplicate this very good looking centerpiece! Don't forget to paint your saucers and pots in a custom color you like! Complete project instructions and tutorial here hometalk
DIY Terra Cotta Pot Repurposed Into Accent Table: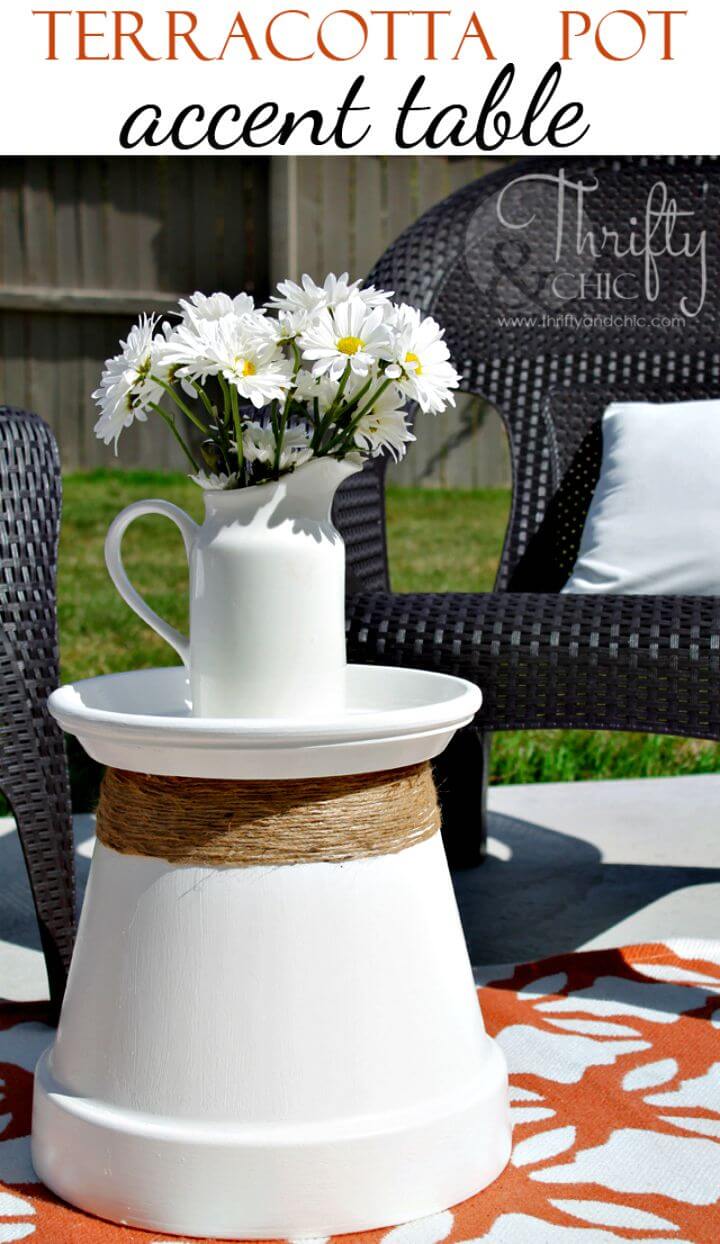 Check out here another fantastic and extra brilliant furniture project to do with the terra cotta pots! Just make eye-catching accent tables at home using the terra cotta pots! Get inspired by this given one that is made of a terra cotta pot and with a saucer that builds the top of the table! Paint both the pot and saucer in patio white paint and wrap the rustic rope around the terra cotta pot base for a rustic appeal and that's it! Complete project instructions here thriftyandchic
How To Make Terra Cotta Soldier: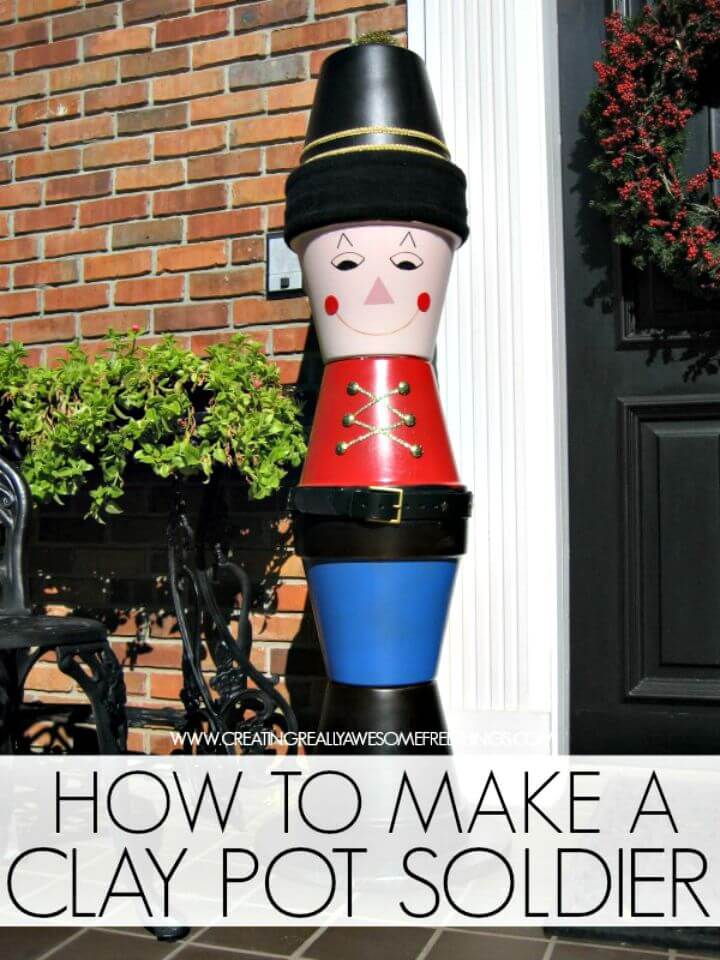 Go also smart with the painted terra cotta pots and craft enticing looking faux soldier guards for your front home entrance! Check out here the sample terra cotta more solid that is made of stacked terra cotta pots painted in selective colors as per the demand of the uniform of the soldier! The top pot has been painted to look like a hat while the 2nd last comes with a painted soldier face! Also, tie a leather belt around, and that's it! Grab the full free guides and visual tutorial from here creatingreally
Make a Terra Cotta Pencil Pot: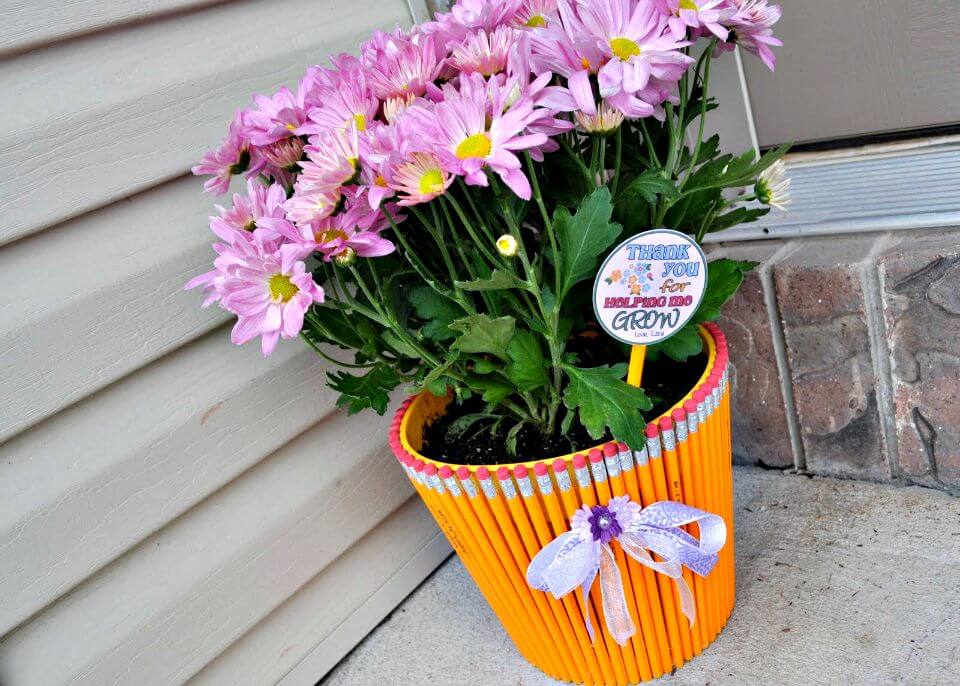 If you are majorly concerned with the outdoor or patio decors, then you can also enhance them by adding special decorative pots and planter! You can do amazing makeovers in this case, and a brilliant one is here to inspire your creativity! Just cover terra cotta pots by aligning pencils vertically all around them and make them look just fantastic! Next, tie an accent ribbon in bow style in front and transform the terra cotta planter into a brilliant patio delight! Grab the full free guides and visual instructions from here sassysanctuary
Awesome DIY Chalkboard Flowerpots: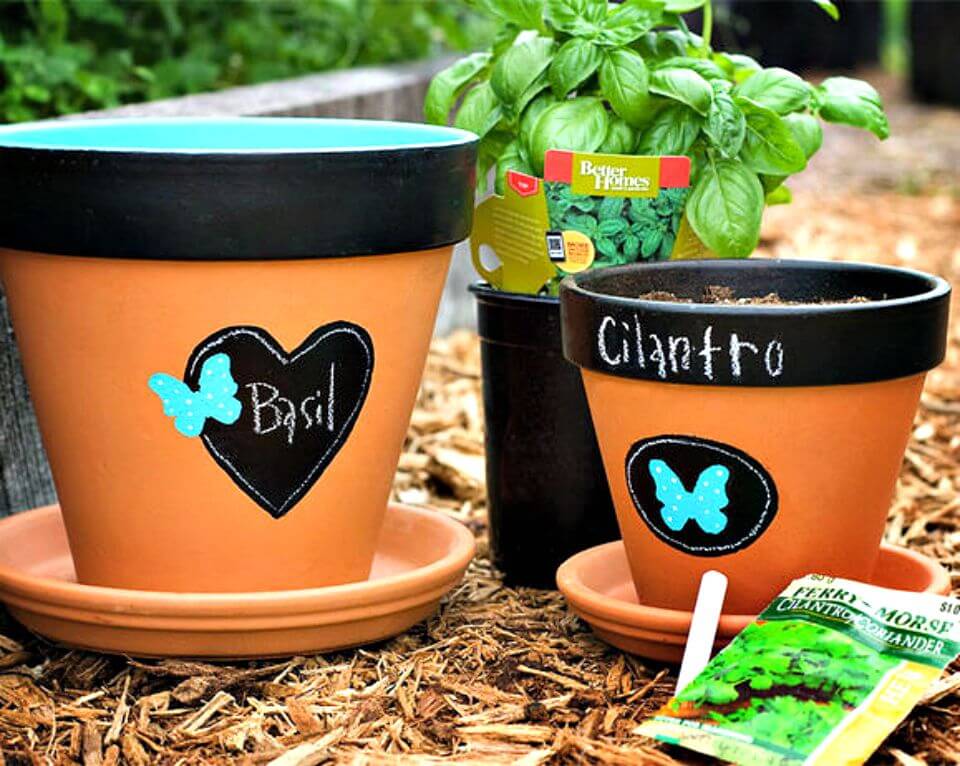 Another great and remarkable project is here to do an attention-grabbing makeover of your terra cotta pots! Just paint your terra cotta pots in orange colors and finish them with matching saucer bases! Next chalk paint the tops of the pots and also chalk paint little hearts in the front side of them! Now finish your pots by writing custom letters or words using chalk! Complete project details and tutorial here fiskars
Simple DIY Terra Cotta Fountain: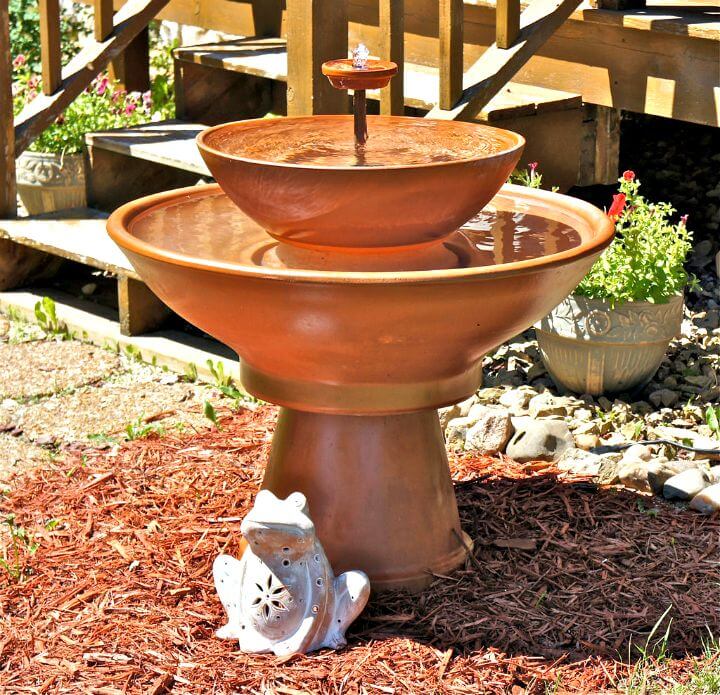 Intending to transform your garden space into mini heaven by installing some amazing water features then here is a great project to do in this case using the terra cotta pots! Just make smart use of terra cotta pots to make adorable garden fountains! Just grab two terra cotta pots into different sizes and also two basins and put them together as shown to make a brilliant fountain! Install the fountain tube and pump and that's it! Grab the full free project and tutorial from here instructables
Colorful DIY Garden Bug Wind Chimes: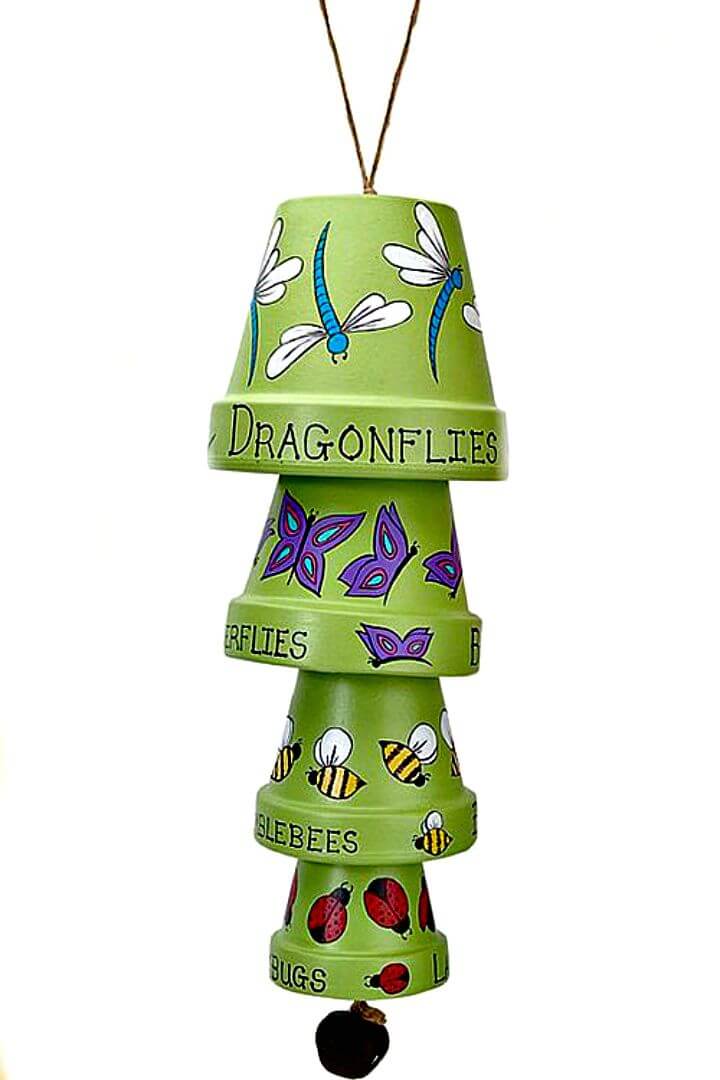 Build also the fantastic indoor or outdoor decors using the terra cotta pots! Here the terra cotta pots selected in assorted sizes have been painted in green and then have been decorating with custom art like with the dragonflies, butterflies, garden bugs and bees and next have been slipped onto a piece of a rustic rope or jute to make a lovely wind chime! Add also custom embellishments and charms to bottom side of the wind chime to dangle beautifully, and that's it! Grab the full free tutorial and instructions from here decoart
How to DIY Terra Cotta Pots: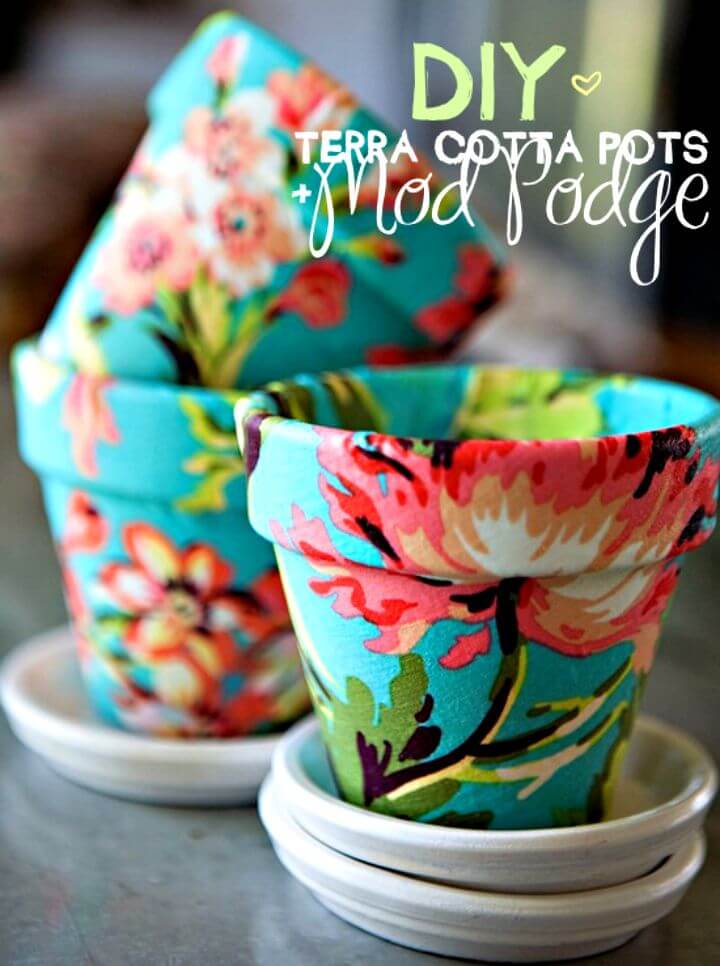 Transform also your terra cotta pots into enticing patio centerpieces just by doing some smart makeovers also using the colorful fabric! Check out here the sample terra cotta pots that have been brought to a fantastic visual appeal just by using the custom printed fabric that has been wrapped around them using the mod-podge, you can also use the glue! You can experiment this project with any of your favorite fabric! Grab the full free tutorial and visual guides from here emmalinebride
Cute DIY Ombre Rain Chain: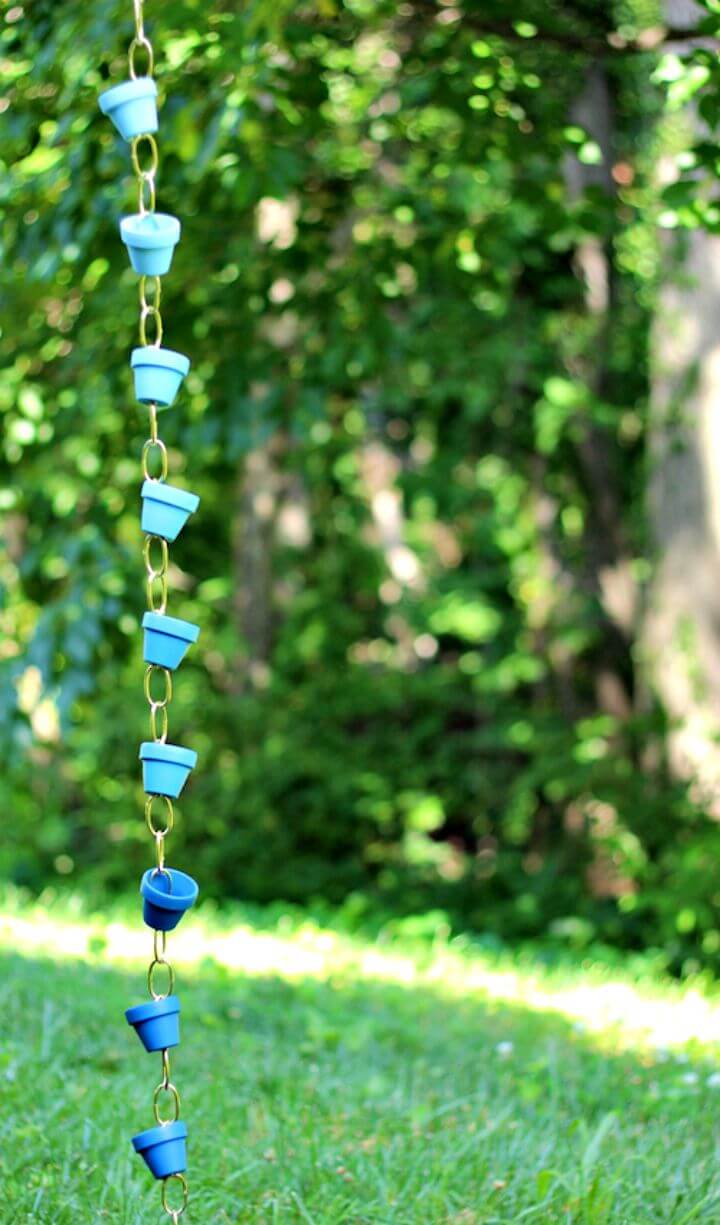 Looking for a perfect decor or ornament to spruce up your outdoors? If yes, then here is a great one to hold your attention! Just make smart use of metallic gold chain and mini terra cotta pots to make awesome looking outdoor centerpieces and decors! Here the mini terra cotta pots have been painted for an ombre color effect and then have been slipped onto a metallic chain and have also been glued in place to make a great looking ombre rain chain! Full free project details here designsponge
DIY Terra Cotta Pot Snowman: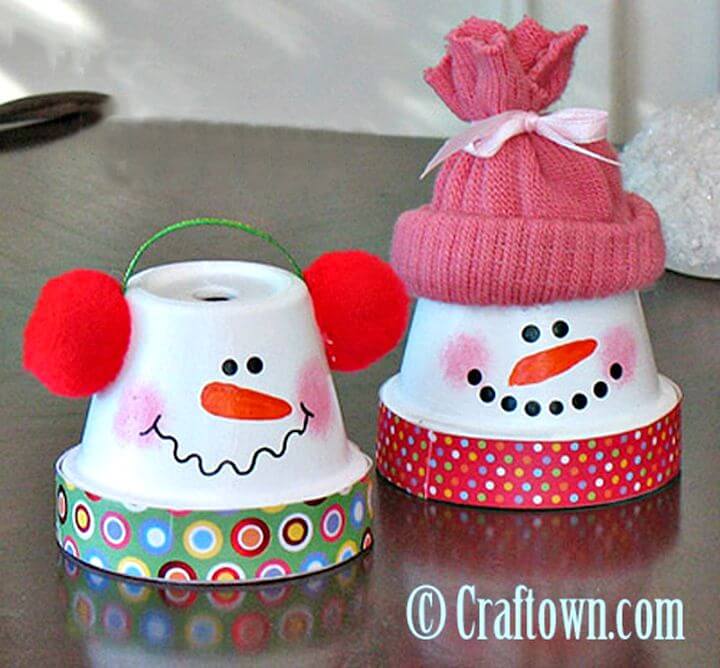 Make also precious kids decors and fun toys for kids using the terra cotta pots, please you kids with these terra cotta pot snowmen that are looking fantastic and lovely! Here the terra cotta pots have been painted in white first and then have been painted further to look like a snowman! Finally, scrapbook paper stripes have been wrapped around the opening of the pots for an extra beautiful look! Here one terra cotta snowman has been finished with the faux earmuffs while other is wearing a hat! Complete tutorial here handimania
Beautiful DIY Chandelier Planter Tutorial: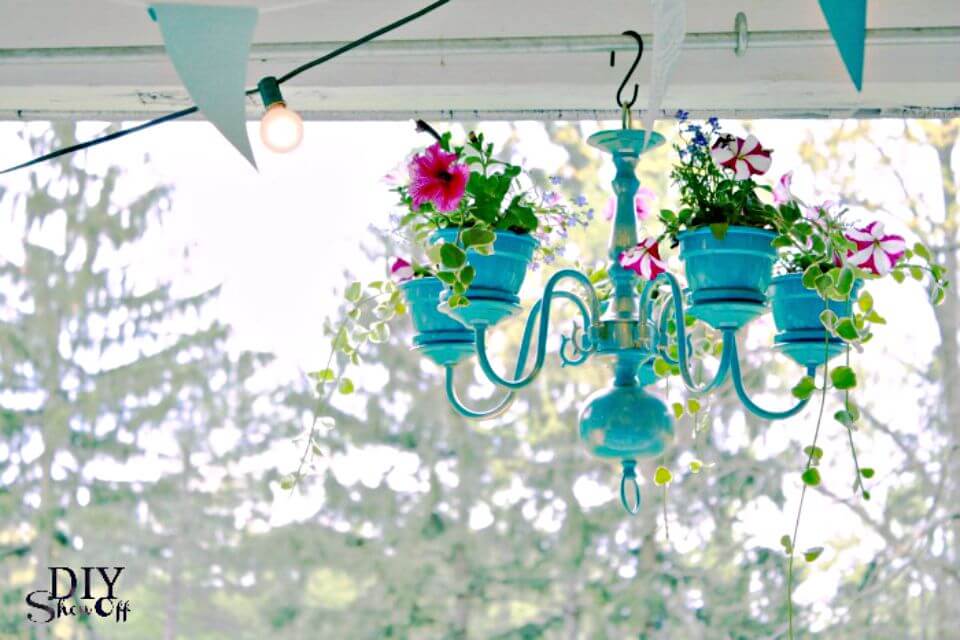 Here is another beautiful project to do with the terra cotta pots! Just replace the lights of an old chandelier with the terra cotta pot planters and make super beautiful chandelier planters at home that will hang aloft to hold everyone's attention! Glue first the saucers on the chandelier lights and next glue the terra cotta pots in them! Paint your finally finished chandelier and create a fabulous look of your planter! Grab full project details from here diyshowoff
DIY Crooked Terra Cotta Pot Flower Tower With Annuals: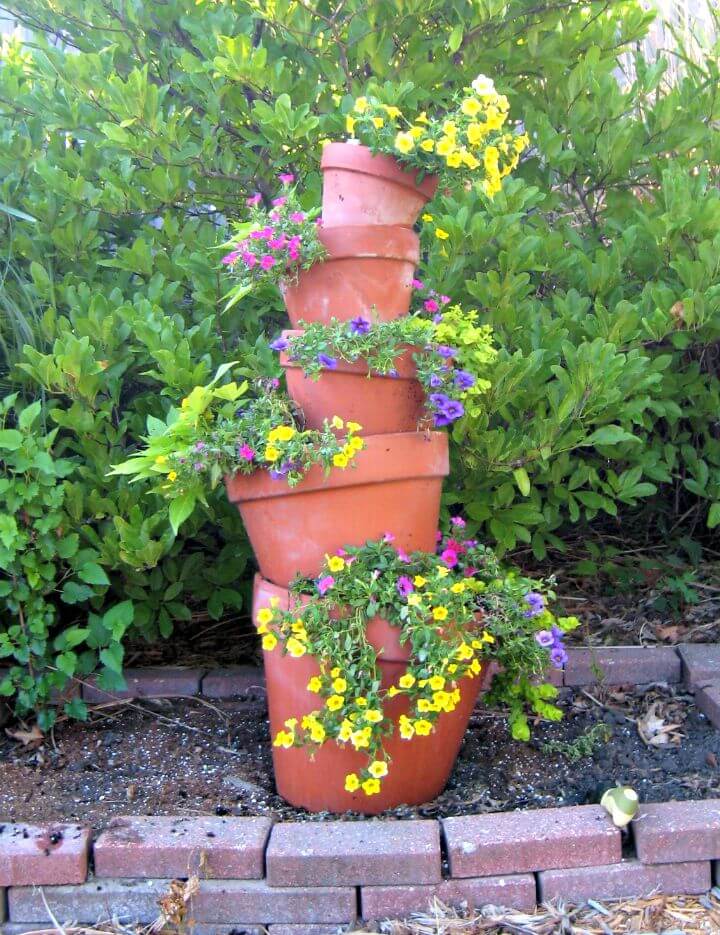 Create also an exceptional decorative look of your green space by adding topsy turvy planters! The excellent news is that you can make some outstanding ones at home using the terra cotta pots and a rebar length! Fix the rebar in the garden ground and then drop the assorted sizes of terra cotta pots onto it and just fill your terra cotta pots with potting soil! Paint your terra cotta pots to match your garden decors, and that's it! Complete project tutorial and instructions here dengarden
DIY Decoupaged Terra Cotta Pots: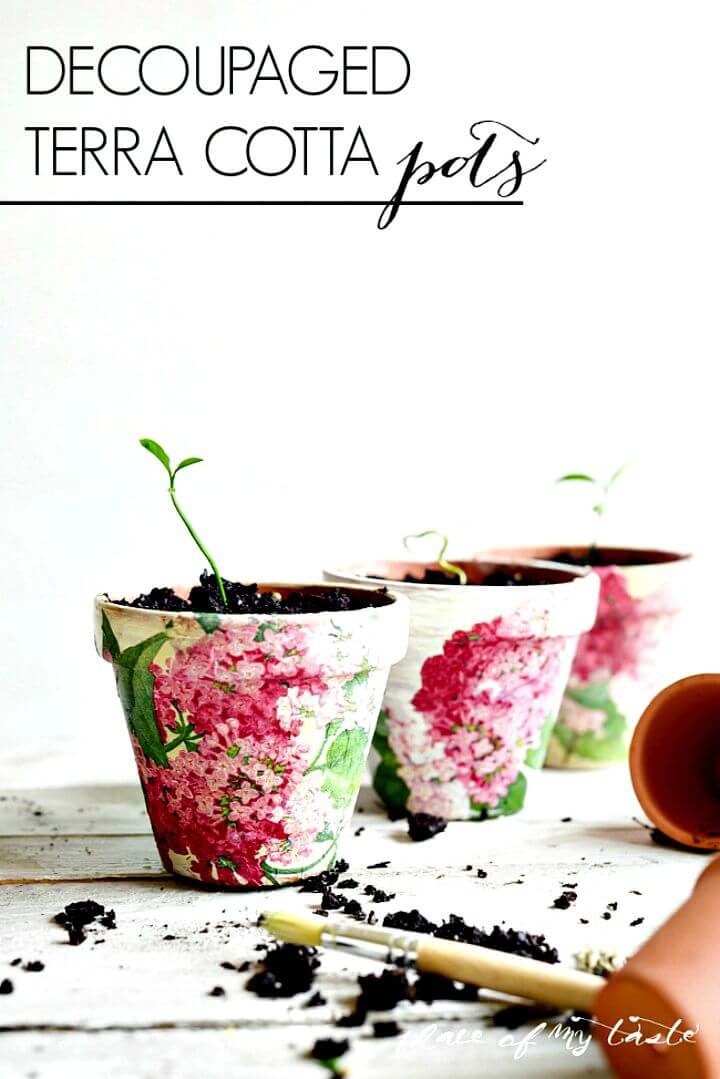 Transform also the ordinary patio terra cotta pots into breathtaking outdoor centerpiece just by using the technique of decoupage! Decoupage the terra cotta pots with printed fabric scrap and create an instant, outstanding look of them! Next, you can put a set of decoupaged terra cotta pots together at any outdoor to create a brilliant focal point! Just use the mod-podge as adhesive and then layer your fabric all around the pot! Grab the full project tutorial and instructions from here placeofmytaste
DIY Desktop Gumball Machine: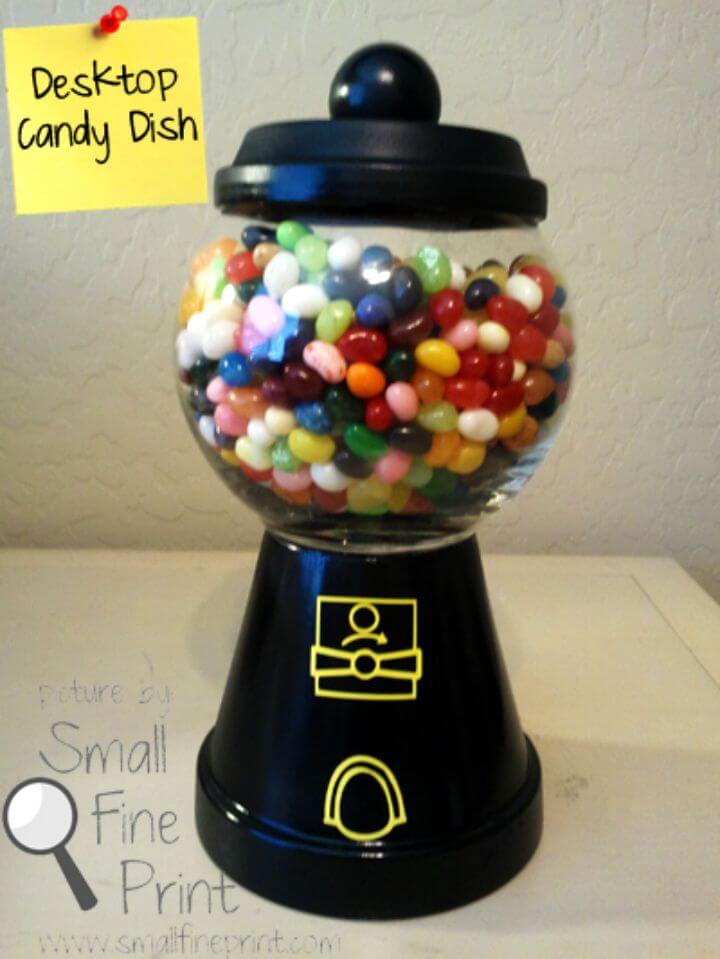 Here is another smart crafting project to do with the terra cotta pots! Just make also beautiful desktop gumball machines using the terra cotta pots, saucers, and the glass bowls! The idea is pretty simple, glue the glass bowl onto the base of a terra cotta pot and then finish it up with a top lid made of a terra cotta saucer! Glue a wooden knob on the saucer lid, and that's it! Paint the terra cotta pot base for a custom appeal and also draw some fascinating art! Complete project tutorial here smallfineprint
Easy DIY Painted Candy Corn Pots: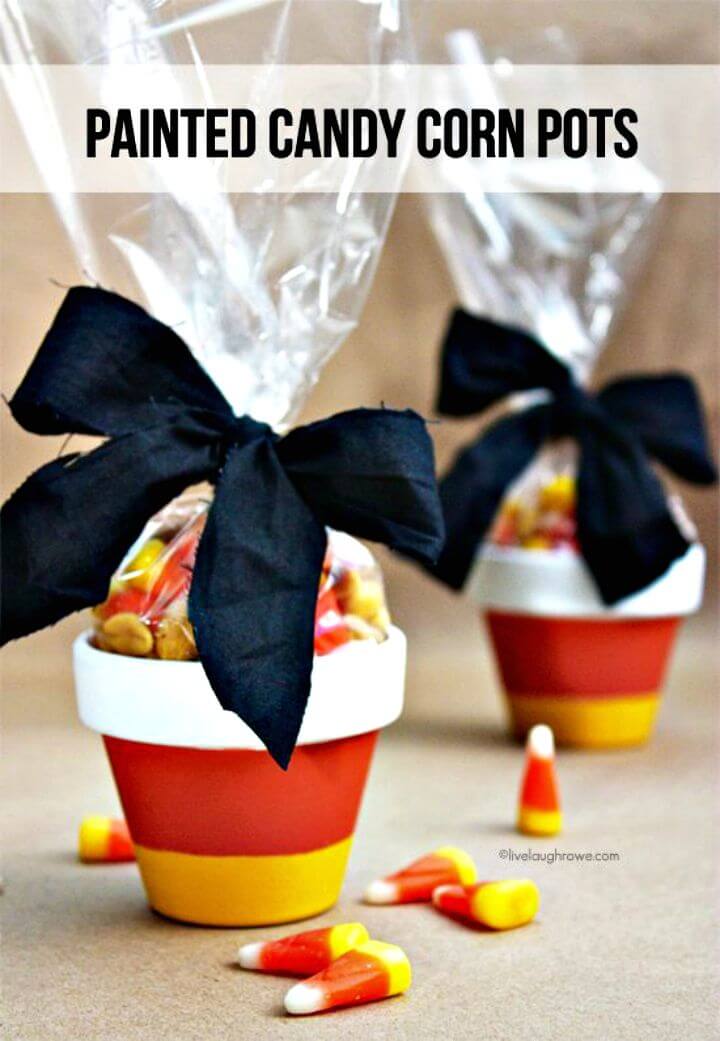 Make also smart use of terra cotta pots to make excellent gifts for your beloved ones! An exciting example here is these painted candy corn pots that have been filled with candy corn bags finished with black ribbon bow ties! Here the terra cotta pots have been painted for colorful stripes, but you can paint your terra cotta pots in your way! Complete project tutorial here livelaughrowe
How to Make Terra Cotta Garden Pot Trees: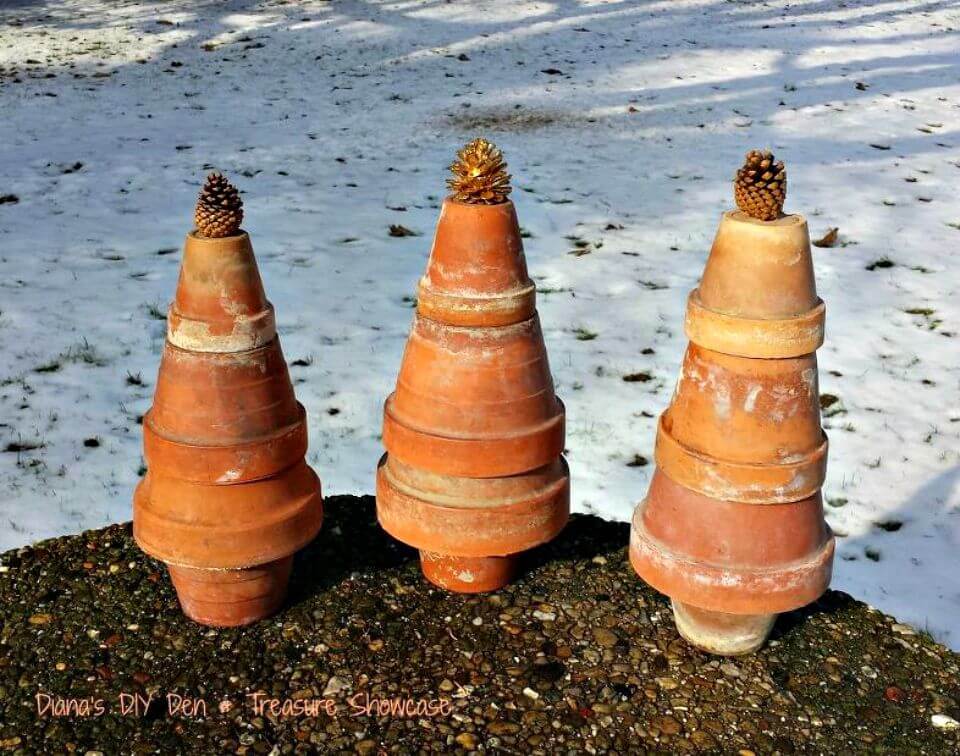 Spruce up your garden space by adding flawless handmade decor that you can also make with the terra cotta pots! We would like to give a creative spark to your thinking with these garden terra cotta pot trees that have been made to rock your green space! Here all you need is to fit together a set of terra cotta pots to make a tower which can then be finished with an additional terra cotta base as you can see! Don't forget to put some old pine cones at the top for a natural tree-like look! Complete project tutorial here hometalk
Cute DIY Terra Cotta Mummies Tutorial: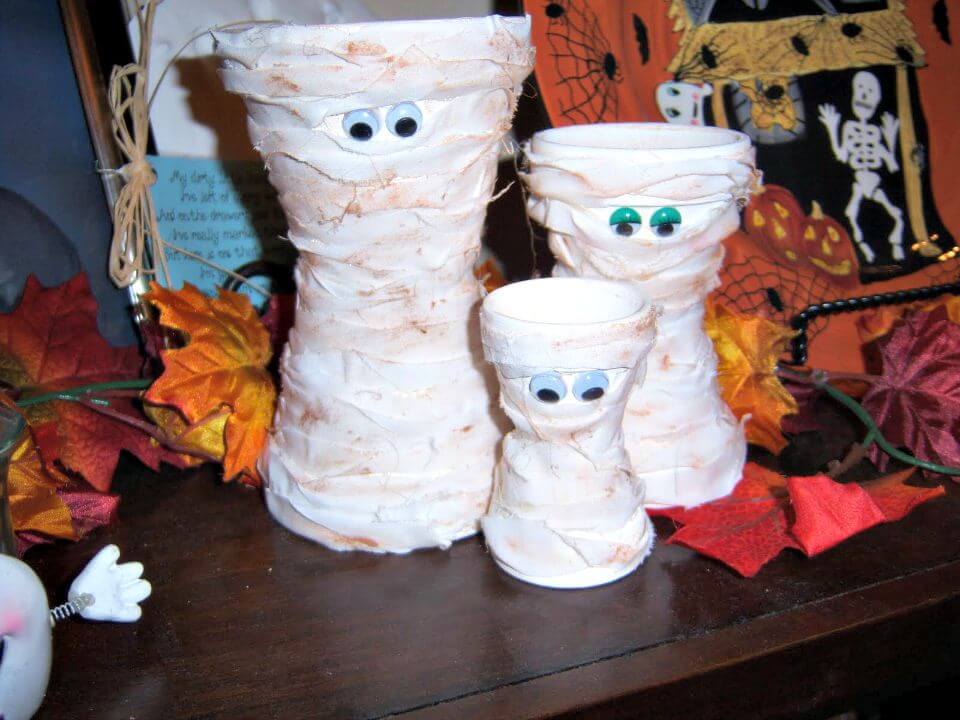 Make also the scary type of decors out of the terra cotta pots that will rock for Halloween! Just have a look at these terra cotta mummies that are the best type of creepy and spooky decor for the Halloween! Here all you need to put together any 2 pots in bottom-to-bottom arrangement and next you can cover them in mummy fabric which would be a little rustic! Finish your mummies with googly eyes, and that's it! Full project details here inspiringcreationsblog
Easy DIY Ombre Stenciled Flower Pots: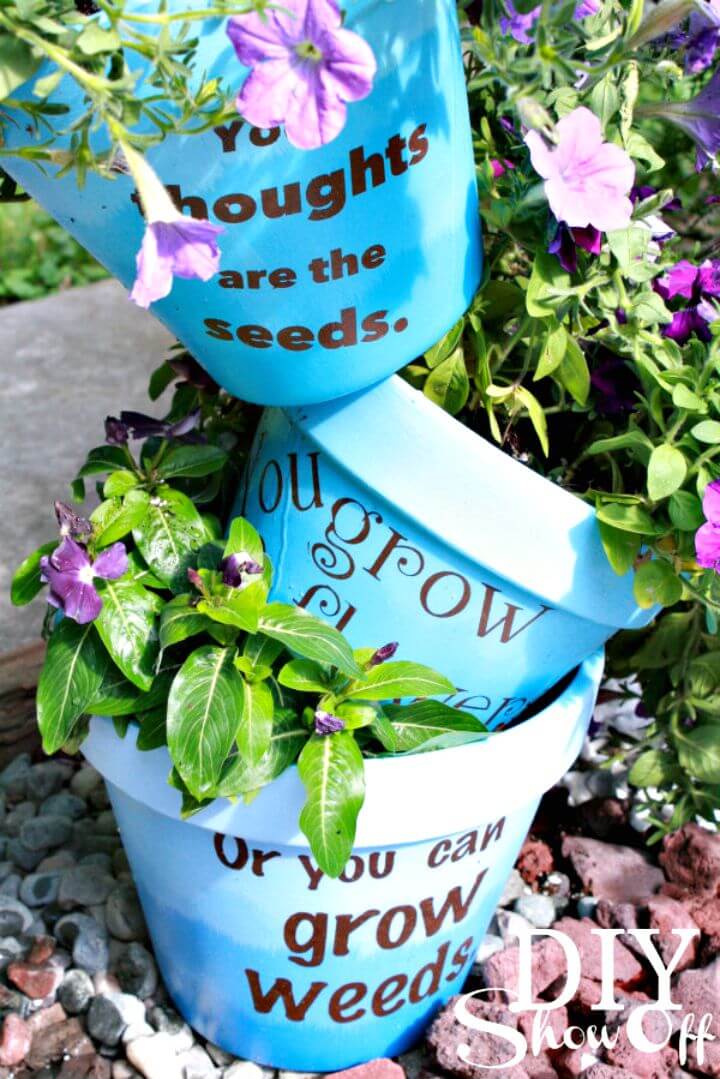 Look at this another exceptional topsy turvy planter that is self-made! What makes this planter special is the ombre color appeal and also the stenciled exteriors of the pots! Here the terra cotta pots have been painted for a precious ombre appeal, and next have been stenciled to look at and beautiful! Finally, they have been dropped onto rebar fixed in the garden ground and have been filled with potting soil! Grab the full project instructions and tutorial from here diyshowoff
Adorable DIY terra cotta Pot Table: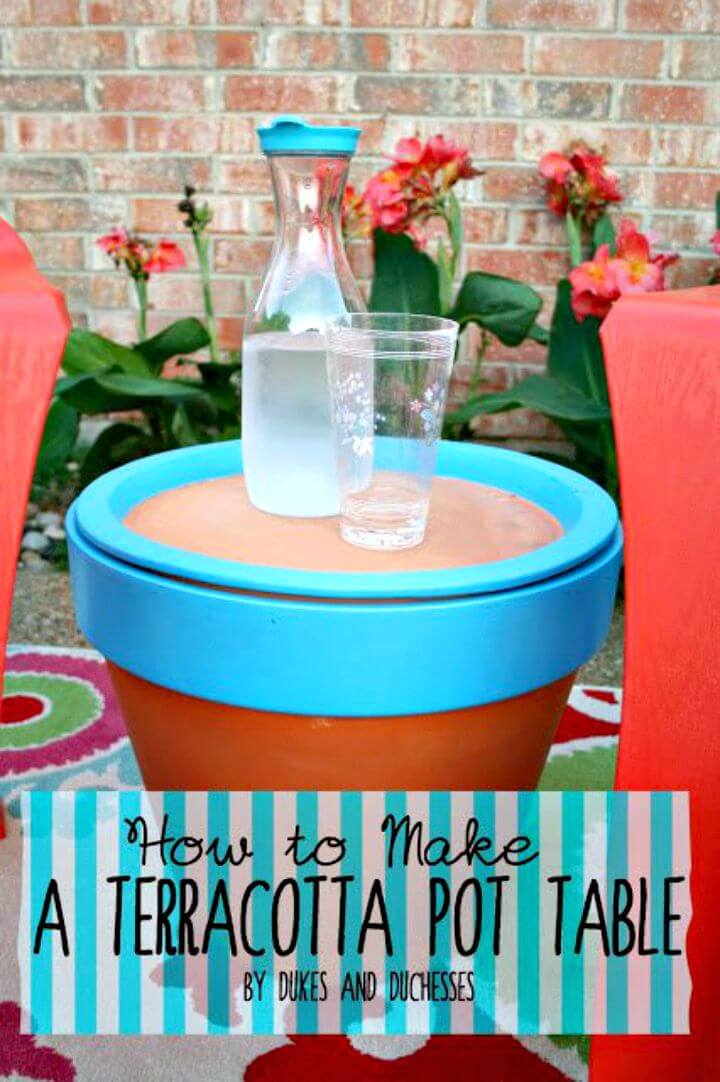 Make also smart use of terra cotta pots in building low-cost but functional kind of furniture! check out here the terra cotta pot table that makes a perfect side or end table and is a matter of second to build! Here all you need close the opening of a terra cotta pot with a saucer lid to make a fantastic looking terra cotta pot table! Just paint your pot and saucer set in custom colors for a custom appeal and then put them together for an instant side or accent table! Grab the full free guides and visual instructions from here dukesandduchesses
How to Make Clay Pot Wreath: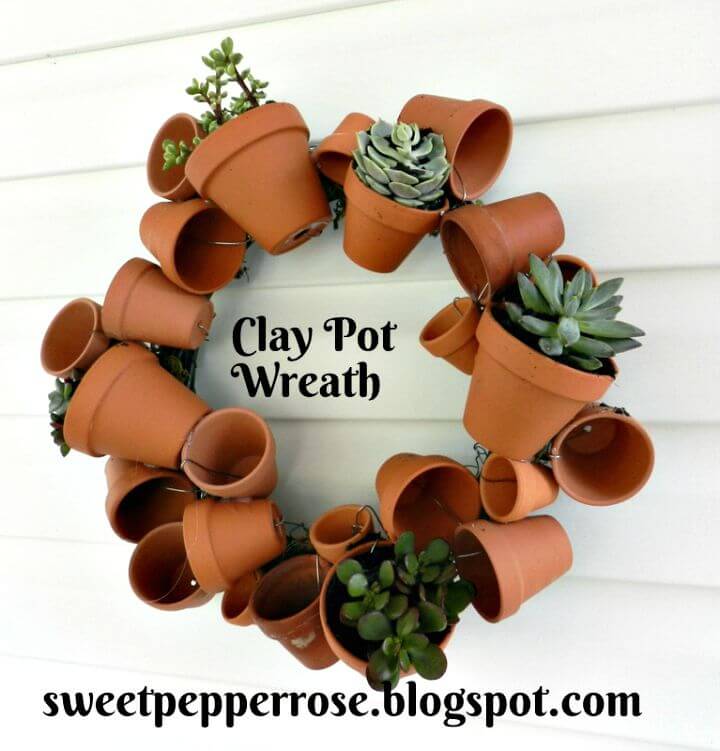 Put together also the terra cotta pots for making lovely decors and centerpieces! Just have a look at this dashing looking clay pot wreath that has been done to amaze and inspire and is a genius achievement of terra cotta pot crafting! Slip the terra cotta pots in assorted sizes onto a piece of metal wire and also add some terra cotta succulent planters until you get a perfect length to make a terra cotta wreath! Add more greenery and moss to boost the natural appeal of the wreath! Here you can also experiment this project with painted terra cotta pots! Grab the full free guides and visual tutorial from here sweetpepperrose
Super Easy DIY Garden Toadstool: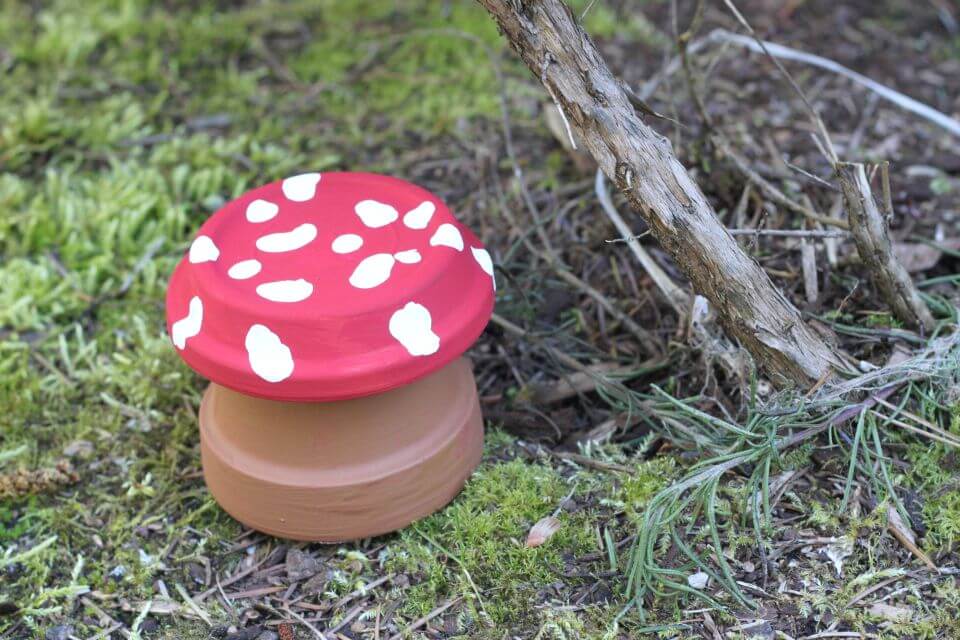 One more smart terra cotta pot hack is here that will help to boost your garden decors to peak level! Just make faux toadstools at home using the terra cotta pots and the saucers and put them in your garden for an instant beautiful look! Here the saucer has been painted in red and with a custom white dot like shapes to look like a toadstool mushroom! Here a terra cotta pot builds the base! Grab the full free guide and visual tutorial from here kiwico
How To Make Sisal Rope Planters: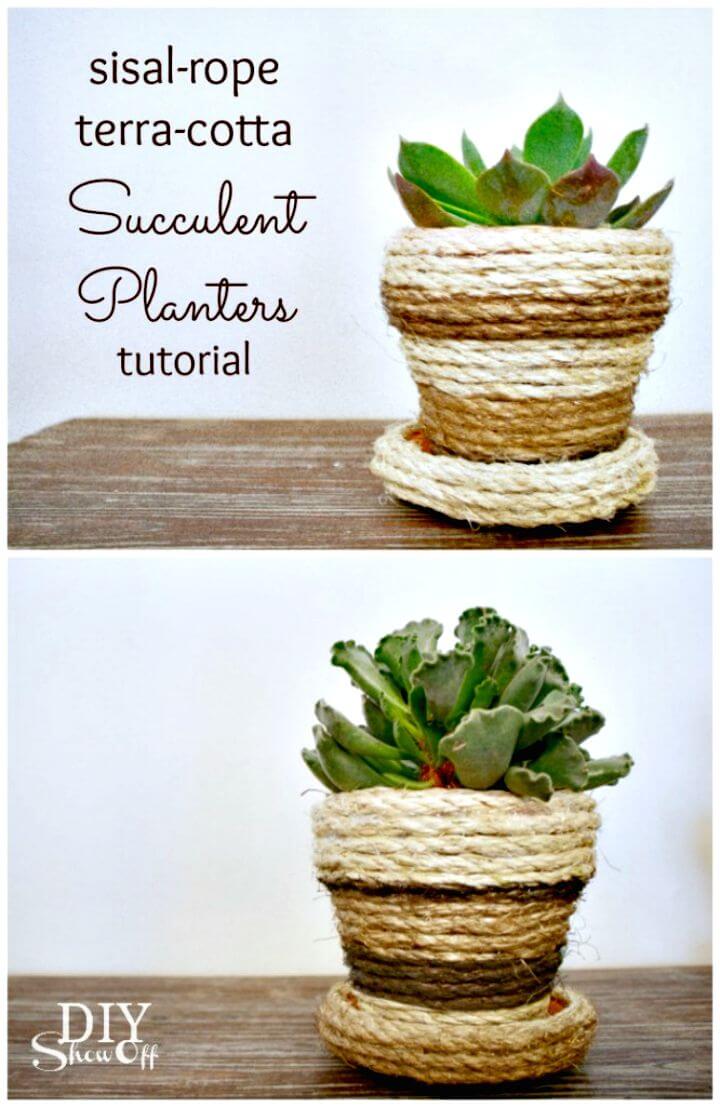 Willing to give a fab nautical decor touch to your interior spaces? This would call for some brilliant looking nautical decors, so why not make some great looking nautical decors at home terra cotta pots and matching saucers! Just have a look at this sisal rope planter that has been made by wrapping both a terra cotta pot and a saucer base in sisal rope! The perfect nautical planter to duplicate at home! Complete project instructions here diyshowoff
DIY Stacked Terra Cotta Pots: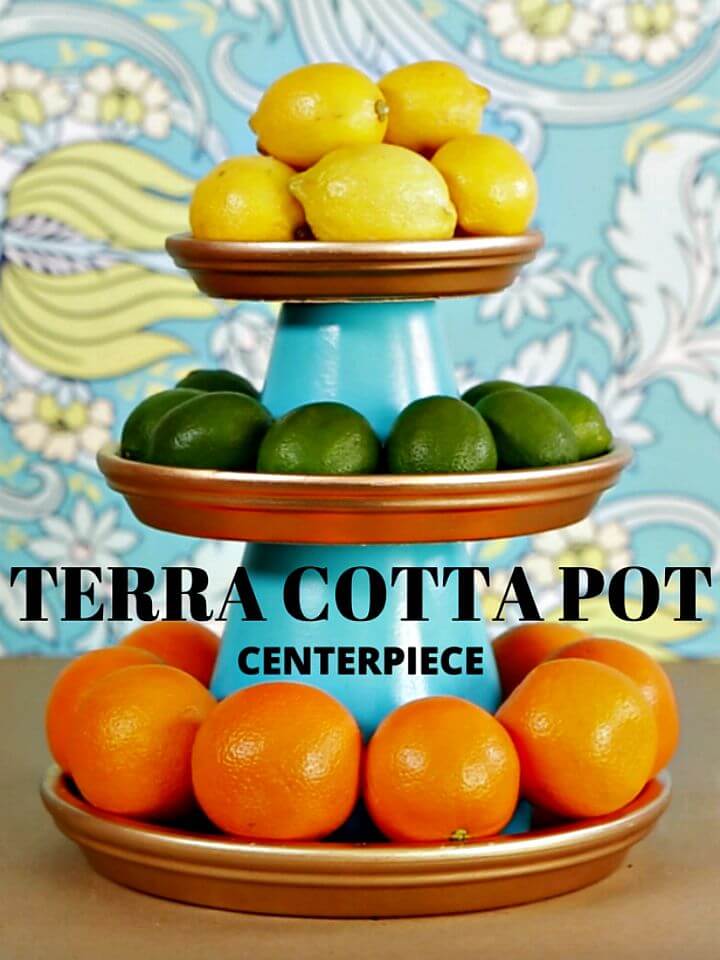 Get inspired by this tiered organizer that is another smart achievement of terra cotta crafting! Here again, the 3 terra cotta pots and 3 saucers in assorted sizes have been used to build this fantastic-looking tiered stand or organizer! Here the terra cotta pots have been stacked but have been spaced with the saucers to gain this tiered fruit or vege organizer! It will also rock as a candle stand or a jewelry organizer! Complete project tutorial here hgtv
How To Make Terra Cotta Pot Sombreros: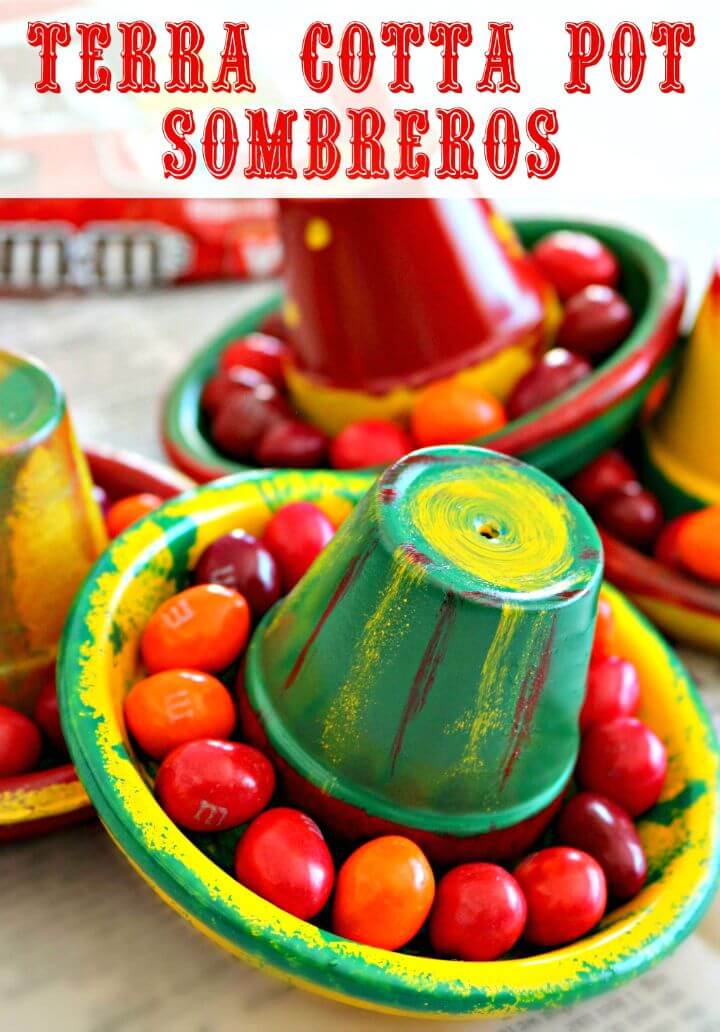 Here is another smart way to get crafty with the terra cotta pots to gain some fetching decors! Just make the fantastic looking terra cotta pot sombreros at home without spending too much time! Just grab some terra cotta pots and just glue them in the bigger terra cotta saucers with upside down! Paint the saucers and pots with food grade paint and fill with the tomatoes! Another great terra cotta pot project to do at home! Complete tutorial here scrappygeek
How to Reusing Old Garden Pots: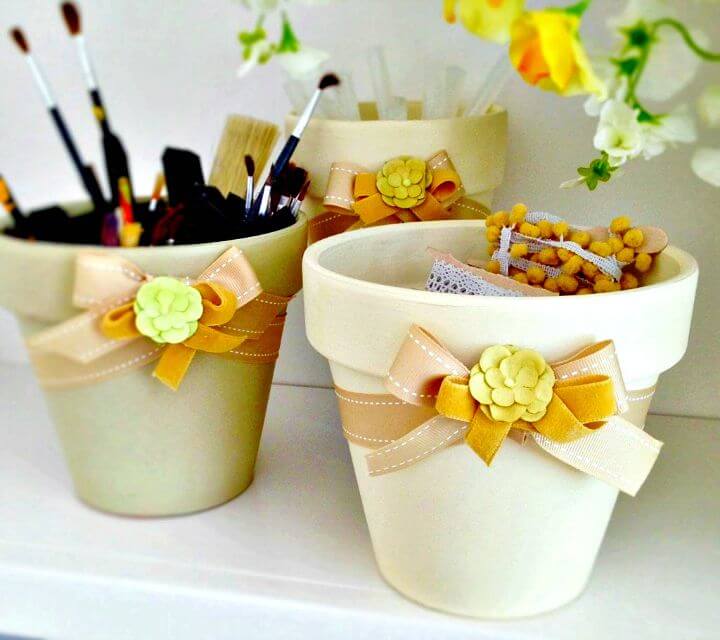 If you have some old terra cotta pots lying useless in your home or garden trash store, then you can also reuse them to serve in your home! Just paint them to look eye-catching and adorn with the ribbon bows and with felt or scrapbook flowers and start using them as accessory holders! Check out here the sample garden pots that have been repurposed to hold the makeup tools and other items of need and interest! Intending to duplicate these garden pots? Grab the full free instructions from here happyhappynester
Make A Flower Pot Smoker: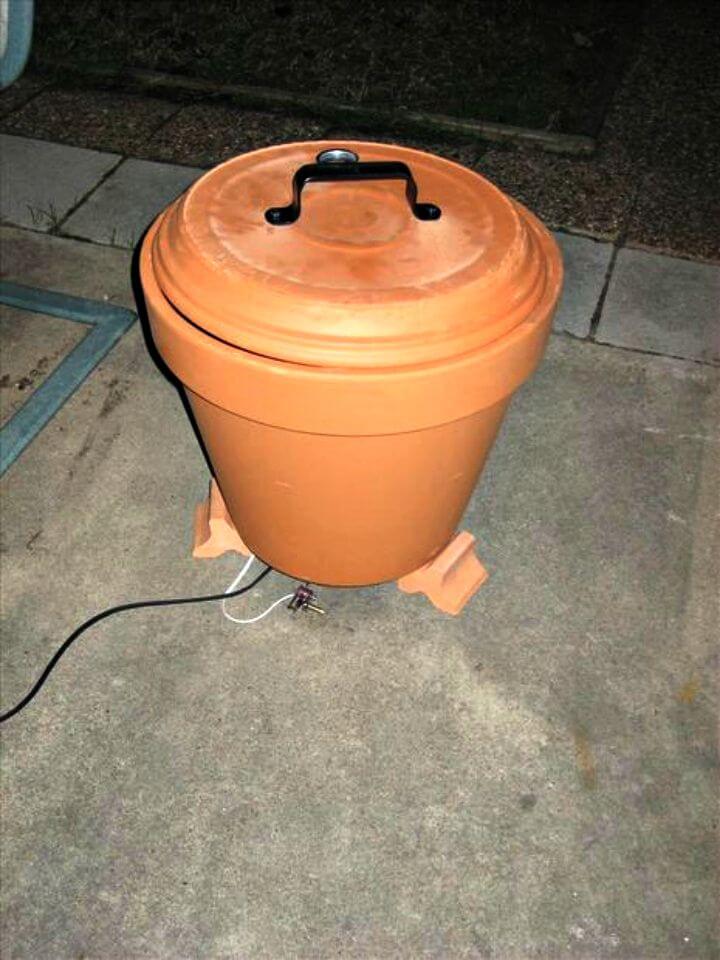 Maybe you are interested in outdoor BBQ parties and feasting, if yes, then will demand some amazing outdoor BBQ grills and smokers! So, time to make amazing smokers at home using the terra cotta pot! Just grab a terra cotta pot and fit a single burner inside of it, top the burner up with a grill grate and also with an iron skillet and then close the pot with a saucer! Another great and smart project to do with the terra cotta pots! Grab the full free tutorial and instructions from here instructables
Easy DIY Flowerpot Bird-Feeder: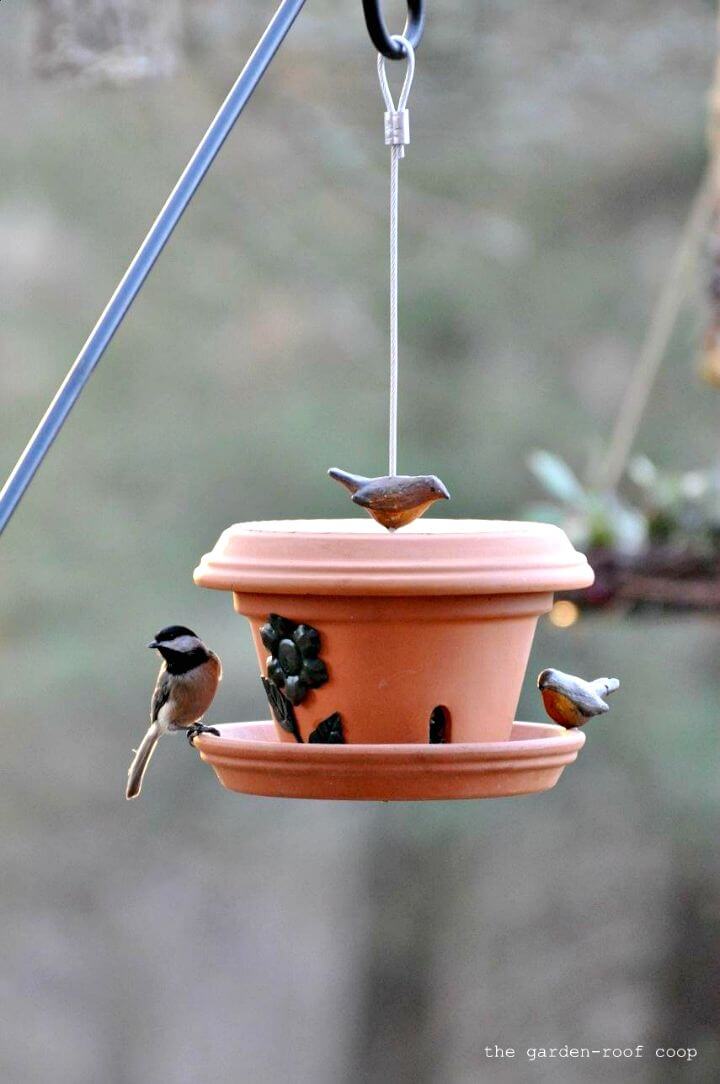 The craft ideas and projects to do with the terra cotta pots have just no end! Here is another great terra cotta pot project to inspire your creativity! Make a lovely garden birdfeeder also at home using the two saucers and a terra cotta pot! Make a hole in the terra cotta pot to let the bird seed come out to feed the birds, next make the top of the pot closed with a saucer lid and also add a saucer base that will also provide the space for the birds to sit comfortably while having their meal! Decorate your birdfeeder with custom art and stencils and hang it over using custom hanging systems, here the vinyl coated wire has been used! Complete tutorial here
Make Your Own Bird Bath: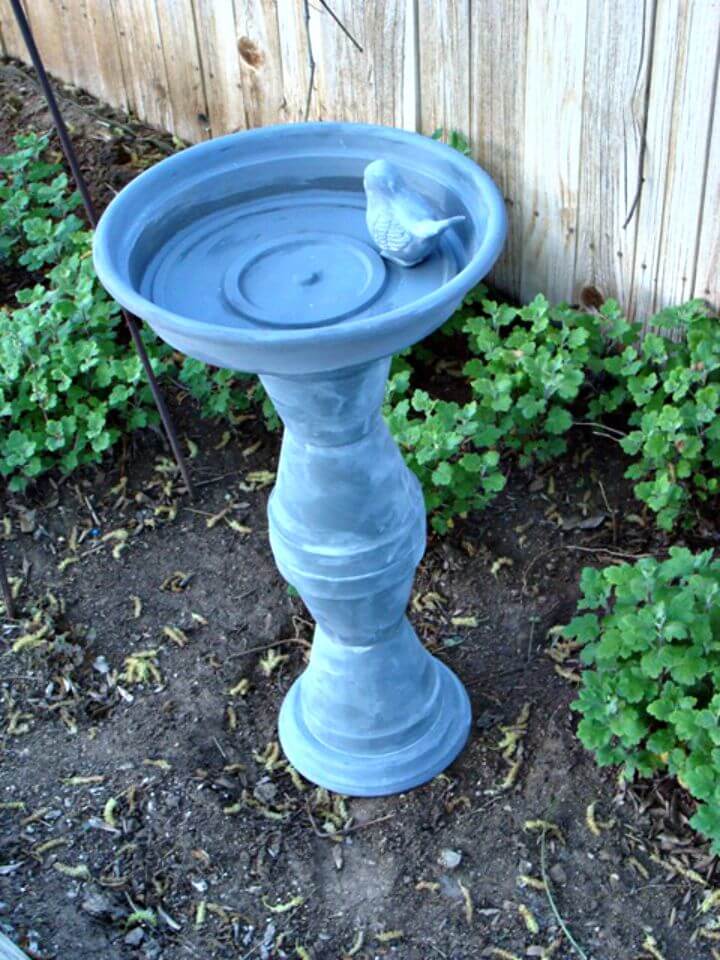 If you love to see your favorite feathered friends dancing and bathing right in your garden space, then you will definitely like this terra cotta project! Just make some super cool looking birdbaths at home using to keep enjoying this phenomenon! Make also fantastic looking birdbaths using the terra cotta pots! Stack the terra cotta pots in face-to-face and bottom-to-bottom arrangements making a tower and next finish this tower with a grand saucer top that will be the bird bath! Peek into details of this sample terra cotta bird bath that is just looking lovely with a faux bird sitting in the bath! Paint your finally finished bath for a custom appeal, this given is having a fantastic grey appeal! Complete tutorial here clay-pot
Adorable DIY Mosaic Bird Bath: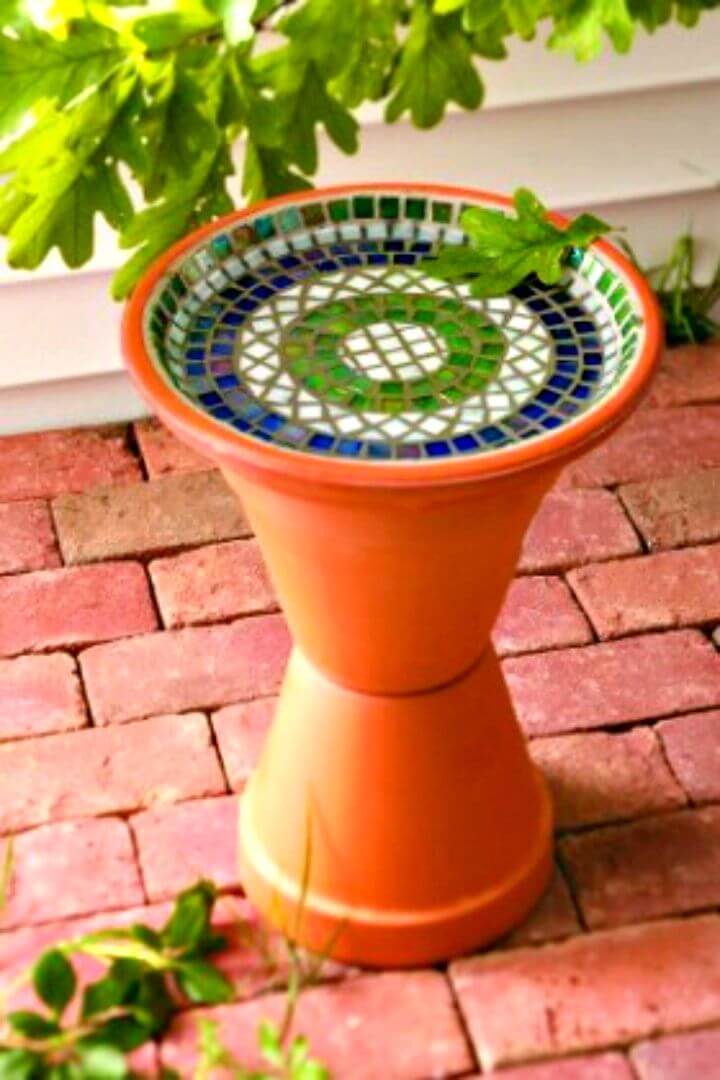 Once again a cool birdbath is here to make with the terra cotta pots and saucers! Here this fantastic-looking bath comes with a brilliant mosaic effect that will go eye-catching to all of your feathered friends! Glue together 2 terra cotta pots in bottom-to-bottom arrangement and next just finish it up with a mosaic saucer top or bath! Use the broken up China, ceramic tiles and the glass pieces for the mosaic pattern! Grab the full free tutorial and instructions from here birdsandblooms
DIY Painted Flower Pots: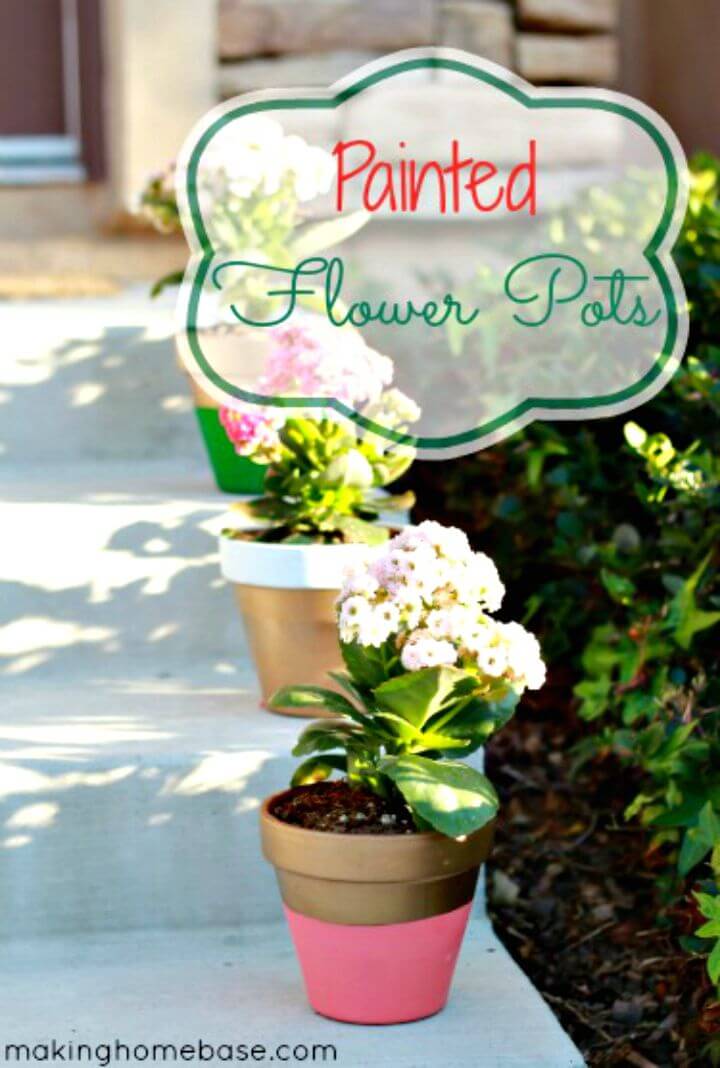 Transform also your ordinary terra cotta pots into enticing looking centerpieces to place over your porch steps or on any garden stair steps! For this purpose, you can paint your flower pots in eye-popping colors and just check out here these lovely samples! Here the common looking terra cotta pots have been spray painted in gold and then have also been painted half in another color like in coral, green and white for a spell-binding visual appeal! Another quick project to do with terra cotta pots to boost your garden decors! Complete project tutorial here makinghomebase
Simple DIY terra cotta Fountain: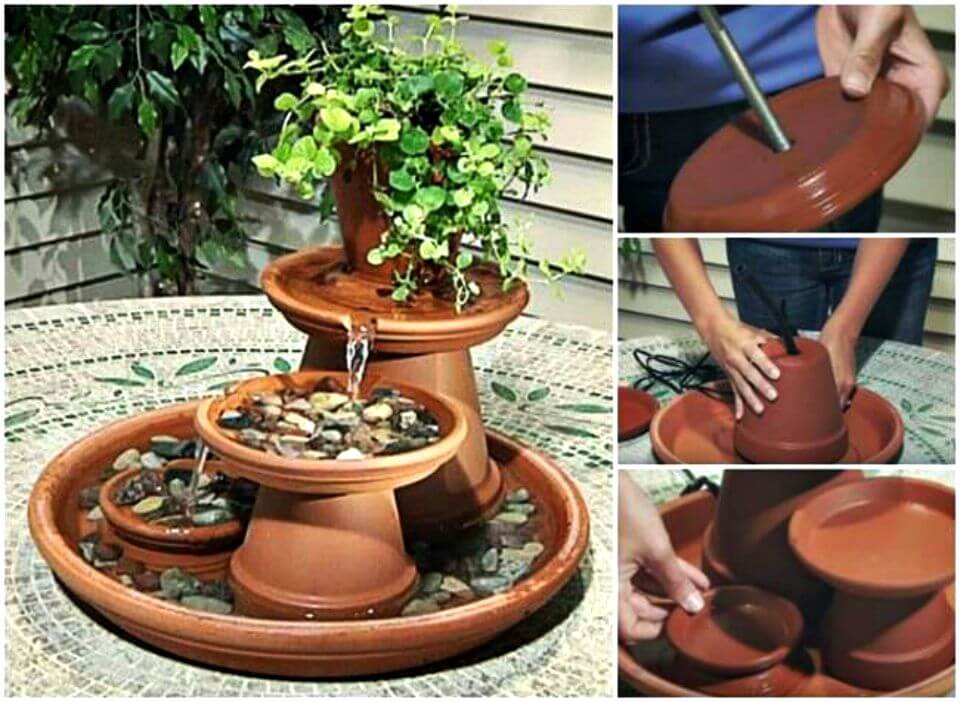 Go also a genius with the terra cotta pots to install amazing water features in your garden without getting a bit expensive! We would like to amaze and inspire yours with this fantastic-looking terra cotta pot fountain that is looking much focally stimulating! Here the entire fountain comes with a bigger saucer that comes with fantastic steps made of terra cotta pots and saucer that drop the water on each other for amazing water features! Install the water pump and pipe in the pot that is having the highest height level! Complete project tutorial here icreativeideas