We've got a list of 25 quick, easy and cheap DIY plywood projects that you can make with just one sheet of plywood or out of scrap that can be completed in an afternoon. With a little creativity, you can turn scrap wood into something new and beautiful.
Consider trying out some DIY plywood projects if you're searching for a unique and budget-friendly method to add personality to your home. There are endless options for what you can create with plywood, so you're sure to find something that fits your style. Plus, since plywood is relatively inexpensive, this is a great way to get creative without breaking the bank.
One of the great things about using plywood for projects is that it can be cut into any shape or size that you need. This makes it perfect for creating custom pieces that will fit perfectly in your space. Whether you want to create a new piece of furniture or simply add some decorative accents to your home, plywood is a great option.
So, if you're looking for a fun and affordable way to add some personality to your home, try out some DIY plywood projects. You're sure to be impressed with what you can make!
In plywood furniture, build a stylish DIY daybed, dining table, coffee table, outdoor benches, ultra-modern shelves, mid-century modern outdoor chairs, and stunning industrial media stands out of one plywood sheet. In the home decor, the ideas are just endless. Create incredible plywood flooring, gaming boards, accessory organizers and modern storage options out of single plywood sheets. Take a short tour of these plywood projects for more interesting and unique ideas.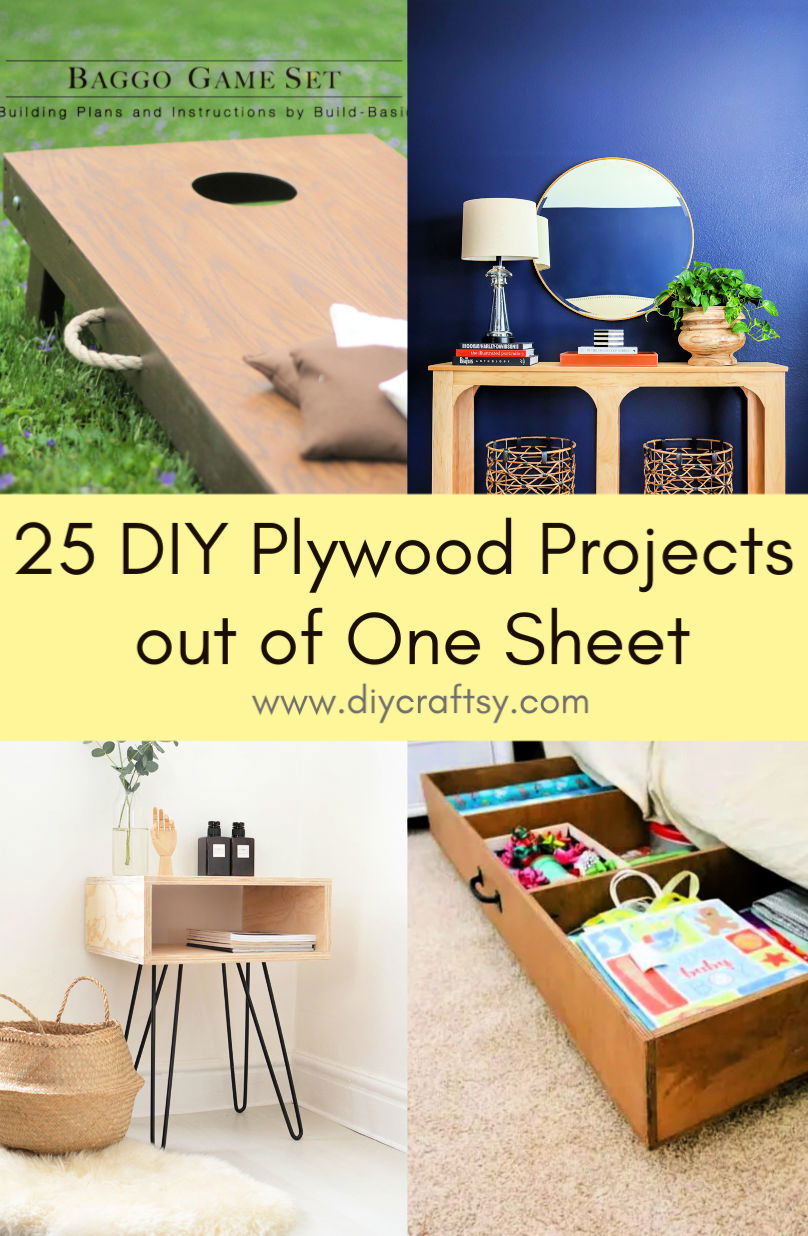 Plywood is easy to cut, easy to clean, and easy to stack materials, this makes it highly feasible for almost every kind of woodworking projects. These DIY single sheet plywood sheet projects will make you think twice before you put a plywood sheet in the home trash store.
1. DIY Plywood Media Console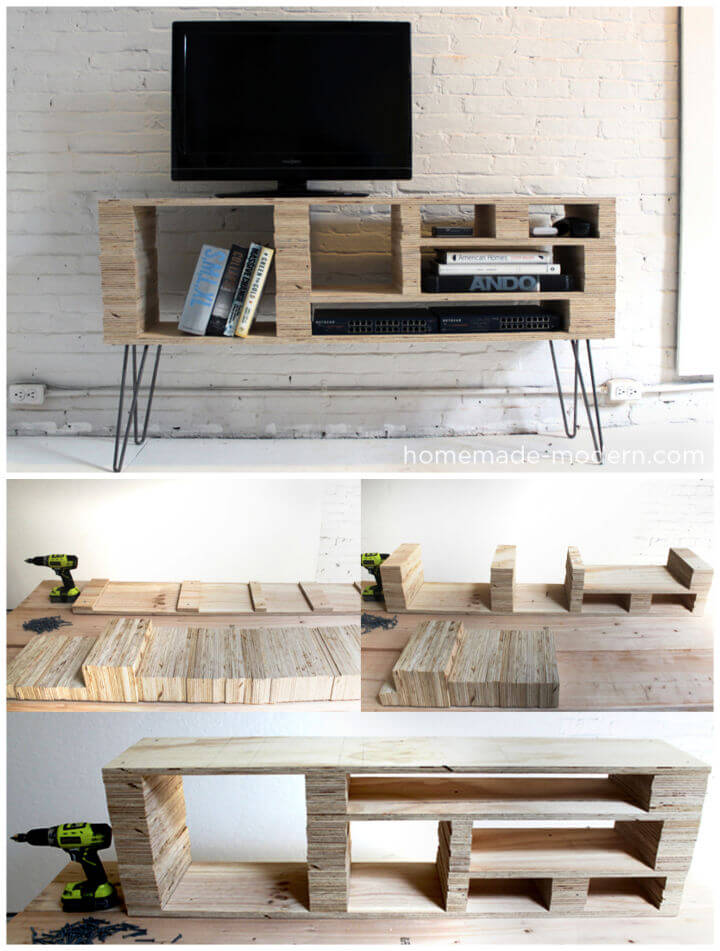 Time to style up your media room with a single sheet of plywood that you have managed somehow to have in your stock room. Build a stably stylish media console with stacked plywood pieces, will definitely be a modern media stand to build in no time. Here it stands on metal hairpin legs and hence gains an industrial appeal. Full how-to guides here homemade
2. Closet Organizer from One Sheet of Plywood

Having problems with your closet? Is it not performing as you are willing or lacking storage space or compartments then you must solve it using this plywood closet organizer, which will cost you a single plywood sheet. Add also storage baskets in this plywood storage tower to get a more secure storage option. Full how-to guides here ana white
3. DIY One Sheet Plywood Chair Set

If they once, your friends will be talking about the elegance and style of these plywood chairs, have arresting designs and are made of plywood. Do, clone this chair set to appreciate finely flatness of plywood sheet and to enjoy outdoor sitting with a friend. Two chairs and side table to make with a single sheet of plywood. Details here buildsomething
4. Modern DIY Birch Table

The big conference or dining table cost you big always but you can get this stylish one at a very lower cost price like the price of a single plywood sheet. Cut a big tabletop out of plywood and then raise it on the tapered plywood legs and make this modern table. Full how-to guides here boxycolonial
5. Build a Plywood Baggo Game

Increase also the outdoor activities of your kids and your family by using again a single plywood sheet. What it can make you get, a lovely cornhole game board that will also be durable and even flat. Build this game board only with rear legs for a sloped position and add the rope handles for easy carriage. Full how-to guides here build basic
6. Herringbone Hairpin Leg Coffee Table

Establish sophistication and an outstanding style in your living room by adding this herringbone coffee table. Make it by filling a plywood sheet that you can fill with chevron alignments of poplar boards. Finish it with metal hairpin legs for a gorgeous industrial appeal. Give a nice wood finish to bring shine on wood grains. Full how-to guides here oheverything
7. Stacked Plywood Table Lamp

Stack plywood squares or leftover pieces also to build a solid yet stylish table lamp. It will bring prominence and tons of elegance to a desktop, side table and also on a nightstand. A brilliant choice of a lamp to bring a hot of wood to an interior home space. Full how-to guides here pneumaticaddict
8. Farmhouse Plywood Leather Footstools

A single sheet of plywood can be life-changing if you know the ways to use it smartly. Fulfill your sitting furniture requirements and needs with these plywood footstools, which are super soft and comfy to sit on due to leather seats. Build these stools with plywood, will be quite an easy DIY furniture project to do on a Sunday afternoon. Details here littleredbrick
9. DIY Plywood Map Art for The Wall

The map wall art signs are hotly in trends and you can the pro versions of it at home using a single plywood sheet. Paint your plywood and next paint a state art on it. The next step is really smart. Take the finally finished art into separate square pieces and next hang on the wall for amazing bedroom decor statements. Details here cravingsome
10. One Sheet Plywood Sandbox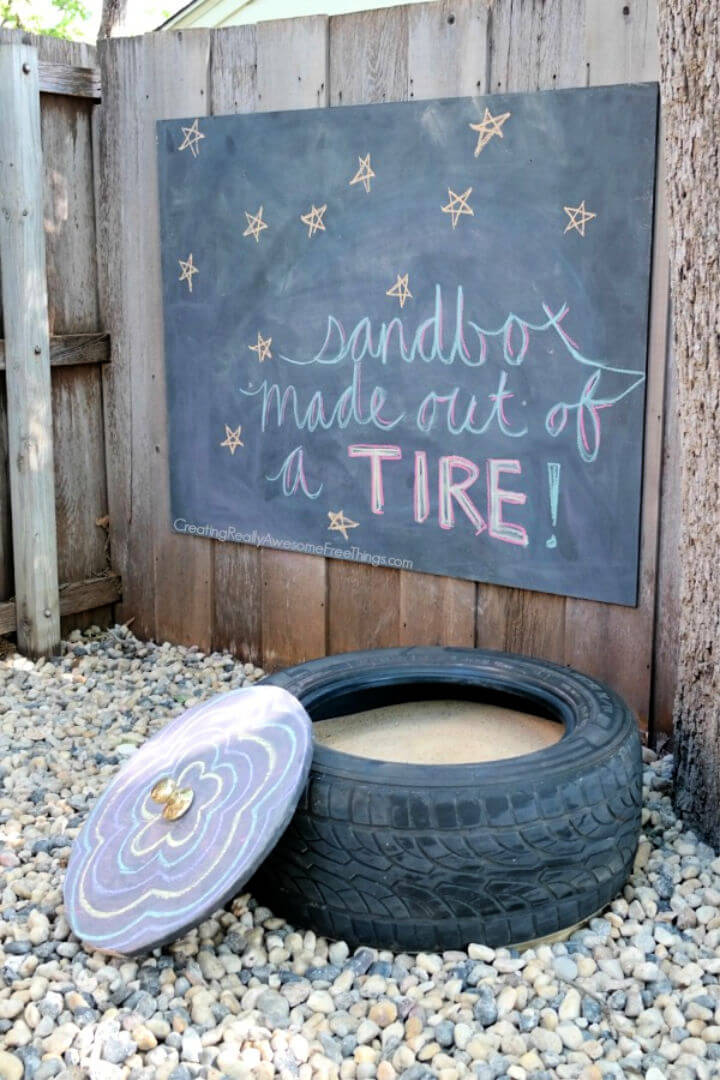 If you are a loving parent, you are giving ten out of ten to this one sheet plywood project, which will surely boost the kids' fun and entertainments. Grab a big recycled tire, cover its both sides with the plywood rounds and fill sand in it. use one side as a lid and let the kids play with this sandbox. Complete how-to tutorial here creatingreally
11. Oversized Outdoor Checkerboard Game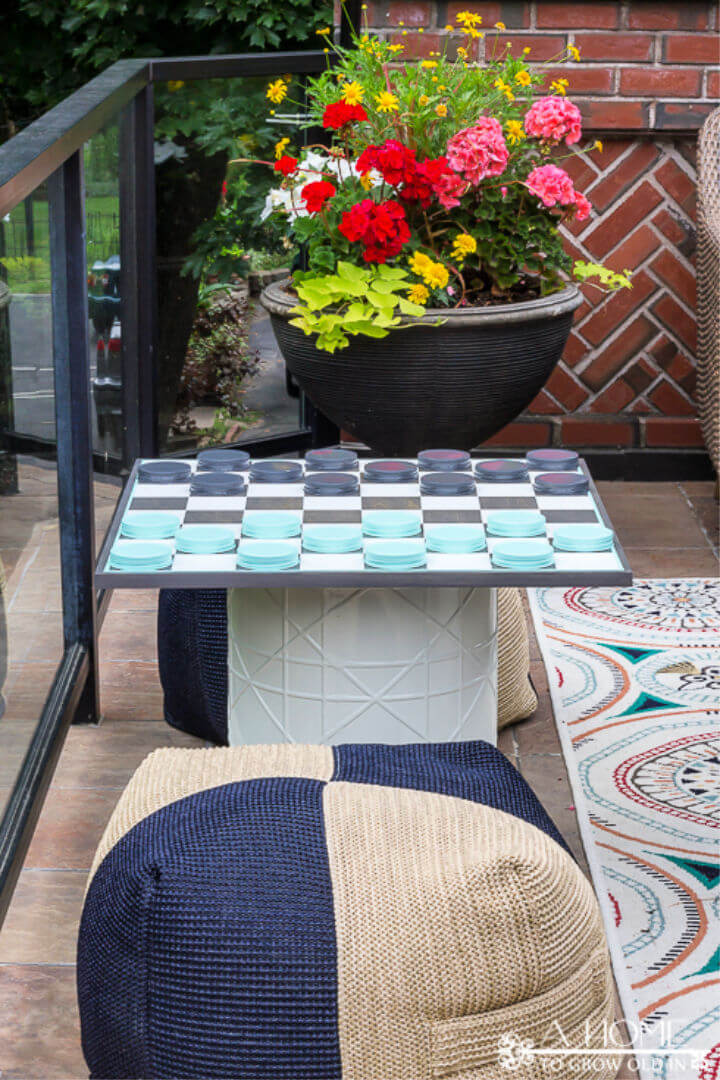 Build also the amazing kids' and adults' games and game boards out of plywood. Consume only a single sheet to build this oversized checkerboard game, comes with recycled jar lid pieces. Paint the checkerboard game on a plywood piece cut to size and add the accent trimming. Full how-to guides here ahometogrowoldin
12. DIY One Sheet Plywood Bench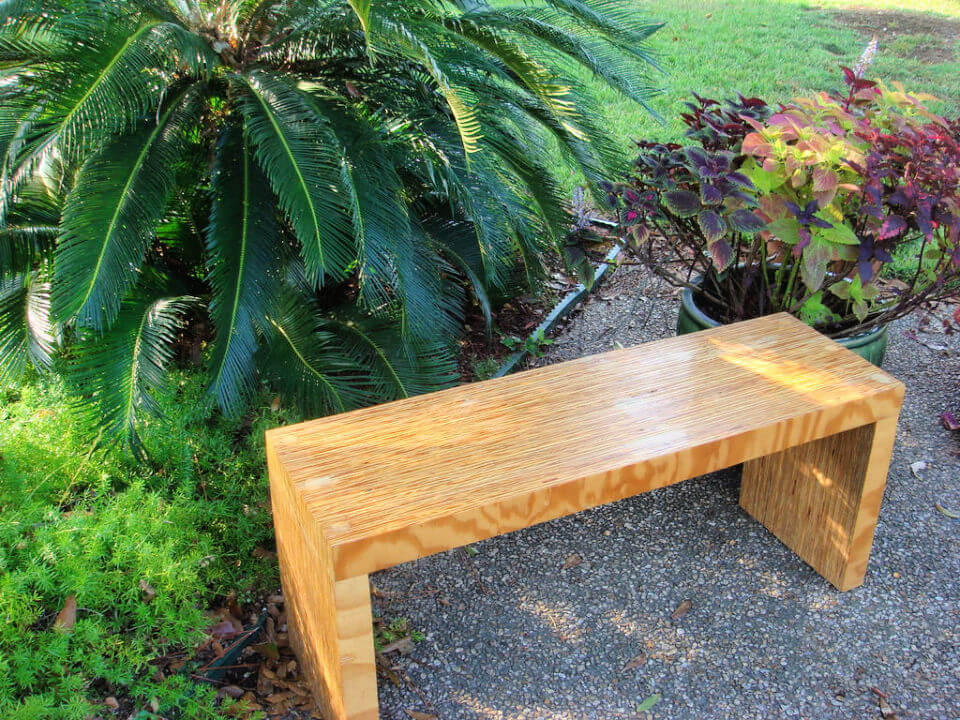 You will be a big fan of the stability of this plywood bench, made of stacked plywood slats, give a nice wood finish to be focally stimulating. A simple yet modern design of wooden bench to build only with a sheet of plywood. How-to guides and instructions here instructables
13. Modern DIY Josh & Sarah's Stool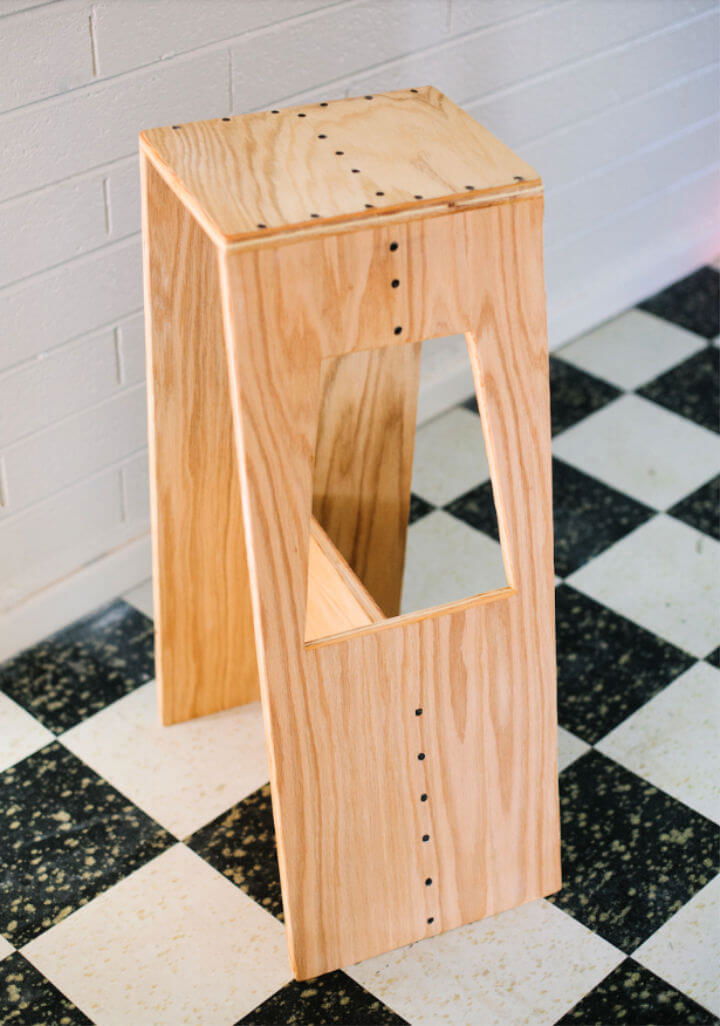 Build this very handsome design of stool, will rock for kids willing to sit in a style. A modern Josh & Sarah's stool to make using a less than a half sheet of plywood. This stool looks great in natural plywood texture but a nice wood finish can bring tons of visual attractiveness more to the design. Details here abeautifulmess
14. Rocket Bookshelf for Space Themed Bedroom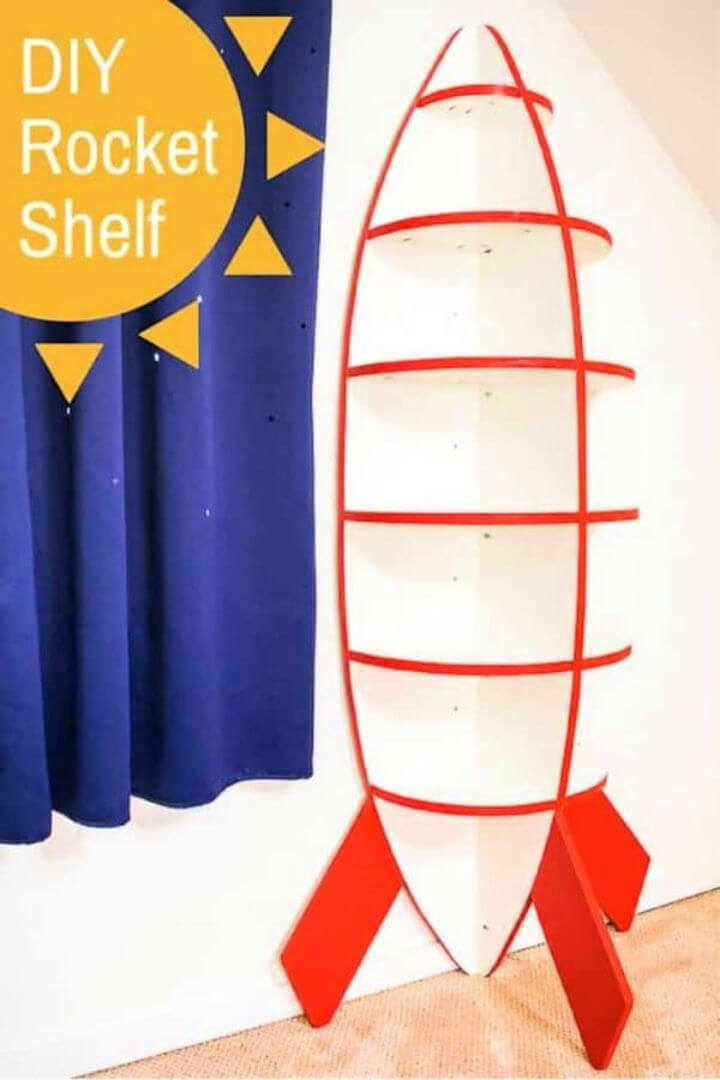 One more great and modern project to do for a modern kids' bedroom.  A brilliant bookshelf achievement was done with a single sheet of plywood. It will rock for a space-themed bedroom, looks great in white and red painted appeal. Here is how to make it thehandymans
15. DIY Plywood Storage Coffee Table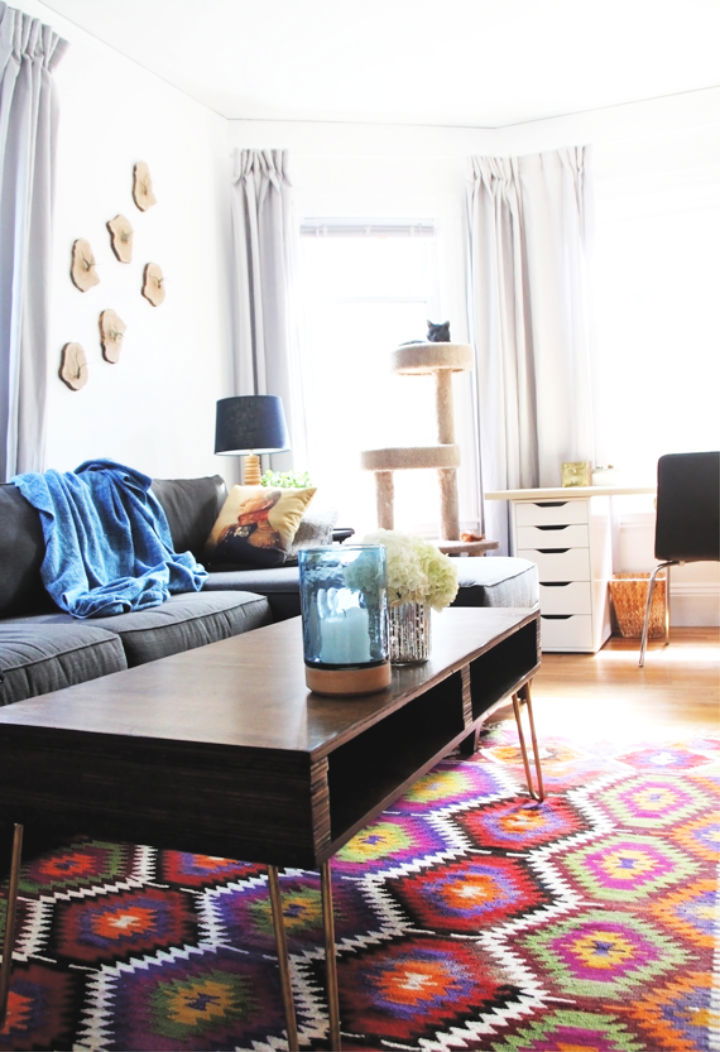 Lacking a coffee table means you are lacking style in your living room. So, instantly make a lovely one in fetching design using a single plywood sheet. Use two equal plywood slabs to build the bottom and top of the tabletop and use plywood stacked for inside and side supports. The idea is to build a pallet skid with plywood to build this table, finish with custom legs. Full how-to guides here idlehandsawake
16. Mid-century Modern Bench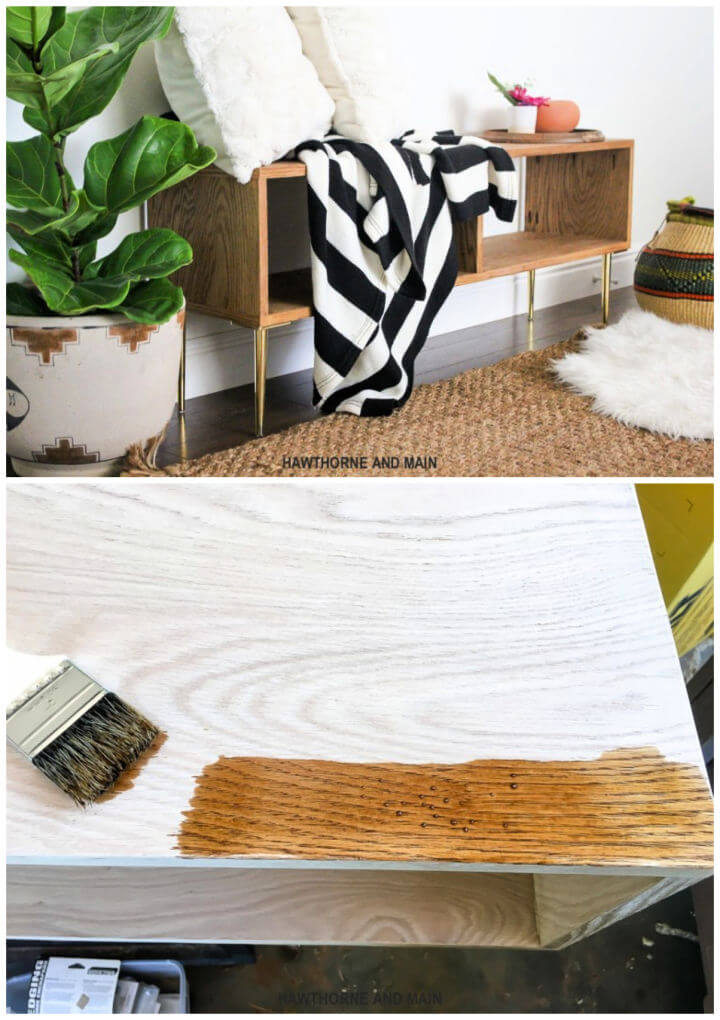 There are many of us for whom restyling their home modern with a little touch of rusticity becomes confusing! If it is also a foreign concept for you then you must think to build this mid-century modern bench for your modern home. It will incorporate rusticity to your modern home decor! Build with plywood and finish with gold painted metal legs! hawthorneand
17. Super-Easy DIY Magazine Rack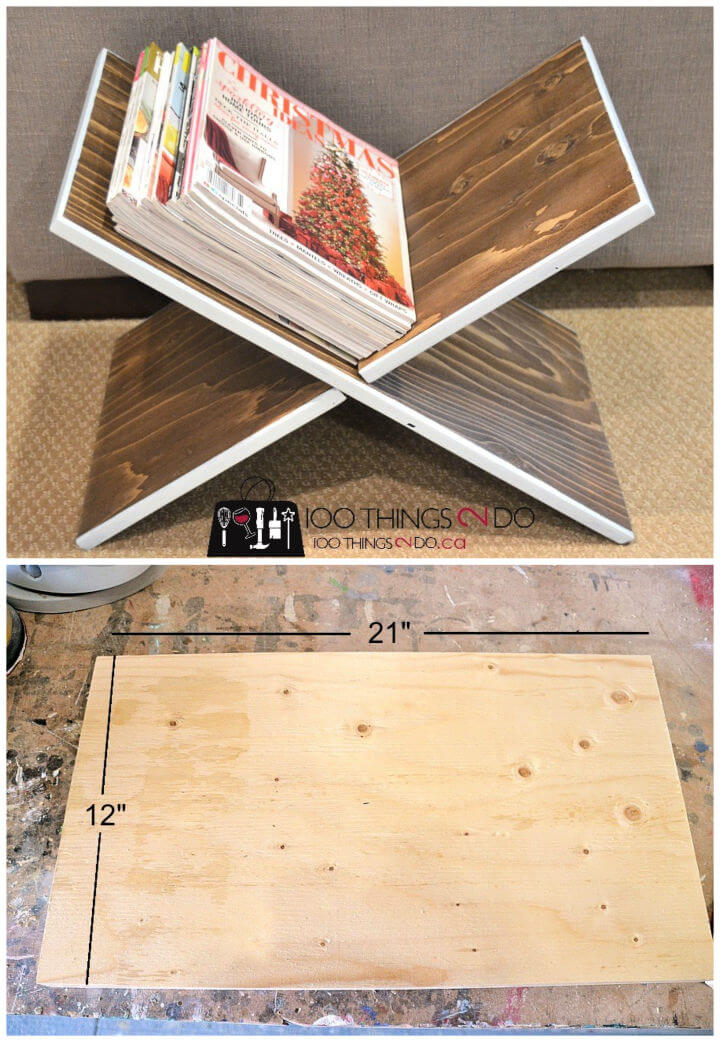 A beautiful art craft and a brilliant stand to hold the magazine stacks carefully! A lovely looking magazine rack to build with wood will grab the attention with its criss-cross design! You only need a few slats of plywood with a chic white border to make this X-shape magazine rack! Full how-to guides here 100things2do
18. One Sheet Plywood Pegboard Planter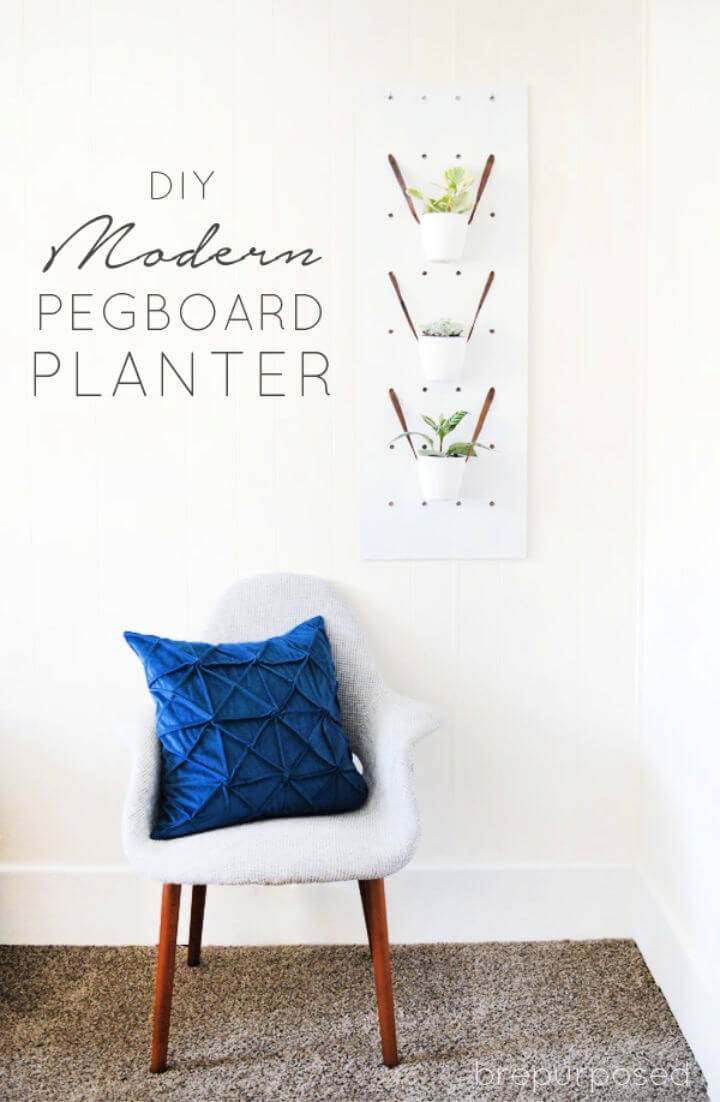 Do wondrous crafting achievement with a single sheet of plywood! Drill holes in a plywood board and build a pegboard, paint it in white and hang the matching planter on it! Here are two options, hang the planters on peg hooks or leather strips! It will be a modern home decor centerpiece to bring natural vibes in your home! How-to guides here brepurposed
19. Make an Organization Bloks Out Of Plywood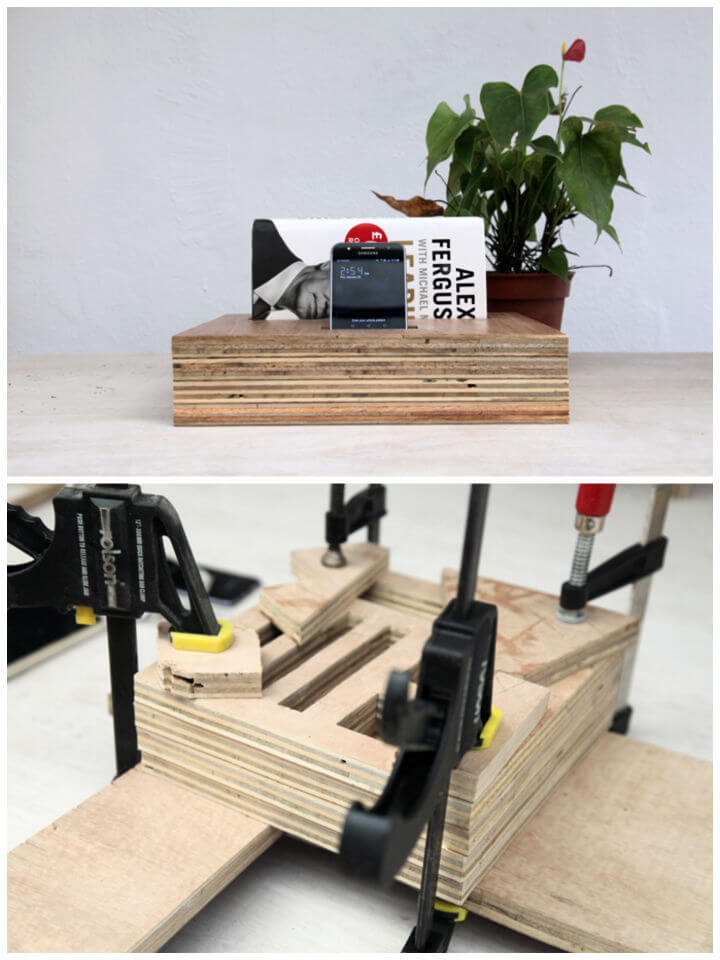 Stack the plywood pieces, cut out custom slots and compartments and gain lovely organizer blocks out of the, will be long-lasting! Look at this organization block, It will look great on your office desk, a modern desk organizer to make in no time! Experiment with this project by adding custom slots and pockets! Complete how-to guides here hometreeatlas
20. DIY Minimalist Plywood Storage Bin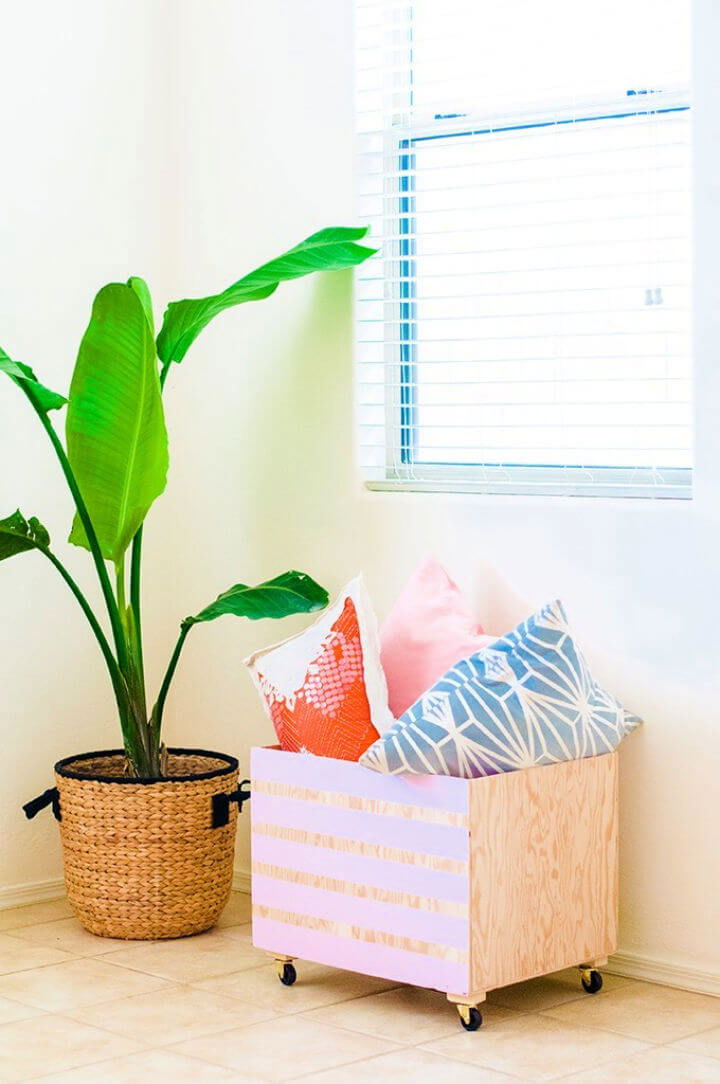 Is it making you feel bad to see the messy collections of things then you must consider making adorable bins with the plywood! Construct simple boxes out of plywood, raise them on wheels and stencil their front for a striped appeal and that's it! Complete how-to guides here theproper
21. DIY One Sheet Plywood Nightstand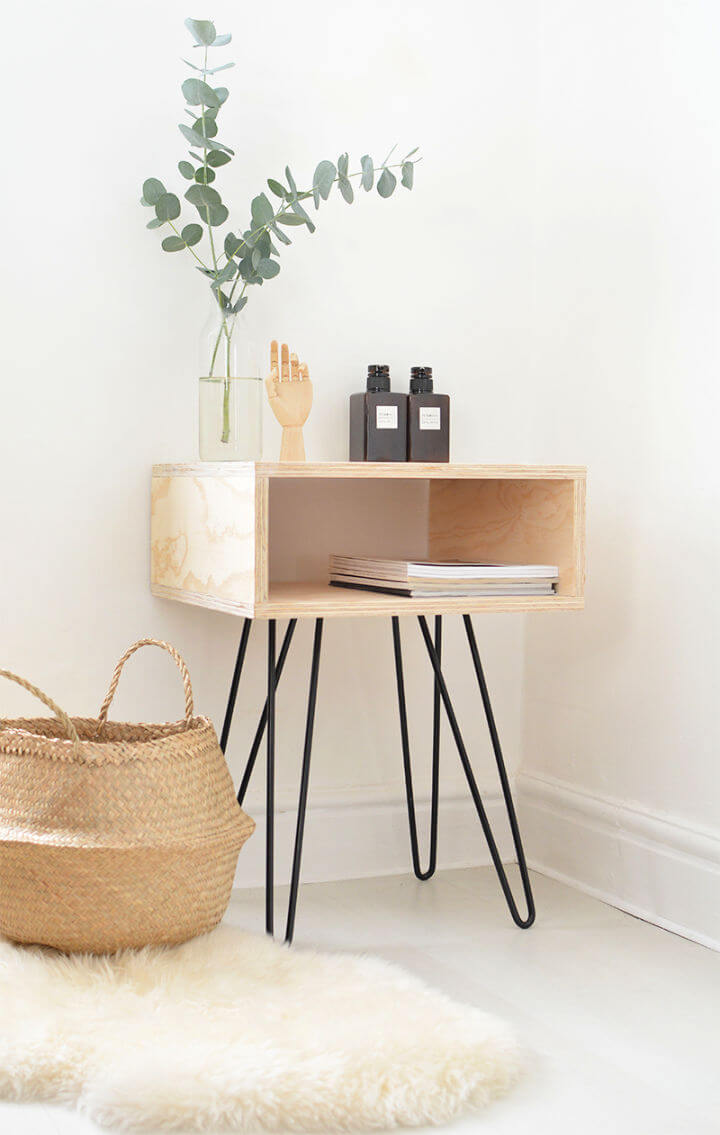 Let the bedroom aesthetics be more appealing by adding this mid-century nightstand! Shaping up a hollow plywood box and then to install hairpin metal legs to its bottom side is all you need to build this plywood nightstand! Complete how-to guides and tutorial here burkatron
22. Vegetable Storage Bin with Dividers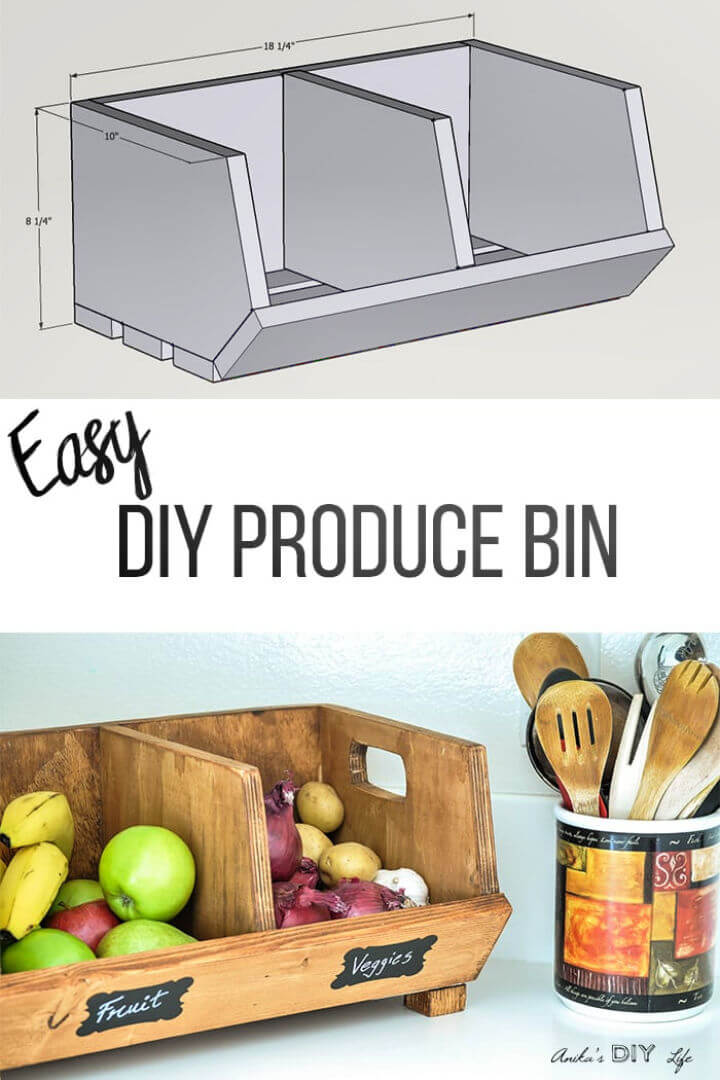 Make also amazingly functional storage bins for your kitchen using the leftover plywood! Lacking a cool design? Then try duplicating the given design has amazing design curves! It gives easy access to your stored veggies or fruits and is also allows separate and categorical storage of them! Use a chalkboard to paint interesting labels! Full how-to guides here anikasdiylife
23. One Sheet of Plywood Floating Shelf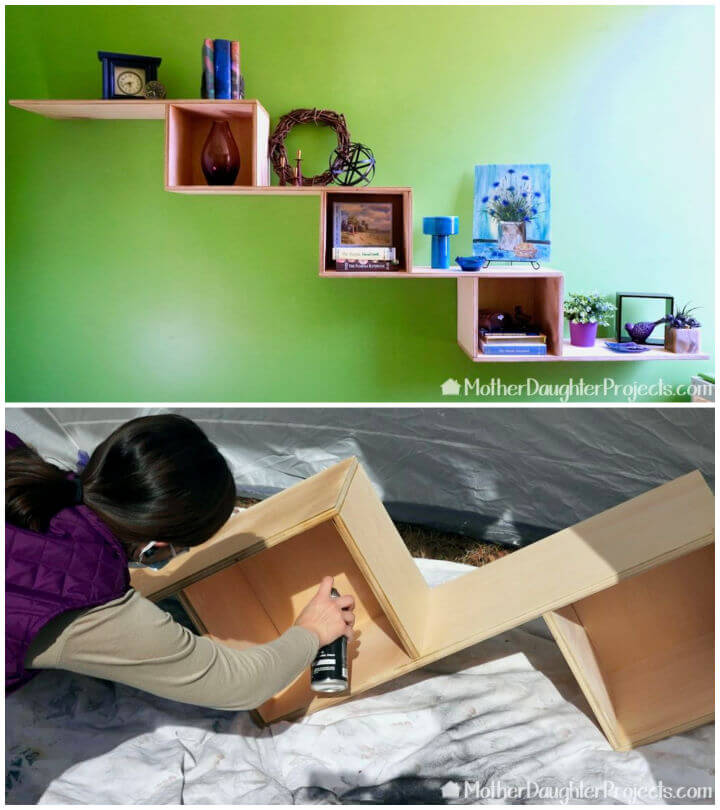 Increase the performance and visual of your interior both at the same time with this plywood floating shelf! Make it using a single plywood sheet, will be a practical choice too for adding additional storage space to an interior! It allows storing and displaying your things inside the compartments and also over the shelves! Full how-to guides here instructables
24. Build One Sheet Plywood Console Table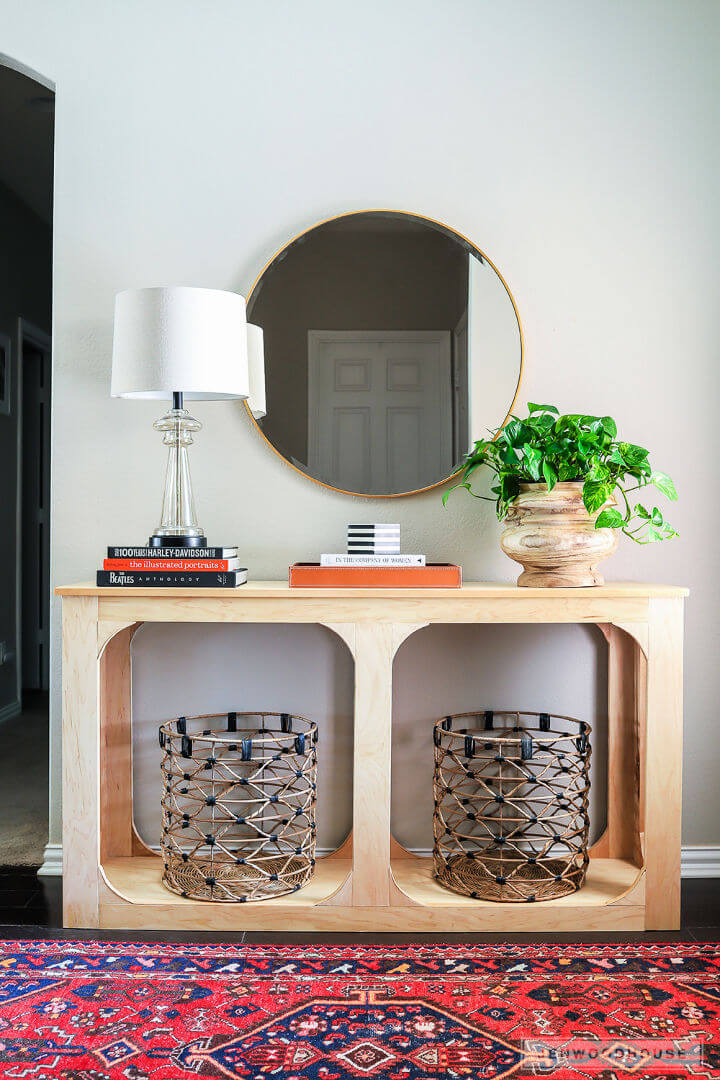 Multipurpose furniture can make your life a bit easier and the same will do this console table, which will allow storage in bottom containers that also add a lot in the beauty of this console table! This console table will impress at a first look and can hold book stacks, accent vases, and other impactful decors! Details here jenwoodhouse
25. Make a Desk from a Sheet of Plywood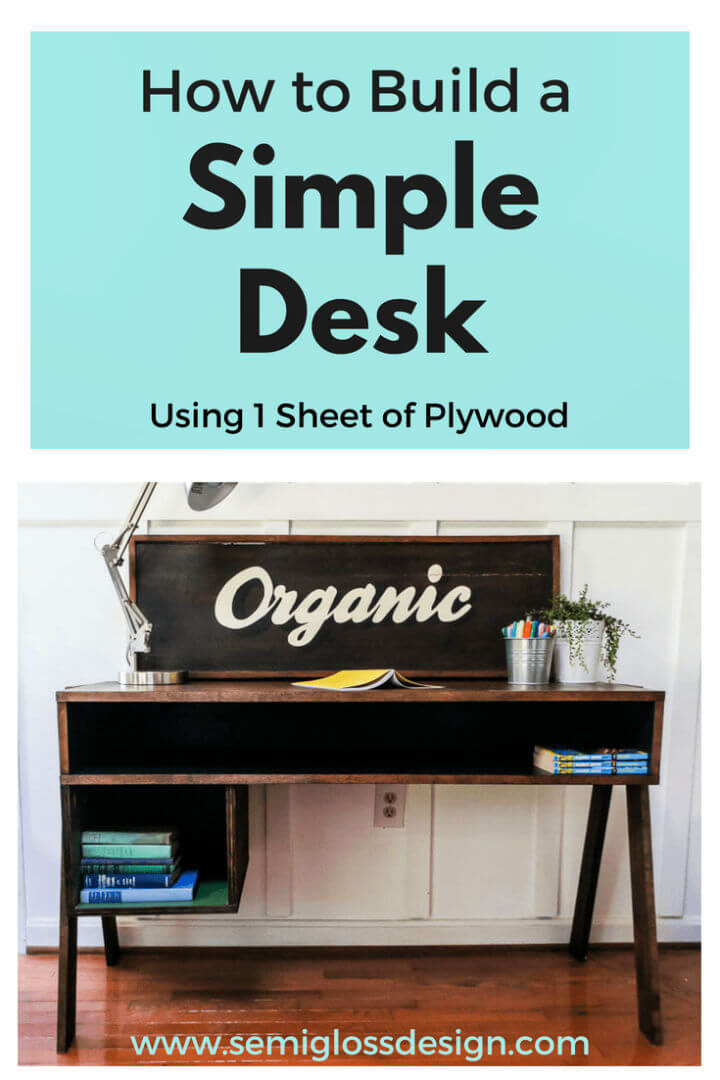 It will only take a single plywood sheet to build a fully-functional home office desk! Organize your home office with this storage-friendly, stylish and rustic design of desk! It offers slim long cubby just underside the top and also provide an additional lower storage compartment for storing books! How-to guides here semiglossdesign
26. DIY Plywood Under Bed Storage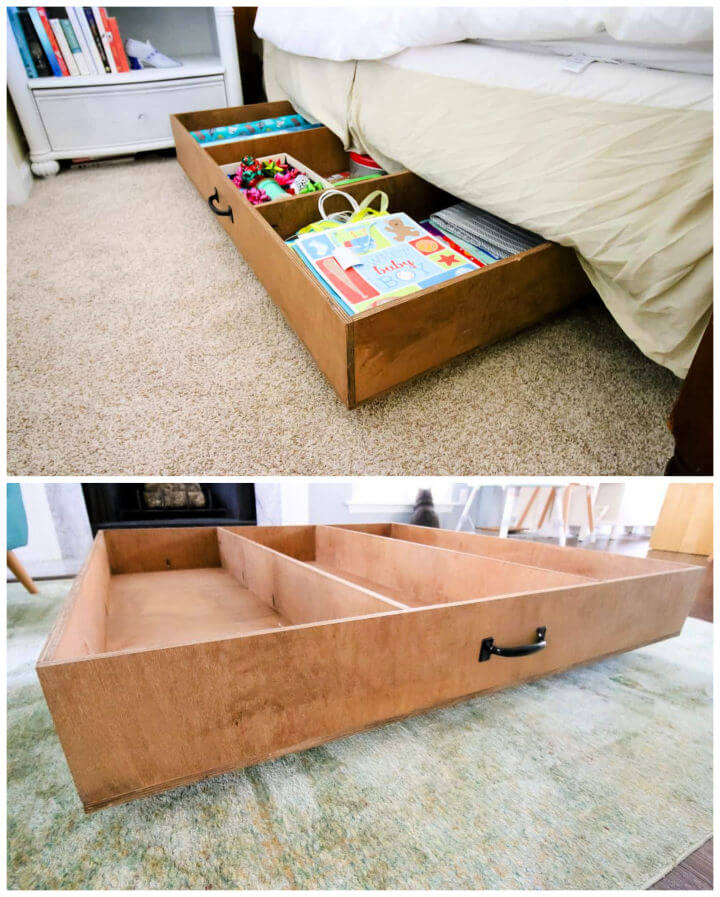 One sheet of plywood will be enough too to declutter your bedroom! Build large slim drawers or drawers with custom added dividers! Finish with drawer pulls and wheels and just push underside your bed with your items loaded inside! A smart plywood project to maximize bedroom storage space! Details here charleston
Scrap wood projects
If you're looking for creative and unique ideas for your next woodworking project, look no further than scrap wood projects. Scrap wood is a great material to work with because it's easy to find and relatively inexpensive. Plus, it's a great way to repurpose old or damaged wood that would otherwise be thrown away.
There are endless possibilities when it comes to scrap wood projects. You can use scrap wood to create everything from furniture to wall art to home décor. And the best part is that no two projects will ever be exactly alike. So whether you're a beginner or a seasoned woodworker, there's a scrap wood project out there that's perfect for you.
So what are you waiting for? Get started on your next scrap wood project today!
What to do with scrap plywood?
If you have scrap plywood lying around, don't throw it away! There are plenty of things you can do with it to repurpose and recycle the wood.
One option is to use it as a building material. For example, you can create a wall out of scrap plywood to add some extra insulation to your home.
Another idea is to make some scrap wood projects out of the plywood. You can cut it into different shapes and sizes to create things like picture frames, coasters, or even a cutting board.
And if you're feeling really creative, you can use scrap plywood to make furniture! A coffee table or end table made out of plywood can add a unique and rustic touch to your home.
So next time you have some scrap plywood, don't throw it away – get creative and find a new use for it!