When talking about the interior light decoration, we often mean it the chandeliers, lamps, wall light fixtures, and the other hanging and pendant light systems. Today we will focus on DIY lampshades only that always play an incredible role in raising the aesthetic value of your home. Here we've come up with 50 best DIY lampshade ideas that will help you fancy up all the lamps! Whether they are table lamps, floor lamps or tabletop-mounted, or hanging beautifully in a corner or just being placed over a nightstand or side table.
After organizing a home with the necessary components, more emphasis is given to knickknacks and the home decoration. It is always a challenge to find the exact decor that will blend in beautifully to your home's aesthetic ambiance. With a significant rise in decorating a home's trends and styles, the lights decoration is being preferred more than anything else. And it is also very tricky these days to choose the friendly light decor for your home.
How to make a DIY lampshade from recycled materials?
Modern lamps are expensive and also very hard to fit the personal decorative theme of the home. So, if you want a perfect DIY lamp shade that fits your lamp, you should prefer a custom DIY lampshade makeover. The listed DIY lampshade ideas will help create a very personal and aesthetically pleasing look of your lampshades.
If the high prices of lamps are not coming handy to you, you would wish you to go with DIY lampshade ideas that are easy to make. The good news is that the necessary supplies will be the ordinary and 24/7 home materials, mostly for each lampshade project! So it's time to make the custom lampshade issues quickly at home in a cost-effective way just by using your creative imaginations.
And these DIY lampshade ideas, given with complete DIY tutorials and instructions, are sure to make the journey easy of finding the diy home decor friendly lampshades.
Lovely Paint Chip Lampshade: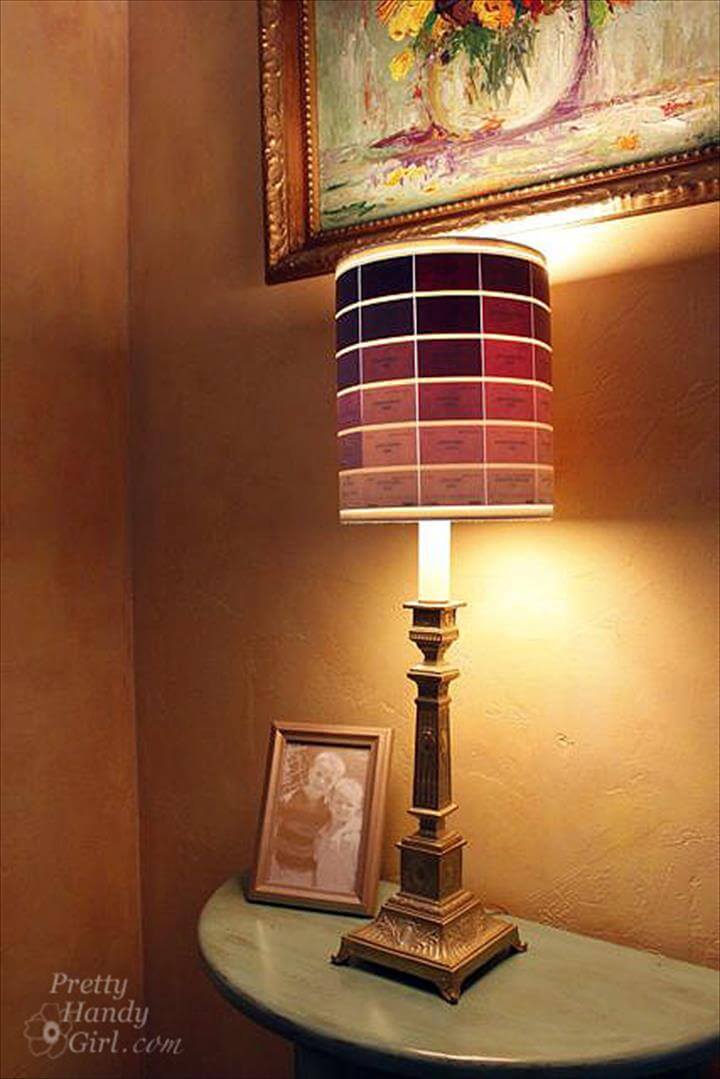 Lamps are frequently a part of your home decor, can be seen placed over the side tables, and mounted over the desks and tabletops. Here are the DIY painted lampshades to change your lamp to a sterling centerpiece using a paint chip only. Full Tutorial Here
Easy-to-Make Map Lampshade: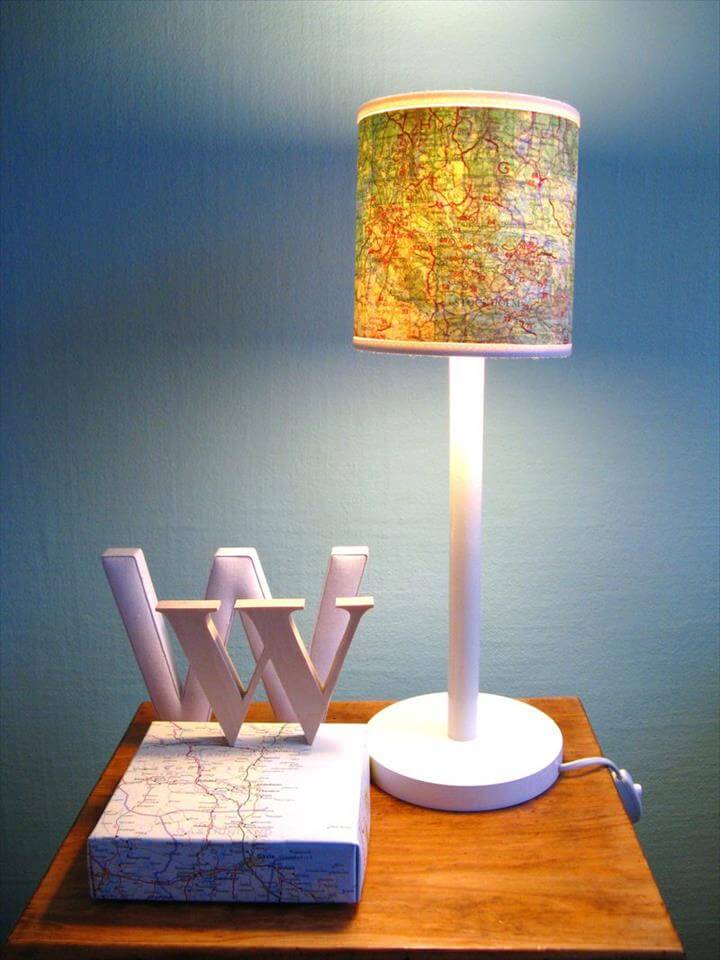 It is always a great experience to build something outstanding with your hands, so why not make this beautiful map lampshade at home? Mind-blowing to add to study tabletops. Full Instructions Here
Yarn Ombre Hanging Lampshade: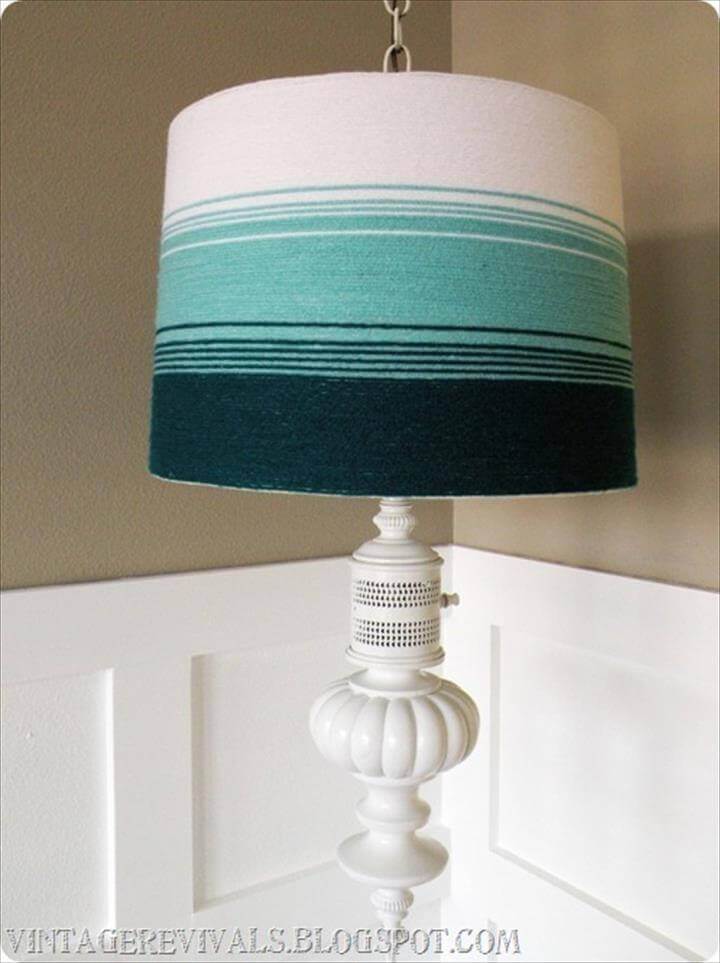 A twine or yarn wrap may be an option for a custom lampshade makeover! This ombre yarn lamp decoration is undoubtedly going to style up any room corner. Step-by-Step Guide Here
Handsome Doily Covered DIY Lampshade: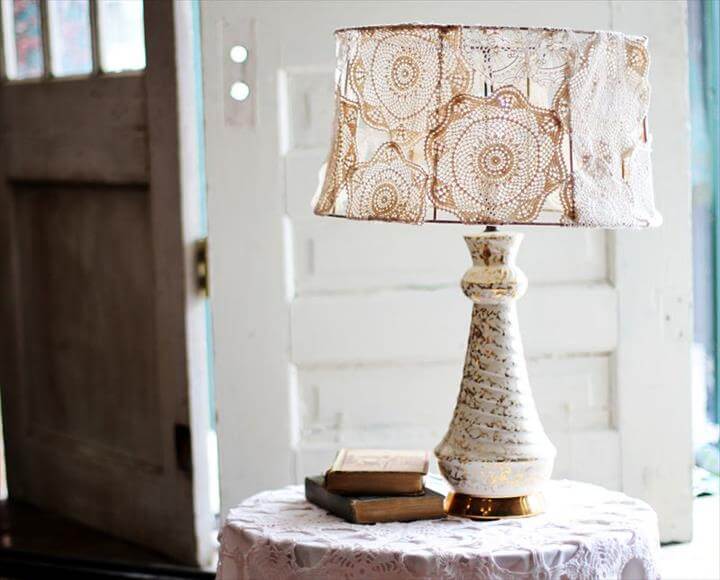 Sorting out the new ideas about DIYing a lampshade? Here is the best inspiration. Use doilies to design a beautiful lampshade at home. Full DIY Tutorial Here
Cool City Skyline Lampshade: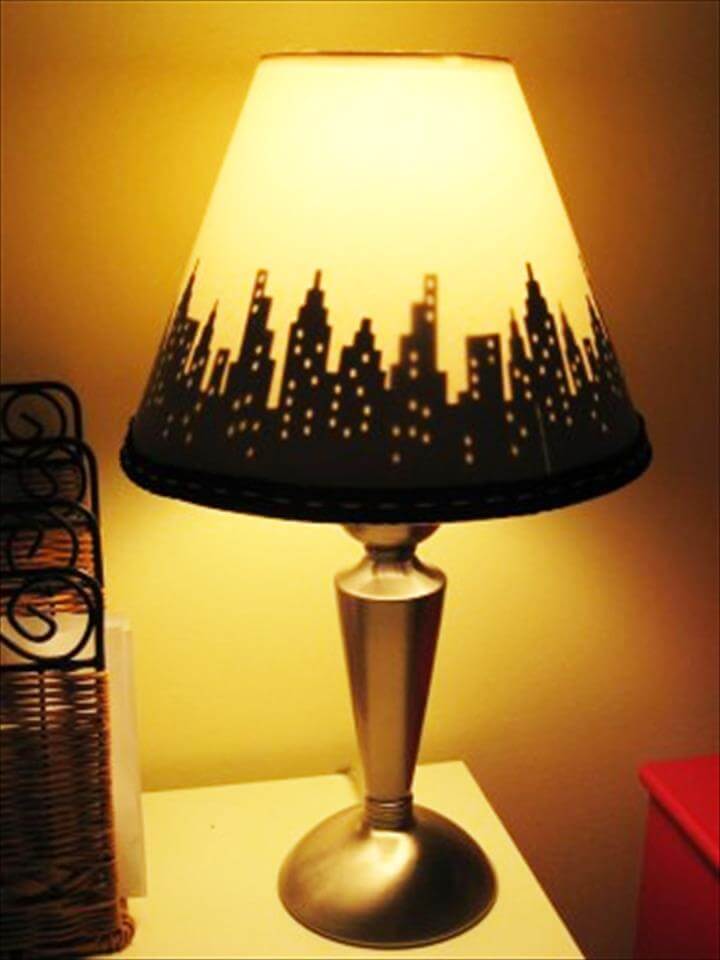 Poke some tiny holes in the selected city space scrapbook cutouts and place them inside the lampshade for a glam and impressive look of the lampshade. Complete Instructions Here
Cozy Ruffled Burlap Lampshade: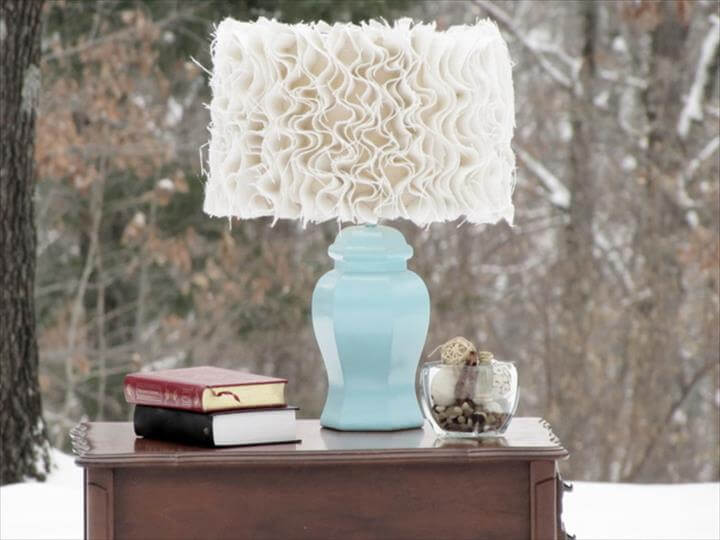 Use burlap strips, tie them together after getting ruffled, and then place it over a lamp base for a cozy lamp manifestation. Here is How to Make it
Creative Chopstick Lampshade: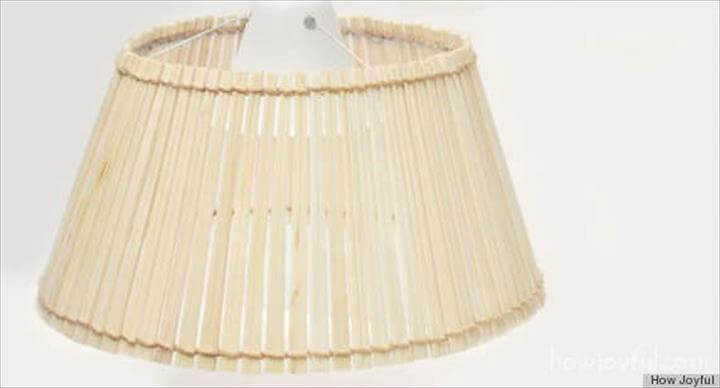 Grab a pack of chopsticks and just put them together using glue and hemp twine, after making a conical shape! You will get a perfect shade for your lamp. Step-by-Step Guide Here
Fabric Strips Lampshade: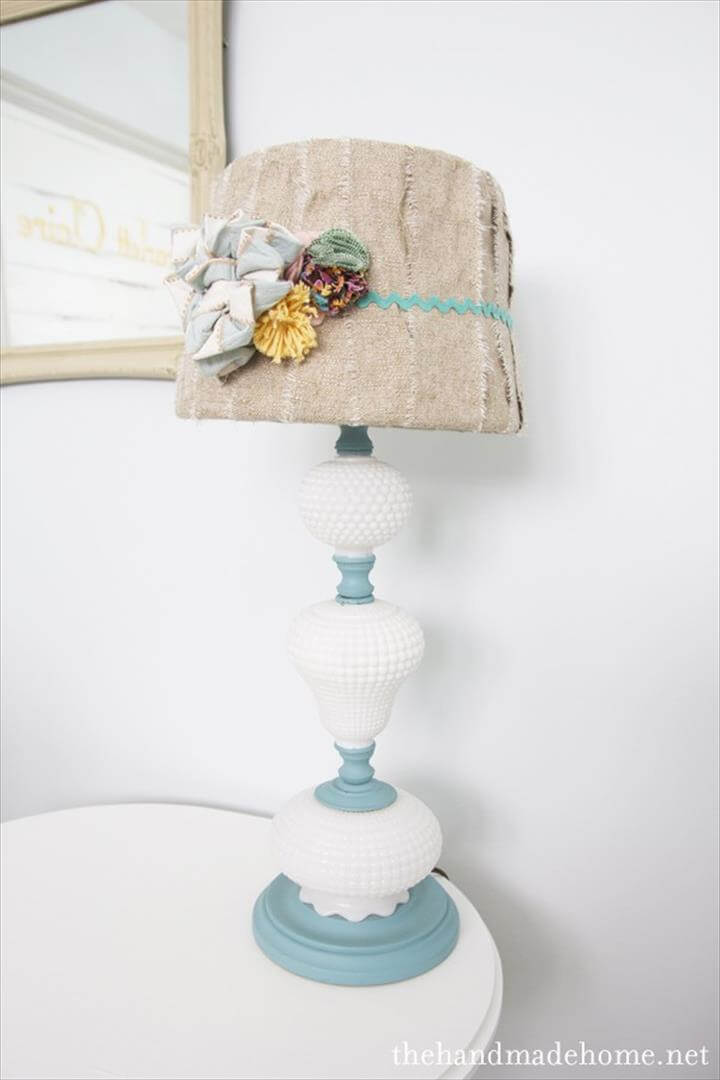 Brainstorming to find a genius way for a rustic touch to your room aesthetics? In our opinion, there would not be a better way but to use this burlap rustic lampshade, cost-effective, and easy-to-recreate also. Here are the Directions
Crochet Pendant Lampshades: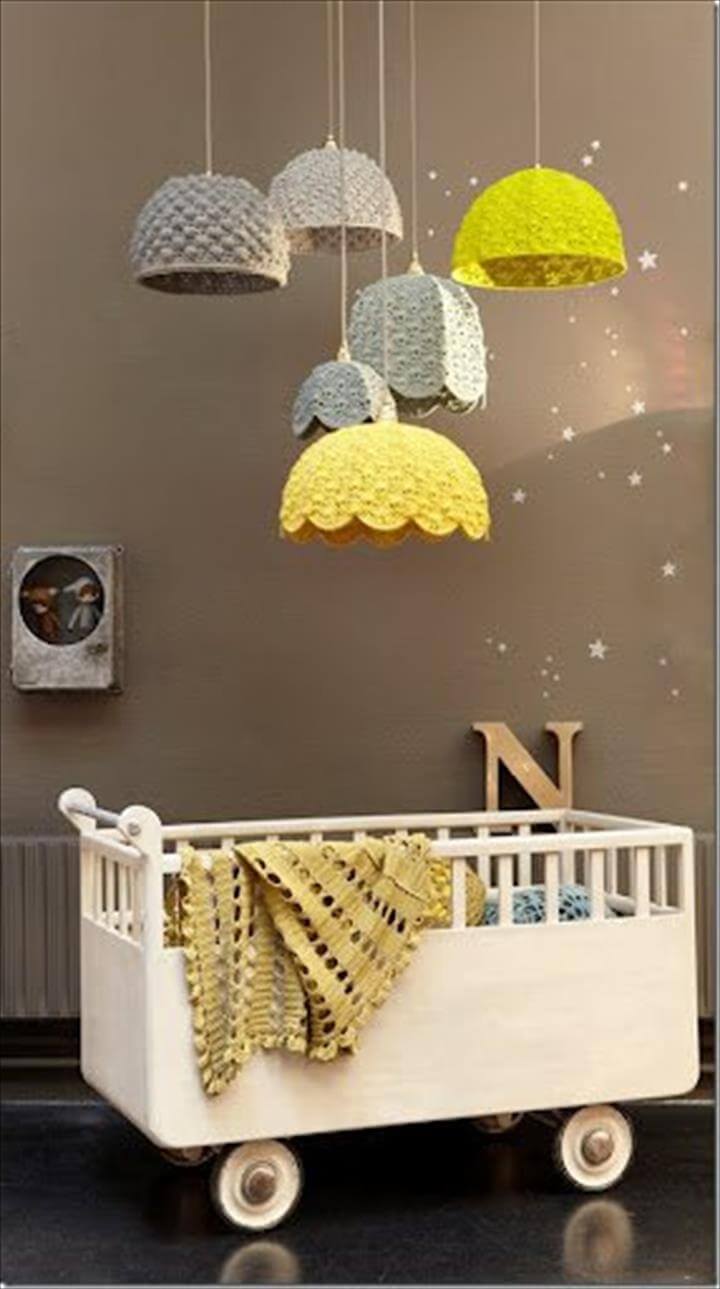 If you are a master crocheter, then time to get crafty with your hook to crochet these stunning cozy lampshades will be a pleasure to see. Vary yarn colors to vary the final look. DIY Tutorial Here
DIY Ombre Hair Dye Lampshade: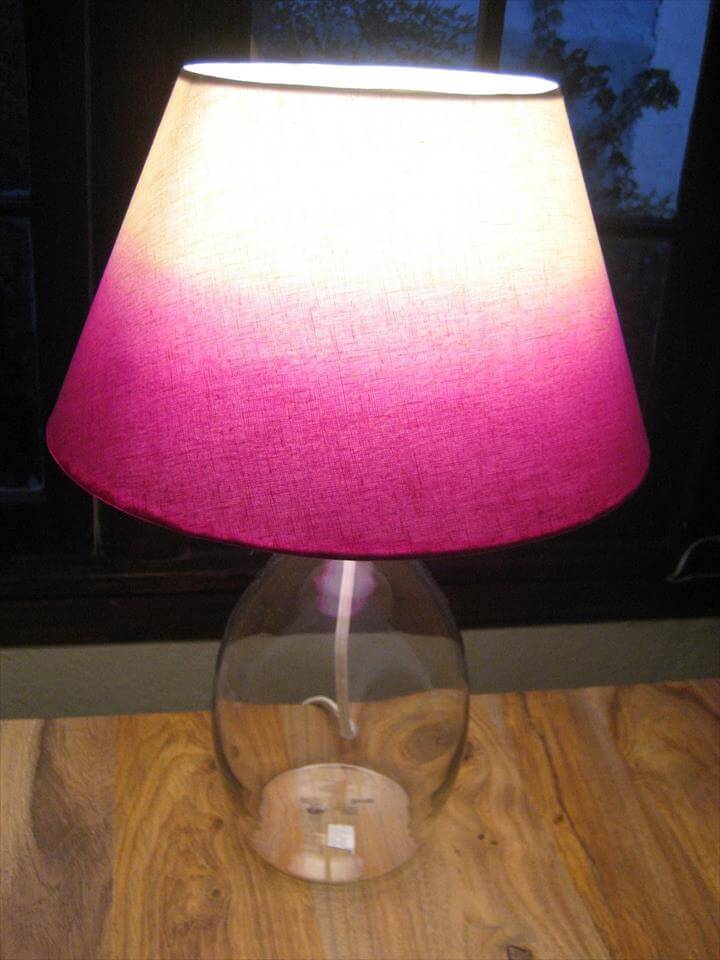 Fancy up the lampshades if you want them a prominent part of the aesthetic features of your home! It would be a great idea to go for engaging makeovers of lampshades using hair dyes. Here is a great sample. Here are the DIY Instructions
Zip Tie Lampshade – DIY Lampshade Idea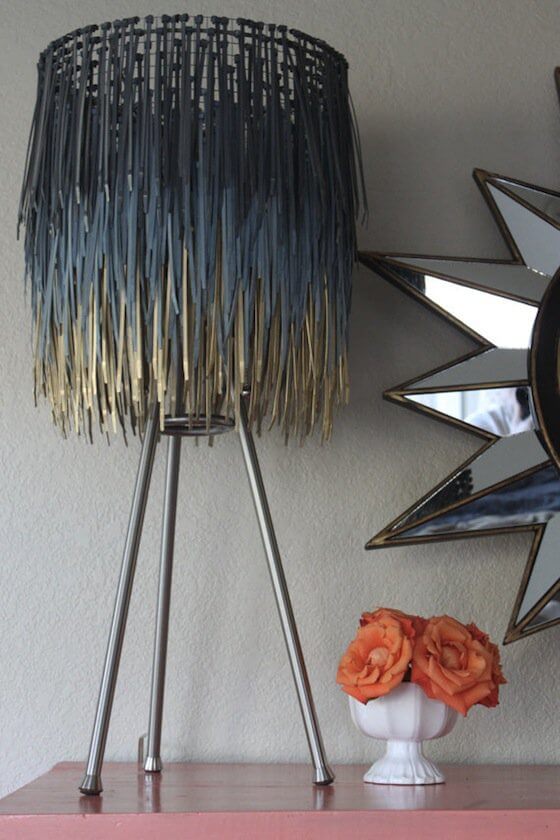 Please think twice before you end up the old zip ties to the dumpster; here is an idea to give them a functional value again. Hang them on a hoop for extraordinary instant lampshades. Complete DIY Tutorial Here
White Cloud like Coffee Filter Lampshade: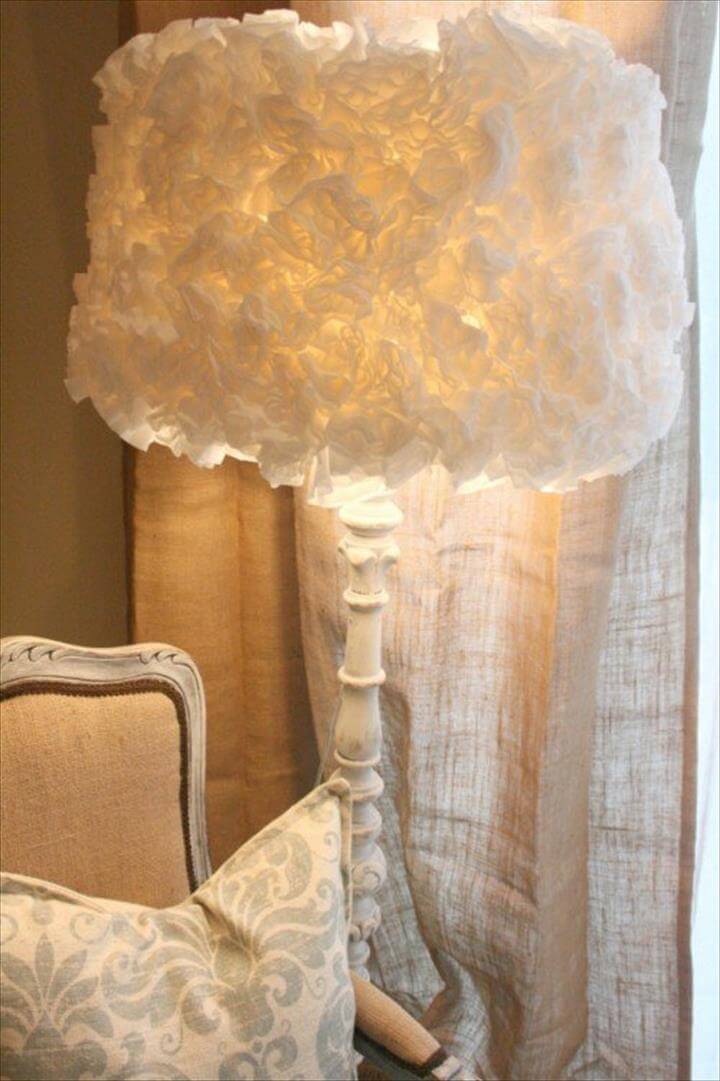 Want to add extra fancy lights to your room decors? Here is a way to use coffee filters for it. Turn your lamps into centerpieces by styling them up with coffee filer made lampshades. Here is a cool one. Full Instructions Here
Creative Shirt Sleeve Lampshade: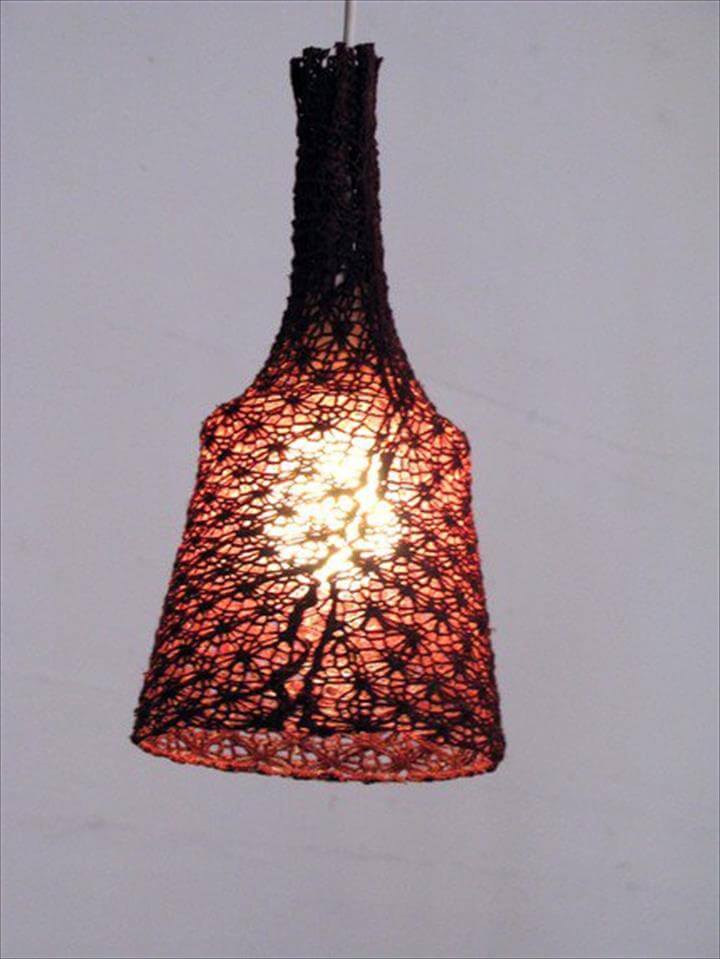 Old shirt sleeves can even be an excellent material for DIY home decors. This stunning pendant lampshade made of a shirt sleeve would be the most attention-grabbing object in that particular room interior. Here is How to Make it
Drinking Straw Pendant Light: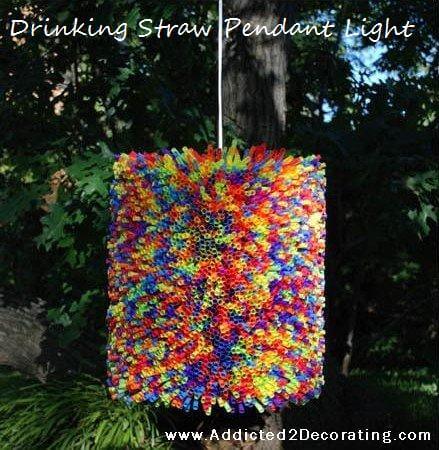 Get crafty with colorful or translucent drinking straws to get outstanding DIY home projects. A rainbow pendant lamp made of colorful straws would add a "Wow" factor to and kid's room. DIY lampshade from scratch idea here addicted 2 decorating
Redesigned Art Style Lampshade DIY: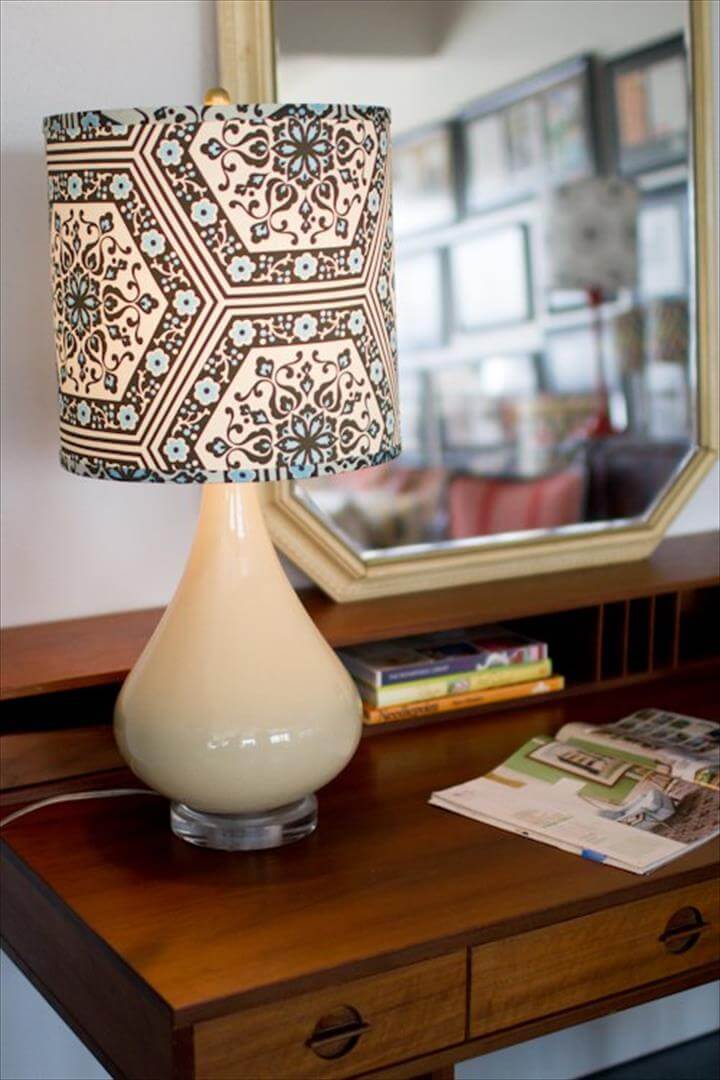 Make use of fabric with printed musical textures for cool lampshade makeovers. It would be a cost-effective way to match your lamps to newly developed decor themes of home. Step-by-Step Instructions Here
DIY Lampshade: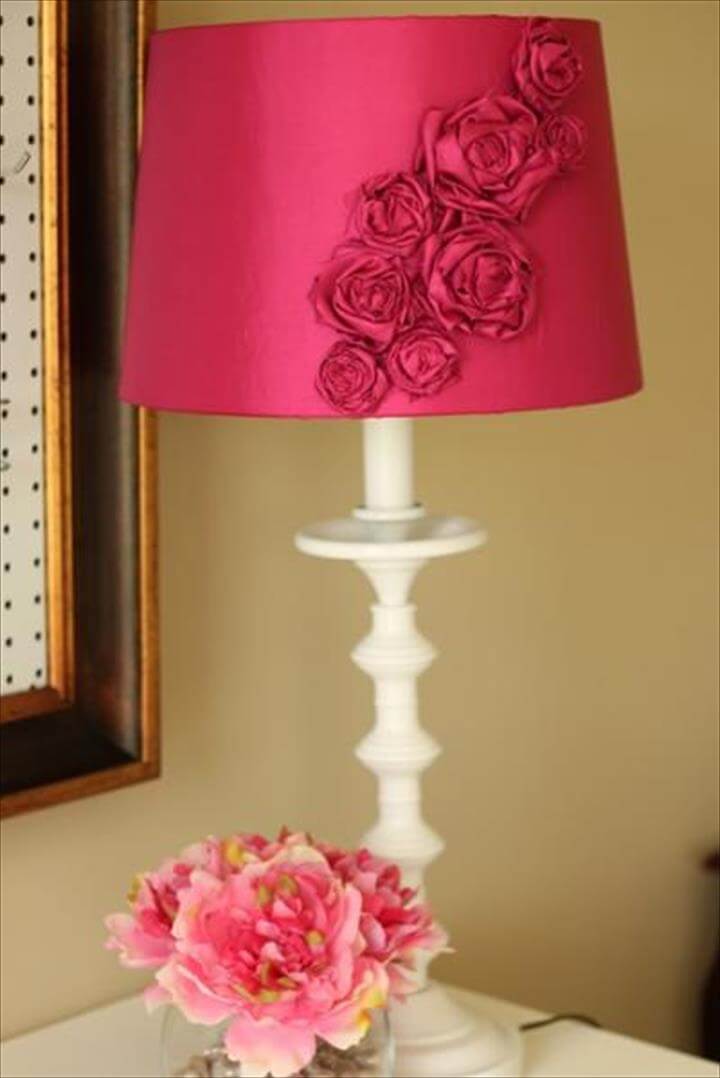 Time to recover your old lampshades into fancy ones. Wrap the selected shades in fabric like selected here in hot pint color, and mount custom embellishments over as final finish. Here beautiful rosettes made with the same fabric strips are the prominent part of the entire makeover. Get Tutorial Here
Custom String Covered Lampshade: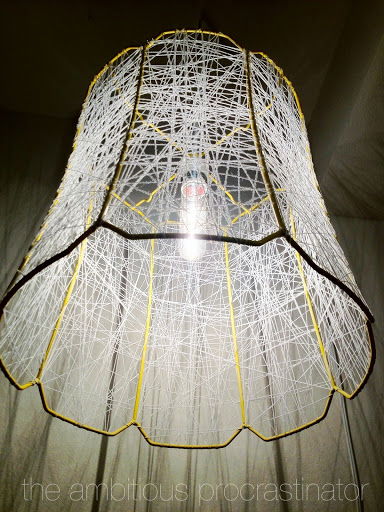 Weave a market bought shade frame with crochet threads for stunning lamp covers or shades. Another cost-effective idea for cool lampshades ever. Want to know the secrets behind the makeover?
Rustic Linen Pendant Lampshades: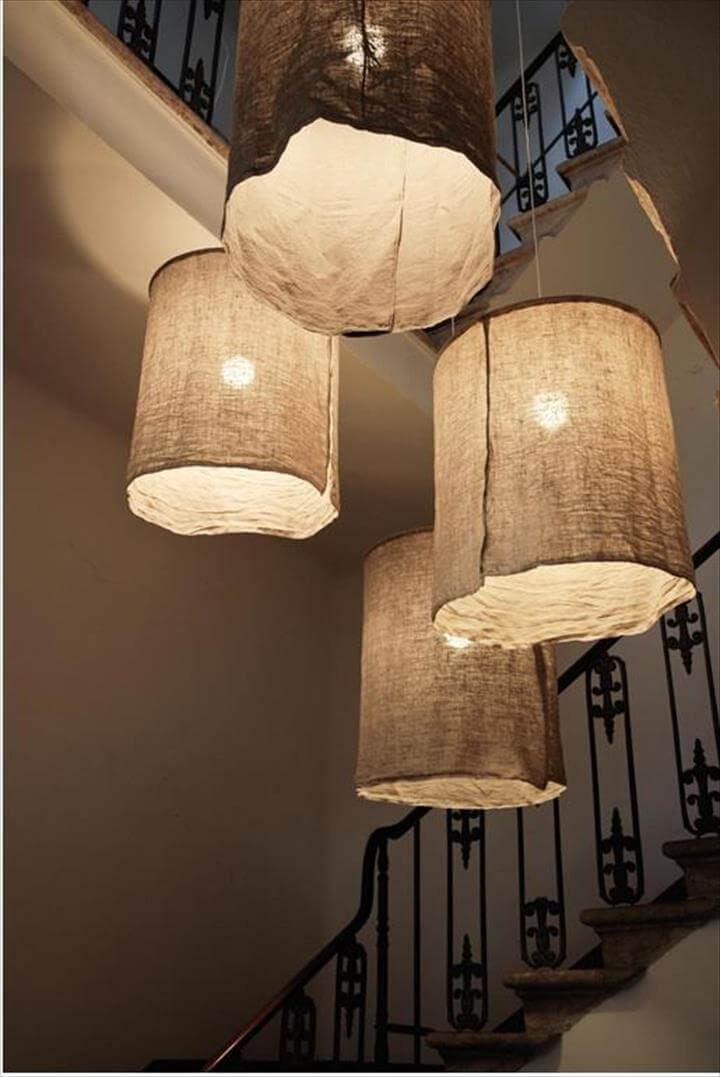 Vary the sizes of pendant lampshades if you want some large lanterns to fit your home's general aesthetic. Here are the rustic linen lampshades idea, an instant a low-cost way for oversized lampshades. Full Instructions Here
Recycled DIY Lampshade: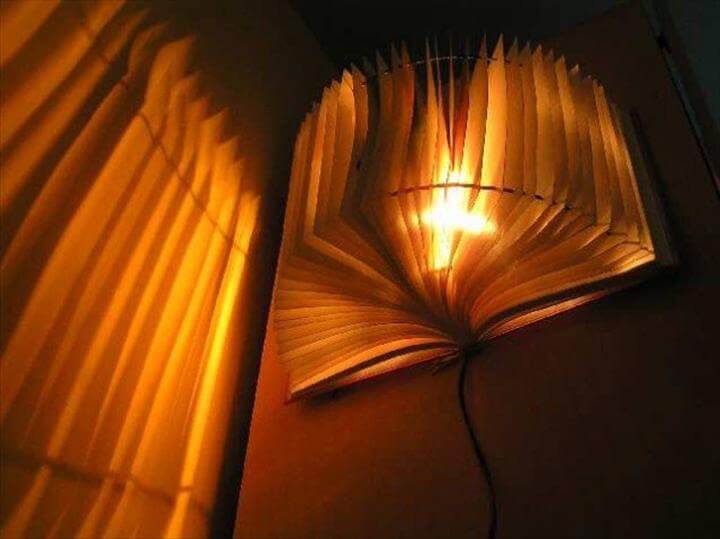 Grab a big book you have read and no more interested in, install a custom light to the bottom side of it. The 15-watt bulb will also work great. Pass the string through the page corners by making holes with hand-drill, finally mounting the bulb over the tabletop, and enjoying a fancy lamp.
Colorful Ping Pong Balls Pendant Lampshade: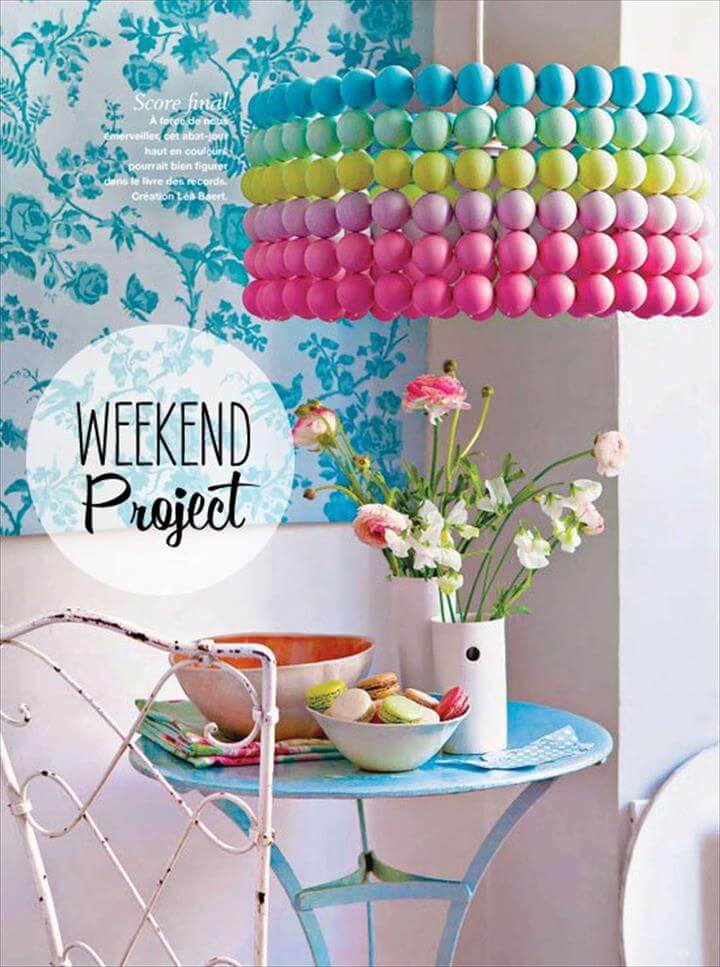 Spray paint the kids ping pong balls for a custom color effect and then pass the string through them for a garland. Now make a set of such garlands which can be put together around a lamp as a cool lampshade, here is painted lampshades how it would look like. Complete Makeover Details Here
Faux Flower Lampshades: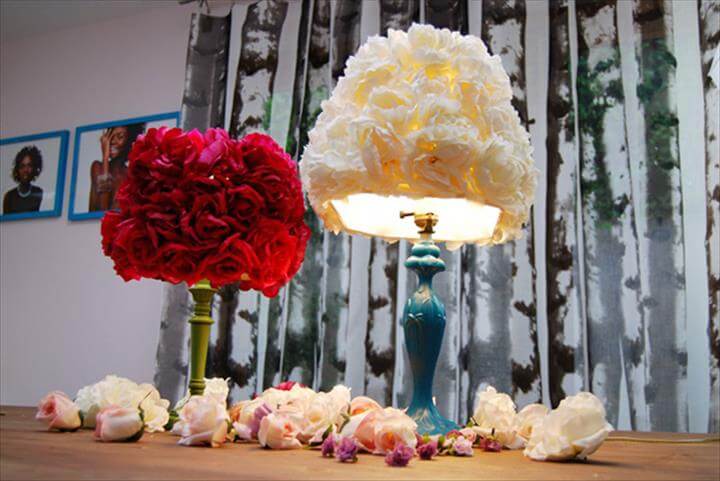 Tired of old lampshades that are no more attractive? Jazz them up through a faux flower makeover. Here are the two finally finished DIY lampshade ideas, actually the room centerpieces. Complete Tutorial Here
Fabric Tape Lampshade Makeover: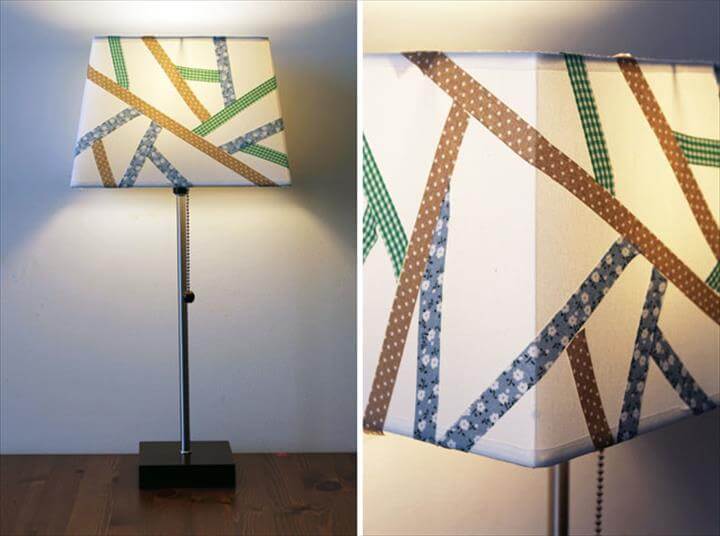 Printed fabric tapes and patterned duct tapes and can be another excellent way for lampshade customization. Here is a little idea. Step-by-Step Tutorial Here
Bottle-Fork Printed Lampshade: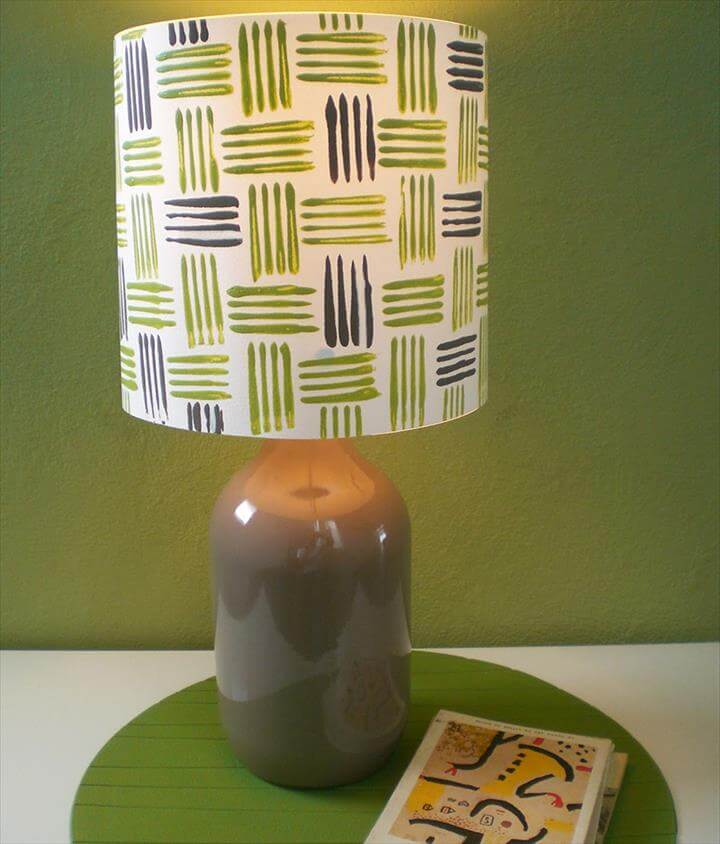 An acrylic painted old bottle has been got here as a lamp-base, the illuminated lampshade has been done using a plastic sheet, cardboard. To retaining the lampshade in a drum shape, a cross frame has been put inside that is made of wooden sticks. It also holds the bulb holder over. The lampshade exterior can be painted in several different ways and can even be dignified by mounting over custom embellishments. Step-by-Step Guide Here
Personalized Chevron Lampshade: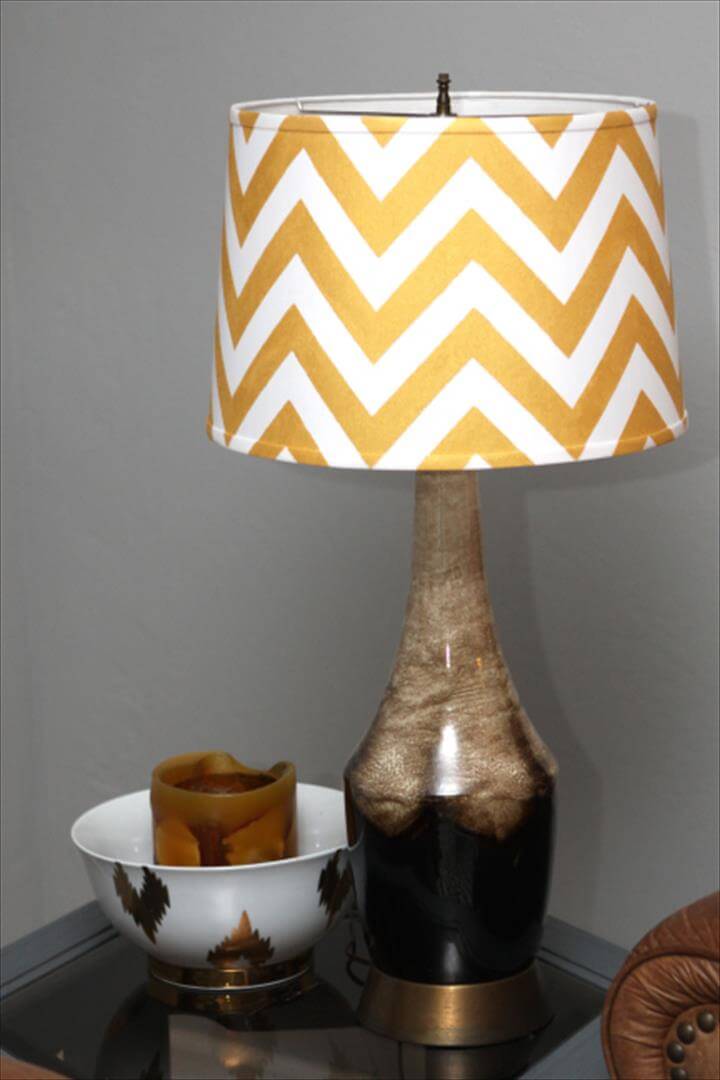 Getting bored with the old look of lampshades? Decide a cool makeover for them to get them visually pleasing again. Here this chevron makeover has been done using yellow tape. Here is How to Make it
DIY Spray Painted Yellow Lampshades: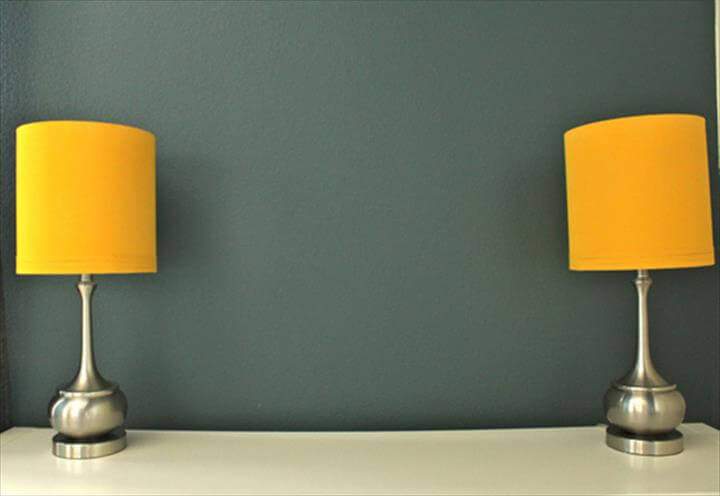 These custom drums, like lampshades, brought to a stylish bright and sunny look using yellow Krylon spray paint. Another right way to personalize your lampshades.
Cool Mustache Lampshade: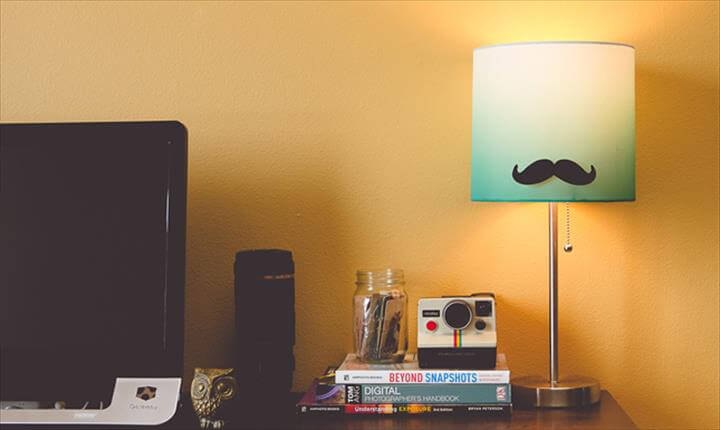 If you are a fun-loving person, then the mustache lampshade idea will surely please you a lot! By adding a custom mustache to any lampshade for amazing fun statements.  Full Tutorial Here
DIY Golden Glow Lampshades: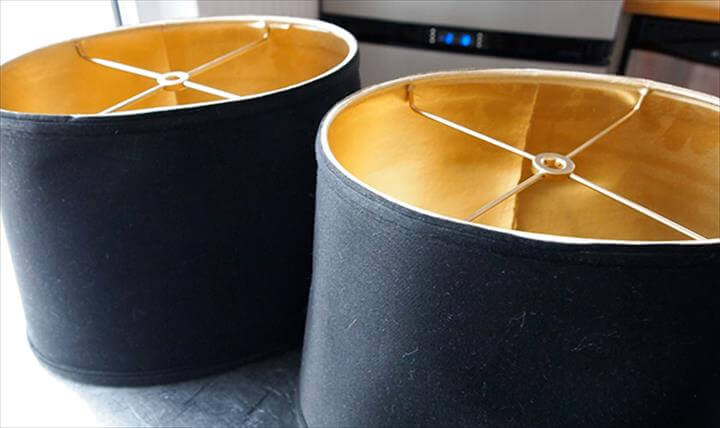 In this DIY lampshade makeover, a black fabric has been used as a unique outer appeal! While the interior, which is made of a paper, has been spray painted for a golden glow. Here are the Directions
DIY Minimalist Lampshade: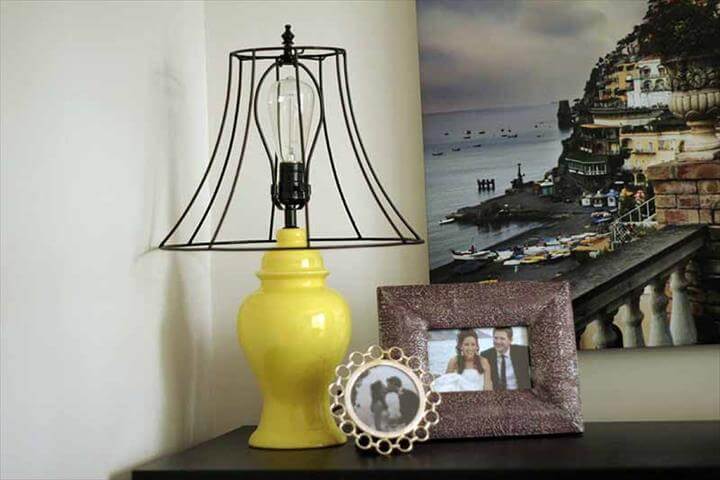 Here is a centerpiece if you are willing to raise a particular room interior's visual interest, a minimalist lampshade. Will bring a rustic or cottage style to any modern interior. DIY Full Tutorial Here
Stunning Balsa Wood Lampshade: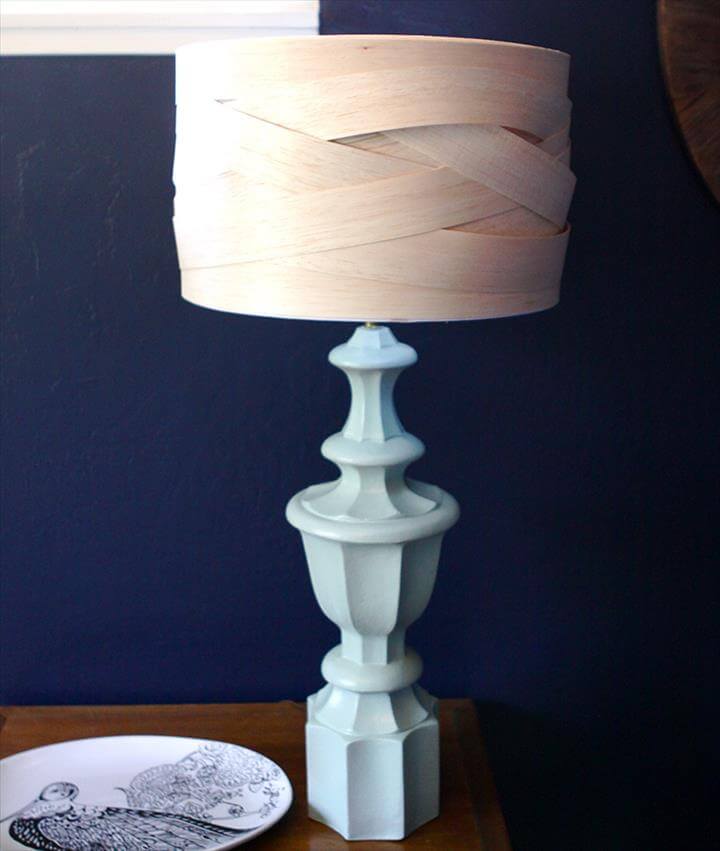 Take an ordinary lampshade and give it an exterior fancy cover using balsa wood. By doing so, you will soon have a crazy centerpiece in your hands along with a light lamp. Complete Tutorial Here
Leather Tape Mosaic Lampshade Makeover: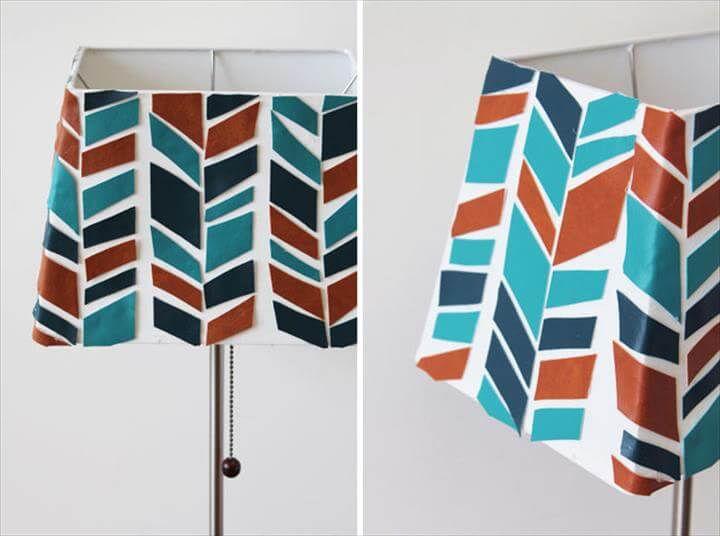 Mosaic patterns always rock for a boost to the visual interest. With having this in mind, this mosaic makeover of the lampshade has been done using leather tape. Complete Guide Here
Neon Geometrical Pendant Lampshade: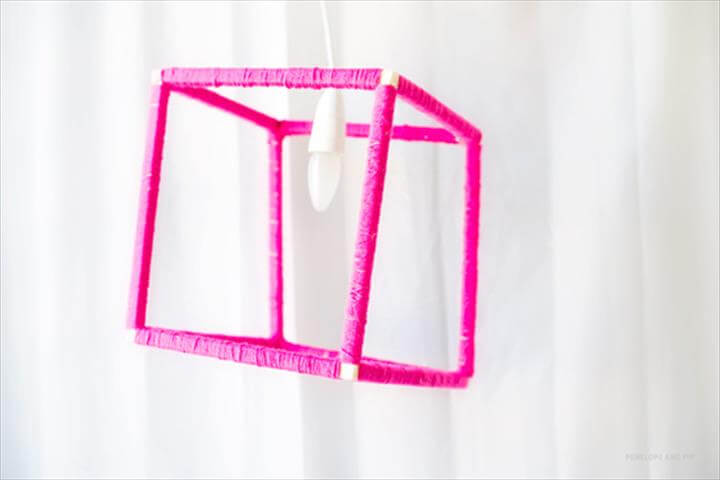 10 Balsa wood sticks wrapped in neon yarn have been put together to shape up a cube, making a beautiful geometrical lampshade for a pendant lamp. Step-by-Step Tutorial Here
DIY Silhouette Reading Lampshade: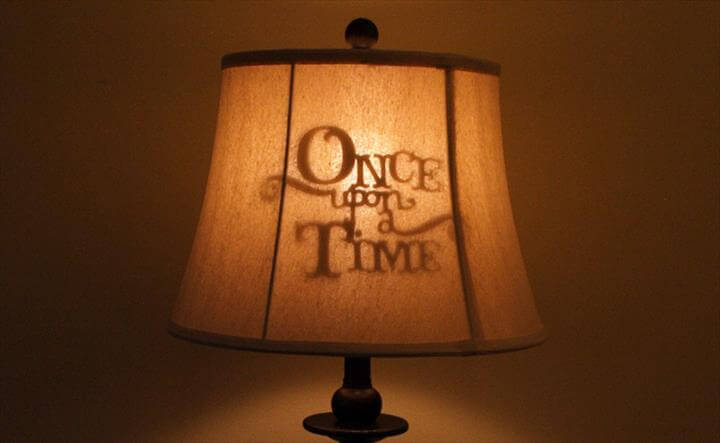 Time to play creatively with letters while customizing the lampshades, put some paper letter cutouts, or custom letters inside the lampshade for amazing shadows on the lamp walls. Step-by-Step Guide Here
Tapered into Drum Lampshade Idea: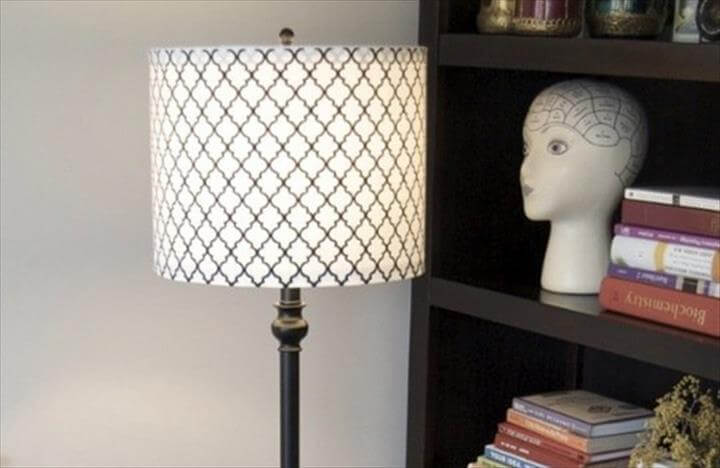 Interesting lampshade hack here if you want to shift the tapered lampshade into to drum style lampshade. Revamp old lamps instead of buying new ones as the prices may go unfriendly to your wallet. Here is How to Make it
Cool Dyed Lampshade Idea: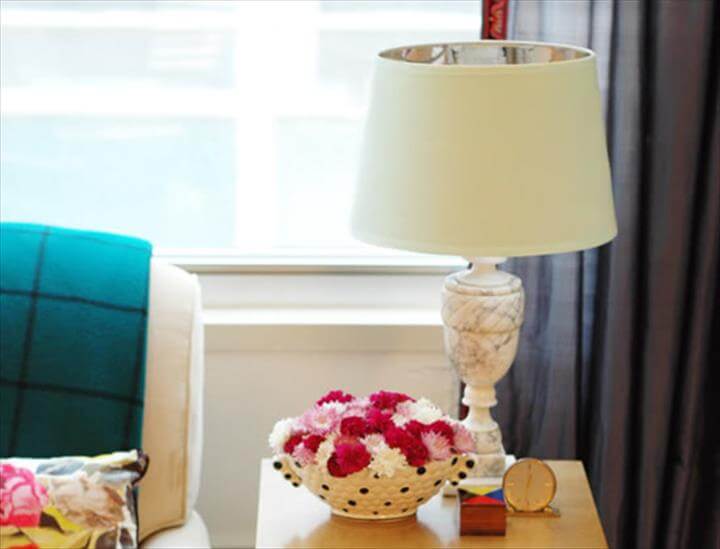 The easiest way to fancy up your lampshades is to use a custom paint color that should go friendly with the medium the lampshades are made of. Here is a cool dyed lampshade sample listed to inspire. Grab Full Instructions Here
Twine Wrapped Lampshade – Rustic DIY Lamp Makeover: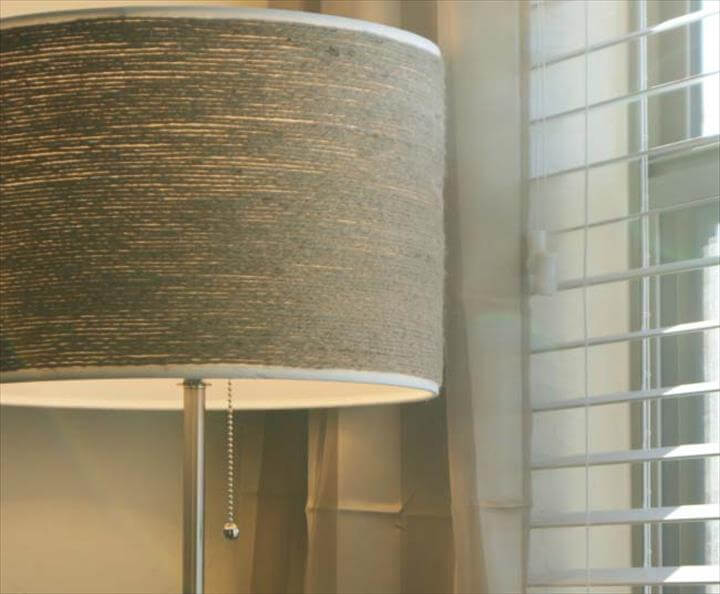 For a rustic vibe to your lampshade, you can prefer a rustic twine wrap. The wrapped string will keep the lampshades safe even if they fall off. Safety and elegance at the same time. Full Tutorial Here
Ribbon + Printed Fabric Lampshade: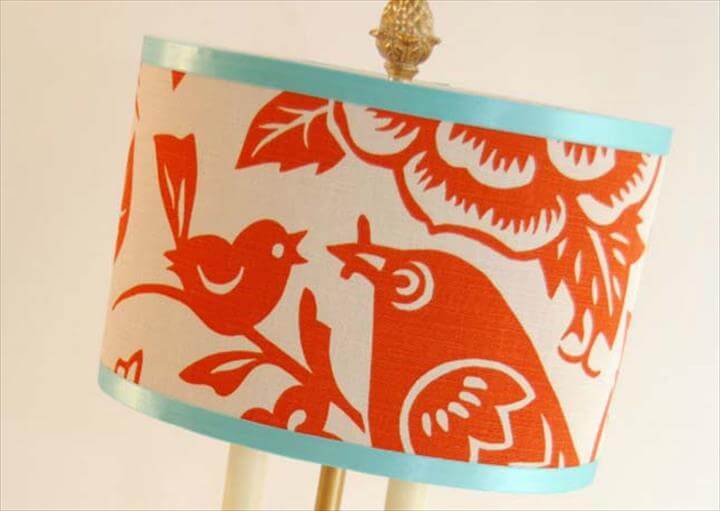 Printed fabric covers can be a great alternative to paint while recovering better visuals of old lampshades. Get inspired by this printed fabric makeover of a lampshade. Full Tutorial Here
Beautiful City space Tiny Lights Lampshade: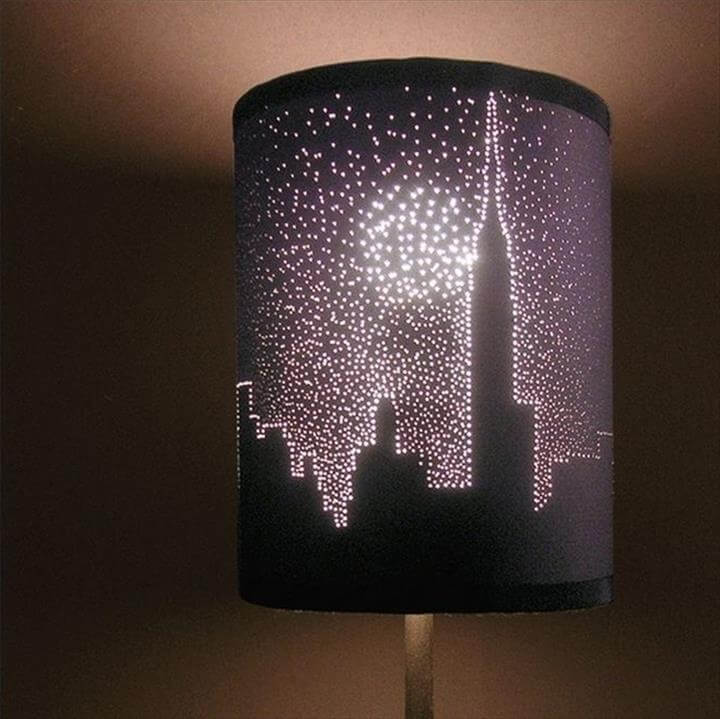 Do you want a galaxy in your room you can touch anytime? We'll recommend you to have this city space tiny lights lampshade! That made with tiny holes in the lampshade allows a crazy spread of light the lamp emits. DIY Full Tutorial Here
House Plant DIY Lampshade Makeover: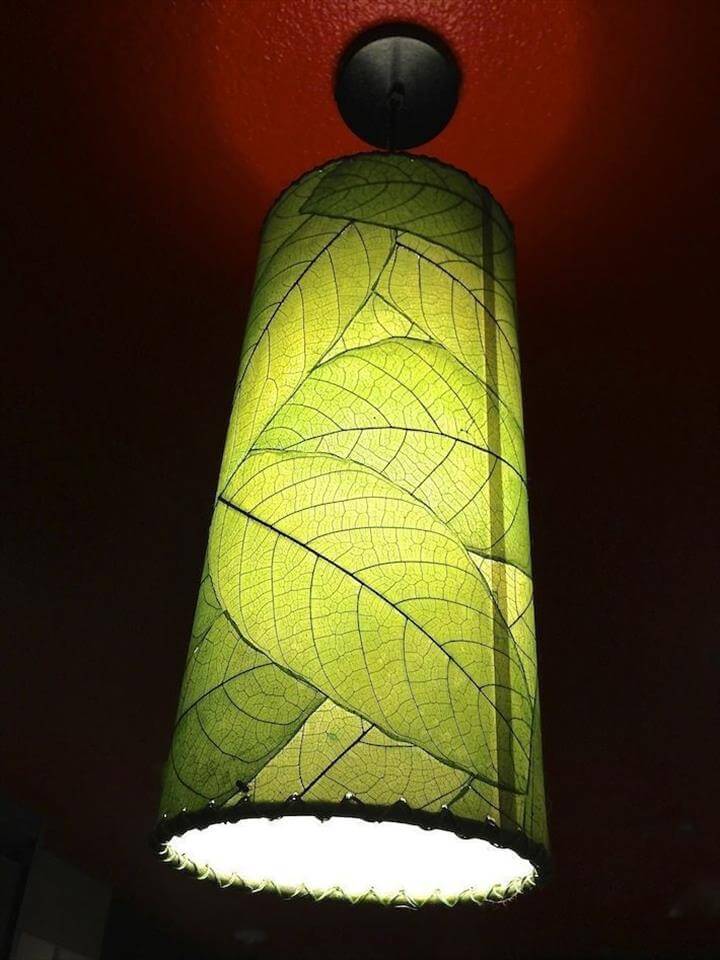 Interested in the Decoupage? Why not use some leaves of home plants instead of paper cutouts to decorate your lampshade, a very new hack for awesome lampshade customization. Here are the Directions
Custom Photo DIY Lampshade: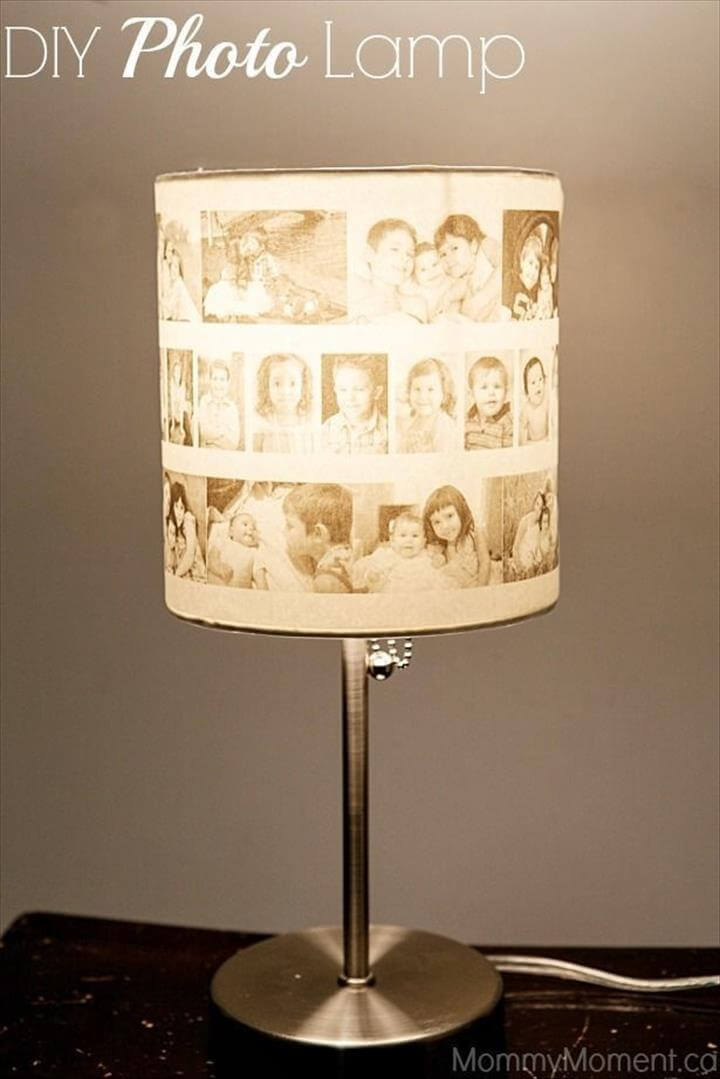 This family photo lampshade is a cool way to stare at your favorite photos daily, will help you recollect the memories that will fill you with joy. Here are the Directions
Textured Fabric Recover Lampshade: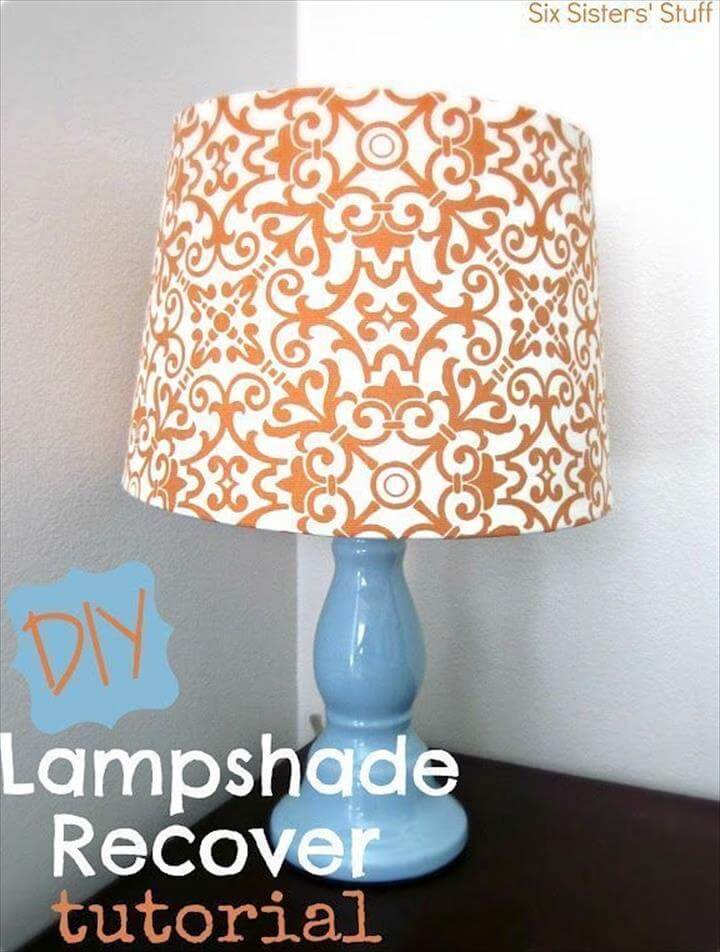 Can't continue with the paint? Go with printed fabric alternative for thrifted, easy and fancy lampshade makeovers. This great lampshade recovery will tell you all the stories about it. Complete Tutorial Here
Chic White Pom-pom Lampshade: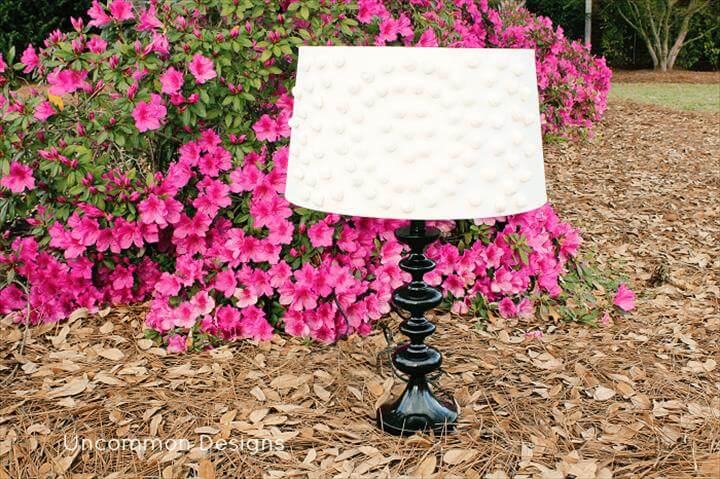 Here is white beauty graced with a pom-pom. For a chic white makeover with stylish blisters over, the selected lampshade has been painted in white and comes with mounted pom-poms as final embellishments. Complete Guide Here
Creative DIY Lampshade with Forest Shadow: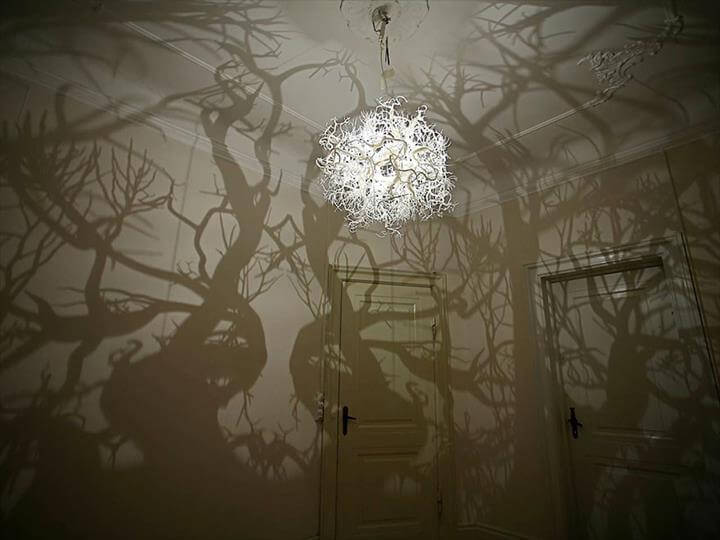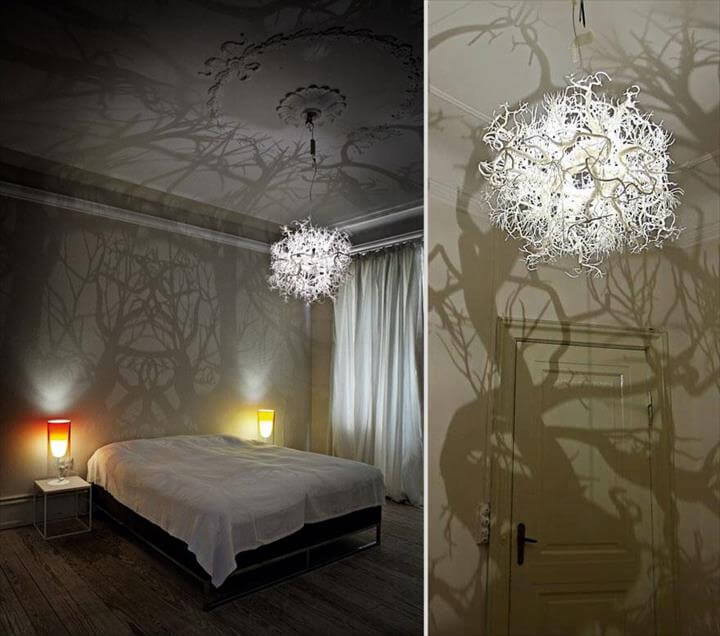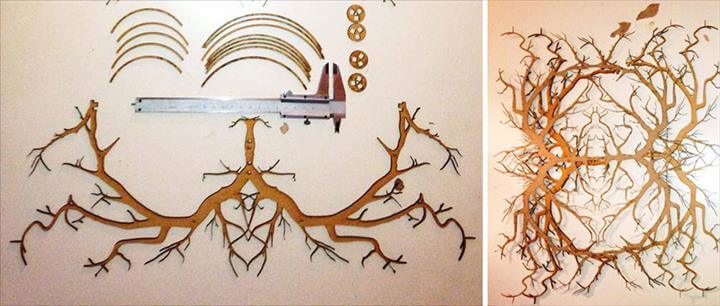 After inserting this lamp inside, the same room will be a scary forest at night. Something creative with an inventive mind. Made by Thyra Hilden & Pio Diaz
Plastic Spoons into Lampshade: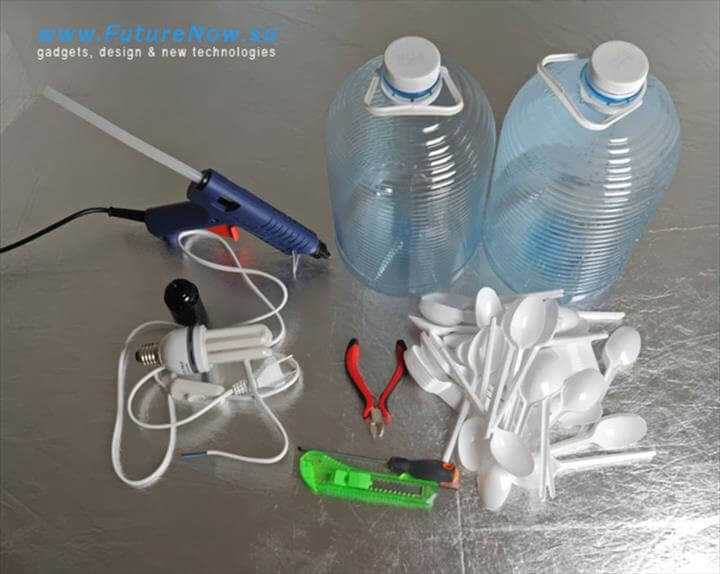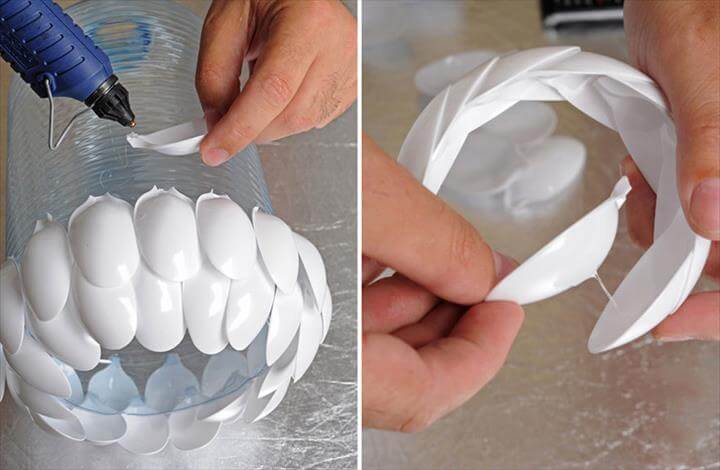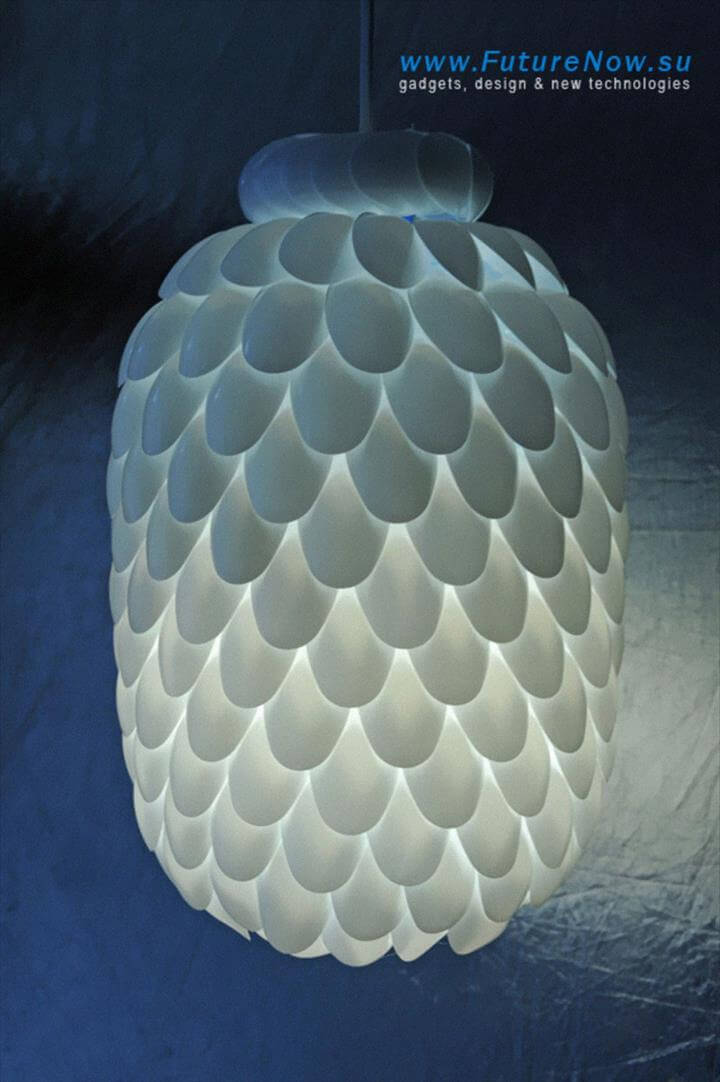 Taking only the heads of a plastic spoon apart and by mounting them on a plastic can, this mind-boggling DIY creation has been done. This plastic spoon lamp will freshen up the mood of any interior.
DIY Hanger Lampshades: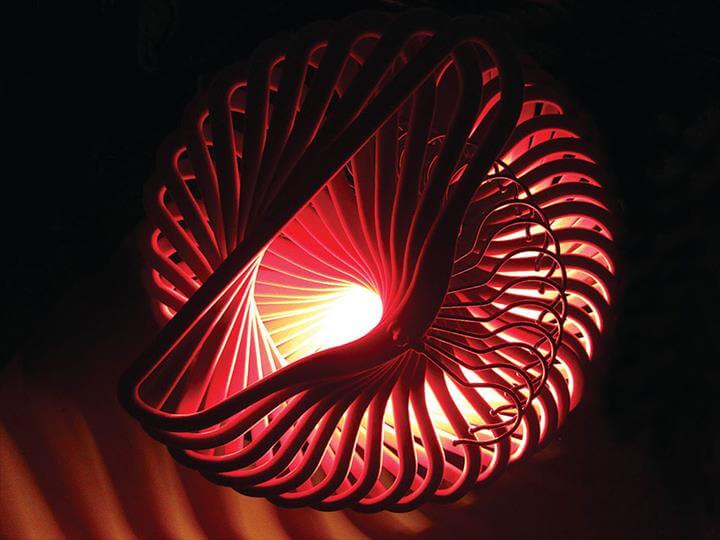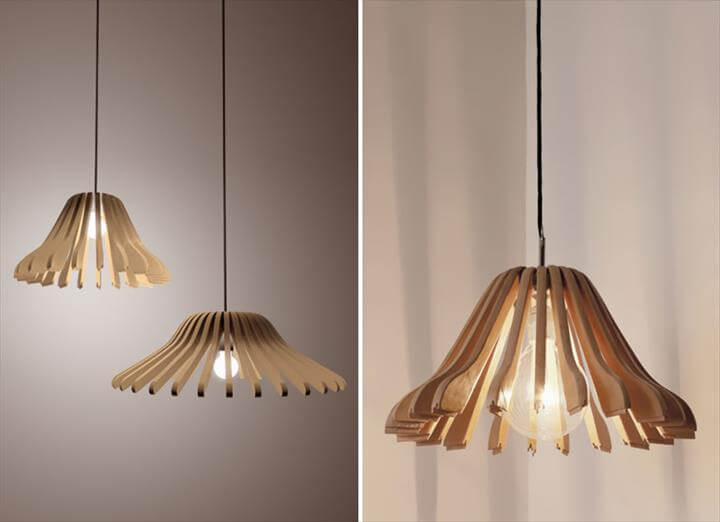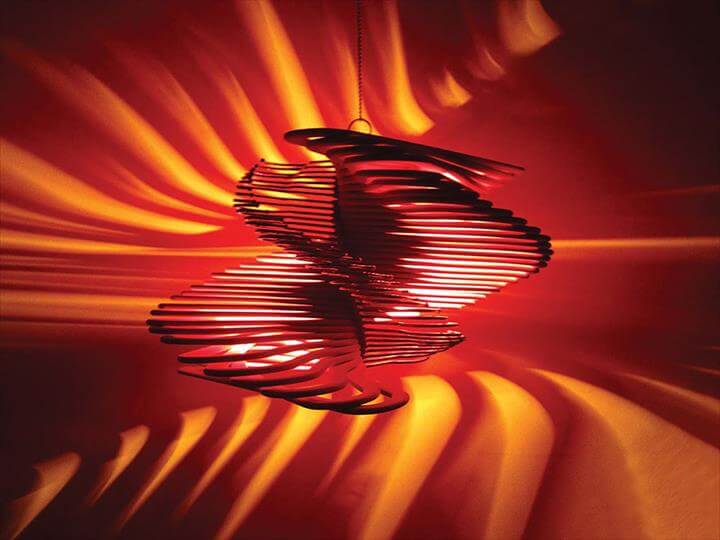 Have you ever seen the cloth hangers like this? Creativity has given some much worth to ordinary hangers! They appear here as modern pendant lights and crazy lamp shades you will fall in love with? Via Natalie Sampson
DIY Creative Carved African Gourd Lampshade: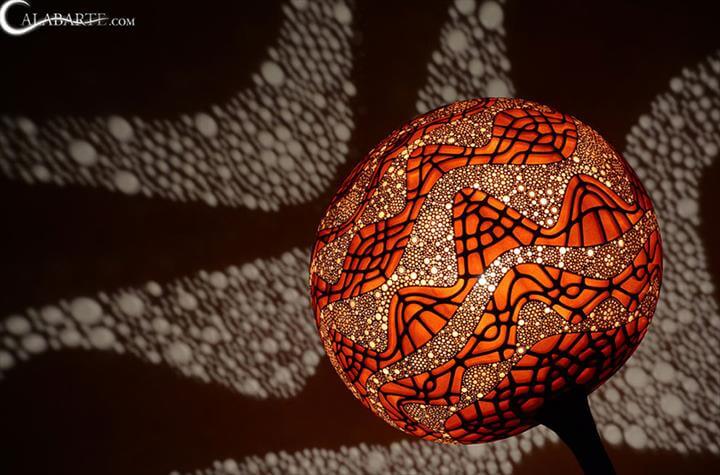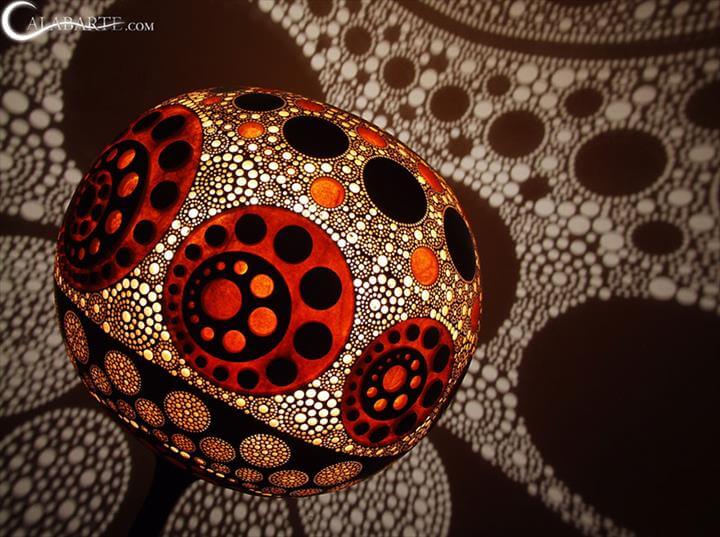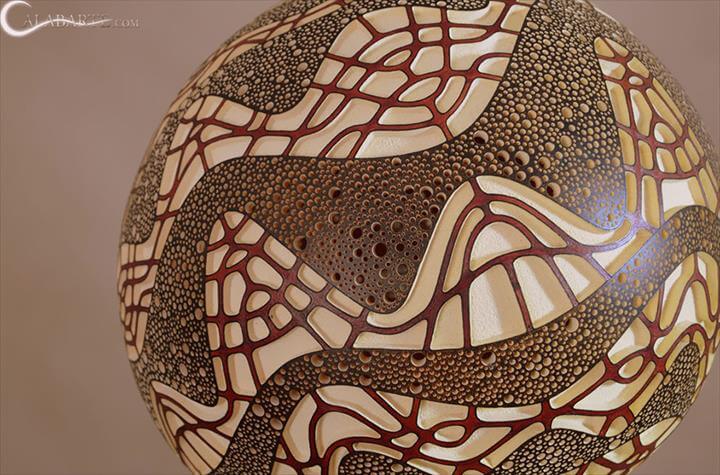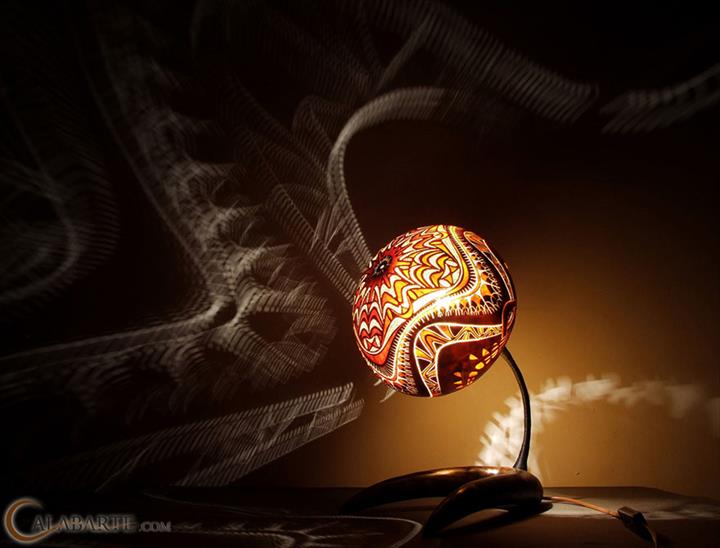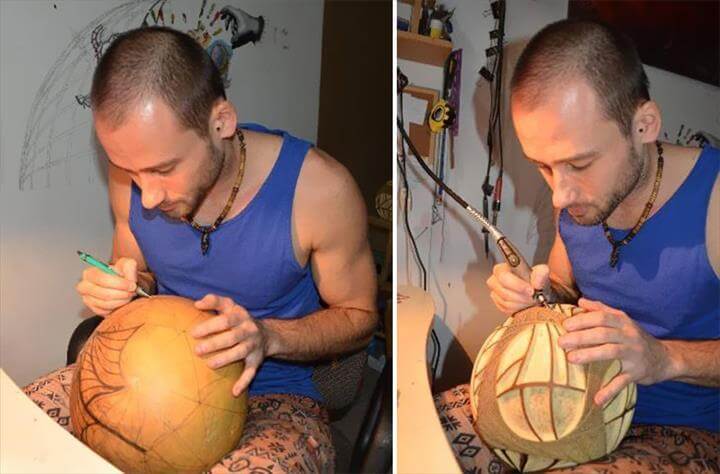 What we can say, it just mind-blowing… Designed by Calabarte
DIY Paper Orb Pendant Lampshade: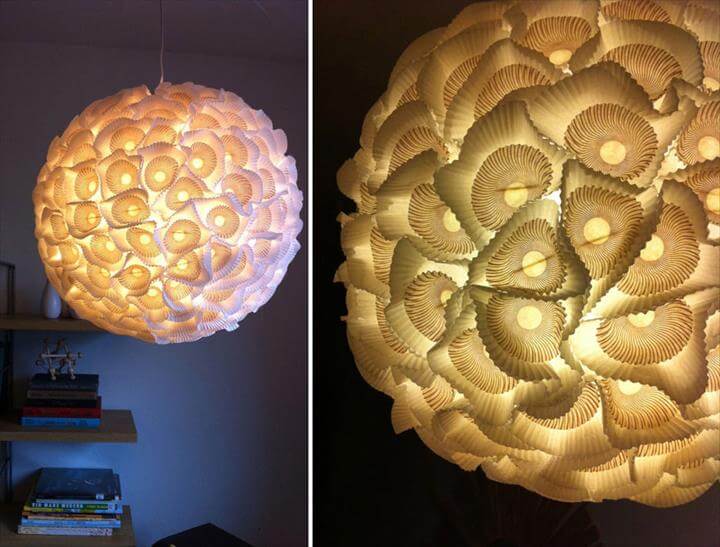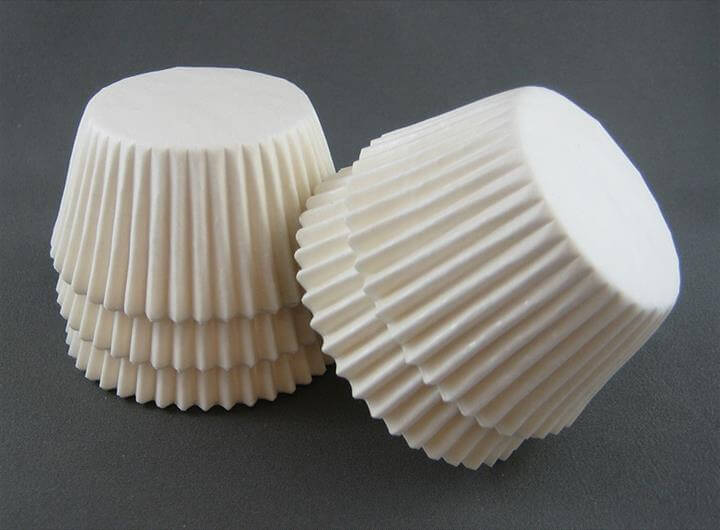 What a great DIY paper lampshade. Cupcake paper bottoms into a stylish orb style lampshade will be a scene-stealer in any custom room ambiance.
A DIY Creation via designsponge.com
DIY Doily Lampshade: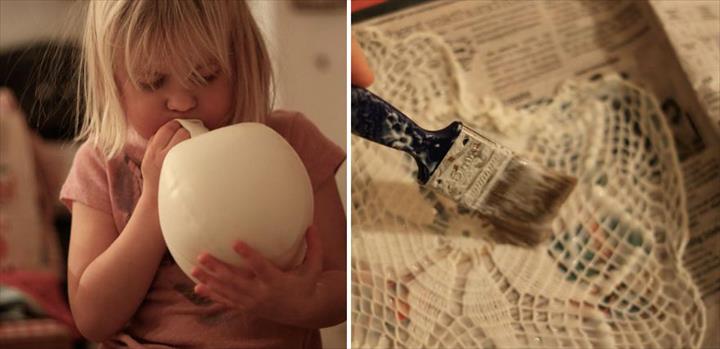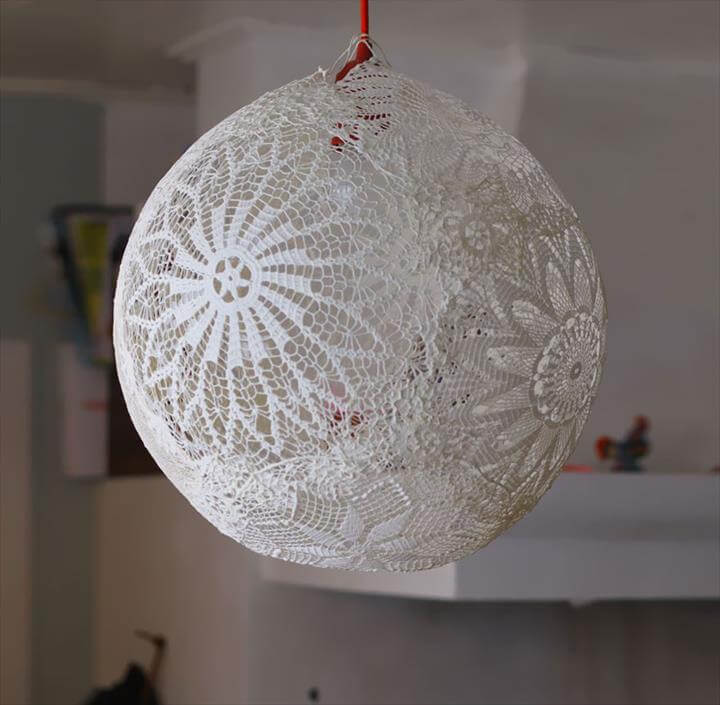 Just take a balloon's help to turn the doilies into a pendant glob lantern or lampshade, a life hack to put everyone in amazement. Made By Isabelle Mcallister
DIY Pop Tab Lampshade: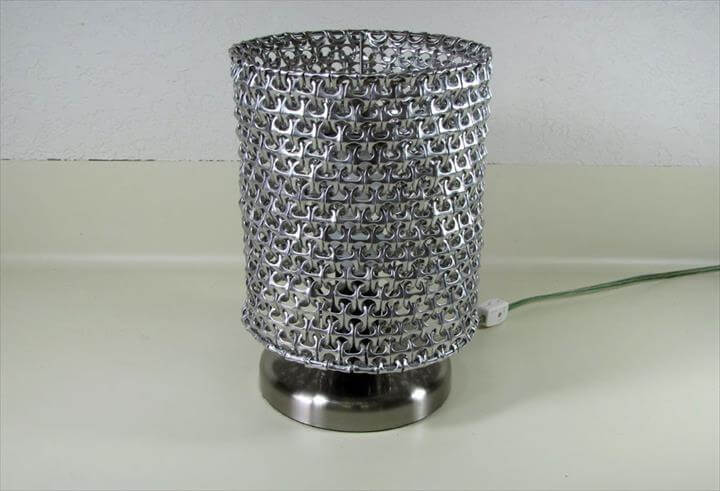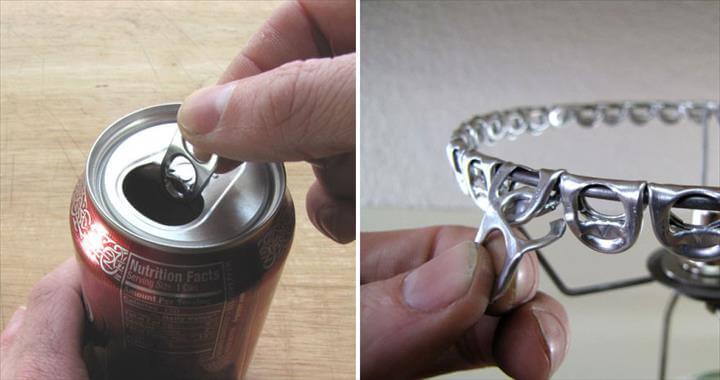 It is just unbelievable. The pop tabs have been knitted so beautifully that the final output is an ever beautiful lampshade. It is more than beautiful and creative. Via makezine.com
DIY Yarn Pendant Lampshade Idea: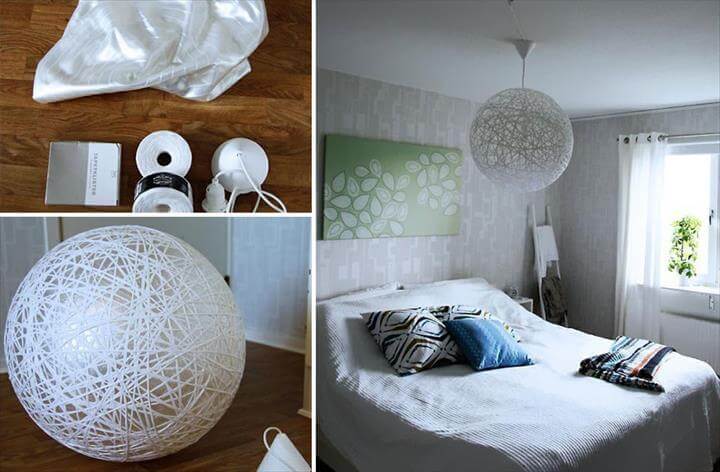 Cray balloon hack for outstanding light globe or pendant lampshade. It is what we can only the best… Wrap string over a blown balloon, use adhesives to let the string layer stay fixed in globe shape. After the applied adhesive is dried, glue, remove the air from the balloon so you will only leave with the beautiful string globe. Via Unknown
Steel Spoon Pendant Lights and Lampshades: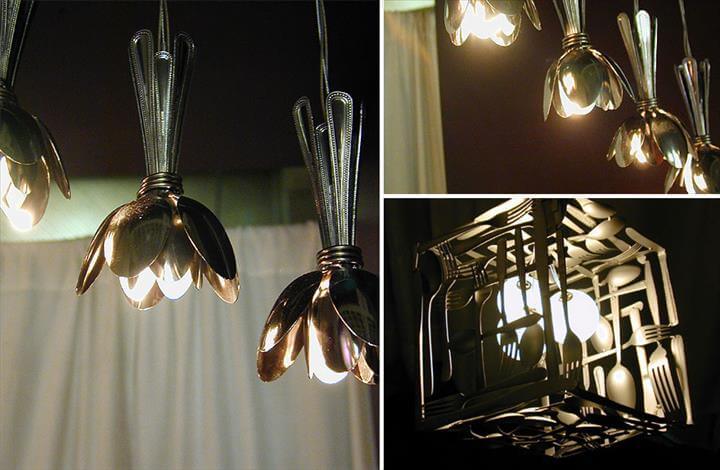 Put together steel spoons for bouquet style pendant lampshade or integrate them for the stunning geometrical lampshade. A crazy way to go handmade with home spoons for functional and decorative objects. These spoonflower lampshade ideas Designed By Francois Legault
DIY Hat Pendant Lampshades: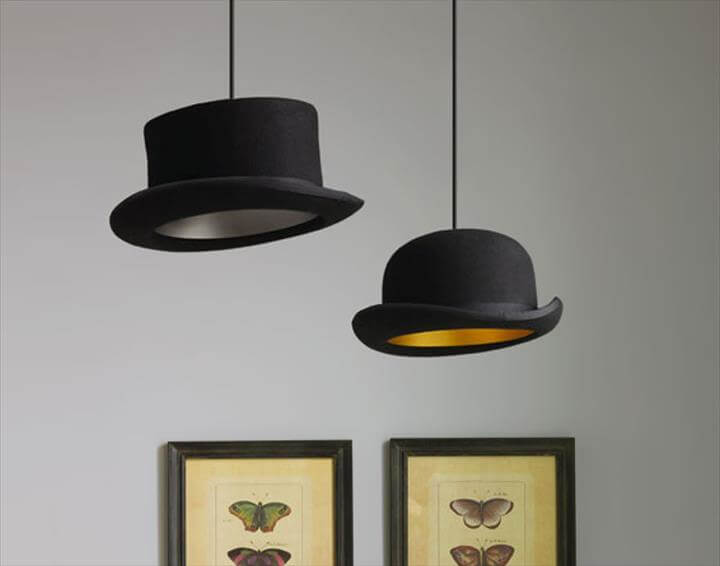 Hats graced you up while being over your head can grace the room decor if they are on the top of light bulbs. Beautiful hat lampshades waiting to be added to your room. Via  Jeeves and Wooster