Wooden crates are the common material and can be found in everyone's home! They are used to pack different goods from vegetables to food items and other food items and need! After they get empty, they are put in the trash, but they can do various trash to treasure DIY projects with the crates! They can be worthy items for a DIY lover to get crafty with as there are endless DIY crafts and projects that you can do with the crates! Whether you are willing to make custom home storage or accent DIY furniture or just intending to boost the home decor. You can find here these 50 unique wood crates ideas and projects to make some useful home use items!
Next, you can take the wooden crates as a free source of wood and take them into pieces to do tons of wooden projects like building custom wall art pieces and signs! You will definitely think twice before you throw away the crates to dumpsters after taking a tour of these 50 unique DIY wooden crate ideas that are insanely smart and amazingly creative! This big list of DIY wooden crate projects would help you repurpose the crate in multiple ways that will make life easier by improving storage space and decoration!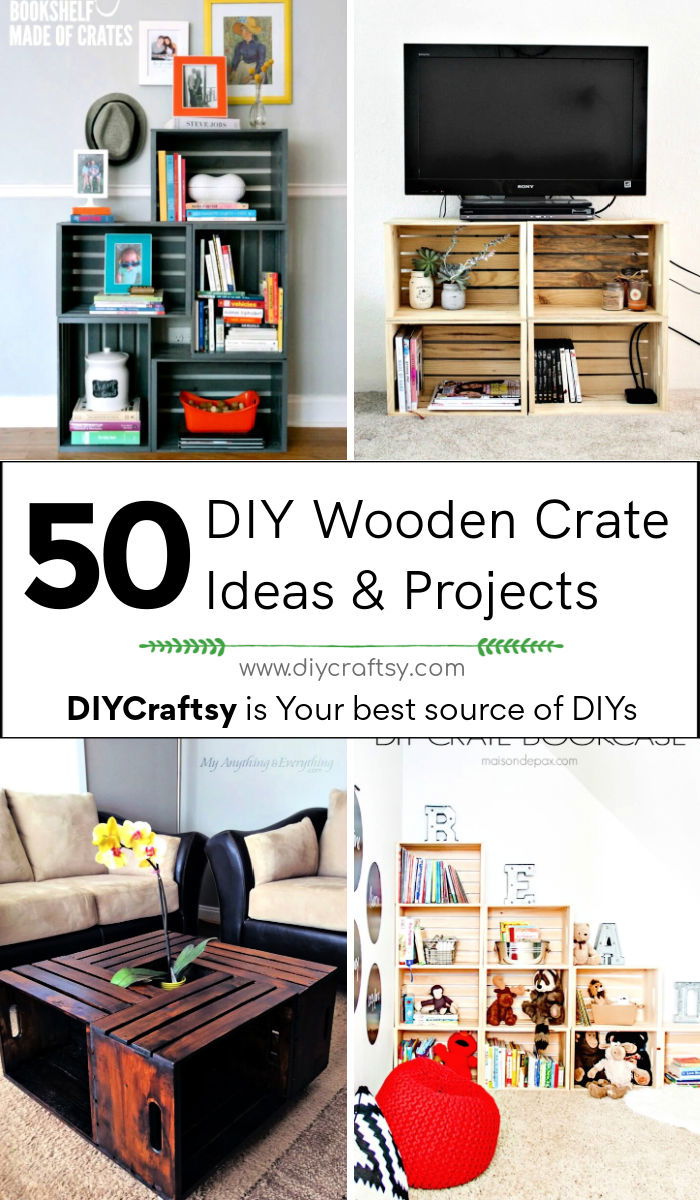 All these wooden crate projects a super creative and will definitely boost your creative sense! If you have fallen in love with some wooden crate ideas and are willing to duplicate them for your space, you can browse the attached links to get full project information, instructions, and tutorials for free!
1. Make Your Own Wood Crate Rolling Cart: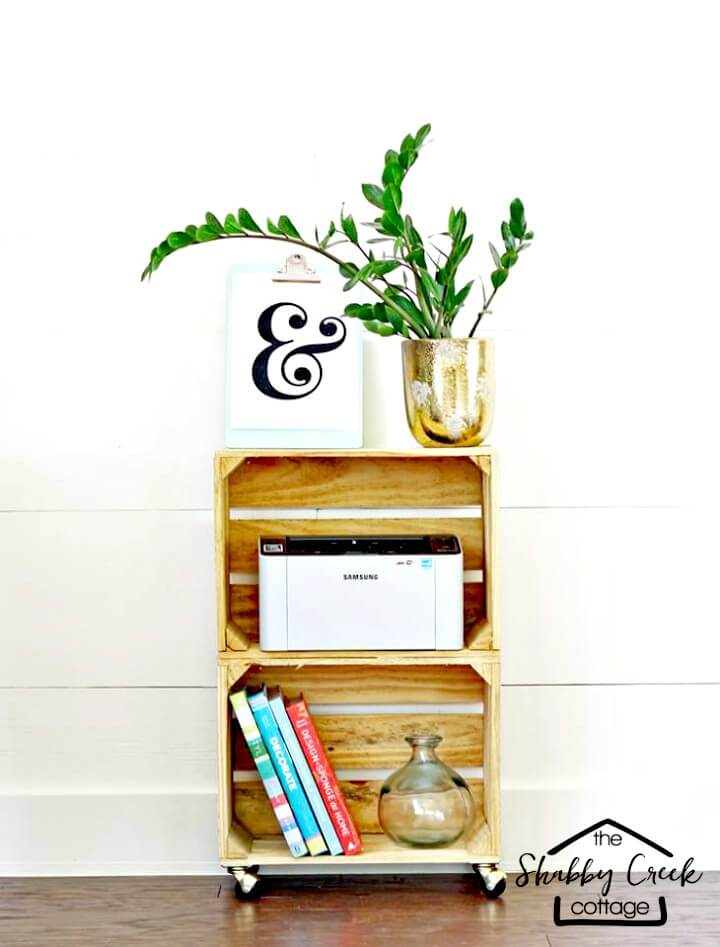 Have a look at this fantastic crate furniture creation that will definitely add some worth and fantastic visual details to a living room! Use 2 wooden crates and stacked and finished with custom casters or rolls to make a fantastic wooden rolling cart! Paint your finally finished cart in your own way and use custom stencils to personalize the design with custom monograms and logos! Complete project guides here theshabbycreek
2. How to DIY Wooden Crate Lockers: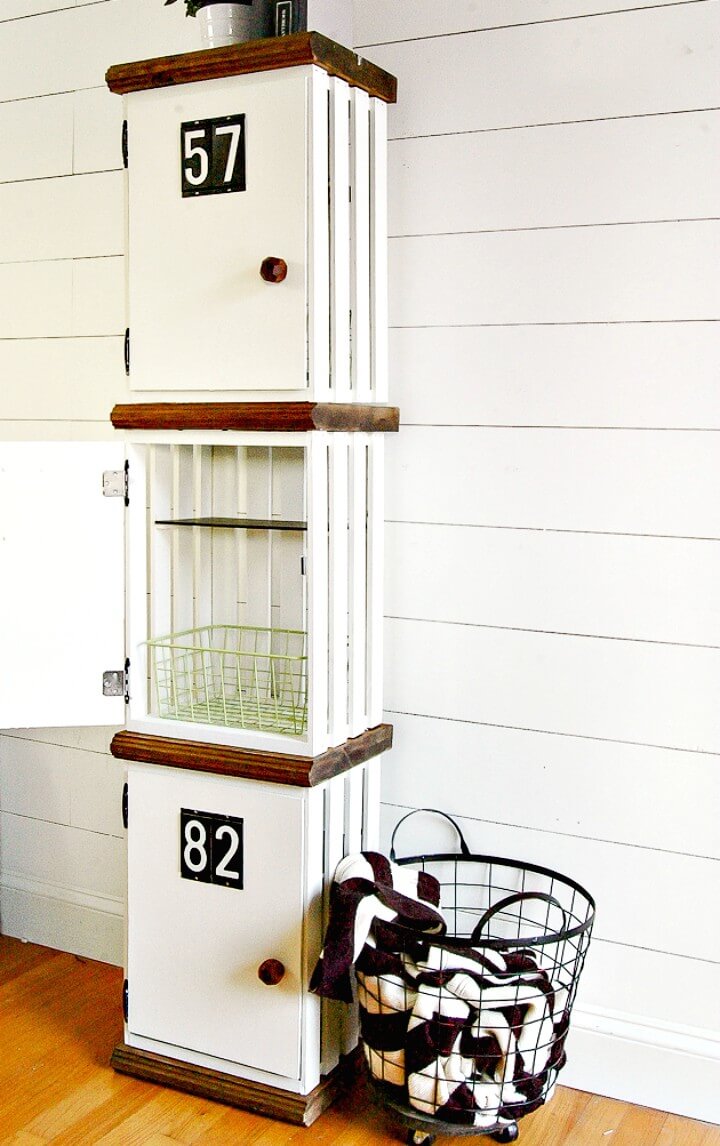 Check out here another fantastic modern stack of wooden crates that results in a brilliant locker! Here each crate comes on a choco brown board of wood that comes with an accented front! Finally, insert the dividers inside the wooden crates, and then custom wire baskets have been installed for storage purposes! Next, each stacked crate with a hinged door that is having a knob also for easy opening and closing! Don't forget to add the locker numbers! Complete project details here littlehouseoff
3. DIY Wooden Crate Storage And Display For Hot Wheels Cars: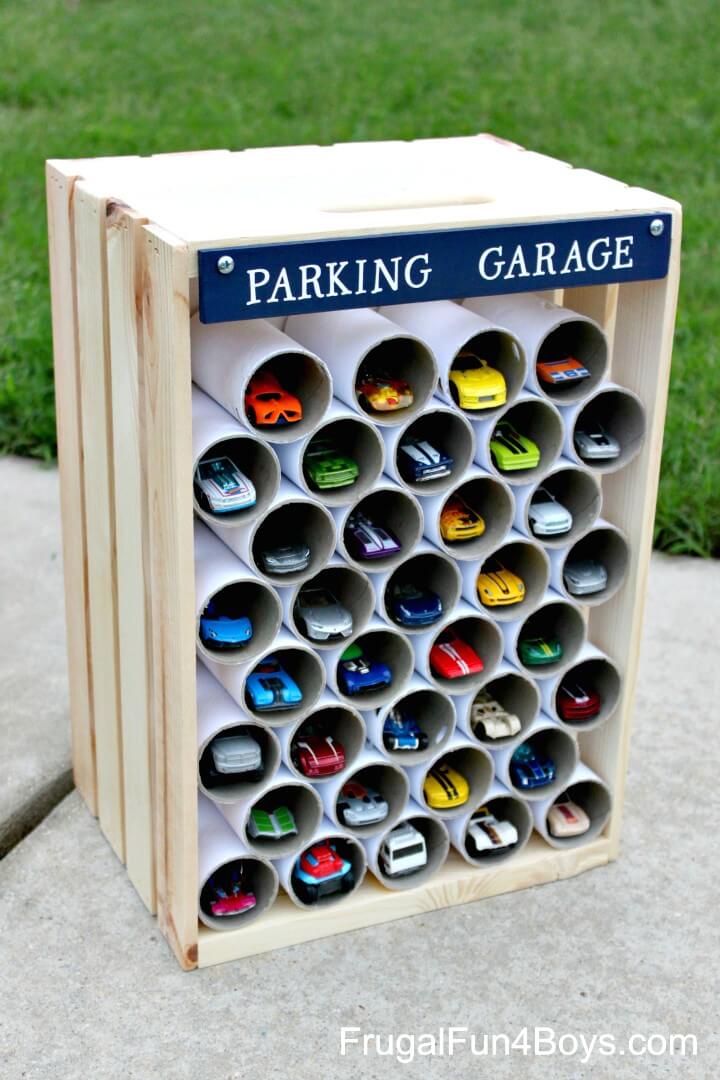 Do you have the kid's toys in big messy collections? If yes, then time to organize them well using the custom wooden crate racks! Check out the wooden crate storage and display done by filling the whole interior of a wooden crate with custom PVC pipe layers! Next, put the whole collection of kids' car collection into the PVC pipe for storage and display, a brilliant garage for kids toy cars! Complete project guides and instructions here frugalfun4boys
4. How To Turn Wooden Crates Into Rolling Bathroom Storage:
Get inspired by this brilliant stack of a crate that results in a beautiful bathroom organizer or storage unit! To make this crate shelves unit use the custom painted wooden crates and stack them wisely. Use the wheels for a rolling storage unit or cart! This DIY bathroom storage unit is the perfect design to store towels, toilet paper rolls, and other toiletries! You can also use it as a display unit in your living room and as a rolling bookshelf! Complete project instructions here homedepot
5. How To Build Crate Bookcase: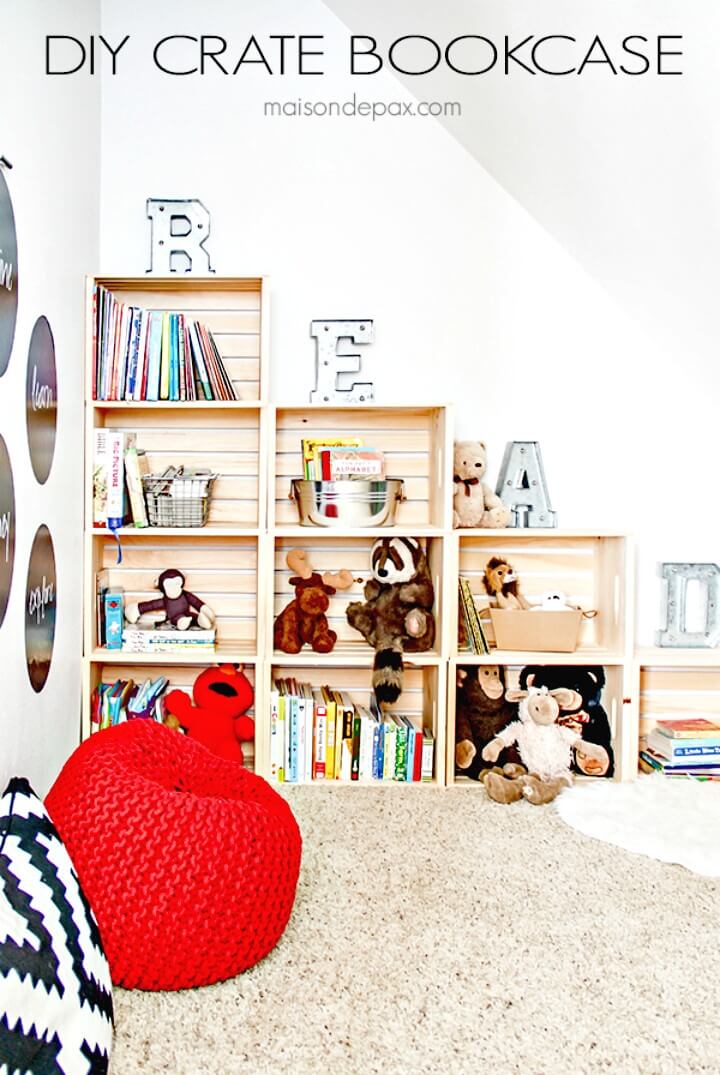 Have a look at this, another dashing stack of wooden crates that comes in step stair style and is something super beautiful to look at! All you need to put together some wooden crates in a nice arrangement, and next, you can fill them up with books you need to store! This crate bookcase also comes with a creative twist. Use the alphabetical accent bookends to display the crate steps that double up the entire bookcase's beauty! Willing to clone this crate bookcase? Grab the full free guide and visual tutorial from here maisondepax
6. Adorable How To Make Crate TV Stand: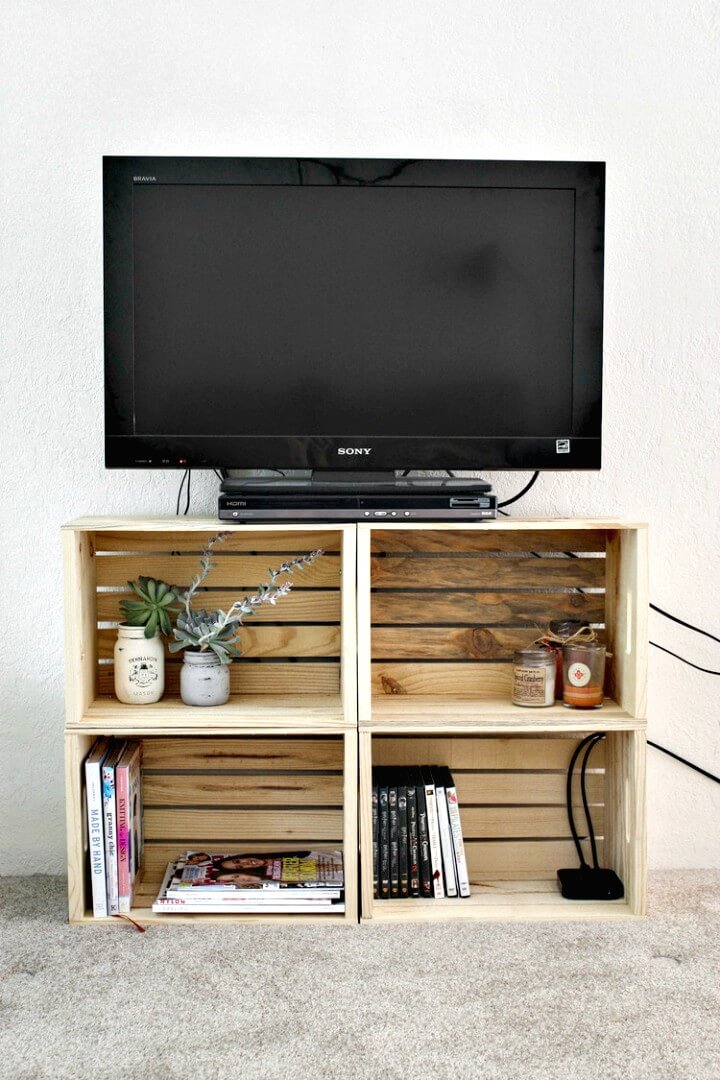 Are you missing out on a modern wooden TV stand? Is it getting unaffordable for you to grab a good looking TV unit or media console table? If yes, then here is a brilliant low-cost alternative for a good looking media console! Just stack only 4 crates for a big wooden square and start using it as a brilliant TV console. Get inspired by this DIY TV stand that you build your own using old crates in your living room! Grab the full free guides and visual instructions here cashmere
7. Build Your Own Crate Storage Coffee Table and Stools:
If you are looking for a great living room centerpiece, then you will definitely fall in love with this crate storage coffee table that is super storage-friendly and comes in a fab square shape! Here all you need to do is install a square coffee table frame using custom wood slats and plywood, and next to fill up the frame with crates as storage baskets! Give the entire finally finished design a grand wooden top and enjoy a modern coffee table design at an almost no-cost price! A brilliant DIY crate furniture project! Grab the full free guides and visual tutorial from here hertoolbelt
8. DIY Crate Side Table Tutorial: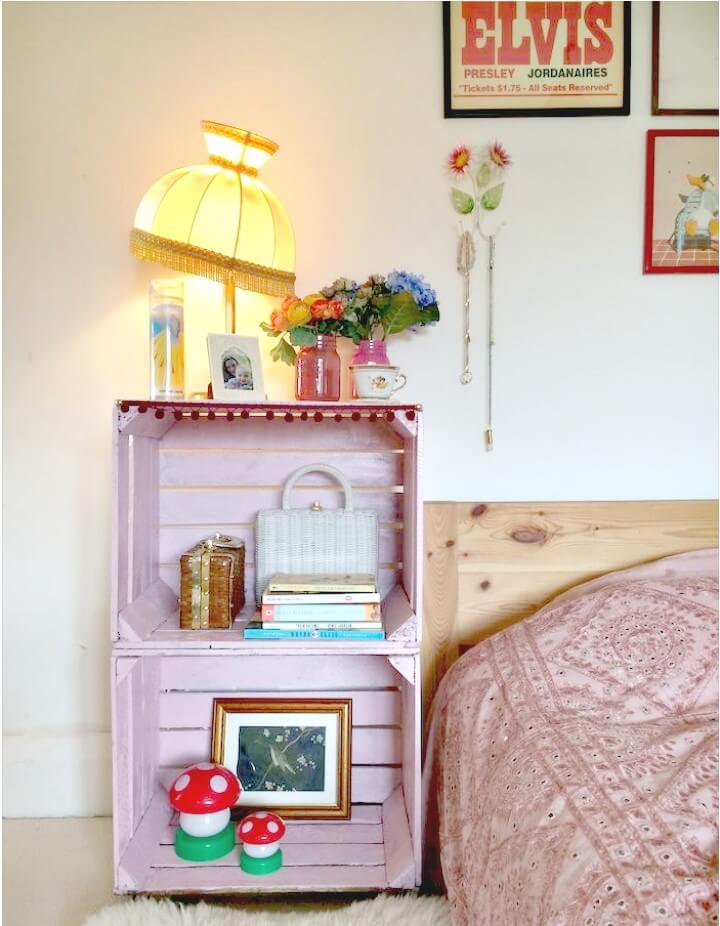 Looking for a graceful nightstand or end table in your bedroom or living room? A stack of two crates would make a beautiful side or end table that would also be super storage friendly! Have a look at this stacked crate side that has been done to inspire and has been raised on wheels for a modern chic look! Pain the wooden crates also in your own favorite color that will match your bedroom decors! Perfect no-cost bedside table to hold and organize your night supports! Grab the full free guides and tutorial from here byhandlondon
9. DIY Wood Crate Bookcase Tutorial:
You will just fall in love with this fantastic bookcase made of custom painted wooden crates, stacked beautifully to make a big wooden tower! This is a big girl's room bookshelf that has been done to inspire and is enchanting colorful! Moreover, you can also use this crate tower to display your decors and custom crafts items, and wedding gifts! Willing to duplicate this bookcase? Grab the full free guides and tutorial from here thepleatedpoppy
10. Easy DIY Wood Crate Bookshelf: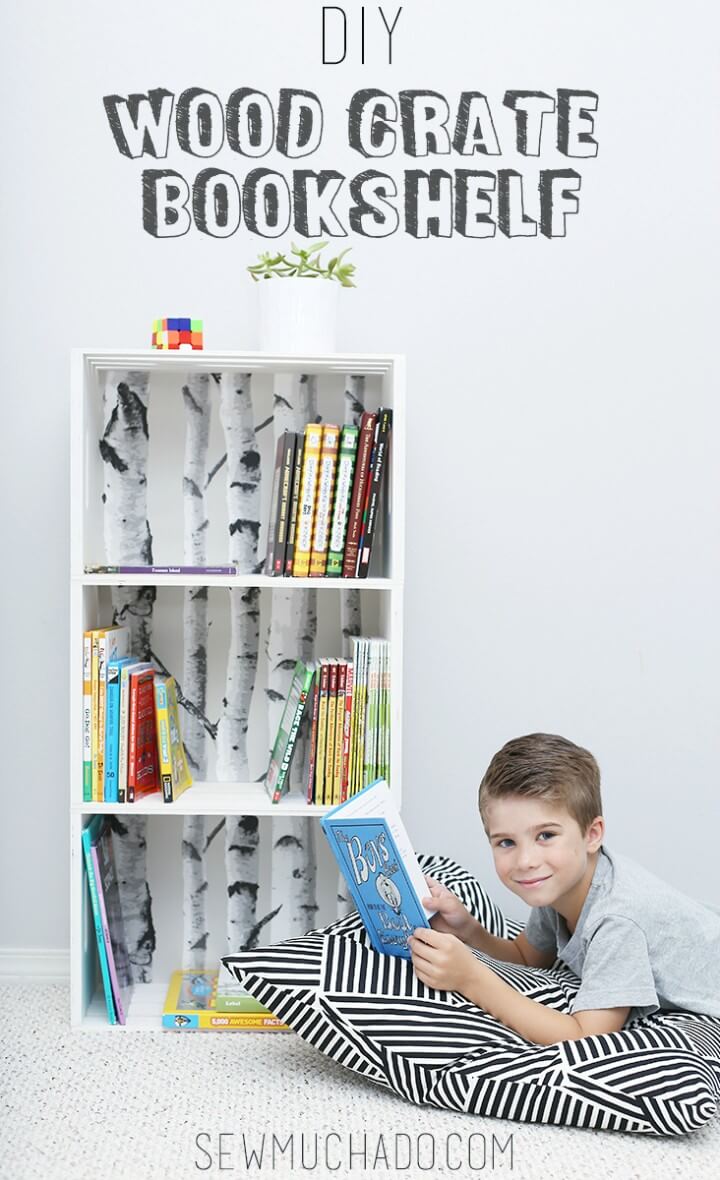 Get inspired by this brilliant crate furniture craft, a precious wooden bookshelf that has also been done by stacking a few white painted crates! Use a wood log wallpaper and paste it inside back of the crates as accent backing and hence creates a stunning modern appeal of the entire bookcase! This bookshelf is something here that will rock in every interior from shabby chic to modern to rustic, and the blasting good news is that it will cost you just nothing! Moreover, this bookshelf would also rock as a display unit in any of your favorite room! Complete project instructions here sewmuchado
11. Make Your Own Bookshelf From Unfinished Wooden Crates: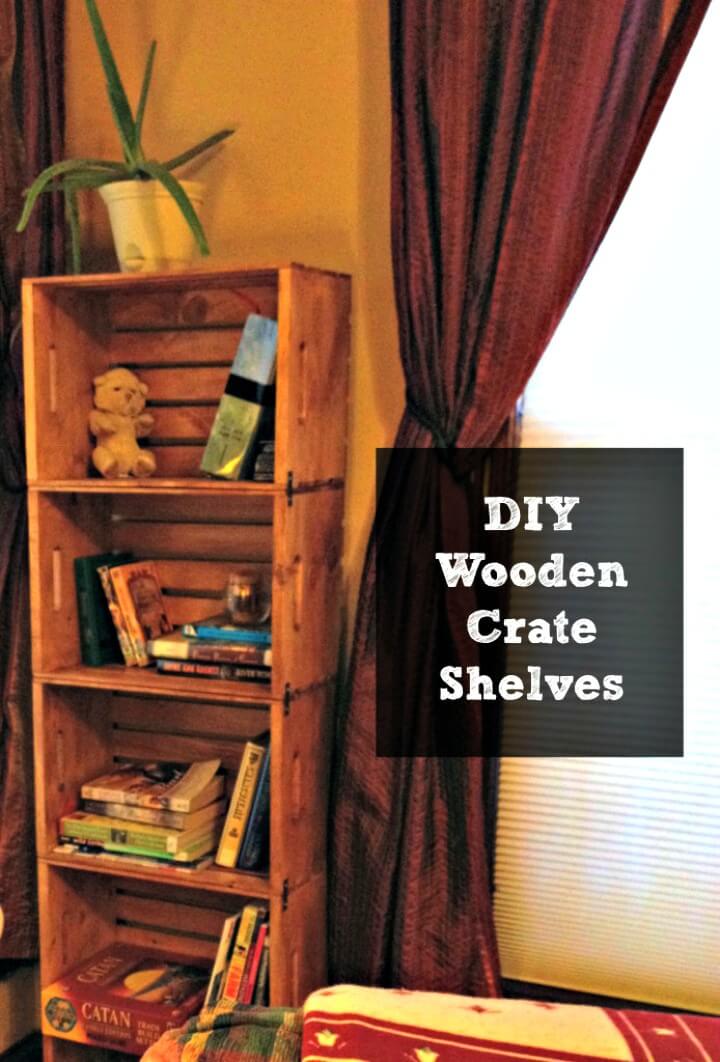 Looking forward to organizing a big pile of books using a precious bookshelf? Purchasing from the store may cost you big, so you can save many of your costs by doing DIY bookshelf projects! Why not stack some rustic wooden crates to gain beautiful bookshelf towers in just no time? Have a look at this wooden bookshelf made of 3 unfinished wooden crates stacked together and is really adorable to store and organize the books! Willing to duplicate this bookshelf? Full project details here frugalupstate
12. How To DIY Wood Crate Tractor Toy Box: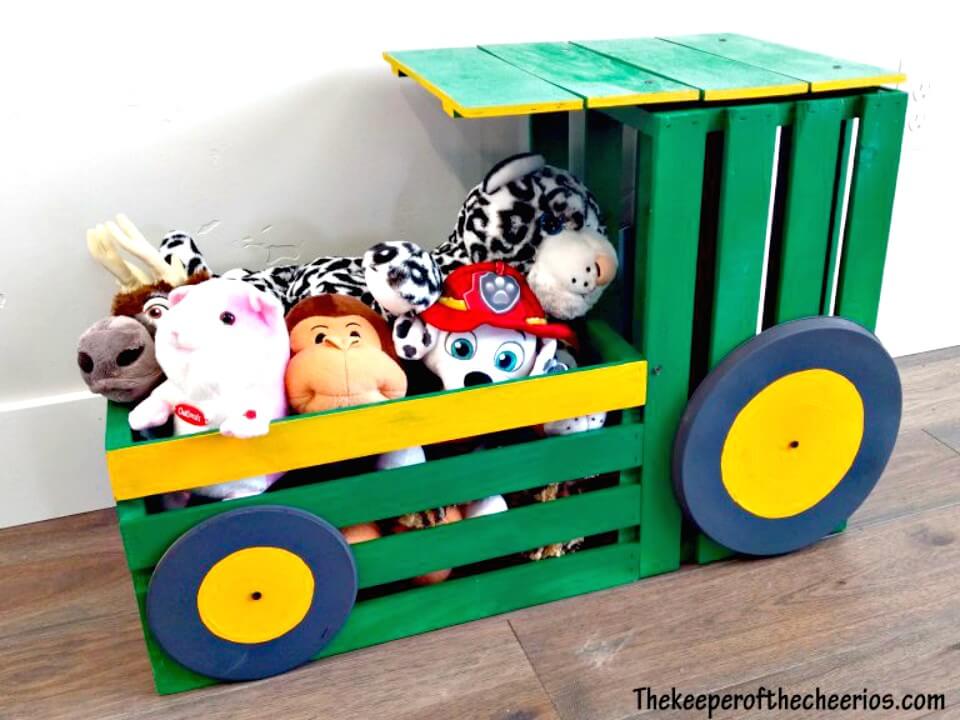 Get inspired by this great and lovely wooden crate creation that would be loved dearly by all the kids in the home! This is here a tractor shaped wooden toy box made of 2 green painted crates put together in L-shape! Here, this tractor also comes with a little roof, and faux wooden wheels near a real tractor look! This tractor shaped toy storage box would itself make a great toy for the kids in a home! Grab the full free details and visual instructions from here thekeeperofthecheerios
13. DIY Wooden Crate Outdoor Table:
One more exceptional furniture craft to make with the wooden crates! This outdoor side table is made of a wooden crate! A new plywood top has been given to the crate, and also an inside plywood divider has been installed to create storage compartments! This is another fantastic and adorable wooden crate craft that you will love to own outdoor! Duplicate this recycled table with a crate and with leftover plywood! Complete project instructions here oneartsymama
14. How to Make Salvaged Jewelry Display Tutorial:
Torn apart from the wooden crates and rebuilding the separated apart wooden planks to do various other wooden crafts! Check out the jewelry organizers or jewelry display units made of crate wood and make a great gift to a style-loving girl or woman in the home! Just build custom shapes out of crate wood and then add knobs or hooks to them for organizing jewelry! Complete instructions here ninethousandthings
15. Make Your Own Crate Lemonade Stand For Kids: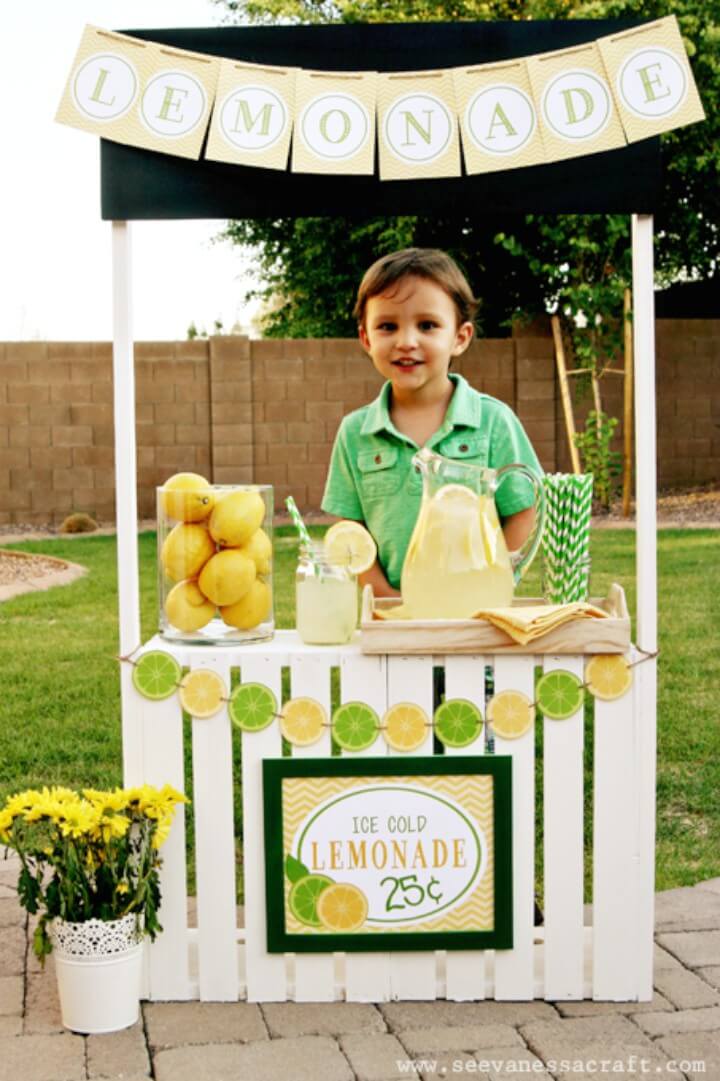 Please, your kids also give them some handmade lemonade stands that can easily be made at home using wooden crates! Check out the sample wooden crate lemonade stand that comes in chic white appeal and have a grand shelter or top which has been adorned with a custom banner! Furthermore, this lemonade stand has been adorned with a logo plate mounted on the front side and also with lemon slice buntings or garland! Complete project instructions here seevanessacraft
16. How To DIY Rustic Wooden Crate: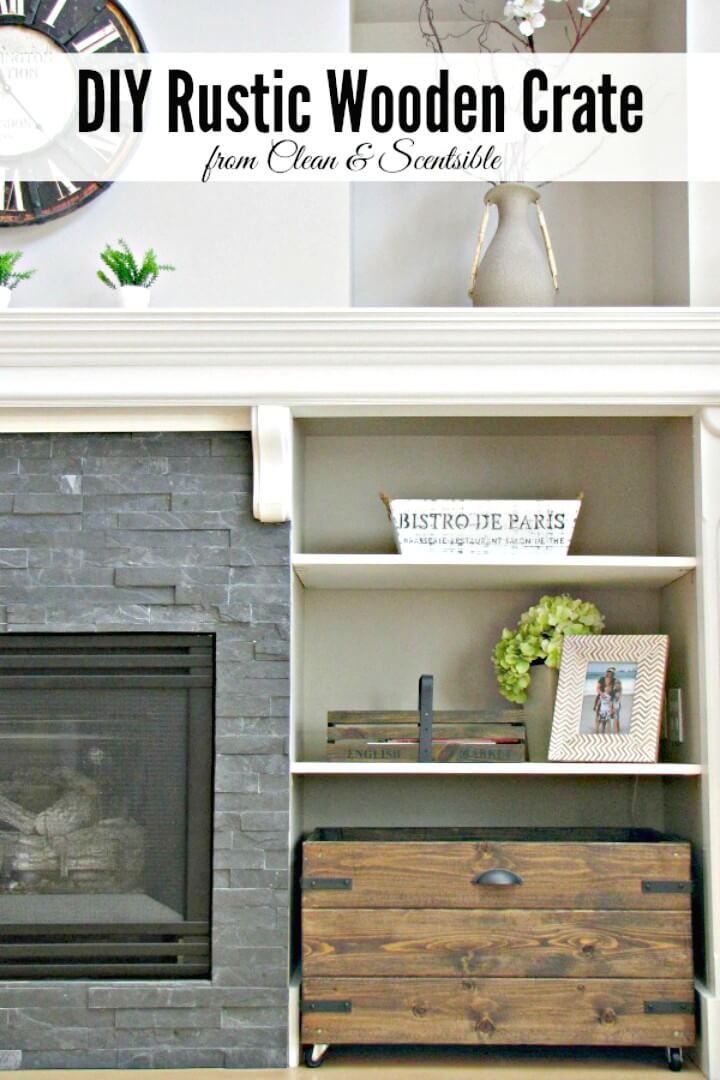 You can also put the rustic wooden crates in already built storage options in the home for a more secure and neat type of storage purposes! Checkout here a wooden crate raised on wheels and placed underside a shelving unit to store custom items nicely and in a super neat way! Here this rustic wooden crate has been raised on wheels and also comes with a pull-out handle! Another fab wooden crate project to do at home! Complete instructions here cleanandscentsible
17. Make Your Own Shelf Sconce Using Wooden Crates: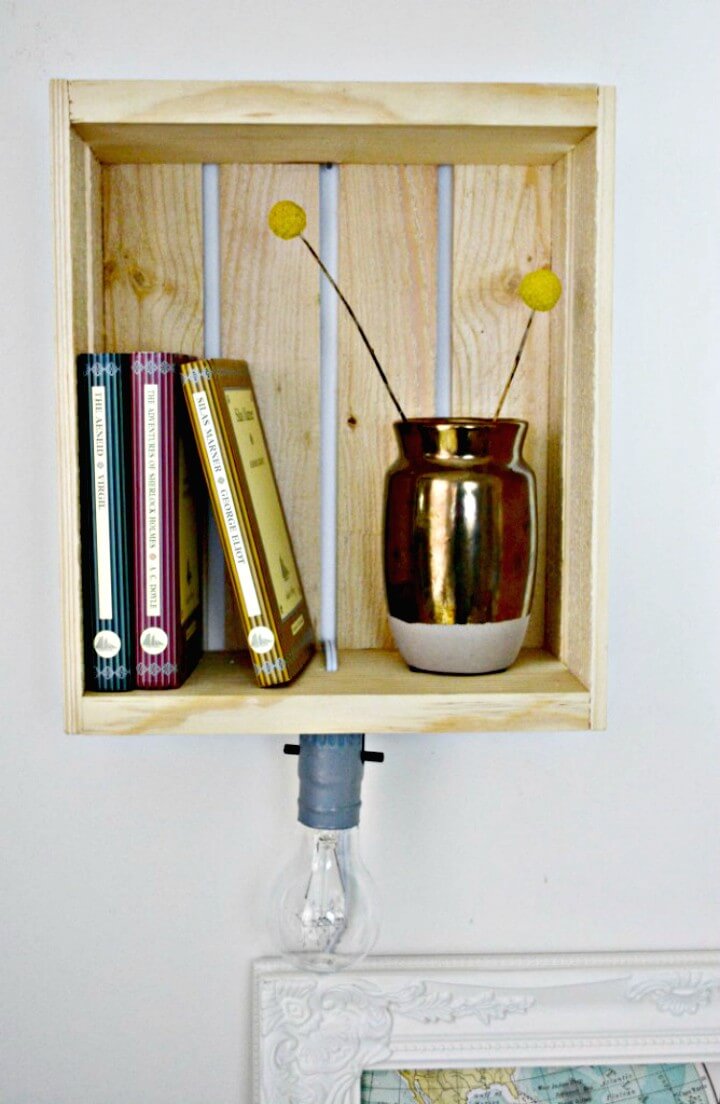 Enjoy the dual functional behavior of the wooden crates just by installing them on custom interior walls! Just have a look at this wooden crate shelf sconce that also makes a beautiful wall display unit! Here a bulb has been installed to the very bottom side of the wall-mounted crate for a brilliant light fixture out of a recycled crate! Store and display your custom items of décor and storage in this wall-mounted wooden crate and enjoy! Complete instructions here ajoyfulriot
18. Easy DIY Vintage Wooden Crates:
Create also the vintage look of your reclaimed wooden crates by just stamping them beautifully at home! Just use the vintage stamps and make them look prehistoric, and next then will really come in handy to store and organize different materials from food items to home accessories! Check out here the sample wooden vintage crates that are amazingly beautiful and good-looking! Intending to duplicate these wooden crates? Grab the full free tutorial from here welcometothezoo
19. Adorable DIY Bookshelf Out Of Crates: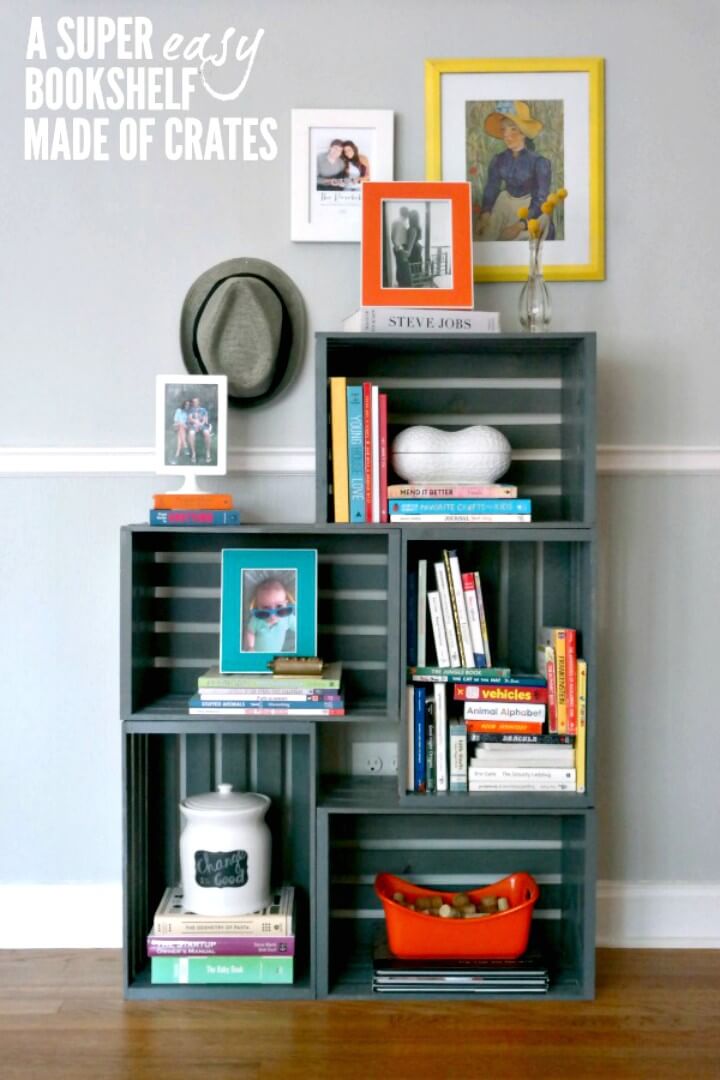 Paint or stain the wooden crates, and next, pack them together in custom configurations making vertical display and storage units! You will just fall in love with this precious wooden crate bookshelf made of wooden crates, and it is something wonderful to add to any living room or bedroom! It can also be used as a handsome display unit in any part of your home! Clone this brilliant bookshelf model using only 5 crates! Complete tutorial and instructions here creatingreallyawesomefunthings
20. DIY Crate Organizer Craft – Inexpensive Project:
Turn also the wooden crates into beautiful organizers by painting them in a custom way! Moreover, you can also personalize them with vinyl lettering and also by using custom stencils and stamps! Have a look at this brilliant crate organizer sample that has been done to inspire and is something super beautiful to look at! Here this wooden crat comes with sides painted in black and is having each side plank painted differently! Complete project details here thecasualcraftlete
21. How To DIY Wood Crate Rolling Cart:
Check out here another lovely item of furniture made of wooden crates. This is a wooden crate rolling cart that is made of 6 wooden crates stacked together beautifully and precisely! Finally, the entire stack of wooden crates has been raised on wheels for touch-to-move movements and an industrial appeal! Here inside of the crates has been painted in white for a gorgeous appeal! Complete project instructions and tutorial here grecodesigncompany
22. How To Crate Shelves Bathroom Organizer for $100:
You will just fall in love with this epic storage unit made for organizing bathroom stuff! Here 3 wooden crates have been stacked to build a display or storage tower, and one has been put in the sides of this organizer to store more items! Here all crates have been painted in white for a gorgeous appeal! It will definitely create a stunning display of your toiletries and bathroom centerpieces! Complete project instructions here thebeautydojo
23. How to DIY Fruit Crate Shoe Bench:
Get inspired by this brilliant transformation of a wooden crate! Here an empty fruit crate has been painted and then tufted and has been added with an inside divider to make an epic shoe bench! It will also make a brilliant ottoman in your living room if you like to do so! Here this shoe bench has been brought to a more dashing appeal by installing metal caster rolls and wheels! Here is how to make this crate shoe bench handimania
24. Make Your Own Pet Bed Out of Crates:
Grab a wooden crate and just remove some of the planks from its front side to create an entrance, and next, just raise your finally modified wooden crate with custom wooden legs or wheels for a brilliant pet bed! Get inspired by the given sample that has beautifully been cushioned and is really looking beautiful! Grab the full project details and instructions from here theinspiredhive
25. Adorable and Easy DIY Crate Book Storage: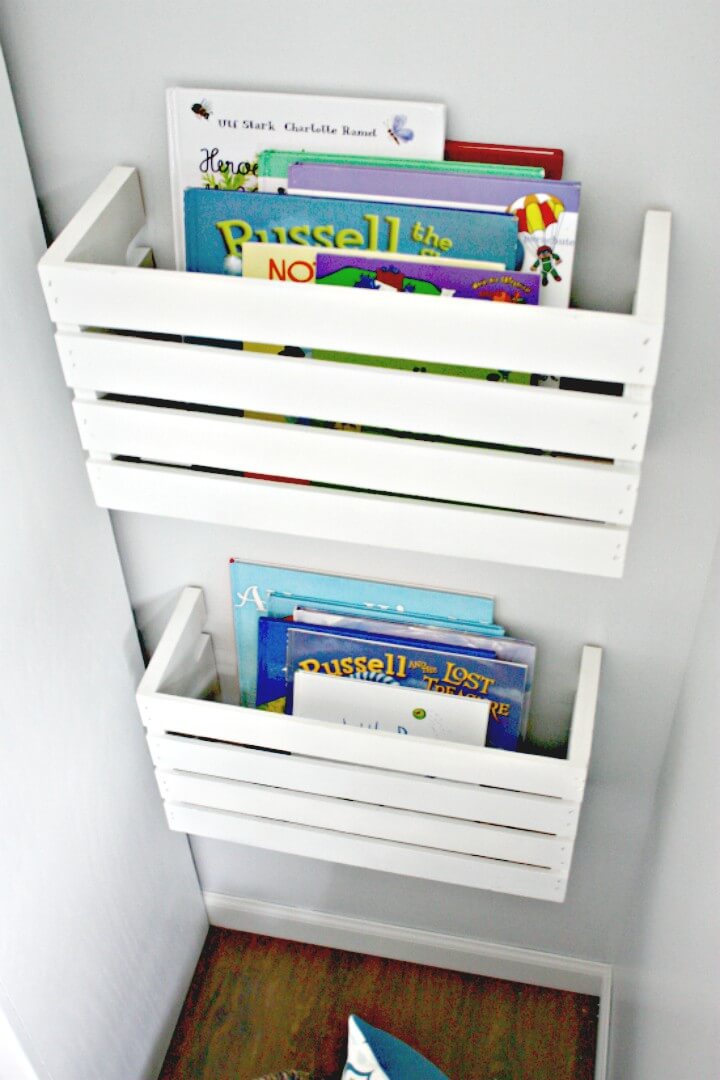 Turn also the recycled wooden crates into brilliant wall pocket shelves that can be used for numerous storage and display purposes! Look at this book storage wall shelves made of half-cut wooden crates beautifully mounted on the wall! Here these crate wall shelves would just rock as wall mail organizers and also as wall hanging bookshelves! Willing to duplicate these handsome crate wall shelves? Grab the full free tutorial from here iheartorganizing
58. How To Build Toy Storage Tutorial – Wooden Crate On Wheels:
Just install custom handles to each side of a wooden crate and start using it as a handsome wood storage crate in your home! Duplicate the given sample storage crate here that has been stained for a gorgeous dark tone of the wood and finally has been added with custom handles for easy carriage! This handsome wooden crate would just rock as blanket storage or pillow storage crate! Complete instructions here storyoffive
27. How To Make a New Wood Crate Look Old:
Go with custom techniques like distressing and make the new looking wooden crates look old and rustic! Check out the rustic grey distressed wooden crate that makes a brilliant vintage storage crate and rock in shabby chic environments! Here finally, the old-looking wooden crate has been raised on wheels for easy pushing and dragging! Use this wooden crate as a toy crate and also as a blanket or pillow storage crate! Complete instructions here chatfieldcourt
28. Super Easy DIY Wooden Crate Shelves:
You will just fall in love with the dashing assortment of the wooden crates here that hang on the wall! Here wooden crates have been mounted on the wall in a round shape making perfect jewelry display shelves or jewelry organizers! This is where the exceptional low-cost solution to organize and display your jewelry items beautifully on a particular interior wall! Here this entire jewelry organizing station has been done using 8 wooden crates only! Complete project tutorial and instructions here market
29. How To build Crate & Pipe Industrial Table:
Repurpose also the wooden crates to create exceptional industrial furniture at home! Not going to believe it? Then just look at this wooden crate and metal pipe industrial table design that would rock in every environment from rustic to modern! Here a wooden crate has been made sit on two square metal pipe legs for precious industrial table design! This will rock as an accent table, side table, and end table! Complete instructions here brepurposed.porch
30. DIY Crate Coffee Table Tutorial:
Are you sorting out some great looking DIY coffee tables in your living room? If yes, why take advantage of empty fruit crates to make some epic modern looking coffee tables at home? Get inspired by this given coffee table design made of 4 wooden crates joined in a side-to-bottom arrangement and end, making a beautiful square! The blasting good news is that this finally finished crate coffee table provides storage pockets and also offers a central spot to place your vase or any centerpiece! Complete tutorial here myanythingandeverything
31. Make Your Own Wood Crate Console Table: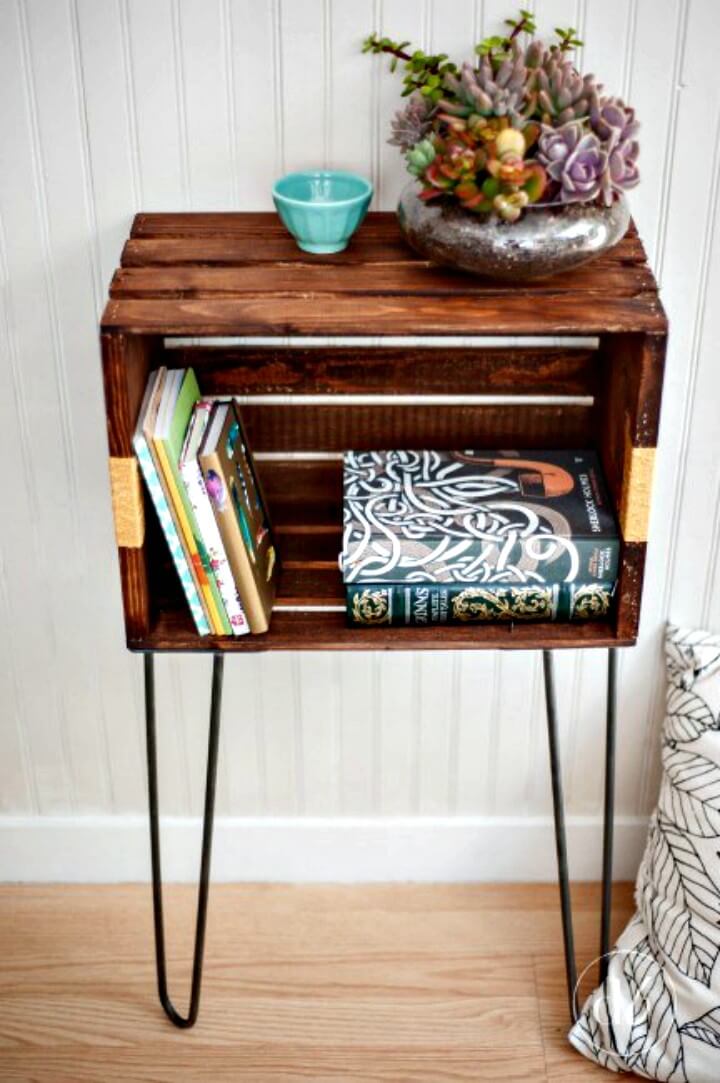 If you are sorting out some brilliant-looking console tables, you will definitely like to grab the hand-built modern console table! Here this brilliant console table has been done by installing hairpin metal legs to a wooden crate, and this results in a fab looking console table that will rock in every rustic to the modern environment! Willing to duplicate this another rocking crate furniture project? Then just grab the full free guides and visual instructions from here dwellbeautiful
32. How To DIY Crate Storage Seats:
Finish the wooden crates with custom cushions that will sit on them as beautiful and comfy lids so that you will get brilliant storage-friendly seats out of wooden crates! Just paint the wooden crates in desired shades of color and then add custom mattress tops to them and enjoy! Get inspired by the wooden crate projects in the list that are looking amazingly beautiful! Complete instructions and tutorial here thebiggestmuch
33. How To Build Outdoor Storage Bench:
Outdoor furnishings always cost you an arm or a leg, and here is an exceptional wooden outdoor bench design that will rock at any outdoor! Here this fine-looking outdoor storage bench has been made using a line of 3 red painted wooden crates that have been sandwiched between two larger wooden planks, one for a flat base and the other for a flat top or berth of the bench, as you can see! Next, the custom short wooden legs have been installed to the very bottom side to give the bench some height! Another brilliant furniture project using wooden crates! Complete project instructions and tutorial here operationhomeblog
34. How To DIY Crate Bookcase Tutorial: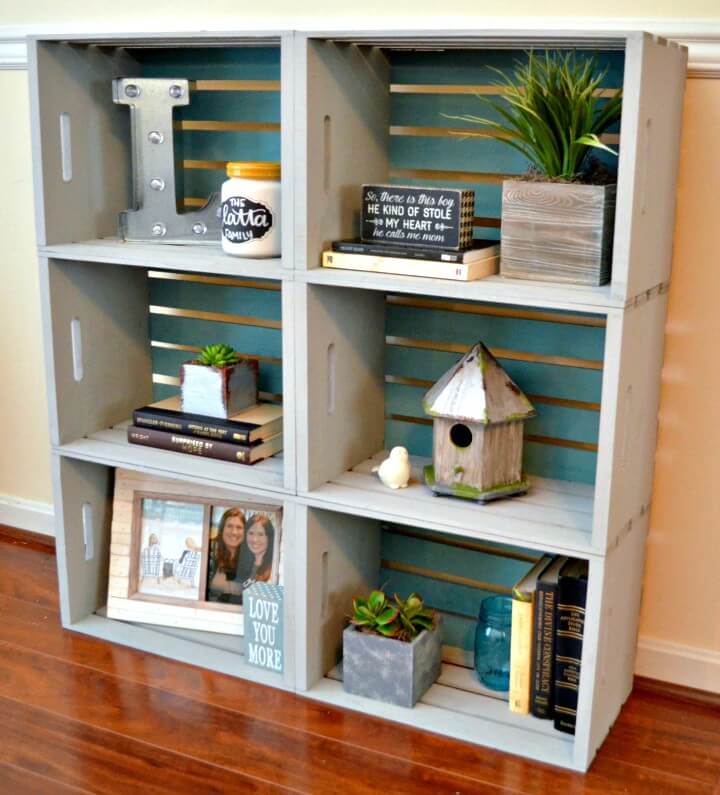 Get inspired by this brilliant crate bookcase that has been built to inspire and also to rock your modern interior environments! Here the 6 custom grey painted wooden crates have been stacked to make a gorgeous vertical storage unit that works great as a bookshelf, as you can see! Experiment with this project by painting the crates in different colors and personalizing the crates using custom stencils! This crate bookcase will also rock as a wedding gift display! Complete project instructions and tutorial here oneartsymama
35. DIY Crate Cabinet with Sliding Drawers: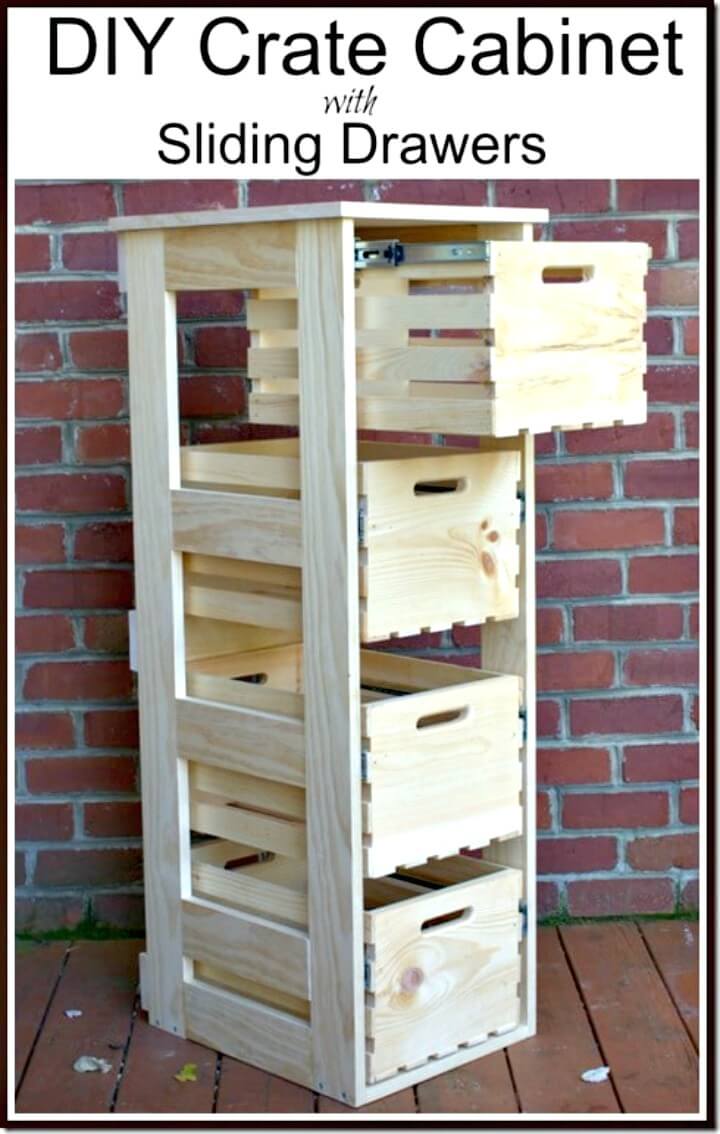 The ideas for building crate furniture are just never-ending! Check out here another great one, a handsome tower-style wooden cabinet that comes with sliding crate drawers! Build the cabinet frame with any other wood, and then just add the crate drawers using drawer slides that can easily be grabbed from any hardware store! Next, you can enjoy the blank wooden of the cabinet or can just paint it modern! Step-by-step tutorial here virginiasweetpea
36. How To Make Crate Locker Cubbies & Giveaway: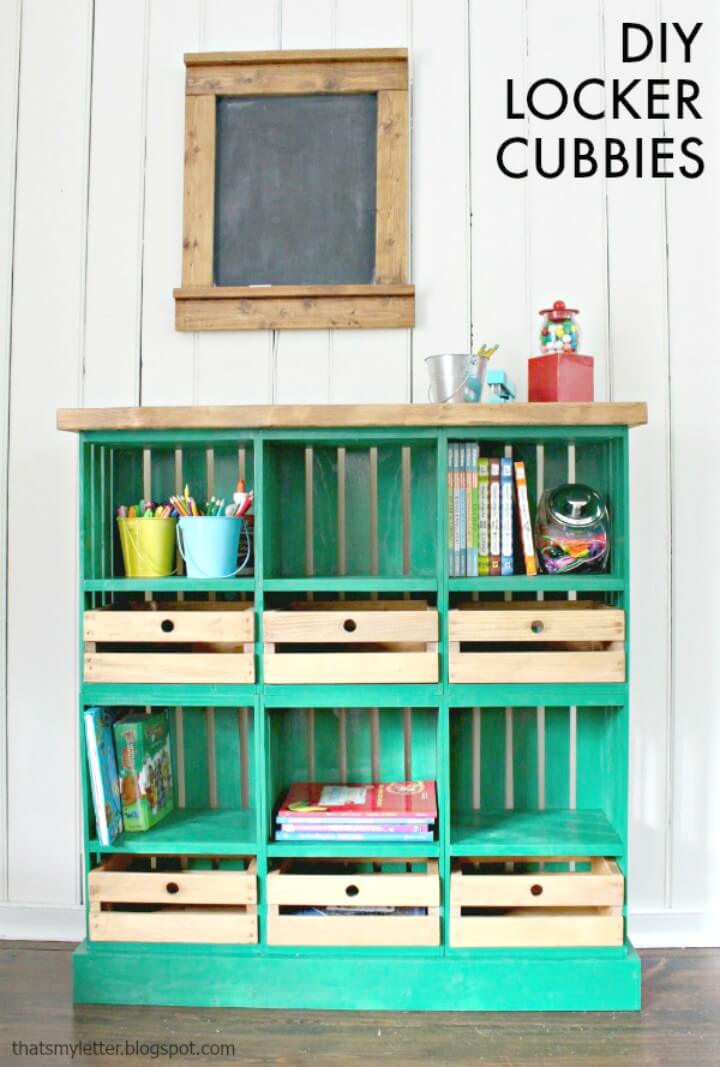 Stack 6 or more wooden crates making two lines, and then finish the stack with a custom wooden bottom and top! Next, add the dividers to create further storage compartments in the wooden crates and add the lockers' crate drawers! Get inspired by these sample locker cubbies that have been done to inspire and rock and are magnificent and stunning to look at! Here the green painted drawers have been stacked for a gorgeous appeal of the cubbies! Complete instructions here jaimecostiglio
37. Adorable DIY Kitchen Island With Pantry Storage: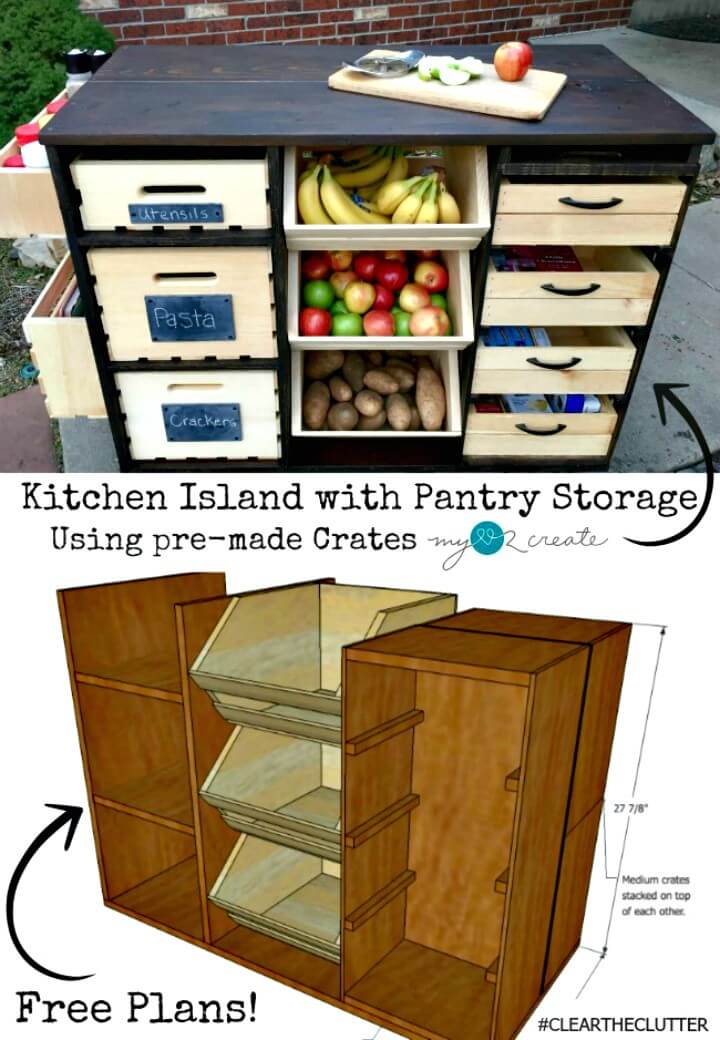 You can also go extra smart with wooden drawers to build extra functional pieces of furniture and storage organizers! Just peek into details of this insanely creative DIY kitchen island plan that comes with built-in pantry storage and a fruit and vegetable organizer installed to the mid side! Finally, the crate drawers and storage units have been added with custom chalkboard nameplates for a bewitching look! Complete how-to tutorial here mylove2create
38. Make Your Own Wood Storage Crate:
Crates are just perfect to use for storage purposes, and you can also build custom crates at home using lumber or pine wood! Fall in love with this wooden storage crate that is a beautiful sample here and has been done to inspire and rock! This wooden crate has finally been assembled with angle metal plates, and it works great as a pillow storage crate! Complete project details here shanty-2-chic
39. How To Make Vintage Crate Boot Rack: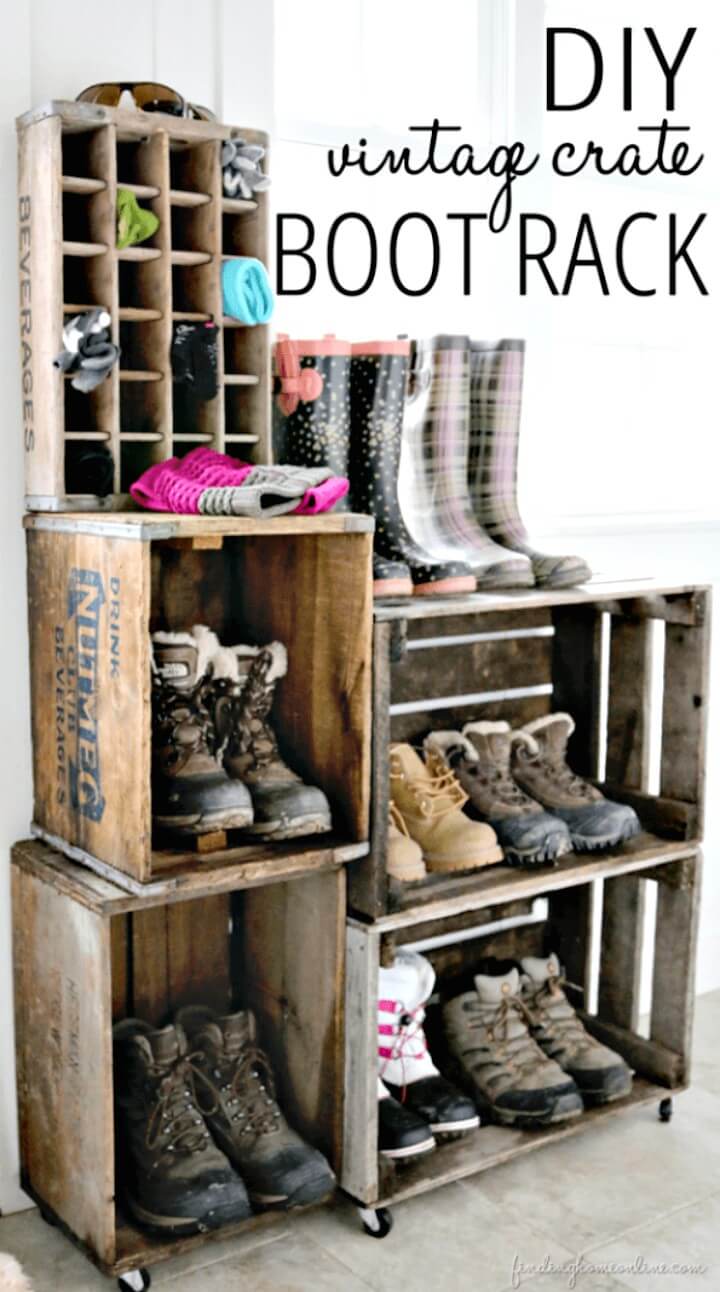 The messy collections of shoes are annoying you? Are you tangled in shoe storage problems? If yes, then why stack some durable wooden crates to build brilliant looking DIY shoe rack in just no time! Just stare a little at this sample vintage crate boot rack that has been done to inspire and is something beautiful to look at! Here the finally finished boot rack has been raised on wheels for a glam industrial touch! Complete project instructions and tutorial here infarrantlycreative
40. DIY Side Table Night Stand Tutorial:
Build gorgeous looking side tables or end tables using wooden crates at just a drop of a hat! The idea here is just to finish a wooden crate with custom metal or wooden legs! Have a look at this lovely wooden nightstand or side table that has been done by finishing a wooden crate with custom wooden dowel legs and is amazingly beautiful and precious looking! Here this crate side table would also be storage-friendly! Complete project details here ehow
41. How To Build Industrial Wood Crate Toy Box: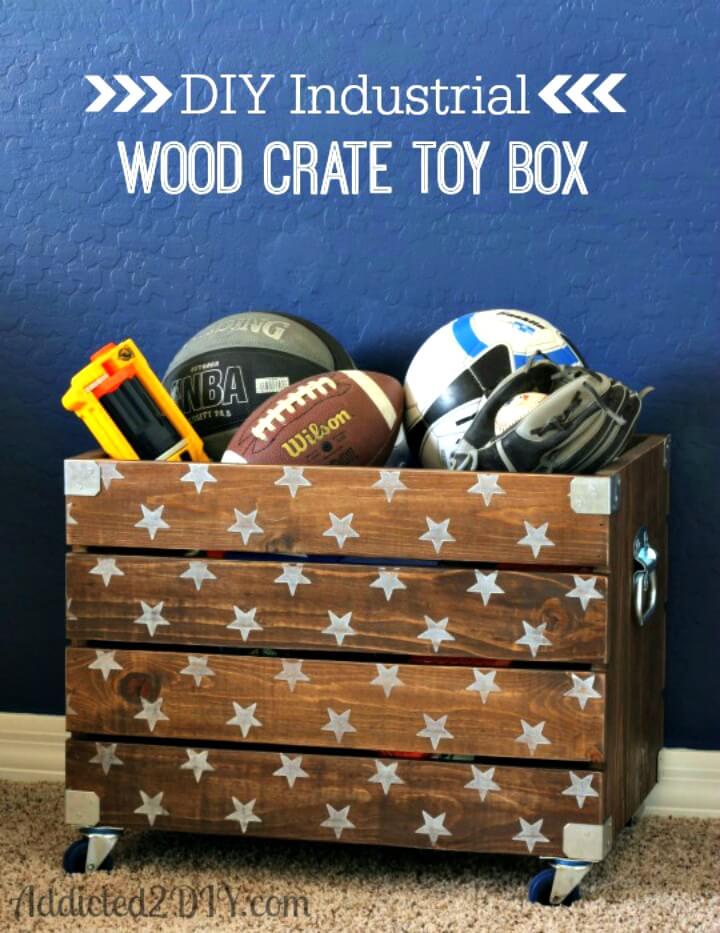 Are you sorting out some perfect storage options and solutions for storing kid's toys? If yes, then why not repurpose the crates to store the kids toys? Just finish a wooden crate with custom metallic handles and then finish it up with custom wheels and casters for making a gorgeous toy box! Here the wooden crate comes with white stars painted on all sides for a glam rapturous appeal! Complete project instructions here addicted2diy
42. Make Your Own Wood Crate Tutorial:
If you have just fallen in love with some wood crates ideas from the list and are striving to make a copy of them for your home, then you must grab some wooden crates first! If not having any, they also make some precious wooden crates at home using custom wood planks! Check out here the wood crate tutorial for building your own beautiful and custom crates at home ana-white
43. How To Make Crate On Wheels – DIY Toy Storage:
Employ also the empty wooden crates for outstanding kids toy storage. Check out here the sample wooden crates that you craft using paint in white and adding chalkboard nameplates! Make this toy storage with crates and caster wheels for amazing rolling movements on the interior home floors! Another great and epic wooden crate project! Complete tutorial and instructions here thediydreamer
44. How To DIY Kids Crate Table Workstation:
Are you on a mission to build adorable furniture using wooden crates? If yes, there here is a beautiful inspiration for you. Just place the wooden crate in a vertical position and then finish them up with a flat wooden top made of plywood and make gorgeous tables. Check out here the sample crate table workstation, a storage-friendly design of crate table with rolling legs! Willing to duplicate this crate table for kids room? Then just grab the full free guides and visual instructions from here petticoatjunktion
45. Build Your Own Gift Wrap Cart Out of Crates:
If you are keenly interested in gift-giving, then you must have some gift wrap carts that will help wrap your gifts in just no time! The excellent news is that you can also build outstanding looking gift wrap carts out of wooden crates that will be super cost-efficient too! Just have a look at this sample gift-wrap cart that comes with two crate storage compartments and with a ribbon roll rack installed in the top! Willing to duplicate it now? Grab the full free guides and visual instructions from here highstylerestyle
46. How To Build Shoe Storage Display: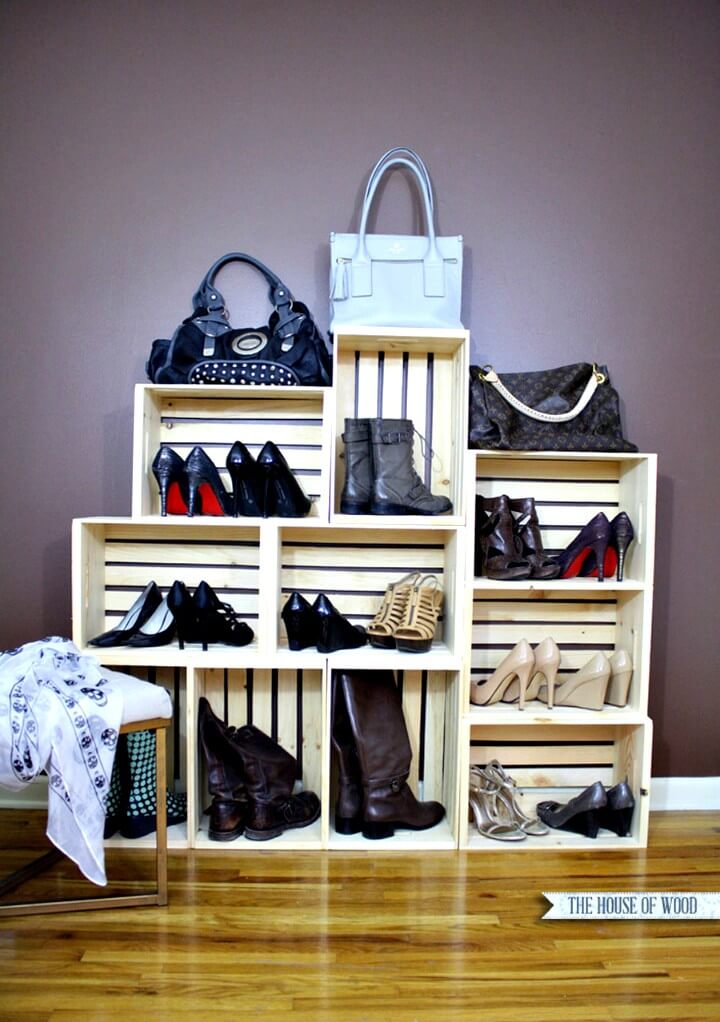 Check this brilliant stack of wooden crates that makes a perfect shoe rack and displays! Put together the wooden crates in custom configuration, making a beautiful stack used for both storage and display purposes! This fine stack of crates useful to organize and display the shoes beautifully! Willing to duplicate this crate shoe rack? Then jenwoodhouse
47. Easy DIY Ironing Board Station: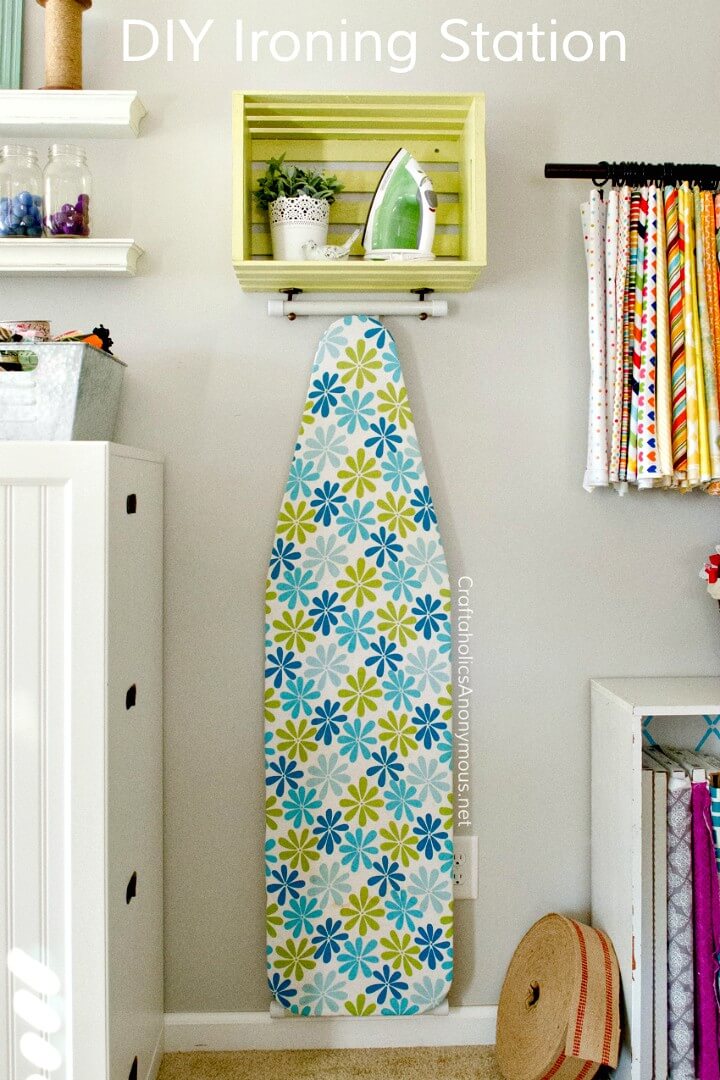 Go handmade with wooden crates to do some functional home projects. Just get inspired by this brilliant ironing board station that has been done to inspire! Only a wooden crate has been mounted on the wall, which has a fabric or towel rack installed to the very bottom side! Here the towel rack is made of a PVC pipe length and with two metal hooks and is really beautiful to look at! Willing to duplicate this ironing board station? craftaholicsanonymous
48. DIY Ottoman Using Jeans and a Wooden Crate:
Check out here another great wooden furniture project that has been done to inspire. Just make outstanding ottomans with wooden crates that are a crucial piece of living room furniture! Here a wooden crate has been finished with a jean tufted top and makes a brilliant ottoman! Finally, this wooden crate has been raised on wheels for easy rolling movements! pillarboxblue
49. How To DIY Crate Nightstands: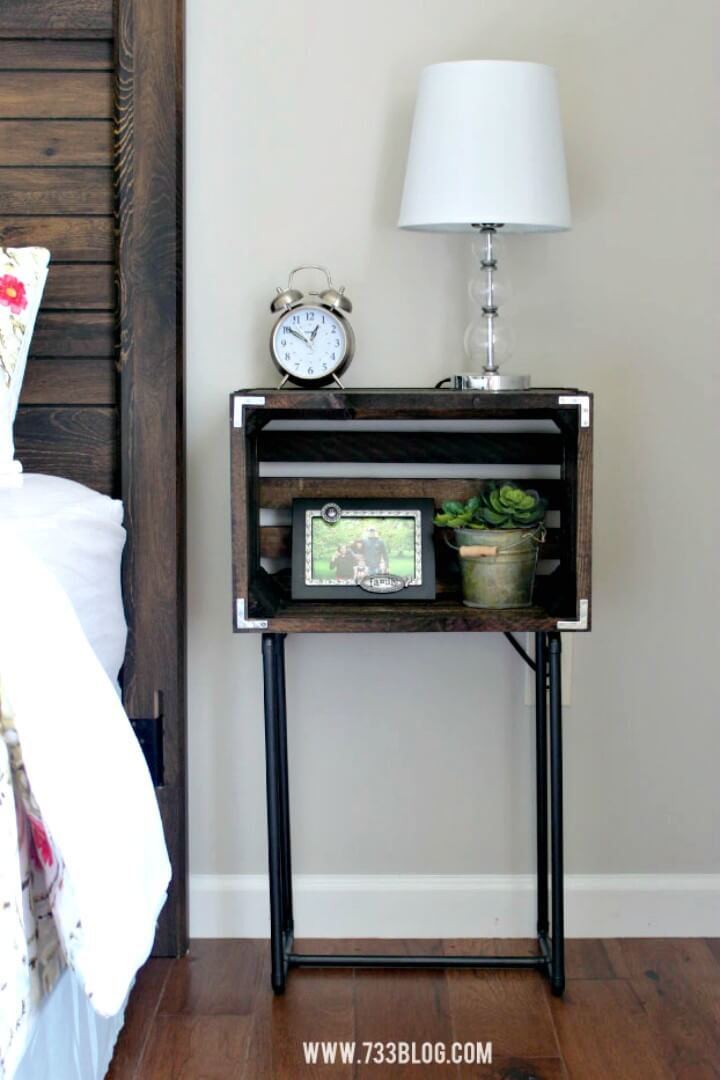 Get inspired by this brilliant DIY nightstand made of a crate and some metal pipes, and is really looking durable! Here the wooden crate has been finished with a metal pipe base to build an industrial design of nightstand or side table! Here also stain the wooden crate for a darker tone of wood that will hold everyone's attention! Do duplicate this bedside table at home using a crate and some plumbing scrap! inspirationmadesimple
50. Make Your Own Wooden Crate Picnic Basket: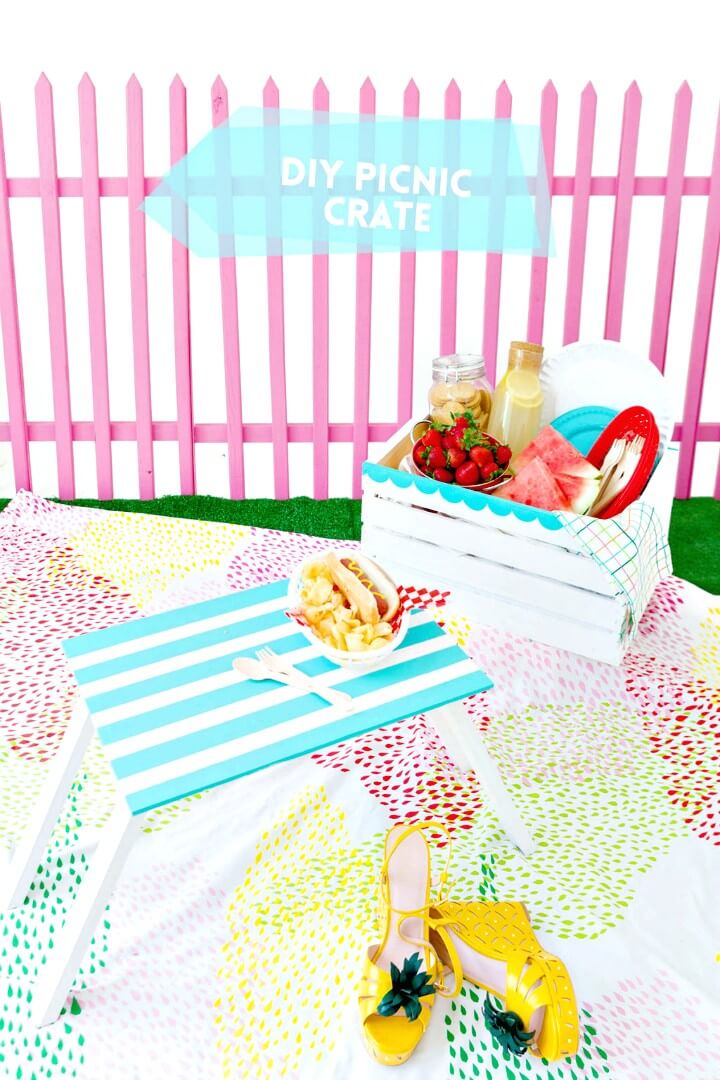 Repurpose also the wooden crates to serve as picnic baskets. Just have a look at this sample wooden crate basket that has been painted for an adorable look and is really something cute to look at! This is here another brilliant crate project that will be ready in just no time! Grab the full free guides and visual instructions from here damasklove