Here we are with another great episode of outdoor and garden improvement projects that are all based on recycling of pallets! Pallets may be the unworthy skids of wood for most of us but they can rescue from tossing into dumpsters to do some amazing garden or patio projects! You will definitely fall in love with these 30 DIY pallet garden projects that will show you that how you fancy up your green spaces with those retired wooden pallet skids that are always easy to reach! So, you can grab some to start creating a divine look of your garden are by following these given pallet garden ideas and hack! After taking a visit to these pallet garden projects you will definitely care more for the pallets!
The very first thing you can do with pallets that you can cover them from behind using landscape or waterproof fabric which can also be secured in place using a staple gun! This will help that pallet skids to hold the potting soil in so that you can start potting in pallets to make amusing vertical herb, flower or veggies garden! Check out some amazing samples given below in the list that are all beautiful and much focally stimulating!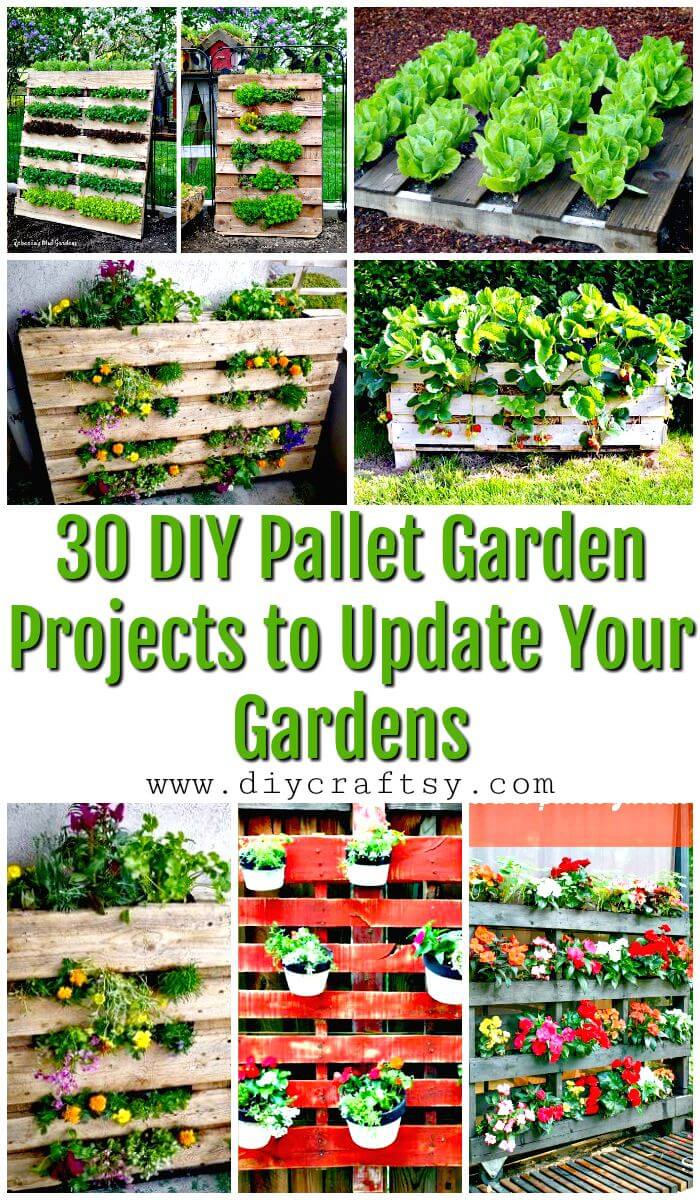 Next, you can make custom holdings or shelves in pallets where you can organize your garden pots and plants beautifully and hence you can also make good looking pot holders out of pallets! Build also amazing vertical herb or flower garden out of pallet skid, the idea is to make the single pallet skids hold some garden pots using hose clamps or other hardware, check out some outstanding samples given below in the list and get inspired!
Put also the pallets flat on the garden ground and get ready-made raised garden beds that will help to grow anything special from flowers to veggies to fruits! Go also super smart with pallets and install pyramid style garden planter that will be much focally stimulating and will definitely create a big focal point in your garden! Go also handmade with pallets and make box style raised garden beds that will definitely hold one's attention and make also the dashing vertical flower planters out of pallets that will boost your garden decors to peak level!
more Pallet Ideas You May Love:
You can also hang the vertical pallet planters to garden fence, to a garden wall or just on the ground against a garden wall for bigger statements of garden decors! The pallet ideas for garden decors and improvement are just unlimited! Check out more given below in the list and don't forget to check out the respective source links for complete tutorials and guides!
DIY Garden Projects:
Build a Small Space Pallet Garden: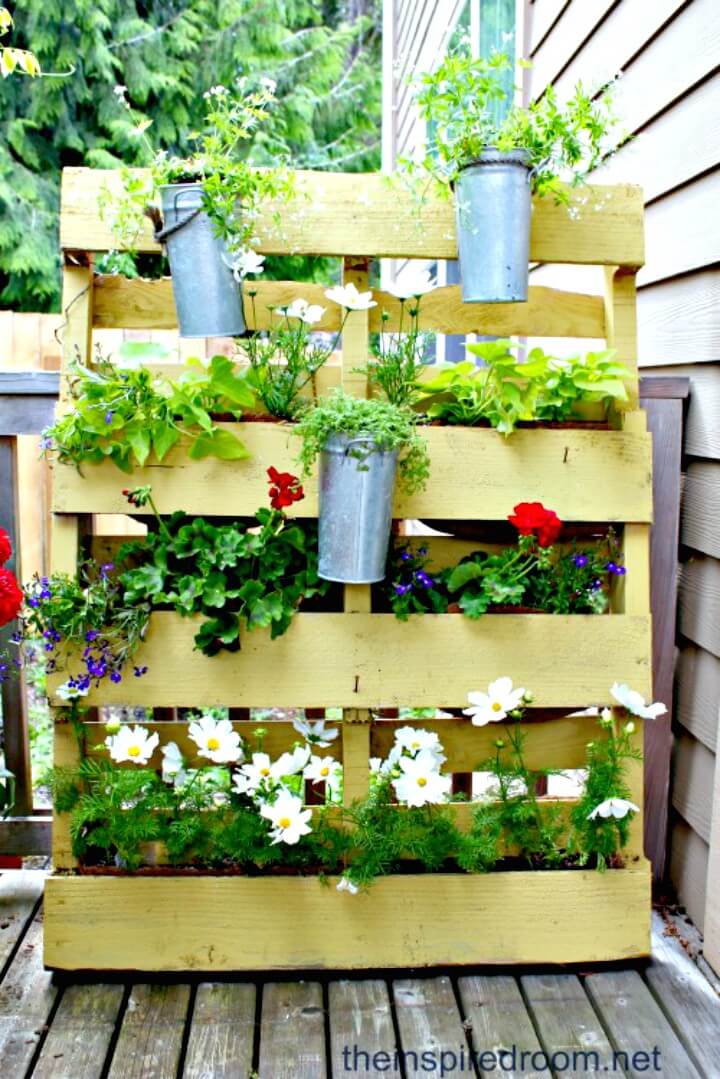 Look at this super smart rescue of pallets that have been done to adorn a garden space! Here a single pallet skid have been used as a vertical flower planter that can be put anywhere at outdoor or in your garden to create a focal point! Here all you need is to create custom pockets in a pallet wood board in which you can add potting soil and then can start potting your favorite flowers in them! The idea is to cover the backside of pallets with a landscape or waterproof fabric! Complete instructions here theinspiredroom
How to Creating a Pallet Garden: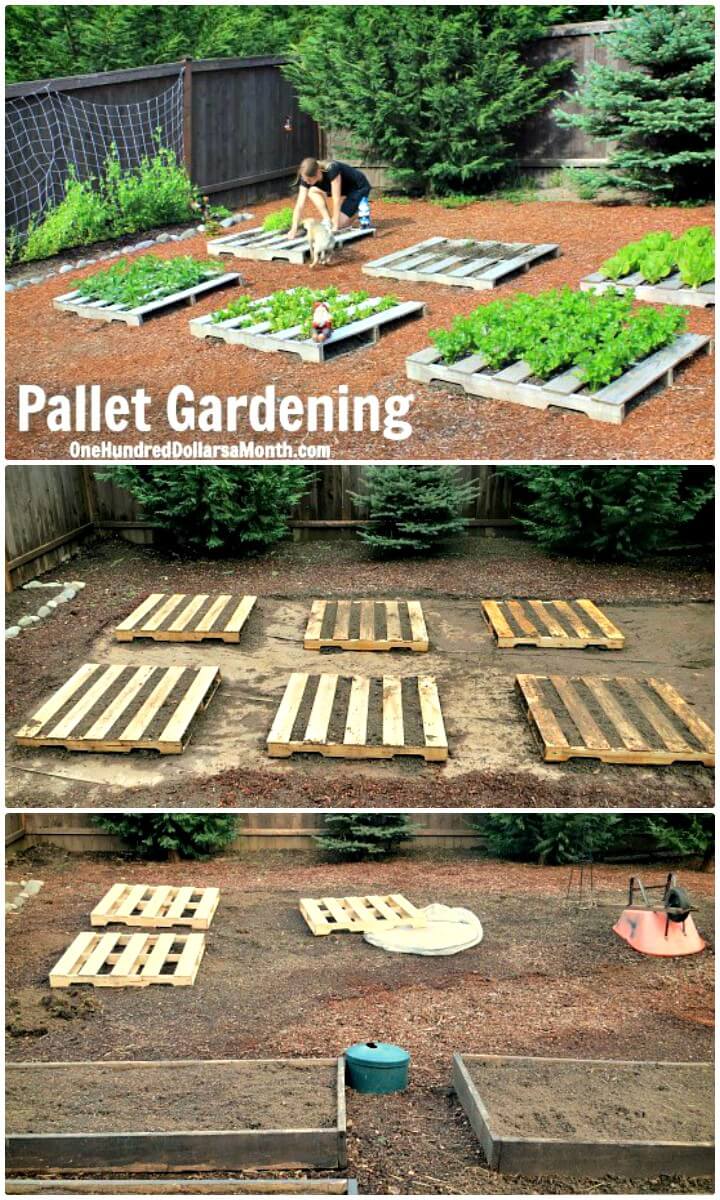 You can also install the pallets flat to your garden ground to make adorable raised garden beds, just check out the lovely samples here that are looking exceptional and super eye-captivating! Here the is to spread the pallets flat on the garden floor with equal spacing among them and then to fill them up with garden or potting soil! Complete project instructions here onehundreddollarsamonth
Adorable DIY Pallet Vertical Garden: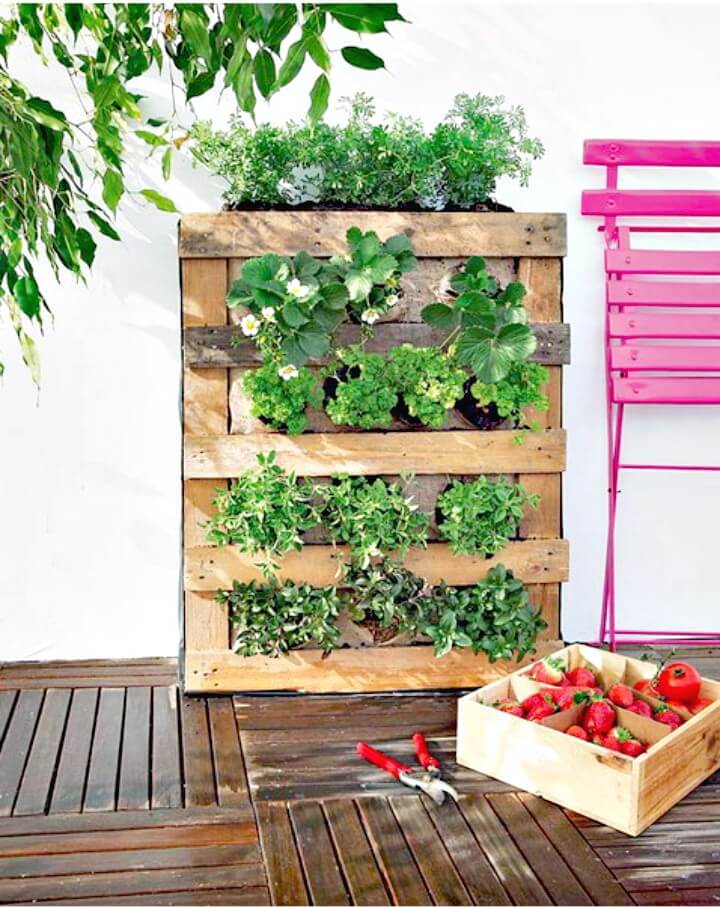 Here is how to bring tons of focal stimulation to your patio, garden or any indoor spaces without getting a bit expensive! Just build great looking pallet vertical gardens that will also be a way to bring greenery to any of your particular indoor or outdoor space! Check out here this sample vertical pallet garden that is super easy to make and you just no need to do lots of cuttings and measurements! Another great pallet garden project! Complete tutorial and guides here diy-enthusiasts
DIY Strawberry Pallet Planter: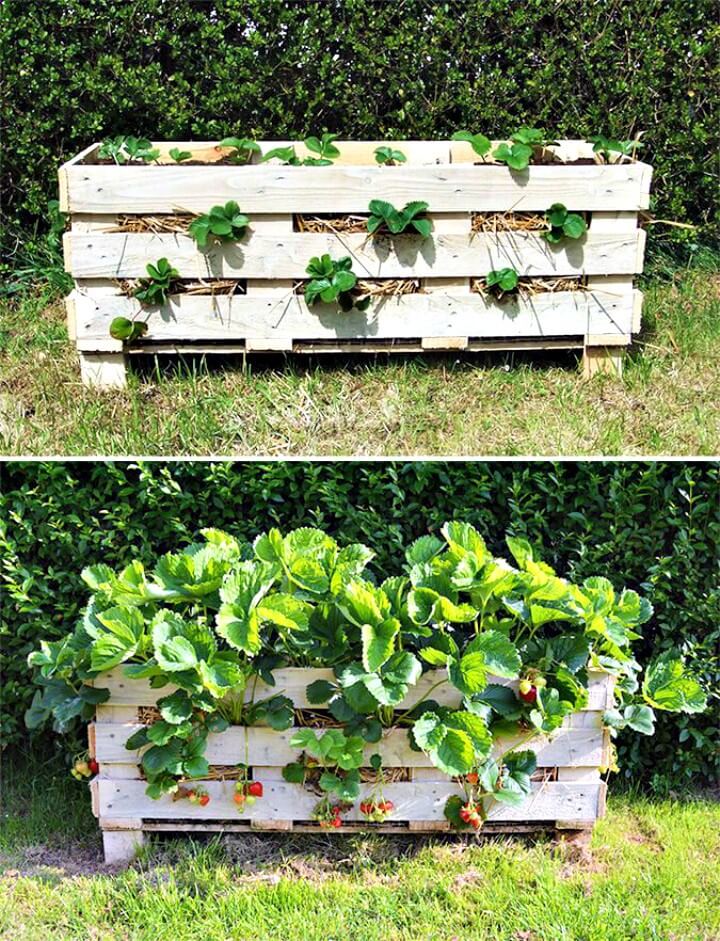 Are you intending to plant the strawberries this season? If yes, then you can take a great help from pallets that can help in easy and nice growing of strawberries without causing any load on your wallet! Just make cool looking strawberry planters just like this given one that has been painted in white and having spacing in all the sides for air circulation! Another great pallet garden project! Complete tutorial and instructions here lovelygreens
How to Make an Herb Garden from a Pallet: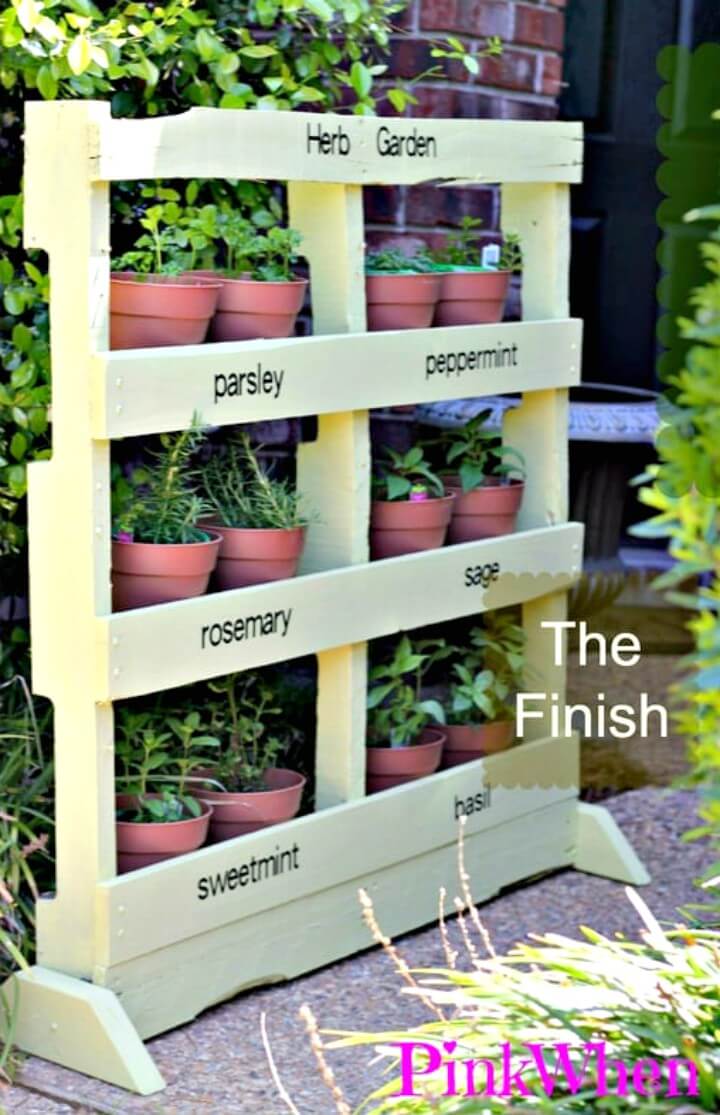 You will just to duplicate this another fantastic herb garden that is made of a single pallet skid and is definitely something super praise-worthy! Here the a single pallet board has been given flat feet and comes with custom overwritten herb names and holds beautifully the herb pots inside! Another outstanding and brilliant looking wooden pallet garden project that will definitely grab your attention! Complete project instructions and tutorial here pinkwhen

DIY Tropical Pallet Living Wall: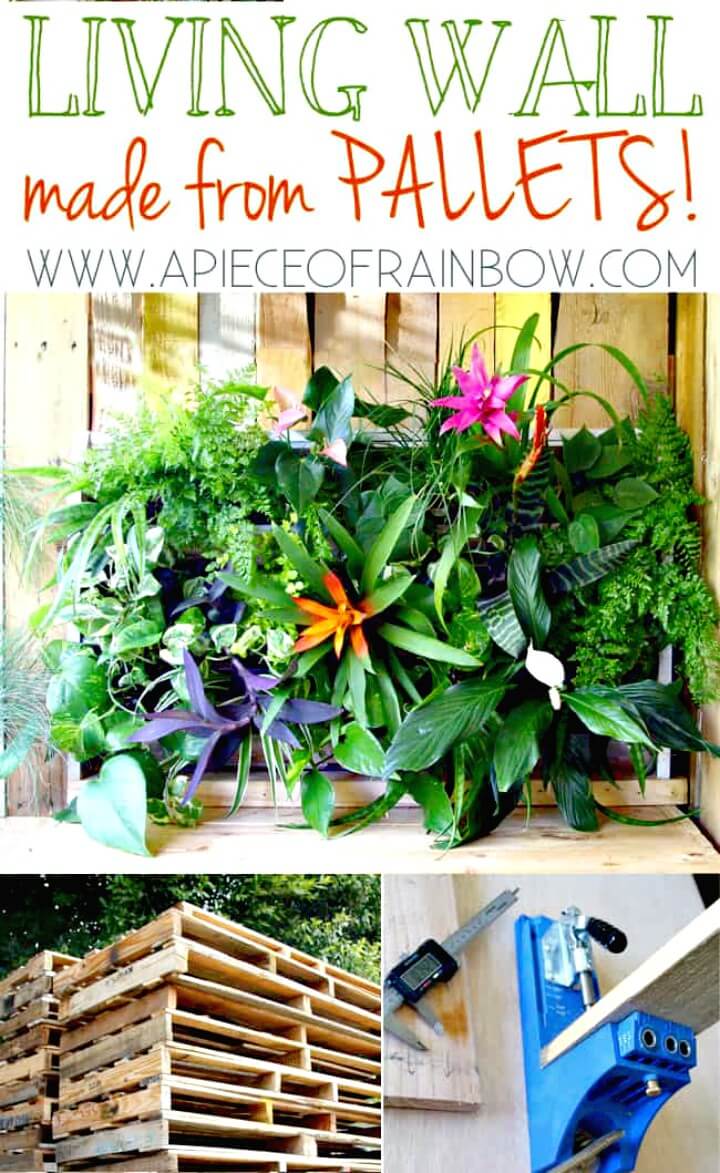 This is here another lovely wooden pallet project that will bring great charm and grace to your garden! Here a deck boards of a pallet skid have been set to an angle and have been turned into fantastic looking holding that hold beautifully the flower and herb pots inside for making a brilliant pallet living wall! This is here another outstanding wooden pallet project that you can duplicate in just no time! Complete instructions and tutorial here apieceofrainbow
Create a Recycled Pallet Vertical Garden:
Get inspired of this another fetching pallet achievement, a super cool looking recycled pallet vertical garden, built to bring amazing garden vibes to your spaces and is really looking amazingly beautiful! You can do this project with both small and big pallets and can own handsome looking vertical garden that will definitely go amazing to any interior space! Intending to duplicate this vertical pallet garden? Grab the full free guides and visual tutorial from here designsponge
Adorable DIY Wood Pallet Planter: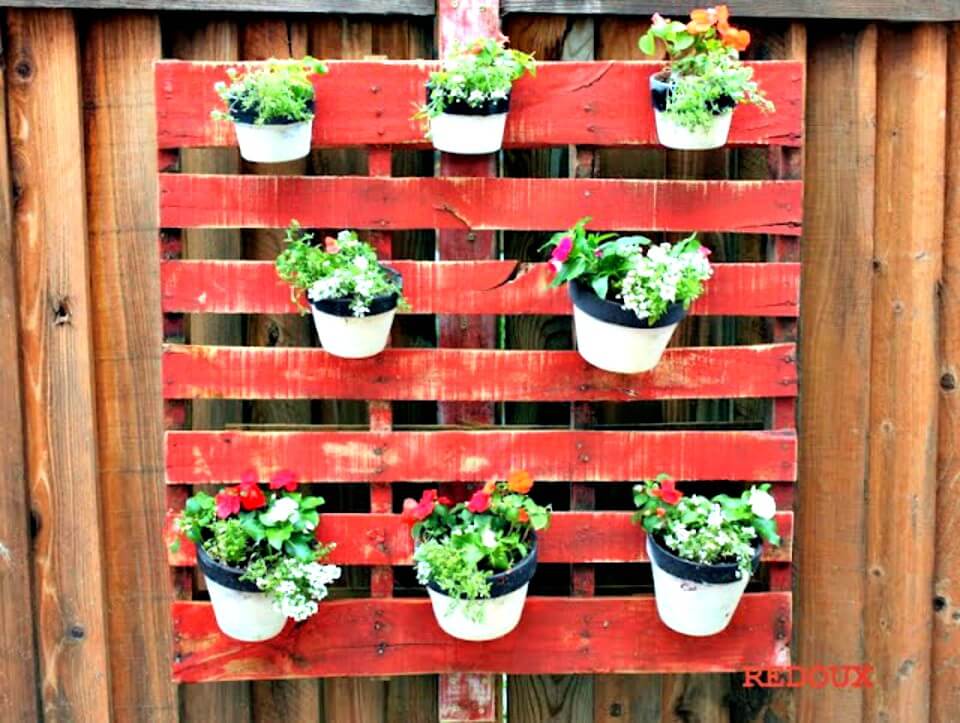 Checkout here another fantastic pallet project that has been done to boost the garden decors! Here it is a pallet-made pot holder that installs a beautiful hanging garden on the targeted garden wall! A single pallet skid with removed back boards have been mounted on the garden wall where it hold beautifully the custom flower pots with the help of custom hardware and hence a lovely wall hanging planter has been achieved! Willing to duplicate this gorgeous wall planter? Grab the full free guides and visual tutorial from here redouxinteriors
Create Your Own Vertical Pallet Garden: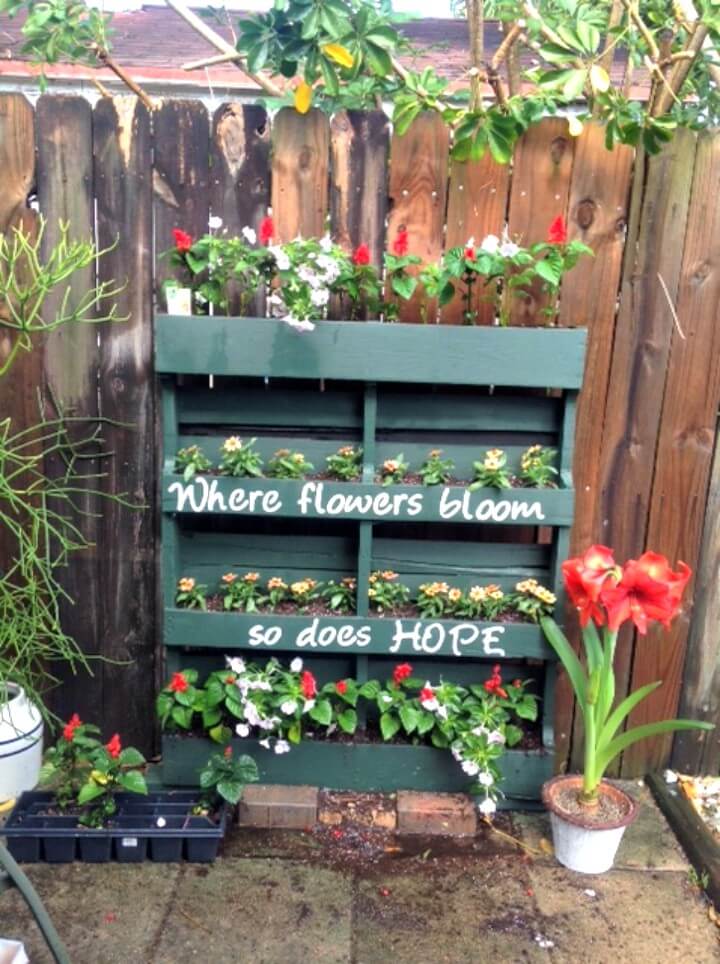 Here once again a gorgeous transformation of a pallet skids that results into a mind-blowing garden décor! This is here a vertical pallet garden that comes painted in dark grey and also comes with custom overwritten quotes that make it look extra adorable and stunning! This is here another fab pallet project that will help gaining a divine look of your garden space! Intending to duplicate this wooden pallet garden? Then just grab the full free guides and tutorial from here hometalk
DIY Vertical Pallet Garden: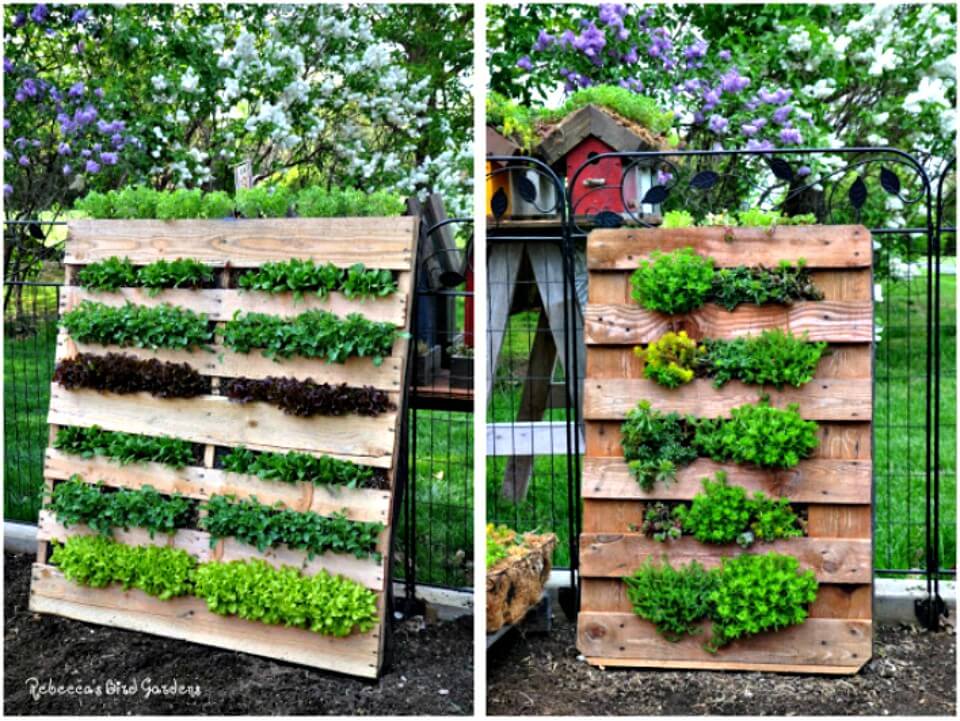 Get inspired of these more graceful and lovely looking pallet vertical garden that is a fab presentation of garden greenery and potted plants and everybody will just love to look at twice at these vertical pallet gardens! Here single pallet skids have been repurposed for these adorable vertical garden creations! Complete project guides and instructions here thegardenroofcoop
Adorable DIY Vertical Pallet Garden: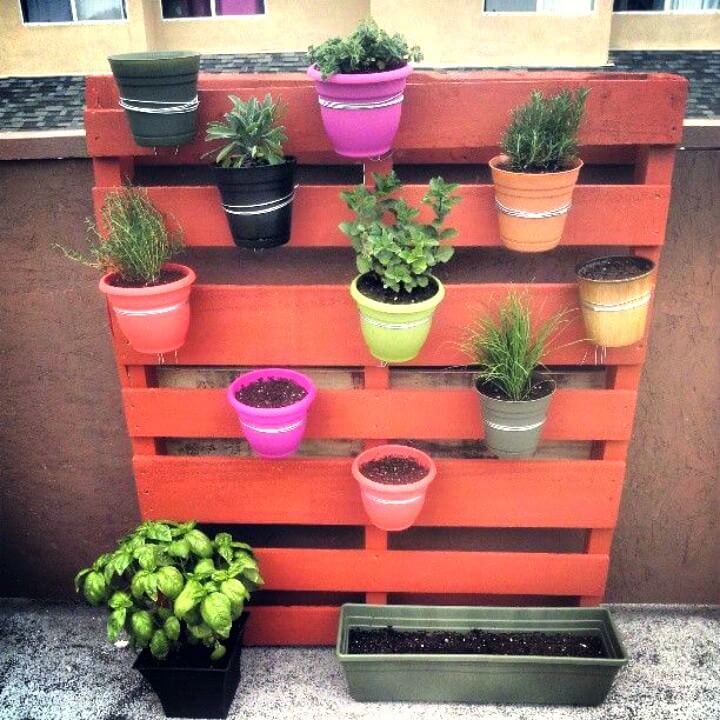 Here once again a pallet skid has been painted and has been repurposed to hold the garden pots and hence it makes a great looking vertical garden that can spruce up any space with its natural green vibes! This vertical pallet garden can stand alone against a wall for amazing demonstrations of garden greenery and you can also hang it on a custom wall as a hanging garden for natural garden décor touch! Complete project instructions and tutorial here instructables
Easy DIY Pallet Garden Tutorial: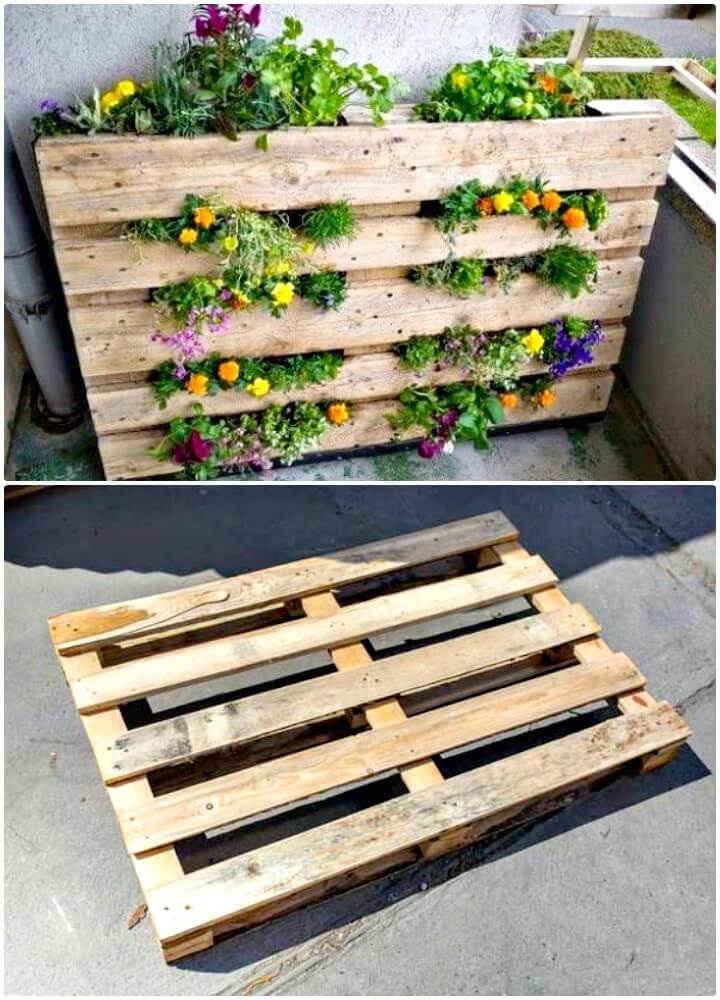 Make also this very gorgeous looking pallet garden that is looking much beautiful! Here all you need is to gain a pallet skids and some fabric to gain this epic vertical pallet garden! The idea here is to cover the inside slats of pallets with fabric in such a way that you will be transformed into pockets to hold the potting soil! Next add the fill them up with potting soil and you are done! Complete instructions here modernfarmer
Make Your Own Pallet Raised Garden Bed: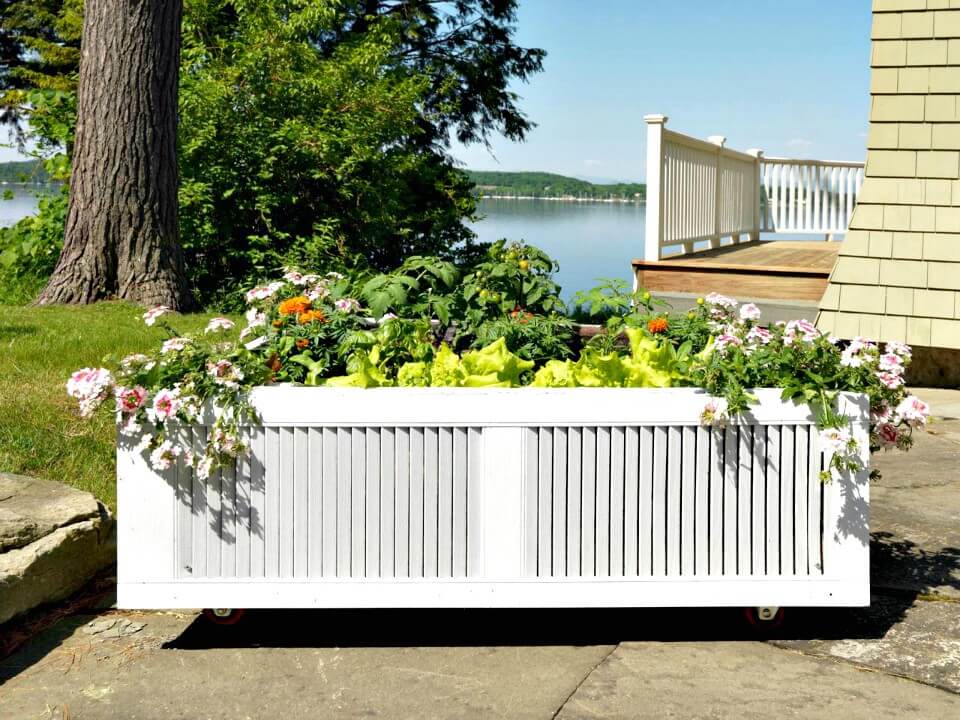 Checkout here another epic model of raised garden bed that is exceptional due to being raised on heavy duty caster wheels! Here the idea is to raise a single pallet skid on wheels and then to turn it up into a box like shape using 2x4s wooden sides! Finally you can add the plastic shutters as decorative sides to gain a very good looking raised garden bed! Here inside of pallet has also been covered with landscape fabric to stop leakage of potting soil! Complete instructions here diynetwork
Easy DIY Flower Pallet Garden: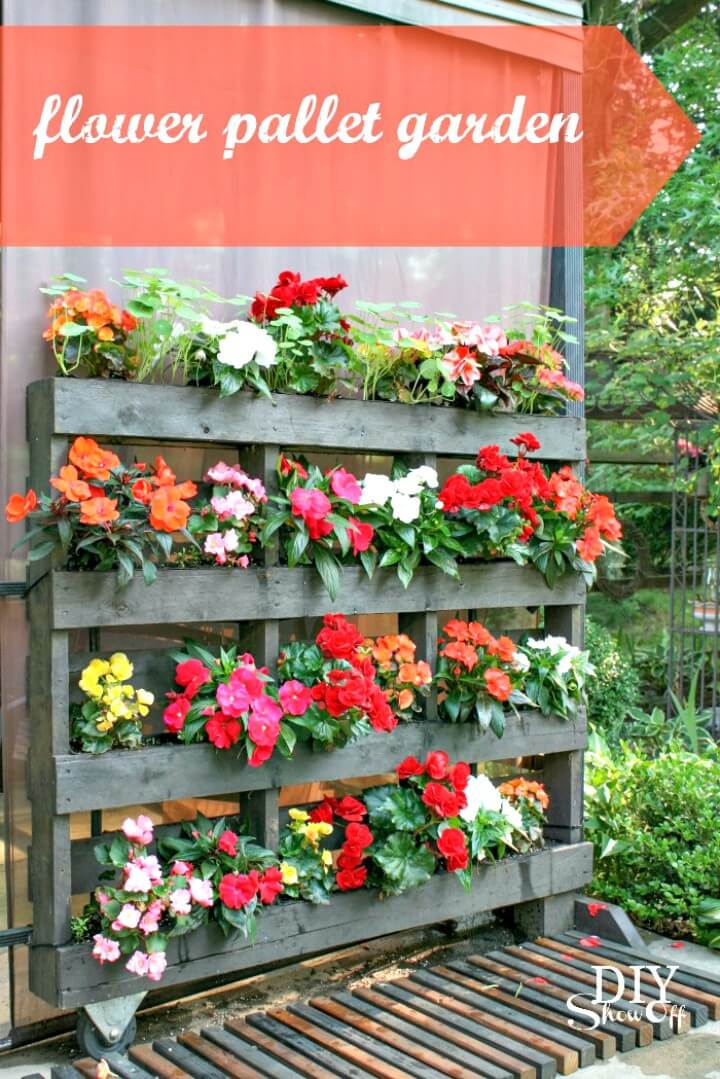 Another graceful design of vertical flower garden that is also made of pallets! Here a wide looking pallets have been transformed into this handsome garden centerpiece that would also be a great addition to any outdoor or patio! Here again the bottoms of the pallet slats have been covered nicely so they will hold the soil to grow the flowers! At the end, this vertical flower garden has been finished with custom hardware wheels to be easy to move to either location or direction! Complete tutorial here diyshowoff
Make Your Own Pallet Herb Garden: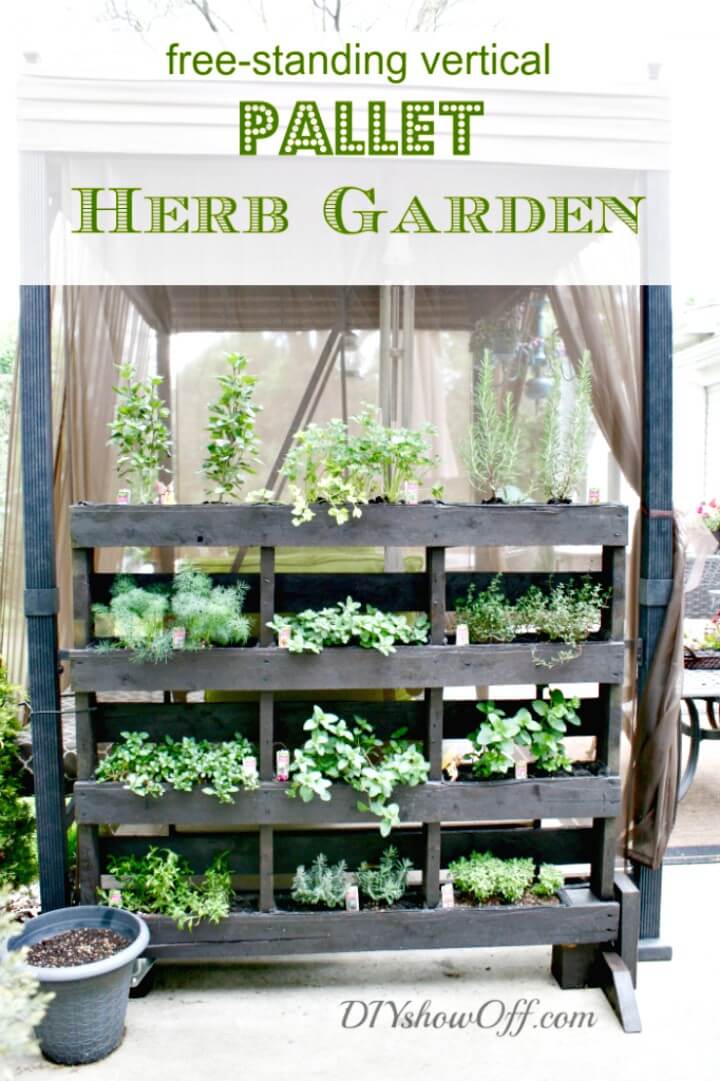 Another great and lovely looking wooden pallet herb garden is here that is also a smart pallet creation! Here again the landscape fabric has been used to install the pockets to pallet slats and has been stapled in place! You can give lots of variations to this wooden pallet herb garden! Like you can paint it to look extra beautiful and gorgeous and you can also write over the names of herbs using vinyl lettering or paint! Don't forget to install the wheels for easy dragging and pushing of this wooden pallet herb garden! Grab the full free tutorial and visual instructions from here diyshowoff
How To Create Cedar Pallet Succulent Planter: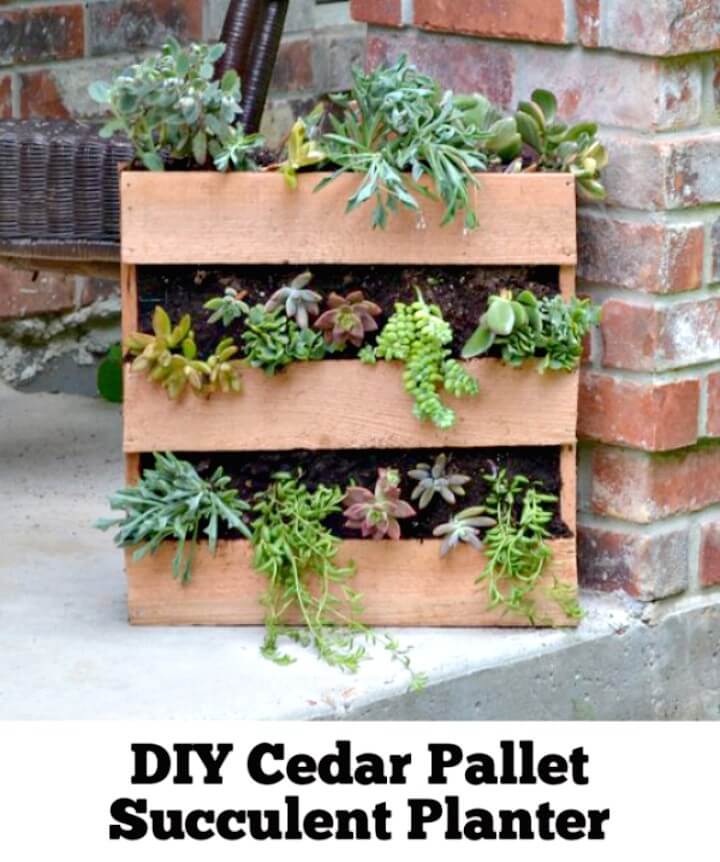 Another great and mind-blowing garden centerpiece is here to hold your attention! This is here the wooden pallet succulent planter that is mini in size but is really big in beauty! Here this first this mini pallet has been made using the cedar lengths and next the wire mesh has been added to inside that will help hold the potting soil in place! Finally the backside of pallet has been covered fully by using extra wood planks! Grab the full free instructions and tutorial from here momspark
Easy DIY Pallet Planter Tutorial: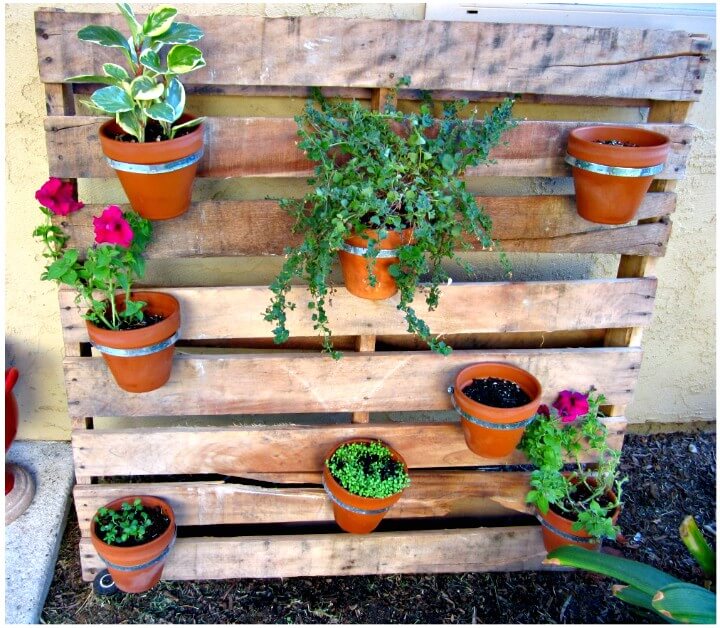 Here is something more fab looking, again a dashing wooden pallet planter that has been made to inspire and is really looking damn lovely! Here a single pallet board has been made stand in vertical position and it holds the beautiful garden pots on its chest using plumbing clamps! You can also get some terracotta pots to make instantly these herb or flower pots! Intending to clone this vertical pallet pot holder? Then just grab the full free tutorial and instructions from here thisabundantlife
Build Your Own Pallet Herb Garden: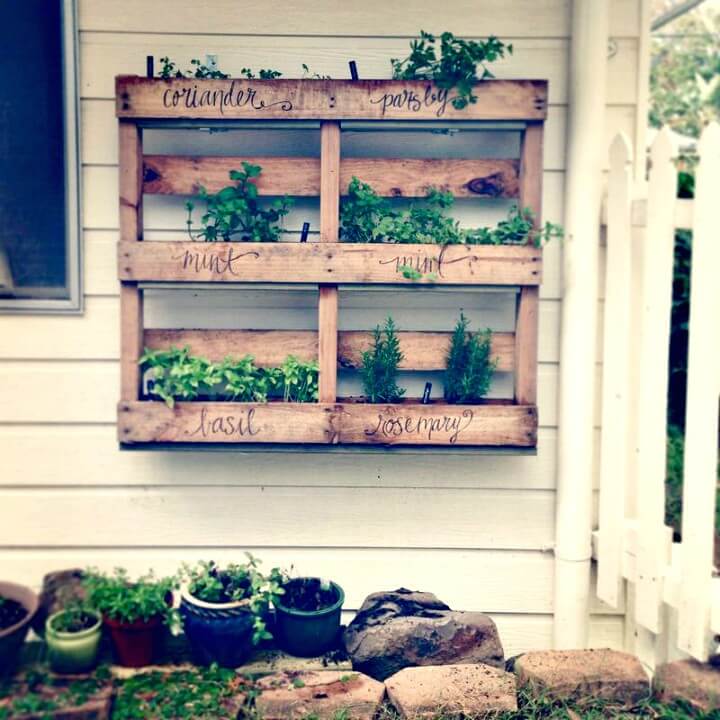 Look at this another brilliant looking pallet herb garden that hangs on the wall and comes with overwritten names of planted herbs! Next you can make smart use of hardware to hang this herb garden on your favorite garden wall and hence can bring great visual details to your green garden space! You can experiment this wooden pallet herb garden with any custom pallet skids you are having in stock! Moreover, you can also paint or stain it for a more charming and enticing visual! Complete project guides and tutorial here zinawright.typepad
Make Your Own Planter From Pallets: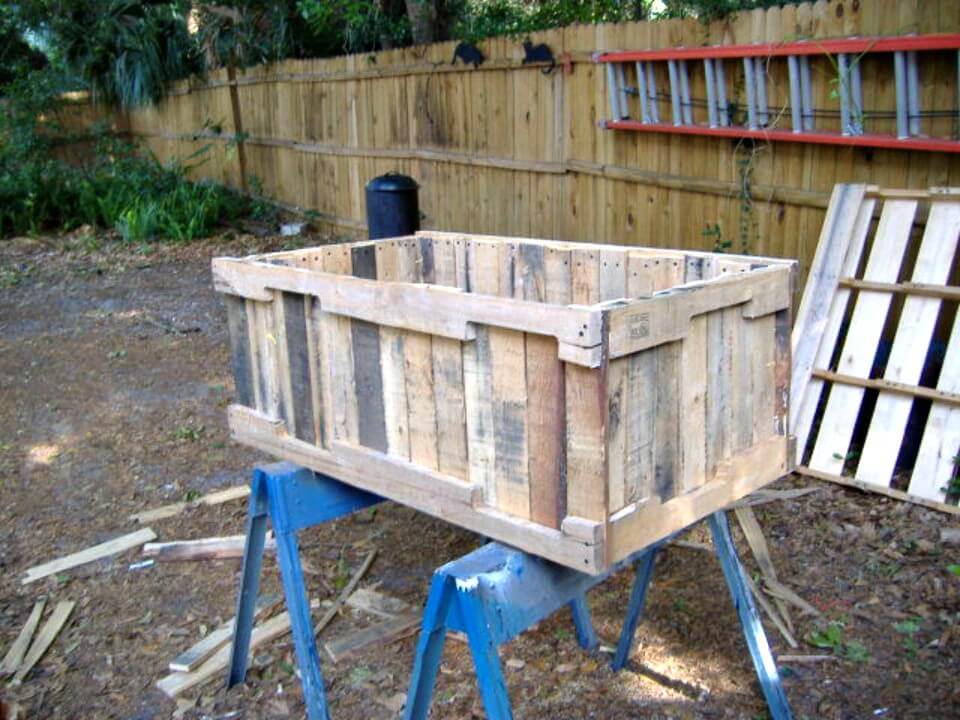 Get inspired of this another handsome looking model of wooden pallet planter that has been done to rock and inspire and is really looking lovely! Here again custom wooden pallet boards have been disassembled and then have been rebuild again to form a big wooden box in which you can start potting your favorite plants and herbs beautifully! Here you can finish this hand-built wooden pallet planter with custom wheels and rolls and can also make it painted to look extra beautiful and charming! Complete project instructions and tutorial here instructables
Simply Build A Pallet Planter for Butterflies: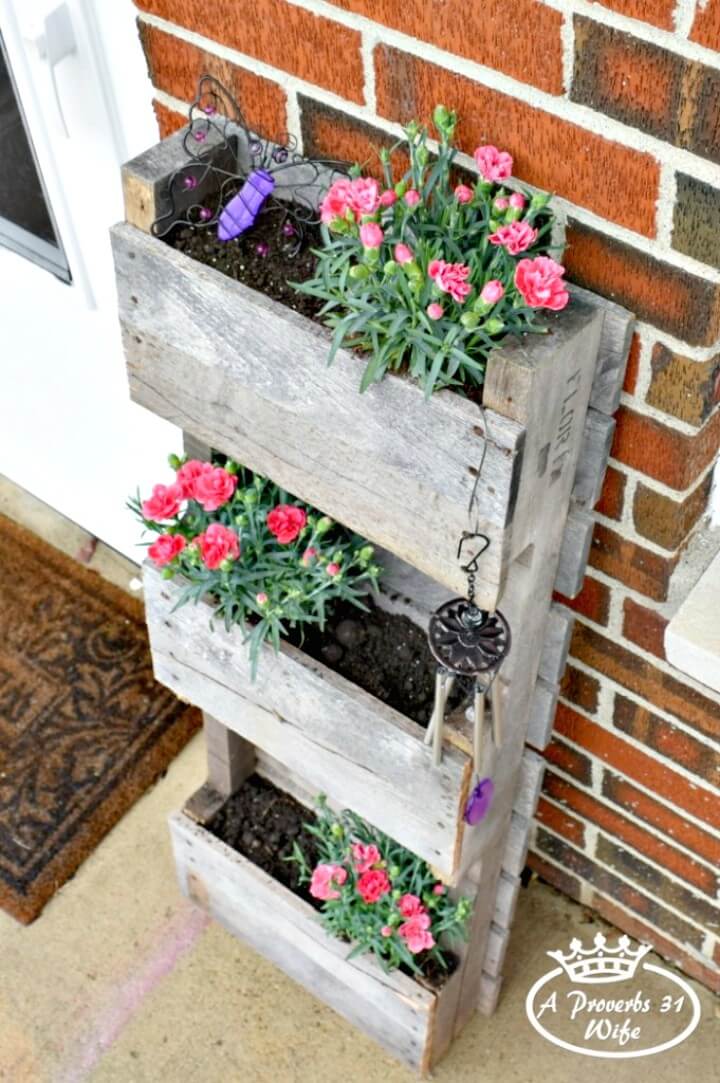 Look at this another inspiring model of wooden pallet planter is mini but beautiful and is really looking damn handsome! Here a vertically half cut size of a pallet has been transformed into a great looking pallet planter that is having inside pockets made of dog food bags beautifully stapled in place! Paint it modern for a rapturous appeal and also hang your custom charms on it to make it look double cute and hence you will also find a damn beautiful garden centerpiece out of it! Complete project tutorial and instructions here aproverbs31wife
Create A Vertical Pallet Flower Garden: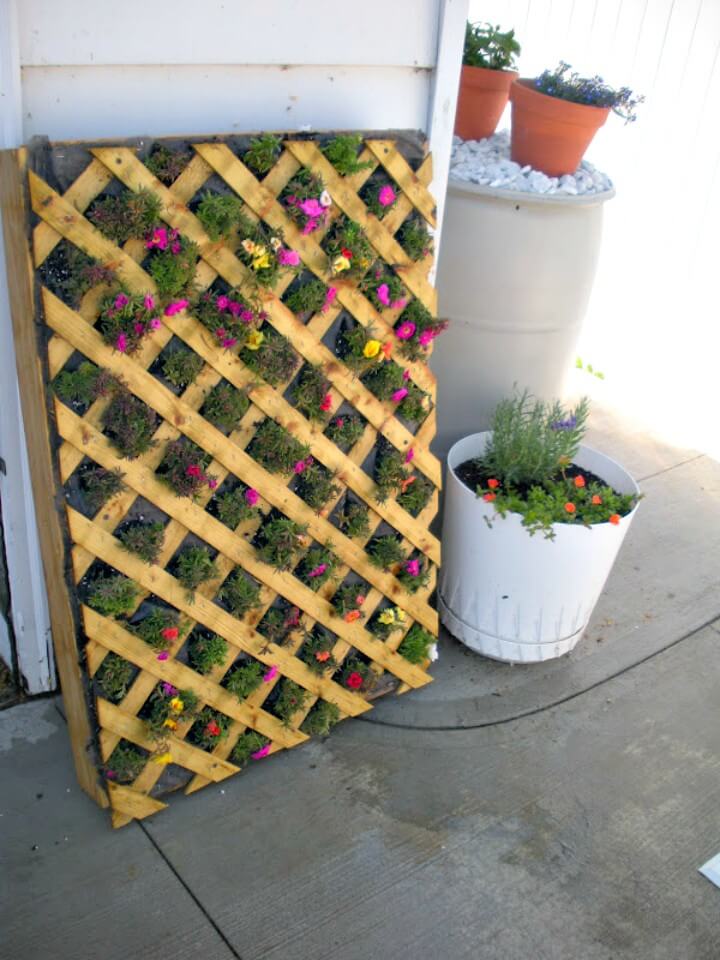 If you are a big gardening lover in you then you will definitely love to own this vertical pallet flower garden that is looking damn beautiful and gorgeous and is something super beautiful to look at! Here again the wooden pallet skid has been added with PVC pipes having tiny holes in them, they come just vertically inside the pallet and hence a beautiful irrigation system has been installed! Next the entire inside of pallet has been covered nicely with landscape fabric and then the potting soil has been spread over! Install the wooden lattice for accent front of this pallet flower garden and enjoy! Complete instructions here workinghousemomwife
Adorable DIY Pallet Raised Wood Garden Bed: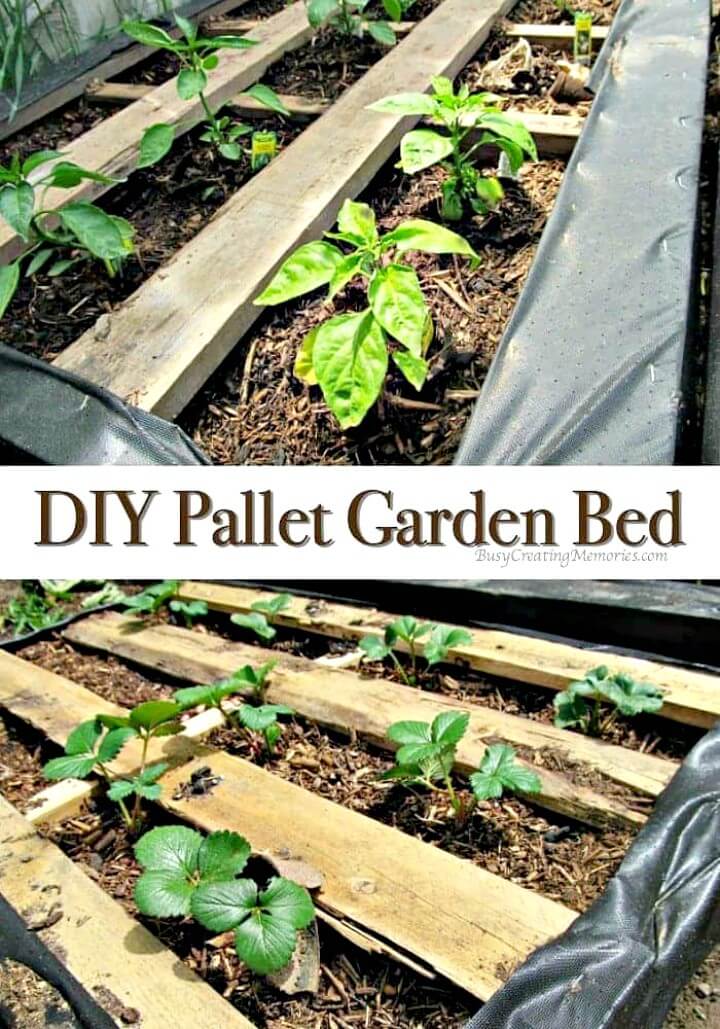 Checkout here another brilliant way to adorn your garden with pallets! Just make and install beautiful looking raised pallet garden beds that will be ready in just no time! Checkout here these lovely wooden pallet raised beds that are made of custom cut sizes of pallets which have beautifully been covered in landscape fabric leaving the front side opened! Next they have been landed to decided garden positions and locations to make adorable raised garden beds! Complete project instructions and tutorial here busycreatingmemories
Make Your Own Pallet Garden for Thirty Bucks: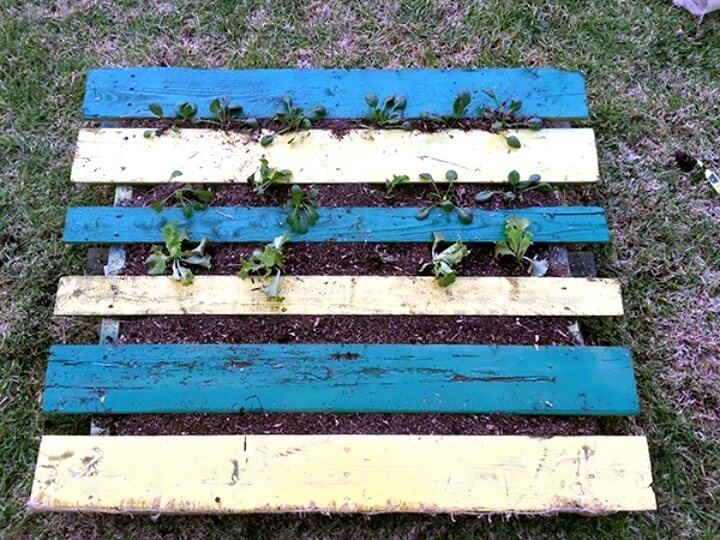 Looking for a no-cost raised garden bed? Then just go handmade with rustic pallets and with a piece of burlap sheet to make a super low-cost wooden raised garden bed! Just cover the entire backside of your selected pallet skid with burlap sheet and just make a fabulous wooden raised garden bed that will definitely make a great addition to any garden space! Willing to duplicate this another beautiful raised garden bed? Then just grab the full free tutorial and guides from here epicgardening
DIY Pallet Flower Garden: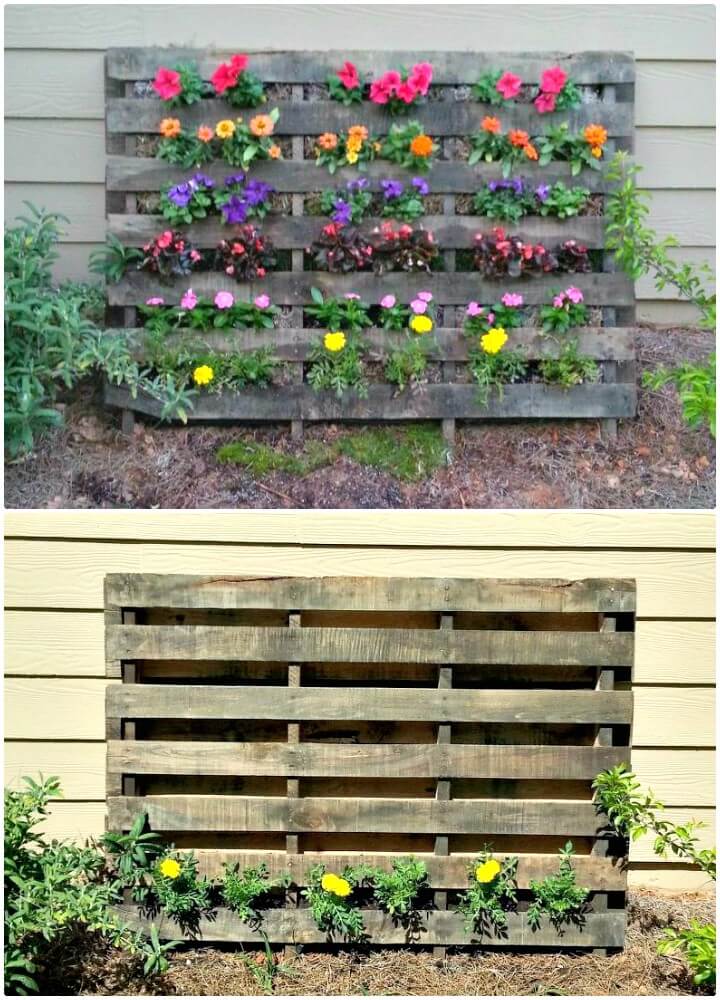 Have a look at this another decent and praise-worthy wooden pallet flower garden that is sure to inspire your creativity! Here again you have to alter the wooden pallet skids so that they will hold beautifully the potting soil on different levels beautifully! Just have a look at this sample wooden pallet flower garden that is looking exceptional due to rustic appeal and is would be a great addition to any patio or outdoor for instant charm and grace! Willing to duplicate this another mind-blowing pallet flower garden? If yes, then grab the full free guides and visual instructions from here hometalk
Easy DIY Wooden Pallet Herb Garden: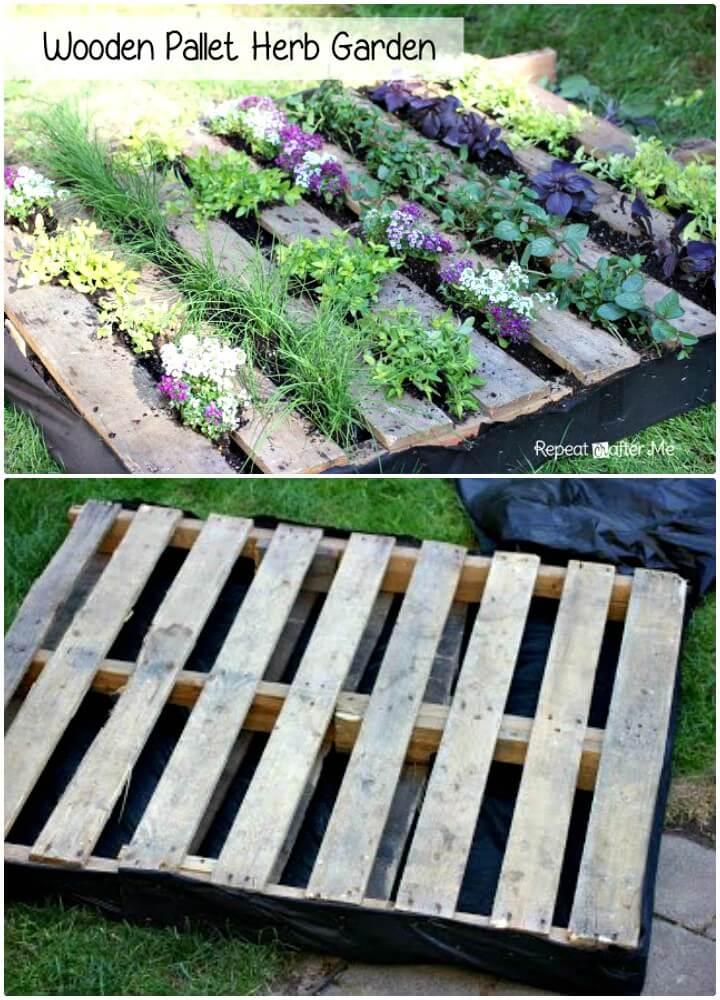 Checkout here the dashing looking raised garden bed, entirely made of pallets and is just looking damn gorgeous and beautiful! Here once again a big rustic wooden pallet skid has been covered with landscape fabric which have been secured to edges using staple gun! Just adjust your finally finished wooden pallet in the decided area of your green space and then fill it up with garden soil as done in this given sample pallet herb garden! Grab the full free tutorial and instructions from here repeatcrafterme
Build A Double Sided Pallet Garden: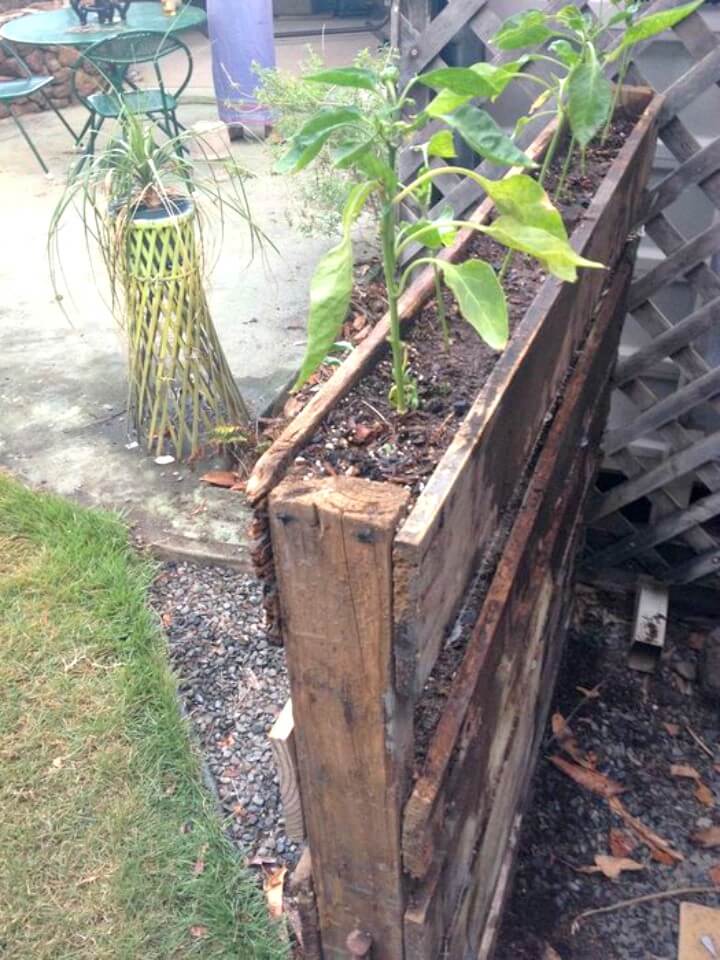 You will definitely love to praise this another handsome pallet garden that is unique due to being double sided! Here using the wire mesh and wood block fabric, the deck boards of pallets have been covered and hence they take the shape of beautiful shelves and holdings which you can fill up with potting soil gain a beautiful looking vertical garden! Next you can just start planting your herb, flower or veggies in it! Another beautiful and handsome wooden pallet creation that has been done to inspire! Grab the full free guides and visual tutorial from here instructables
DIY Vertical Pallet Herb Garden: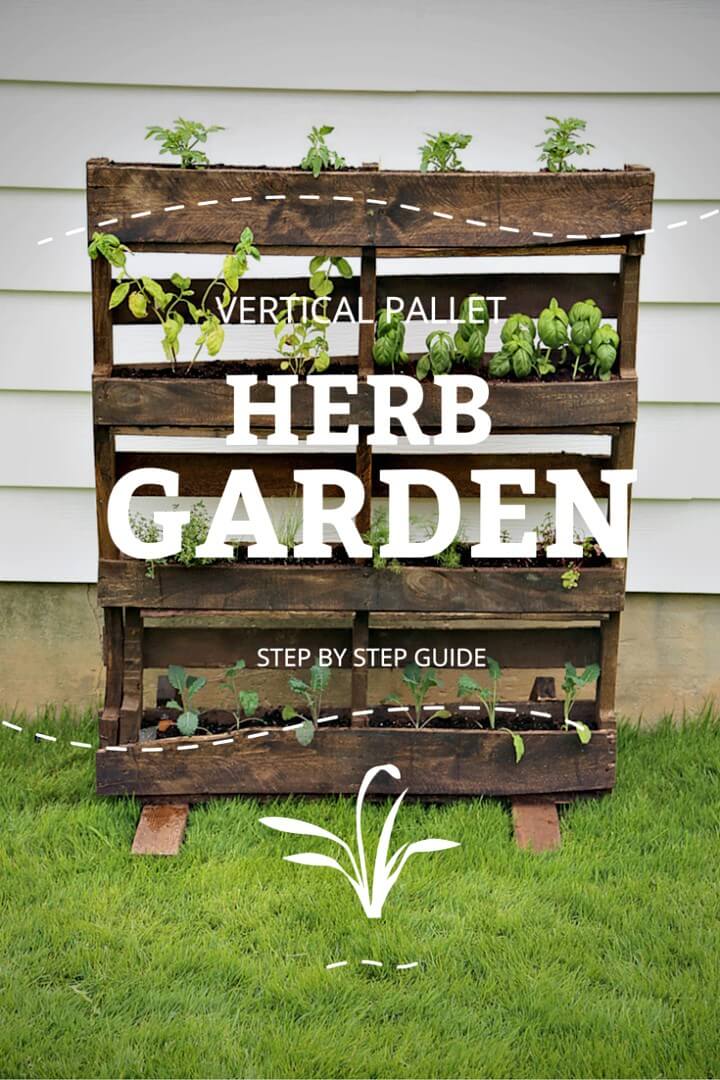 Decorate your garden with pallets and this will be a great way to save a lot of your money and time! You can do so in multiple different ways and one amazing way is to make glam looking vertical planters and here is a beautiful one to amaze your senses! Here again an original shape of a pallet skid has been altered and garden fabric has been used to create the holdings or pockets in the pallet which you can easily fill with potting soil to make a vertical herb garden! Checkout a damn brilliant sample herb garden given here! Complete instructions and tutorial here lifestorage
How to Plant an Herb Pallet Garden: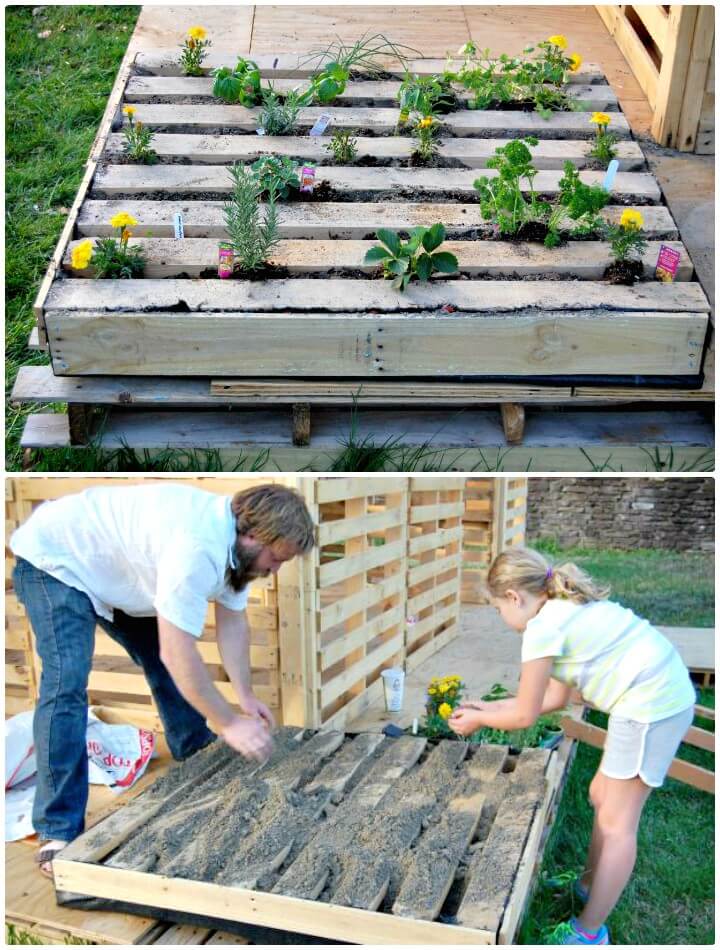 One more uniquely made Pallet herb garden is here! This wooden pallet herb garden also come covered from backside using landscape fabric which has nicely been secured around the pallet wood edges using staple gun! Here the unique and creative twist is the addition of extra pallet planks that have been installed to sides of pallets and come over the fabric to keep the fabric tightly in place! Next you can add planting and potting soil in it and that's it! It can also be used to make a great raised garden bed! Complete project tutorial here diynetwork
Build A Slot Together Pyramid Garden Planter: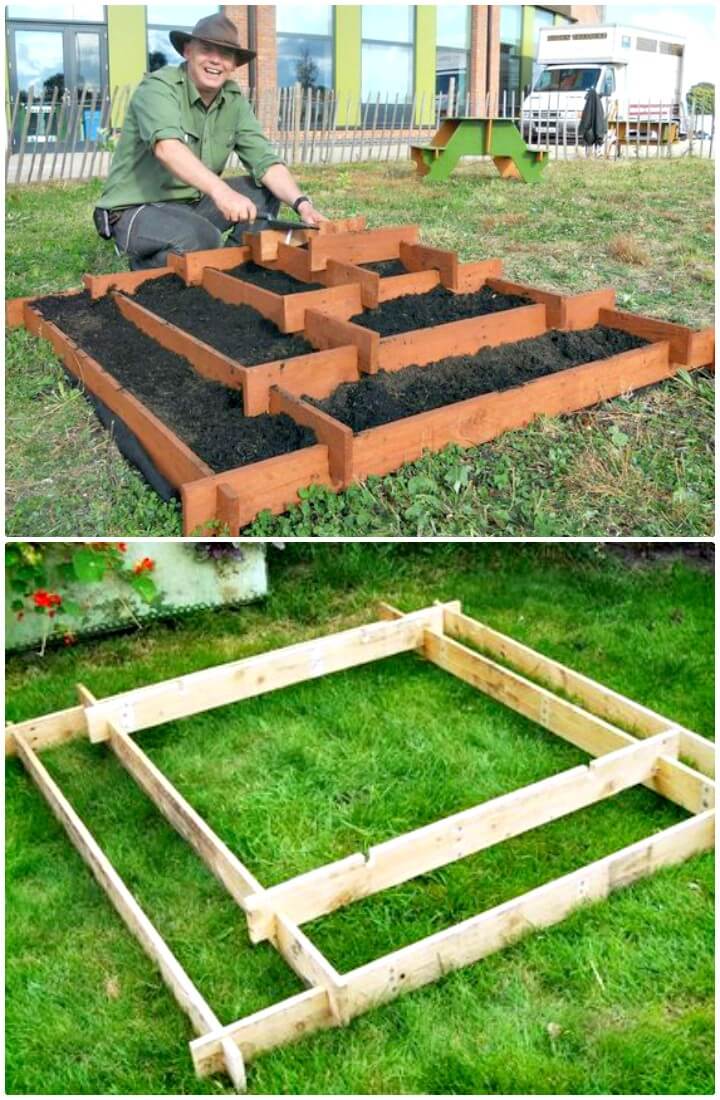 Have a look at this another fantastic garden pallet project that is all about creating an enticing focal point in your garden in form a garden planter! Just check out here the very unique looking pyramid garden planter that comes with tiered wooden squares, raised to up to 5 levels! For fitting the planks in place on the lower wooden planks, jut custom slots have been cut out in the end sides of lower plank! This is here another genius and fantastic pallet garden project to duplicate! complete tutorial here instructables
Adorable DIY Raised Beds From Pallets: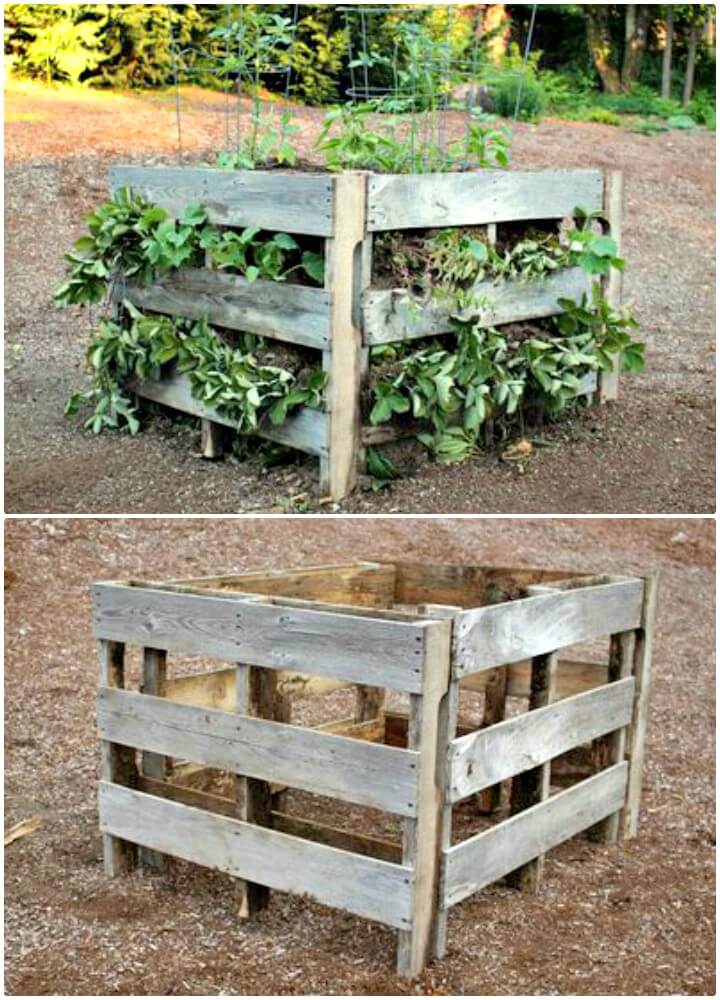 Make also square shaped boxes out of equal cut down sizes of pallets and then you can also use them for boosting visual of your garden in multiple different ways! One brilliant way is to use them as raised garden beds, , just have a look at this given sample raised bed that will stand in your garden as a charming block of greenery and would be super attention grabbing! Just fill it up with potting soil and start potting in it! Complete tutorial here ehow
DIY A Pallet Garden Tutorial: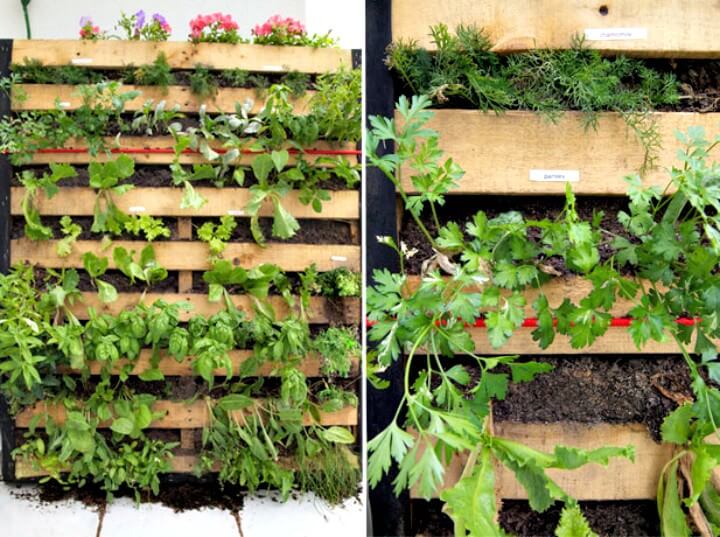 Stare a little also at this another vertical pallet garden that will also make a stimulating garden décor centerpiece that will come with charming natural green lines or stripes! Again here the slats of pallets have been transformed into pockets and this you can do so by using both extra wood or landscape fabric! For creating a personal look, you can make use of various material from paint to stencils and also from vinyl lettering to custom accents! Complete project tutorial and instructions here yuppiechef