Are you looking for an easy, inexpensive way to make your own homemade wallets? Learn how to make a wallet with these 35 homemade diy wallet ideas with step by step instructions to make your own custom wallets out of fabric and leather. With these DIY wallet ideas, you can create a personalized and stylish wallet to carry your cash and other important cards with you! Whether you're using cardstock, leather or heavy-duty fabric, DIY wallet ideas are simple to construct and make thoughtful gifts.
From card holders to zippered wallets, there is a wide variety of free DIY wallet patterns and tutorials available for both men and women. So getting creative with diy wallet ideas won't be a challenge. You could even construct a matching set of wallets — one for yourself and one for someone special! So start crafting for a stylish and functional addition to your wardrobe.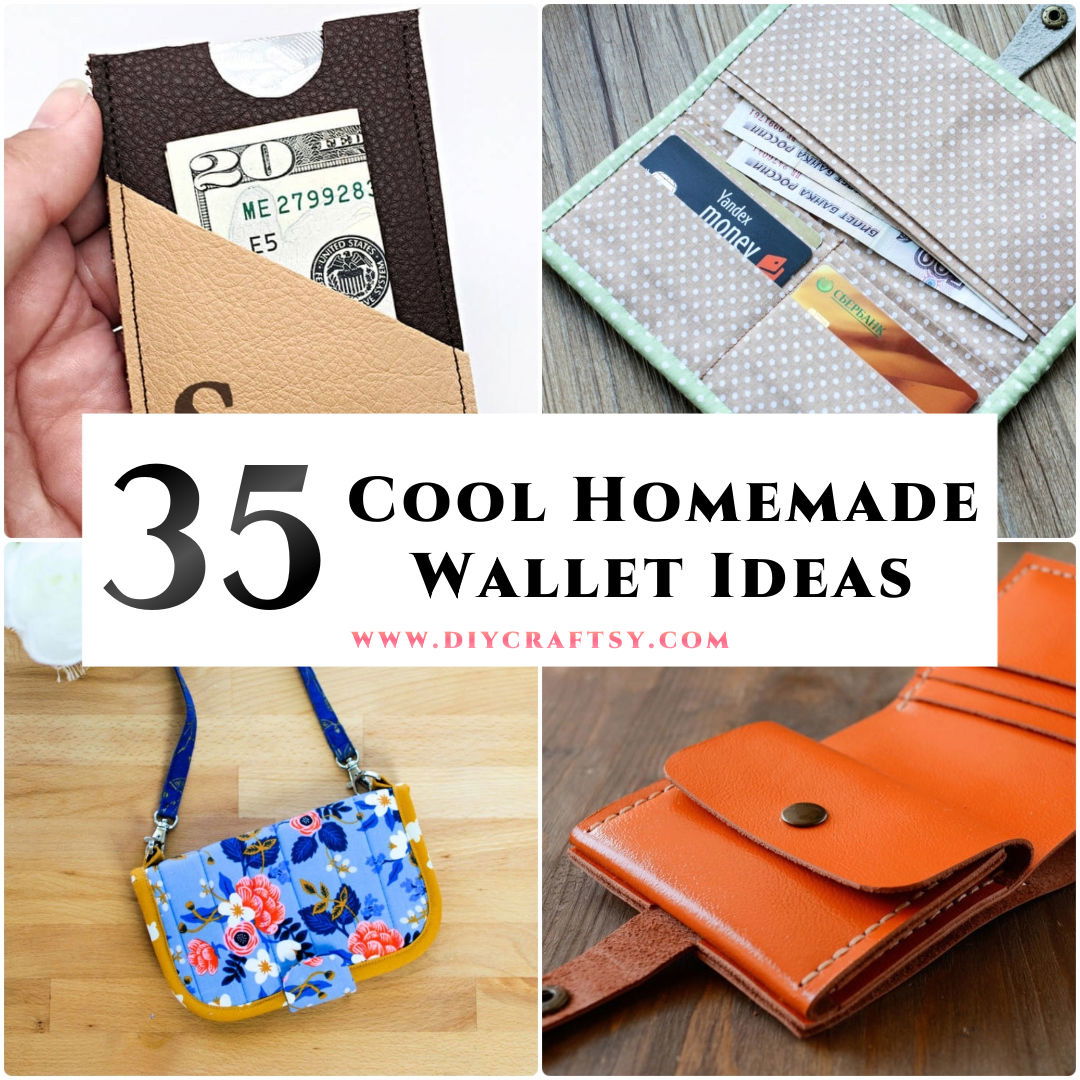 DIY Wallet Ideas That Anyone Can Make
Are you looking for an easy and beautiful way to store your money? DIY wallet ideas are the perfect solution! Here are 35 easy-to-make homemade wallets that anyone can make. From simple trifold designs to bi-folds and zipper pouches, you'll find a fun and stylish way to store your cash and cards. Plus, these unique handmade wallets feature creative fabrics and leather materials that stand out!
Save time and money while enjoying a great sense of style with these DIY wallet ideas. With plenty of DIY wallets available below, you can make wallets that perfectly suit your style and budget. Plus, they'll last longer than any store-bought wallet out there! So get ready to make your own custom DIY wallet – the perfect accessory for any occasion! – you won't be disappointed!
1. Free Wallet Sewing Pattern for Women's
Wallets are a necessity and now you can sew up yourself this utterly gorgeous and cute fabric wallet with strap. Using the cute and colorful fabric you can easily sew up this lovely wallet which would make a really nice gift idea too. Follow the details and find the free sewing pattern right here sewcanshe
2. No-Sew DIY Fabric Wallet
Carry your cash and cards in super cute style with this no-sew fabric wallet in so cute and exciting colors and pattern of the fabric. With a few folds, you can easily shape up this tiny fabric wallet which has been made to look a bit fancy with tiny pom pom lace on it. Learn to make it all here with a no-sew tutorial consumercrafts
3. How to Make Zippy Wallets
This cute and heart winning bunch of the small-sized zipper wallet is going to be your next to do project. So grab some soft and cutely designed fabric and make this lovely group of the wallets to use for yourself and the rest of them would make perfect gifts around. Learn the sewing of this cute little zippy wallet here noodle-head
4. DIY Pixie Hexie Wallet for Women's
This pixie hexie wallet is just the cutest of the wallets ever and you would want it in your wallet collection too. The wallet has been made with the fabric hexagons and all of them have been fitted to a metal wallet frame to look so professional and gorgeous. Learn the details of this cute pixie hexie wallet here to make one on your own. sewsweetness
5. Make Your Own Bi-Fold Wallet
If you find it hard to keep your cards and cash in the big bag then you would get this handmade bifold wallet to keep these necessary possessions nicely organized. The wallet has pockets to hold a lot of cards on one side and your dollar bills on the other. It's useful, cute and fun and you can learn to sew it up here modestmaven
6. Easy DIY Zipper Wallet
Here is another amazingly functional project of the zipper wallet as it got a lot of space to carry a lot of your possessions at a time. It has pockets for the cards, a zipper inside and one outside to hold your dollar bills and coins. Having been made out of a pretty patterned fabric the tutorial of this zipper wallet is here handmadiya
7. DIY No Sew Clutch Wallet
If you are a no-sew person but still want to make a clutch or wallet for yourself then here is this DIY no-sew clutch wallet idea for you to get your hands on. Made out of the leather, this gorgeous and stylish clutch has been cute and then assembled with stud grommets. Check out the easy and fun tutorial right here alwaysrooney
8. Making a Leather Wallet in 5 Minutes
This gorgeous wallet has been made out of the leather is super easy and fun to make because it does not involve any sewing. This men's wallet is tiny and compact and would be super easy to make on your own and that too within 5 minutes and here are the details of it. instructables
9. How to Make Travel Wallet
Carry your tickets, cards, and currencies in a really safe and useful manner with this travel wallet. When you have this travel wallet you are not going to lose your essentials like cards and dollar bills in your travel mess. Follow the easy and fun how-to right here francoisetmoi
10. Simple DIY Canvas Wallet
There are times when you are not in the mood to carry those big bags with you but you need to keep the money and cards with you. The things like this simple DIY canvas wallet come super handy and helpful in such cases. So get your hands on these amazingly cute and simple wallets to rightly fit in your jeans pocket. Details here purlsoho
11. Fabric Wallet Sewing Pattern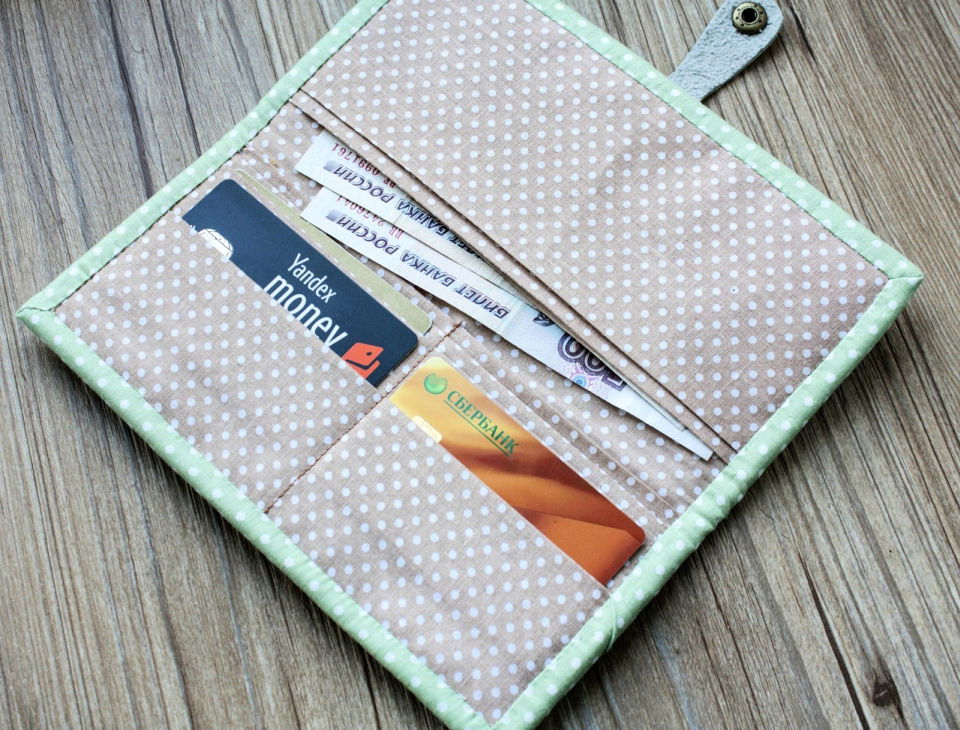 Some cash and the cards are the things which need to be with you always and here is the idea of making this simple and cute wallet to make out of some fabric and making it super easy to carry your essentials with you. Follow the tutorial of making this cute wallet right here handmadiya
12. Zipper Wallet With Two Inner Zipper Pockets
No more tangling and damaging of your cards, cell phone and the bills in your purse when you have this pretty DIY zipper wallet to carry all of this together with complete safety. The zipper pouch has a lot of space inside to hold a bunch of your possessions and here is the complete tutorial of it. mesewcrazy
13. How to Sew a Fabric Wallet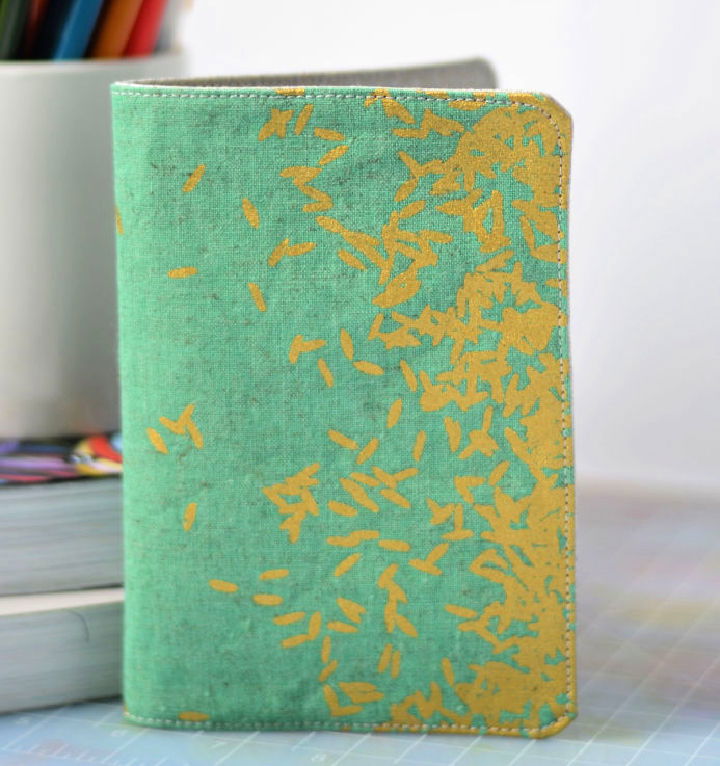 Handmade gifts are always cute and more appreciated and now you can make this lovely fabric wallet for any of your beloved ladies to use as the perfect gift. They would love your fabric wallet as it would help them to organize their things in a really cute and fun style. Follow the sewing details of the wallet here dearhandmadelife
14. How to Make a Zip Up Wallet
The bag of a lady is a super mess with so many things and it's always a hassle to take things out like bills and cards and this zip-up wallet is the best way to keep these things organized separately. This mini and cute zip-up wallet is super easy to sew up on your own in the least of the time and here we have got you the tutorial of it. heddels
15. Make a Felt Wallet With Out Sewing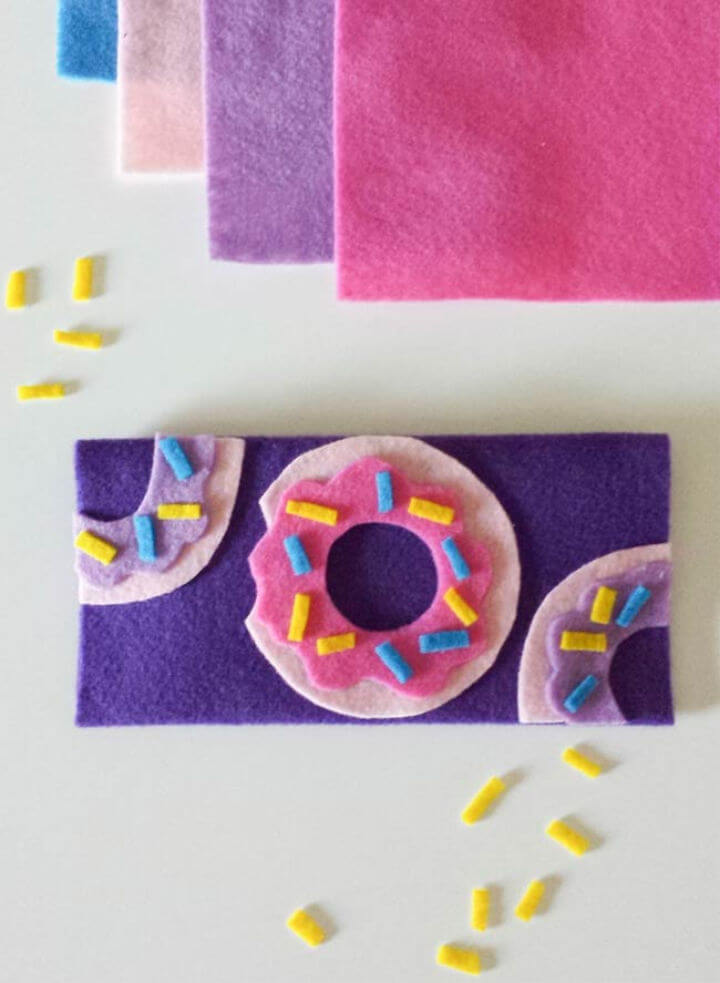 Now let your little ones hold their pocket money in this super cute and handmade now sew felt wallet. The wallet has been made with an easy folding and gluing of the felt and has been decorated with the felt made donuts. Learn the easy and quick details of this wallet right here fancymomma
16. Make Your Own Fabric Wallet
There are so many things in a bag like makeup, cell phone, phones, pencils, and notepads and in such mess, the things like cards and cash are so hard to keep and find at the right moment. So give this cute fabric wallet some space in your bag so that it can easily house your dollar bills and the credit cards. craftydutchgirl
17. Make Your Own Duct Tape Wallet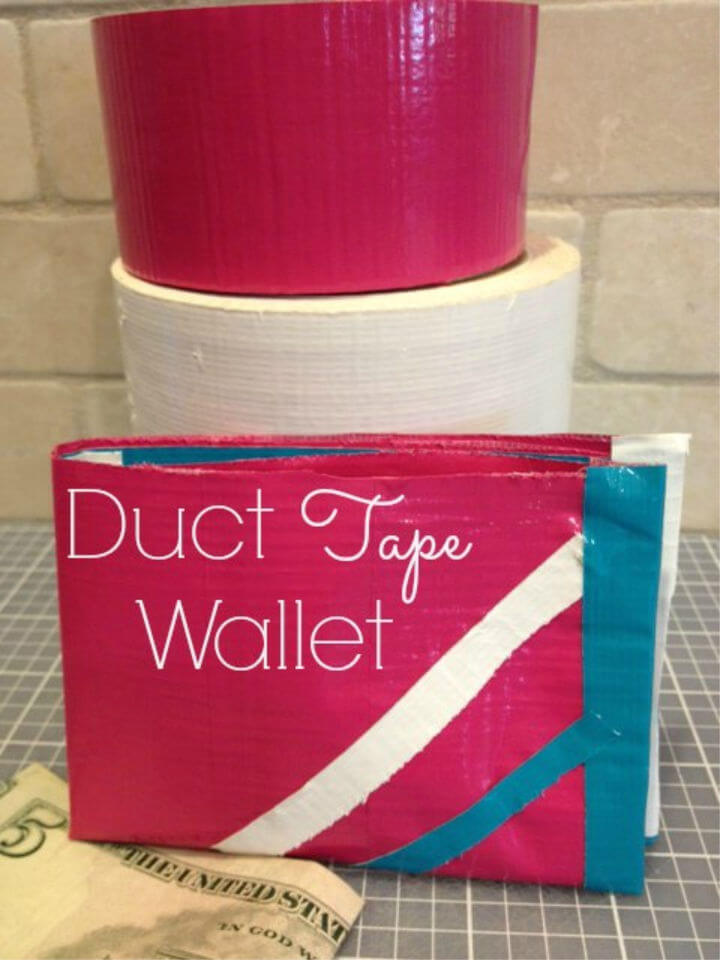 Now your dollar bills are never going to be torn off into two pieces by getting entangled with your headphones or the sunglasses because you have this lovely duct tape wallet to hold them separately. So get three colored duct tape in your desired hues and shape up this lovely wallet on your own by getting the tutorial explored here skiptomylou
18. DIY Mini Felt Wallet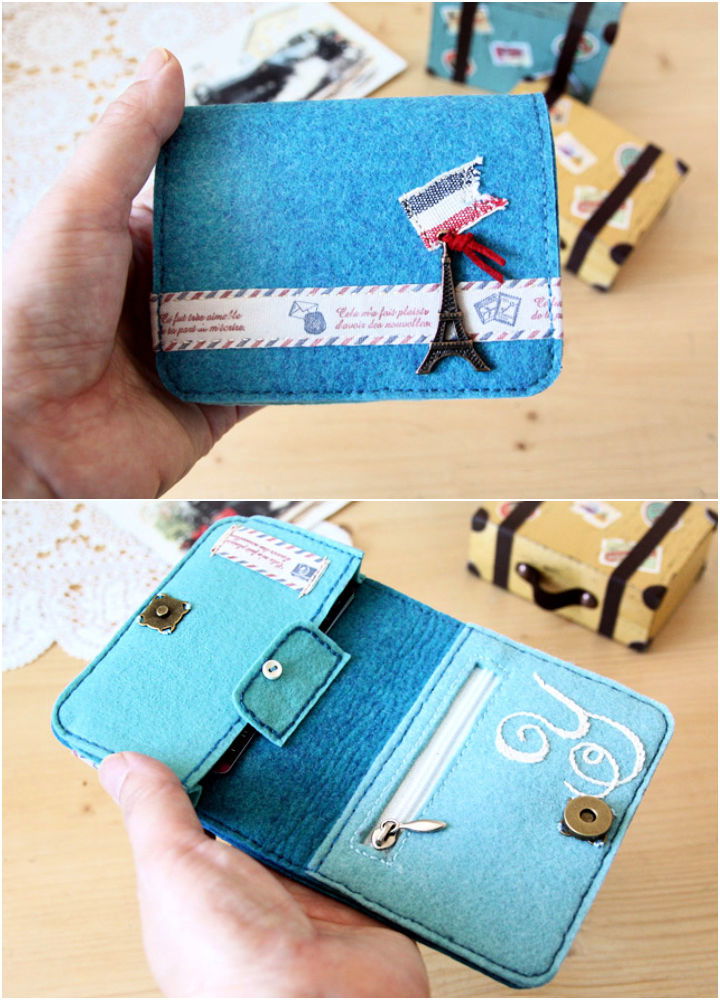 This gorgeous and cute DIY felt wallet is going to steal your heart right away with its lovely look, colors, and appeal. Made out of the felt and zippers this lovely felt wallet would be a perfect piece to carry for your travels and the Eiffel tower embellishing make it more travel-friendly. Details can be hacked here handmadiya
19. DIY Cash-System Wallet
We can never head out with some cash and now you can easily carry your dollar bills and coins when you have this cute cash system wallet with you. The simple, cute and buttoned wallet is super easy and fun to make from some fabric and getting easily sewed up and here we have got you the tutorial of it modernalternative
20. How to Make a Leather Wallet for Men's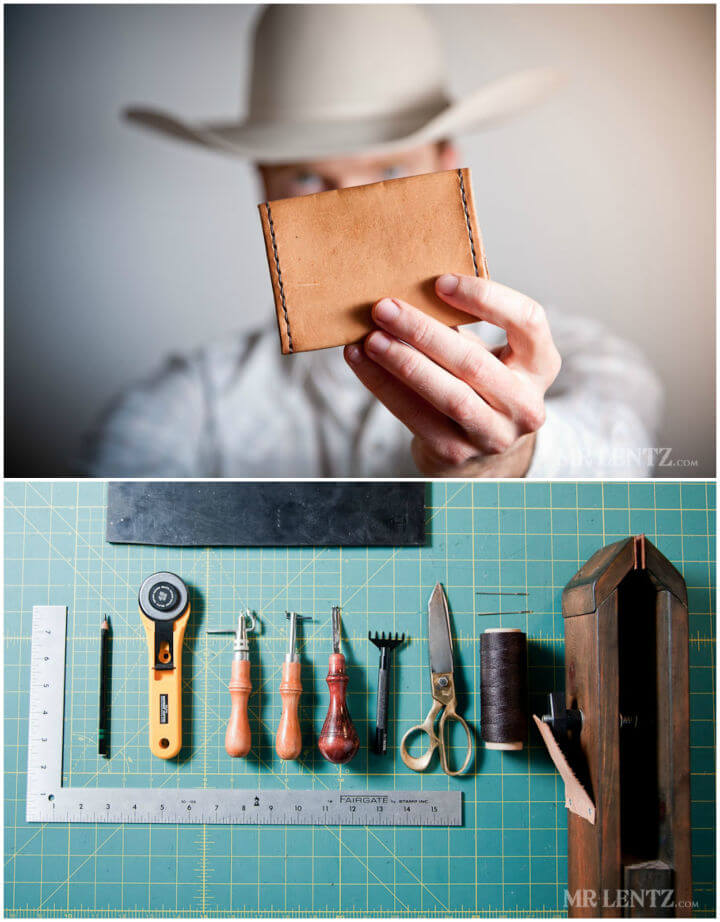 Men need quite simple and compact wallets to easily fit in their pockets and this one is super easy and fun to make at home. So grab some leather and make this make this pretty and slim wallet to hold your cash and cards. Follow the details of this leather wallet right here mrlentz
21. DIY Wallet for Kids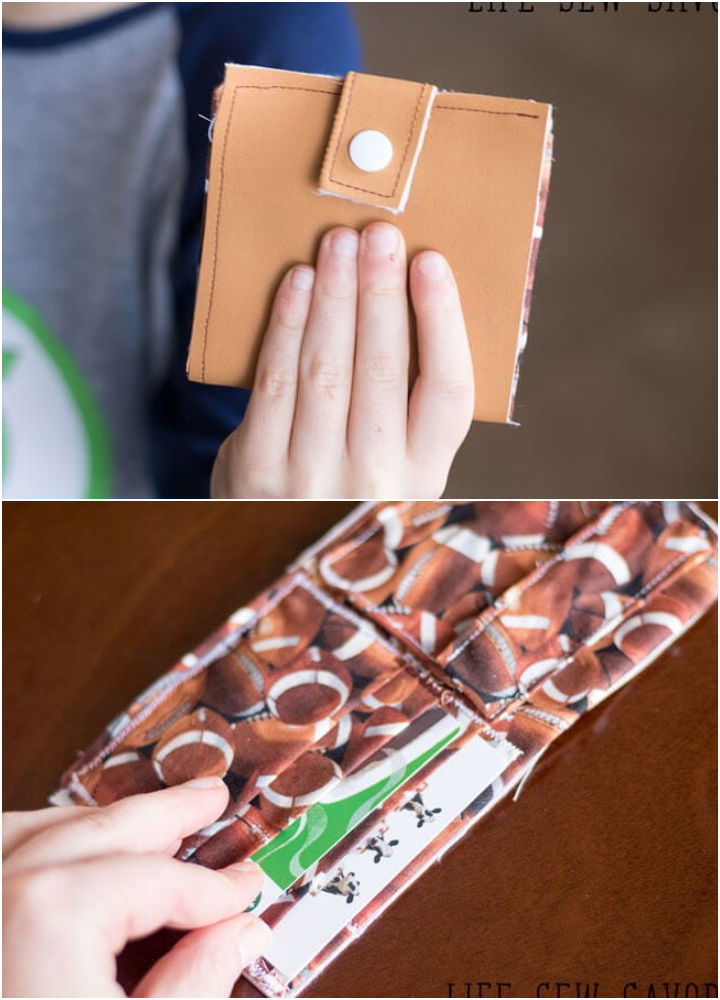 The little boys also want to have the pretty wallets just like their dads and you can make them one at home. This adorable wallet is so simple and cute to make out of some leather and you can use it as the perfect birthday gift. Follow the complete tutorial of the wallet right on the link here lifesewsavory
22. Sewing a Card Holder Wallet
No more losing of your credit of visiting cards when you have this easy to sew card holder wallet to keep them all with safety and style together. The wallet is super easy and fun to make out of some cute and colorful fabric and here we have the complete sewing details. fortworthfabricstudio
23. DIY Business Card Wallet
If you owe a business of any kind then you really have to carry your business cards everywhere with you and now you can carry them feasibly with this DIY handmade business card wallet. The cute and simple card wallet is small in size and thus would be so fun and easy to carry around. Learn to make it easily at home here aspoonfulofsugar
24. Recycle Men's Old Ties Wallet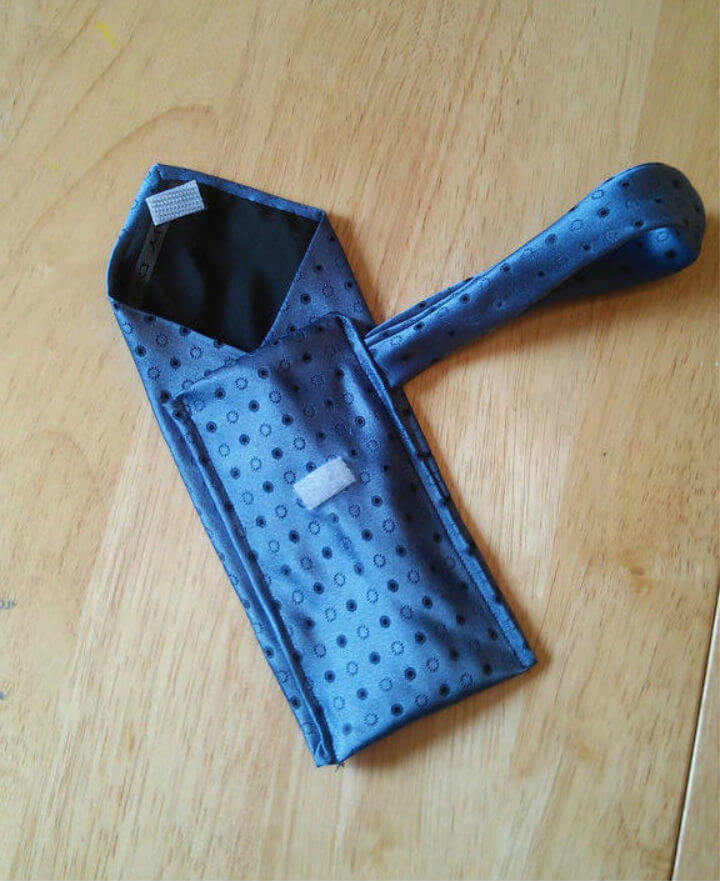 It's time to recycle the old ties of your husband and make something fun and functional out of it just like this super cute and fun DIY wallet. The wallet is so damn easy to make and you can easily use it to house your credit cards, dollar bills and more. Fun tutorial is lying right here instructables
25. How to Sew Slim Elastic Wallet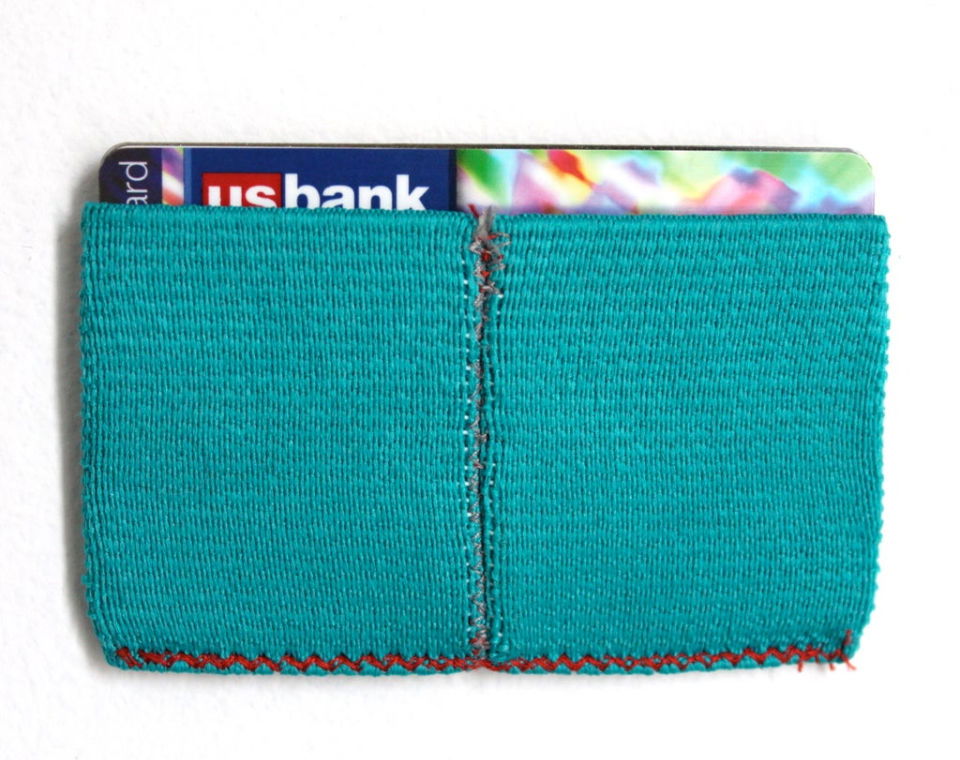 Here is how you can make this two-minute slim elastic wallet for anyone in the house and let them hold their credit cards and cash in a really easy and fun style. Wide elastic has been used to shape up this super quick and easy slim wallet and it would turn out to be great as a card and cash holder. Follow the details here instructables
26. DIY Basic Boys Wallet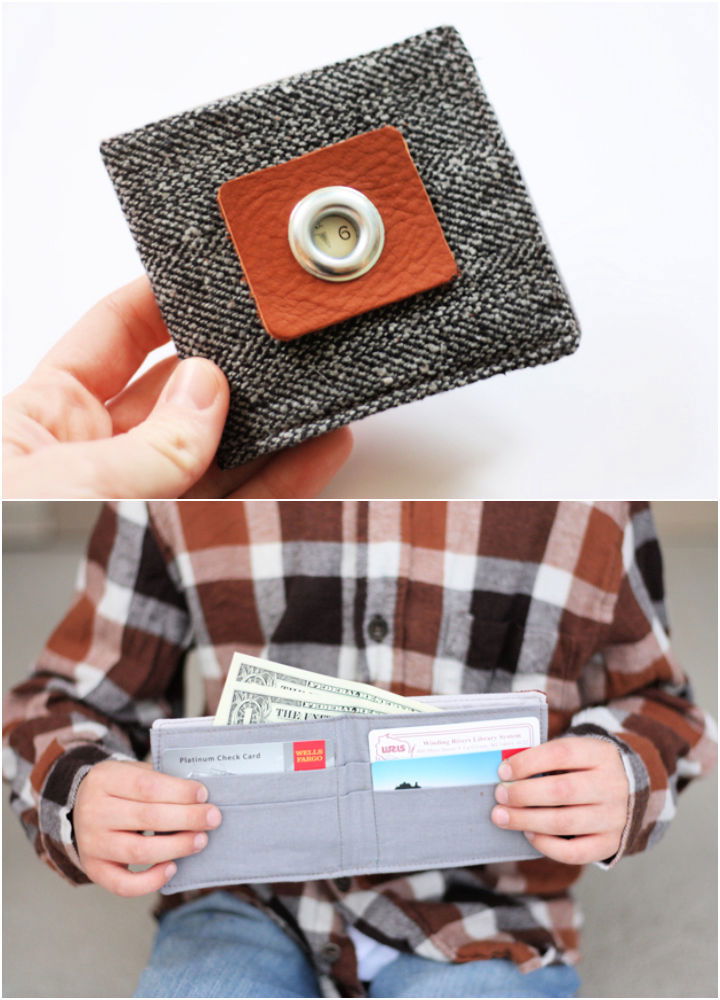 Men have little things to carry along unlike the women and a slim and compact wallet is enough for them to carry some cash and their important cards like credit cards, debit cards and the visiting cards. The wallet has been made with the combination of the leather and the fabric and turns out to be so cute and adorable. Catch the details of the idea right here noodle head
27. Embossed Leather Wallet for Father's Day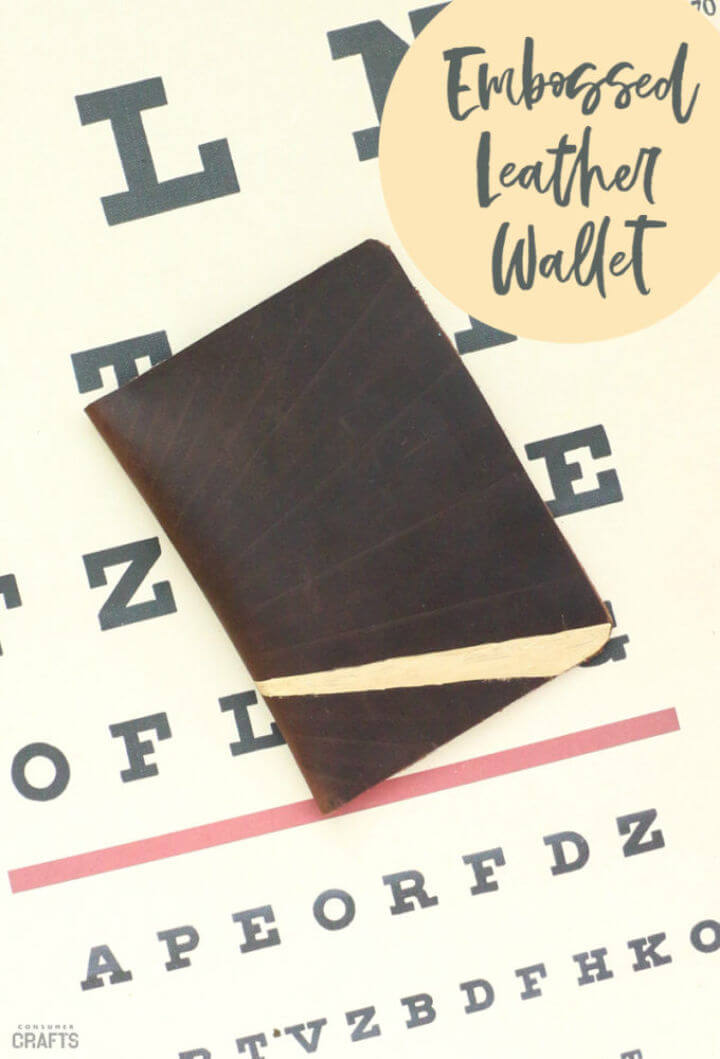 Here is how you can make this super chic and elegant styled embossed leather wallet and make a perfect gift for the father's day for your dad or for your husband on valentine. Just get some leather and cover the emboss wallet with it and your super pretty wallet is ready to be wrapped as a gift. Details here consumercrafts
28. DIY Genuine Men's Leather Wallet
This is the kind of wallet that you would see in the market shops but with hefty price tags. Now you can simply and cheaply make this leather wallet on your own and use it as the perfect gift for any of your beloved man around. Follow the details of the easy and fun tutorial of this leather wallet here handmadiya
29. Simple DIY Leather Wallet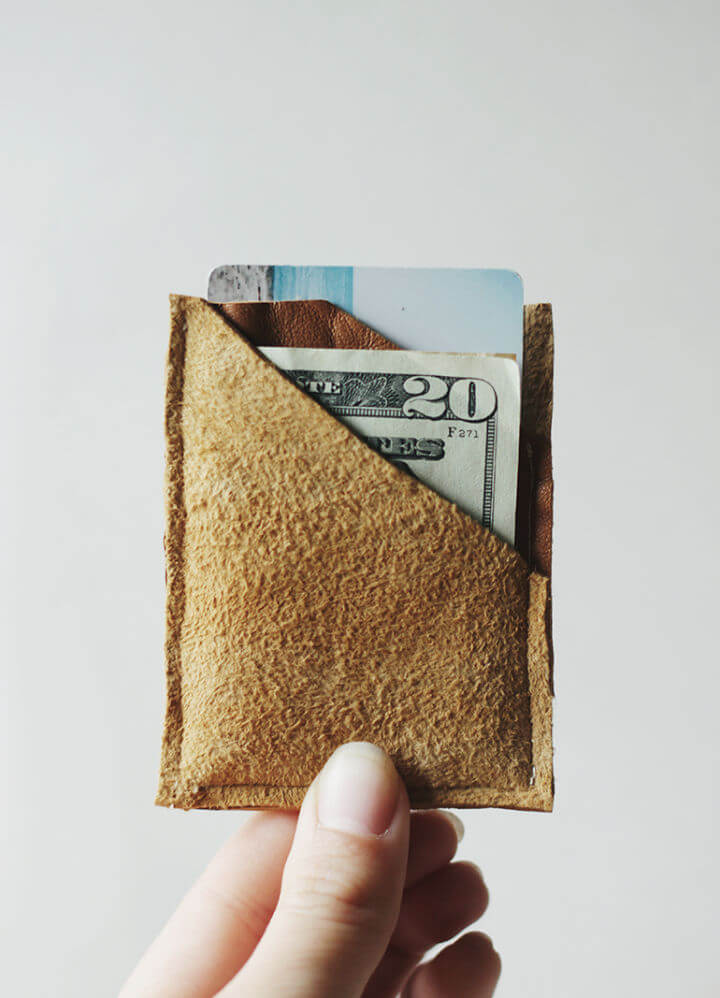 If you are looking for a gift idea for your dad on the father's day then making this simple DIY leather wallet for him would be so damn perfect and cute. He would find if super easy to house his cards, cash, and coins in this lovely and classy leather wallet and carry it around in his pockets. Follow the details here themerrythought
30. Black Leather Wallet Tutorial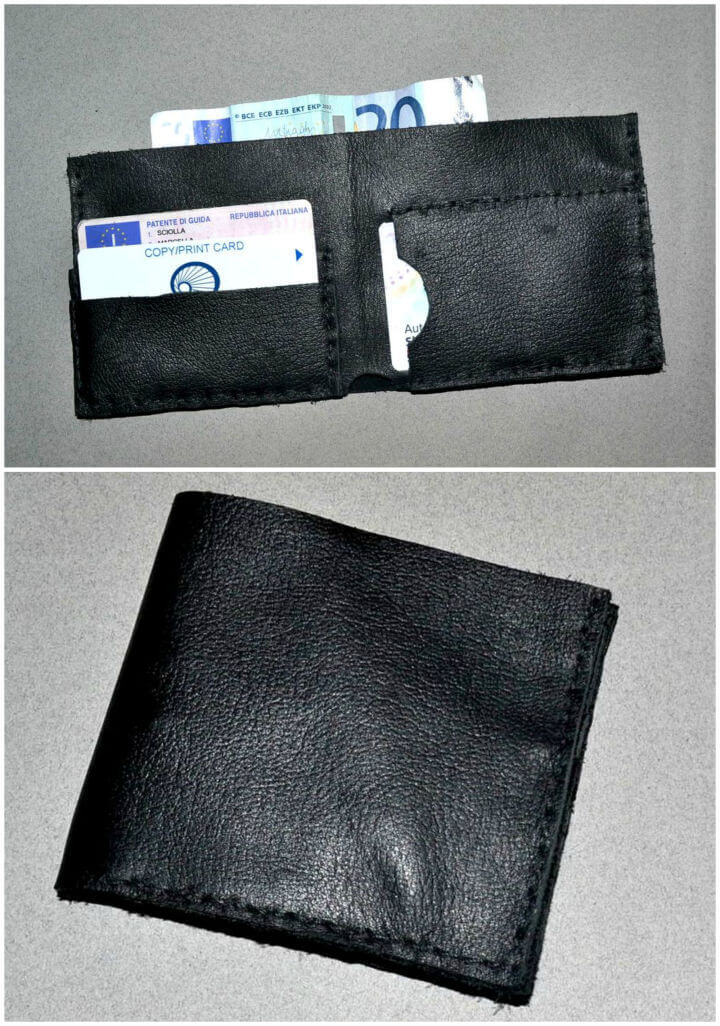 The casual wallets of the men come in the folding design and now you can make the same kind of wallet at home and here is the one. Yes, this super cute black leather wallet is just the right thing to get your hands on for the weekend and create a lovely gift for your husband, dad or any guy friend. Follow the tutorial of the idea here instructables
31. Fabric Wallet for Your Little Guy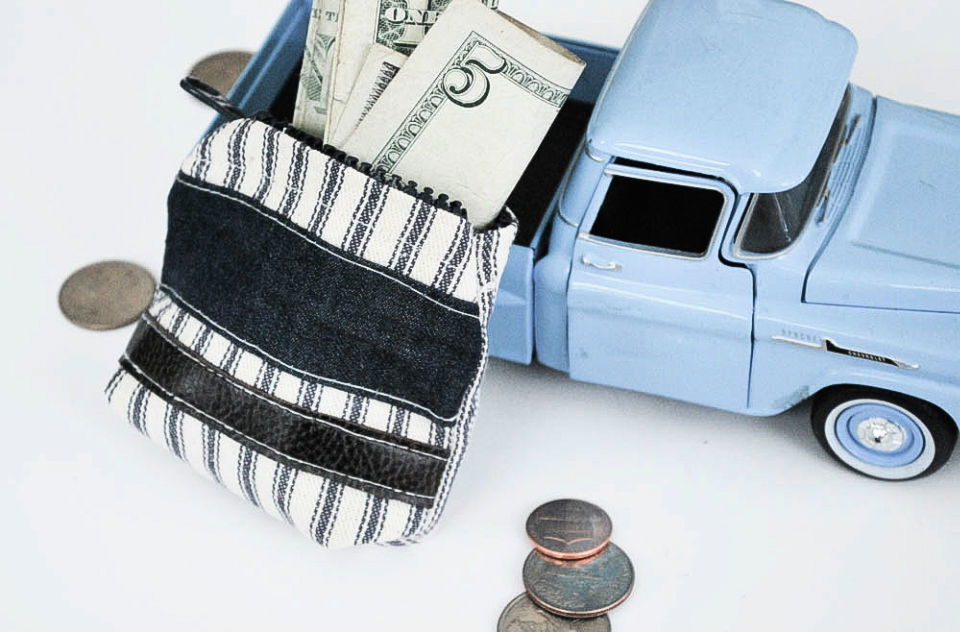 Kids want to have everything that their parents have. Girls want bags of their mommies and little guys love the wallets of the dads. So grab some fabric and the zipper and create this lovely and cute little wallet for your little boy to hold his cash and coins. Learn the details of the idea here lilyardor
32. Slim Leather Wallet – DIY Gift for Men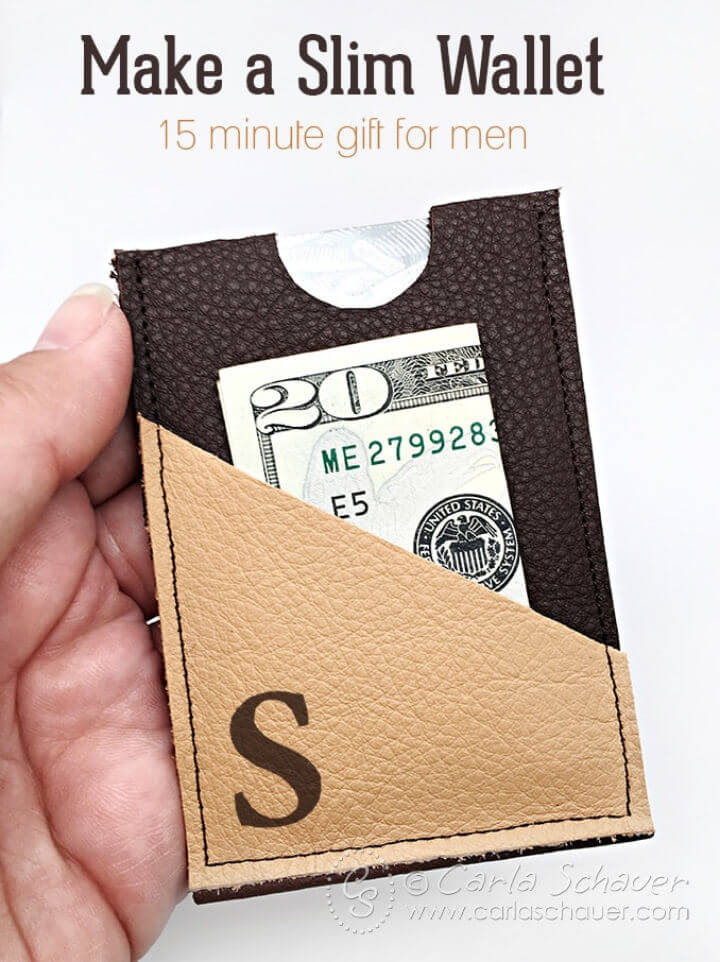 Here is another slim leather wallet idea for you to easily make at home and use as the perfect handmade gift for the men in your house or around. Using two colored leather you can make this utterly cute and totally simple leather wallet which also quite slim to fit rightly in the pockets. Tutorial here carlaschauer
33. Beautiful Unisex Leather Wallet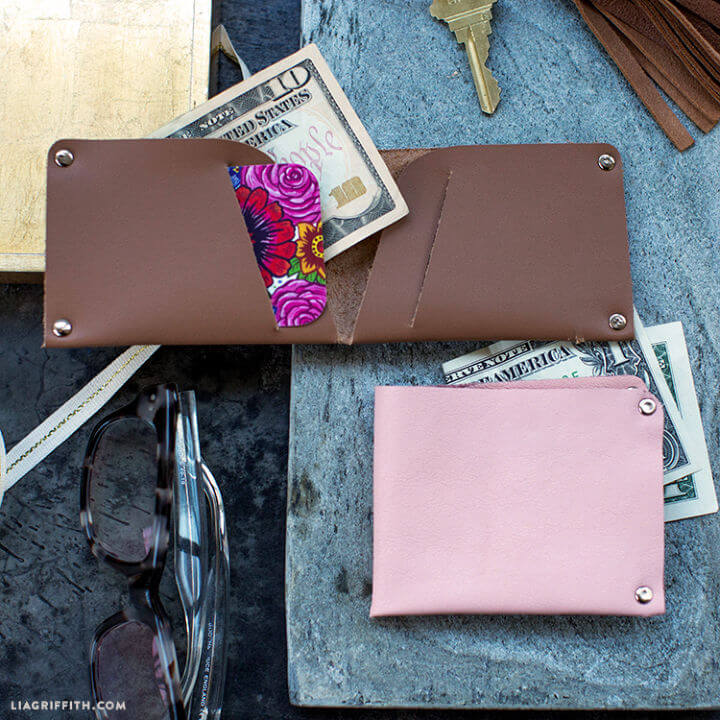 Handmade gifts are always appreciated especially the ones which are functional too. So here is the idea of creating this beautiful DIY leather wallet this time. The design of the leather wallet is unisex and thus you can make it for the boys and girls both around. Brown would go the boys and pink for the girls. Rest of the details here liagriffith
34. Easy DIY Lunch Money Wallet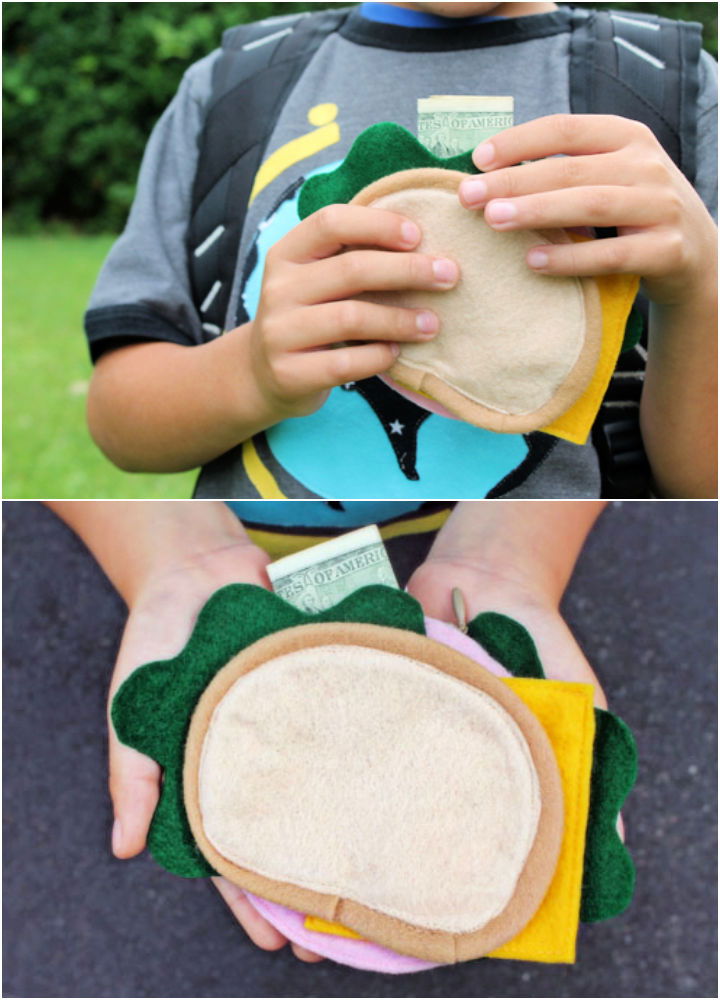 Here is another quirky and cute money wallet to make for your little ones and let them save and hold their money in a really fun and cute way. Using the felt pieces this sandwich designed wallet has been easily sewn and the kids would love to use it for the housing of their pocket money. Details here weallsew
35. How to Sew iPhone Wallet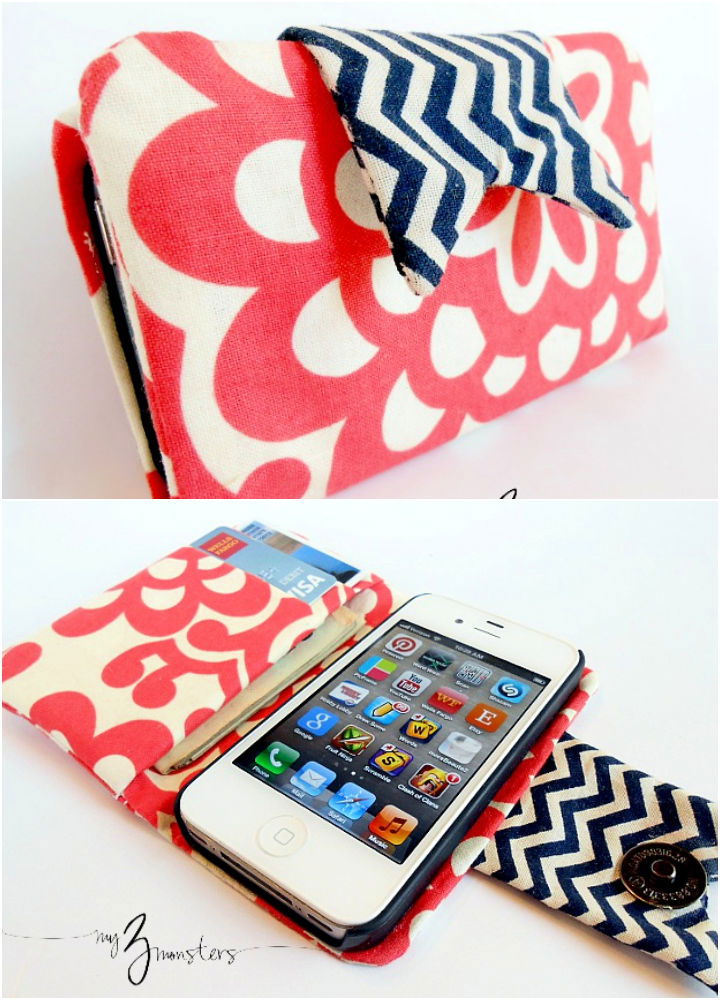 Here is another amazing version of the wallet that would not only hold your cash and cards but also let your iphone slip in. In short this iphone wallet would become a complete mini bag to grab and head out when you are not in the mood to carry the big bags. Two colored and patterned fabric has been used for the purpose.my3monsters
Related DIY Projects and Ideas
Free Purse Patterns: If you want to sew a purse, this is your resource. Here are free purse patterns that you can use to sew a cute new handbag for yourself or someone else.
Crochet Coin Purse Patterns: Find free crochet coin purse patterns to create a stylish little purse that is perfect for carrying small items like lipsticks, hair bands, and pens.
Clutch Purse Ideas: Here are easy DIY clutch purse projects that you can try at home. These fashionable designs are perfect for any occasion and fun to craft!
DIY Gifts for Boyfriend: When you need a present for your boyfriend, sometimes it's hard to think of what to get him. Check out these creative and cute DIY gifts that are perfect for your boyfriend, which you can customize as needed!
DIY Leather Crafts: Learn the basics of leather crafting, and create gifts for your friends and family. From belts to purses, these easy DIY leather crafts and projects for beginners are a snap to make and will have you working with leather in no time.
DIY Gifts for Men: Need a handmade gift for a man in your life? This list of homemade gifts for men will give you plenty of ideas.
Gift Card Holder Ideas: Looking for an easy way to create a gift card holder? Check out these best DIY gift card holder ideas that can be created with items you may already have in your home or office!
Crochet Phone Cases: Get ready to learn how to crochet phone case that is a fun way to add a little flair to your phone. This list includes free crochet patterns for colorful, protective phone cases and much more.
Related DIY Crafts to Try:
Explore the world of DIY crafts and find related DIY projects to try! From easy paper crafting ideas to more intricate jewelry-making projects – get creative with our selection of fun and inspiring craft activities.
DIY Tulle Bow: Make your own tulle bows for any occasion with these easy DIY tulle bow ideas. From simple to statement-making, our tutorials show you how to make the perfect bow with just a few materials. Get creative and have fun!
Easy DIY Tutu Skirt: Create your own unique tutu skirt with these easy DIY Tutu Skirt Ideas. Learn how to make a no-sew tutu, pom-pom tutus and more fun designs! Perfect for dance classes, dress up or just looking cute.
Origami Butterfly: Follow our easy step-by-step instructions to learn how to make a beautiful origami butterfly with just paper. Great for kids and adults alike! Learn to make an origami butterfly today!
DIY Pencil Case Ideas: Make a cute and unique pencil case with these creative DIY pencil case ideas with easy instructions. Get creative by upcycling old fabric or making a shaker-style pouch! Easy step-by-step tutorials for all skill levels.
Disney Shirt Ideas: Discover unique and creative Disney shirt ideas for the whole family! Matching Disney shirts for men, women, kids and even babies. Get inspired with our collection of fun & cute designs!
DIY Jewelry Ideas: Looking for a fun, creative way to express your style? Check out these easy DIY jewelry ideas that you can make at home. From unique friendship bracelets to modern handmade earrings, find the perfect homemade accessory!
Wrapping Up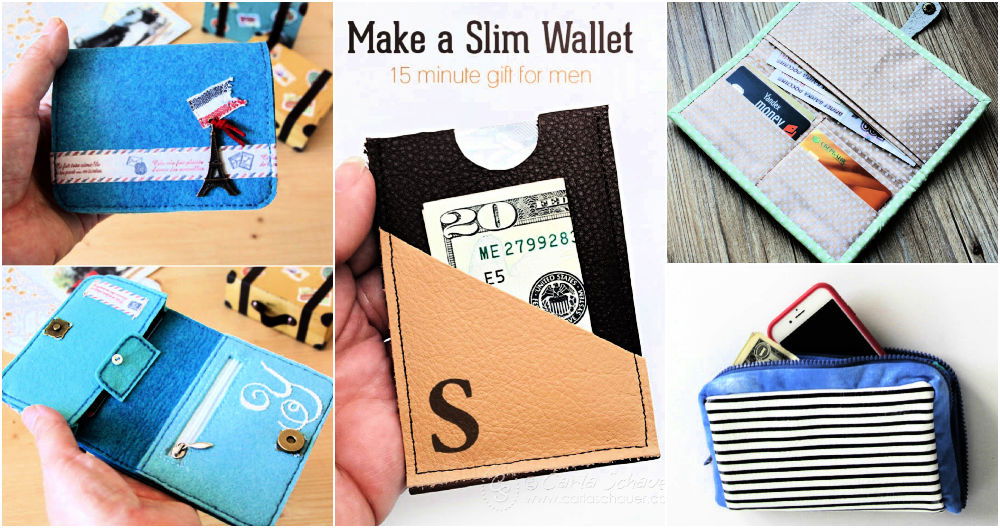 In conclusion, homemade DIY wallets are a great way to add creativity and expression to your everyday wardrobe. With 35 easy DIY wallet ideas for making different types of wallets from materials that can be easily found around the home, you can make an original wallet that suits both your style and budget. Using these wallet ideas, you can create something unique and fashionable that will help keep all of your cards, money, receipts, etc., safe and organized in one place. Whether it's through embroidery or upcycling fabric scraps into a functional work of art or making leather wallets – with some time and creativity – anyone can make their own wallet!