Learn how to make your own tulle bows with these 10 DIY tulle bow ideas with step by step instructions! From a bow for a wreath to hair bows and gift wrapping bows, you can make a variety of beautiful tulle bows. Get creative with different colors and styles like the puff bow or ribbon bow. Add extra impact by making large door bows that will stand out!
Making diy tulle bows is a surprisingly simple and fun craft project to tackle. You can use them to add a unique, elegant touch to all sorts of projects, from a diy gift wrapping to home decor and weddings. Tulle hair bows are eye-catching as an accent for your little girl's hairstyle or a lush bow on the front of a wreath. You can even craft extra-large bows with yards of tulle fabric – perfect for a grand entrance door decoration at events such as weddings.
No matter the size or goal of your diy tulle bow project, you will find tons of virtual tutorials and diy supplies online that will help you make the bow fit exactly what you need it for! Check out our step-by-step DIY tulle bow tutorials today and start crafting your very own custom tulle bows.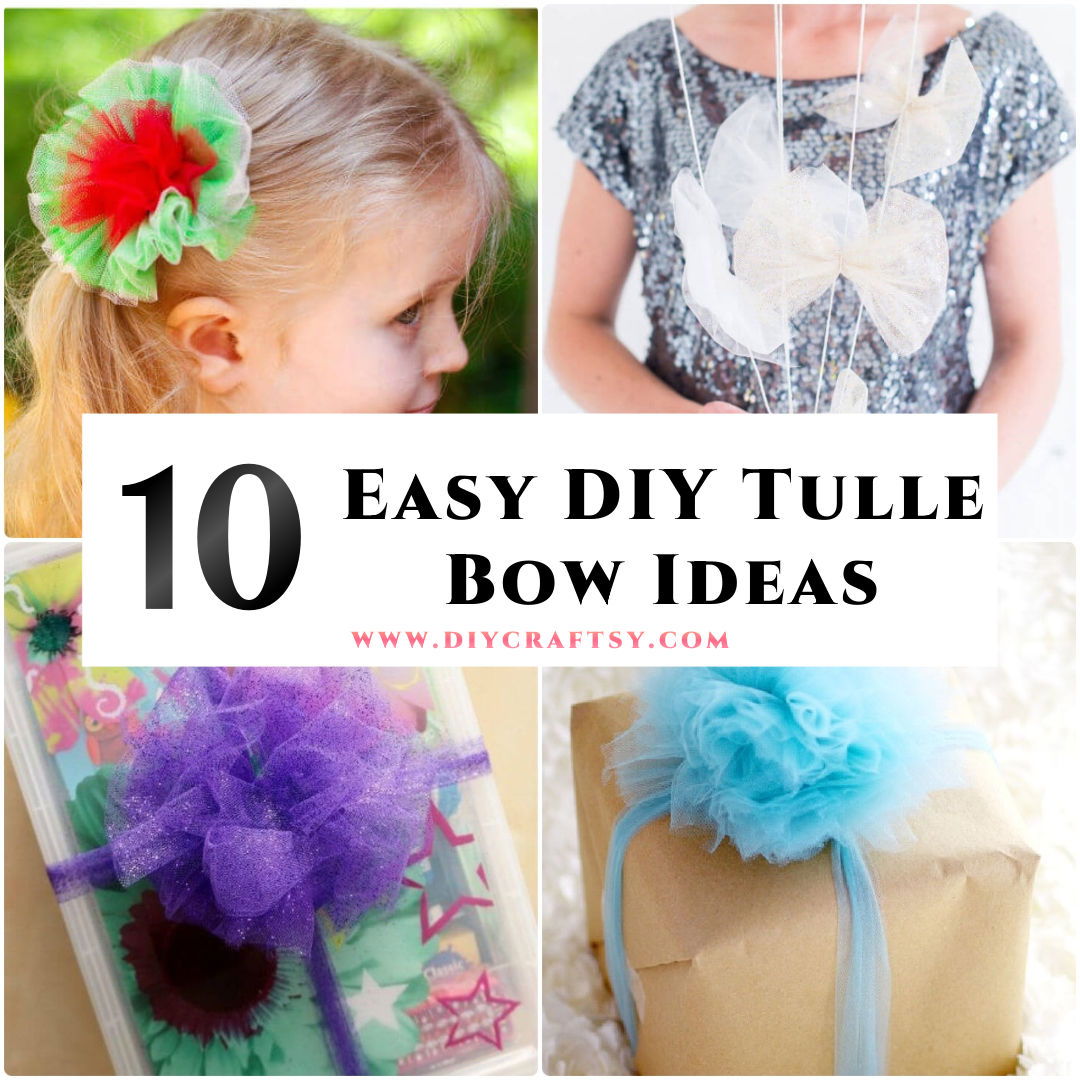 DIY Tulle Bow Ideas to Make Your Own Tulle Bows
Make your own unique and stylish tulle bows with these 10 easy DIY tulle bow ideas, including simple instructions showing you how to craft beautiful bows for various occasions, from weddings and parties to simple home decor projects. Whether you're looking for an inexpensive way to add glamour to a wedding gown or just want to embellish a gift wrapping bow, we have the perfect tulle bow idea for every need! With our step-by-step tutorials and helpful tips, anyone can become an expert at making their own custom tulle bows in no time. Create your own unique look with our top 10 DIY ideas – affordable elegance will make any occasion unforgettable!
1. How to Make Tulle Gift Bow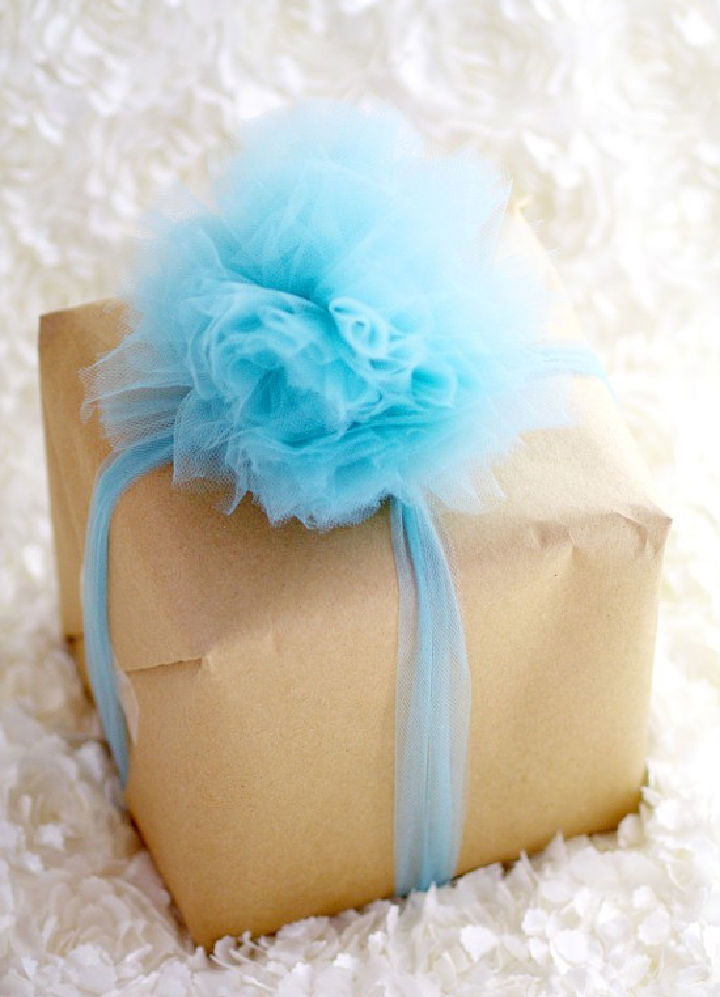 Spice up the gift-giving rituals with these tulle gift bows will make the best gift wrap. You need a shorter amount of tulle to get these gift bows made instantly, will be the perfect gift wrap toppers adding value to your gifts. Grab a wrapped gift, a spool of tulle, and scissor to do this project. thegraciouswife
2. No-Sew DIY Tulle Bow
Making a bow out of tulle is one of the easiest crafting projects. Make this gift bow wrap using delicate tulle, clip, cardboard wrapping frame, glue gun, and glue sticks to do this tulle bow project. Use this tulle bow also as an accent for various of your decorative projects. satsumadesigns
3. Simple DIY Tulle Hair Bow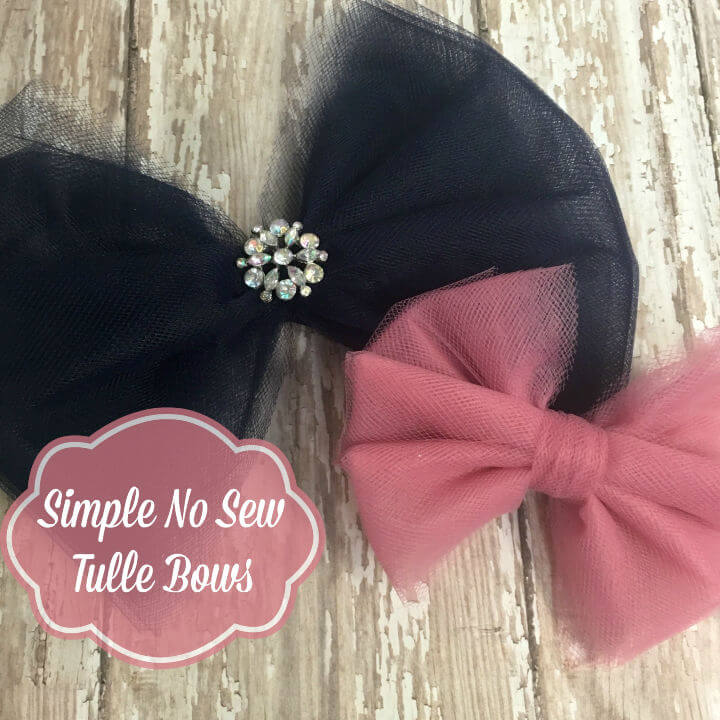 You will be amazed how simple it is to make a tulle bow that one can wear over the head, too, for a great style. Making this tulle hair bow is fairly simple and inexpensive. Grab a clip, 6″ spool of tulle in your favorite color and decorative centers to make this precious tulle hair bow. Details here thehairbowcom
4. DIY Glittery Tulle Bows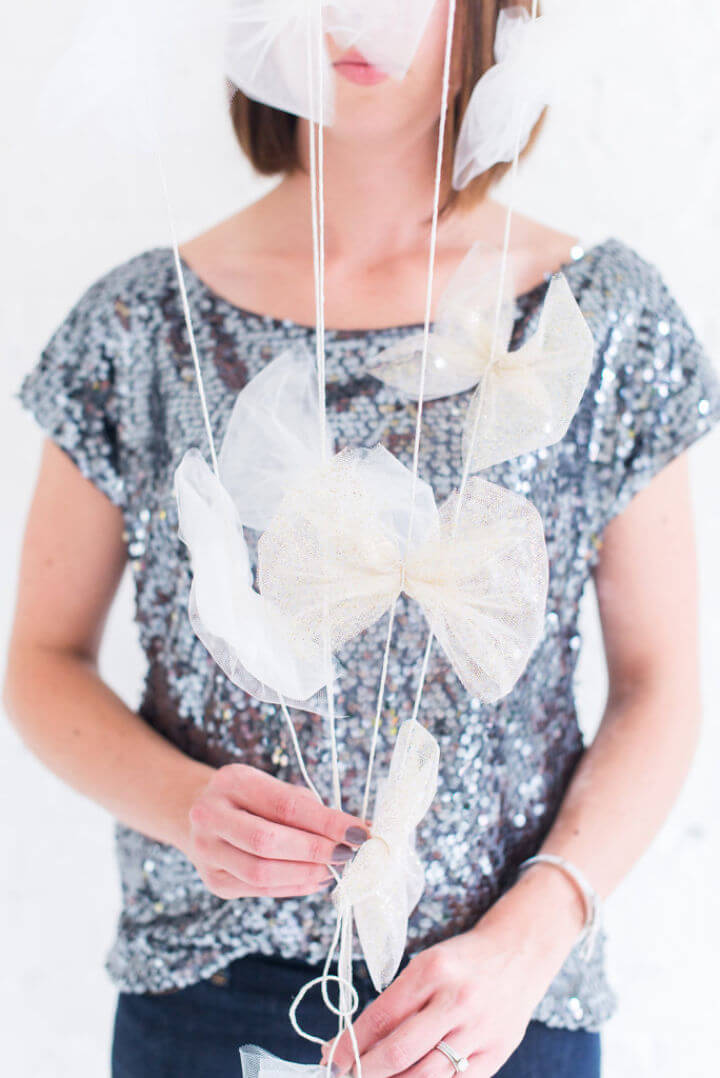 The bows are great to look at. They can be a part of your everyday or casual dress up and can be incorporated into your home decors too. Make the glittery white tulle bows that you can hang indoor for bigger decorative statements. Tie the string to their centers and then hang them up at home. mintandlovely
5. Tulle Carnation Bow from Birdsong Bows
Grab 6″ wide tulle in two or three colors to make a tulle carnation bow. This will give you a perfect hair accessory that you can wear to gain a cute style. The best gift for a little girl at home. Next, you need a pinch clip, hot glue gun, scrap felt and glue to do this project. sugarbeecrafts
6. Make Your Own Tulle Bow
Get here step by step instructions to make a tulle bow for a tutu. Smart new use of a tulle bow. Make your tulle bow and then stitch it to a tutu for an accent gorgeous appeal of a tutu. Making this tulle bow involves some easy steps. Come with decorative centers for a bold statement. stitch11
7. How to Make Tulle Hair Bow
Wear a great fashion over your head by wearing this tulle hair bow, pretty quick and easy to make. The tulle design comes with a ribbon base. Cut the 5 pieces of 1 1/2″ ribbon that you can fold to make a floral style tulle hair bow base. Add the base with a felt circle center then glue the tulle bow over it. mysuccessful
8. Easy DIY Tulle Bow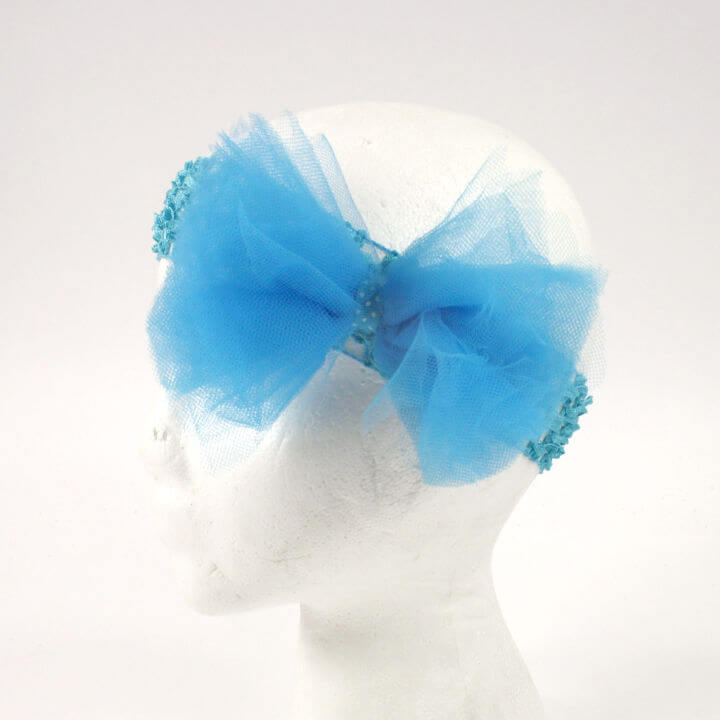 Do you love wearing bows? Then do make this pretty tulle bow, has a clip base. Make the tulle bow. Glue it over a lined alligator clip. Tie the accent ribbon in the center and start using this bow as a cool hair accent. A best hair accessory gift to make for a little girl. alwaysunderpay
9. Make a Tulle Bow for Gift Wrapping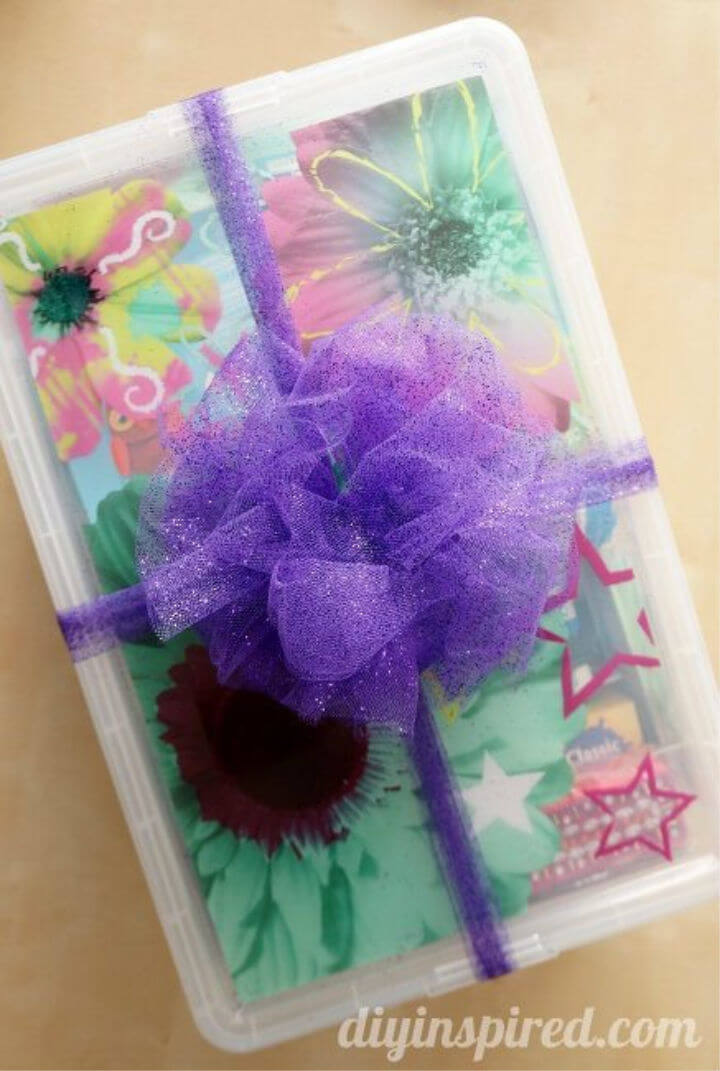 Do you love giving gifts? If yes, then wrapping your gifts is as important as the gift itself. Make this tulle bow, will make the best gift topper. Make a tulle flower or ball-like shape with stretched arms, next wrap them around your gift for an enchanting look. Experiment with your favorite tulle color. diyinspired
10. DIY Satin and Tulle Pew Bow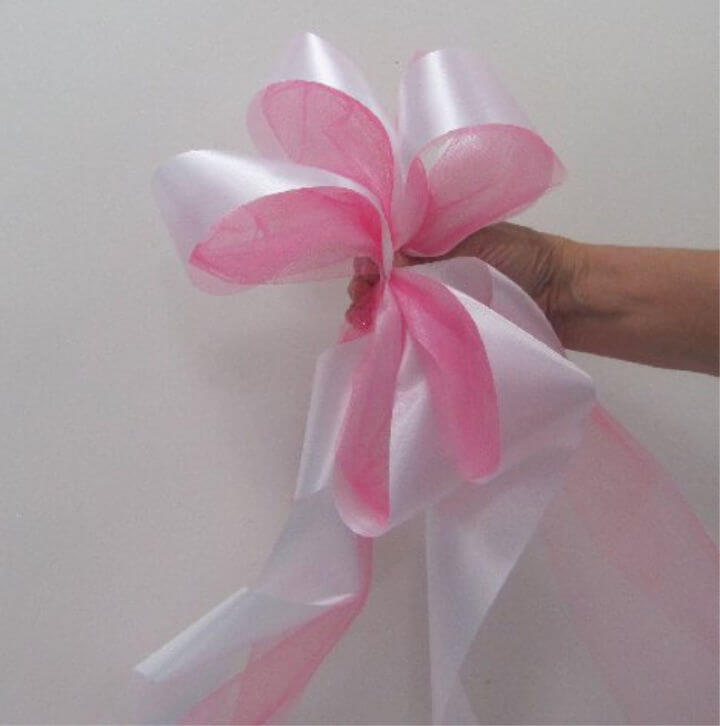 Mix the tulle with various other materials to make the world's best bows. Put together the tulle and satin to make this pew bow having 6 complete loops to each side. Use it as a topper for gift wraps. It will be a perfect accent for a wedding dress too. The most good looking tulle bow to make at home. weddingflowers
Frequently Asked Questions
Learn how to make a DIY tulle bow with this comprehensive guide! Learn tips and tricks on the creation process, instructions for making different types of bows, and more. Get answers to all your FAQs below!
How do you make a wedding tulle bow?
Making a wedding tulle bow is simple. Start by cutting four pieces of tulle at the desired length – two long strips for the loops and two shorter strips for the tails. Tie a knot in the center of two strips, then tie a second knot around them to form loops. Add a knot between each loop to secure, then tie a final knot to attach the remaining tails. Use scissors to trim off any loose ends, and then fluff up your bow for the perfect finishing touch!
How do you tie a decorative bow with tulle?
Tulle is a lightweight, sheer fabric that makes great bows. To make a decorative bow with tulle, use two pieces of long material and tie them together in the middle. Then, loop both ends of one piece around the other to form an 'X' shape. Pull tight, fluff, or fan out the loops to give it a nice look. Finally, secure the ends with a safety pin or glue gun. Now you have a beautiful bow made with tulle!
How many yards of tulle Do I need to make a bow?
The amount of tulle you need to make a bow will depend on the size of your bow. Generally, if you plan to make a 6 inch wide bow, you would need approximately 10-15 yards of tulle. For larger bows, you may need up to 20 yards or more depending on size and design. You can always buy extra to be safe.
How do you make a puffy bow?
Making a puffy bow is easy and fun! Start by cutting two long strips of ribbon and an additional shorter piece. Tie the shorter strip around the center of the longer strips, forming a looped knot. Then use your fingers to pinch and separate each side of the ribbon into two loops, securing it with glue if desired. Finally, fluff the bow and tie a knot at the back of it. Enjoy your puffy bow!
How do you make a tulle bow for a beginner?
Making a tulle bow is easy and simple. Begin by cutting four lengths of tulle in the desired size, then gather them together at one end and make a knot or loop. Secure the middle with an elastic band and arrange the ends into separate loops on each side. Finish using a ribbon to tie it together for a beautiful bow. Enjoy!
How do you tie a bow with tulle ribbon?
Tulle ribbon is a great way to add an elegant finishing touch to gifts and decorations. To tie a bow with tulle ribbon, start by looping the ribbon around your fingers twice and pull it tight in the middle to form two loops. Then, cross one loop over the other and twist it once before tying it off with a knot. Finally, fluff the loops and adjust it as needed for a neat finish. Voila! A perfect tulle bow is ready.
How do you wrap a bow with tulle as a gift?
To wrap a bow with tulle, start by cutting the desired length of the tulle and gently fold it in half. Tie around your gift box in the center and make a loop with both ends of the tulle that is tied together. Twist each end to create an "X" shape, then tie them off at the base of the "X". Finally, pull gently on each side of the "X" to make a full bow. Secure with ribbon and your tulle bow is ready! Happy gift wrapping!
How do you put tulle on a bow?
To put tulle on a bow, first cut the tulle into strips of the desired length. Gather the pieces together and tie them in a knot at one end. Then loop it around the center of your bow several times until you reach the other end, and secure it with another knot. Trim off any excess pieces and fluff the tulle to achieve the desired look. Voila, you have a lovely bow with tulle!
How do you make a tulle pew bow?
To make a tulle pew bow, first measure the size of the bow you'd like to create. Cut several strips that length and desired width. Fold each strip in half and tie together in the center with a piece of fishing line or ribbon. Tie both ends together around a stick or dowel rod to maintain shape while assembling. Finish by wrapping the center with a ribbon, and it's ready to use!
How do you tie a fancy tulle bow?
Tie a tulle fancy bow by making a loop with it and tying it off in the middle. Make another loop, cross it over the first, then tie them off again in the middle. Take each of the four ends of the tulle, bring them to the center, and tie another knot to secure. Lastly, fluff the bow to your desired shape. Enjoy your beautiful creation!
Related DIY Projects and Ideas
DIY JOJO Bows: JOJO bows are all the rage for little girls and these easy DIY JOJO bow tutorials are full of easy to follow steps that you can use to make bows for your daughter, niece, or best friend.
DIY Ribbon Bows: Learn how to create an easy ribbon bow with these easy, step-by-step tutorials. These are perfect for weddings, parties, and gifts.
DIY Burlap Bows: Learn how to make a burlap bow for your next DIY project. This simple and easy bow only takes a few minutes to make and is perfect for adding that extra personal touch to your gift or décor project.
Crochet Bow Patterns: With these easy patterns you can find the perfect crochet bow pattern to make a cute accessory for any occasion. These patterns are all free, and they are categorized by skill level and style.
Gift Wrapping Ideas: Find the perfect way to wrap your presents with these unique wrapping ideas, you'll have an easy time decorating your gifts with hard work and a little help from your friends!
DIY Bow Holder Ideas: This list of easy DIY bow holder ideas will help you find the perfect solution to your storage needs. There are many different styles and types of holders to choose from, so customize it to fit your space!
DIY Tutu Skirt: Bring out the creative side in you and make amazing DIY tutu skirts for your upcoming costume party or special event. Check out these easy-to-follow DIY tutu skirt ideas and learn how to make your own beautiful tutus today!
Conclusion: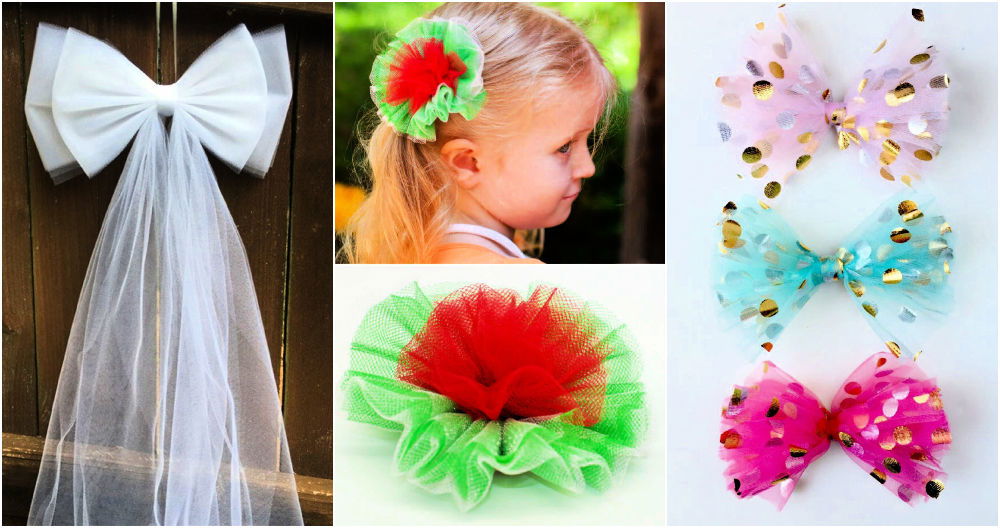 Making tulle bows is a great way to add an eye-catching accent of color and texture to any outfit or accessory. With 10 DIY tulle bow ideas to make your own tulle bows, you can easily create chic bows that are perfect for adding a unique touch to clothing, hair accessories and other fashion items. The diy tulle bow range from beginner friendly no sew options to more advanced techniques like fabric folding and stitching. Regardless of your choice, with the right materials and creativity, you can make beautiful tulle bows at home in no time!