Crochet coin purses are the best thing to keep coins safe. While shopping, you are often to store your keys and coins in your bigger handbags! So, the keys and coins get settled down in the bag corners, and they can also mix up with other items in the bag. Hence could be just too difficult to find at the right them! An efficient solution to this problem is a crocheted coin purse that will hold well the keys and coins. And then be placed in your bigger handbags. Willing to craft your own coin purses? So, if you have excellent crochet skills, then you can try these 18 free crochet coin purse patterns that are just fabulous and praise-worthy! Moreover, these coin purses will also make the sweetest and cutest gifts to any style loving lady!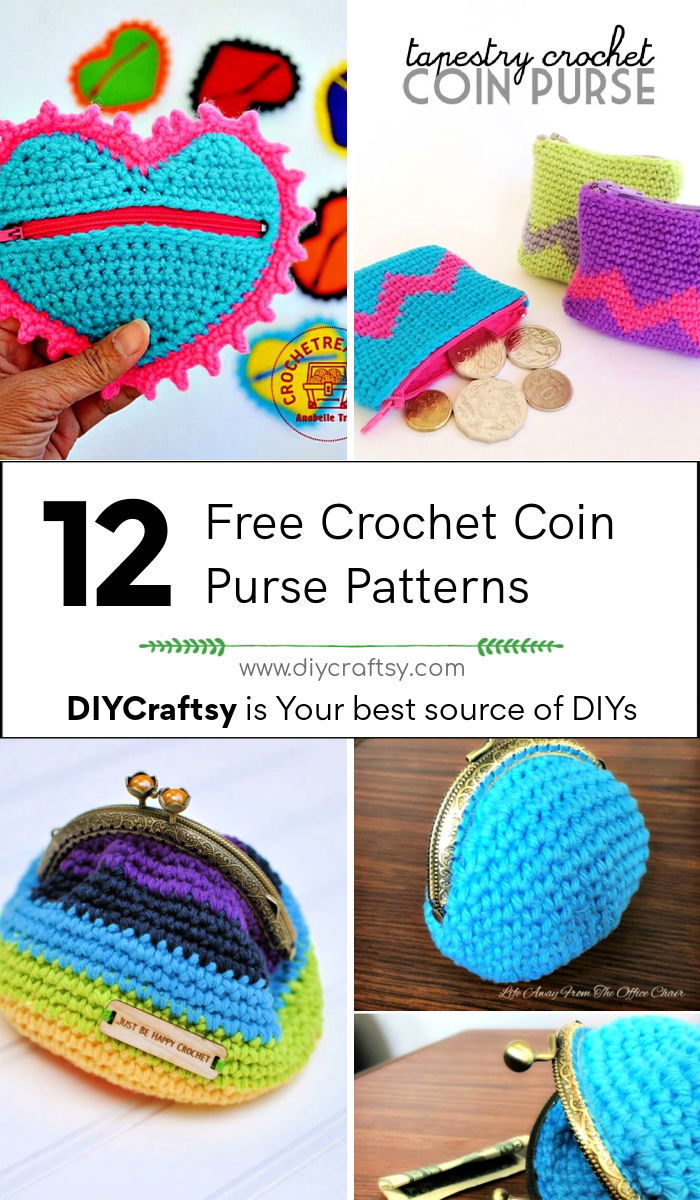 Go with the custom crochet stitches and crochet the fab looking rainbow coin purses to store the jellies and candies and the coins. Check out the given rainbow coin purpose that comes with a metal frame. Crochet the tapestry coin purses that may come in several different dashing yarn colors and patterns. Get inspired by the lovely sample given below that is truly eye-catching! Make a darling coin purse using white and black yarn and comes with a gold frame for a posh look! Crochet the sweet hexagon yarn coin purse that will be a delight to view and would make an epic present to kids and fashion-loving ladies and look at the given free crochet coin purse pattern that comes with great visual appeal!
The crochet coin purses ideas are just endless! For getting free crochet coin purse patterns, make a quick check on the source given under each coin purse project!
1. Crochet Rainbow Coin Purse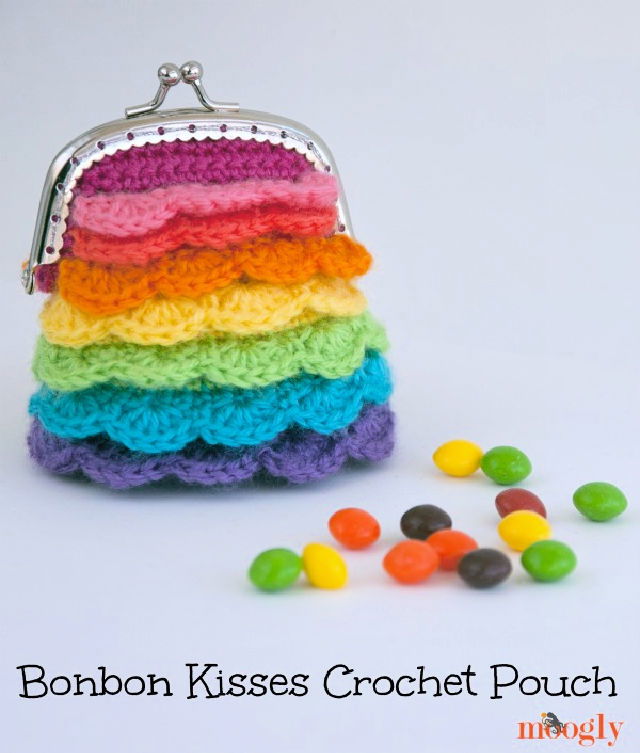 Even though you have a nice carry bag, you really need to have this mini size purse to carry your coins in so that you can easily get them when you need a chance instead of finding them in the mess of your bag and wasting your time. You can also use them to hold the jellies and candies and gift them to the kids at Christmas. The fancy colors in layers are making this mini purse an adorable possession. Check out the details of the pattern and instructions right here mooglyblog
2. Free Crochet Tapestry Coin Purse Pattern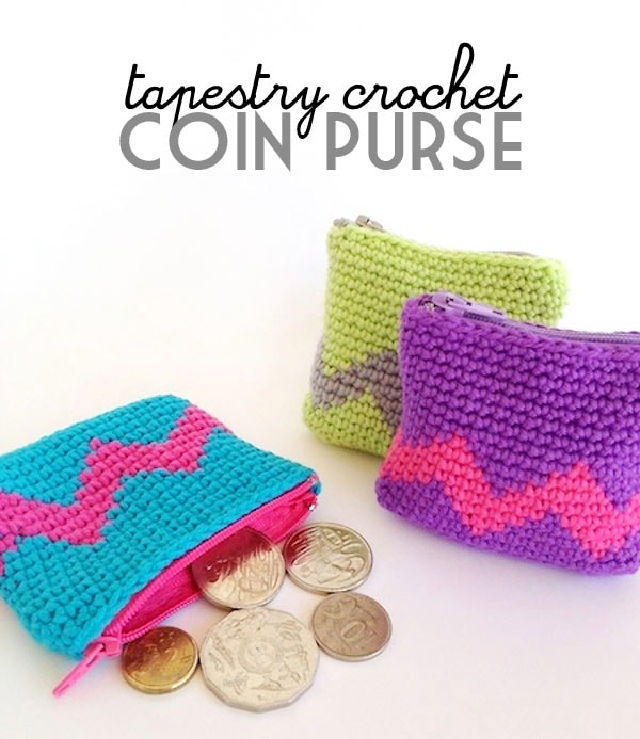 The possibilities with the crochet yarn are just endless. Just grab some yarn and the crochet hooks, and you would surely find something really fun and functional to crochet every time. Here is how you can get your hands dirty with crochet crafting by making this cute and pretty coin purse to safely hold your coins. Grab your supplies and learn the tutorial details of the pattern here mypoppet
3. Crochet Coin Purse – Free Pattern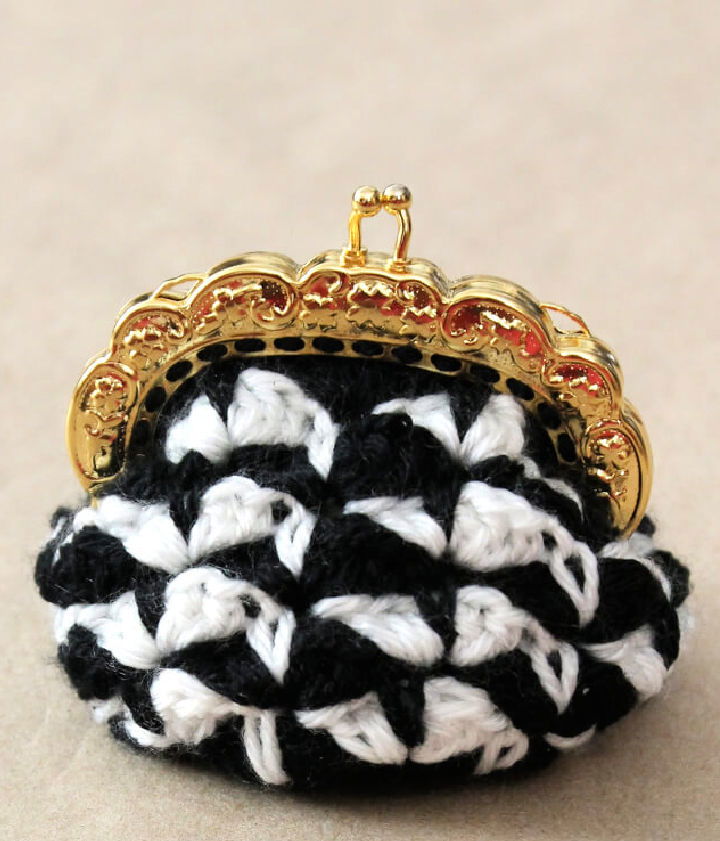 Here is a crochet coin purse with its tiny size but huge beauty, style, and appeal, and the reasons are many behind its enchanting possessions. The use of black and white yarn, the modern graphic pattern, and the lovely gold purse frame just really worked out so gorgeously for the purse and made it an instant hit for you or anyone you want to gift it to. You can learn the tutorial details of the lovely pattern here persialou
4. Crochet Hexagon Coin Purse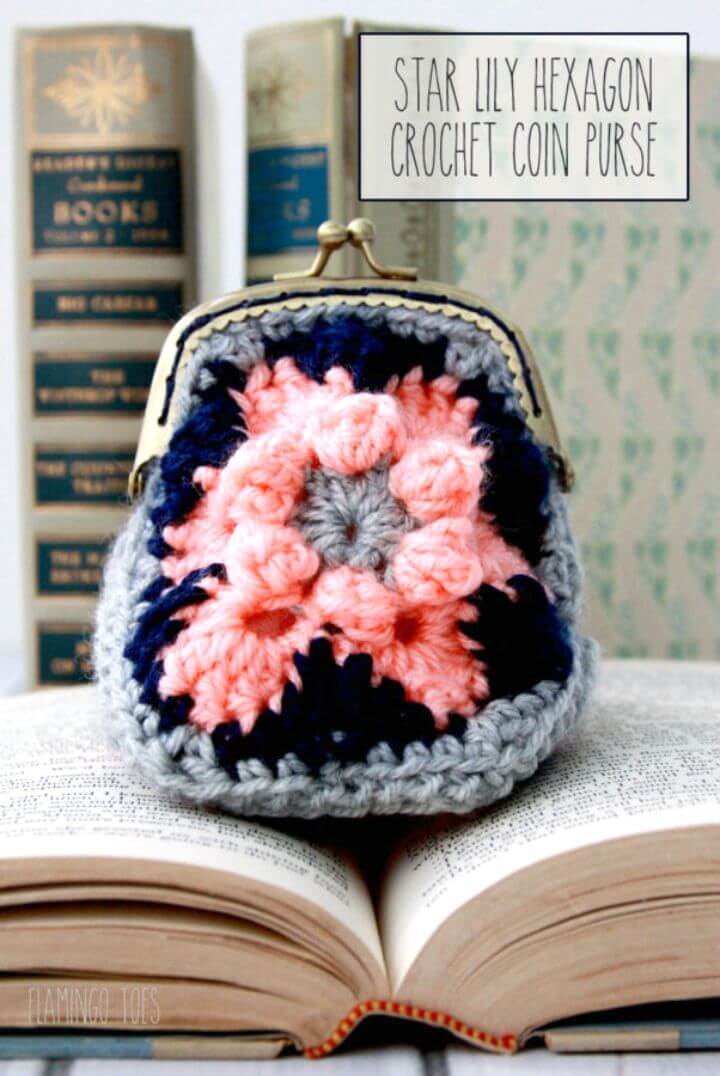 When you are a crochet person, you have lots of crochet ideas to use as the perfect cute gifts for your dear, and near ones, specifically for the lady loves of your life. So this gifting time, you can crochet this sweet little purse with the adorable hexagon pattern, and the delightful colors o the yarn, and the receiver would be just more than happy to receive this pretty cute gift. You can check out the details of the idea right here to make this little gift in no time flamingotoes
5. Free Crochet Change Purse Pattern
The crochet coin purse pattern is still in fashion to hold your bunch of coins in them and make it really for your to carry them around. SO if you are looking for a cute and easy pattern to create a crochet coin purse on your own, then you got this one. You can easily learn the details of the pattern here and make this cute purse in any of the shade of the yarn you like or adore the most lifeawayfrom
6. How To Crochet Coin Purse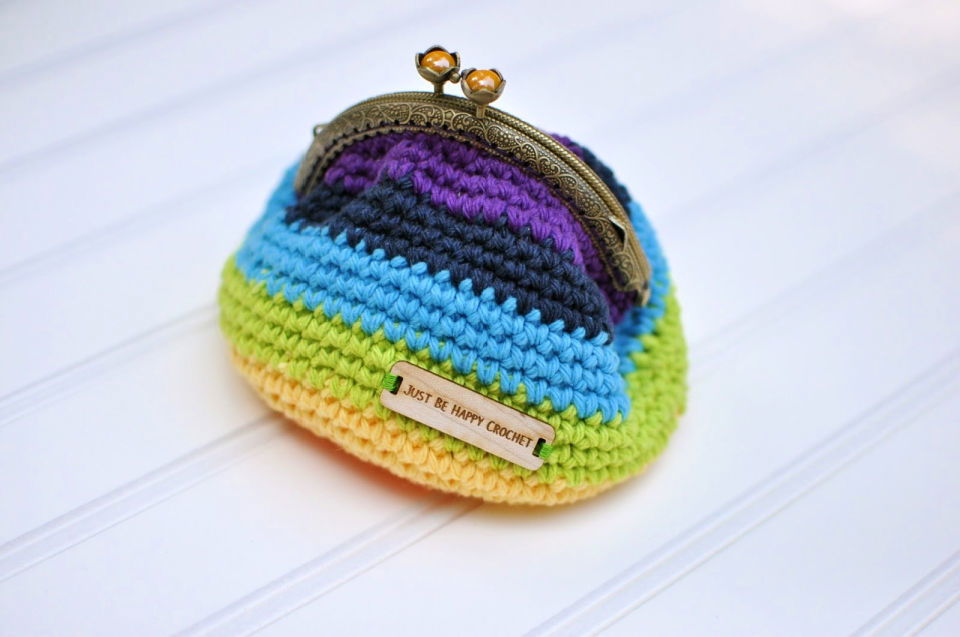 To make your money hold nicely in your bag, you need to have this cute little coin purse that you can easily crochet yourself at home. So grab some colorful yarn and the purse frame and start working on this exquisite coin purse pattern in two or multiple colorful strips and always feel pleasure while taking it out to get your money out of. The pretty details of the pattern are given here to check step by step justbehappylife
7. Camera Coin Purse Crochet Pattern
Not only the elder ladies but the little girls can also enjoy having these little bundles of joys called the coin purse patterns to hold their collected money cutely and safely in them. SO here is this trendy and cute pattern that the girls would fall in love with, so grab some bright yarn and get your hands dirty with this camera designed coin purses for the little girls in your family like the pretty gifts. Learn the pattern details and more here paintitcolorful
8. Easy To Crochet Coin Purse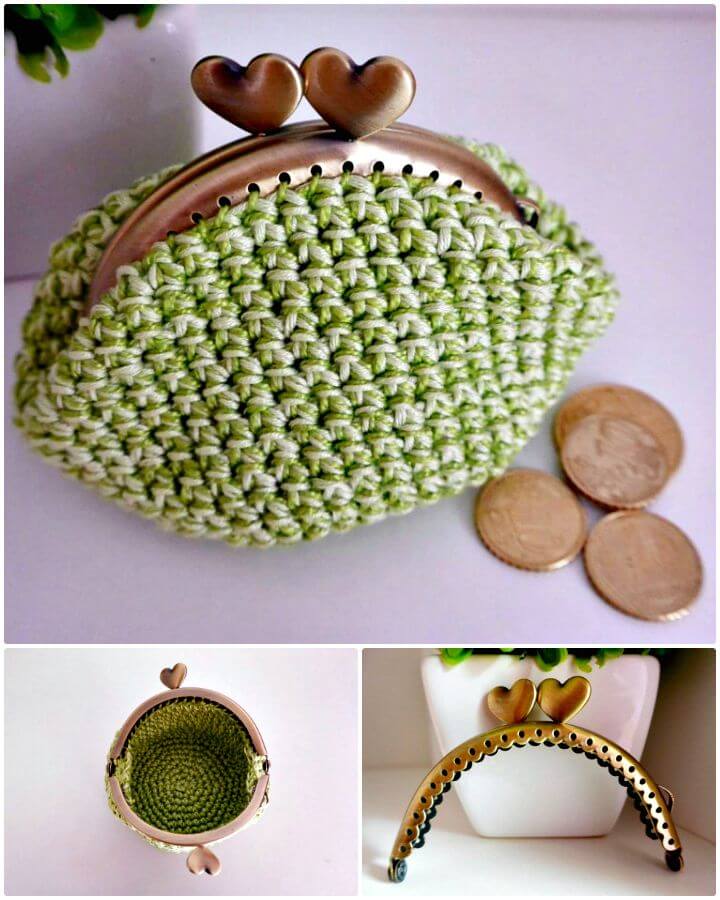 The kiss clasps take us back to the vintage era with their utter appeal and beauty. You can now bring back those vintage vibes by creating a kiss clasps for your self with some crochet yarn the purse frame with hearts from the market. The design of this lovely coin purse is vintage, and thus it would be a stylish addition to your collection of purses, bags, and more. You can learn to make it easily at home with the instructions of the pattern given here crochetforlove
9. Free Pattern Of Crocheted Coin Purse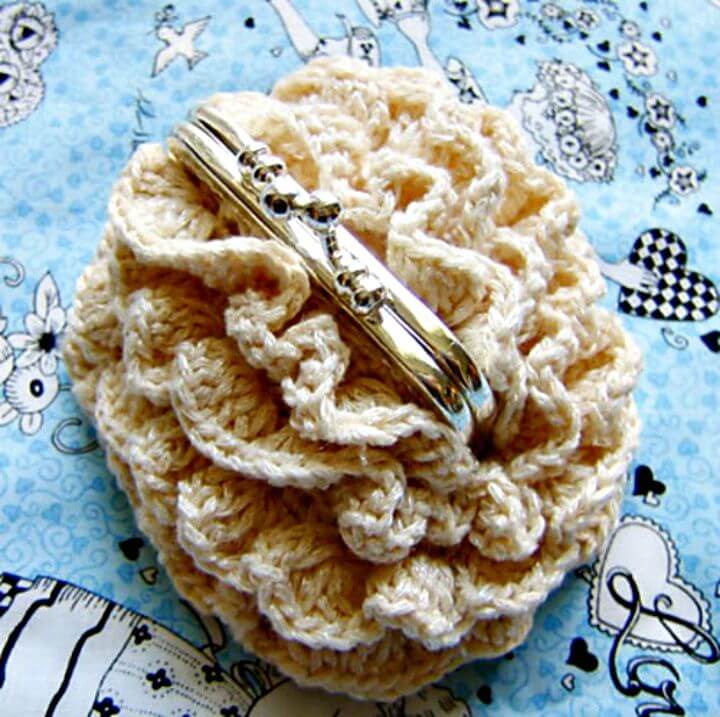 The mini crochet coin purses are just the cutest with their small size and the colorful yarn they are crocheted in, but by experimenting with the pattern, you can make them look cuter, fun, and personalized for yourself. SO here is this gorgeous coin pattern with the ruffling layers that look so whimsy and beautiful to carry around that too in the yarn's soft and subtle shades. You can check out this captivating coin purse pattern right here calistayoo
10. Crochet Pineapple Coin Purse – Free Pattern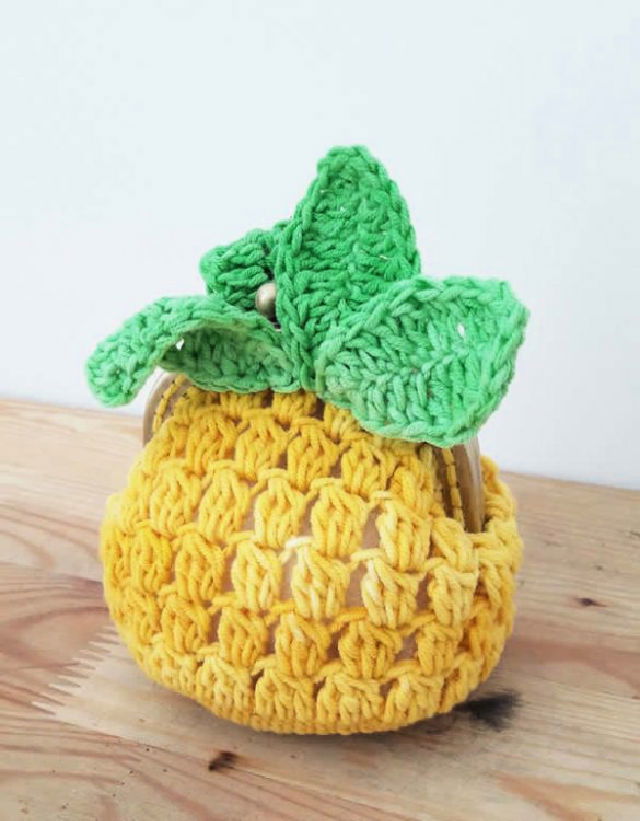 The crochet lovers are always searching for cute and unique ideas and plan to work on and get their skill shine more and more. So here is this sweet idea of creating this hear winning design of a pineapple coin purse using some custom pineapple shaded yarn your crochet hooks. It would be all fun and adorable to hold your coins in this lovely and cutely stylish purse, making a perfect gift idea for Christmas.Details of the pretty pattern here pineapple
11. Crochet Small Coin Purse Gift Pattern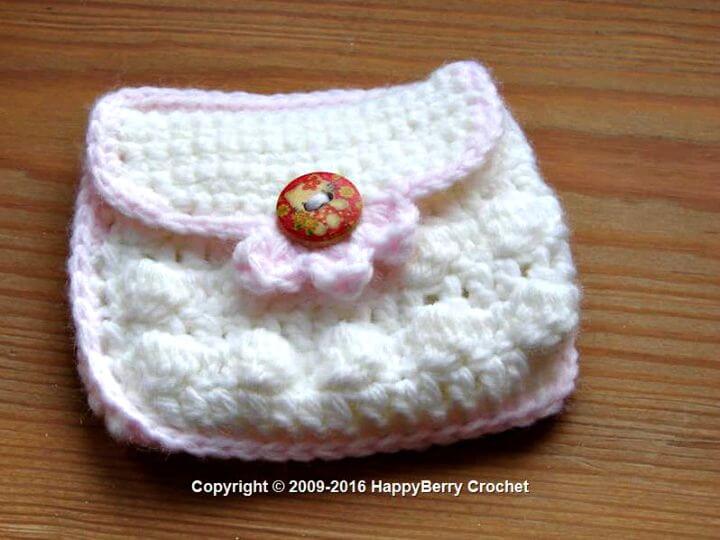 If you are a crochet beginner and find it difficult to attach the coin purse metal frame to the crocheted base, we will get the perfect alternative for you to work on. This small crochet coin purse does not involve the metal frame but instead comes with a crochet cover and cute button lock. With the easy stitch rows, you can pull off this pattern quickly at home, and for that, you need to check out the complete details of the feasible pattern here happyberry
12. Little Crochet Coin Purse Pattern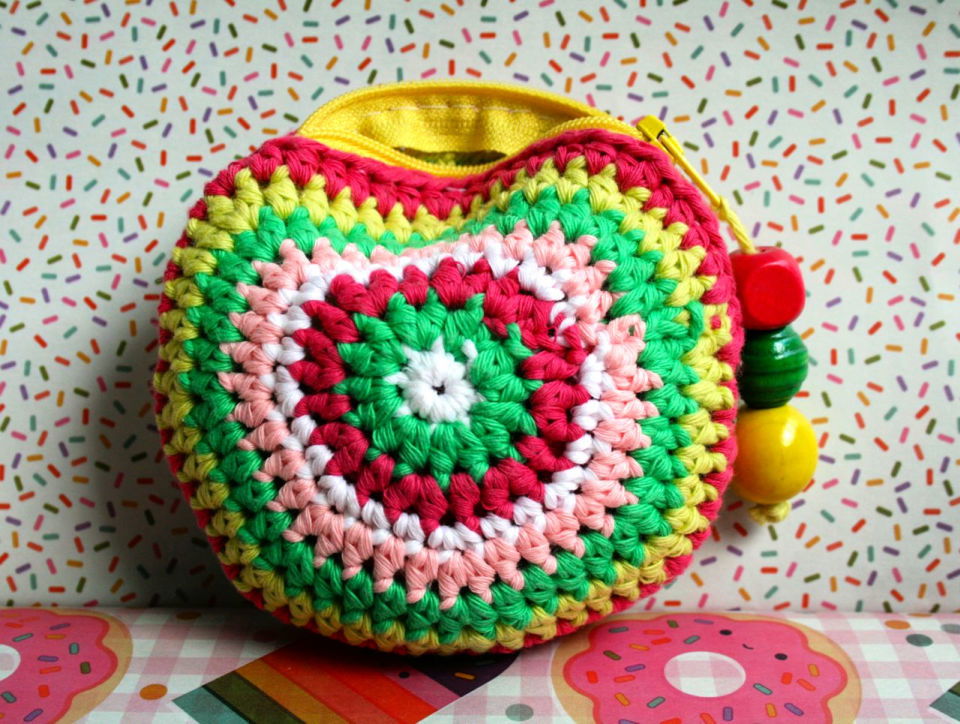 Not only the coins, but the little girls can also use a tiny coin purse for the holding of their so many other cute possessions like the beads, shells, and more. So it would help if you were making this colorful and charming pattern of the coin purse for your little girls as the pretty presents on any of the coming event. The colorful yarn circles have been combined to shape up this Wow-worthy pattern. Details and the instructions about the pattern are given here to be followed easily luzpatterns
13. Free Crochet Heart Coin Purses Pattern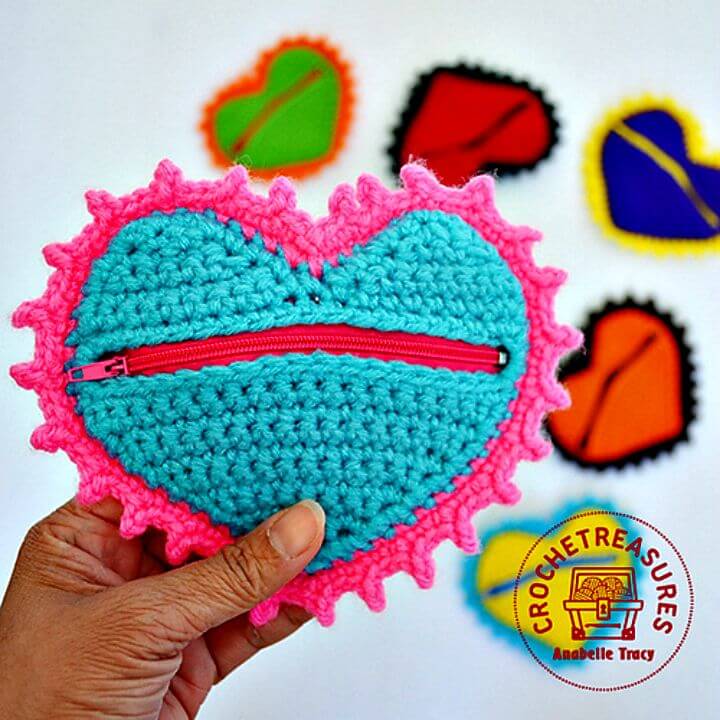 Valentine's day is not only to express your love for your beau, partner, or husband, but it is a day to spread love to everyone around. So to your girl gang, this crochet heart-shaped mini coin purse would be the perfect idea to go as a cute and adorable valentine's day gift. The perfect blue base and the bright pink edge trimming make the purse turns out nothing but sheer delight. Grab the free pattern and the details of the pattern here crochetrea
14. Red Heart Crochet Change Purse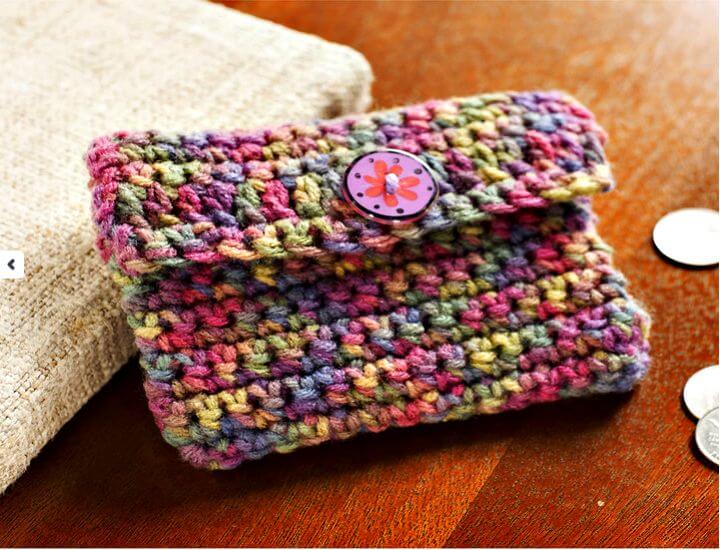 The coin purse is not to carry the coins. Only they can hold any of the tiny delicate possessions that you think can entangle in your bag with other possessions like the earrings, cards, or anything like this important. So here is this perfectly gorgeous and soft crochet coin purse to carry your treasury possessions with great care in it, and you would be proud taking it out in public for the colors and the charm it owns. Learn the free pattern details and the instructions right here redheart
15. Crochet Flower Coin Purse Pattern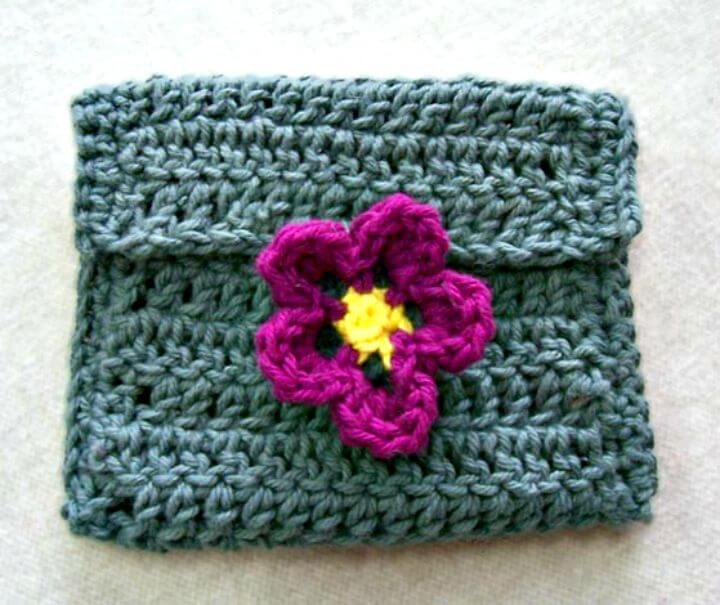 If you want a crocheted coin purse but want to make it in the updated version, here is this simply stylish design of the coin purse to get your hands on. It's all crocheted without the closing of the metal frame, and that is what makes it look modern and fun, especially that cute flower in the center is making it look more spruced up. Details of the immense easy pattern here lionbrand
16. Easy Crochet Coin Purse Pattern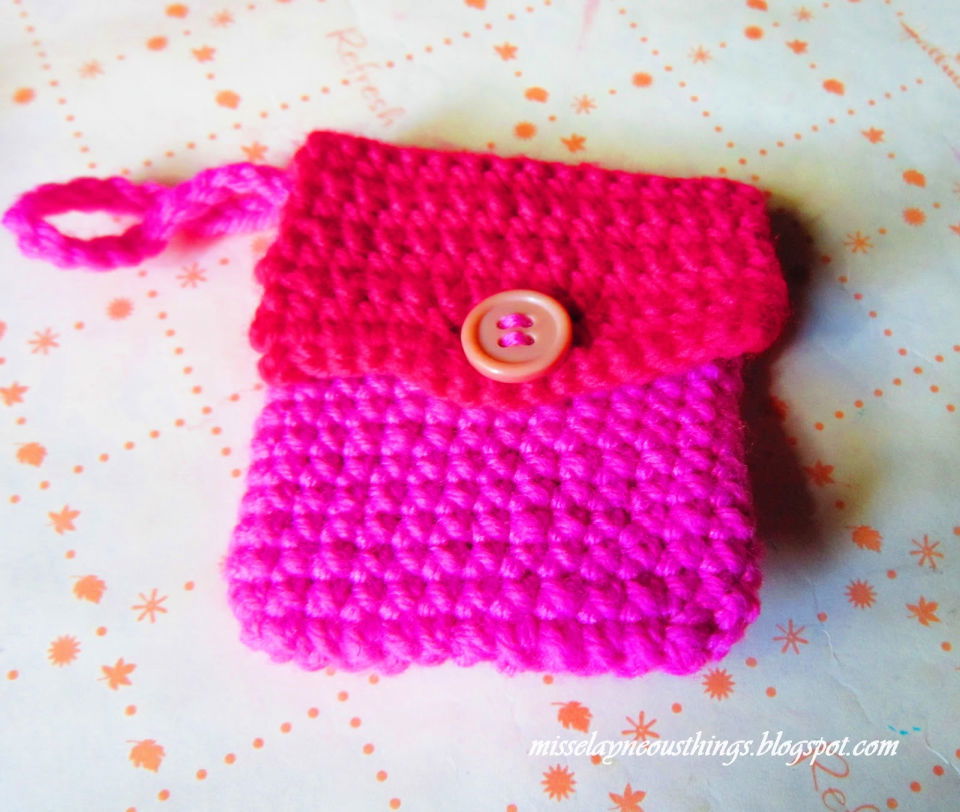 For crochet beginners, the easy and small crochet projects are the best to practice and polish their skills with. So if you are a beginner and looking for some easy and quick pattern to wake in, this cute little coin purse is the perfect project for the weekend crafting session. The pattern involves the basic stitch rows to be crocheted with the hooks and shape up this adorable purse to hold your coins and other little possessions in. Details of the complete idea are given here to follow easily at home misselayneous
17. Crochet Trinity Stitch Coin Purse
It's so irritating when you put your hands in the purse to get lipstick, hands-free, lotion, or cars, and the coins make the jingling noise in your bag. To avoid this mess in the bag, you need to create this mini coin purse to carry all your loose change and coins in, thus making your bag look cleaner and noise free. The pattern exhibits the trinity stitch used to crochet this purse, and no doubt, it turned out so exquisite and full of texture. You can do it easily at home once you check out the free pattern; the details here theblueele
18. Chevron Coin Purse Free Crochet Pattern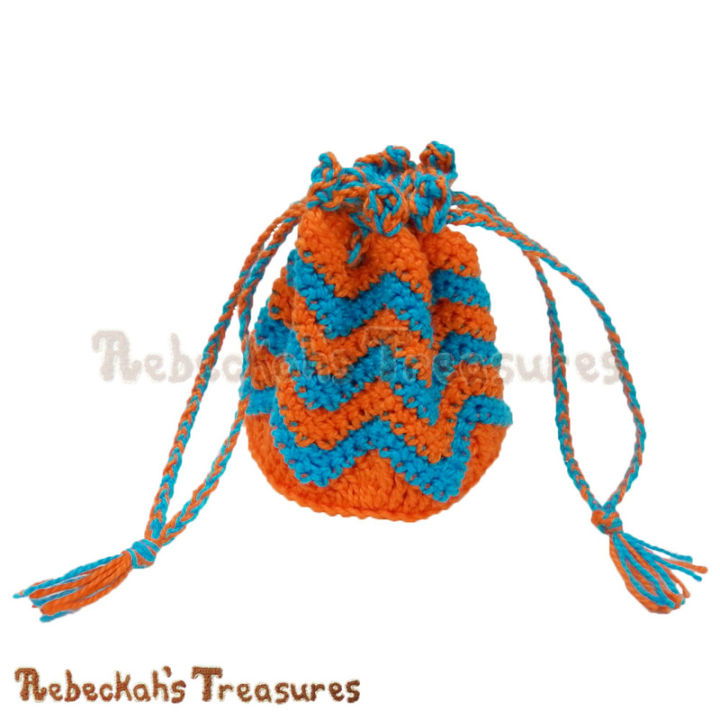 The mini knickknack items get lost in your big and spacious bags, and it wastes a lot of your time to find them. So here is how you can save your time and money with this beautiful crochet coin purse that would carry all your coin, cash, and other mini possessions and make it easy for you to access them when needed. The crochet chevron pattern is just too gorgeous and stylish with the contrasting yarn waves over the purse with a drawstring closure. You can add your choice colors to get the custom purse for yourself or for any around to use as the exquisite and hit gift idea. Details of the pattern and more here rebeckahs
Conclusion:
Prefer the striped crocheted coin purse to put in your handbag, which can be crocheted easily using basic crochet stitches. You can go with the camera coin purposes that would make the cute yarn gifts to your beloved ones! Moreover, go with the single or double crochet stitches and make simple crochet coin purses with eye-catching tight design texture! Crochet the particularly ruffled coin purses that would also be a great pleasure to hold in hands! You can also give it a try to provide super eye-catching samples and praise-worthy!
Crochet the granny square coin purses, and the unique trinity stitch crochet coin purse will come with a ribbed design texture. Crochet the fruit and animal-inspired crochet coin purses for kids that will make great fun. An exciting sample here is the given pineapple crochet coin purse in yellow and green color appeal. Try the cute heart shape crochet coin purses for Valentine's Day.