Dogs are just the most adorable creatures on this earth. If you agree, then you'll love these personalized DIY dog collar ideas! Dogs always have your back, and they are always there when you need them. Everyone can leave you, but your dogs will remain loyal to you. A DIY dog collar is a must-have since you have to take your dog out for walks and training, with these DIY dog collar ideas you can learn to make some pretty perfect and long-lasting personalized dog collars! If you want to make your dog feel a little special and save yourself some bucks too, then you should make these collars for them! Make a bunch of these, change collars every other day or weekly, your dog is going to be so happy too!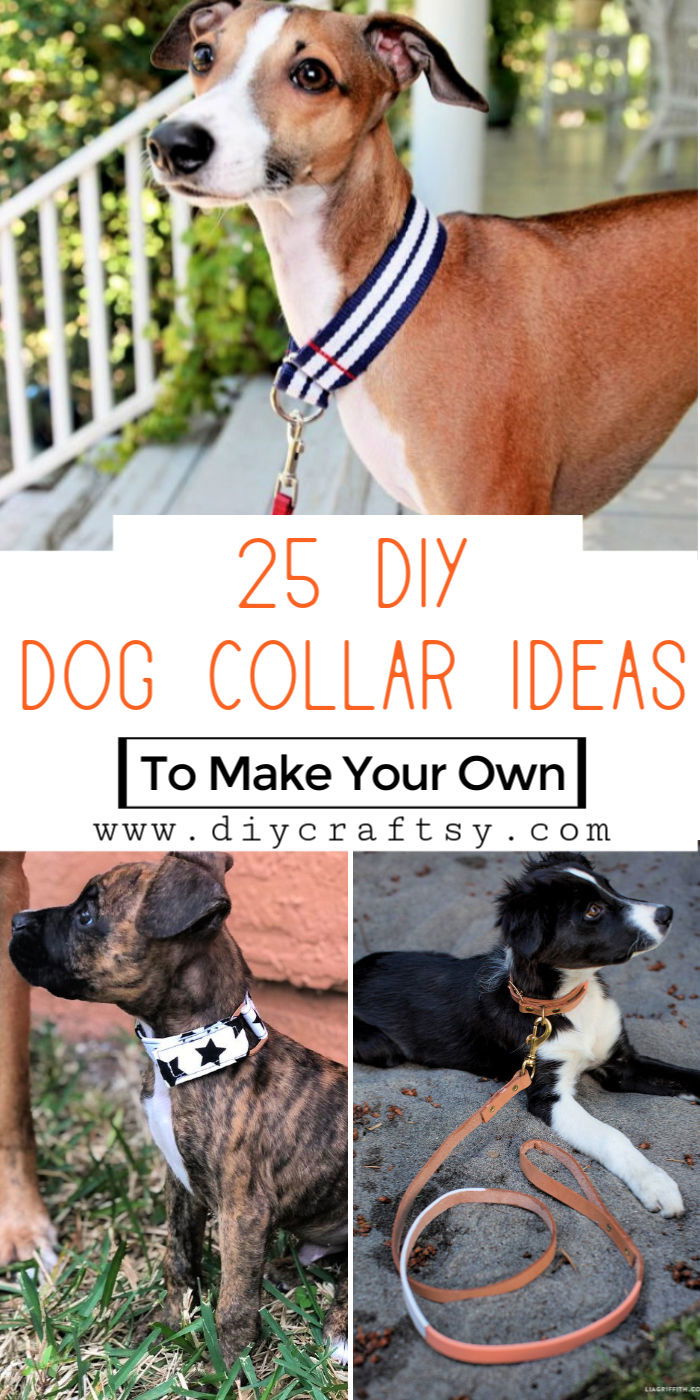 You can really choose the color and pattern of these DIY custom dog collar, depending on your dog's personality. A red or yellow color would be perfect for the more active dogs, while darker colors will go with the less active ones. If you want, you can also make these for your friend's dogs, and they will love this present! This article will cover a range of DIY collar ideas, from friendship bracelet to leather collars, from personalized to reversible slip collar, from adjustable to a collar in 4 sizes! There is a huge range- so a lot to choose from! Since everyone loves to have choices and choose what exactly the best is for them.
DIY dog house: Here are free dog house plans for building a basic dog house and upgrading the design with additional features.
DIY Dog Bandana: Make your own homemade dog accessory with this free dog bandana pattern! This easy sewing pattern fits dogs from puppy to large dogs.
How to Build a Dog Bowl Stand: If you want your dog to have a long life-extending relationship with its favorite bowl, then try any one of these DIY dog bowl stand plans.
1. Making Your Own Dog Collar
Making a DIY dog collar for your beloved pooch will be a rewarding experience for you with this tutorial. The collar size is adjustable to any size of the dog. Here is what you will need to make this project, ½ meter of fabric, cotton webbing, thread, D-ring, parachute clip, and tri-glide clip. halifaxdogven
2. How to Make Dog Collar
Because dogs love unconditionally, so they deserve to be treated well. Especially when you want personalized dog collars to leash your doggo, be careful with using soft fabric for the dog's collar. Make it at home on your own with the instructions, if you can't find the one up to mark at the stores. countrybrookde
3. DIY Dog Collar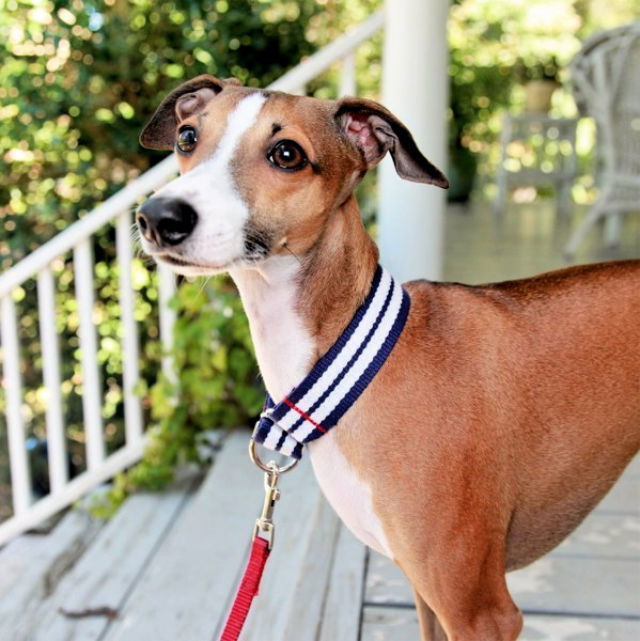 Well, you know what the big part of a dog's style is? Of course, the collar? It must be mushy, flexible, and pretty at the same time. Instead of finding it online or at stores, whip one up yourself. You just need supplies such as nylon webbing, ribbon, sewing machine, thread, and D-ring. mysocalledcrafty
4. Make Your Own Dog Collar
It's time to roll up your sleeves and make your own dog collar for your lovely doggo. It's a no-sew pet bandana collar, so chill, if you don't know how to sew, you still can whip it up. Read on the tips and collect supplies like fabric quarters, mini iron, hem tape, buckle, and hot glue. consumercrafts
5. DIY Friendship Bracelet Collar
There is no better way to show the love and compassion to your dog pal than this DIY friendship bracelet collar. Make a duo with your pooch with this project. Its whimsical design is enough to stand you and your doggy out while walking him around. Check out what you will need and how you can make this below! thebrokedog
6. Homemade Dog Collar
DIY dog collars are fun projects and perfect to accessories your doggo. This DIY flower dog collar will be enough to make your doggy a handsome hunk dog for any wedding or event. You can make it up entirely at home by yourself. Grab items like lace, beads, artificial flowers, glue, and thread to get started. starsforstreetlights
7. Dog Collar DIY
This rainbow paracord dog collar is sturdy and chic, which will make your doggo look dashing and even more adorable. The paracord style will make it fun and pretty. Once you have got the hang of this knot, you will whip it up in the nick of time. Check on the supplies and directions here. handsoccupied
8. How to Make a Dog Collar
Learn how to make a DIY dog collar that will help you to leash your dog easily and without discomforting your dog. This collar is made out of leather that will make it much more sturdy and easy for you o train your buddy! For this project, you will only need minimal sewing skills and supplies like binder clips, glue, needle, scissors, and rubbing alcohol. bhg
9. Make a Dog Collar
Get your puppies and dogs into the mix of fashion and styles. This DIY floral dog collar will take your dog to a whole new level of trending. This exceptionally chic collar can be made so easily. Get your hands on supplies such as floral adhesive, wire, snips, olive branch tips, and palm fern. greenweddingsh
10. How to Make a Homemade Dog Collar
Does it feel like all the dog collars available at the stores are too boring? No worries! Instruct yourself on how to make a handmade dog collar. Herein, you will find complete details on DIY dog collars in sequence. Get help and start off to style your pal. thepointysnoot
11. DIY Leather Dog Collar & Leash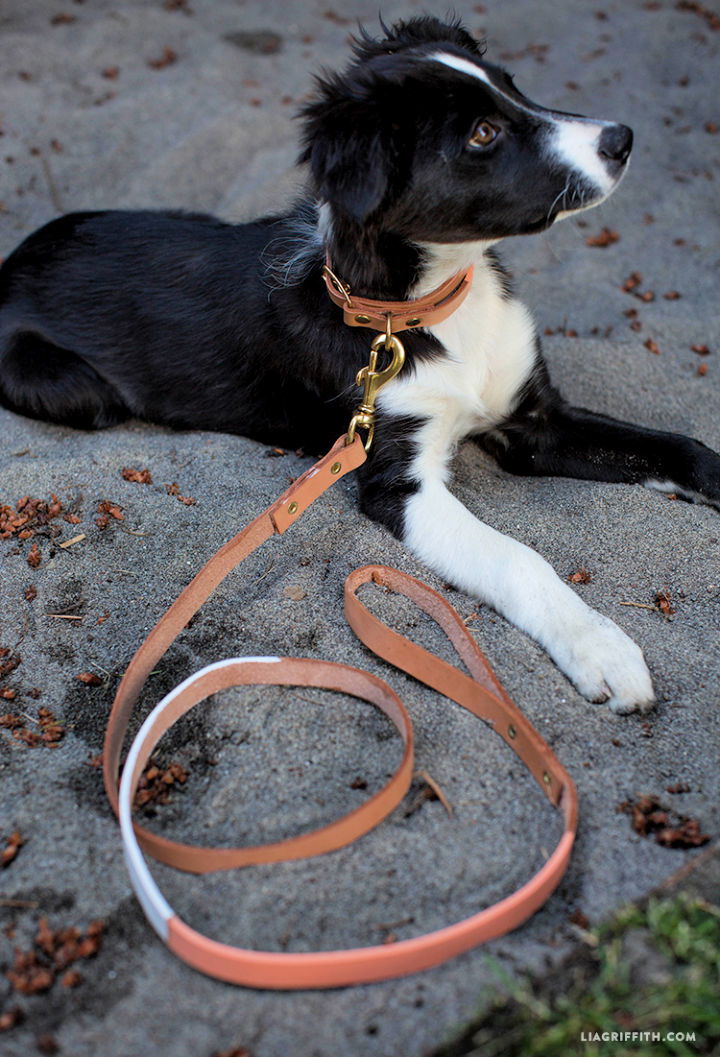 Looking for a quick way to make just the perfect dog collar? This DIY leather dog collar and leash will help you deal with your dog on a walk. Its super simple to make, and you will finish it in one go. All you need is a rotary blade, leather punch, mallet, cutting mat, ruler, and paintbrush. liagriffith
12. DIY Dog Collar Pattern
Smarten up your pup's style with the current fashion. This paracord DIY dog collar idea is straightforward to put in on and off without bothering your naughty pooch. Also, it's a perfect way to keep control of your dog easily when he is playing with the pals. Follow the steps to make one at home. fashionmeetsfood
13. Personalized Dog Collar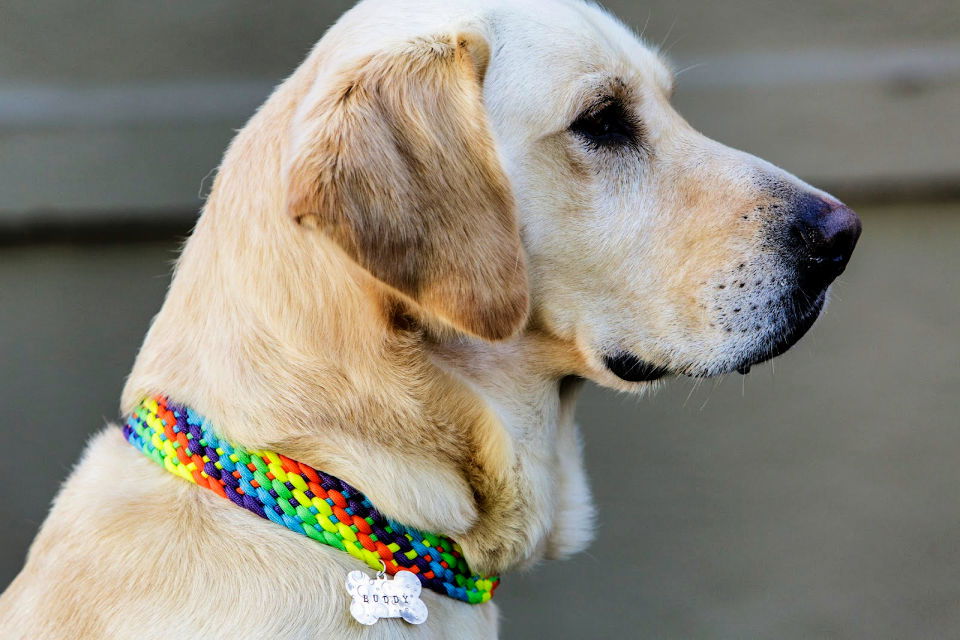 Brighten up your fur baby's collar with the whimsical colors of paracords. The fun part is you can personalize the DIY dog collar size according to your pup. Also, he will happily be wearing it all the time and with love. The full-fledge instructions are just one click away, hit the link, and get the details. shopcraftwarehouse
14. How to Sew a Dog Collar
With your minimal sewing skills, you can sew this DIY dog collar super easily and in no time. This adjustable pet collar is very practical and will stick around and be functional as your doggo grows! You will need a 4'' x 5'' fabric, D-ring, 2'' hook and loop tape to finish this project. sewcanshe
15. Reversible Slip Over The Collar Dog
Do you want your dog to look dashing and sassy in public? This reversible slip over the collar dog bandana will be the perfect choice for your pup. It is put on and take off and will look so cute on your fur baby. Read on the instructions below and see how you can whip up one even as a beginner. sparklesofsunshine
16. Leather Dog Collar
Leather is the classy collar your handsome dog needs! This leather dog collar is a basic one that is adorned with decorative studs. It can be adjusted to your pup's size easily. Gather supplies like leather strips, D-rings, mallet, strap cutter, tack hammer, hole punch, studs, and screwdriver. makezine
17. DIY Bling Dog Collar
This DIY bling dog collar will be the fashion statement for your doggo. It will amplify his personality and even make him more happier after all the pats he is going to get! This dog collar will add a bit of sparkle and glamour to your daily walk with the pup. You can spruce it up within minutes by giving the steps below a peek. sheknows
18. DIY Yarn Appliqued Dog Collar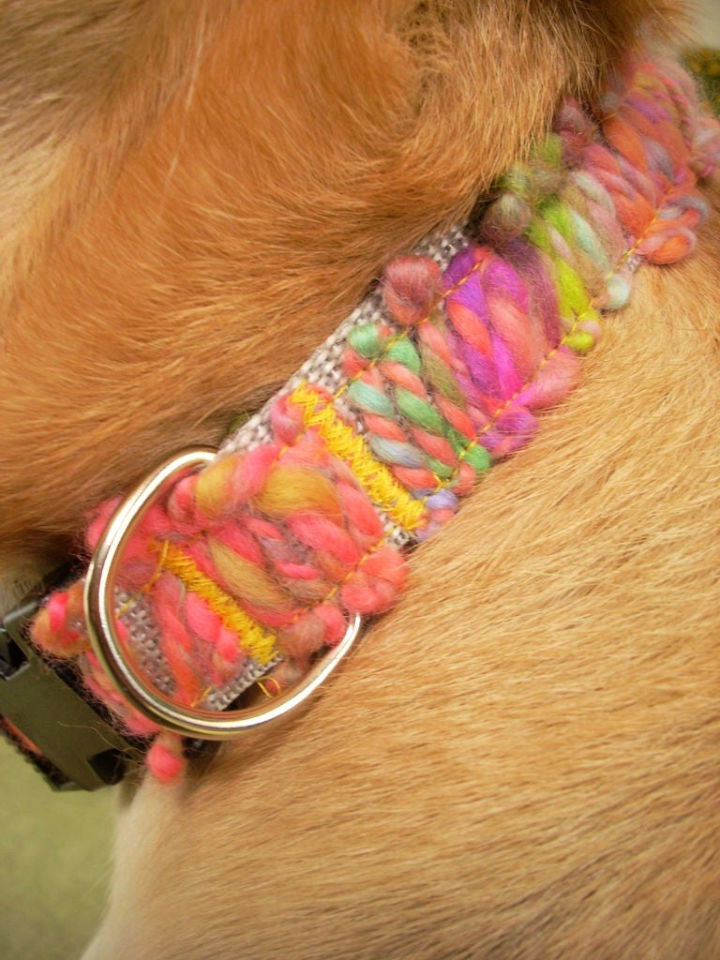 You don't need to be super crafty for DIYing this yarn appliqued DIY dog collar. This collar is a great way to use your stash busted or leftover yarn. All you need to do is to wrap the nylon webbing with yarn in a Zig-zag manner. Hop on to the link to get complete instructions on this project. instructables
19. How to Make Adjustable Dog Collar
Dogs are incredible creatures. They are loyal and sensitive to their hoomans! So give them a treat by making this adjustable DIY dog collar with ribbon. You just need a few supplies to get started. They include webbing, ribbon, D-ring, plastic snap, scissors, measuring tape, and sewing machine. stayingcloset
20. Dog Collar With Name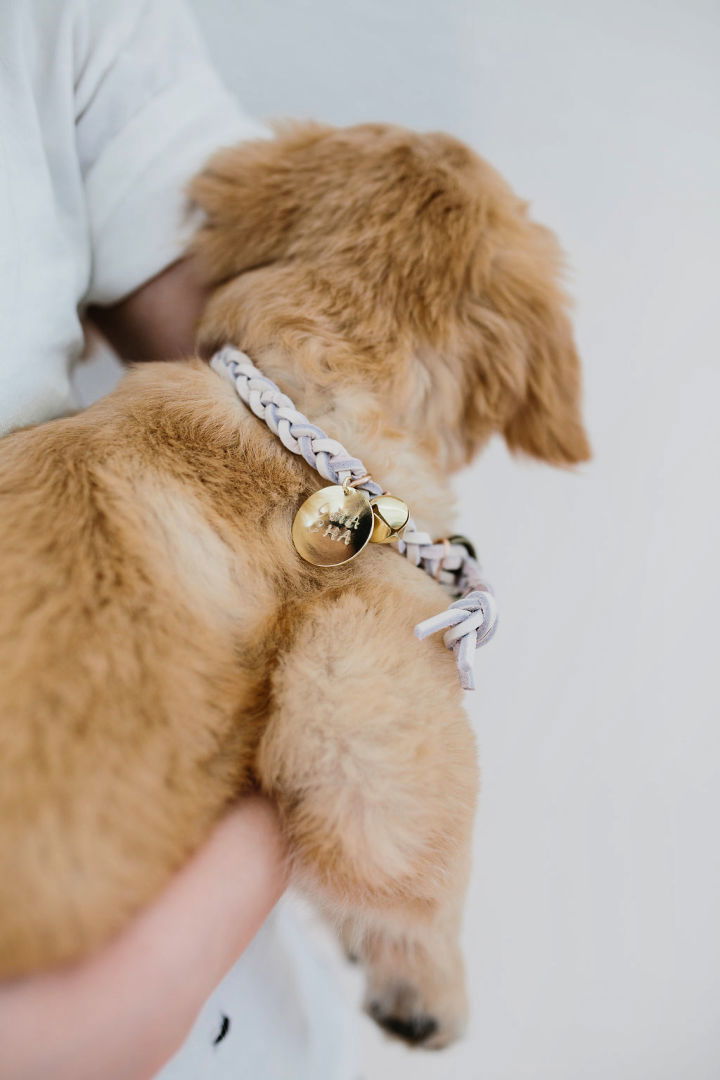 Do you know the best part about designing your dog's collar yourself? You can add love and passion in it. A DIY braided dog collar is a quick way to style your pup and make him happy. You can secure a metal tag on the collar and use the metal stamper to add the name of your dog on it as well! theeffortlesschic
21. Dog Collar in 4 Sizes
Make an adjustable custom dog collar and use it for small or big dogs. This pattern will make the personalized dog collar in four sizes; x-small, small, medium, and large. The size in inches starts from 8 and goes up to 24. The material needed consists of fabric, buckle, slide, D ring, and nylon webbing. You can also follow this pattern on a simple dog collar you already have. patchworkandps
22. Custom Made Dog Collar
A customized dog collar, depicting the personality of your dog, is something classy. You can attain this class easily by following this tutorial for a free pattern for a dog collar. Also, your dog will be easily differentiated with this customized dog collar, amongst other dogs.
23. Dog Collar and Leash
Taking the dog out for a light stroll might be the most relaxing time of your day. You can add a funky ingredient to the casual walk with the beautiful DIY dog collar and leash. This tutorial will explain to you how you can make a long-lasting and durable collar with a leash for your dog and make your walk more relaxing.
24. Serenity Dog Collar
A colorful dog color for your dog represents the colorful personality you have. This DIY dog collar pattern, which will cost you nothing, comes in 4 different colors. You can choose more subtle or funkier colors, as per your choice. You can make both adjustable and non-adjustable collars using this tutorial.
25. Custom Dog Collar
Is your dog your favorite buddy? Certainly, he also needs a customized collar then. You will need a cloth of jeans to make this collar. Do not throw away your old pair of jeans, instead make a dog collar from them. You and your dog will love it.
Wrapping up:
These adorable DIY dog collar patterns are very appealing, and you probably feel really attracted to these DIY dog collar ideas. If that is so, then you can just start working right away! You don't need to spend a ton of time making these. They can be done very fast and quick. You can also make these in different colors for every season! This way, your house will feel and look a lot more festive when they have, for example-red collars on during the holiday season, personalized dog collars, custom dog collars, and orange ones during the start of fall!
Related DIY Ideas for Dogs:
DIY Dog Bed: Pamper your pet with these cute DIY dog beds. Your furry friend will love lounging in one of these inexpensive and easy-to-make crafts.
Pallet Dog House: How easy it is to build a dog house with pallets, we have brought here this DIY pallet dog house step-by-step tutorial that will guide you through all the.
Pallet Dog Bed: Discover how to build your own pallet dog bed! This is a perfect weekend project and requires two to three pallets to complete.