Learn how to sew pillowcase step by step with 30 free pillowcase patterns, including step by step instructions that are perfect for beginners and advanced sewers. These free pillowcase patterns offer easy instructions and detailed illustrations, ensuring a stress-free DIY experience. From standard pillowcases to king-sized and novelty designs, these patterns offer endless opportunities for customization and fun.
Making a pillowcase has never been easier with our extensive selection of diverse patterns. Choose from a range of styles and designs, including one-yard magic pillowcases, DIY nine-patch pillowcases, and even a dinosaur pillowcase for kids. Our pillowcases are not only practical, but they are also stylish and enjoyable to create, perfect for personalizing your home or gifting to friends and family.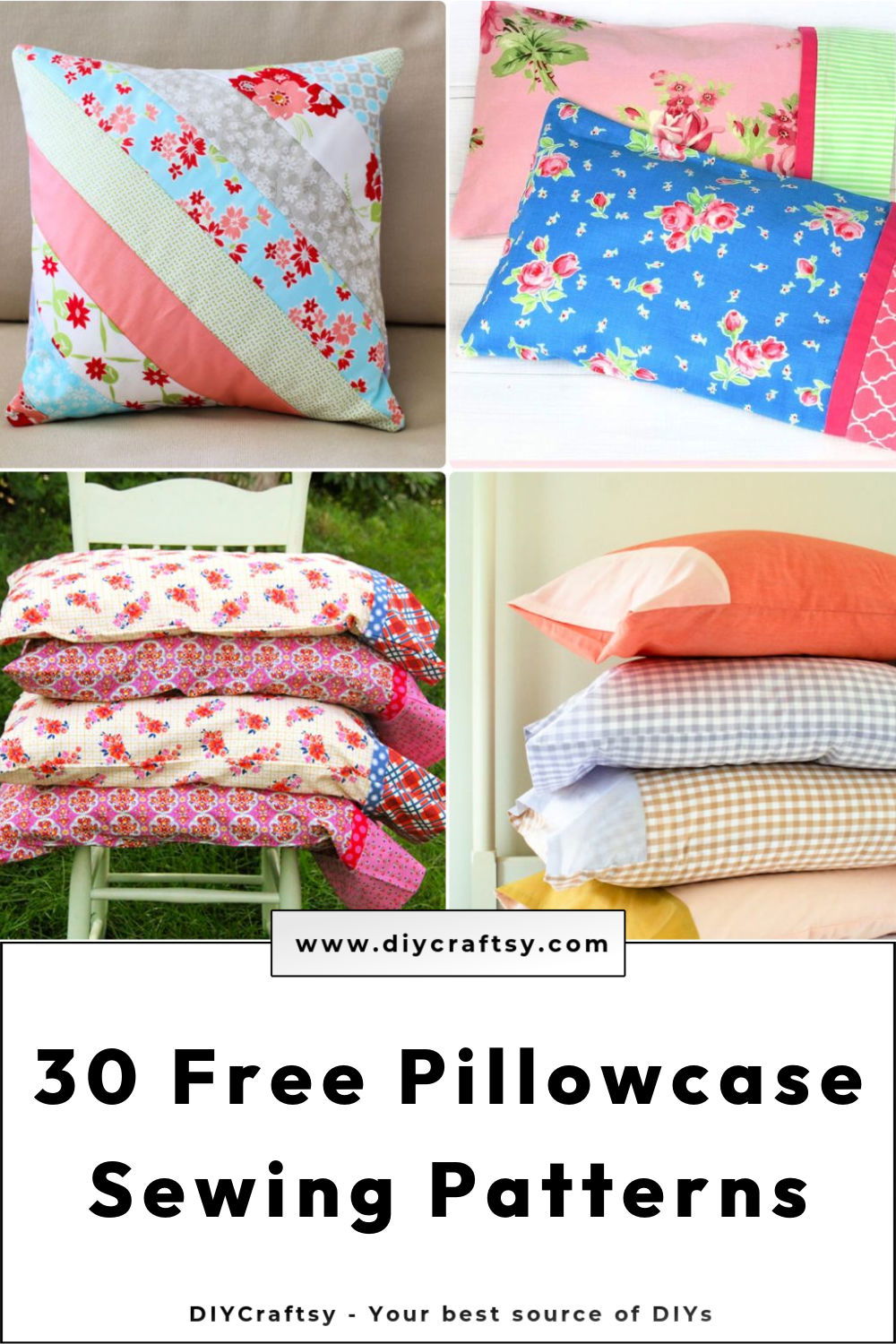 Free pillowcase sewing patterns offer a great foundation for those interested in learning and developing their sewing skills. From beginner-friendly tutorials like simple pillowcase patterns to more advanced options, such as zippered pillow covers, these free resources cater to varying skill levels and interests. So, grab your sewing machine, pick a free pillowcase pattern, and start your journey into the world of pillowcase-making today!
1. One-Yard Magic Pillowcase Sewing Pattern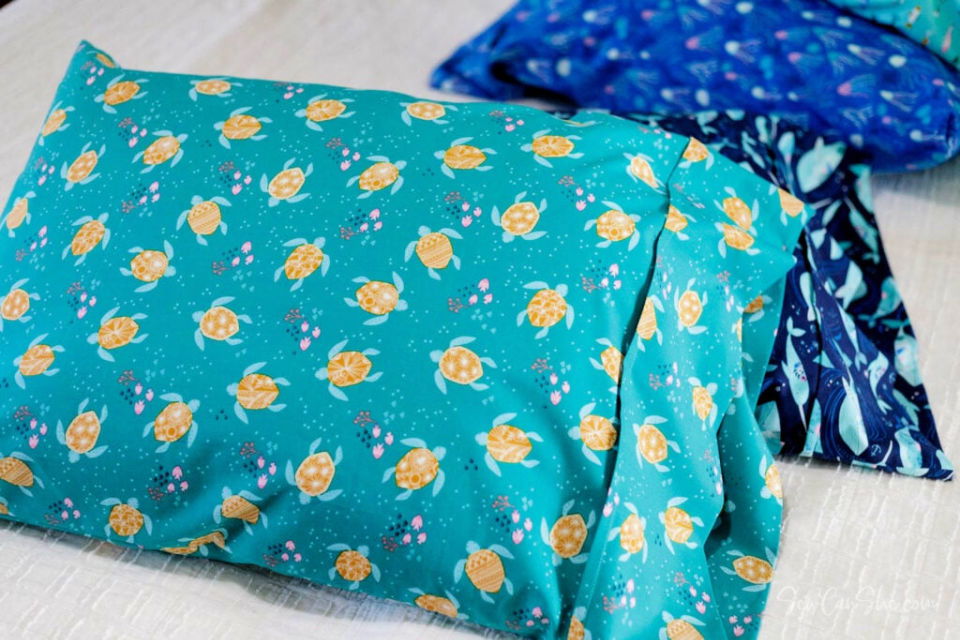 Make your customized pillowcases with this effortless sewing tutorial! Requiring just one yard of fabric, you'll master the art of pillowcase creation without any fabric wastage. This project is a great foreword to the sewing world, ideal for gifts or simply personalizing your living space. This comprehensive guide requires minimal cutting and no complex folding techniques.
Instead, it provides an accessible yet engaging task that boosts users to explore their creative side. Not only will these handmade pillowcases add a personal flair to your home, but they also make thoughtful presents for various occasions. The simple instructions make it a fantastic option for quick and fun sewing projects.
Besides, the sewing process is forgiving, making it a great place for those testing their stitching skills. This simple, waste-free, and beginner-friendly pillowcase sewing tutorial is the perfect project. Dive in, and start transforming ordinary fabric into extraordinary pillowcases today! sewcanshe
2. Free Fabric Pillowcase Sewing Pattern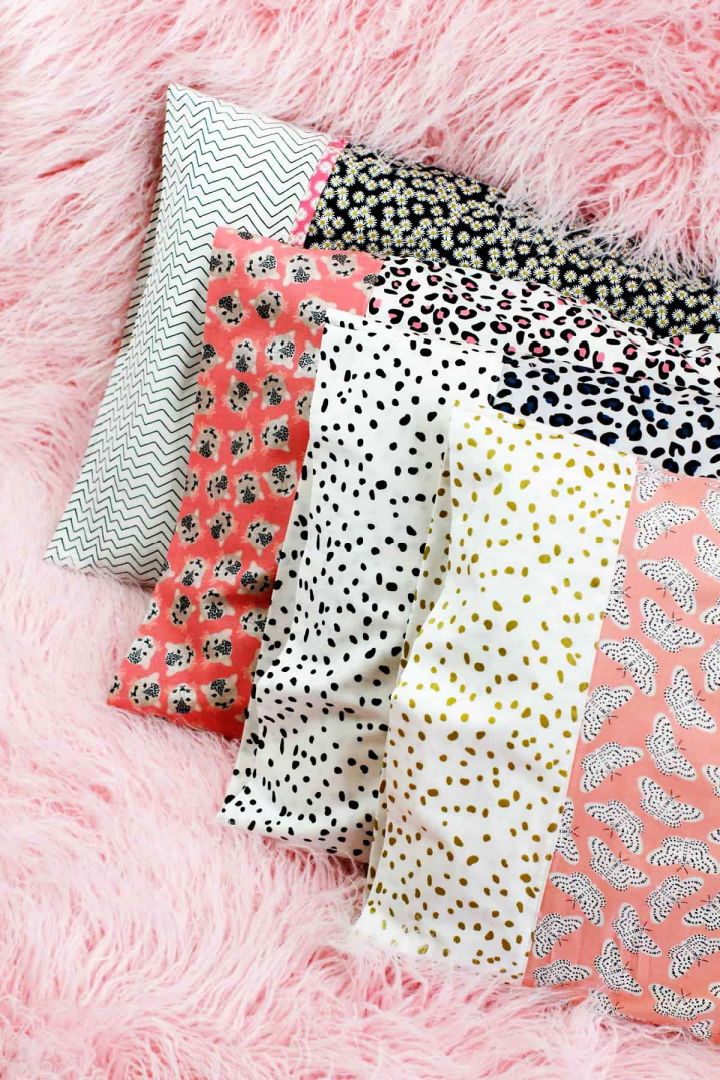 Revitalize your bedroom aesthetic with this easy pillowcase sewing pattern. With just a few easy steps, a standard-size pillowcase can be crafted in under 30 minutes, perfect for a last-minute gift or personal use. The beauty of this DIY is that it allows for customization – choose from an array of fabrics, sparkly leopards or classic cotton, to match your style.
No extensive materials are required, just your chosen fabric, matching thread, and a sewing machine. Notably, the tutorial utilizes the 'burrito method' to ensure a clean finish, and the optional French seam technique enhances durability. Moreover, you can incorporate an accent color for that extra flair. Get creative and make your bedroom truly your own with these pillowcases! seekatesew
3. How to Make Pillowcases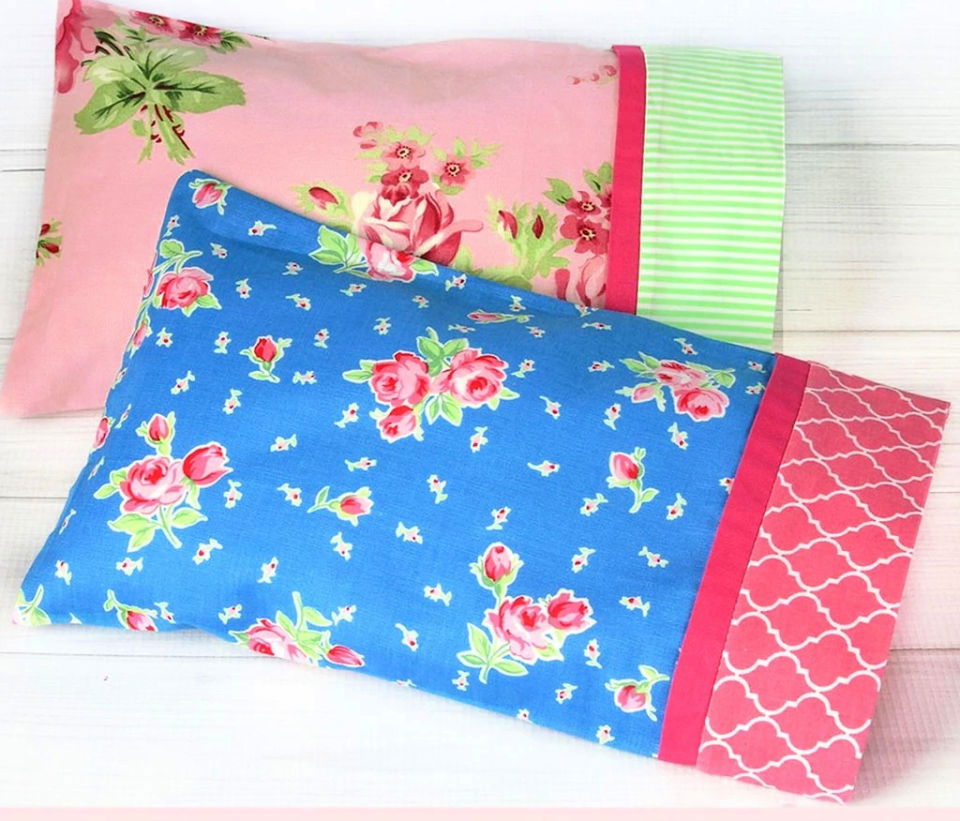 Experience the joy of customizing your home decor by crafting a personalized pillowcase. This easy-to-follow DIY tutorial reveals how to make a pillowcase using simple materials, such as 1 yard of fabric, a sewing machine, thread, pins, a ruler, and scissors. With options for different pillow sizes, including Standard, Queen, and King, there's flexibility to suit every bedding need. The process involves:
Cutting fabric pieces.
Creating the trim, layering, and rolling the main fabric.
Using the burrito method for crafting the border.
A unique feature of this pillowcase design is the inclusion of a durable French seam, which ensures a neat finish and longevity. The outcome will be a stylish addition to your bedroom decor and reflect your crafting skill and taste. Upgrade your bedding and learn how to make a pillowcase today! treasurie
4. DIY Nine Patch Pillowcase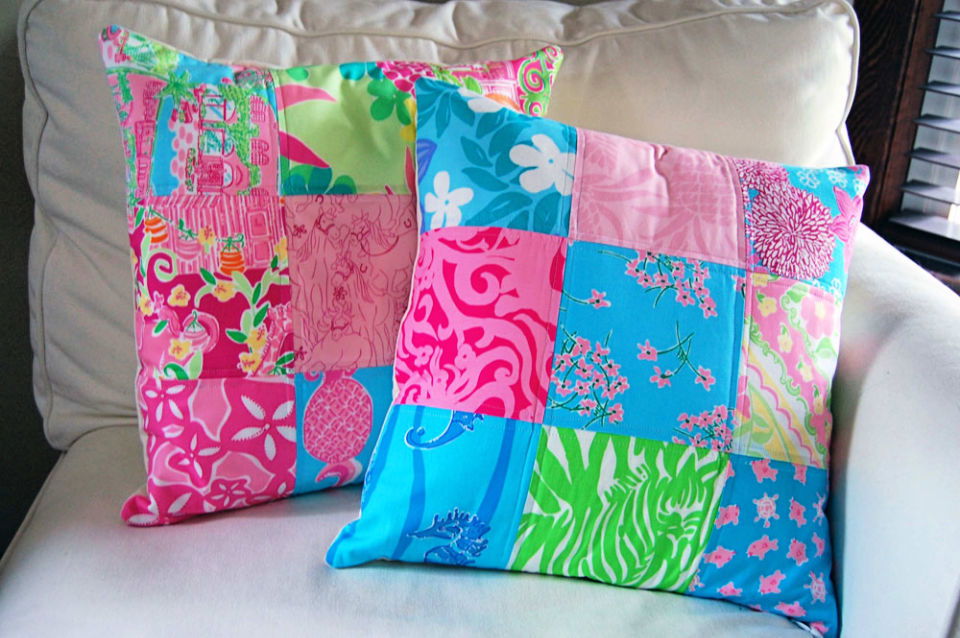 Celebrate your love for quilting with this guide to making a charming, vibrant nine-patch pillow! As a creative way to refresh your porch décor or pay homage to a memorable holiday, these pillows are a delightful canvas for using your favorite fabric scraps. To get started, you'll need some basics: Nine 6″ x 6″ squares of contrasting prints, a 16″ x 16″ pillow form, quilting cotton, batting, an invisible zipper, thread, pins, and an iron.
The process is straightforward – arrange your squares, sew rows, press seam allowances, piece together, make a quilt sandwich, quilt the front, attach the zipper, and finish by inserting the pillow form.
With these user-friendly instructions, crafting custom pillow covers is as easy as 1-2-3, offering a fun, functional way to express creativity. Enjoy crafting these beautiful DIY nine-patch pillows and brighten up your living space! wisecrafthandmade
5. How to Sew Bed Pillow Cases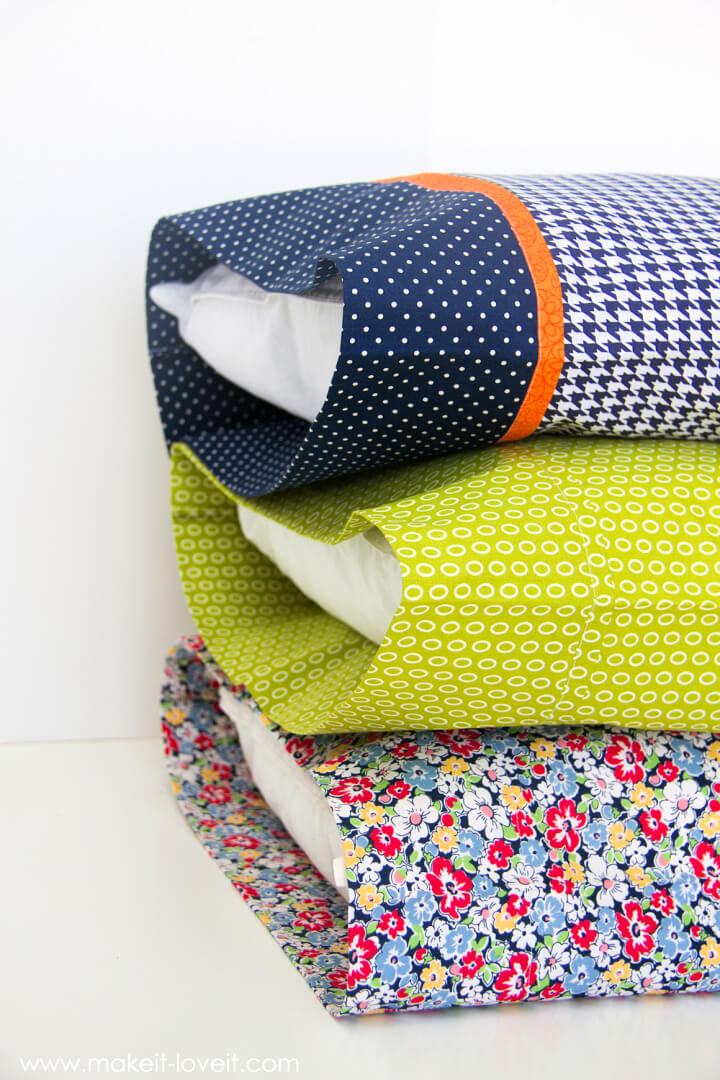 Learn how to make your own pillowcases with these free pillowcase patterns. From simple to stylish, there's a pattern for every skill level and taste. Explore the charm of sewing DIY bed pillowcases with three unique styles, including the distinctive "Burrito" method. These homemade pillowcases can revitalize your living space or serve as a heartfelt gesture of love for little ones who could use an uplift.
Constructed using fabrics of your choice, these pillowcases are as versatile as they are vibrant. With sizes ranging from standard to queen to king, there's a design that fits perfectly for every bed in your home.
Enhancing the aesthetics of your abode or bringing a smile to a child's face is a cinch with our comprehensive instructions. Remember, every stitch you sew could become a thread of joy for someone in need. Sew forth and multiply happiness with this fun, rewarding DIY project. makeit loveit
6. How to Sew a Road Trip Pillowcase – Free Pattern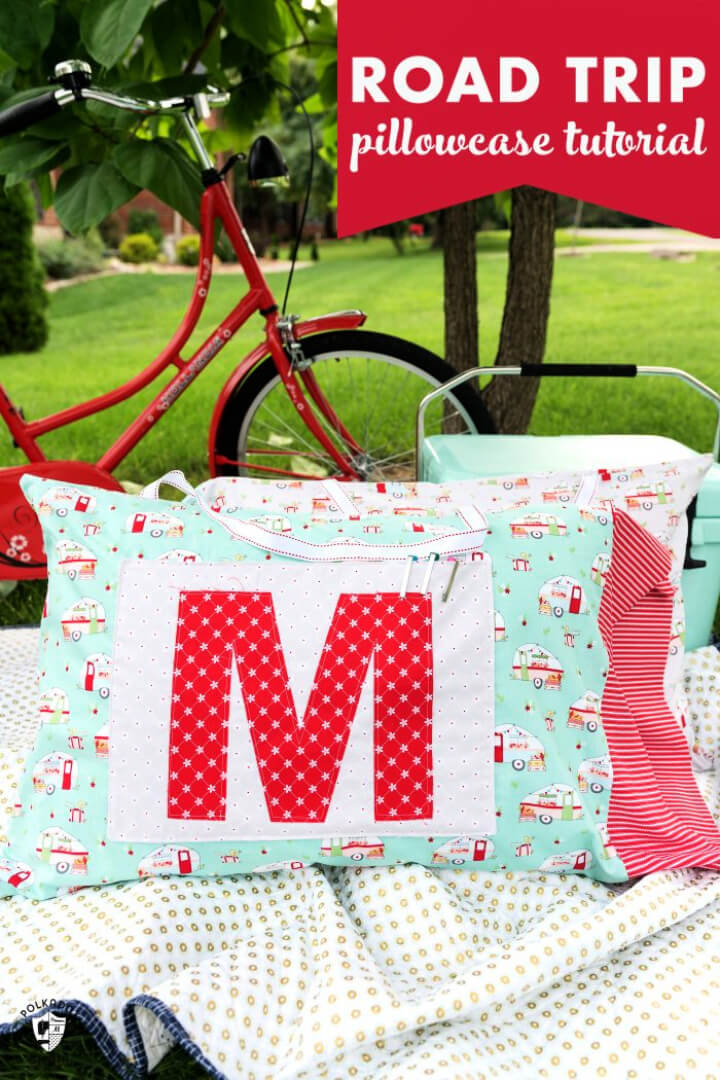 Looking to enhance your family's travel experience? This DIY road trip pillowcase pattern is a special project to organize children's belongings during road trips. With a handy pocket for storing essentials, this pillowcase combines practicality and fun into one neat package. Using a blend of the vibrant vintage Adventure fabric line by Bev of Flamingo Toes, the pillowcase is a storage solution and a stylish accessory.
The process involves making a custom applique, attaching the pocket, assembling the pillowcase, and finishing. The design is versatile, with the possibility of adding a personalized monogram to the pocket, making it even more special for your child.
The guide includes comprehensive instructions for a more detailed guide on certain steps. Designed with kids and road trips in mind, these pillowcases are a great solution for minimizing clutter and ensuring that road trips are fun, organized, and stress-free. polkadotchair
7. Easy DIY Conkerr Cancer Pillowcases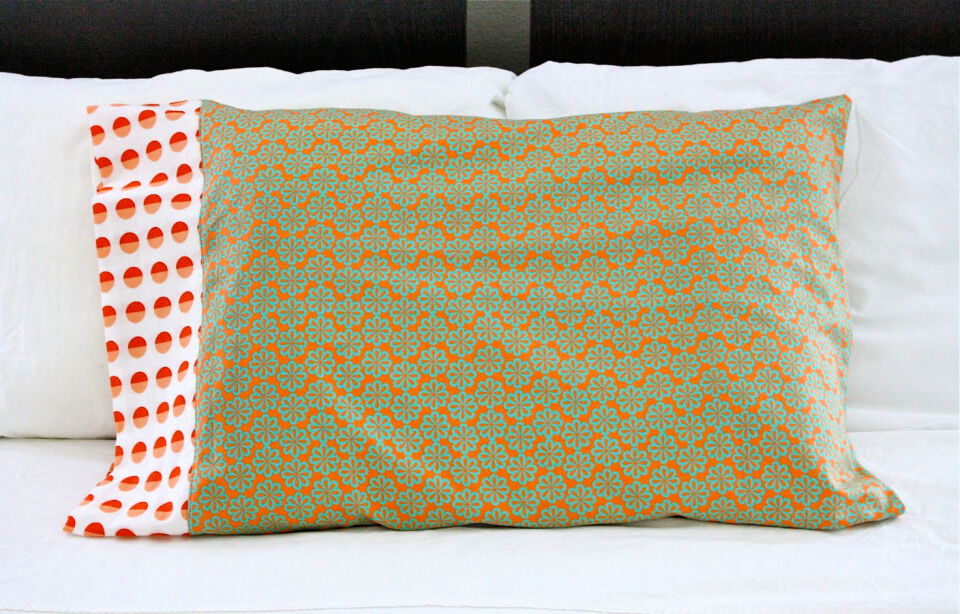 Get the comfy joy with DIY pillowcases, a perfect, simple, quick craft project suitable for kids and adults alike. Aided by an easy-to-follow tutorial, you'll breathe new life into fabrics with fun and vibrant designs for children facing serious health issues. These handmade pillowcases can make a difference, bringing smiles to children who need them most.
Starting with just two pieces of fabric, this guide will instruct you through each step, from cutting your rectangles to sewing your pieces together. You'll learn to add unique borders and make professional seams to ensure durability.
Plus, you'll get tips on how to make the most of your fabric scraps, making this project not only fulfilling but also eco-friendly. Make more than just a pillowcase – make a difference today with our engaging, helpful, easy-to-follow guide. Turn your creativity into comfort and color for those who need it most. madeeveryday
8. Simple Pillowcase Pattern for Beginners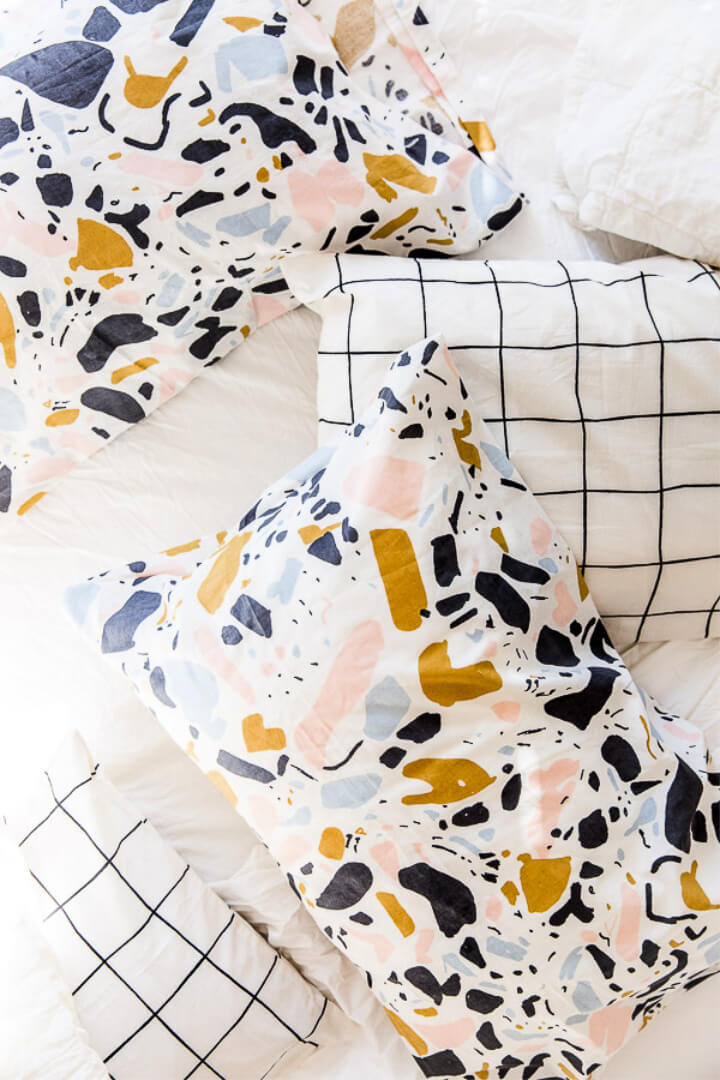 Sew your personalized pillowcase and refresh your bedroom ambiance using any fabric with this DIY project. Involving simple steps, this is a perfect endeavor to bring your design to life. It allows you to alternate between linen, cotton, or jersey materials. It all starts with fabric selection, possibly re-purposing something unexpected, like a shower curtain, into a stunning pillowcase.
With just 1-2 yards of fabric, a sewing machine, an iron, straight pins, thread, and scissors, you can craft a pillowcase that fits your standard, queen, or king-sized pillows. This straightforward task is not just ideal for personal use, but it's also a splendid gift idea for loved ones.
It's an enjoyable sewing experience, inviting a touch of personality into your living space and a fabulous opportunity to manifest your creativity. Make your pillowcase and experience the fun of a simple, quick sewing project today! papernstitch
9. Make Your Own Pillow Case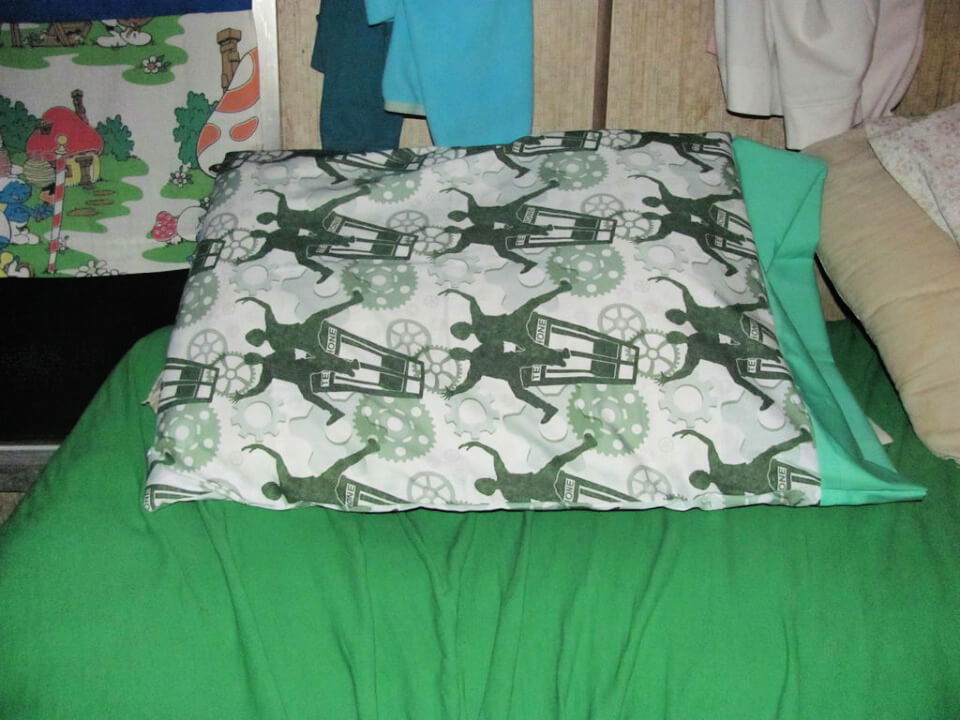 Revitalize your living space with a simple, homemade pillowcase! Even with minimal sewing skills, this DIY project is a breeze, involving just straight lines. Essential supplies include scissors, a ruler, thread, and fabric—about a yard for the main body and a quarter yard for accenting.
The process is straightforward: make a pattern, cut the fabric, pin it together, sew, hem the opening, pin the panels, sew around them, and voila! Your custom pillowcase is ready. This easy-to-follow guide makes it possible to introduce a personal touch to your decor, adding charm and comfort with ease. instructables
10. DIY Pillowcase With French Seams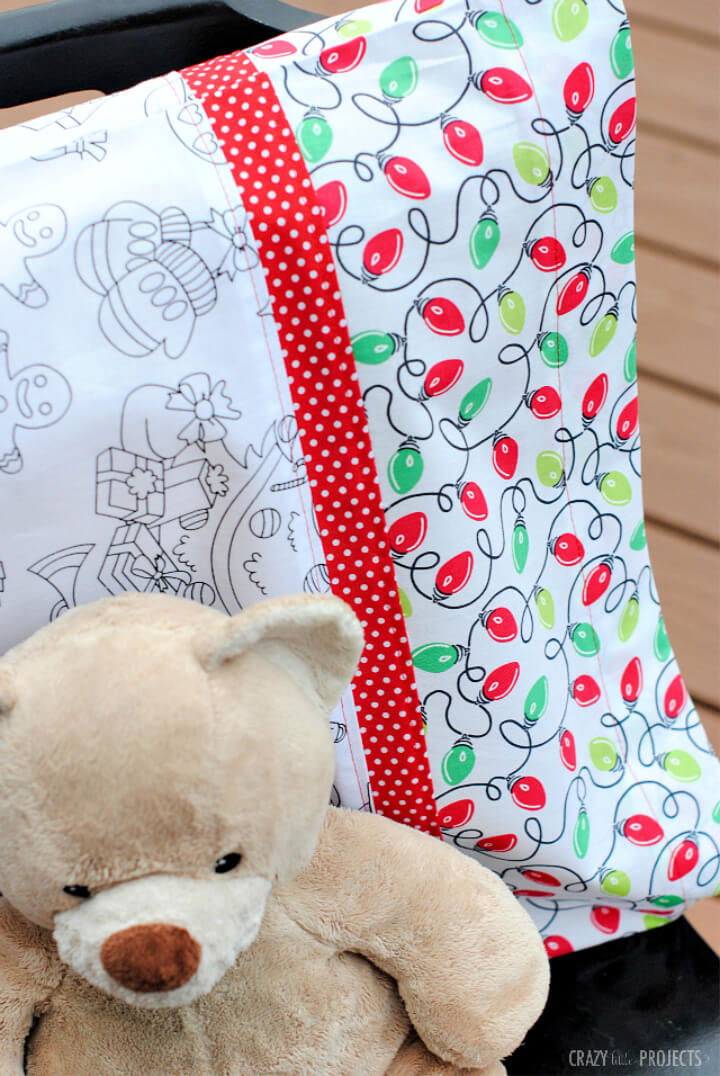 Are you looking to make a unique, festive, practical, and enjoyable piece? This straightforward DIY tutorial teaches how to sew a pillowcase in less than 30 minutes! This project doesn't just produce an adorable Christmas pillowcase and offers an entertaining activity – you can color the pillowcase, providing countless hours of fun for you and the kids.
This tutorial offers instructions on incorporating French seams into the design, giving the pillow a polished look. If you're not up to it, basic seams will also suffice. Either way, the outcome will be fantastic. Don't restrict yourself to the holiday season; this tutorial can be used with any fabric throughout the year.
Sewing and coloring your pillowcase enhance your crafting skills and provides an engaging and creative activity. Ready to transform your living space with this Christmas pillowcase tutorial? Sew, color, and enjoy! crazylittleprojects
11. How to Sew an Envelope Pillowcase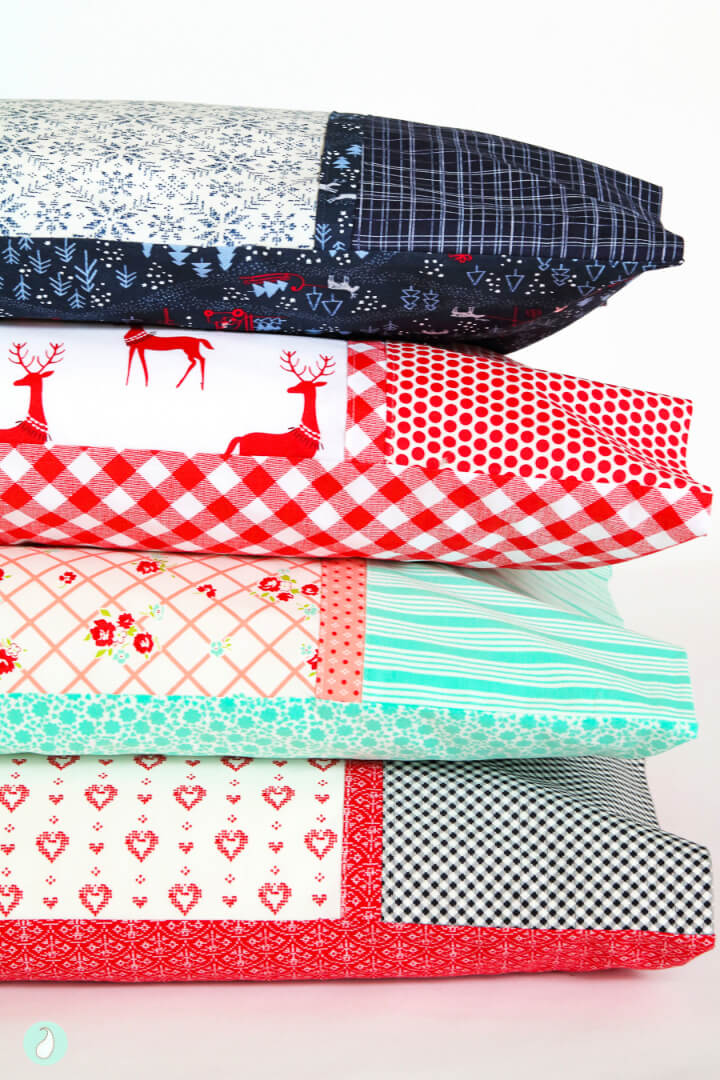 Add a personal tinge to your home decor or gift-giving with a DIY pillowcase! Master the art of pillowcase making with this comprehensive guide that ensures a snug fit for your pillows, preventing them from peeking out. The handmade pillowcase is a delightful combination of practicality and charm.
From choosing and washing your fabric to cutting and sewing, the process is outlined with precision. The guide involves making a pillowcase front with an accent strip, a back, and a cuff, all combined with careful stitching to make an envelope enclosure.
The finished size is approximately 18 X 29 inches, which can be easily altered to fit any pillow. Time to breathe new life into your bedding or present someone with a heartfelt gift! aquapaisleystudio
12. Free Pillowcase Sewing Pattern for Beginners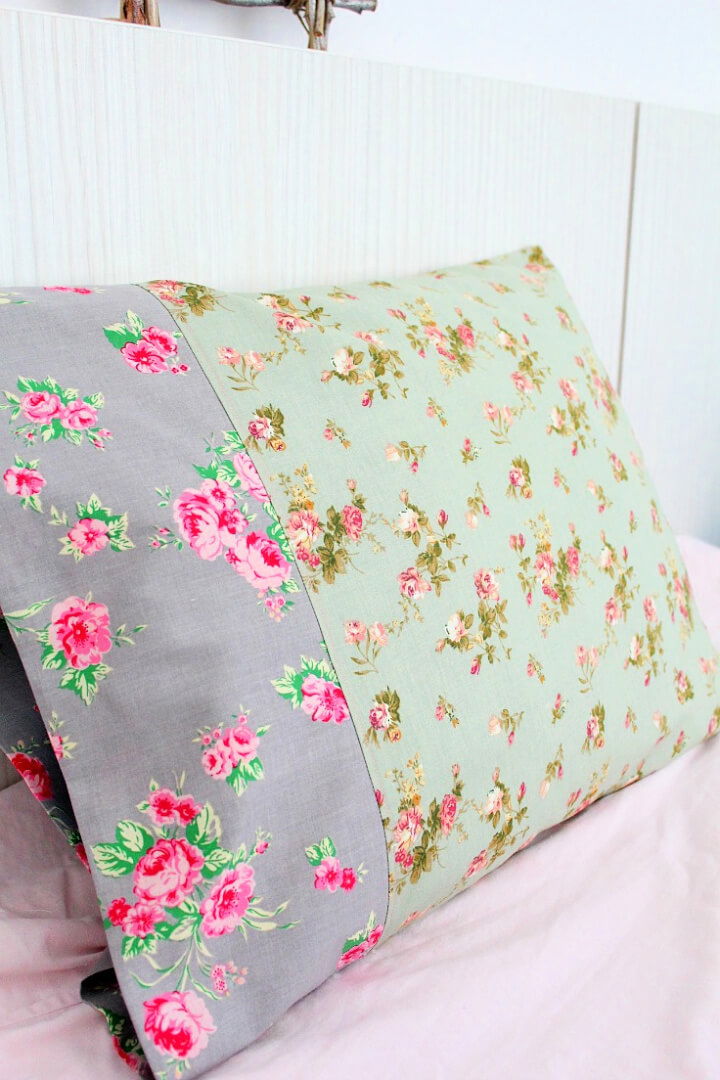 Immerse yourself in the delightful sewing art by crafting your pillowcase with this user-friendly DIY tutorial. Suited for all, this guide simplifies the creation process, making it an enjoyable activity. The final product – is a customized pillowcase that can serve as a personal treat or a thoughtful gift.
This tutorial will direct you on sewing a basic pillowcase and inspire you to utilize your fabric scraps creatively, making it a perfect home décor project. Imagine the fun you'll have to mix and match colors and patterns for every season.
This simple sewing project is a fabulous way to add a personalized flair to your living space. With helpful tips, measurements, and fabric suggestions included, you'll be crafting a unique, comfy pillowcase in no time. So, gear up for an exciting sewing adventure and get started on your very own pillowcase. Happy sewing! theseamanmom
13. DIY Dinosaur Pillowcase for Kids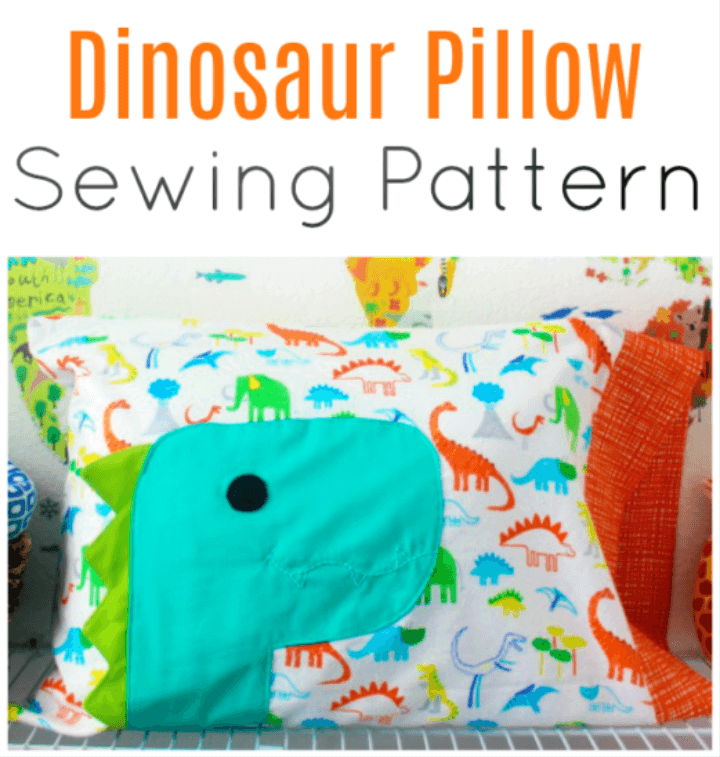 Discover the thrill of crafting your dinosaur pillowcase with the free pattern available in travel, kid, and standard sizes. Your little ones will adore this custom creation, perfect for those who are buffs of all things prehistoric. The pattern features a delightful T-Rex design and a playful 3D element with the dinosaur's spikes.
You'll need just a few materials, including flannel for the main pillowcase, calico and broadcloth for the band and dinosaur appliqué, and sewing essentials.
The straightforward, step-by-step DIY guide promises a swift completion time of around one hour, making it an ideal project even for those new to sewing. Infuse your child's room with personality and spark their imagination by making this charming dinosaur pillowcase today. gluesticks
14. DIY Pillowcases for Every Bed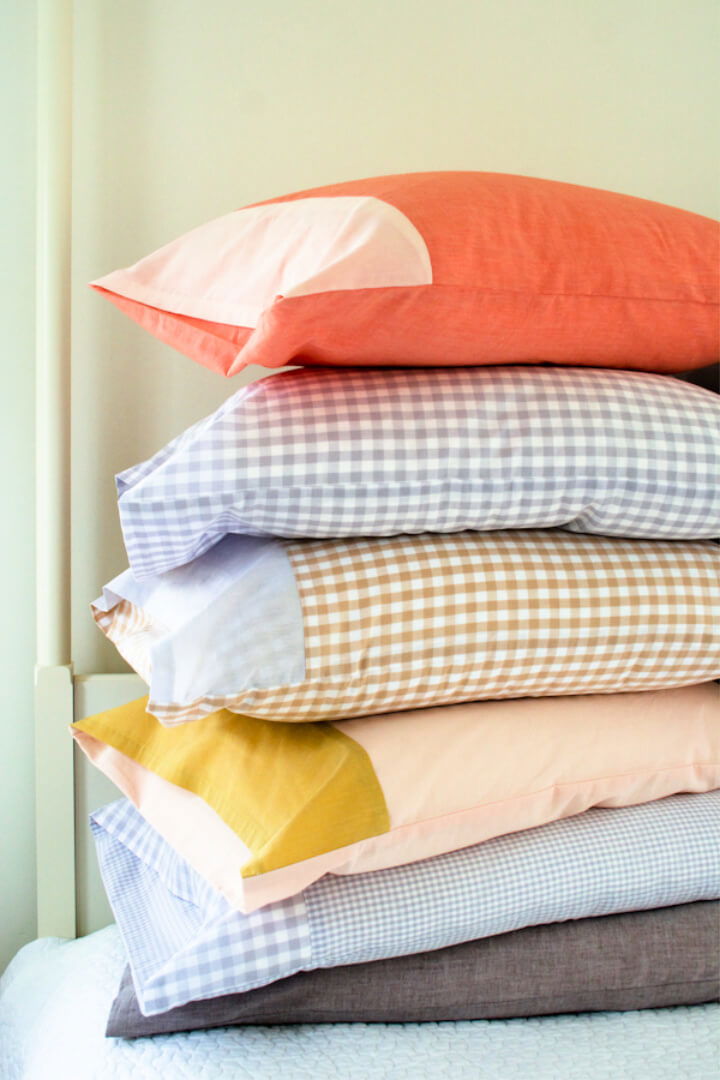 Whether you want to spruce up your bedroom or give a handmade gift, these free pillowcase patterns will inspire you. Find easy, fun, and creative ideas for all kinds of pillowcases. Experience the charm of homemade pillowcases with this step-by-step guide for sewing pillowcases in varying sizes, perfect for every bed in your house. You can tailor pillowcases with simple or contrasting edgings to your preferences using light to mid-weight cotton fabrics.
This rewarding project requires only cotton fabrics, coordinating thread, and your sewing machine. With this guide, you'll discover the joy of making a functional, decorative piece that sprues up your bedrooms and makes for a thoughtful gift.
The detailed instructions and your creativity ensure that each pillowcase will reflect your style. No matter how many you create, this DIY pillowcase project promises a delightful sewing experience. purlsoho
15. Sewing a Color Block Pillow With a Twist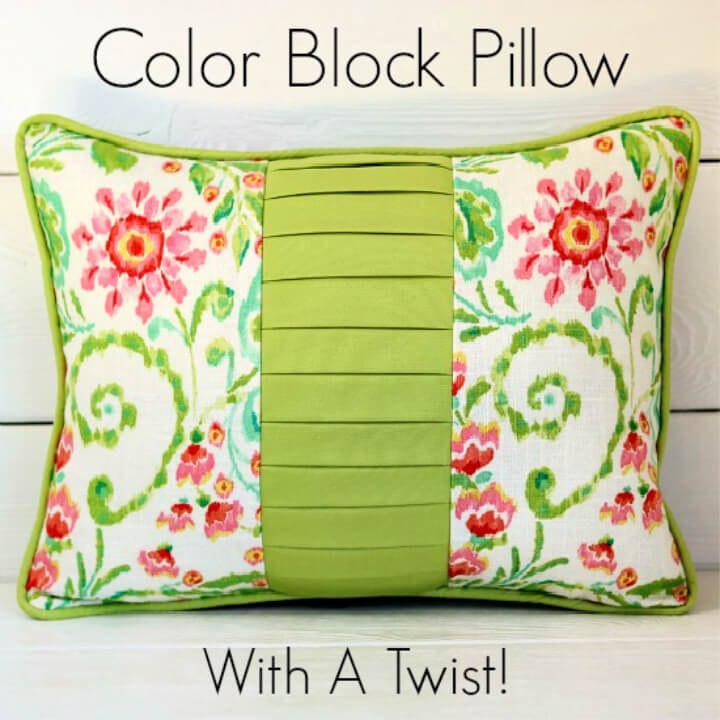 Bring a vibrant accent to your living space with a DIY color block pillow, brilliantly designed to give a twist to your interior decor. This unique pillow utilizes a variety of fabrics, making it a fun project for those cherished fabric scraps you have lying around. The real charm of this design lies in the knife-pleated middle section, adding depth and intricacy to the pillow, while the back remains plain for a reversible option.
Materials required include at least two different types of fabrics, a pillow form, and a fabric stabilizer to secure the pleated section. The design's flexibility allows you to personalize according to the size of your pillow and the fabric available.
This pillow can transform the aesthetics of any room, making it a fun crafting project that offers both functionality and creativity. Enjoy the process and witness the transformation of your room's look with your newly made color block pillow! so sew easy
16. How to Make Outdoor Pillow Covers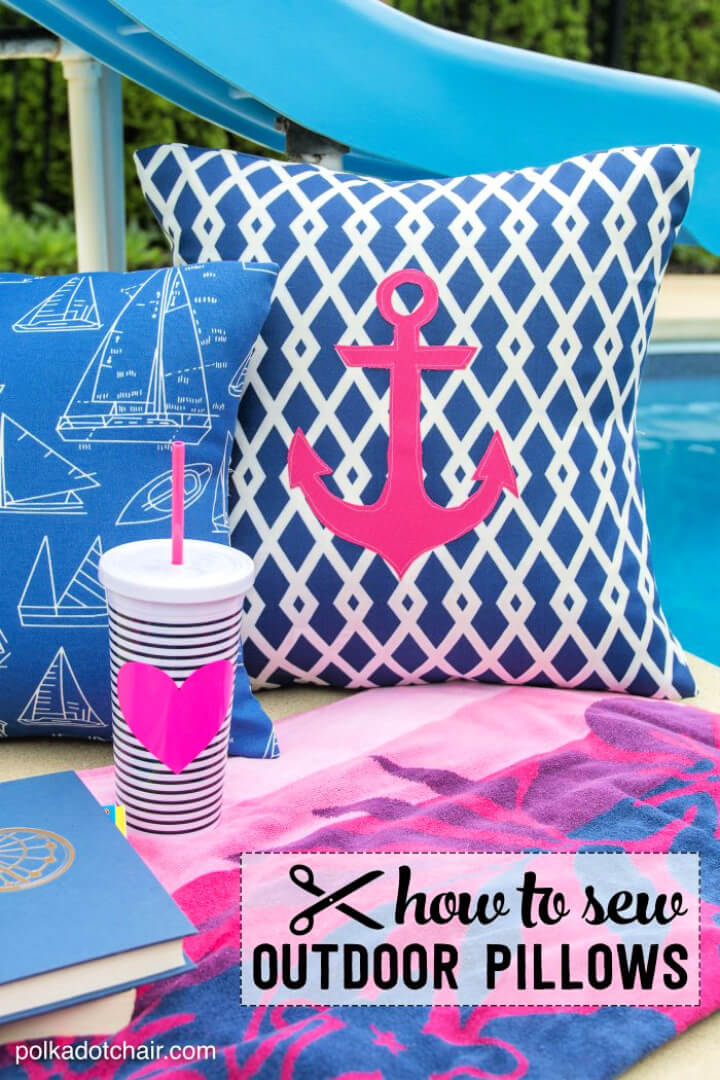 Revive your old, grimy outdoor pillows with this creative DIY outdoor pillow covers project. Instead of disposing of your worn-out cushions, you can save money and contribute to a sustainable lifestyle by recovering them.
These refurbished pillows provide a fresh appearance for your outdoor space and keep the spirit of summer alive. For this project, you'll need an old or new outdoor pillow form, outdoor fabric, paper-backed fusible web, ribbon, and an anchor template.
This guide is excellent for those who want to add a personal flair to their home decor, care for the environment, and uniquely showcase their creativity. Transform your outdoor space with these stylish and durable pillow covers, and enjoy your summer lounging in comfort and style. polkadotchair
17. French Seam Envelope Pillowcase Pattern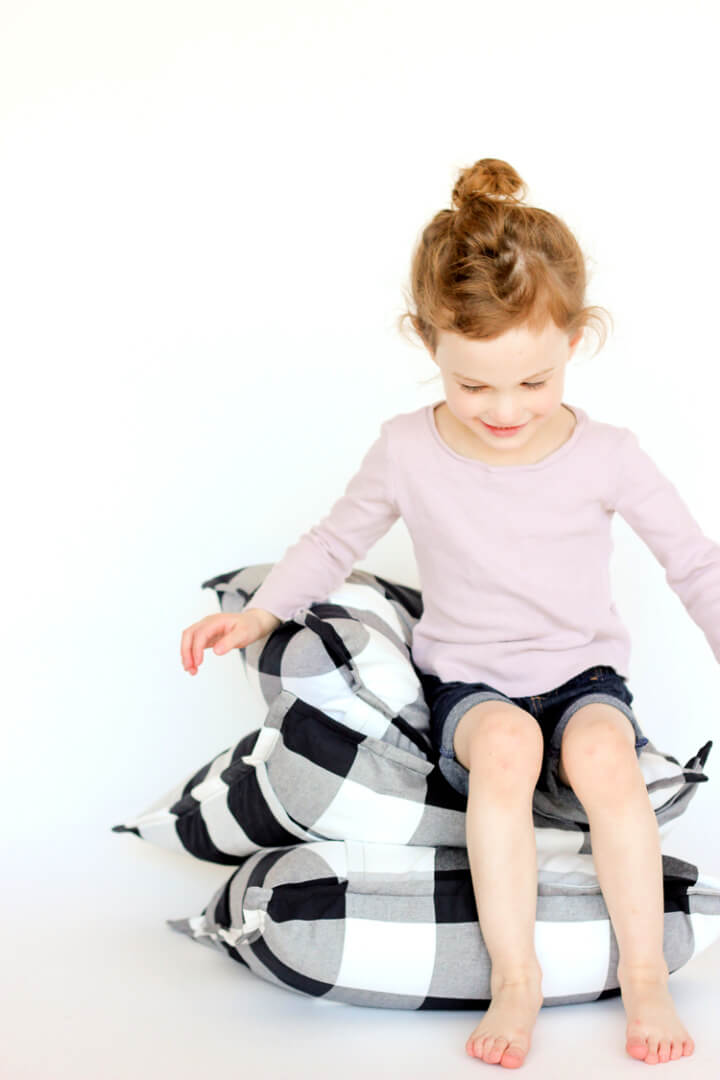 Free pillowcase patterns are a great way to use up your fabric stash and add some personality to your pillows. Browse through hundreds of patterns and tutorials for all skill levels. Bring a refined touch to your home with French seam detailed throw pillows. These decorative cushions elevate your living space's aesthetics and offer a delightful building block for your children's creative forts. Despite sounding rather luxurious, French seams are simply a method of sewing one seam to conceal another.
Interestingly, this technique leaves no raw edges, making it a streamlined and easier alternative to the basic envelope pillowcase. Transforming a simple 20-inch pillow form into an eye-catching decor element, the French seam detail adds an appealing border and texture.
Not to mention, its construction technique ingeniously conceals the raw edge of the initial seam. Opt for a solid-colored fabric for the back pieces to expedite the process and add a contrasting element to your pillow design. So if you spot it at your local IKEA, consider giving your living room or bedroom a chic uplift! deliacreates
18. How to Sew Fabric Camping Pillow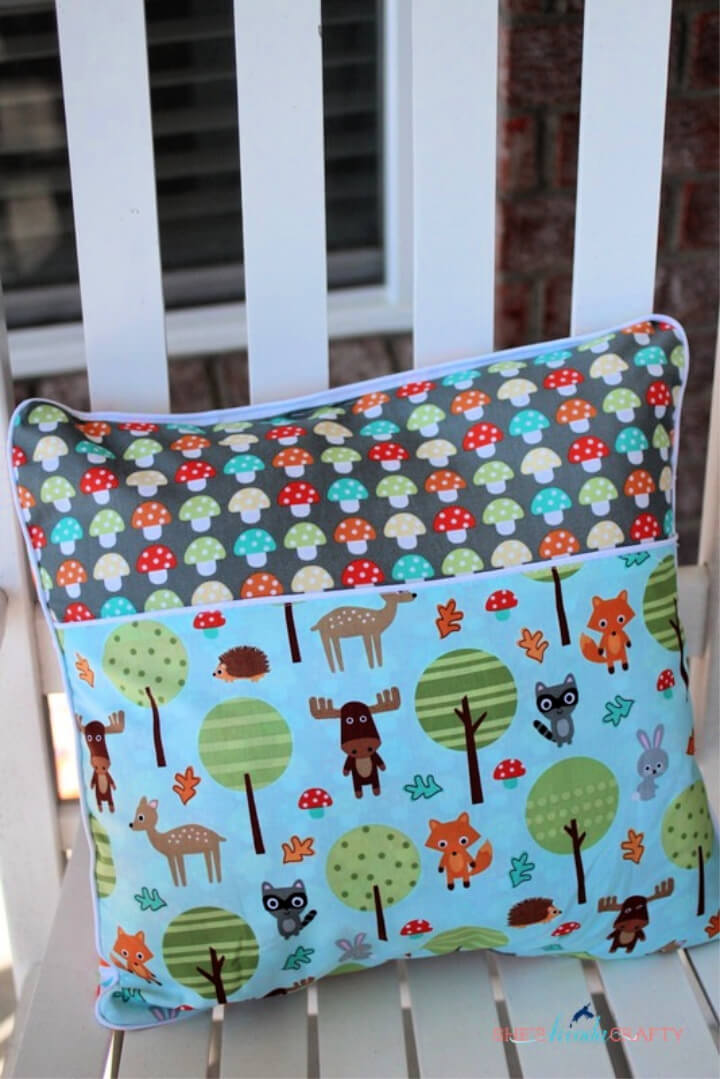 Undergo the joy of making with this engaging guide to crafting your camping pillow, perfect for road trips, sleepovers, or just lounging at home. This DIY tutorial utilizes exquisite Ann Kelle fabrics, although any material that sparks joy will work. Your chosen fabric, sewing essentials, and enthusiasm are all you need to begin.
This sewing project caters to your preferences – design it to match any pillow form size you have. Particularly suitable for sizes 18″x18″ or smaller, as you only need three fat quarters of fabric! Detailed instructions will direct you through the process.
The pocket is the fun element – an ideal storage spot for books, a flashlight, or small treats. These practical and pleasing pillows are an excellent gift idea, particularly if filled with thoughtful items. Engage in this relaxing craft and make your perfect camping pillow today. sheskindacrafty
19. Free Pocket Reading Pillow Sewing Pattern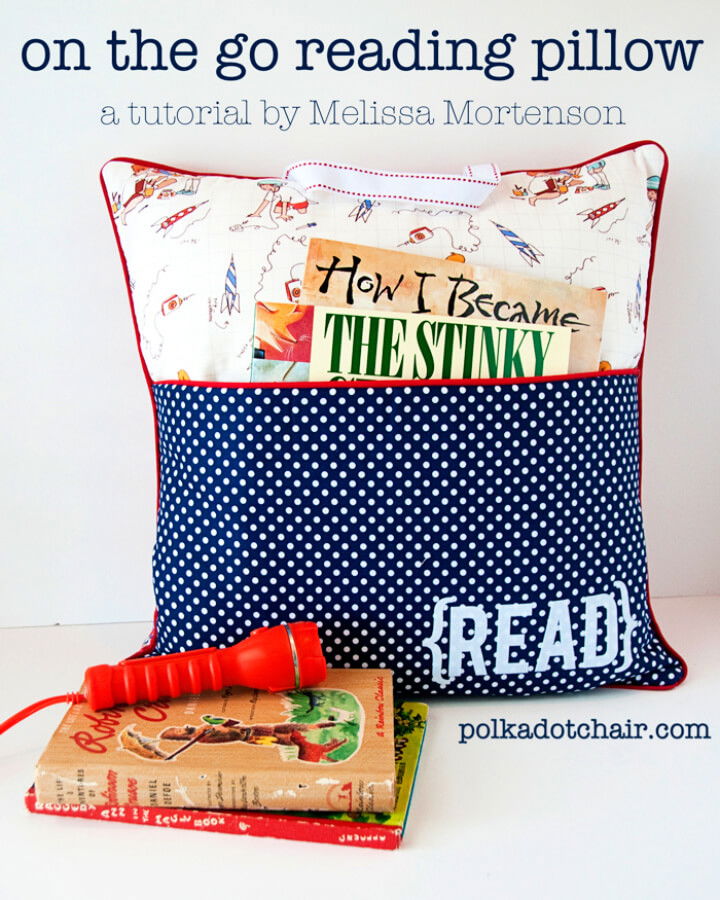 Introduce an element of joy and creativity to your children's summer with this on-the-go pocket reading pillow sewing tutorial. This project involves the creation of a multifunctional reading pillow that offers comfort and provides a handy storage pocket for books or treasures.
The pillow is constructed from easy-to-source materials such as fat quarters, ribbon, fusible fleece, piping, and an 18″ pillow form. This comprehensive guide provides step-by-step directions for making this charming item perfect for toting around the yard, the car, or anywhere your little one's adventures might lead.
This fun sewing project will add a splash of style to your home and encourages children to embrace the magic of reading. So, why not stitch up this special reading pillow today and make your child's summer reading sessions cozy and delightful? polkadotchair
20. DIY Embroidered Tassel Pillowcase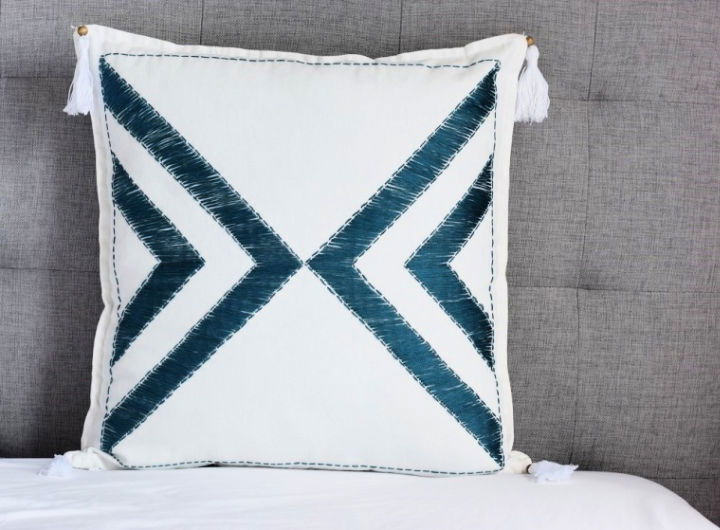 Exalt your living space with a DIY embroidered tassel pillowcase. This project invites creativity, offering the opportunity to make a unique, reusable, and washable pillow case, ideal for those seeking a distinct look in home decor.
Utilizing a simple white pillowcase from IKEA, a generous amount of embroidery thread, and some basic crafting tools, this project invites you to hand embroider a charming turquoise pattern and add tassels to the corners of the pillowcase.
This pillowcase can be completed at leisure, a cost-effective alternative to store-bought pillows, bringing personalized beauty to your home. Be prepared to invest time crafting this unique piece, reflecting your taste and style. bunnybaubles
21. How to Sew Hexie Pillowcase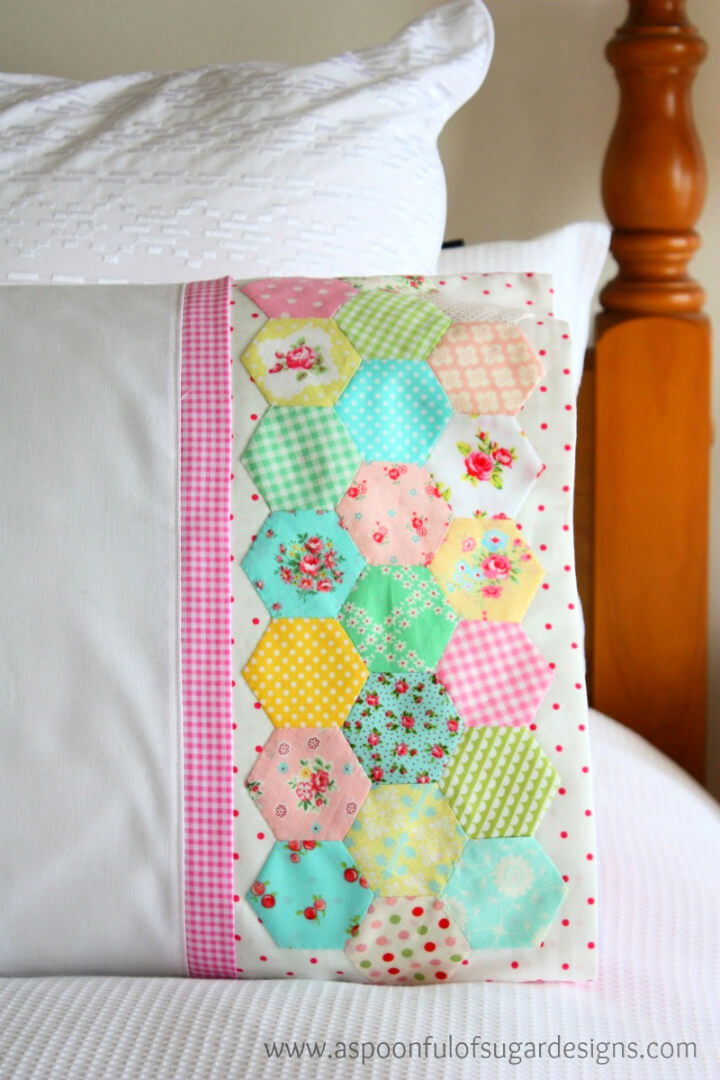 Delight in a craft-filled weekend with the DIY Hexie pillowcase project, ideal for those searching for a charming and creative scrap buster activity. Seamlessly merging vibrant hues of pink, blue, yellow, and green in delightful florals, ginghams, and polka dots, the hexies offer an old-world charm to your pillowcase.
This pillowcase is not just a wonderful addition to an iron bed adorned with a matching quilt but also serves as a thoughtful Christmas gift. The project entails hand-stitching 22 hexes onto the pillowcase cuff, measuring 28 1/2 x 18 1/2 inches to fit a standard Australian pillow.
Materials required include Hexagon papers, assorted fabric scraps, and specific dimensions of pink polka dot, gingham fabric, and white homespun. Incorporate a personal touch into your home decor with the Hexie pillowcase! aspoonfulofsugar
22. Quick and Easy DIY Pillowcase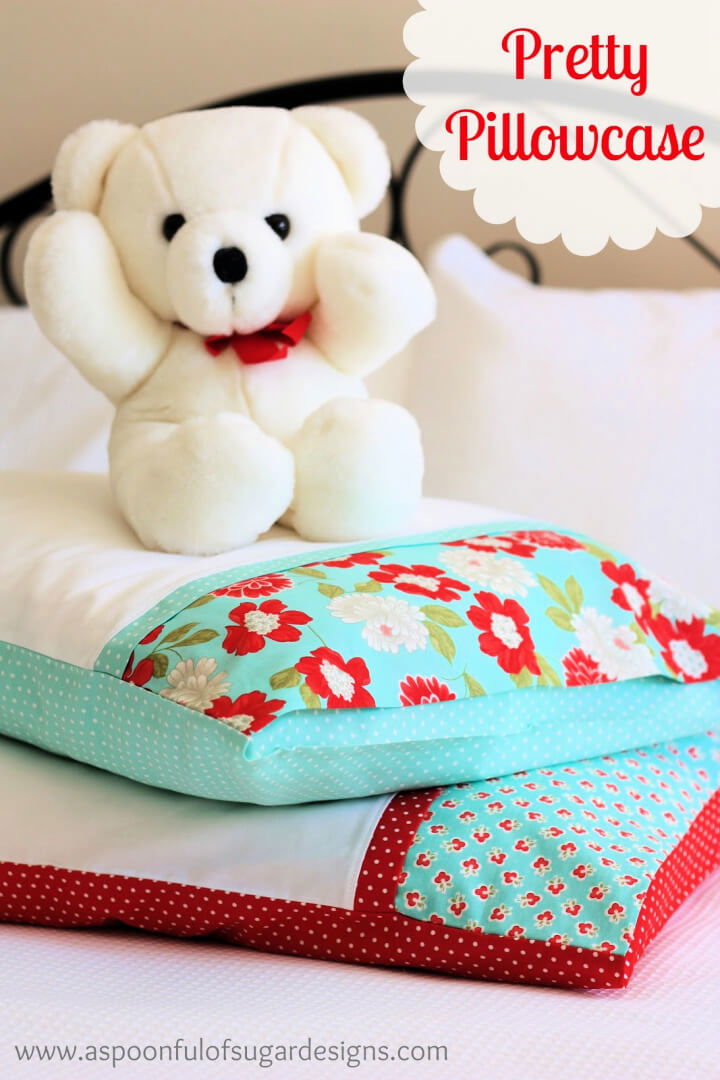 Nothing beats the feeling of sleeping on a fresh pillowcase. With these free pillowcase patterns, you can make your own pillowcases in any style, color, or fabric you like. Revamp your guest room with the charming touch of homemade pillowcases! Handcrafted from a mix of florals and polka dot fabrics from the Vintage Modern range, these pillowcases add a warm and welcoming vibe to your space. The white base with a double-thickness cuff in contrasting patterns conceals the pillow and presents an aesthetically pleasing look.
A joy to sew, these pillowcases offer an opportunity to weave a colorful range of bed linen and can also make delightful Christmas gifts. Moreover, involving children in the process can turn it into an interesting sewing project, instilling a sense of pride and accomplishment in them.
The finished pillowcase size is tailored to fit a standard Australian pillow but can be adjusted to other sizes. Boost the homely appeal of your guest room with these easy-to-make pillowcases! aspoonfulofsugar
23. Giant Pocket Pillow Sewing Pattern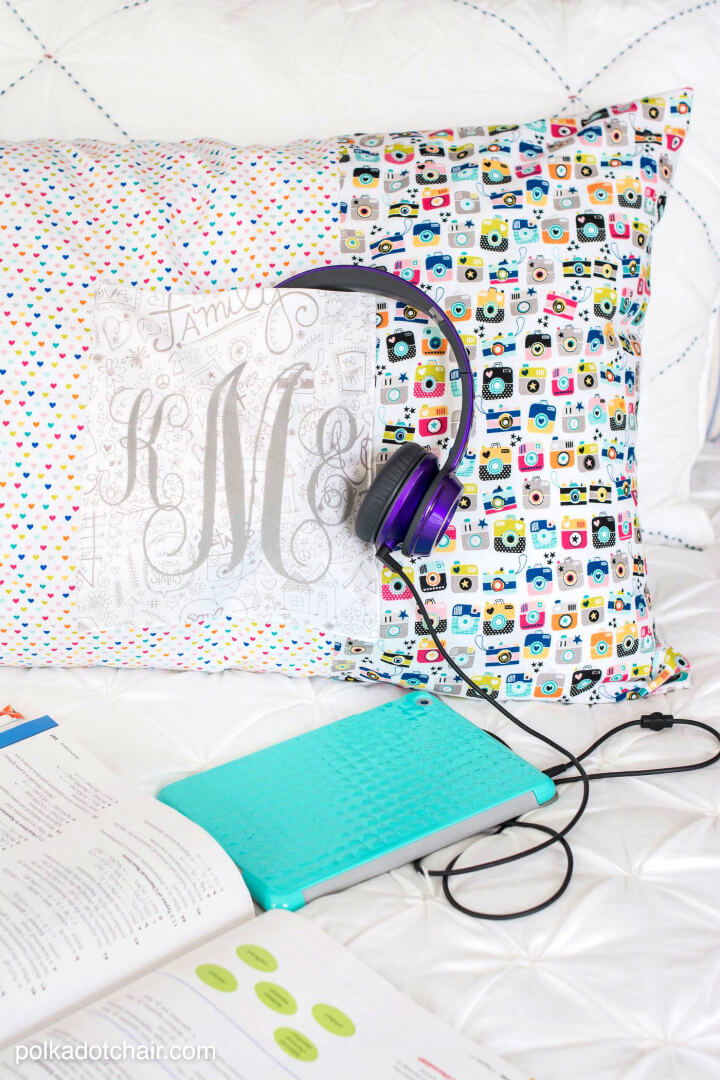 Get the charm of personalized comfort with a DIY giant pocket pillow featuring a design that caters specifically to modern teenagers' needs. This sewing project adds style to a regular body pillow and provides practical value, thanks to its zippered back and handy pocket for gadgets or books.
You only need three fabric prints, an 18″ zipper, a body pillow form, and optional iron-on letters. In about an hour, you can turn this combination of supplies into an attractive, cozy addition to a college dorm room or home bedroom.
Engage your creativity and transform your boring body pillow into a statement piece that is as unique as you. This project offers a fantastic venture into making personalized comfort items. Be ready to transform your space with a touch of creativity and a lot of comfort! polkadotchair
24. How to Sew Shag Pillow – Free Pattern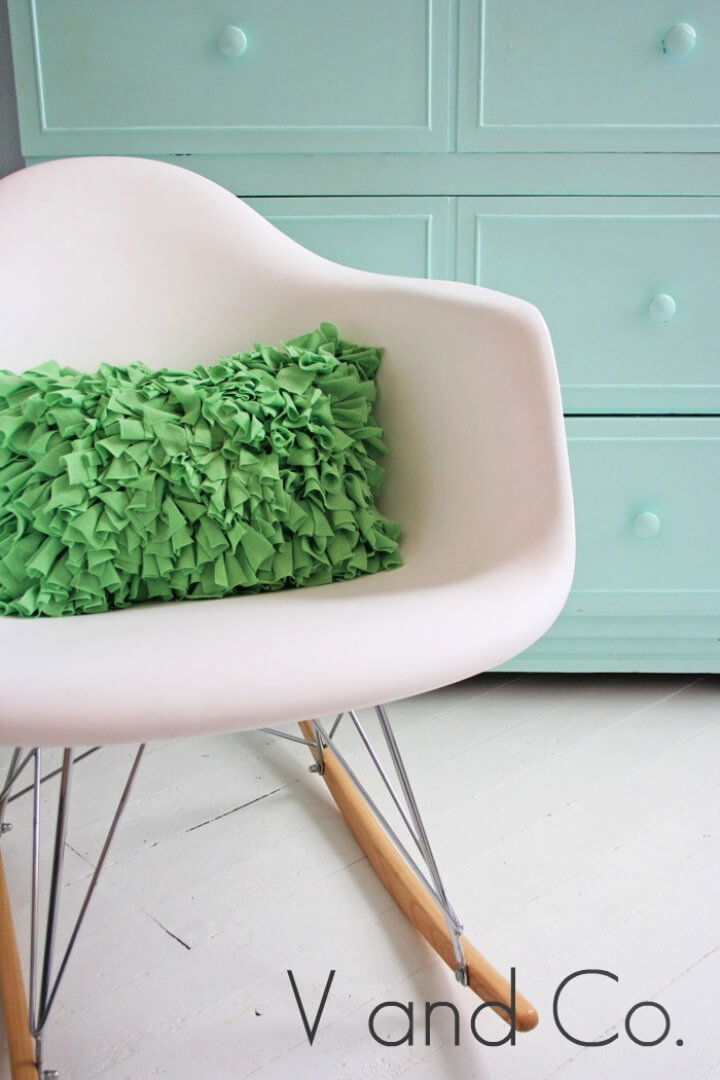 Unearth the joy of crafting with this hands-on tutorial on making a unique jersey fabric pillow. Using only a yard of jersey fabric, two squares of cotton fabric, and a pair of handy scissors, you can bring a pop of color and comfort into your living space. Inspired by the lingering winter, this project boasts a vibrant green design, resembling a 'grassy knoll' that adds a splash of spring to any room.
The process involves cutting and sewing small strips of fabric onto a cotton base, resulting in a fuzzy, textured, stylish, and cozy appearance. Notably forgiving, this DIY project allows for minor variations in the placement of the strips, offering you the liberty to make it your truth.
The pillow is a practical addition to any sofa or bed and doubles as an interesting textured play surface for small toys. Embrace your creativity and make this unique, tactile pillow today. vanessachristen
25. Sewing a Pillowcase Set in 30 Minutes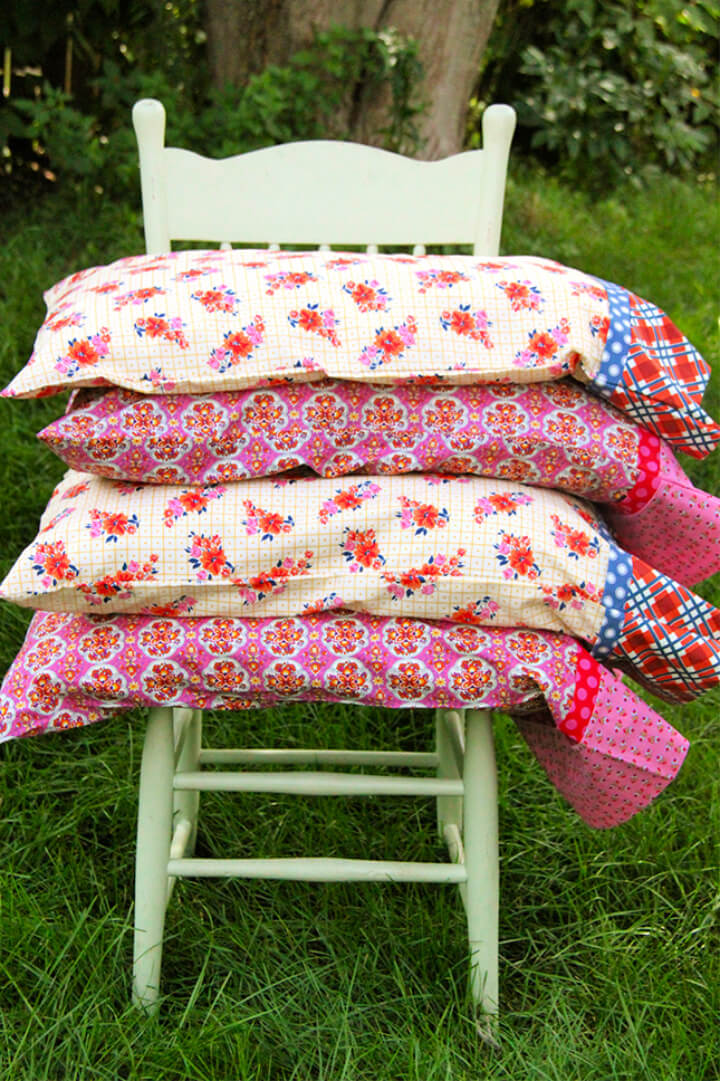 You don't need to spend a lot of money to get beautiful pillowcases. These free pillowcase patterns will show you how to make pillowcases that are cozy, cute, and unique. Transform your bedroom with beautiful pillowcases made using French seams, giving them a polished and professional finish. In just 15 minutes per pillowcase, you can sew a set in under 30 minutes! This step-by-step tutorial guides you through making pillowcases with no exposed seams, resulting in a clean and polished look.
Use quilting cotton to add a vintage charm to your bedroom decor. With easy-to-follow instructions and minimal supplies, this sewing project is perfect for beginners and experienced crafters. Elevate your bedroom linens with these handmade, unique pillowcases. Get inspired and start your sewing project today! smashedpeasan
26. How to Make a Zippered Pillow Cover
Learn to make a pillow cover with a zipper in this beginner-friendly DIY tutorial. Discover the step-by-step process to make zippered pillowcase covers easily. You can get professional-looking results with the right materials, like home decor fabric, a sewing machine, and a zipper foot.
Follow the detailed instructions with photos and a video to make custom pillow covers. Enjoy the benefits of choosing your fabric and easily washing your pillow covers. Say goodbye to intimidating sewing projects and embrace your creativity with a zippered pillowcase! heytherehome
27. Free Fabric Pillow Sewing Pattern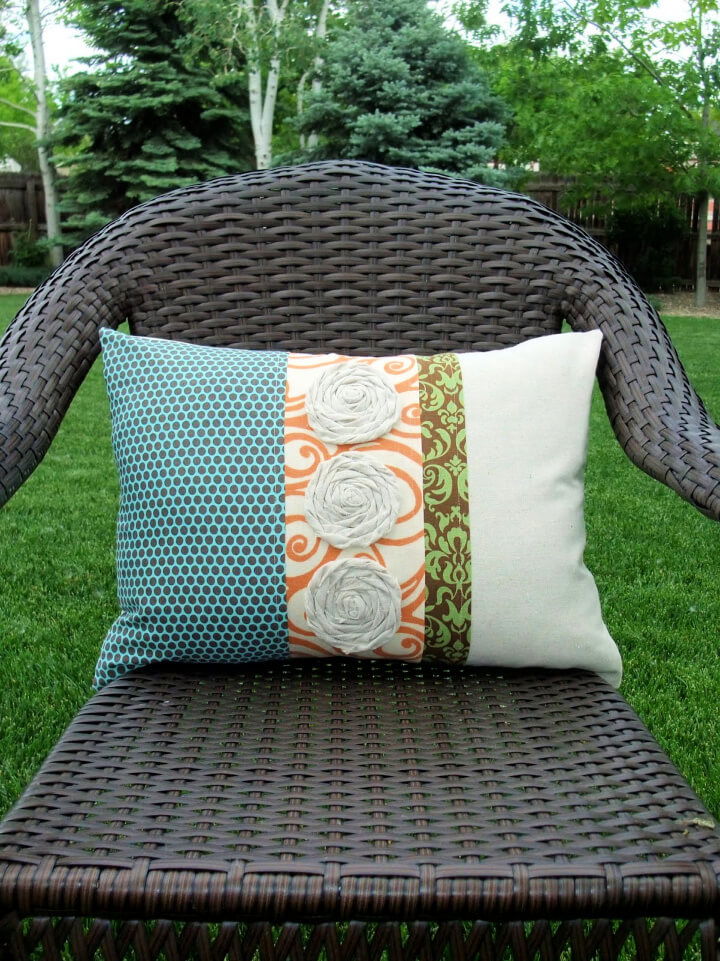 Looking for a creative and vibrant pillow pattern to enhance your living room decor? This tutorial presents a step-by-step guide on how to make a unique and stylish pillow using a combination of damask, swirls, polka dots, and floral fabrics.
With clear instructions and measurements provided, you'll learn basic sewing techniques while making a beautiful and sassy pillow. The tutorial includes fabric selection and flower-making tips, adding durability to your design.
This unconventional yet symmetrical pillow will be a standout piece in any room, with an envelope-style closure and a generous pillow insert. Get inspired and let your creativity shine with this fun sewing project. justanotherhangup
28. DIY Travel-Sized Pillowcase With Minky Edge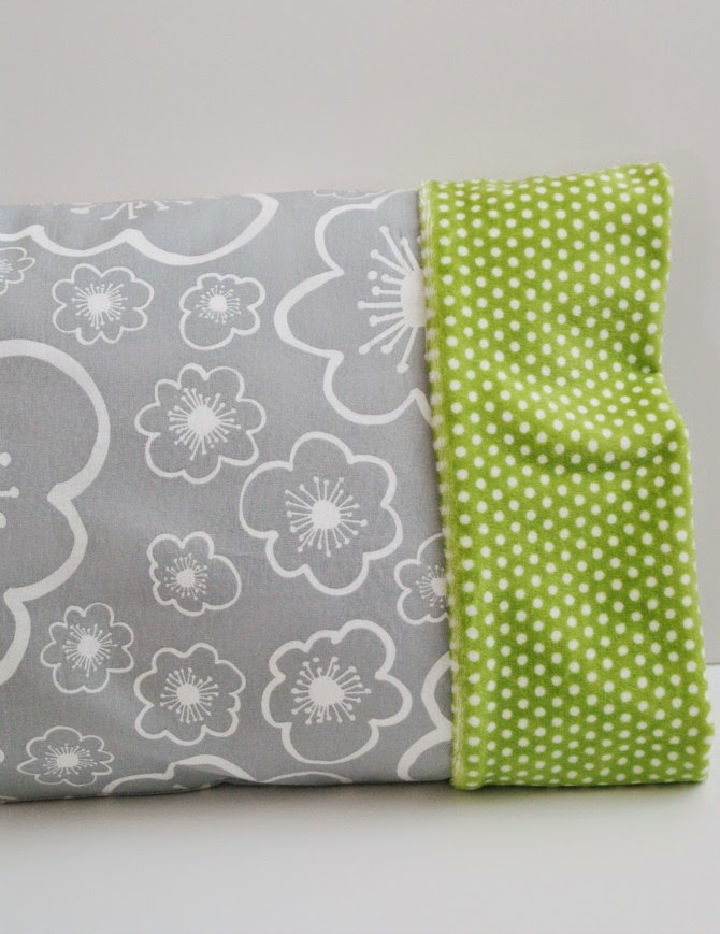 Snuggle up on the go with this DIY travel-sized pillowcase with a minky edge for ultimate softness and coziness! Learn how to make adorable pillowcases perfect for your family's summer adventures. These pillowcases are not only practical for packing, but they also add ease to your travels.
With step-by-step instructions and a simple sewing process, this tutorial will guide you through sewing these charming pillowcases. Discover how to choose the right materials, including soft minky fabric for a luxurious trim, and learn expert tips for sewing with minky.
Be ready to delight your family with these delightful travel companions that everyone will want. Follow along with this easy-to-follow tutorial and embrace the creativity of this unique project. makeit loveit
29. DIY Envelope Pillow Cover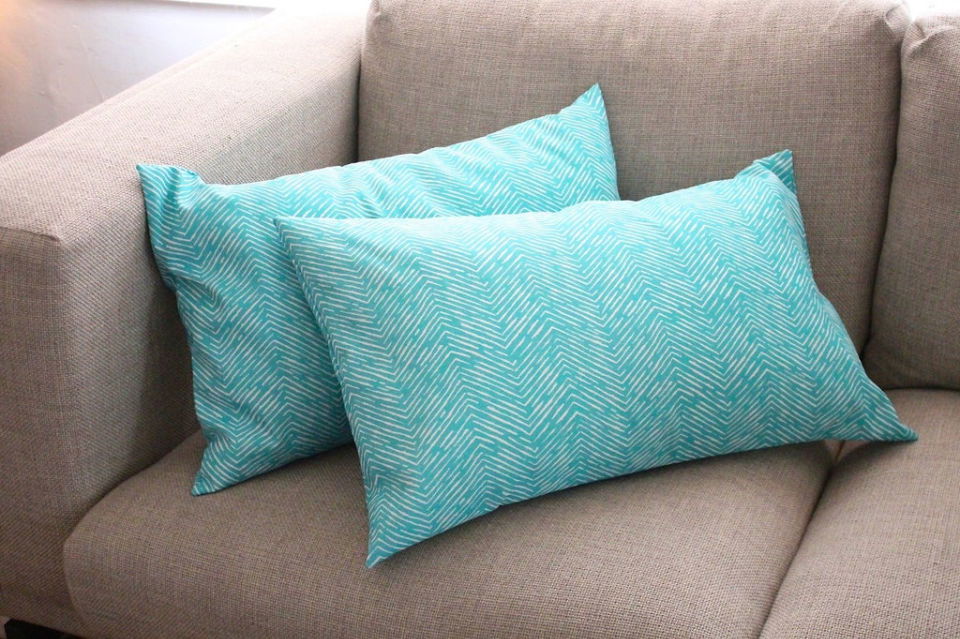 Put a personal flair on your home decor with this DIY envelope pillow cover – it's the perfect way to show off your style! Unleash the creativity to sew your envelope pillow covers with this easy-to-follow guide. Enhance the comfort and style of your couch by sewing custom pillow covers that fit perfectly and look amazing.
In just a few simple steps, you'll discover how to measure, cut, sew, and assemble your pillow cover, resulting in a washable and durable final product. Whether you're a novice or an experienced sewer, this creative tutorial will have you sewing envelope pillow covers in no time. Get ready to add a touch of personal flair to your home decor! instructables
30. How to Make a Striped Pillowcase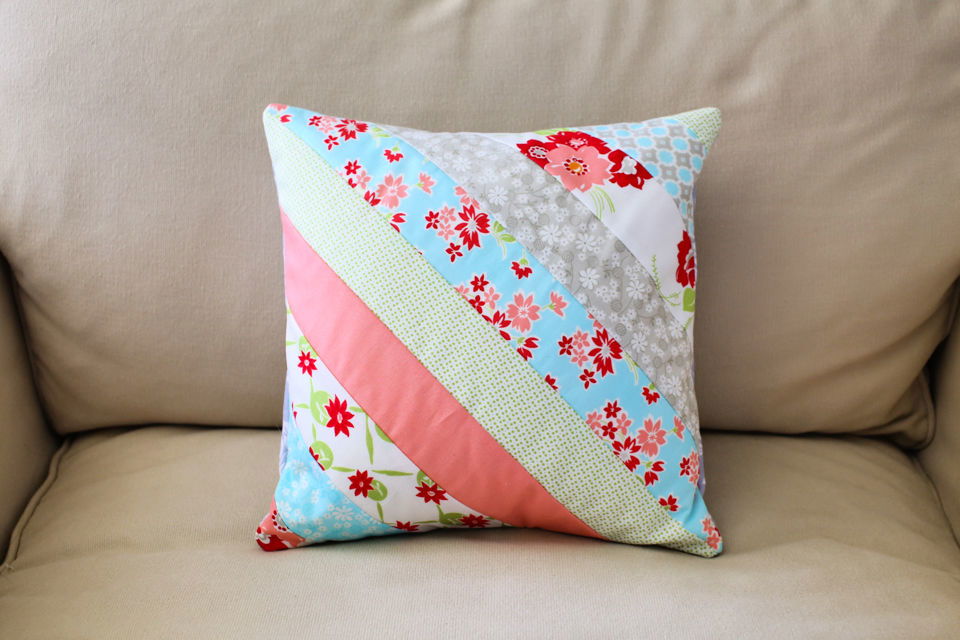 Spice up your living space with a homemade striped pillowcase – DIY has never been this easy! This step-by-step tutorial teaches how to sew a beautiful, unique, diagonally striped pillowcase. You can make a 12″ x 12″ pillowcase with an envelope closure style using jelly roll strips and basic sewing supplies. The tutorial provides the following:
Detailed instructions on preparing the fabric strips.
Attaching them at a 45-degree angle.
Adding batting for sturdiness.
The back of the pillowcase is created with bold printed fabric and additional batting. Follow the easy instructions to sew the front and back pieces together, and in no time, you'll have a stunning pillowcase ready to be stuffed with a pillow form. Get creative and enhance your home decor with this fun project. loganberry
Conclusion: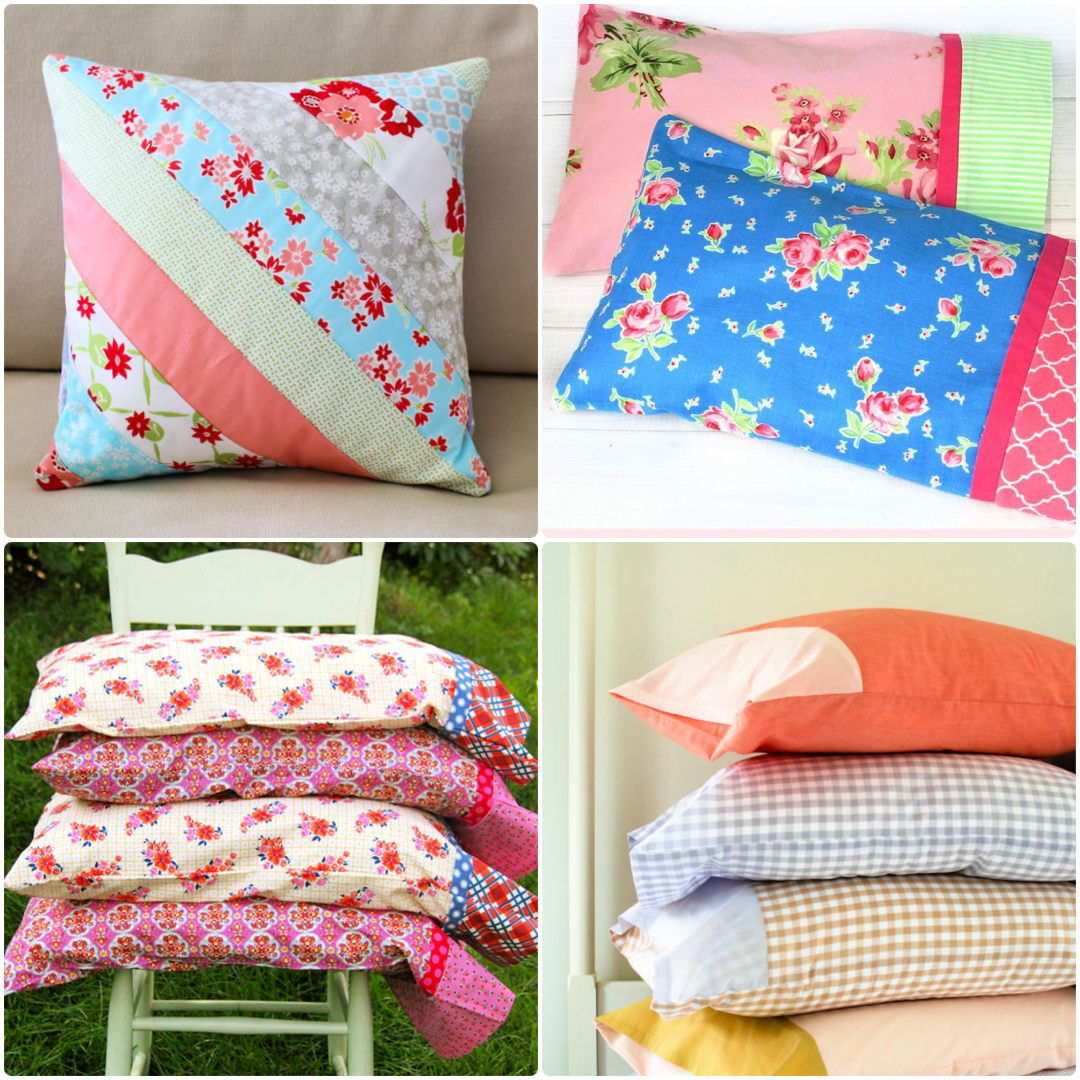 In conclusion, learning how to sew a pillowcase can be a fun and rewarding process with numerous sewing patterns available. With 30 free pillowcase patterns to choose from, you'll find options for all skill levels, including DIY designs for children and pillowcases with French seams. From making standard and king-sized pillowcases to making unique designs like hexie, embroidered, or outdoor pillow covers, embrace your creativity and expand your sewing abilities in the world of pillowcases.