Are you looking for a free crochet phone case pattern? Find these 20 free crochet phone case patterns with free instructions and downloadable PDF pattern. Creating your own crochet phone cases is now easier than ever. Crocheting your own cell phone case is a great way to add a personal touch to your phone. All you need is basic crochet supplies, and you can make your own stylish cases step by step. So don't wait – get creative with these 20 free crochet phone case patterns and make your perfect one today!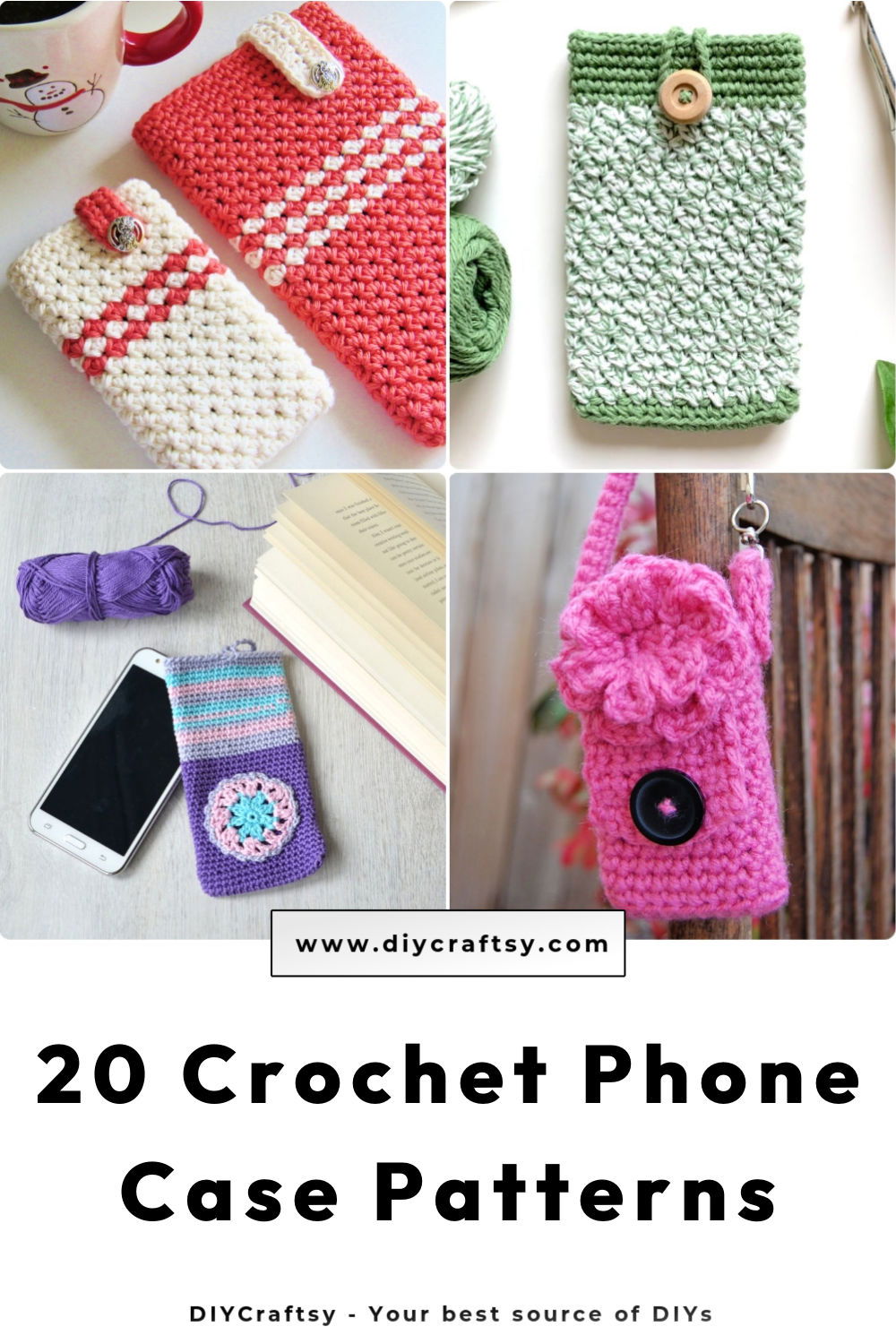 Free Crochet Phone Case Patterns
Looking for a unique way to protect and accessorize your phone? Adding a crocheted cell phone case is an easy, stylish way to customize your device. With these 20 free crochet phone case patterns, you can easily make protective cases that fit any device! Perfect for both novice and experienced crocheters alike, each crochet phone case pattern features step-by-step instructions and plenty of photos so you can easily follow along. From beachy mermaid scales to modern geometrics, we have a crocheted cell phone case for everyone!
Not only do these cases look great, but they also offer superior protection against bumps and scratches. Plus, some patterns even include straps or handles so you can carry your phone hands-free! Get creative with color combinations to make the perfect piece that best fits your style. So don't wait any longer. So let's get started on one of these beautiful DIY crochet phone cases today!
1. Free Crochet Shamrock Phone Cover Pattern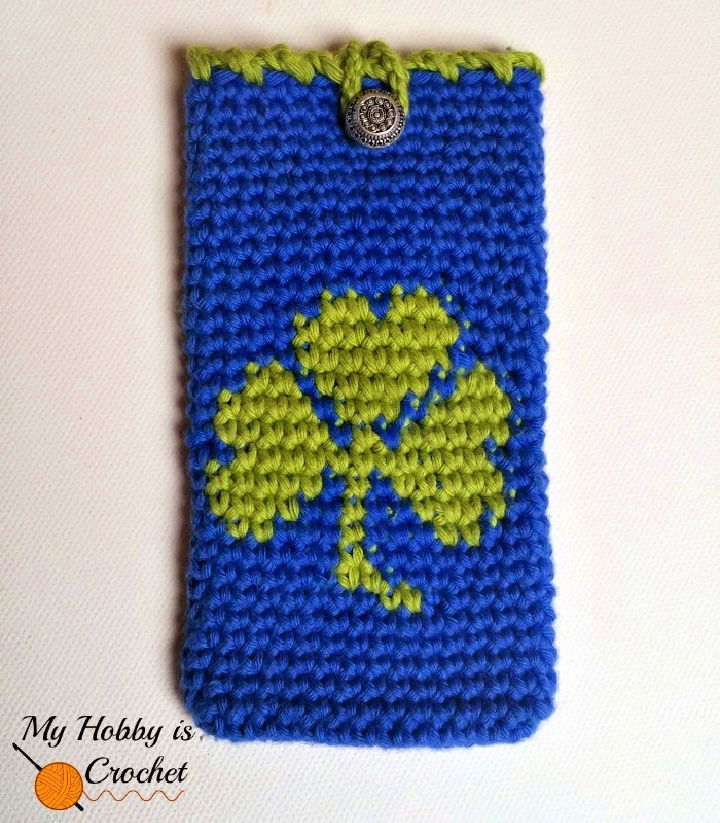 Make your own good luck charm with this free pattern for a tapestry crochet shamrock phone cover! With step-by-step written instructions and a graph, this project is perfect for the crochet beginner or experienced crafter. To complete the design, you'll need two colors of cotton DK yarn, a 3.5mm crochet hook, scissors, a needle and one button, and a stitch marker. Create an eye-catching phone cover all your friends will be jealous of! myhobbyiscrochet
2. Crochet Secret Pearl Phone Case Pattern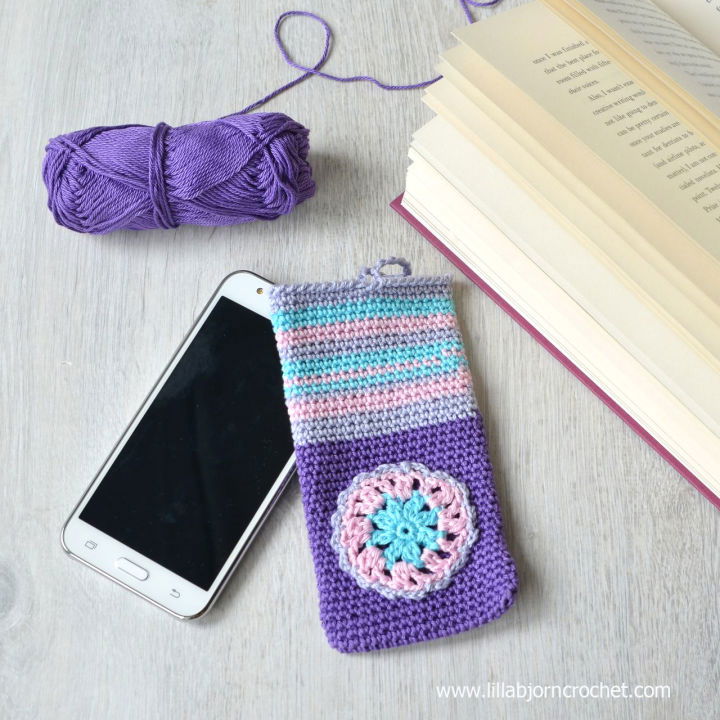 Create a unique and colorful phone or tablet cozy using this free pattern. Learn how to crochet the secret pearl phone cozy, with detailed instructions and all materials needed – yarn, scheepjes catona, hook size 2.75 mm (C), button, scissors & tapestry needle. Decorate your cozy with a small mandala for an extra special touch! Easy to follow, the pattern makes it perfect for beginners! So what are you waiting for? Start crocheting now and craft your beautiful phone or tablet cozy today! lillabjorncrochet
3. How to Crochet a Phone Cozy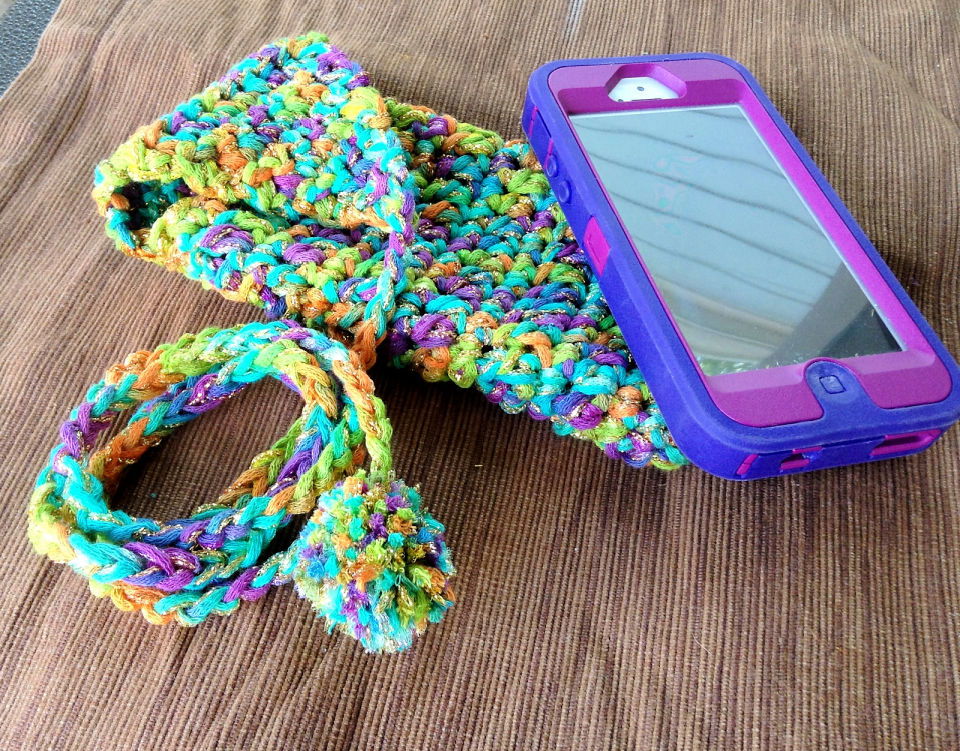 Learn how to make an adorable phone cozy with this easy crochet pattern! This awesome pattern is simple, with step-by-step instructions that will have you completing your custom smartphone cozy in no time. All you need are supplies like berroco Idol yarn, a 5.0 mm crochet hook, and a yarn needle. The size of your project is adjustable, so it can fit any phone or item you want to keep safe while looking stylish! Put those leftover balls of yarn from other projects to use and get started on the perfect DIY addition for all your essential items. sia studio
4. Free Crochet Mobile Pouches Pattern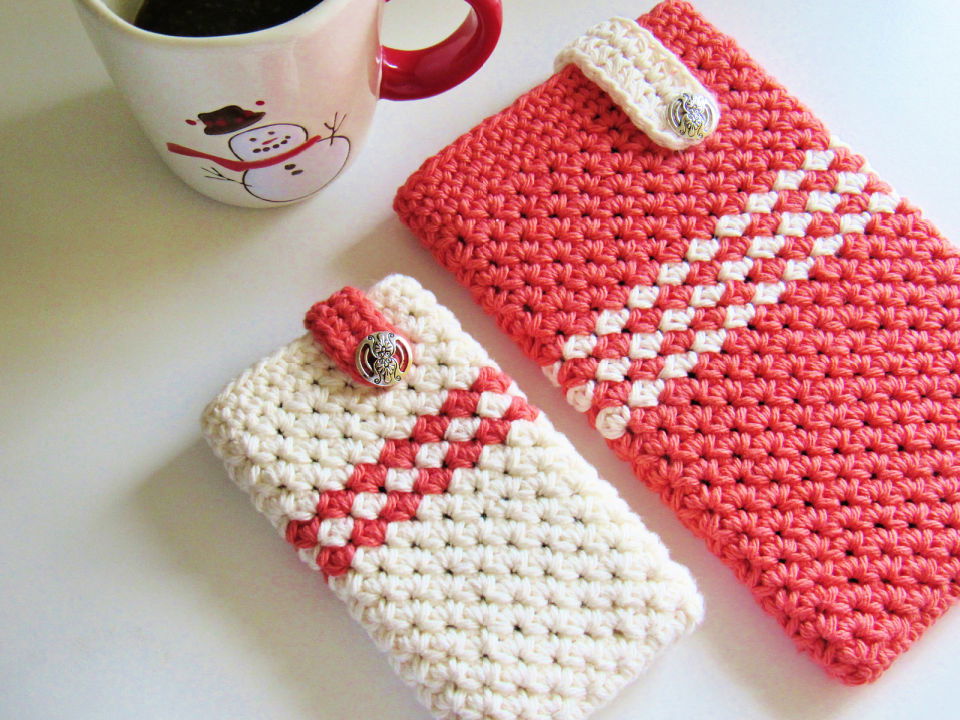 Gift your loved one this unique and stylish mobile device cozy or case made from crochet for the upcoming gifting season. Easily customize it to fit any android, iPhone, or iPad device. Made with Lily sugar n cream yarn, 100% cotton and gives great stitch definition, this free crochet pattern uses a simple variation of the single crochet that creates a star-stitch look. Complete the project by adding coordinating buttons to give your loved one's phone or tablet a personal touch! crochetdreamz
5. Easy Crochet Sage Phone Pouch Pattern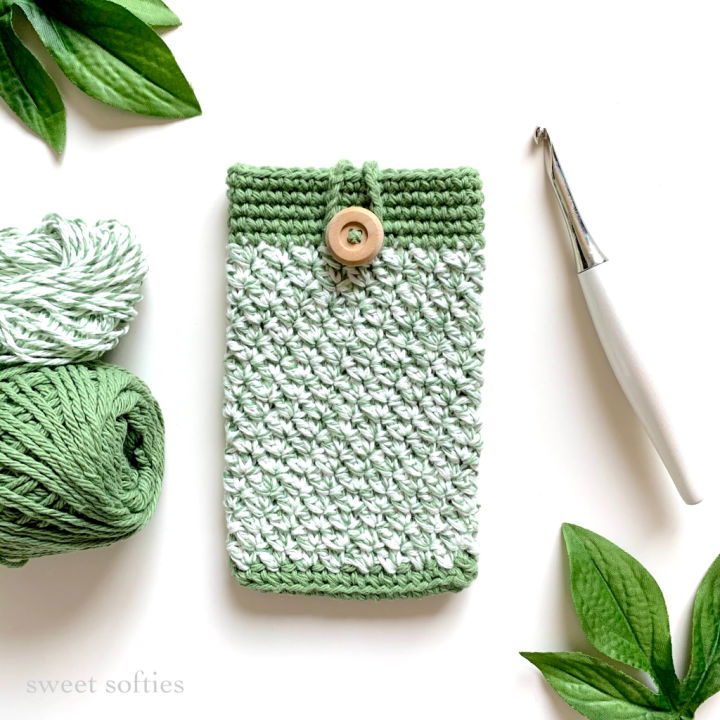 Looking for a crochet pattern that's perfect for beginners? Look no further than the sage phone pouch! This free pattern is quick and easy to make, with a simple yet stylish design featuring a button-secured strap. Customize it using different colors of yarn or fancy buttons to create your unique look. The pouch is ideal as a thank-you gift, birthday present, or craft fair item. You need some medium-weight yarn, a 5 mm crochet hook, a yarn needle, and scissors, and you're ready to go! Start crafting today with the sage phone pouch free crochet pattern! sweetsofties
6. How to Crochet Cell Phone Cover – Free Pattern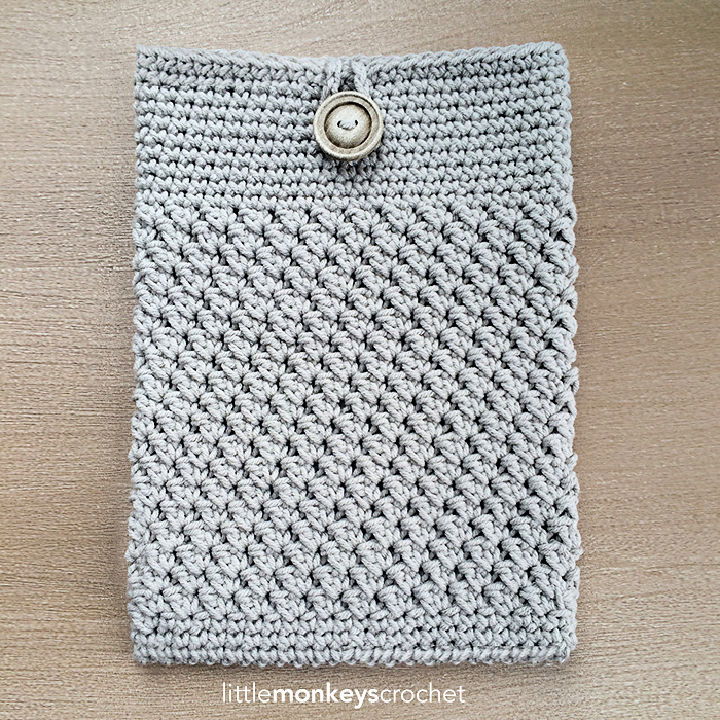 Protect your mobile device with this stylish and easy-to-make crochet cover! The pattern is designed to fit standard iPads, and it's worked in a continuous round, so there is no need to join or turn. All you need is a 5mm hook, some lion brand cotton ease yarn, one button, and a stitch marker. The finished size measures 7″ wide x 9.5″ tall – perfect for keeping your device safe while still looking chic! Plus, the pattern is available as an ad-free printable PDF. Get yours now! yarnandchai
7. Vintage-Style Phone Case Crochet Pattern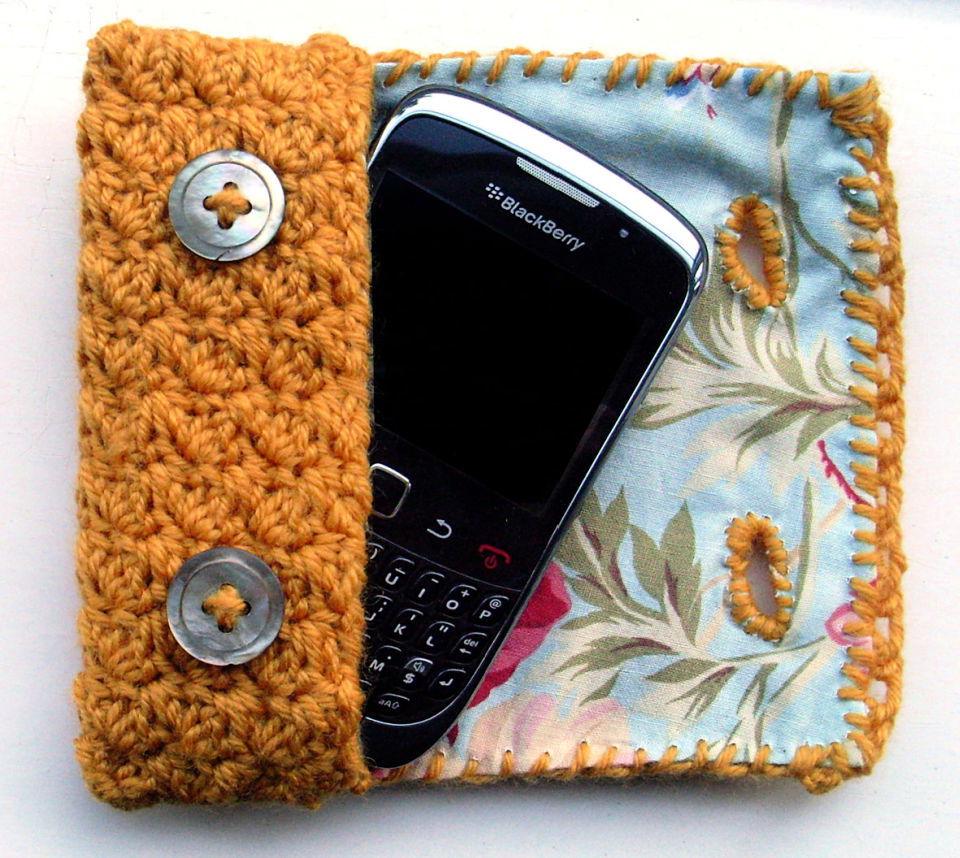 This crochet phone case is perfect for anyone looking for a unique, vintage-style accessory. With its quick and simple pattern using jarol heritage dk yarn, this cozy and protective case will be sure to turn heads. The dense stitch provides a strong barrier against bumps and knocks, while the contrasting colors from the floral lining give an extra special touch. Ready – get your own stylish vintage phone case now! neschof
8. Free Crochet Phone Case Pattern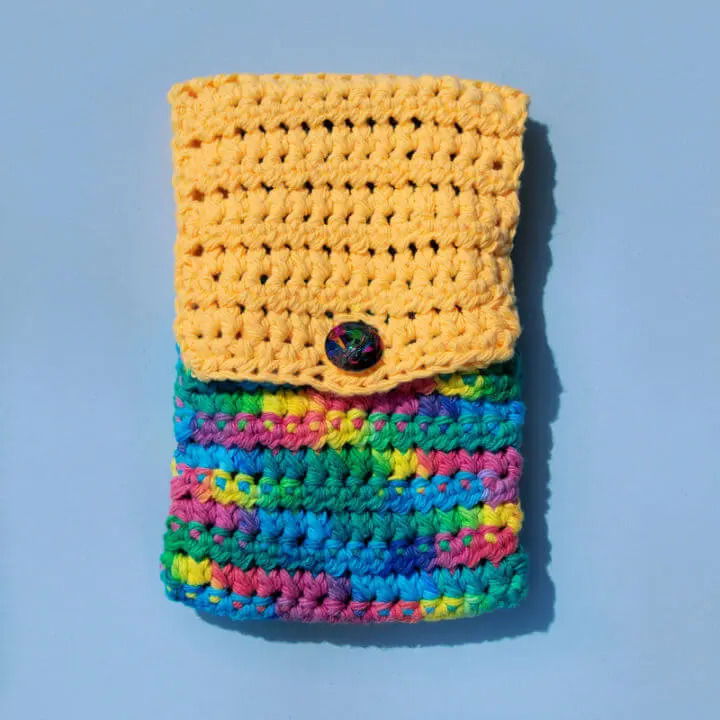 Make your phone pouch with this free crochet pattern! This fully customizable pattern is the perfect way to use up any yarn in your stash, and it works up quickly with half-double crochets. All you need is lily sugar'n cream solids, denim yarn, and a 4.0 mm (G) hook, then watch as you create a case that fits all cell phones in no time. Whether new to crochet or an experienced expert, this easy-to-follow pattern will turn anyone into a master of finishing touches. sunflowercottage
9. Crochet Cell Phone Bag With a Strap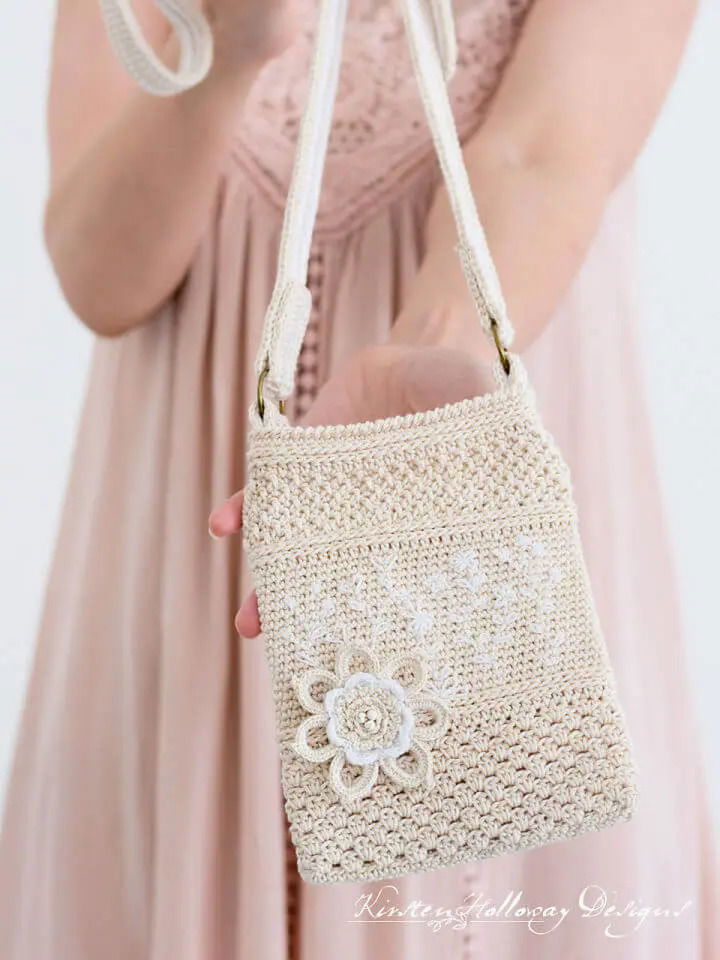 Craft a beautiful cell phone purse with this free crochet tutorial! This pattern is perfect for an experienced crocheter, as it uses two types of yarn and requires two different hook sizes. With materials such as Aunt Lydia's Classic Crochet Size 10 and Fashion Crochet (Size 3), along with small beads, your finished product will have a unique texture that will last over the years. The purse has pockets to store credit cards or ID cards, adding convenience and style all in one! Get started on your crochet phone purse today! kirstenholloway
10. Cute Crochet Cell Phone Pouch With Strap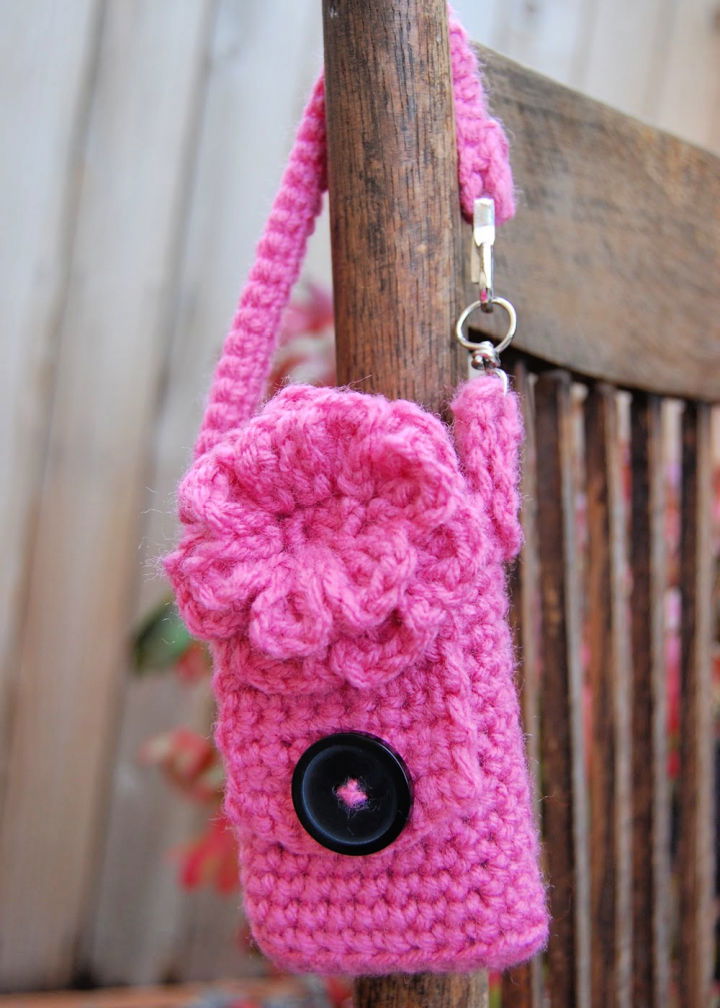 Create a unique, eye-catching crochet cell phone case with this free pattern and some Red Heart Super Saver Solids yarn. This handy little case is easy to make, featuring a sweet flower and strap for extra security. You'll need a G (4.25mm) hook size to start your crafting journey. With the right supplies, you can make an amazing cell phone case that will turn heads! Get creative and enjoy the satisfaction of making something beautiful with your own hands. thecraftycottage
Tissue Box Cover Patterns: Dress up your home with these free crochet tissue box cover patterns! Perfect for any season, add a special touch to ordinary tissue boxes.
11. Crochet Bmo iPhone Case Pattern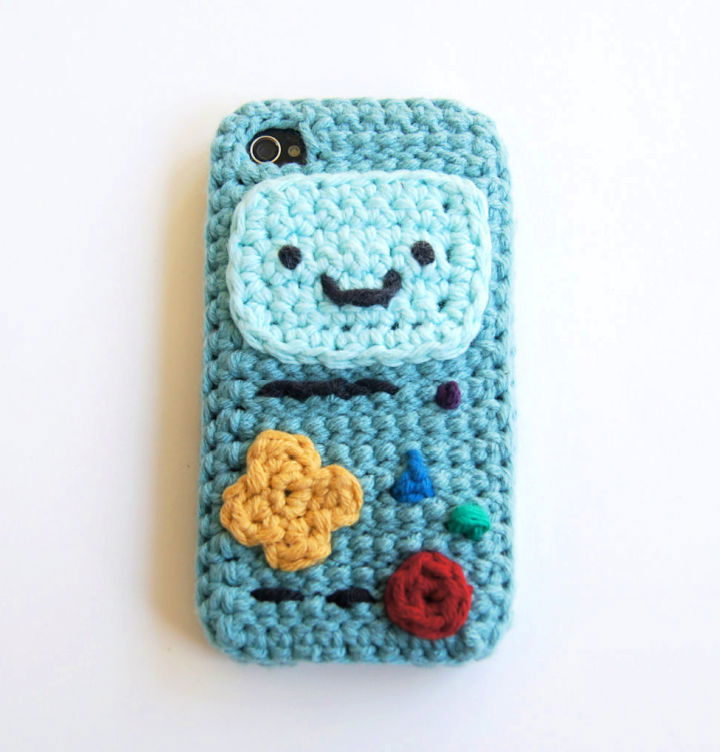 Learn how to crochet a stylish and unique BMO phone case! Use lion brand cotton/lily sugar cream or lion brand cotton-ease yarn, plus a size G6 (4.00mm) crochet hook to make this fun accessory. Follow the simple steps to create an eye-catching phone case that will protect your mobile device in style. Remember, you'll need a needle to sew in any ends too! Get creative and mix up colors for a kind design – it's easy with a step-by-step guide. Make the perfect gift for yourself or someone special today! louiesloops
12. Crochet a Tapestry Phone Case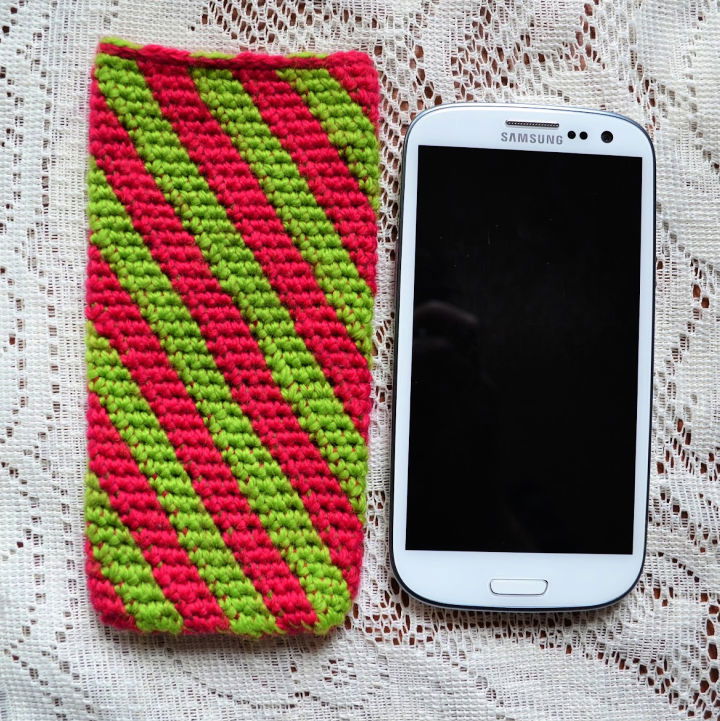 This tapestry crochet phone case is perfect for crafters who want to learn the art of tapestry crochet. With simple, step-by-step instructions and a pretty pattern, you can make this little phone case in no time! All you need are some DK yarn, a 4mm (G) hook and a few hours for crocheting. Get creative with any color combination you like, or even add beads or sequins for an extra special touch – whatever makes it yours! Enjoy making this fun and functional project today! omlair
13. Crocheted Owl Cell Phone Case Pattern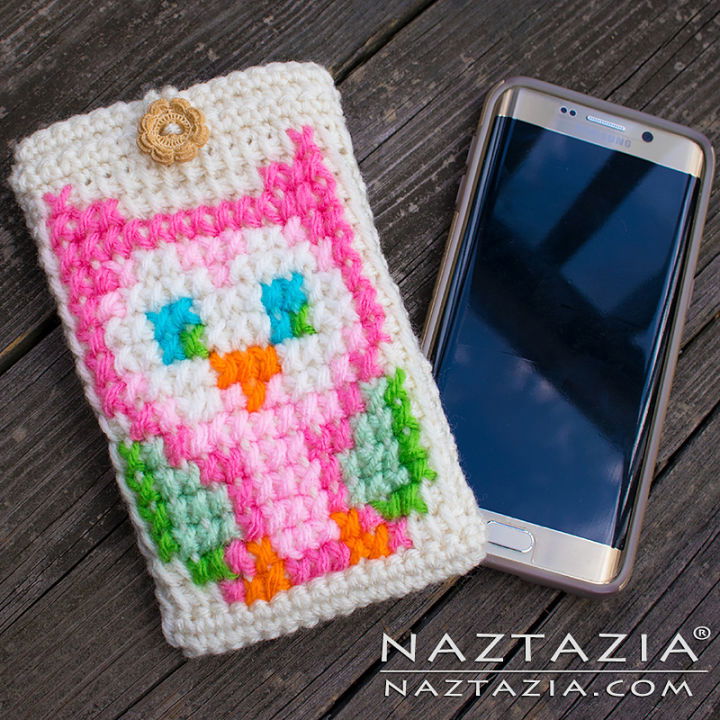 Create a unique owl cell phone case with tunisian crochet! This pattern, which uses cross stitch to make an eye-catching design, is perfect for adding style to your cellphone. All you need is one skein of red heart super saver yarn in aran, two crochet hooks (size F and G), a sewing needle, scissors and a button. Follow the simple instructions on the downloadable PDF to make this fun owl cell phone case today! naztazia
14. Free Crochet Olivia Phone Case Pattern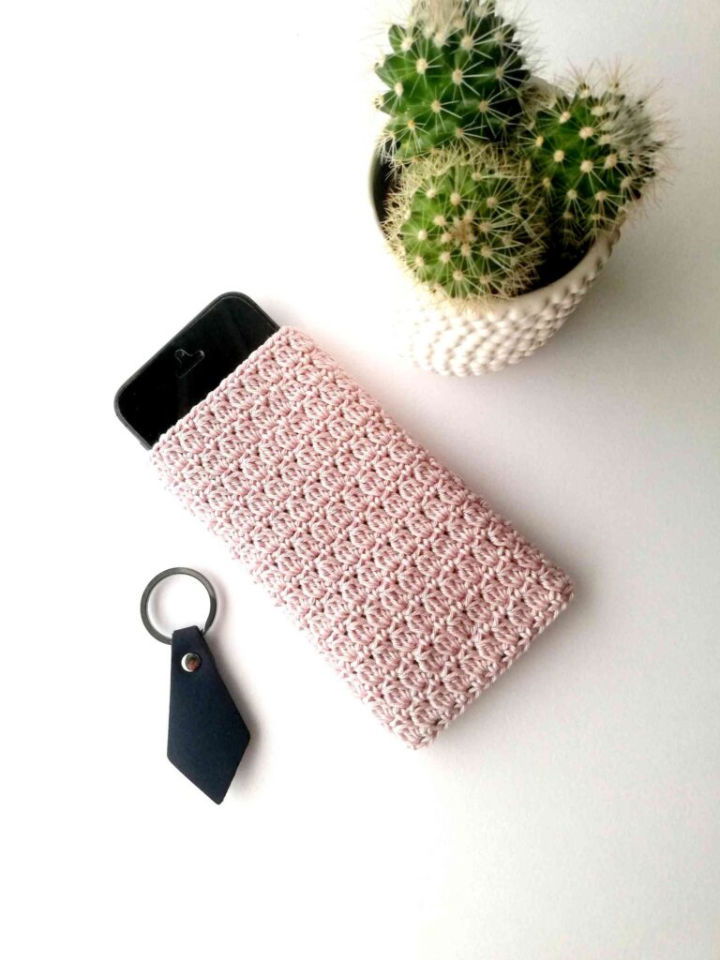 Experience the joy of crocheting your phone case with this step-by-step photo guide. Crafting a beautiful, handmade olivia crochet phone case has never been simpler! Crafted from diamond mercerized cotton yarn and an easy 2.0mm hook size, these instructions make it effortless to create your snuggly accessory that's perfect for any adventure you have planned. Make sure to add this unique piece of art to your collection today – it'll be the envy of all your friends! nordichook
15. Crochet Your Own Pikachu Phone Cover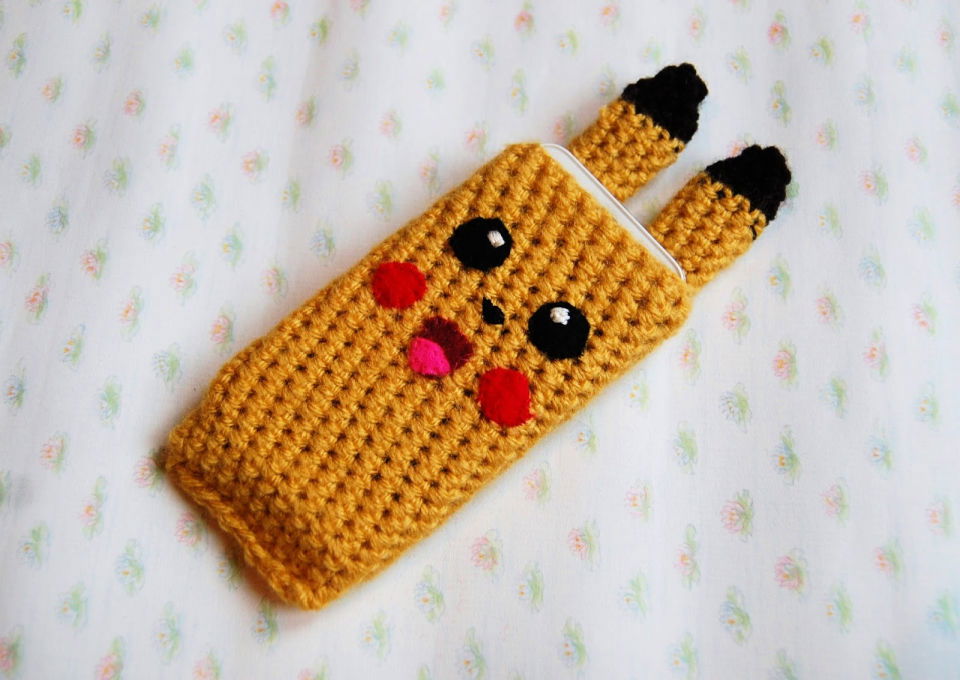 Looking for a fun project to keep you busy at home? This free crochet pattern is perfect – make your own adorable Pikachu phone cover! The pattern is easily adjustable, so whether you have a small or large phone, this pattern will fit perfectly. All you'll need in addition to the aran yarn and 4mm hook is some felt, fabric glue, needle and embroidery thread, cardboard cut-outs and your trusty tapestry needle. It may be a little fiddly at times, so confidence with hand sewing could come in handy, but other than that, it's an easy-yet-really rewarding craft endeavor! thegeekyknitter
Crochet Jar Cover Patterns: Make your own jar covers with these free crochet mason jar cozy patterns! Make a sparkling lace topper for the top of the jar to add some extra flair.
16. Crochet Flower Phone Case Pattern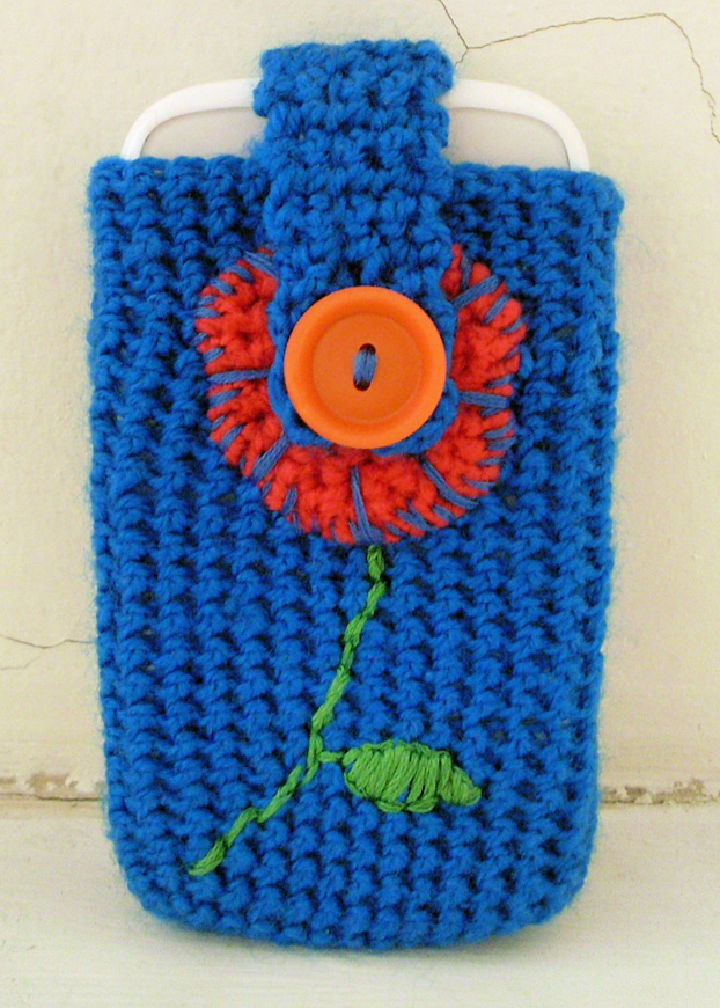 Make a beautiful and unique crochet phone case with this step-by-step tutorial, perfect for beginners. With detailed instructions and gorgeous illustrations, you'll be able to create a stunning flower pattern that will make your phone stand out from the crowd. All you need is a 3.5 mm crochet hook, some yarn of your choice, and basic mobile phone case instructions. Follow along as we guide you through every step in creating this one-of-a-kind floral phone cover! neschof
17. Free Crochet Smartphone Pouch Pattern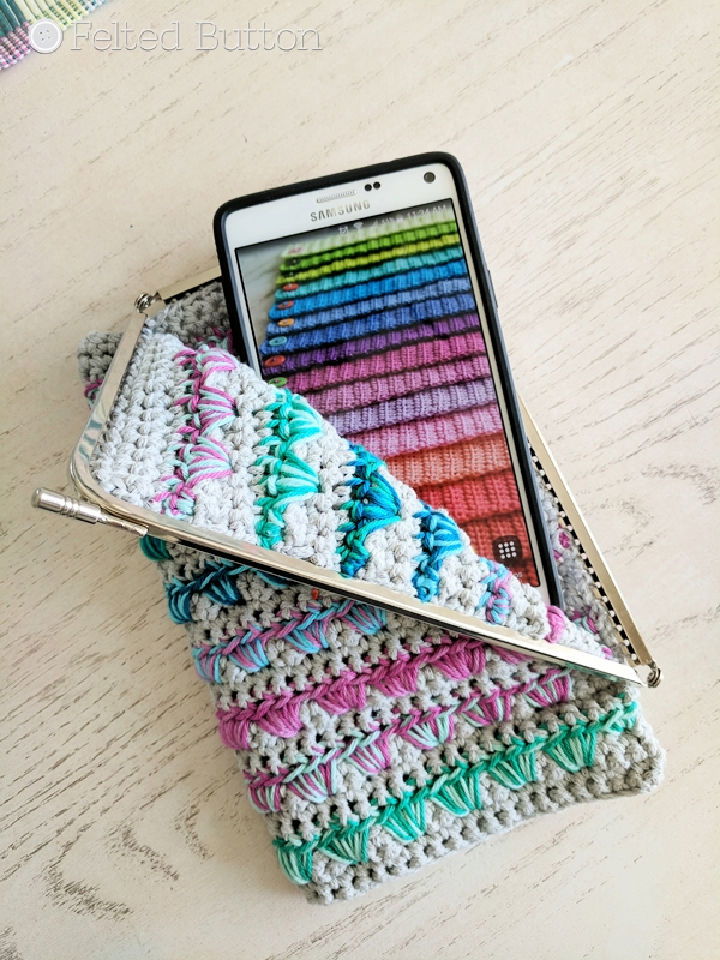 This free crochet pattern will quickly become your go-to project! The pouch is roomy enough for a phone, plus lipstick or cash. Plus, it's the perfect size to work on small projects and store your hook, yarn ball, scissors, stitch markers and needle. All you need is scheepjes bloom and catona yarns and a 5.0mm (G) hook – finished size 7.75″ high X 10″ wide before folding in half! Crochet this practical pouch today for an easy way to keep all of your essentials organized! feltedbutton
18. Crochet Mobile Back Cover – Free Pattern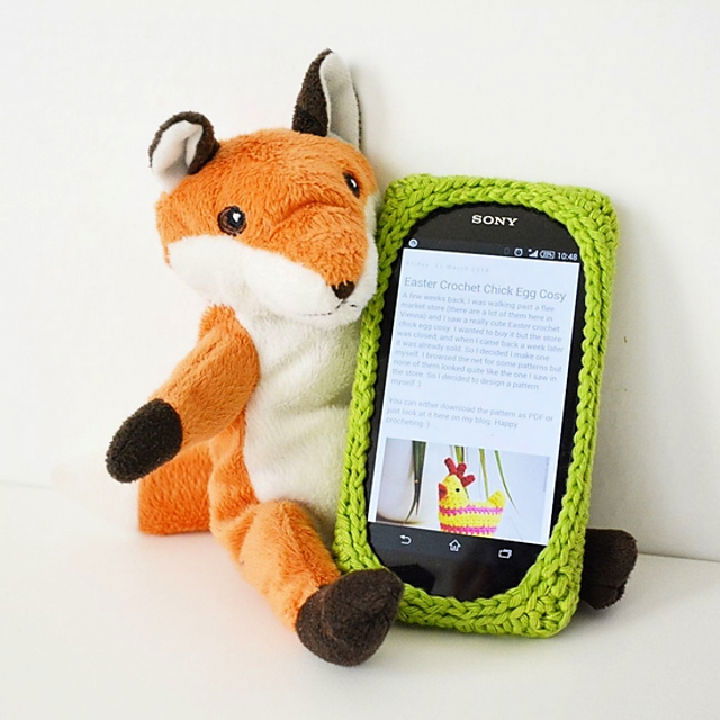 Craft a stylish and protective smartphone case with this easy-to-follow free crochet pattern! Crafted from cotton yarn, it covers the camera while allowing your phone's speaker and microphone to work. Plus, you won't have any issues pressing side buttons – our testers found no problems! The pattern is basic, using simple stitches to create a rectangle base that perfectly fits your phone. For assembly, you'll also need a 3mm hook and a yarn needle. Get creative with colors and patterns to make your unique crochet smartphone case today! ideaivana
19. Simple and Quick Crochet Mobile Phone Cover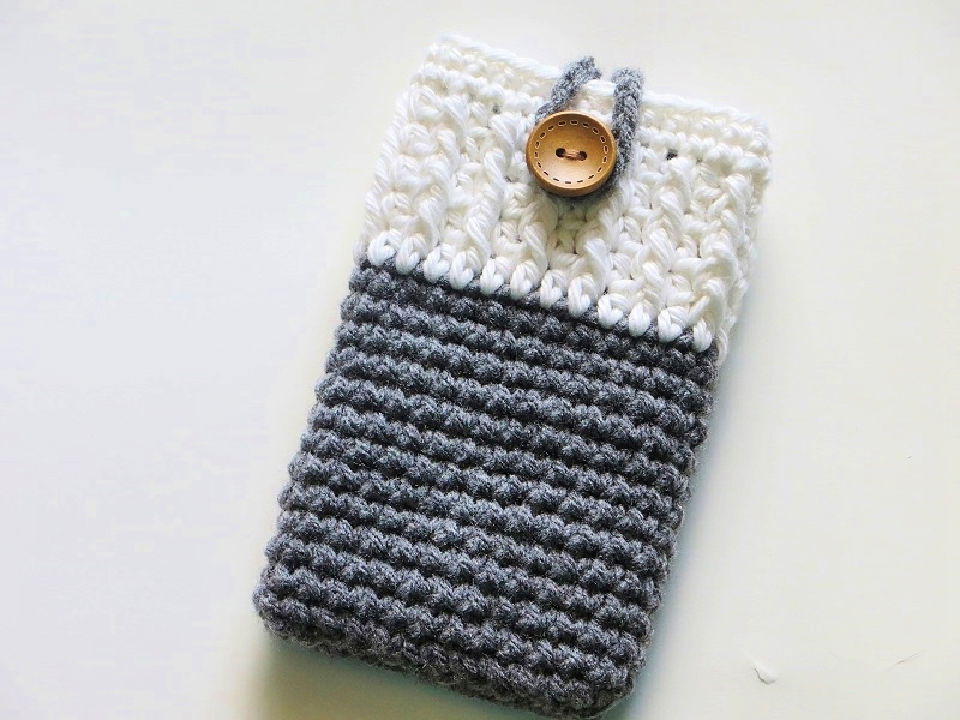 This amazing mobile phone cozy or case crochet pattern is perfect for making something unique and special that fits your phone perfectly. You can customize this pattern with any phone size, single color or two colors, and use leftover yarn. All you need are some worsted-weight yarn, an F (3.75mm) hook, and a wooden button to finish the project! So get creative with this free crochet pattern today – make yourself a mobile phone cozy that no one else has! crochetdreamz
Crochet Tapestry Patterns: Unravel your creative side with these intricate free crochet tapestry patterns! Get started with our selection of easy-to-follow projects specially designed for beginners.
20. Crocheted Camera Themed Cell Phone Case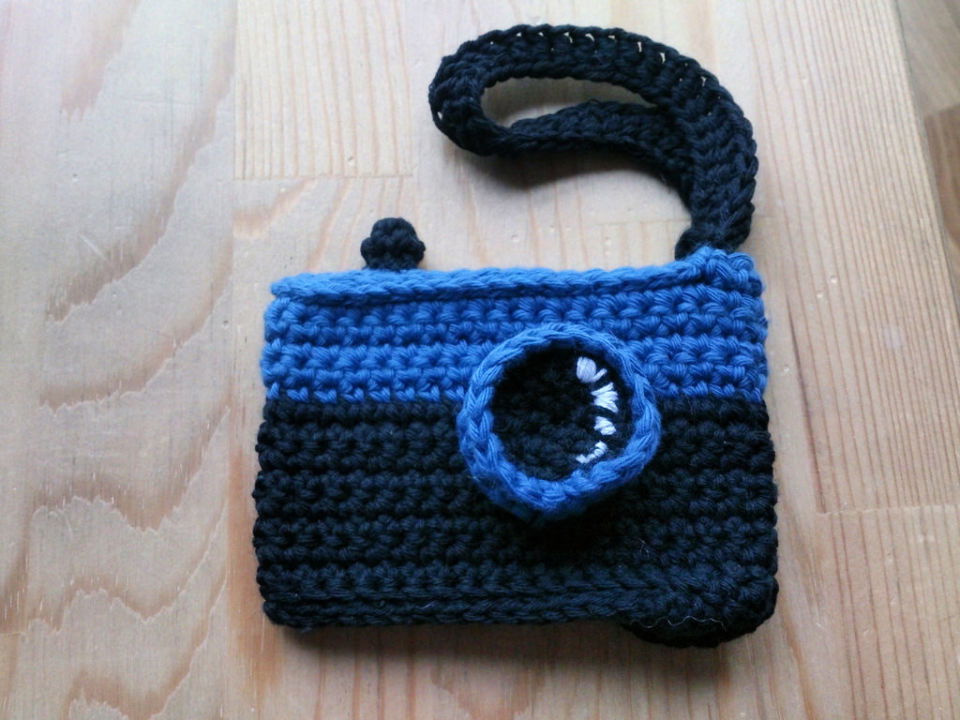 Make a unique camera-themed case for your phone, cigarettes, or camera with ease and great instructions! This free crochet pattern provides step-by-step directions to help you create this one-of-a-kind accessory. You need is red heart super saver solids yarn and hook sizes 6.5 mm (K) and 3.75 mm (F). Create something special with this easy-to-follow pattern that will protect you while looking stylish! Add this customizable item to complete your look today! craftyghoul
Slip-Stitch Crochet Patterns: Find free slip stitch crochet patterns with easy-to-follow tutorials, and learn how to incorporate this simple stitch!
Related Free Crochet Patterns:
Find free crochet patterns for modern and beautiful items and Learn to make crocheted clothing with daily use stuff and easy-to-follow instructions.
Conclusion:
Making a crocheted cell phone case with these 20 free patterns is an easy and cost-effective way to protect your device while adding a personalized style. Whether you are a beginner or experienced in crochet, the step-by-step instructions allow for customization and make creating your own phone case fun.
With all sorts of crochet phone cases, like cases with straps and even 3D shapes available, you can express yourself through your very own crochet phone case. Plus, free access to all the materials makes this project accessible to anyone interested – so don't be shy! Give crocheted cell phone case a try today and show off your creation!