Nothing beats the magical feeling of wearing a tutu. And nothing could be better than making one yourself! If you're looking for a fun, creative project that won't break the bank, check out these 12 easy DIY tutu skirt ideas. From upcycling old costumes to preventing unraveling with elastic trim, these simple how-tos provide helpful tips and tricks for any tutu-making endeavor – whether it's for a costume party, recital look, or bringing extra whimsy to everyday wear. With diy tutu skirt tutorials that are perfect for beginners and materials that range from everyday objects to specialty tulle fabric, these DIY tutus will make every Tutu Tuesday worthwhile!
Easy DIY Tutu Skirt Ideas to Make Your Own Tutus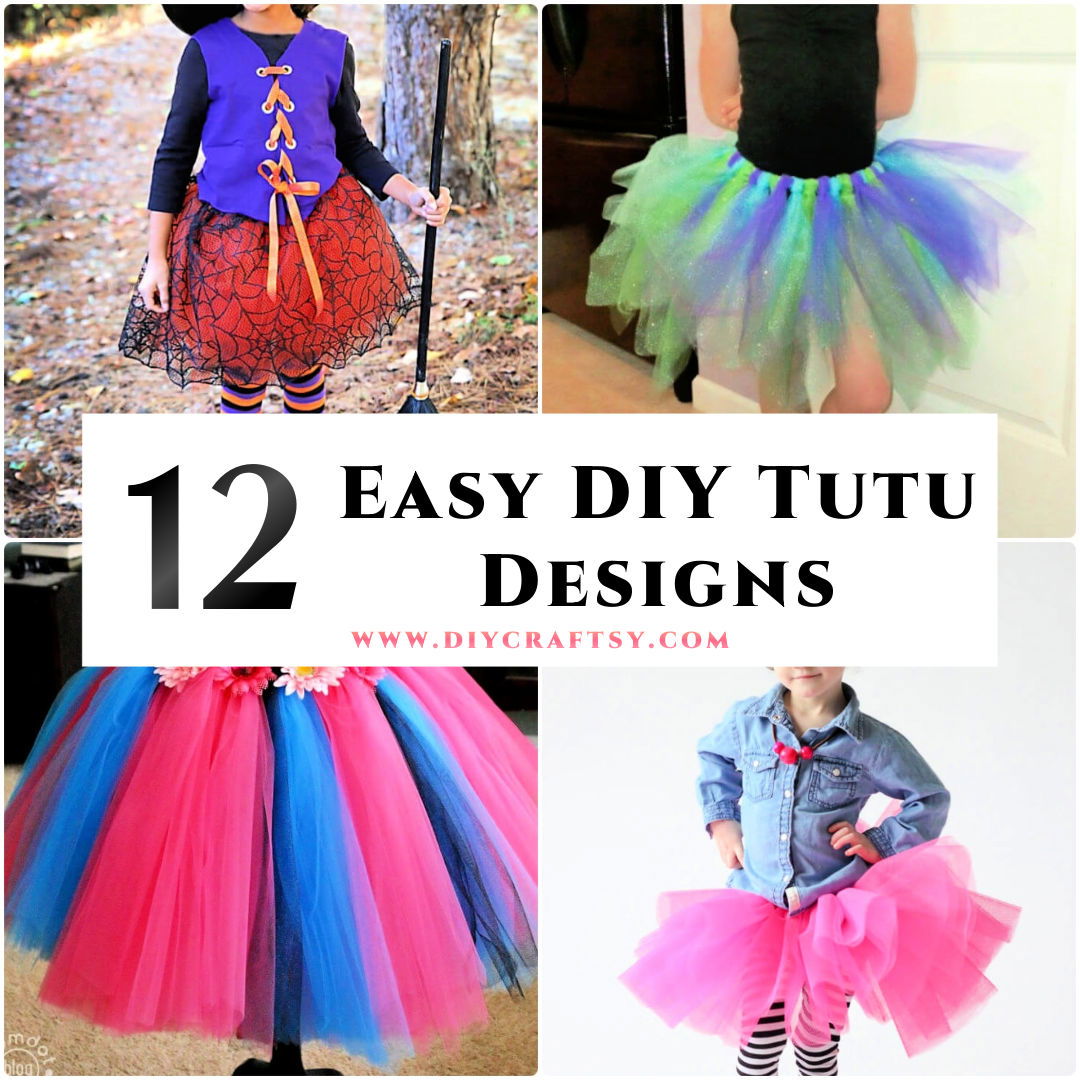 Learn how to make a tutu with these 12 easy DIY tutu skirt ideas with step by step instructions to make your own tutus. With just a few basic supplies like tulle, elastic, and ribbon, you can make A beautiful and unique DIY tutu for all occasions. From making baby tutus for adorable photoshoots to creating a stunning DIY tutu skirt for adults that is perfect for any dance recital or special event, this collection of 12 easy DIY tutu skirt ideas will show you how to make a great-looking tutu. Learn how to work with tulle fabric, choose the right colors, and add ribbons and accent pieces; whatever look or custom design you have in mind – these diy tutu tutorials have covered it! Don't let the thought of making your own homemade tulle tutu daunt you – get creative today!
Even if you are not a sewing expert, you can still make a tutu for your beloved girl, as there are so many no-sew DIY tutu ideas too. Cut strips out of your favorite tulle, and you have two options to work on. Either you can sew them up around the waistband, or you can tie them with knots around the elastic. Adding frills, laces and flowers would surely jazz up the beauty of these gorgeous tutus. So, do check out these easy DIY tutu ideas right below.
What are the five types of tutus?
Tutus are classic dance costumes that have been around for centuries. From professional ballets to simple costumes, tutus are beloved by dancers of all ages and skill levels. But did you ever wonder which types of tutus there are? Explore the five main types of tutus and know how each type is used in the world of dance. From romantic to character tutus, we'll cover all the basics so you can choose the perfect tutu for your next performance!
Different types of tutus
There are five types of tutus, each with its own unique style. Each style has unique characteristics that make them special and perfect for all sorts of occasions. Whether you go with a classic look or something a bit more daring, like a pancake tutu, there's sure to be one that will fit your needs perfectly. So don't forget to consider adding a tutu to your fashion repertoire; it can really add some wow factor to any outfit!
1. The Romantic Tutu
The Romantic tutu is the most classic and well-known type of tutu. It is characterized by its soft, billowy skirt that falls just below the knee. The romantic tutu is often made of several layers of tulle, which gives it its signature fluffy look. This style of tutu is perfect for any ballet performance, as it creates an air of elegance and romance on stage.
2. The Pancake Tutu
The Pancake Tutu is the most common type of tutu. It is a full, round skirt that sits on the natural waistline and flares out into a circular shape. The pancake tutu is often made with multiple layers of tulle to create a voluminous look.
This type of tutu is named after its resemblance to a pancake – flat and round with a slightly flared edge. Pancake tutus are the most popular style for ballet performances, as they create an elegant silhouette and highlight the dancer's movements.
If you're looking to build your own homemade tutu, the pancake style is a great option for beginners. With its simple construction and classic look, it's easy to create a beautiful tutu that will make any dancer feel like a prima ballerina!
The Classical Bell Tutu
The classical bell tutu is a type of tutu that is characterized by its bell-shaped skirt. This tutu type is often seen in ballets such as The Nutcracker and Swan Lake. The classical bell tutu typically has a white or light-colored bodice and a skirt made up of several layers of tulle.
The Platter Tutu
The platter tutu is a wide, round tutu that resembles a plate or platter. It is usually worn by ballerinas in solo roles and is often used in comedic ballets. This type of tutu is also known as a pancake tutu.
The Powder Puff or Balanchine Tutu
The Powder Puff or Balanchine Tutu is a classic tutu style that features a short, fluffy skirt. This style of tutu is named after the ballet dancer George Balanchine, who popularized it in the 1930s. The Powder Puff Tutu is perfect for ballet performances and recitals, as it gives the dancer a light and airy look.
What is a tutu made of?
A tutu is a skirt worn as a costume or fashion item, usually consisting of multiple layers of tulle or other light fabric.

The word "tutu" derives from the French word for "skirt", which was derived from the Latin word for "robe". Tutus have been worn by ballet dancers since the late 17th century. The most common type of tutu is the Romantic tutu, which is knee-length and has a bell shape.

Other types of tutus include the Classical tutu (ankle-length, very full skirt with a stiffer upper layer), the Pancake tutu (a flatter, less full skirt), the Miniature tutu (a shorter version of the Romantic tutu), and the Jazz tutu (a shorter, more fitted skirt).
How to Choose the Right Tutu for You?
When it comes to choosing the right tutu for you, there are a few things you need to take into account. First, consider the occasion or event you'll be wearing the tutu for. Are you going to be performing in a ballet recital? Or attending a costume party? The event will dictate the style of tutu you need.

Next, think about your own personal style and what kind of look you're going for. Do you want something classic and timeless? Or something fun and flirty? Again, your choice will come down to the event you're wearing the tutu for as well as your own personal taste.

Finally, take into account your budget. Tutu can range in price from very affordable to quite costly, but you can make your own DIY tutu in any style and design. It's important to make something that fits your budget, so you don't end up overspending.

You can make DIY Tutus come in various sizes and lengths, so it's important to make one that fits you well. Measure your waist and hips (in inches) before making a tutu. With these tips in mind, finding the perfect tutu will be a breeze!
Now that you know these three things, it's time to start making a homemade tutu skirt!
1. No-Sew DIY Tutu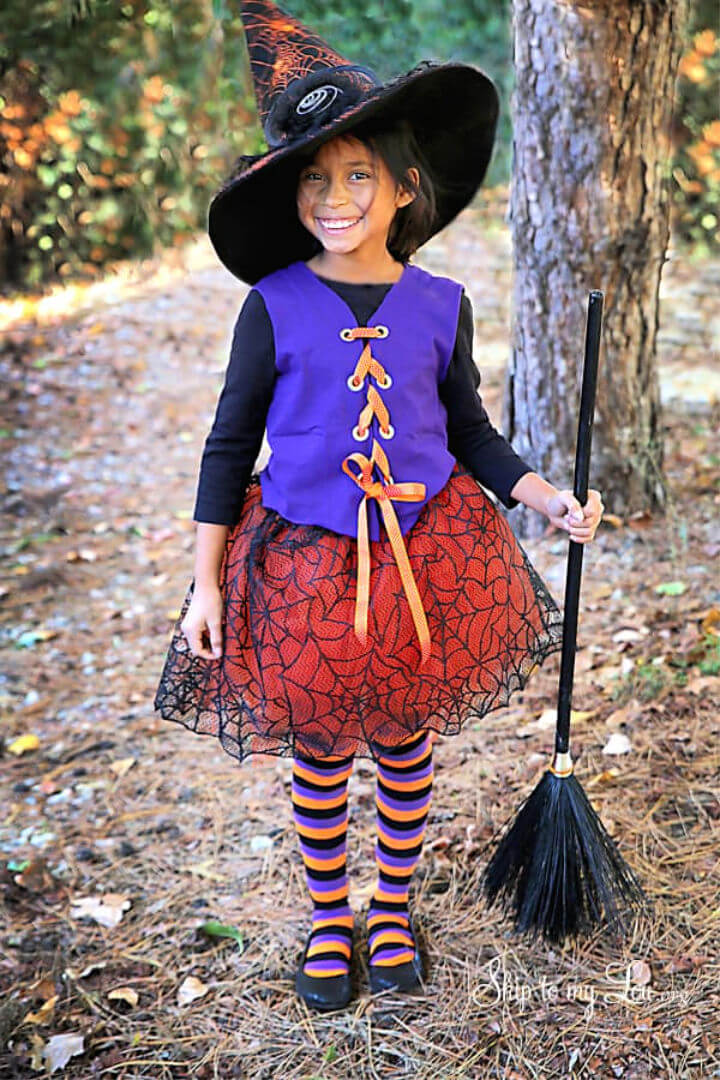 Make your little girl look the cutest witch this Halloween with this gorgeous DIY no-sew tutu dress up. The tulle has been cut into strips and then adjusted together with the rubber bands to be ready in just minutes. Get the details here skiptomylou
2. How to Make a Classic Tulle Tutu
A little's girl wardrobe is so incomplete without a tulle tutu skirt and now you can make it yourself. Here is this classic tulle tutu skirt that even a beginner can make. The pretty tutu is easy to make with an elastic waist band and some tulle cut out strips. diynetwork
3. Make Your Own DIY Tutu Dress for Adults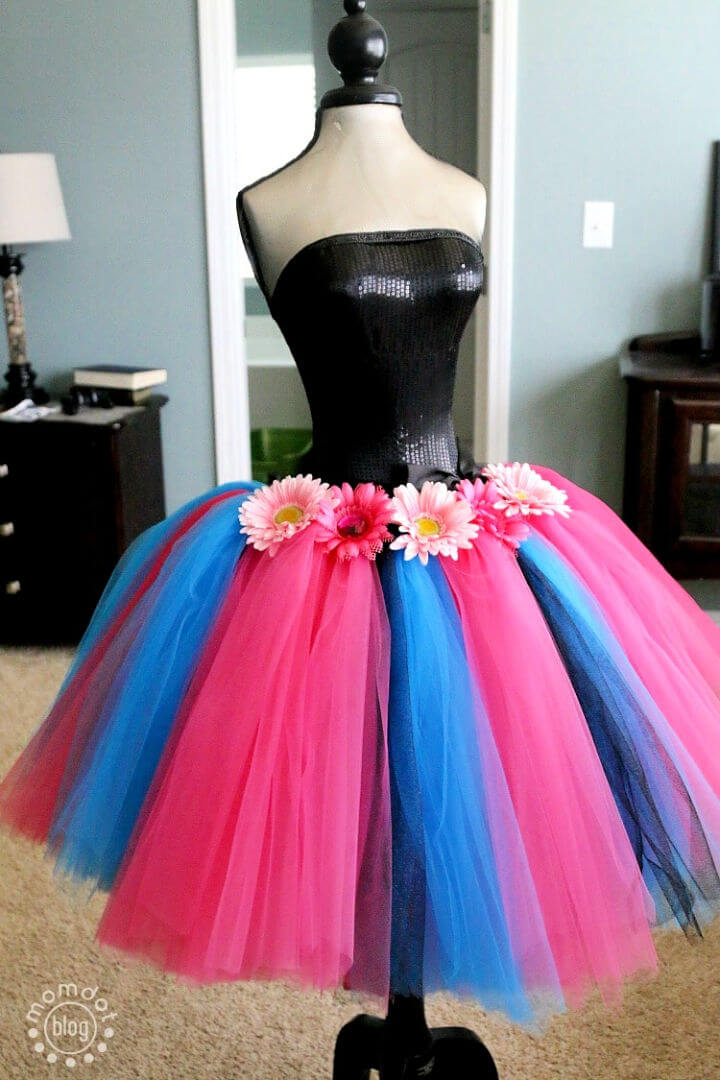 This gorgeous, fluffy and flowery DIY tutu skirt dress for adults is a dreamy piece for every girl around. The best thing about this tutu dress is that it is a no-sew skirt. You can cut out strips of tulle in multiple colors and then bind them onto a waist band. Add flowers at the end and your tutu dress is complete. momdot
4. Fluffy and Fabulous DIY Tutu Tutorial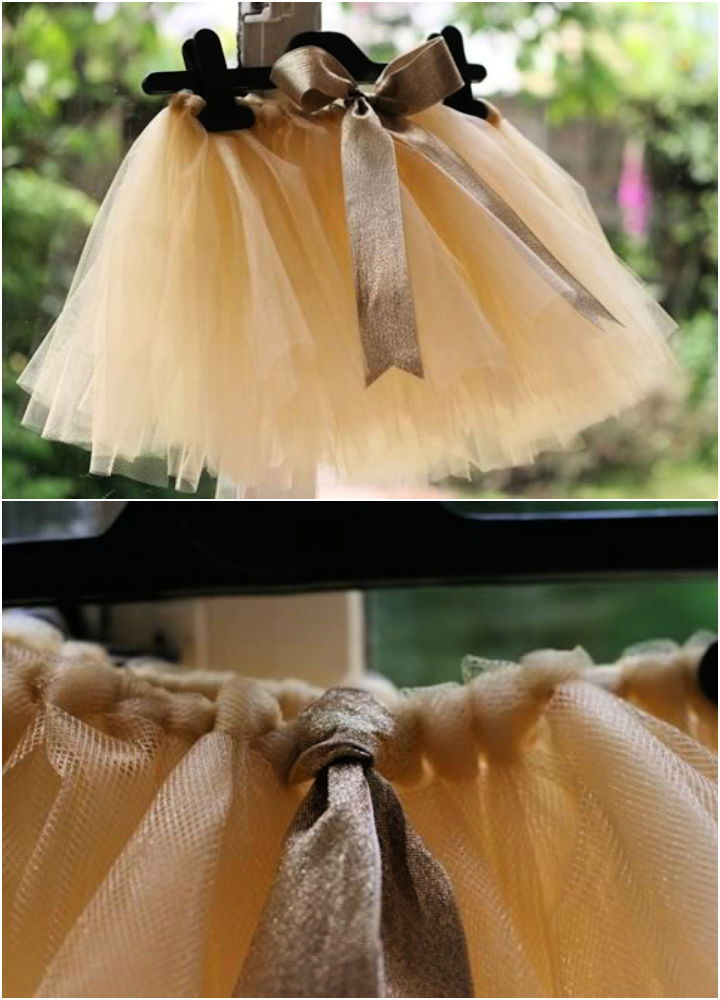 Tutu dresses make the girls look prettiest no matter to what age they belong. Especially the little girls look the sweetest with the adorable and fluffy tutus. Here is this fabulous DIY tutu that is easy to make with loop elastic and cut out strips of tulle and a ribbon bow at the back. homemade gifts
5. Simple No-Sew DIY Tutu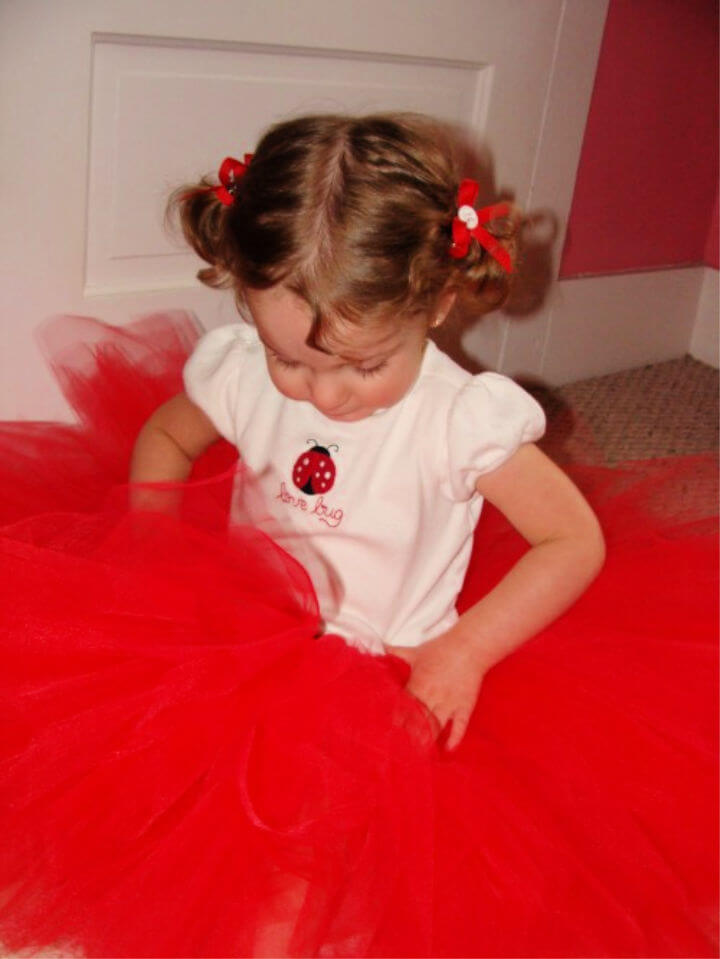 Either your girl wants to be a ballerina or a fairy this adorable no-sew tutu can be a complete rescue for the last minute plans too. You would need a few tools and fewer supplies to make this pretty no-sew tutu and make your little girl's day. Details here simplyrealmoms
6. Easy to Customize No-sew Tutu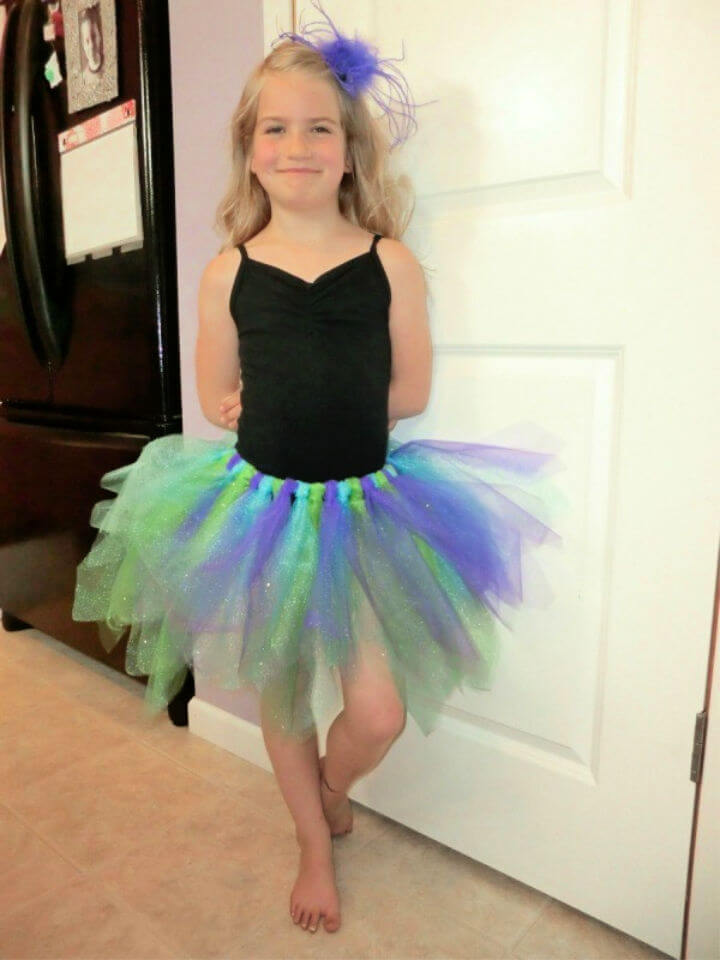 Why should one buy the expensive tutus from the mall when they are super easy and fun to make at home. Even if you have not touched a sewing machine before you can still make a tutu dress. Here is this easy to customize no-sew tutu that you can make with tulle pieces and some elastic. thriftyfun
7. DIY Totally Tulle Tutu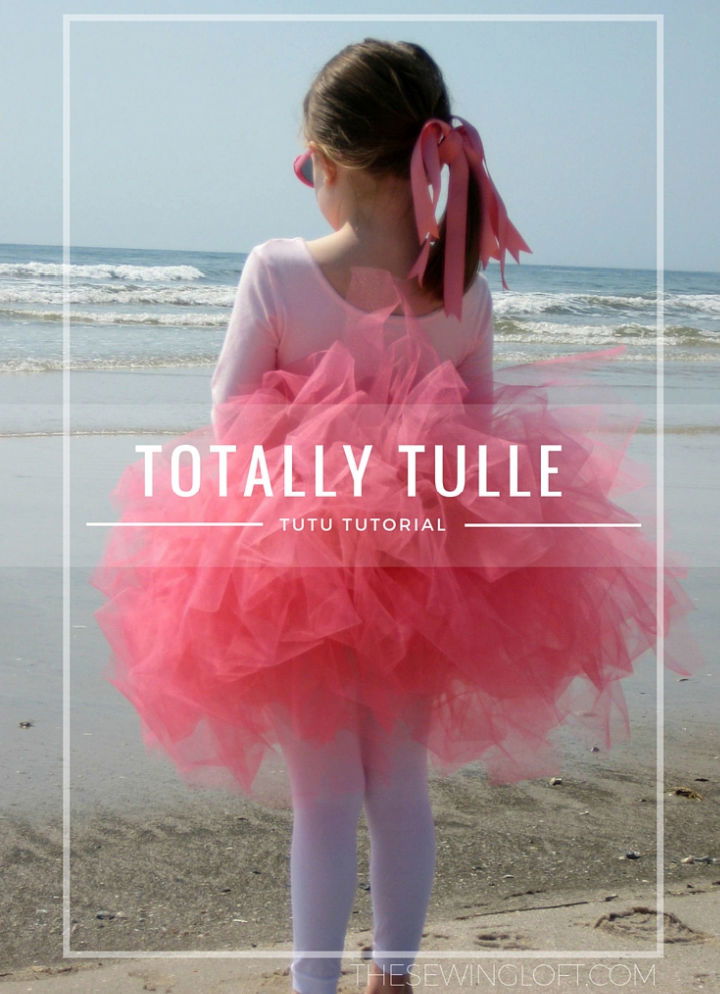 This DIY totally tulle tutu is the best thing to gift to your new ballerina. The girl would look adorable while practicing for their ballerina training with this cute tulle tutu around the waist. You can easily make it with a big yard of tulle and some elastic band. Details here thesewingloft
8. Super Easy DIY Fancy Tutu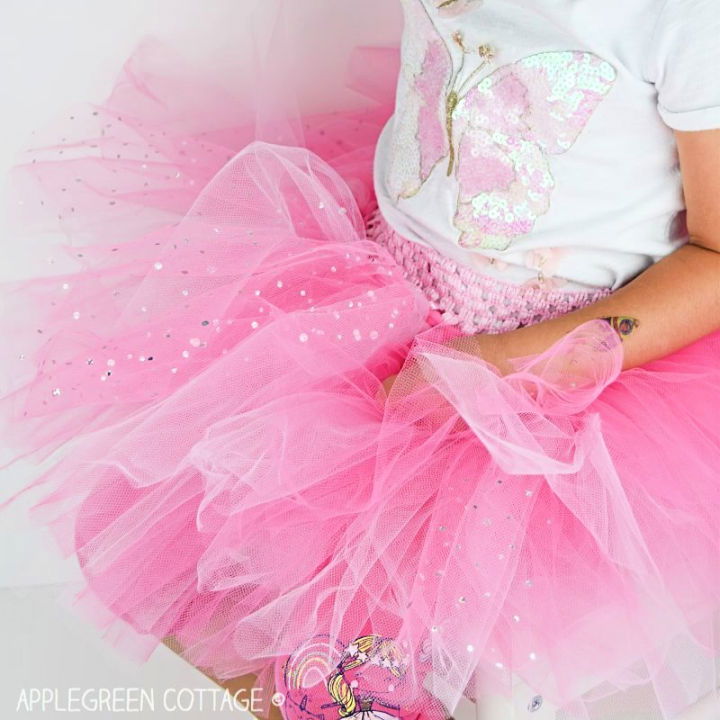 Turn your little girl into a gorgeous fairy for the role play with this super easy to make a tutu. This fancy tutu is made out of simple and plain tulle with a layer of glittery tulle on the top and some matching lace on the waist. Check out its details here applegreencottage
9. DIY Tutu for Little Girls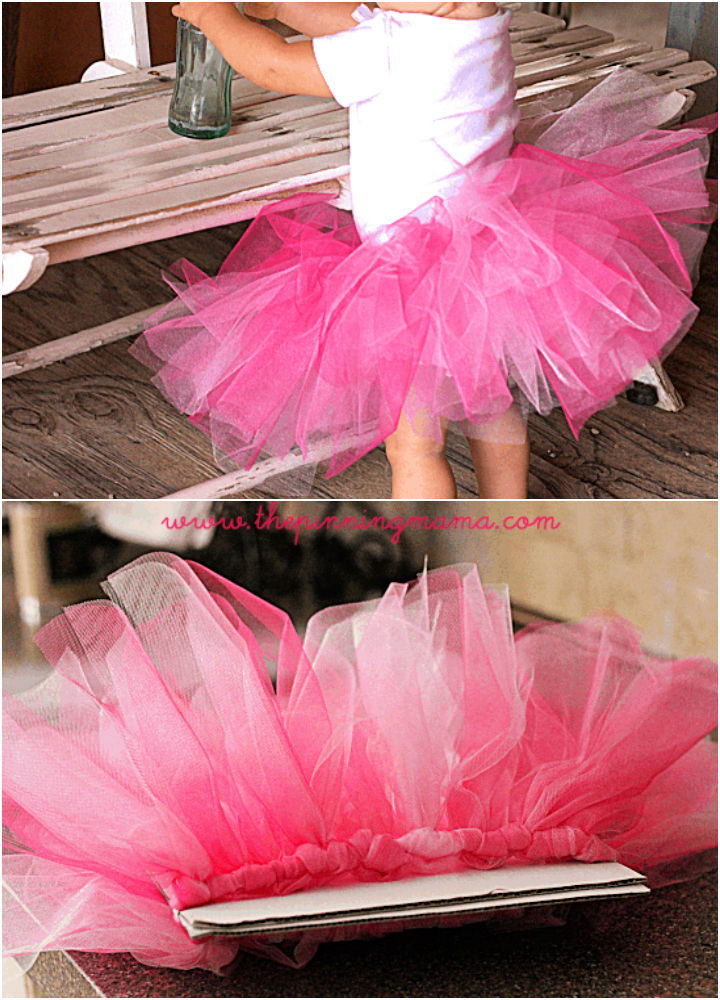 The baby girls are so fun to dress up and this tutu is just so perfect for the little girls. The frilly tutu is super cute and gorgeous to be a part of your princess's wardrobe to be her fun dress up for any of the days. So grab some yards of tulle and waistband to make this tutu for your girl today. thepinningmama
10. Basic Gathered Tutu Tutorial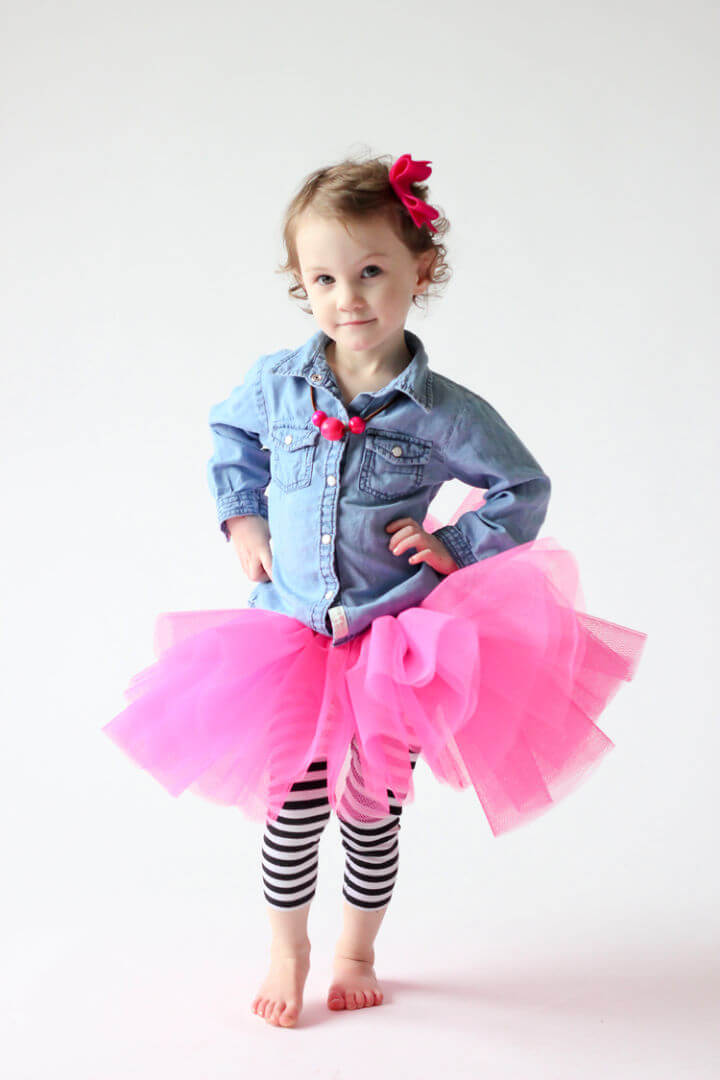 A tutu can instantly brighten up any boring and dull dress up of your girls. The mesh tulle has been used here to make these quirky and cute tutus for your girl in any of your favorite colors. Instead of the tie-up method this tutu is sewn around the waistband. deliacreates
11. Super Puffy DIY Tulle Tutus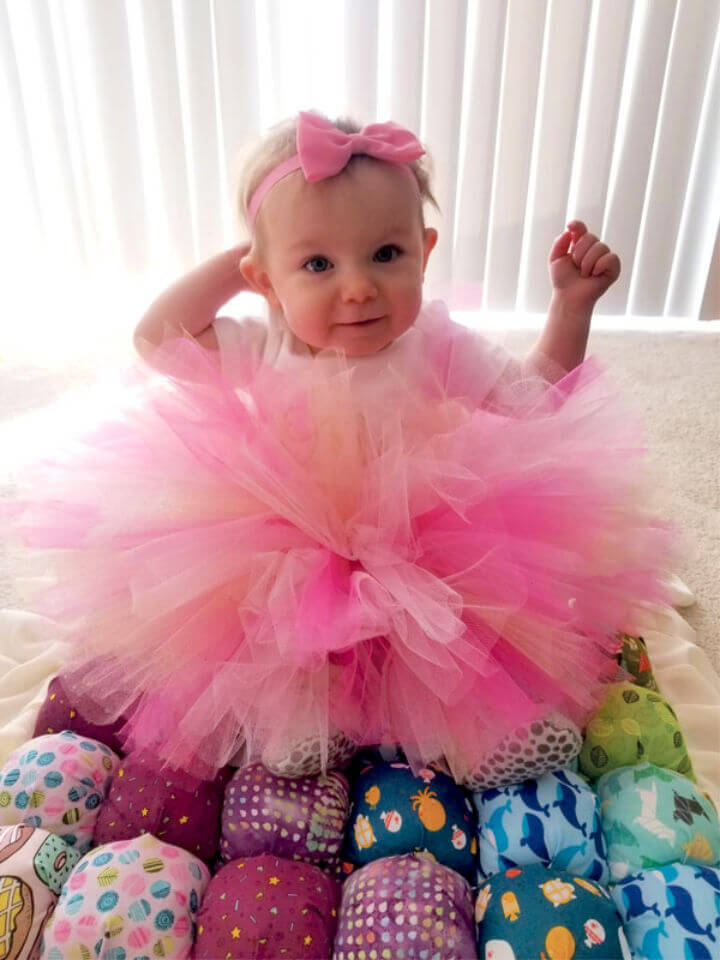 Dress up your little girl like a princess on her first birthday with this super puffy tulle tutu. The pink tulle is slightly jazzed up here with added tulle pieces of lighter shades. Adorn the tutu more with a matching headband and get some perfect clicks on her birthdays. Details here putmeinthestory
12. Make a Tutu for Your Dog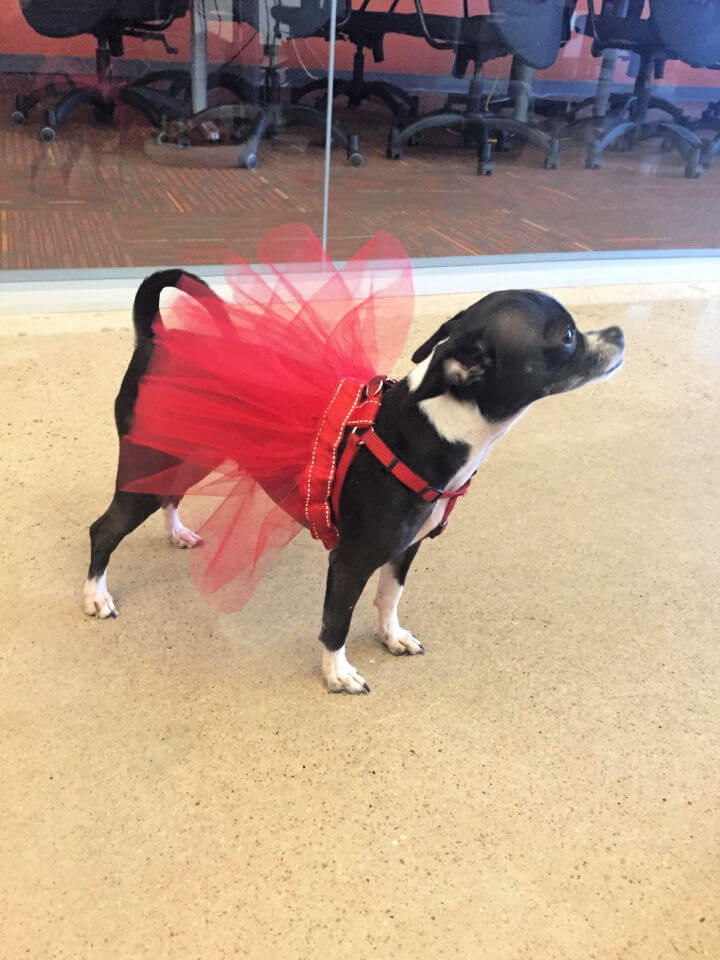 Get your dog ready for a race or for a beauty contest with this cute and adorable handmade tutu. With a waistband and some tulle pieces this pretty tutu is super easy to make. You can choose any of the colors in the tulle to look at. Find out the details here createwhimsy
Frequently Asked Questions:
Discover answers to your questions about creating a DIY tutu skirt! Learn how to choose the right type of tulle, what materials you need and more. Get tips for making a unique homemade tutu perfect for any occasion.
How to make a simple tutu skirt?
To make a tutu skirt, you will need tulle fabric, ribbon, scissors, and measuring tape. Measure the waist of the person who will wear the tutu and cut an appropriate length of ribbon. Cut several pieces of tulle to match the desired width of the skirt. Layer the pieces together and tie them onto the ribbon with knots. Repeat until you have reached desired length of the skirt. Trim off any excess tulle and secure the ends of the ribbon onto the waist. The tutu is now ready to be worn!
How many yards of tulle do you need for a tutu?
The amount of tulle needed for a tutu depends on the size and style you create. Generally, a baby tutu will require approximately 2-4 yards (1.8-3.6m) of tulle on a bolt. For a small or medium size adult tutu, 5-7 yards (4.5-6.4m) of tulle on a bolt. And for a large adult tutu, 8-10 yards (7.3-9m) of tulle on a bolt.
You may need additional fabric for a simple layering technique, while a more intricate design can be fashioned with fewer yards. Consider the desired length and fullness of the tutu when determining how much tulle you need. Measurements can help to ensure that you purchase the right quantity of material.
How long should I cut tulle for a tutu?
The length of tulle needed for a tutu depends on the desired look and size. Generally, you will want to measure from the waist down to where you want the skirt to fall, then double that measurement. Subtract 4-5 inches if you prefer a more fitted look. Cut strips of tulle twice as long as your desired length and enjoy your new tutu!
What's the best stitch for tulle?
The best stitch for tulle is a French knot. This stitch adds a delicate look to the fabric and is perfect for creating volume in thicker layers of tulle, such as tutus or bridal veils. It's quick and easy to do, with only 4 steps: thread your needle, wrap the thread around the needle twice, insert the needle into the fabric, and pull it through. With a bit of practice, you'll get it right in no time!
How many layers should a tutu have?
The number of layers in a tutu depends on the desired look and design. Generally, a tutu should have at least three layers, but some may have up to five or six layers for more fullness and volume. Tutus can also be customized by varying the length of each layer. When selecting a tutu, remember that it should be comfortable and flattering. With the right number of layers, a tutu can look beautiful and elegant!
How do you make a cheap tulle skirt?
Making a cheap tulle skirt is easy and inexpensive. All you need is some tulle fabric, elastic and thread. Measure your waist with the elastic, cut the tulle to size, then sew it onto the elastic. Attach a hook & eye closure at the back for easy dressing. Voila! Your cheap tulle skirt is ready to wear. Add a sash or embellish with sequins for a special touch. Enjoy your new look!
How do you make a no sew tutu?
Making a no-sew tutu requires very few materials and is easy to do. You will need tulle fabric, scissors, an elastic waistband, and a measuring tape or ruler. Measure the elastic band against your waist and cut it into the desired length. Cut several lengths of tulle, double the desired tutu length and tie them around the elastic waistband. Secure the ends with a knot and trim as desired. Repeat this process until your tutu is full and your desired length is achieved. Enjoy your new tutu!
What does a tutu symbolize?
A tutu is a ballet dance apparel that is associated with ballerinas and the art of classical ballet. It is often seen as a symbol of grace, beauty, and femininity. Furthermore, it has come to signify strength and resilience due to the hard work and dedication required to master the skill of ballet. Tutus are also symbolic of the joy and passion of dance, and often evoke emotions of elation and elegance.
How do you size a tutu?
To size a tutu, measure the waist and length of the wearer using a flexible measuring tape. For the waist, measure around where you would like the tutu to sit, then double that measurement. For length, measure from waist to desired length or ankle depending on your preference. Select a size based on these measurements for an ideal fit. If necessary, make minor adjustments to the tutu for a more comfortable fit.
What is the difference between a tutu and a ballet skirt?
The main difference between a tutu and a ballet skirt is the material used. Tutus are typically made of stiffer tulle fabric while ballet skirts are generally made of light-weight, breathable fabrics such as chiffon or lace. Tutus also tend to be more poofy than ballet skirts, giving them a more dramatic look. Furthermore, tutus are traditionally worn with a bodice, while ballet skirts can be worn without. Ultimately it comes down to personal preference and what is most comfortable for the dancer.
What is a Russian tutu?
A Russian tutu is a traditional ballet costume. It consists of layers of tulle and lace trimmed with ribbons, frills and bows. The skirt is usually short in the front and longer in the back, with the waistline sitting below the natural waist. They are usually white or pale pastels but can be made to order in any color. Russian tutus are a symbol of beauty in ballet. They are renowned for their lightness, grace and airy movement on stage.
What is a ballerina tutu called?
A ballerina tutu is typically known as a ballet skirt. It has layers of stiff netting and usually has an attached bodice. The skirt can come in a range of colors and length depending on the dancer's preference. Tutus are often paired with pointe shoes to create the iconic image of a traditional ballerina dancing en pointe. Ballet skirts are essential for the traditional ballerina dance and help showcase the dancer's grace and technique.
How much do tutus cost to make?
The cost of making a tutu can vary widely depending on several factors such as the amount of fabric used, embellishments and decorations, and the labor involved. On average, tutus cost between $20-300 to make. For custom orders or larger quantities, costs may be higher. Quality materials can also increase the price significantly. Ultimately, the cost of making a tutu will depend on the individual design.
Can you cut tulle without it fraying?
Yes, it is possible to cut tulle without fraying. To do this, use sharp fabric scissors and hold the piece of tulle taut while you are cutting. It is also important to keep all cuts smooth and even for a neat finish. Additionally, making small cuts instead of one large one may help reduce fraying. With a bit of patience, tulle can be cut without fraying.
How many layers of tulle do I need for a skirt?
The amount of tulle you need for a skirt depends on the fullness you want. Generally, it takes around 10-15 layers for a fuller look. If you would like more volume, increase the number of layers accordingly. However, if you're looking for something more subtle, then fewer tulle layers should do the job. Experiment to find the right balance!
How do you finish tulle edges?
Tulle edges can be finished by serging the edges, using a zigzag stitch on your sewing machine, or hand-stitching. Consider using a seam sealant as an additional layer of protection for delicate fabrics. When working with tulle, take extra care to avoid fraying and keep all seams secure. Ultimately, the method of finishing you choose depends on the project and your sewing skill level.
What's the best way to cut tulle?
The best way to cut tulle is to measure the desired length and width, mark it on the fabric with a measuring tape and tailor's chalk or fabric marker. Then, use sharp scissors to cut along the marked lines. For an extra neat finish, press the edges with an iron before using. For more tips, consult a professional tailor.
Related DIY Projects and Ideas
Ladybug Costume Ideas: No matter the age, everyone loves ladybugs. And what's better than a cute ladybug costume? With these simple DIY ladybug costume ideas, you can create your own adorable outfit in no time!
DIY Witch Hats: These free witch hat patterns are easy to make and come in all styles. You can find a perfect one for your Halloween costume! These hats can be made in any size and are easy to customize!
DIY Angel Wings: Whether you want to be an angel for Halloween or just feel like you're walking on air, these easy DIY angel wings are perfect for beginners.
Disney Shirt Ideas: Whether you are a family of four, a group of coworkers, or a family reunion committee with 12 members, these awesome Disney shirt ideas will make it easy to find the perfect matching shirts.
DIY Flip Flops: Flip Flops are the perfect shoe for summer. Get creative with these easy ways to refashion flip flops. There are so many possibilities; they're way easier than you think.
Skirt Sewing Tutorials: Learn how to sew a skirt with these easy tutorials to keep your wardrobe fresh and fashionable this season. Choose from various styles, lengths and fabrics to sew a skirt that is perfect for you.
DIY Wedding Veil: Create a stunning wedding veil without breaking the bank! Check out these cheap DIY wedding veil ideas for inspiration. Make your own beautiful and unique bridal look without spending too much.
Related Free Sewing Patterns:
Wrap Skirt Pattern: Sew a stylish wrap skirt for free with our best wrap skirt patterns. Learn an easy step-by-step tutorial on how to make a perfect fit, tailored or casual wrap skirt of your own!
Pleated Skirt Pattern: Create the perfect DIY pleated skirt with these free patterns. From elastic waist and A-line styles to circle skirts, you'll find just what you're looking for. Get sewing now!
Kimono Pattern: Create beautiful garments with these free kimono sewing patterns. With easy-to-follow instructions, you'll be able to make stylish and comfortable pieces for yourself or your family. Get creative and start crafting today!
Wide Leg Palazzo Pants Pattern: Get the latest trend with these free wide leg palazzo pants sewing patterns! Simple and stylish, perfect for any season. Create your own unique look today – download now!
Dress Sewing Patterns: Sew your own stylish wardrobe with this collection of easy dress sewing patterns. Get printable PDFs for free and create perfect dresses in no time!
Robe Sewing Patterns: Make your own cozy robe at home with these free robe sewing patterns! From classic terry cloth robes to lightweight kimono styles, you'll find the perfect bathrobe for any season.
Baby Clothes Patterns: Make your own stylish baby clothes with this collection of over 40 free baby dress and clothing patterns for sewing. Create unique gifts or save money on adorable outfits!
Maternity Sewing Patterns: Get creative and make your own stylish maternity clothes! Download our free maternity sewing patterns and start sewing dresses that will fit you perfectly during pregnancy including dresses, tops, bottoms and more!
Maxi Skirt Pattern: Sew your own maxi skirt with one of these free maxi skirt patterns. DIY gorgeous long skirts for any season or occasion.
Conclusion: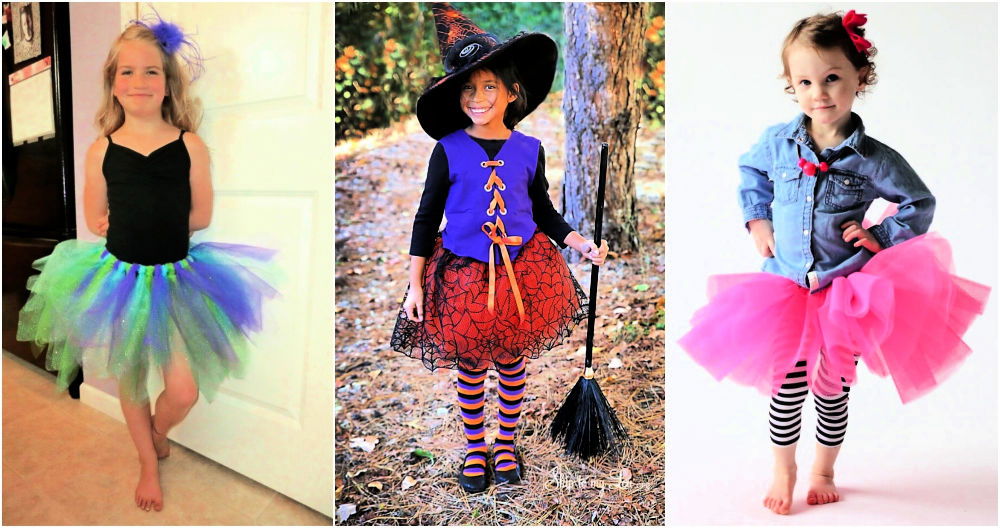 When it comes to tutus, there's no need to buy a pre-made one anymore. With the 12 easy DIY tutu skirt ideas included in this article, anyone can make their own tutu and show off their creativity! Whether you like classic tulle skirts or something more daring with sequins and feathers, the possibilities are endless. Plus, these DIY tutu tutorials are budget-friendly and only require some basic supplies you may already have. So why not give them a try? You just might find that making your own tutu is more fun than buying one off the shelf!