Looking for an affordable way to wow your friends and family with unique gift bags? Learn how to make gift bags out of wrapping paper, fabric and recycled material with these 25 easy DIY gift bag ideas with step by step instructions. From using wrapping paper, fabric, or even jeans, you can find creative ways to upcycle household materials into amazing DIY gift bags. Get inspired today and start making the perfect present bag for any occasion!
Creativity and a few basic materials make it possible to create custom diy gift bags that stand out. Whether you're looking for an alternative to traditional wrapping paper or a colorful, unique way to give away treats, diy gift bag ideas offer endless possibilities. From turning recycled materials into decorative gift bags and designing intricate paper bags with painted patterns to adapting household items like storage jars and cups into fun designs, the sky's the limit when finding ways to make your own homemade gift bag. With these 25 DIY gift bag ideas you can make your own custom goodie bags!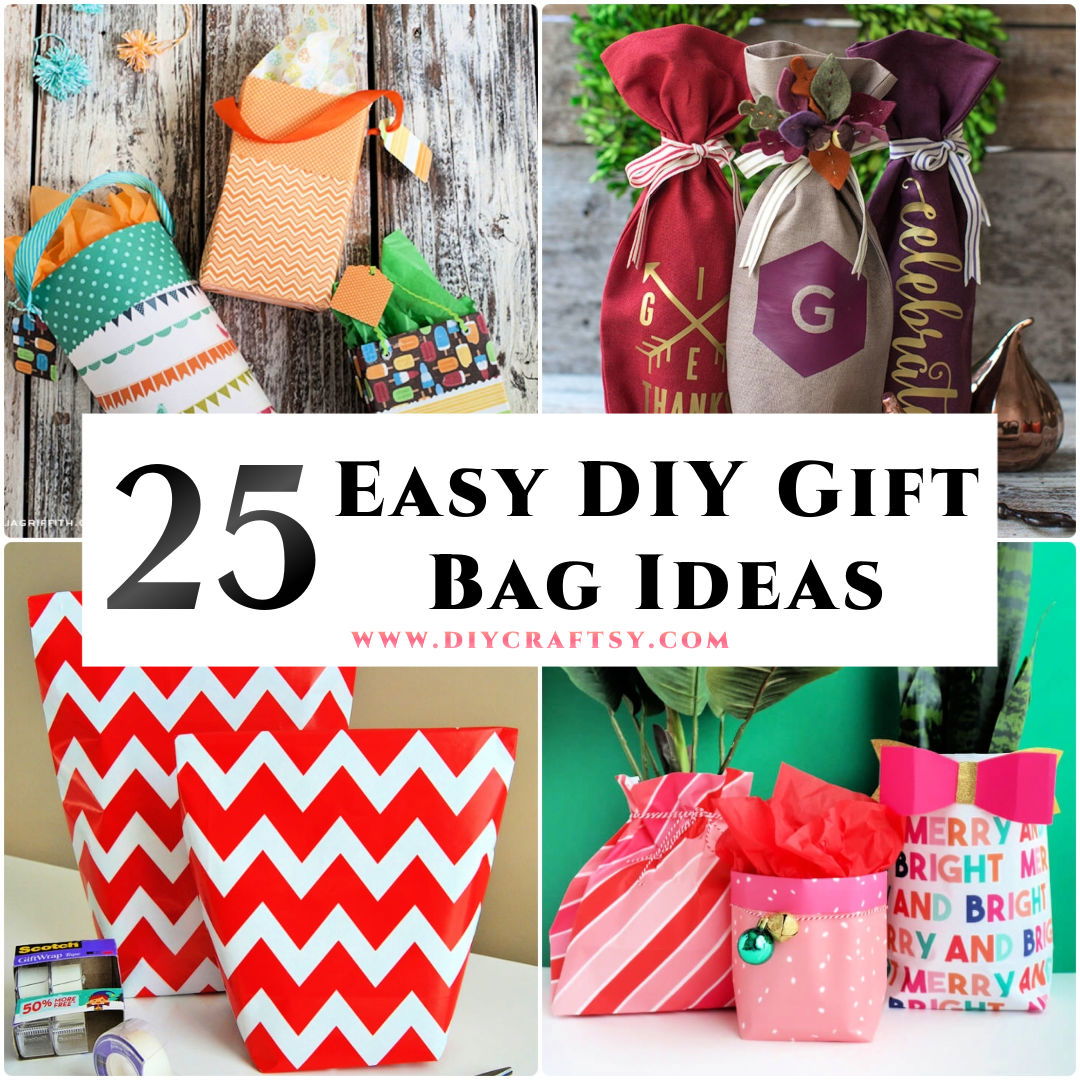 DIY Gift Bag Ideas to Make Your Own Personalized Gift Bags
Make your gift-giving stand out with these 25 DIY Gift Bag Ideas! From hand-painted designs to upcycled materials, you can wow your friends and family with a custom handmade gift bag that shows off your creative side. With step-by-step instructions for each DIY gift bag idea, it's easy to create the perfect present packaging.
From party favor bags to large totes for larger gifts, use these homemade gift ideas to inspire your gifting needs! You can also add meaningful and themed-up tags at the front of the paper gift bag! Having said that, let's just explore our collection of DIY paper gift bags and make your loved ones feel even more special.
What you can use if you don't have a gift bag?
If you don't have a gift bag, there are still many creative ways to present your gift. Wrapping paper or tissue paper is always an option, but if you'd like something more unique, try using a basket, mug, box, jar or even a pillowcase. Get creative and find containers that match the contents of your gift for a special, thoughtful presentation. Alternatively, you can make your own unique wrapping paper to personalize the gift further. Have fun with it!
How do you make a homemade goodie bag?
Making a homemade goodie bag is easy and fun. Start by gathering some paper bags of your choice, filling them with small treats like candy or snacks, adding decorations such as ribbons and glitter, writing a personalized message on the front, and finishing it off with a name tag. It's that simple! Now you have your own personalized goodie bags to give away. Enjoy!
What do you put in a goodie bag?
A goodie bag is a great way to show appreciation or reward guests. Fill it with items that are useful, thoughtful and fun. Consider items like personalized pens, notebooks, custom printed T-shirts, snacks, drinks, coupons or discounts, and other small gifts related to the event. A goodie bag should be filled with items that will bring a smile to your guests' faces.
How do you decorate a simple gift bag?
A simple gift bag can be easily decorated with an array of materials. Add a ribbon or twine around the top, and adorn it with stickers, flowers, or charms for extra flair. A personalized touch to the bag could be achieved by writing down wishes or heartwarming messages on colorful tags. You can also add some scented candles or potpourri to make the gift smell wonderful. Lastly, glue some bright beads or glitter for an eye-catching finish. Have fun and be more creative when decorating your gift bag!
How do I make an odd shaped gift bag?
To make an odd shaped gift bag:
Measure the size of your desired bag and cut out two pieces of wrapping paper in those dimensions.
Place one piece flat on the work surface, and glue down any decorative elements that you wish to include.
Place the second piece of wrapping paper atop it, and glue down the edges together.
Add a handle or strap for carrying.
Voila, you have your own unique gift bag!
How do you dress up a plain gift bag?
A plain gift bag can be dressed up with a variety of items. Consider adding ribbons, wrapping paper, tissue paper, bows and other craft supplies to make the bag more festive. Add stickers or labels with your recipient's name or initials for a personal touch. You can also opt for a seasonal design or pattern matching the occasion and making the gift bag stand out. With creativity, you can easily turn an ordinary gift bag into something special.
How many pieces of tissue do I need for a gift bag?
The number of tissue pieces you will need for a gift bag depends on the size of the bag and the number of items inside. Generally, one to two sheets are enough to line a small- or medium-sized gift bag. Larger bags may require more layers – use your discretion when determining how many tissue sheets you'll need. If in doubt, err on the side of caution and use more tissue. Remember to also keep in mind how much time you have available for gift wrapping!
Should you wrap presents in a gift bag?
Gift bags are a great way to present presents and add a touch of extra thoughtfulness. tcome in all shapes, sizes, and colors and are easy to wrap. Plus, they can be reused again if you choose the right one. Gift bags are sure to make your gift look special and unique. So why not wrap your presents in a DIY gift bag? It's an easy to make and efficient way to show you care.
How do you make a gift bag without tape?
You can make a beautiful gift bag without tape. To do this:
Start by tracing the desired size of your bag onto a piece of paper and cut it out.
Fold along the edges and use glue or double sided tape to secure them together.
Decorate with ribbon, glitter, beads or other accents of your choice!
With a little creativity, you can make a beautiful gift bag without tape. Enjoy!
How do I make a picture into a gift bag?
Creating a special gift bag using pictures is easy and fun! First, find or take a picture of your choice. Next, use an image editor to print the picture onto a piece of fabric. After that, cut out two pieces from the fabric in the same shape and size. Finally, sew the two pieces together along the sides and create a bag with the picture facing outward. Enjoy your personalized gift bag!
How to wrap a tote bag for a gift?
Gift wrapping a tote bag is relatively easy. Begin by tightening the bag's straps and folding up the top of the bag over itself. Place the folded tote onto your wrapping paper, leaving extra space on each side for trimming. Cut around the tote and secure shut with tape or ribbon. To add a decorative touch, use a festive ribbon to tie the straps together in a bow. Add a gift tag with your recipient's name for an extra special touch! Your tote bag is now ready to be gifted. Enjoy!
How to make a plain bag look expensive?
Choose quality fabrics like leather and suede to make a plain bag look expensive. Add metal accents such as buckles and zippers to give the bag a designer touch. Unexpectedly incorporate patterns and textures to add more interest. Consider adding statement details like fringe or tassels for a luxury feel. And remember to buy in a quality bag liner. All of these elements will make a plain bag look expensive and stylish.
How to make a material gift bag?
Making a material gift bag is easy! Start with a piece of fabric of your choice and measure it to the desired size. Cut along the edges, leaving an extra inch for seam allowance. Sew the sides together and turn inside out. Add ribbon or handles if desired, then decorate it using fabric glue or paint. You are now ready to fill it with your chosen gifts! Have fun!
1. DIY Wolf Gift Bag
For themed birthday parties, you can easily make these wolf paper bags for sweet favors. Or you can have them made for giving out gifts too to someone who has a Robin Hood theme for the birthday! These are pretty easy to make and very fun crafty. tikkido
2. Gift Bag Out of Wrapping Paper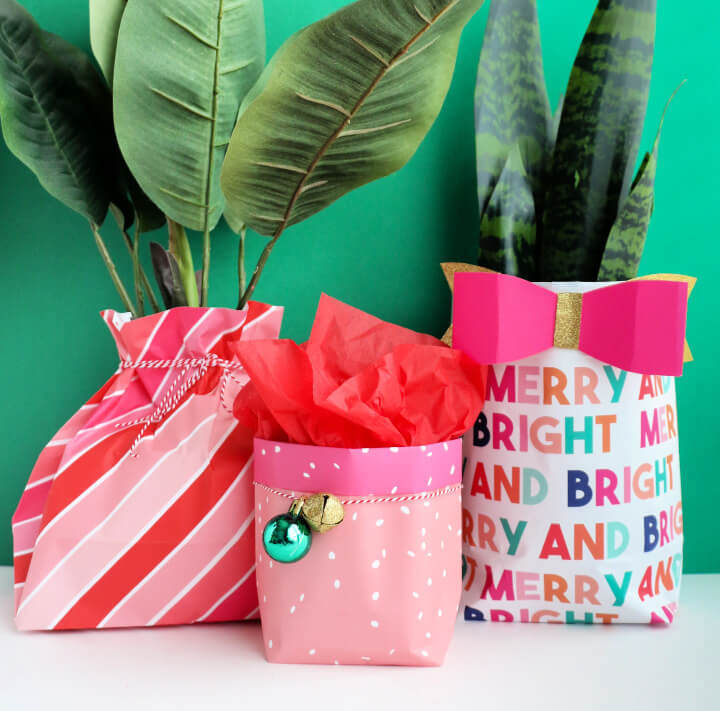 No need to buy pricey wrapping bags from the market when you can add a perfectly sweet handmade touch to your gifts. You can easily make these handmade DIY wrapping bags using wrapping paper, tape, scissors, baker's twine, and ribbons or bows! abeautifulmess
3. How to Make Paper Gift Bag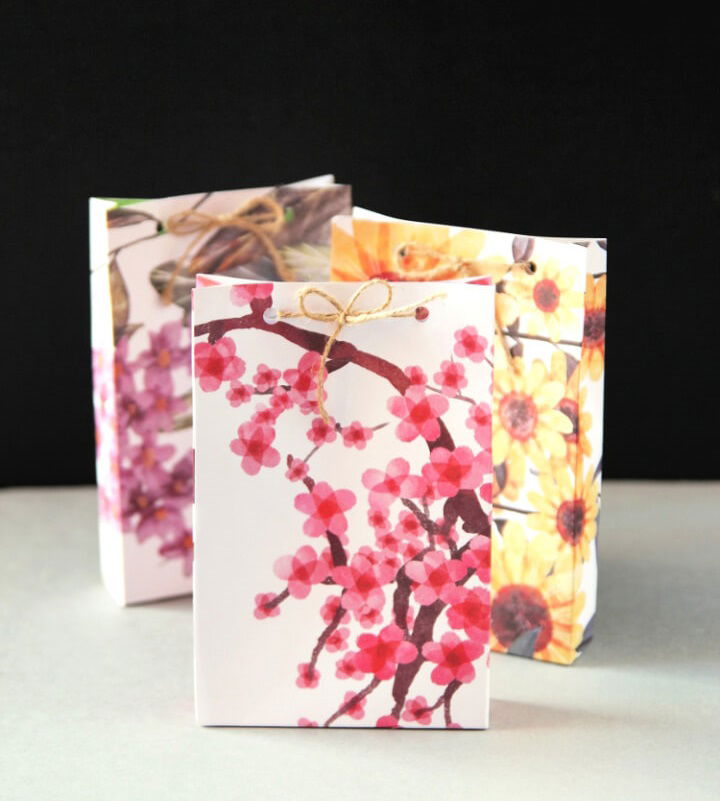 Okay, now aren't these just SO uber enchanting? We are totally awestruck over these lively paper bags, they are, without any doubt, way more cute than any store-bought paper gift bags. You'll just need a colorful scrapbook paper to start off the charm. gatheringbeauty
4. Easy DIY Book Page Gift Bag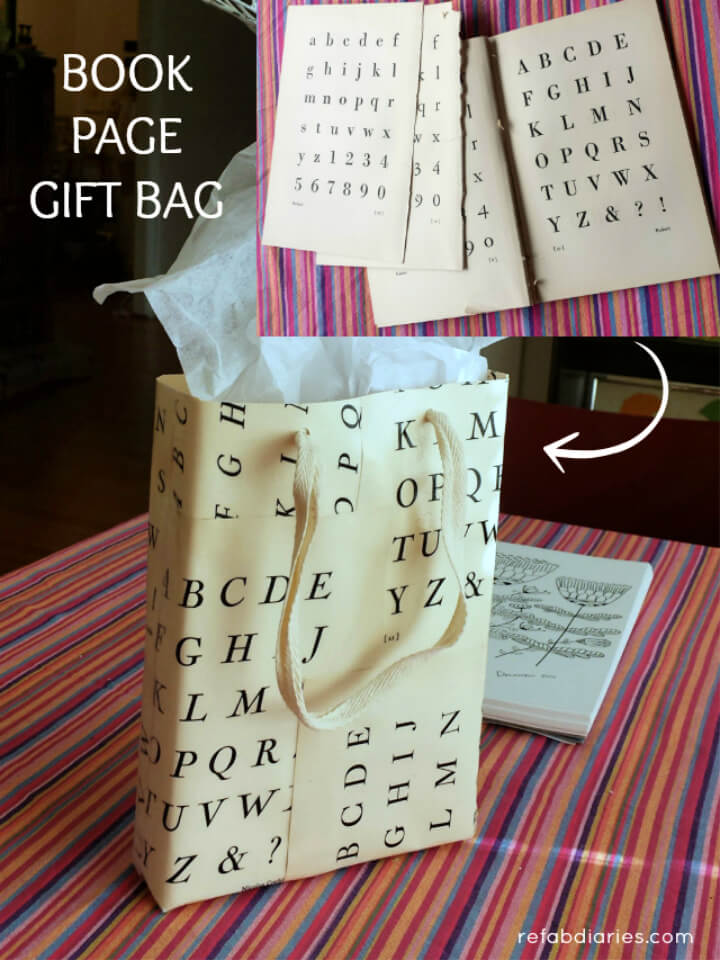 This minimalistic and vintage book page gift bag is made in just a few minutes. All you are going to need is some old book pages, mod podge, scissors, tape, hole punch and the material for holding like twine or tape and a big hard-back book. refabdiaries
5. Custom Gift Bag Out of Scrapbook Paper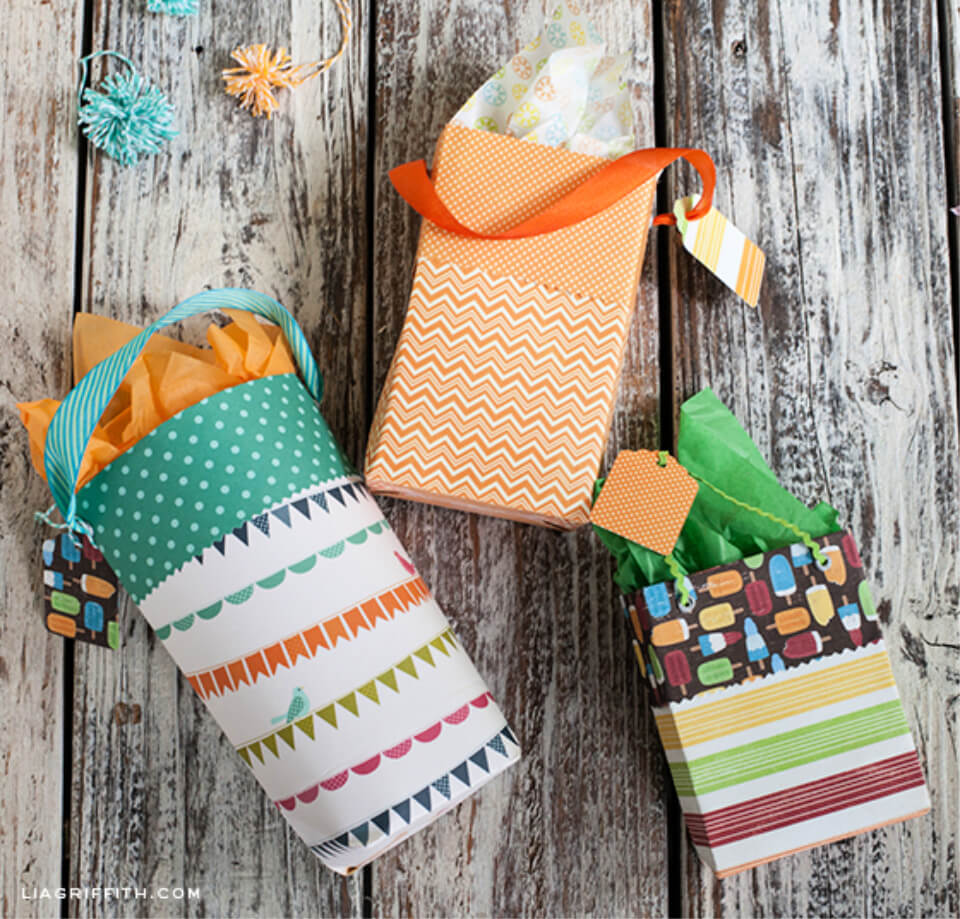 For simple and ordinary gifts, you can easily suffice on the market paper gift bags. But if you are looking to gift something more meaningful, say a plant or anything unusual, you need a complimenting paper gift bag too! Get that liagriffith
6. Homemade Scrapbook Paper Gift Bags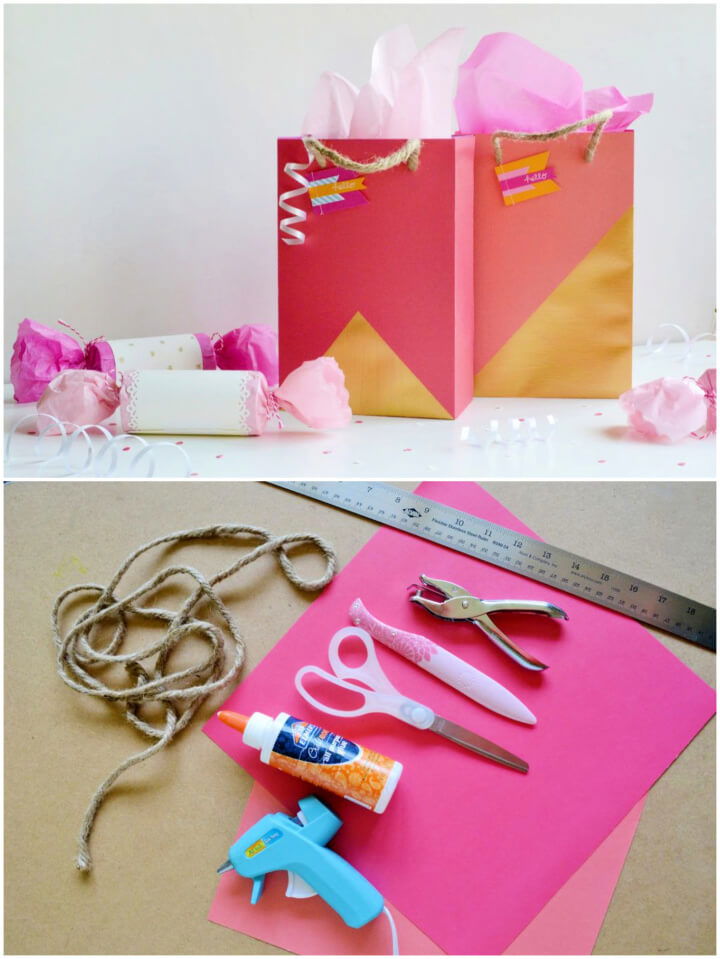 Make these cute and charming textures gift paper bags with a hint of gold accent at corners to excite the idea! You will need 2 sheets of scrapbook paper, scissors, ruler, pencil, hot glue and craft glue, jute or ribbon, and gold paint, of course. diys
7. Pretty DIY Paper Gift Bag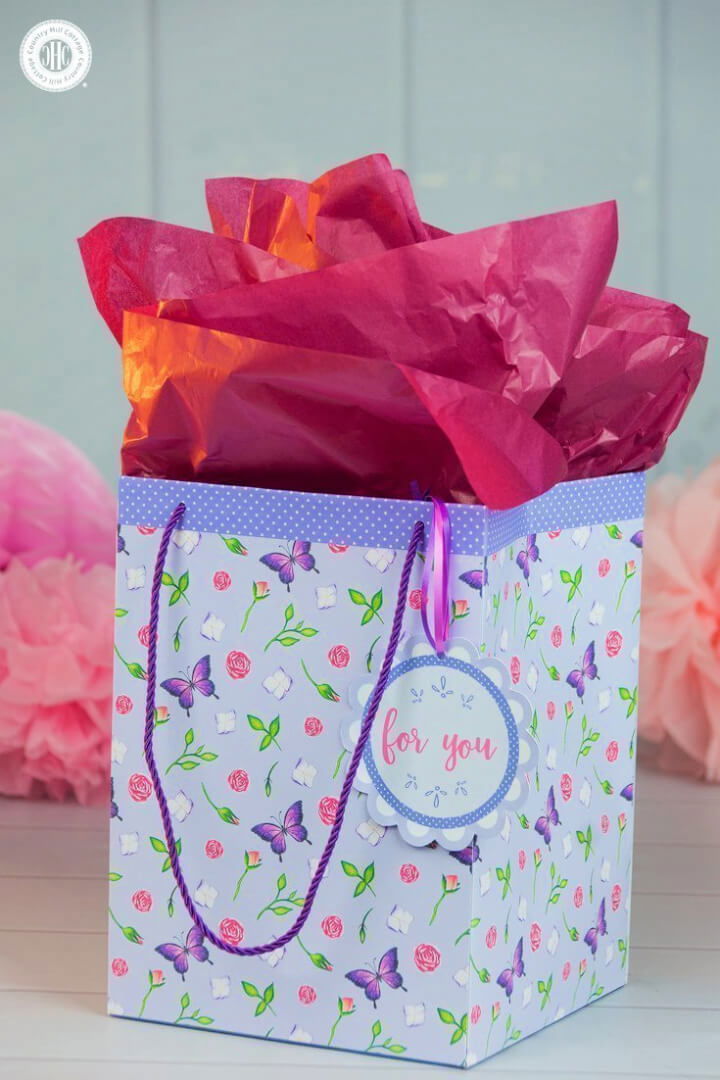 Give someone the perfect summer stroll glimpse with this summer enriched DIY paper gift bag! This could be your perfect option for preparing the last-minute party favors filled with little treats of summers! Add breezy vibes to your party's decor. countryhillcot
8. DIY Gift Bag from Wrapping Paper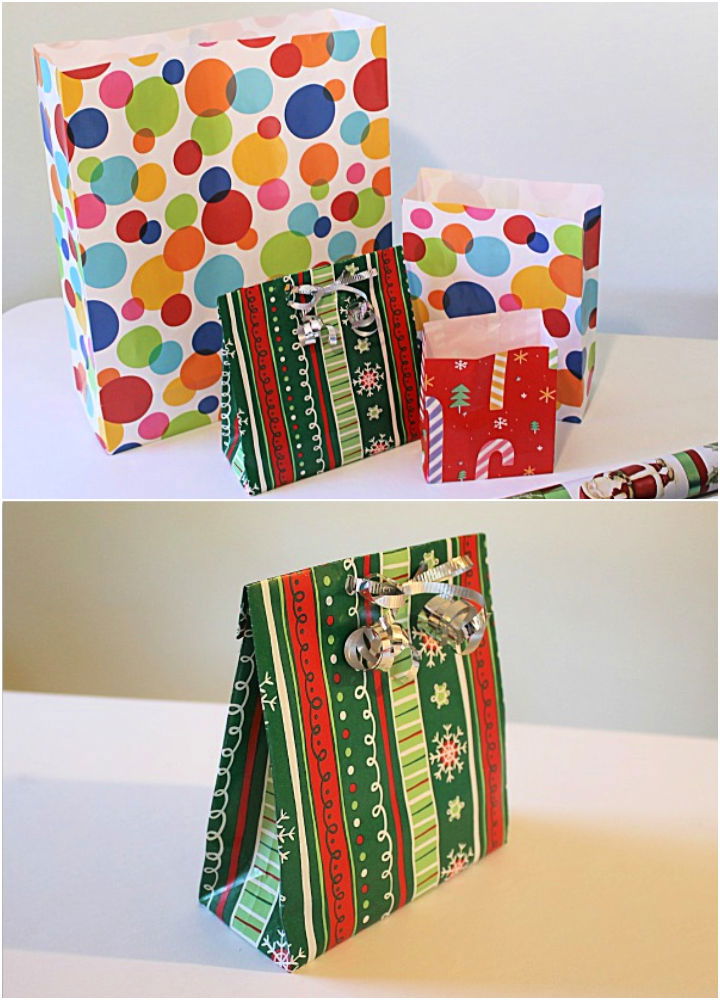 Darn easy to make and inexpensive on the pocket, too. These DIY wrapping paper gift bags are life saviors. You cannot spend almost an equal amount of money on buying gift bags that you have spent on buying gifts! Time to put your scrap wrapping paper to a good use. themakeyour
9. How to Make Gift Bags from Paper
If you have a taste for maps or musicals, make these enchanting and minimalistic paper bags. You will be needing old maps, music sheets, or other paper ephemera. With a ruler, a clear tape, scissors, ribbon and hole punch! Get the details of the full folds here. thecountrychic
10. DIY Wrapping Paper Gift Bag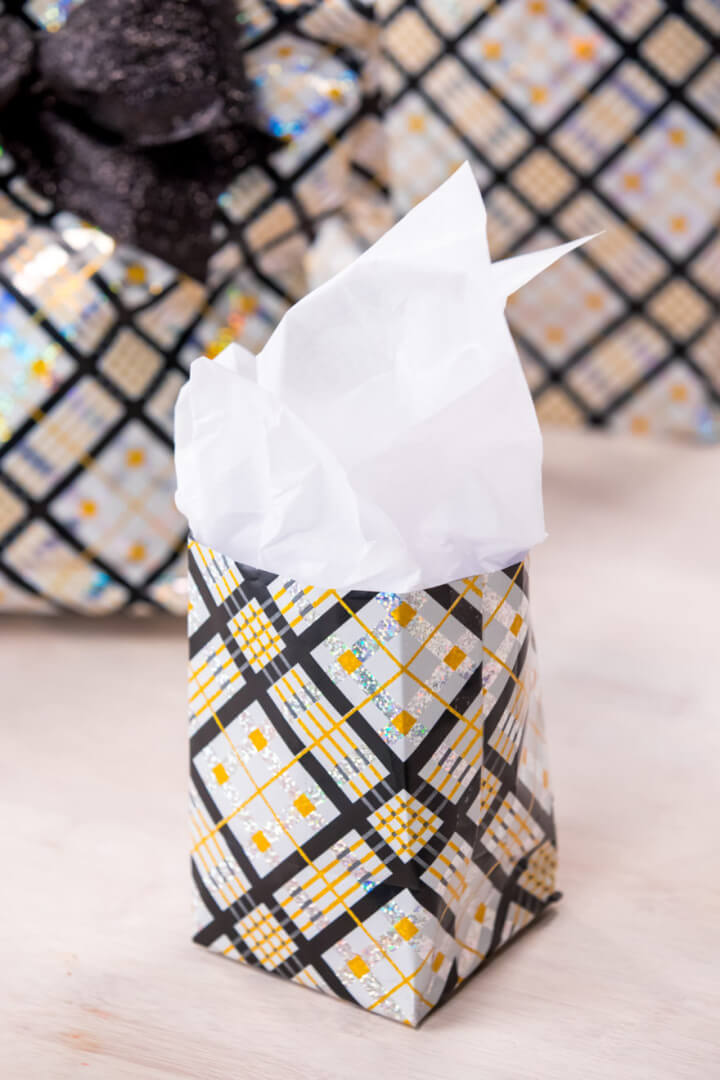 Give a new and aesthetically appealing purpose to your wrapping paper sheet! In short, reuse it with a charming paper gift bag idea. With some wrapping paper, tape, scissors, hole punch, and an ache for creativity, you can ace this like a pro. makeitgrateful
11. Gift Bag from Wrapping Paper
Christmas is that time of the year when everything has to be well-thought through. Starting from Christmas presents to decor and meal and everything! Instead of getting wearier finding the Christmas themed paper gift bags, make them at home all by yourself. sparklesofsun
12. Make Your Own Wallpaper Gift Bags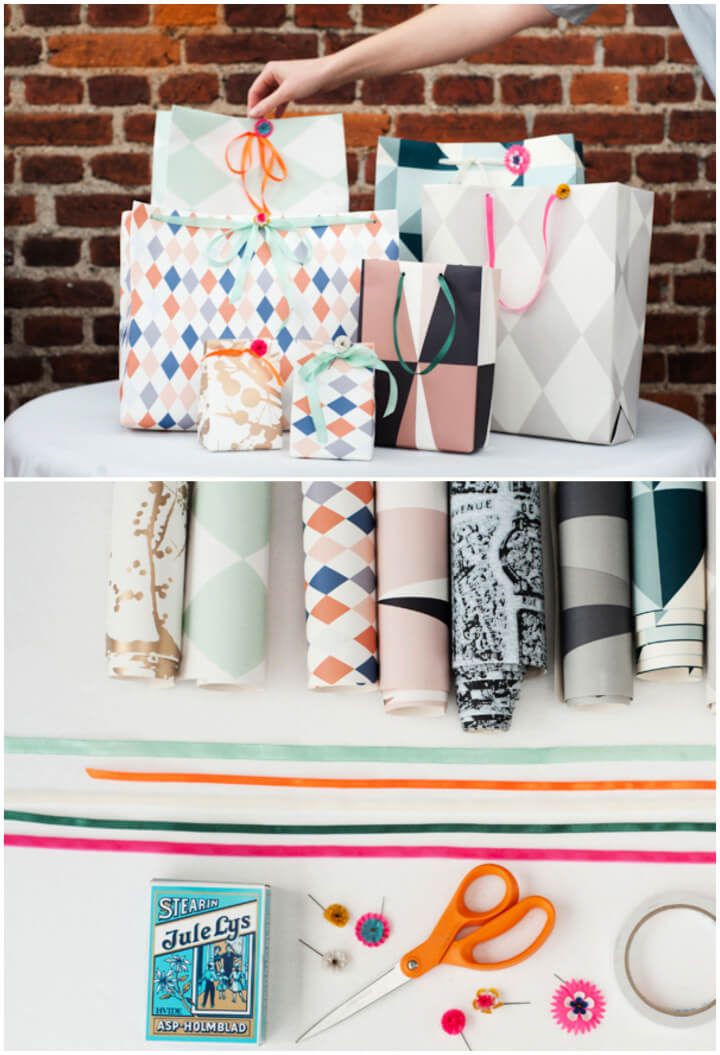 Like we always say, if you have the creative juices flowing inside you. You are going to be a charmer in making people feel extra special! Make appealing and customized wrapping paper gift bags using the scraps of your old wallpaper sheets in 8 simple steps. ohhappyday
13. DIY Paper Gift Bags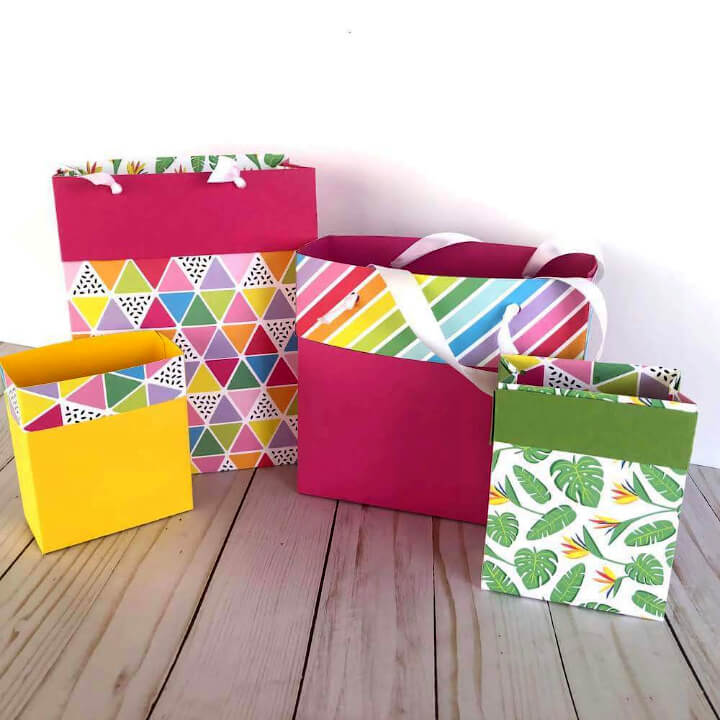 Getting cute gift bags from the market can sometimes be twice as expensive as the present itself, especially if you have a huge family to cater! Beat that with this cutest DIY any color any size paper gift bags made using wrapping paper. cardstock ware
14. Simple DIY Paper Bags
By using two simple materials like craft or wrapping paper with a strong paper glue stick, make these uber-cute DIY paper gift bags. You can customize the size easily as per your requirements. Head over to the tutorial now for step by step guide. coffeeandvani
15. Handmade Paper Gift Bags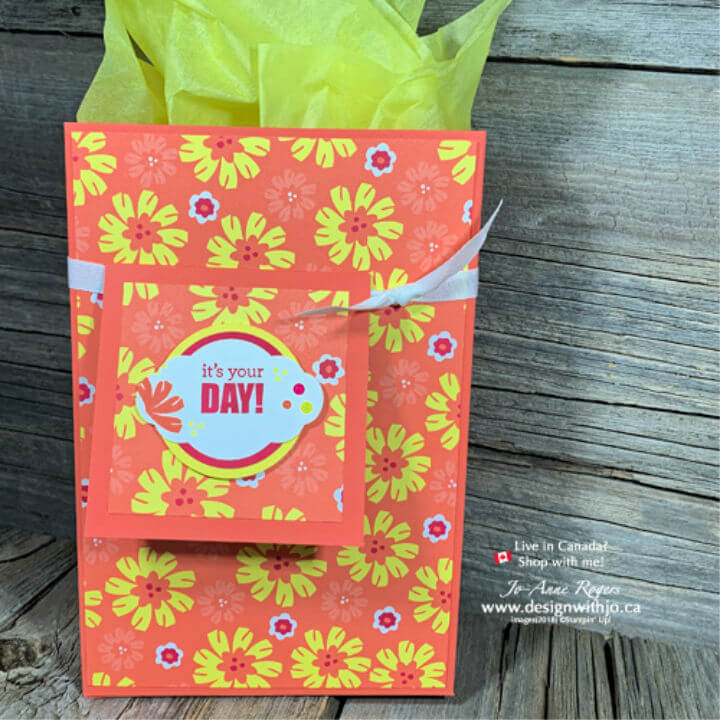 With this DIY paper gift bags idea on your hands, you can actually make a pretty impressive paper gift bag. By synchronizing it with a matching and themed tag and wish sticker or letters on the surface! Pretty cool, eh? designwithjo
16. How to Sew a Gift Bag in 5 Minutes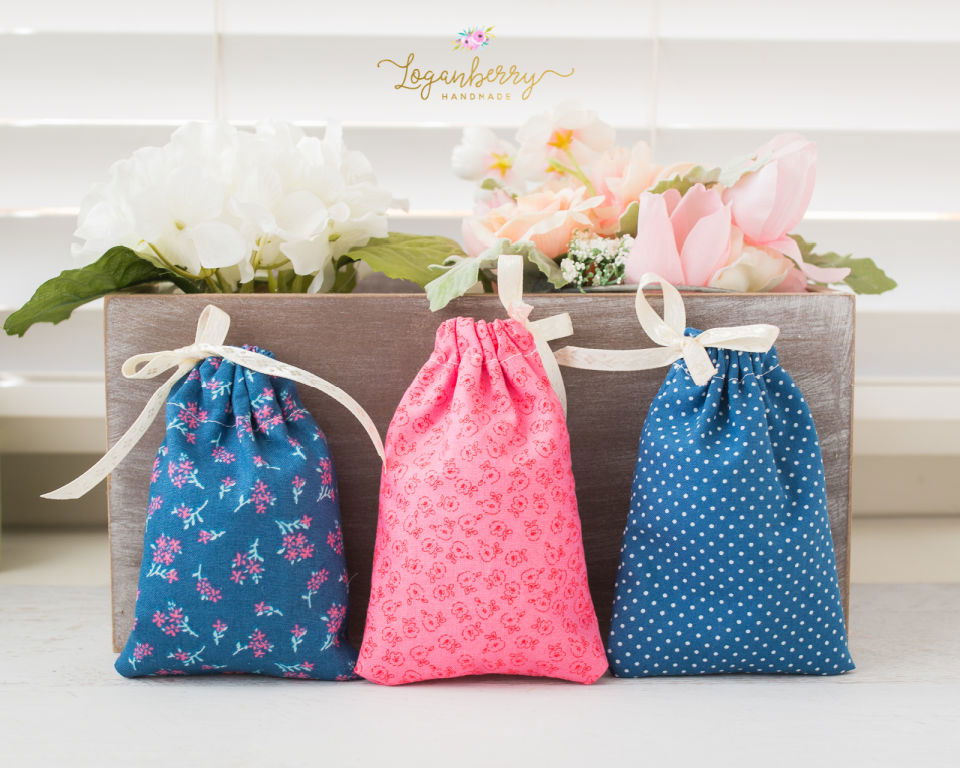 DIY gift bags are a beautiful, personalized way to wrap gifts for special occasions. In 5 minutes, you can make a handmade fabric bag that will wow your friends and family. All you need is one piece of fabric with a beautiful print, some satin ribbon, a safety pin, and a needle, thread or sewing machine if you want to sew it up.
This is an easy tutorial for sewing-averse people to help you get started so your gift bag will be beautifully crafted and ready when the special day arrives. loganberryhand
17. Reusable Drawstring Fabric Gift Bag Pattern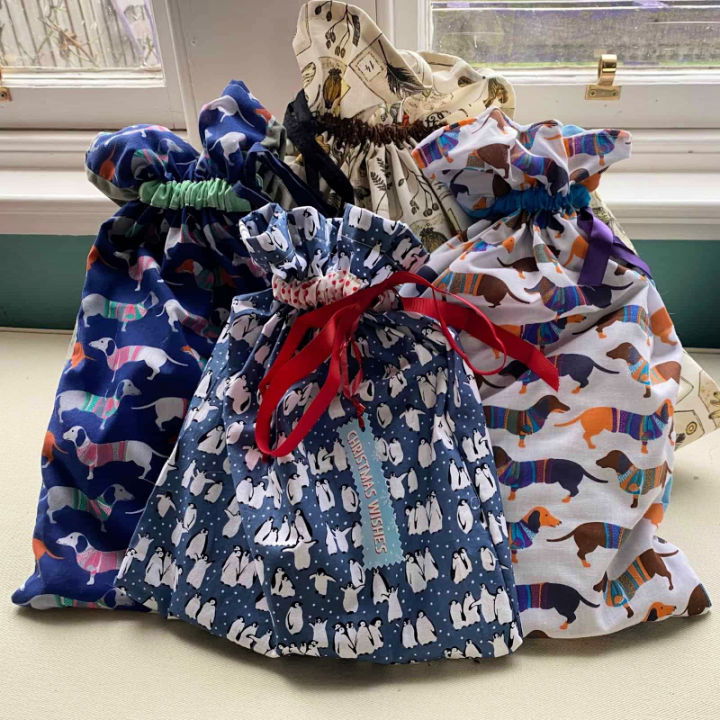 This reusable drawstring fabric gift bag is a perfect DIY sewing project for beginners who want excellent results without measuring. It is relatively fast and easy to create with minimal materials, such as fabric, a strip of fabric the same length as the width of your bag unsewn, a long ribbon or twine, a safety pin and a threader.
This is an easy-to-follow tutorial for those looking to make their own reusable drawstring fabric gift bags! All you need to do is arrange the fabric with the right side facing up and out. Then cut two fabric pieces from the center that are slightly larger.
Pin them together before adding additional materials like ribbon or twine for your drawstring tie. Lastly, when done, use a chopstick or bodkin threader to pull through and tie off your fabric gift bag in a bow! With this simple upcycling project, you can make pretty gift bags quickly! scrapfabriclove
18. DIY Printed Burlap Gift Bag for Bottle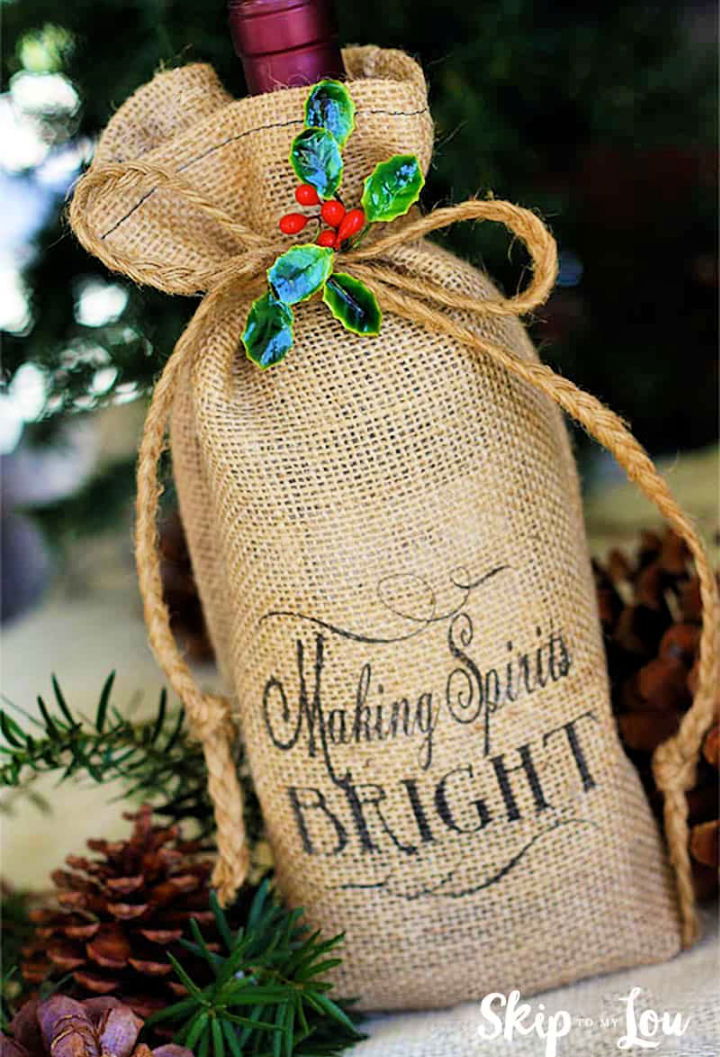 A DIY Printed burlap gift bag for bottles makes a great holiday gift idea! It is inexpensive and easy to make with commonly found materials, and its rustic charm can lighten up any gift. You can follow this easy tutorial that will guide you through making these bags using fusible interfacing, two pieces of burlap, a printer, an iron and a sewing machine. This printed burlap gift bag is an easy way to dress up any bottle or jar – it's almost too easy not to try it! skiptomylou
19. Professional Looking Gift Bags Out of Cardboard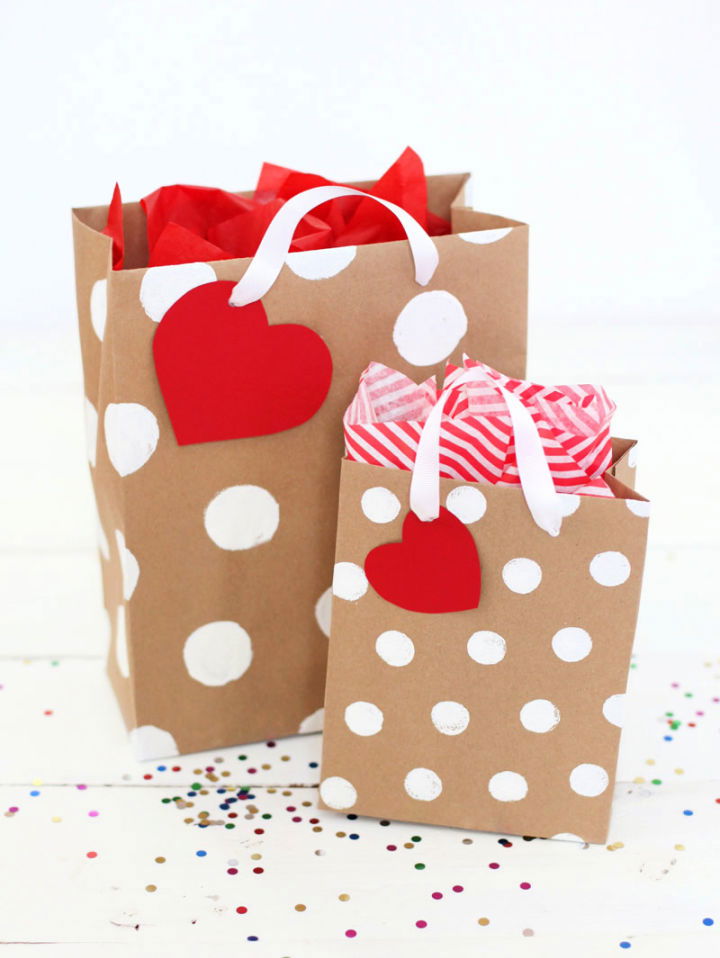 DIY projects are a great way to upcycle materials and create something beautiful with little effort. With this tutorial, you can make a professional-looking DIY gift bag from cardboard that is perfect for any occasion. Gather the necessary materials: a suitably sized box, paper, scissors, glue (preferably a glue stick), hole punch, and ribbon or rope.
Then follow this tutorial's easy instructions to create your professional-looking gift bag! This project will surely impress as it will turn your ordinary cardboard into something unique and creative in no time – so give it a go today! abeautifulmess
20. Making a Gift Bag Out of Fabric and Jean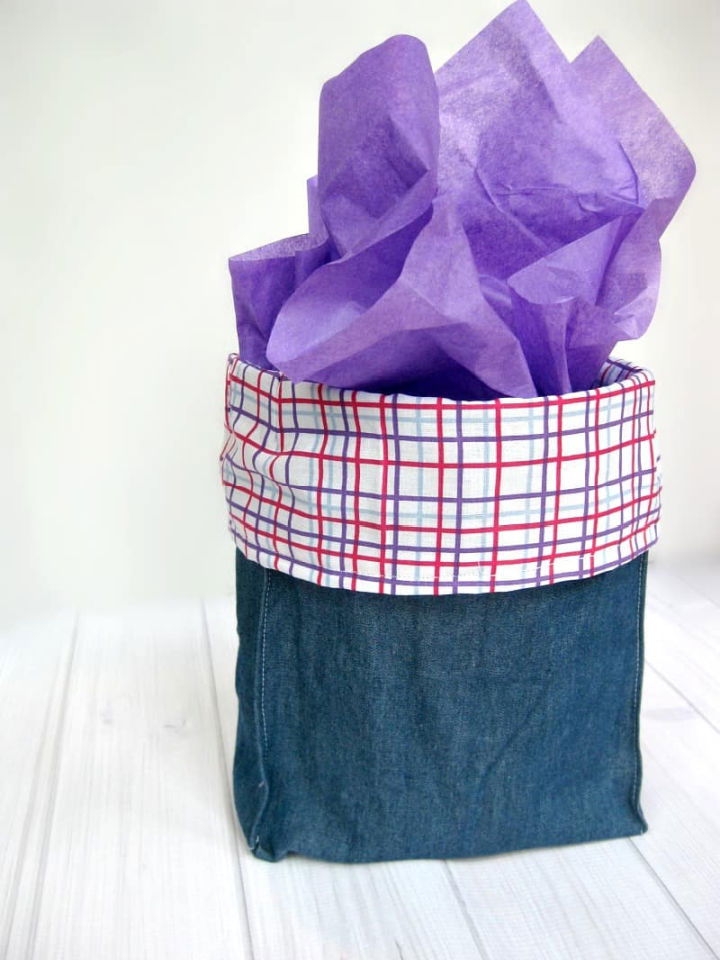 Creating a DIY gift bag out of items such as fabric & jeans is an easy, creative way to reuse household items while adding a personal touch to any present. You need fabric, jeans, scissors, thread, and a needle. Start by cutting the desired size of your bag from the jeans and fabric. Sew the pieces together along the sides with a needle and thread.
Afterward, sew on decorative trim of fabric to give it a custom look that will make your present unique! With this tutorial, you can create an adorable fabric gift bag in no time! organized31
21. DIY Personalized Fabric Gift Bags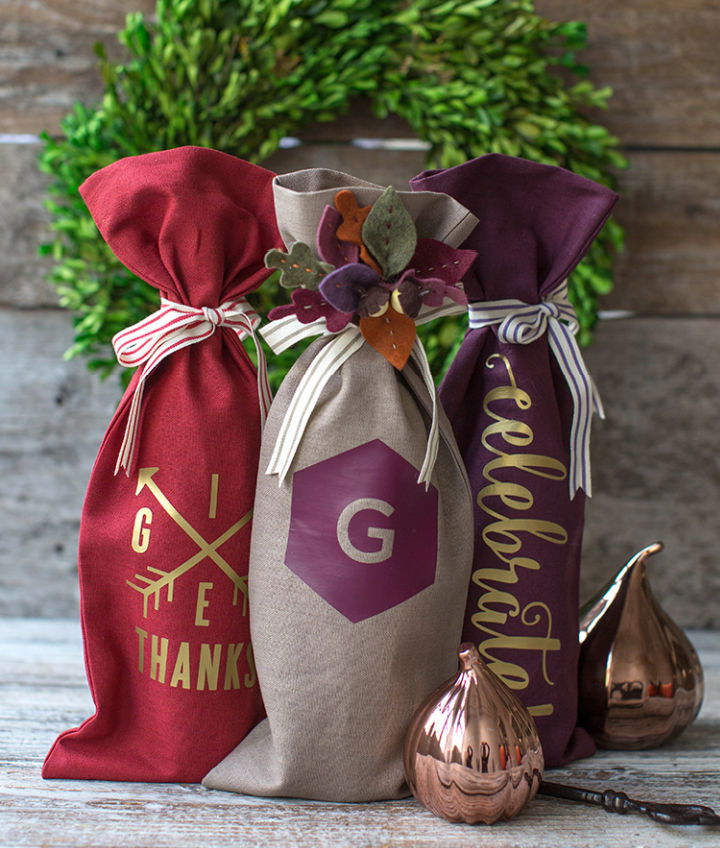 These DIY personalized fabric gift bags are the perfect way to give someone a truly unique and beautiful present. You can easily create something luxury-feeling with a few materials such as fabric, ribbon, scissors, and printable labels.
The tutorial below is easy to follow, so it's accessible for anyone to create these personalized fabric gift bags that add an extra bit of specialness when gifting bottles. And with printable labels, the options on how you customize the look and feel of your bags are endless!
Give your loved ones a gift they will never forget with these handmade personalized fabric gift bags. liagriffith
22. Buttoned Gift Bag Sewing Pattern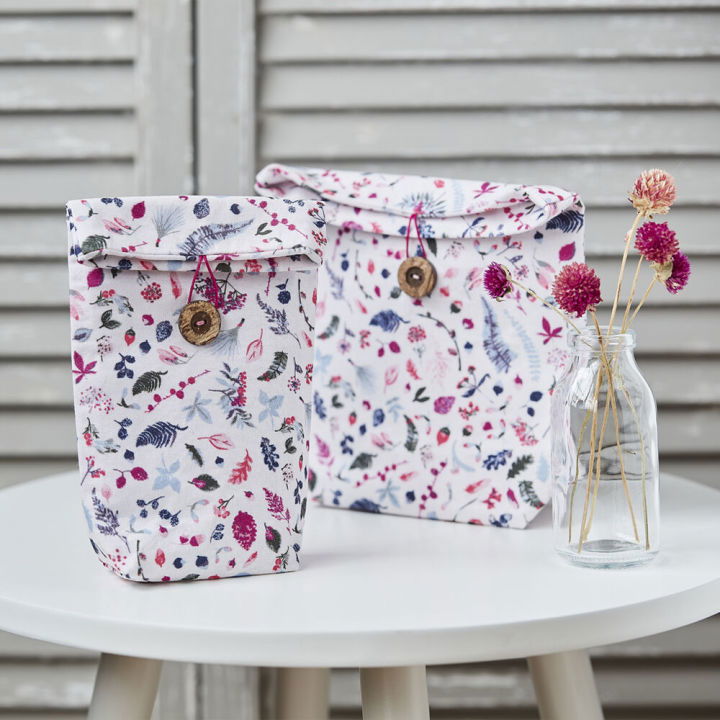 This DIY buttoned gift bag makes for a cost-effective and budget-friendly alternative to traditional gift wrapping. With an easy sewing pattern, DIYers can create the perfect reusable gift wrap in only one hour. All the necessary materials, such as fabric, buttons, ribbon knot cord, hemline iron-on interfacing, sewing machine, thread, hand sewing needles, dressmaking scissors and a few other handy supplies, are needed. This is an easy tutorial to help DIYers put it all together so that their gifts look gorgeous and unique! hobbycraft
23. How to Make Denim Gift Bags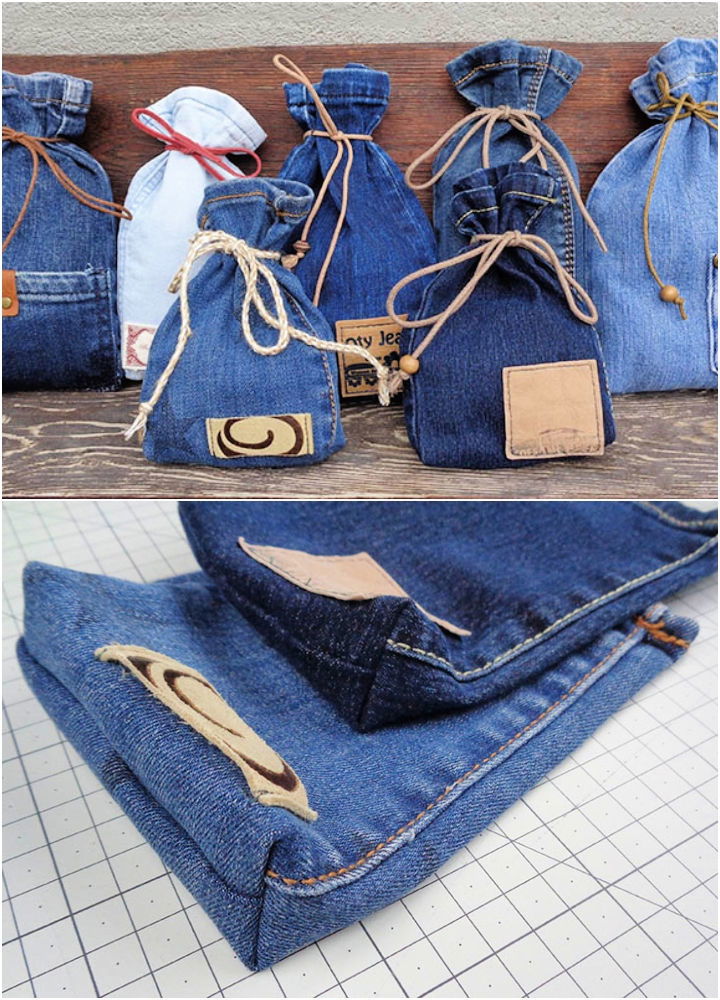 These denim gift bags are the perfect DIY solution for anyone looking for a budget-friendly yet stylish way to give gifts. Not only are they unique and reusable, but with this easy tutorial, you'll be able to make them out of old denim in no time! These gift bags make your gifts stand out and can easily be customized with styles and colors. Plus, you can use them repeatedly for all occasions or show someone special how much you care! makeitindenim
24. DIY Fabric Gift Pouch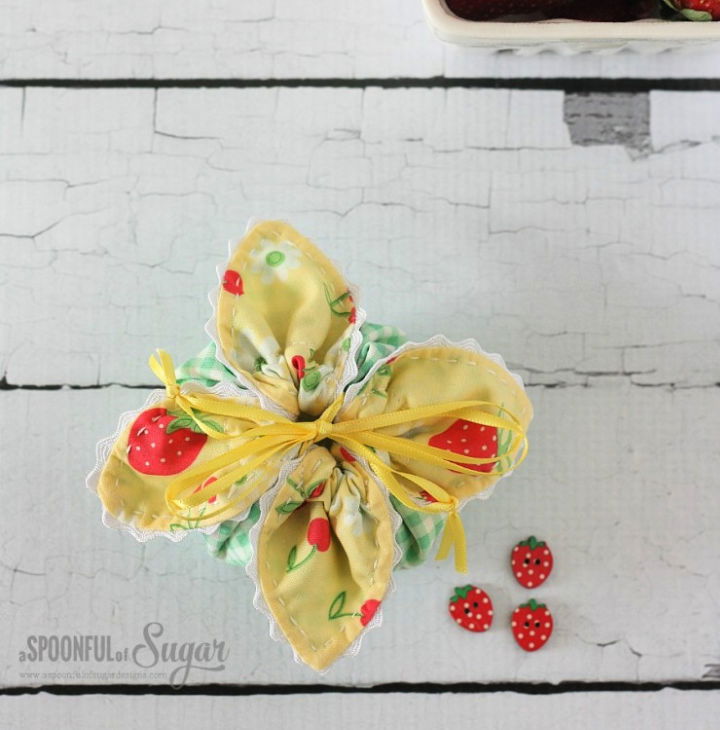 These handmade fabric gift pouches are the perfect way to explore your sewing skills. With simple materials and a quick and this easy tutorial, you can create a perfect-sized pouch to hold a small gift or token. Collect two 8.5 x 8.5-inch fabric squares in contrasting fabrics, plus white ricrac trim, a small label (optional), white embroidery floss and narrow yellow ribbon (or baker's twine). Follow this easy tutorial and surprise someone special with a DIY fabric gift pouch they will remember. aspoonfulofsugar
25. Easy Fabric Gift Bags with Embroidery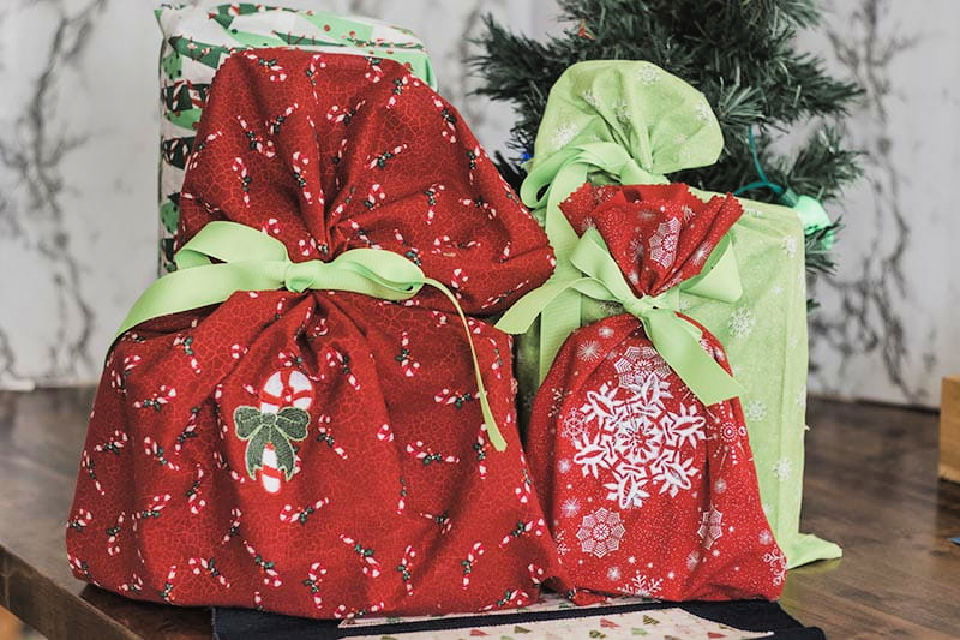 DIY fabric gift bags with embroidery make perfect reusable gift wrapping for any occasion. Crafting your DIY fabric bags is easy and fun, allowing you to customize them to the size and shape of your gifts.
All you need to get started is a sewing and embroidery machine, cute birthday, Christmas or other holiday fabric, embroidery files from an embroidery stabilizer, and embroidery thread.
This easy tutorial for fabric gift bags with embroidery is easier than ever. There's no better way to express your gifting enthusiasm than with these handmade fabric bags that are unique and pretty! brother usa
Related DIY Projects and Ideas
Gift Basket Ideas: These handmade gift basket ideas are perfect for friends, teachers, or family. This is a great way to send someone a thoughtful gift without the hassle of putting together all the trimmings.
Last Minute DIY Gift Ideas: Whether you're looking for quick DIY gift ideas or are just trying to avoid the holiday shopping crowds, these easy last minute DIY gifts will have your friends and family wondering how you did it.
Gifts for Boyfriend: The best way to show your love for a boyfriend is to make him a simple yet meaningful present. This list of cute and easy DIY gifts will make you the girlfriend that he deserves.
Mason Jar Gift Ideas: Find the perfect gift in a jar with these amazing DIY mason jar gift ideas that are quick, easy, and fun to make. From birthdays to weddings, these jars are the perfect handmade gift idea!
Photo Gift Ideas: These ridiculously easy DIY photo gift ideas are perfect for any occasion. They're easy to make and will have people's faces lighting up.
Gift Wrapping Ideas: You can transform any gift into something amazing. Here are genius, unique wrapping ideas that will make wrapping gifts fun again.
Crochet Valentine's Day Gifts: Get inspired with these free crochet patterns for Valentine's Day gifts that are perfect for your partner, children, friends, or yourself.
Conclusion:
The 25 easy DIY gift bag ideas provided in this article show how easy it is to create your own custom gift bags. By using recycled materials, creativity, and a few simple supplies, you can design unique and beautiful gift bags for any occasion. From festive holiday designs to personalized monogrammed totes, creating these customized gifts offer a fun and rewarding opportunity to give something special that the recipient will appreciate. Whether crafting with kids or creating sophisticated adult-style gift packaging, with just a little effort, you can create custom DIY gift bags that are sure to please everyone on your list!