Looking for a fun and easy way to keep the kids entertained? Why not try making some slime! A magnetic slime is a great option, as it's extra-slippery and magnetic. Plus, it's easy to make with just a few simple ingredients. Check out 10 easy magnetic slime recipes below to get started.
Slime play can be an excellent activity for developing motor skills and coordination. Kids can twist the slimes into any shape in their imaginations. Enjoy a new fun twist over regular traditional slimes with these DIY magnetic slimes, so incredible to see dancing on a table using a magnetic of choice.
Use neodymium round or bar magnets to get the slime fun started. It will be great for educational purposes, like learning about magnetic fields. So magnetic slimes can also be one of the best DIY stem projects that kids will love to do. To make slime of choice, we have gathered 10 easy magnetic slime recipes with simple step by step instructions that you can follow.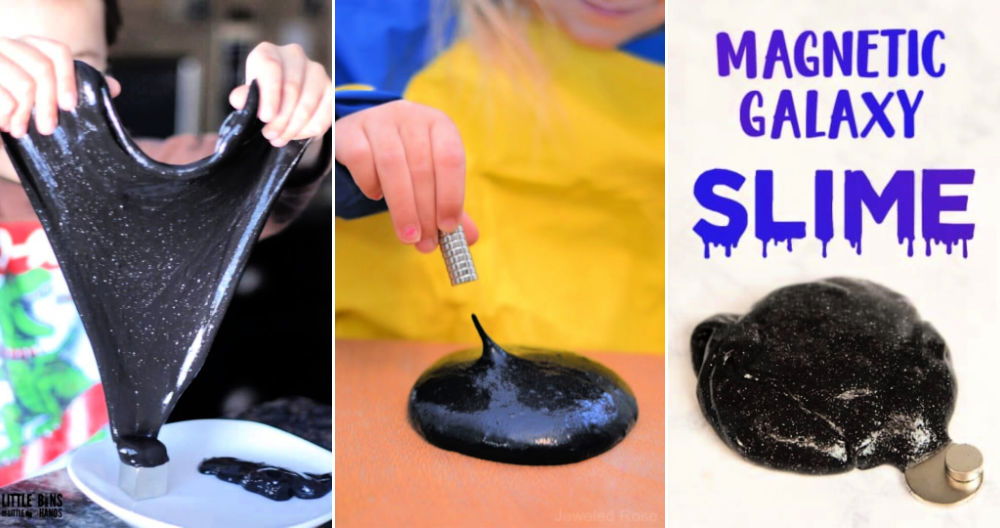 The secret ingredient that transforms a regular slime into a special slime is iron filings or iron oxide powder. This will get the slime metallic and hence, oozing toward the magnets. To see the liquid moving with the directions of magnets will provide tons of fun to your kids. Use also the glitter for galaxy-style magnetic slimes.
A little less thick but stretching slime will be ideal for fun play. Browse the entire list of best Magnetic slime recipes and duplicate your most desired one.
1. How to Make Magnetic Slime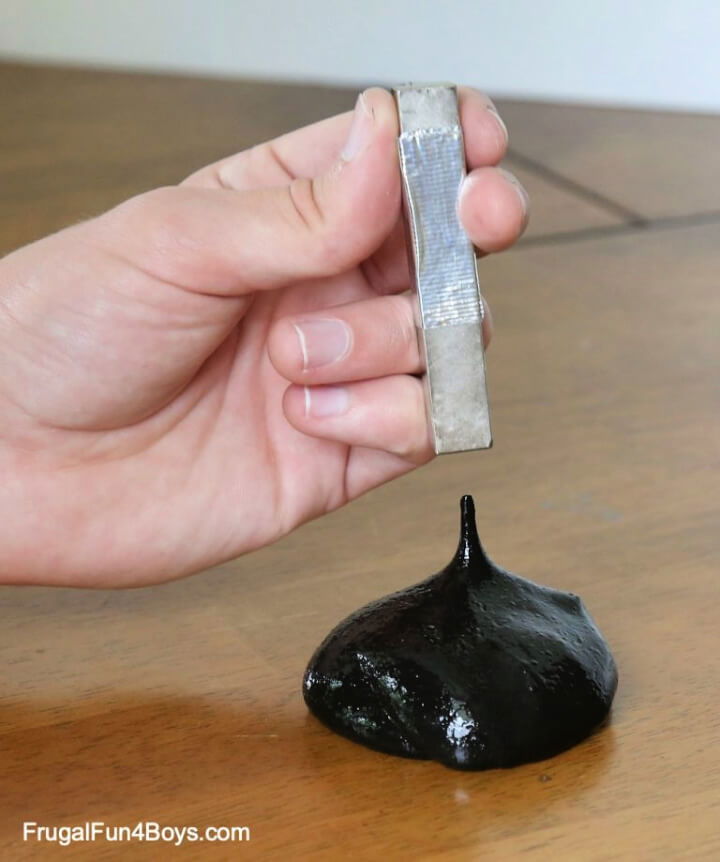 Building with slime help improving the excellent motor skills of the kids. Double up the slime fun of the kids with these magnetic slimes, have iron in them, and will stretch when you bring a magnet close to it. This will create too much fun for sure. Prep a slime recipe using liquid starch, Elmer's glue, and iron oxide powder. frugalfun4boys
2. Magnetic Slime with Iron Oxide Powder

Should not it create too much fun for the kids to move the liquid with a magnet? It will be a magical experience to see for sure and is only possible if you compose a magnetic slime using iron oxide powder as the main ingredient. The creepiest type of slime that will swallow the magnet. littlebinsforlittle
3. Magnetic Slime – Creepiest Slime Ever

Do make this scary slime for bring the kids fun to the next level, it will dance with the magnet and will boost the fun of your kids. It will also ooze toward the attraction, but adhesions will keep it bound, the slim raised edge will look great while dancing. A slime that is a totally big pleasure to look at. Details here babbledabbledo
4. Magnetic Slime Recipe

The magnetic slimes are not a rocket science to prep at home. All you need is to mix the iron powder in the traditional slime recipe to get it magnetic in properties. Kids can play with it all day long, but their attraction toward magnets will create hours of fun for the kids. If slimes are fun for the kids, then magnetic slimes will be super fun for sure. growingajewele
5. How to Make Magnetic Slime

One more easy prep slime recipe to create too much fun for the kids. The slime will get attracted to the magnets like neodymium magnets and comes with a boiling and genius mix of iron oxide powder. Prep normal slime recipe using glue, water, and liquid starch. kidsactivities
6. DIY Magnetic Slime

Compose this exceptional type of magnetic slime using saline solution, white glue, water, and iron oxide powder. First, prep the slime without a borax recipe and then add it up with iron filings to get a cool slime, as you can see. A little thick but high magnetic mud. asubtlerevelry
7. Magnetic Slime Recipe – Stem Activity for Kids

Sorting out the best STEM projects for the kids, then making magnetic slimes will teach the magnetic effect to your kids. Cook this unique slime recipe using shaving cream, glue, cornstarch, liquid starch, body lotion, and iron filings. This slime is also stretchy and will create so much fun for the kids. Full tutorial here survivingateachers
8. Magnetic Slime with Saline Solution

Slime can be made with a lot of different ingredients. So, this helps to give cool variations to your slime recipes going in the hands of your kids for motor skill development. Around this recipe by bringing a strong magnet closer and to not let it cling on the magnet will create too much fun. Details here iheartartsncrafts
9. Homemade Magnetic Slime

The scariest fun play liquid, is the black magnetic slime. Due to being mixed with iron filings, it will love to get attracted to magnets. This is here a slime recipe with borax. Compose it easily using water, borax, glue and iron filings or iron oxide powder. One of the slime recipes to cook in seconds. makeityourself
10. Make Magnetic Galaxy Slime

Show your love for galaxies using this magnetic galaxy slime, which will nicely hold a magnet inside. You need to add glitter as an extra ingredient in the traditional black slime recipes to make cool magnetic galaxy slimes in just no time. One of the best slime recipes for galaxy lovers in a home. It will be like a mini piece of space for the kids to hold in their hands to play with. morethan
11. Basic Slime – Step-by-Step Tutorial

Make this interesting magnetic slime using merely 4 ingredients. It will try to swallow your magnetic by getting a little raised, but the adhesive will keep in place, this would be a super fun thing to do for little kids. Use only water, glue, iron filing and borax to make this simple slime quickly. Complete guides here bitzngiggles
12. Magnetic Slime Using Cereal

Cereal can be your next inspiration for making lovely magnetic slimes. This slime will be less messy and sticky and will be a no-fail to make at home. See the fun movement of slime by letting the kids hole a magnet in their hands and enjoy. Mix the cereal with water, glue, and borax to cook this brilliant slime escape. instructables
13. Easiest DIY Magnetic Slime

Watch the liquid moving without actually touching it, and you only need this slime to see this phenomenon. Kids will take pleasure to make it dance on the table using a magnet, such an easy slime recipe to prep in a couple of minutes. Use the same ingredients to whip up this slime recipe, the best kids' STEM project it would be for sure. seemamago
14. Make Magnetic Slime at Home

Learn about the magnetic fields using these magnetic slimes, which will help kids get their magnetism concept clear by being a tremendous experimental material on their study desks. Get this version of slime by adding only the iron filing in the normal traditional slime. A fun way to keep your kids busy while teaching them some science too. rosieresearch
15. Make Your Own Magnetic Slime

Help kids improve their coordination while enjoying a fun play with the magnetic fields, using this homemade magnetic slime. Get the Stay Flo, iron oxide powder, glue, and glitter to whip up this slime version. Glitter may be an optional ingredient to add if you want a galaxy look of slime. thriftynorthwest
How to make fluffy slime:
Fluffy slime is a type of slime that is light, airy, and fluffy. It is often made with shaving cream, which gives it its distinctive texture. Fluffy slime can be made in any color and is often decorated with glitter or other small objects. It is a popular type of slime for kids to play with and can be used in a variety of arts and crafts projects.
Conclusion:
Whether you're looking for a new science experiment to try out with the kids or just want a fun, unique way to keep them entertained, magnetic slime is sure to please. It's easy to make and extra-slippery and magnetic, making it tons of fun to play with. Be sure to check out our best magnetic slime recipes for instructions on how to make your own magnetic slime. Have fun!