Learn how to make scrunchies with these 25 free DIY scrunchie patterns designed to help you sew your unique hair accessories with ease. These free scrunchie patterns come with simple, step-by-step instructions and provide a great way for beginners to learn sewing confidently. With various diy scrunchie patterns, such as knot scrunchies, bunny ear scrunchies, and draped bow scrunchies, there's a scrunchie design for everyone's taste.
DIY hair scrunchies are not only cost-effective, but they also allow you to unleash your creativity using various fabrics and colors. Perfect for gifting or personal use, scrunchies cater to all age groups. And with these DIY scrunchie patterns, making your custom scrunchies has never been simpler! So go ahead and gather your materials, like fabric strips, scissors, and a sewing machine, and start sewing your very own DIY scrunchies to flaunt them in style.
Get ready to add a personal touch to your hair accessories with these exciting and easy-to-follow DIY scrunchie patterns. Whether adding a pop of color, a touch of elegance, or a playful element to your ensemble, scrunchies have you covered. So, why not take charge and create your statement-making hair accessories with these 25 free DIY scrunchie patterns? Happy sewing!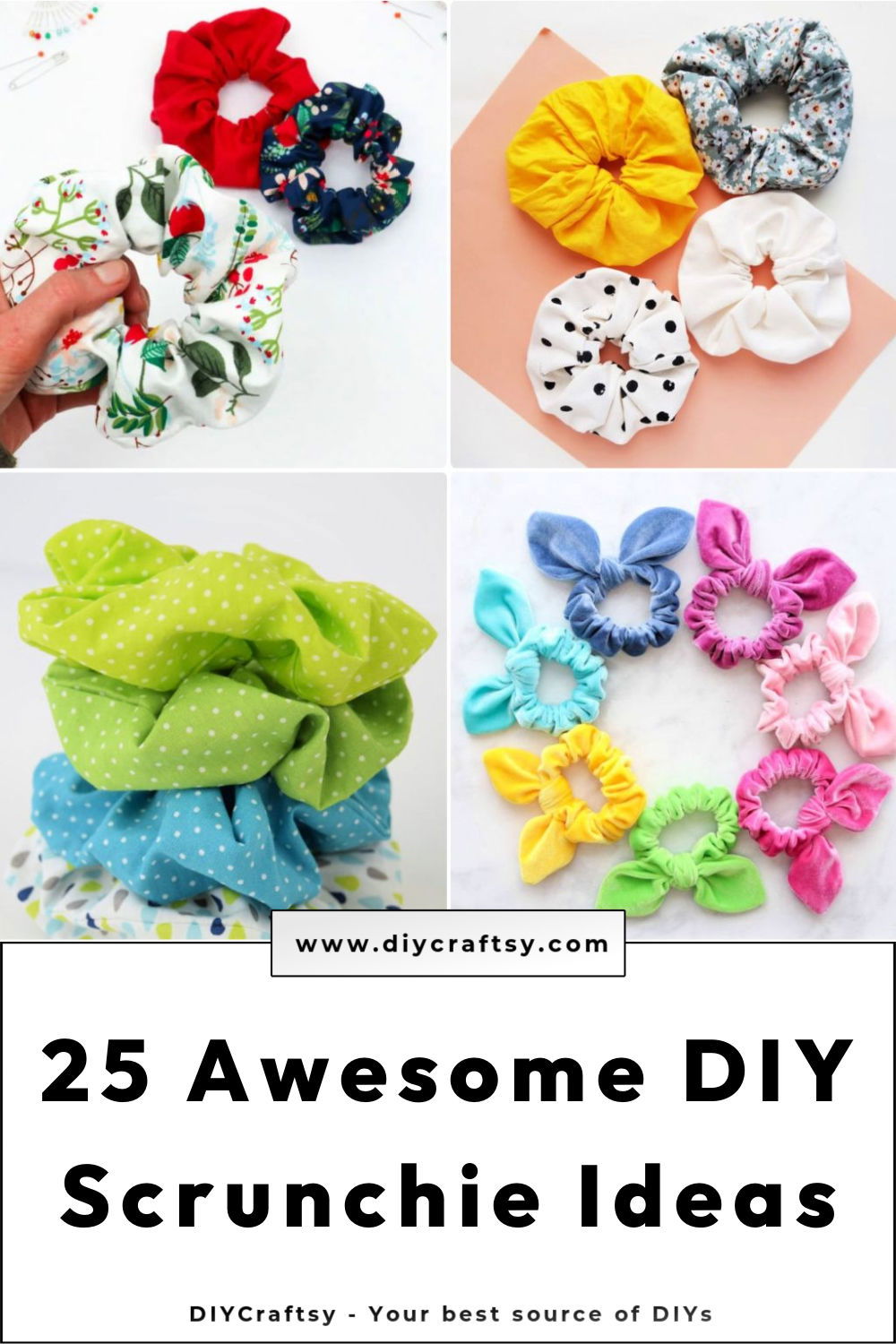 1. How to Make a Scrunchie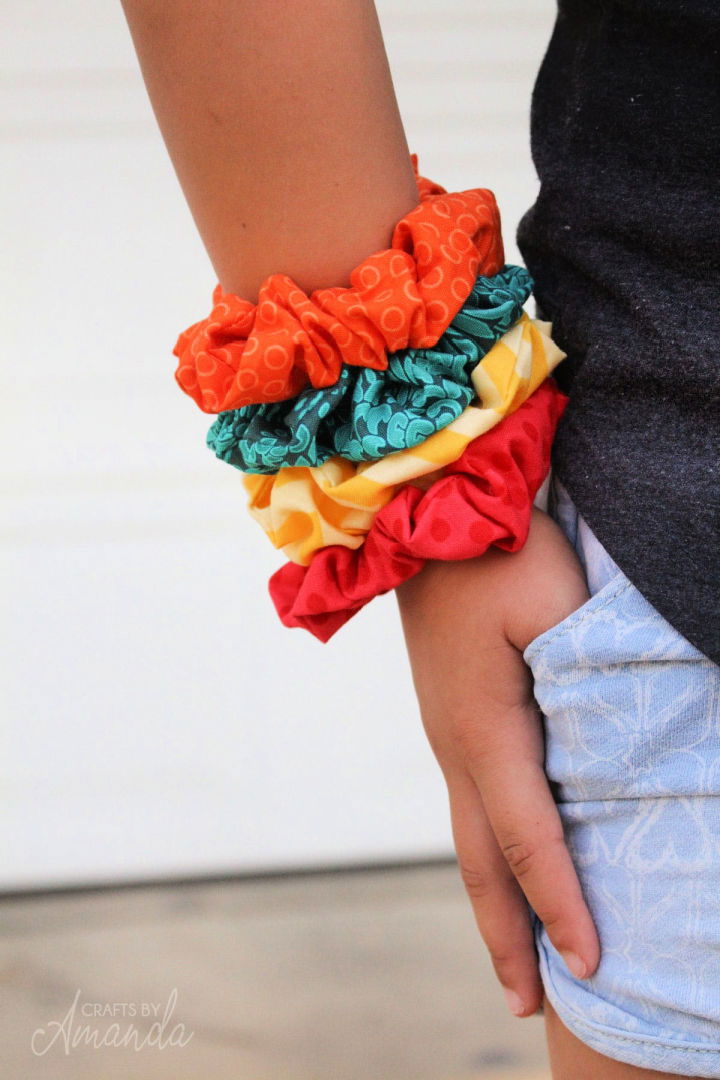 Reinvent a 1990s hair accessory trend with this exciting, easy-to-follow guide on making DIY scrunchies. This versatile craft project requires only simple sewing supplies. Its high customizability and cost-efficiency make it a perfect activity for anyone seeking to add personal flair to their accessories.
With an assortment of fabrics and a basic set of crafting supplies, including a rotary cutter, fabric scissors, a sewing ruler, a cutting mat, a sewing machine, and thread, you can construct a vibrant collection of scrunchies to match any outfit.
Follow the meticulously detailed steps, from cutting and folding the fabric and threading the elastic to sewing the final stitch.
The final product isn't just a unique personal accessory and an excellent gift for friends and family. Dive into the world of sewing crafts and add a hint of 90s nostalgia to your ensemble with your homemade scrunchie. craftsbyamanda
2. Make Your Own Knot Scrunchie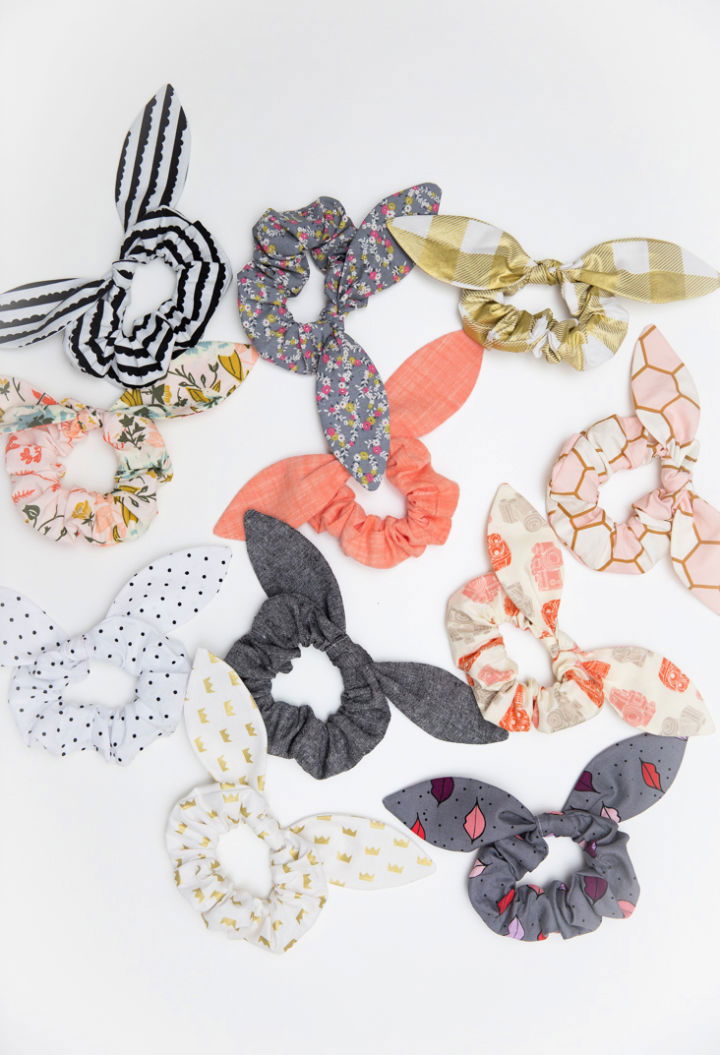 Unleash a dash of 90s nostalgia by making these DIY knotted hair scrunchies, a fashionable and functional accessory that's made a comeback. These scrunchies are perfect for utilizing leftover fabric scraps and can be produced quickly, making them an excellent gift idea.
The process involves using basic sewing supplies, a safety pin, and a 1/4″ wide elastic piece. With our detailed guide, you can learn to tailor scrunchies to any hair thickness, making them suitable for everyone.
Coupled with our free pattern template, you can make many variations to suit every outfit and occasion. Elevate your style or gift someone the ideal nostalgic accessory by learning how to make your scrunchies today! sewmuchado
3. Cute DIY Bunny Ear Scrunchie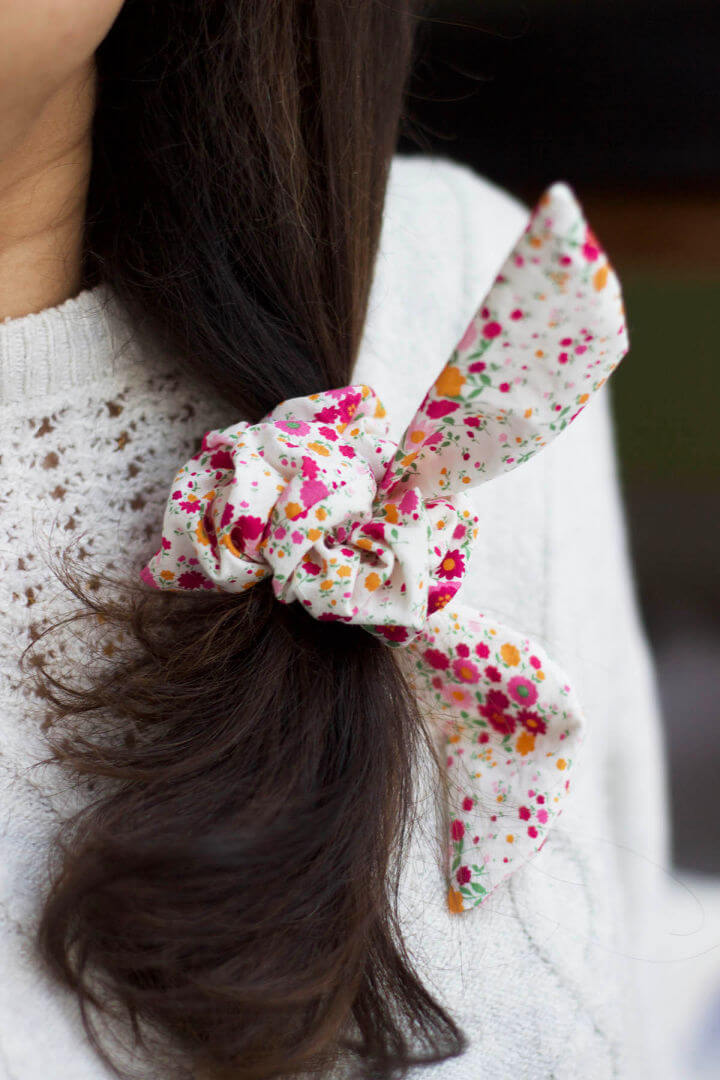 Add a playful touch to your hairstyles with a simple yet creative DIY Bunny Ear Scrunchie tutorial. Handcraft your unique scrunchies and stand out in the crowd, all while saving money on store-bought ones. In this guide, you will find clear instructions on how to make a scrunchie with bunny ears.
Using readily available supplies such as fabric, scissors, thread, a sewing machine (or needle and thread), and the free downloadable PDF pattern for the bunny ears, this easy-to-follow tutorial doesn't require advanced skills. It is a fun activity to engage in during your free time.
The finished product is a unique fashion accessory for personal use and makes a great gift idea. Enjoy this crafty venture and elevate your hair accessory game with this innovative and easy DIY project. kukarudesigns
4. Awesome Draped Bow Scrunchies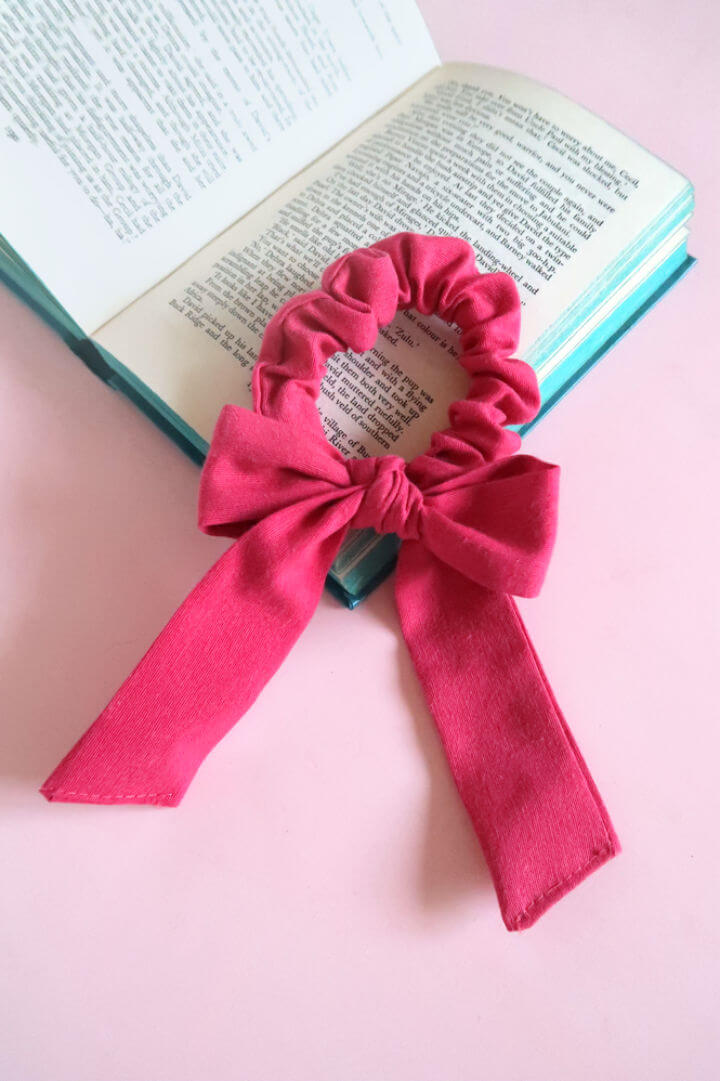 With this step-by-step tutorial, discover how to make adorable DIY draped bow scrunchies using scrap fabric. These trendy accessories are perfect for using leftover materials and can be made even with limited fabric. You can whip up your stylish scrunchies with just a few supplies like fabric scissors, a sewing machine, elastic, and a safety pin or loop turner. Check out the video for a detailed guide on making these charming bow scrunchies. Embrace your creativity and add a touch of uniqueness to your hair accessories collection today. curlymade
5. How to Sew a Scrunchie
Learn how to sew scrunchies with our easy step-by-step guide! Rekindle your love for the '90s with this simple DIY scrunchie tutorial! The renewed fascination for scrunchies isn't just a nostalgic trend; they're a versatile hair accessory that can complement any outfit. This tutorial will guide you through creating personalized scrunchies using fabric, elastic, safety pins, scissors, thread, and a needle or sewing machine.
The charm of this DIY lies in its sustainability. You can up-cycle scrap fabric or repurpose old clothes, promoting a zero-waste lifestyle while making unique scrunchies.
With vivid color options and diverse patterns, these handmade scrunchies are perfect for school-going kids and adults, elevating hairstyles like braids, ponytails, or topknot buns. As a bonus, the tutorial also offers instructions on how to make adorable bunny ear scrunchies. Let's bring back the scrunchie trend while embracing sustainability! kukarudesigns
6. Free Knot Bow Scrunchie Sewing Pattern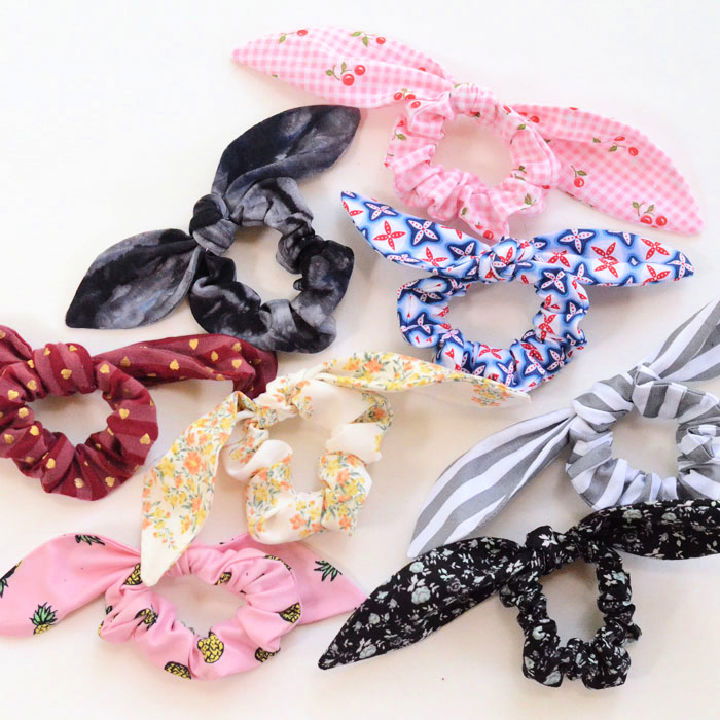 With this chic DIY knot bow scrunchie sewing pattern, heighten your hair accessory game. Going beyond the basic scrunchie, this project brings elegance and cuteness to your hairstyle. You can turn a mundane ponytail into a fashionable statement with some fabric scraps, a bit of elastic, a safety pin, and a dull pencil or wooden dowel.
Add a personalized touch by opting for longer or shorter bow sizes, experimenting with various fabrics from stripes to florals, knits, to silky textures. The knot bow scrunchie is easy and quick to make and offers an economical alternative to store-bought hair accessories.
Show your teen you can work DIY magic or add a touch of homemade charm to your hair accessory collection. These scrunchies are stylish additions that take the hair game to a new level. orangebettie
7. How to Make a Scrunchie With Cricut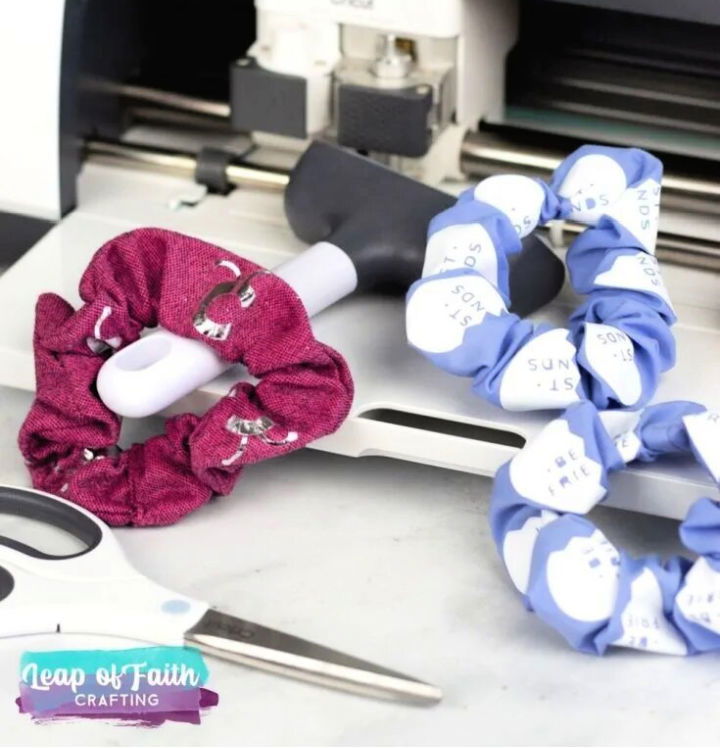 Revisit the nostalgia of the 80s and 90s with these chic DIY scrunchies that are easy to sew. Using your Cricut Maker, you can ensure a perfect cut of the fabric, which can be any material of your choice, although cotton is recommended for its ease of use.
Making scrunchies with this guide allows for endless customization with iron-on vinyl that you can apply to the fabric before sewing them together. No need to fret if you're not a seasoned seamstress – straight stitches are all it takes to assemble these.
These scrunchies make for an excellent personalized gift, party favor, or stocking stuffer and can also be paired with a DIY personalized zipper bag. Sew your way to fashionable, customized hair accessories with this engaging scrunchie project. leapoffaithcrafting
8. Easy Scrunchie Sewing Project for Beginners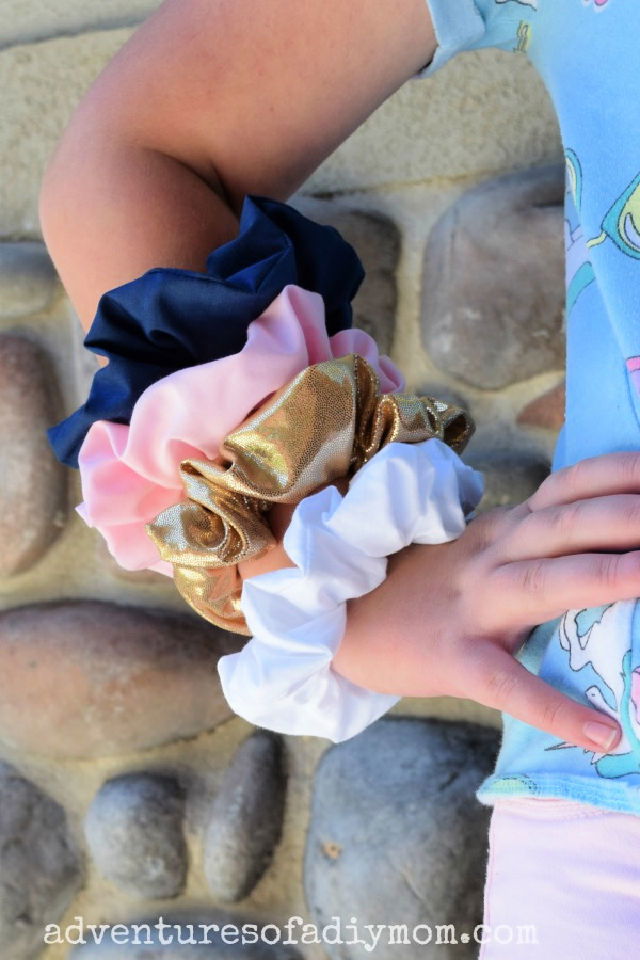 Inject creativity into your daily style with homemade scrunchies, a fun and easy sewing project suitable for all skill levels. Breathe new life into spare fabric pieces and curate your hair accessories collection. The procedure involves basic sewing skills, and the necessary supplies, such as fabric scraps, safety pins, and elastic, are typically readily available.
The activity offers an entertaining pastime for youngsters, providing a break from screens and fostering a sense of accomplishment as they craft their unique hair accessories. These DIY scrunchies, often worn as bracelets, have been a hit among friends and have also found their way into gift boxes.
An added twist to the project is the creation of bow scrunchies, enhancing the cuteness factor. So, if you're ready to get crafty, follow the detailed guide and start crafting scrunchies for yourself as gifts or fun. adventuresofadiymom
9. Handmade Scrunchy With a Cricut Machine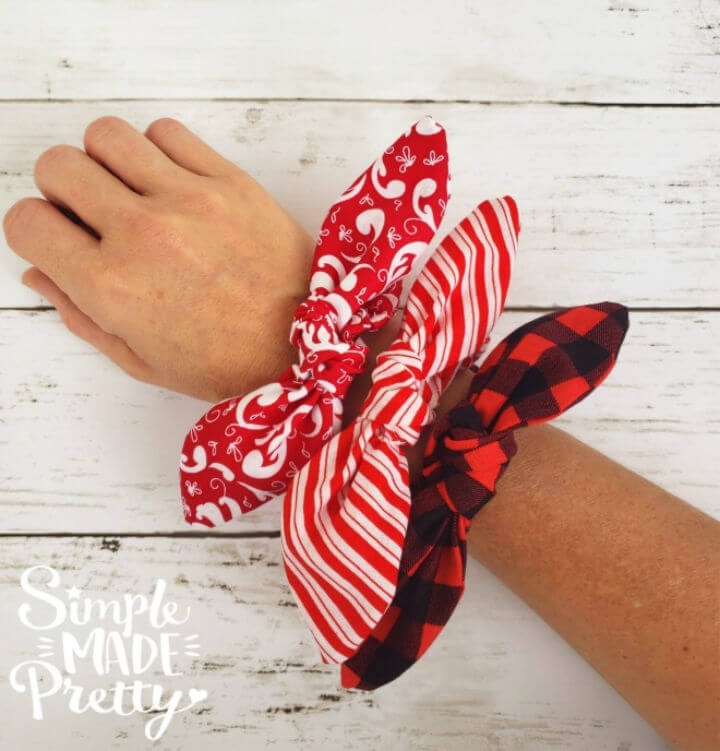 Get creative with fabric choices to make the perfect scrunchies. Unearth the charm of the 80s and 90s fashion with this fun DIY scrunchy project, crafted to perfection using a Cricut Maker Machine. Personalize your hair accessories or make a unique wrist embellishment by sewing fabric hair scrunchies that seamlessly match your outfits. Leveraging the precision and speed of a Cricut Maker Machine, you can swiftly cut and sew numerous scrunchies in record time.
With essential supplies like pink fabric, an SVG file, a sewing machine, white thread, and elastic, you can easily turn a fat quarter fabric into three exquisite scrunchies.
Follow the guided process to cut, sew, and assemble your scrunchy, including a stylish bow tie addition to cover the stitching and elevate the overall appeal. Start exploring your creative potential today and add a nostalgic touch to your style statement with these handmade scrunchies! simplemadepretty
10. Simple and Inexpensive DIY Scrunchie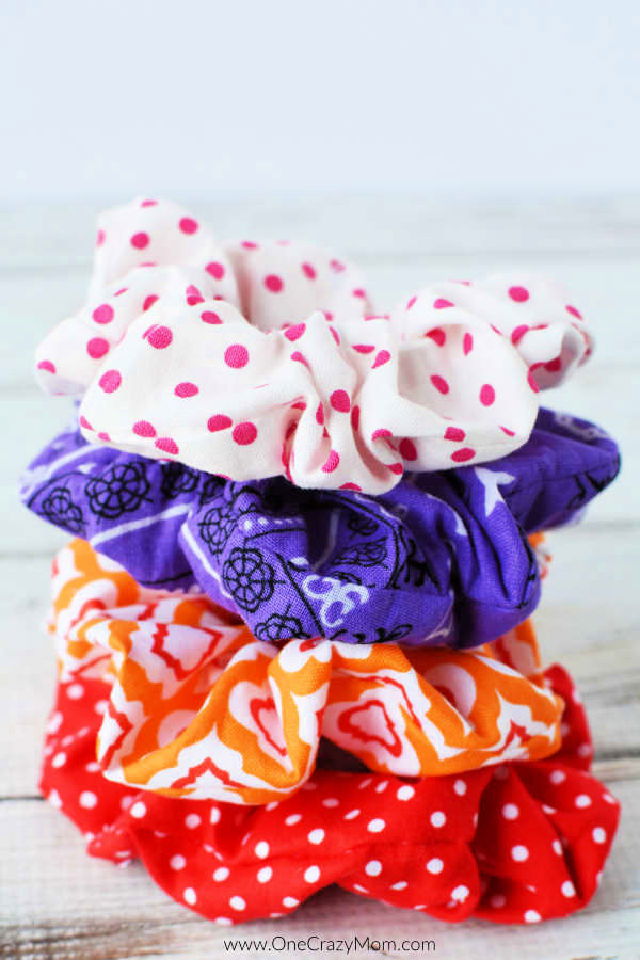 Scrunchie patterns offer endless design possibilities, from simple, solid colors to bold, eye-catching prints, for all ages and styles. Looking for a fun and budget-friendly project? Learn how to make your hair scrunchies at home in just a few easy steps. This DIY scrunchie tutorial will help you whip up several stylish scrunchies using fabric, elastic, and a handful of simple crafting tools.
Not only are these homemade scrunchies gentle on hair and headache-free, but they're also a brilliant way to repurpose old shirts or fabric offcuts. Tailor your scrunchies to suit different occasions or sports events, and let your creativity fly with fabric choices!
From trendy patterns to solid colors, the design possibilities are limitless. You can even make giant scrunchies for a bold style statement. Start your scrunchie-making journey today and enjoy a variety of unique and affordable hair accessories crafted by you! onecrazymom
11. Homemade Old T-shirt Hair Scrunchie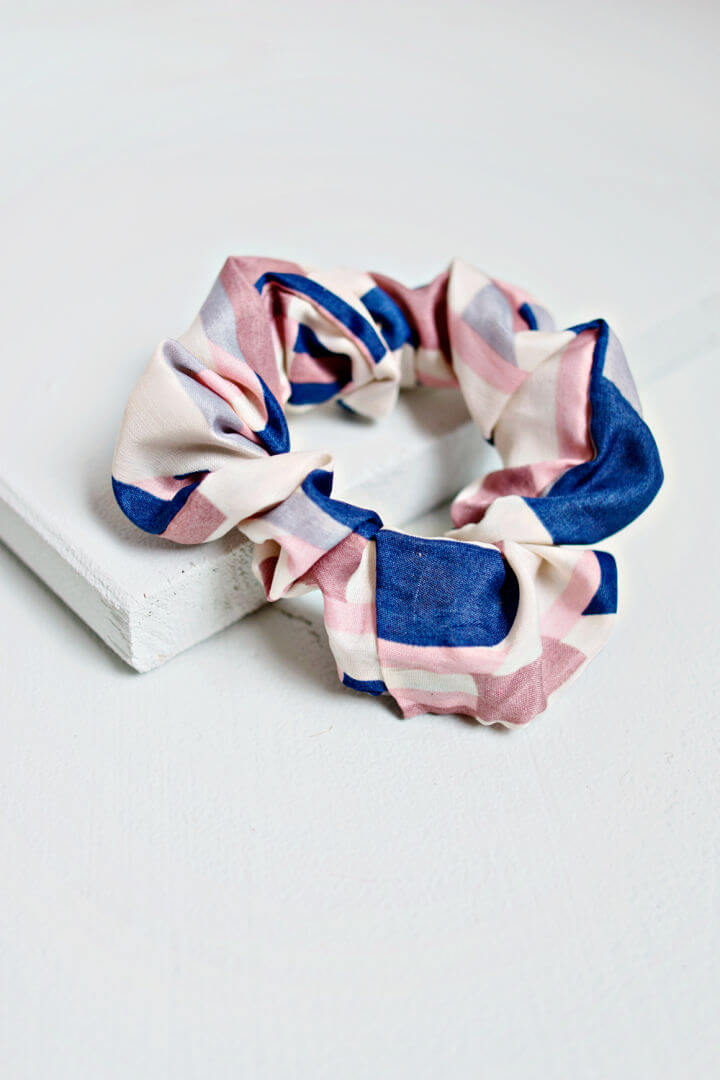 Breathe new life into your old shirts or leftover fabric by transforming them into stylish DIY hair scrunchies! Ideal for all the environmentally-conscious and craft lovers, this project is a superb way to use fabric scraps while upgrading your hair accessory collection.
These hair scrunchies can be made within 10 minutes and require a few basic sewing supplies, such as an old shirt or fabric, measuring tape, scissors, pins, elastic, a sewing machine, textile glue, and a safety pin. This eco-friendly activity presents a fun, creative opportunity to make personalized hair ties that express your unique style.
The only limitation is your creativity, as the type of fabric or prints you choose can make each scrunchie uniquely yours! It's an exciting, sustainable way to enhance your hair accessory game and repurpose old material! lanaredstudio
12. Easy to Sew Scrunchies at Home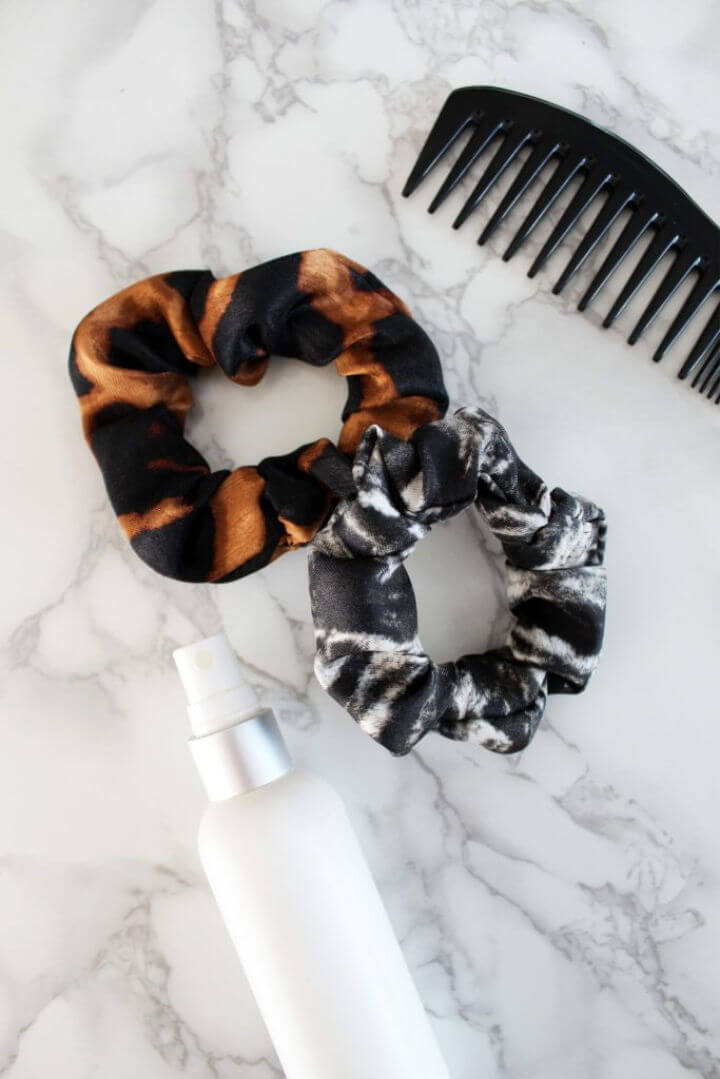 Upgrade your hair care routine with an easy DIY silk scrunchie! Not only is this stylish accessory gentle on your locks, but it also helps keep them kink-free and healthy as you sleep. The secret lies in silk, a fabric that doesn't wick moisture away from your hair, keeping it soft and robust. Additionally, the wideband minimizes damage caused by traditional rubber hair ties.
All you need to get started are scraps of silky fabric, a sewing needle, pins, safety pins, and an elastic band. Follow the comprehensive tutorial to cut and sew the fabric into a tube, then feed the elastic band through to make your scrunchie.
This project is an ideal and fun introduction to sewing for kids or those new to the craft. Moreover, making a scrunchie is a great way to utilize leftover fabric and contribute to waste reduction. Try this project today for a healthier, stylish hair care solution! creativefashion
13. How to Sew Holographic Scrunchies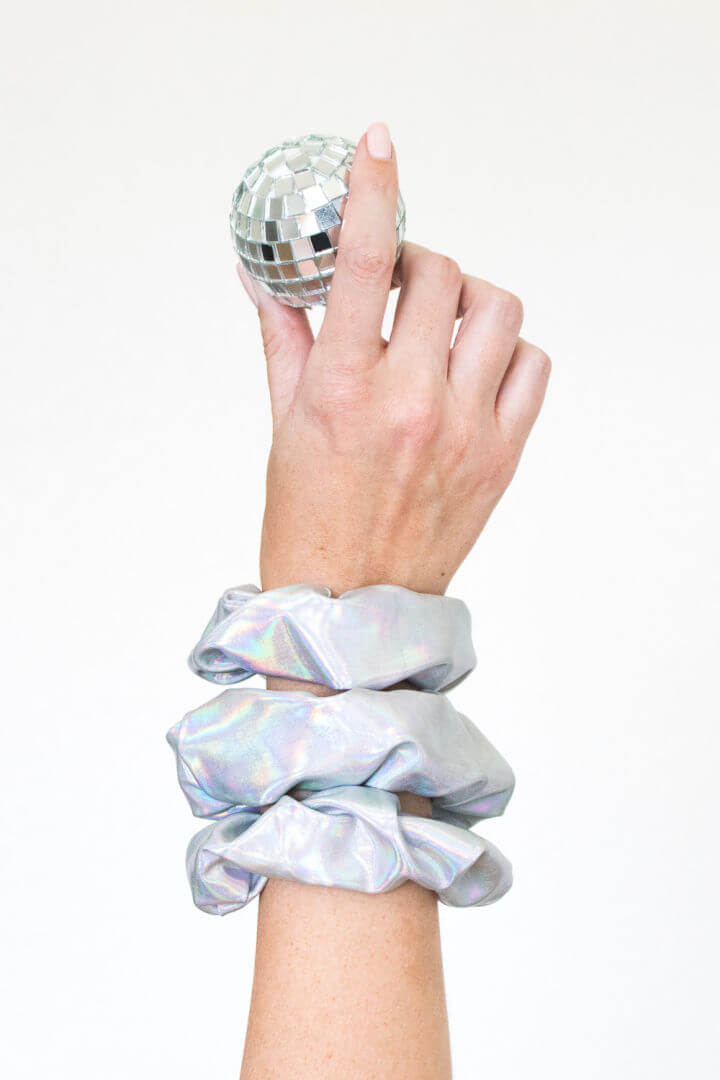 Boost your 90s nostalgia and make a fashion statement with these DIY holographic scrunchies. They're a hair accessory that shows off your style and ingenuity. These scrunchies are made from half a yard of holographic fabric and add an iridescent touch to any outfit.
They're perfect for thin hair or a messy bun, providing style with minimal effort. To make these, you'll need fabric scissors, thread, pins, measuring tape, a sewing machine, and a bit of time.
The process involves careful cutting, folding, pinning, sewing, and threading. The result is a beautiful, unique scrunchy, ready to be worn with flair. Remember, you don't always have to buy fabric; repurposing clothing like oversized shorts can be a perfect source of material. clubcrafted
14. Making Scrunchies With Step-by-Step Instructions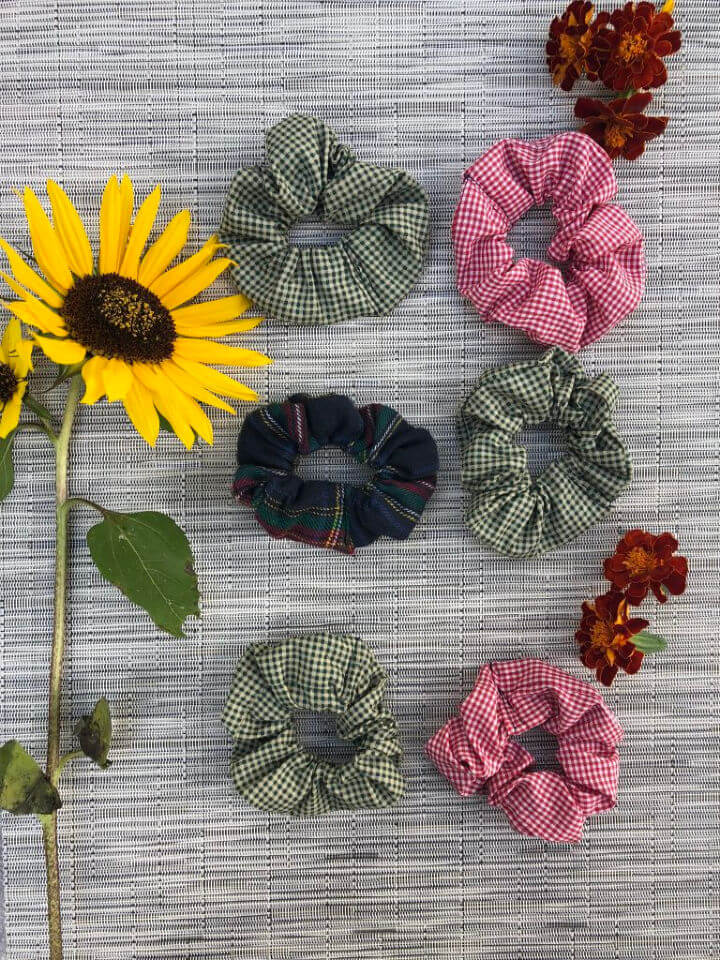 Discover beginner-friendly scrunchie patterns, perfect for learning sewing techniques while creating beautiful, personalized hair accessories. Revive the trendy and vibrant hair accessory of the '90s with this easy DIY scrunchies project! You can craft your colorful scrunchies at home using simple materials like fabric, elastic, scissors, a sewing machine, and a pen with a snug-fitting cap.
You don't need to be skilled at sewing for this project, as it guides you through each step, from cutting your fabric strips and sewing the fabric tube to inserting the elastic.
This craft project lets you make personal, tailor-made accessories that complement your style and provides a great way to recycle leftover fabric scraps. As a bonus, these scrunchies are easy on your hair, avoiding pulls or catches, and add a lovely pop of color to any hairstyle. Give your hair the fluffy, colorful treatment it deserves! agirlandakiwi
15. Quick and Easy DIY Scrunchies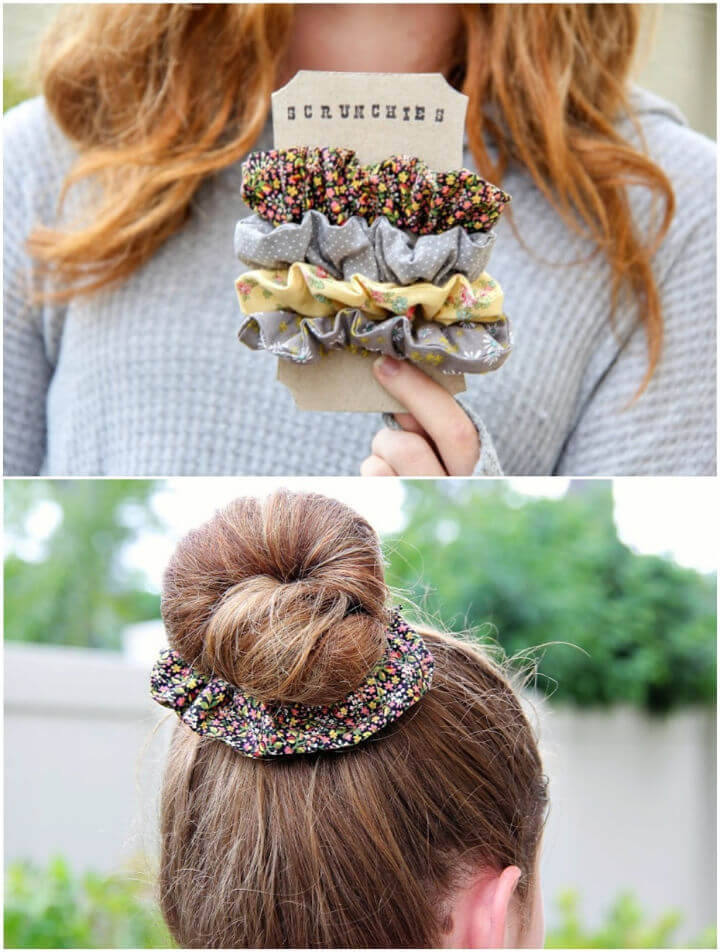 Revitalize your style or dive into a fun new hobby with this simple, 30-minute DIY project: crafting handmade scrunchies! This blast from the past is once again a beloved accessory, adored for its variety in colors and patterns. With only a few essential supplies like fabric scraps, a safety pin, a sewing machine, and 1/4″ elastic, you can make an array of unique scrunchies in no time.
Follow the detailed instructions, and before you know it, you'll be flaunting or gifting these adorable hair accessories. You can even craft a cardboard scrunchie holder for a delightful presentation. So, get started on this creative journey and add a personal touch to your fashion statement today. makeandtakes
16. Sew a Scrunchie – Free Pattern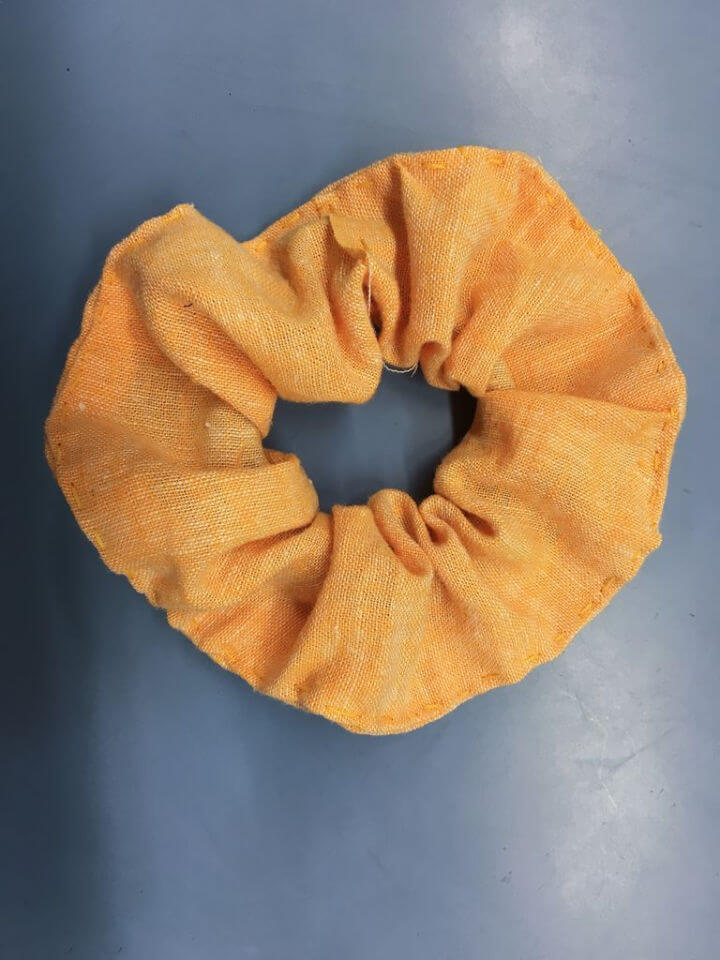 Make your unique hair accessory with this simple DIY scrunchie guide. Tailored to your style, choose any fabric color that best suits your taste. Start with essentials such as fabric, hair ties, scissors, a needle and thread, pins, and a ruler.
Measuring and cutting your fabric into a 14 by 4-inch piece, you will fold and stitch it into a long rectangular shape, forming the basis of your scrunchie. Once you insert the hair tie and neatly fold it in the fabric, it's all down to fine, short stitches that bind it together.
These homemade scrunchies can be a great personal accessory or a thoughtful gift. With this guide, enjoy an easy, affordable, and fashionable journey to creating unique hair ties straight from your hands. instructables
17. Sew a Scrunchie With Written Instructions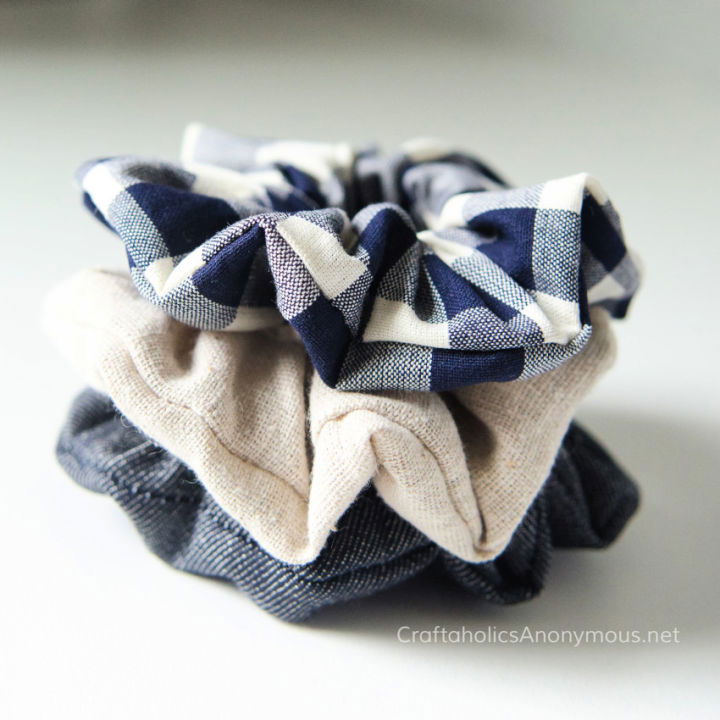 Sewing handmade scrunchie patterns allows for sustainable, eco-friendly hair accessories while showcasing your individual style and creativity. Add a charming touch to your hairstyle with delightful DIY scrunchies! This revived fashion accessory is great for your hair and a fashionable wrist adornment. Made from your choice of fabric scraps and basic sewing equipment, these scrunchies bring a personalized touch to your outfit.
Cut your fabric into strips, then sew these into a tube. Thread elastic through the fabric tube, secure the ends, and finish by closing the tube. You can make a collection of scrunchies perfect for every season or occasion in just a few easy steps.
An excellent way to utilize leftover fabrics, this tutorial adds a creative flair to your crafting journey while keeping your hairstyles chic and spirited. Enjoy the simplicity of this project today! craftaholics
18. DIY Scrunchies Gift for Teenagers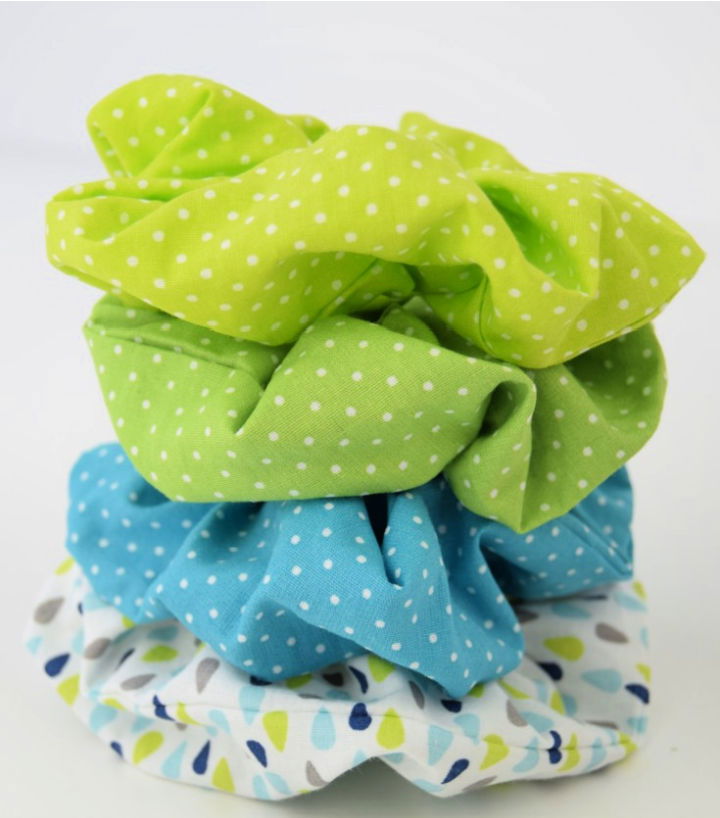 Make stylish DIY scrunchies using this helpful tutorial! Sewing scrunchies is a fantastic way to utilize your fabric scraps, and these hair accessories make perfect gifts for teenagers. You can tailor this project to fit any hair type perfectly by offering a size chart for seven scrunchie dimensions.
Moreover, scrunchies can add a fashionable touch to high or low ponytails or be worn around your wrist as a stylish accessory. You only need a few materials: fabric scraps, elastic, a simple chopstick for turning, matching thread, a safety pin or an elastic threader, and sewing essentials.
This guide provides clear, step-by-step instructions to make this easy sewing project a breeze. Get started today and transform your leftover fabrics into beautiful, functional scrunchies! applegreencottage
19. How to Make a Bow Scrunchie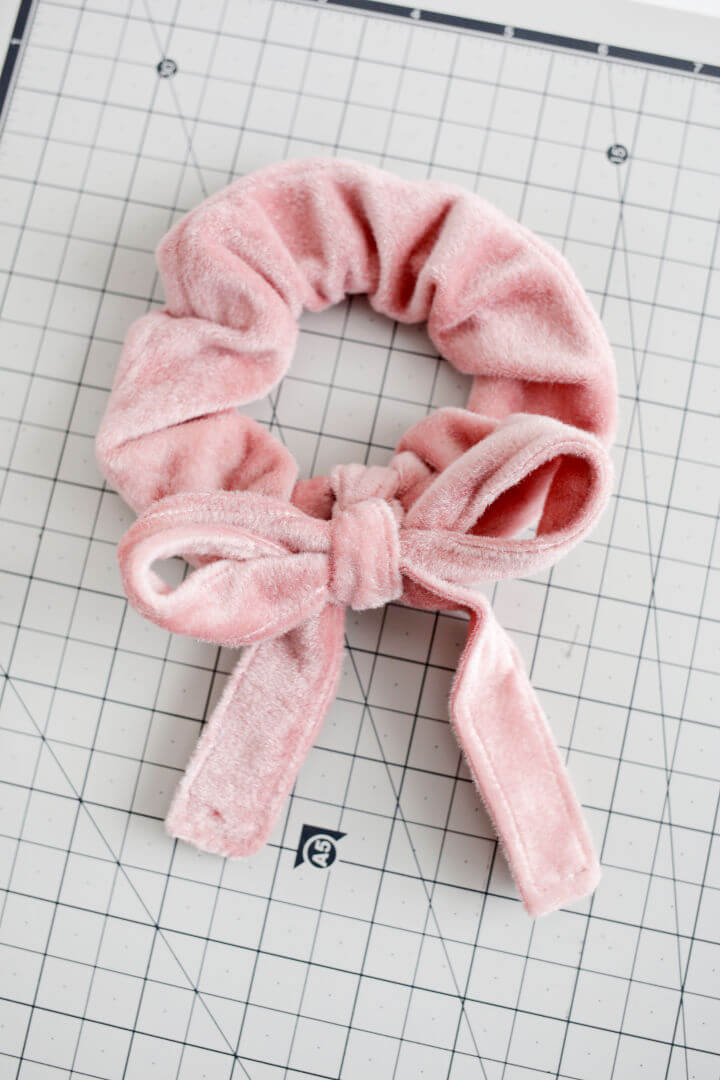 Experience the nostalgia of the 90s with a stylish twist – the bow scrunchie. This DIY guide lets you personalize this fashion accessory according to your taste. You can make a functional and chic hair accessory using non-stretch fabric, scissors, a sewing machine, pins, and some elastic. The process involves:
Crafting a tube from your chosen fabric.
Threading an elastic band through it.
Finishing with a neat bow.
Not only will this tutorial allow you to revive a classic hair accessory, but it also offers a creative opportunity to customize and match your outfits, be it seasonal or just a daily pop of color. Master crafting a bow scrunchie and add a fun element to your style! abeautifulmess
20. Homemade Knotted Scrunchies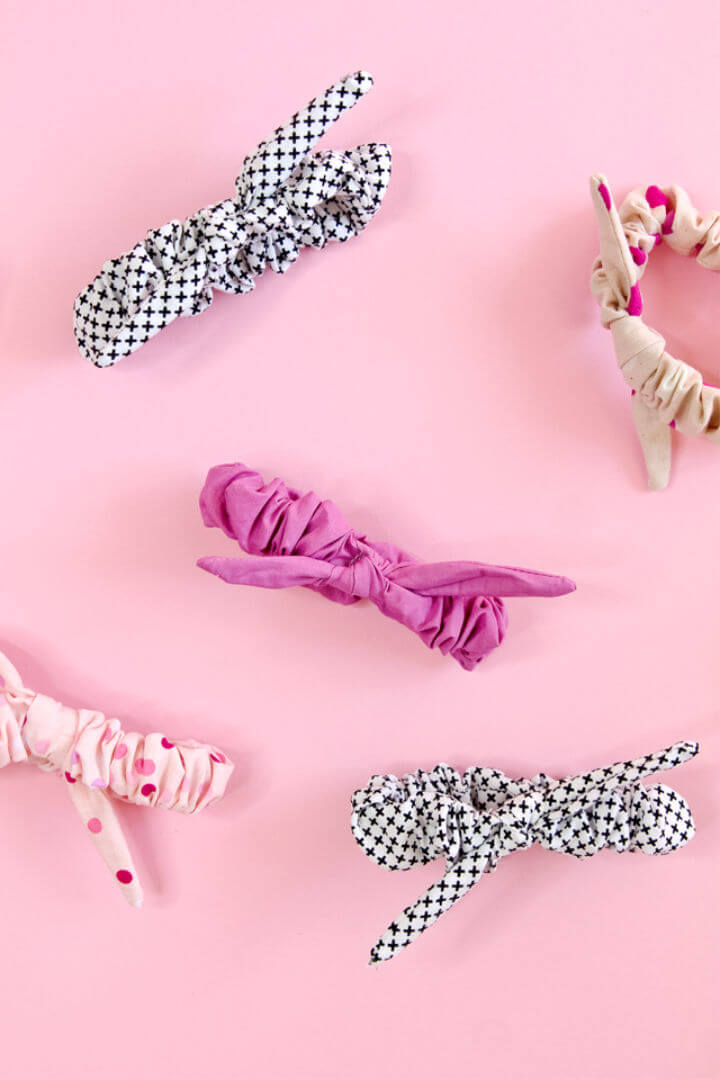 With countless free scrunchie patterns available, you can easily match your hair accessory to any outfit, reflecting your personal fashion sense. Celebrate Valentine's Day uniquely and trendy with DIY Mermaid valentines featuring velvet scrunchies! These delightful Valentines come adorned with a charming mermaid design and include a practical, stylish scrunchie, offering a wonderful non-candy alternative.
Each scrunchie is a twist on the classic version, including a knotted bow for added girly flair, which also cleverly hides the topstitching. The scrunchies are crafted using a Cricut Maker machine that expertly cuts fabric into perfect strips, making the process effortless and precise.
Even better, the scrunchies double as holders for candy bars if your child prefers a treat with their Valentine. So, bring a little bit of undersea magic to this Valentine's Day with these delightful Mermaid valentines and scrunchies, adding a touch of handmade charm to any celebration. seekatesew
21. Pretty DIY Bow Scrunchie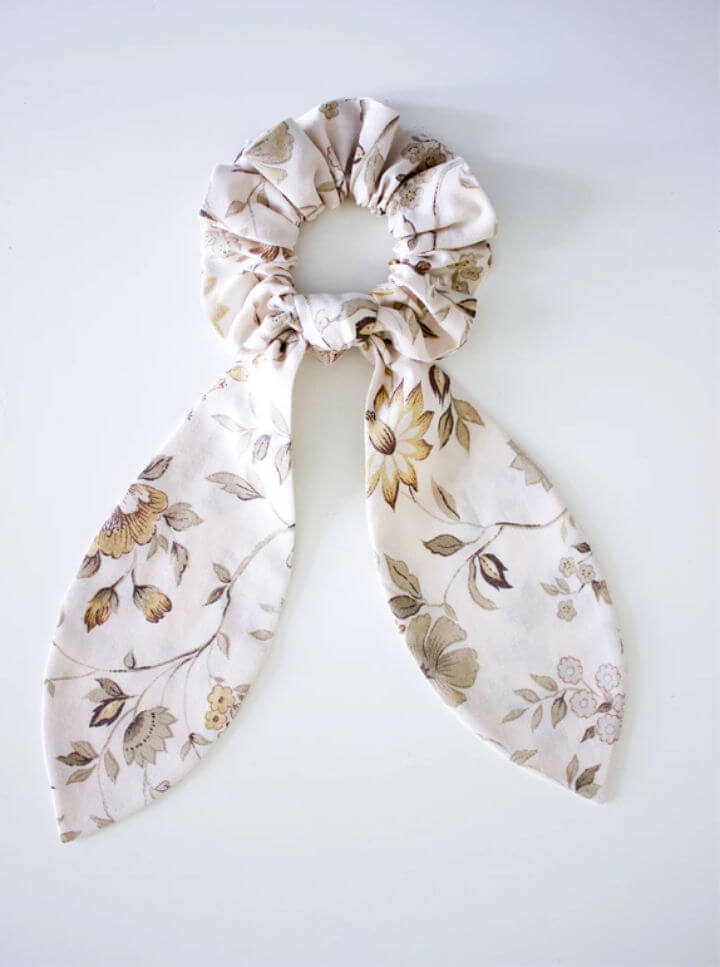 Gear up to adorn your hair with a delightful DIY bow scrunchie, perfect for elevating your summer style! Made from scrap or leftover fabrics, thrifted garments, or even bedsheets, this scrunchie is a stylish and sustainable addition to your accessories.
Required materials include paper for the pattern, a non-stretch fabric, 8mm elastic, a loop turner, a ruler, and scissors. Start by cutting your pattern and fabric pieces, then threading the elastic through a fabric tube and tying it securely.
The final step is to steam the scrunchie and tie the bow around the seam for a neat finish. Not only does this project give new life to the unused fabric, but it also offers a chic and unique touch to your hairdos. It's time to flaunt your creativity with this charming homemade bow scrunchie! thehemming
22. How to Make a Scrunchie With Fabric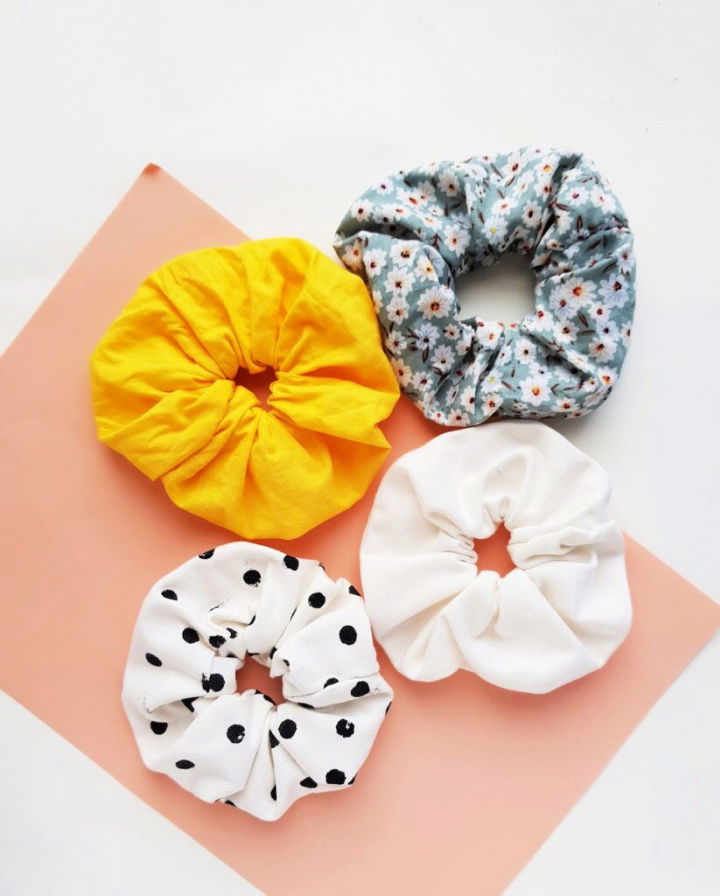 make your personalized hair scrunchies and add an extra touch to your outfit. This simple sewing craft is a perfect activity for all age groups, especially teens and tweens looking to express their unique style. You can utilize a variety of fabric types, such as satin, silk, velvet, flannel, or even leftover fabric scraps, keeping the cost under $1.
The guide provides clever tips and tricks to handle different fabrics and secure the scrunchie with a knot or sewing machine. Following these easy-to-understand instructions, you can make beautiful scrunchies for yourself or as gifts for your friends and family. Now, you can match your hair scrunchie with every outfit without breaking the bank! easythingstosew
23. Make a Scrunchie for Professional Look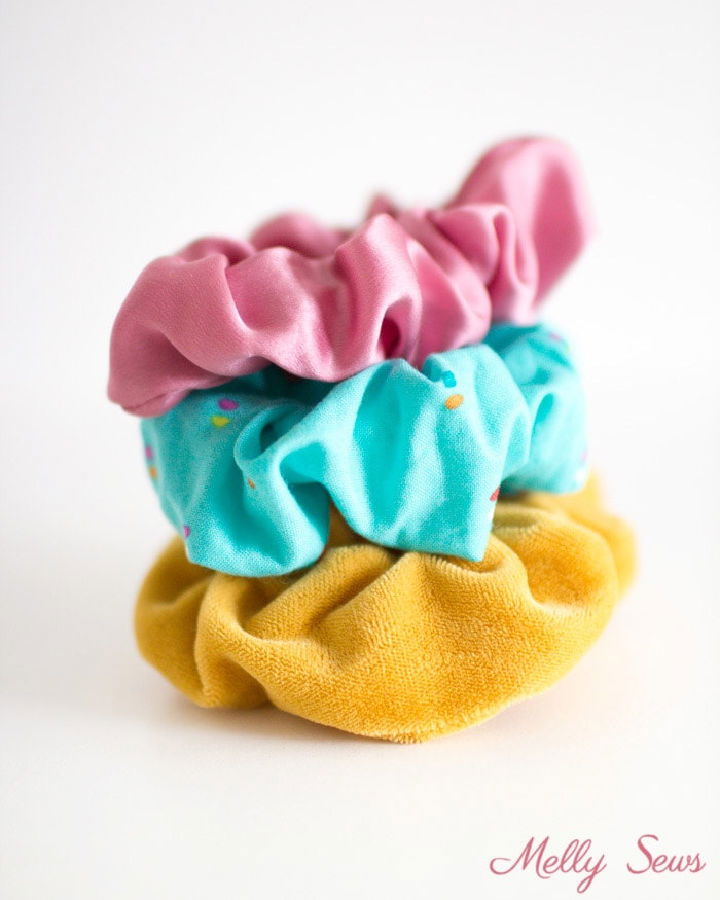 Set your foot in a fun sewing project that not only revives the fashion nostalgia of your youth but also delivers a refined, professional finish – DIY scrunchies. With the re-emergence of 90s trends, these chic hair accessories, made from lush velvet, silk, or casual t-shirt knits, are a trendy update to the classic scrunchie.
But this project does more than keep your hair stylishly in place. With the potential to convert fabric scraps into a profitable side hustle at craft fairs, it's an ingenious way to craft, make, and cash in.
Plus, it's not just confined to scrunchies – the method can also be adapted to make headbands and infinity scarves, diversifying your DIY portfolio. So, ready to delve into the world of sewing scrunchies? It's a creative endeavor and a fashionable addition to your hair accessory collection! smellysews
24. Sew a Scrunchie With a Bow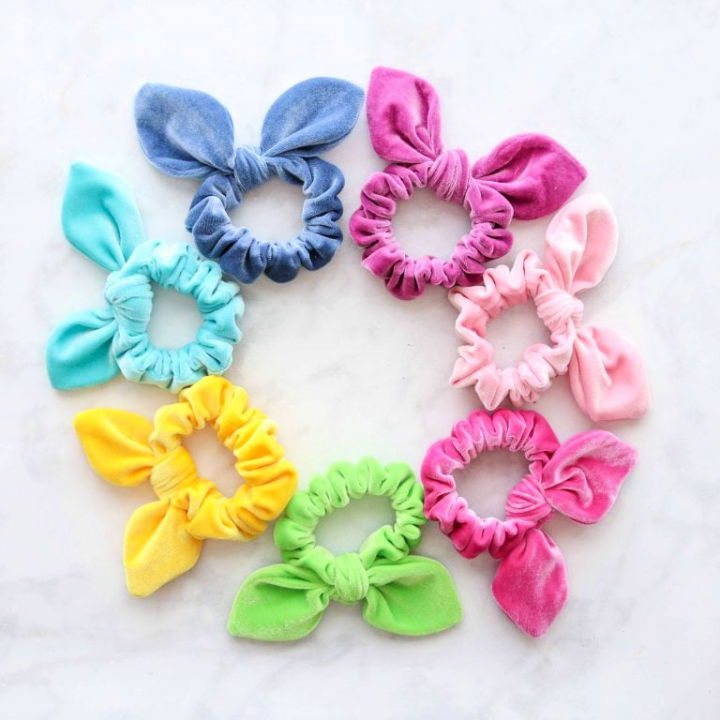 Master the art of free scrunchie patterns, and you'll have a fun, affordable way to accessorize while reducing waste and repurposing fabrics. Retreat the time with a modern twist as you make stylish scrunchies using this easy-to-follow DIY tutorial and free sewing pattern. Now you can fashionably channel your 90s nostalgia at a much lesser cost than what popular brands charge! These scrunchies take about 10 minutes to sew, making it a quick and budget-friendly project.
Explore various designs, from the simplest basic scrunchie perfect for ponytails to intricate options that can elevate any hairstyle. These scrunchies can be made from various fabrics, allowing you to customize them.
A PDF pattern and an SVG file for Cricut are also provided for precise execution. Get ready to master the art of scrunchie making, a perfect combination of creativity, fashion, and practicality. sweetredpoppy
25. Fun and Easy DIY Scrunchie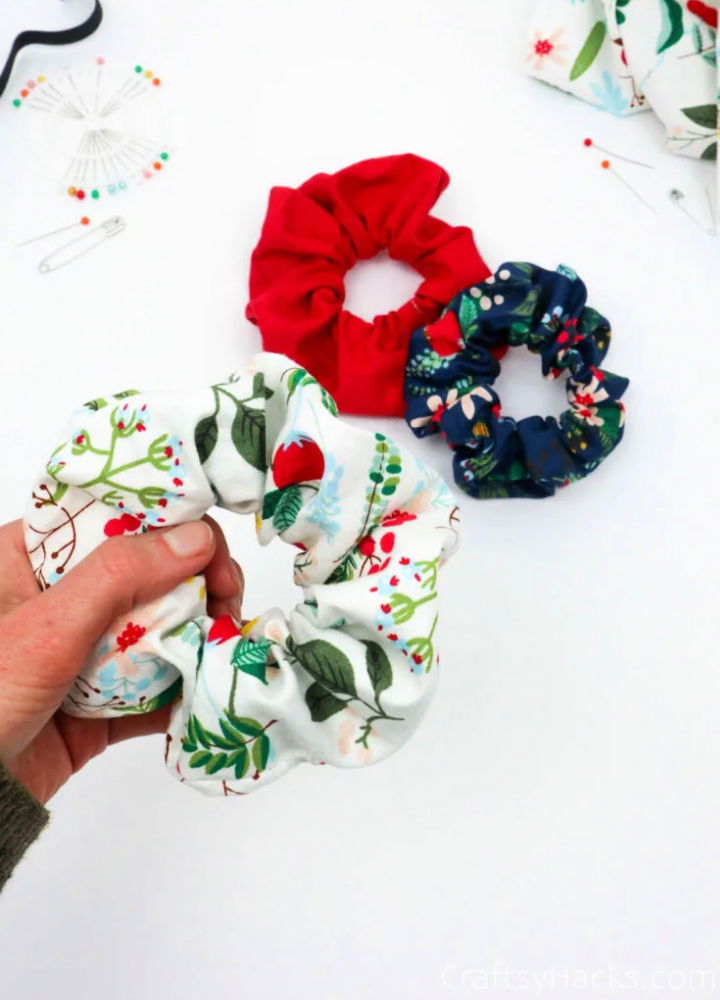 Dive into the DIY world and craft a perfect fashion accessory that complements every outfit with this easy-to-follow guide on making your scrunchies. Get creative and use the fabric you choose (5″x 24″ recommended), elastic ribbon, sewing pins, scissors, safety pins, and a sewing machine if available.
It's not just cost-effective but also an exciting way to repurpose scrap fabric lying around the house. This step-by-step guide is straightforward, detailing how to fold, pin, sew, and assemble your custom scrunchie. Suitable fabrics include silk, satin, velvet, or cotton, depending on your preference and skill level.
This guide also provides insights into making scrunchies of various sizes to cater to different hair types and styles. So, dive into this exciting project and make an assortment of scrunchies that enhance your outfits and keep you in vogue. craftsyhacks
Conclusion: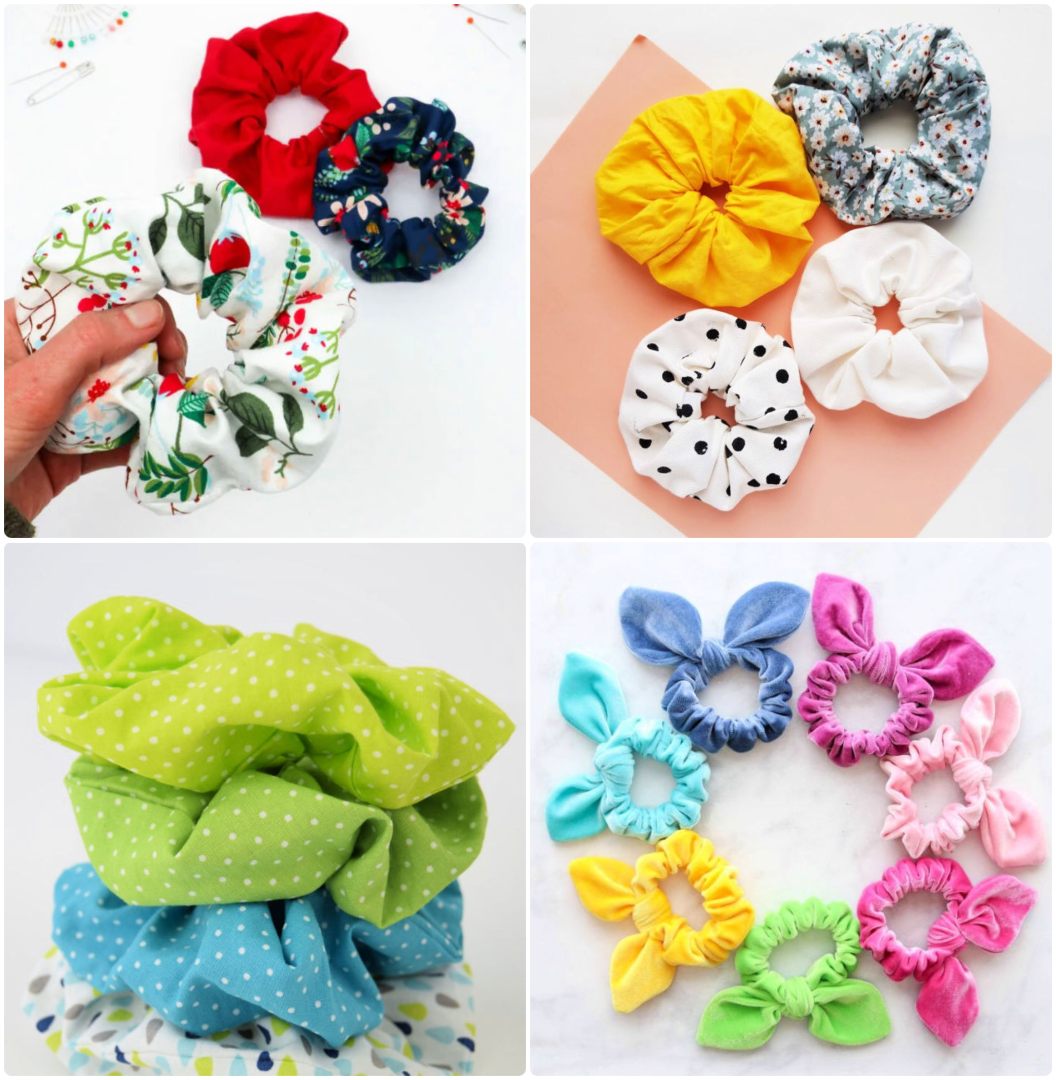 In conclusion, these easy DIY scrunchie patterns are an enjoyable and practical activity for craft enthusiasts of all skill levels. With an array of free DIY scrunchie patterns available, from knot bow scrunchies to holographic designs, the ideas are endless. Sewing your own scrunchie allows you to express your personal style while upcycling materials like old t-shirts. So, explore the various methods and materials to sew custom hair accessories while honing your sewing skills. Start your scrunchie sewing journey today and elevate your wardrobe with these unique, DIY additions.