Do you want a mouse pad that is unique and stylish? Do you want one that will show your personality? If so, then you should try making your own DIY mouse pad! Learn how to make a mouse pad with these 20 cheap and easy diy mouse pad ideas that you can use to make your own homemade mouse pads.
You can use old clothes, cardboard, fabric material, paper, or even pictures to make a unique and eye-catching mouse pad. If you have an old pair of jeans that you no longer wear, you can cut them up and use them to make a denim mouse pad. You can also use an old t-shirt or other pieces of clothing to make a fabric mouse pad. If you have some pretty fabric, you can also make a quilted mouse pad.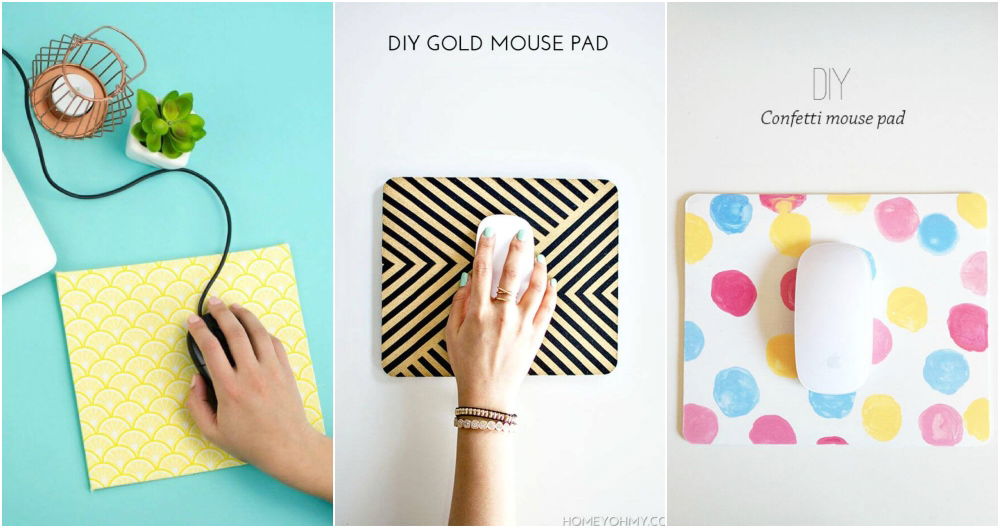 Homemade DIY Mouse Pad Ideas
Another option is to glue two pieces of cardboard together and then cover them with fabric material or felt. You can also decoupage pictures onto a piece of cardboard to create a unique mouse pad design. If you are looking for something different, you can even make a mouse pad out of corkboard.
You can also add a layer of padding such as batting or foam, to make your DIY mouse pad more comfortable to use. You could also use an old keyboard as the base or cover a cutting board with memorable photos or images. So if you're looking for a fun and easy project, why not try making your own DIY mouse pad? Whatever material you choose, these homemade diy mouse pad ideas will help you can use to create a unique and stylish mousepad for your desk.
1. How to Make Confetti Mouse Pad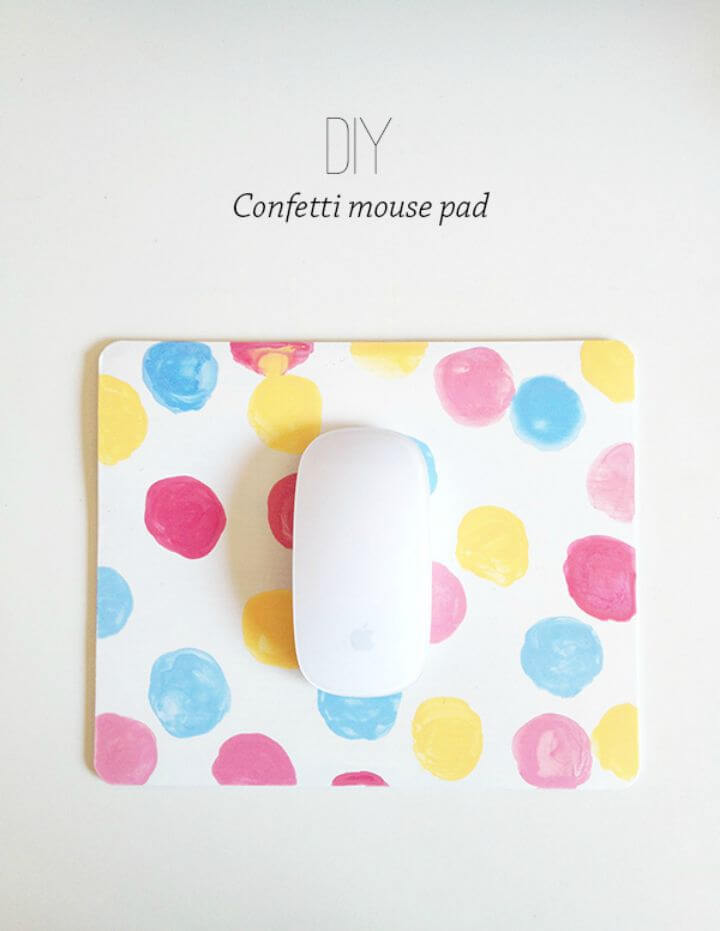 The mouse pads on your computer desk can charm your whole study if you lend this amazing colorful confetti makeover to it. The old and worn-out mouse pad has been painted in white with some colorful circles to look super cute, exciting, and refreshing. makeandtell
2. Suede and Gold Leaf Polka Dot Mouse Pad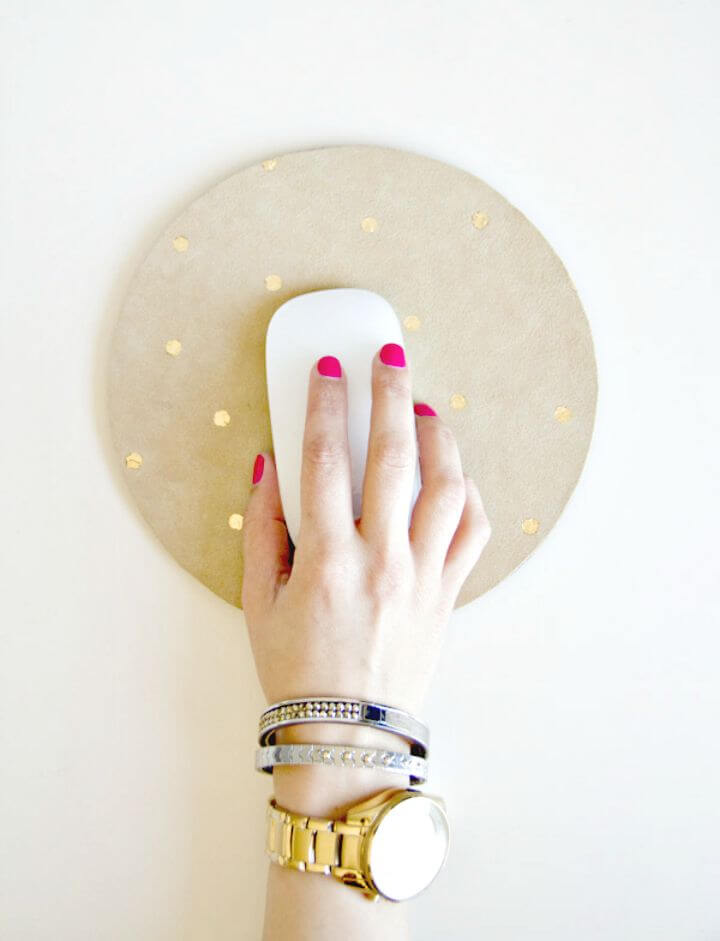 One thing that you use the most and ignore daily for being dull and boring is the mouse pad on your desk. Here is how you can easily make it look super chic and stunning with a simple touch of gold leaf polka dots all over it. lovelyindeed
3. DIY No-Sew Mouse Pad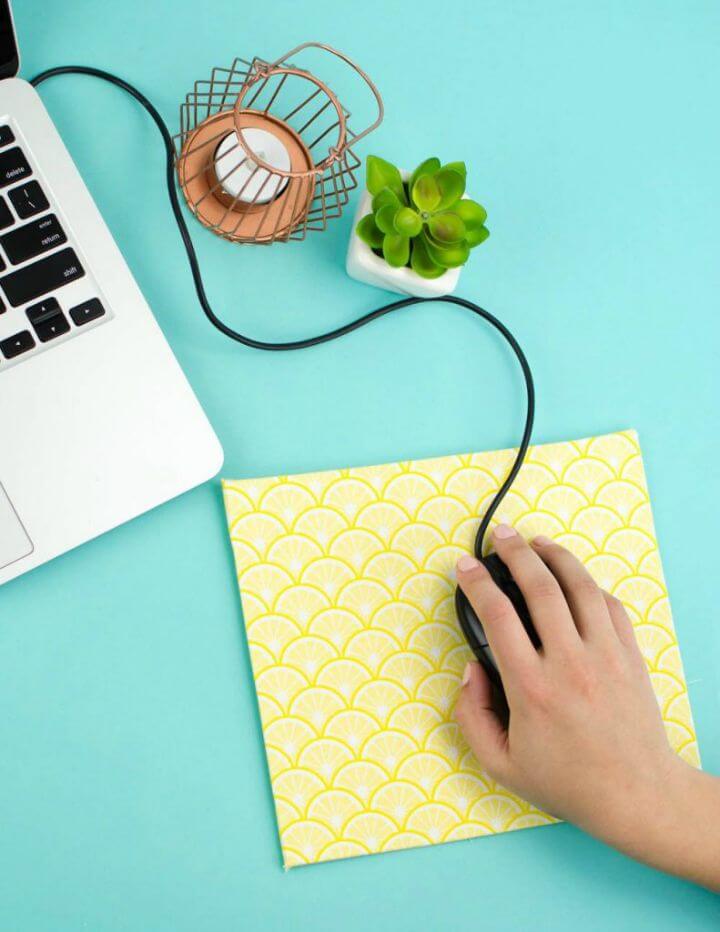 Bring some fun to your desk with this adorable and cost-efficient mouse pad makeover with a cute and nicely printed fabric lying around. Just take your fabric and wrap up the mouse pad with it, and you are done with the new and chic look of your old mouse pad. The new sewing technique of this mouse pad cover or wrap can be followed here with all the instructions and details. alittlecraft
4. DIY Gold Stamped Mousepad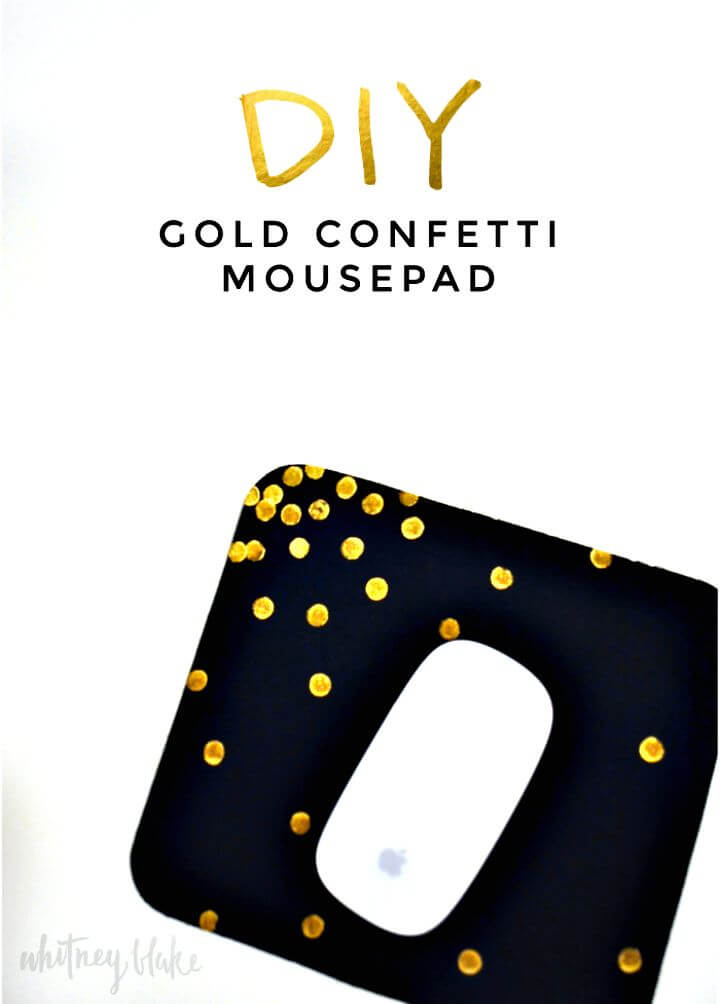 You do not need to spend dollars on purchasing those fancy and fun looking mouse pads as you can make some on your own. Here is the idea to make your mouse pad look gorgeous and whimsy with a touch of gold dots. Just grab a Martha Stewart gilding and a pencil with a flat end to pour these cute dots all over your black mouse pads. whitspeaks
5. Homemade Floral Mouse Pad for Spring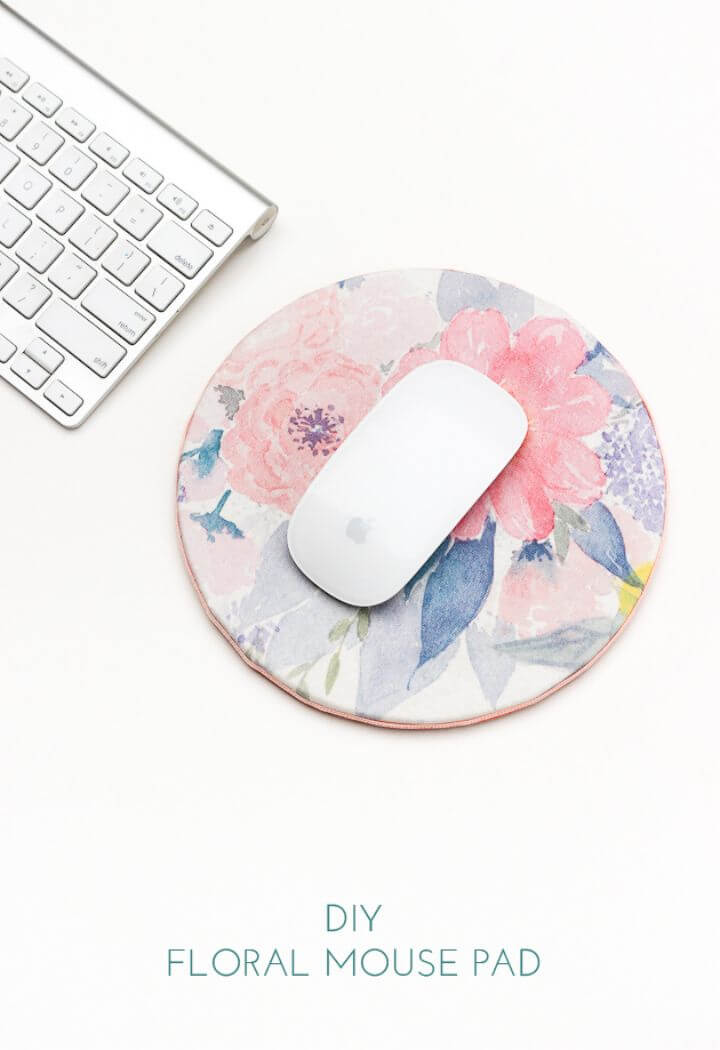 Summers are here, and the flowery prints are all there in the fabrics to make our summers so much fun and beautiful. You can use some of the printed fabric with flowers over your regular home essentials, too, just like an old mouse pad. Yes, cut a fitting piece out of your printed flowery fabric and glue it up all over the mouse pad, and you are done with the project. thecraftedlife
6. Make Your Own Gold Mouse Pad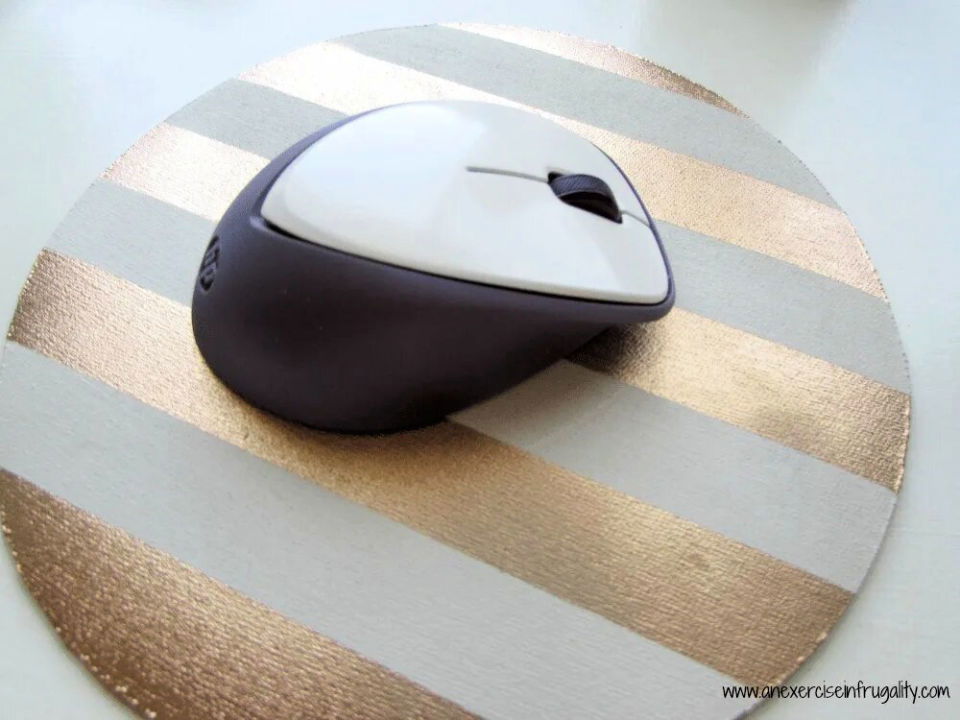 A little gold touch can turn ordinary and boring things look super adorable and charming, and this gold-striped mouse pad is the proof. Using some gold paint, white paint, and tape, this whimsy and fun makeover has been awarded to the mouse pad, and no doubt it has turned out to be super gorgeous and stylish for your desk decor. anexercisein
7. DIY Large Mouse Pad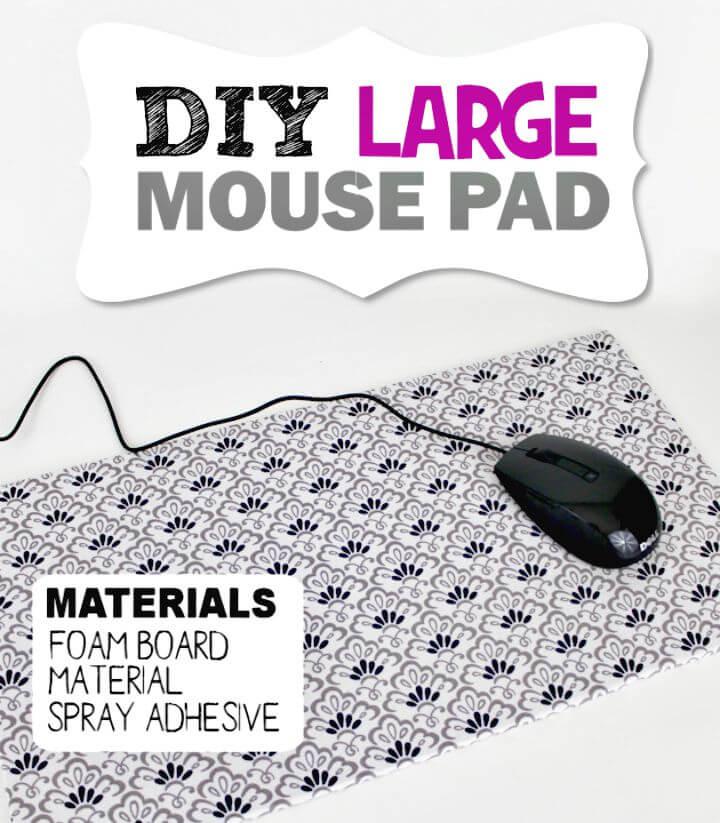 If you are addicted to making everything look matching to your home decor, you can follow this idea of creating decor fitting mouse pads for your desks that is super easy and fun to get your hands on. Using a foam sheet and matching fabric to cover it up, you can easily make a custom mouse pad for your kids' study table or homework desk. craftyour
8. Faux Marble and Copper Mousepad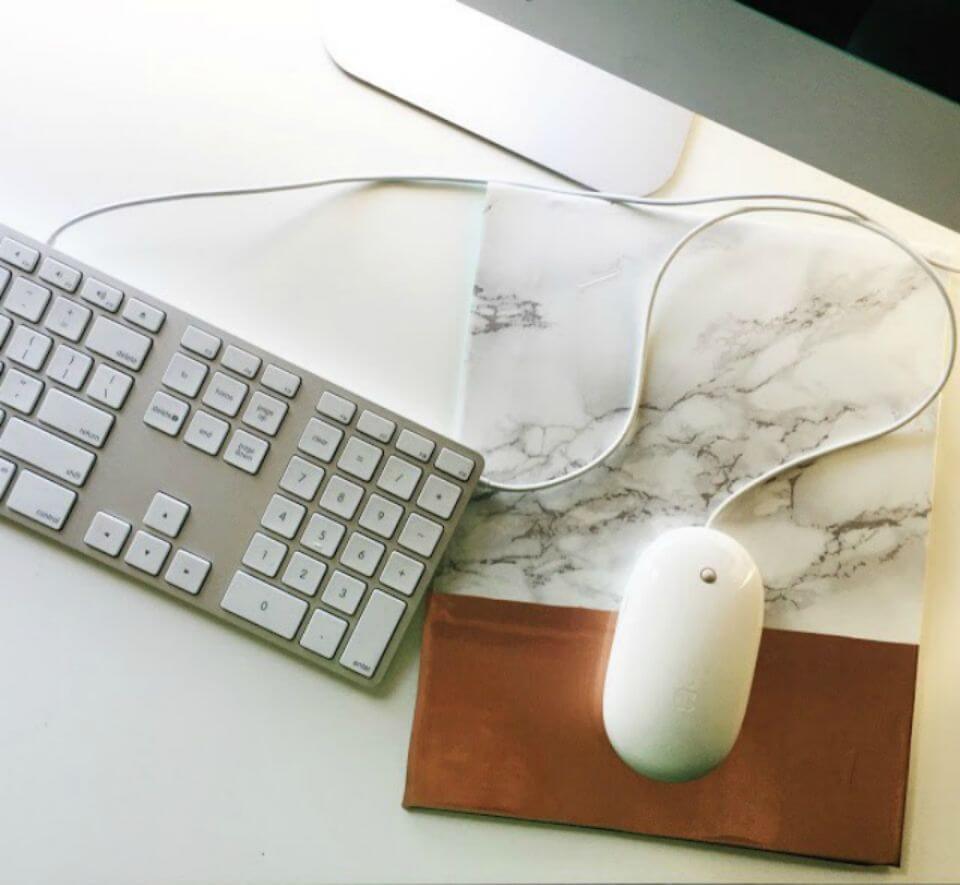 If those boring kinds of mouse pads have failed to grab your attention, then it's time to get your hands on these handmade mouse pads that would surely complement your decor and spaces. Using a foam sheet, a glitter foil, and marble paper, this really unique and chic kind of mouse pad for your desk, and you would be happy to work up your mouse on this gorgeous and fun pad. scribblesfro
9. How to Make Pom Pom Mouse Pad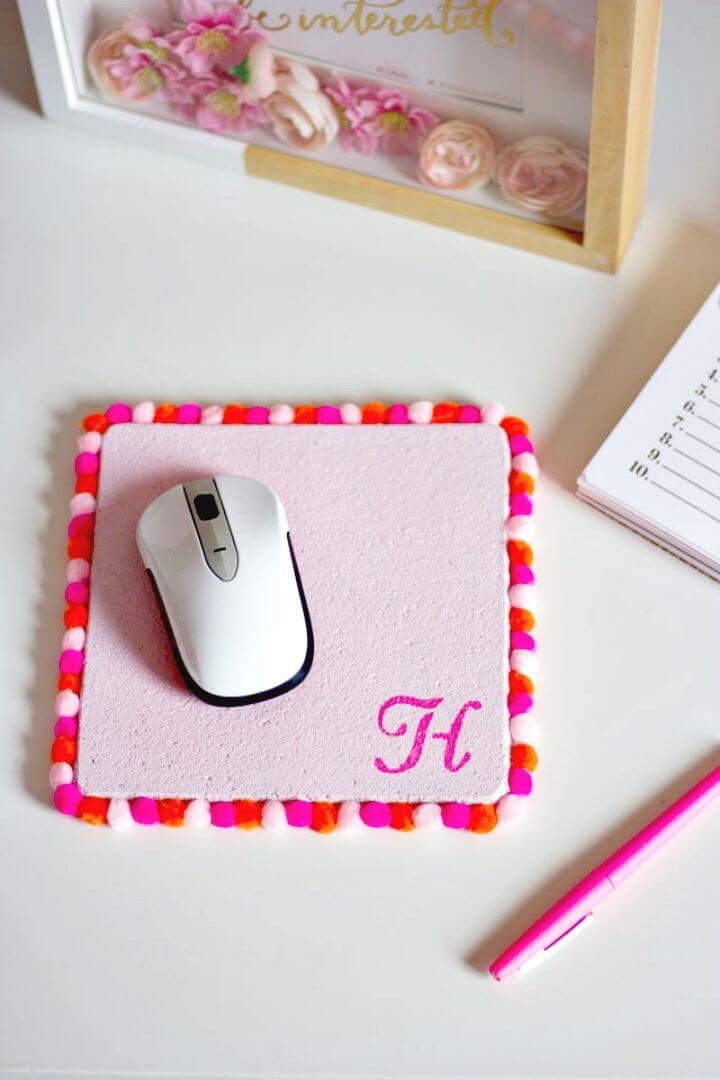 Using a cork trivet, you can create this super cute and funky mouse pad for your desk and make your desk look super pretty and fun to work on. The cork trivet has been painted and then decorated with cute and colorful pom poms all over the boundary. That has added oodles of charm to this pretty and functional possession of your desk. designimprovise
10. Easy DIY Doily Mousepad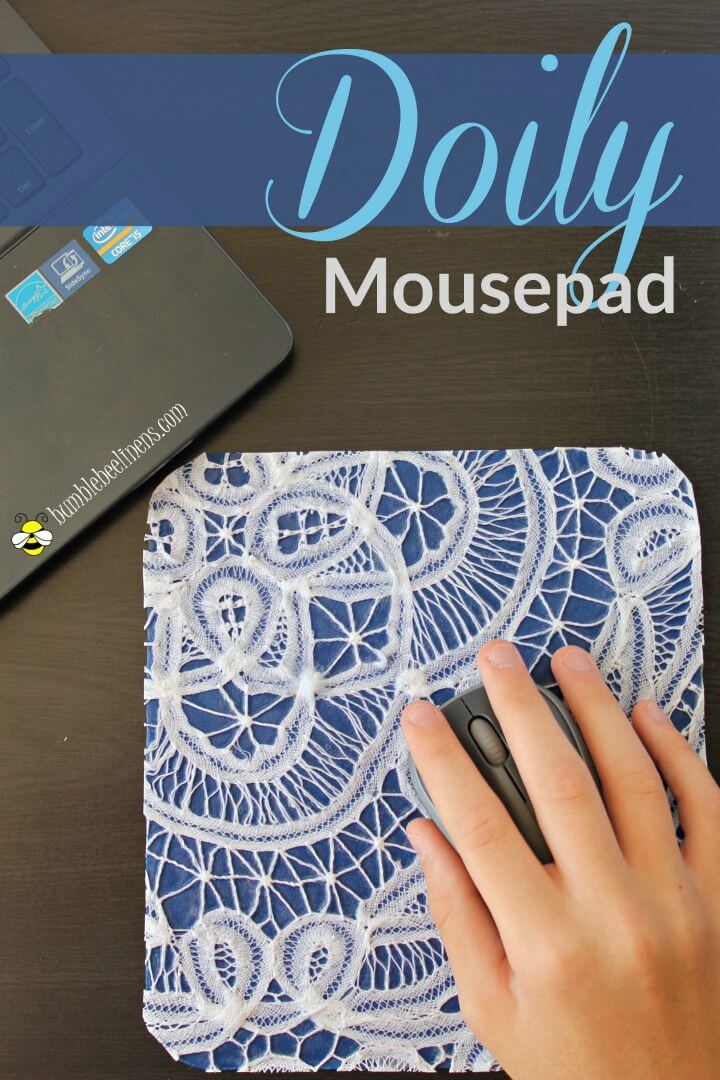 If you got that lovely white lacy doily, then it's time to give it a chance to make some fun crafts out of it. And this lacy mouse pad is just the right one to get your hands on. Grab your mouse pad and glue up your doily on it. And an impressive makeover of your mouse pad ready, saving you a lot of money. bumblebee
11. Making a Mountain Mouse Pad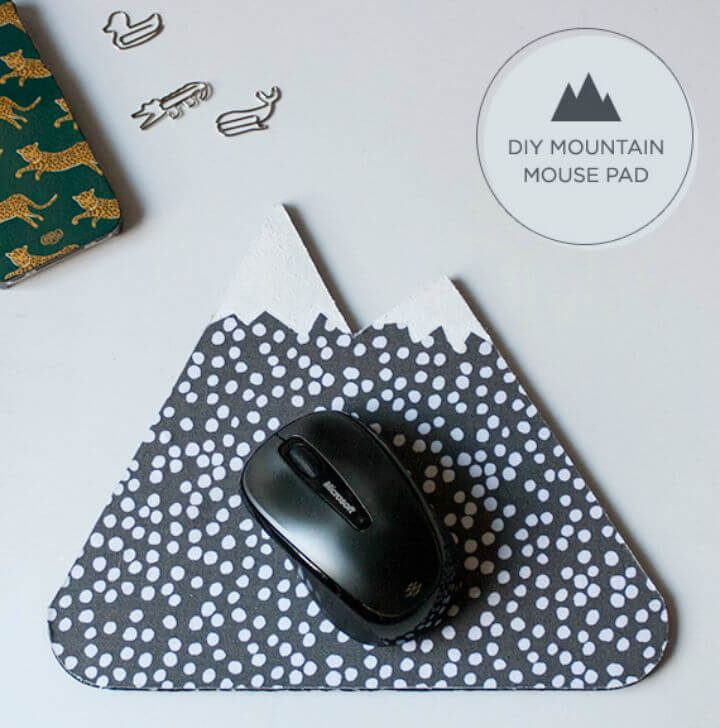 An icy and snowy mountain is so gorgeous. Now you can use it as a fun inspiration for this cool DIY mouse pad in the mountain shape. Just trace mountain on your mouse pad, cut it out and then spray paint to create the icy and snowy look.
12. Create Constellation Star Mouse Pad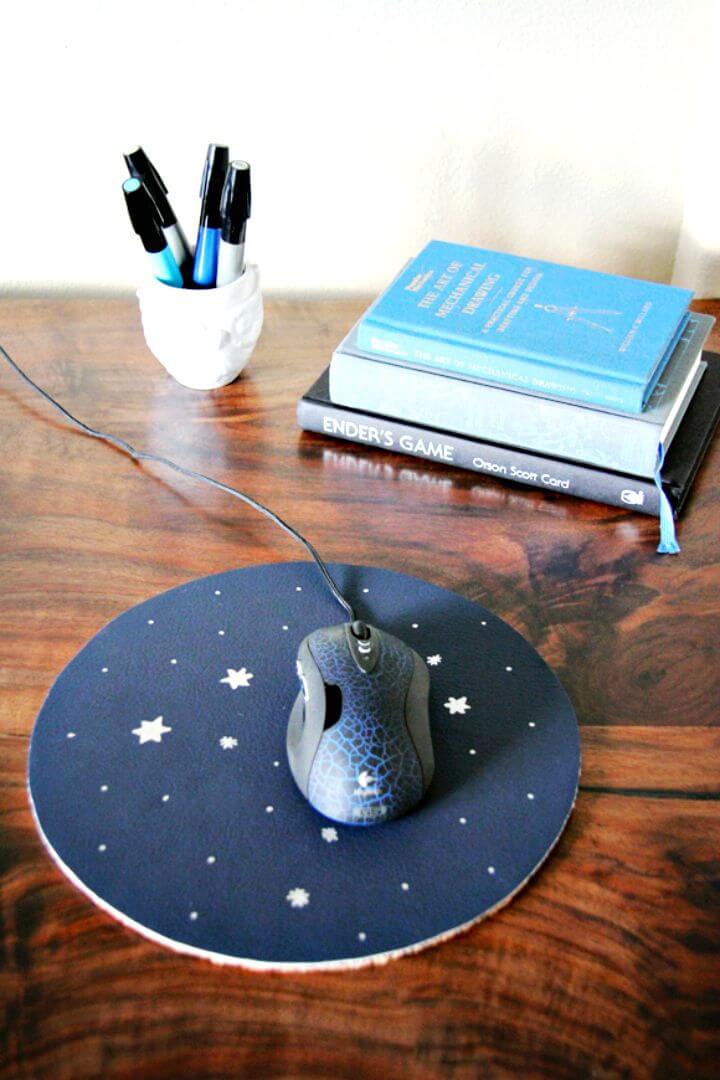 Here is how you can create this unique mouse pad using the cheap and feasible supplies lying around. Take a corkboard, cut around the pad out of it, glue up a blue vinyl sheet over it. Now, use the silver markers, and draw a constellation of stars on it. You got the whimsy kind of mouse pad for your computer with oodles of decor charm being added to it.
13. Easy DIY Fabric Mouse Pad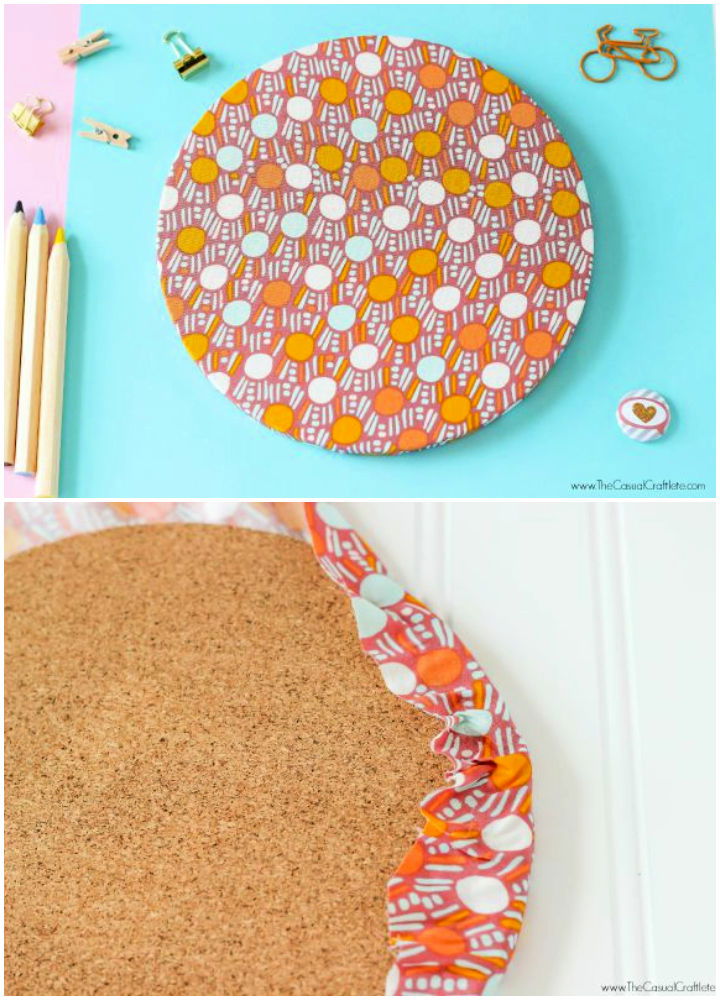 You can spruce up your working station's beauty and decor with charming and small details just like this fun looking mouse pad. Instead of keeping your mouse pad simple and boring, you can really award it this beautiful look with a fabric cover-up. You can use any simple or funky fabric with glue on the pad, which would really rock your computer desk decor and style. purelykatie
14. DIY Cork Board Mousepad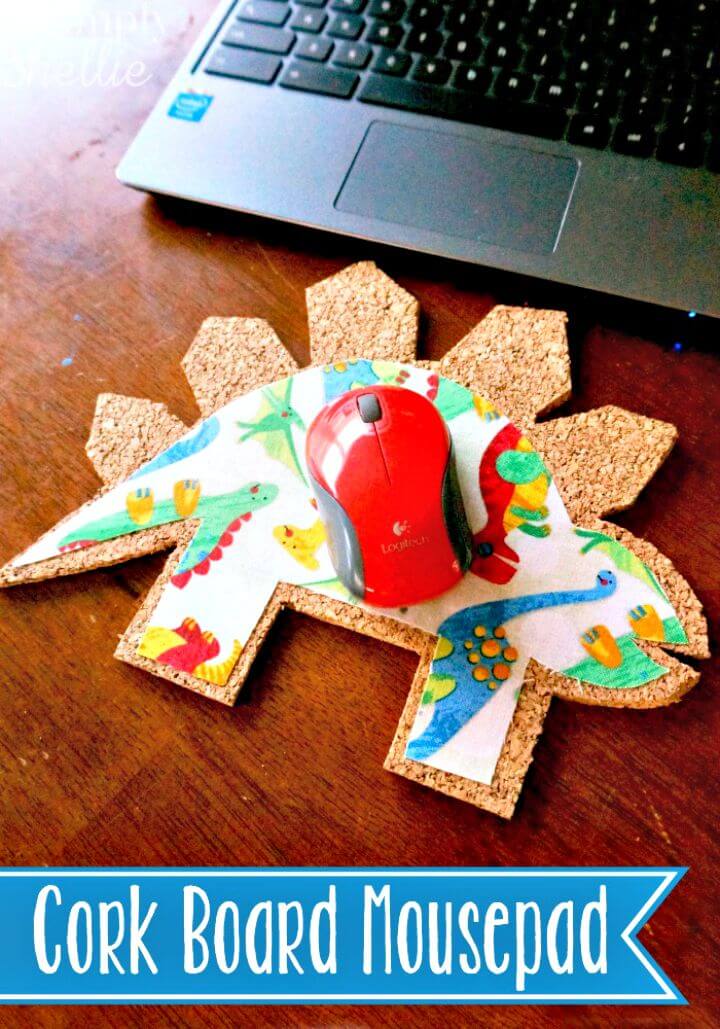 You do not need to create a mouse pad in a round or square shape; you can do it with any of the desired shapes that you like in the shape and structure of the dinosaur. Trace out your favorite template, cut it out, and glam it up with a fabric wrap up, and you are done. simplyshellie
15. How to Make Gold Mouse Pad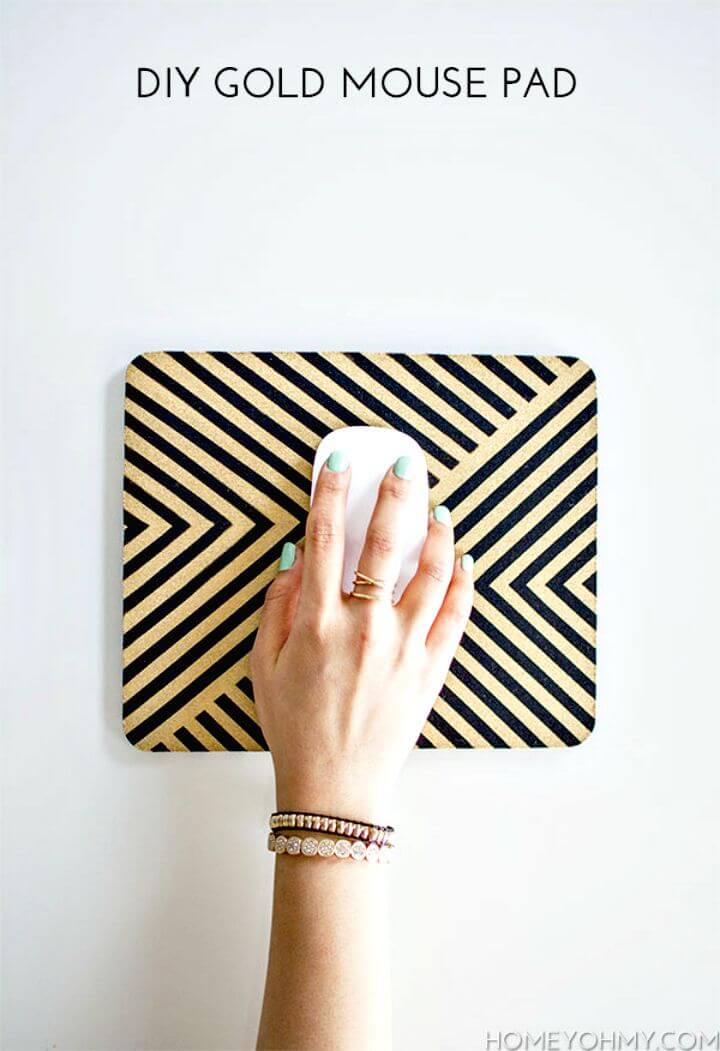 There is really some magic about the gold and glitter, so no matter what you add, they will turn out gorgeous. Here is this super cute and fun-looking mouse pad with an enchanting glittery design. The plain black mouse pad has been taped up with a chevron-like pattern, and the glitter paint has been poured. homeyohmy
16. Creative Fabric Mouse Pad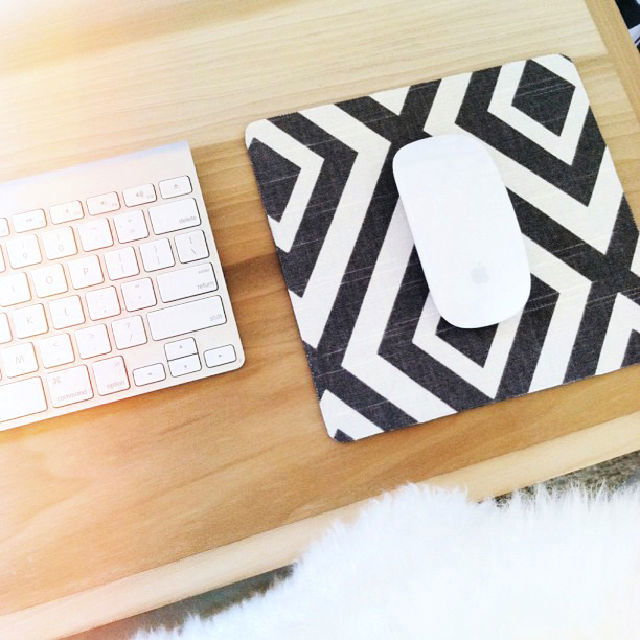 You might think to lend your mouse pad a completely fresh and new look when you find it so ugly and rough while working on your computer. So here is the simplest and cheapest idea to beautify that ugly mouse pad with your own crafty hands. Here a black and white fabric with a geometrical design has been covered all over the pad. Details here dorseydesigns
17. How to Make Mouse Pad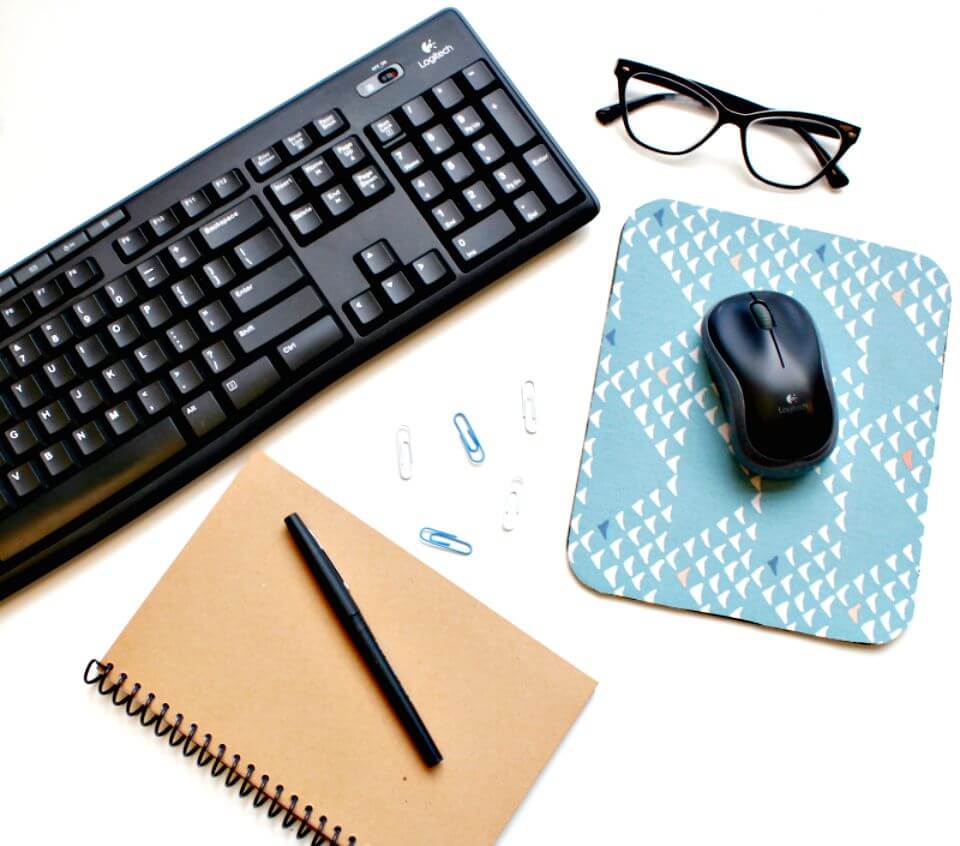 Even dull things can be made to look super cute and fun with the creative and crafty approach yours, and here is the link to show you how easily and nicely you can do it. Just grab some cute and cool printed fabric and wrap it around your mouse pad. It is ready to look super decorative and fun for your computer desk and tables and the overall decor too. agfblog
18. DIY Mouse Pad with Scrapbook Paper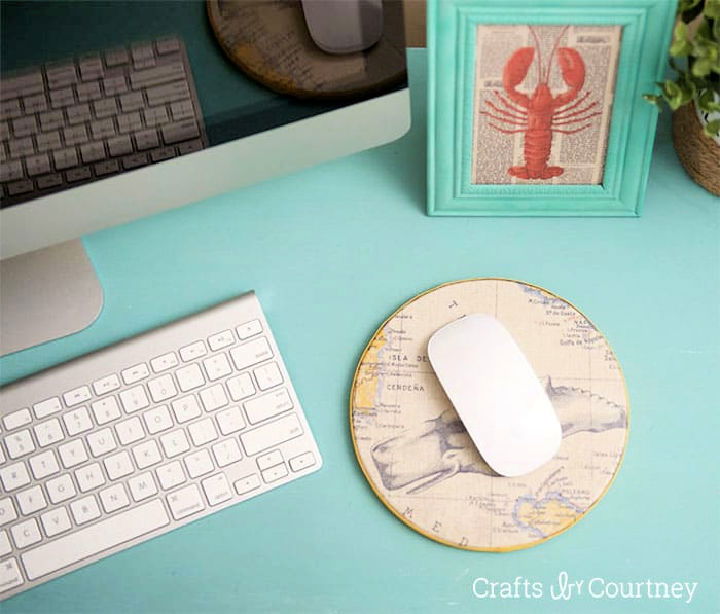 If you have scrap paper left in your crafty bin, just take it out and use it to make a creative DIY mouse pad. The scrapbook paper has been used to cover up the mouse pad and make it look super cute. You only need a simple pad, scrapbook paper, and a mode podge. modpodgerock
19. Cheap DIY Photo Mouse Pad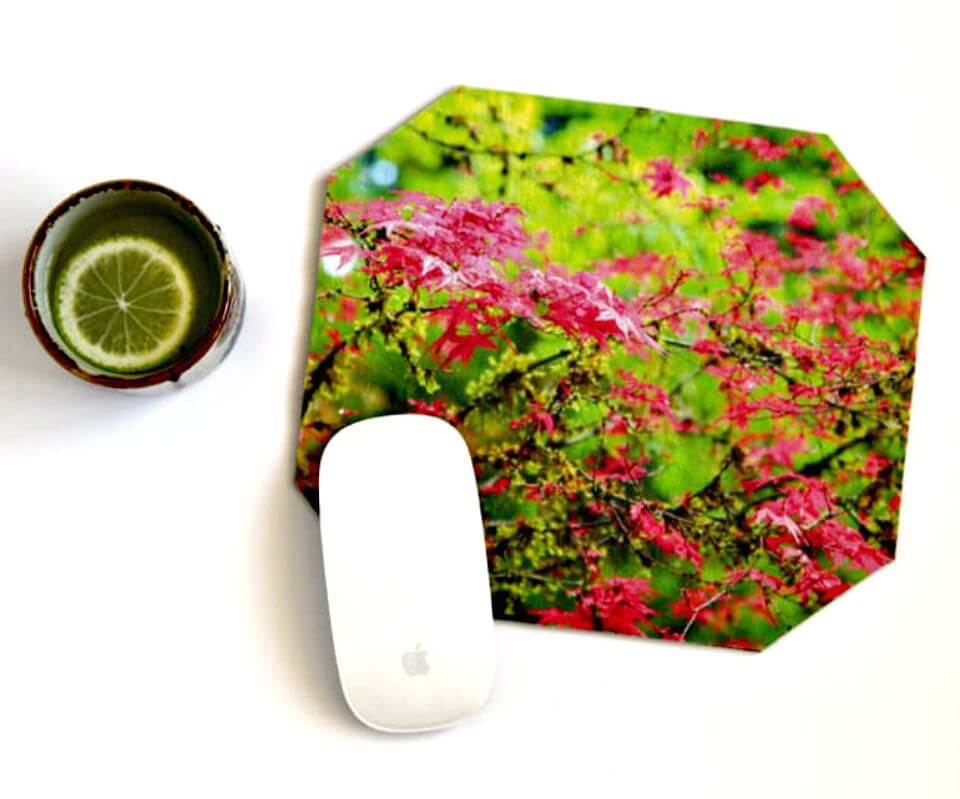 Your favorite photos on the internet now can be a part of your decor around. You can download and print out your favorite photo and add it to your plain and simple mousepads. Even if you are not working on the computer, you can make it for those who use it, and they would love and appreciate this effort of yours. apieceofrain
20. Fabric Covered Mouse Pad Pattern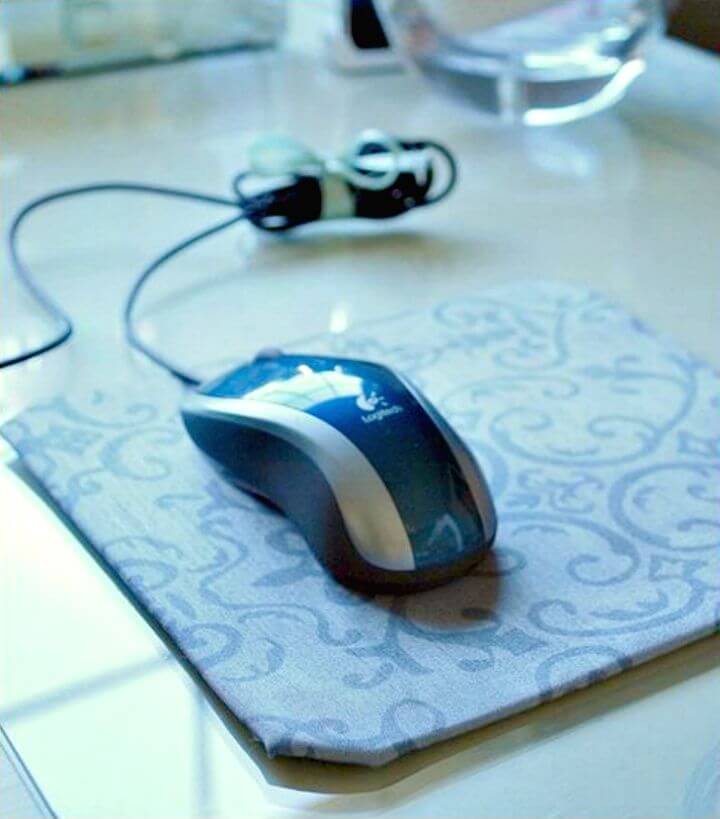 You can cover up the mousepads with the fabric that is left in your stash basket. Thus instantly boost up the look of your ignored things like a mouse pad. Here the fabric has been sewn up to the mouse pad instead of the messy gluing method. centsational
Related DIY Projects and Ideas
Bullet Journal Ideas: This list of simple bullet journal ideas is a great place to start if you're just starting a bullet journal, want some new page ideas or are looking for inspiration.
DIY Desk Plans: Looking for a desk that you can make yourself? Check out these DIY desk plans with step by step instructions! You'll find everything from simple desks to more functional desk designs. All of which can be made with your own two hands.
DIY Ikea Desk: Looking for a budget-friendly Ikea desk that you can personalize to fit your space and style? Check out these inspiring DIY Ikea desk hacks to make your desk more functional and comfortable.
DIY Envelope Ideas: Create your own envelopes with these easy DIY envelope ideas using a variety of supplies like craft paper, wrapping paper, and stencils.
Teacher Appreciation Gift Ideas: Explore these cool DIY Teacher Gift ideas for some easy, thoughtful gift ideas for your teachers.
Pom Pom Rug Ideas: Looking for an affordable, stylish rug? With these beautiful DIY pom pom rug ideas, you'll have the perfect rug in no time.
DIY Lampshade Ideas: Get inspired with these cool DIY lampshade ideas to turn a simple lamp into a design statement.
Dollar Store Crafts: Are you new to crafting? Discover the fun of making inexpensive dollar store crafts that are easy and quick to create.
Easy Crafts: Looking for some easy crafts to make and sell? Check out this collection of simple and profitable craft ideas that will get you started in no time!
Conclusion:
Whether you want a fun and colorful mouse pad or something more professional, we've got you covered. These 20 DIY mouse pad ideas are perfect for any occasion. We hope you found these diy mouse pads helpful and that you will try making your own mouse pad soon! So get creative and make one today! Do you have any favorite homemade mouse pad ideas? Let us know in the comments below.