Explore the creative world of DIY stress balls and learn how to make them at home with these 25 easy and unique DIY stress ball ideas. Perfect for relieving tension and keeping your hands busy, these stress balls are both fun and functional. With a variety of materials, such as balloons, flour, or Orbeez, and techniques to choose from, you can make a DIY stress ball that suits your taste and needs.
Make custom emoji stress balls filled with slime, or opt for a Valentine's Day olive stress ball to share the love. Keep the kids entertained with kid-friendly stress balls, or relax with aroma-therapeutic versions. From handmade Pokemon stress balls to DIY Halloween pumpkin stress balls, the options are endless.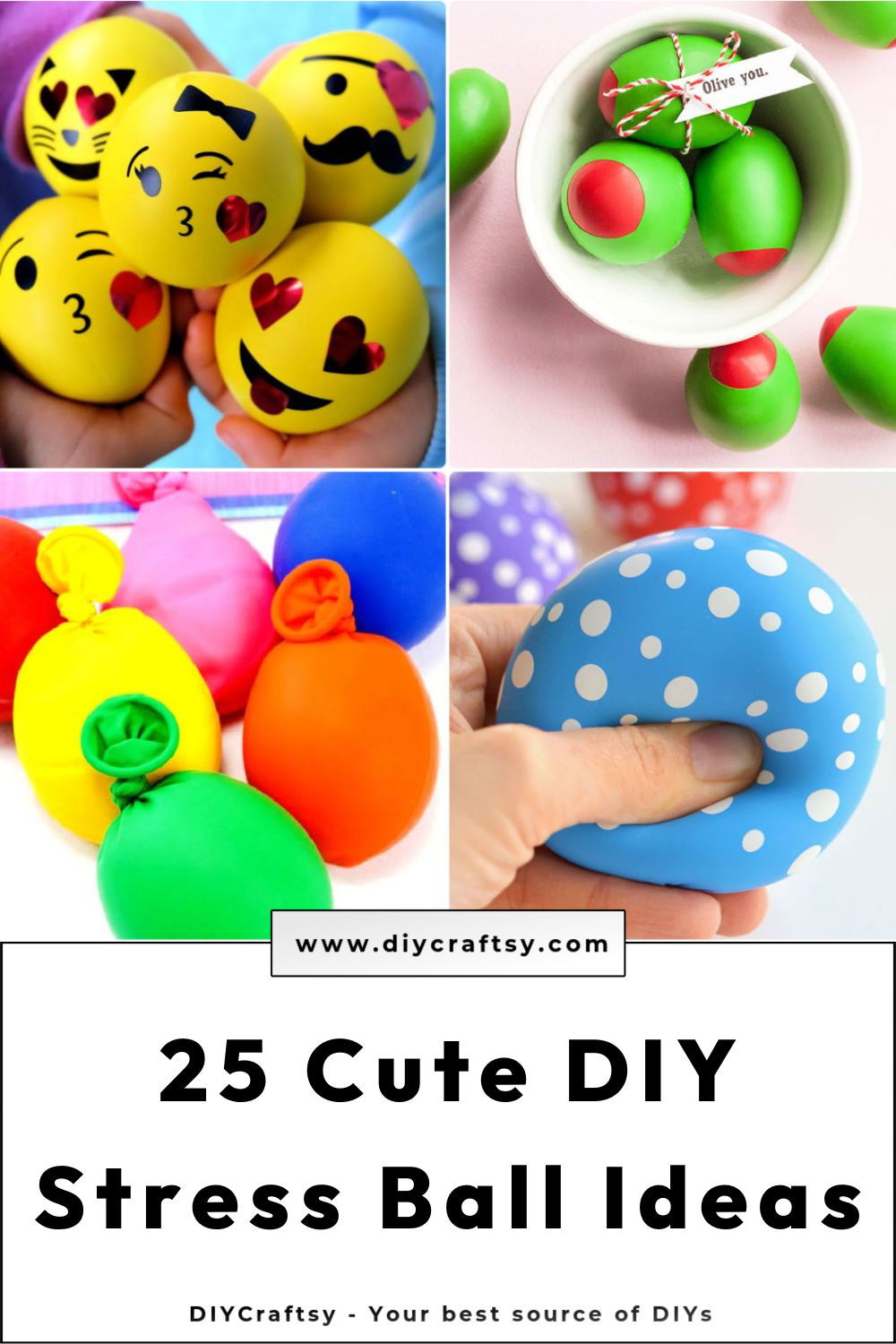 With step-by-step instructions and handy guides available, making your own stress balls has never been easier. Whether it's a simple flour-filled balloon stress ball or a more advanced Orbeez stress ball, discover your inner creativity as you craft these unique and personal stress-relief tools. So why wait? Dive into the world of DIY stress balls and start making your own stress-relieving masterpieces today!
1. DIY Stress Ball Without a Balloon
Discover the calming power of a DIY stress ball, perfect for combating anxiety and reducing tension. Made using household items, this innovative project will have you making stress relief toys in no time. You need a bowl, glue, shaving cream, cotton balls, contact solution, a spatula, and paint.
With step-by-step instructions, crafting your stress ball becomes a fun and interactive activity. These handmade stress balls serve more than just as a toy; they have numerous health benefits. Regular use helps in improving blood circulation and aids in the treatment of conditions like carpal tunnel syndrome and arthritis.
These portable, malleable, and therapeutic balls also double up as a fun activity, helping to boost creativity and deliver a sense of accomplishment. Enjoy the tranquility of making and using your stress ball without needing a balloon. lashawnlewis
2. How Do You Make an Orbeez Stress Ball
Make your own Orbeez stress ball and DIY anti-stress ball at home with just a few materials! Making your stress-relieving toys adds a touch of personalized creativity and gives you a useful tool to exercise your hand muscles. For the Orbeez stress ball, gather Orbeez, a transparent balloon, and water. As for this anti-stress ball, you'll need a balloon, baking soda, a piece of paper, and a permanent marker to add a face. Discover the process of making these unique and functional stress balls today, and experience the soothing effect they bring. instructables
3. Emoji Squishy Stress Balls Filled With Slime
Dive into the world of DIY stress balls and learn how to craft a portable and effective stress-relief aid that helps you stay calm and focused throughout the day. Introduce a fun and engaging activity into your kids' craft regime with these easy DIY emoji squishy stress balls filled with slime. With just a few materials, such as yellow balloons, scissors, Tide laundry detergent, Elmer's School Glue, and a Cricut Maker or Explore, you can make a delightful craft that your children will adore.
Your kids can enjoy their favorite emojis, squishy toys, and slime in one neat package. It's not only a great way to keep their slime play tidy, but it also makes for a creative non-candy gift for special occasions like Easter or Valentine's Day or as an eye-catching addition to birthday party favors. Embark on this project today and watch your kids gleefully squeeze these adorable squishy stress balls brimming with their favorite oozy slime! hellocreativefamily
4. DIY Olive Stress Ball for Valentine's Day
Ease the Valentine's Day tension with a charming homemade stress ball shaped like an adorable olive – the perfect pun-intended token of affection. This quick DIY project needs minimal materials, featuring flour, a funnel, a small plastic bottle, a spoon, scissors, balloons, a hole punch, baker's twine, and cardstock.
Start by filling the bottle with flour and transferring it into a red balloon. Secure the balloon and shape it olive-like by covering it with a green balloon. Lastly, tie an olive-themed pun tag, such as "Olive you" or "Olive being your friend," to the ball with baker's twine.
This thoughtful, non-candy Valentine's gift will bring smiles and help recipients keep their stress at bay. This an ideal solution for keeping Valentine's Day sweet without contributing to the sugar high! handmadecharlotte
5. How to Make Stress Balls for Kids
Give your hands a deep-tissue massage with a unique DIY stress ball filled with dried garbanzo beans, offering an elevated tactile experience. You'll need simple supplies like dried garbanzo beans, balloons, scissors, and the top of a plastic water bottle to craft this soothing aid.
The hack for an easier fill-up process involves a plastic water bottle top to keep the balloon open – a practical solution for a once two-person job. This sensory aid serves as a stress reliever and can double as a fidget tool or be used as a warm-up before handwriting, stimulating the small hand muscles.
For a more intense sensory experience, try it as a foot massager or even improve coordination skills with some juggling! Make your homemade stress relief tool and experience the calming, engaging sensation today. attagirlsays
6. Make Your Own Dried Bean Stress Balls
Introduce a sense of tranquility into your day with these creative DIY Dried garbanzo bean stress balls. Remarkably different from conventional stress balls, they offer a deep hand massage effect, delivering a higher level of tactile stimulation.
All you need are dried garbanzo beans, balloons, scissors, and the top of a plastic water bottle. The process is simple, fill a balloon with beans using the bottle top to keep it open, then secure it with a second balloon to contain the beans.
The final product can be used in various ways: a stress reliever, a fidget toy, a muscle warm-up before handwriting, a foot massage tool, and even as a coordination skill enhancer. Make your garbanzo bean stress ball today for a unique sensory experience. yourtherapysource
7. How to Make a Stress Ball
Ease your tension with homemade DIY stress balls designed for ultimate satisfaction! Crafted from simple materials such as a 12-inch balloon and flour, these stress relievers offer a tactile, fun solution to calm busy hands.
You can efficiently fill your balloon with flour using a funnel or a makeshift one from a cut-off water bottle. The process is inexpensive, straightforward, and suitable for people of all ages.
The final product provides a soft, squishy stress ball perfect for squeezing, stretching, and kneading. Homemade stress balls can last from 1 week to 4 months, depending on usage and balloon quality. So, why not take a few minutes to make this enjoyable, stress-busting tool right at home? onelittleproject
8. How to Make Your Own Stress Ball
Praise your child's mindfulness and relaxation with homemade DIY stress balls. These versatile tools benefit kids with Autism, Sensory Processing Disorder, anxiety, or simply those who fidget. These stress balls are fun to squeeze, stretch and play with and are useful in enhancing focus and reducing tension.
Crafted from everyday supplies like balloons and flour, they can be personalized with water beads or essential oils to enhance their calming properties.
Stress balls can also improve hand strength and circulation, providing physical benefits. Learn to make these effective, low-cost tools with this simple guide and experience a fun, stress-free activity right at home! naturalbeachliving
9. DIY Stress Ball Using Balloons and Flour
Experience the joy of making your very own DIY stress balls! This fun craft uses simple items like flour, balloons, and a plastic bottle to provide endless hours of stress relief. The beauty of this project lies in its versatility, offering endless opportunities for personalization.
You can even transform these stress balls into cute emojis by adding details using a marker pen. These stress balls are a fun, engaging craft and make thoughtful, homemade gifts for Father's Day or Teacher Appreciation Day.
However, be mindful that these stress balls will eventually wear out and must be replaced, keeping your crafting fun ongoing. Remember, creativity, and the potential for a bit of mess, make the process even more delightful! Watch the full video for step-by-step guidance, and let the crafting begin! redtedart
10. Easy DIY Stress Ball With Flour
Craft stress relief with this hands-on DIY guide to making fun and squishy stress balls! With common household items like flour, balloons, a Sharpie pen, and colored yarn, you can make an effective self-regulatory tool that alleviates stress and boosts motor skills and concentration.
This engaging project offers therapeutic value and a fun bonding activity for the family, making it worthwhile during stressful times.
Follow the detailed, easy-to-understand instructions to make your stress ball, and customize it with funny faces or vibrant yarn hair. This DIY stress ball guide is a fun, affordable, and effective way to combat stress and promote calmness. So let's get crafting and make your stress busters today! motherofgrom
11. How to Make Stress Ball at Home
Walk your way to calm with this engaging and therapeutic DIY stress ball project. Utilizing basic supplies such as balloons, flour, and an empty water bottle, you can design your stress-relieving tool, ideal for all age groups.
Incorporating a touch of fun with a Sharpie marker and some yarn, you can customize your stress ball to reflect your personality. These stress balls, fitting perfectly in your palm, are designed to endure rigorous squeezing, stretching, and punching, providing a much-needed outlet for your anxieties and frustrations.
So why not shift the burden of stress onto these durable and homemade stress balls? Have fun making and, more importantly, relieve your stress. makeyourownzone
12. Handmade Pokemon Stress Balls
Create personalized DIY stress balls by experimenting with different fillings, textures, and designs that provide a soothing and enjoyable stress-relief tool. These engaging DIY stress balls bring a touch of the Pokemon world to your home! An enjoyable activity for all Pokemon fans, this craft provides a unique opportunity to make a personalized stress ball featuring favorite characters. Using simple materials such as balloons, a funnel, and various filling substances like rice or baking soda, one can craft stress balls inspired by characters like Pikachu, Jigglypuff, Squirtle, and Bulbasaur.
Adding a dash of creativity, use permanent markers to sketch the characters on the balloons. Once filled and sealed, these charming stress balls can act as perfect fidget toys, offering a squishy and playful relief.
They also make for imaginative toys that spur playful scenarios, making the whole process an art project and a delightful journey into the Pokemon universe for the kids. With this fun Pokemon craft, transform everyday objects into a vibrant part of the Pokemon realm! andnextcomesl
13. DIY Aromatherapy Stress Balls
Say goodbye to anxious feelings and stress by crafting your DIY aromatherapy stress balls. These homemade stress balls combine the calming benefits of essential oils and the soothing act of sensory processing. Made with heavyweight balloons, flour, and your choice of essential oils, these stress balls are inexpensive and easy to create.
Ideal for individuals of all ages, you can customize the stress ball's size, color, and scent according to your preferences. Lavender, orange, cedarwood, and eucalyptus are just a few of the essential oils you might consider.
Making these stress balls can also be a fun shared activity, and they make thoughtful, personalized gifts. Fill your life with calming scents and squeeze away the stress with these aromatherapy stress balls. oneessential
14. Homemade Stress Balls
Discover the joy of making your DIY stress balls, a project that's a fun activity and a great stress reliever. From selecting the balloon color to decorating them with Sharpies and yarn, this simple yet rewarding experience encourages creative expression.
The flexibility of this project extends to the choice of fillings as well, be it flour, cornstarch, sand, or uncooked rice. You can even customize it further by adding a touch of aromatherapy with essential oils.
These homemade stress balls can last from a week to a few months and can be easily stored in a cool, dry place. Reducing stress and anxiety has never been more creative or entertaining. With this guide, melt your stress away and enjoy a playful sensory activity at your fingertips. onecrazymom
15. DIY Emoji Stress Balls for Kids
Discover the therapeutic benefits of creating your own DIY stress balls with these simple techniques that cater to all ages and skill levels. Make playtime even more fun with DIY Emoji Stress Balls – your kids will love squishing these smiley faces! These lightweight yet delightfully textured stress balls are a fun craft project and practical tools to manage stress.
The process requires only a few easily accessible materials – yellow balloons, poly pellets, and Sharpie markers, resulting in a fun-filled craft session.
Crafting these stress balls is a great way to spend quality time with your kids while teaching them a creative way to manage their stress. With the added option of gifting these to their friends, this craft fosters creativity and encourages sharing and mindfulness among the little ones. meandmyinklings
16. Make Your Own Stress Balls
Explore various DIY stress ball ideas, from colorful balloons filled with rice or flour to soft fabric balls stuffed with memory foam or beads. Delve into the fascinating world of DIY activities by making your homemade stress balls, an exceptional fidget tool for children and adults alike. Utilize readily available materials such as balloons, cornstarch or flour, water, and a Sharpie marker.
Start by inflating your balloon and letting it deflate, affix it securely to a funnel, then pour in a minimal amount of water, followed by corn starch. Repeat these steps until your balloon is amply filled, then tie it up and customize its appearance using a Sharpie.
Opt for alternatives like beans or bird seeds to fill your stress ball for a varied texture. Embarking on this fun-filled project cultivates creativity and effectively relieves stress, making it a highly beneficial and unique endeavor. drkateaubrey
17. Easy DIY Orbeez Stress Ball
Relish tranquility at your fingertips with a DIY colorful stress ball. A perfect way to deal with daily anxieties, this fun and playful project is accessible to everyone. You can make your stress ball right home with materials such as Orbeez, a large bowl, a funnel, an empty plastic bottle, and a clear balloon.
The creation process is simple and engaging, culminating in a delightful, squishy stress ball filled with vibrant, water-soaked Orbeez.
This homemade stress ball is not just a playful accessory; it's a tactile tool that can help reduce stress, offering comfort and relaxation. Take a step towards self-care and mindfulness today by making this unique, colorful stress ball! goodhousekeeping
18. Putty Stress Balls Tutorial
Introduce a fun, therapeutic craft to your routine with DIY stress balls! These soft, squishy accessories not only provide relief from anxiety and frustration but also make a fantastic sensory tool. Perfect for kids honing fine motor skills and individuals with Autism, anxiety, or sensory processing disorder, these tactile treasures double as muscle builders.
You only need small party balloons and Silly Putty – either homemade or store-bought. The creation process is simple: stuff the putty into a balloon, secure the opening, and voila – your stress ball is ready for action! Ideal for children and adults alike, these customizable stress balls bring relaxation to your fingertips! naturalbeachliving
19. DIY Halloween Stress Ball Ideas
Get a spooktacular surprise with these DIY Halloween stress ball ideas – they'll make your stress disappear! Crafting these fun and calming stress balls adds a touch of festivity and helps ease tension and enhance blood circulation.
Useful for strengthening grip and building muscles in wrists, forearms, and hands, these are perfect for everyone. You need balloons, sand, and Sharpies® to get started.
From the spooky Eyeball and Ghost to quirky Frankenstein and Monster to the iconic Jack-O-Lantern, these stress balls are as exciting to make as they are to use. Follow simple instructions – inflate, fill, tie, and draw – and your unique Halloween stress reliever is ready to squeeze! fun365
20. How to Make Stress Balls With Balloon
Relieve your daily stress and find solace with homemade stress balls. These DIY stress relievers can be made effortlessly and benefit adults and children needing a focus tool or anxiety aid. You can make personalized stress balls using common household items such as balloons and flour.
The process is simple: inflate the balloon, secure it around a funnel, and slowly fill it with flour. Once full, tie it up, and it's ready to be used. Such an easy, cost-effective solution can be a game changer during stressful times or challenging learning environments.
This might not erase all your stressors, but it surely provides quick and handy relief. Not only that, but it also offers a clean alternative to sensory tools like slime, especially around computers. So, step into the world of DIY stress management and invite a more relaxed atmosphere into your everyday life. makinglemonade
21. DIY Halloween Pumpkin Stress Balls for Kids
Spice up your Halloween festivities with these enjoyable and easy-to-make DIY pumpkin stress balls for kids. Offering both a fun playtime and a stress-relieving solution, these homemade calm-down balls do an excellent project to make right on your kitchen counter.
Made from simple materials such as orange and white balloons, rice, a funnel, and a black Sharpie, you can fashion your stress balls in just a few steps. Begin by stretching the balloons, filling them with rice through a funnel, tying them up, and finally, using the Sharpie to draw fun faces.
With these appealing pumpkin stress balls, your kids can embrace Halloween while managing their excitement and anxiety effortlessly. Make some spooky fun and add a touch of creativity to your Halloween celebrations today! momgenerations
22. Make Your Own Stress Ball Out of Balloon
Unveil the calming influence of making and using a DIY stress ball. Made with simple supplies, including flour, balloons, super glue, and a jar funnel, this craft activity offers a mindful escape from the pressures of daily life, especially during the holiday season.
As well as being a fun project, the resulting stress ball can channel tension, providing a tactile distraction from stressors. Squeezing this homemade stress ball can aid in releasing pent-up energy, making it a handy tool for relaxation and emotional mindfulness.
So, consider dedicating some time to self-care and engage in the creation of this beneficial stress relief tool. Enjoy the soothing process and take a break from your routines with this unique craft. mycrazygoodlife
23. Stress Ball Step-by-Step Instructions
Embark on a relaxing DIY journey by crafting your stress balls at home. You'd be surprised to know that these playful, squishy items hold a scientific secret – their calming properties are backed by neuroscience! With this engaging project, let's bring stress balls' fun and therapeutic benefits into your living room.
You'll need just a handful of materials, including balloons, water, toothpaste, permanent markers, potato starch (cornstarch or wheat flour), a plastic bottle, a retractable knife, a teaspoon, and a bowl! With this detailed guide, you can make your stress balls.
These stress balls help manage stress and make for an engaging activity for the whole family. The best part? You get all these benefits at an estimated cost of just $4 within 15 minutes! This craft project is about delivering fun, comfort, and tranquility right at your fingertips! craftsyhacks
24. Simple DIY Orbeez Stress Ball
Unleash the magic of Orbeez with an easy DIY stress ball project! You can make a satisfying, squishy sensory toy with just a clear balloon, water beads (Orbeez), and some water. This homemade stress ball offers a fantastic tactile experience, and its vibrant, translucent appearance can lift spirits too.
Children will relish watching the Orbeez expand inside the balloon, bringing a splash of science to playtime. Crafted using a simple step-by-step guide, this stress ball promises hours of fun and relaxation.
With this project, stress relief and creative play become one magical, mesmerizing experience. Embrace the joy of DIY and let your hands feel the thrill of the Orbeez stress ball! onelittleproject
25. How to Do Stress Balls
Release tension with DIY stress balls, a fun and simple craft idea beneficial for kids and adults alike. You'll have an effective anxiety-soothing device at your fingertips by crafting these tactile tools using everyday materials such as balloons, flour, a funnel, and an empty water bottle.
This project requires minimal time and cost, estimated at 15 minutes and $5, respectively, making it a quick and budget-friendly craft. It's a useful tool for those who fidget or individuals with Autism or Sensory Processing Disorder.
Start making your stress balls today and introduce a fun, cost-effective way to manage stress and anxiety at home. With each squeeze, bid farewell to your worries! dinedreamdiscover
Conclusion:
In conclusion, making DIY stress balls can be an enjoyable and therapeutic project to undertake. With a multitude of options, such as using balloons, flour, Orbeez, or even incorporating delightful scents with aromatherapy, you have the freedom to personalize your own stress-relief tool. These DIY stress ball ideas range from simple homemade stress balls to more creative ideas like Halloween pumpkin or Pokémon-themed versions. So, explore the provided list and find the perfect stress ball idea to suit your needs, and start crafting your way to relaxation.