As the back to school season is upon us, Learn how to make a pencil pouch with these 40 diy pencil case ideas with step by step instructions, video tutorials and sewing patterns. Pencil cases are the most hunt after and fascinating items when going back to school! Kid's love exploring their wide options, and every time they see a new one, they want to get the more appealing and cool pencil case. Another thing after the summer break is the new obsessions that enter our little one's lives! Like a pretty unicorn, a holiday-inspired theme or a cute little shard. We have plenty o diy pencil casef tutorials here to help you bring their obsessions to tangible realities!
Our DIY pencil case collection is also pretty feasible and kid of a style statement for every age. If you are an architect with a load of pencils for your design work, we have some cool flat pencil pouch ideas. If you are a working woman with several meetings to handle each day, we have some pretty big and convenient makeup pouches ideas for you. Carry your makeup around with ease!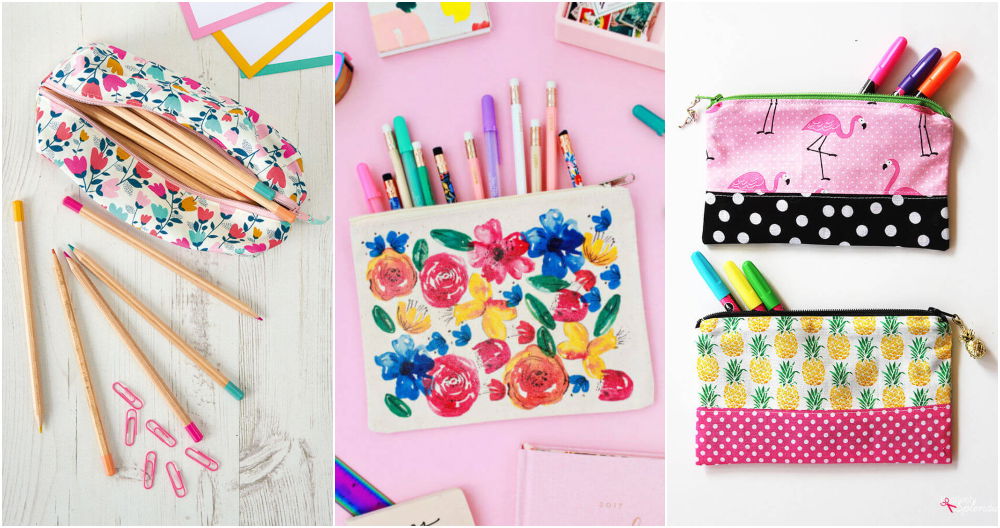 These DIY pencil case ideas are also great for bonding with your kids. You can get help from your kids while making them. They can share their deal of imagination with you using paints and colors! Also, there are some great ideas to send appealing and pretty teacher's appreciation gifts or cute friendship gestures too. Having said that, let's dive right into our lovely DIY pencil case collection.
1. How to Sew Zipper Pencil Pouch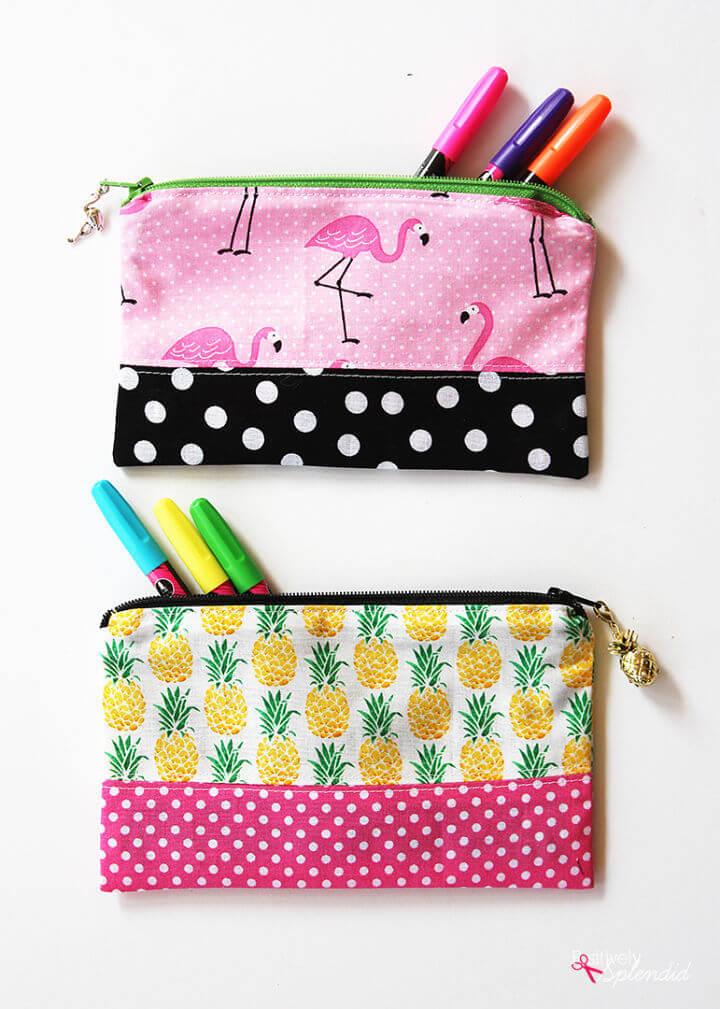 Are you looking for creative and stylish ways to keep your pens pencils with you and all organized? Create this quite easy and catchy DIY pencil bag with the fabric and color of your own choice. Keep your pencils one zip away! positivelysplen
2. DIY Flamingo Pencil Pouch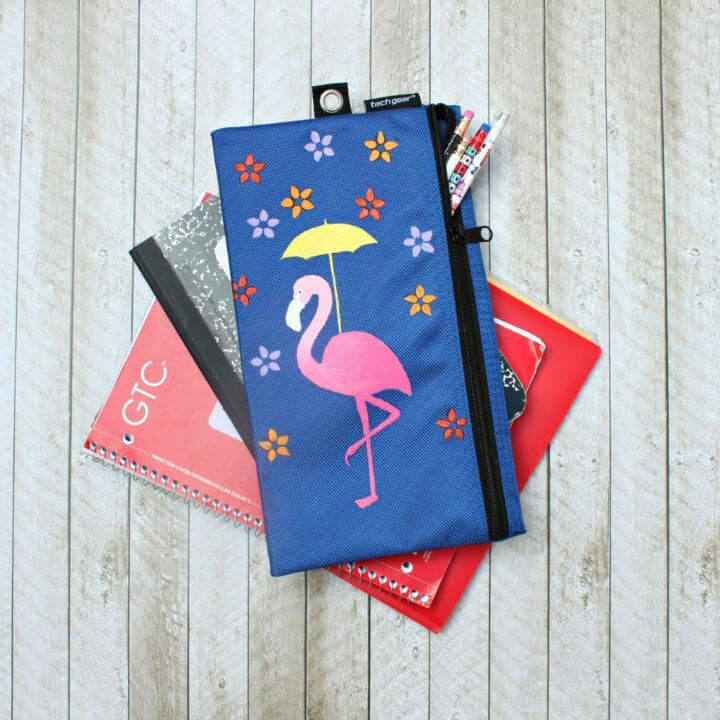 Make this uber-cute back to school pencil pouch! Use DIY fabric paint with stencils on any fabric and give it a personalized look! Use the deco art fabric medium for mixing the paint and give your pencil case a beautiful vibrant look. morenascorner
3. Felt Kitty Pencil Case for Kids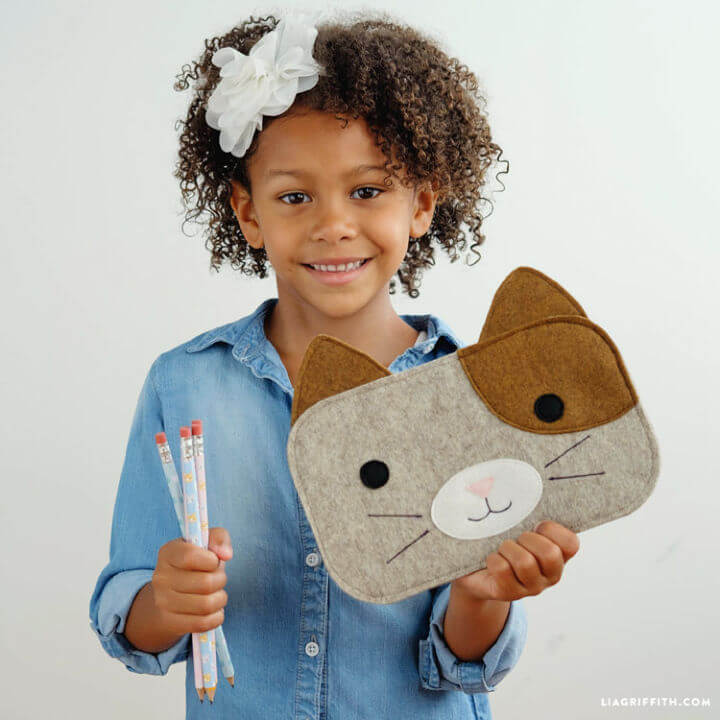 Well, hello there, kitty! Kitties have been known to long rule our hearts since what we can call as the beginning of time and probably till the end of time! Make this cutest kitty DIY pencil case with felt and add a funky little touch to your kid's school days. liagriffith
4. DIY Pencil Pouch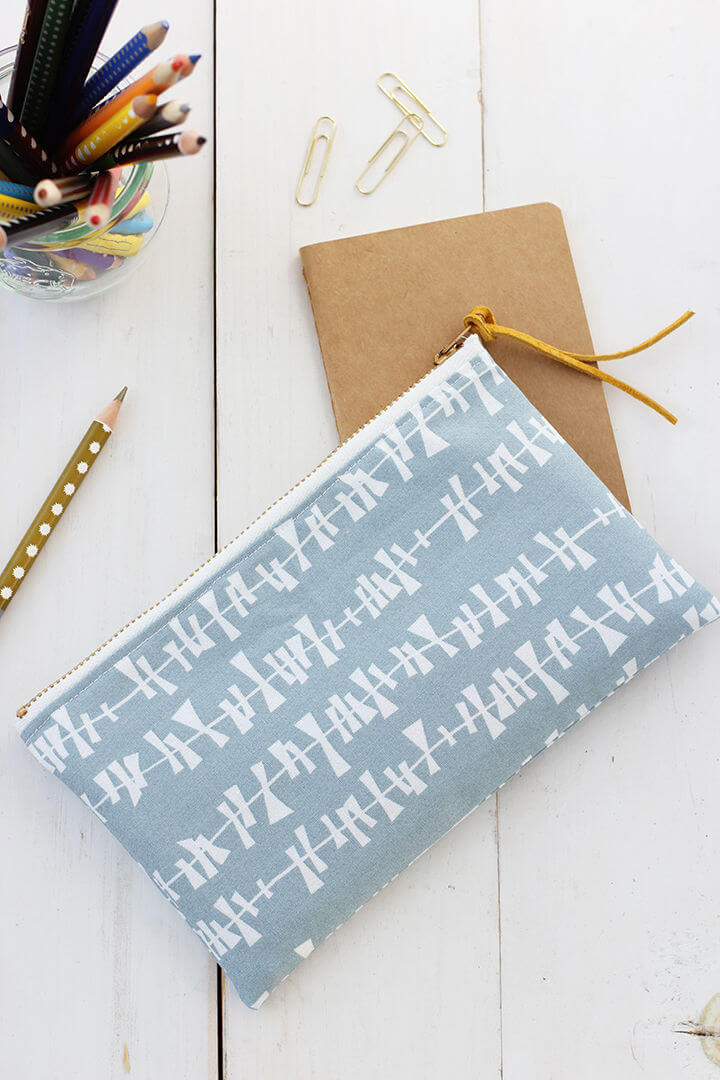 In just 15 minutes make this adorable and radiant pencil case for your little ones! You will need-oriented cotton fabric, zipper, fusible interfacing, suede cord, sewing machine, iron, and scissors. Check the tutorial for step by step guide with illustrations. aliceandlois
5. Make a Box Pencil Case
If you are fond of the box like pencil cases and stuff it with a whole lot of other stationery items, like sharpeners, probably a UHU stick or even a stapler. This DIY box pencil case is going to be your thing! Add a cute neutral color as the main cover to give it a subtle appeal. gatheredthreads
6. How to Make a Pencil Pouch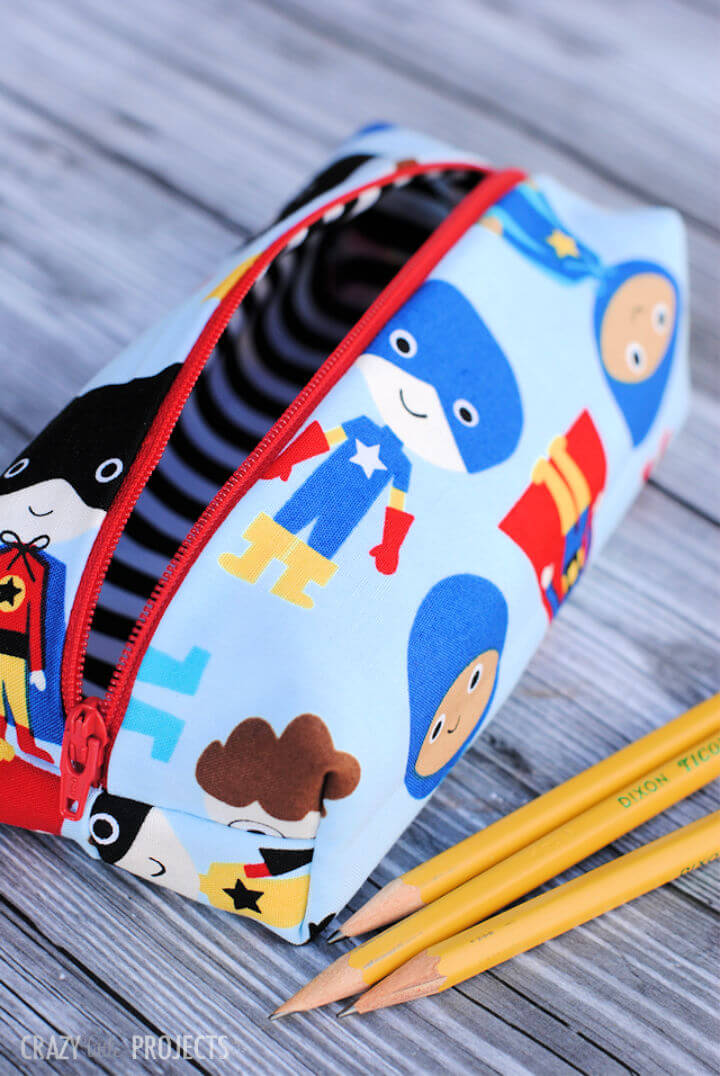 Every summer, kid stumbles upon some new cartoon or comic character obsession. Make school days more appealing to them by introducing their favorite character to their school bags! You will need 2 coordinated fabrics and a 9 inches of a zipper. crazylittlepro
7. DIY Embroidered Unicorn Pencil Case
Add a pretty personalized touch to your back to school DIY pencil case with a cheery embroidery flaunt. You can buy a complete fashion embroidery kit as those come with cute embellishments. Trace the design with a soluble watercolor pen. madincrafts
8. DIY Geometric Zipper Pencil Case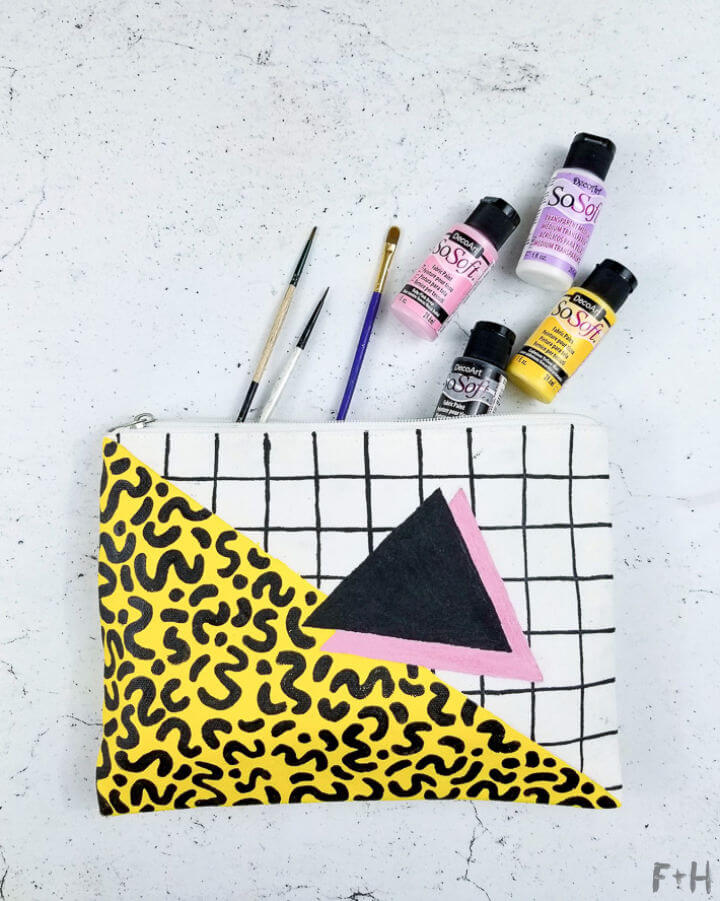 Inspired by the Memphis design movement, make this bright and bold geometric zipper case! You will need a white canvas zippered pouch, acrylic paint brushes, a collection of different colors of DecoArt fabric paint, ruler and a pencil. foxandhazel
9. Pencil-Shaped Pencil Case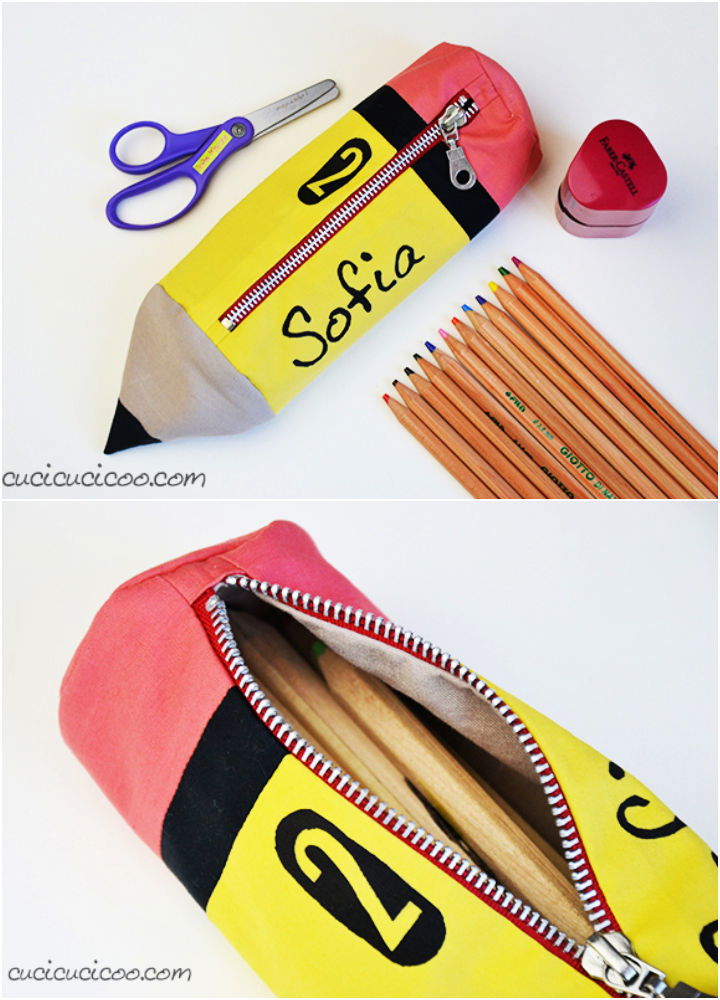 It is not new to anyone that how much kids love these giant pencil-shaped pencil holders! God knows, we have all been to that phase back in our school days where we cherished having a giant pencil holder! Make it at home for your kids and even personalize them with their names. cucicucicoo
10. How to Make Stamped Pencil Cases
Minimalistic yet so appealing! Stamped pencil pouches are our personal favorite. Add a hint of sensational charm to your DIY pencil case with craft foam adhesive backing, corkboard, fabric paint, foam brush on blank canvas pencil cases. almostmakesp
11. DIY Patchwork Zipper Pouch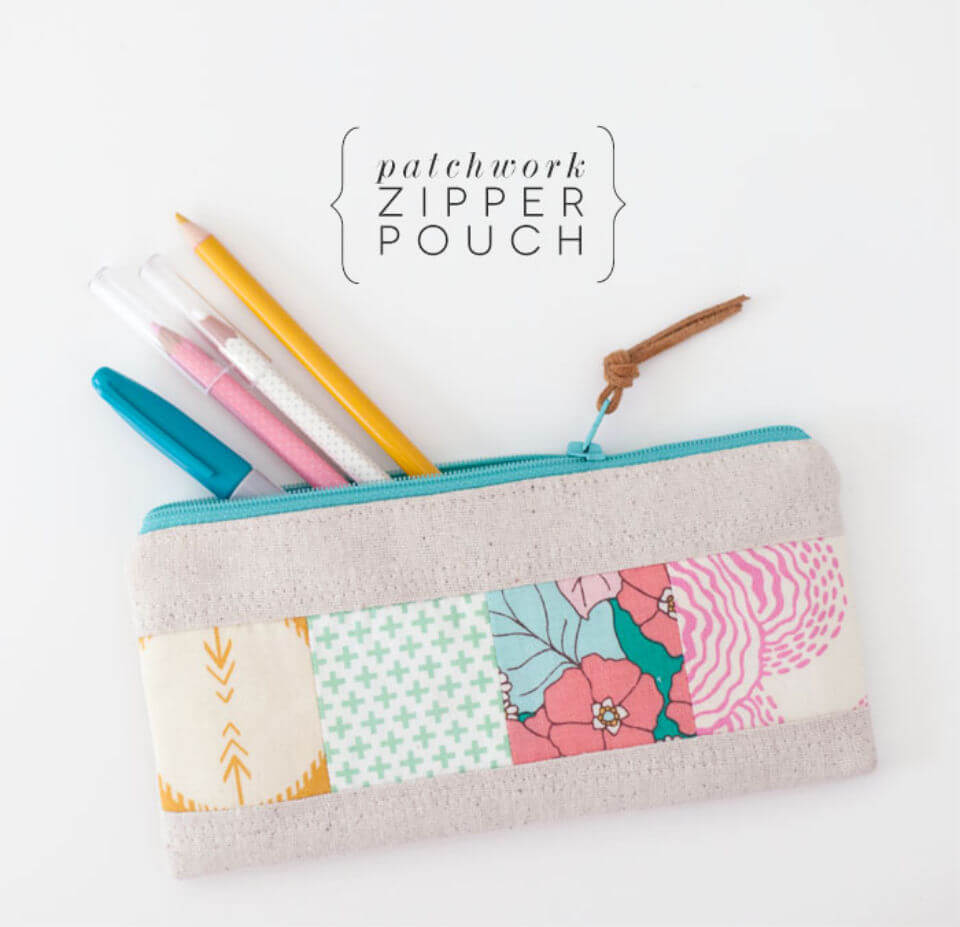 If you can't decide on what to design, always go for patchwork! It can also be known as the savior of designs. Choose a neutral fabric as the base, small scraps in various prints, a fabric design for lining and a long zipper. lbg studio
12. Three Ring Binder Pencil Case – Sewing Pattern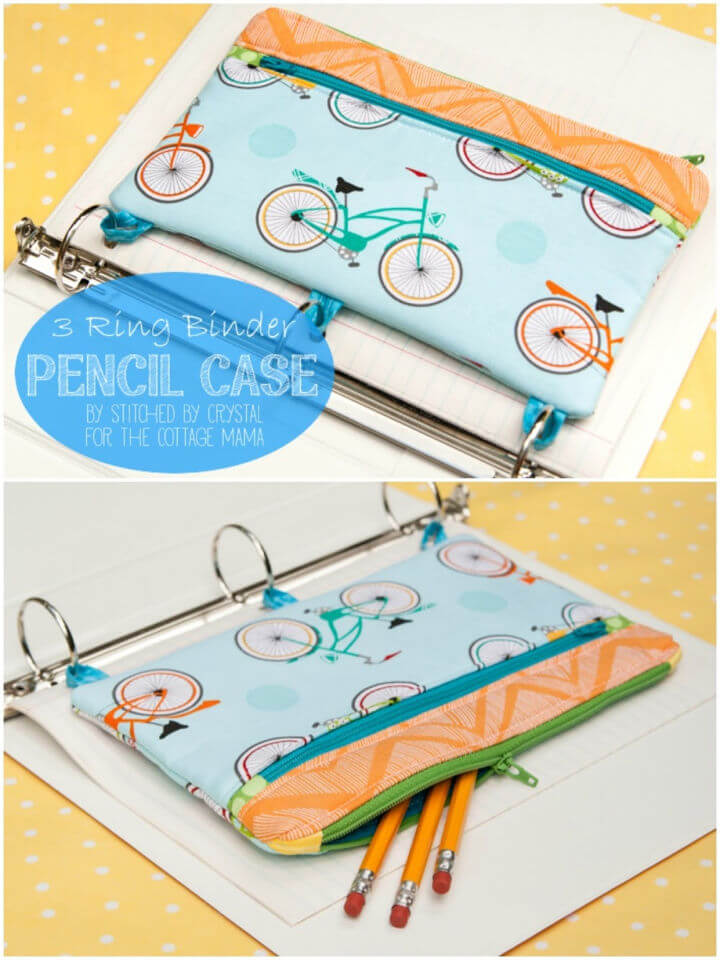 This could be a beautiful full package gift to anyone who is going back to middle school or high school. This three ring binder DIY pencil pouch could be a quite fun and convenient way to keep all their supplies in one place. thecottagemama
13. Make Your Own Palm Leaf Pencil Pouch
This palm leaf DIY pencil pouch is undoubtedly awe-worthy! It will make a beautiful piece of gift for someone. Add a multi-layered tropical flair to any blank canvas pencil case. You'll need some adhesive vinyl and transfer tape with other craft supplies to hit off the magic. persialou
14. DIY Squid Zippered Pencil Pouch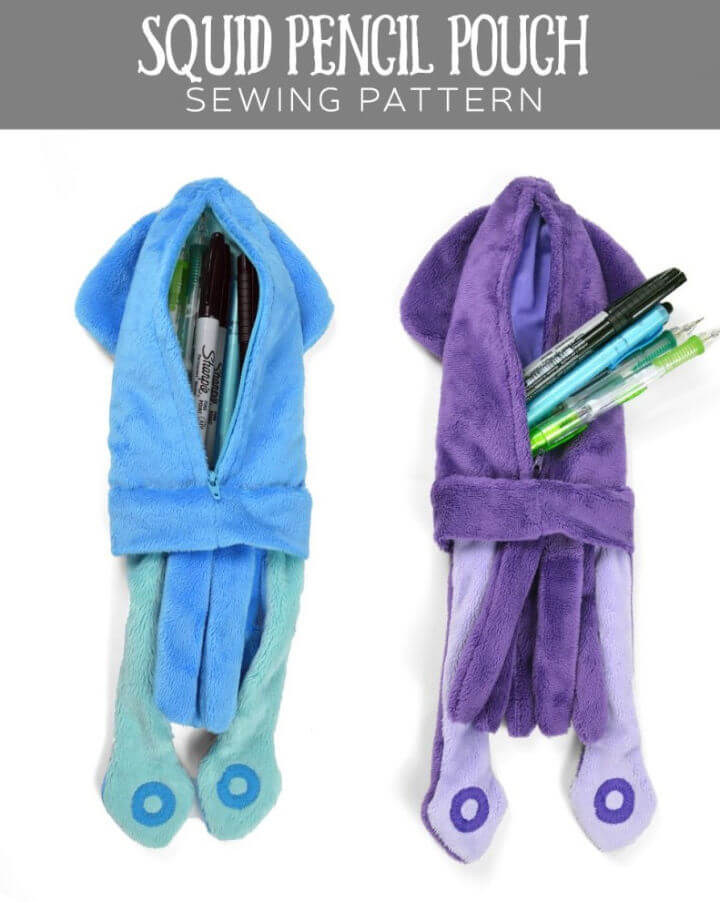 Make a handful of storage space with this amazing DIY squiddy project! Utilize the tall shape of the squid to hold a handful of your pens and pencils. Pro-tip: for this design, use a plush-like fabric such as fleece, felt, or Minky. cholyknight
15. Handmade Neon Painted Pencil Case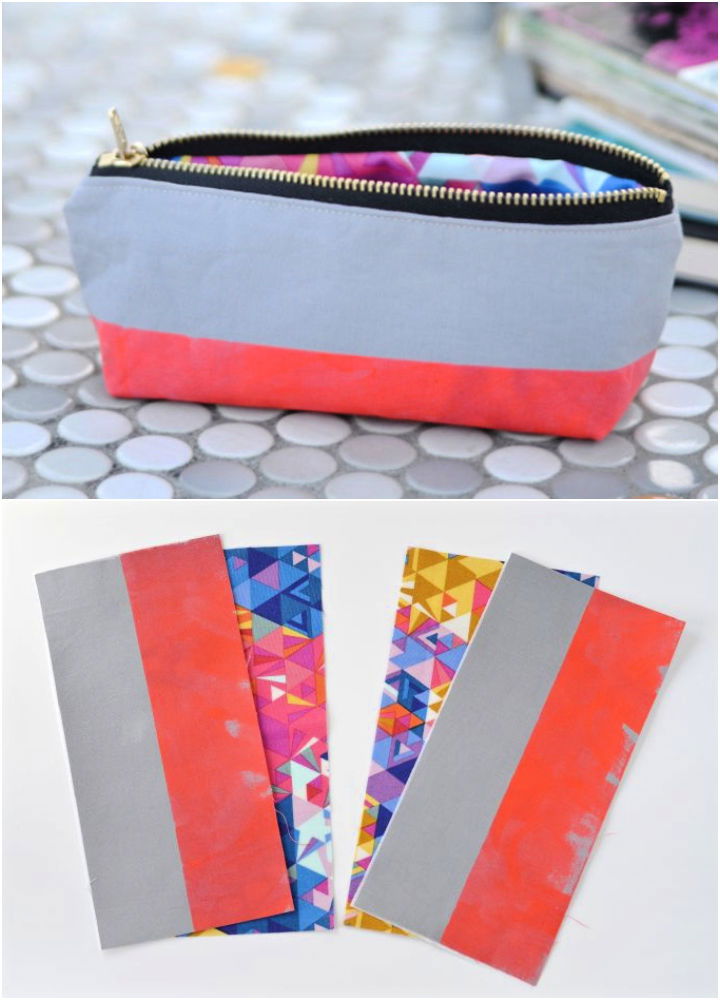 Neon themed stuff can never get old! It always adds a subtle and catchy appeal to anything it is applied to. Check out this entirely cool DIY neon painted pencil box to brighten up someone's day as a gift or your day as the creative mind behind! So, glass is not half empty, yeah?! dearhandmad
16. How to Sew Canvas Pencil Case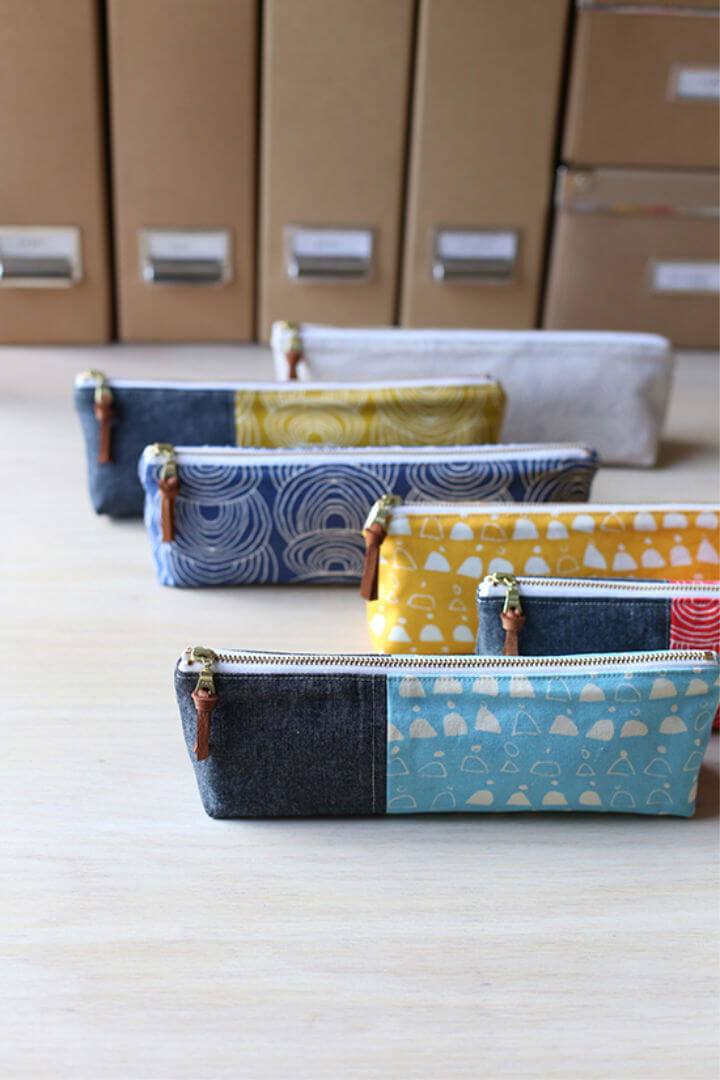 These subtle and stately DIY canvas pencil pouches are going to be the next big DIY project break on your list! Because they look absolutely mesmerizing and pretty! You will need the main print, which is your canvas print or denim and an accent fabric print. noodle head
17. Homemade Back to School Pencil Pouch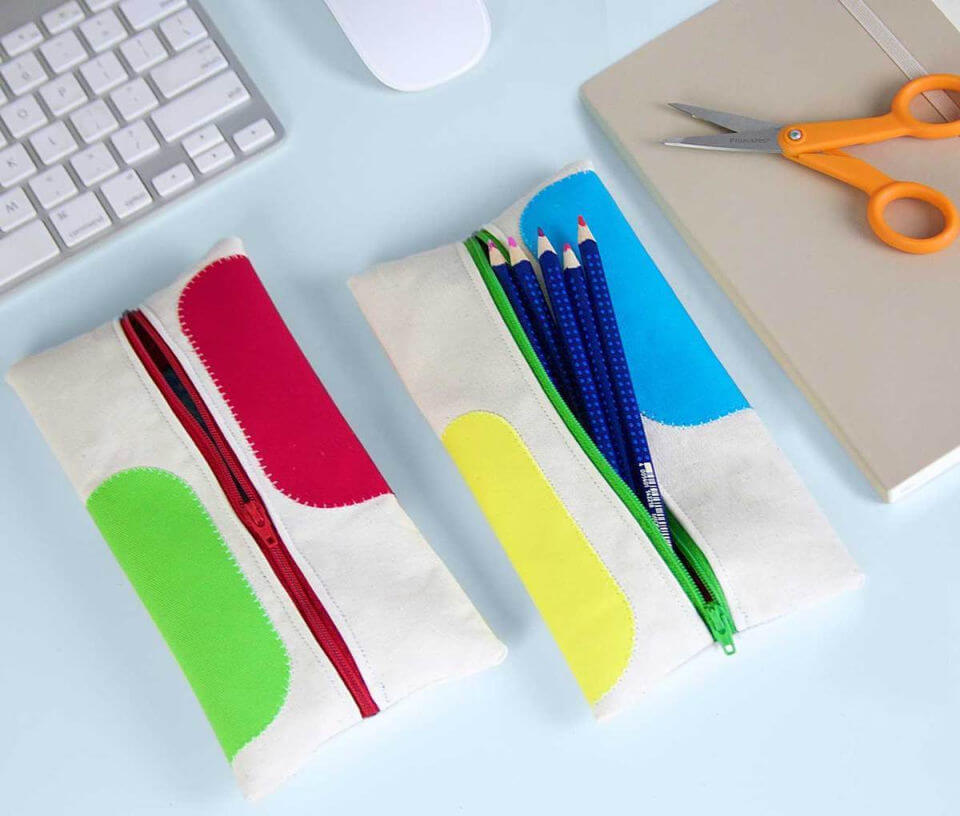 Check out these cute pencil pouches that are going to be an absolute delight to sew and an absolute pleasure and hit for your kids to show off at school! Win-win kind of situation for all! 2.fiskars has got the complete tutorial with step by step guide, treat yourself! 2 fiskars
18. DIY Pencil Case with a Bow
It is always a nice feeling to stand out of the crowd! Like with this gigantic bow on a cute DIY pencil case, you could be carrying around your own personal statement. Plus, with the polka dots accent print, you can multiply the appealing look already! seekatesew
19. DIY No-Sew Pencil Pouches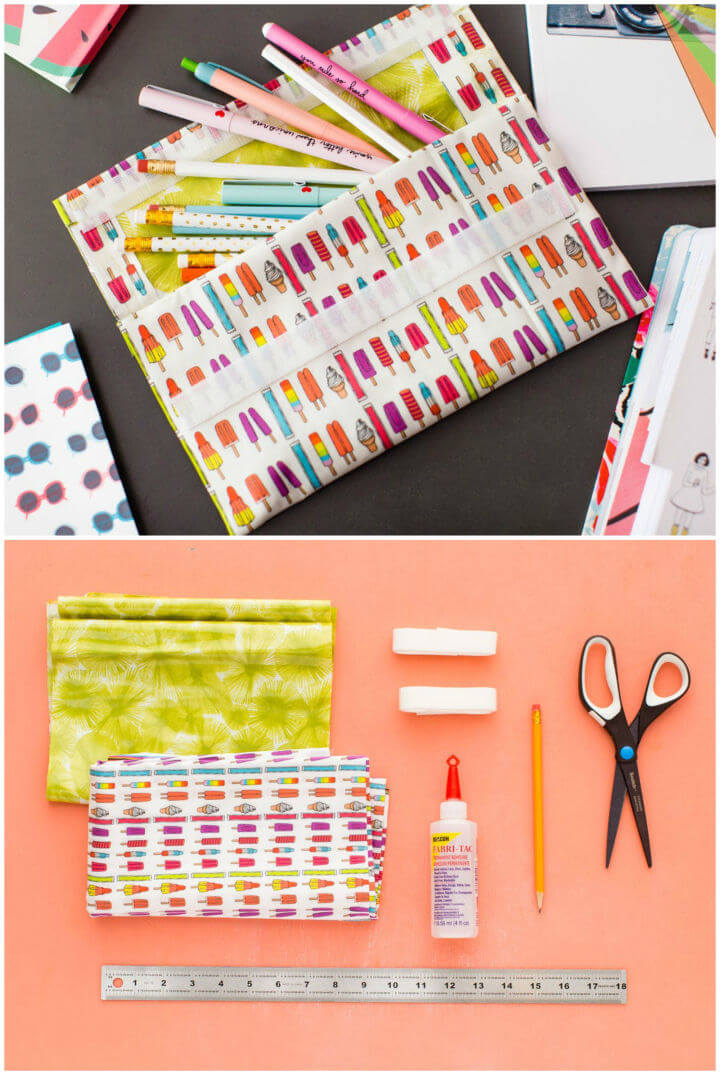 If you are not fond of sewing or just got an idea for last minute back to school presents, this tutorial is going to save the day for you! Get together some fabric, oilcloth, VELCRO (sticky back for fabrics), fabric glue, pencil, scissors, and ruler! Get crafty with ease. brit co
20. Pencil Case with Lining
Get your hands on two coordinating fabric prints, zipper, pins or binding clips, sewing machine, iron, and scissors. Get all creative and have fun crafting these cute DIY pencil pouches with your kids for a cool back to school time. thediydreamer
21. DIY "Unicorns Are Awesome" Pencil Case
Everybody loves bigger pouches! You can have your cosmetics, trinkets, pens, pencils, everything just a zipper away. In your big bags, especially, there is no need to go crazy searching the entire bag! Give yourself a unicorn inspired pat on the back. hellocreativefa
22. Sew a Pencil Pouch for Back to School
Get your hands on this cute and subtle DIY pencil pouch! The theme is a Riley Black NASA fabric, one 9 inches' zipper, and a zipper foot! Kids are always on the hunt for cute pencil pouches when it's time to back to school, let's limit the exhaustive search here. polkadotchair
23. Make Fruit Pencil Pouches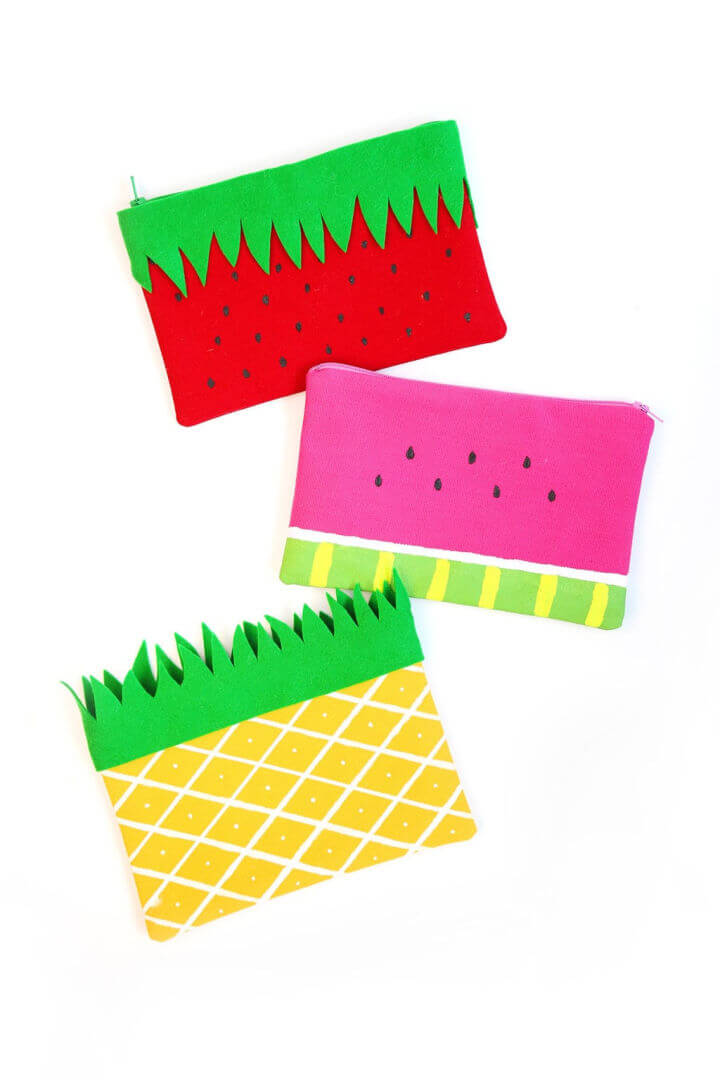 These fruit pencils are an utterly perfect way to keep the summer vibes hanging on to you! Get some funky and bright canvas cases in yellow, pink, and red. Green felt masking tape, foam pouncers, acrylic paint, toothpicks, and craft glue! damasklove
24. DIY Photo Pencil Pouch Gift
Bring back the adoring summer memories back to school with you by carrying this DIY photo pencil couch! This darling pencil couch can be made in just less than 30 minutes. Give a simple photograph a cute collage look! oldsaltfarm
25. Upcycled Jeans Pencil Pouch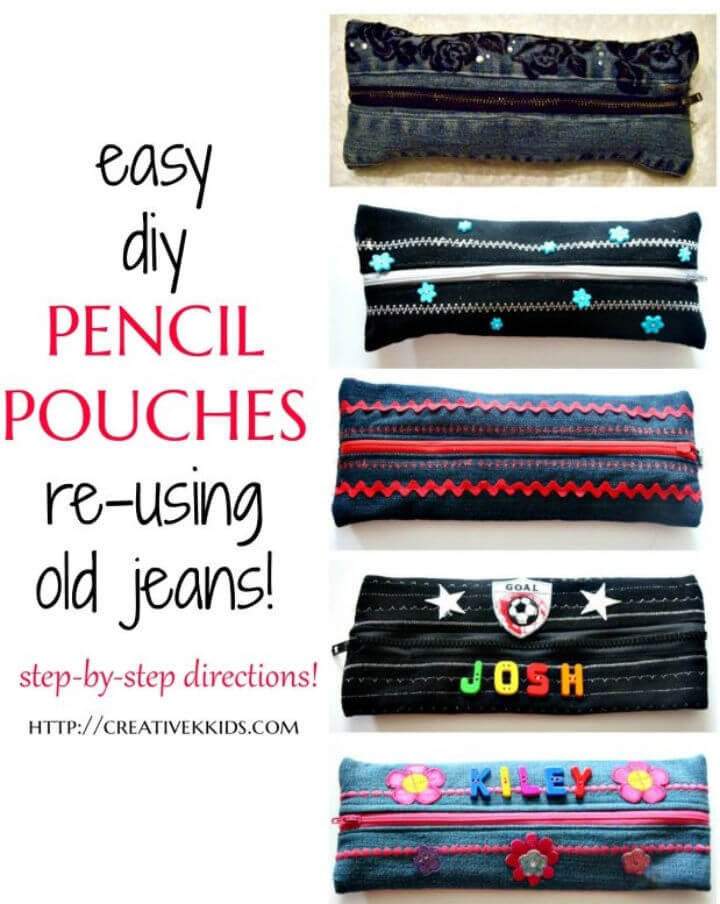 Time to get crafty and creative with your upcycled jeans. Make these fantabulous DIY pencil pouches using re-used jeans. Add cute flowers, beads, acrylic paint art, stars, stickers, glitters for embellishments. creativekkids
26. DIY Woven Pencil Case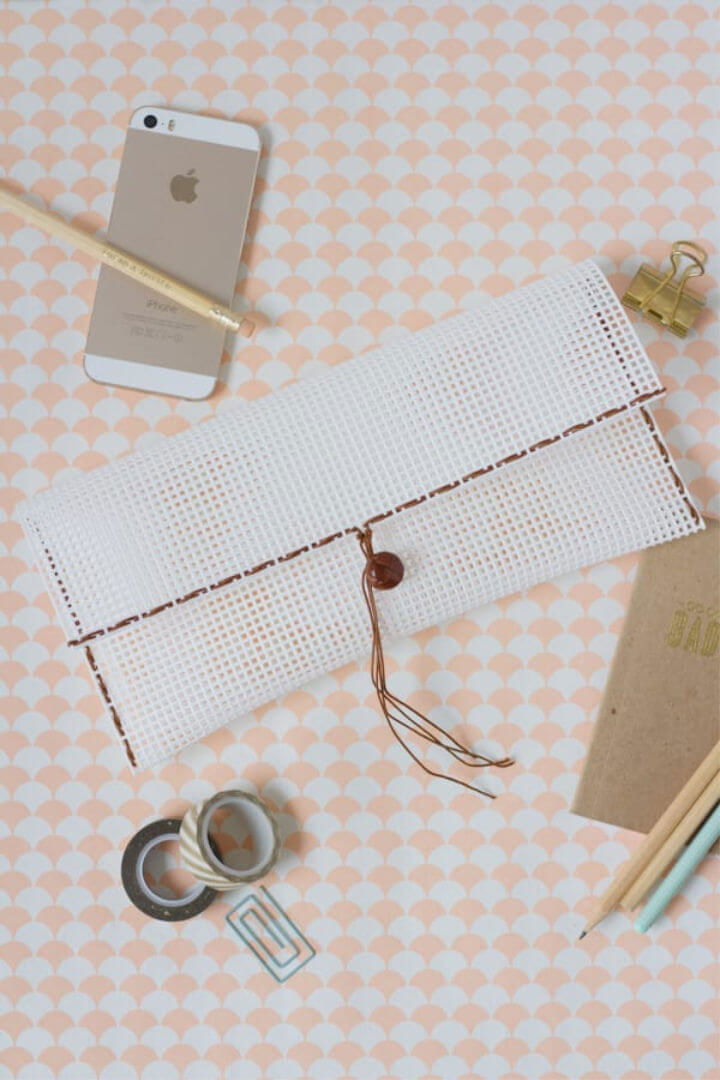 Get your hands on some white canvas mesh, waxed cotton cording, a vintage and rustic button, scissors, two binder clips! This sensational DIY woven pencil pouch can make an absolutely charming gift for teachers or your friends back at school! lovelyindeed
27. No Sew Leather Pencil Pouch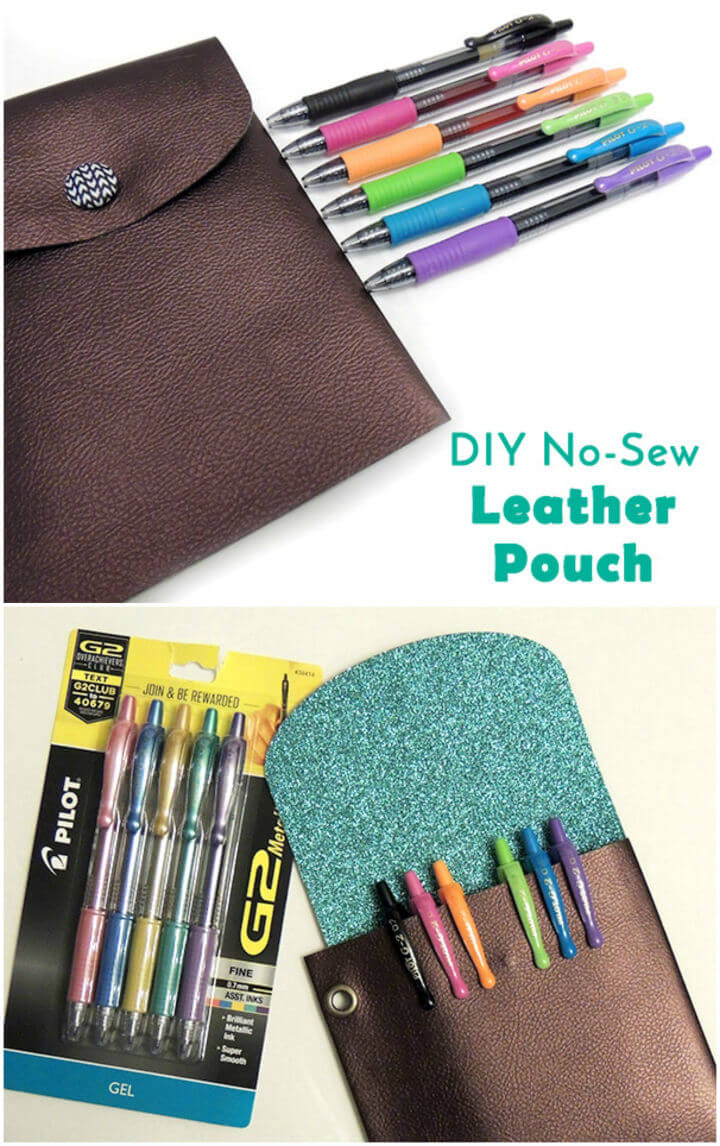 Check out this trendy DIY pencil case! You will need Cricut leather, Cricut iron-on vinyl, Cricut explore, grommet kit, hole punch, fabric glue and small magnets for closing the pouch! Check out the complete step by step guide here. craftingintherain
28. DIY Scalloped Pencil Pouch
This clear scalloped pencil case is the perfect style statement for you to carry your pencils or pens! On a clear vinyl, you can start by sewing the DIY pencil case! After that, using the all-purpose paint craft a beautiful piece of craft! sarahhearts
29. Pretty DIY Watercolor Floral Pencil Pouch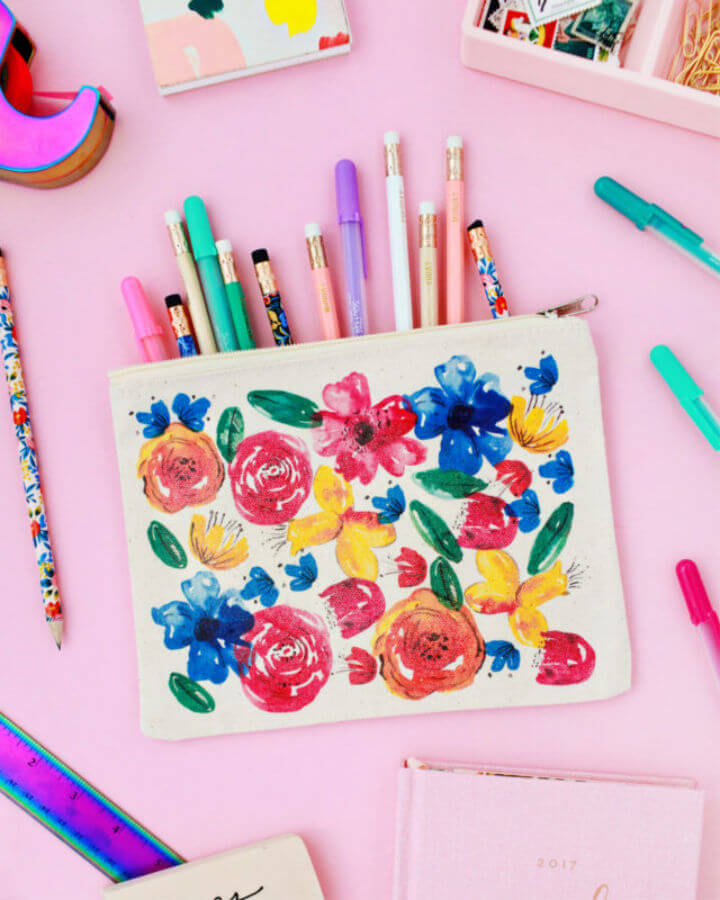 The wonders of watercolors and floral patterns on a blank white canvas are sure as hell bright, bold, and cheery! You can get a bigger size pouch, and it could be your catch-all kind of pouch or best, your cosmetics caretaker. ohsobeautifu
30. DIY Shark Pencil Pouch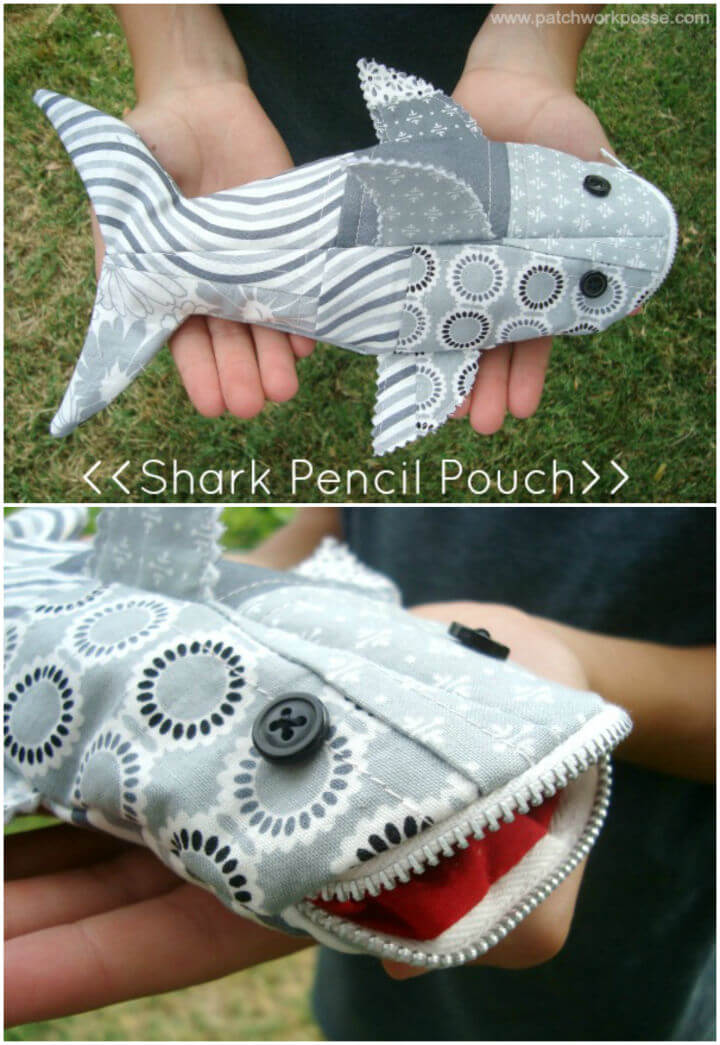 Check out this catchy and cutest ever DIY pencil case like a shark out of the water, ready to accompany your kids back to school. Get the shark template from Becky here at patchworkposse , along with the detailed sewing pattern. patchworkposse
31. Pencil Case Using 2 Fat Quarters of Fabric
Make a flat and super appealing DIY pencil pouch for your convenient office use! You will need 1 fat quarter of outer fabric, choose any accent print. 1 fat quarter of lining, cotton batting, 1 zipper, and a coordinating thread. littleredwindow
32. Painted Notebook Paper Pencil Pouch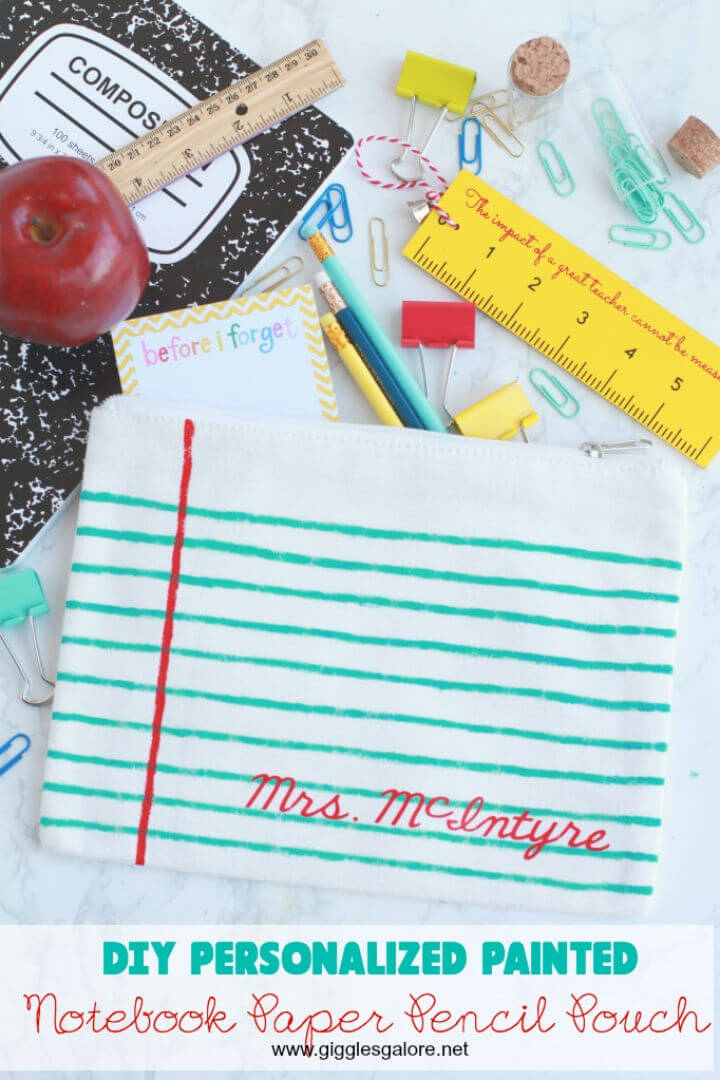 Make an inspiring and sensational teacher's day gift with this Cutest DIY notebook paper pencil pouch! You will need a white canvas bag, a Deco Art stylin fabric paint, Cricut red iron-on vinyl, Cricut maker, Cricut easy press, paintbrush, ruler, and pencil. gigglesgalore
33. Duck Tape Pennant Pencil Pouch
Duct tape is a versatile craft ornament. Create this bright and creative DIY pencil pouches using Duct tape. You will need different colors of Duct tape, cutting mat, craft knife, ruler or straightedge, and adhesive hooks. persialou
34. How to Sew a Pencil Case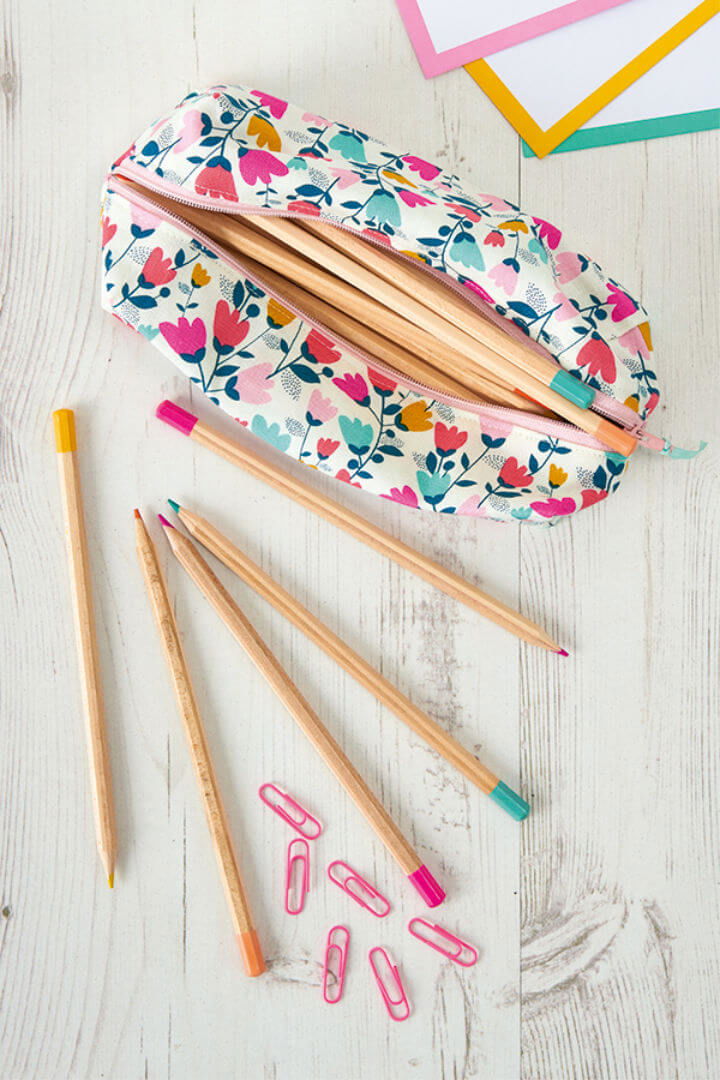 Gather one fat quarter of a floral accent printed fabric, a 10 inches' zipper, ribbon scrap, and a basic sewing kit! You will get the step by step sewing guide and tutorial from simplysewingmag , here. simplysewing
35. Customized Pencil Pouch with Cricut Explore Air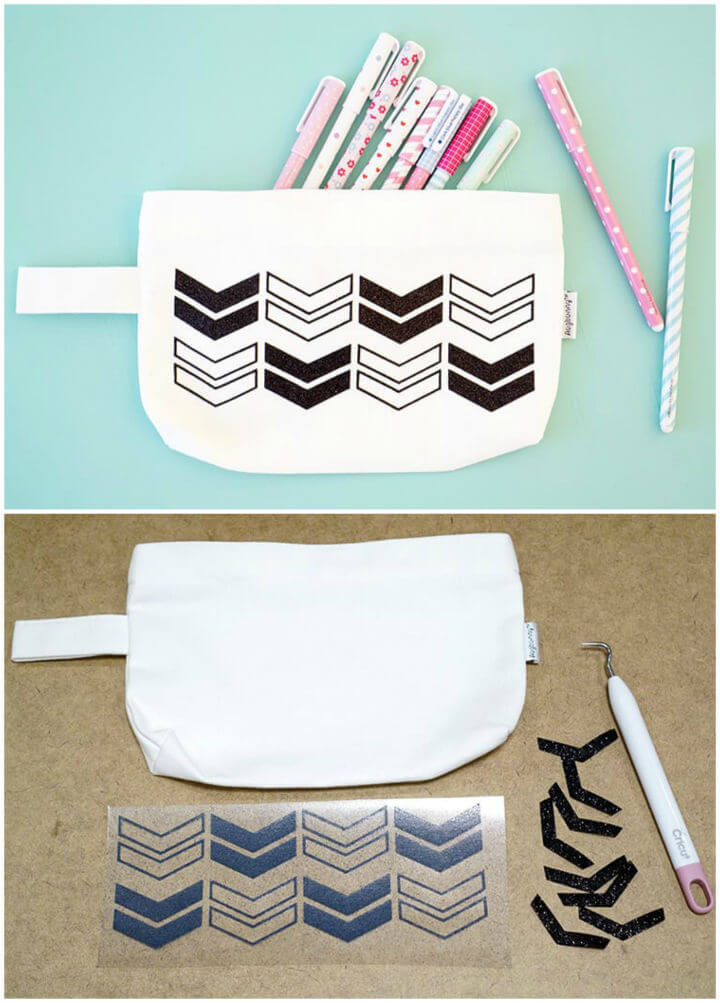 This is a beginner level DIY pencil case tutorial. You will need Cricut Explore Air cutting machine and heat transfer vinyl. With these magic tricks in your hands, your options for creative and custom designs are endless. happinessisho
36. DIY Kiddo Personalized Pencil Case
Get your hands on a canvas bag, acrylic paint, die-cut letters or stickers, glue, and glitter. Let your kids go crazy with these craft supplies and add their creativity and imagination on a piece of cloth, free handedly! You will adore this experience. delineateyour
37. Pencil Pouch from Cardboard Tubes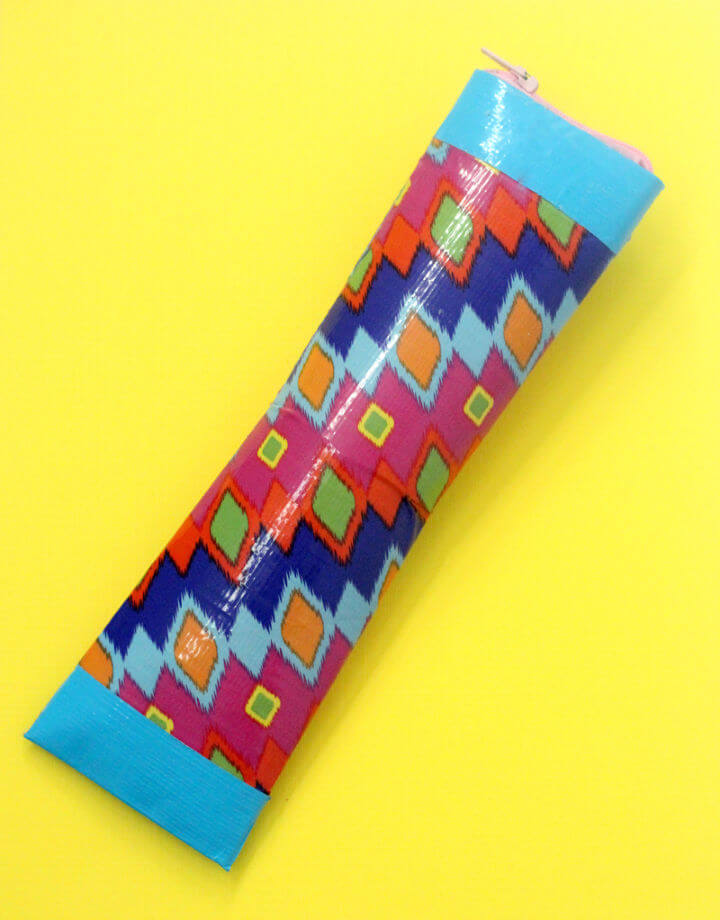 Check out this sturdy DIY pencil pouch perfect for on the go stationary collection! This sturdy case has a totally durable and washable surface, thanks to the bunch of duct tape added on it. Give it a sleek look and a combination of bright colors using cardboard tubes as the main base. momsandcrafters
38. Pencil Pouch-Back to School Teacher Gift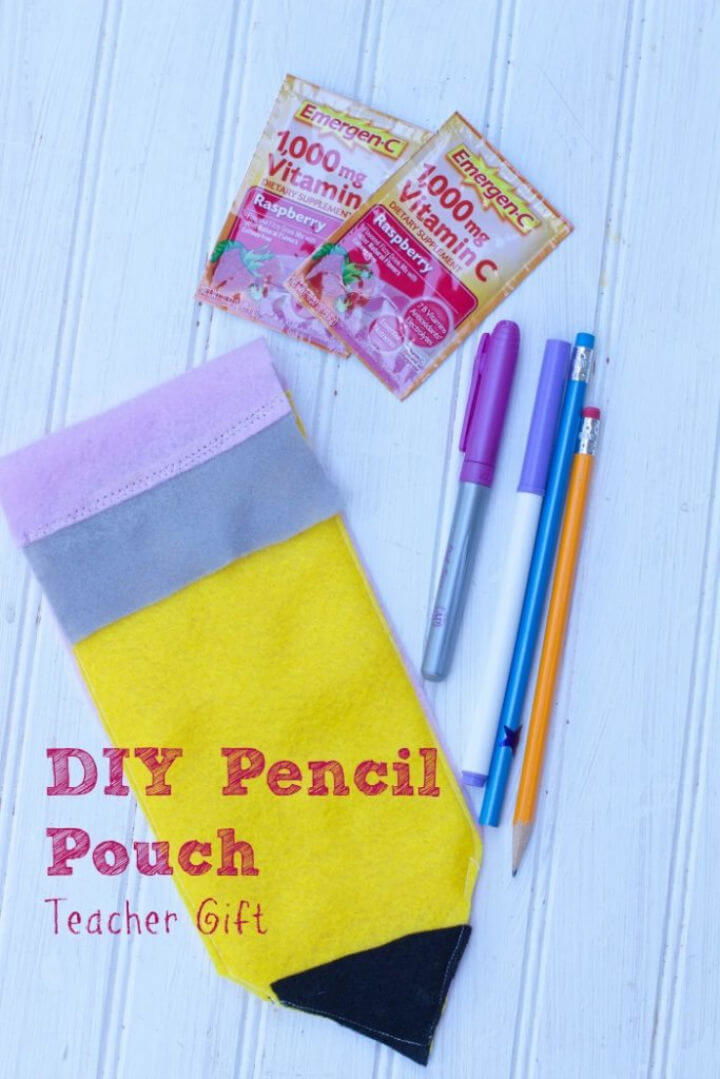 While kids are all ready for back to school big day, add this cute little appreciation gesture for their teachers. By making this adorable DIY pencil pouch using different colors of felt, needle and thread, a small button and little favors to fill in the pouch. stayingcloseto
39. How to Make a Pencil Case
With cute patch work and lining, make this absolutely adoring DIY pencil case for your kids back to the school day. This could be your and your little one's fun bonding activity or the last fun bonding summer activity before school too! aspoonfulofsugar
40. DIY Stenciled Pencil Pouch
Join in on the coloring fun with this uber-pretty stenciled pencil case. You will need a huge canvas makeup bag, adhesive letters for adding the charm, fabric paint, pencil, and a few other fun and craft supplies. allthingstarget
41. How to Make Denim Pencil Case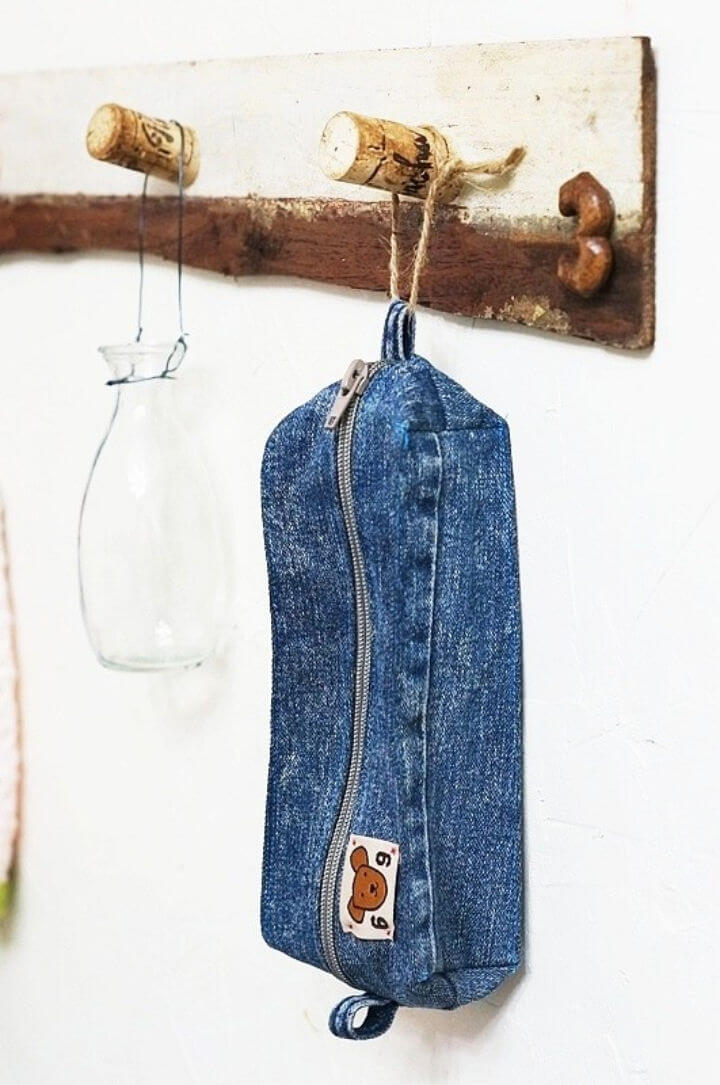 Types of Denim are the hardest to let go. Even they have entered the useless phase of our lives. Why not transform your old denim jeans into your new and cool denim pencil case? Cool, eh? Add a flair of denim to your bag with this bold DIY pencil c. handmadiya
42. DIY Knotted Zipper Pencil Case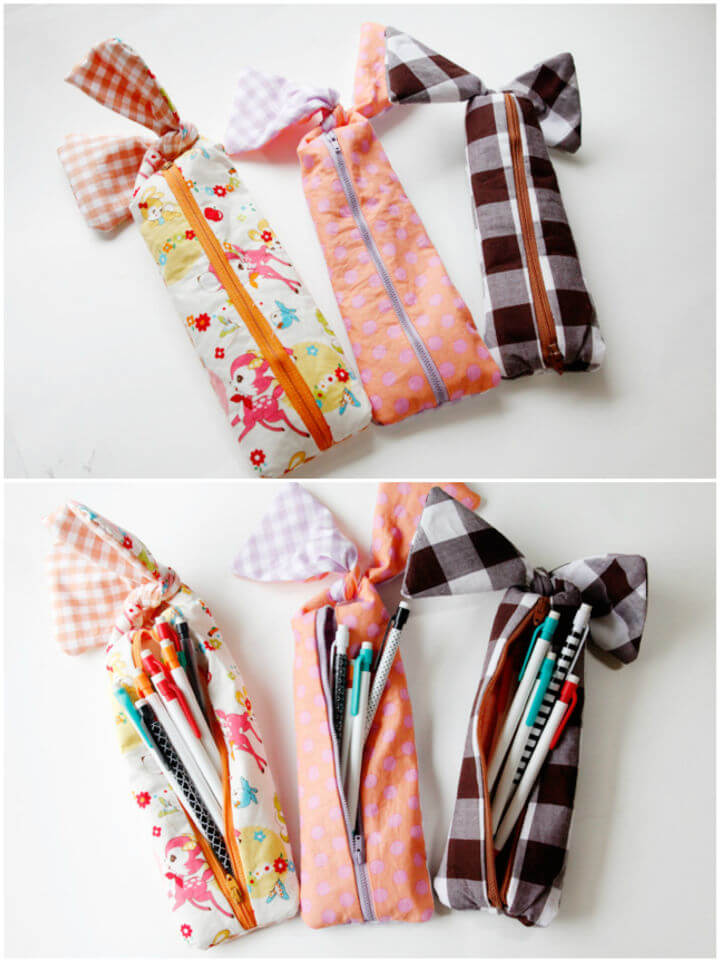 They look like sleek rabbits on the loose. Check out these Gingham style inspired, DIY knotted zipper pencil pouches. With some colorful patches or scraps of fabrics, you can craft a totally appealing and bold zipper pencil case! seekatesew
43. DIY Fabric Pencil Pouch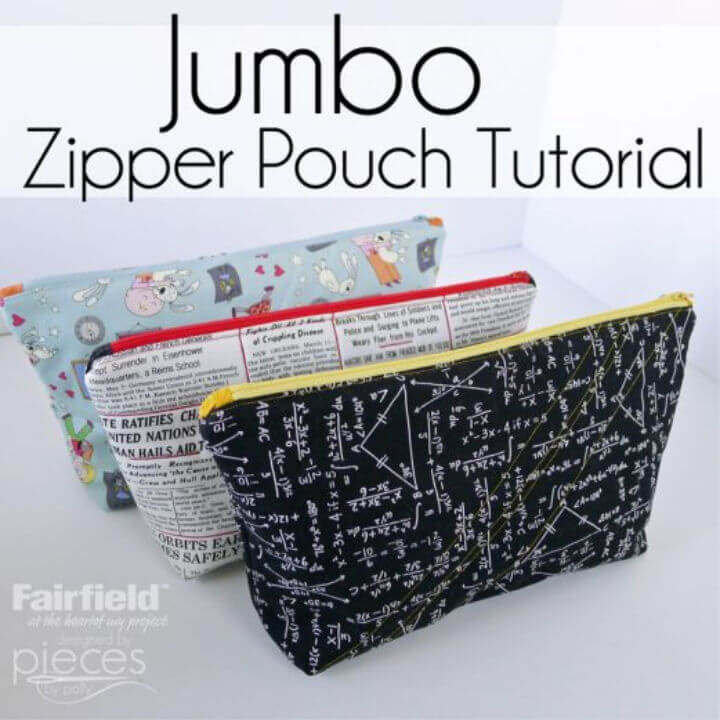 Simple and pretty is the word here! This DIY pencil case is made using contrasted quilting fabrics, 14 inches of the zipper, support soft foam stabilizer, fabric scraps for zipper tags, and coordinating thread! You can also shop the supplies here. fairfieldworld
44. Faux Leather Pencil Case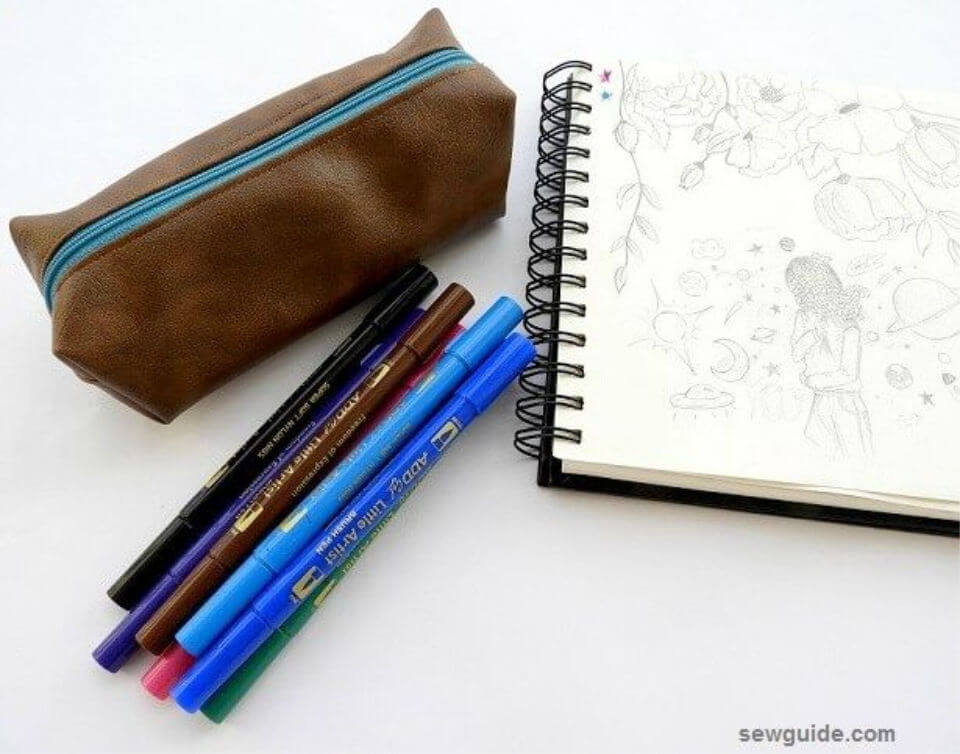 In schools and colleges, the number of pencil pouches can never be enough. Your collection of pens, pencils, craft supplies, staplers, paper pins, and highlighters keep on increasing! Manage your school stationery with a style in this Faux leather pencil case! sewguide
45. Quick Pencil Case Sewing Pattern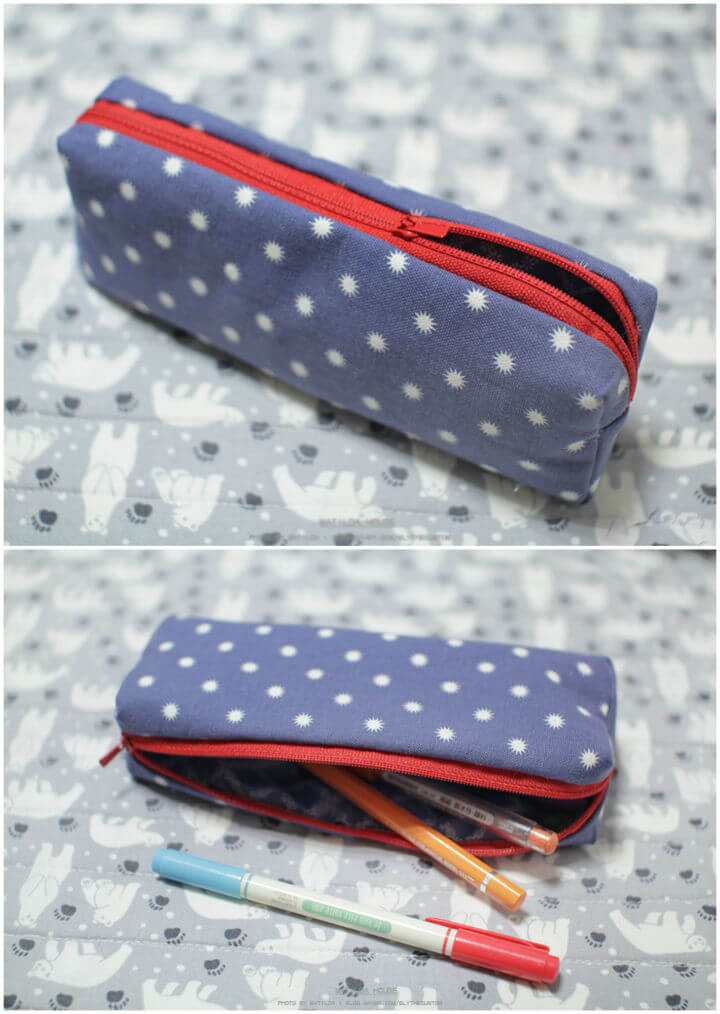 If you are a beginner at sewing and need a complete walkthrough kind of guide explained with illustrations, handmadiya here is going to be of great help to you! Make an adorable and perfectly sewed DIY pencil case in no time. handmadiya
Related DIY Projects and Ideas
Back to School Projects: From science experiments to fun art projects, these cool DIY back to school projects will surely make your elementary schoolers happy.
Chore Chart Ideas for Kids: If your little one is determined to do their chores by themselves, then have no fear! This list of simple DIY chore charts is full of ideas for making chore time fun and educational.
Mouse Pad Ideas: Try these easy DIY mouse pad ideas and make a unique gift for your friends and family. These mouse pads are perfect for kids, adults, and anyone who loves to be creative.
Crafts to Do When Bored: These fun crafts to do when bored include a variety of activities, including making paper flower crafts, origami, and constructing a paper hat.
Mason Jar Gifts in a Jar: Looking for the perfect homemade gift idea? These lovely DIY mason jar gifts in a jar will save you time and effort on a day to day basis.
Perler Bead Patterns: Make your own jewelry with these free perler bead patterns. Find out how you can make a creative craft, or use them as inspiration for your own designs.
Earbud Holder Ideas: Learn how to make earbud holder with these clever DIY earbud holder ideas that are a great way to keep your earbuds clean and in good condition.
Conclusion:
Whether you want to make a DIY pencil case or are just looking for inspiration, we hope you found this roundup of DIY pencil case ideas useful. We had a lot of fun putting it together, and we can't wait to see what amazing diy pencil case ideas you come up with. Do you have any other favorite DIY pencil case ideas? Share them with us in the comments below.