Now it is an age of glamour and fashion! Both genres just prefer to manage somehow all the fashion-worthy materials and stuff in their wardrobes for everyday bigger fashion statements! After the dress ware and footwear, the matching jewelry is the most desirable things for the fashion lovers! The celebrity inspired and designer's jewelry items in the market have sky-high prices, enough to kill your budget! If you are really want to trim down your jewelry expenditures then you can simple use your creative brain and crafty hands to design your own beautiful jewelry items at home you see in boutiques! We are offering here this list of 25+ DIY jewelry projects which are all our favorite and they are definitely going to win your heart too! These amazing DIY jewelry ideas are just best to try when being on a budget!
Every fashion enthusiast will love these diy jewelry ideas as they offer no expensive supply materials! Most of the needed items will be available in home or at a dollar store! After you browse the whole collections of these smart DIY jewelry ideas, you will be able to make your own stunning bracelets, mesmerizing bangles, exotic earrings and very stylish necklaces!
Complete tutorials and step-by-step instructions are available in form of reference links to help you from start to end! So time to get crafty to make your own statement pieces of jewelry!
Easy Beaded Wrap Bracelet: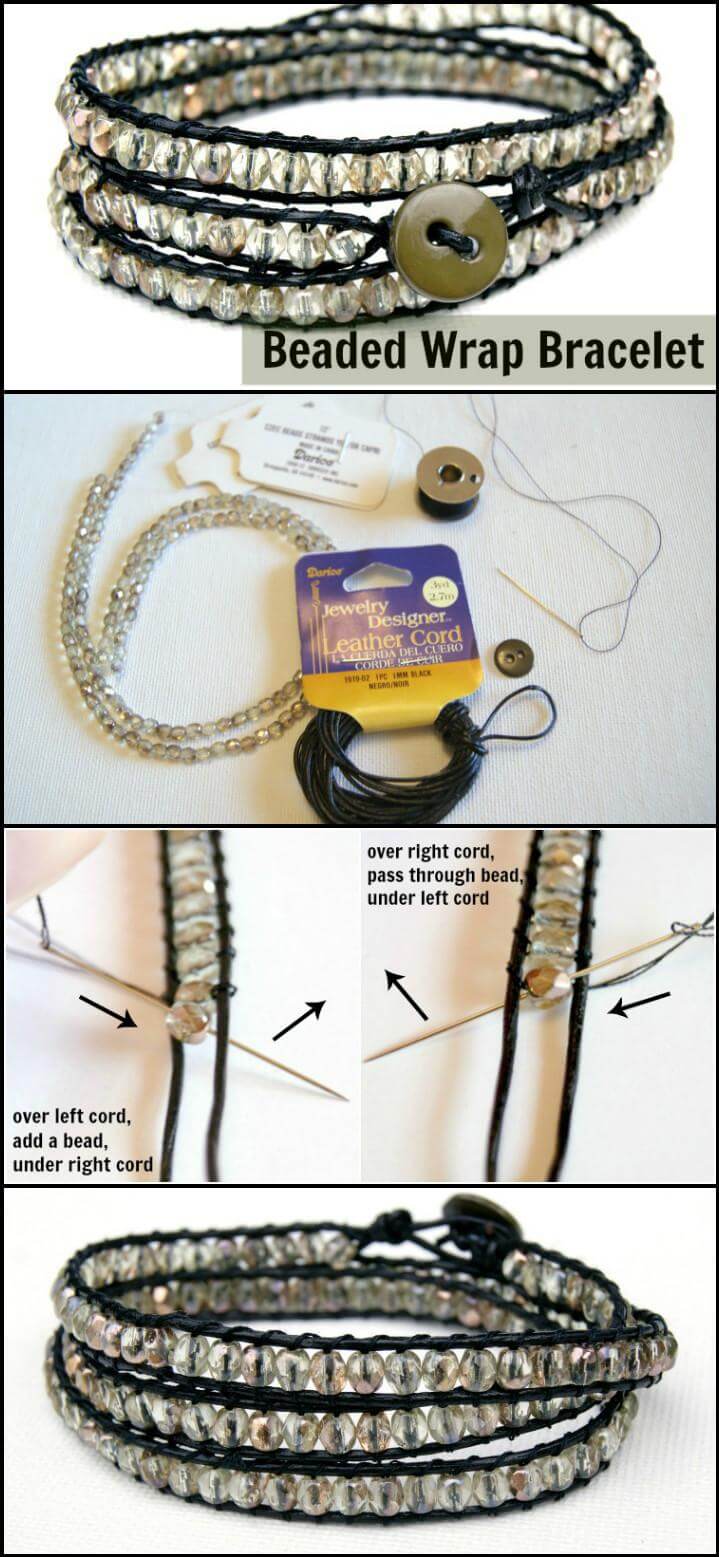 Hey Girls, we know you all love jewelry so here is a simple and elegant bracelet to grace up your wrist that you can easily make yourself at home using a black cord and some white beads. And for complete tutorial here is the link consumercrafts
Homemade Hemp and Bead Ankle Bracelet:

To make this lovely and simple bracelet you need some colorful beads and some hemp and the rest of the easy details are given right here. consumercrafts
Homemade Solid Perfume:
For more details: consumercrafts
Beautiful Ombre Yarn Bracelet:

Make this lovely and cute bracelet for yourself, for your friend or any other favorite girl of yours with simple yarn threads and inking them in Ombre shades that it. Step by step details of this lovely Ombre bracelet are right here consumercrafts
Quick Plastic Canvas Bracelet:

If you want a handmade gift for your teen age girl than nothing can be best than this lovely and funky bracelet made out of different colored plastic canvass cut into chunks and then tight corded together. Tutorial here consumercrafts
Beautiful Cracked Marble Necklace:

Jewelry is just love for ladies and making jewelry is so much fun for them so here we are haring a quite simple and fun idea to make a super cool and cute necklace with some cord and cracked marbles. Here is the tutorial consumercrafts
Utterly Cute Butterfly Jewelry Specimens:

The dress up of a college going girl is incomplete without a nice pendant around her neck and here we have this awesome butterfly pendant idea to share with you all that you can make yourself at home. See instructions here consumercrafts
Cool Make a Wish Bottle Necklace:

These make a wish necklaces are absolutely adorable and would look great on kids with those cute small bottle and star charms. They are hell easy to make in a few minutes once you have grabbed the material and tools. Get the complete tutorial here consumercrafts
Super Beautiful Lips Necklace:

Make a lip shape with clay, fill the teeth portion with white beads paint it in red and then make it chained, a lovely and totally unique necklace is ready either for personal wear of for a gift. Get step by step instructions right here consumercrafts
Handmade Kids Pop Art Necklace: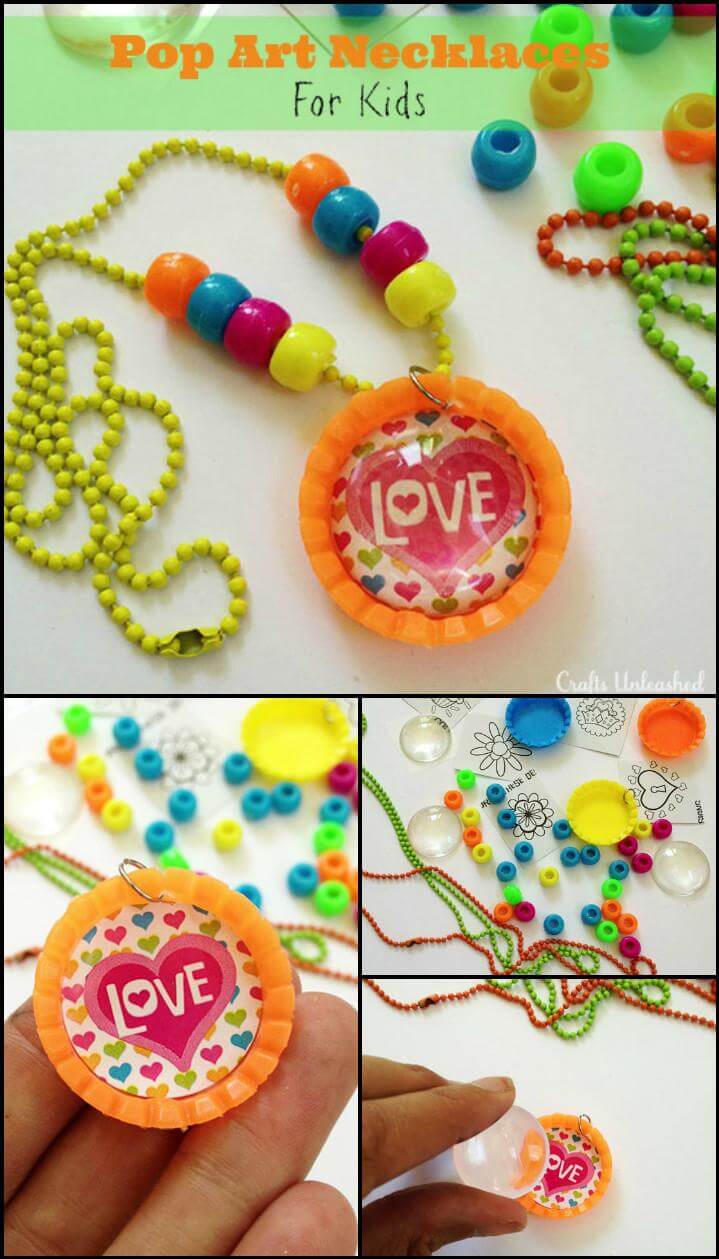 Even the small girls love to dress up and wear jewelry so here is this plastic pop out necklace to let them have their kind of necklace and enjoy its super cute, fun and colorful possession. The list of supplies and tools along with crafting method is here consumercrafts
Lovely Mixed Media Photo Frame Necklace and Earrings Set:
This lovely media frame necklace with ear rings is something really worthy to try your hands on and adorn yourself with totally gorgeous and one of kind jewelry that no one other will have.You would just love making it so get the tutorial here consumercrafts
Easy Freshwater Pearl Necklace with Fabric Rose Accents:

Add some more charm, elegance and class to your formal dressing with this absolutely stunning piece of necklace having been made with fresh golden beads and accentuated more with a fabric flower at the right side. I know this one is a sure attempt by you so have the details here consumercrafts
Pretty Cool Ice Cream Clay Necklace: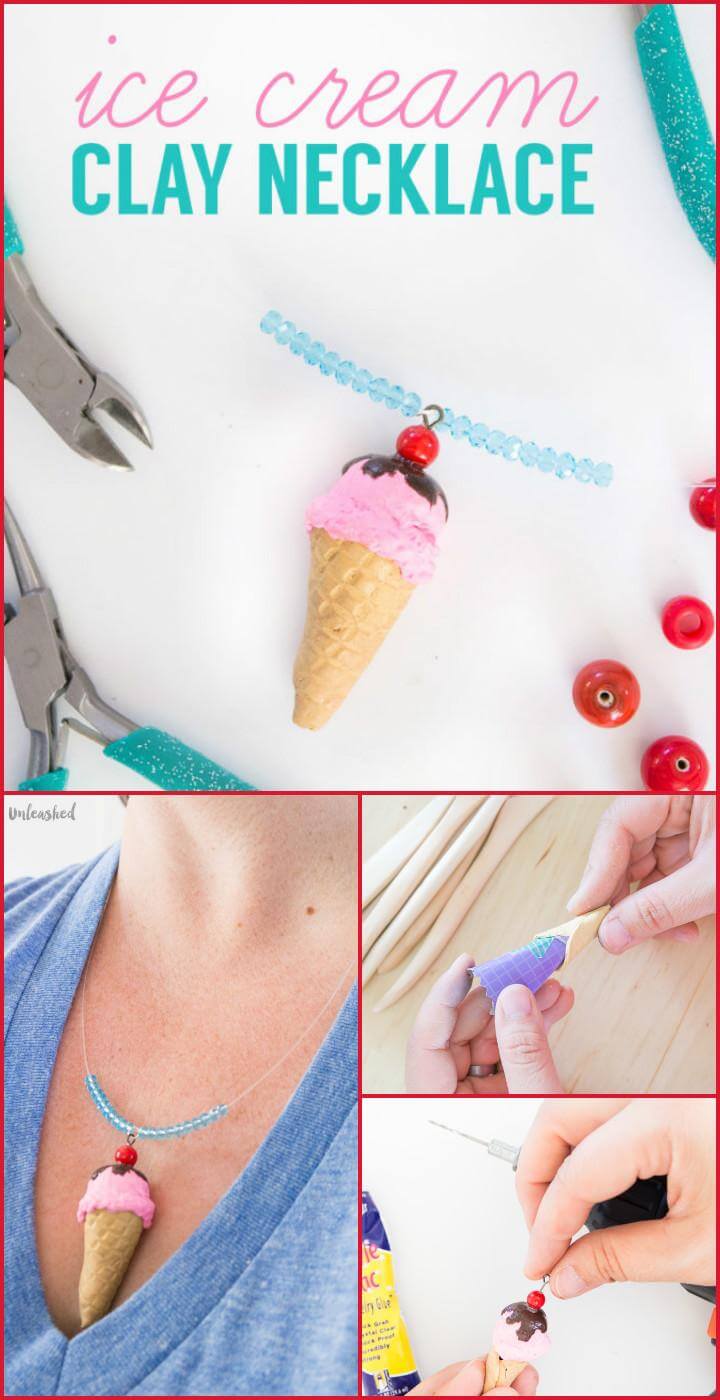 We all love ice creams and are thankful to it for making our food life so much sweet and fun so on this ice cream day celebrate it in the full spirit by wearing this cute and adorable ice cream necklace and you can also make it for your kids as well. Its totally cheap and simple to make so get the instructions from this link consumercrafts
Handmade Tiny Tassel Bracelet: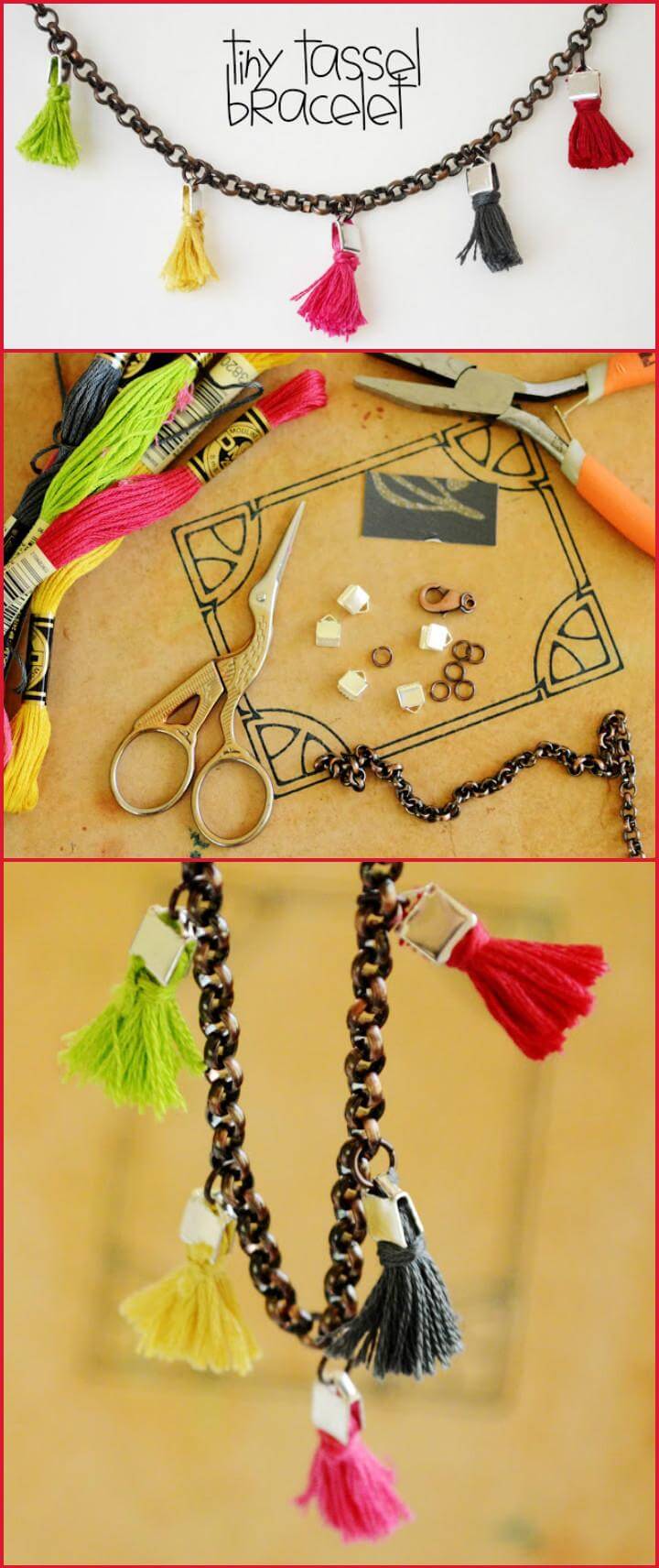 This tassel bracelet is something really unique and interesting than the common bracelets and would make you look different for sure so do make it with a chain and some colorful yarn to make those cute and tiny tassels from them. Step by step instructions are right here maizehutton
Easy Handmade Bobby Pin Earrings: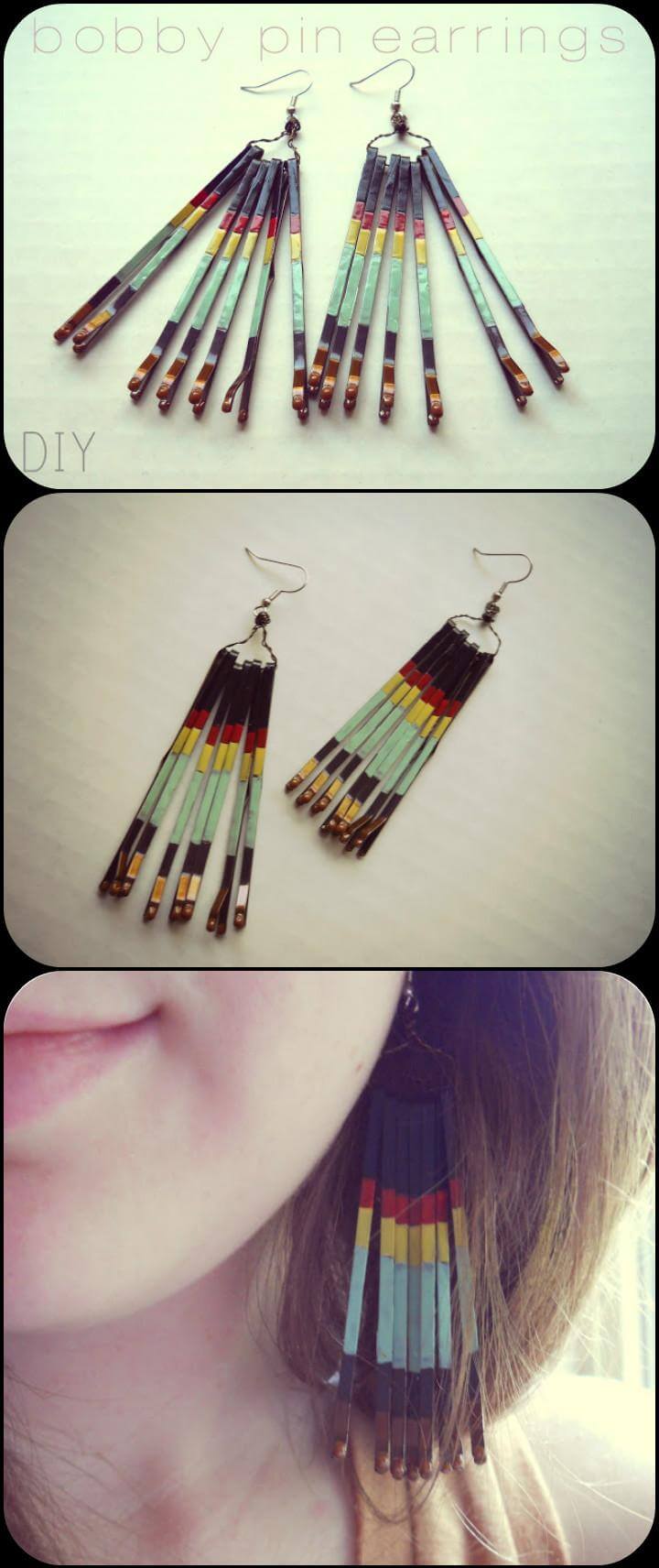 Ear rings are the first thing woman love in a jewelry range and here is a fun ear ring pair that you can make cost freely from the booby pins and some nail polish colors and look absolutely stunning and stand out. Here are all the details of this lovely project. themetricchild
Stylish Handmade Braided Bead Necklace: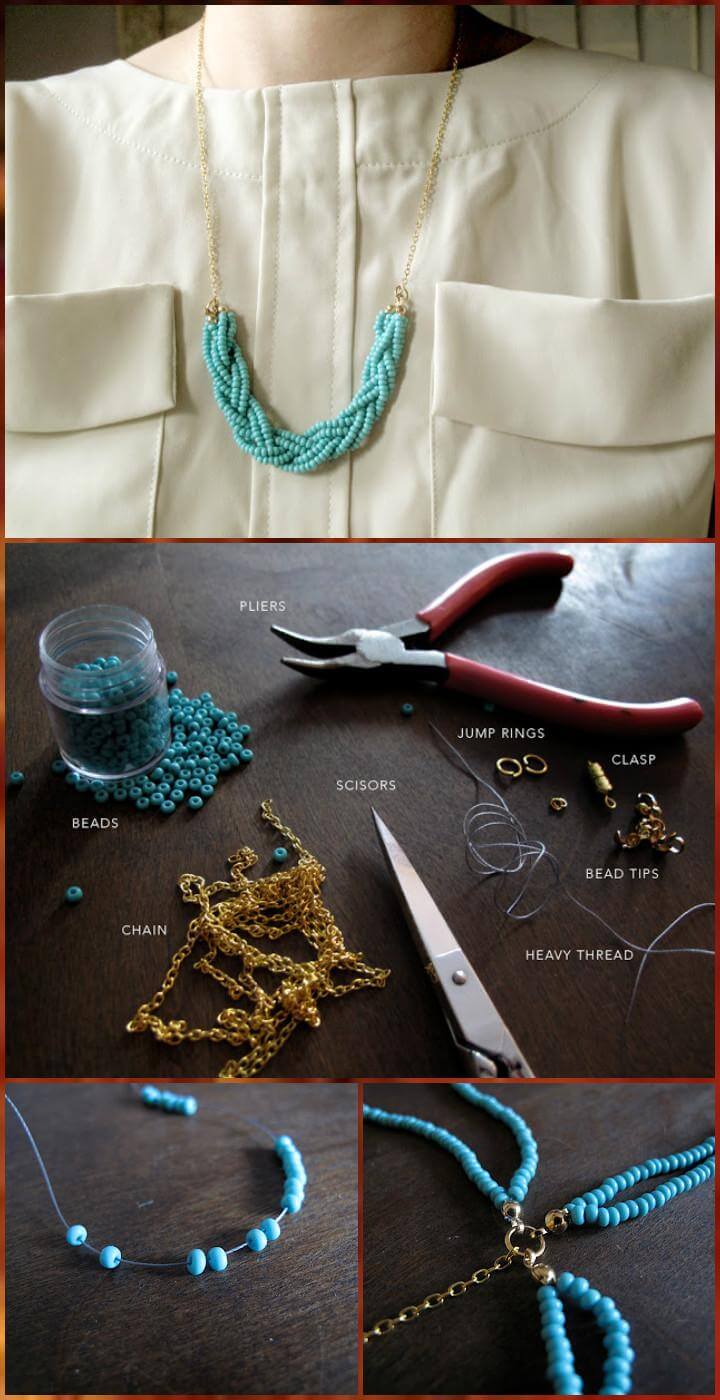 The braided necklaces look so awesome over a lovely top or tank or any other dress and you can now make one yourself at home using three simple ingredients which are beads, chains and cords. So get its tutorial, make it and save your money over the market bought one. ecabonline
Super Fashion-Worthy Self-Made Spoon Rings:
If you are good at the handling of crafting tools especially the metal cutting and modeling then you can make these absolutely stylish and fashion able rings out of the old cutlery piece resting in your kitchen cabinet drawers. The list of the needy tools and step by step ring making method is here kirstenerickson
Beautiful Beaded Fringe Necklace:
This long chain fringed necklace would add instant style to your personality and dress and that too at no cost as you need a few supplies like head pins, beads and chain to make this awesomely designed and crafted neck pieces. Pictorial guide is right here a-common-thread
Quick and Easy Wire Hairpins:
These handmade hair pins are the loveliest things to make at home for your jewelry crafting session and all you need is some bobby pins, some metal wire and the cutting, twisting tools for the purpose with instructions right on this link provided weliveupstairs
Quick and Easy Washer Necklace:
This necklace is no less than a hefty priced market found neck piece but have been made at totally cheap rates using the washers, some favorite nail paint color and most importantly a binding chain and its ready to grace up your lovely neck bywilma
DIY Easy Glitter Rings:

Love glitter and jewelry? then these glitter rings are the perfect projects to include in your next to do list and enjoy them in your fingers to enhance the style statement of your personality and that too with almost no effort and money. Complete tutorial here buzzfeed
Stylish Polymer Clay Bead Necklace: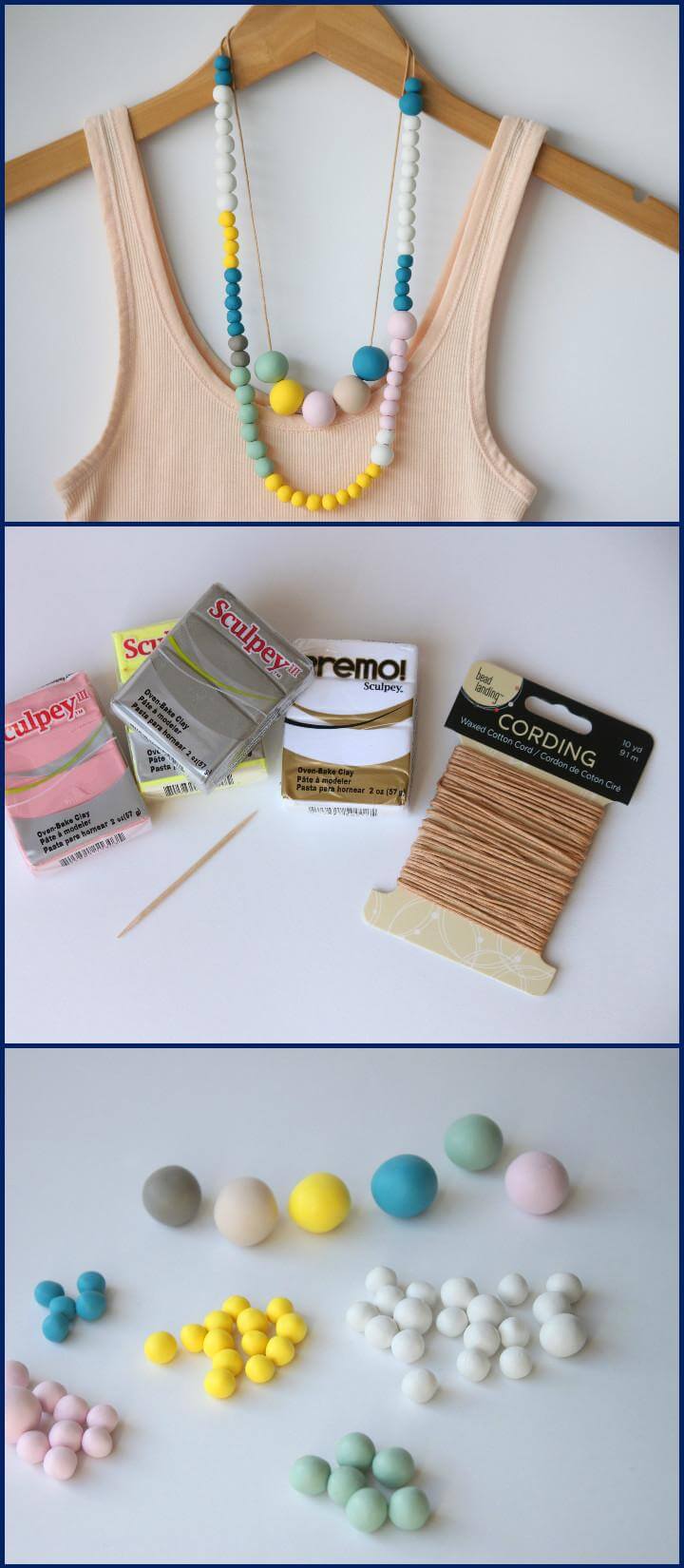 This funky necklace can be in your neck and that too at absolutely low price as you can make it at home of your own using only tow supplies which are the colored polymer clay and the cord. You can differ in the colors for a more personalized touch delightedmomma
Easy yet Stylish DIY Triangle Necklace:
These simple yet fun and modernistic necklace is damn feasible to make yourself at home and if you are crafty person then this project would be no hassle for you. With some basic tools, polymer clay and chains you can make this triangle necklace with custom color and size creativeindexblog
Celine Inspired Polymer Clay Knot Bracelet: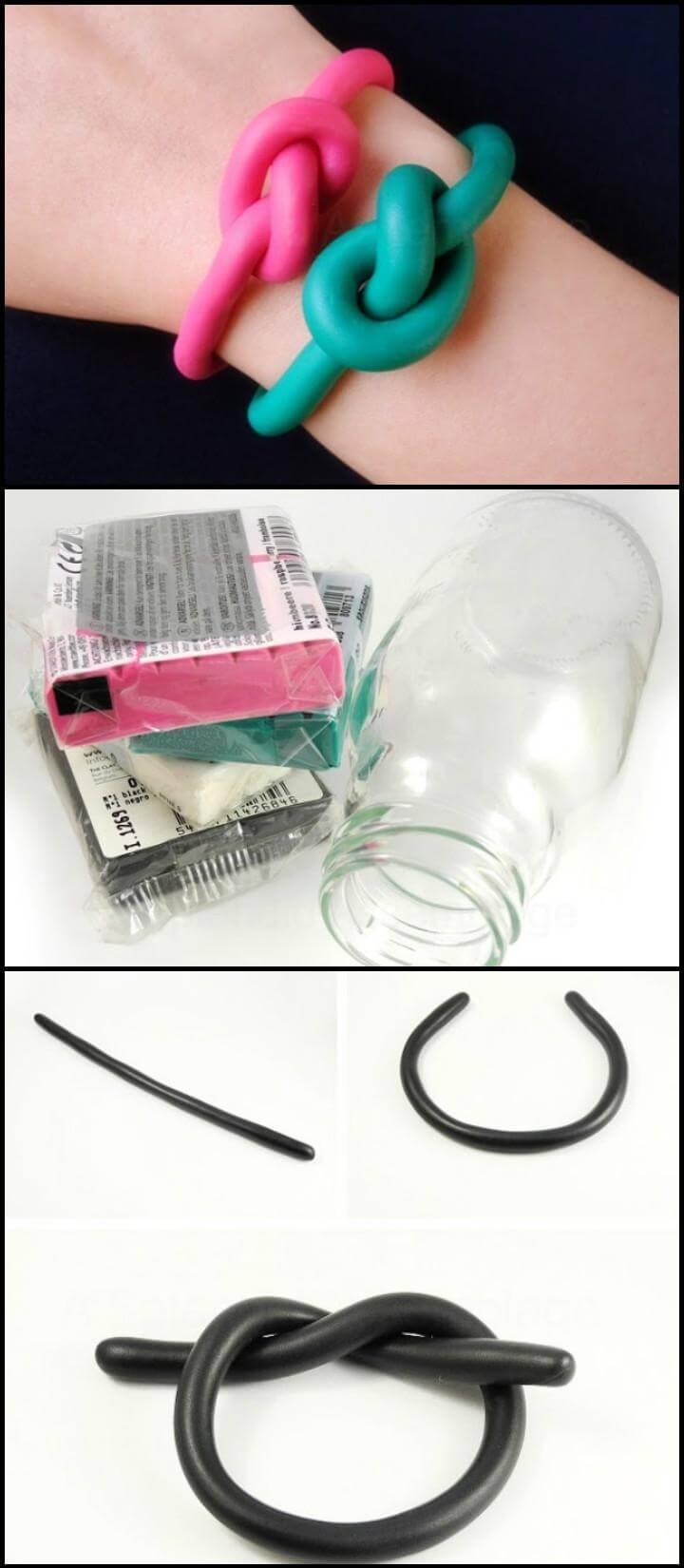 Looking cool like their favorite celebs is the dream of every girl and boy and adapting their dress up is the best way to do that so here are the cool and totally fun looking Celine inspired knotted bracelets that you can make at the cost of few pennies from the polymer clay. Here are the complete details asplendidassemblage
Beautiful Shrink Dink Necklace: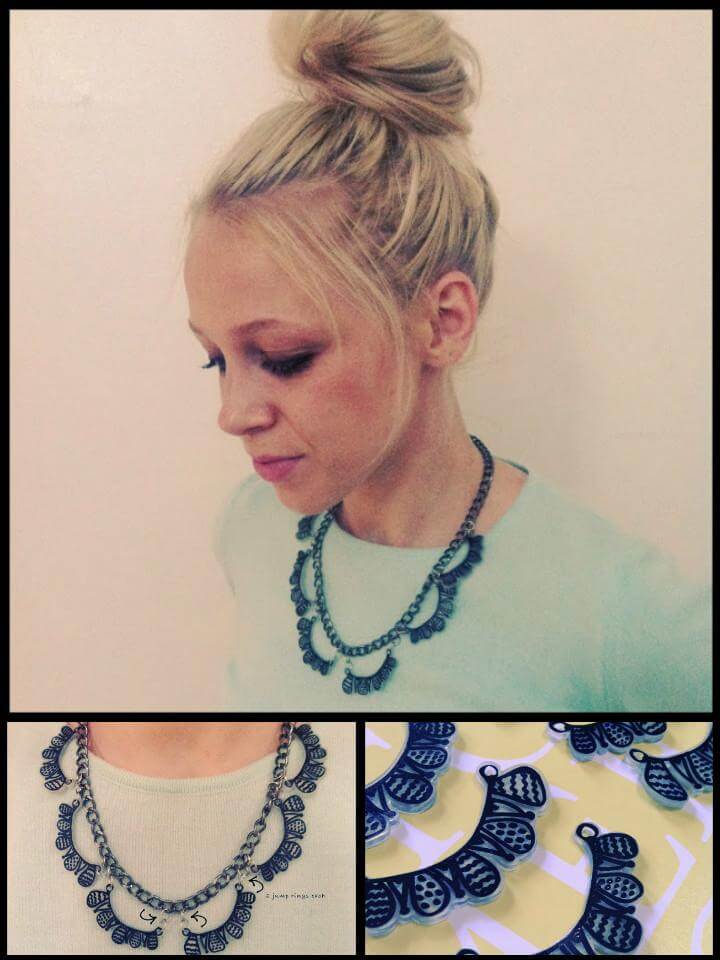 This lovely neck piece would make you look really like a style diva and that too at low cost as you can make this lovely piece from the shrink dink your self. The design has been inspired from clown eye lashes you can go for any other inspiration with the same material too hocuskocis
Handmade Leather Arrow Chain Bracelet: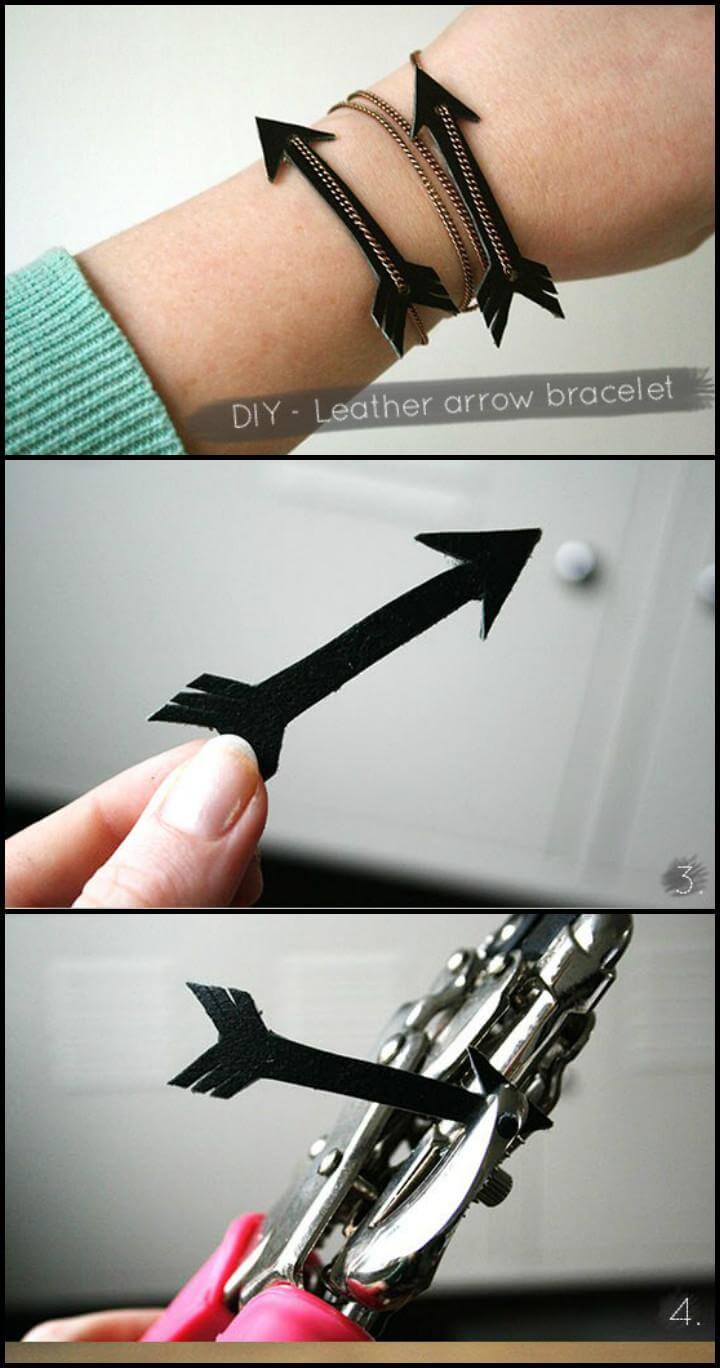 Here is this lovely leather bracelet idea for you all who leather things and its lovely design would make you fall in love with it so get some leather an chain and start making these lovely bracelets of your own with the instructions lying right here bywilma