Are you looking for purse patterns to sew? With so many fabric and style options, purse making can be a fun hobby. Learn how to sew a purse, bag and handbag with these 15 free purse patterns to sew with step by step instructions PDF sewing pattern. With free purse sewing patterns available below that range from beginner level to more advanced sewing designs. From simple cross-body bags to stylish shoulder bags and clutches, you can find the perfect free purse sewing pattern to match your individual taste and skill level. With some basic sewing supplies and patience, these free handbag patterns will make it easy for you to show off your creativity in no time.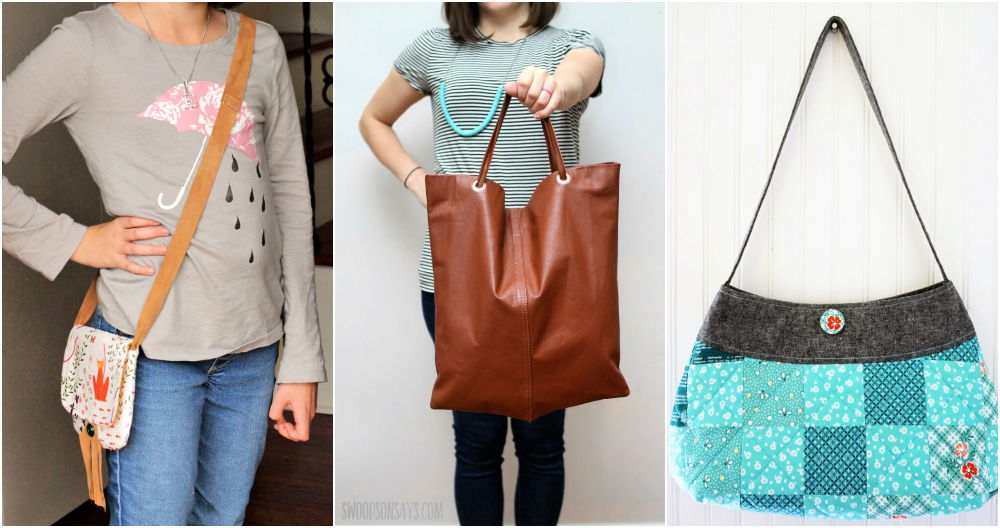 15 Free Purse Patterns – Handbag Sewing Patterns
Improve your sewing skills with these free purse sewing patterns that involve installing hardware, topstitching, making straps, and cutting many different fabric shapes. Patterns are included in the compilation from easy to intermediate to advanced skill levels, and most of them are completed in 1 or 2 hours.
Everyone, who is a big lover of tote, handbag, clutch or purse fashion, can start designing and sewing his favorite purse with the help of these free sewing patterns. The step-by-step sewing instructions and visual tutorials for cutting and stitching the parts together will make it easier for you to sew a purse like a pro. Explore this list of 15 free bag sewing patterns with outstanding designs covering all the tastes of fashion lovers.
Furthermore, the list will provide a whole bag of tricks about how to sew a custom purse inspired by fruit, animal, heart, or any shape you like.
Sew the best day-out purses at home with precious tassel embellishment. Make cute clutch purses to carry your items of need with you. Satisfy your love for geometrical decor by sewing circle purses. Celebrate the summers by sewing a watermelon or strawberry purse and upcycle your old leather jackets to sew outstanding designer's style purses at home. Browse all these Free Sewing Purse Patterns to get more design inspirations, and this will only take 1 minute.
1. Sew a Patchwork Little Girl's Purse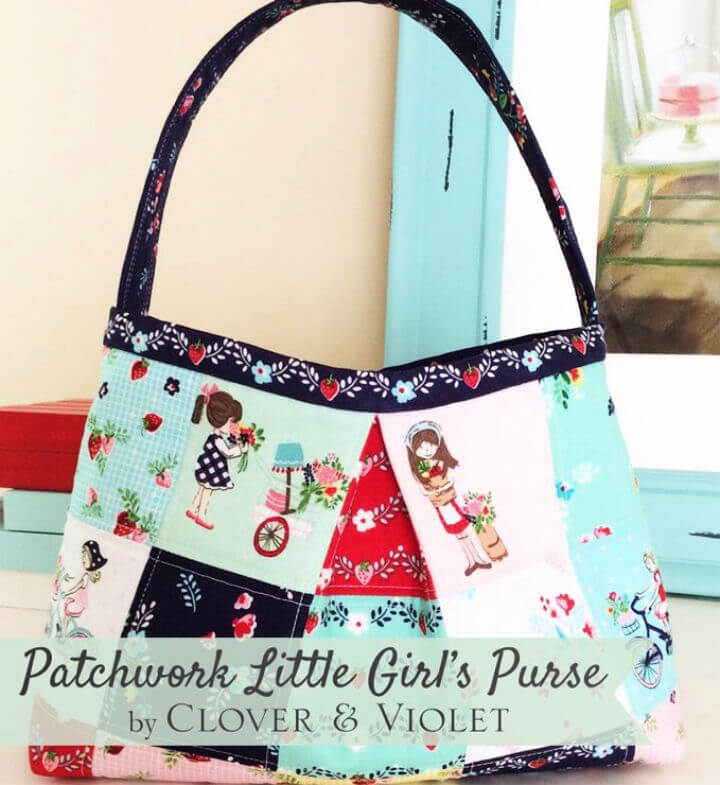 You need almost 30 squares of 2.5″ or 3″ width for patchwork. Next, you need a fabric piece for lining, one piece for the strap, and one piece for the binding. Flannel, fleece and fusible interfacing will be the main ingredients to cook this patchwork purse recipe for a little girl. cloverandviolet
2. Springtime Patchwork Purse – Free Pattern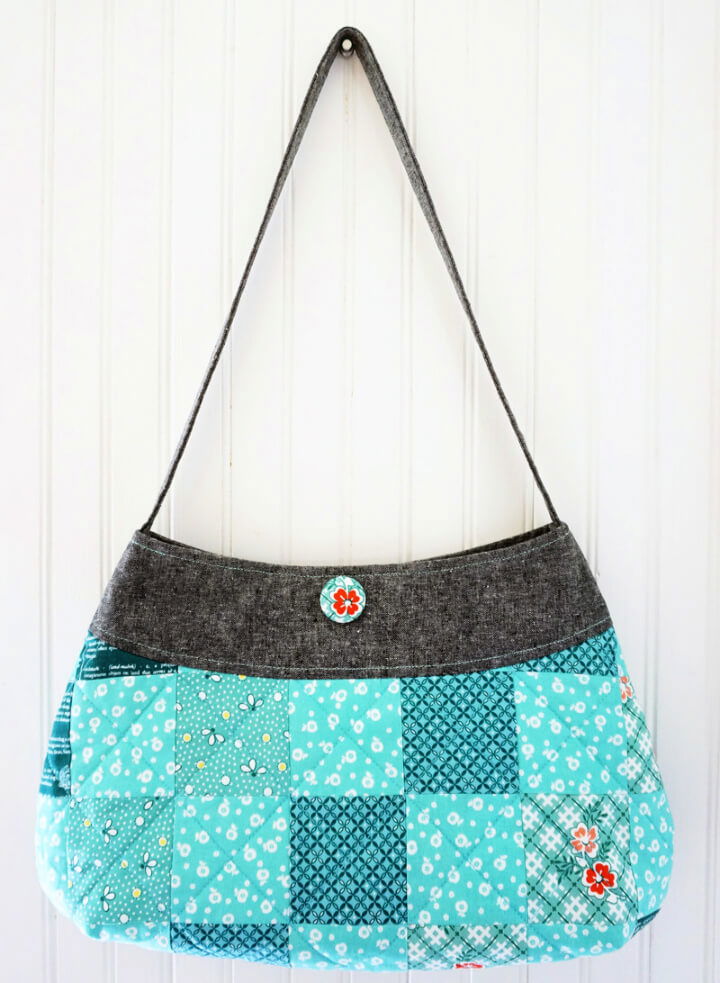 Gain the gorgeous fashionable appeal by holding this purse in hand, sew it at home using free pattern. You will love having this roomy 10 purse with 3.4″ x 17″, and there is an inside pocket too to hold cards and dollar bills. The magnetic closure makes it look extra beautiful. sewmamasew
3. Making a Purse Perfect for Winter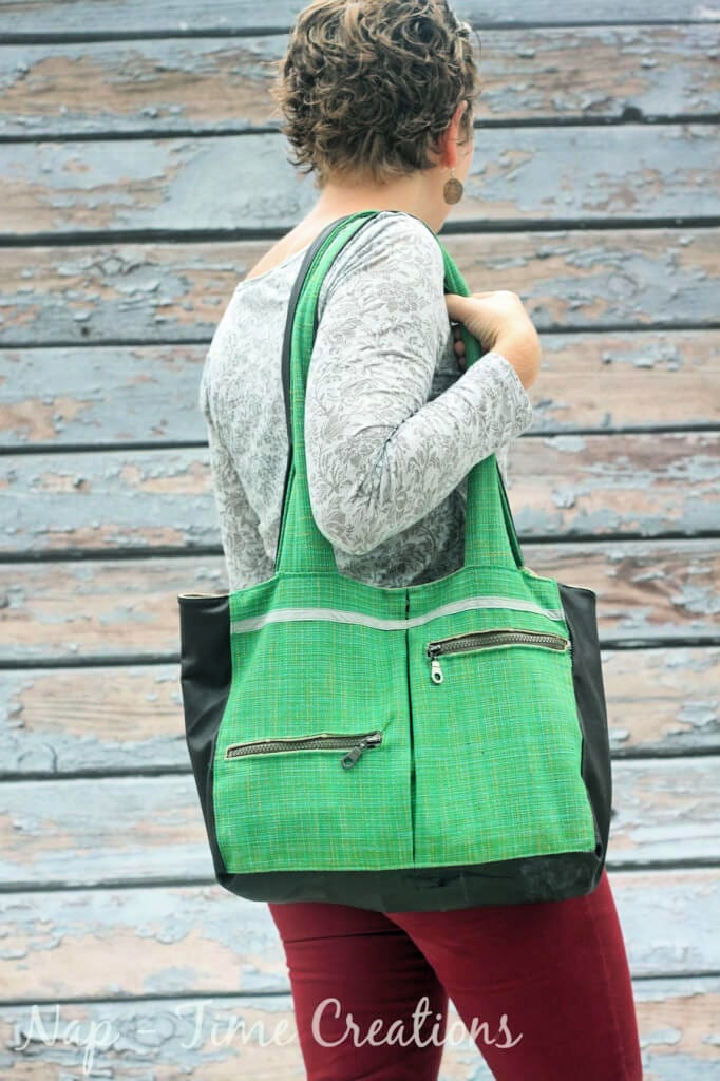 Carry your essential this winter with you in style and with a lot of care using this perfect winter purse. There is an inside pocket to hold the most important items like jewelry, medicines, and dollar bills. The purse has the size 4″ x 10″ x 12″ excluding straps. Here is how to sew it. lifesewsavory
4. DIY Metal Frame Purse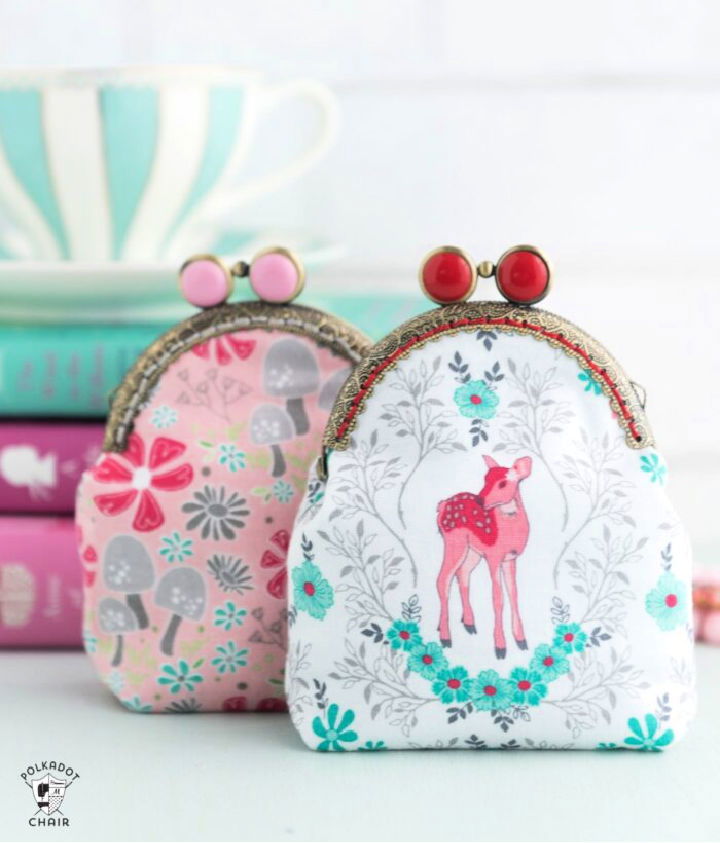 Are you looking for a best purse or bag gift? Opt for this metal frame purse, make it in any size you want using the fabric of choice. You need a metal frame clutch, fat quarters, and fusible fleece to sew this metal frame purse for a friend and family member, the metal frame will help the bag to keep its shape. polkadotchair
5. Free Little Girls Purse Sewing Pattern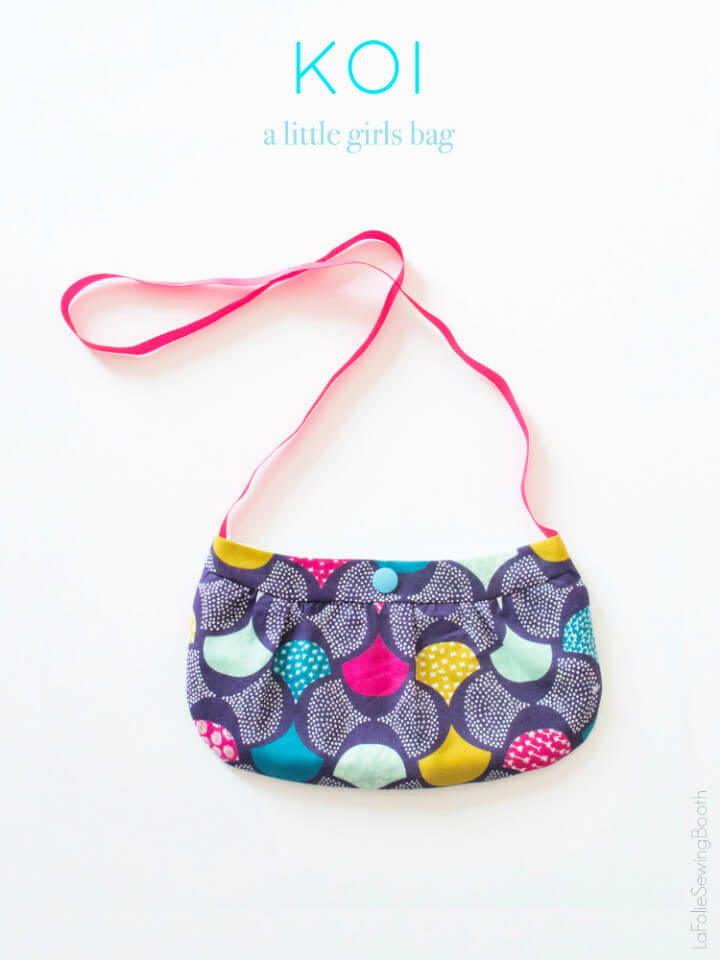 Please, a little girl with a self-sewn purse, grab the color in flattering colors to sew this little fabric beauty with over the shoulder straps. You need the main fabric of choice, next lining fabric, and a set of snaps. 2 pieces of fusible interfacing will work great for the entire sewing project. Details here mesewcrazy
6. How to Make Circle Purse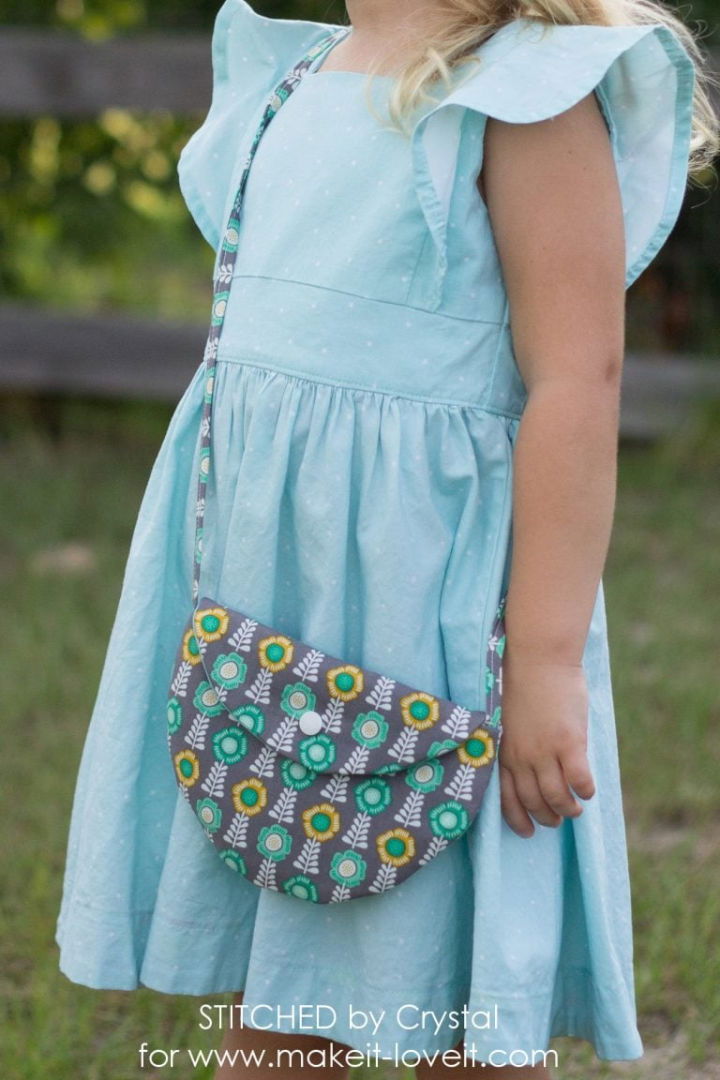 For all geometrical decor, lovers will fall for this circle's purse. It comes in the half-circle shape and has half circle fold over. Grab fabric with your favorite design print, take the interfacing in measured sizes, 1 yard of bias tape is also needed here. Use a plate as a template and finish with a button snap. How-to details here makeit loveit
7. How to Sew Purse With Flat Lock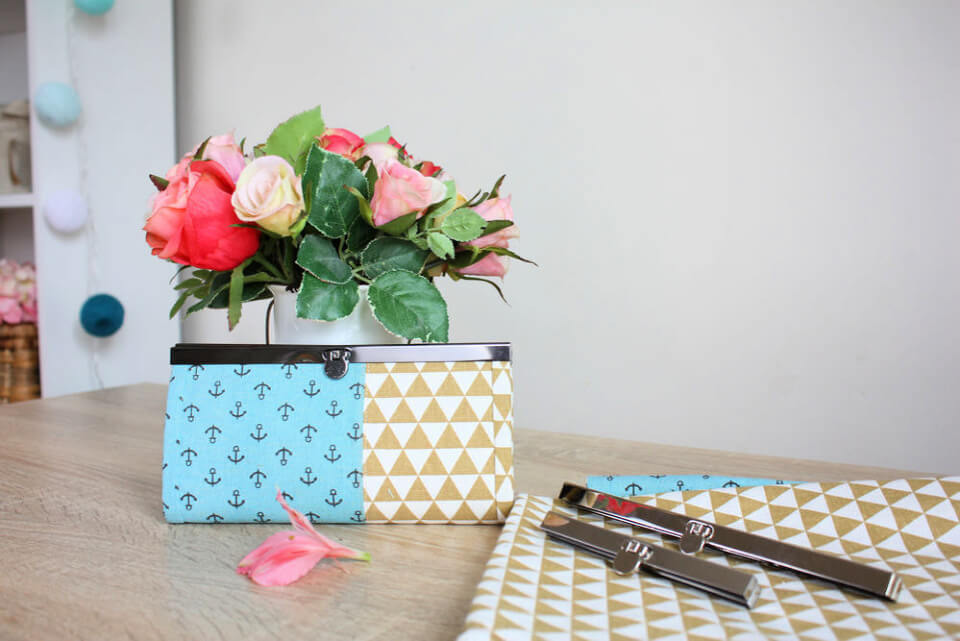 Spend only 1 hour from your busy time to sew this purse, the best sewing project for a medium skill level. Grab your thick and normal cotton, interfacing, interlining, accent outer lining, and dublerin to sew this purse. The design impresses with a flatlock too. The best purse design with a gorgeous metallic top line. Details here livemaster
8. Free Pleated Purse Sewing Pattern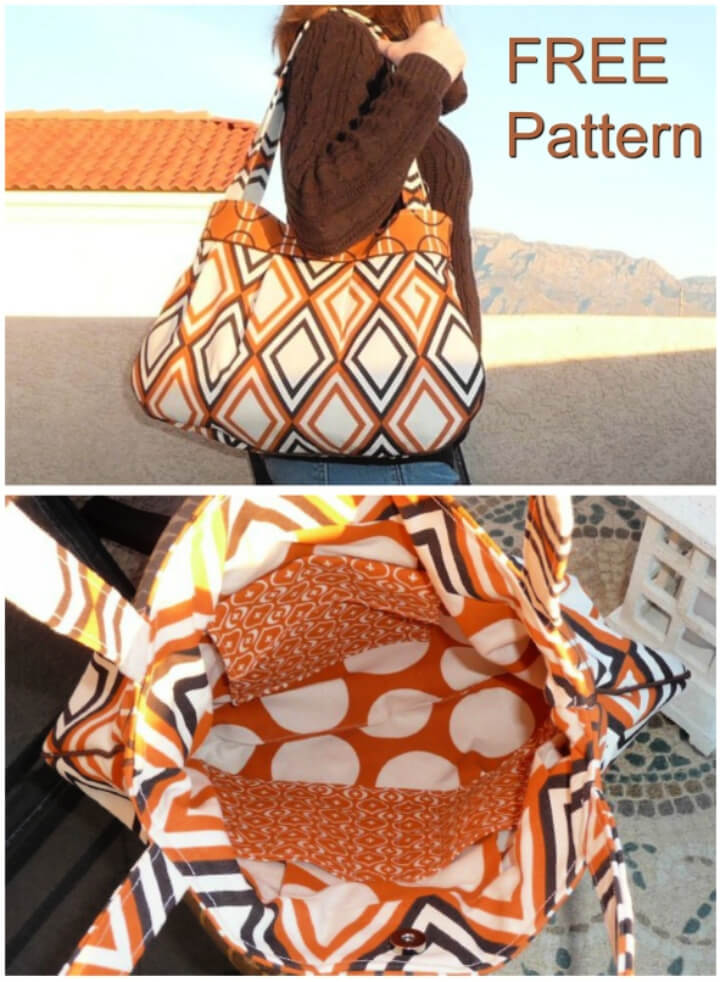 You will love the pleated design of this homemade purse, with win your heart with fantastic fabric design print. Get the 5/8 yards of 54″ wide fabric and grab 3/8 yards with the same 54″ width for the lining. Use small fabric piece for the top and a small piece for pocket. 2 yards of interfacing, 1 yard of fusible fleece, and pre-made piping is also needed for this project. sewmodernbags
9. Sew an Upcycled Leather Handbag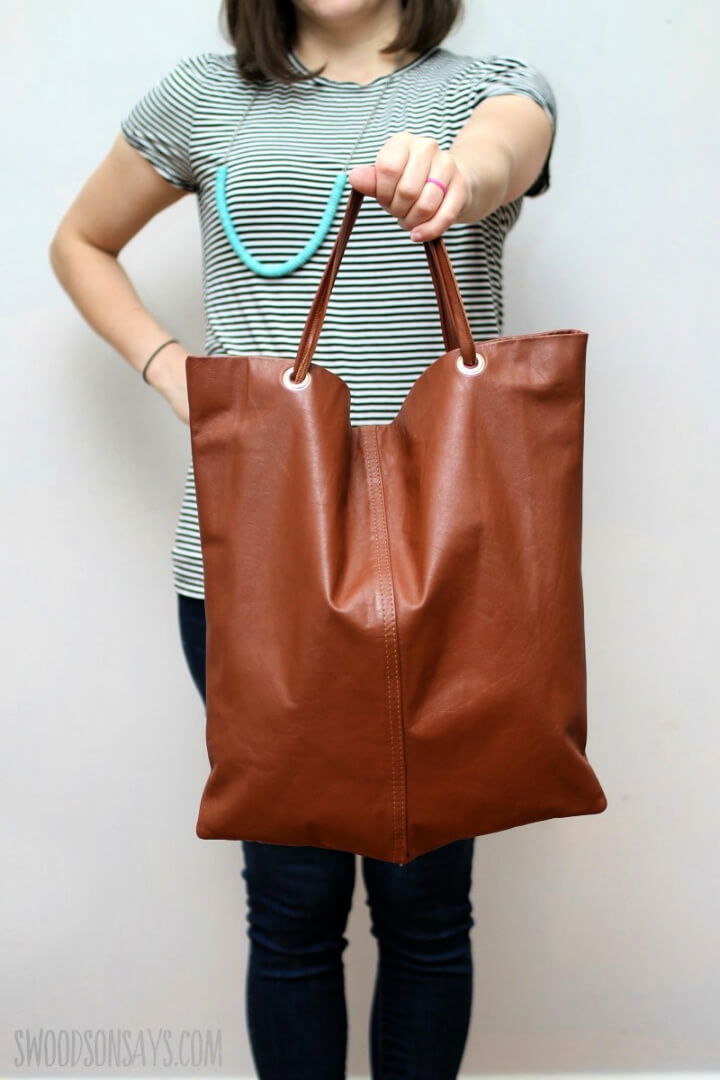 Keep your old leather jackets in touch by sewing beautiful handbags and purses with them. Here a long enough leather jacket has been upcycled into a beautiful bag pattern, and the whole process would not take too long. Next, you need 3/8″ grommets for adding straps and another sewing essential to sew this purse. swoodsonsays
10. Easy DIY Pyramid Purse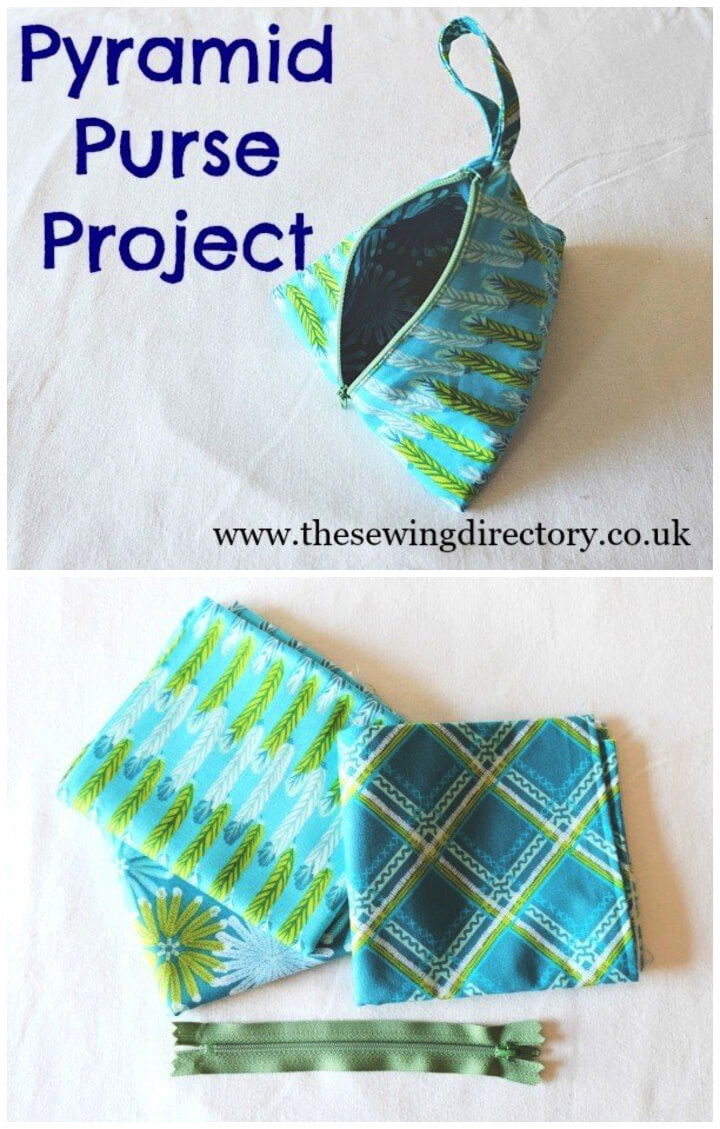 Sew every style and design of purses at home you are interested in. Boost your fashion with this pyramid purse, comes with a zipper, and is of pyramid shape. You only need printed cotton fat quarters and a zipper to sew this pyramid purse. The best mini and cute purse to sew at home with great ease. thesewing
11. How to Sew Girl's Heart Purse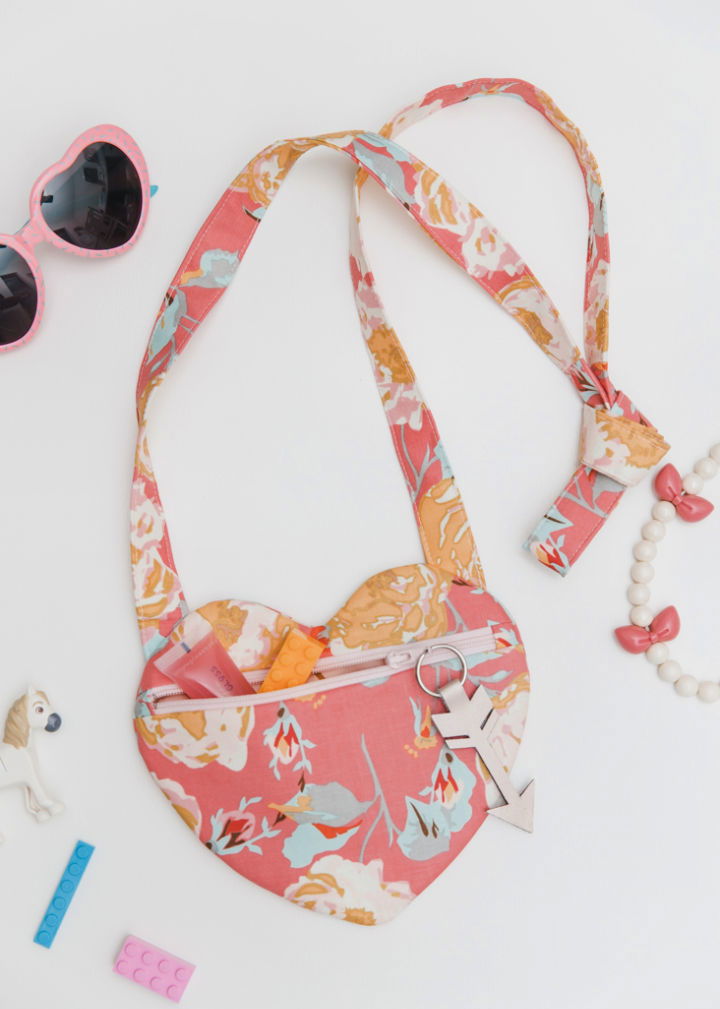 Win the heart of a style loving girl by giving this heart purse, comes in a beautiful heart shape. Making this heart purse involves using Cricut Maker and make use of a rotary blade for neat cuttings. The best Valentine's Day gift to give to a fashion-loving girl. The addition of arrow zipper keychain and longer straps doubles up its beauty. sewmuchado
12. Free Day Out Purse Sewing Pattern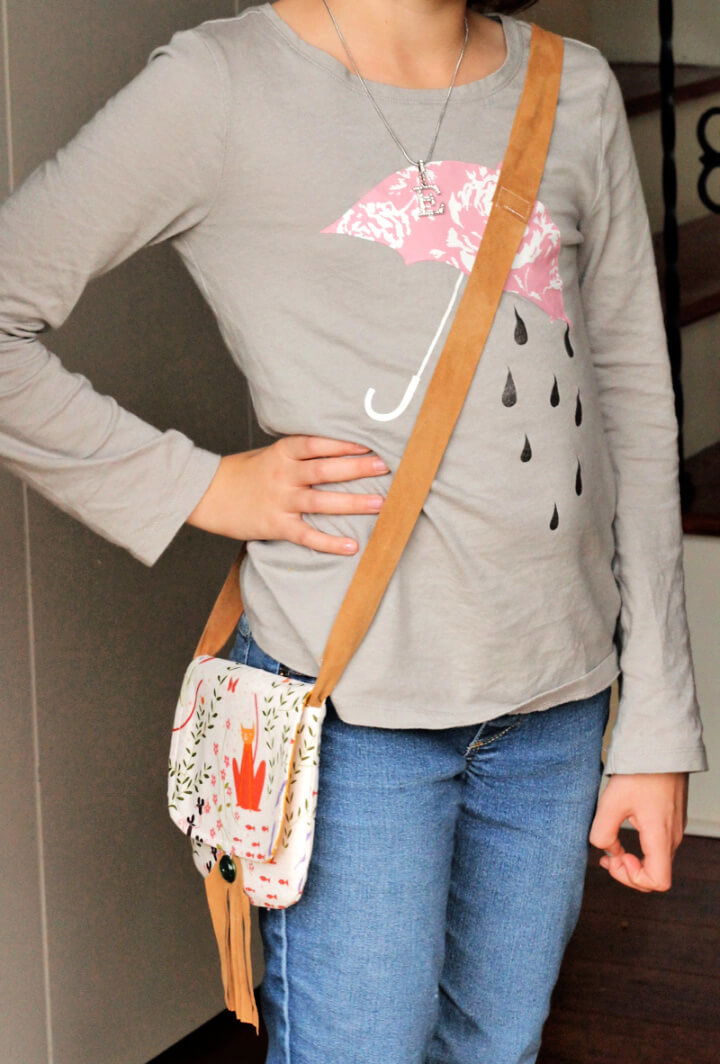 Willing to spend a day out with friends? Then keep your fashion and pharma essentials with you using this day out purse. Sewing this cute purse with the help of a free provided pattern will cost you 15$-25$ dollar. Grab cotton, for main, lining and strap, use fusible interfacing. For tassel embellishment, use leather and suede scraps. sewmamasew
13. Simple DIY Clutch Purse Gift Ideas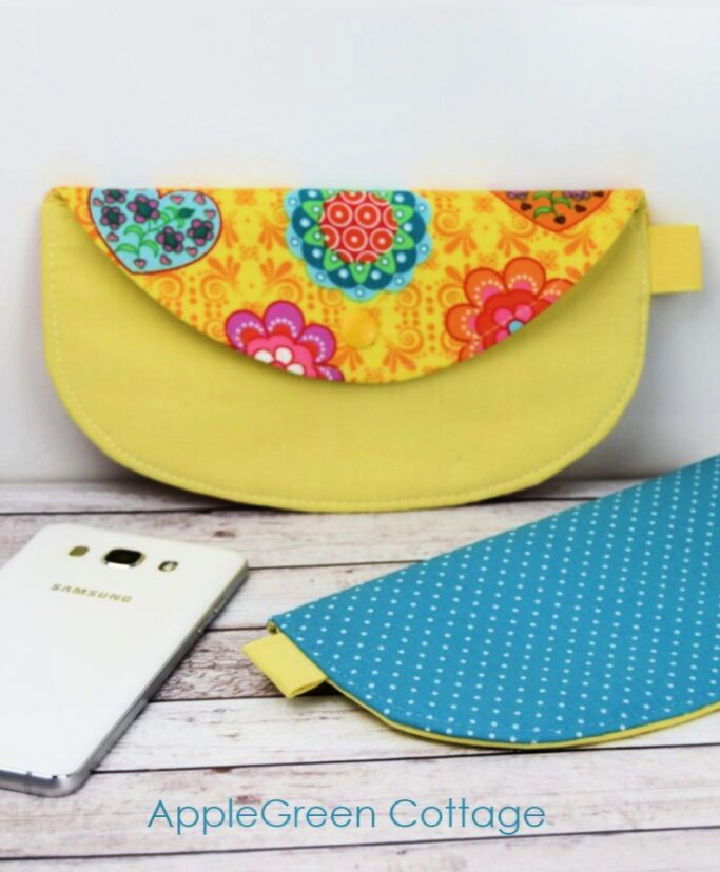 Sewing purses at home is a smart way to produce lovely gifts. Make this clutch purse using 8″ x 9″ main fabric, 18″ x 10″ lining fabric, and 8″ x 11″ fusible fleece. Add the D-ring loops to both sides of it to add the clutch purse pull using lobster clasp. applegreencottage
14. Make Your Own Watermelon Purse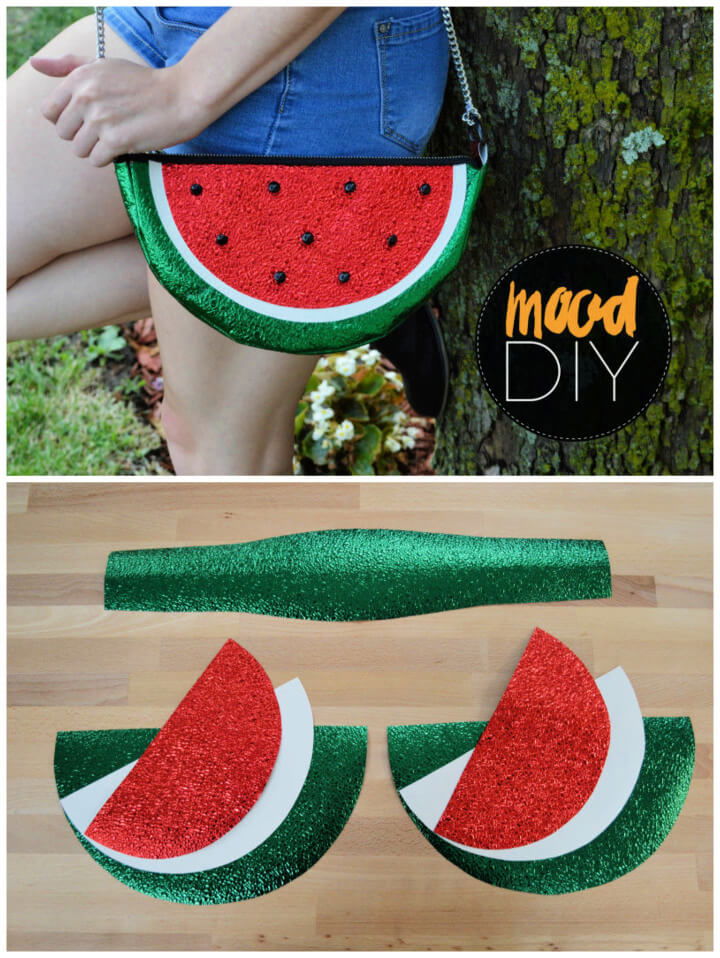 Grab 1/2 yard of metallic red, cracked vinyl, and 1/4 yard of each white pebbled vinyl and green cracked vinyl to sew this watermelon purse. The best summer special purse design to sew at home. Use miniature black buttons for watermelon seeds and get 1/2 yard of metal chain to make a strap that you can add using D-rings. moodfabrics
15. How to Sew a Purse Strawberry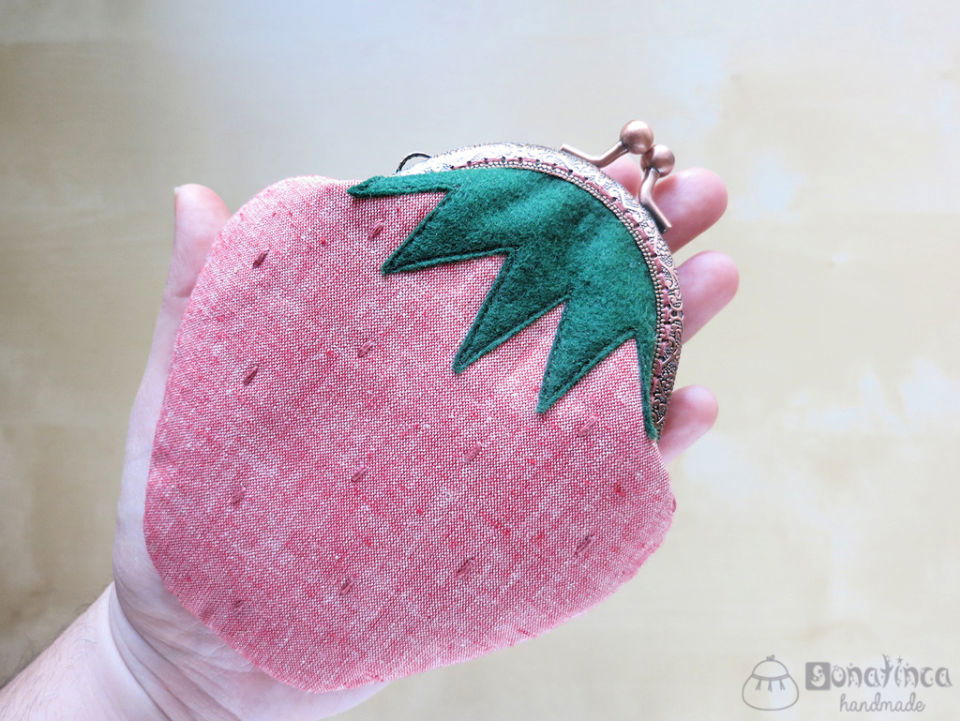 One of the cutest purses ever, having design inspired of fruits, the cute purse strawberry. Use main light pink fabric, fusible interfacing and lining fabric to sew the strawberry shape, add green felt leaves and finish by adding metal purse clasp in the middle, should be in the center of the purse. free tutorial
Related DIY Projects and Ideas
DIY Clutch Purse Ideas: From chic clutch purses to leather clutches, these are the best DIY purse tutorials. With so many styles to choose from, you'll find one that suits your personality perfectly.
Crochet Coin Purse Patterns: These free crochet coin purse patterns are a great way to use up scrap yarn. They can be made with any size hook and any type of yarn.
DIY Lunch Bags: You will love this list of free lunch bag patterns to sew and use for your family. From a simple pattern for kids to a more complicated option for adults, you'll find just what you need.
Diaper Bag Patterns: Explore these free diaper bag sewing patterns of all sizes and styles. Sew a bag that is stylish, roomy, and perfect for carrying your baby's necessities.
DIY Grocery Bags: Reusable grocery bags are not only eco-friendly, but also very practical. These free reusable grocery bag patterns are perfect for beginners who have never sewn before and are looking for a simple project.
DIY Bean Bags: Need a bean bag for your home? These easy DIY bean bags are inexpensive, easy to make, and can be customized to fit your entire family.
Conclusion:
Whether you're looking for a new sewing project to keep you busy or just want a stylish new purse, we've covered you. We've gathered 15 free purse and bag patterns to get you started on your next sewing project. If you already have a go-to purse pattern, share it with us in the comments below – we would love to add it to our list!