Learn how to make a paper fan with these 10 easy DIY paper fans with step by step instructions and origami fan templates. Did you know that you can make diy paper fans into beautiful origami hand fans with minimal effort? Making a diy paper fan at home is easy to do with the right techniques. With some basic supplies like colorful construction paper, Popsicle sticks, glue, scissors, and a stapler, it's easy to make a stunning paper fan in no time!
You can even take your diy paper fan to the next level by using interesting patterns or themes, from watermelon patterns to abstract designs or traditional motifs. No matter what theme you choose, making diy paper fans is sure to bring artistic flair and cool breezes this summer!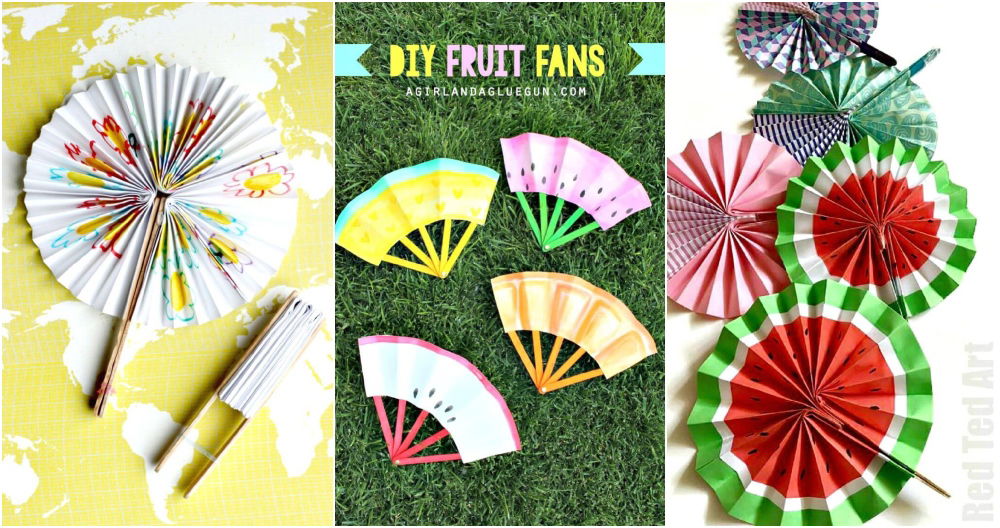 Making diy paper fans can be done with minimal equipment, such as paper and scissors. With a few simple steps, you can learn how to make a hand fan, a folding paper fan and even an origami fan. By decorating them, diy paper fans turn into a beautiful piece of art. These diy paper fans are suitable for adults and children that will enjoy making them.
1. Easy DIY Paper Fans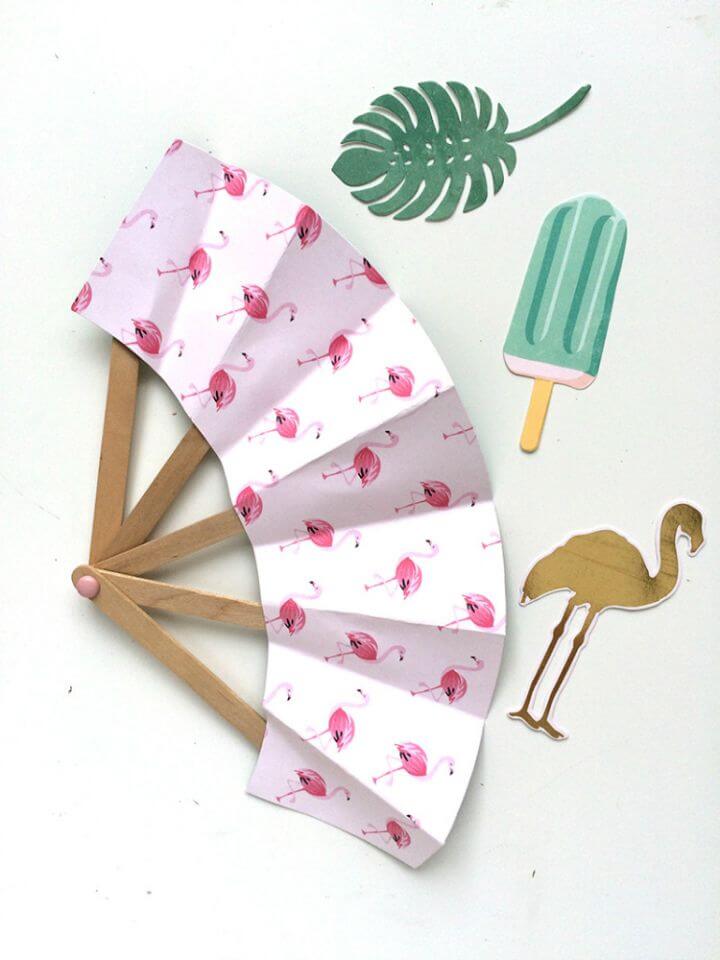 There are so many fun crafts for the summers that you can do with your kids and enjoy some summer fun together. Using the colorful summer theme paper and the Popsicle sticks this adorable paper fan has been easily made with some glue work. You can make as many as you want for the kids and their friends and let them enjoy a fun craft for the summer eve. Hack all its details from the link here wermemorykeep
2. How to Make Summer Paper Fans
Here are these really cute and colorful paper fans to make with your kids this summer and get them indulged in some really cool and fun crafts to get busy with. The awesome thing about these paper fans is that the paper has been custom made with personalized templates being printed on them. So you also take out your favorite printed paper and the wooden pegs to shape up these breezing paper fans to have fun with. Details here mrprintables
3. Handmade Fruit Fans from Paper
Most of the summer crafts revolve around the fruit themes and these adorable fruit paper hand fans are too cute to make and have fun in the summers.  You would need packs of colorful sticks and some white paper that you can paint up with the fruits like water melon, orange, lemon and the straw berry and craft these cute paper fans out of them. Follow the step by step tutorial right on the link here theidearoom
4. DIY Paper Fan – Summer Kids Craft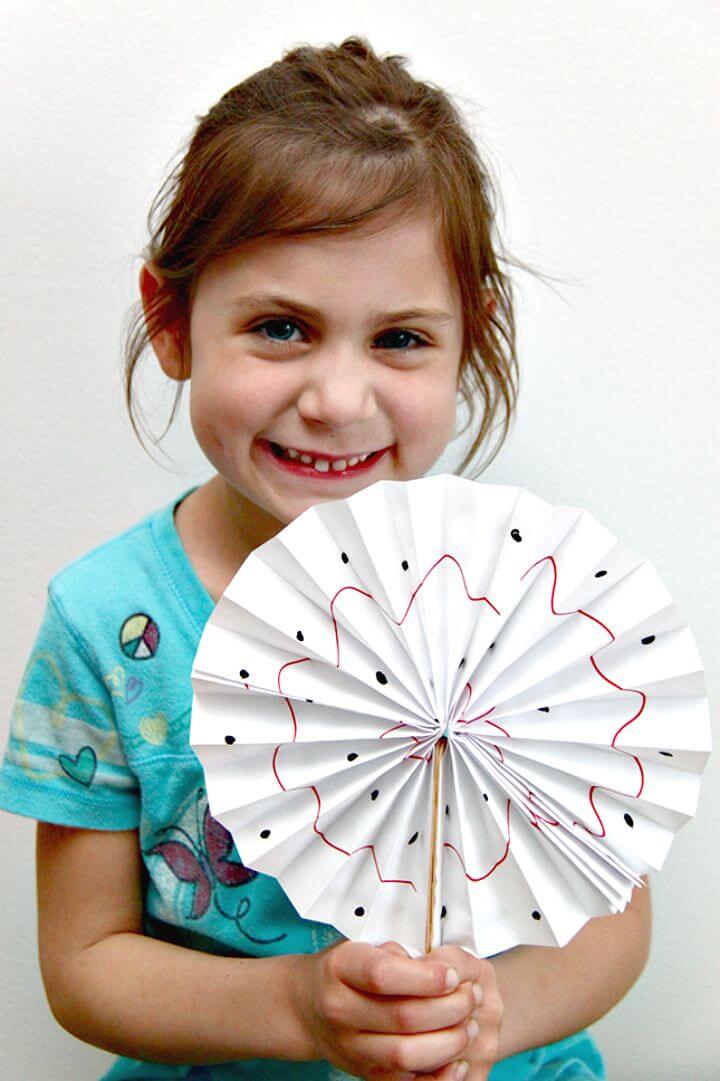 Get the hotness of the summer cool down with these adorable and cute hand fans that are super fun to look and super fun to make also. This round shaped paper fan opens up like a cute round flower that your girls can decorate yourself with their own creativity and painting skills. So grab some white paper and two Popsicle sticks and create this lovely paper fan to get amused with. You can check out the details and the instructions of the idea here smashedpeas
5. Making Paper Fans Using Plain White Paper
Chinese have a lot of cultural importance of the paper fans and the round ones signify unity and peace. So gather your girls and make these adorable round shaped paper fans to celebrate the Chinese new year. You need some white paper, paint to beautify the paper fans and turn it into a fun artistic craft with the Popsicle sticks giving it a nice and feasible finish. You can follow the complete tutorial details and instructions here littlepassports
6. DIY Paper Plate Watermelon Fan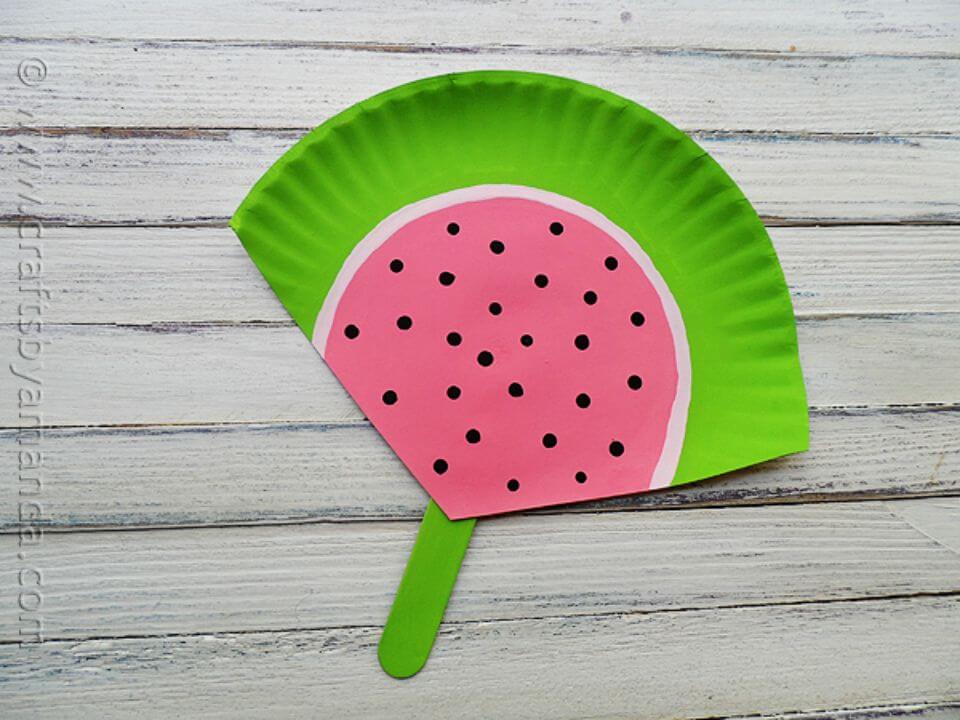 Water melons keep you so much refreshing and cool in the summers and so do this water melon paper fan would do. Using a paper plate, the acrylic paint hues in the water melon shades and gluing a crafting stick would be a perfect finish for this water melon craft. The idea is super easy and fun to get your hands on and here is the link to check out the details and the instructions of the idea craftsbyamanda
7. How to Create New Years Eve Paper Fans
If you are planning to celebrate the new year party this year then here is what you can do in the decor session. Yes you can make these adorable and fun looking paper fans in huge sizes to hang and add oodles of charm and fun to the party decor with a touch of 90's appeal. You can make golden and silver paper fans in a variety of the sizes and get them gorgeously displayed in your spaces. Follow the complete instructional tutorial right on the link here fallfordiy
8. DIY Melon Paper Fan
While you would eating lots of water melon this summer you should really be doing a lot of water melon crafts too and with your girls making these water melon paper fans would be so much fun.You can take white, green and red paper and the Popsicle sticks to shape up this round shaped paper fan to breeze out the hot summer so cutely with. Learn the complete tutorial details of the idea right on the link here redtedart
9. Homemade Paper Lunar New Year Fans
While you are planning to celebrate new year this time you should really be in touch with some cool new year crafts and for a cultural touch these paper fans would be a great idea to go crafty with. Ask you kids to paint the papers in their own way and then let the dry and fold and lastly add the tassels and your gorgeous lunar paper fans are ready to rock your new year party decor. Complete details here hapatribe
10. Make Your Own Paper Fan
Here is another cute design of the paper fans to make and beat the heat in a really cool and fun style plus it would be a great project to share with your girls and develop their crafty side. The good thing about these paper fans is that along with the quirky and unusual design you can print out the template of your own with a custom design and colors and thus get yourself a really cool and personalized paper fan collection for the summer. Follow the complete tutorial details here twoshadesof
11. Simple DIY Paper Fans
No matter what is the occasion and what is the festive these gorgeous paper fans would really make a gorgeous back drop on the walls of your spaces and jazz up the party decor. They are super fun to make with a simple folding technique and you can make them in any of the matching colors of your party theme and thus get your decor cheaply and nicely boosted up for the party. Learn to make these super fun paper fans right here and make them for your next party decor momswithout
Related DIY Projects and Ideas
Fruit Crafts for Kids: Here are easy and fun fruit crafts for kids, preschoolers and toddlers. The ideas range from simple to slightly more challenging, so there's something for everyone.
Space Crafts for Kids: From rockets and satellites to shooting stars and constellations, these super simple space crafts for kids will provide hours of imagination and creativity.
Crafts for Kids: From painting and drawing to beading, these easy crafts for kids will keep your offspring entertained for hours.
Felt Board Ideas: Felt boards can be a creative way to play and learn with children. Here are creative DIY felt board ideas that you can try!
Crafts to Do When Bored: When you're bored and want to do something, but don't know what, these fun crafts to do when bored might just be the answer! Some of them are quick and easy while others take a little prep time.
Sunflower Crafts For Kids: From kids crafts to home decor, these simple sunflower crafts for kids and adults are sure to brighten up your day.
Colored Sand for Crafts: With these colorful sand recipes, you can craft anything from a beach scene to an Easter egg (or just simply play in the sandbox!).
Conclusion:
Whether you're looking for a fun summer activity or want to add a unique touch to your next party, these DIY paper fans are the perfect way to show your creative side. Not only are they easy and inexpensive to make, but these DIY hand fans can also be personalized with any design you choose. So grab some colorful paper and get folding—these DIY paper fans are sure to keep you cool all season long.