Origami butterflies are a beautiful symbol of transformation and growth, and making them with paper requires only a few simple steps. With the right origami butterfly instructions for folding the paper, it can be surprisingly easy to make a stunning paper butterfly. These 16 easy origami butterfly tutorials are free, detailed and accessible for anyone who wants to learn how to make an origami butterfly. Including coloring techniques and step-by-step processes, these techniques are sure to provide beautiful results that can brighten any room or make special gifts. So pick up some paper and get folding an elegant butterfly today!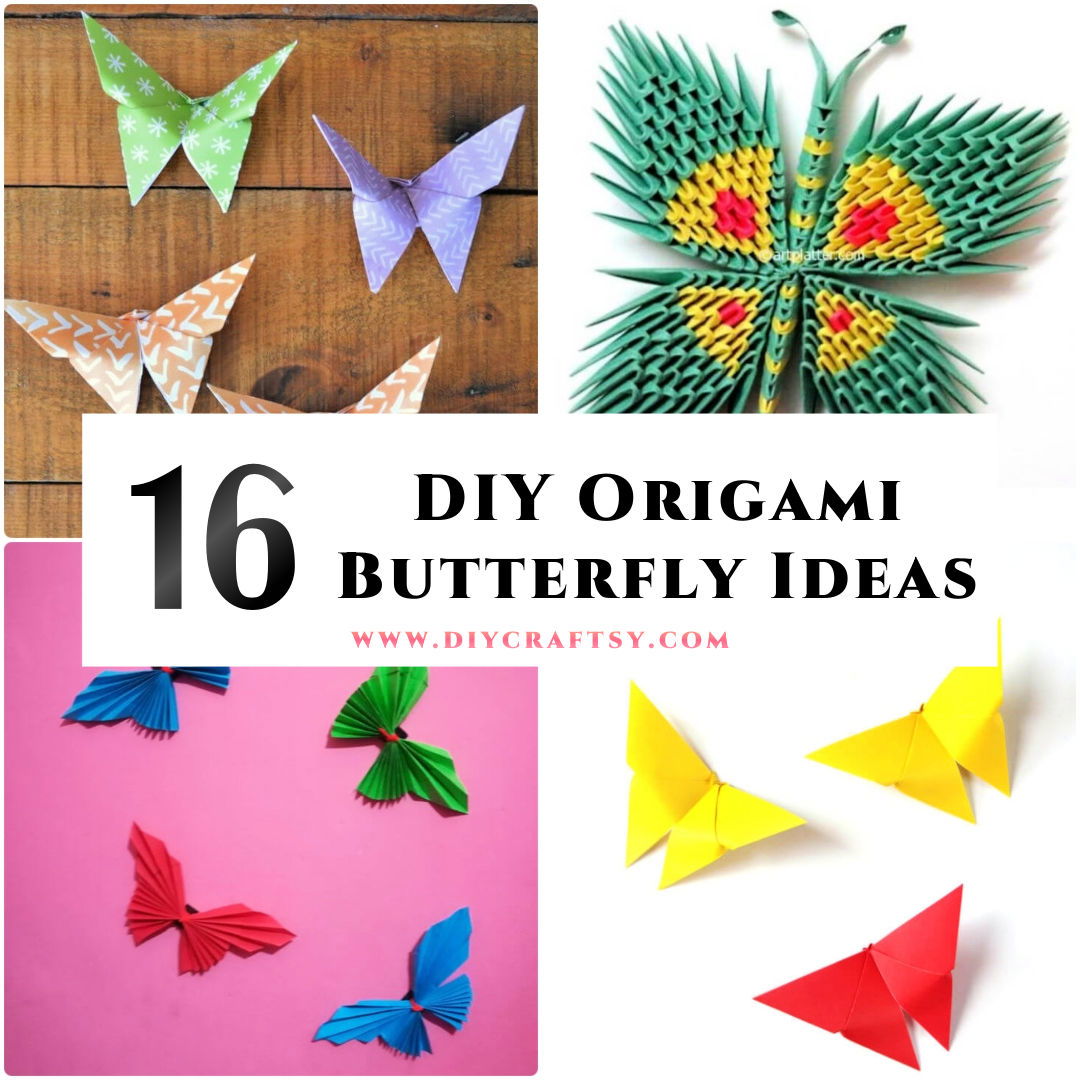 Easy Ways to Make an Origami Butterfly With step by step Instructions
Are you looking for an easy paper butterfly that looks great? Learn how to make a beautiful origami butterfly in 16 different ways! This origami butterfly project is perfect for beginners and requires no special tools or supplies. Follow our illustrated instructions and diagrams to learn how to fold the paper into an elegant butterfly shape – it's easier than you think! Once complete, use your new origami butterfly in a scrapbooking project as a party decoration or even as a fun gift. Try it today and start creating something beautiful!
How do you make an easy origami butterfly?
Making an easy origami butterfly can be done by folding a square piece of paper into two triangles, then folding the top and bottom corners towards the center. Flip over and fold the wings up, then fold in half and make a crease along the side. Flatten, spread out the wings, then make a small triangle near each wingtip and fold inwards. Your origami butterfly is complete!
What does the origami butterfly symbolize?
The origami butterfly symbolizes transformation and rebirth. It is often used as a metaphor for growth, change and resilience, representing the power of life to rise above even the most difficult challenges. The butterfly's beauty also speaks of hope and joy in spite of hardships faced along the way. In some cultures, it is seen as a messenger between the physical and spiritual realms. For many, it is a reminder of the beauty and fragility of life.
How do you make a simple butterfly?
Making a simple butterfly is easy. Gather two paper plates, crayons, scissors and glue. Cut the centers out of both plates to create wings. Decorate the wings with crayons or markers then glue them together back-to-back. Add antennae as desired and enjoy your new creation! You can also use scrapbook paper for a more intricate butterfly. Have fun!
How do you make a class 1 butterfly?
To make a class 1 butterfly, begin by using a single sheet of paper. Fold the paper in half both vertically and horizontally to create four equal squares. Fold each square corner into the center and then fold the top layer down along the crease lines. Unfold, flip over, and repeat with the other side. Then refold along the horizontal and vertical lines, creating a butterfly shape. Finally, open up the wings and your class 1 butterfly is complete!
How do you draw a butterfly in 10 steps?
Start with a circle in the center of your paper.
Draw two angled, curved lines extending outward from the circle.
Then draw two smaller circles at the end of each line to form antennae.
Add two more curved lines on each side of the body to form wings.
Draw a small notch in the bottom of each wing.
Add two circles in the middle of each wing to give it texture.
Outline the wings with fine, curved lines.
Draw four symmetrical shapes on either side of the body to create legs and feet.
Add detail by drawing small circles and lines on the wings.
Color your butterfly to give it life!
Done! You've successfully drawn a beautiful butterfly in 10 steps!
How do you fold a butterfly for kids?
Folding a butterfly is an easy craft that kids of all ages can enjoy. Start by cutting a square piece of paper in half diagonally to create two triangles. Next, fold one triangle in half and then fold the other triangle in half the opposite way. Then unfold both and fold up the top corners to meet at the center point. Finally, fold in the outer edges and voila – you have your butterfly! Enjoy!
How to make a 3D butterfly out of paper?
Making a 3D butterfly out of paper is easy and fun! Start with two identical sheets of colorful construction paper. Cut them in the shape of a butterfly and glue the edges together. Next, use scissors to cut small slits along the wings and fold up each tab to create an extra dimension. Finally, glue some googly eyes onto the origami butterfly for a cute touch! Enjoy your 3D origami creation!
How do you make a giant paper butterfly?
Making a giant paper butterfly with origami is easier than you may think. Start by gathering origami paper and folding it in half diagonally to create a triangle base. Next, fold the corners of the triangle up slightly towards the middle, followed by alternating horizontal and vertical folds along the edges of the triangle. Finally, fold up the tips of the triangle and pinch them together to create the butterfly's wings. Enjoy your origami origami masterpiece!
How do you make sugar paper butterflies?
To make sugar paper butterflies, begin by cutting out a butterfly shape in coloured or patterned paper. Pinch the middle and fold both sides up to give it depth. Glue small pompoms or gems on each wing for decoration. Place the butterfly flat on baking parchment and brush with egg white or edible glue. Sprinkle with caster sugar and leave to dry overnight. Voilà! You have a beautiful sugar paper butterfly. Enjoy!
How do you make a butterfly wing?
Making a butterfly wing is easy and fun! Start with wax paper, crayons, scissors, and glue. Trace the shape of the wings onto the wax paper using crayons. Cut out both pieces and trace them onto another piece of wax paper for extra support. Glue the two pieces together along their edges and let dry. Finally, add any additional details like glitter, foam shapes, or paint for a colorful and creative butterfly wing!
1. How to Make Origami Butterflies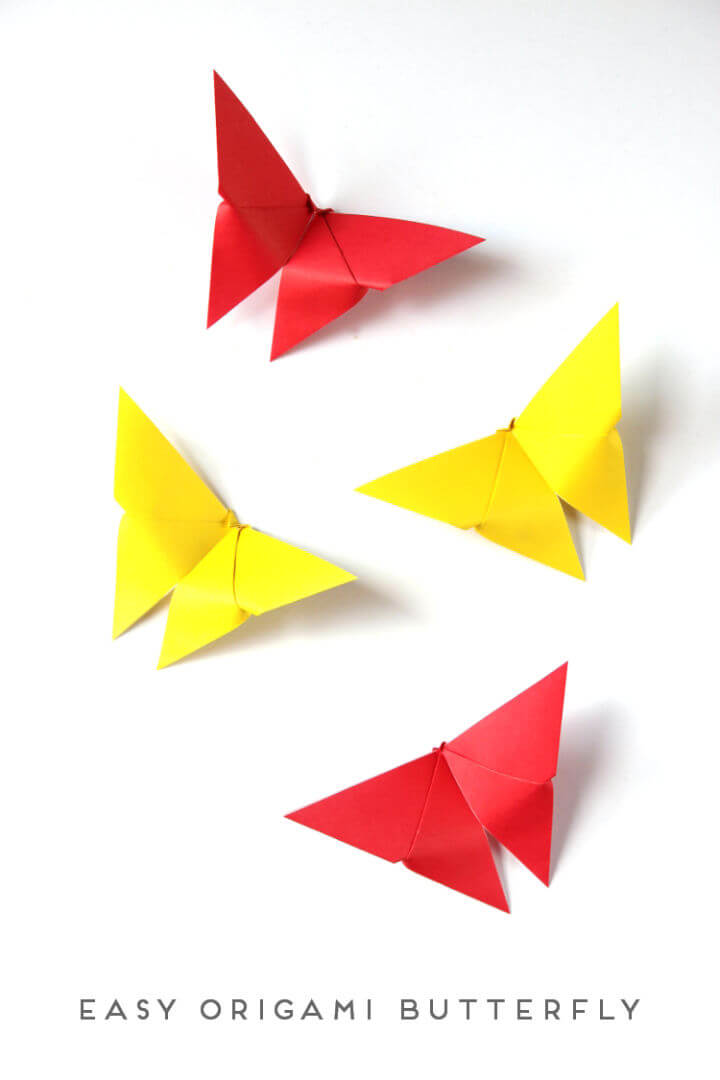 Intending to add some cool butterflies to your spring decorations? Then do make them with your favorite papers, they will require no maintenance and will be super quick and easy to fold at home using your favorite papers! Full how-to tutorial here gatheringbeauty
2. Origami Paper Butterflies
These paper butterflies are looking damn near to real, and they super quick to make also! Here you need the origami paper, watercolor paper and string to make these amazingly beautiful and colorful folded paper butterflies that are sure to be loved by all! How-to tutorial here intimateweddings
3. Simple DIY Origami Butterflies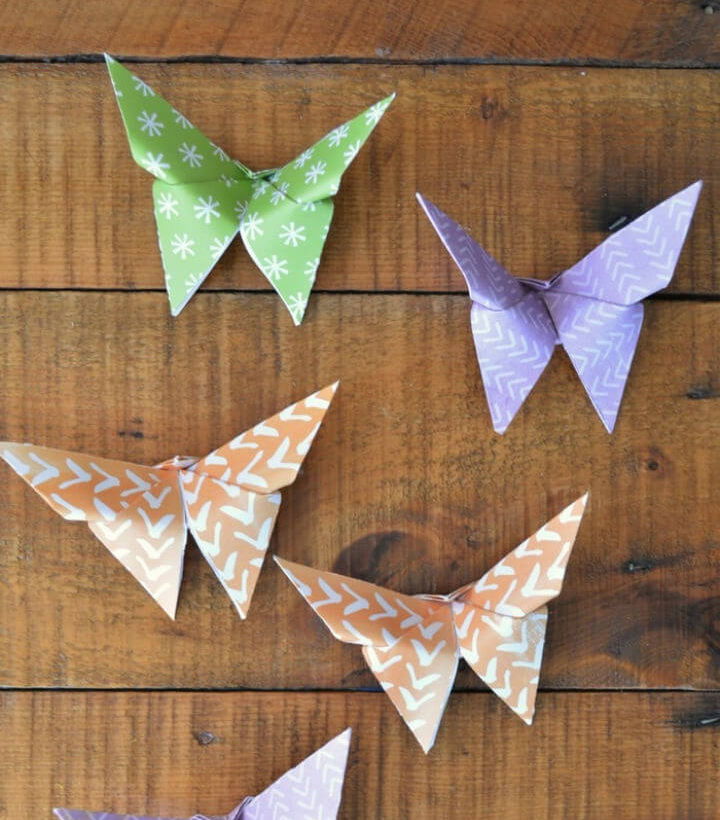 Rock your garden fence wall and interior home blank walls with these self-made paper butterflies that will make outstanding spring decors also! Here these origami butterflies will cost you the price of papers and will require no maintenance! Full how-to tutorial and instructions here madincrafts
4. Make Your Own Origami Butterfly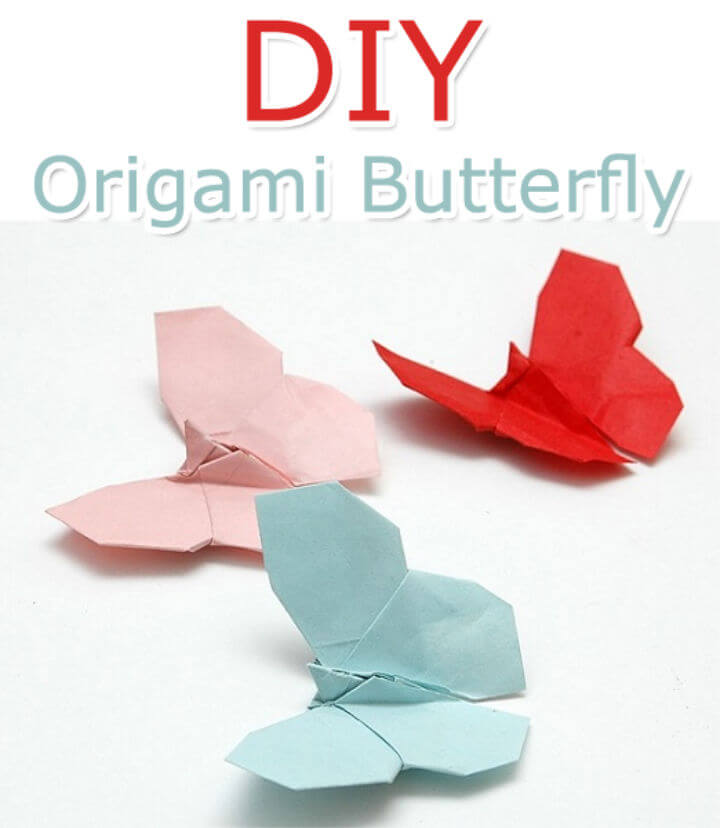 Using your own creative imagination and different origami techniques, you can fold the papers in so many different ways to make all sorts of butterflies! Duplicate also these origami butterflies by folding the paper smartly, and you can also decorate and paint these butterflies for some cool effects! Full tutorial here tips for women
5. Handmade Origami Paper Butterfly Garland
Bring the spring vibes to your home by making this super cool butterfly garland that will be a breeze to make! Just make dozens of colorful paper butterflies and then string them up and make glorious butterfly garlands that will make fabulous home and garden decors! Tutorial here mypoppet
6. Easy DIY Origami Butterflies
If you have become a master in making the origami butterflies then here is how to do wondrous crafts with! Display the folded paper butterflies flying in your home by making this butterfly vase that comes will butterfly hanging on the top of the floral wire, and they seem to be flying! Project details here craftandcreativity
7. DIY Fabric Origami Butterfly
Just like the paper, you can also fold the hard fabric to make some cool butterflies that you can also use as great necklace pendants! Look at this gorgeous given sample necklace that you can easily clone using a beaded strand and a fabric butterfly! Full how-to tutorial here molliemakes
8. Beautiful Origami Butterfly – Step by Step Instructions
Also, paint and decorate your folded paper butterflies for some super cool and amazing effects and same has been done here while making these origami butterflies that are looking much near to real! Fold the paper smartly to make the butterfly and then decorate it with paint and glitter! Get inspired by the given samples! Details here kollabora
9. Super Easy DIY Origami Butterfly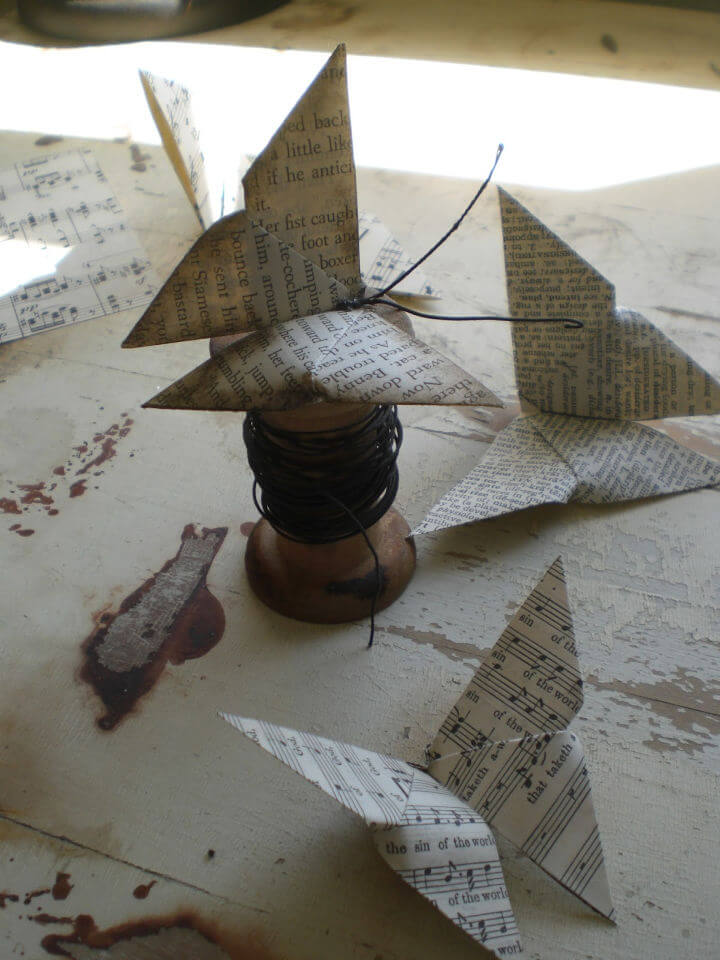 If you have nothing to do with the old books and pages, then do fold them to make cool butterflies that will also make cool toys for the kids to a play at outdoor, and they will also make precious home decors! Finish the folded paper butterflies with a wire antenna that will also tie them in place! Details here todolwen
10. DIY 3D Origami Butterfly
One of the most precious, bizarre, and creative designs of origami butterfly that comes in 3D dimensions, and all will love to stare at it again and again! It will make a wall art piece and a spring décor centerpiece! Make this enchanting 3D origami butterfly with the triangular folded paper units! Here is how to make them artplatter
11. Cute Origami Butterfly in 3 Minutes
If you make them sit on your garden plant leaves and flowers, they will be impossible to guess if they are fake, the origami butterflies, decorated to bring into a near to real looking appeal! Just fold the paper to make a cool butterfly and then decorate it using paint and glitter as you can see! Details here christines crafts
12. DIY Paper Origami Butterflies
Image these colorful butterflies, glued on your favorite blank wall, will make a great 3D wall art and will also bring the spring décor vibes to a specific room interior! Just make the good looking paper butterflies, and next put them together on the wall in custom configurations to make cool wall art! Full instructions here tinylittlebee
13. Giant Origami Painted Butterflies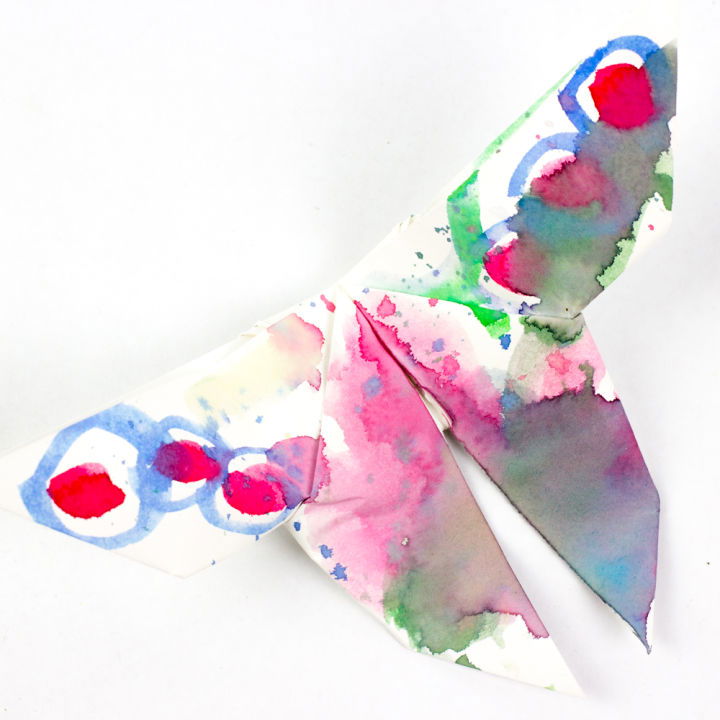 By simply folding the paper, you can make any size of the butterflies as per the demands of your home decors! Make also the giant butterflies like the given one that will also be as easy to make as the miniature ones! Here these giant butterflies have been painted for a great colorful appeal! Details here pinkstripeysocks
14. DIY Origami Paper Butterflies for Spring
The most beautiful folded paper butterflies are here that are super quick to whip up! Just fold the paper like a paper fan and then tie its center in place to make the butterfly and cut the wings into shape, pretty easy and quick to do! Also, add a collection of these butterflies on the wall for bigger décor statements! Details here pacificplaytents
15. Make an Origami Butterfly for Kids
This is here the best butterfly design that kids can also make by folding the paper smartly! This butterfly will also be great to add to your home decors, and it will be loved dearly by all for sure! Also, hang it on the wall for bigger spring décor statements, and this will be a great pleasure add to your spring décor plans! Full how-to tutorial here cutoutandkeep
16. Quick DIY Origami Butterfly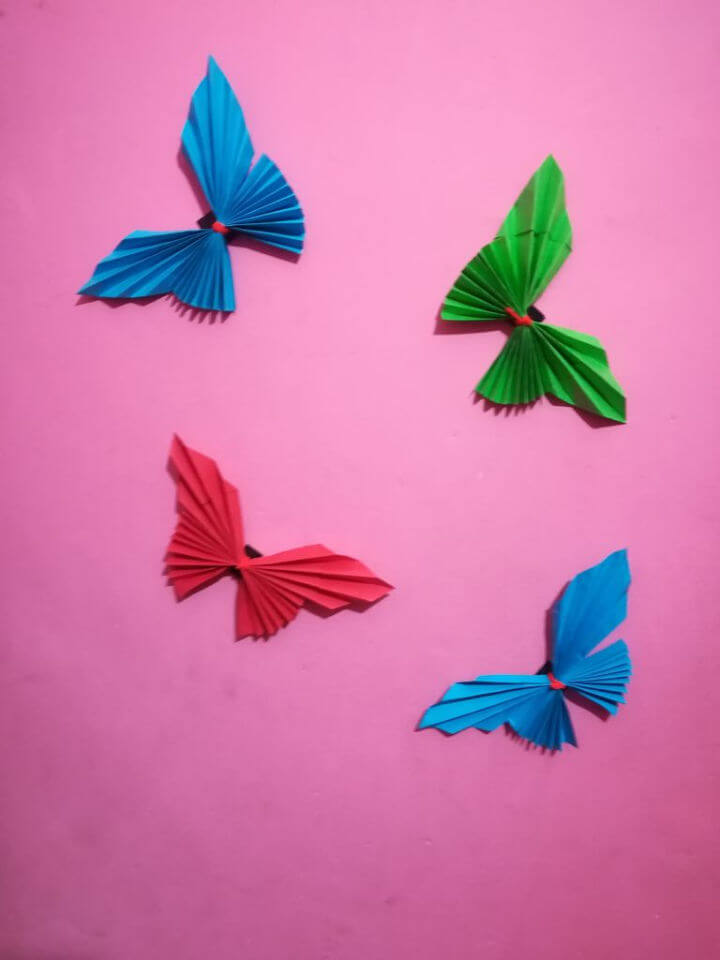 These great looking origami butterflies are super quick and easy to make! Just fold the paper to make paper fans and then put them together as butterfly wings, tie in place using twine and finish with or without the antenna! Make also the antenna using pipe cleaners! Full instructions and tutorial here instructables
Related DIY Projects and Ideas
Origami Diamond: Discover the elegance of an Origami diamond! Create a beautiful paper diamond with this easy-to-follow origami diamond tutorial. Explore the art of folding paper and make your own stunning diamond shapes for decorations or gifts.
Origami Bookmark: Learn how to make an origami bookmark with step-by-step guide to mark your place in books We provide instructions on folding paper into a beautiful, unique bookmark you can use over and over again.
Origami Flower Ideas: Learn how to make an origami flower step by step with a simple tutorial. Follow our easy instructions and diagrams to fold your own paper creation in no time! Make a beautiful origami flower today!
DIY Japanese Crafts: Whether you're looking to add some Japanese flair to your home or just want an easy craft project, these easy Japanese crafts and decorations are perfect for DIY-lovers of all levels.
Paper Airplane Ideas: Paper airplanes are easy to make and fun to fly. Learn how to make paper airplanes with instructions for different styles, including the classic dart, delta wing, fighter jet, and many more.
Paper Garland Ideas: Paper garland is the perfect, inexpensive decoration for any event. Learn how to make paper garlands for weddings, parties, and other events with these easy tutorials.
Paper Crown Templates: Paper crowns are so much fun! They are really easy to make. This list has a bunch of paper crown templates for you with different styles. They all look really cool and they are perfect for any age.
Related Crafts for Kids
Bird Crafts for Kids: Crafting with kids is fun and exciting! Check out these awesome bird crafts for preschoolers, toddlers, and kids. Great ideas to keep them entertained and learning about nature simultaneously!
Rainbow Crafts for Kids: Make the most of a rainy day with these easy and fun rainbow crafts for kids. From painting to paper crafting, there's something creative for every kid!
Popsicle Stick Crafts for Kids: Let your kids get creative with these easy Popsicle stick crafts! From cool animals to adorable picture frames, they'll love doing these crafty projects.
Paper Bag Puppets: Make unique paper bag puppets with free printable templates. Have fun crafting, playing and creating stories with the kids. Great for classrooms, daycare or family playtime!
DIY Pencil Case Ideas: Make the perfect DIY pencil case with these creative ideas! Choose from upcycled materials, sewing projects, and more to customize your pencil case needs and express yourself.
Kids Art Display Ideas: Make your kid's artwork the star of the show! Get creative with these easy & fun ideas for displaying kids art. Showcase their masterpieces with wall displays, gallery boards & more. 
Pipe Cleaner Crafts: Unlock your creativity with fun and easy pipe cleaner crafts! Get crafty with hundreds of ideas for decorations, animals, jewelry and more. Perfect for kids or adults for endless crafting fun!
Mermaid Crafts: Bring the enchantment of mermaids to playtime with this collection of fun and creative mermaid crafts for kids! Perfect for birthday parties, rainy days or just exploring imaginations.
Conclusion:
The origami butterfly is a beautiful and fun craft that anyone can make with just a few simple folds. With 16 easy ways to follow, it's straightforward to learn how to make one of these vibrant decorations. The most important thing when making an origami butterfly is patience; with practice, you'll eventually be able to create perfect ones every time. Whether you want something small and delicate or bright and bold for your home décor, the origami butterfly will always be great!